Limited Edition Elmore Art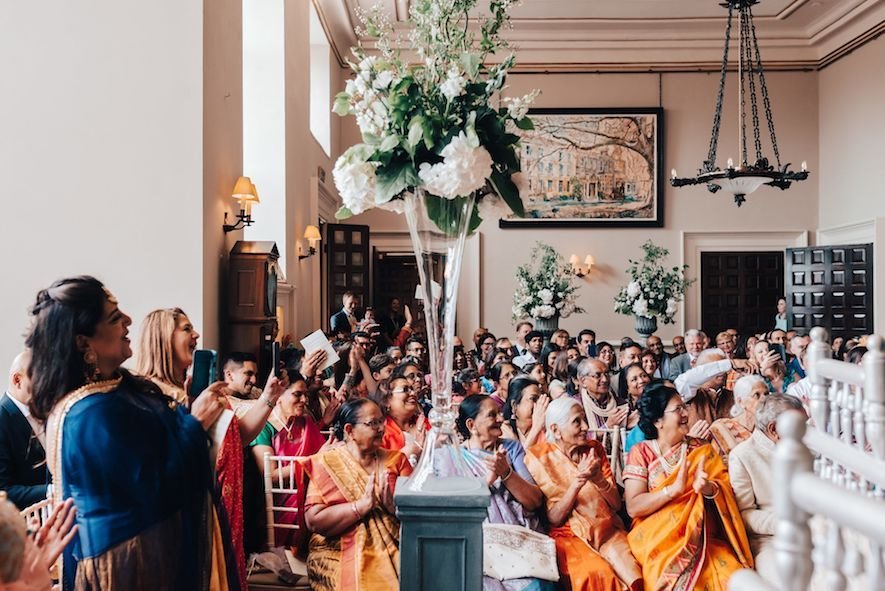 Hang a Little Elmore on Your Wall
If you have visited Elmore Court, the chances are you will have noticed this gorgeous painting of The House by the talented Luke Piper... and now you can own a limited edition print of his artwork for your own walls at home!
Luke is an old friend of Anselm's, and was one of the first people to come and stay at the Court after Anselm inherited the estate over ten years ago. Elmore Court was fairly run down all those years ago, and lacked the vibrance it oozes now.
Luke's inspiration for the painting 
"The painting hangs in the Main Hall at Elmore and is about 1.5m x 3m high, it was painted in the studio from a series of sketches I made under the beech tree at the front of the house when I visited there with my two sons in December 2007.
Anselm had not long taken over the place and he asked me to do a picture of it. I think he was a bit spooked by the old family portraits staring at him and wanted a change! - it needed to be big to try and capture the scape of the place. I took some photos of the time I went there, partly due to the time of year it was dark, quite grey and black, brooding, old and quite run down in fact. An atmosphere of faded grandeur."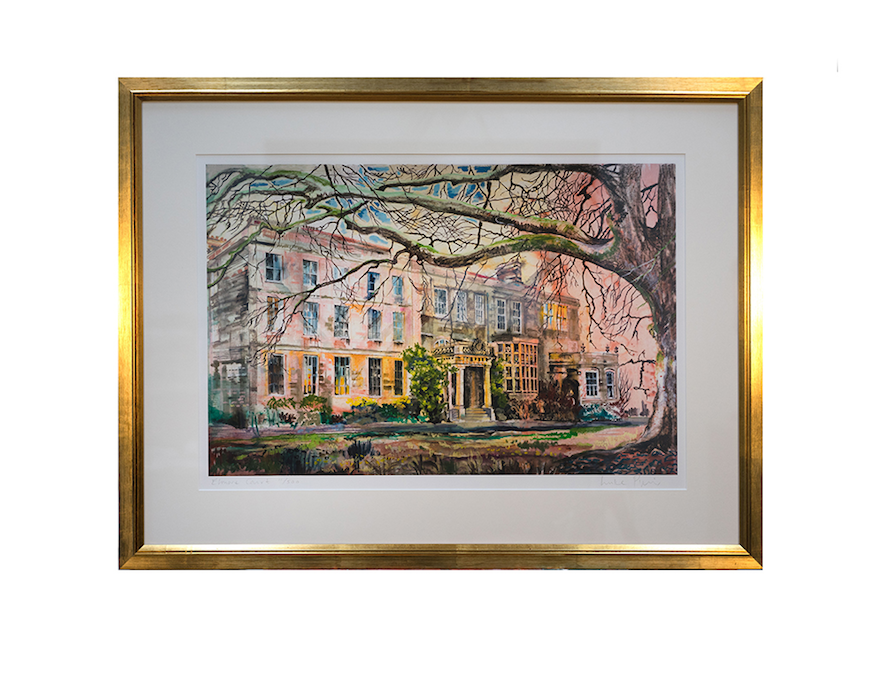 Luke and Anselm had previously worked together creating and running one of the UK's most legendary electronic dance music festivals - The Glade Festival - cutting edge music set to a background of celebration, light and colour.
Luke decided to inject a little Glade Festival ambience into the Elmore painting... He imagined The House bathed in a warm glow of suns reflecting the pink and amber tones of the stonework, with the memory of the glittering opulence of the interior radiating from the inside through the windows. 
Bright colours and ink washes with gouache and coloured pastels were used to achieve the style.
Luke says "it's interesting now how Anselm has completely revived his family home in to a place of colour and light much like the vision I had imagined it. Today the place buzzes with festivities and life!"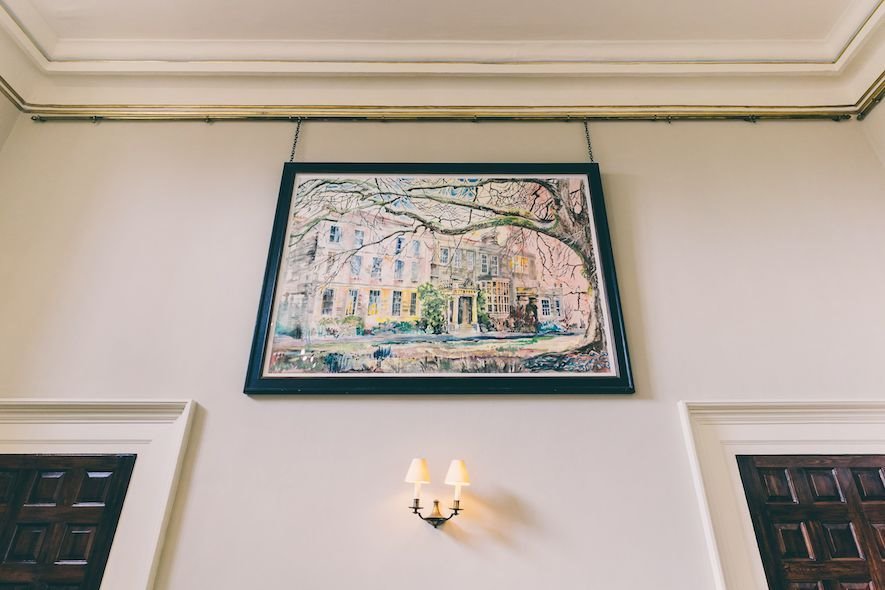 The details
Title: "Elmore Court" by Luke Piper
Product: Artist signed limited edition 2018
Medium: premium archival giclée print
Edition out of: 500
Paper: Somerset Velvet Enhanced 255gsm weight. 
Image size (without white border): 15.7"x 23.3" (400 x 592 mm) 
Frame ready mounted size (excluding frame): 23"x 30" (584 x 762mm) (approx)
The prints are supplied window mounted with backboard and film wrapped, ready to put in a frame:
Framed and mounted: £325
Mounted, unframed: £250 
Postage is not included and is an additional cost.
If you fancy being one of the lucky few to have this gorgeous print of Elmore Court in your home, drop Team E a little line at: life@elmorecourt.com and we'll make it happen! 
Lots of love,
Team E x
Related reading