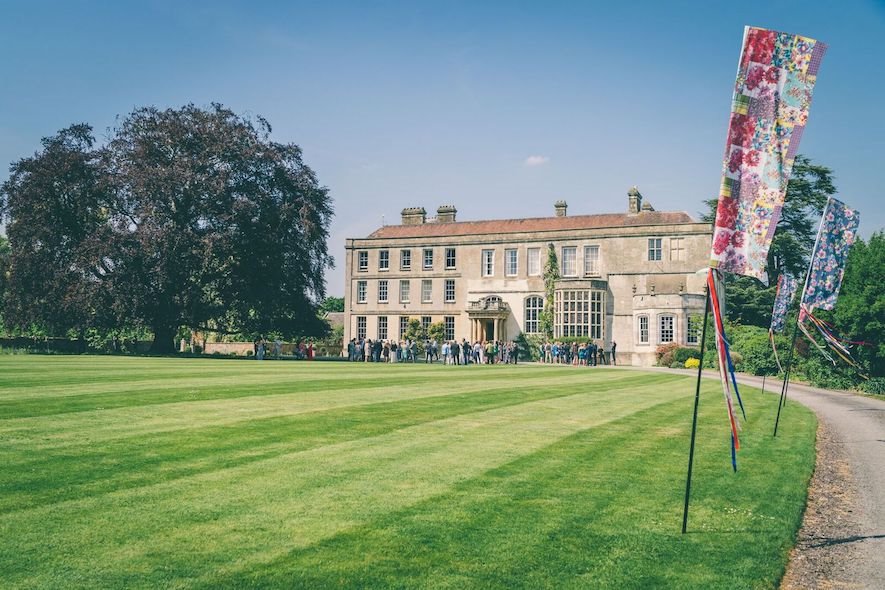 A Creative Weekend long Wedding
Monique and Paul let their creative sides shine on their 'Big Party' wedding weekend! This was more than just a wedding for them; it was a celebration of the life they had built together...
Monique wore a beautiful, bespoke dress designed and made by her friends, based on the rose gold accessories she had already fallen in love with. They later learnt that the royal wedding of Harry and Meghan would also be taking place that day, but they didn't let that overshadow their day... Instead they had Prince Harry join them on the dance floor!!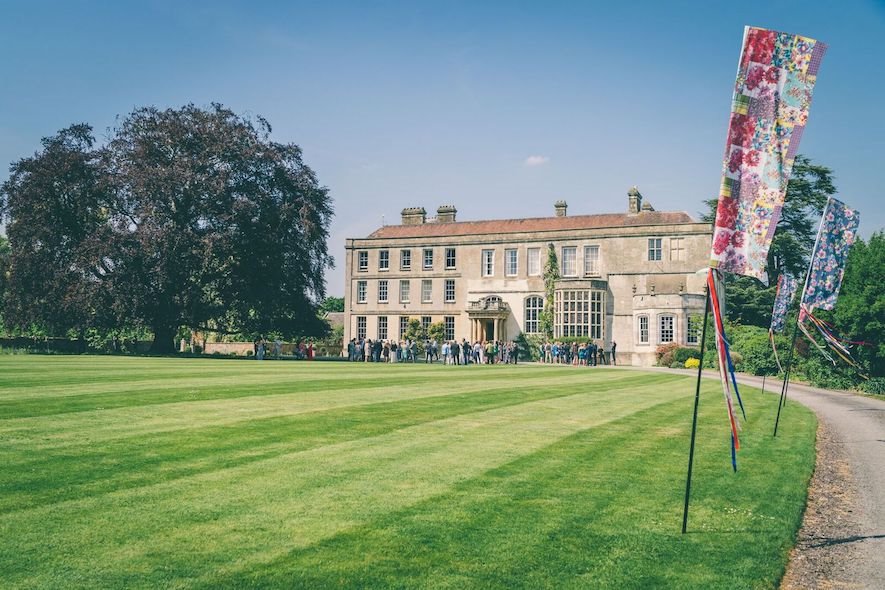 Tell us about your fabulous dress!
There was never any doubt my dress going to be spectacular! Paul and I first met at London Fashion Week back in 2008, when I made headpieces for my super-talented friends Helen & Maira (of UK fashion label HEMYCA) for their catwalk show. Paul was there with his skating buddy Andy, and our paths briefly crossed, but it wasn't until 2 years later when we were introduced again at a party that sparks really flew, and from that night we've not left each other's side.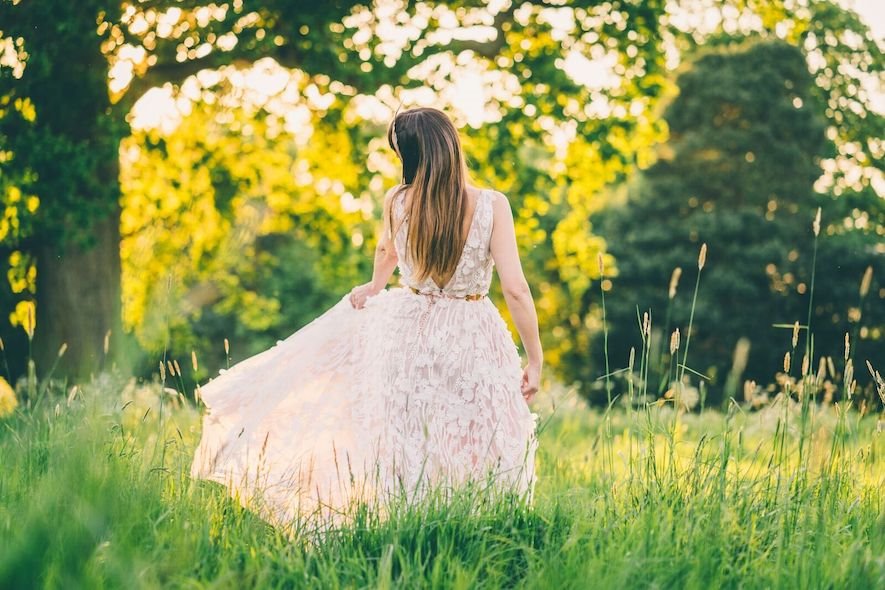 HEMYCA Wedding Dress
HEMYCA were always going to help me create a dress that was perfectly me. I knew I wasn't pure enough for a white dress (!) and accessories have always been key for me. I bought my dream Vivienne Westwood for Melissa shoes, a rose gold metallic belt and striking Rachel Black headpiece before we'd even finalised the fabric for the dress. It was all a very natural and personal process fed by my personal style and HEMYCA's incredible talent. My dress was perfect – the drama of Elmore Court demanded nothing less!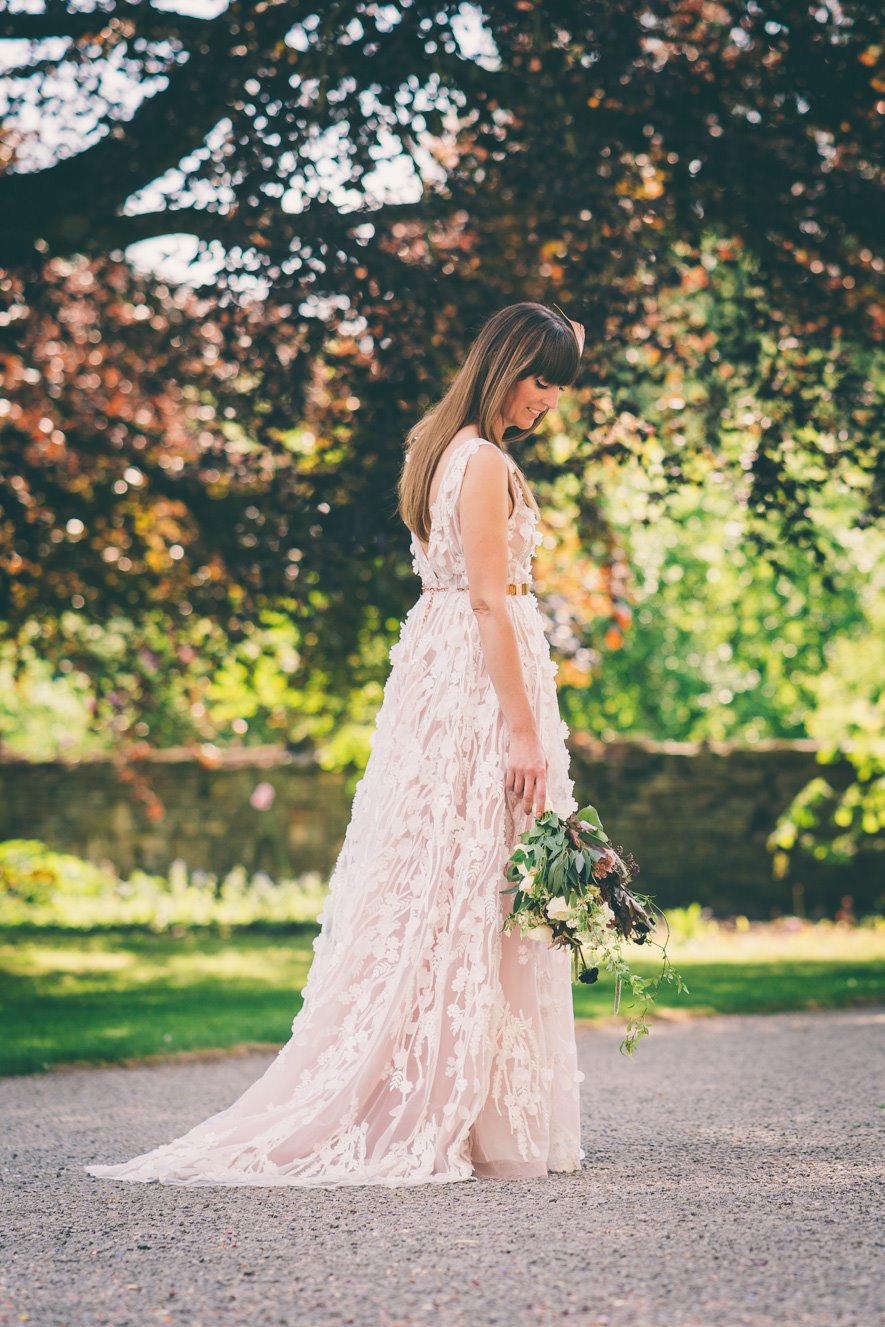 Finding a Weekend Wedding Venue
When we were looking for a venue we had key criteria on our wish list – somewhere quirky and unique with exceptional food and a party space to showcase our love of music. We had guests travelling from far and wide so the ability to accommodate a lot of them on site was vital – the rooms in the house were perfect for family and bridal party and we set up a glamping site for friends. Our creative personalities meant we wanted to personalise the day as much as possible, without the stress of having to take care of every little detail ourselves on the day. We called it The Big Party for a reason, as this was never just a wedding but rather a celebration of family, friends and the life we've built together. 
When a friend suggested we check out Elmore Court, we couldn't believe we'd found a venue that ticked all the boxes and more! The Elmore team were incredible from start to finish – nothing was too much trouble and their knowledge and experience formed the basis for the most relaxed and perfect day.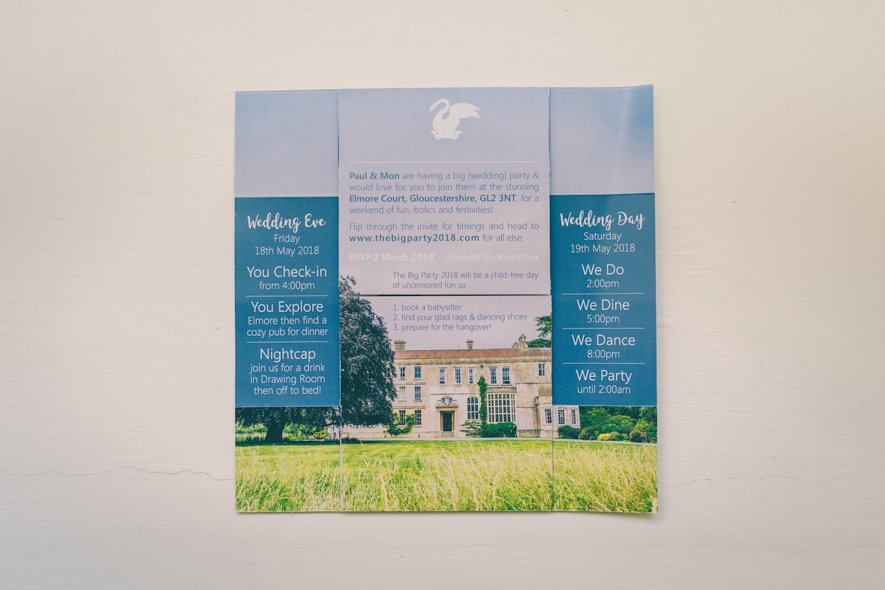 Styling the day
We didn't have a deliberate theme – we literally took ideas and objects from our home and used these to form the basis from which everything else evolved. Our home features natural wood, with accents of white and grey as the backdrop for our plants and original art collection. Add to this the rose gold from my accessories and that lead the 'theme' for our day. Most importantly we wanted everyone to feel at home!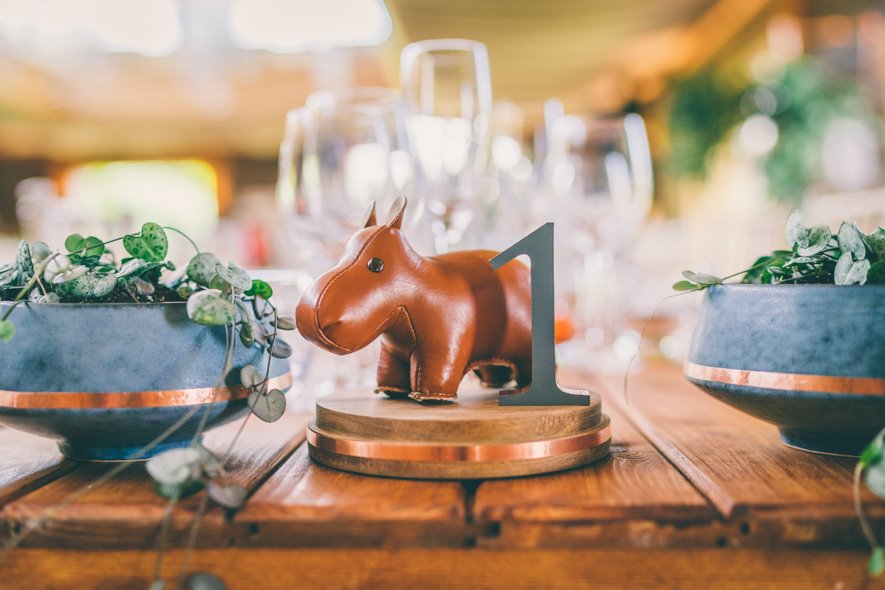 Flowers and Foliage
We always wanted more foliage than flowers and being from Australia I wanted eucalyptus to feature heavily. My sister wrapped eucalyptus from a friend's garden around wooden embroidery hoops I'd hand-decorated with copper tape and these lined the aisle for the ceremony and hung in the Gillyflower for the reception.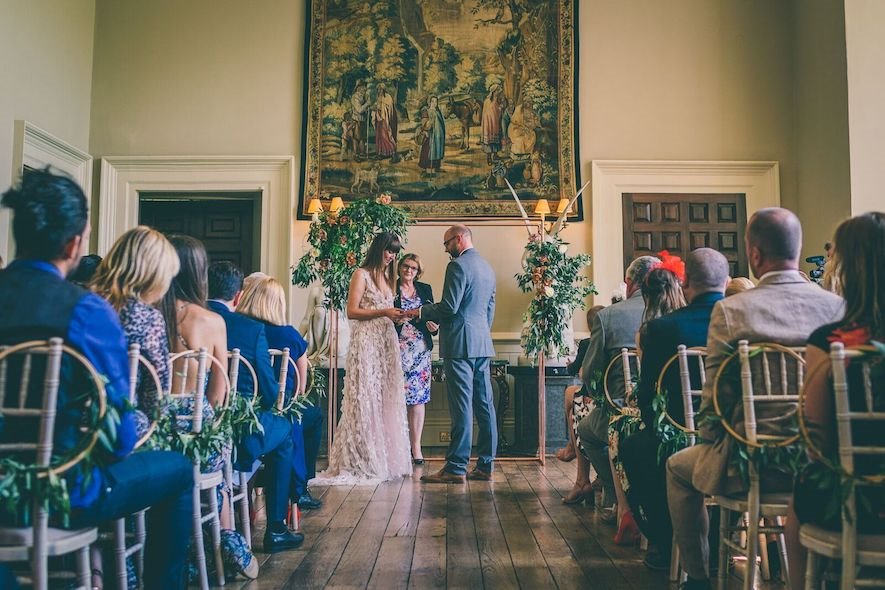 We are very lucky to be surrounded by super talented and creative friends and the amazing Nem did all the floral arrangements – from bouquets to button holes as well as the beautiful copper arch we used to set the scene throughout our day. I gave Nem full creative freedom on the flowers with the simple instruction that they had to be loose and ethereal to match my dress. The bouquet he created was double sided – one side featuring lighter foliage of white roses, while the other featured darker blush roses and contrasting foliage so I could decide which would better suit my overall look – it was mesmerising!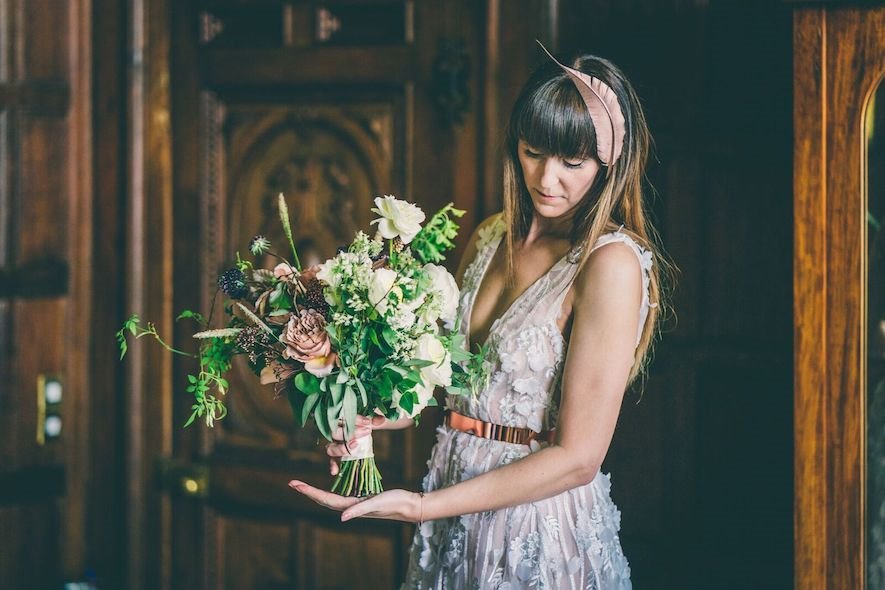 What did the bridesmaids wear?
The bridesmaids wore gorgeous bespoke HEMYCA dresses in dark teal. These perfectly contrasted my blush dress and rose gold accents. My sister Sim, a talented contemporary jeweller, even handmade unique silver and copper eucalyptus leaf necklaces for the girls – each one inspired by individual leaves collected from Mt Hotham in Australia – a place of great personal significance for our family.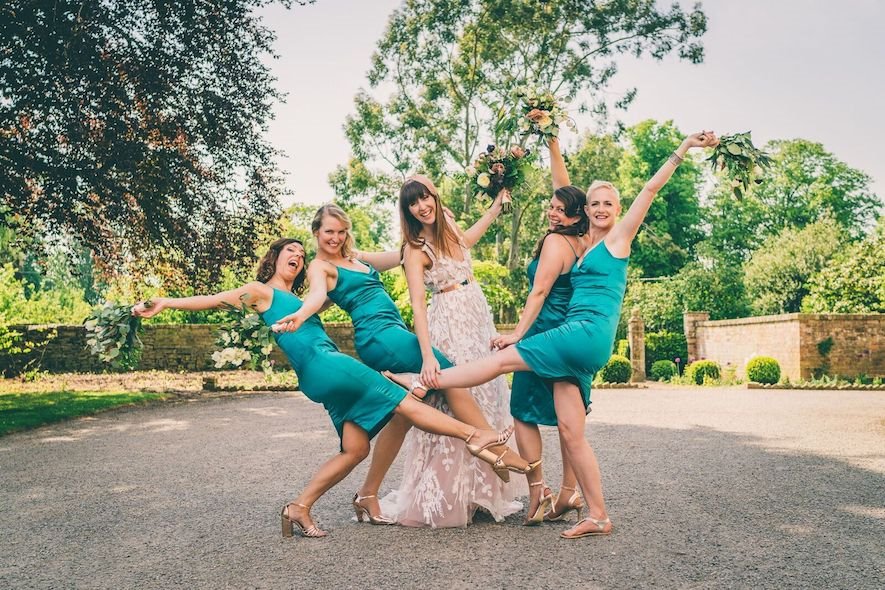 What did the Groom wear?
The groom was dressed in a dashing grey three-piece suit from the Tailor Me collection at Moss Bros. This allowed him to add his own personal touches, while the groomsmen complemented his look with grey sits we hired from Moss Bros. The littlest man, James – our two year old nephew – wore a grey, tweed three-piece suit and we bought his brown brogues from River Island to match the groom and his team. He absolutely stole the show!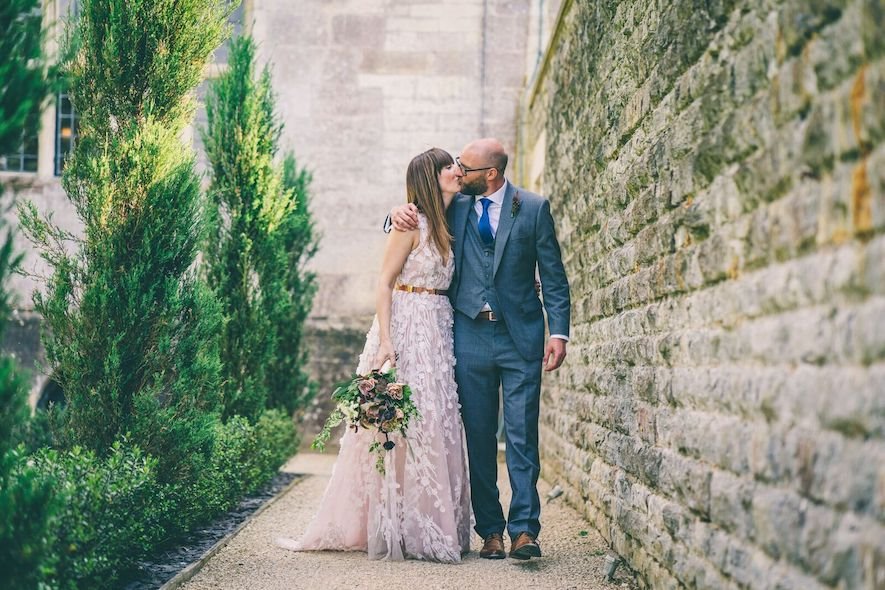 What had you planned for your pre-night stay at Elmore?
Our plan was to maximise the celebration with our family and friends – it is likely to be the only time we have my family from Australia with Paul's family from the UK and US, as well as our friends from London and Oxford all in one place – so we booked Elmore for the Friday and Saturday! On Friday we set up and settled in before putting on welcome drinks and dinner for 40 of our closest family and friends in the house. I also treated my girls to a spa treatment in the Coach House by Cotswold Spa to make sure we were fully relaxed for the big day!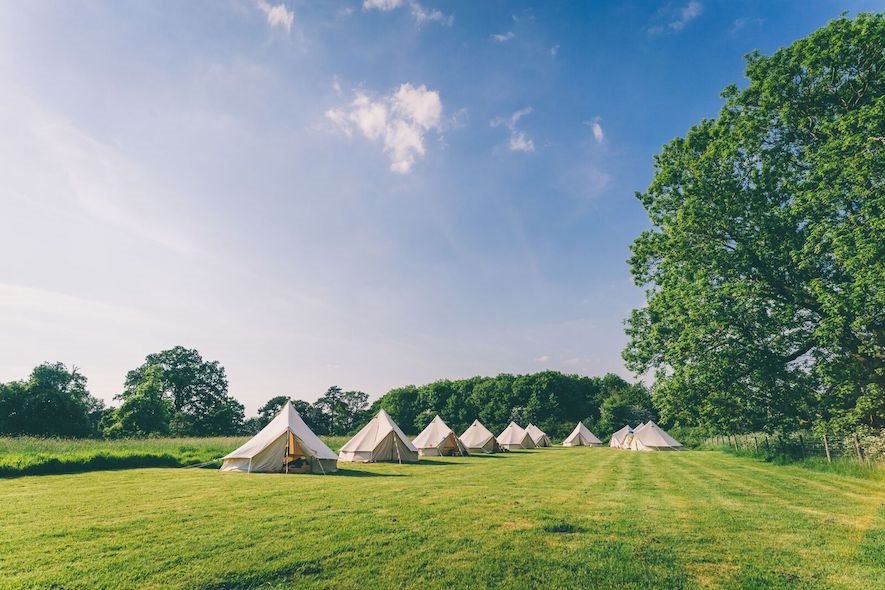 How did you feel on the wedding morning?
I was beaming from ear to ear all day! I was blissfully happy and surprisingly calm all morning. I had the best team of girls around me – constantly reminding me to pause and take it all in. My makeup artist Alana Ashley was the perfect addition to my squad. Seeing how proud my dad was to walk me down the aisle kept me grounded, until I first spotted Paul and almost lost my composure. Then he smiled and mouthed "JUST BREATHE" and from then on I was lost in the moment! 
Tell us about the drinks reception, photos etc…
We had the most stunning weather so we welcomed all our guests on the lawn out the front of the house – a champagne bar with delicious canapés allowed us time in the sunshine to greet all our family and friends. We booked photographer Rob Tarren for our day – we didn't want to spend a lot of time away from the party for photos so choosing someone familiar with Elmore was one of the best decisions we made. He knew where to get the best photos with the best light throughout the day. His photos perfectly captured our day. We also booked videographers Lucky Feather so we could watch our day back and share it with family and friends who couldn't be there on the day.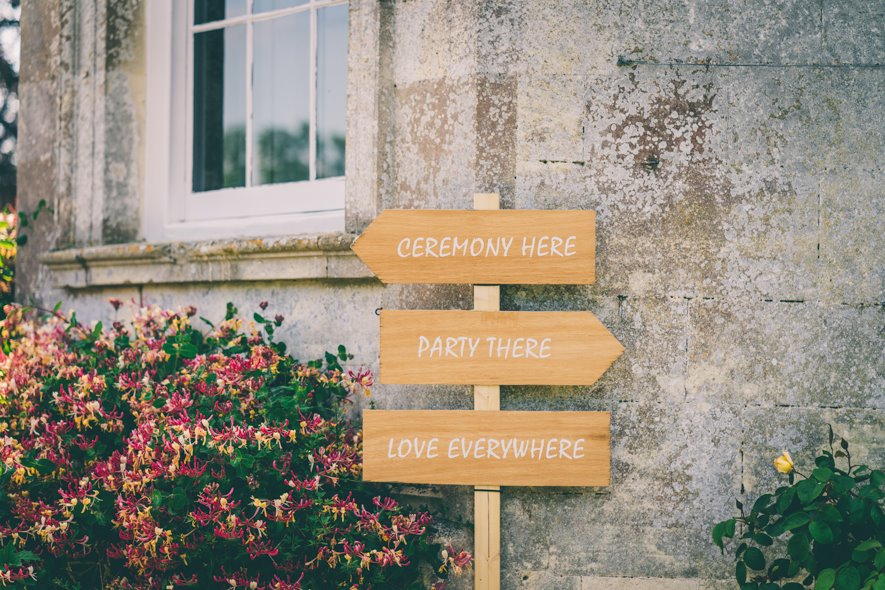 What did you eat and drink?
The food tasting day in the lead up to the wedding was one of our favourite "jobs". The quality of food produced by Elmore's kitchen is outstanding. The highlight of the canapés were the mac and cheese bites closely followed by mini scotch eggs. We wanted the dinner to be informal and relaxed so we went with sharing platters for starters and mains – the lamb melted in the mouth and the potato rosti was a little shout out to my Swiss heritage. The biggest compliments came from our vegan/vegetarian guests who were all blown away by the quality of their meals – often neglected and treated as an afterthought, all thanked us profusely for catering so deliciously for them.
We invited Pizza Monkey to cater the late evening food – and they smashed it! There was not a slice left at the end of the night – everyone was raving about the pizza well into the night and beyond. For family we also gifted bottles of Oxford Botanic Garden Physic Gin supplied by Eynsham Cellars (who also supplied the wine for the day) – this is far and away the best gin around and harks to our Oxfordshire home!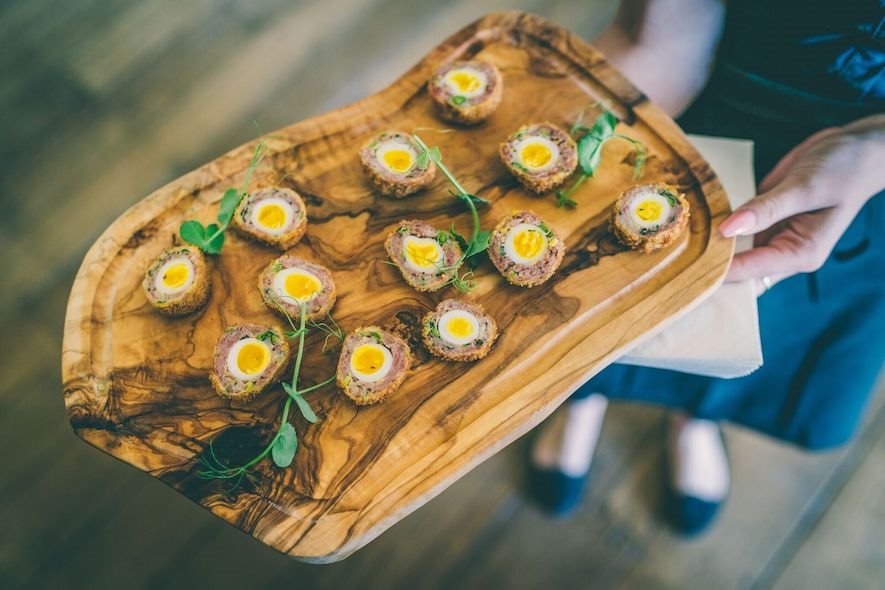 Time for cake?
We weren't too fussed about a fancy wedding cake so we went with an M&S rainbow cake – it was vibrant, colourful and delicious. Our centrepiece was our "A HOLE LOTTA LOVE" doughnut board we built and covered in Pippin Doughnuts. Everyone loved this as they could keep coming back through the night – a huge hit! This was the brainchild of Adele our Elmore wedding planner and we can't thank her enough – great idea for our fun and informal day!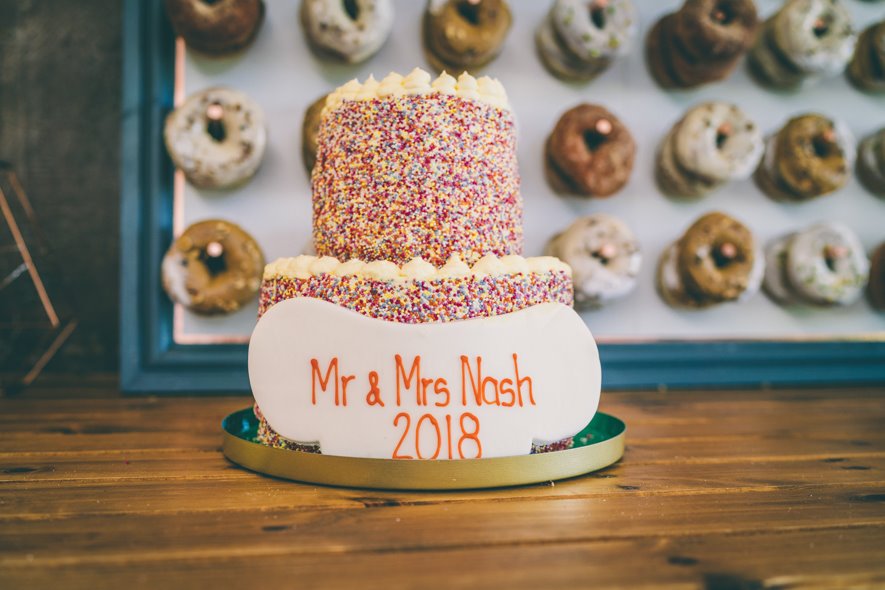 Did you have any personal touches or bits you did yourself?
Everything! Paul's wedding ring was made by one of the friends we met through, mine was made by Michal Platt Jewellers who have made all my bridesmaid's wedding bands over the years. Our friend Tom made the copper arch that featured throughout the day and I personally pimped just about everything with copper tape! We grew our own plants, framed our own pictures and made badges for people to take home. And don't get me started again on my dress….!
What was a particular highlight of your day?
All the little touches added by our family and friends – the poem my best friend and maid of honour wrote for her speech, Paul's cousin Kirsty singing with her acoustic guitar during the ceremony and generally seeing all our loved ones celebrating together – there are too many to list them all!
The Big Party
Great music was high on our priorities as we didn't want to be too traditional, and with Elmore's killer sound system we had the opportunity to do something really special. We booked The Curious Little Big Band who are totally bonkers! They set the tone for the evening with their high energy performance – it was important to fill our day with dancing and laughter and everyone agreed they were a highlight of the day. For Paul's wedding present I booked his favourite funk/soul/hip hop DJ Sam Redmore – he is hugely talented and ensured all guests young and old were loving the music. My dad didn't manage to leave the dance floor once and was the last one standing as Sam mixed killer song after killer song!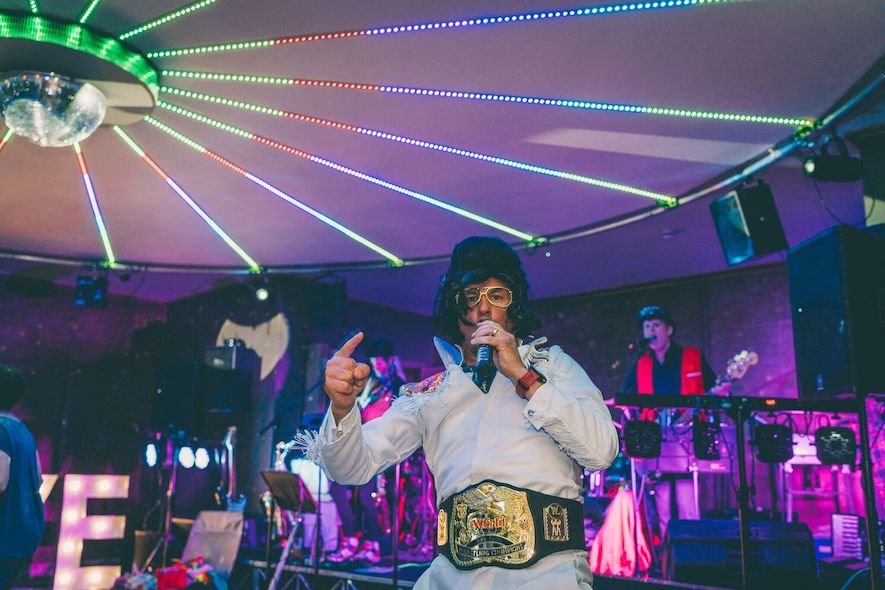 What was your first dance?
We didn't want to do an awkward, slow first dance with everyone looking on, so we chose Bjork "It's oh so quiet". This allowed us to have quiet moments together mixed with high energy bouncing around with our friends – it was brilliant.
What were your favourite moments of the day?
Our 2 year old nephew breaking free to come up to high five us both as the ceremony concluded!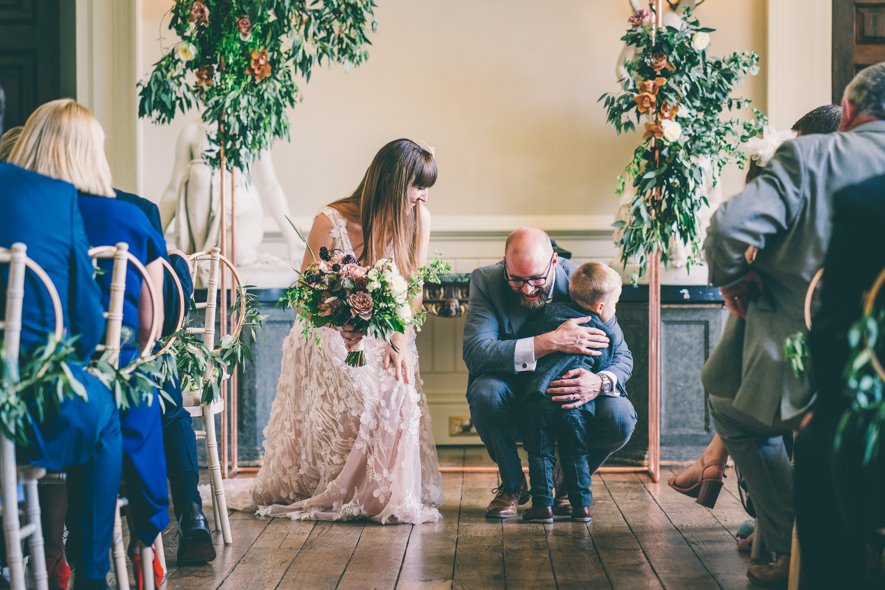 Seeing my mum in a rainbow wig owning the dance floor and our friend joining the band on stage to perform a self-styled rap … there are too many to list them all! Best. Day. Ever.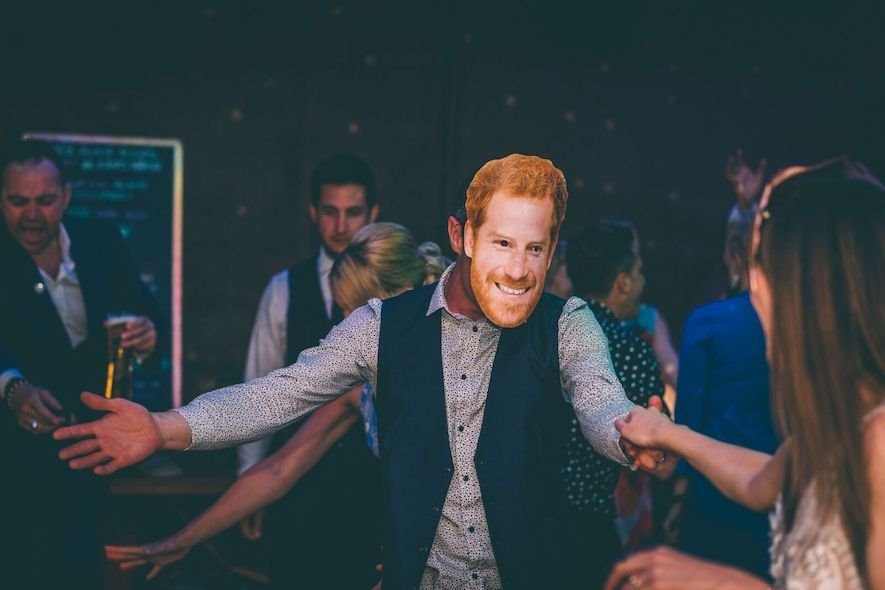 Related reading