1920's Themed Real Wedding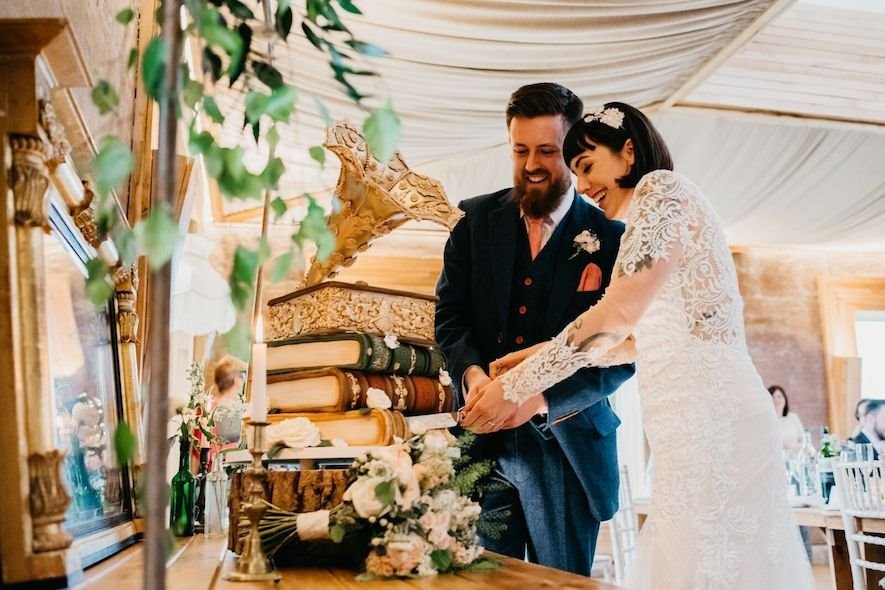 A 1920's Themed Wedding with a Difference
Joe and Alex's May wedding was just brimming with cool 1920's vibes, and more than a little nod to Peaky Blinders!
Read on to find out how they planned their quirky vintage wedding after one of the cutest proposal stories we've heard in a while...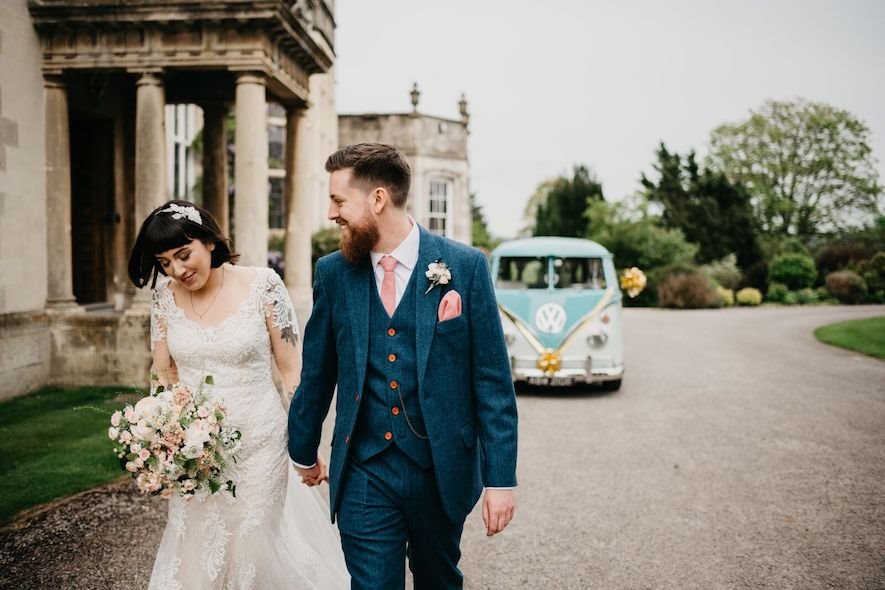 How did Joe propose?
The proposal centred on lyrics from 'our song' (I Don't Mind by Defeater). There's a line that goes 'something I've been meaning to tell you, about three years and a day, I'd very much like to get married', so I proposed to her three years and a day after our first date with a handmade book overlooking the city of Birmingham.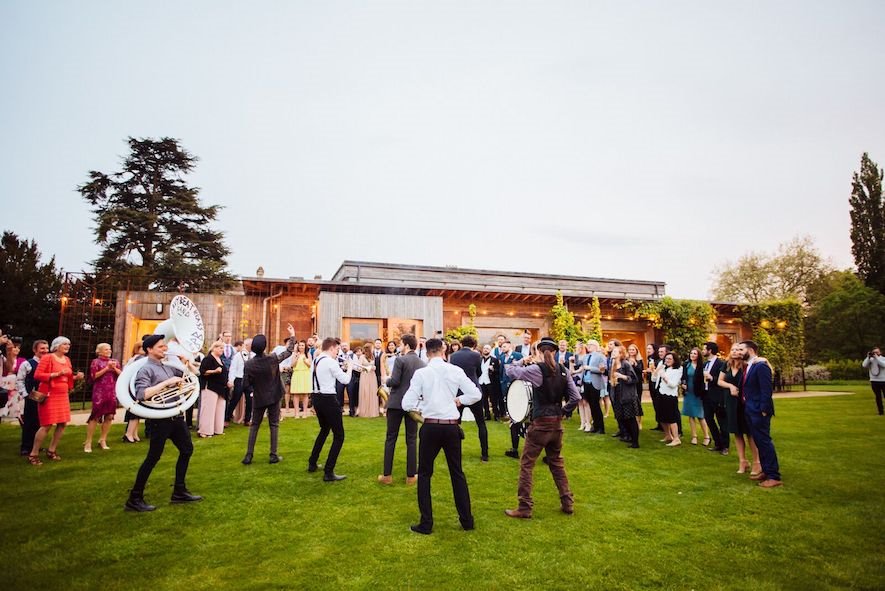 Finding Elmore...
When we saw Elmore Court online we instantly fell in love and when we came to view the venue for the first time it was even more amazing then we could have imagined. From the moment we met Leesa (our wedding co-ordinator) for our show-around we felt right at home. As music lovers it was really important we found somewhere that had a good space for a live band and the purpose-built Gillyflower really fit the bill.
How long was the wedding planning process? 
We booked Elmore Court over two years before our wedding date which gave us plenty of time to plan, save and accommodate life changes. The advantages of this were that all our preferred suppliers were free on the day and we felt pretty calm and organised in the months leading up to the wedding. The downside is that we both got a little impatient for the big day!
How did you find your photographer?
We found our photographer (Ed Godden) whilst flicking through Rock n Roll Bride Magazine and were really drawn to documentary style as we're both not a fan of corny, posed group photos! After getting in touch with Ed we went to his studio for a pre-wedding shoot and felt relaxed around him straight away. Not only is he an incredible photographer he's also a really, really nice guy. On the day Ed and our second shooter Kev Fern fit into the day perfectly to the extent that at times we forgot that they were there!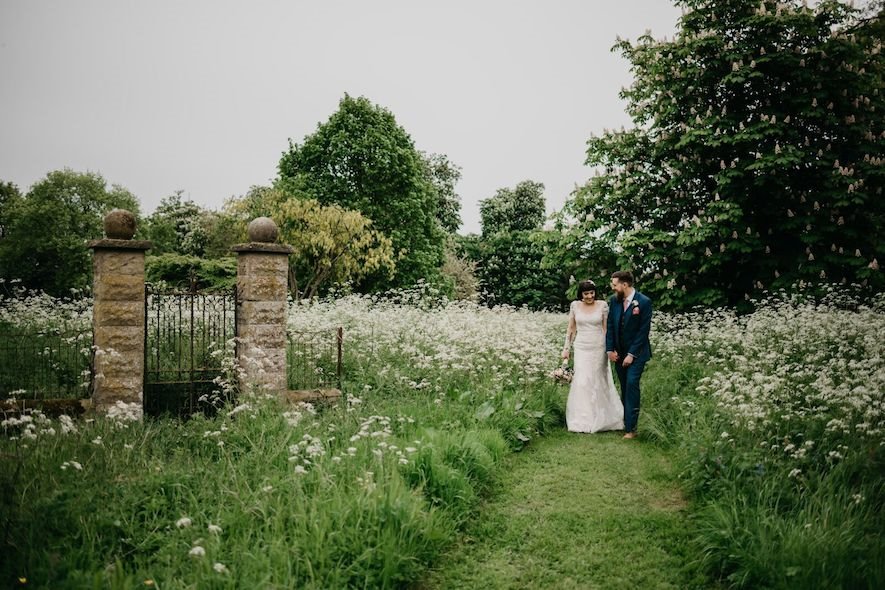 Who was your dress by and how did you find it?
My dress was Melrose by Sottero and Midgley, purchased from the Dressing Rooms in the West Midlands. It was actually a far more traditional dress than I thought I would go for but I fell in love with the back detail and the gorgeous sleeves. I found it in my second visit to the dress shop and once I tried it on and felt comfortable in it I knew it was the one to go for!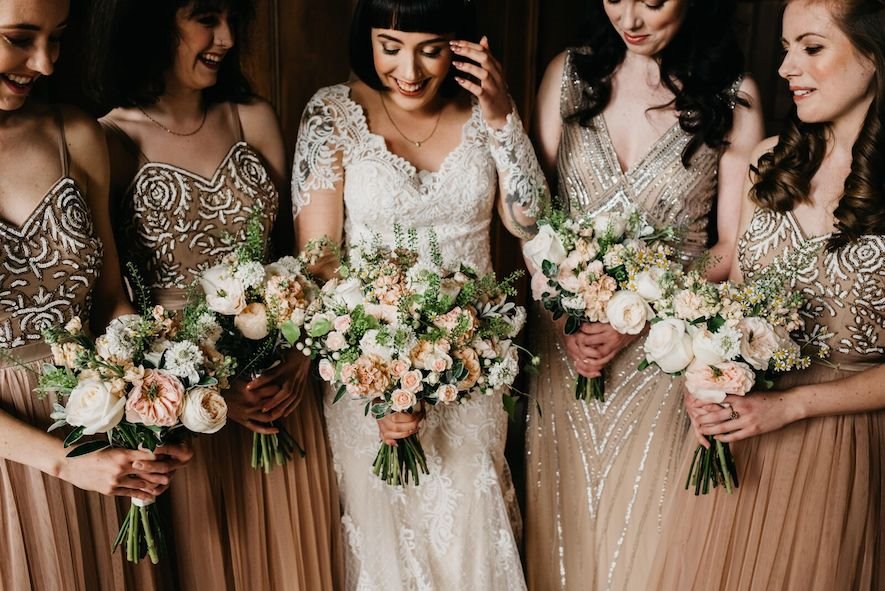 What accessories & shoes did you choose?
My sparkly shoes were a TK Maxx bargain and although you couldn't see them on the day I loved them! My veil and headband were also from the Dressing Rooms - I wanted to give a nod to the 1920s theme with my accessories.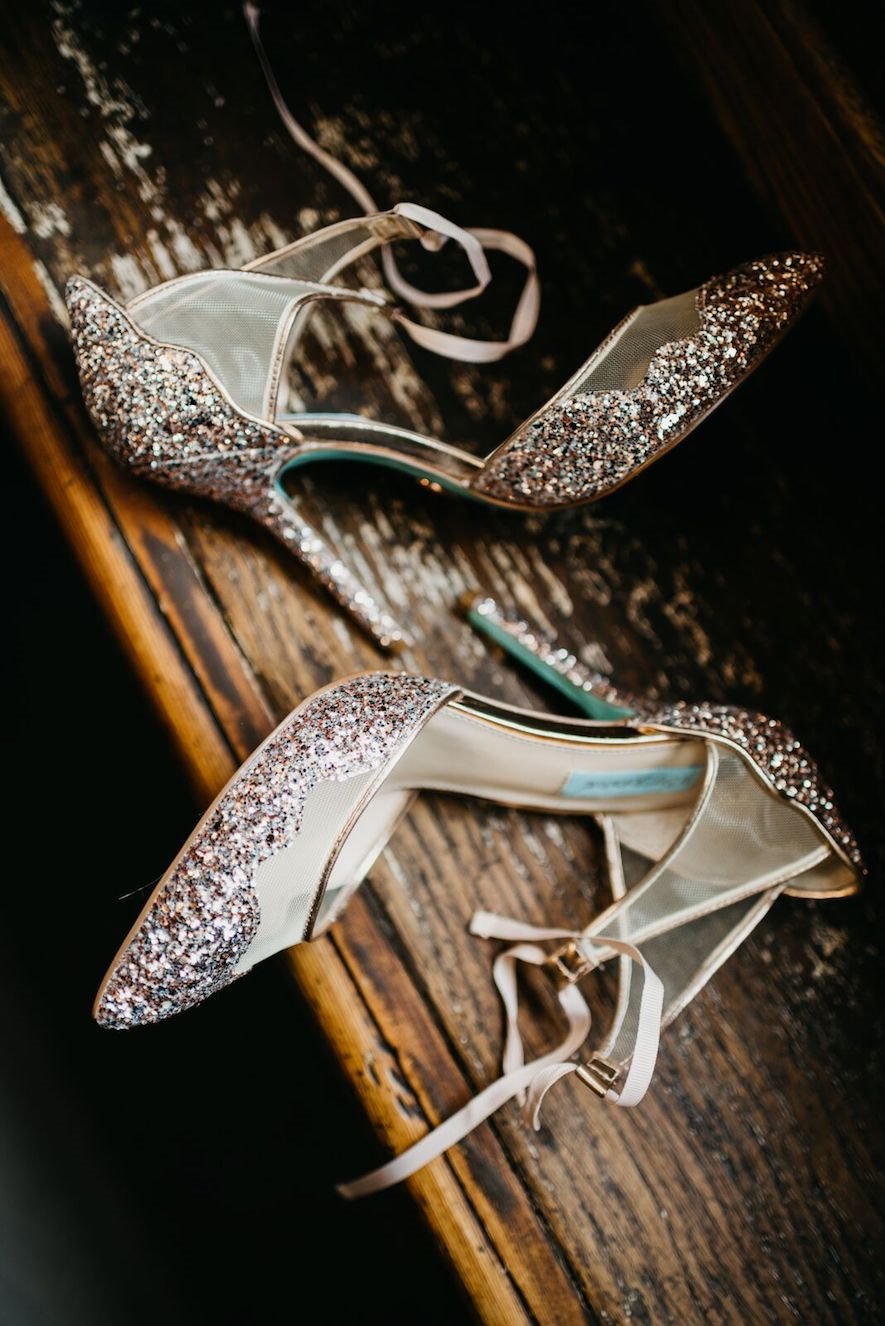 What did the groomsmen and bridesmaids wear?
I came across the Vintage Suit Hire Company at a wedding fayre and really liked their Navy Tweed suit (the Southwold). Fortunately my groomsmen loved the suit too and we bought a combination of made to measure and off the peg suits for the day, alongside some vintage brogues and a pocket watch as well as our accessories. I couldn't have been happier with my experience buying from the Vintage Suit Hire Company, I'd definitely recommend them to other grooms looking for something a bit different.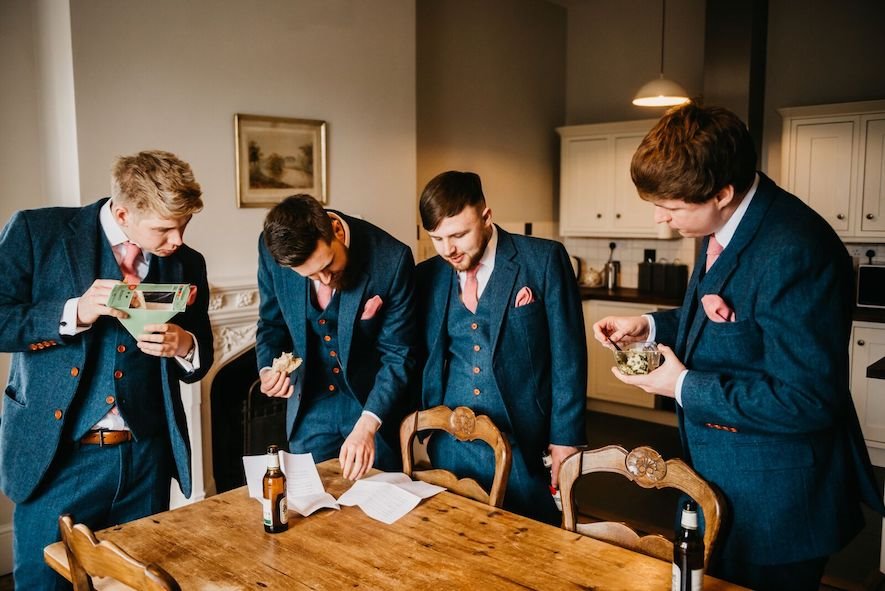 We got the bridesmaids dresses off ASOS and it was a surprisingly easy process (partly due to the fact that I had such lovely bridesmaids). My three bridesmaids wore long mink coloured dresses that were embellished on the top with tulle on the bottom and my maid of honour wore a more fitted 1920s style gown. They all looked stunning!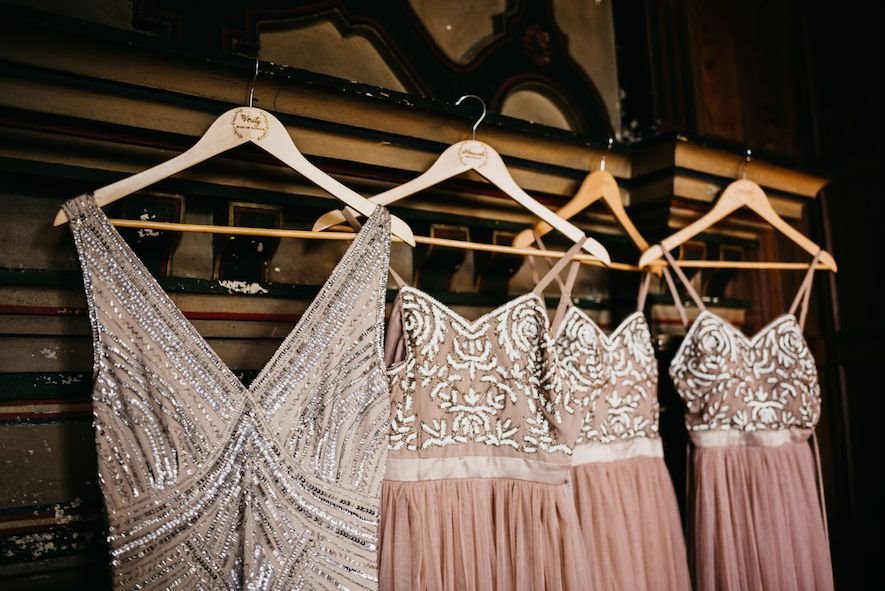 How did the 1920's theme happen?
We didn't really set out to have a colour scheme per say but the grand décor of the ceremony room and the light airy feel of the Gillyflower lead us to gravitate towards more neutral pinky tones. 
We added in some golds to give the day a more vintage touch. In terms of the theme we centred the décor loosely on some of the things that we love, namely music and literature. The whole day had a 1920s feel with lots of gramophones, typewriters and nods to Peaky Blinders (a homage to the city we met in, Birmingham). We just love the aesthetic of that era!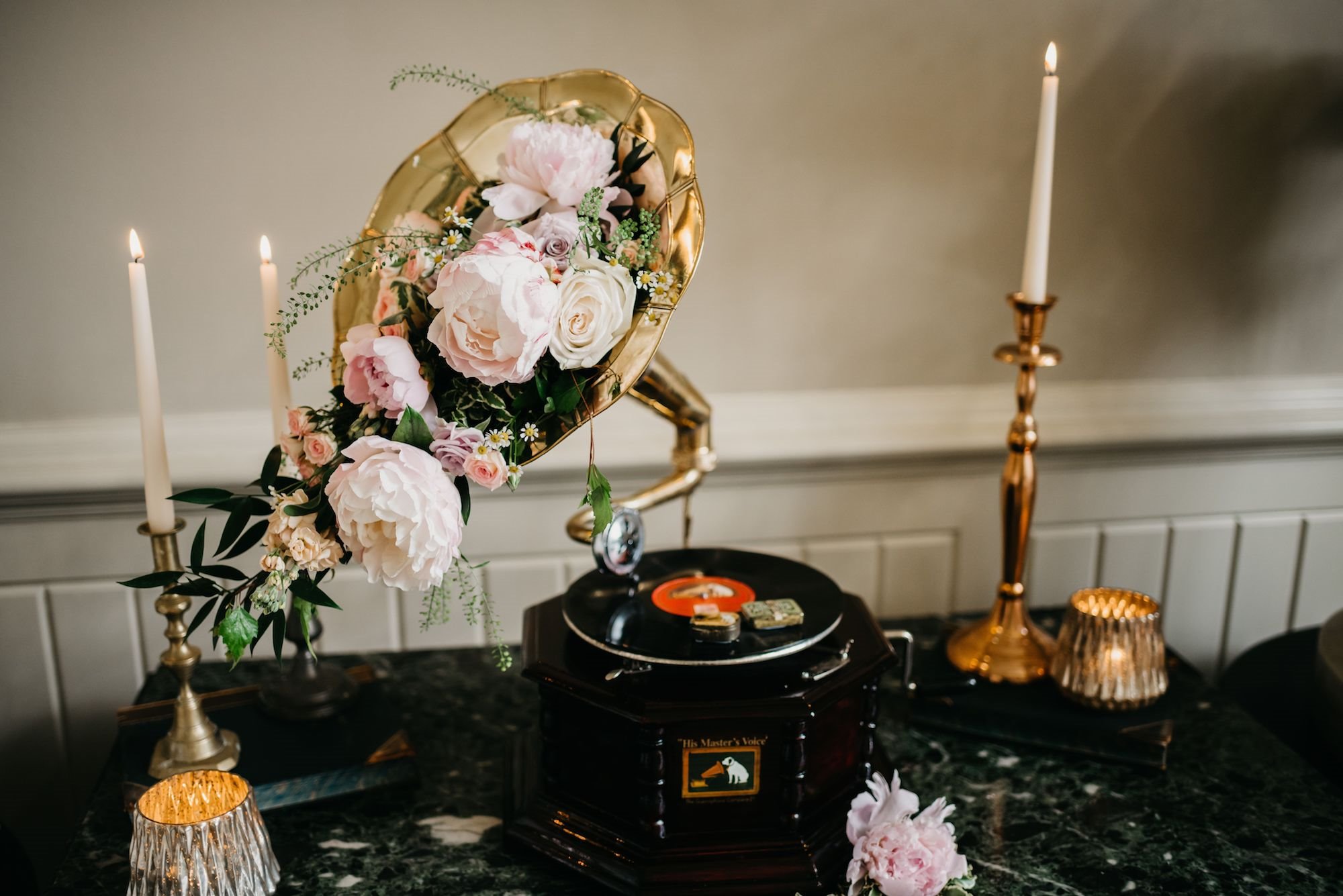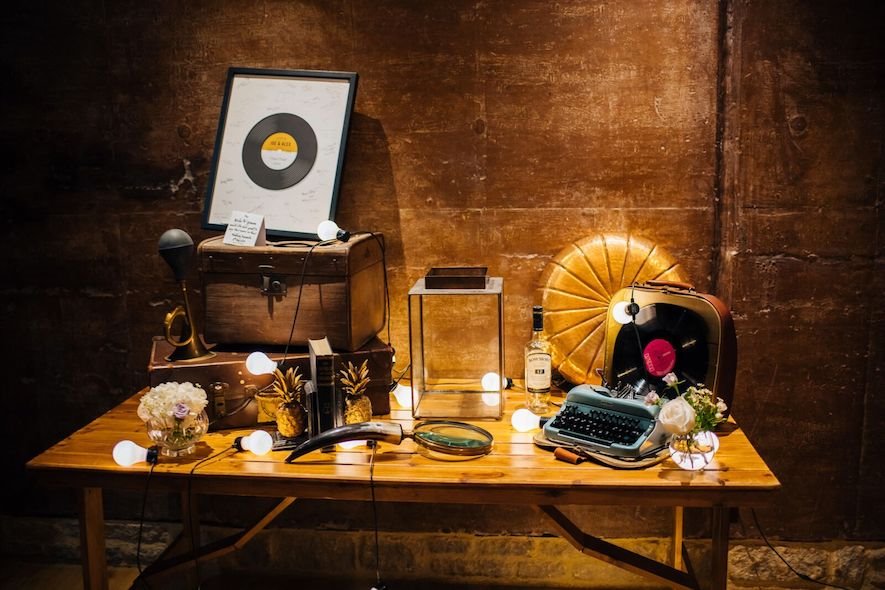 What flowers did you go for?
The incredible team of Lauren Grey (stylist) and Sorrori Design (flowers) made Elmore Court look even more beautiful than we could have imagined. The flowers were seasonal and included two of our favourites - roses and daisies!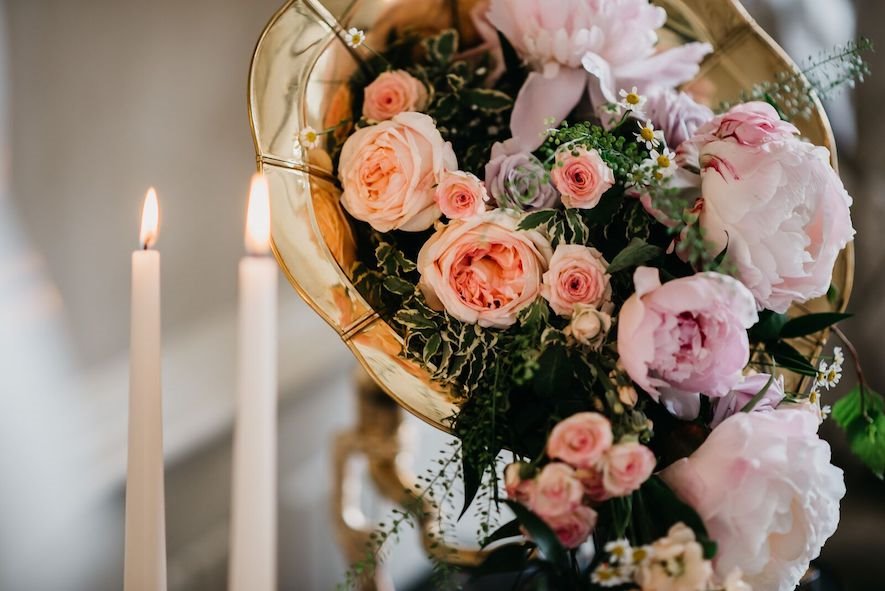 So, your cake was AMAZING...
After spotting the amazing Tattooed Bakers on Instagram we just had to get them to make our cake and the custom gramophone record player cake they made for us was even more incredible than we could have imagined – it certainly had the wow factor for our guests! To top it off it tasted amazing too with one layer of vanilla sponge with Oreo buttercream and one of carrot cake with salted caramel.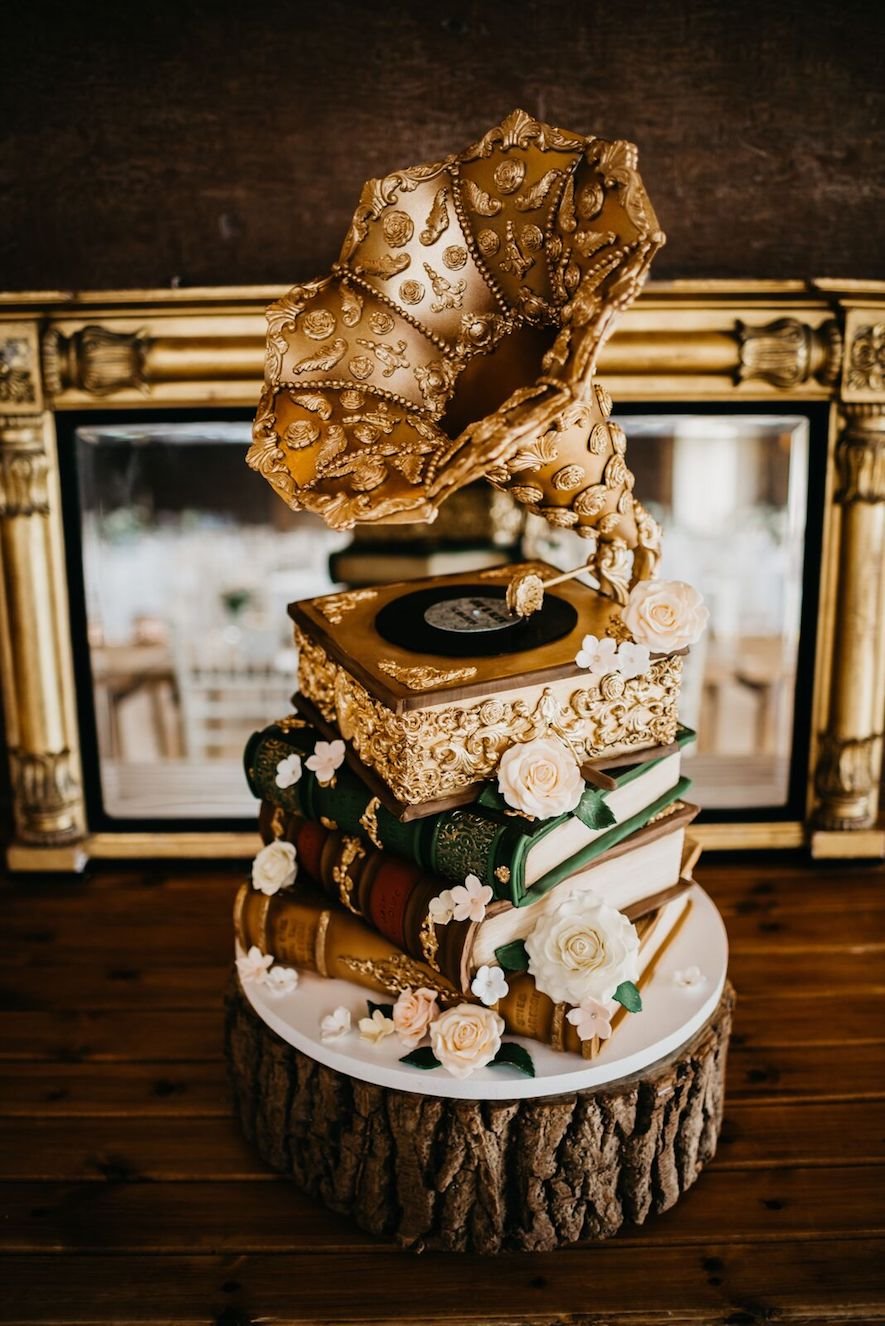 What kind of evening entertainment did you have?
As big music fans having live music as part of our wedding was really important to us but we were conscious of finding a band that would appeal to all of our guests. Luckily, we found the incredible Heavy Beats Brass Band who specialise in adding a quirky twist to popular songs and they really kicked off our evening in style. A highlight of the set was when they led a parade outside and we stood with all our friends and family on the lawn by the Gillyflower listening to a brass band cover of Rage Against the Machine's Killing in the Name Of whilst the sun set in the background, it was a 'pinch me' moment! Following the band we had a disco for which we created the playlist which included anything from Britney Spears to The Specials to Slipknot.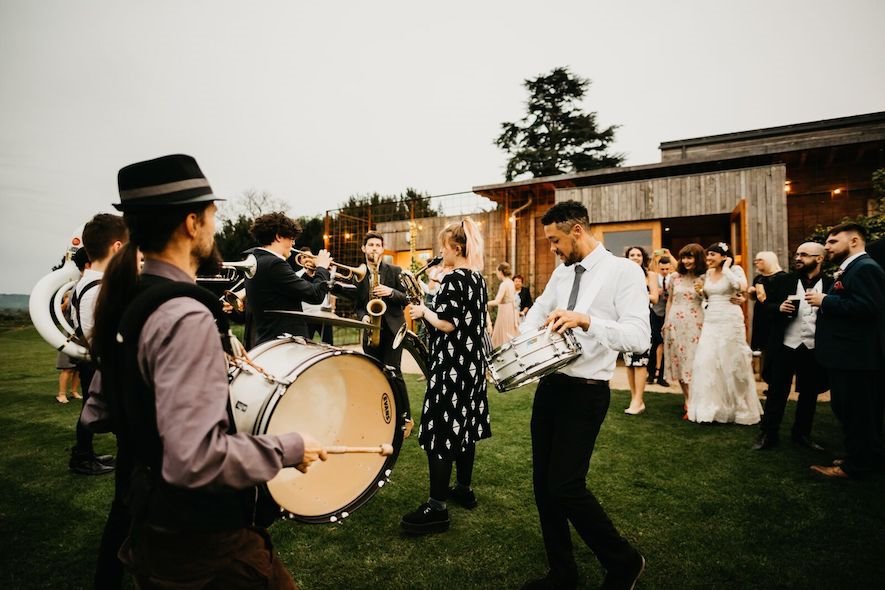 Other entertainment came in the form of the incredible magician Infiniti, he's definitely the next Dynamo – watch this space! We also had a photobooth and a temporary tattoo station to keep guests entertained.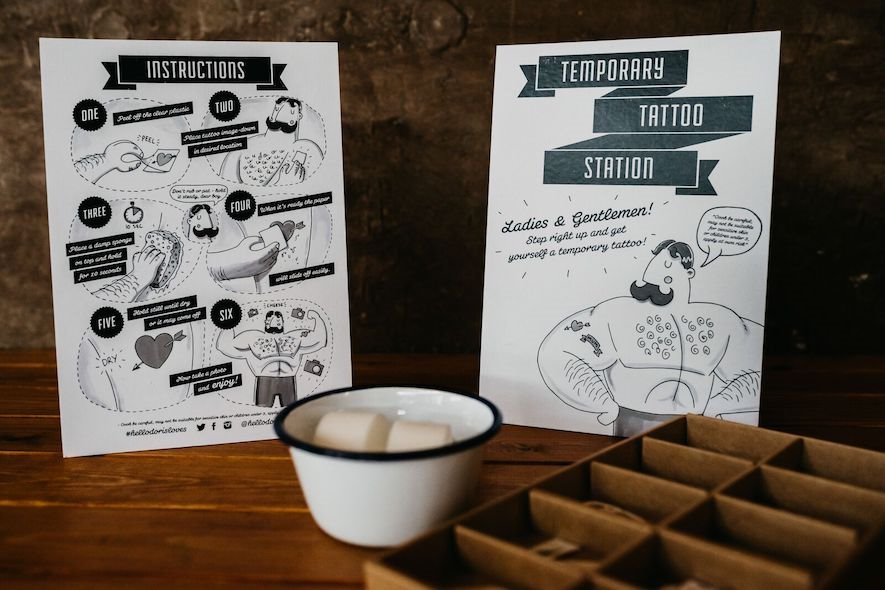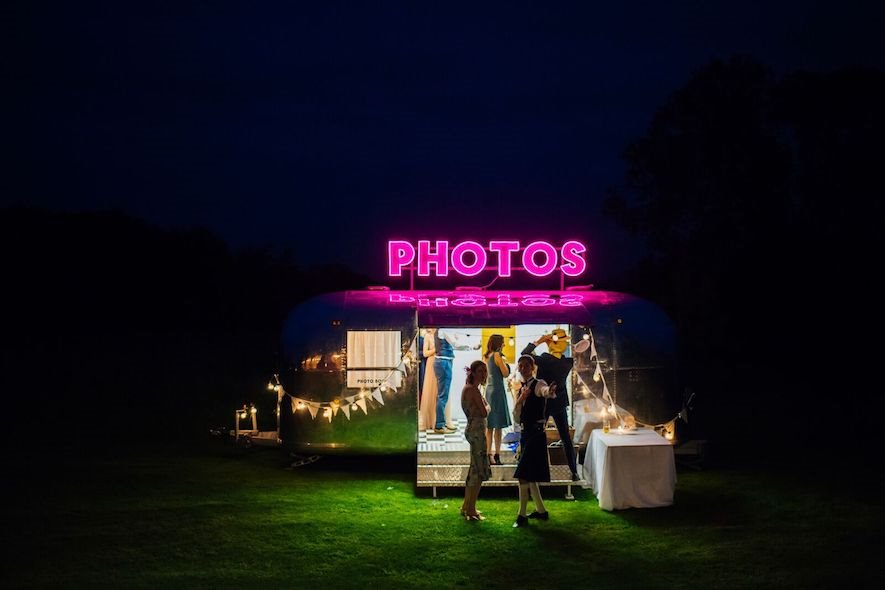 Did you have any personal touches or bits you did yourself?
One personal touch was that in lieu of favours we made a donation to Mind (the mental health charity) on behalf of each guest, a cause very close to our hearts.
What was a particular highlight of your day?
Alex: As incredible as the partying in the Gillyflower was, the ceremony was our highlight of the day. Walking down the aisle to City and Colour with my Dad on one arm and my Stepdad on the other I was overcome with emotion and just couldn't wait to become Joe's wife. 
Joe: Alex looked stunning in her dress and it was the most overwhelming, surreal half an hour of my life! It was a perfect setting for the biggest moment of our lives.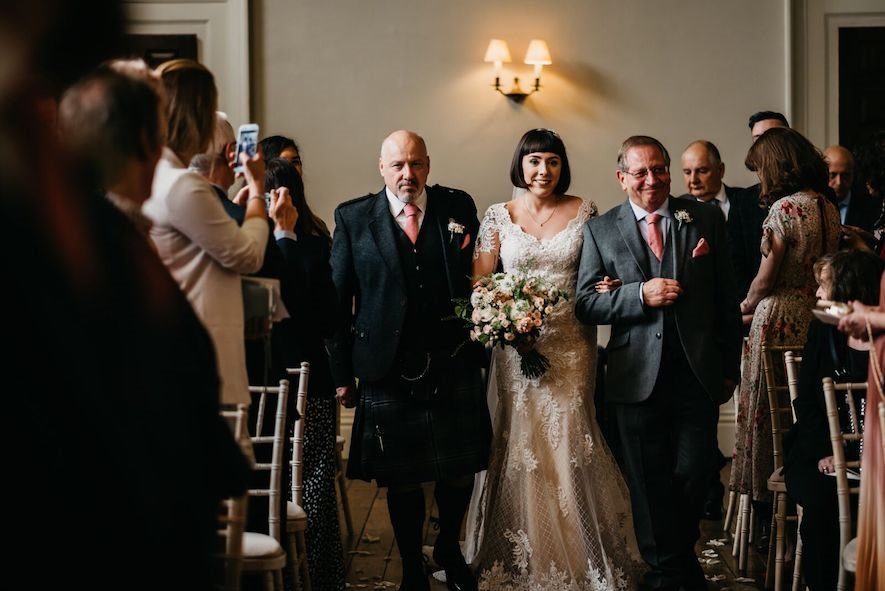 What advice would you give other couples about planning their day?
Make sure you pace out the planning, it's easy to get overwhelmed and to want to book the first suppliers you see especially when you visit wedding fayres. Knowing that we've booked such high quality and reputable suppliers (many of whom were recommended by Elmore Court) filled us with confidence that the day would run smoothly. Try not to get stressed when you're planning as it'll all work out in the end!
On the day try and take it all in as it'll fly by. Be sure to set aside a few minutes to spend time with your partner away from the busyness of the day and, most importantly, enjoy yourselves!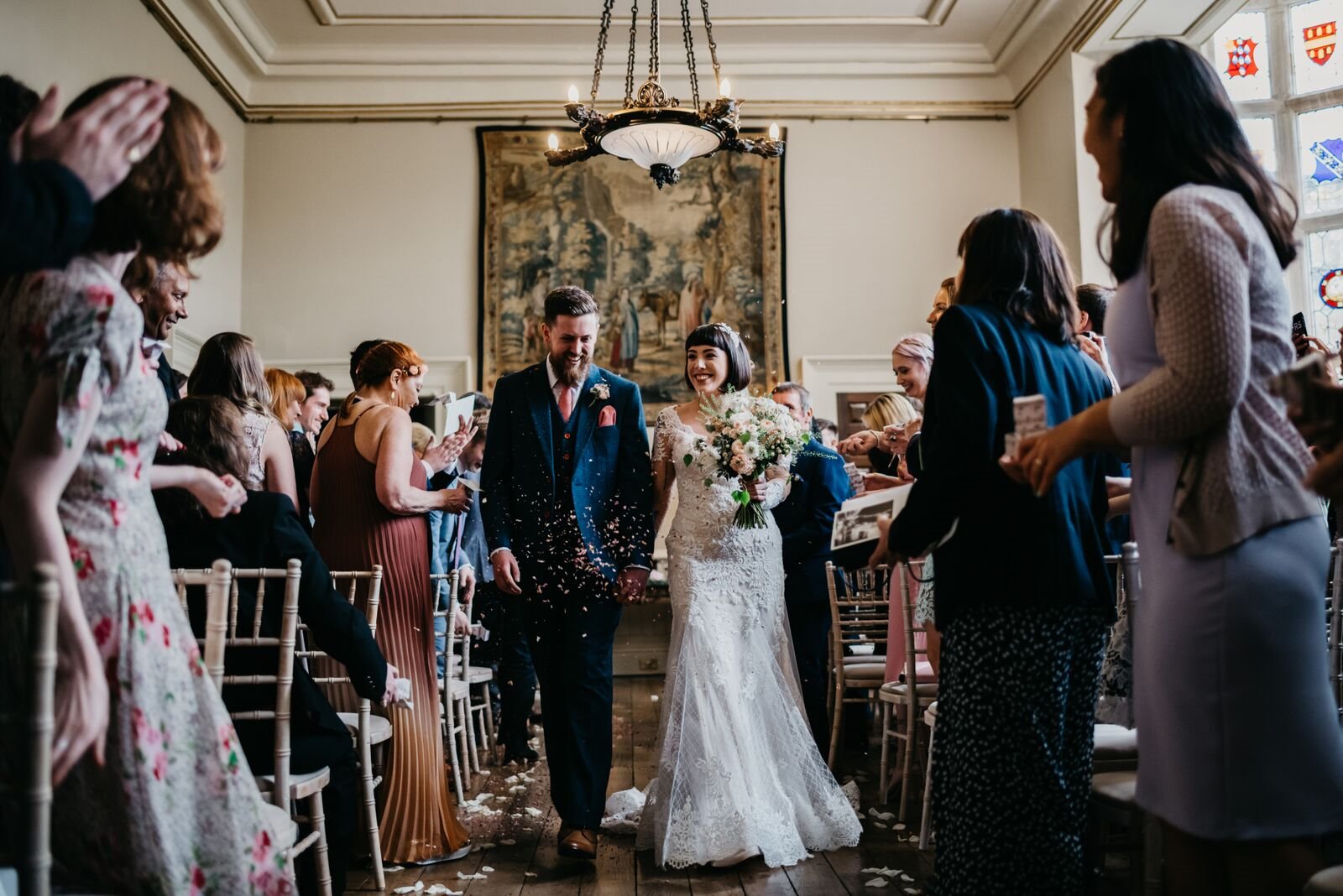 Related reading