A Relaxed Wedding With a Swiss Twist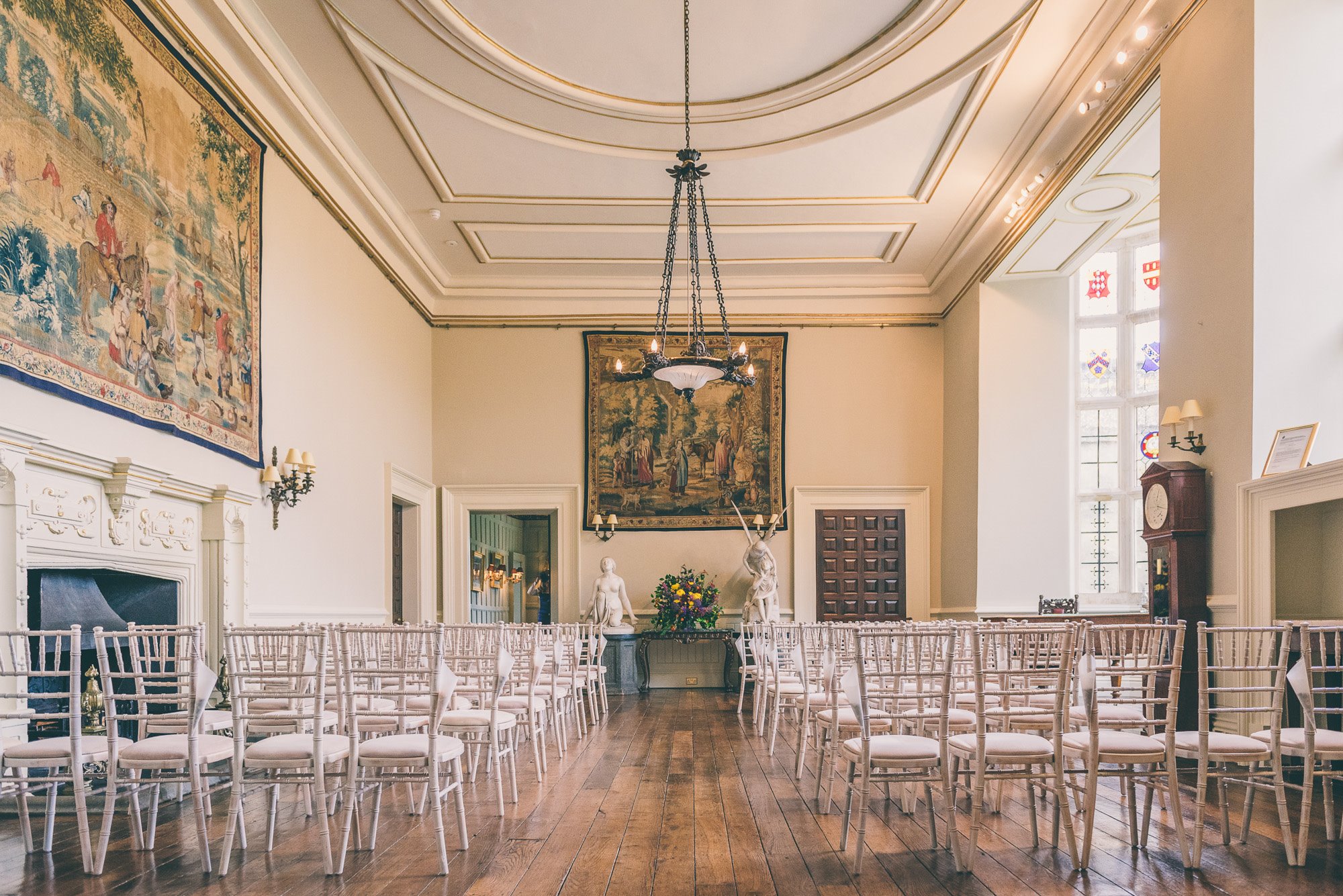 Claire and Stuart married at Elmore after 11 years together, their beautifully simple wedding included little touches of Switzerland and oversized bouquets...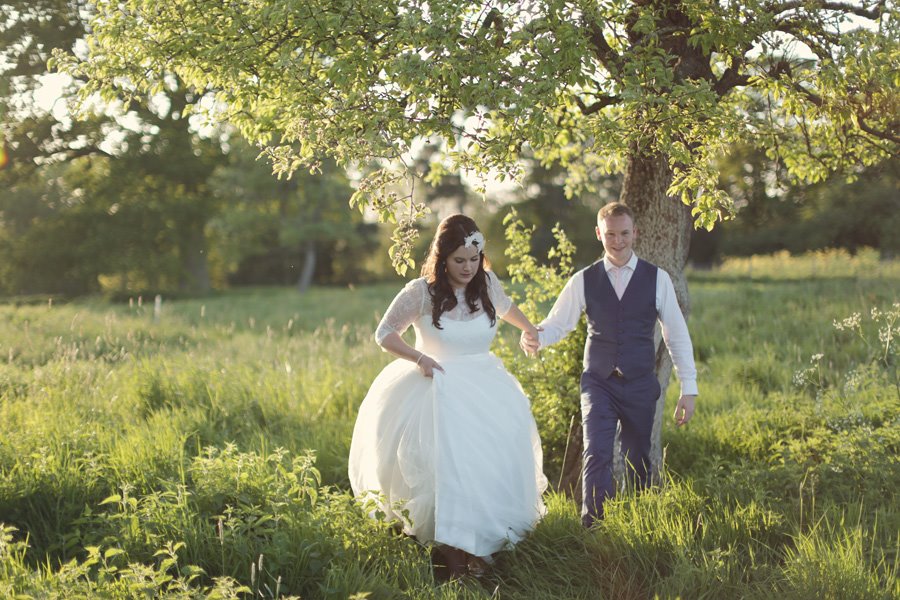 What was your wedding style?
We didn't have a particular theme or colour scheme but knew that we wanted it to be simple with a touch of glamour. We wanted our day to be relaxed but not boring and ultimately it had to be lots of fun, so we went with muted colours (greys, blush and ivory) with a touch of snazzy gold to liven things up.
Having met at school in Switzerland, and with many of our guests travelling from there to celebrate with us, we wanted there to be a few nods to this throughout the day. From the Swiss cow bell our MC carried around for announcements, to the gold Swiss bunny favours, through to the rösti we served at the wedding breakfast, we wanted to show that Switzerland still has a very special place in our hearts.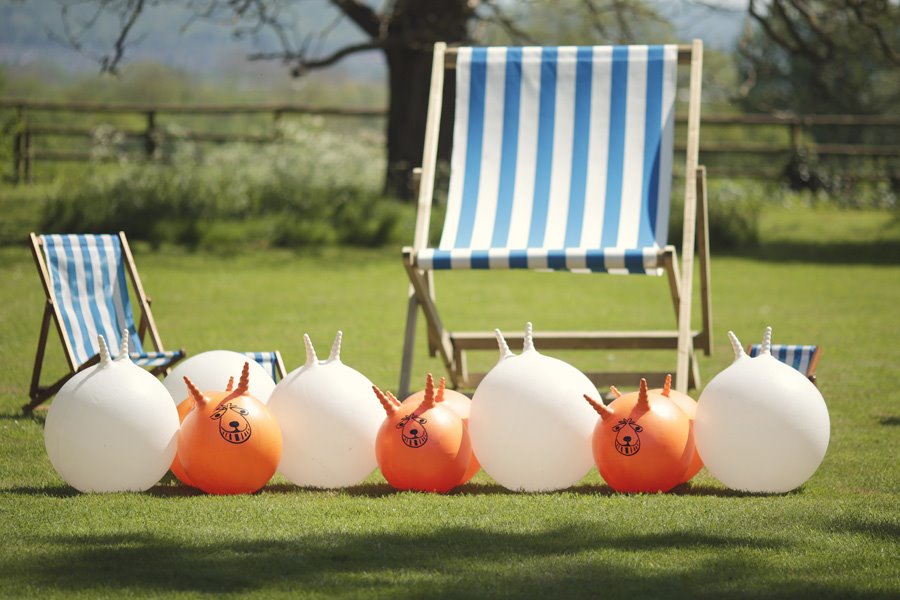 What made you choose Elmore Court for your wedding?
As soon as we pulled up to the gates of Elmore Court, I had tears in my eyes. Elmore Court was the first (and last) venue we looked at; it was just what I had always imagined. Having done quite a bit of research, I really struggled to find a majestic country house that wasn't old fashioned, stuffy and a sea of red carpets.  We loved the combination of the old school elegance of the main house for the ceremony and the modern, openness of the Gillyflower for the reception. The stunning bedrooms were just a bonus at this point! 9 days after getting engaged, and not having looked anywhere else, we'd booked Elmore Court – that's how sure we were that it was 'the one'.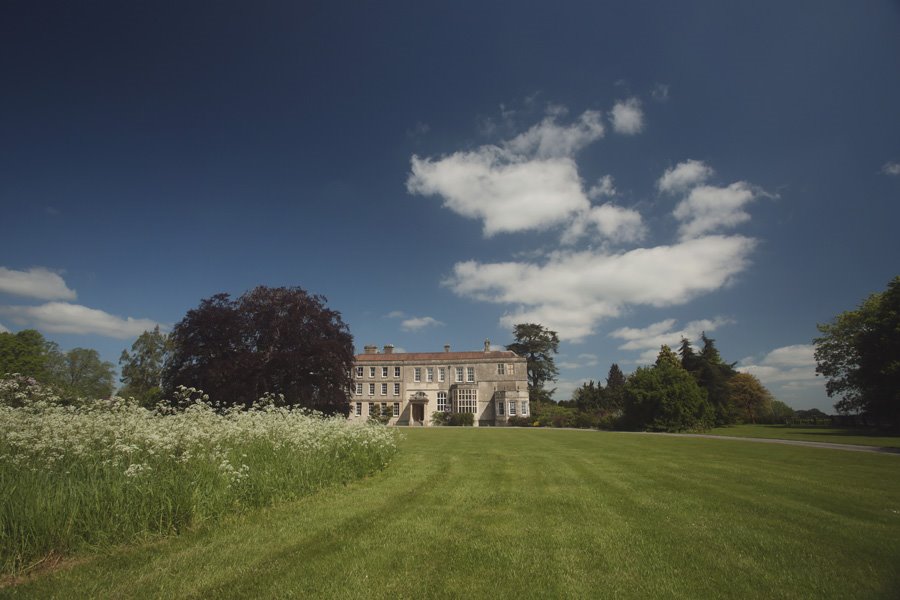 What flowers did you choose?
Peonies and hydrangeas have long been my favourite flowers, and the lovely ladies at The Bespoke Flower Company hooked me up!
I wanted there to be voluminous, massive flowers everywhere, so we went with large blooms for the bouquets (my bouquet was pretty heavy because of how gorgeously full it was!) and the table arrangements. We chose to have hydrangeas along the aisle and opted for a stunning urn full of lush flowers and greenery at the front to really set the tone.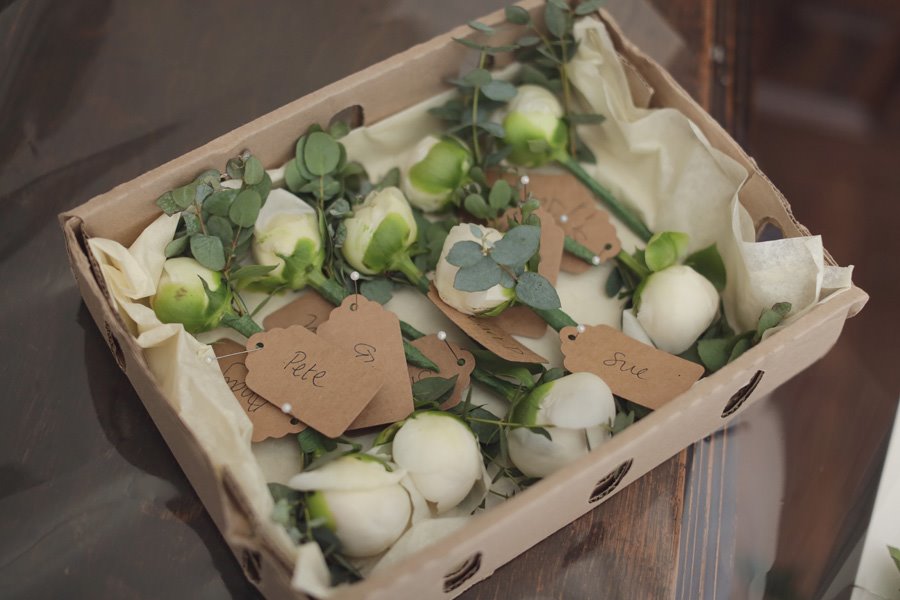 Tell us your dress story
I loved my dress! I was so worried about the whole process but in the end the dress was everything I hoped for, and I felt wonderful in it all day.
I found it in the first shop I went to – White Mischief Bridal in Henfield. Sandra and the team are absolutely amazing, so helpful and so patient; as soon as I was introduced to the Augusta Jones dresses, I knew I was on the right track. Augusta Jones lets you edit and add to any of the dresses – my Pinterest dream could be a reality!!!
I knew I wanted something A-line and with sleeves. As soon as I tried on the Nina dress with tulle skirt, silk belt and delicate lace ¾ length sleeve top on my second visit to the shop, there were happy tears all round. I loved how soft the end look was – classic with a modern twist.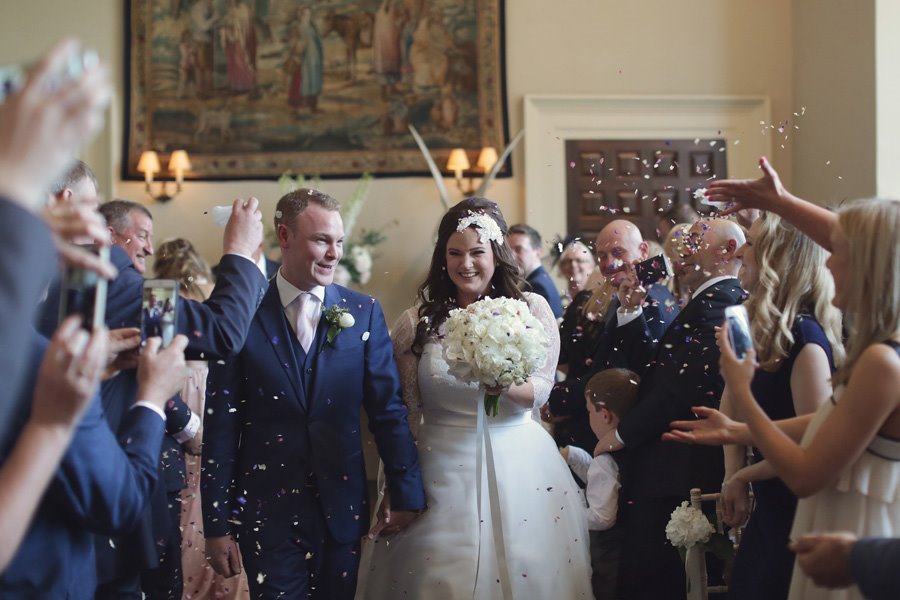 As my dress was so simple, I wanted something quite bold in my hair. I spent hours looking for the perfect piece – I came across Gillian Million at a wedding fair and although they were out of my price range, I just couldn't get her stunning headpieces out of my head! So my sister and I made a trip to her boutique in Teddington and as soon as I tried on 'Agatha' I knew I couldn't leave the shop without it. I loved how it finished off the look and how interesting it looks in the photos – I'm so happy I decided to go for it.
What did the bridesmaids wear?
All of my beautiful bridesmaids wore blush floor-length gowns from David's Bridal. I thought having five bridesmaids would be a challenge when it came to the dress hunt, but we had so much fun trying on different gowns – there are some bad dresses out there! The relaxed but elegant style they chose in the end looked fabulous on all of them – honestly, I think the fact that the dresses had pockets made it an easy win!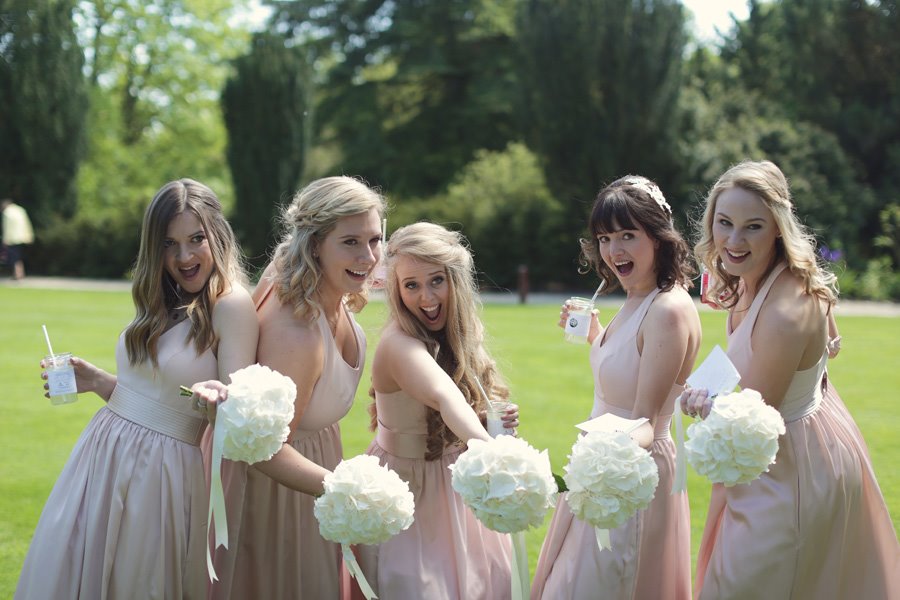 And the groom/groomsmen?
Stu has to wear a suit every day for work so he decided to treat himself to an extra special outfit for the big day. He knew exactly what he wanted, and ended up buying the first one he put on – a three piece, navy Reiss suit with a blush tie and a pair of brown Loake brogues. He paired the suit with the cufflinks his nanny bought him for his christening, and a watch that I gave him as a wedding present.
We hired the best man's and groomsmen's matching navy suits. On the morning, Stu surprised them all with matching pink socks, personalised Swiss army knives and a can of Carlsberg (don't ask!).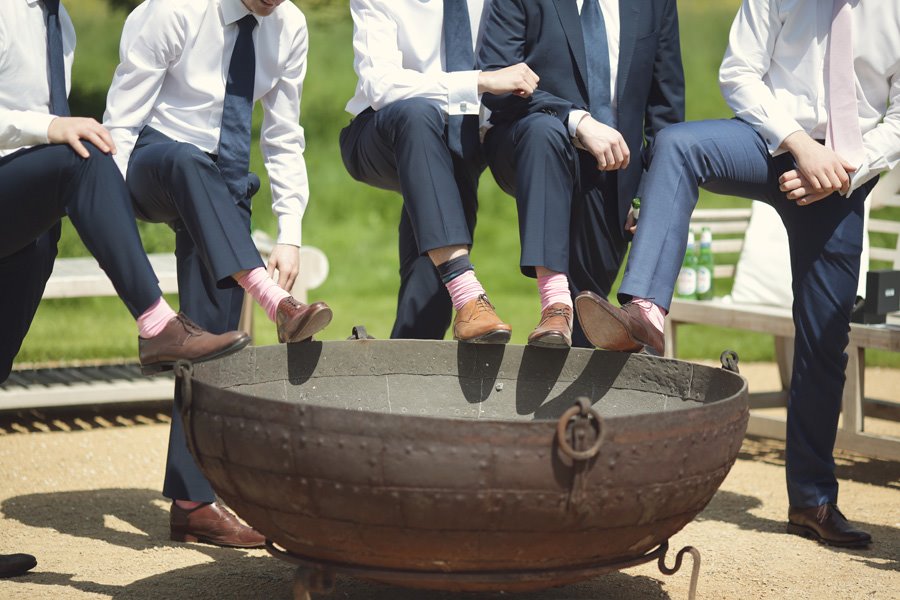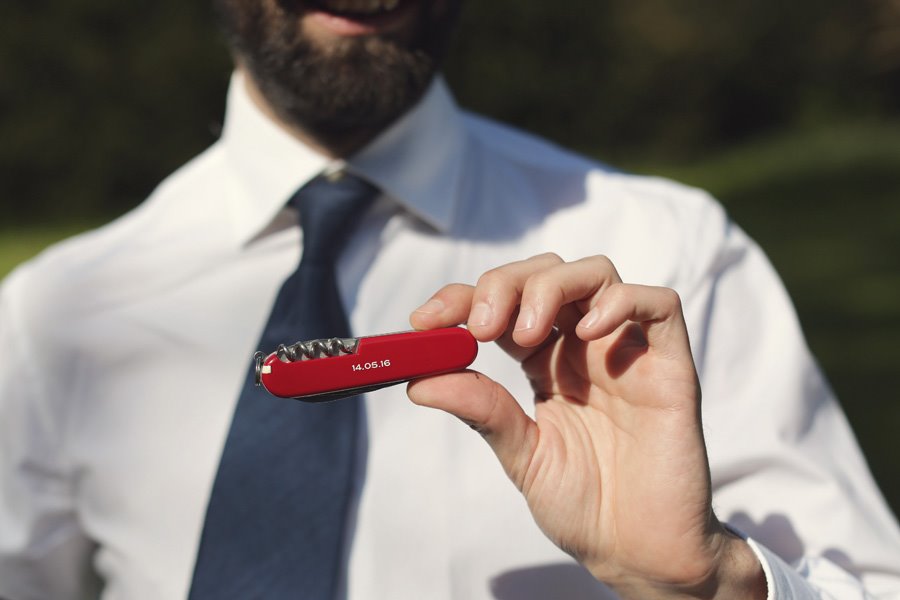 How did you feel?
The morning of the wedding was one of my highlights from the whole day. Getting to spend a few relaxed hours, drinking prosecco with my most favourite ladies in the world, before the craziness of the wedding began, was lovely. I'll never forget sitting in the roll top bath with one of my closest friends, all dolled up, laughing our heads off before we put on our dresses.
I'd worked so hard in the run-up to make sure everything was perfect on the wedding day, that when I woke up early that morning, I knew there was nothing more I could do and could just fully relax and enjoy myself – and I sure did!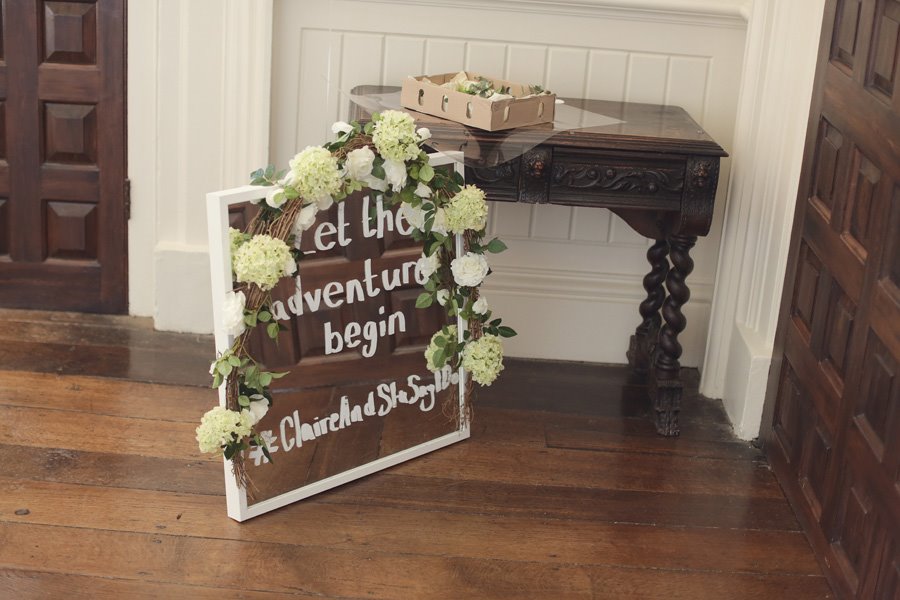 Walking down the aisle felt like a dream; both my dad and I were struggling to hold back the tears but you couldn't tell because I couldn't keep the smile off my face! I had hoped to be a demure and composed bride (not me at all!), but I just couldn't hide how happy I was – I don't think the smile ever left my face!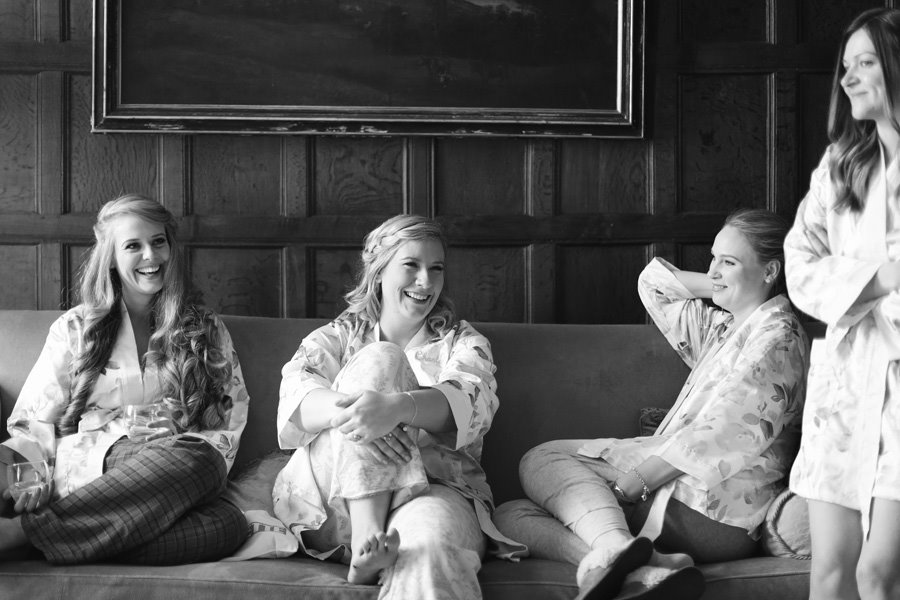 Tell us about the drinks reception
After the ceremony, Stu and I snuck upstairs to really take in what had just happened (plus a take our first wedding selfie!) – I'd definitely recommend taking some time right after the ceremony as it was a lovely private moment. We watched from the window as our guests enjoyed colourful jarred cocktails, ate yummy canapes, chilled out on the huge deckchairs, and played with lawn games and space hoppers.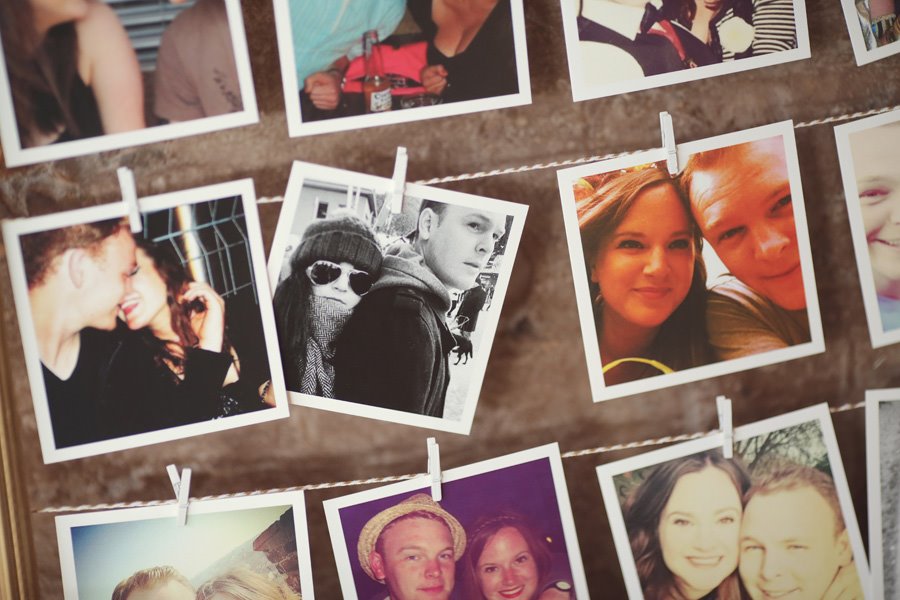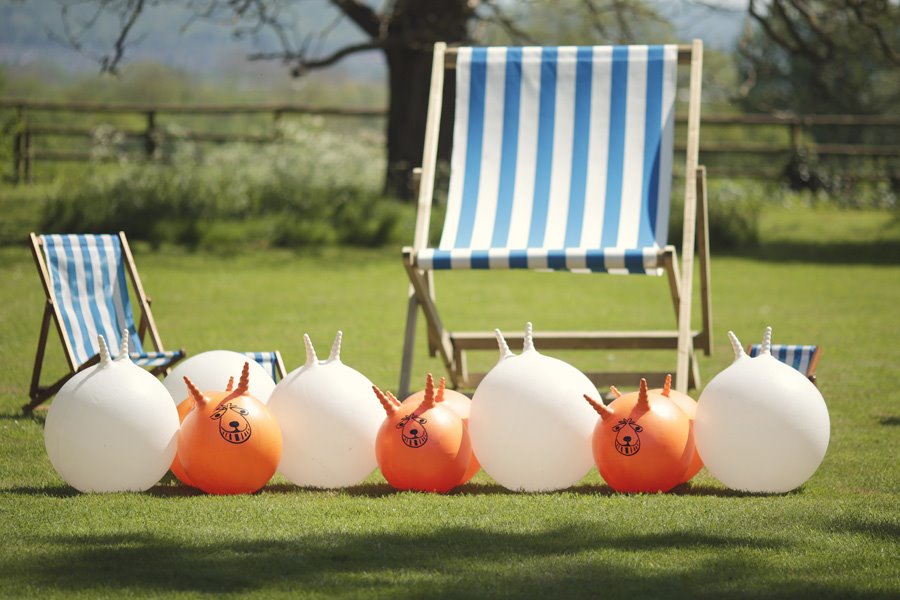 What did you have for evening entertainment, how did you choose your playlists for the day?
We wanted our evening to be full of music, dancing and laughter so we chose a mixture of a pop/rock band, Munch, and a playlist which we made using our guests' song requests on their RSVPs. Seeing my parents throwing shapes to Dr Dre and Snoop Dogg can never be erased from my mind!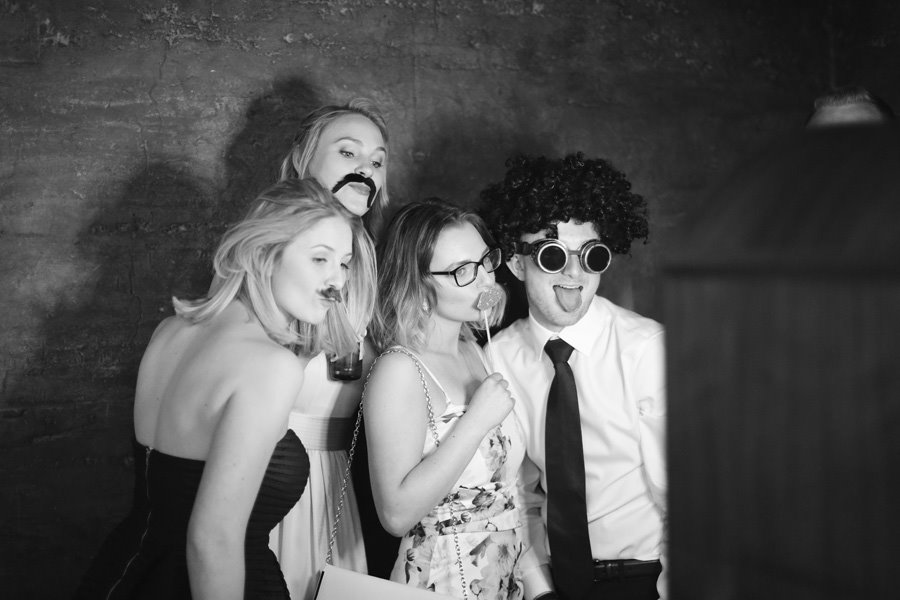 What did you think when you saw the Gillyflower set up with all your décor?
The list I gave Rachel for the set-up of the Gillyflower was so long and detailed, I thought there was no way she'd be able to make it as perfect as it was in my head – I was SO wrong. Everything was just the way I'd meticulously planned it, from the fingerprint guestbook, the glow sticks on the dance floor, the facemats and selfies in the centrepieces, to the photobooth props. It was stunning!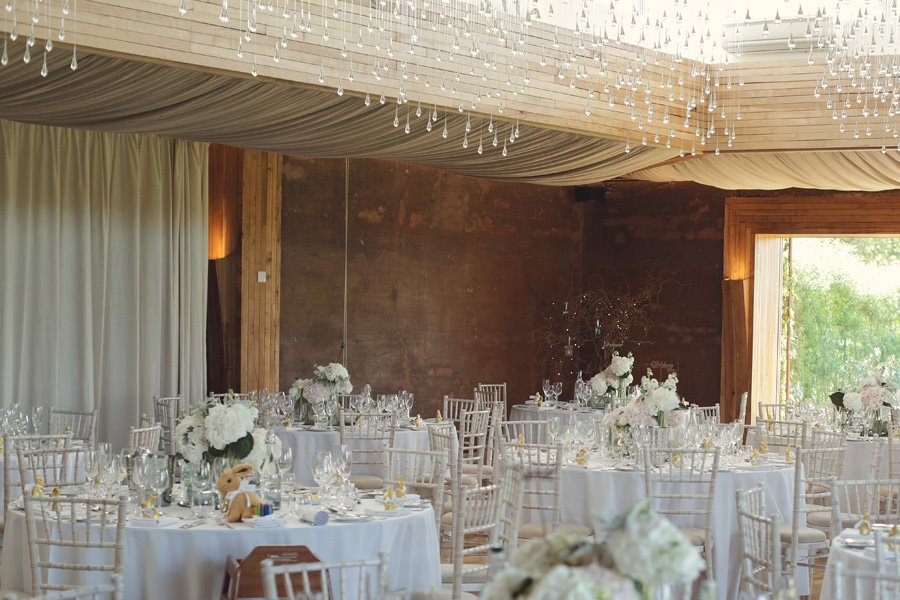 What was your first dance?
Our first dance was Tom Odell – Grow Old With Me. Having been together for 11 years, we found it really hard to pick just one. Stu was dreading the first dance, so we agreed to encourage our guests to come and join us as soon the chorus hit – I think we lasted 53 seconds!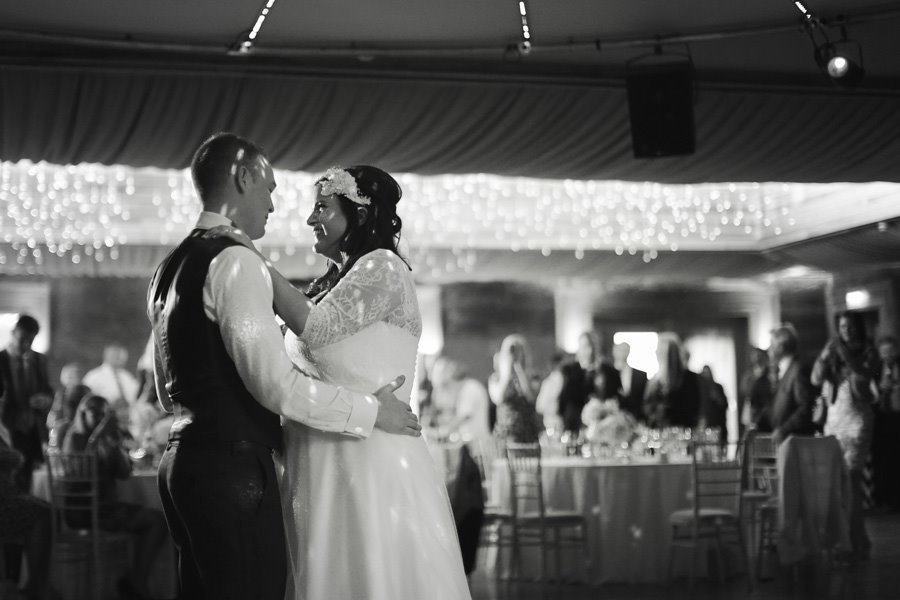 What did you eat and drink?
The food at Elmore Court was nothing short of incredible.
Stu and I knew that food was a really important part of our day for us – our guests would be sat for a few hours enjoying it after all. We wanted our choices to reflect our tastes – indulgent but nothing too fancy.
We started with smoked salmon, cold poached egg and watercress sauce, followed by tenderloin of beef with rosti, and finished with the creamiest of lemon cheesecakes I've ever tasted – how Team E served up over 100 perfectly medium-rare pieces of beef, all at the same time, I'll never know!
So many of our guests have since commented that it was the best wedding food they've ever tasted – this is all thanks to Chloe and her team who were awesome both in the run-up and on the day.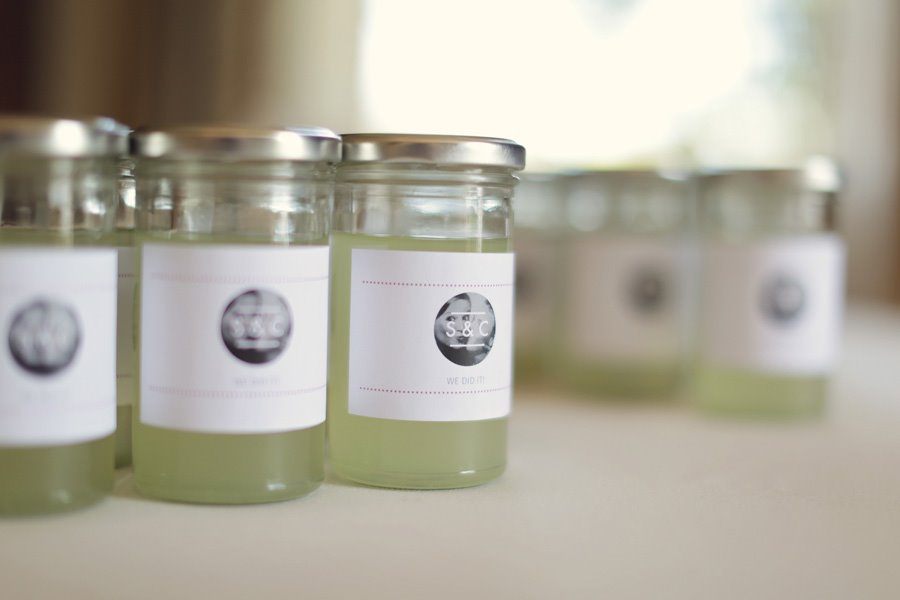 What kind of wedding cake, who made it?
We went with a simple, two-tiered (one chocolate, one vanilla) cake with rustic buttercream icing, made by Fiona at Cupcake Delight. Stu and I managed to have a sneaky piece at the very end of the night and it was delicious!
The cake sat on top of a stunning marble cake stand that I just couldn't resist and was finished with some beautiful peonies and a personalised gold wooden cake topper our MC, Nick, made for us. He also painstakingly created all of our table names which we spray painted gold and put amongst our flower centrepieces.
We filled the cake table with lots of other yummy treats… fudge from Dartmouth in Devon (something Stu grew up with), Swiss chocolates, mini macaroons and Mr&Mrs rock.
For our evening food, we opted for a 'cheese cake' made by Elmore Court – it looked fab and who doesn't like cheese?! We, along with our bridal party, thoroughly enjoyed finishing it off at our 'after party' in the drawing room!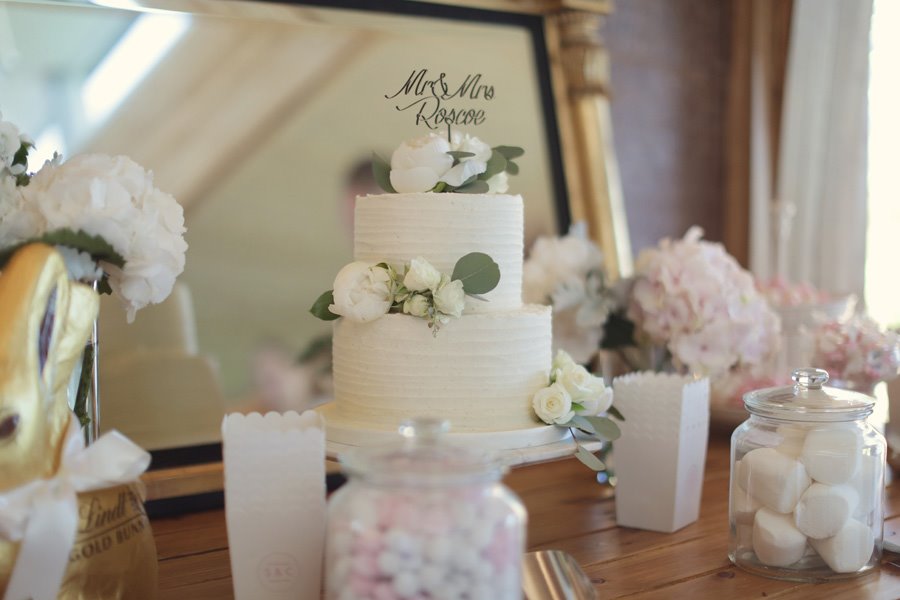 Did you have any personal touches or bits you did yourself?
We wanted our wedding to reflect us a couple and the time we'd spent together, so we tried to have personal touches dotted around throughout the day.
I work as a brand manager, so it was important to me that everything was consistent and on-brand J We created our own logo, font and hashtag and made sure it was on all of our stationery, before, during and after our wedding. It's been so lovely looking through #ClaireAndStuSayIDo on Instagram and Facebook and seeing everyone's photos and perspective of the day.
We spent hours making framed signs, massive sign posts and various photo projects including a polaroid collage and some hanging ornaments for the branches in the corners of the Gillyflower.
Stu used his handyman skills to make a personalised corn hole game, and enjoyed drinking multiple bottles of fancy booze for our ring toss game.
My favourite thing I made was our 'Pimp Your Prosecco' stand, which we filled with cordials, fresh fruit and, of course, gin.
To go along with the prosecco at our drinks reception, we served different types of cocktails in personalised jars – each flavour had a different photo of Stu and I, that were all taken when we first got together at just 19.
My mum was such a superstar in the run-up to our wedding – she bought and labelled (with tiny bits of ribbon) over 120 small, gold Swiss Lindt chocolate bunnies which served as our place settings and our favours (plus a cuddly toy version for our adorable flower girl, Eva).
She also lovingly decorated some of my signs, and the prosecco stand, with flower garlands and ribbon.
To top it off, at a visit to one of Elmore's Oomskas there were some plants on the front steps which I mentioned to my mum – before I knew it, she'd planted hundreds of bulbs so I could re-create the look!
One of my bridesmaids drew a beautiful illustration of Stu and I in our honeymoon car being lifted by balloons, which we framed, put on an easel next to some ink pads and asked our guests to leave their mark (their fingerprint). I can't wait to put it up in our flat!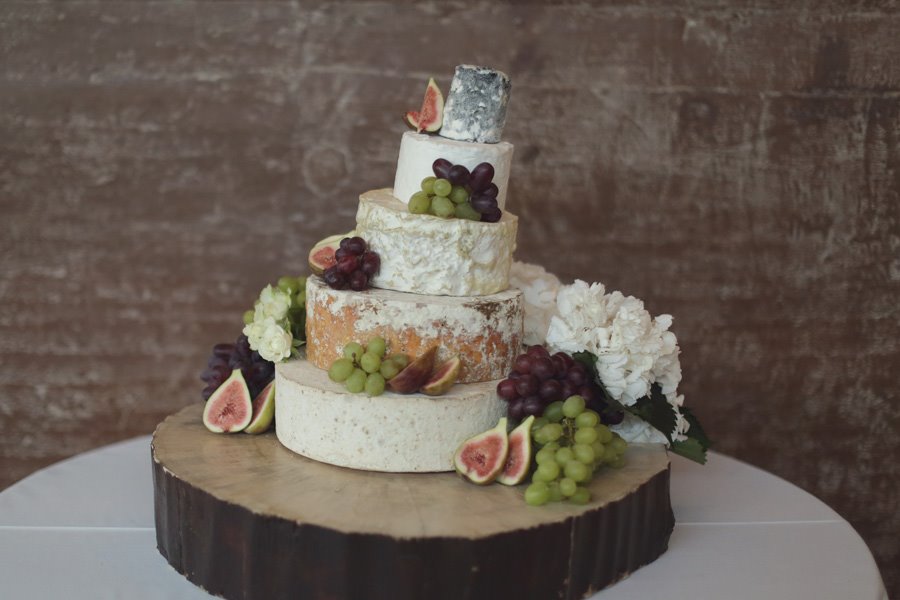 What was a particular highlight of your day?
CLAIRE: Probably my ultimate wedding memory is dancing with my new husband to our final song of the night (Take That – Never Forget) with all of our guests, arms linked, singing and dancing in a big circle around us. I've never felt so much love in one room.
STUART: My highlight was walking into the Gillyflower (which looked better than I could have imagined or organised myself – thanks Claire!) as a married couple where everyone was waiting for us. Entering the room full of applause and cheers from all of our friends and family was one of my happiest moments of my life; I couldn't wipe the smile off my face.
What was your biggest surprise of the day/special moment?
Biggest surprise
CLAIRE: The ceremony itself was far more intense and emotional than I had imagined. I just remember staring into Stuart's eyes and seeing how happy he was. I'll never forget seeing all of the smiling faces and knowing that everyone was there for us and to see us get married (finally!). It all ended with a massive cheer from all of our wonderful friends and family – the registrar later said she'd never heard one like it.
STUART: The biggest surprise of the day for me was my speech. As someone who isn't too comfortable with public speaking, I was dreading the moment I had to stand up and speak in front of everyone. The time came, I started off nervously, but soon settled into it and ending up enjoying it – I never thought I'd be saying that!
Special moment
CLAIRE: At the very end of the night, after saying goodbye to the majority of our guests, Stu and I had a little slow dance under the outdoor disco ball hanging from the cedar tree. Seeing Elmore Court all lit up and staring into my new husband's eyes was just magical! (The copious amounts of bubbles I'd had at that point probably had something to do with it too!
STUART: There were lots of special moments on the day, but one that stands out was straight after the wedding when we went up to our bridal suite, which was the perfect setting for us to have a moment to ourselves. We had a little kiss and a cuddle (although the reality of marriage still hadn't sunk in at this point), then looked out of the window to see the beautiful grounds of Elmore Court full of our family and friends on the lawn, all there just for us. With my parents being no longer together, it's rare to see them at the same time, but seeing them talking and laughing with each meant so much to me.
Top tips for other brides:
I wish I'd known…
Not to worry so much about the dress hunt. You WILL find the perfect one and you WILL feel fabulous!
 
Get a videographer! Our wedding video is the perfect complement to our photos and I'm so glad we decided to budget one in. It's such a lovely memento and really captures the tone of the day. I think my mum has watched it almost every day since!
 
Photobooths are fun! Getting a photobooth was a last minute decision and it was such a great addition to the day. Not only did it give our (drunk!) guests some extra entertainment, the photos themselves are hilarious!
 
Relax. There's nothing you can do on the day, so just enjoy yourself and live in the moment.
 
Team E are amazing. Put your trust in them.
 
Planning is key. I LOVED planning my wedding and although it was super stressful at times, it was all more than worth it when I saw everything in place.
Any funny stories…?
My auntie and my mum's best friend showed up wearing exactly the same outfit – rather than shy away from what could have been a super awkward situation, they decided to become my 'adult bridesmaids'! After stealing some white hydrangeas from somewhere (I'd rather not know!), they had great fun posing with my 'proper' bridesmaids and becoming unofficial members of our bridal party.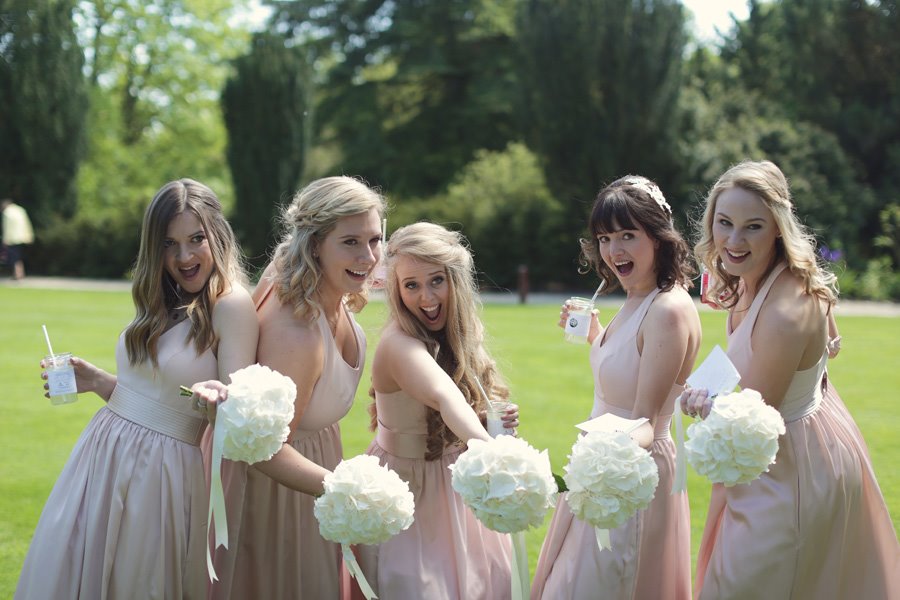 Those fabulous suppliers
Décor (deckchairs, space hoppers and lighting) – Every Event Hire
Extra photos – Samantha Wilson Photography
Thank you!
For more real wedding goodness take a look at some of our other recent weddings at Elmore
xx
Related reading