A Rose Gold Fusion Wedding: Two ceremonies and three dresses...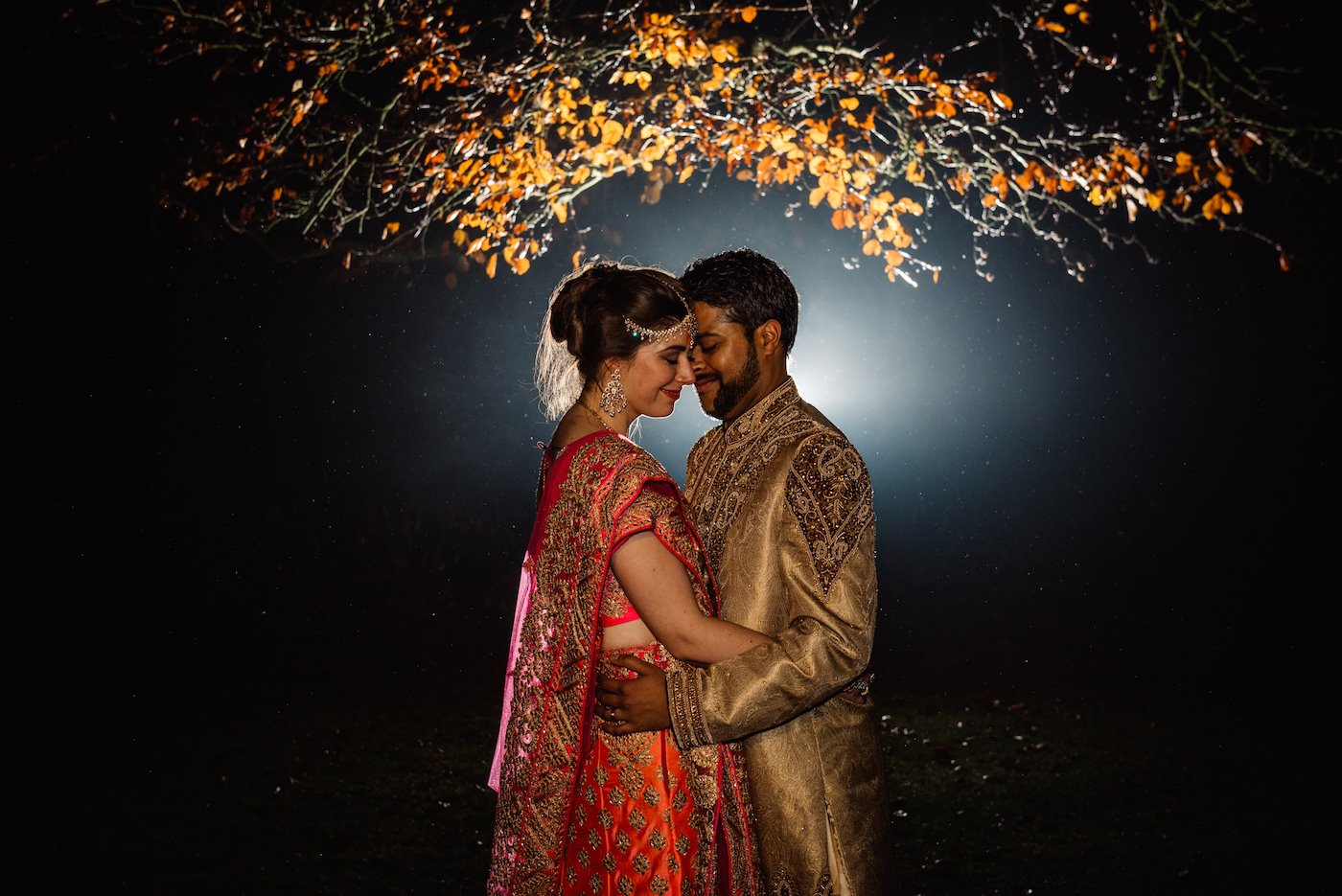 A rose gold and foliage fusion wedding with two ceremonies and THREE dresses... Rebecca and Rajesh's gorgeous day was one to remember. 
The Proposal
We had our first proper date in Oxford, and went there for a day trip the day before Rajesh's birthday. Rajesh took me for a walk by the river, and we ended up in a quiet clearing where he got down on one knee. I had thought he might propose soon but didn't think he would do it on his birthday outing, so it took me by surprise! Just afterwards, a punt went by and we told them our happy news; they circled back and gave us a bottle of prosecco and glasses!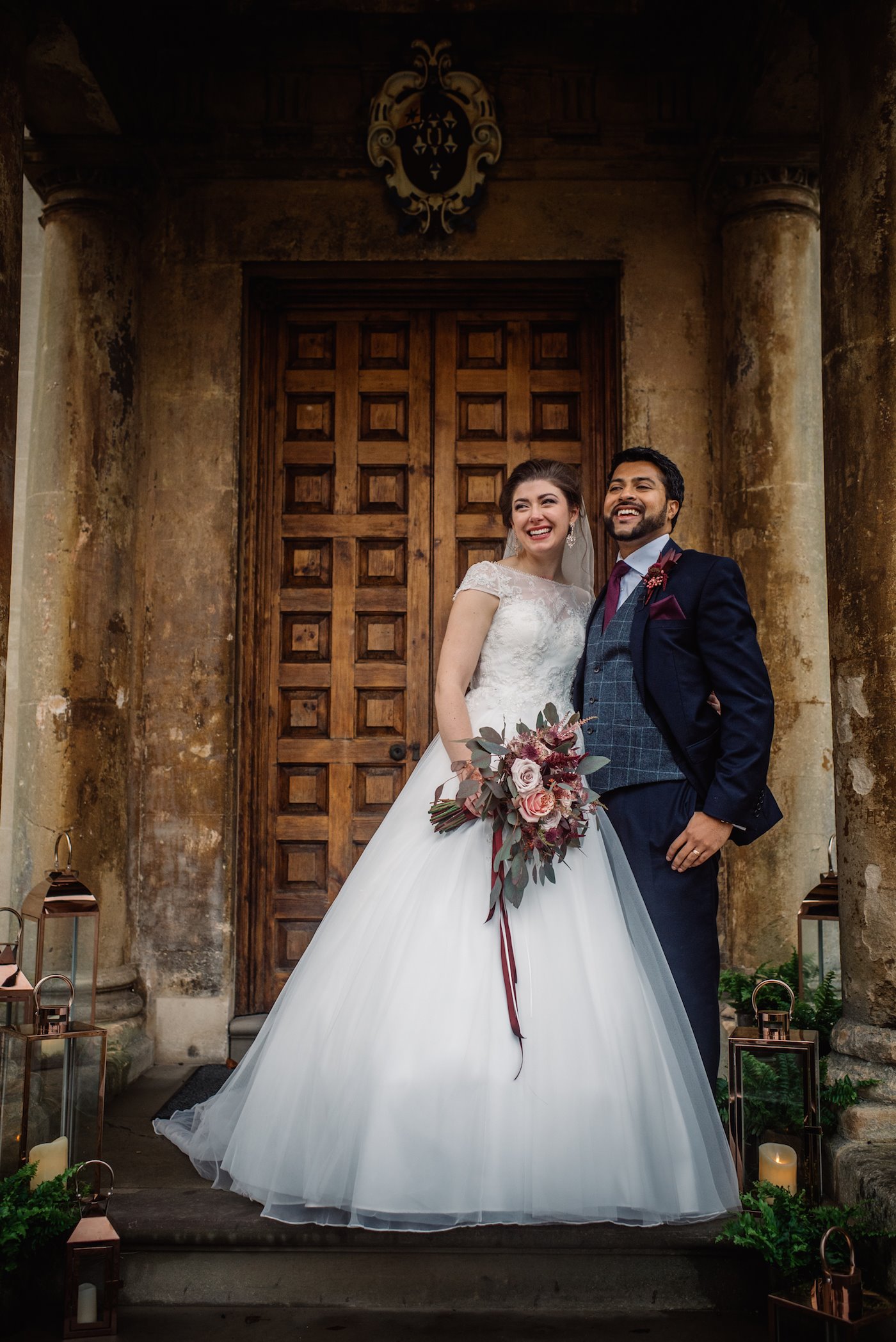 How did you find Elmore Court?
We wanted a beautiful country house wedding venue which didn't feel like a corporate hotel chain... and we needed a venue that could cater to our number of guests, which had two separate rooms for our Civil and Hindu wedding ceremonies, and which would allow us to have a ceremonial fire indoors... we found all of that in Elmore! Once we visited we knew it was the perfect venue for us, and we loved the freedom we had in bringing in our own décor suppliers to make our wedding personal to us and our guests. 
Our wedding co-ordinator Leesa was an absolute star, answering all our questions, liaising with suppliers and being unfailingly calm and cheerful on the day. We love you Leesa!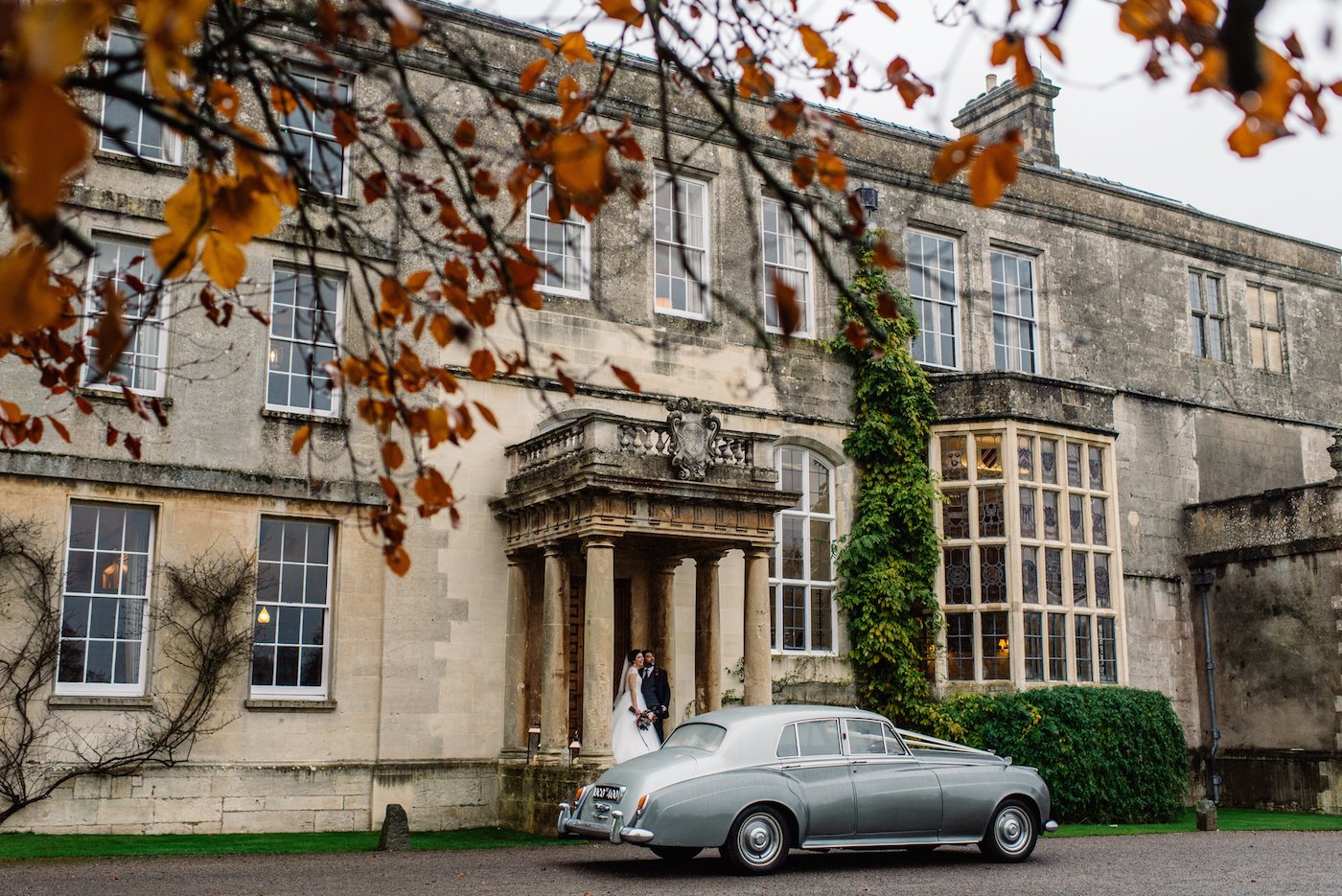 The Guest List
We had 130 guests, which isn't a lot for an Asian wedding, but we wanted to keep our day quite intimate. It was also very important for us to have all our guests with us for both wedding ceremonies and the reception. It was just the right number of guests; we were able to go around and speak to everyone and had plenty of photos with them, and everyone crammed into the bedrooms at Elmore to get changed before the Hindu wedding!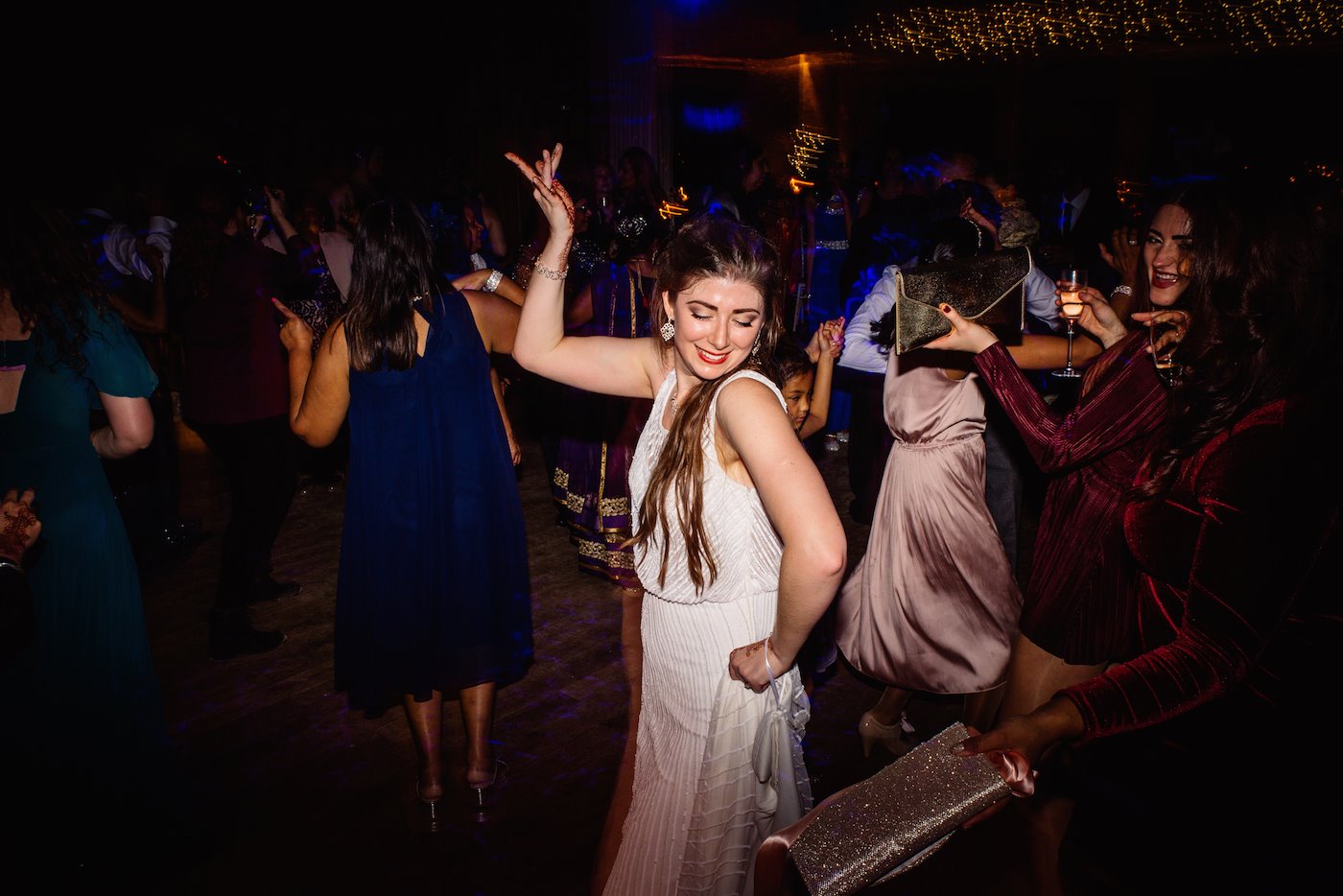 Did you enjoy wedding planning?
We had originally intended to make or buy as much as we could ourselves, but we quickly realised that organising two weddings, not to mention having them both in one day, meant that we weren't going to have much time!
We did hire a wonderful company (Teapots&Tiaras), who did the floral arrangements and the décor for the Civil Ceremony and Reception. Dawn and Keith could see exactly the style we wanted, and we were able to look at and choose from their hundreds of lovely décor items. The effect on the day was completely breathtaking, and better than we could have imagined!
We also worked with the fantastic Mayur Art Mandap, who set up the Gillyflower for our Hindu ceremony. We chose a wooden Ganesh Mandap, which fitted in so well with the wood and earthy colours in the Gillyflower, and a cream aisle carpet. The room looked absolutely stunning; we were so sad that everything had to be taken out straight after the Hindu wedding to turn around the room for our Reception!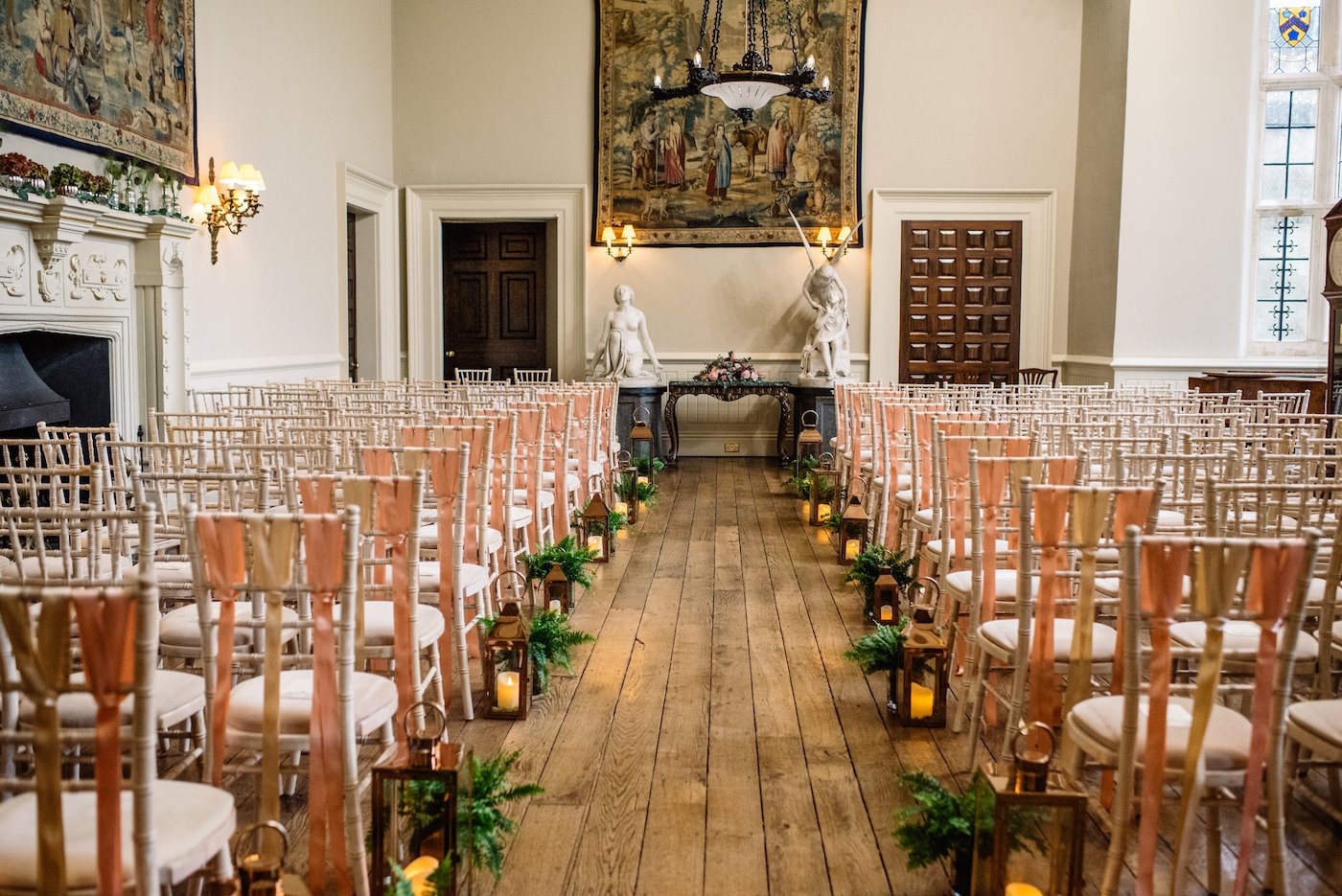 How did you find your photographer?
Google! As we had such a busy day planned, we wanted someone who knew the venue and found Nikki Cooper, who loves photographing Elmore. We loved Nikki's relaxed style of photos, and the gorgeous rich colours she captures. When we met her for a pre-wedding shoot in the Cotswold village of Lower Slaughter, she immediately put us at ease with her sweet, friendly manner. Nikki works with her husband Ben, and the two of them worked tirelessly all day to capture two weddings, three outfit changes and countless other moments of our day! Not to mention Nikki helping me get dressed and Ben carrying Rajesh's mum's bags up to her room!
We also had Tobe Productions filming our wedding. Tobi and his partner Eva are every bit as kind, personable and lovely as Nikki and Ben, and they stayed with us until nearly midnight despite having to travel back to London after the wedding. We found Tobi on Bidvine, and although he hasn't been in the wedding videography business for that long, his videos are stunning, and we are now so glad that we are able to look back on all the special moments from our day.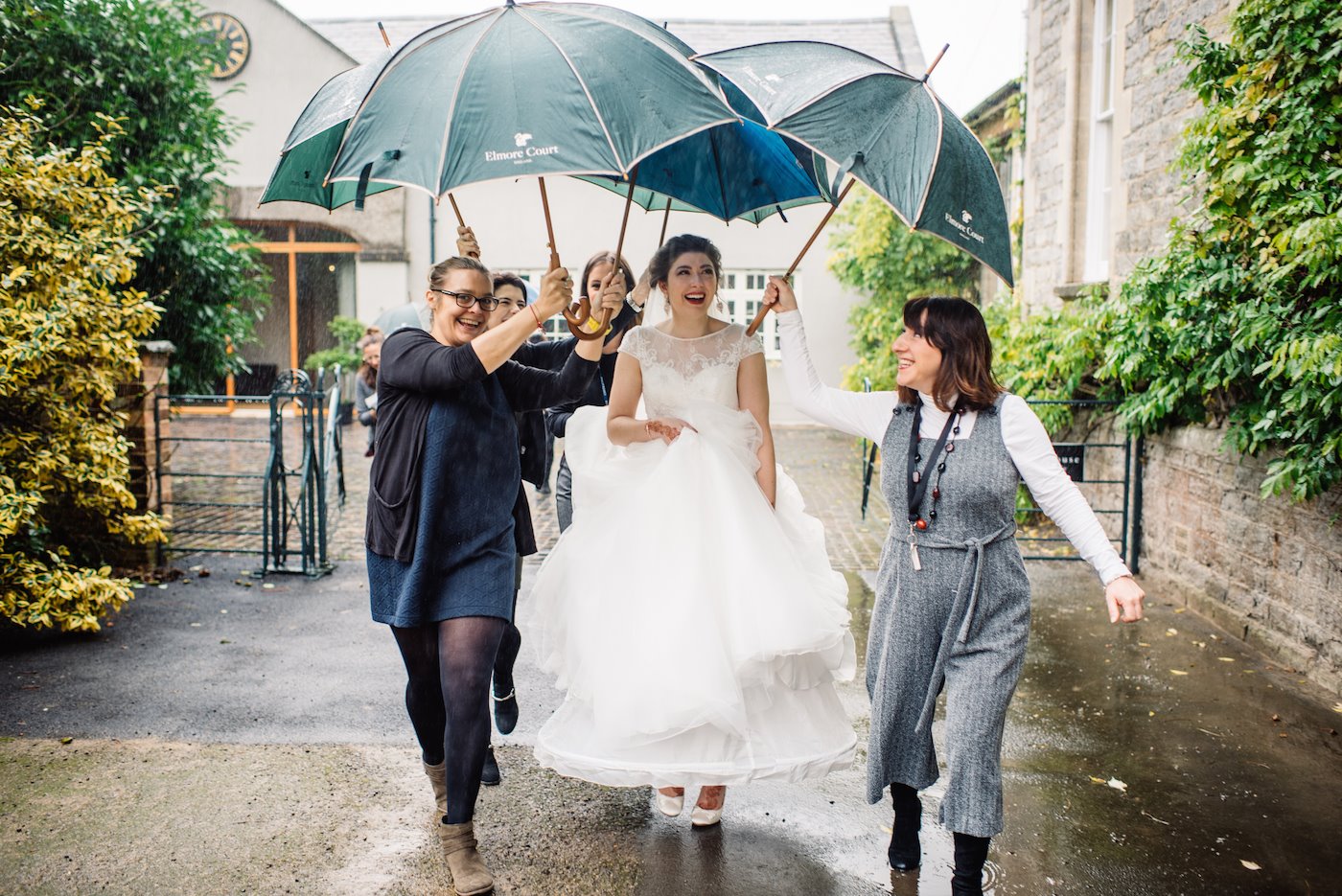 Who was your dress by and how did you find it?
I popped into a discount wedding shop on a whim and left with two dresses! As we were each going to wear three different outfits through the course of the day, I didn't want to spend a fortune on my dresses (I only wore my Civil Ceremony dress for about an hour and a half!). I had looked at lots of pictures of slim, beaded dresses, and was convinced that was what I wanted to wear, but I tried on a princess style dress with a beaded bodice and train and fell in love with it! I then found a dress in the beaded style I had first planned on, to wear for our evening reception. It was made of heavy jersey, with a beaded overlayer, and it was so comfy and easy to dance in (very important!).
I wore some jewellery that Rajesh had given me, but I bought my wedding earrings and hair accessories from Etsy, and my veil was from Amazon! 
I got my gorgeous bridal lengha for the Hindu ceremony from Risa: RCKC in Wembley. I tried on a traditional red outfit, but I didn't feel it suited me, so I chose I hot pink, with masses of crystals and mirror work, instead (with my mother-in-law's blessing!). My wedding jewellery came from Shagoon Jewellery in Southall, and my bangles were from Shri Venilals in Wembley.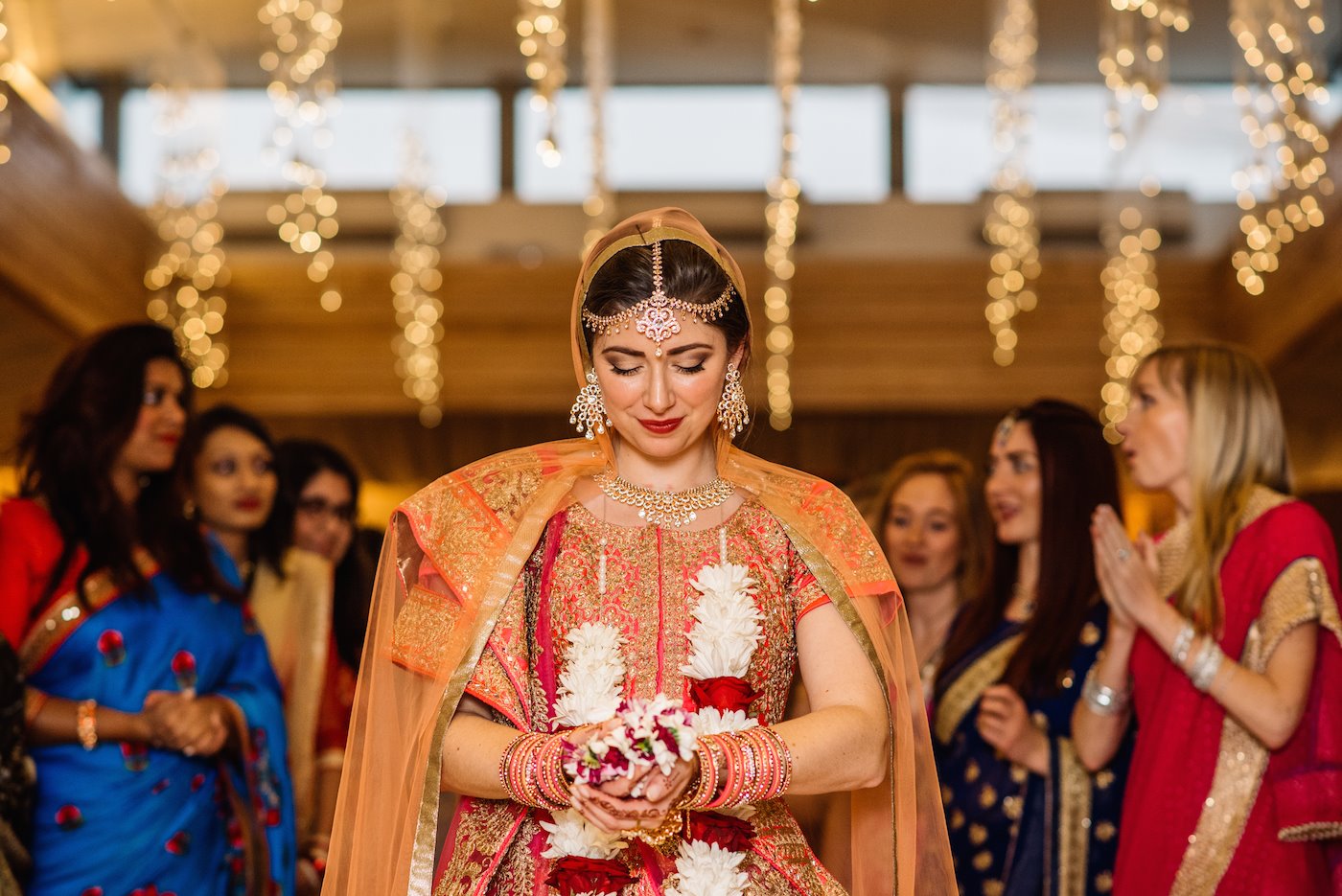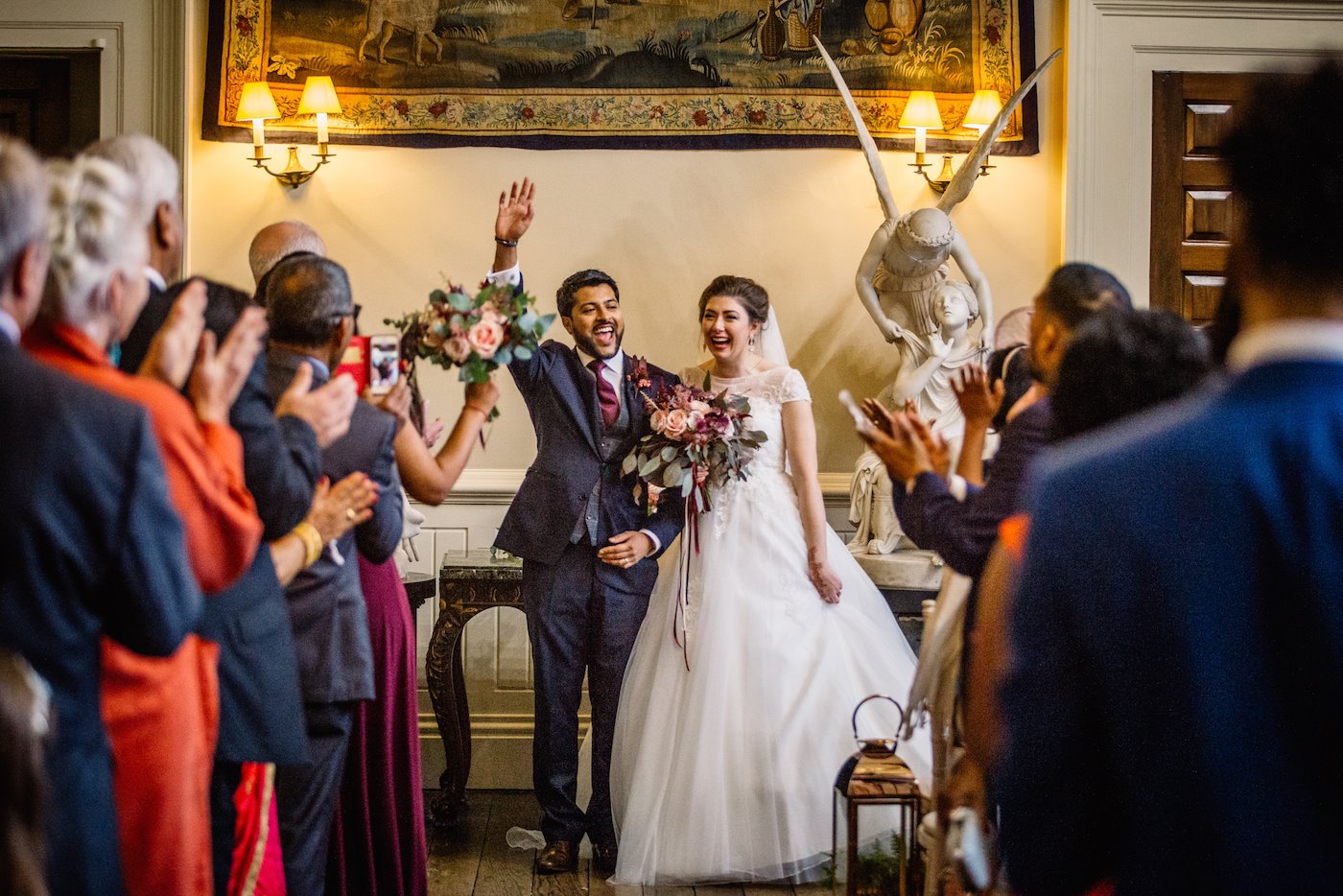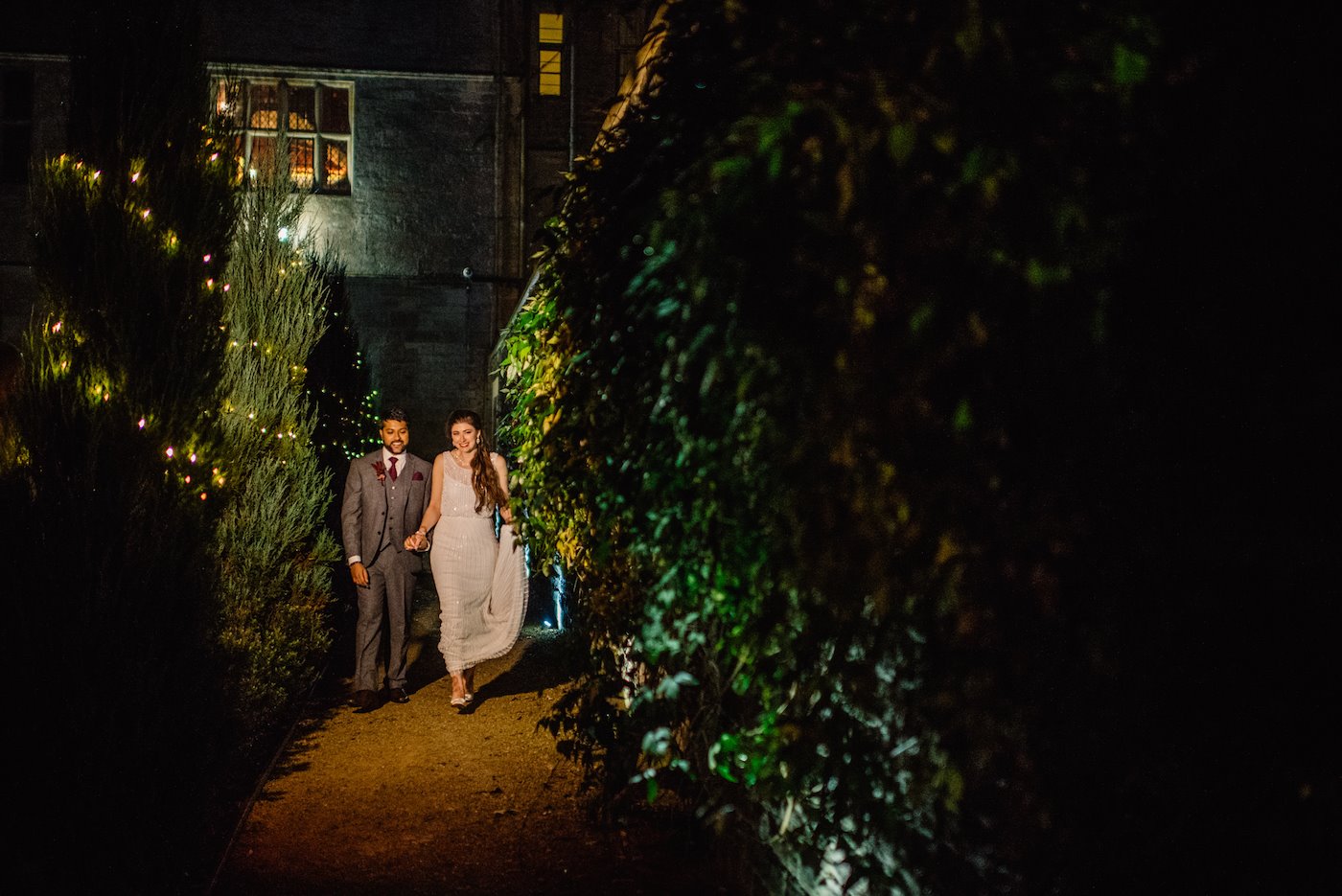 What did the groom, groomsmen and bridesmaids wear?
Rajesh and his groomsmen wore navy blue suits from Moss Bros for the Civil Ceremony; the boys wore a navy waistcoat and Rajesh wore a grey tweed one. Their 'aubergine' ties were almost a perfect match to the bridesmaids' dresses, which were a rich berry colour from Phase Eight. My bridesmaids all have very different colouring, but the dresses looked gorgeous on all three of them and matched brilliantly with the flowers. 
Rajesh's sherwani for the Hindu ceremony was from Laadki in Wembley. Rajesh wanted a specific design, with a sleeveless jacket over the sherwani, and we worked with the team there to design it, choosing a deep golden fabric and dark red embroidery. We loved the finished sherwani, and received such excellent customer service from Laadki that I took all my friends there to buy their saris for the wedding!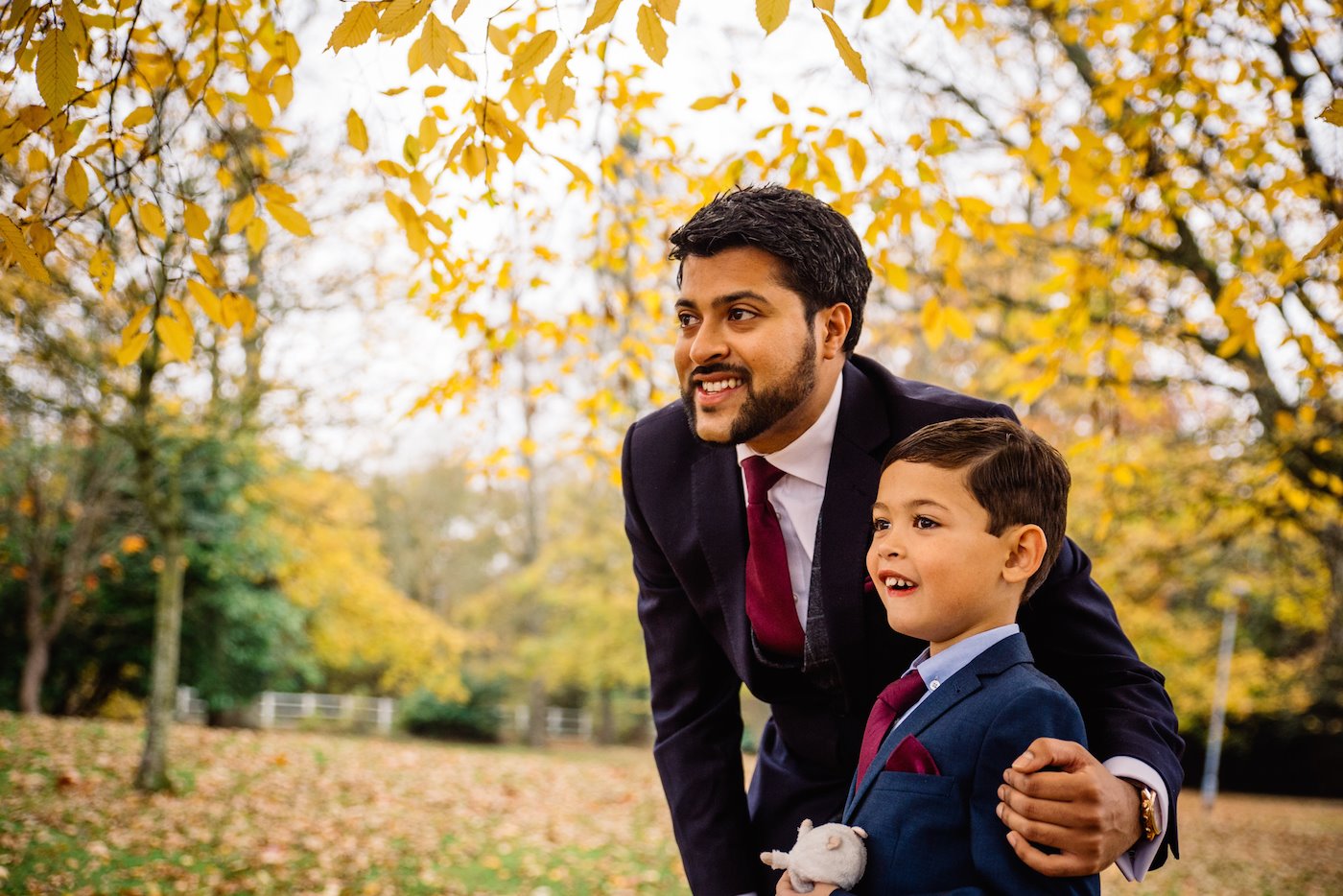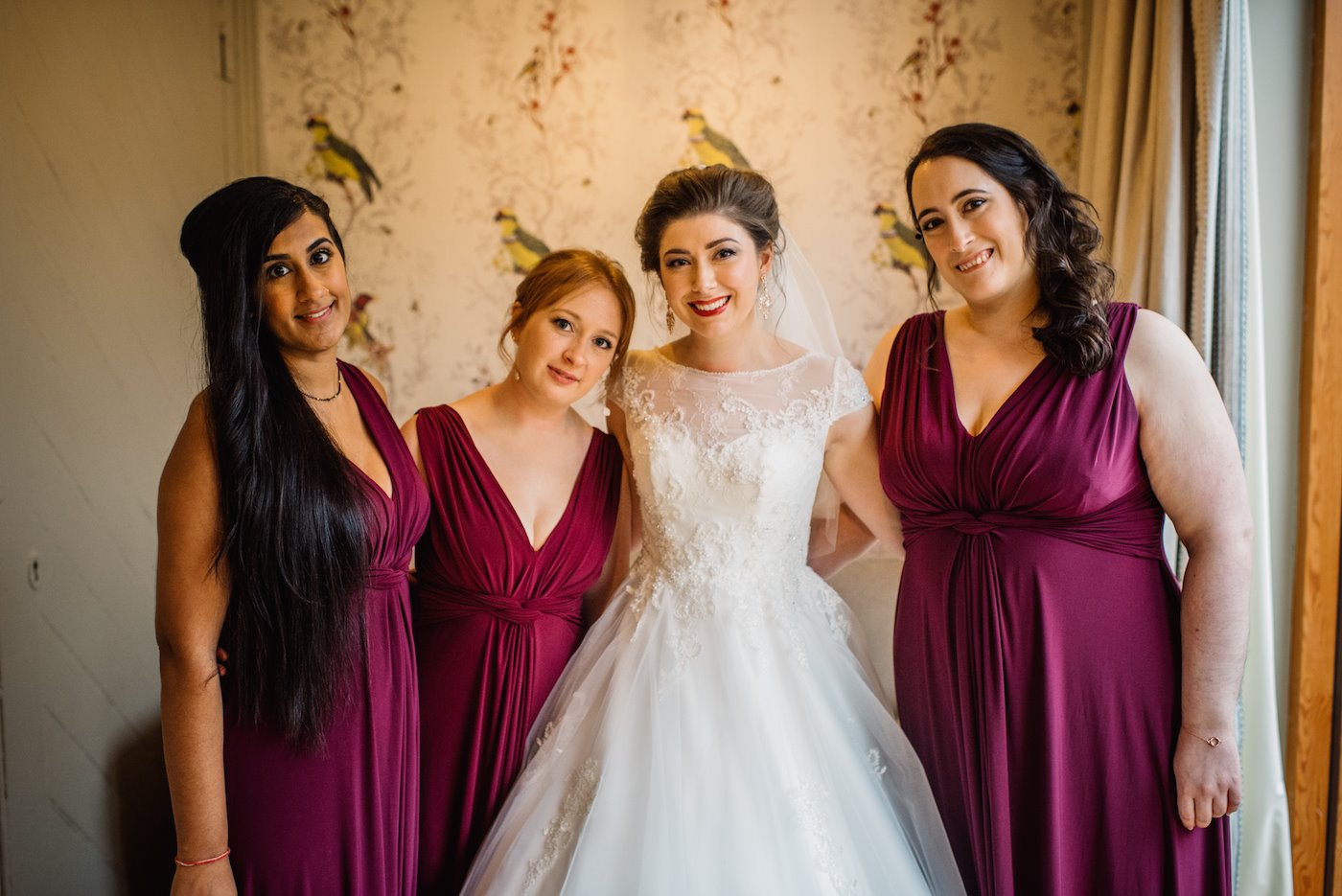 What was your wedding style?
We wanted something that would fit in well with the elegant and rustic style of Elmore, and which incorporated rose gold (both my rings are rose gold). We chose a deep berry colour, perfect for an autumn wedding, and mixed it with blush pink, copper and rose gold; after choosing the colours we were told that we were very on trend! We didn't want anything to look overly feminine so kept the flowers and décor quite simple.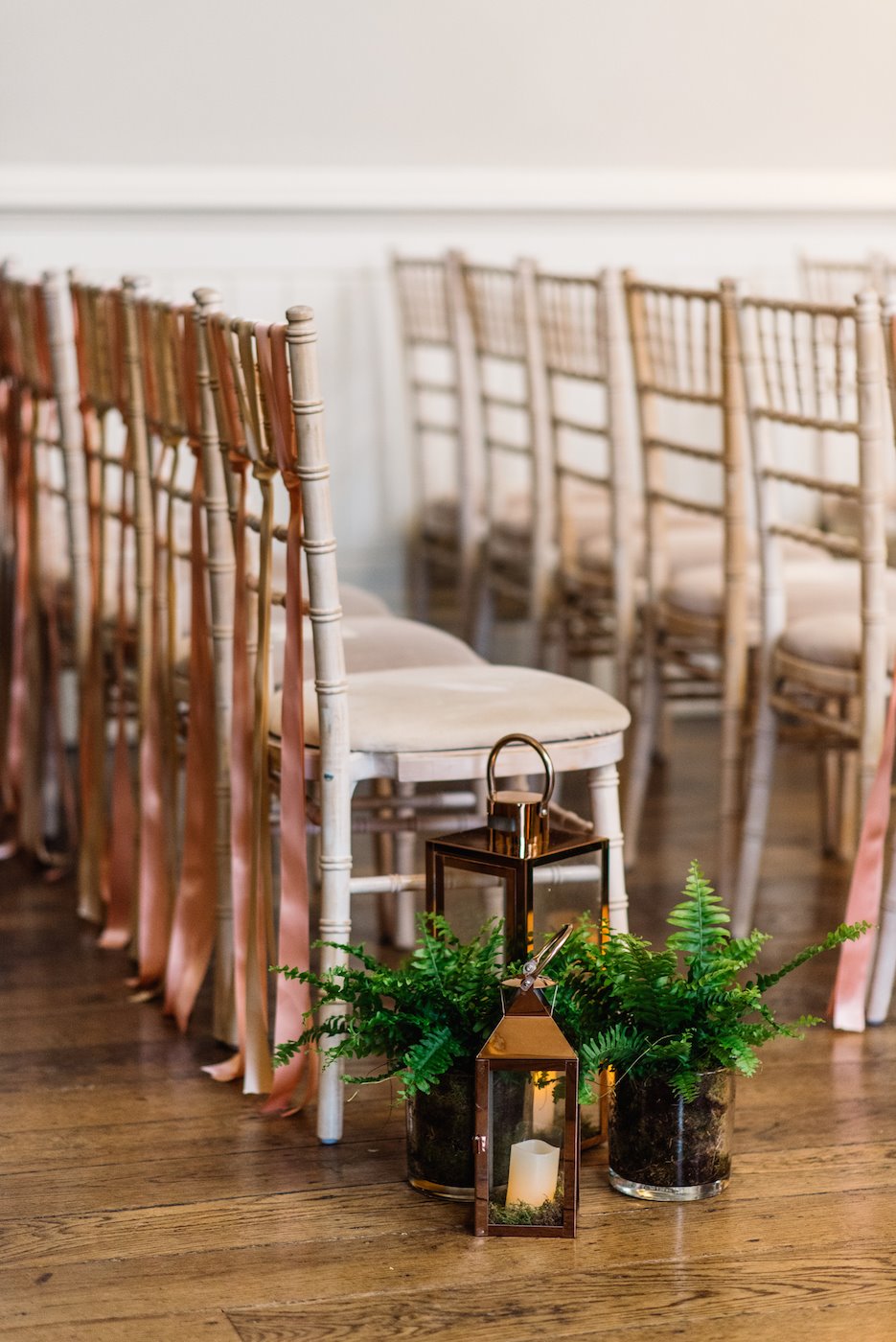 What flowers did you have?
We didn't want any big floral arrangements as we were having long tables for the reception, so Teapots&Tiaras dotted individual rose blooms and posies of carnations and gypsophila along the tables in little vases. We also had succulents in terracotta pots going along the tables, with green and deep red hydrangeas. The effect of these mixed in with the sequinned runners and lots of candles was so enchanting. 
The bouquets were a mix of blush and palest lilac coloured roses, with lots of silvery green and deep red foliage. They looked so feminine, but also very rustic and autumnal; I have kept and dried out my bouquet because I couldn't face throwing it away!
Rajesh's buttonhole was my favourite; it had a tiny spray of berries, and two deep red succulents. We've kept that too! 
We didn't have floral décor at the Hindu ceremony, but Rajesh's mum made some small garlands (and took the petals off of hundreds of flowers for our guests to shower us with), and we got our large flower garlands from the talented Debbie at Hearts Interiors and Flowers, which we discovered just a few miles from our home in Buckinghamshire!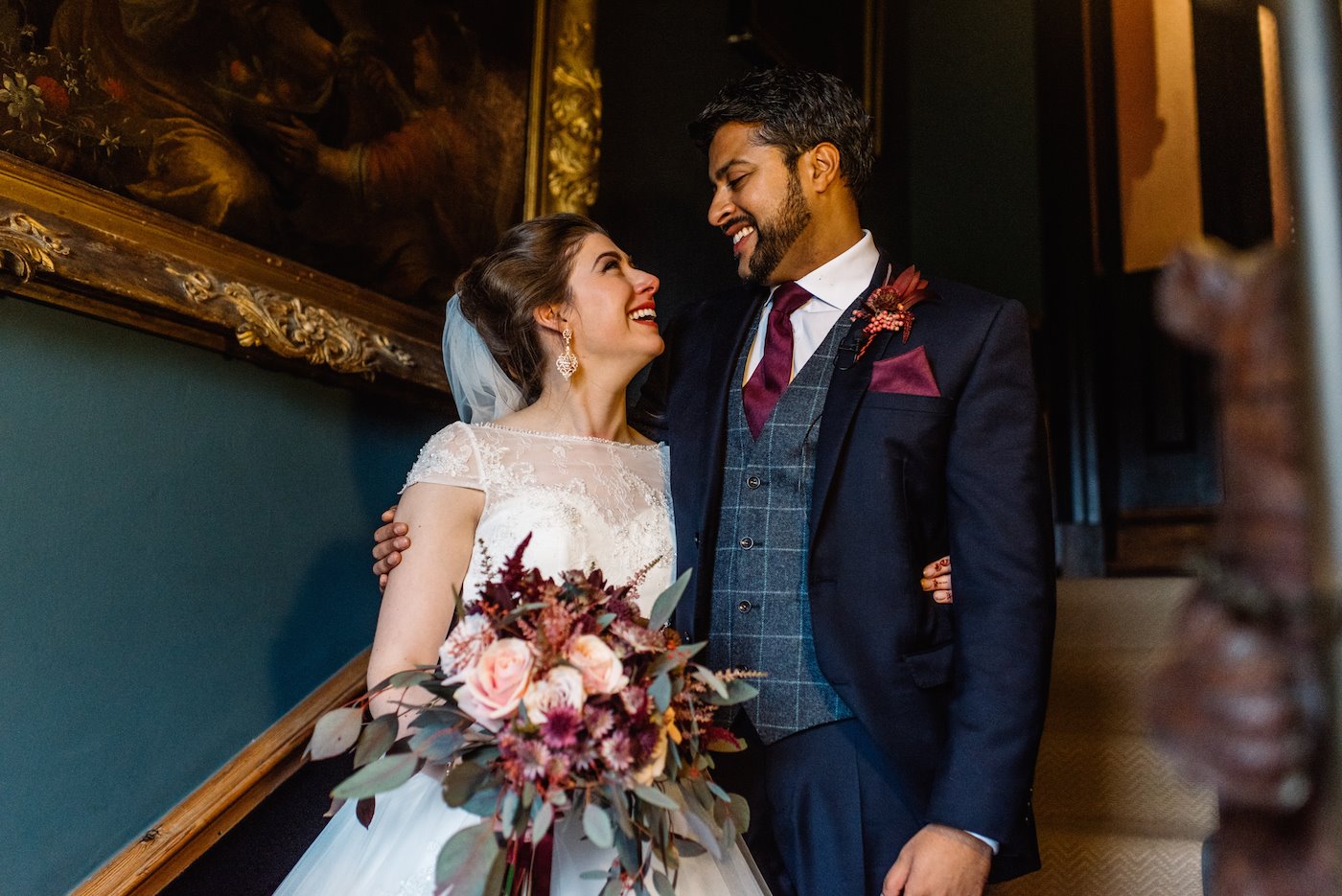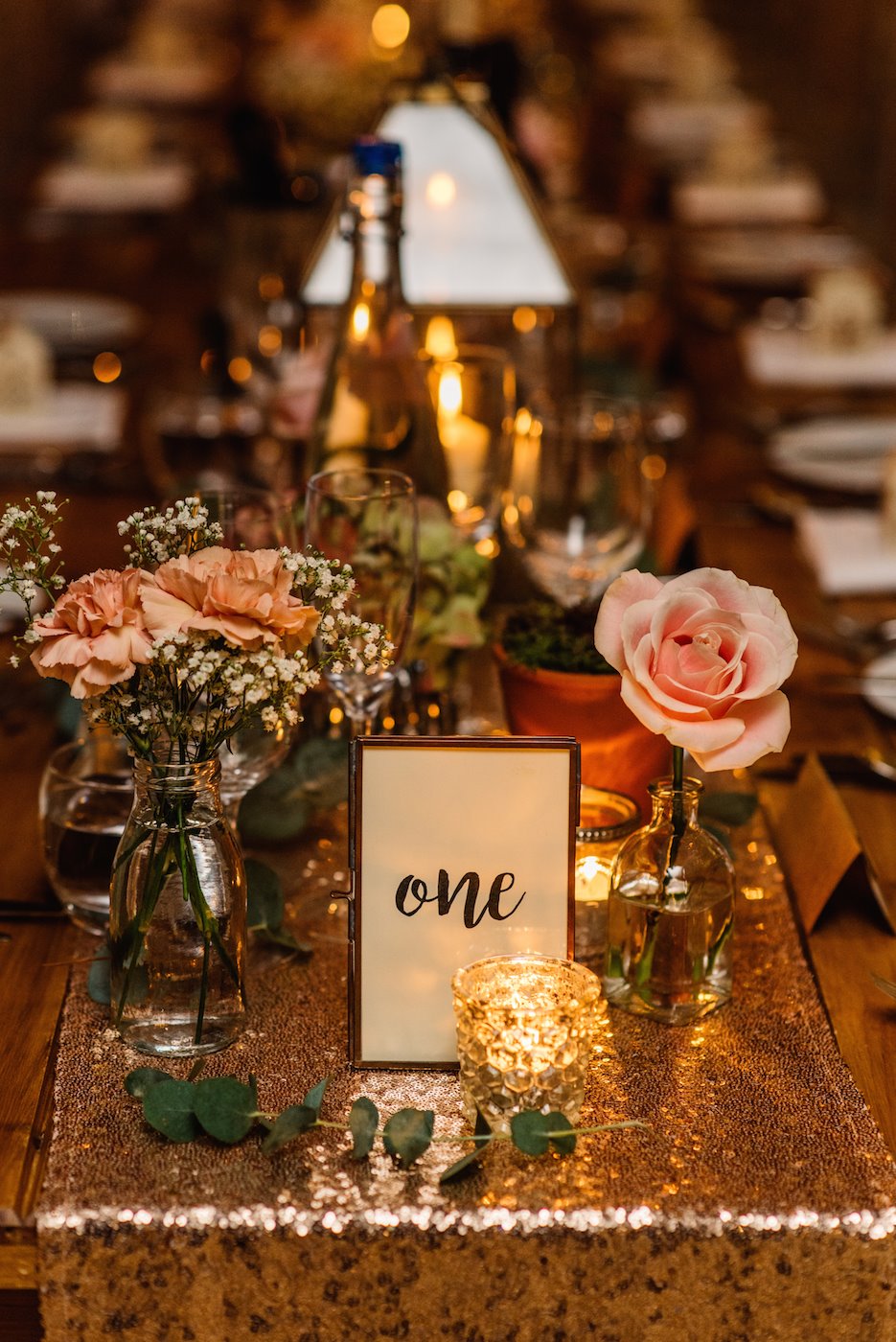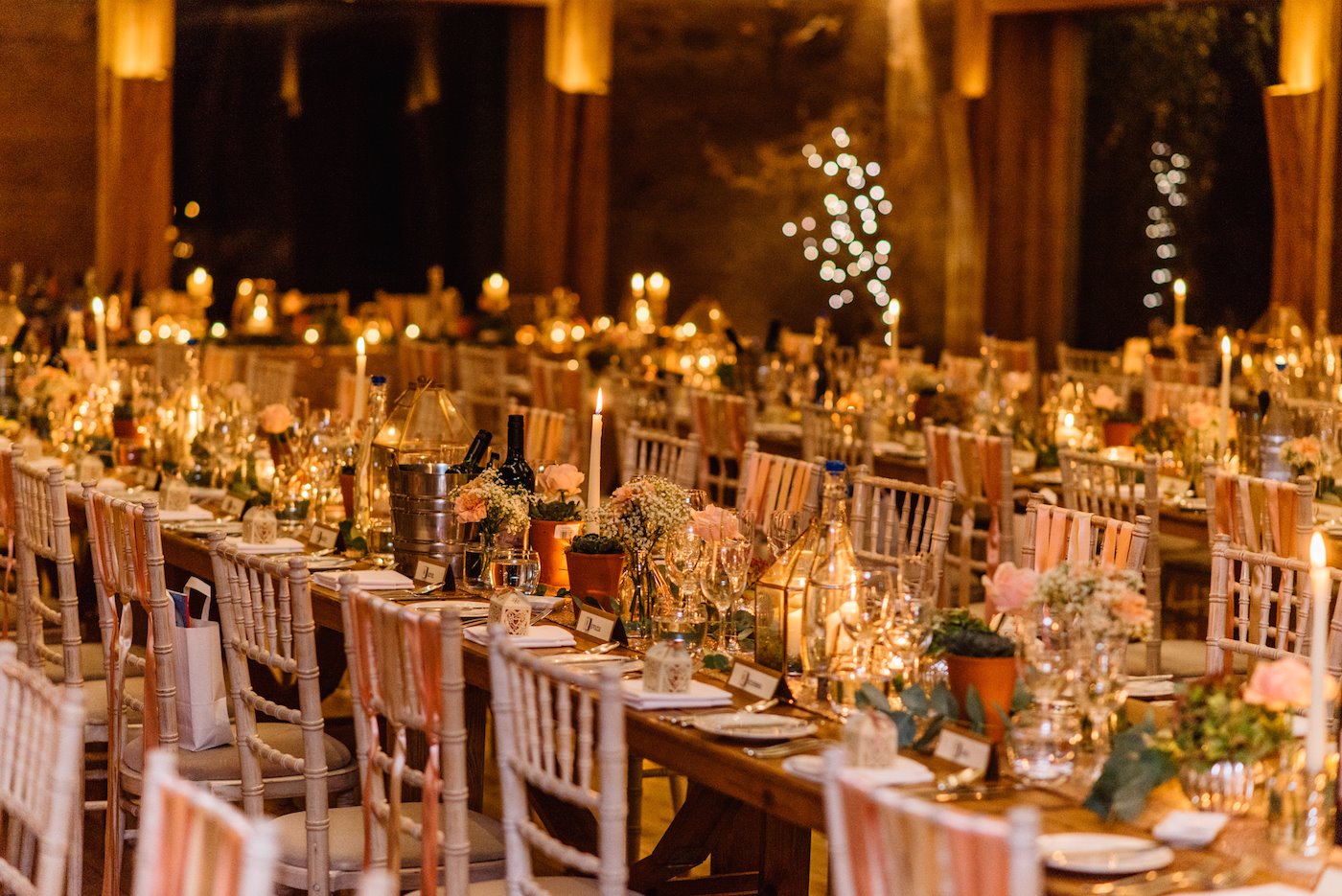 The Food
The food at Elmore is incredible! We had some spicy biryani-style rice for our lunch, which Elmore served in gorgeous vintage looking bowls. We also brought some barfi from Ambala cakes to have afterwards (I was too excited to eat more than a forkful of the rice, but I ate a couple of barfis to keep me going!). Many of our guests said our evening meal was the best food they'd had at a wedding, and we totally agree with them. It was piping hot and delicious: a smoked haddock parcel with a curried sweetcorn dressing; confit duck with carrots, beans and an amazing potato dauphinoise; and a chocolate and pistachio tart. The serving staff were also fantastic; another thing that our guests have commented on.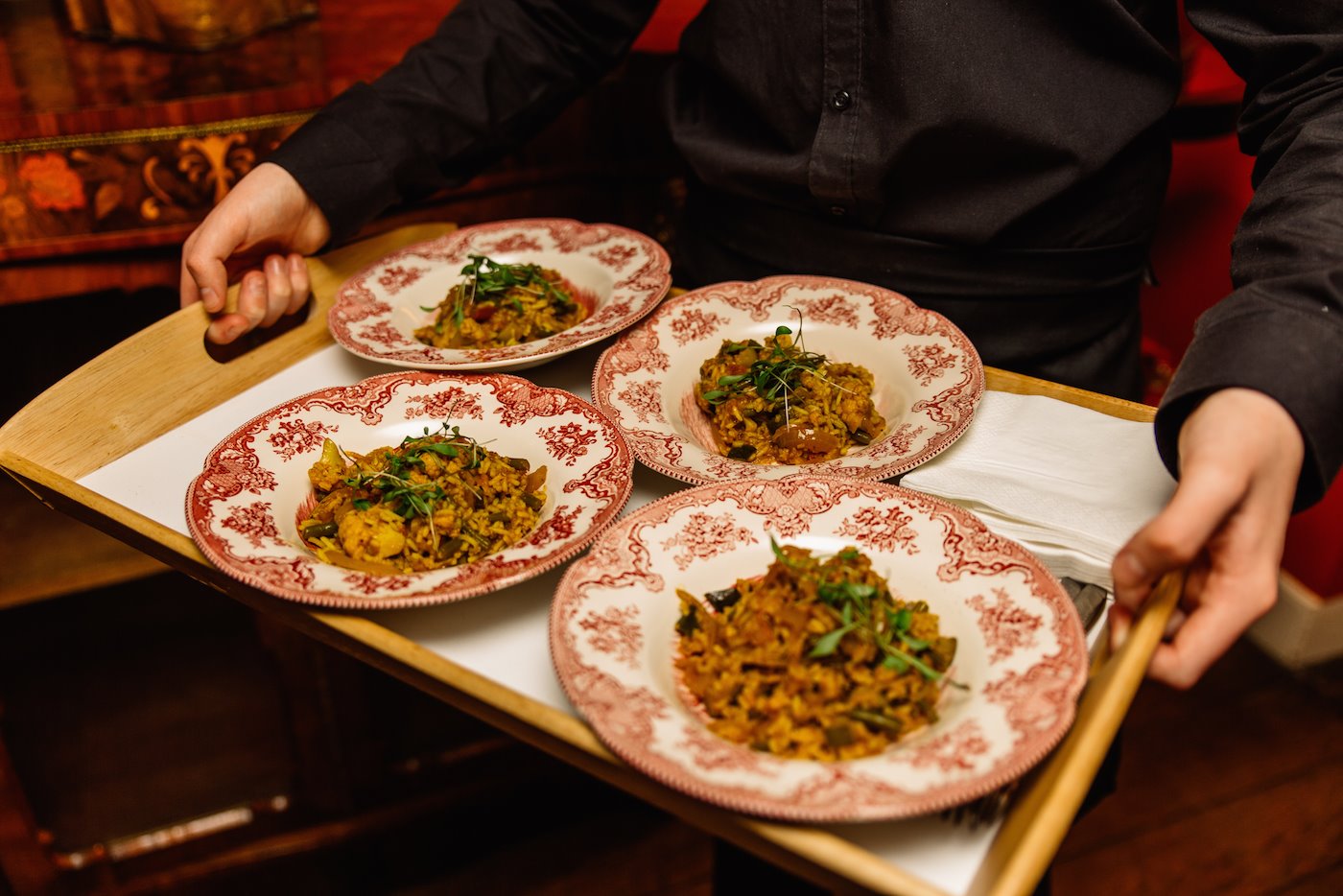 The Wedding Cake
We loved the appearance of semi naked cakes, but wanted to combine this with something that reflected our fusion wedding... and our rose gold theme! I spoke with Katherine from Cherish Cakes (naked and semi naked cakes are a favourite of hers), and she made us a stunning cake with two semi naked tiers and the bottom tier hand piped with a rose gold mehndi design. It matched our décor perfectly, and tasted as good as it looked – we went for vanilla sponge with raspberry conserve, coconut cake with passionfruit curd and carrot cake with orange buttercream.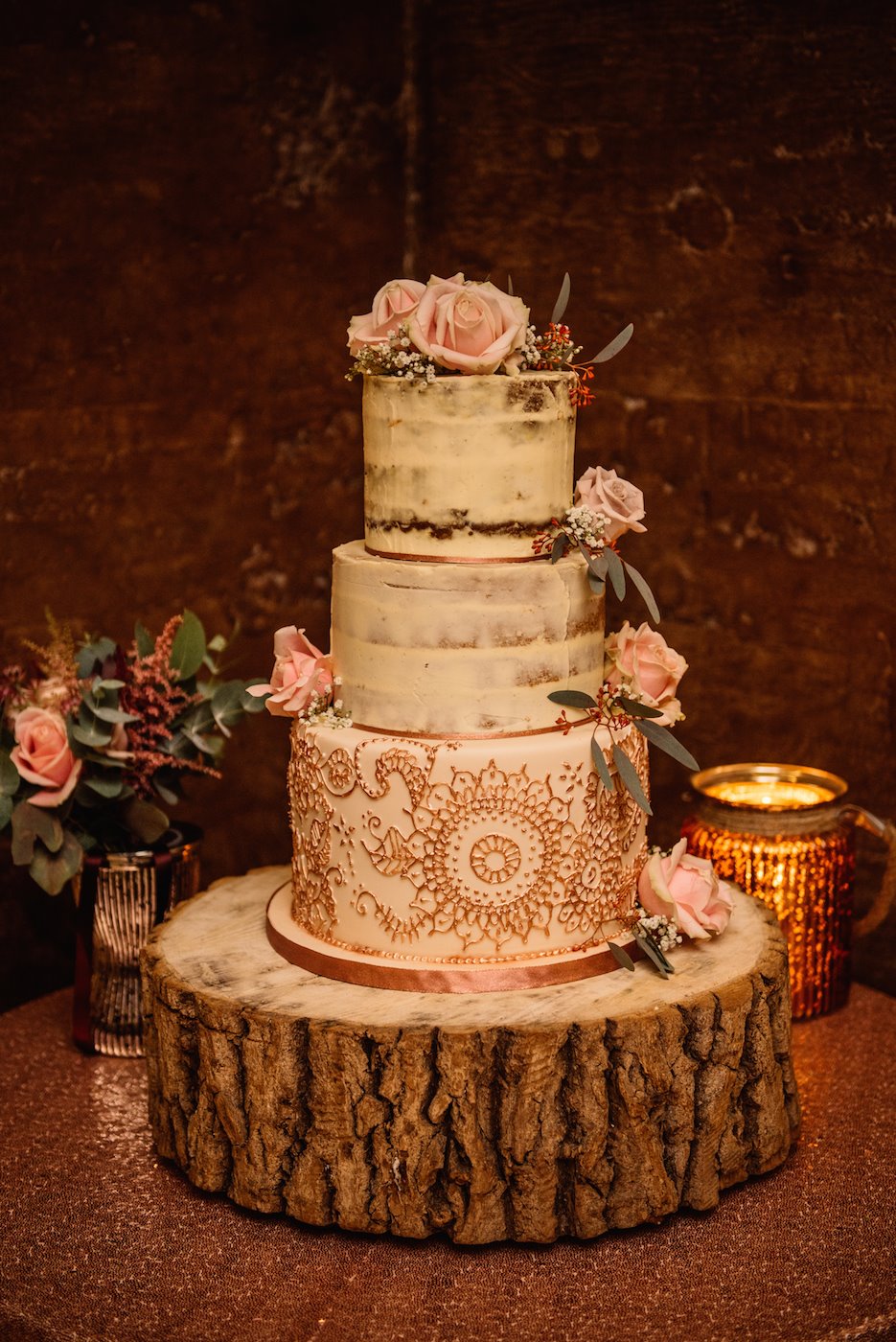 What kind of entertainment did you have?
Rajesh's family originate from Mauritius, so we had some Mauritian Sega dancers perform just before the evening meal. Everyone got up and joined in the dancing for their last song; we have such great memories of both sides of the family dancing in and out of the tables – how many couples are lucky enough to have a first dance with everyone before their proper first dance?!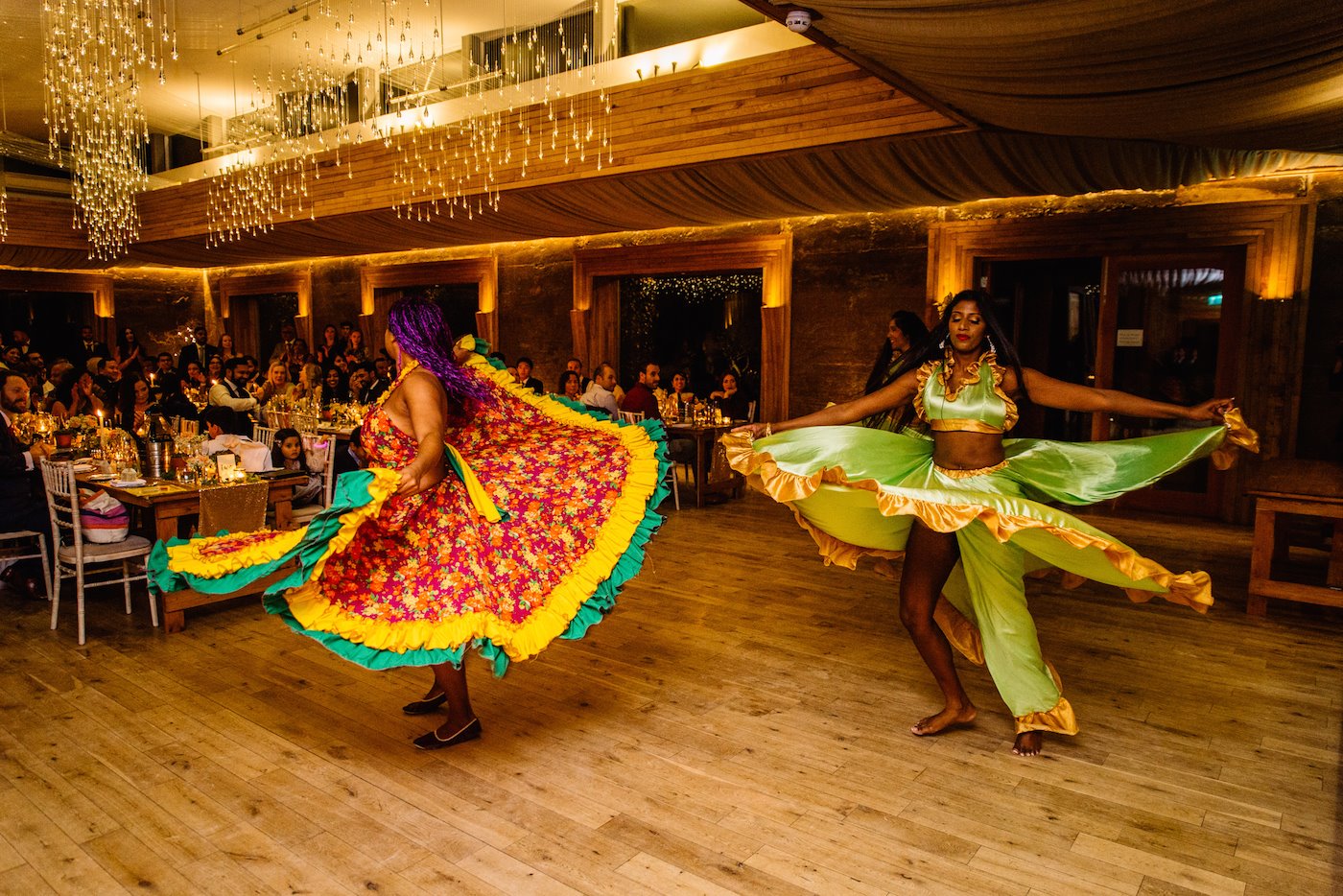 The Personal Touches
Despite hiring suppliers to cover a lot of the day for us, we really wanted to make some personal touches ourselves. We made pocket sized schedules for the day (so our guests knew when they had to be changed by!), booklets for the Hindu ceremony, the place settings and the table plan (which is now on display in our hallway!). We also made CDs with our wedding soundtrack on for the guests to take, and I made coconut ice for the table favours ... myself and the bridesmaids set up a production line the night before the wedding, where we dusted each square with rose gold glitter and put it into the favour boxes.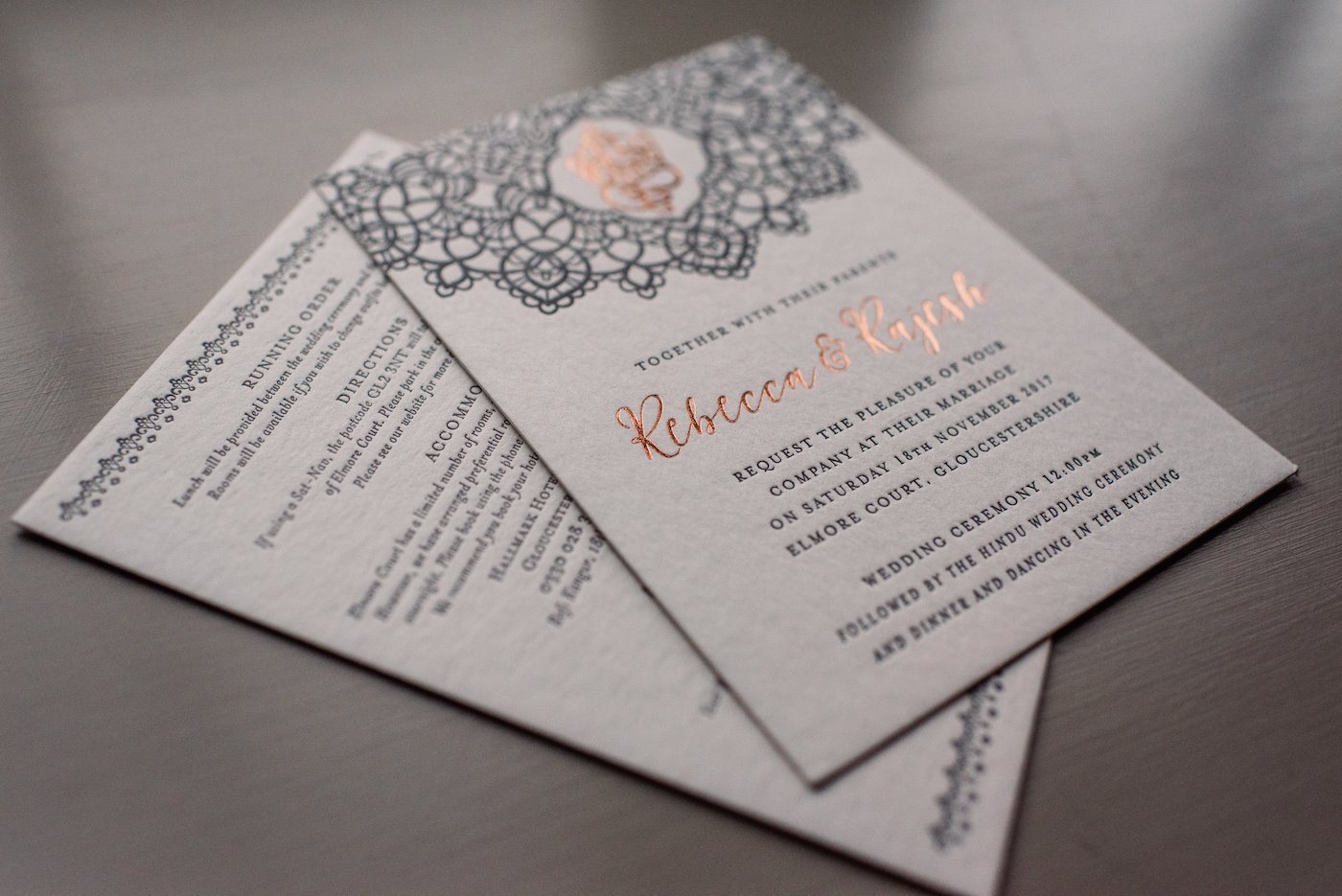 What were your highlights of the day?
The moments that have stuck in my mind are small, random and surreal: seeing my nephew Rowan take the hand of my flower girl Asyrah before they walked up the aisle; seeing our friend's three year old son moonwalk across the back of the aisle during the Hindu wedding (it genuinely happened!); and walking into the Gillyflower with Rajesh for our evening reception and seeing everyone so happy. We keep remembering little things, but we couldn't choose a highlight; everything was perfect (though if you ask Rajesh, he might choose when our videographer sent a drone(!) up to film us stood in front of Elmore).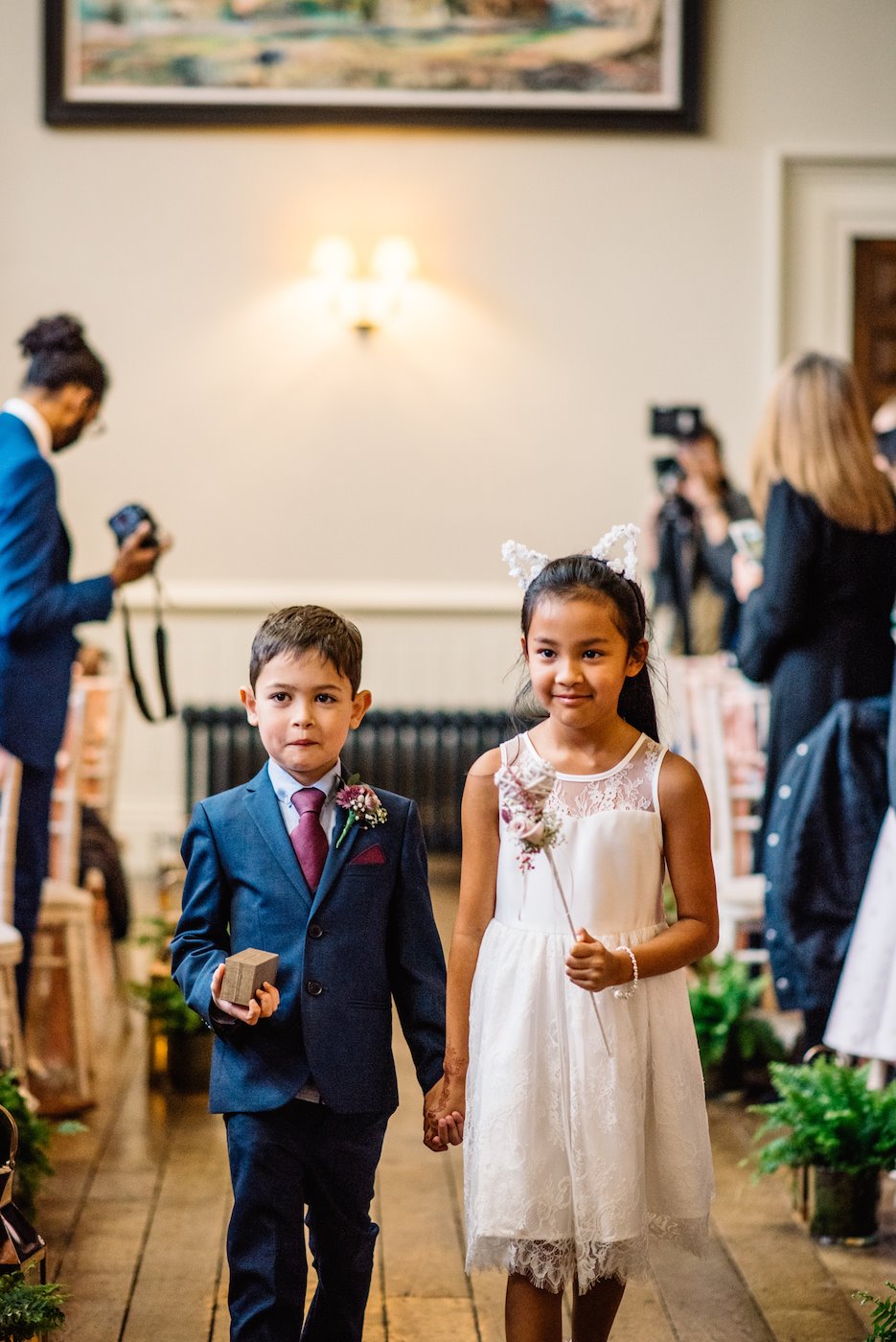 Any advice for couples currently planning their wedding?
Don't stress the small stuff. Not everything went to plan on the day, but we barely noticed and really didn't care; we were too exhilarated! 
Make sure you plan in some time for just the two of you at some point in the day, as all your guests will want to talk to you and take photos when you are with them!
If you are getting married at Elmore, try not to go to bed too late on your wedding night... We went to bed at four, and I regretted it as soon as I felt how comfy the beds were!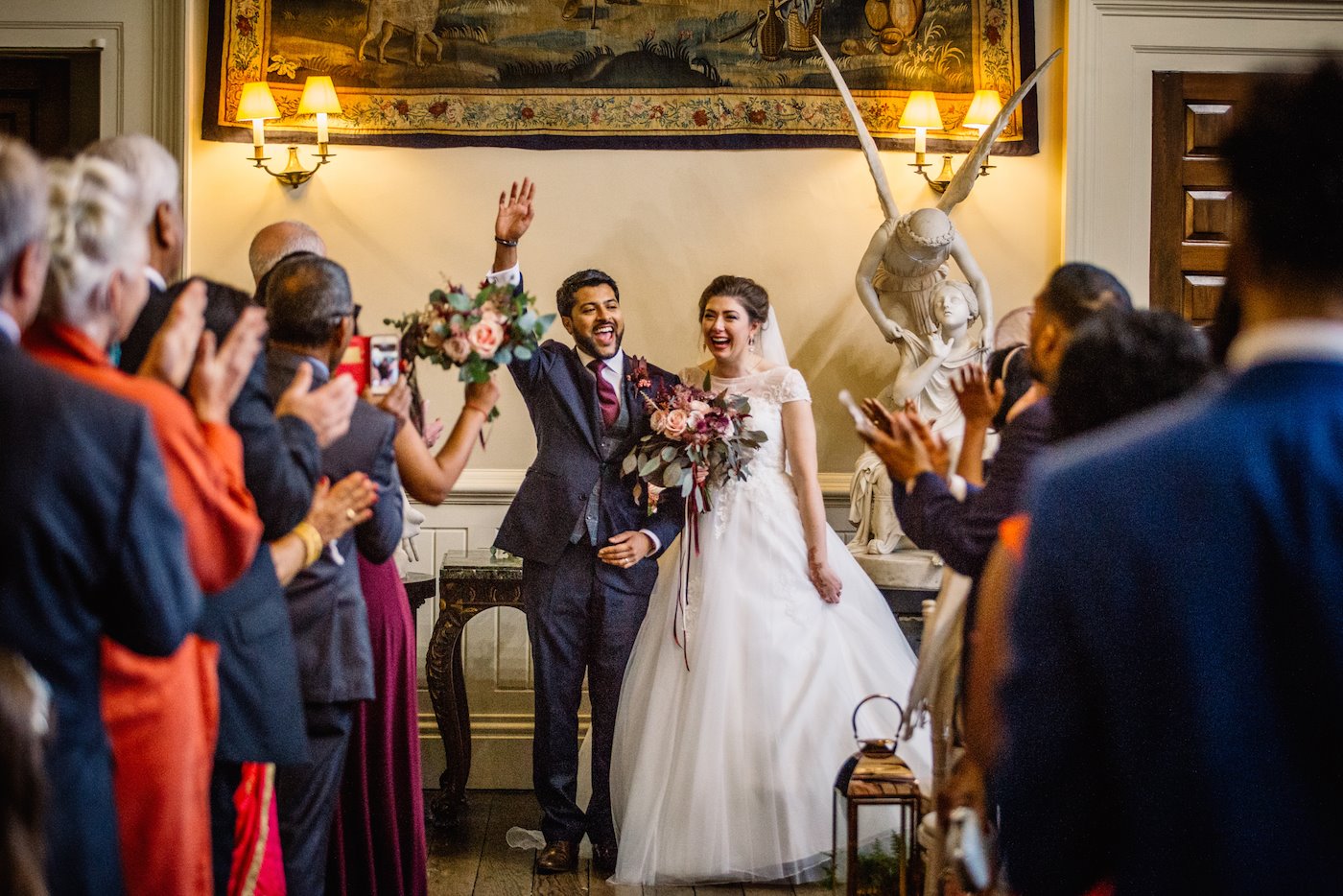 What was your biggest surprise of the day?
There were no particular surprises, but we were overwhelmed with how Elmore Court catered for all aspects of our fusion wedding, and how fitting each part of the day looked in this gorgeous venue.
We are so grateful to all at Team E for how brilliantly they handled such a busy day, and for all the thoughtful little touches that made our day so special.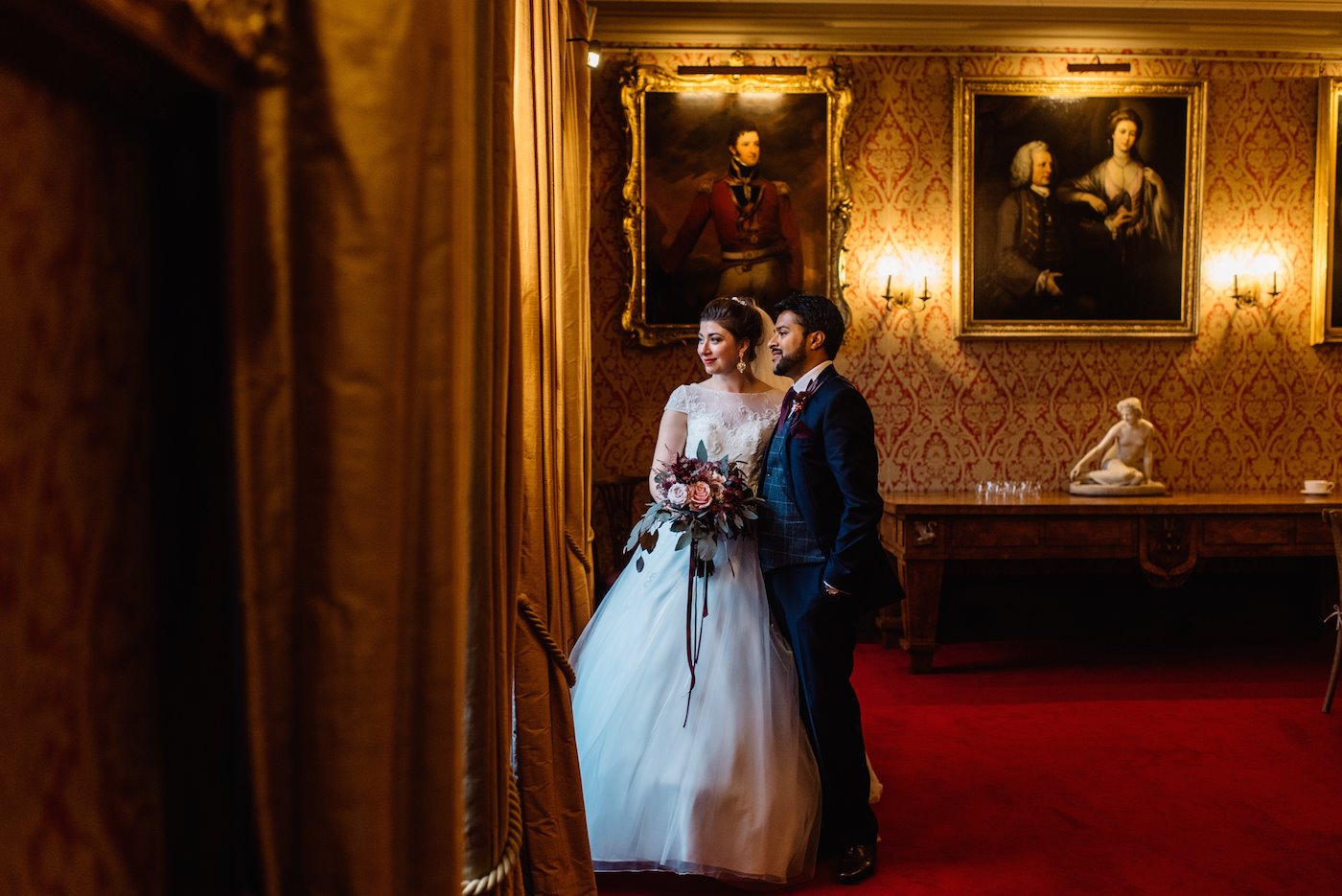 Related reading