Boho bride, relaxed summer wedding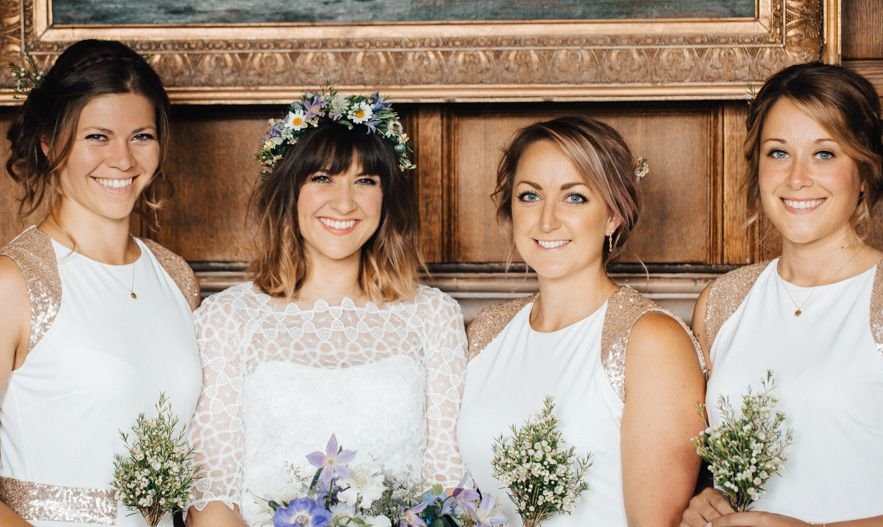 Boho beautiful... You're in for a treat of a wedding today!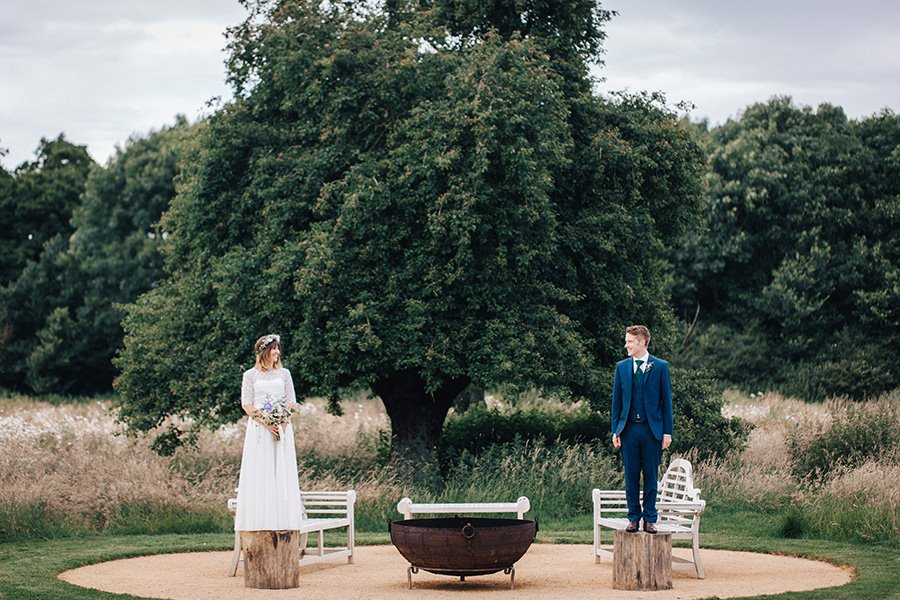 Merrin and Adam were married on 24th June in a beautifully relaxed ceremony in the Main Hall at Elmore Court.
Their vision for their wedding was simple; a relaxed vibe with a cracking party to finish the day! There were gorgeous wildflower arrangements in white, purple and blue tones, complete with daisies inspired by the Gillyflower meadow. 
Why Elmore Court?
I first saw Elmore on a blog not long after getting engaged and was so excited to find it was in Gloucester! We are both from Gloucester although we live in Surrey and knew we would get married in our home town, I saw some more images on Pinterest and was in love. We saw a few other places and had a very practical weigh up between Elmore and one other venue, but it was always going to be Elmore. We loved the house, the Gillyflower, the style, the meadow, the view, the fact it was so close to town and it was the first viewing we had where we felt we would get the relaxed day we wanted – oh and the music system!
We didn't have a theme or colour scheme; we loved the Elmore style and didn't want to over complicate things. We just got things we love and kept it quite minimalistic.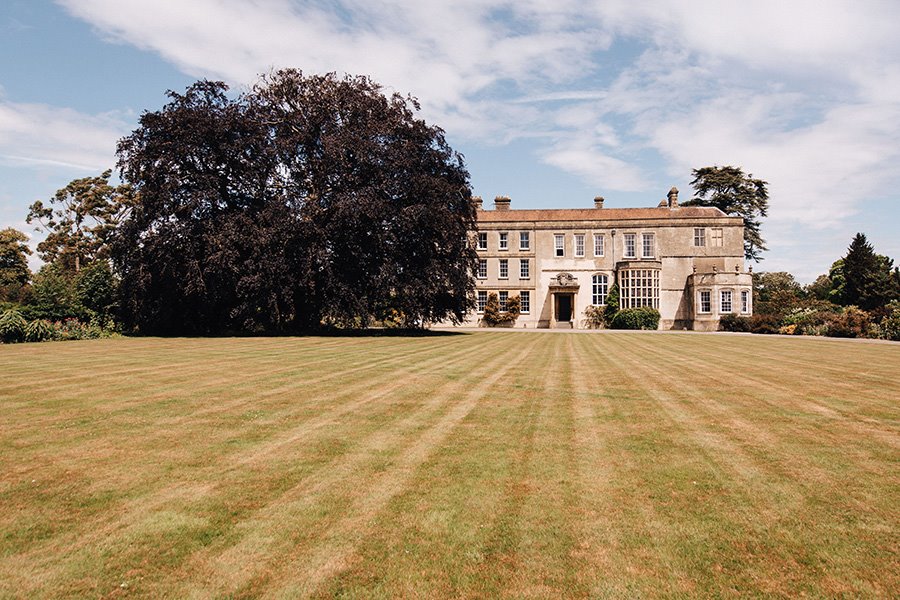 What was your wedding dress story?
My dress was by Charlie Brear. It didn't take long to find, I had been to two other dress shops and not had a great experience and was starting to despair that I wouldn't find a dress that I loved. The styles I thought I wanted didn't suit me and the dresses the stylists thought would suit me I hated (there was no way I was wearing a corset).
The dresses at Charlie Brear were the perfect mix of vintage inspired but contemporary style, and every dress I tried on there felt amazing. When my Mum got emotional I knew I had found the one. The dress I chose was much more bridal than I had imagined I wanted, but it suited me and my style and was sooo comfortable! I knew I wanted to be able to dance and eat so that was really important to me while at the same time feeling incredibly special.
We ordered it that day!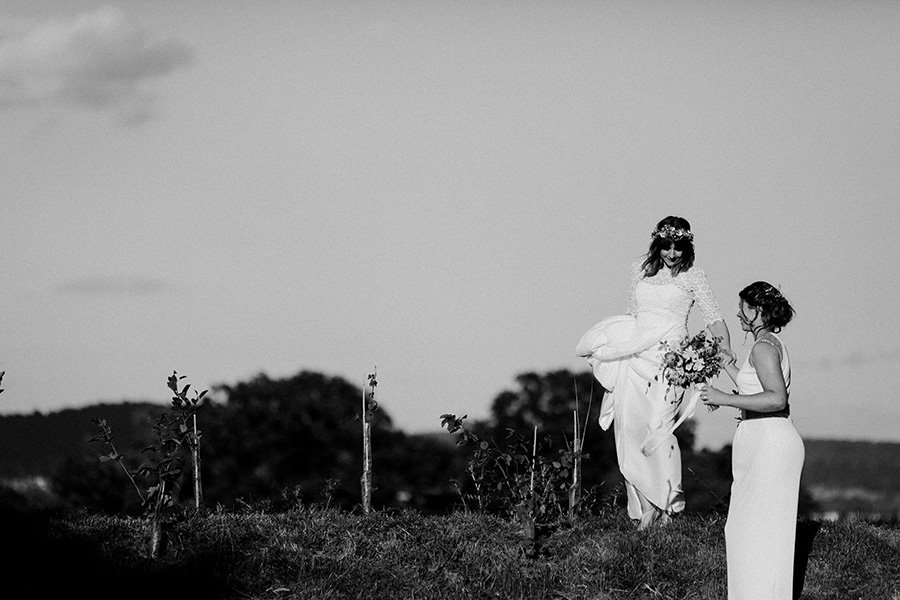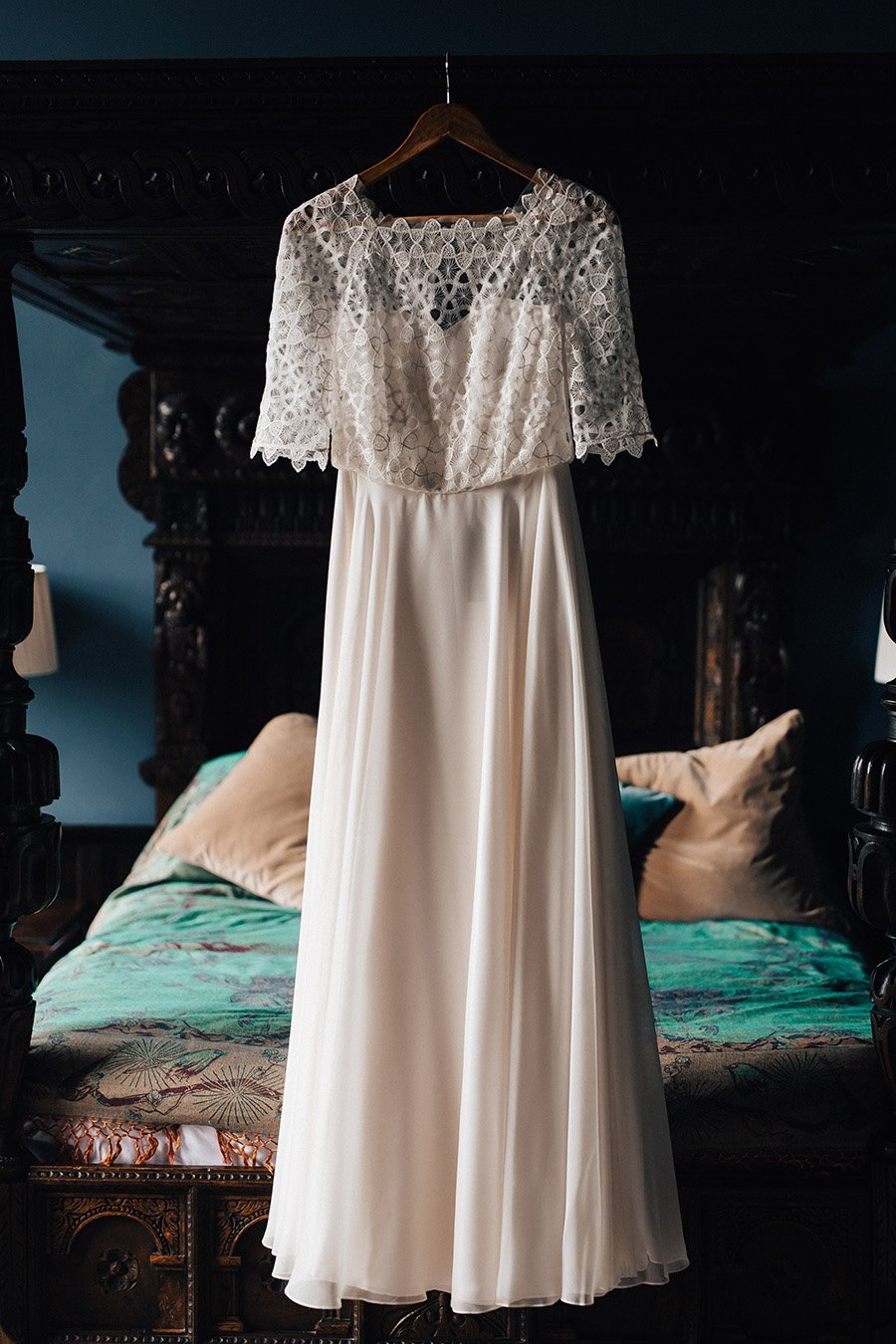 What did the Groom wear?
Adam wore a teal suit, waistcoat and shoes from Ted Baker. Groomsmen wore matching navy suits from T.M. Lewin.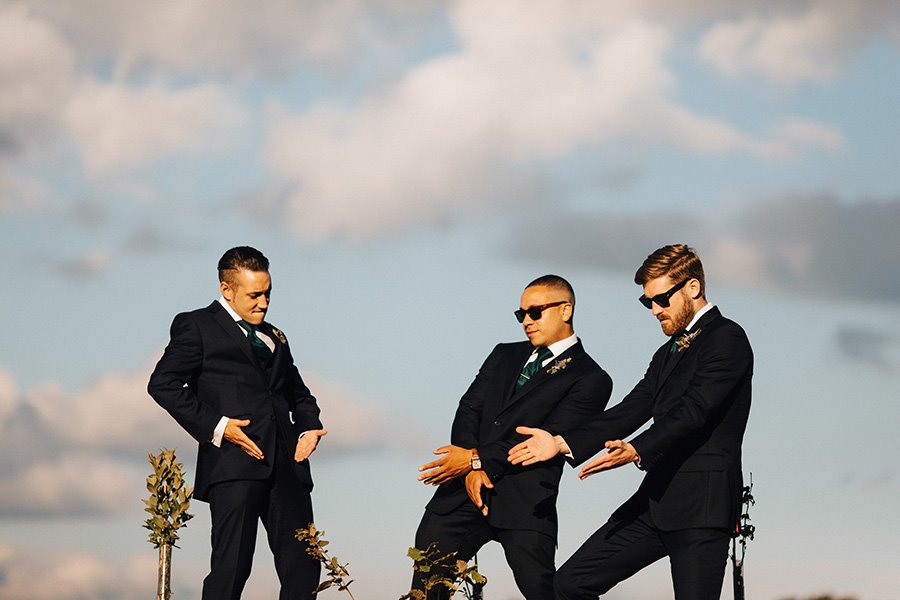 What flowers did you choose?
Wildflowers in whites, blues, purples including cornflower and lots of daisies.
We were inspired by the Elmore meadow and wanted to bring the outdoors inside.
Kirsty from Ruby and the Wolf was wonderful and everything was exactly as I had pictured, we had single stems in bud vases and wine bottles (which my mum and step dad kindly emptied in the run up) and an incredible statement hanging installation behind the top table which was beautiful.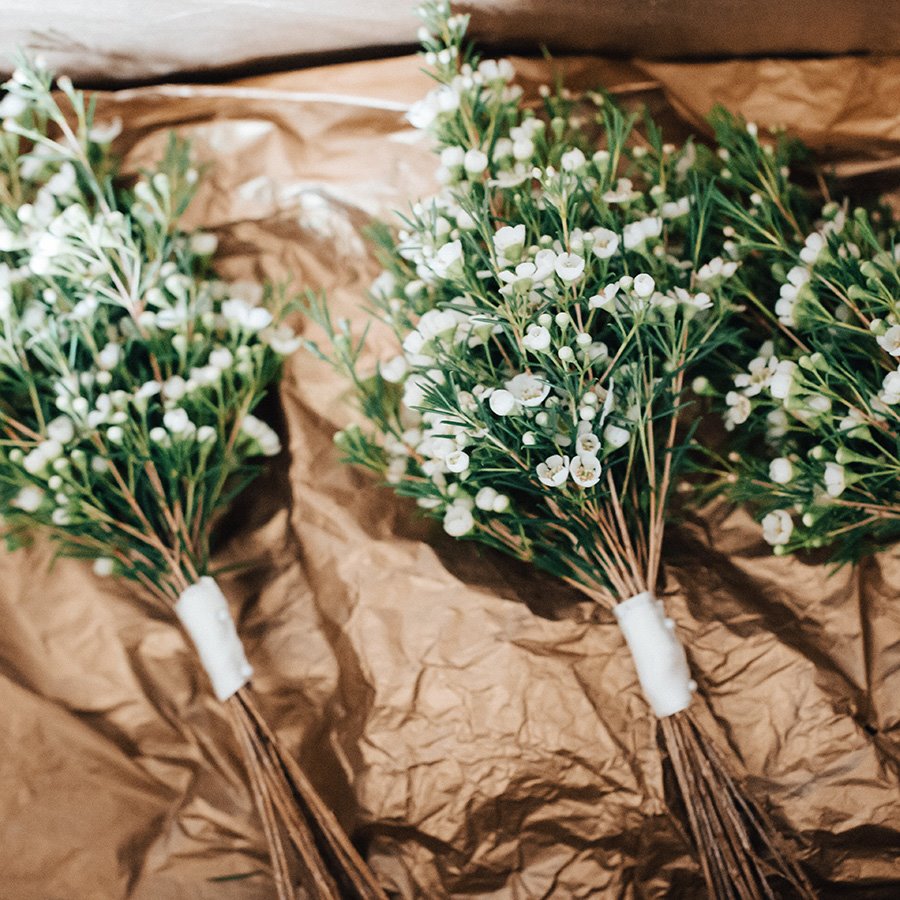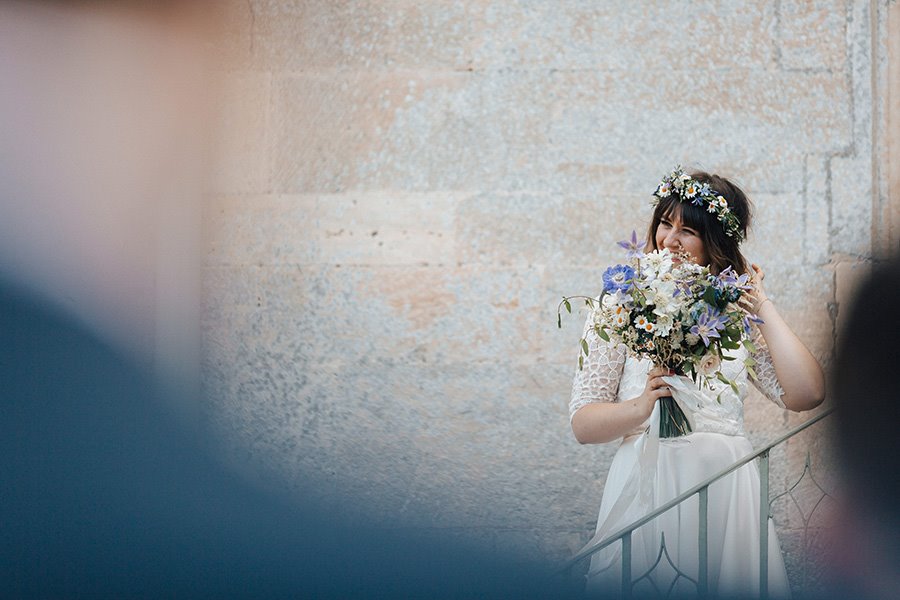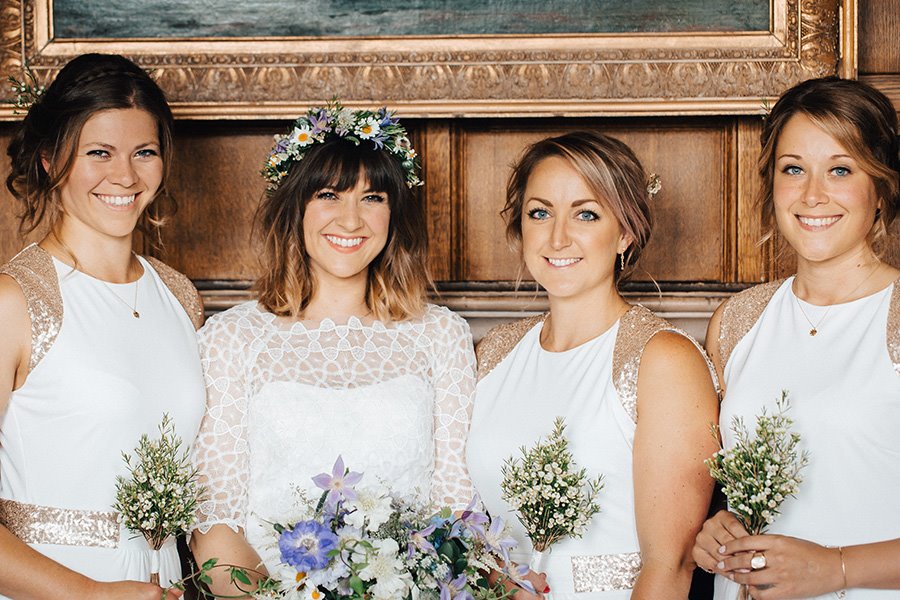 The gorgeous bridesmaid dresses were from Mango...we love the gold sequin detail!
How did you feel on the day?
Incredibly happy!
The morning was super relaxed, I got ready at Elmore with my bridesmaids, Mum and Mother-in-law to be. We had a great time, drinking champagne, getting ready, listening to music and spying on the guests as they arrived.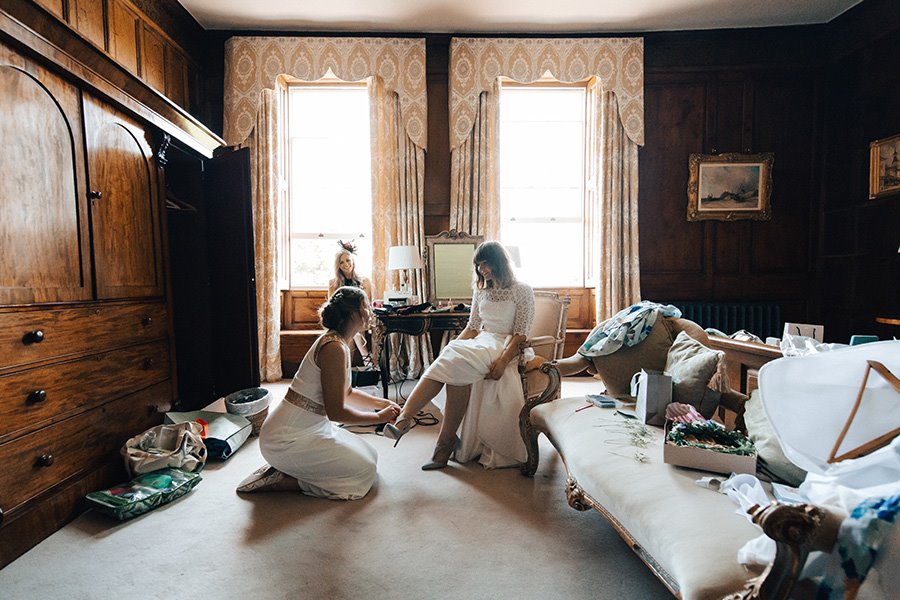 My mum sister and I were still putting the cake together in the Gillyflower at 10.30am. Some more of my best friends joined us in the bridal suite before the wedding which was lovely.
Adam, his best man and the ushers all got ready at Adam's Mums' house and then went to The Pilot pub up the road, where Adam used to go regularly when he was younger. He said that when they were all sat there having a pint he was so relaxed that for a moment he forgot that it was our wedding day and he had to do a speech.
Adam was quite nervous waiting, there's a great photo of him showing my step-dad that his hands were steady and trying to prove he was calm!
My dad was probably more nervous than I was walking down the aisle, but once I reached Adam and was stood in front of everyone the emotion hit and I just couldn't stop smiling!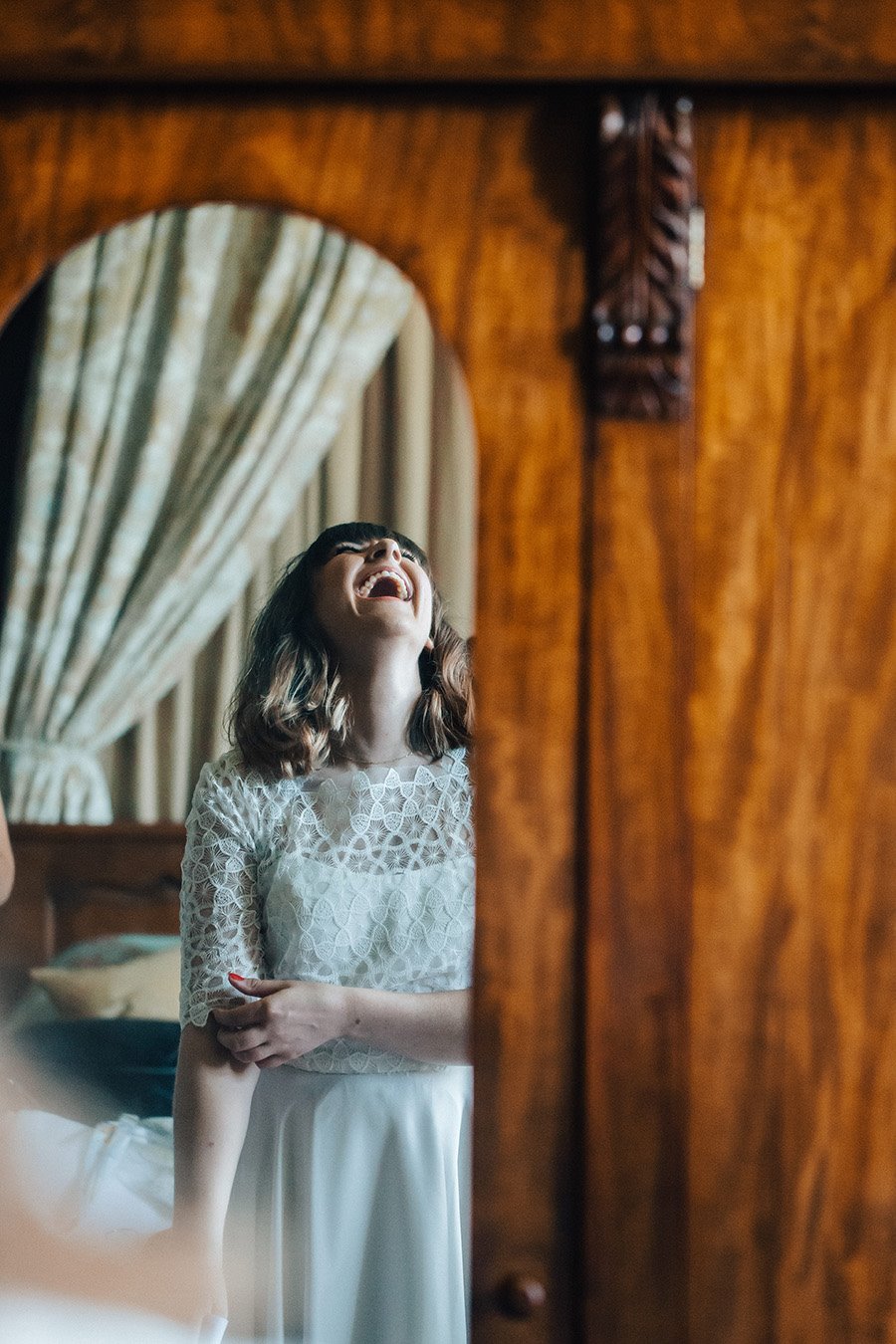 A relaxed reception
We had pear and elderflower martinis and gin and tonics on the lawn with mini scones during the drinks reception, everyone was happily mingling in the sun and some of my younger cousins were making good use of the lawn games, mostly the football.
Adam and I went off to have some of our first photos which we had in the meadow.
Later on we went back for more and James had us climbing up and down the hill in the car park – amazing for the views and the light, not so amazing for my shoes! (But totally worth it).
James had us in stitches the whole day and everyone who has seen our photos has said how amazing they are and how much they capture the laughter, relaxed atmosphere and fun of the day perfectly. 
Wedding BBQ & Late night snacks
Following the drinks reception we had a BBQ which was outside the Gillyflower and got everyone up and mingling and the puddings were the best thing I've ever eaten and I still think about them…. We had raspberry pavlova and salted caramel mousse with popping candy – which came out in huge bowls – so I just picked up a spoon and dug in.
Later in the evening we had fish finger sandwiches and bacon sandwiches.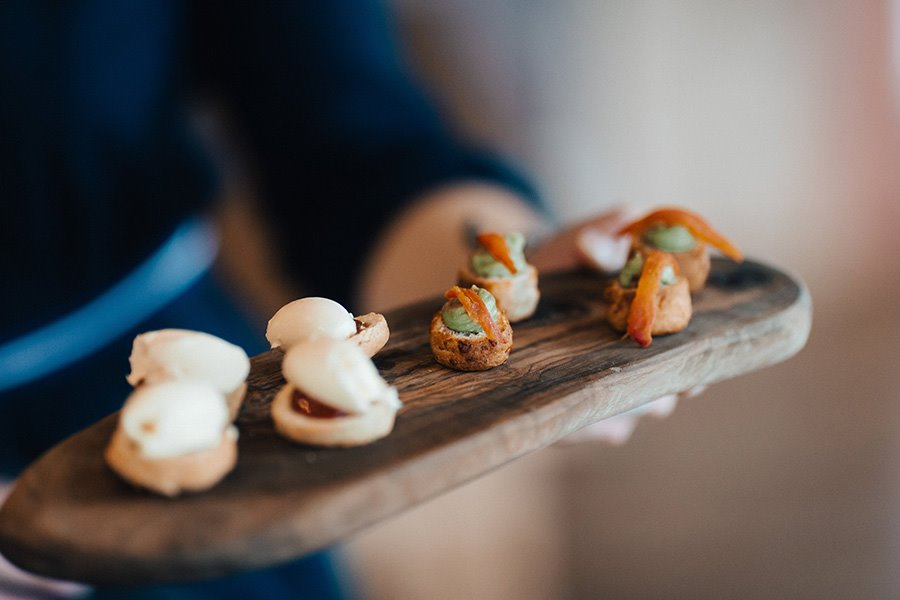 We had a naked wedding cake made in the two days before by me and my Mum with some precision cutting help from my sister! We decorated it with wildflowers and strawberries and were pretty proud of the fact it stayed standing.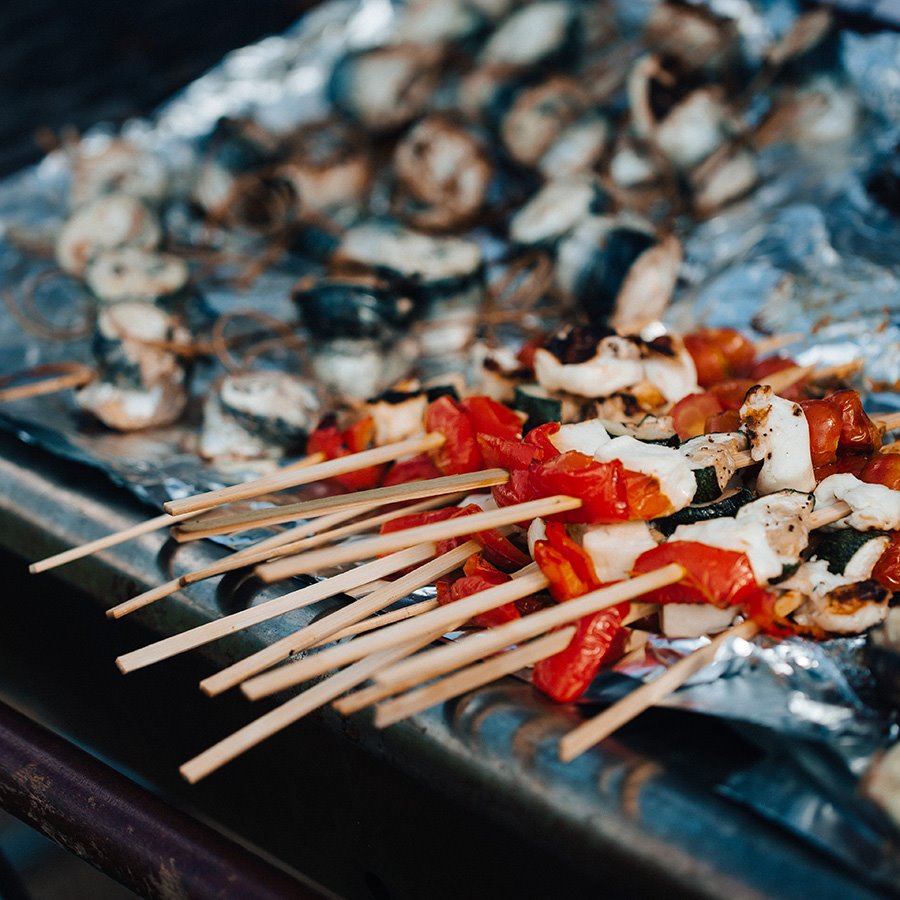 What was a particular highlight of your day?
It's so hard to choose because the whole day was just a sunny haze of happiness and laughter. We were so lucky with the weather and being with everyone we loved and having the day go exactly as we planned enjoying the sunshine, food, drink and music. 
Adam, my Dad and the Best Man all did speeches and had everyone laughing. Adam's speech was lovely and the best man was so funny – he even had notecards which were backed with different coloured paper, like at school! He claims to have been instrumental in us getting together 11 years ago, so that came up and so did some photos from the stag do.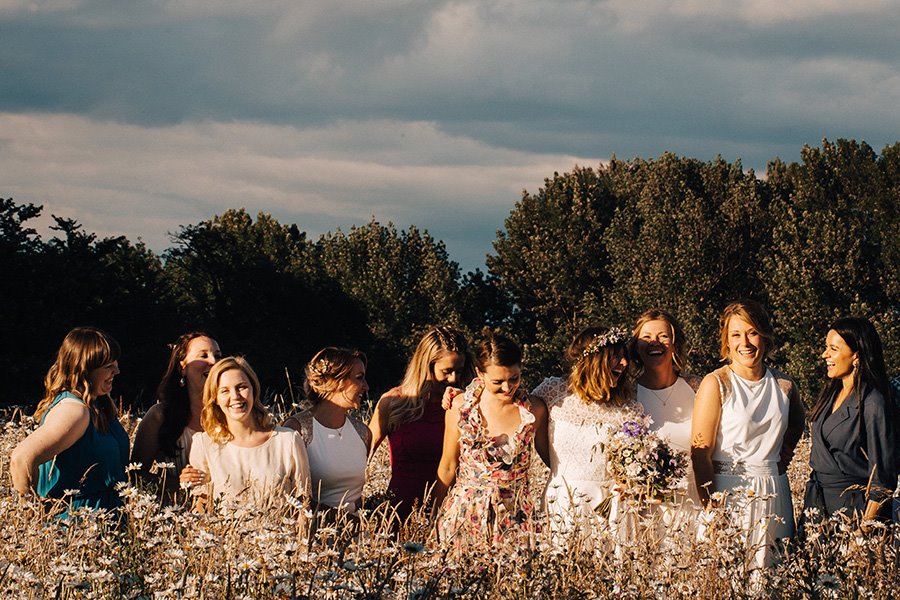 Related reading