Champagne and Lobster Wedding with Sprinkles of Glitter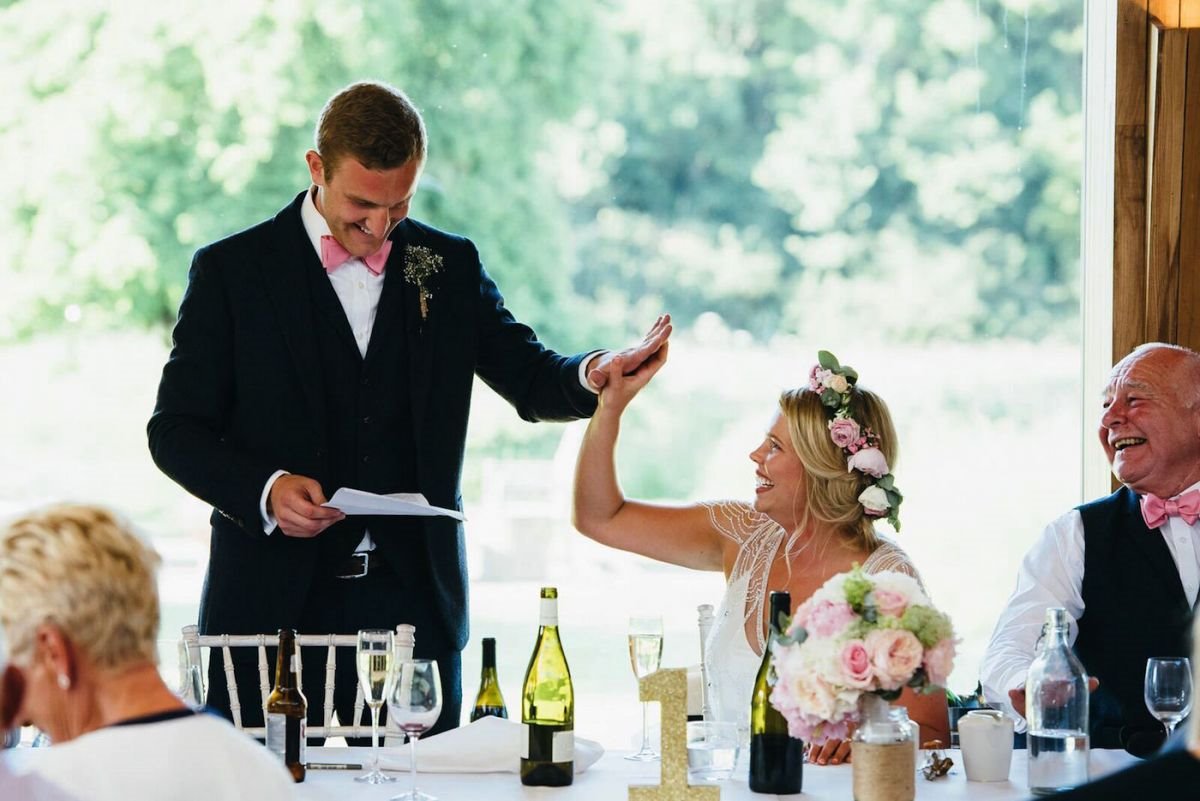 We are extremely proud to be named amongst the top UK luxury wedding venues and the luxe look with champagne towers flowing is all the rage, so in celebration let's take a look back at this delightful luxe real wedding planned around a love champagne and lobster...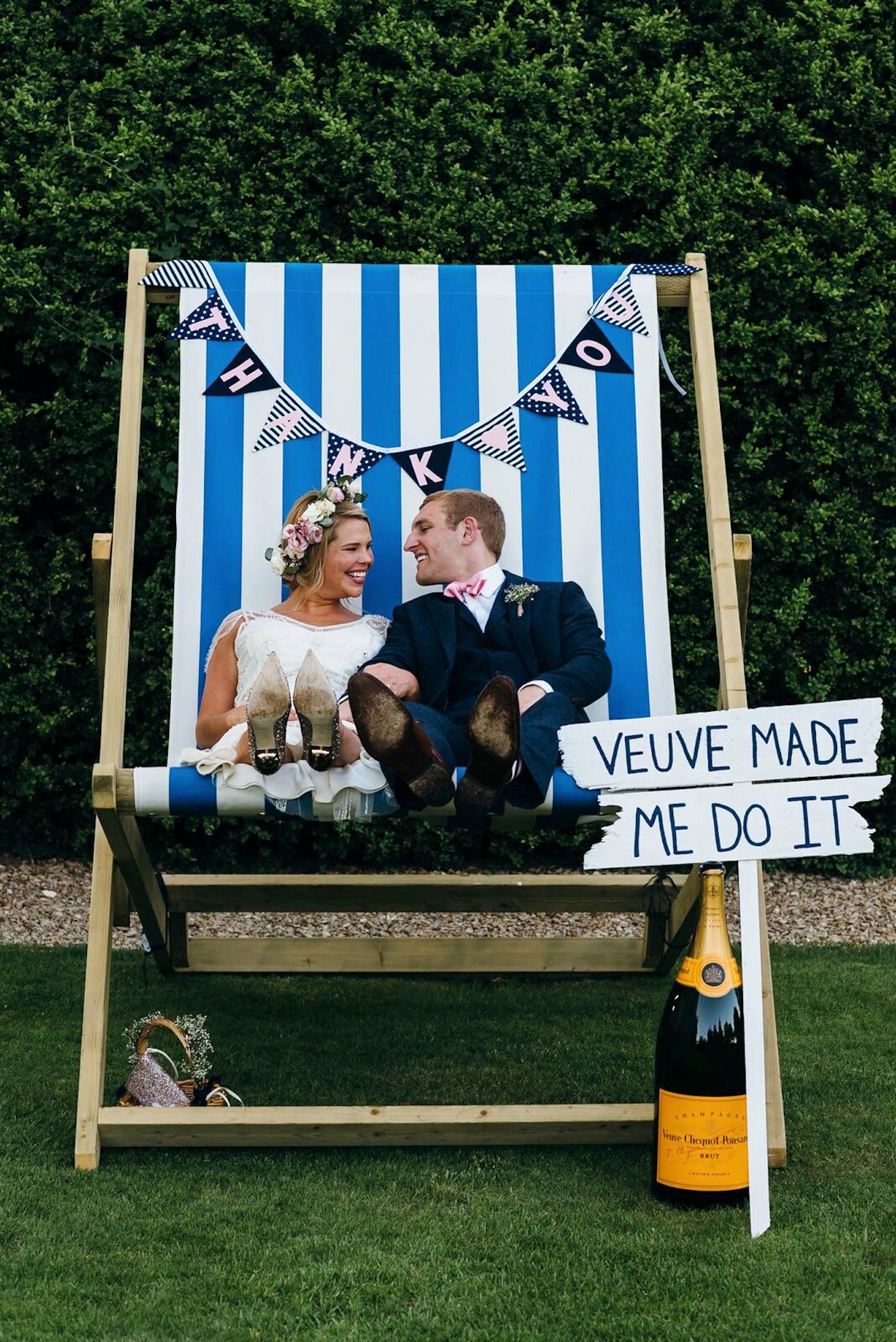 The Proposal
It was a complete surprise! Gary proposed over lunch (in the same bar where we had our first date) on Christmas Eve in 2015. All these strangers started clapping & hugging us, one guy was crying his eyes out, he kept saying that we'd made his Christmas. We headed home to celebrate with both our families! 
Choosing Elmore Court
One of my colleagues found Elmore on a google search one lunch break just after we got engaged. It looked too good to be true, I couldn't wait to visit! 
In the car on the way there, Gary knew how excited I was & was trying to manage my expectations, reminding me of the big long list that it had to tick in order to be 'the one'. I don't think we had even found the Gillyflower when Gary turned to Rachel to ask if the date we wanted was free – it was 100% perfect!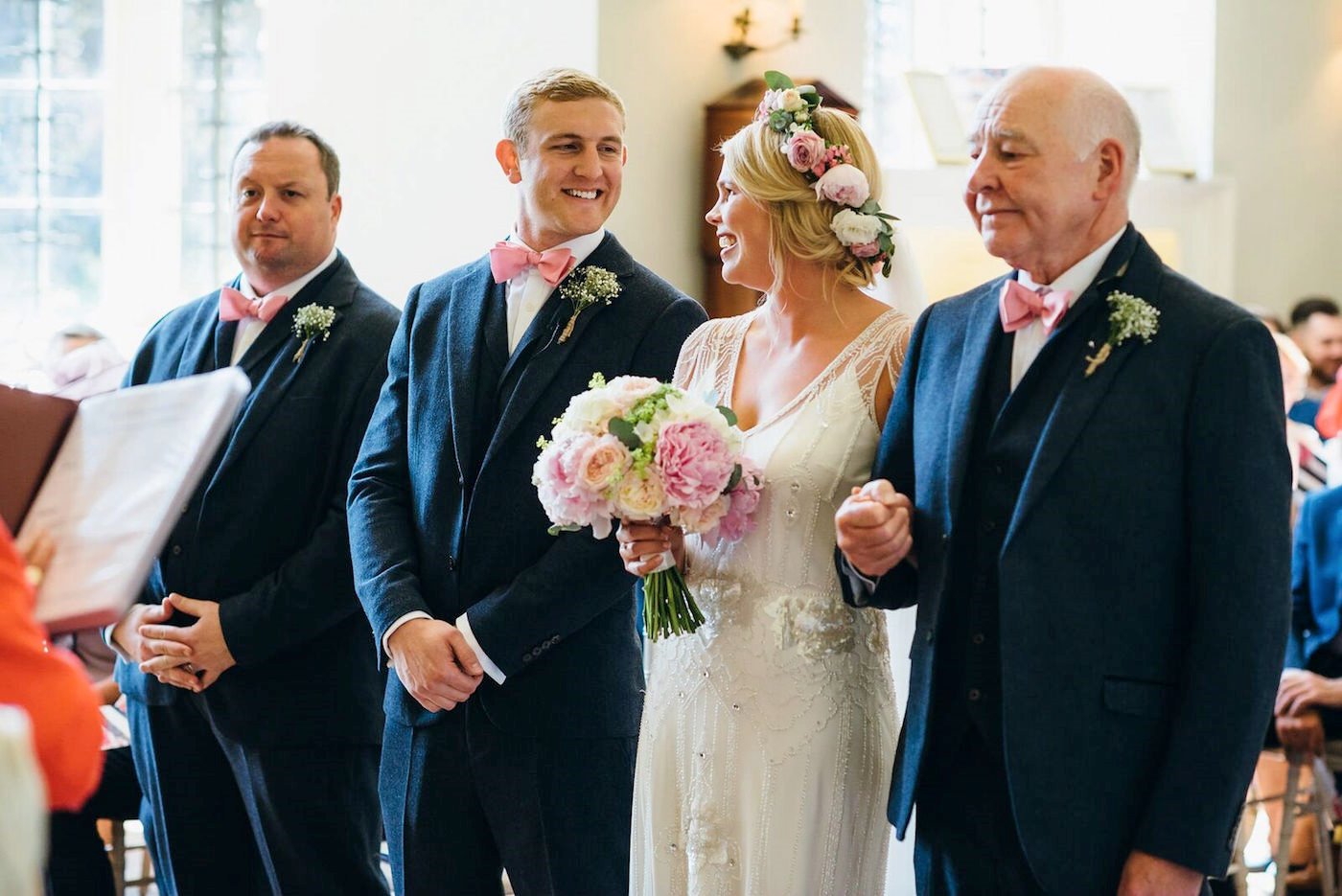 How did you find the wedding planning, did you do hire suppliers or do much of it yourselves?
Because of how brilliant Elmore were, it never crossed our minds to use a wedding planner so we planned all of it ourselves (with their help!). We had been to a lot of weddings together as a couple & knew that although we wanted it to be traditional in many ways, we basically just wanted a big, fun party. We're both busy people – I completed a Masters during the planning & we moved to New York permanently the month after we got married so the planning stages didn't consume us. We looked at options until we loved something & then we booked it. If we weren't gutted to miss out, we didn't have it. 
How did you find your photographer?
I was a bridesmaid at another wedding when Simon was the photographer & we loved his relaxed style. He really spends time getting to know his couples which in turn means he manages to convey personalities perfectly in his photos. We had so much interaction with him in the build up to the wedding that on the day we felt like he could have been there as a guest!
We also used the Story Catchers for videography. I really wanted a video so we spent one evening checking out many, many wedding videography websites. The Story Catchers really stood out & as soon as we skyped Pen & Cam we knew we'd made the right decision! They were also so much fun to have at the wedding, we were so lucky with all our suppliers.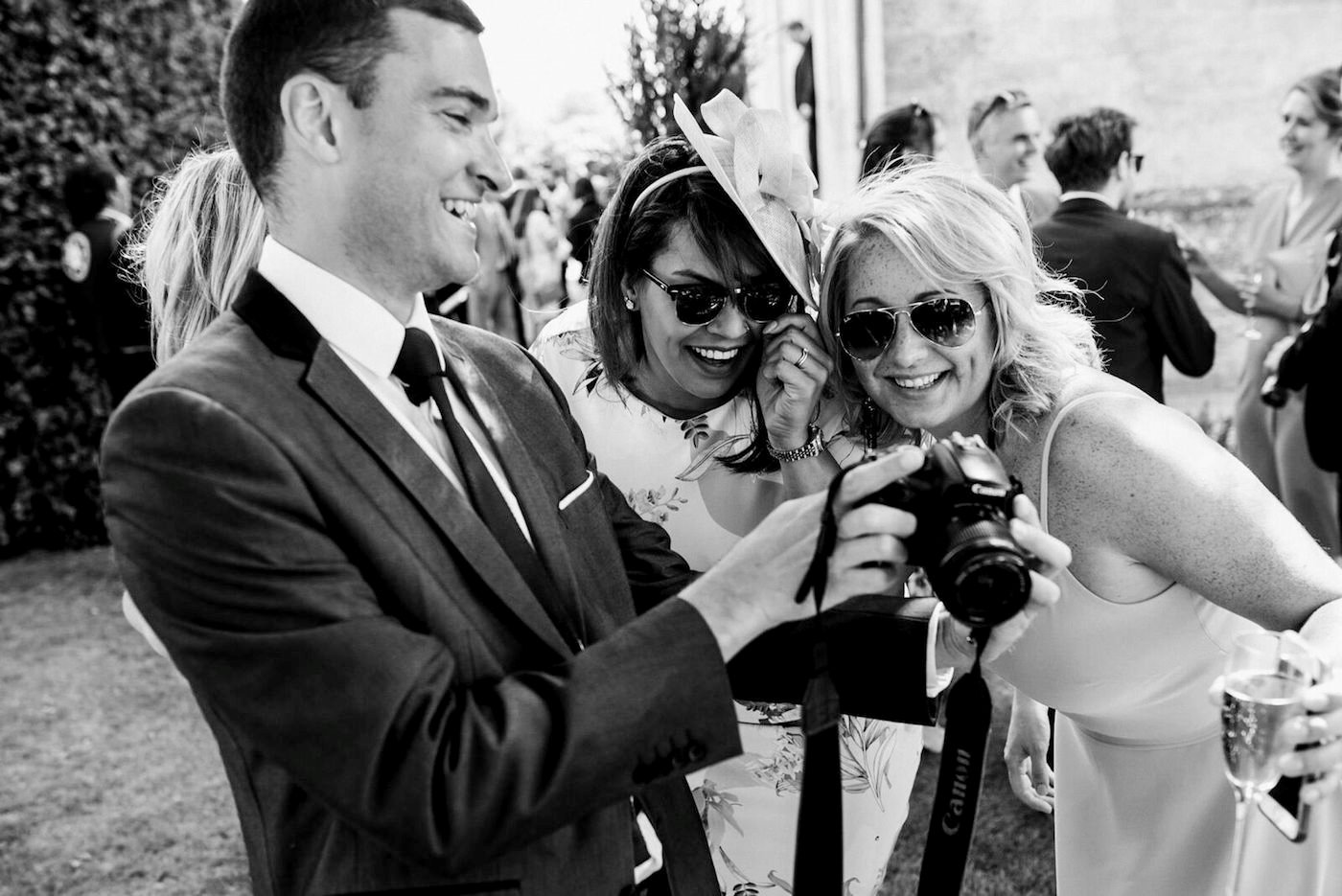 The Dress!
My dress was Eden by Jenny Packham. I initially started off by trying on one of every style of wedding dress before concluding that the 1920s/beaded styles were my favourite. Further research led me to Eliza Jane Howell & Jenny Packham. About a year before the wedding, we were doing quite well ticking a fair few of the big things off the list so I decided to call both boutiques to get an idea of price. A few of the dresses at Jenny Packham were low in stock & for one in particular (Eden), there was only one left! By chance my parents were up in London that weekend so I quickly booked in a visit. I think we all fell in love with my final choice before it was even off the hanger!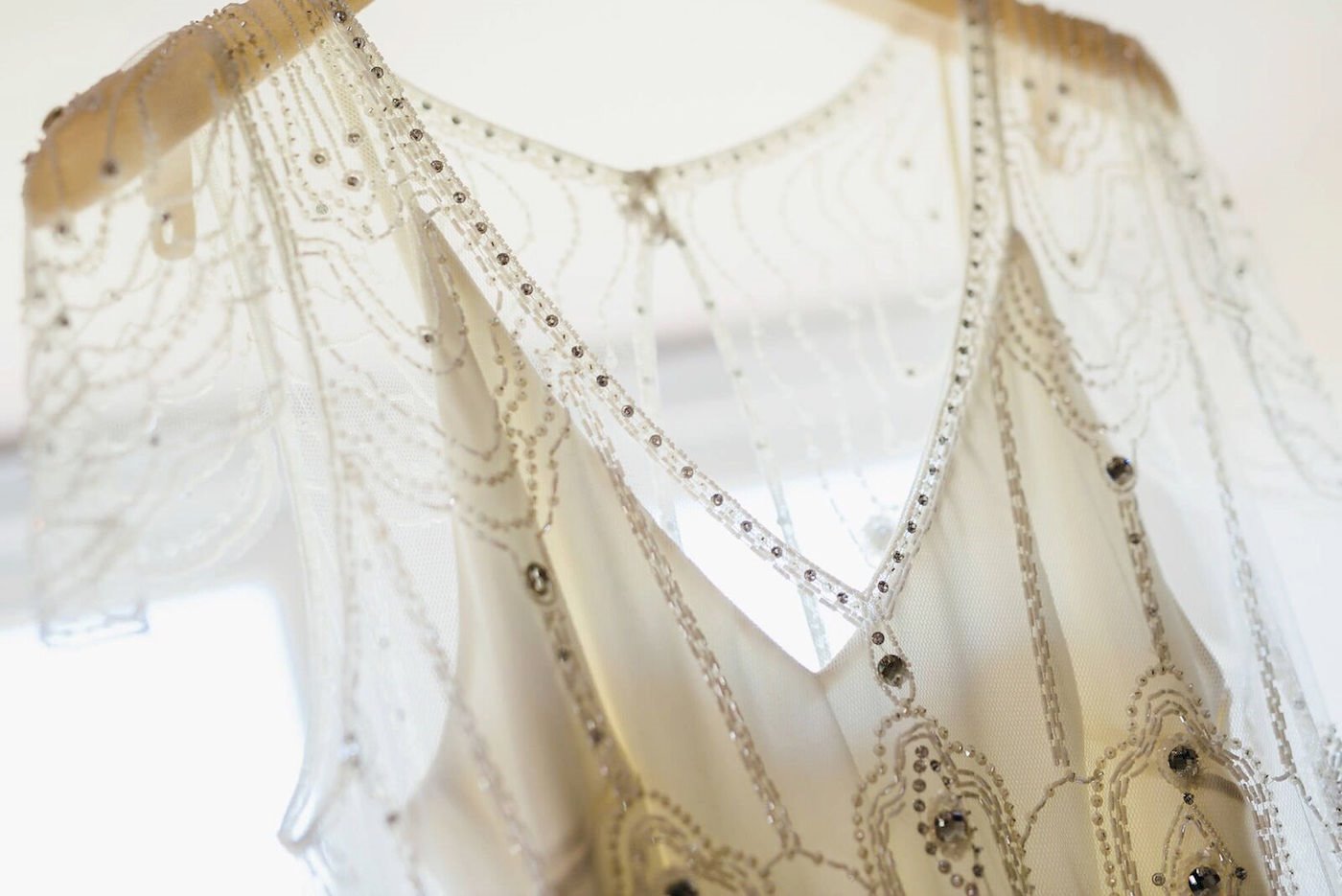 What did the groom, groomsmen and bridesmaids wear?
The groom, ushers, best man & both our Dads wore navy tweed three-piece suits with white shirts & pink bow-ties (Mrs Bow Tie was amazing for choice & colour samples!). The bridesmaids wore the Selma dress from Ghost in navy & our flower girl wore a navy tutu (from Etsy), a white t-shirt & navy Converse trainers. She stole the show!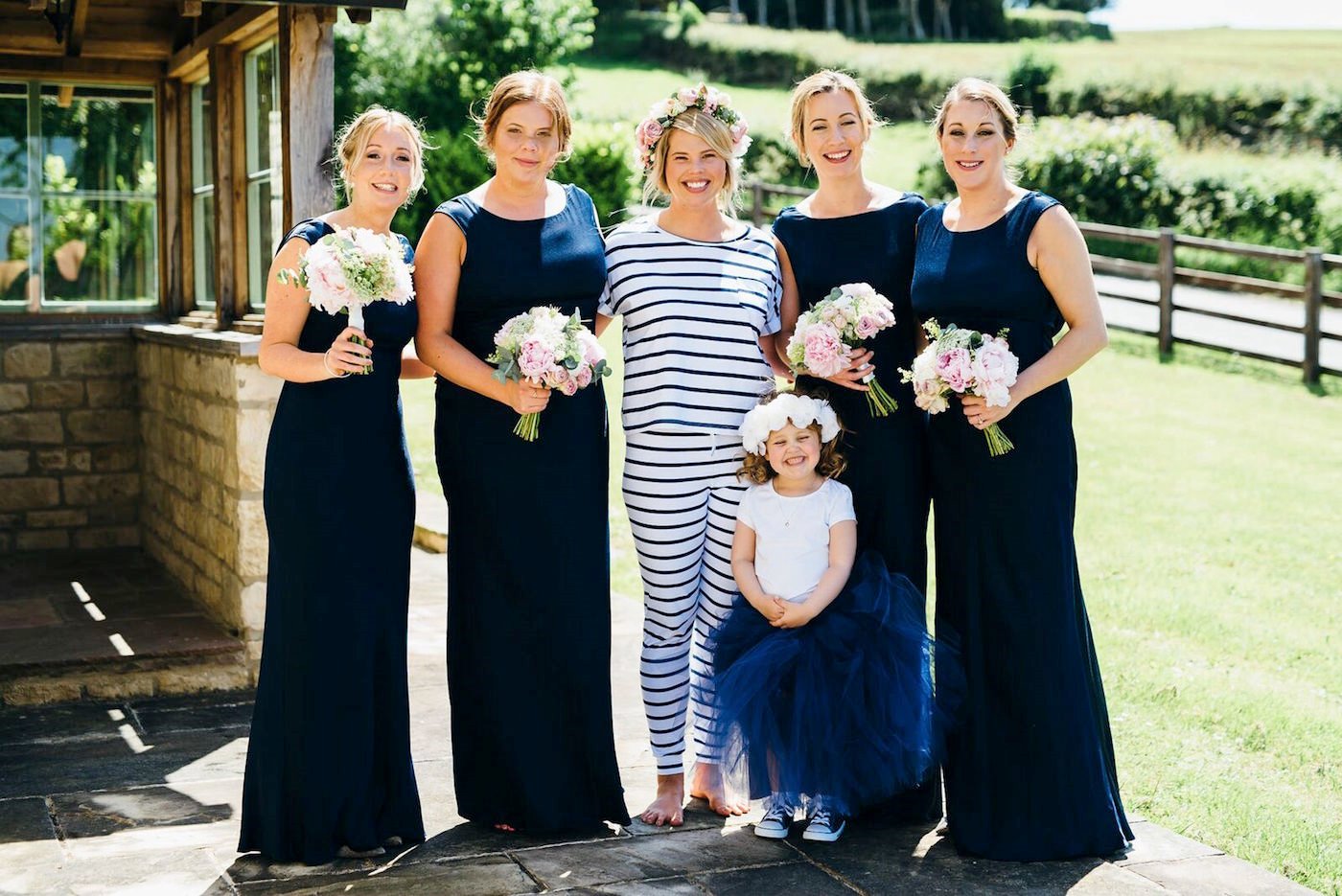 How did you decide on your wedding style?
My family are known for their love of navy & white (something I have very much inherited, especially in stripe form) so we were always going to include those colours in our scheme. We couldn't decide on a third colour for things like the boy's bow-ties & flowers but kept coming back to pink so in the end we decided to just go with it. I initially only wanted 3 colours but with decorations especially, we sometimes needed 4 so adding gold glitter was an obvious choice!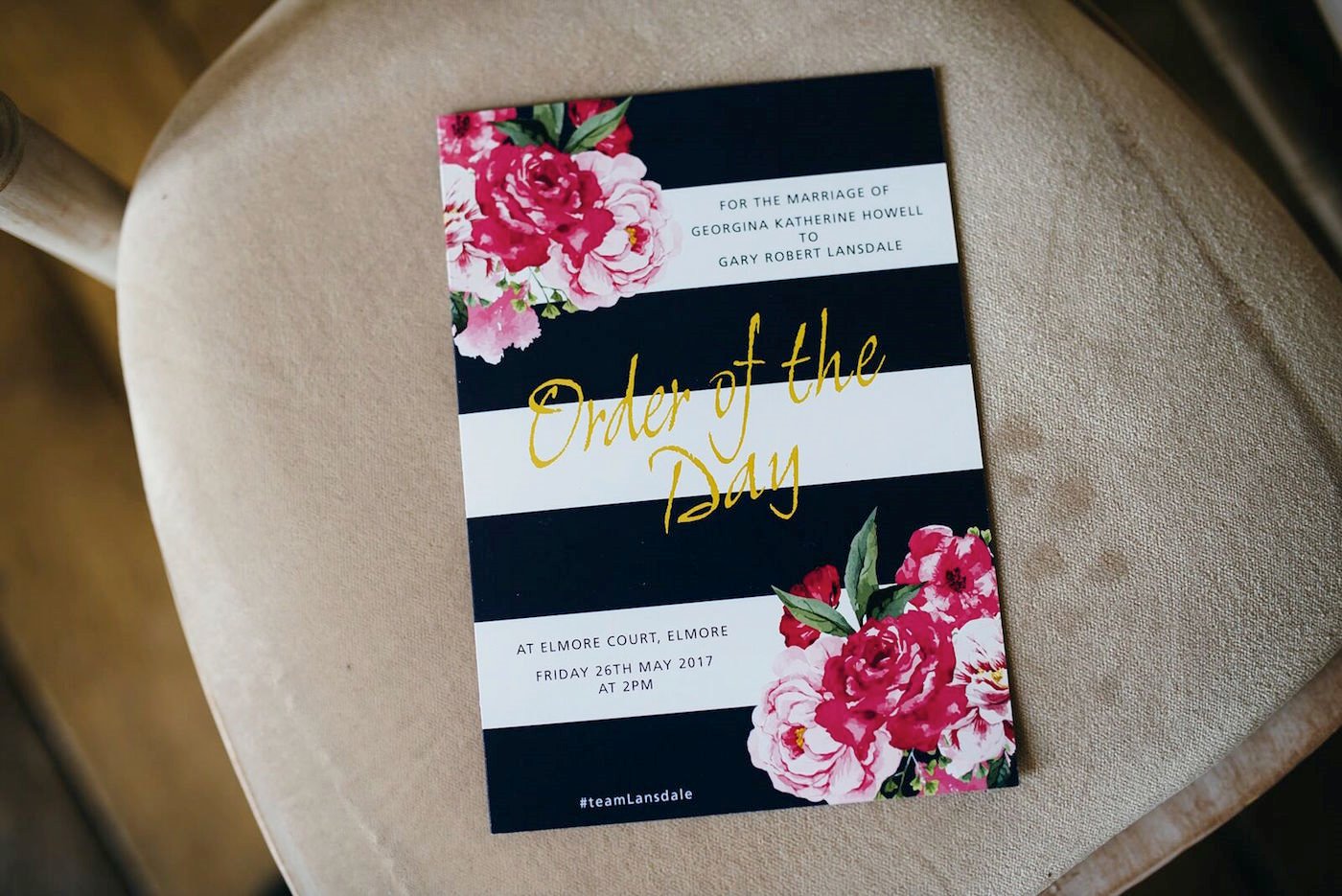 The Flowers
We used the Bespoke Flower Company for our flowers. Not knowing much about flowers, we were pretty vague with our brief. We wanted to use pinks to match our colour scheme & I liked peonies but Holly & Emma chose the rest from there. We ended up with mainly hydrangeas, large garden roses & peonies, they looked beautiful. They put a gorgeous heart shaped flower wreath on the front door of the main house, decorated the top of our table plan & put mini jam jars with similar flowers & a few more rustic ones on all the tables. For the top table, I decorated five mayonnaise jars with twine & the bridesmaids & I put our bouquets in them. This allowed us to save some money & also meant the flowers got some water for a couple of hours. My favourite part of our flowers was my flower crown. I didn't know how I wanted my hair done right until the morning of the wedding but wanted the option of a flower crown if I felt like it on the day. As soon as Holly & Emma arrived, I loved it! I wore it for the two days following the wedding too, it lasted really well.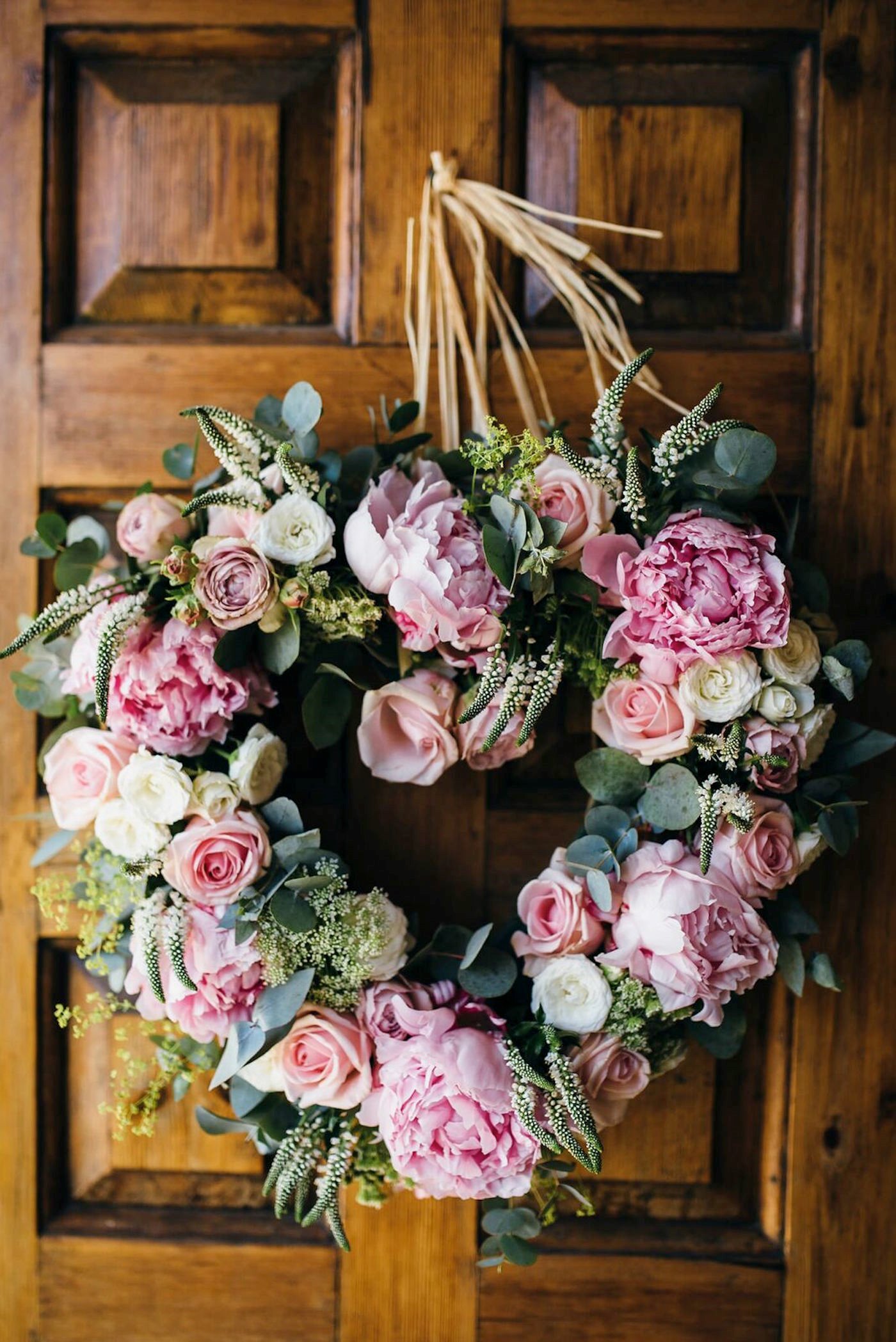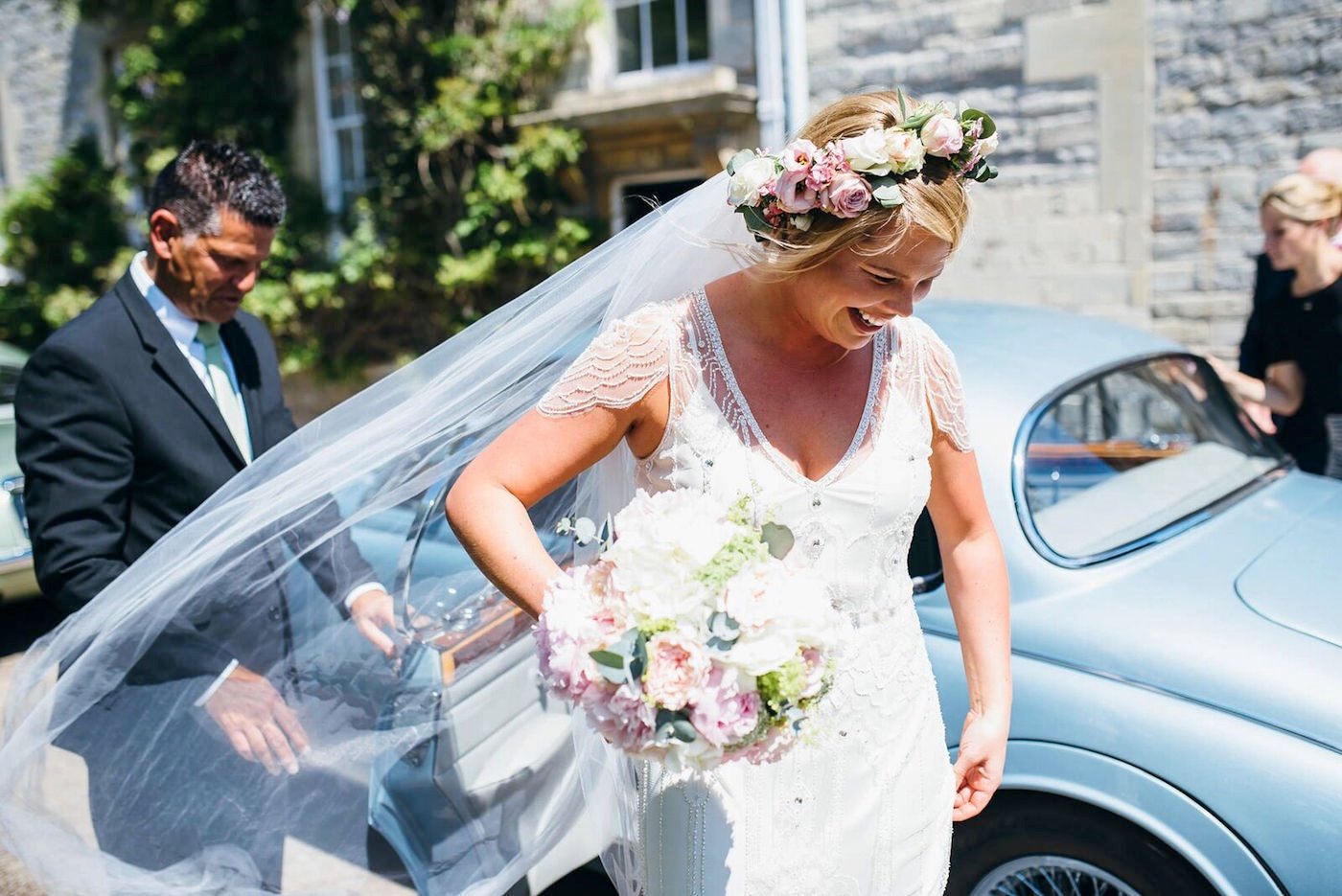 The Feast
The food at Elmore is amazing. For the wedding breakfast, we had the salmon & prawn starter, the lamb main & sticky toffee pudding for desert. We also added in mini shots of espresso martini with desert (my favourite cocktail). In the evening, we had lobster roll (complete with bibs!) & a few hot dogs for non-fish eaters. Lots of our guests raved about the food & said it was easily restaurant standard.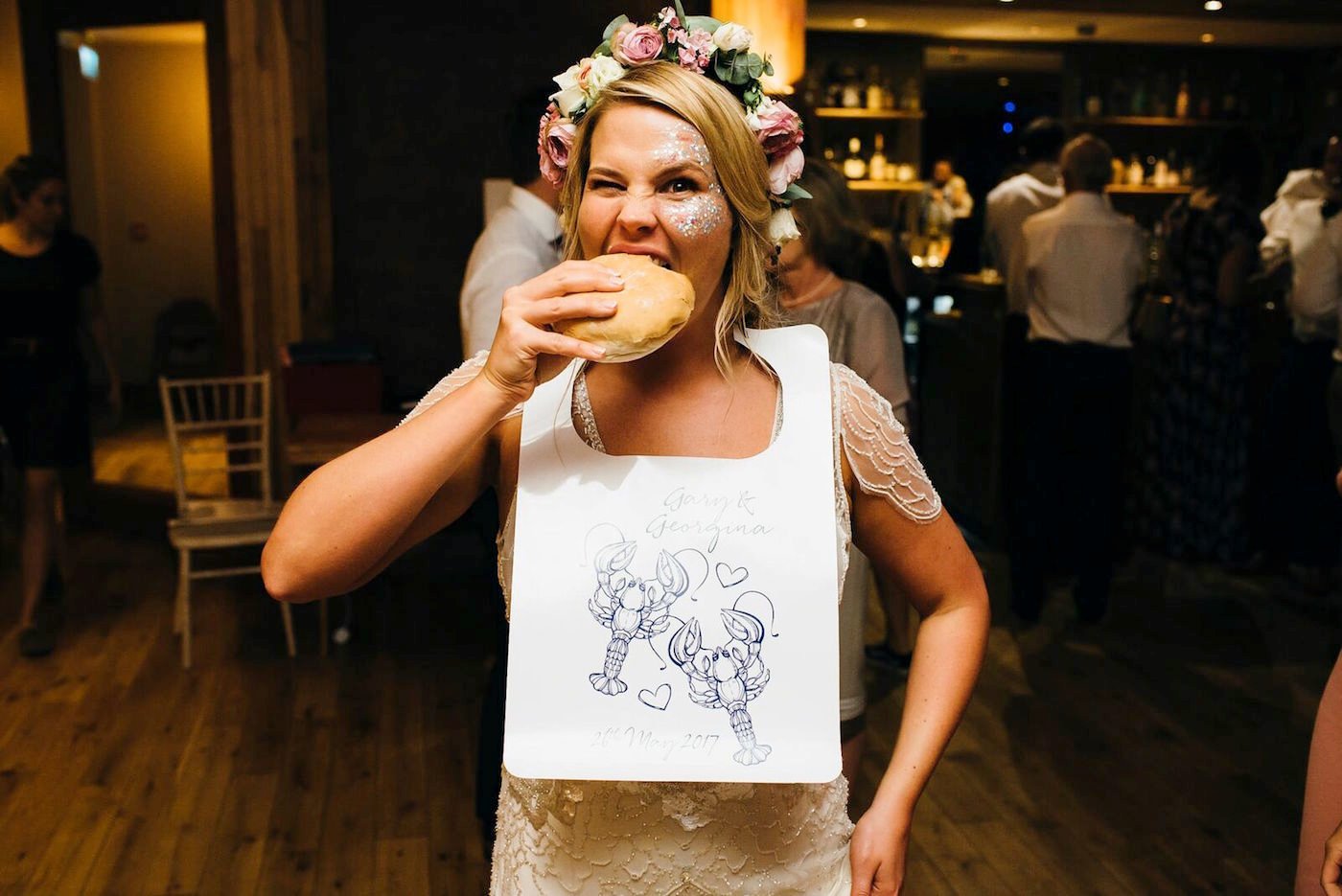 The Wedding Cake
We had a beautiful semi-naked cake made by Isabelle at Zaza Marcelle. It was four tiers of lemon, chocolate & victoria sponge (x2). Isabelle also decorated it with handmade macaroons & fresh flowers, she's a genius!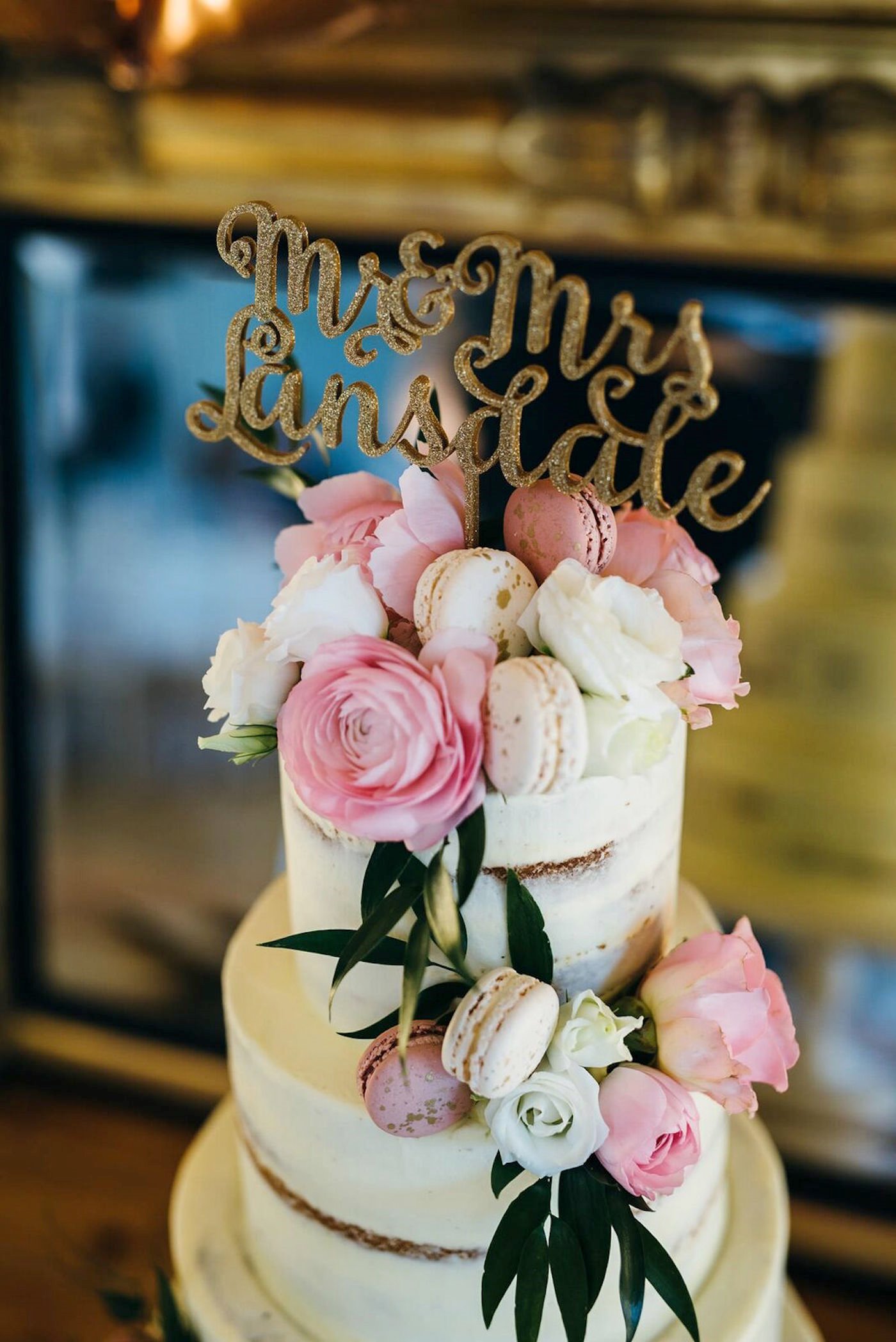 The Party!
Entertainment was an important aspect of the wedding for us. We had a Mariachi band while we had the drinks reception, A-Capella band 'Out of the Blue' for a quick set after the wedding breakfast & then Rich the DJ from Stylish Entertainment for the rest of the evening. The Mariachi band went down especially well & we've got some awesome photos of Gary & the groomsmen wearing their hats!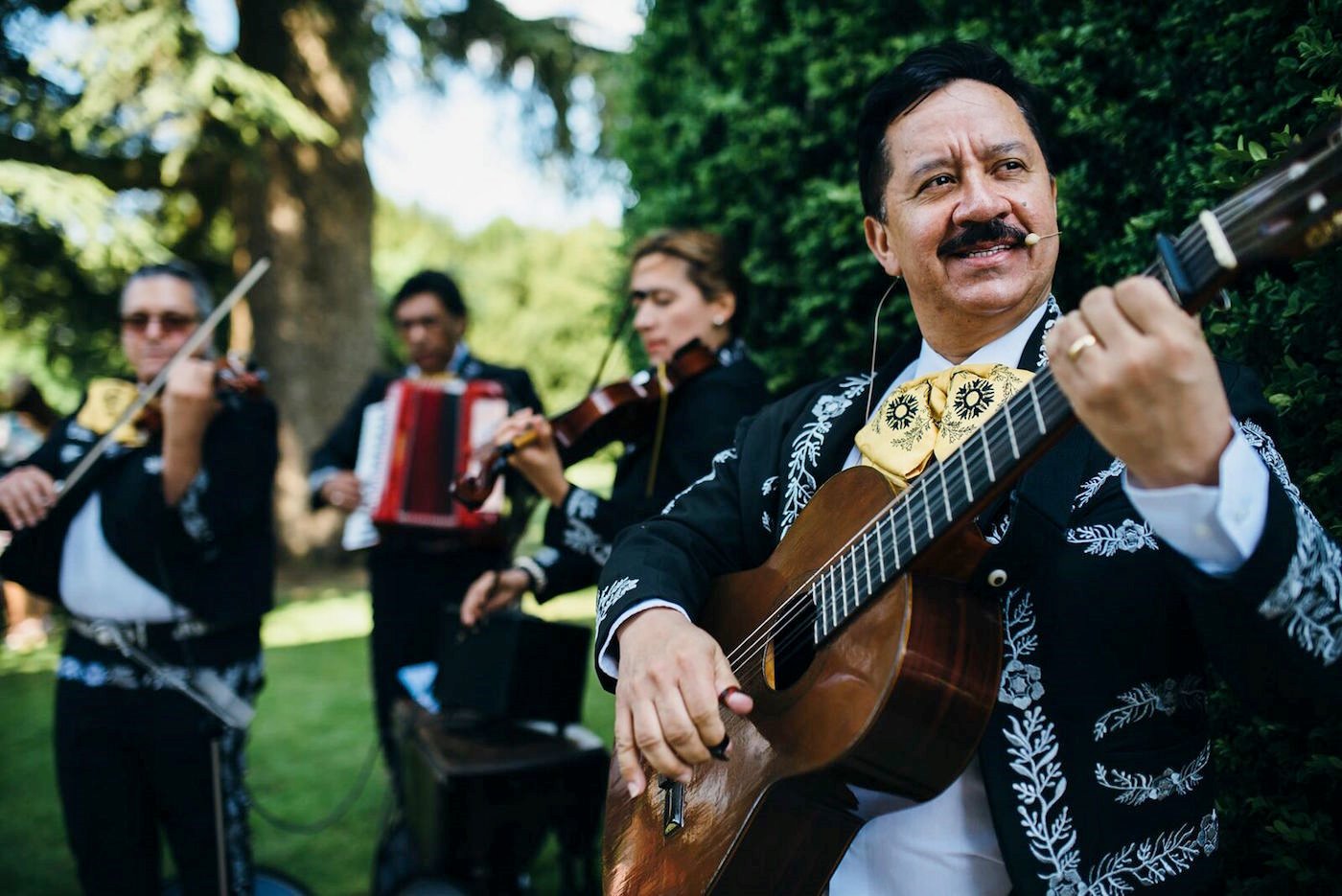 Personal Touches
We tried to make our wedding day full of things that people would associate with us. This started with the stationary being navy & white striped, we had lobster roll bibs with our names & the date on, we used our favourite champagne as table decorations (to be drunk during the speeches!), we had wooden signs in the ground that we'd painted ourselves, the vodka luge was a rugby ball & a hockey stick (two sports we both love & play regularly) & we hung mini slate hearts on the bedroom doors of everyone staying at Elmore with their names on (super helpful when looking for other family members!).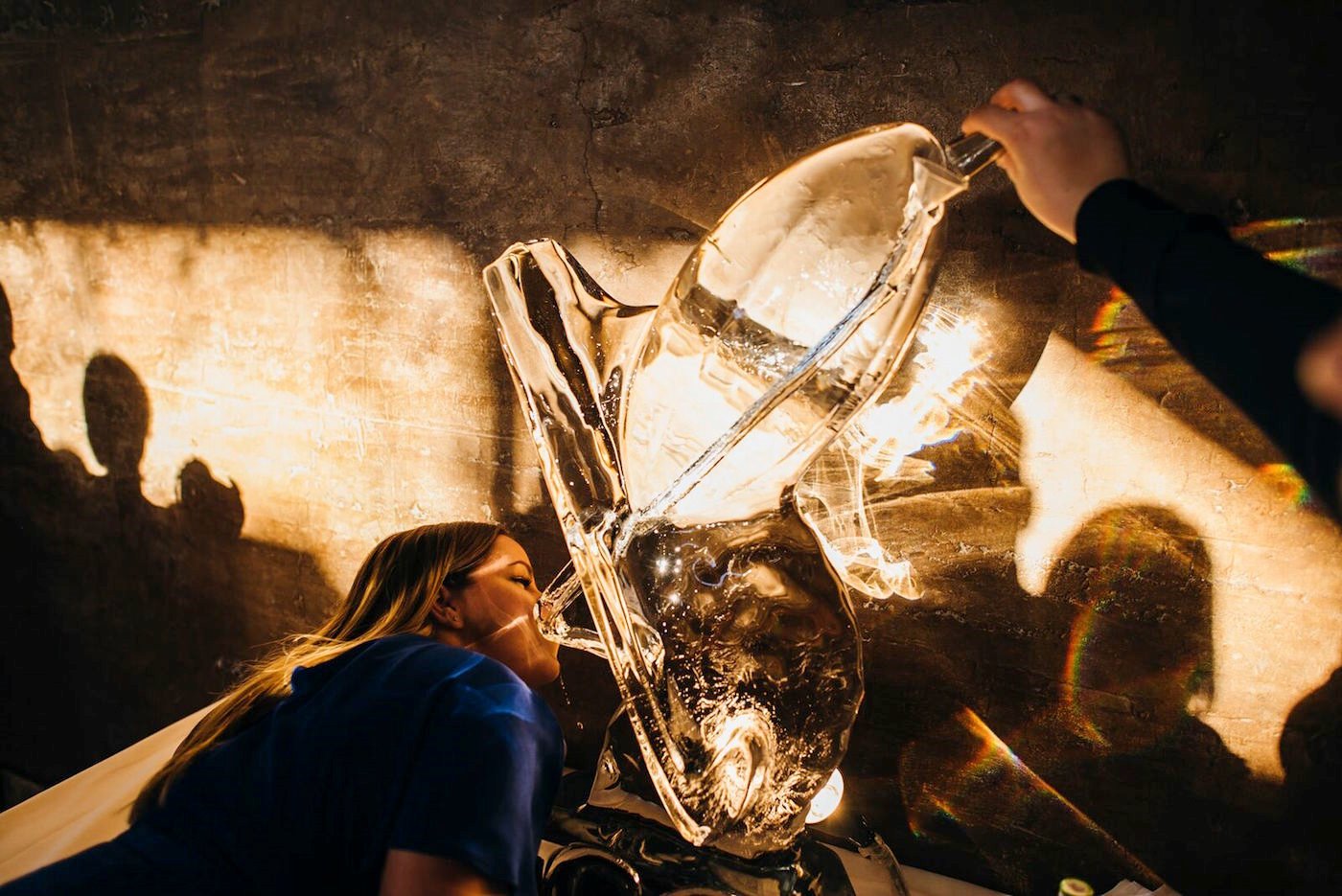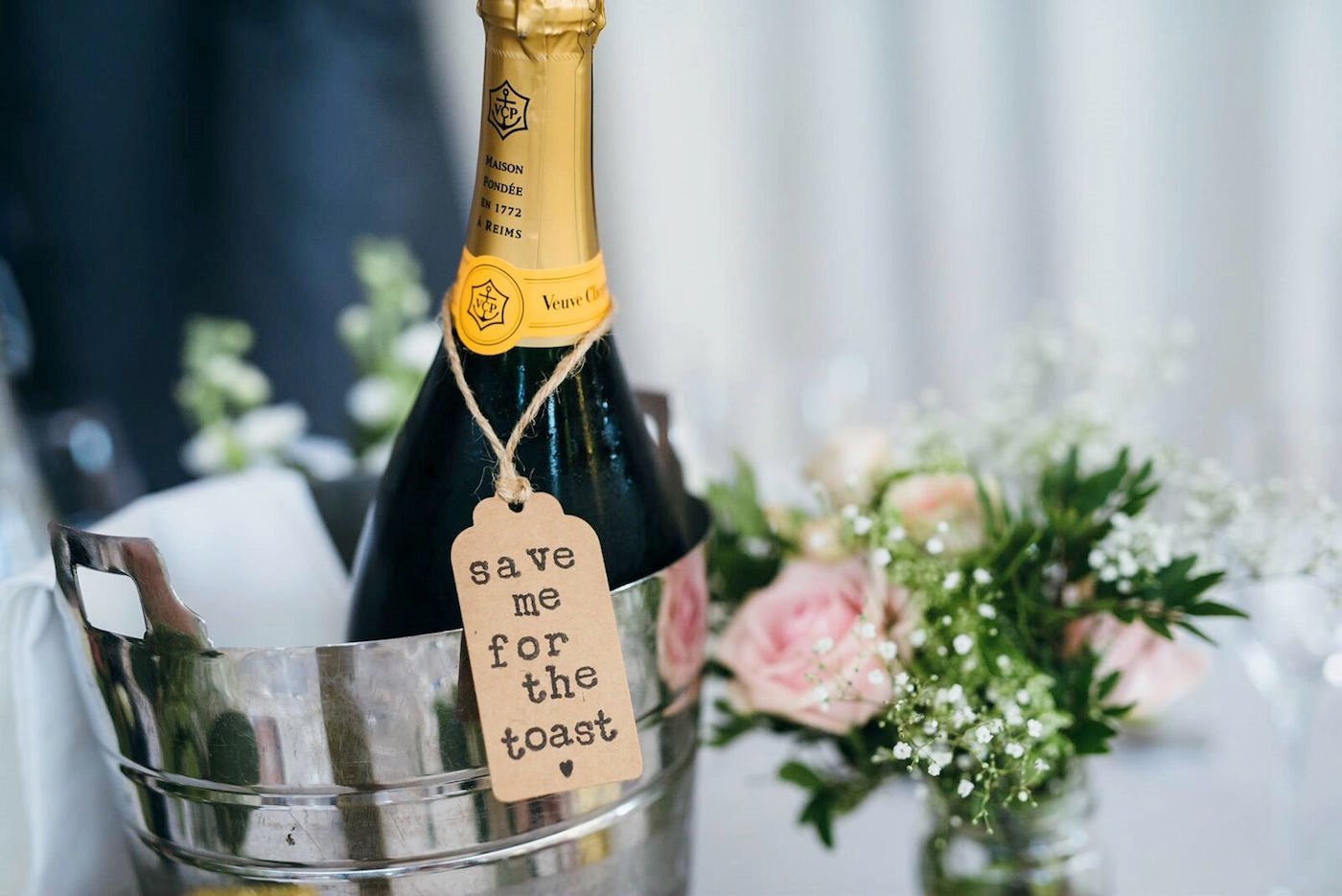 For place cards at the wedding breakfast, we had our favourite photo of us & that guest printed onto retro Polaroid photos & I hand wrote a message to every person on the back. It took forever to compile any photos we were missing & even longer to write the messages but everyone was so touched there wasn't one left behind on the tables. 
What were your very special moments or highlights of the day?
There were so many! We both agreed that the actual ceremony was really special. Although they were emotional, we were really glad that we wrote our own promises & had people that meant so much to us to do readings. The speeches were also brilliant & our first dance went down so well (we didn't tell anyone that we had learnt a routine!).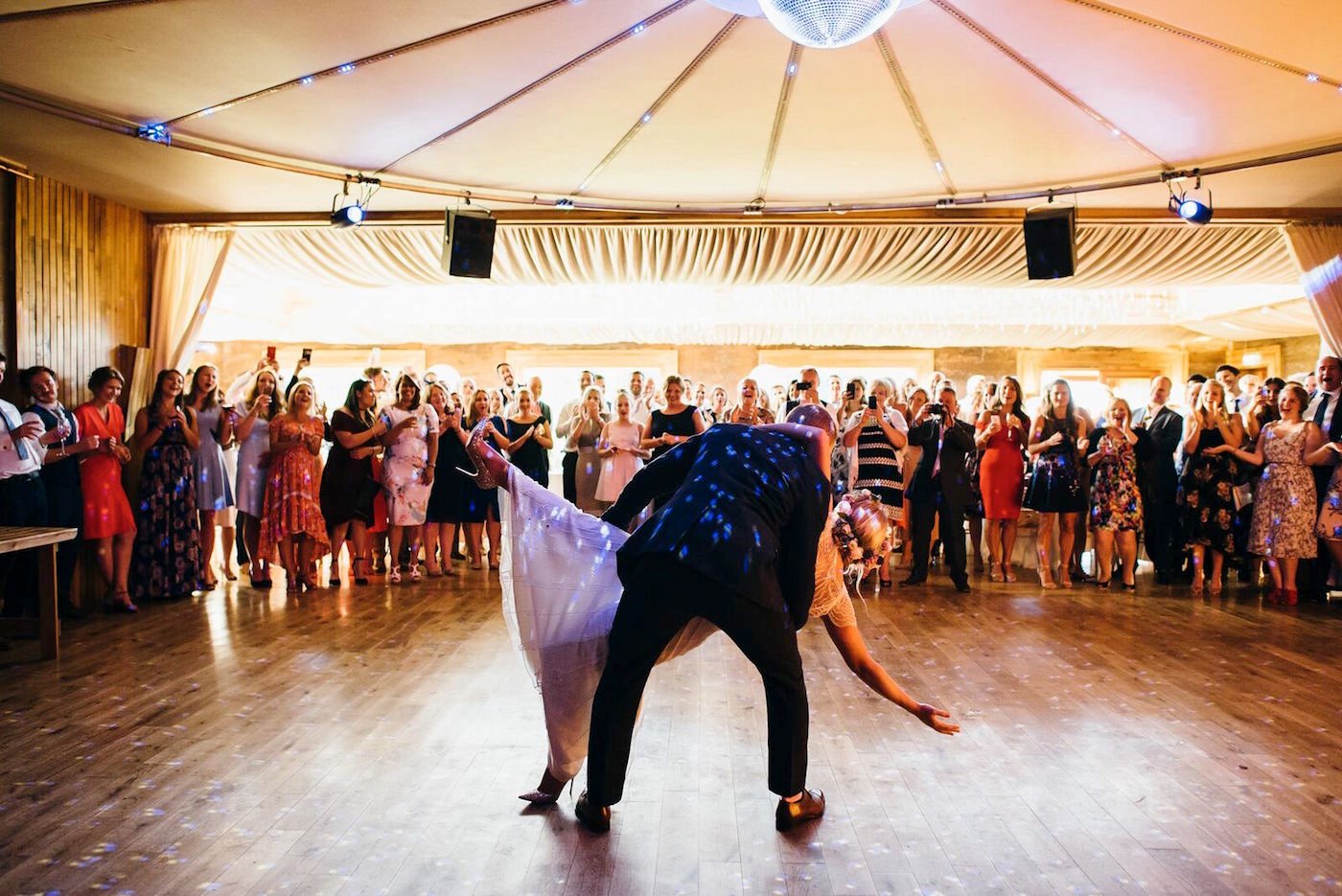 Hints and Tips for other couples planning a wedding...
Make it all about you. Our parents questioned whether a glitter bar was really needed, thought we were mad for putting everyone in bibs to eat their evening food & couldn't understand why our guests would want to do shots off a giant ice sculpture. But it worked. And it mainly worked because it was so definitely our wedding. On the day delegate everything that still needs a bit of attention. I only had one job to do (grab Gary's surprise birthday cake in time for the Mariarchi band to sing to him) & still nearly forgot to do it!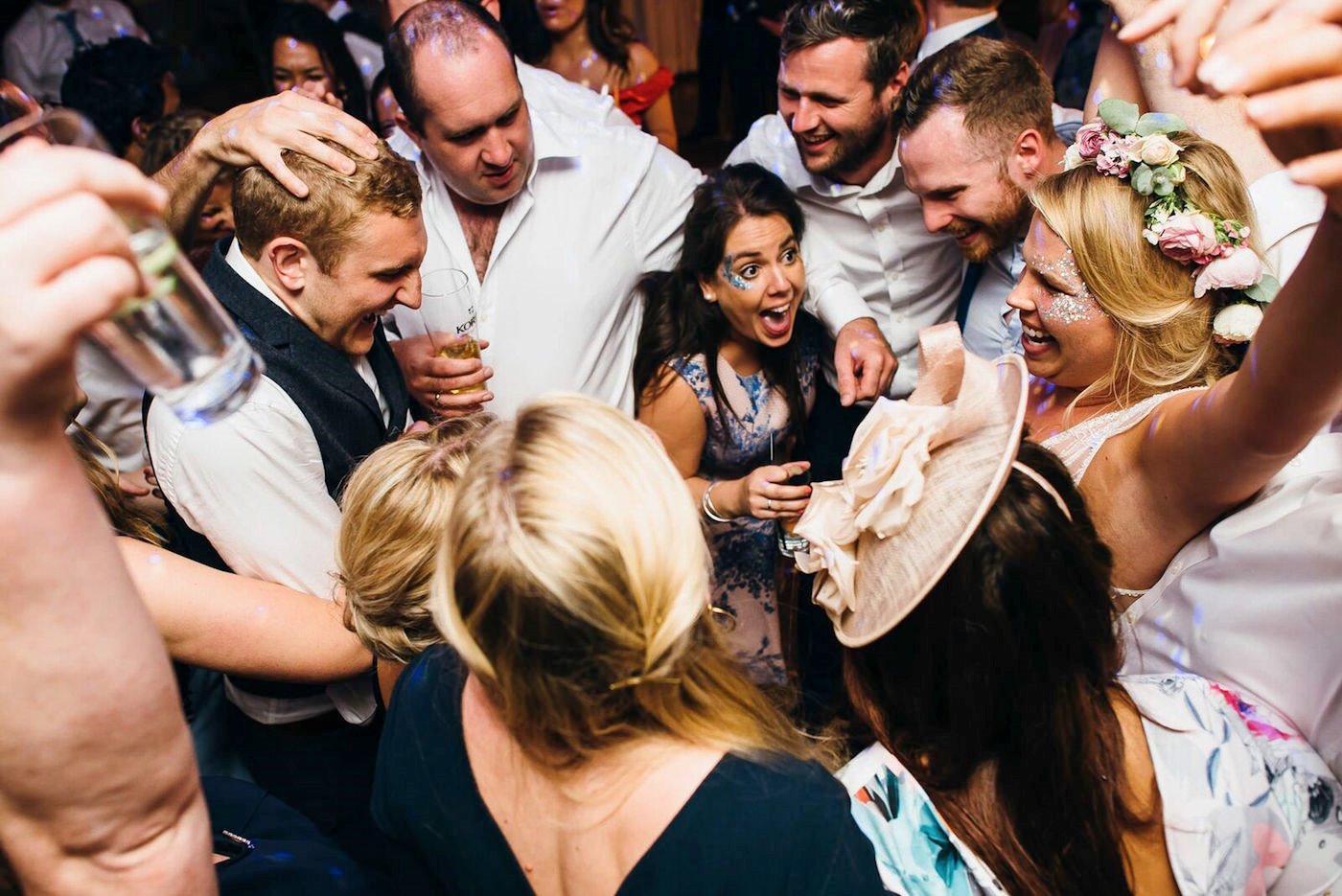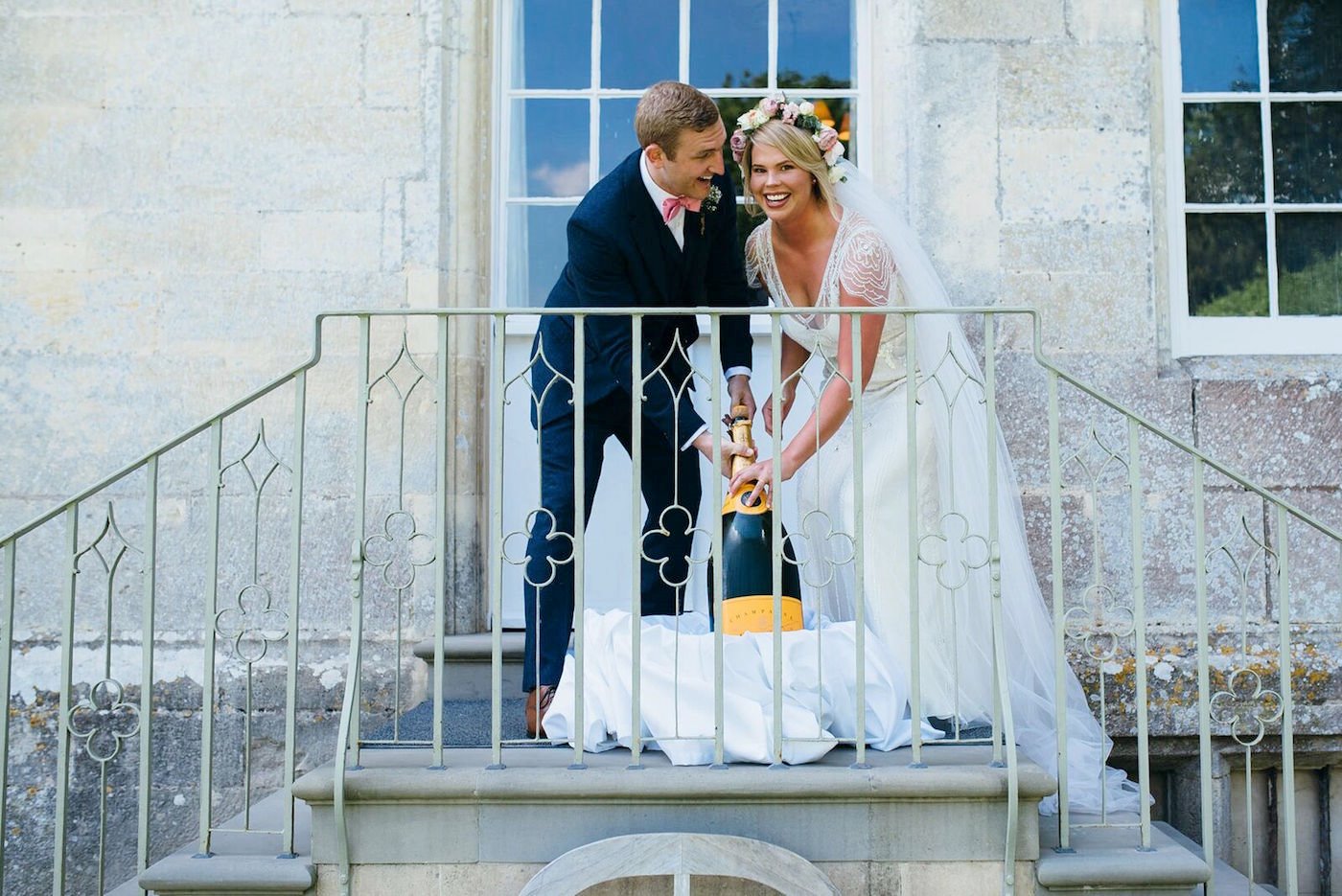 Thank you so much for sharing your amazing day with us G&G! 
Lots of love 
Team E! xx
Related reading