Christmas Wedding at Elmore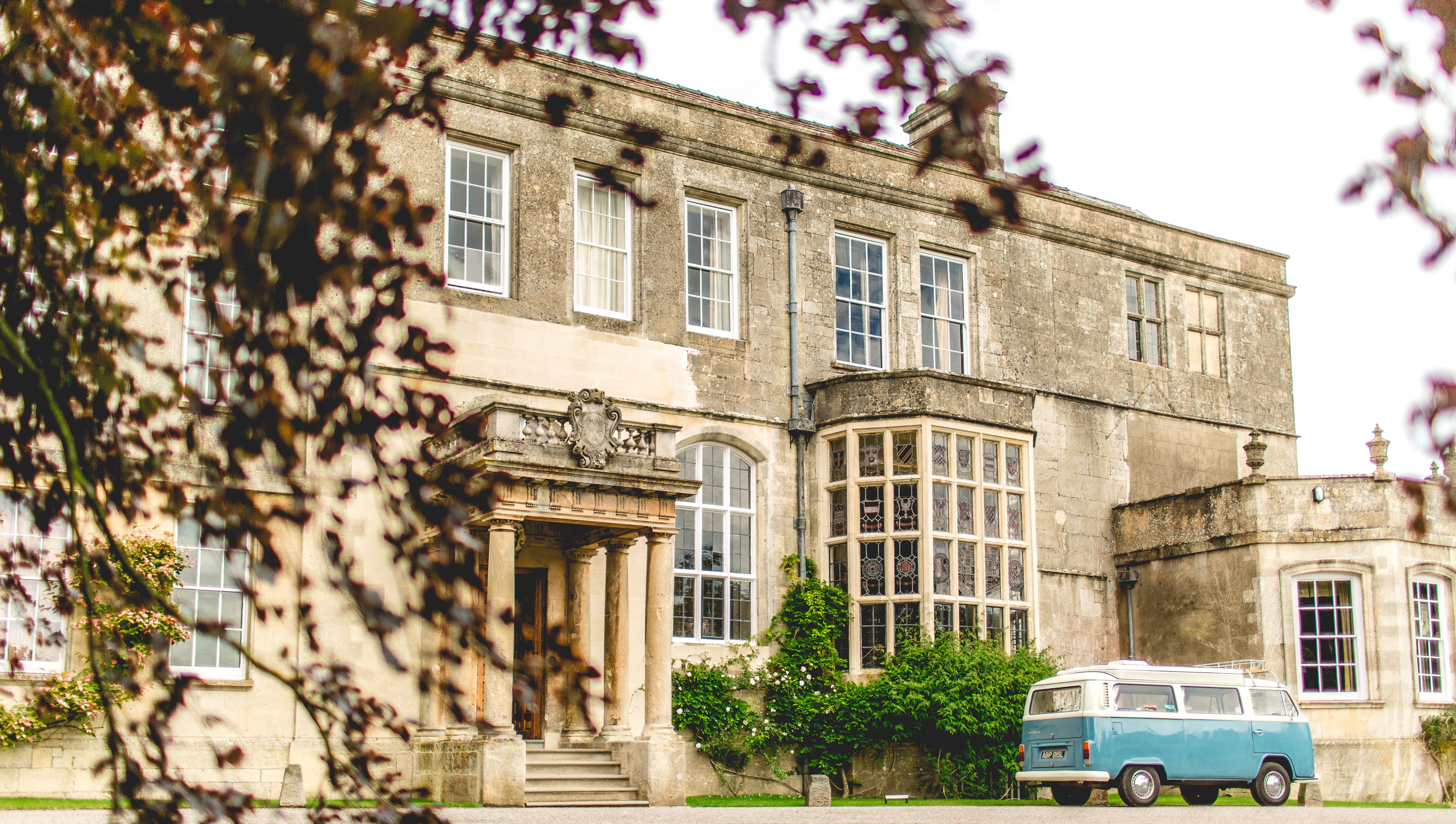 Lisa and Ed got married last Christmas and created a wonderful winter wonderland wedding.
Here is their love story...
What made you choose Elmore Court and your wedding date?
Elmore was the last venue we saw, but we definitely saved the best for last.   
From what we saw online we had a sneaking suspicion that this would be the venue for us and when we saw it it just felt right - the 14ft Christmas tree then helped to seal the deal! 
Elmore absolutely lives up to all of the amazing reviews that are out there. 
The date was fairly easy, we knew we wanted the wedding close to Christmas and availability of the venue and family coming from overseas dictated the rest.
Tell us your dress and accessories story...
I absolutely LOVED shopping for wedding dresses and tried on as many as possible.
I ended up picking a dress by Kenneth Winston. There was only one stockist of this designer in Bristol and they arranged to get the sample dress that I had seen online in for me to try and I fell in love with it. 
My Mum had started making jewellery around the time we got engaged and she is extremely talented so she made all of the jewellery and hair pieces for the bridal party. It's extra special for me to have these keepsakes knowing that they were handmade by her.
My shoes are by Badgley Mischka. This was the most complicated part of the outfit!
As with most wedding things it started with a Pin on Pinterest and I was then determined to hunt these shoes down!!! 
With 2 stockists of the brand in the UK this was not easy. I even tried getting them in New York when there for work, but eventually managed to get them from a store In London.
What about the bridesmaids and grooms men?
The suits are by Ted Baker. We liked the slightly modern twist of the navy with the traditional look of tails. 
As I had so many bridesmaids I thought it would be nice for them to be in different dresses. 
We had a mix of navy dresses from BHS, gold sequin dresses from Debut at Debenhams and a navy sequin dress for my sister by Gina Bacconi at House of Fraser.
How did you choose your winter wonderland wedding colours and theme?
We both love blue so navy seemed to work and champagne gold gave it a bit of sparkle for Winter.  The time of year also helped with the styling which involved lots of candles, fairy lights, a Christmas tree shaped table plan and antlers. 
We had lots of sequins in the décor which worked beautifully with the twinkly lights. 
The sparklier and glitzier the better as far as I was concerned!
What flowers and wedding décor did you go for and why?
Early on in the planning we came across a wedding that Maria at Sorori Design had done which used frames over the tables to decorate and we knew we wanted something similar. 
We loved how different this looked and that it gave height to the décor but was not obstructive for people on those tables. 
We used pinterest for inspiration for flowers and Maria was great in making suggestions. 
I loved the navy centre Anenome that was included in the bouquets. 
Ed didn't want a floral buttonhole so Maria created lovely combinations using ferns and berries, which he found were reminiscent of walks in the Peak District from when he was younger.
What about that glorious gold wedding cake?
We had a beautiful 4 tier cake with edible sequins by Curtis & Co Cakes. - Jennie is a cake making genius! 
The cake tasting was Ed's highlight of the whole wedding planning process. We went for a mix of lemon sponge with a lemon curd filling and chocolate fudge cake with salted caramel. 
Delicious and beautiful!
Tell us about the other lovely touches you added to the day?
We were determined from the start that we wanted to plan a day that had momentum to it. We knew there would be a gap between the meal and the evening entertainment, which we wanted to fill. This was one of the most difficult parts of the planning. 
Eventually we came up with the idea of having carol singers. We decided to tie it in with Irish coffee's and hot chocolates to be served after the diner and we thought the Main House would be the perfect setting.
We weren't sure how well it would work on the day, but it was perfect and the effort to do this was worth it. 
We ended this with a sparkler send off to go back to the Gillyflower to get the evening party started. 
I'm a sucker for all things reminiscent of Bonfire Night and Christmas so sparklers were in the plans from early on.
Some of the other extra touches were late additions such as the festoon lighting which I stole from Lauren Grey's styling at the Oomska. 
We originally vetoed photo booths as we had only seen the tacky versions that you see at a lot of fairs but then we came across Booth19's vintage photobooth we thought it would be a nice addition and it was very popular.
Did you have any personal touches or bits you did yourself?
Unfortunately, neither of us are very crafty, but we wanted to try and find little ways to personalise the day. 
We thought it would be nice to somehow give a personal message to each of our guests so we decided to use the favour boxes and added simple gift tags to write little notes on. 
We were surprised by how much this was appreciated by our guests and we're so glad we did this. 
What was a particular highlight of your day?
There were so many highlights of the day that it really hard to narrow it down. 
It's a cliché to say but probably seeing everyone you love in one room having such a great time with you, for that reason we'll always remember the reception.
What wedding planning advice would you give other couples, or any tips for the day itself?
Every married couple says this, but it really is true – don't stress about the small stuff and enjoy it. 
Focus on the things that are important to you both and the rest should follow. 
On the day make sure you take a few minutes with each other away from the madness. 
One of the best things about Elmore is that you discover new areas as the day progresses, you are not just moved between two rooms all day. All the guests loved the Main Hall and lounge area and then were stunned to see the Gillyflower later in the day.
What was your biggest surprise of the day/special moment?
How relaxed we were! Which is in no small part down to Team E! 
Everyone at Elmore was just so calm and focussed it freed up the day for us to enjoy knowing that everything was on track and running smoothly. 
It was a special moment for me when I arrived at Elmore and saw my parent's and bridesmaid's all completely ready, and we had a few minutes together before the ceremony, and then walking down the aisle to Ed was the best feeling imaginable. 
For me (Ed) it was seeing Lisa walk down the aisle, it was such a beautiful and surreal moment, she looked absolutely stunning and was surrounded by the sunlight coming through the stain glass windows, I'll never forget that.
All photos by James Fear
And all the praise for the fabulous suppliers:
Hair – Fordham Hair Design & Harriet Cook 
Make Up – Katy Pheiffer
Florist – Sorori Design 
Styling – Lauren Grey 
Photographer – James Fear  
Videographer – Jumping Spider Films 
Lighting – Every Event Hire 
Photobooth – Booth19 
Cake – Curtis & Co. Cakes 
Band – The White Rivers
Wedding Transport – Nostalgia Cars 
Have we inspired you to go for a Christmas wedding?
Take a look at some more winter wonderland wedding inspiration here.
xx
Related reading