English-Hindu fusion wedding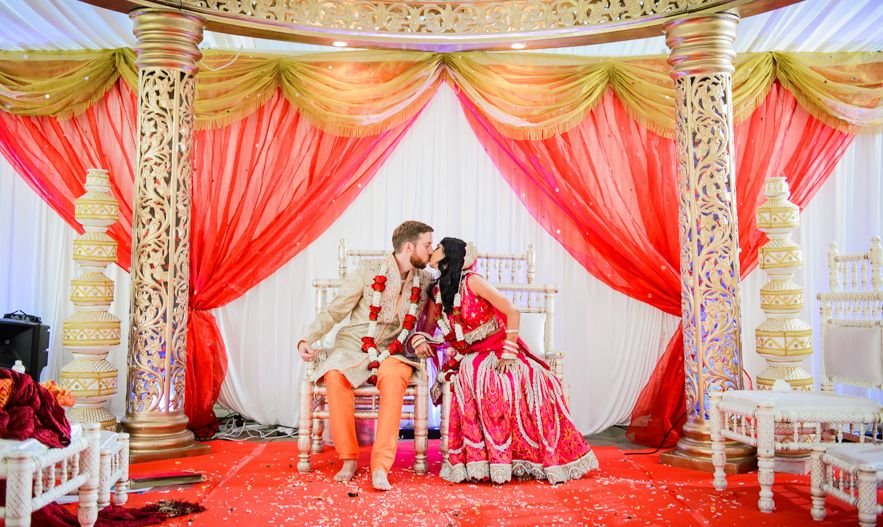 They imagined having a traditional English wedding with an Indian ceremony to combine both of their heritage into a wonderful day of celebration. Here is their wedding story...
What made you choose Elmore Court for your wedding?
I wanted something different and with real wow factor. I had a short list of 3-4 venues but each of them had their barriers for us – no single venue was perfect. In my Googling I came across Coco Wedding Venues – I loved the style of Emma's website, it was informative and she offered a venue finding service. The best decision I made was asking for her help via email with my shortlist of venues. Emma quickly replied and urged me to go and see Elmore after I explained our requirements. I took her advice and completely fell in love with Elmore Court. Throughout my tour of Elmore there was something new around every corner and it had a unique mixture of modern and traditional elements. Many, many people at the end of our wedding commented on what an amazing venue Elmore Court was, how distinctive and wonderful it is, and we completely agree. The team at Elmore also had a huge impact as to how brilliant the wedding was; with their continuous help, humour and support.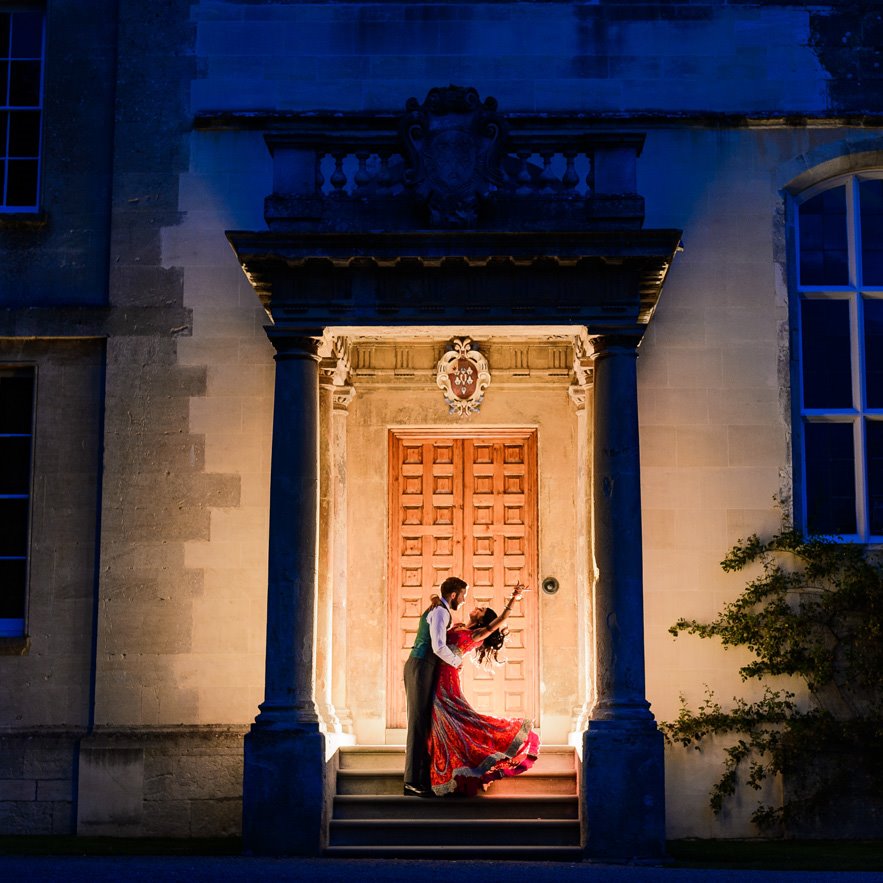 Did you have a theme or particular colour scheme when styling your day? How did you choose this?
When we started out planning our wedding we wanted it to be colourful and fun. We loved clean, modern lines, for example, geometric designs, and we based our wedding on our sofa colours: fuchsia, teal and orange!  These colours ran throughout the day from the ties, button holes, flowers, menus, stationary, maid of honour dress, our Indian outfits, etc.!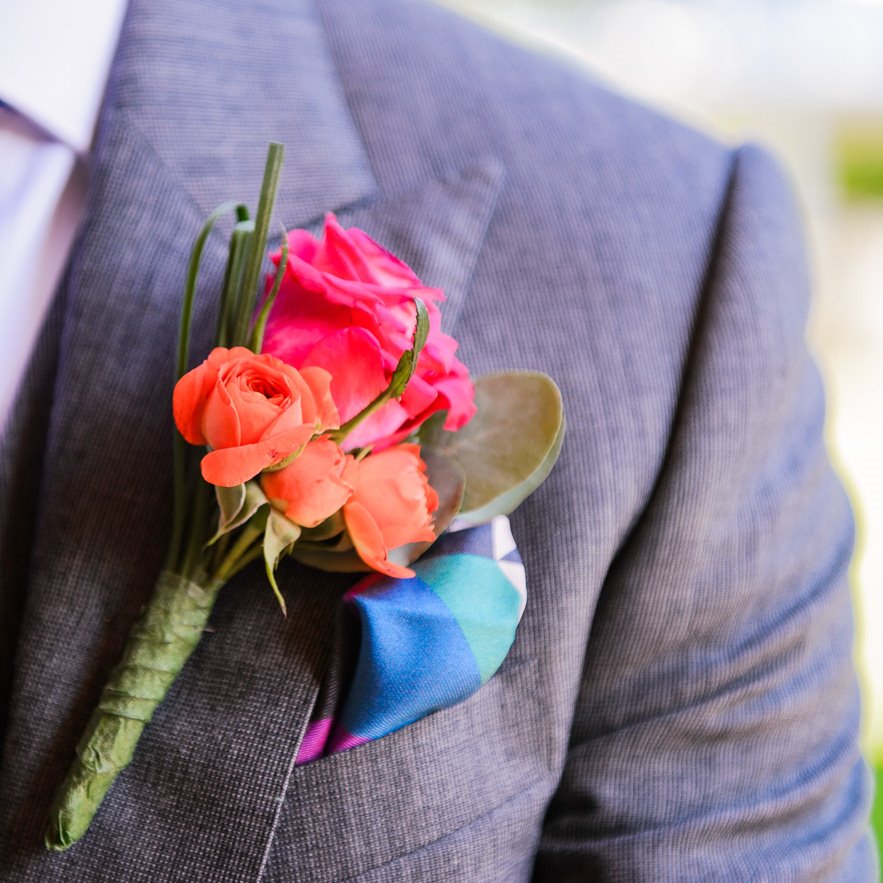 What flowers did you choose?
I spoke to a number of Gloucestershire flower companies and The Bespoke Flower Company just understood what we wanted. We individually picked the flowers which worked so well together with our colours and modern, geometric theme. We were delighted with the flowers on the wedding day and the girls, Emma and Holly, worked so hard to get it turned around early so we could fit two ceremonies in!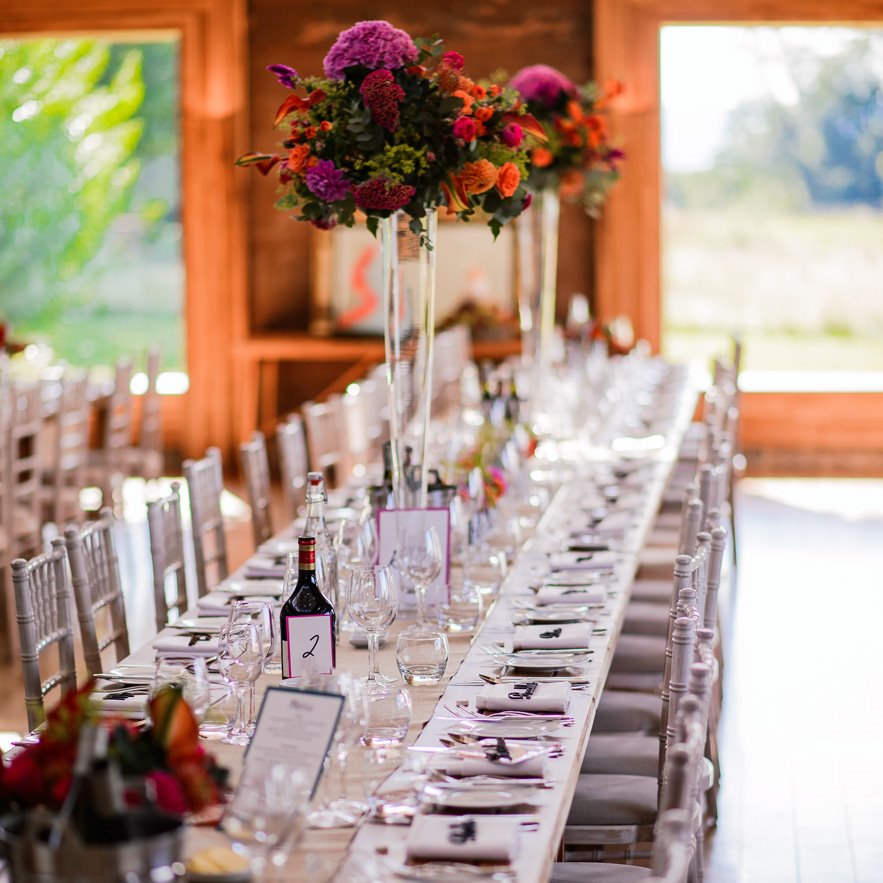 Tell us your dress story...
Our plan for the wedding day was to have two marriage ceremonies – a civil ceremony for the legal side and an Indian ceremony to reflect my heritage and upbringing, so I had the luxury of choosing two dresses!
As any engaged girl does, you spend hours scouring the internet. The more dresses you see on your friends, the more you think about your personal style, and I wanted a modern, fitted, slightly bejewelled dress. I went to a few shops and got closer to the style I wanted, but had not found a dress I loved; most of the ones I liked were from abroad or too expensive. I decided to attend a trunk show at Emma Elizabeth Bridal in Twickenham.  She actually came to me with a beaded crop top and a form fitting skirt that had a long train from Watters. I was immediately taken by the fact it was different, reflected my personality and was not the norm. On the day I got a number of compliments about the fact it was original, unique, so 'me' and fitted beautifully. Thankfully my husband Matt also loved it, having previously wanted me to wear lace!
For my Indian outfit I headed to Southall, a mecca for Indian bridal wear in West London, and instantly fell in love with my bright pink top and skirt – the beading and design was stunning and I was able to customise it to my specification. I really enjoyed swishing around in my skirt on the dance floor. The slight hindrance was the weight of it, which definitely got tiring after 4 hours of dancing!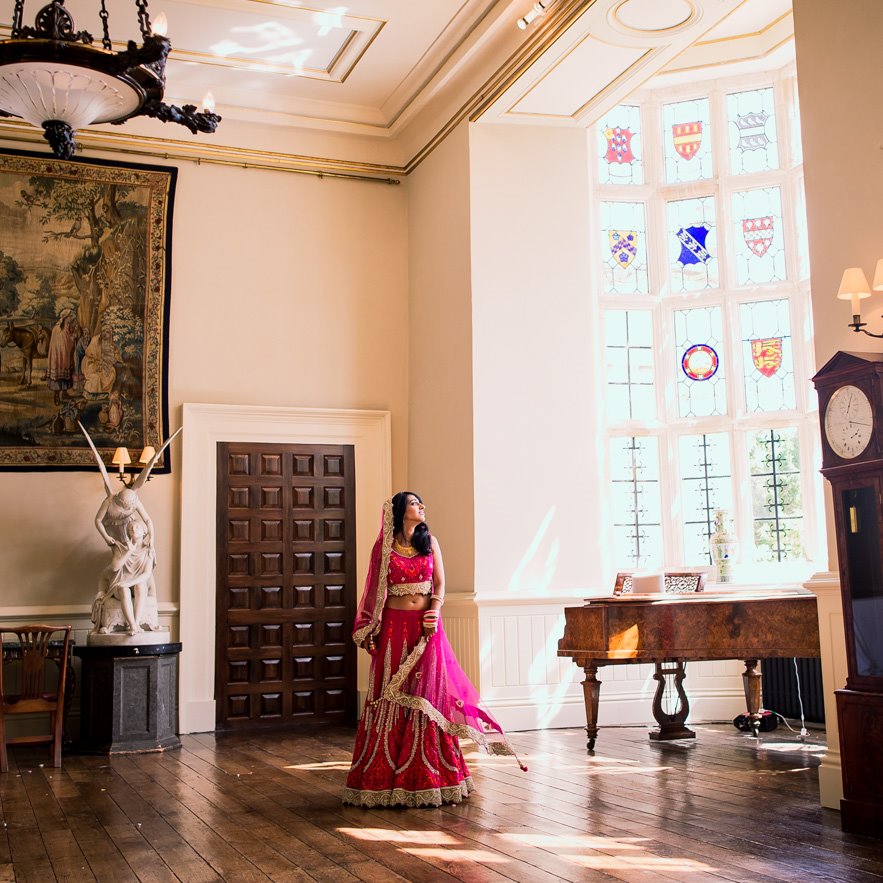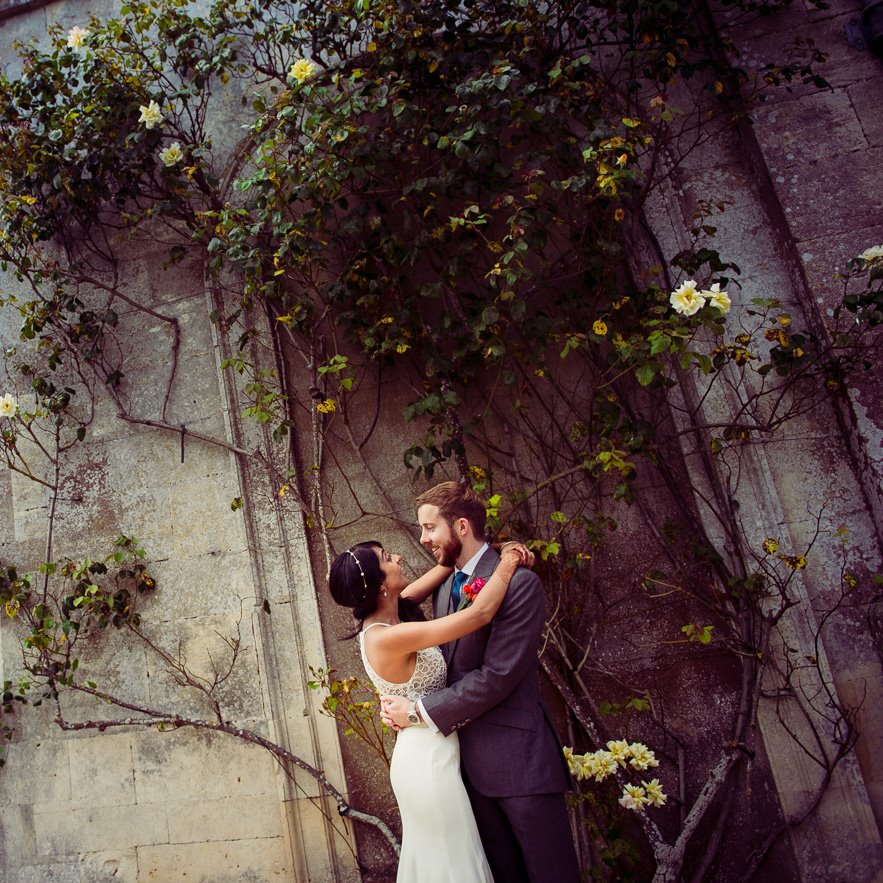 How did you feel on the morning? Walking down the aisle and during the ceremony?
I was tense in the morning, with a 14-month build-up from when we booked Elmore Court to the wedding day, but our morning timings went to plan. My family and my two best friends, Carly and Claire, were amazing - making me laugh, making sure I ate and helping me with anything I needed.  I was just excited to see Matt and get started. We chose 'Sweet Disposition' by the Temper Trap - a song we both love - to walk down the aisle to, accompanied by my dad, so I had a big grin on my face. My dad and I are very close so it was a special moment for us and seeing Matt standing under the flower arch was perfect. We designed the ceremony to be short and reflect us – for example, we chose Sunscreen as our only reading to remind our loved ones that life is to be lived, and to enjoy whatever choices you make!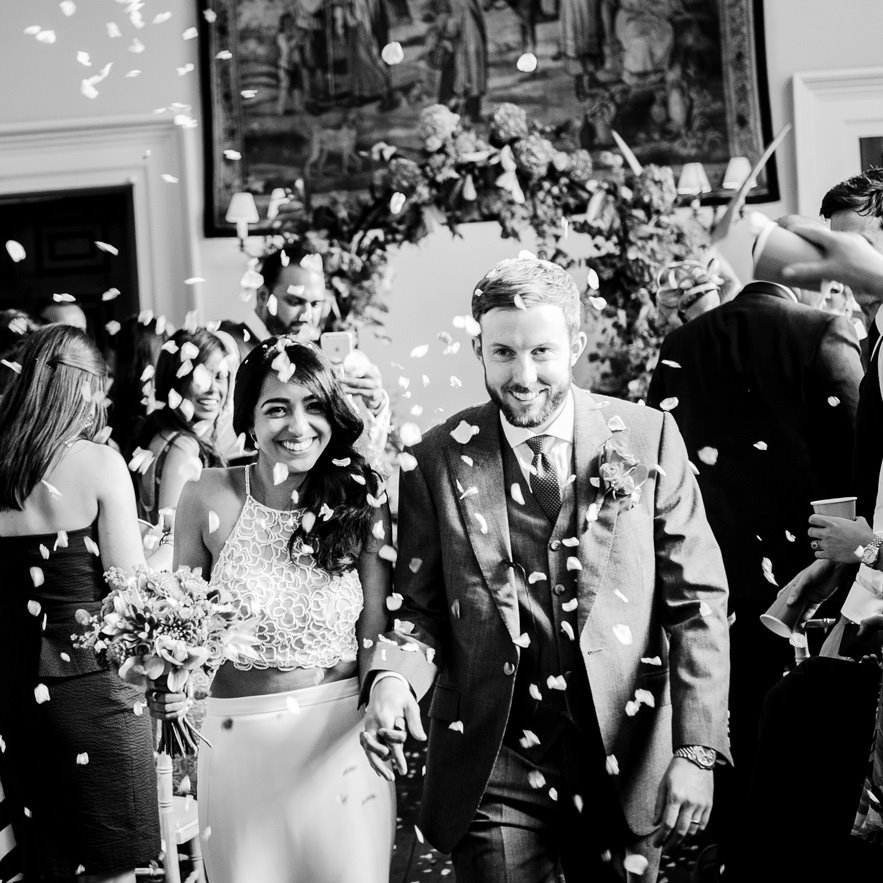 Tell us about the drinks reception, photos etc…
Our wedding was due to be a long day so we wanted to make sure we made the most of the time between ceremonies to thank all our guests for being with us. This also meant we wanted the breaks to be enjoyable so we decided on a Mexican-themed lunch! I am always hungry at weddings, with guests fighting over canapés and there never being enough, so we created a live Mexican cooking station with Elmore's help, it was sooo good! On top of that we had a mariachi band making our guests laugh, and a bubbles and a bellini bar so they could make their drinks to their individual tastes. We knew the Indian ceremony would be quiet after an indulgent champagne reception so got people back in the mood by serving aperitifs after this. Matt chose gin and tonics and I had Prosecco with edible flowers for that extra touch.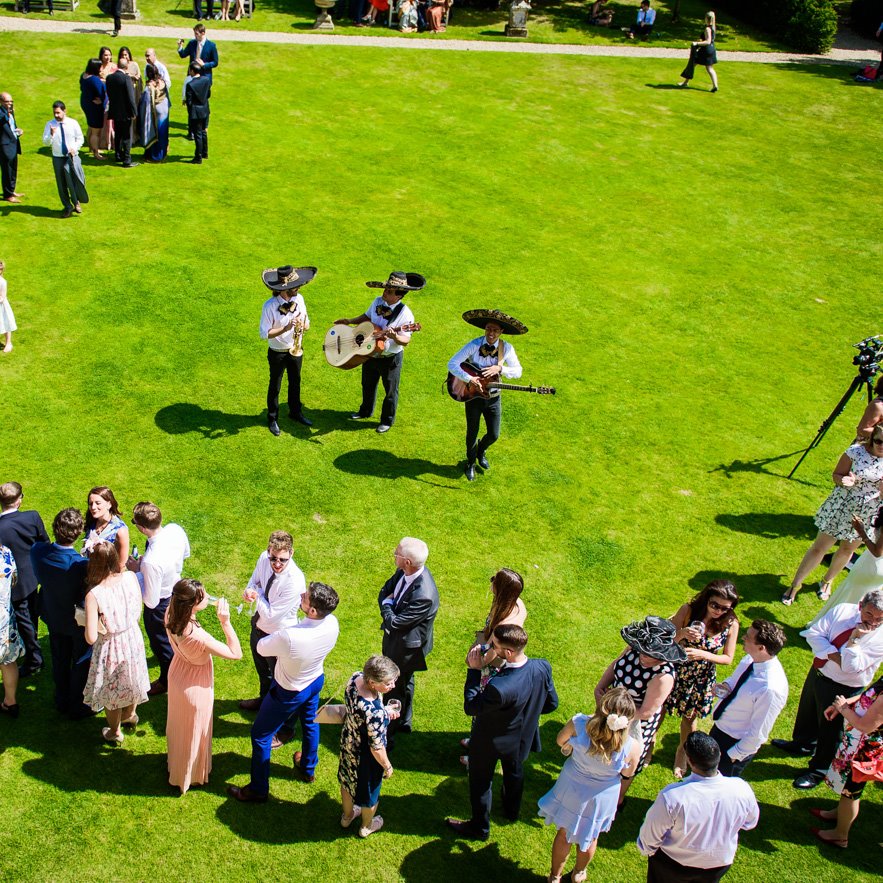 What did you think when you saw the Gillyflower set up with all your décor?
It was amazing – seeing all our planning and thoughts come to life. It looked better than we could have hoped and just got us excited to have our guests walk in and experience it.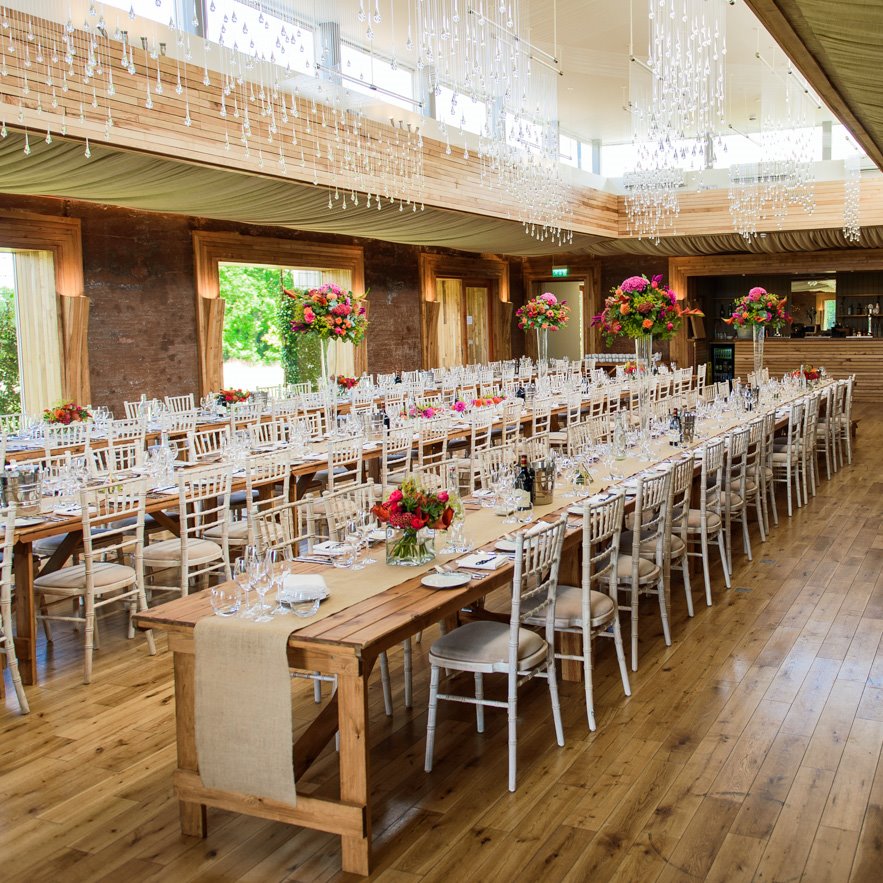 What kind of wedding cake, who made it?
Cut Above Cake Company made a beautiful cake which reflected our wedding invite as it was geometric and in our key colours. When we did the tasting my parents got extra excited at how delicious the flavours were and added an extra tier! We had: Chocolate Cake with Salted Caramel, Fruity Apple & Cinnamon Cake, Vanilla Sponge with Vanilla and Raspberry Conserve filling and Black Velvet Chocolate & Guinness Cake. I prefer savoury to sweet so we also had a cheese cake as well as a leg of ham for people to nibble on! Why have one choice, when you can have three?!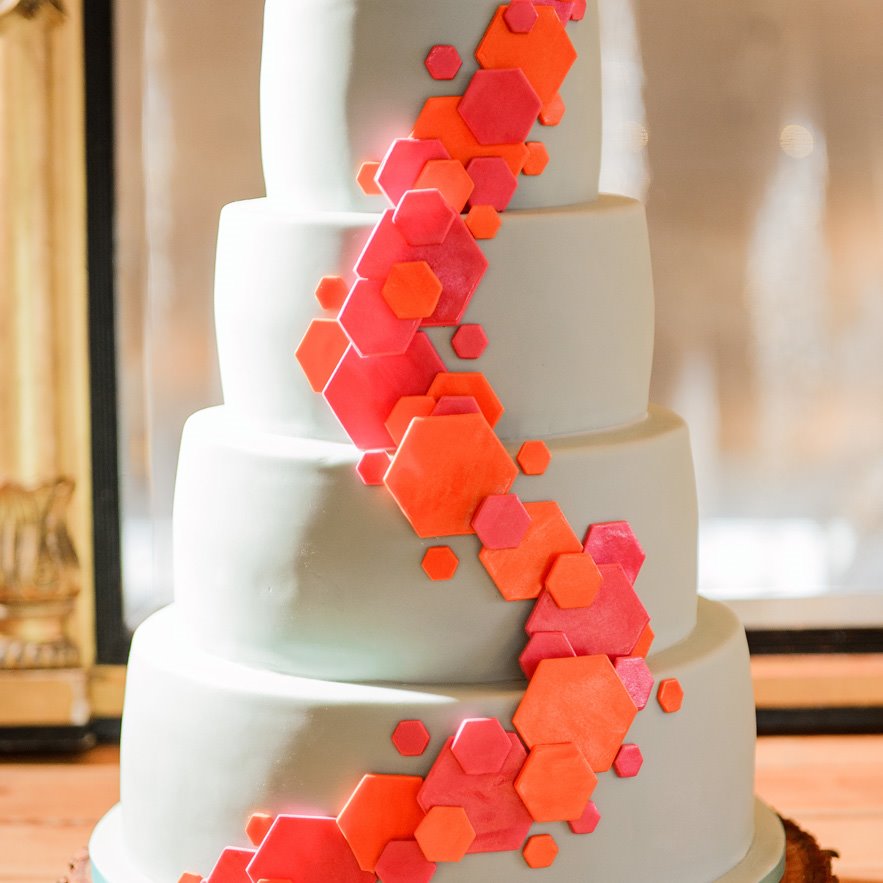 Did you have any personal touches or bits you did yourself?
We tried to do everything ourselves, with a lot of help from our families and suppliers. For example, every piece of stationary from the invites, to the menus, to the table numbers, was designed by me and Matt. Many of the ideas, such as the towel tabs at the dinner table for guests to refresh themselves, mugs to spell out our names, edible flowers in our apertifs, the mariachi band, and giving everyone a name plate they could keep as a wedding favour, were from us. We used nicknames for our guests on the seating plan to add an element of fun to the sit-down meal and create some talking points. We didn't want a guestbook so asked people to take polaroids throughout the evening and write messages to us on them – Matt is making up a huge frame to capture these. The messages are photos are a gorgeous look-back to the fun our guests were having.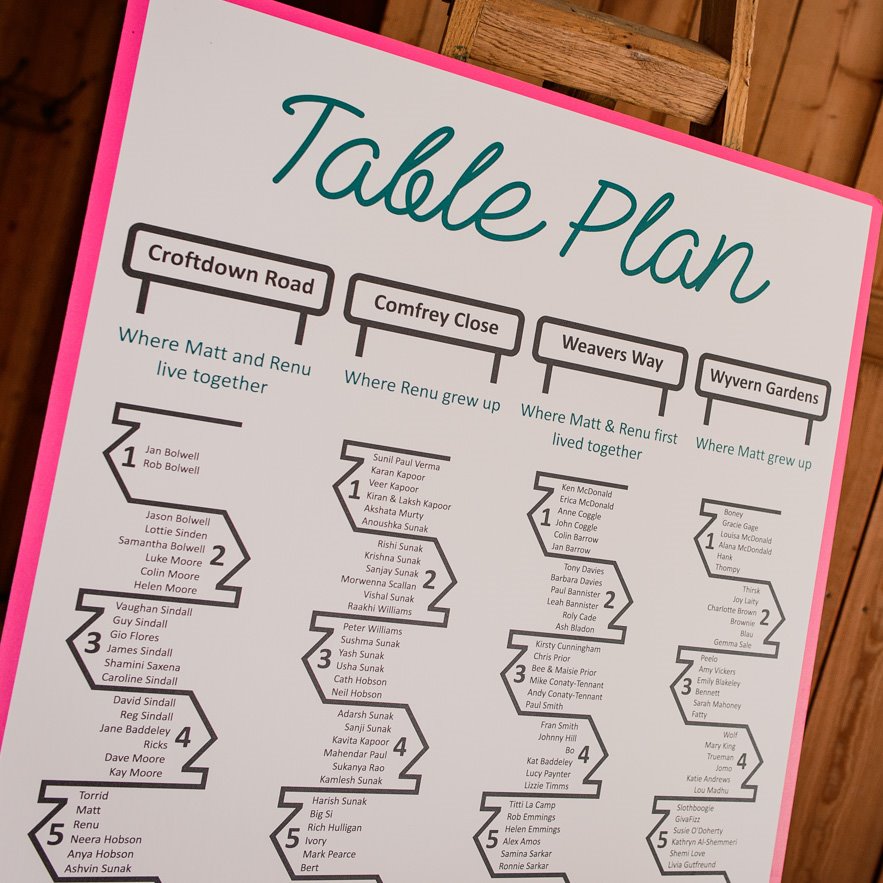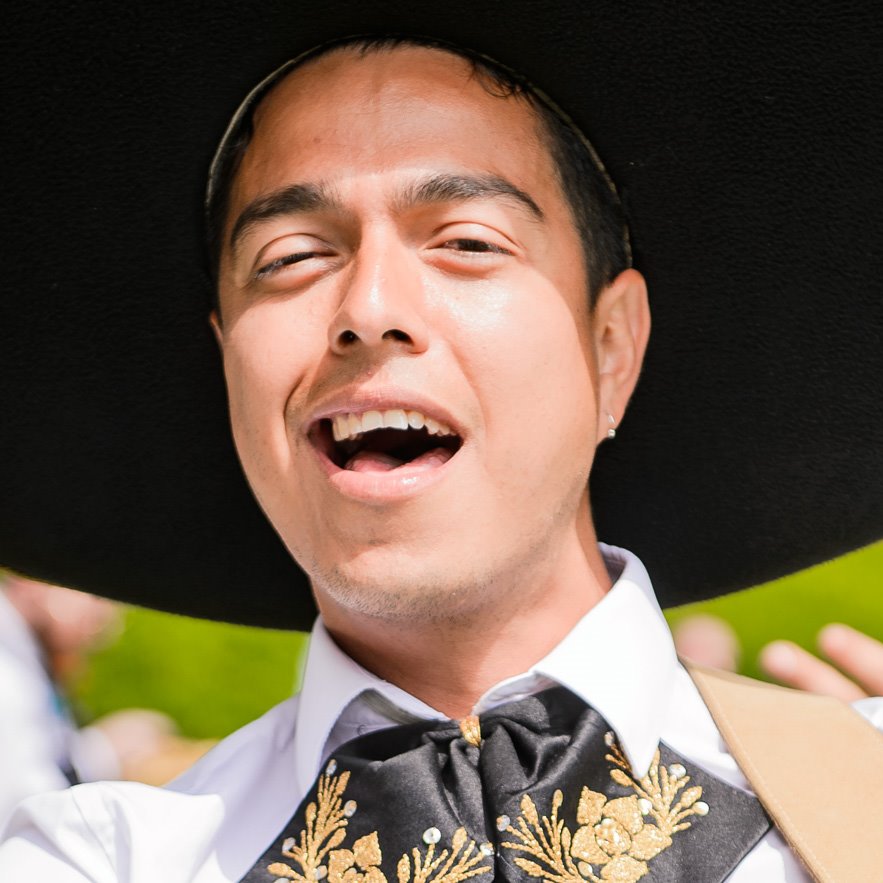 What was a particular highlight of your day?
We loved our champagne reception on the east lawn. We were blessed with a scorchio day so we were able to say hello and chat to everyone, enjoy some bubbles, eat amazing Mexican food made by Elmore (thanks Chloe), and have fun with the mariachi band. Guests were relaxing on benches and basking in the sunshine on the grass with the exception of our good friend Amit who had to sit on his wife's skirt as he was wearing white trousers! It was also after our civil ceremony; Matt and I were officially married, so it felt like such a great moment.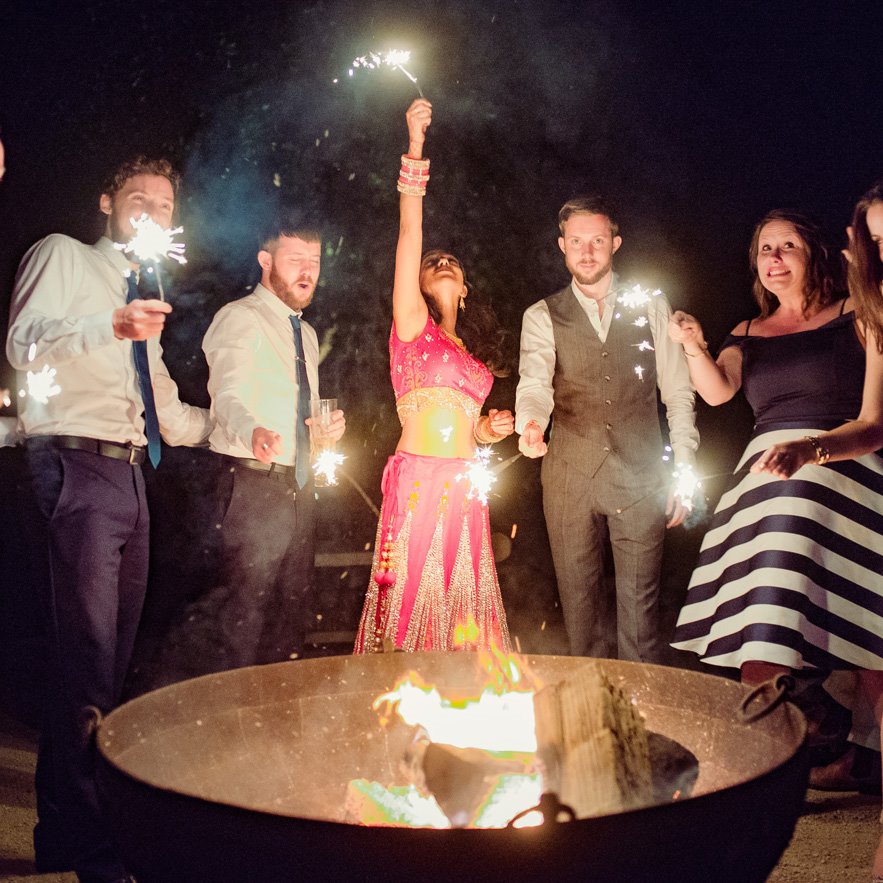 Any funny stories from the day…?
After the champagne reception my cousin, Seema, was helping Matt's parents, Dave and Kay, into their Indian outfits. On their first meeting, she happened to walk in on Matt's dad, Dave, in his boxers as he was putting on his Indian trousers! This becomes more amusing when one of the stories Matt told in his groom's speech was when that happened to me - the first time I met Dave too! During the evening party we reached a spectacular total of 150 Jagerbombs ordered, no wonder two guests left without shoes!!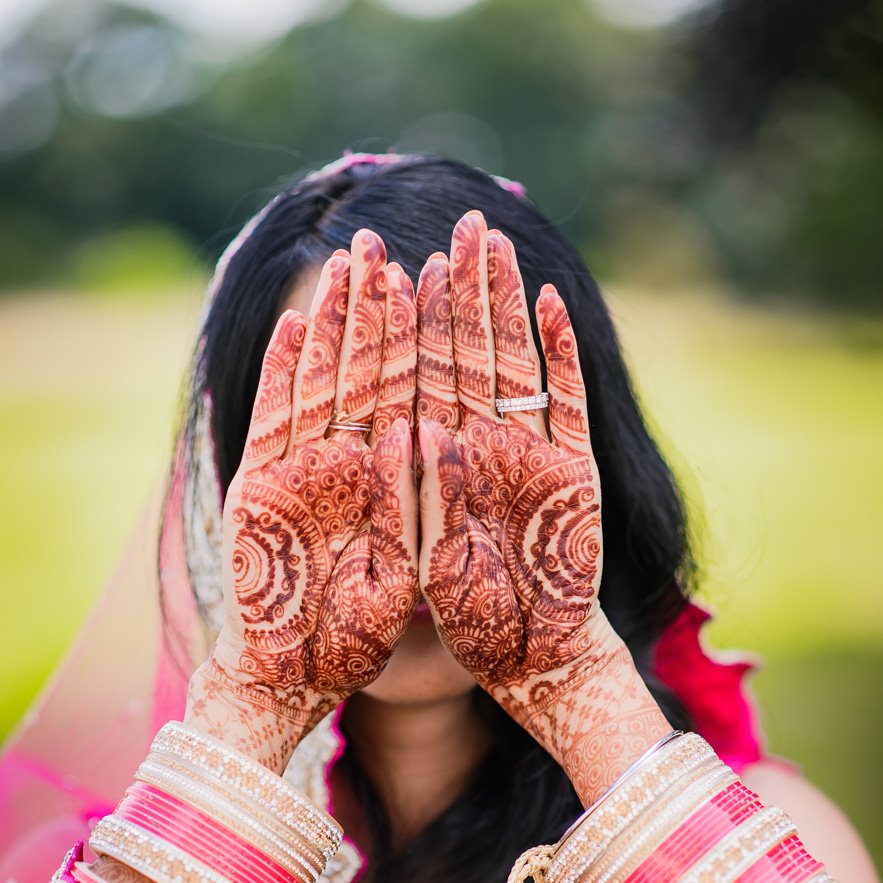 Related reading