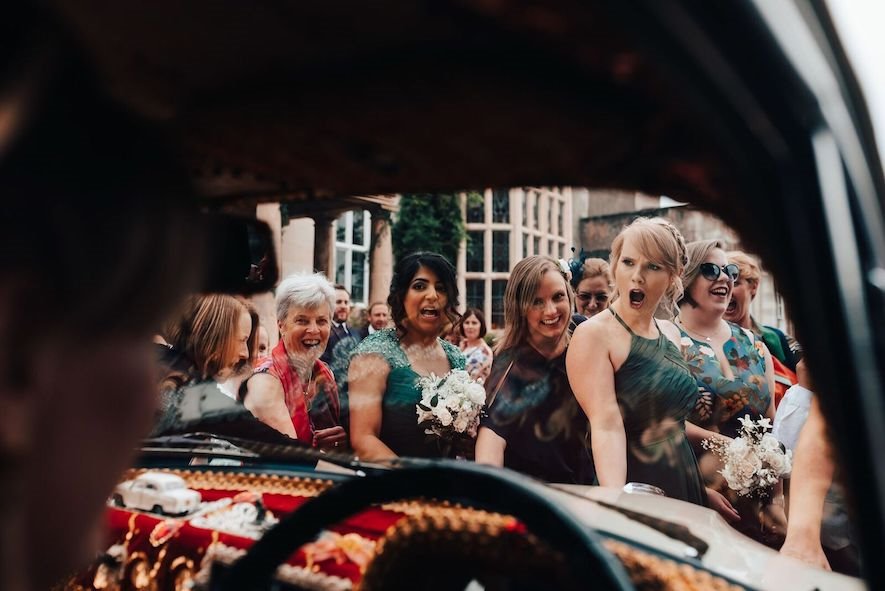 Jo and Parit celebrated with 150 guests at the end of May with an incredible Indian-English fusion extravaganza; there was food and fun galore! Read on to hear all about how they planned their incredible day in just 8 months...
An Indian - English Extravaganza
Jo and Parit celebrated with 150 guests at the end of May with an incredible Indian-English fusion extravaganza; there was food and fun galore! Read on to hear all about how they planned their incredible day in just 8 months...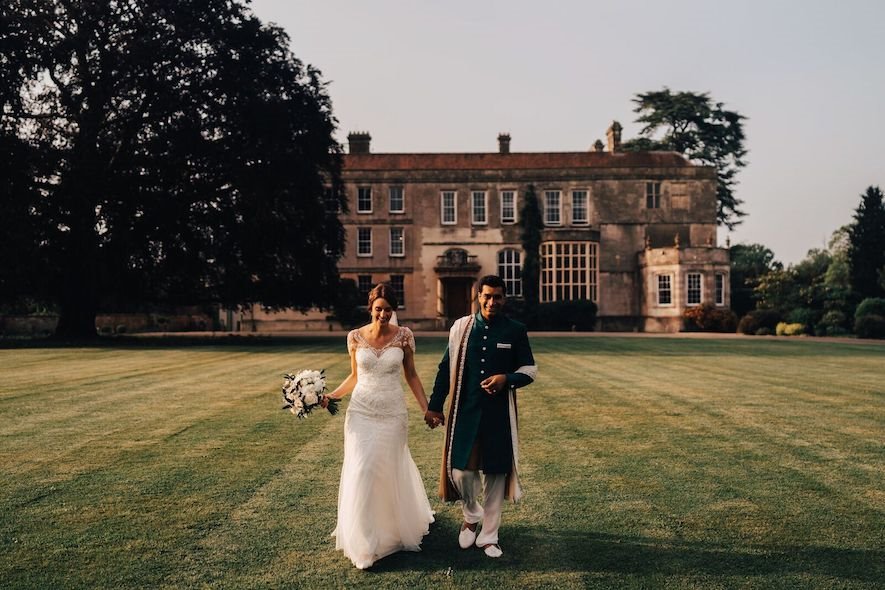 What made you choose Elmore Court?
As was the prevailing theme for the wedding... There was a spreadsheet! We had a whole list of things that we wanted to see in venues, and honestly, distance from where we lived was very high on it. That meant, initially, that Elmore wasn't on our shortlist! Jo found it on her many, many nights searching online; even looking online Elmore blew her away and despite a grumpy groom it was added to the map.  
We took a day off work (which was of course, planned by the hour in a spreadsheet), and started a tour of England with Elmore added in last minute. We both walked around Elmore with a giant smile on our faces the whole time.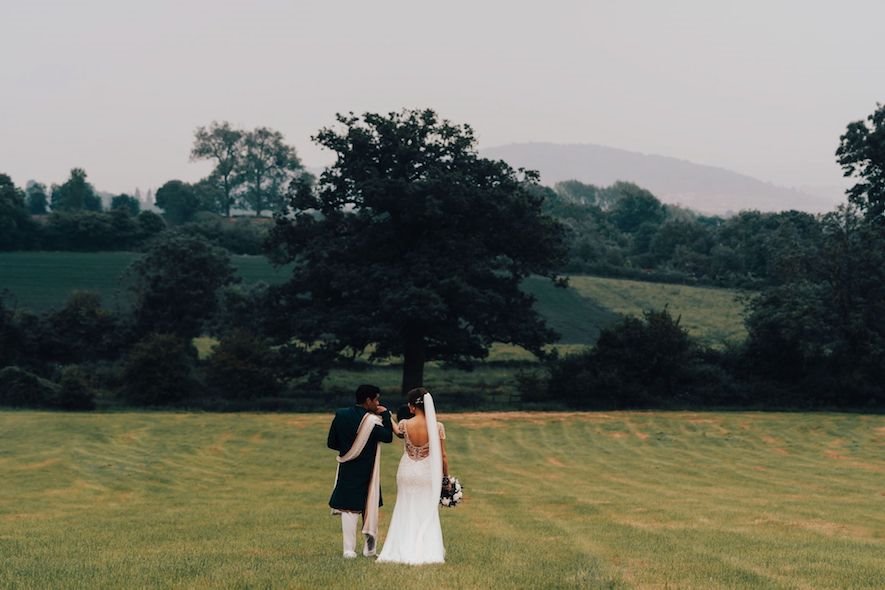 It wasn't just the big things that made our decision easy, like the house being beautifully refurbished and the sheer variety of options that we had in terms of how we could use it, but it was also the small touches - we had an indo-western fusion wedding and you had Indian elephant wallpaper in the loo, a Ganesh in one of the bedrooms and a picture of Jodhpur on the wall, a favourite trip of ours. 
It was also the human feel you provided immediately. We had a marathon venue hunt and in all them, bar Elmore, we were treated like just another couple with a pound sign floating above our heads. In very stark contrast, Rachel was immediately, and genuinely interested in both of us as people and was excited about what we were hoping to do on our day before we'd committed to Elmore as a venue. 
Thankfully, the decision that the heart had made aligned with the reality that Elmore really was a venue that had it all. The family just had to learn that towns outside the M25 still had running water, electricity and no passport requirements!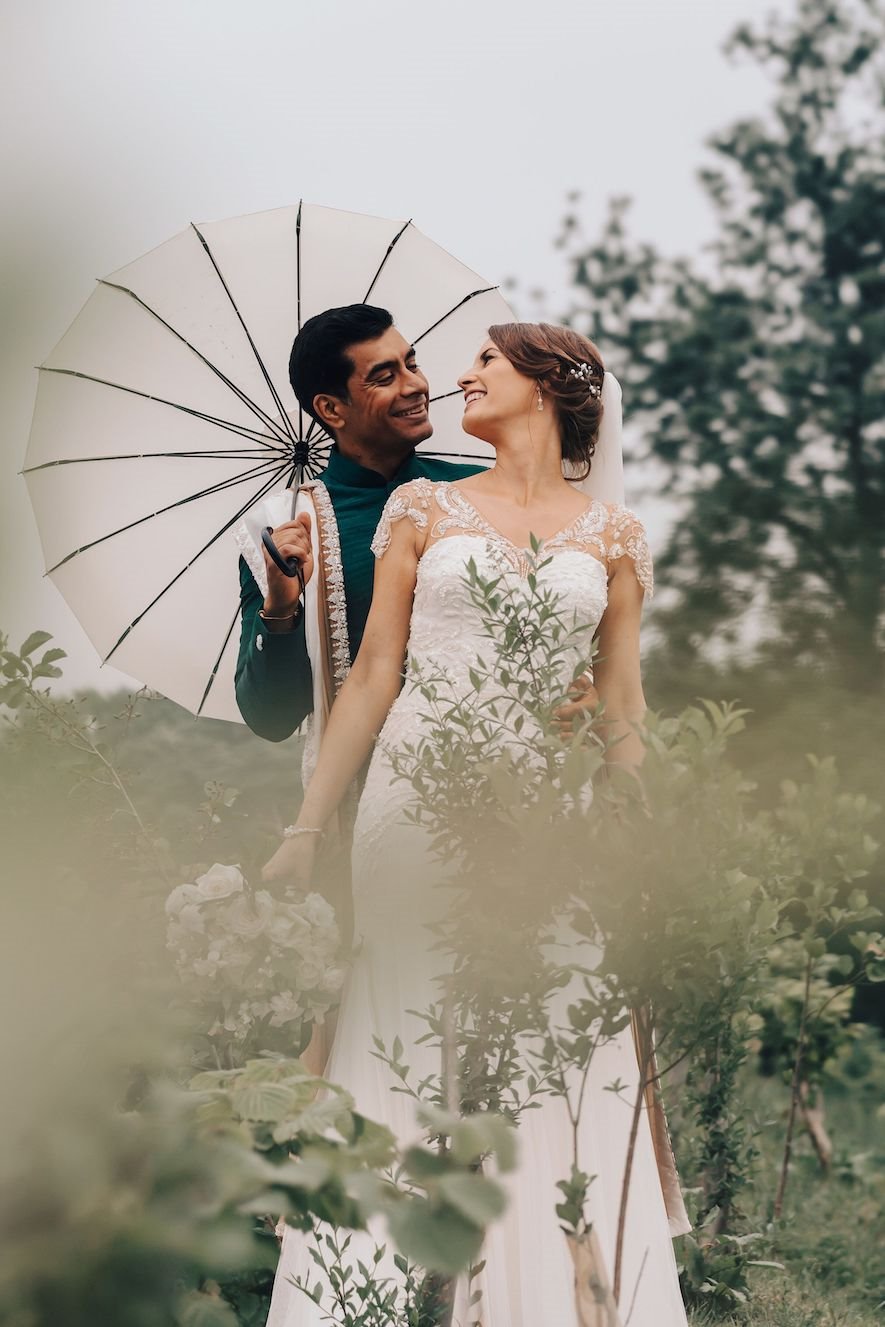 Tell us more about the beautiful Sequin Dress
I chose a fitted dress by Rosa Clara which was heavily embellished with sequins and pearls and had a beautiful flowing tulle train. Finding the dress was tough, in most part because we were planning a fusion wedding, I went to and fro in my mind numerous times about whether I should wear an Indian or an english style, or both (!) and hunted high and low for a perfect hybrid for a third option. I visited Indian shops and designers, English bridal shops and tried on hundreds of outfits! I had a long chat with Parit about my worries and sensible as ever he advised going to my next appointment with an open mind, not looking for something in particular and just try on everything. How right he was, ultimately, when I imagined walking down the aisle, I had always imagined wearing ivory and finding a dress which was so heavily and beautifully embellished enabled that but also had a nod towards the Indian style, in which Indian brides are traditionally heavily adorned. 
Did you have a wedding theme?
Our colours for the day were ivory, green and gold.  These worked well with our theme that was very much a fusion of both classic English understatement and Indian... overstatement. The building and the grounds exuded such class and character that we wanted to allow it a voice on the day and didn't want to overpower it.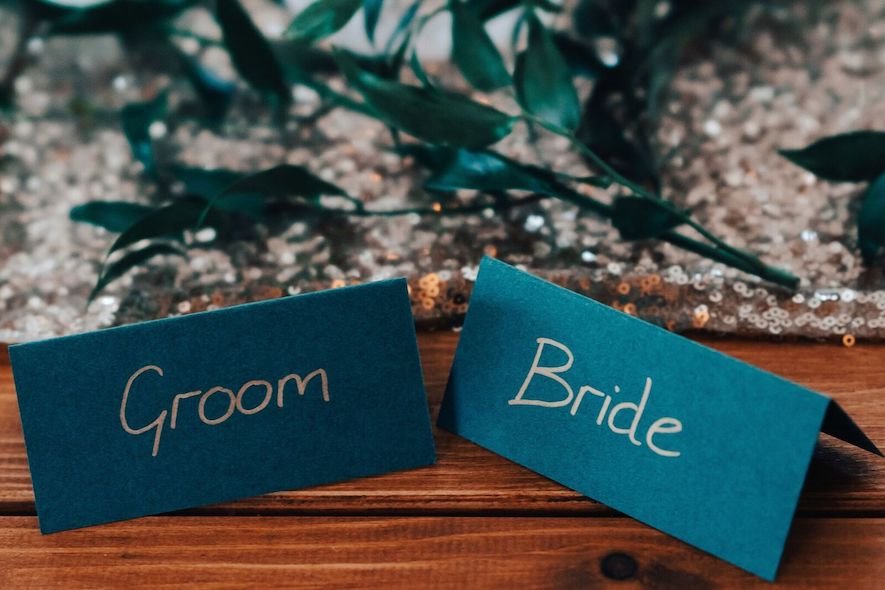 What flowers did you choose?
The bride's favourites are peonies and luckily, marrying in May, it was the perfect season for these. Maria from Sorori designs guided us through the process of considering how we wanted to use flowers on the day and advised the perfect companions to the peonies. We decided that rather than opting for traditional Indian mandap to marry in that we would create the spiritual space the mandap provides purely through large statement florals. We had beautiful large arrangements on four pillars for our mandap and a further two for the top of the aisle, providing a simple elegance for our ceremony. These were all ivory and green complementing our colour scheme and the English country feel of the location.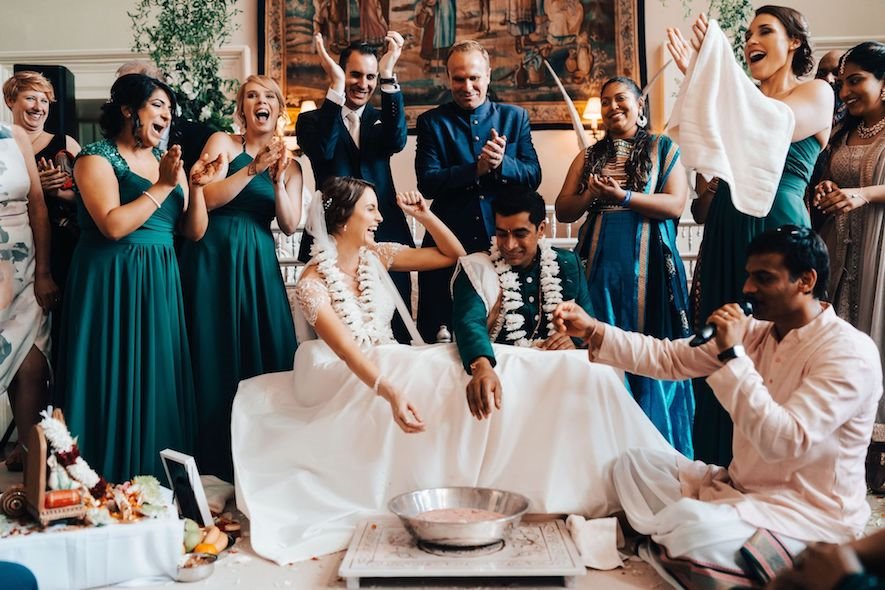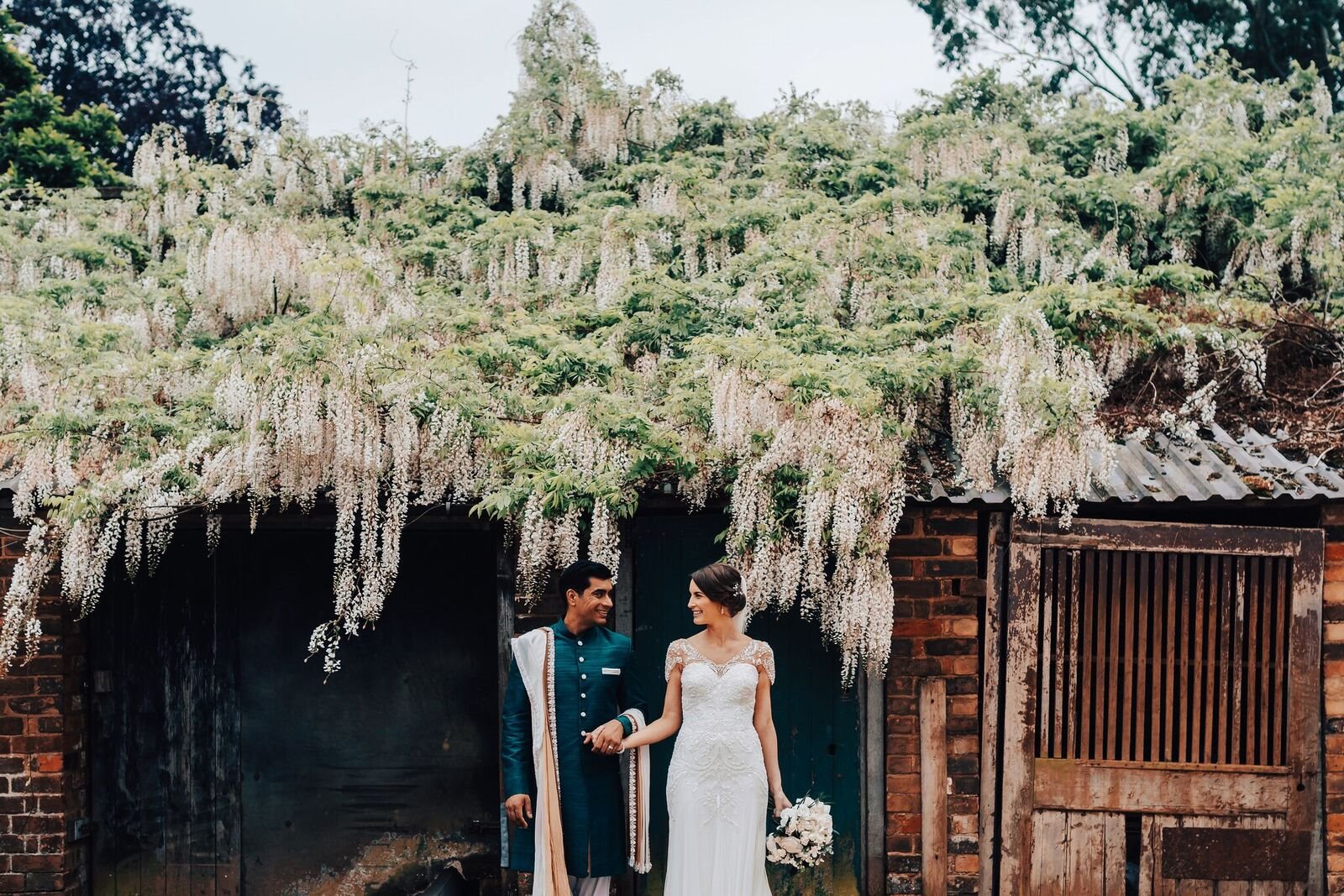 What did the Bridesmaids wear?
The bridesmaids wore forest green and their dresses were colour matched to the Groom's outfit, they chose the style of their dresses themselves. I bought the dresses online from a site that enabled a made to measure service, which looking back may have been a bit of a risk as they were non returnable however it worked out perfectly. They all looked absolutely beautiful on the day.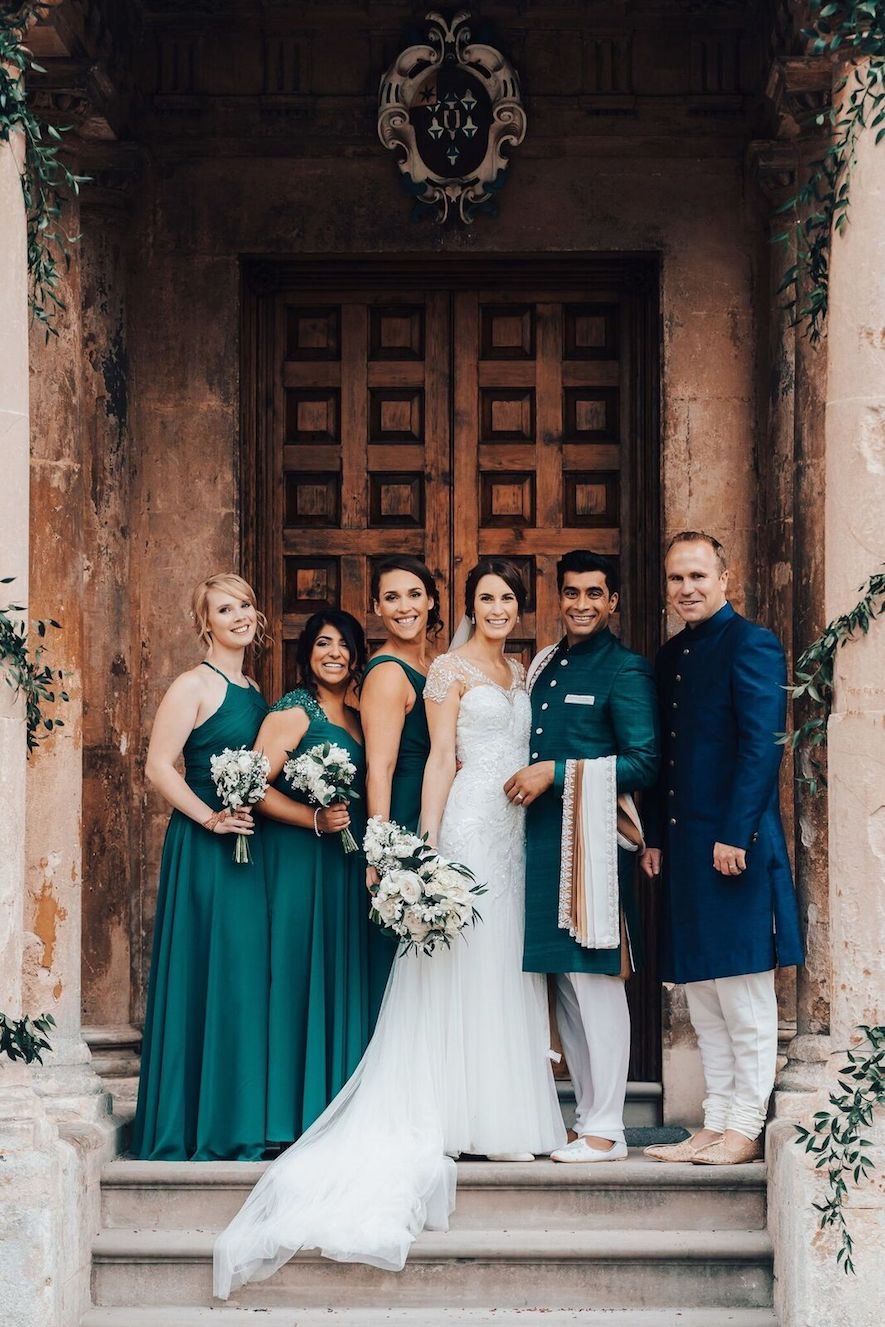 And the Groom & Groomsmen?
Parit actually designed his own outfit. A tailor that the family knew had never done men's Indian clothes, but she seemed up for a challenge so he sat down with her over a few hours and sketched something down on paper. He was shocked to find himself with a pinterest board. It was very traumatic! The resulting outfit worked perfectly on the day. It was a raw silk, forest green, tunic with a layered sash in colours that complimented the bride's wedding dress (we even had a copy of her embroidery stitched into his sash) perfectly. The style was a big deviation from the standard Indian's groom's outfit in that it was simple but with touches of bling. 
If you ask the best man about his outfit, he'll tell you he looked like Sinbad/a butler/Aladdin. If you ask the groom, most of that was intentional. The groom also designed his outfit. It was also a very modern style Indian outfit, also in silk, this time in a navy blue but without the sash or extra bling. Despite what he still claims, we couldn't have him outshine the groom on the day. To emphasize his position as the head butler to the groom, the groom also made sure that outfit had extra large pockets sewn into it. The best man was a literal man bag on the day.  
ON THE DAY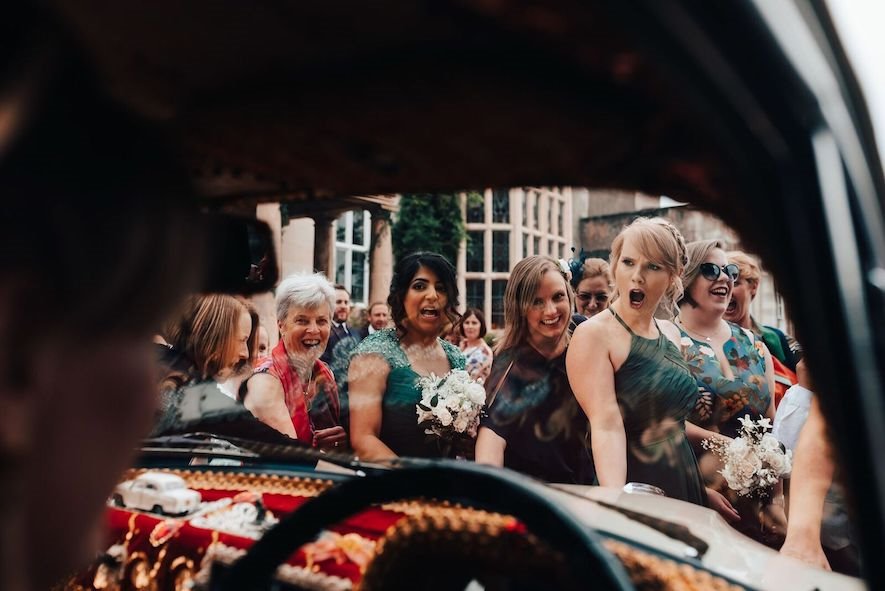 Within the Indian ceremony the groom has a very elaborate entrance himself before bride arrives! 
How did you feel on the morning Parit?
Looking back, definitely full of nervous energy but excited. It was difficult not to be excited, I turned up to the venue a little bit before it all started and got to see everyone set up and even before it was finished I knew the great hall was going to look pretty special. Thankfully, I had the head butler with me and we got to have a little downtime away from my family during which we could just take a big deep breath in the coach house. You even let me use the team radio to order chai. That always helps!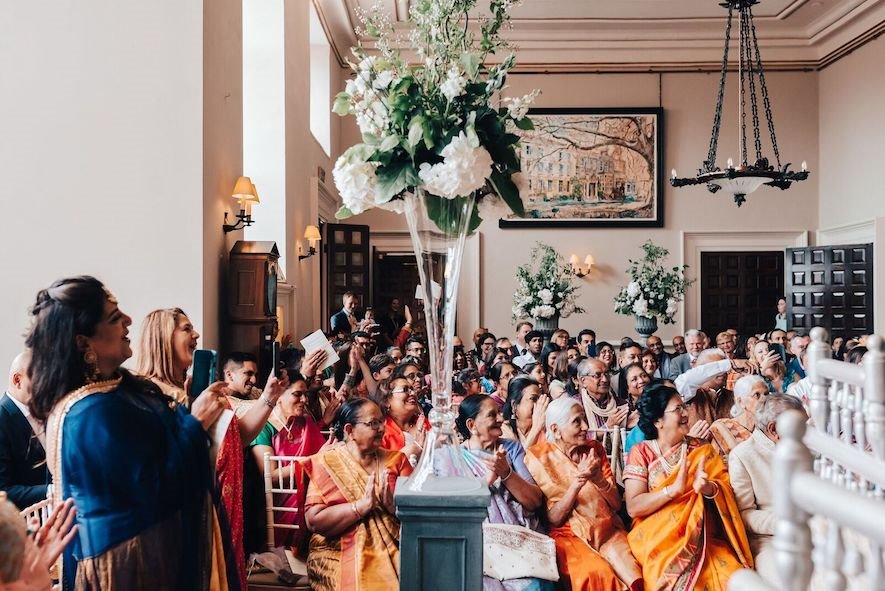 My walk down the 'aisle', I suspect, wasn't something the people in the village of Elmore were quite prepared for. It's traditional for the groom in an Indian wedding to make his arrival known. He makes it known by being as loud as possible. I did that with two drummers and a family that shouted and cheered even before we entered the gate. It was no elephant, but I think it worked!
The bride's entrance was traditional English, preceded by the beautiful bridesmaids. I was walked in by my brother as my father sadly passed away ten years previously. Whilst it was an incredibly emotional day, particularly this part, without my father, my incredibly proud brother did an amazing job and ensured everything ran smoothly all day. We walked in to an instrumental version of 'How long will I love you' by Ellie Goulding and the ceremony that followed was all accompanied by a mixture of modern English and Indian music perfectly choreographed by Shiv Gopal. The point when I entered and everyone looked was the part of the day I was most nervous about - I don't like being centre of attention, but I clung onto my brothers arm tight and when I saw Parit I focussed on him, smiling all the way, it really all went by in a blur!
Tell us about the drinks reception
We had our drinks reception on the east lawn which was what we knew we wanted on the very first time we went to Elmore. We had fingers crossed for weeks in advance that the weather would hold and thankfully it did. Being able to spill from the lawn, into the reception room with the sofas was perfect for our guests; some of which weren't able to stand for a few hours and they took great advantage of the lovely big sofas. Jo's brother bought a bunch of garden games which kept the little ones entertained for hours. We have to take some of this information on hearsay because we didn't get to see too much of the reception. That was because of our photographer. Our photographer, James "I'm ****ing smashing it" Fear took us for a jaunt across the fields and up various hills to get the perfect shots!
James was our main photographer for the day, alongside Tom Durn whom he bought along for support. Both of them were fantastic, the photos we've got back have been incredible - all 2000 of them! 
They both knew the venue incredibly well, which is apparent in how they both knew where we should be to get the best photos. What we didn't realise at the time was how much there would be a third person in most photos - no, not the maid of honour despite how hard she tried, but Elmore court itself. I guess you don't realise how much the background of the photos sets the tone for them, looking back it's definitely something I'd tell people looking at venues to think about.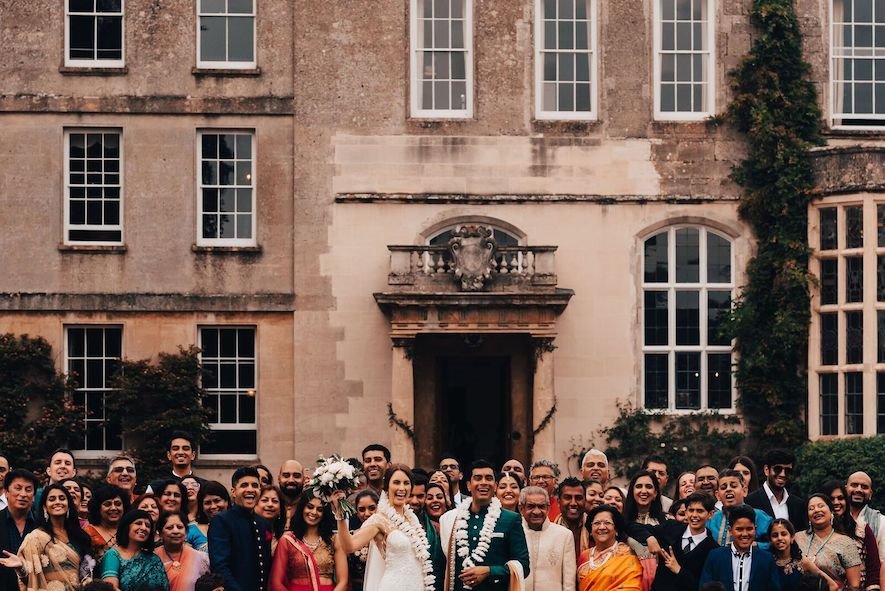 What about the party?
We picked just a DJ for the evening. When we were told about the sound system that was installed in the Gillyflower it was a bit of a no brainer. Turn it up and keep it loud!  Our DJ (the Birmingham crew) nailed the brief and threw in classics from both sides which had everyone (including the grannies at one point) up and shaking their things! In fact the grannies dancing to house of pain, jump around was a particular highlight we won't forget for a while!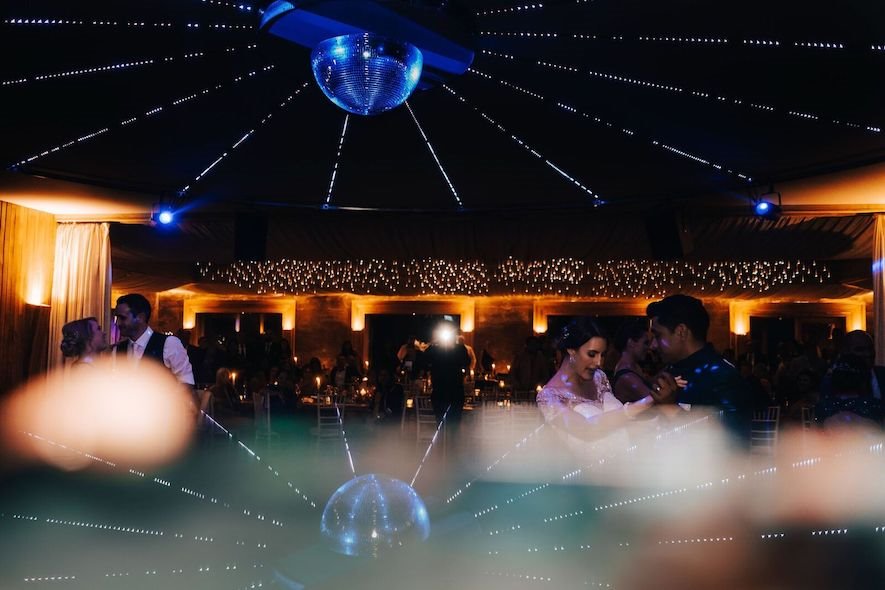 What was your first dance?
A crazy little thing called love - as sung by the indomitable Freddy Mercury. We wanted an upbeat song we could throw a few cheesy moves at the bridal party joined us half way through inviting the rest of the guests onto the dancefloor shortly after. We were considering at one point asking Jo's brother and sister in law to sub in for us in some sort of disguise as they had done an outstanding show dance for their wedding. We were never going to be able to compete with that! Instead we invited them on the dancefloor to help us out!
What did you think when you saw the Gillyflower?
In short - stunned. Okay, a little of the stunned was because we'd literally just become man and wife, but the Gillyflower looked outstanding. We opted for the banquet style seating, and before we got there it was on our minds that it would look a little cramped. In reality, the room comfortably absorbed that layout and because the Gillyflower itself is so bright and natural there was just a feeling of light and space that we weren't expecting. Again, much like the wedding itself, we didn't want to go heavy on the decoration. The room has enough character to speak for itself and we wanted that to come through. That being said, our florist and decorators on the day added small touches with vines and candles that elevated the room into a pretty special house for our families that evening.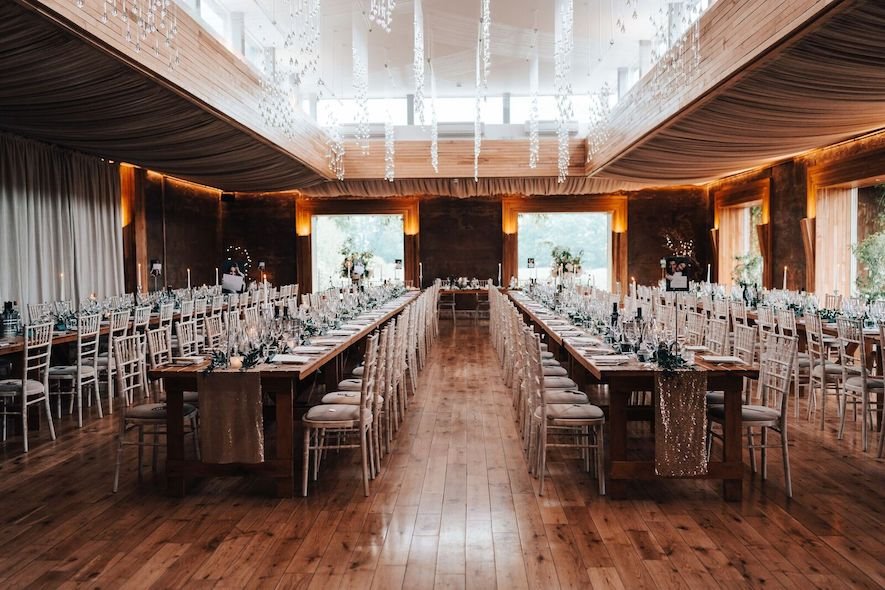 And your Food & Drink?
Ah the food. It's a month later and the friends and family are still talking about the potatoes. One of our aunt's tried to make the potatoes immediately when she got home - you might be onto a winner there!
Right, the details. We had food through the whole day. Again, to keep the theme of an indo-western fusion going, we worked with Elmore to design a bespoke menu that mixed food from both sides of the family. 
 We put on chai naasto (indian street food snacks), served canapé style, for when people arrived. We served Dahi Puri, chilli paneer and red pepper skewers, chicken tikka skewers and vegetable samosas. For the drinks reception, again we served canapés, but this time we went English tea party. Cucumber sandwiches, incredible black pudding scotch eggs, scones with cream and strawberries and fish goujons with a mint pea puree.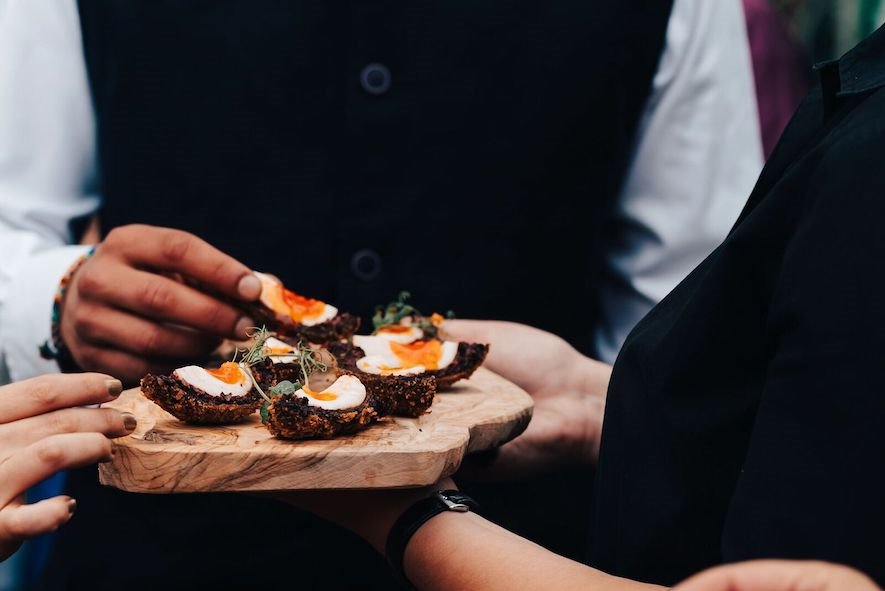 Elmore also made the Chai to accompany the canapés. Now, for anyone reading this, we're not talking that generic coffee shop simulation of chai. That stuff is like looking at a photo of the sea and claiming you've been to the beach. It's not even comparable. Elmore, with a can do attitude, took an a4 page of instructions on how to make a proper cup of chai and ran with it. On the day, via a supply drop of masala from Mother Patel, they brewed Chai that was good enough that it got the full blown Aunty Patel seal of approval. 
Now dinner. Dinner was a big deal for us, we've been to enough weddings that no matter how well the day goes, people remember bad food and that's all they talk about. In this regard, Tom The Chef, nailed it. We had a menu that showcased both cultures and allowed our guest to enjoy the best of both. So good that people were claiming as badges of honour how many pieces of chicken, or how many helpings of lamb they had. So good in fact, that we're told that one of the Uncle Patels wandered into the kitchen to compliment Tom in person on the lamb!
Wedding cake or Desserts?
We didn't have a cake - dessert was too good! Later for snacks if anyone was a bit peckish we had a s'mores table designed by Lauren Grey Styling, it was packed full of marshmallows, chocolate biscuits and popcorn and was a huge hit with guests of all ages. Luckily we enjoyed gorgeous weather and so people were toasting s'mores on the firepit all night long.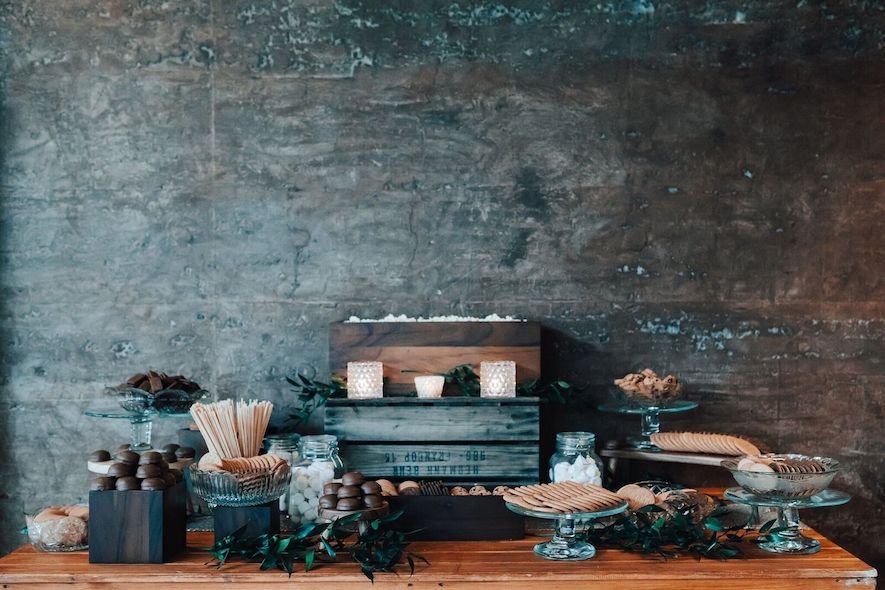 Did you have any DIY bits?
We created the stationary ourselves which saved a pile of money! For the ceremony we created an order of service to help guide the guests through our fusion of Indian and English traditions which was also expertly explained and conducted by Pandit Kamal Pandey who brought a perfect mix of spirituality and humour.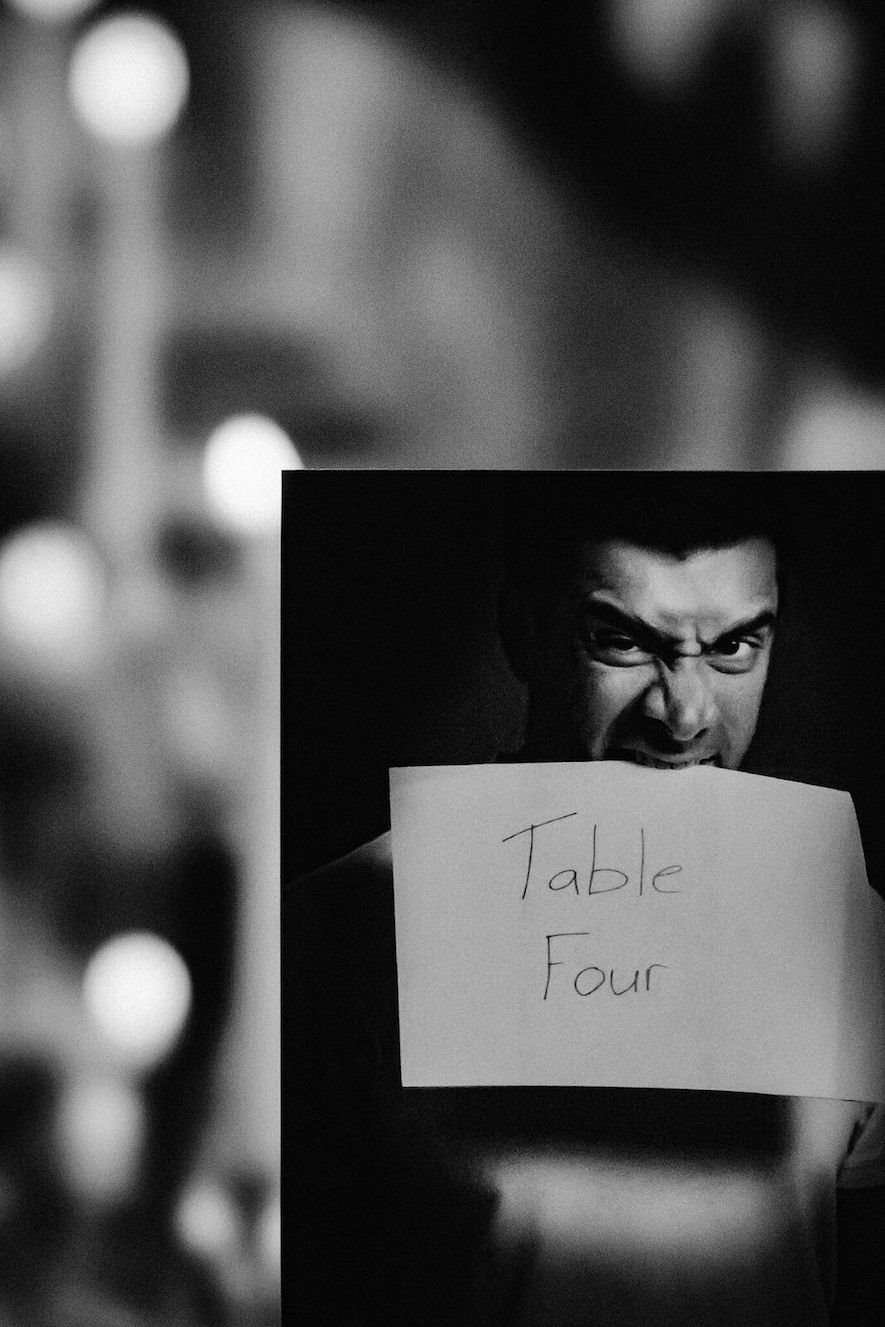 Jo bought and packed a bag of dried rose petal confetti for each guest, slightly regretful now after being completely covered and finding pieces within her clothes for the remainder of the day!
We also created the card table, which was travel themed, as we love to explore, from collected mementos of our holidays over the years. Lauren Grey dressed it beautifully with gold sequins and tealights. 
Important to us was to honour the memory of Jo's father on the day, we designed a table display of pictures and stories about him and we asked our guests not to bring gifts but instead make a donation in his memory to the Marie Curie charity which was immensely helpful to the family through a difficult time.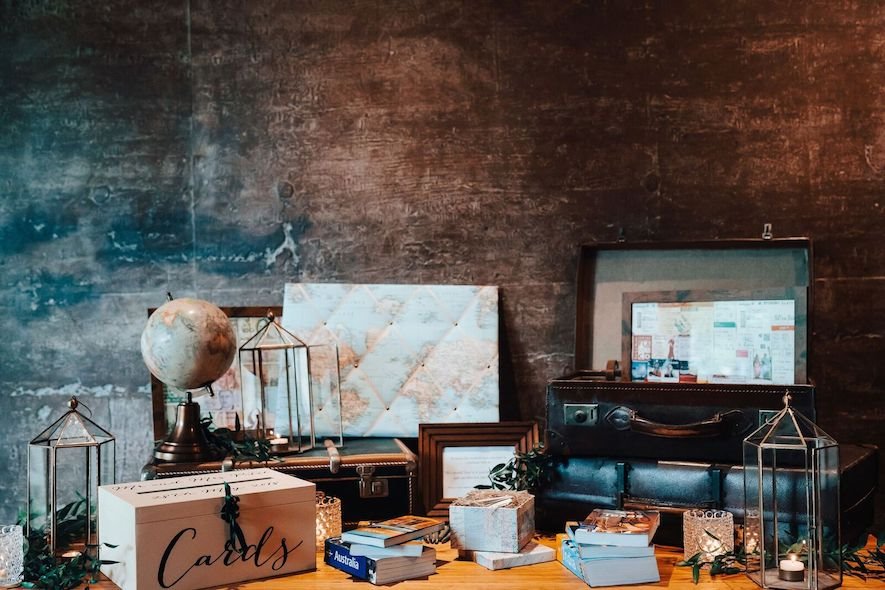 What was a particular highlight of your day?
It may sound cheesy but it's true - the highlight for us was when we sat back in the Gillyflower and looked across the room and for the first time and perhaps the last time we observed all of our friends and family, our loved ones from various parts of our lives, all together in one place. We had friends and family travel from long distances, Australia, the US and Norway, it was truly special that each and every one of those people were there to celebrate us.
What was your biggest surprise?
That the day ran so very smoothly - if there were any hiccups we certainly were not, and are still not aware of them. Both of our brothers were amazing in being the main contact points for the venue and suppliers. We were not bothered with questions or issues at all but enabled to enjoy, we had no concept of time throughout the day and didn't worry about this once as Rachel gently reassured us all was on track. All credit to Rachel the day ran seamlessly, every couple needs her for their wedding! She really did go above and beyond and we have no idea how she was everywhere ensuring every little detail, she even acted as a fourth honorary bridesmaid supporting the bride with her dress and veil adjustments when needed.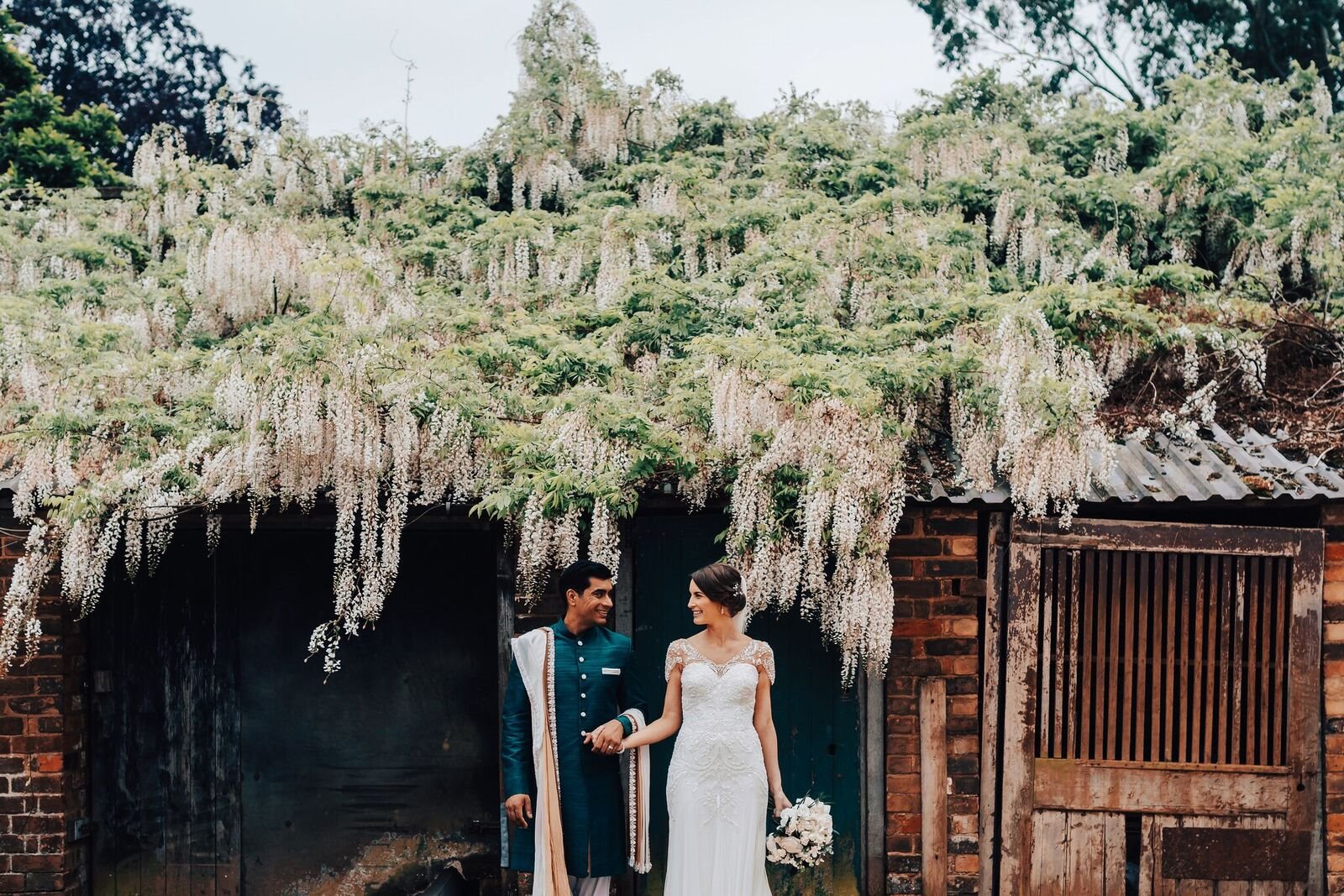 Top tips for other brides:
I wish I'd known...
Just how many little decisions are involved in planning a wedding, and just how many opinions people will throw at you about how to do it!
Anything and everything is possible in the wedding business, which is on the one hand great but on the other mind boggling!
Our wedding being a fusion was a little bit different, we had a clear idea of what we wanted. When you are planning it is a lot of what you talk about, and in many cases stories of what people like and don't like about weddings they have been to and what you should and shouldn't do are plentiful.
Our honest advice to other couples is to consider advice your are given but ultimately stay true to yourself, it is your day, it is your memory and should be reflective of you as a couple, your hopes, your wishes and full of things that you love.
We found trying to fuse two cultures very challenging at times but we are so glad that we stuck to our guns because we could not have been happier with this result, we are so happy that our wedding was a true reflection of us as a couple and our guests really enjoyed being exposed to something new.
We planned our day in eight months and at times it felt as if we had two jobs! We would leave the office and come home to open another spreadsheet or hop onto a skype call with a supplier. Whilst the planning was tough a times, it really was worth it, our day was better than we could have ever imagined, we enjoyed it so much and are still saying we want to do it all over again.
It's an amazing memory and one we will enjoy talking about forever. 
The Perfect Fusion Wedding Receipe
The priest, indian ceremony | Kamal Pandey
The ceremony music | Shiv Gopal
Drummer and DJ | The birmingham crew
Wedding Car | Suzie at Kushi cars
Flowers | Sorori design
Decorations and styling | Lauren Grey
Food | Elmore Court
Hair and Makeup | Sandra Elizabeth
Photography |  James Fear
Outfits
Wedding Dress | Rosa Clara from Golden Sash Bridal
Grooms | Bespoke design from Designer Studio London
Bridesmaids |  JJ's House
Thanks so much Jo & Parit for sharing your wedding in such intimate detail! It was incredible.
This couple aren't the only ones who managed to plan an amazing wedding in a short space of time at Elmore, if you're thinking about planning your wedding in under a year, talk to us, we can make it happen!
Love,
Team E x
Related reading