A Natural Wedding with Surprise Trainers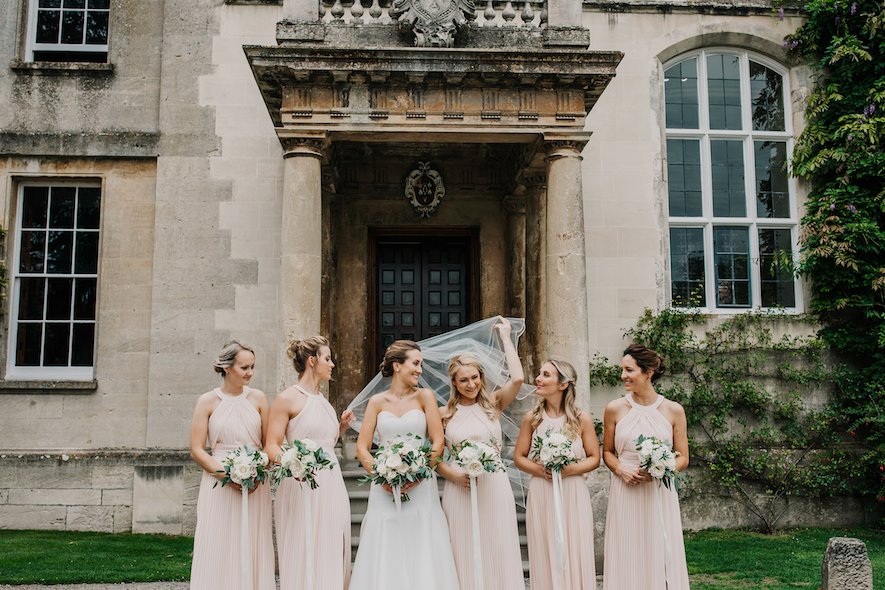 Sam & Lewis' Wedding Planning Journey...
Ah the light at the end of the tunnel! Spring is finally just around the corner, the scent of Valentines roses wafts in the breeze, the birds are singing in the trees and snow drops and crocuses are popping their pretty heads up all around the Elmore grounds.
If you're feeling in the mood to celebrate the return of the sun with a little summer wedding goodness today, we have just the ticket.... Sam & Lewis' summer wedding at Elmore Court was full of fun, dancing, unique details (custom Elmore trainers anyone?) and was styled to perfection with an elegant colour palette and topped of with a personalised neon sign...
Here's their wedding planning journey in their own words… Enjoy!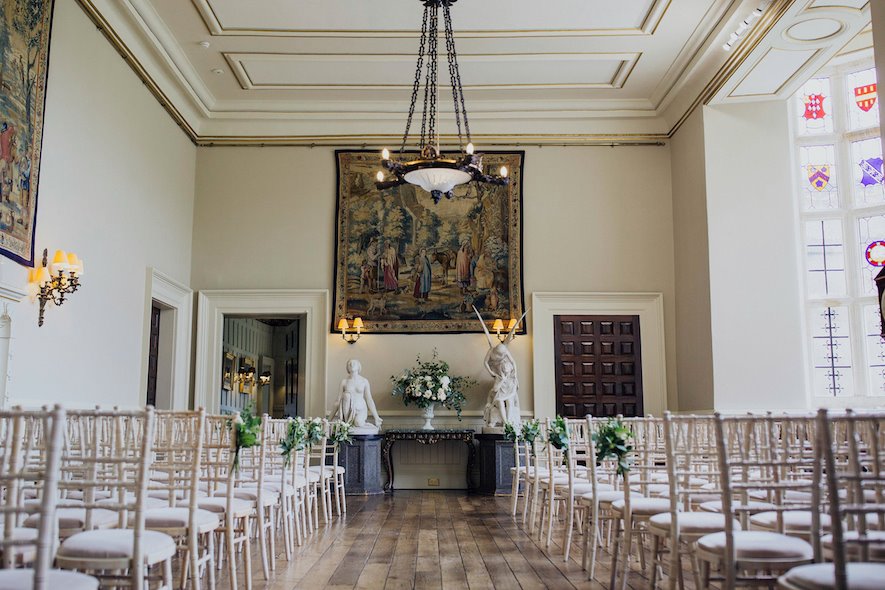 Why Elmore Court?
We were looking for a wedding venue that not only had an amazing setting but also where we would have the freedom and support to create a wedding that was unique to us. Elmore Court is exactly that. We were worried as we drove through the country lanes towards Elmore as we hadn't fallen in love with any of the other venues we had visited, and Elmore was our last scheduled appointment…
Needless to say, we were equally blown away by the house, grounds and the help that 'Team E' and in particular, Rachel gave us.
Their amazing attention to detail and the way they helped to incorporate our ideas (no matter how 'out-there') made the planning process and most importantly our big day, so much fun. It wouldn't have been the same without them.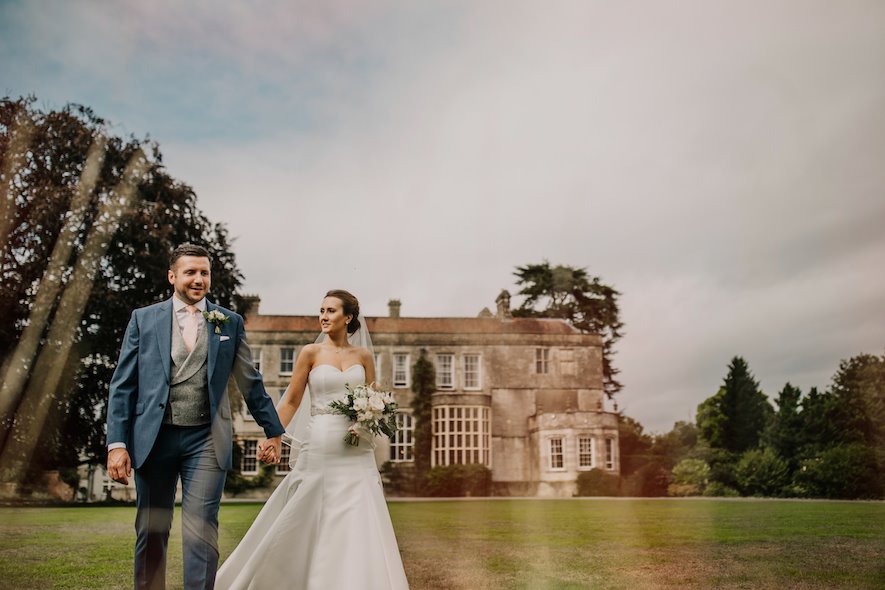 How did you decide on a wedding style?
We didn't really have a specific theme; the most important thing for us was that the whole day had a relaxed feel and we wanted this to be reflected in the styling and flower arrangements, which were natural and not too structured with plenty of greenery. We wanted to incorporate brushed gold, blush and off-whites, although this is quite a popular colour scheme we felt these best reflected the natural styling we were going for.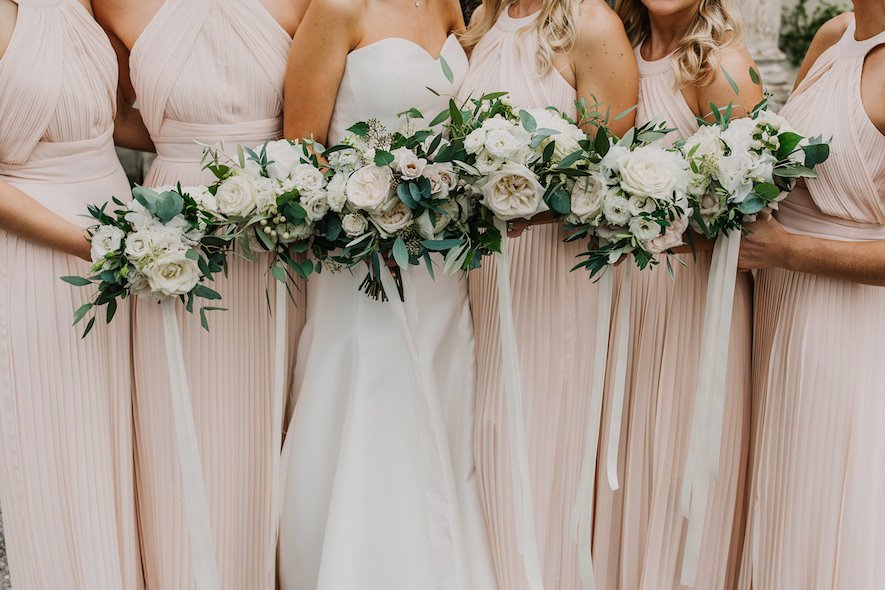 Tell us more about your flowers
We decided to attend the Elmore Court MayFair (best decision ever, definitely go to their wedding fayres if you can!). The event was brilliant with great food, drink and most importantly a chance to meet some of Elmore's great panel of suppliers.
That is where we met Breige. Her display that day was amazing and after a short conversation it was clear that she understood the vision we had. We really wanted to have Peonies but given the time of year had to opt for fluffy English Garden Roses and other softer texture flowers to create the same effect, these were all in off-whites and blush shades, expertly arranged to compliment the greenery we had.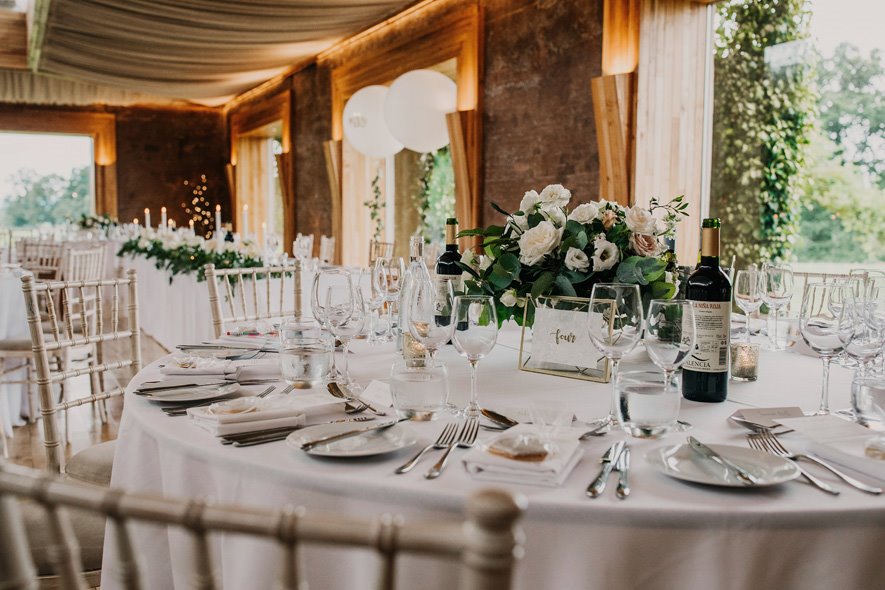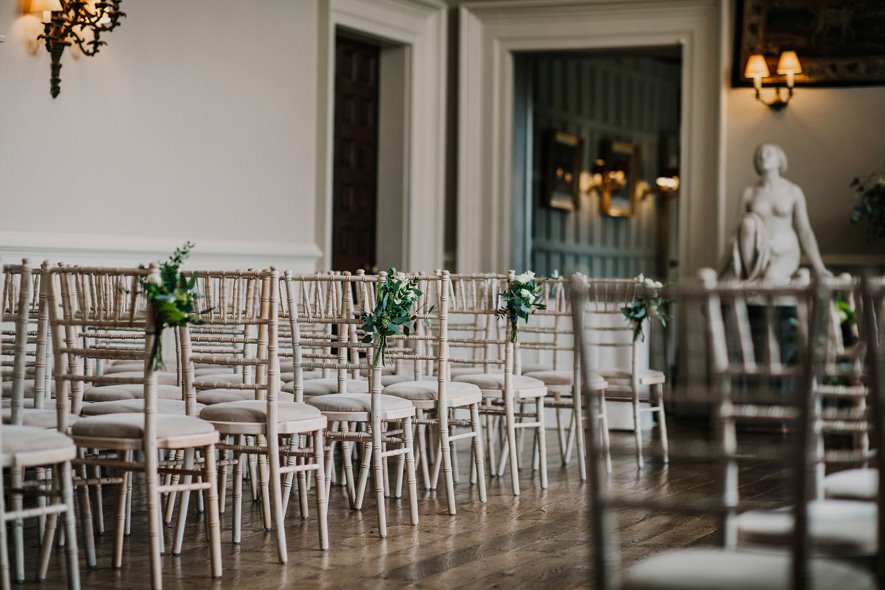 Your dress was so beautiful and classic!
The dress itself was actually not at all what I had imagined I would go for (and nowhere near as much BLING!) by designer Augusta Jones. For that reason, I can honestly say that right up until the day of the wedding, I was unsure whether I had made the correct decision.
I think there is so much emphasis put on finding 'the one' and how you should feel but the reality for me wasn't as straightforward as that. When it came to the morning of the big day, those worries had completely disappeared, I knew I'd made the right decision and I absolutely loved my dress.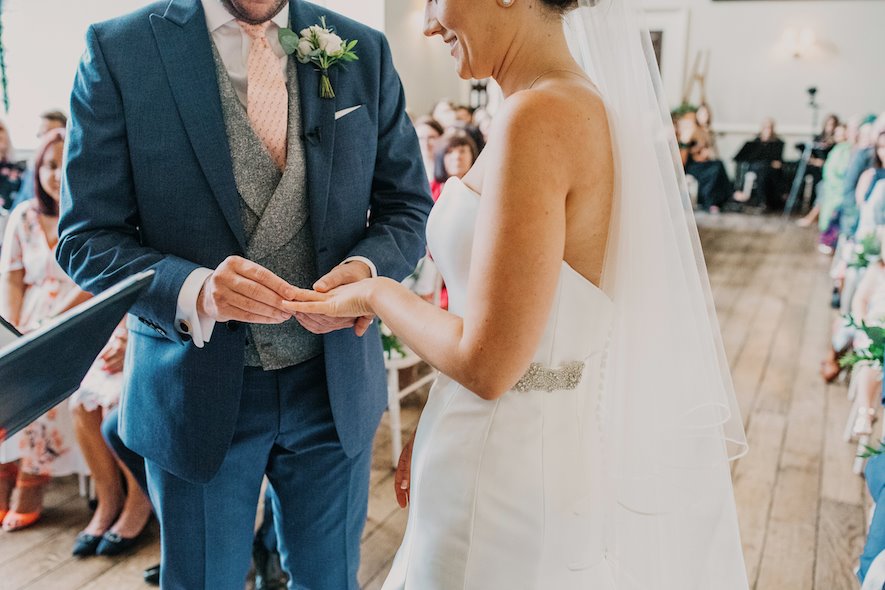 And the Birdesmaids and Groomsmen outfits?
Sam: The bridesmaids wore a blush, pleated, maxi dress from ASOS. The dresses were really nice and also very reasonable which was important as we had 6 bridesmaids and three flower girls! I would definitely recommend it. Their shoes were from Coast.
Lewis: The groomsmen and I wore a two-piece Air Force Blue, Prince of Wales Check lounge suit from Charles Tyrwhitt which I teamed with a double-breasted, grey, wool waistcoat from Suit Supply. The ties were a blush, flamingo print from Reef Knots, they weren't as jazzy as they sound!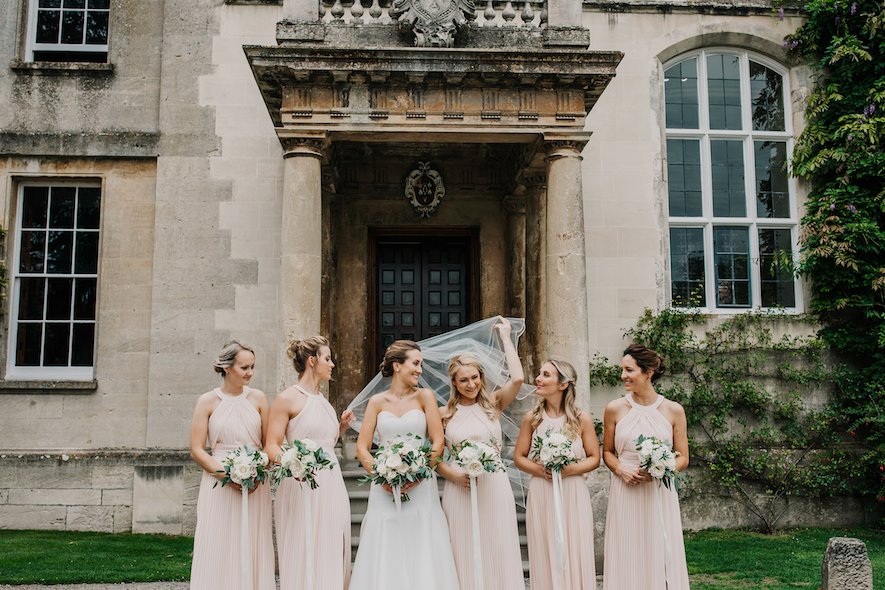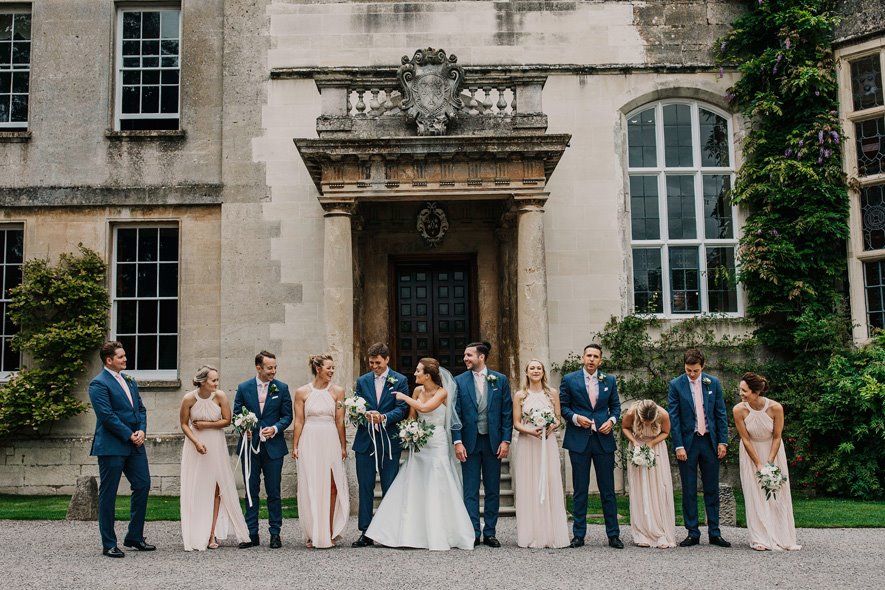 On the Day
Lewis: I'd like to say that I was calm and collected on the morning of the wedding but that would be a huge lie. I was staying at the Painswick hotel (which was a brilliant place to stay the evening before) with my groomsmen, and driving to Elmore I remember feeling extremely nervous although for no specific reason. Looking back, I think I was most nervous about the things I thought I might need to do when I got to the venue but I immediately relaxed once we got there and saw the venue and how all the staff had taken care of everything.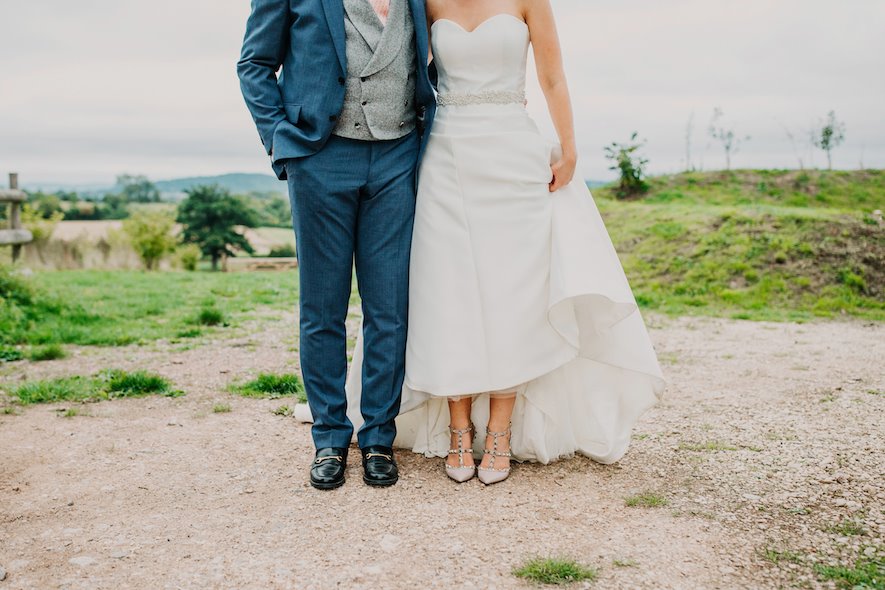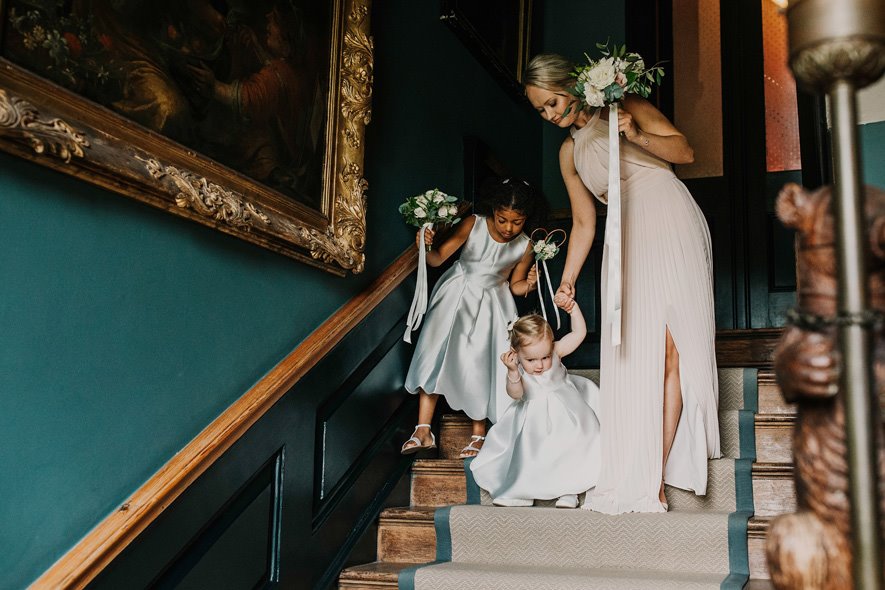 The Ceremony
Sam: Walking down the aisle, everything around me was a blur; my main focus was getting to the front and trying to focus on what I needed to say.
During the ceremony, we were just focussed on each other and exchanging our vows without fluffing our lines, it was only when we came to sign the register that we were able to look out at our guests and relax and enjoy everything. Those moments when you can reflect are valuable throughout the day and are actually some of our best memories.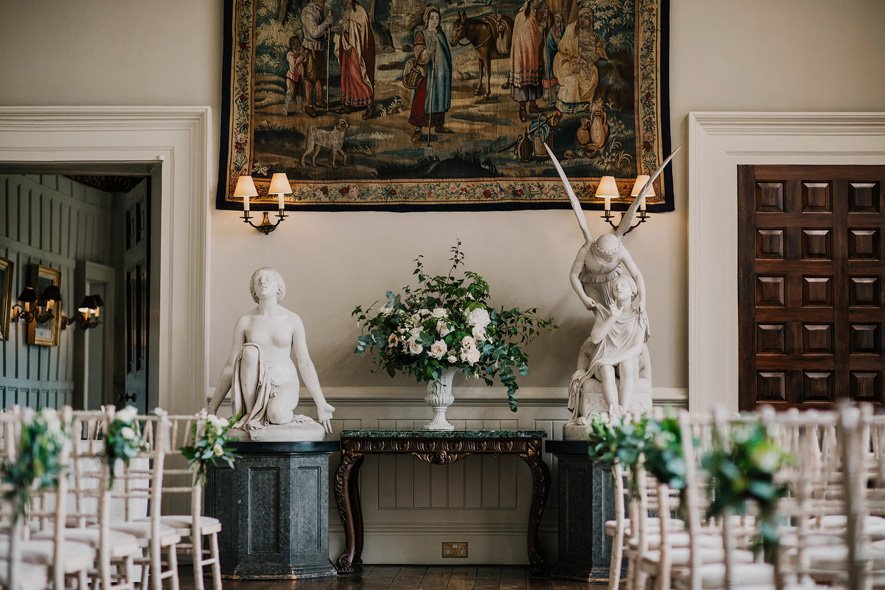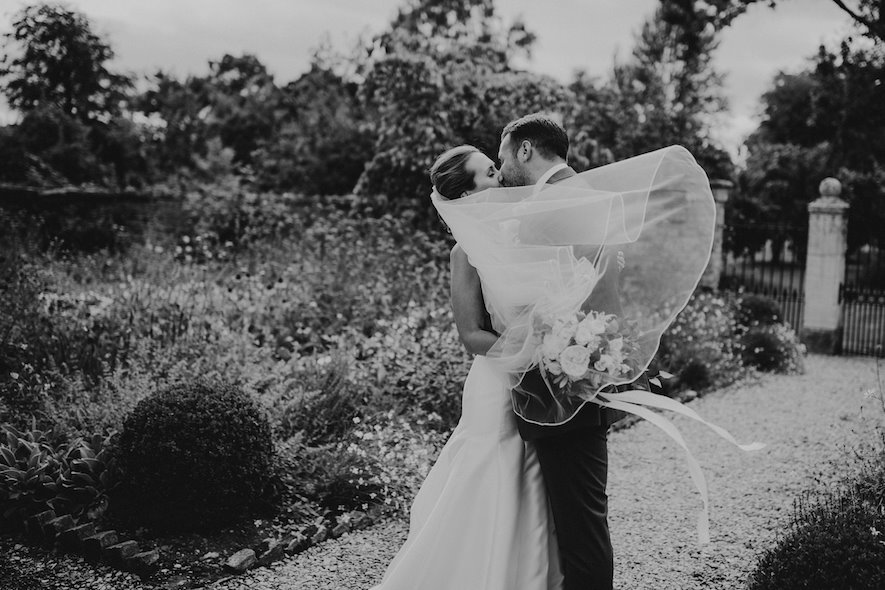 Tell us about the drinks reception
The drinks reception was great. We loved being able to chat to all our guests and just take everything in. We actually went upstairs for a while to look down on the lawn and spy on everyone enjoying themselves!
Definitely beware of guests with drinks! After only a couple of mingling minutes Sam already had a full glass of prosecco spilt down her dress!
Having used them for our ceremony music, we had Nero String Quartet playing background music at the reception; although they are a string quartet their range of songs is brilliant. After a little while, it was time to have some pictures taken. Naomi from Lush Imaging was our photographer and she was brilliant all day. She made us feel so at ease and crucially had a lot of patience when it came to rounding up unruly guests. We didn't want too many staged photographs and she was brilliant at capturing a lot of natural moments that we have loved looking back over. She also worked really well with our videographer Mrs Mashup; they were bouncing ideas off one another and made the whole thing really fun for us, especially the awkward 'canoodling shot'.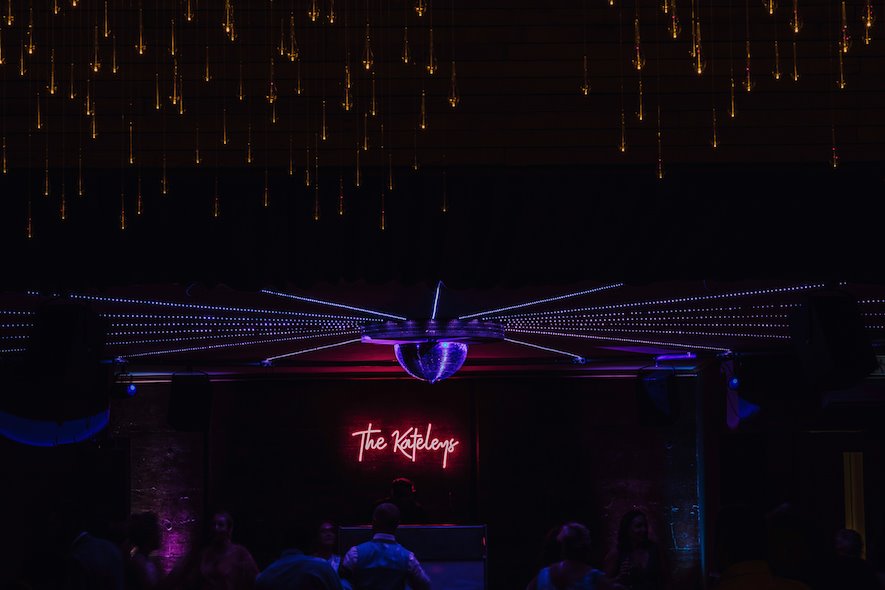 What about the party?
For the evening entertainment, we kept things relatively simple by using Oxygen Discos. We liked the idea of having a band but didn't want to be constrained by set lists. Although we basically chose the whole playlist for them, the biggest challenge was finding songs that we could both agree on! It worked well as we were able to judge the mood and request songs as we went along. This meant the 'Garage half-hour' ended up more like an hour but that is certainly no bad thing. We used Belle Studio's Air Stream Photo Booth which provided us with some hilarious pictures from the evening; it looked great parked outside the Gillyflower next to the guys from Pizza Monkey who got rave reviews from all of our guests.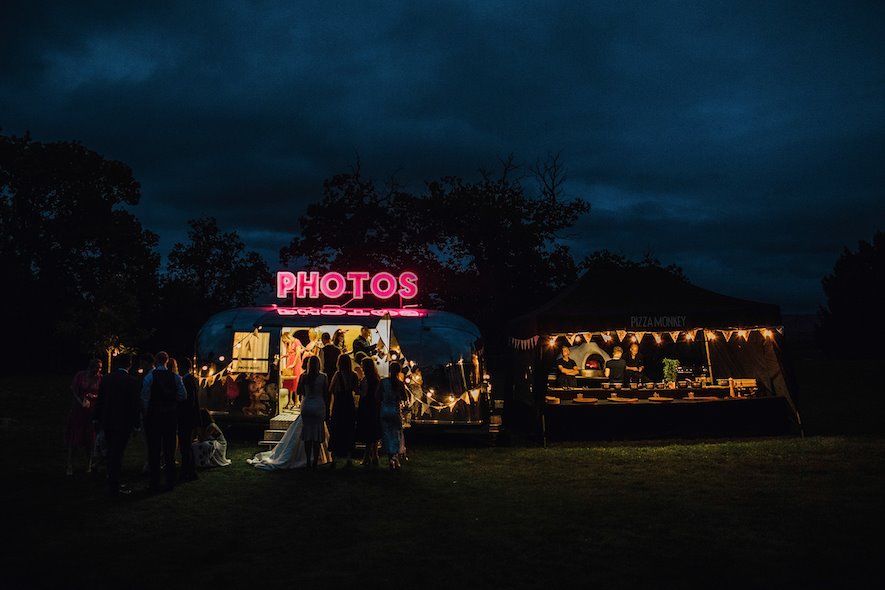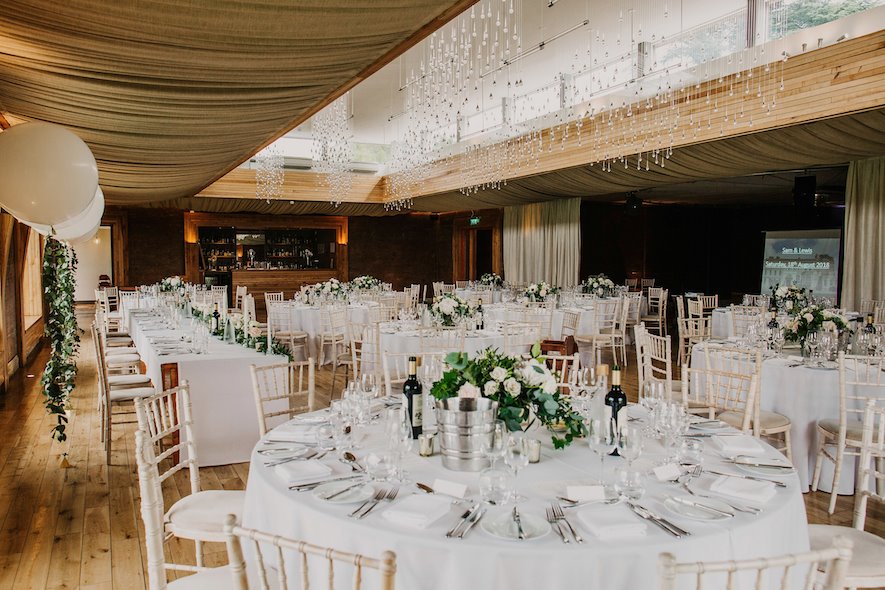 What did you think when you saw the Gillyflower?
For us, the Gillyflower really provided the wow factor when we first viewed the venue and we knew it would be the same for our guests on the day. We had used Fetti and Bow to supply some giant white balloons to line the path towards the Gillyflower, they looked brilliant and as much as it wasn't the intention of them, were also a hit with the kids later in the evening. When we walked in we were blown away by how close it was to what we had imagined. As well as providing the flowers, we had asked Breige to do the wedding styling for us as well. When we saw the Gillyflower we immediately knew that she, Wonderland invites (who had supplied our wedding stationary), and all the Elmore staff had understood what we were looking for and had recreated that perfectly.  My second thought was one of fear, as my eye was then drawn to the projector the Best Men had set up!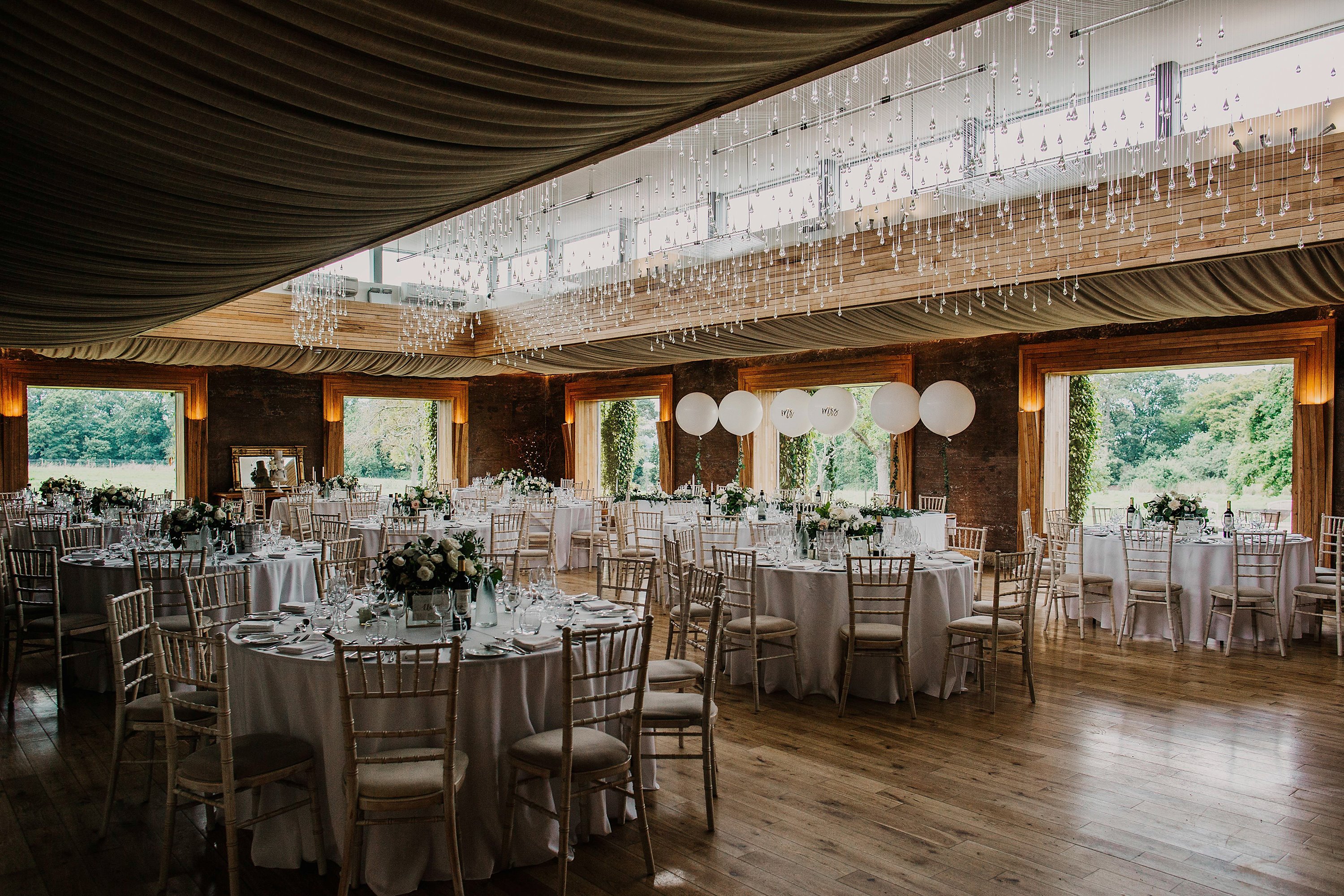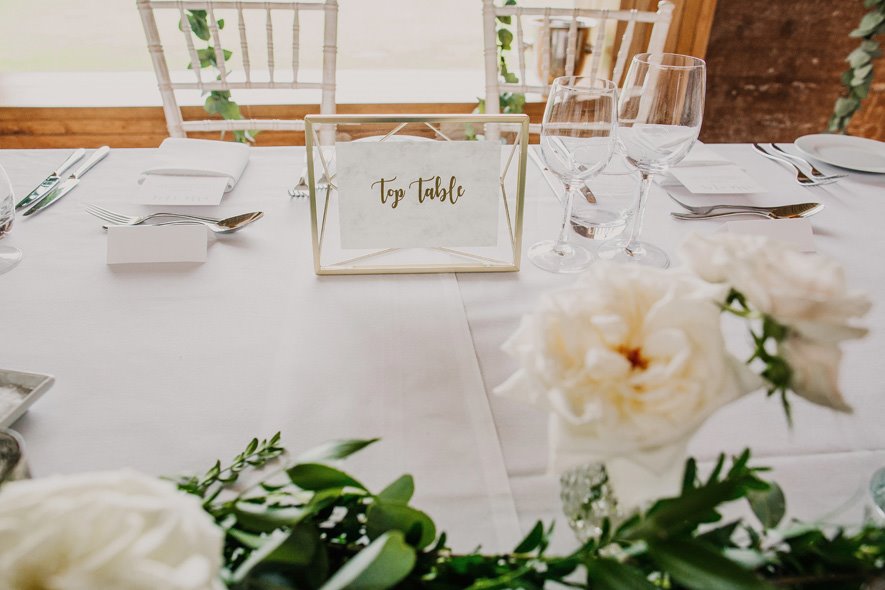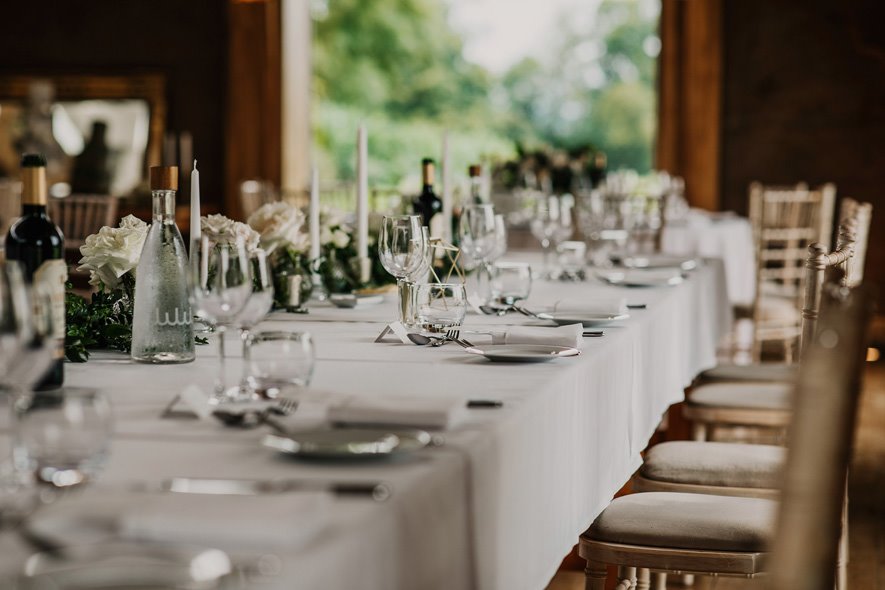 What was your first dance?
Our first dance song was Rod Stewart – Have I told you lately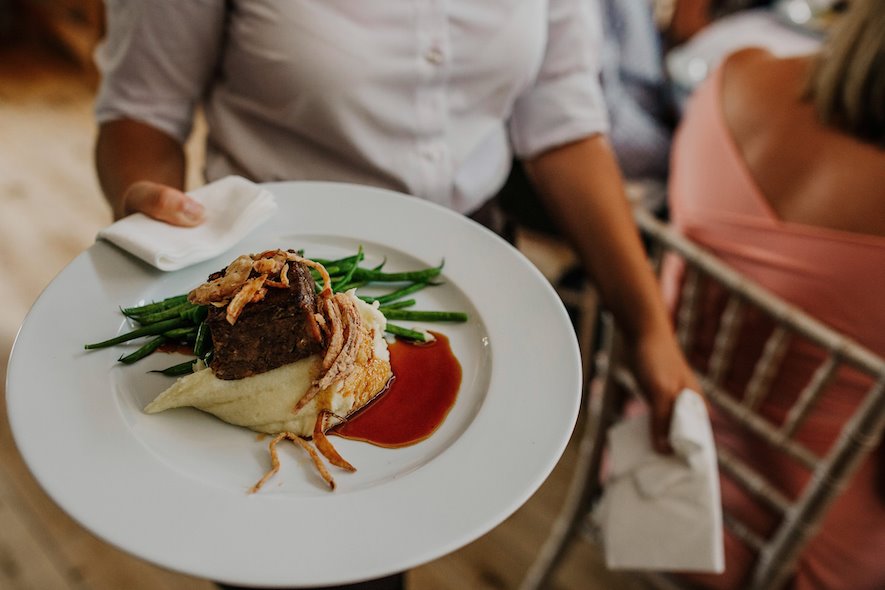 What did you eat and drink?
The canapes from the reception were a real hit with everyone and we were glad to have a plate full of them to ourselves! We had Mac & Cheese, Cod Goujons, Sausages and Lamb Shoulder Croquettes. For the wedding breakfast, we had Antipasti to start followed by Beef Pavé which we actually took from the Winter Menu. We are really glad that we made that decision as it wasn't too heavy even though it was a summer wedding and our guests gave it rave reviews! For desert we chose a Yoghurt Panna Cotta which was the highlight for me and there were a lot of clear plates around the room! In the evening we had Pizza Monkey working their magic, our friends are still talking about it now. Their pizzas are brilliant and they offer a wide range of posh toppings!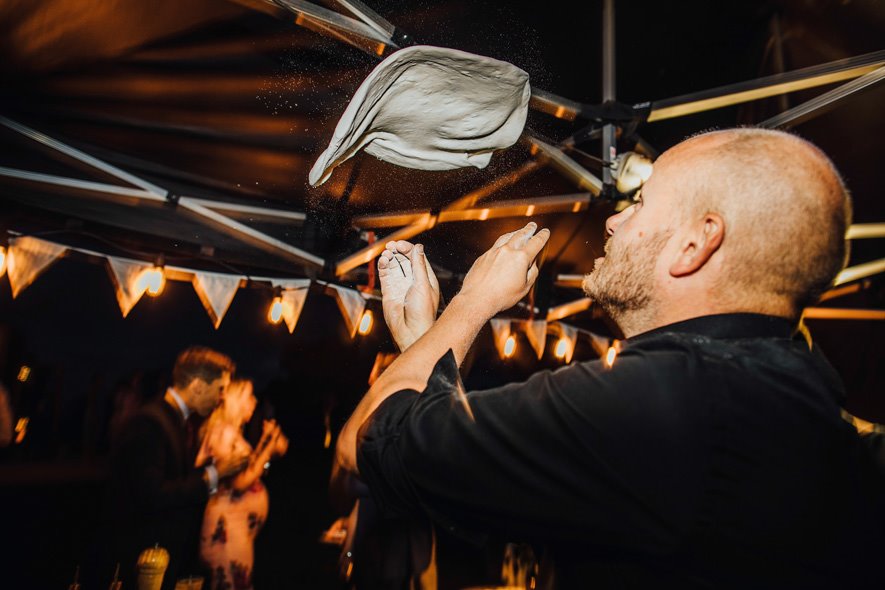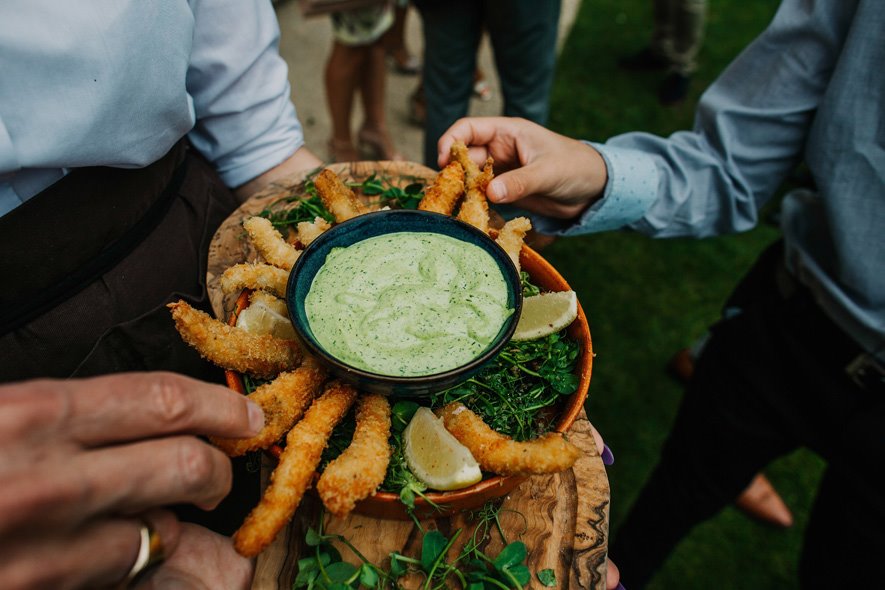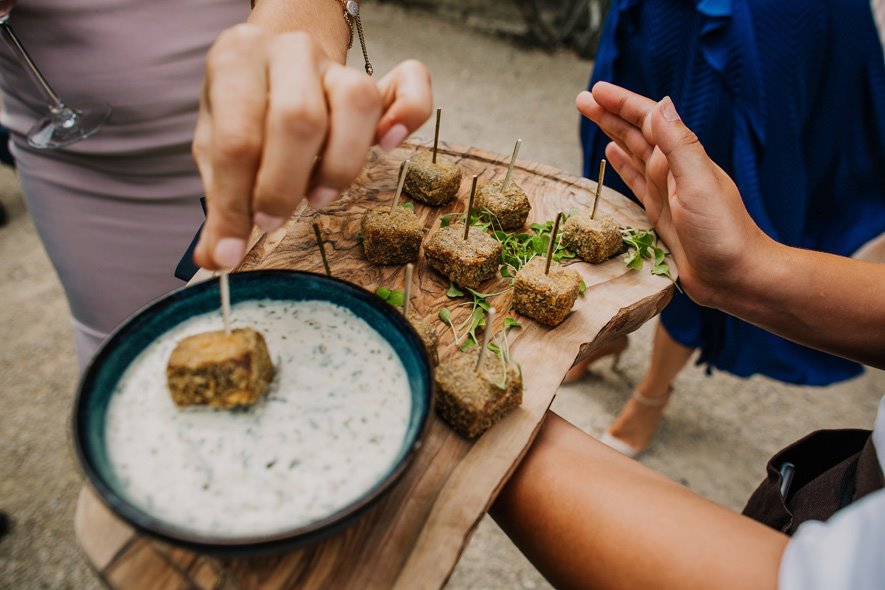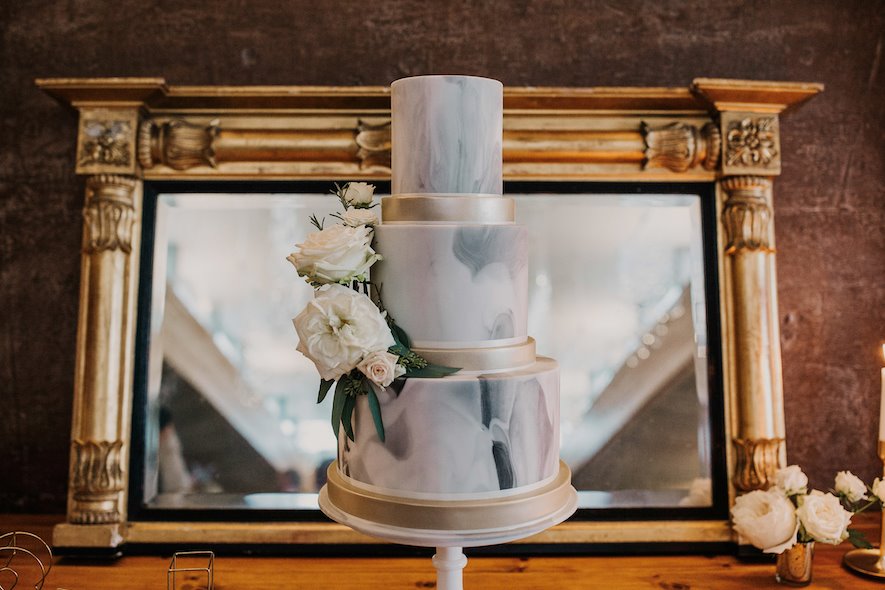 Who made your wedding cake?
Our Cake was made and designed by Zaza Marcelle in Bristol. Isabelle was a brilliant find for us and really understood the understated, yet elegant look that we were aiming for. Whilst the look was understated we went for some unconventional fillings. The three tiers were Victoria Sponge (Classic), Coffee and Walnut and finally, Banana and Butter Cream although there were 5 or 6 of Isabelle's amazing combinations that we loved at the tasting. I think she will be hard pushed to find a couple that polishes the samples off quicker than we did!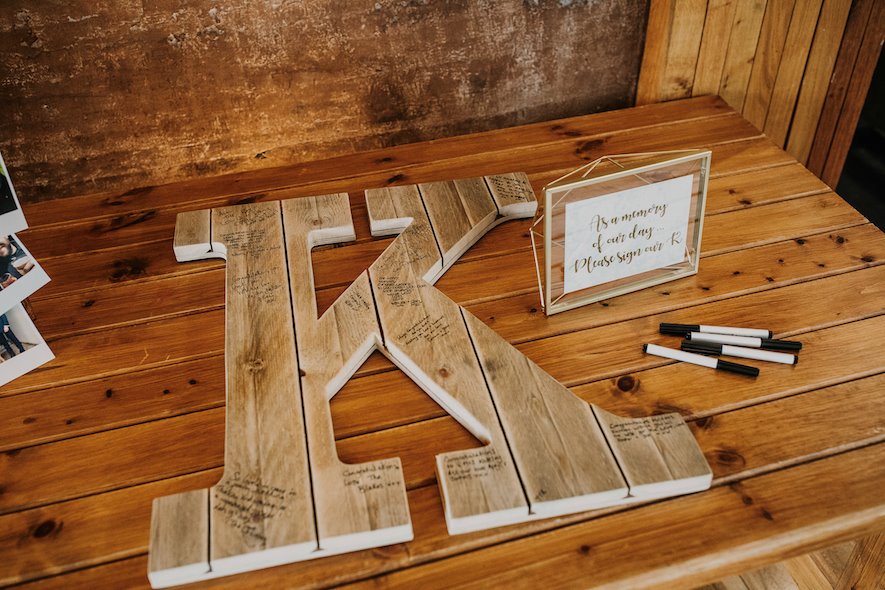 Did you have any personal touches or DIY bits?
We did quite a lot ourselves so anybody questioning whether they could go down this route should take confidence from that. We made the personalised hangover recovery packs, all of the signs, tags, the table plan and table numbers ourselves. Sam even taught herself Calligraphy! Our favourite personal touch has to be our personalised neon sign, having looked at hiring things along these lines we decided to look at having a neon sign made with our surname to go in the Gillyflower. There were a few places offering this type of thing but we ended up going with a guy in Hong Kong in the end. We can't wait to put it up in the house now!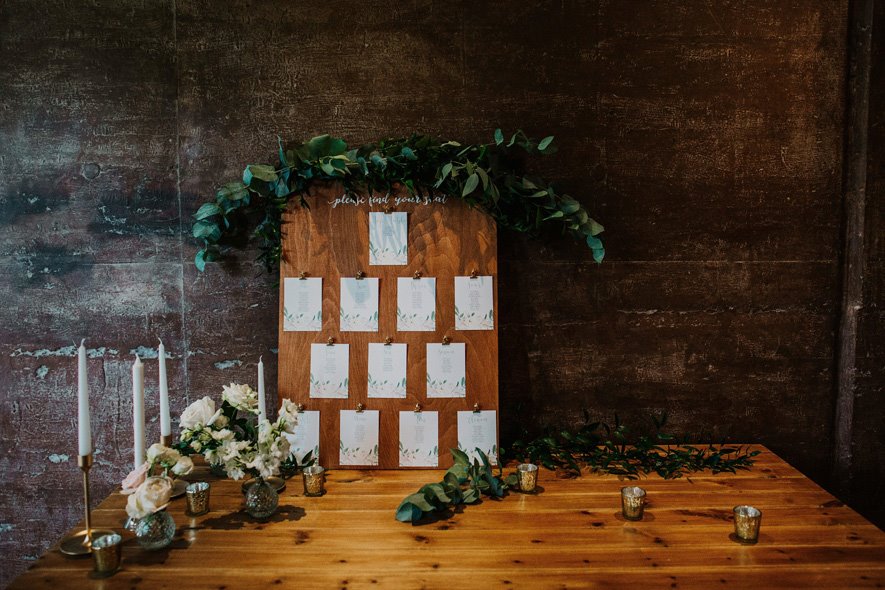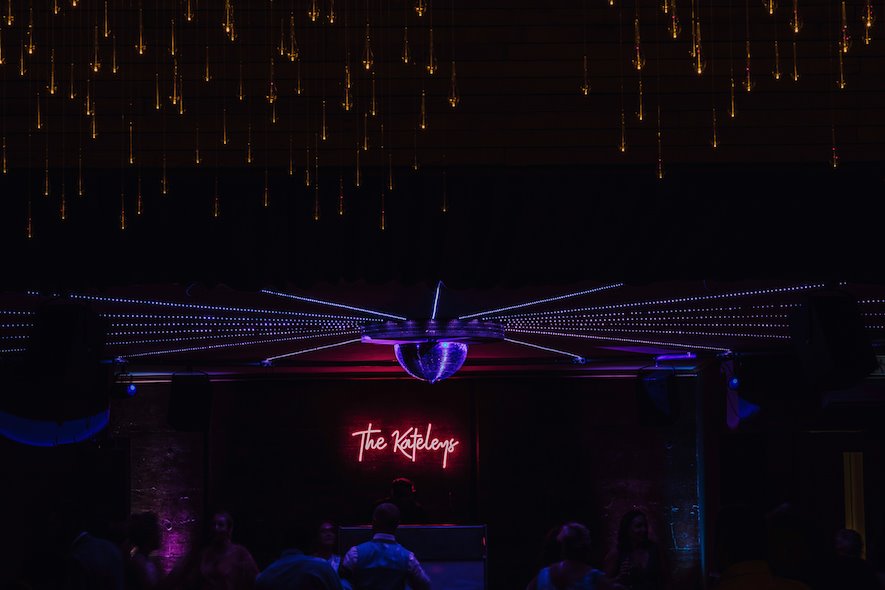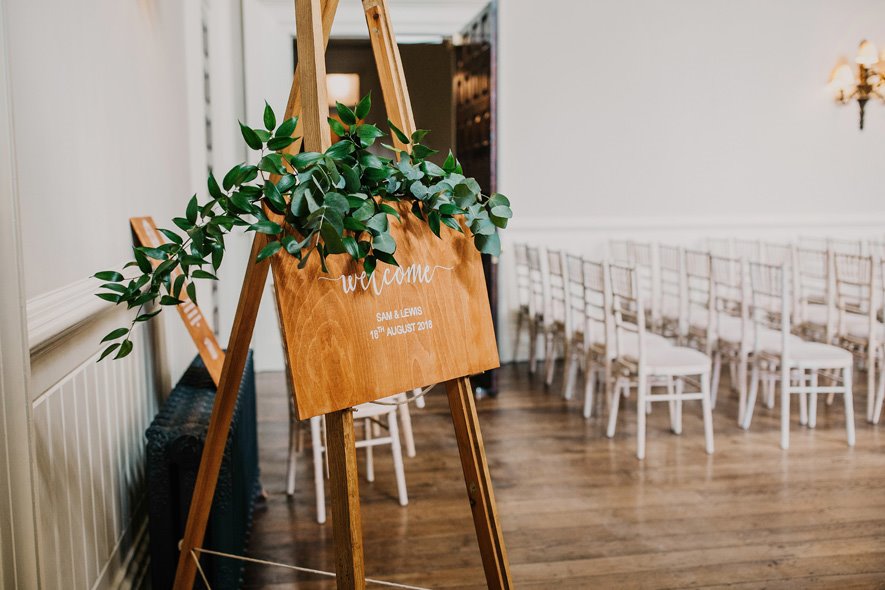 What was a particular highlight of your day?
It sounds really anti-social but our highlights were the little moments that we had together to take everything in. The time immediately after the ceremony, snooping round the gillyflower with nobody there and just seeing how everything had come together. It's nice to have all your family and friends around you to celebrate but equally important to have the moments that remind you that it's your day!
What was your biggest surprise of the day?
Sam: I knew my feet would be painful by the evening so I'd mentioned about getting some trainers to change into. Lewis surprised me with an amazing pair of personalised Converse that had personal things about our relationship and parts of the day painted on them.
They were a hit with all of our guests and 'Team E' as well!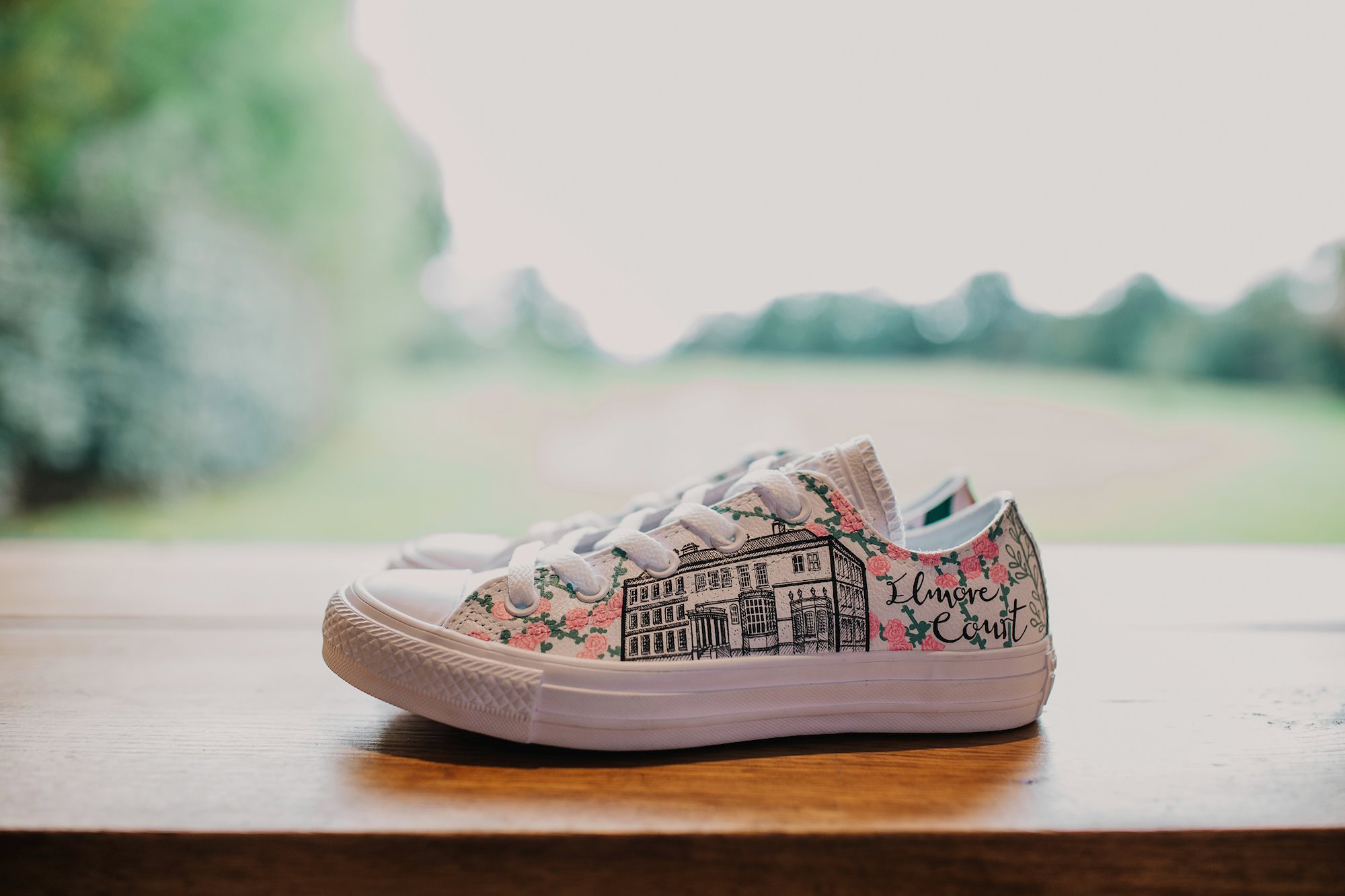 Thank you so much for sharing your beautiful day with us Sam & Lewis, what a wedding!
Feel free to keep browsing our real weddings for inspiration and real life advice.
Lots of Love,
Team E xx
Related reading