Relaxed, Elegant Summer Wedding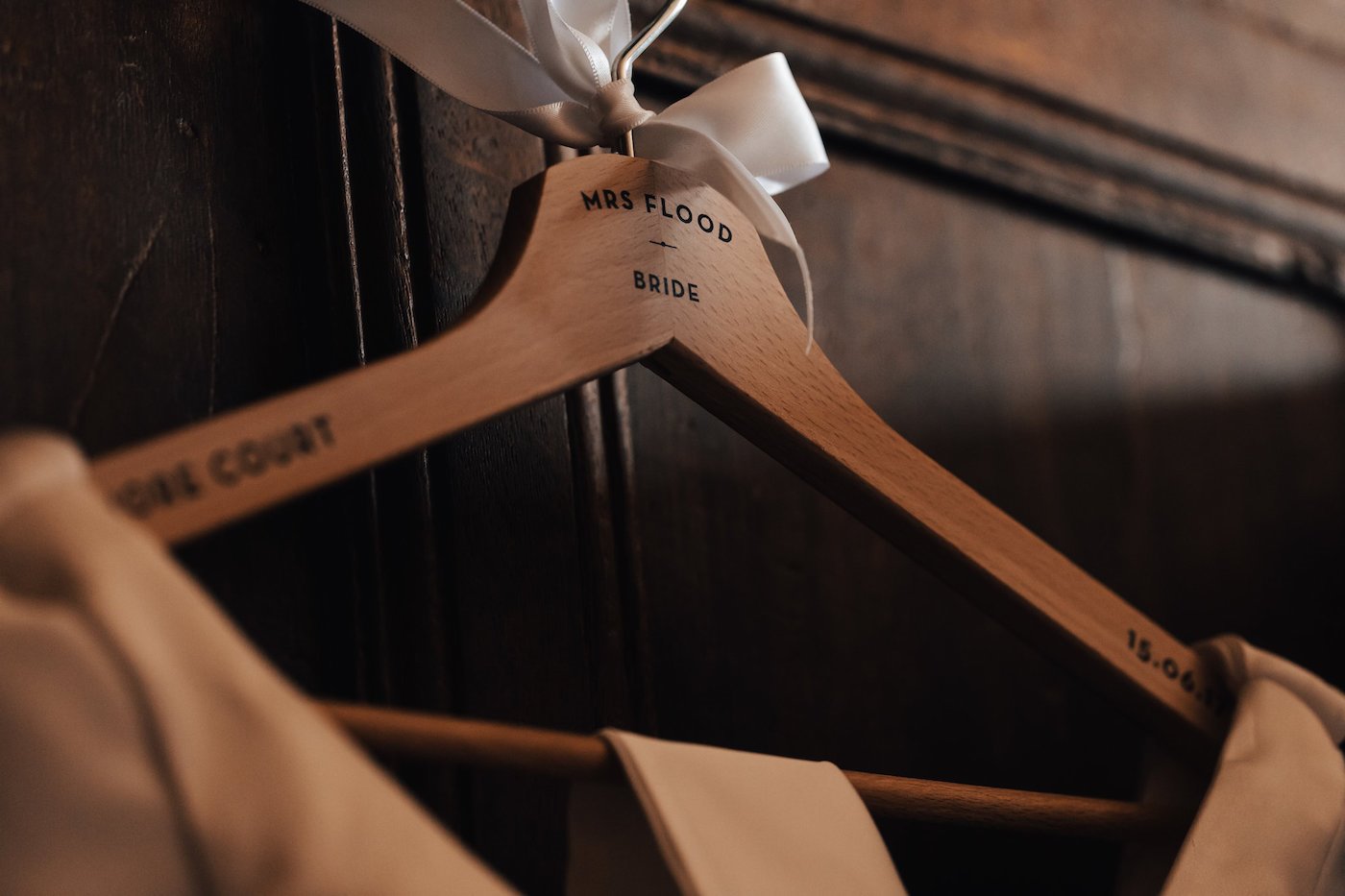 A Treasure hunt Proposal!
Dec's proposal was so romantic and personal. It was our anniversary and (as far as I knew) we had planned to go out for lunch to celebrate. While I was getting ready, Dec made an excuse to leave the house. Shortly after there was a knock on the door and his best friend (soon to be best man) appeared with an envelope with the words 'clue 1' written on it. 
I was sent on a whirlwind treasure hunt to find the other letters, visiting various locations that have meant something to us over the years. It ended in the beautiful Lacock Abbey where Dec was waiting to read his final letter to me and pop the big question! After a walk around the grounds, we went to a beautiful pub restaurant close by where all our closest family were waiting with bubbly to celebrate. Good thing I said yes!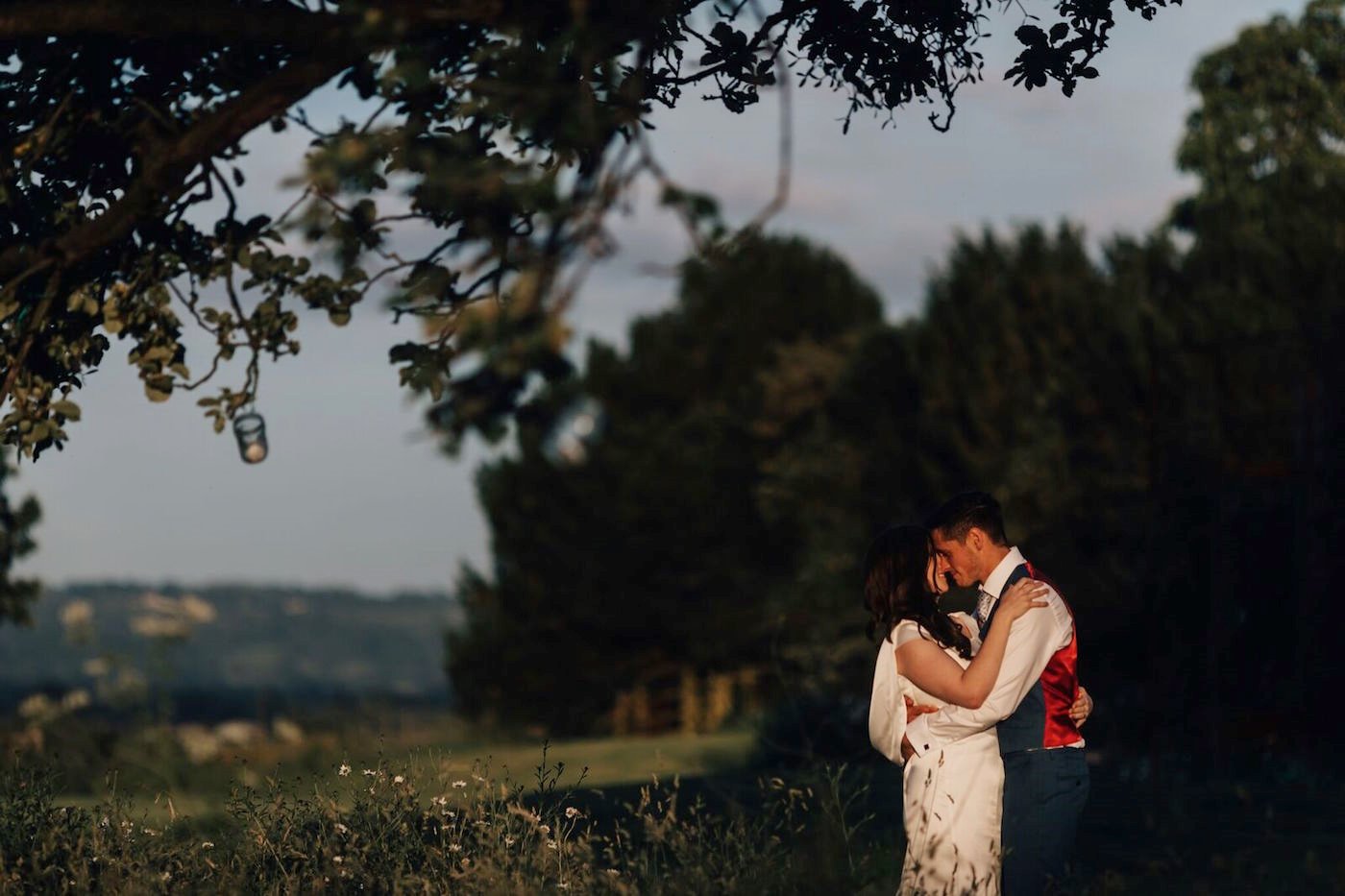 So why Elmore Court?
We knew early on that we wanted to have a civil ceremony, so it was important to us that the venue was right, as we would spend the entire day there. 
We looked at several venues, but our hearts were set as soon as we visited Elmore. It's brimming with personality! It felt homely yet grand, historic yet modern, quirky yet romantic, and embodied everything we were looking for in a venue. There were many spaces we could use throughout the day, and it would have been a fantastic day even if it had rained. 
Elmore is a stunning venue, but it's the people that really make it exceptional. Our wedding co-ordinator Rachel and everyone at Team E were incredibly helpful and friendly, and made us feel as though anything was possible. That it was our day to do as we pleased. There was no question too big or silly for them.
We never expected an emotional reaction to a venue, but it was love at first sight! It was by far the best wedding decision we made and we had the time of our lives.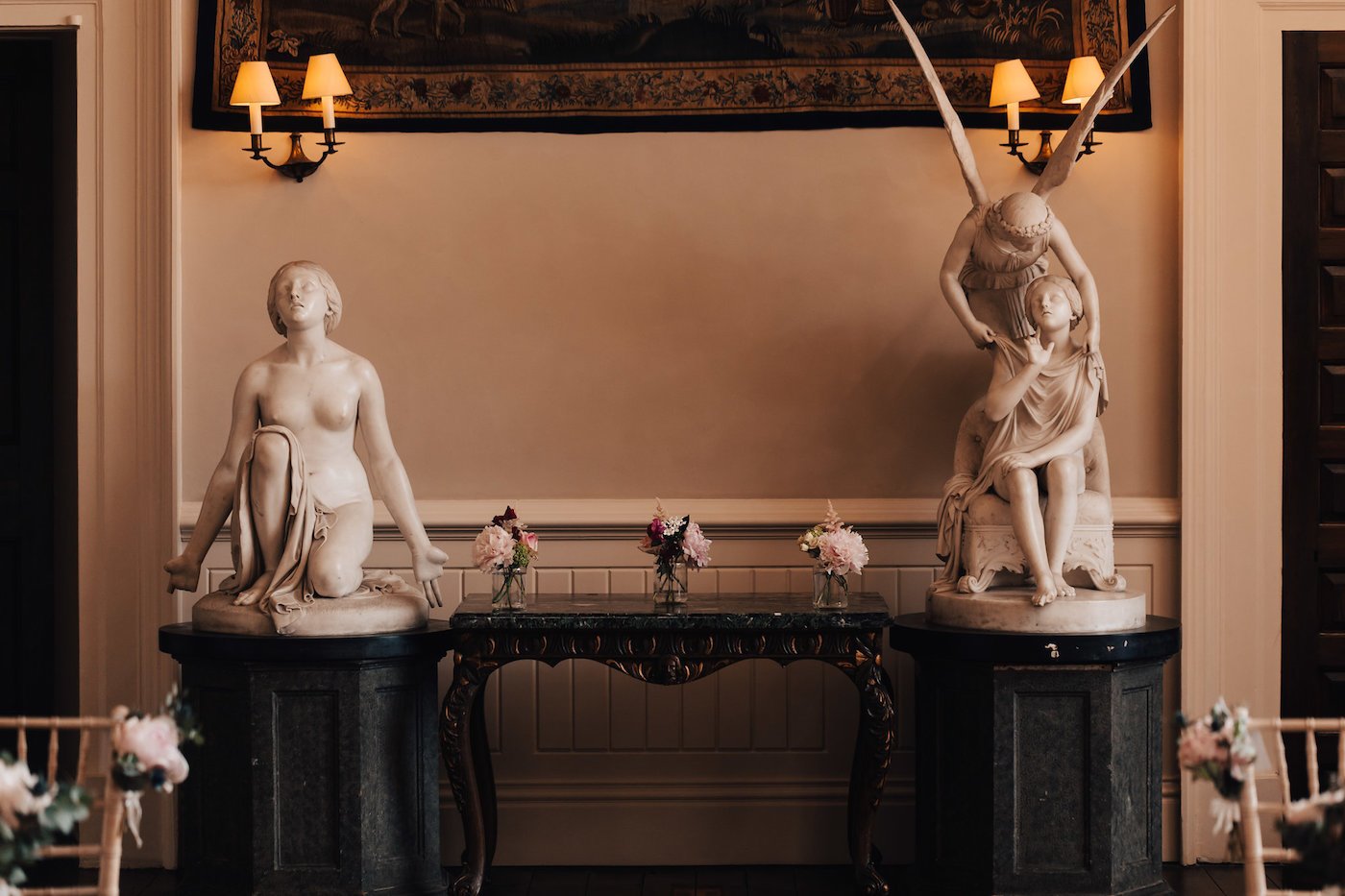 How many guests did you invite?
We wanted our wedding to be small and intimate, to celebrate and treat our nearest and dearest, so we kept numbers to 50 day guests and around 20 evening guests.

How did the wedding planning go?
I loved organising the wedding and sculpting our dream day, but I can only really take half the credit. We planned everything together so every detail was a joint decision. It meant we both had the day we wanted and took each others ideas and wishes on board. We did the planning ourselves, but we were lucky enough to be offered help from friends with elements of the day we simply couldn't do, such as my hair and the flowers. 
I have to say how impressed we were with Team E throughout the whole process, and on the day too! Everything was taken care of, which meant we could just relax and enjoy the day.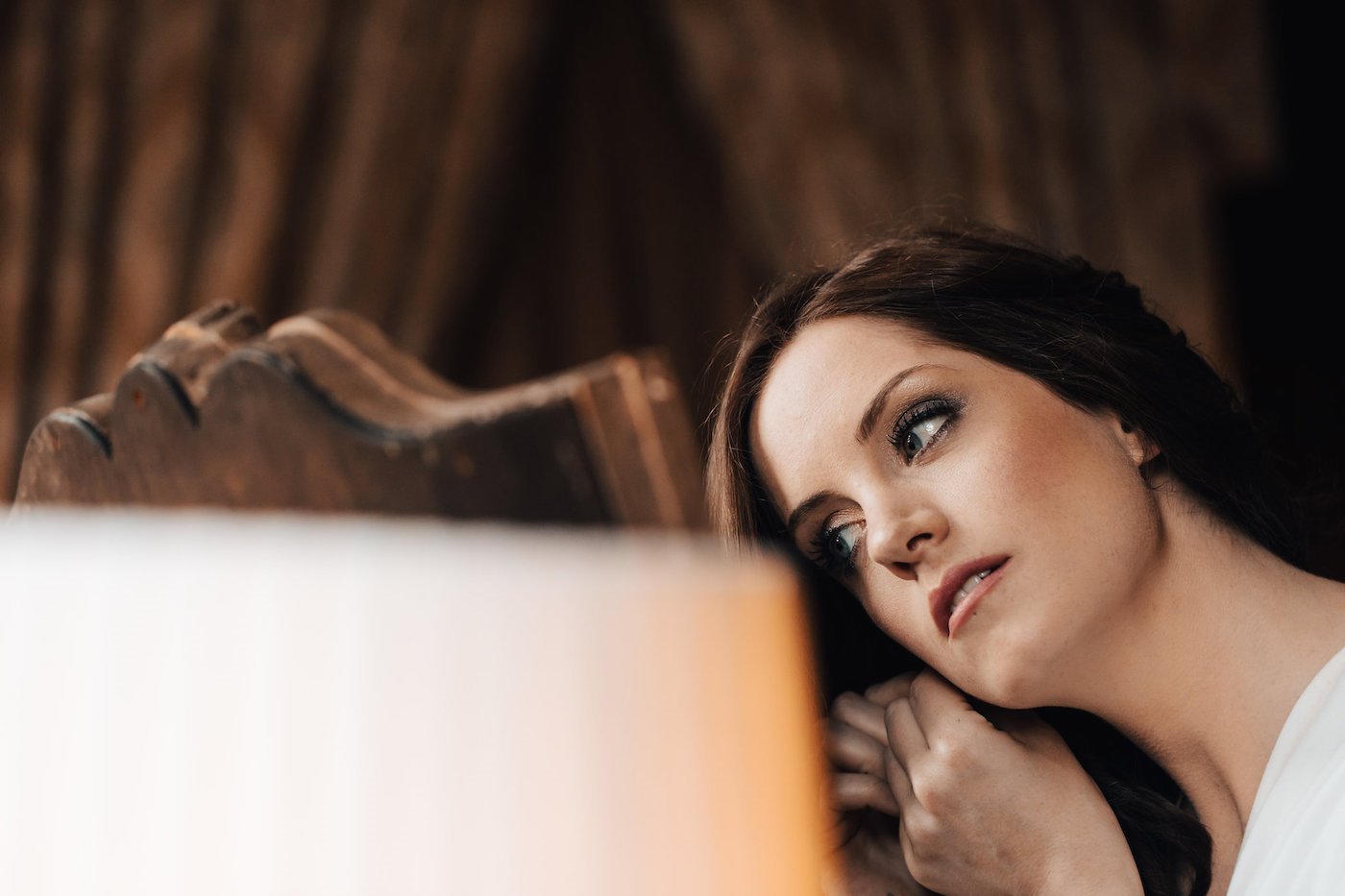 Did you stick to your budget?
Oh yes we had a budget, and were sticking to it as closely as we could. It's so easy to get swept away in the romance, drama and expectations of a wedding (at times we nearly did), and forget about the marriage afterwards. We wanted to make our day amazing whilst staying realistic, so we set priorities which really helped. 
Our first priority was of course the honeymoon! To start our marriage with a bang and make many incredible memories together. Secondly it was the venue to have a wonderful wedding day at, then the photographer to document all the lovely moments and people there. 
How did you find your photographer? 
We found our super talented photographer James Fear through one of the fayres held at Elmore. We loved his reportage style and how he captured emotion, people and place. His work was just that bit more special, and unique compared to other photographers I'd seen. His passion really shone through when we met him.
He knew Elmore well, so knew where and when to get the money shots. His eye for lighting and composition is perfect, and captured wonderful moments throughout the day. The guests adored him too and his 'best one yet' catchphrase quickly caught on. 
It was so lovely reliving it all when the photos came through.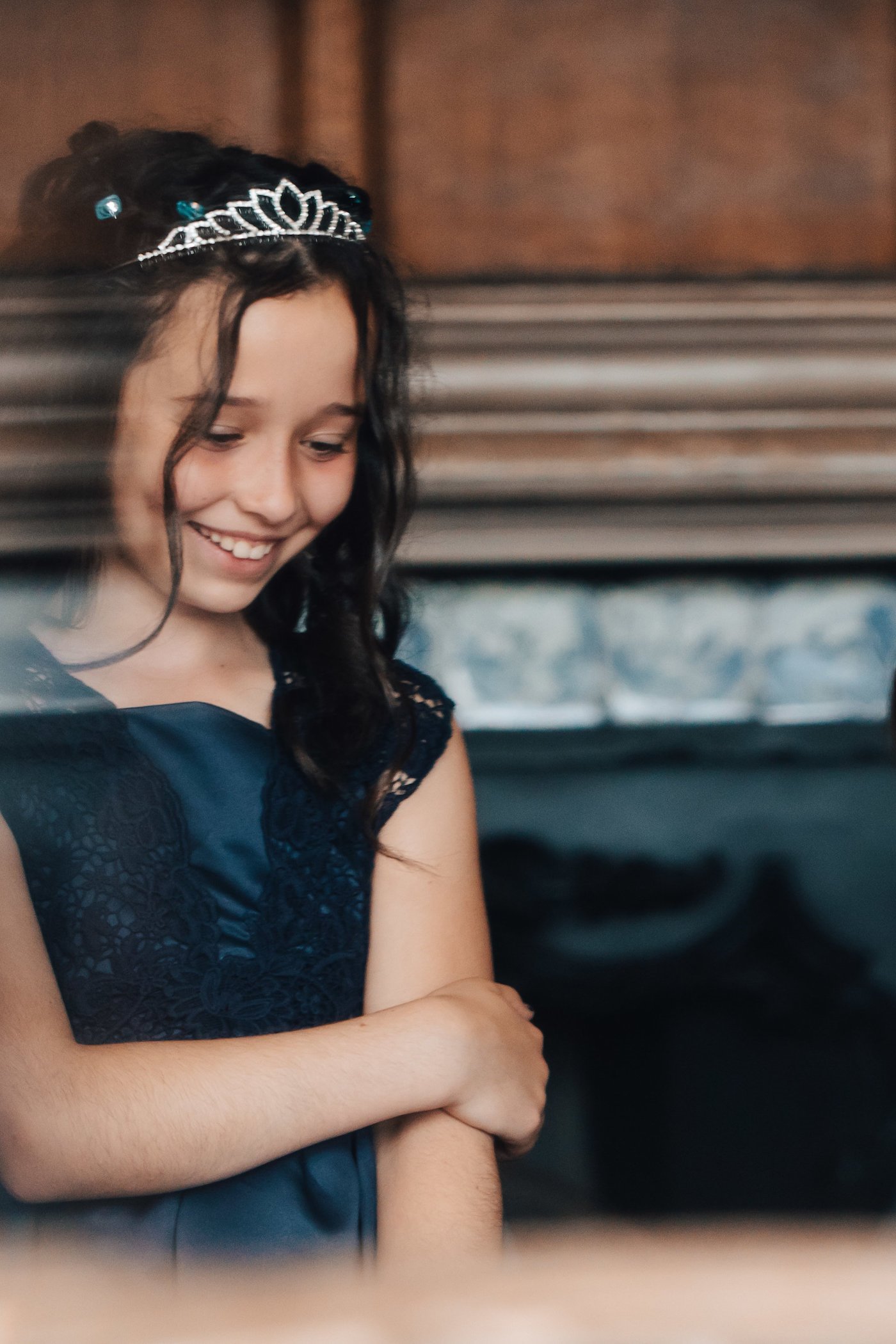 And the all important wedding dress?
I wasn't expecting to find my dress when I did. My sister in law came over for the Christmas holidays, and really wanted to go dress shopping with me. So we spontaneously booked an appointment at a bridal boutique in Stonehouse not far from Elmore.
I knew I didn't want a large sparkly fairytale ballgown, or anything too stiff, but something a bit more red carpet/modern Hollywood. Something minimal and elegant. 
Jess at Grand Jour was brilliant (and very patient). For over four hours I tried on dress after dress. But as soon as I tried on a sleek, trumpet-style silk dress with a long flowing train and open back complete with a cowl, I knew I'd found my dress. I customised it with cap sleeves for a more relaxed look. 
The outfit was complete when Jess added a dramatic two-tier cathedral length veil. I couldn't get enough of it, I loved it!
My jewellery was kept to the bare minimum, wearing only diamond earrings made by Melissa Joy Manning. I had a lot of fun designing my own wedding shoes too – simple heeled sling-backs in the same fabric as my dress.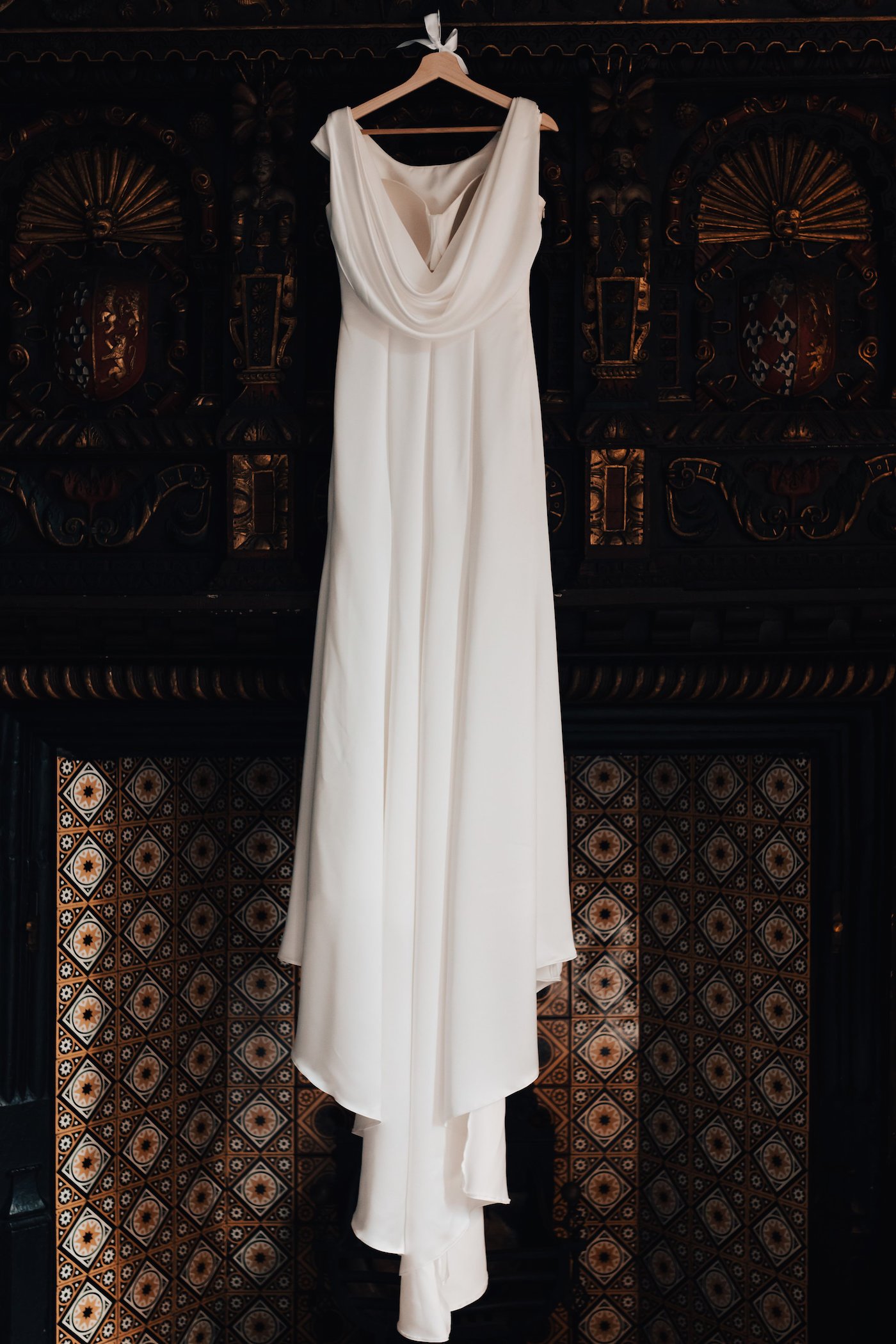 The Groom, Groomsmen and Bridesmaids
Dec looked so handsome in his mid-blue 3 piece Ted baker suit. He knew exactly what he wanted and took the best men on many, many shopping trips until he found his ideal suit. (He shopped more for his suit than I did for my dress!) He finished the look with a blue and silver geometric tie, matching pocket square and cufflinks, and tan leather shoes. The best man and our son, the mini best man,  rented the same suits and all looked extremely dapper.
They added pops of colour with funky, brightly coloured socks and completed the outfits with tie pins (mini best man having a special Lego pin).
It was important that everyone in the wedding party felt comfortable and confident. I wanted the bridesmaids to wear something that made them feel special. Something they would wear again but that also sat well with my dress. I settled on striking silvery blue Reiss maxi dresses. They each chose their own shoes to show off their personal style (which looked great with the split leg detail). Needless to say they looked gorgeous. 
Our flower girl Lyra wore a lovely dress from Next. We bought her a head band on Etsy as a gift which went perfectly with it.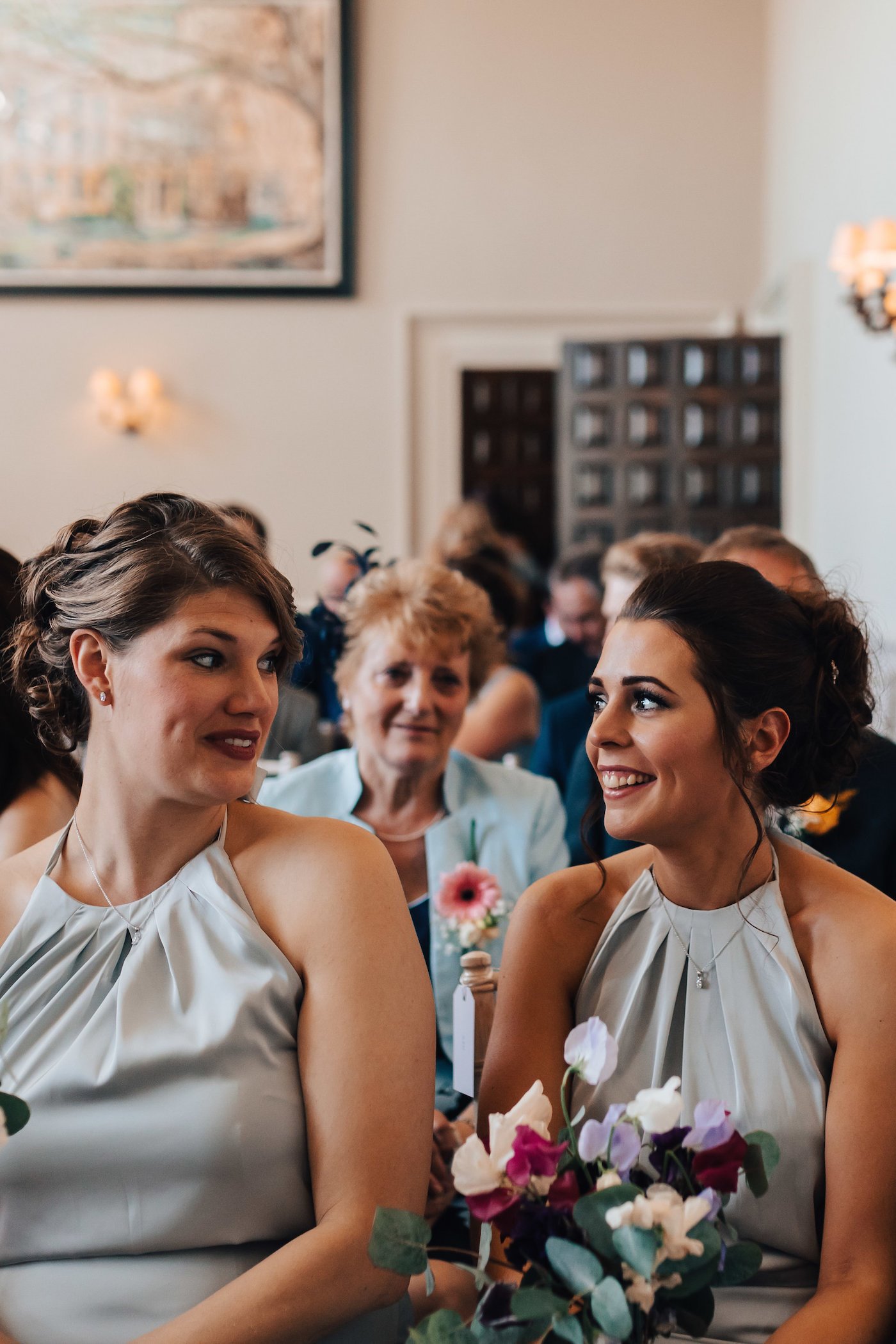 What inspired your wedding style?
Initially, we thought about how we wanted the day to go, how it should feel and that really led the style of the wedding. Being in a gorgeous romantic country manor also really helped the theme. We kept things personal, minimal, relaxed and elegant, our four buzz words we kept referring to in the planning process. The colour scheme was blue and silver with pops of green and pink. Lovely and cooling for a hot summer's day!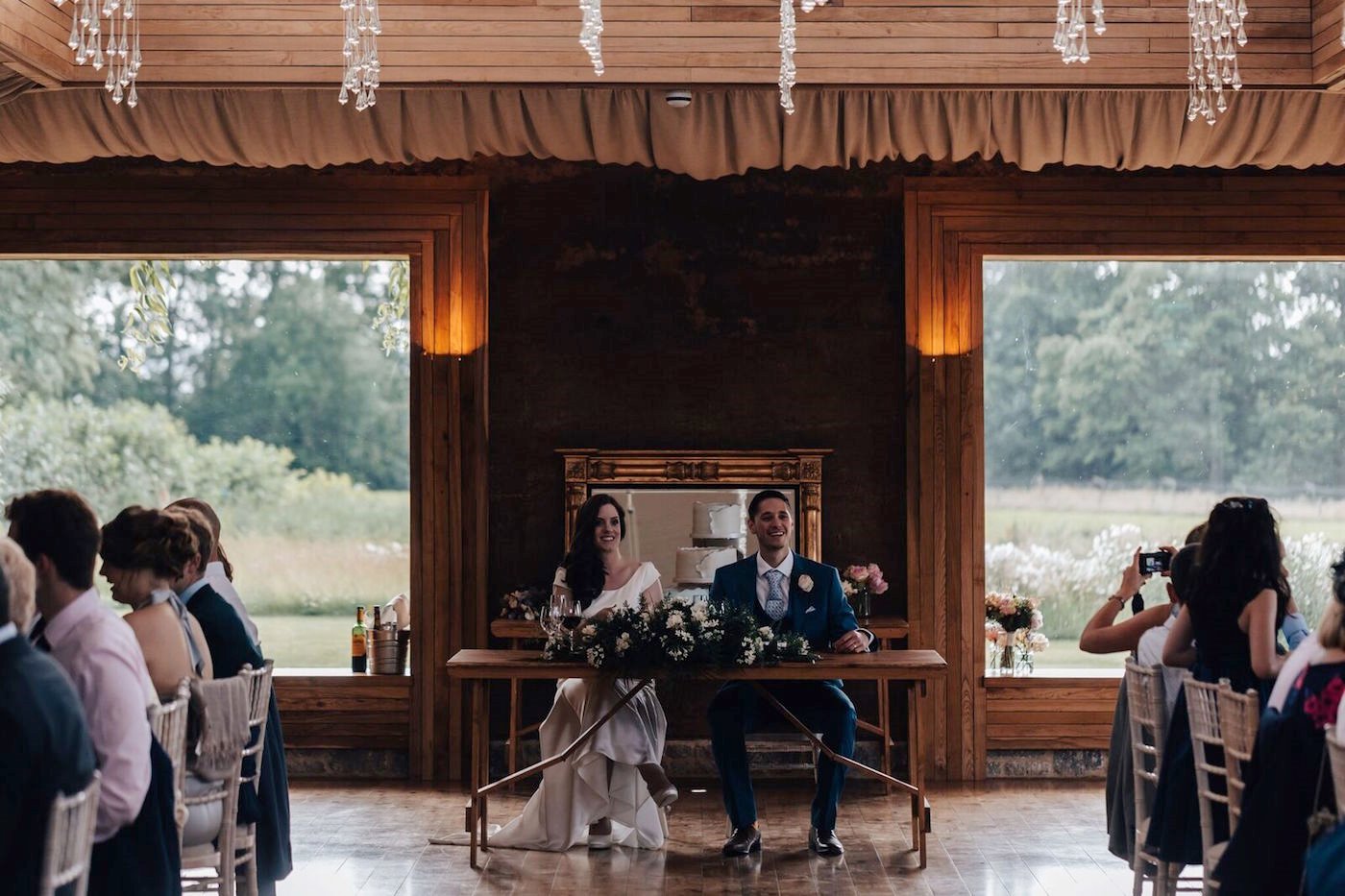 What flowers did you have?
We wanted to keep things natural and relaxed, to capture the spirit of the day. So, with not much more of a brief than 'foliage with blue, white and pink flowers', we let our florist, Rachel's imagination run riot. She didn't disappoint. She appeared the day before the wedding with box upon box of lovely flowers.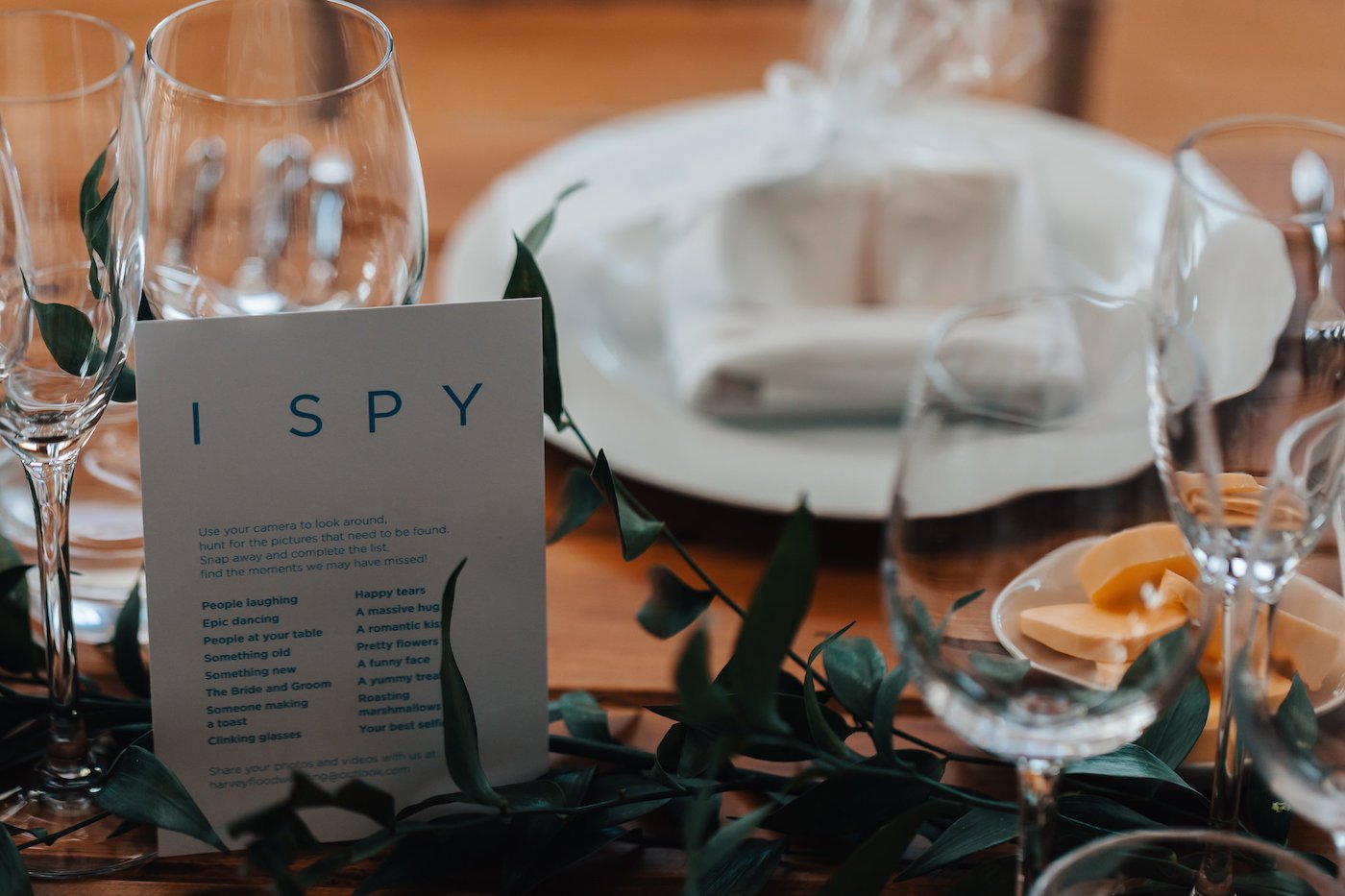 I was adamant that sweet peas would feature amongst the blooms, as it is Dec's pet name for me, and they remind me of him. So the bridesmaid's bouquets were entirely sweet peas. Lyra carried a little pomander made of roses.
My bouquet included sweet peas, freesia (which my Mum had in her bridal bouquet), roses, peonies and many other beautiful flowers and bright green foliage. The groom and best men wore buttonholes with a single pink rose and foliage, which look great against their blue suits. 
We decorated only with flowers. Jars with mixed flowers, jars with single blooms, flowers tied to the chairs. And table runners made of foliage on the dining tables. When the venue's as beautiful as Elmore, why not let it shine?!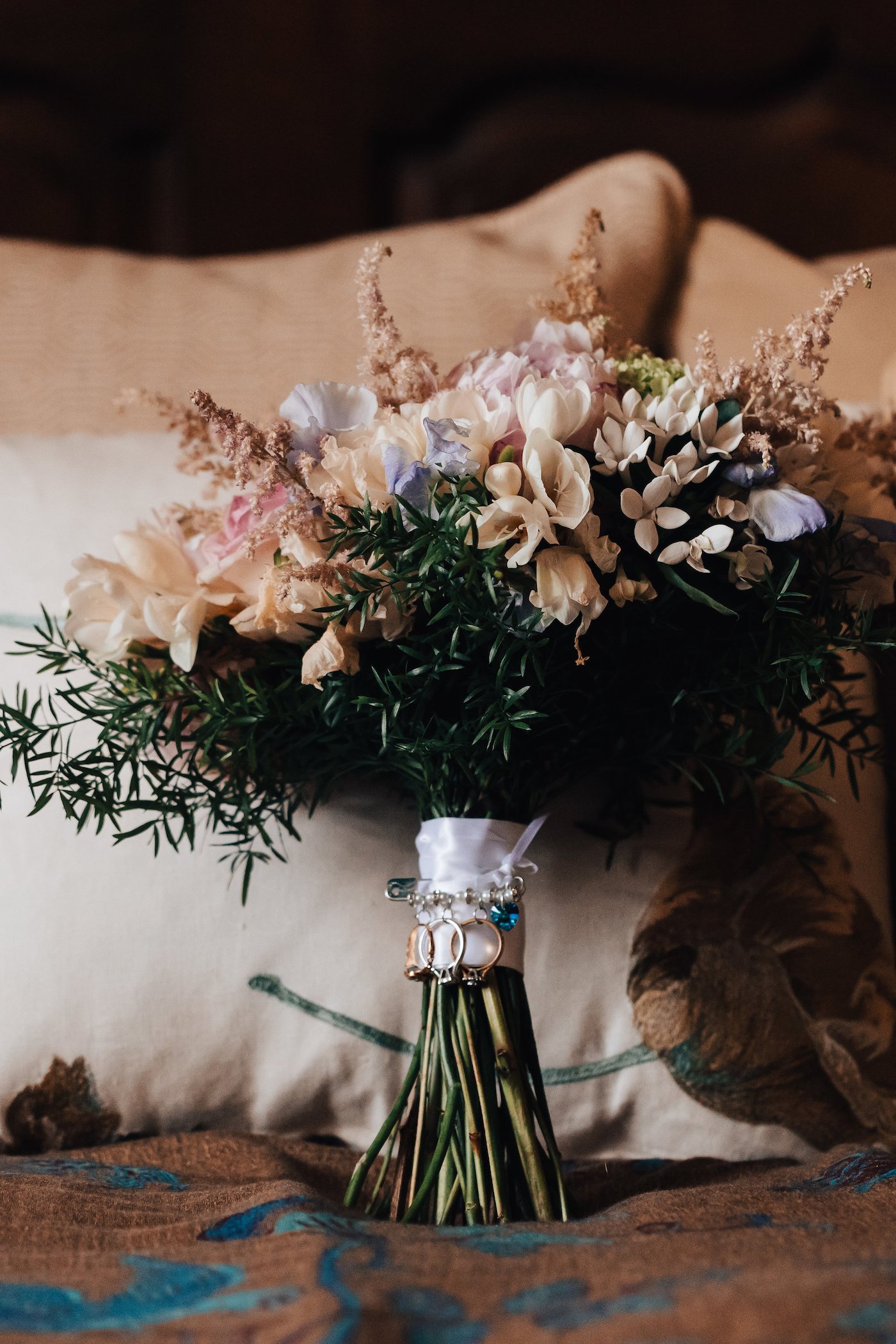 And the food?
Being mid Summer, we thought you can't go wrong with good old Pimms! So we served it straight after the ceremony. It was perfect! Top-ups were served from large Kilner dispensers along with other refreshments.
The food was phenomenal, and there was lots of it! The starter was an Italian sharing platter which included meats, roasted vegetables, mozzarella, olives, and focaccia. Our main was rump of lamb with rosemary jus, and dessert was a divine lemon posset with blackberry compote. The food was delicious and the guests thoroughly loved it.
Everyone was seated at two long family-style tables, and Dec and I at a little sweetheart table. We loved having the sweetheart table, it gave just the two of us time to breathe and soak it all in. It was lovely eating our wedding breakfast together, reflecting on the days events so far and funny moments from the morning. It felt very intimate despite being surrounded by family and friends.
In the evening we had an epic cheeseboard and bacon and sausage baps. Yum. The vegetarians and vegans were well taken cared of too as the kitchen cooked up special last minute requests, no questions asked. We were lucky enough to receive a keg of beer as a wedding gift, inevitably this went down well throughout the night.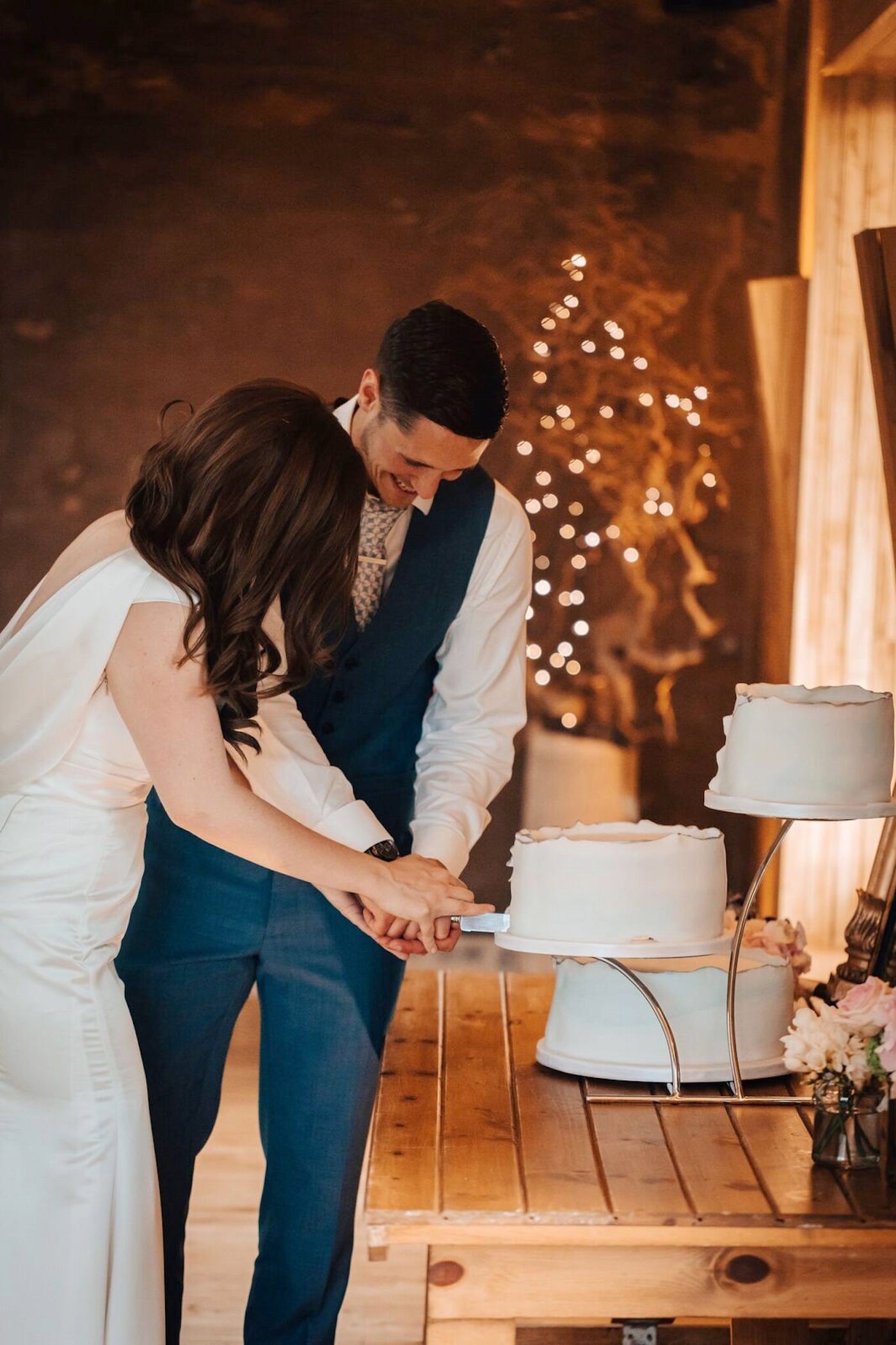 Give us the cake details!
My Mum offered to bake the cakes, so of course we took her up on the offer. There were 3 individual cakes in total, all decorated with subtle blue marbled icing and silver trim. A friend of the family was generous enough to ice the cakes for us and she did a fantastic job. 
Each of us in our little family of three chose a flavour for one of the cakes. Dec opted for the popular pistachio and raspberry, mine was a chocolate and vanilla marble cake, and our son chose a zingy lemon flavour. You never would have known the cakes were homemade! They looked and tasted delightful!

Tell us about all the fun & games
Post-ceremony we played Boules and giant Jenga on the East lawn. It was great to have outdoor games in the Summer sunshine with Pimms flowing.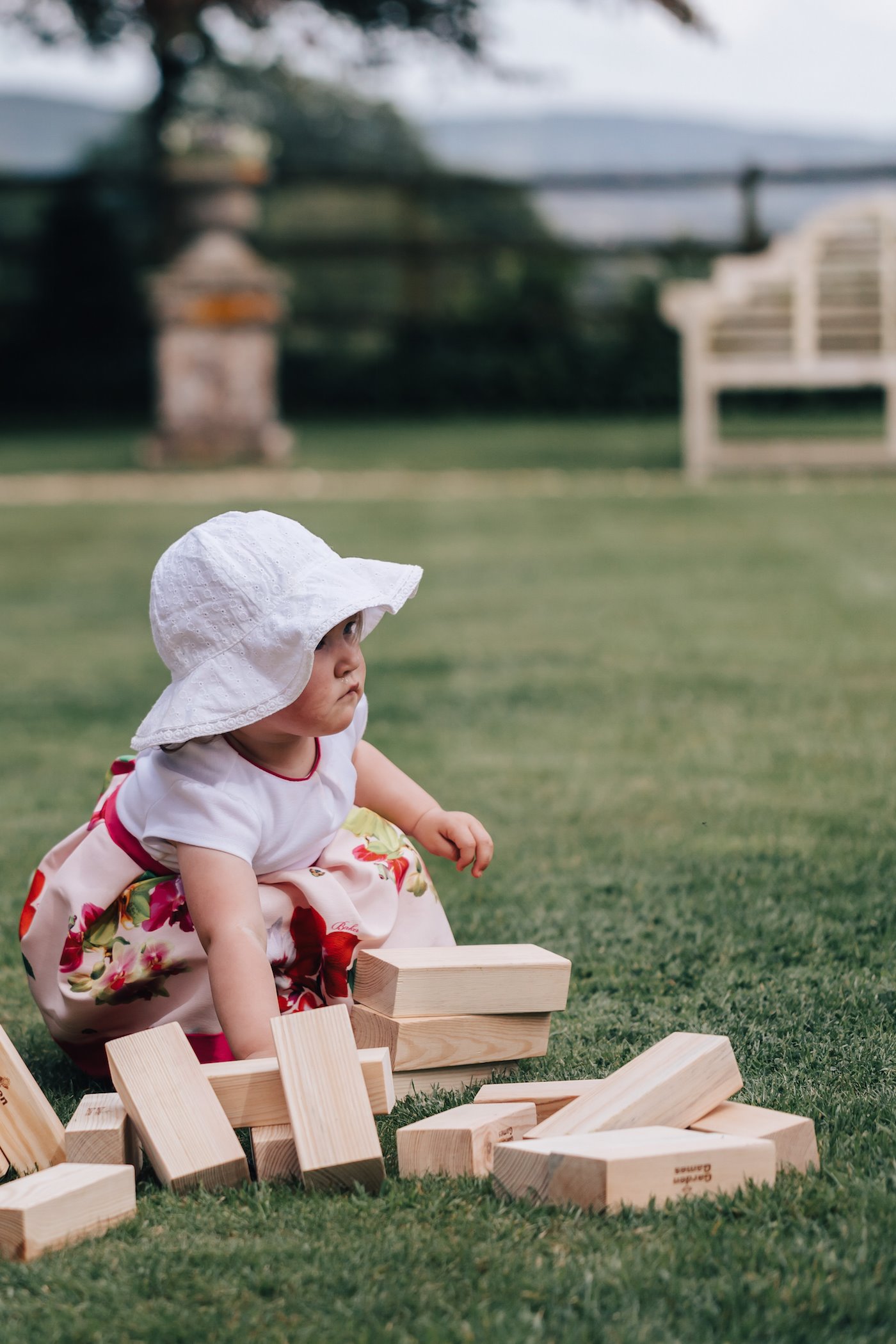 For the evening, we set up a DIY photobooth in the Gillyflower. This was simply an iPad using an app called Simplebooth, attached to a tripod with a mounted light and printer. The booth was absolutely worth it. Everyone had a lot of fun playing around with the props and the guestbook is filled with lots of silly photos.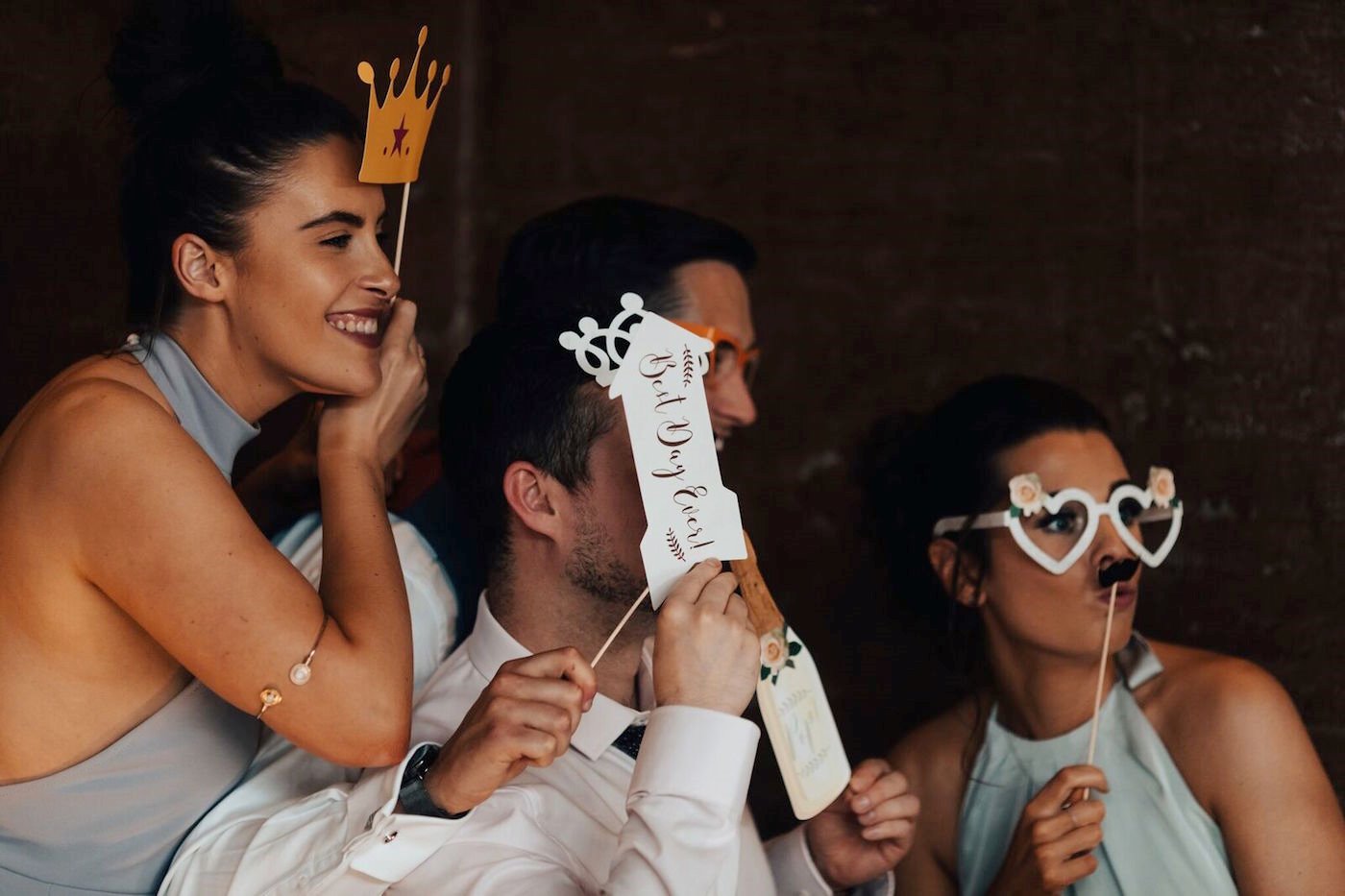 Then there's THAT fire pit! There's just something so lovely sitting about sitting around a fire, watching the sun go down, chatting and roasting marshmallows. We wanted to make use of the fire pit, so we gave marshmallows as favours for people to roast, and it went down a storm. The fire pit was busy all night. I managed to source vegan marshmallows too so my sister in law had her first ever roasted marshmallow that evening. The next day she went out and bought a bag of them!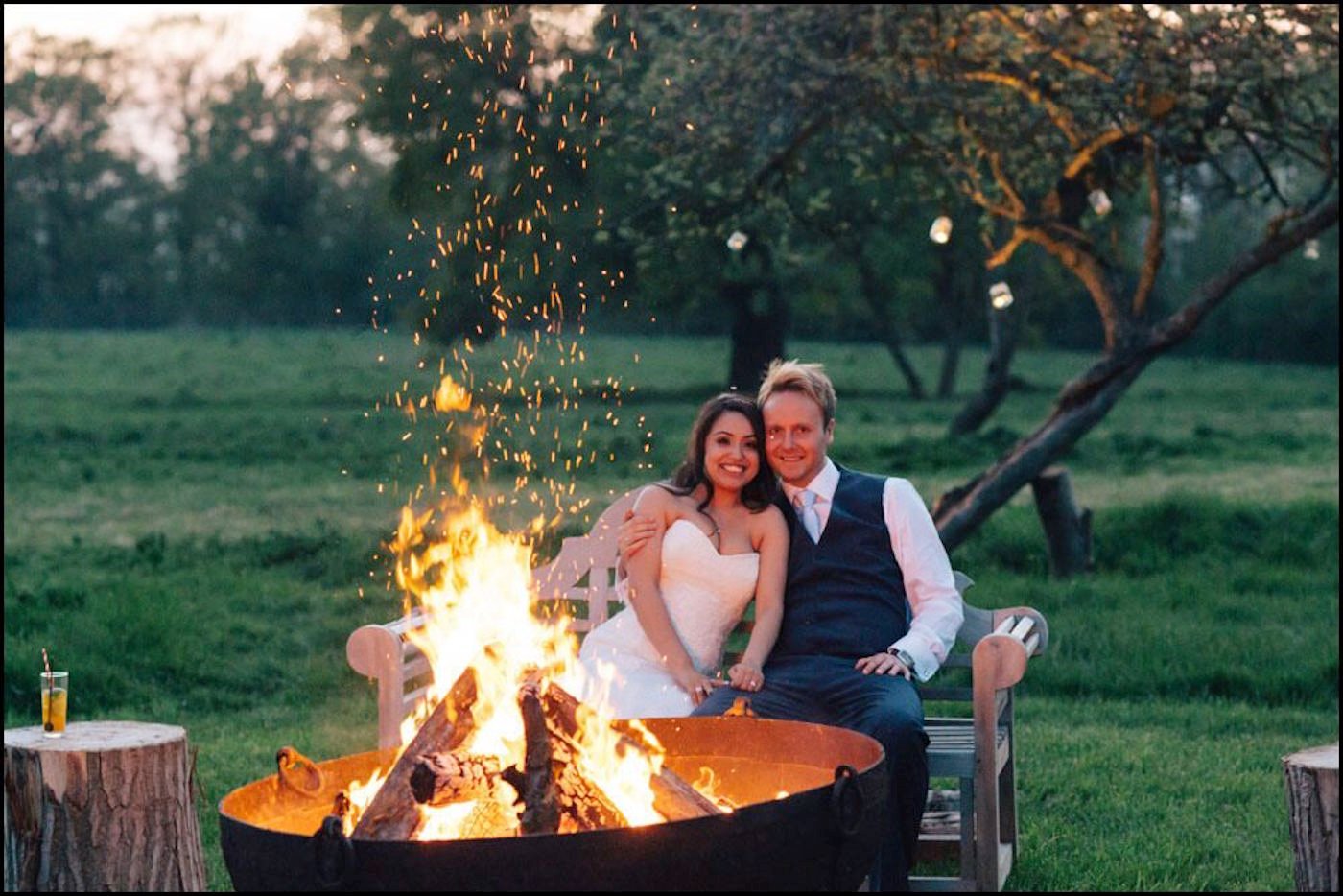 However, nothing beat our exceptional singer/guitarist we booked, the masterful Adam Isaac! His talent is second to none and really made our day so special. It was the cherry on the cake. Once Adam's set was finished, we put on an iPod playlist compiled of guest song requests that we asked for with the RSVPs to the round off the evening.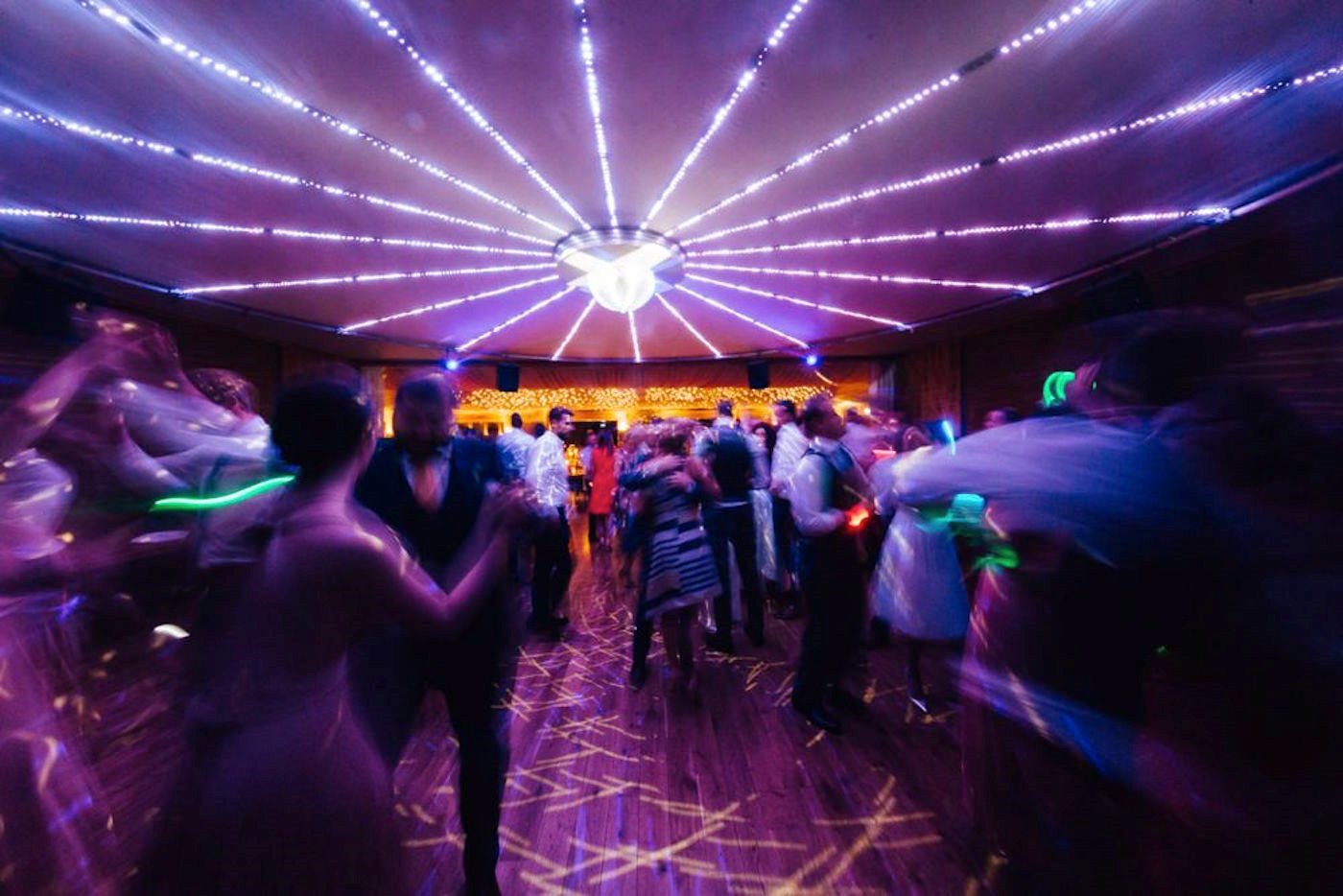 Did you get crafty?
We wanted our day to be personal to us, so we really thought about every element as we planned it, and put our skills to use as much as possible. 
Being a graphic designer, I created all of the wedding stationery which embodied our minimalist and elegant look and feel. The blues and silvers and typographic features transcended across everything I designed to unify it all, from the invitations through to the seating chart and menus. 
Designing and making the ceremony programmes was the best bit. These were painstakingly printed onto delicate paper bags and then stuffed with confetti. 
I wanted my something old, new, borrowed and blue to be hold a lot of meaning. Plus with a slinky dress I couldn't wear a garter or hide family hankies. So I made a pin that I attached to my bouquet that held my families engagement rings. My Gran's old ring, my new ring and I borrowed my Mums, which also had a beautiful blue sapphire. I added a little blue gem on the end of the pin too. 
I had to remember to remove the pin from the bouquet as we decided to gift the flowers in my Bridal speech to the longest married couple at the wedding, Dec's grandparents. I felt it really honoured what we were all celebrating, long, loving and happy marriages as well the start of a new one.
We commissioned our wedding bands through a client of Dec's, a fabulous goldsmith called Paul Newton. Handmade in his workshop, the end product is of exceptional quality. They are very special to us.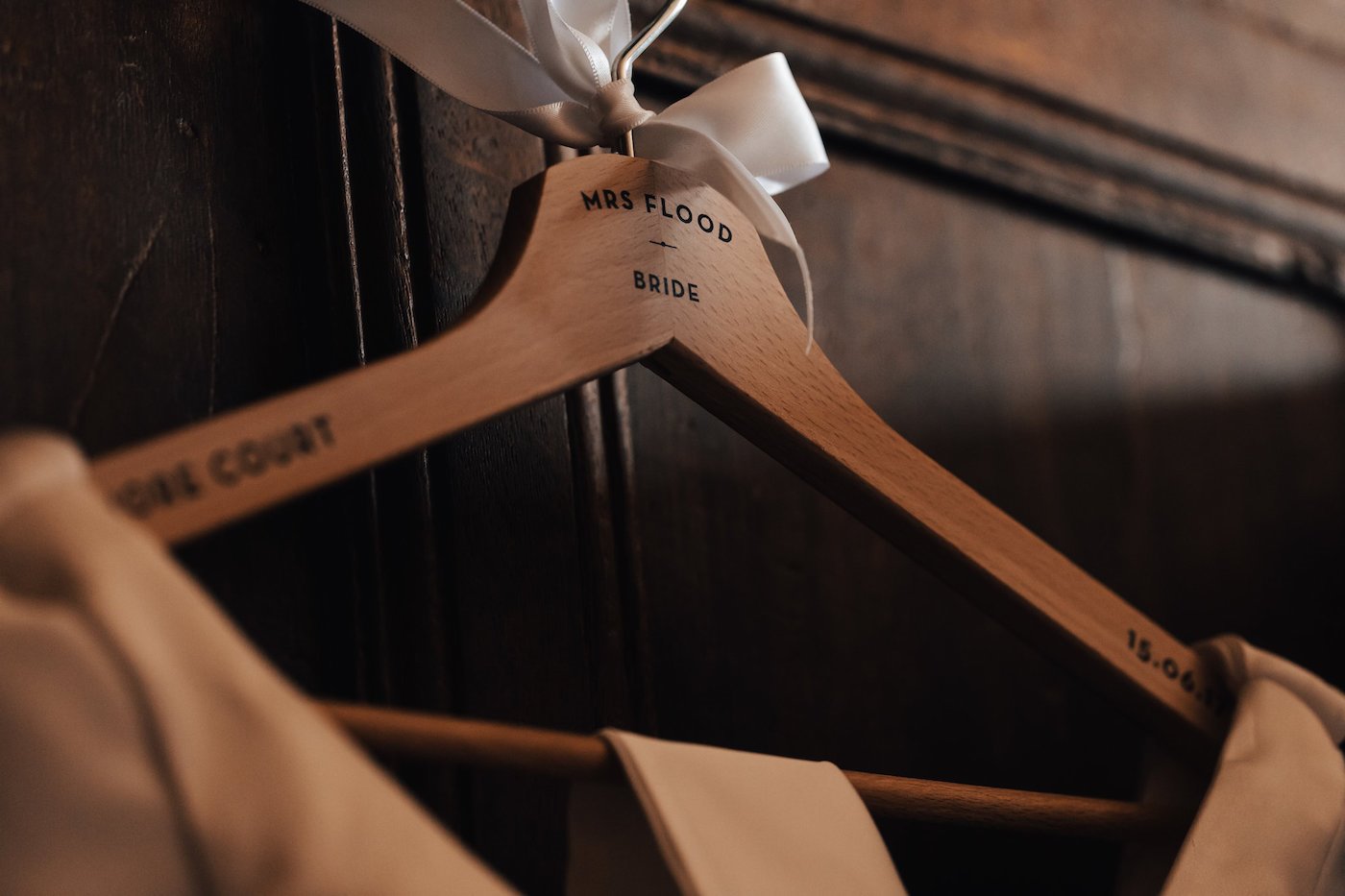 Which bits will you remember forever?
There were so many wonderful moments throughout the day, it's hard not to tell you about all of them! However, there were some definite highlights including:
Our son's incredibly touching poem about family in the ceremony tugged at our heartstrings. He did so well to stand up in front of everyone and give his reading. 
My personal highlight was when we practised our first dance together, alone on the dance floor behind the curtain, with Adam serenading us with a song he learned specially just for us. It was magical. 
I also loved giving my Bridal speech. It gave me the opportunity to tell Dec exactly how much I love him and what I love about him as well as thank my bridesmaids and other people I wanted to. All of the speeches were fantastic and individual, and were a real highlight of the day.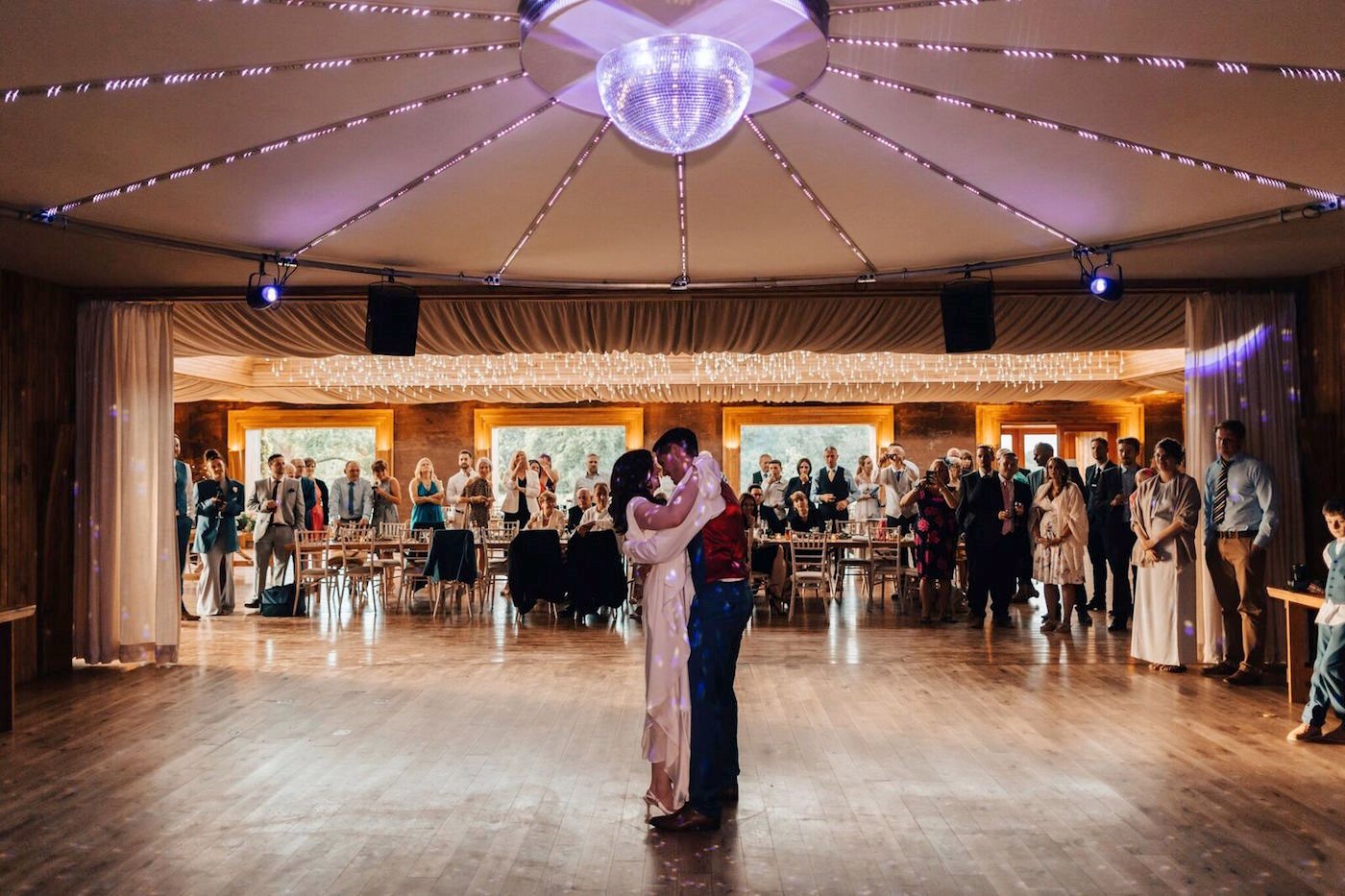 What's your advice for brides to be?
Everyone has their own idea of what a wedding is, what it should be. Just think about what you both want, take on board each others ideas and wishes and plan the day of your dreams. It's your day. 
Also if you hire a video camera, remember to press record before the ceremony!!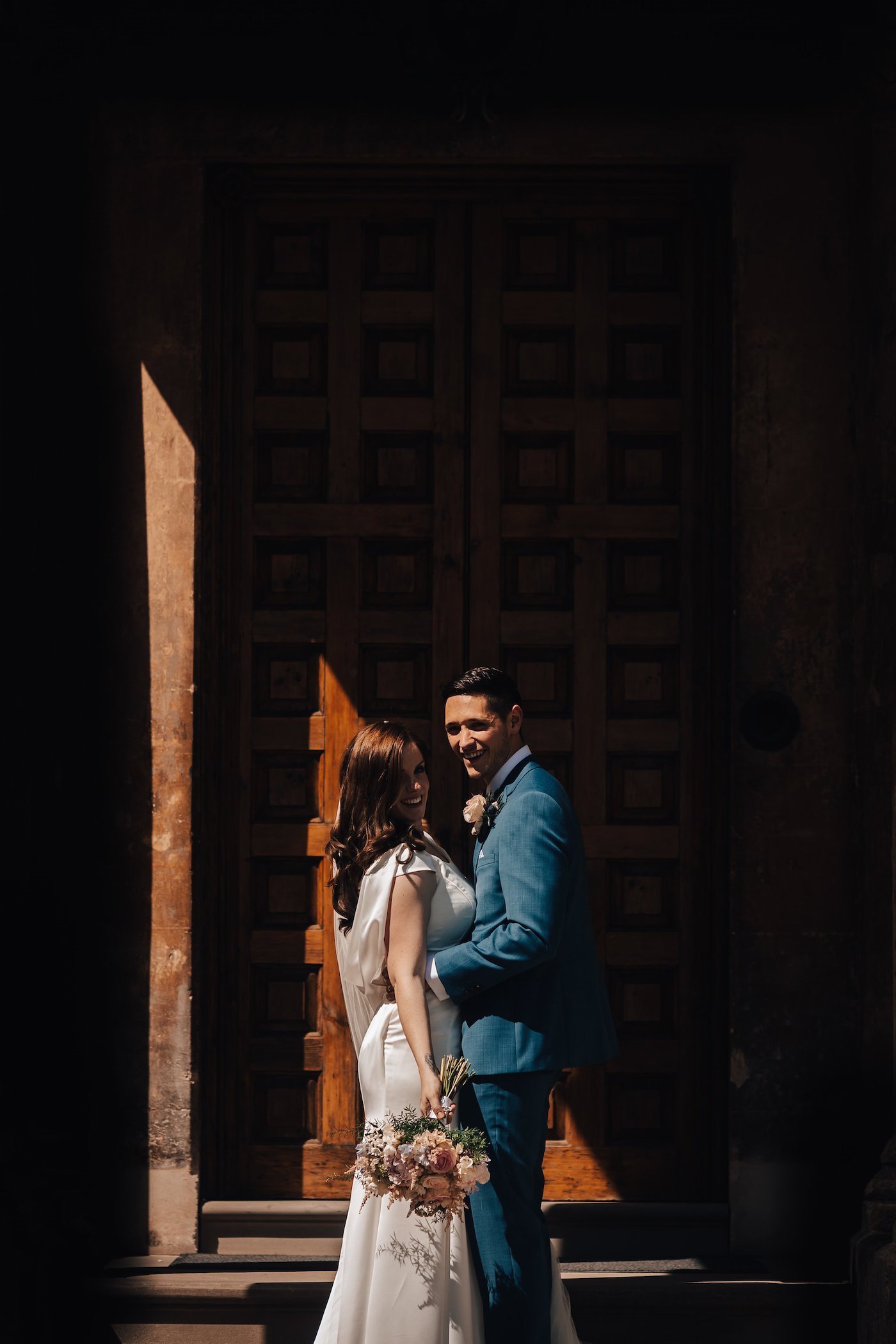 What was your biggest surprise of the day?
Probably just how smoothly it all went! Everywhere we looked, people were happy and smiling the entire day. 
But the biggest surprise, and one of the loveliest moments, was in the evening when Dec's musically gifted cousin took to the stage and performed a song he wrote about their late Nan. It was so well written, beautiful performed and incredibly moving. We were honoured to have it dedicated to us,  it was such a special moment. 
The entire day was just perfect, we wouldn't have done it any other way. 
How to create an elegant summer wedding style
Hair: Sue Brown (friend)
Suit purchase and hire: Moss Bros
Bridesmaid dresses: Reiss
Florist: Rachel Fergusson (friend)
Singer/Guitarist: Adam Isaac (big shout out to him, he was phenomenal!) via Eight Ray Music
Related reading