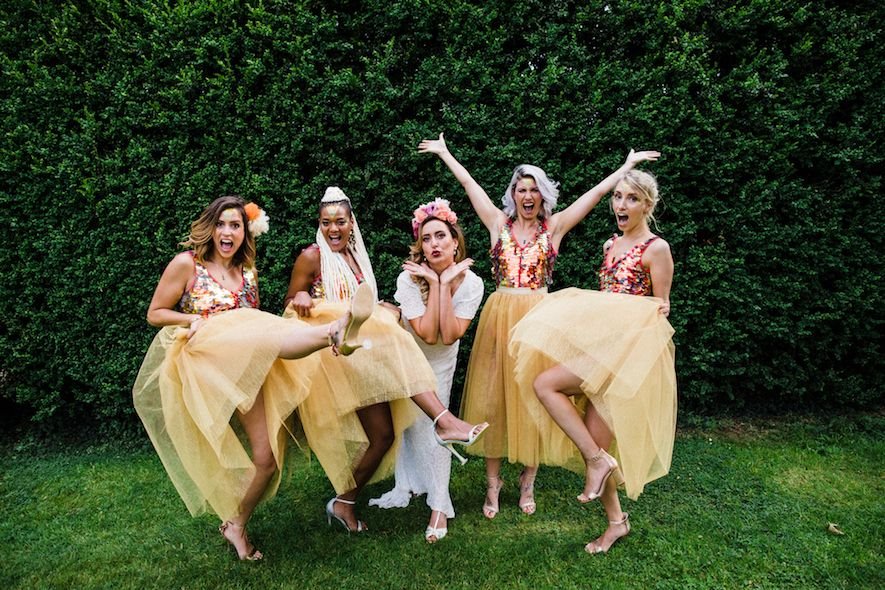 A sustainable festival wedding with more sparkle
Want to see what happens when you instruct guests to wear sparkles, bridesmaids to don sequins, and flowers are done away with on your wedding day? Well, you've come to the just the right place. That's exactly what Beth and Sam decided to do with their wedding, and the results were pretty amazing...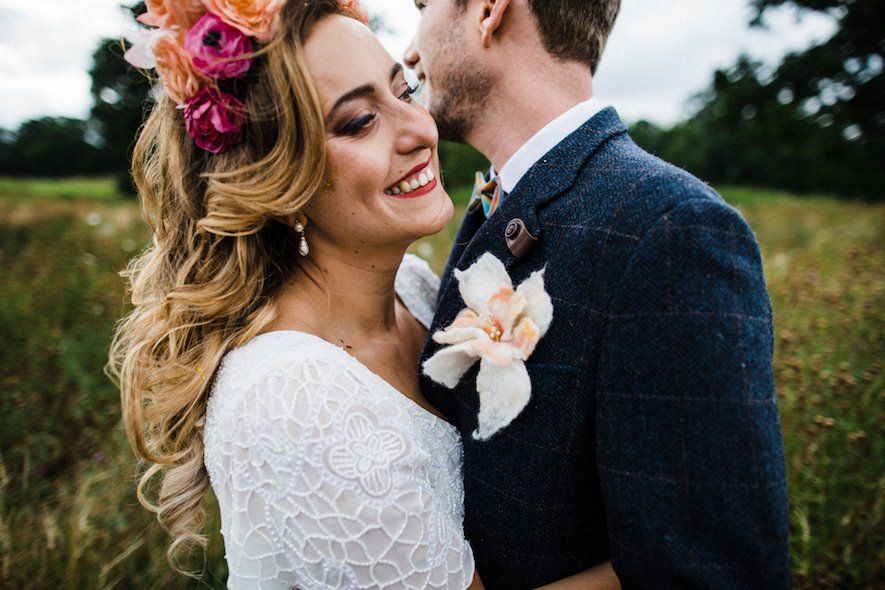 Their love of sustainability and colour shone through, and fun and laughter filled the house... This was one epic celebration!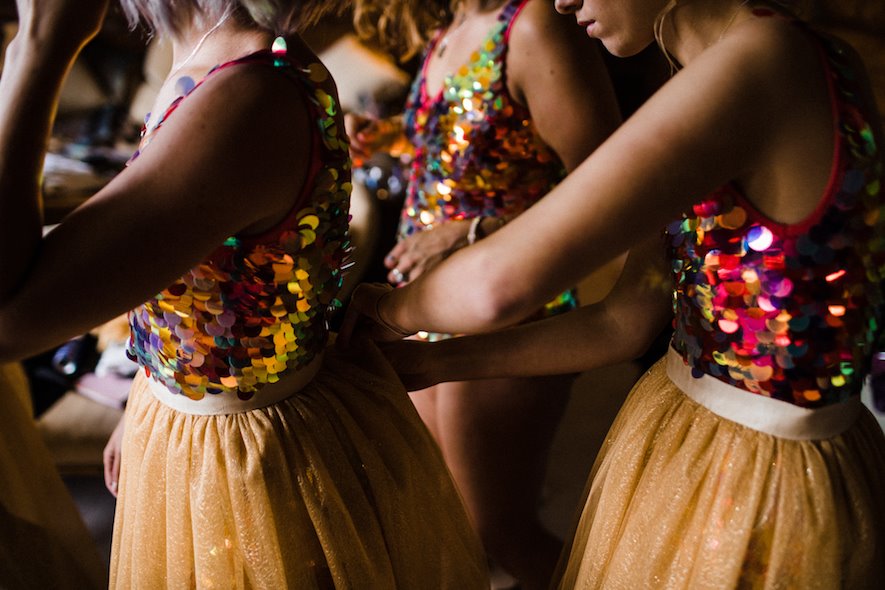 Tell us about your dress...
I went with no preconceptions of what I wanted and what would suit me. I tried every style under the sun which then enabled me to whittle down which styles made me feel the best. With this in mind I visited my local bridal shop in Wimbledon called Teokath and the owner was so incredibly helpful and was able to find me my dream dress. My dress was designed by Eliza Jane Howell.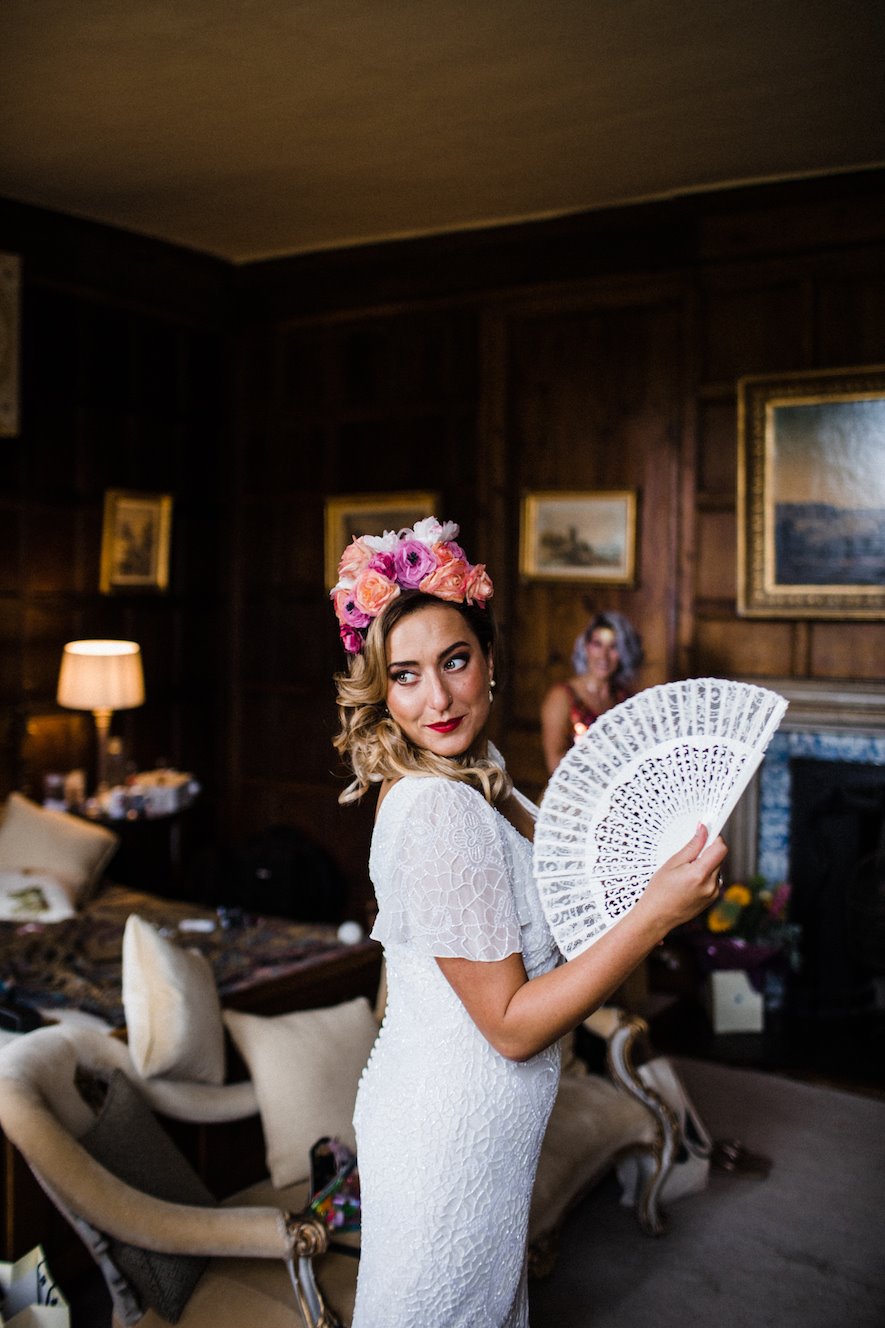 What made you choose Elmore Court for your wedding?
I originally saw Elmore Court on a T.V show 5 years ago and fell in love with it. I loved Anselm's outlook and his determination to create a sustainably built extension. Me and my husband are particularly into sustainable building so this reflected us perfectly. It was always discussed that we wanted a wedding where everyone could stay over and we could create a house party style event, Elmore ticked all the boxes.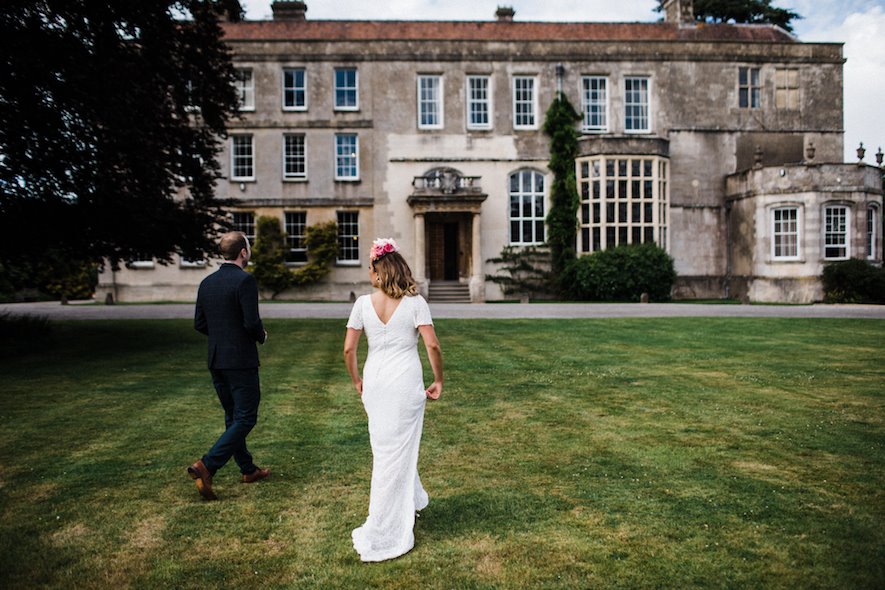 A Glitter themed wedding
Our wedding had a sequin a glitter theme. We asked all guests to wear either sequins or glitter, or both! We wanted it to be bright, colourful and playful. 
What flowers did you choose?
I opted out of flowers and instead had a traditional Spanish flamenco fan when walking down the Aisle and recycled jars with candles on the centrepieces. It was important for us to firstly to be able to invite all the friends and family we wanted so not having flowers freed up some funds and secondly, we wanted to reduce waste produced by the wedding.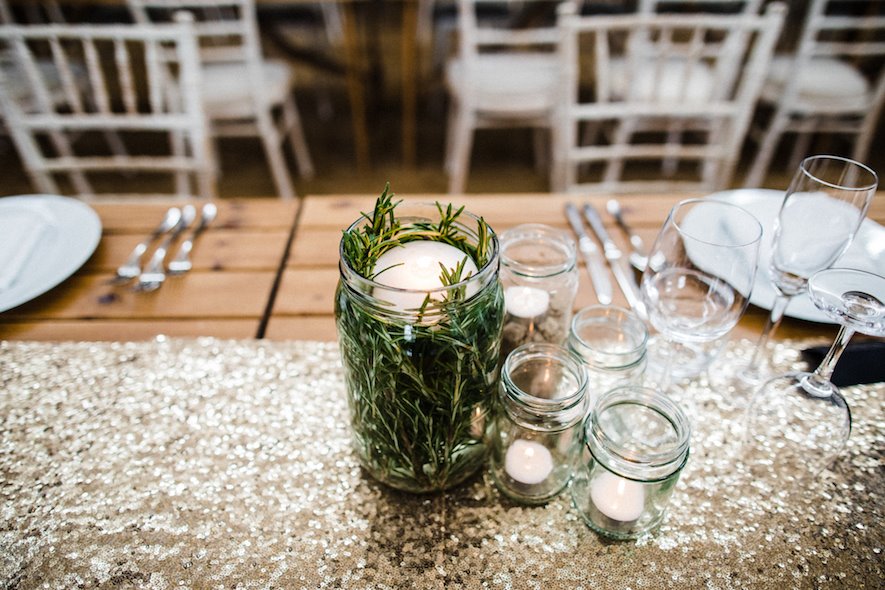 Sequin bridesmaids!
The bridesmaids wore sequinned playsuits designed by Rosa Bloom with bespoke tulle skirts. They carried balloons down the aisle and had iridescent bum bags with glitter, to apply on our guests faces during the wedding reception.
And the Groomsmen?
Sam, the Groom wore a navy tweed jacket and waistcoat by Gibson London. The 9 other groomsmen hired navy suits. They all wore matching iridescent bow ties.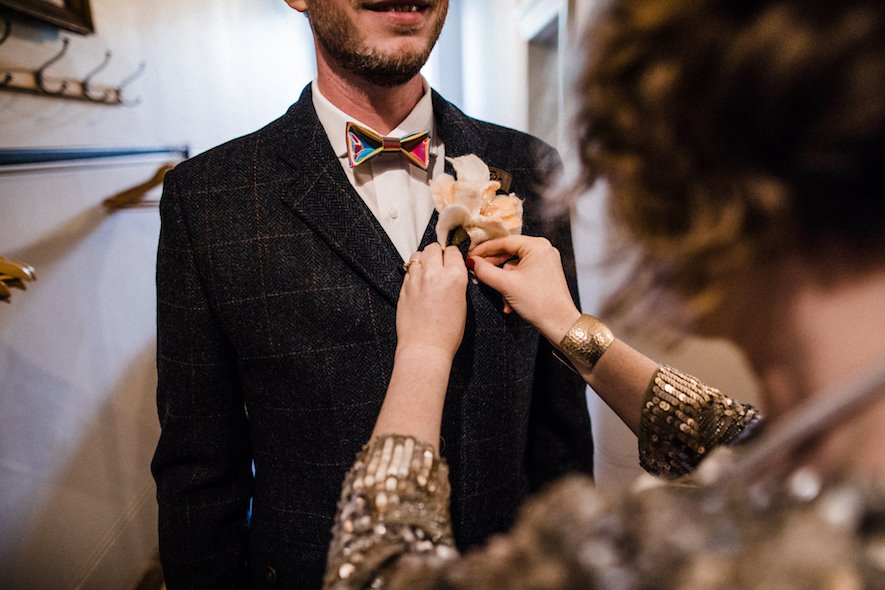 How did you feel on the morning of the wedding?
The morning was just perfect I had a calm leisurely start to the day and Rachel and Beth were incredible. They ensured that I had the best possible start to my wedding, they were completely chilled and made sure everything ran smoothly.
Me and my bridesmaids had such a giggle, we did yoga and listened to our favourite music during the lead up to the ceremony. 
I loved the part when me, my dad and my bridesmaids were all behind the door to the ceremony room waiting for our cue to enter, it was so exciting. Then walking down the aisle I was feeling really nervous but it was great to see all my family and friends in this exquisite setting which had been beautifully dressed by Team E!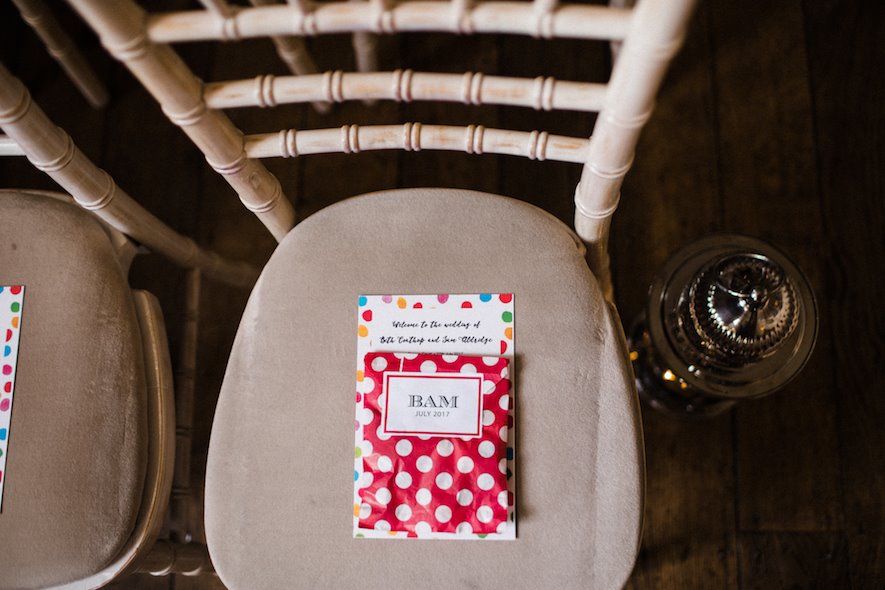 Drinks reception
The brass band played us down the aisle and into the drinks reception. The canapés were delicious and the service was excellent. We also had lawn games and glitter face paints which everyone loved. There was a lovely atmosphere with lots of laughter and tears.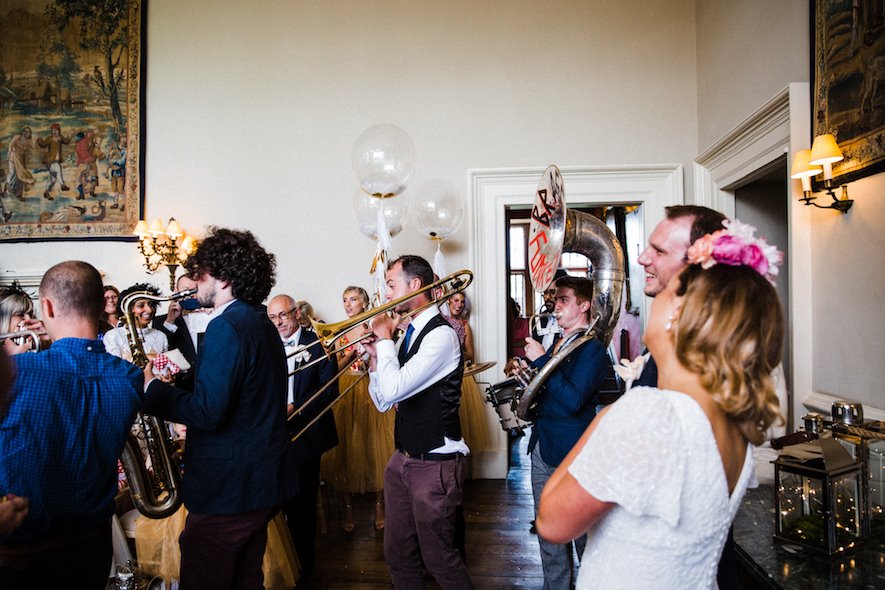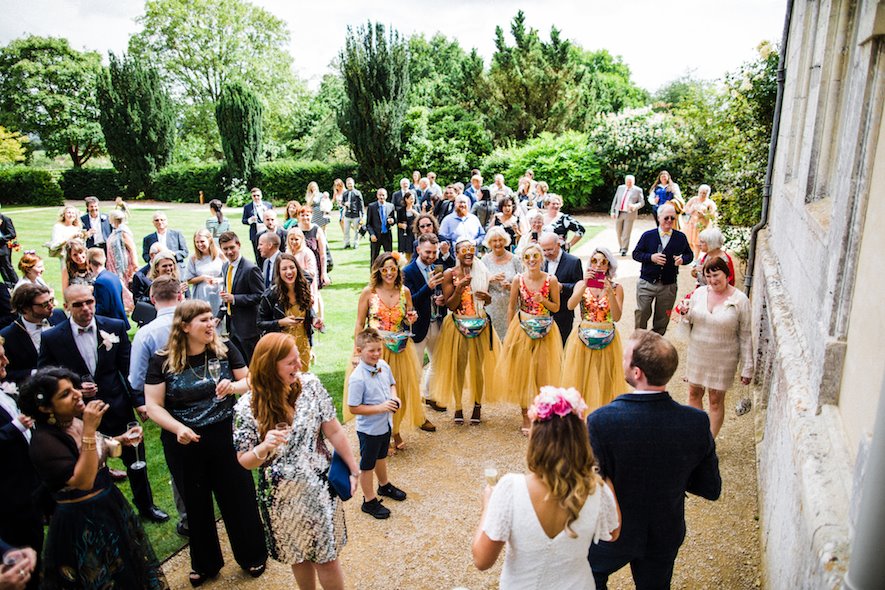 What did you eat and drink?
We started with tapas and they had roast lamb and a trio of desserts. The food was perfectly cooked and of outstanding quality. The vegetarian options were a big hit. We provided our own wine and bubbly which was served by the excellent staff. Where possible we chose ale and soft drinks from Norfolk, our home county. 
Meringues instead of wedding cake...
We opted to have a tray of rainbow meringue kisses made by the Meringue Girls instead of a cake. These were a particular hit with the children, all 36 of them!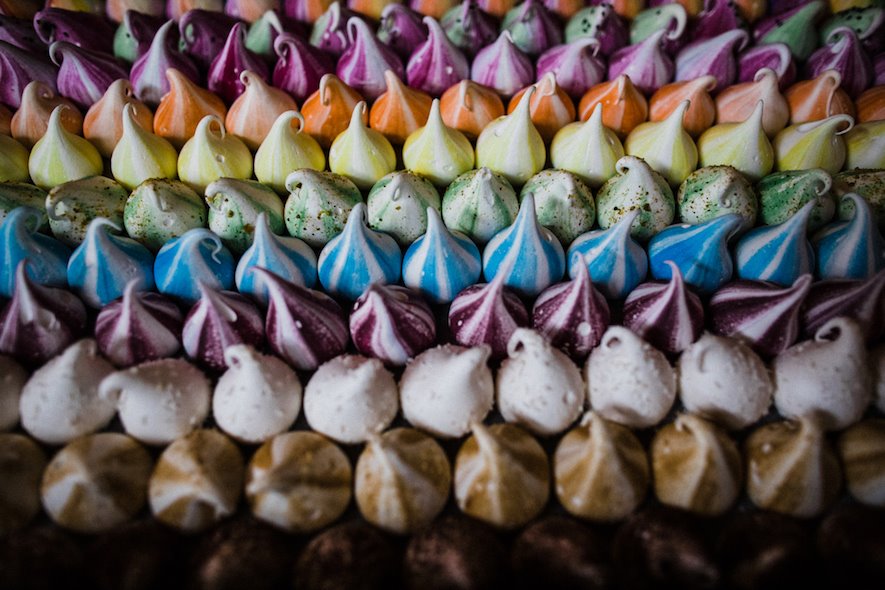 Did you have any personal touches or bits you did yourself?
We wanted to create a unique carnival atmosphere with lots of glitter and sparkles so every element had a glittery and sparkly theme. The guests also contributed by dressing in sequins, sparkles and glitter which meant that our carnival theme was apparent across the whole day.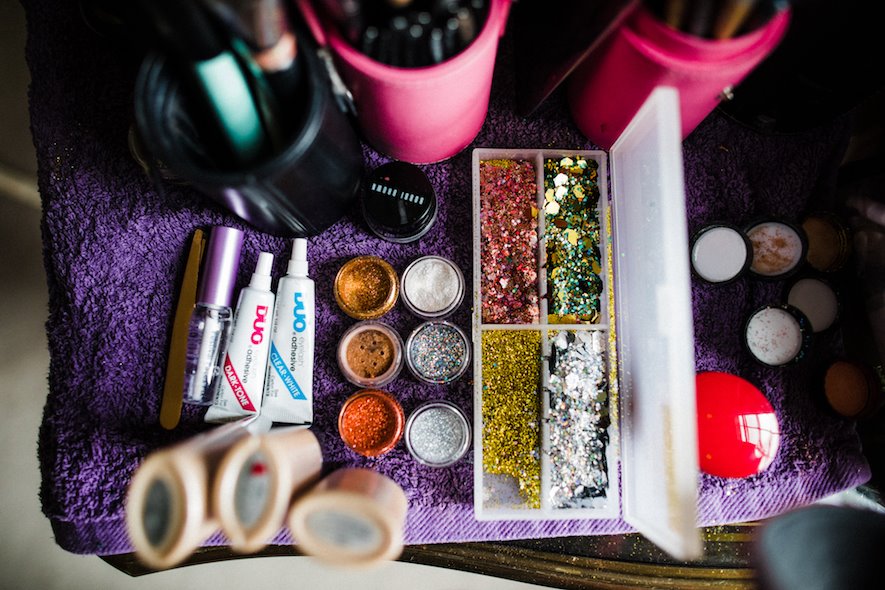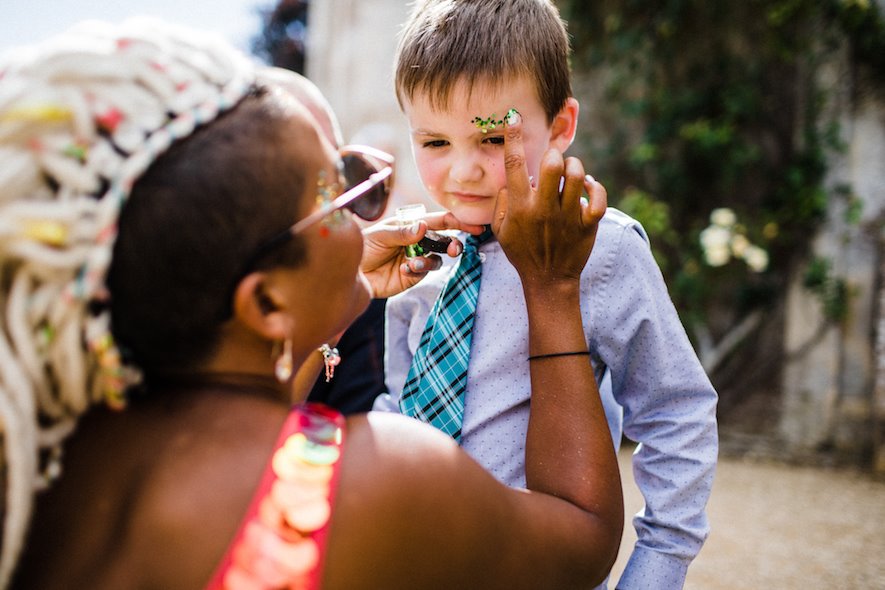 What was your first dance?
Our first dance was a recording sung by my maid of honour. It was a complete surprise and was perfect in every way.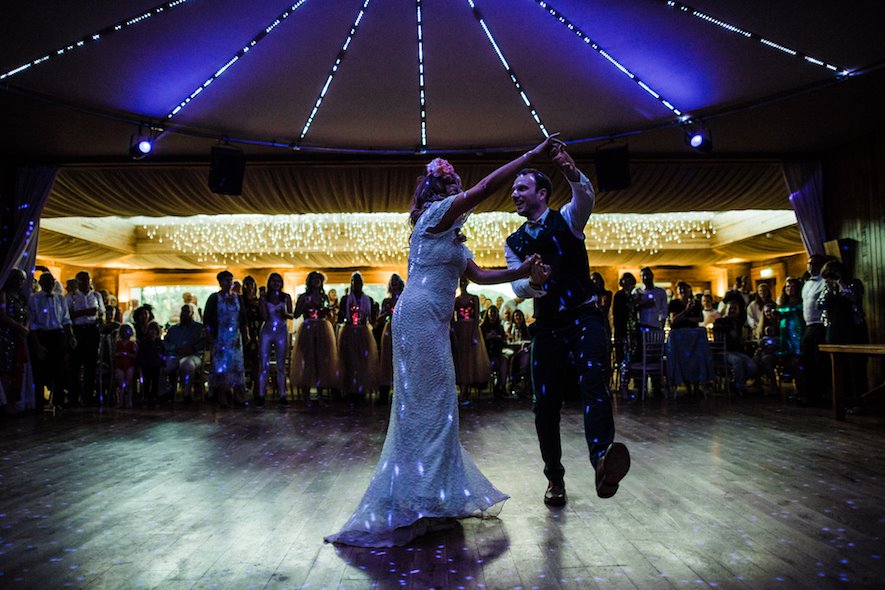 What was a particular highlight of your day?
There were several highlights of the day, the beautiful setting of Elmore Court, the superlative service from all the staff and the joyful response from all the guests and the lovely registrar who entered into the sparkly spirit of the celebration.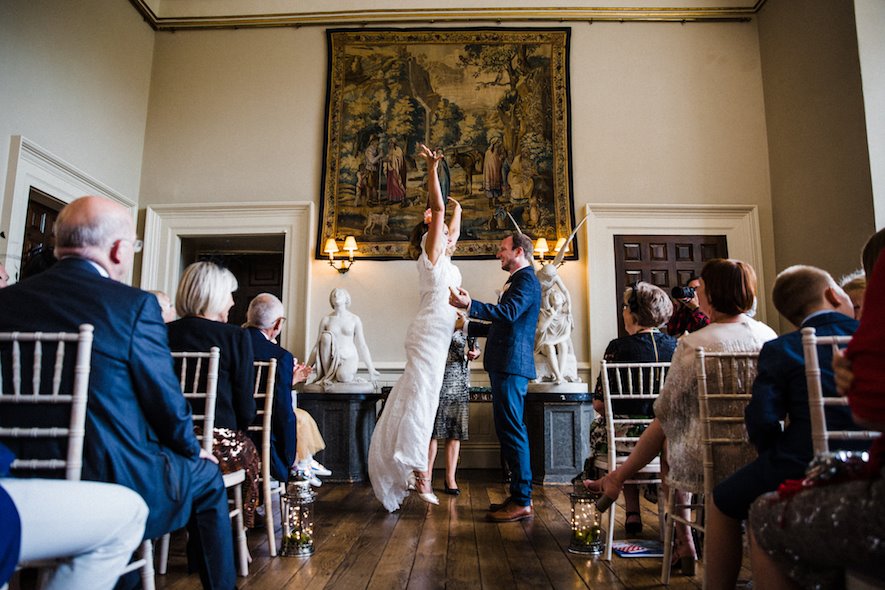 What was your biggest surprise of the day?
I had a particular vision of what I wanted, with some slightly crazy ideas. The staff fully embraced it and it was incredible to see my vision become a reality. Our whole experience exceeded my expectations.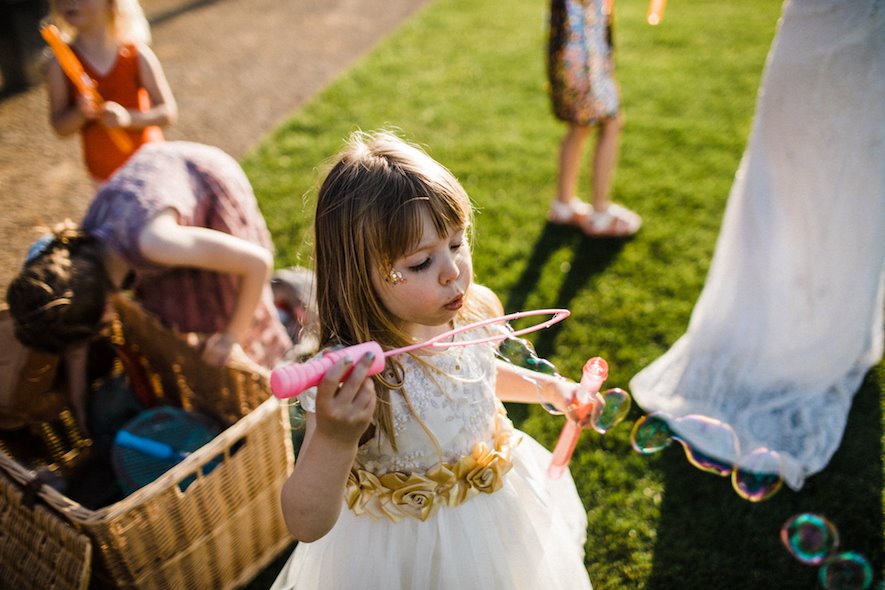 Related reading