Touches of Blush Pink and a Jenny Packham Dress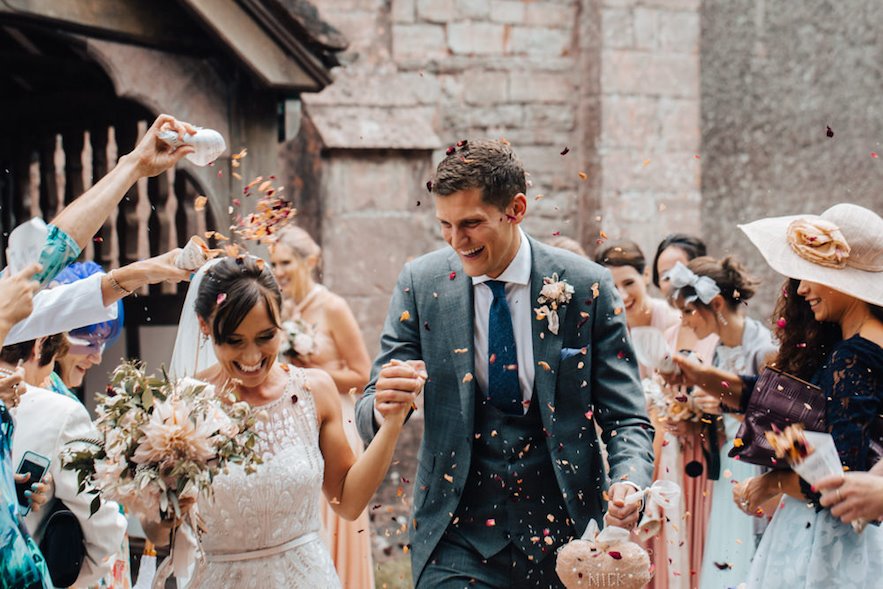 What made you choose Elmore Court for your wedding?
Once we walked around Elmore Court and saw the Gillyflower we were pretty sure it was where we wanted to get married. We had been to a number of other venues, but were disappointed with how impersonal they felt…more like wedding factories! Our plan from the outset was always to have a big party with all the people we love and we wanted somewhere that allowed us to do that and add our own touches. Elmore struck the perfect balance, the grand stone home with its gorgeous rooms combined with the contempory simplicity of the Gillyflower and its amazing dance floor.  We found no other venue like it. With the very beautiful Elmore Church down the road, the decision was made.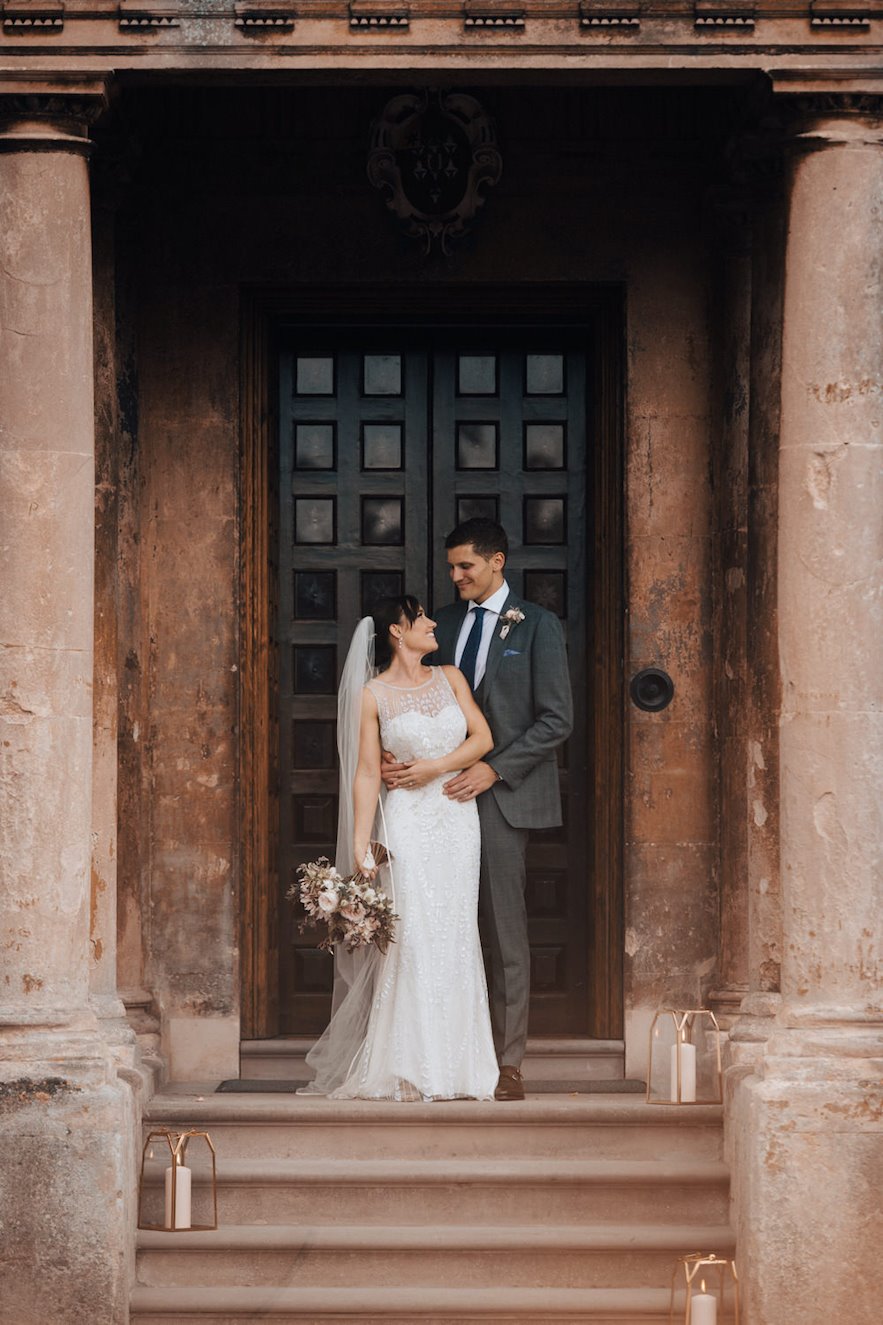 Tell us about your dress!
My dress was Jenny Packham with lots of beads and sparkle. Did it take long to find……yes. How many dresses did I try on? You don't want to know… !
I love fashion, clothes, but I am very indecisive! I think part of the problem was that I liked a lot of very different dresses and would have worn a selection if I were given the option! My main requirement was to feel relaxed in it and to be able to dance all night. I had tried a few of the Jenny Packham dresses on and didn't quite want to go full on 1920s, so the Hermia was the perfect compromise. The beading had a slightly more modern design; it was comfortable, light, but made me feel incredibly glamorous. I ended up buying it without anyone else seeing it! I must admit I didn't ever have that moment of bursting into tears and saying it was 'the' dress, however putting it on in the morning, just felt right.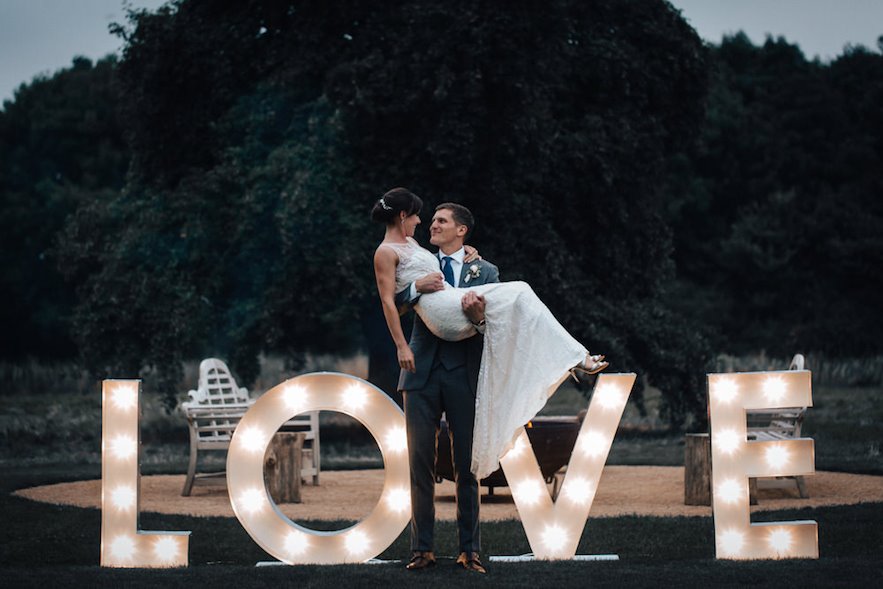 Did you have a theme or particular colour scheme when styling your day?
We went for neutral colour palette with some dusky pinks. The Gillyflower is full of very earthy tones, and we wanted to try and compliment that. I (Lucy) must say that I became borderline addicted to pinterest over the 2 years of planning, and this provided ample inspiration!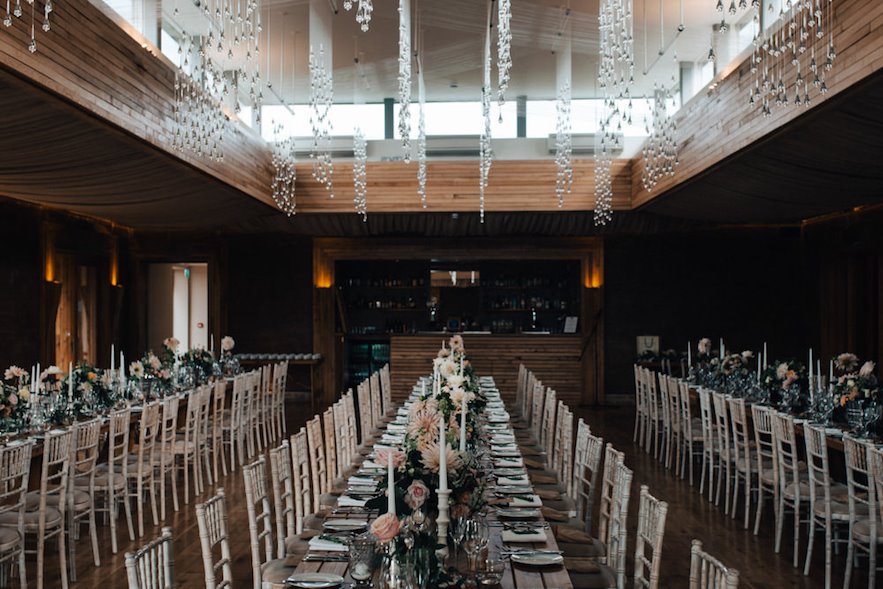 What flowers did you choose?
Flowers were always going to be a very important part of the decoration, given Lucy secretly wants to be a florist! We were recommended Amber by a friend of a friend and she was just fantastic. After an initial discussion about our thoughts, she sent us a PDF mood board of all her ideas and suggestions for table arrangements. The detail that had been put into the work, with little sketches, blew us away. We had a few more meetings along the way, including going down to her beautiful house in Somerset and seeing where she grows all the flowers.
The flowers I wanted to be loosely tied, like they had just been gathered. They included Café Au Lait Dahlias, Old roses, Stocks, Delphiniums, clematis, and lots of herbs that smelt incredible.
What did the bridesmaids wear?
Another one of my indecisions…..! Initially I loved the idea of everyone wearing different dresses. The reality of that was humongous credit card bills on a monthly basis as I purchased lots of different options of lots of different dresses and my spare room quickly became a miniature department store. Just after Christmas I was forwarded an email about the Two Birds Sample Sale from a friend and in view of not managing to have found a dress for everyone yet I decided I didn't have much to lose. A sneaky exit from work early got me to the front of the queue and with the quiet persuasion of my sister in law, I left with 5 dresses all in different shades of pink and peach. The girls looked stunning, the dresses complimented all their figures and they tied them in the style they wanted. With nude or metallic shoes, and smaller versions of my bouquet with flowing silk ribbon, the overall effect was exactly as I had envisaged.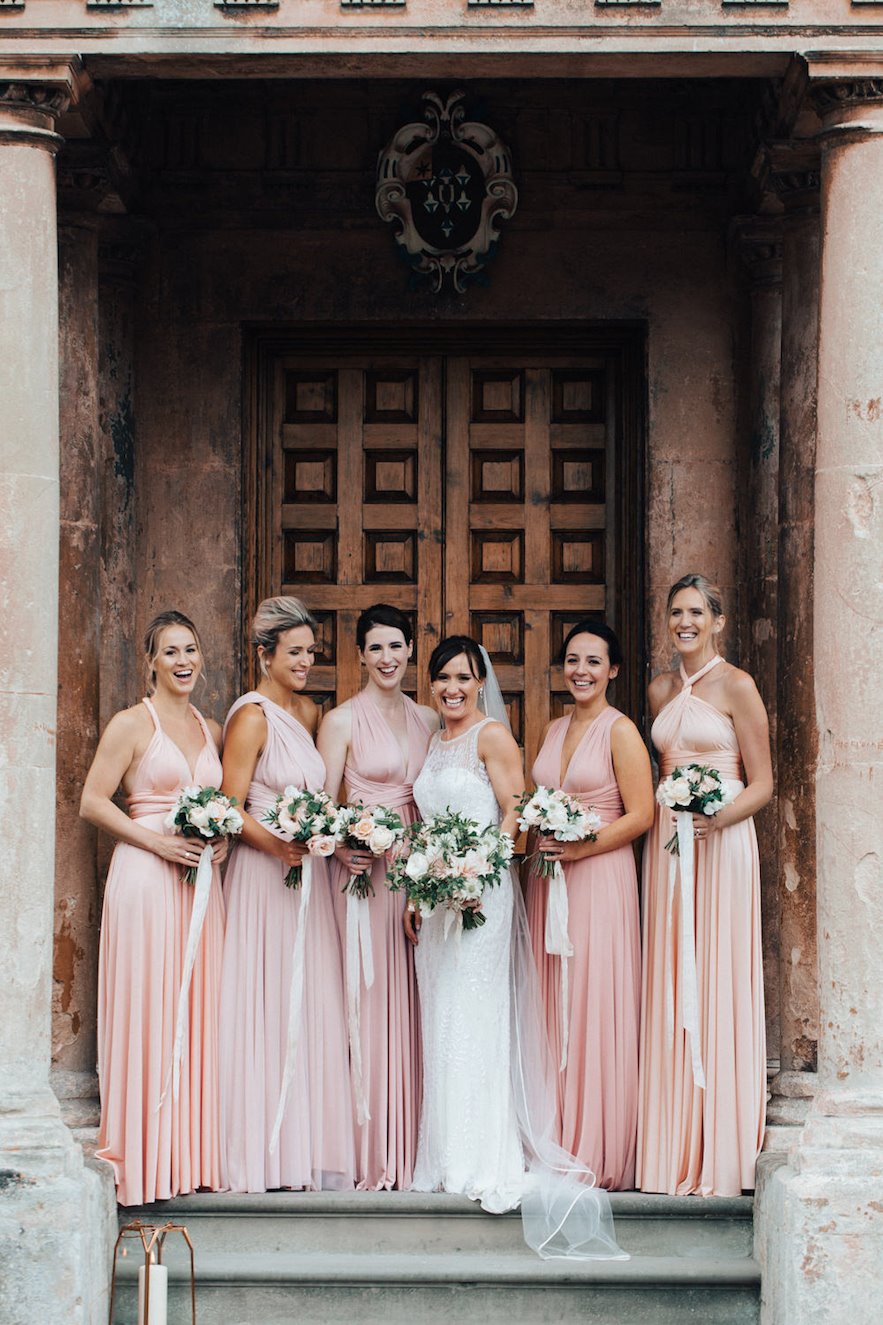 And the groom/groomsmen?
The groomsmen suits were a light navy blue from Marks and Spencer and were a bargain! They were in the sale, so at one point we had a large taskforce of people scouring the sales racks of their local M&S to get the missing items for all our men! The suits were paired with a white shirt and pink tie and pocket square from Reiss.
Nick: I decided that I wanted to get my suit made so it was that bit more special. I went to Thom Sweeney in London where I'd had a suit made previously and the experience did not disappoint. James, who was my tailor listened to all my ideas, understood my want for something slightly different and therefore helped choose the grey three piece with a discrete blue check. The tie was from there too and I got a white shirt made, as the arms are never long enough!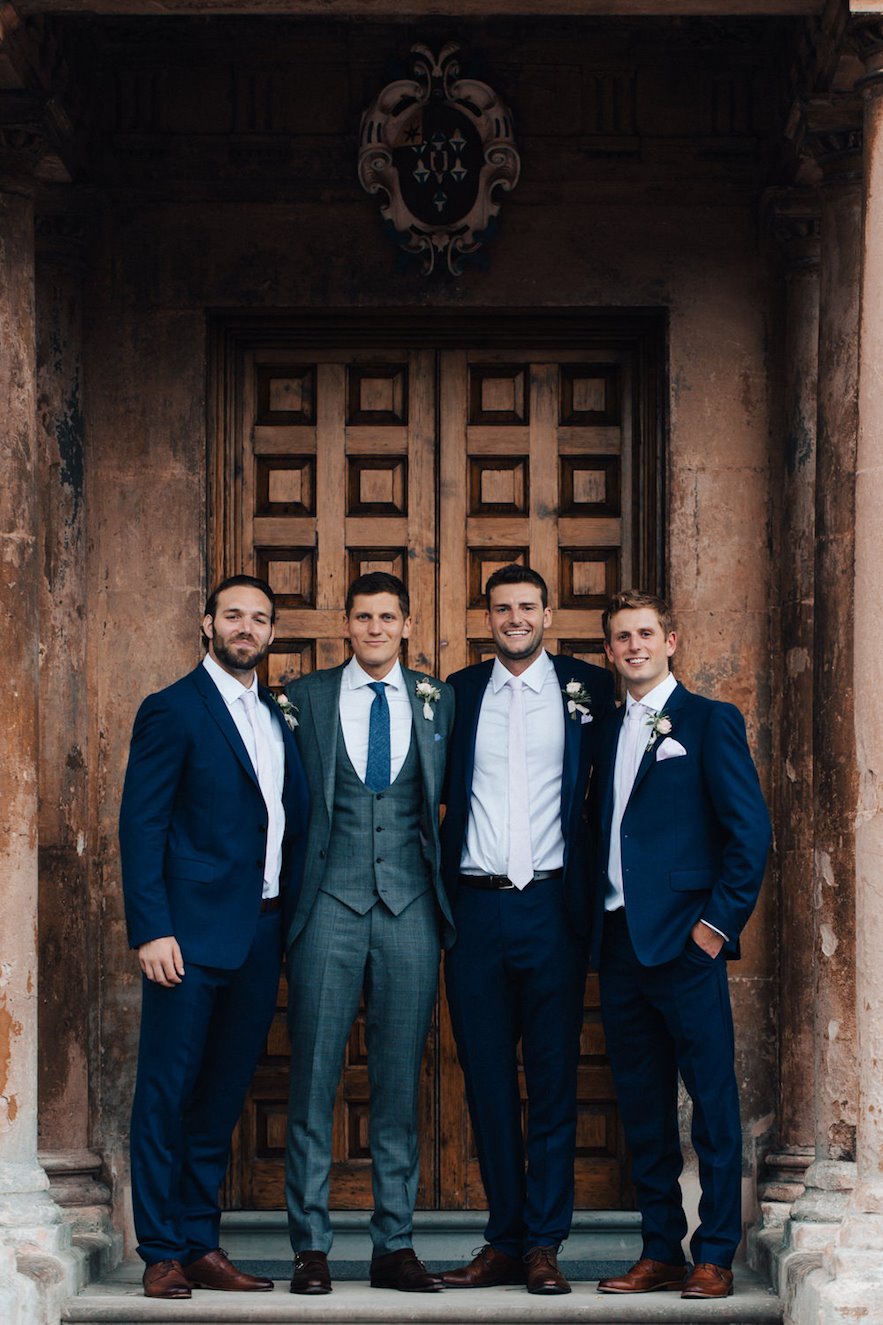 How did you feel on the morning? Walking down the aisle and during the ceremony?
Nick: The morning flew by, having a few more last minute jobs than I expected (or planned for!) The beers and lunch that my best man and I bought on the way to Elmore were never drunk or eaten! Before I knew it, it was time to be at the church. I found being at the church with the guests arriving a very emotional experience and it really hit home I was about to get married after all that planning.

Lucy: I was really quite relaxed on the day (which I did not anticipate!)
We had had a family dinner the night before at the Painswick with both our families, and then stayed there overnight.  The hotel had been kind enough to upgrade me and my maid of honor to their suite…that was ridiculously big! It was the perfect setting for getting ready in the morning, with a balcony looking over the Gloucestershire countryside with Harriet and Elle arriving (very) early to start all the hair and makeup.
Once arriving at Elmore the girls there were so helpful and everything had been laid out for us. It was a joy to get ready in their incredible master suite. Getting ready with the girls and my mum was something I will treasure...I felt very lucky to have such wonderful friends and family around me.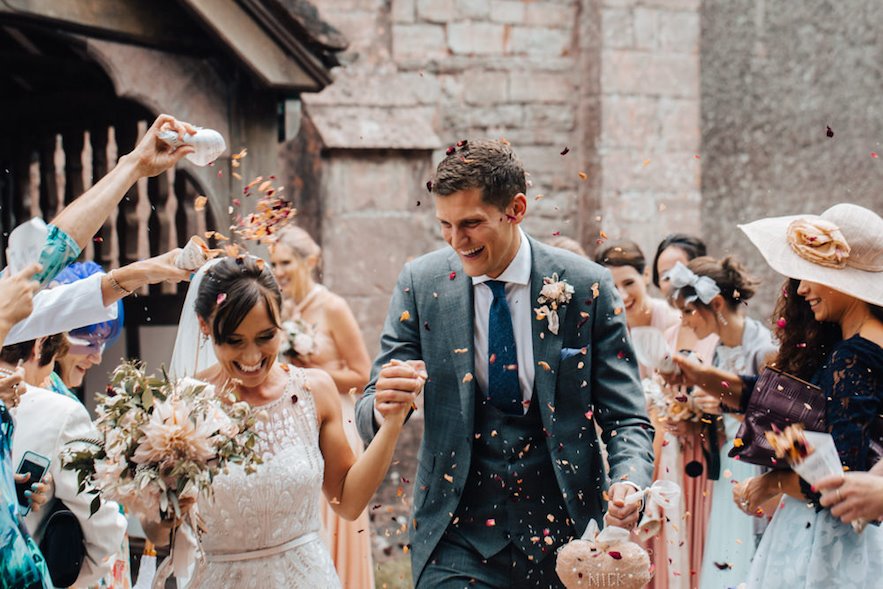 Walking down the aisle was a magical experience. Sam and Beth singing 'higher love' in the background was almost ethereal. The church looked stunning, with pew ends and stem glasses and candles perfectly placed by Amber. Despite all of the vicar's advice I am sure I rushed down that aisle, and I think the nerves really hit on standing next to Nick and catching his eye for the first time. I remember looking down and being able to see my heart beat in my chest and having to slow my breathing down!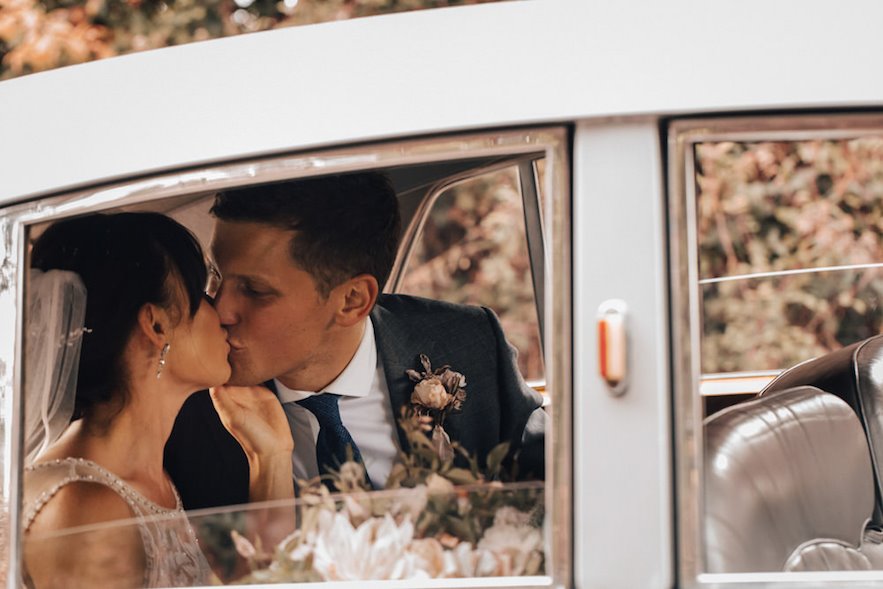 What did you have for evening entertainment, how did you choose your playlists for the day?
Sam and Beth played both at the church and in the great hall for the reception at Elmore. We loved their stripped back, acoustic sound and had gone through their playlist and selected the songs we particularly liked.  They kindly learnt Higher Love for my walk down the aisle and Grow Old with Me for our exit song.  Lots of our guests commented on how great they were.
Nick and I love dancing and our favourite weddings have been when people are on the dancefloor until the end.  We found it hard to choose whether to have a band or a DJ, but in the end because we have a relatively varied and eclectic music taste, we thought it would be easier to achieve this with a DJ. Wedding Smashers were again a recommendation from a friend, and sell themselves as 'not your typical wedding DJs'.  They are a group of DJs from London who pride themselves on mixing live. Doug was our DJ for the night and he was amazing. He played the perfect synthesis of old and new and kept people on the dance floor all night with some incredible mixes.
What did you think when you saw the Gillyflower set up with all your décor?
Nick and I were so excited to see it, we creeped in before Chloe had a chance to show us! We were blown away. You realise that for a very long time you have an image in your mind of how things are going to look and the reality of it was on another level. The long tables with the flowers and candles and votive looked stunning, the hanging flower arrangement behind the top table framed the speech photos perfectly! We just wish we'd been in there when our guests entered too to see their reactions too!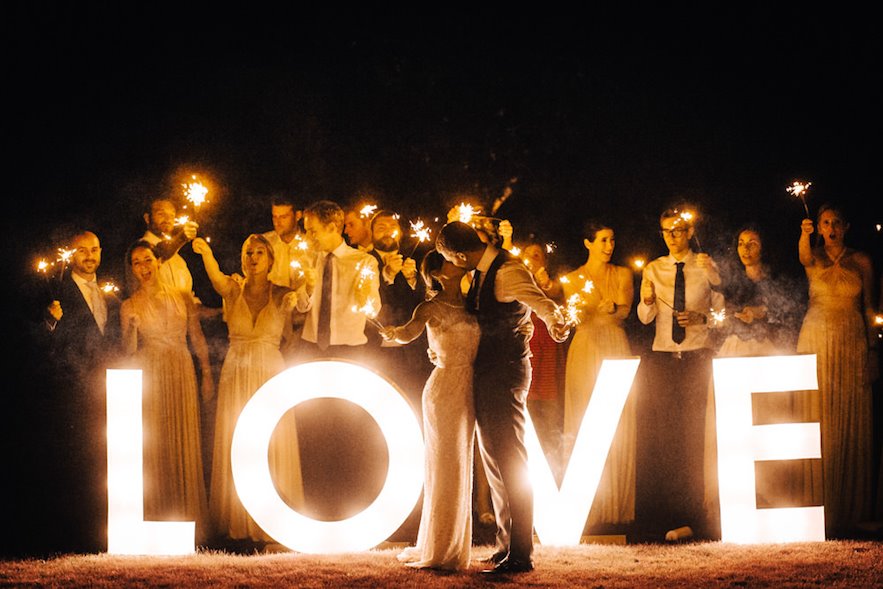 What was your first dance?
Our first dance was Ed Sheeran- Thinking Out Loud. In addition to being a wannabe florist, I also love strictly and managed to convince Nick that a choreographed dance was the way forward. Our first hour rehearsal with Carlos in south London made me slightly doubtful we would ever achieve glitter ball status, however the further sessions and countless hours outside in our garden in the evenings meant we actually had something that resembled a proper dance, (and must have provided our neighbours with endless entertainment at least!) We even remembered it on the night after a few drinks...we will wait for the wedding video to see how many steps were missed!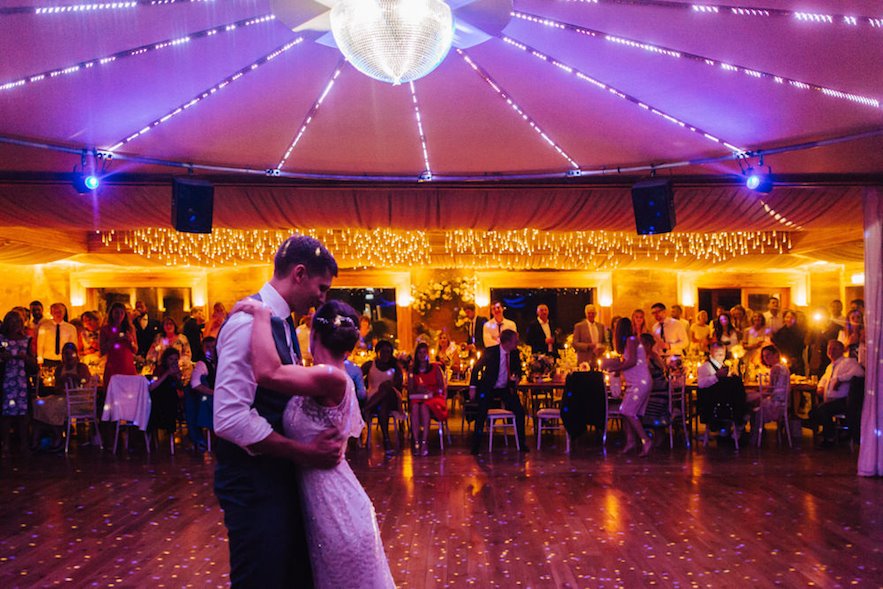 What did you eat and drink?
We love our food and the menus at Elmore were one of the reasons we picked the venue…there was so much choice and it all sounded delicious.
We had the monkfish tail with chorizo crust and spiced haricot beans,
Tenderloin of Ashdale Beef with dauphinoise potatoes, long carrots ad buttered red chard and Madeira jus
Pudding: girls: assiette of chocolate, boys: Elmore apple tart tartin.
The other incredible thing about Elmore is the ability to bring your own booze.
They helped us make 2 gin & tonics, one with elderflower which were served in kilner jars along with Vouvray as the sparkling option, and Nick decided to provide some local ales from the Gloucester Brew House which we bought kegs of.
With food we had vignobles canet  picpoul de pinet and pillastro primitive, sparkling was de chanceny Vouvray. There were ALOT of sore heads in the morning!
What kind of wedding cake, who made it?
As our service was not until 3, we decided that by the time we had finished eating, it would be hard to fit it evening food too.  As a compromise, we got a semi naked sponge cake  (made by Fran at Cut Above Cake Co) which has four layers: a traditional fruit cake, a fruity apple and cinnamon cake with orange buttercream, a lemon drizzle with lemon curd buttercream, a black velvet chocolate and Guinness cake with vanilla buttercream.
And one of Elmore's cheese cakes which went down very well and we may still have been eating at 4am...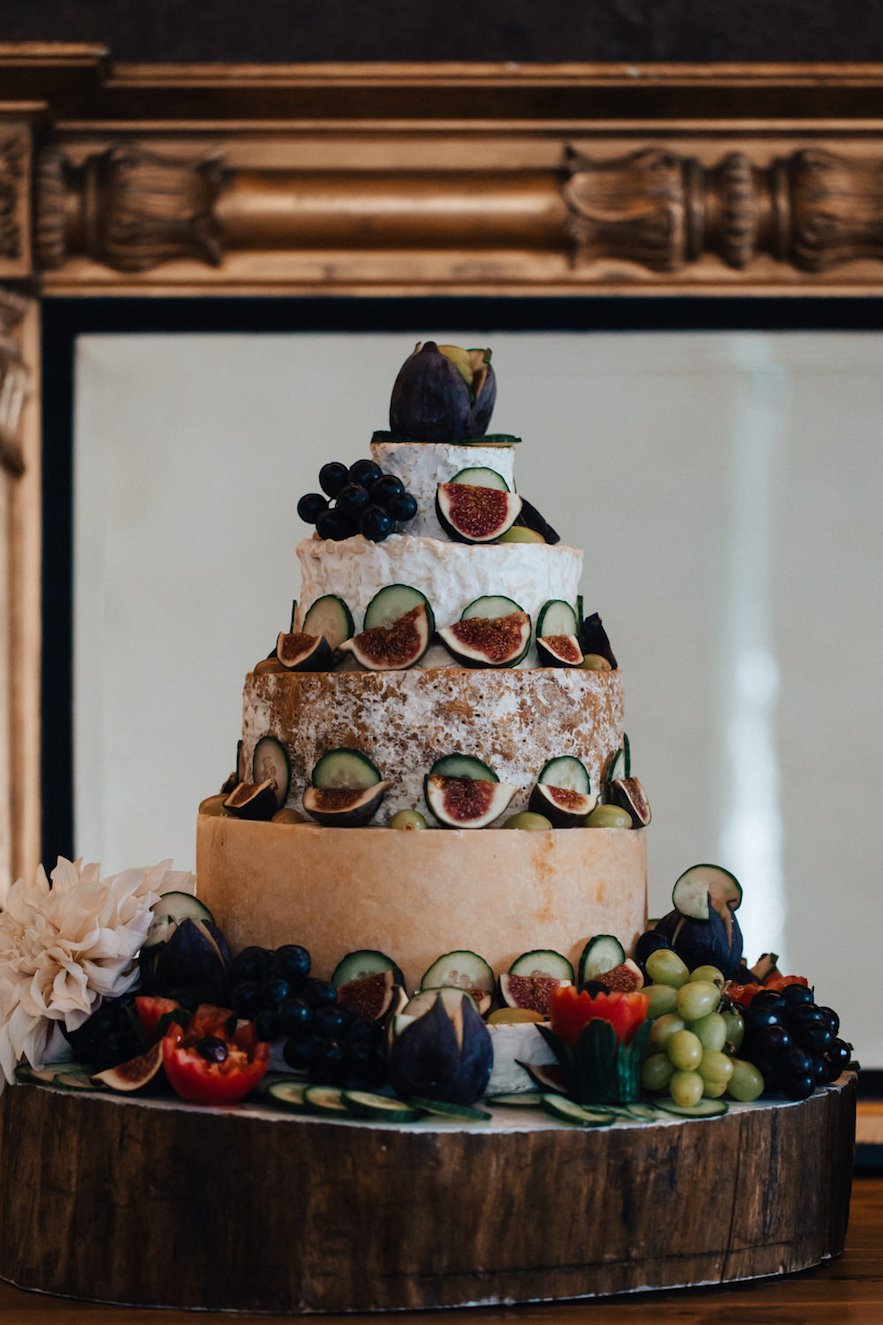 Did you have any personal touches or bits you did yourself?
I like to think I am relatively creative, and initially planned to make a lot of things myself, but I quickly realised that unless I was going to work part time, I would not be able to have the time!
I painted and decorated the card and confetti boxes, we made our own confetti which meant scouting the supermarket aisles for the reduced roses on a Sunday night and my mum saving every petal of the flowers in her garden. My mum also found old sheets of music from a charity shop and I made them into confetti cones myself. For the entrance to the Gillyflower, I painted a blackboard and wrote lots of little facts about nick and I. Another labor of love was our sheets of facts about all our guests.... it took Nick and I many evenings to try and think of something witty to write for everyone. It was lovely to watch people read the sheets and we hope served as an icebreaker for people that didn't know each other.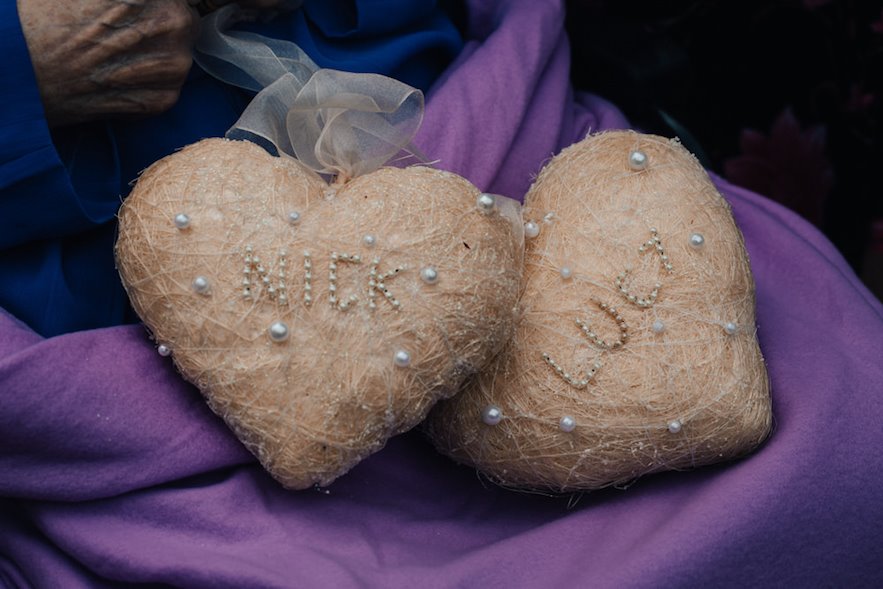 Top tip(s) for other brides:
I wish I'd known…
That you might not ever find 'the one' dress.  Lots of people asked me about my dress and whether it was 'the one' and I felt a degree of pressure.  You need to feel comfortable all day and feel like the best version of you.  Don't worry if not everyone is in tears at your fitting, that is ok.
That we really should take a moment to step back. Everyone will tell you that the day will fly by, and you should try and steal a moment, just you two.  We were told a million times…but we still failed!
And finally…I wish Id known that I'd get a big come down afterwards! Wedding planning, regardless of how relaxed you are, will take over your life, and the day is so incredible, so fantastic, so beyond your expectations, I'm not sure you can be prepared for returning to reality! Mine was with a bump!
We had a day at our parents on the Sunday with a pizza van and more gin…which was an incredible opportunity to speak to everyone, hear the stories and just catch up. And then we had a mini-moon.  This lessened the blow….but my advice is make it all last! We are very grateful that our honeymoon is in a month so we have another thing to look forward to!
Any funny stories from the day…?
At 4am in the morning, the night warden at Elmore was instrumental in helping provide enough toast to feed a small army.  It was all eaten of course!
Related reading