A Winter Wedding with Fairytale shoes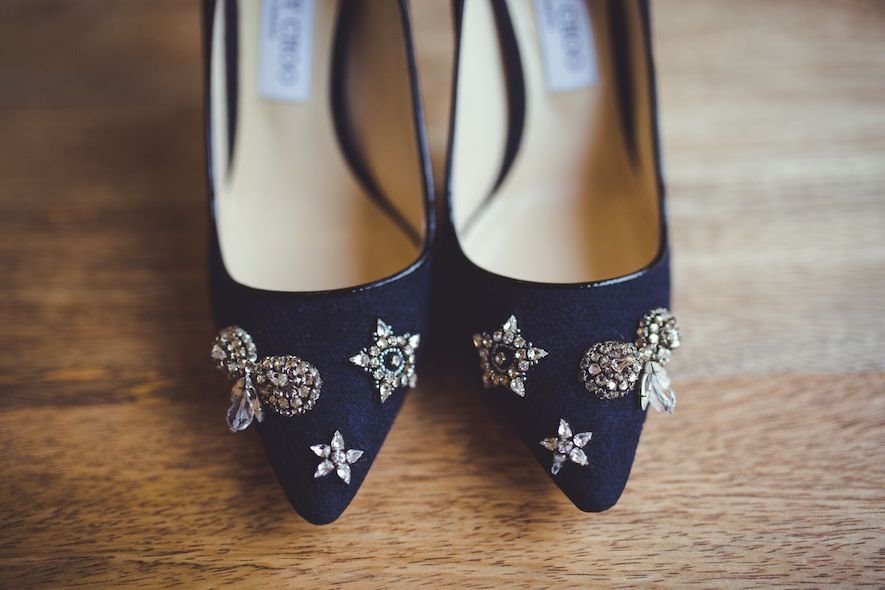 A Sparkling Christmas Wedding
Let's drift back to that gorgeous pre-Christmas time of year when the fires were roaring in the house, the Christmas trees sparkled with twinkling lights and all the guests beamed with excitement...
Ellen and Rob married here on the 17th December and enjoyed a relaxed, festive wedding. Ellen wore the most fairytale wedding shoes and her love for Jo Malone candles meant sweet scents wafted through the rooms...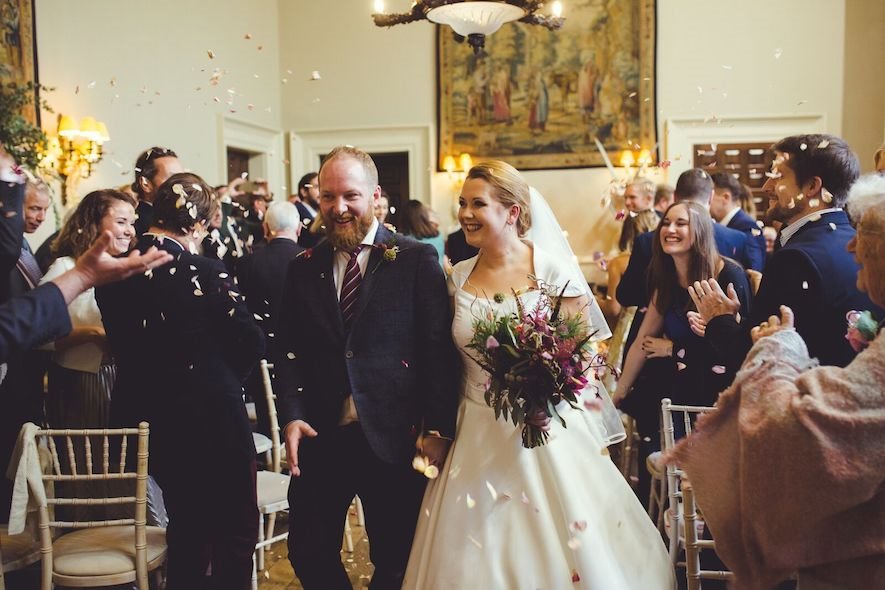 When Rob proposed
We were on holiday in Mauritius, walking back to our room after breakfast. It was as picturesque as the movies – we were walking back paddling in the sea when we got to a clearing on the beach, and Rob asked me. I immediately burst into tears and forgot to say yes, which led to a few tense moments for Rob. After 6 years together, it had always been on the cards. Rob may have taken his time, but it was perfect. We flew back home and spent the next day ring shopping. It was a lovely experience to do together.  A long lunch, bottle of champagne and the opportunity to talk about the ring and narrow the choice down together, made it feel very special. 
How did you find Elmore Court? 
We had shortlisted a number of venues, but from the moment we walked into Elmore we fell in love. The mixture of the old and new, and the ability to have everything in one very special venue was really high on our list of priorities. 
We had been to weddings at bigger venues, where it had felt like people get lost and split up. Elmore has a number of beautiful rooms and seating areas, but nothing to split the party up. 
The Gillyflower is out of this world and we loved that it had a bar in same room. It made sure that all of our guests could be with us all day/evening.
Having the ability to stay over before the wedding at the stunning coach house, and also book the house for our guests in the evening was also very special and a big plus for us.
We walked away from Elmore knowing we had found the perfect venue for our big day.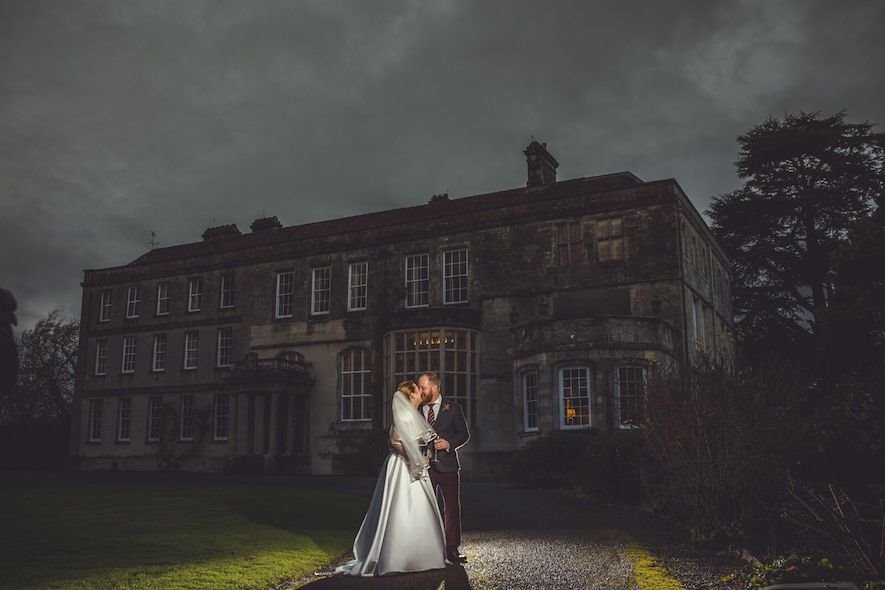 How was your wedding planning journey?
Rob and I sat down at the very start of the planning process and talked through what our perfect day looked like. For us, we wanted a relaxed atmosphere with our closest family and friends. We didn't want anything to feel too formal and structured. 
We knew that Elmore gave us a stunning "set", we just had to add the final personal touches. 
We loved the idea of the DIY approach – and tried to do anything we could ourselves.
Rob's cousin had recently started her own stationery business, so we were thrilled to ask her to do our save the dates and invites. All correspondence to guests was sealed with a personalised gold wax seal – which seemed like a good idea at the time – until I was sat at 11pm one evening with tea lights melting and pouring wax. 
Flowers were done by my bridesmaid's sister – I loved going to the flower marker in Bristol at 6am to look through flower, candle and ribbon options. 

The budget...
We tried very hard to stick to the budget, and only went slightly over. I think it's really important to not get lost in the "nice to haves". There were some things we spent more on, but then made sure we didn't go too overboard in other areas.
Without sounding too cheesy we tried really hard to always loop any big decision back to remembering why we were getting married. We were very excited to be husband and wife. Not in debt. 
That said – I will never forget Rob's face when I arrived home after a shopping trip with 11 Jo Malone candles, for each table in the Gillyflower. The room did smell incredible!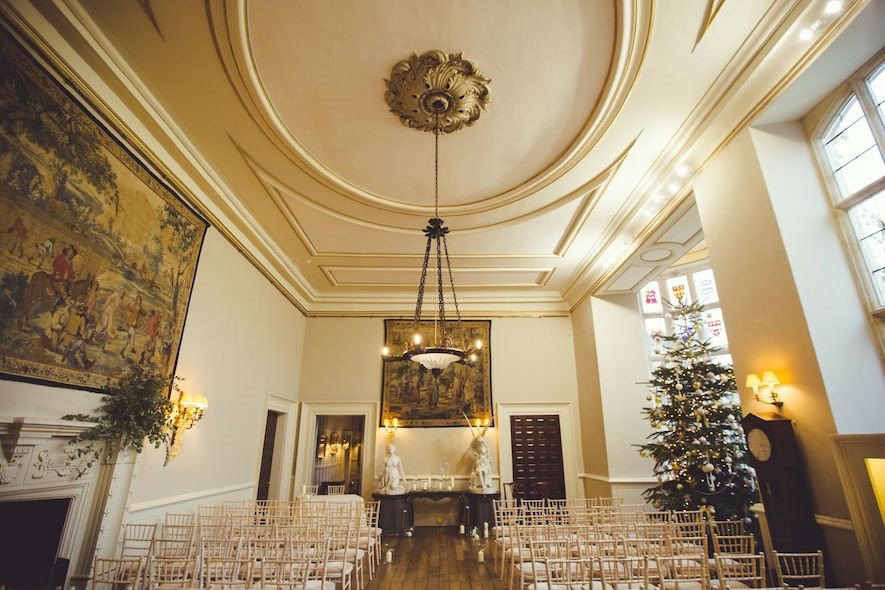 How did you find your photographer?
Adam was highly recommended by my brother who had used him to photograph his wedding.
Adam and his wife Lucy were amazing. The photos have perfectly captured the day and weren't intrusive at all. We had been at weddings in the past where bride and groom had been whisked away for what felt like hours for endless photos, and hundreds of formal group photos. We were really keen for that not to happen.
We asked for minimal key formal photos and lots of relaxed group shots. We think Adam did an amazing job.
Who was your dress by and how did you find it? 
My dress was by Nina Furness in Cheltenham. I attended the Cheltenham Bridal show in January, where Nina was showcasing her dresses and also running a competition for a wedding dress to be made at half price. I was thrilled to win. 
It meant that I could design my dress myself and have exactly what I wanted.
Having monthly fittings was a wonderful experience, and it was very special to watch my dress come to life.
I am very much a "shoe girl" so shoes were just as important for me. I opted for blue Jimmy Choo's which had some Christmas sparkle.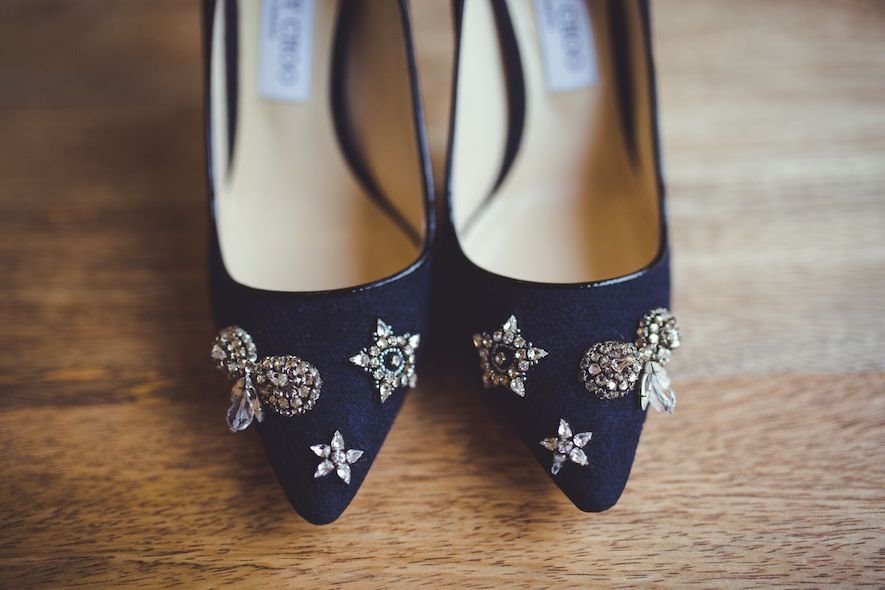 And the Groom, Groomsmen, and bridesmaids?
Rob and his best man wore Simon Carter. The groomsmen all had matching ties to link them into the theme.
The bridesmaids wore a two-piece in stunning green from Coast.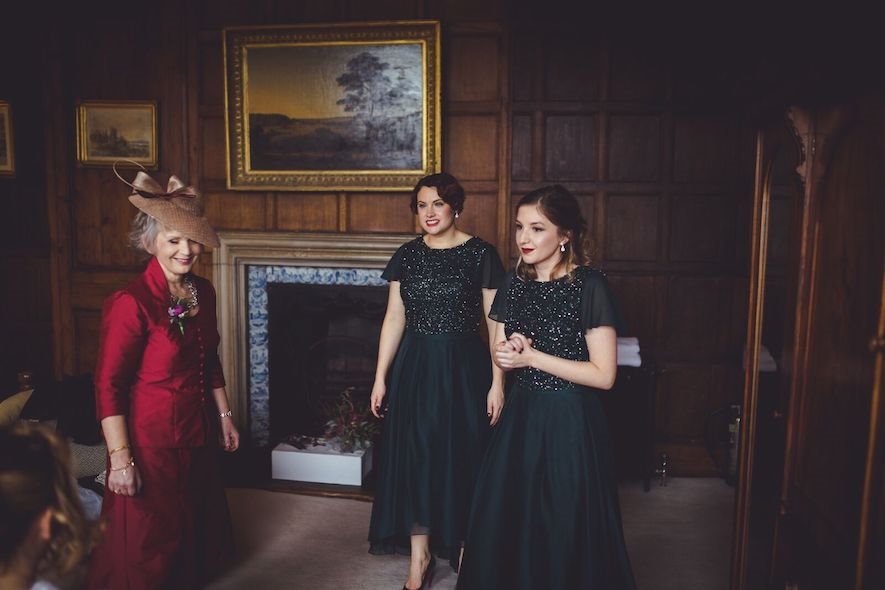 How did you decide on your jewel colour wedding?
Pinterest became my best friend! With the wedding being 1 week before Christmas, we wanted to have deep rich colours.
Navy, green, maroon and golds were perfect.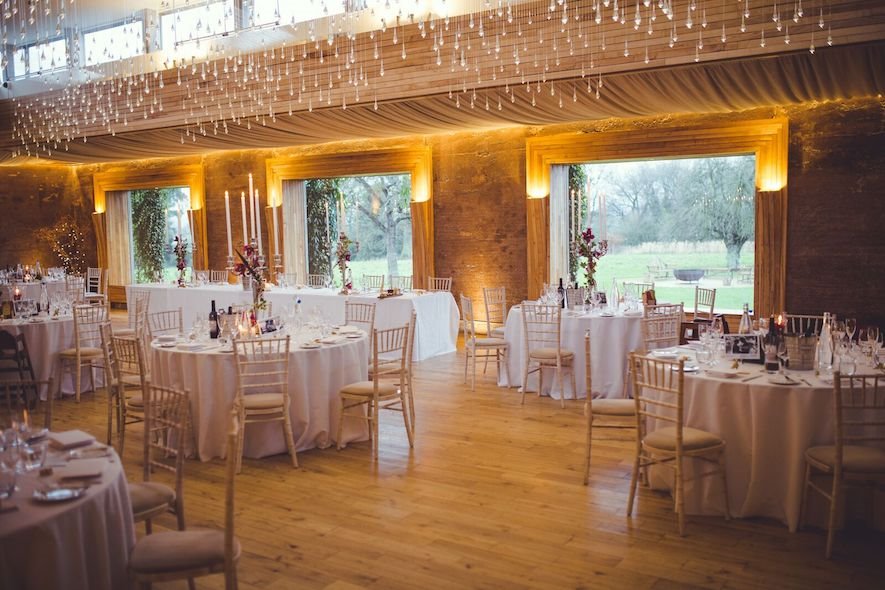 And Your wedding flowers?
I wanted my bouquet to be "messy" and not too structured. My bouquet had lots of textured foliage such as grey Senecio, grey brunia berries, and finished with a touch of maroon astrantia. It also had trailing Amaranthus, feathers and antique gold contorted willow. 
The buttonholes for the bridal party matched this theme and used maroon ranunculus with Pheasant feathers and grey berries.
The Gillyflower doesn't need a huge amount of dressing up at all as it is so pretty, but we had silver candelabras which matched my bouquet.
Due to the closeness of Christmas, we were thrilled to have a number of Christmas trees around the venue. Team E were amazing with the decoration of the trees at Elmore.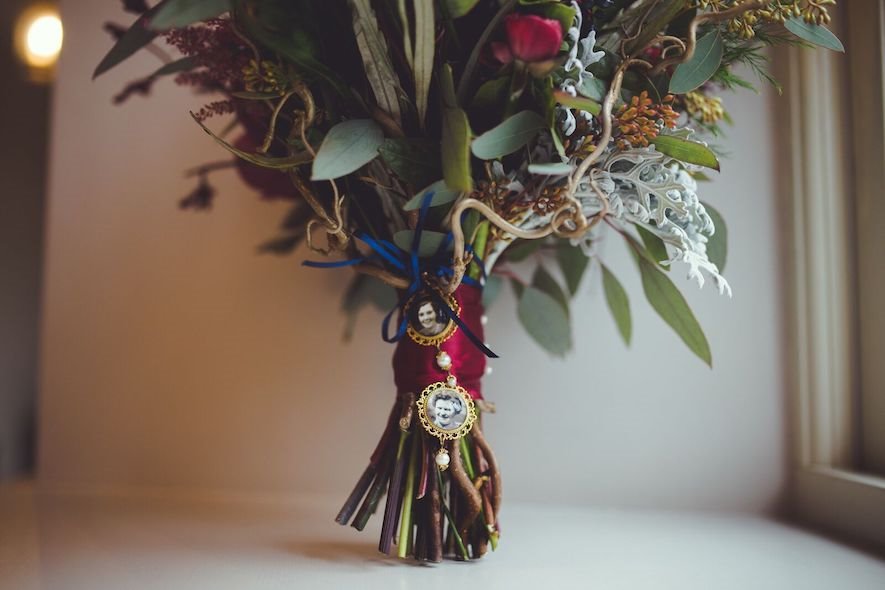 How did you prepare the day before?
We had a big family meal and then I went with my mum and bridesmaids to the coach house. From the moment of arrival, I was met with a big hug from Team E and had a very odd moment of realising this was it. Bags were packed and there was nothing else I could do. 
A hot bubble bath and glass of fizz, and then pampering and listening to music with my girls was so lovely. 
Mum and I shared a room that night, and it was lovely to sit up in bed talking it all over and falling asleep knowing I was exactly where I wanted to be.
The Food

The food at Elmore is amazing! We had wonderful canapes, which seemed never-ending. The black pudding scotch egg was a personal favourite.
For our wedding breakfast, we went for the sharing boards – and had the slow cooked shoulder of lamb with dauphinoise potato. 
Our guests are still talking about the success of the lamb – it was phenomenal!

Who made the wedding cake? 
My dad has always loved baking, so we thought it would be a lovely gesture to ask him to bake for us. He made a tiered cake which was fruit cake and then a gold layer of gluten-free lemon cake.
It was lovely to have something made by my dad who had put so much effort into making our cake perfect for us.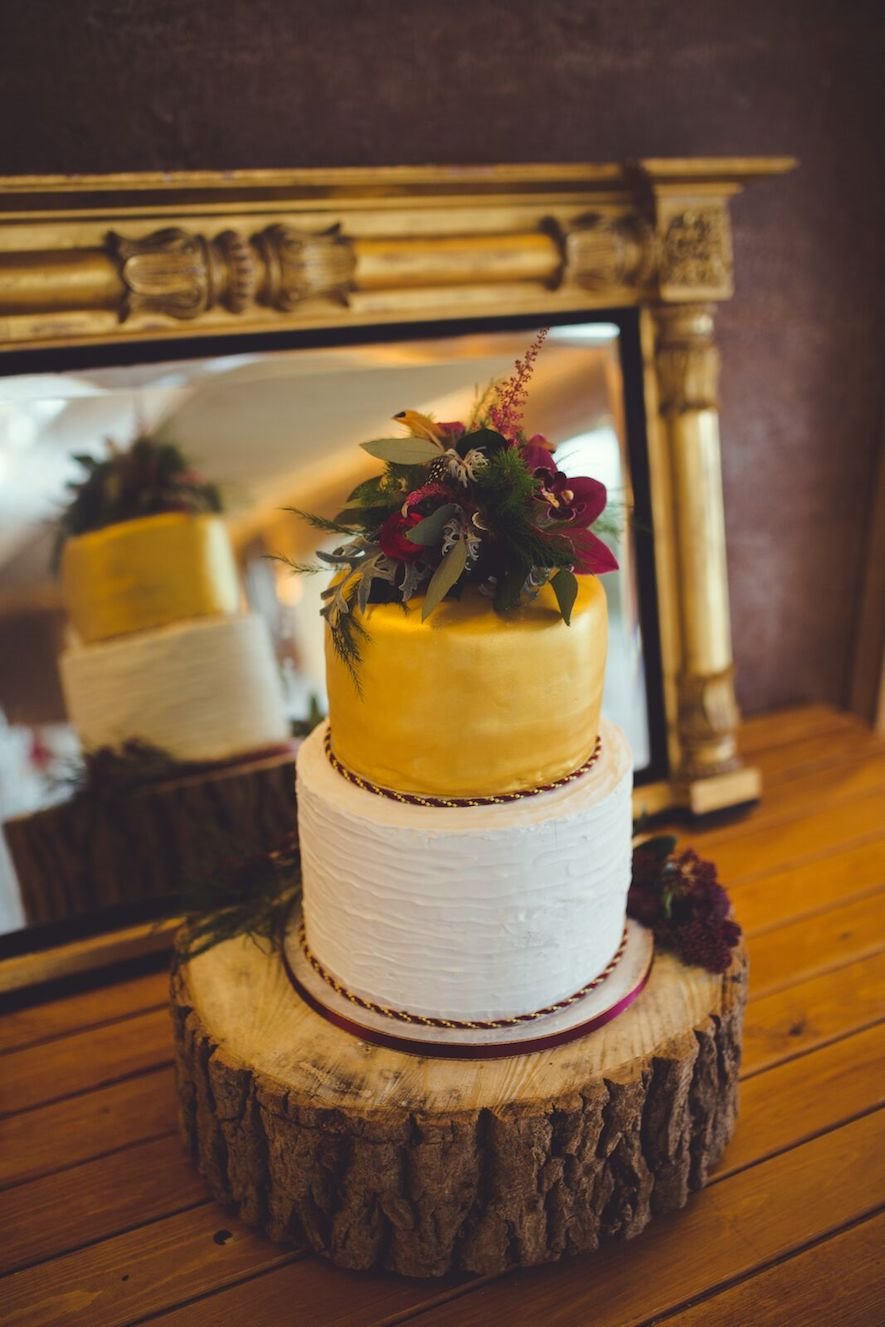 What kind of entertainment did you have?
We were very lucky to use one of my friends who is a wedding singer. I would highly recommend him to anyone who needs a musician. Ian provided music for the ceremony, the wedding breakfast, first dance, and then did a set as our DJ.
Ian is an incredible talent who was a huge hit during our day.

Did you have any personal touches? 
The Jo Malone candles were placed on each table in the Gillyflower and we used the scent we have at home – it added a wonderful calming homely scent on the day, and now whenever I smell it I am transported back to the Gillyflower. We also placed a date card on each candle, so we have 11 memorable dates to look forward to using the wedding candles for.
The gold dinosaurs – we wanted something a bit different for our name cards and thought you couldn't get much more random than gold spray painted dinosaurs. They were a great talking point, and many dinosaurs made it home to our guests Christmas trees, which was lovely to see.
Hangover bags – we placed survival kits in each bedroom, to ease the headaches the next morning.
Family and especially family members who are no longer with us, are incredibly important to us. We had wedding photographs of our parents, and grandparents in frames on the piano in the ceremony room and then moved them over to the Gillyflower in the evening. It was our nod to where we have come from, and other love stories. We even sneaked in a picture of our schnauzer Colin.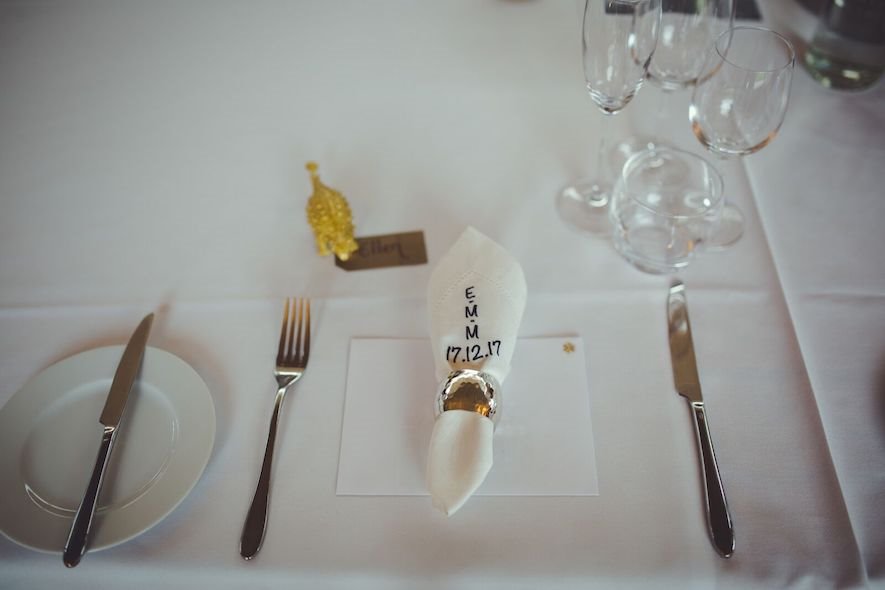 What were your very special moments or highlights of the day?
Ellen – just before I walked down the aisle, there was a big bunch of mistletoe above the door. My dad gave me a big hug and kiss under the mistletoe – that was a lovely moment.
Once the party finished, the after-party started back in the main house. Our musician came over with his acoustic guitar, and the house guests all sat around drinking port, eating cheese and singing along. That was very special.
The entire day was a dream, it was magical from start to finish.
Rob – There are many highlights but I loved the short walk from the house to the Gillyflower after the ceremony and cocktails; the day's light had gone and so the path led us by fairy lights, content and peaceful, to our party of a lifetime, with everyone we love. I've never felt so alive.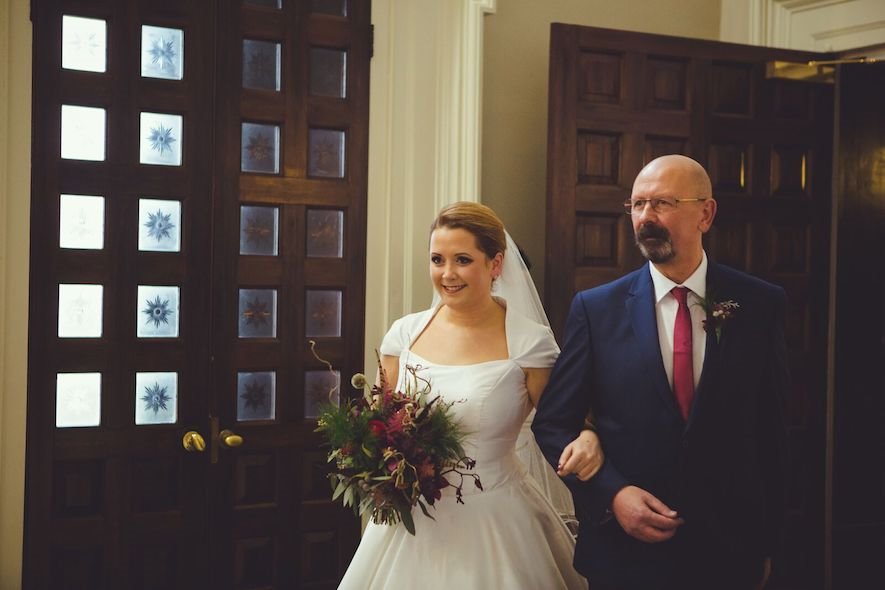 What advice would you give couples now wedding planning?
Remember why you are getting married.
Don't get sucked into thinking you need to go overboard on things.  Keep it personal.
On the day, take a step back with a glass of something fizzy and enjoy that moment. It goes so fast. 
What was your biggest surprise of the day? 
How fast it went! I blinked and we were doing our first dance. 
How Team E were mind readers – they made sure everything flowed perfectly. 

Photography - Adam Drake
Entertainment- Ian Lawton 
Dress Designer-Nina Furness 
Stationary- Jo Pennington 
Thank you so much to Ellen and Rob for sharing your special day with us.!
xx
Related reading