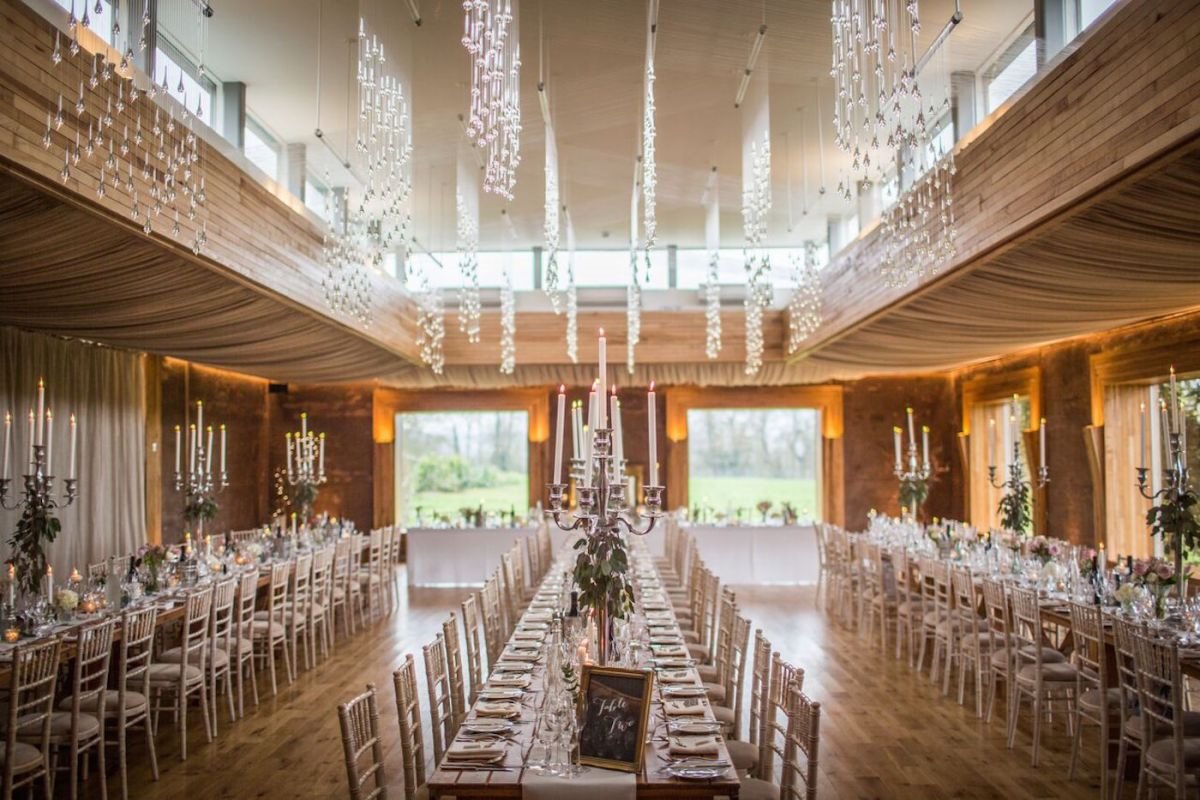 Helen and James are an incredibly busy couple; working as Doctors they ended up doing an an eleven-hour round-trip mission and viewed about nine places on their one day off together and decided celebrate here at Elmore with a romantic candlelit wedding. 
They have kindly shared the day with us in their words and pictures from their very talented friend...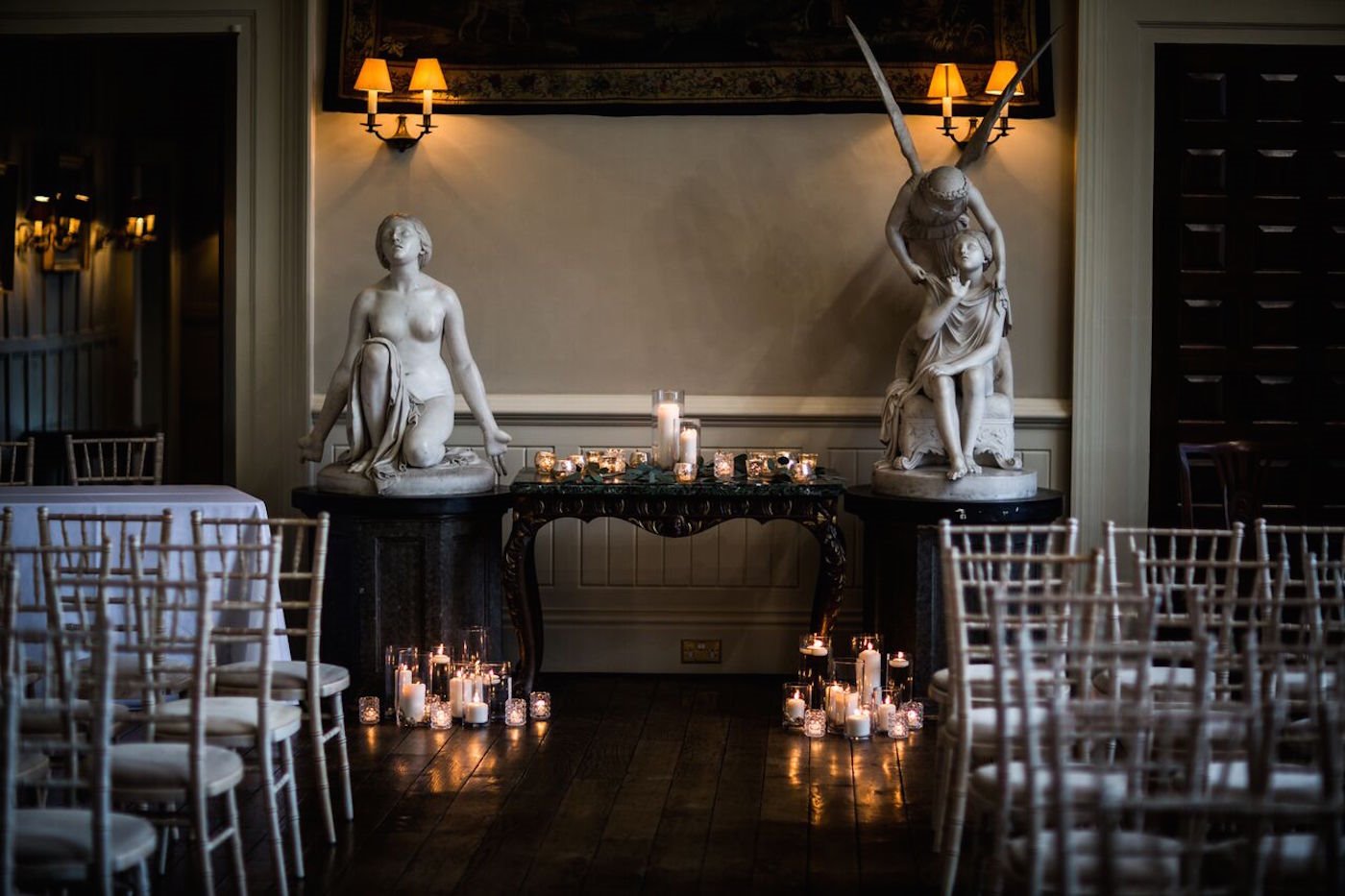 Choosing the Venue
We really wanted somewhere that had a great interior, as we couldn't count on the spring weather and somewhere where there were different areas for the ceremony and reception. 
Once we saw Elmore, we knew that we couldn't beat it! We loved how the house and Gillyflower allowed a wedding to naturally flow, from the stunning and more formal hall and rooms for the drinks reception, to the beautiful Gillyflower, for a more relaxed evening party vibe! It was a country house and a barn all in one!!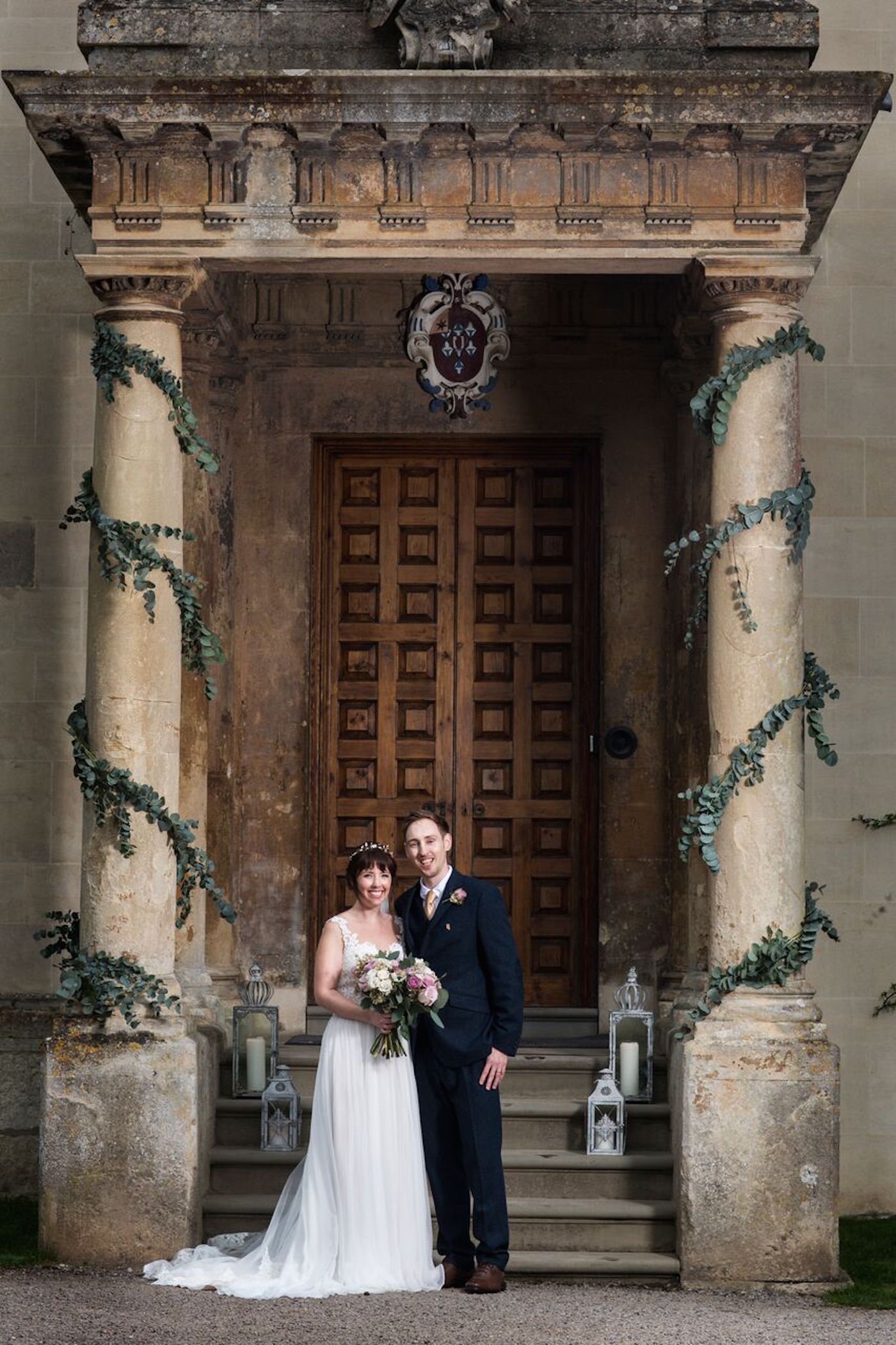 Finding the dress...
My dress was called "Stacey" from Le Papillon by Modeca. I found it in a bridal shop in Kenilworth, called Quello. My Mum, sister and I all managed to get a few days off last summer to look for my dress together, which we did with lots of bubbly and pub garden lunches! My mum is a little bit obsessed with "Say yes to the dress", so I ended up trying on over thirty dresses! The team at Quello were fantastic and were really flexible with my appointments and they always made me feel so excited whenever I went for a fitting.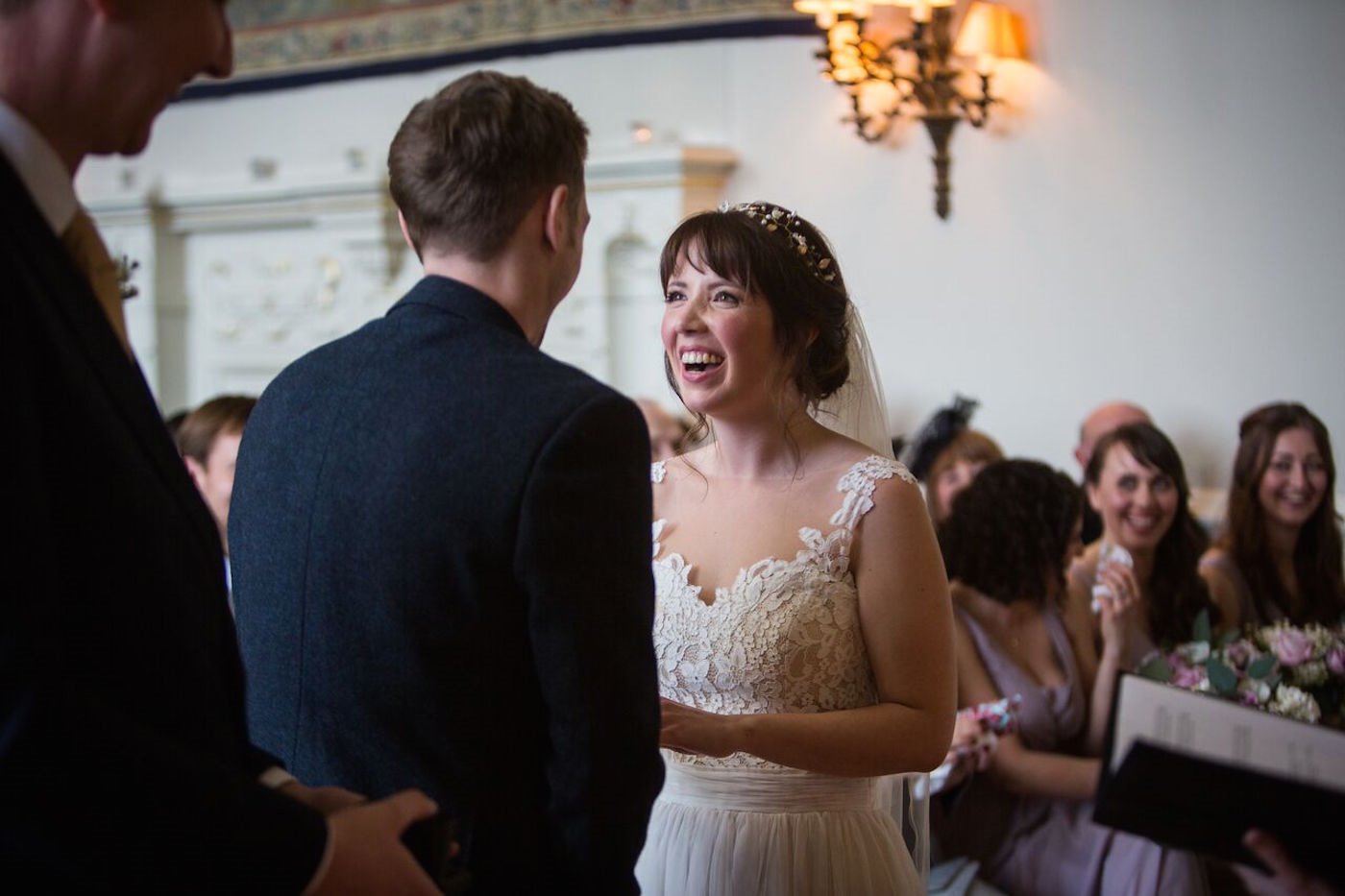 On the day Harriet Cook did my hair and makeup and was absolutely amazing, I felt the most confident and beautiful that I've ever felt and my makeup and hair lasted all day!!
I also wore a gold and pearl floral head vine, which I got from Etsy. It was an absolute bargain and really beautifully made.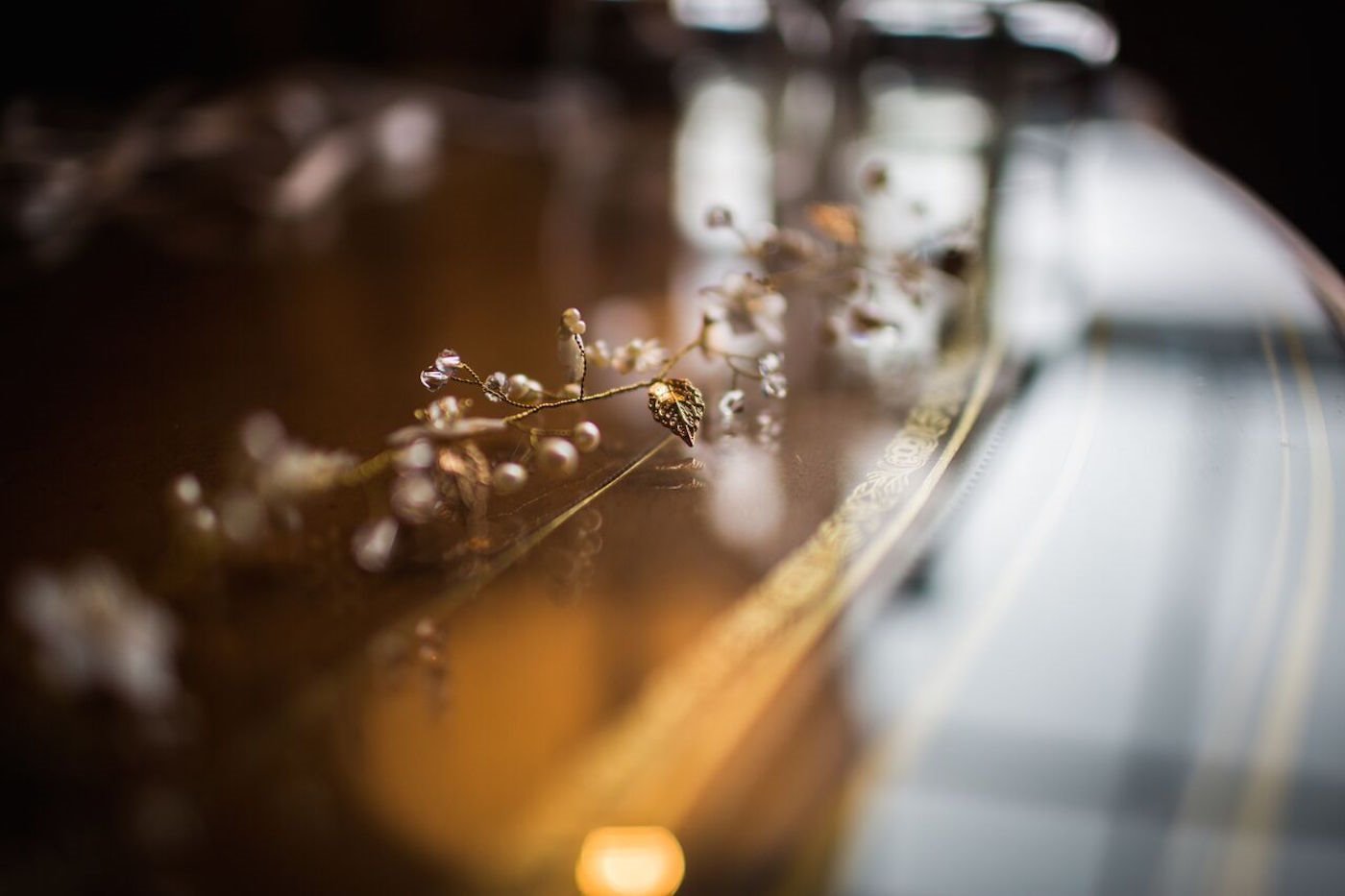 Mucking in...
We really wanted our wedding to include and represent the people and different experiences that have made us who we are as individuals and as a couple, so we tried to get in as many personal touches as possible! One of my bridesmaids is a graphic designer, so she helped us to create all of the stationary for the wedding, from the invites, which were lilac-grey and had a silver-dollar eucalyptus theme, to the table plan, numbers and menu, which also had the eucalyptus motif. I managed to get all of the gold frames really cheaply on the internet and we also found a great internet company who produced our wooden, gold place-names, which we had made as our guests nicknames. As we have both grown up spending lots of time near the coast, we asked our families to collect seashells, which were used throughout the décor and on the cake; welsh cockle shells for me and pelican feet shells from up North, for James!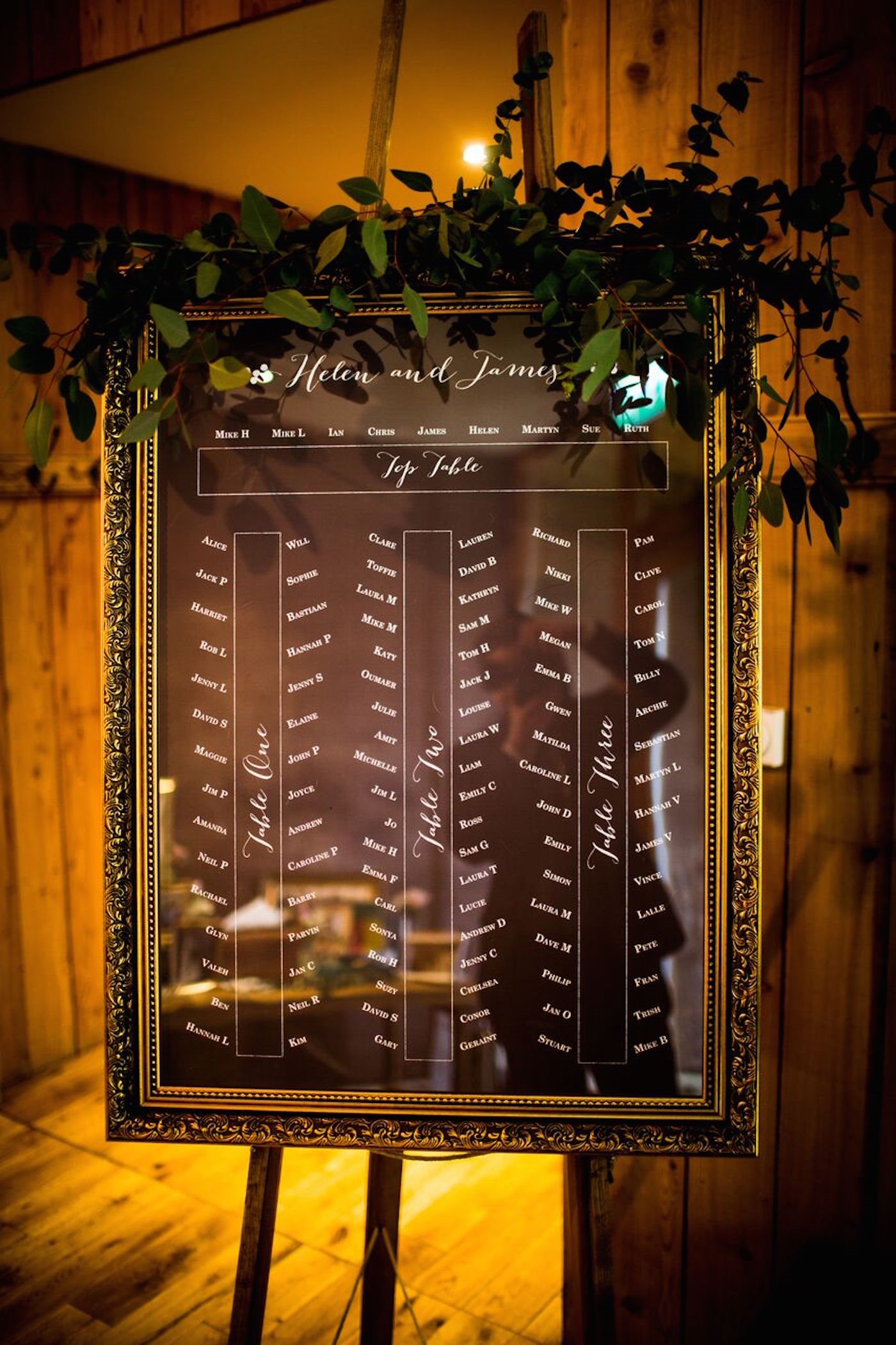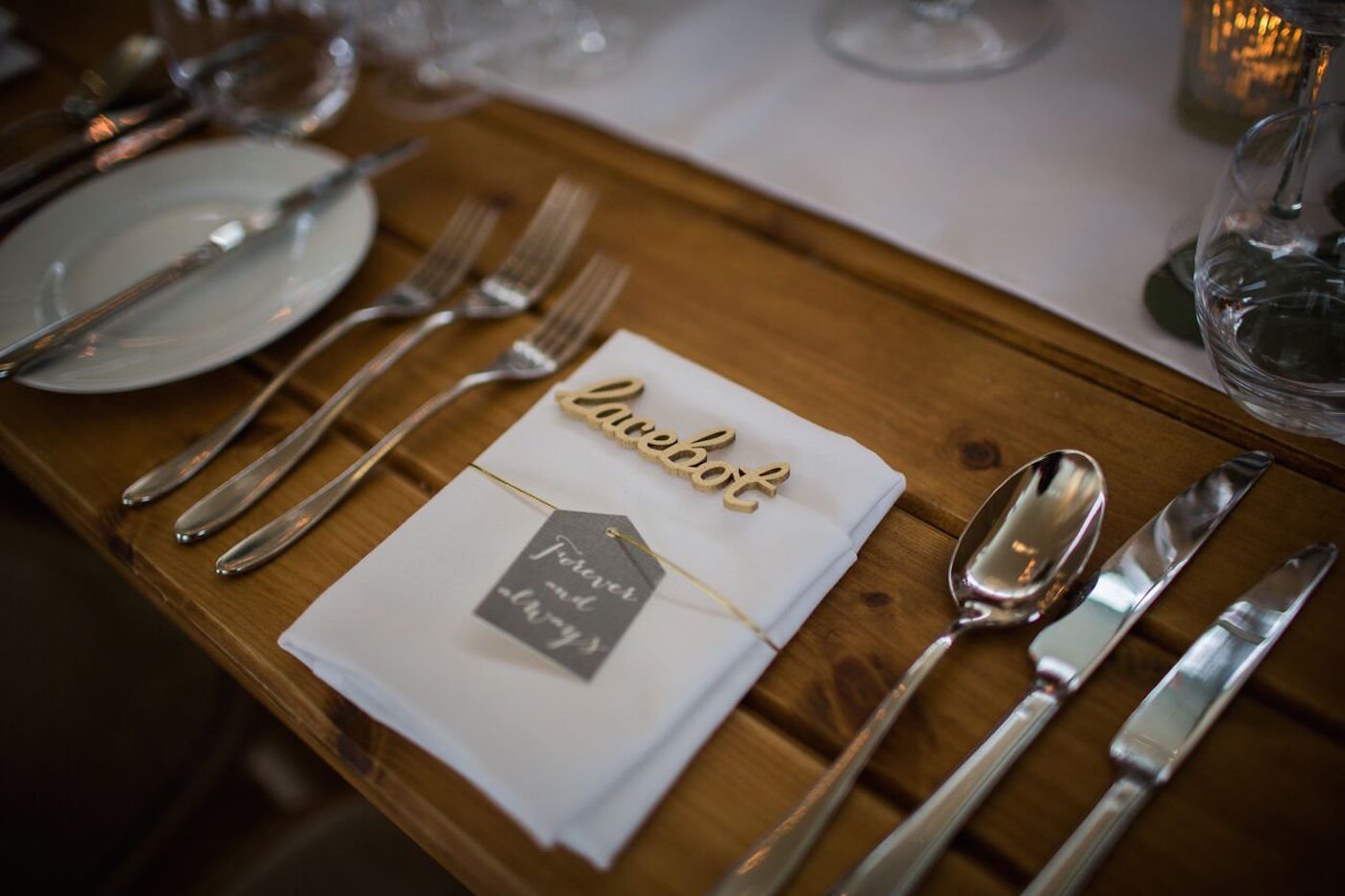 We created a gift/card table which included pictures of our parents and grandparents on their wedding days, which was especially important to us, as unfortunately not all of them were able to celebrate in person with us. I also managed to find an antique Gladstone doctors bag, which we used as the card bag and we used some of our old textbooks and my spare stethoscope, as a nod to our jobs!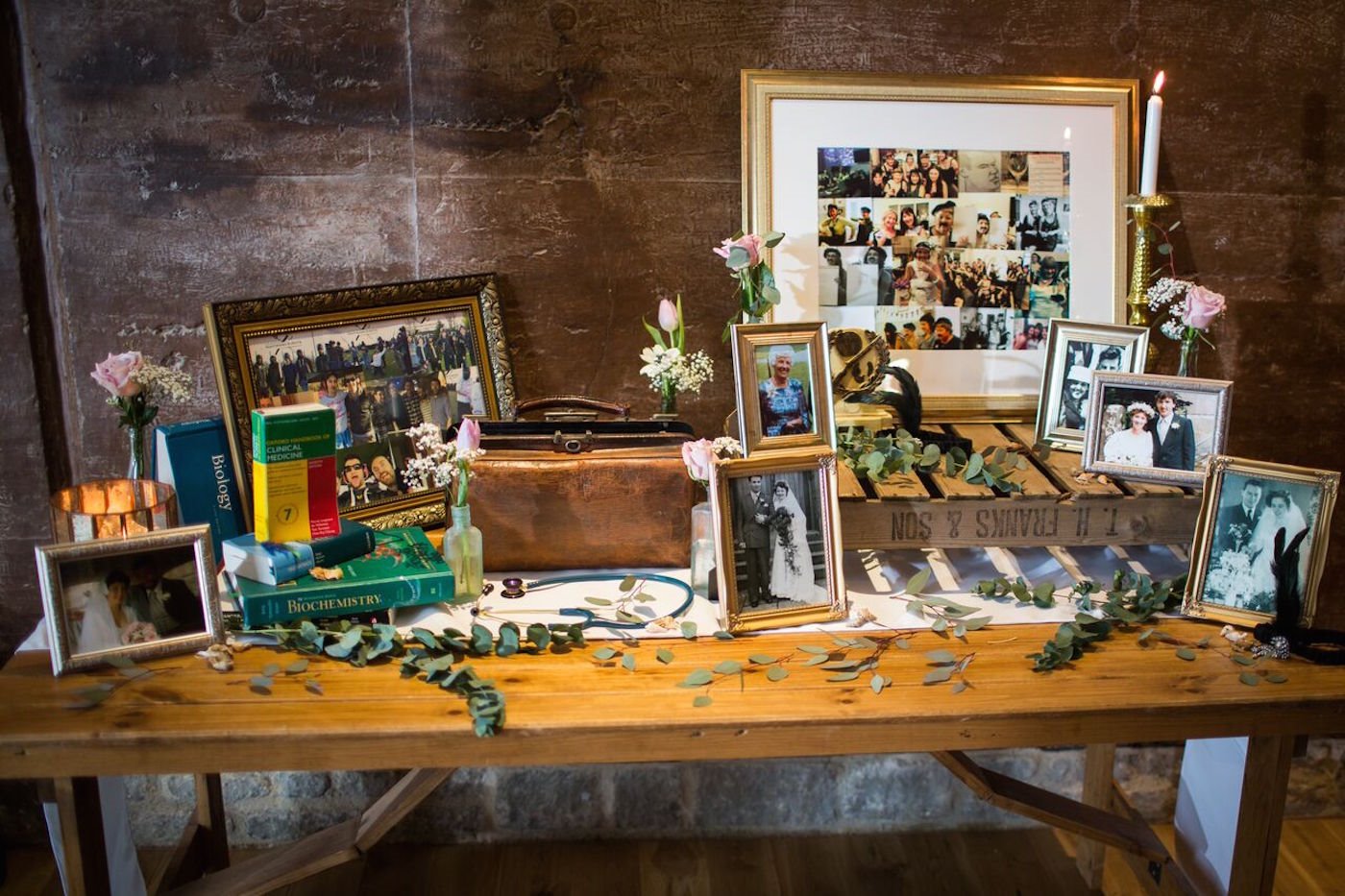 Wedding Style
At the very beginning of the wedding planning, I found the Pantone colour "lilac-grey" and absolutely loved it and so the rest of the colour scheme evolved from there. As it was an early spring wedding, we didn't want anything too bright and summery or on the other hand, too autumnal. We decided to match the lilac-grey with blush pink and ivory flowers, with lots of silvery green foliage. When we visited Elmore, we loved the gold mirror in the Gillyflower and thought that gold accessories, in candelabras, candle holders and frames, would bring more warmth to the colour scheme and really complement the candlelight.
We saved lots of Pinterest pictures of the types of bouquets and button holes that we liked and we decided that we wanted lots of silver dollar eucalyptus foliage, running throughout the whole wedding. When we met with Maria from Sorori Design florist, she immediately understood the look that we were going for and suggested roses, anemone's and ranunculus flowers with brunia bobbles and the eucalyptus foliage, all within the lilac-grey, blush, ivory and silvery-green colour scheme. On the day, we were blown away with how the bouquets matched the bridesmaid's dresses perfectly.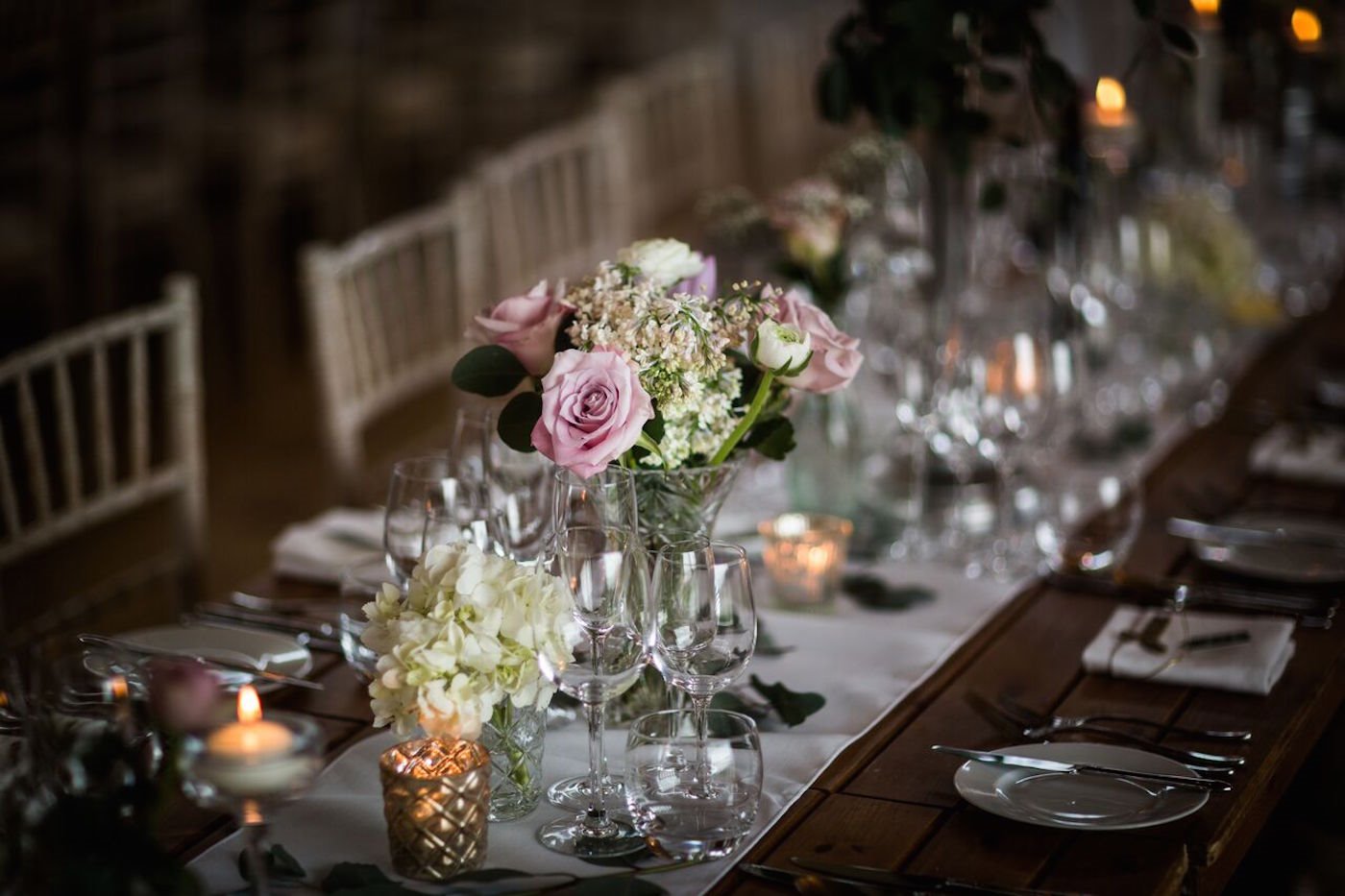 The Bridal Party
The bridesmaid dress search centred around the lilac-grey colour and we eventually managed to find a dress in a "frosted fig" colour from Maids to Measure, which are now available to order through John Lewis. As part of the thank-you presents, we gave the bridesmaids a personalised gold and pearl leaf necklace, which we thought tied in with the eucalyptus foliage and the overall colour scheme.
James really wanted to wear navy tweed, but we found it almost impossible to find navy tweed hire suits for the groomsmen! We eventually found a great suit for James from a company in Edinburgh, called Walker-Slater, which we got locally tailored for the perfect fit. We then matched James' suite to navy hire suits from Young's suit hire in Debenhams.  It was great that James had something slightly different from the groomsmen, but they hopefully complemented each other. All of the boys then had gold ties, which fitted in with our gold accessories in the décor.
For a surprise for James on the wedding day morning, I got a suit pin commissioned for him of the Lincoln City football club mascot, his favourite team!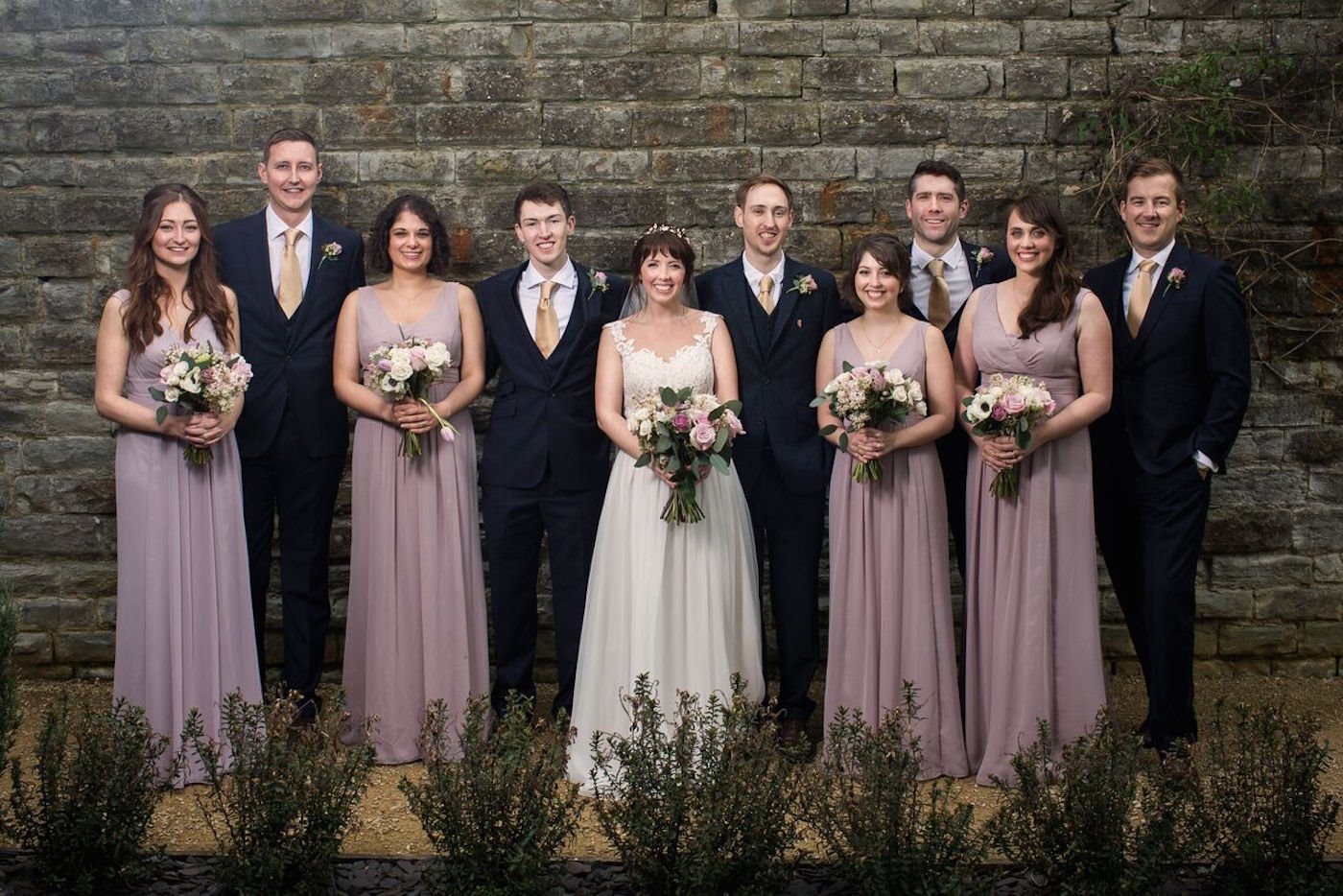 How we felt on the day...
The whole day really was amazing, but a perfect moment that really stands out, was when we were coming to the end of the main course during the meal. The sun had set behind the Gillyflower and the beautiful ceiling lights had started to twinkle. All of the candles on the tables were sparkling and reflecting off the glassware and all of our guests just seemed to be laughing and hugely enjoying being together. From the top table, James and I were able to look down along the three banquet tables and just take it all in.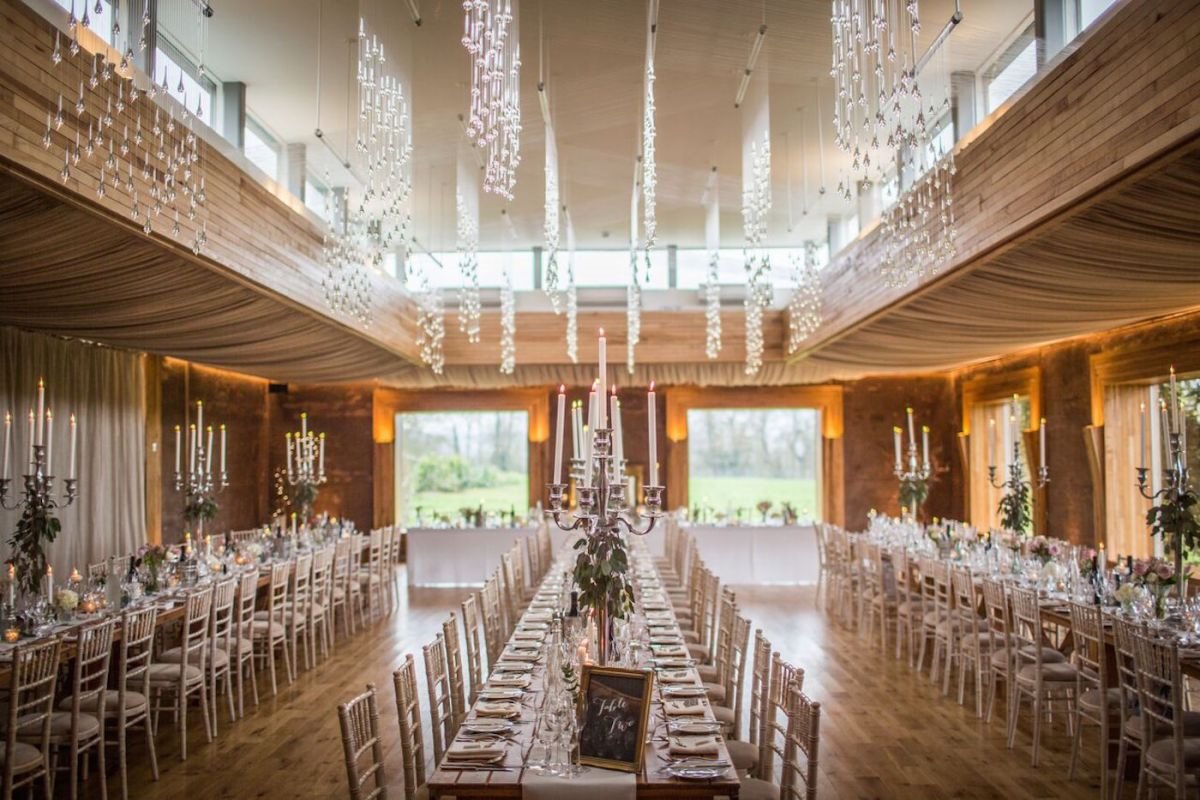 Party Time!!
In the evening, we had a photo-mirror, which was in-keeping with the other gold frames that we used throughout the venue and I think everyone really enjoyed it. The end–of-the-night drunken pictures are fantastic! Ben from Directors Cut Photobooth was very professional and even personalised the borders of the photo-mirror pictures to match our wedding invites. We also had a DJ for the evening music and after the biryani was served, we had flame colour bricks and sparklers and for in and around the fire pit and then glow-stick necklaces and bracelets for when the dancing got serious!!!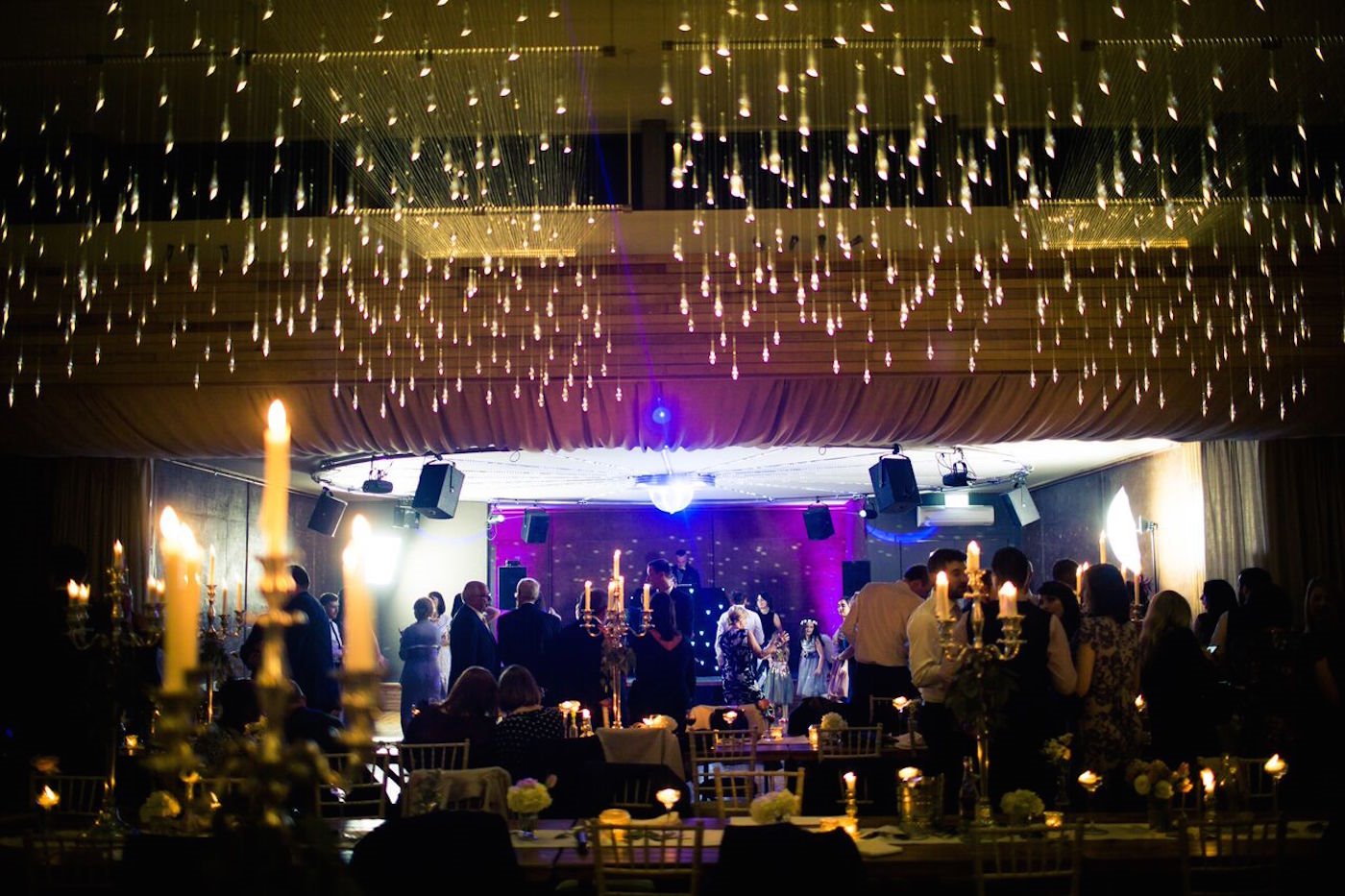 Our top tips for other couples
Try to plan as much as you can as early as you can, so that in the last few weeks or days you can minimize the last-minute panic and can enjoy the run up. Also, don't worry about those extra few pounds that inevitably get added on to even the strictest of budgets. It's absolutely worth getting the little details that you want, which you know will mean a lot to you and your family and friends. And finally, try to enjoy every second of your day!! It was definitely harder work than we thought, as you are basically acting as hosts for your most important party, but keep smiling, have a (big) glass of wine and just try to soak it all in, as it really is the most incredible day that you get to share together and with the people that you love!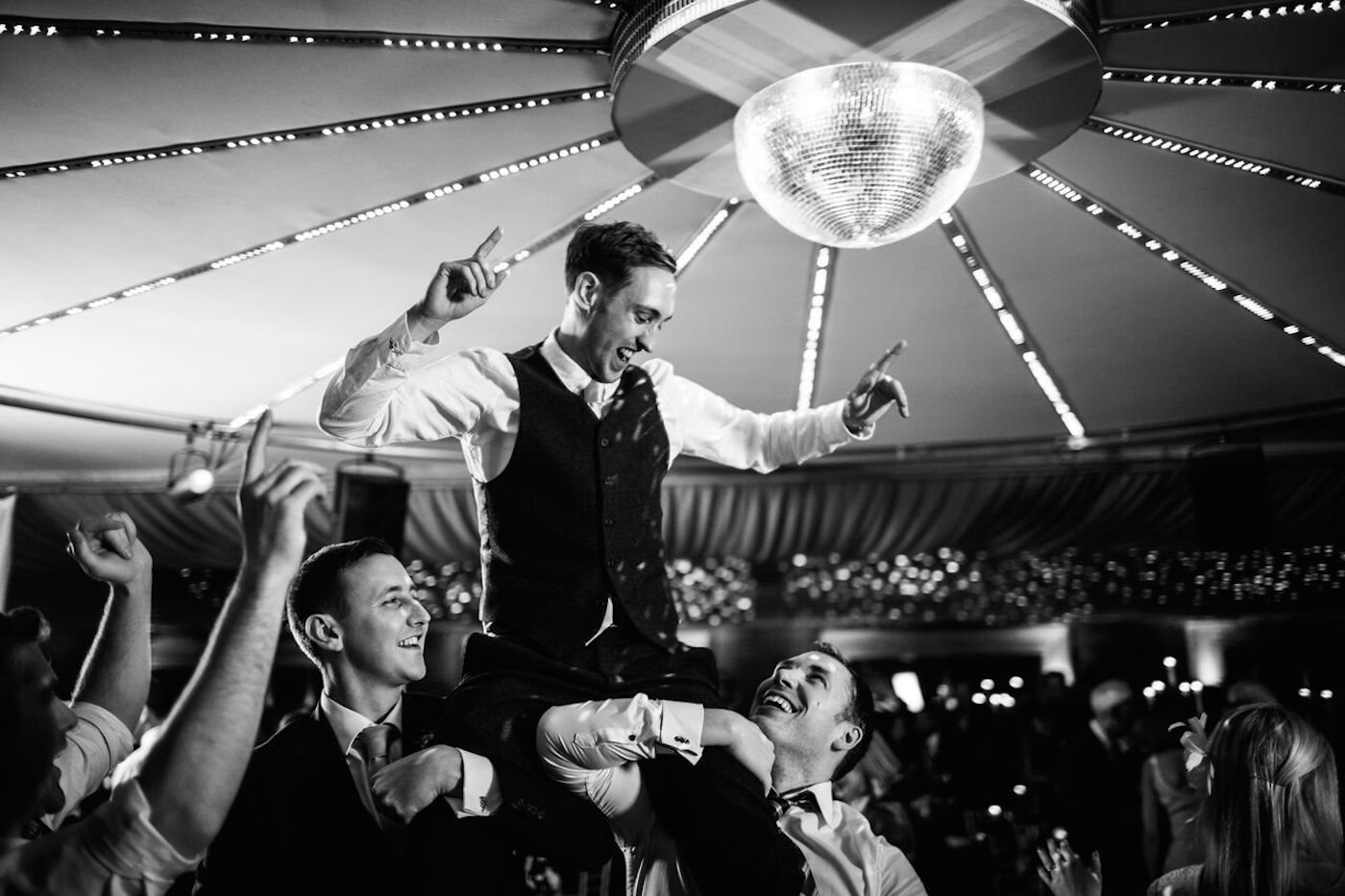 Related reading