An elegant Spring wedding with fireside fun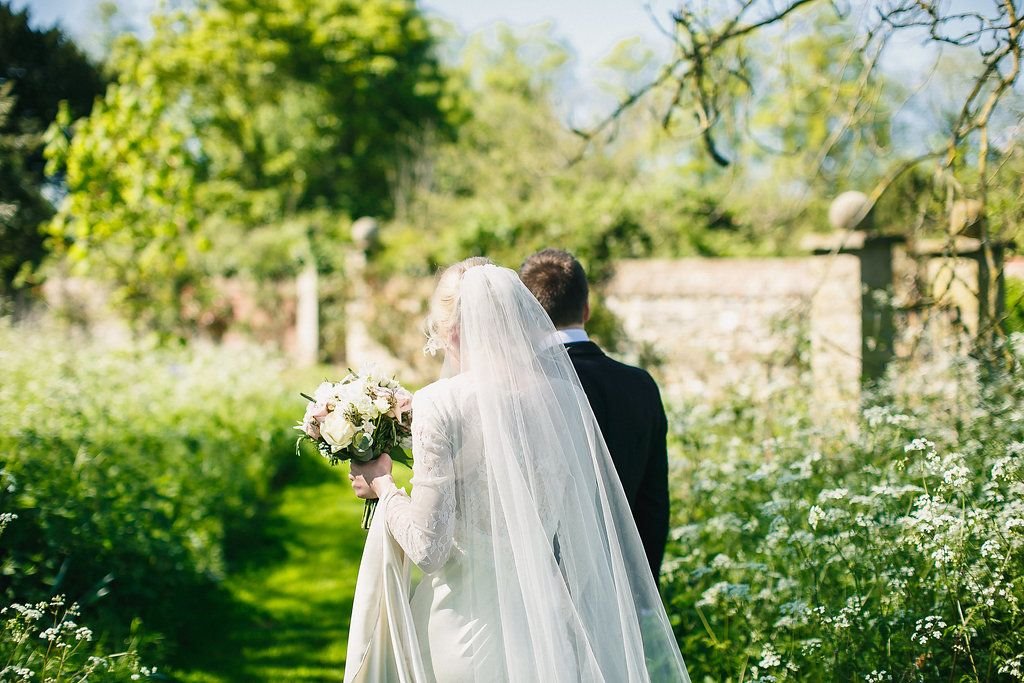 April Fires
Forget April showers, Hannah and Karl held their wedding at Elmore on a beautiful Spring day on 22nd April and guests all enjoyed toasting marshmallows and sitting round the fire till late...  But, let's start at the beginning;
You had a pretty special proposal?
Well, to say I'm particular is probably an understatement… If I could have planned my own proposal, I would have done. Fortunately, I have two younger sisters who adore Karl and were absolutely on board to help him with every tiny detail of planning...
The proposal involved a treasure hunt and finished with a surprise celebration for 50 of our nearest and dearest! The whole family were in on the act as well as the best man and maid of honour. It was truly memorable and planned to perfection. I'm not sure I could have done it better myself…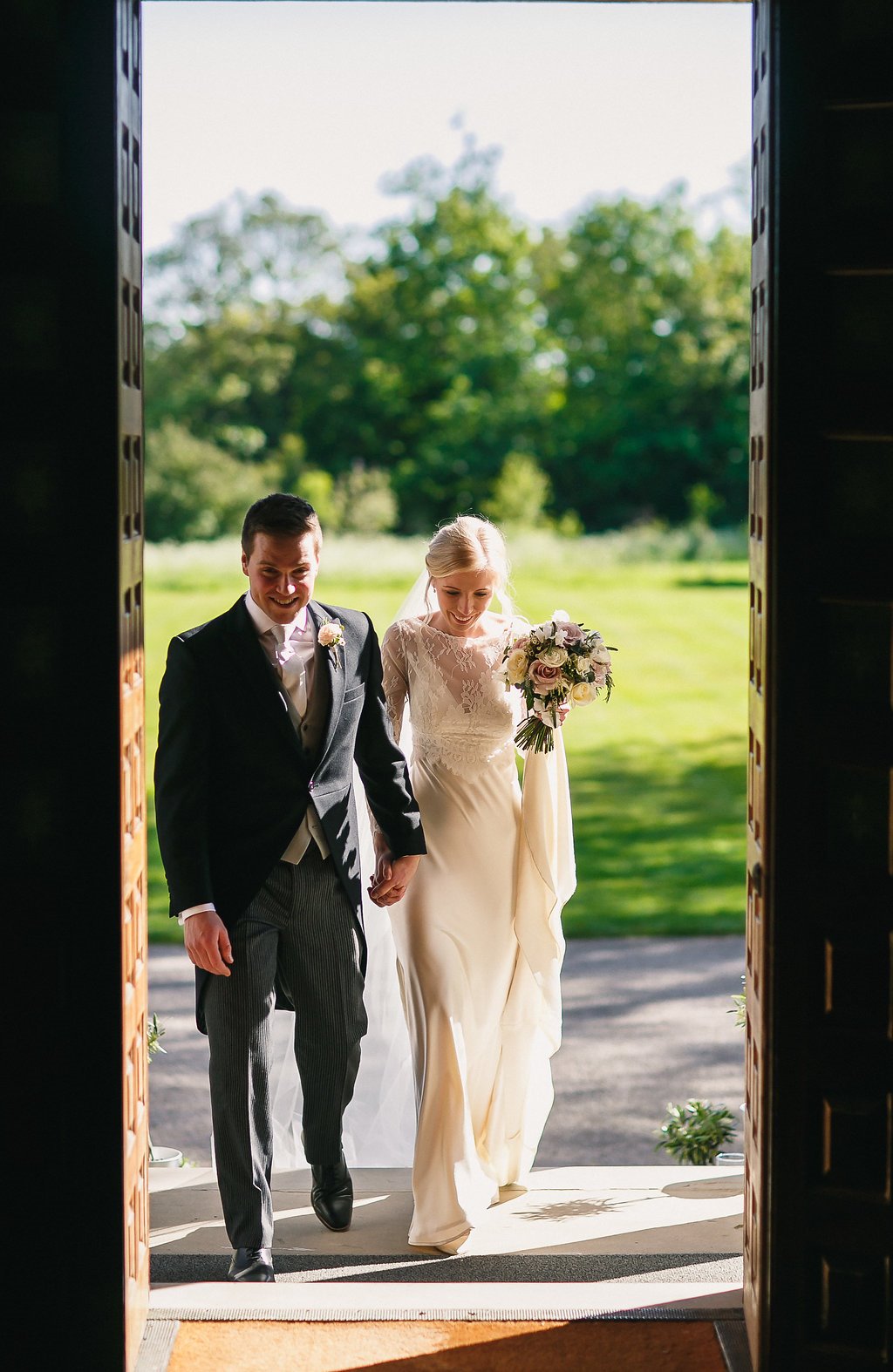 Why did you choose Elmore Court?
My little sister Abbie had had her school prom in the Gillyflower a couple of years ago. Thinking that it was a prom venue, I really wasn't that keen on viewing Elmore (!) but I am SO glad that we did.
From the moment we drove in the gates, we just loved everything about it.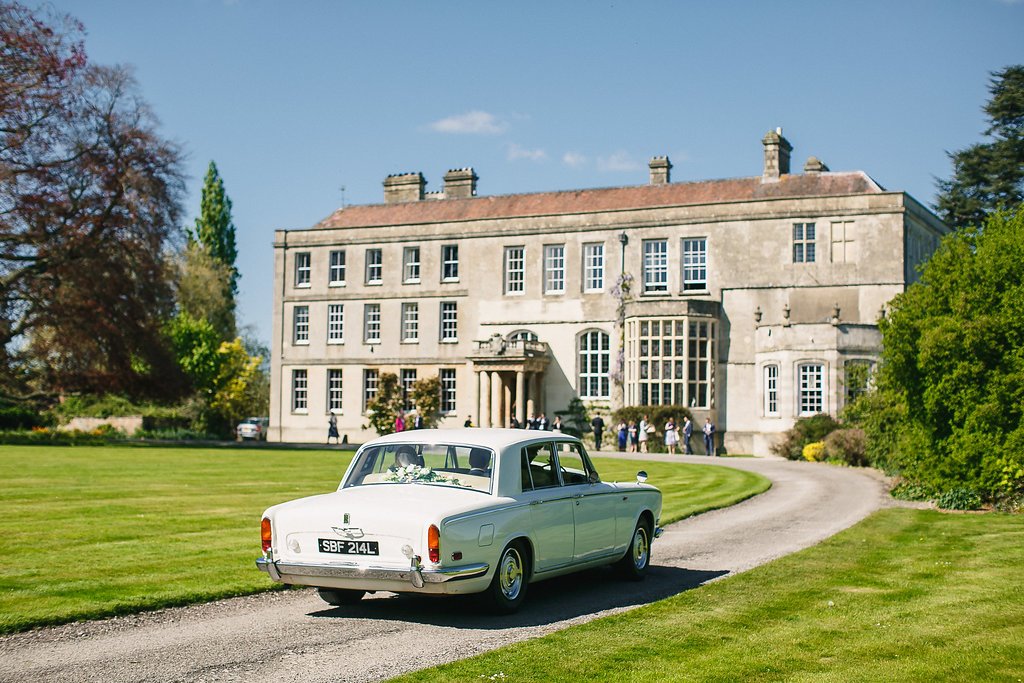 There was so much about Elmore that impressed us, but one of the biggest things that made us feel at home was the welcome from Team E.  Everyone was warm, friendly and would help in whatever way needed. It made us feel truly at home, and I think that's what made us book Elmore more than anything. We are so glad we did!
How did the wedmin go?
I LOVED the wedding planning – it is right up my street. Whilst we were able to set up the church the day before, we could only set up Elmore on the Saturday. I knew that doing the set up on the day ourselves would be a stretch too far so I asked the beautiful Lauradana of Wedding Creations to coordinate all things set up related on the morning and she did a beautiful job. Becci from Bijoux Floral Design did all the flowers and she was fab! 
As much as I loved all the planning and organising, it is important not to overdo it. Because we had such wonderful suppliers, I really felt that on the day I could sit back and relax knowing that there were amazing people taking care of everything, and that was a real treat!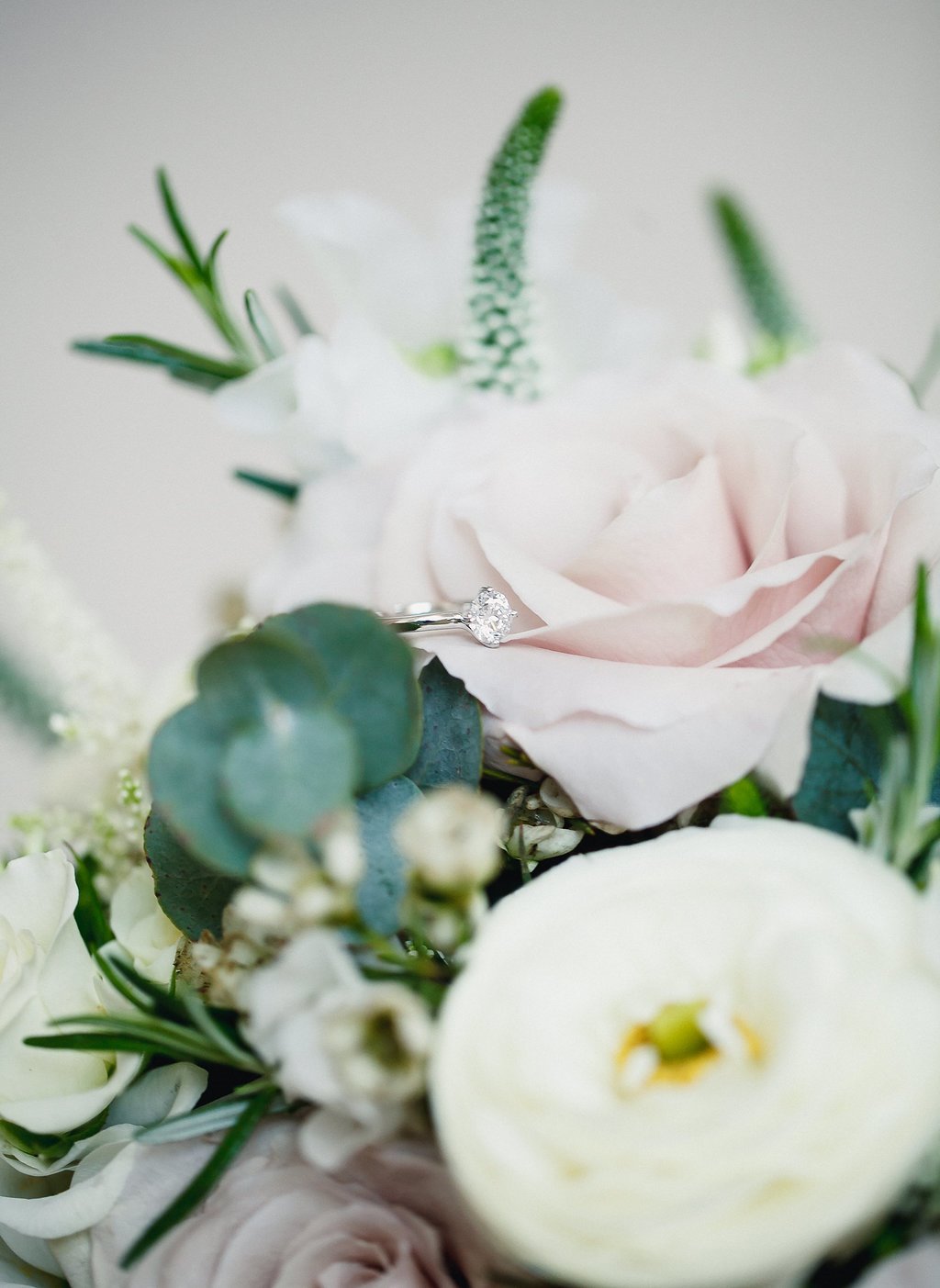 How did you find your photographer?
We'd seen our photographers do some weddings of family friends, and I immediately fell in love with them. Tom and Lizzie have this warmth about them that makes you feel so relaxed, over the months that we have got to know them, we feel like they have given us so much more than a beautiful set of photographs. It was amazing having them there on the day, it felt like hanging out with old friends. 
What about that beautiful dress??
I'd love to say that my dress shopping experience was everything I'd hoped it would be, but it really wasn't! I had many an unpleasant experience unfortunately. I resorted to a second-hand website called Still White. I found this beautiful bespoke Caroline Castigliano dress; I tried on the dress, and my bridesmaids welled up a little – this was the one. I brought a Charlotte Balbier lace topper from a local boutique, which went over the top of the dress, so that I could have two looks with one dress. I found the most wonderful seamstress called Rene, who transformed it all so it fit perfectly, she removed all the buttons of the lace topper and replaced them with buttons covered in the silk from my dress. She pulled all my ideas together and made it look just how I dreamed it would. I never thought I would buy a second-hand dress, but the dress was immaculate and it was such a lovely and really personal experience. The lady who it belonged to before asked if I would send her some pictures of the day, and she absolutely loved them. I think she was pleased that the dress went to a good home and was loved just as much by someone else.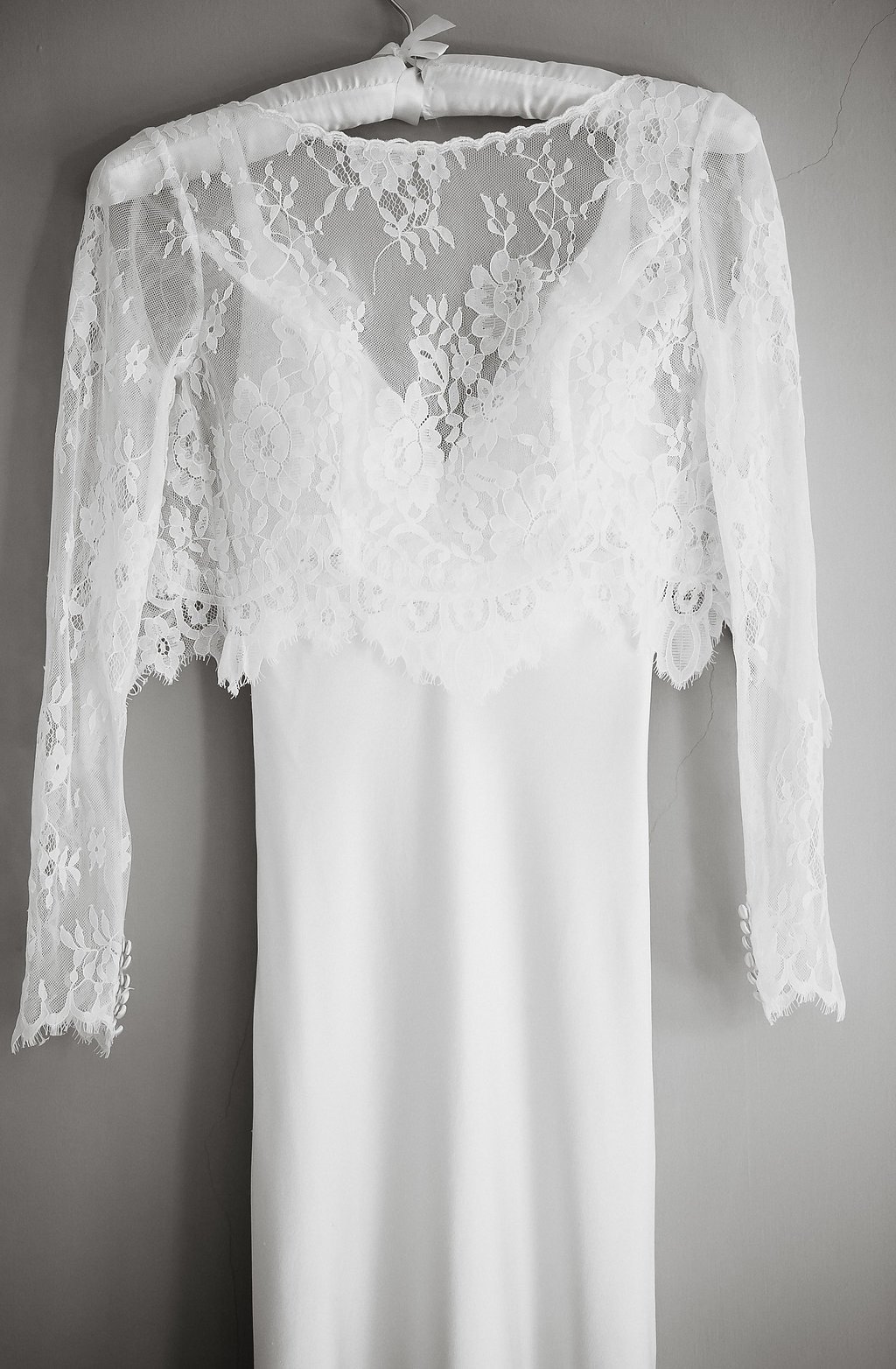 What did the groom, groomsmen and bridesmaids wear?
Karl, his Groomsmen and the Dads wore traditional Black and Grey tails from Horace Barton in Cheltenham. They had Silvery/Grey waistcoats and ties, and then buttonholes of rose, waxflower and eucalyptus.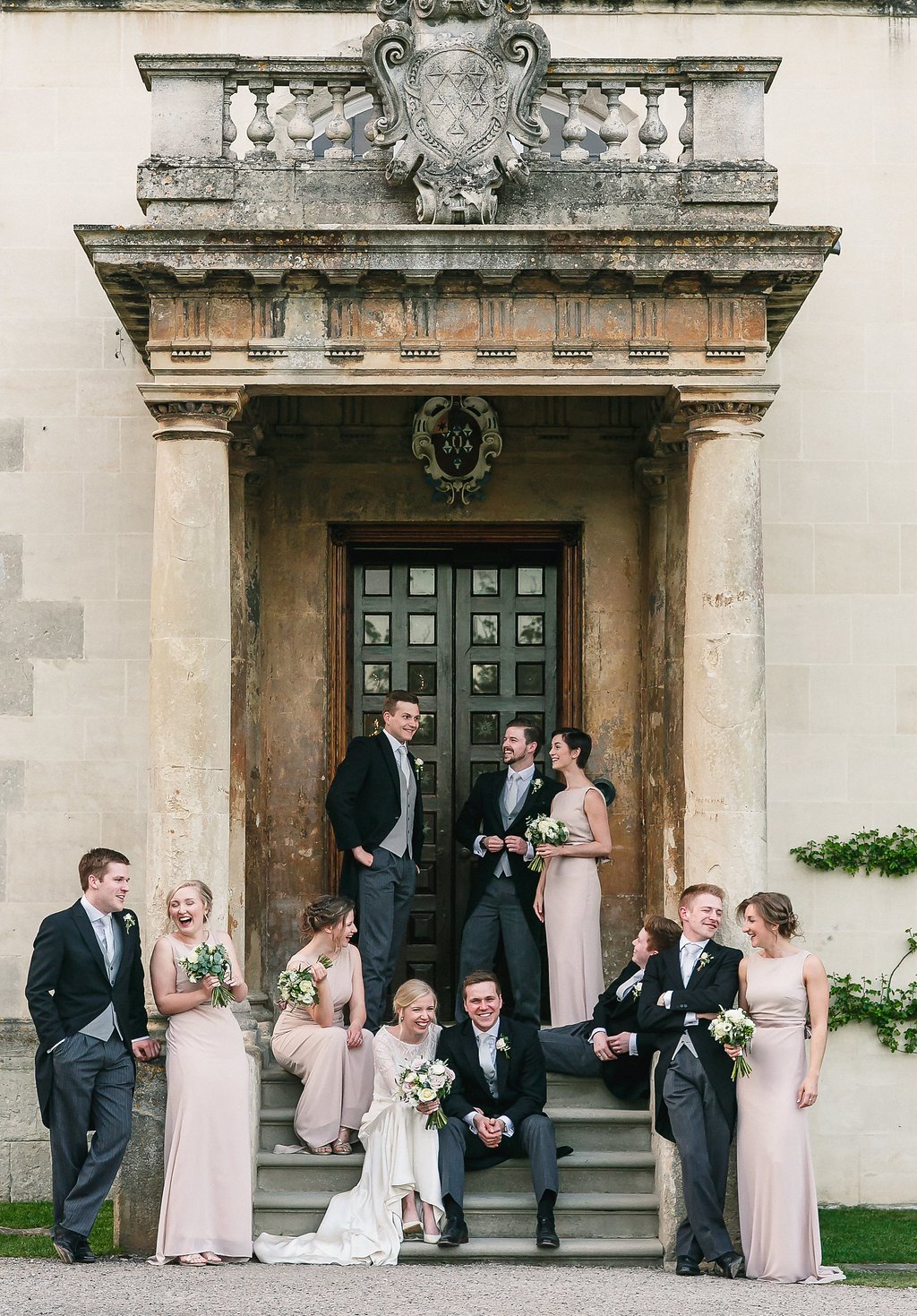 My bridesmaids wore nude pink dresses from ASOS. They were elegant and beautiful, and they were probably the best bargain of the whole wedding. I wish I'd ordered an extra for myself! My seamstress did a few alterations on them, and they were perfect.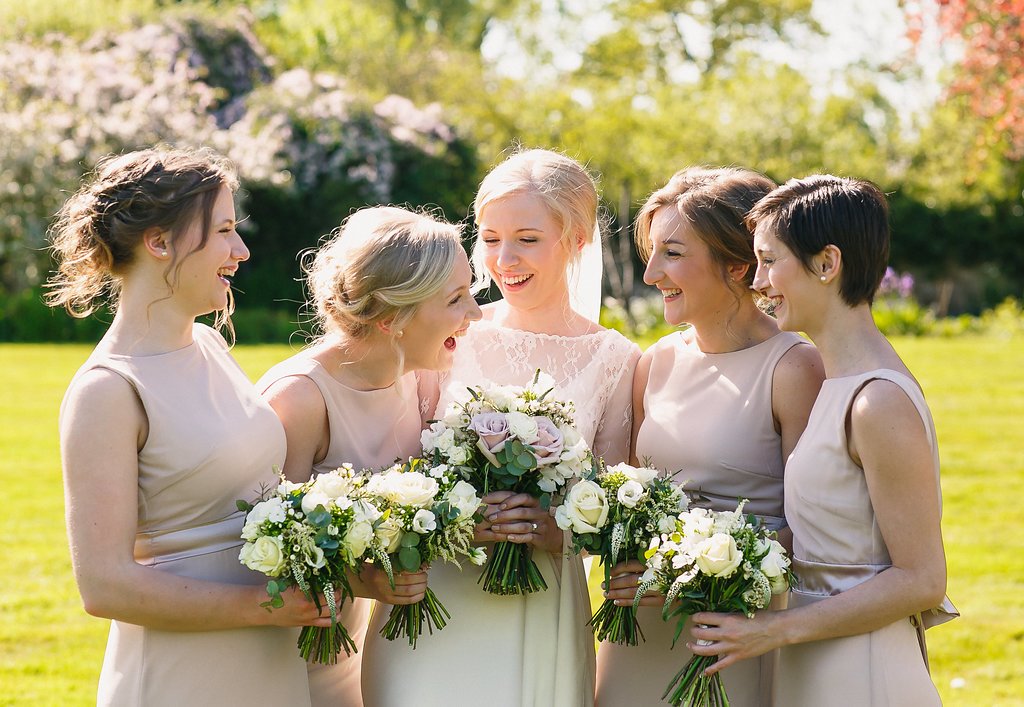 What flowers did you have?
Theme was classic elegance; the flowers we chose were ivory roses, eucalyptus, wax flowers, rosemary, ivory lisianthus, veronica and rosemary. Becci suggested Quicksand roses in my bouquet and the table flowers as a hint of colour. They worked perfectly as they were an exact colour match to the bridesmaid's dresses, so they complimented perfectly. Our table centres were hurricane vases with a wreath of eucalyptus and flowers around the base. 
We didn't have flowers in the church, but instead had mini olive trees in silver buckets at the end of the pews, alternating with pillar vases and candles on every other end. It was simple, but looked beautiful when the candles were lit. A good friend of ours made two huge eucalyptus wreaths, one was hung on the door of the church, and then they were bought up to Elmore. They smelt divine, and were pretty impressive to look at!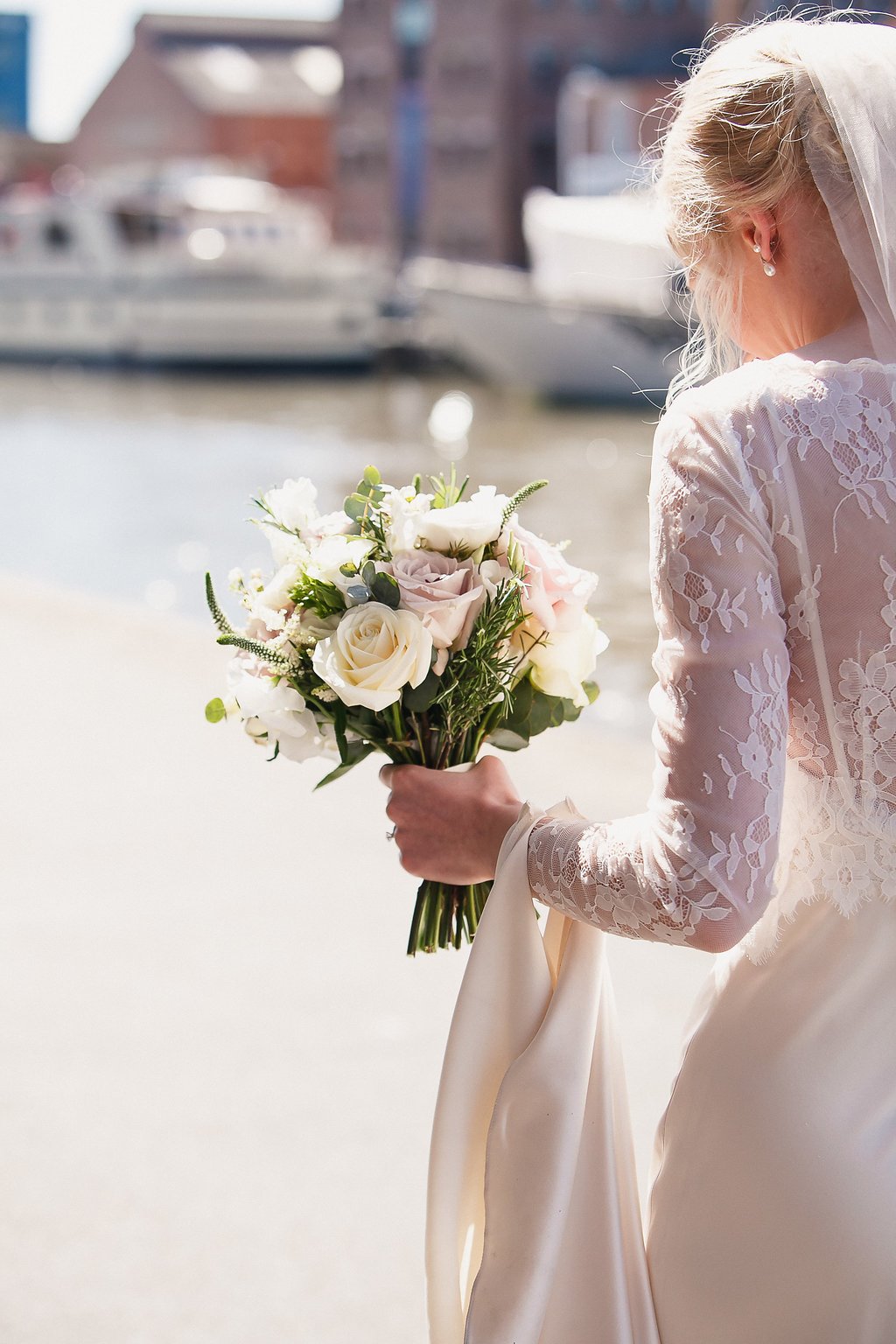 What did you eat?
Just like so many other couples, based on the previous blogs I've read, this is where Karl really took a keen interest…
We used the Elmore kitchen obviously (why wouldn't you?). We had canapes out on the lawn as the weather was beautiful. They all looked so good, and were really delicious! 
For our main meal, we had Smoked Cornish Haddock fish cake with Leek and White Wine Cream, Pea Shoots and Dill, followed by Supreme of Somerset Guinea Fowl with buttered Savoy Cabbage, Chantenay Carrots, Dauphinoise Potato, White Onion and Thyme Puree and Blackberry sauce.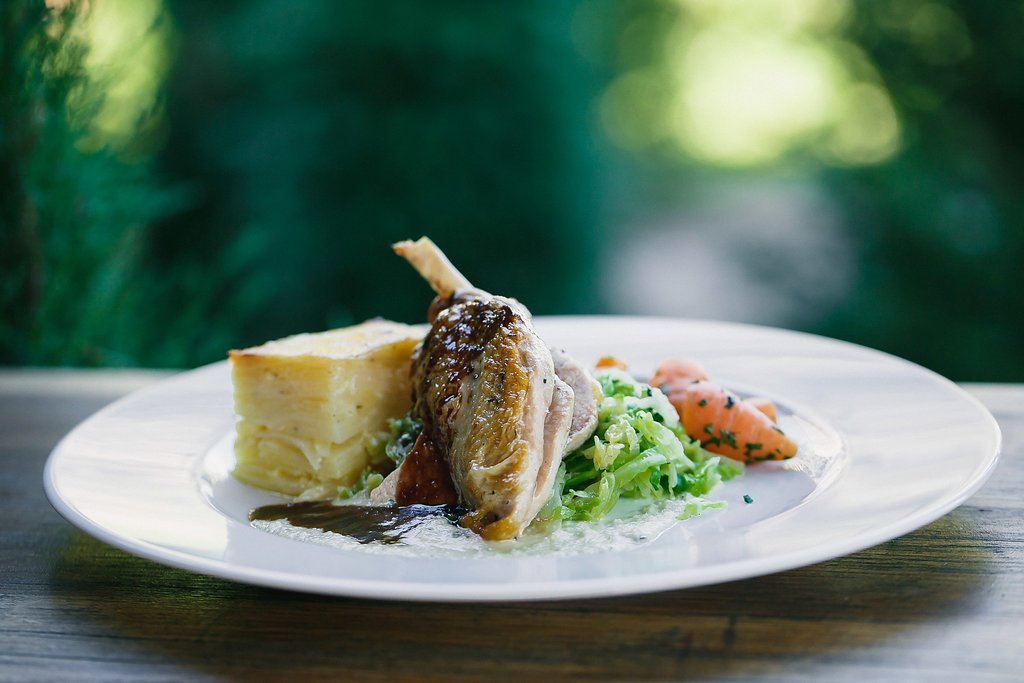 We finished with Karl's all-time favourite dessert – Lemon Tart with Raspberry Coulis, Clotted Cream and Fresh Raspberries.
By the time we got to dessert, speech nerves were creeping in and Karl totally lost his appetite. Stacey arranged for an extra portion to be put up in our room for when we went to bed, which was so kind. He enjoyed it at 2am in the morning, and said it was the best Lemon tart he had ever had – high praise indeed! Everything was so delicious, and the presentation was second to none. It really impressed us and our guests!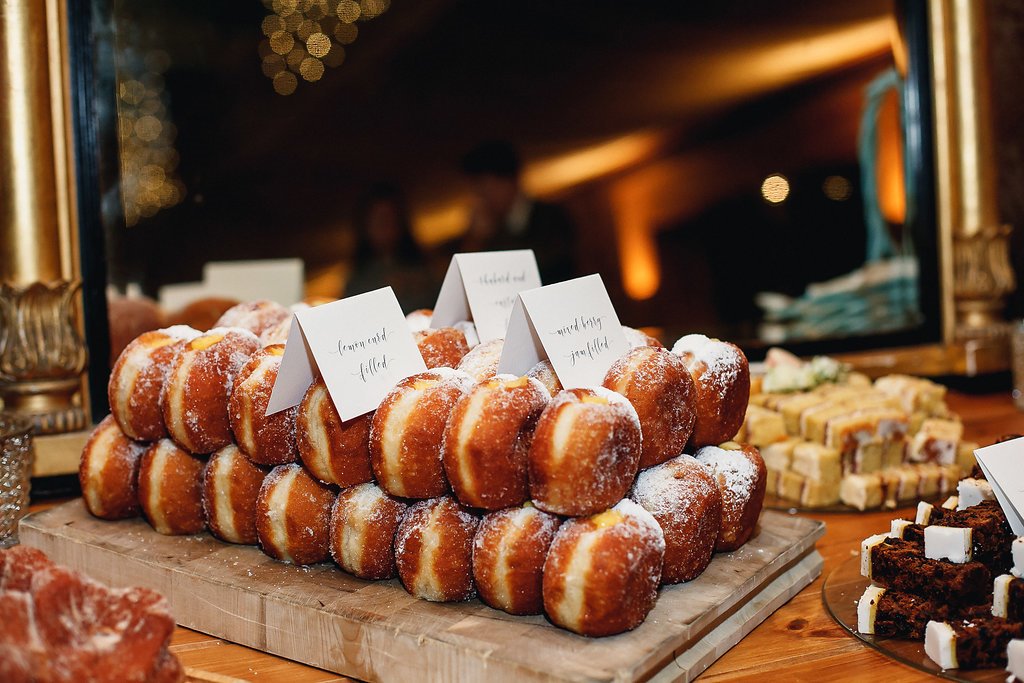 For our evening food, we asked Pizza Monkey to come and do their thing. They have such an impressive set up… A really friendly team, a smart looking pop up canvas and the most incredible wood fired pizzas. It was really fun having them there, and they were such a hit with our guests. We couldn't really go wrong with them, because who doesn't love pizza – especially after a few drinks!
We also ordered doughnuts from Pippin doughnuts. We'd had them at a friend's wedding last year, and they were SO good. We had Rhubarb and Custard filled doughnuts, Lemon Curd filled doughnuts, Mixed Berry jam filled doughnuts and Cinnamon Sugar-coated doughnuts. I definitely snuck up to the doughnut table more than once….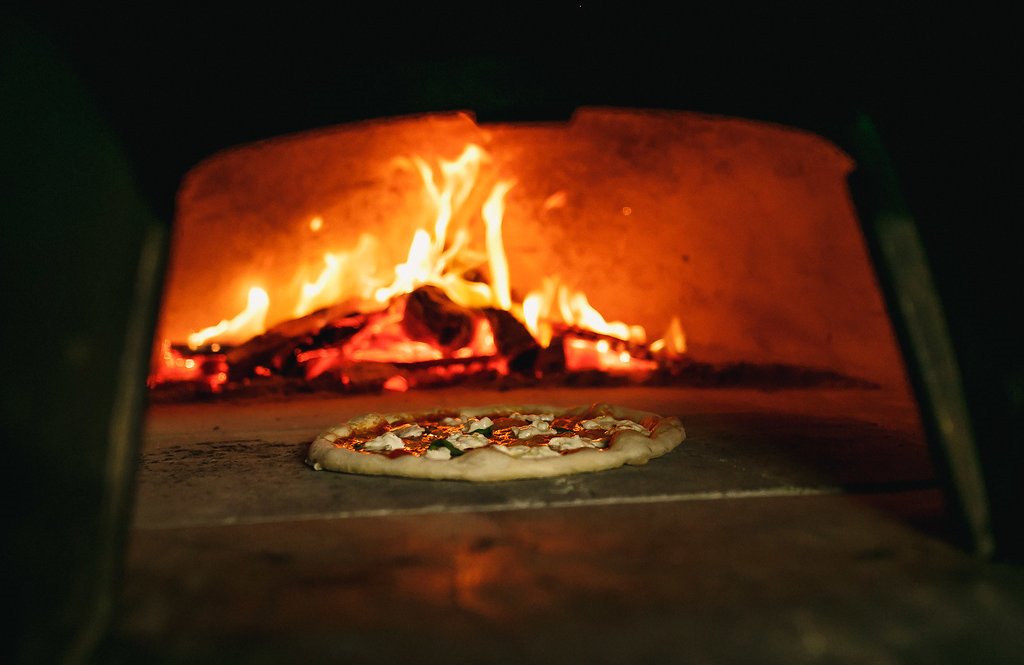 And the cake?
We had a three-tier semi naked cake made by one of my oldest school friends Roo. She is insanely talented and totally lovely and just did exactly what we wanted. Decorated with flowers supplied by Bijoux Floral and mini Champagne and Rose macarons handmade by Roo.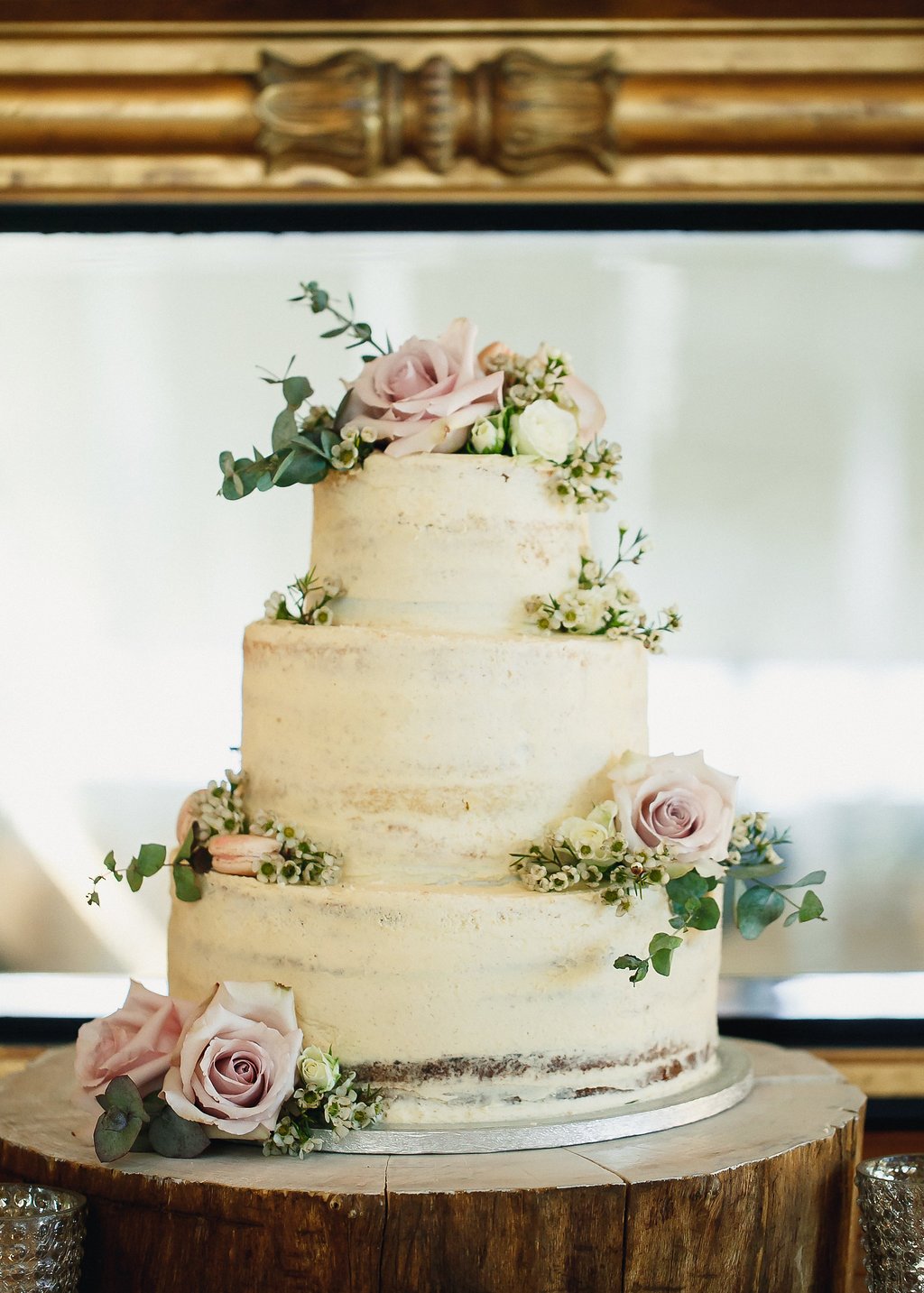 What kind of entertainment did you have?
Our family friend Paul to come and play jazz piano, we could listen to the jazzy tones from the lawn – whilst drinking Pimm's. It doesn't get much better than that!
For the evening, we had the most incredible band 'The Deloreans'. They are a 7-piece band from Chichester and they are so much fun. The trumpet and saxophone players get down in and amongst the dance floor, and we danced and laughed until our feet hurt and we had no voice. It was our aim to get as many people on the dance floor as possible and they really delivered!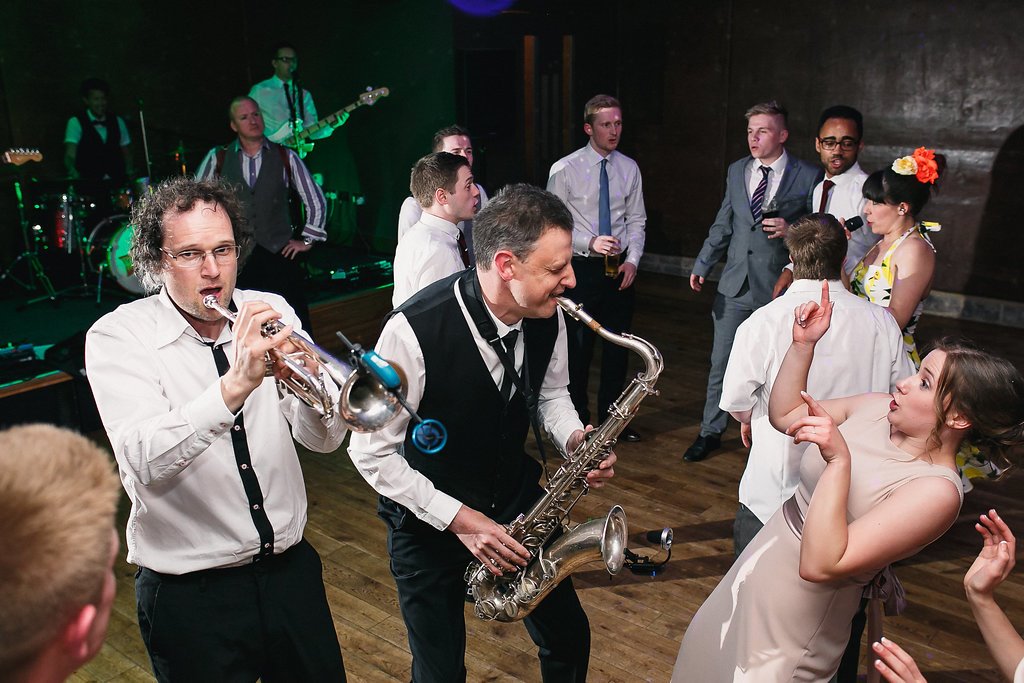 Did you do any DIY-ing?
There were quite a few bits of the planning and the day that I put my stamp on (quite literally). I designed all our wedding stationary, and assembled all the invitations and RSVP's. We had a stamp made up by the English Stamp Company, which was a mini version of our logo. 
All signage on the day was designed by me, and then printed by HB Digital Printers. They were incredibly helpful and patient!
Foodie Wedding Favours created some infused spirits for us: Apple and Blackberry Gin, Raspberry Liqueur and Werther's Original Vodka (tastes a bit like baileys). Vicky sent them all packaged up, and then I created some labels incorporating our logo, and tied them all with ribbon to add our personal touch.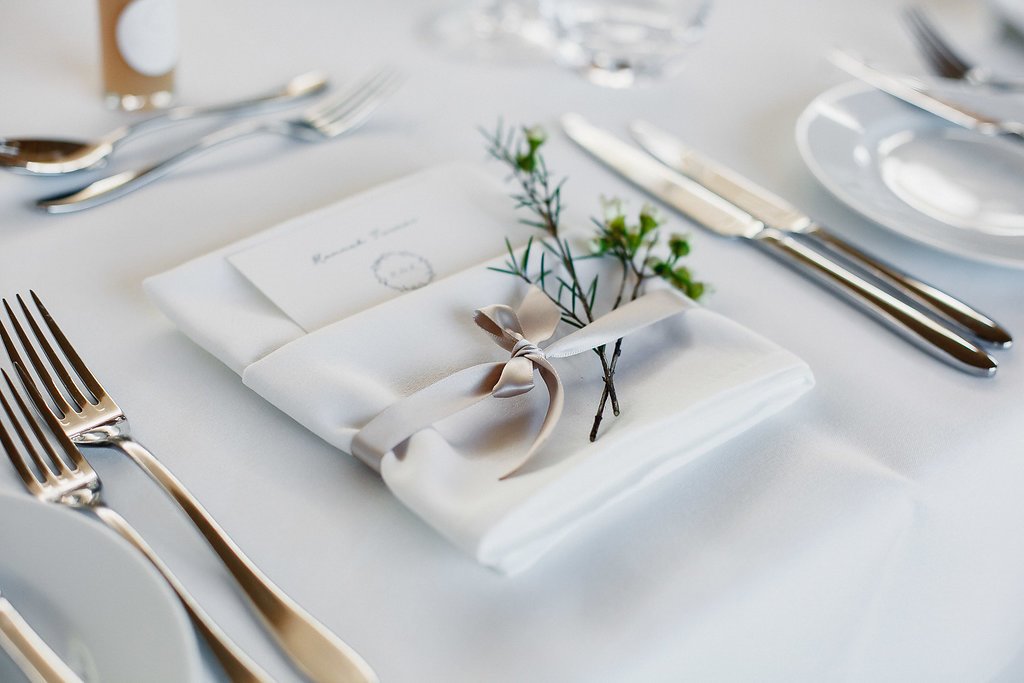 One of the more labor-intensive tasks was drying confetti! I managed a couple of bucketful's through various methods, but then resorted to buying some extra from Shropshire Petals. Much cheaper and quicker in the long run!  
I always notice the tiny details, so I made sure there were some personal touches in the gillyflower. We had baskets of toiletries in the bathrooms, 50 pairs of slippers for the ladies for the dancefloor which were really appreciated by our guests, blankets for the firepit, personalised memory cards, guest welcome bags in the room for those staying over – each contained a midnight snack/hangover relief and earplugs!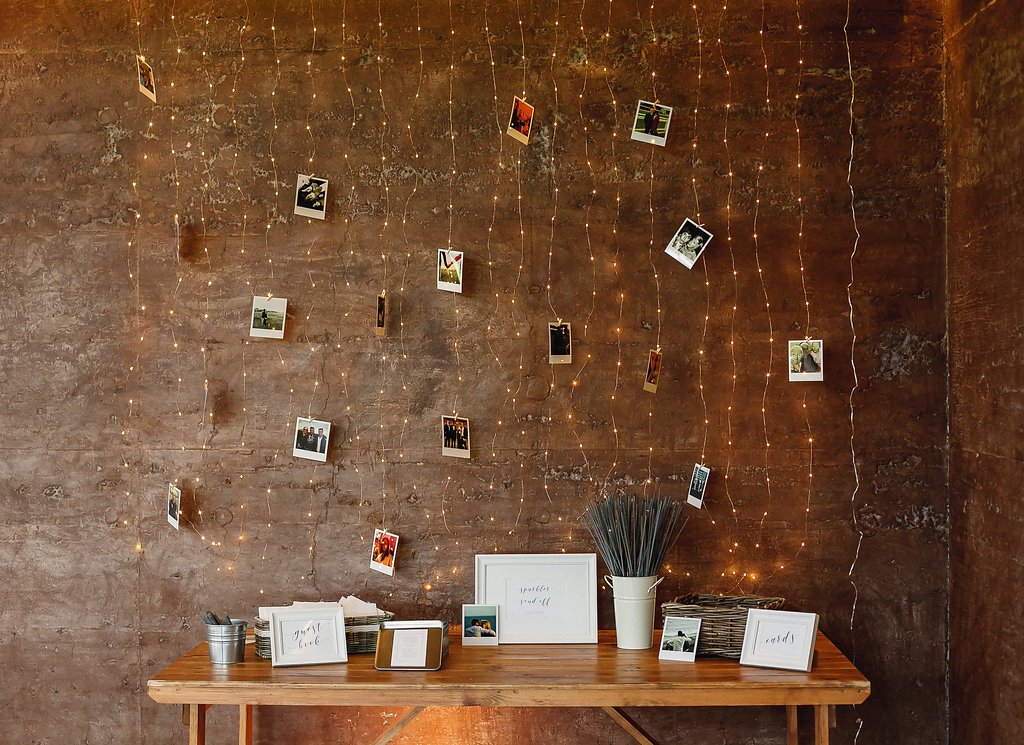 What was your biggest surprise of the day?
I think I had three biggest surprises!
The first was the weather, it was due to be cloudy and overcast, but it was sunshine all day and so warm. It was amazing and really showed off Elmore in the best possible way!
The second was when Tom (one of Karl's best men) turned up at my Mum and Dad's house on the morning, with the most humongous present. It was a beautifully wrapped hamper, full of some of my favourite foods, along with a box of some Chanel goodies – he's a wise man.
With it was a beautiful card, which was so sweet and funny. Thankfully I didn't have my make up on at this point, as I was a little teary eyed.
The last surprise was Rhys' speech. I had totally underestimated him. We have a great relationship with him, and Karl and Rhys have been very close over the years. He has such a dry sense of humor, and just got the perfect balance of embarrassing his brother incredibly but also said some really touching things about us as a couple, and me as his new sister. All the speeches were funny and emotional, but his was the biggest surprise and it really tugged at my heart strings.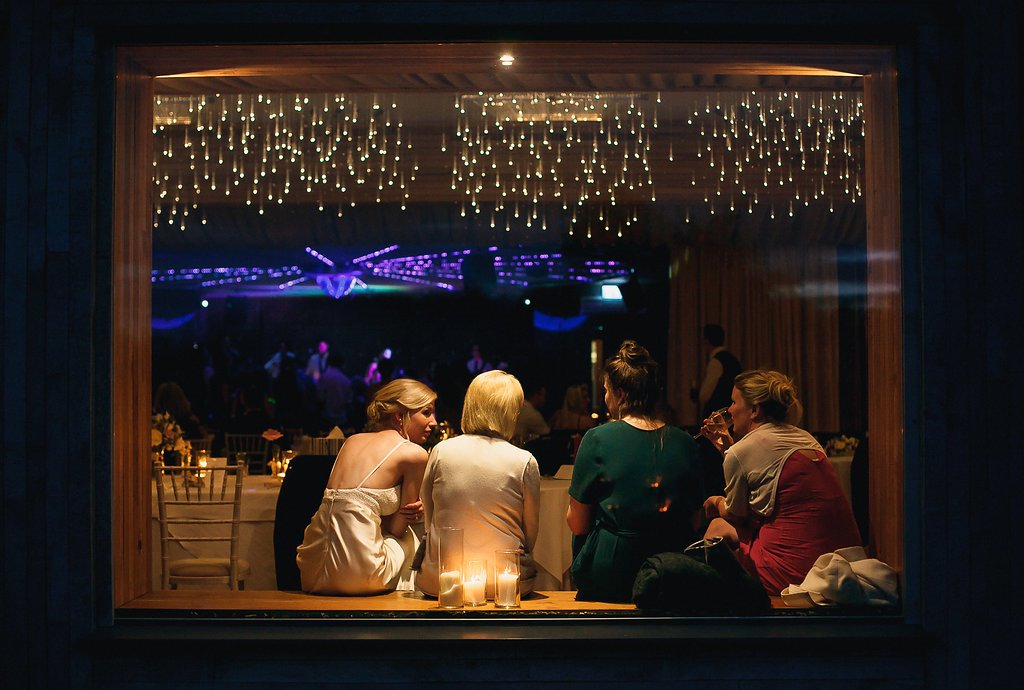 Thank you so much for sharing your beautiful wedding with us!
xx
Related reading