Glamorous Great Gatsby Style Wedding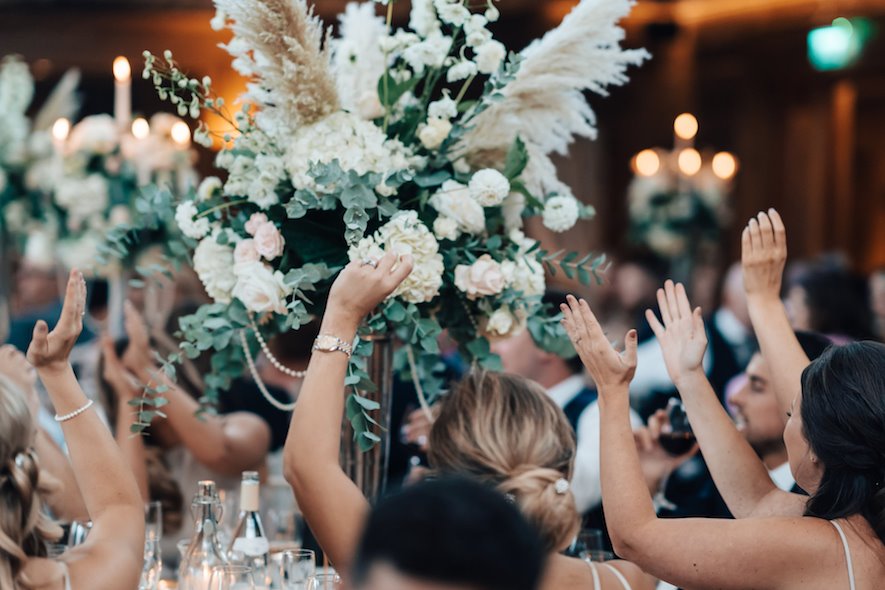 Art Deco Inspired Wedding
Following a romantic Christmas Eve proposal, Maria & Tom immediately started wedding planning and booked Elmore for their spectacular Great Gatsby era wedding on a Sunday in late September.
Music was always going to play a big part in their day; the dancing started during dinner and didn't stop until the end of the night! 
Read on to hear about their wedding planning journey - They've got some great tips and suppliers to share with you...
Planning a 1920's Style Wedding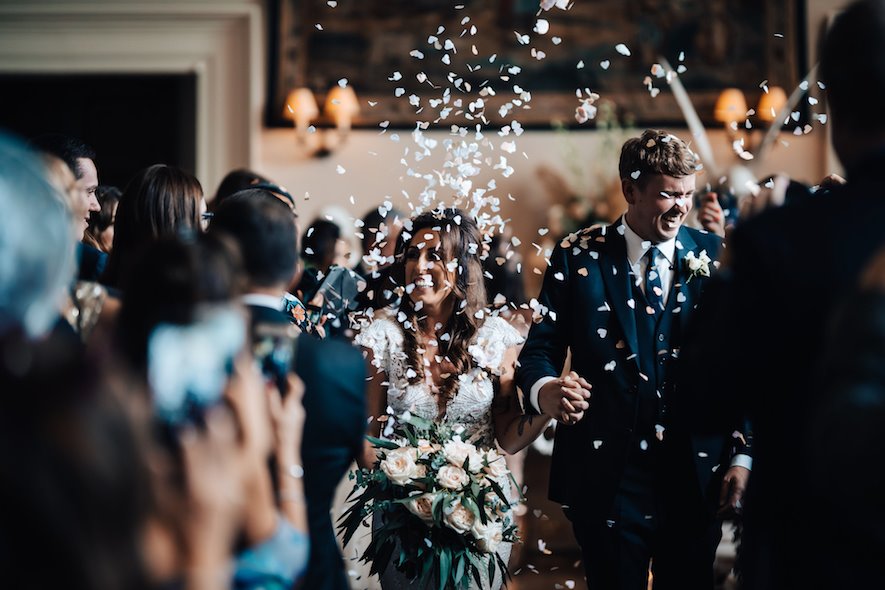 Why did you choose Elmore Court?
So many reasons, the venue took our breath away, it really was perfect. We cannot speak highly enough of Leesa & the rest of the staff at Elmore, nothing was ever a no. Planning a wedding can be stressful so having the Elmore Team do all they can to help make our day perfect took so much pressure off. 
How did you find your photographer?
We listened to Elmore's recommendations, everything up until then had been spot on… And of course they delivered! James Fear – what a character and what a stunning photographer – his pictures were exactly what we were looking for… Unique, fun & beautiful.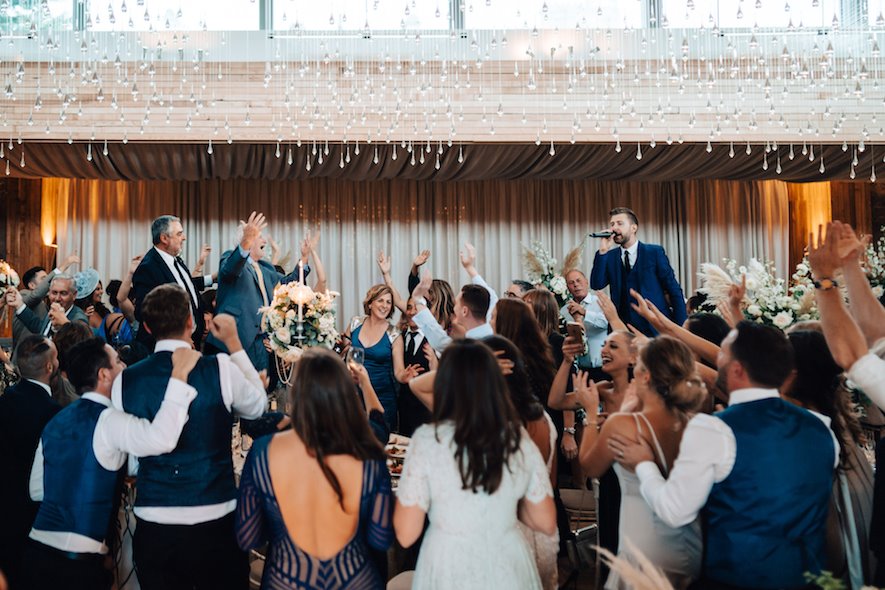 Did you choose a 1920's wedding dress?
My dress was by Riki Dalal, they have a flagship store in Mayfair. I found the dress shopping experience very challenging, I wanted to still feel like me and in a lot of dresses I tried I didn't. Luckily thanks to Instagram I stumbled across Riki Dalal & found my perfect dress.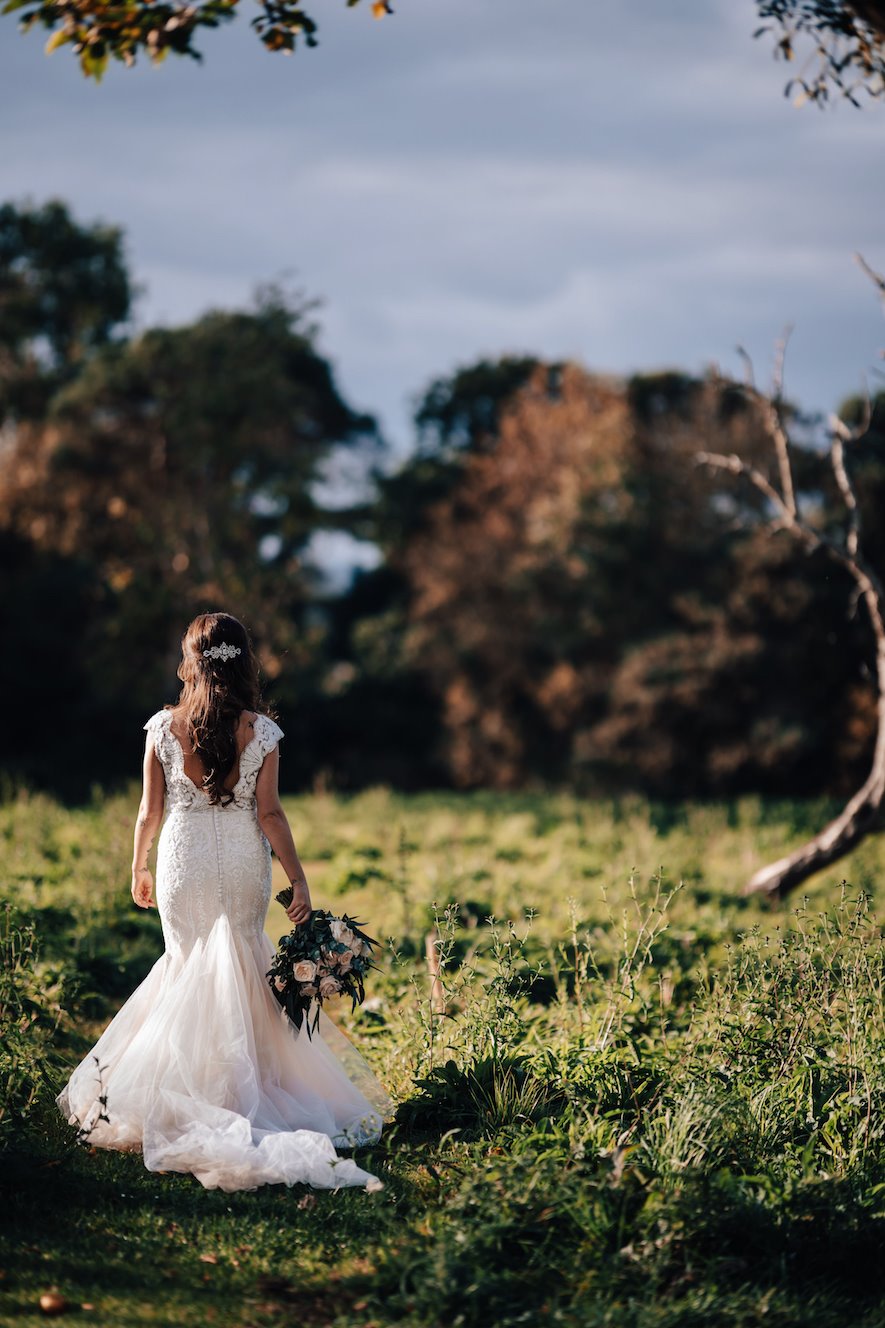 Art Deco Accessories
It was my birthday in July and Tom bought me some gorgeous Chanel earrings for the big day. My hair piece was gifted by my Godmothers, it was Art Deco styling. Again with the shoes I wanted something statement that I could wear again some day, so went for navy lace Jimmy Choos, the colour also tied in with Toms suit, which was a nice detail.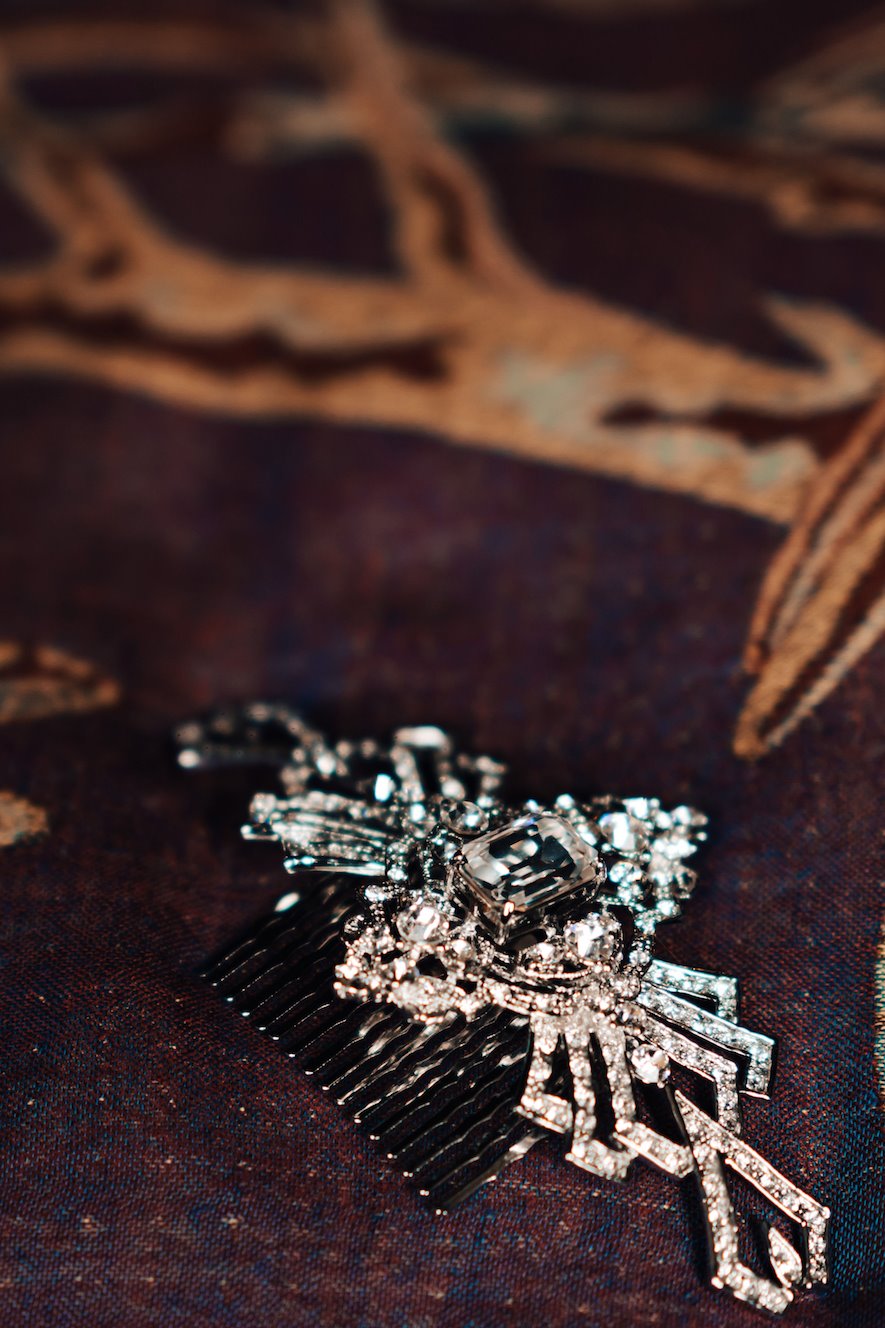 And the suits and bridesmaids dresses?
My sister was Maid Of Honour & I wanted her in something different to the bridesmaids, so she was in navy to tie in with the Best Men. Bridesmaids I was really open minded, I just wanted them to feel comfortable and for them to wear something that suited their style.
It worked out really well in the end as I had 6 bridesmaids & 3 dress styles in the same fabric & colour, they chose what style that suited them, we got them from ASOS which is where I work as a buyer, so that was a bonus.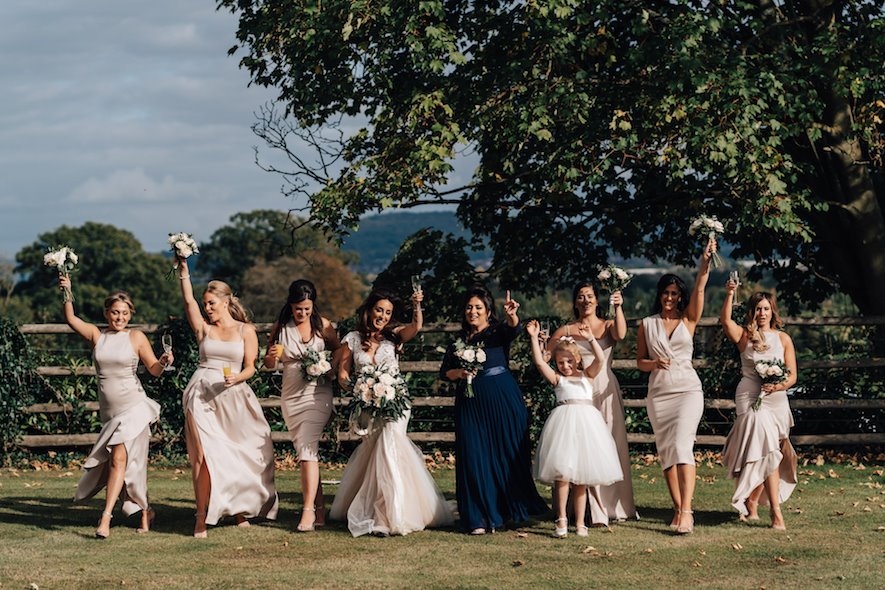 My flower girl dresses were made by my talented sister in law, we went for puffy tulle dresses to tie in with the tulle on my dress.
For the Best Men & Ushers we went to good old faithful Marks & Spencers. When you have that many to suit & boot, you can't go wrong with M&S! 
Tom wore a tailor made suit from Beggars Run in Shoreditch and I bought him Balenciaga derby shoes.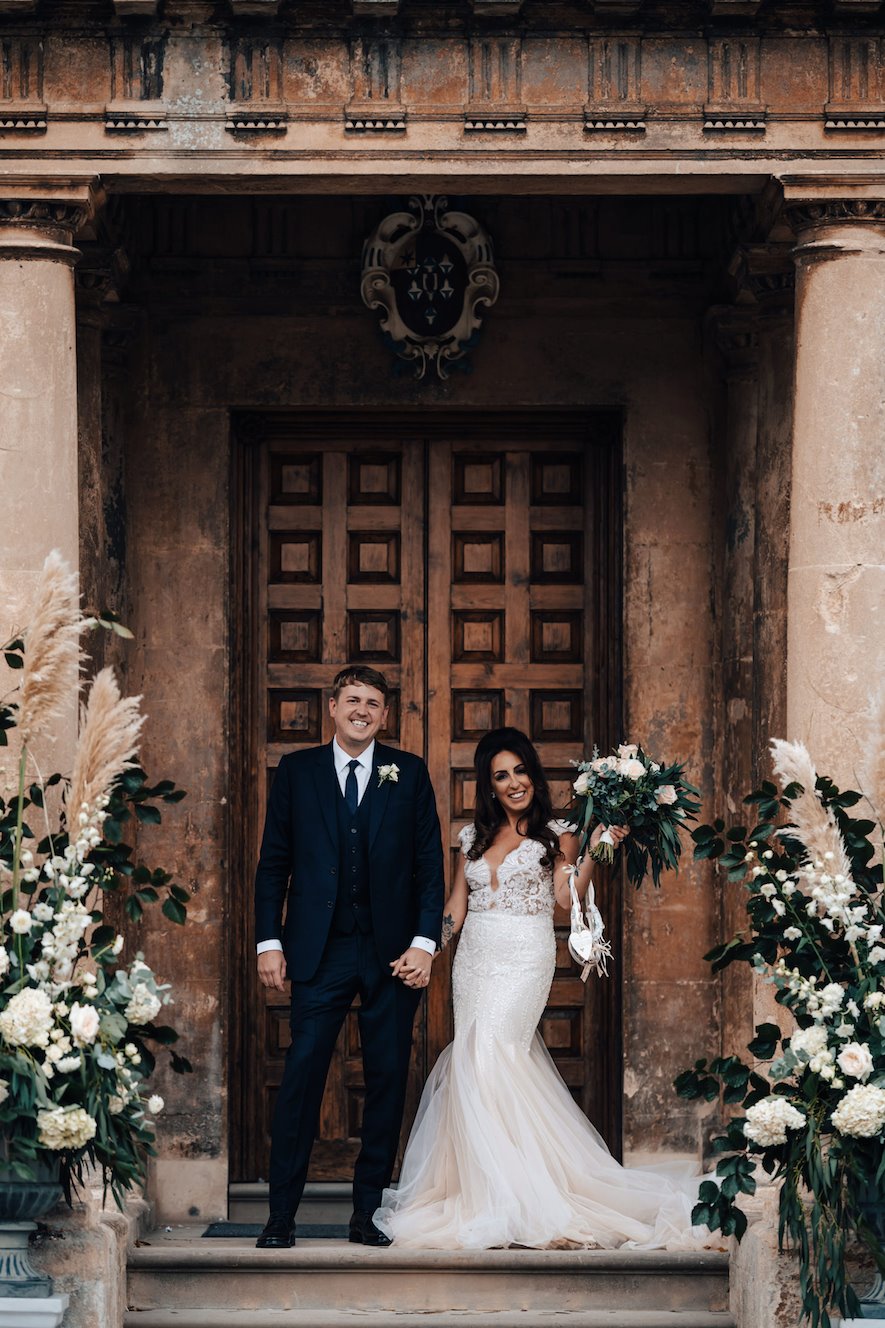 The Great Gatsby wedding style?
I worked with the colourings of the Gillyflower and just wanted to keep everything quite classic and neutral but with warmth. My dress had hints of champagne throughout it with an art deco vibe & the bridesmaids were in champagne too so that lead the way. I mixed gold with silver, introduced pearls on the flower arrangements and hired latte damask table linen, which finished the look off.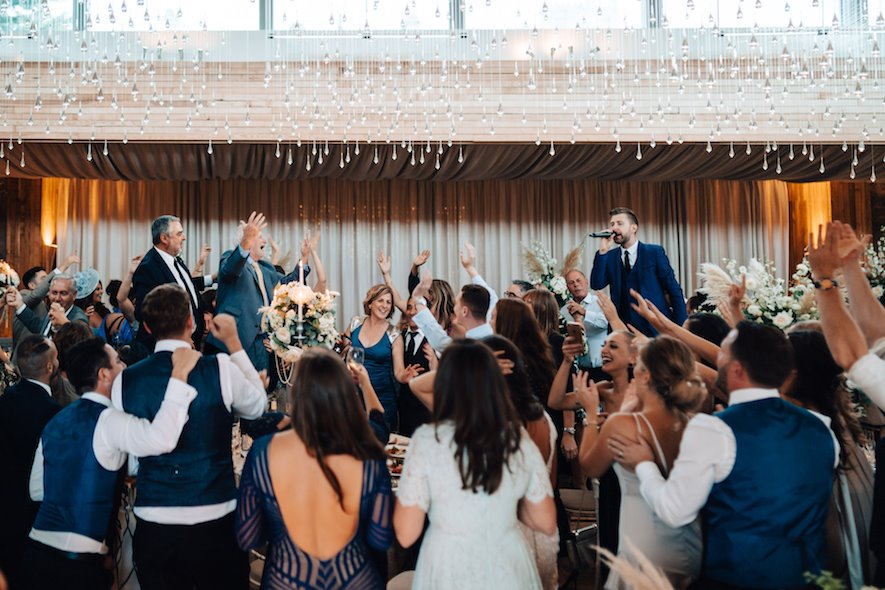 I wanted to bring the elegance from the House into the Gillyflower and steering towards an Art Deco style with a contemporary twist seemed perfect. Seeing it all come together on the day and how well everything complimented each other was a relief, it just worked.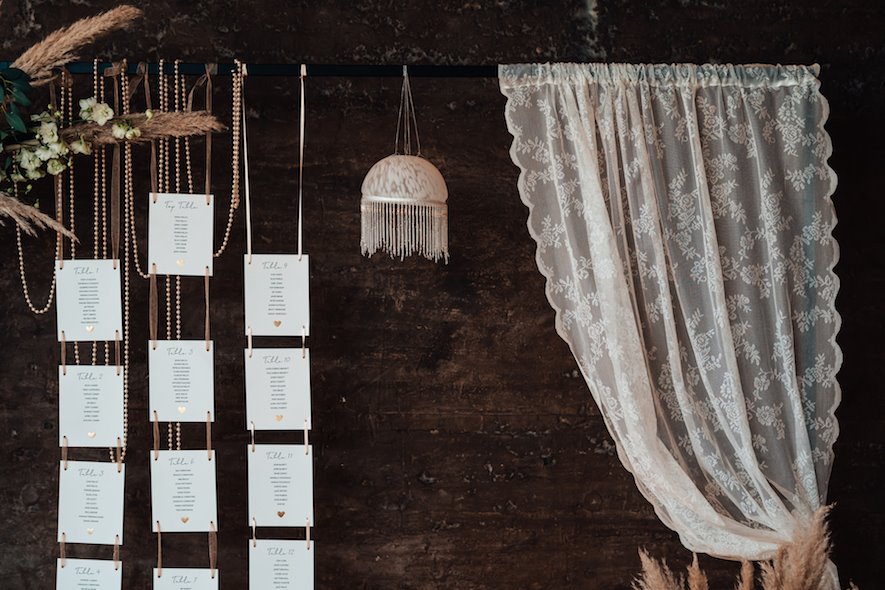 What flowers did you choose?
Again I went for an Elmore recommendation for my flowers & chose Sorori Design & Lauren Grey Stylist. I wanted a touch of the 50's mixed with contemporary, they did an amazing job, the flowers were absolutely stunning with pearls and candles everywhere making the room feel warm & romantic.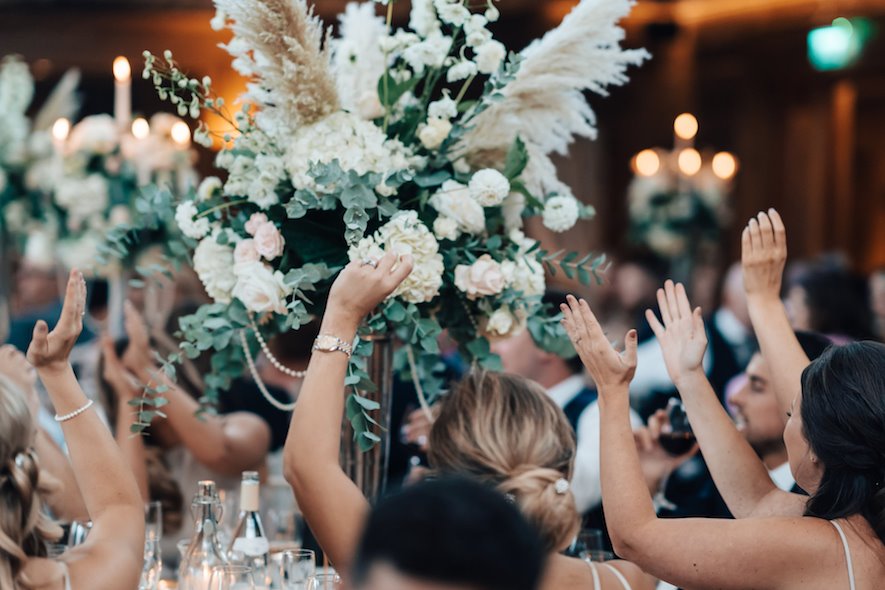 What did you eat and drink?
The food from start to finish was outstanding. We started with a mixture of canapes from quail scotch eggs, deep fried truffle mac n cheese, venison in mini Yorkshire puddings and confit pork belly, accompanied by glasses of prosecco & Birra Moretti.
For the main event we ate Spinach & ricotta tortellini with courgette ribbons, Roasted sirloin of beef with fondant potato followed by Strawberry Eton Mess. Then in the evening we had the amazing Pizza Monkey serving up fresh stone-baked oven pizzas – INCREDIBLE it went down so well with our guests.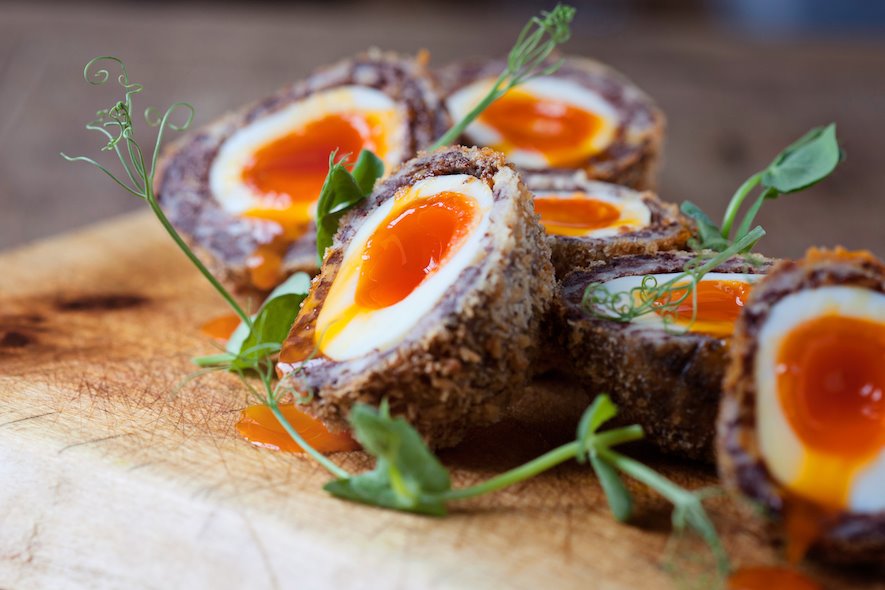 The wedding cake
We used the talented Jellycake and went for a simple & stylish 4 tier semi naked cake with gold foil and beautiful fresh flowers.
Not only did it look WOW but it tasted it too, we had 4 different flavours: lemon Drizzle, Victoria Sponge, Carrot Cake & Chocolate – there wasn't a single slice leftover.
How did you get the party started?
This was one of the most important pieces to our wedding puzzle. We know our family & friends love a party and music is so so important to us & is such a big part of our lives. For the drinks reception we wanted to add a touch of jazz & soul, we found the amazing Ella Jones who's voice is insane, perfect for this part of the day.
Then we had the incredible Function Band – it's hard to describe the impact they had on our day, I am so thankful for all the videos that have been sent to me because we love to constantly re-live these moments. TFB played the guitar and sax for my ceremony, I walked down the aisle to Kissing You by Desree and as husband & wife we walked back down the aisle to Say A little Prayer For You. Our entrance song into the Gillyflower was Came Here For Love & our first dance was It's All About You by McFly.
TFB started the party early (during dinner) and had everyone up on their chairs singing Sweet Caroline, Stand By Me & Ain't No Mountain High Enough – I remember we just looked around us watching everyone having so much fun – it was a feeling we will never forget. I think even the Elmore staff were dancing too ???? Another lovely touch was the curtains being drawn revealing the dancefloor after our starters so we could dance to some traditional Italian music.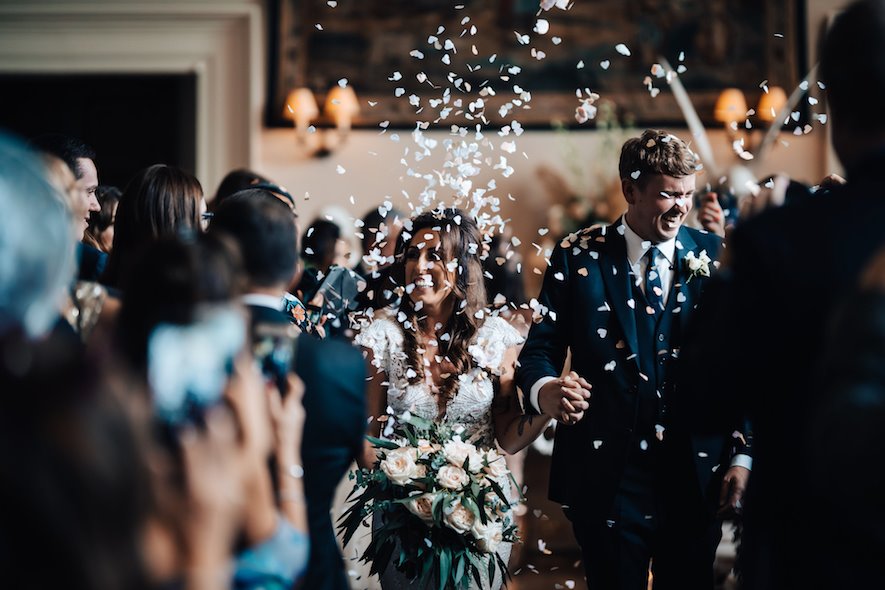 Did you have any personal touches?
I (Maria) am definitely one for personal touches; even if it's the smallest thing people really appreciate it. I did a few bits, wine charms of the wine glasses & individual gold wooden names so you could take it home with you as a keepsake. I left notes on our guests napkins gifting them the flowers on their chairs or centrepieces. There were quite a few Birthdays so I had arranged for the Birthday guests desserts to be served with candles as we all sung Happy Birthday. My favourite one and the biggest surprise for everyone including my husband, was the song I wrote to Sam Smith's Latch – thanking all my family & friends – my nod to a speech. This is where The Function Band are amazing, as they learnt the words and sung this for me at the end of the speeches, it was overwhelming. They have also recorded it so we can have it on the wedding video!
What was a particular highlight?
The whole day exceeded all of our expectations. We enjoyed the ceremony so much, there were tears & laughter and all of our guests said it was so lovely & personal. Dancing at dinner made the day for us, the atmosphere was everything we had hoped for, we honestly didn't stop smiling all day.
What advice would you give other couples?
Organisation is key, it can be a stressful time but you must enjoy it and make memories along the way. The day goes so fast, so make the build up important too. The detail and small touches do matter – your guests will notice them and it's a great way to add your personality and who you are as a couple to the Wedding Day.
What was your biggest surprise of the day?
The whole day was special, it continued to amaze us, we honestly wouldn't change a single thing. The staff at Elmore were incredible – the day ran smoothly because of them and all my guests said the day flowed so perfectly. We were able to enjoy our day without a worry in the world, that's all you can ask for.
The wonderful team who made it happen
Thank you so much Maria for taking the time to tell us all about your special day! If you've been inspired by this gorgeous art deco insired wedding you can now browse through all our recommended suppliers here and start planning your own. Or take a look at another beautiful 1920's style wedding at the Court!
Lots of Love,
Team E
x
Related reading