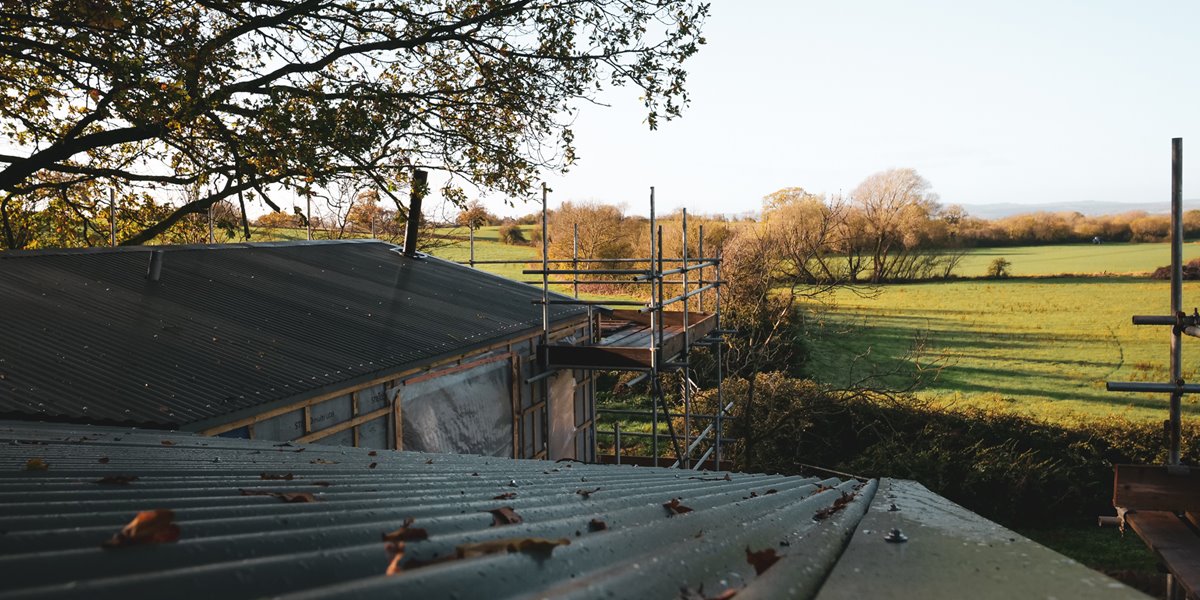 Can you believe it's only been just under a year since planning permission was granted and the path to treehouse holidays on the estate began?
If you came to our Harvestival Wedding Fair, you might have gone on a tour with Anselm or Luke, our Estate Manager, to get a first glimpse through the woodland. There wasn't a great deal to see then, but a lot has changed in a short time. Our treehouses have just got roofs, the windows have arrived and it's all starting to feel very real...!
We're incredibly excited to share that bookings for treehouse stays are now available. You can click here to book.
YES, you heard us!!  
We are super excited and would love you all to join us on this journey, the next chapter of Elmore Court's long history... If you haven't already seen our Rewildthings Instagram account, be sure to give us a follow for regular treehouse updates, rewilding content and to be among the first to hear when bookings open!
For now dear ones, follow us down this path and into the woods, to find out all the details of the build and the first little insight into the treehouse interiors...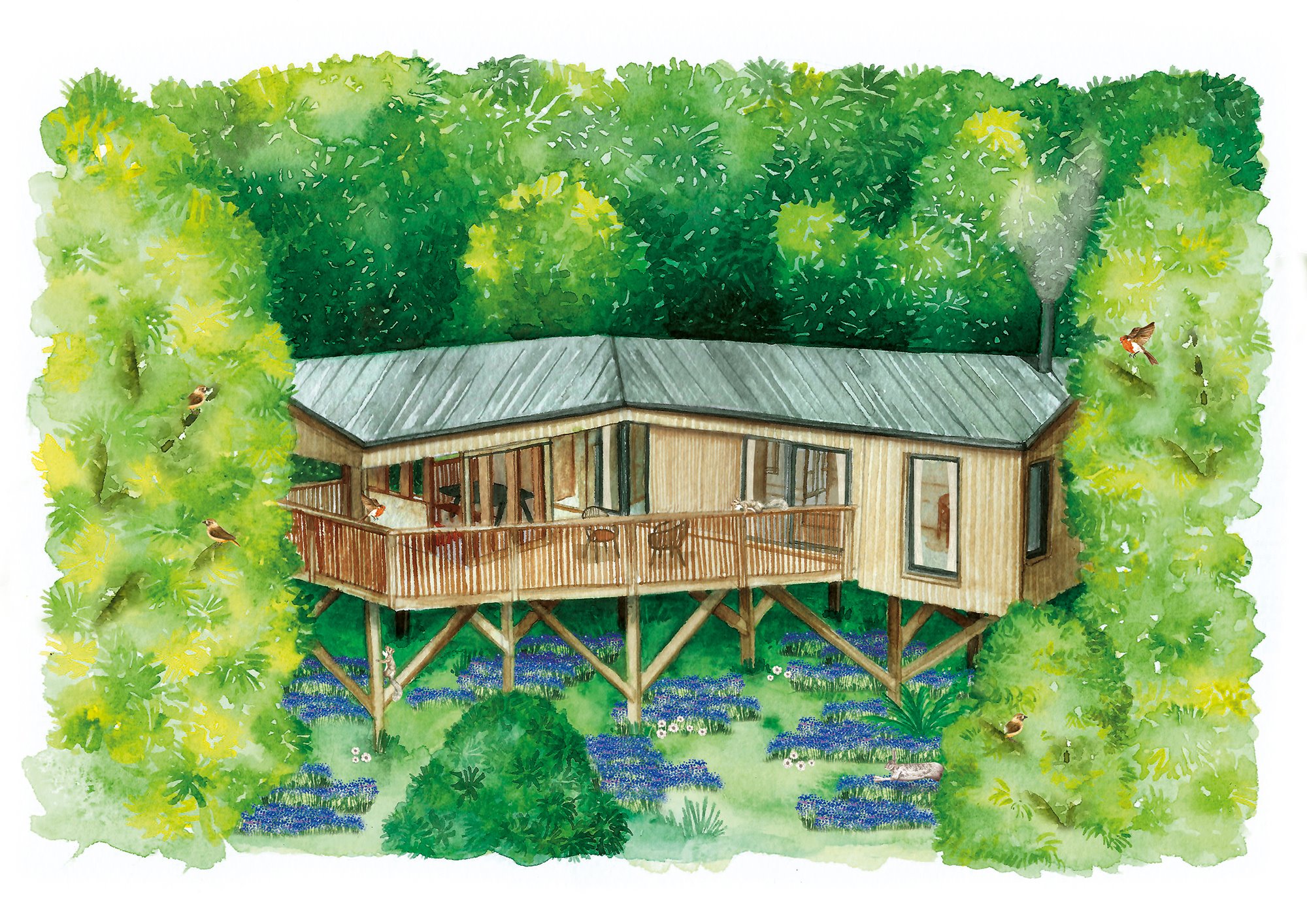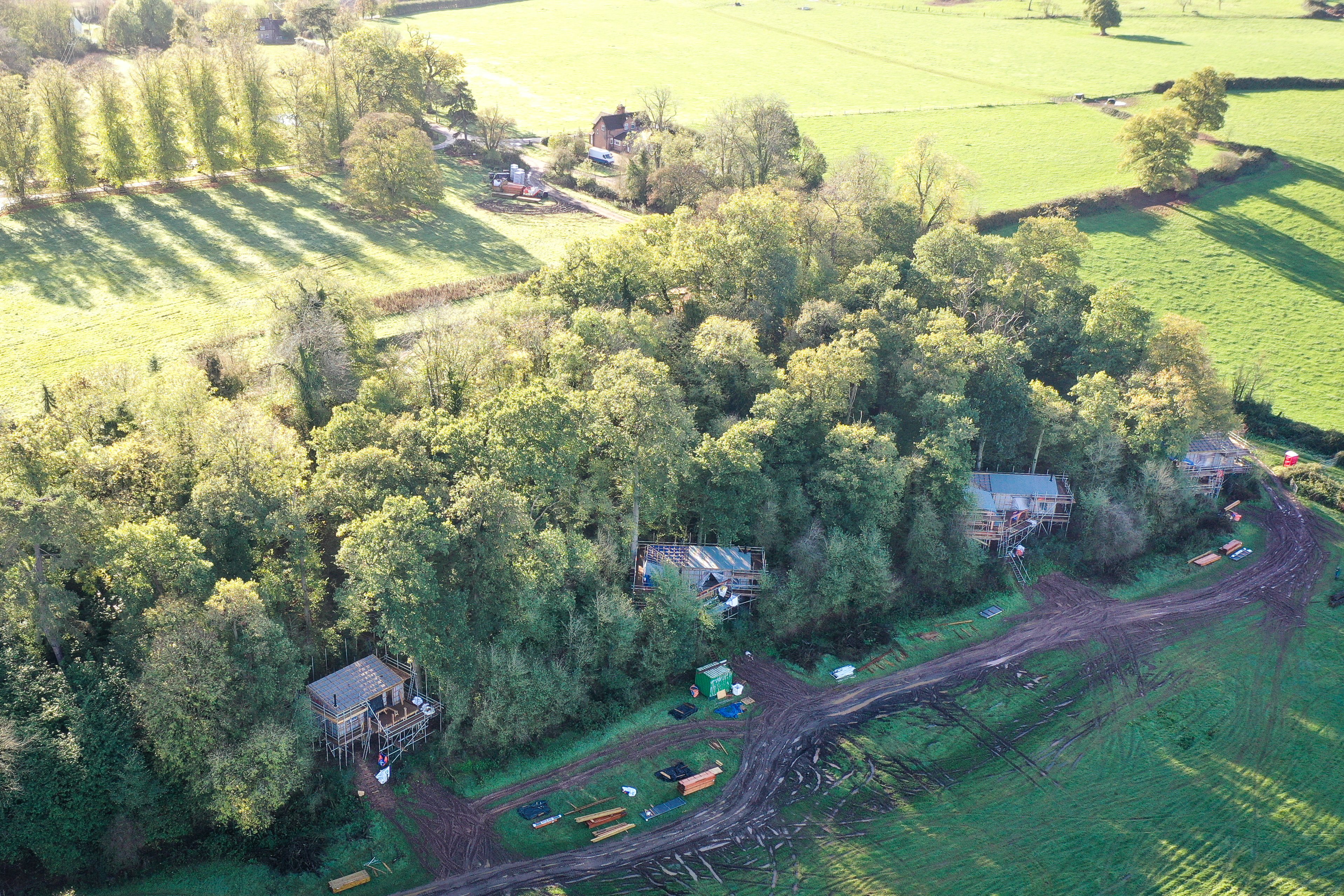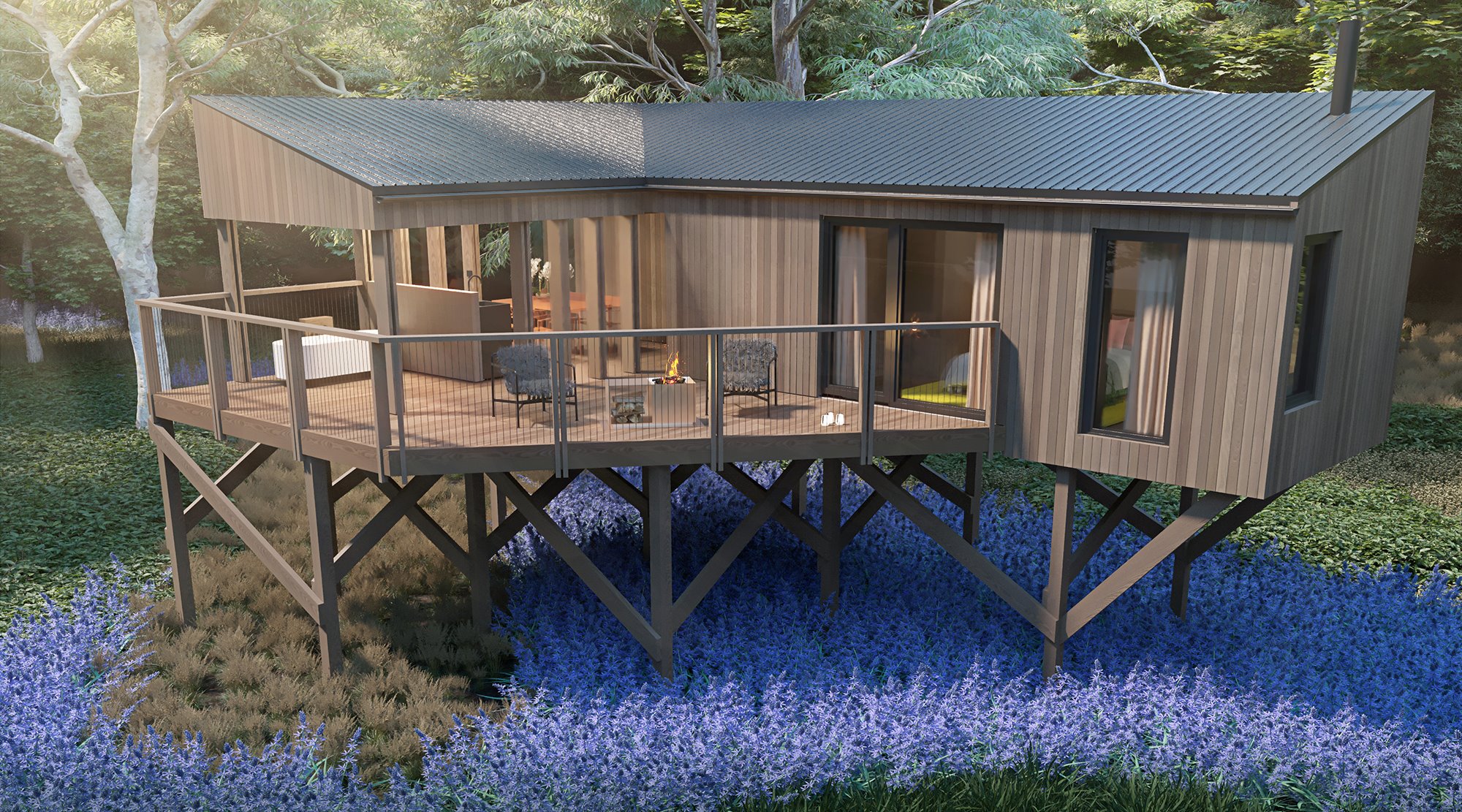 The tree line is looking rather special
The scorching heat of summer is long behind us.
Although long summer days gave us more time to crack on with construction, our land was crying out for some cooler, wetter weather. We're very grateful for the rain we've had...it was much needed and has also done a brilliant job filling up the new wetlands next to the treehouses.
However, with rain, roofs become crucial! There has been a massive push to get roofs on, walls insulated and everything boarded up and cosy to close off the fabric of the treehouses from the elements.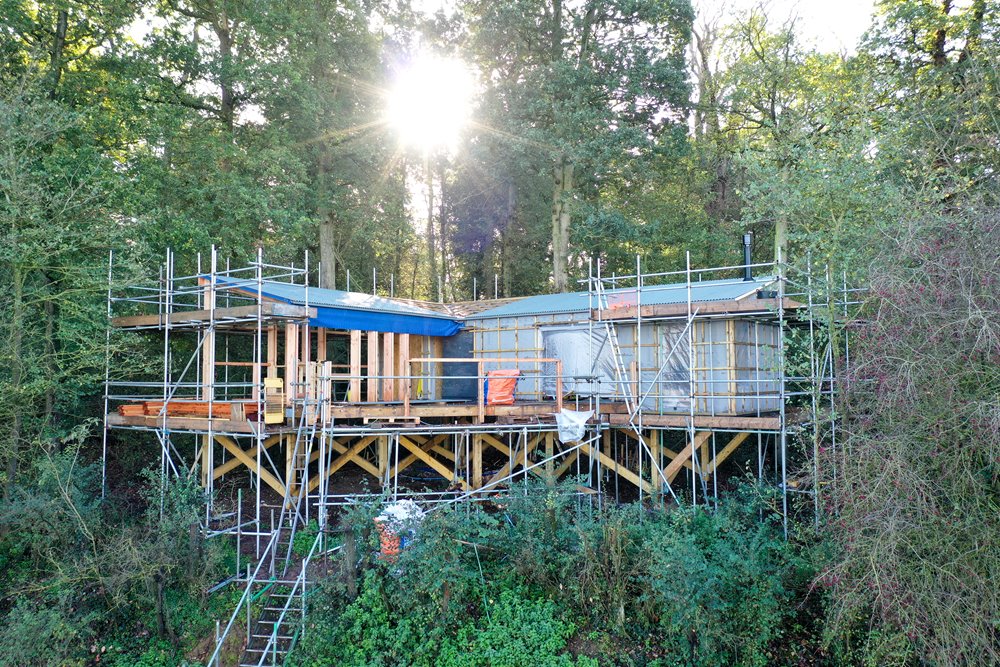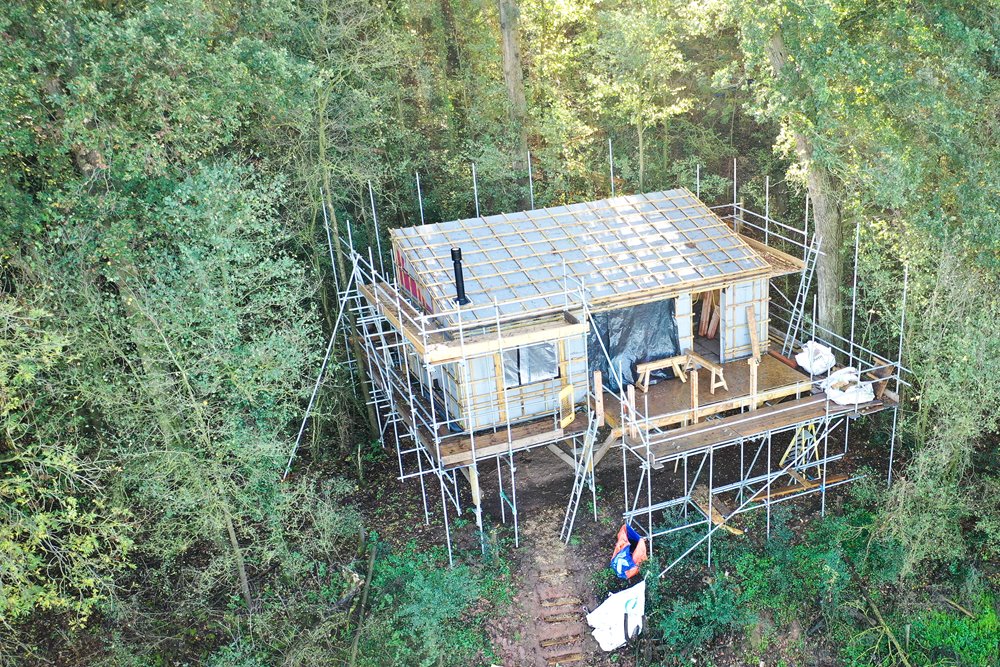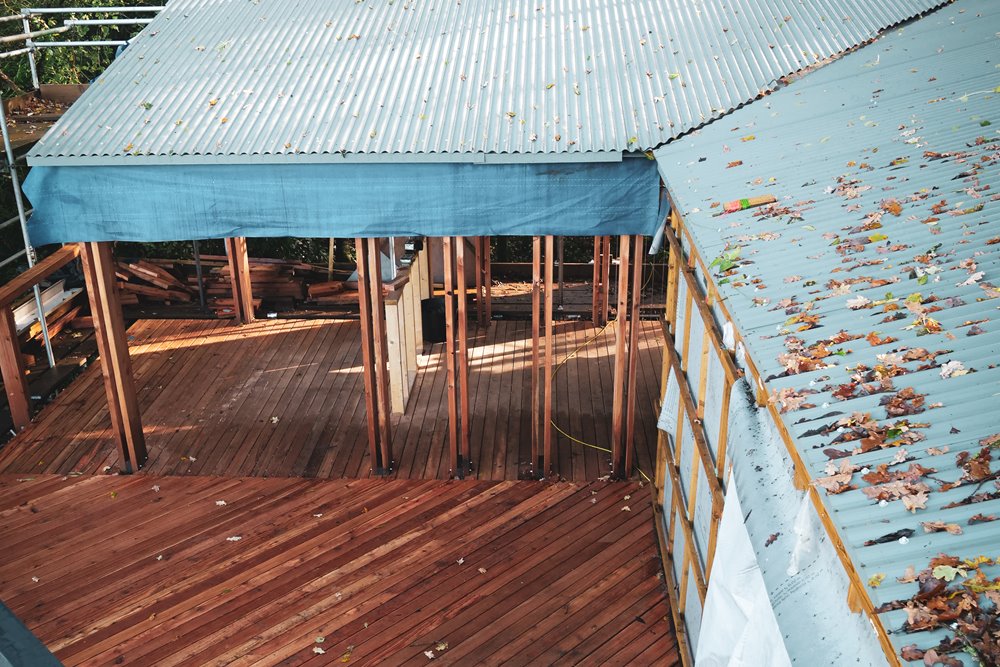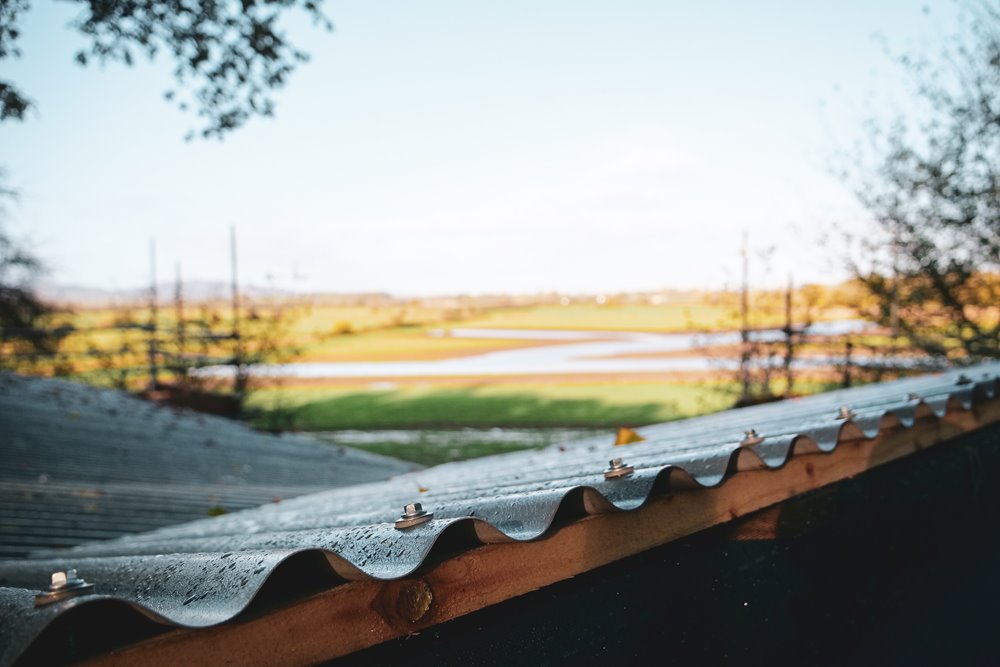 Connecting the inside with the outside
Out in the woodland the construction team have been hard at work, and back in the office, we've had a very special person working on the interiors.
Enter Tracey Boyd. The incredibly talented cousin of Anselm.
Tracey has spent the last few months putting together colour pallets, and dreaming up combinations of fabrics, textures and materials. Each treehouse will have its own unique twist, all beautifully bound by a similar set of design principles and aesthetics.
We had a really good chat, and it was a superb insight into her design process.
As an interior designer how did you first approach the style and themes for the treehouses?
I wanted to create a place where you feel immersed in nature with all the comforts of a gorgeous home.
What three words would you say really encapsulate the design of the treehouses?
BEAUTIFUL, DREAMY, HIDEAWAY
How are you trying to make guests feel in their treehouse stays?
Comfortable, cosy and cocooned in nature
How do you feel design can change people's experience?
When I stay somewhere I like to feel transported to somewhere totally unique, a space to wrap myself in dreams.
Have you worked on any similar projects which have influenced the Elmore project?
I've been waiting for a long time to find such a wonderful project to work on that fits so perfectly with me.
What elements of the location and the rewilding at Elmore have really inspired elements of the design?
Being Anselm's cousin, Elmore and its estate have been an important part of my childhood. I remember a huge tree coming down in a storm on the grounds which we made into a hideout and spent the night in as kids. Now we're building real ones with all the luxuries of home. To be able to stay in one of these unique places and look out of your deck over the incredible wildlife that Elmore's Rewilding project has brought to life is a dream come true.
Have there been any other strong influences on this project?
For the past 8 years nearly all of my work has been shown in America for AtHome and Anthropologie, so as a British designer I wanted to create something back home. It's lovely to be working with my family and be a bit British too.
What element of the design and the treehouses are you most excited to see completed?
I love to create a whole picture with unique finishes, textiles, colours and incorporate some of my own products designs, it's incredibly exciting to see it all fit together rather like finishing a wonderful jigsaw puzzle. I designed the charred wood Elmore Trundle beds as the centrepiece of each treehouse which take Tracey Boyd design elements from many of my designs for Anthropologie so can't wait to see them in situ plus, they've been made by another member of the family, Anselm Fraser.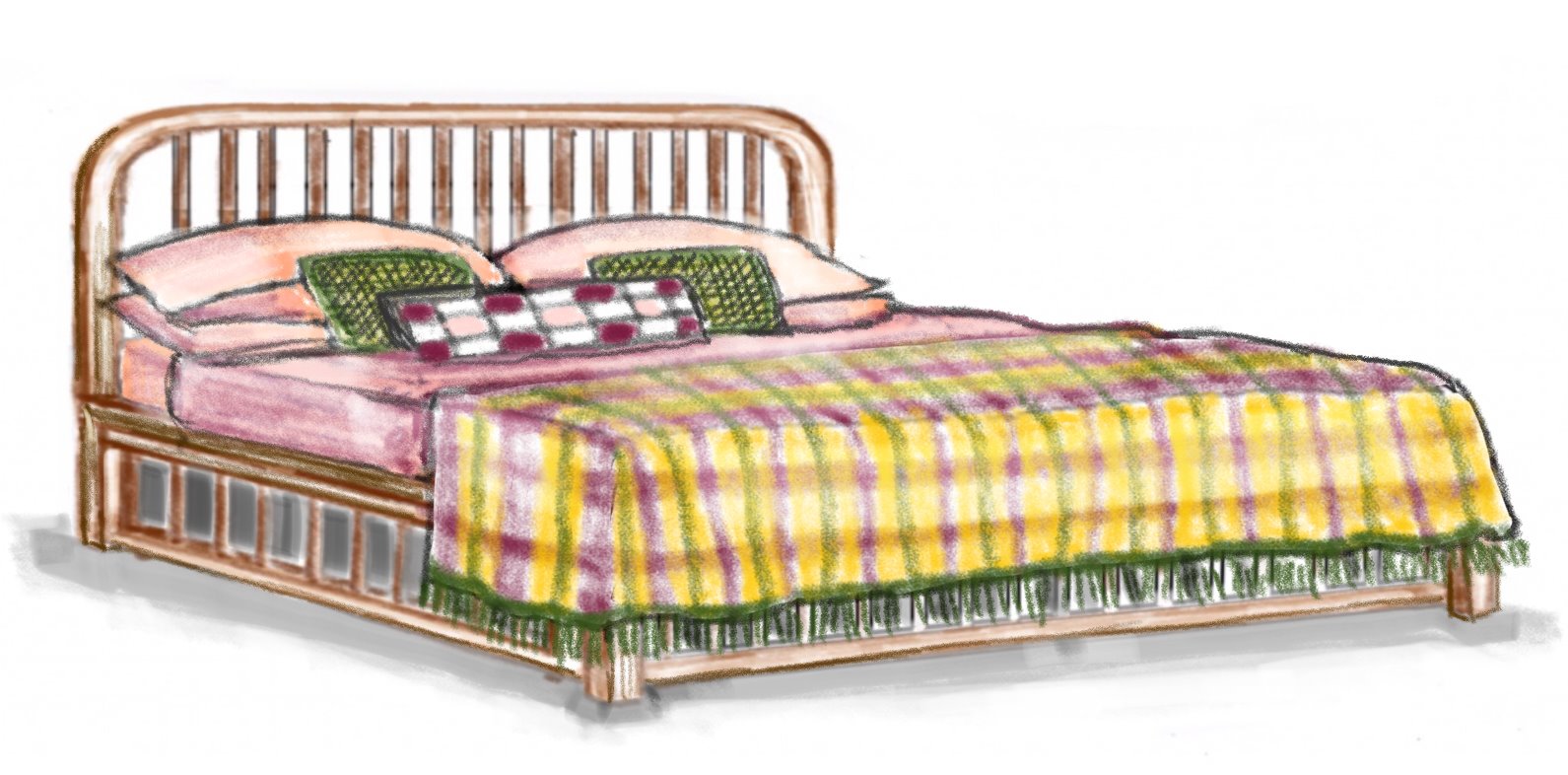 What has been your most challenging and most enjoying project to date in your career?
I put my all into everything I do, and I love to challenge myself. I wouldn't enjoy a project unless I went about it in this way. The transitions from illustration to fashion and furniture designs are challenging because of their very different disciplines but I've learnt so much and love to continue to push my boundaries.
What would you say are your biggest design influences?
Traditional craftsmanship, nature and travel make up a huge part of my research and inspiration for my projects. You'll be able to experience all four seasons from the deck of your treehouse so I'm working to incorporate this within the materials, colours and decor I'm using.
What mistakes do you see with unusual guest acommodation?
I think good design needs to be about practicality as well as being aesthetically pleasing. I don't like over designed spaces, I like to keep it fairly simple with a natural flow, adding unpredictable touches with colour and texture. A big comfortable bed, good lighting and somewhere to sit and put your makeup on are all vital.
How have you tried to balance the interior and exterior design of the treehouses?
I really wanted to blur the boundaries between indoor and outdoor so that the design feels very fluid even inside you have the sense of being in a woodland with charred wood, mossy cork, floral print in nature's palette. Additional touches like the mushroom shaped coat hooks for storage bring nature in with cosy sheepskins and recycled British blankets to snuggle up in should you need it outdoors or indoors...
Thanks so much Tracey! We truly are grateful and blessed to be able to work with you on this project. We can't wait to see what wonders you create.
If you'd like to find out more about the brilliant Tracey Boyd and her incredible interiors, check out her website here.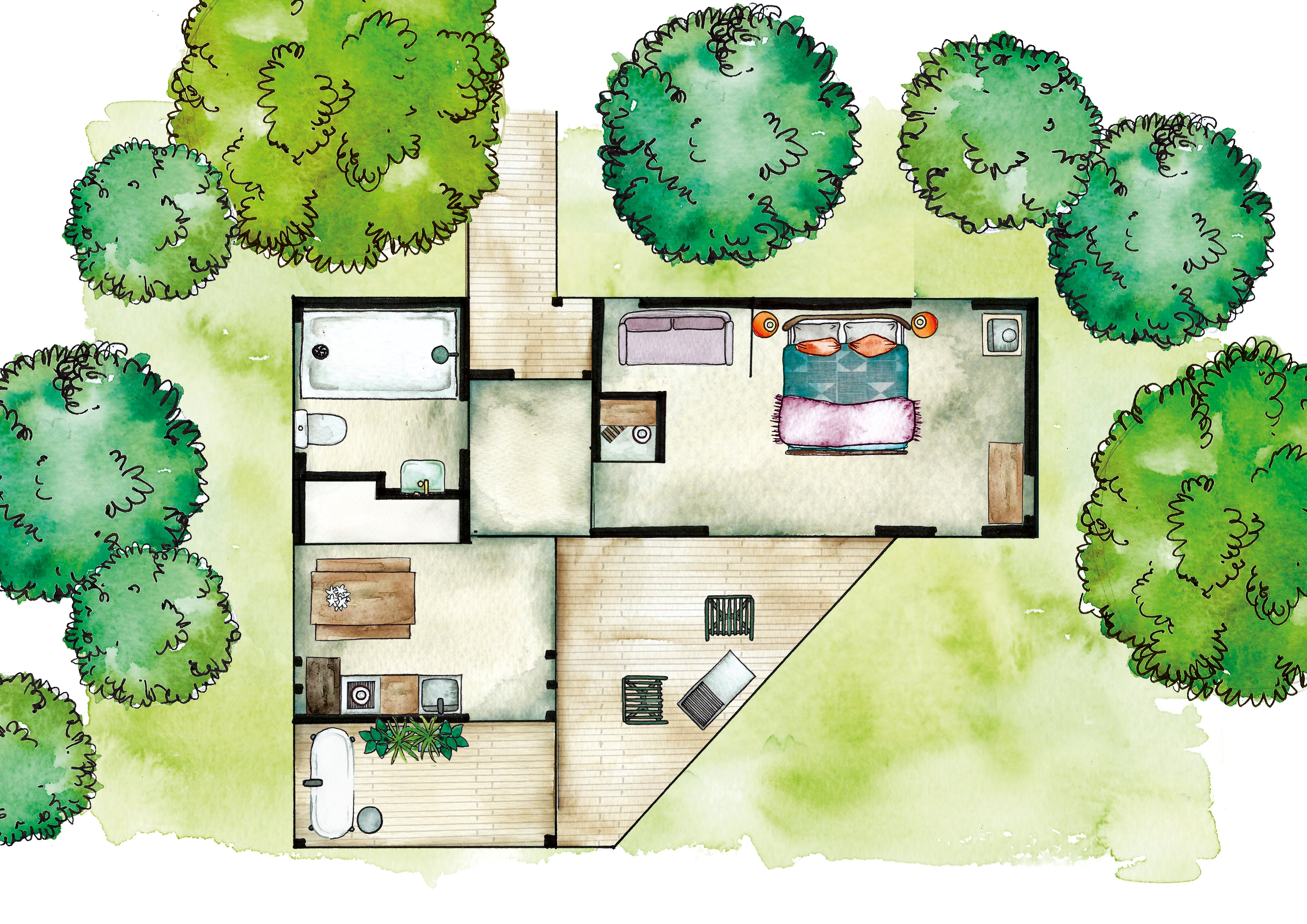 The Final Push
With Christmas around the corner, the year will soon come to an end and before you know it the treehouses will be ready for their first visitors.
It's been an incredibly exciting year; stressful at times, but if you've ever been involved in a construction project, you'll know that it comes with the territory.
And for now.... the most important part of this update...
We've been working tirelessly behind the scenes on the treehouse launch as well as a rather considerable update to our website. This will go live next month with lots of new information on the Elmore Estate, rewilding, sustainability and of course, the treehouses.
And if you're getting married here at Elmore Court after May 2023, keep an eye on your inboxes... we're getting ready to send out the very first emails for couples to book a stay in the treehouses. WHOOP!
If you have any questions, feel free to get in touch and we'll have another juicy update for you in the new year.
See you in the treetops everyone!
xxx
Related reading