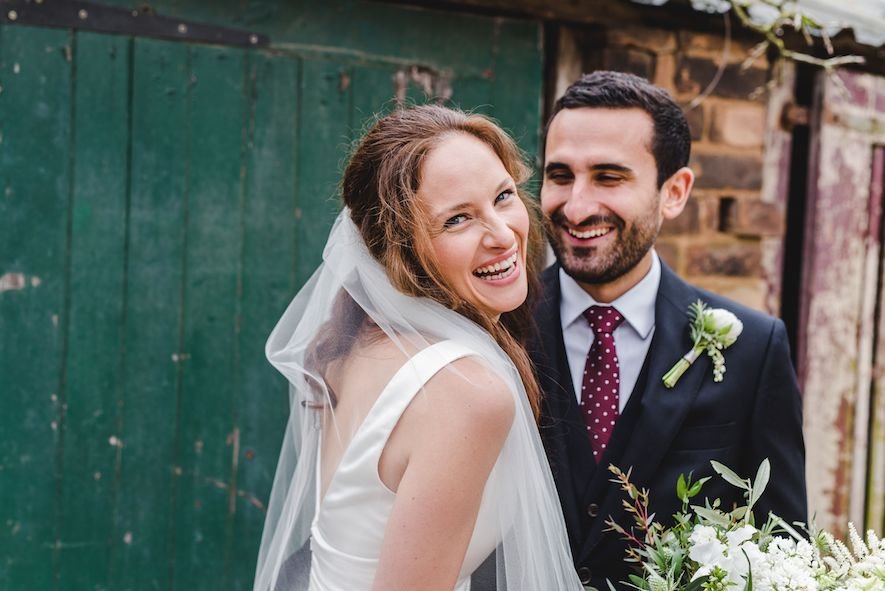 Would you book your wedding without viewing the venue? 
Sounds scary, but Katie and Navin did just that. They planned their gorgeous Spring wedding from Sydney, Australia for over a year; viewing Elmore just four days before the celebrations began!
Here's how it turned out...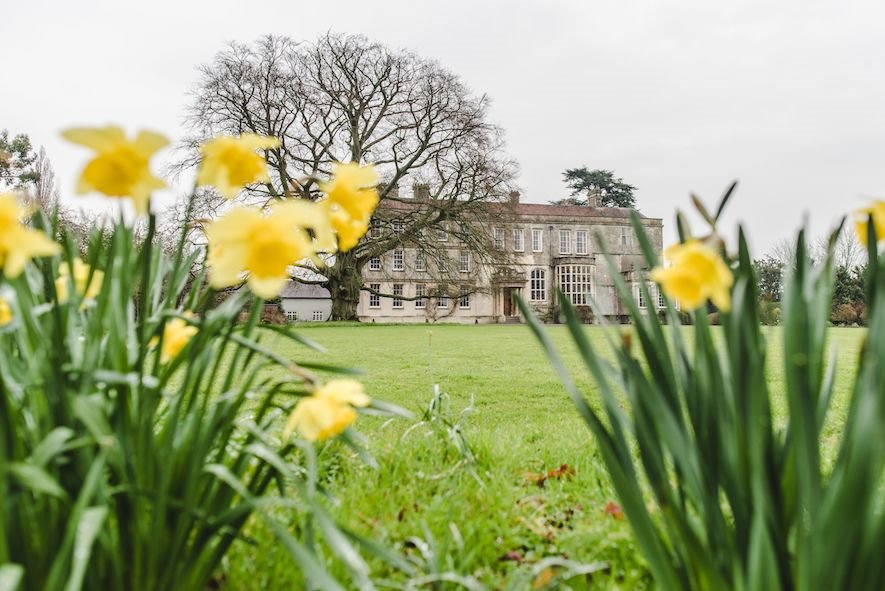 Elmore is a long way from Sydney, but via the power of the internet Katie & Navin took the Elmore Court virtual tour, and were so confident it was what they wanted from their venue they went ahead and booked then and there, despite not being able to visit until days before the big day.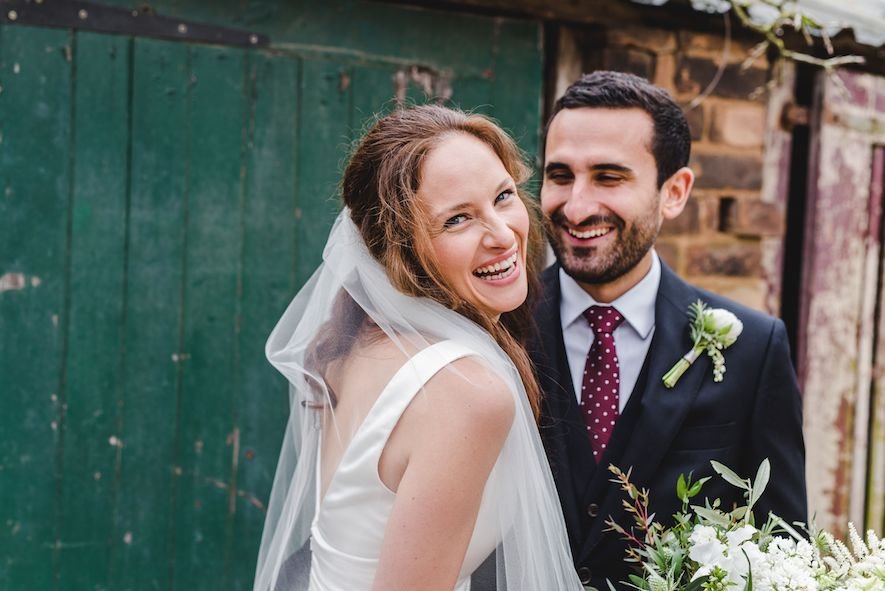 How did Navin propose? 
Navin proposed on Christmas Day while we were in away in Port Douglas (North East Australia). We has spent the previous day snorkelling the great barrier reef, the next morning Navin gave me a letter he had written about our time together and then got down on one knee and asked me to marry him, presenting me with the most beautiful diamond ring in the process. We spent the day celebrating on the beach with cocktails. To top it all off we jetted to Ayres Rock for New Years. It really was an unforgettable week. 
Why did you choose Elmore Court?
Living in Australia we knew we weren't going to be able to visit the venue before the wedding. For us a big selling point of Elmore was its virtual tour on the website, it meant we could really get a feel for the venue and see what the place was really like. When we finally came to Elmore for the first time just 4 days before the wedding it was everything we had expected and hoped for, we couldn't believe just a few days later we would be getting married there.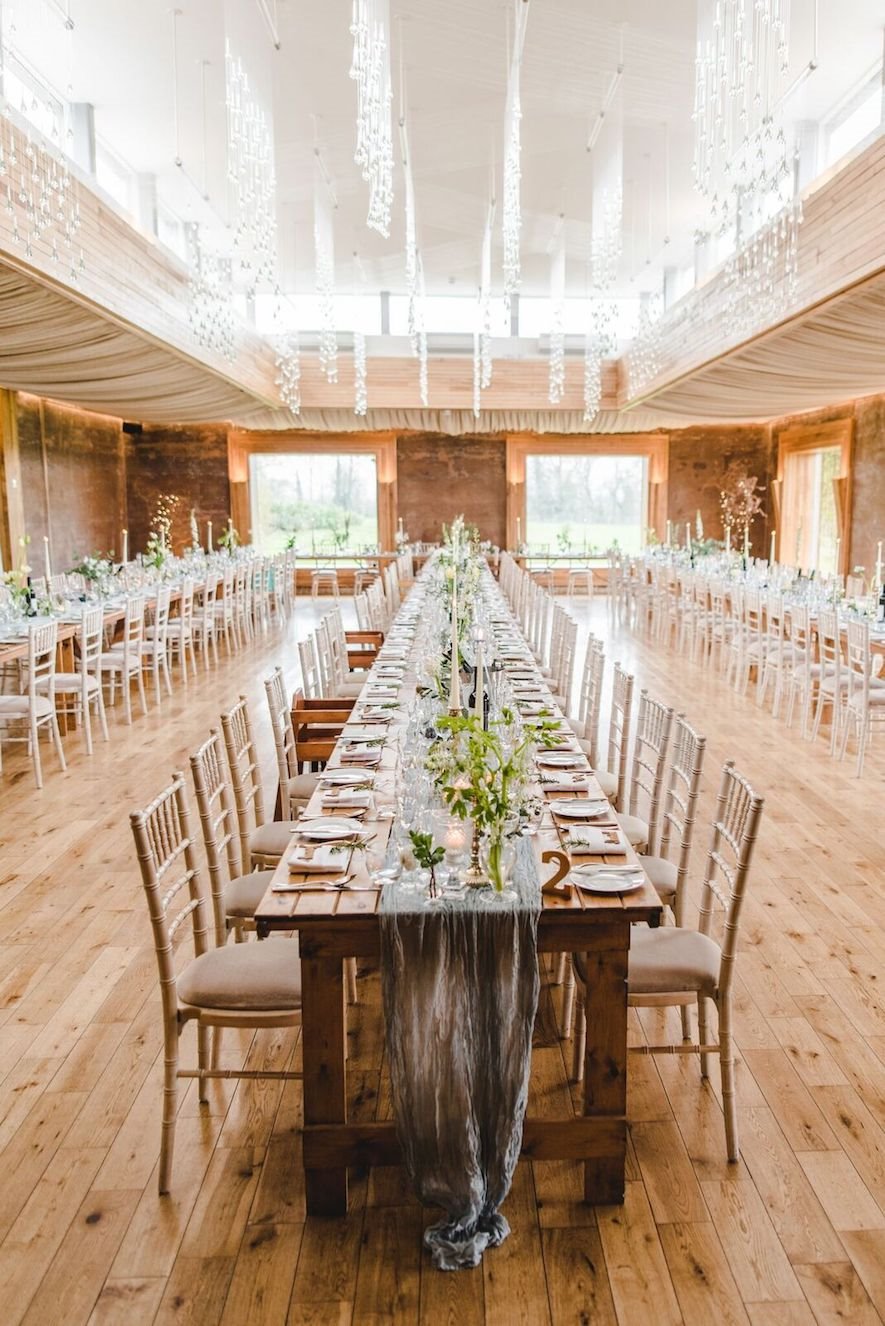 How did you find your photographer?
As were weren't living in England we heavily relied on Elmore Court's recommended supplier list, and it really paid off. We used Marcus of Bigeye Photography. We could not be happier with our photos; we feel they really capture the atmosphere of the day. He was a pleasure to have there on the day and had a great knack of making you feel relaxed in front on the camera ensuring great natural looking photos.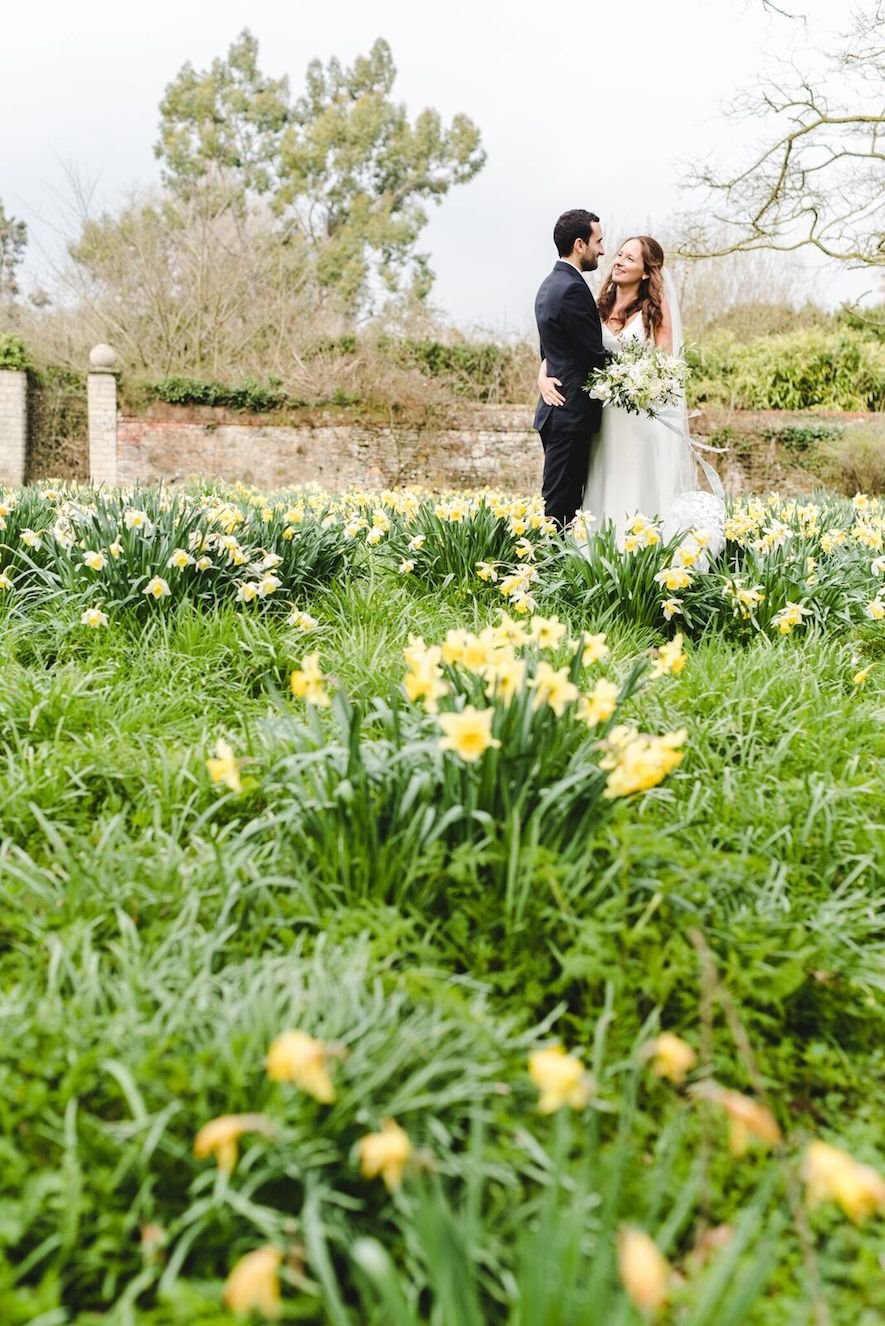 Who was your dress by and how did you find it?
My dress was from the Bridal Atelier in Sydney and by American designer Theia. I really wanted a simply dress which was harder to find than expected but this really fitted the brief. The bodice was a satin and the skirt a heavy crepe, it had a lovely deep v at the back and a train. I really loved it and was exactly what I wanted.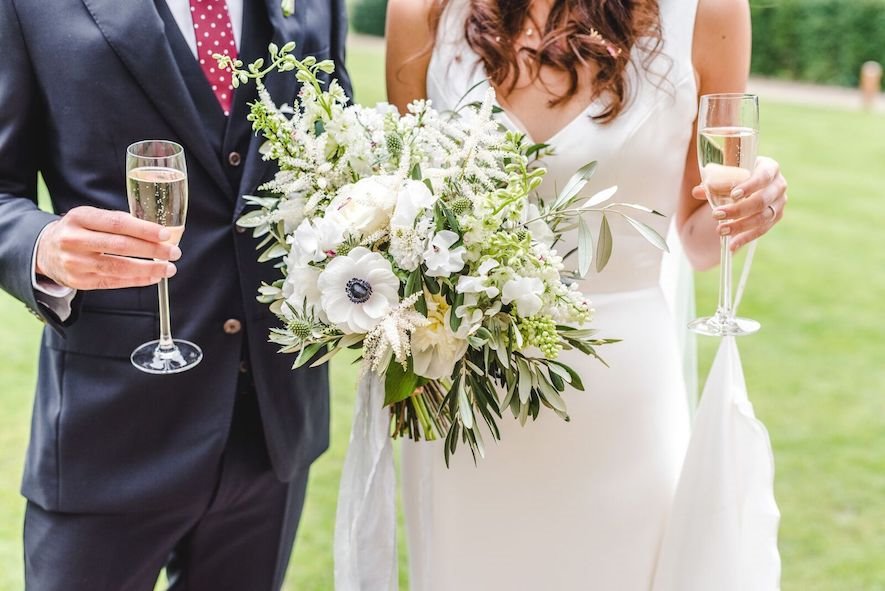 Tell us about that veil!
As my dress was plain I wanted something a little different for my veil. I went for the petal veil also from Theia. It was a super long veil dotted in silk petals and I loved it. It really was the perfect finishing touch to my dress.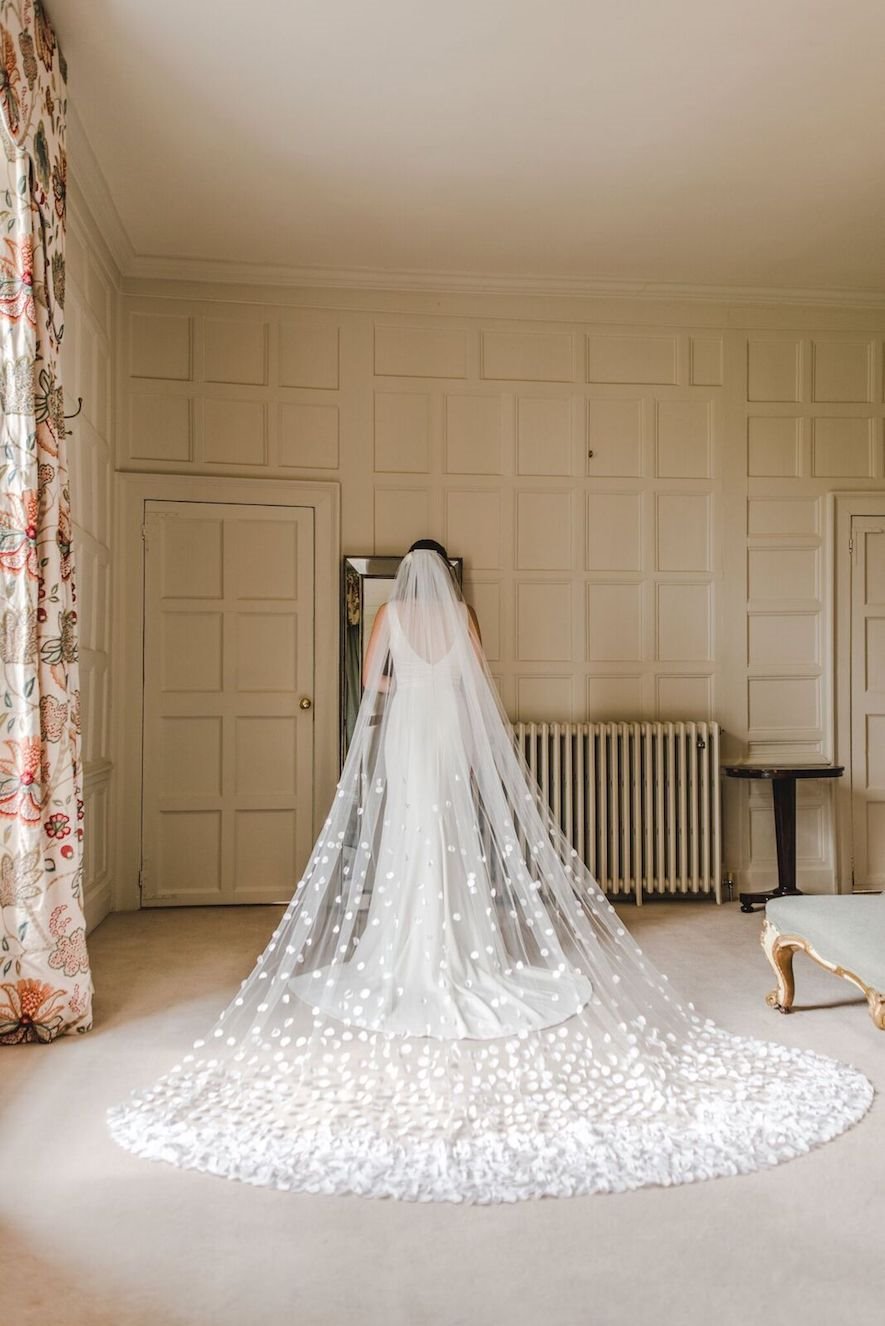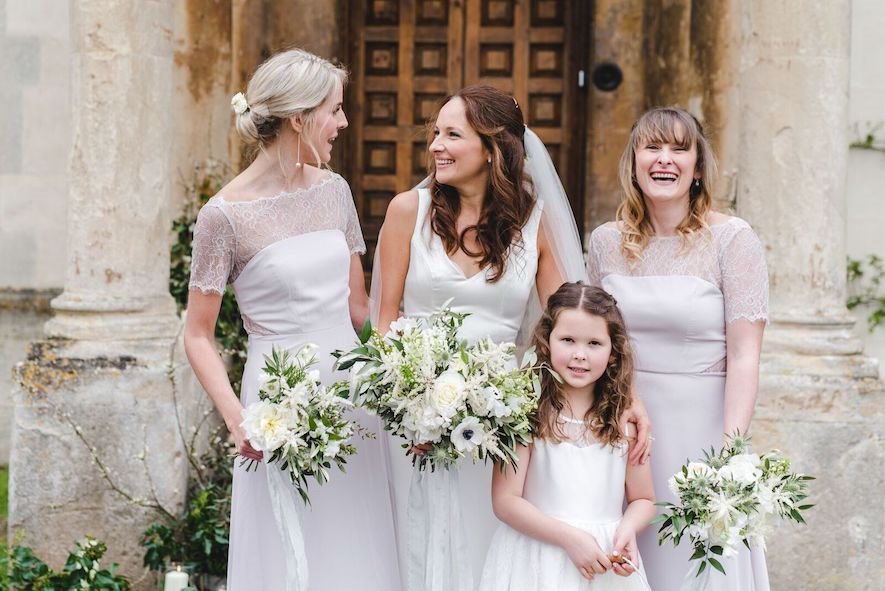 How did you choose your wedding style?
I am a big fan of a neutral colour scheme and because Elmore is so beautiful in itself it really doesn't need much décor. We went for lots of foliage in shade of green and matched it back with white and cream flowers. We also had pale grey hand dyed table runners which looked great against the long wooden tables and then dotted with gold candle sticks and vases of all different sizes dotted with flowers and foliage.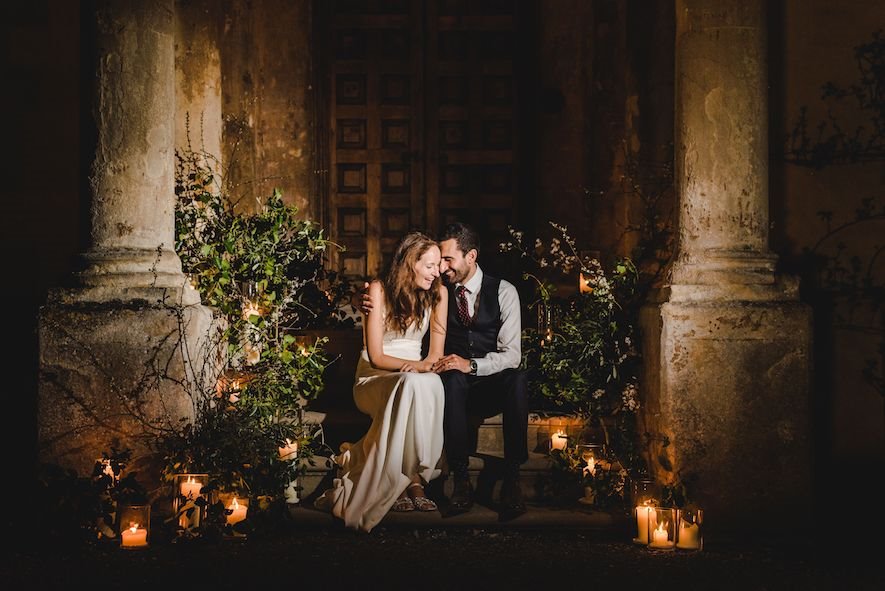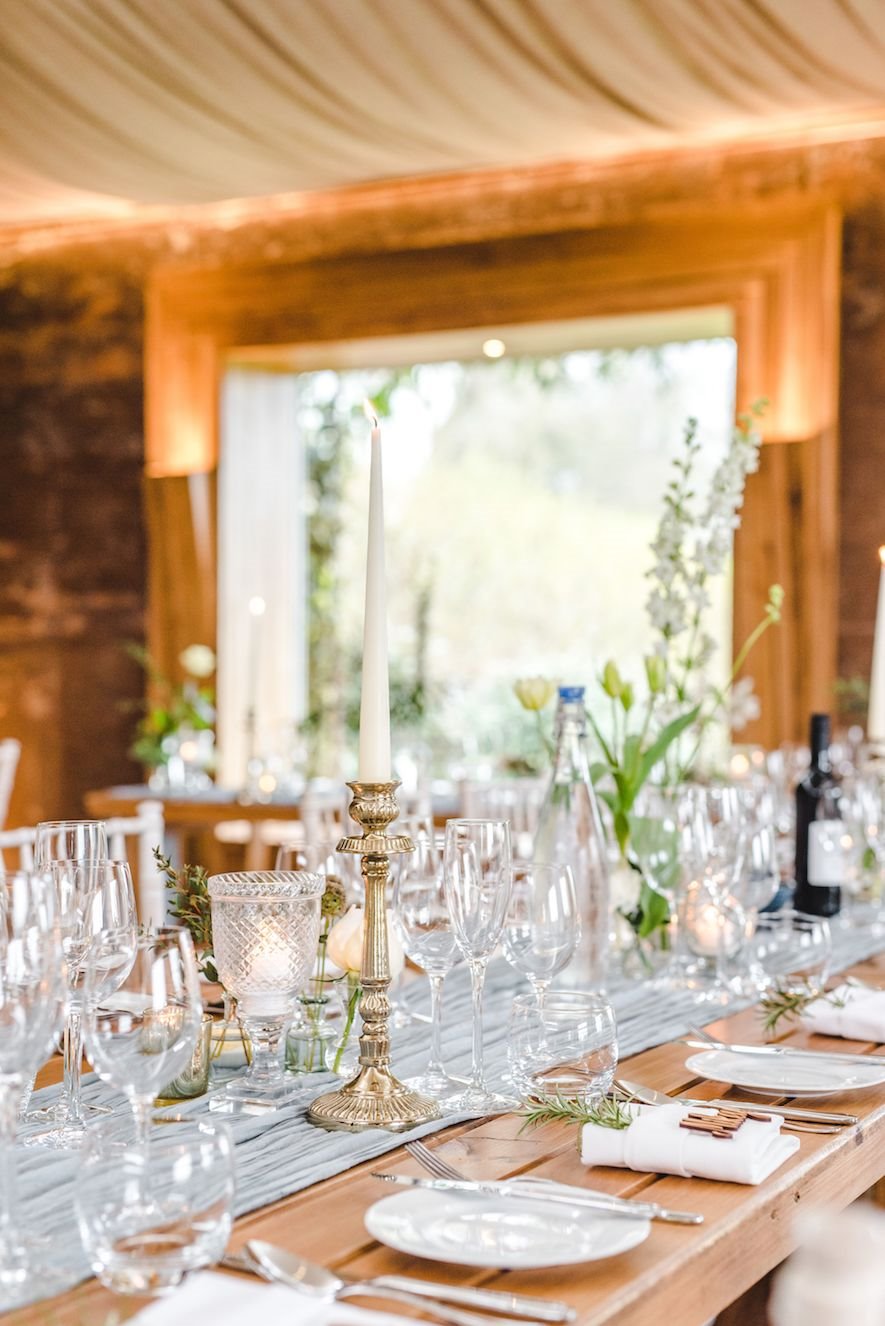 What did you eat and drink?
The food at Elmore was better than we ever expected and we still get comments on how good it was a couple months on. We had a selection of canapés at the drinks reception followed by a main of Roast lamb, dauphinoise potatoes, green beans and carrots. This was severed on sharing boards on the tables for everyone to help themselves. This was then followed up with lemon posset, blackberry compote and shortbread. In the evening we wanted something India inspired, Elmore created some great tandoori chicken wraps with raita and Indian slaw. This was a great hit later on in the evening once everyone had a drink or two and needed refuelling for more dancing. 
We loved your wedding cake table idea, tell us more...
We went for a fairly small cake, it was a lemon and blueberry semi naked cake decorated in gold leaf and topped of with flowers. It looked lovely sitting on the table which we surrounded with a selection of brownies, tarts and of course Colin and Connie caterpillars that we ordered all from Marks and Spencer's. The cake table was a massive hit and not even a slither of cake was left by the end of the evening.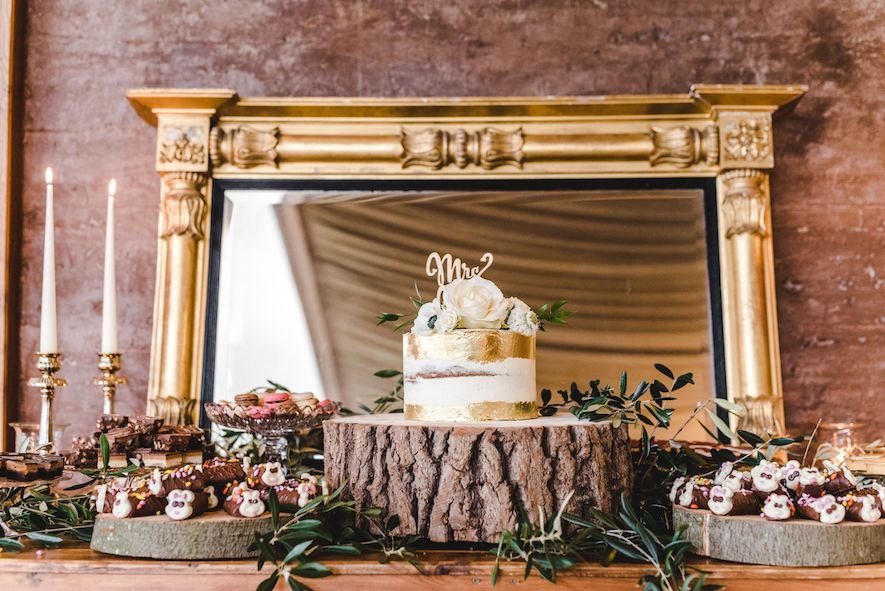 The evening party...
We had a great band called Electric Soul Club that we found on Bands For Hire. They are a 5 piece male band and really got the party going. They were really flexible and learnt our first dance and also played a list of Indian songs we requested in between sets.
Did you have any personal touches or bits you did yourself?
Living in so far away it was hard for us to do too much ourselves and had to leave most of it to the professionals. We did however get our place names made, we used a company of Etsy who laser cut in wood all our guest names that also doubled as a favour. It was very affordable and worked out cheaper than writing place names ourselves.  It was also a hit with the guests and everyone took theirs home at the end of the night.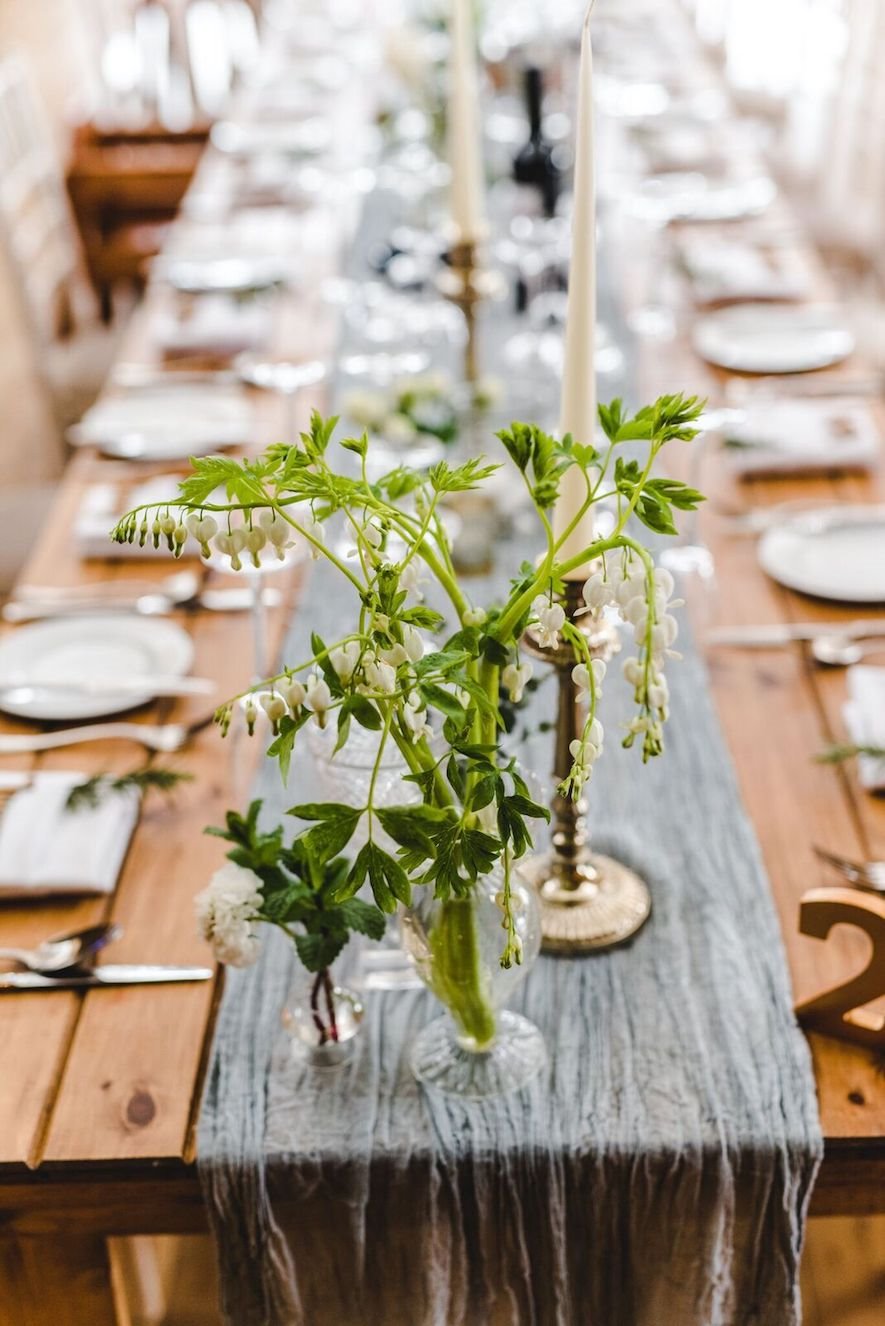 What was a particular highlight of your day?
Walking down the aisle to Navin and the ceremony was an obvious highlight of the day, also living away in Australia it had been a couple of years since seeing some friends and family so it was great to have everyone together to really celebrate. A really highlight for me was also late in the evening the band started playing some old school RnB and garage hits, this went down a treat with all our guests and the dance floor was full, looking round and seeing everyone enjoying themselves and having such a good time was really special and great to see.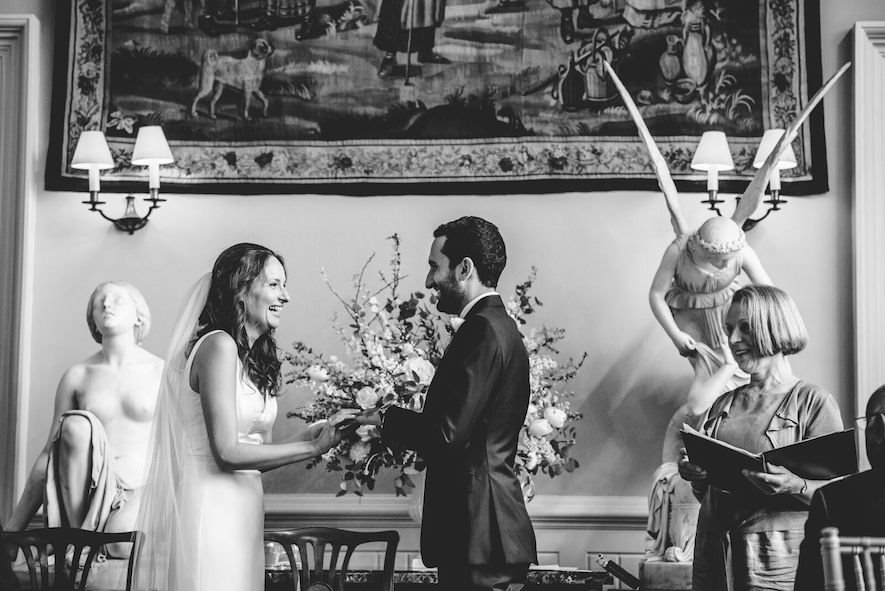 What advice would you give other couples about planning their day or any tips for the day itself?
Trust the professionals, being so far away and with such a big time difference we couldn't be that involved and had to leave everyone to it. All our suppliers and the Elmore court team knew exactly what they were doing and everything was perfect. On the day don't stress out or worry, everything will be taken care of to perfection by the Elmore team and even if something did go wrong you will be so happy you probably wont even notice or care.
The whole day was so special and it truly was the best day of our lives, we could not of wanted or asked for anything more it was perfect. 
The wedding suppliers who made virtual a reality
Thank you so much for sharing your day with us guys, you make planning from afar sound like a breeze! 
Lots of love from Team E
x
Related reading