Every shade of blue, two dresses & two ceremonies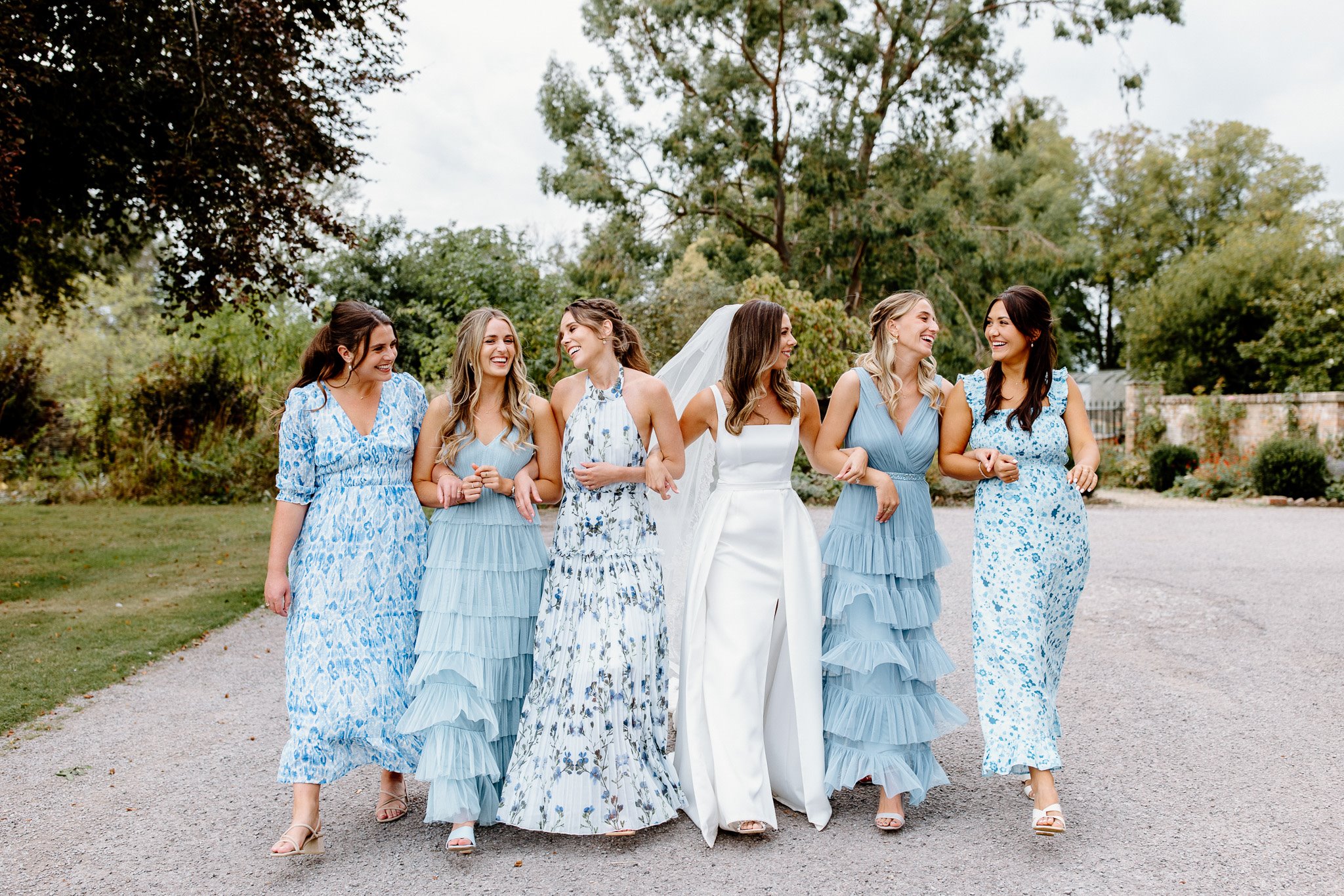 Hattie and Jack truly "blue" us away with their wedding! Consisting of 2 unique ceremonies, 2 gorgeous gowns, cake cutting with the ushers' marine sword and so much more. With around 130 guests, this September wedding was one big party.
For all those needing a bit of an inspiration boost, this wedding is for you!
Let's read on...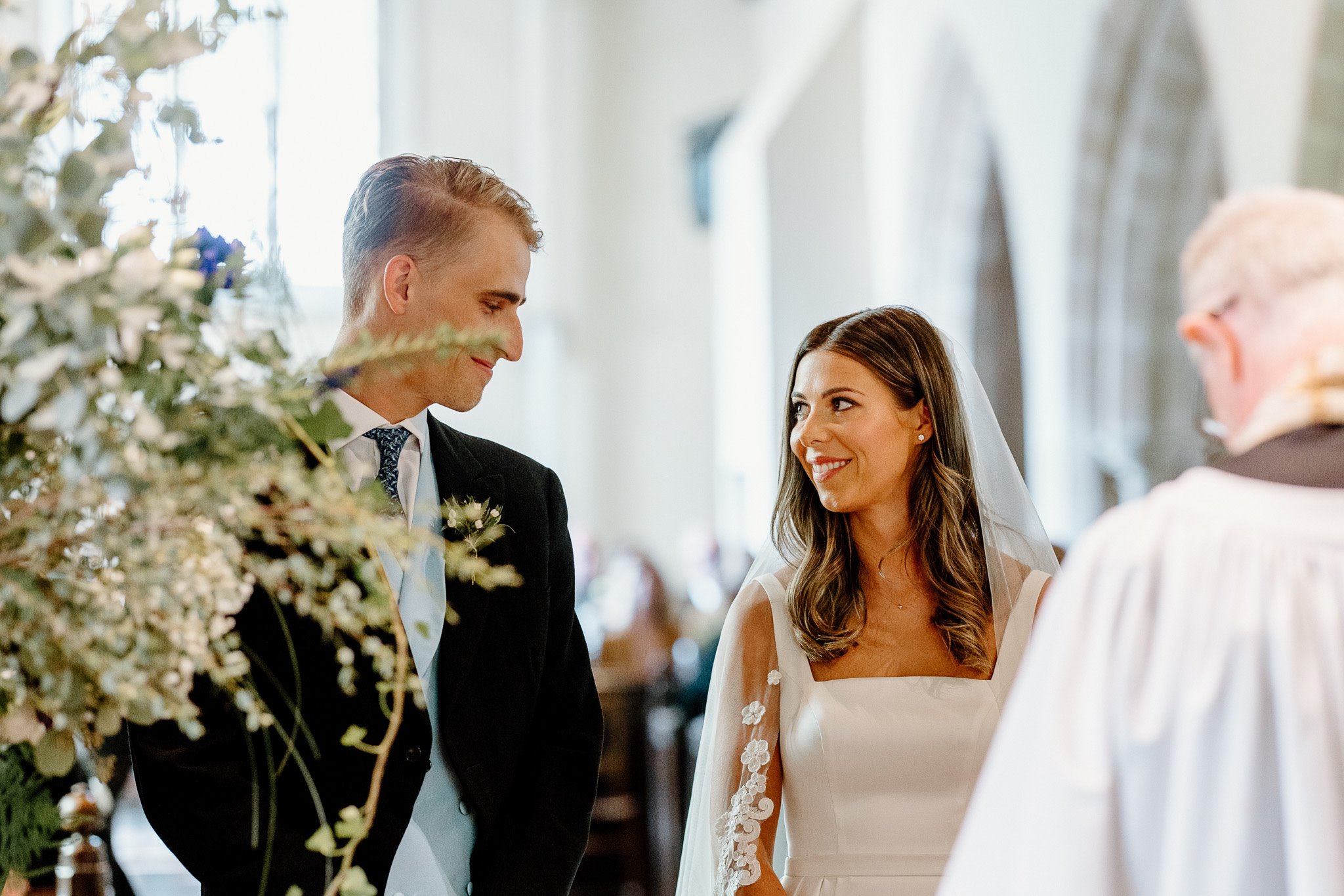 How did you meet?
We met in our final year at Exeter University in a nightclub called Mosaic. We actually studied the same course, but were only introduced by mutual friends in our 3rd year.
Tell us your proposal story!
It's a long one… we were both living in Singapore and flew back to the UK during the height of covid to see our family for Christmas, having not seen them for a year.
Jack had organised to propose to me on a Sunday in late December at Cliveden House. However, on Thursday it was announced Berkshire was going into lockdown the following evening, meaning the hotel was due to close…
The next 4 hours involved Jack frantically trying to move the proposal to that evening, trying to get through to the hotel and ringing my father to ask permission. He also brought his parents in on the act to pretend they'd given us a 'staycation' as a Christmas present - to try and throw me off the scent!
Due to restrictions, we couldn't have a cocktail/drink in the hotel bar, as this involved needing to buy a 'substantial meal', so we went for massages instead. When I went in for my massage, Jack didn't and went back to the hotel room to transform it. He collected me post-massage, pretending he'd really enjoyed his… returning to the room with rose petals, champagne, our favourite song (which was also our first dance at Elmore!) and got down on one knee…mission complete a few hours before lockdowns!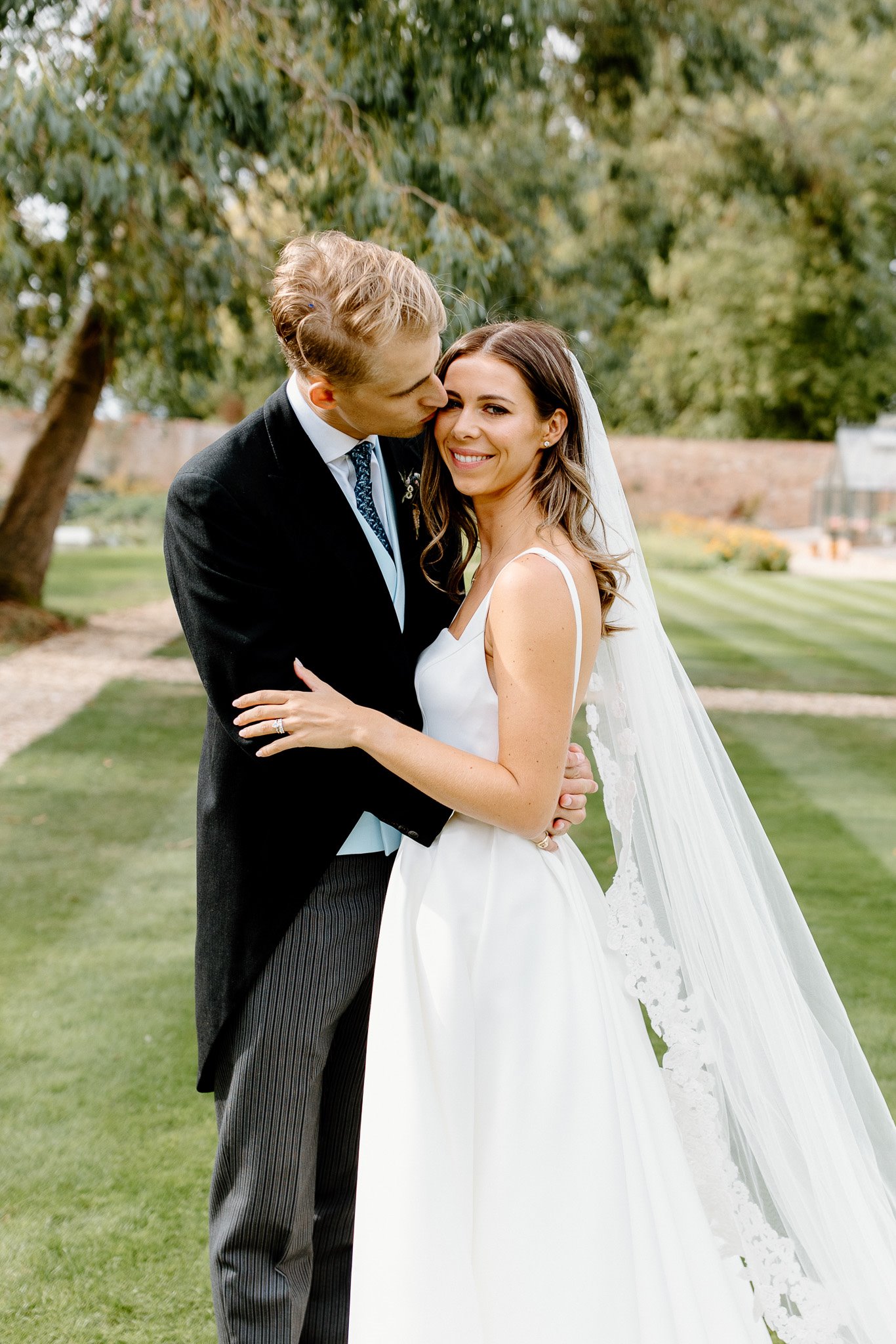 Why Elmore Court?
As soon as we arrived at Elmore, we knew it was the perfect venue for us. Being able to have 40 people on site in the most beautiful rooms, and that the team's openness and flexibility around what we could do made it clear there was only one place to have the biggest and best few days celebrating!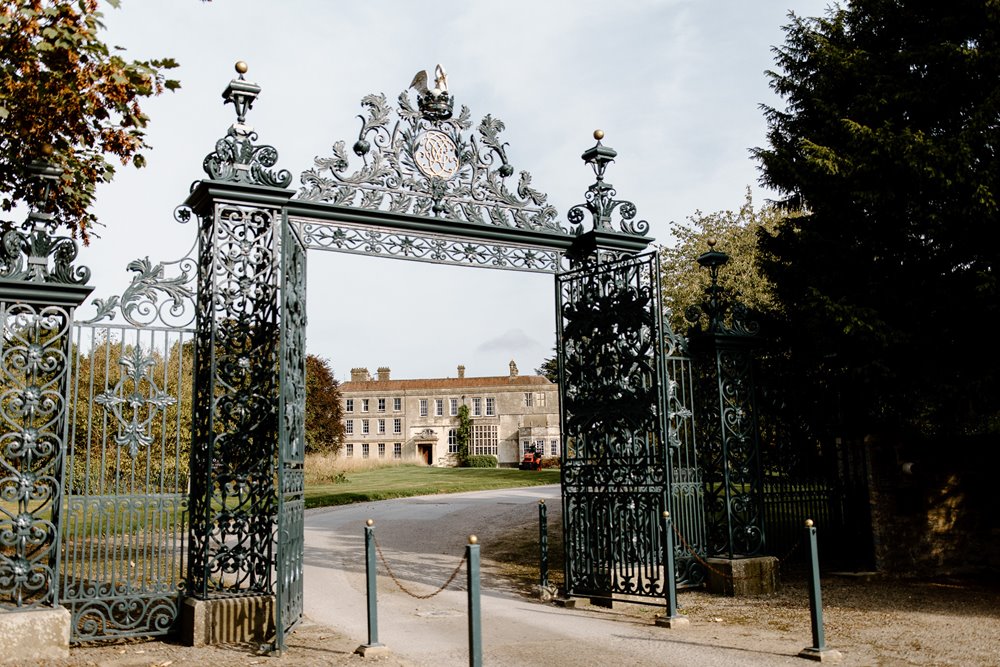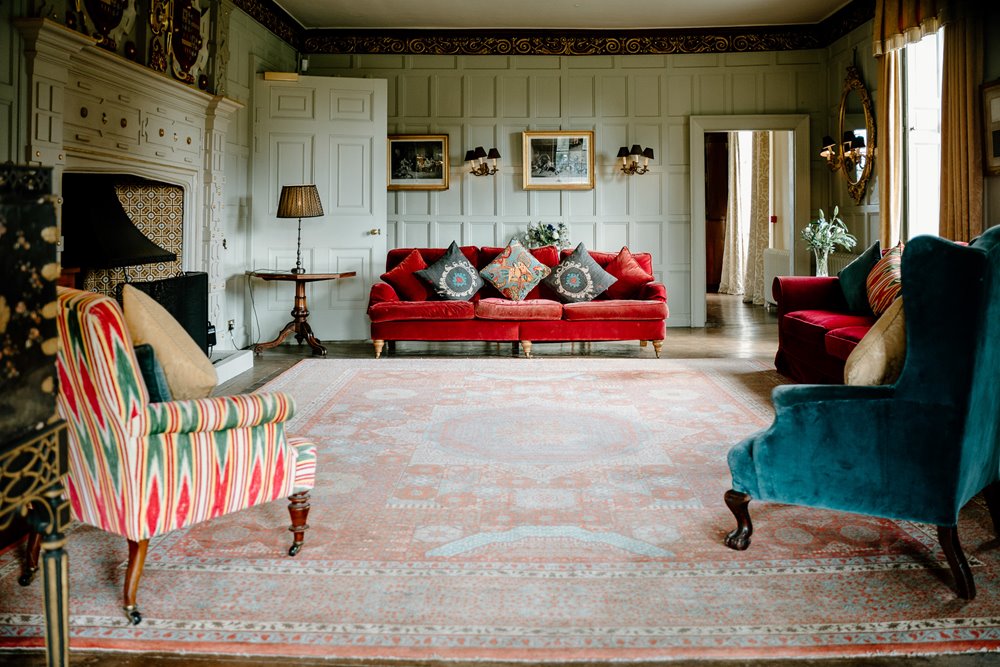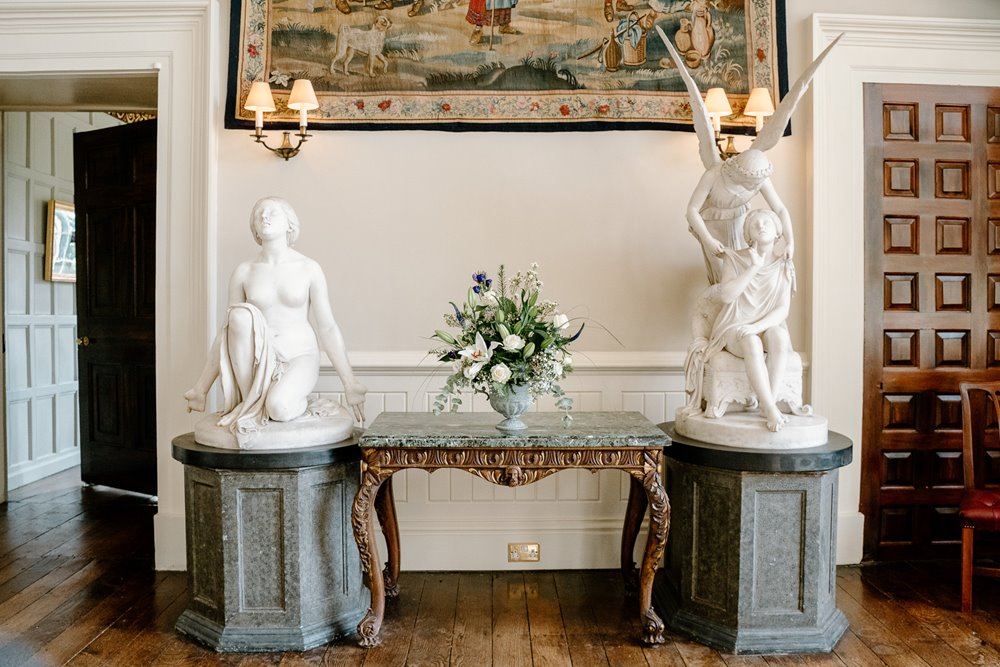 How did you find the planning of your wedding?
I loved it, although it was made trickier planning a wedding from Singapore - our parents were incredibly helpful on the ground! With my job I do a lot of project management and planning, so it came quite naturally, but safe to say my husband is delighted at not spending every Sunday doing 'Wedmin'!
We love the blue bridesmaid dresses and of course your 2 gorgeous gowns, how did you choose these looks?
I've always loved a ruffle and blue is my favourite colour. I also wanted a look/dress that my bridesmaids would feel comfortable in and would wear after the wedding. So the theme of blue/ruffles was a natural choice. I also didn't want all my bridesmaids in the same outfits. 
In terms of my dresses, I wanted my main wedding dress to be timeless and one that had multiple looks. For the church aisle, I wore the main dress with a big overskirt and cathedral-length veil to add to the drama. I had all my dresses designed by the amazing Elizabeth Grace Couture in Singapore. 
I then wore the main slinky dress and added a big bow for the wedding breakfast to make the look a bit more fun! (The bow I accidentally left in Singapore and had to ask a friend to fly over!)
For the final look, I wanted to be completely different to my main dress, hence the puff sleeves, the lace and the pearls!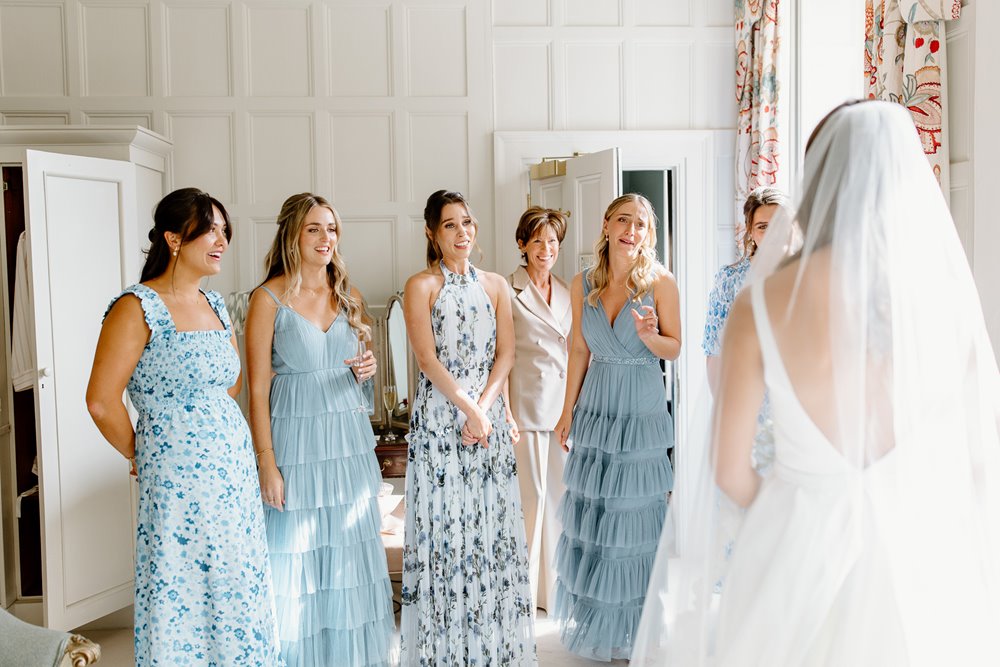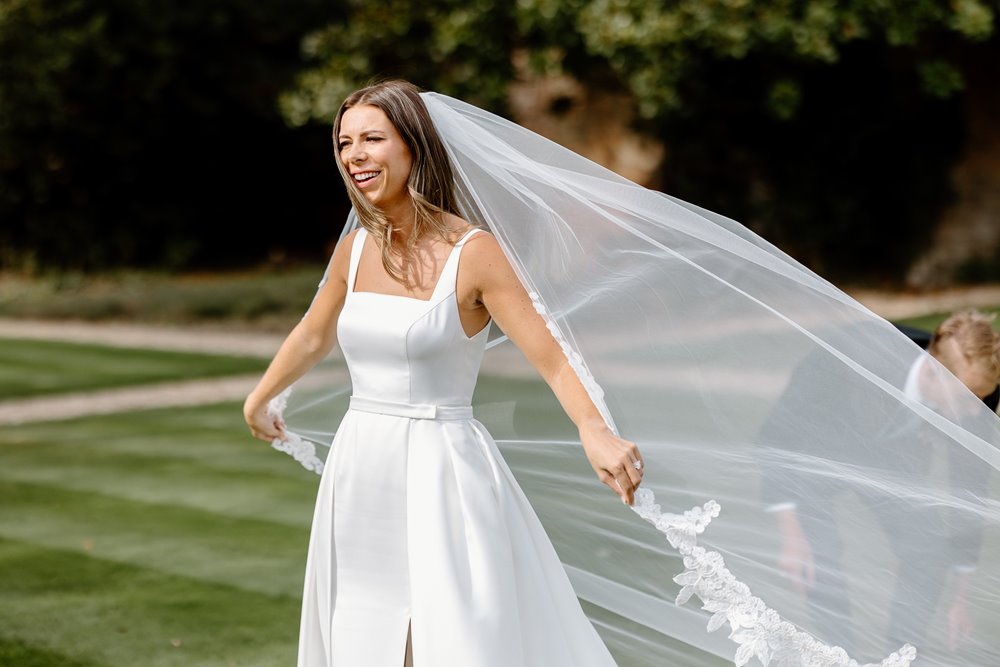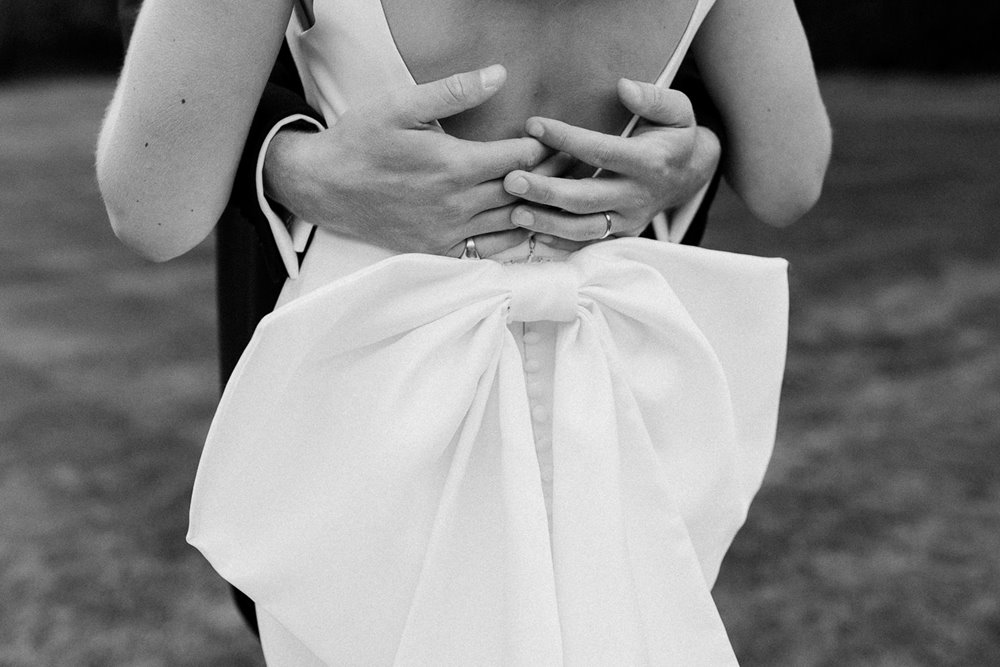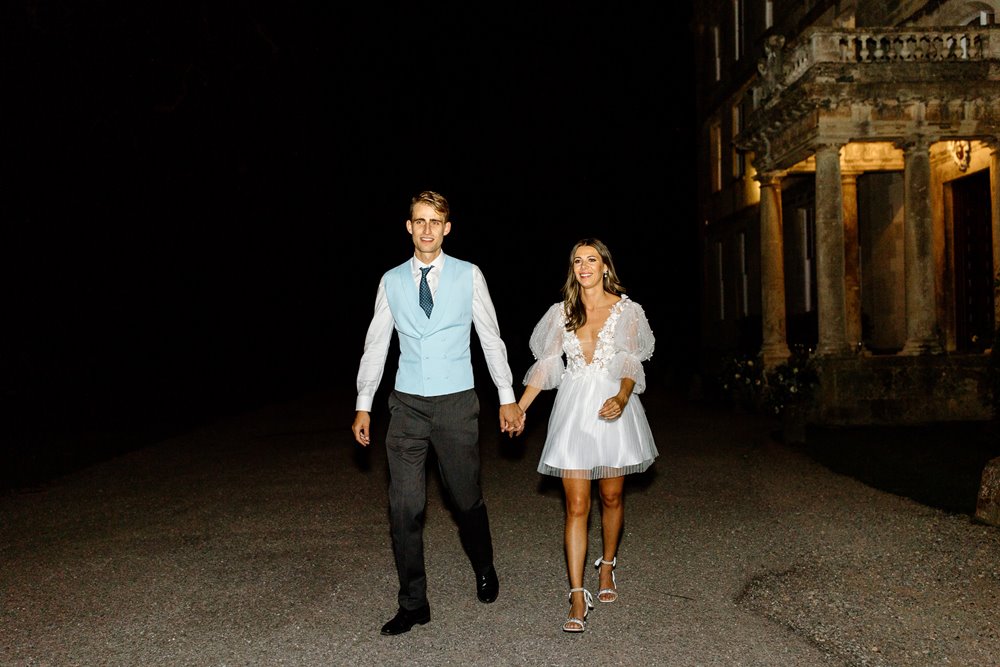 On the lead up to your wedding, how did you feel?
Nervous and constantly checking the weather, which I'd now tell brides not to obsess over as it's completely out of your control and kept changing by the hour!! Got to love British weather! However, the Elmore team (especially our wedding coordinator Alex) were amazing and made us feel calm with everything in control! 
We were also of course very excited to see all our friends and family, as our wedding was the first all our university friends could attend (as a lot live abroad), since covid! So it was like a big reunion!  
On the morning of, how did you feel?
Excited to finally marry Jack, having planned the wedding for 18 months!
The morning went so quickly and was so lovely to have all my bridesmaids and family with me. I even had the ushers checking in on me, so it was lovely to have us all together in one house.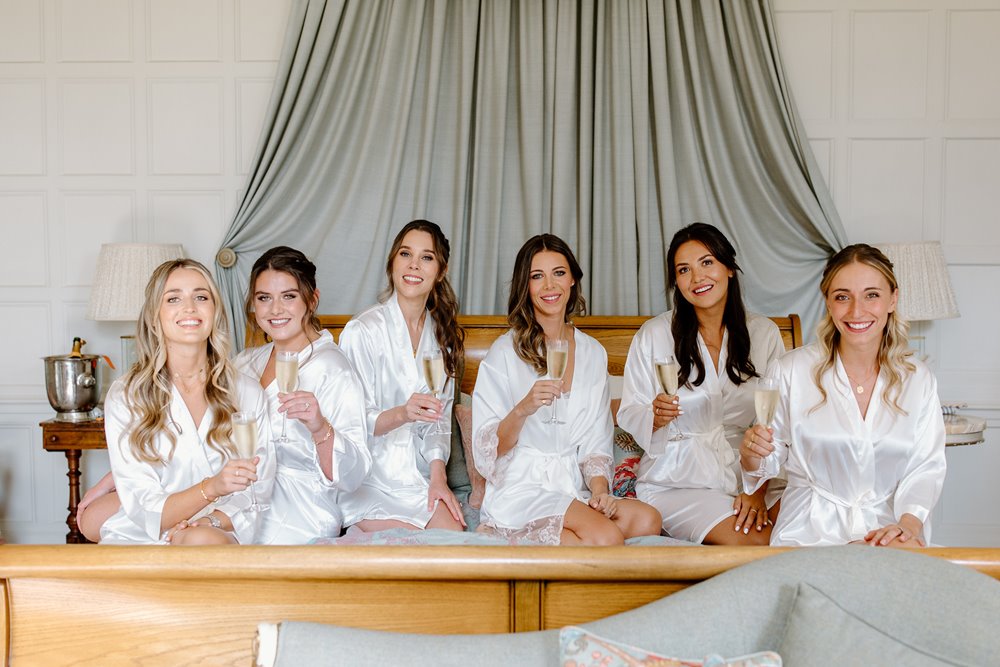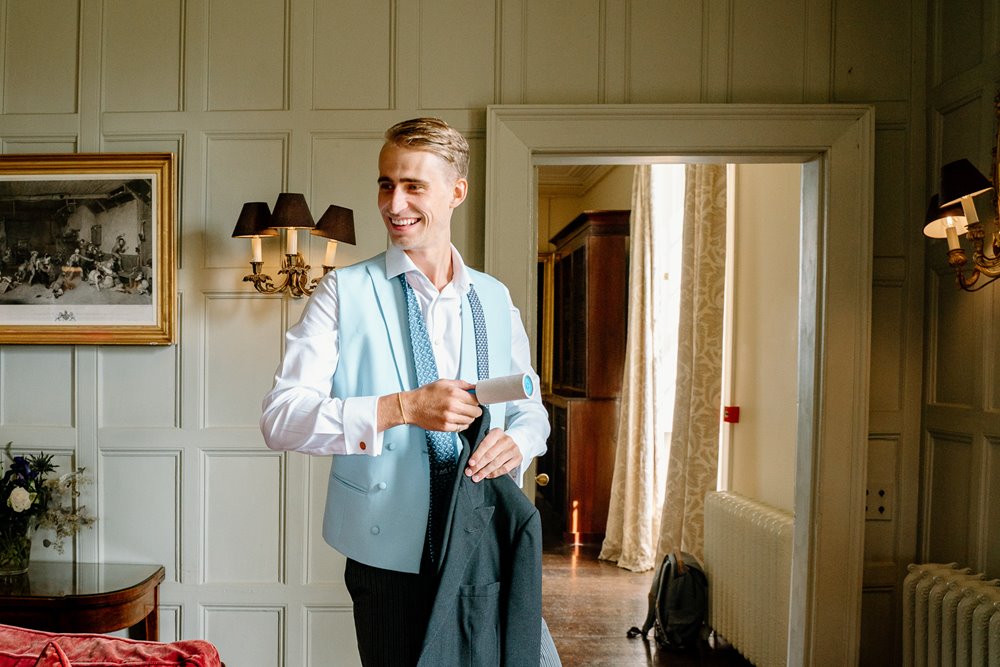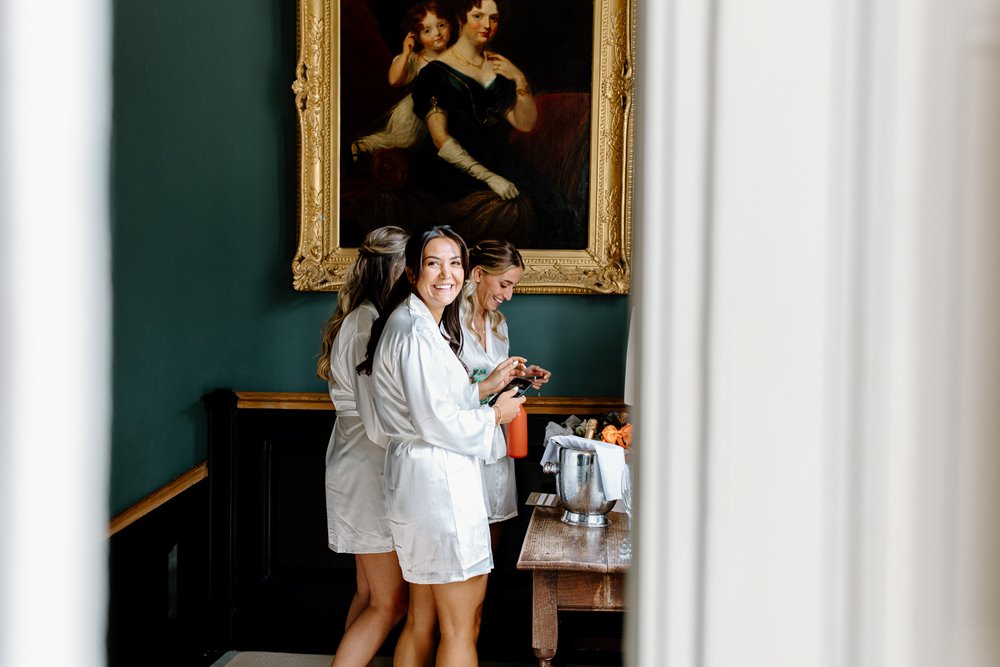 Tell us about the ceremony?
We actually had two ceremonies…
Legally we got married the day before on the Elmore lawn in front of the big tree, in amongst the flowers. This was intimate and only had close family, bridesmaids and ushers.
We walked down the aisle together to Earth, Wind and Fire - September, which we decided with Alex (our Elmore wedding coordinator) just before we walked out! We got married on the 21st, which tied in with the opening lyrics 'Do you remember the 21st night of September'! 
It was a beautiful day - the sky was pure blue, and we had a stunning drinks reception outside afterwards, followed by a 'middle eastern feast' in the red room and a fairly boozy evening!
The next day we had our wedding ceremony with all our guests at the local church in Elmore, including readings and hymns and some additional advice from Jacks' Grandfather on the recipe for a happy marriage - 'no matter what Hattie says, always reply - yes dear'.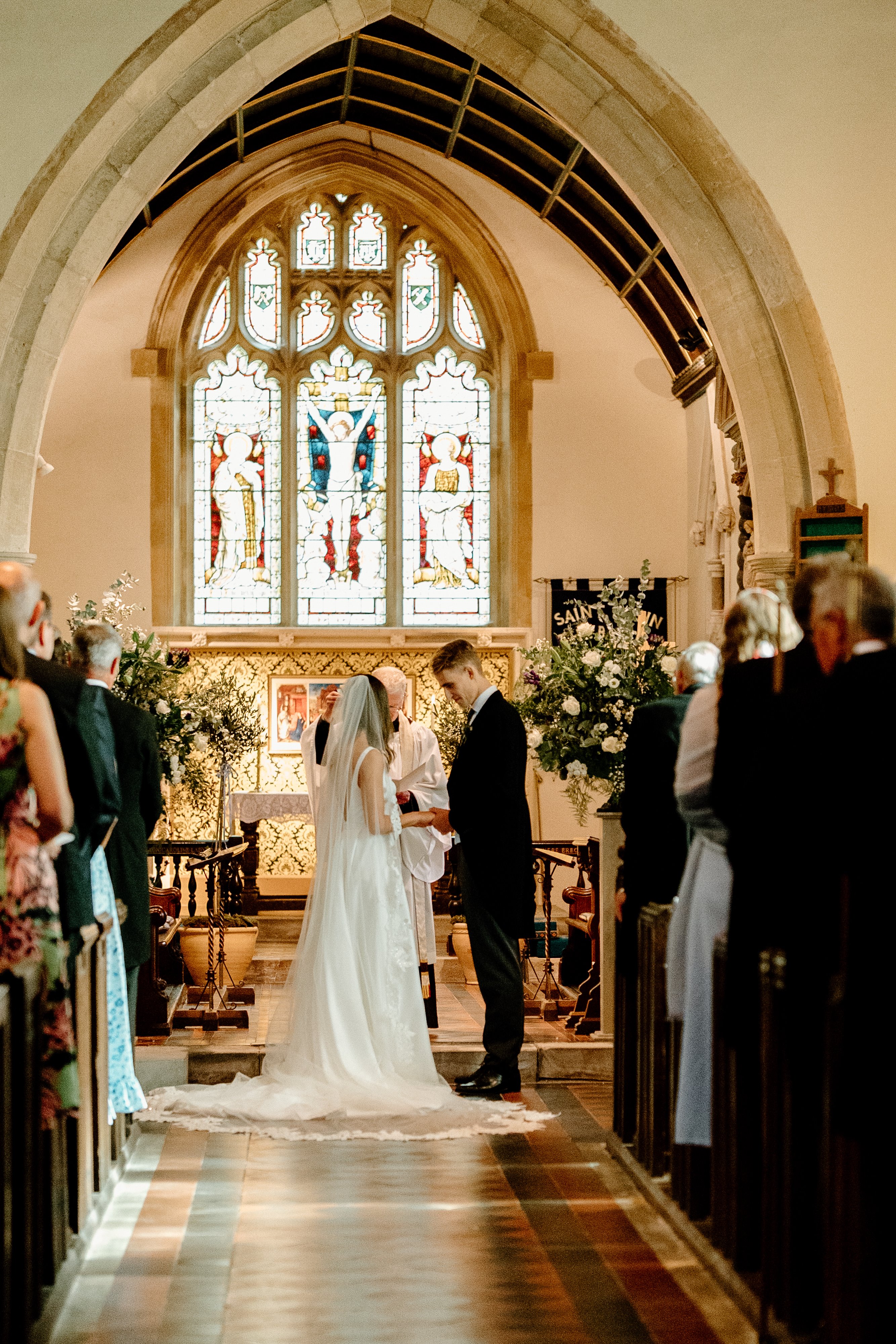 What was your reaction to your reception at the Gillyflower?
Wow! We went for small 'trees' placed amongst lots of candles of different colours and sizes, so when it all came together for the first time and we walked around it privately (with our own canapés snack board!), it was stunning. Our amazing florist Jo and the Elmore team did a truly amazing job!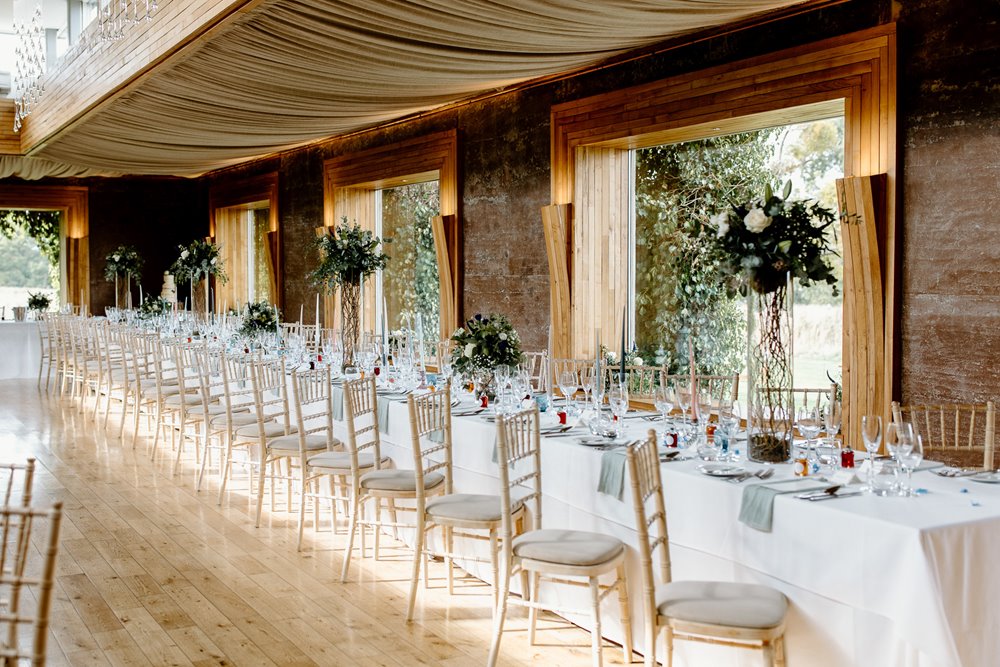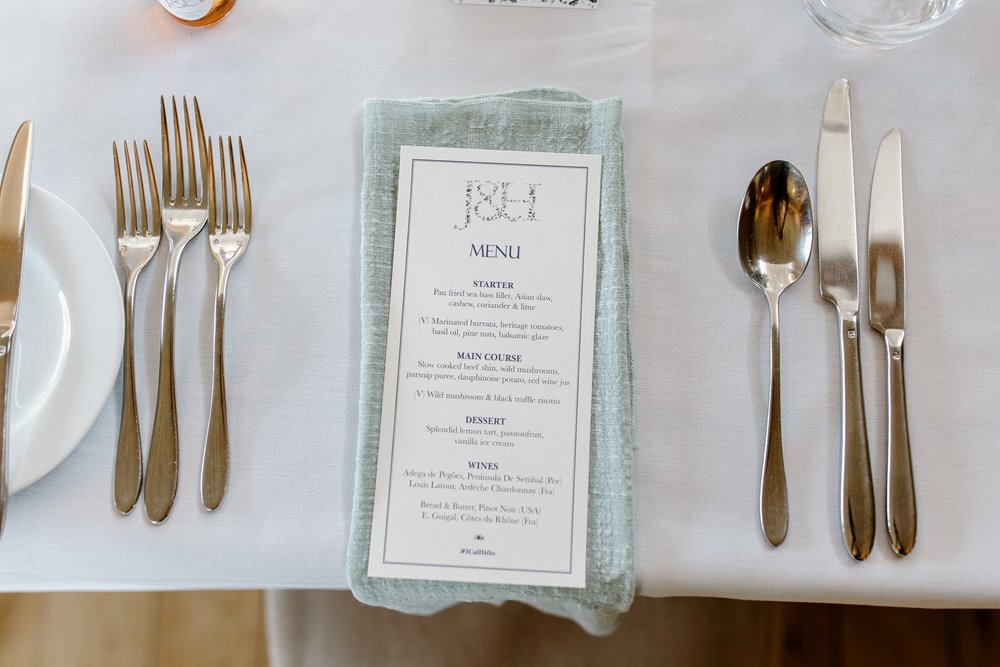 What was your food of choice?
We absolutely loved all the food from Elmore, the middle eastern feast they made specifically for us for the day before, the canapés (especially the lamb!), as well as the Thai-style sea bass fillet for our starter, which we chose to add a slice of Asia given we live in Singapore! However, the star of the show, which our guests still talk about to this day, was the late-night burgers which had been awarded 'best burger of 2022' by many!! 
First dance choice?
Bastille - Pompeii. Lyrically a very odd choice but it was a song we played on repeat at university. 
My friends and I also changed the initial start of the song to include chanting my husband's surname, which the band sang as part of the first dance which was a really fun moment! 
What were your wedding highlights?
Too many…
My father seeing me for the first time in my wedding dress and shedding a small tear
Jack's grandfather making 8 different varieties of flavoured spirits as our wedding favours, even though he is tee total! 
Having the bridesmaid and my mother hype me up in the morning, and keeping me amused to make sure the nerves didn't fully kick in!
My now father in law sneaking in shots with the maids of honour during the speeches!
Our video 'interview station' where our guests were asked to give advice for married life. This was at around 10pm when most were many drinks deep… very funny watching back the footage on our honeymoon!!
Our band getting myself, husband and parents up on guests shoulders to dance to Artful Dodge - Re-Rewind
Gin n Tonic station with 5 different gins, and different tonics with dried and fresh fruits
Cutting our 3 story cake with Jack's Ushers marine sword!
The afterparty until 4am…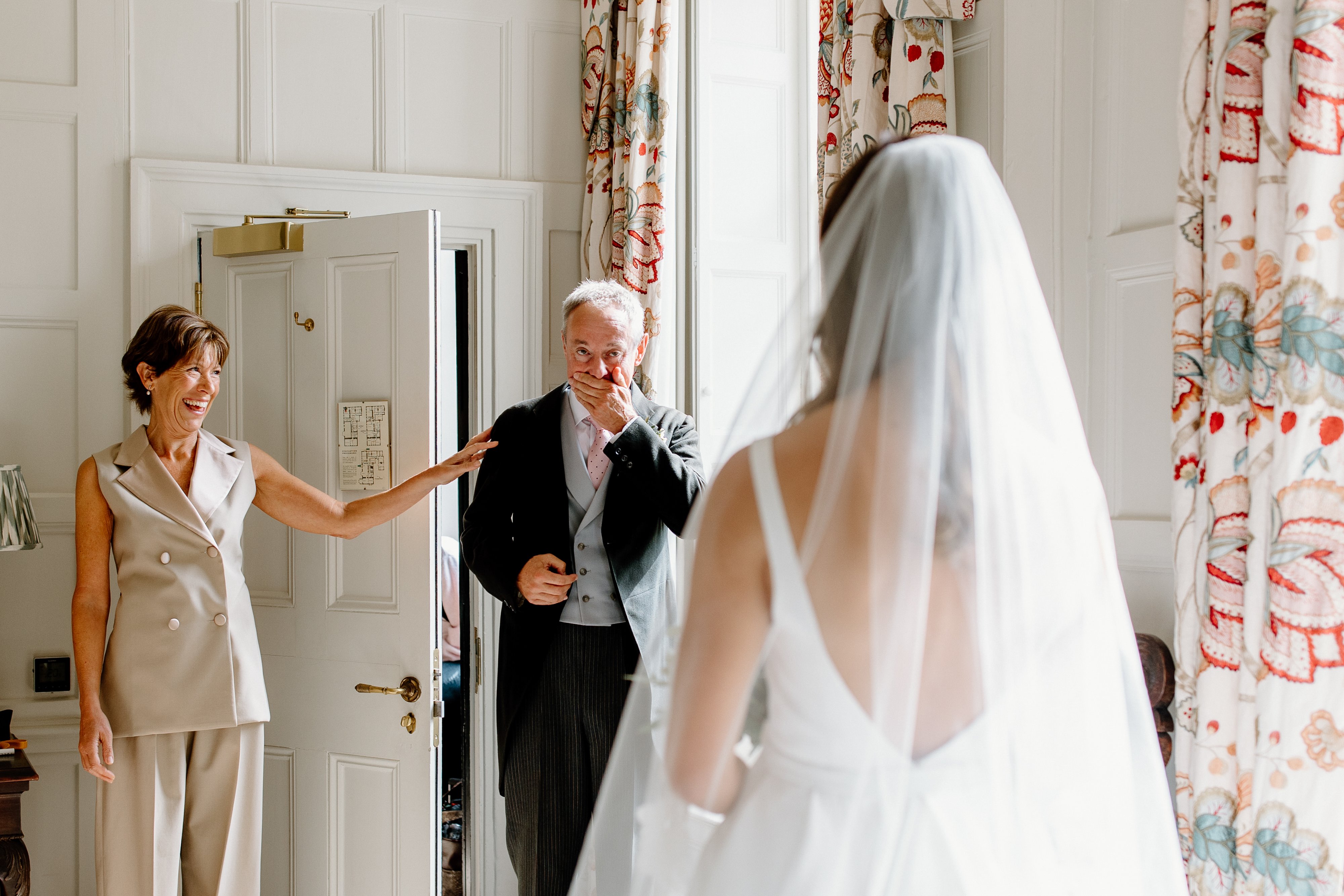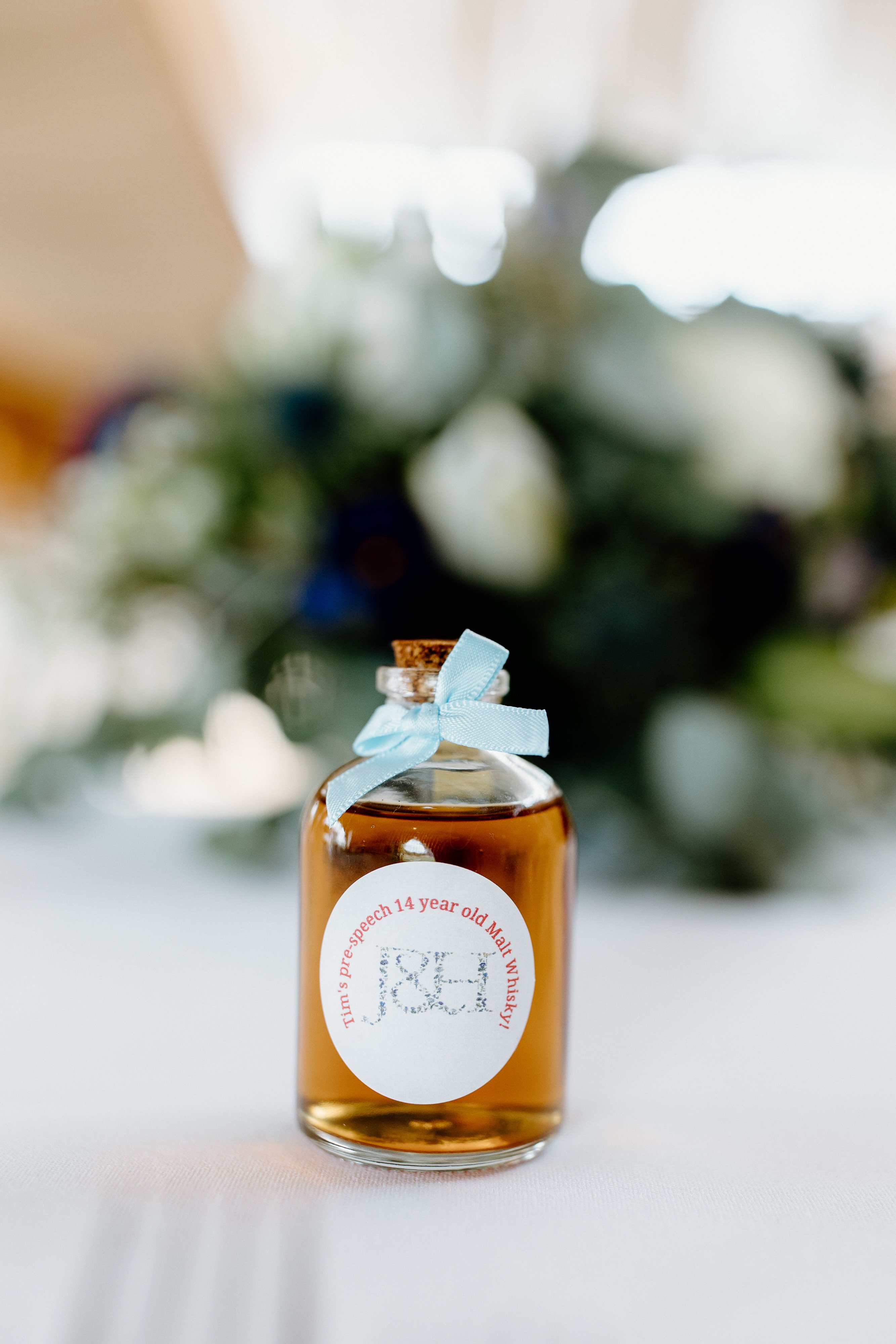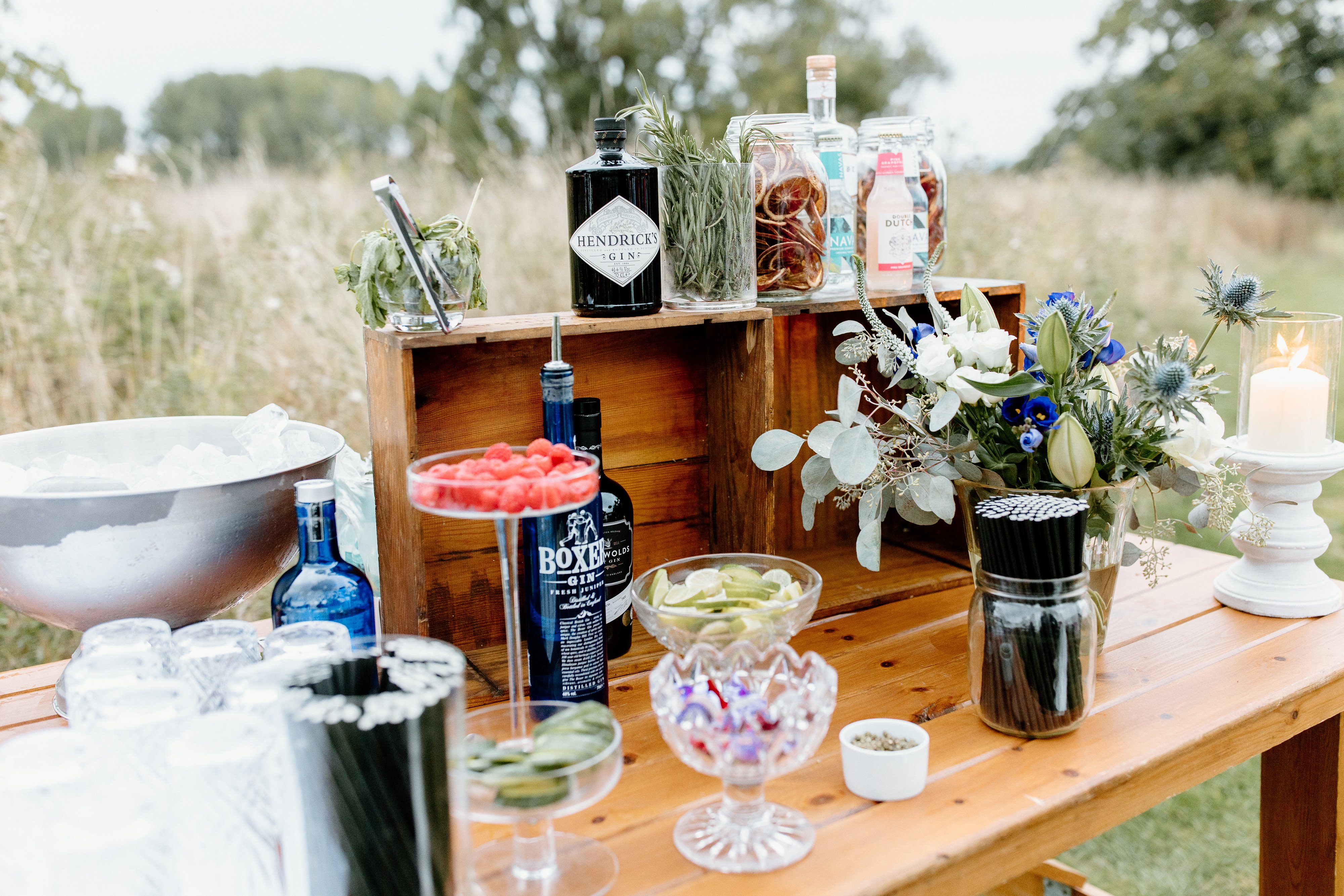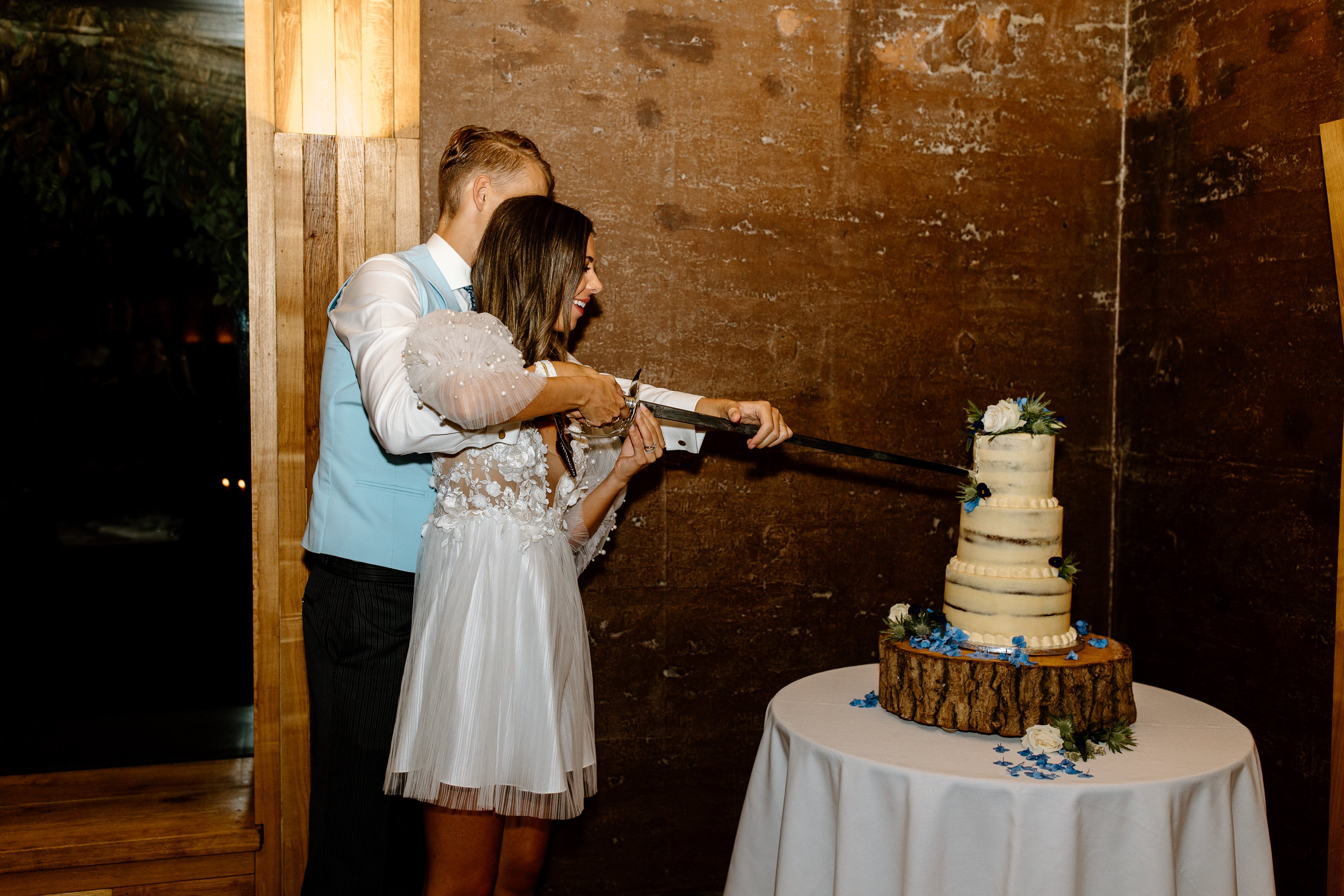 Any tips for couples currently planning their wedding?
Enjoy it! Don't get stressed by too many of the smaller details, as you won't notice them on the day! Plus if you haven't thought of them, the Elmore team will have - they honestly took care of every tiny detail for us to ensure we had the most perfect few days!
We can't thank Hattie & Jack enough for sharing their spectacular day with us...we wish we could do it all over again! 
If you're wanting to read more about real weddings here at Elmore Court, why not check out some more of our journals below? 
Much love,
Team E x
Related reading