In celebration of September weddings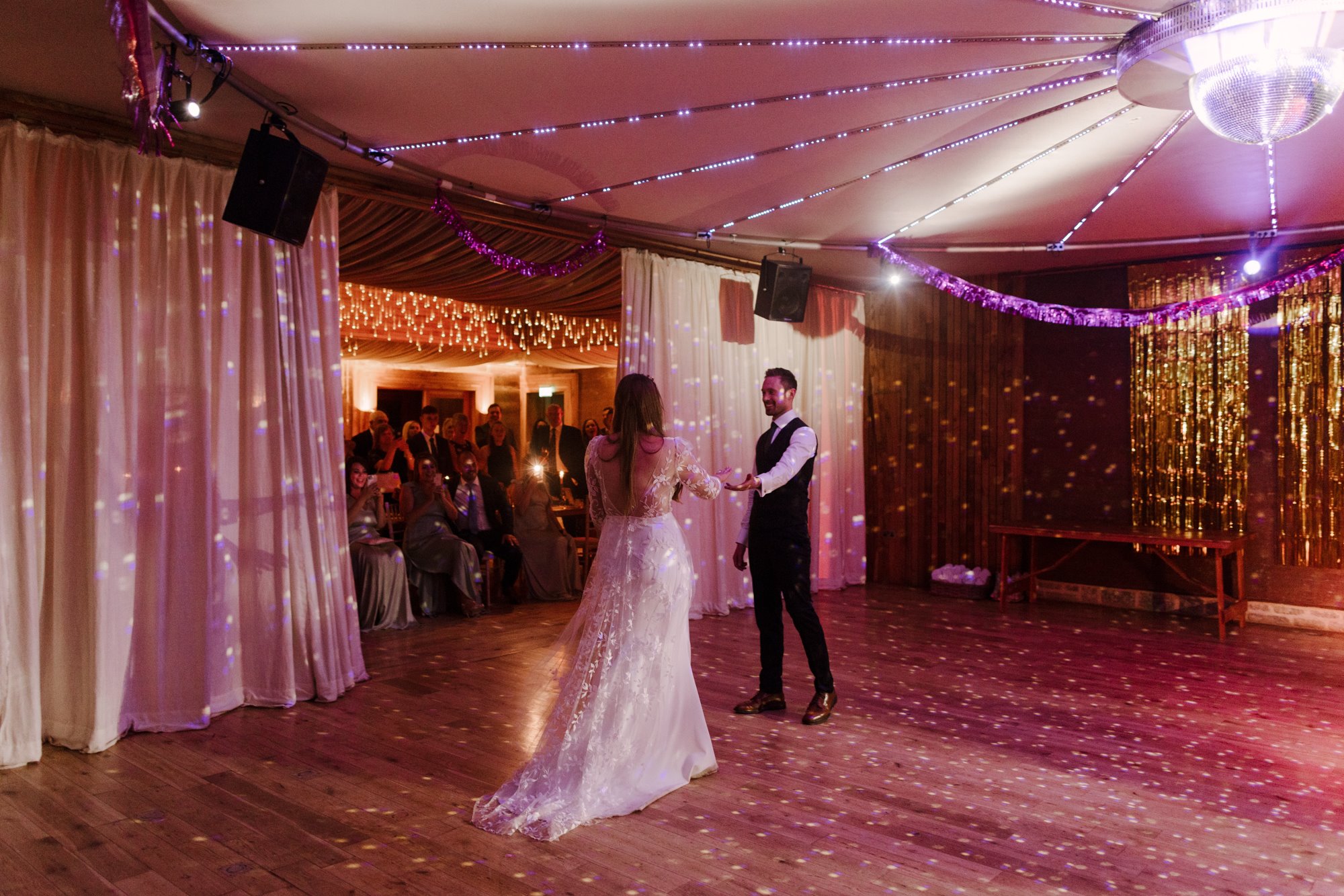 Yes, it's September tomorrow! (And by the way that means 10 days until our Harvestival - Are you coming? We can't wait to see you all.)
Let Kelseigh and Matthews' romantic September wedding of dreams blow away those end of summer blues and put you in the mood to party.
Held on the 14th of September 2021 with 80 guests attending, this stunning modern bohemian wedding was shot by The Curries and glows with that lazy late summer sun.
With luxe florals and greenery, pretty pink details and some perfect modern boho inspo, this wedding is one to take notes from!
Kelseigh and Matt, tell us all!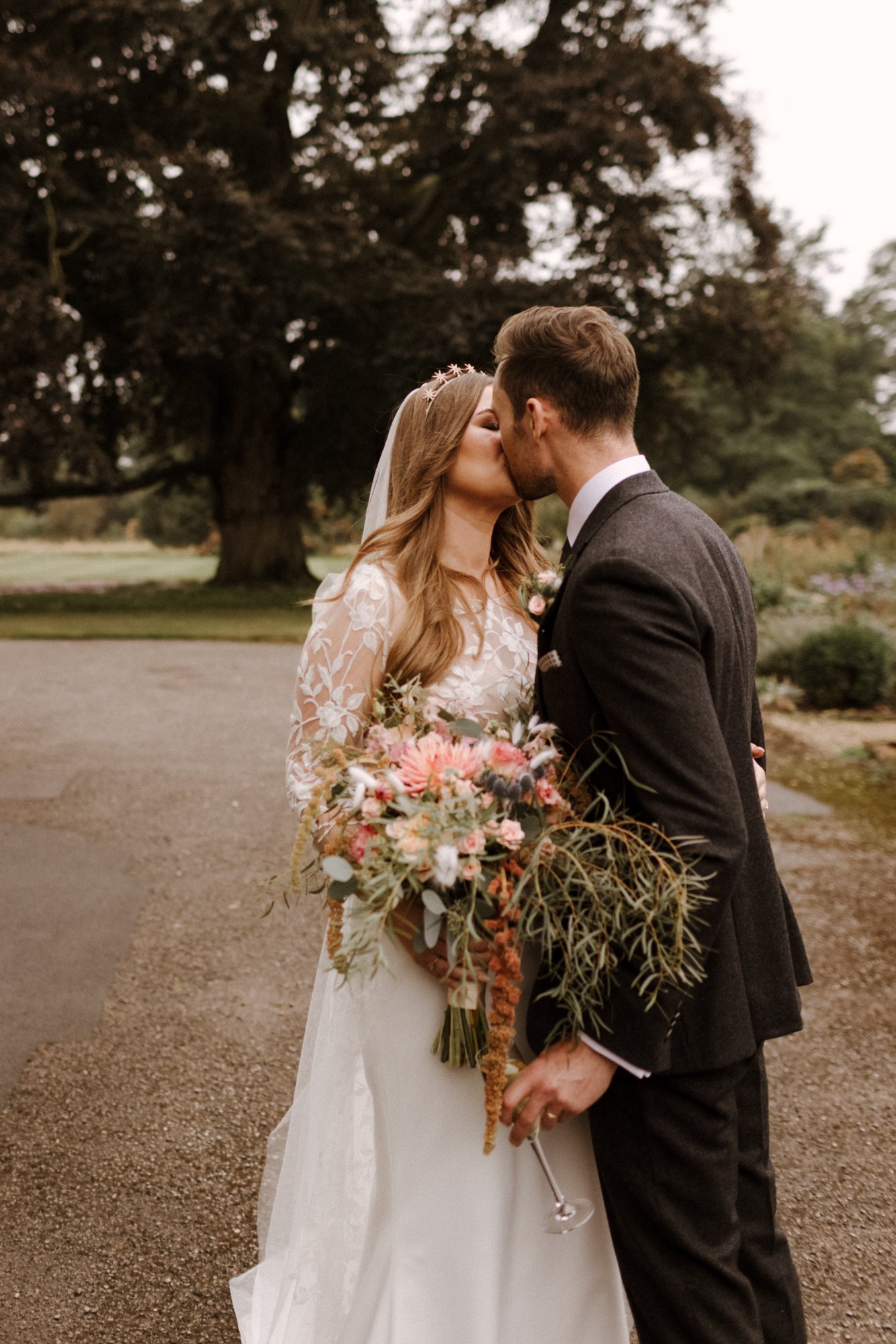 So how did you two meet?
We met while living in London. We started talking online and had our first date on Good Friday 2013 at Lounge Lovers – a cocktail bar in Shoreditch that sadly no longer exists. I almost cancelled the date because I was hungover but powered through and we spent the evening choosing cocktails for each other and getting to know one another.
We moved in together a year later and then we moved to Amsterdam together the year after that in 2015 and lived there until 2021 where we moved back a week before our wedding!
We sold our Amsterdam apartment, moved country, both started new jobs and got married all within about 6 weeks during a pandemic. Talk about a stressful lead-up!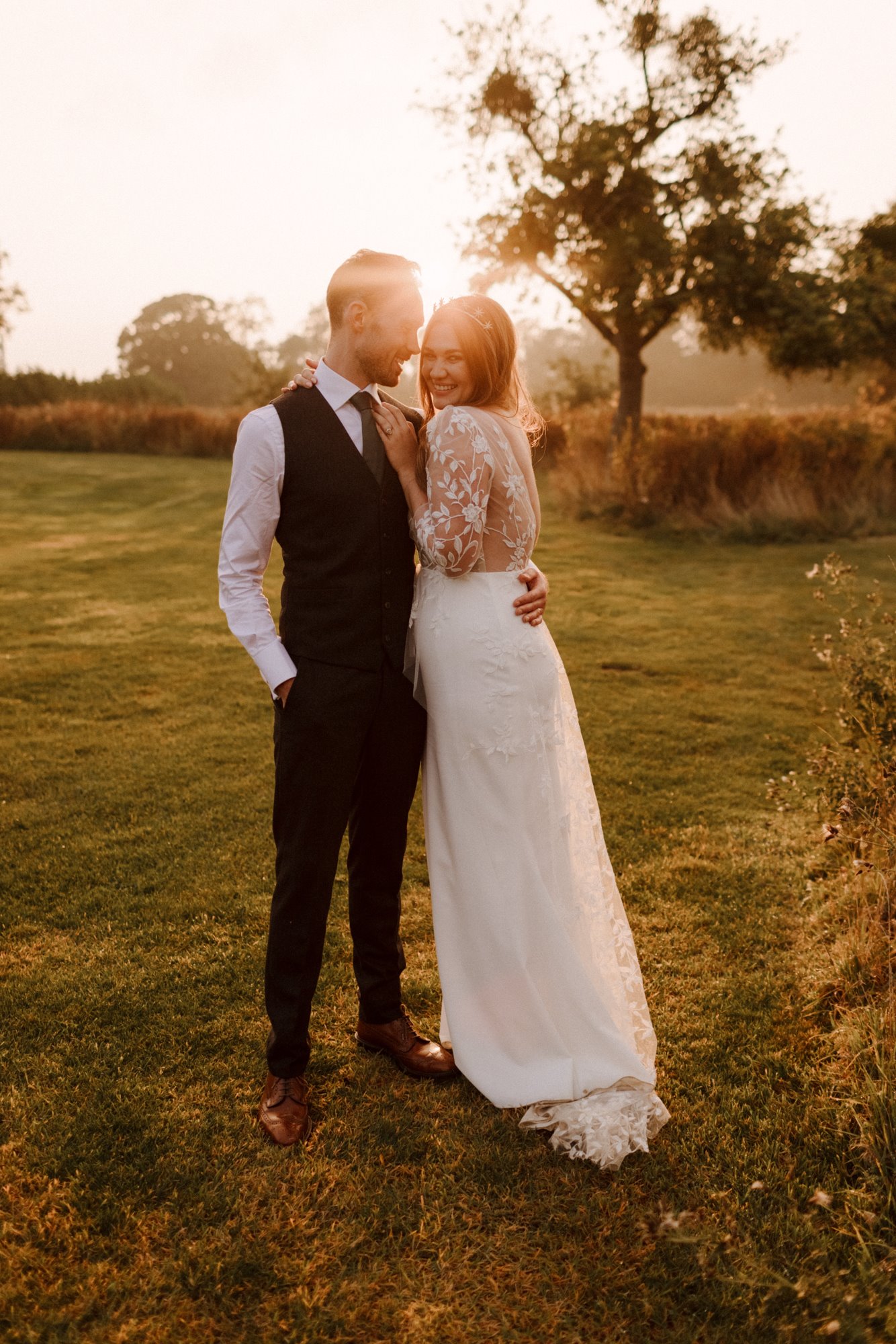 Tell us your proposal story
We got engaged almost exactly 5 years after we met on the 20th April 2018.
We were on a big trip where we had a week in Iceland and then a week in New York and Matt proposed in Central Park. I had my sights set on a particular ring made by a New York jeweller called Anna Sheffield and said to Matt I'd like to go and see it while we were in New York unbeknownst to me he had already ordered it and was trying to keep me away from the jewellers all trip!
It was my birthday three days before he proposed and one of the gifts he got me was a manicure at a cool nail salon, basically so he could get rid of me for an hour while he went to pick up the ring.
While I got my nails done he ran to the shop, then ran back to meet me and we spent the afternoon drinking coffee and wandering around central park hand in hand, and I spent the entire time moaning about my hay fever!
The proposal was a huge surprise and the nail appointment was a great plan as not only did it keep me busy for an hour but my nails were photo-ready!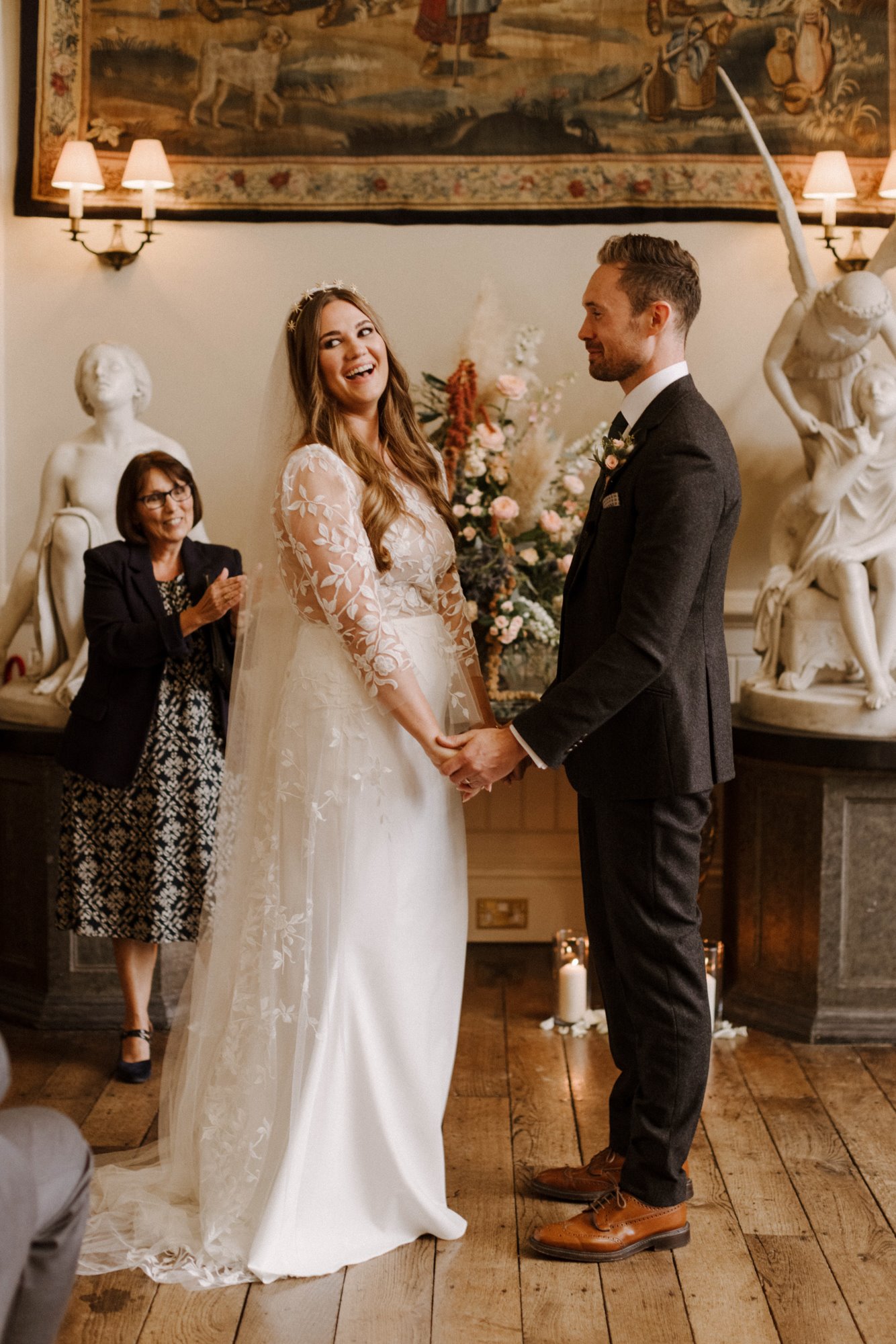 Why our wedding venue?
We wanted somewhere that felt quite grand but cool, relaxed and un-stuffy and Elmore Court was perfect.
As soon as we saw it we knew it was the one. We loved the history of the house mixed with the modern Gillyflower and knew it would be great for a party, and somewhere we could have family and friends stay over with us.
Where did your wedding inspiration come from?
There wasn't a particular theme or style – we just chose things we liked and it was all pretty cohesive. Lauradana from Wedding Creations UK was our wedding stylist (we actually found her on an Elmore Court open day) and she was great to work with to help us plan how it could all come together.
We were living in Amsterdam at the time so knew I wouldn't be able to buy or make lots of props and signage etc. as we wouldn't be able to bring it all over so we really relied on Lauradana for that and she had such a massive collection to choose from.
Our main wedding colours were cream, gold and green. With a peach and pink palette for the flowers.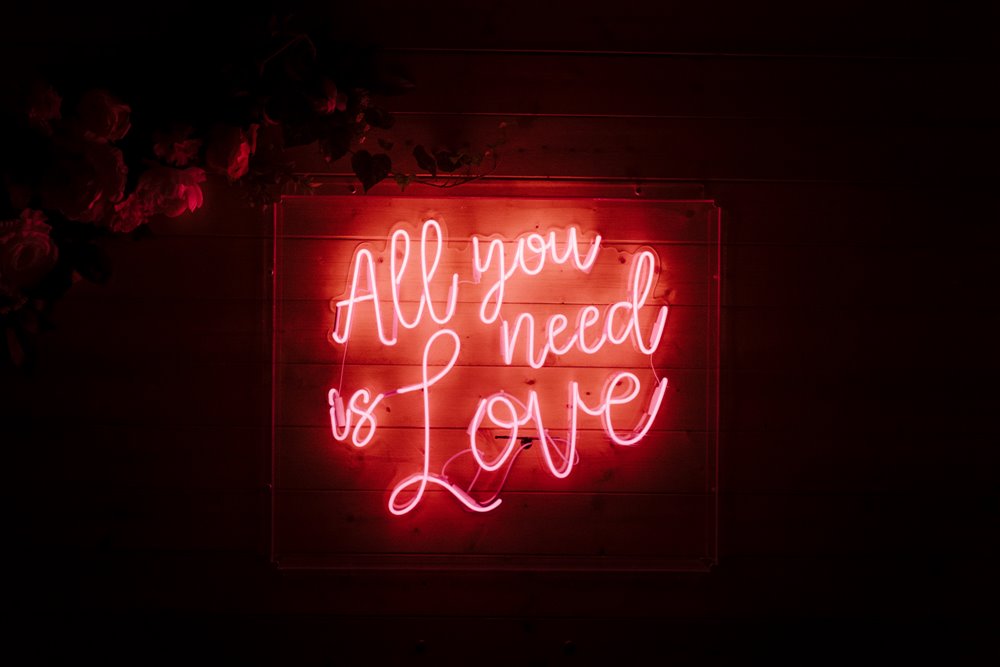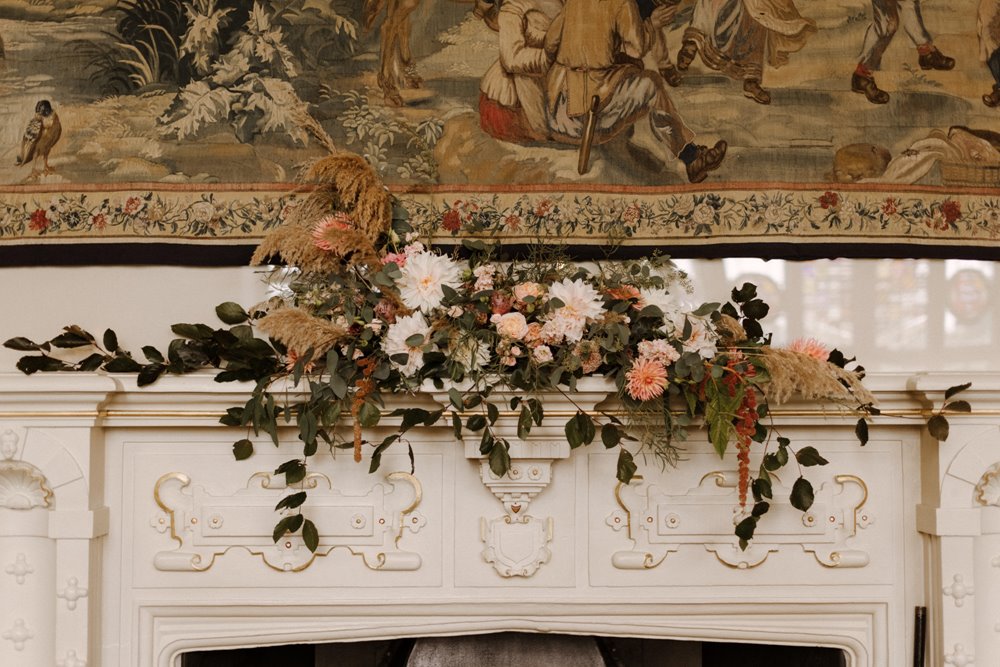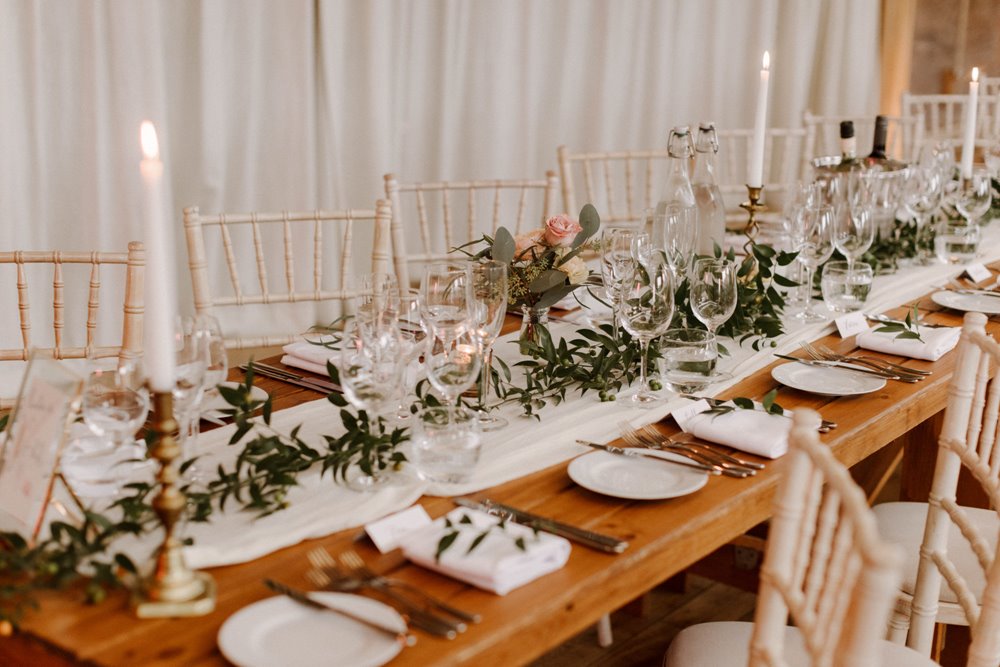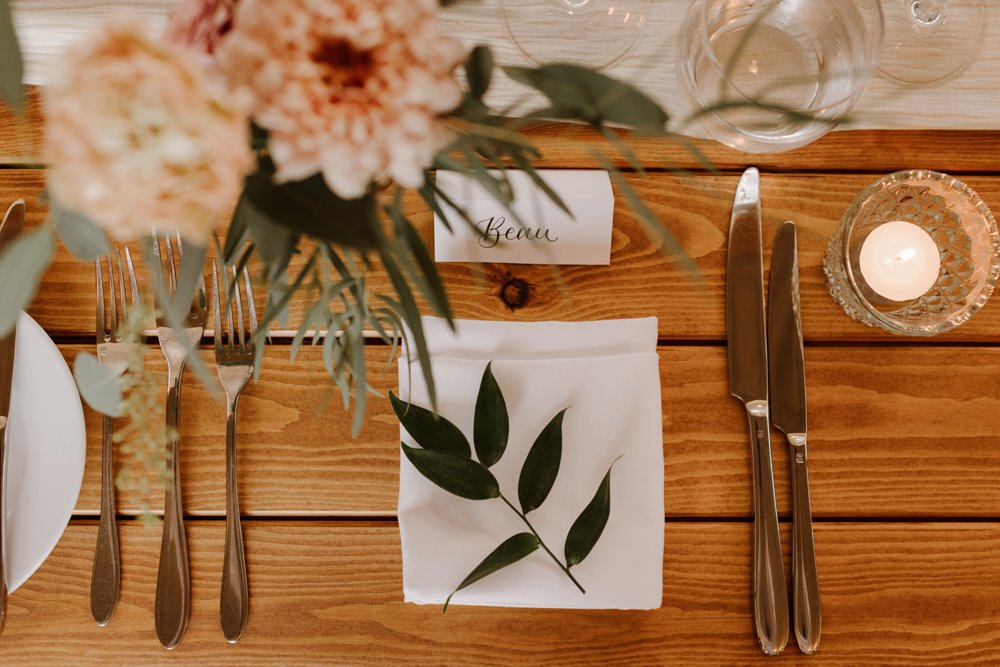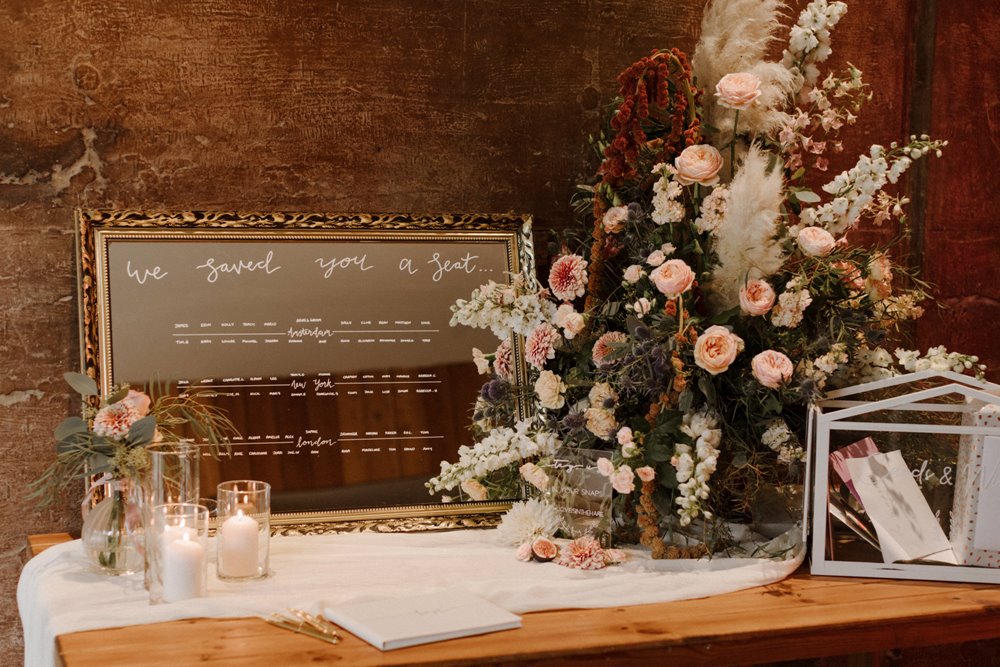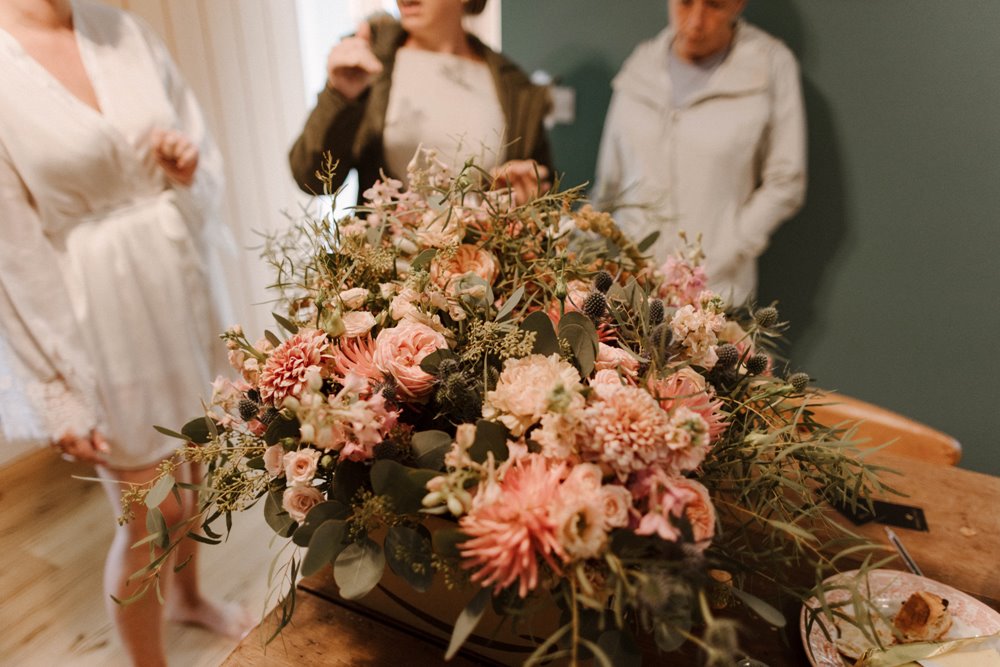 How was covid wedding planning??!
We started planning almost immediately and originally had a 2-year engagement, but Covid had other plans. Everything was pretty much ready 6 months before our original date when Covid hit and we were told our wedding would need to be postponed – we were heartbroken.
We ended up having to postpone once more so by the time we got to our date it was 14 months later than planned, and we were more than ready to become husband and wife.
I enjoyed the planning up until the postponement but the uncertainty around Covid certainly put a damper on things – but we had everything organised it was just a waiting game to see when it would go ahead.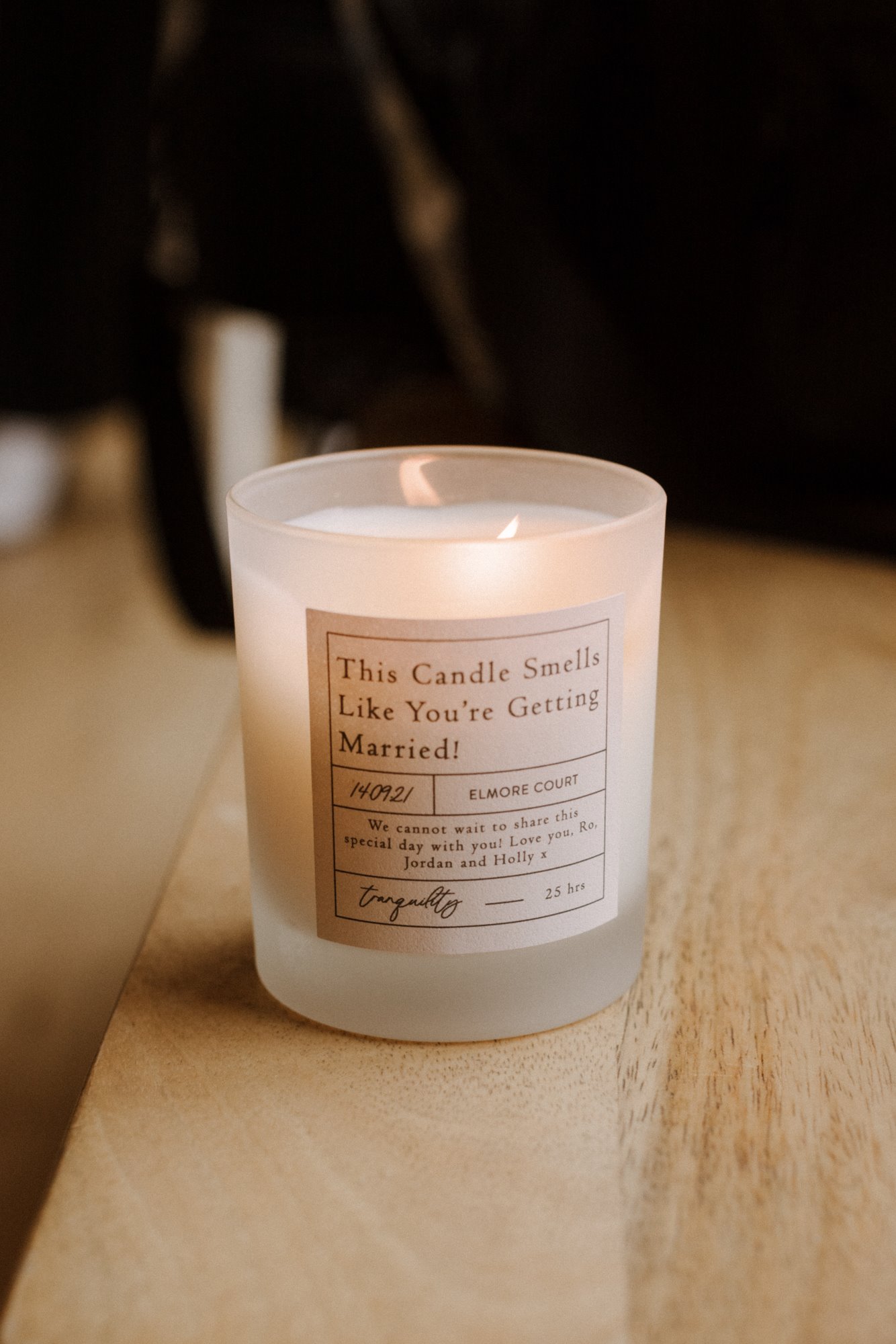 How about those luxe wedding flowers?
I wanted my flowers to be as extra as possible. The brief to our florist Maria at Sorori Design was lots of colour, texture and volume and she nailed it.
The flowers were even more amazing than I hoped. Gorgeous colours, stunning arrangements and everyone commented on how beautiful they were.
I also asked Maria to include thistles as a nod to my late Scottish grandad.
My mother-in-law pressed and framed my bouquet as a gift and it's just the most wonderful memento from the day.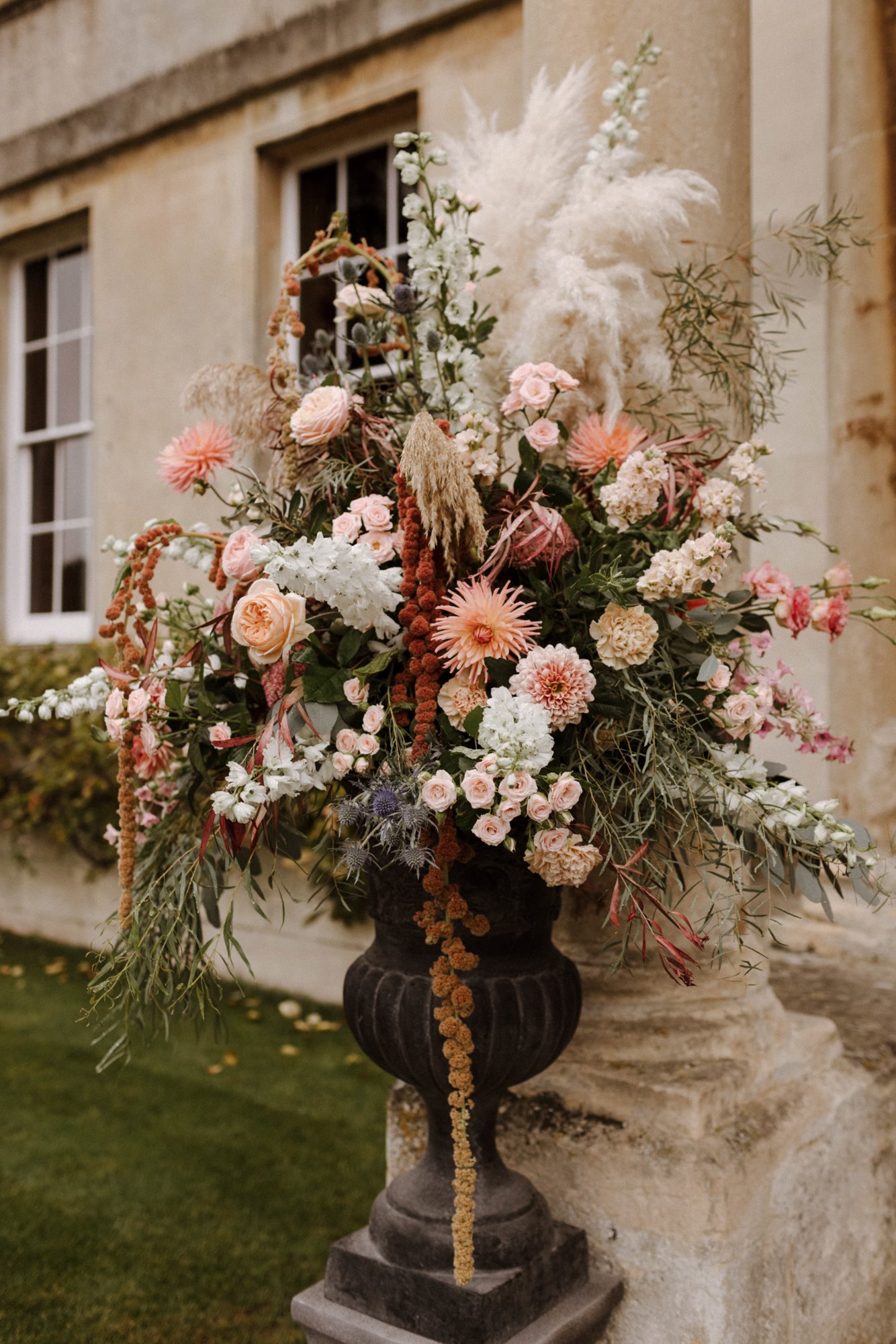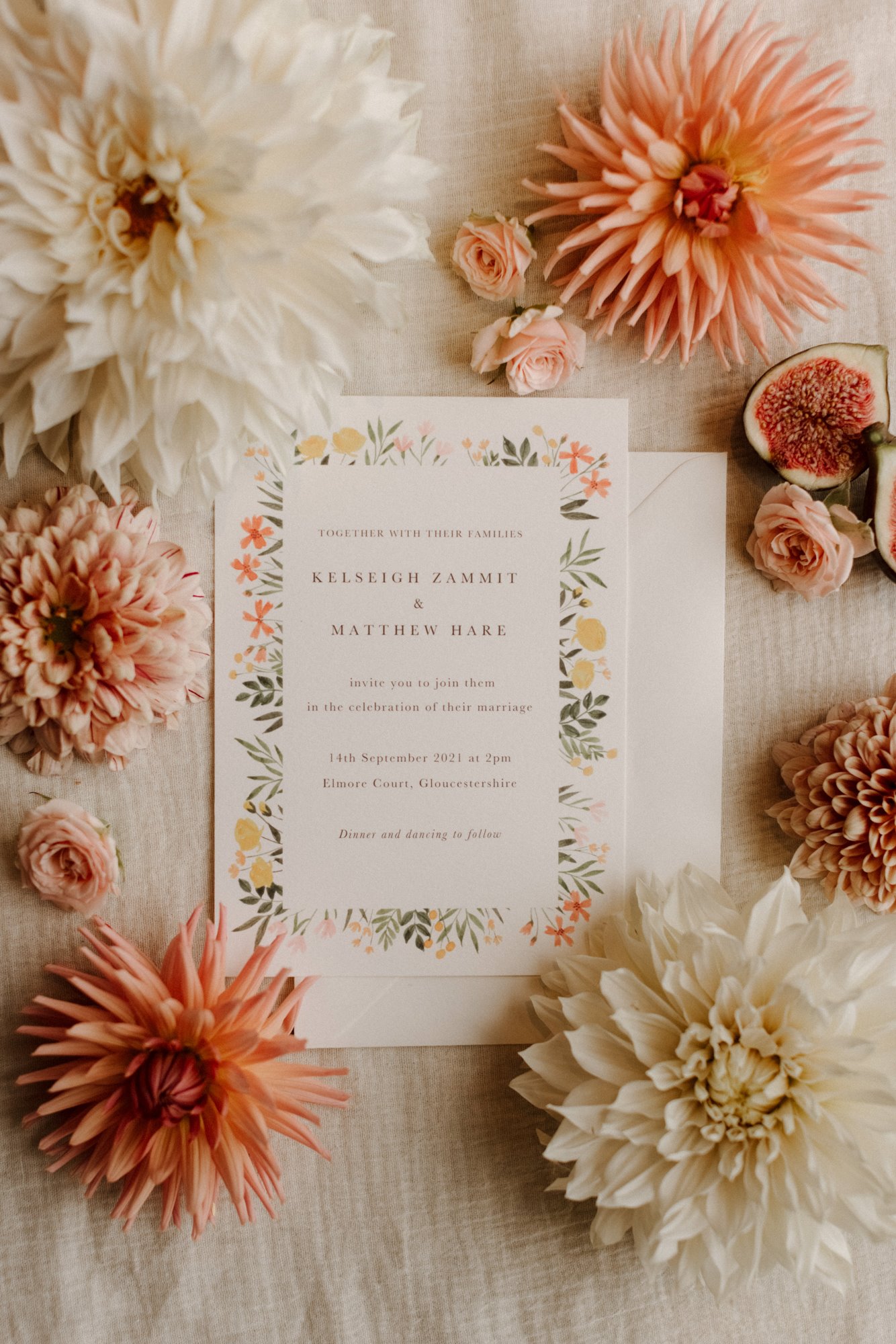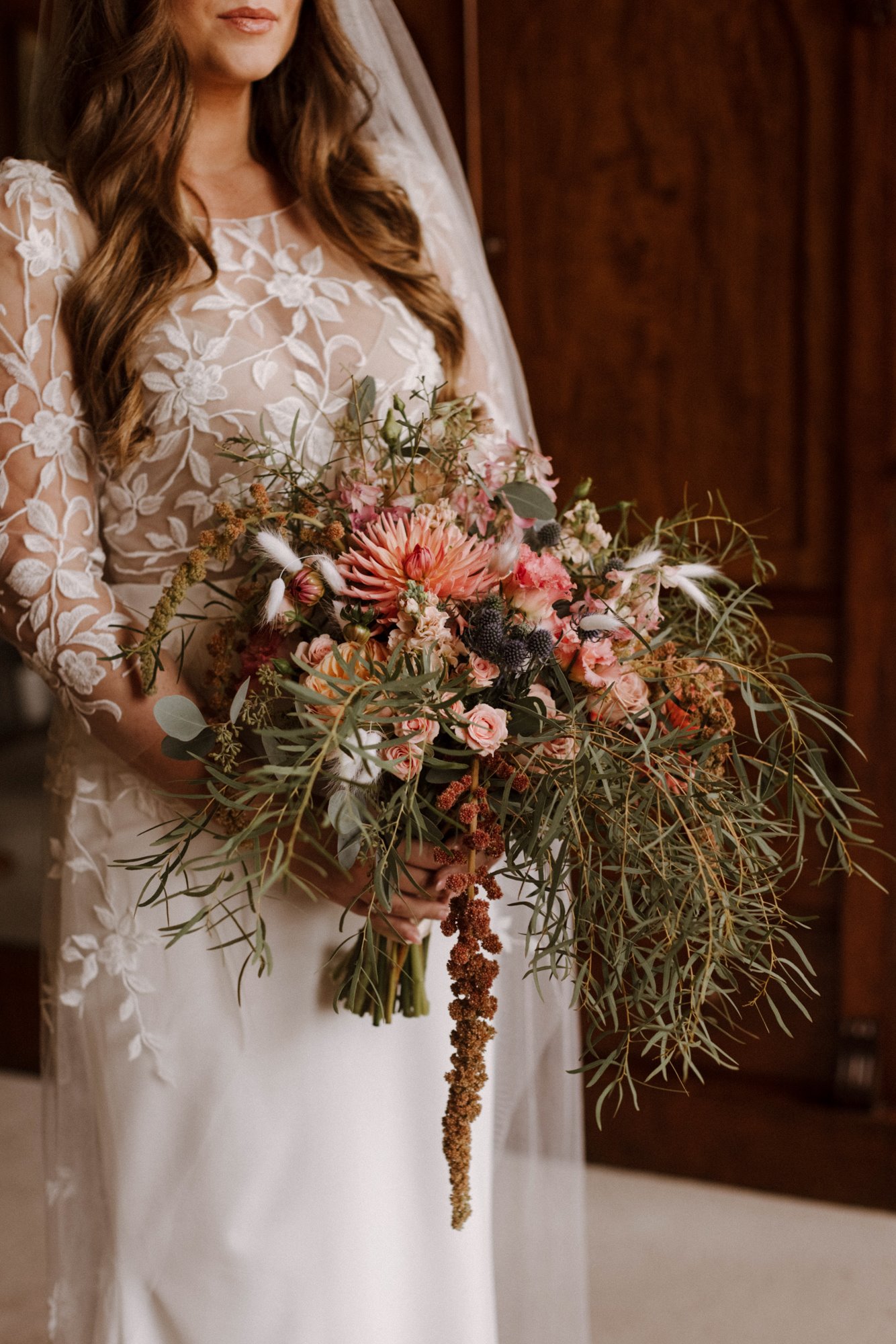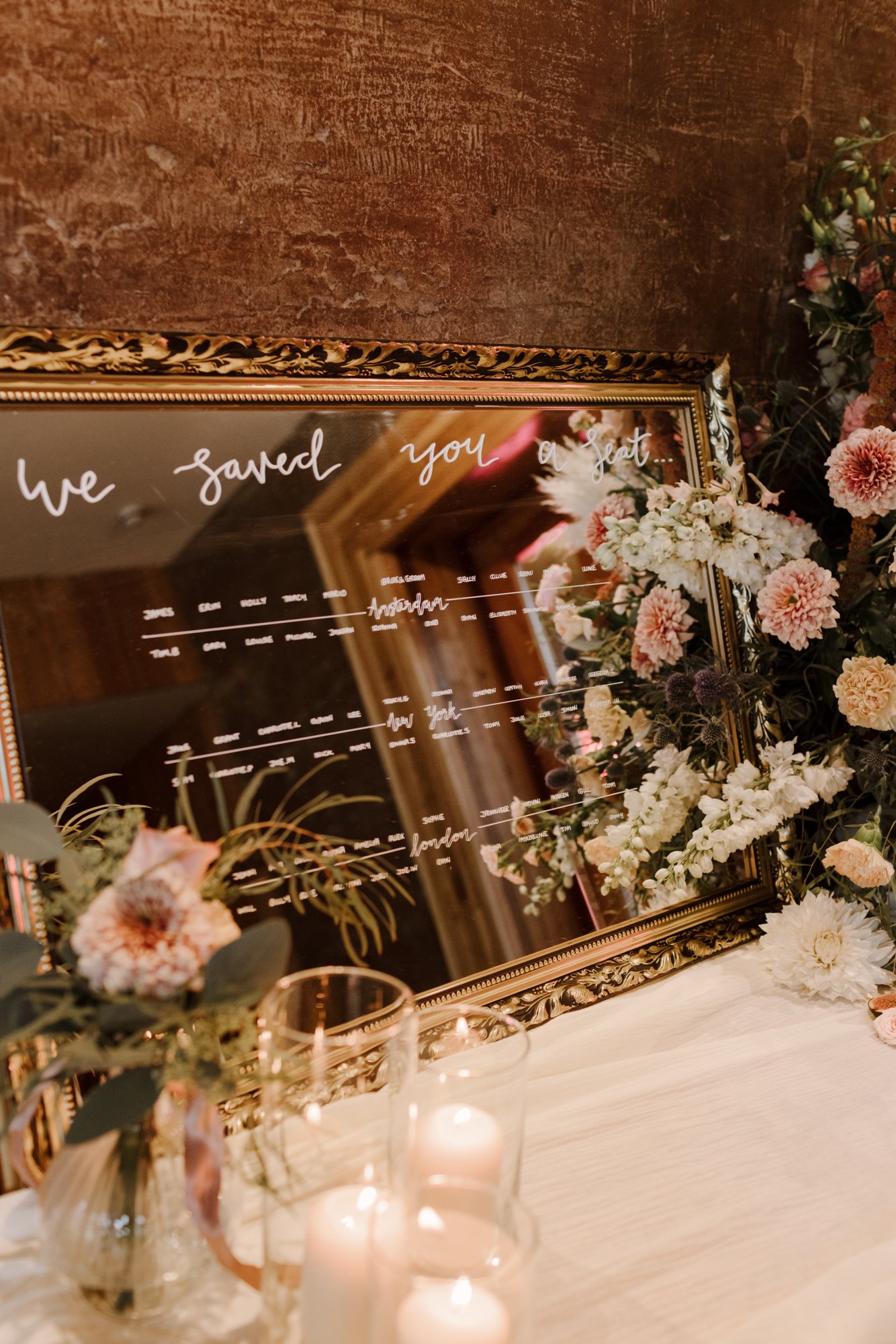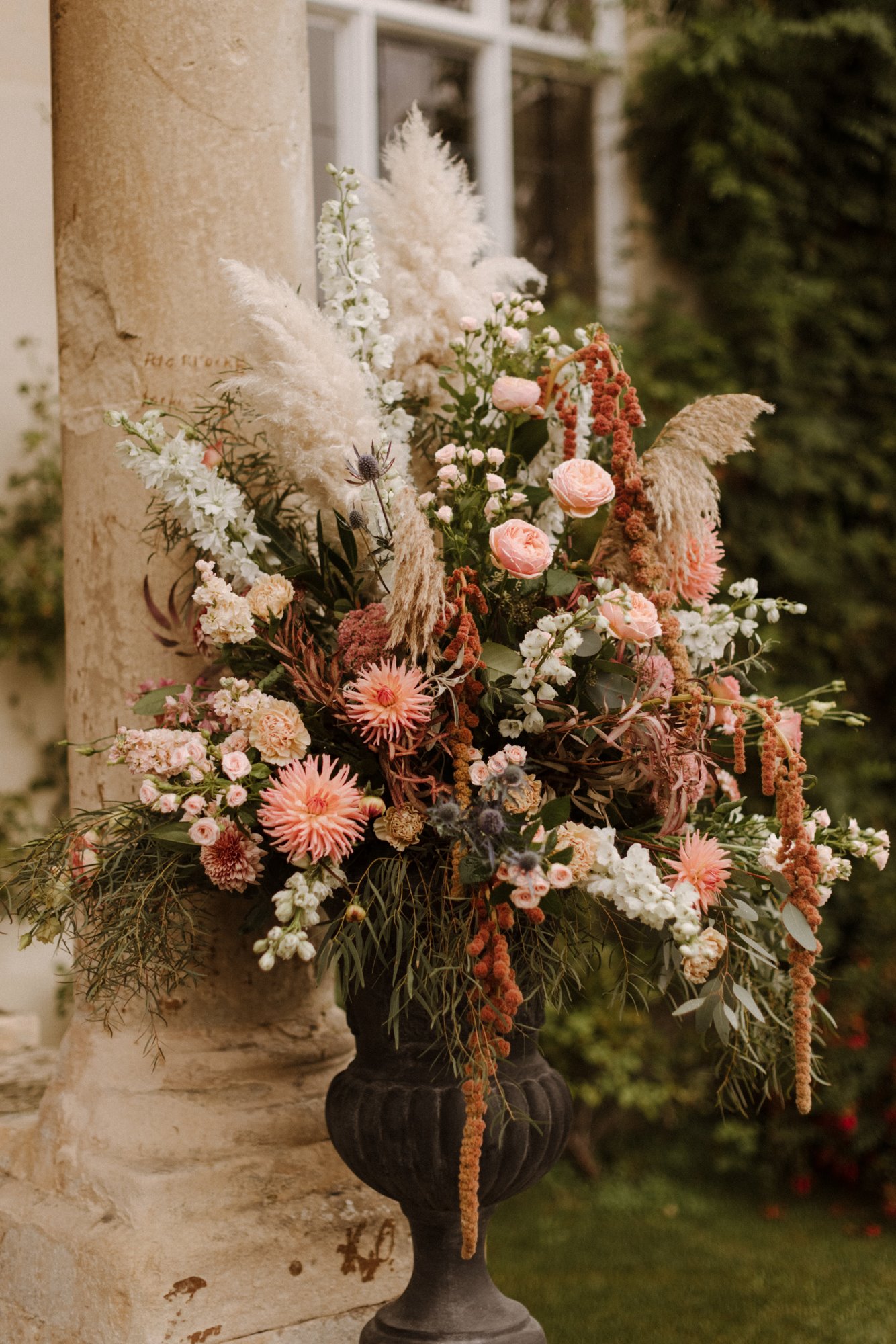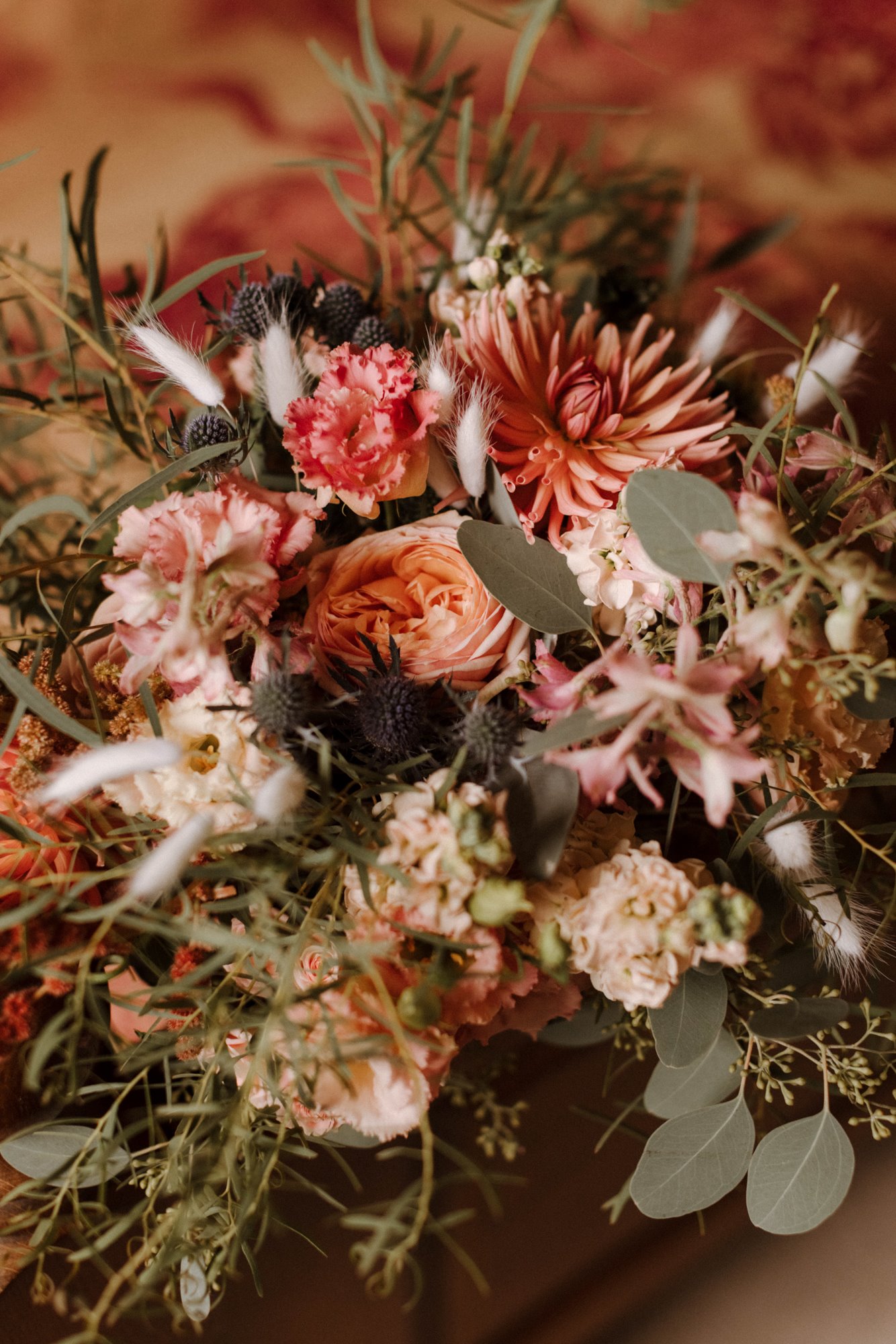 What was the focus of your wedding plan?
We just wanted everyone to have a good time! Which to us meant good food, good music and good company. We used Elmore Court caterers and we were blown away – everything was delicious and the staff were amazing at keeping glasses topped up so nobody was ever wanting for anything.
One little thing we really appreciated is our wedding coordinator Alex took us to see the set-up in the Gillyflower before our wedding breakfast and the catering manager had kept one of each canape aside for Matt and me to try!
It's such a busy day the bride and groom don't always get time to eat but this was such a thoughtful way not only to make sure Matt and I were fed and watered but that we got to try each of the canapes we had painstakingly chosen!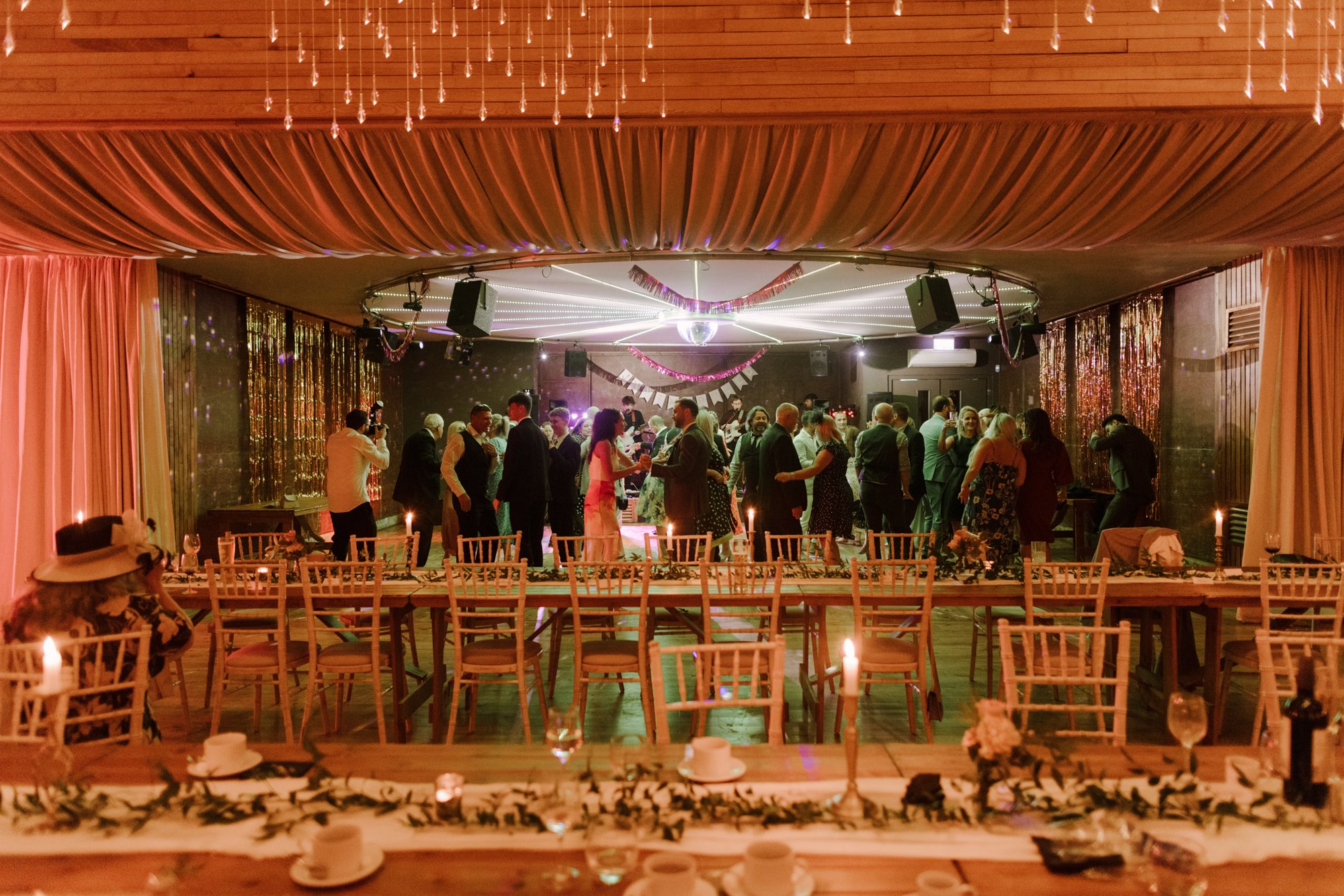 You looked like a Goddess. How did you find your wedding outfit?
"When we had to cancel our first wedding date we still celebrated by having a 'nearly-weds' celebration in my parents' garden and Matt bought me a bracelet and I bought him some gold cufflinks that we could wear on the day when it finally arrived."
I really struggled to find a dress, I just didn't know what I wanted. I must have tried on over 100 dresses between London and Amsterdam and I actually put a deposit down on one and then chose another. I liked my dress but was still not sure it was the right one. Then Covid happened and I had a lot more time to think about it (plus more time to save) and I actually went and bought an entirely new dress! One that felt much more me and I'm so glad I did.
I think I had been swayed previously with other people's opinions (plus trying to stick to a budget) and I should have just listened to my gut in the first place.
My dress is by French designer Rime Arodaky and it was my dream dress. I had seen it online but had never allowed myself to try it on as it was above my original budget, but it was always in the back of my mind.
I loved the little puff shoulders, the applique and the simple crepe.
I got it from a store in Nijmegen in the Netherlands called Wild at Heart. They were the only place I could find anywhere near me that stocked the dress and this was in full swing covid so friends and family couldn't visit, so I got on the train and went for an appointment alone where I Facetimed my mum and bridesmaids and knew it was the one!
I had originally planned to change into a white jumpsuit in the evening but I loved my dress so much I didn't want to take it off, plus the train wasn't too long that I could still dance all night in it.
My shoes were the Jimmy Choo lance heels and I loved them. My maid of honour is a shoe obsessive and it was her who convinced me to say "I do" in Choo and I'm so glad she did. Even if she did have to run up to my room and grab some sandals for me for the reception as my feet were hurting by the evening!
I wore drop pearl earrings by a Dutch designer, and a gold bracelet with a north star that matched my headpiece that Matt had gifted to me on our original wedding date the year before.
When we had to cancel our first wedding date we still celebrated by having a 'nearly-weds' celebration in my parents' garden and Matt bought me a bracelet and I bought him some gold cufflinks that we could wear on the day when it finally arrived.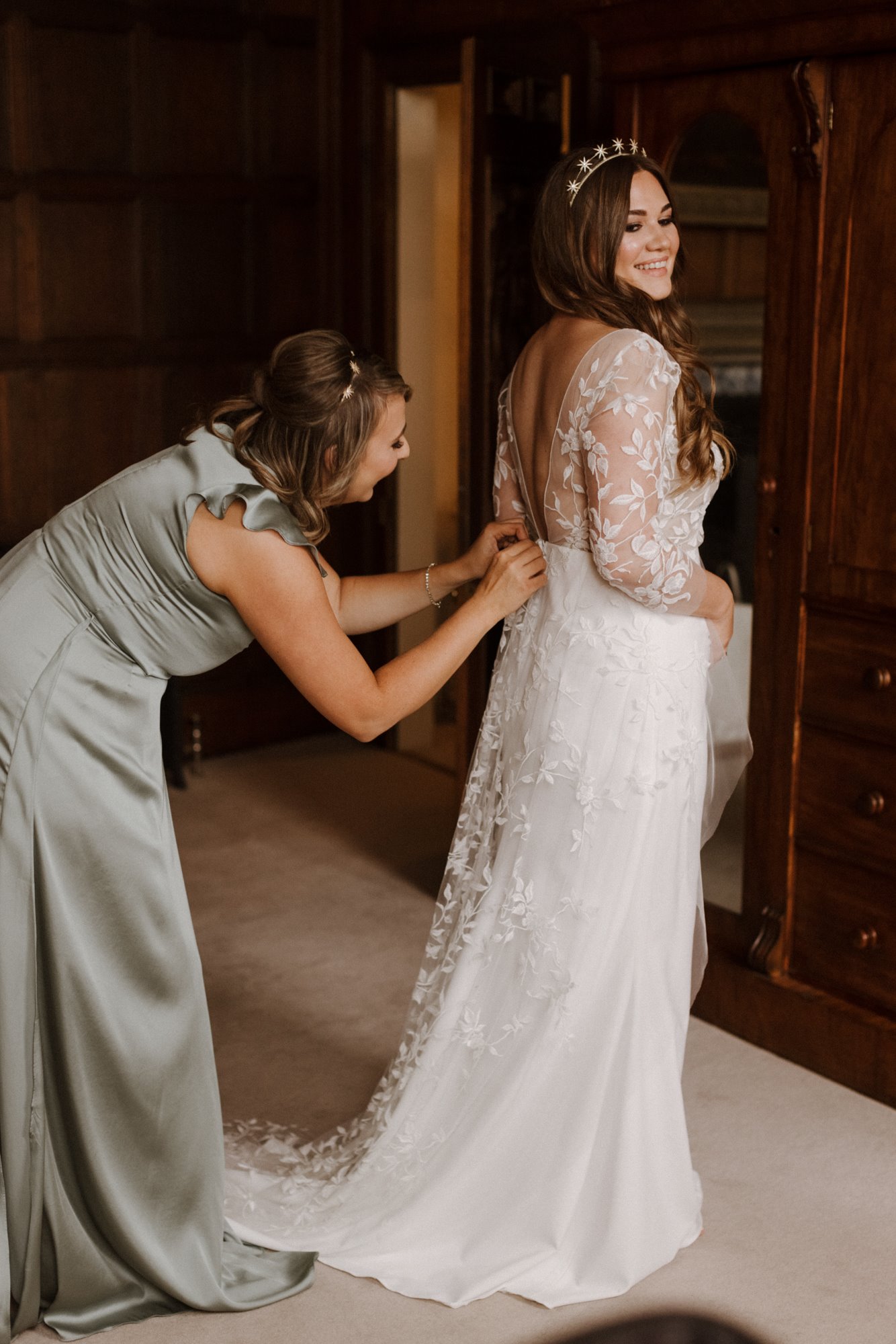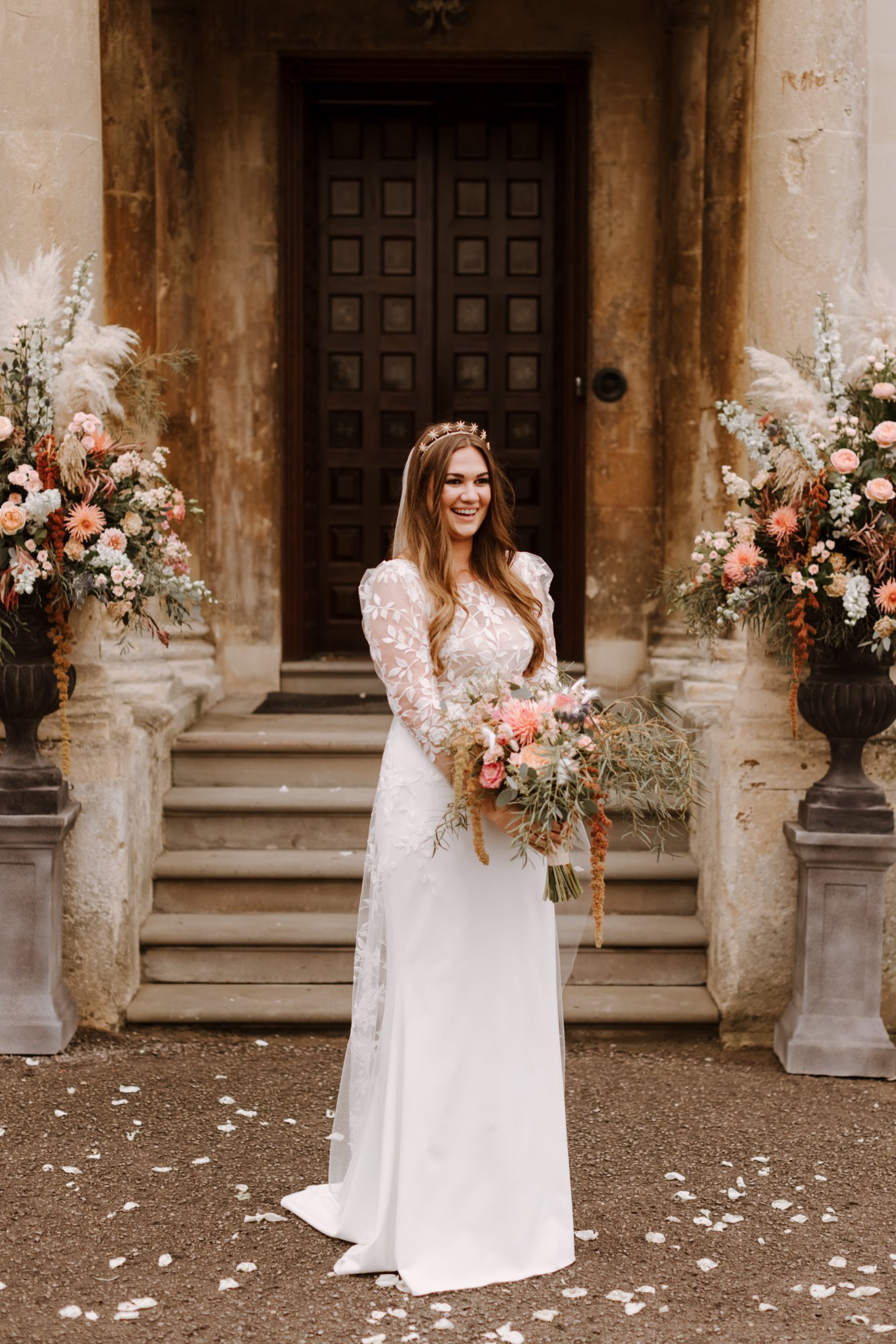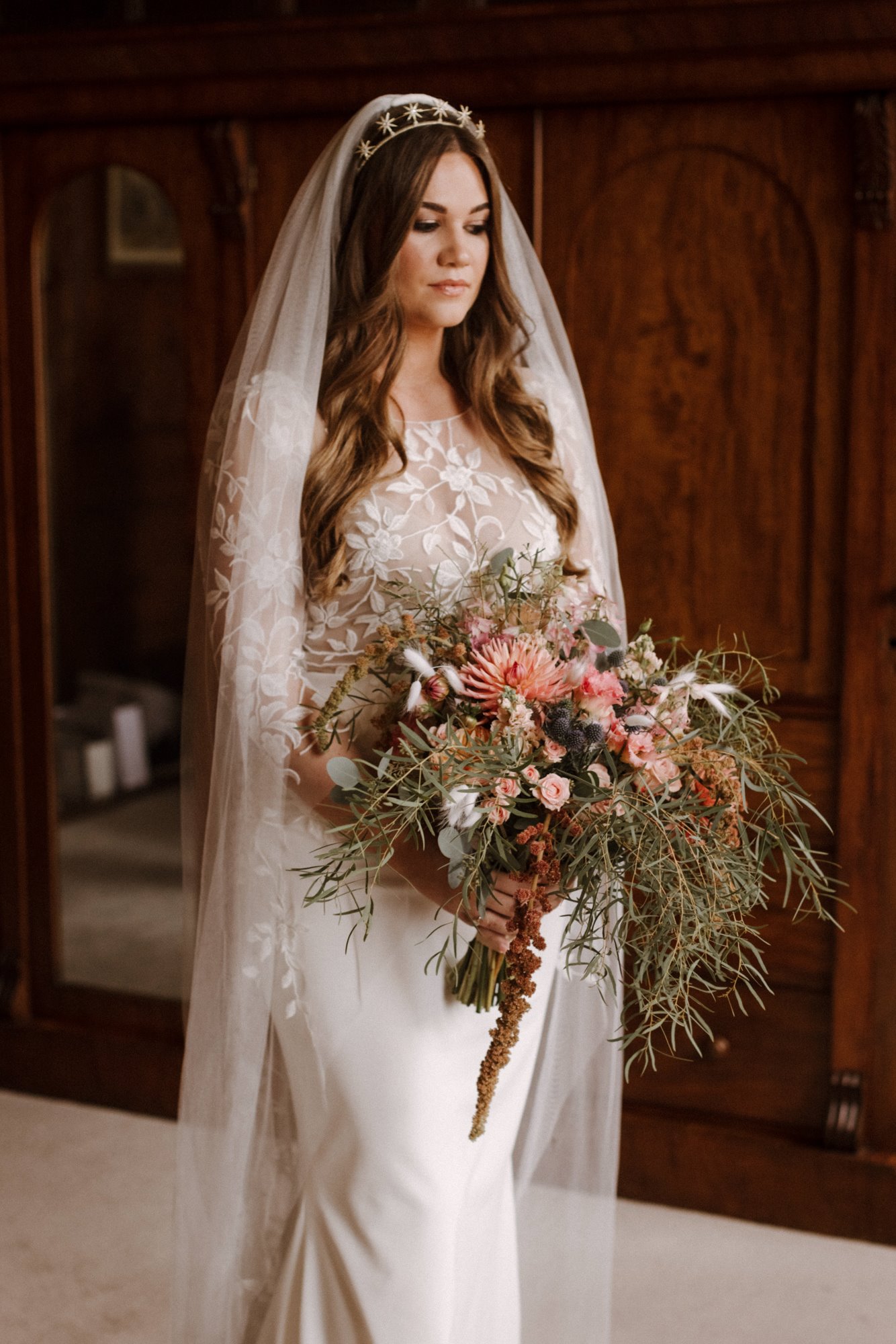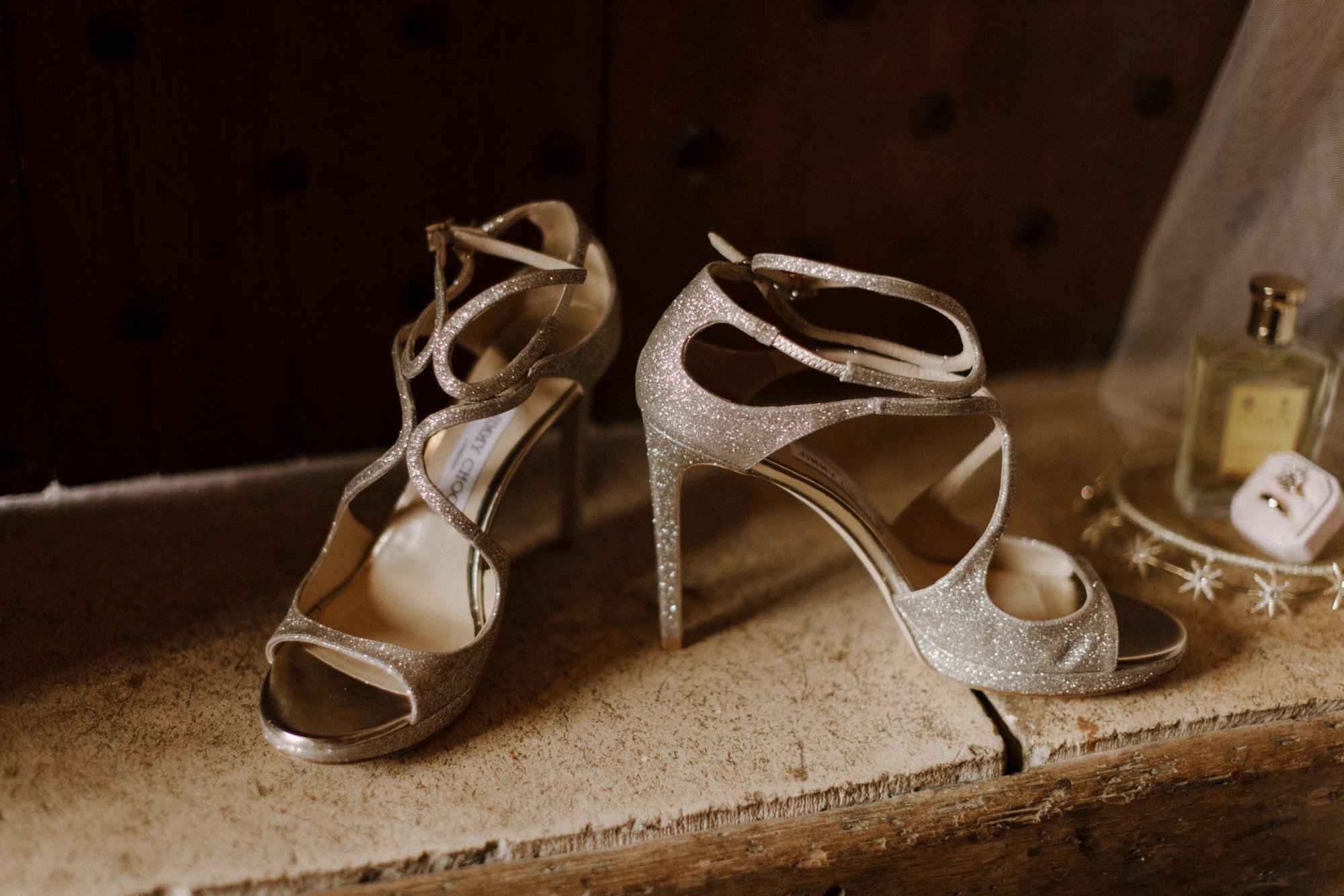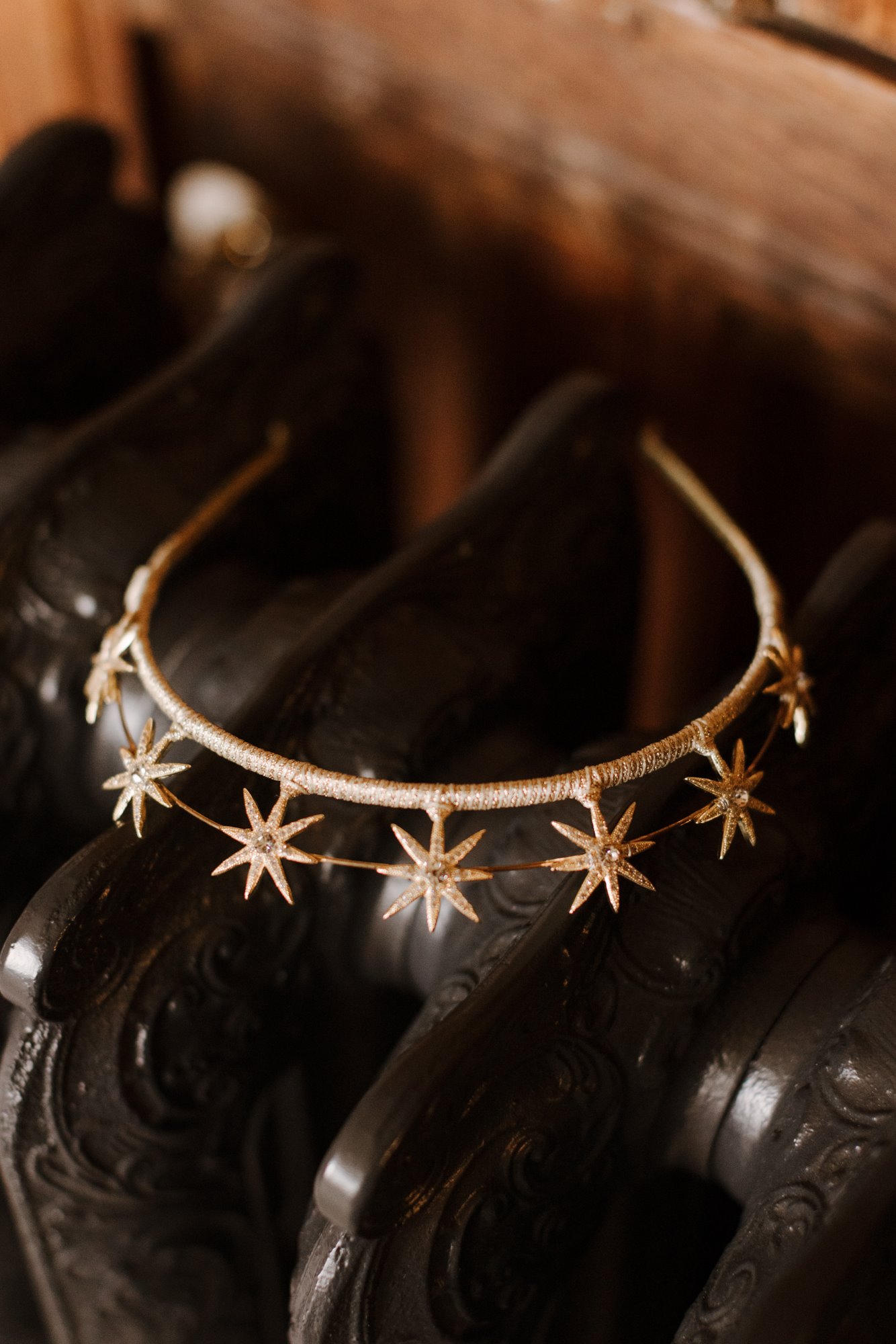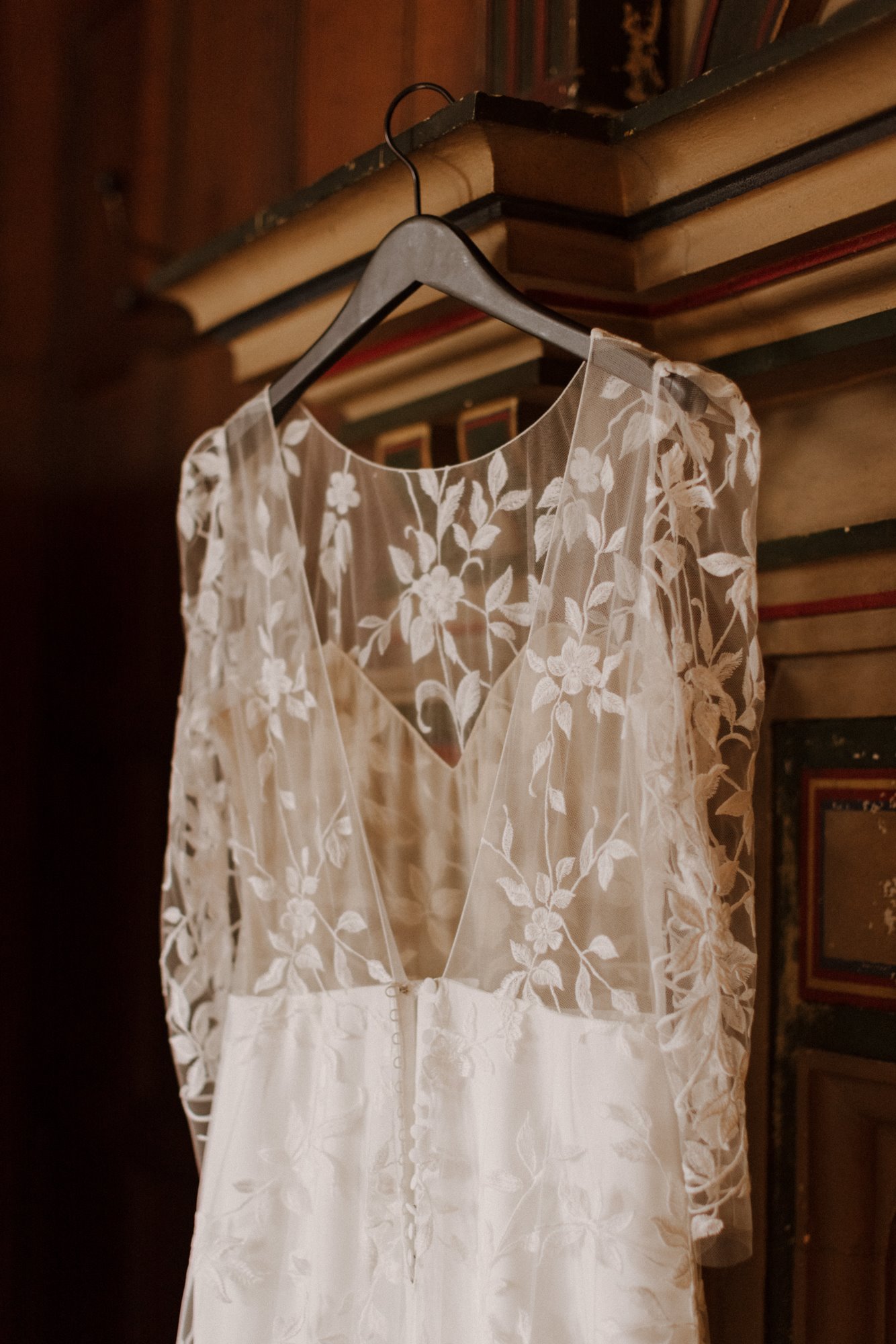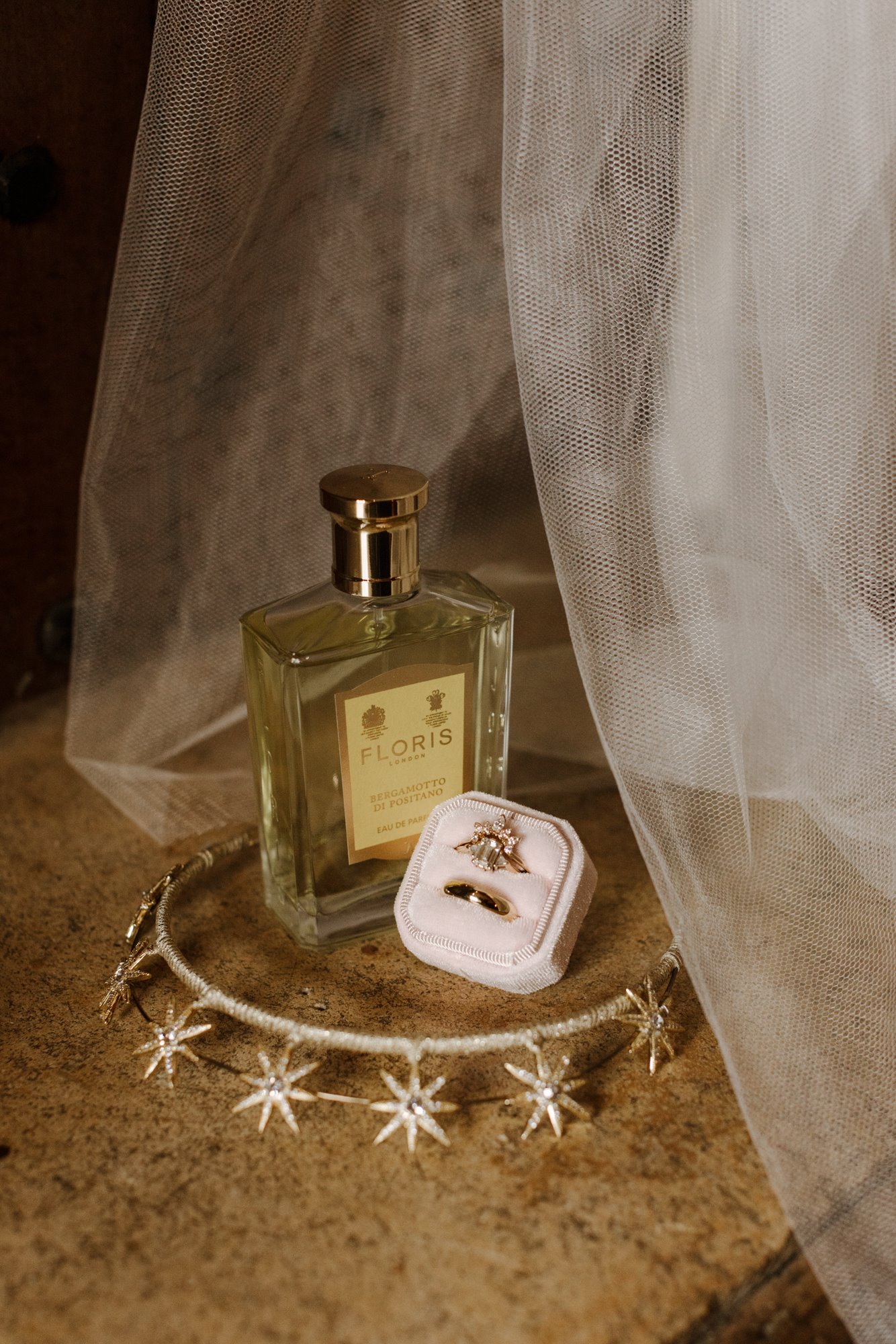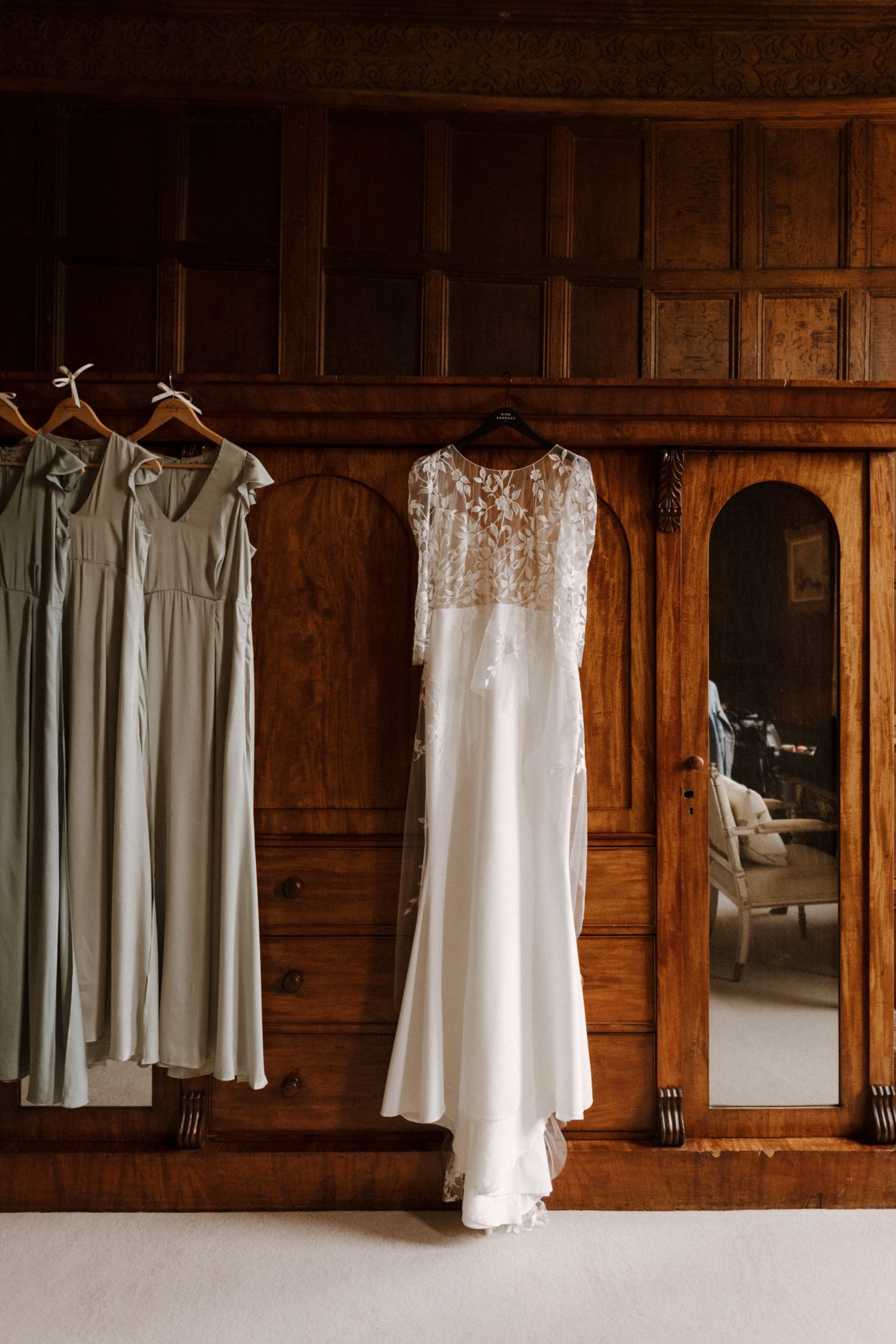 Who did your beautiful hair and makeup?
I had Eleanor Nancy do my make-up and Louise Alway do my hair and they are both so talented.
My bridal party all loved their hair and make-up too!
Ellie did an incredible job with the make-up, I said I wanted something soft in peaches and golds with a heavier eye and she did a fantastic job – it stayed all day and I loved it.
I had my hair down and wavy as I always wear my hair down so it felt more "me" Louise created loose, bouncy waves and I wore a gold headpiece and a simple veil.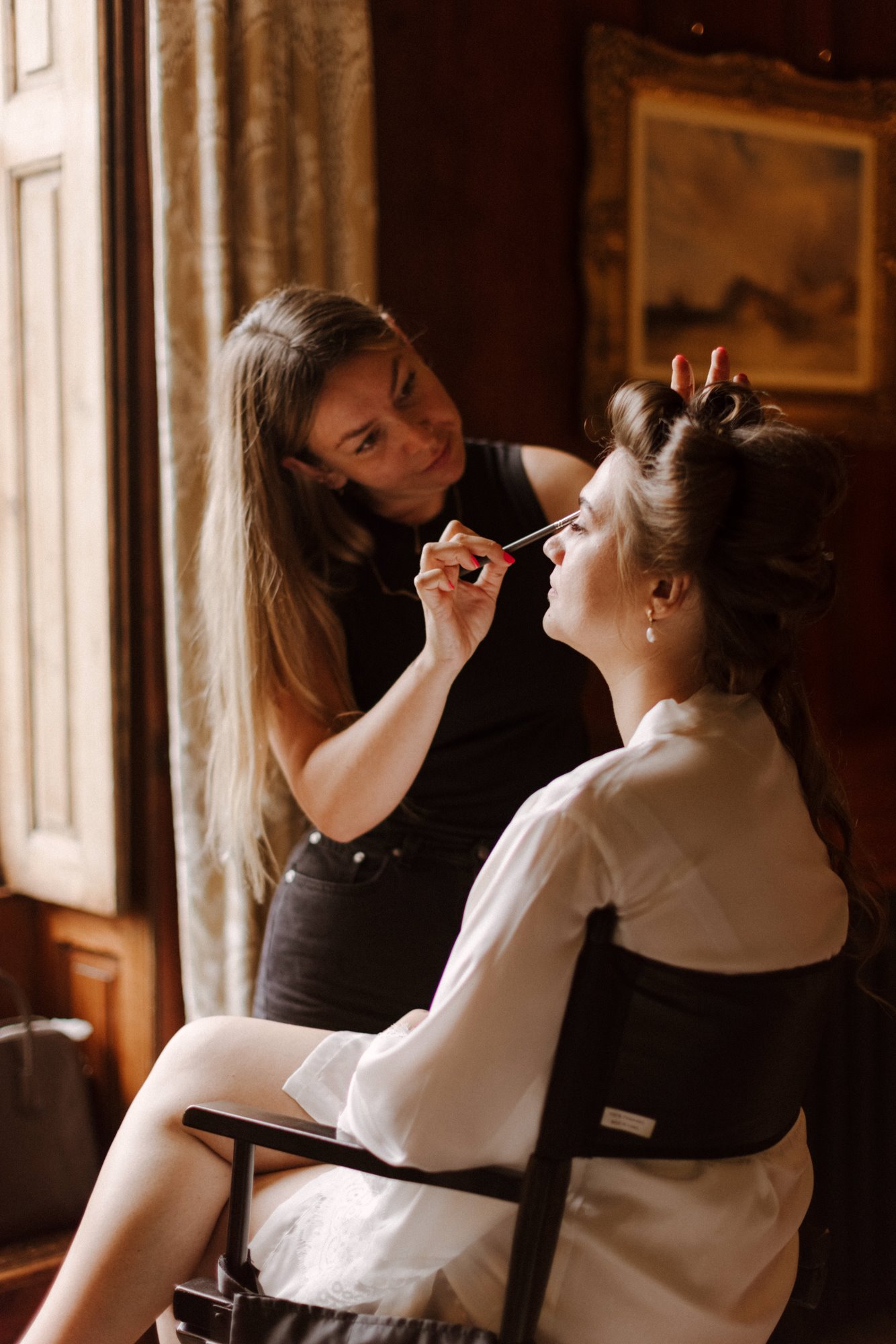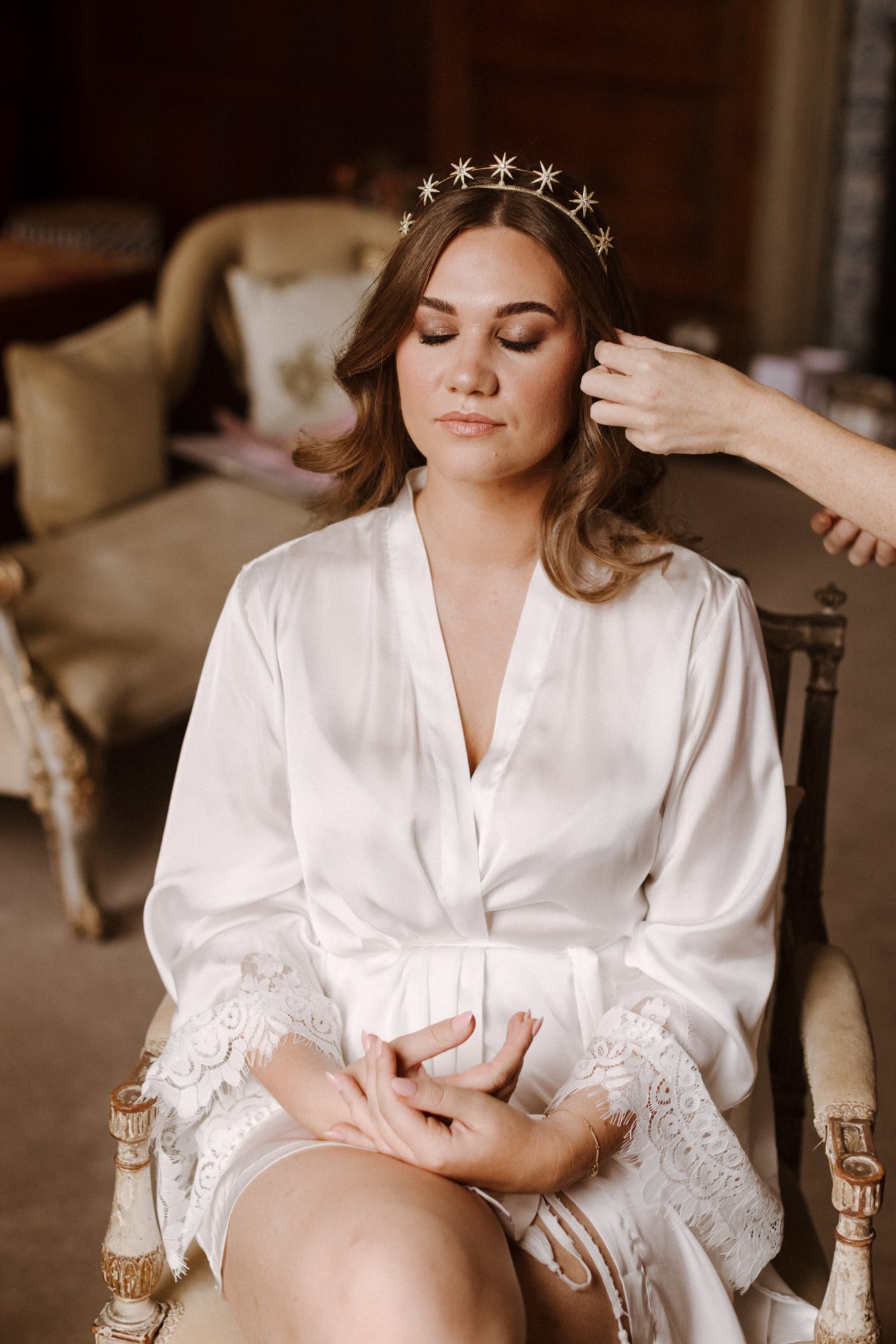 Your bridal party
My best friend Roanna was my maid of honour and I had my two sisters as bridesmaids. My youngest sister was almost 9 months pregnant at the time so my niece was also there technically!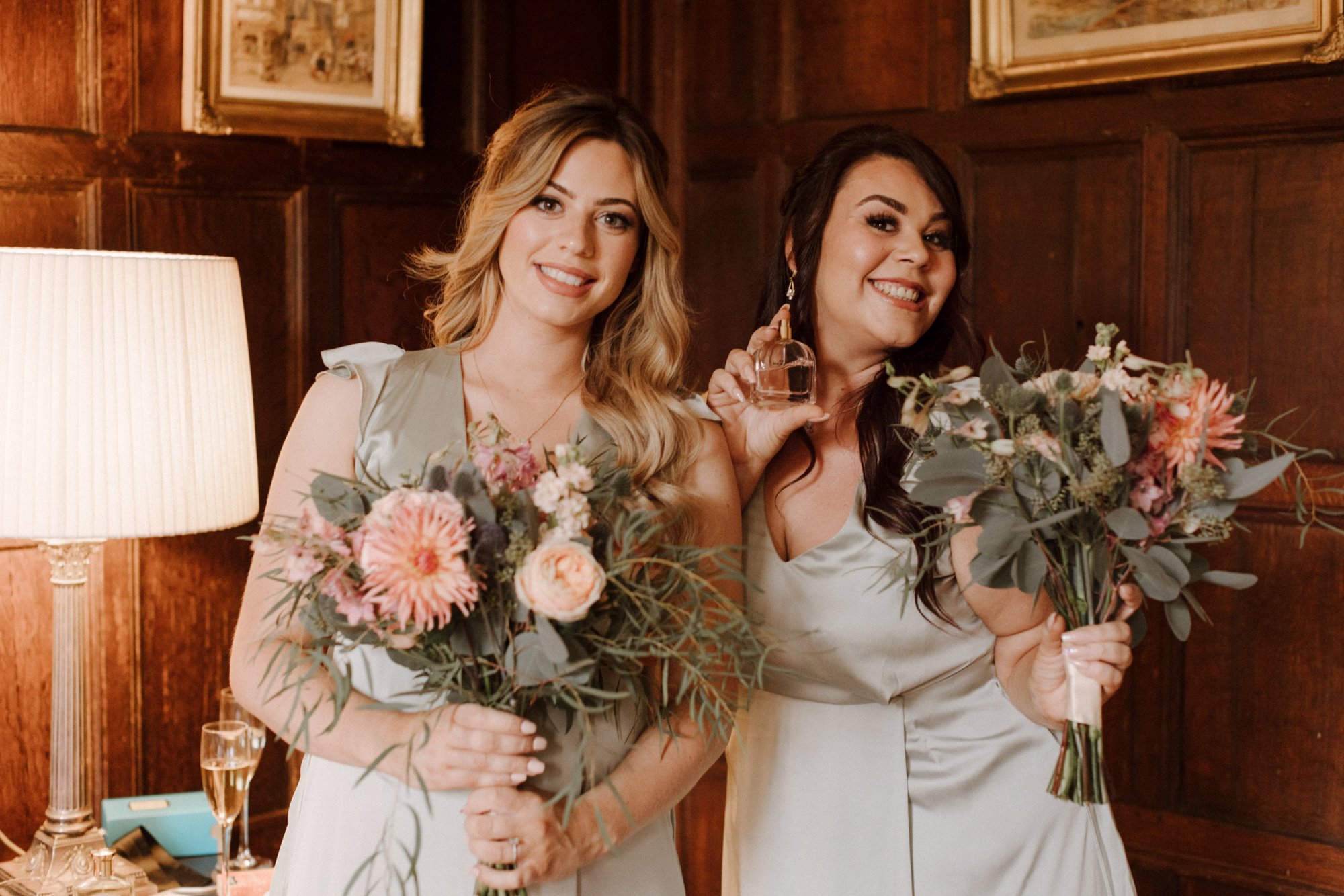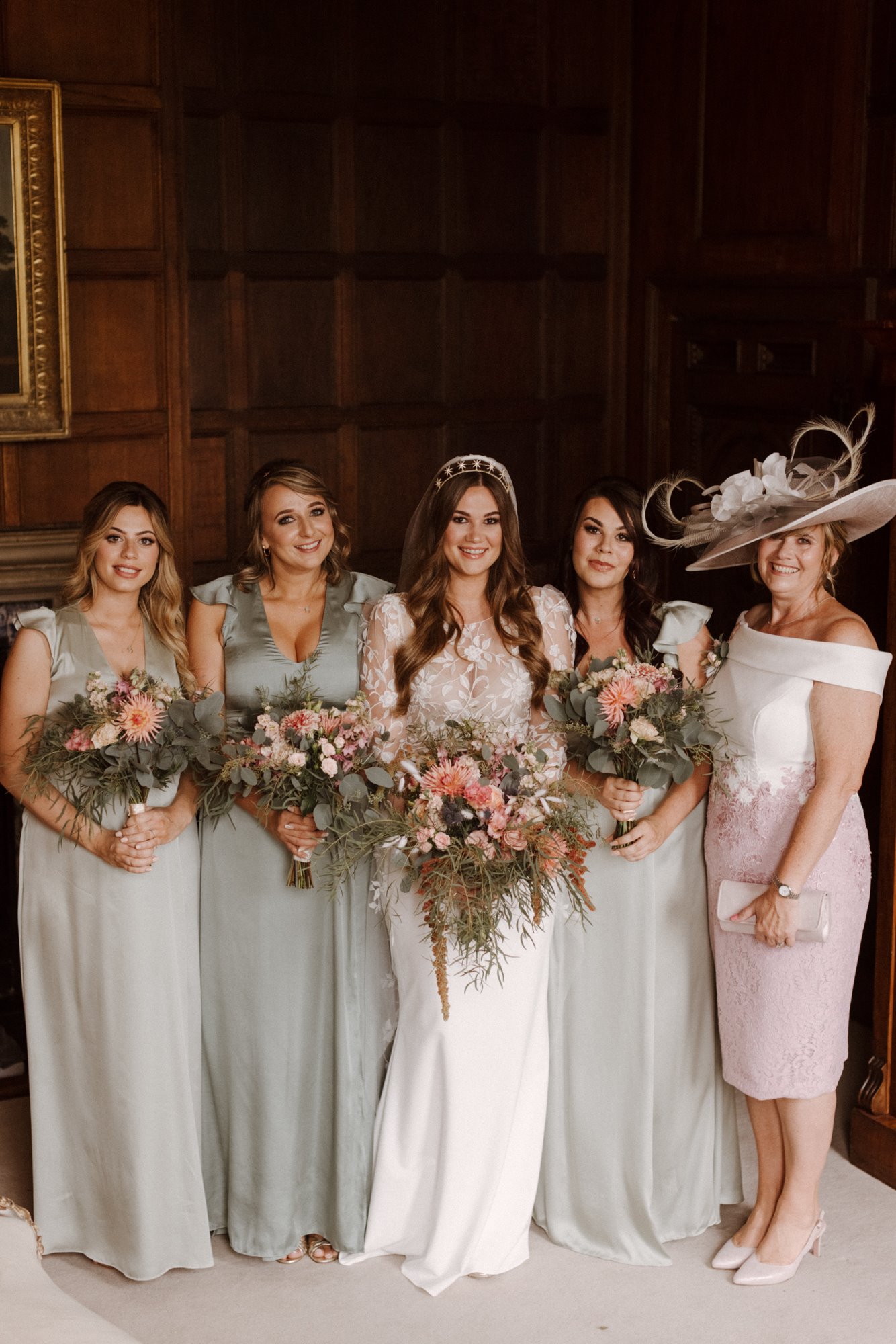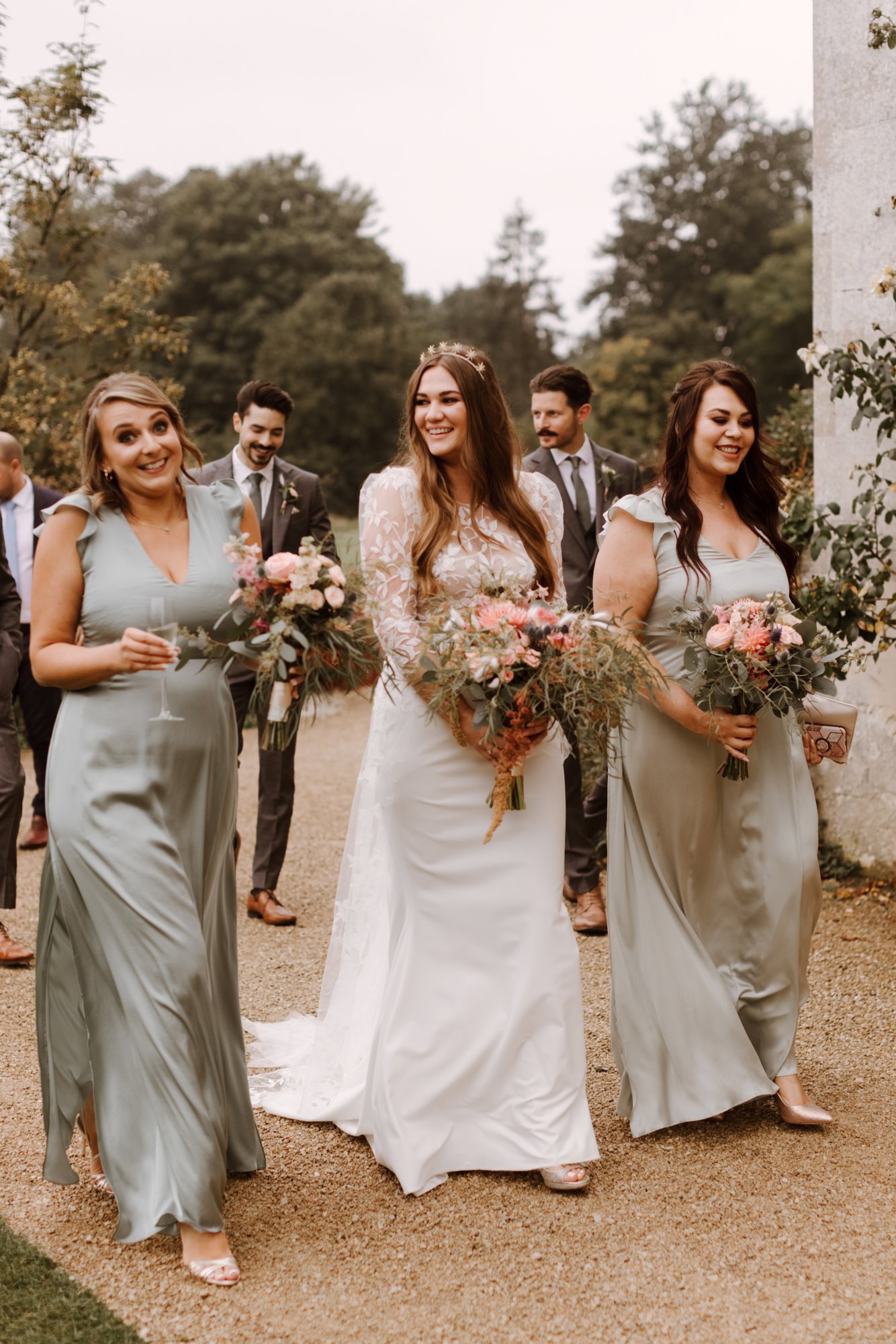 What about the Grooms and Groomsmen outfits?
Matt – I wore a bespoke tailor-made suit from a place called De Oost Bespoke Tailoring in Amsterdam. It was a great experience as you got to choose everything from the fabric, the fit, the lining, even the number of buttons and the fastenings.
I had the suit made almost 2 years before the date actually happened thanks to Covid but luckily my body hadn't changed much during that time so it still fit perfectly!
My tie was from Reiss and shoes are brown brogues from Church's.
We hired grey 3-piece suits for the groomsmen and Kelseigh's dad from Moss Bros.
The night before the wedding Kelseigh and I hired a space in a local pub so everyone who was already in The Cotswolds could come and have a drink and some food, and it was great to be able to see everyone before the big day. Especially as we had been living in Amsterdam up until a week before the wedding so it had been a really long time since we'd seen most people.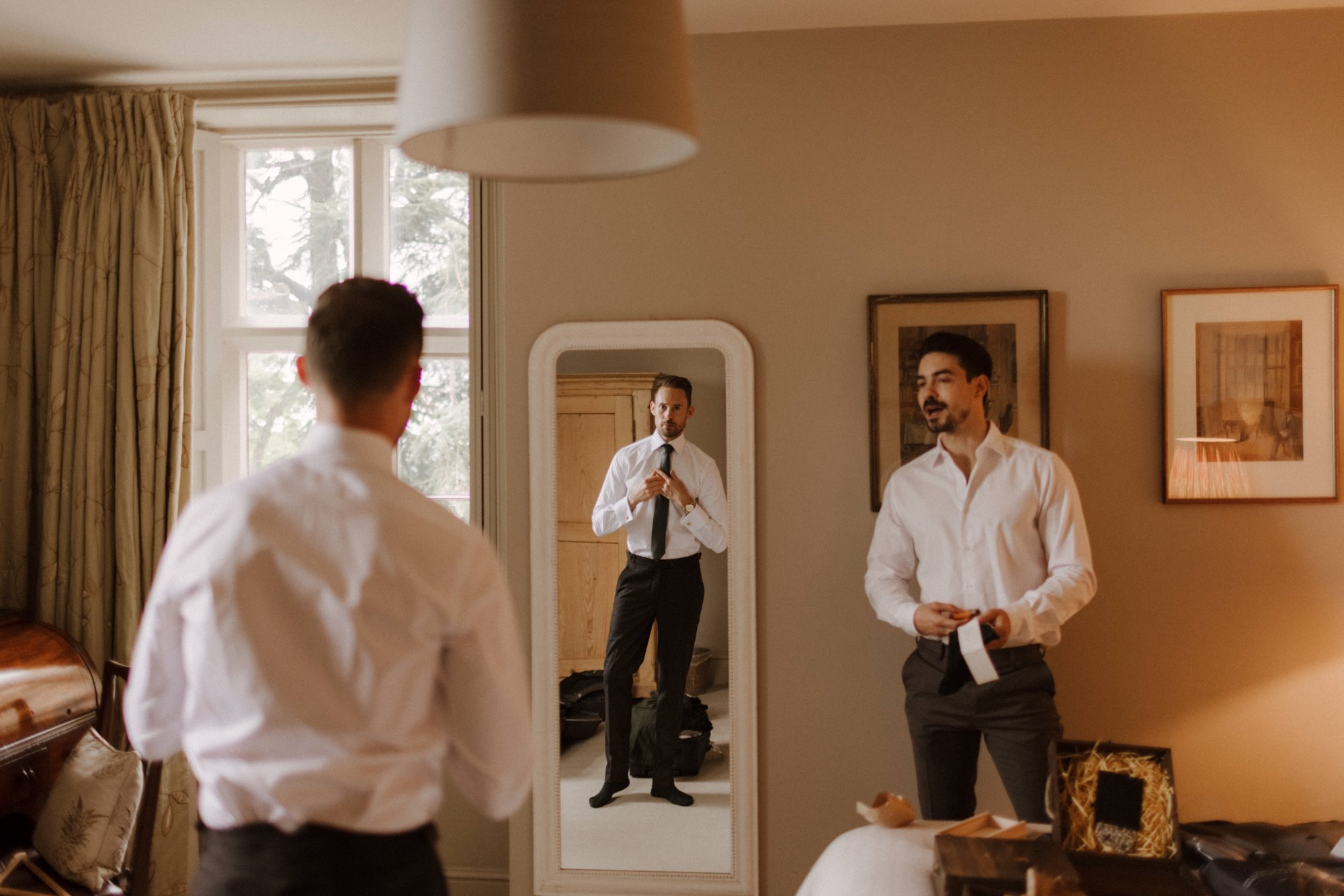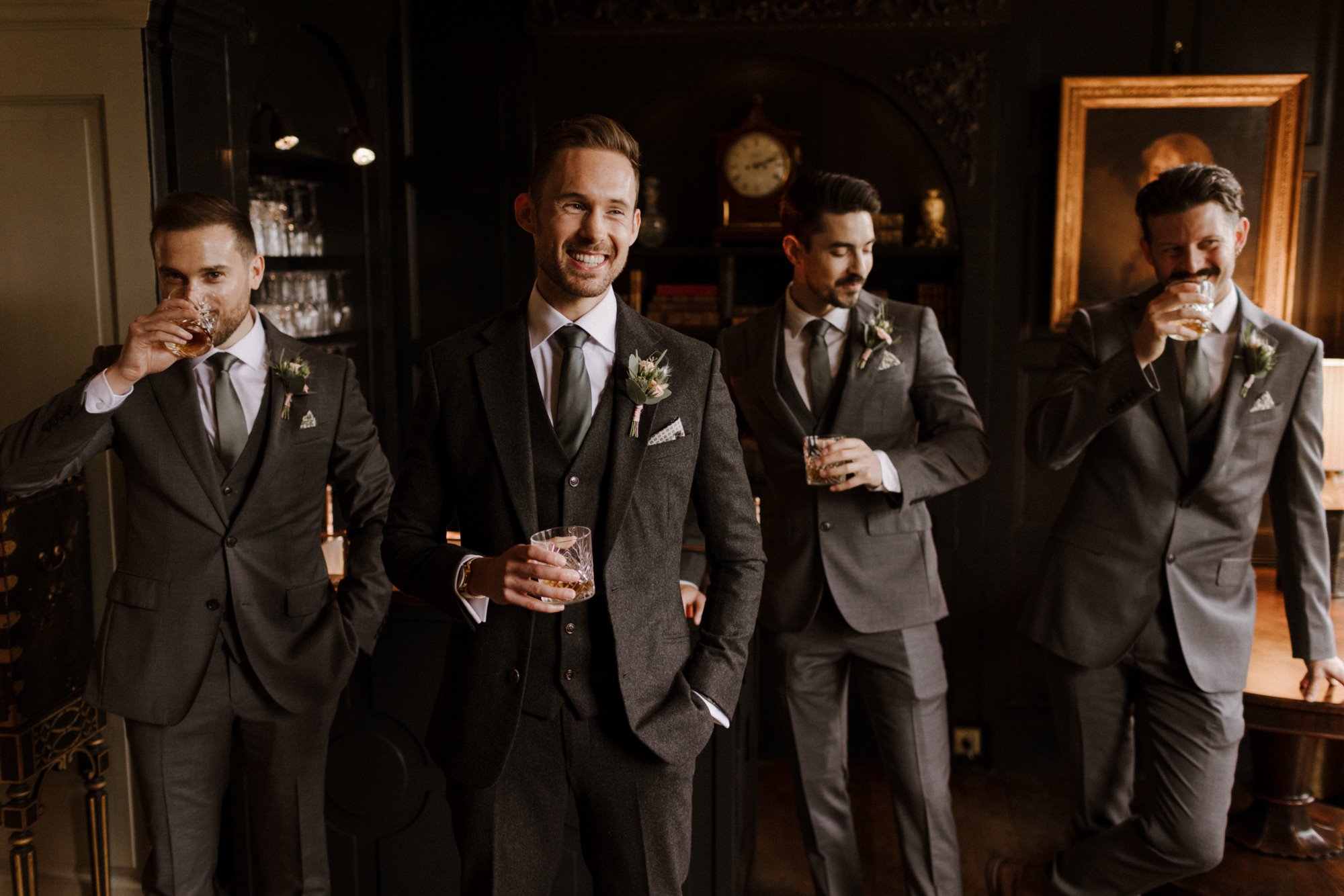 How did you feel on your wedding morning?
Surprisingly calm. There was a bit of light rain in the morning so we had quite moody skies, but it brightened up in the afternoon and it kind of set the tone for a calm morning.
Just so excited to finally be getting married after such a long wait.
I loved getting ready in the morning with my mum and bridesmaids. We had a relaxed morning, dancing to music and having breakfast and drinks and the girls surprised me with a box of goodies which included a candle, a garter and a sixpence, which was so thoughtful.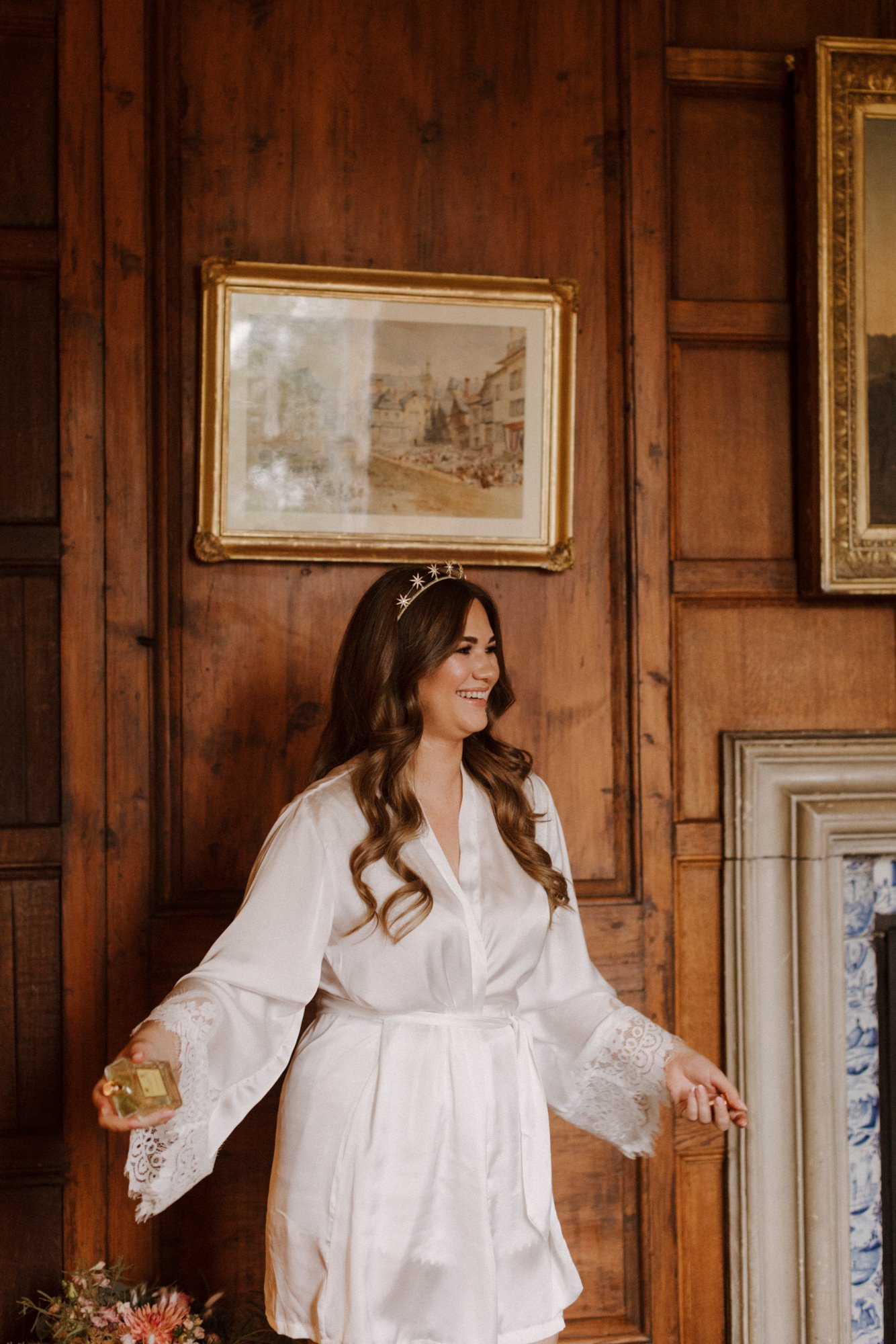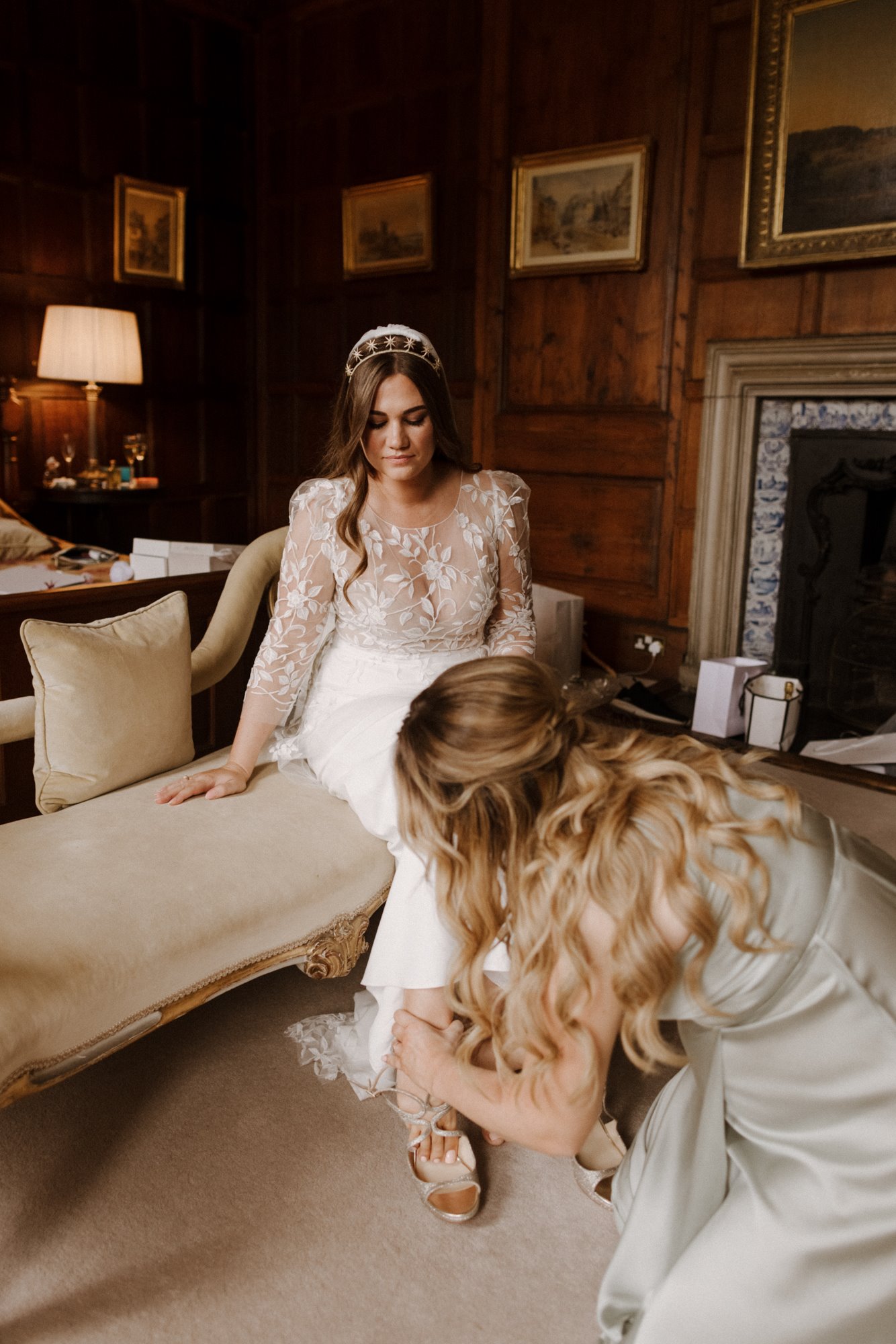 Your wedding ceremony
We had two readings. One was the poem "Everything I know about Love I learned from my Dog" which was read by my maid of honour and fellow dog lover.
We chose not to have our beagle Benji with us on the day so this was our nod to him!
And my friend wrote us a poem, that was personal and funny and had everyone giggling.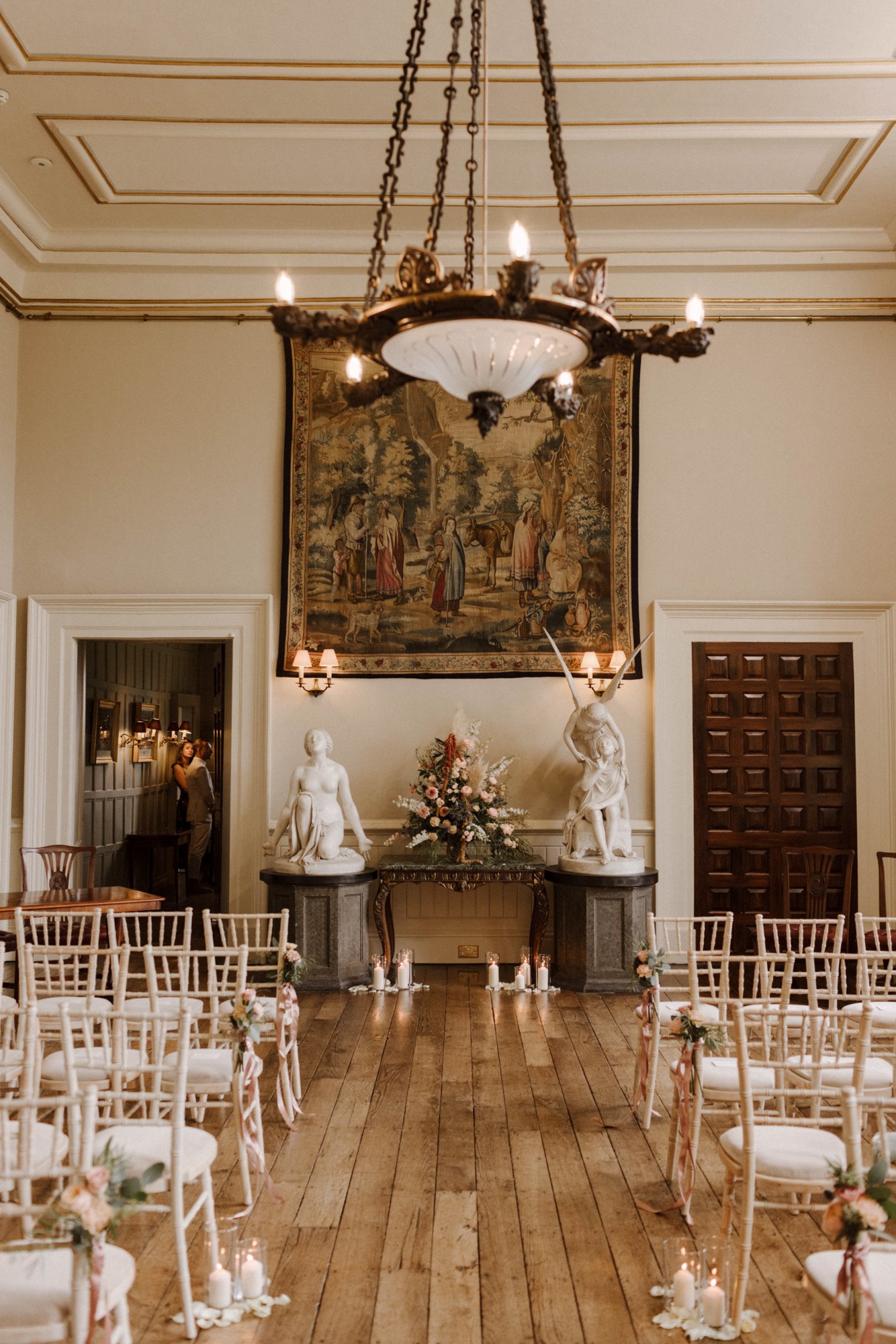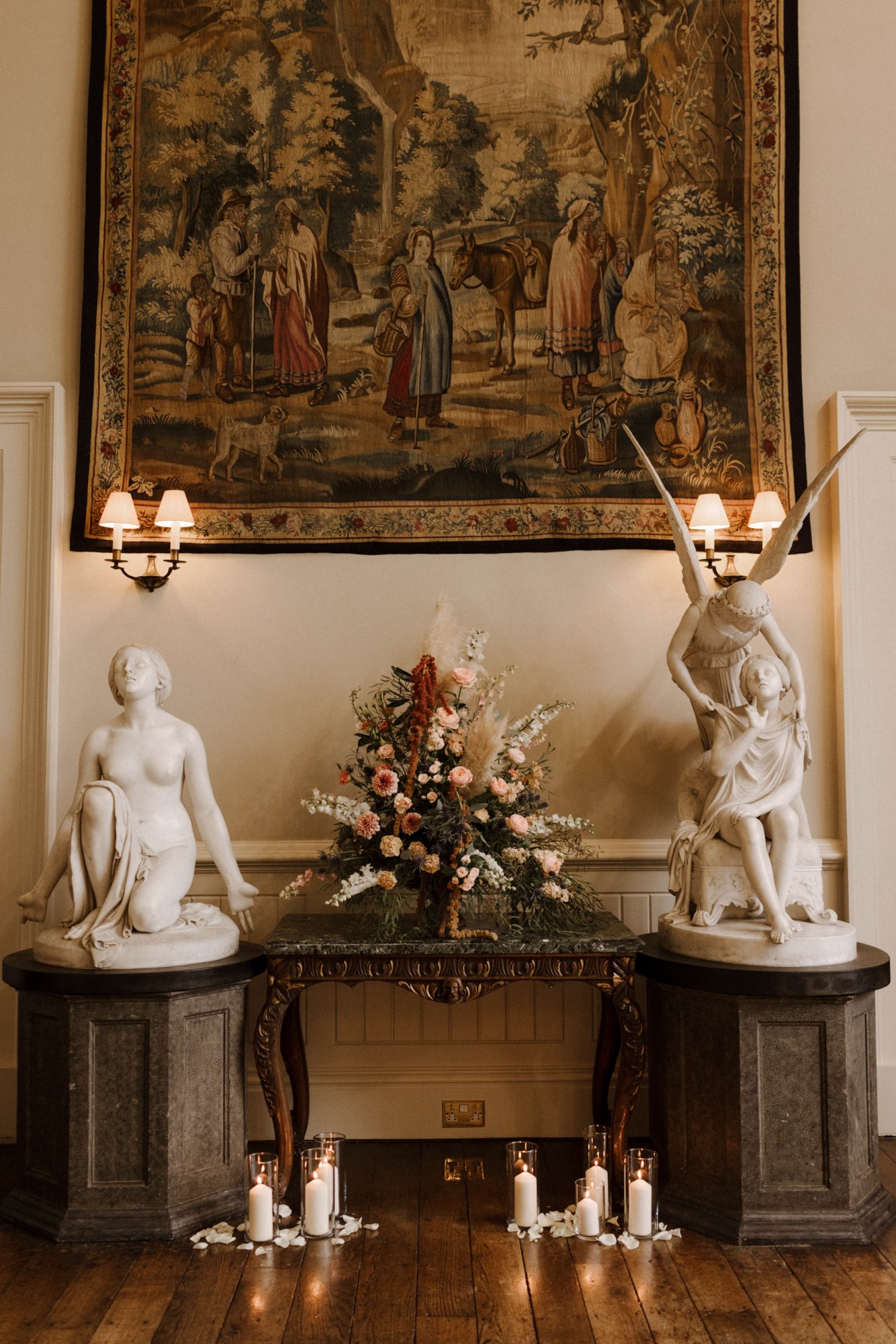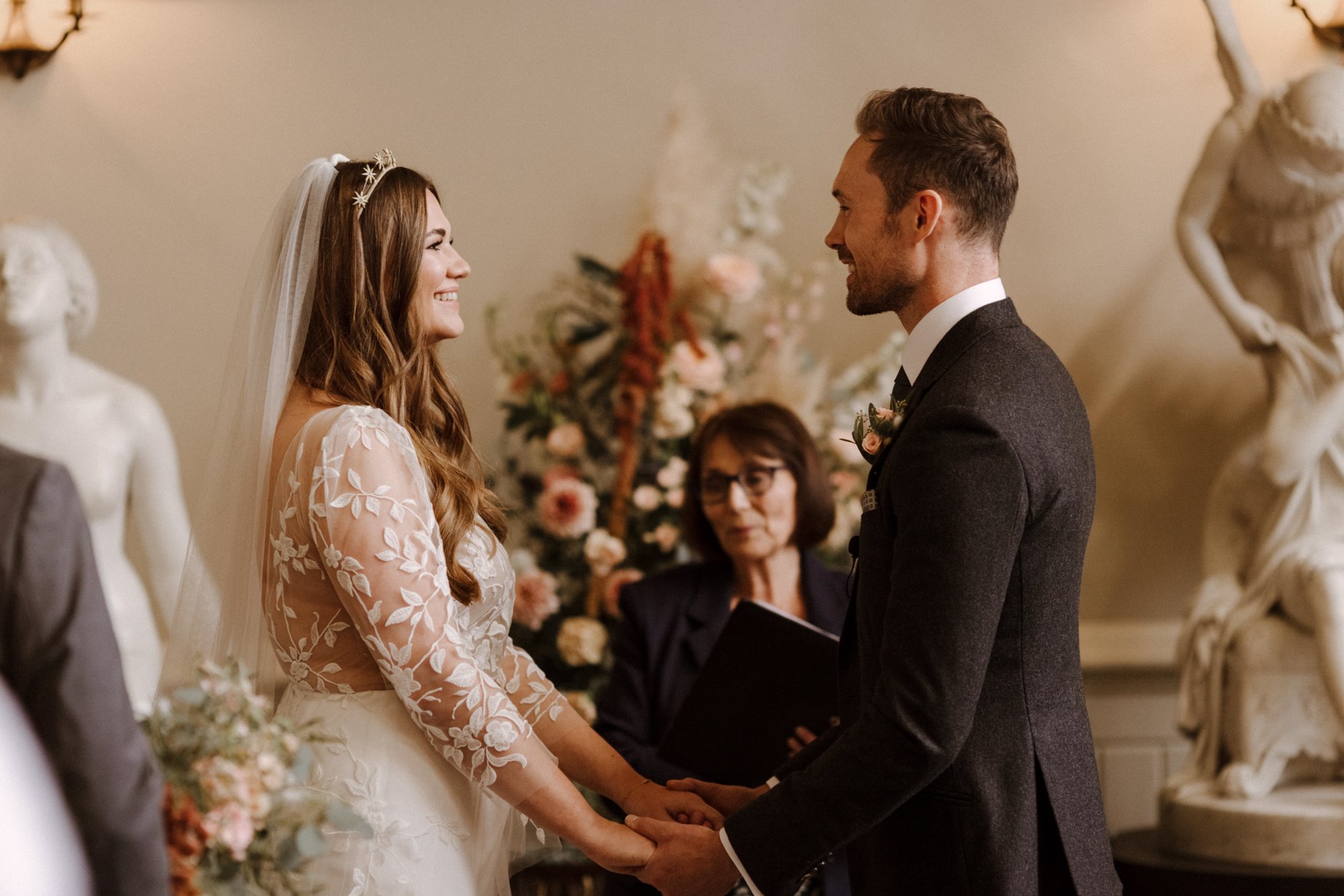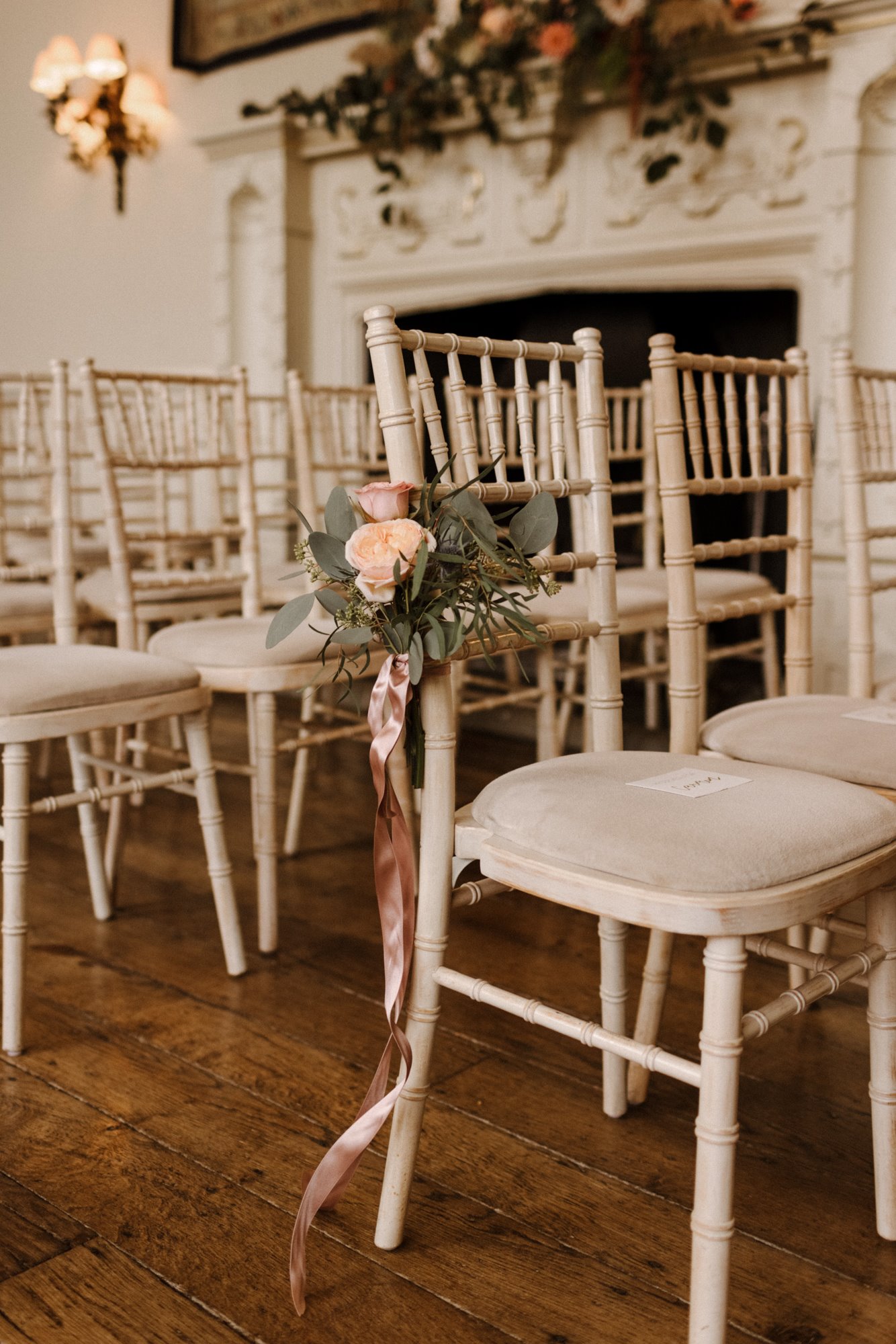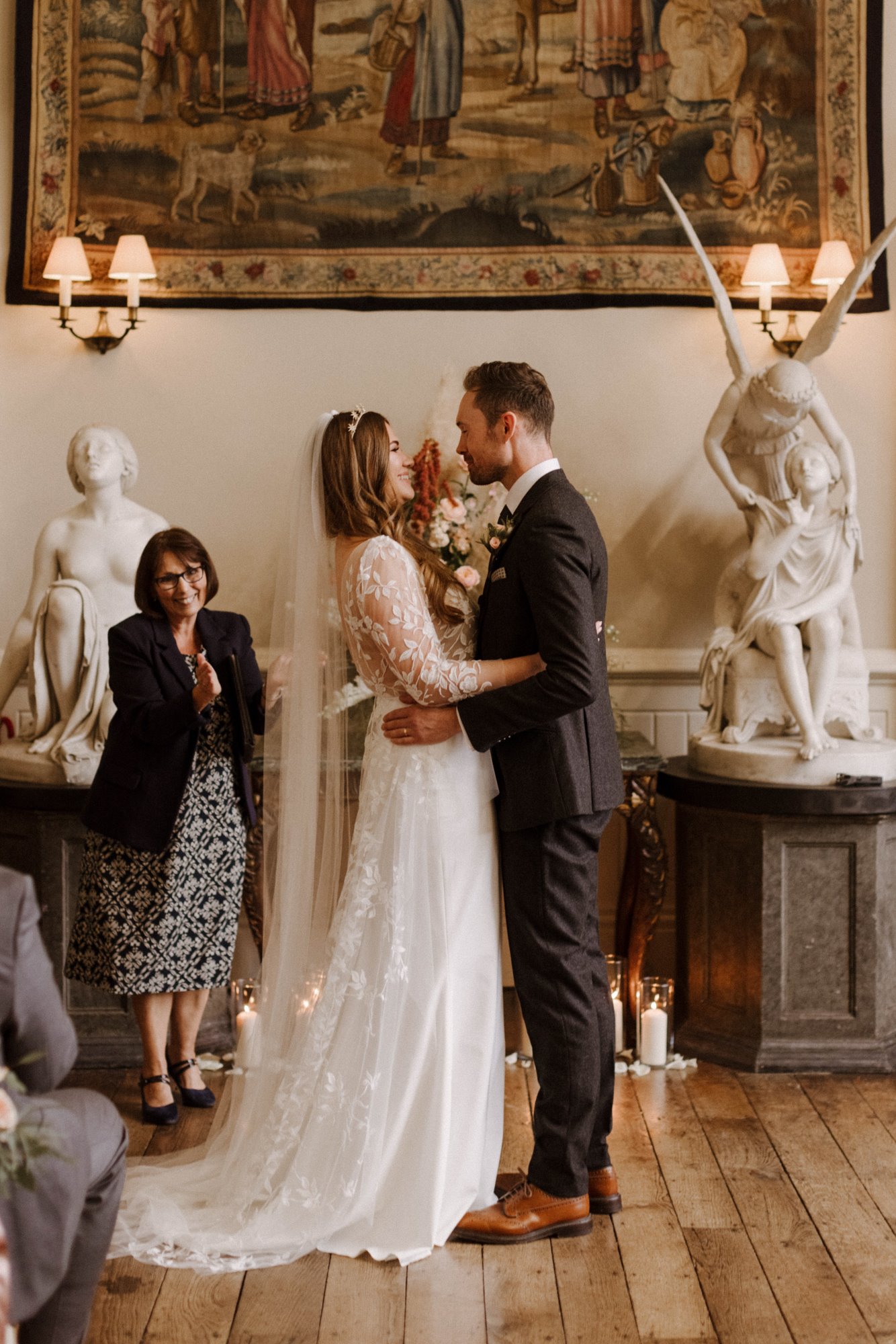 What did you do for your drinks reception?
After the ceremony, we had a confetti throwing moment, before a drinks reception inside the house and our couple photos taken. Because of the rain in the morning the grass was wet so we couldn't have our drinks reception outside so everyone stayed in the house. Which actually worked out really nicely, we chose Elmore Court because we loved the interiors so much so it was nice that we all got to spend a bit more time there. And we got some really beautiful photos from all angles of the house.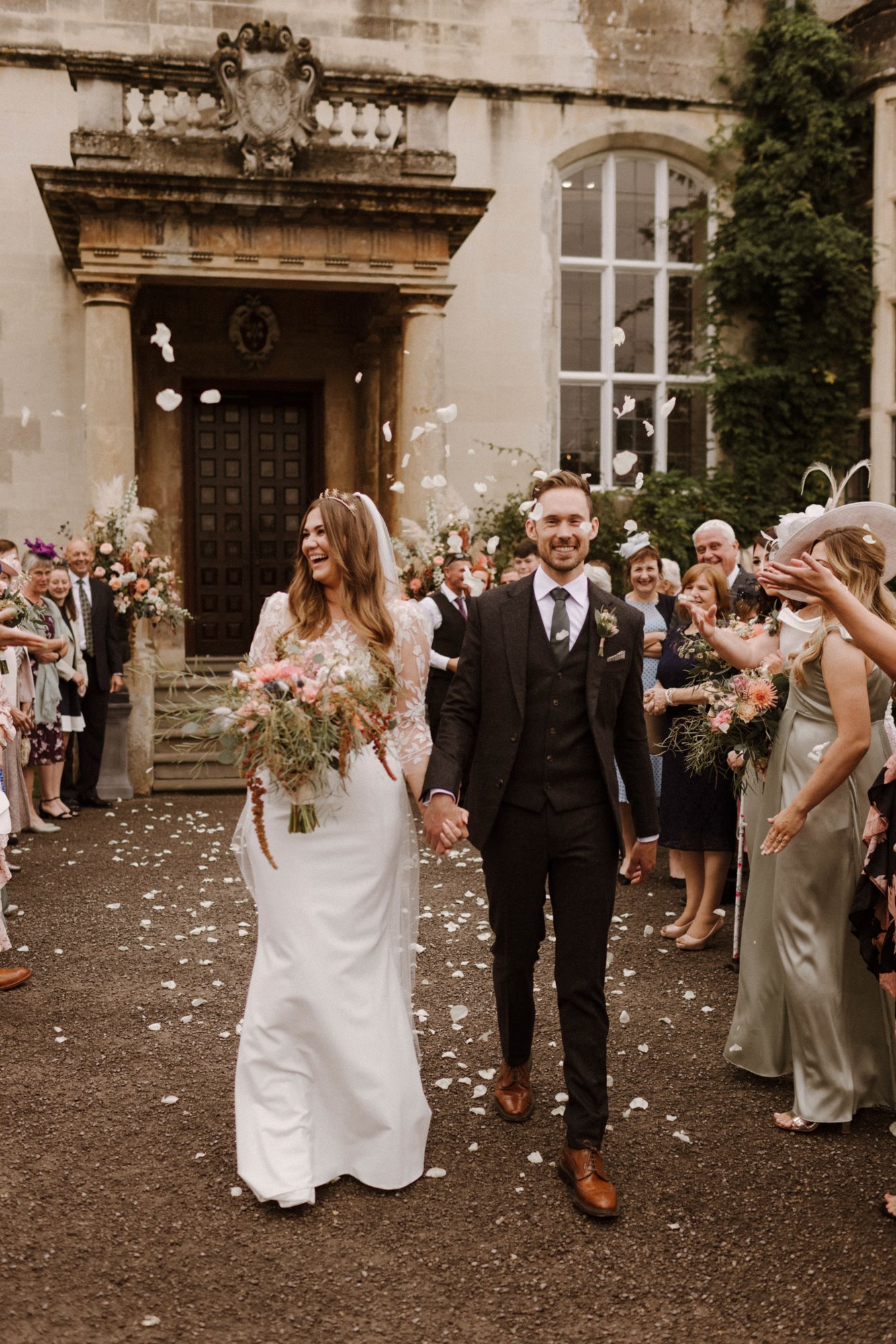 How did you choose your wedding music?
I walked down the aisle to Daniela Andrade's version of La Vie En Rose and we walked back down the aisle as a married couple to 'I want to Hold your Hand' by The Beatles.
Music was really important to me and I made various playlists for different parts of the day, from pre-ceremony, reception drinks and party playlist to be played in between the sets from our band 8 Ball.
Every time Matt and I heard a song we liked during our engagement we'd put it on our wedding playlists so they were built up over time and it was all stuff we both loved. Lots of The Beatles, The Smiths, Oasis and The Beach Boys throughout the day and indie dancefloor fillers at night.
The dance floor was full and we've had family and friends ask for us to share the wedding playlists since so people seemed to like it!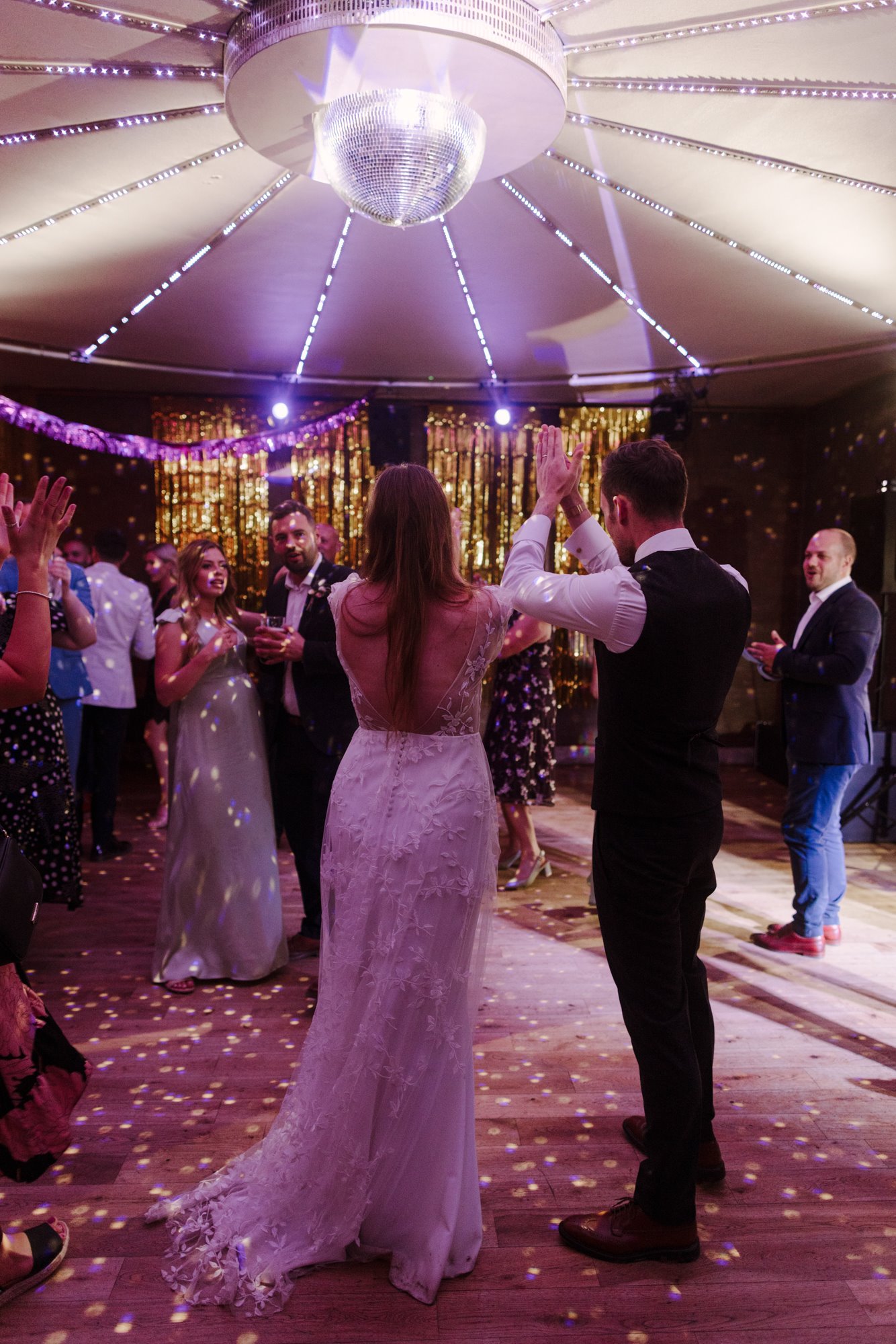 Did you have a first dance?
We did! Much to Matt's dismay! Matt hates dancing in front of people but he agreed to a first dance if we invited people onto the dancefloor quickly.
We had You + Me by the Wannadies. It's a song we both love and came on while we were in the car once and we both agreed it would be a fun first dance and it totally was.
We had practiced a few sways and basic dance moves in our living room thanks to YouTube in the weeks leading up the wedding so we had the basics down for the first verse and then we invited everyone to join us for the chorus which people were thankfully happy to oblige.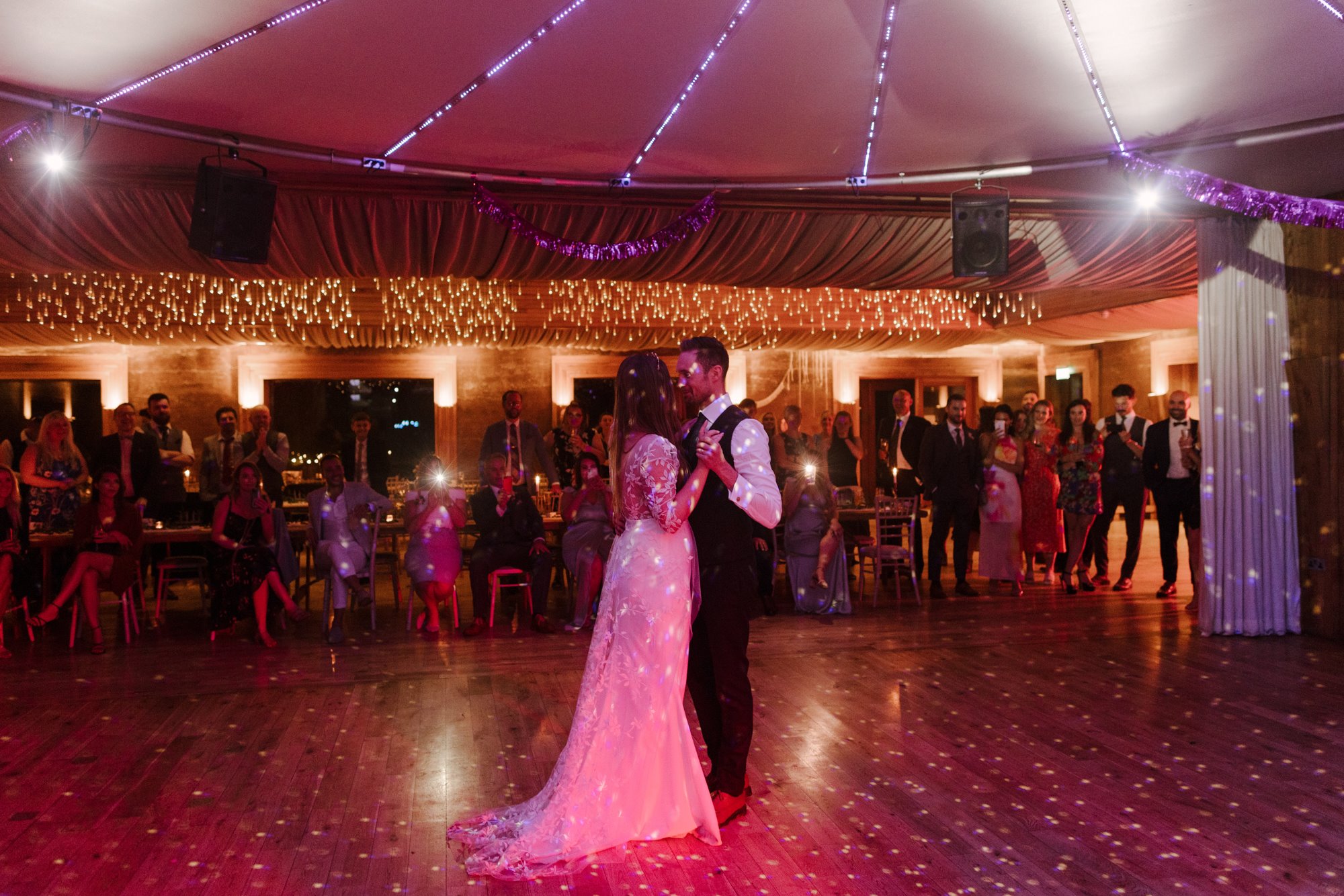 Tell us about your wedding food!
I had the lamb which was delicious.
Everyone says you're always too nervous to eat on the day but I didn't have that problem! And Matt is vegetarian so he had the spinach and sweet potato parcel, which he said was lovely.
Matt bought a couple of special bottles of whisky and rum for the groomsman so they could all have a little tipple in the drawing room before the ceremony which made for some great photos.

Lots of champagne, wine and Aperol was drunk during the day and during the evening the shots came out!
I remember having a few shots of coffee patron and I think a few people were introduced to Tequila Rose for the first time! It seemed to be the shot of choice in the evening and I'll always make sure we have it on hand at parties from now on.
We were both so full neither of us managed any evening food at the time it was served but the catering staff arranged for a sausage sandwich and a halloumi burger be brought up to when we went up to bed (at around 3am!) and honestly you'd think Matt married that halloumi burger the way he jumped into bed with it!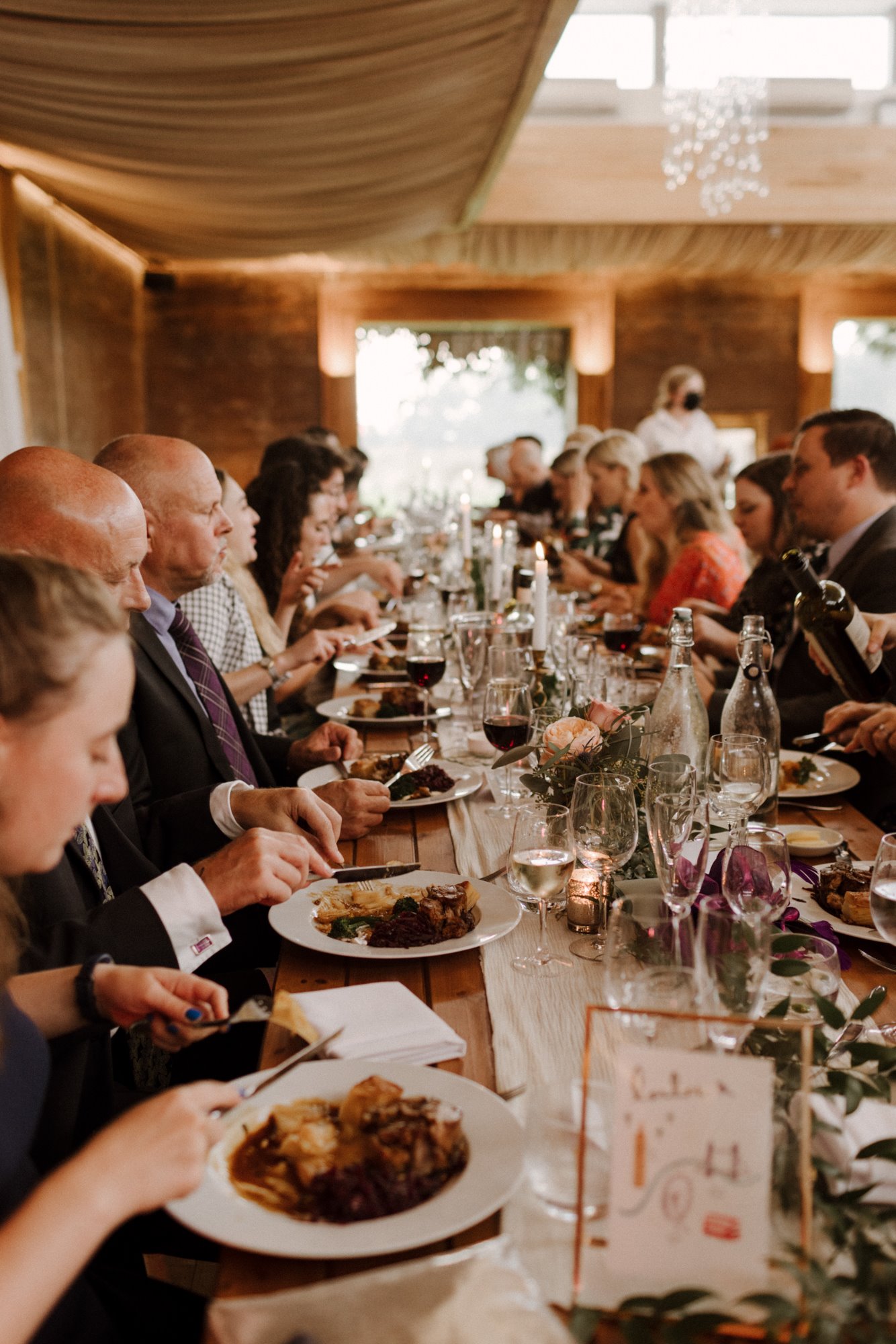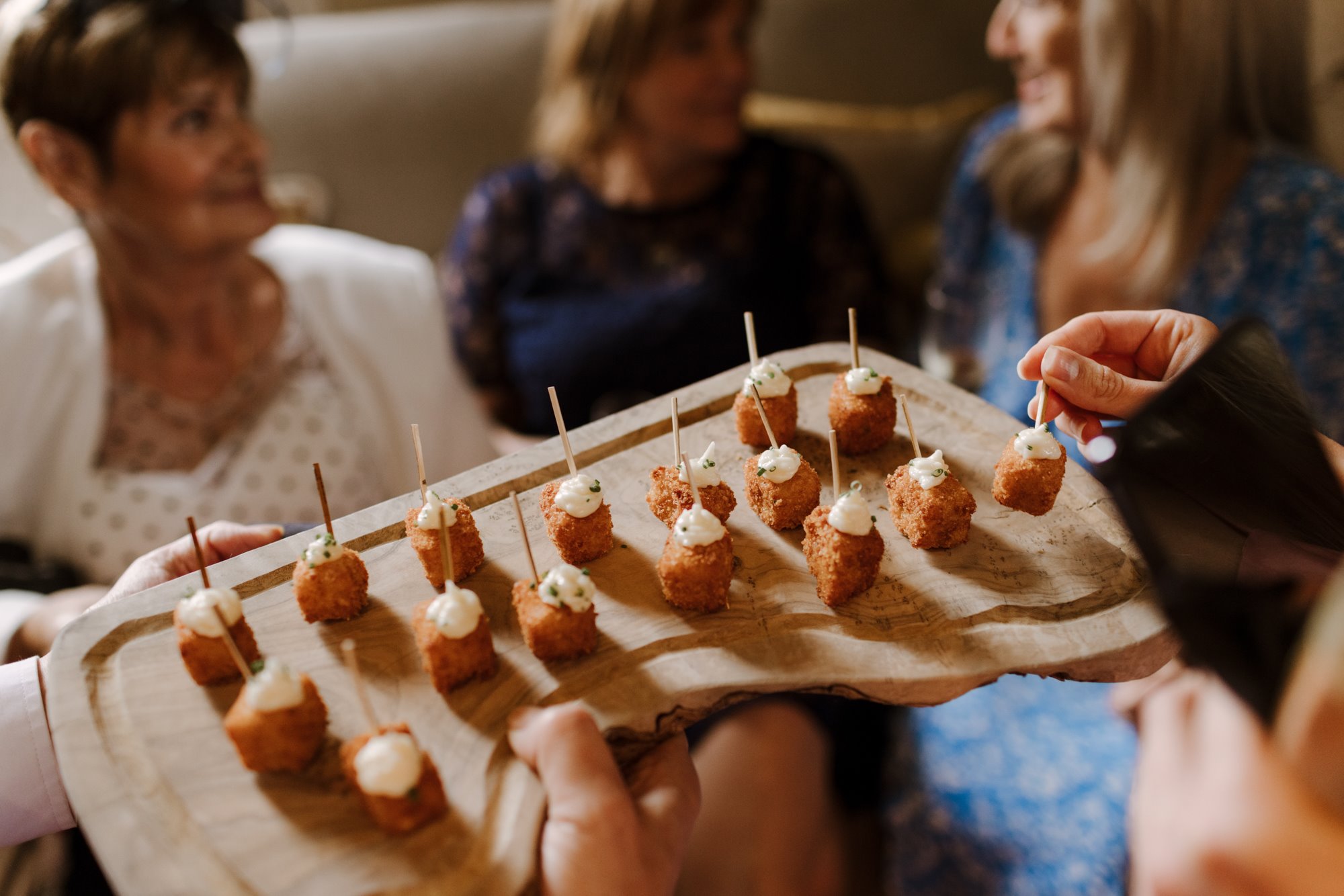 What a beautiful wedding cake!
Hannah Culley made our cake and she did such an incredible job.
I started off just wanting something totally simple and plain and then changed my mind completely and Hannah was so patient with me.
I sent her lots of inspiration pictures each one different from the last and she somehow managed to pull it all together into something so beautiful and delicious.
It was three tiers with buttercream, piped icing, covered in gold-dipped fruit, gold leaf and an abundance of flowers. It was lemon curd and salted caramel and we managed to take some home and freeze it so we can enjoy some on our 1 year anniversary.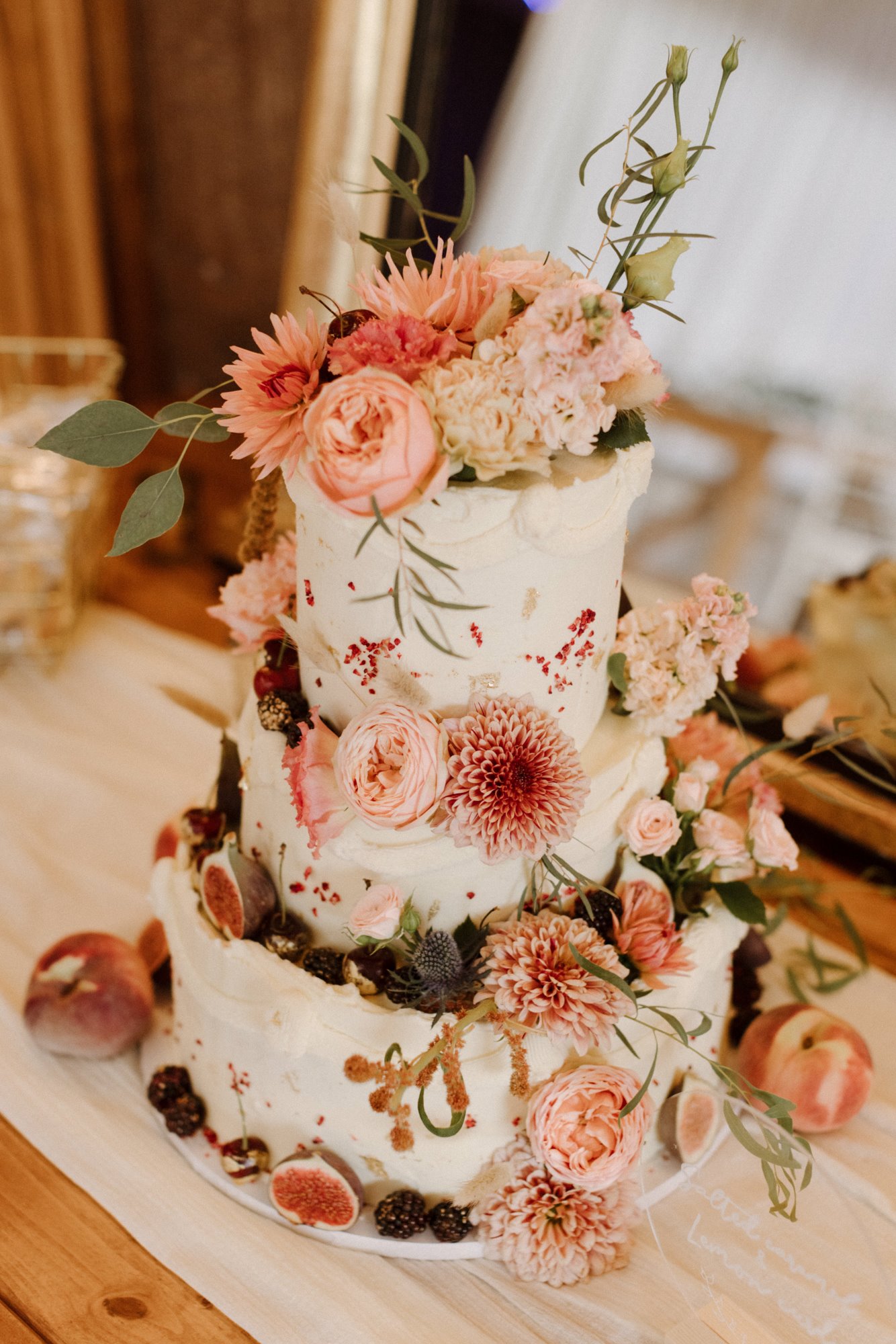 Any other little wedding details?
"We also had a heart-shaped pinata that people could write marriage advice down and pop it into the pinata for us to break open on our first anniversary."
We didn't have favours and instead opted to buy a few Instax polaroid cameras so that people could take lots of photos home. We had a chaise longue with a neon sign that we rented as a relaxed photo backdrop.
We also had a heart-shaped pinata that people could write marriage advice down and pop it into the pinata for us to break open on our first anniversary.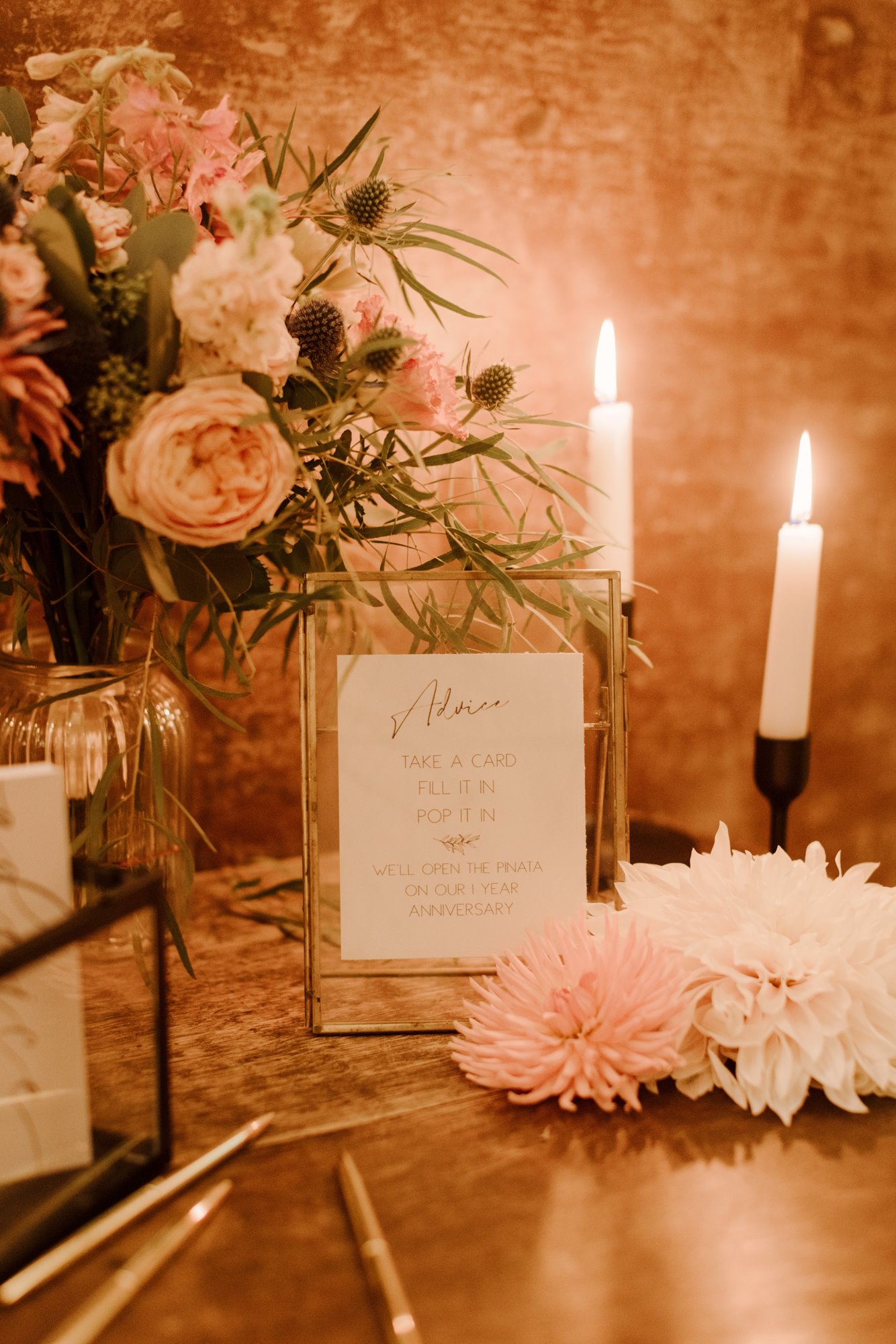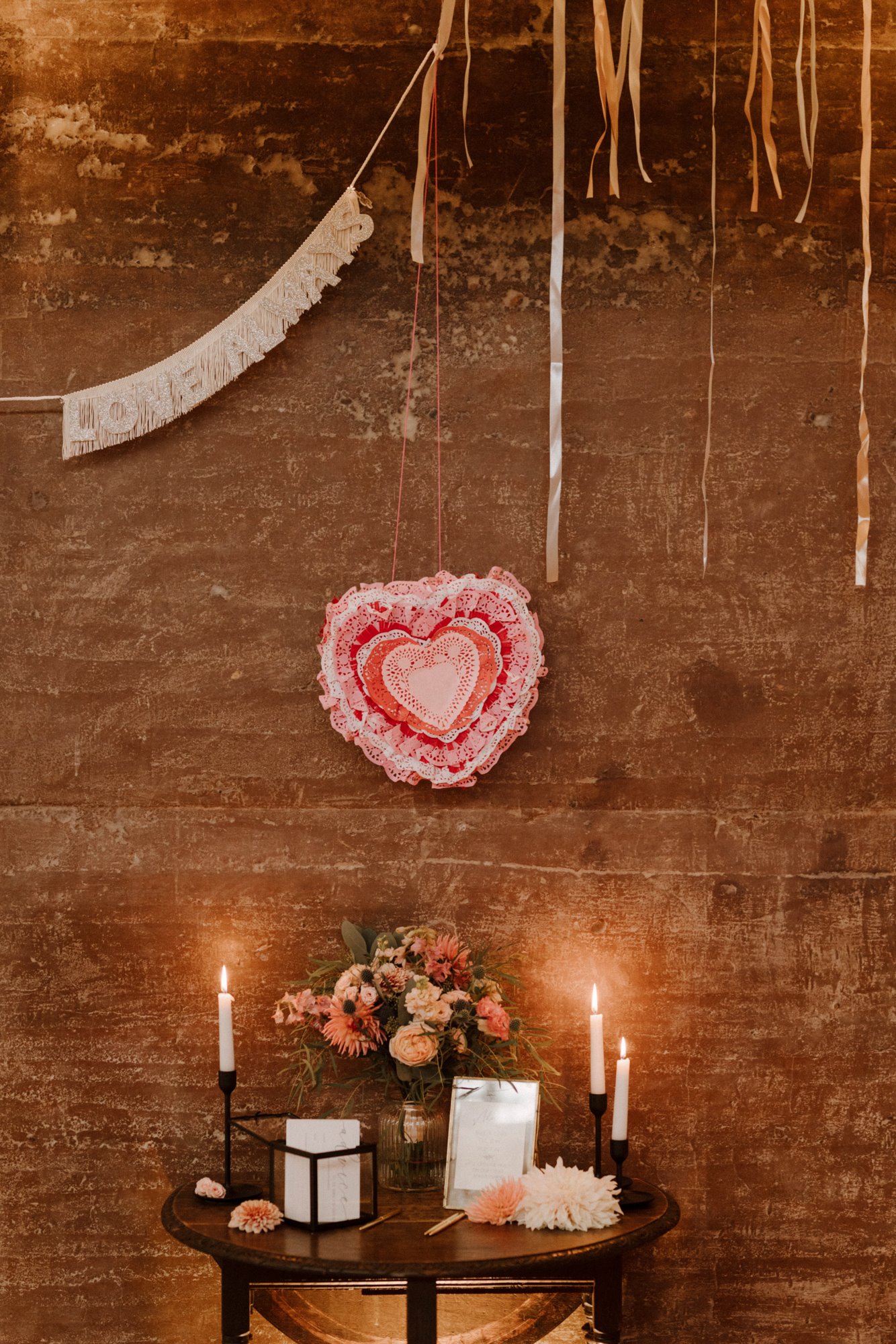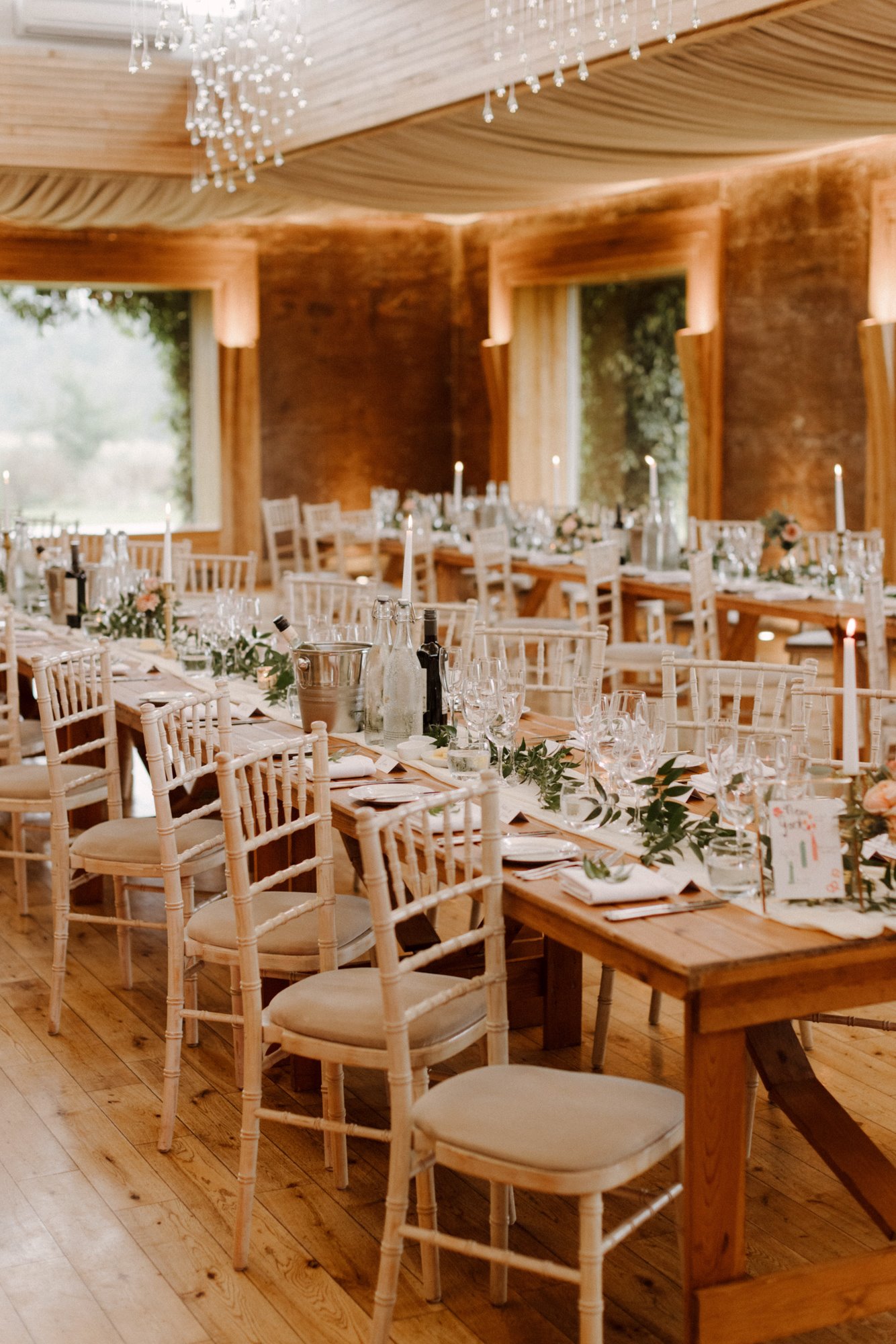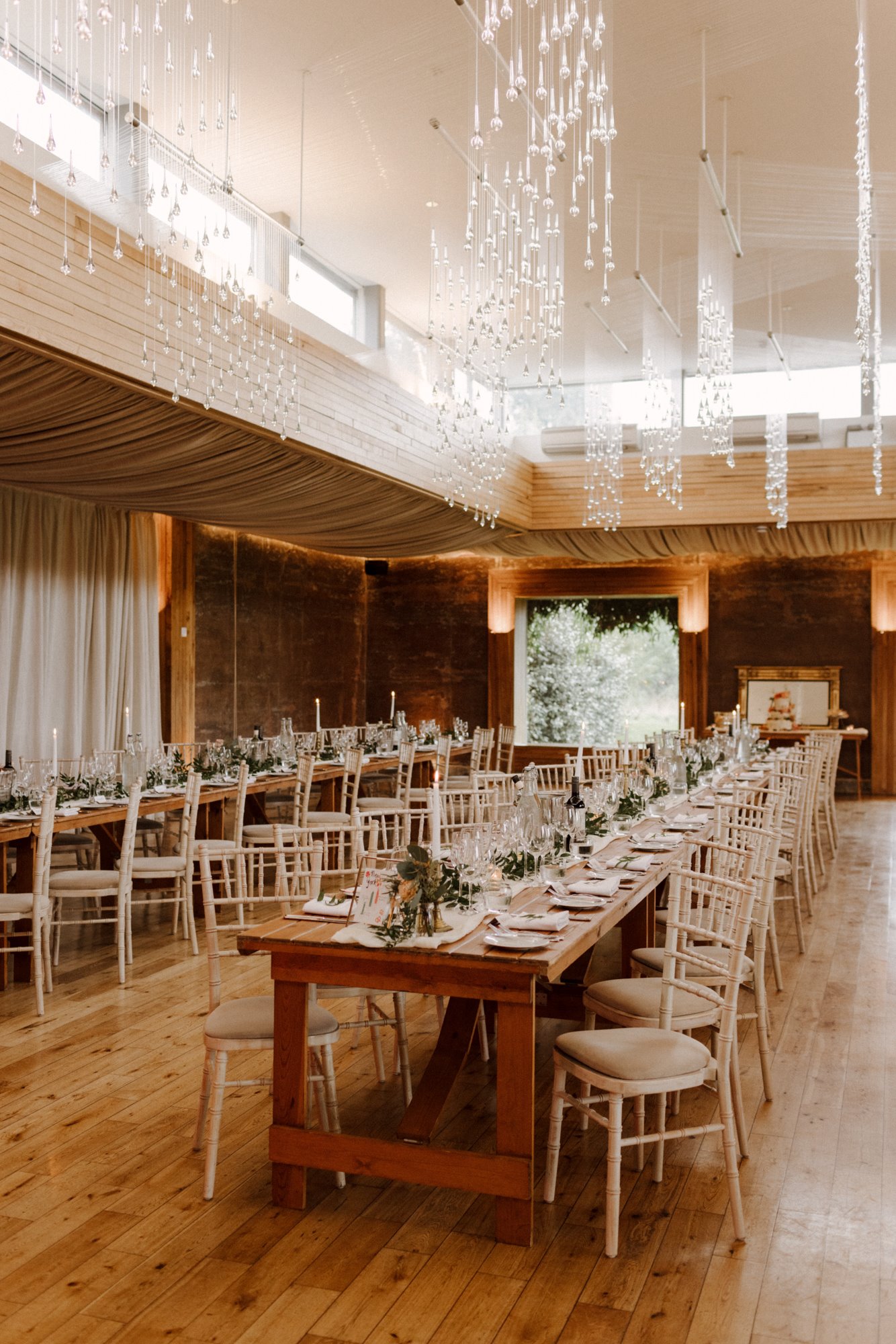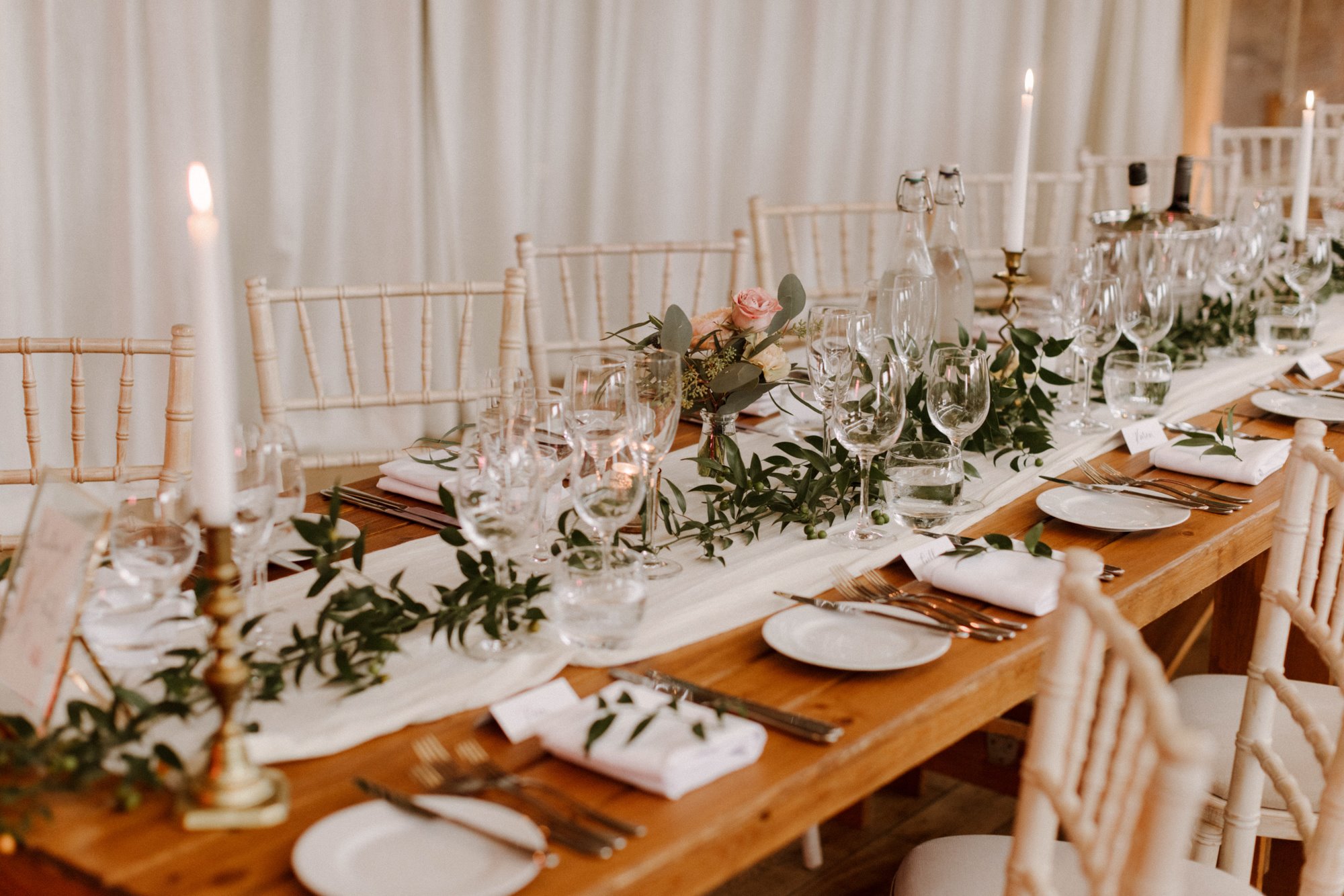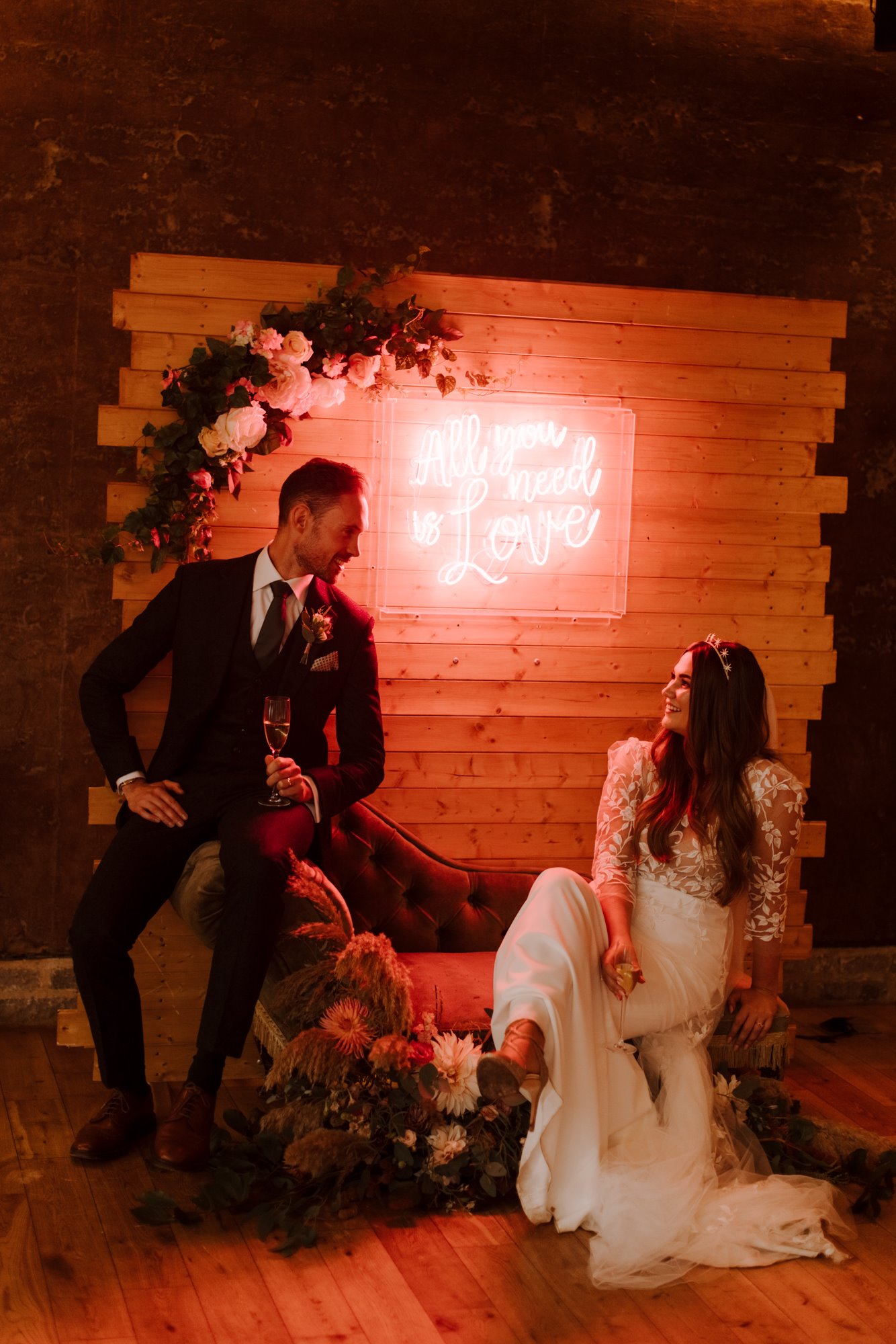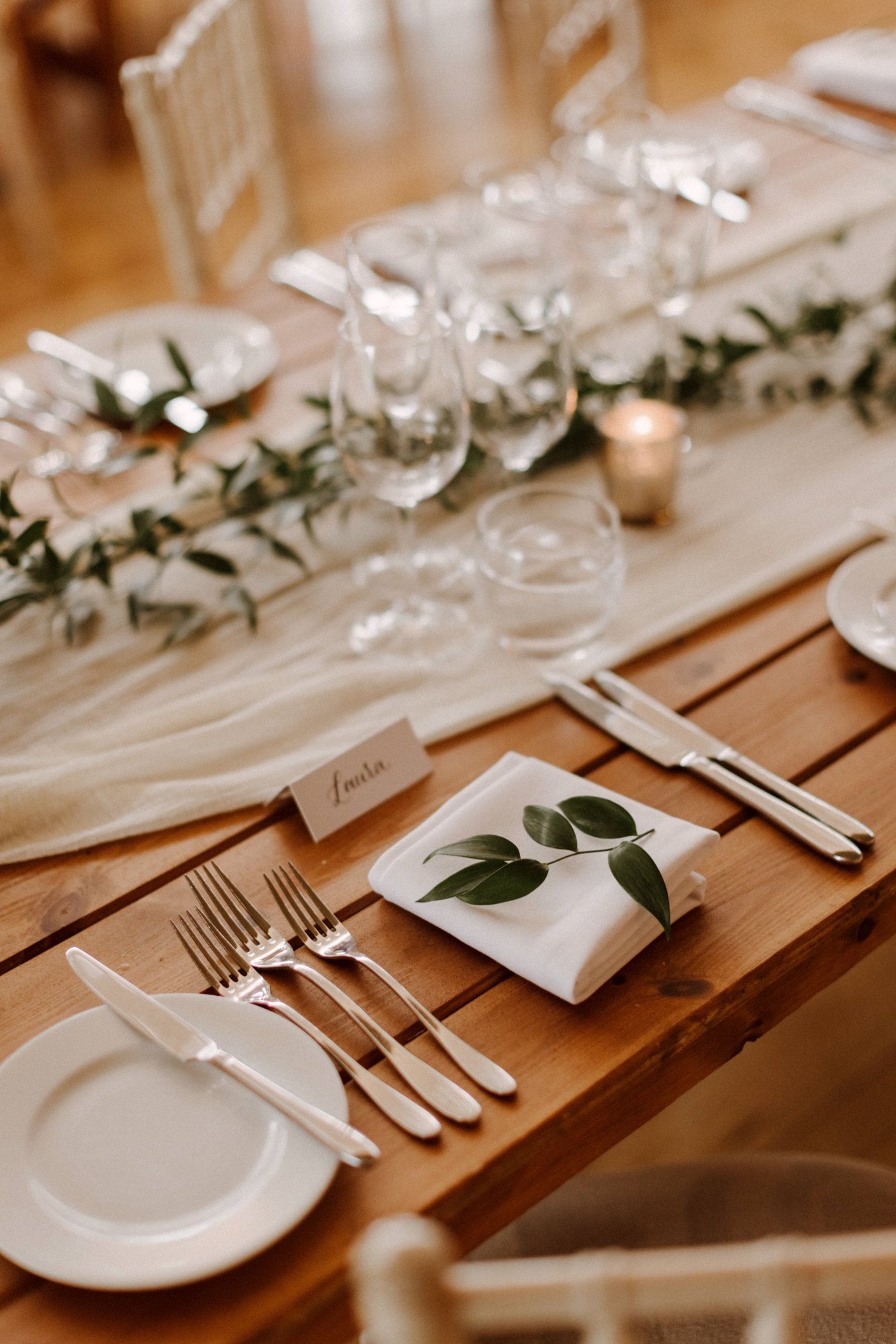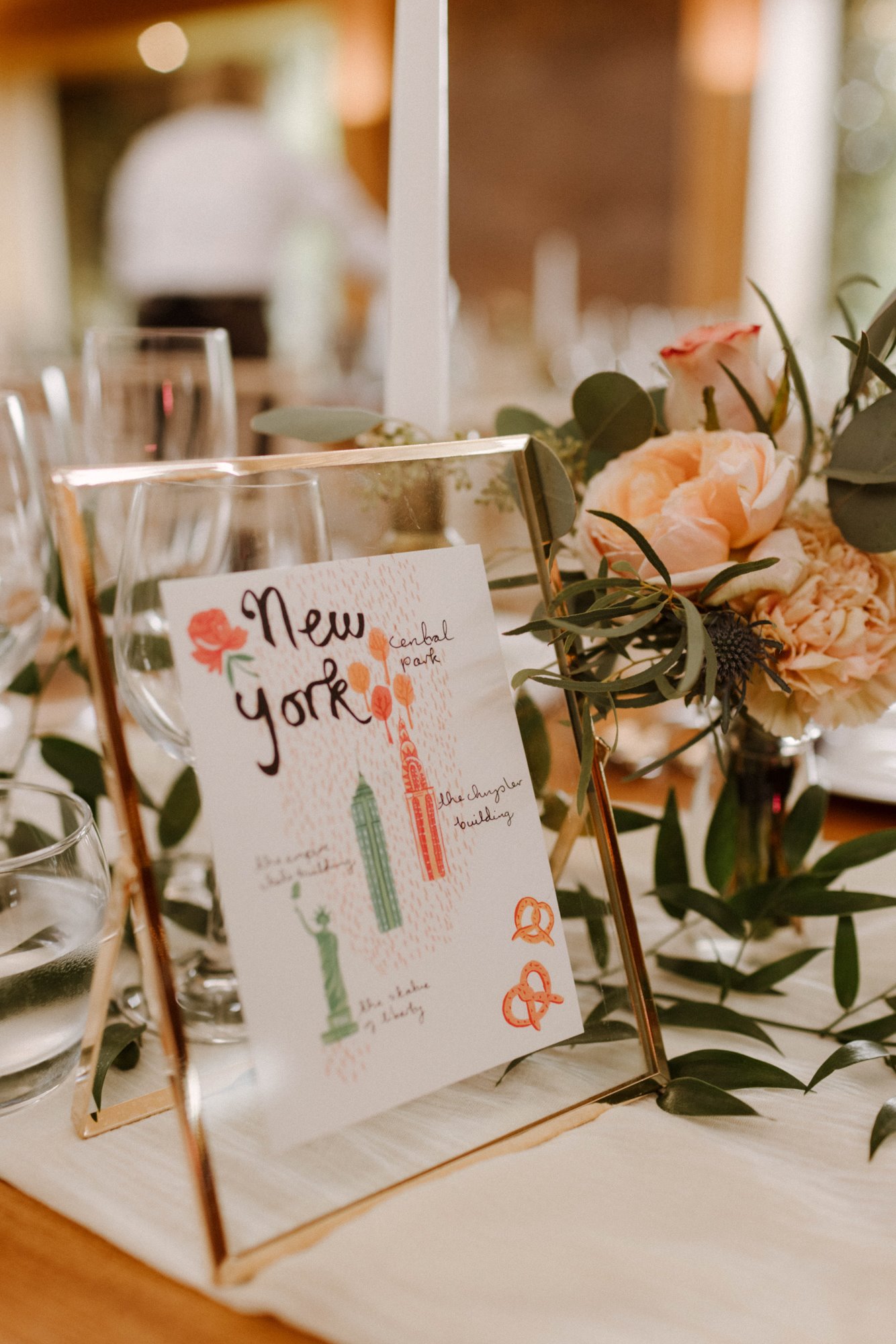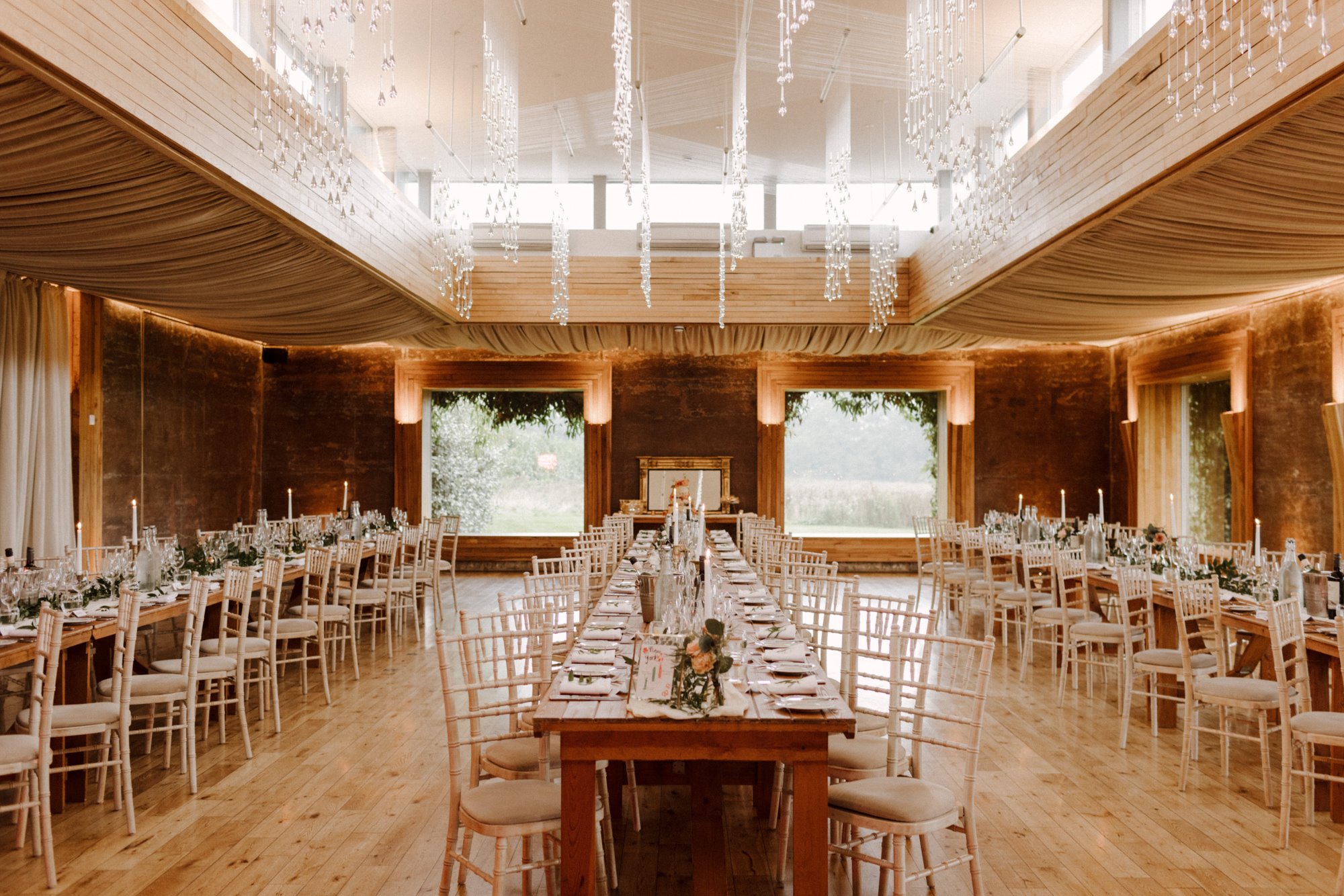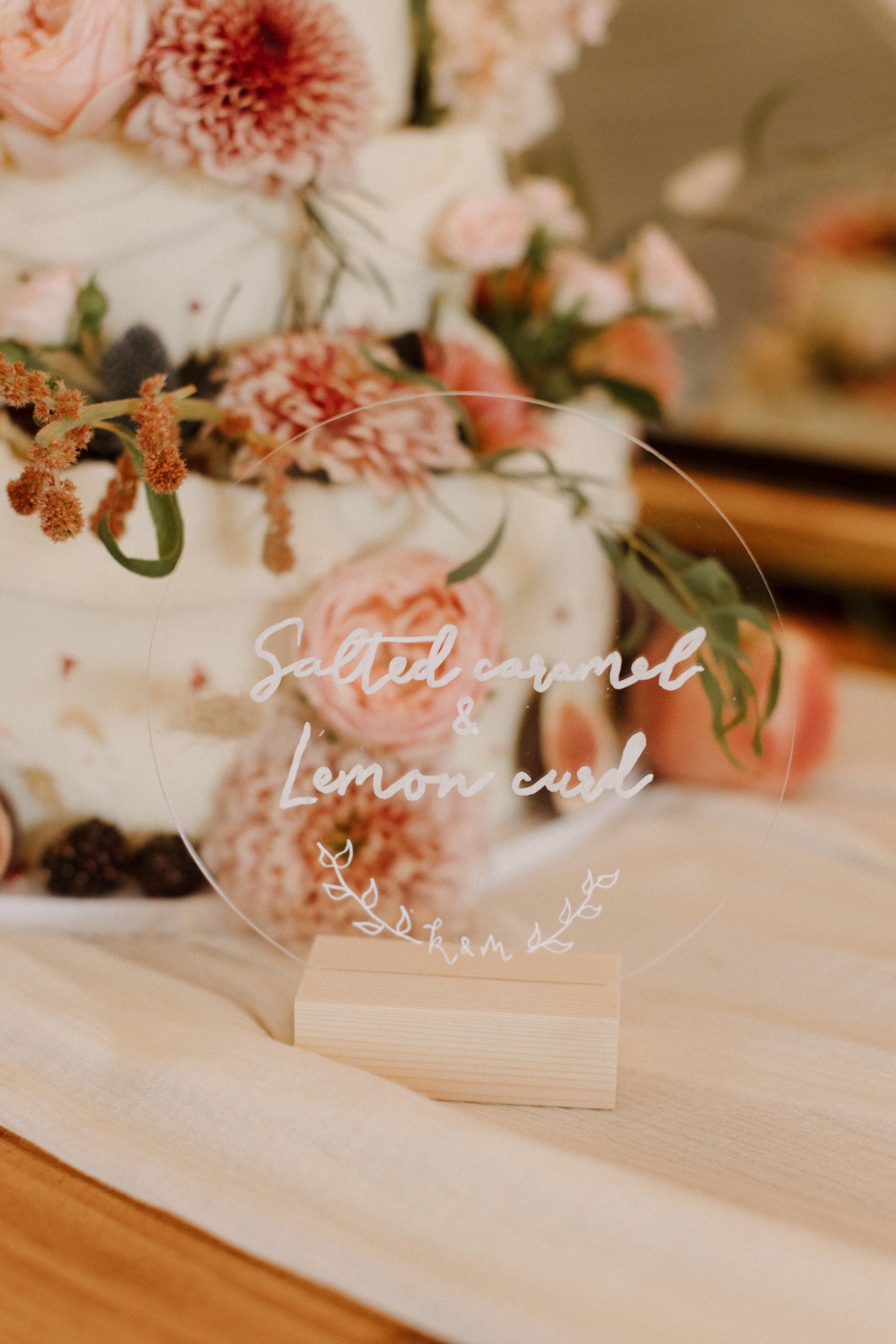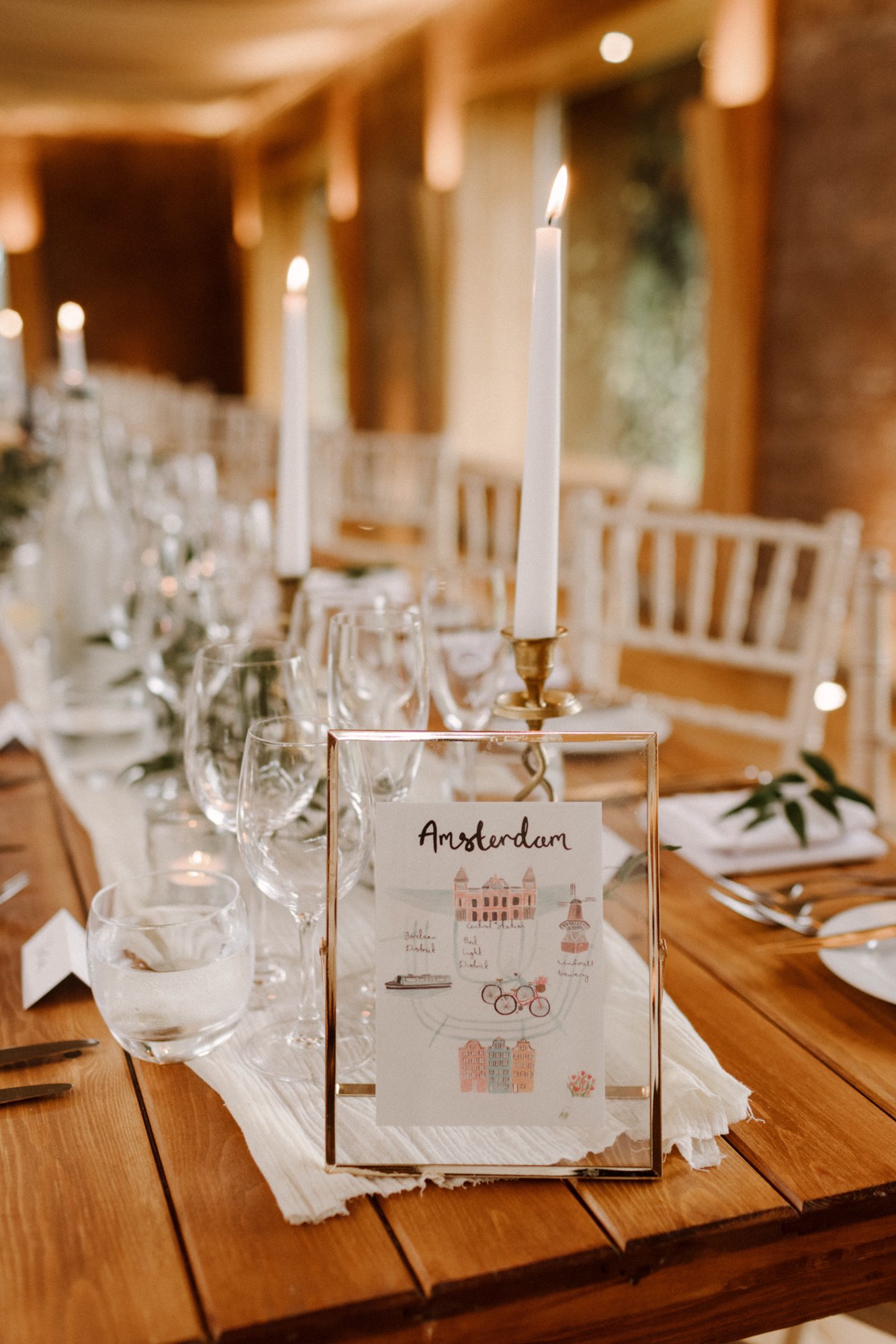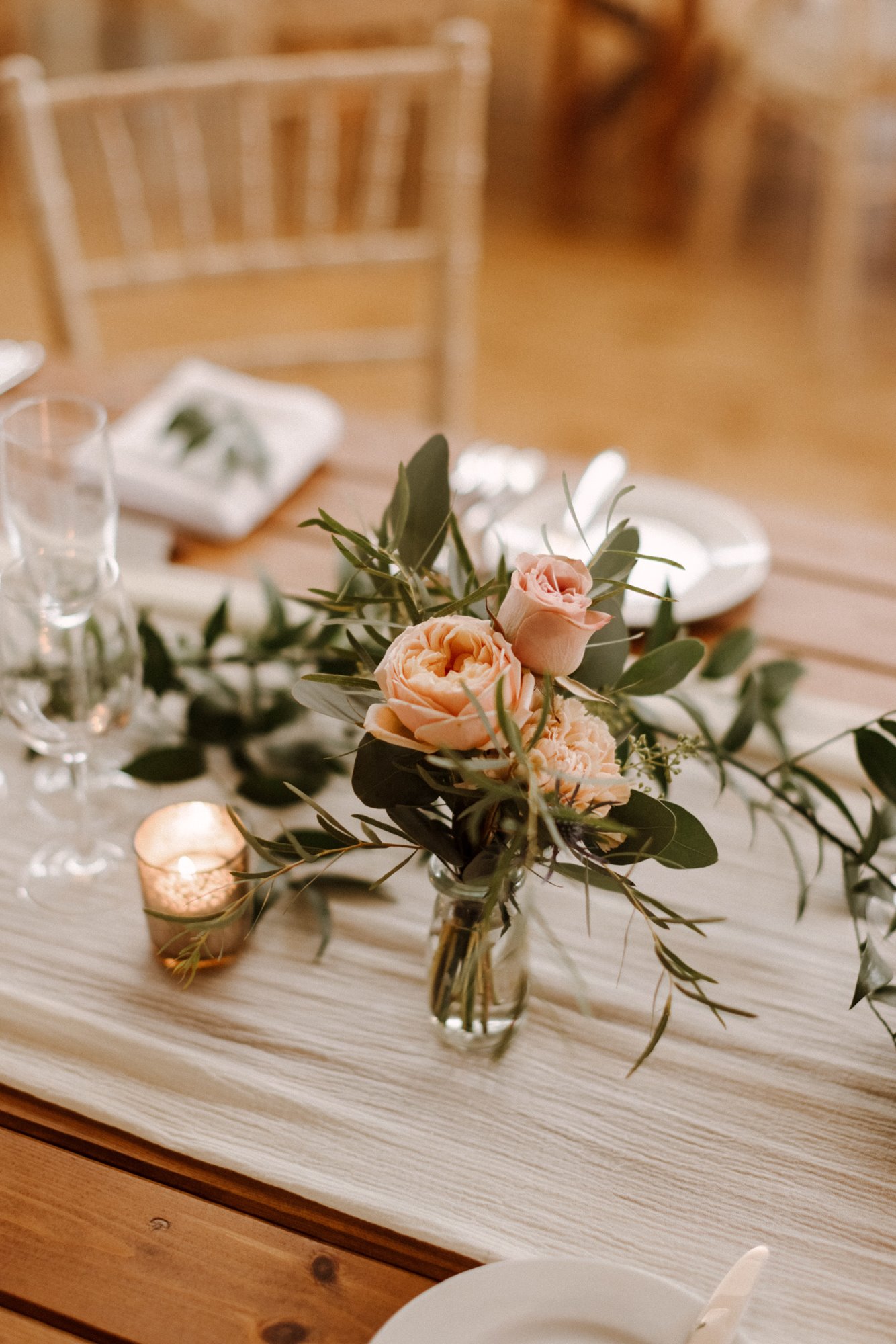 Your wedding party
In the evening we had a band called 8 Ball. They were amazing – a group of young guys who were so, so talented.
The wedding party music was mostly indie disco but there were a few wedding classics like ABBA and Cher in there too.
Lauradana also created a smores station outside in the evening so people could take advantage of the fire pit with some melted marshmallows. It was really nice having a breakout area outside that still had some form of food and entertainment.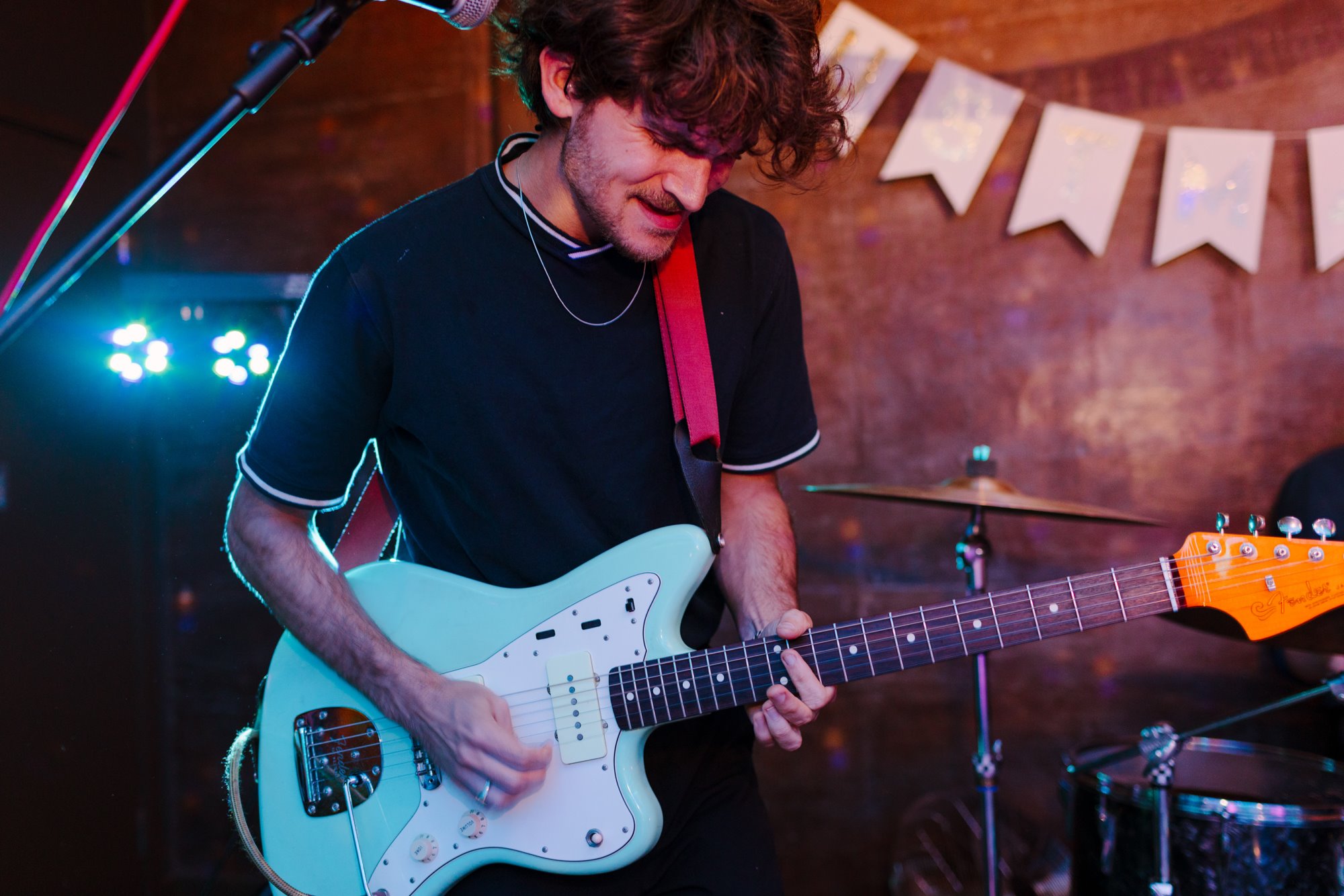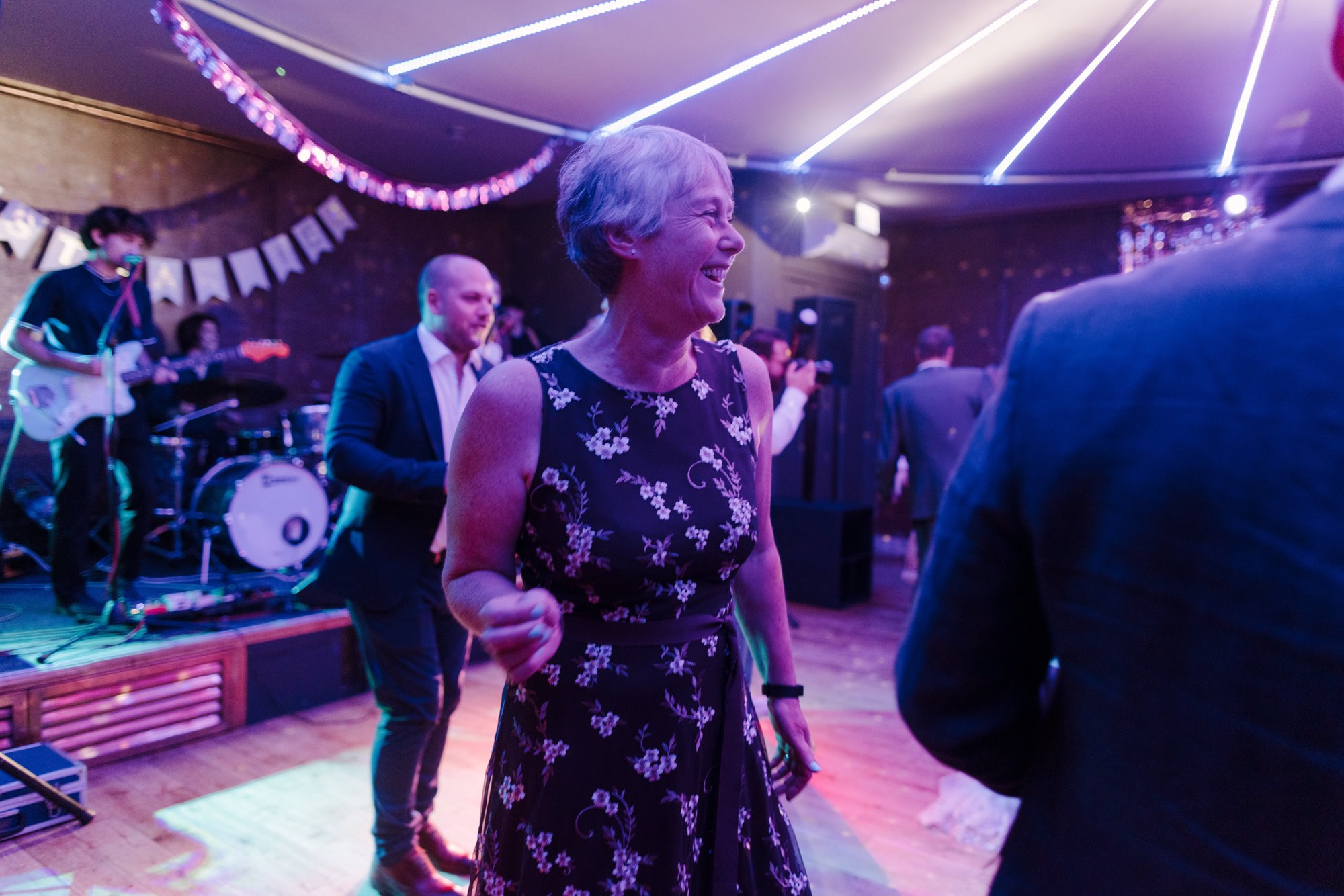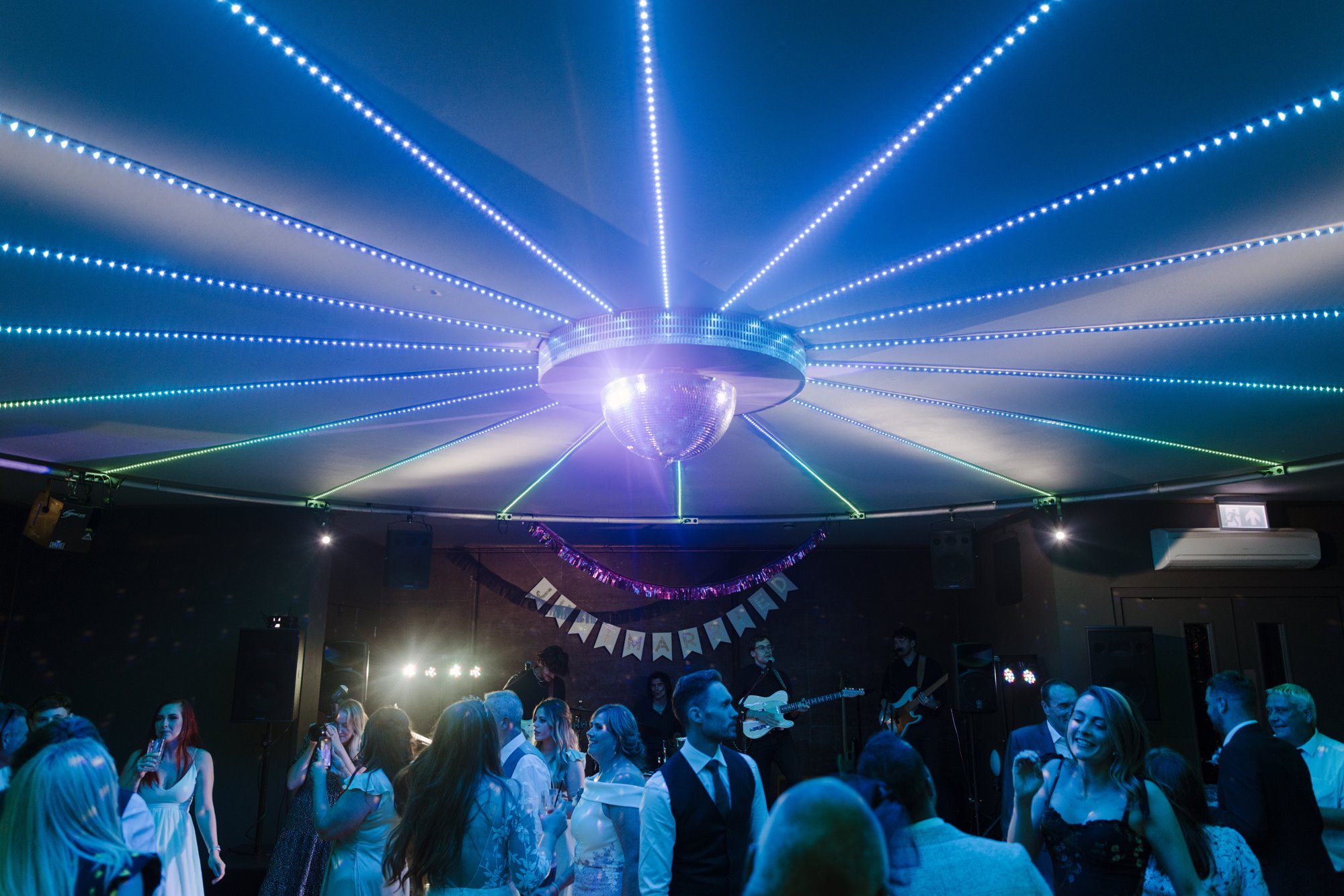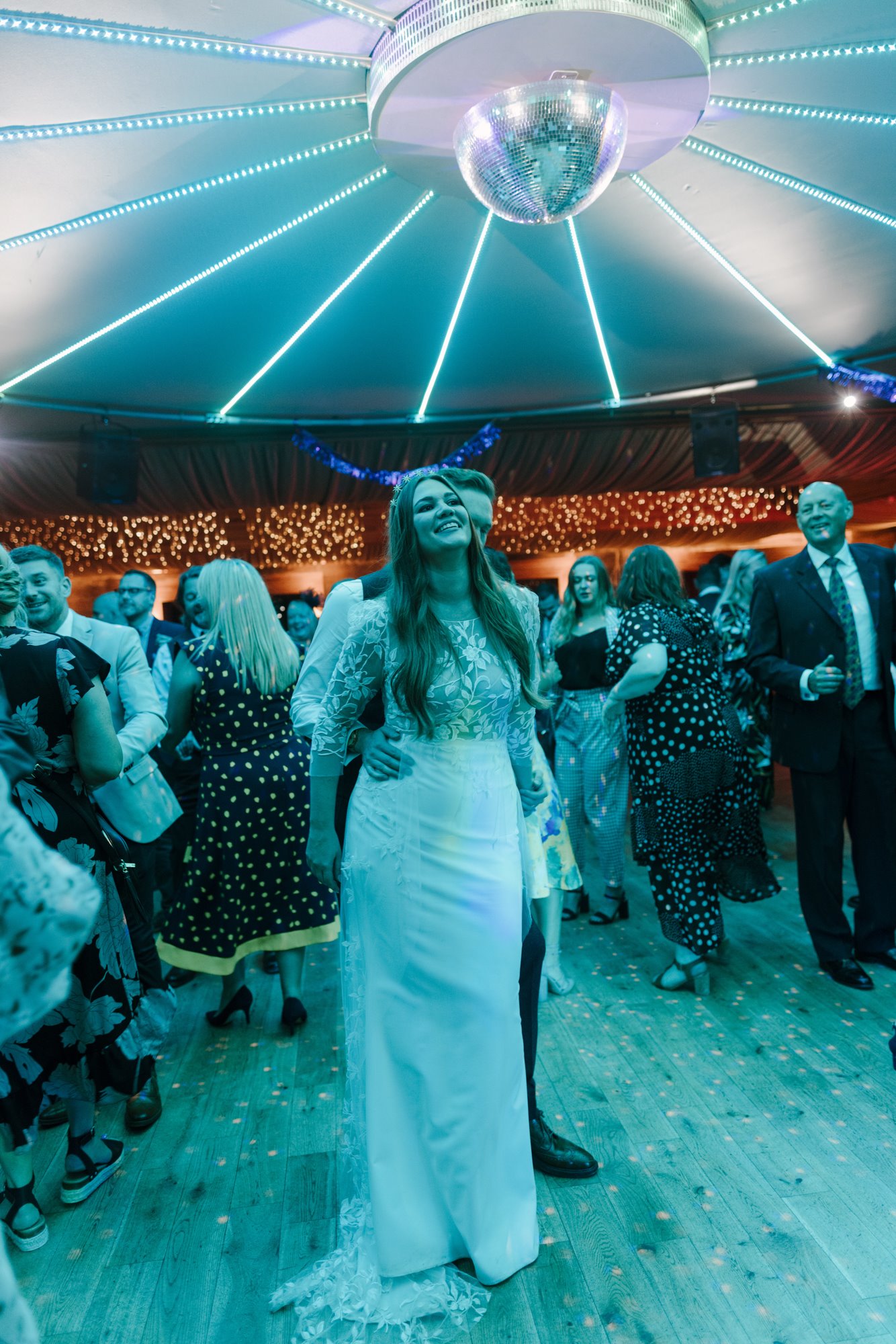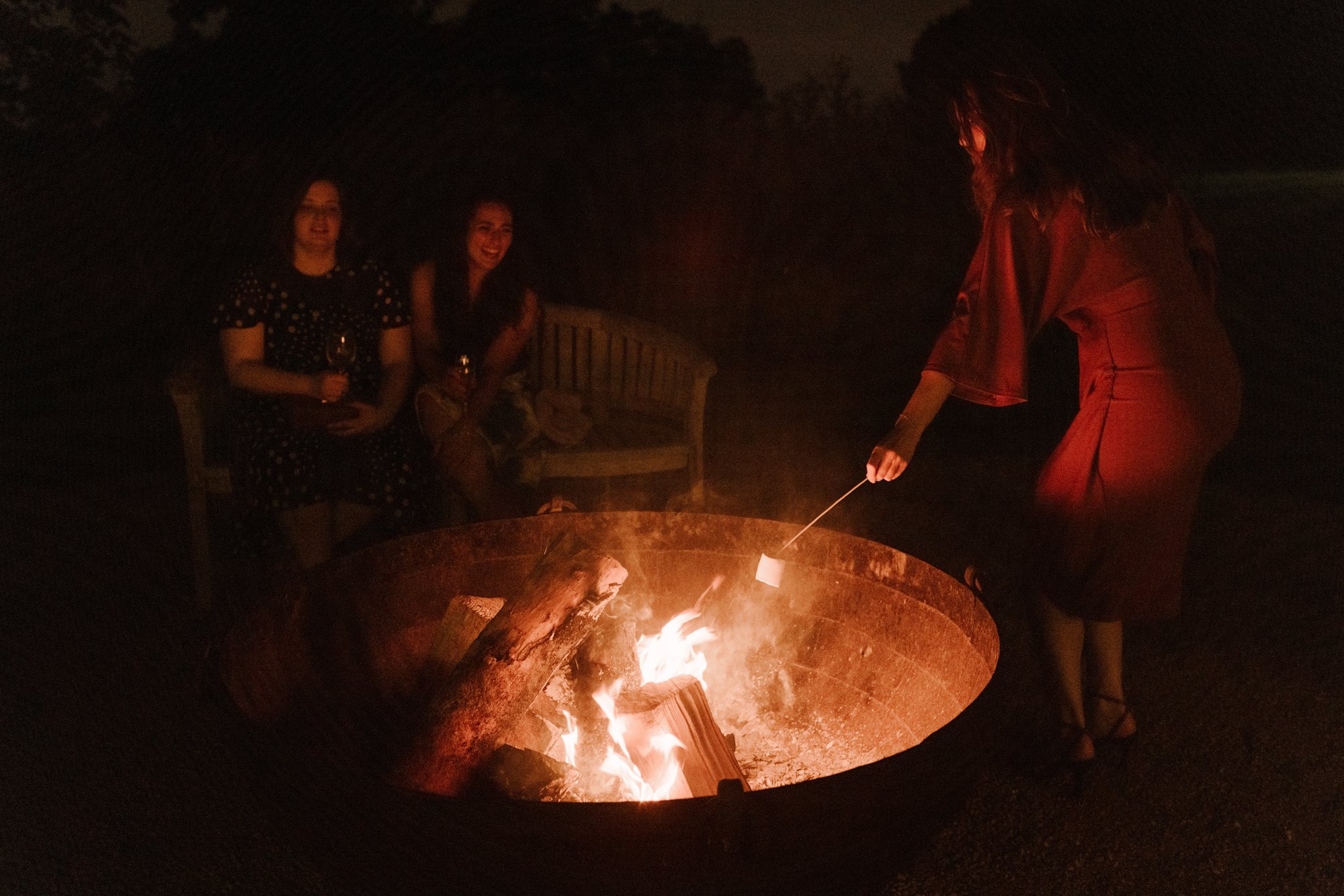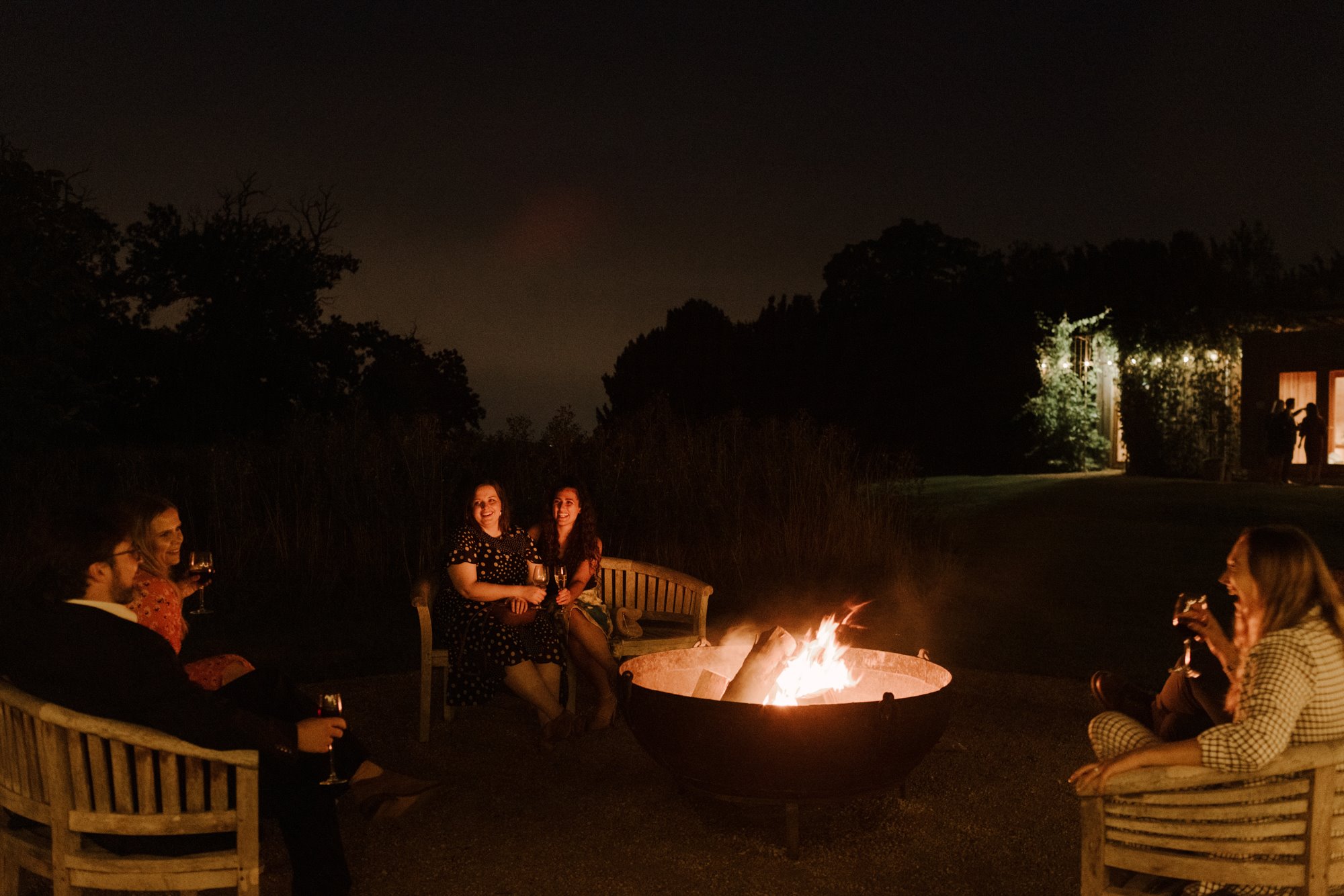 What were your wedding highlights?
The highlight was having everyone we loved in one room. Living abroad for 6 years and Covid had meant we hadn't been able to see lots of family and friends as much as we wanted to and it felt so special to have everyone with us and that people had made so much effort to be there.
We both really loved the ceremony. It feels like a surreal experience but walking down the aisle with my dad was so lovely and sitting with Matt and staring out at everyone there for us was such a wonderful experience and I really tried to take it all in.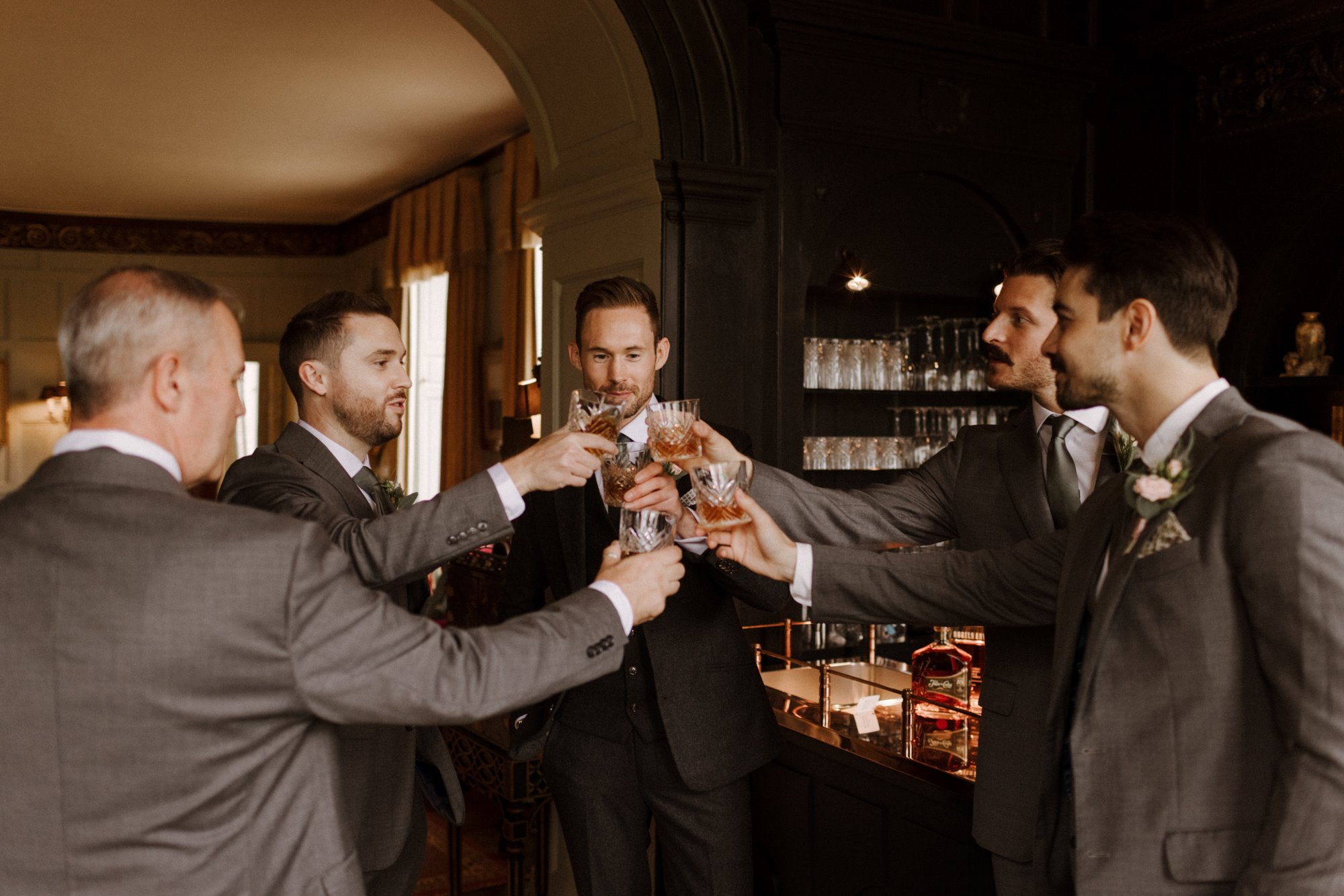 Any other moments of note?
One thing I was keen to do was a bride speech. You spend all this time planning a wedding and then don't get to personally thank everyone.
I hate public speaking but I was keen to say my bit and wanted to say something nice about my new husband in front of everybody and I'm so glad I did it.
One of the groomsmen forgot to bring a shirt with him!
Luckily one of the other groomsmen had a spare which meant we didn't have to do an emergency shop a couple of hours before the ceremony.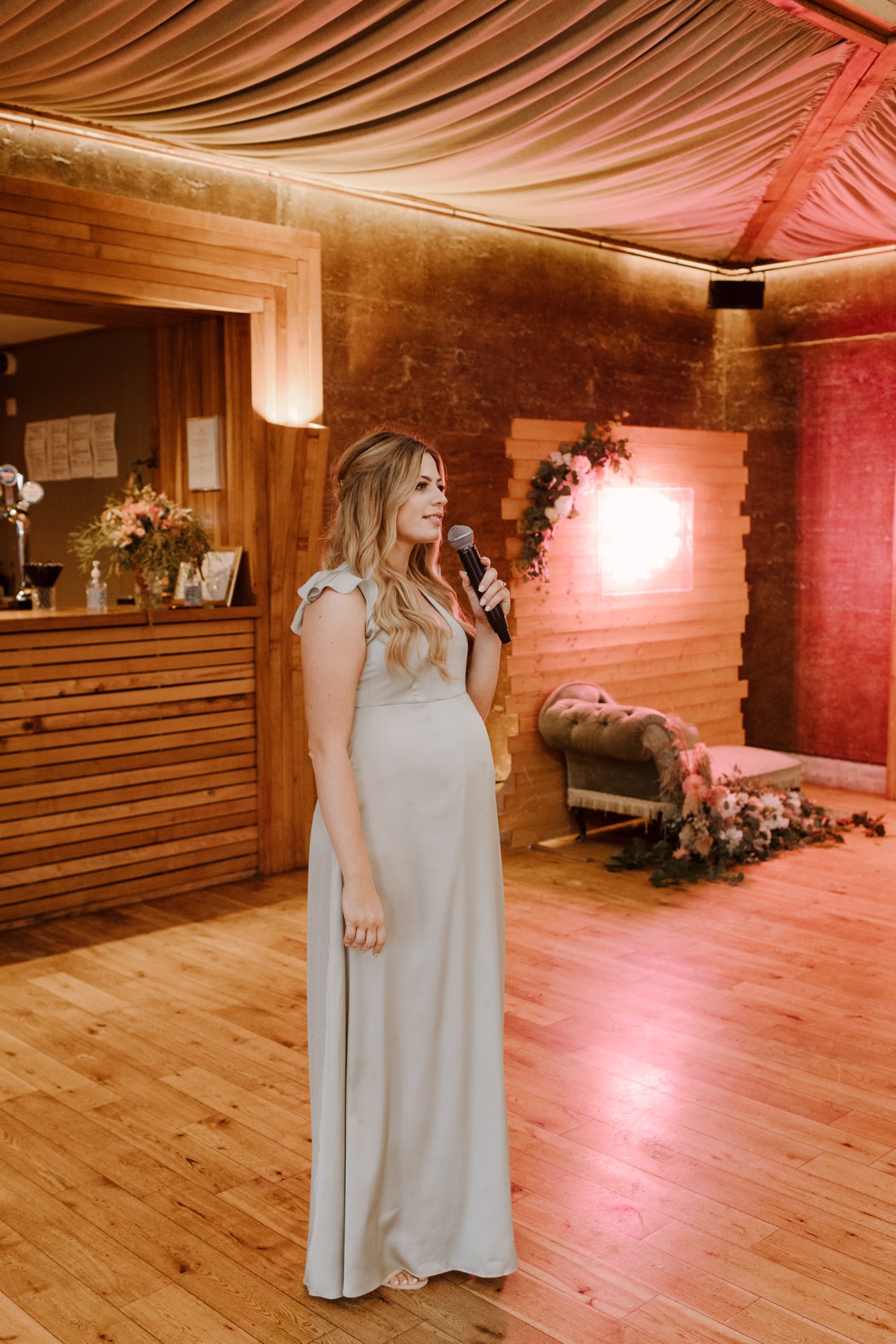 Tips for brides-to-be?
I wish I'd known...
Not to sweat the small stuff.
I wanted everything to be perfect but because of date changes and Covid we had some guests that could no longer make our wedding and even though I was sad about it at the time on the day it didn't even matter and I wish I'd spent less time worrying about it.

• If you can afford to, have exactly what you want. I kept trying to second guess myself to save money and then ended up spending more in the long run when I changed my mind. But knew I would have regretted not having the dress I eventually wore! And the photographers and videographers were worth every penny.
• Buy some flip-flops for guests to wear on the dancefloor! Everyone's feet hurt by the end of the day but flat shoes mean people can keep on dancing.
• Try and do something the day after if you can. All our guests had made the effort to travel to our wedding and stay the night that we wanted to prolong the fun as much as possible. We had a BBQ the following day at The Painswick and just hung out in the sunshine for hours and reminisced about the day. It was so relaxed and so nice as everyone had got to know each other the day before. It was the perfect way to ease everyone's hangovers and make sure we got to spend more time with everyone.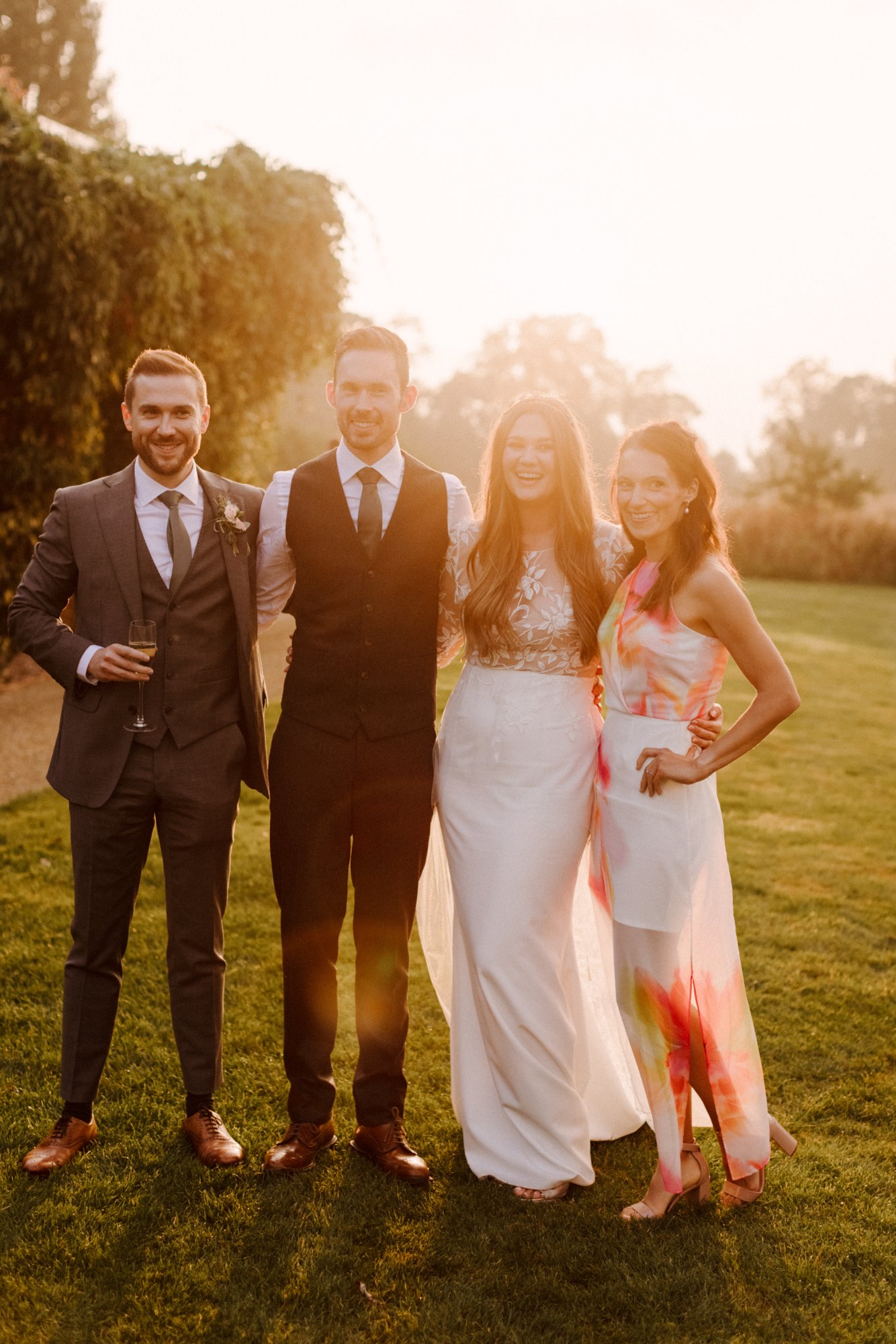 Wowee. What a treat that was. Thank you so much Kelseigh and Matt for sharing your day with us, we hope you've enjoyed reliving it as much as we have!
If you'd like some more September wedding inspiration then head on over to ours on Sunday 11th of September for our Harvestival!
Can't wait to see you.
Lots of Love,
Team E
xxx
Related reading