Long distance wedding planning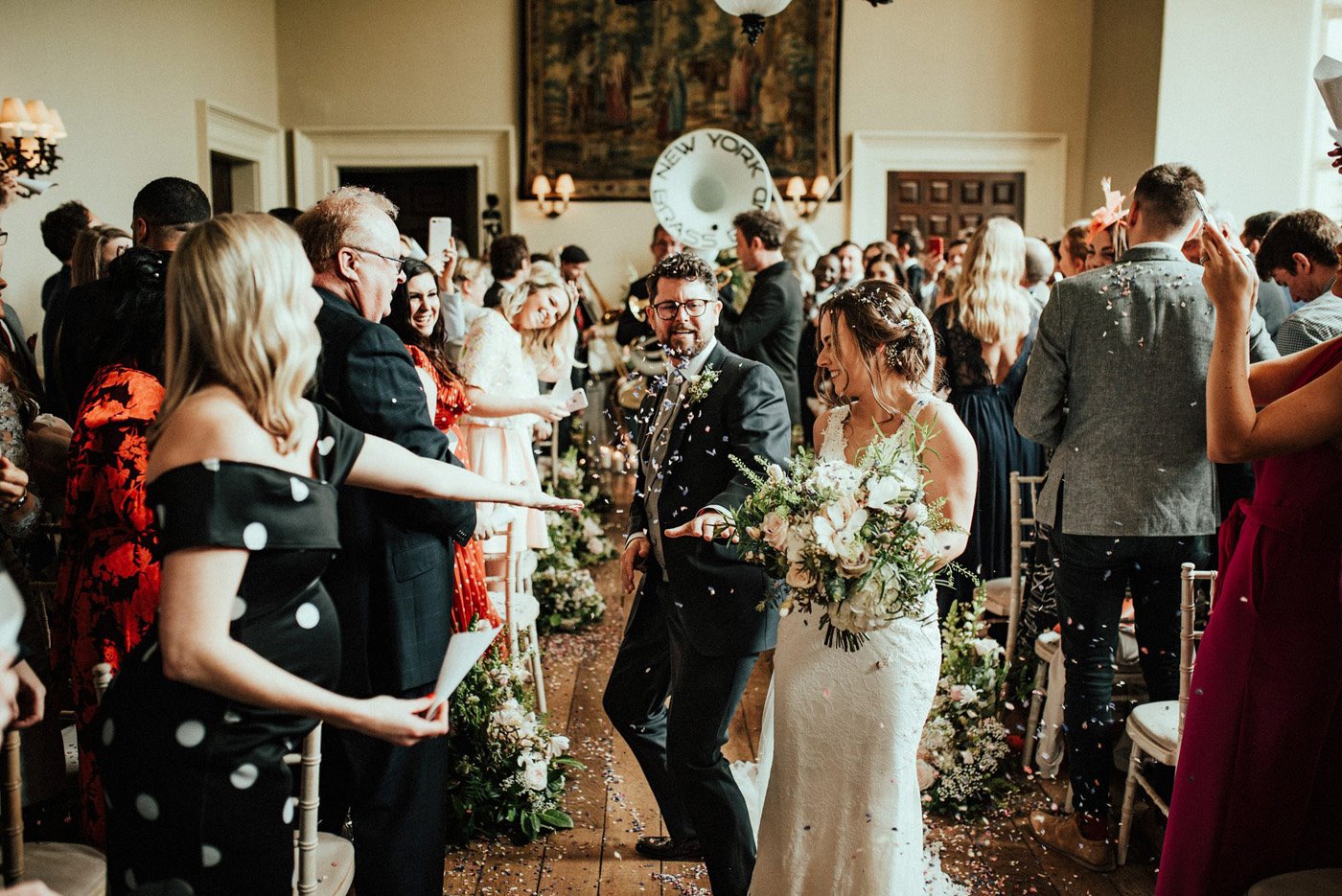 As we live in the Middle East in Qatar, I was really worried about how I was going to find a dress during limited visits back to England. However, I was really excited to try on dresses so right after we got engaged, back in November 2016, I went on my first shopping trip.
I had no idea what I wanted, the only thing I knew was that I didn't want it to be too blingy or strapless, as that's not really me.
It was really exciting, but I didn't get that wow feeling that people talk about. Instead I felt like I was 6 years old playing dress up in my Mums wedding dress.
I didn't try dresses on again until December 2017 once we had booked Elmore Court and I was back in the UK. This time I went to two different places, tried on about 10 dresses in each, but didn't find one that I felt amazing in.
Finally, my Mum, sister and I went to Isabella Grace in Tunbridge Wells, which had been recommended to me by a friend. As soon as we stepped into the stunning boutique I felt at ease. The dresses all looked beautiful, but I had no idea which to choose. Eventually, I narrowed it down to two dresses. A strapless princess style which I NEVER thought I would like, and a fitted lace dress Martina Liana dress, with a train and gorgeous back detail. After a bit of back and forth, I chose the fitted lace Martina Liana dress. It was stunning! The princess dress was beautiful, but the amount of fabric was hindering my questionable dance moves, so I knew it would irritate me when I wanted to dance the night away.
Decision made, cue tears from Mum and Sister, and glasses of champagne in hand to celebrate. I didn't get that instant 'this is the one' feeling, but I didn't want to take it off, so I knew that was a good sign.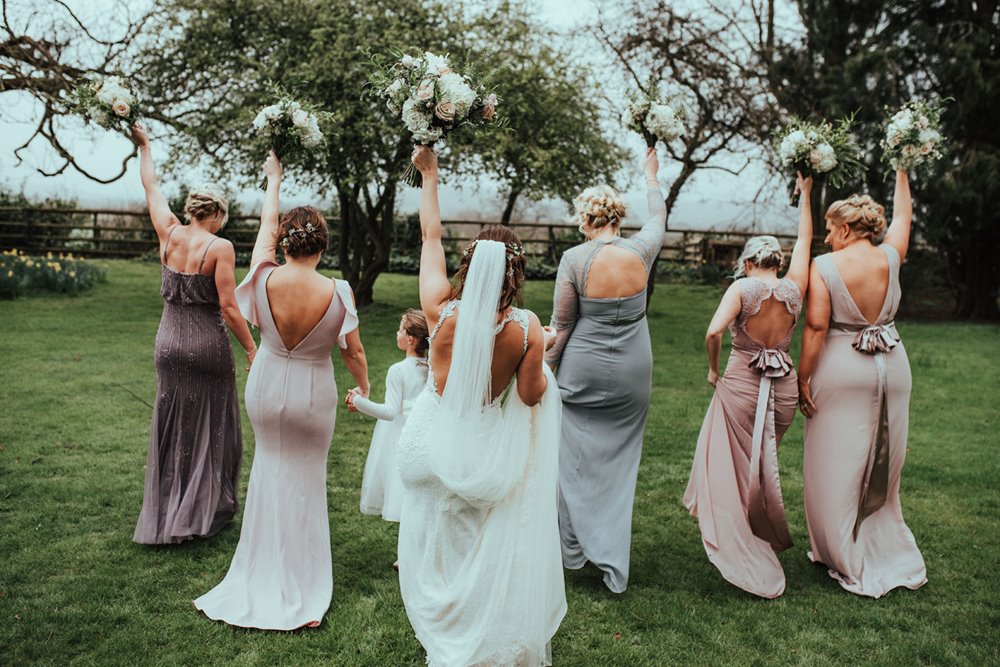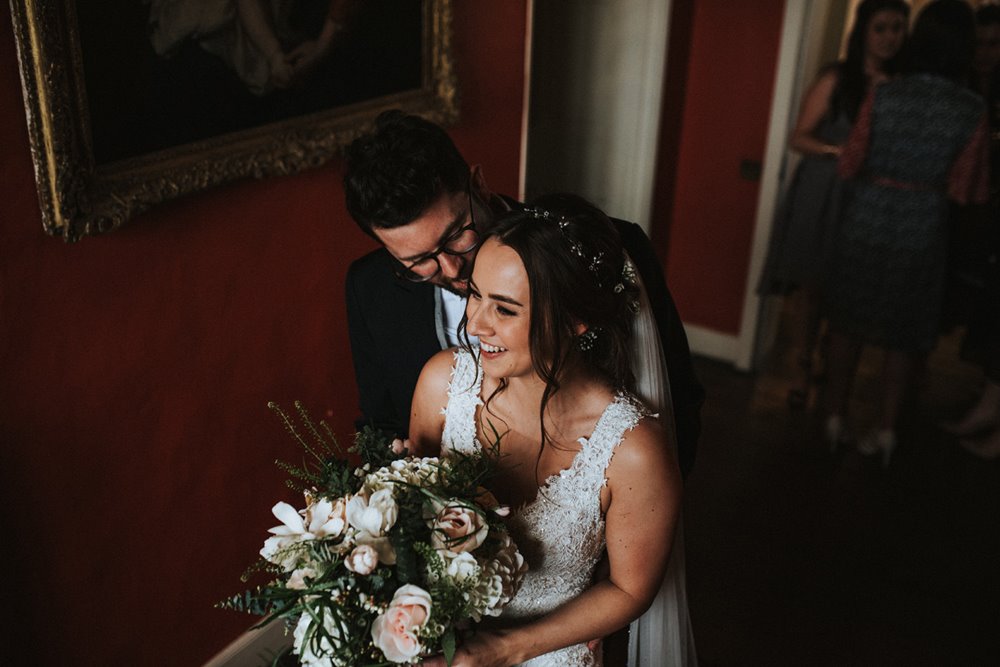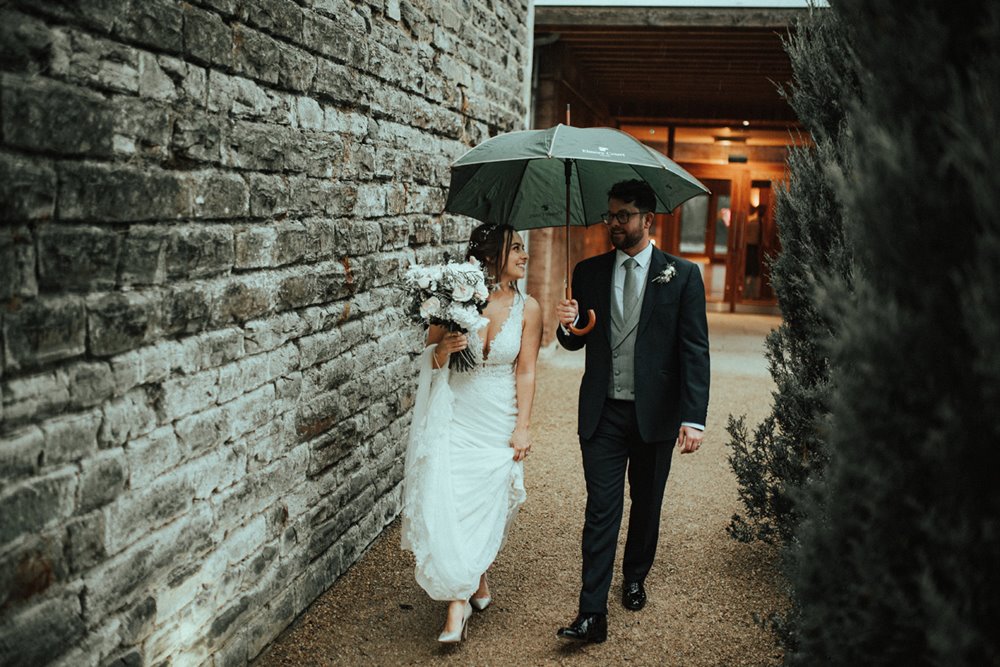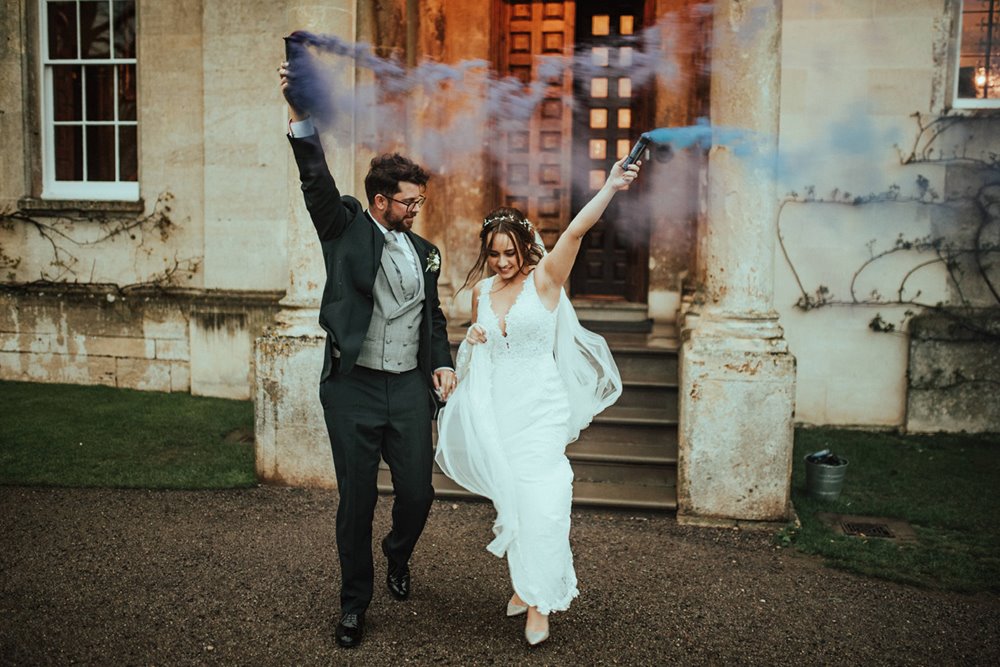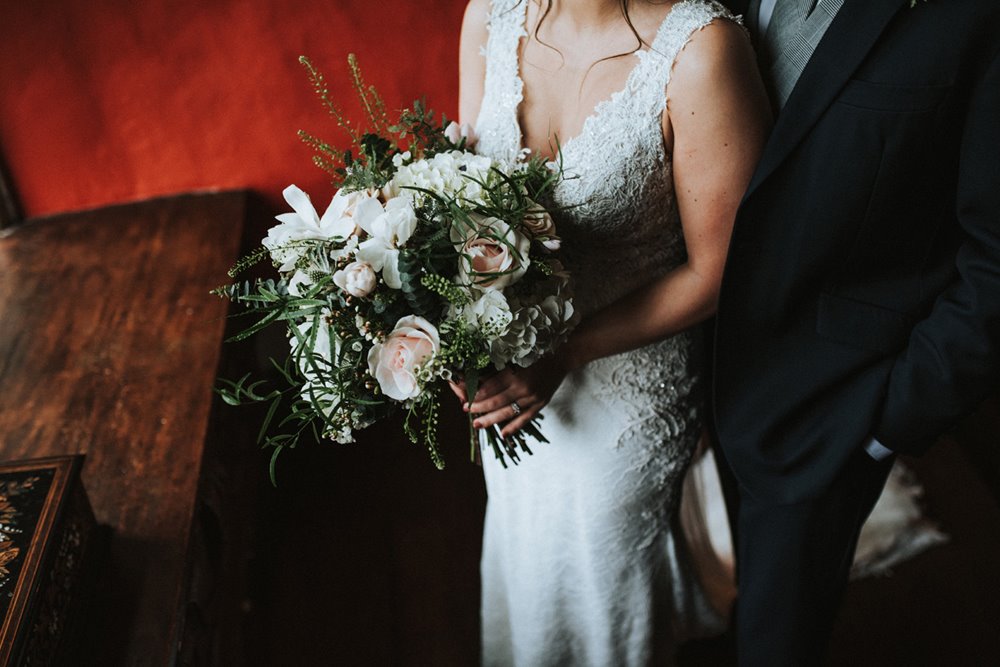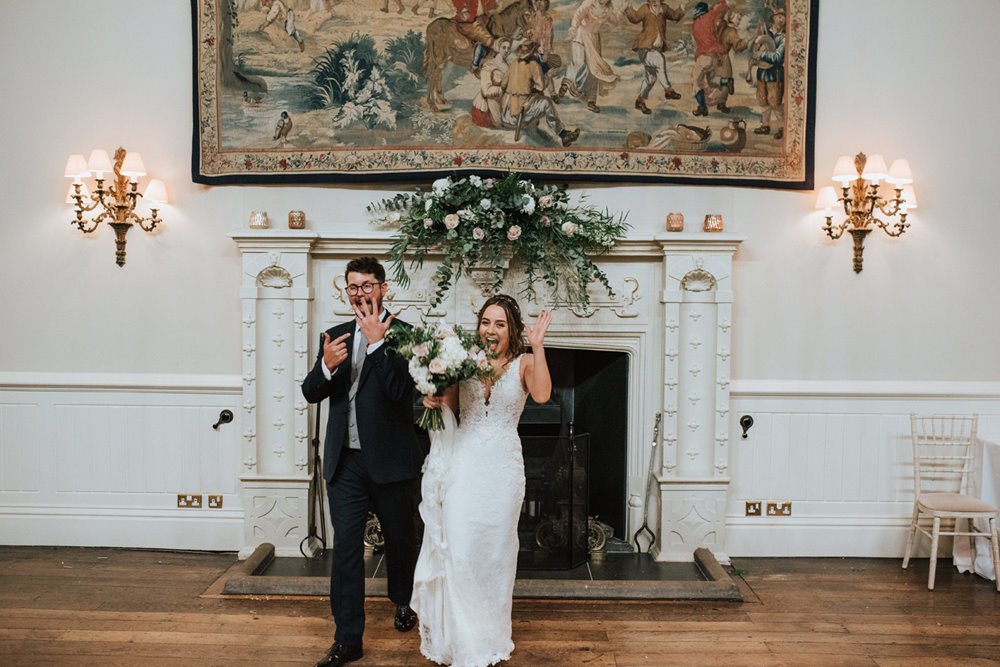 Wedding Venue Search
As we live abroad, we knew we wanted to get married in the UK so that we could share the occasion with as many of our friends and family as possible. This probably became our most important criteria when trying to look for a venue, somewhere that could accommodate the 200+ guests we wanted to come.
We didn't have any specific ideas in terms of location but did have other criteria such as no noise restrictions on live music, and ideally be situated somewhere in the country where we could spend a weekend away together with our guests to make the most of the whole wedding experience.
Elmore kept coming up on the various Wedding websites we were trawling through looking for inspiration, and their own website was fantastic. You'll be surprised the amount of wedding venue websites that don't actually give you any of the information you're looking for. Elmore's website was (and still is) brilliant, it gave us all the information we wanted, a really good idea on prices for venue hire and catering options and even had a 3D virtual floor plan so we could explore the venue despite being 3,500 miles away.
We already loved the look and feel of Elmore and that was just from what we had researched online. Cesca eventually visited Elmore with her Mum and Sister whilst on a trip back to the UK and instantly loved the place but more importantly loved the staff who were incredibly open and honest about what was possible at Elmore, and offered them all a cocktail which helped!
So much of the wedding could be organised in-house and they had an army of local suppliers they could recommend. When organising a wedding from overseas seemed like such a daunting task, they just made everything feel like it was so easy.
The fact Elmore Court happened to be not too far from where we got engaged and that the owner Anselm used to run stages at Glastonbury Festival (Danny's favourite place on Earth!) were all very happy coincidences, everything just felt so right about booking Elmore.
The one thing I don't think we gave enough thought too was the date of our wedding. Cesca has always said to me (in jest) that she wanted to be married before she was 30, so I replied how about two weeks before? So that was the date we went for… a massive blunder on my part as now our wedding anniversary will always be shortly followed by my wife's Birthday, meaning March will inevitably be an extremely expensive month for me for the rest of my life!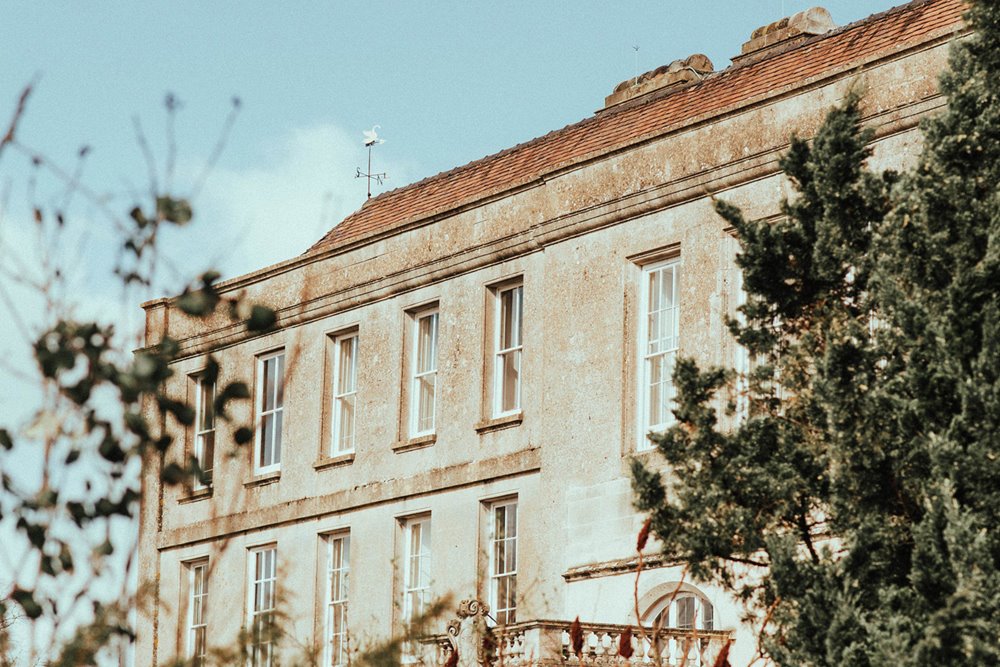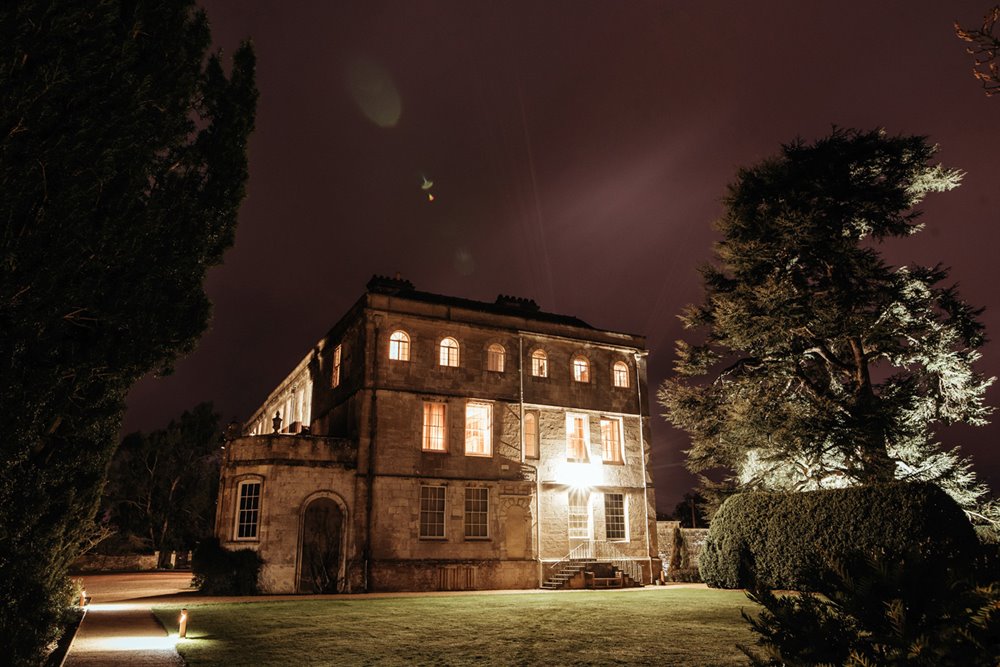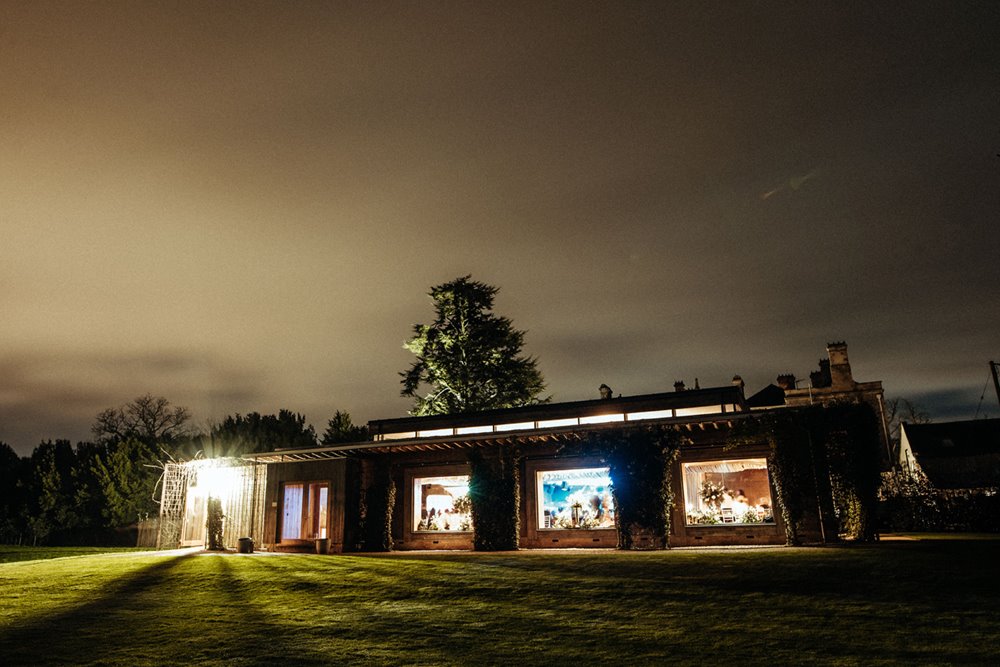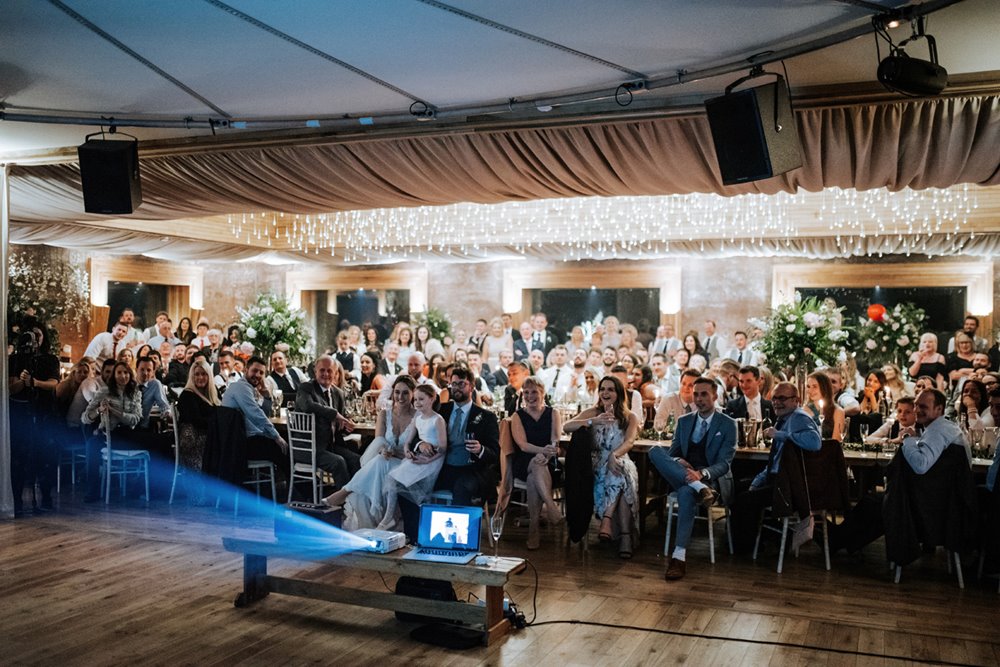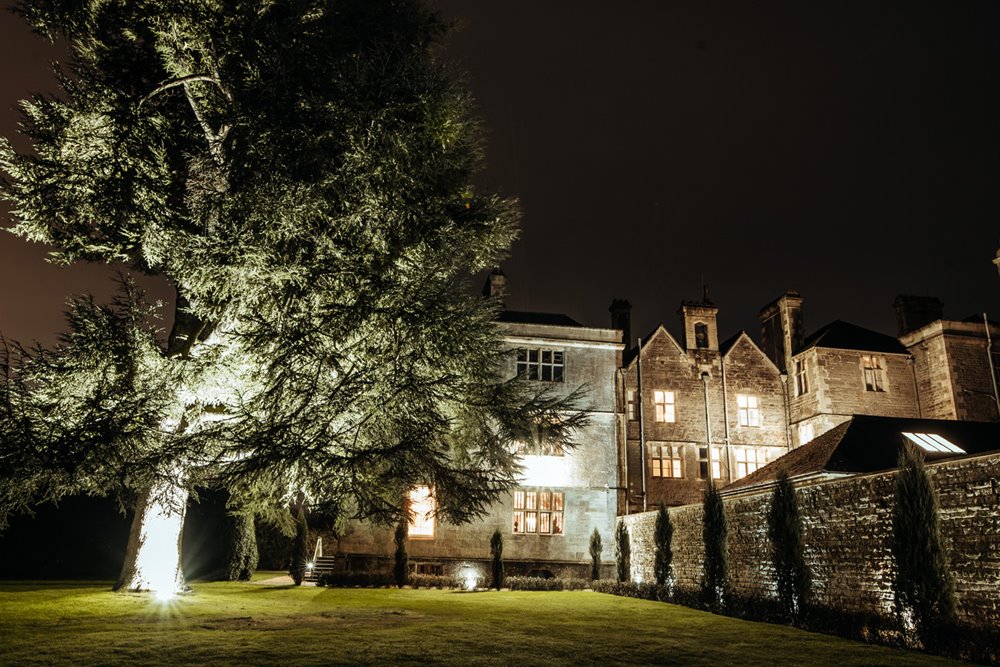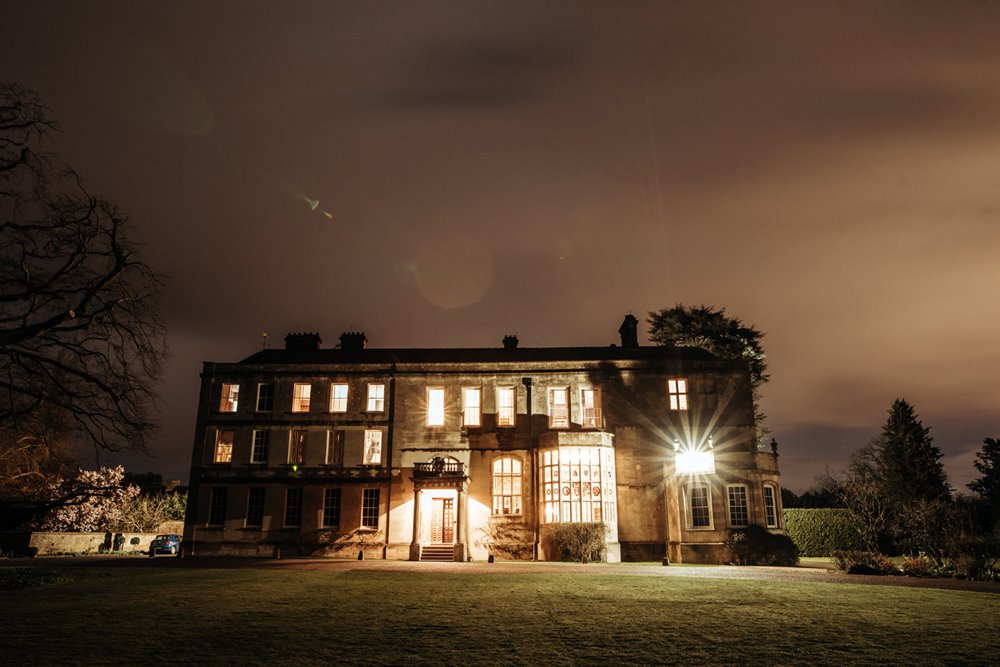 How did you choose your botanical wedding style?
We didn't really have a theme, or colour scheme in mind to begin with. The only thing we both ever said we wanted was a massive party, so that's what we aimed to organise.
However, our suppliers needed some direction as to how we imagined our day, so after trailing wedding blogs and Pinterest (every brides best friend) for inspiration, we decided to focus on a simple but stunning botanical theme, with lots of foliage and pale pastel and white colours.
This tied in nicely with the bridesmaids dresses. The girls are all so different that the same dress would never have suited them all, and I wanted them to choose a dress they would wear again. So they all had different dresses. I gave them a range of colours to look at, from grey to pale lilac as a starting point and they all managed to find a dress they loved. They all looked beautiful! I was so proud to have them by my side.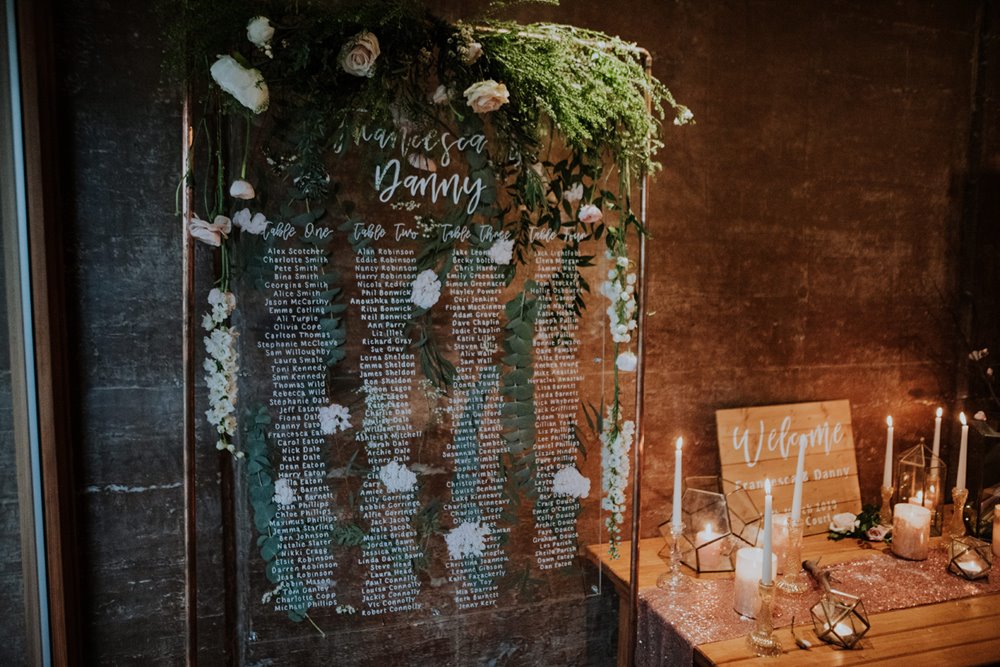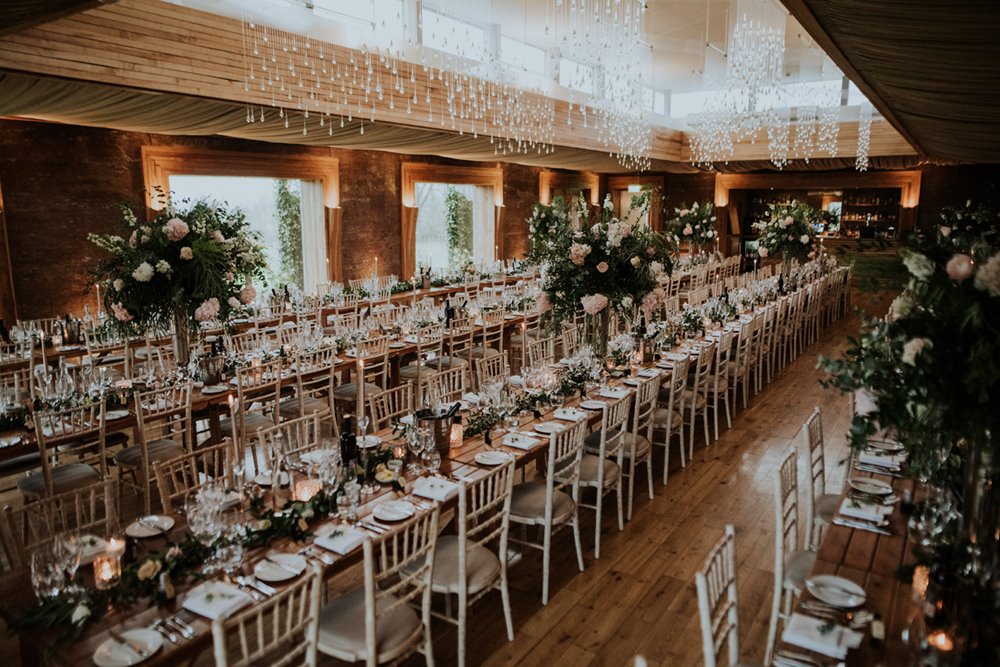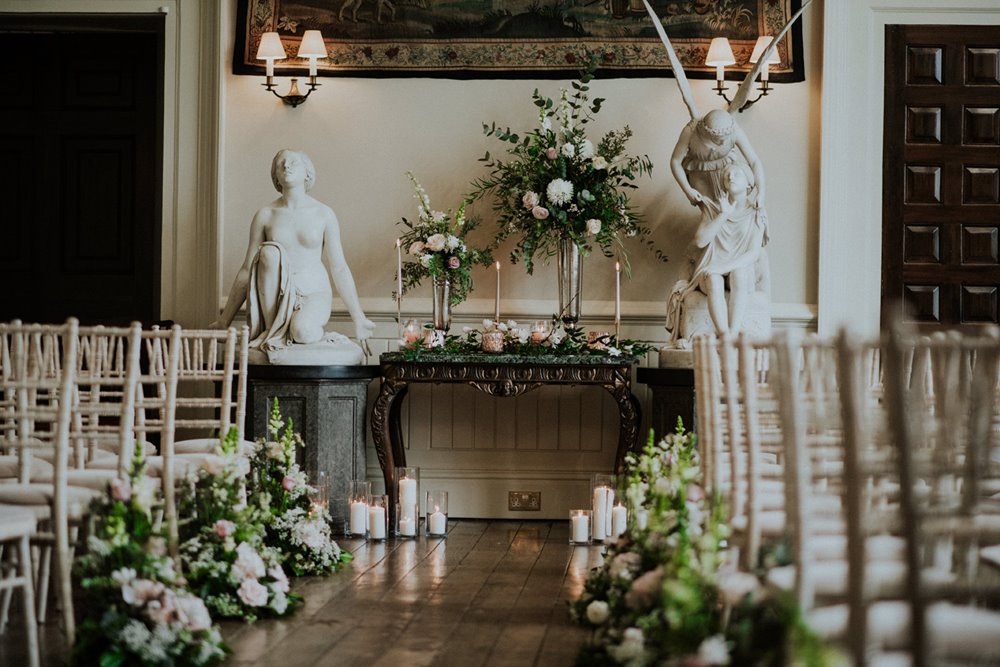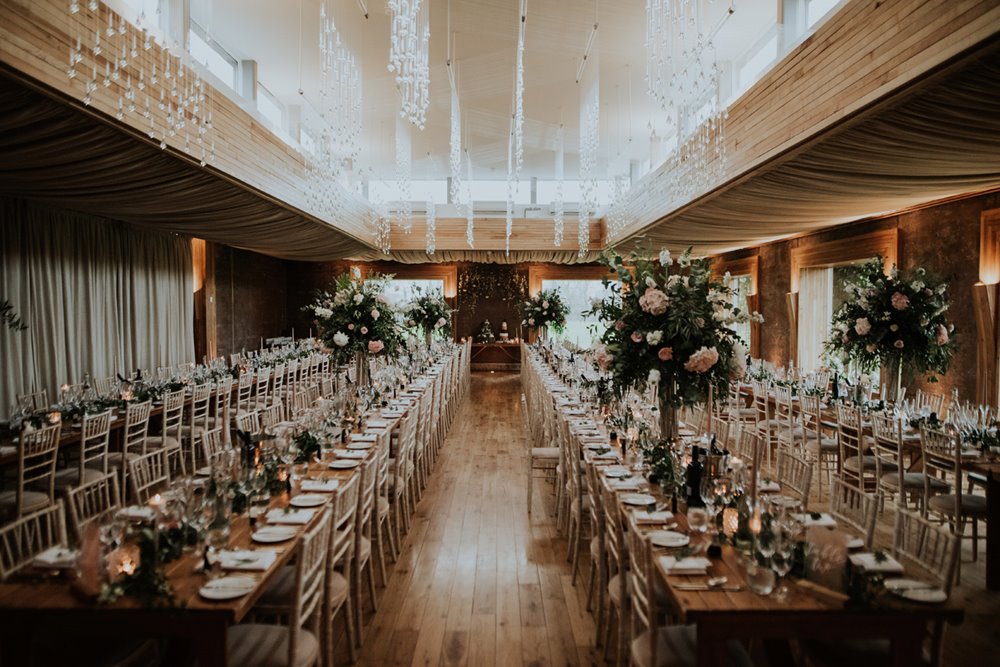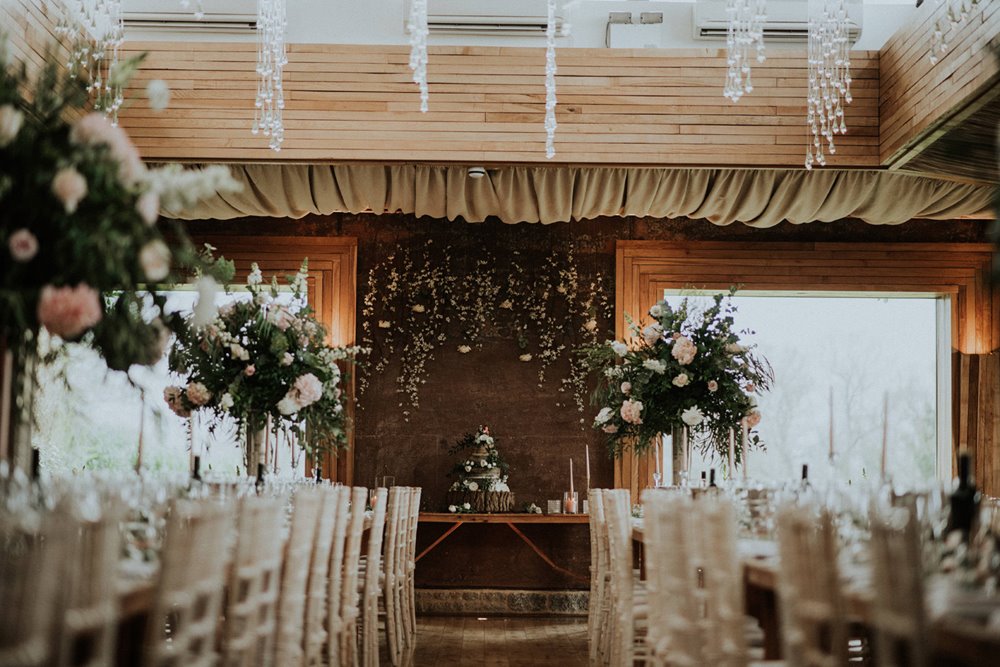 How did you choose your wedding flowers?
Elmore is so beautiful we felt it really didn't need much decoration, but that lots of foliage would really look stunning against the old walls of the main house and the natural feel of the Gillyflower.
After discussing this with our stylist and florist, Lauren and Maria, we settled on lots of foliage with splashing's of white, green, grey and blush flowers.
Maria from Sorori Design was amazing. I bombarded her with pictures and kept umming and ahing over exactly what would look best.
Maria and Lauren both made some great suggestions, and really knew what would work for us and Elmore.

We had large arrangements in the ceremony room, which were then taken to the Gillyflower and placed in the windows. Lines of foliage along the centre of the tables, and hanging flowers behind the cake. It was stunning!
The flowers were offset with some candles and silver pieces from Lauren Grey Stylist.
We also had some gorgeous wooden and acrylic signs produce by Urban Frame, that worked well together. It really looked beautiful and took everyone's breath away. The next morning team E had collected all the flowers and foliage and it looked like a forest! But all of our guests and some of team E were able to take the flowers home, which meant there wasn't any waste.
What was the focus of your wedding plans?
She said… Music! Dancing! Drinking! In the end having a HUGE party with everyone up, dancing and drinking all night was all we wanted, and that's definitely what we got. We wanted everyone to feel like they were at their party, it was their day as much as it was ours. Team E definitely helped to deliver this.
He said…
Live music was always going to be the key element for me personally, so we had to have a venue that could accommodate this, and Elmore was more than up to the task.
Ultimately we wanted to throw one big party… we ended up having two! Having all our guest's half cut, dancing and partying before they had even taken their seats for dinner was an amazing feeling, and to keep that going until 5am was sensational! We just wanted everyone to enjoy the day as much as we knew we would and I'm pretty sure everyone did.
How did you feel on the big day?
She said…
I can only speak for myself, but on the morning I was quite relaxed. Having my girls and my mum around me all laughing and getting ready together was perfect. I had a relaxing bath in the Coach House, a lovely breakfast and some champagne Danny had given us from 2009, the year we had our first date. I felt so relaxed. It was only when we moved over to the main house, I was putting on my dress and I could hear guests arriving, that I began to feel nervous. I knew team E had everything under control, and that Danny would be chatting away to all the guests, making sure they were all taken care of. I think I was just nervous about people having a good time and enjoying the day.
When my Dad came to the room, it all started to hit home that today was our wedding day. My Dad seeing me in my wedding dress for the first time was such a special moment and our photographer captured it perfectly.
Fast forward to walking down the aisle. The moment my Dad took my hand I had all these flashing thoughts. I even asked my dad if I had any food stuck in my teeth or anything up my nose! It's funny the things you think of.
The doors to the ceremony hall opened and as soon as I saw everyone, I had to take a moment. I took a deep breath, breathed out a small inaudible swear word, and then was ready. I am not usually one to cry but I knew as soon as I saw Danny I would, and I did. I was so overwhelmed with everyone we loved being in the same room, it was an incredible feeling.
He said…
I definitely drank more than I should've done the night before the wedding, but spirits were running high catching up with friends and family, who had travelled from far and wide to be with us on our wedding day. It was a great start to the weekend!
The nerves definitely outshone the hangover on the morning of the wedding. Me and the boys shared a couple of drinks whilst getting ready to settle those nerves and then headed down to the ceremony hall and began welcoming guests and playing a few tunes.
I was completely overwhelmed when I saw Francesca for the first time in her beautiful dress as she began walking down the aisle towards me. I didn't do a particularly good job of holding back the tears but luckily her veil got stuck on the floorboards which broke the ice nicely and relaxed us both.
During the ceremony I just remember smiling a lot and feeling so proud to be marrying this beautiful woman, in such an incredible setting, surrounded by all our friends and family. Everything came together brilliantly.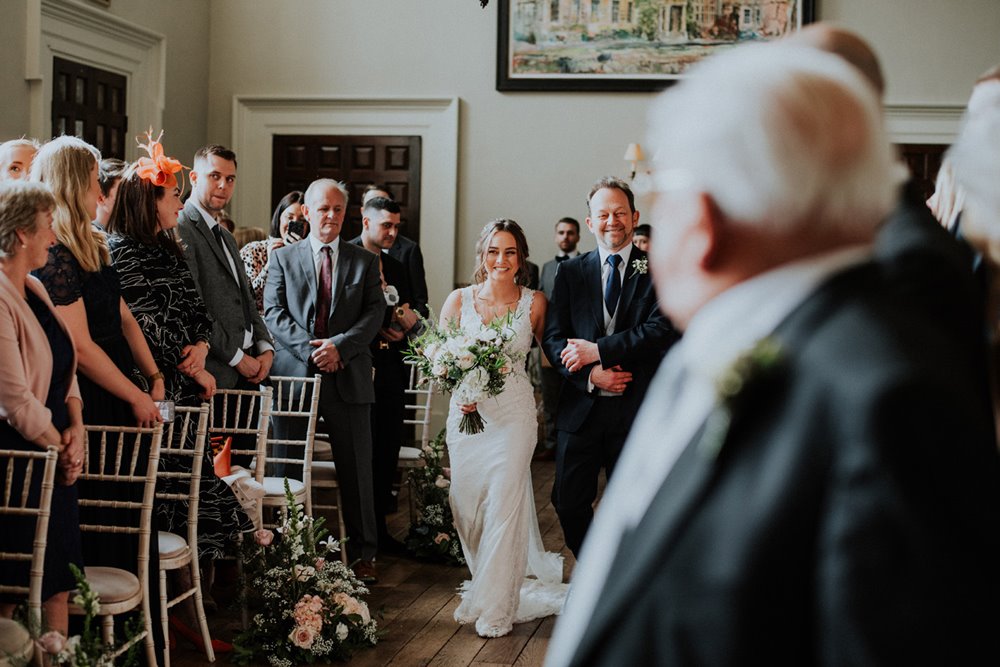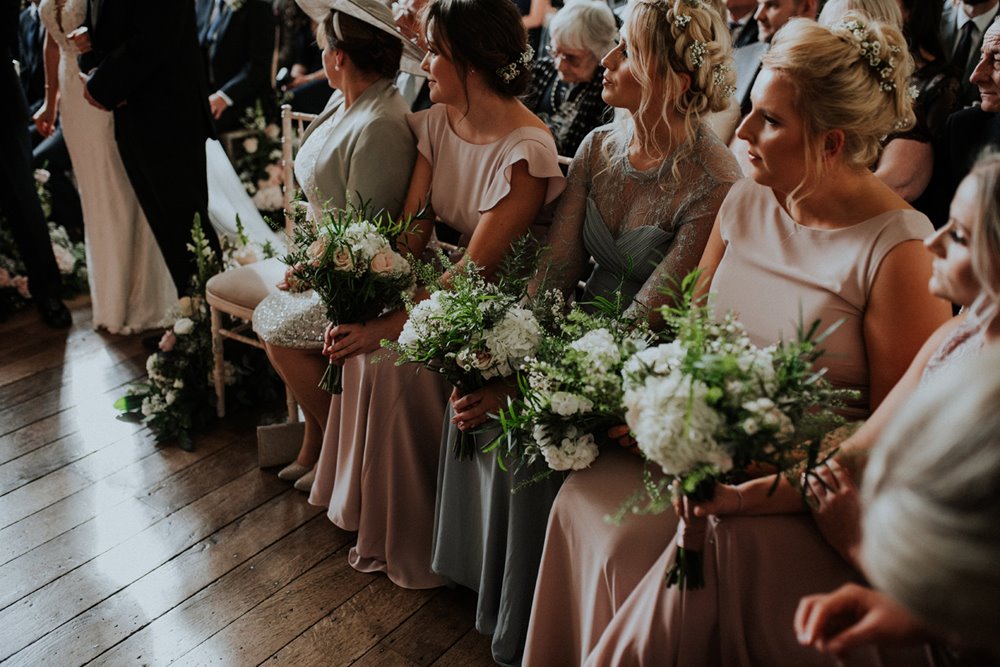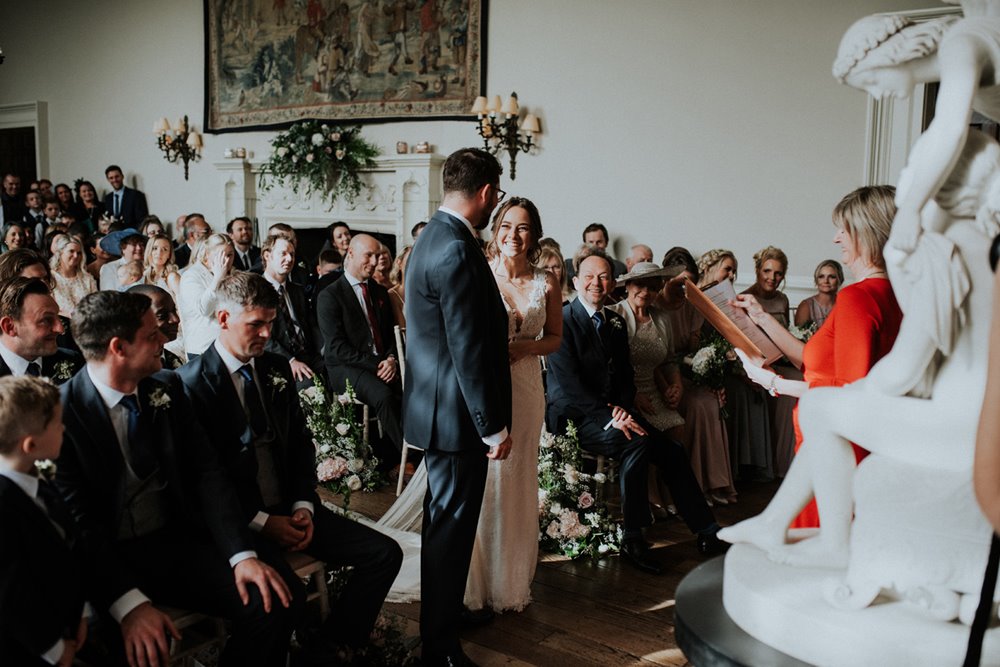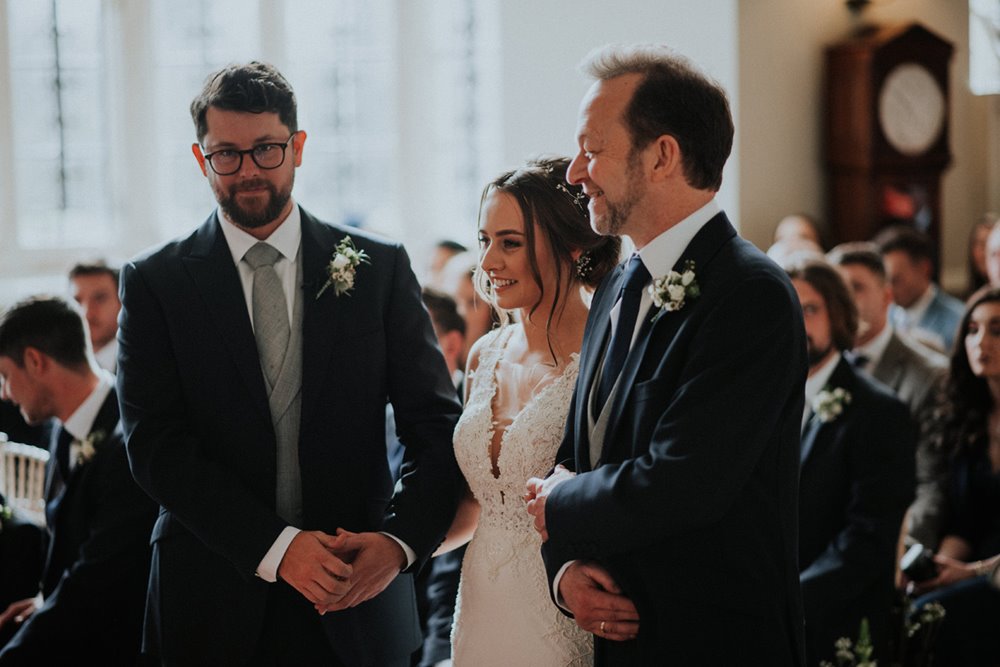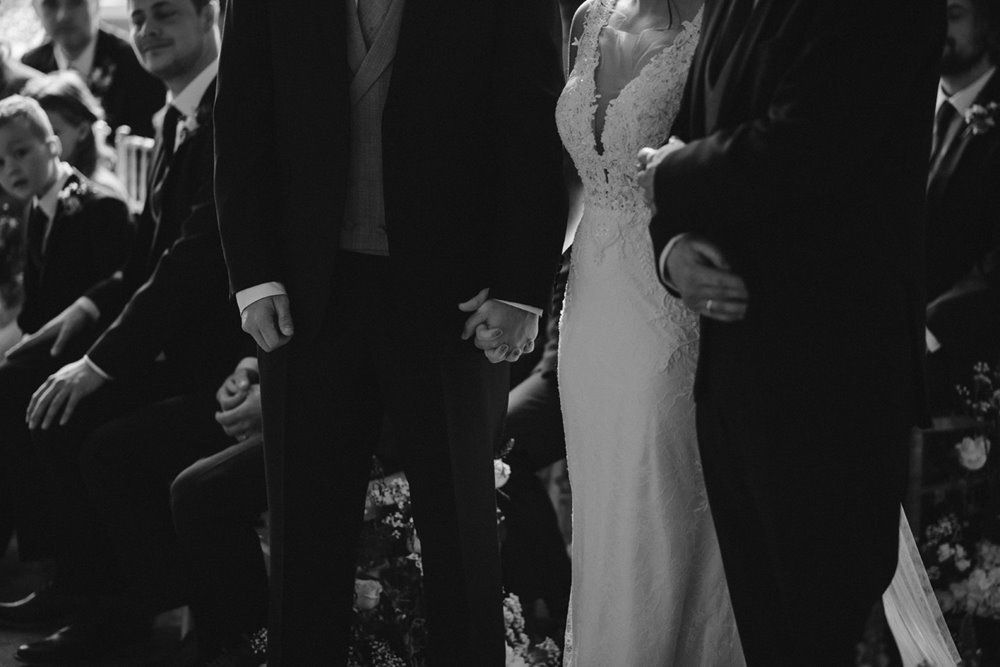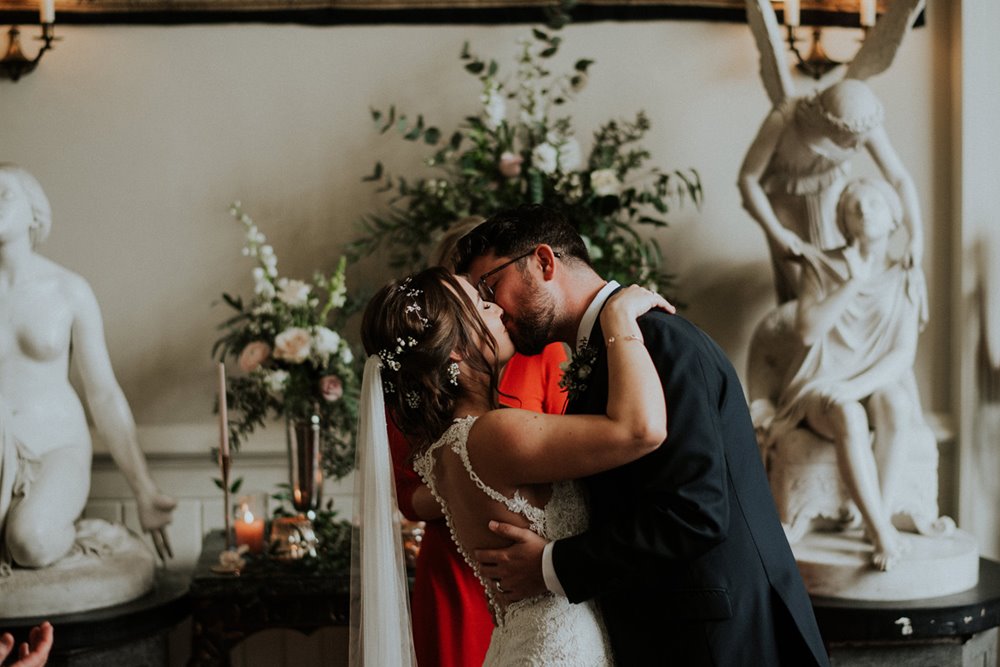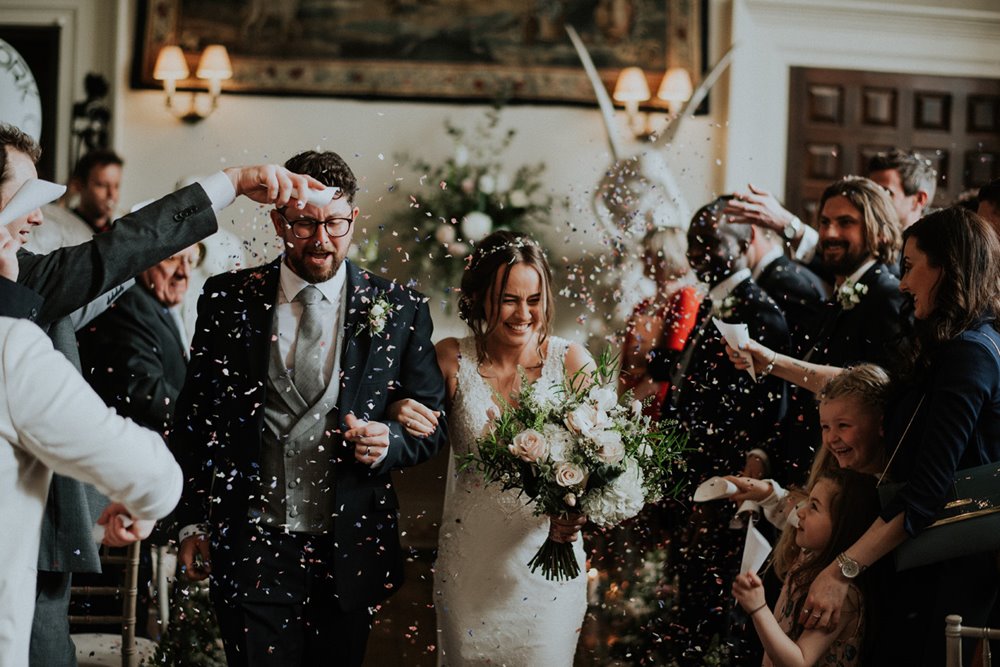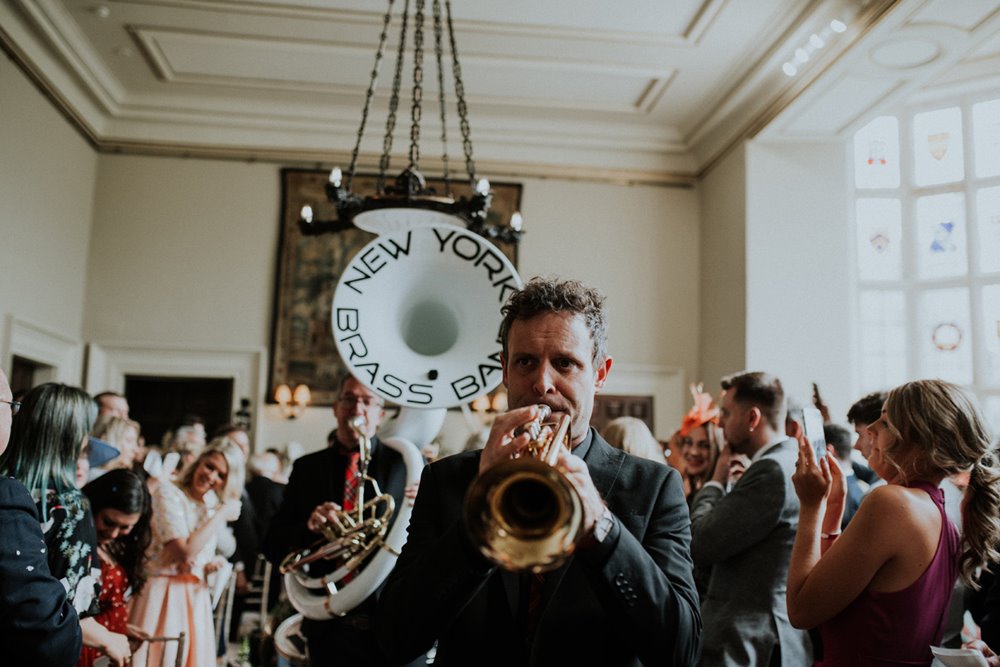 Tell us about your drinks reception...
She said… Team E were really great at guiding us through planning for the reception. We had no clue what to expect for timings, or quantity of drinks etc, but team E made it so easy. Anything we asked for was a yes and they made organising it all from over 3,500 miles away really easy.
We decided on a drinks package which allowed us to have a number of different drinks, prosecco, beer, wine, cider and pimms. We wanted enough for everyone, and Elmore certainly provided plenty! The bar was stocked, and the drinks were flowing all day.
Our spectacular photographer, Jacob Malinsky, and videographers, This Modern Revelry, were superb at blending in and getting some amazing candid shots, which is exactly what we wanted. This Modern Revelry produced a brilliant film, unlike any other. We really wanted a fun upbeat film to show how amazing and fun the day was, and that's what they delivered. We couldn't recommend our photographer and videographers enough. They were incredible!
One moment really stands out when the bride and grooms party (all 17 of us) were outside having photos taken and we may have let off a few too many smoke canisters. A few guests saw the mass of smoke, thought there was a fire, so quickly legged it outdoors only to realise it was all fun and games for some epic shots.
Everyone was in great spirits and the New York Brass Band played throughout the reception in the main hall. They had everyone up and dancing all afternoon. It was incredible, a moment I wish we could relive again and again.

He said…
We really wanted to make the drinks reception a little party in its own right and wanted people up drinking and dancing rather than just killing time until the wedding breakfast.
We hired an 8 piece brass band called The New York Brass Band who I had seen at Glastonbury a couple of years earlier. I remember thinking they would be brilliant as even if they played songs you might hear again later in the evening it wouldn't matter because it's a completely different take on those same songs.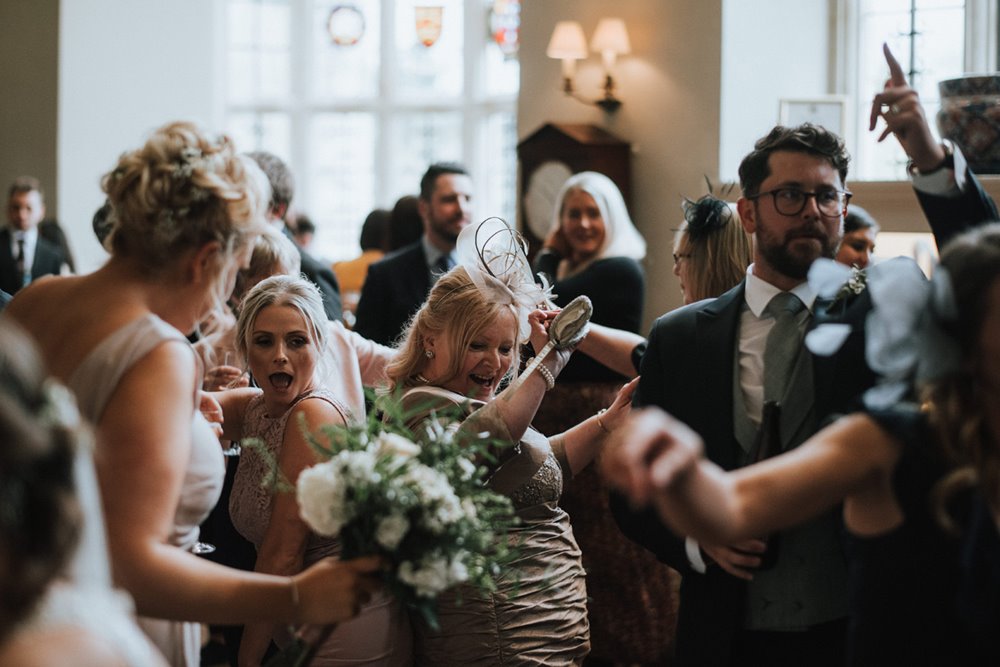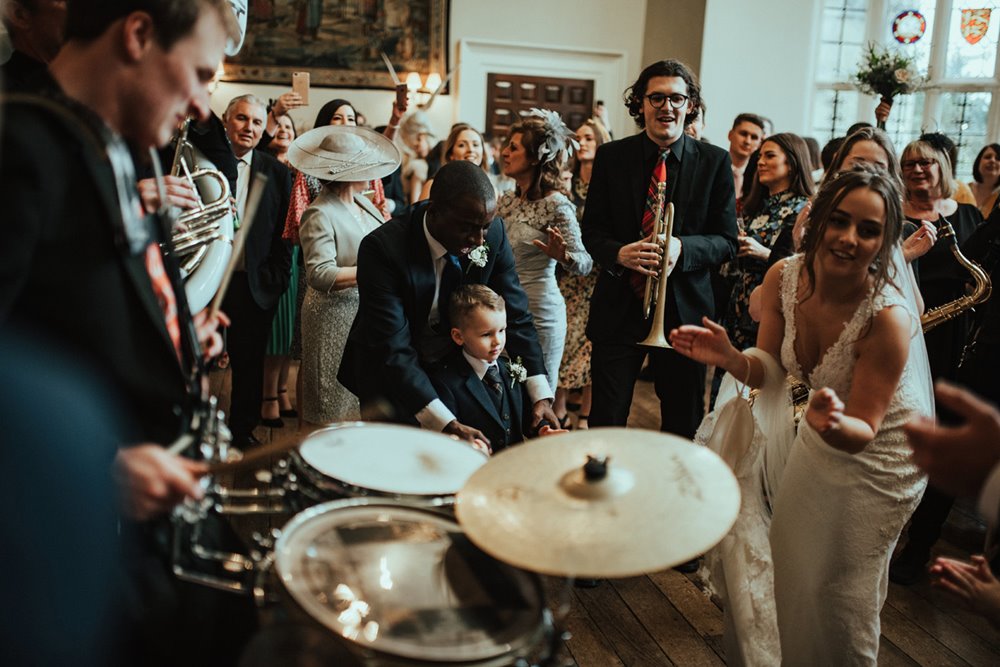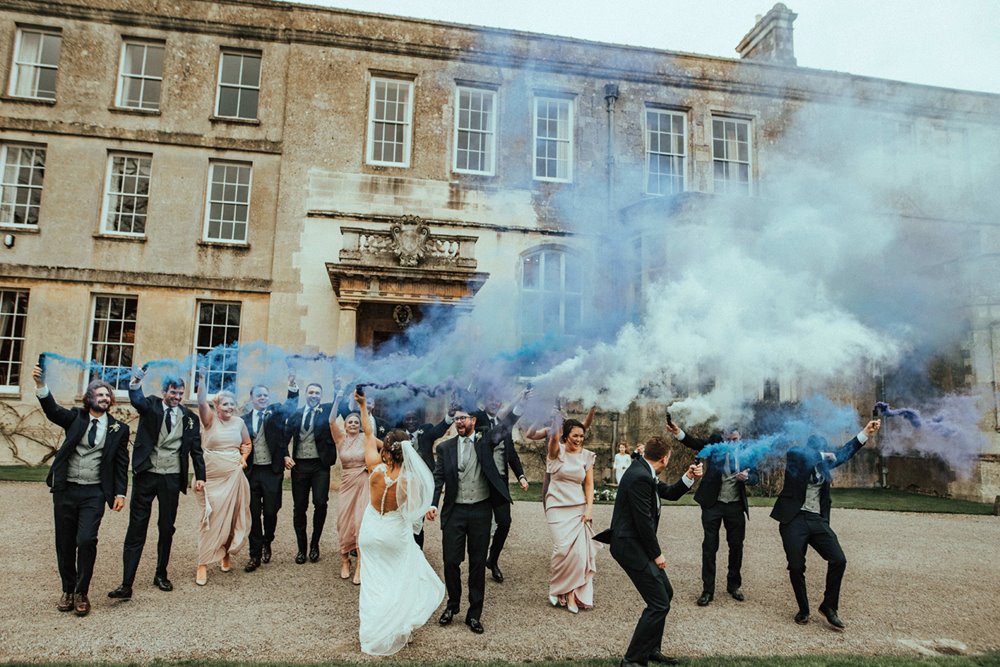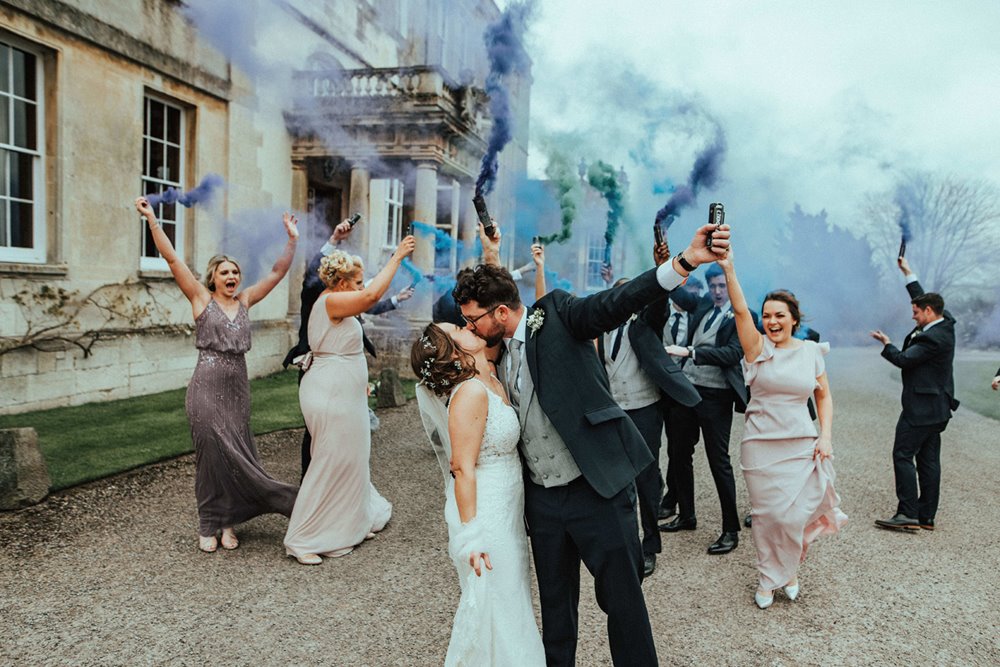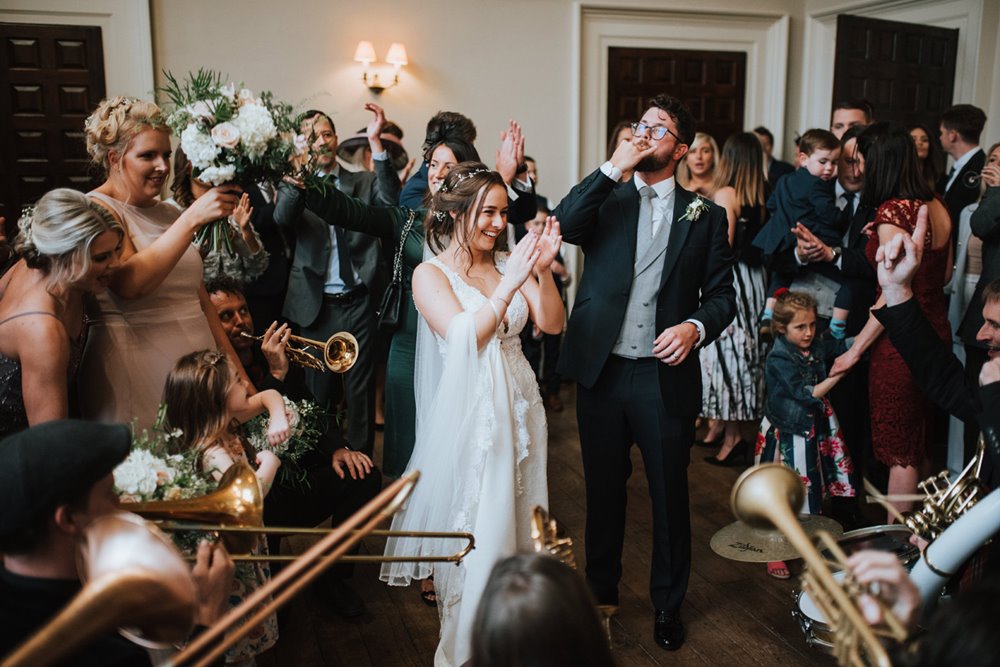 What did you think when you first saw the Gillyflower?
When we walked into the Gillyflower, saw all our friends and family, the flowers, the tables, we were amazed! It was even better than we had imagined. Team E, Lauren and Maria had done an incredible job.
They tried to get us to view it a few times earlier, but we were having too much fun dancing and chatting to all our guests that we got a bit side-tracked. But that didn't take away from the moment we entered and saw everything and everyone. It was stunning. We would have loved to seen the guests reaction when they walked into the Gillyflower, many of them had commented that they hadn't even realised there was another part of the venue and couldn't work out where dinner or the party was going to be as nothing was being set up in the main house.
Before making our entrance, it was suggested to us that we have some entrance music and if we would like to run up and down of the aisles to high-five everyone. Naturally we thought this was a great idea!
Our song choice for the entrance took a little while to decide. Danny wanted either Turn The Page by The Streets or F***ing In The Bushes by Oasis… we settled on You Make My Dreams by Hall & Oats.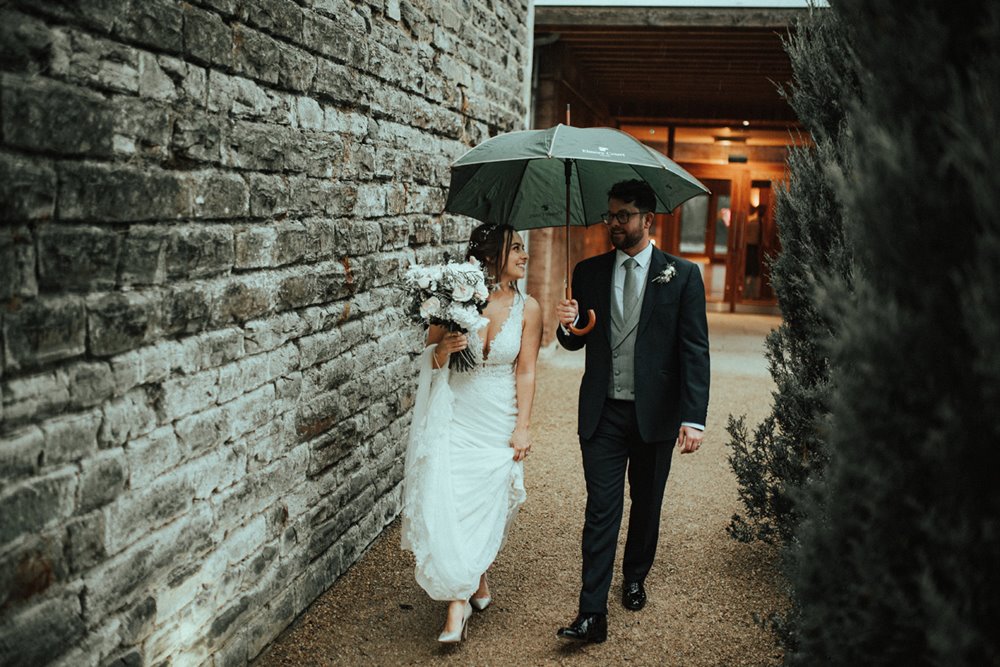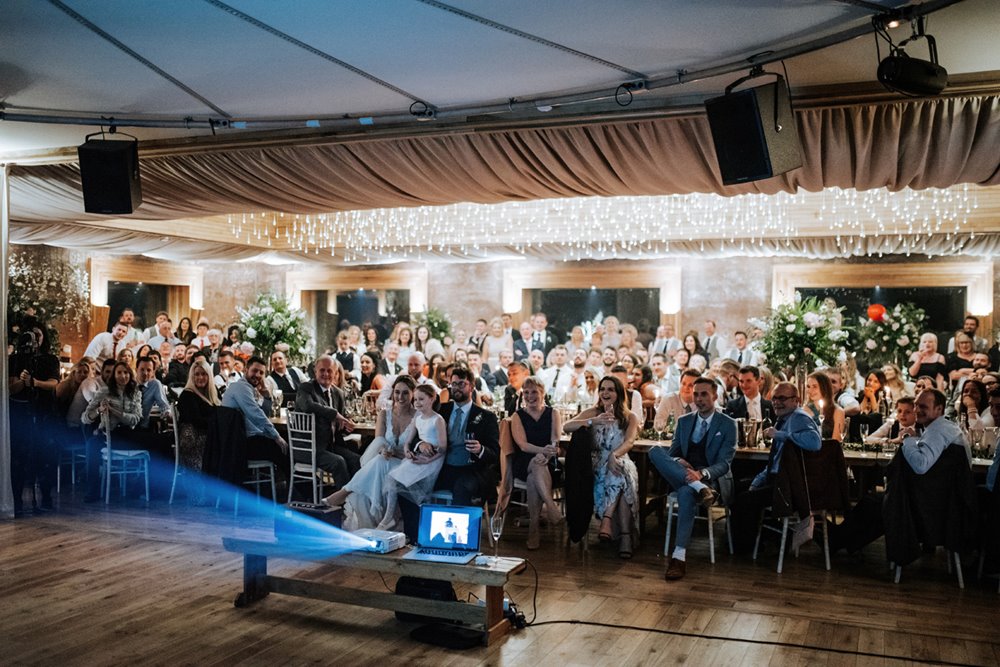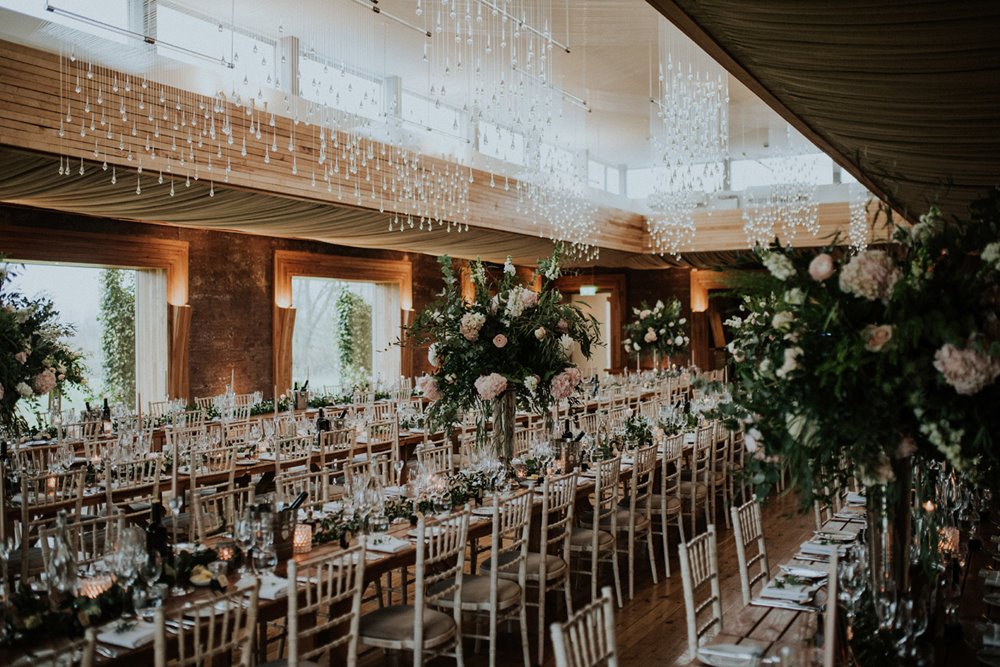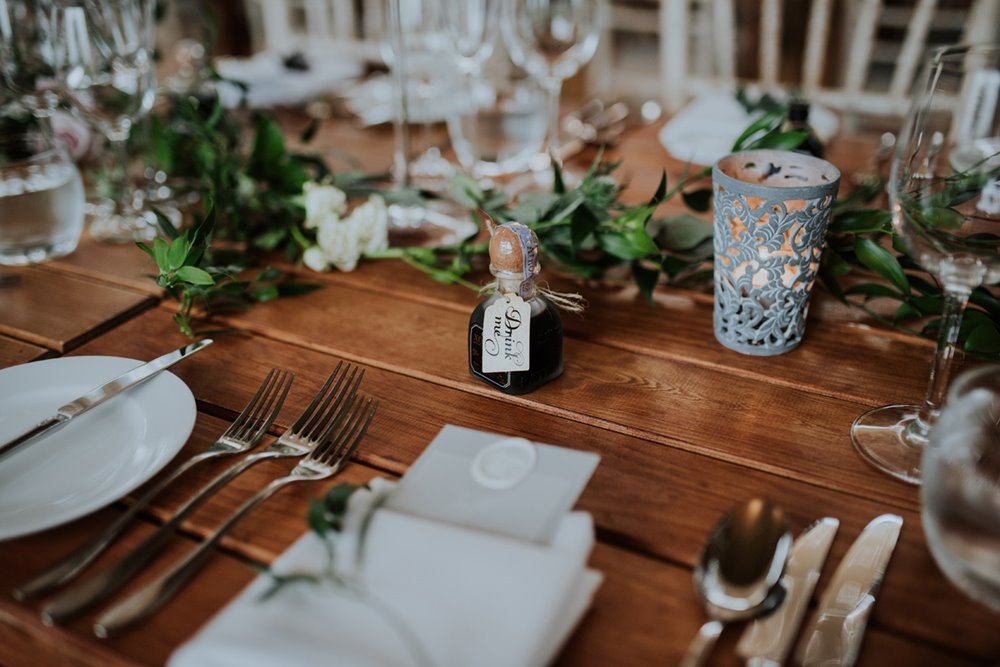 What did you eat and drink?
Oh my god! The choice of food was a real struggle. Elmore sent us their sample menus and we must have looked over it a 100 times before making a decision.
Some of the canape options were a must. As we live in the Middle East and pork isn't readily available, the mini scotch eggs and pork chipolatas with honey and mustard glaze were first on our list! We then had difficulty choosing just two more options, so chose three more instead. These included a mac and cheese bite, cherry tomato, parmesan shortbread crostini and mini venison loin Yorkshire puddings.
For the wedding breakfast, we were tempted to have a pork feast, but there were just so many delicious options, we eventually decided on 4 courses.
We had pea and mint soup with crispy lardons, or butternut squash, coconut and ginger soup for the appetiser.
The starter was a delicious braised beef, shallot and tarragon croquette with parsnip puree and red wine, or rosemary and garlic baked camembert with mini baguette and beetroot relish. Mouth-watering!
For the main we decided on roasted 28 day dry aged Hereford beef, truffled mushroom dauphinoise, carrot puree and tender stem broccoli and beef red wine jus, or wild mushroom, squash and spinach pithivier.
Dessert we chose a simple but scrumptious eton mess. As our family name is Eaton, it just seemed right. We even got team E to spell it Eaton.
Everyone raved about the food, and we still get comments on it now. The guests who were vegetarian and vegan said they had never been fed so well at a wedding before. Listing all of the food now, makes my mouth water and belly rumble just thinking about it. It was a delicious menu!
Later in the evening, we knew we would need some sustenance and as pizza is one of our favourites, we asked Pizza Monkey to cater for us. They were recommended to us and provided some delicious pizzas!

We also had a tasty cheese tower which had about 7 different cheeses stacked on top of each other. It was almost too good to eat.
Elmore even boxed up all the leftover pizza and cheese for us to snack on as we continued drinking in to the early hours in the main house.
What was your first dance?
We aren't a very lovey dovey couple, so we didn't want anything too traditional or soppy. So we decided on an unconventional song that we both love. Beast of Burden by The Rolling Stones. We don't often have the same taste in music, but this is one of our favourites. I don't think many people knew it, but it was a special moment for us.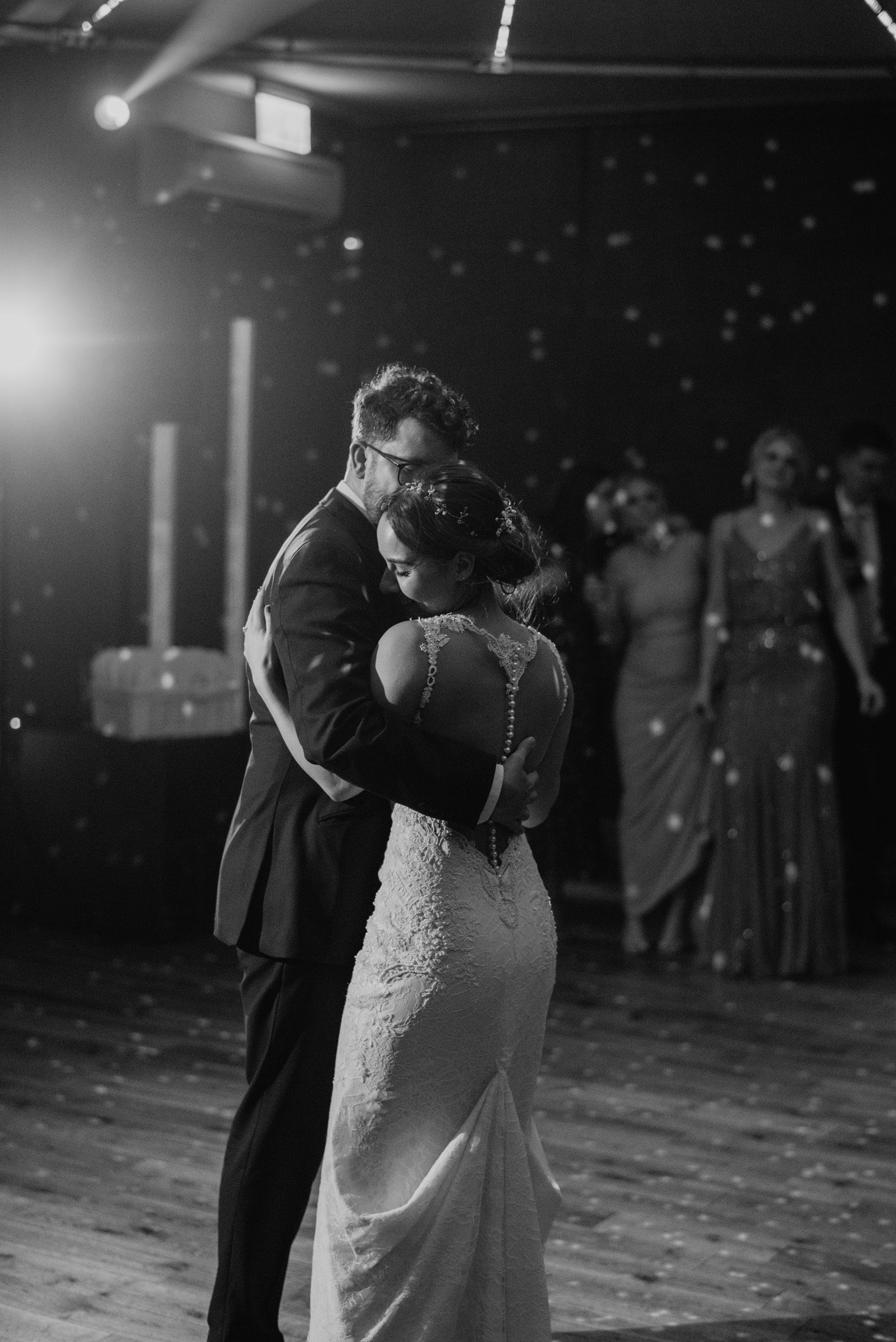 A Homemade wedding cake
Danny's Mum, my amazing Mother in law, made a fabulous cake for us. She has made wedding cakes for every family member's wedding, so it was only right that she made ours. It was a four-tiered, rustic cake and each tier was a different flavour. We had marble, chocolate orange, lemon drizzle and Victoria sponge tiers. All were delicious! It was decorated with beautiful flowers, that she made from icing, and some green foliage to coincide with our flower arrangements.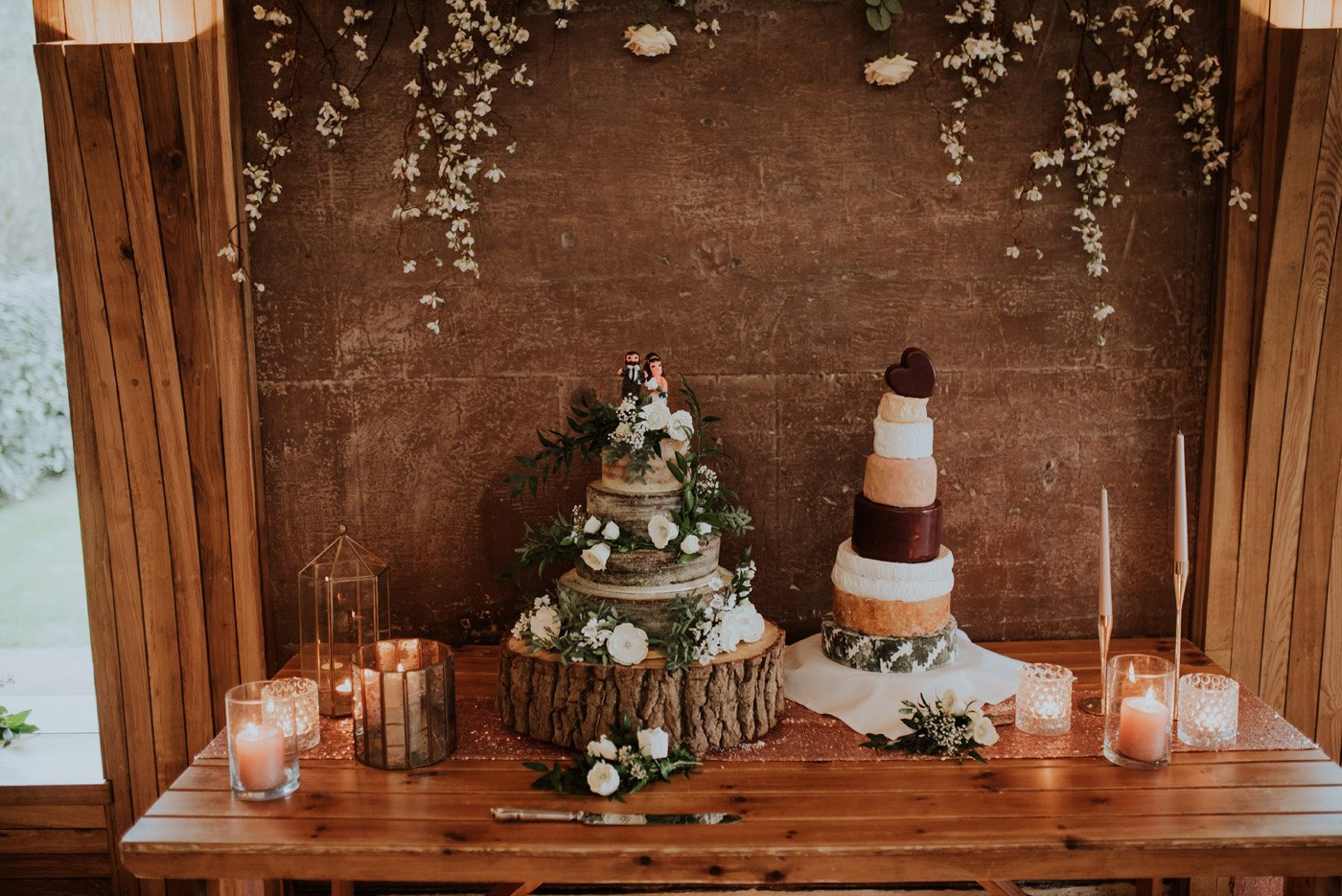 And what about that party??
One night we were sat on our balcony here in Doha drinking, and we ended up having an impromptu party for two, listening and singing along to countless songs and adding them to a Spotify playlist. We had a huge mix.
We then decided to get our guests to all choose one song they would like to hear. I made a spreadsheet (one of five, I love a spreadsheet) and we created a couple of playlists which included all the requested songs, except for a couple which Danny categorically said no to (Abba, the Cha Cha Slide, and any Ed Sheeran numbers).
We had an incredible live band called Wandering Wings who we found on Entertainment Nation. They were exactly what we wanted, a fun, upbeat folksy band with great energy. They had such a large catalogue of songs that we couldn't decide between them. Then very late the night before the wedding (3am to be precise) we asked them if they could play an extra set. To our surprise they agreed!
Everyone loved them!
After midnight Danny was up and playing anything that was requested from old school garage anthems to a Greatest Showman extravaganza. It honestly was amazing. Everyone was up and dancing all night.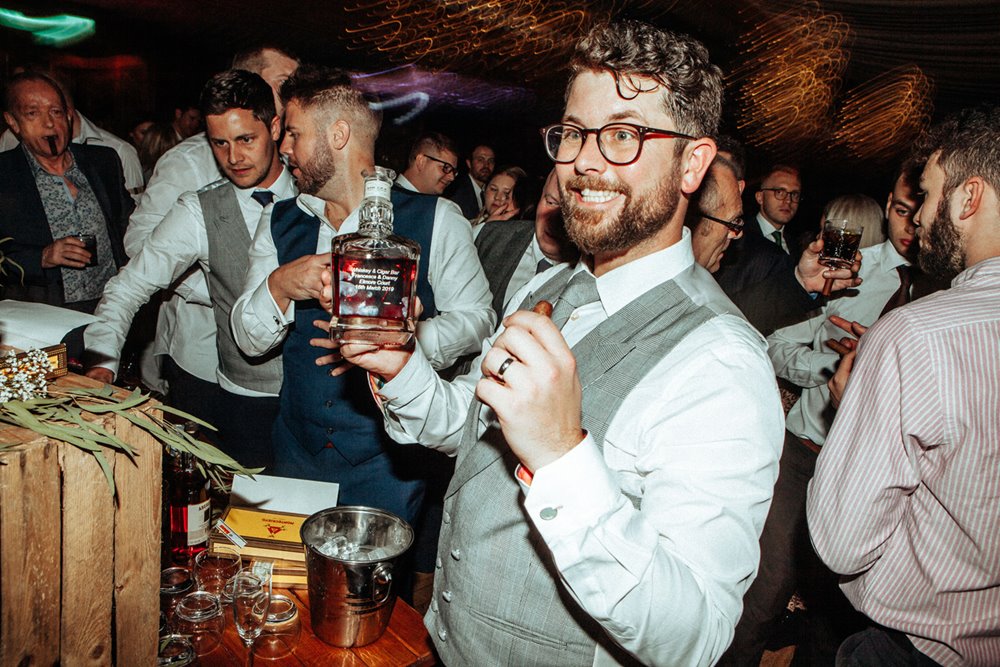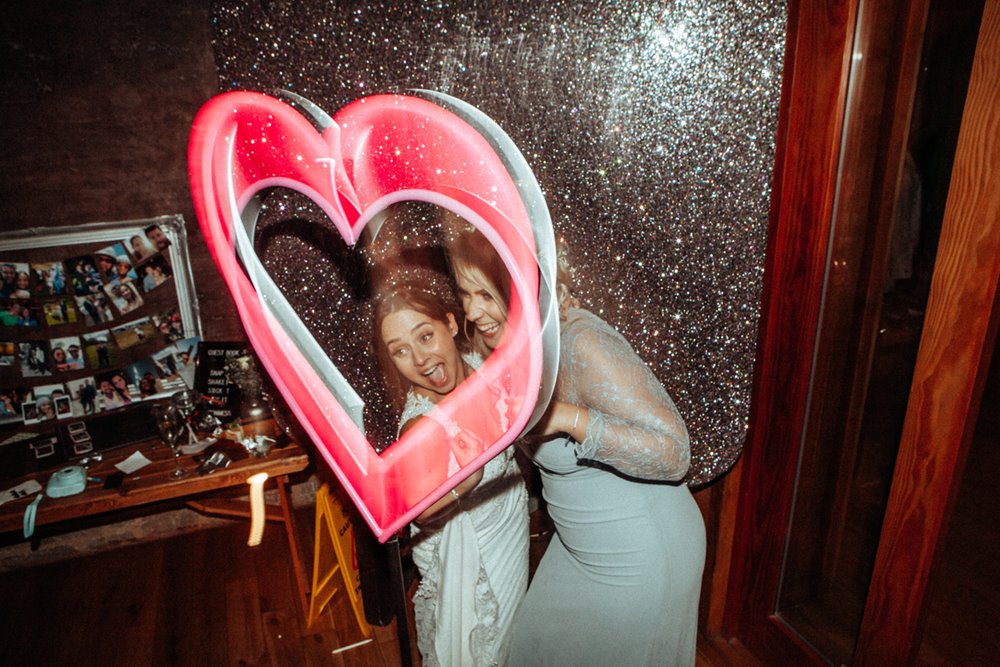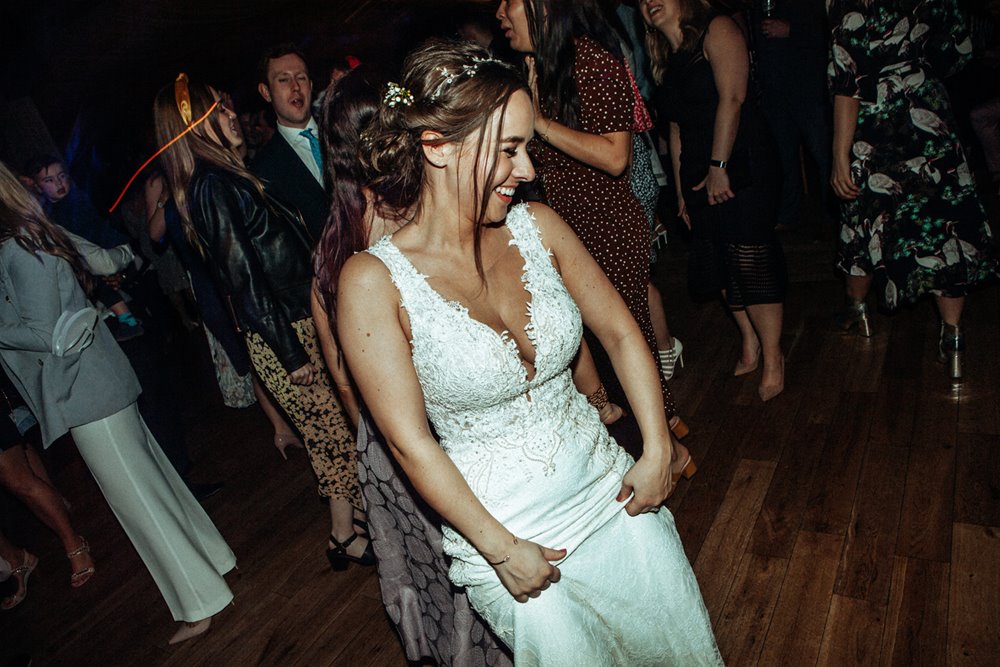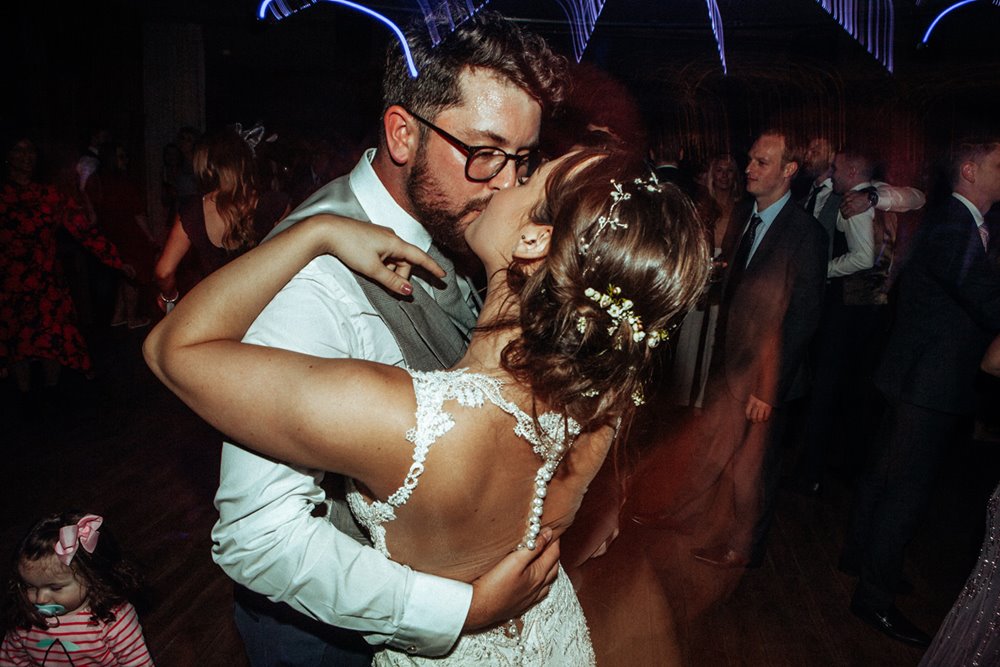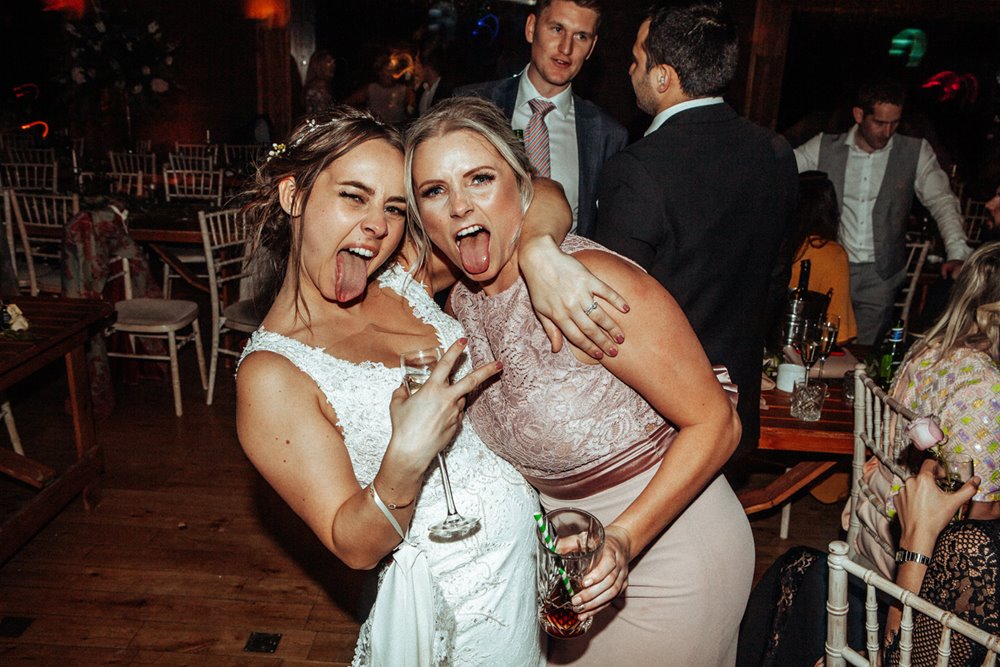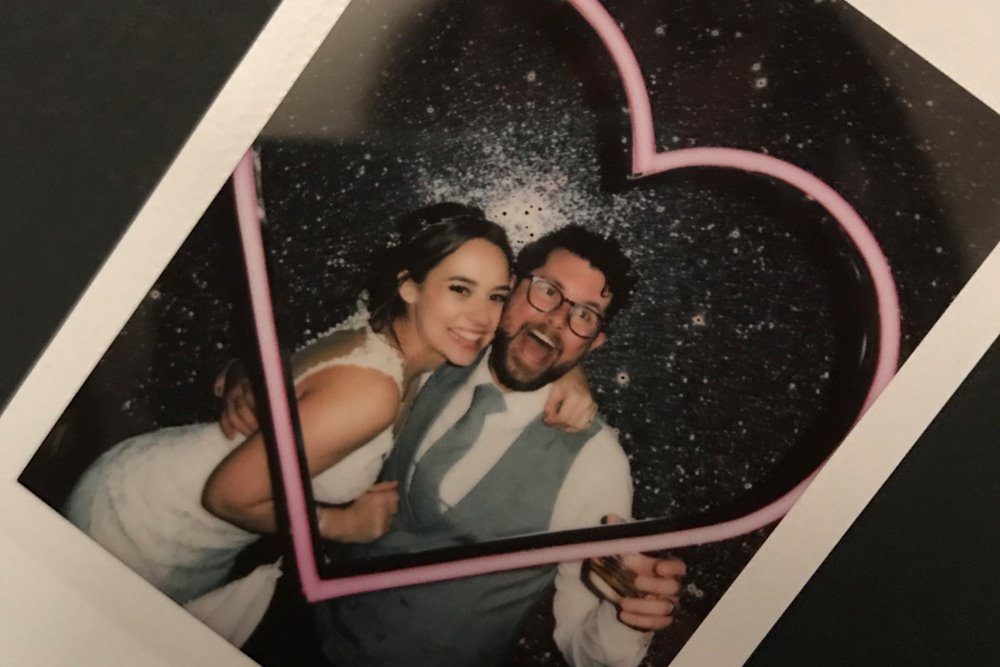 Personal touches
We spent a long time thinking of different things we could do to make everyone feel involved in the day. A lot of our friends and family have young children, many of whom were there, so we found some giant love heart sweets which were personalised with each child's name.
Our 8 year old niece did a short reading for us called Your Personal Penguin, it was so cute, so in keeping with this we had a small print out of the reading printed for each child, with a small soft toy penguin for them to keep. These were all left on their place settings and they loved them. The girls mainly cuddled and carried the penguins around, the boys used them as footballs. We had quite a few small penguins flying around the Gillyflower by the end of the night, but all of them are well loved.
For the adult's favours, we both chose a shot that we liked and had mini bottles of Café Patron and Tequila Rose placed on the tables with a small "Drink Me" label attached. A little nod to Alice in Wonderland, one of my favourite books.
For the guests that were staying in Elmore, we had little hanging chalk boards with the guests names placed on the doors of their rooms and inside we had individual hangover kits for each guest. Danny and I each picked a "His & Hers" drink, snack, sweet and other necessities that are needed post party. Turns out these were a saviour for many guests the next morning.
Danny and I love crisps, we could eat crisps all day every day, so we decided to have a crisp table. It was a huge hit! Set up near the bar, guests could enjoy a pretty big selection of crisps from McCoys to Monster Munch. We ordered so many, we had a huge box left over the next day, so gifted this to Anselm's 9 year old son for his birthday party. Needless to say he was very happy.
For a bit of fun, I had found a neon heart from Vowed and Amazed which could be used for photos. It was great fun and all our guests loved taking polaroid's and sticking them in our guest book or taking them home as a keepsake of the day. I would definitely recommend this as an alternative to a photo booth.
Finally, Elmore had the great suggestion of setting up a Whiskey & Cigar bar in the evening. We thought this was a fab idea and as both our Grandparents are big fans of whiskey, it doubled up nicely as a nod to them both. We bought a few personalised bottles and set up a sign for George and Eddies Whiskey and Cigar Bar. It was a lovely moment to see Danny with all his friends and family raise a glass to those who are sadly no longer with us.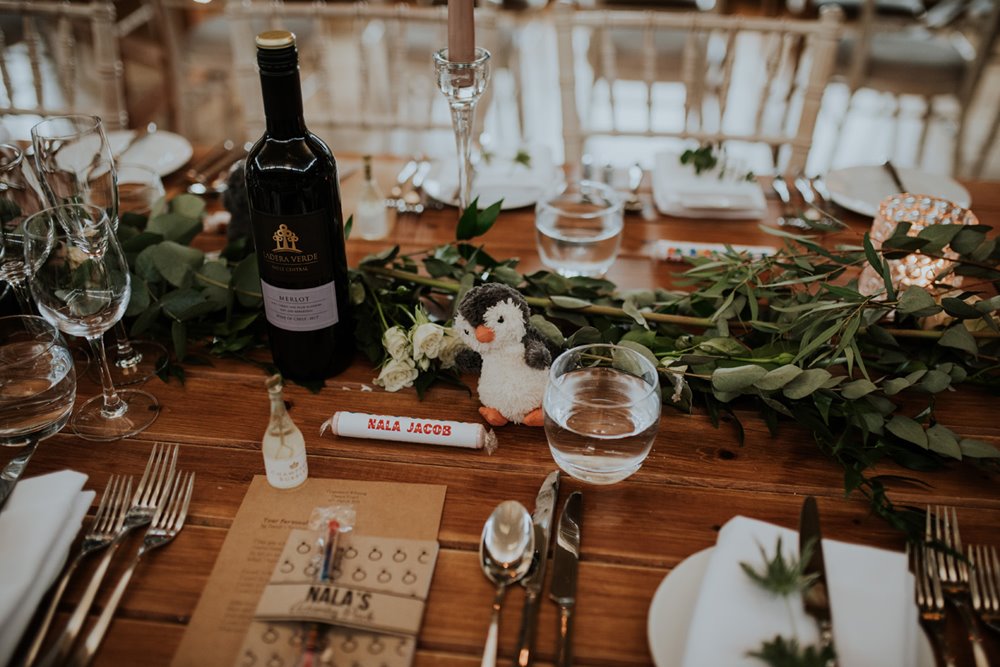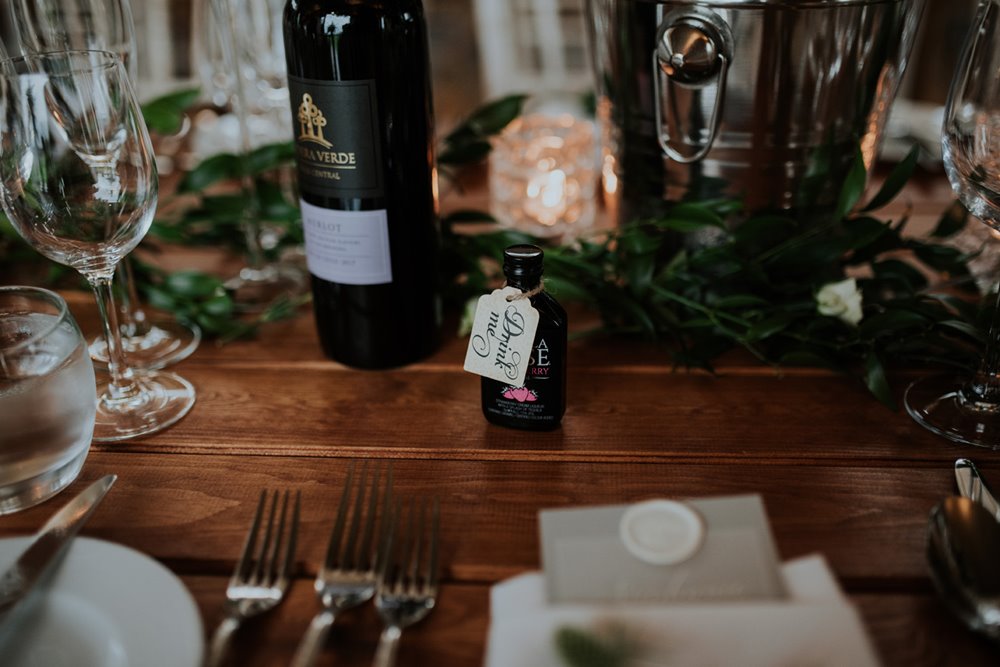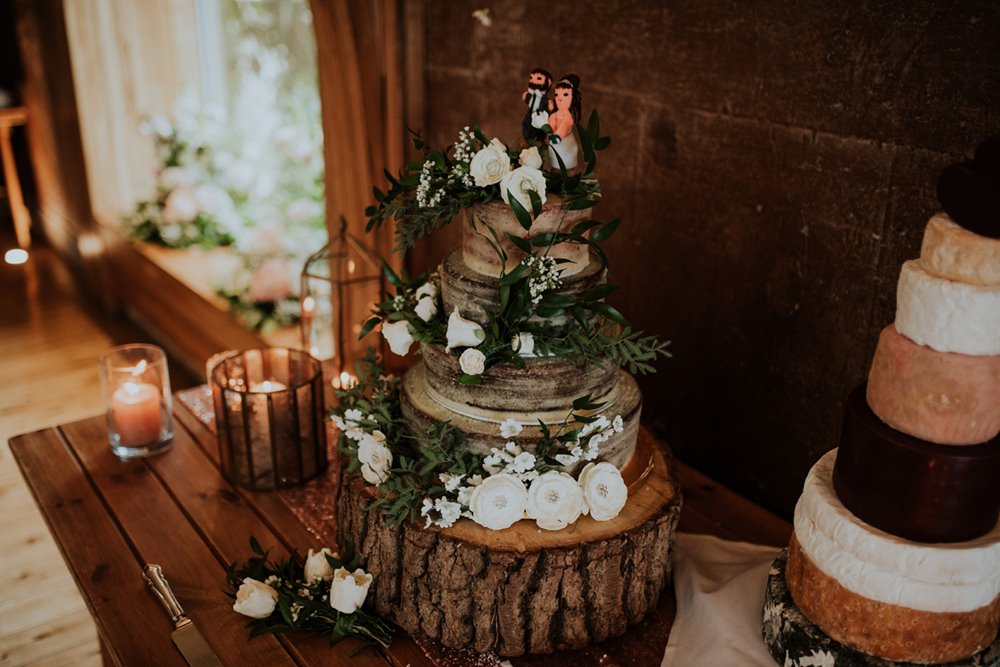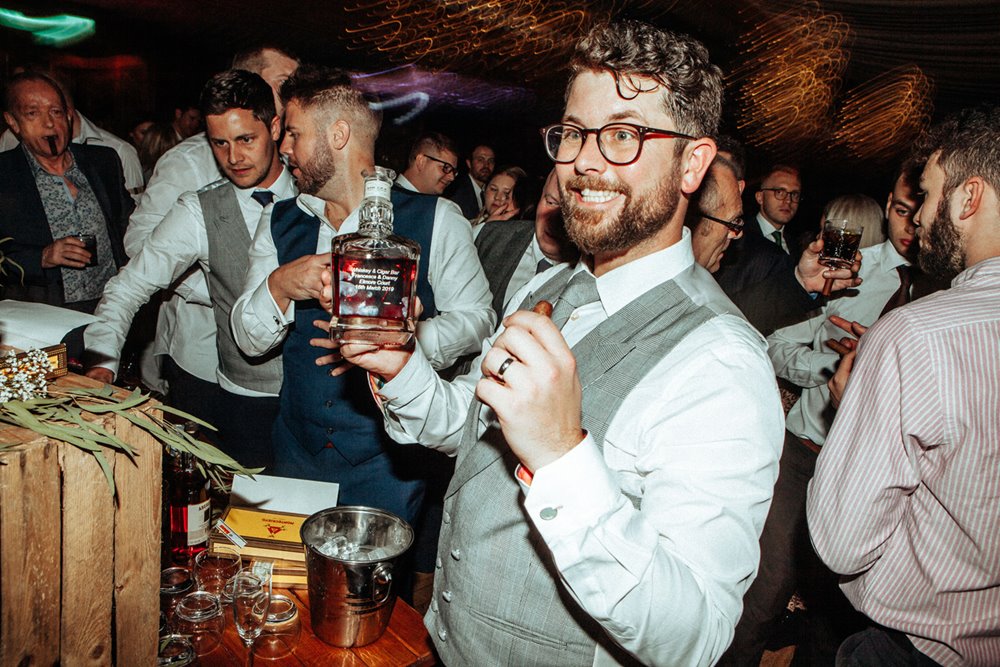 What were your favourite bits of the day?
There were so many its hard to choose just one.
Let's start with the New York Brass Band. Hands down, they were incredible! As a surprise to our guests, they popped up after the ceremony and played us out to Jackie Wilson Reet Petite. Even though we had booked them and knew they were coming, we were so wrapped up in the moment that we had completely forgotten they were playing as well, so it was a bit of a surprise to us too. It was the best moment.
They continued playing and had everyone up dancing during the canapes and drinks. We had a party before the party! Everyone raved about them.
My Grandma Nancy was another highlight. She is an amazing speaker and she recited, from memory, a Scottish poem called McAllister. Everyone loved it and she got a standing ovation. It was an incredible moment.
Finally, a moment we will never forget is the band playing Oasis Don't Look Back in anger. Danny and I were both grabbed and thrust (unsteadily) on to our friends' shoulders. Everyone was around us singing along and dancing. It was an amazing sight and so much fun!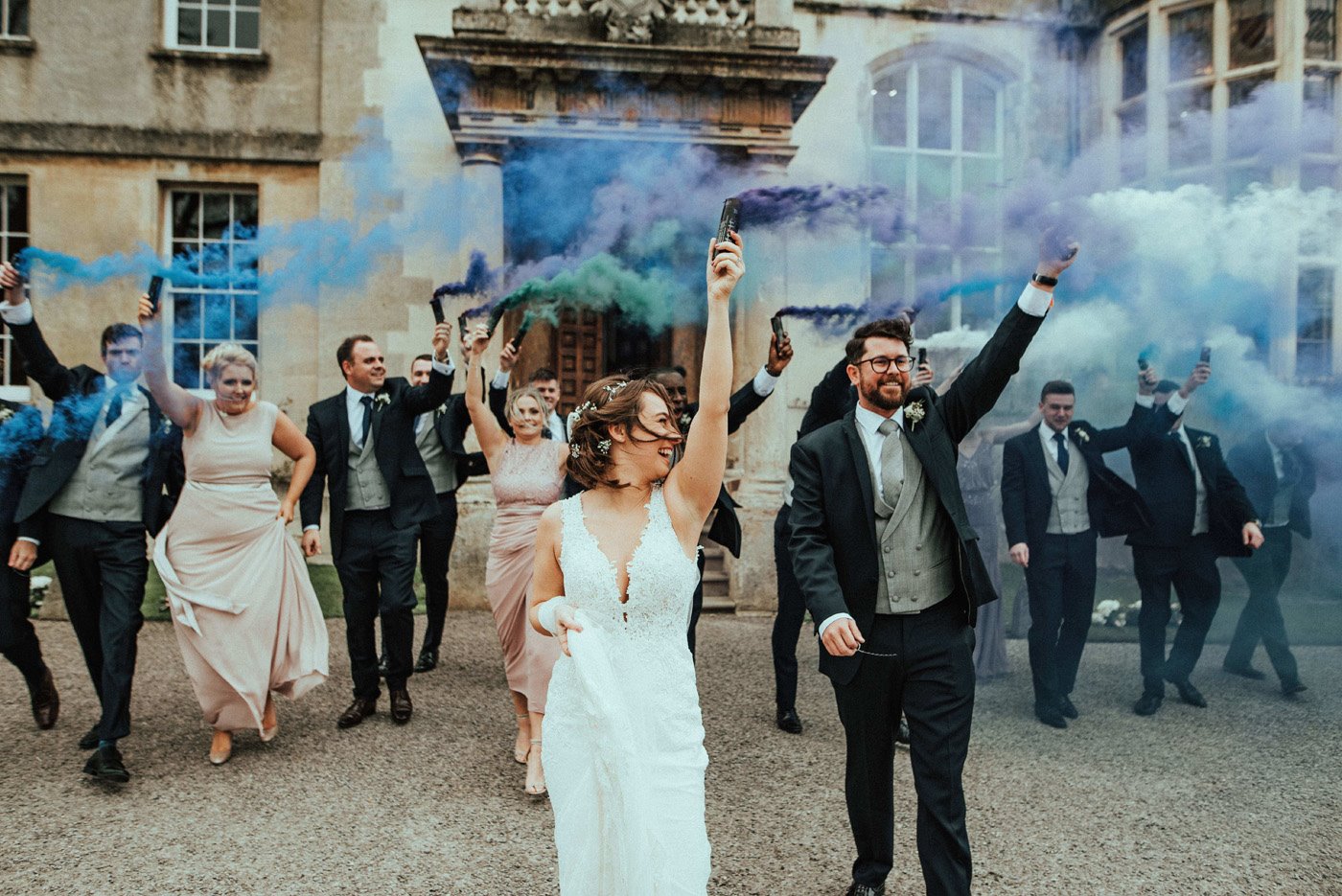 Any surprises?
One of the biggest surprises was my sister Steph. She is so talented and created a music video to the soundtrack of Only Fools and Horses, a favourite of mine and Danny's. My Mum re-wrote the lyrics to be about us, and our friends and family sang along to it in the film. It was so funny to watch and see the extra mile everyone had gone for us. A fabulous memory to keep and look back on.
Top tips for brides to be?
Don't stress the small stuff! No one knows how the day was supposed to be planned. It all works out in the end.

Don't panic if you don't have that WOW moment in your wedding dress. I didn't have it straight away, but absolutely fell in love with my dress, and I think it was one of the last I tried on.

Enjoy the planning process. There is a massive come down once the day is done and I actually miss all the planning.
Funniest moment?
One moment that really stands out was when I was walking down the aisle. I had a really long veil and it got caught on something, which meant my head went shooting back as I tried to walk. I was unhooked by one of our guests, carried on walking, just for it to get caught again on some flowers. I couldn't help but laugh and I think it may have saved both Danny and I from becoming blubbering messes. It made our guests laugh too, especially because some thought I had changed my mind and was reversing up the aisle.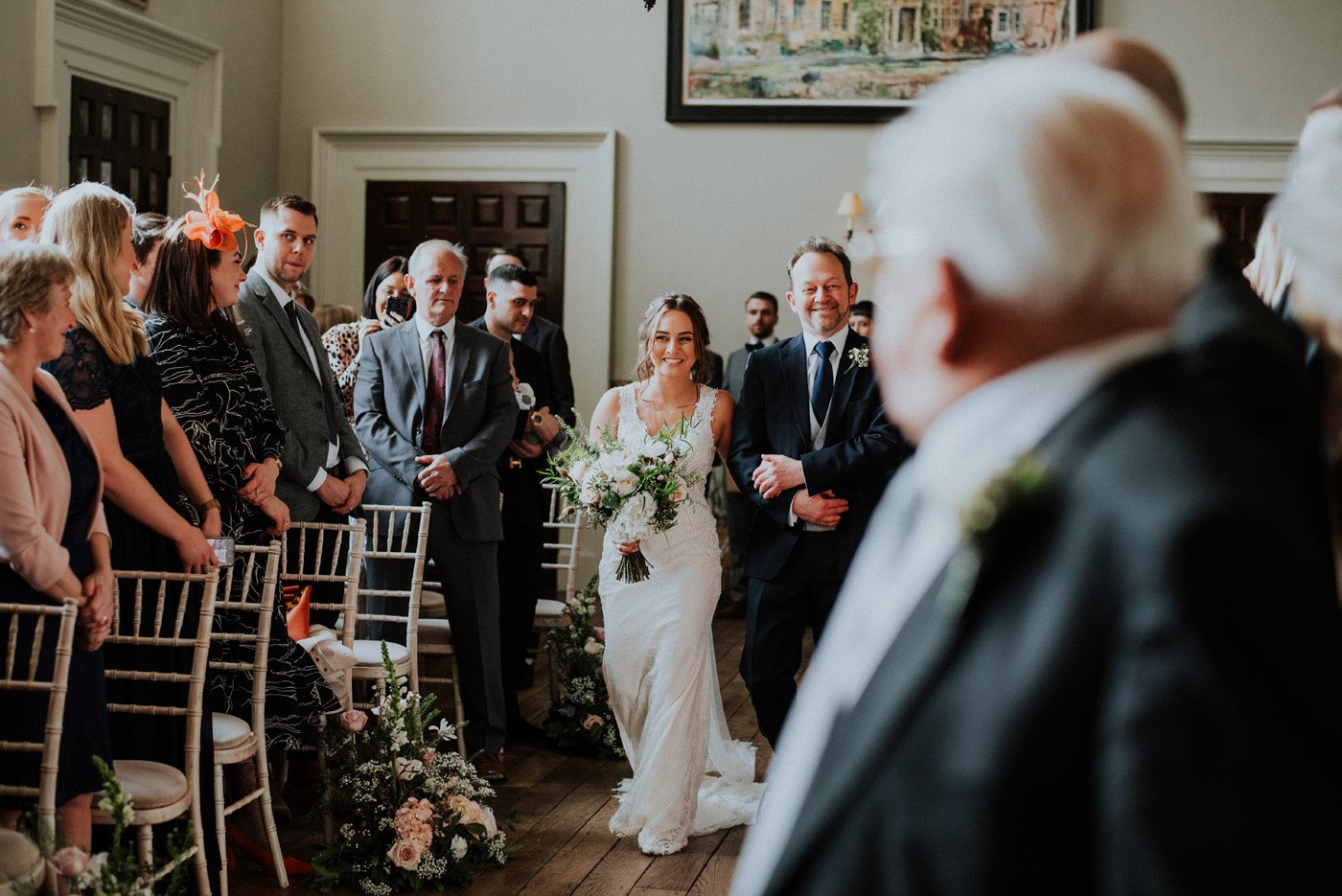 Who made this botanical wedding dream come true?
Related reading