It's the most magical time of the year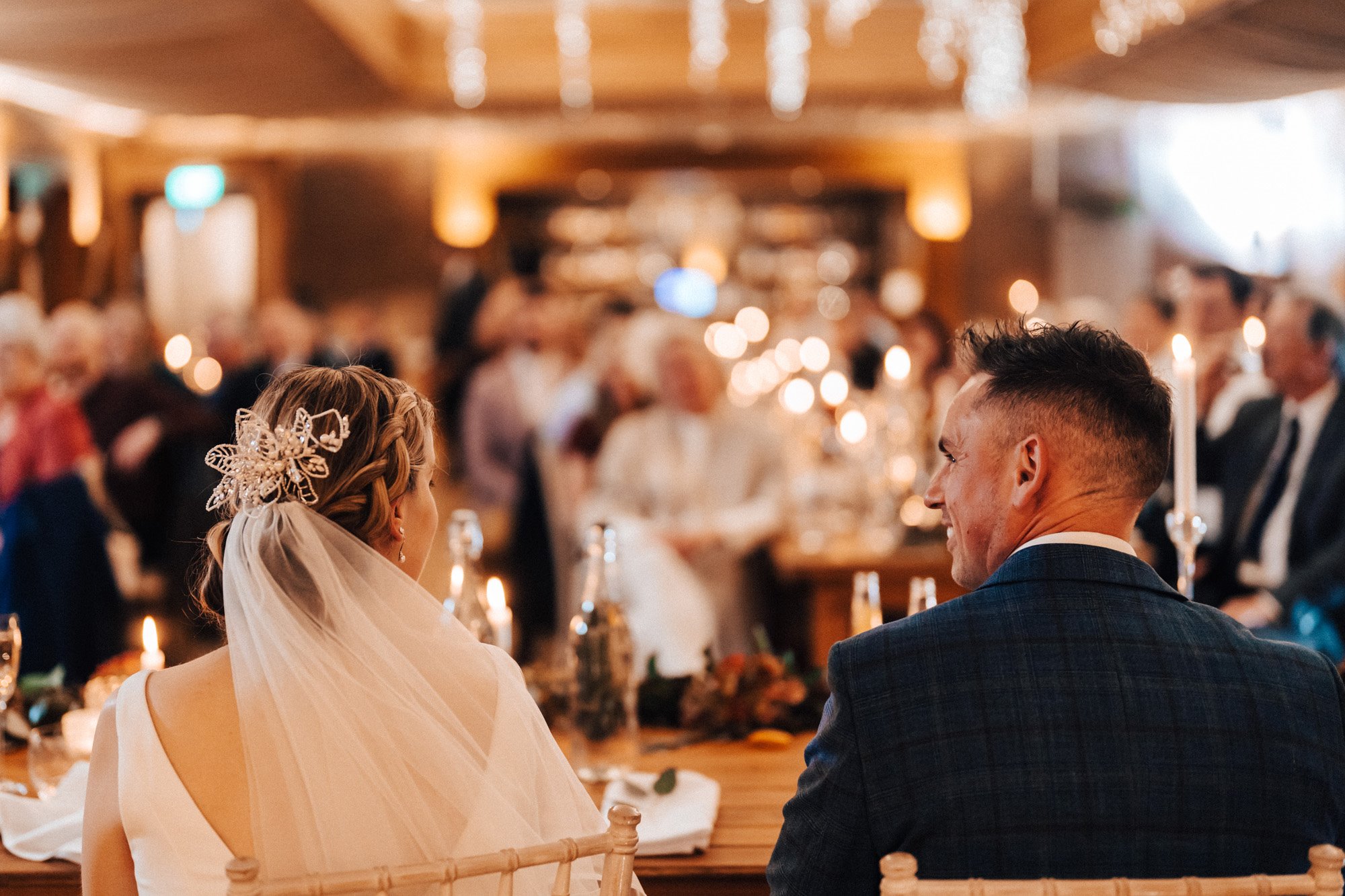 We have just been heralded by Hitched as among the most magical winter wedding venues in the UK! We couldn't be happier as we really are head over heels for this most wonderful time of year, and are utterly obsessed with the magic of Christmas weddings.
Coupled with our yearly delivery of a giant Christmas tree for the hall (stay tuned for the big reveal soon!) This has turned up the Team E festive spirit to the max, and we're celebrating.
We'll be posting nothing but December weddings and Christmas cheer from now until the big day itself... (Grinches look away now)
Harriet and Andy love Christmas just as much as us, and actually chose our wedding venue after both noting how it smelled of cinnamon and spices and Christmas at their September viewing!
After a few bumps- pun intended- (covid wedding planning, followed by pregnancy!) They were married in an elegant Christmas ceremony on 9th December last year, and we are so pleased to be able to feature their beautiful real wedding just in time for their first anniversary...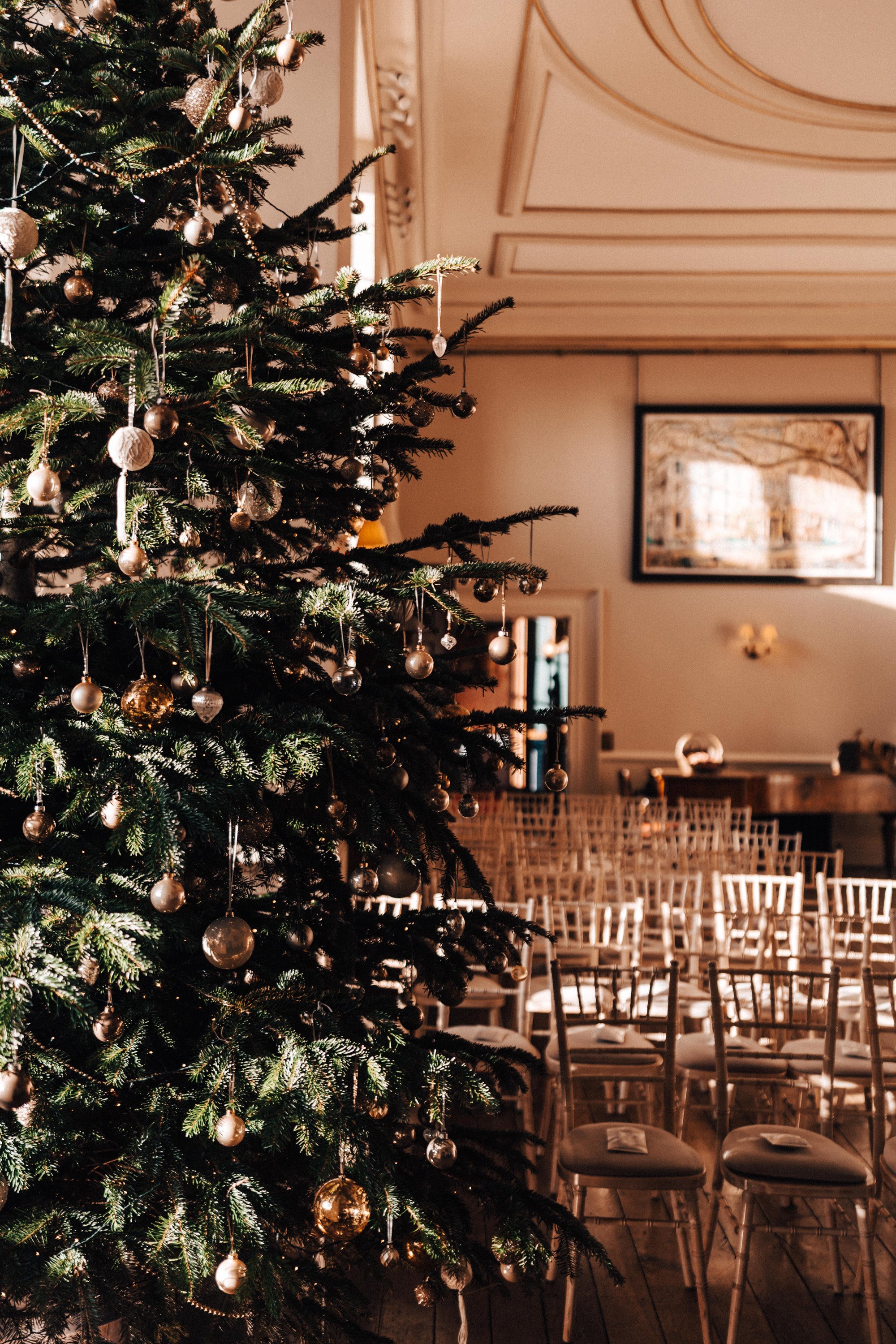 How did you two meet?
We met on a dating site in July 2017, Andy had adopted his dog Rosco the Staffordshire Bull Terrier from the Cheltenham Animal Shelter where I work. He was also lifelong friends with a colleague of mine, so she gave me the lowdown on him! He was a breath of fresh air, really funny, and we just hit it off straight away. I think Rosco approved of me too!
We were together for 2 years before getting engaged.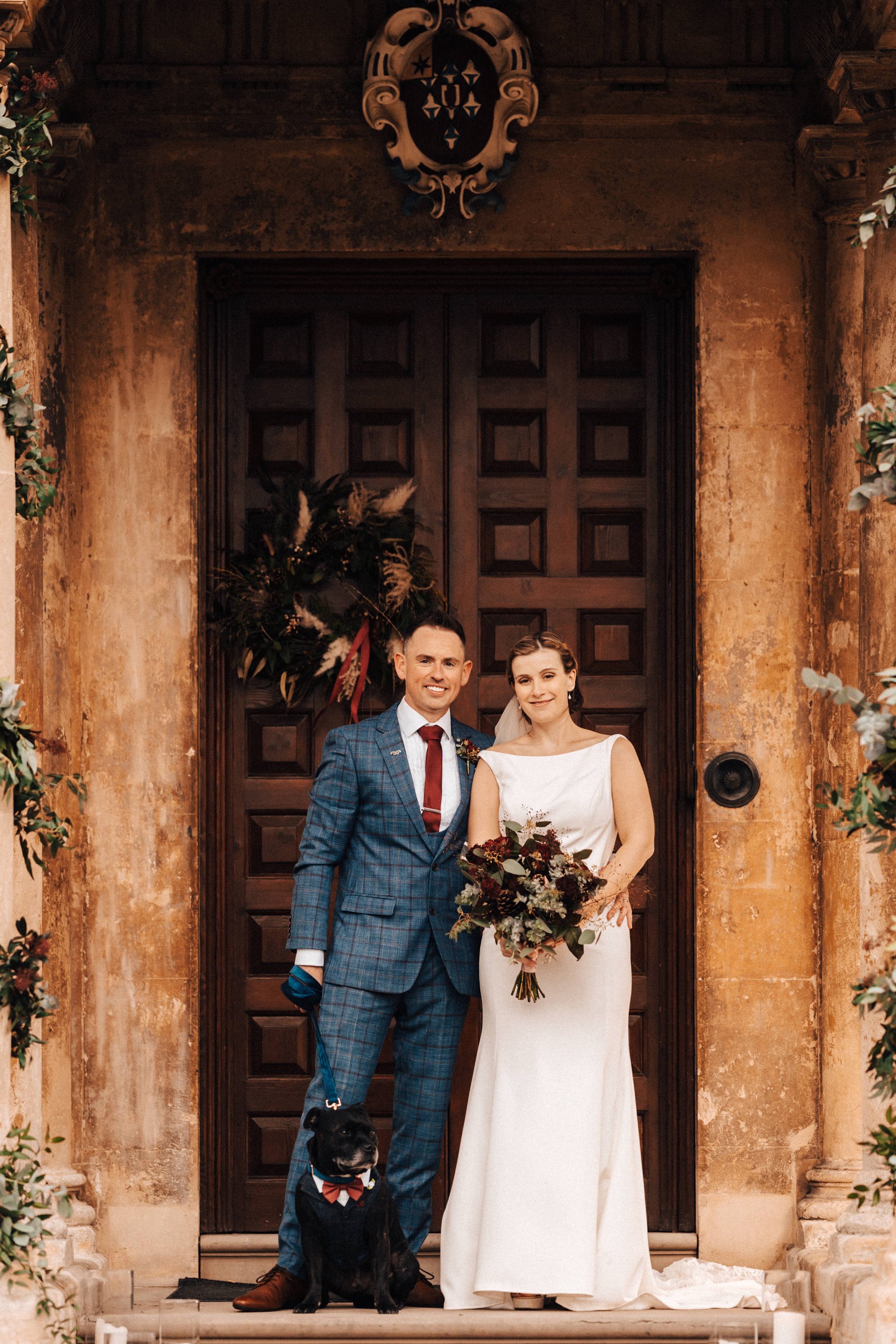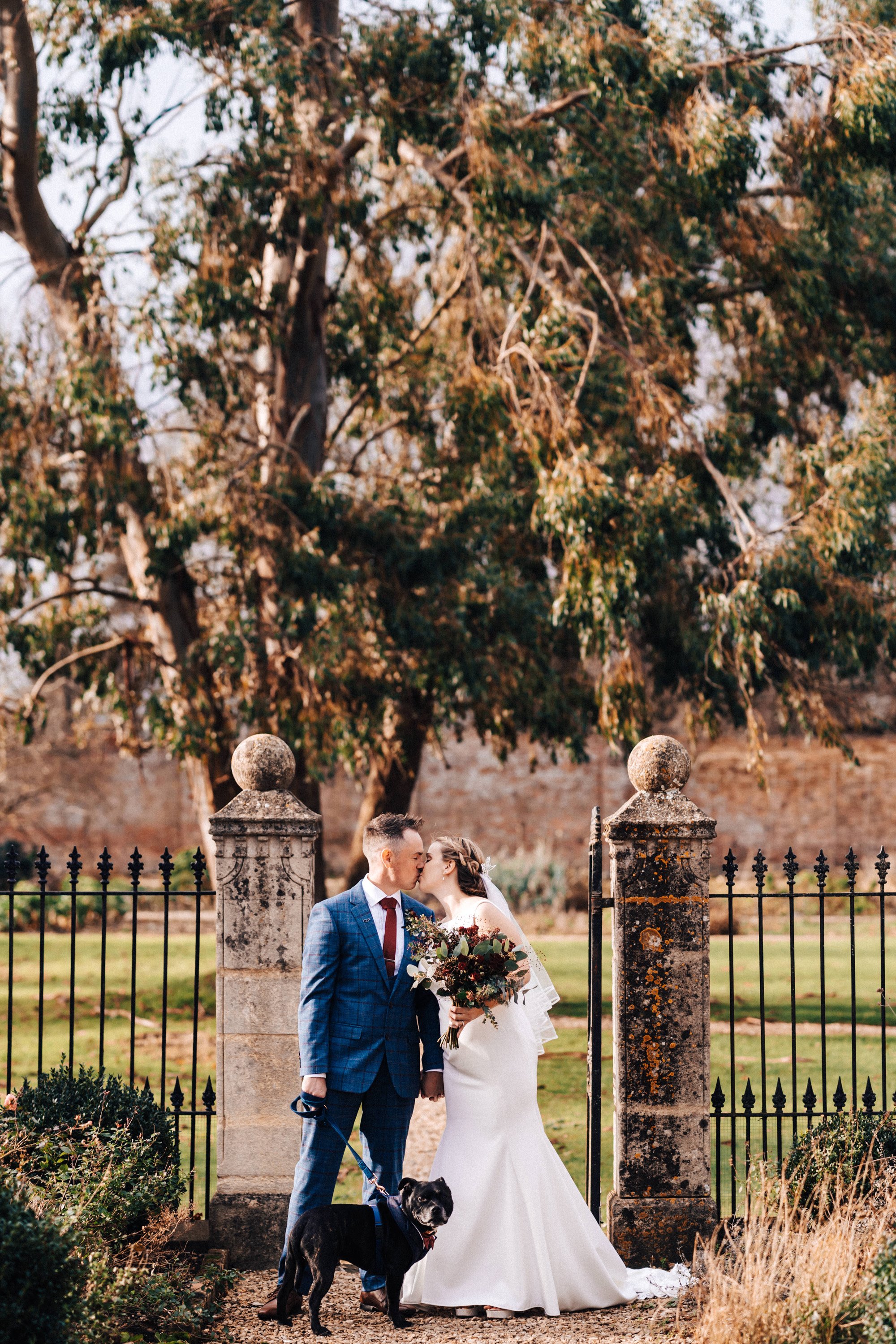 Tell us your proposal story!
On holiday in Dubai June 2019, we arranged a trip to the world's tallest building, the Burj Khalifa. Once on the top deck taking photos, my anxiety was high as Andy kept leaning through the gaps with his phone to take selfies!
The tourists disappeared and the staff kept offering to take pictures for us (which they would charge us for), Andy somehow managed to get them to capture it all on his camera! I turned around and Andy was down on one knee, it was all a bit of a shock and happened so quickly, I just kept saying "really?" which he still teases me about to this day!
Word got around as to what had happened, so back down on the ground floor the female staff made Andy fake propose again so we could have some more keepsake pictures in front of a backdrop. I'm not sure who was most embarrassed, him or me!
We celebrated with dinner and cocktails, but I was far too excited to eat!
Why our venue for your winter wedding?
We viewed 5 wedding venues in total, but as we stepped into the Hall at Elmore Court, it just smelt amazing, like Christmas, and in September! I remember having a funny feeling come over me, just being there, it felt right, and like I could envisage our family & friends all here. Andy said he felt exactly the same, and it smelt like cinnamon and spices, like Christmas.
With the added bonus of Christmas trees in the house throughout December, it was perfect. Just to seal the deal, when Kat opened the doors that my dad & I would walk through on the day, I had goosebumps, and I remember thinking this is it, this is where I want to get married, luckily Andy felt the same!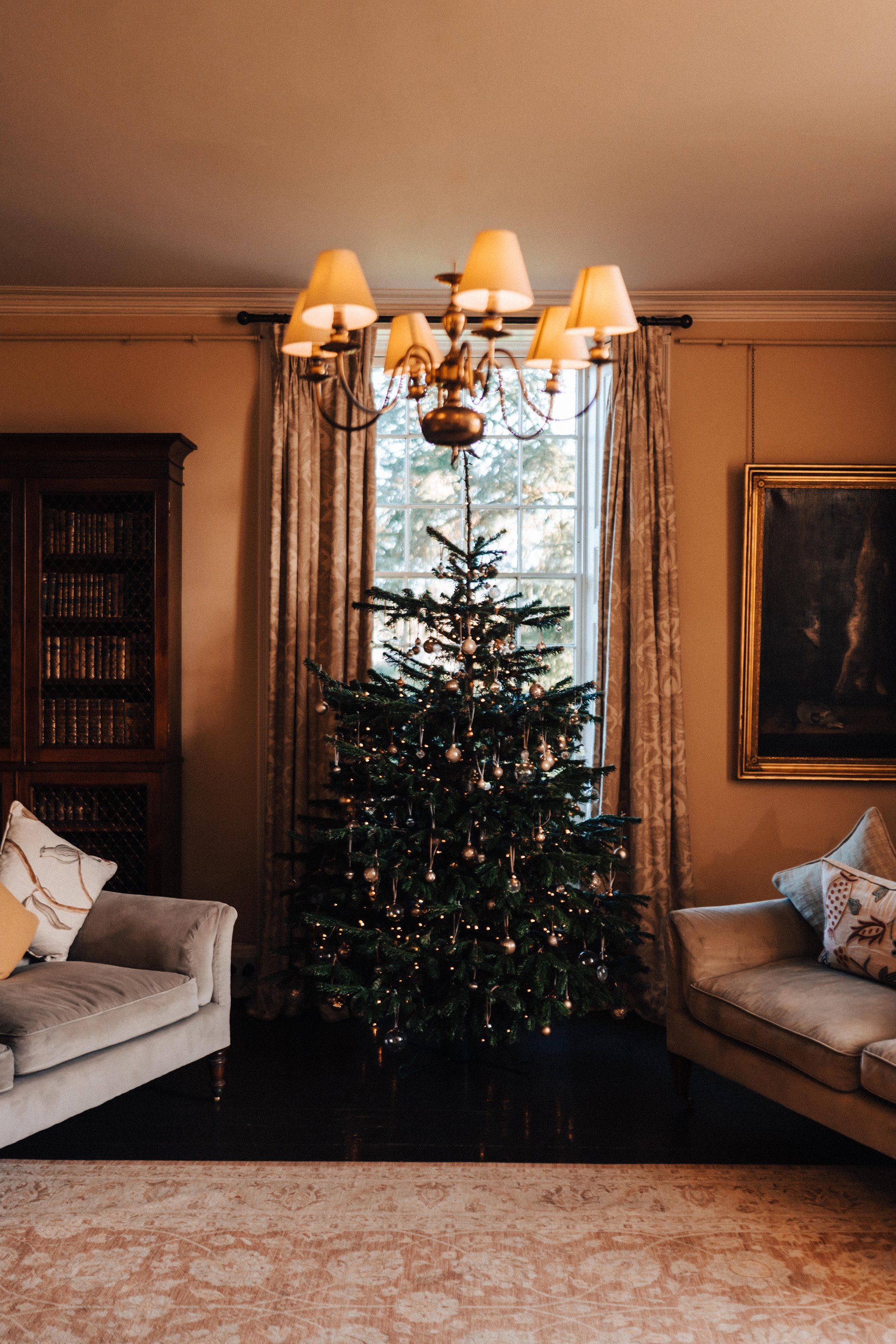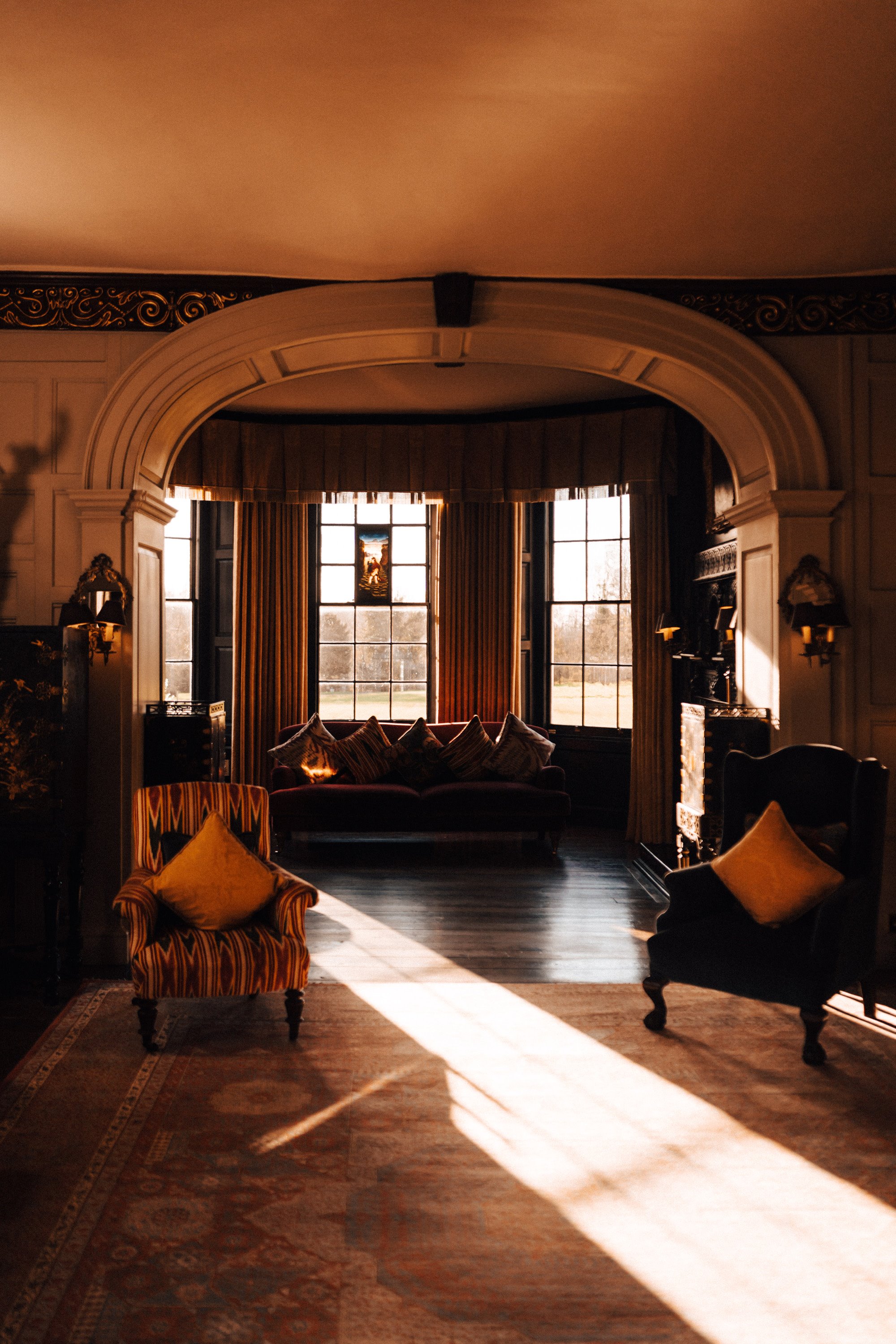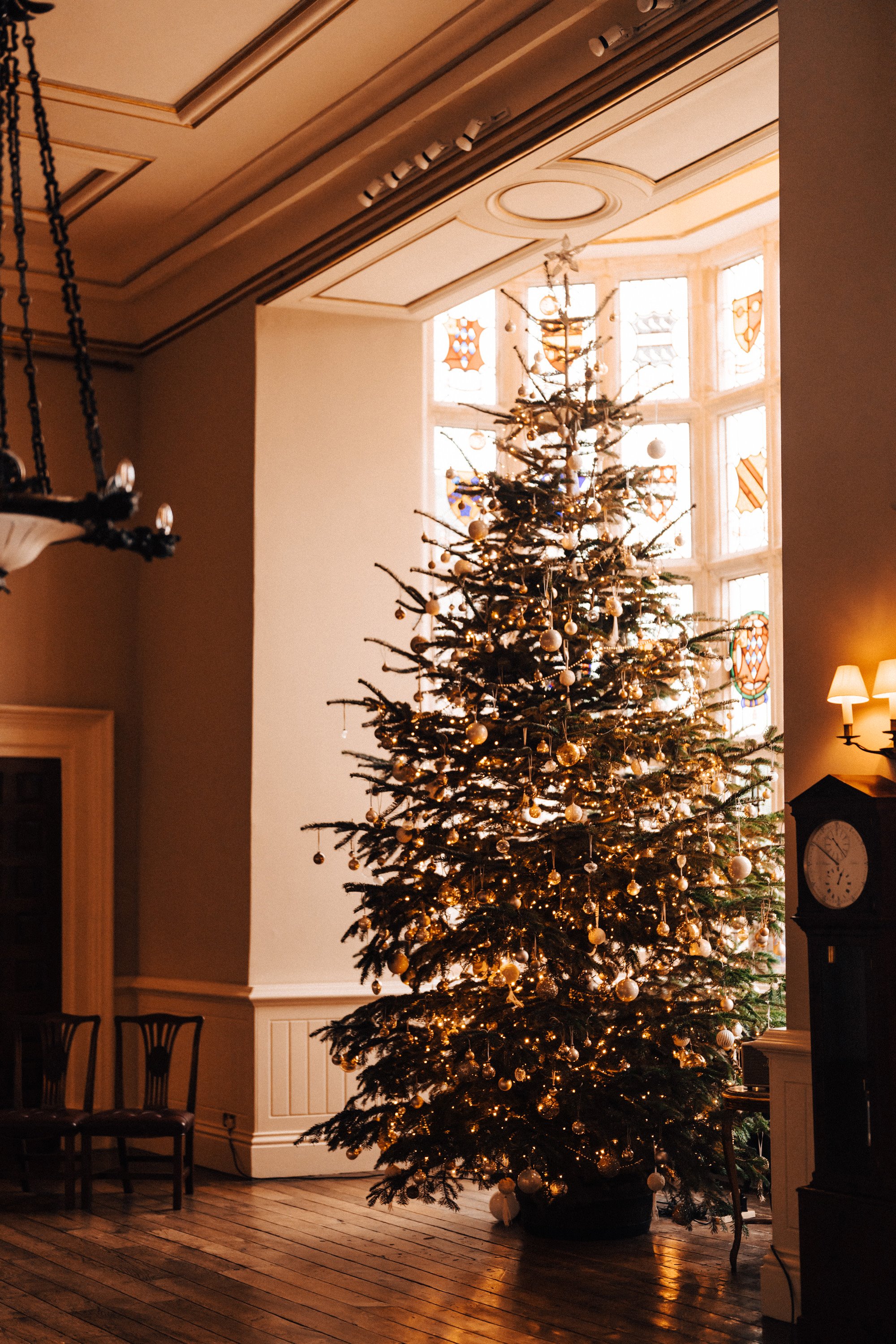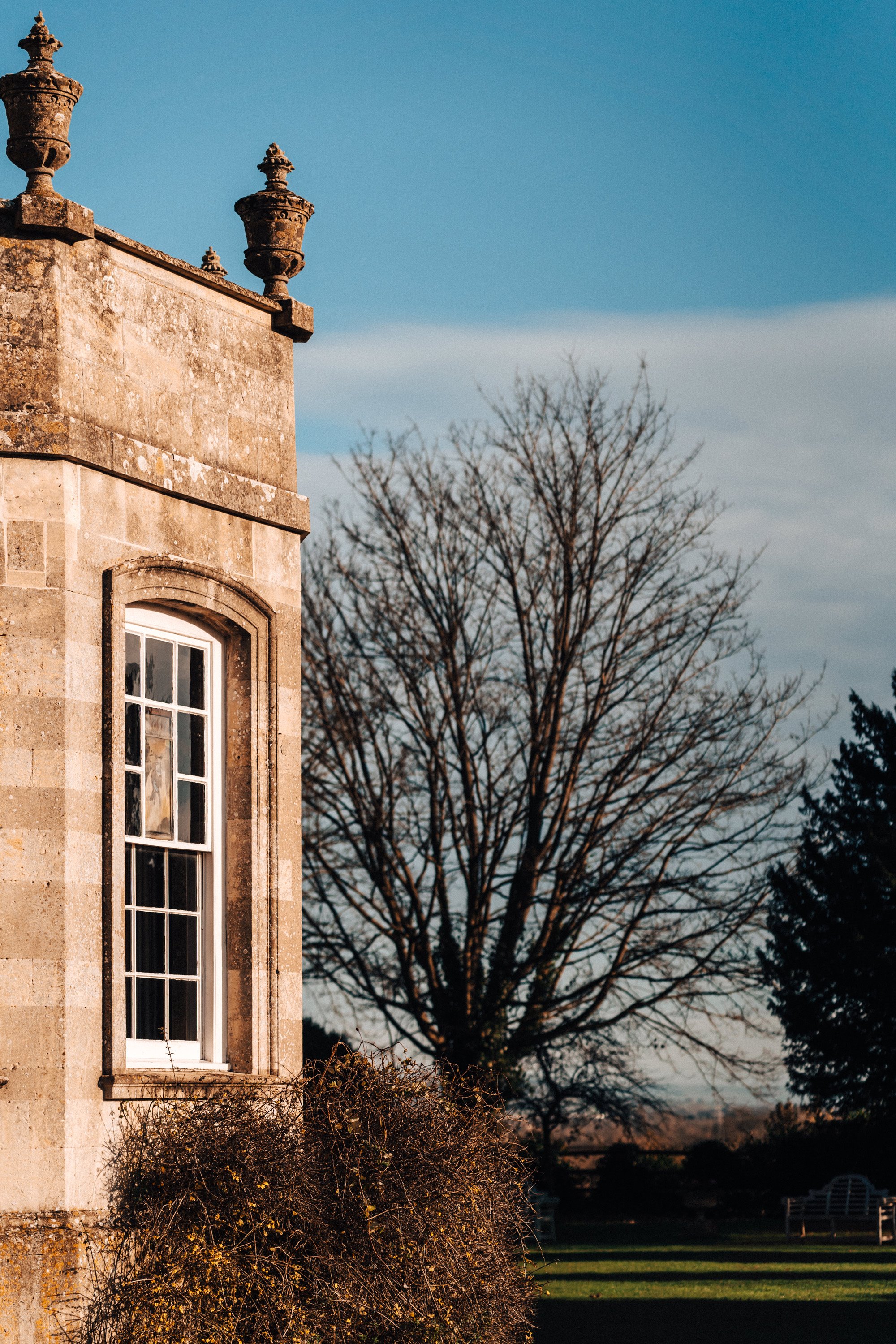 How did you plan your Christmas wedding theme?
We both love Christmas, so it was always going to be a winter wedding for us, we knew that straight away.
I knew I wanted my bridesmaids to wear burgundy dresses, so that kind of started the colour scheme off nicely. Candles, lights, warm burgundies, greens, Christmas trees, we wanted a real festive elegance for our wedding day.
We were never hugely particular, we gave our wedding suppliers pretty much free reign with the above brief. Having seen their work, we knew we were in for a surprise. I'd like to think they enjoyed working on our wedding because we were very laid back. We did think about extra Christmas trees, snow machines, even a life-size snow globe, but less is definitely more!
A wedding venue such as Elmore doesn't need much to make it shine, and boy did it shine! We still can't believe how great it looked!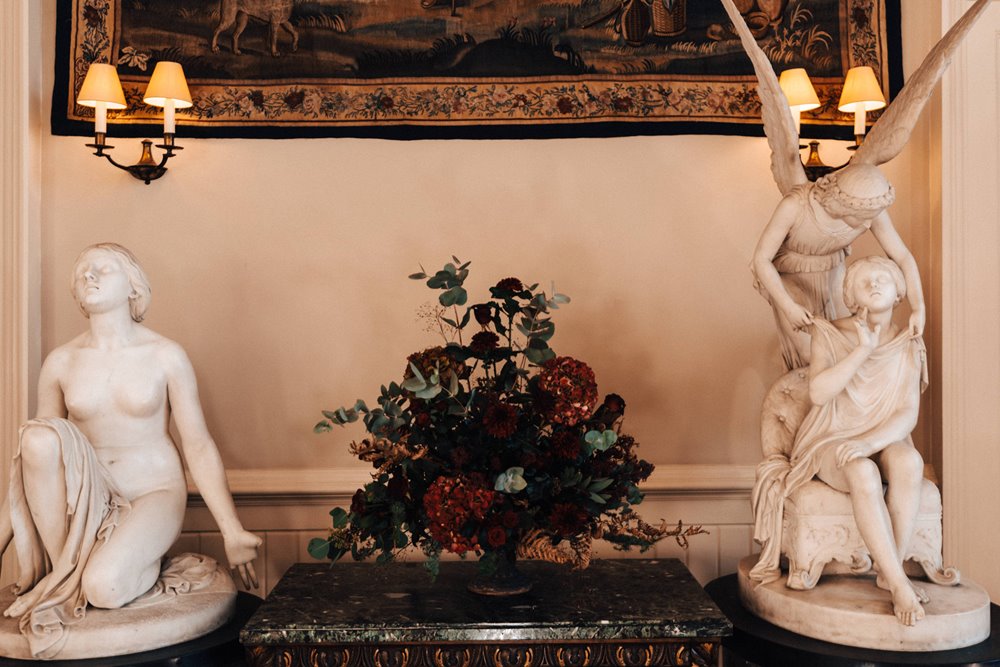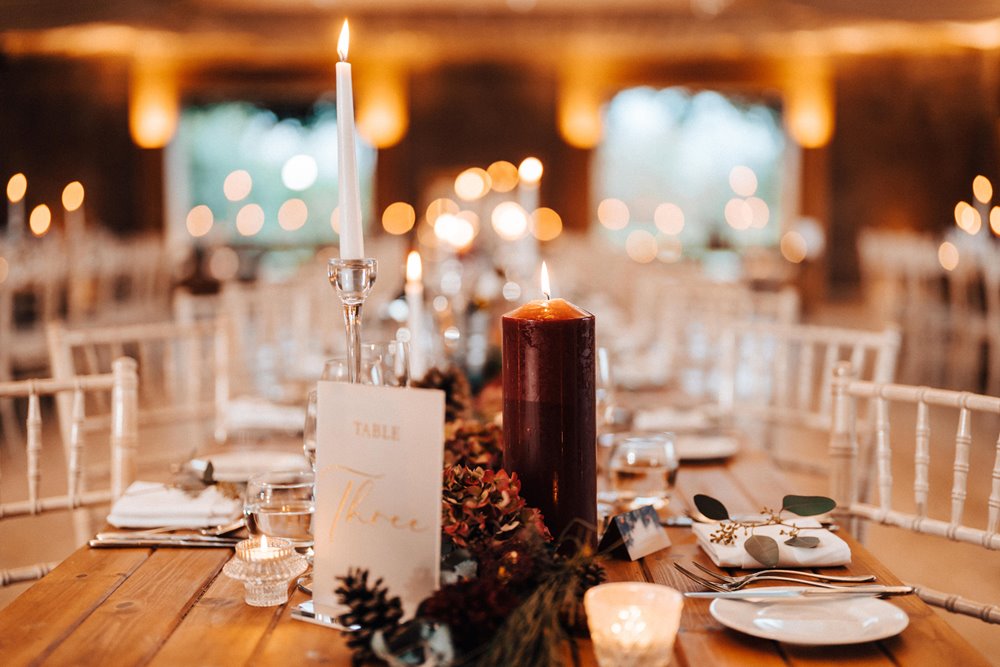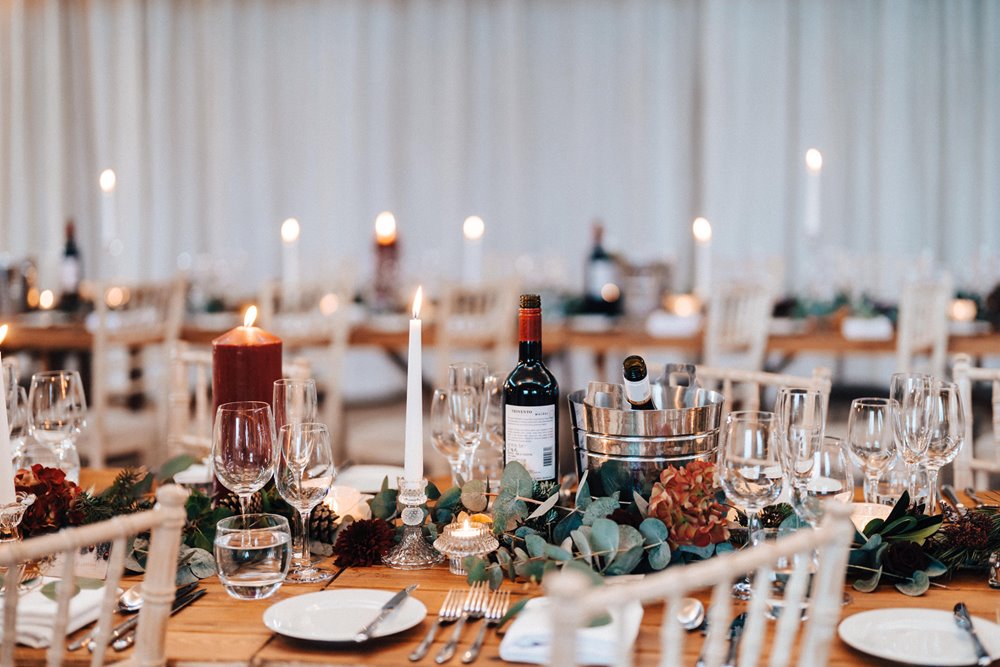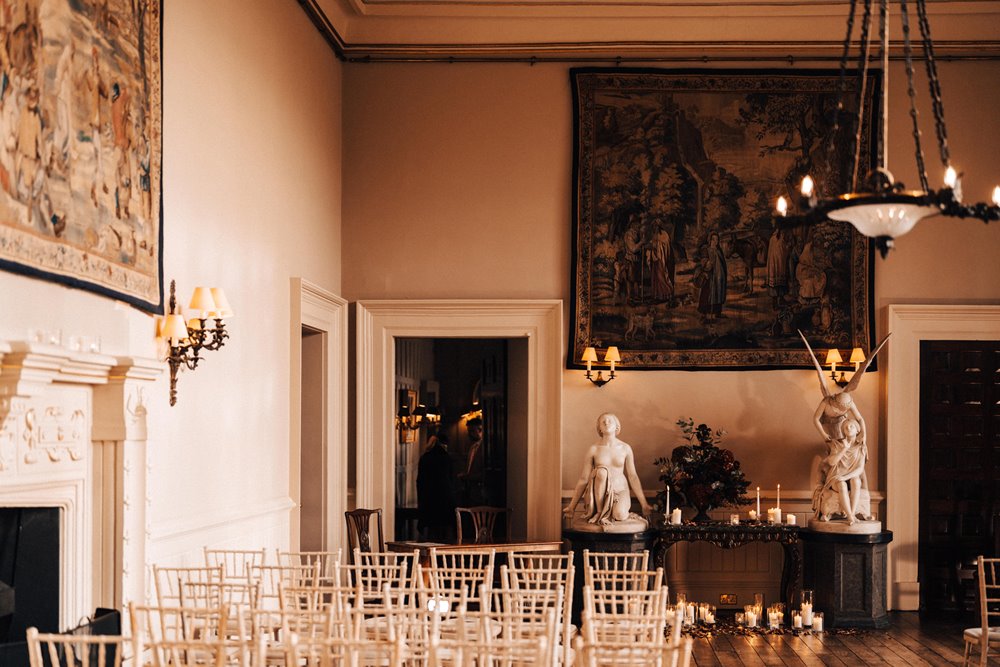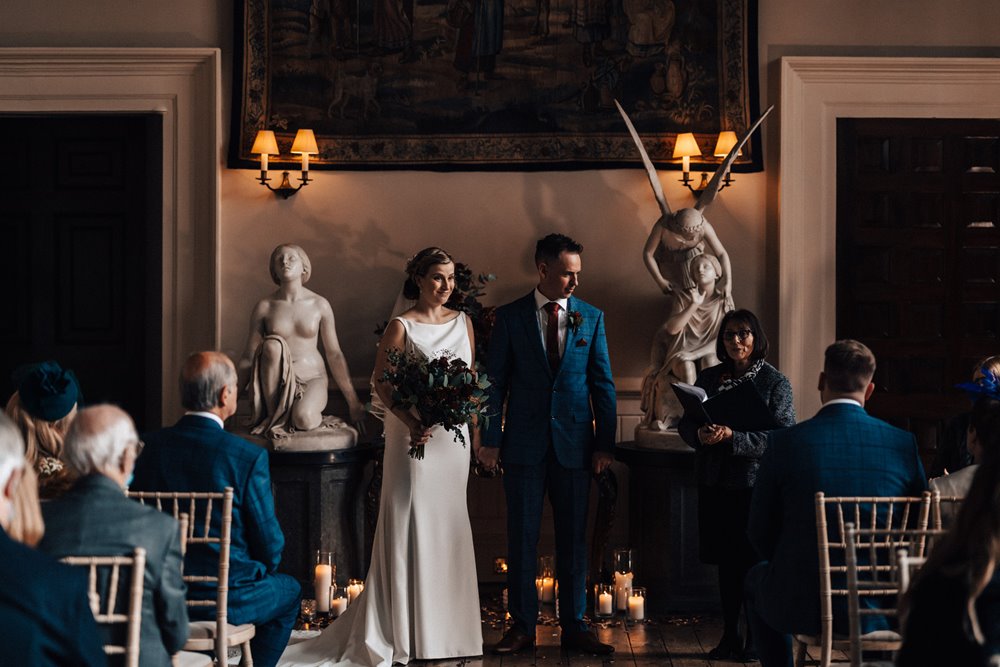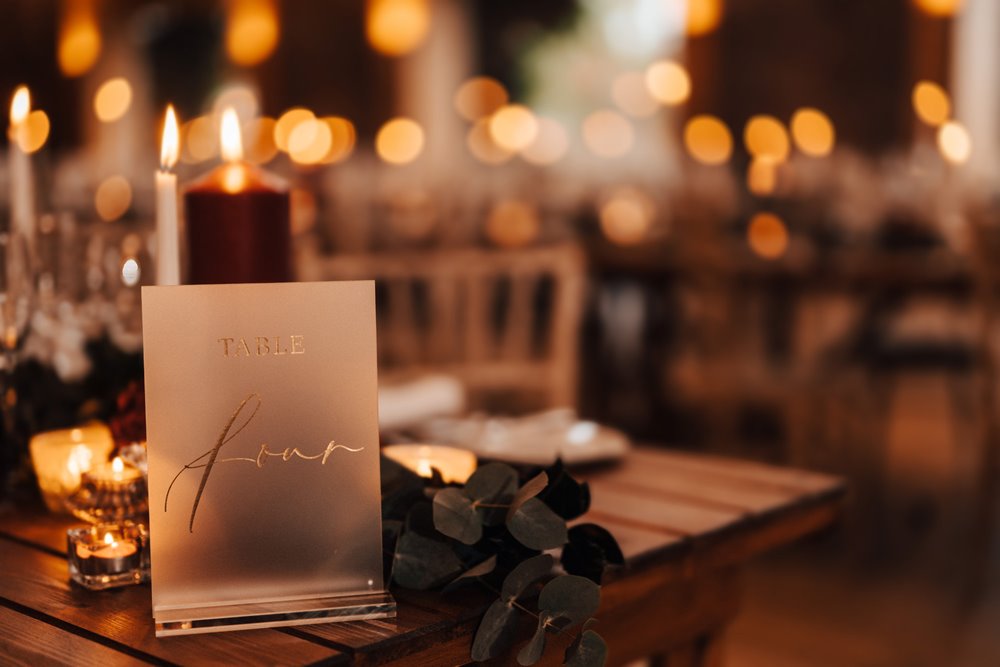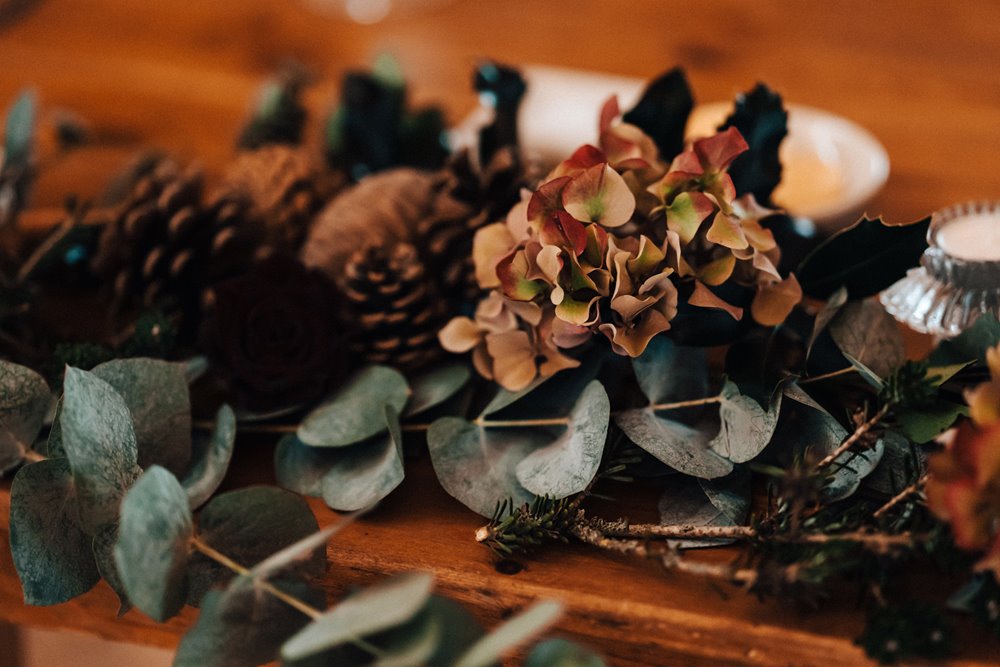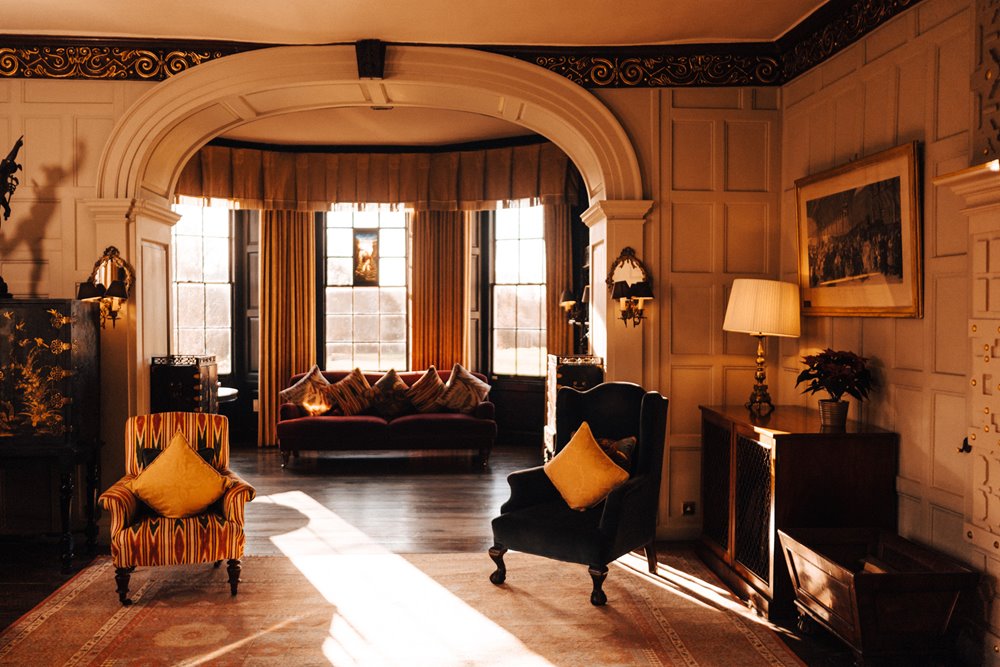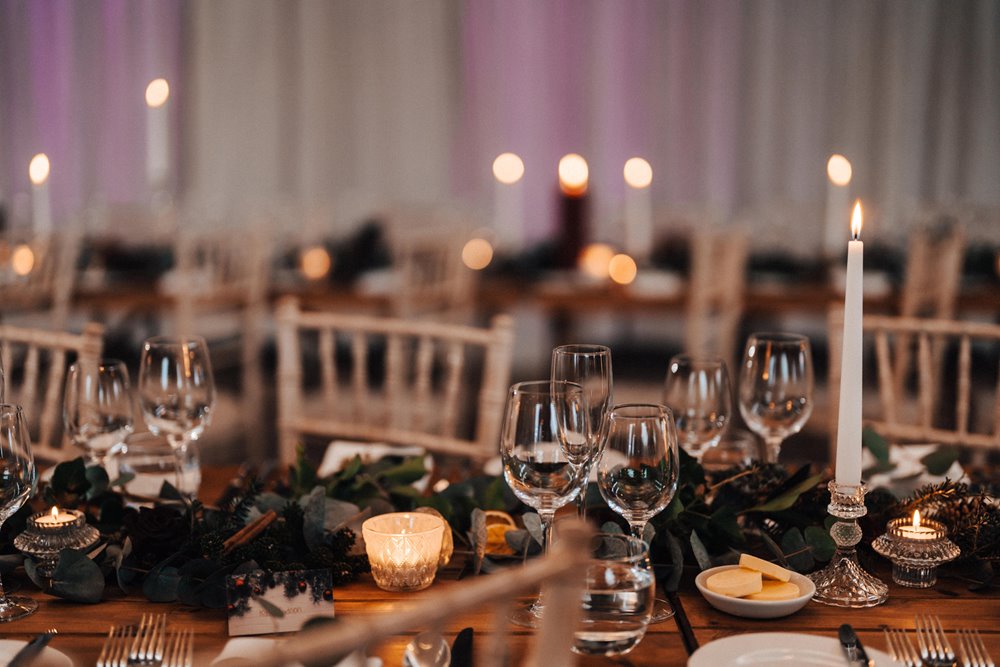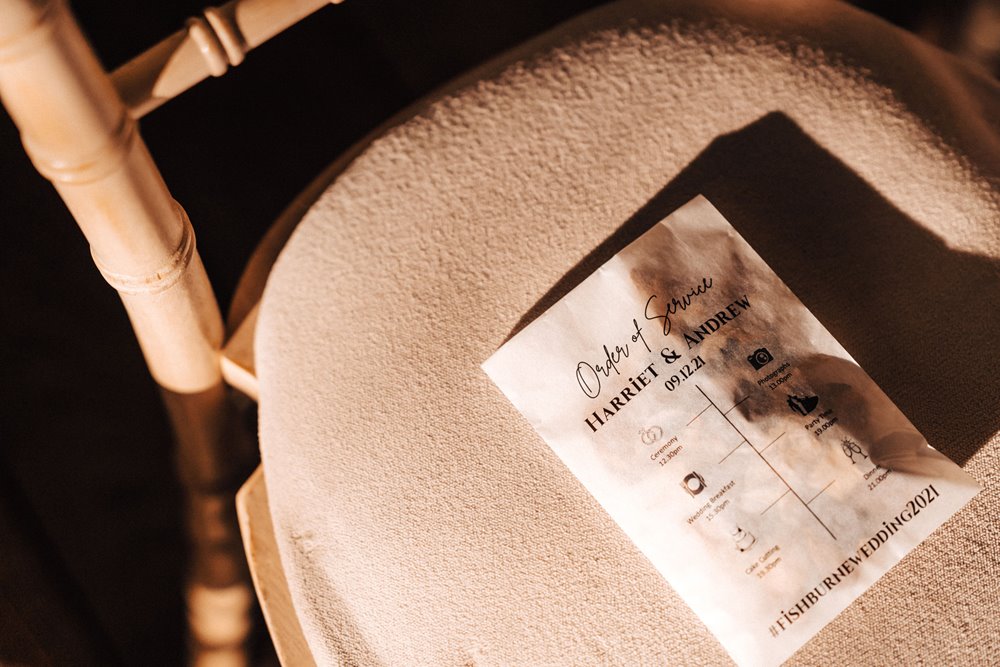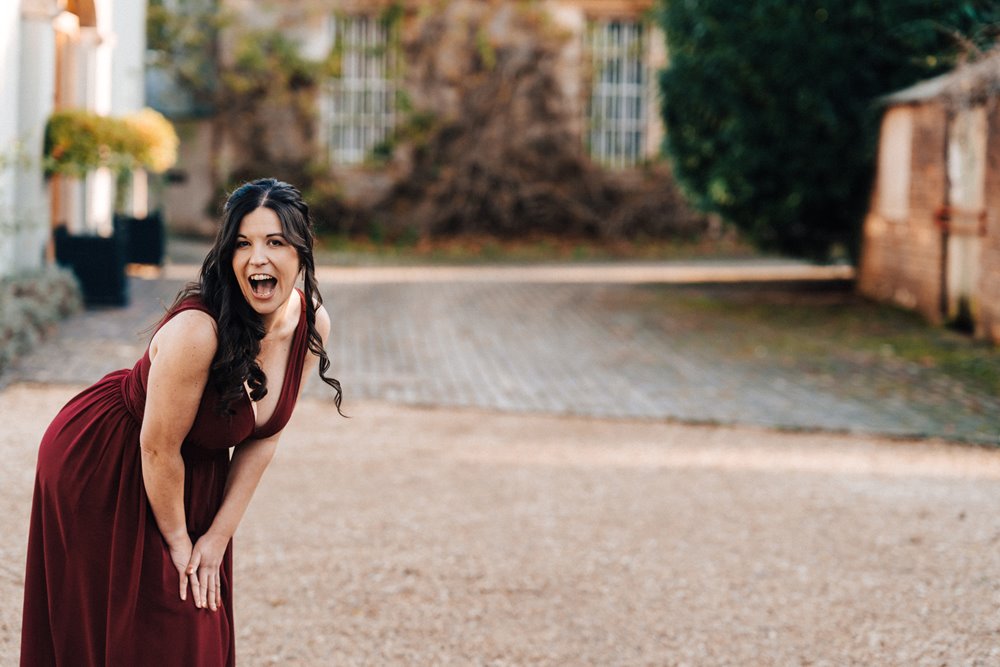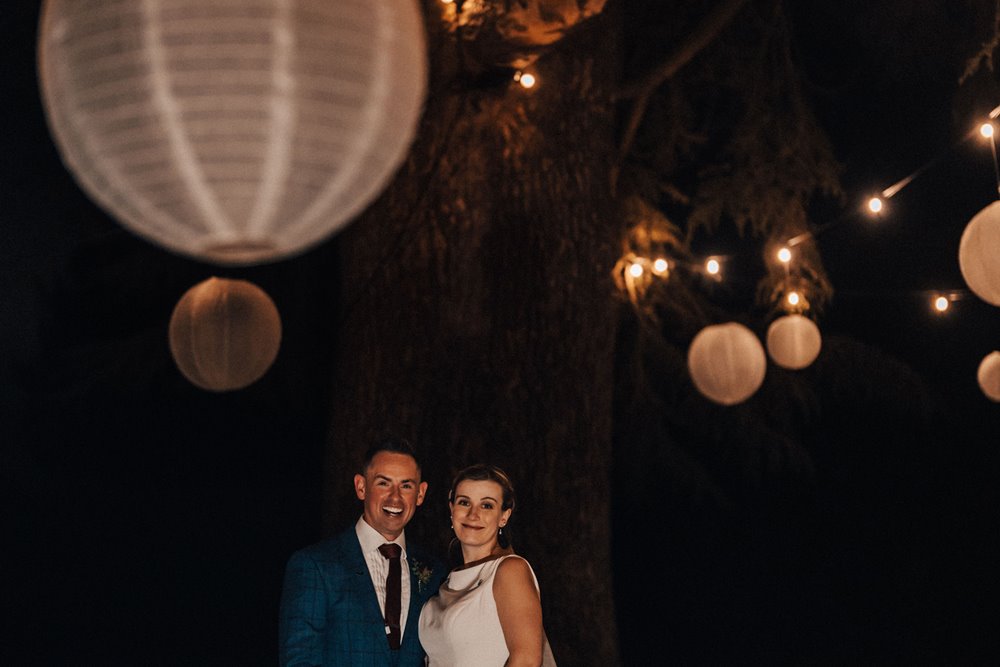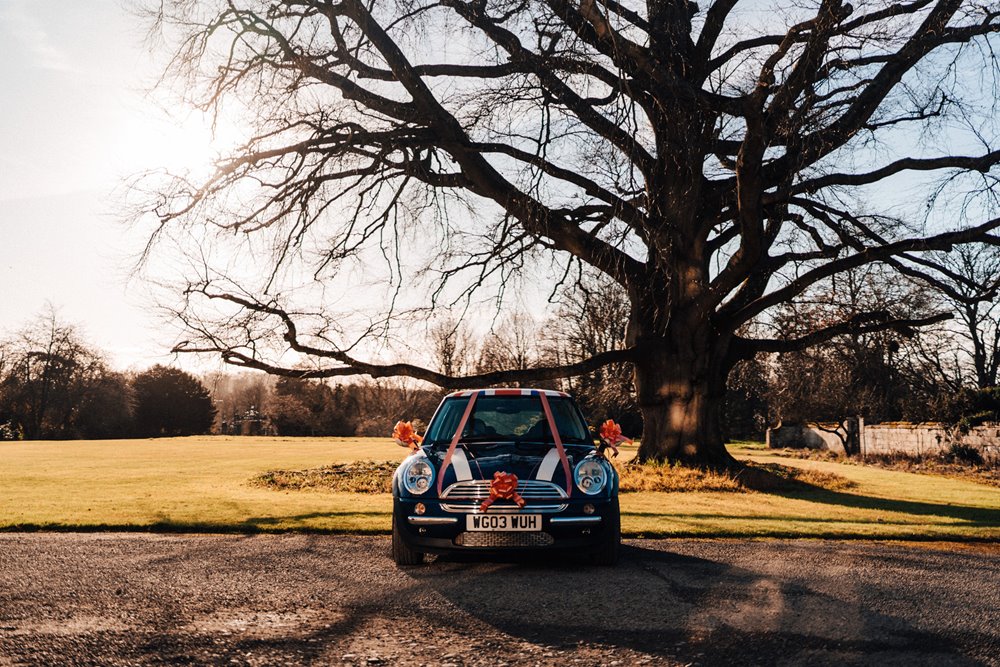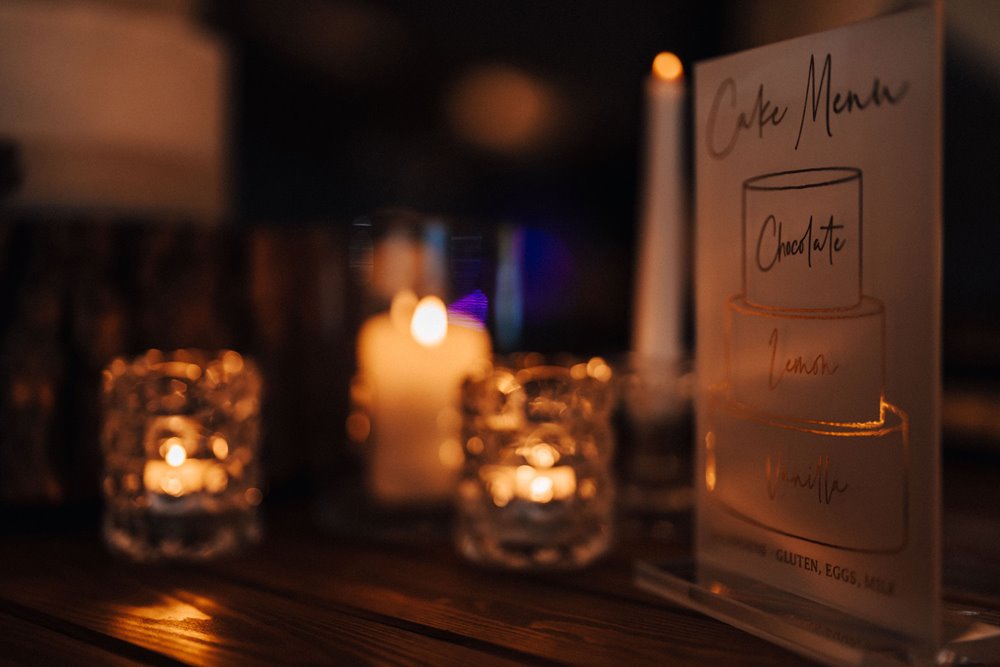 Covid gave you a bumpy wedding planning journey...
Yes. We booked our wedding first date of 10th Dec 2020 in October 2019, so we were looking forward to our wedding with just over a year to go. We had our save the dates printed before the end of the month… We actually bought all the wine & champagne before we did much else!
We knew straight away we wanted to book suppliers, so I got started with that. Our band '1984/Indienational' we'd seen online and thought they brought the right feel with a mix of 80's classics and rock & roll hits to really get the party started. We were lucky enough to watch them in concert in Cardiff Jan 2020 and meet them. After that we knew we'd chosen very well, and just had to wait another 11 months until the day (or so we thought!!)
We'd seen James Fear's photos on social media and just knew we needed him to shoot our wedding, and make us look like stars for the day…

Obviously, we were then hit by the pandemic so, after much deliberation and sadness, we decided to move our wedding on a year, so we could have the celebration we really wanted, with all our friends and family there.
After coming to this decision, planning really came to a standstill, aside from contacting all our booked suppliers to move the date.
Until around April 2021 we just sat tight and hoped the covid situation would get better...
I chose my wedding dress with my mum at the end of April which was so lovely, after many cancelled appointments. After that it was all go again, which was nice after a year out!
I found the process stressful at times, but Andy was great and helped me massively. He wanted to be involved from the start, so our evenings were very much wedmin based, from songs we wanted the band to play, to calculating how many glasses of champagne we needed.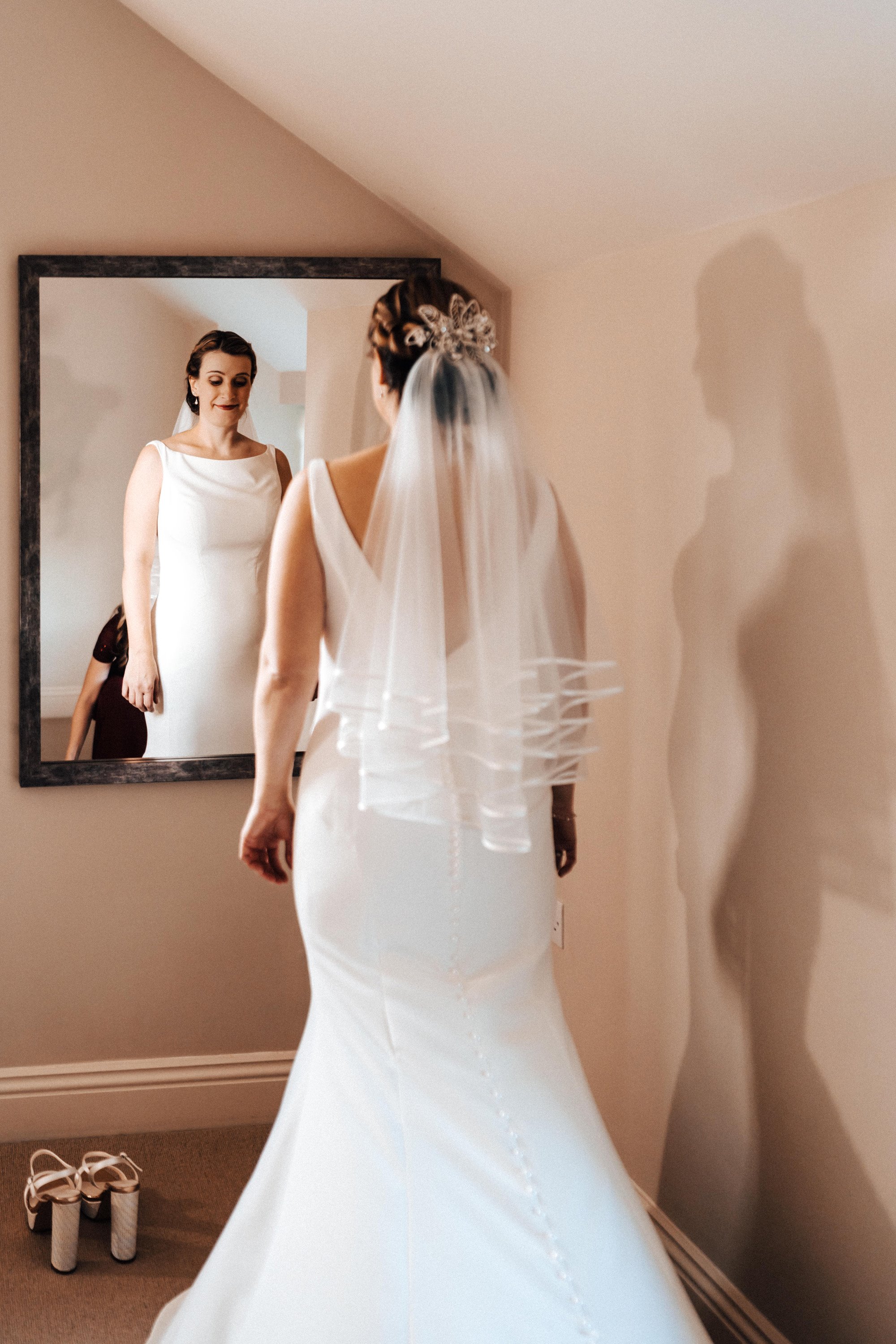 So you said yes to the dress, and then had to make a few adjustments...?
I knew the dress I wanted to try on, I'd seen it whilst browsing online after getting engaged, 'Alice' by Rebecca Ingram, and found a boutique that stocked it, Hill Bridal in Hereford. I'd never really looked twice at anything else, but really liked the elegant style, and knew the shape of dress would suit me.
It was really simple and fitted at the front, with a fabulous low back, giving way to beautiful pearl beads, and a hint of lace in the train.
I finally got to try it on in April 2021, I was nervous as I knew I'd kind of put all my eggs in one basket and wouldn't know where to start with looking at any others.
As soon as I looked in the mirror, I knew it was my dress, the first I'd tried on too!
It just felt right, hugged me in the right places, was elegant, and I felt like a bride.
I tried on a few other styles just to be sure, but it was an easy decision. I came out of the dressing room to my mum eyeing up wedding dresses on a sale rail for herself!!

In July I found out I was pregnant, and my dress was arriving next month!! Cue a bit of panic, my dress was very fitted and obviously, my shape would change quite drastically in 5 months…
Sally at Hill Bridal was amazing, ever the calm and collected lady, she ordered me the dress a few sizes larger so we could alter this to fit me. Both her and her seamstress Denise were such a pleasure to work with, we so loved our trips out to see them for the many dress fittings I had.
They very kindly had me in my dress 2 days before the wedding to allow for any last minute changes, they made the process so easy and I will be forever grateful.
I kept my dress on until early hours of the morning, it was so comfortable with the adjustments I had to accommodate my bump. I didn't want to take it off. This was my something new.

I've always been known for my towering heels, so my wedding shoes had to be something quite special, but also comfy! Sally recommended 'Rainbow Club', and I very quickly came across a beautiful pair, with shimmering gold & silver platforms, that sparkled when I walked.
They gave me the height I wanted and needed for my dress train, but also were very comfy, I had them on until about 9pm, when I changed for dancing.
My headpiece was Ivory & Co. I was drawn to the pearls which matched the back of my dress and the feather shapes which fanned out to compliment my hair.
My Veil was Lace & Favour. I wanted a short veil to show off the beautiful back of the dress, as that's where all the detail was. This had a double satin ribbon edge which was lovely and simple, it was called the 'Barbados' style, tying in my love of the Caribbean, so it was meant to be.
My Jewellery was very simple; I wore a plain silver bracelet, which was actually my bridesmaid gift from sister-in-law at their wedding 5 years earlier, and droplet pearl earrings from a lovely small business on Etsy.
As well as my engagement ring, I wore my grandma's ring with rubies, my something old.
As a tribute to my Auntie Ann who sadly passed away in January 2021, my mum carried a lavender bag which my Auntie had made with material from her wedding in 1960 when my mum was a bridesmaid at the age of 10... My something blue and borrowed.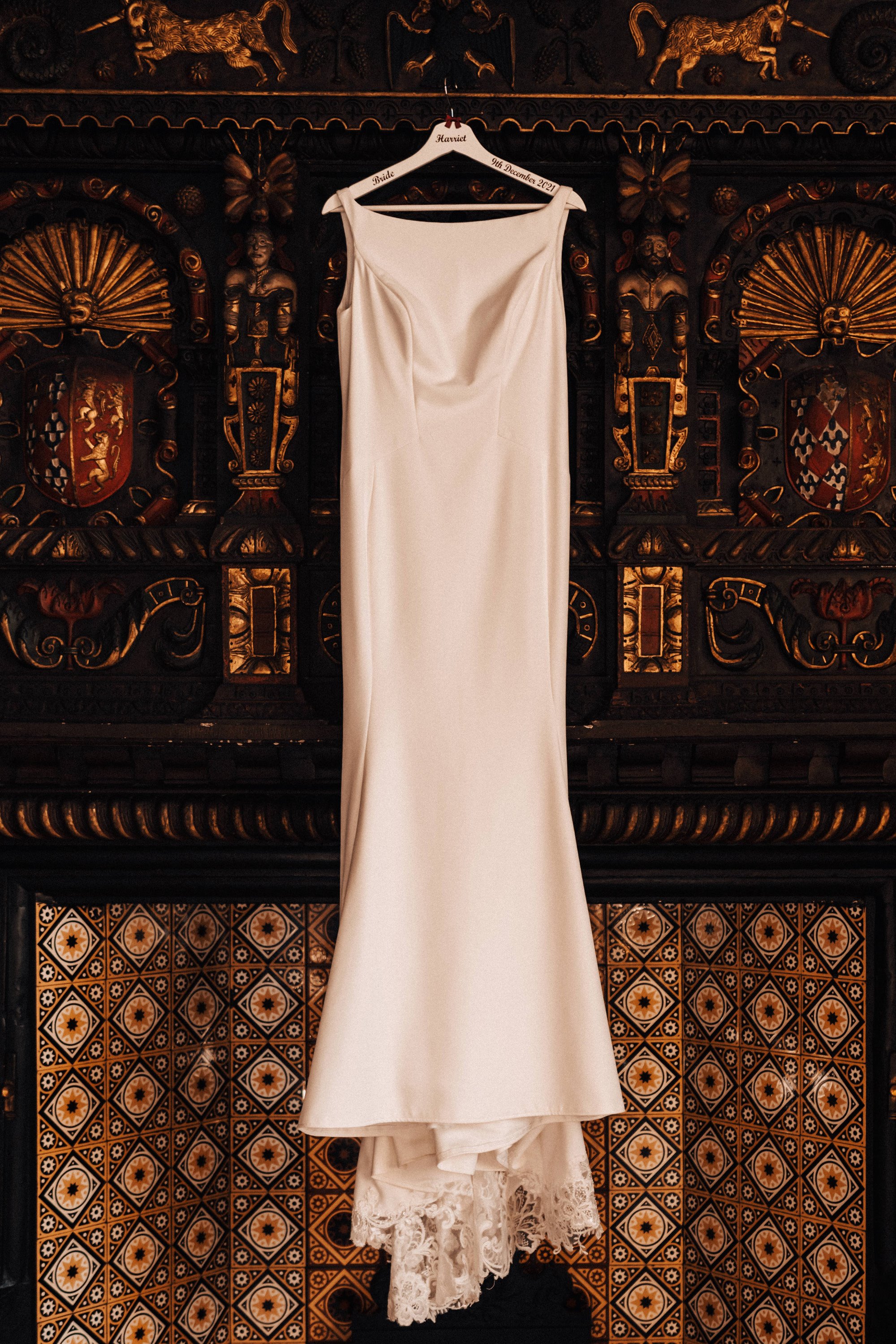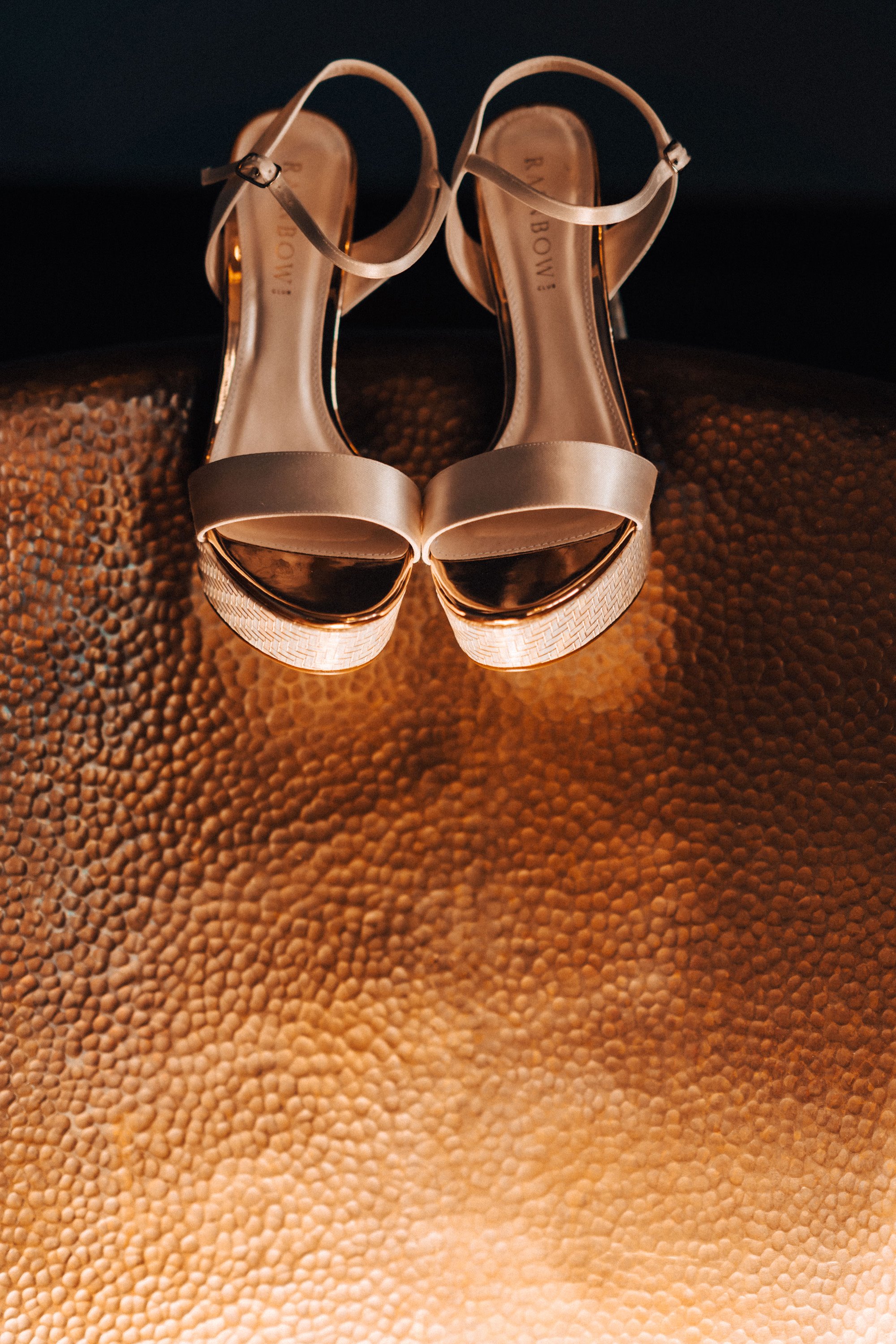 What was your wedding planning focus?
We always wanted great music, great food and drink, and knew everything else would fall into place.
After the pandemic, the greatest thing was to be able to just have everyone all together in one room, so it was almost a double celebration.
We knew when we booked our suppliers, that each of them was great at what they did, and couldn't wait for it all to come together.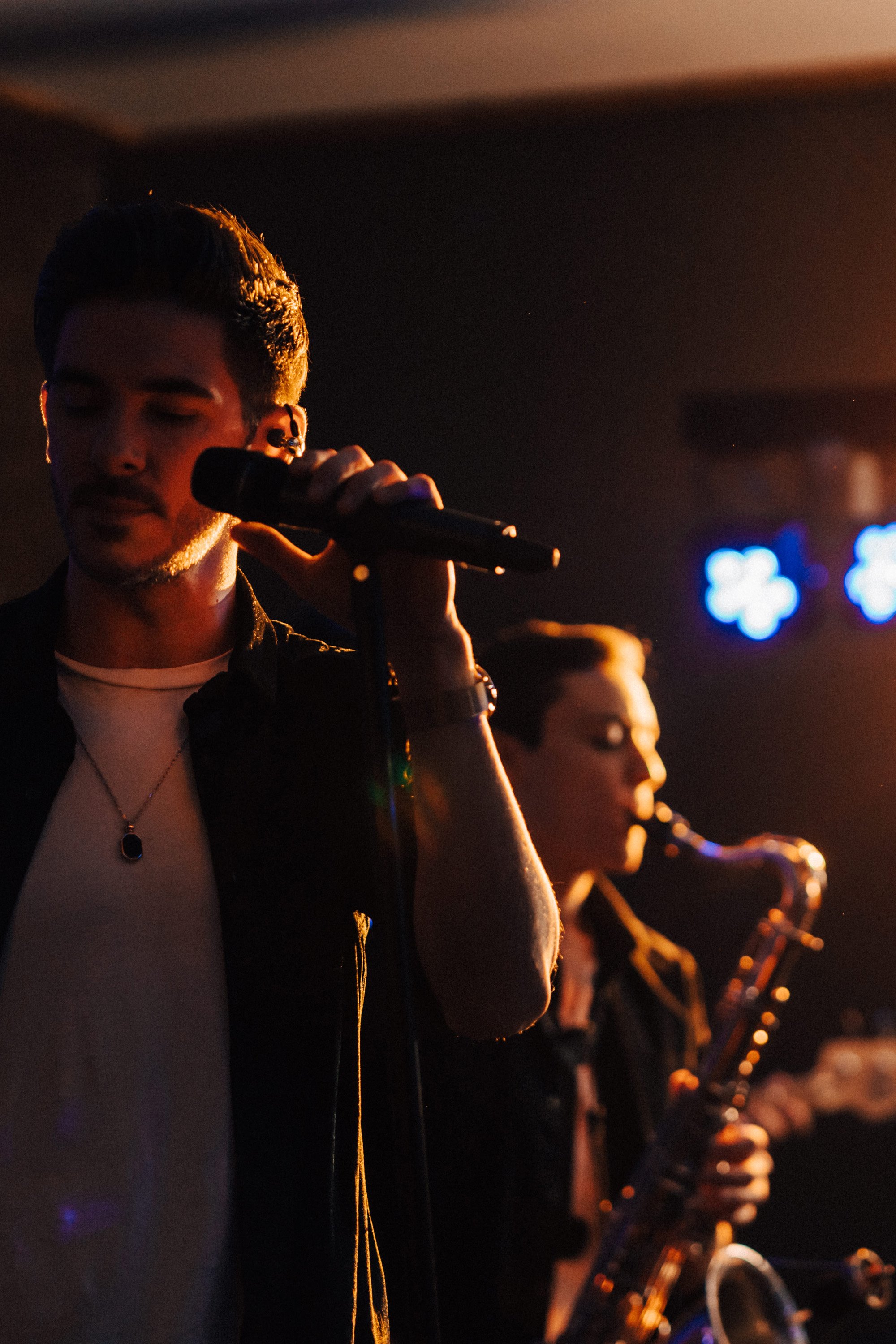 Your winter wedding flowers and styling
We had Maria from Sorori Design and Lauren Grey (Wedding Stylist) create our ceremony and reception look. We saw their work on Elmore's Instagram, then in person at BloomMore: Wedding Fair in March 2020, and after meeting them, knew we wanted them to bring our Christmassy theme to life.

We wanted green foliage and red flowers that reflected the wintry time of year, a warm festive feel. Maria added dried fruit, cinnamon sticks, all the mulled spice elements, and paired with pine cones, it really made the green holly shaped foliage pop.

Our only requirement was the pillars at the wedding ceremony entrance be adorned with candles and foliage for a proper wow moment on arrival.
Lauren created such an elegant setting, with tea lights, lanterns, candles of all shapes and sizes, making our many red church candles blend well. Between them, they nailed the brief, I had goosebumps when we had our sneaky peak at the Gillyflower and I know Andy was blown away also!
The girls used the remainder of our homemade confetti to line the aisle and the front of the ceremony room. An unplanned extra that really looked great. This also made an appearance in the photos and video in an impromptu moment James Fear created!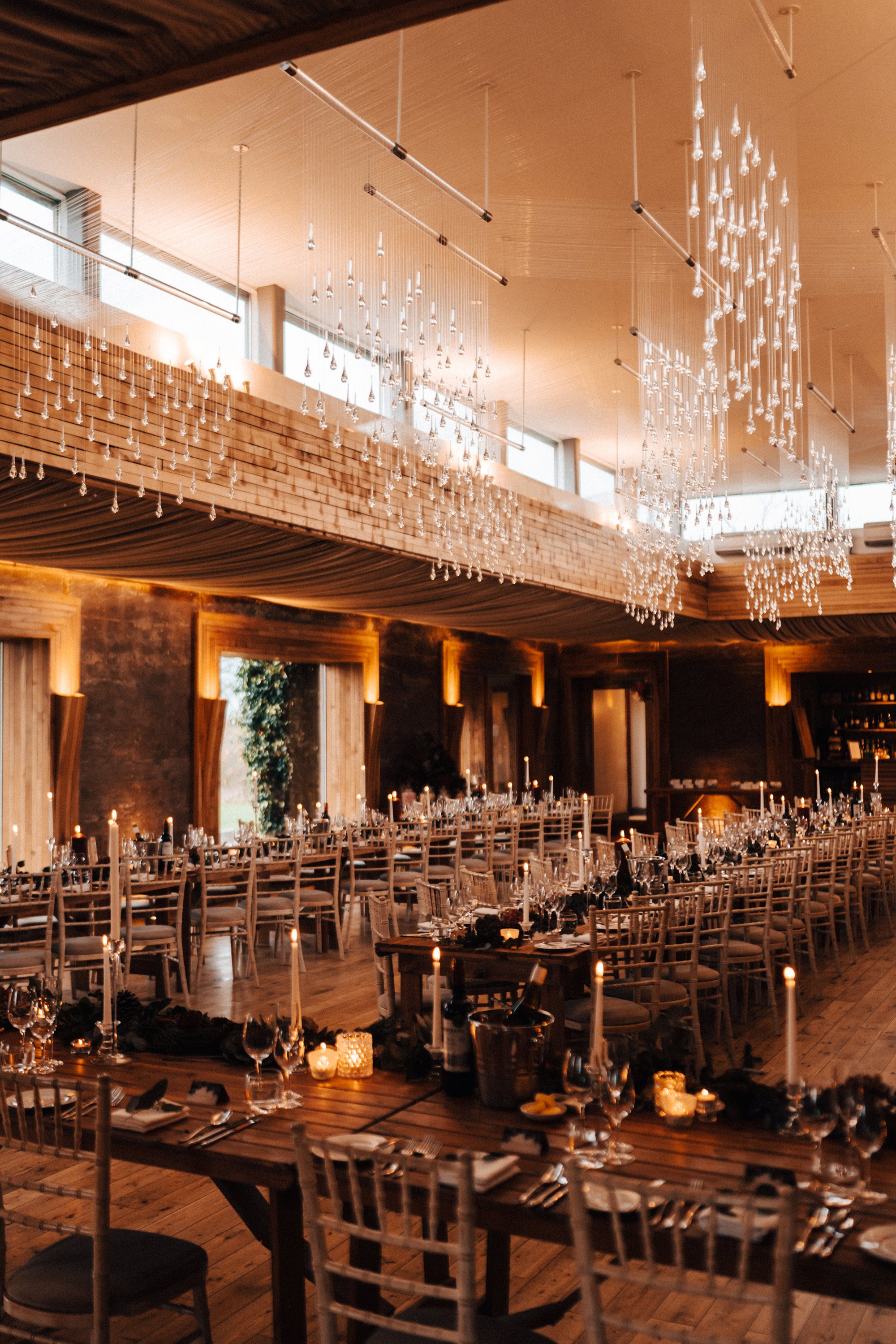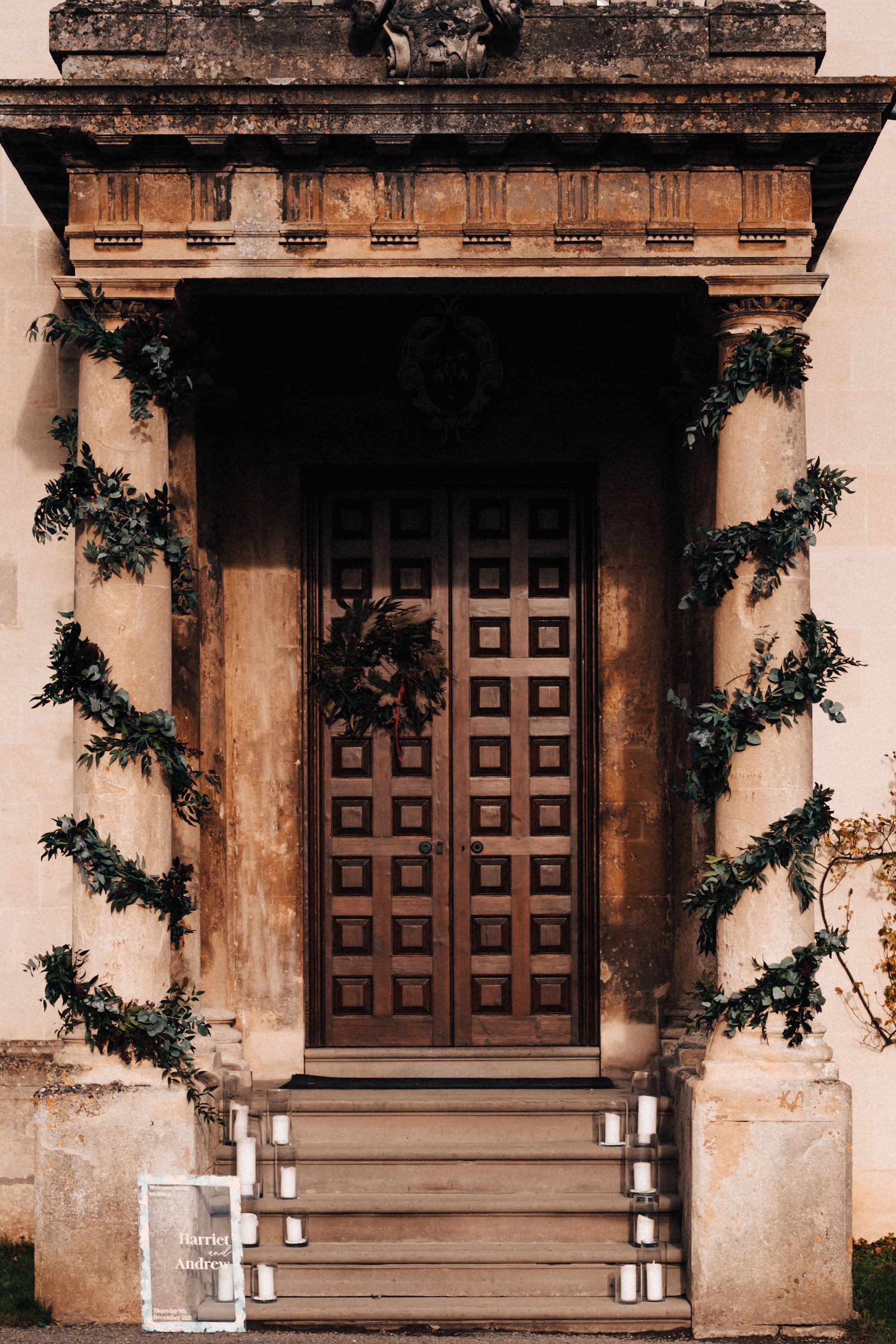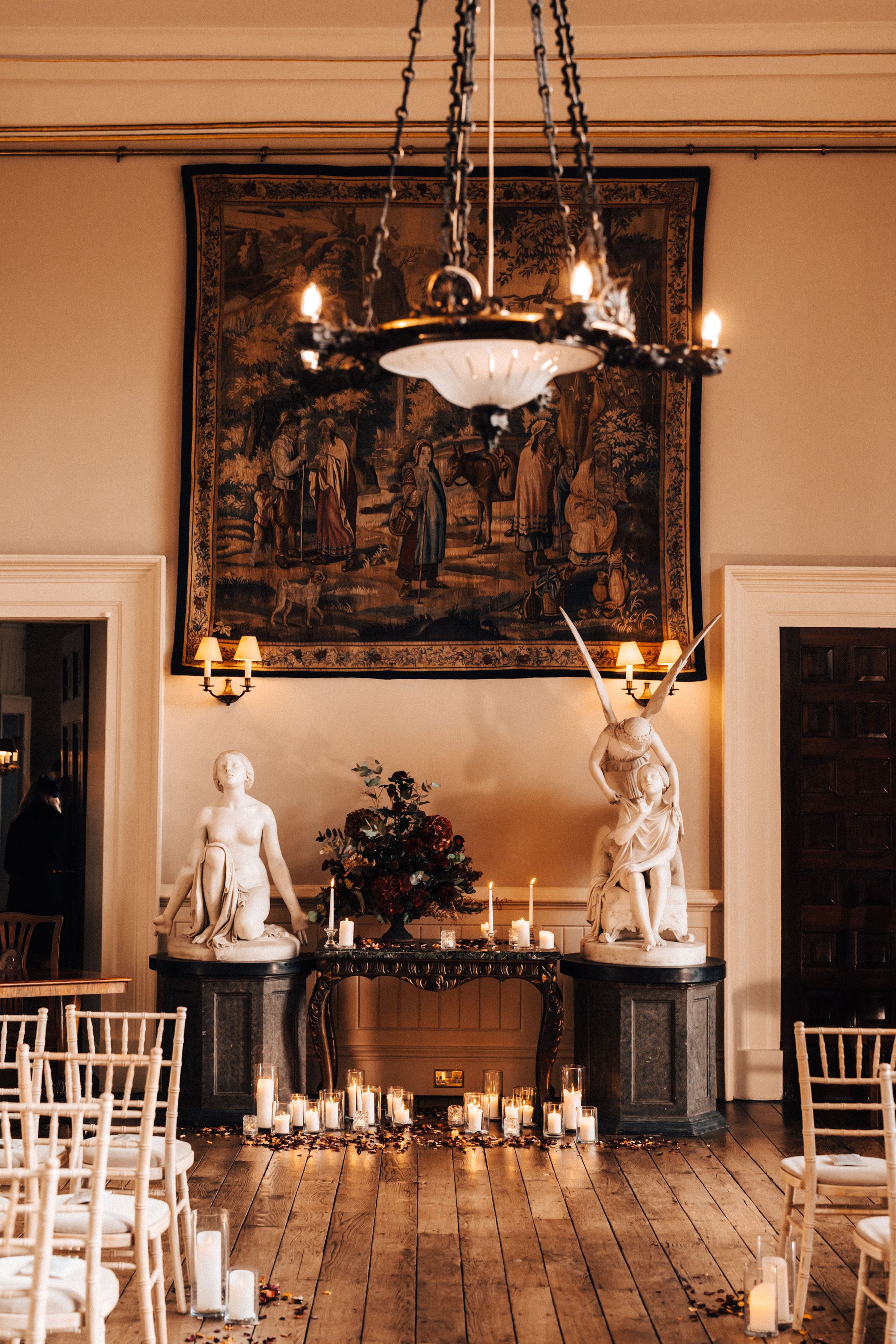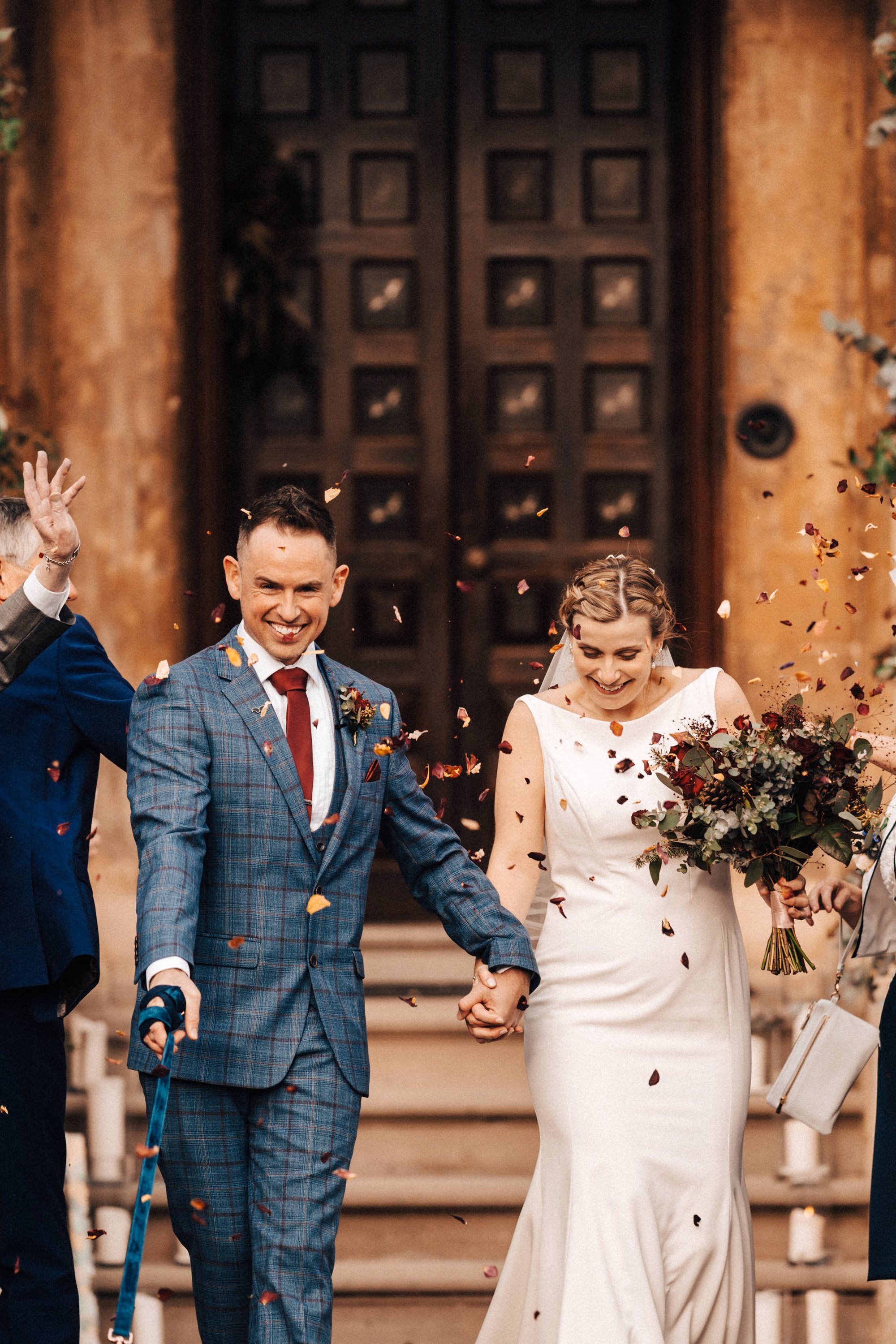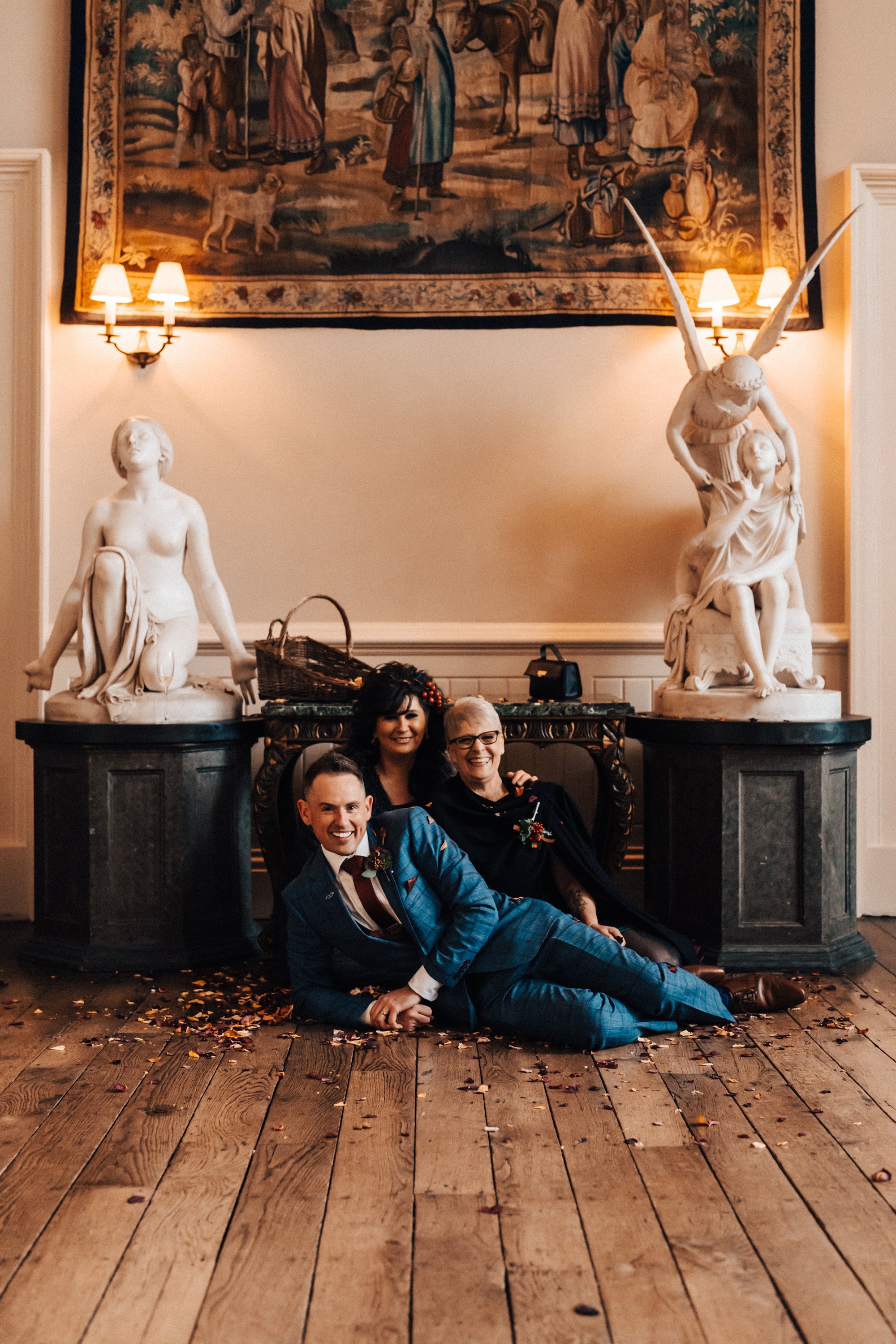 Tell us about your bridal party and groomsmen
My bride squad consisted of my sister-in-law Rachael, and my 3 closest friends, Charlotte, Jen & Erica. Rachael has been like a sister to me since I was about 11.
I've known Charlotte for over a decade, we met through a mutual friend at the races and haven't looked back.
I met Jen at work and we hit it off straight away.
I work with Erica now, she's my work wife and the raucous one!
I couldn't imagine this journey without them, they are my forever squad.

I knew I wanted the girls to wear the same colour, burgundy, but I wanted them to be comfortable too, so they all chose a different dress. I also liked the way that would photograph, rather than all wearing the same, and I'm so pleased with the photos.
The dresses came from Ever Pretty.
Andy had his best man Neil, who he met at work, and over the pandemic, they have bonded over beer and pool, in our home bar!
Their suits came from Slaters, and both our dads and brothers were decked out in matching suits too.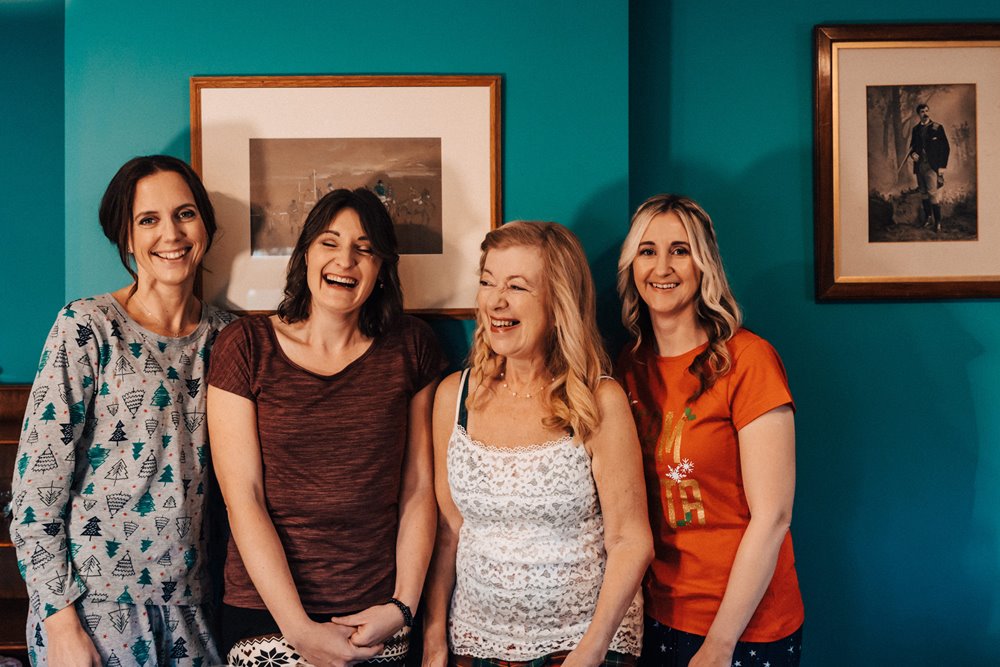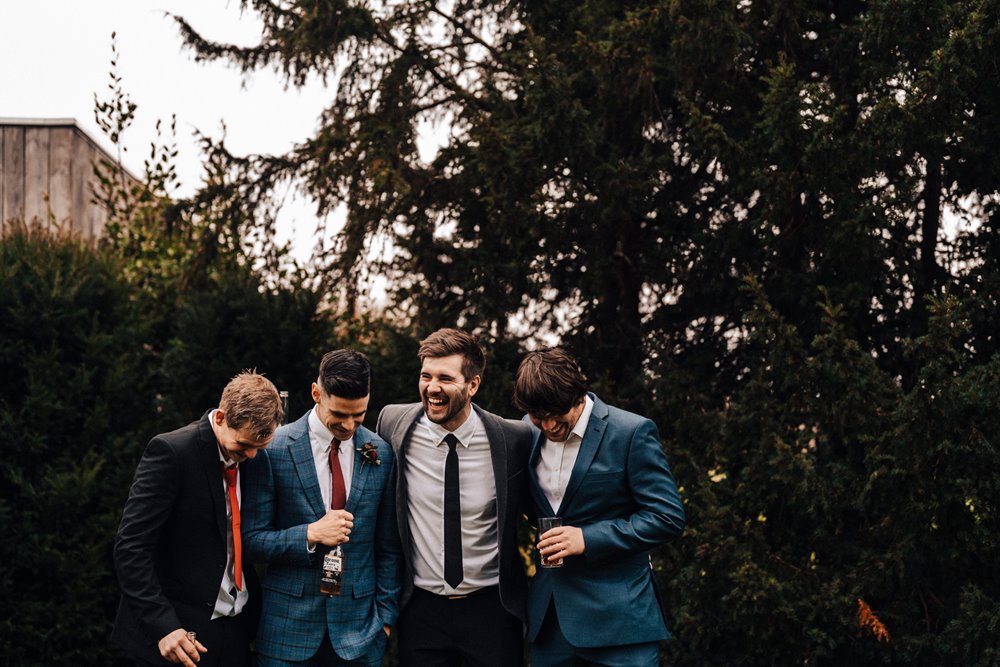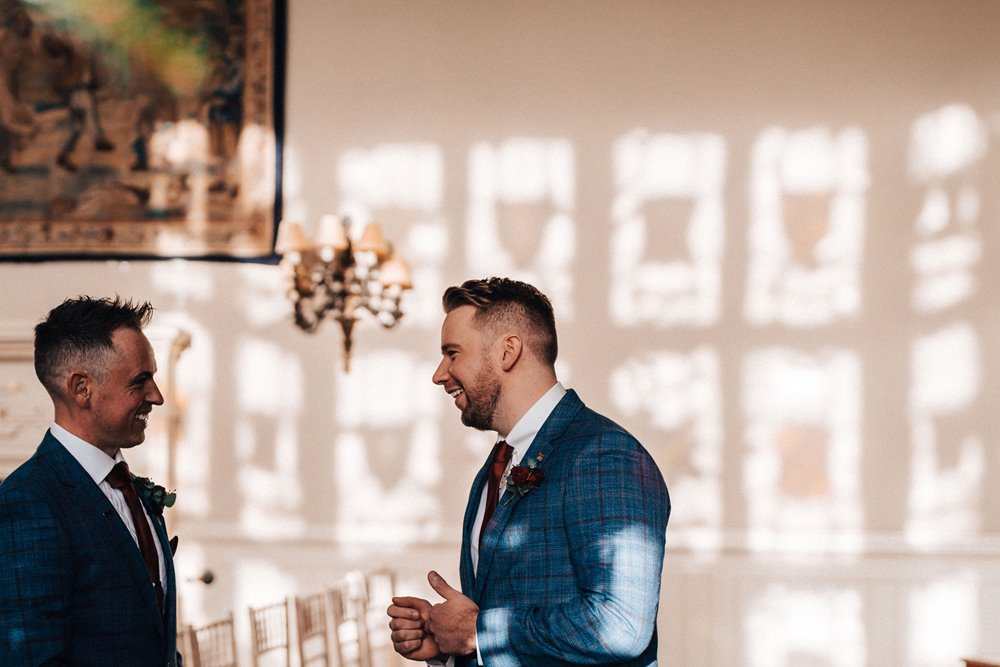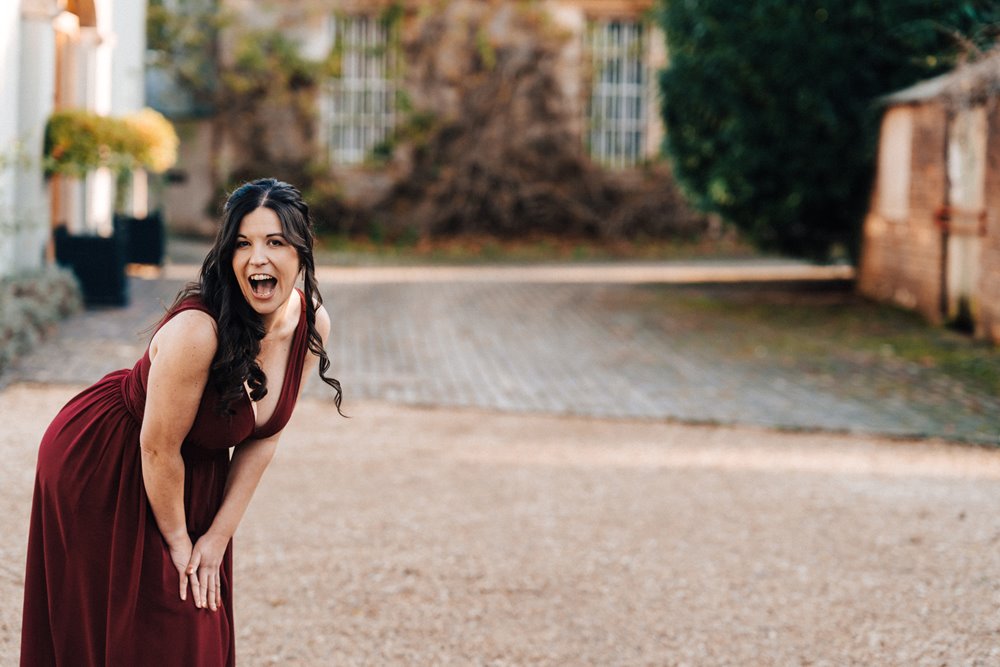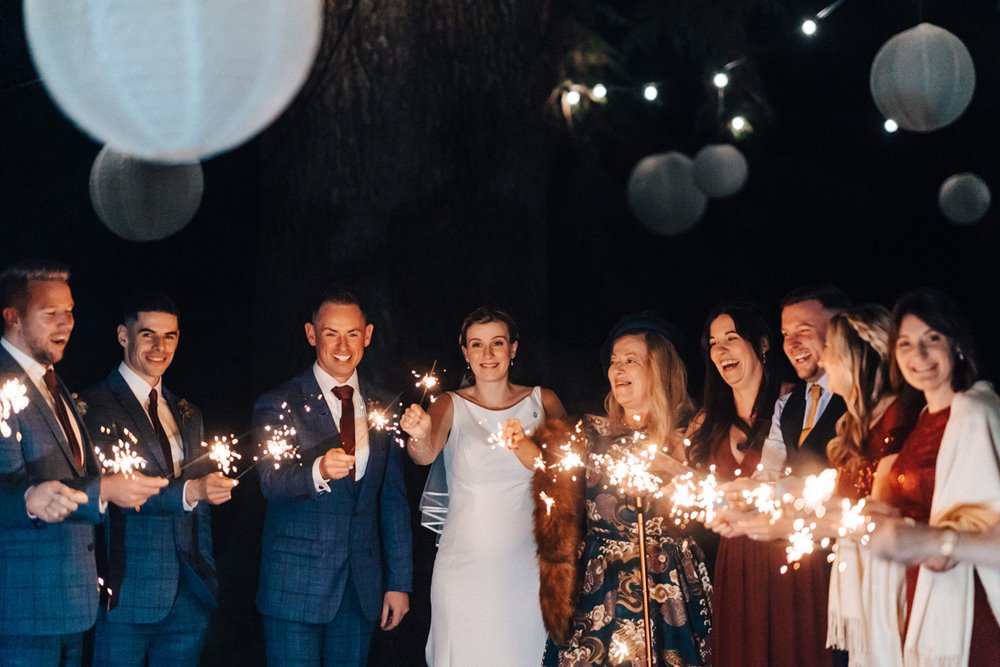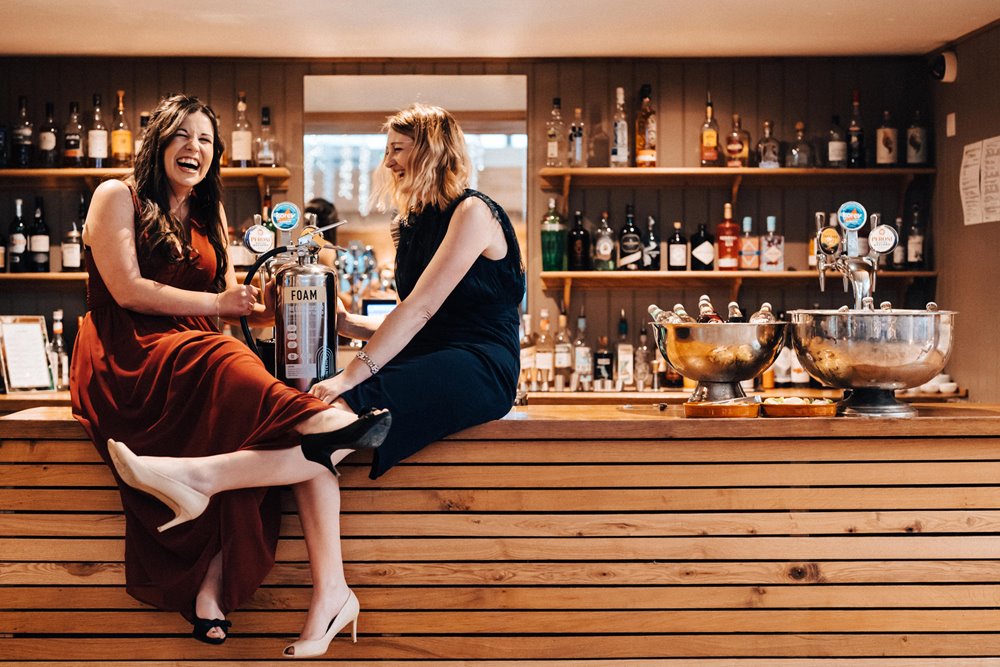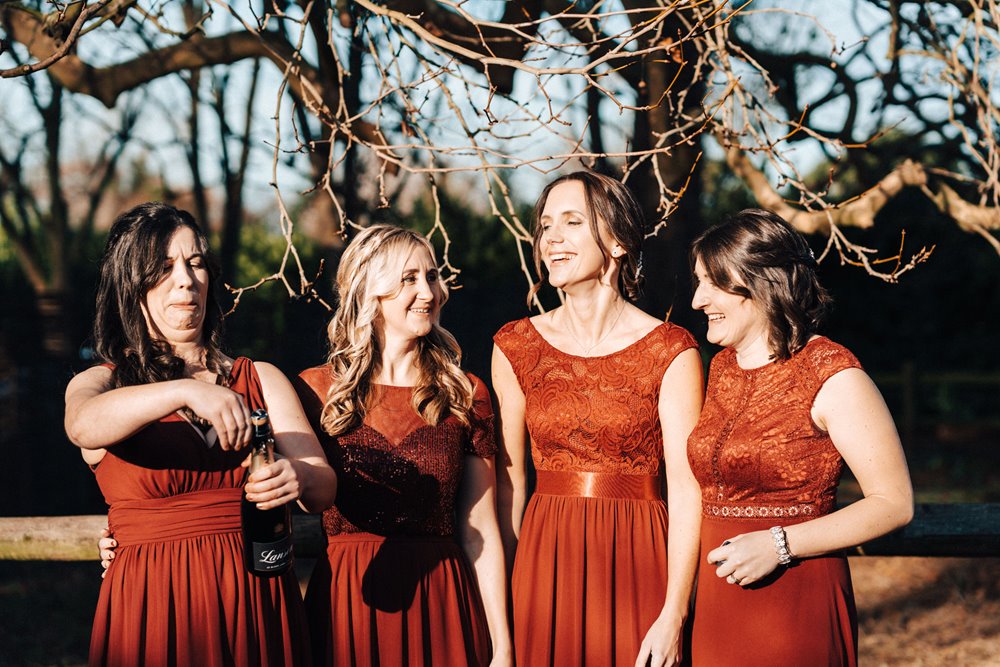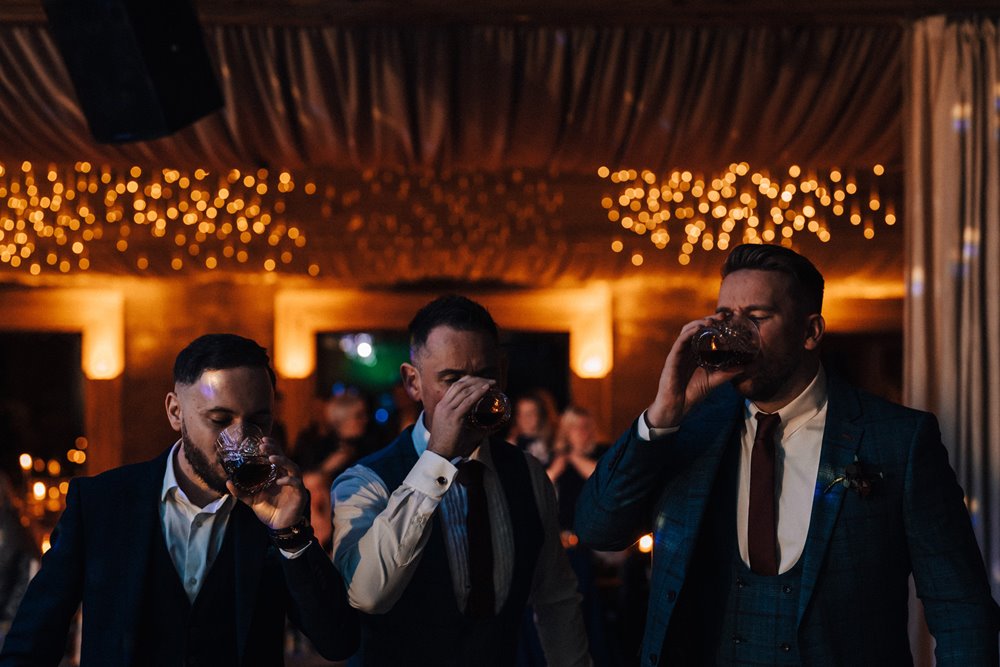 Your wedding day
How did you feel on the morning of your wedding?
I woke up early around 5am on the wedding morning, and despite the comfy bed in the coach house, I couldn't get back to sleep, I was too excited! I was excited to do my covid test, and to know finally, after so many months of pure panic as to whether our day would ever go ahead, that all was well!
I had a lovely breakfast with my parents, and nice soak in the beautiful bath before everyone arrived and 'mayhem' ensued (albeit lovely).
The girls arrived at 7am, in their Christmas PJ's (as instructed) and we had my wedding morning playlist that I'd been compiling for 2 years on in the background, the champagne was flowing, there were lots of yummy pastries and fruit, endless cups of tea, it was just what I wanted!

My poor dad, outnumbered from the start, once the make-up & hair ladies arrived too! I think he secretly loved it really. He kept busy, moving all our cars, adorning the mini cooper with the ribbon & bows and of course popping champagne corks! I really tried to just stop and take it all in, most of my favourite people in one place, all there to celebrate with me.

All too soon it was time to start getting into my dress and putting the final touches etc, it all seemed to happen very quickly. As we waited for Andy to have his chat with the registrar, we were all gathered, having a final toast of champagne, I needed this to steady my nerves that had crept in… I had spent 2 years hearing my entrance song in the car, and imagining how it would go, and, when those doors opened, I didn't hear a thing!
I could just see all those smiling faces looking back at me, and how happy I was that it was finally happening for us. And of course, that I mustn't trip!
And then seeing Andy turn around and beam at me, it's a moment I'll always remember.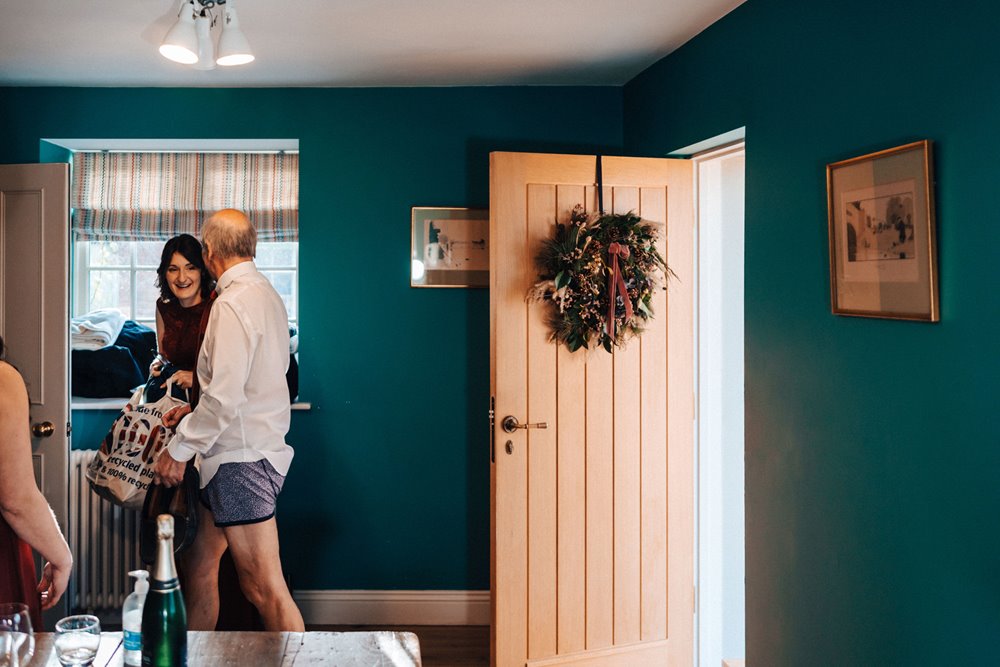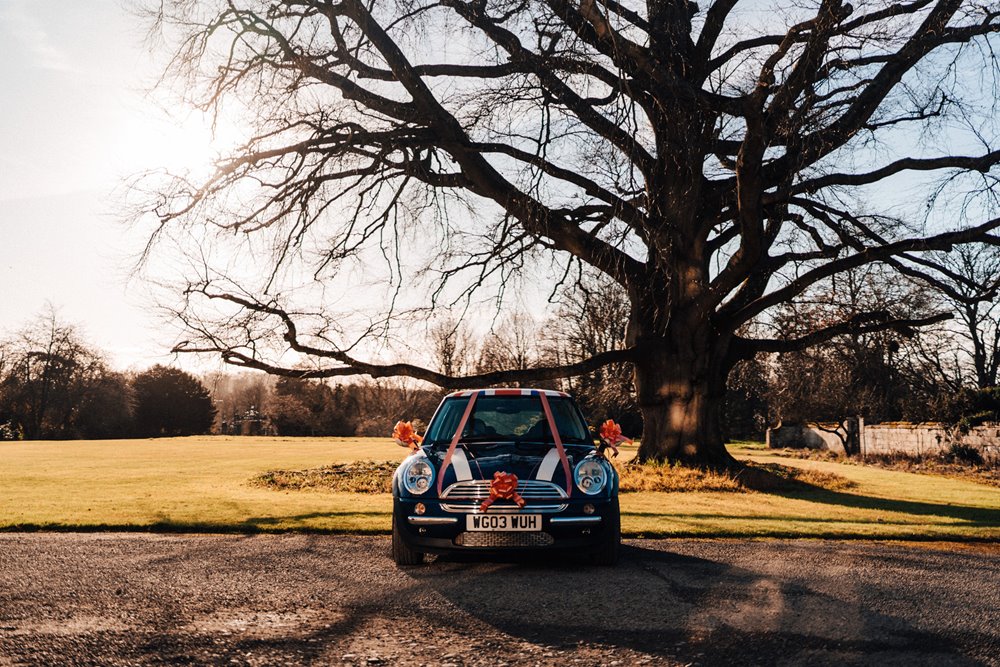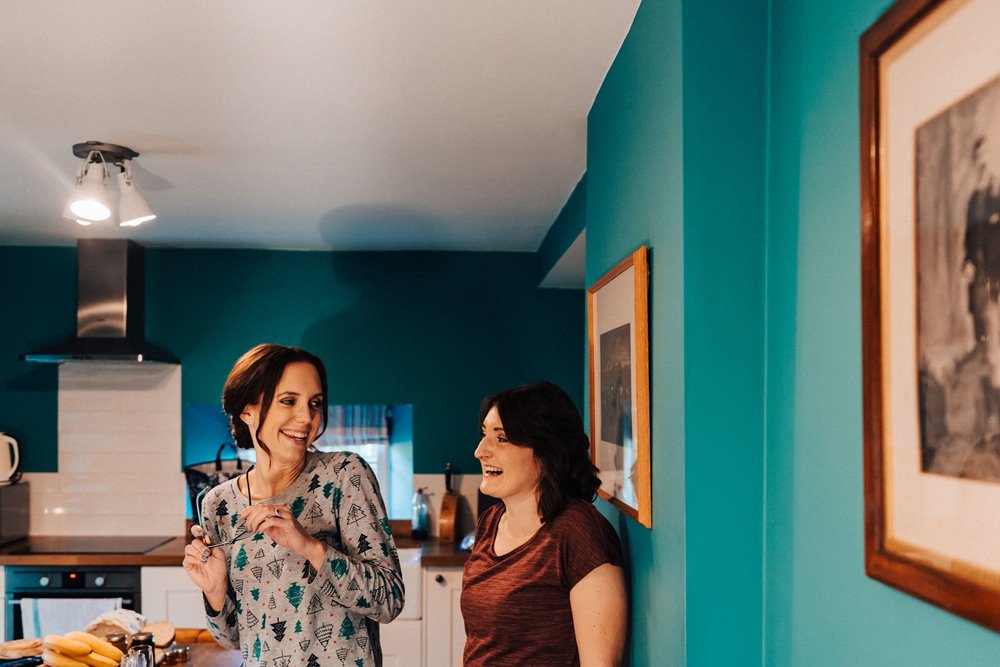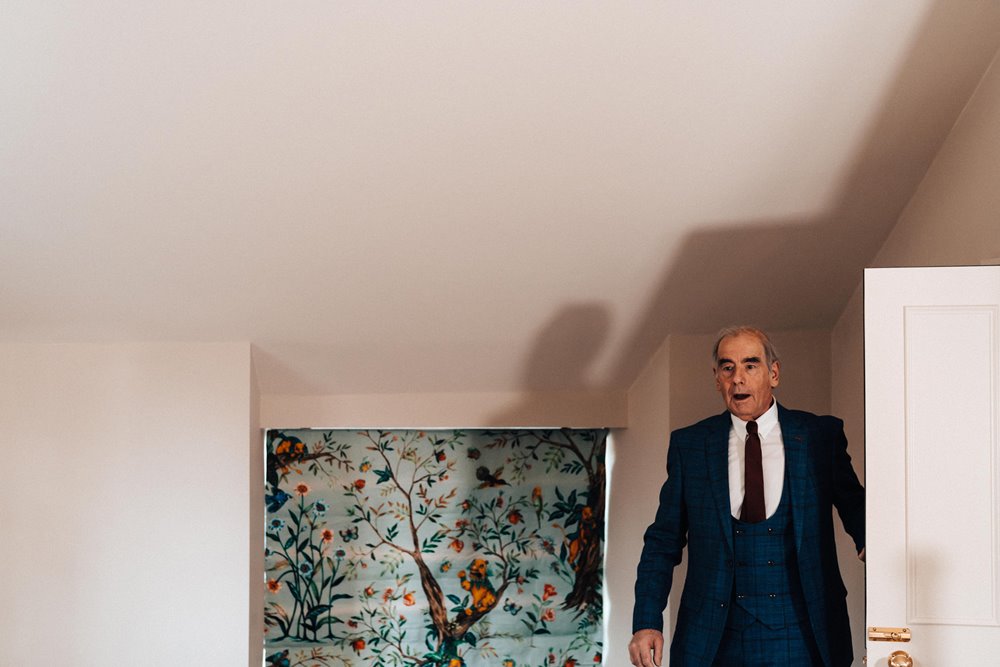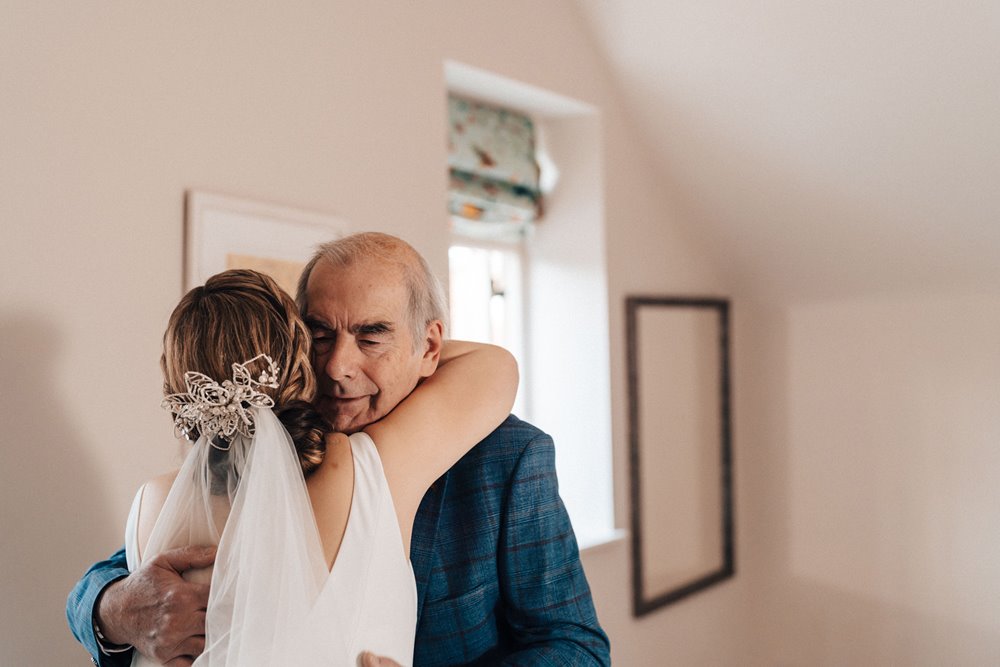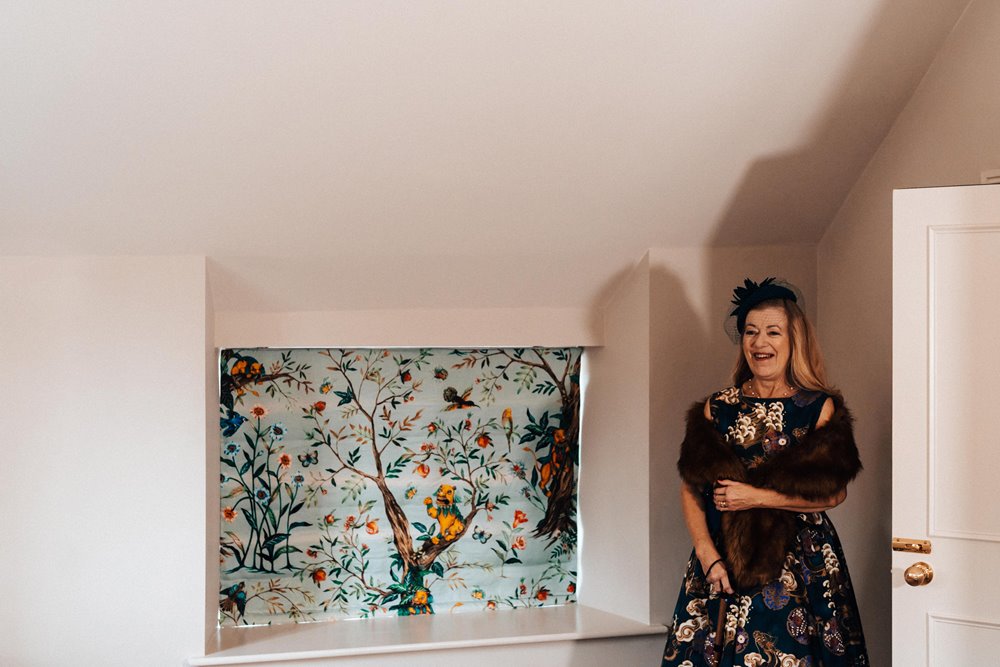 Your wedding ceremony
I walked in to 'Hungry Eyes' from Dirty Dancing, its one of my favourite songs and there's a line 'I've got you in my sights' which seemed very apt.
My brother read 'He's not perfect' by Bob Marley. When looking for suitable readings, they were all very romantic and over the top for us, so when I saw this, I knew it was perfect and not totally cheesy. Again, continuing my links to the Caribbean.

I had my Uncle Roy as my witness, which was so special, he was actually in hospital and had been granted special permission to attend the wedding and be a witness.
We walked out to 'Electric Blue' by The Killers, we wanted an uplifting and catchy tune for our exit.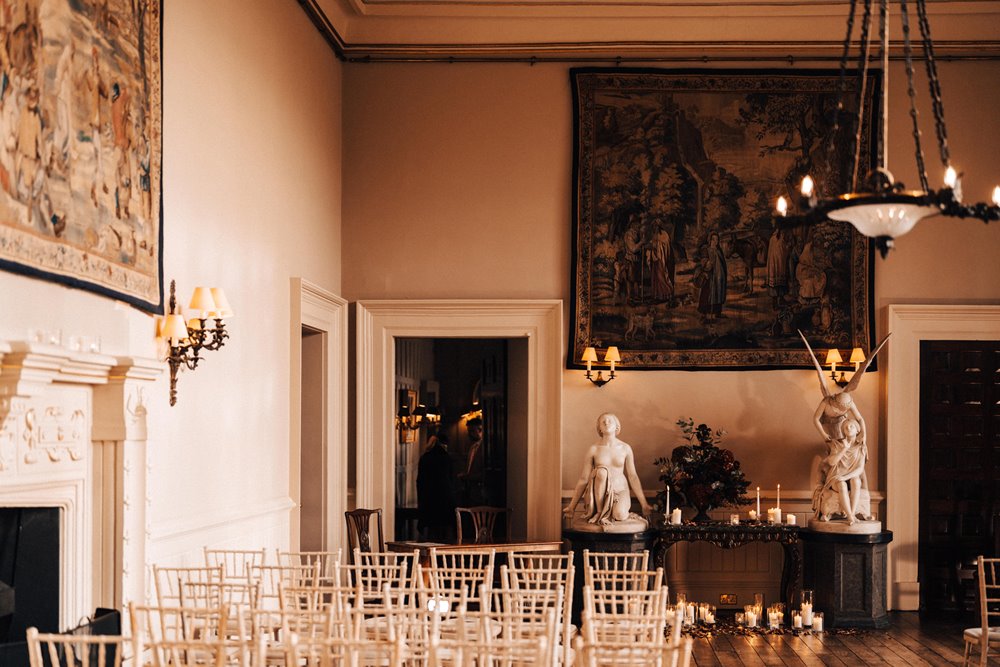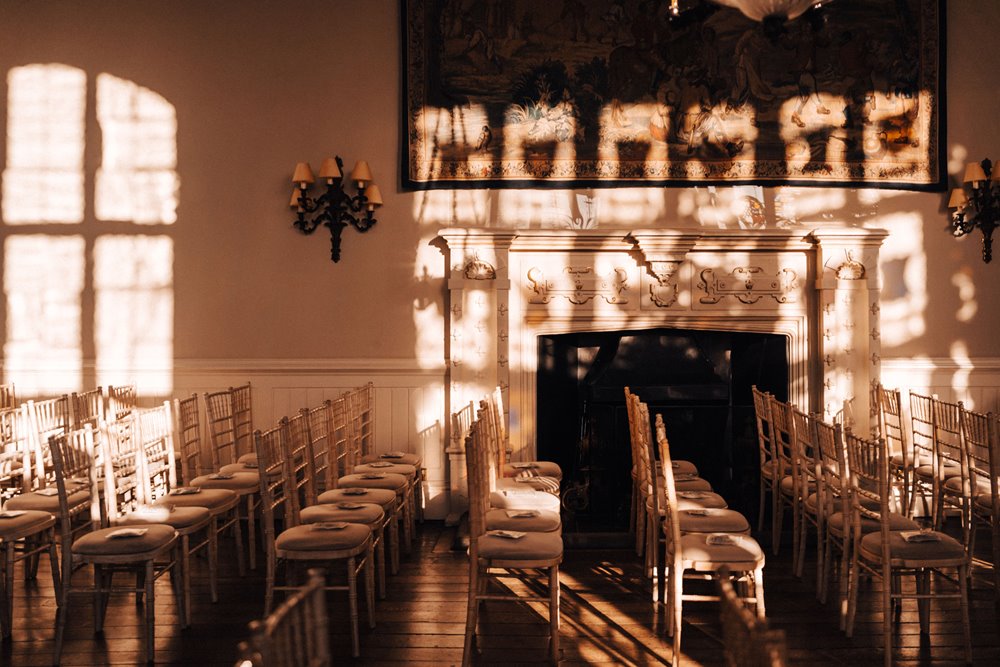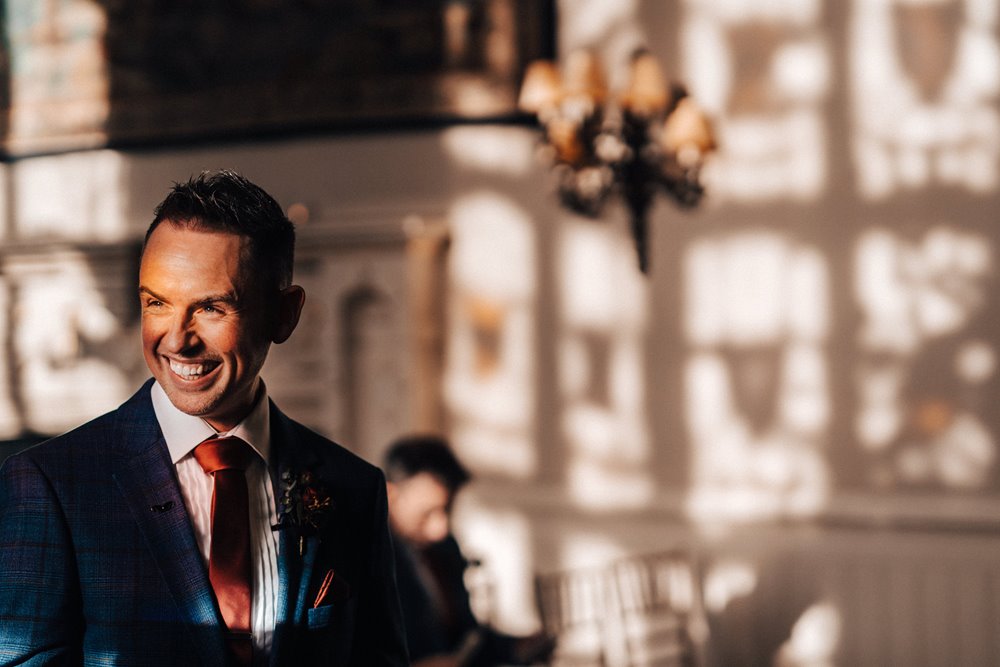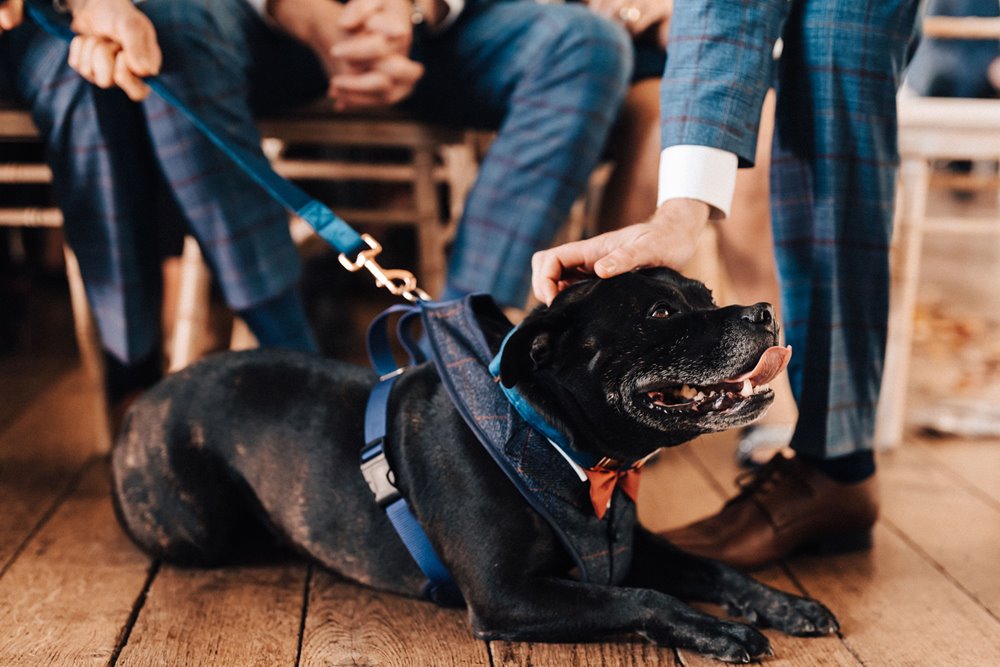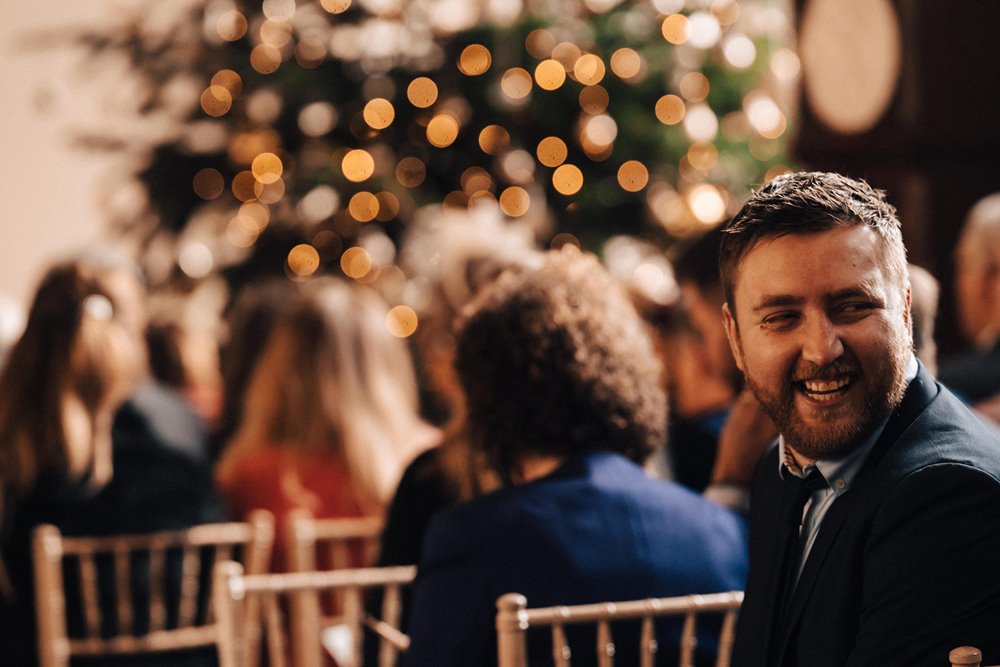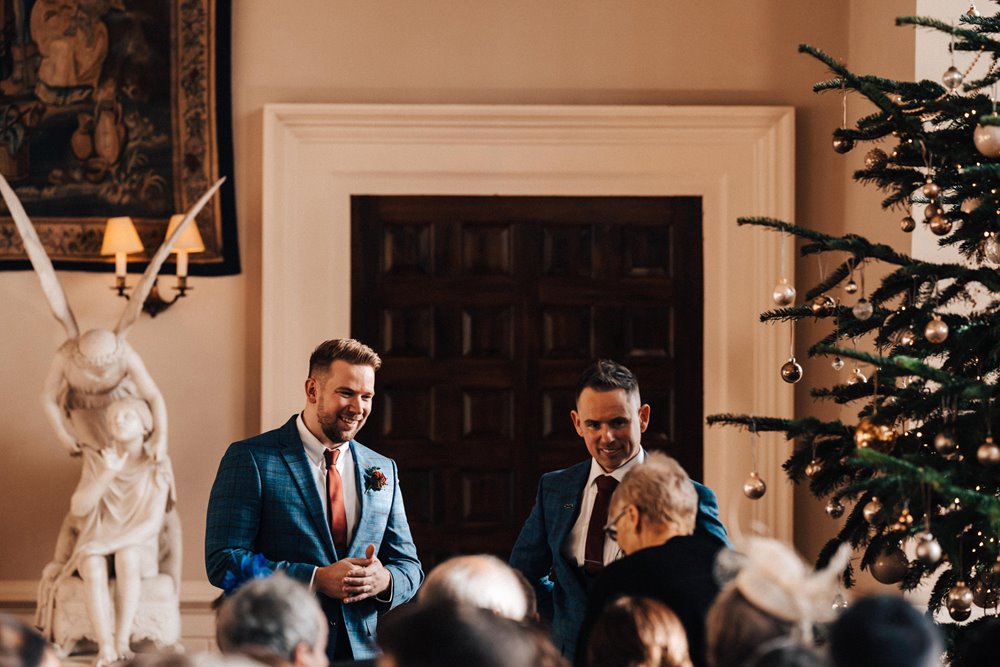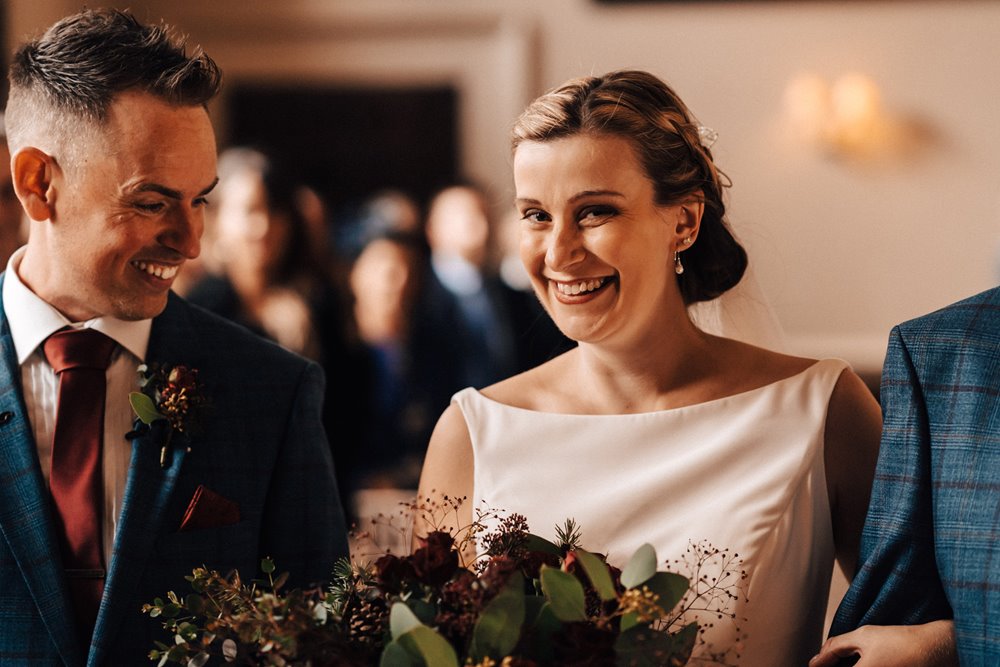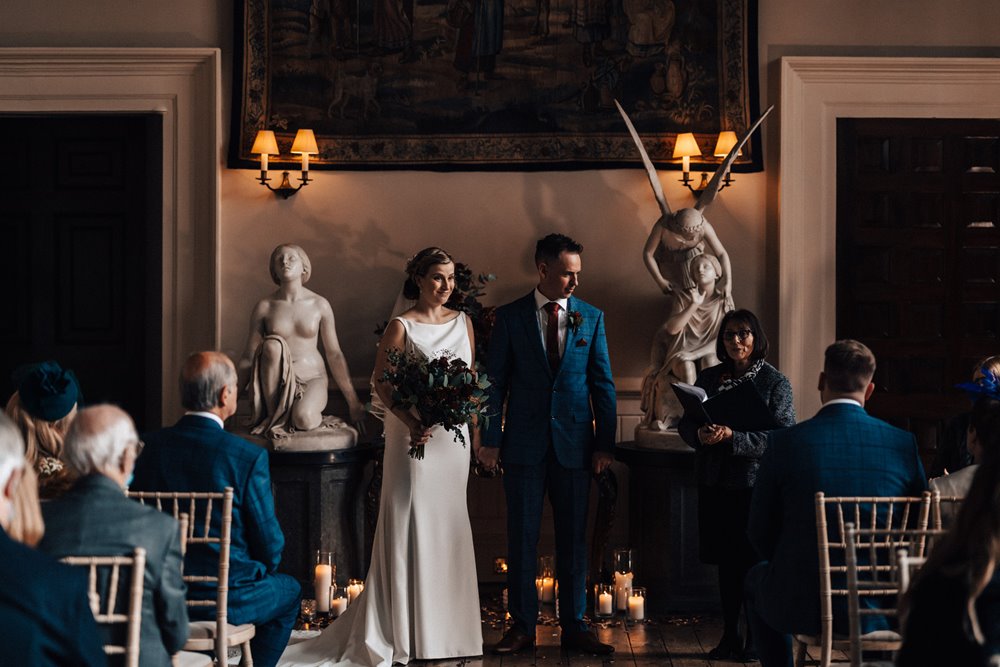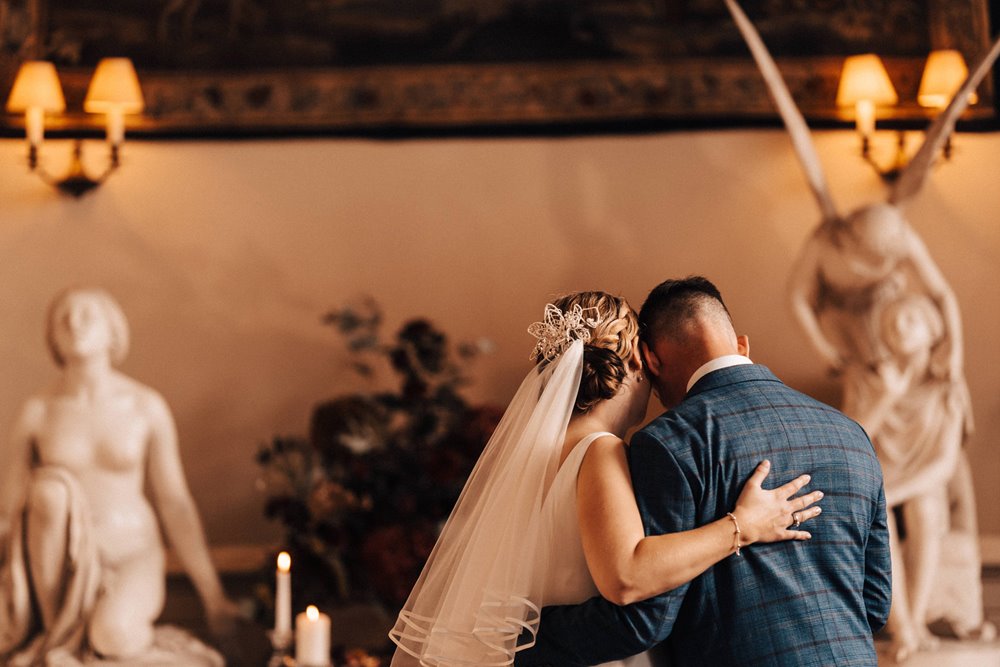 Tell all on your surprise gender reveal drinks reception!
After our ceremony, we had some lovely photos in the walled gardens, just Andy, myself and Rosco; it was really nice to have a few minutes to ourselves, to take it all in, whilst our guests assembled at the entrance.
We were taken back through the house so we could walk through the main doors, to see all our family and friends lining the driveway and they showered us in homemade confetti.

As we were coming through the doors, my dress got caught suddenly, Rosco was pulling to get down the steps, luckily Alice & Alex were on hand to help, crisis averted! We had the usual family and friends' pictures on the lawn, James Fear had everyone in hysterics, so much so, we still get compliments on choosing such a great guy!

Whilst all our guests were in front of the main house, we handed out smoke canons, with a twist…. we were actually announcing the sex of our baby, due a few months later.
It was such a lovely moment, as only our parents and siblings knew.

We had Abi Phillips playing guitar in The Drawing Room for our guests during the Champagne Reception, our only requirement was no Ed Sheeran! She happily obliged and was very much enjoyed alongside the Moet & Chandon.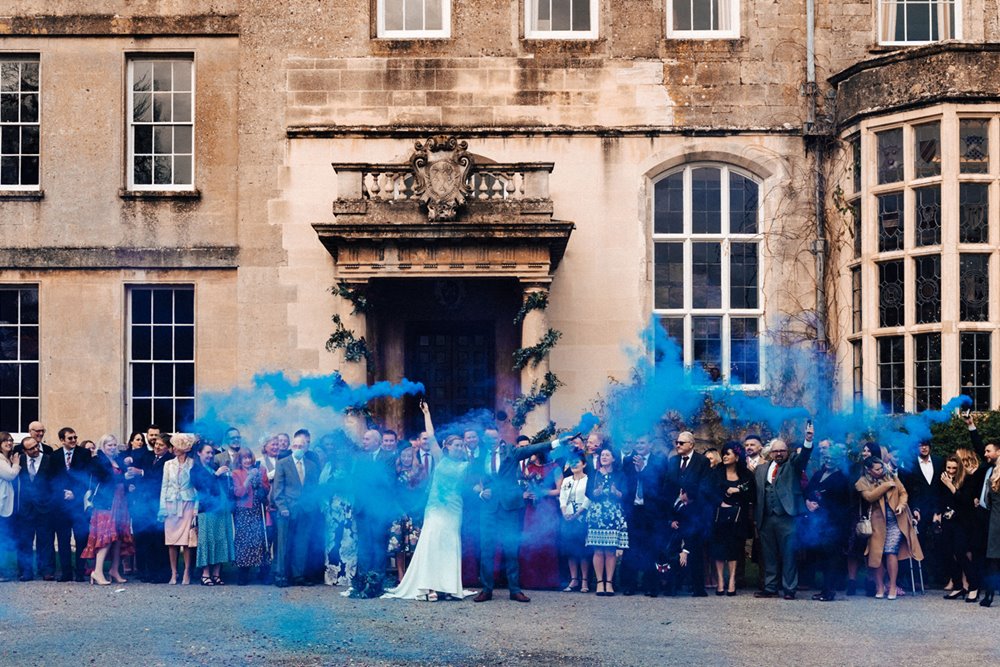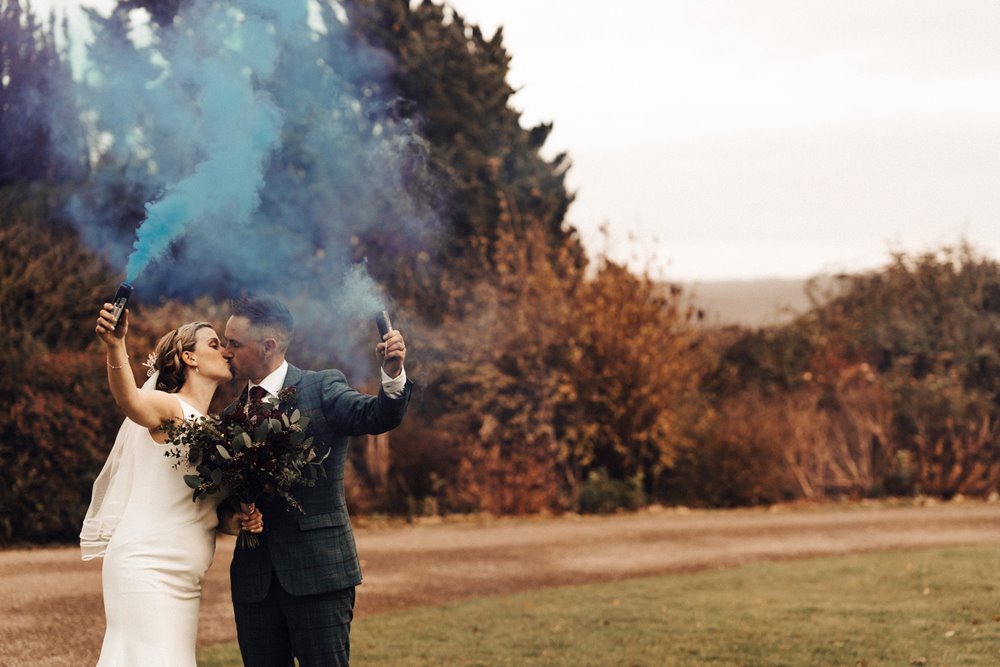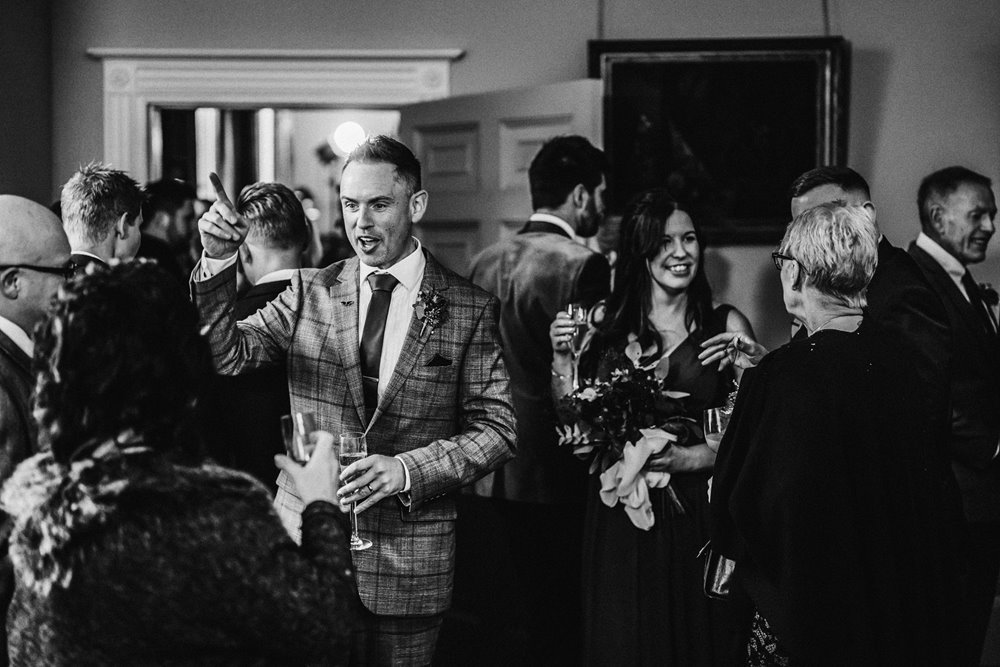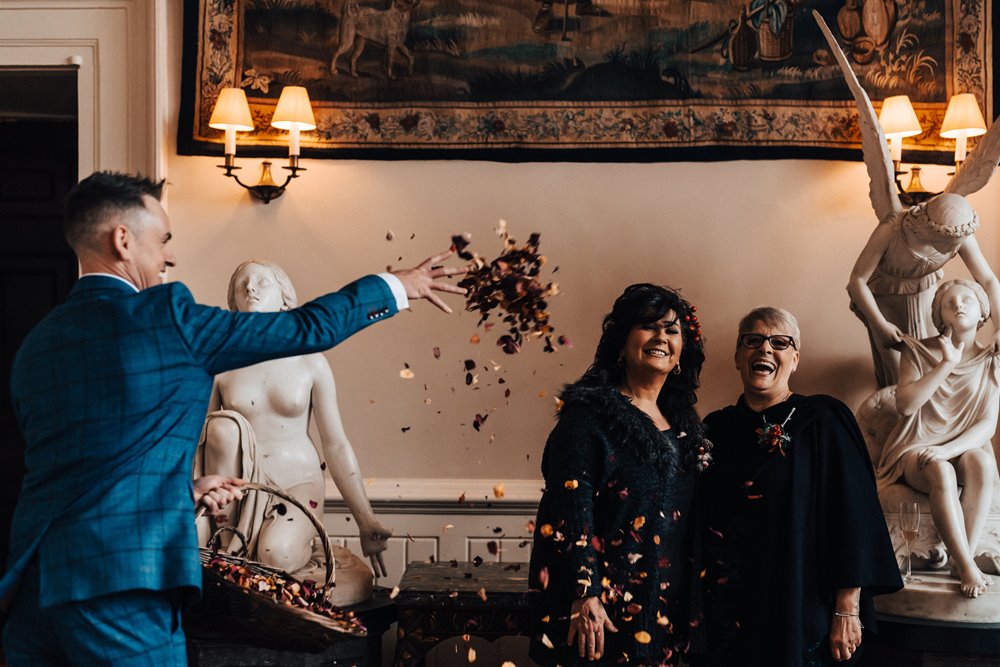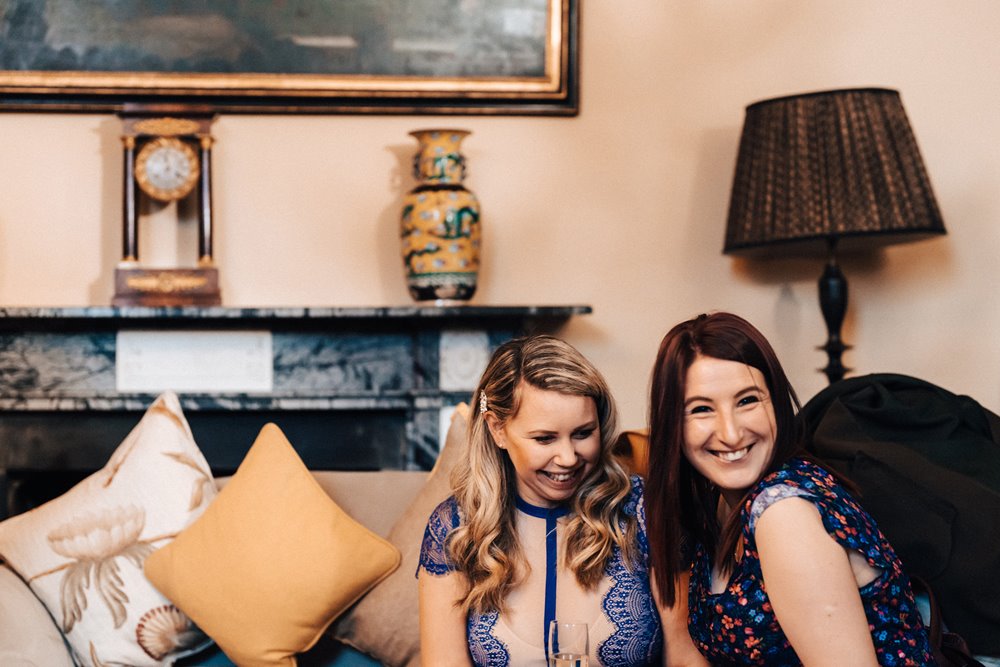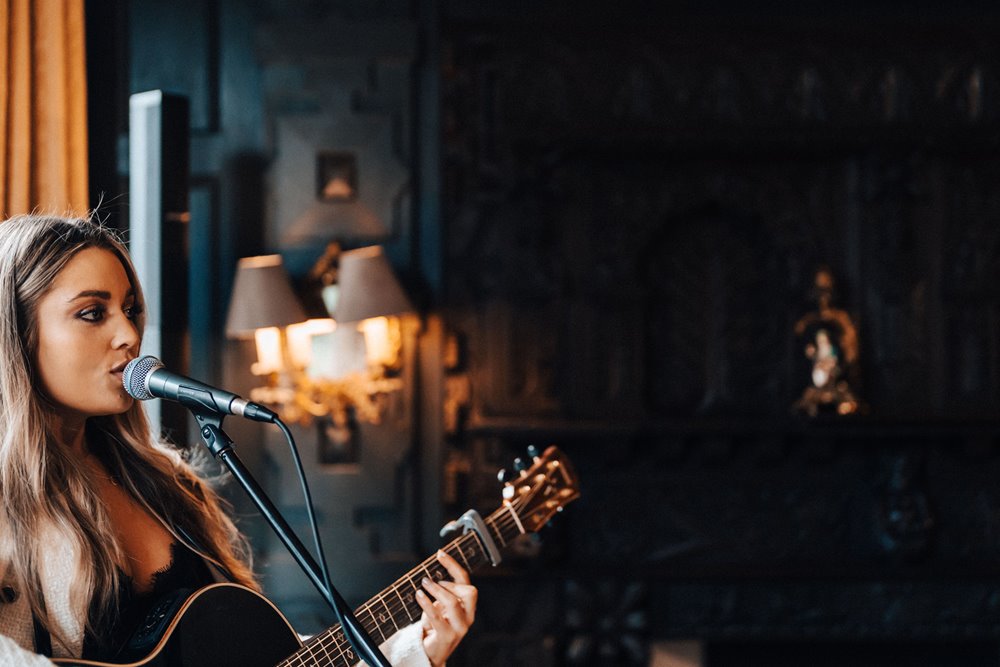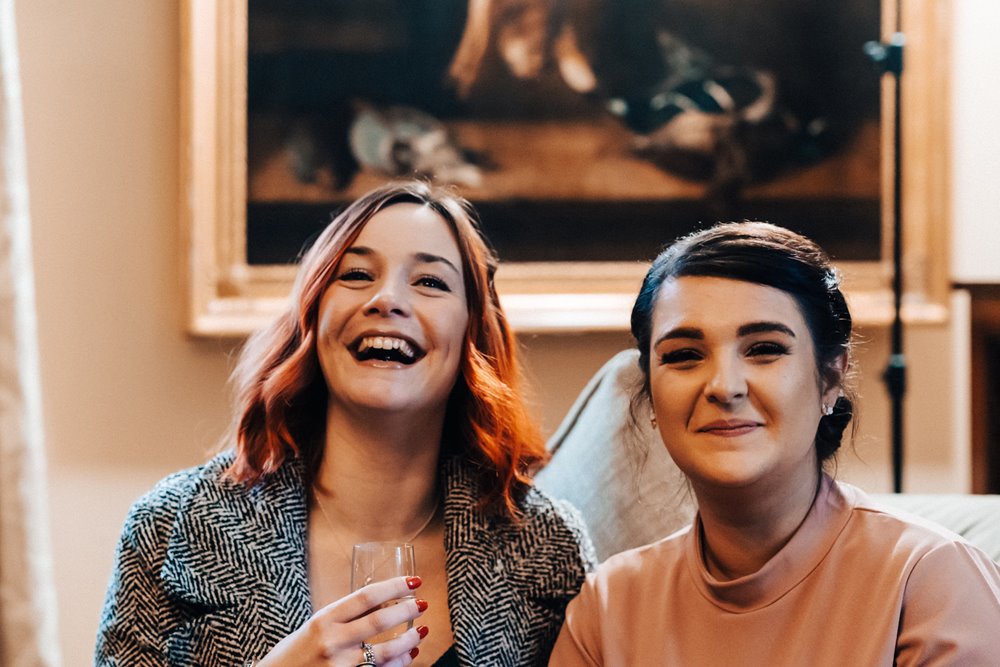 You handmade your wedding confetti?
Myself and my mum made the confetti from drying bunches of flowers which Andy bought me, and some from our gardens too.
Our dining room tables were pretty much covered in petals at various drying stages for most of 2021!
I had my bridesmaids come and help fill our confetti packs in exchange for pizza, and they had a very effective production line running between them!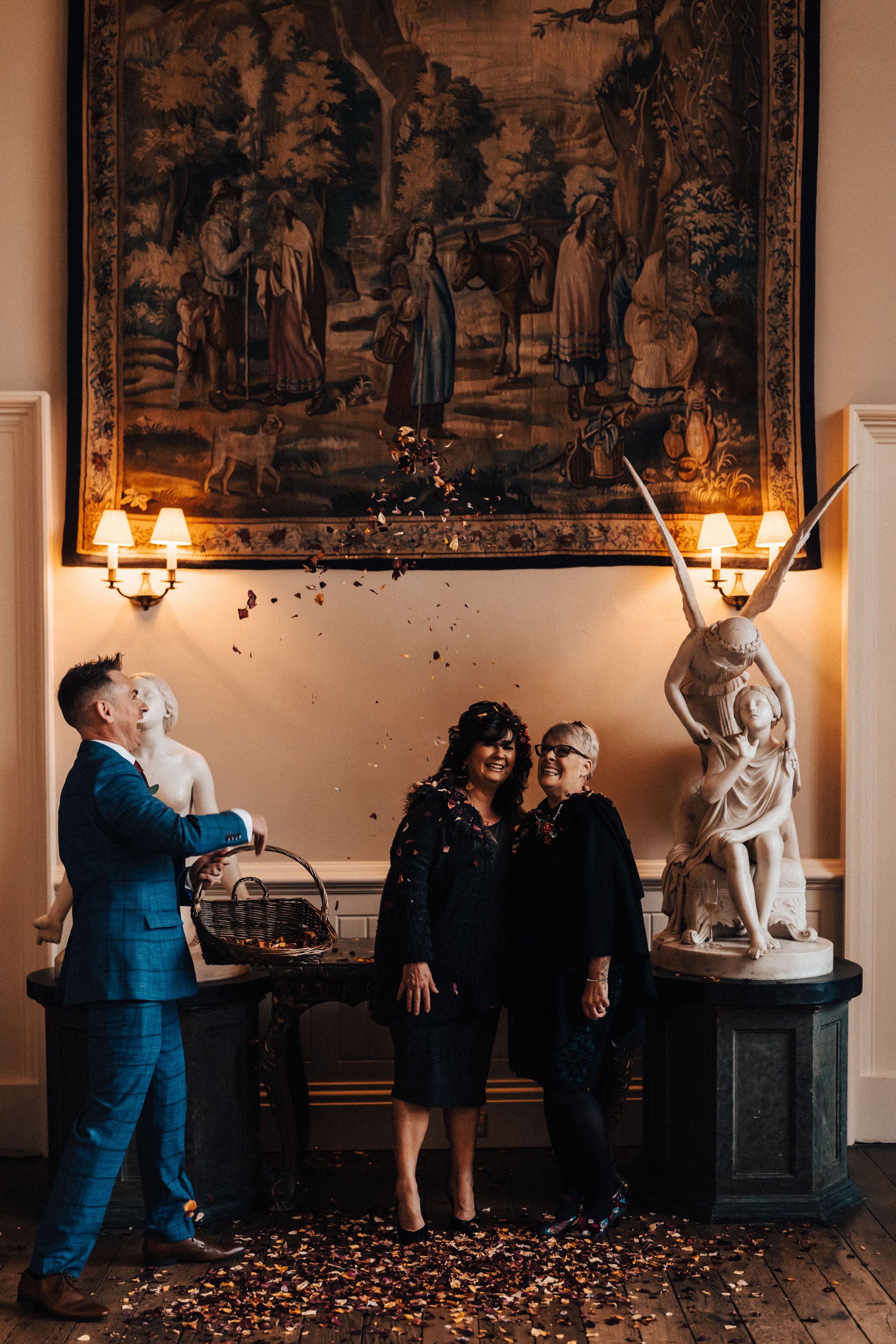 How did you choose your wedding playlist?
We were very laid back with the music, listened to lots of playlists, wedding songs etc, and put together our own playlists for the arrival of our guests and the signing of the register. We knew we wanted our entrance to The Gillyflower to be 'Uptown Funk' by Mark Ronson & Bruno Mars. It just sums up the feel of the day we wanted, a real upbeat celebration.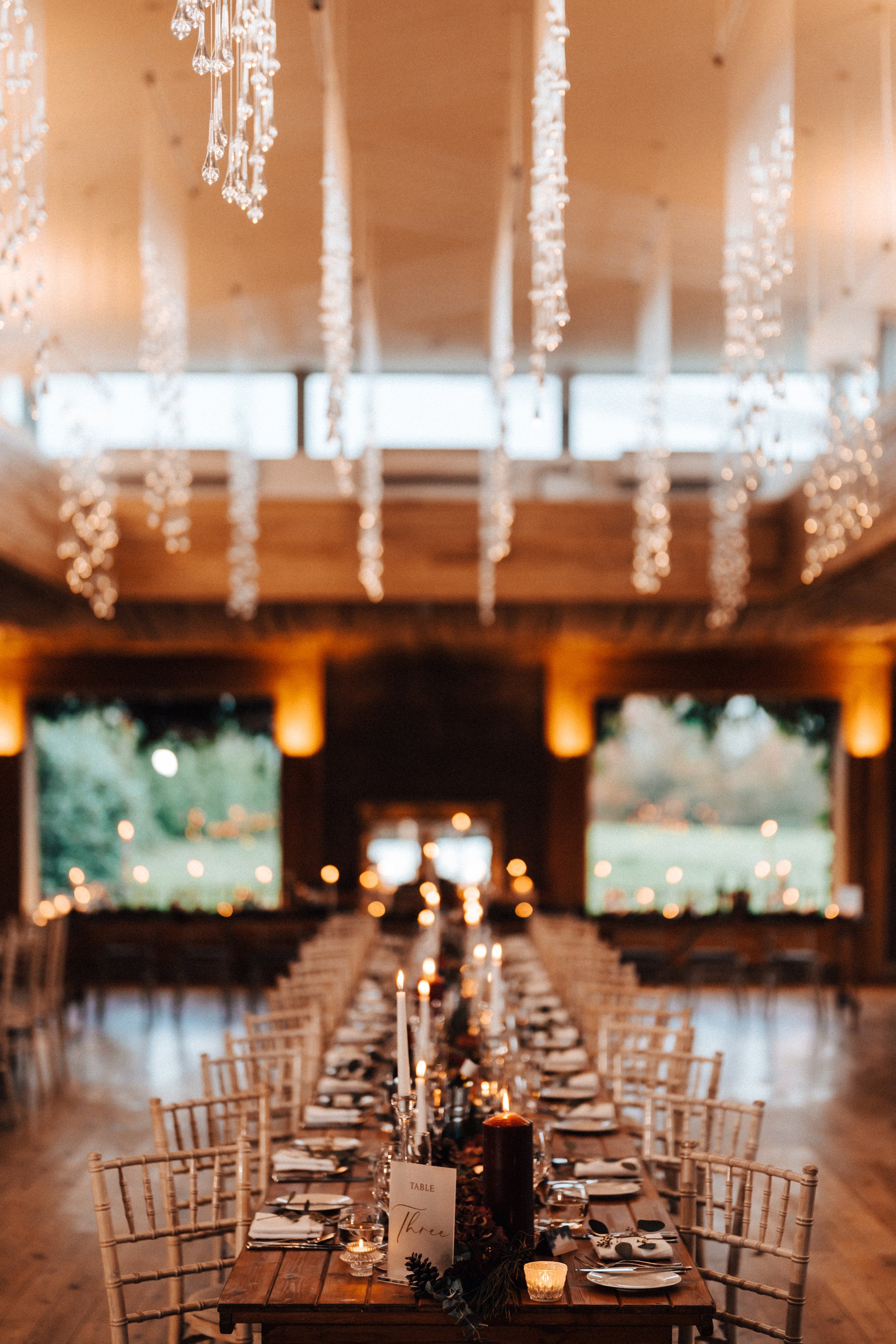 Did you have a first dance?
Our first dance was to 'Suddenly' by Angry Anderson, which ironically, was the song that was played when Kylie & Jason got married in 'Neighbours'.
I had quite a few songs that I'd chosen that were suitable, but we heard this and both immediately liked it. We just wanted something different to the usual first dance songs. It was a great moment when the curtains opened, and we were on the dancefloor dancing to this song, I'll always remember that.
Our guests commented on what a good choice it was. We invited everyone to join us, and looking around and seeing everyone really enjoying themselves was all we wanted.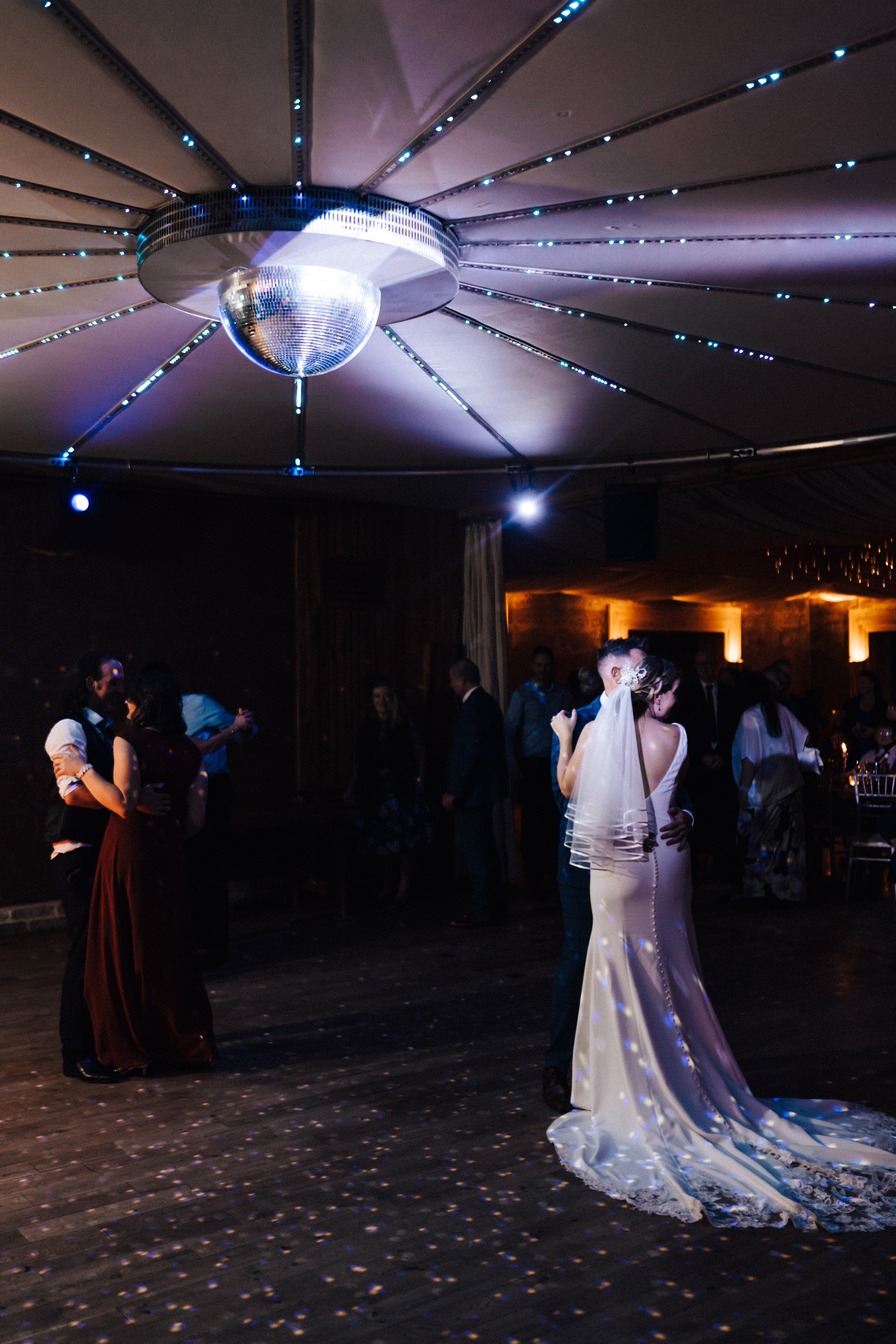 You had an indie band for your wedding party?
For our evening entertainment, we had a live band complete with a saxophonist. 1984 (an 80's band) and they also doubled up as 'Indienational' (Indie rock & roll band). We couldn't choose between them, so had them play a set of each.
Starting off with the 80's classics to get all our guests up, and ending with some belters like 'Mr Brightside'. We were both up on the dancefloor for their sets, and we said we would fully enjoy our band after waiting nearly 2 years to see them! They did not disappoint!
All our guests were raving about them for months after the wedding.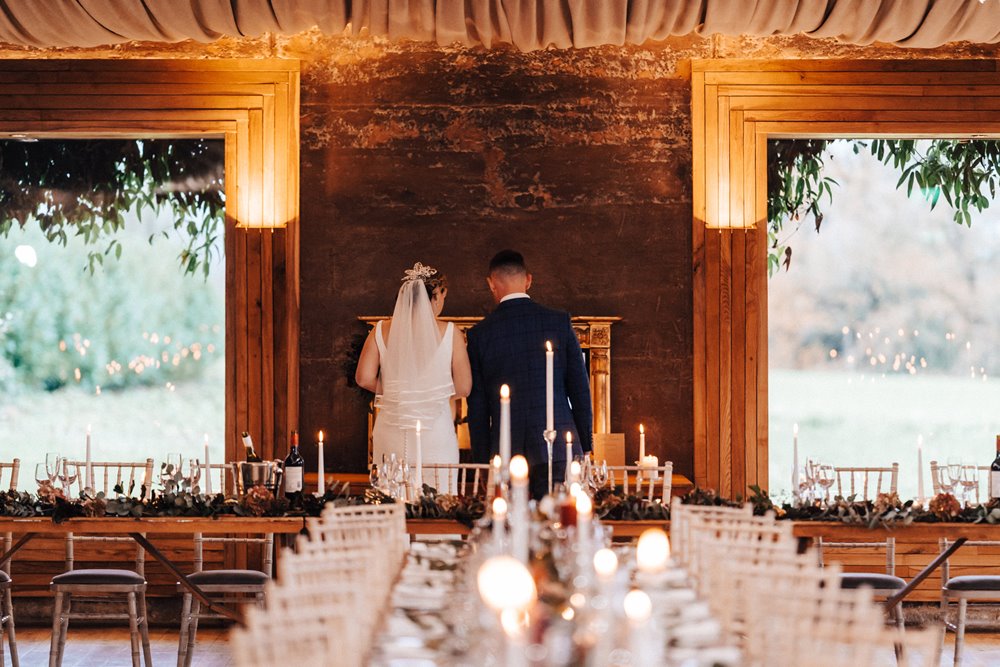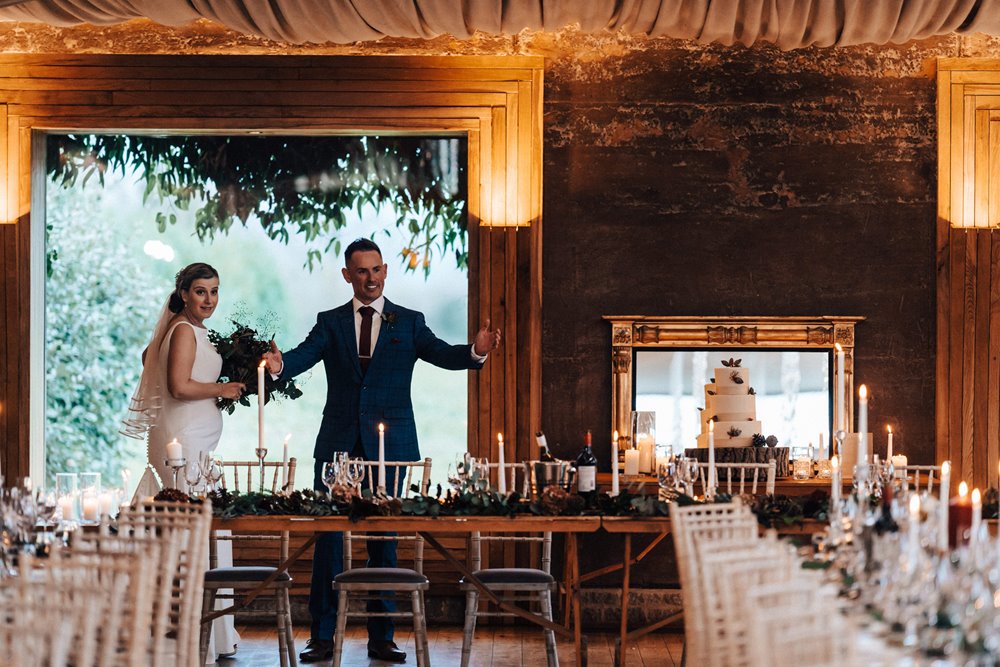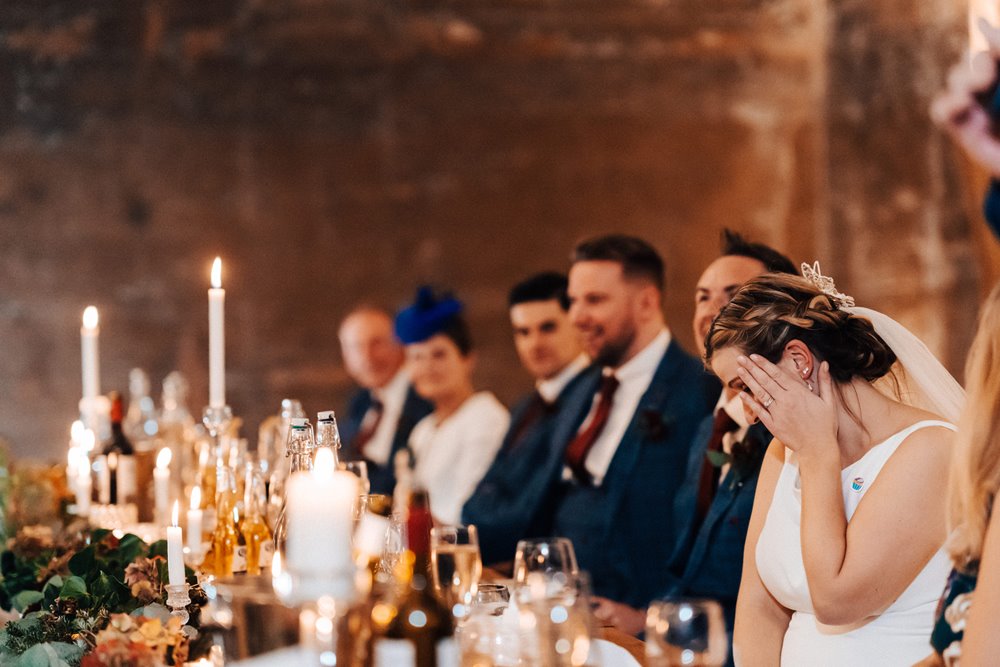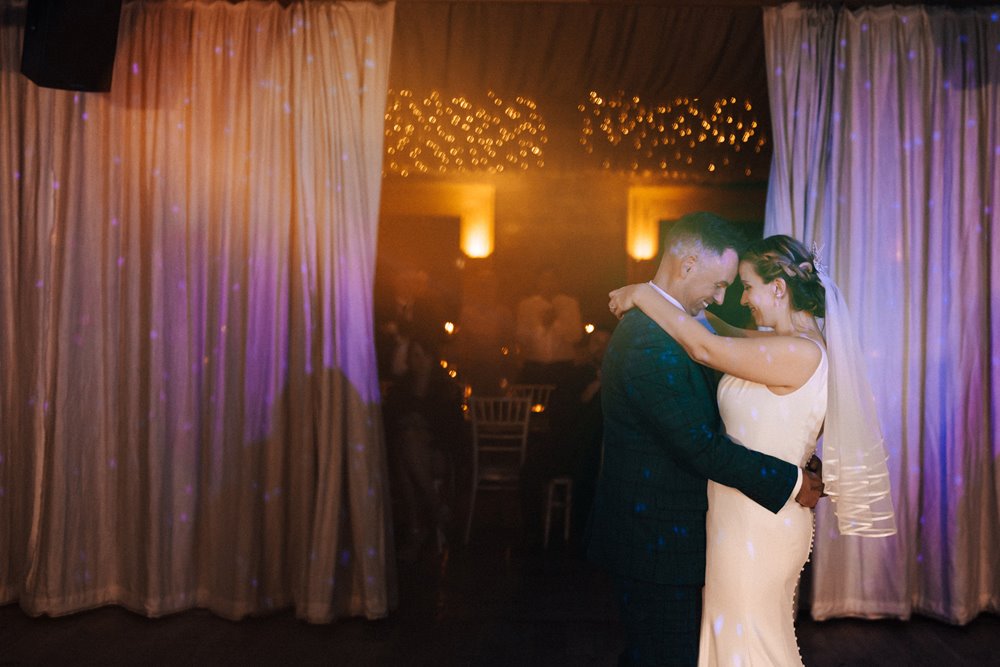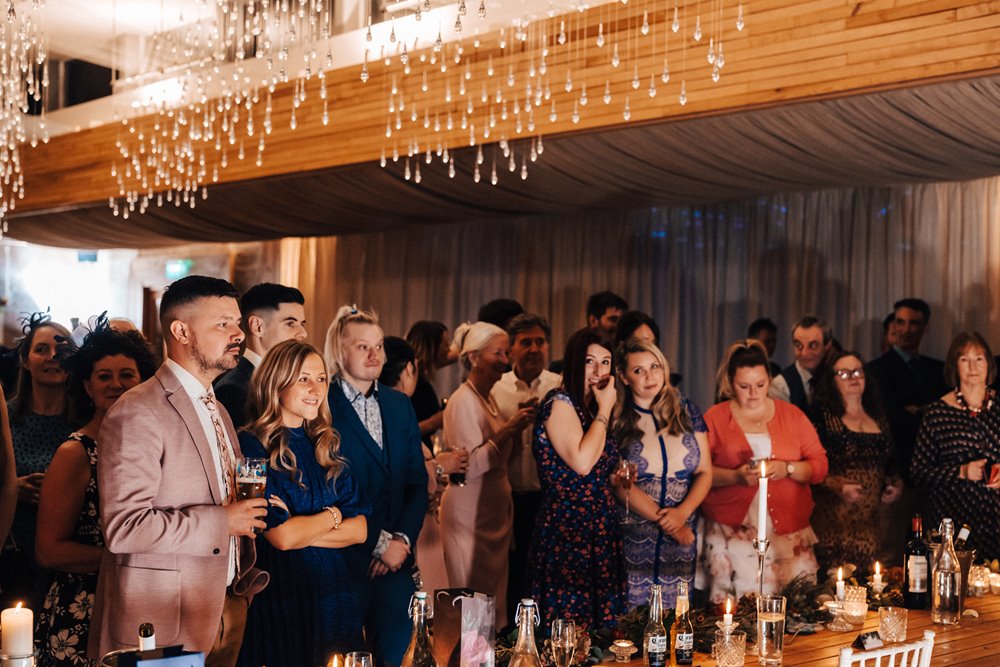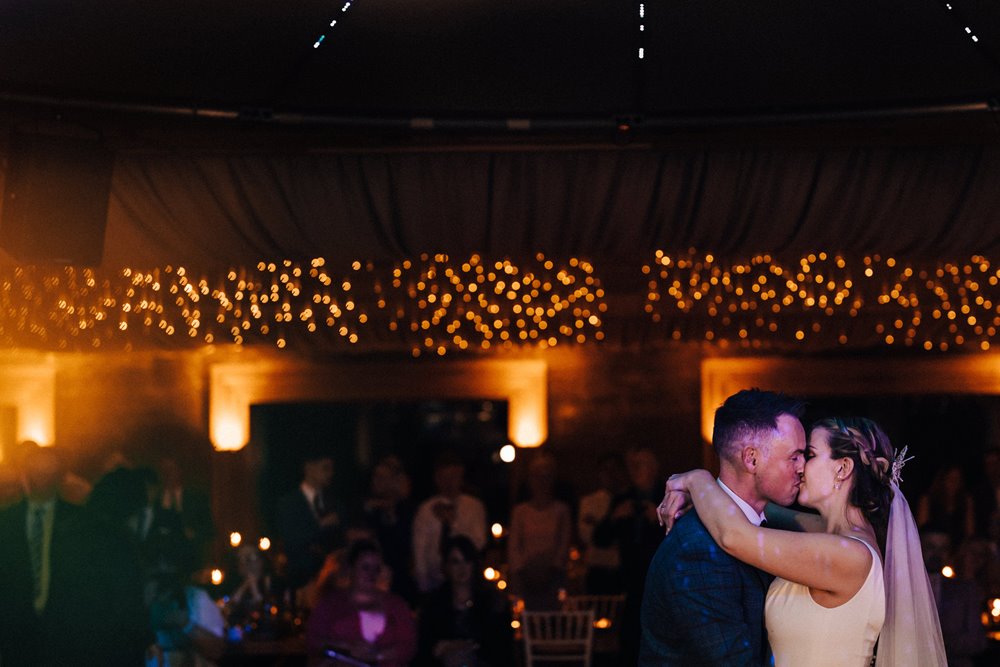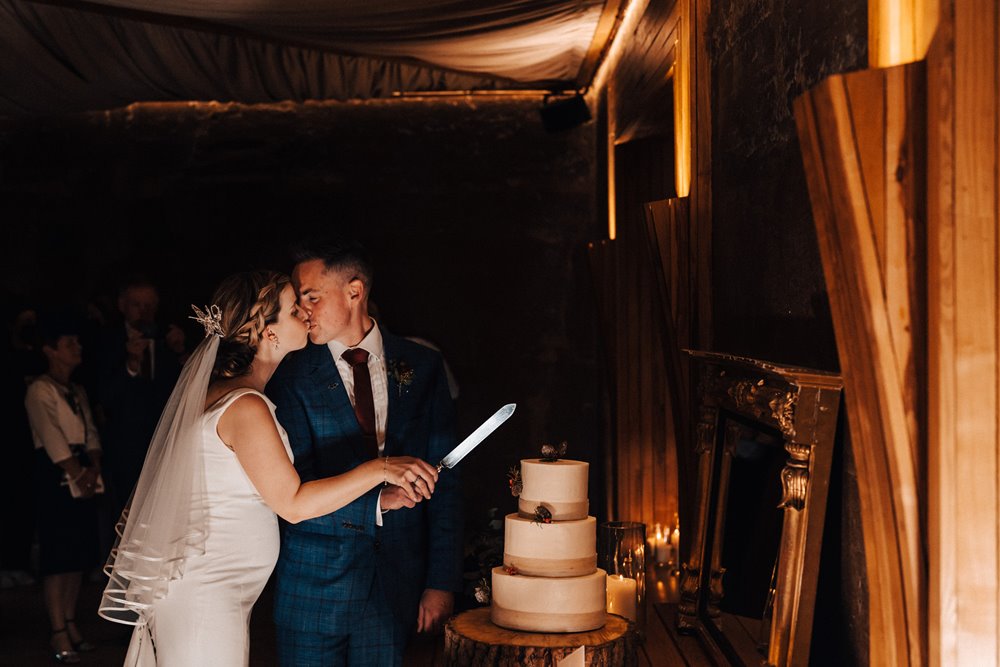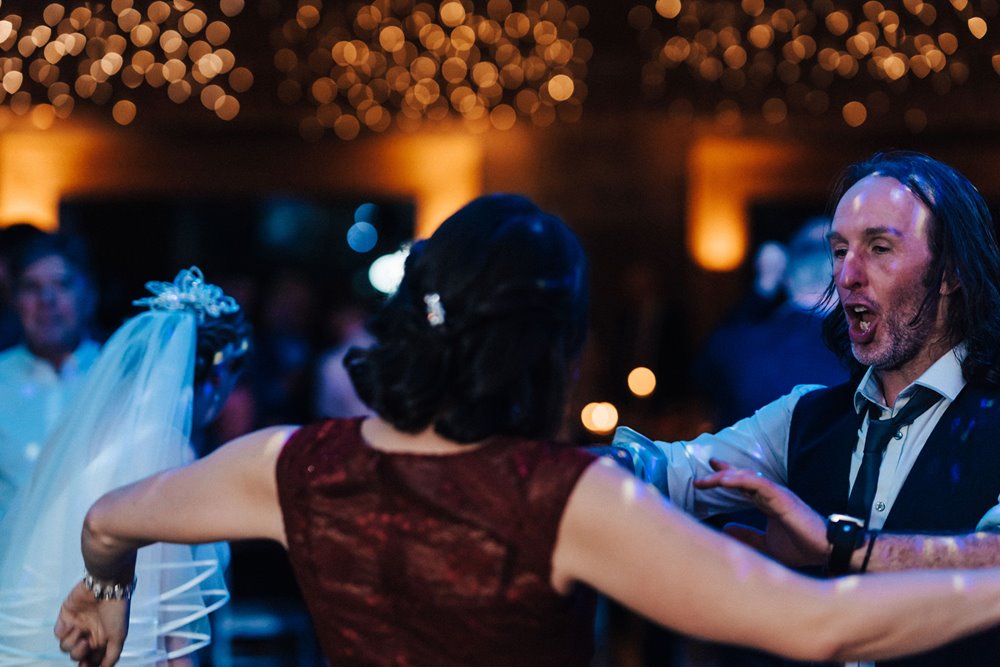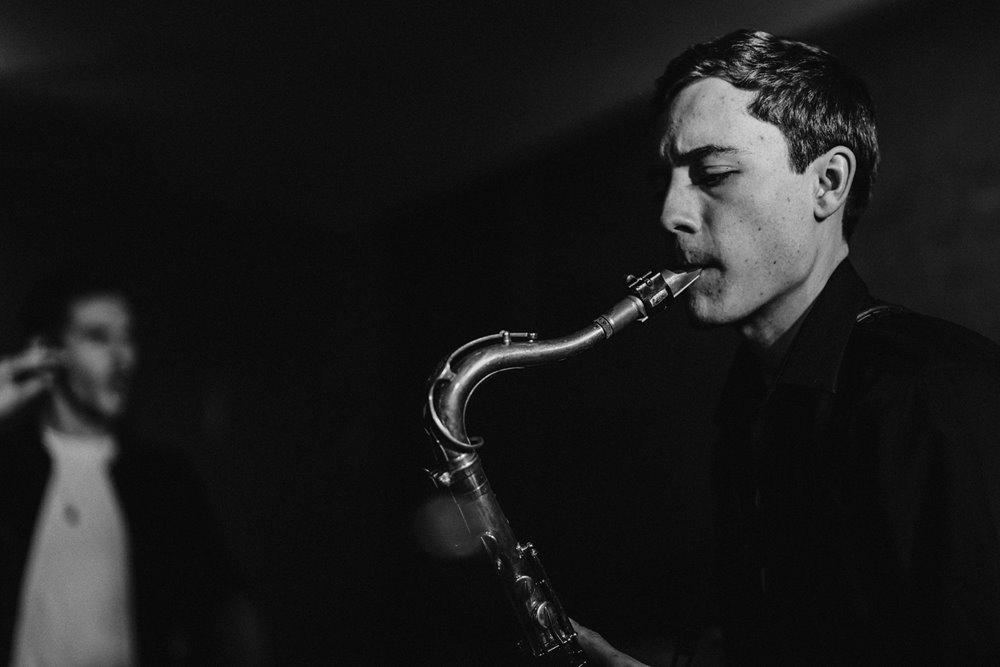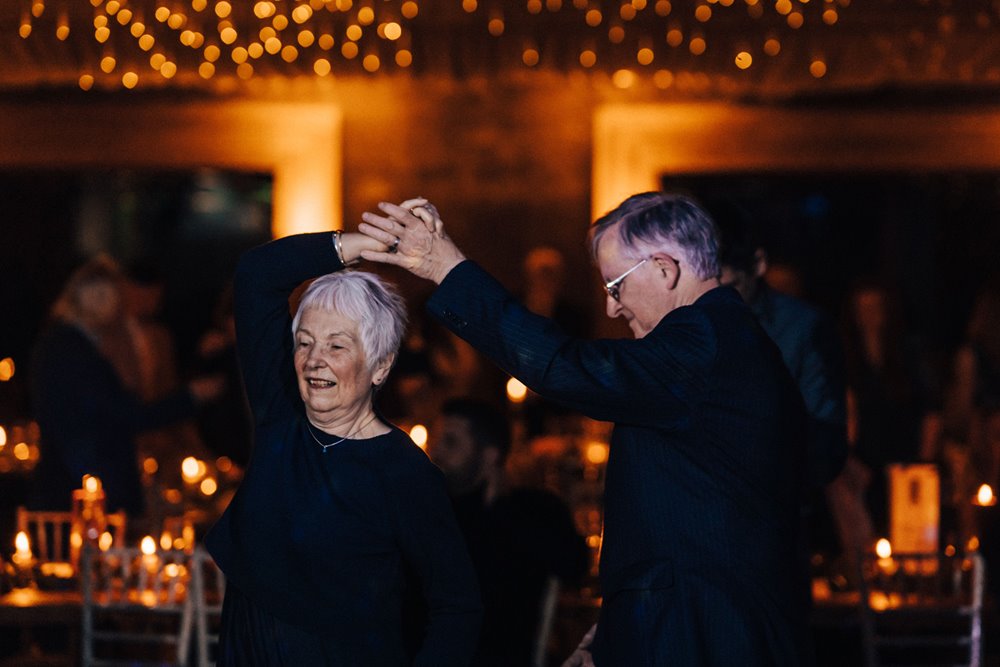 Tell us about your Christmas wedding cake!
We had a 3 tier round cake, a 10' vanilla, 8' lemon and 6' chocolate decorated with a winter theme of homemade pinecones & winter berries, with a simple rustic ribbon.
It was exactly what we wanted and all the layers tasted amazing. We had chunks of it in our freezer for months, and we took a slab on our minimoon to Bournemouth. It was made by Helen at Avonside Cakery, who we have been using for our cake needs for many years.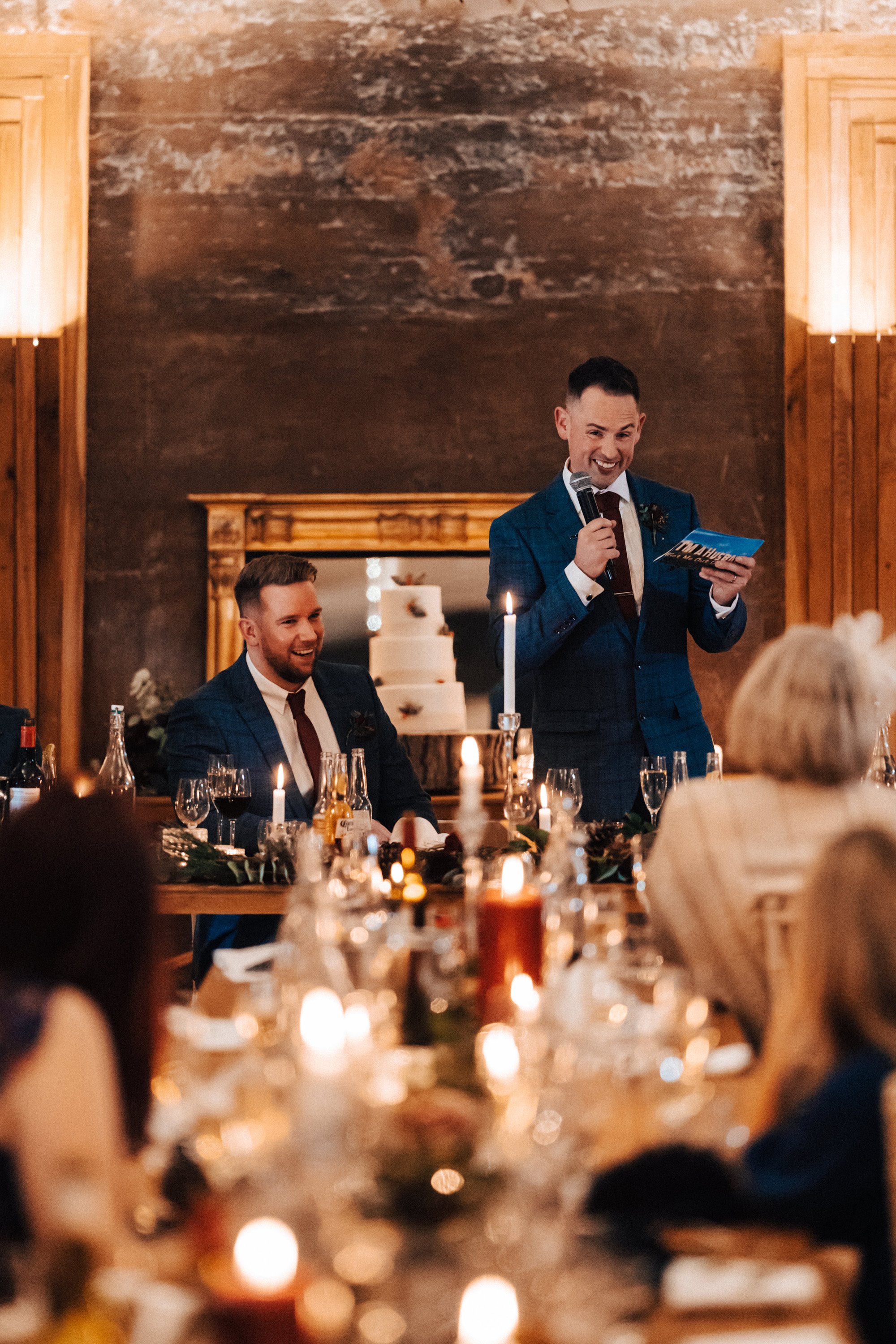 What were your wedding highlights?
A highlight will always be sharing our baby gender surprise with all our family and friends, and capturing that special moment.
Being whisked away to have a first look at the Gillyflower before any of our guests is up there too, it felt so magical in the fading light and to just take it all in together was a moment I'll never forget.
More than anything though, it was just so so nice to be celebrating with everyone, after the horrendous pandemic and the uncertainty the last 2 years had brought.
We were especially grateful to my Cousin Isla & her husband Henrik, for making the journey all the way from Denmark. They had the added stress of covid testing on arrival and a tense wait on the wedding morning for the results! Also my Auntie and Uncle from Alderney in the Channel Islands. It was a tremendous effort for them all!
It was the first time in a decade they had all 3 of their children together again, so was doubly special for them. (My dad mentioned this in this speech, which he accidentally then set on fire. Perils of so many candles, but it caused much hilarity!) 
Words cannot explain how incredible it was to see all those happy smiling faces watching me walk in with my dad, smiling as we exited our ceremony, cheering and throwing confetti whilst lining the path.
Everyone vying for our attention during the Champagne Reception, walking in to the Gillyflower to a standing ovation and everyone merrily singing along to 'Uptown Funk'.
Looking out during the wedding breakfast and seeing everyone enjoying themselves, the food & drink going down a storm and making friends across the tables.
When the curtains opened and there was a sea of faces, the pure delight during the live music, men twirling the ladies on the dancefloor, and hugging goodbye (finally) after so long.
The whole day was just perfect!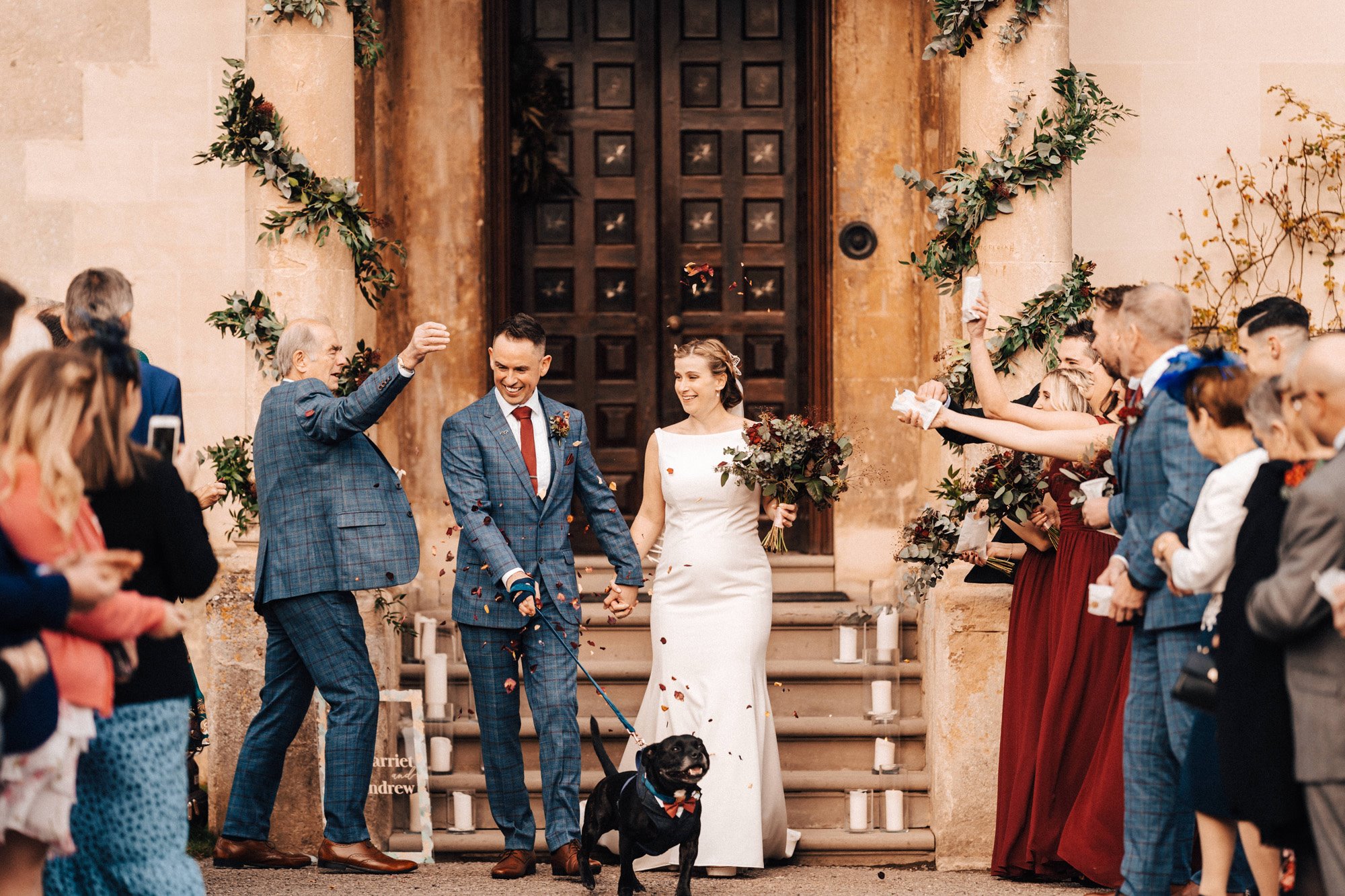 What are your top tips as a newlyweds for couples currently planning their weddings?
Try and enjoy the process, the lead up and most importantly the day.
Everyone will tell you how fast it goes, and it really does! Take some time out with your new spouse to take in the details, watch your guests enjoying themselves, and most importantly, capture some moments in time together, that you'll always be able to think back to.
Don't sweat the small stuff, it really doesn't matter!

We would wholeheartedly recommend each and every wedding supplier we used, they made everything so easy for us and we had the best day because of them too!
Who made this winter wedding so perfect?
Thank you so much Harriet and Andy for reliving your beautiful Christmas wedding in such detail, it's been so lovely to revisit it.
Happiest anniversary to you, and baby's first Christmas too!
If this has got you dreaming of a Christmas wedding, we still have winter wedding dates available in 2024, and lots more inspiration and winter wedding ideas too. Give us a call anytime!
Festive love & mistletoe kisses,
Team E
xxx
Related reading