A classic & elegant wedding with soft pastels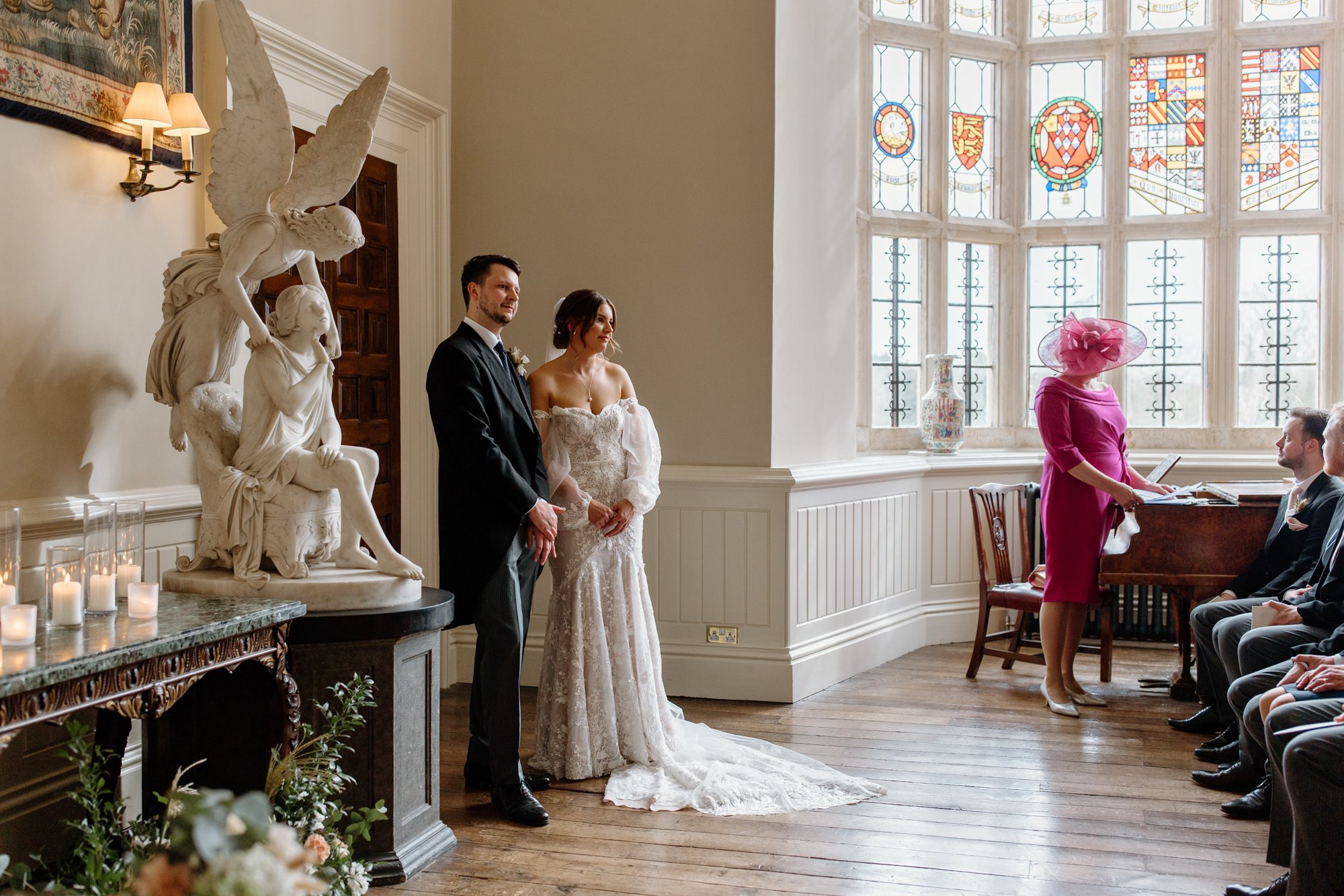 Lizzie and Tom... What a day! This gorgeous March wedding truly was a spectacular show with dazzling suits, a beautiful dress, an elegant touch and doughnuts for dessert. 
If you're looking for a relaxed yet stunning wedding... this one is for you.
Take it away you two!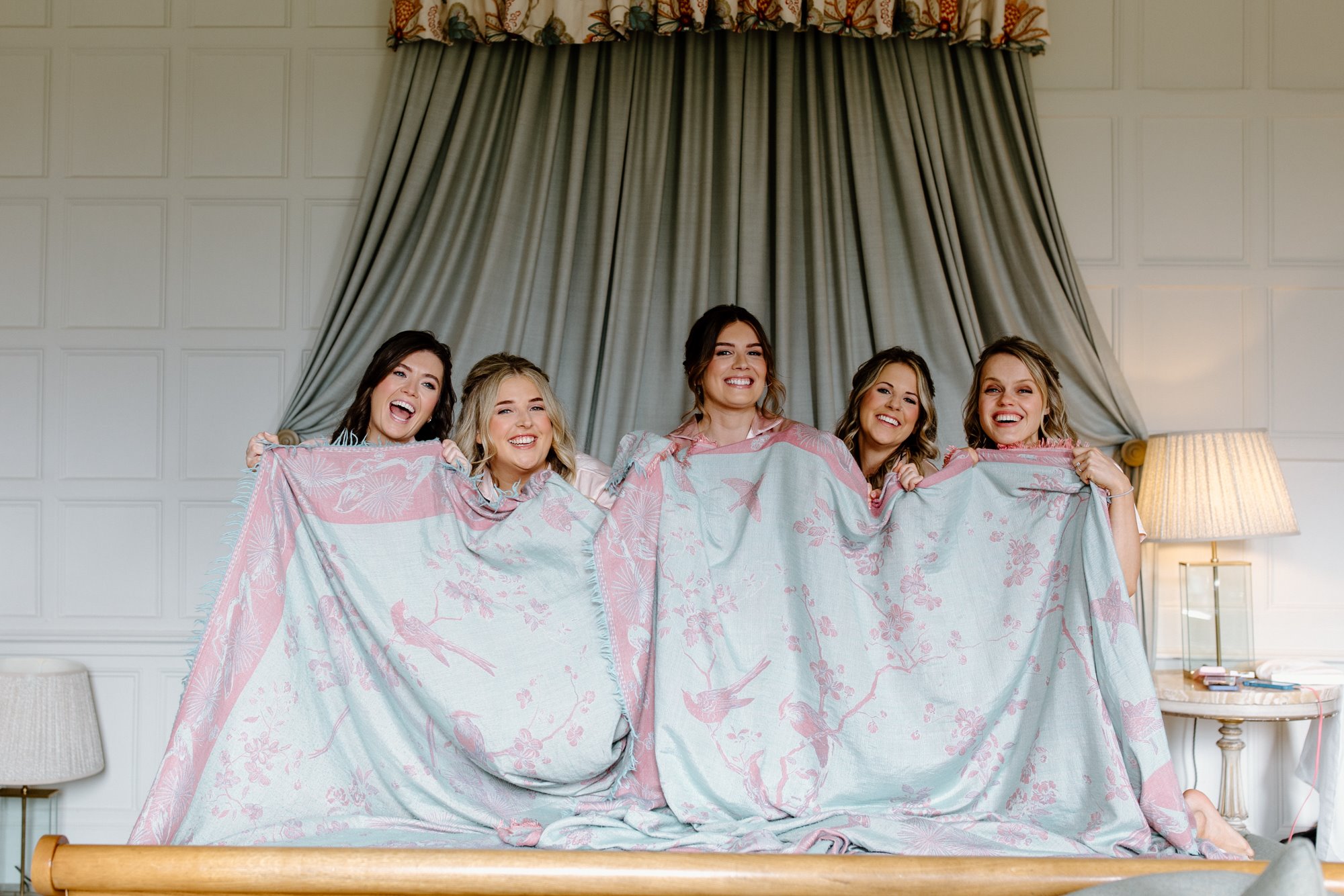 How did you meet?
Tom and I met in a bar in our hometown on Christmas Eve Eve - we both were living in London at the time and weirdly met at home. Tom was only meant to go out for one drink but after some persuasion stayed out for longer. I was at a murder mystery that evolved into a night out. Fortuitous friends brought us together, plus too much drink!
Tell us your proposal story...
We got engaged in September 2nd 2021 - so during some of the covid restrictions. We were on our first staycation with our dog (lockdown puppy) visiting Devon. On the last day, we went to visit the Valley of the Rocks and go for a picnic. On the way to the picnic, I think Tom got a bit excited and asked to sit at bench overlooking the sea. Before I knew what was going on, Tom was down on one knee with the most beautiful ring. It was the easiest yes of my life and a special moment forever!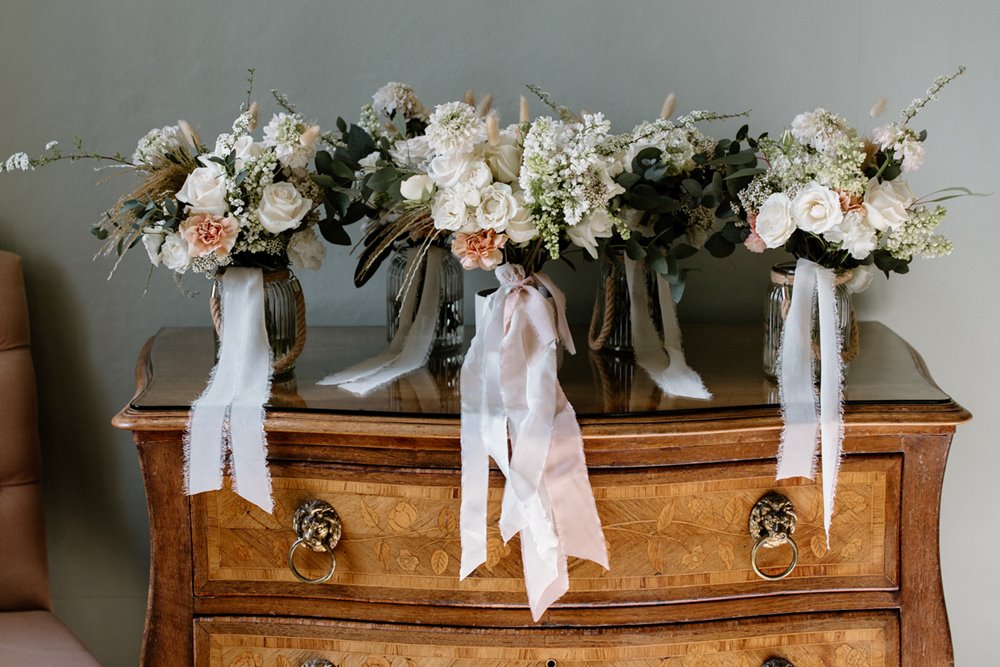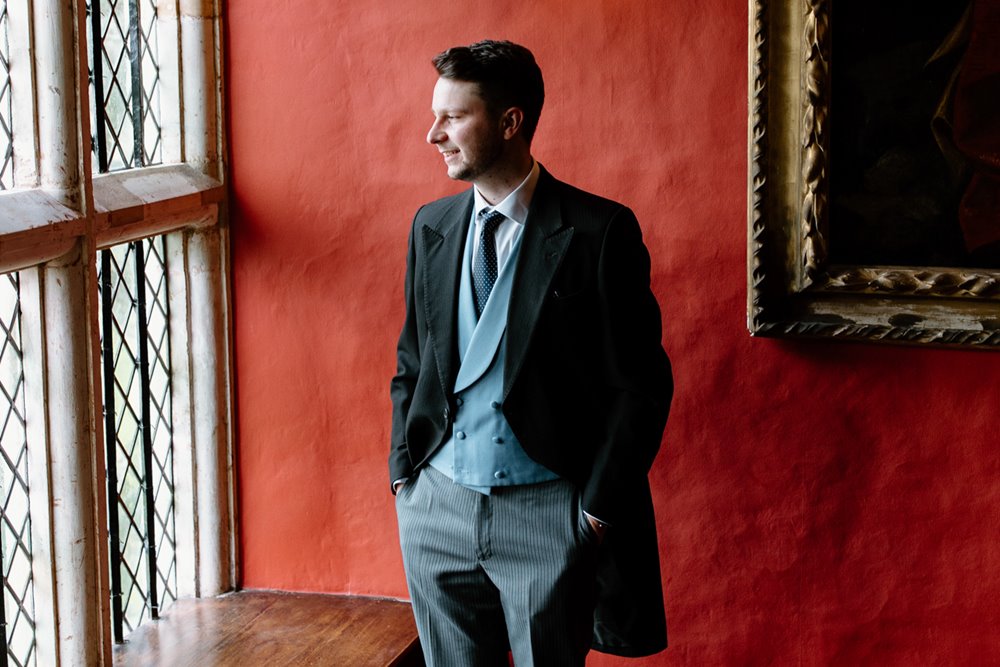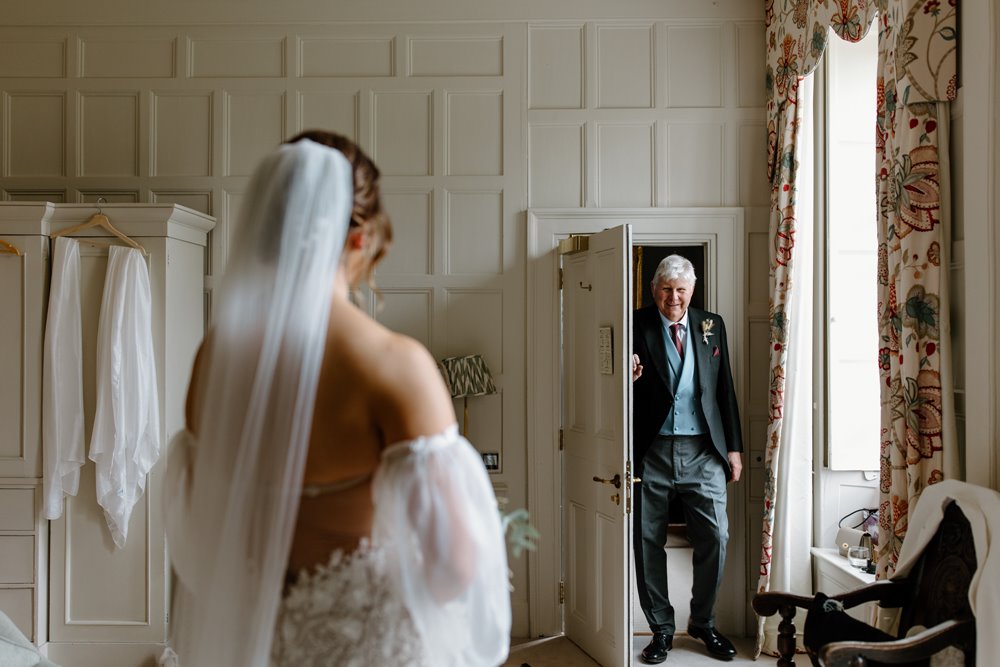 Why Elmore Court?
We had visited a few venues during the start of the planning process and were becoming quite disheartened. We expanded our search to include the Cotswolds (looking in Warwickshire before) and came across a charming video of a wedding day in a beautiful house on Elmore's site. We were completely hooked! We booked a visit and met Alice for a tour. As soon as we stepped into the Gillyflower with Bonobo playing and just knew that it was the right venue for us. We loved the mixture of a gorgeous historical house, set in the country with a modern space for dancing! The best combo and greatest choice we made.
Where did your wedding inspiration come from?
I had a vision in my mind of lots of beautiful, soft light in a venue. Tom and I are both fans of classic, elegant and relaxed wedding vibes. Choosing Elmore, we knew that the venue spoke for itself so we got the best of both worlds.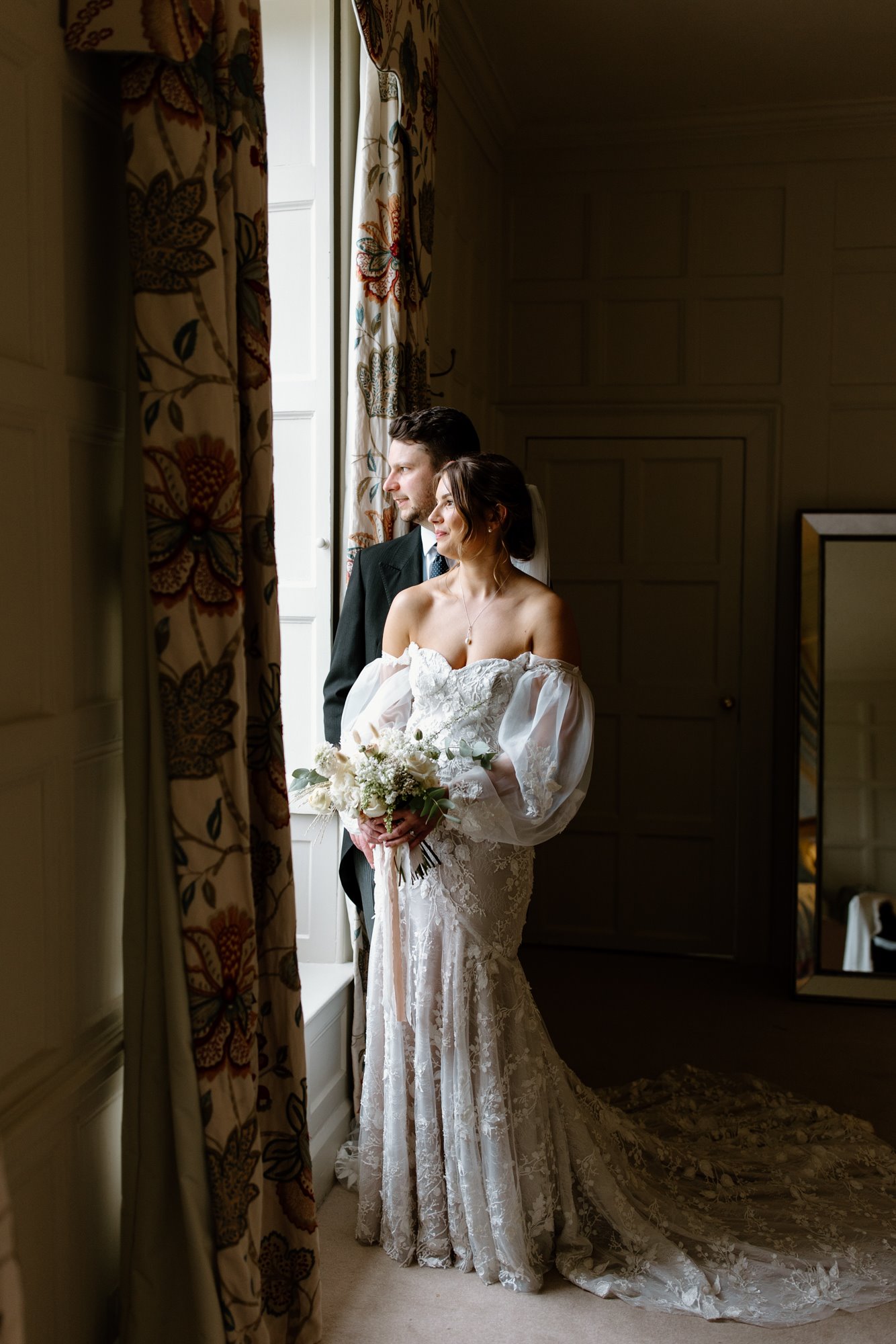 How did you find the planning of your wedding?
Very stressful! We made the decision to focus on three factors; delicious food, plenty of booze and amazing music. All decisions revolved around that and helped us to keep a view of what was a priority. We made a great decision to get help to style the venue too. We chose Lauradana from Wedding Creations to style our wedding, which really helped with the planning and setup. Plus she's so lovely!
We love your long sleeve gown how did you choose this look?
My dress was by Made With Love and called the Penny. I really wanted a dress which had a transformational element and the sleeves are a great option to have fun and get multiple looks. I actually felt really nervous about whether anyone would like my sleeves. I had the kindest seamstress called Gemma from Stitched Up in Southam, who helped edit the sleeves and made me love them!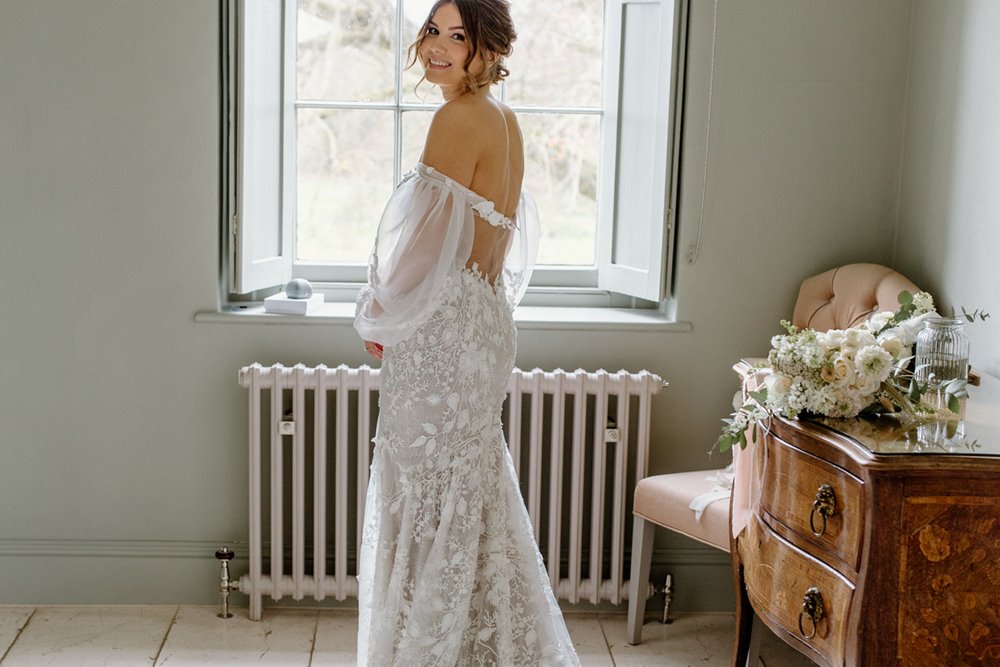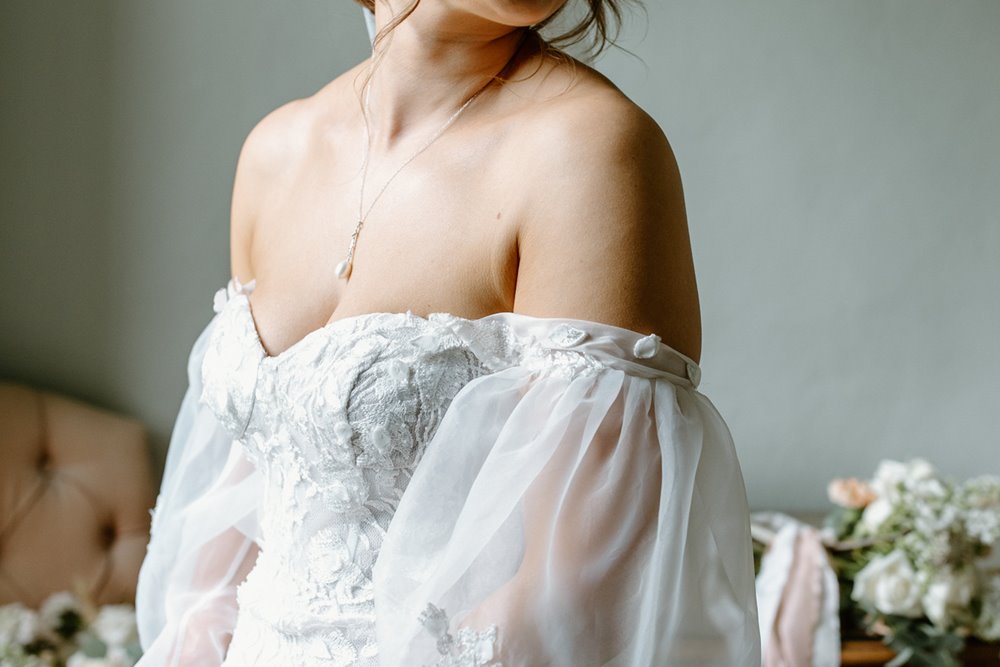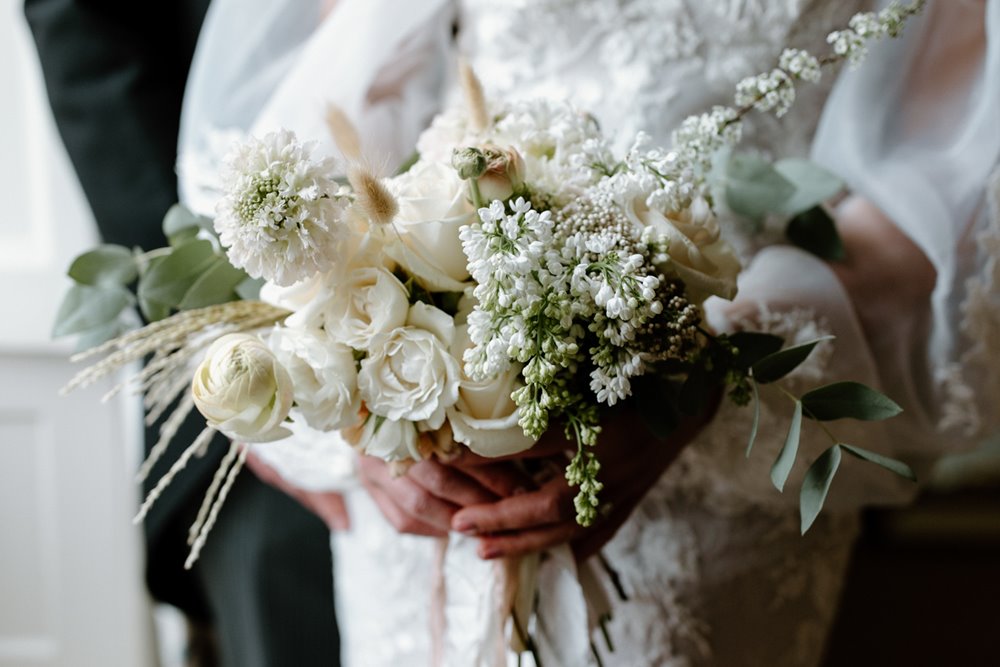 On the morning of your big day, how did you feel!
Unbelievably nervous - I really hoped Tom would like my sleeves but got so nervous! I had the loveliest team to keep me calm and make me feel beautiful on the day though. Huge shout out to Lauren Gosling and Sasha Brown!
Tell us about the ceremony?
We decided to get married at Elmore and keep the service short and sweet. We had a beautiful string quartet - Nero Quarter. I walked down the aisle to Hoppipolla by Sigor Ros ( I took Tom to Iceland as a surprise trip for his 30th). I don't think I've ever felt so much elation as when we had our ceremony - it was my favourite part of our wedding doing our vows. We asked both of our Mum's to do readings during the ceremony too - it was really cute!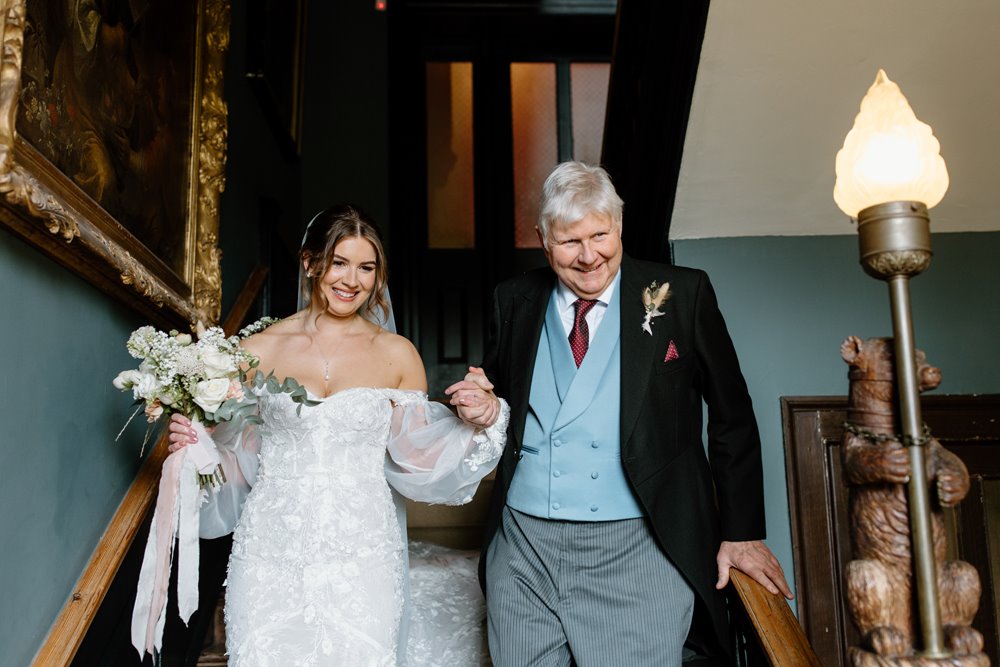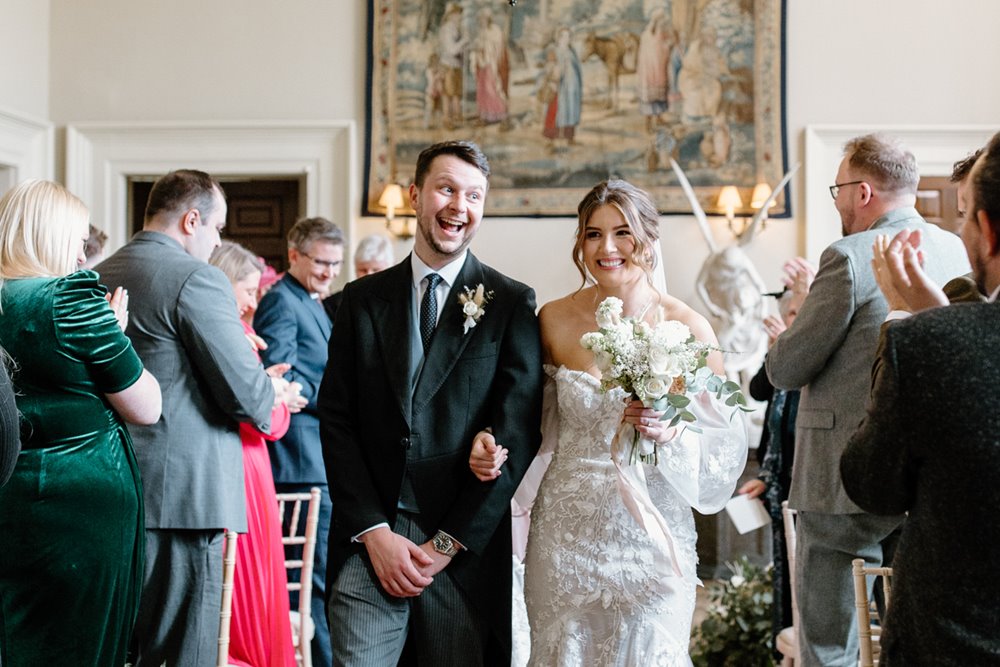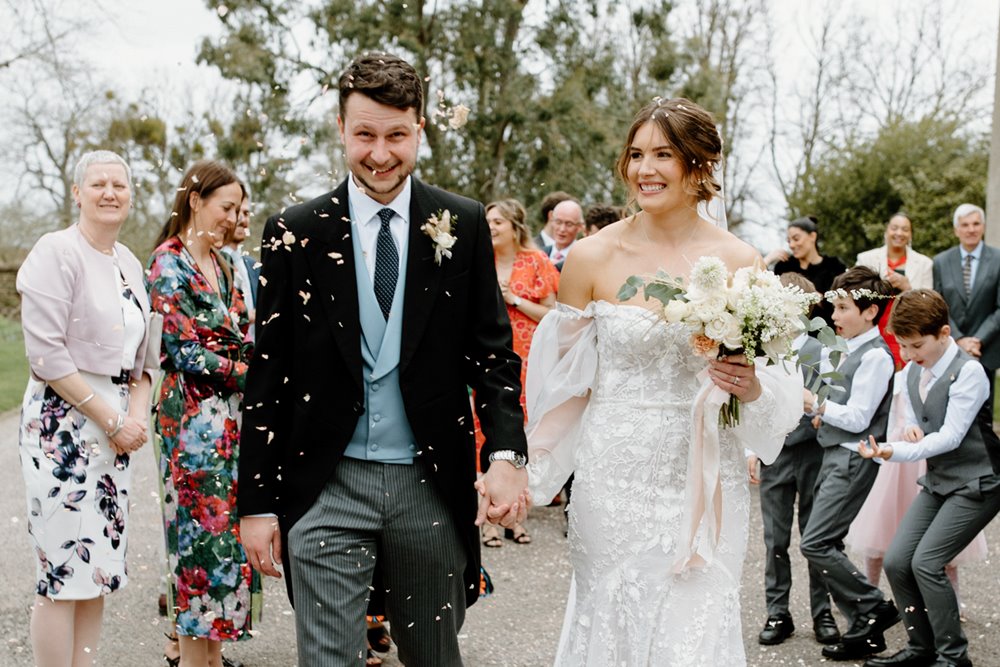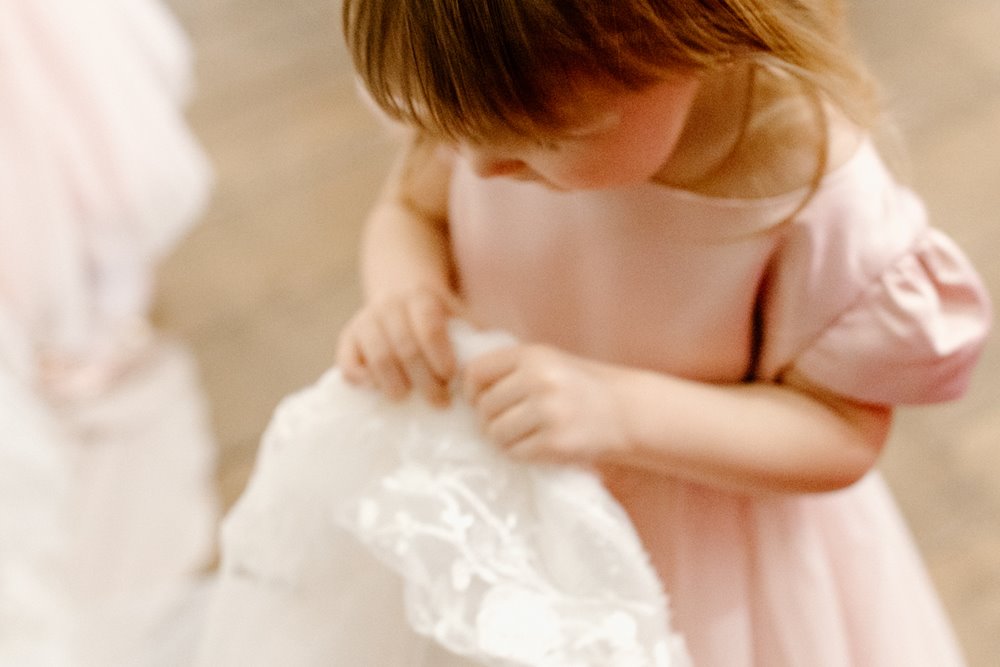 Talk us through the drinks reception? 
We had a little bit of rain on our wedding day but it is absolutely no issue at Elmore! We got to use the main hall, and the red bar. We had the strings playing loads of Bridgeton style songs - wrecking ball was so much fun. We also decided to have a Gin Bar, which Elmore organised for us and it went down a treat! 
What was your food of choice?
Halloumi and apple walnut salad starter
Mushroom & truffle risotto 
Charcuterie board
Beef shin 
Sticky toffee pudding (unbelievable) 
We have had non-stop compliments about how good the food is, which is very rare at weddings!
What was your reaction to your reception at the Gillyflower?
The Gillyflower is so beautiful and such a special place. When we walked in to see how Lauradana had styled it, it really felt like all my dreams had come true. I couldn't believe we had such a beautiful room! We got our wedding song on a neon sign, which we now have hanging in our living room! It was really special!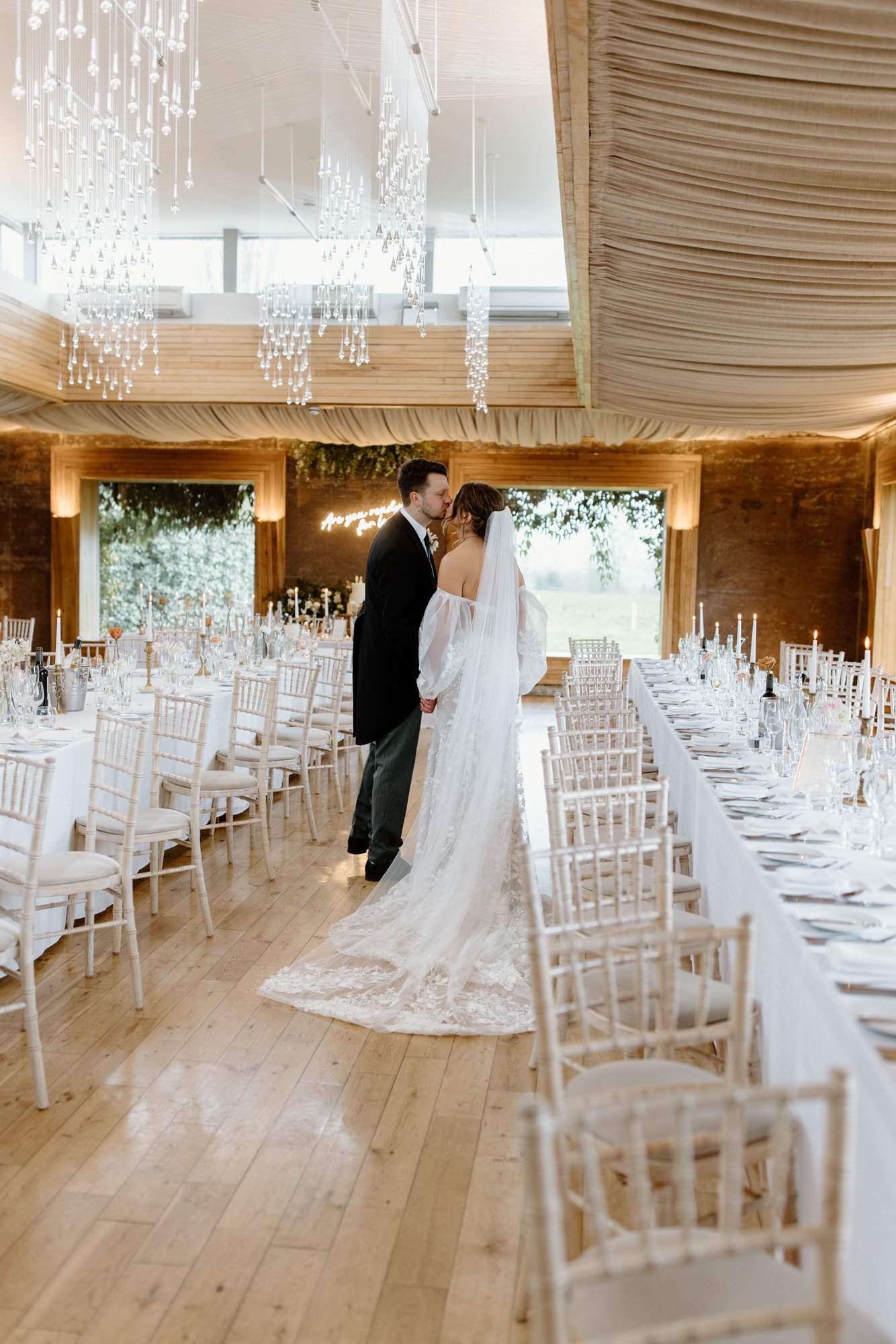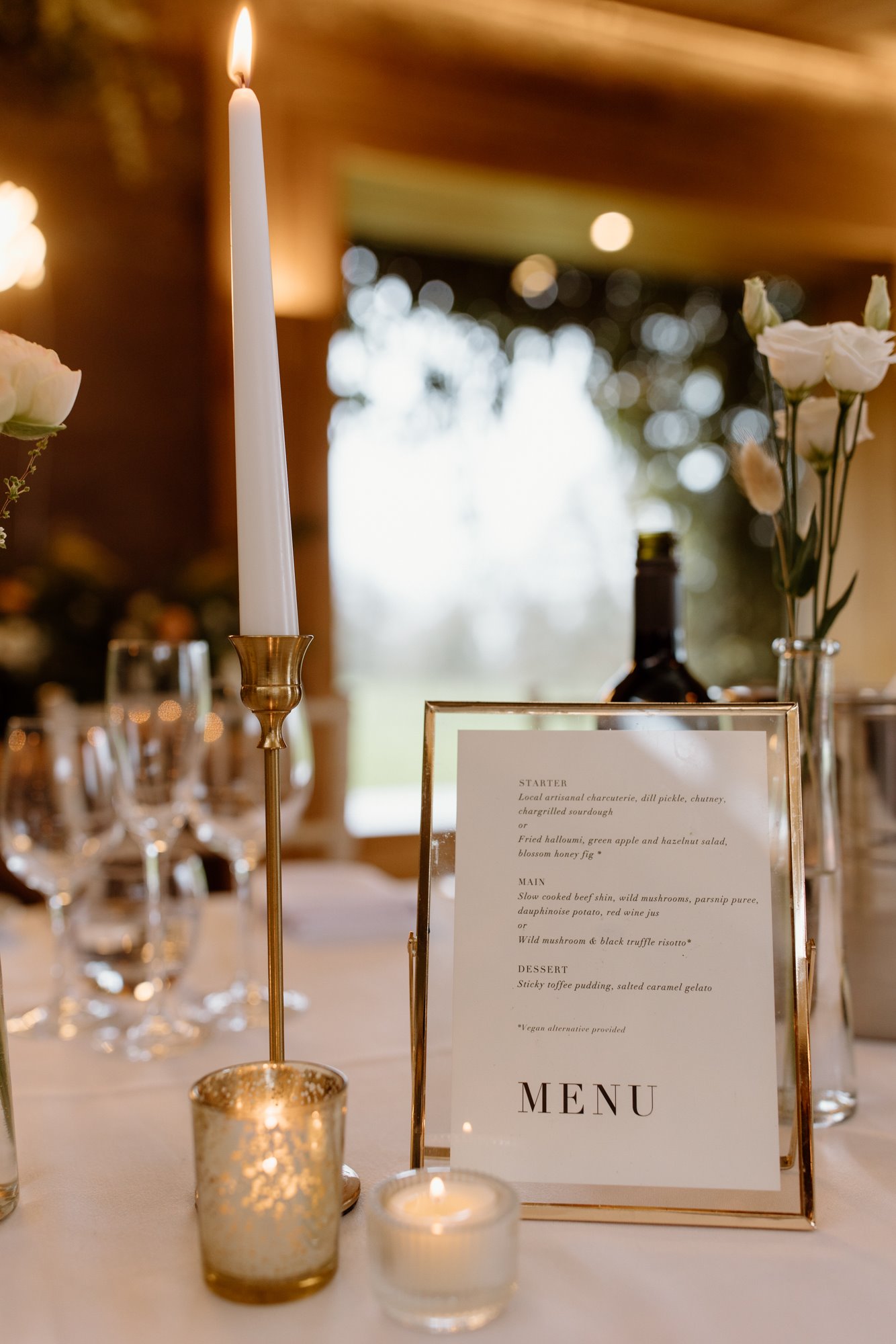 First dance choice?
Are you ready for love? Elton John
What were your wedding highlights?
So many but I loved our ceremony and doing our vows. I also absolutely loved our wedding breakfast in the Gillyflower - the food was wonderful and we chose long tables so I got to see all of our guests!
Any tips for couples currently planning their wedding?
Prioritise what is really important to you both, it's very easy to run wild with spending and details. It's also ok to feel a bit overwhelmed by everyone's advice, there are tons of different wedding styles, choices and details! You don't need to make the same as your Mum's friend's daughter's friend's daughter. Your choice is right for you!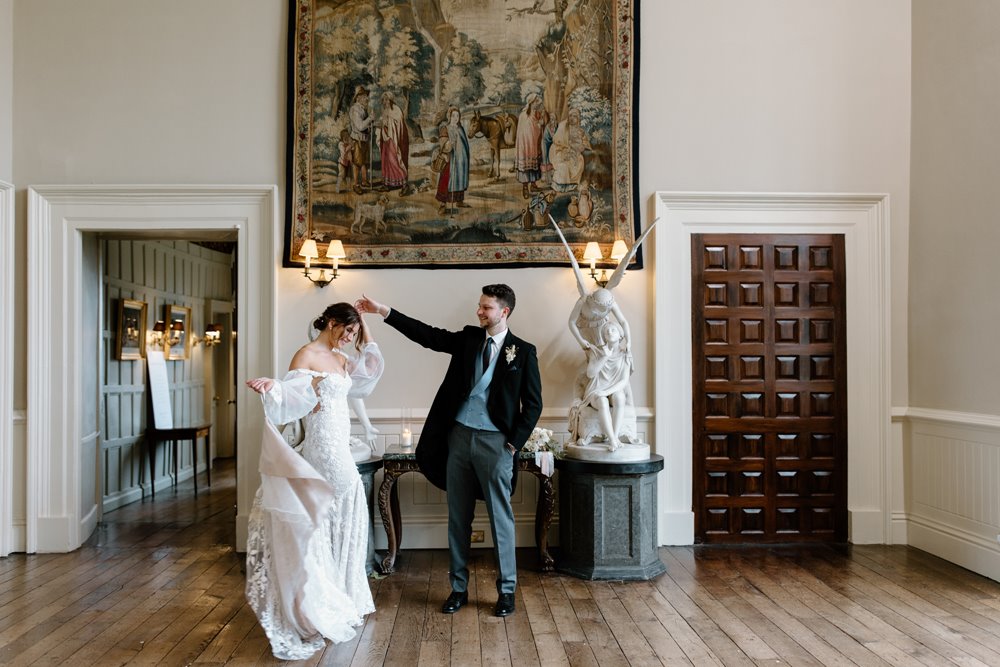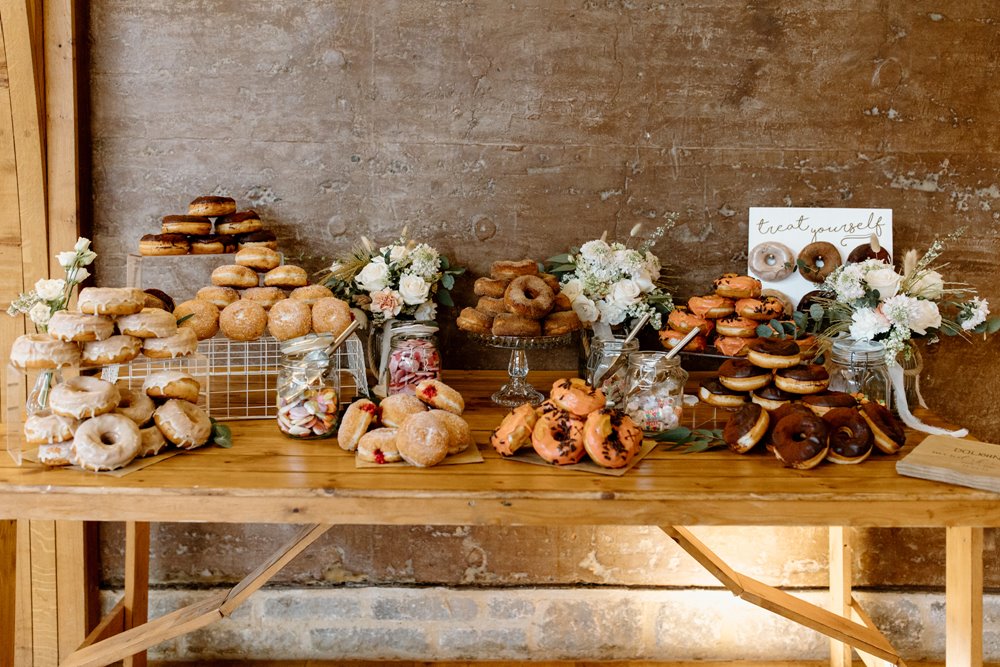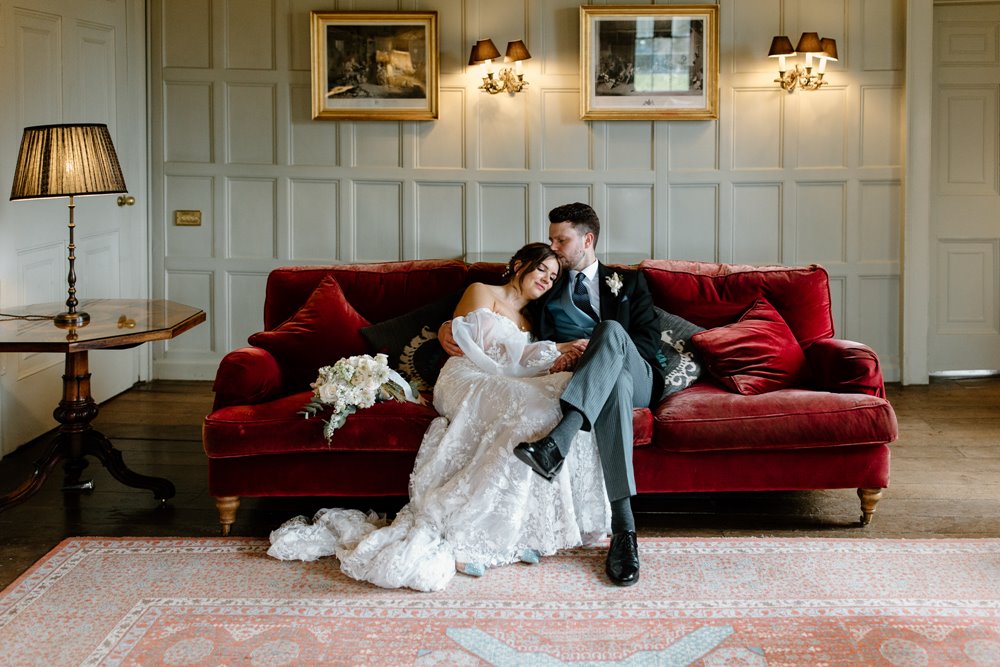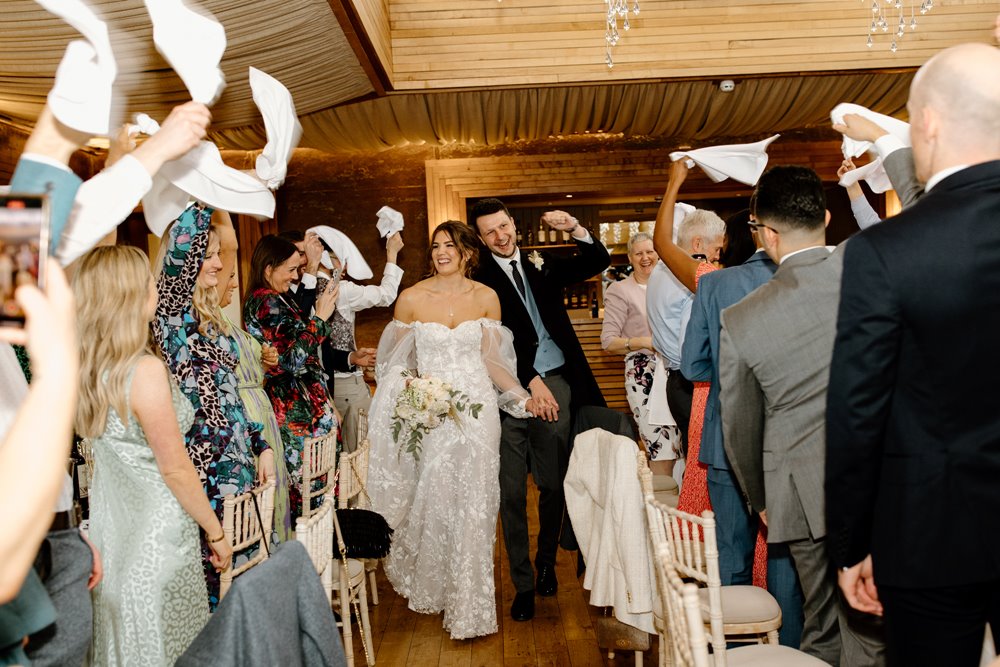 Wow! Doesn't that sound like the most magical day? Thank you to the wonderful Lizzie and Tom for sharing their fabulous wedding with us.
If you're wanting to read more about real weddings here at Elmore Court, why not check out some more of our journals below? 
Much love,
Team E x
Related reading