Modern Autumnal Romance & Big Party Wedding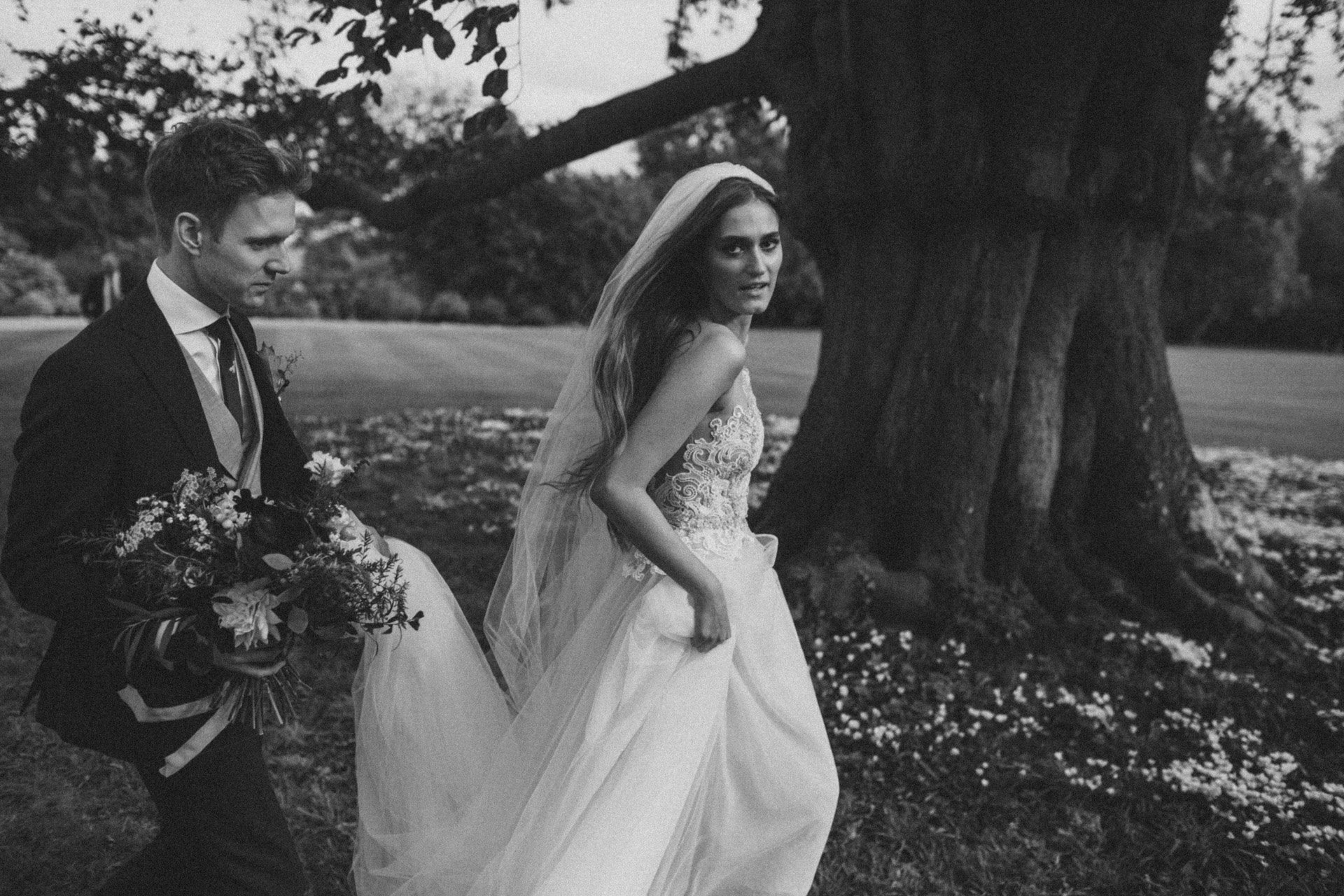 So this is the kind of asymmetric, romantic autumnal magic created when a director and an editor get married in October at Elmore Court...
Sophia Ray and Charlie had a speakeasy vision with a romantic pre-raphaelite twist for their wedding and the result is something any autumn wedding planning couple will surely be inspired by, especially with the very happy news that come July 19th there will be no restrictions on parties, dancing, singing or size for any weddings after this date! Woohoo, let the partying commence...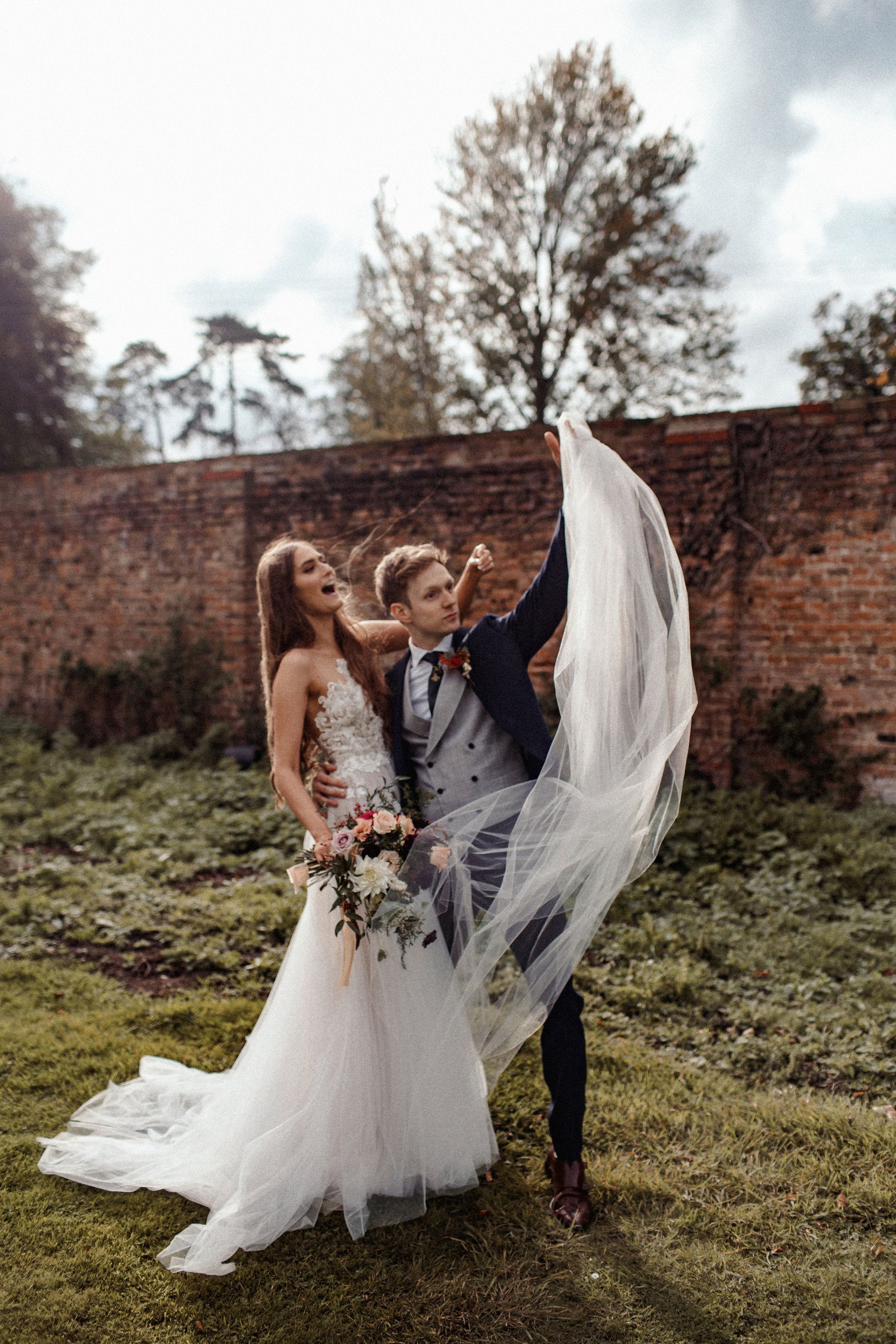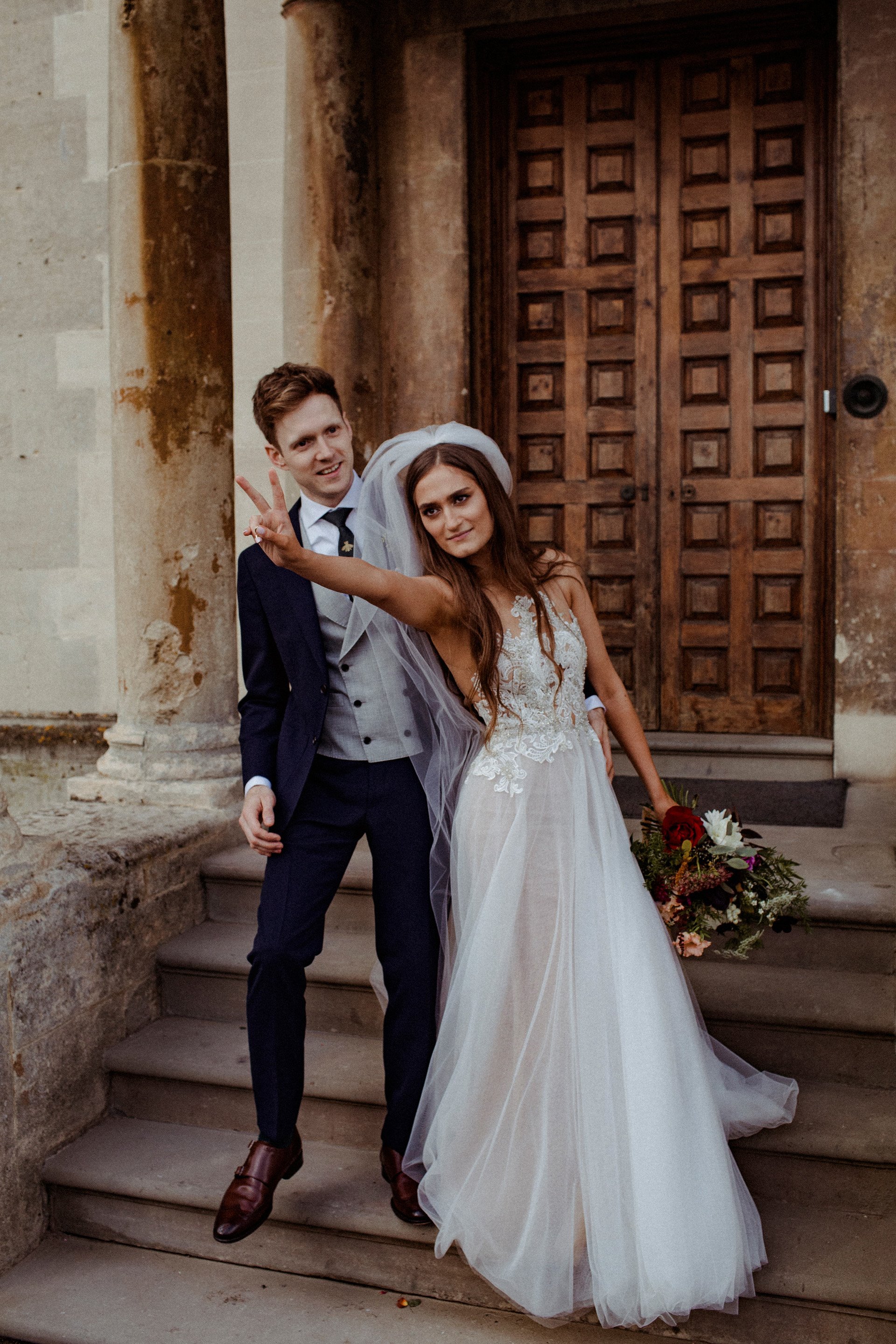 Why our wedding venue?
Charlie and I wanted a high-end yet relaxed vibe, and we also loved the idea of being able to have guests stay at a wedding venue where we had the run of the place, with exclusive use and lots of space Elmore ticked every box.
It was super cosy as well as feeling really special, everything about the venue was beautiful. We also loved the idea of having different parts of the wedding in different spaces and the venue had a space for each section, ceremony, reception drinks, dinner, dancing and the cheeky afterparty back in the drawing room after midnight.
The whole venue had a relaxed 'private members club vibe', with the vast space creating a real flow for the day, that we just adored - so we knew we had to go with Elmore the minute we first came and saw it.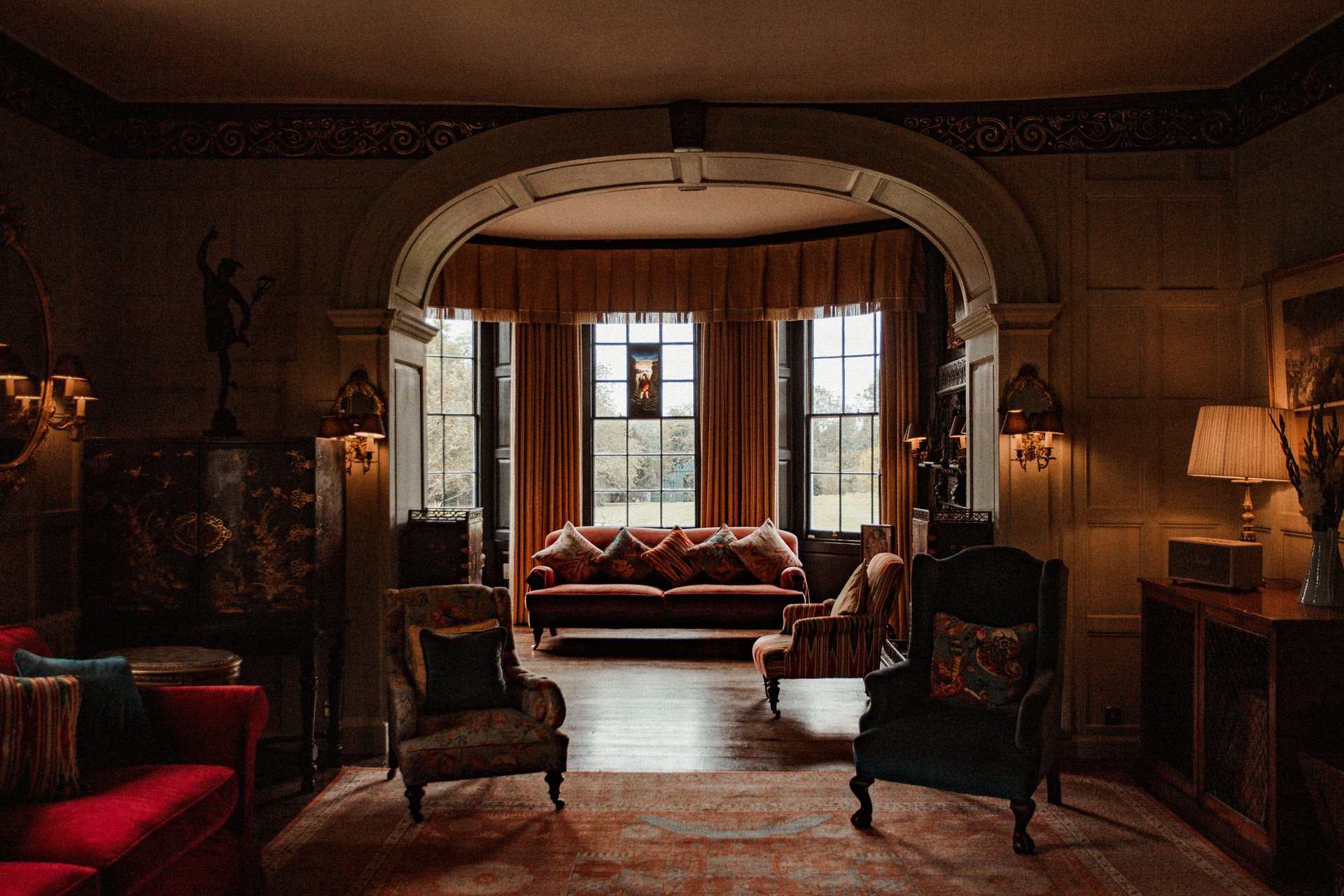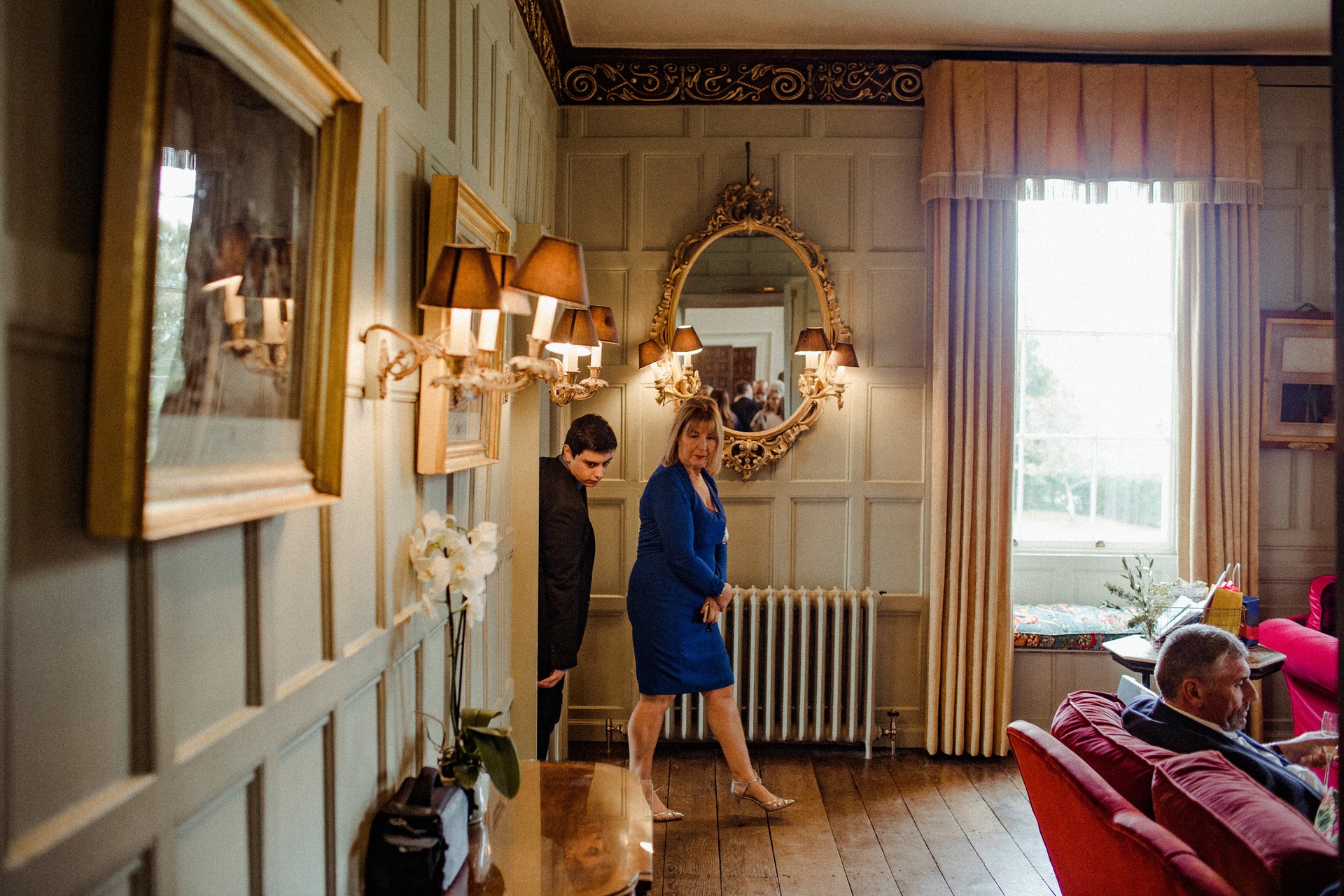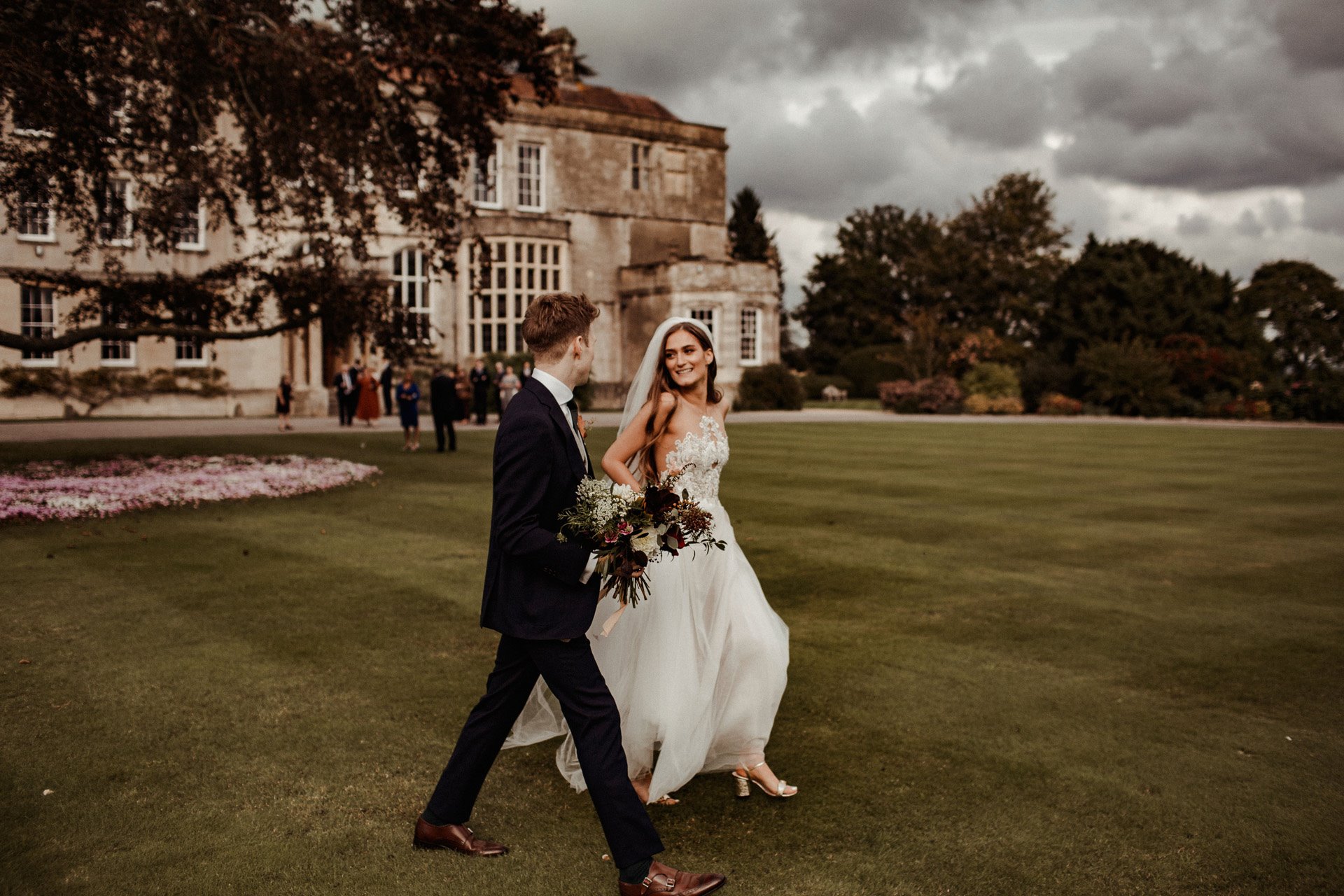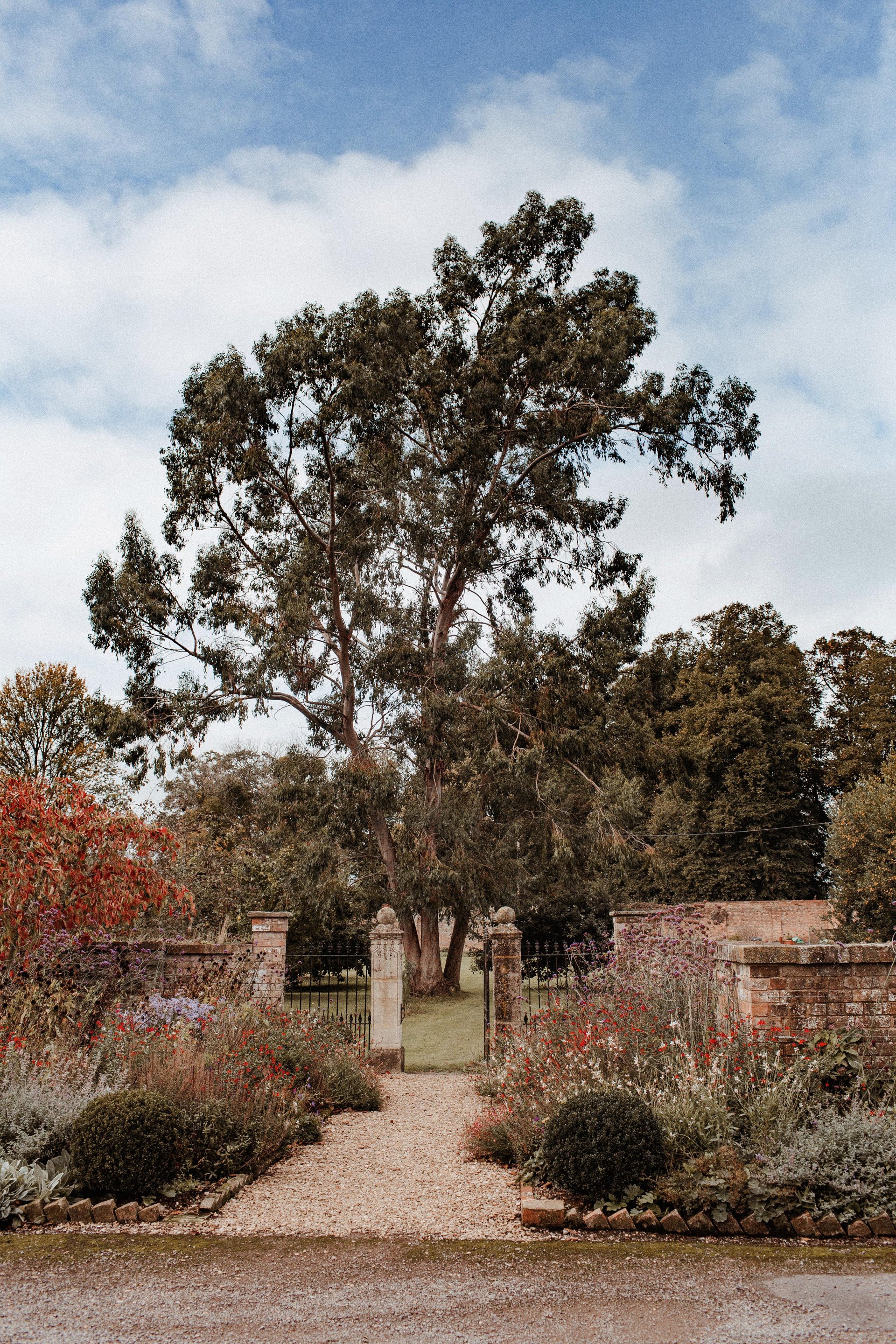 What was priority at your wedding; style, food or party?
For us a big part of the wedding was the food and the drink, as well as the evening party vibe. We wanted to make sure everyone was fed and watered well, with delicious food and lovely champagne and wine choices. The Sommeliers package at Elmore was really awesome for this, we also came up with bespoke cocktails we served on the dance floor.
Elmore even accommodated a bespoke vegan wedding menu that Charlie and myself came up with, as it was important to us that the vegan/ veggie menu was just as impressive as the meat options - they did such a fab job and everyone commented on how great the food was.
How did you choose your autumn wedding style?
As it was an Autumnal wedding we wanted a warm, cosy, romantic and rustic/ raw feel to the day. Lots of Autumnal colours mixed with crisp whites, navy and deep greens, then gold cutlery and dusky grey linen for the tables.
The bridesmaids and groomsmen were all also in navy. Warm cosy lighting tones in the lighting during the wedding breakfast. The evening and dance floor vibe we wanted to feel a little more 'disco' with black, white and silver on the dance floor and a wash of purple and white lighting. Elmore have an awesome set up on the dance floor in terms of lighting tech so we were able to pick the colour tones in the lighting before the day.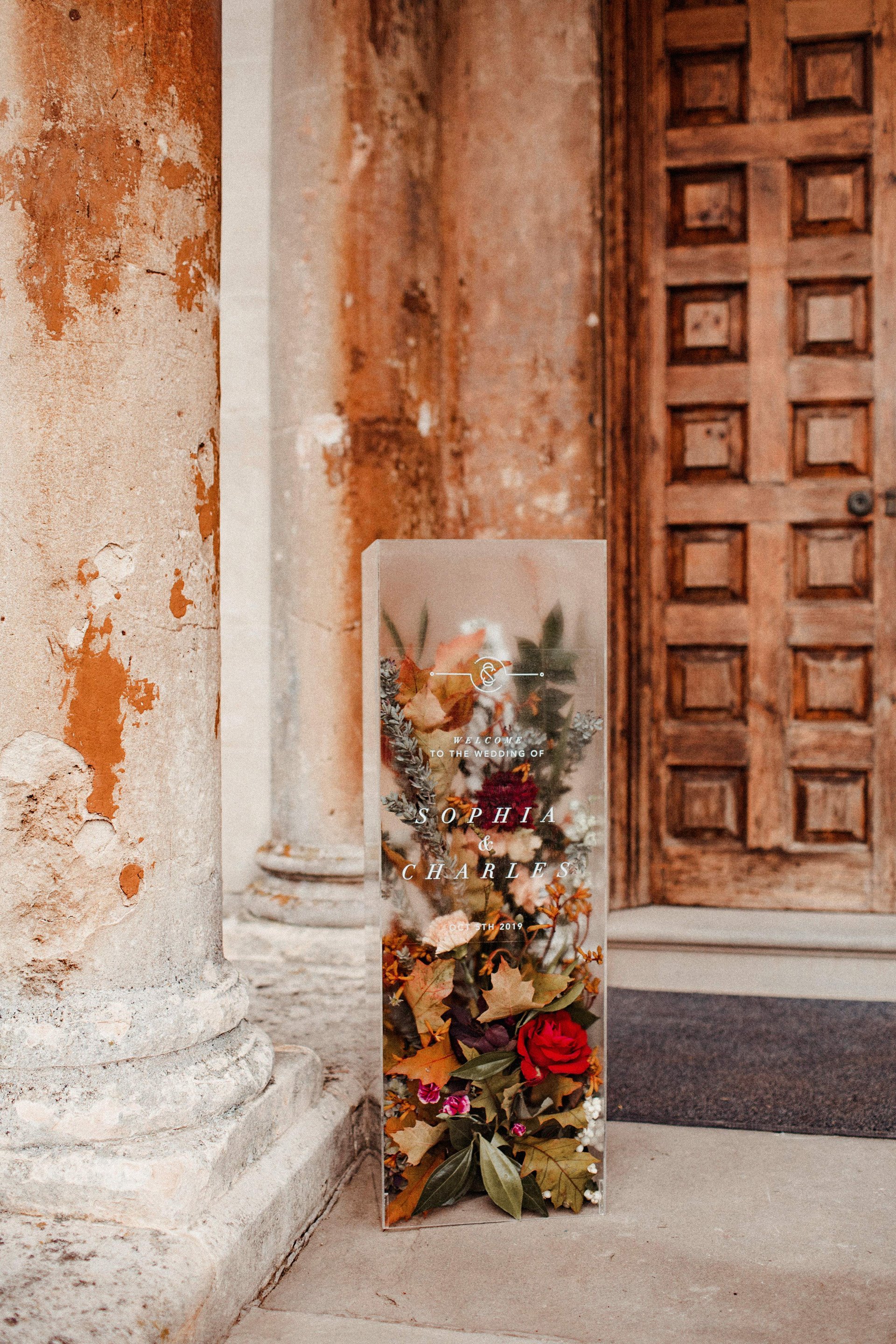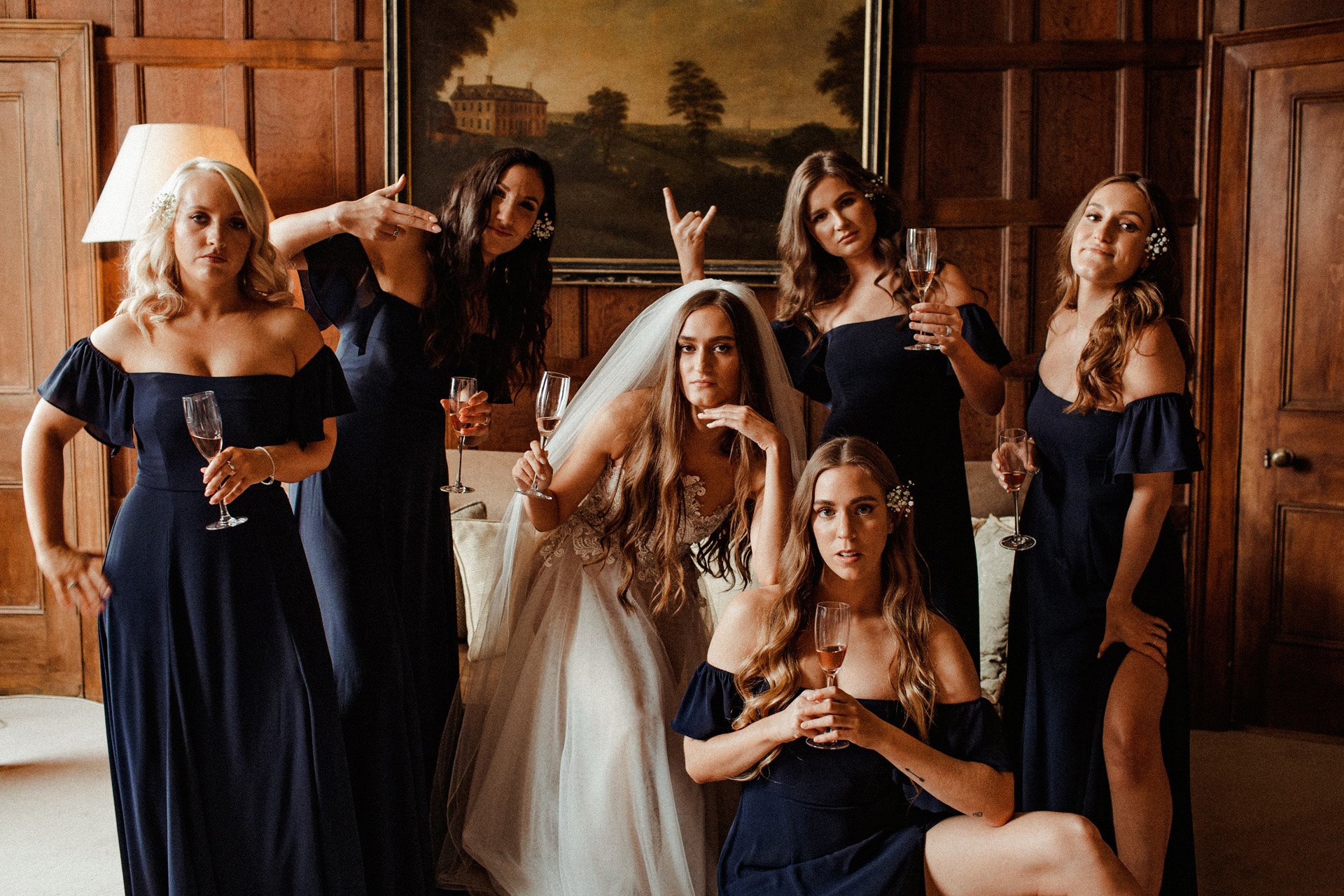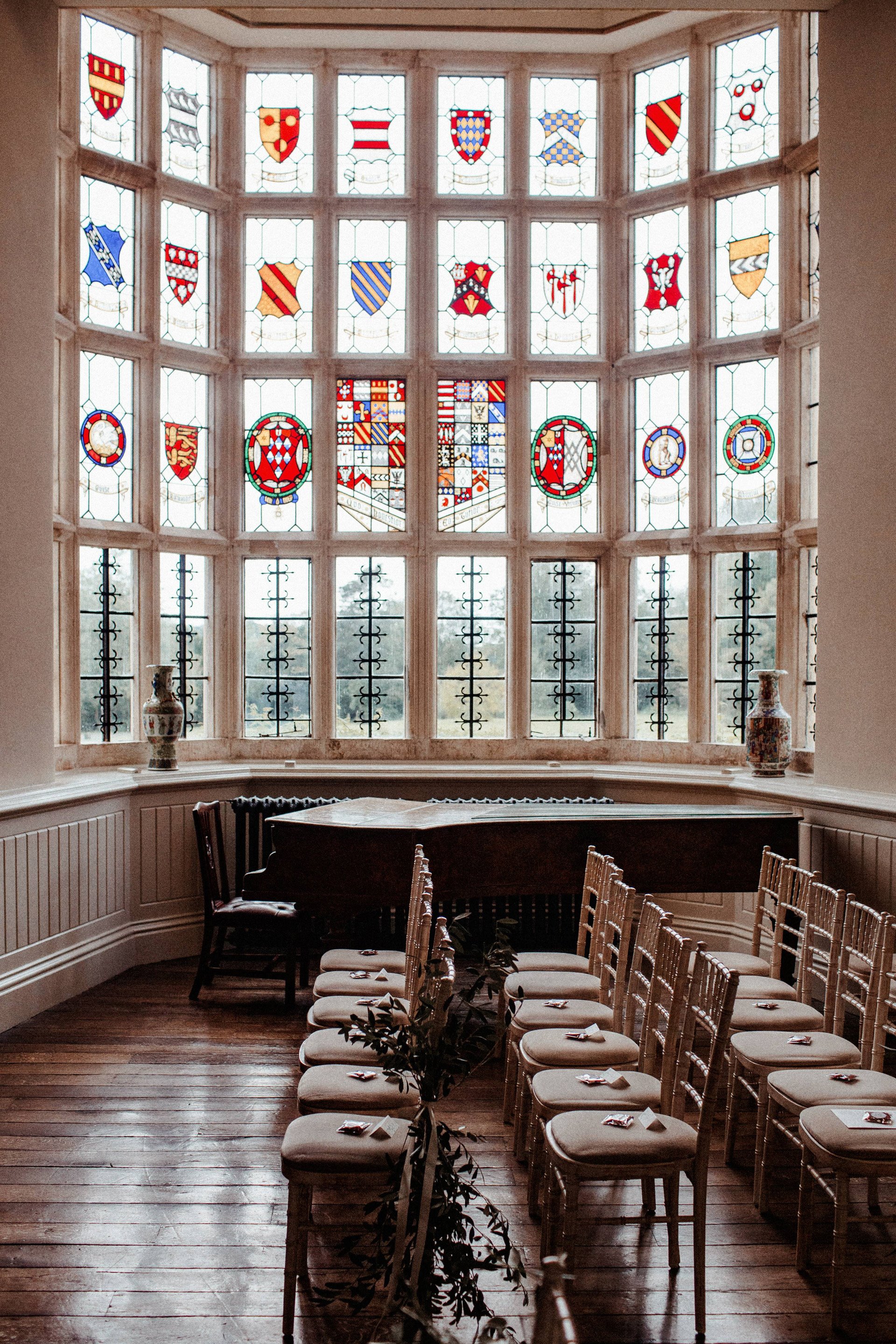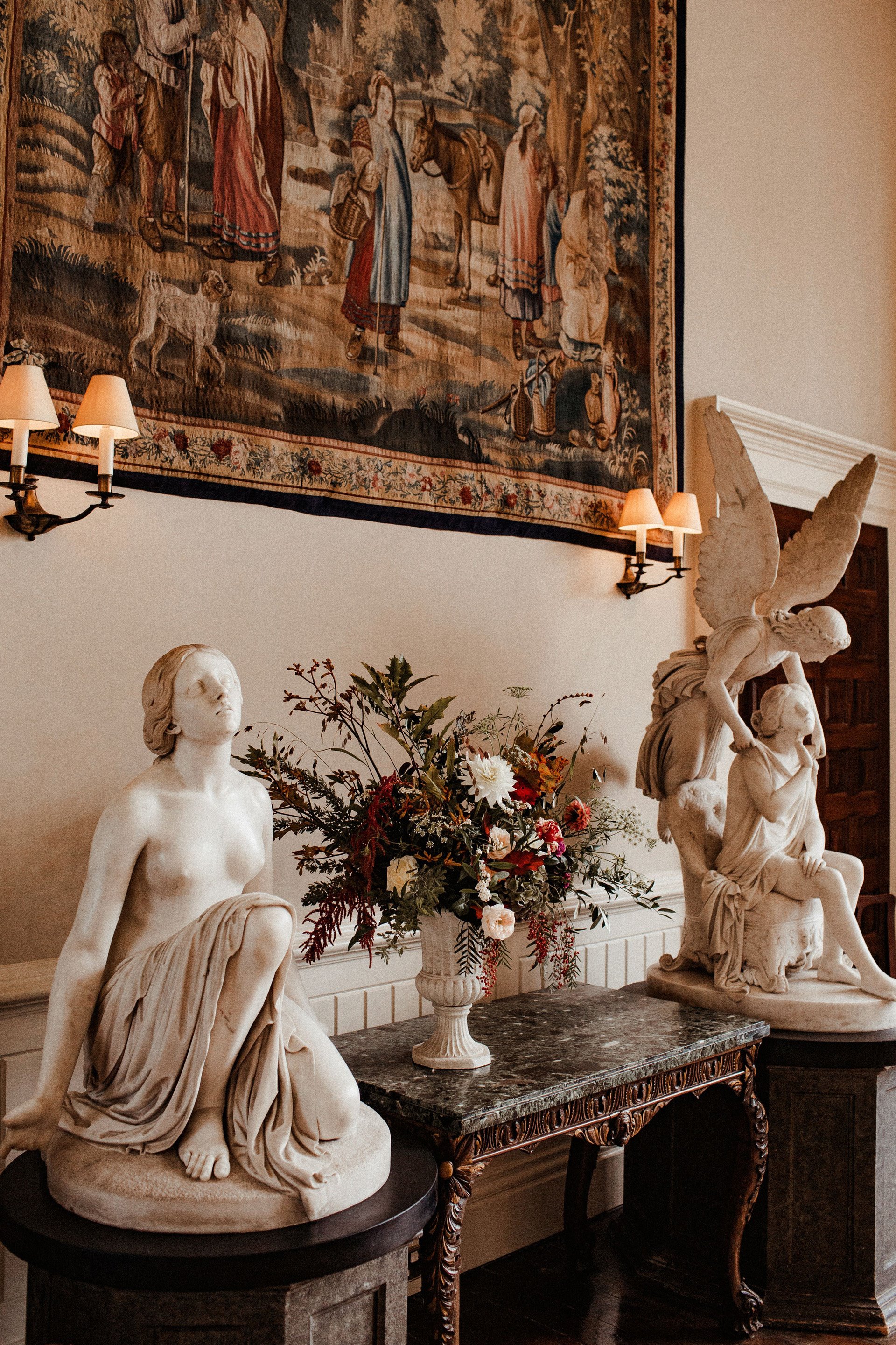 Tell us about your pre-raphaelite style gown!
It was a Liz Martinez gown - I knew she was one of the designers I definitely wanted to try and this one was the second dress I tried on. To be honest there were quite a few of Liz Martinez's wedding dress' that I would have been so happy with - her designs are so etherial! I never expected I would go for a dress like this though initially - I thought I would go for more of a slinky, simple number. But with this dress, when I put it on I felt so special and I just knew it was the one I had to wear.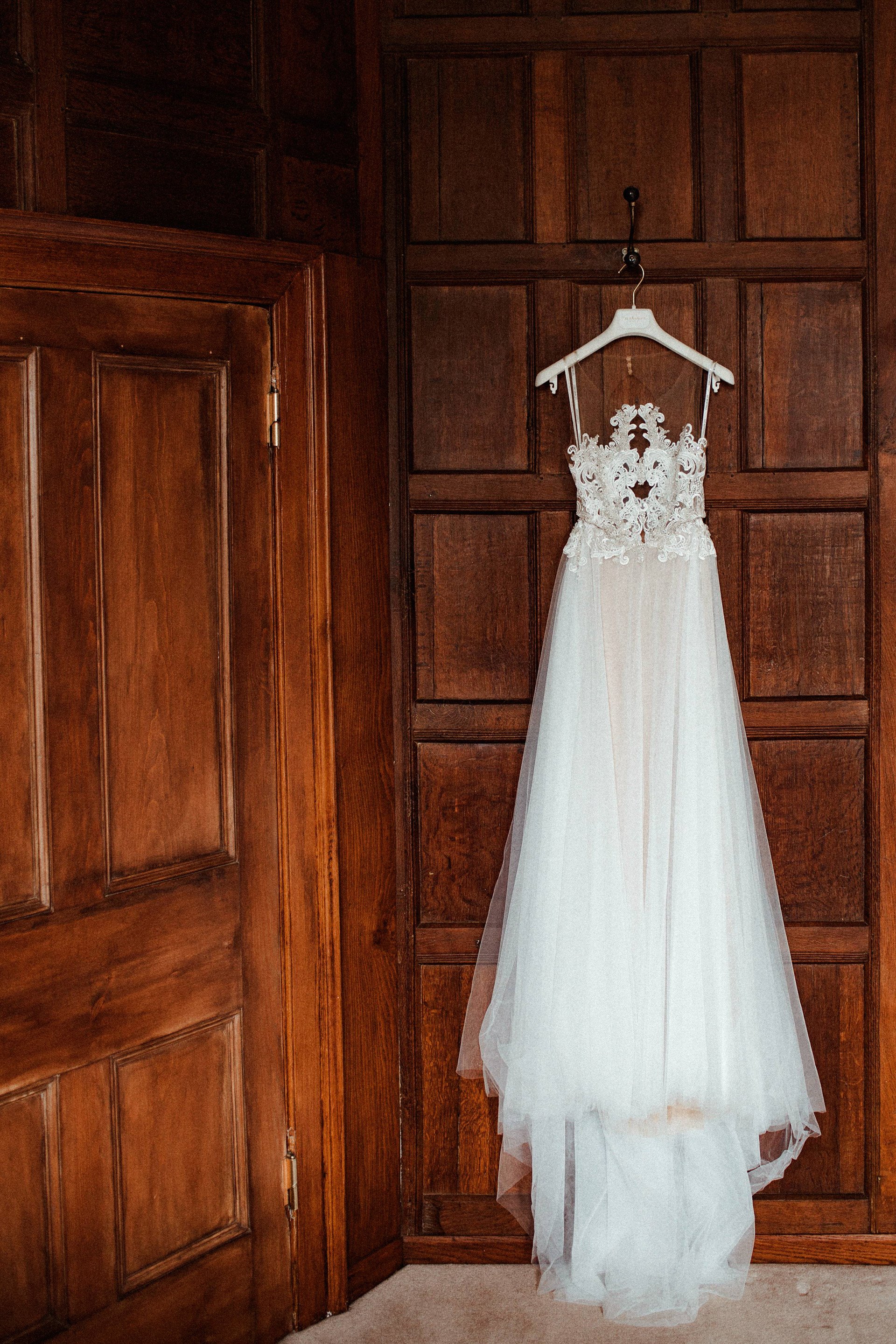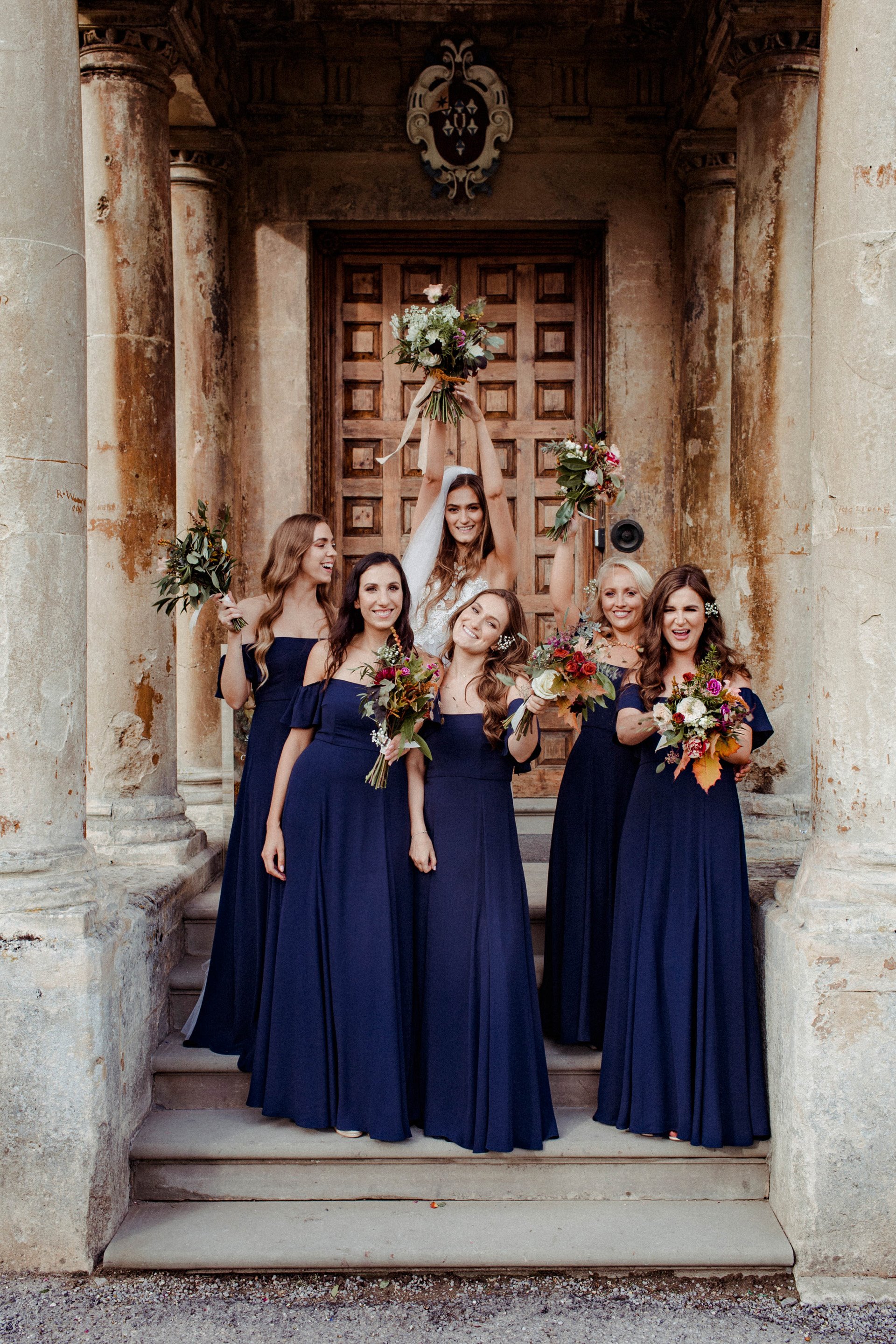 And those romantic wedding flowers?
I looked at a lot of classic Pre-Raphaelite paintings for inspiration for the colour scheme for the wedding flowers and loved the idea of everything having an asymmetrical and perfectly imperfect vibe. Blaoum Studio did an amazing job of these - we asked for a rich textural Autumnal vibe with the flowers and I was so inspired by what Shelena came up with.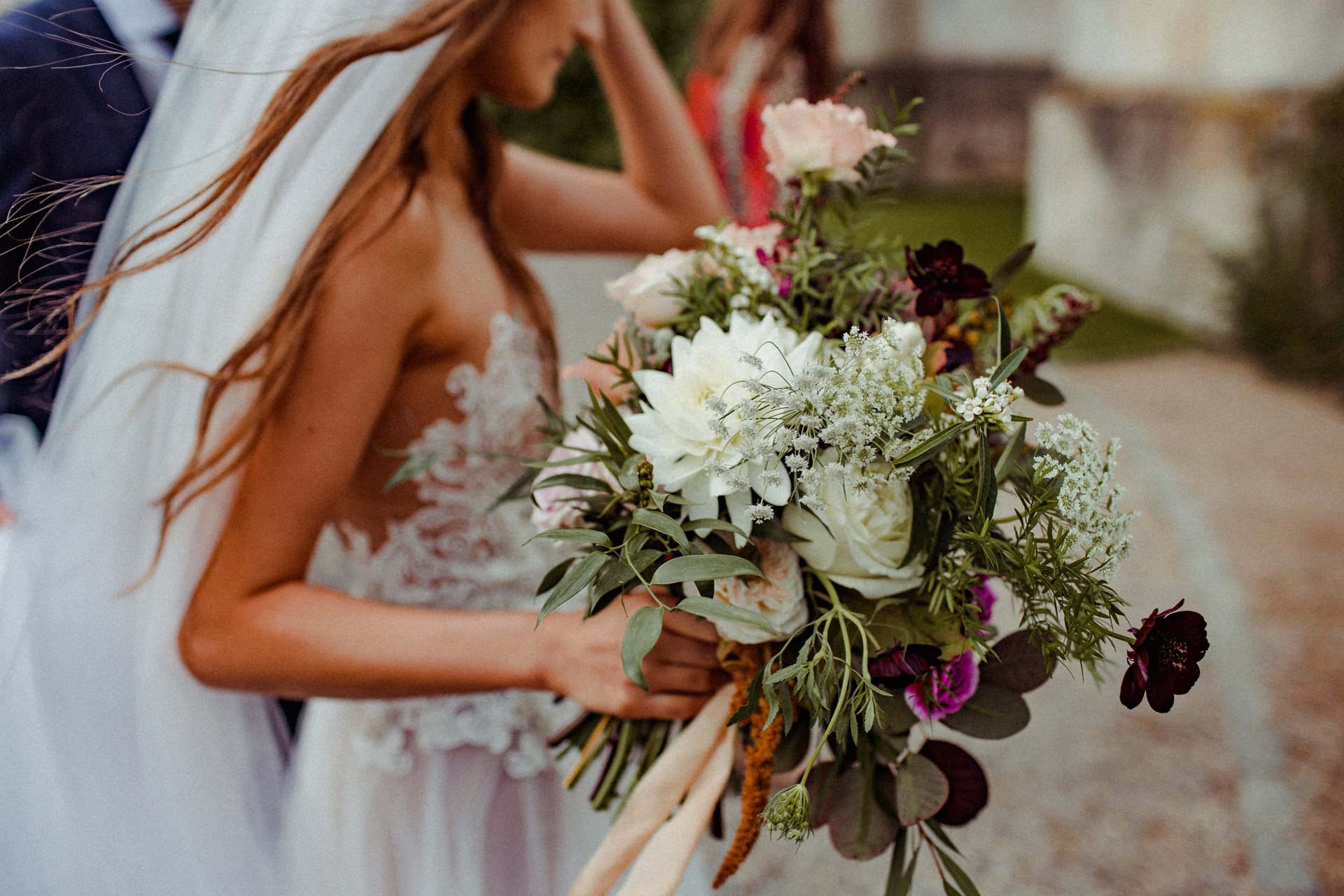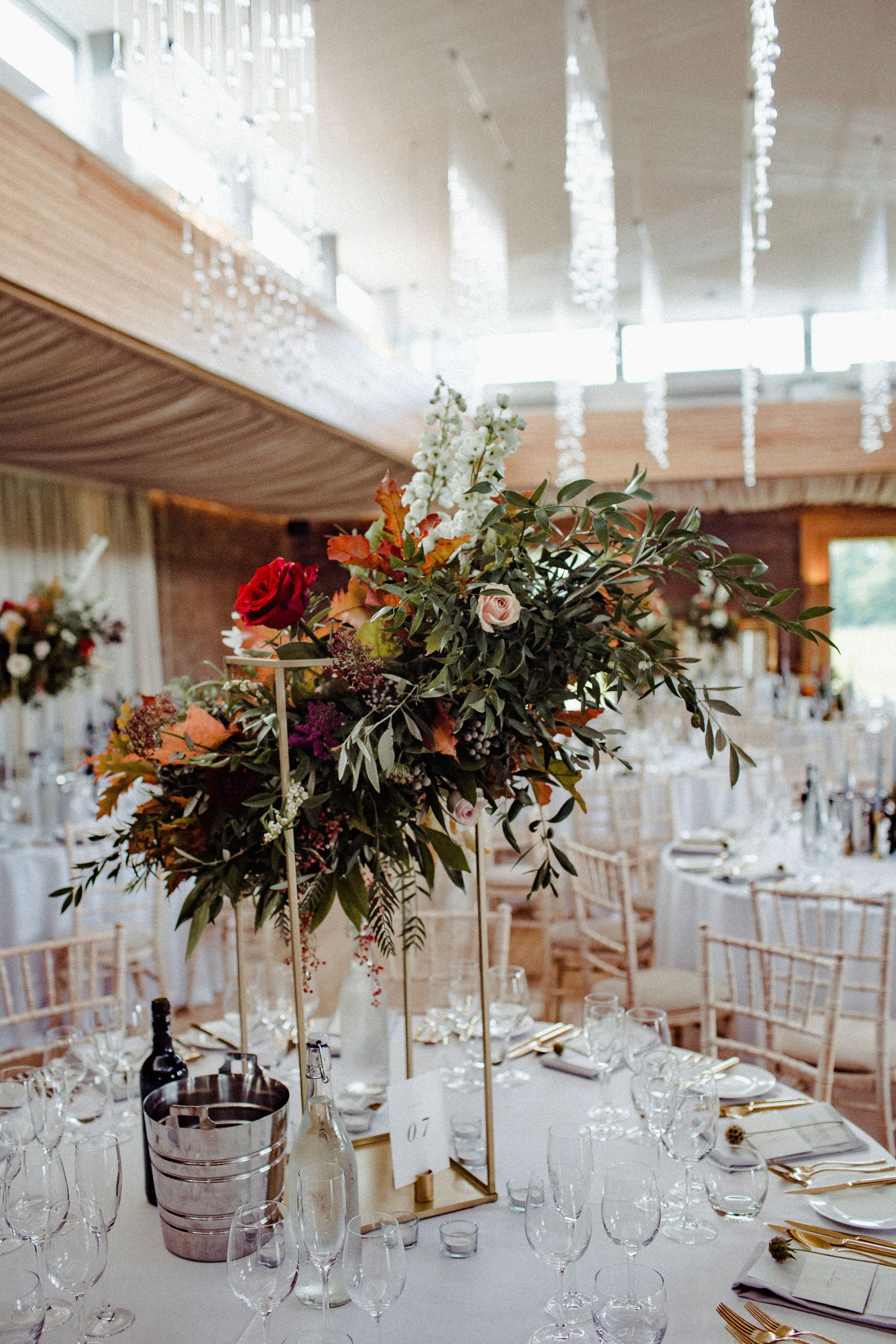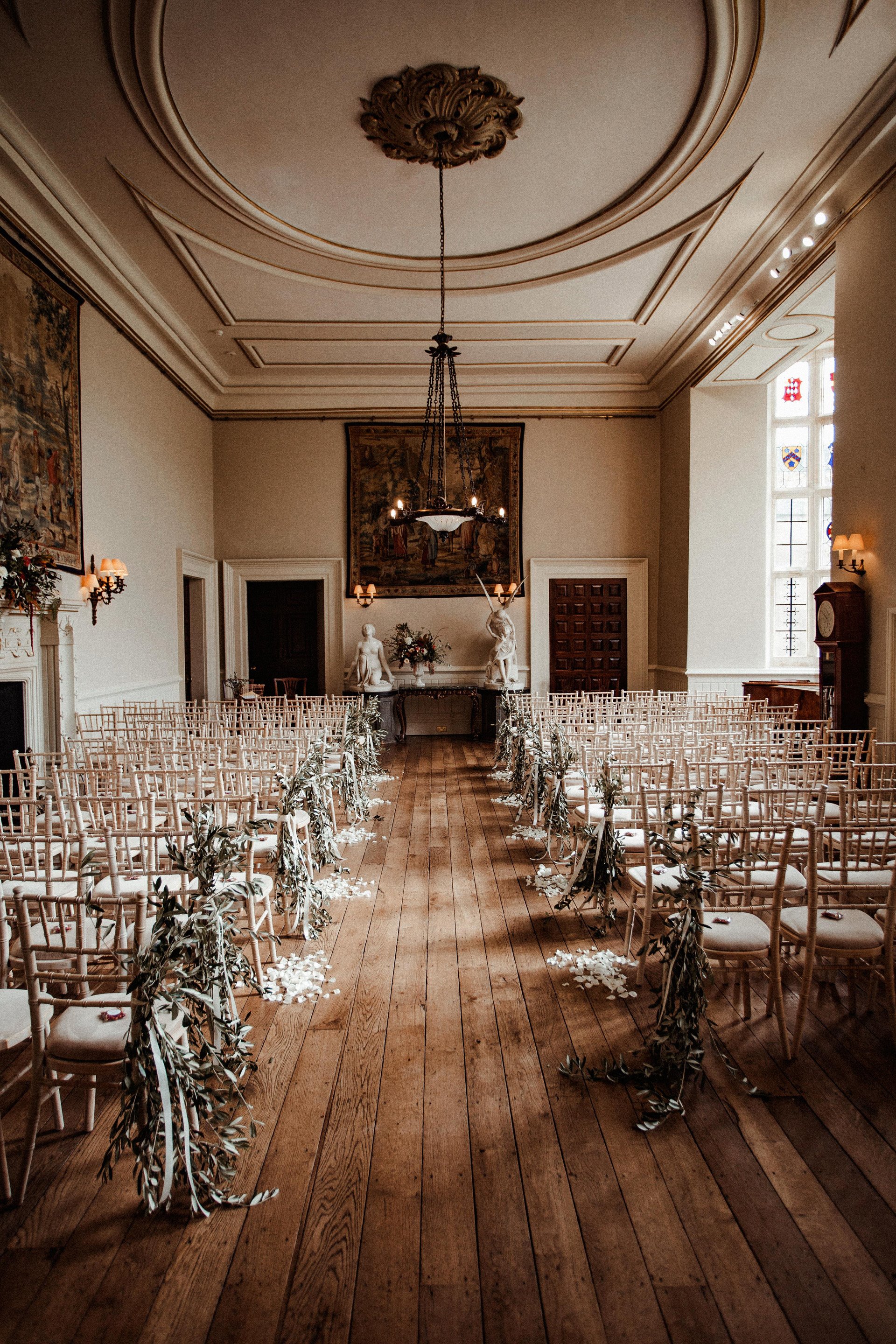 Did you design any bits yourself?
Yes, I designed up all our wedding stationary/print collateral myself to save us some pennies there - also just because it gave me more control as I had a very specific idea on how I wanted that to look.
Also Charlie and I wanted to write little hand written notes in tiny envelopes to each guest personally, which we thought would be nice personal touch to each of our guests. They also doubled up as place settings too. One of my bridesmaids Megan did all the calligraphy for the envelopes for these.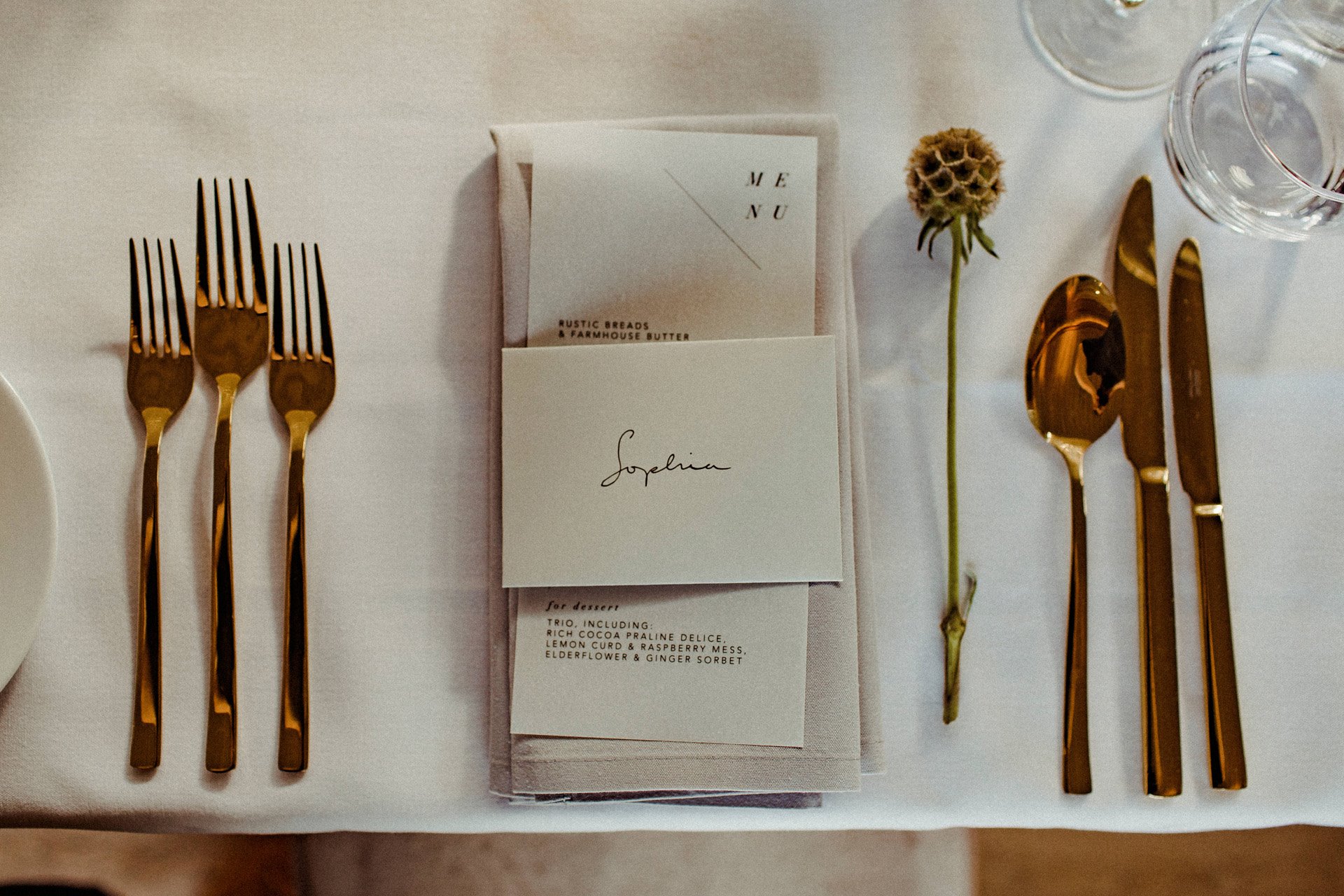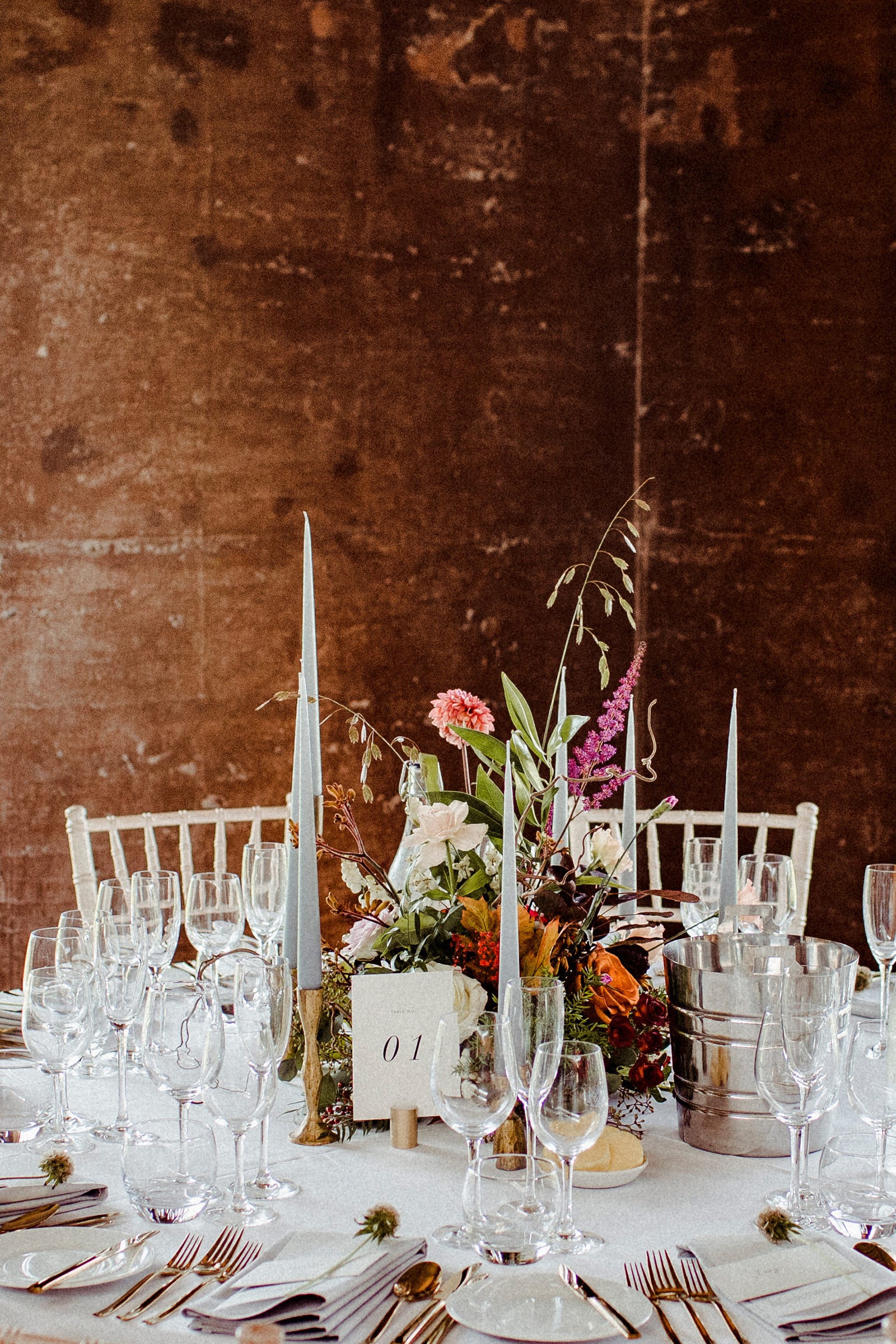 How did you feel on your wedding morning!
I felt quite anxious the morning of the wedding but also very excited, all the work was done and I was totally buzzing about the day ahead! I was the most anxious first thing in the morning, but as soon as the hair and make up babes arrived and we had a glass or two of champs, I was in a good place!
Charlie was mega chilled apparently - classic.
Talk us through your drinks reception
The drinks reception was lovely - but it totally flew by! I thought I would be able to greet and chat to everyone, but it was almost impossible!
It was lovely though the champagne and canapés were flowing, we had some contemporary jazz being played on the piano, Charlie and I were still reeling from the ceremony and it was just so touching to see all the people you loved under the same roof.
In terms of the photos, Charlie and I wanted them to have a relaxed and natural vibe and not take up too much time from us hanging out with our wedding guests so we allocated 30-45 mins to get them done - Rebecca did an amazing job.
The moment you first saw your wedding reception?
It was like a dream - Elmore and the team had totally smashed our wedding vision - it was such a lovely moment to come in and see all the hard work come into fruition.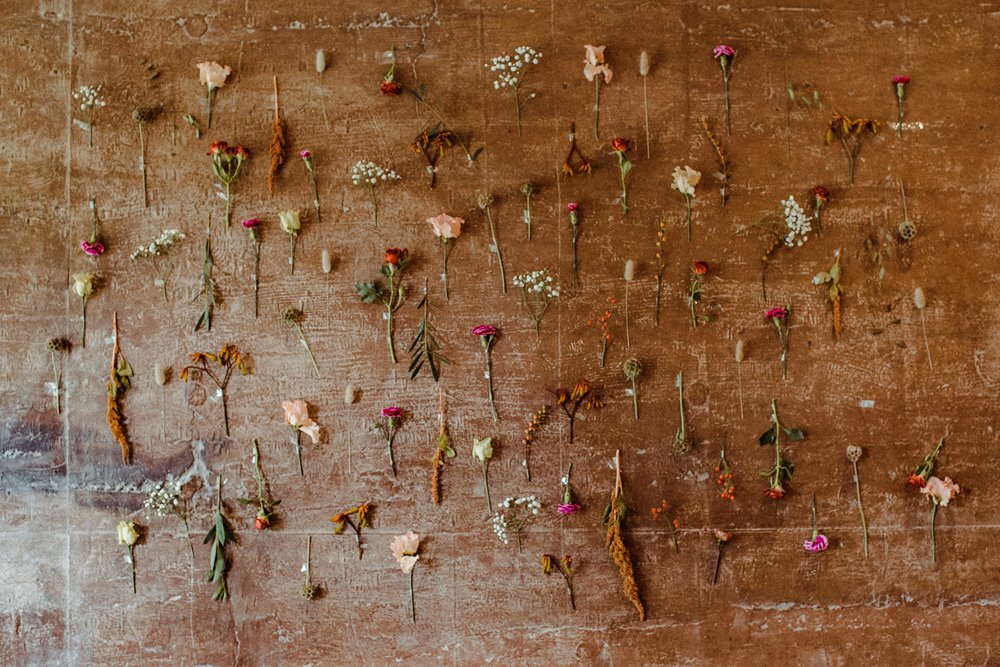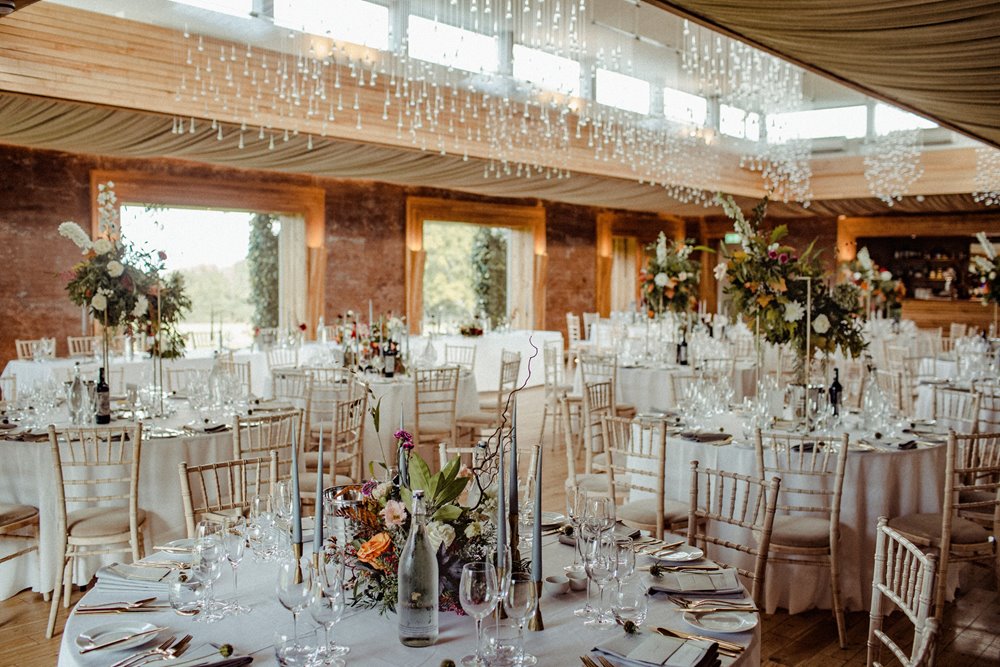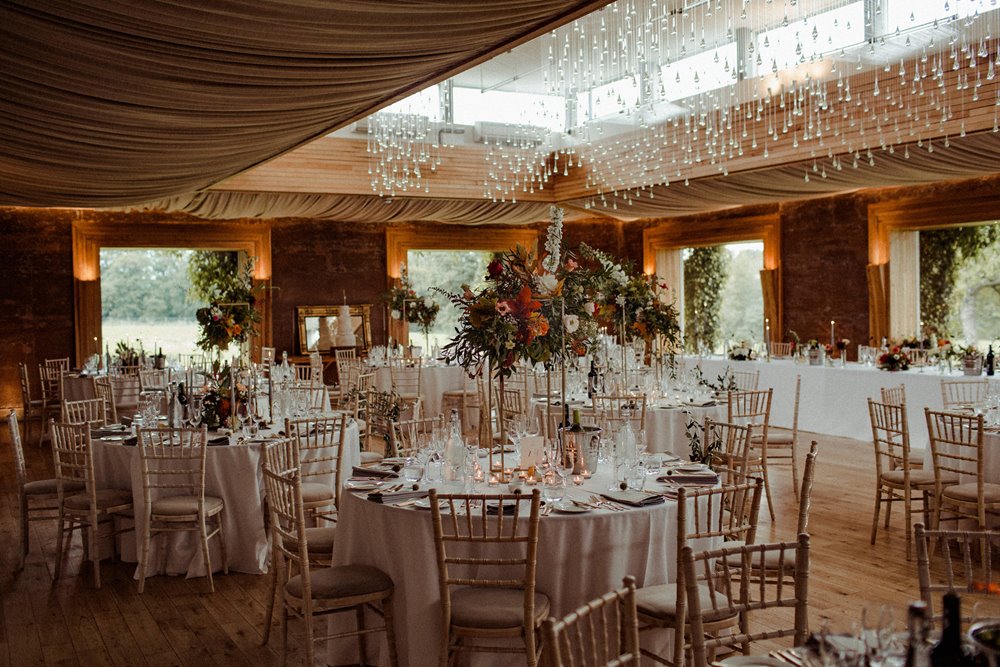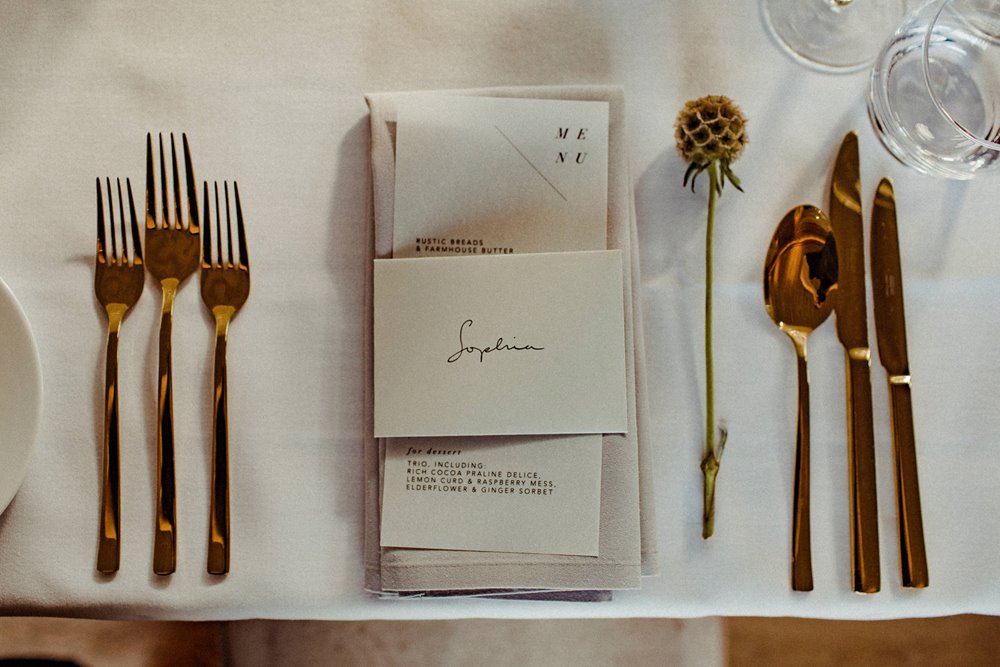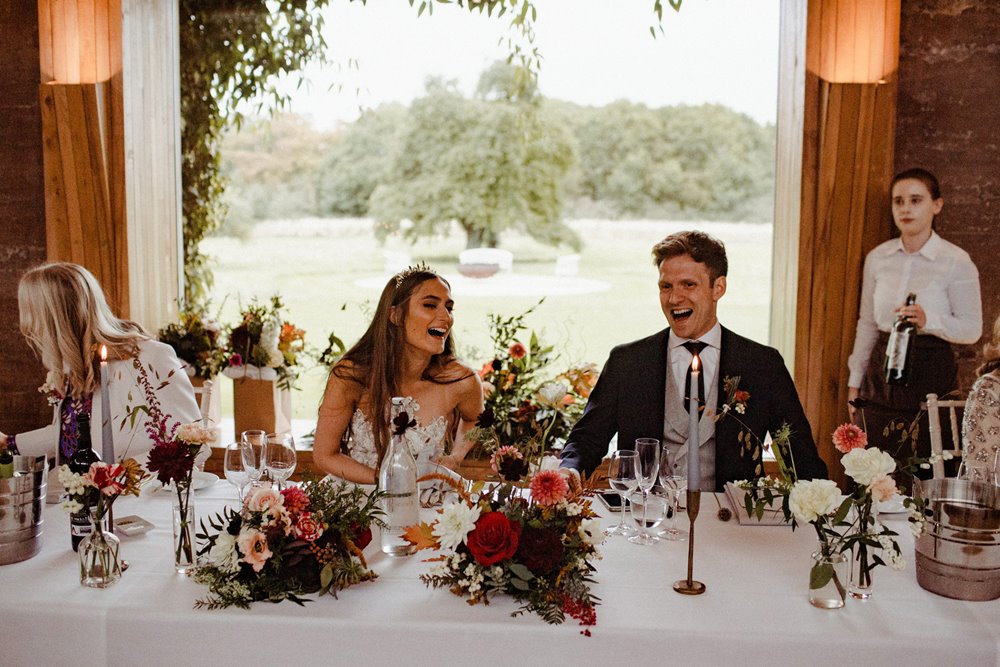 Talk us through that all important food and drink
We had a dreamy mix of canapés for the wedding reception:
Seared Scallops
Salt & Pepper Squid
Lamb shoulder croquette
Saffron marinated guinea fowl brochette
Goats cheese and fig crostini, all served with Champagne.
For our wedding breakfast we had both a meat and vegan Menu:
The meat menu
Spiced Confit Duck and beetroot to start, then Pavé of braised beef, shallot, smoked butter pomme purée, green beans, buttered savoy cabbage, large crispy onion rings & red wine sauce for the main.
Finished off with a trio of deserts, Chocolate delice, Lemon Mess & Ginger and Elderflower sorbet.
The vegan menu
a vegan scallop asparagus to start, then a wild rice risotto, with Shiitake mushroom and Daikon miso sauce, toasted shallots and dehydrated beetroot.
And then a vegan take on the delicious desserts.
We served a delicious red and white wine with dinner, then rose champagne and espresso martini shots for the toasts and speeches.
Evening food
Mini fish and chip cones that people could pick at on the dance floor, and we also served the wedding cake too.
And to drink...
Then spirits and beers served in the evening along with bespoke cocktails during the party.
Negronis, champagne and cafe patron shots were a favourite for the after midnight afterparty in the drawing room with out guests that were staying the night.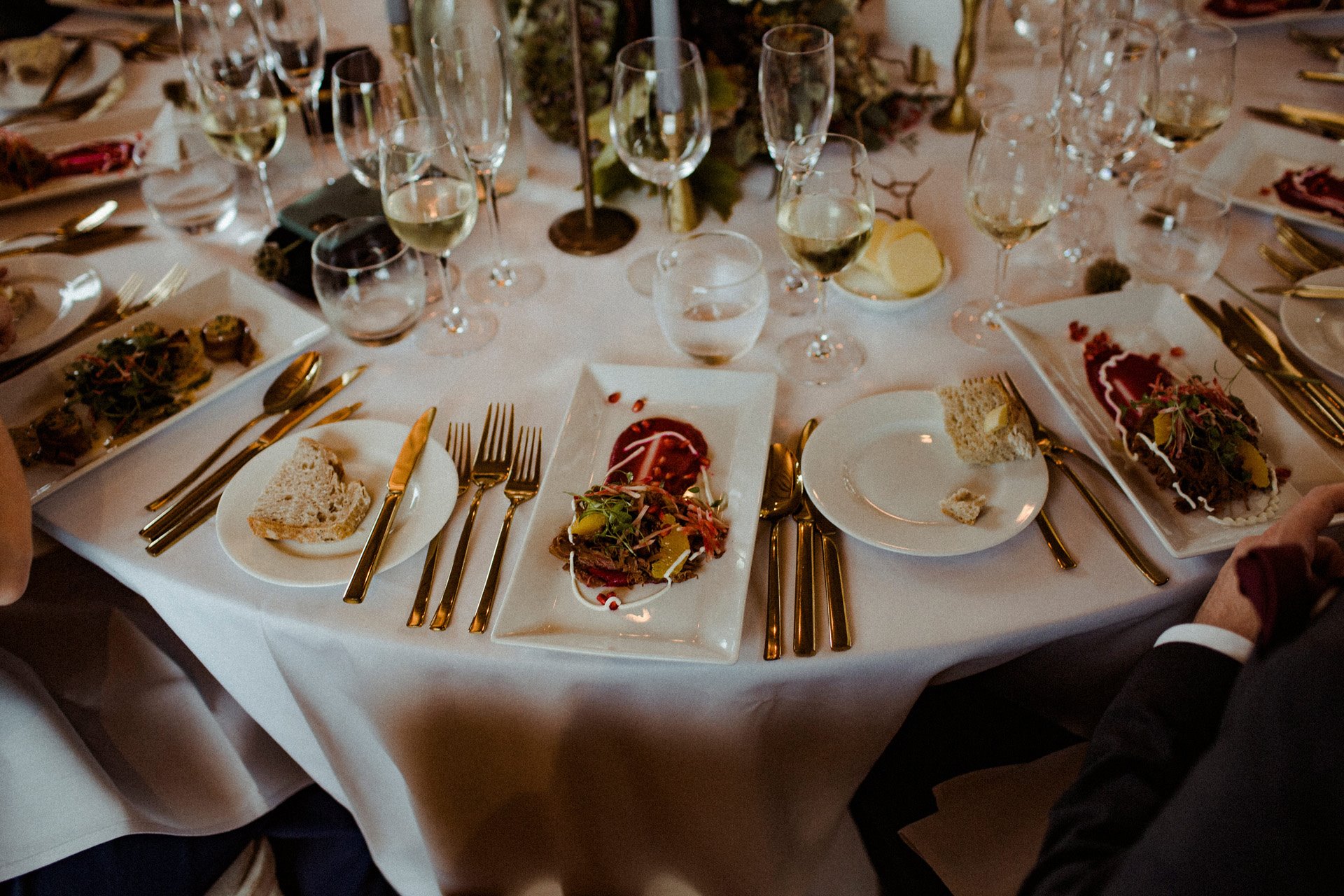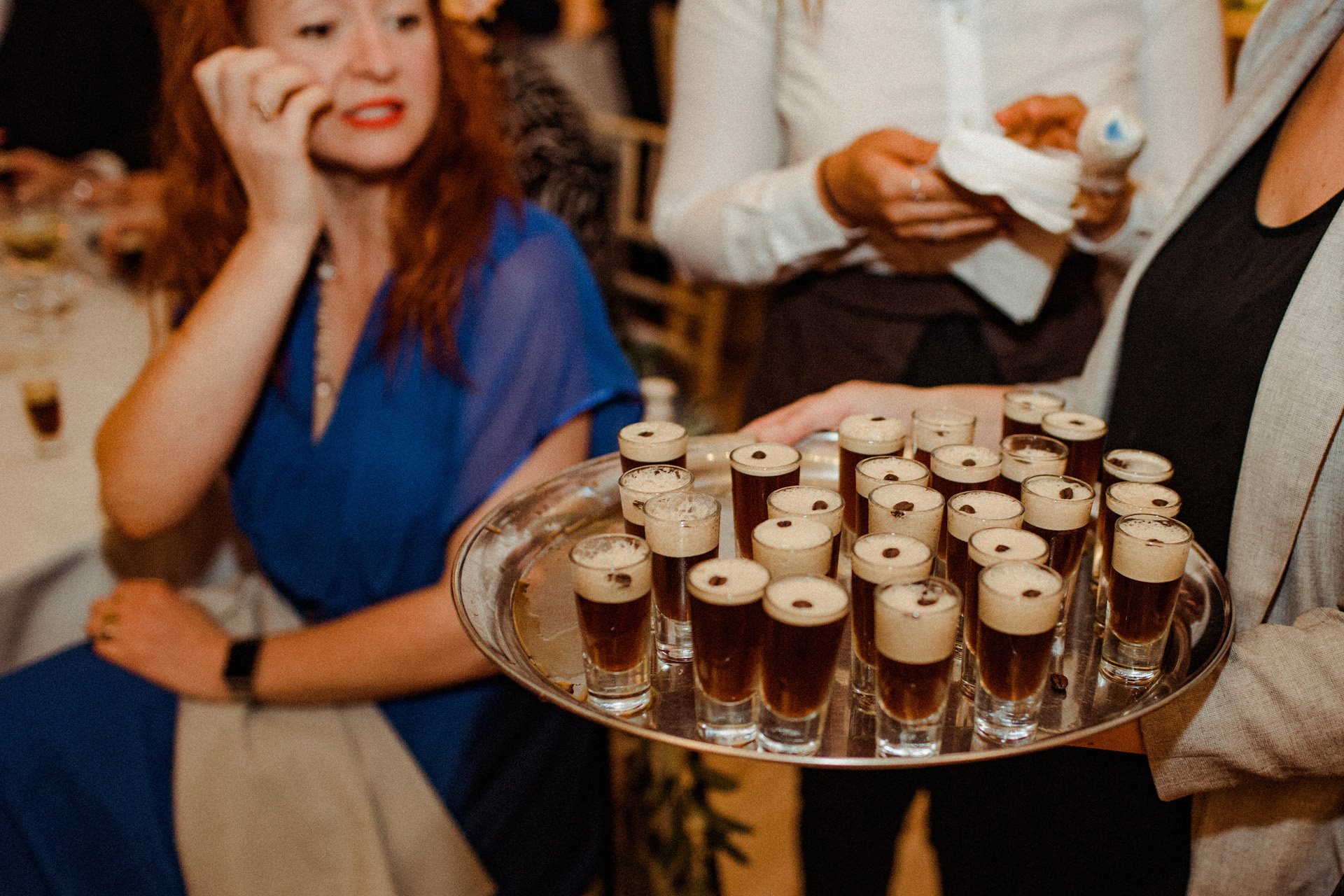 What did you first dance to?
Our first dance was to 'Friday I'm In Love' by The Cure.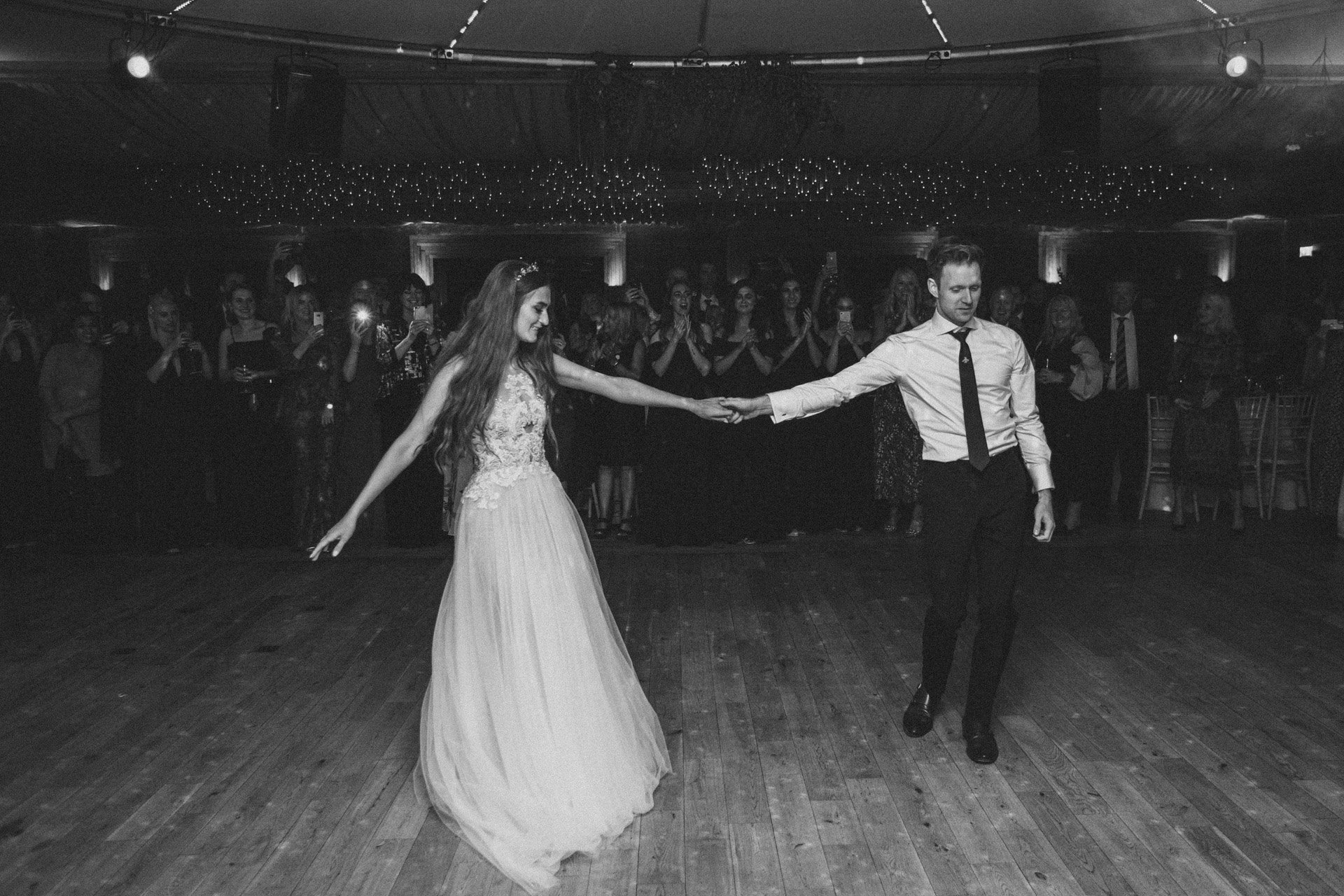 That incredible wedding cake?
Our wedding cake was designed and made by the awesome Claire Owen - it was four tiers with a different flavour each tier. Chocolate and salted caramel ganache, Pistachio and Rose, Gin and Tonic, Lemon and poppy seed. The design was inspired by my wedding dress!
What about that epic wedding party?
Chris, a good friend of ours who is also an awesome DJ played an amazing set, we sat down all three of us with a bottle of wine about a month before the wedding and came up with it together... We wanted it to be a good mix of bangers that our mates would love as well as some classics for the older guests too, our mums are big dancers and love 70s disco vibes so we found a nice middle ground between tracks - think Sean Paul one minute, then Earth Wind And Fire the next.
We also set up a little speakeasy style cocktail bar on the dance floor (that really helped with the party vibes) as a cheeky addition to the main bar that Elmore has in the Gillyflower- that was selling the beer wine and spirits.
At 9.30pm we did a Greek traditional money dance for my side of the family, where instead of giving traditional gifts, guest gift the bride and groom by pinning money on them as they dance.
The Greek side of the family knew the drill, but we were a little worried about the English guests not quite getting it - but they all loved it! Everyone was going absolutely mental to Zorba The Greek - it was such a fun moment as every single person at the wedding was on the dance floor and partying with us - a real wedding highlight!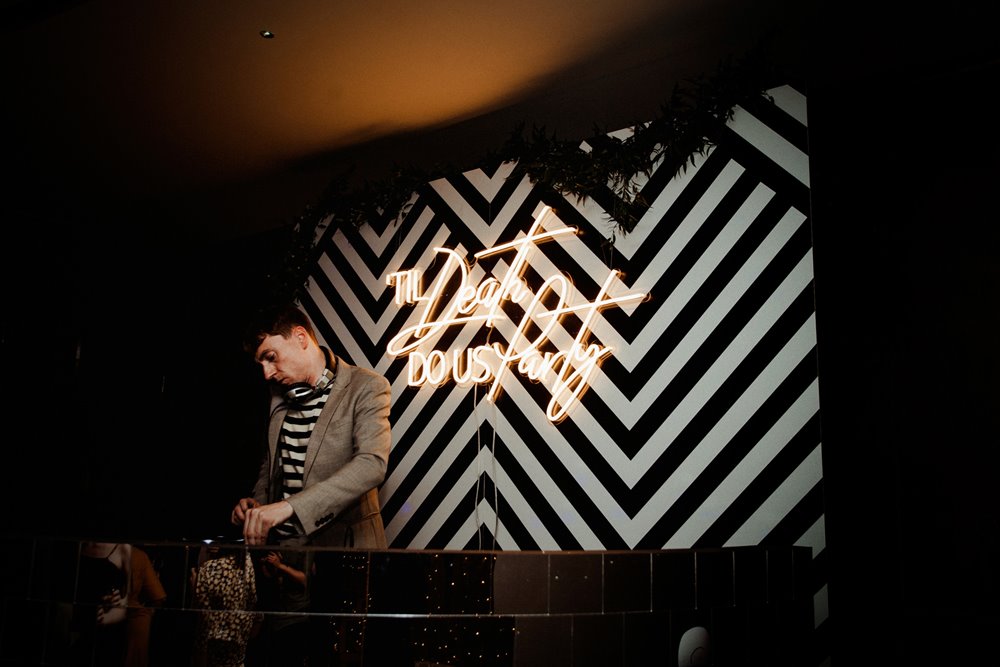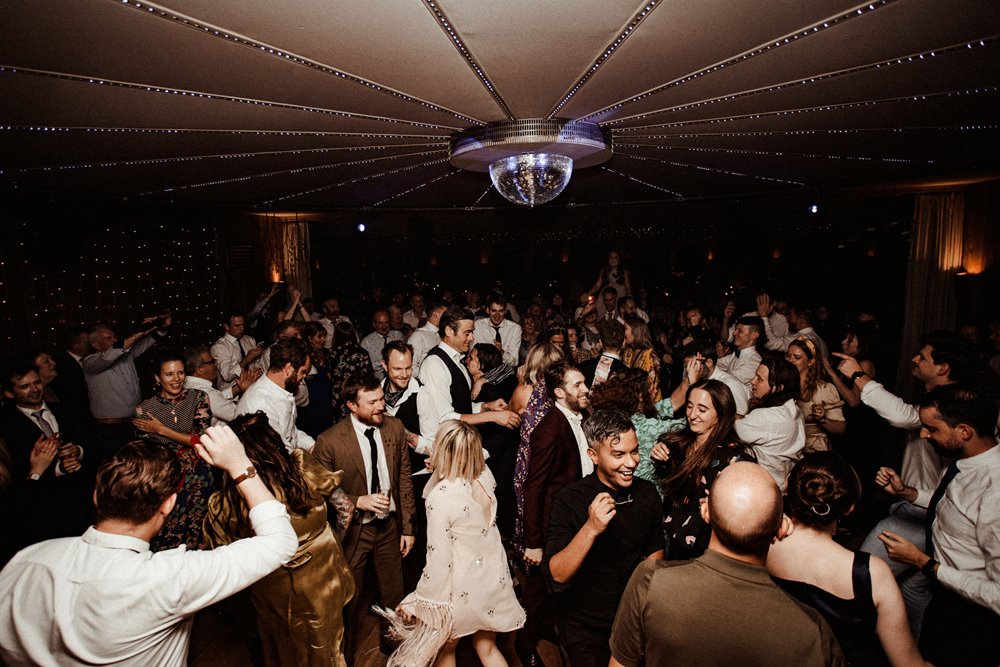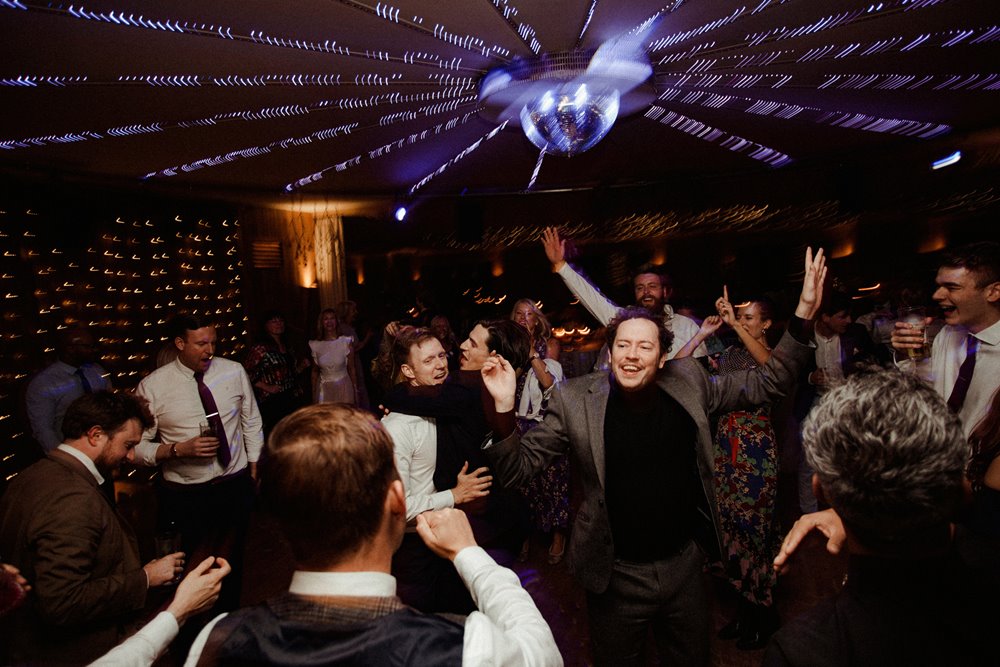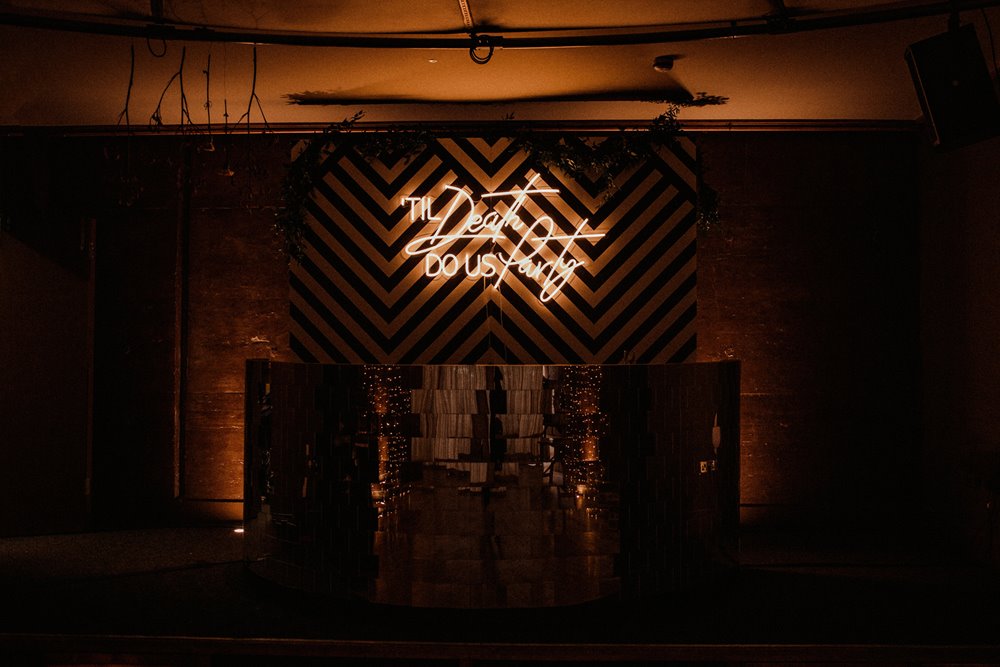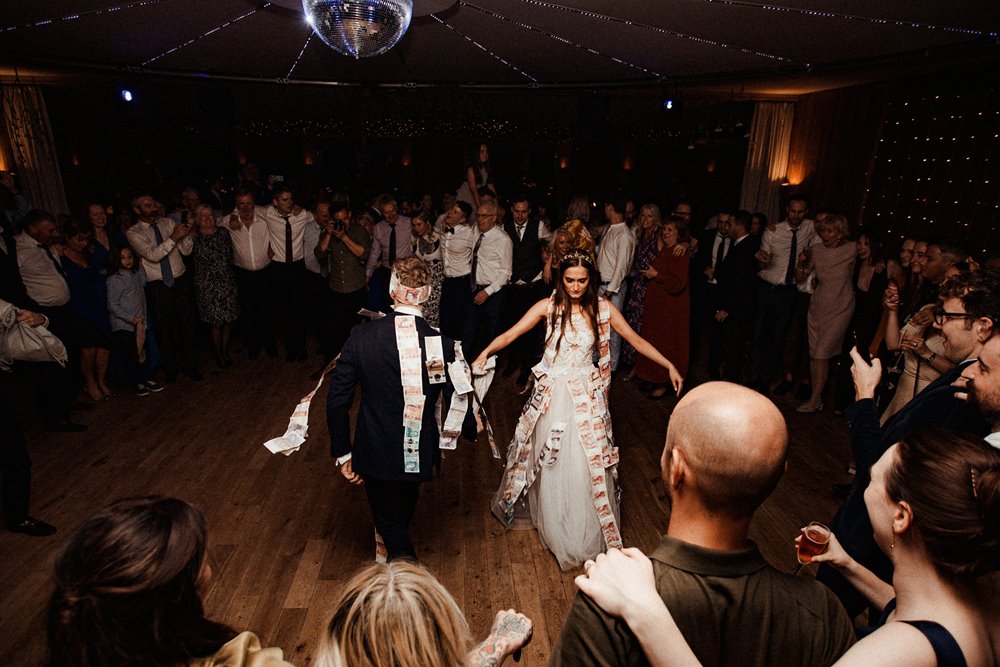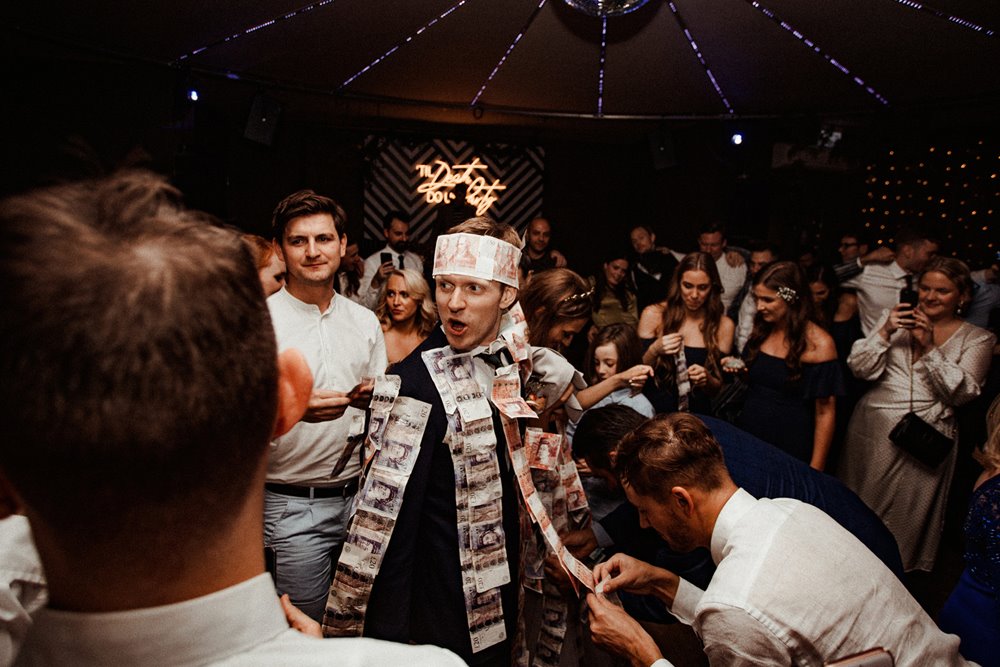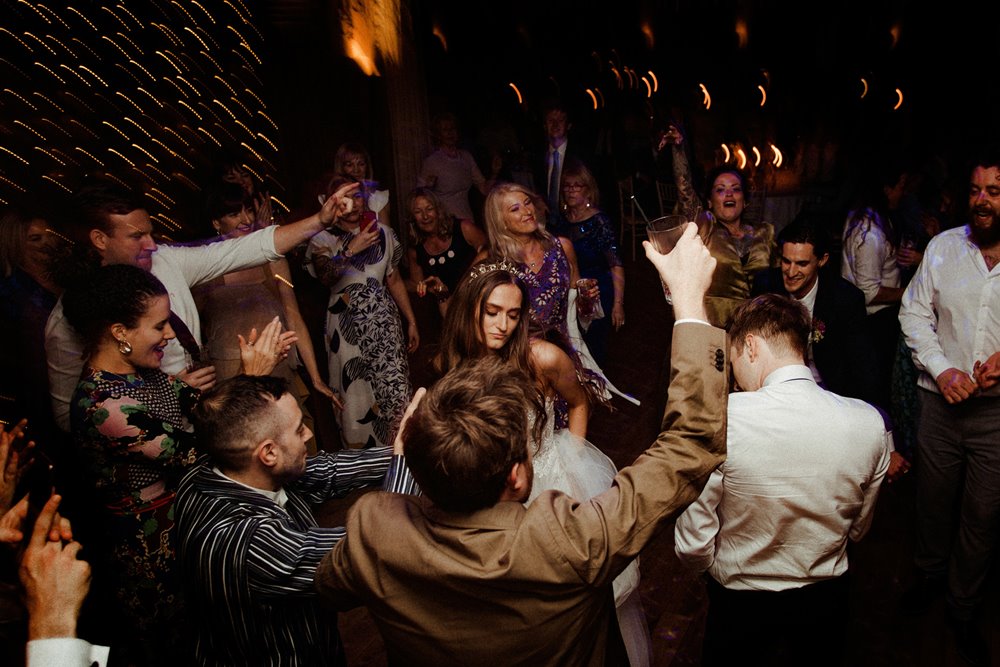 What was your highlight of the day?
For me it was the wedding ceremony - it was so much more intense and emotional than I even thought it would be! It was really like the world had stopped, so lovely.
I cried more then I thought I would. It was either a toss up between that and the money dance during the party in the evening - as it was such a cool party highlight with the entire wedding dancing in a circle, arms round each other.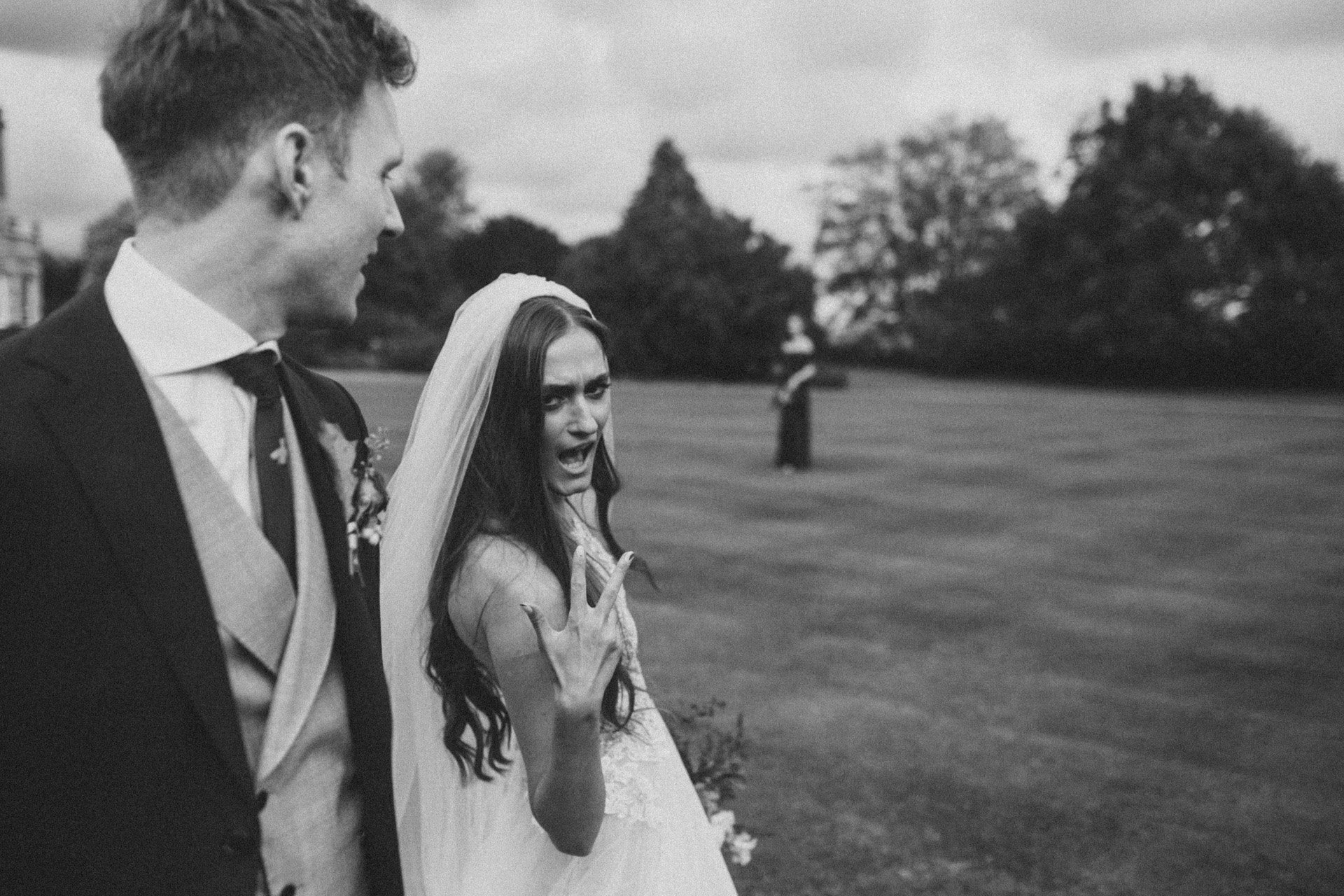 Any wedding suprises?
I loved the speeches as I had no idea what they were going to be like - and they were just so funny! Also just how fast it all goes, it goes by in such a flash, and I wish I had savoured the day even more then I did. It really was such an amazing day.
Tips for other brides...
I wish I'd known… that trusting your gut is the best thing, you don't want to get tot the day with any regrets.
If something seems like it must be done to you - there is probably a reason for that.
Also breathe and enjoy yourself, this day is all in the name of love, so have fun as much as you can in the planning and don't sweat the small stuff! Communication is key - the wedding was a real collaboration between Charlie and myself and there is something really nice in creating your dream day together.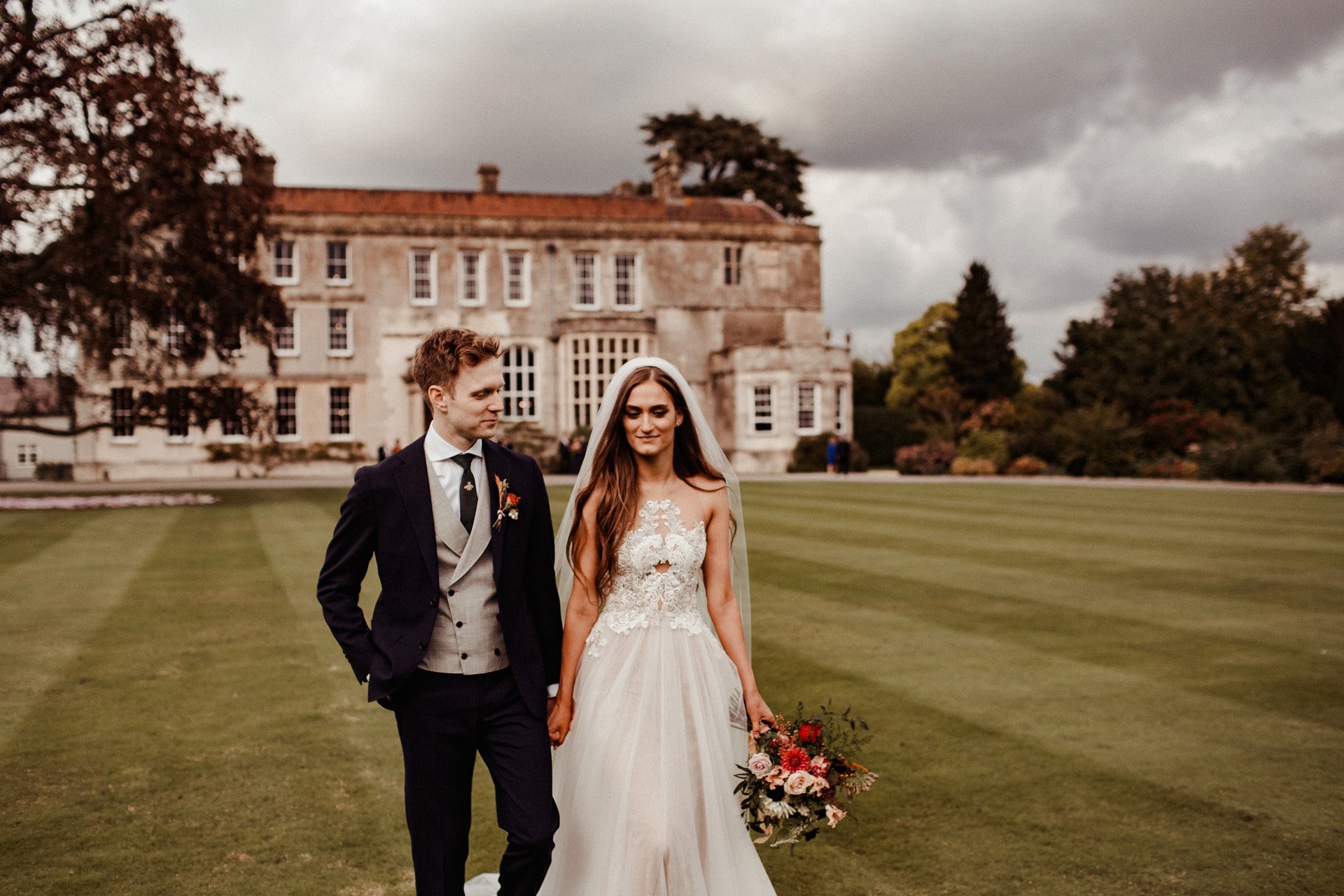 Thank you so much Sophia for talking us through your stunning autumnal wedding! There's more Autumn wedding inspiration here on our journal, have a browse.
If this has given you all the feels for an October wedding, get in touch to chat to us about 2023 dates.
Lots of love,
Team E xx
Related reading