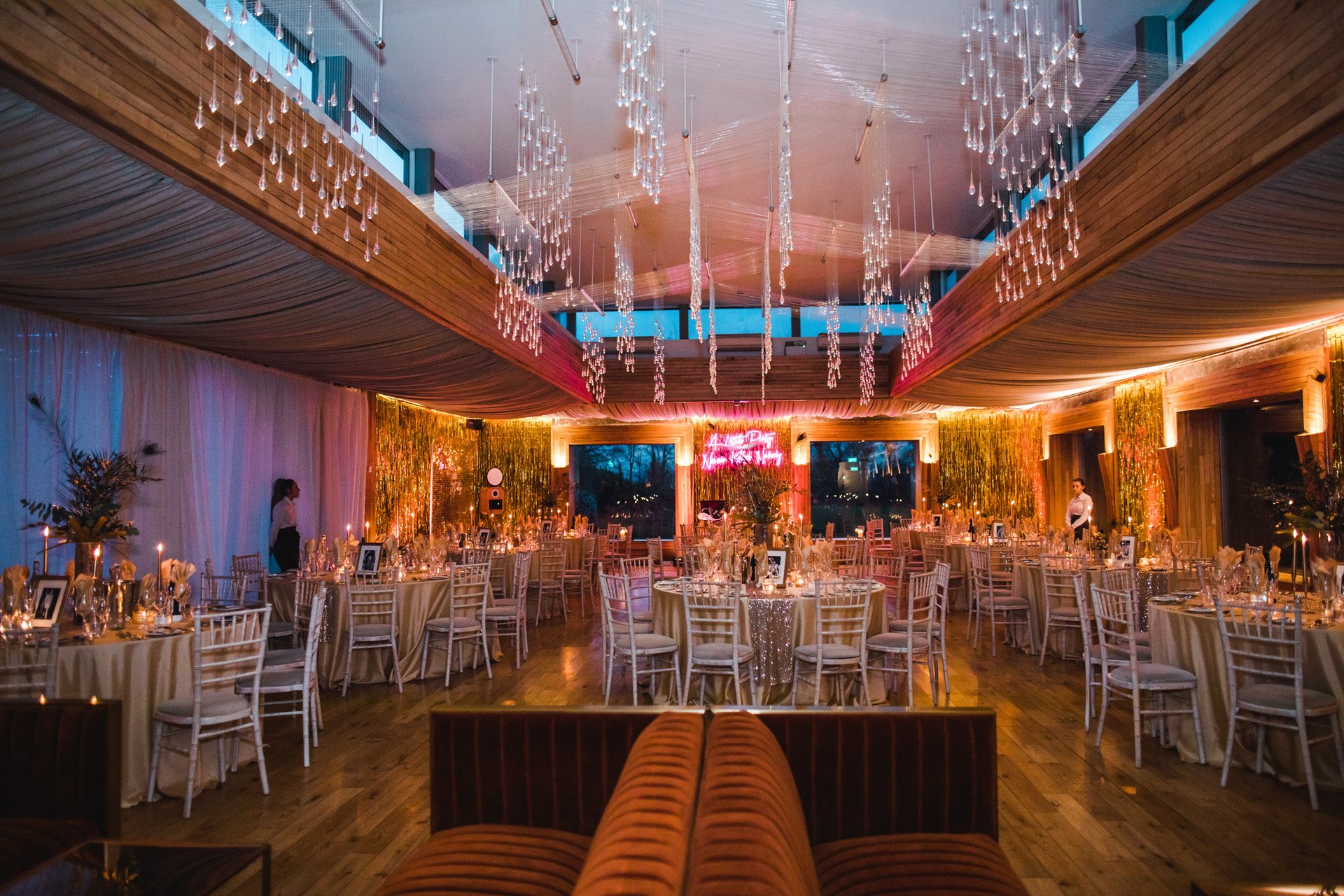 It's safe to say we're all a little party-starved right now, so we couldn't be happier when Andrew and Elizabeth's stunning weekend wedding photos landed in our inbox, a weekend-long wedding is one of our favourite kinds and we revelled at the chance to journal this inspired 3 day celebration (and to remind ourselves what a party looks like!)
So let's get comfy and go on a little journey to pre-pandemic times, it was a cold and sunny weekend in February and Elizabeth and Andrew had planned the most epic 3 days, here's their weekend wedding itinerary;
Friday night: Relaxed pre- wedding dinner and dress rehearsal
Saturday: Fun getting ready & Wedding ceremony with secret reveal & acoustic band
Saturday night: Wedding dinner, party & DJ
Sunday: Treasure hunt
Sunday night: Studio 54 themed 70's disco afterparty 
For all those planning a big post-pandemic party wedding; Have you got your note pads ready? This one is absolutely packed full of inspiration...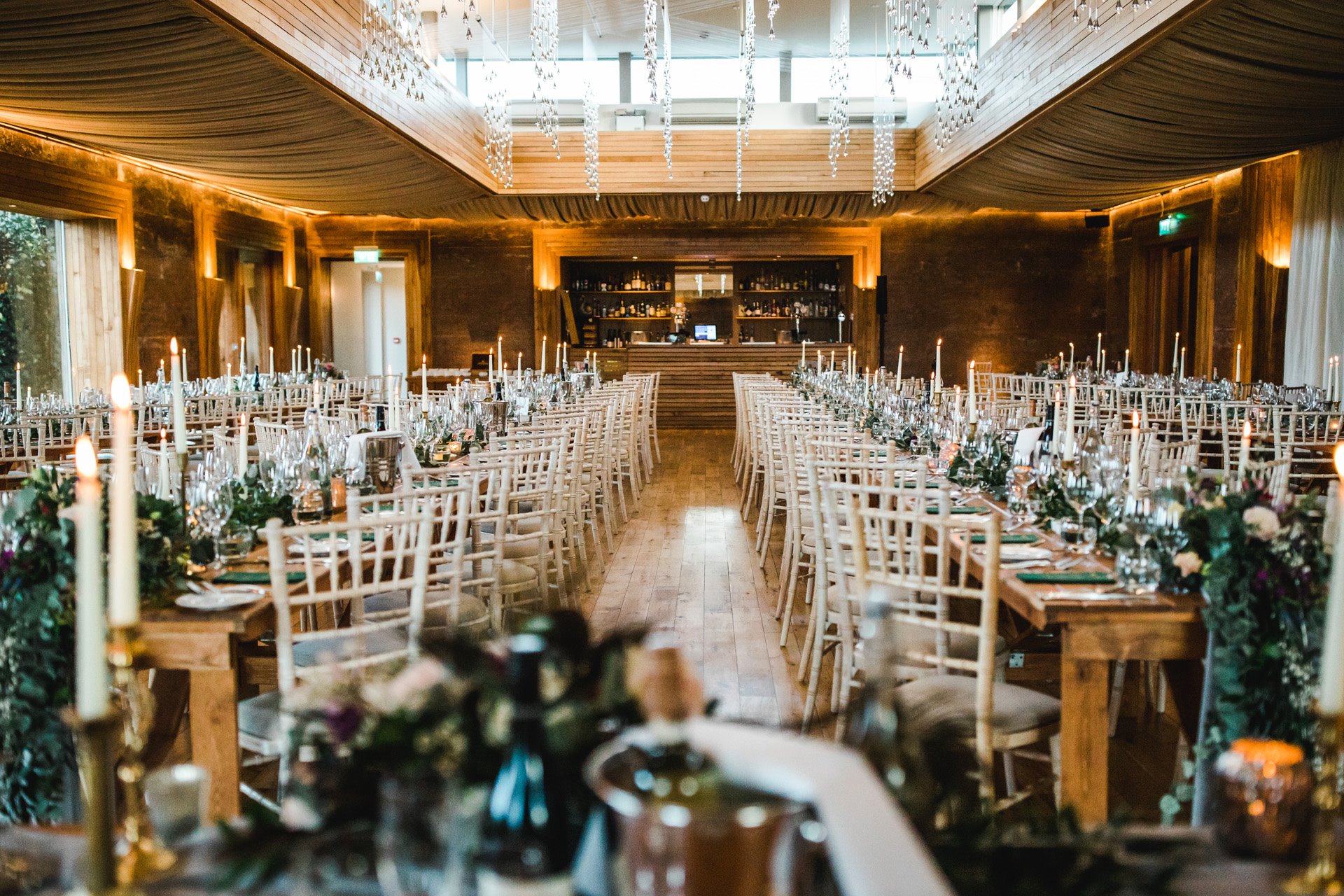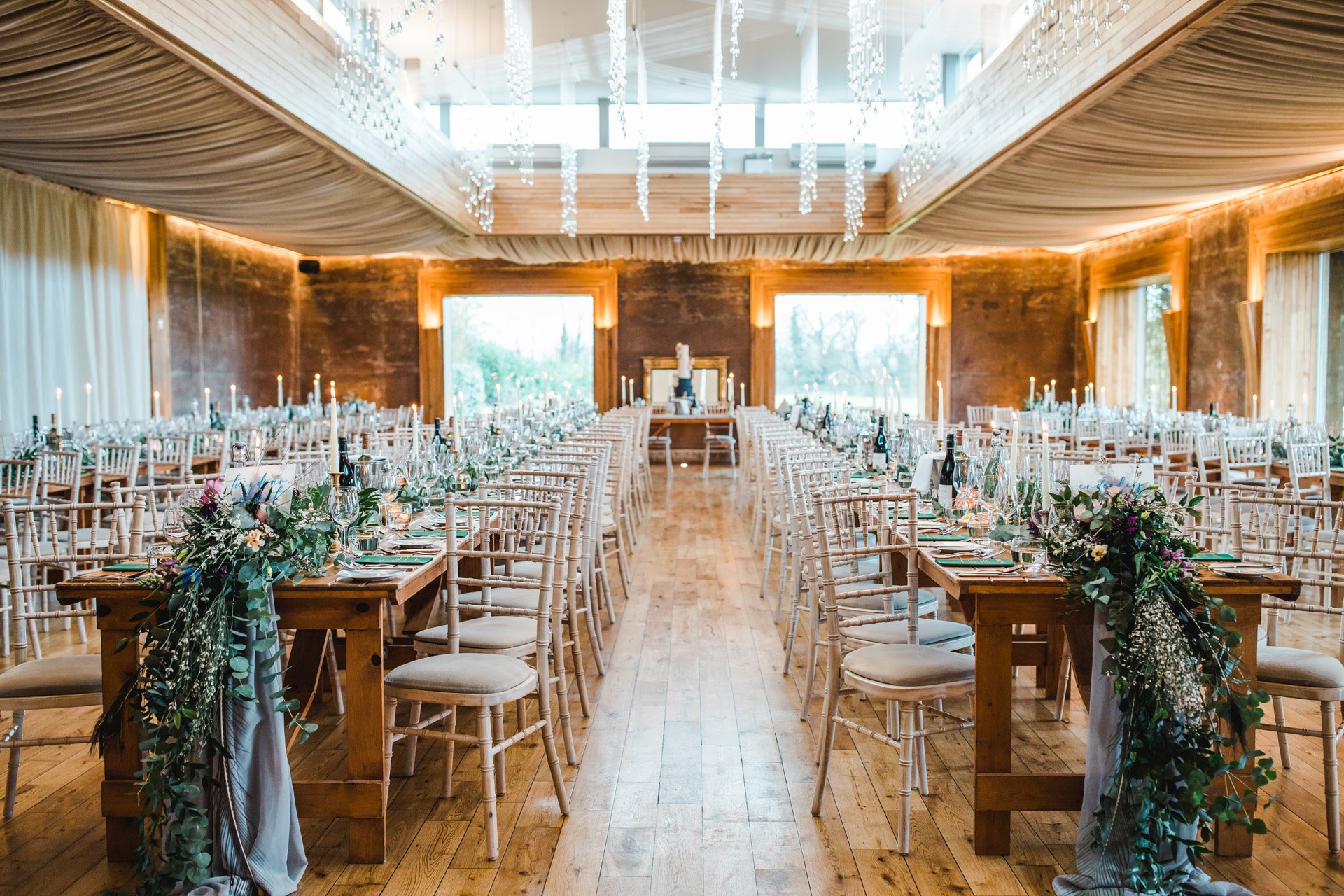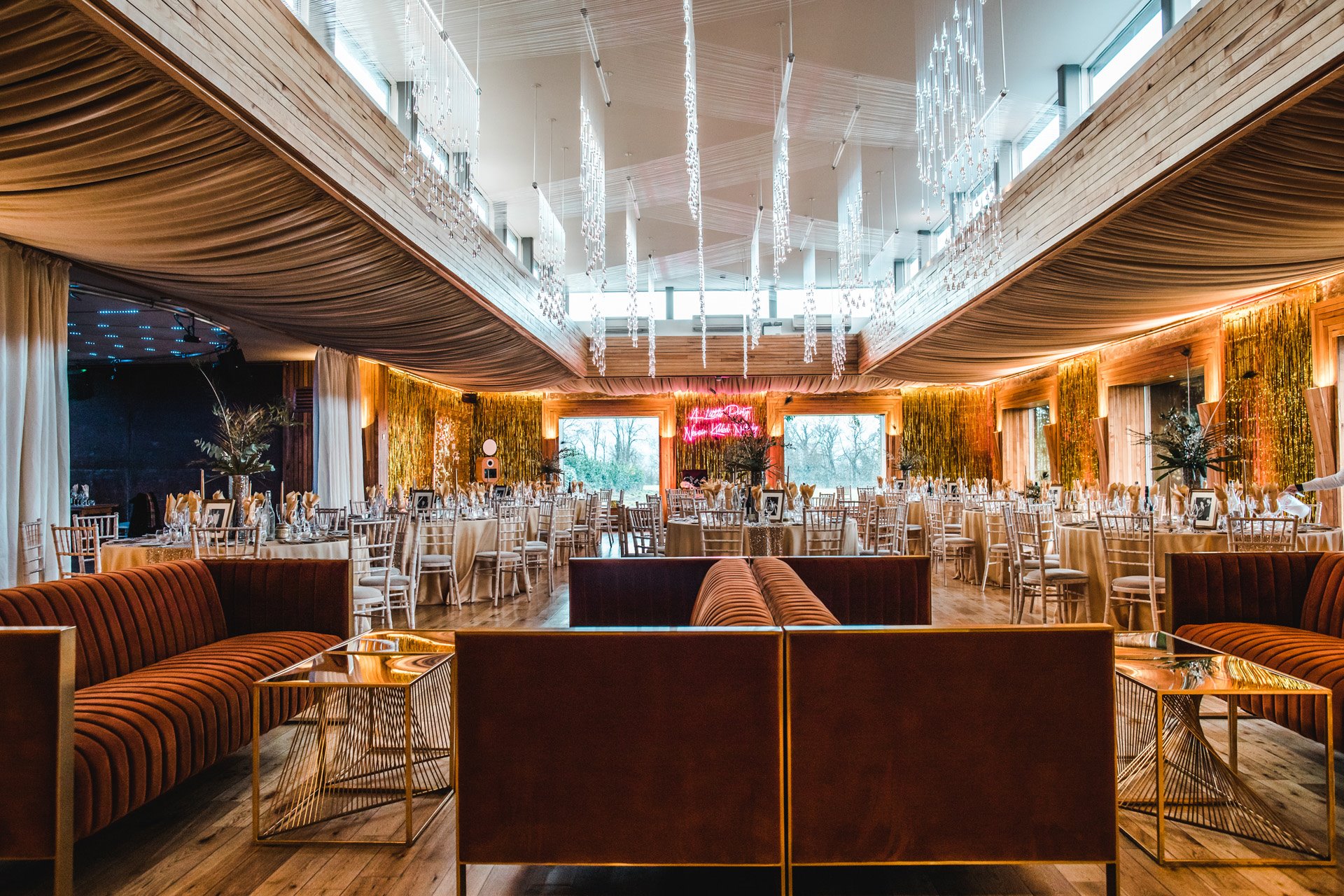 Tell us about you! How did you meet?
We met in our first year at university through a friend of a friend.
We lived very close to each other off campus and found we had lots in common. Both of us had just broken up with our first teenage loves the summer before and we were probably not looking to fall into another long term relationship but you can't plan these things!
We were both interested in the arts and auditioned for the Drama Society together, initially being cast opposite each other as the leads in a gritty student written piece which required our first kiss to be on stage in front of friends and family – not awkward at all. We were together 9 years when we got engaged and just over 10 years when we tied the knot at Elmore Court.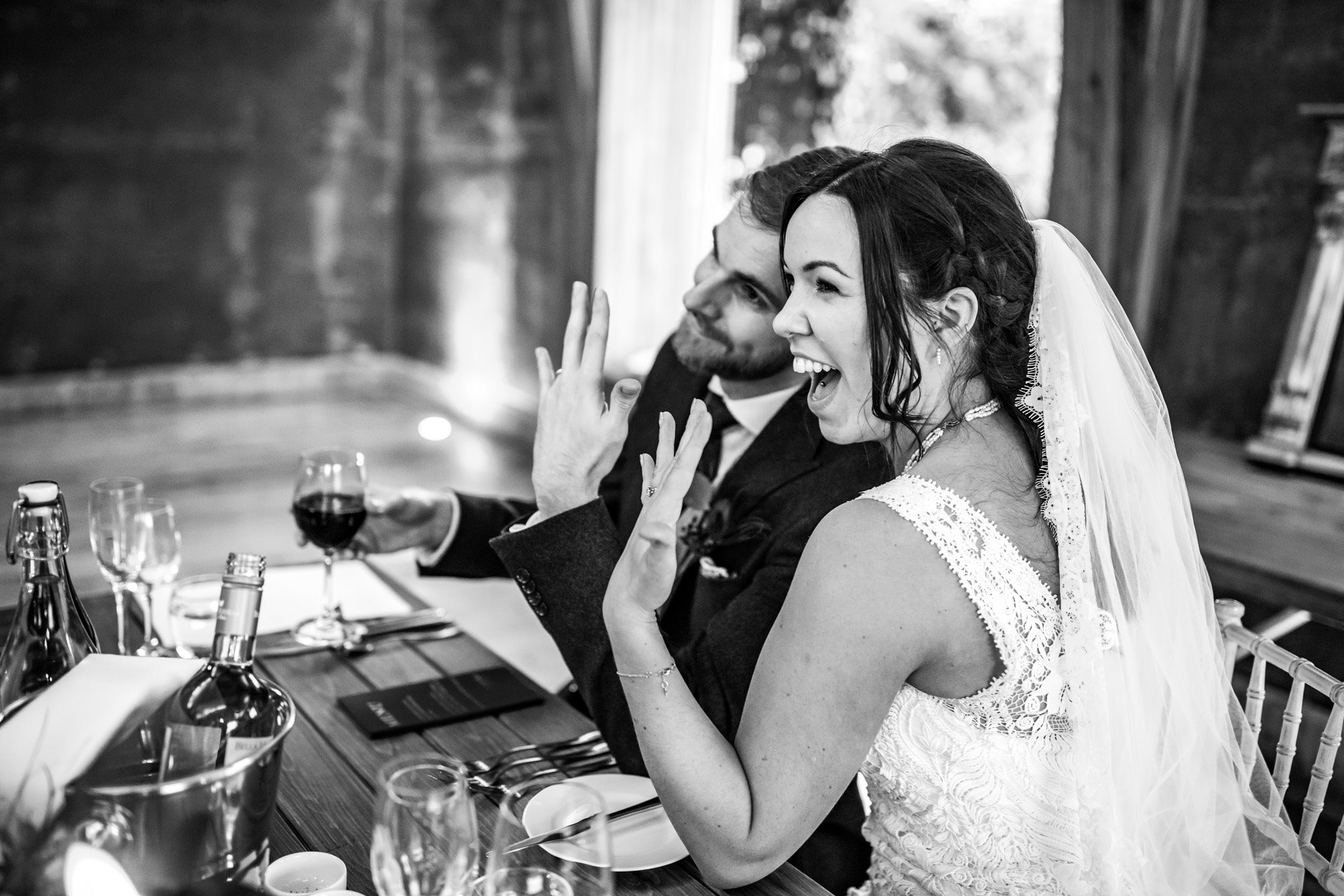 How did the proposal happen?
I said yes, obviously, and shortly after realised that clattering in the kitchen was a private chef cooking up the most decadent meal our dining table has or will ever see!
Andrew proposed at our home in London on a sunny autumn day in November.
He had arranged for me to be out of the house with my friend all day, though I had thought this was my friend's initiative. We had decided to have a "best friends day" with a few drinks, a manicure (duh!) and a lovely walk in the park.
I then got home around 5pm to a note on the door asking me to go straight to the bedroom to get changed and I knew immediately what was about to happen. The house smelt incredible, I could hear clattering around in the kitchen and assumed Andrew was upstairs.
There was an outfit laid out for me, not something I would have chosen myself for the occasion but I happily obliged, and another note instructed me to head out to the garden when I was ready. There were rose petals and candles leading the way and I followed the sound of a romantic playlist to our sweet little patio.
Andrew was waiting for me with a bottle of champagne and the garden looked beautiful. He got down on one knee and spoke some beautiful words to me that I wish I could remember! I was so overwhelmed with love in that moment that I zoned out everything but him.
I said yes, obviously, and shortly after realised that clattering in the kitchen was a private chef cooking up the most decadent meal our dining table has or will ever see!
It was perfect, and certainly worth the wait.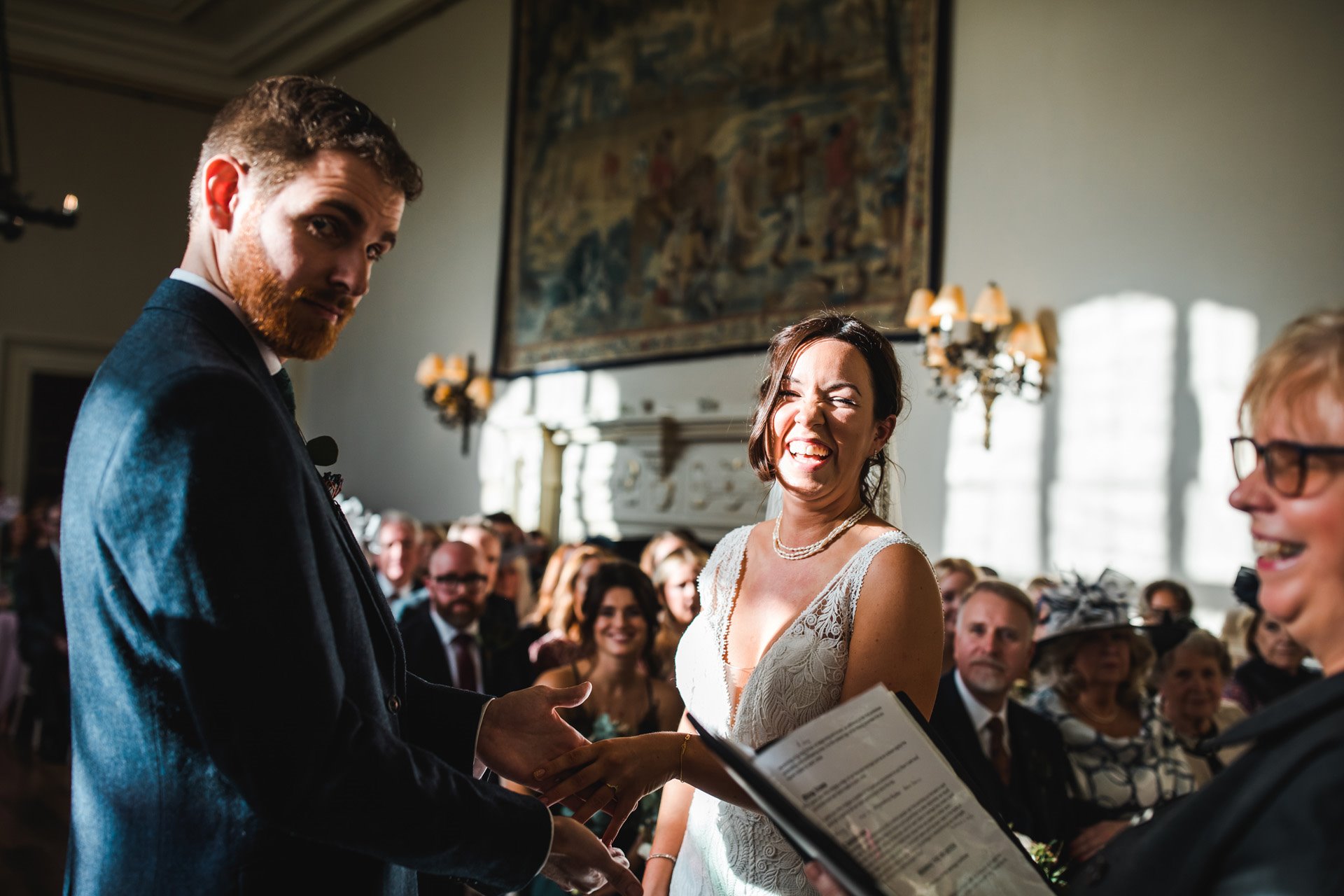 Why was Elmore Court the best venue for your weekend wedding?
Liz - We had been to see a few wedding venues with accommodation across the country and I had fallen in love with a place called Dewsall Court in Hereford. It had an out building for the reception, bedrooms in the property for our nearest and dearest and such a quirky, contemporary style yet beautifully in keeping to the age of the house.
However, we wanted 150 people at our 3 day wedding with 40 people to stay on site with us and Dewsall just couldn't accommodate this many guests. Andrew the ever-rational voice was reiterating this and I knew deep down he was right even as I was trying to find solutions.
I felt like I had seen all the wedding venues in the country at this point, but I was yet to discover Elmore Court. From the online brochure I already knew we had struck gold. The style of the property had everything Dewsall Court had and more.
Elmore Court had grandeur and cosiness in spades, the interior design was so cool and it was so fit for purpose that made it seem super simple to achieve what we wanted.
It was a big exclusive wedding venue with accommodation for all our guests and would provide enough variety for our weekend wedding extravaganza! Team E were incredibly enthusiastic and supportive on talking through our plans and Adele made us feel so at ease from the first meeting.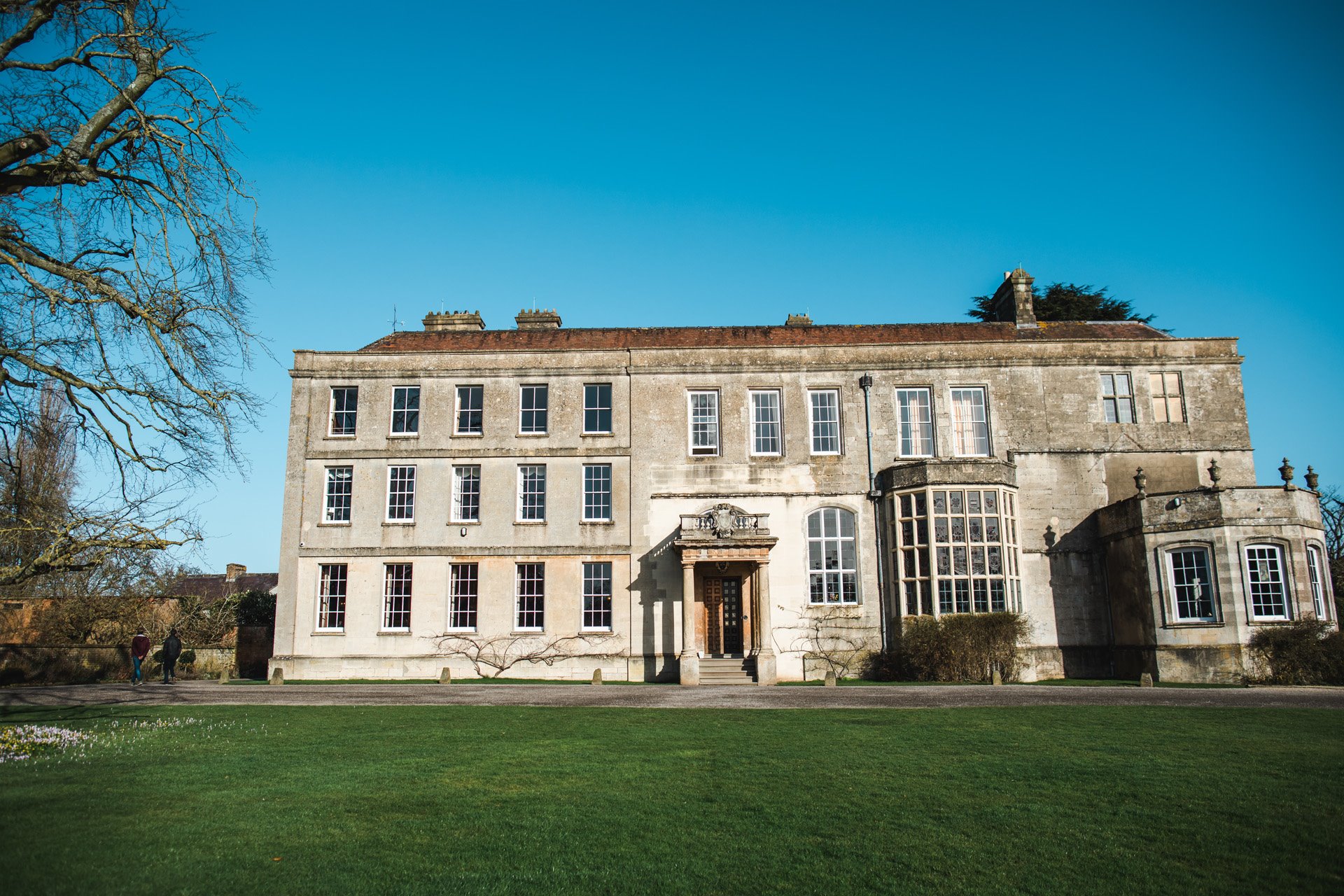 How did the 70's disco theme come about?
We didn't have anything in mind initially but I knew I wanted to land on a theme of sorts if only to help me narrow down colour schemes and styling. I was pretty speedy on sorting my dress out and it was the day I found it that we also discovered a theme... The dress had a large, vintage inspired lace pattern overlay which my bridesmaid commented looked like a peacock feather. This stayed with me and I began researching.
I chatted to Andrew and we agreed that for a winter wedding, these colours would work so well, dark greens and blues with a gold accent. The first thing we applied this to was our invites which were gorgeous, created by the fabulous Pen and Fold.
On seeing the mock up, it was even more apparent that this was going to work.
The second day was also a consideration to ensure it felt different enough from the wedding day itself. We wanted a costume theme but nothing too obvious, something subtle enough that people could look great and not stupid or wacky. So a Studio 54 disco party fit the bill perfectly as we are both lovers of 70s music and style, it was all finally coming together!
How did you choose your wedding flowers?
I really wasn't sure what my bouquet would look like until it was revealed from the box and I was thrilled.
We worked with mother/daughter team Sorori Design and Lauren Grey Wedding Stylist for our decoration and flowers. These two made this process so easy for me.
I had no idea what flowers I wanted other than wanting something seasonal and lots of green stuff.
I gave them the theme, and created a shared Pinterest board with ideas of things I liked and let them work their magic. They sent back some proposals and costs which we agreed upon and honestly, that was the last I heard till the big day.
I really wasn't sure what my bouquet would look like until it was revealed from the box and I was thrilled.
I trusted these two talented women implicitly and boy, did they deliver.
They also came up with clever ways to reuse the flowers for day two with just a few styling additions to make the most of the space, not to mention the crazy turn-around of the Gillyflower which happened so seamlessly.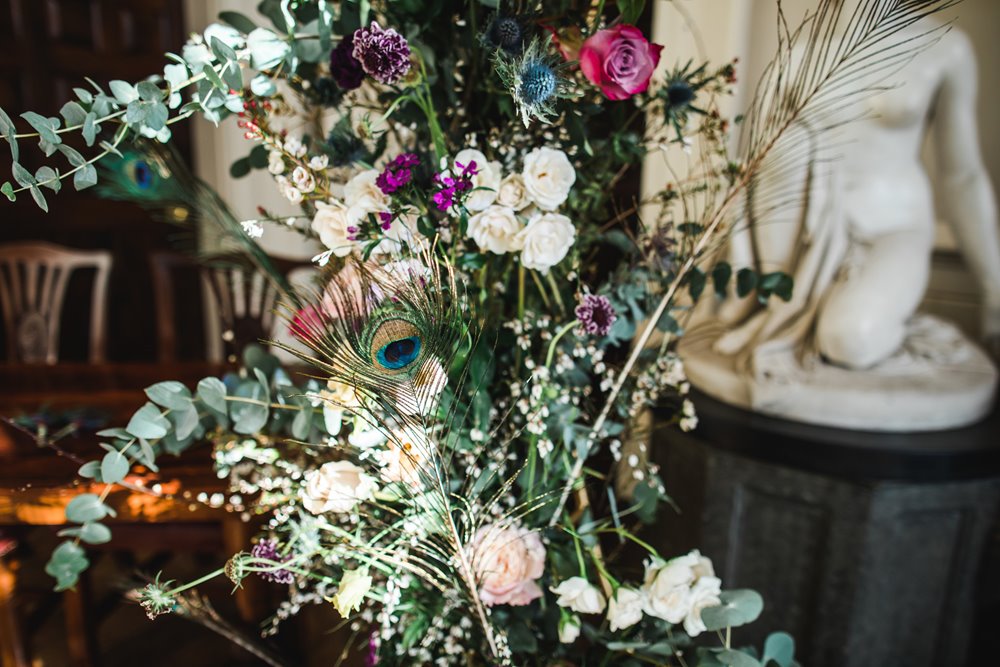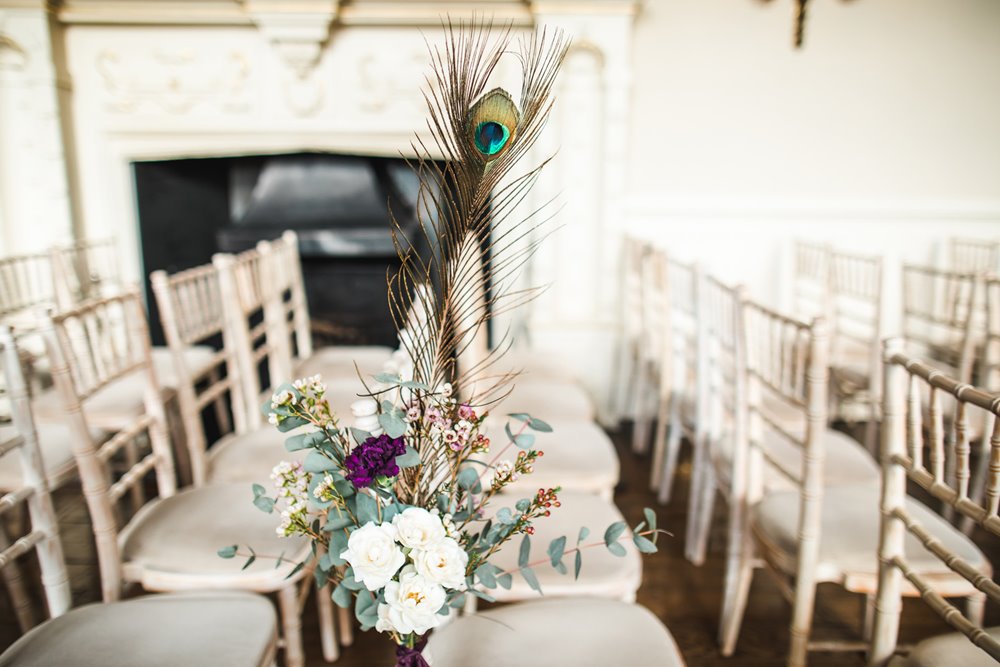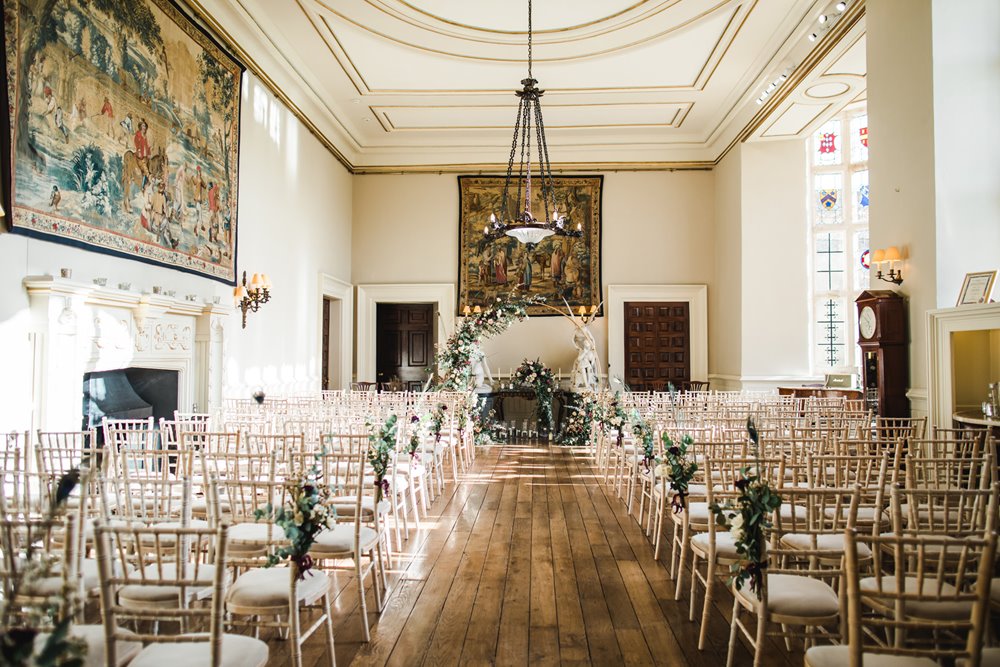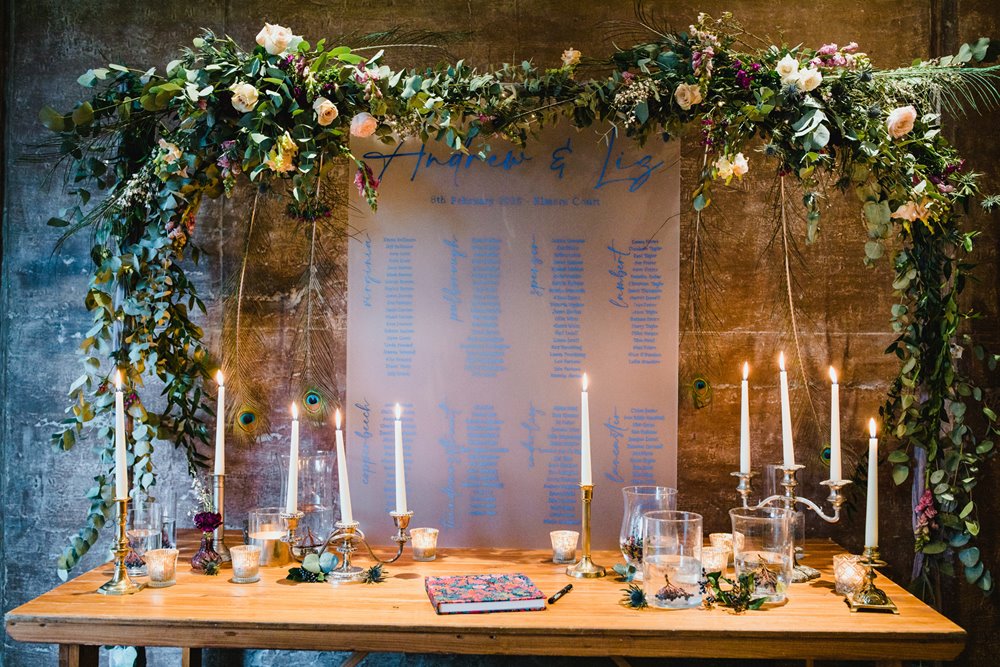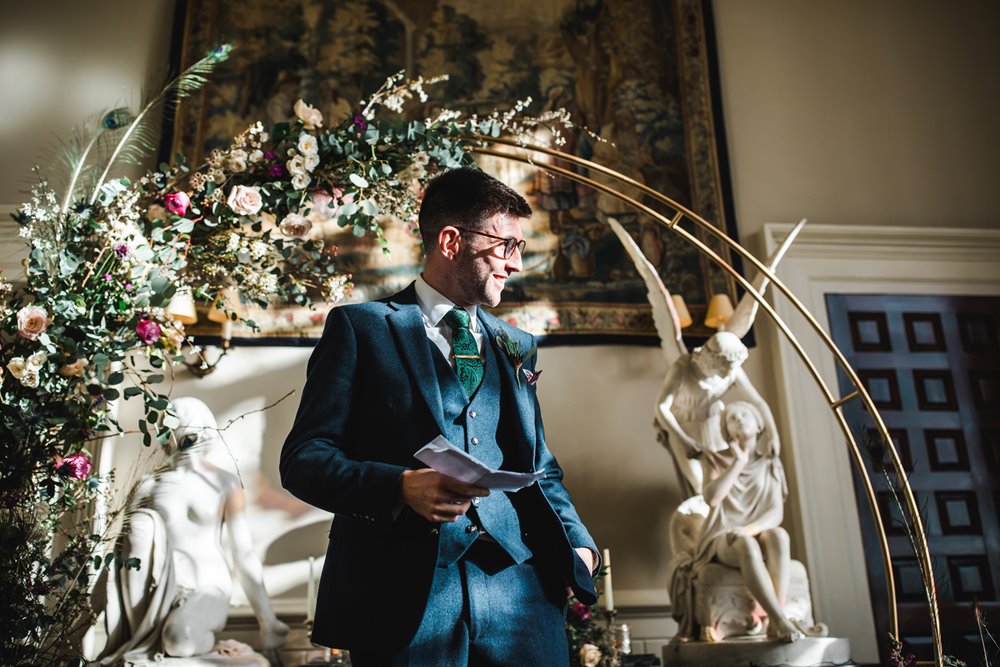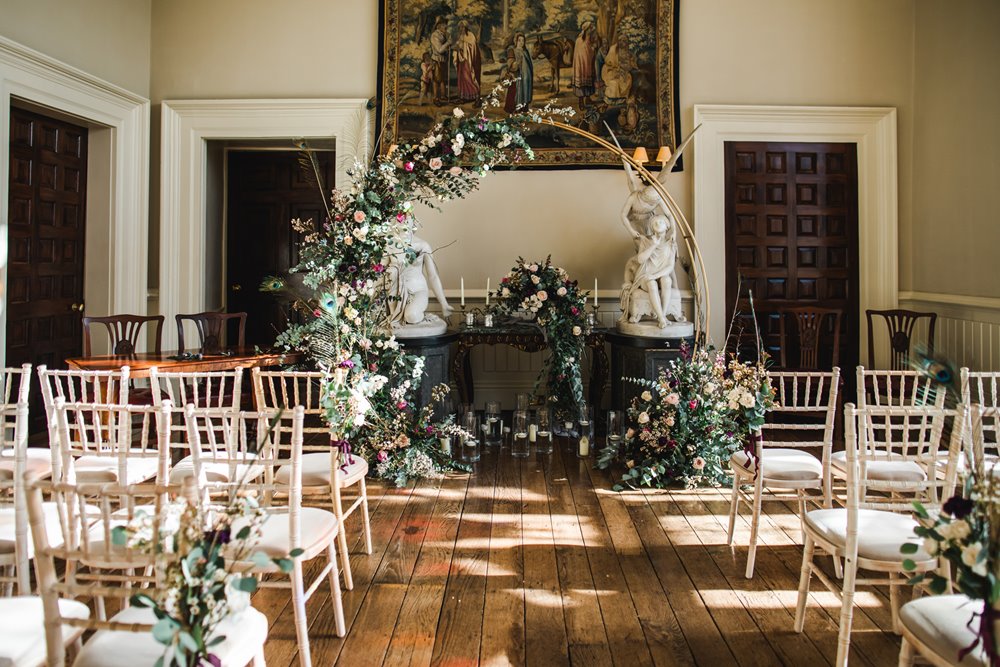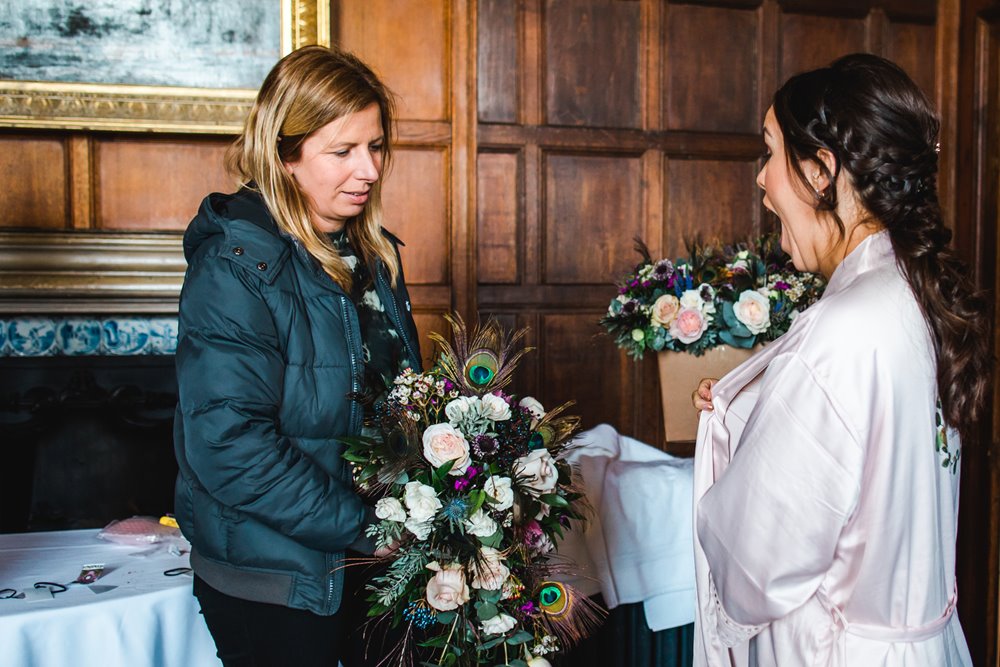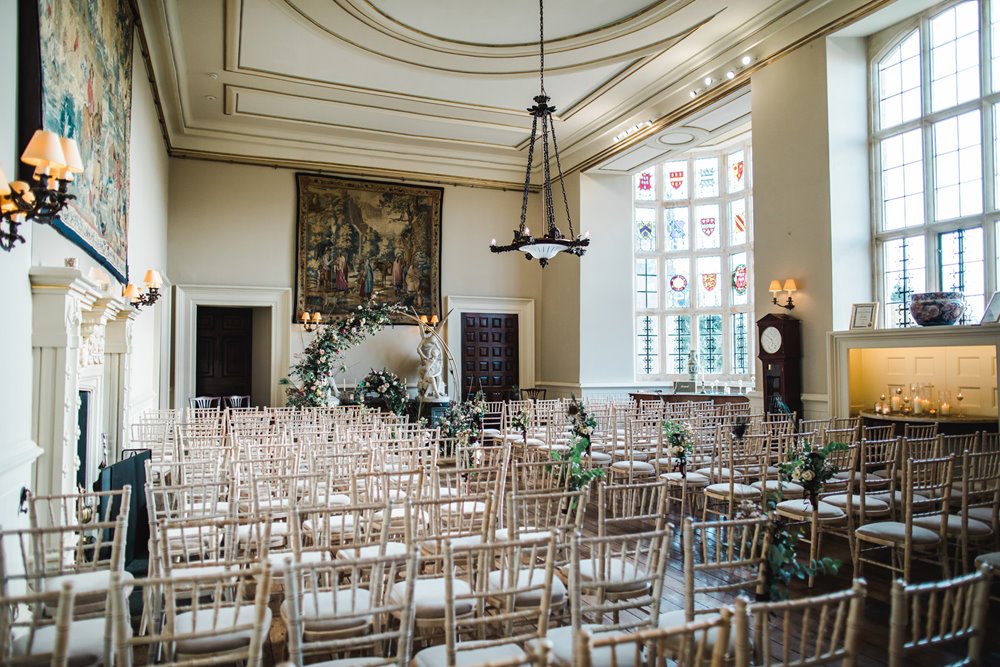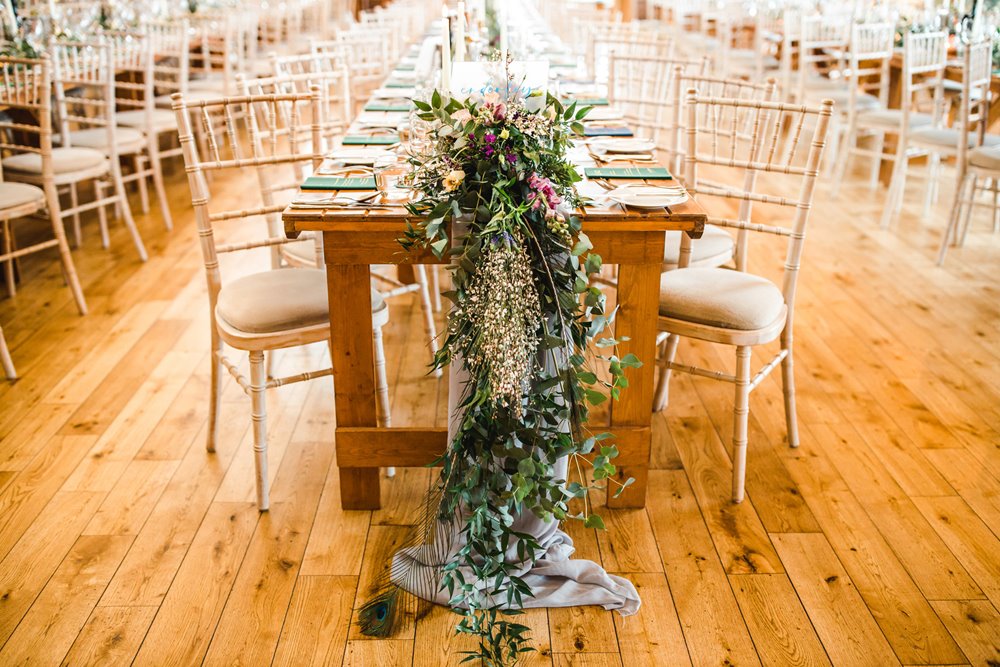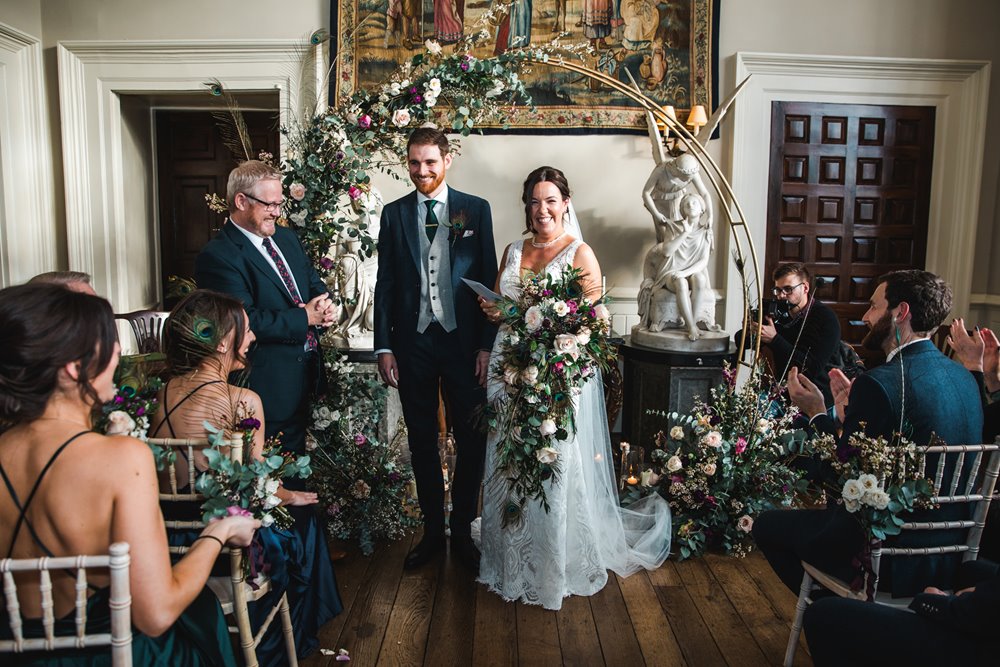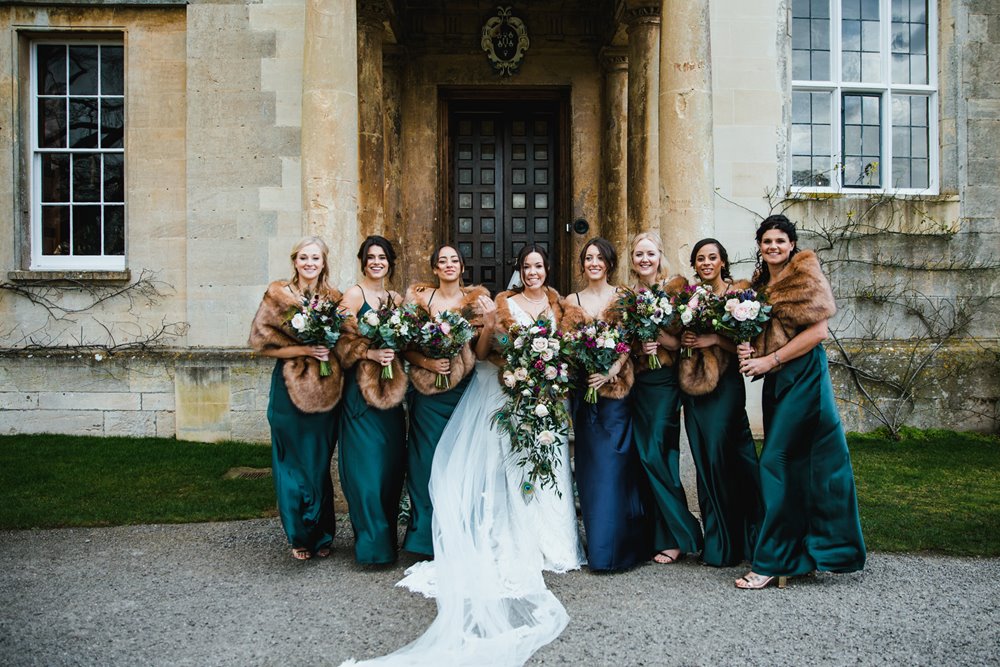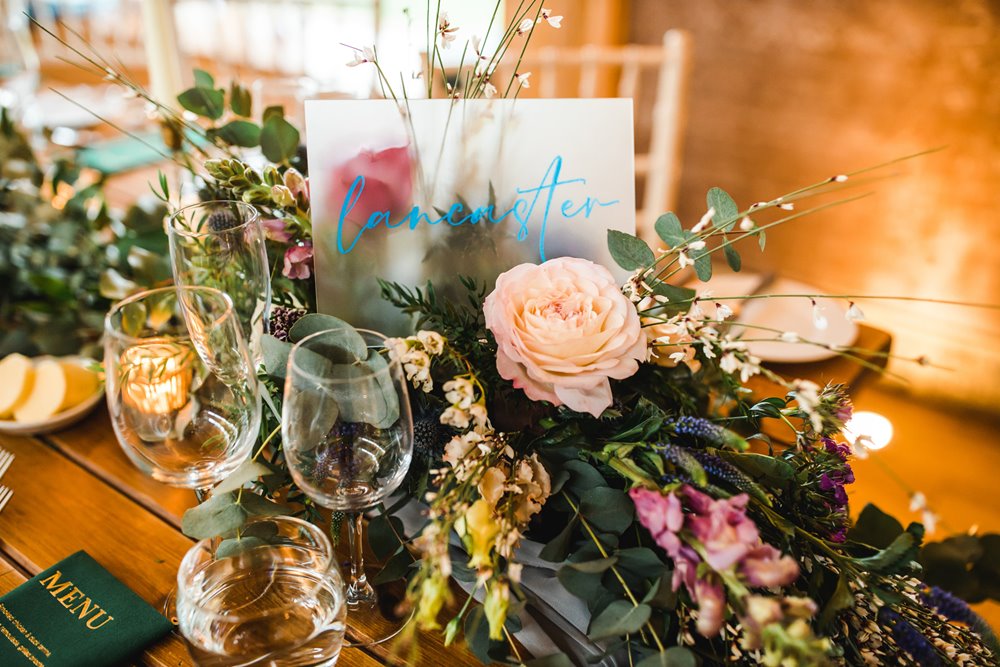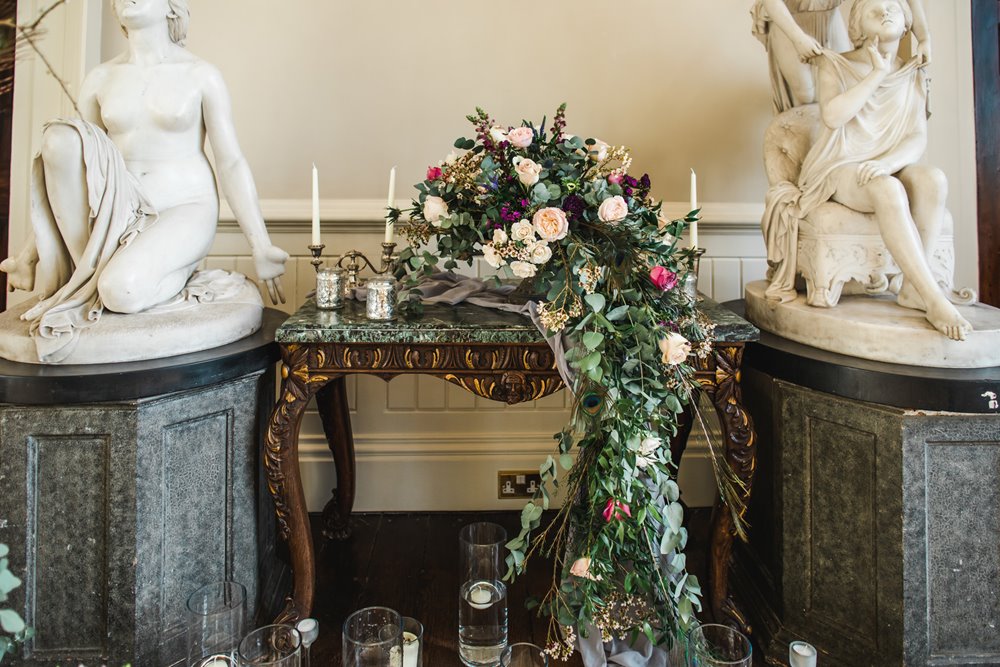 What were your wedding planning priorities?
I laid a lot of importance on pretty much every element of the day and its wild how much goes straight over your head when its happening!
We are big party people, and it was important to us that ultimately everyone had a good time.
The food was something that will stay with me as we have been to weddings before where the catering en-masse has been a little disappointing and as a guest, you feel that. The kitchens at Elmore are so well prepared, we agree the tasting day was the best part of the planning for us. We LOVED it.
All the food is amazing, restaurant quality dining and we were just as pleased with it on the day.
We also had great feedback from those with dietary requirements who said that the waiting staff were really attentive and communicative with them, they didn't have to worry anything was amiss and they felt really well cared for.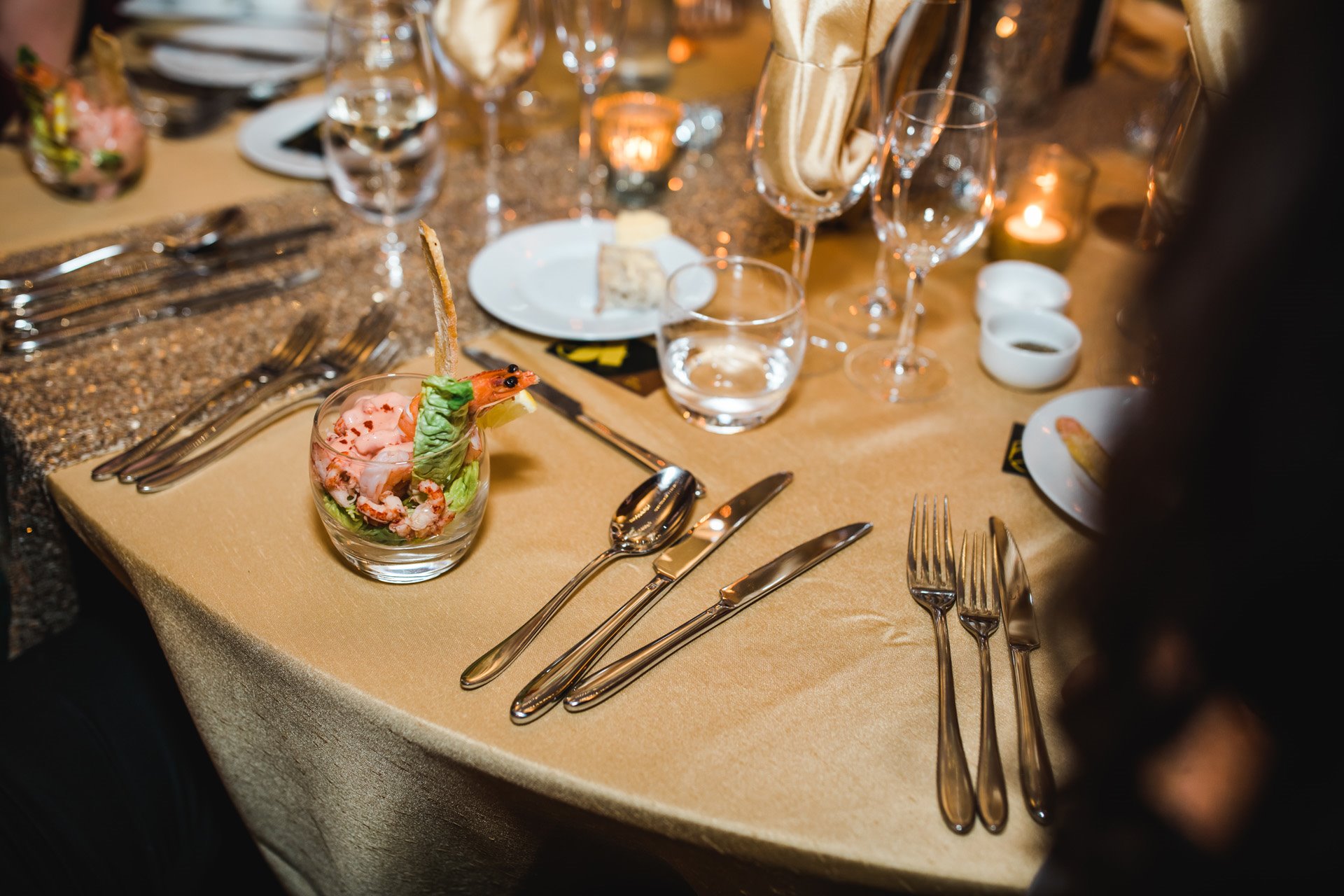 Tell us about your dress!
I ended up going with Pronovias for my dress, having been to a variety of other places. Initially, I had imaged myself in a bohemian, vintage-esque gown though on trying on styles like this, they really weren't for me. Everyone wants to feel special on their wedding day, and I wanted a gown that physically felt like nothing I would ever wear for any other occasion. I also felt that I wanted to wear it all day, these things are so expensive it seemed mad to me to switch it over after just a few hours.
However, I was also going to get a second dress for the Studio 54 night so I suppose I had that to look forward to as well.
My gown in the end had a 70s inspired lace print, but a form fitting silhouette and strong bodice that made me feel secure and tall. I paired it with a cathedral length veil for extra drama and was really happy with how it came together.
Its funny, I think I tried other dresses that looked insane, maybe better than the one I picked but it just felt right when I had it on. It felt like mine.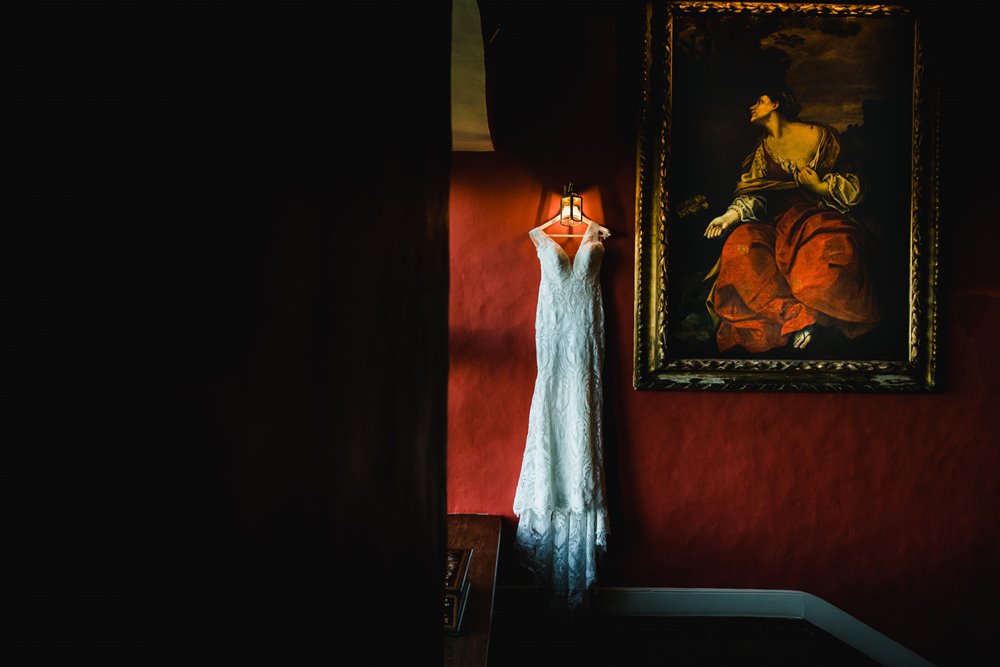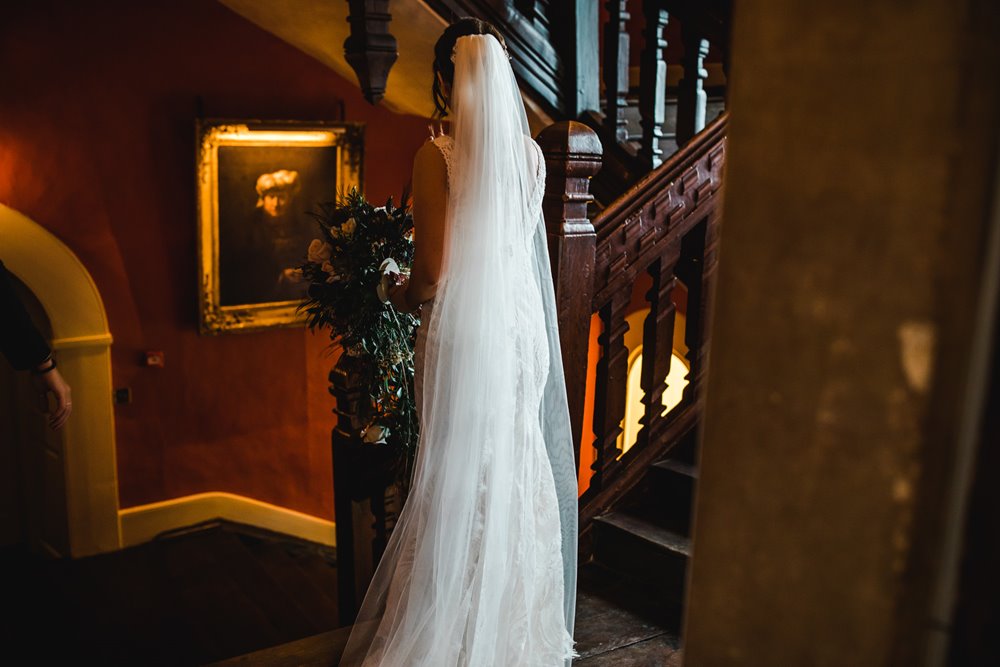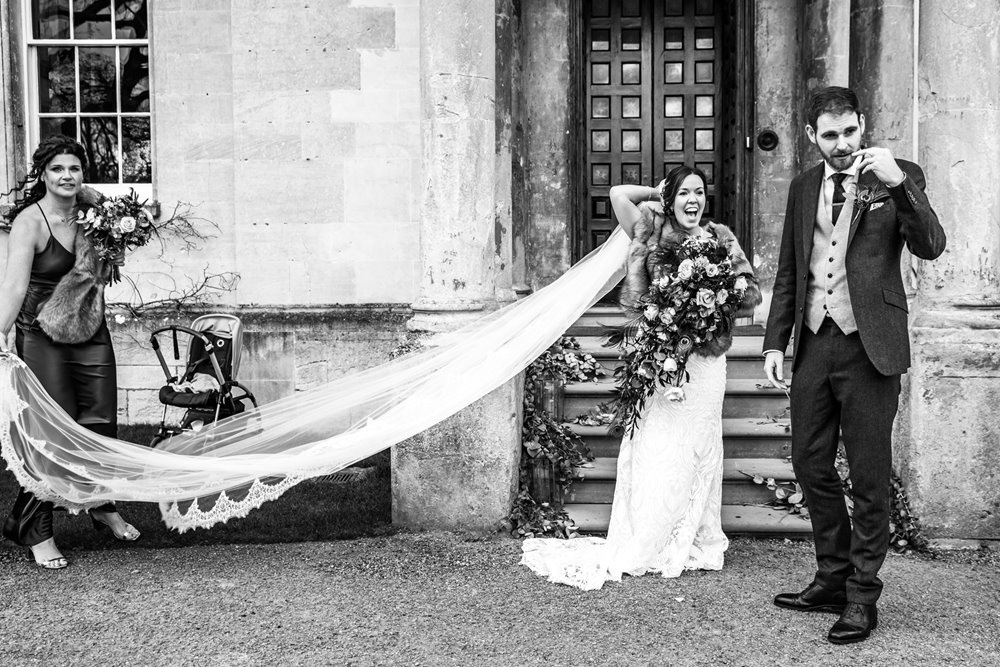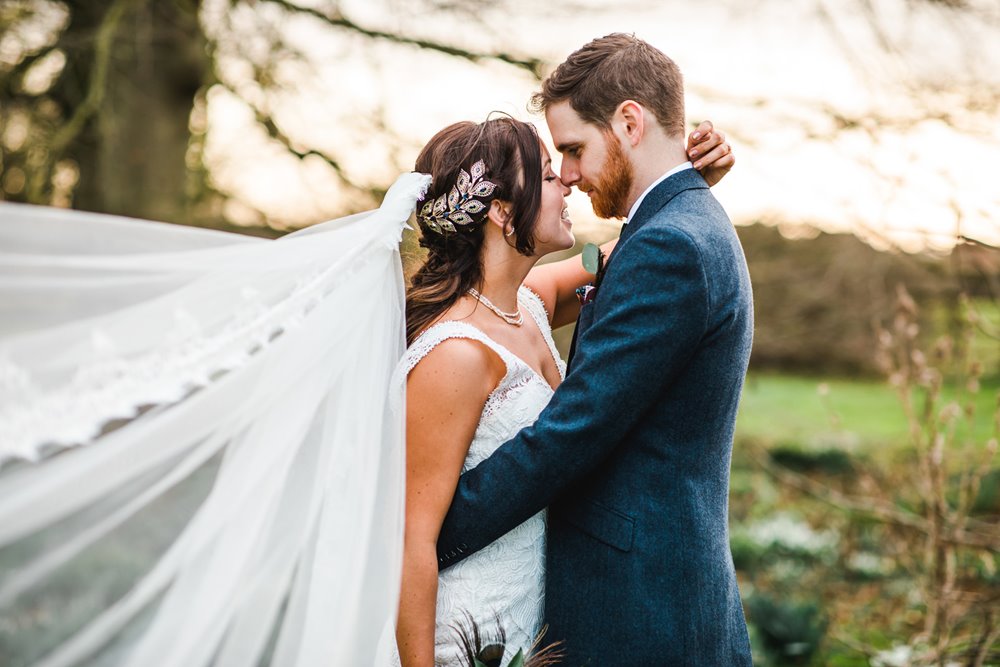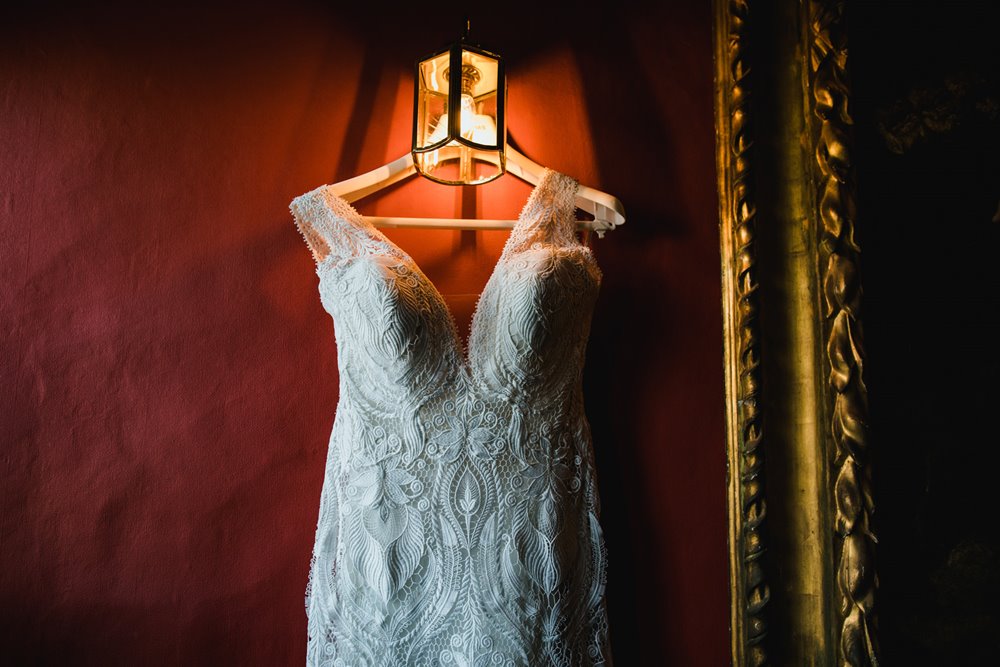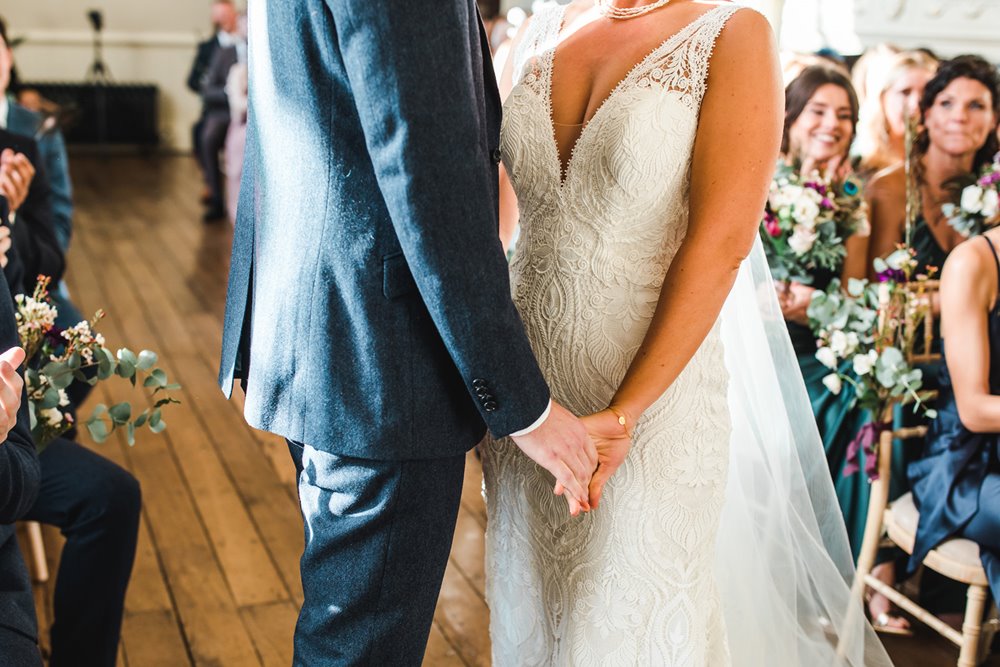 Who did your wedding hair and makeup? What style did you go for?
I worked with local MUA Jessica Mills who did make up for me, 7 bridesmaids and my mum. She was so lovely to work with and did a beautiful job.
My step-sister is a hairdresser and it felt right for her to do my hair for the day and Lauren Gosling did my bridesmaids' hair. Again, they looked stunning, and we had such a fun morning getting ready, drinking champagne and listening to music.
Adele even managed to whip up some sandwiches for us when we got peckish mid-morning!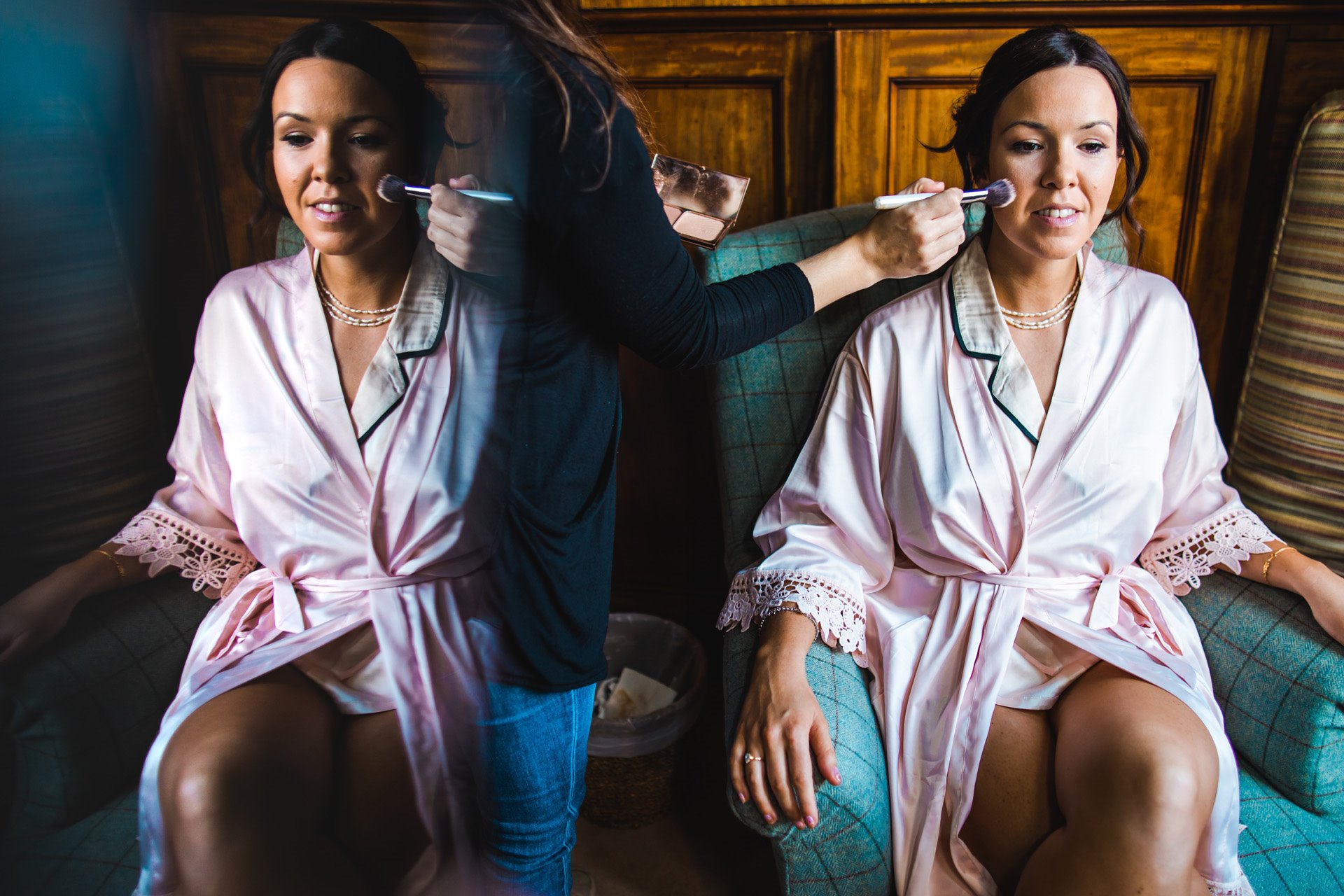 You had a big bridal party!
I had a whopping 7 bridesmaids and Andrew matched me with his 7 groomsmen. We have a lot of close friends and rather than have to choose and make cuts we decided that although it was a lot, we didn't care! We also both have divorced parents who are now in new relationships, so this added on another 8 people.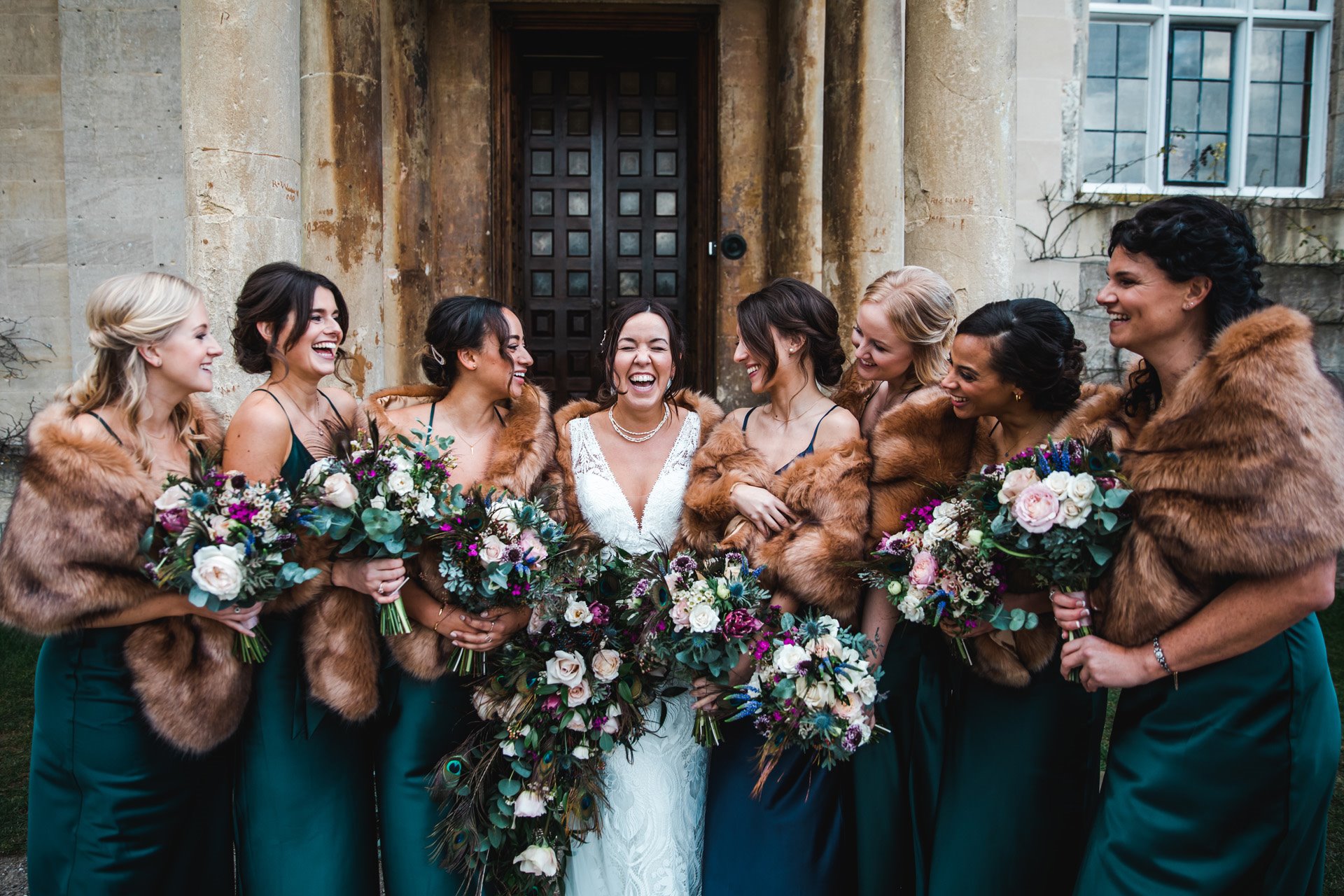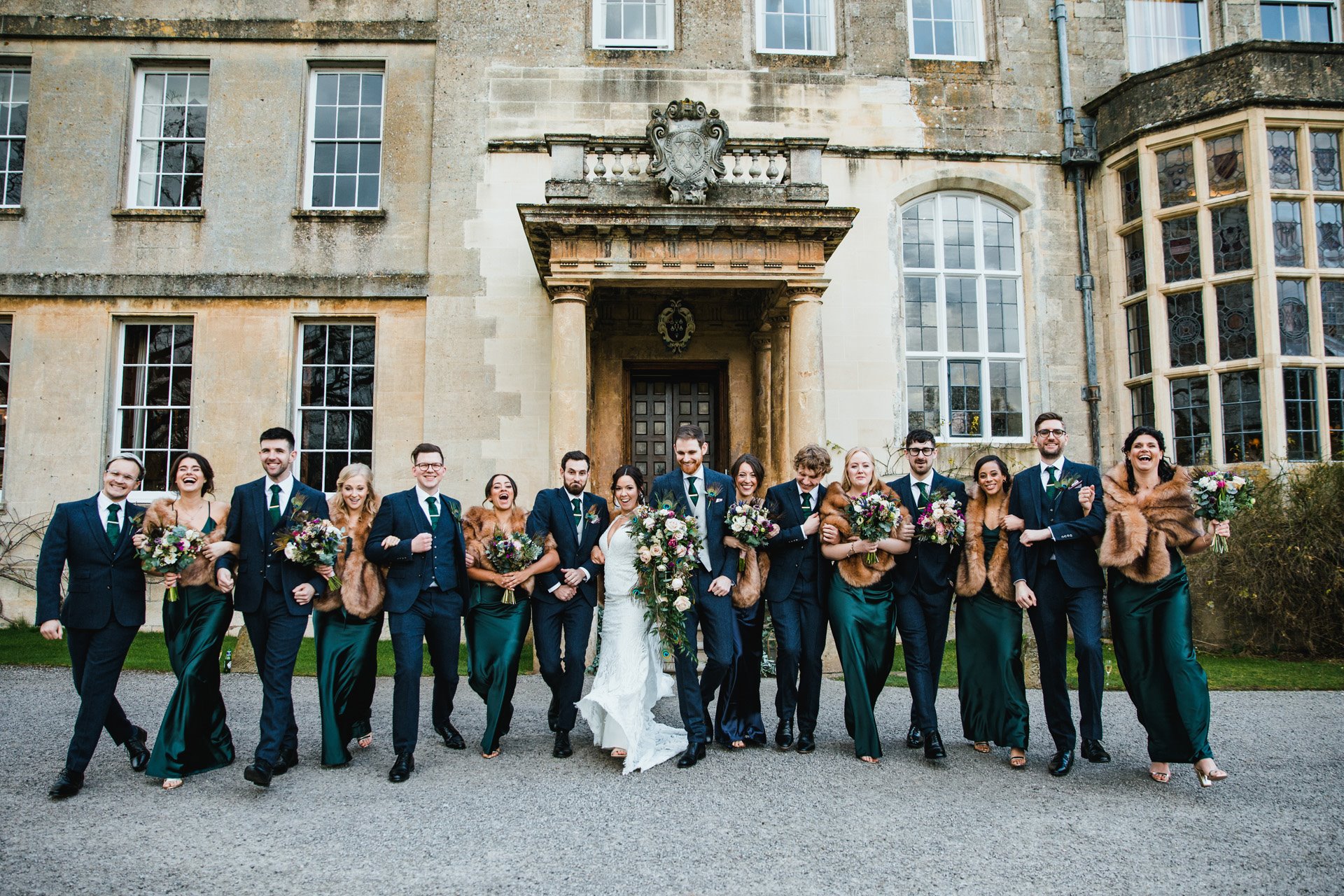 Andrew what did you and your groomsmen wear?
After a lot of searching in many different tailors, one groomsman and I were just about calling it a day walking around Oxford Street and jumped into Moss Bros and saw exactly the type of suit we were looking for (blue wool three piece suit). Then realised I could get a semi-tailored suit with the same material.
It worked out perfectly.
The night before we just chilled in the lounge after the lovely dinner that had been put out in the dining room.
The morning of the wedding we all got ready together, learning as a group how to tie a Windsor knot and how to fold our pocket squares enjoying a couple of beers and champagne… Nothing compared to the party the girls were having.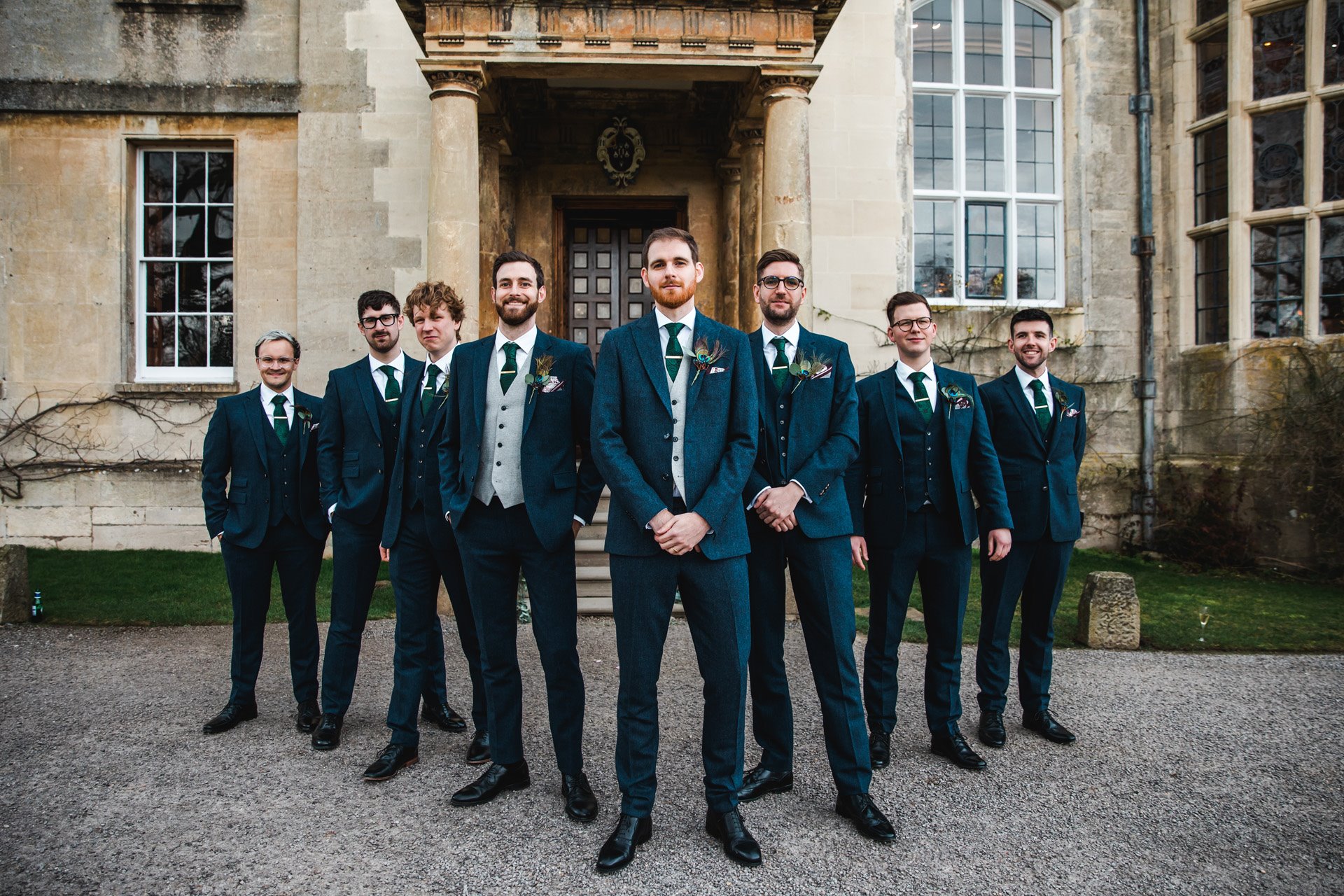 How did you feel on the big day!
Liz – I felt great the morning of, very calm and collected. Soaking in the atmosphere (and the champagne!).
I didn't think I would be nervous at all, though that quickly ramped up when my Dad and I went to speak to the registrar. Suddenly I was all shallow breaths and sweaty palms... I think the significance of the moment hits you.
During the ceremony I remember looking up at Andrew saying my vows and the sun moving out from behind a cloud and streaming through the stained glass windows, it was inspired, I am still not sure how Adele managed to arrange that. 

Andrew – I woke up refreshed and calm, ready for the day I had been waiting forever for. I was maybe a bit keen getting up so early as it felt like I was dressed and ready for a long time.
Waiting at the front I was very happy to be standing with my best man, my elder brother. The sun started to stream through the window and Liz made us wait so we were pretty warm.

Liz – The wait was not intentional! I had no idea I was pulling a diva move!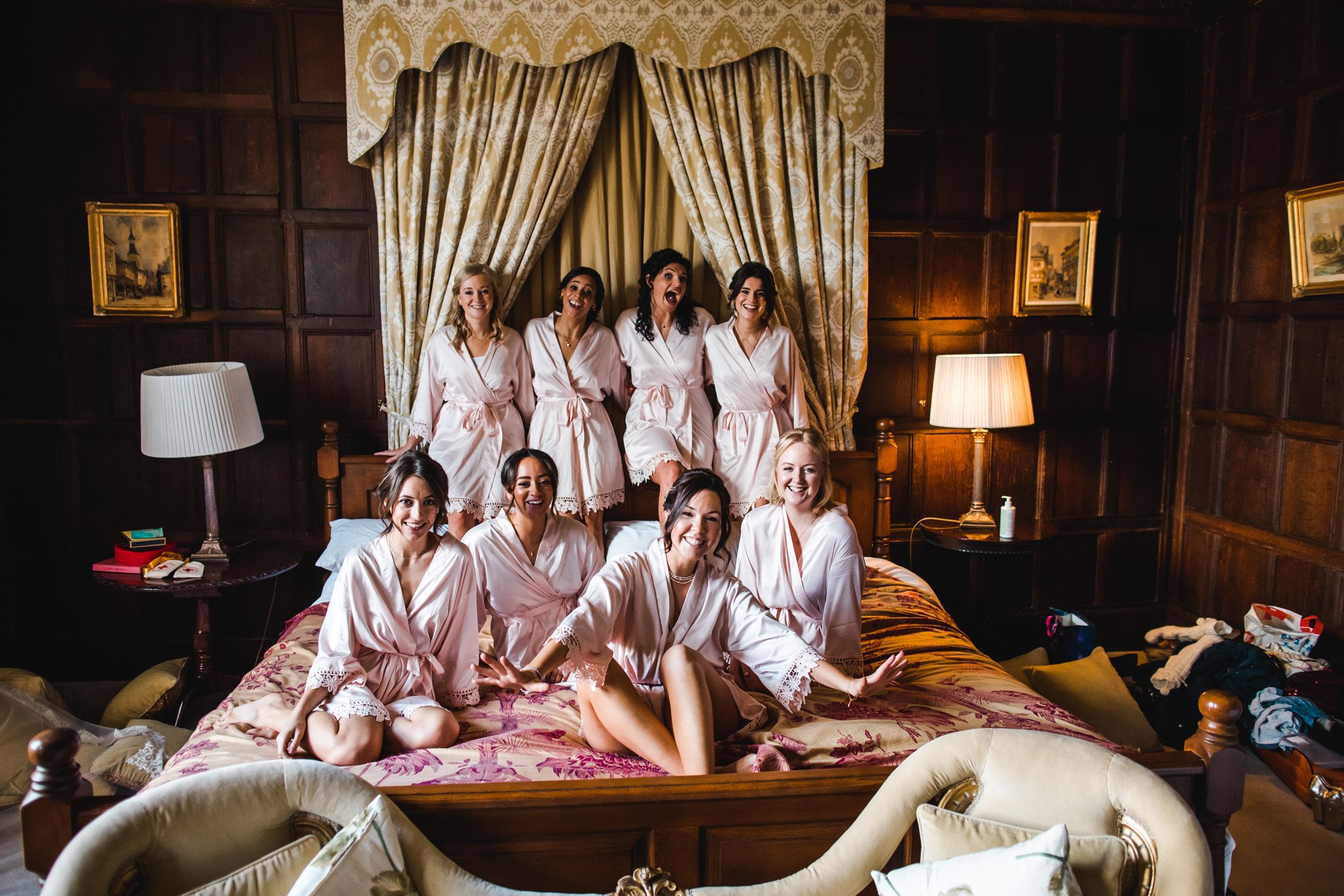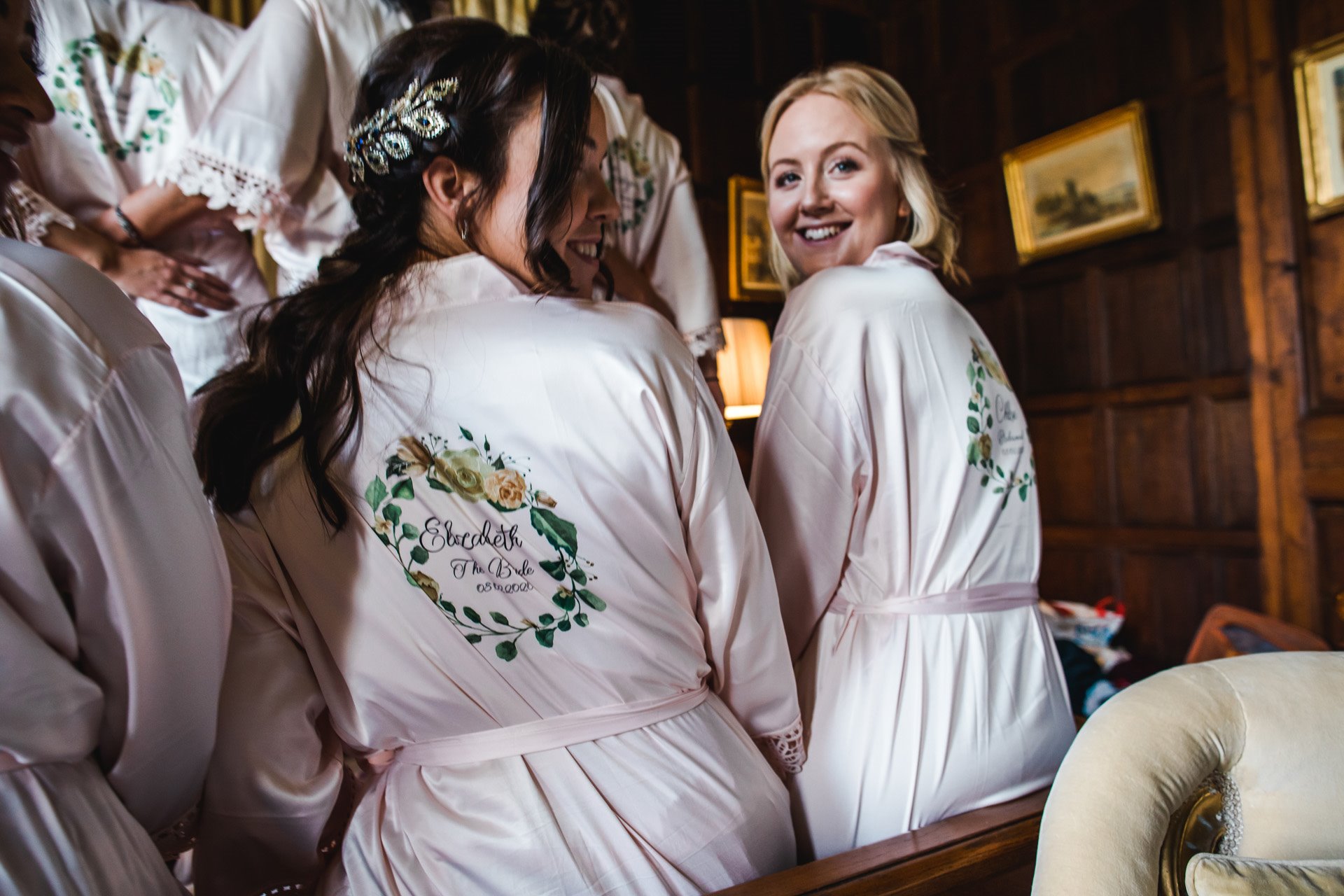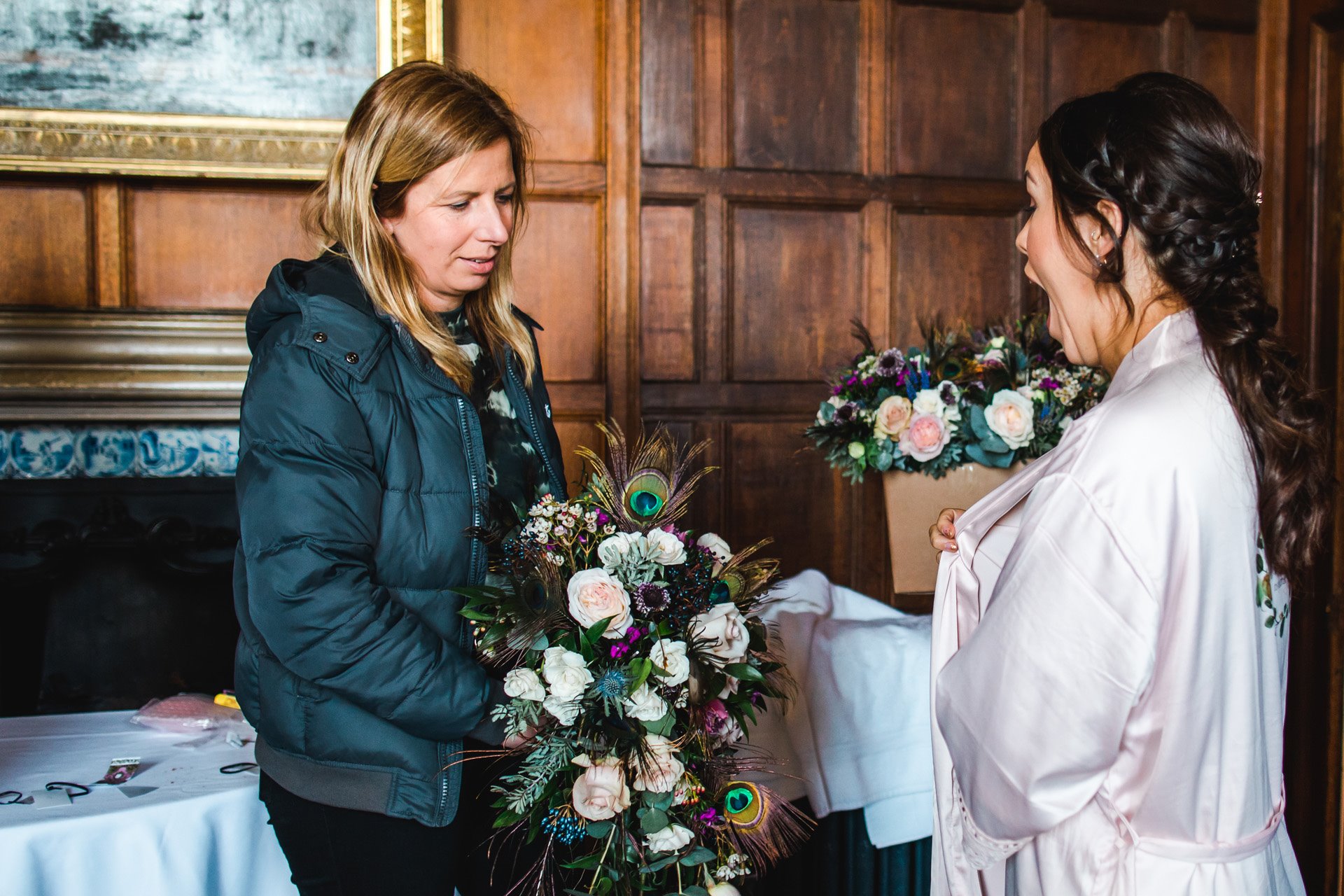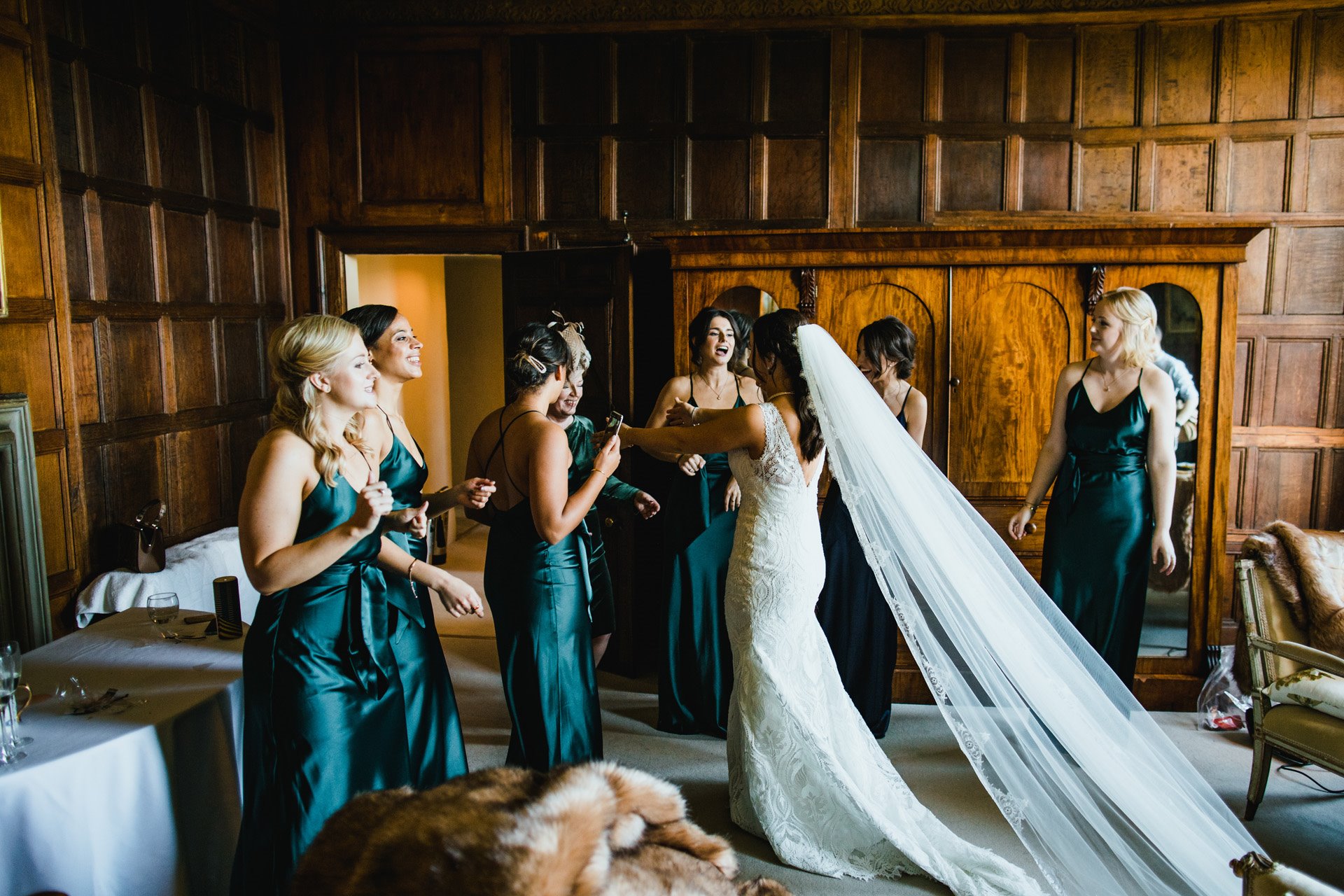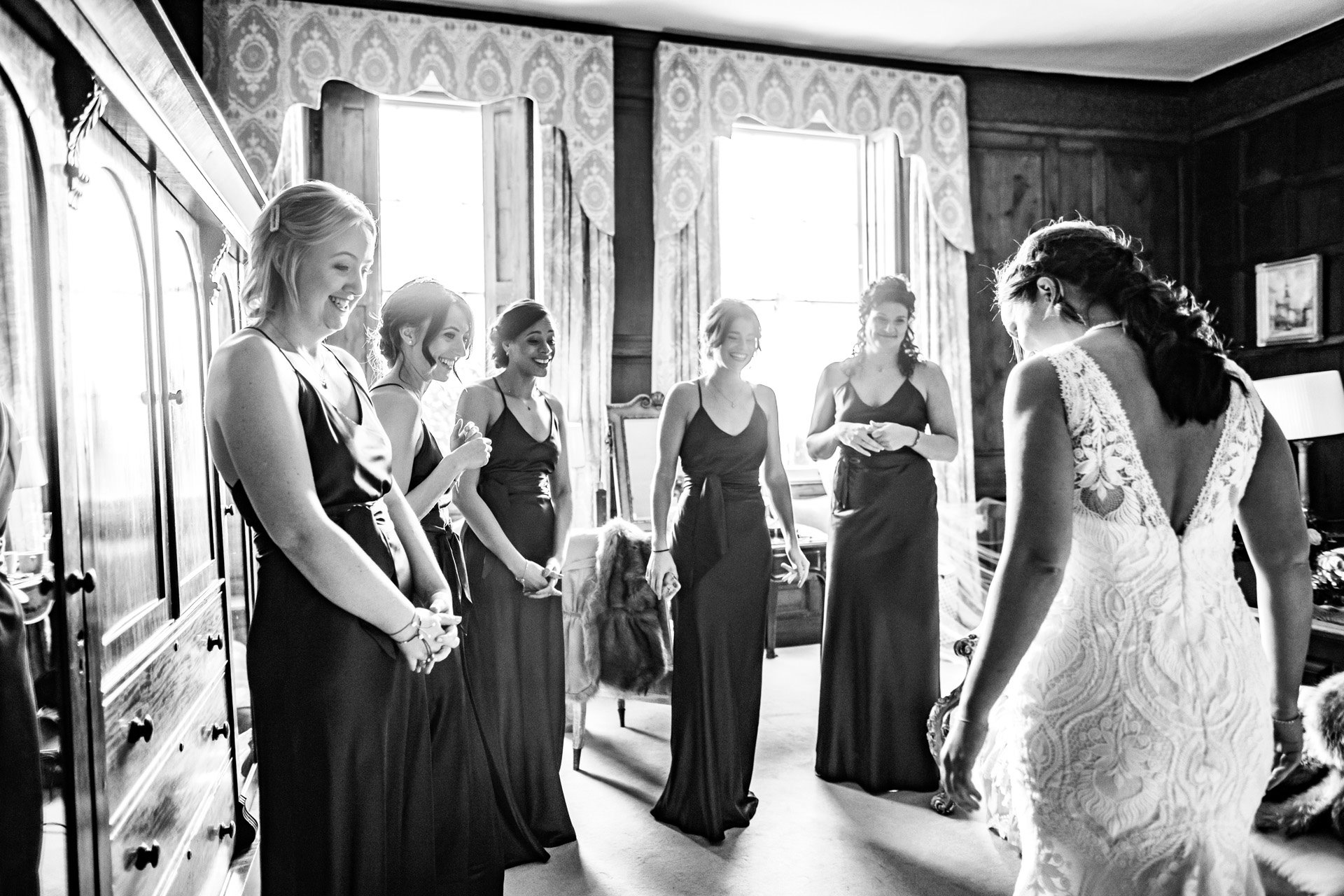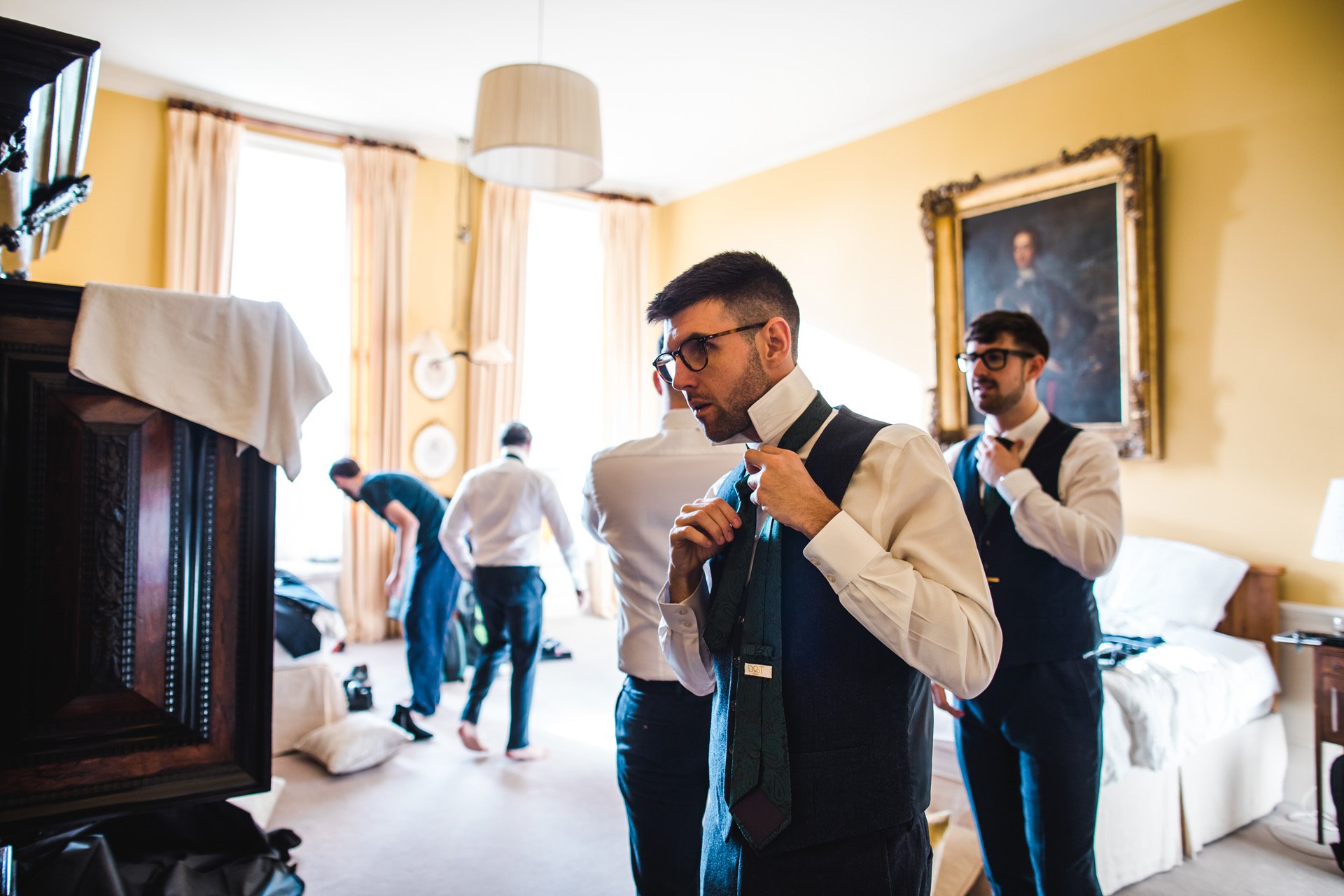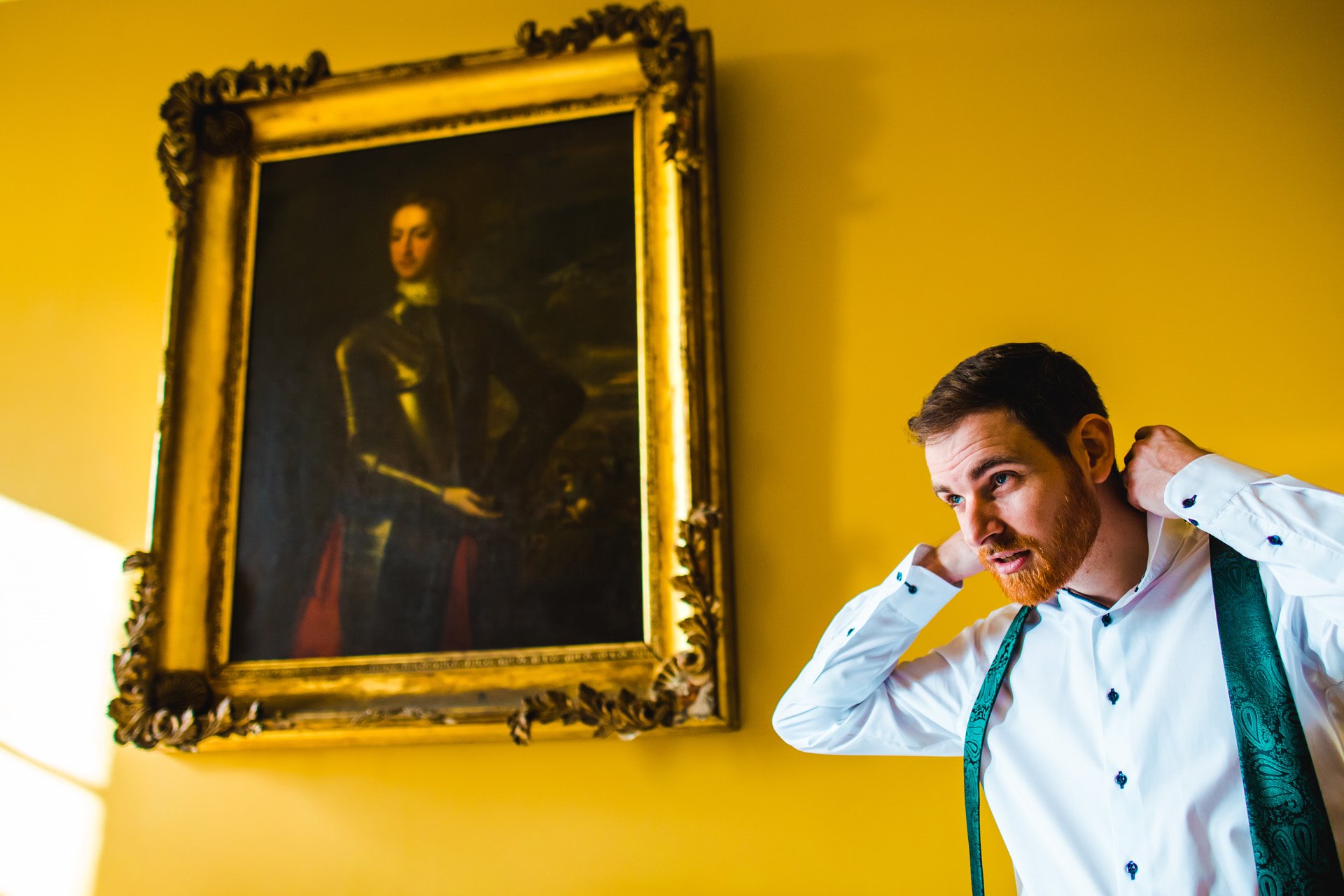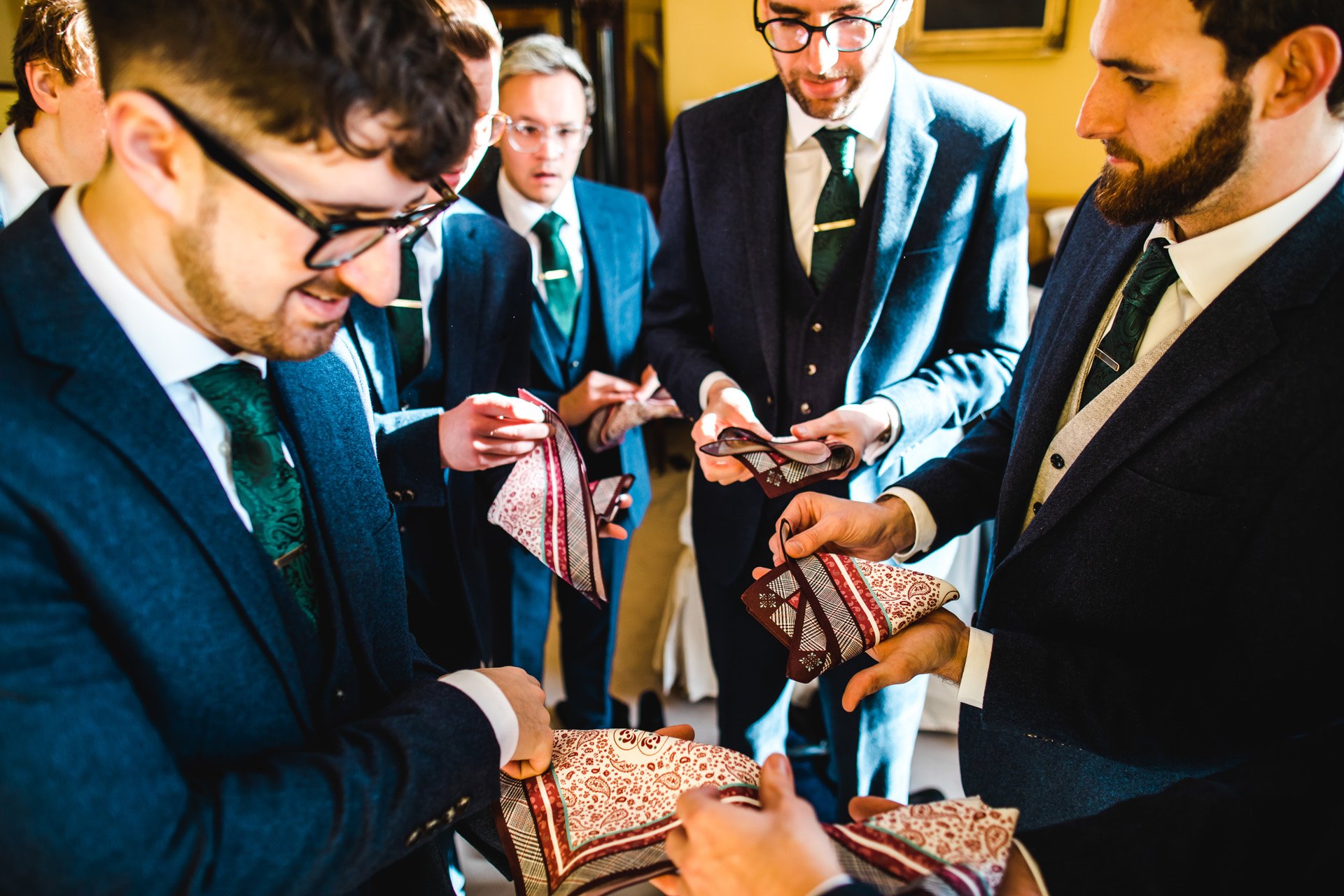 Talk us through your wedding ceremony...
Liz – I picked the music for the ceremony without Andrew being savvy to it. I went with a piano version of Every Little Thing She Does by Sting which is the song Andrew proposed to me with.
We signed the registry to Il Mondo which was a nod to one of our favourite films, About Time.
We also had two readings, one from my brother which was a poem called Scaffolding by Seamus Heaney. The words are perfect for a wedding and Seamus Heaney is a bit of an icon with my Irish family.
The second was an original poem written and performed by one of Andrew's groomsmen. It was sweet and funny in equal measure and provided a lovely comic relief to what could have been a very solemn affair.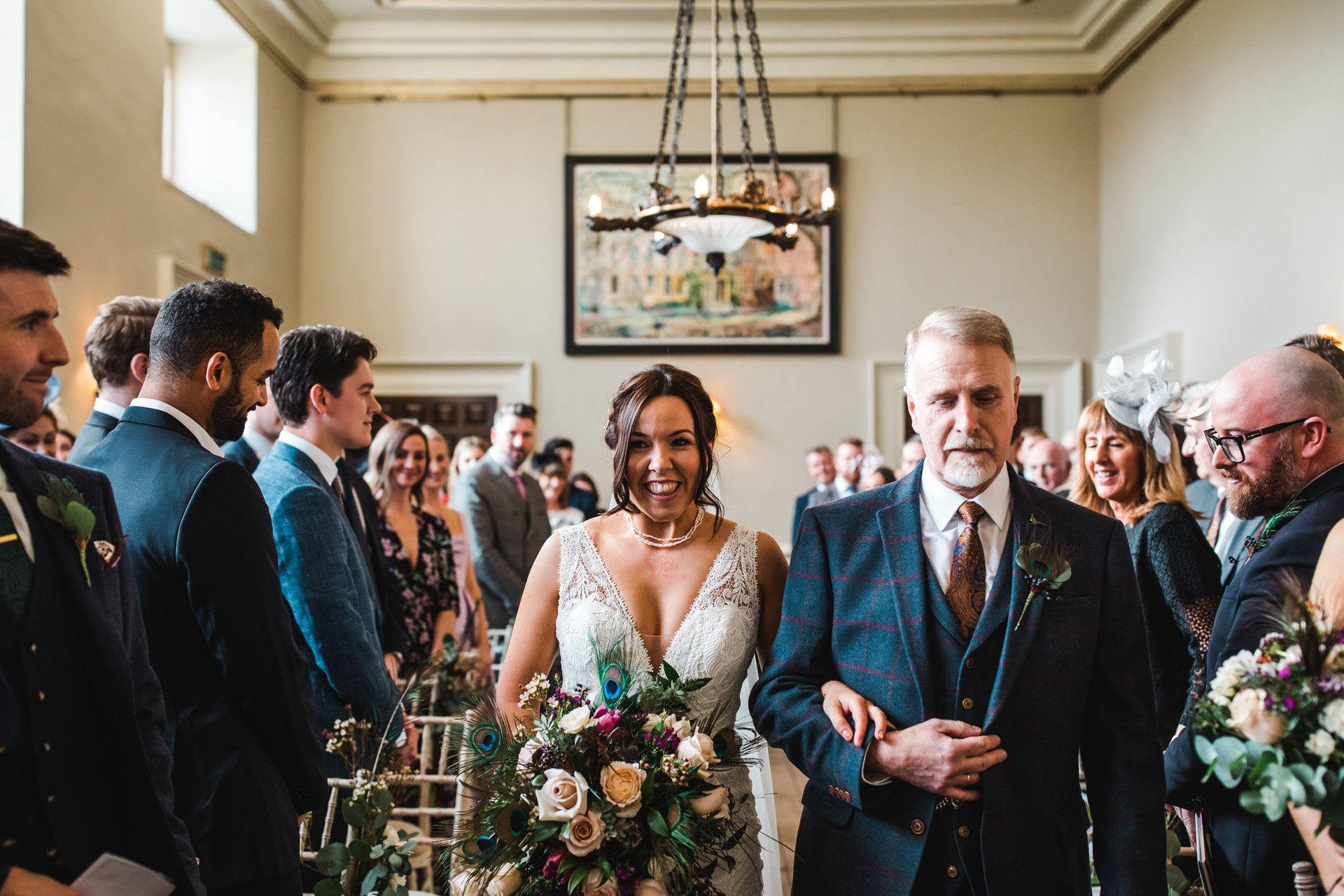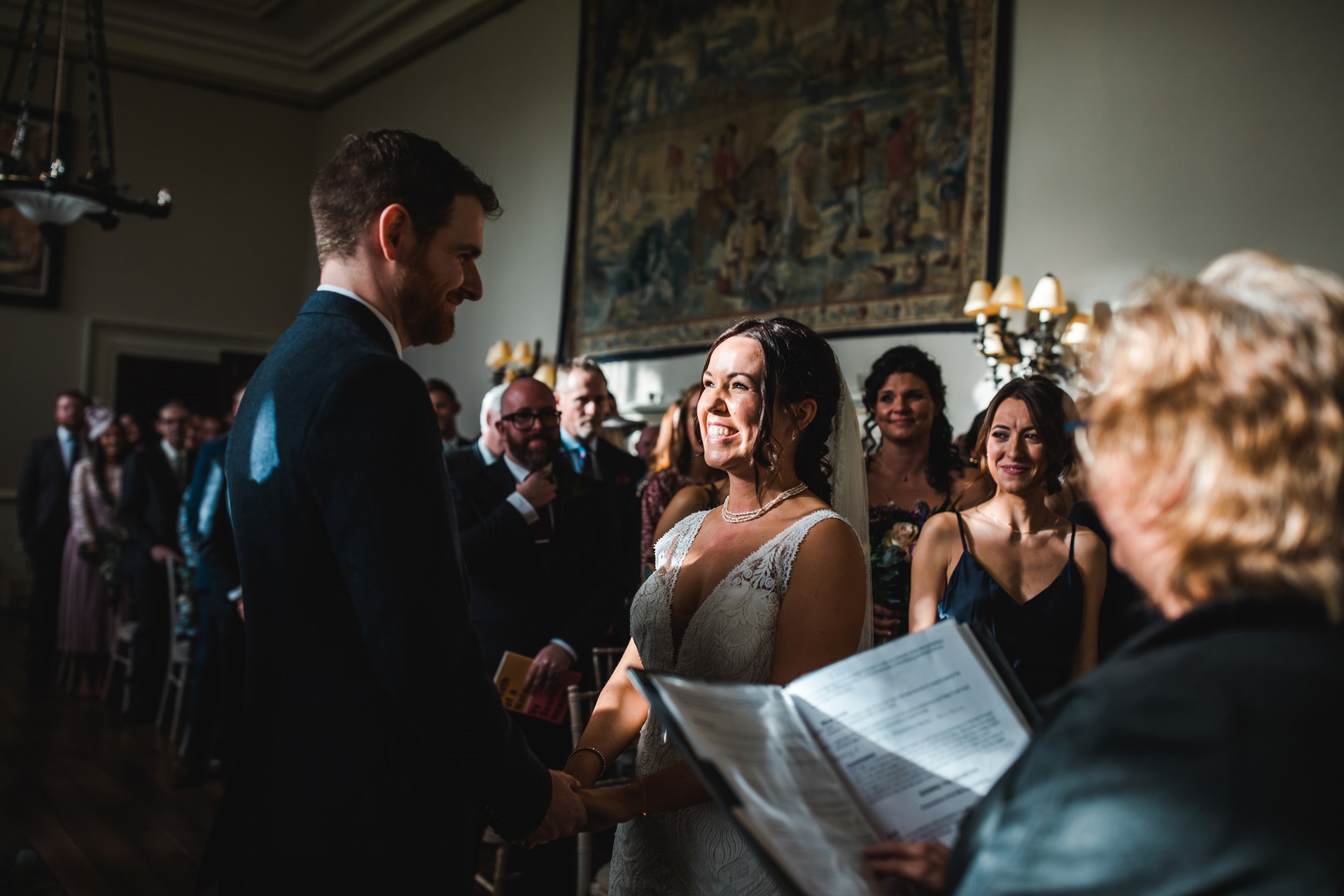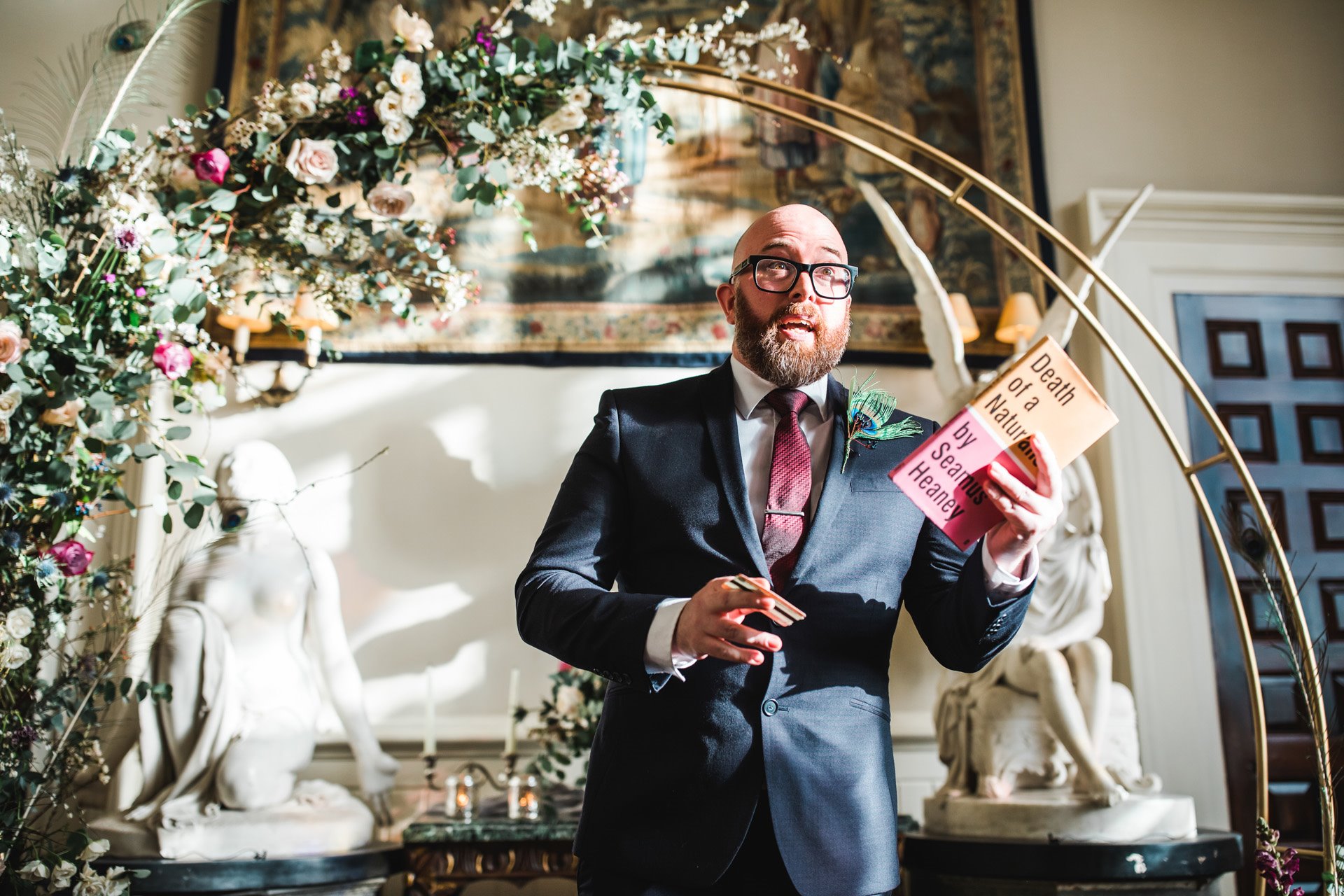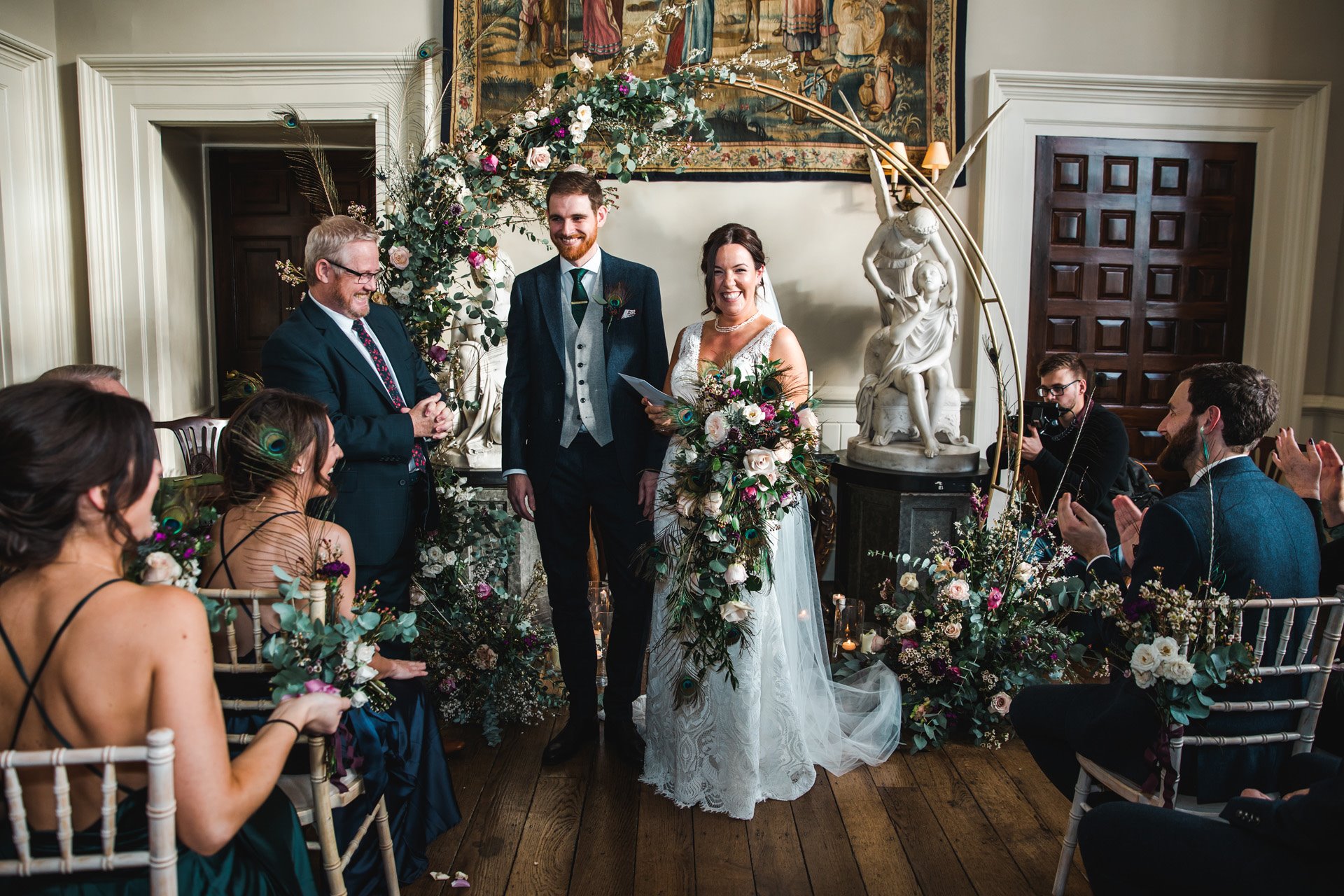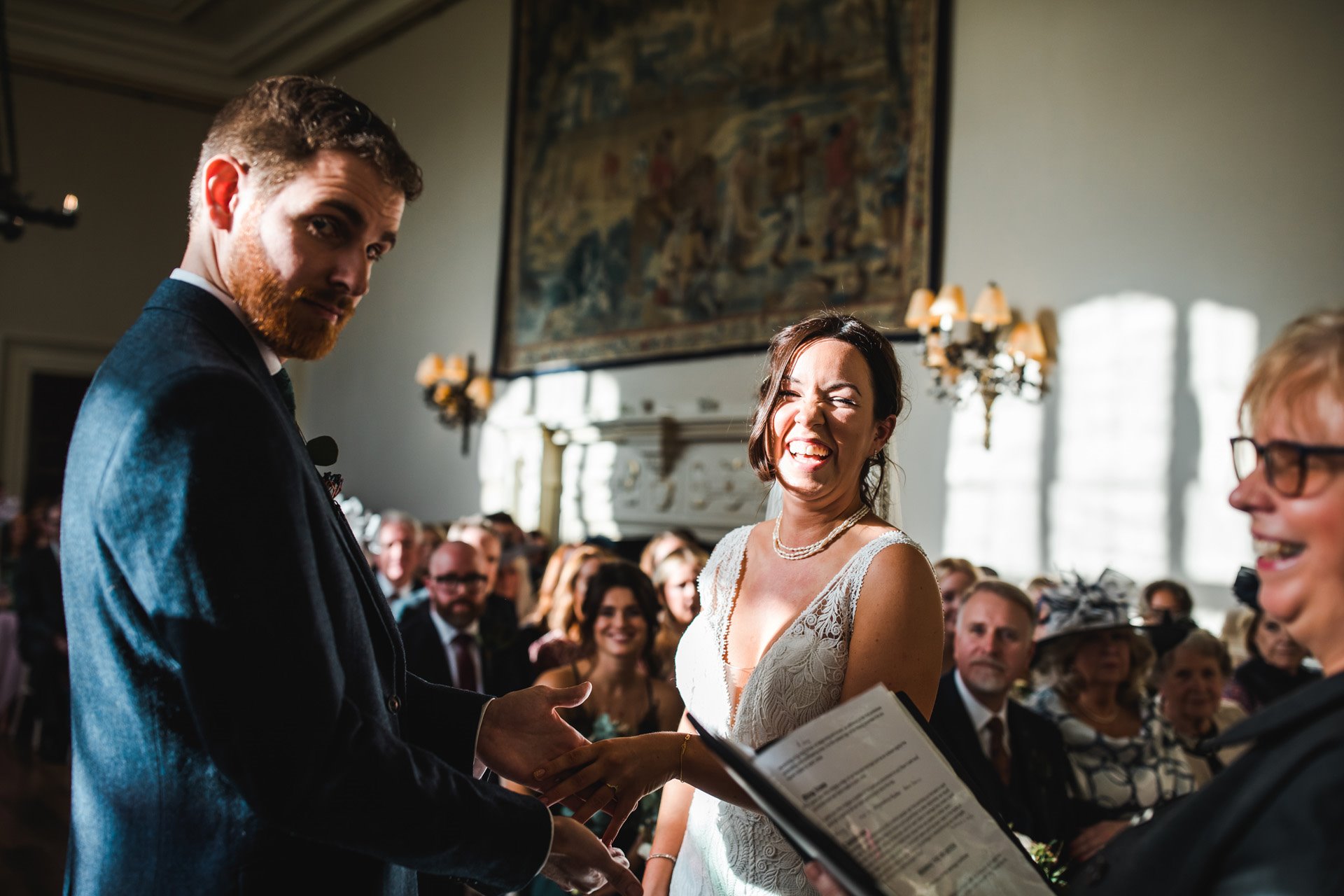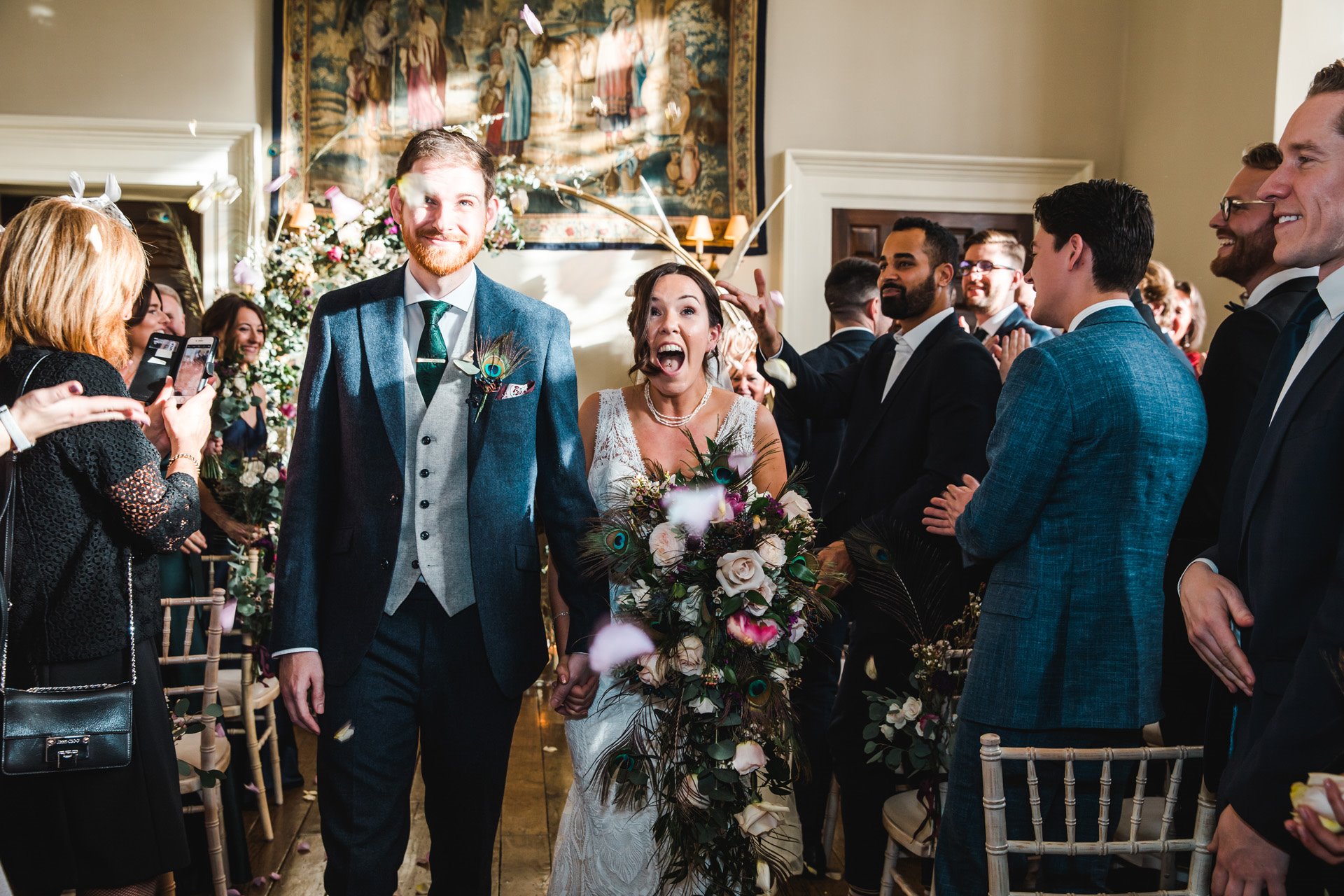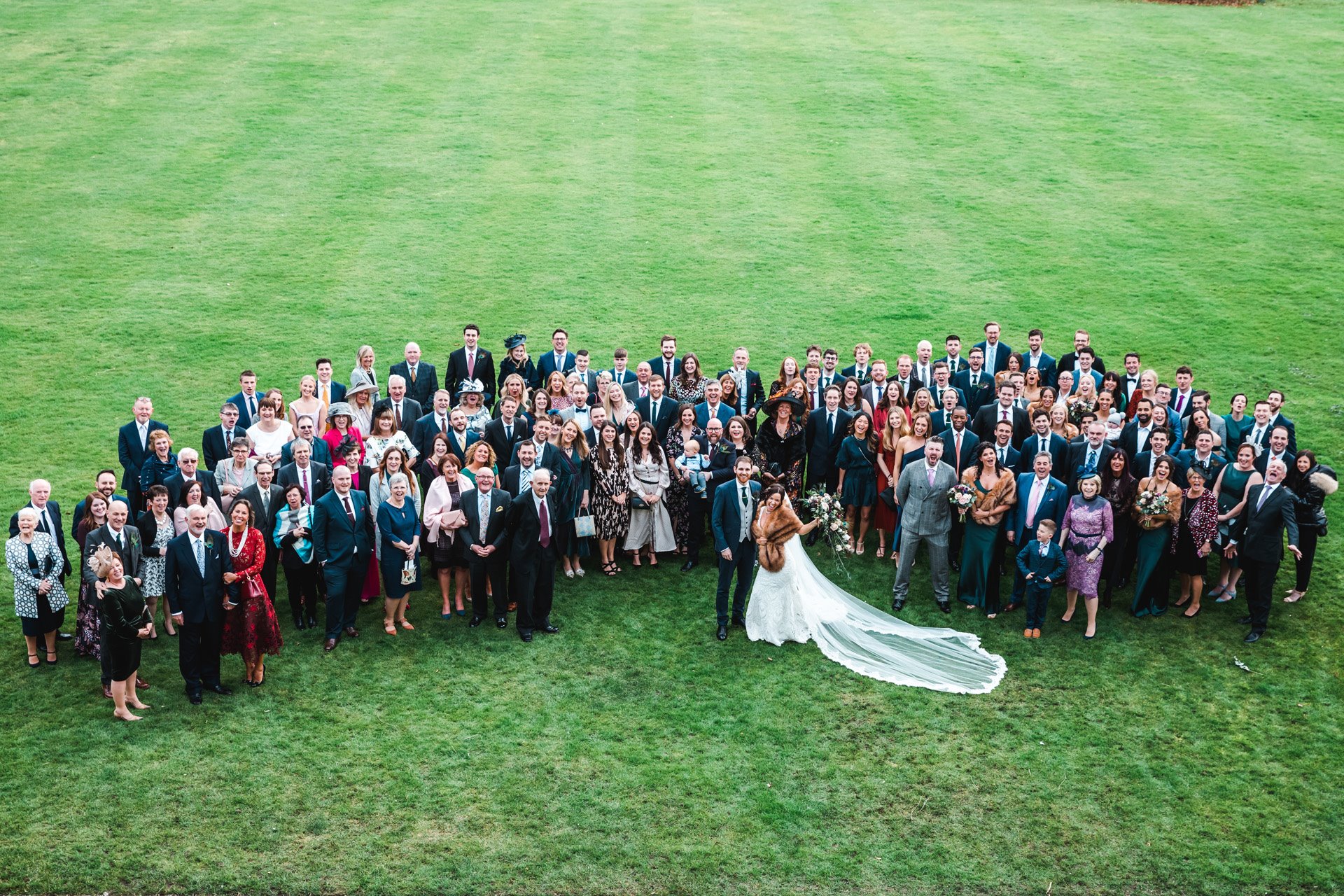 And your drinks reception?
We had a trio of latin acoustic musicians perform before and after the ceremony called Synergy which went down a treat.
They also set up for the first couple of reception sets in the Gillyflower too before the DJ came on and everyone had a great time with them.
Elmore is well set up for the post ceremony drinks, with great reception spaces in the house so guests can move around while the main room is being prepared.
There's comfy sofas to sit on and the fires were going on that crisp afternoon.
Eve Dunlop was our talented photographer, getting amazing family shots, candid photos and of course our private shoot while the guests were unwinding. We also had an artist doing watercolours of the guests while they were mingling, these were really nice favours for people to take home with them.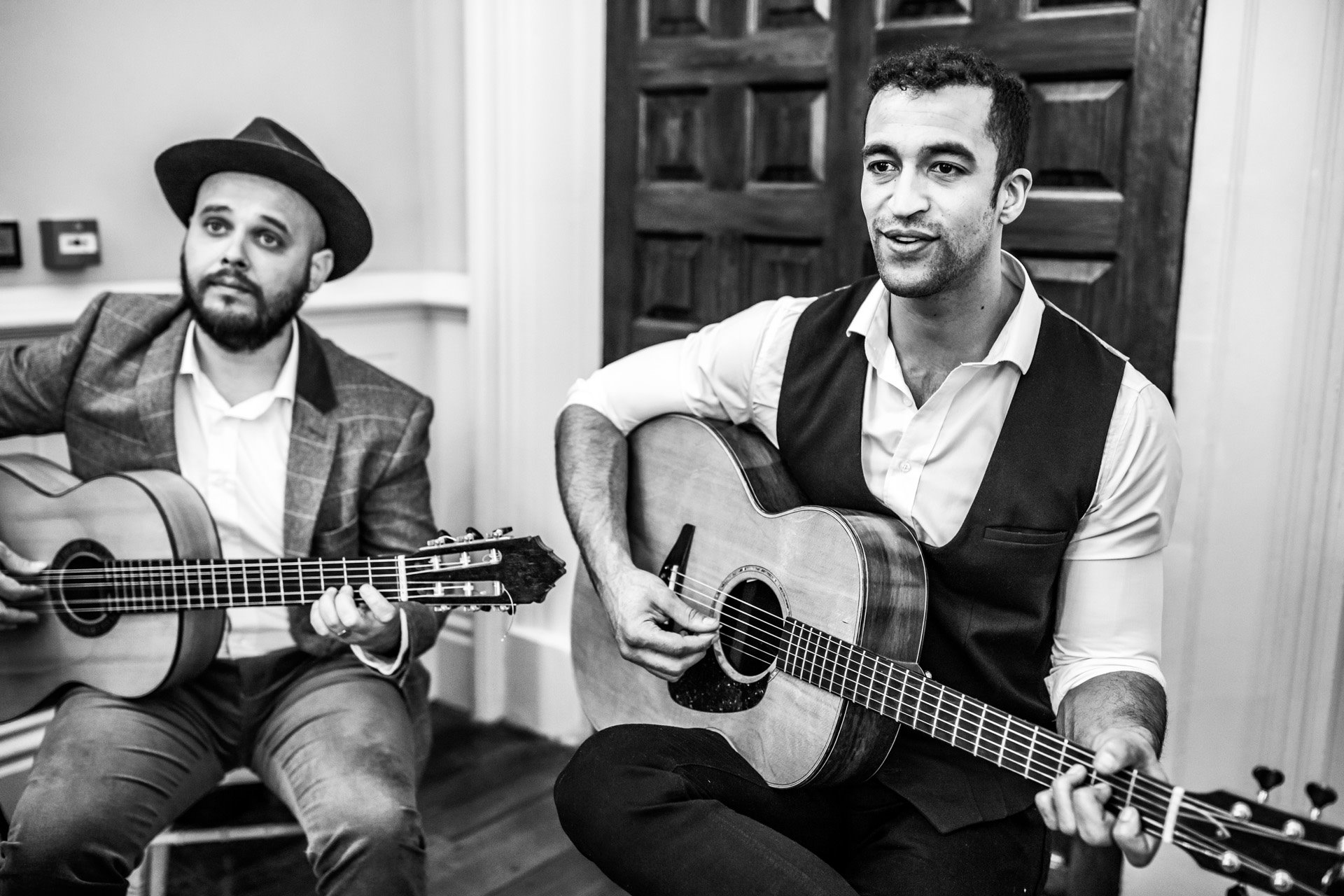 How did you choose all your music for the weekend?
Playlists for the day were pretty easy to pull together. Andrew and I have a really eclectic taste in music which works for a wide audience. We found choosing bands really tough though, there's a lot of trust in the process unless you have seen them perform before. You have to just go off their promo videos and reviews.
What I will say, is that I found most people in this industry to be super professional and really talented so my advice would be to trust your gut and if in doubt ask Team E. They have seen hundreds of weddings and have some great recommendations. We had local DJ Luke Nukem on both evenings after the bands left and he was great fun.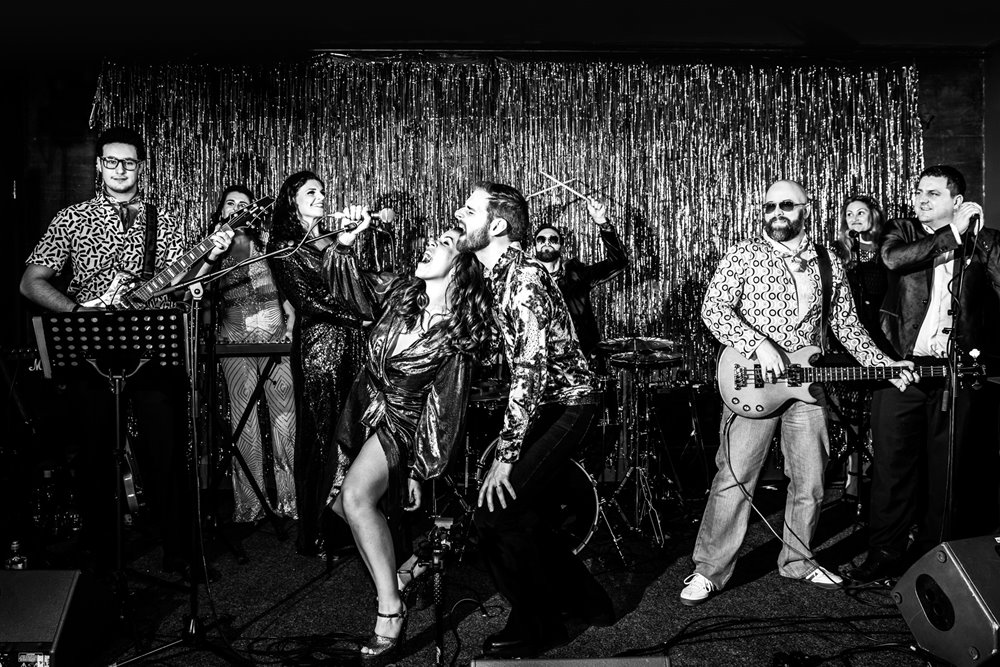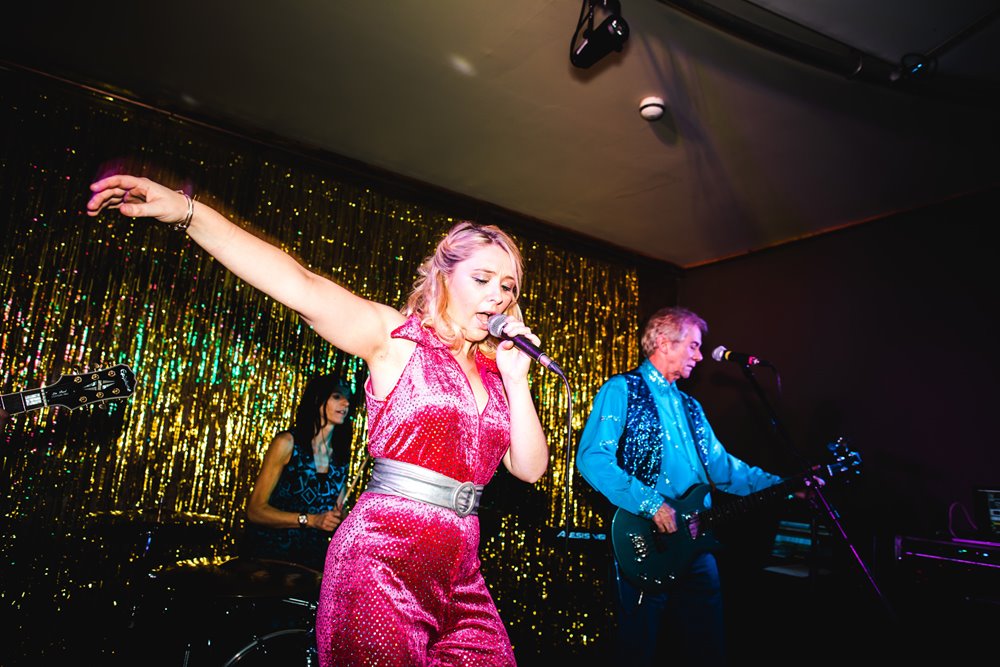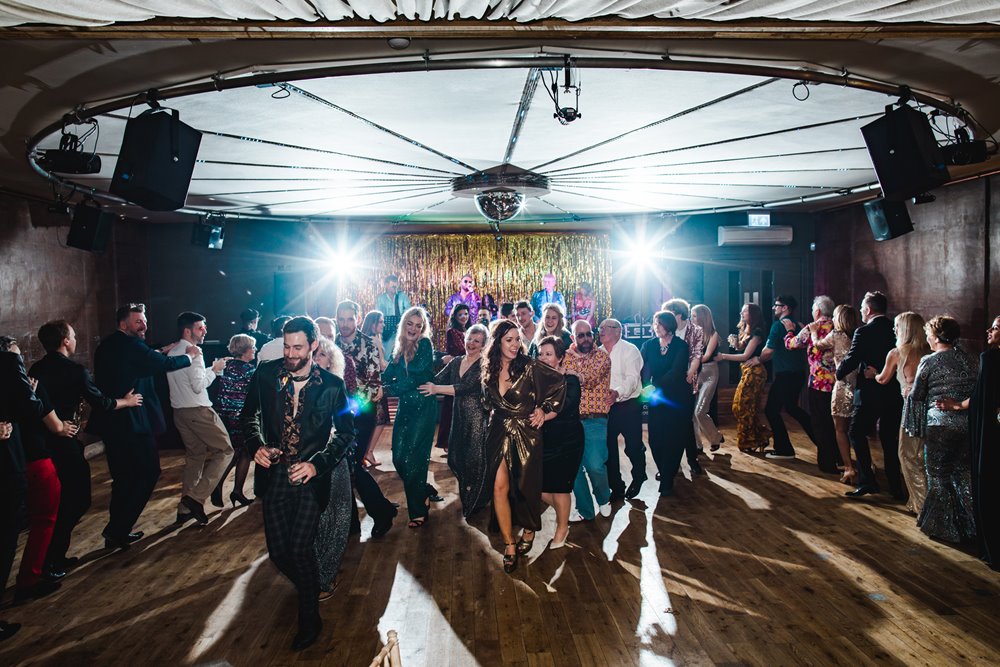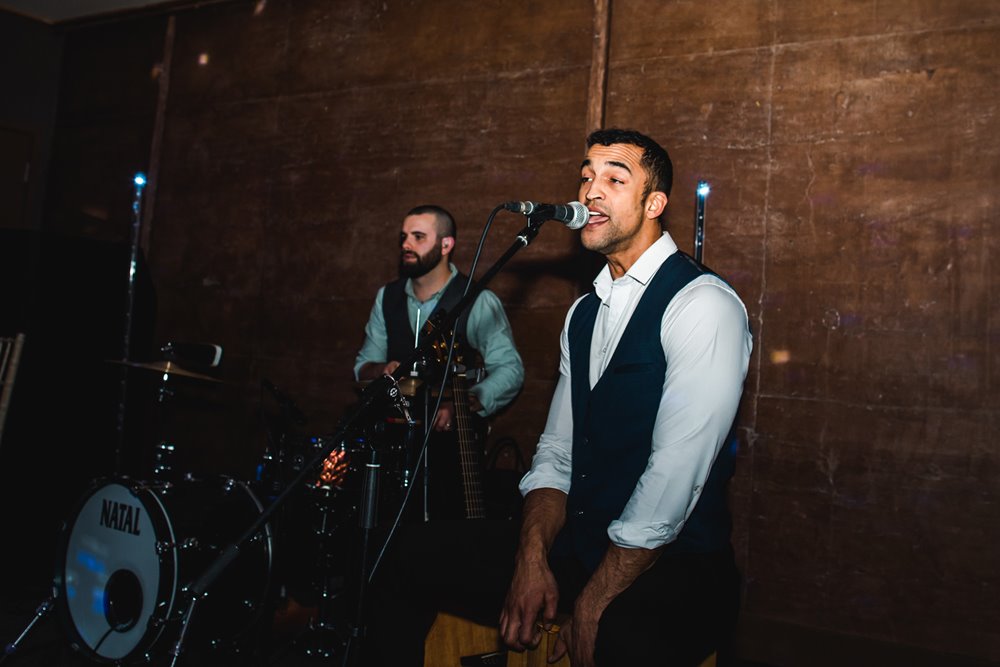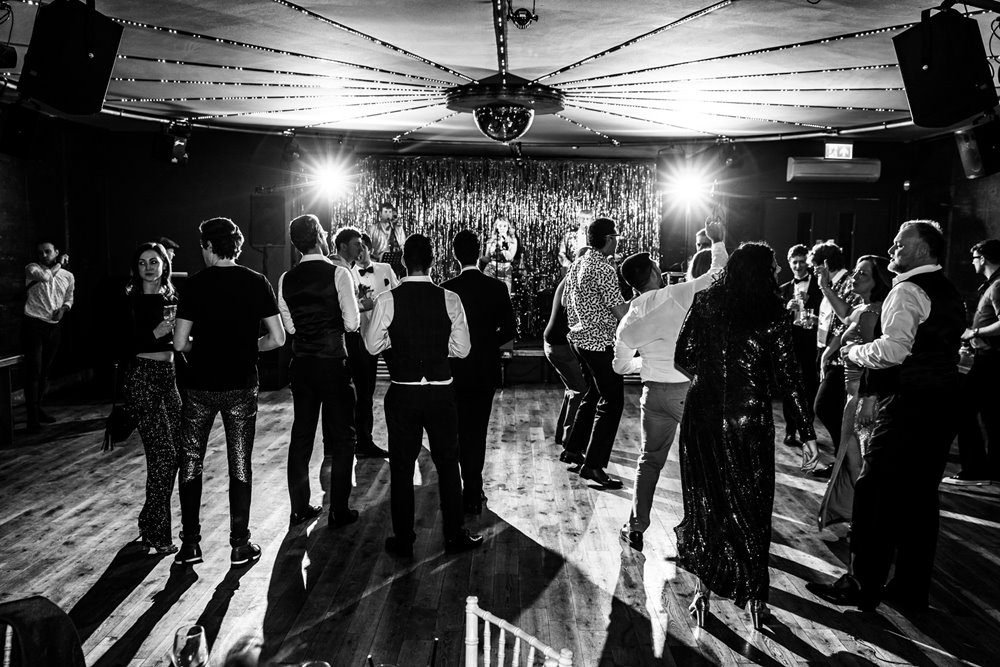 What did you think of the styling on each day of the weekend?
It looked so beautiful. We were taken aback with how perfect it all was.
For the wedding reception we had long tables and a sweetheart table for the two of us which was lovely.
As we have mentioned our wedding party was HUGE so fitting us all on one top table would have been a push.
It also meant we could have a moment in all the madness to sit and eat and reflect together.
The flowers were the main feature on the first day of the wedding weekend but the transformation of the Gillyflower into 70's disco sensation Studio 54 for day two was something else.
It looked like a completely different room!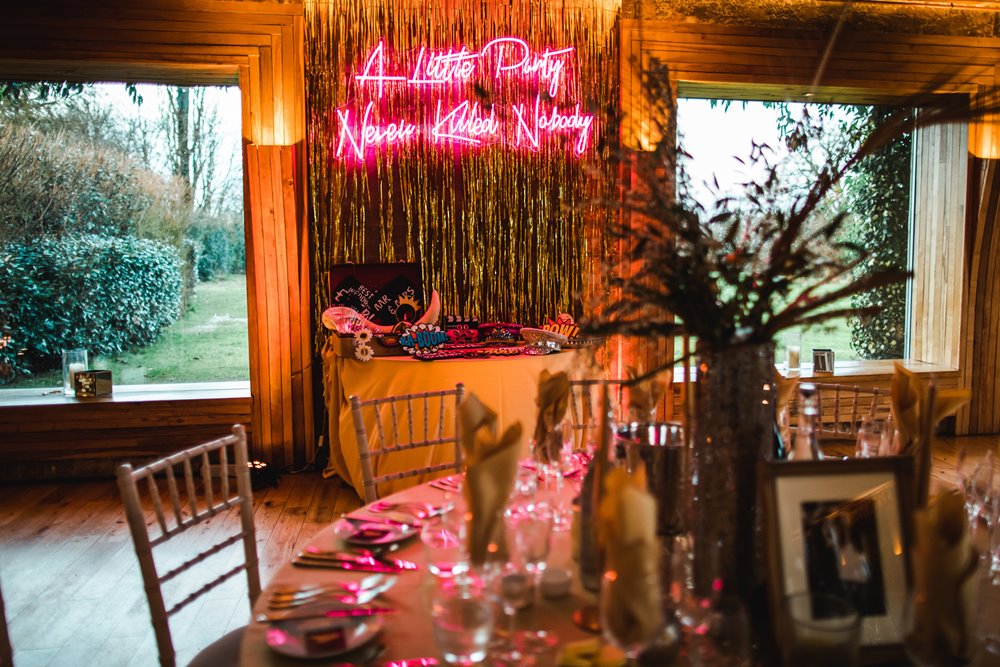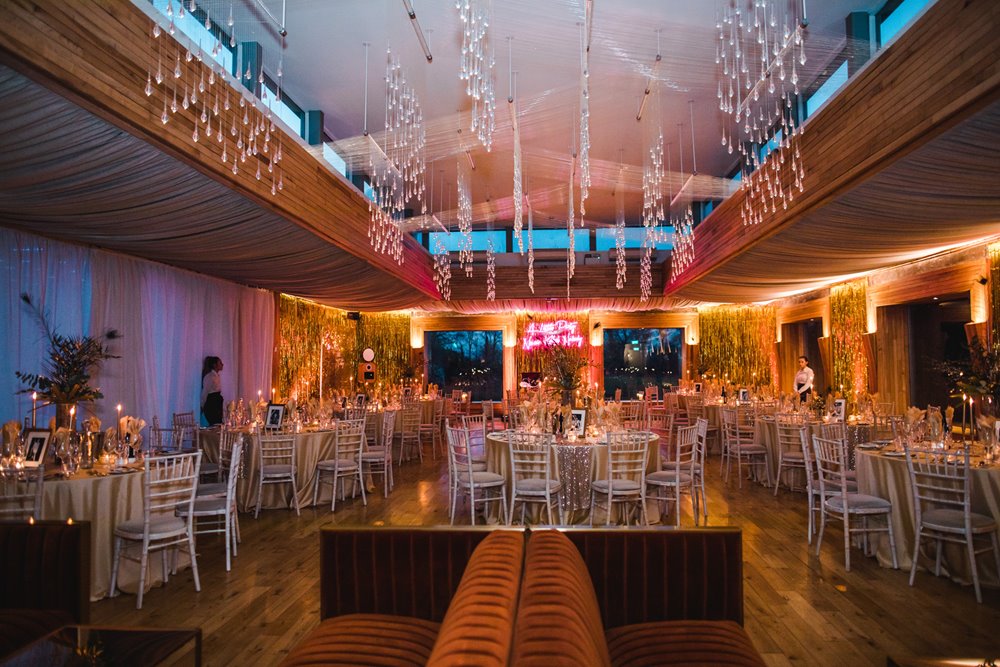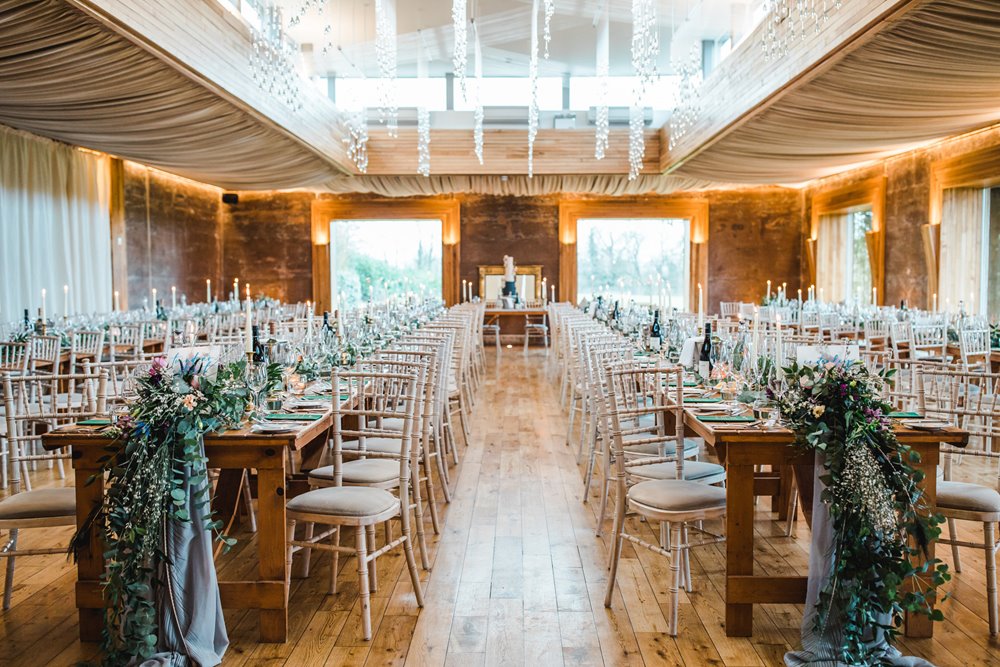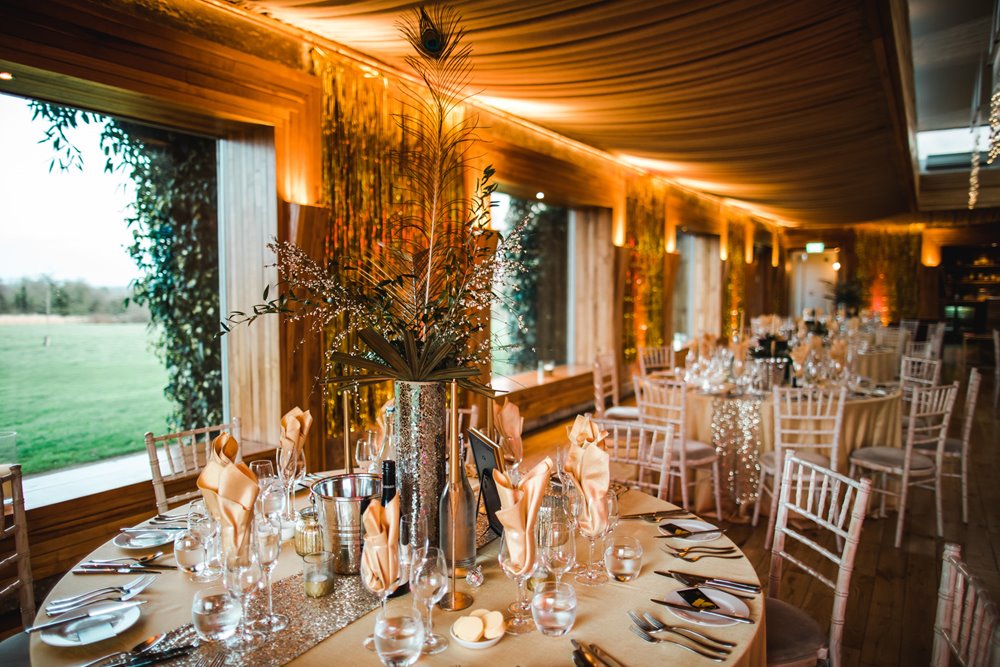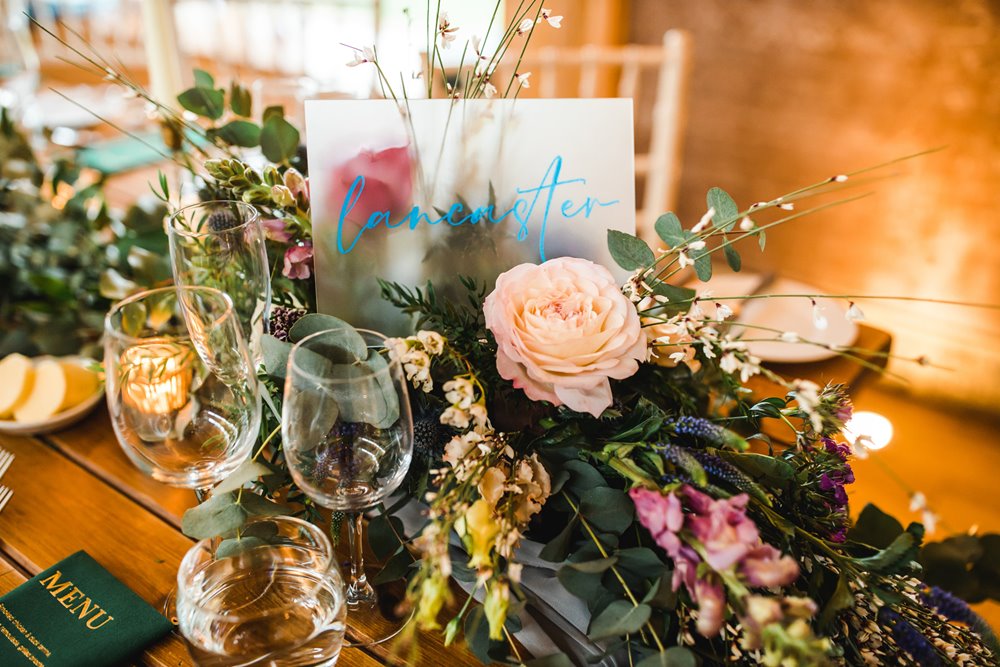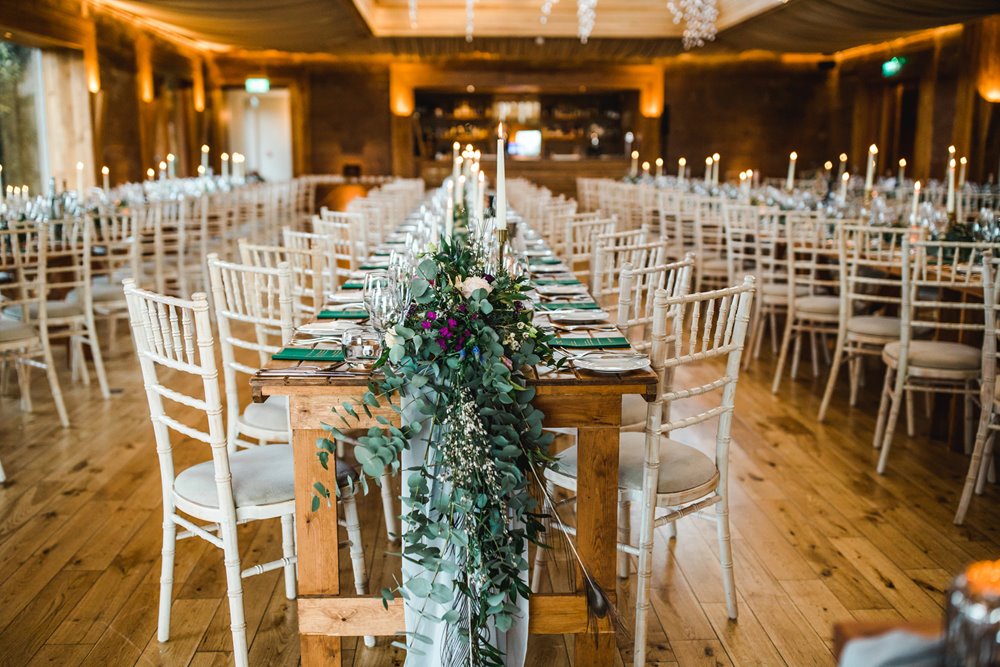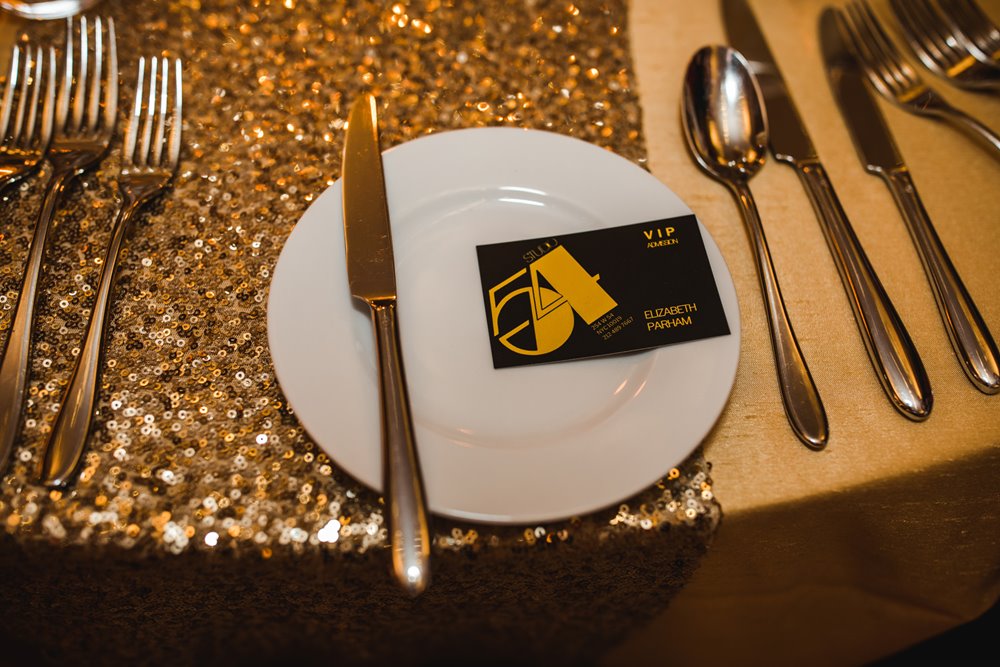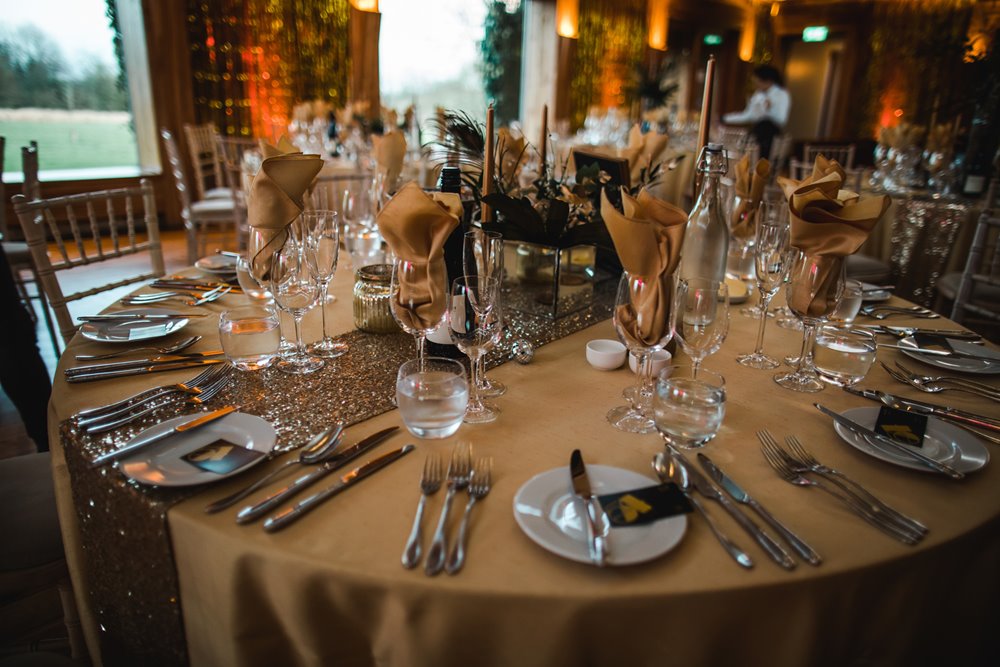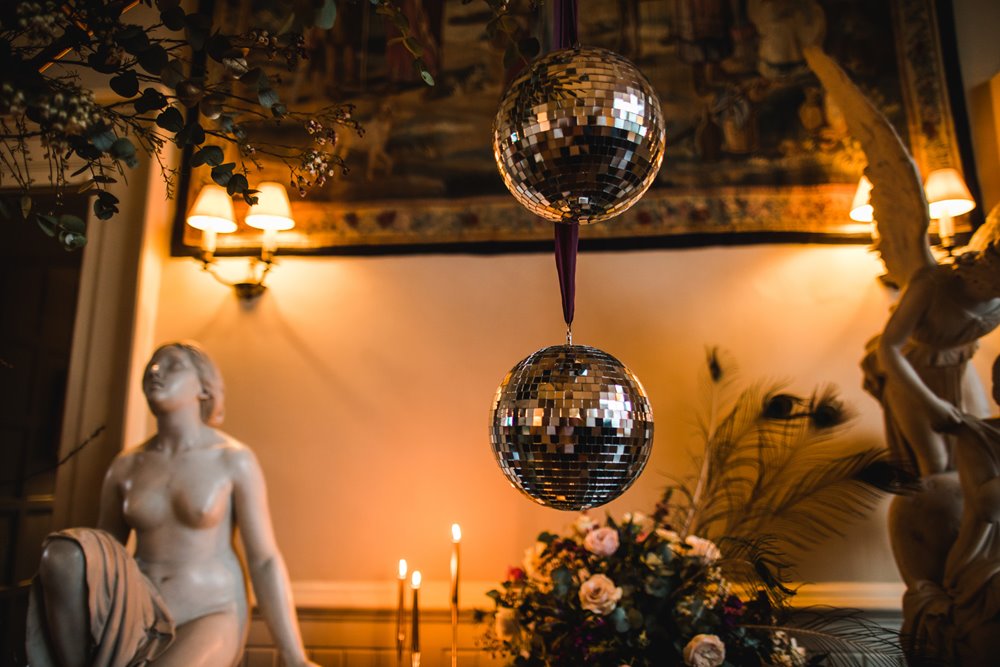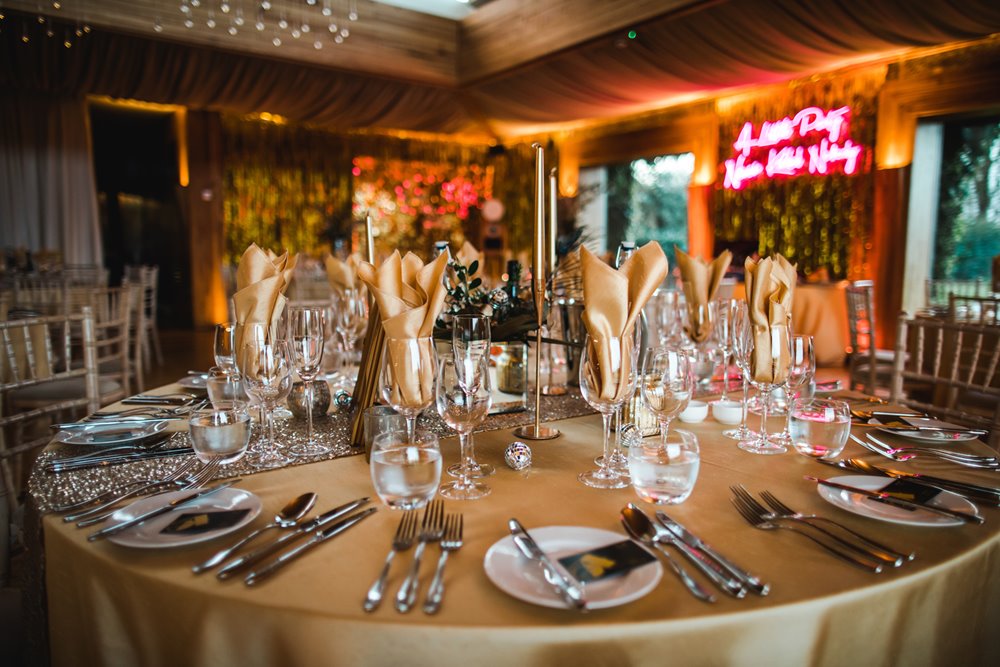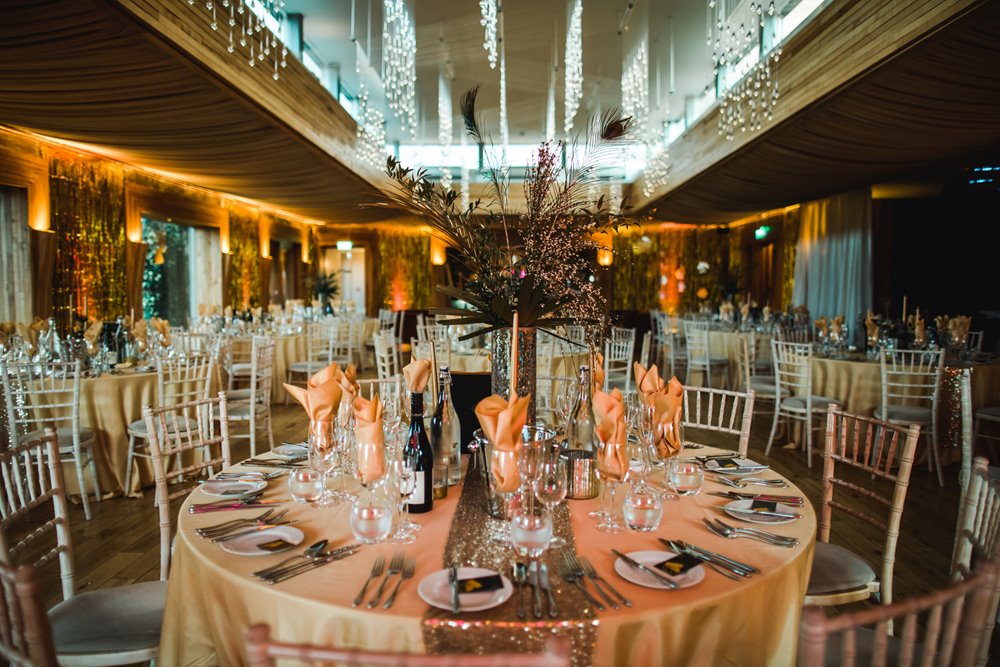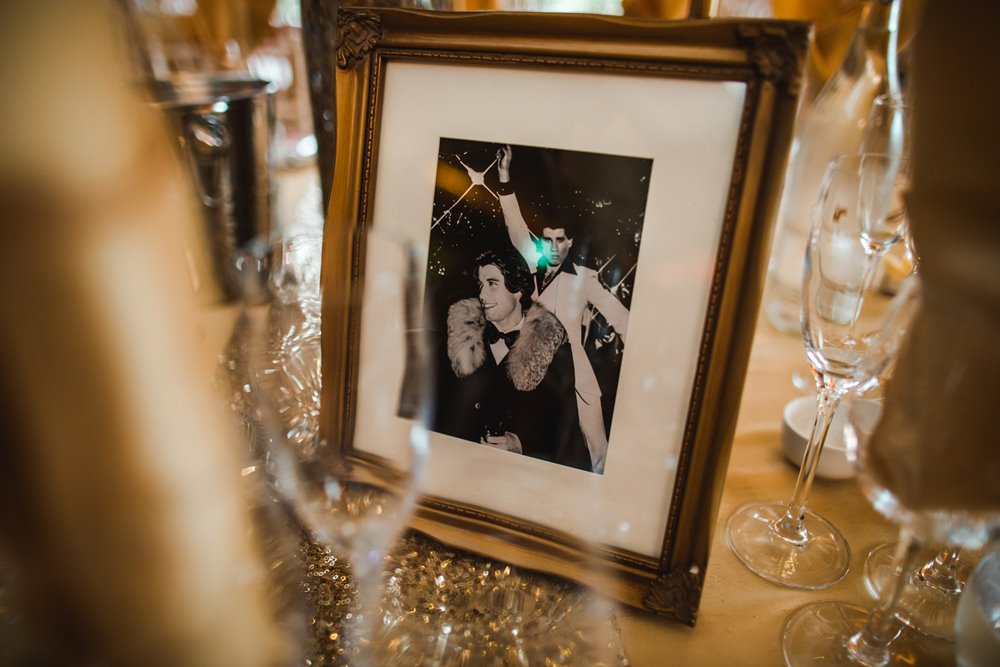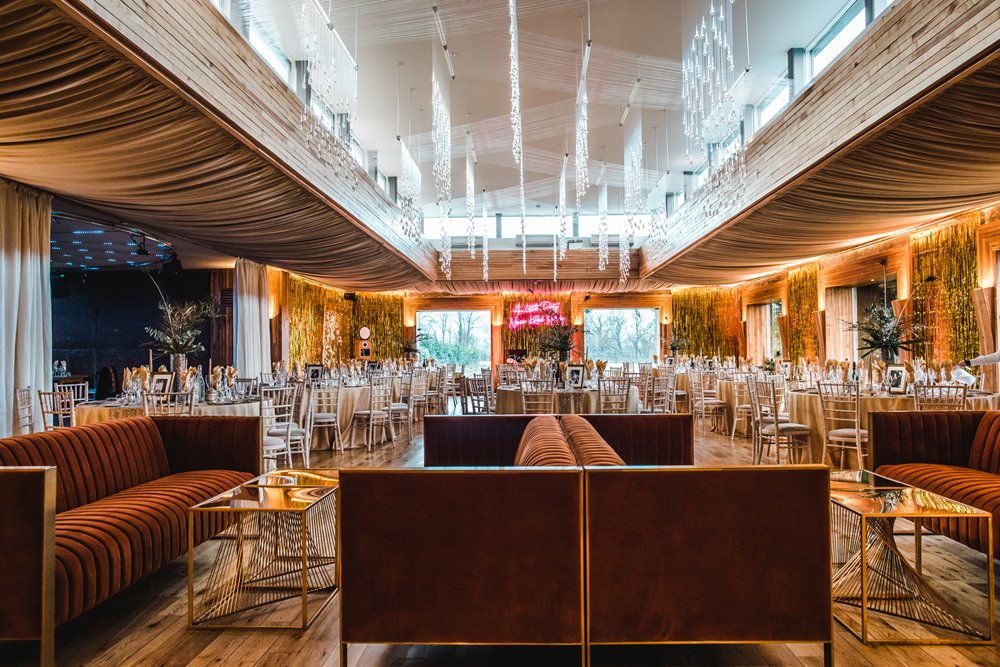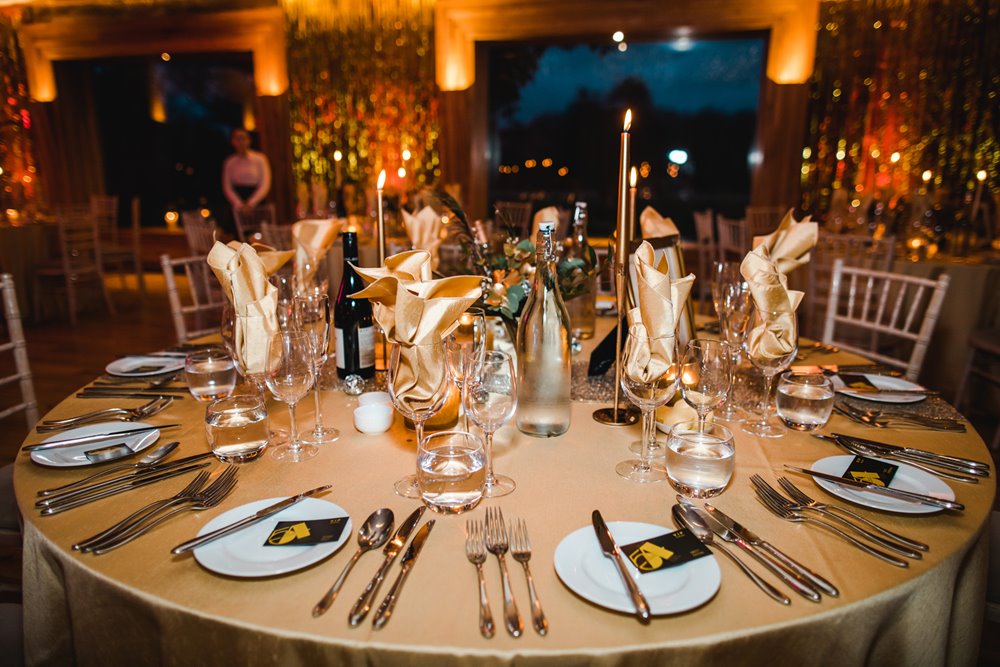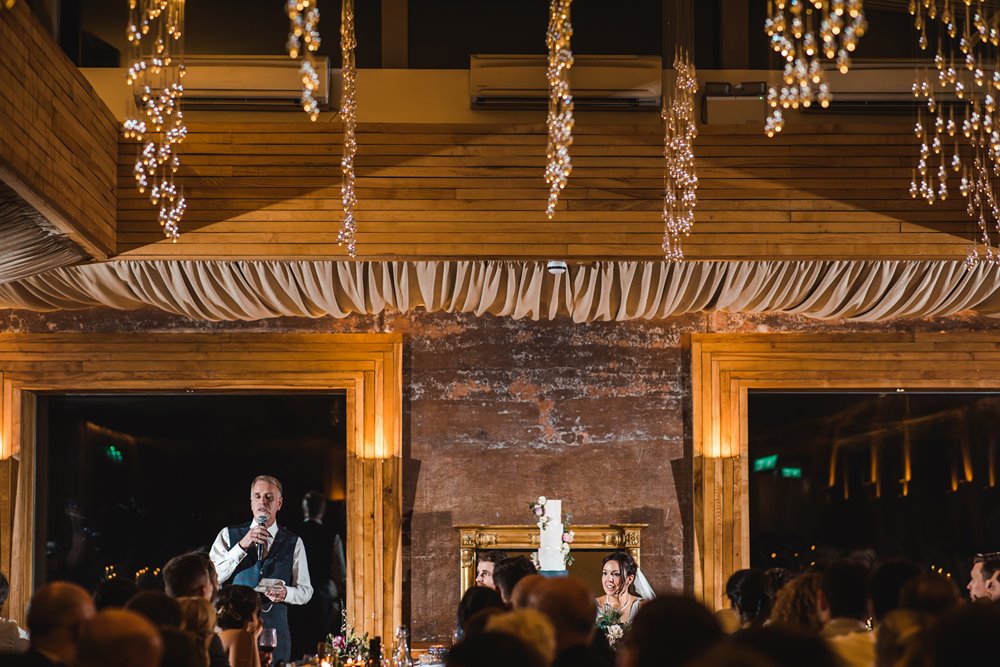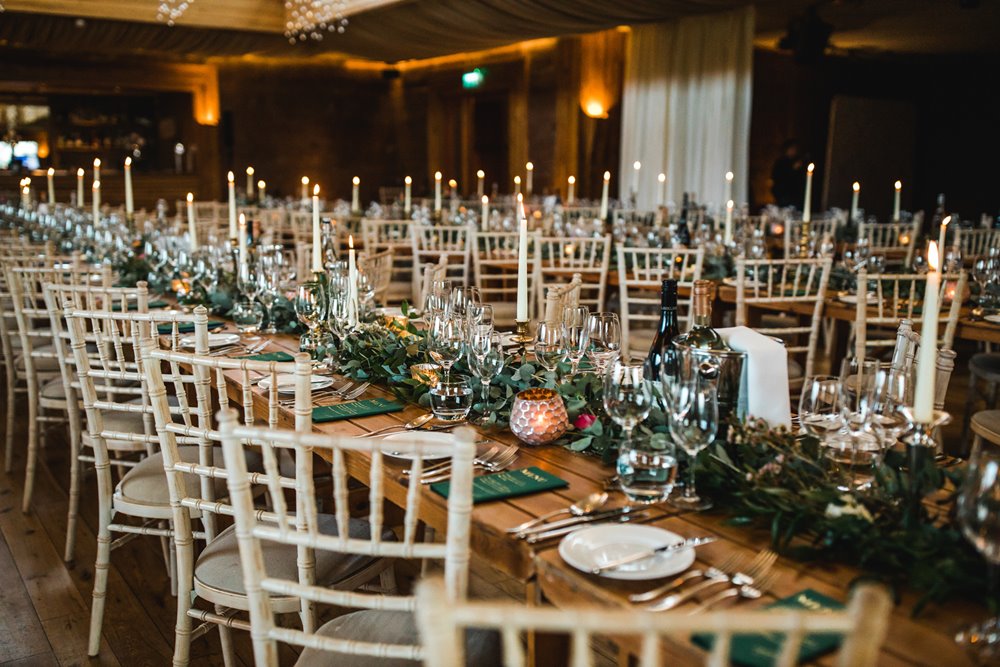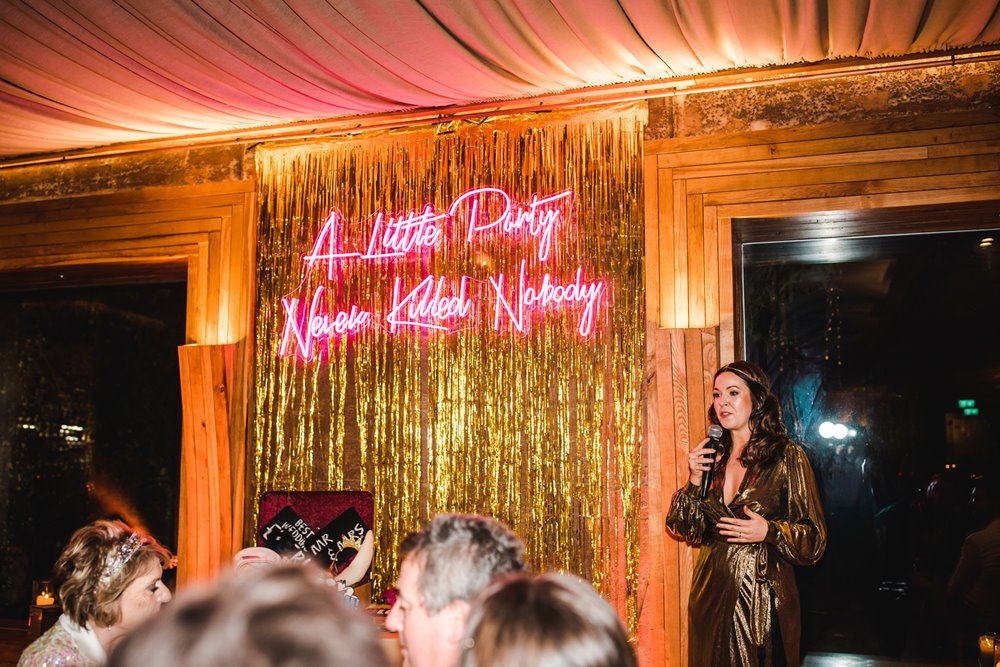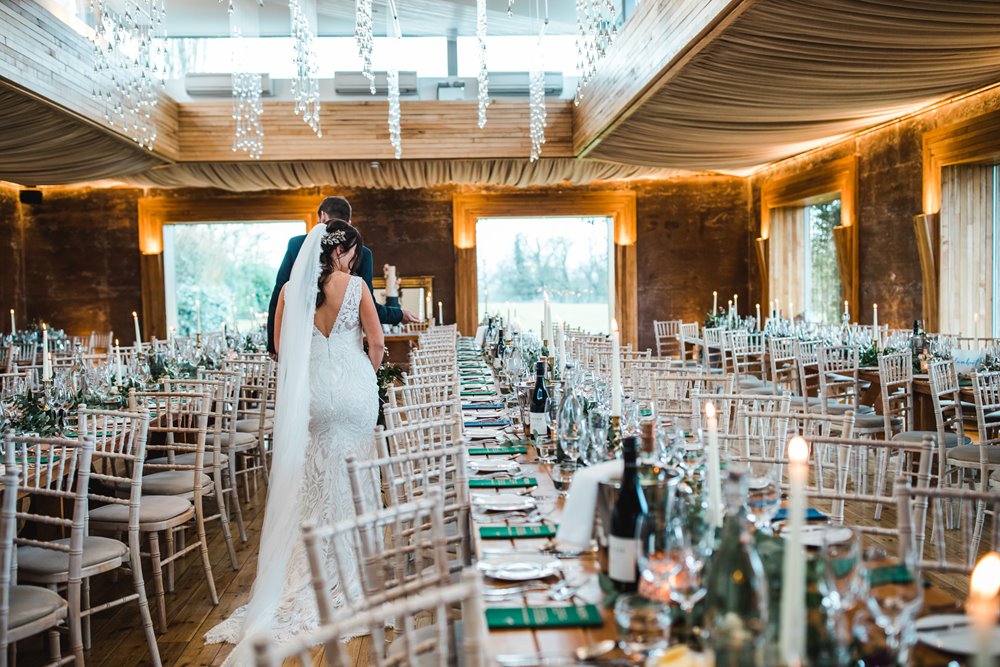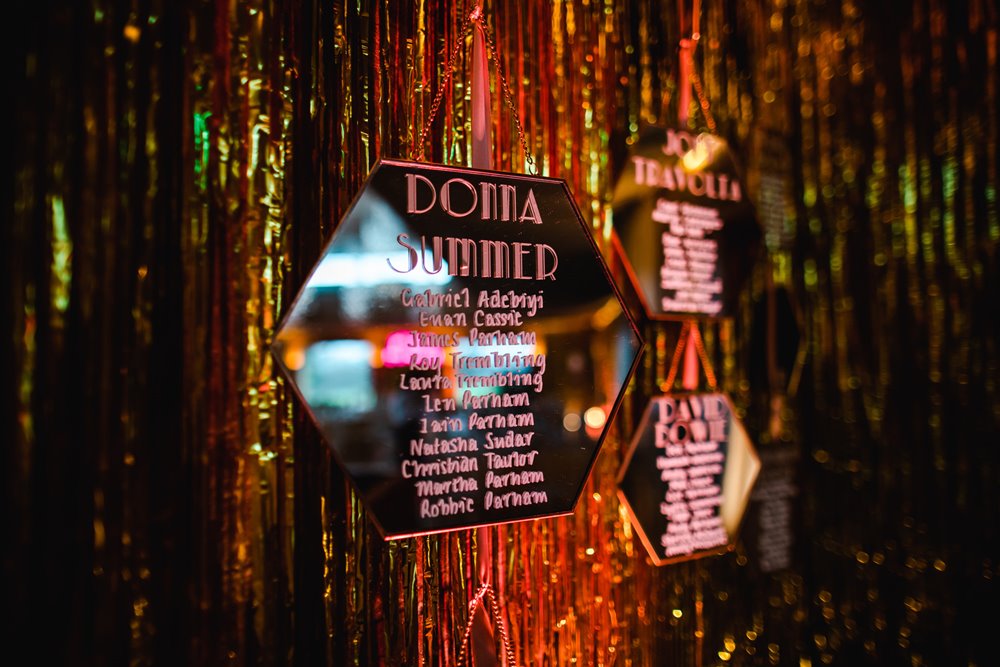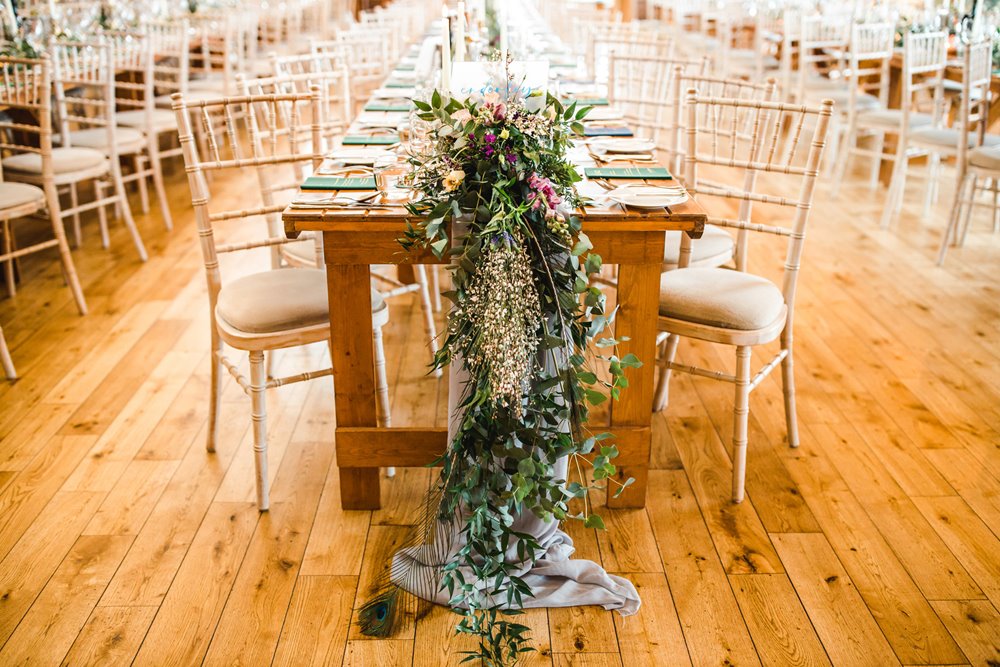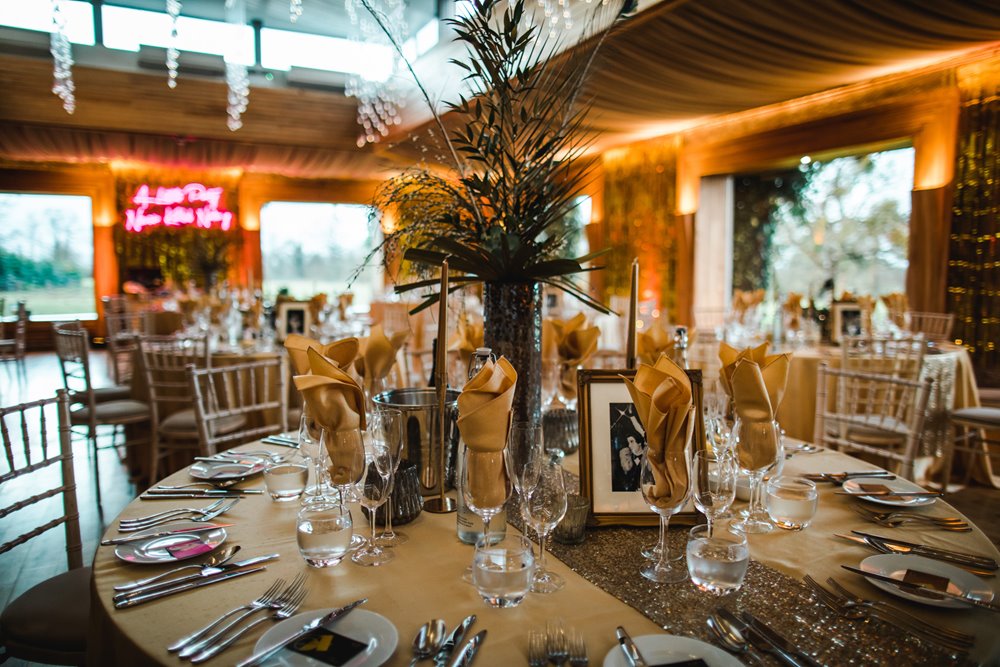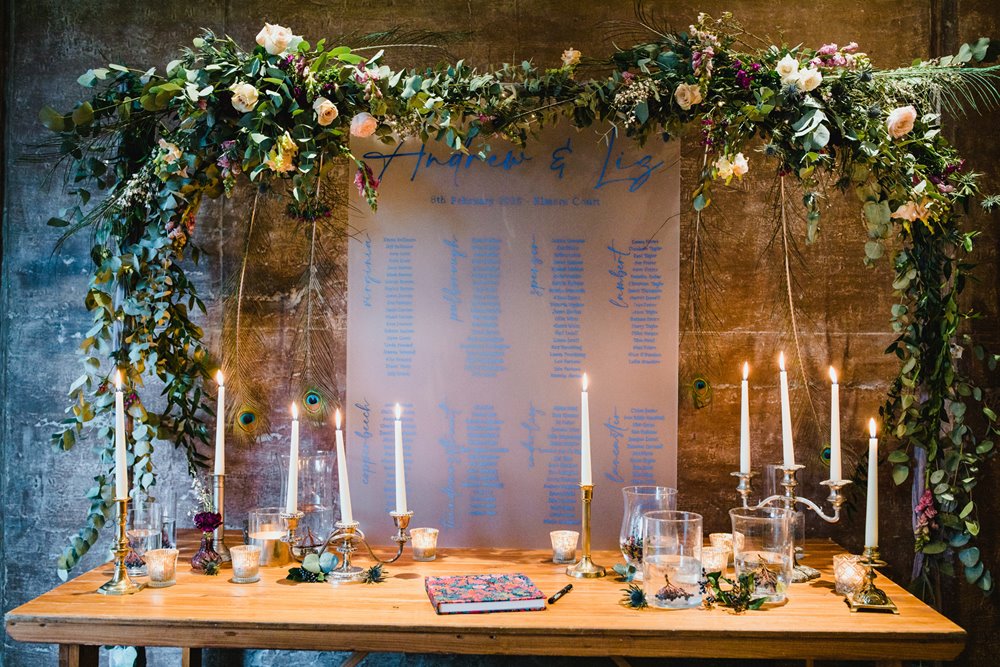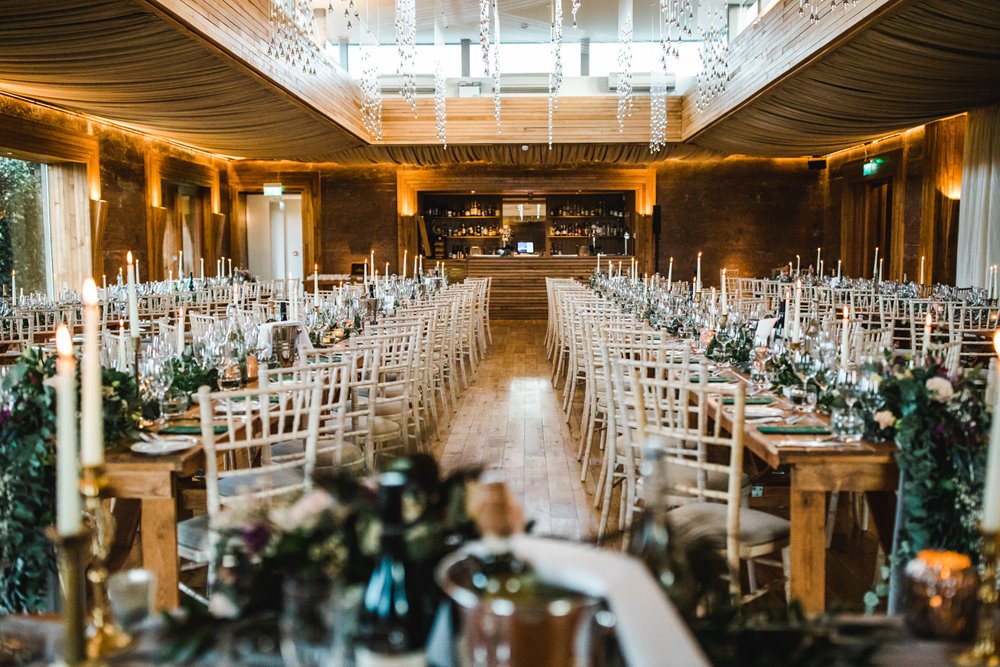 What was your first dance?
We had our band play the Spanish version of You've Got a Friend in Me from Toy Story. It's a little bit cringe but it means something to us! We had even gone so far as to choreograph a dance so we had some level of performance – we said we met in the Drama Society didn't we?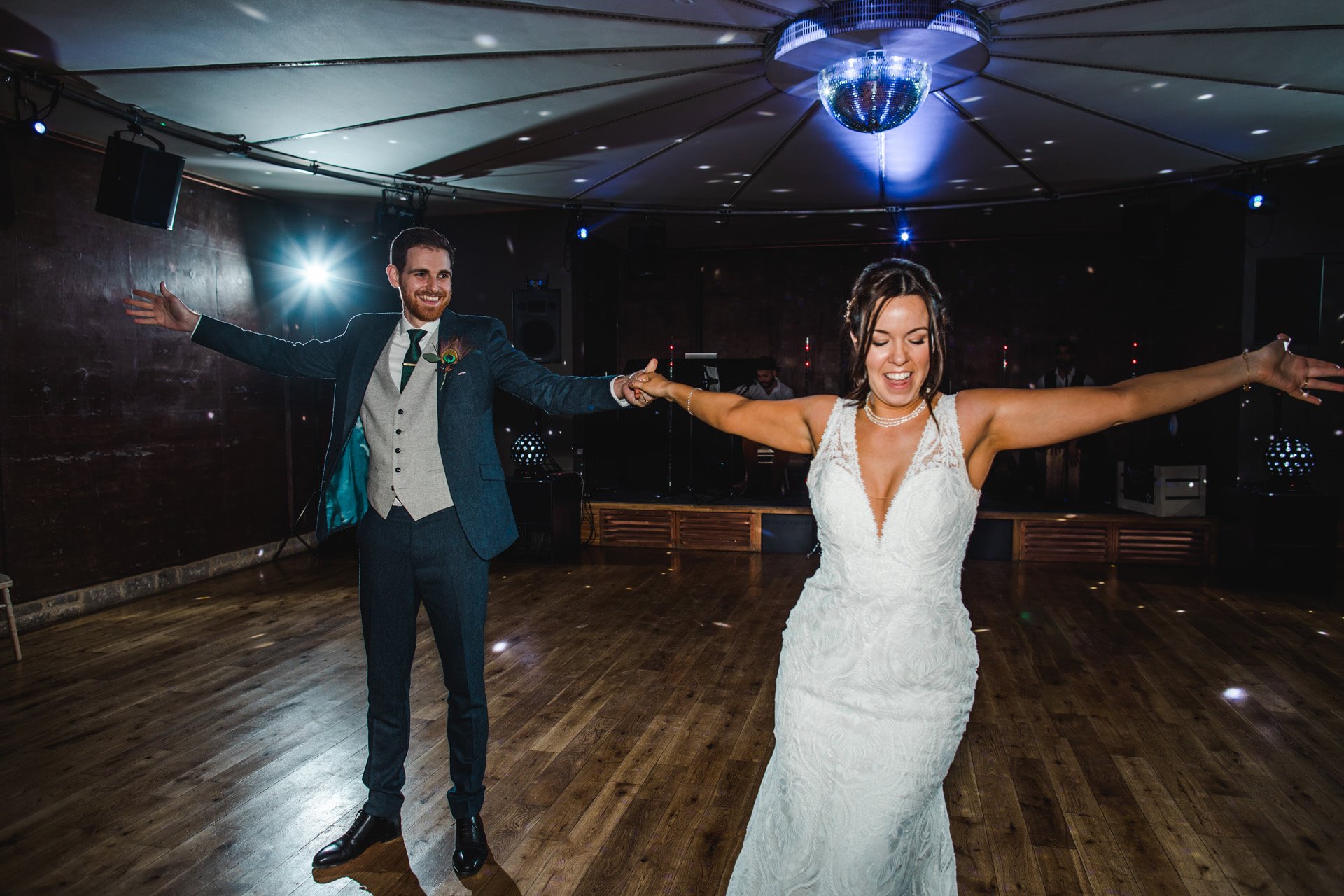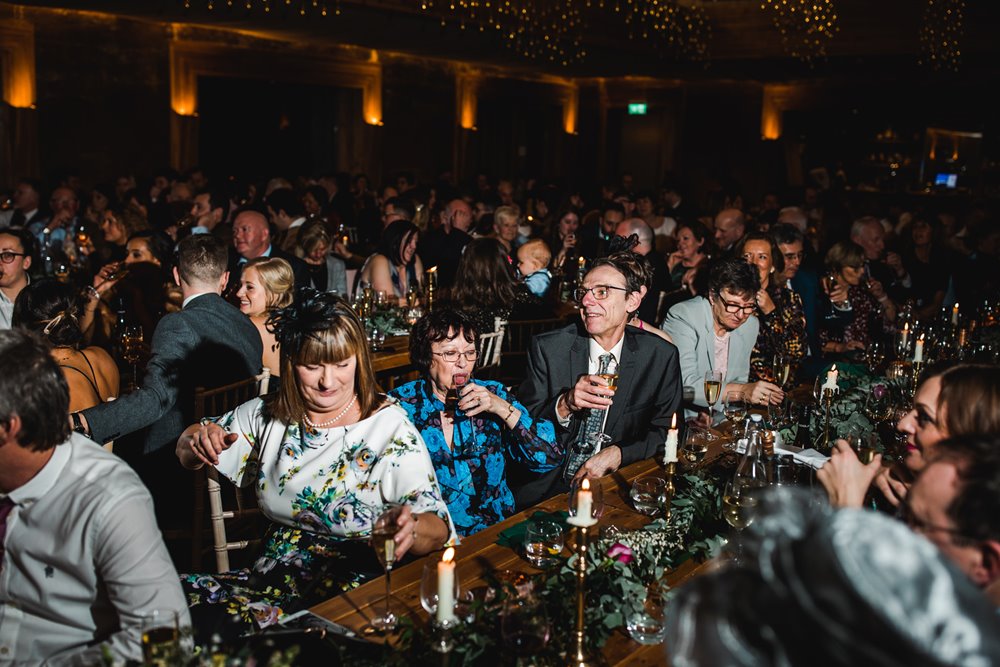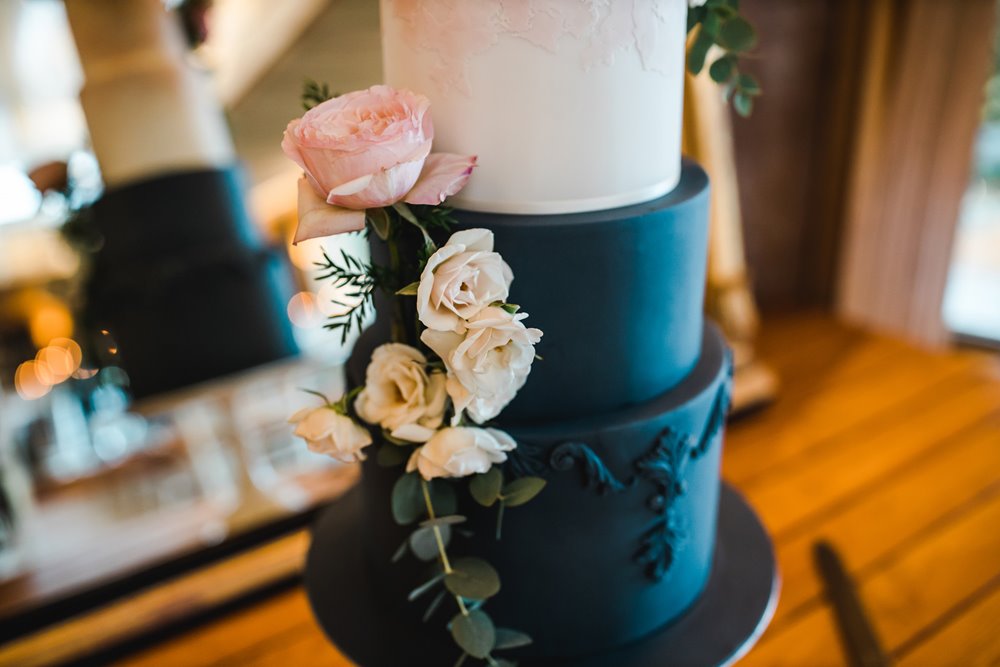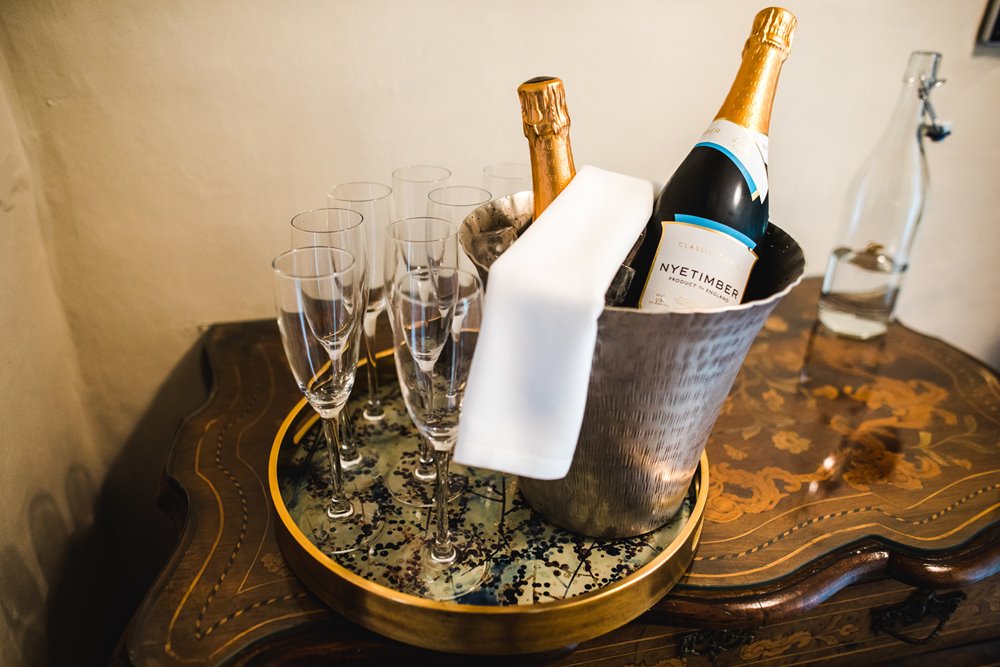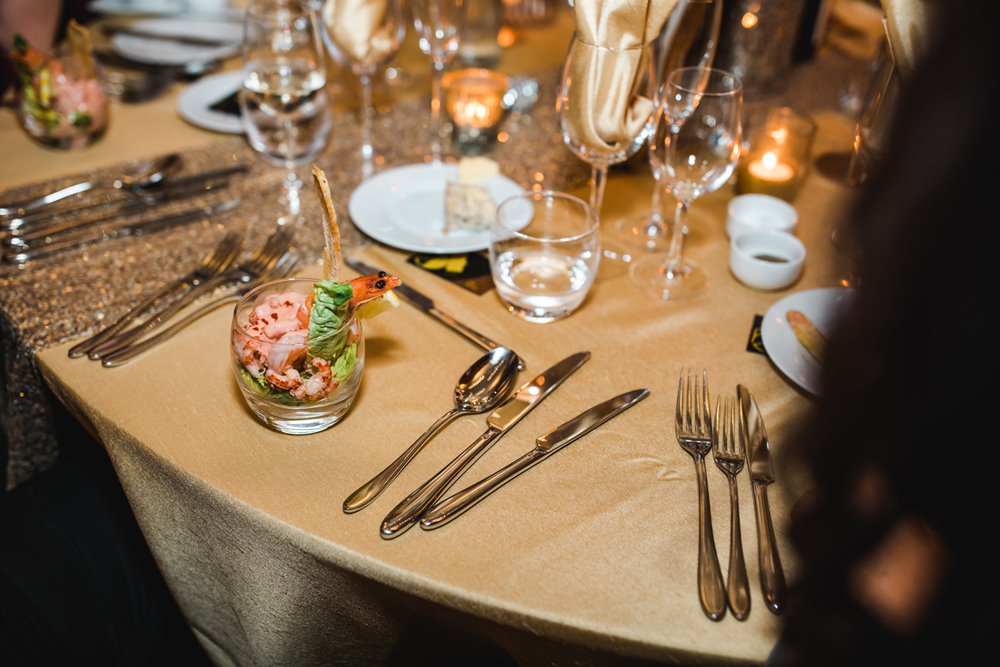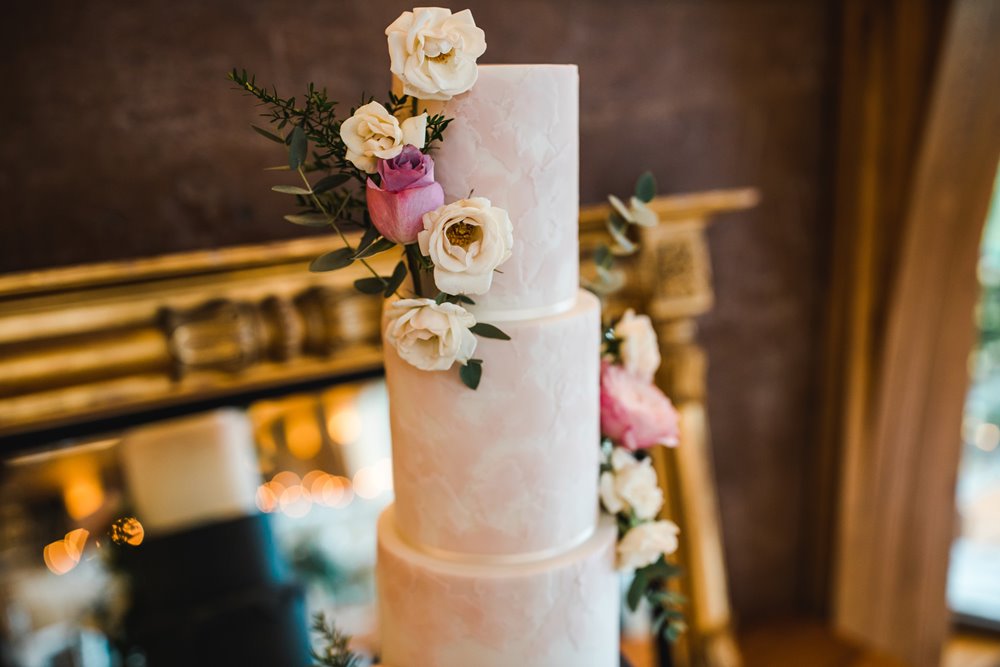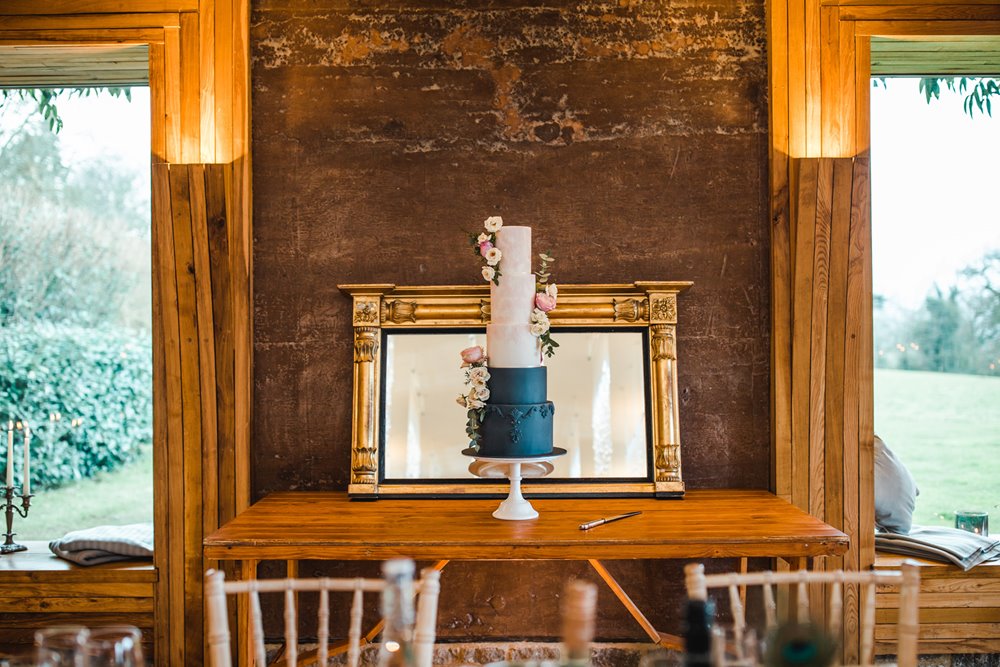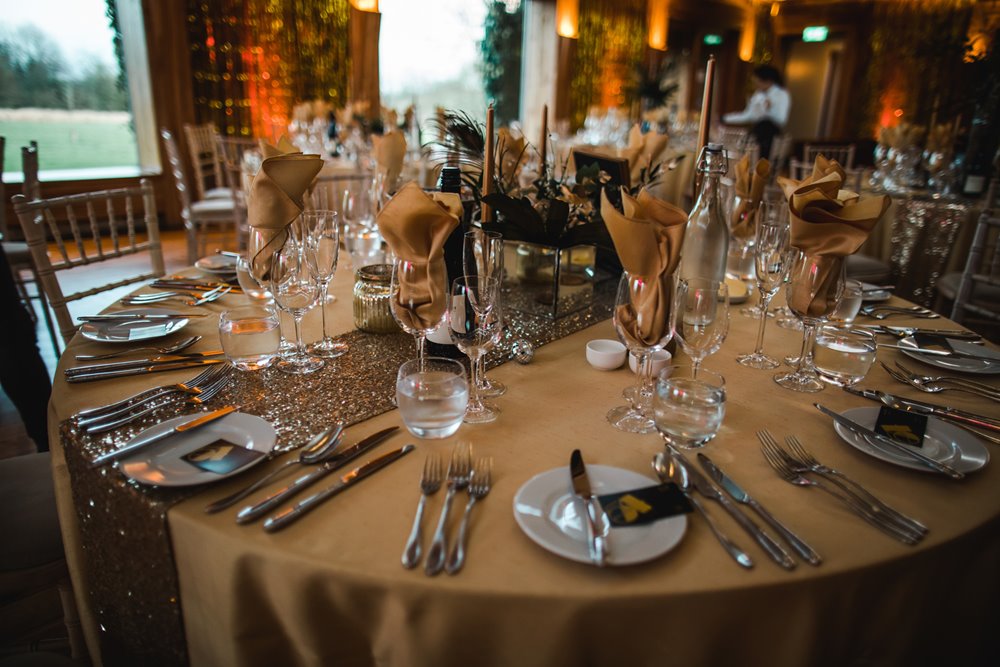 What about that lovely wedding cake?
Our wedding cake was a tired affair with different flavours for each level. This was made by Bristol based wedding cake designer, Zaza Marcelle. We were looking for a contemporary design that would be striking against the backdrop of the day and she definitely delivered. The cake even tasted good a couple of months ago after being defrosted!
What personal touches did you add?
I arranged small 'hangover kits' in the bedrooms, these had some pain killers, chewing gum and eye masks in for guests returning for round two! We also had personalised bridesmaid dressing gowns and engraved tie clips for the groomsmen all on Etsy. I also loved the result from the napkin menus I had found there too. I think its nice for guests to know what they are about to eat though its not entirely necessary as they don't really have a choice! It also helped for those with dietary requirements to feel reassured that they had been taken care of. The other small bit we arranged ourselves were the table placements/wine glass tags. They were pretty cheap to get hold of and had been laser cut from wood. They doubled up as keyrings for guests to take home with them as favours, we didn't bother with actual wedding favours as the amazing food and drink was hopefully thanks enough!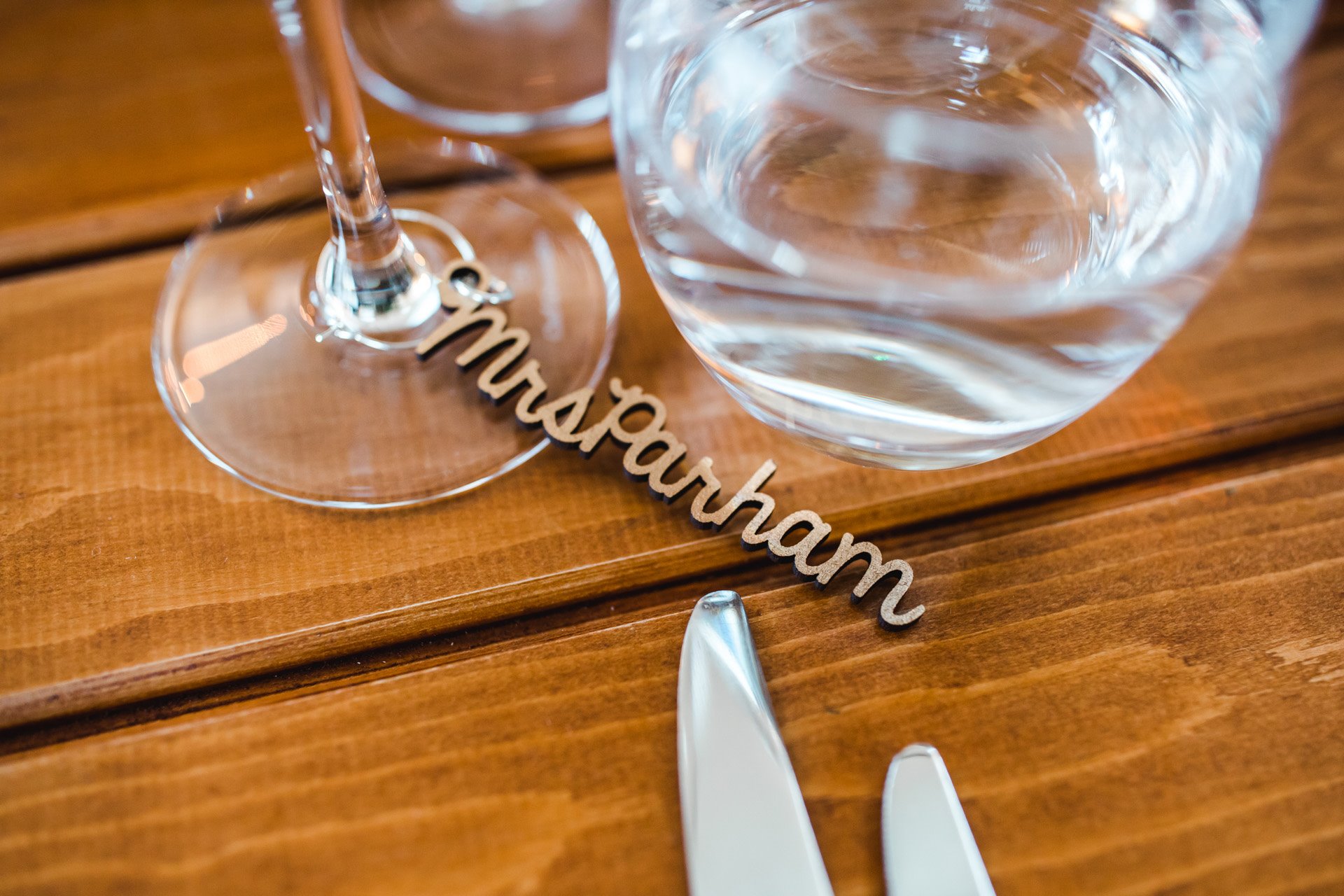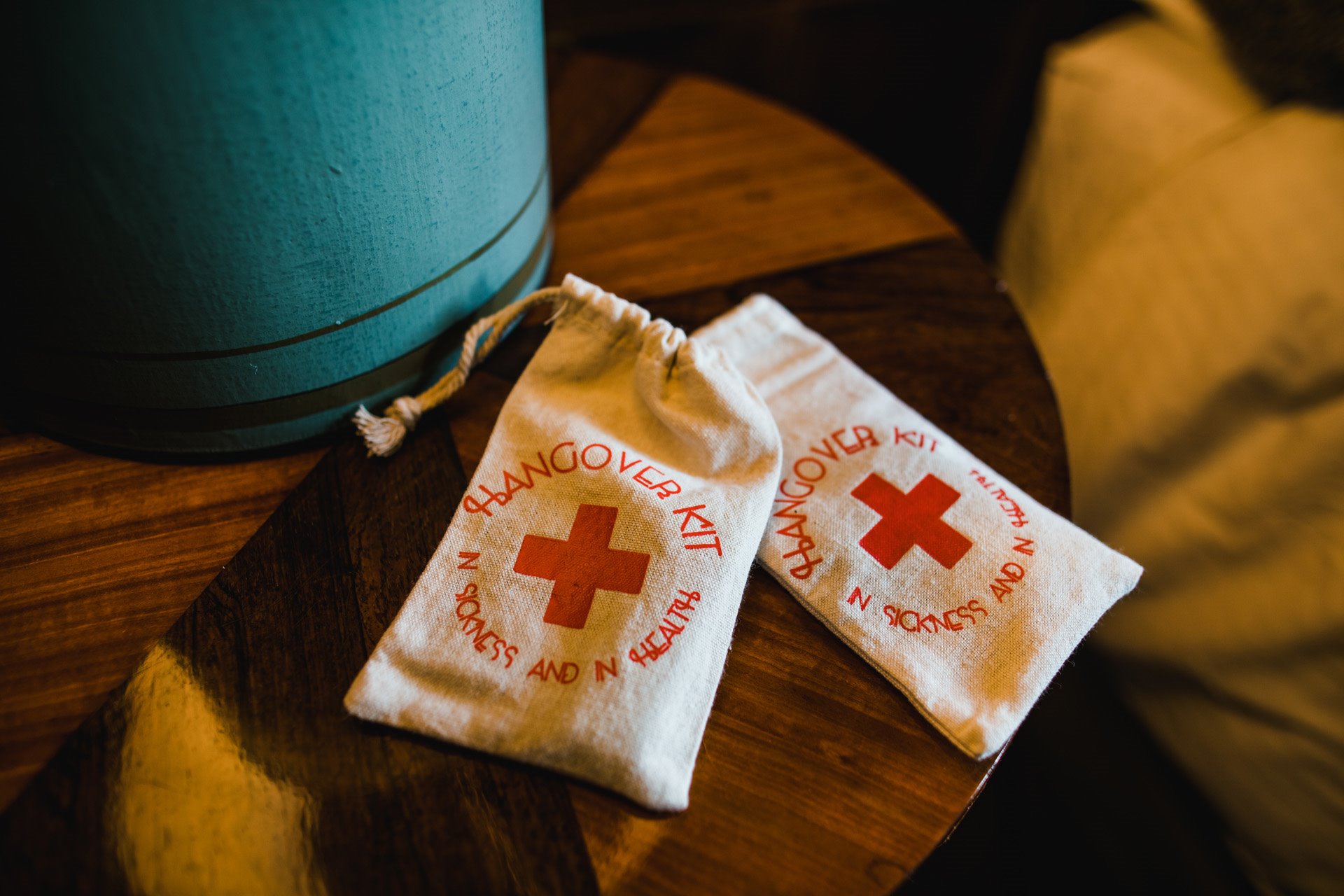 What was a particular highlight of your weekend wedding?
Andrew – For me it was seeing Liz coming down the aisle, she looked so beautiful, the song Liz had chosen to walk to was exactly the song I had imagined (Every Little Thing She Does Is Magic – Sting). I just couldn't stop smiling.

Liz – I loved the ceremony so much, but also the time Andrew and I got to spend alone together having photos and rehearsing our first dance in the Gillyflower was so special.
I advise everyone to take these moments throughout the day to just be together and reflect.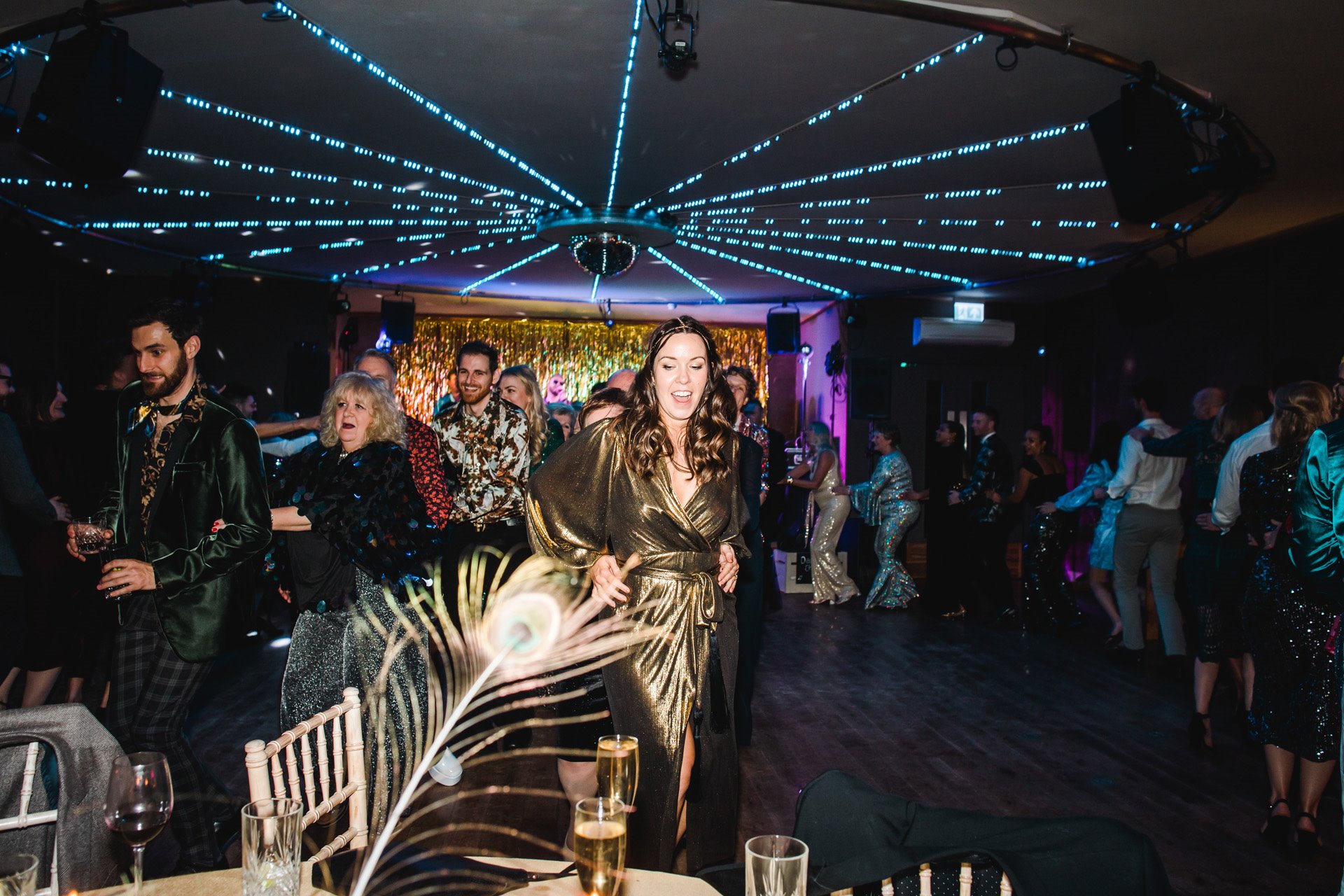 Any other special moments?
I think we will always remember the enormous Love Train our guests created towards the end of the night, that was a lot of fun being able to see everyone all together like one huge family for the first time weaving in and our of the tables.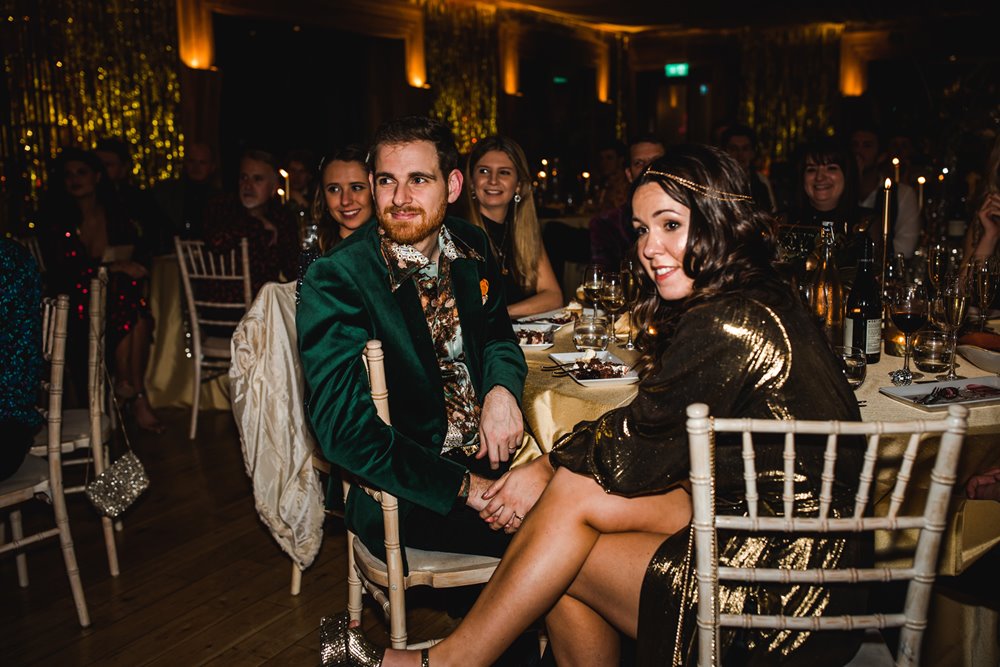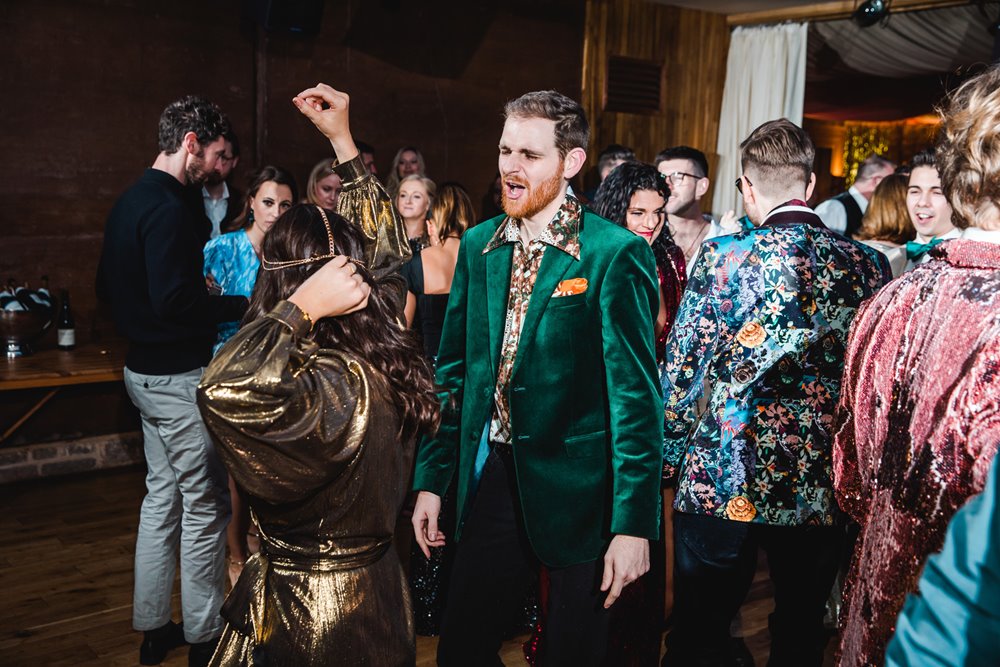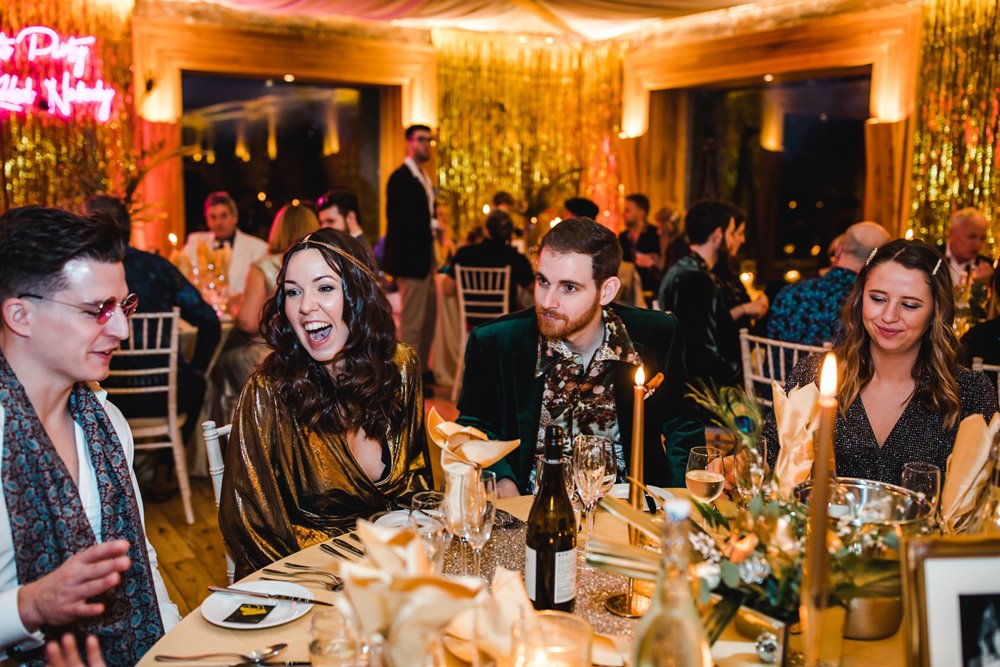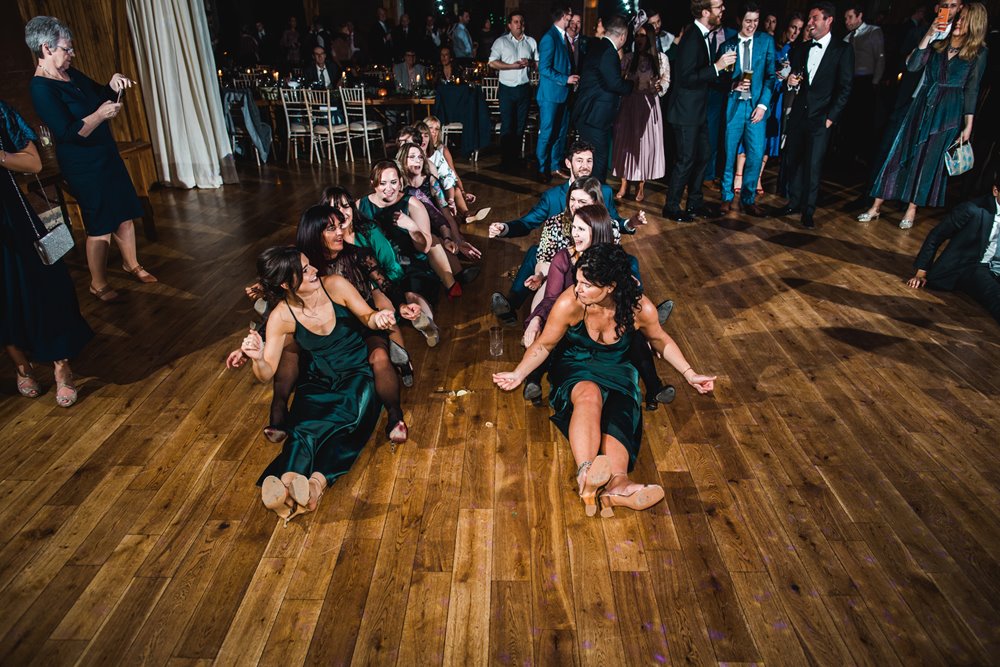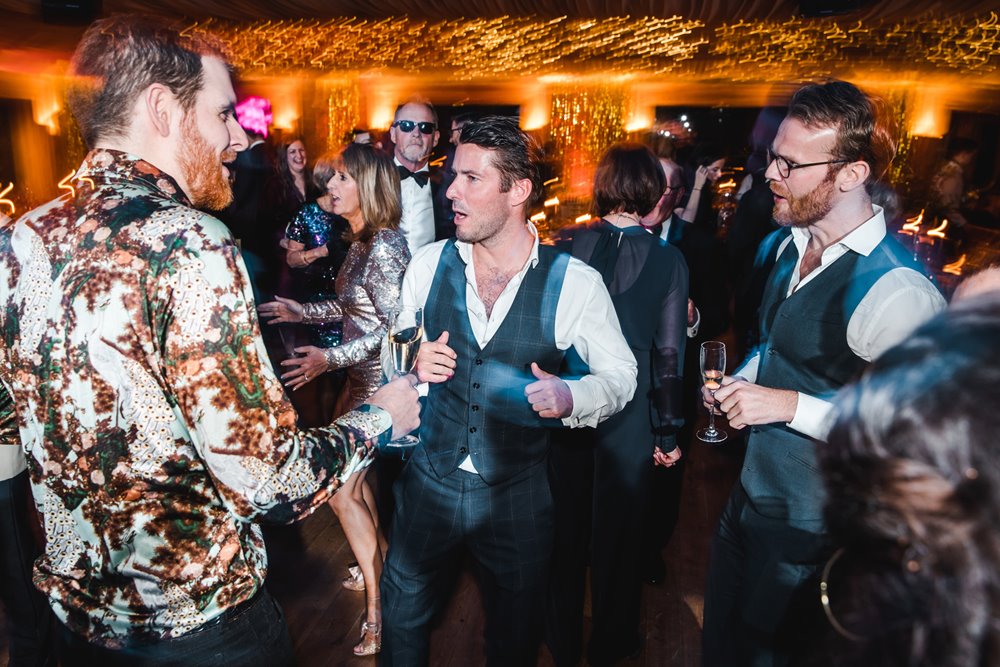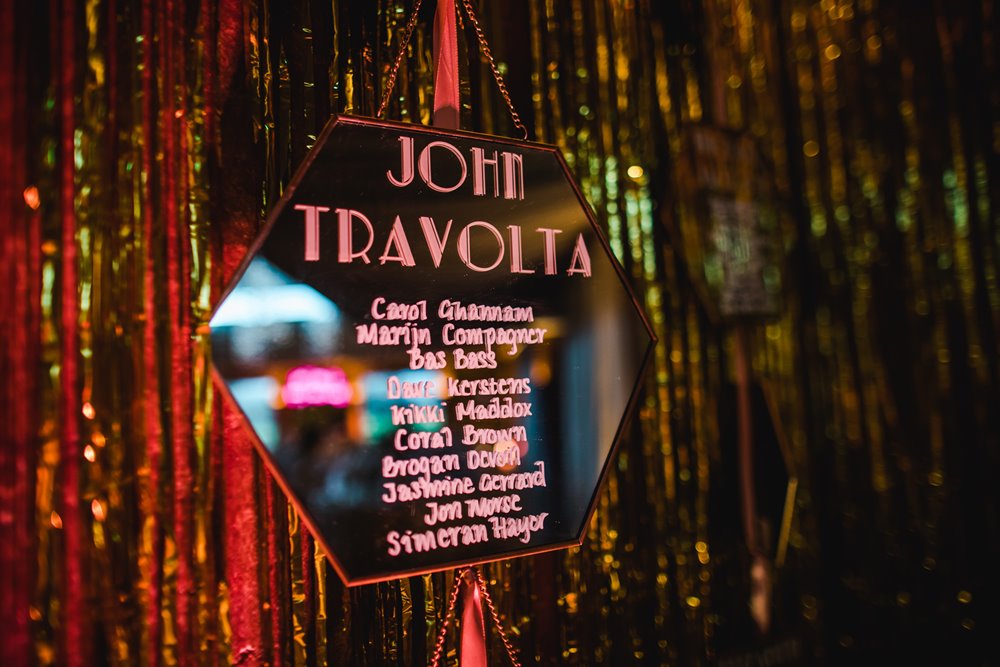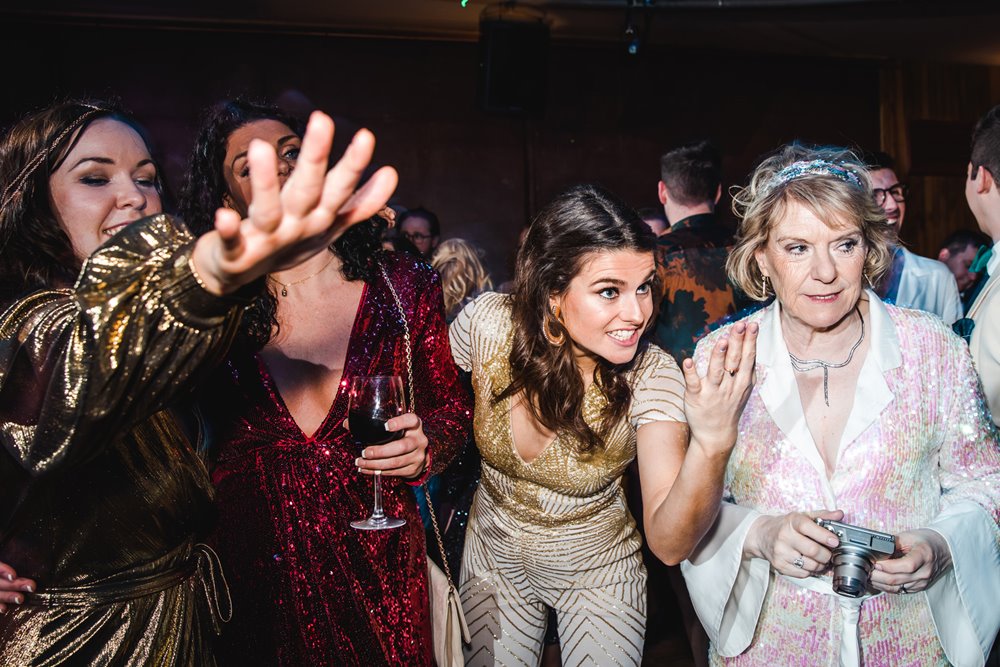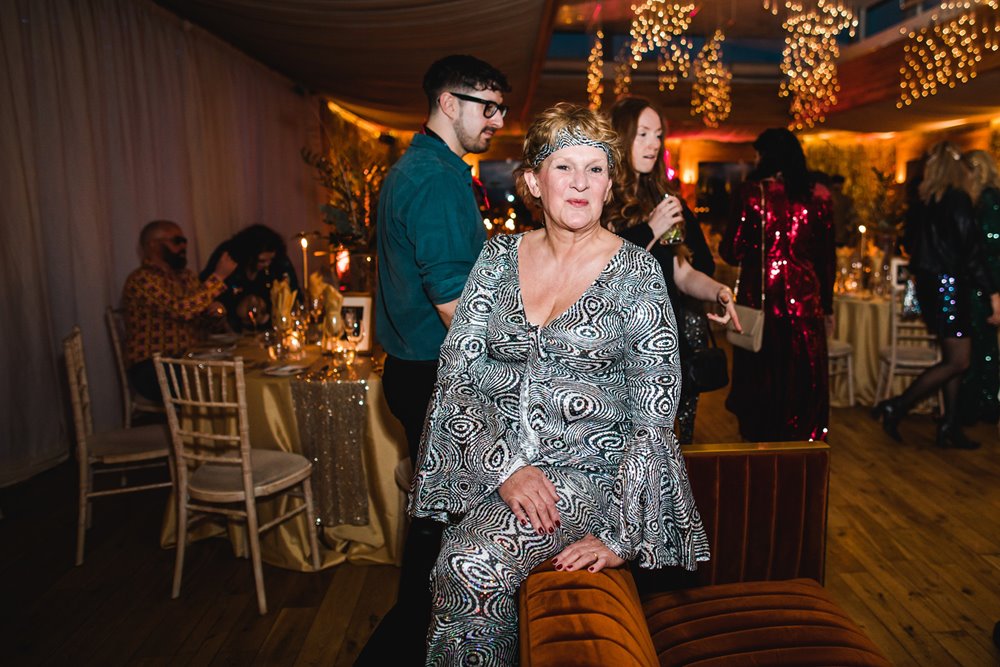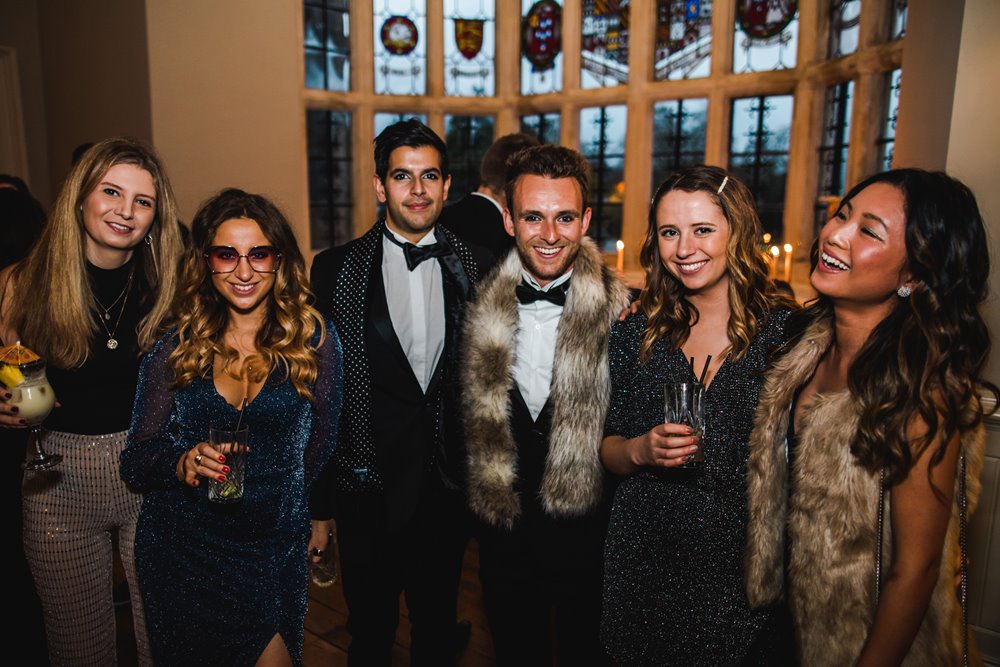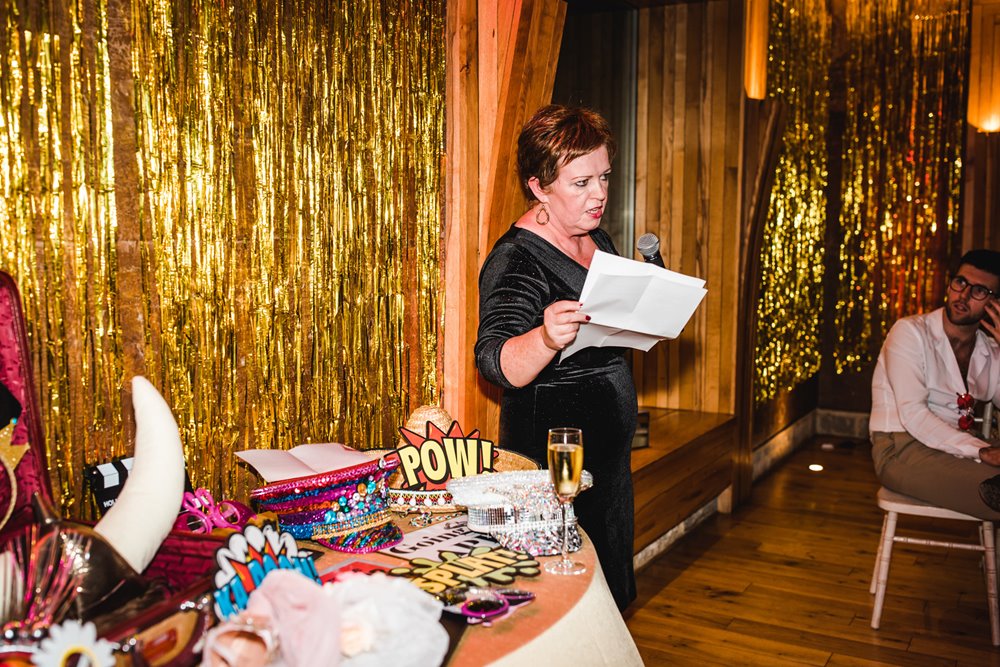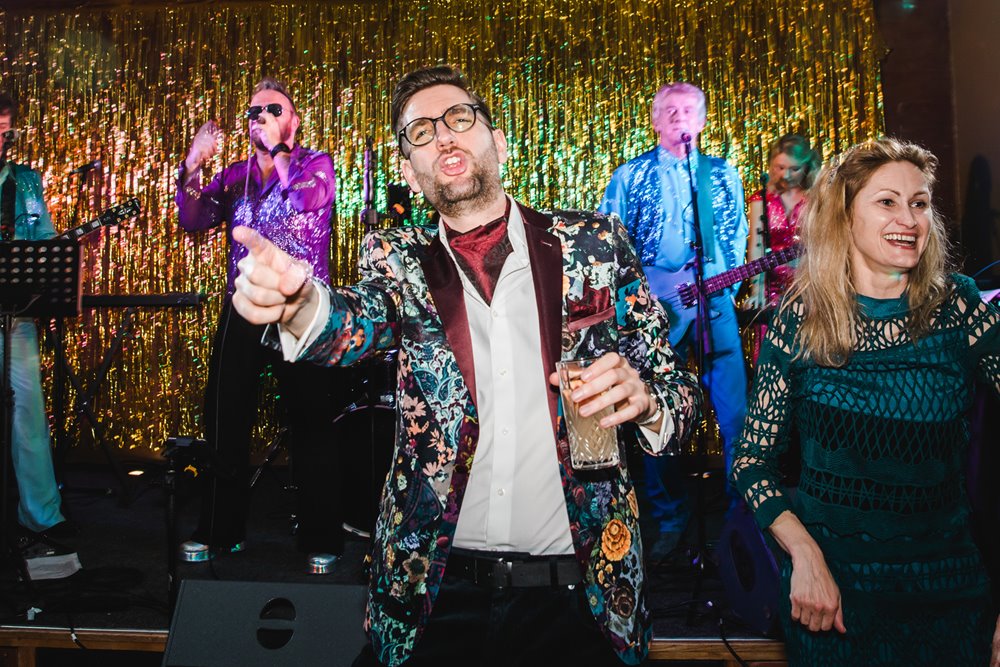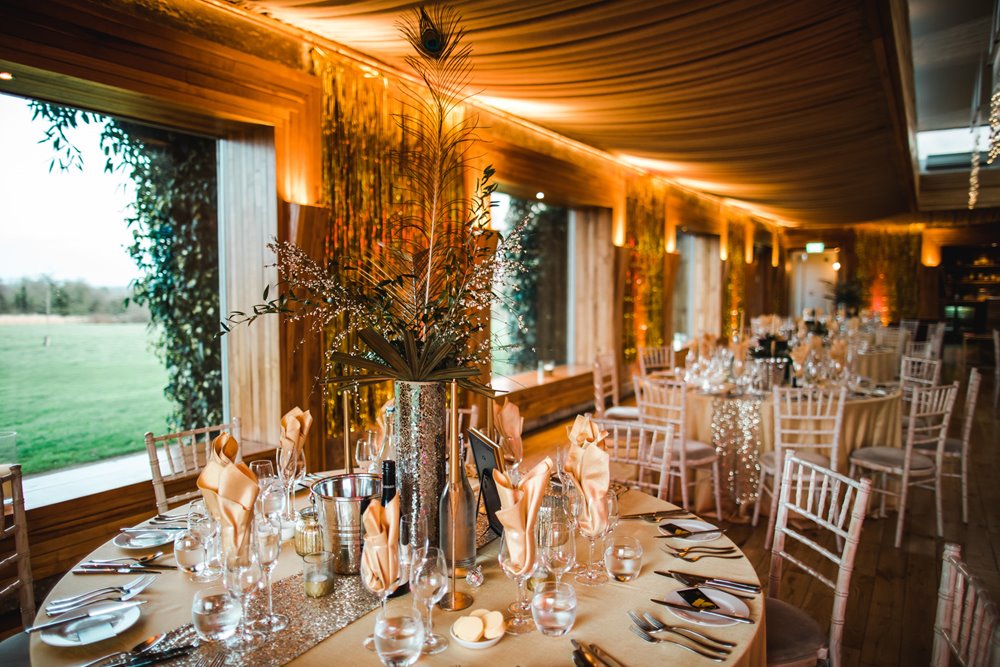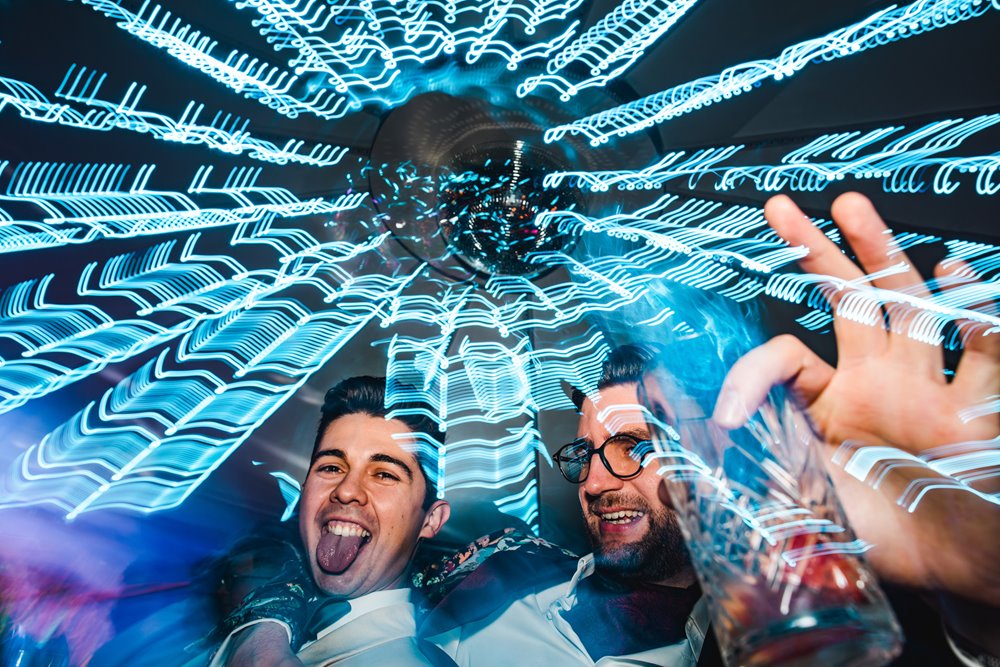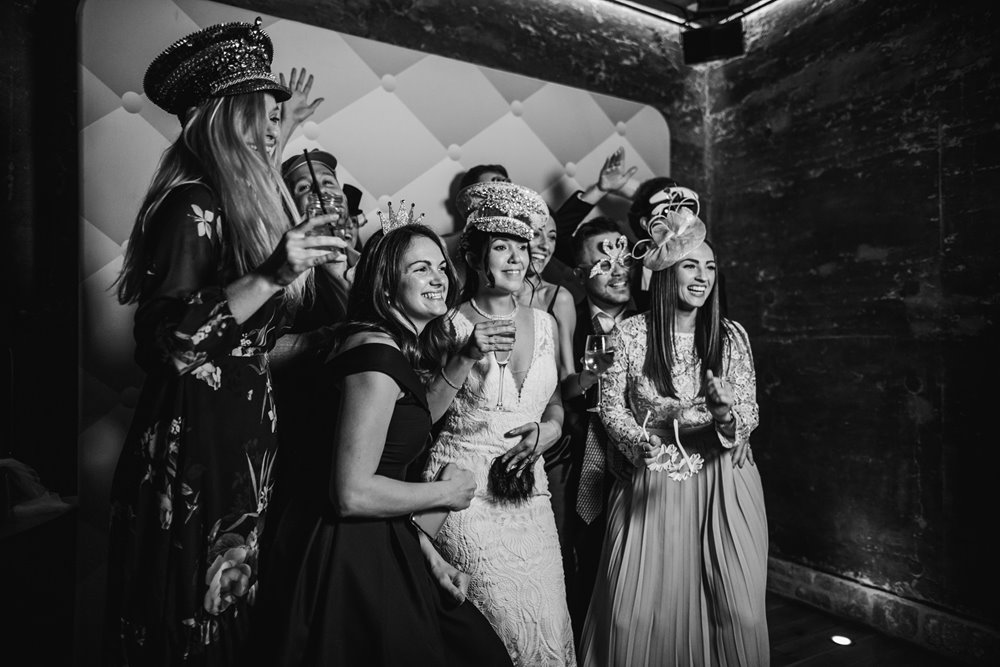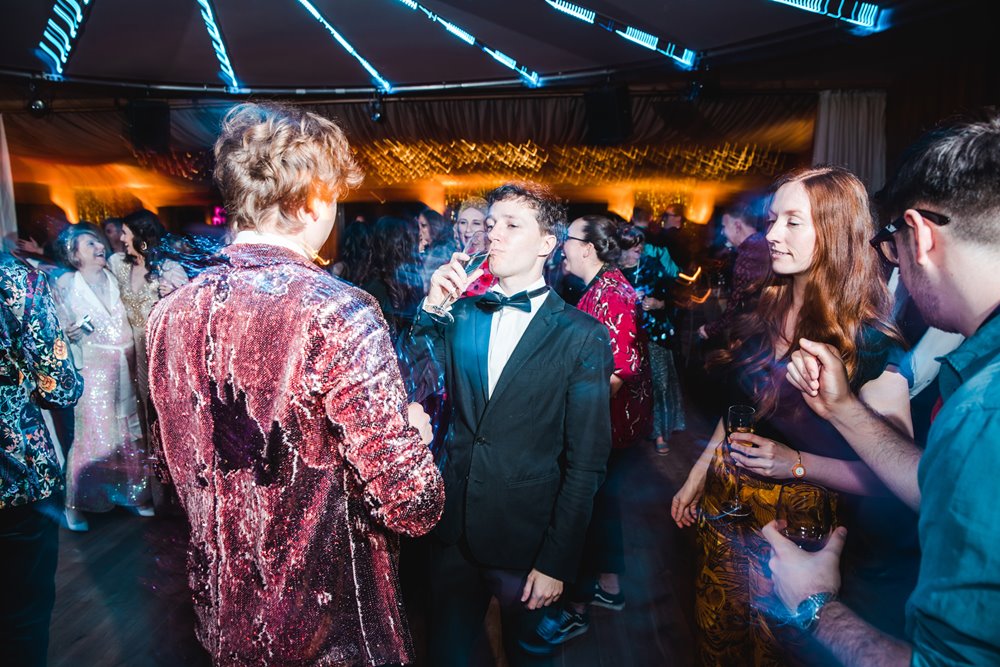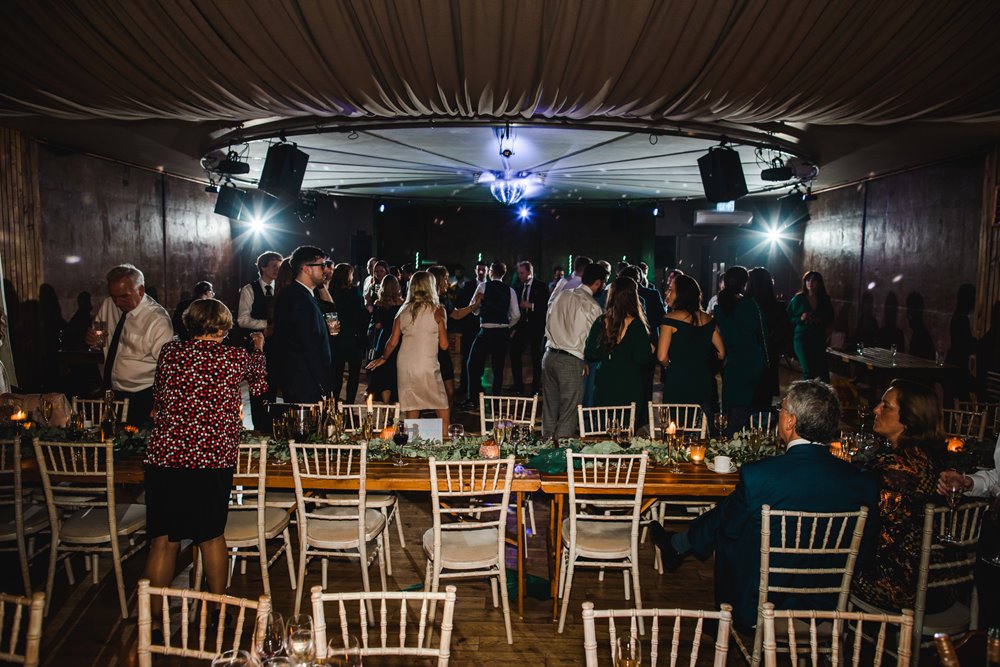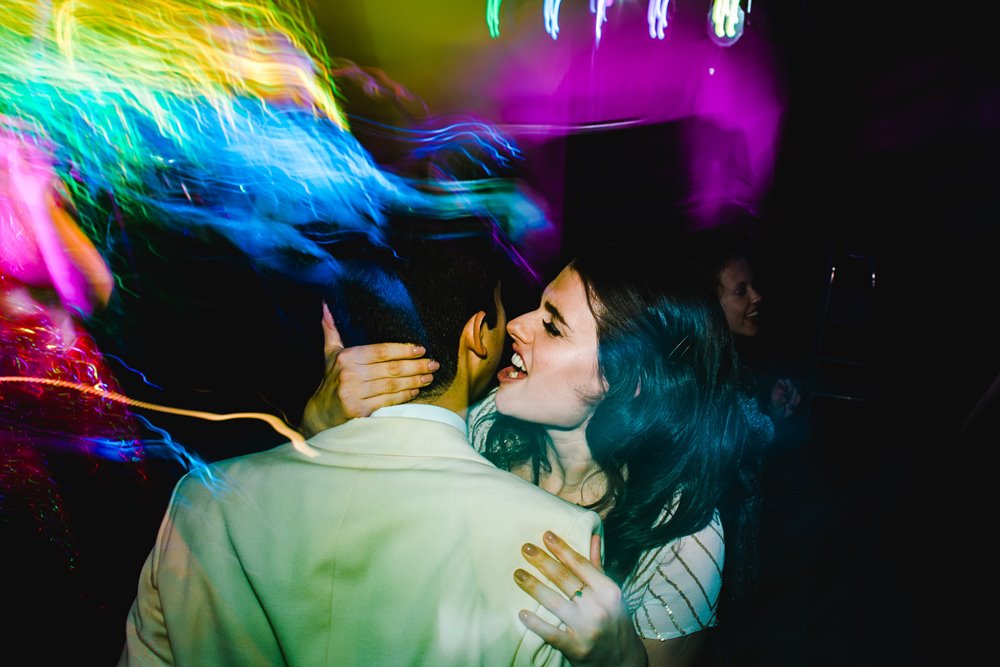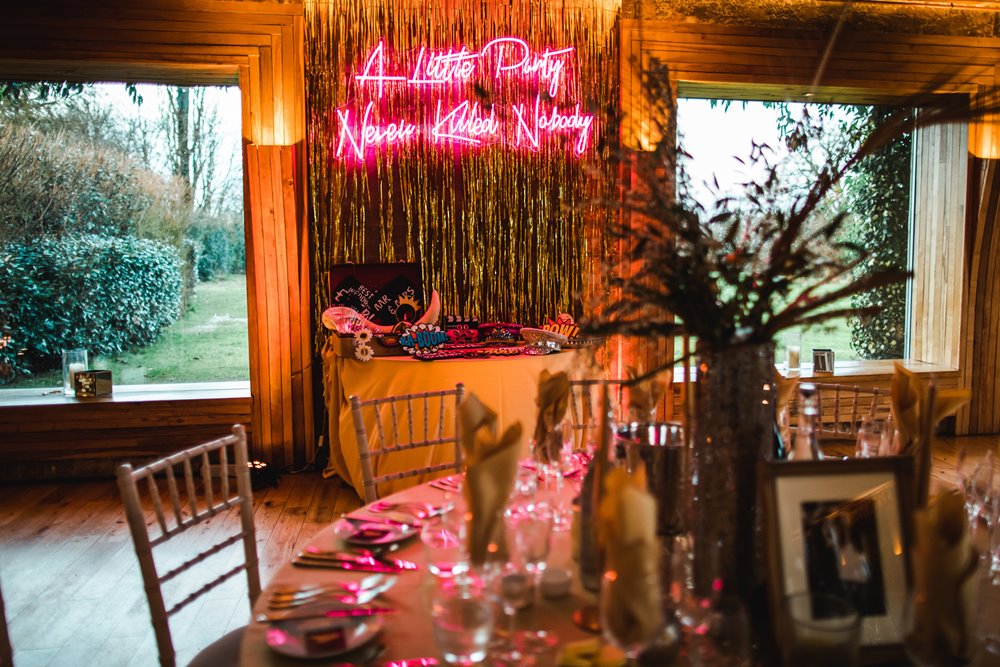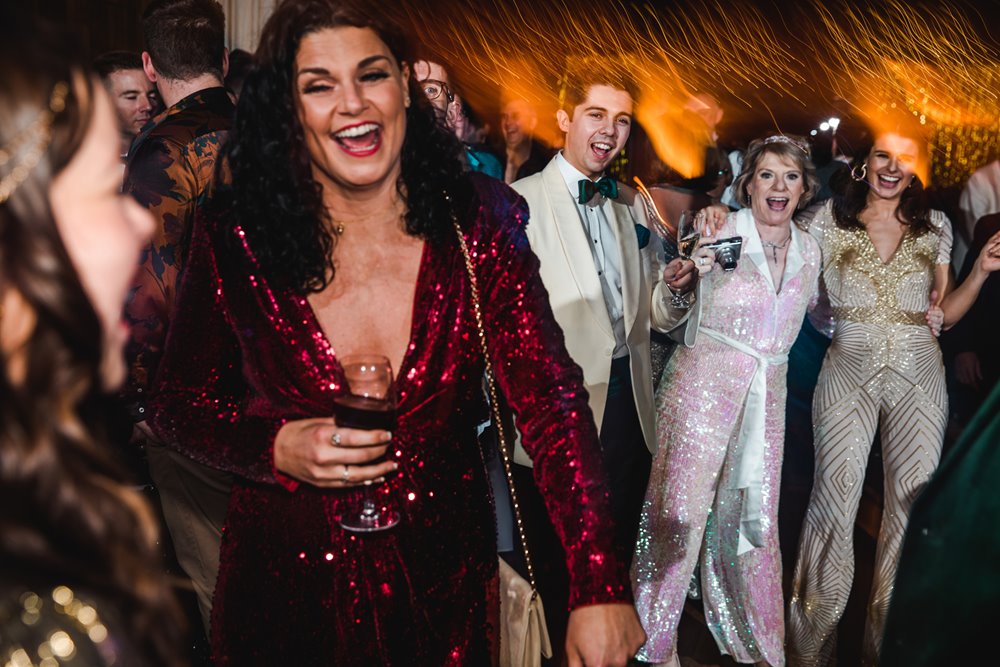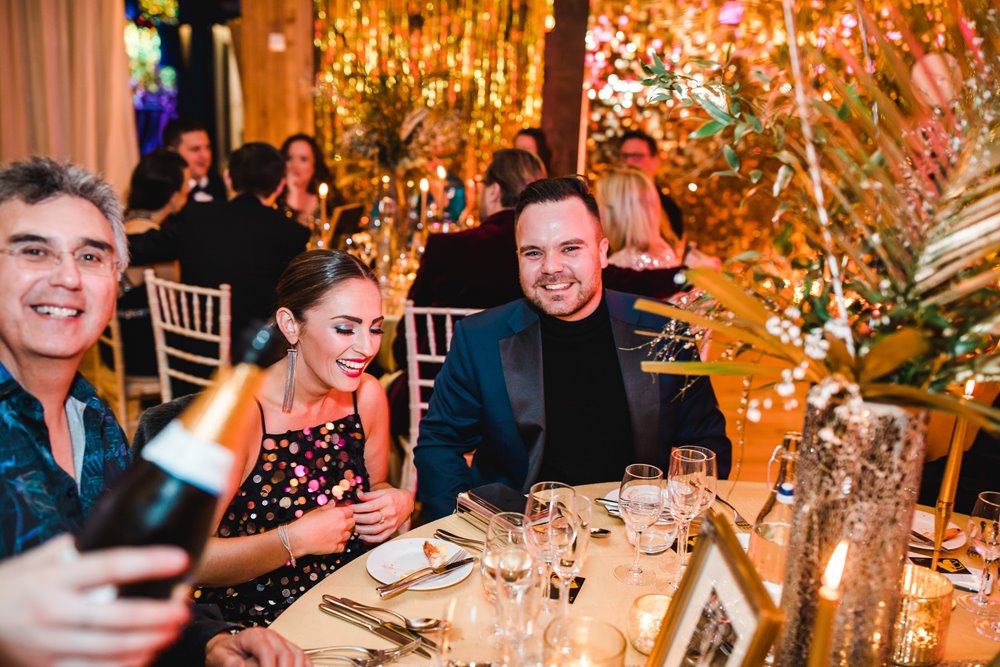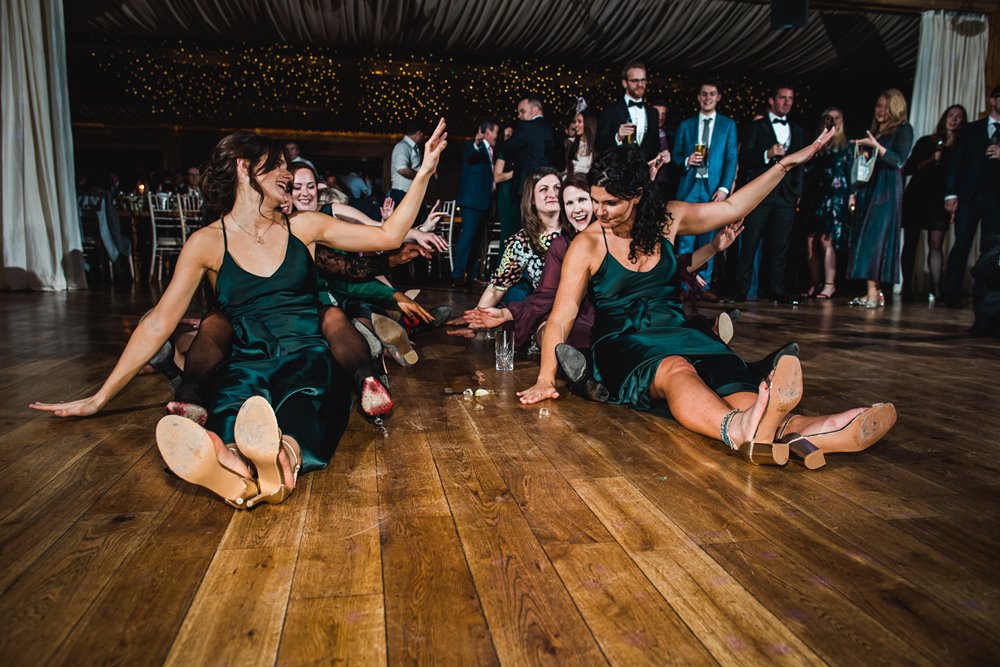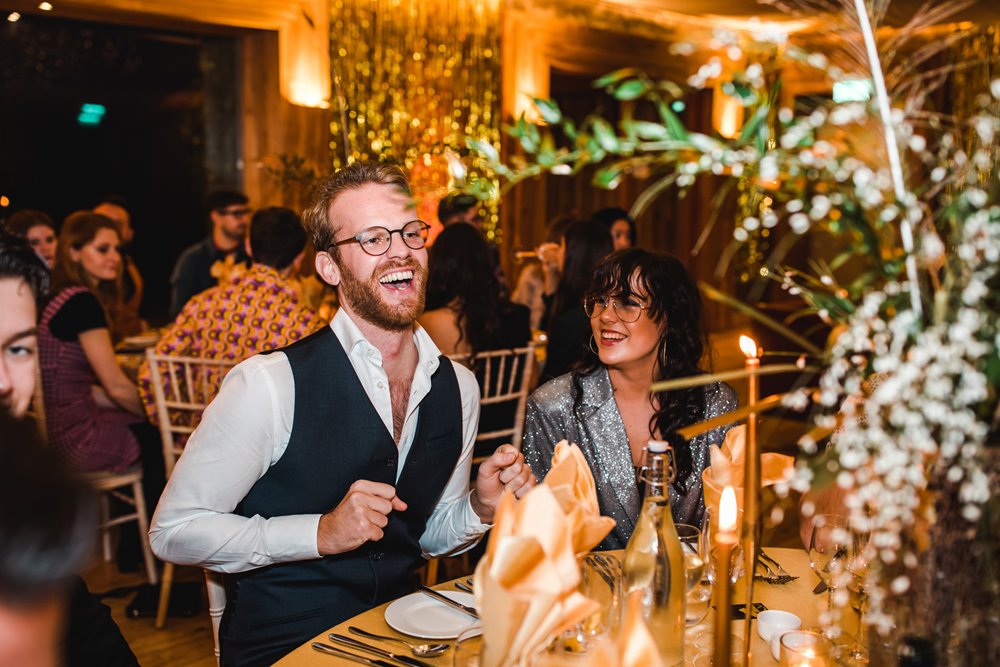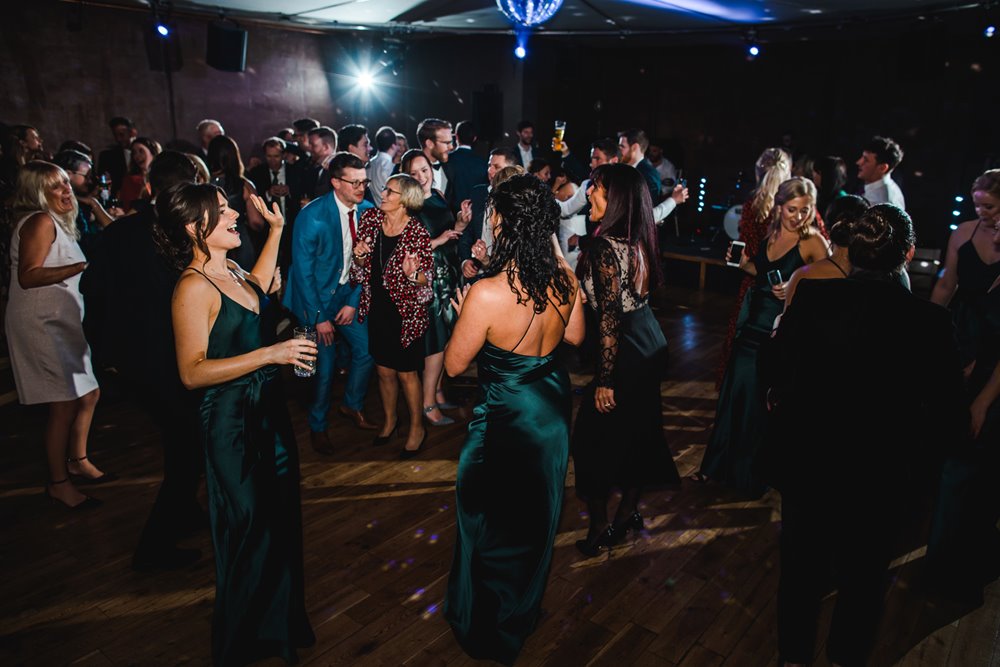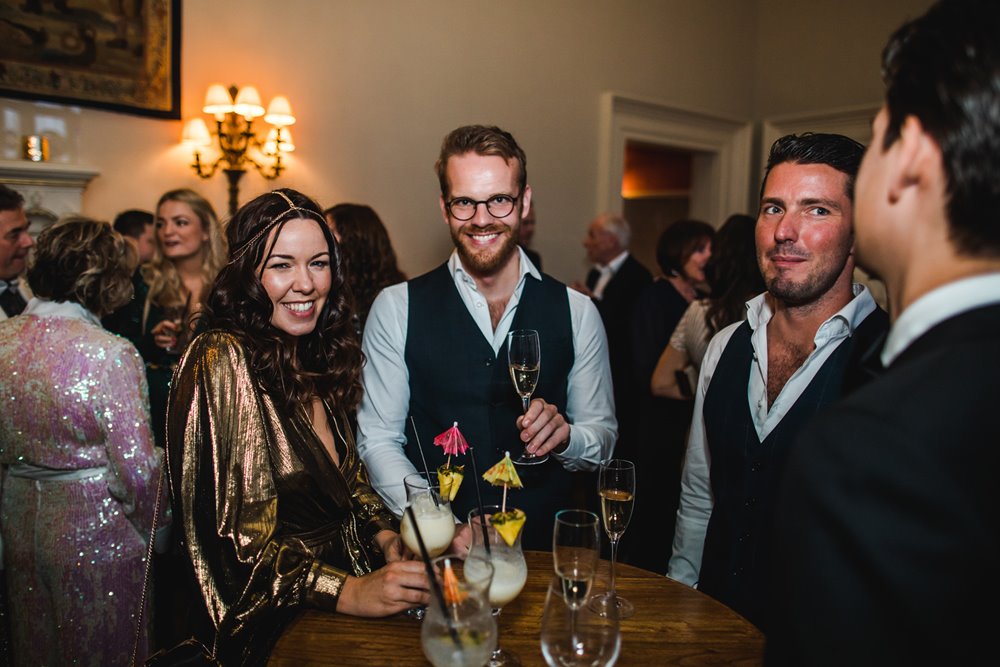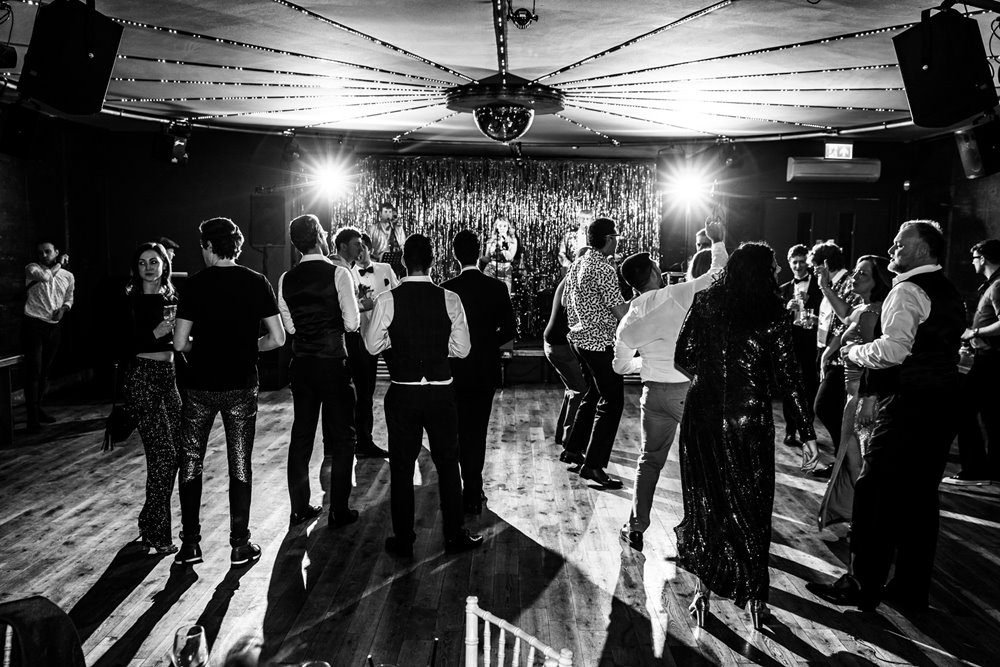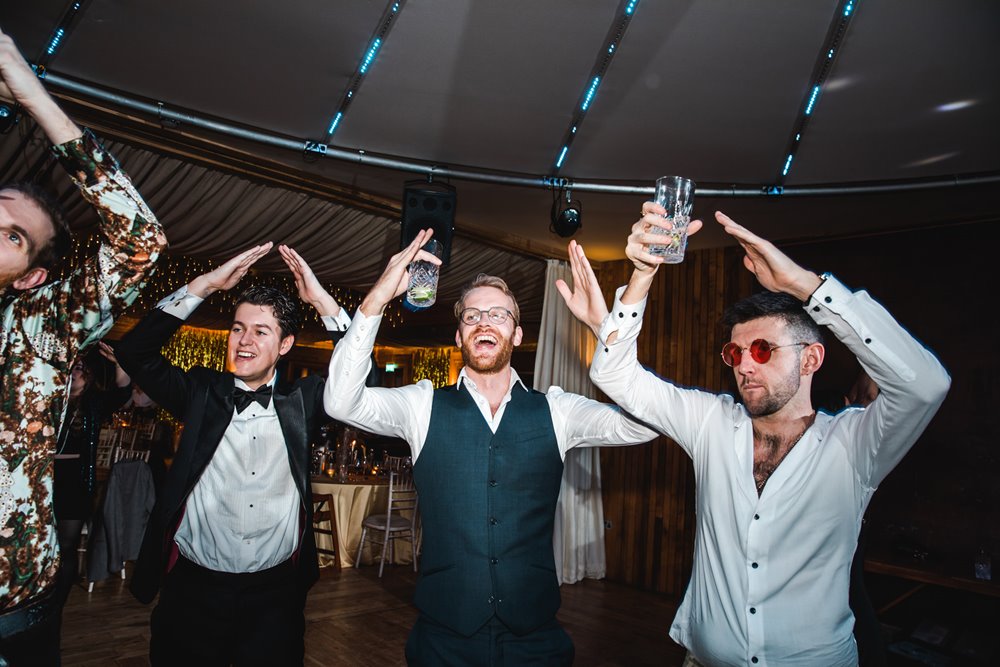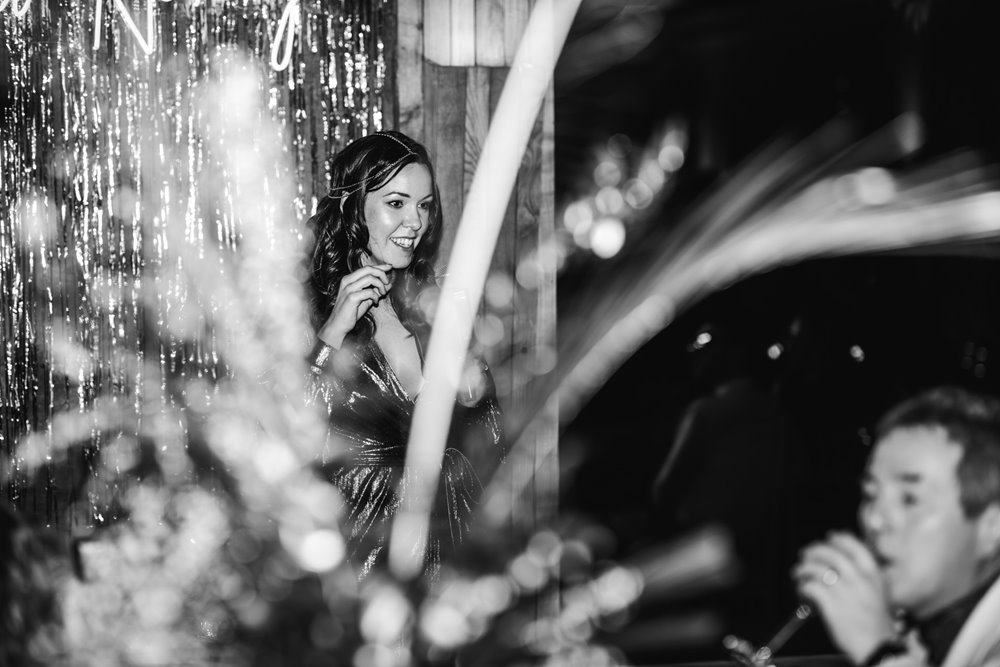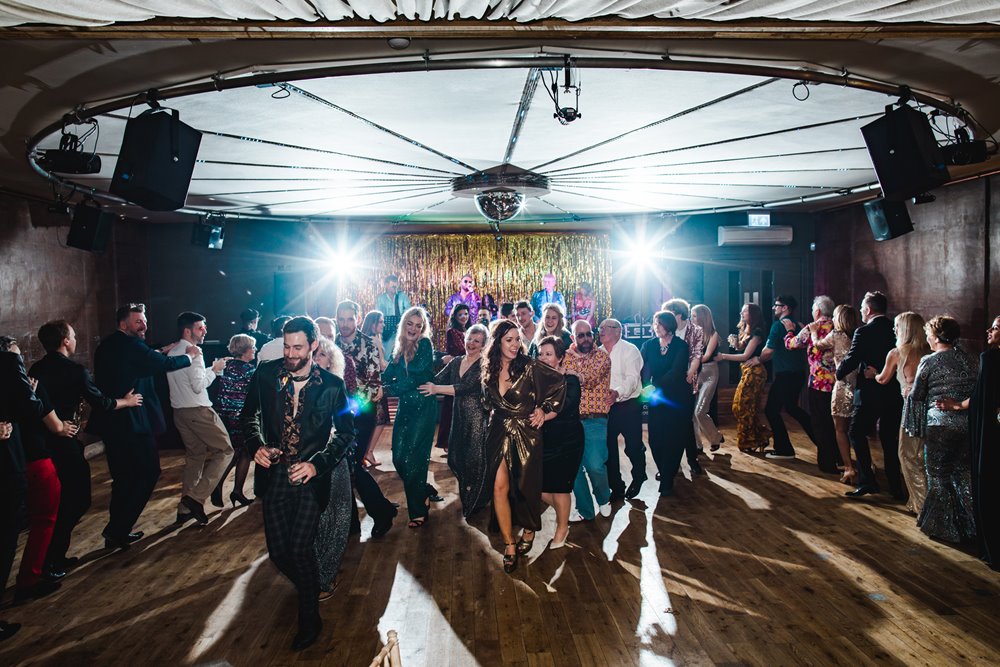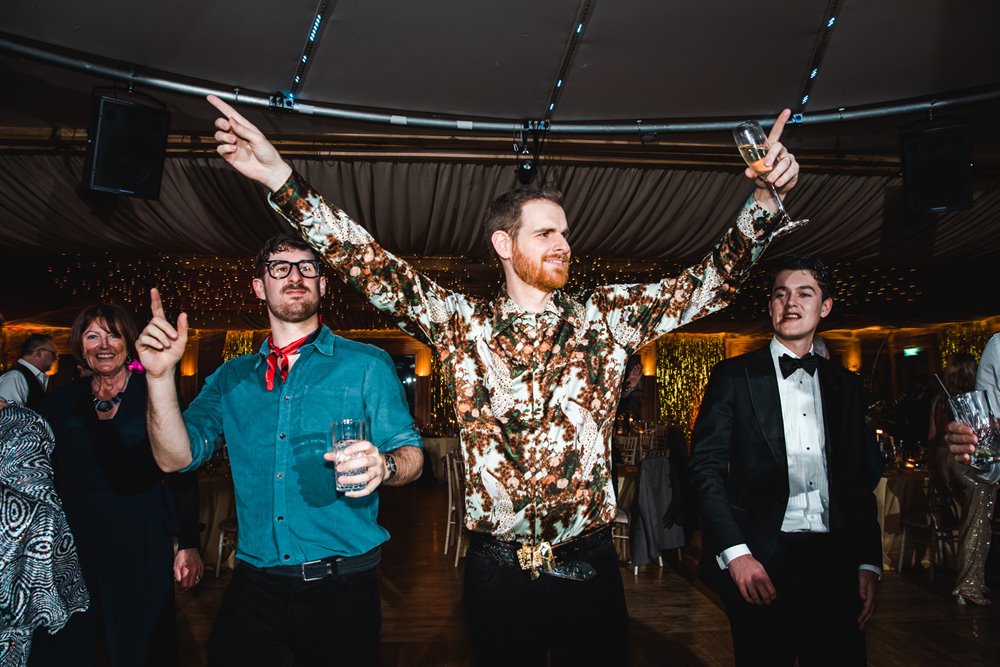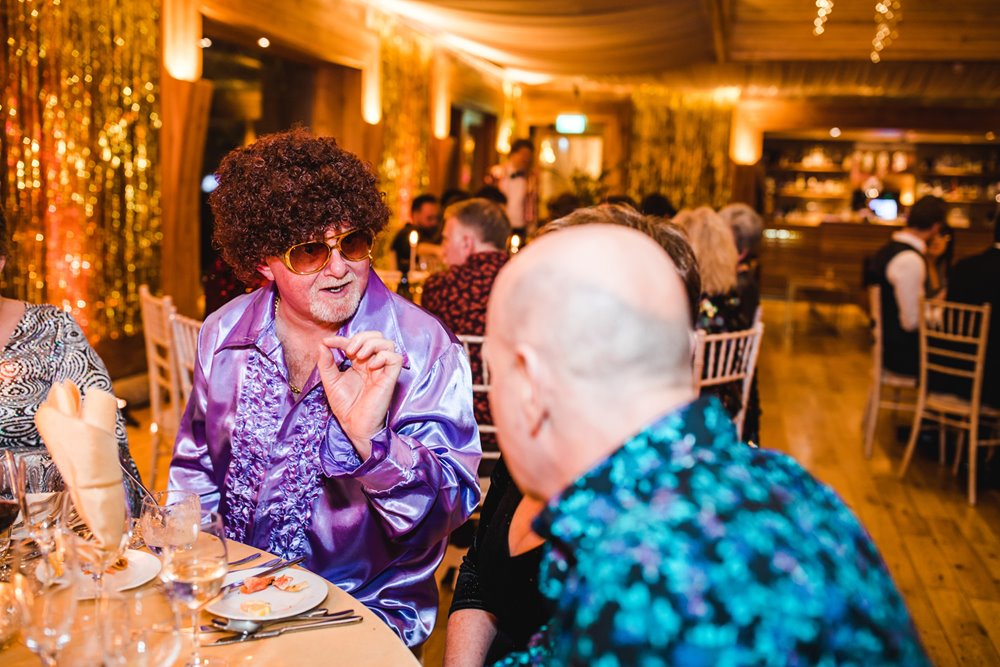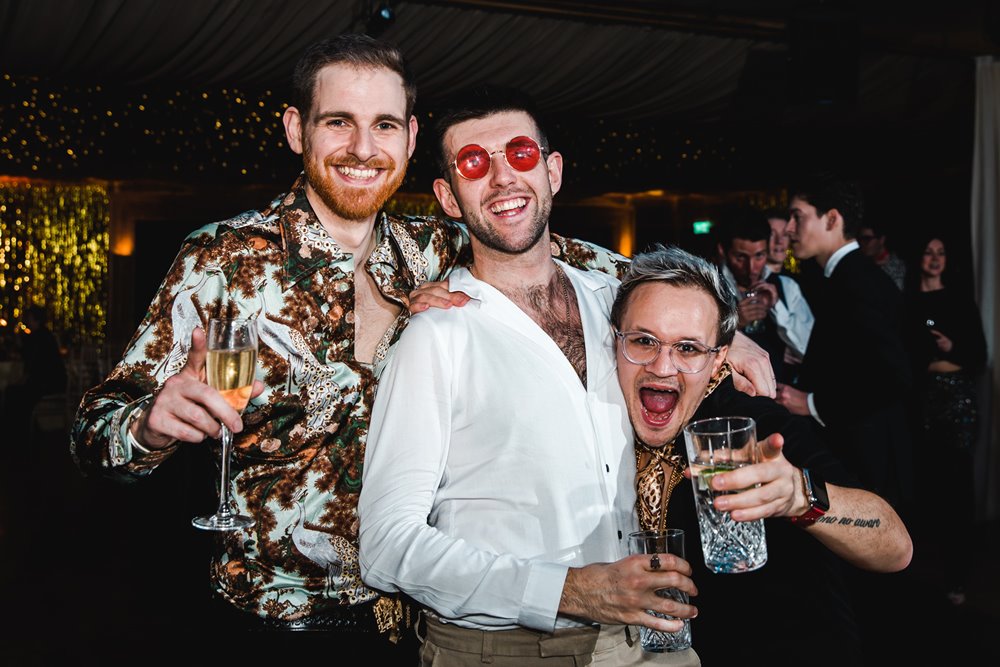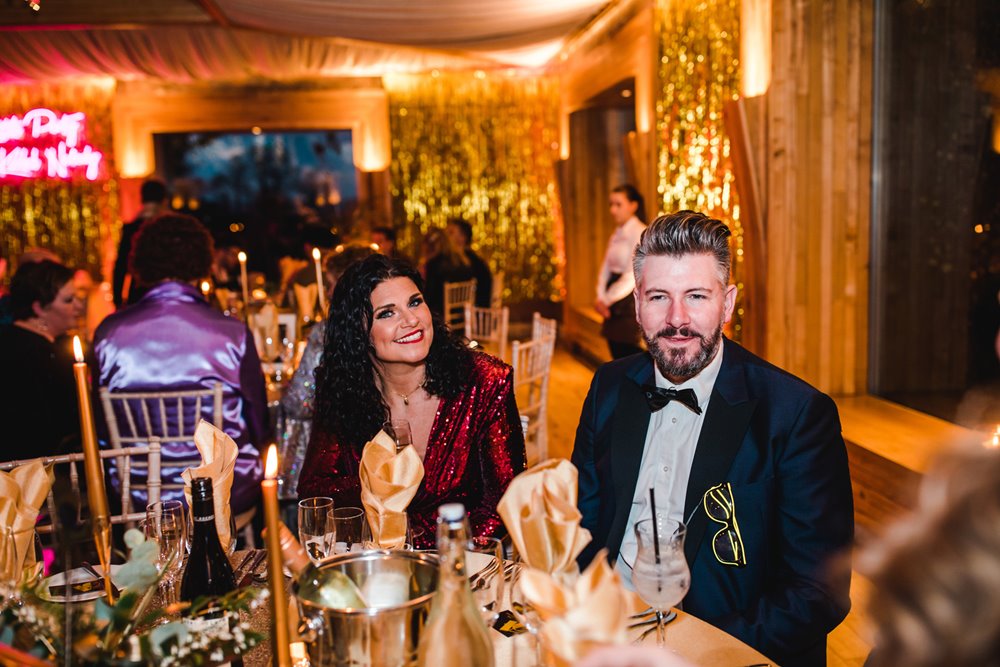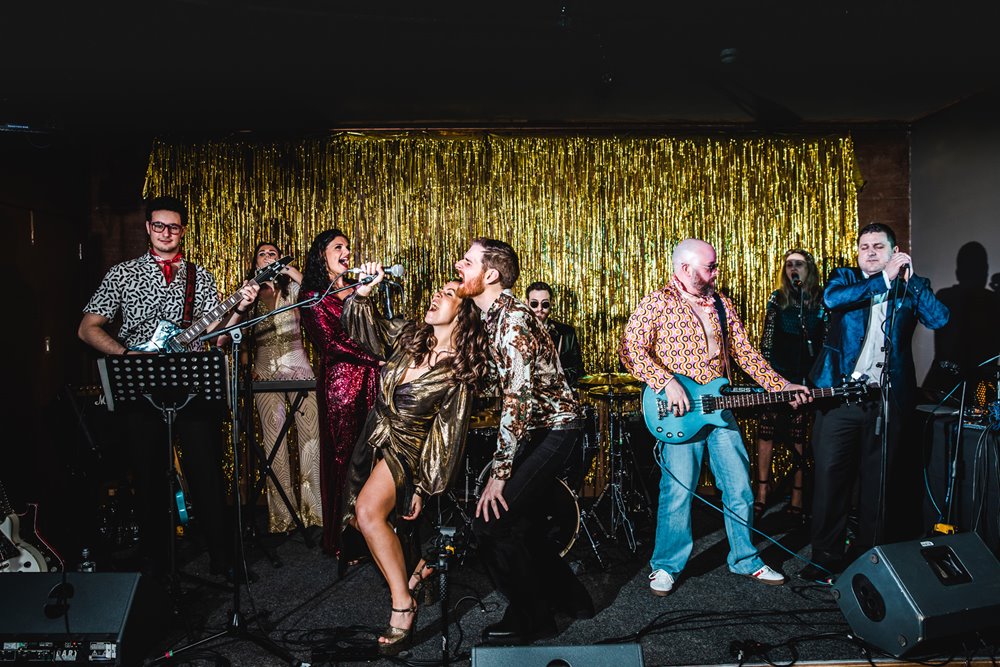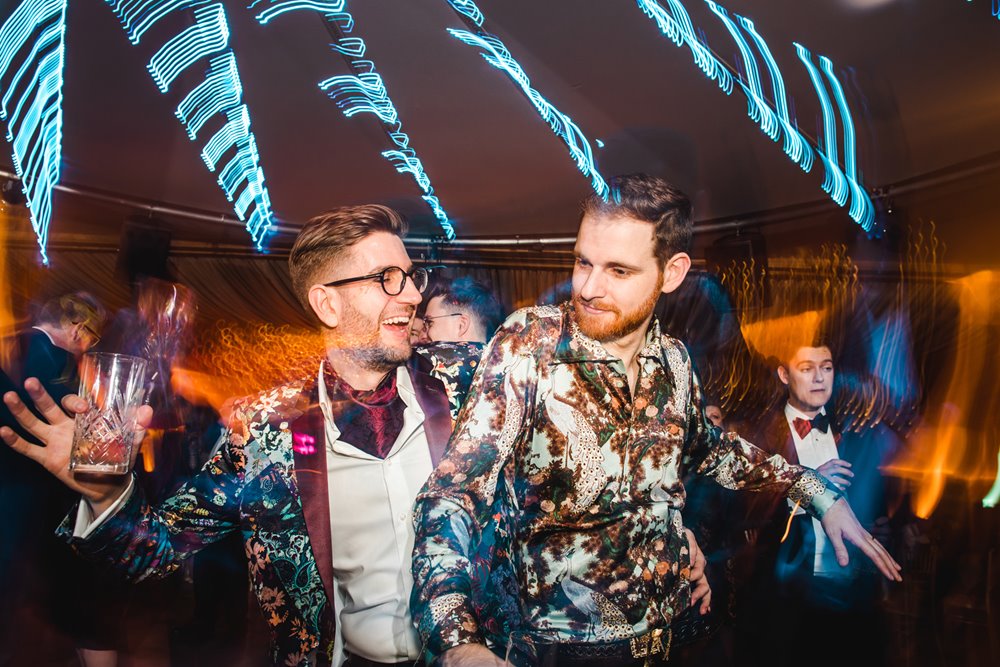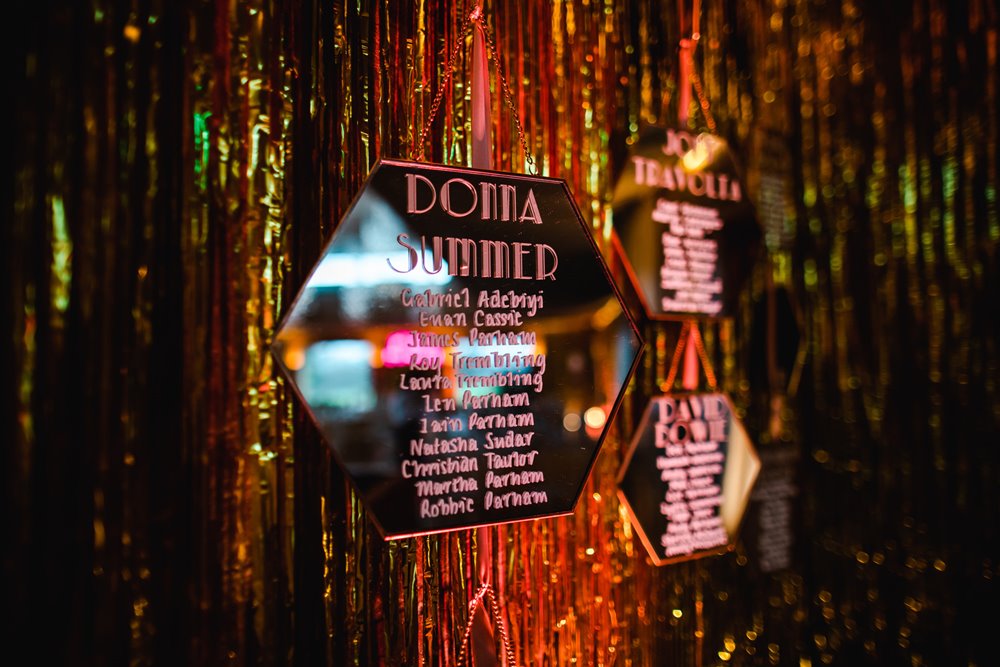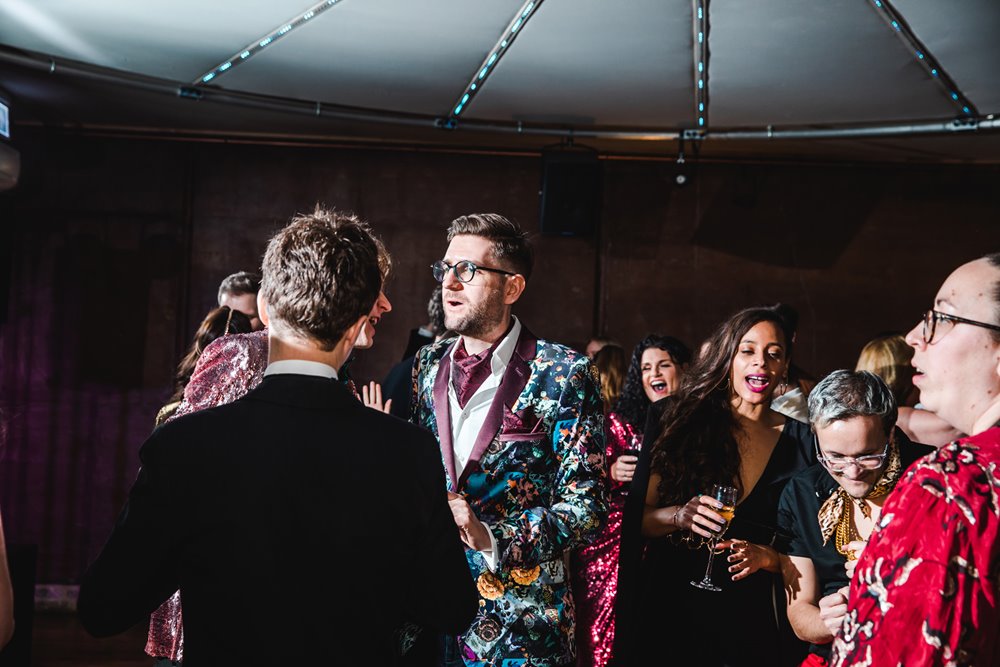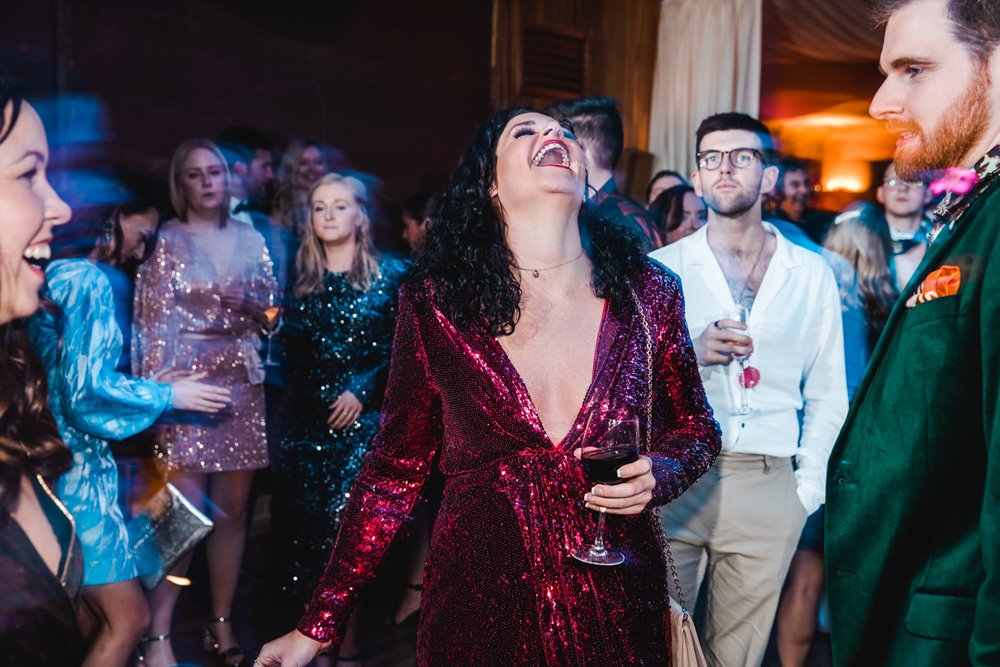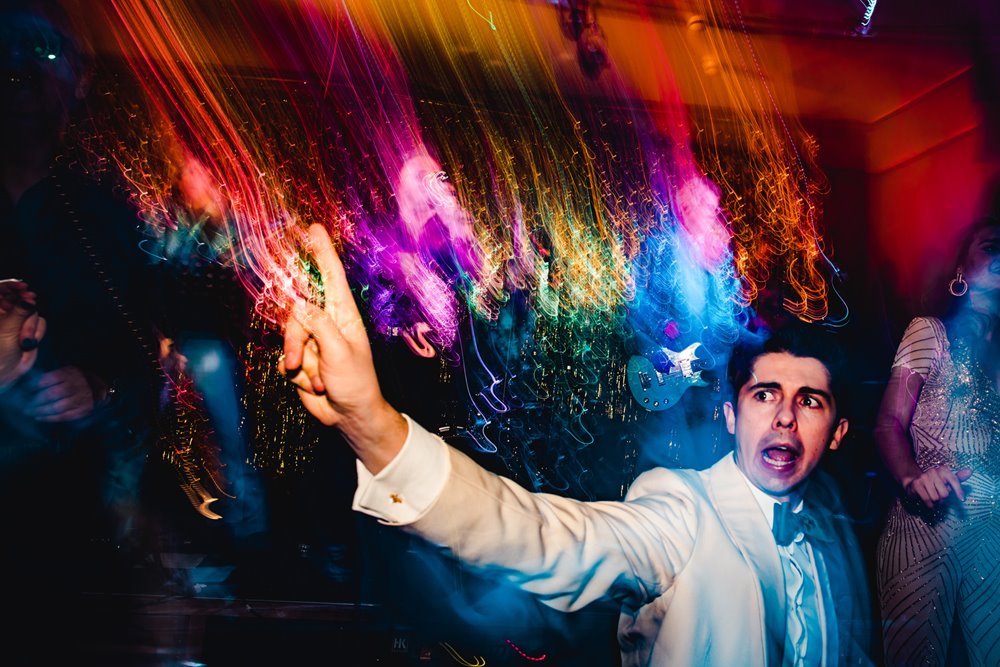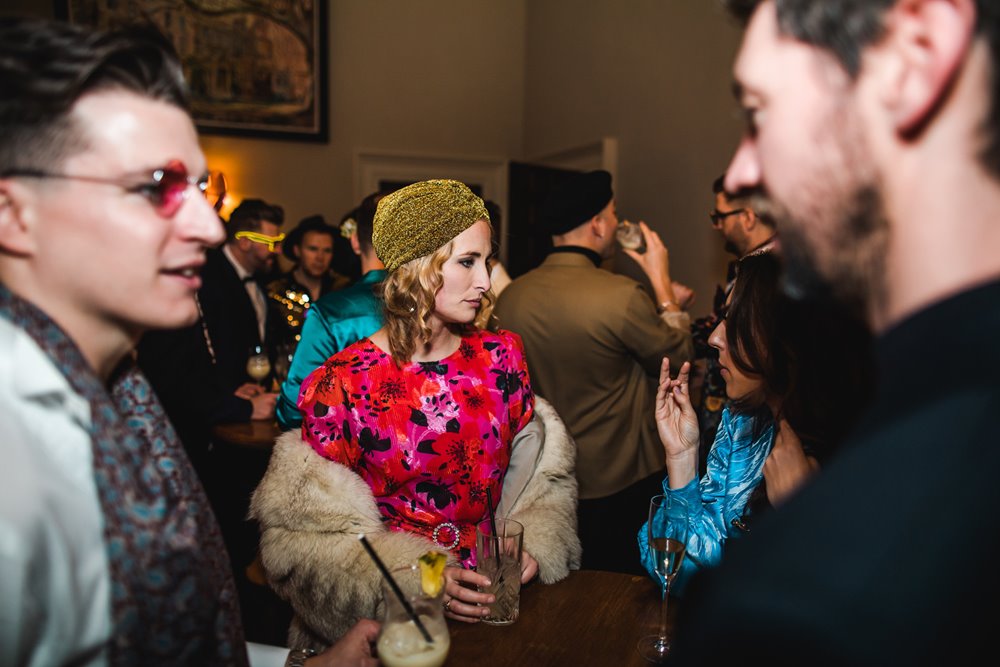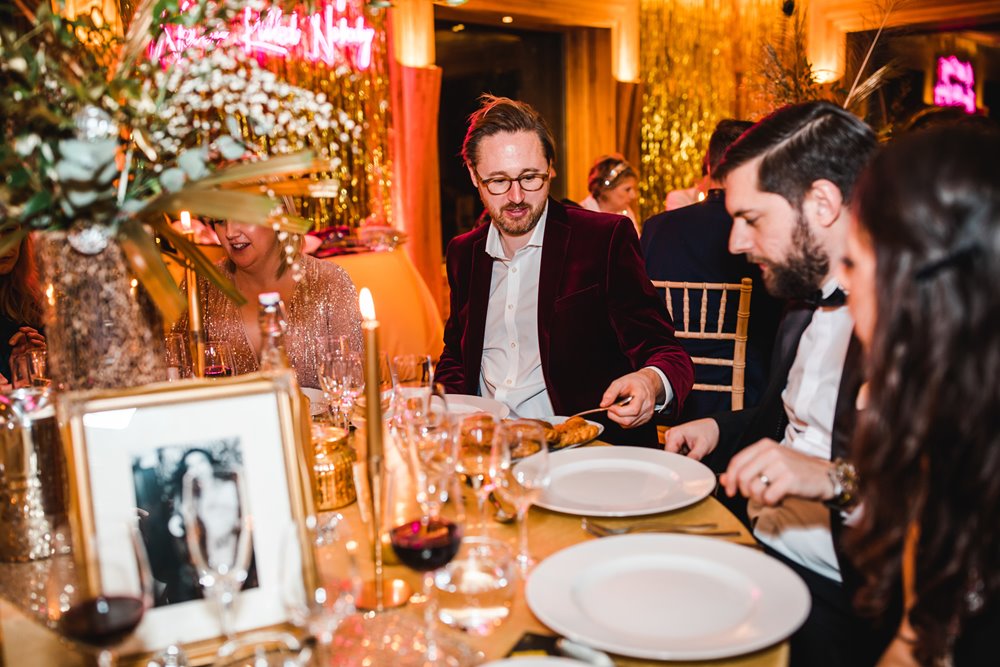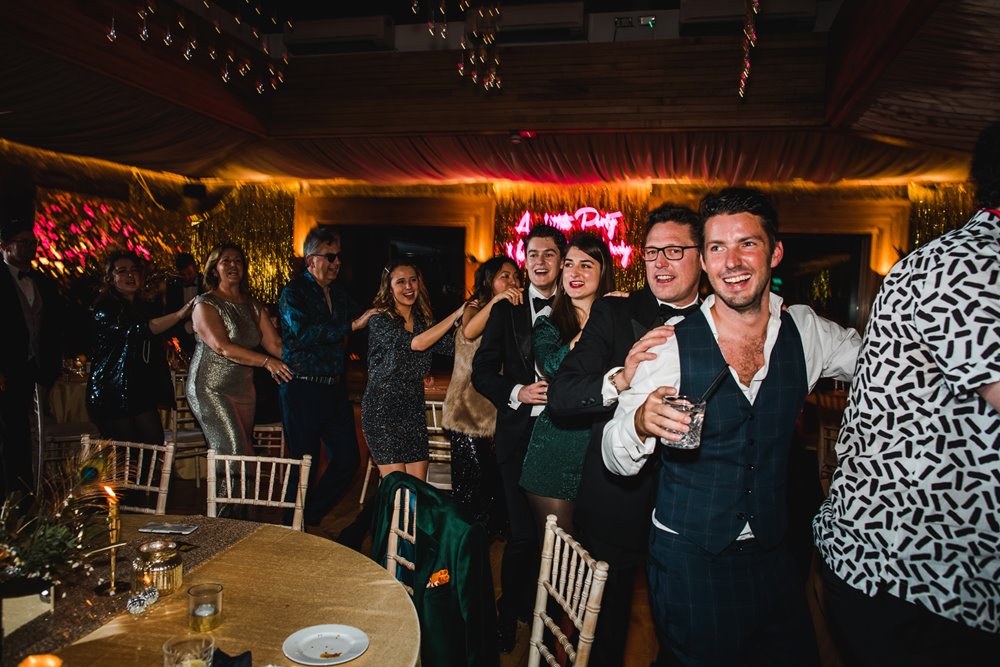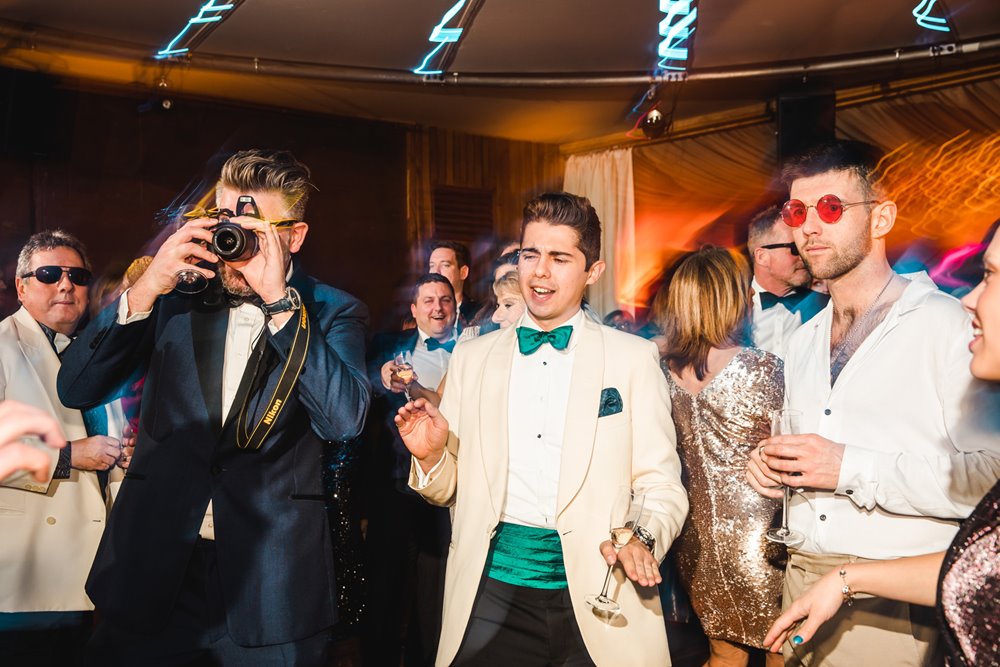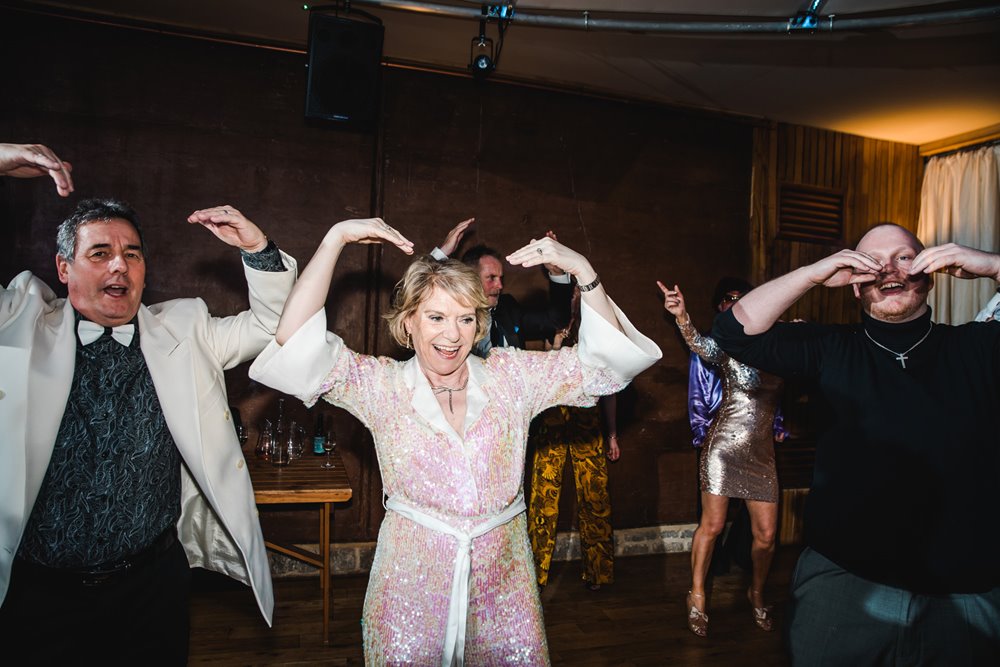 I wish I'd known...
Liz - that is OK not to have a conversation with absolutely everybody. When I look back I wish I had spent more time dancing and less time chatting but it felt right at the time. 

Andrew – not to worry too much about the first dance, no one else knows what you're supposed to be doing so just relax and enjoy it!
Related reading