Look, Good things really do come in small packages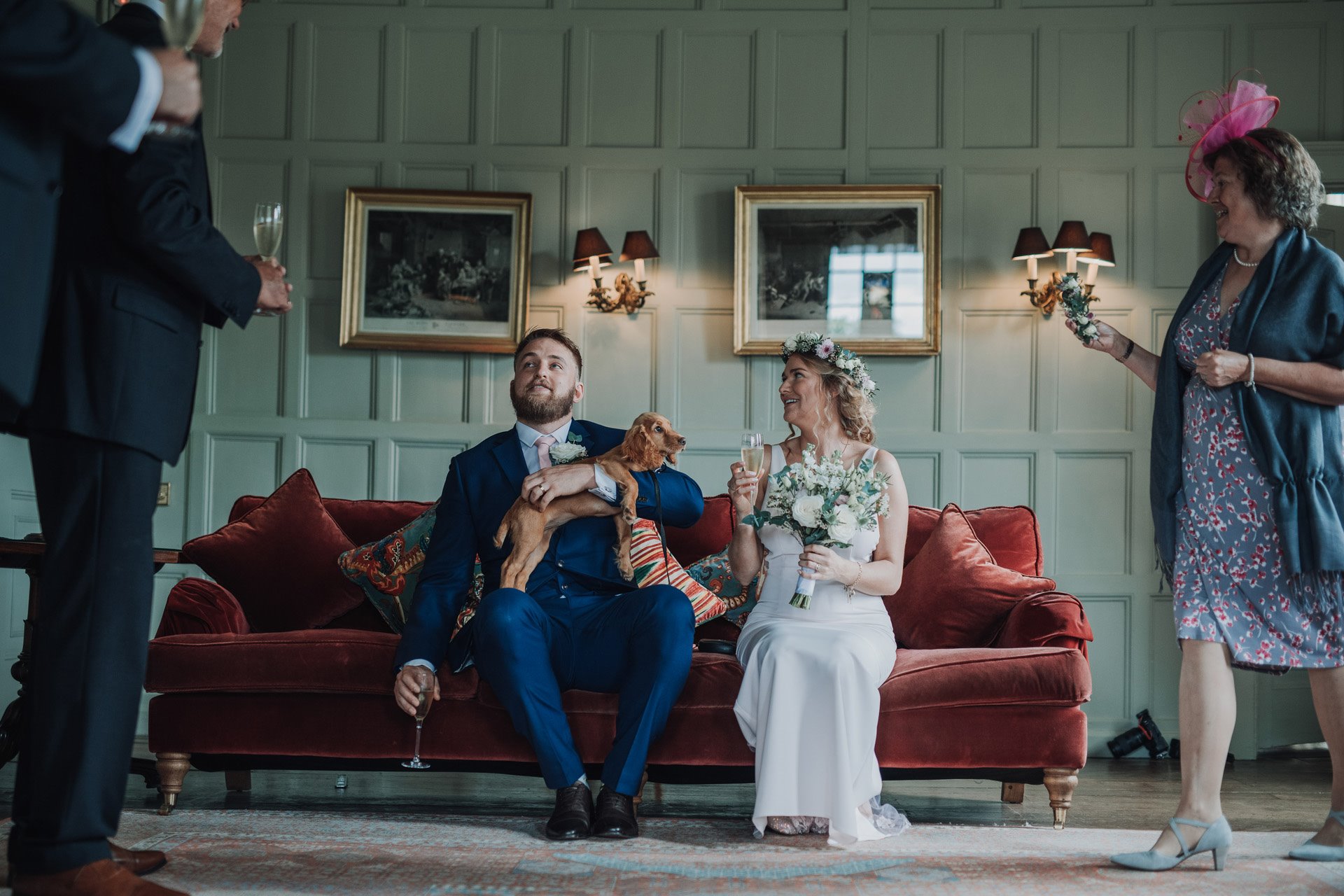 'We cannot do great things, but we can do little things with great love' Never has this quote by Mother Teresa seemed more relevant than it does to us this week. We are so excited to be holding weddings once more, and although these micro weddings will be smaller than those we've held in the past, they will be just as full to the brim with love and joy...
To celebrate we wanted to share this exceptionally beautiful mini wedding blessing that snuck in this summer (before the mask restrictions changed) and show you just how true it is that good things come in small packages too..
So over to you Katherine & David, from the beginning!
How did you meet?
I was recently single and a colleague of mine wanted to set me up with someone. I went along with it albeit hesitantly. She had actually set people up before with quite a bit of success, about 5 couples ended up getting married! Although that's the last thing I expected!
Anyway so the man in question was someone from her husband's rugby team and she suggested we go on the end-of-season night out with them all. She also told me for this night out the players wear shirts and jackets on the top half and ONLY boxers on the bottom half. I said 'I'm not going out with a group of rugby players in boxers that is so embarrassing!' But it turned out it's a known thing in the town and all of the bars and restaurants in the town know about it. So I went out never having met this person before.

Dave meanwhile was leaving this particular rugby club that season and it was his birthday which meant double amounts of peer pressured drinking for him before they even went out. Needless to say he turned up a little worse for wear but hid it very well, had a few discreet pints of water and we both had an amazing evening. After I got over the shock of him pulling me onto his lap the very first moment I met him(!) we just completely hit it off. He's a big 6ft 6 rugby player on the outside but on the inside he's the most loving man I've ever met. What clinched it on that particular evening? Him revealing that he loved to hug and him effortlessly lifting me up on the dance floor!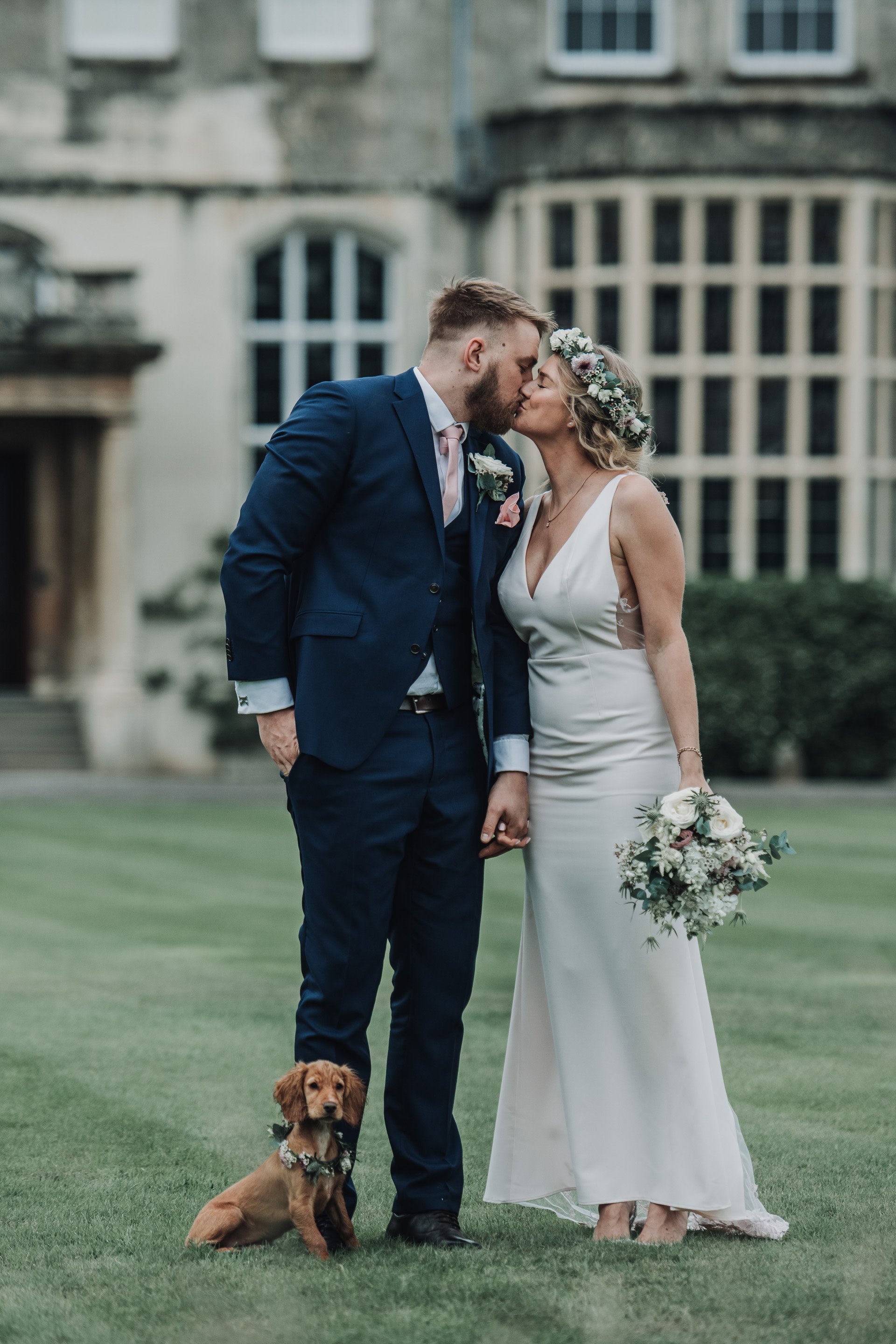 Tell us your proposal story
We were on holiday in the South of France and had gone to Saint Tropez for the day. Dave proposed in the bay, at the edge of the port, looking out over the Mediterranean Sea. The only people to see were a couple sitting on the other side of the bay who wolf whistled at us haha. It was lovely.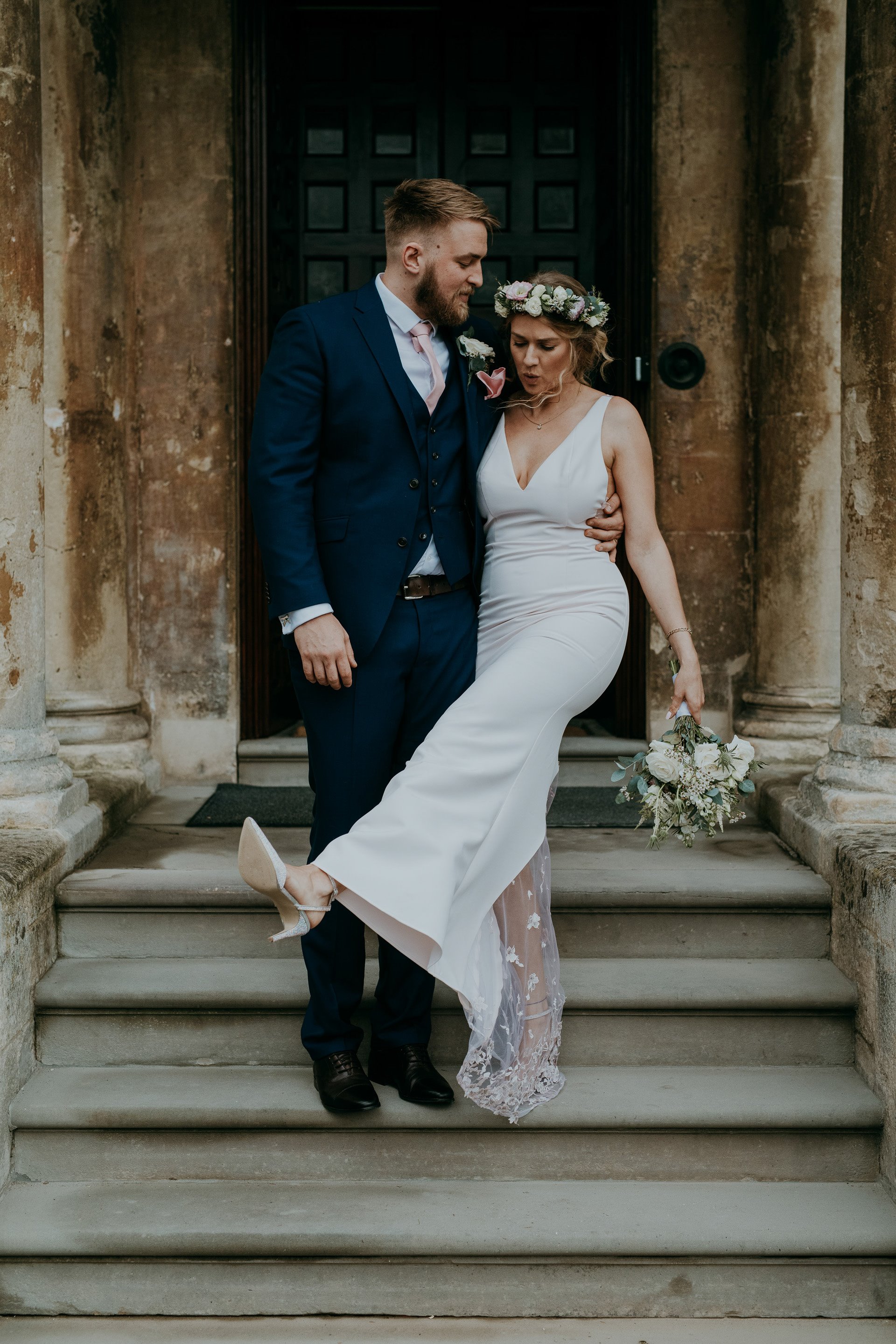 Why did you choose Elmore for your wedding?
The disco-ball-dance-floor-sound-system! Haha not really- although that was pretty high up there!
In seriousness, we went to see a lot of venues around Oxfordshire but none of them were really what we were looking for (not that we knew what that was). Someone I worked with mentioned they had recently got married at Elmore and that it was amazing. I was sceptical but googled it and thought 'oh yeah it is pretty stunning actually!'. We booked a visit to have a look around and we just fell in love with Elmore and in particular Debi who showed us around. Her enthusiasm was just infectious! All of the team at Elmore are just lovely and this is not to be underestimated - no one wants to spend their money at a snotty venue or work with a stuck-up team to plan their wedding. The team at Elmore went above and beyond for our special day. I mean really their kindness was unbelievable and something we will never forget.
For us Elmore is the perfect venue – it has all the character of a traditional manor house but it combines this with incredibly beautiful and modern, interior design. If that wasn't enough you have the gillyflower on top which is just stunning, it has such an impact when you see if for the first time. It gives you one of those rare opened-mouth-wow-moments when you walk in. And it's also surprisingly reasonably priced compared to other venues we visited. You get so much more for your money than you do at other venues for a similar price.
What clinched it? Debi played our first dance song on the dance floor with the coordinated lights and disco ball on. This was right at the end of the viewing and was just the icing on the cake!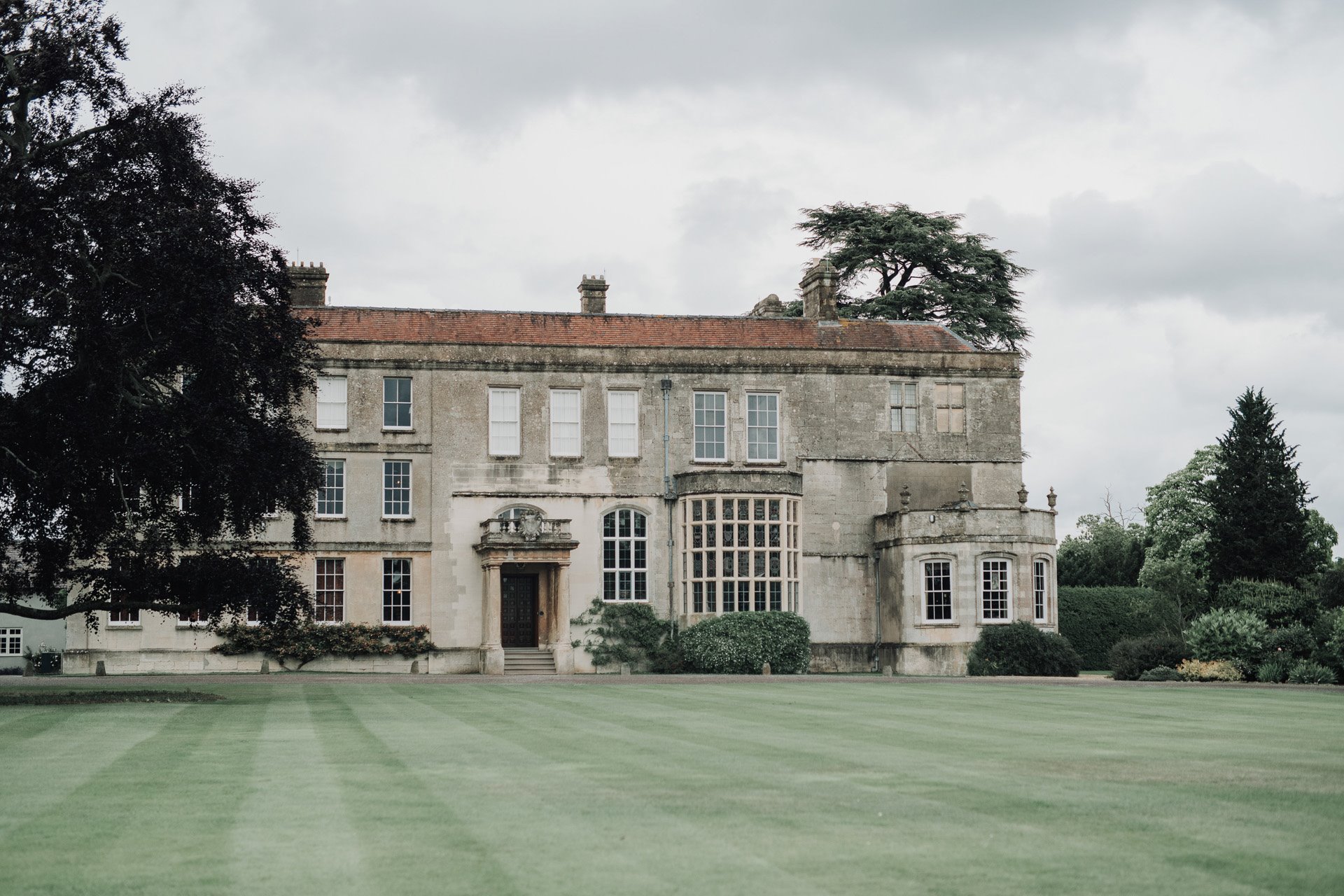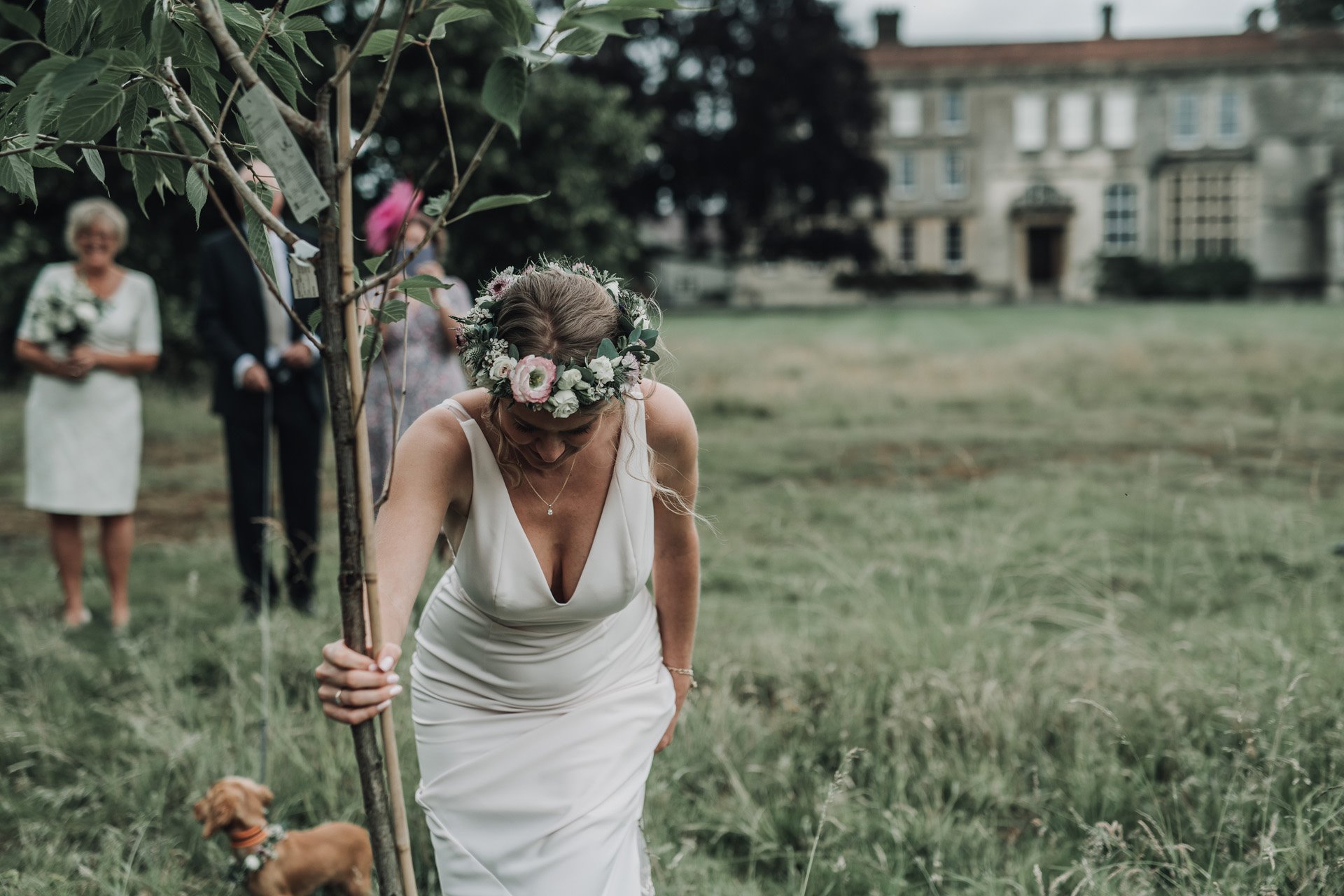 Tell us how covid wedding planning has been?! What changes did you make to your plans?
Once we realised we'd have to postpone our wedding we didn't really mind so much as long as we could still get married with just a few people on our original date. Considering everything that was happening in the world, having to postpone a wedding was annoying and disappointing yes but really not the end of the world, people were going through a lot worse.
Sadly we weren't able to get legally married on our original date as registrars weren't coming out to do weddings at all at that point. So what we decided to do was have a non-legal ceremony with just the 2 of us and our parents. Elmore very kindly agreed to host this for us with Leesa acting as celebrant. She was amazing!
They also put on an amazing day for us where we were still able to walk down the aisle, say vows and promises, exchange rings and even plant a tree at Elmore! Belle, our 12 week old puppy, acted as bridesmaid and came down the Isle with me!
We counted ourselves as married from that day on.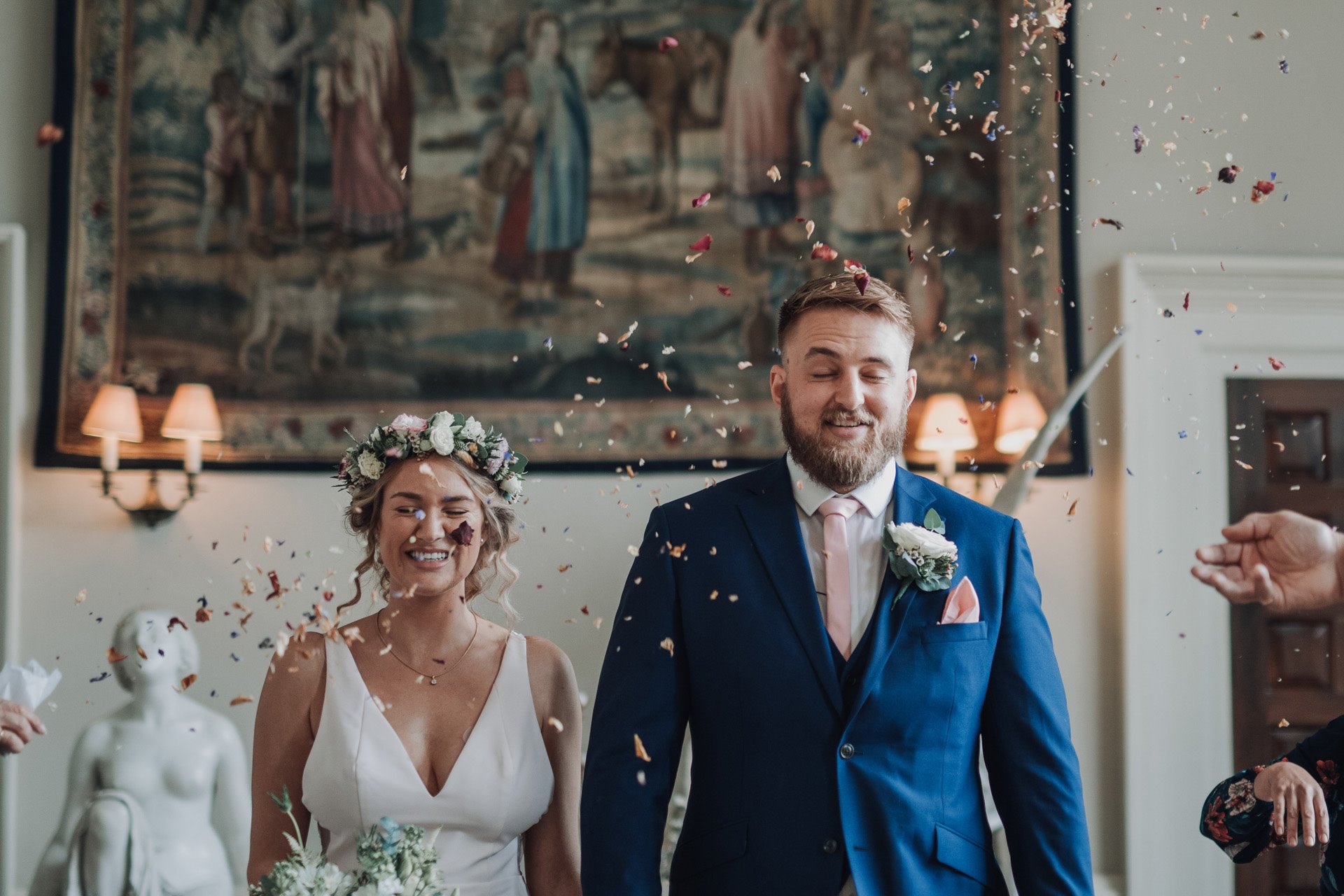 What was the reason for having a smaller wedding and how did you arrange it?
We rearranged our 'big' day for August 2021 due to COVID but wanted to still get married on our original date so had a smaller ceremony then.
Arranging the day was so easy as Elmore basically did everything for us! They arranged the champagne and ensured all the rooms including the ceremony room were ready and looking beautiful. They also planned out the order of the day for us. We didn't want to have to think about anything too much so they even suggested some promises and readings for us which were just perfect. If you want to choose everything yourself you absolutely can but it was so much easier for us for Elmore to do all the leg work and we just had to agree that we were happy with it all.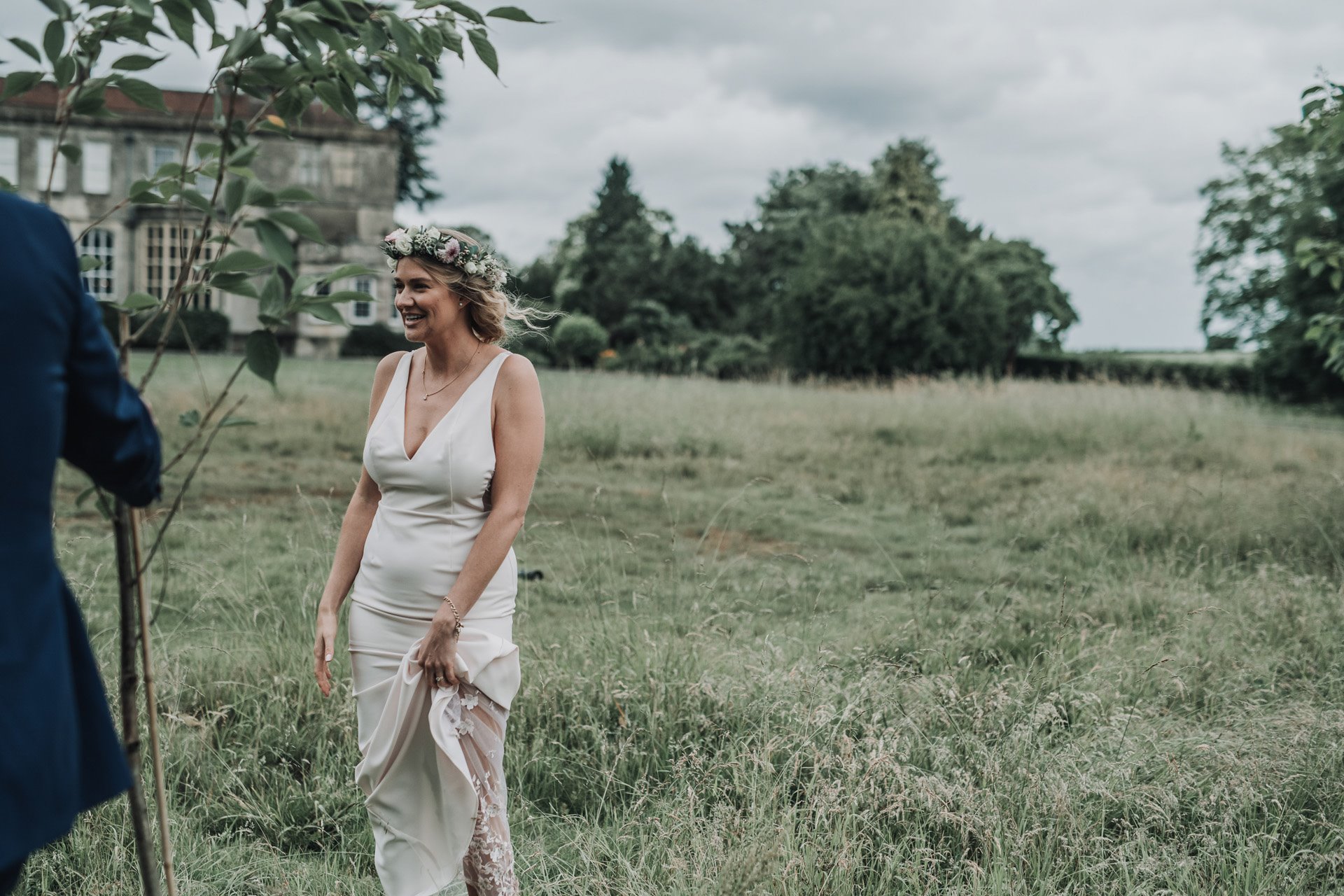 Did you decide to have any decoration?
As Elmore is so beautiful you really don't need anything! We didn't bring any decorations at all although Elmore had put some pampas grass in the ceremony room for us which was really fitting for our day.
In terms of flowers all we had was a bouquet and flower crown for me, a buttonhole for Dave and a flower collar for Belle the puppy bridesmaid! I felt like Murron from Braveheart when she gets married to William Wallace in the woods with flowers in her hair!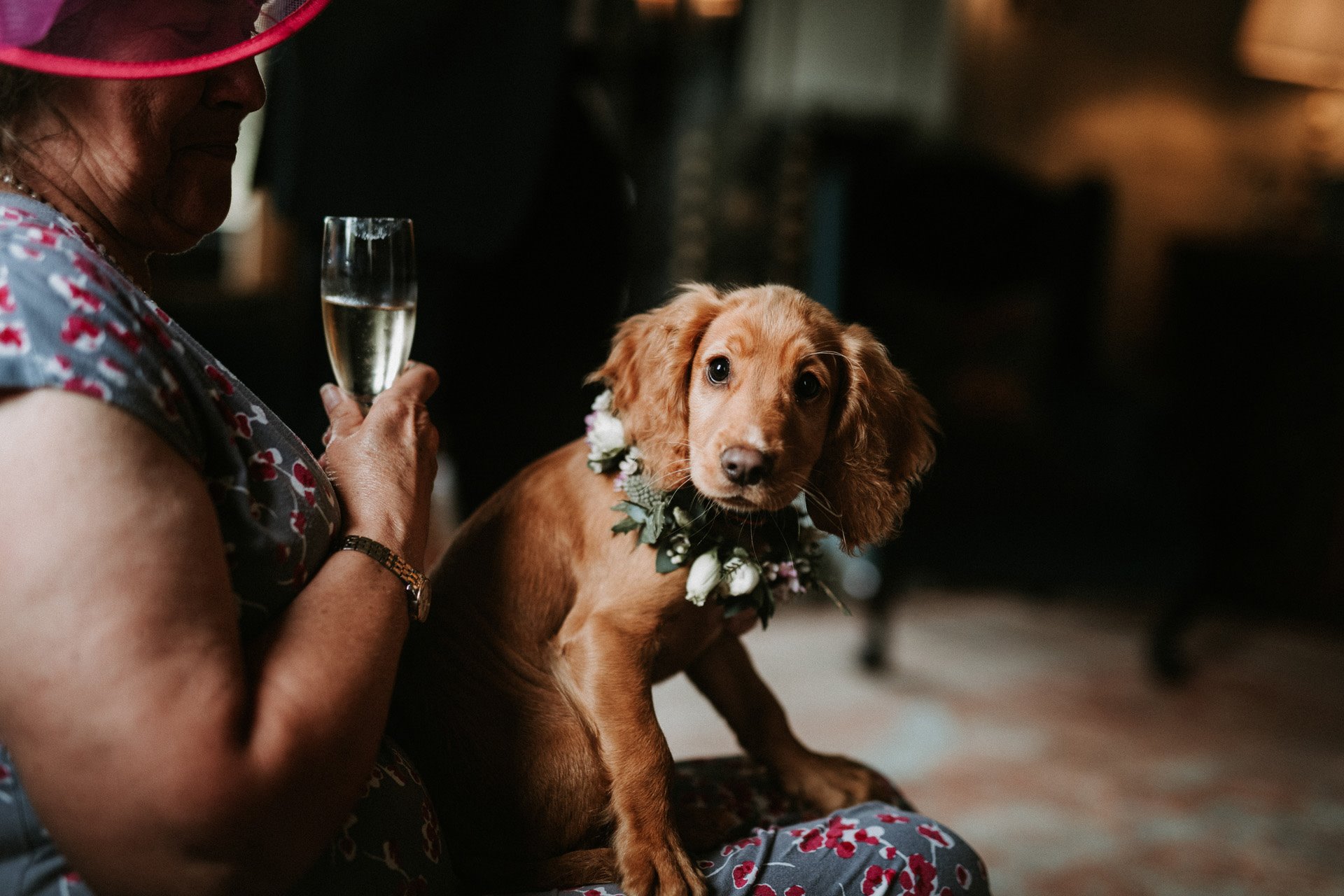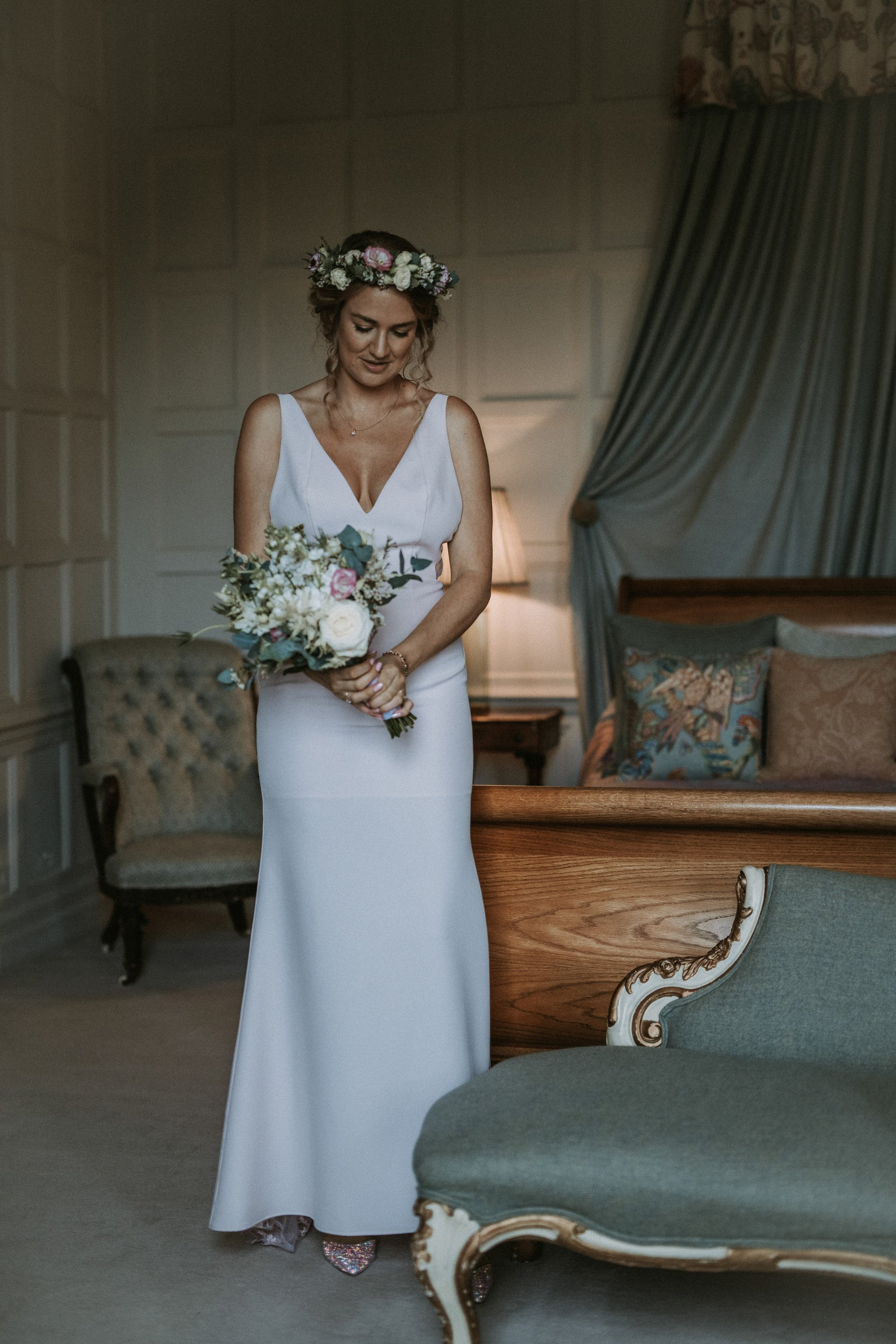 How did you feel on your (micro) wedding day!
I felt like a princess! I was completely relaxed as Elmore had everything covered. You glide through a perfectly choreographed series of events without even realising that Elmore have worked tirelessly in the background to make everything run smoothly.
I got ready in the smoking room, my favourite room at Elmore, with champagne, my mum and mother-in-law to be. When it was time, my dad and Belle (the pup) came to get me and we walked downstairs to the ceremony room.
Walking down the isle I was just beaming, I was just so happy to have Dave waiting at the end, so happy our parents could be there and that we could still have our special day.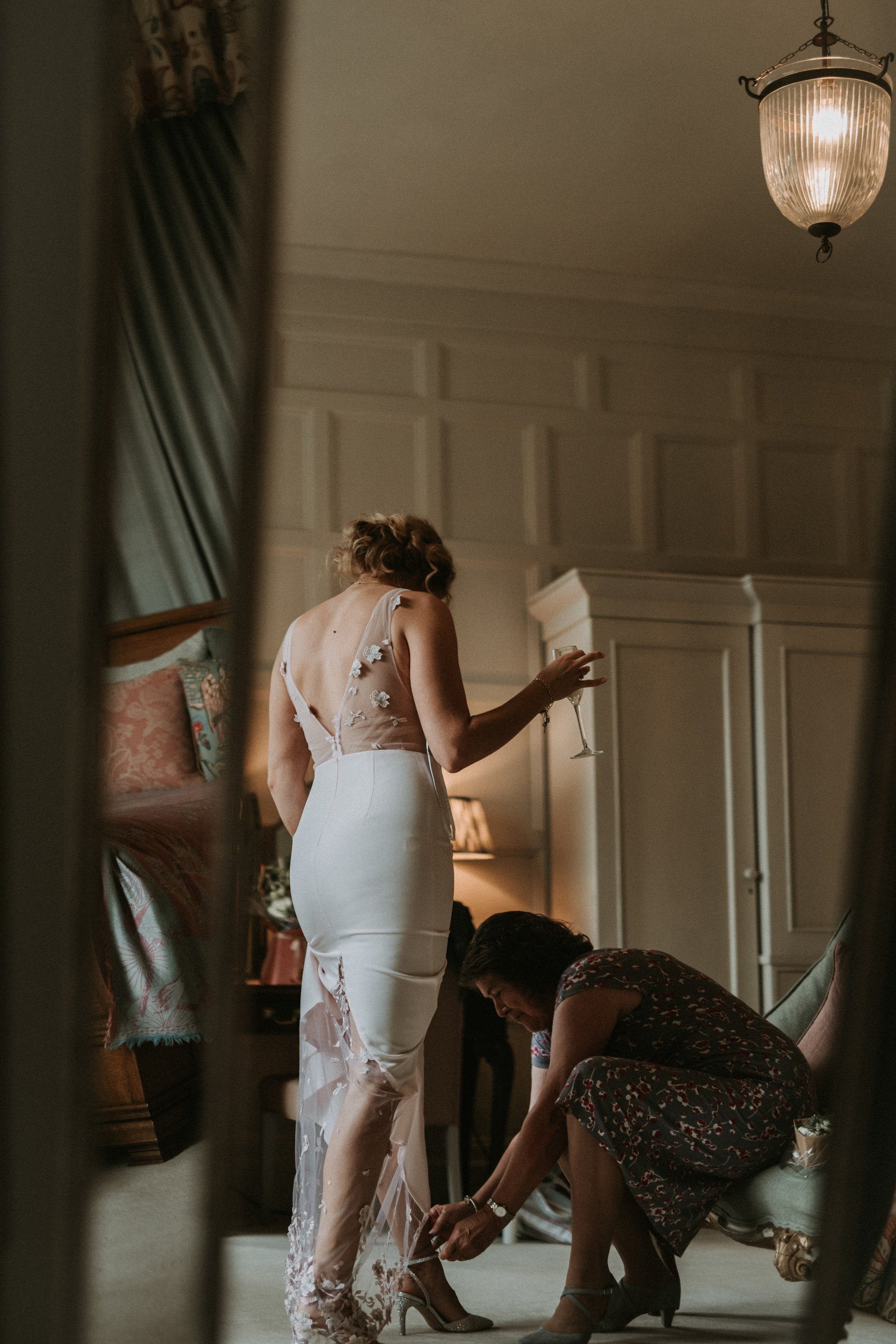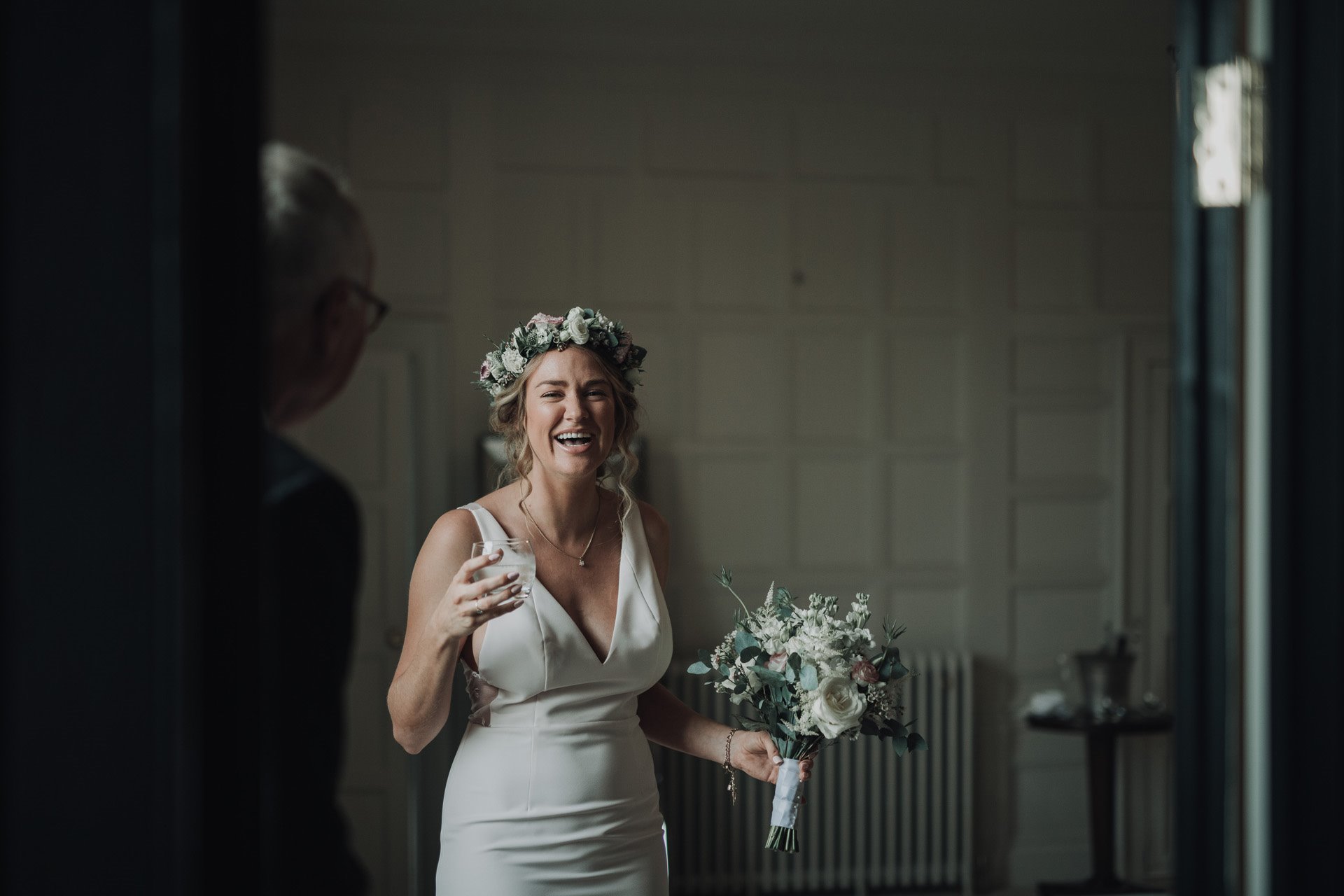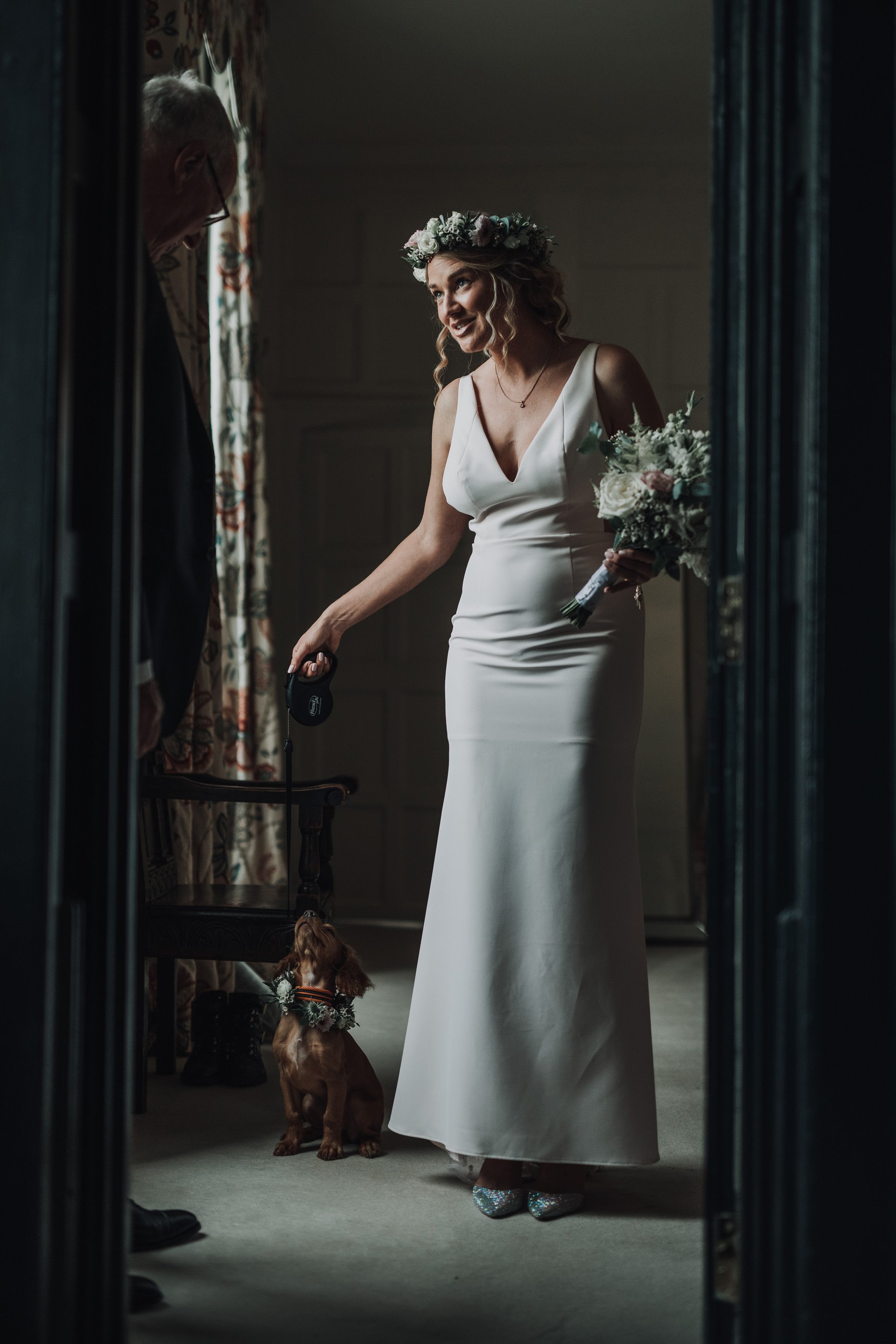 What did you do after the ceremony?
We had some champagne in the drawing room and my husband and I had our first little dance together. Kat had put some music on for us, I think I asked for David Bowie!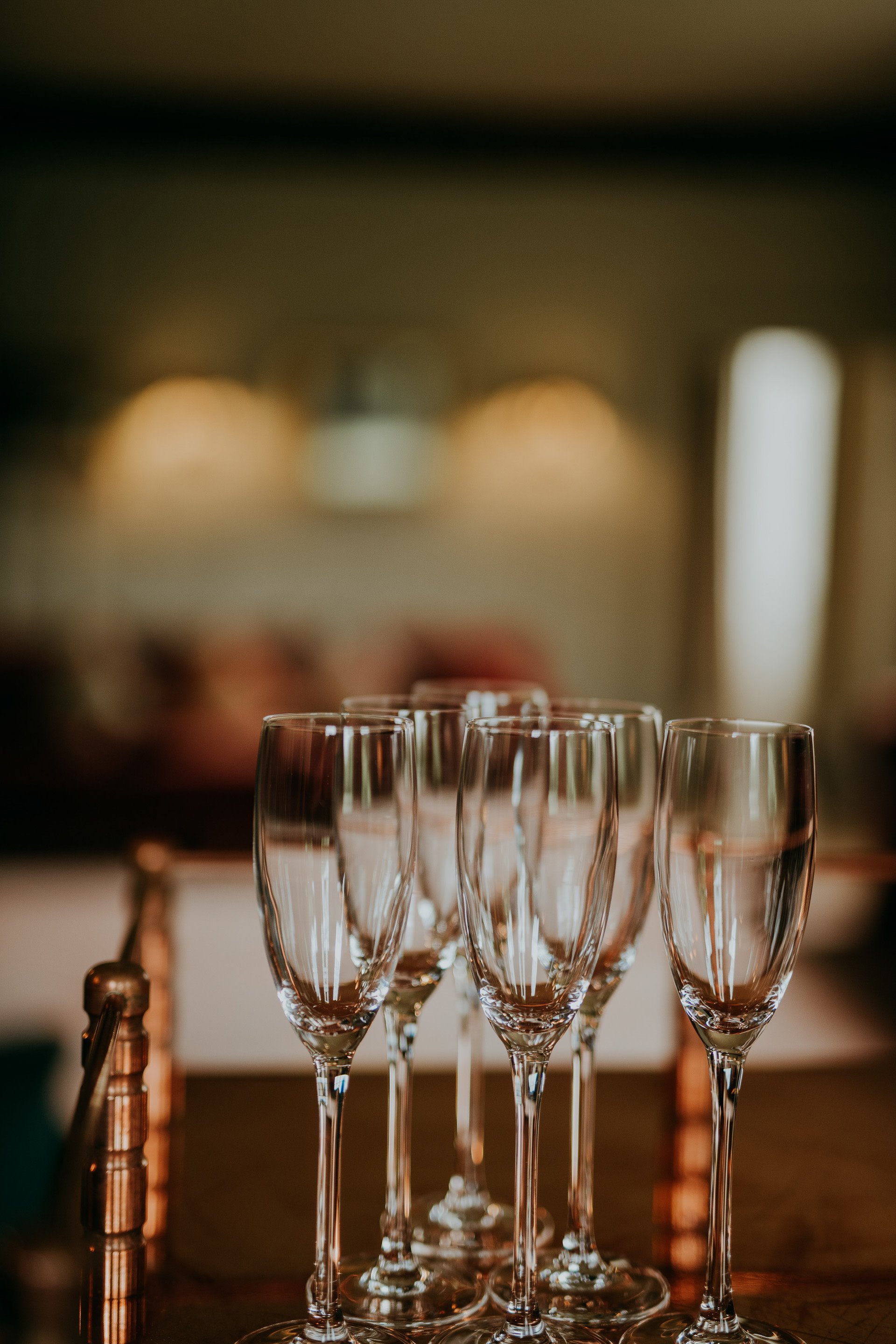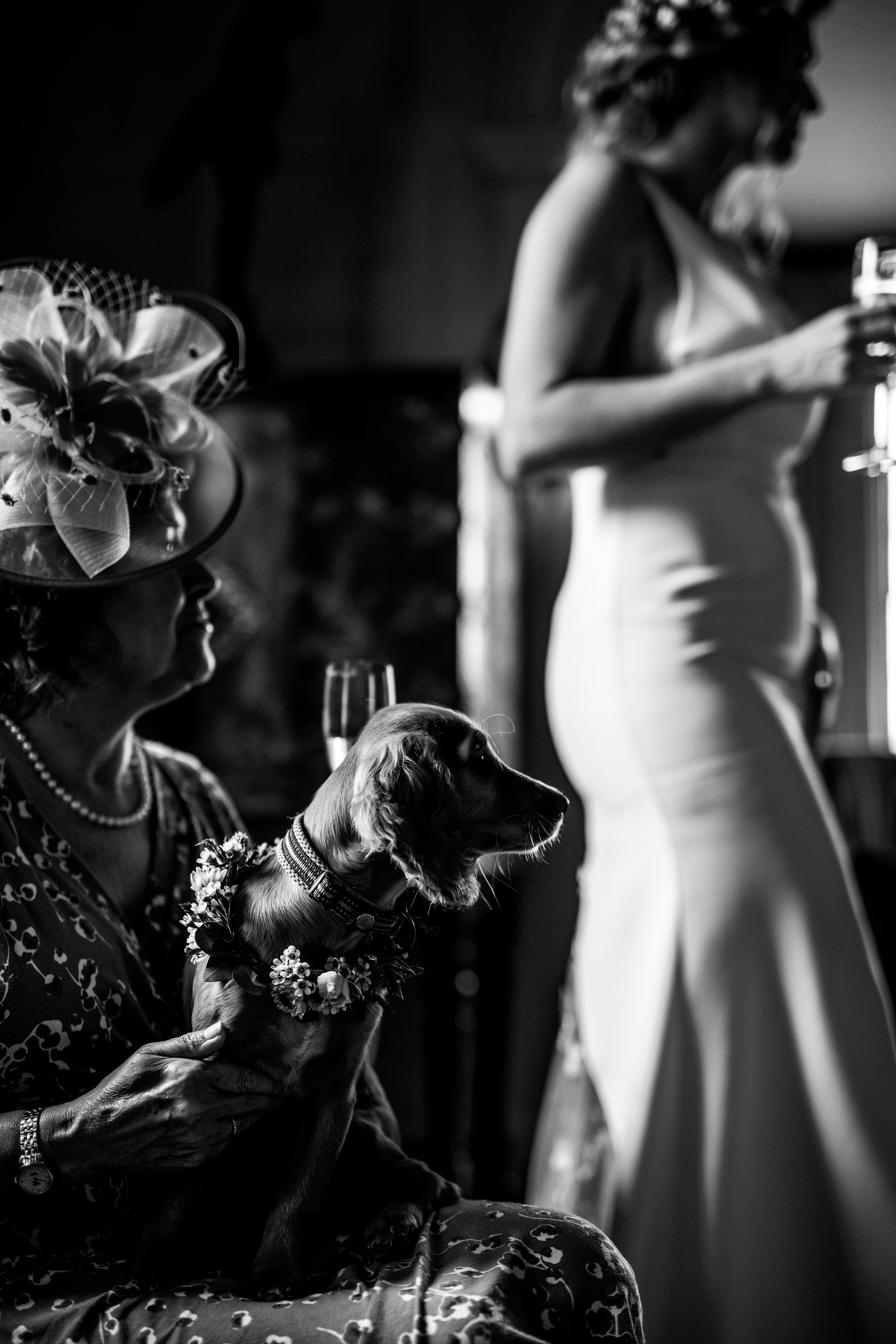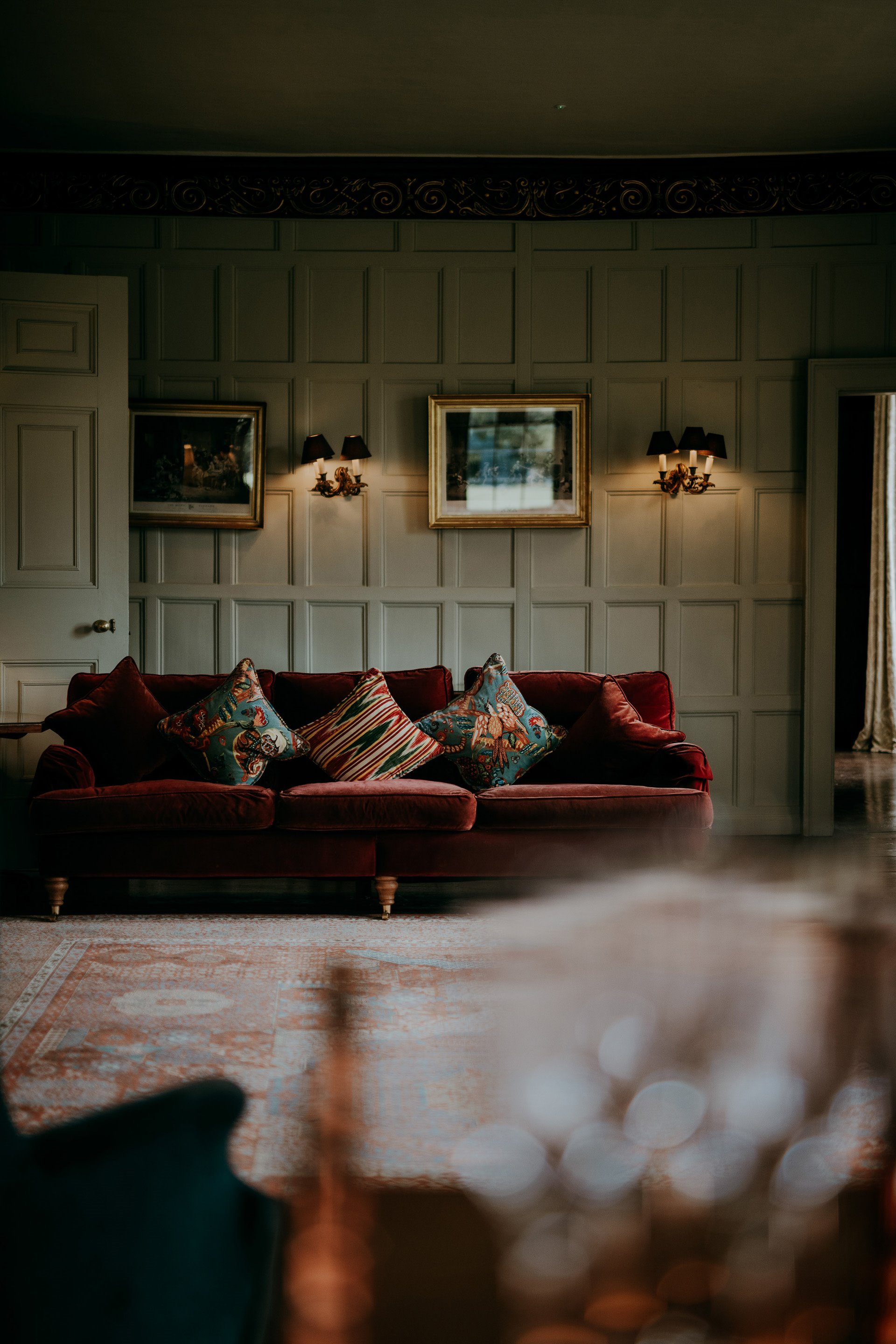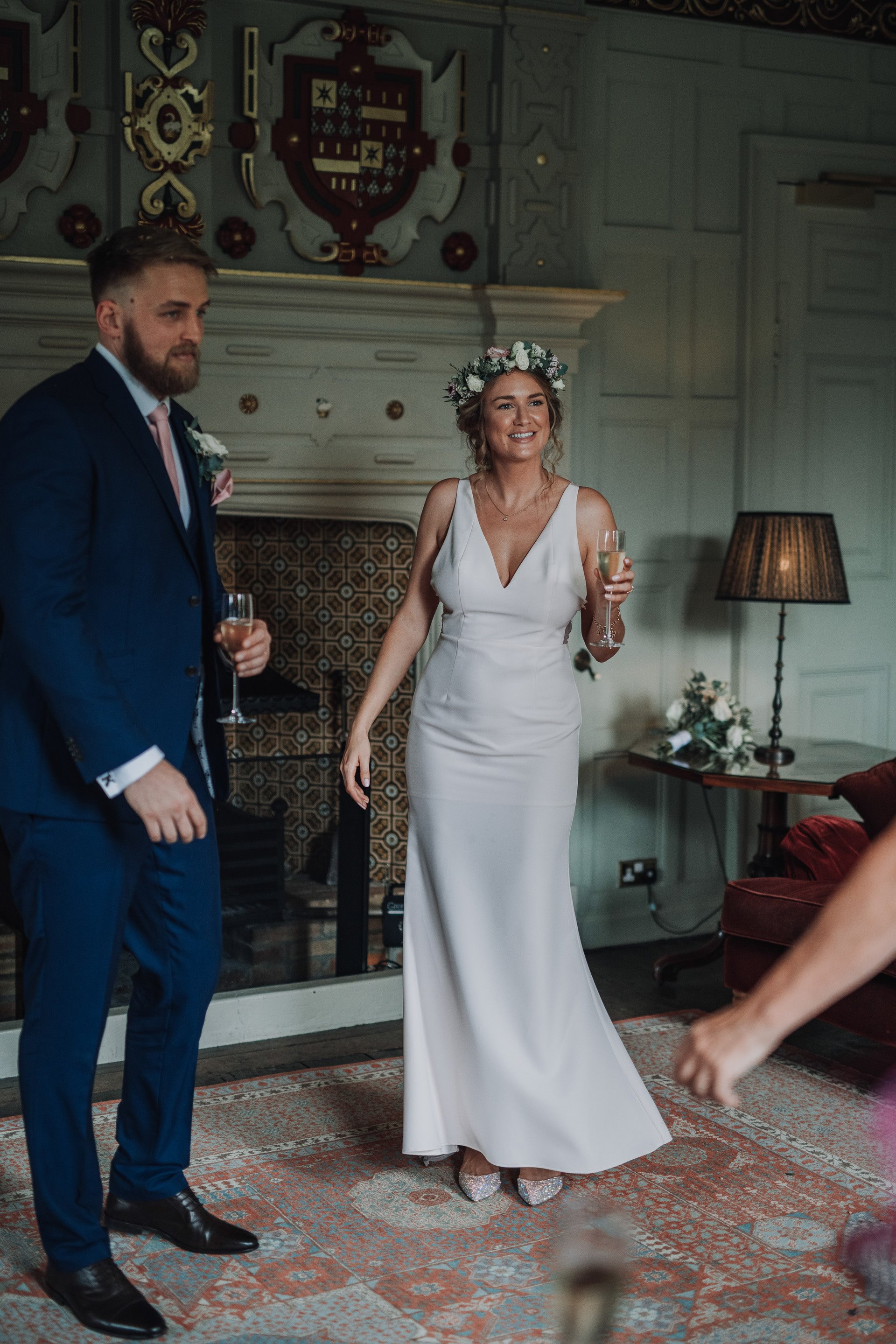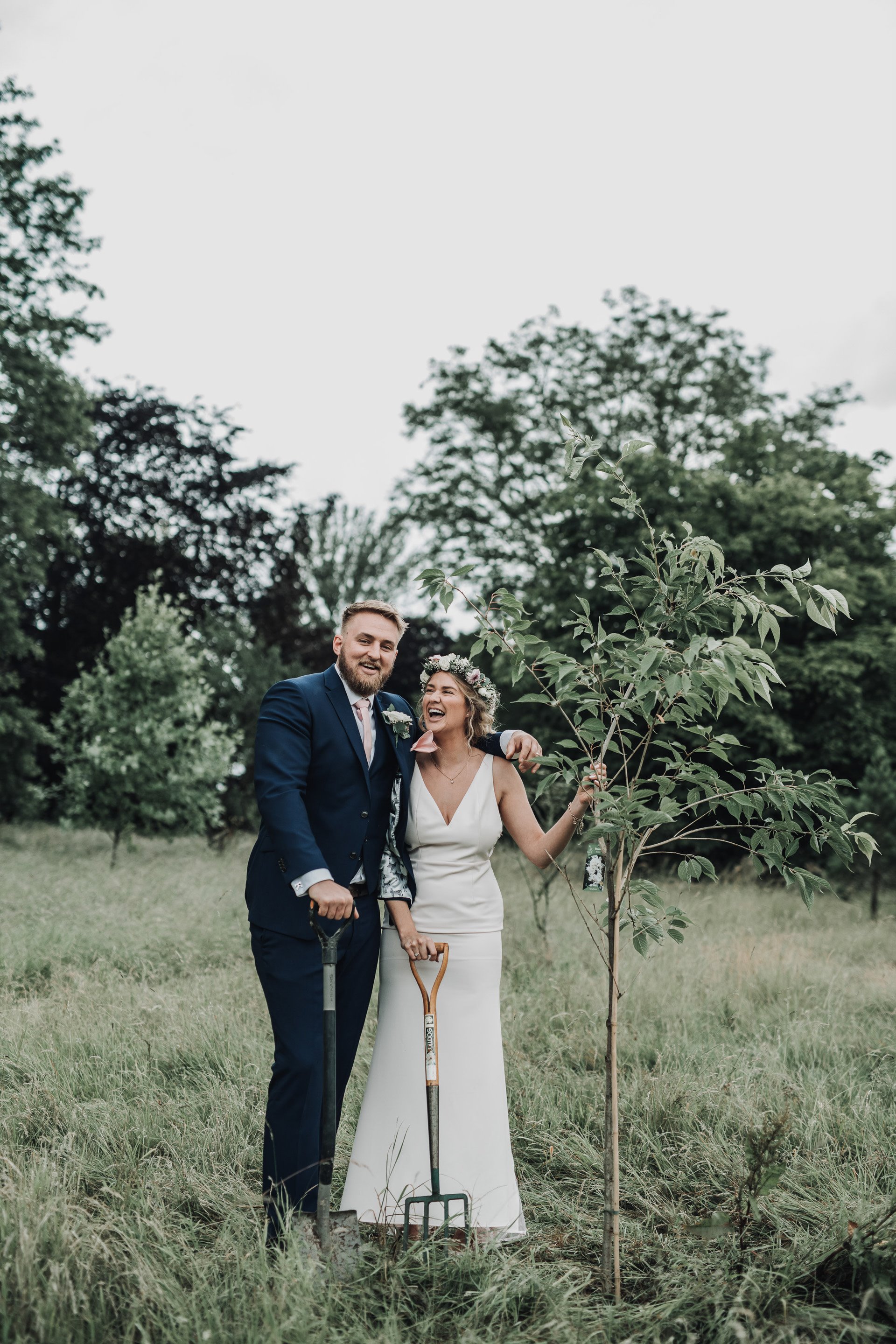 Was there a particular highlight of your day?
Dave's highlight was me walking down the aisle, mine was seeing him at the end of it.
We also loved our promises to each other, our picnic on the front lawn and getting to plant a commemorative tree at the front of Elmore. We planted a cherry blossom which Elmore provided and we were asked to bring a jar of earth from our back garden with us which was a really lovely touch. When we come back for our big day next year we will look forward to seeing how it's grown!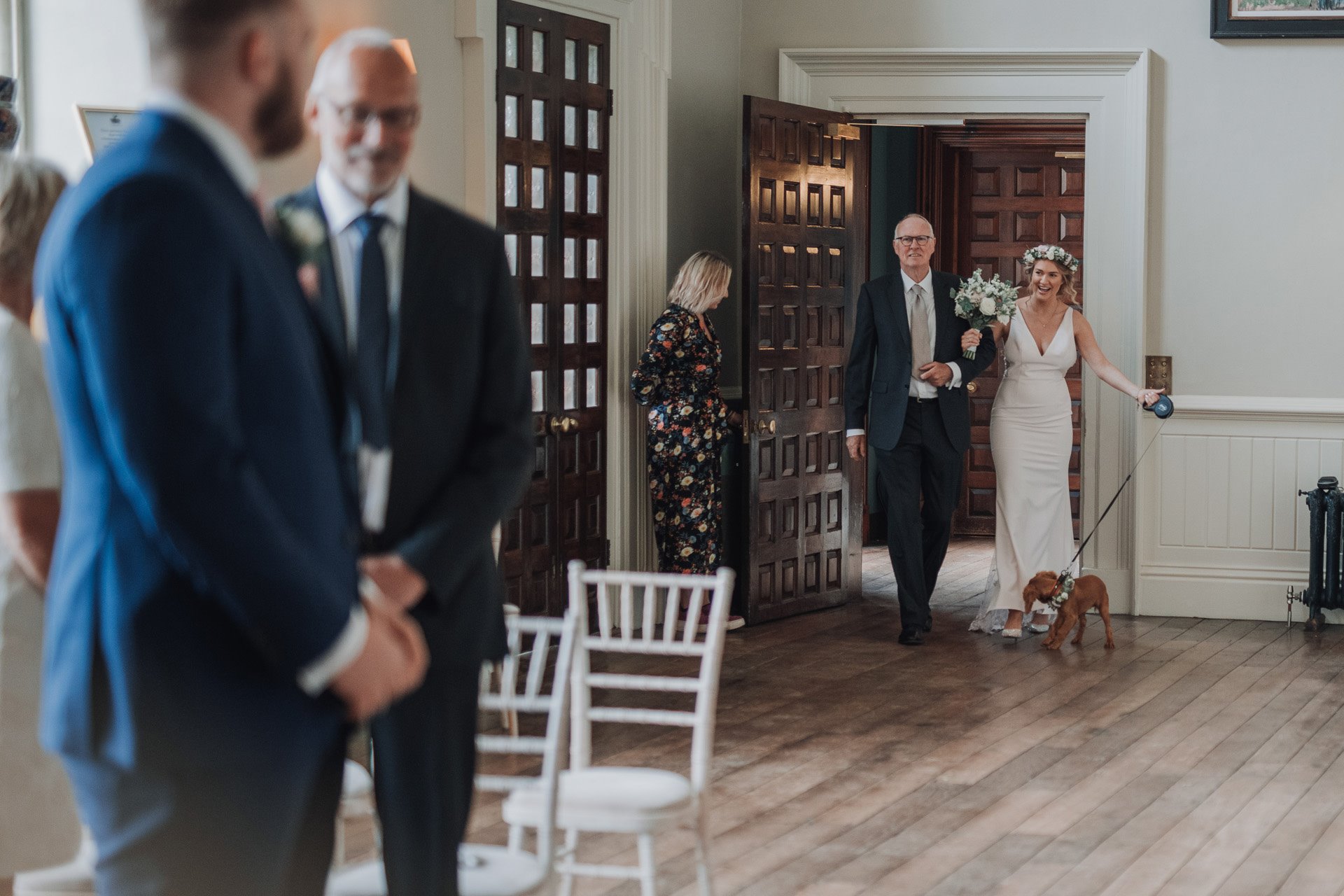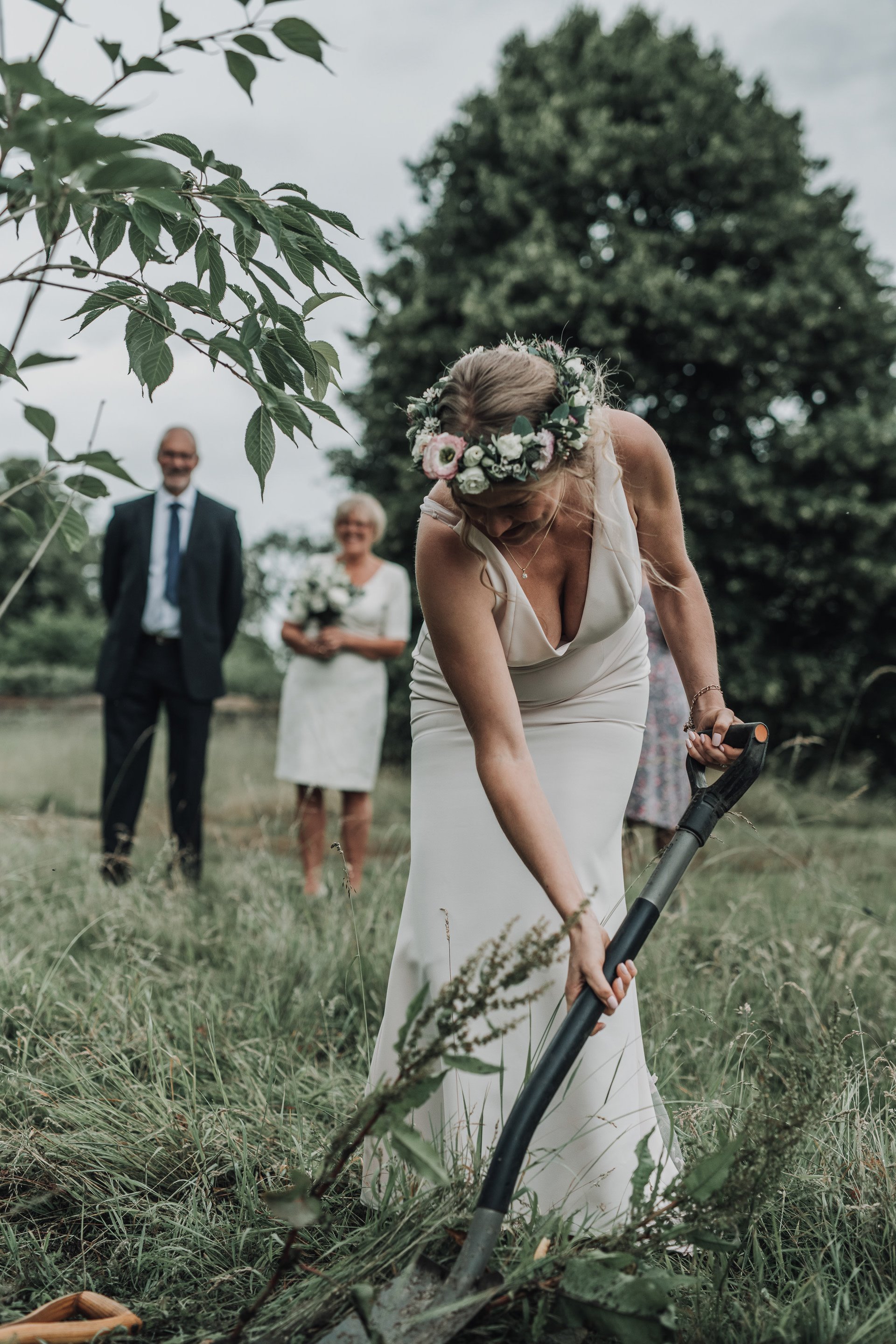 What would you say to other couples planning a wedding during Covid 19?
"We are certainly experiencing times of adversity which makes occasions such as these so much more special. We realised we didn't need the larger numbers or the grand affair, we just needed love and each other because… 'love conquers all'."
We realised that you really don't need a lot of people for you day to be special. Having just us and our parents there made our day so intimate and we were all so relaxed we could just sit back and enjoy the day. We'll remember that day for the rest of our lives. The kindness that Elmore and the team showed us by making it so special for us is truly heart-warming.
I see parallels between our day and when my grandparents got married during the second world war. Of course we aren't at war, Dave didn't have to get married whilst on leave from fighting on the front line and we didn't have to save up our ration books to be able to buy me a dress. But we are certainly experiencing times of adversity which makes occasions such as these so much more special. We realised we didn't need the larger numbers or the grand affair, we just needed love and each other because… 'love conquers all'.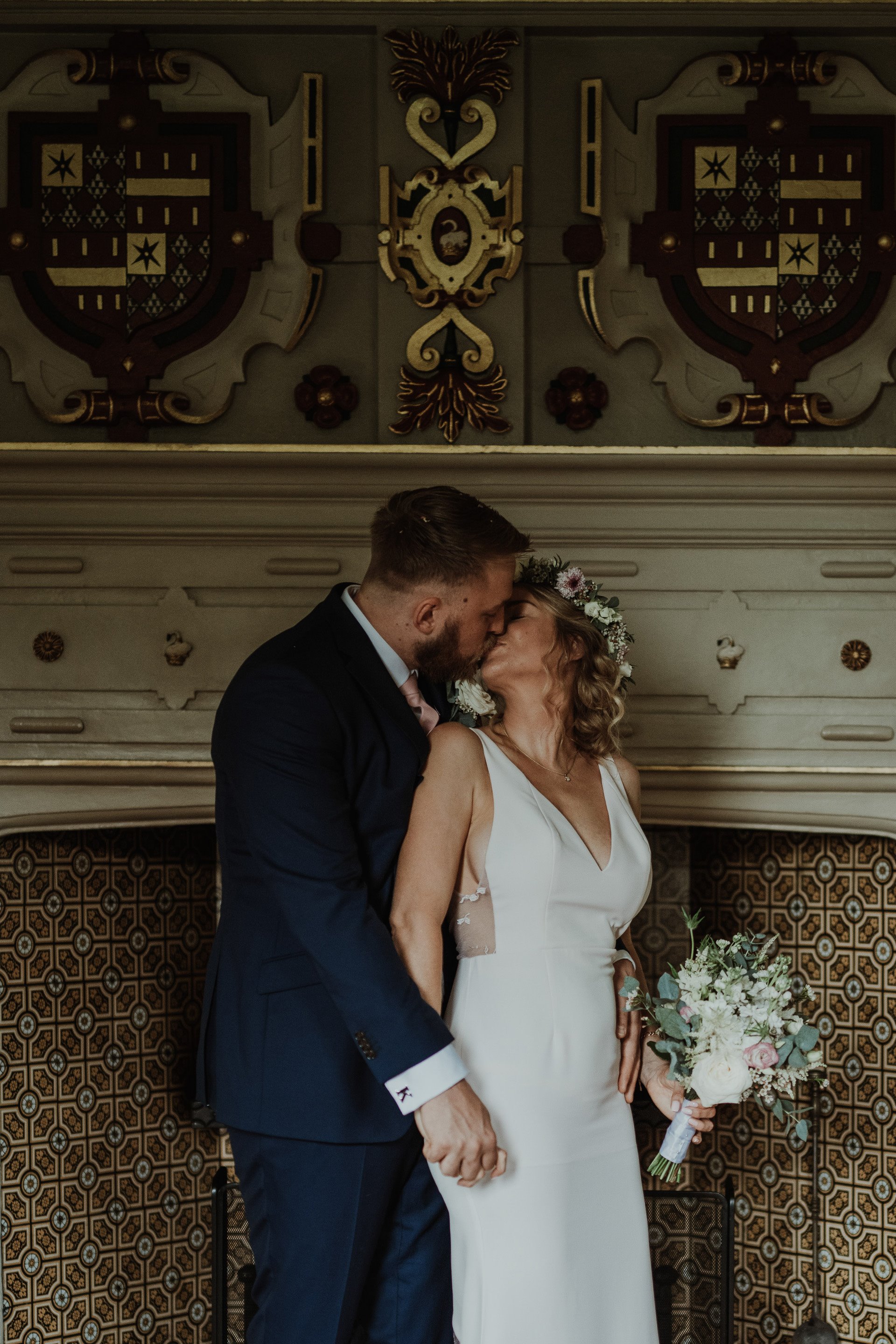 Name those micro wedding suppliers!
Gary Nunn photography - Our incredible photographer and videographer Gary Nunn captured everything for us all on his own and from a distance. As you can see from the images he's just amazing.
All About Flowers Lechlade – Margarita captured our flower dreams perfectly. It was quite last minute and she captured exactly what we were after. We wanted something beautiful but understated and that's exactly what she delivered. She even came up with the flower collar suggestion for Belle which was the best touch!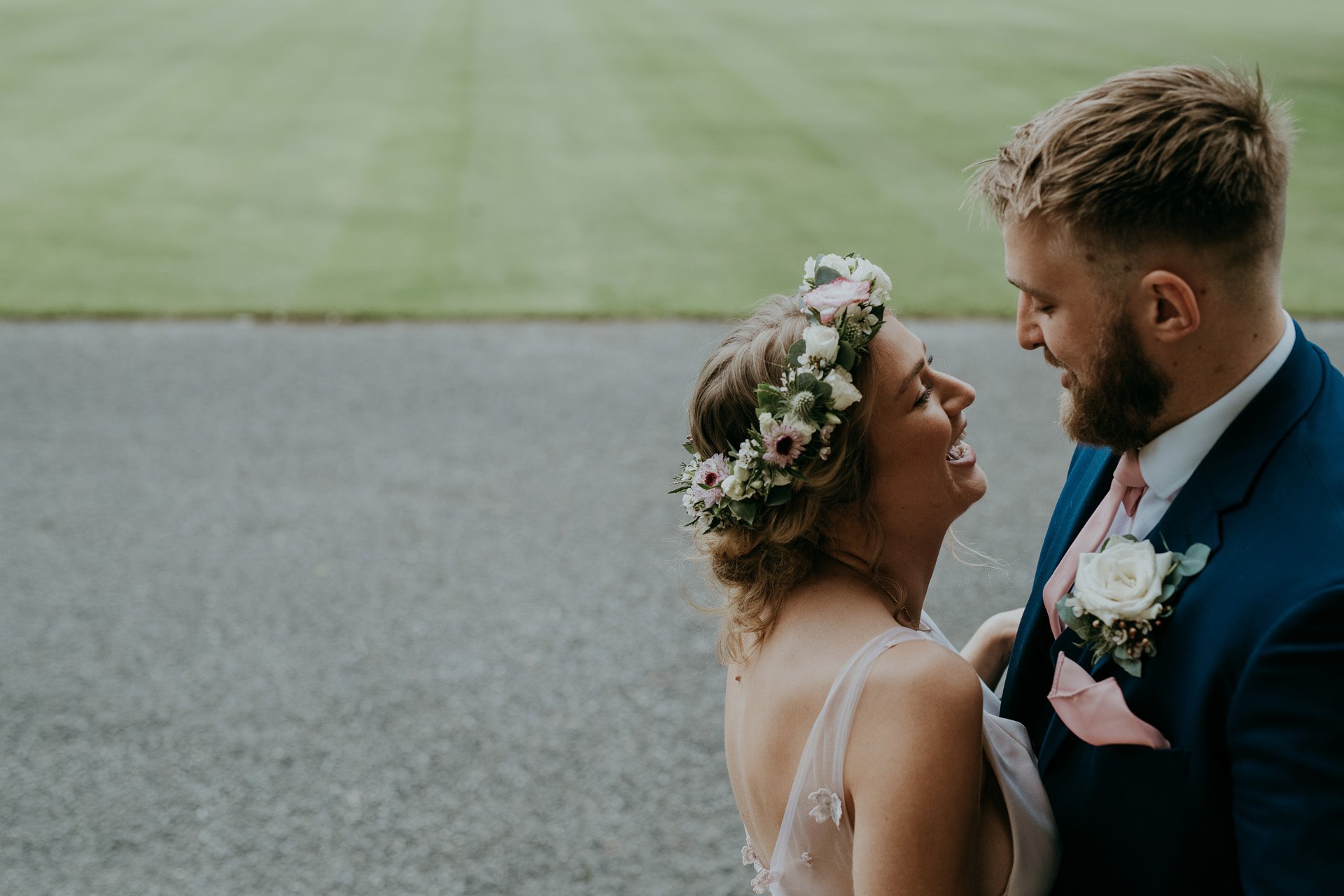 Dave & Katherine your wedding and your words are just gorgeous, we may have had to wipe a little tear from our eyes! Thank you so much for sharing a little love & warmth with everyone else planning a wedding during a pandemic.
Big love to you all
Team E xx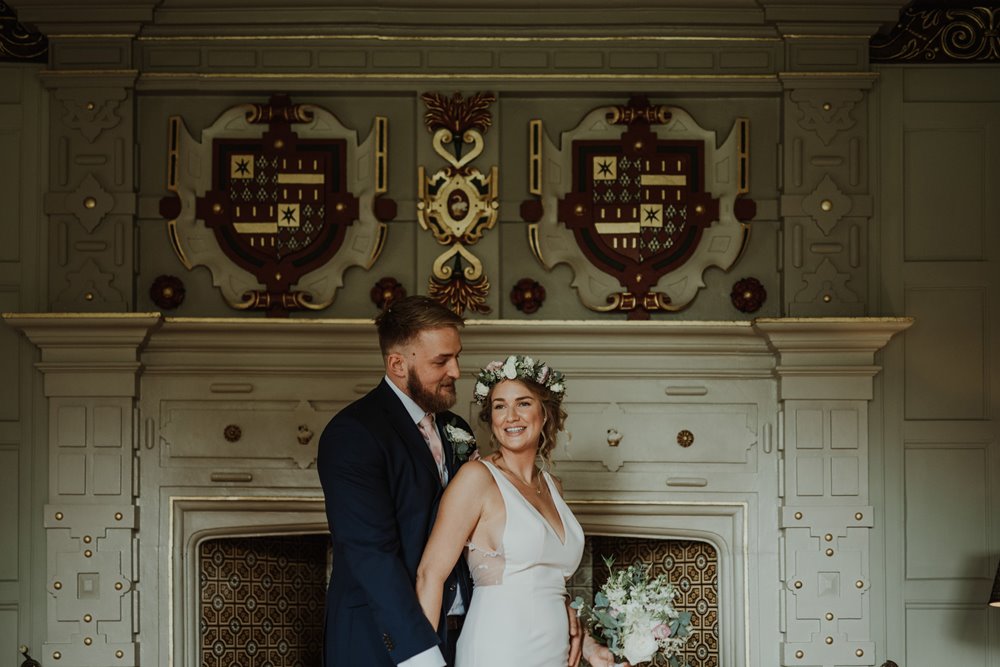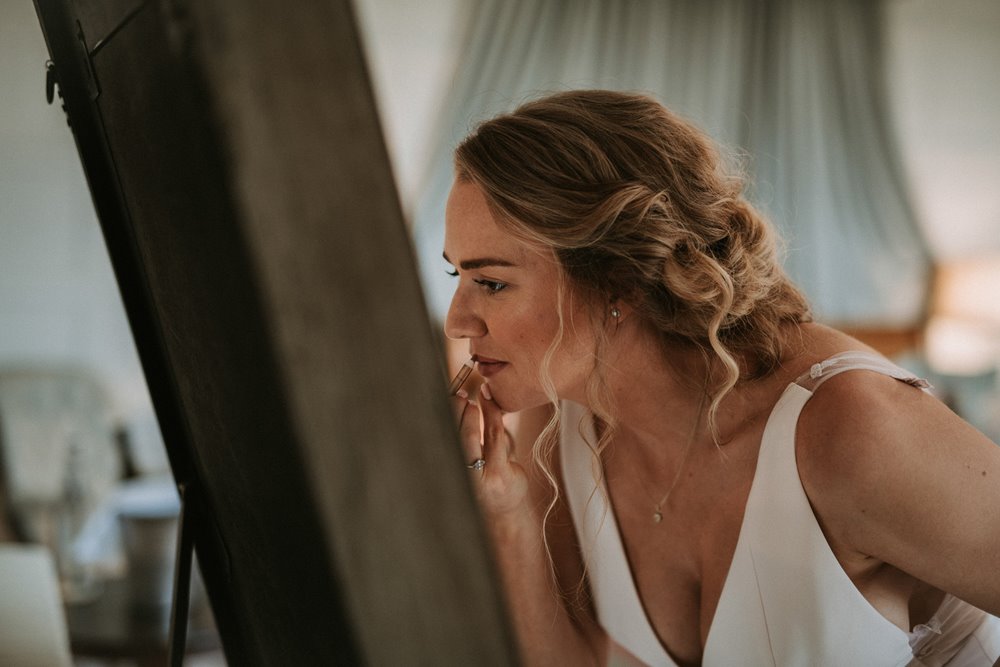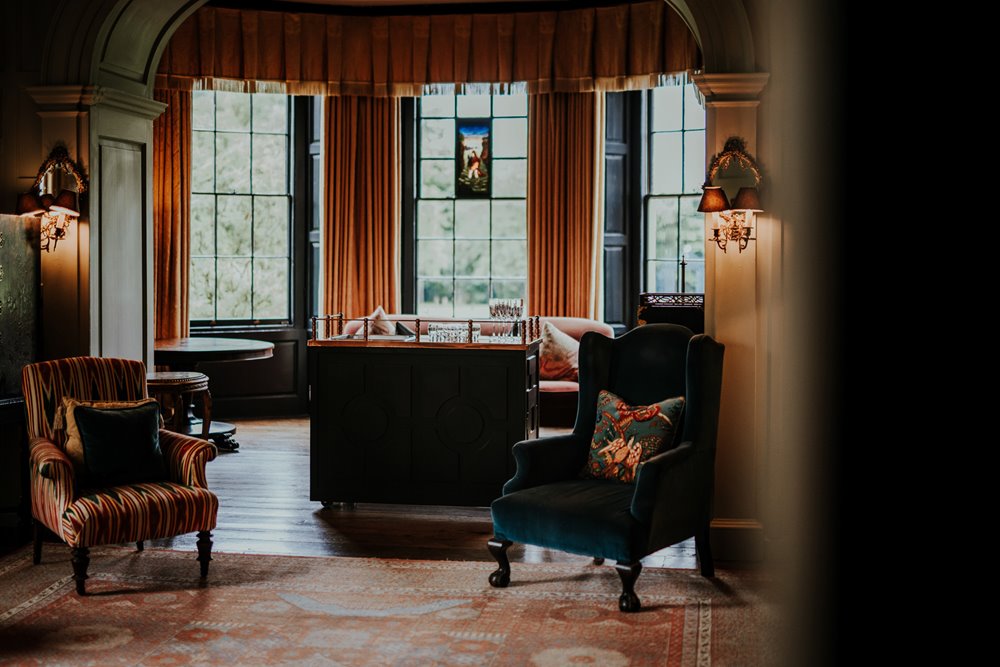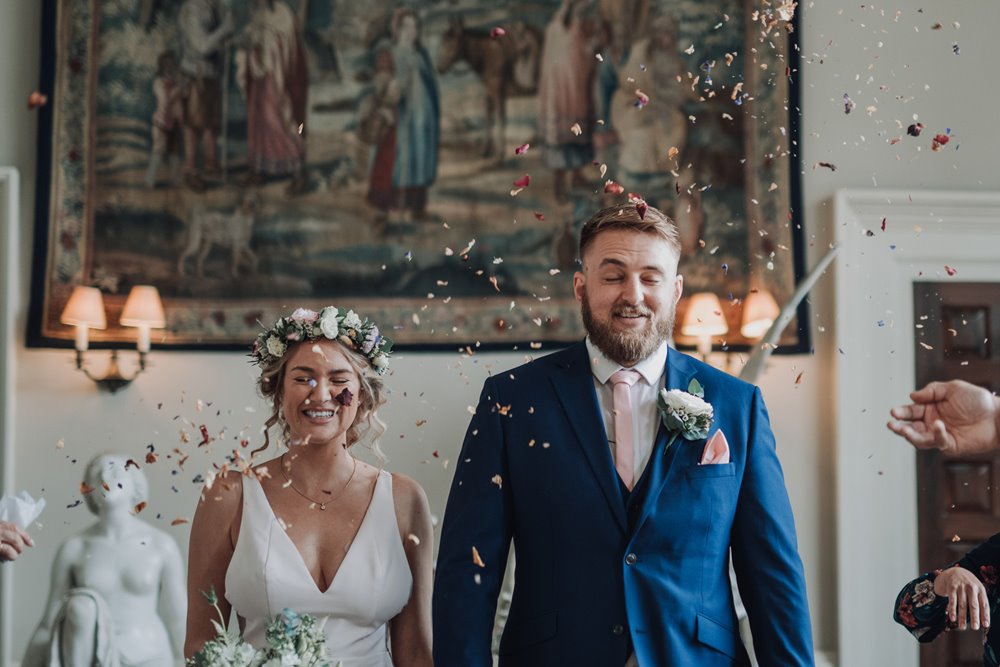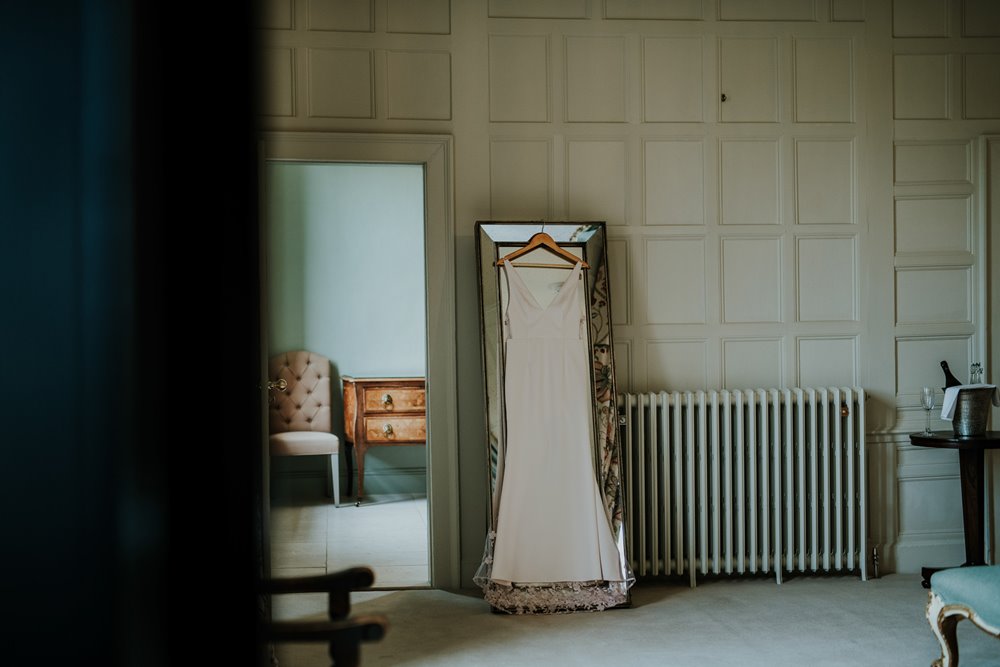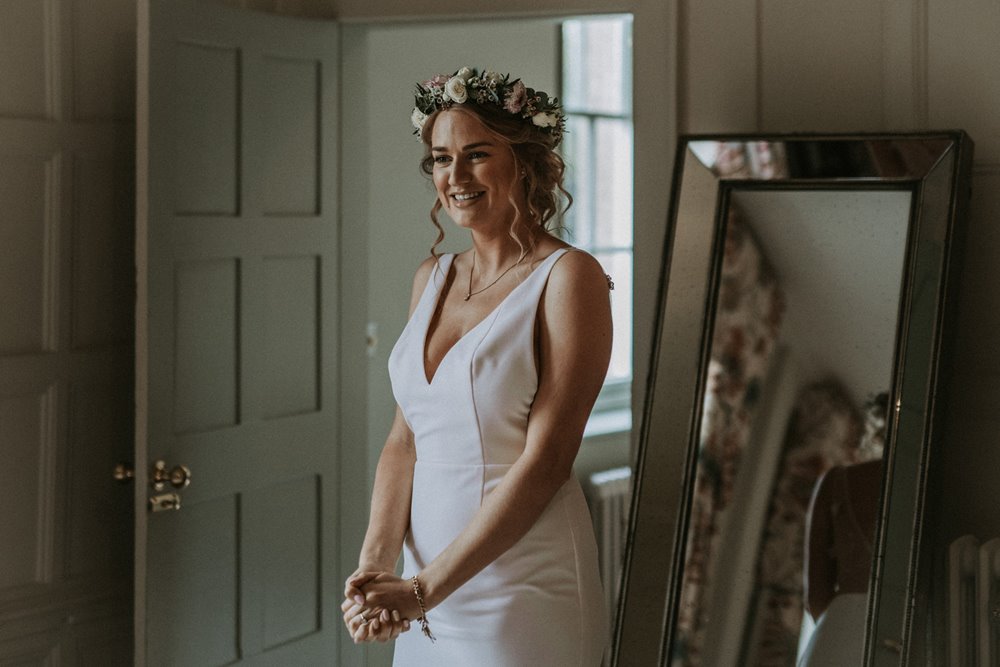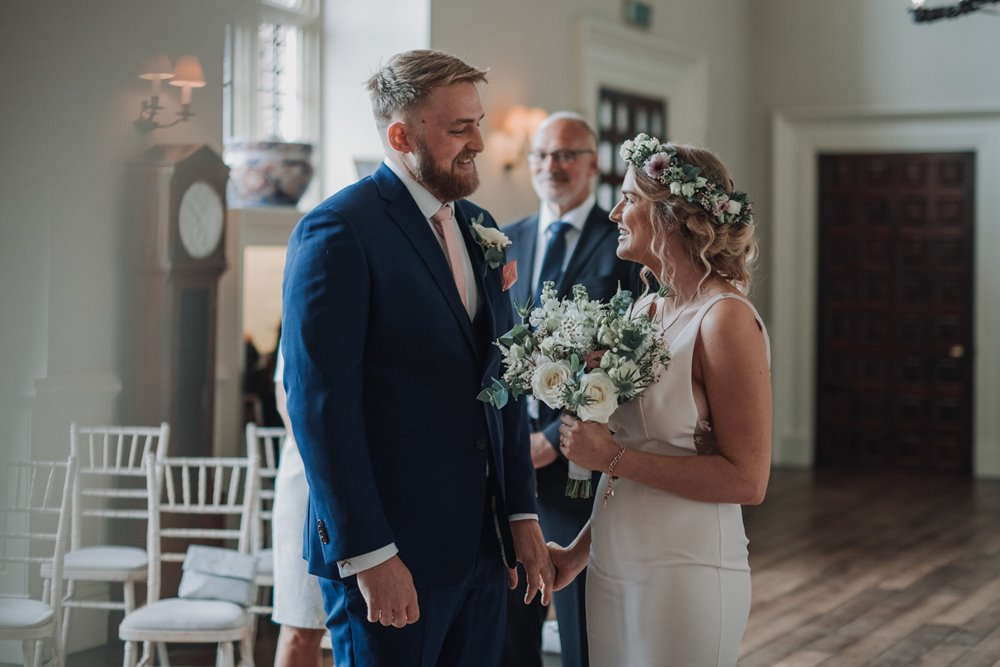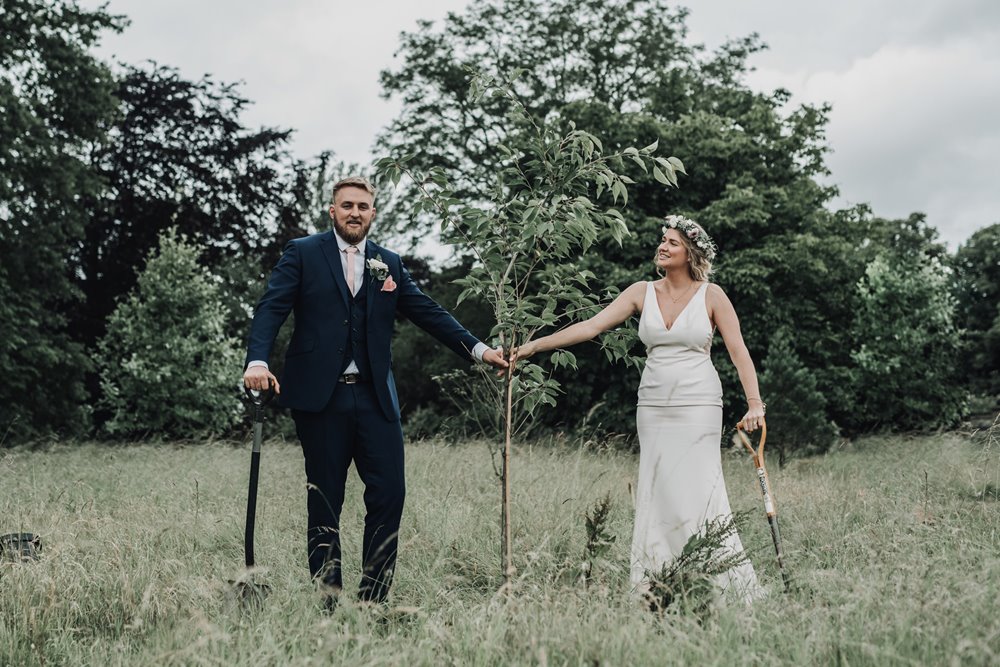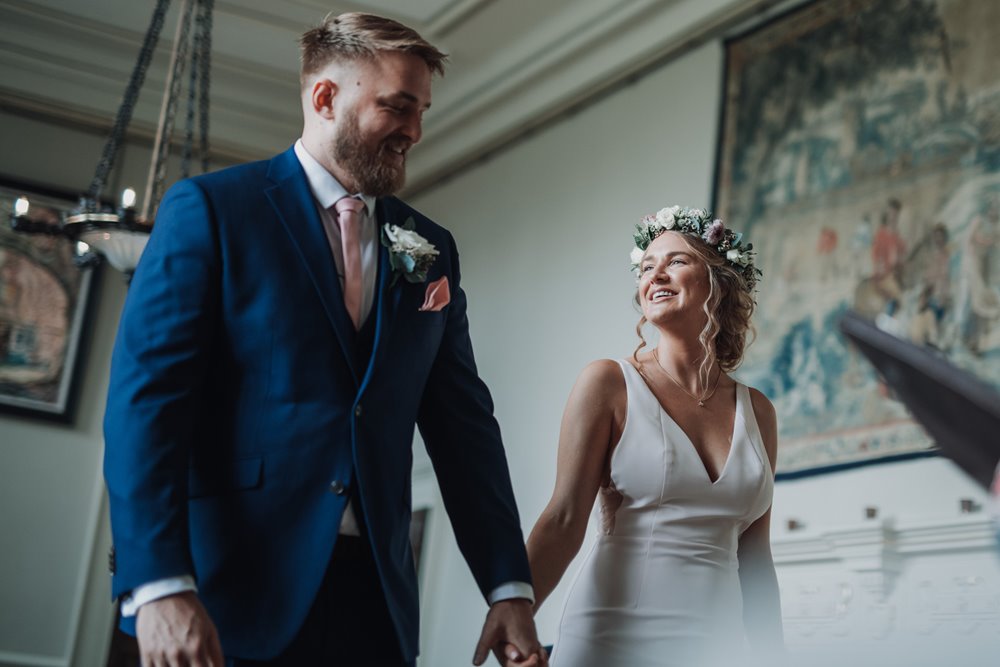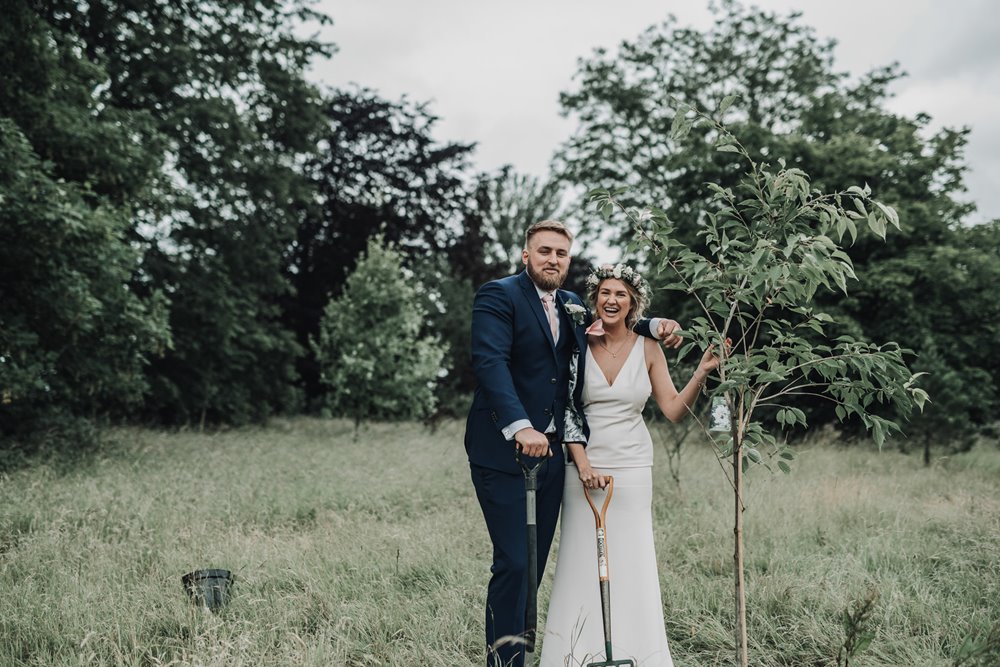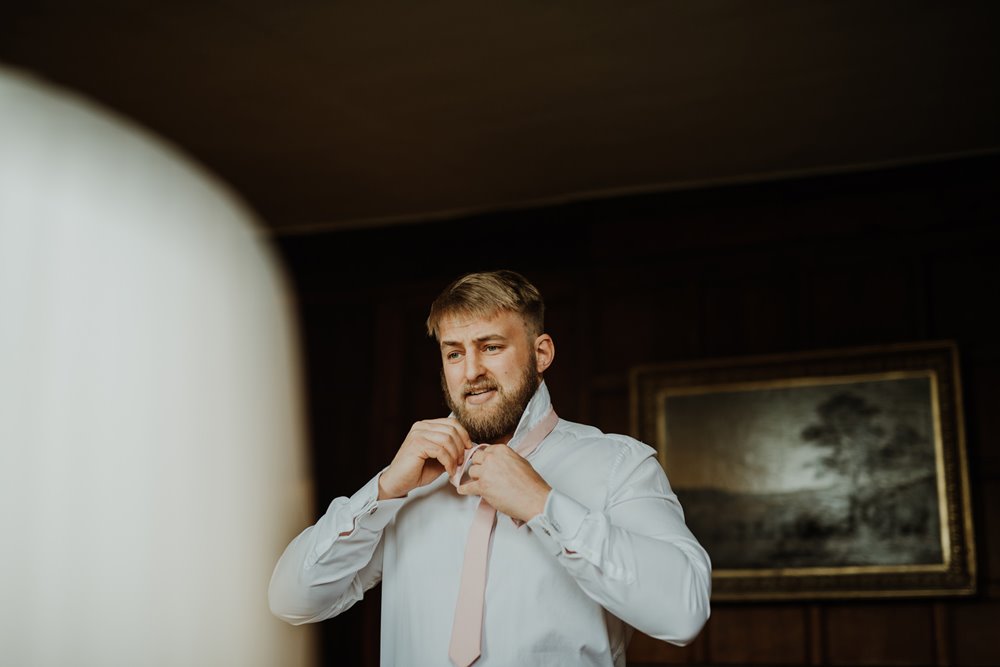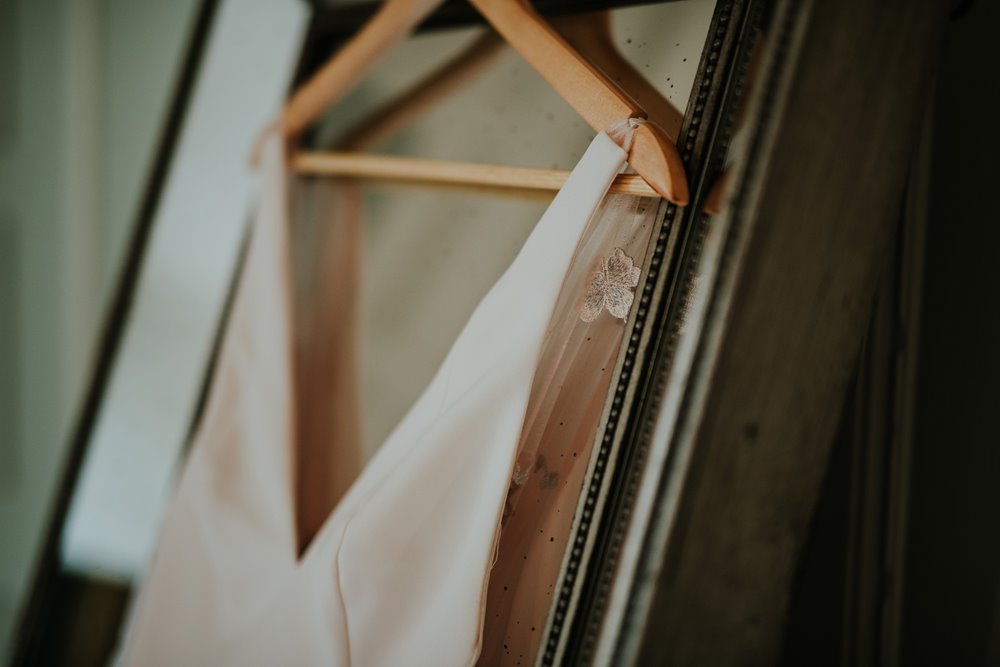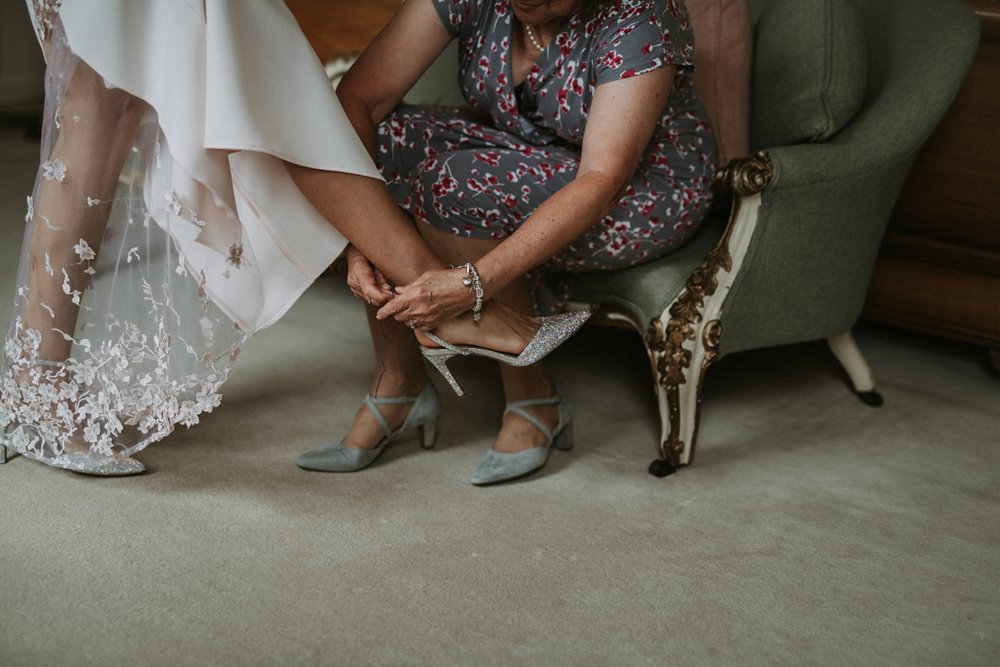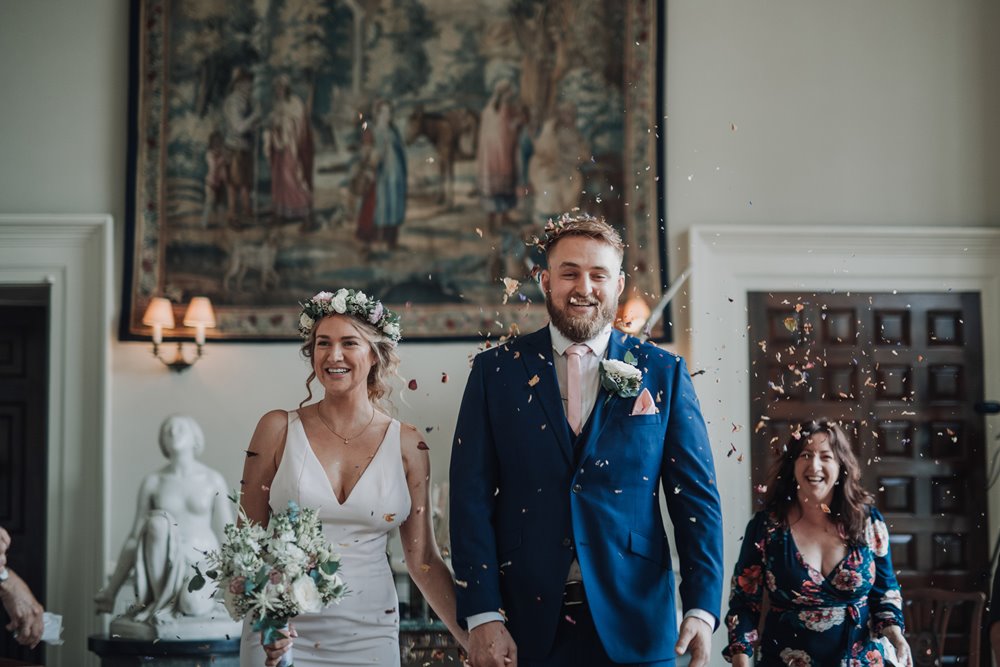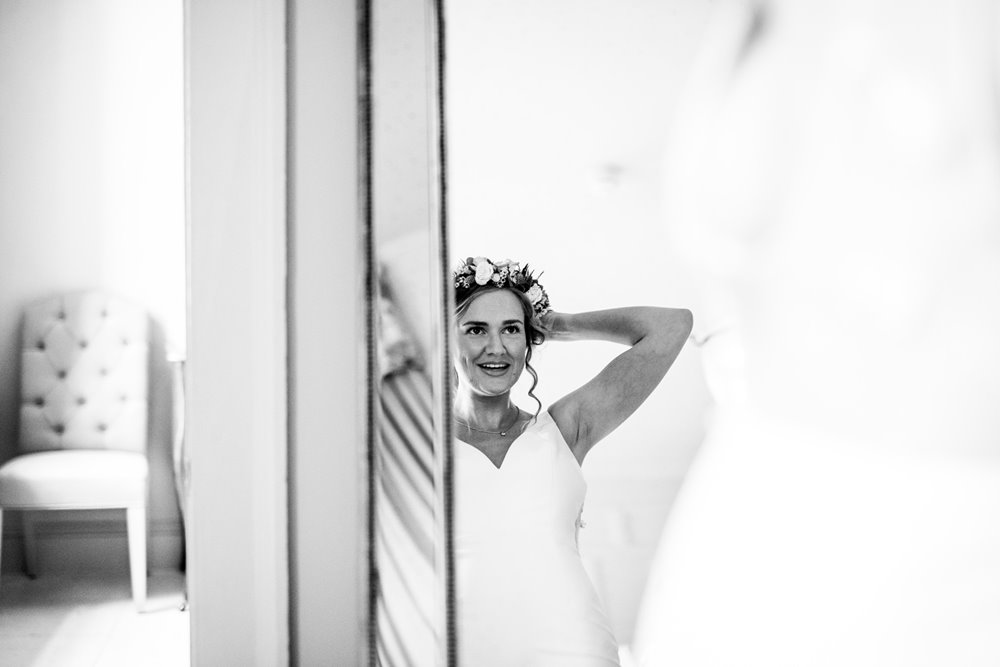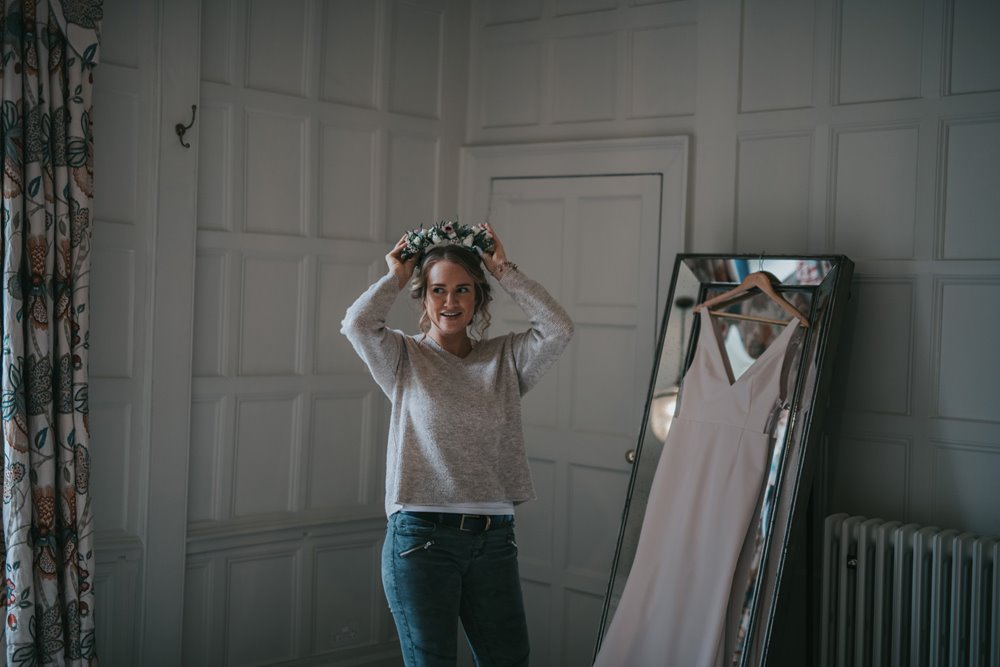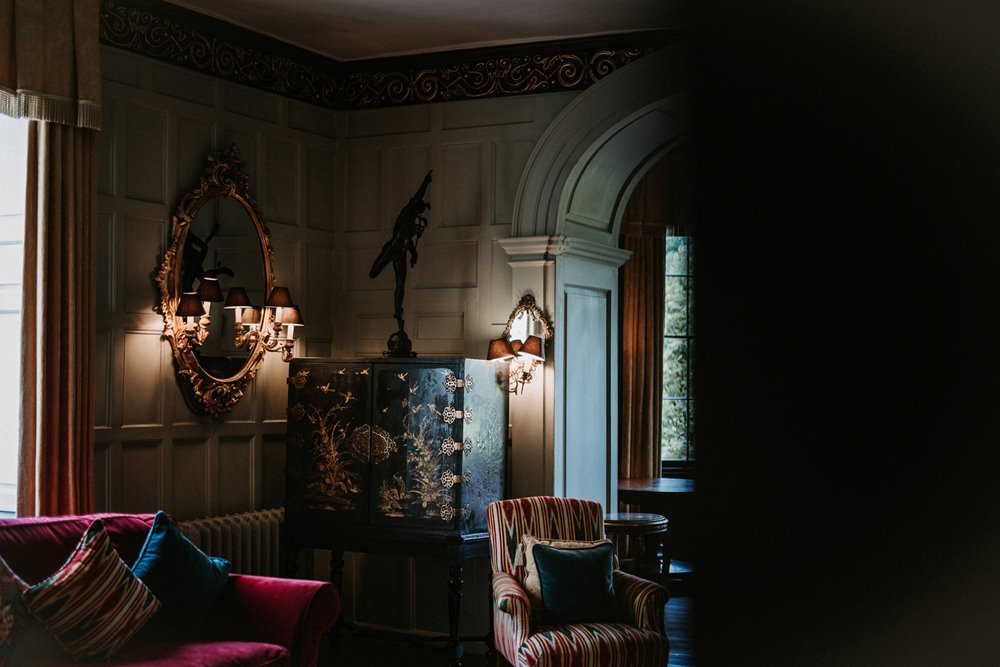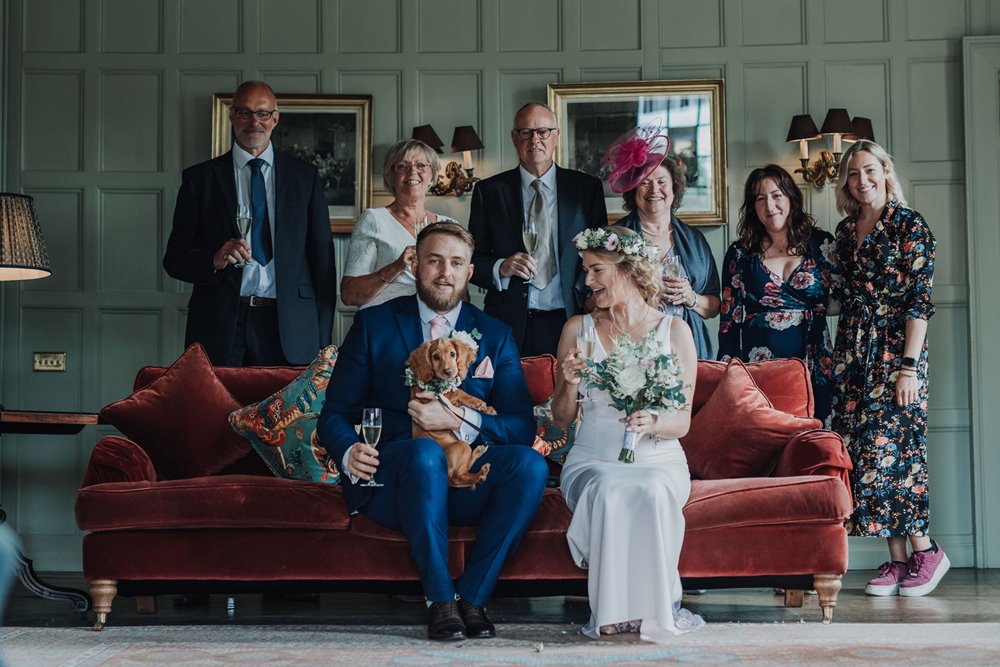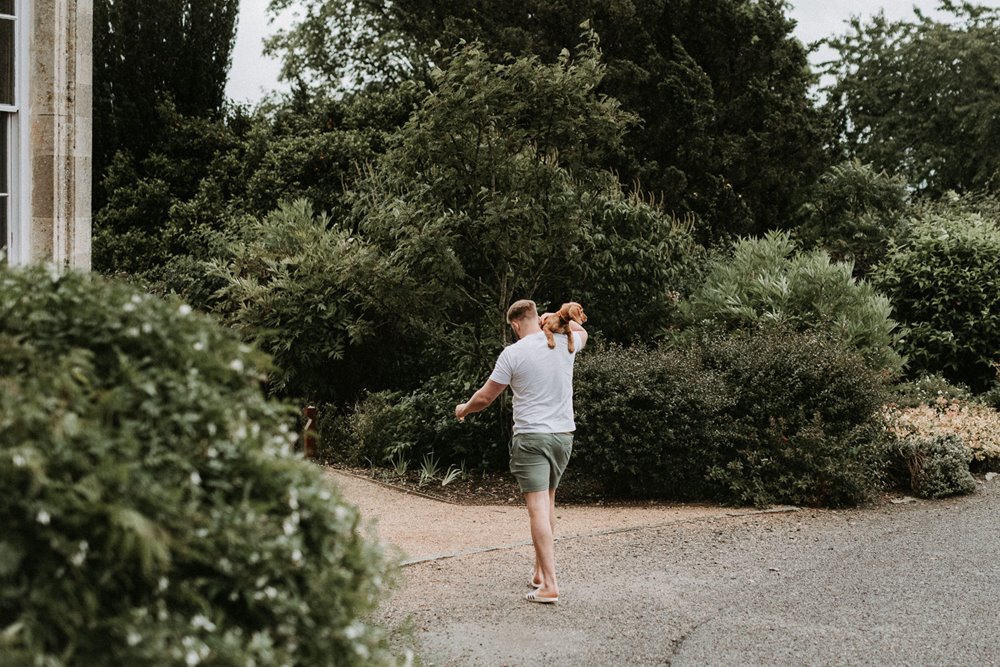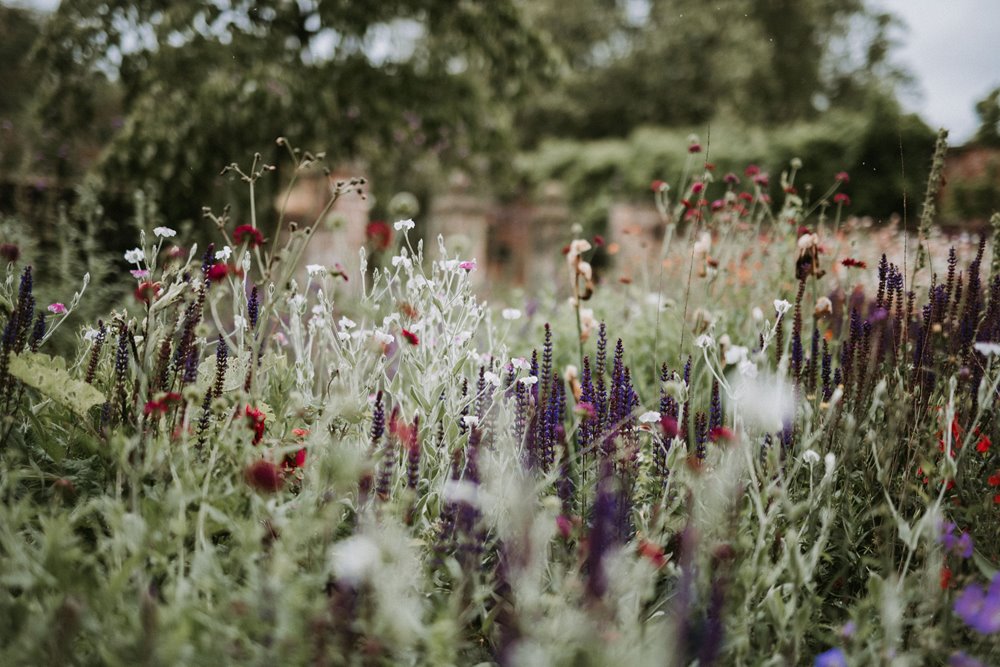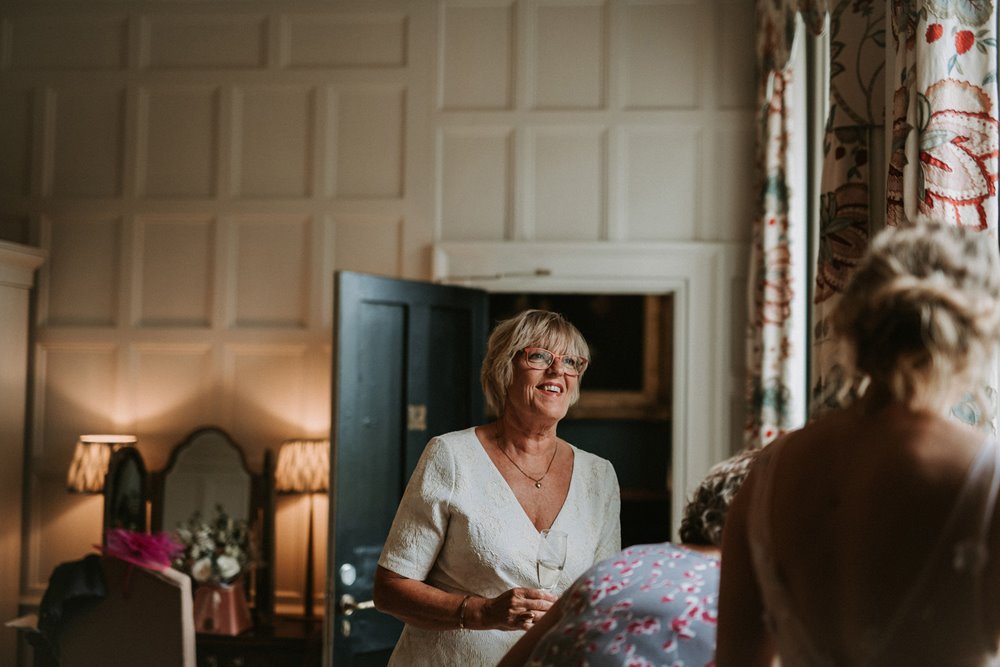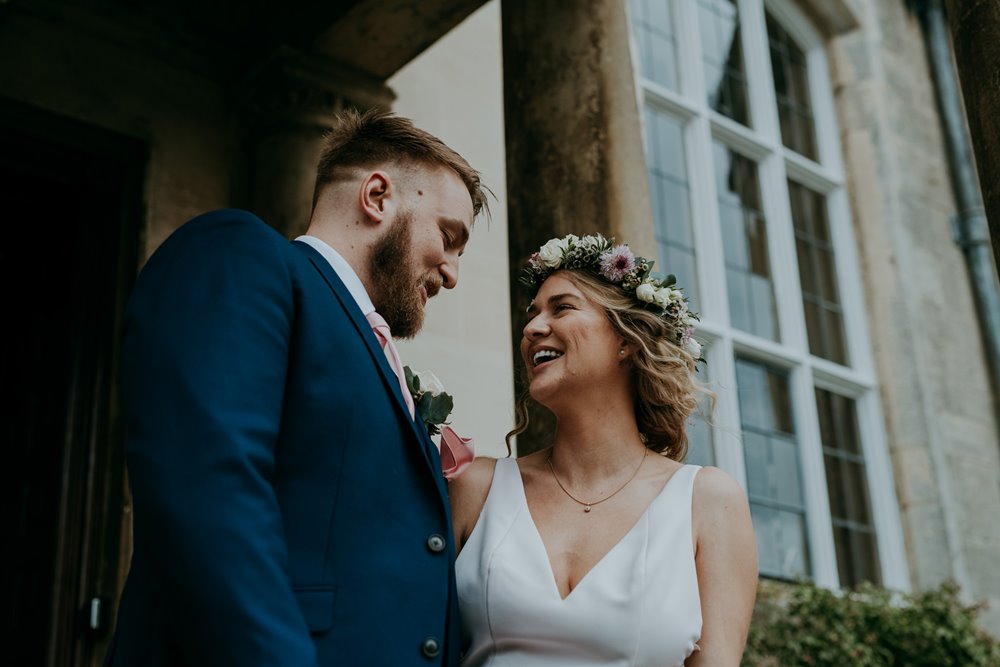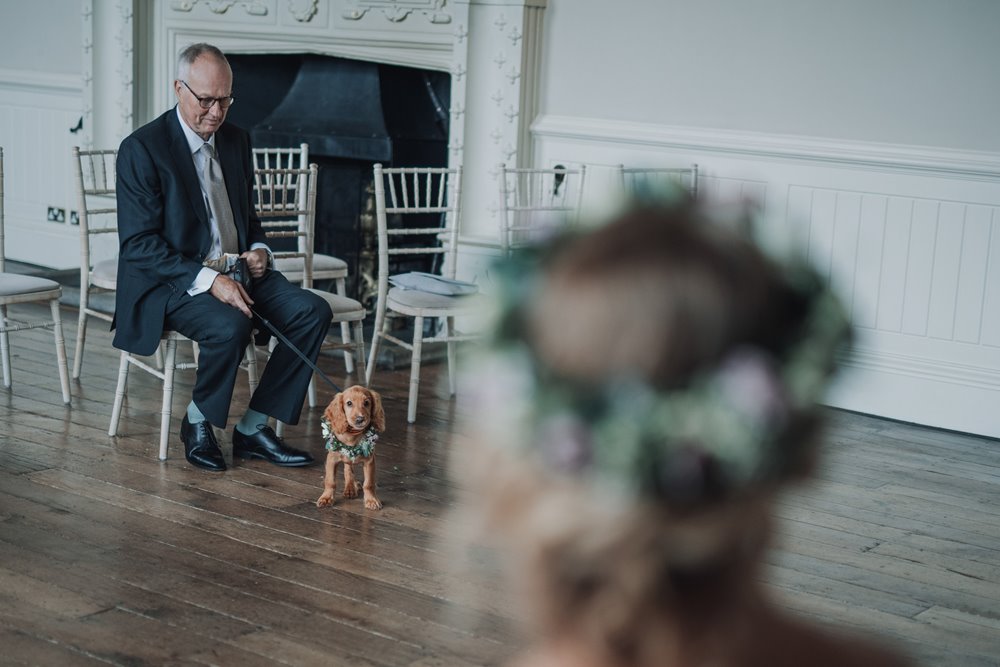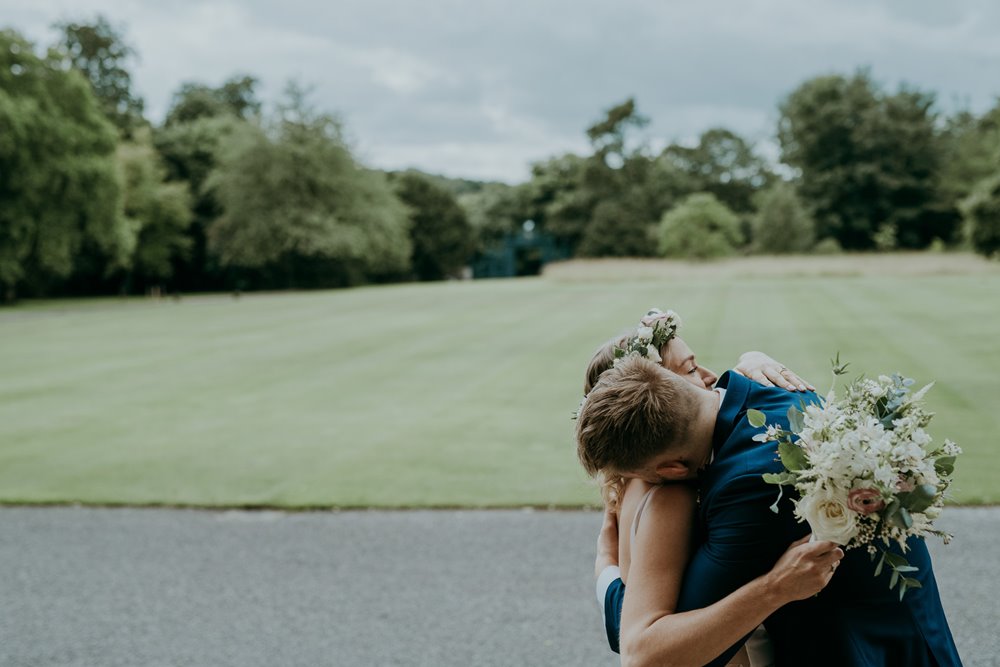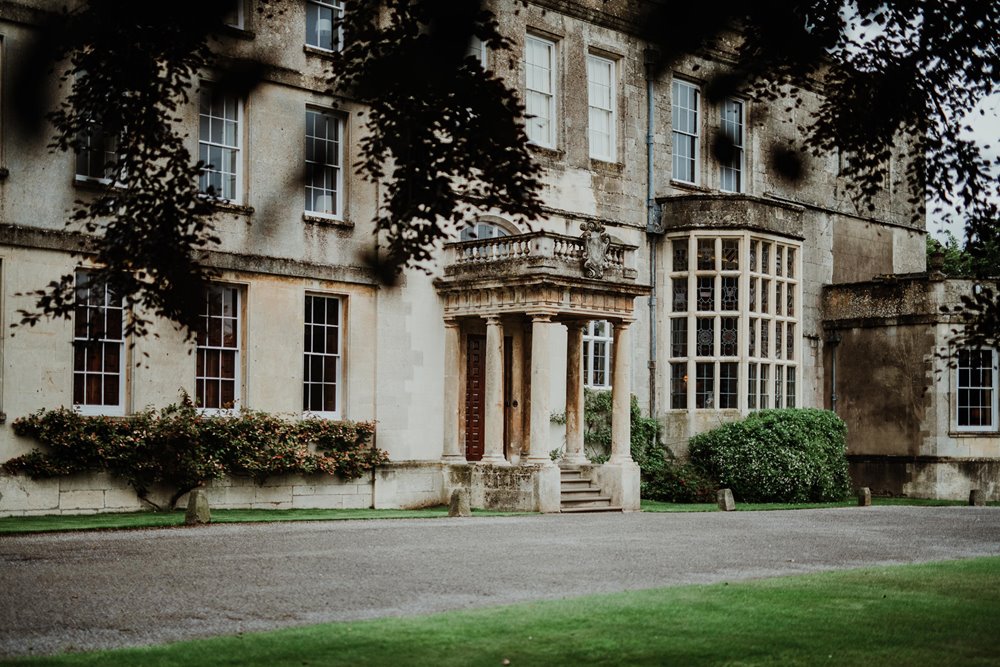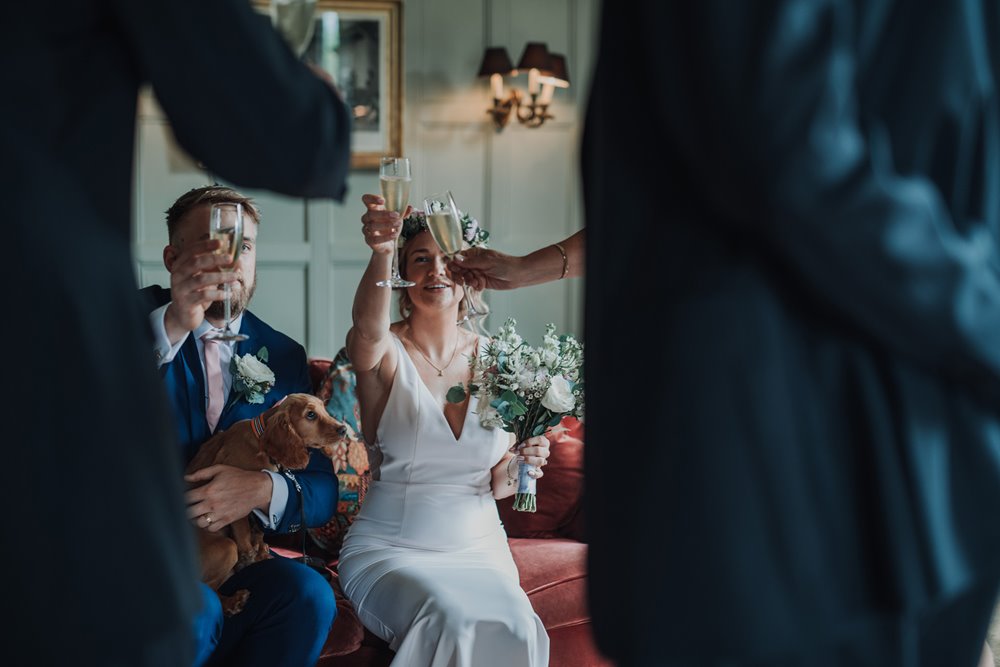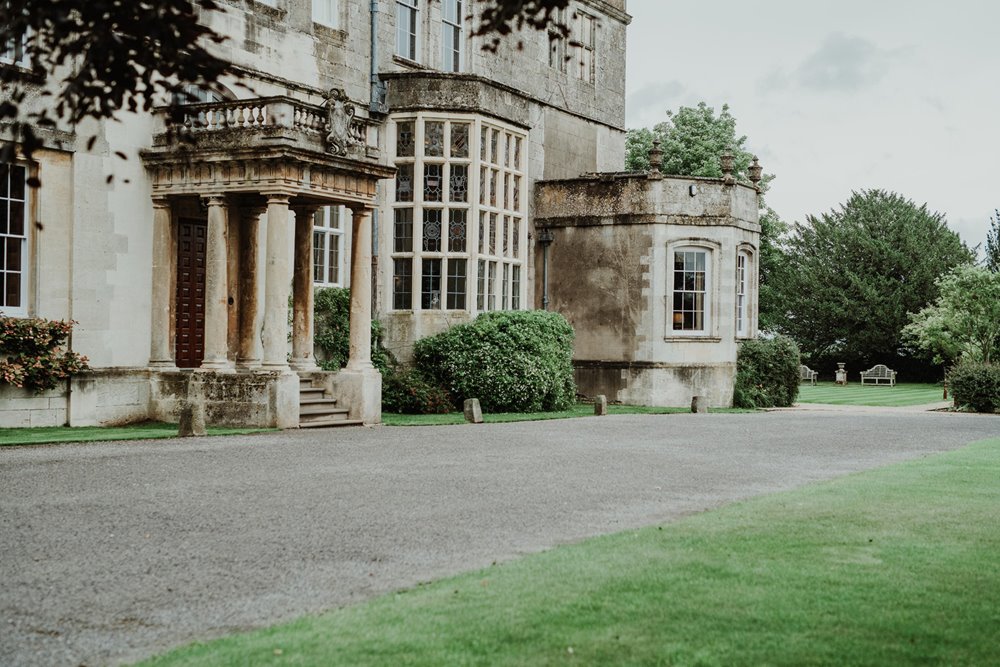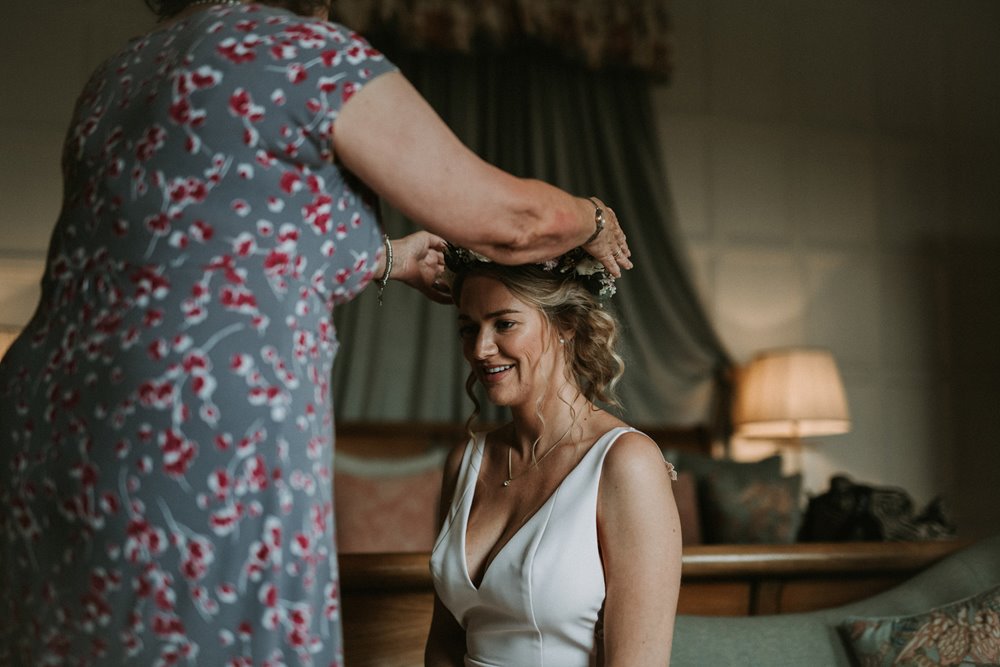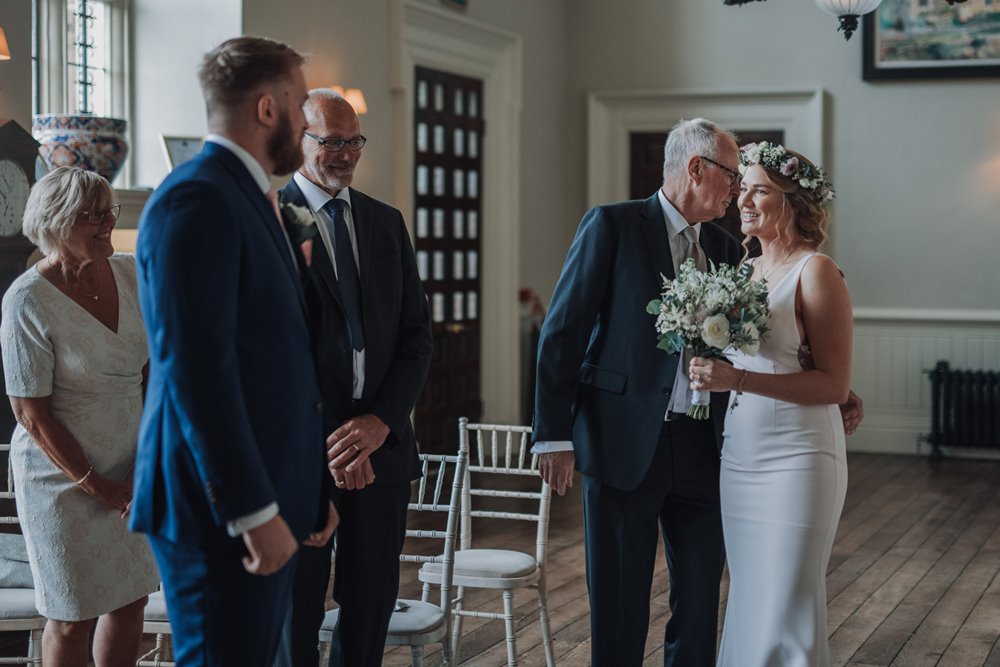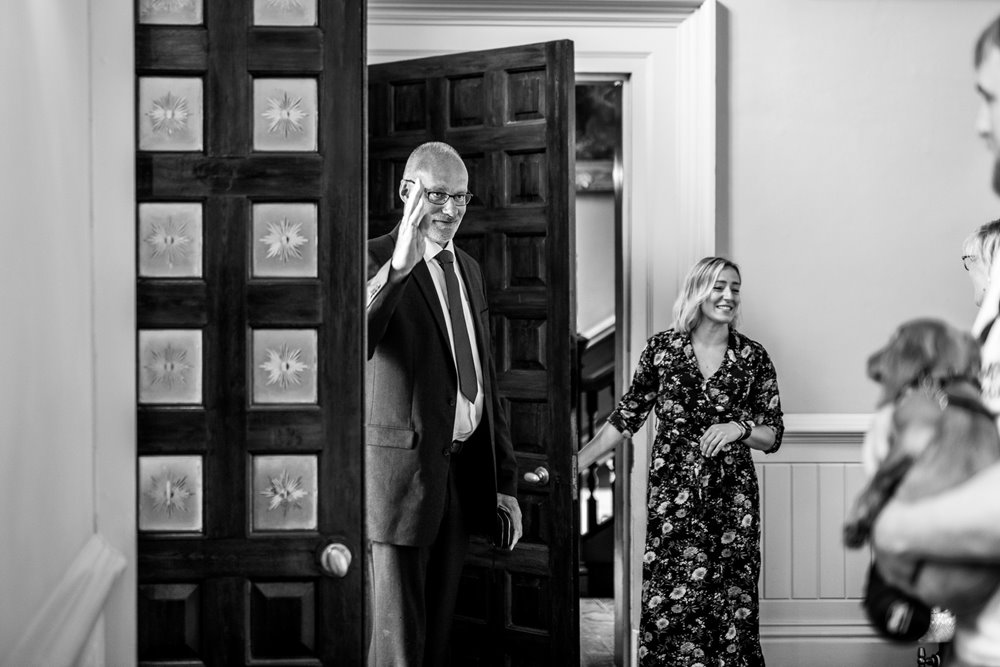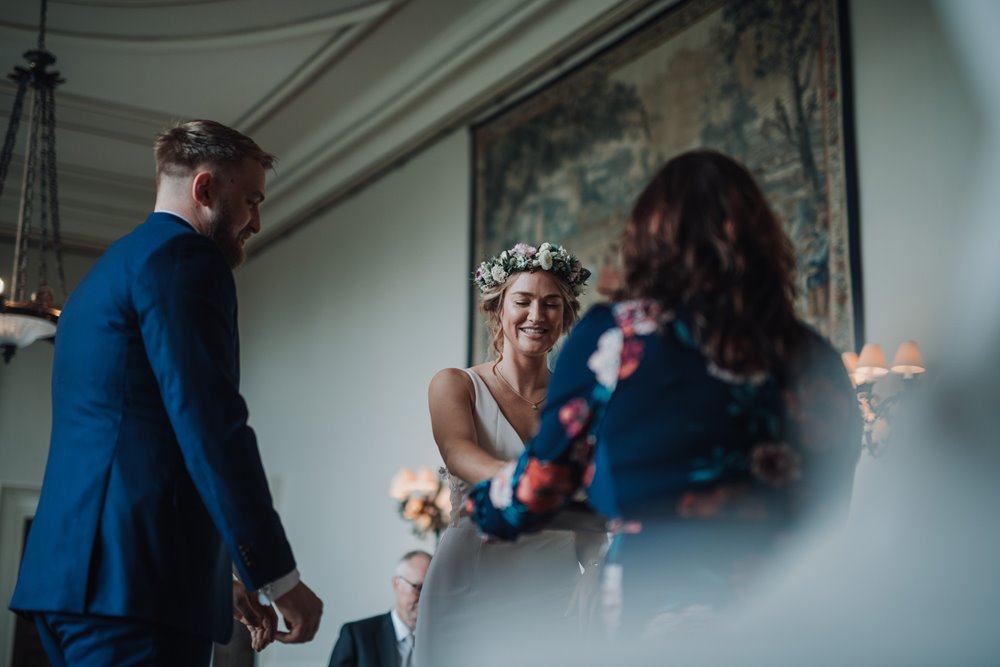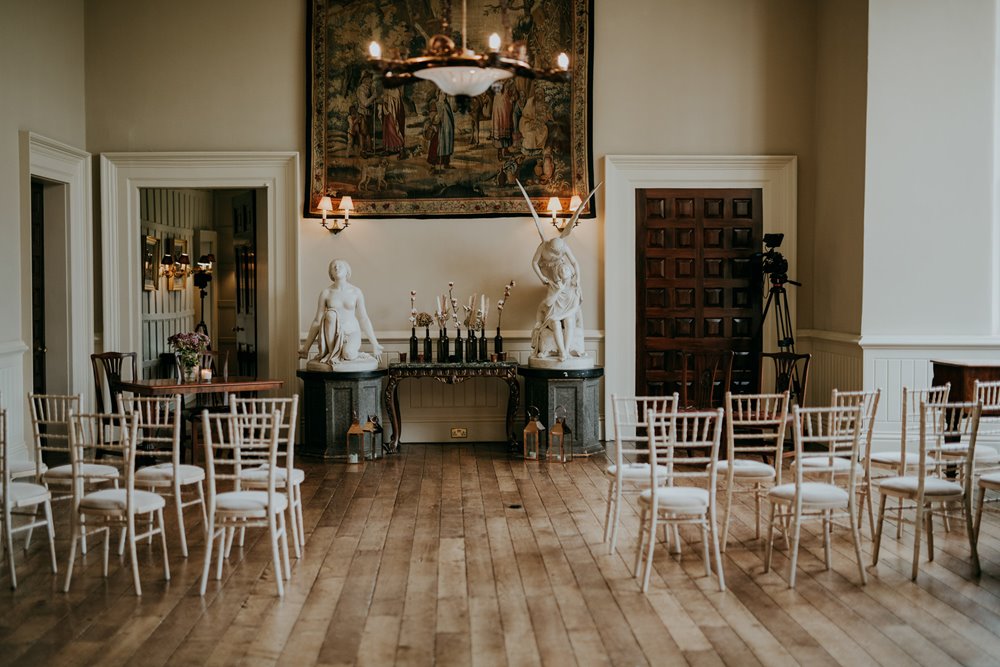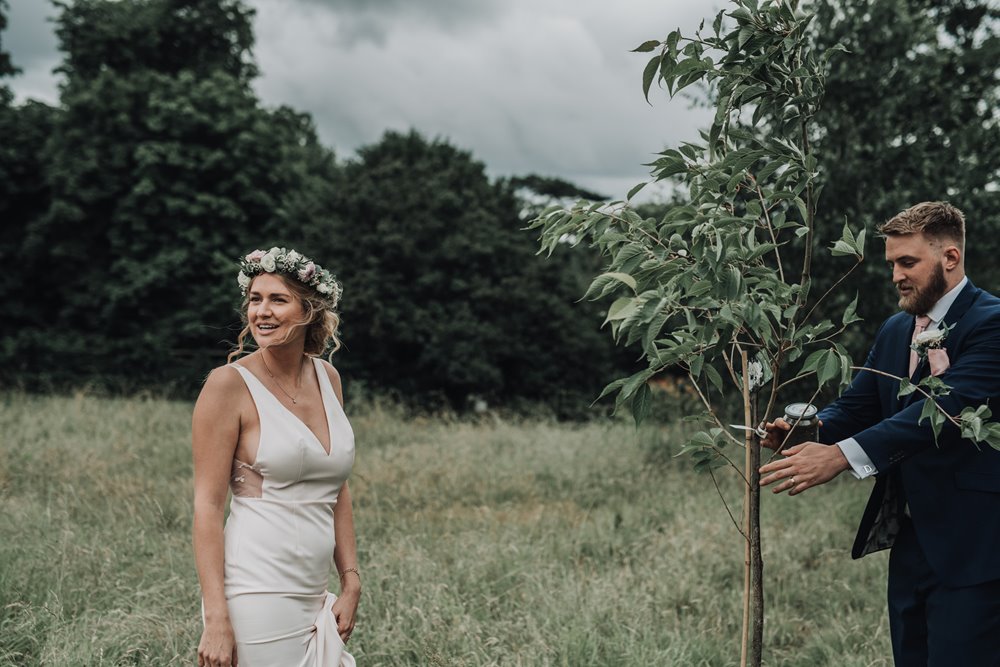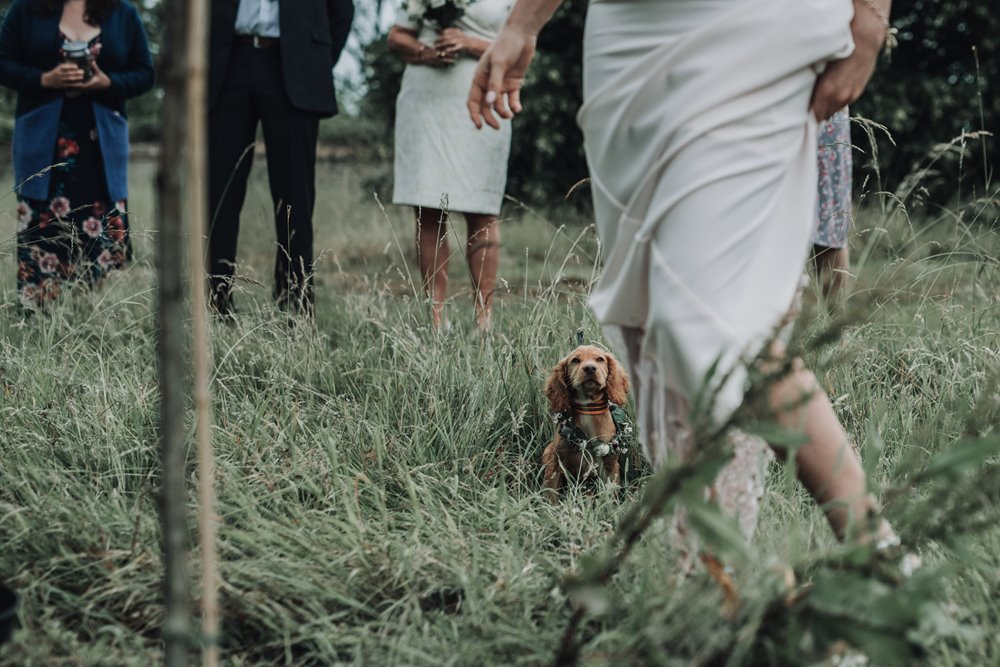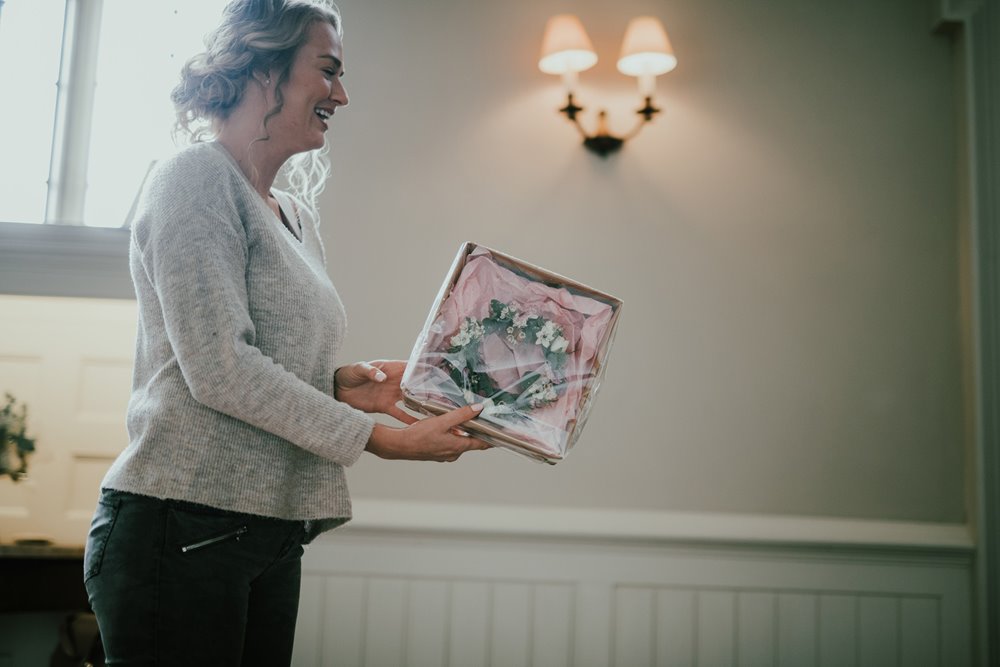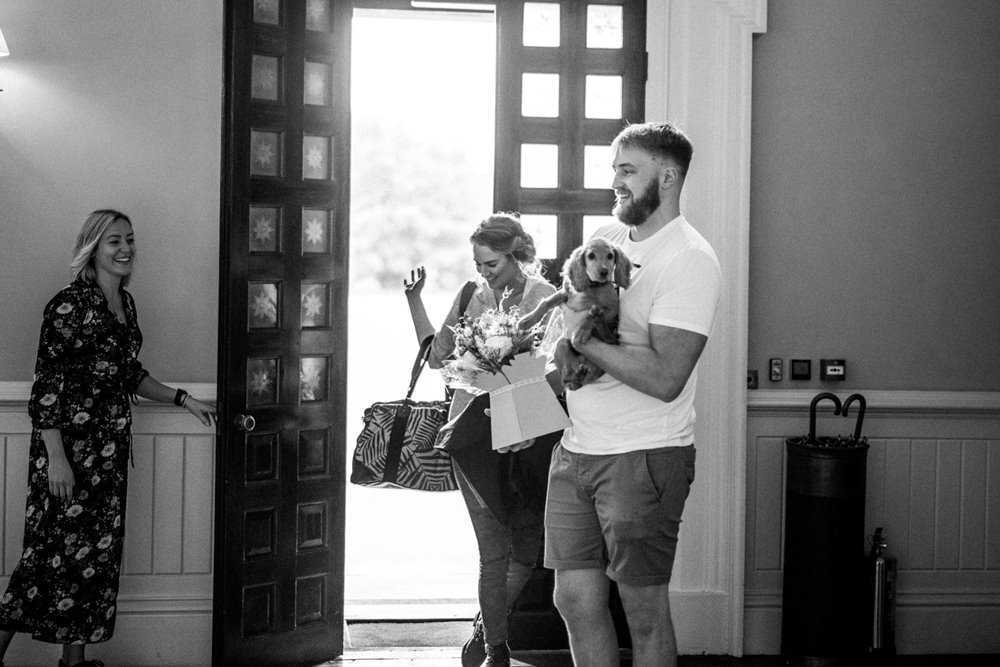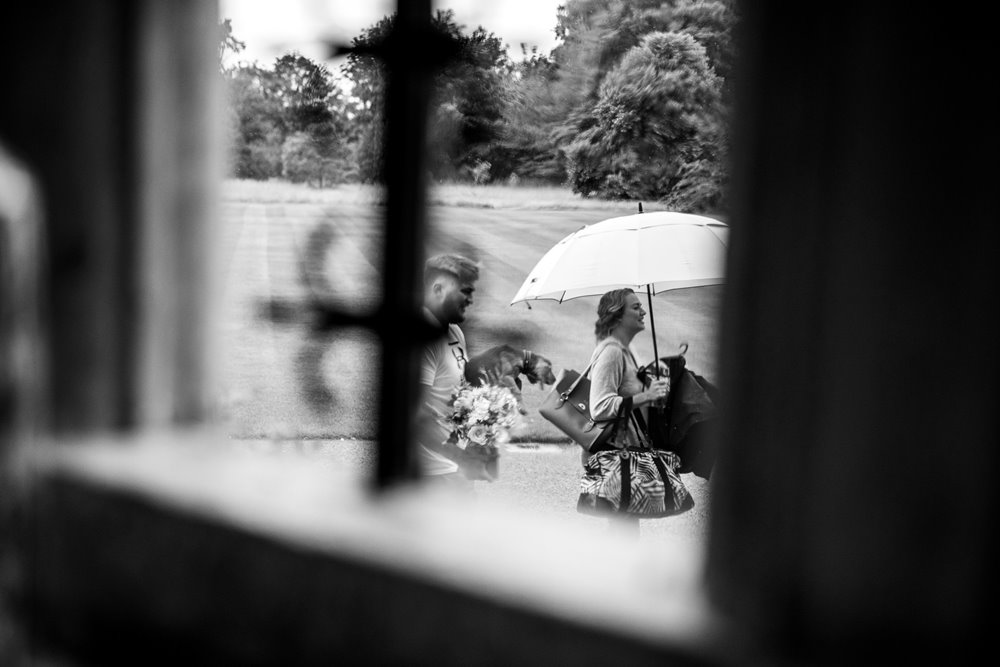 Related reading