Katie & Graham's wedding was the last before lockdown struck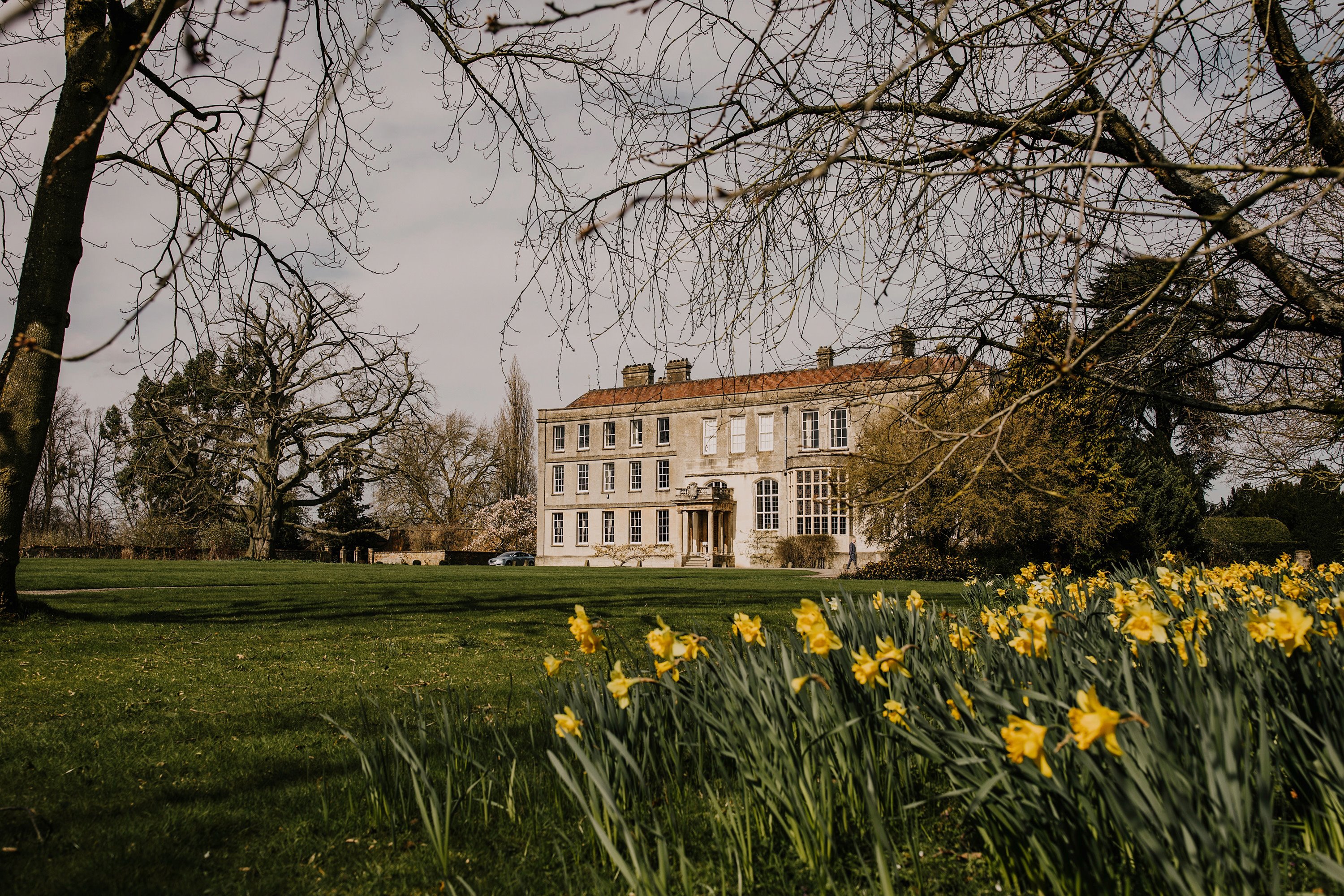 How did you meet?
Rather stereotypically we met at work. I started working at our (still) employer in 2006, and Gray already worked there. We knew each other and were good friends (we both mixed in the same "after work drinking" crowd) but we didn't actually go on a date until the end of 2015! We took our sweet time!
Tell us about the proposal…
Well, we actually did things a little untraditionally, and the proposal came the week after we had booked our wedding date at Elmore!
We had chosen the ring together on a trip to the jewellery quarter, the day before Elmore's Bloomska event. The following weekend we were having a child free night away in Cartmel in the Lake District, with a meal at L'Enclume that I had booked as Gray's birthday present, so we decided that as we had already booked the wedding, maybe we should use this occasion to get engaged!
Once we got to the Lake District, Gray drove to this little village where he had found a short walk up to a beautiful waterfall, and got down on one knee! I may have known it was coming but he still made me cry!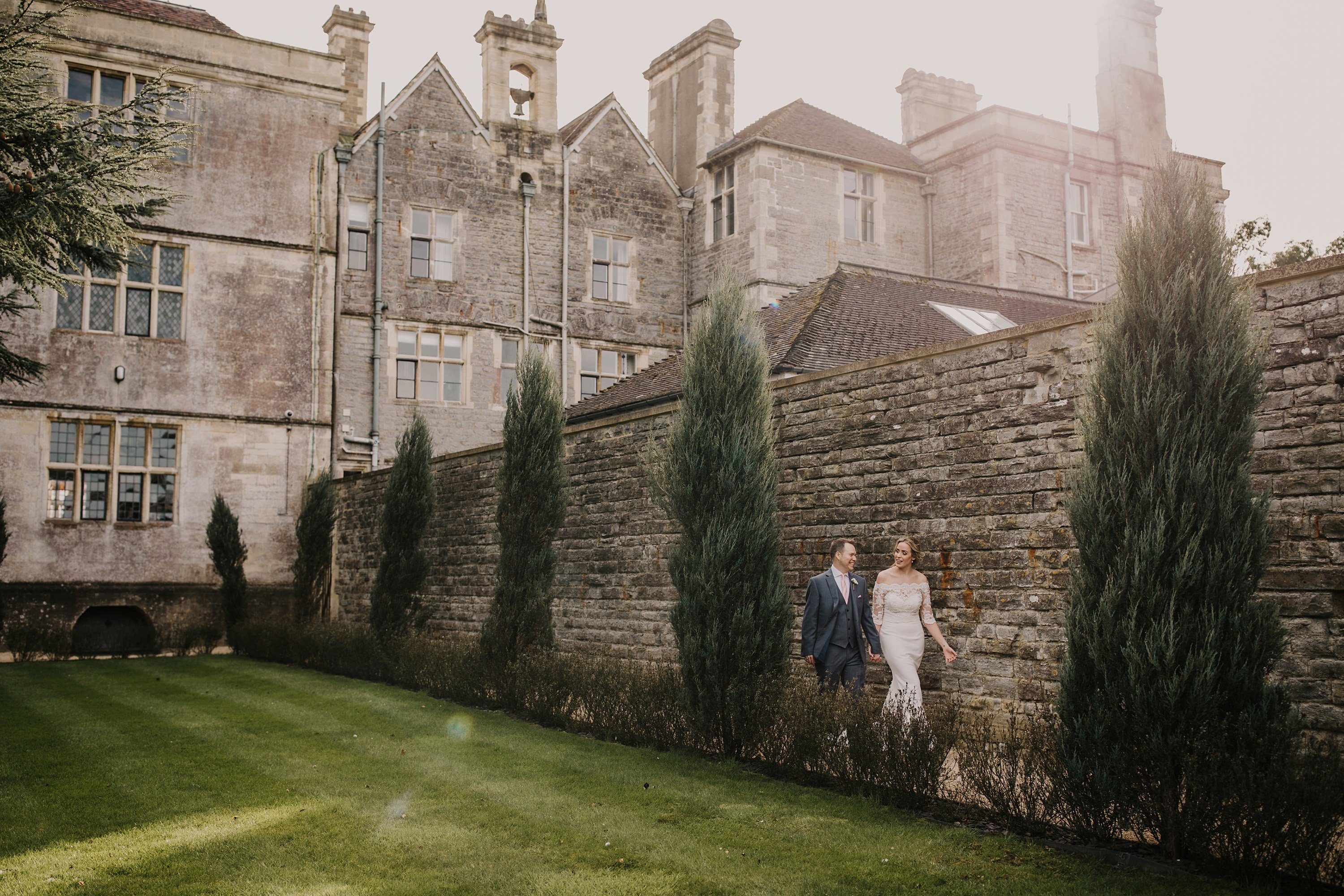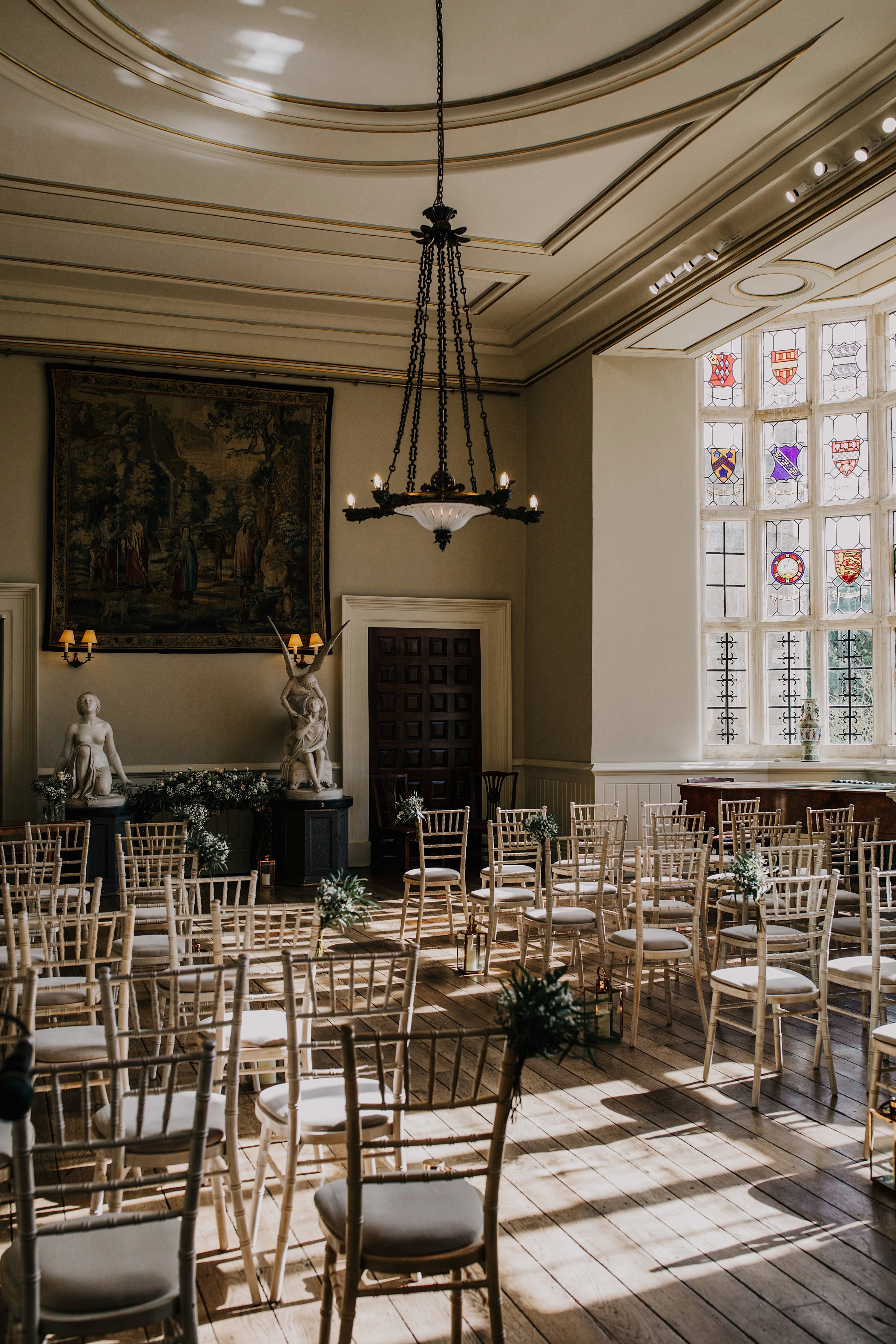 Why did you choose Elmore Court?
I had followed Elmore on Instagram for a few years, and always said to Gray that it's where I imagined we would get married. Then we saw Bloomska being advertised and we decided that it wouldn't hurt to just go and have a look, seeing as neither of us had actually been to Elmore before.
The drive through the gates was spectacular enough, and then as soon as we walked into the house and ceremony room, Gray said "yep, we are getting married here!"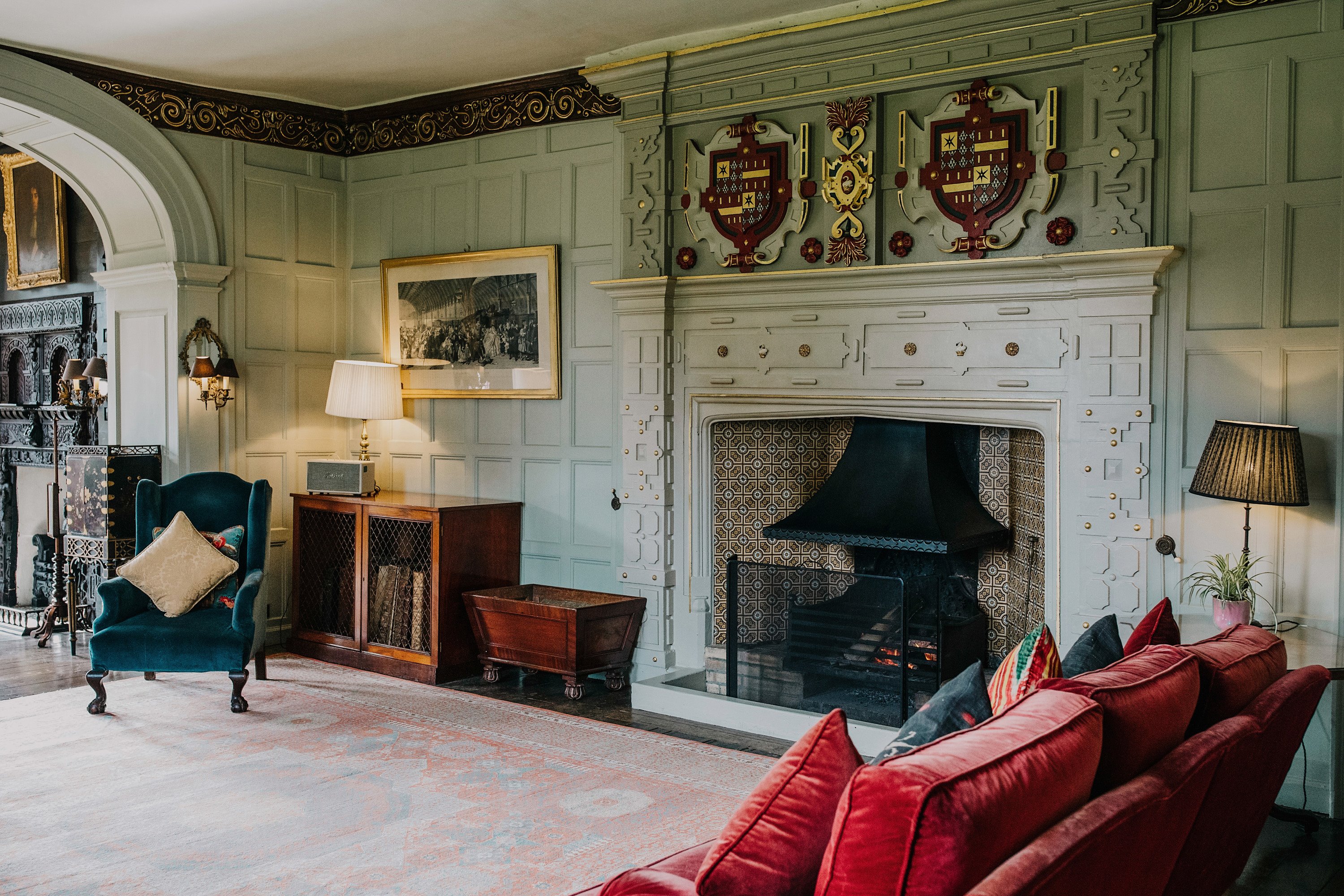 Your wedding dress...
My dress is from a bridal boutique very local to me (just a 5 minute walk) in Portishead called The White Collection. Despite trying on a number of dresses over a couple of visits, I just couldn't find what I had in mind, and almost went for a dress that is completely different to what I went for. One of the girls suggested the simple Logan by Enzoani, and I fell in love with it as soon as I stepped into it. But it didn't have that final detail that I was looking for. As soon as I put the Enzoani lace jacket over the top I cried. The idea of having two dresses in one was very appealing too!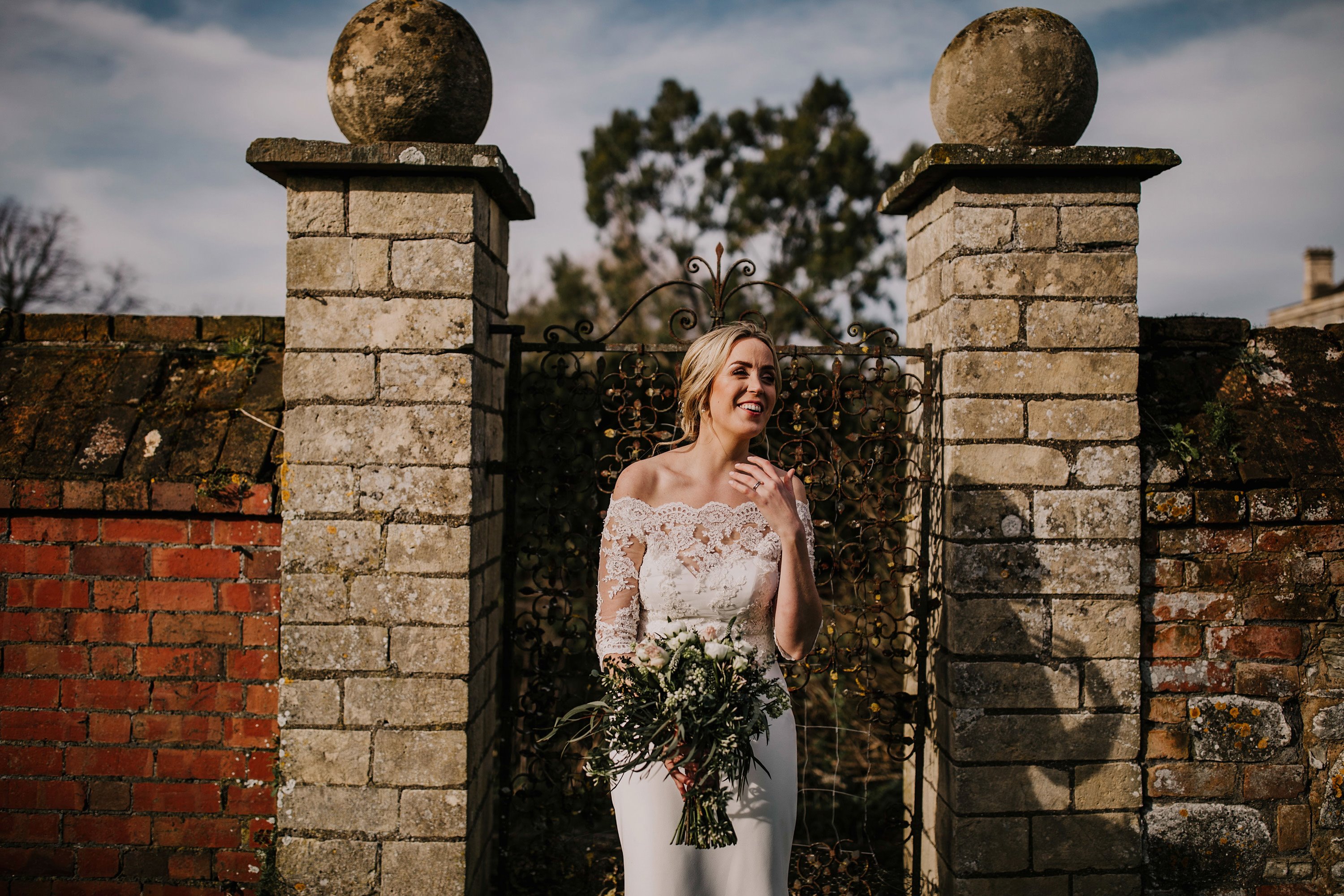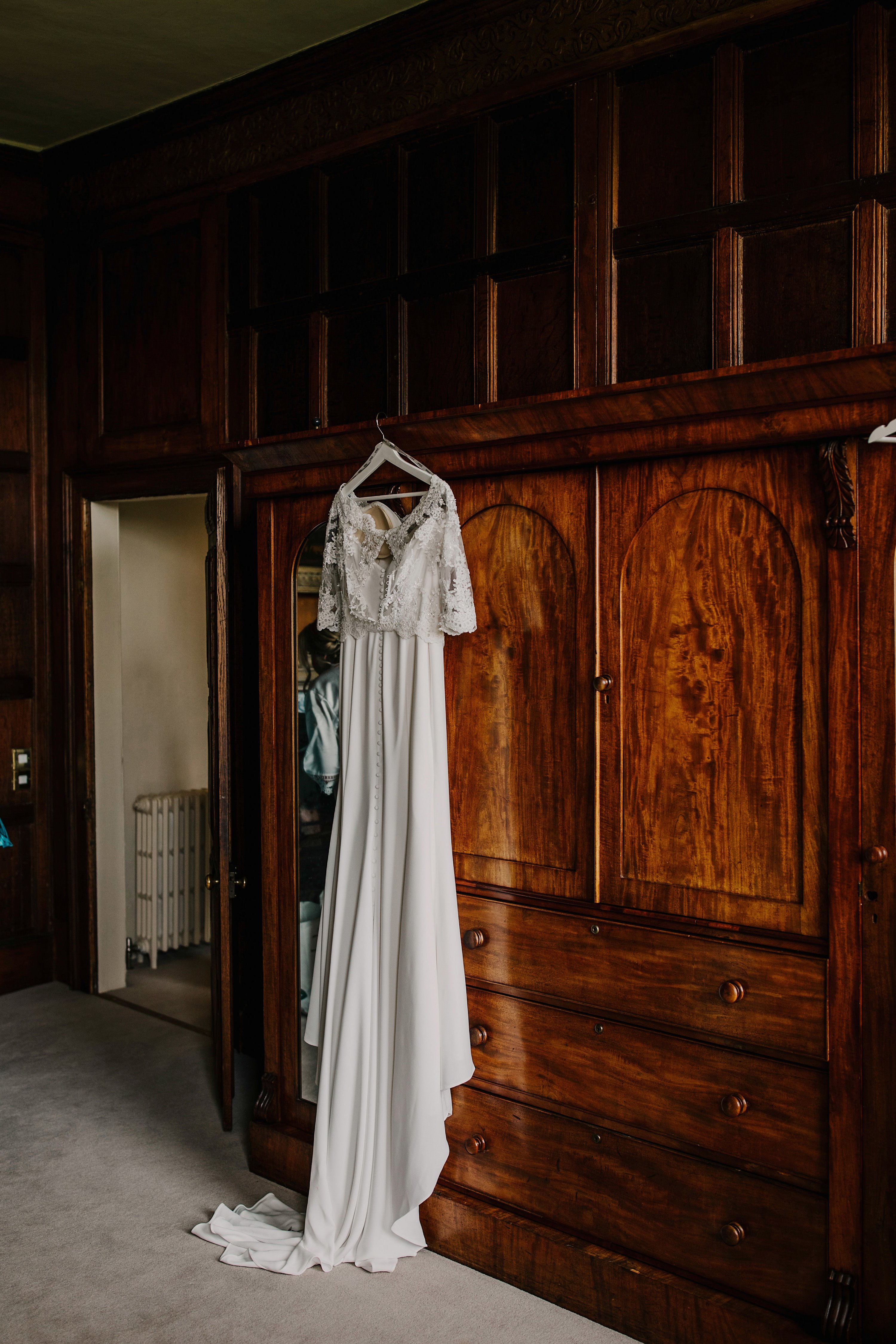 What about your colours and wedding flowers?
We didn't really have a theme in mine other than we wanted classic, clean colours (white floral, green foliage with a little dusty pink just to add a hint of colour). This would allow us to be a little creative and not too stuck to a specific theme, but also sneakily allowed me to match everything up to the style of my dress which Gray was completely unaware of!
After doing some research we had pretty much decided that we wanted to work with Claire at The Wilde Bunch, and then one of my bridesmaids told me that she had to highly recommend the florist she used for her own wedding – and it was Claire! We were so pleased that they were free on our wedding date, Claire absolutely nailed the style and theme we were going for, helping us to visualise it all, picture how our ideas would look at Elmore and making the most of the space in the Gillyflower.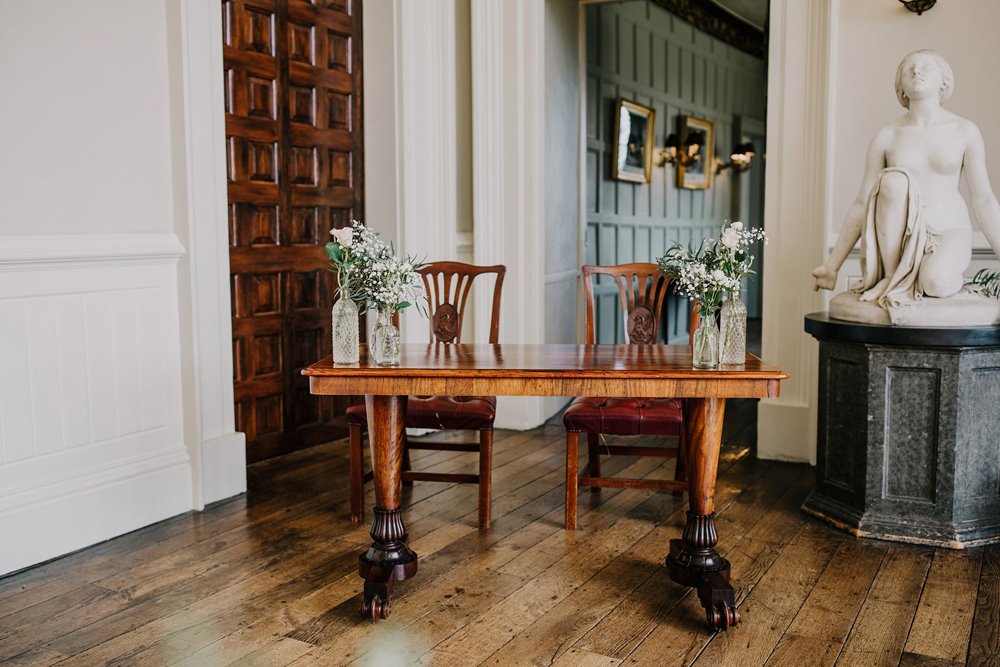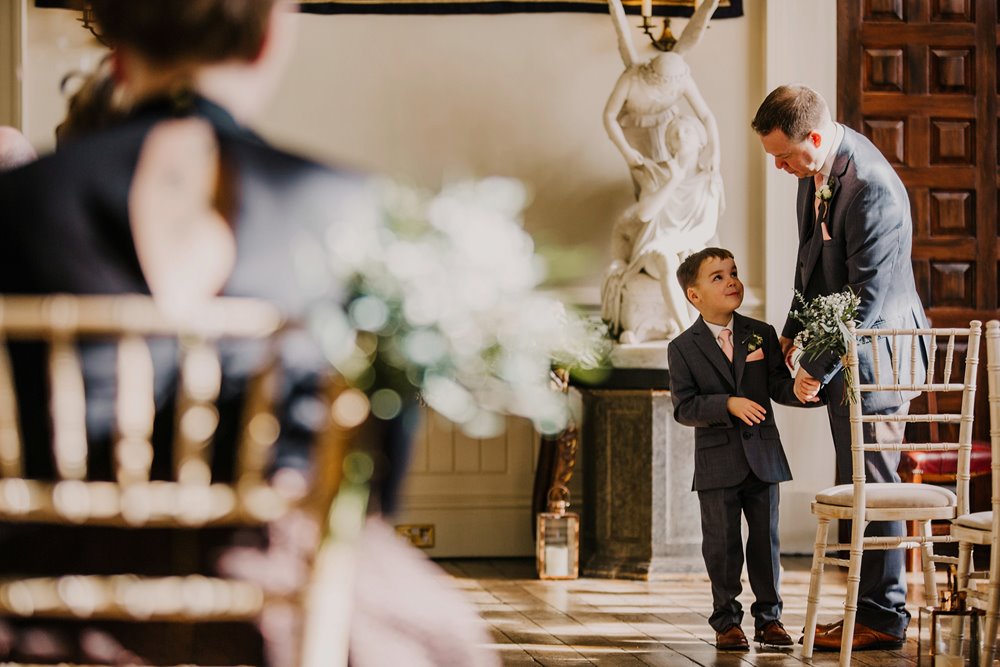 What was your priority when wedding planning?
From the minute we arrived at Elmore for the first time, we felt at home. We wanted everyone to feel this way on our wedding day, just to be able to enjoy themselves and let their hair down! The Gillyflower really does help to achieve this. Not only did our guests absolutely love spending the first part of the day in the beautiful house, wandering between rooms or sitting by the open fire, but they then got to wine, dine and dance the night away in a space that is equally as impressive.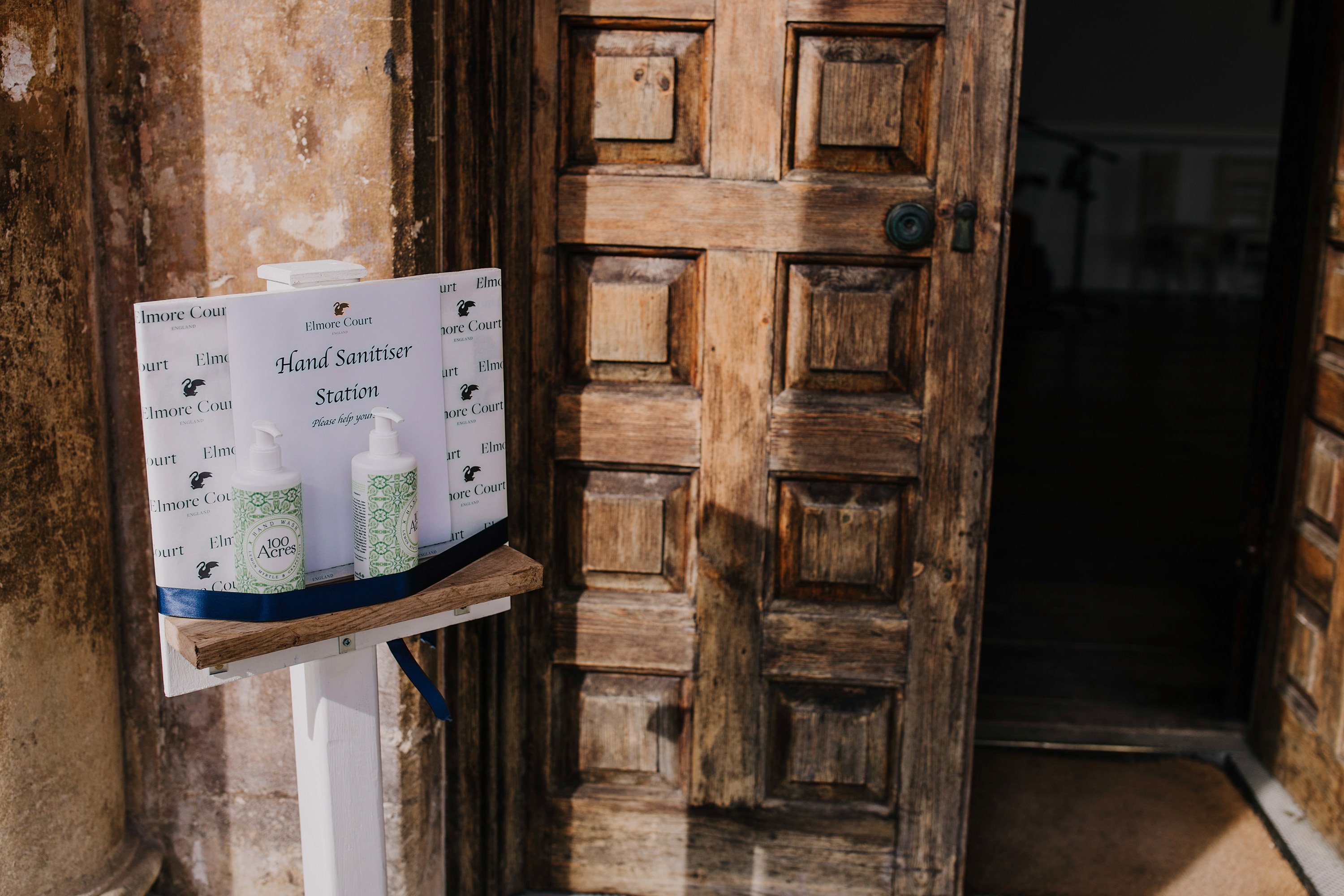 On the Big Day...
Our wedding day finally came after what we can only describe as one of the most stressful weeks of our lives. Unfortunately, Coronavirus cases were accelerating and people were starting to self isolate. This meant that within a couple of days, our numbers had halved from 100 to 50, and I was 4 out of 5 bridesmaids down. So by the morning of the wedding day, we were just so overwhelmed and incredibly grateful to be at Elmore, as all that mattered to us at this point was becoming husband and wife.
Team E were absolutely incredible, providing us with constant reassurance, plan B's in case any of our suppliers fell through, even offering to carry out a humanist ceremony if the registrar didn't make it!
By the time I walked down the aisle, I was definitely struggling to hold back the tears. We couldn't believe how lucky we were to be getting married.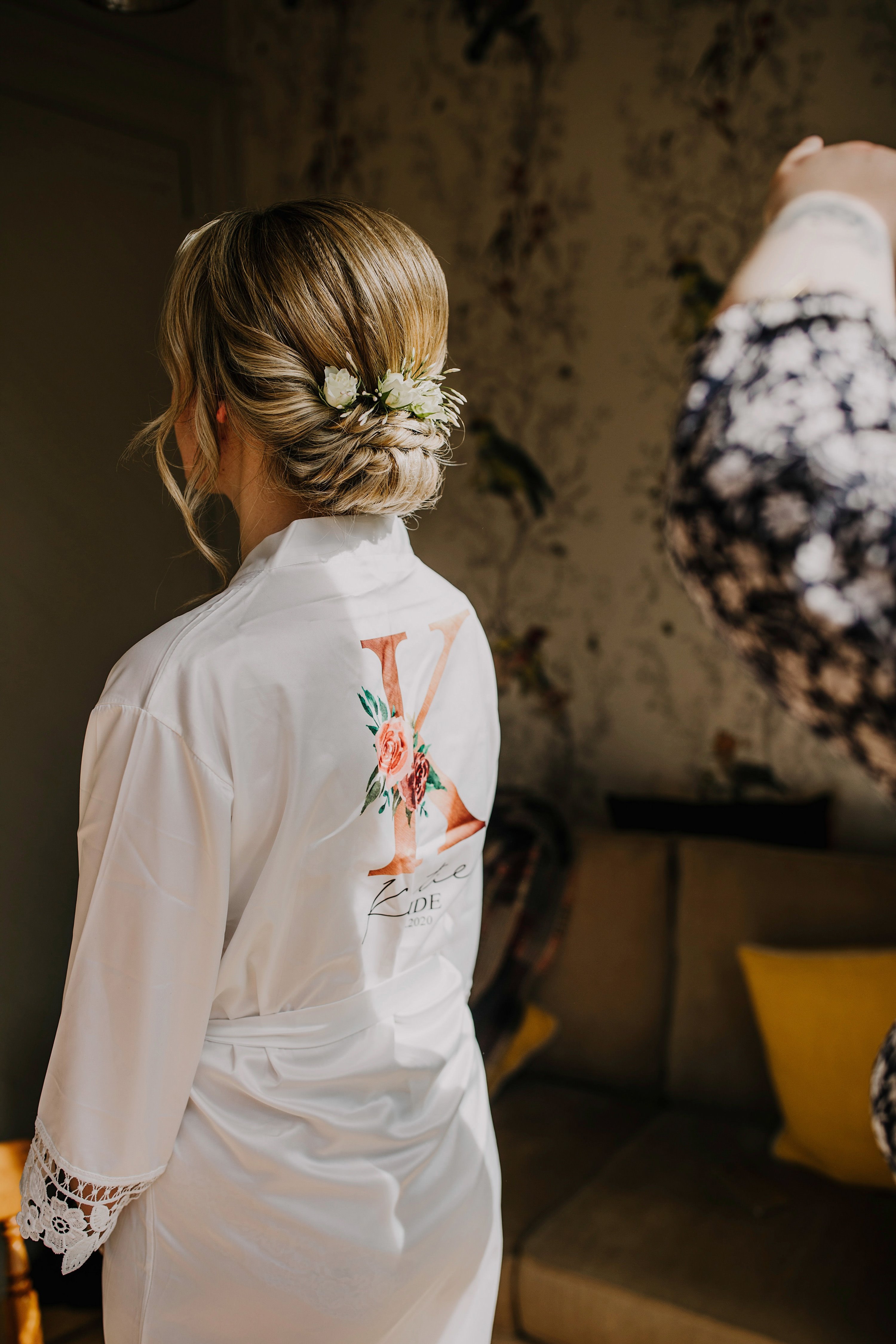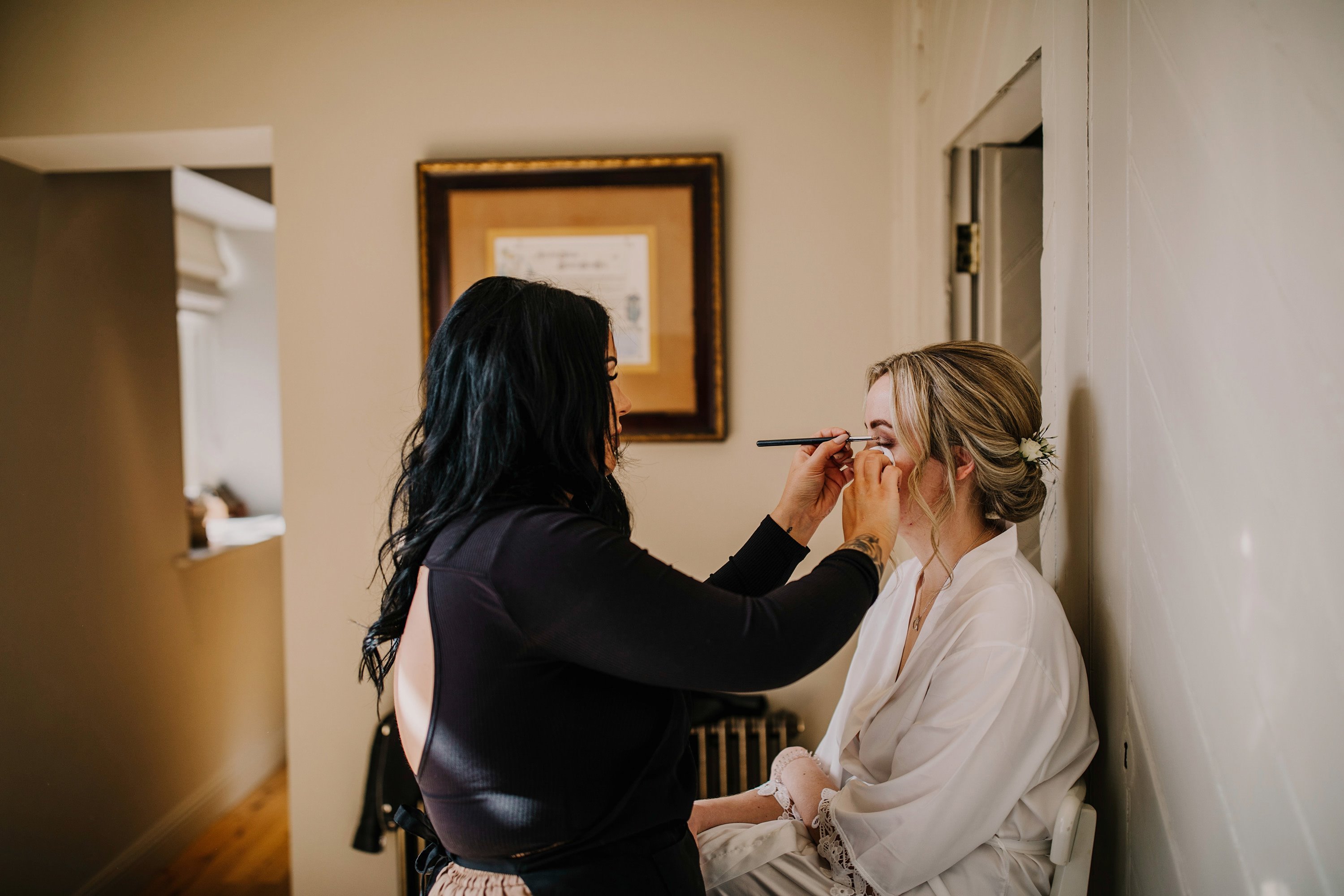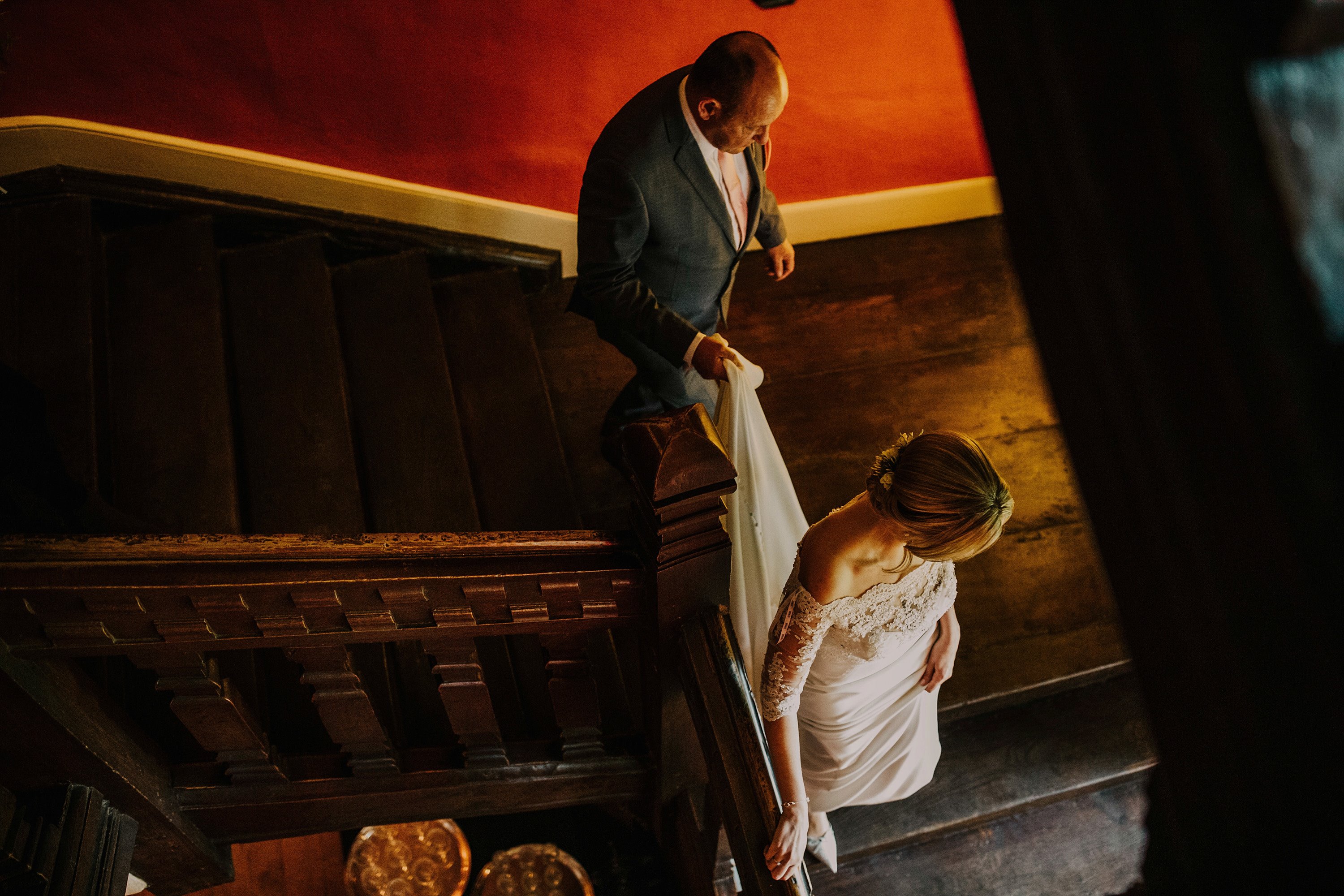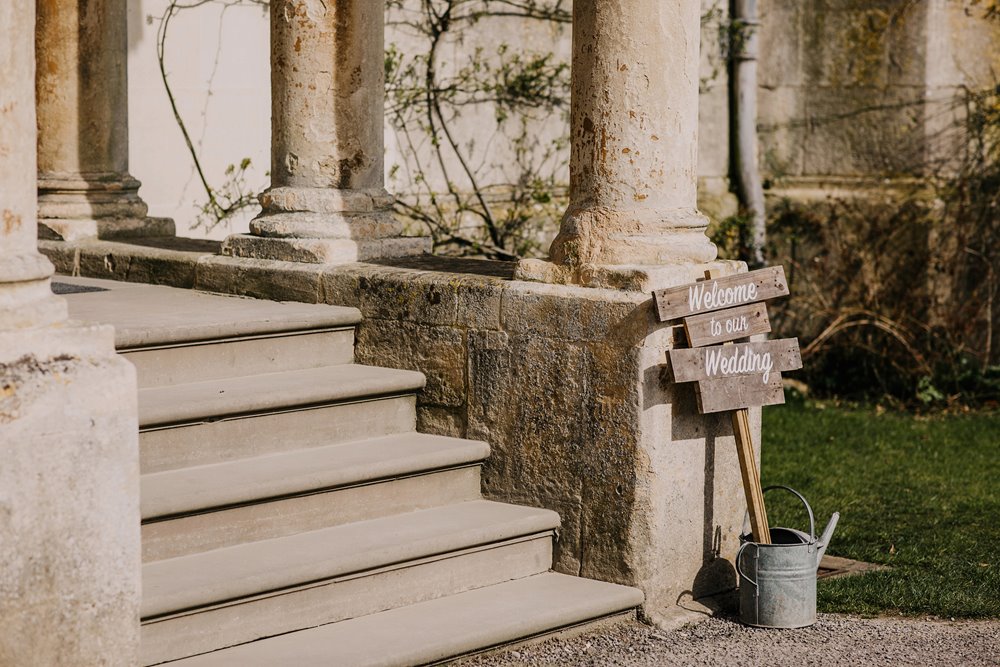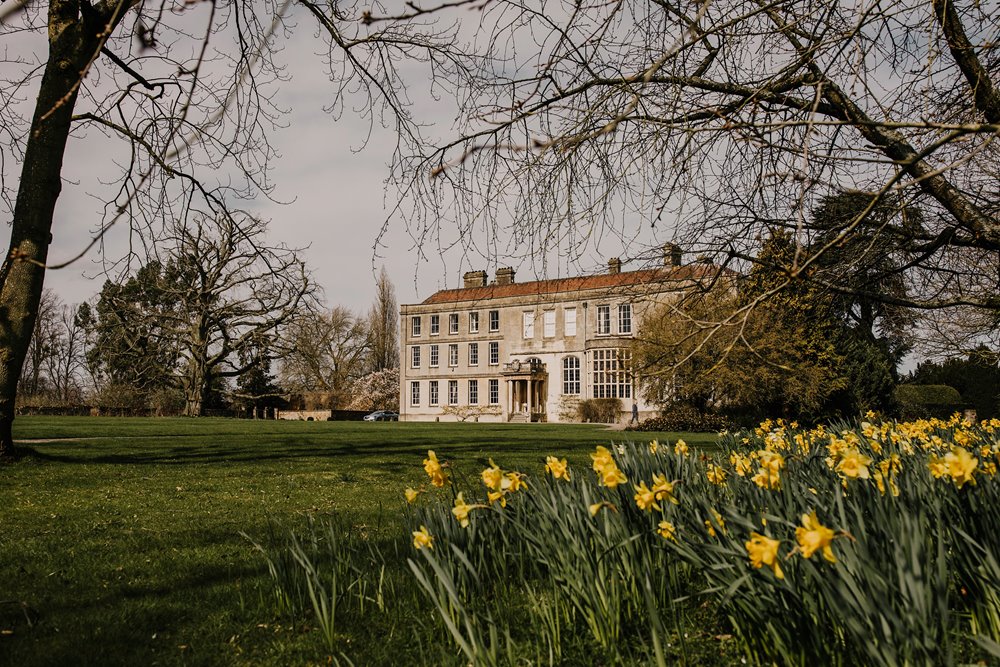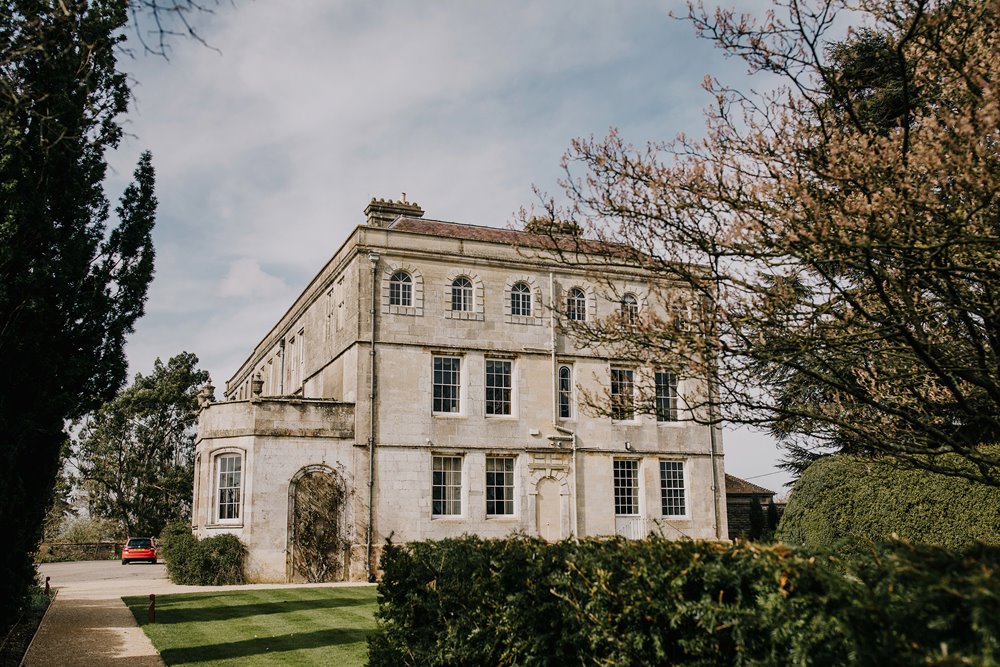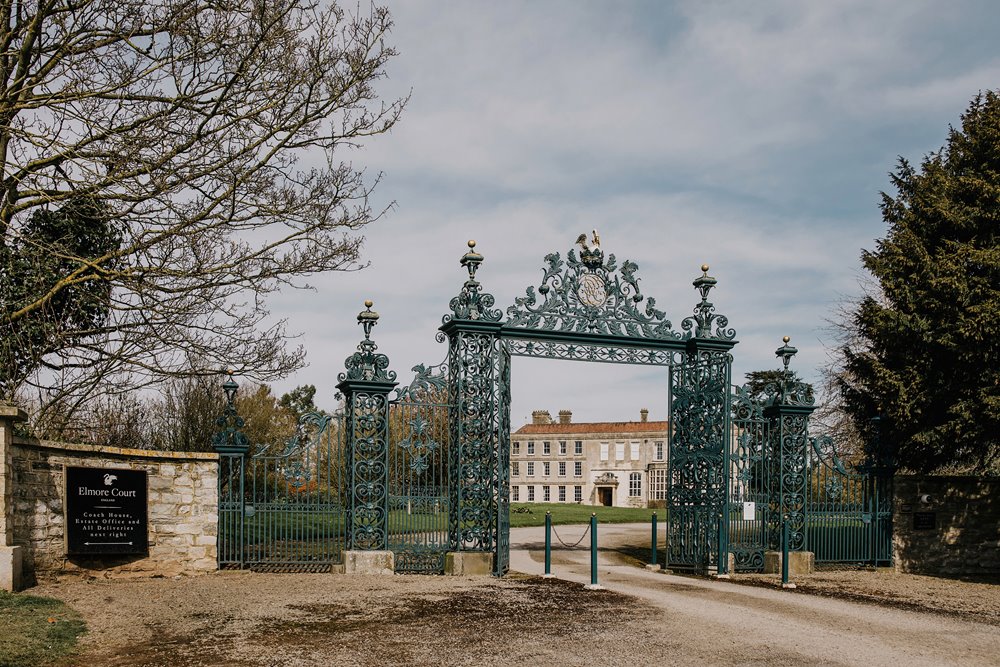 A smaller reception
Having a smaller number of guests meant that we had a lot of quality time to spend with our friends and family during the drinks reception. Rachel suggested that we took 10 minutes after the ceremony to just be with each other, and we were so glad we did. Once we rejoined the party we had lots of canapes and bubbles, with Cotswold Wedding Guitarist, Matt Bee, setting the scene with his acoustic guitar.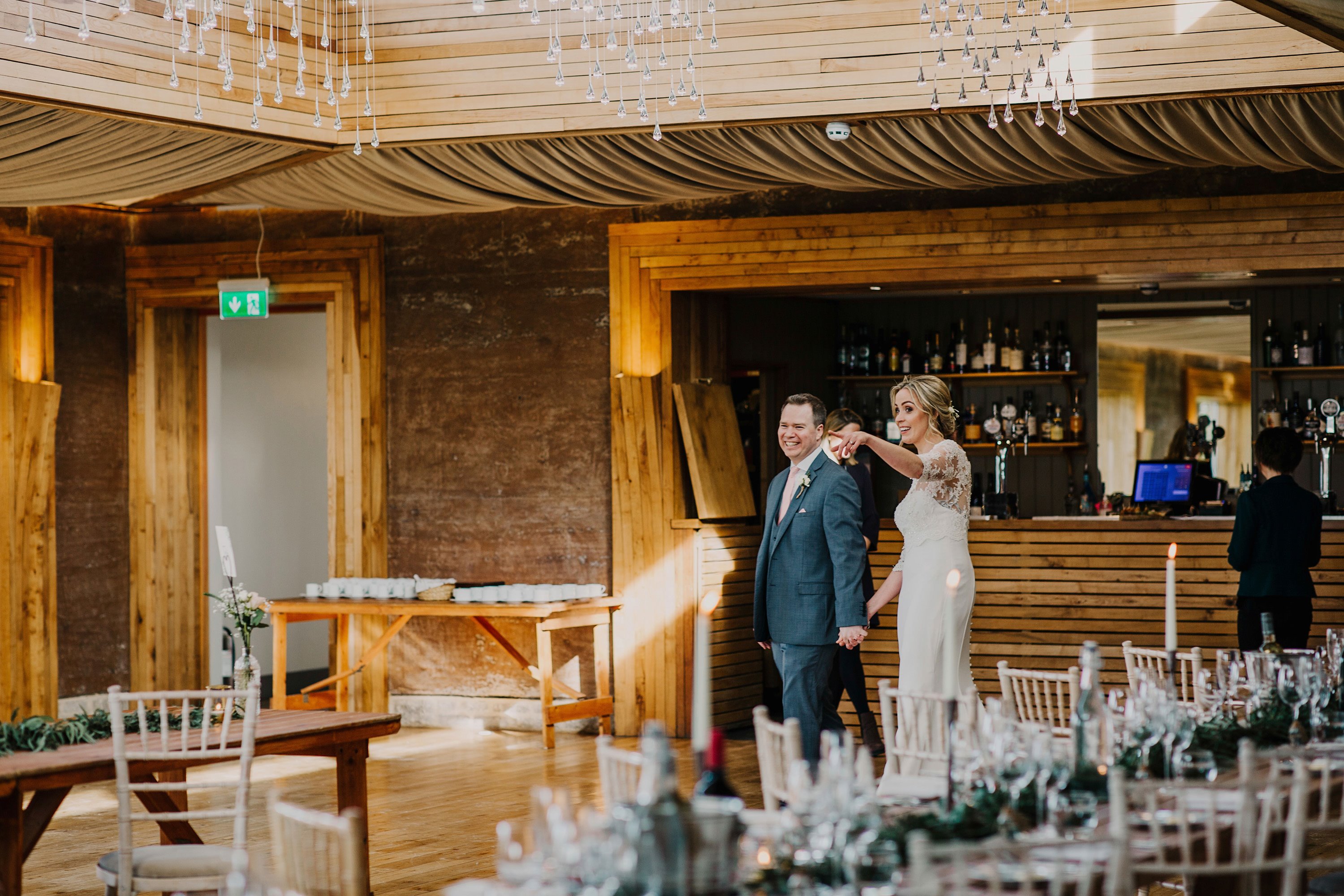 What did you think when you saw The Gillyflower set up?
We couldn't have asked for any more from Claire and the team at The Wilde Bunch for the way that that they dressed the Gillyflower. It was everything we hoped for and more, from the foliage and flowers to the candlesticks, tealights and lanterns. The Gillyflower is such a great space it's hard to imagine making it much better, the first look was pretty overwhelming!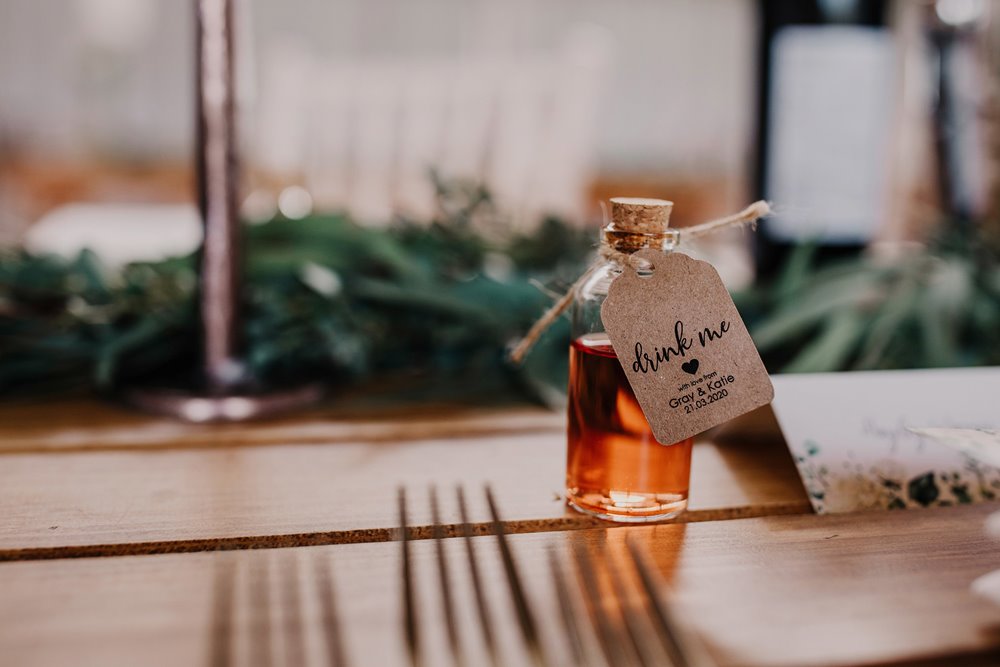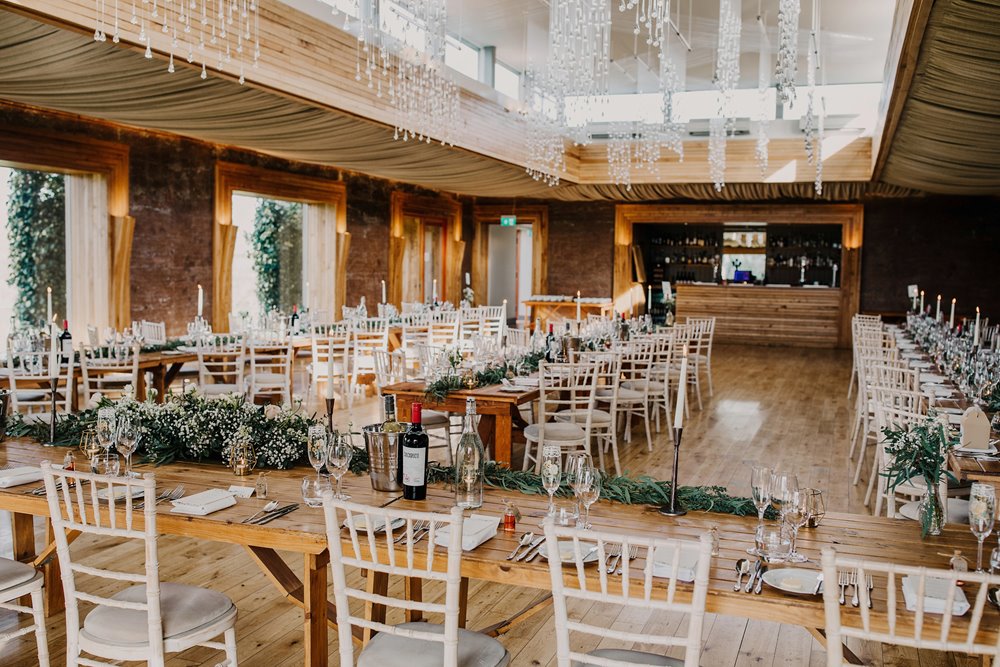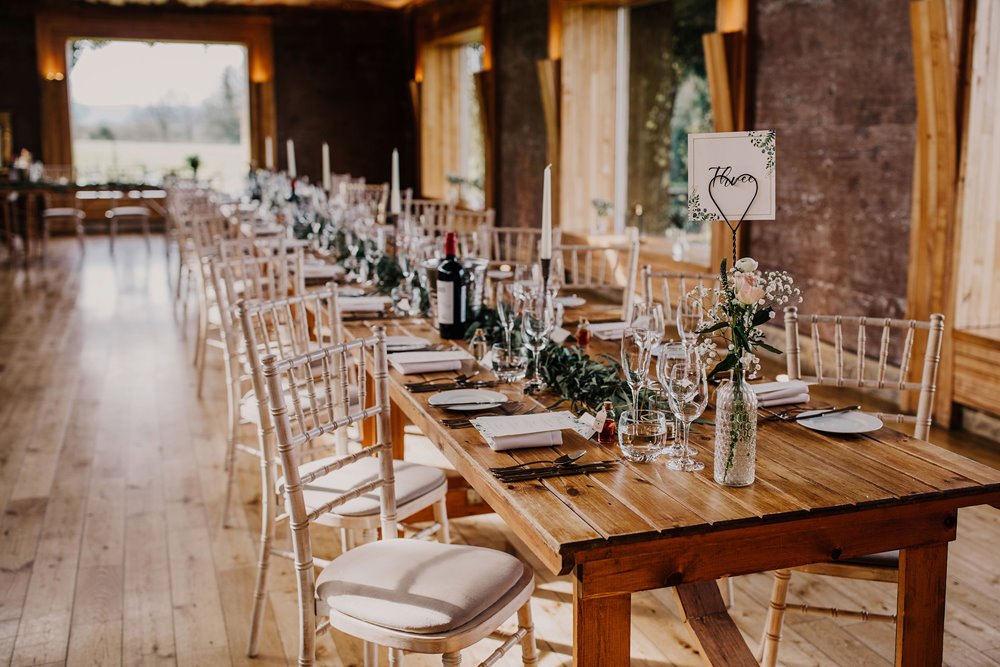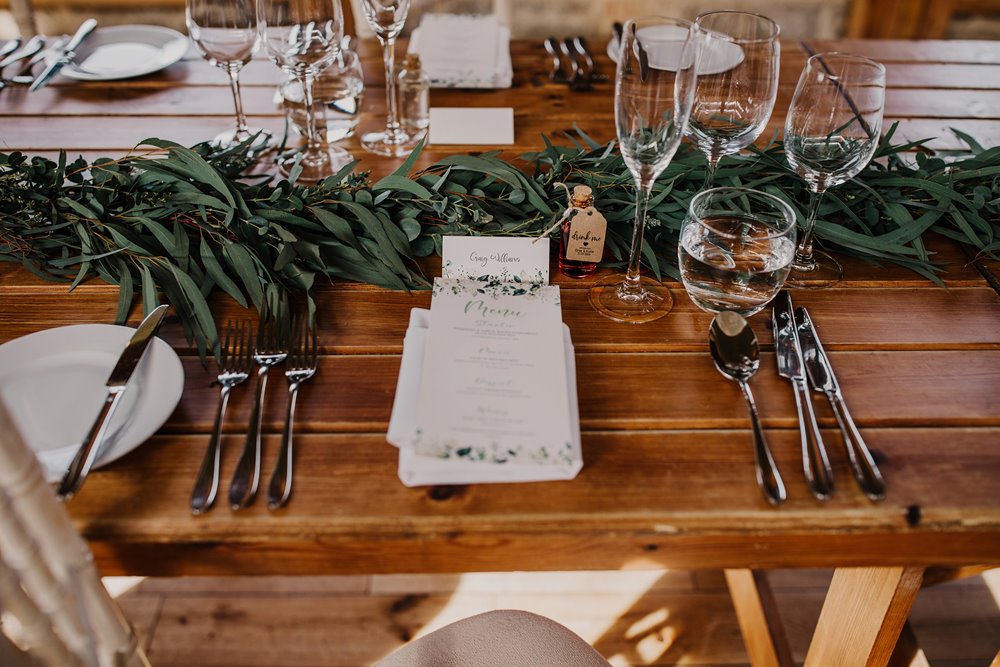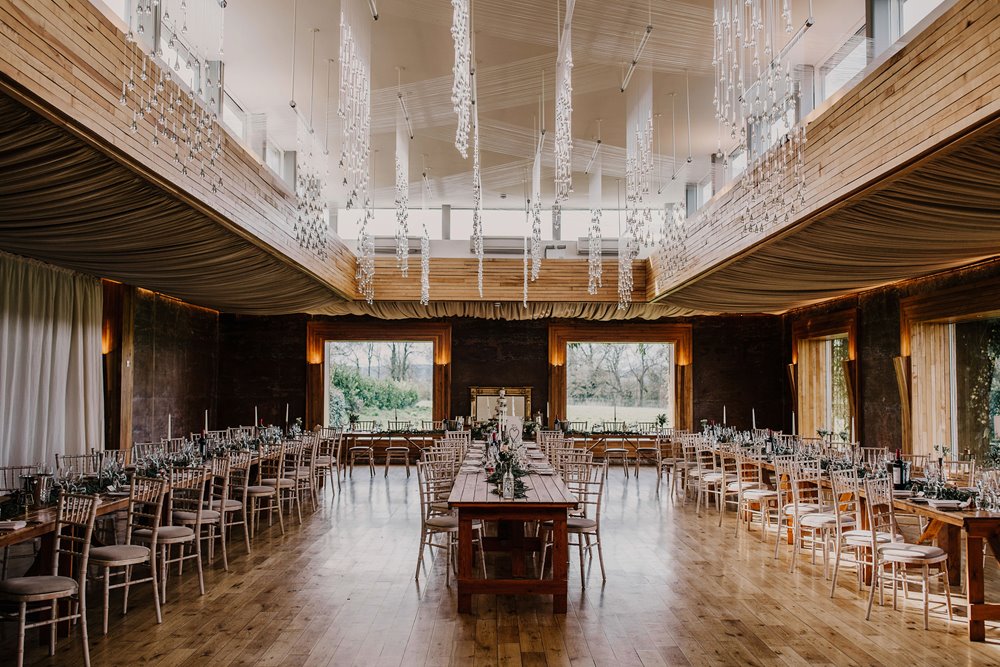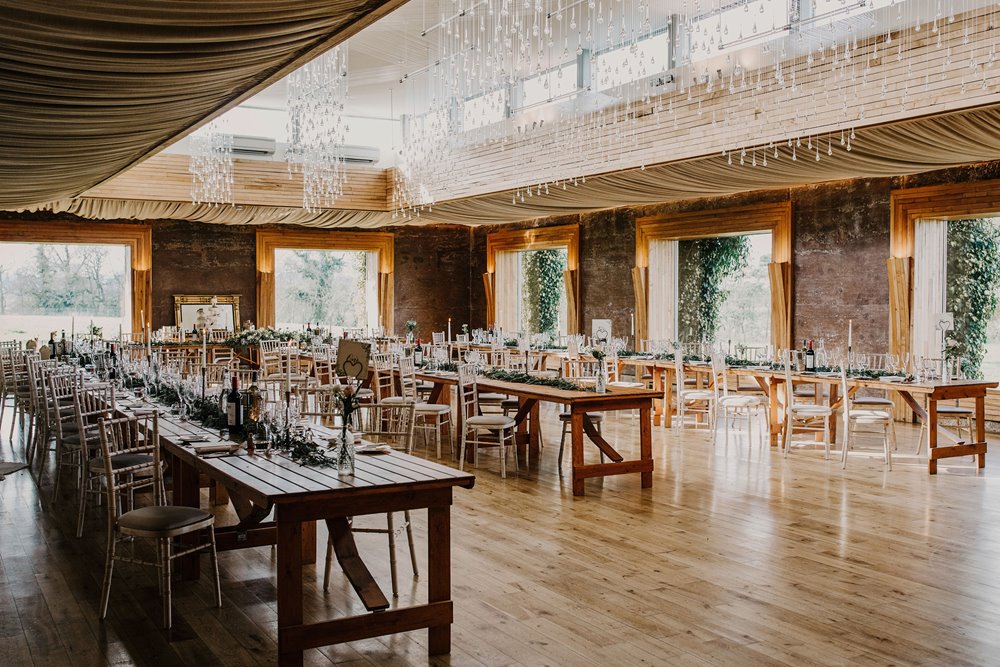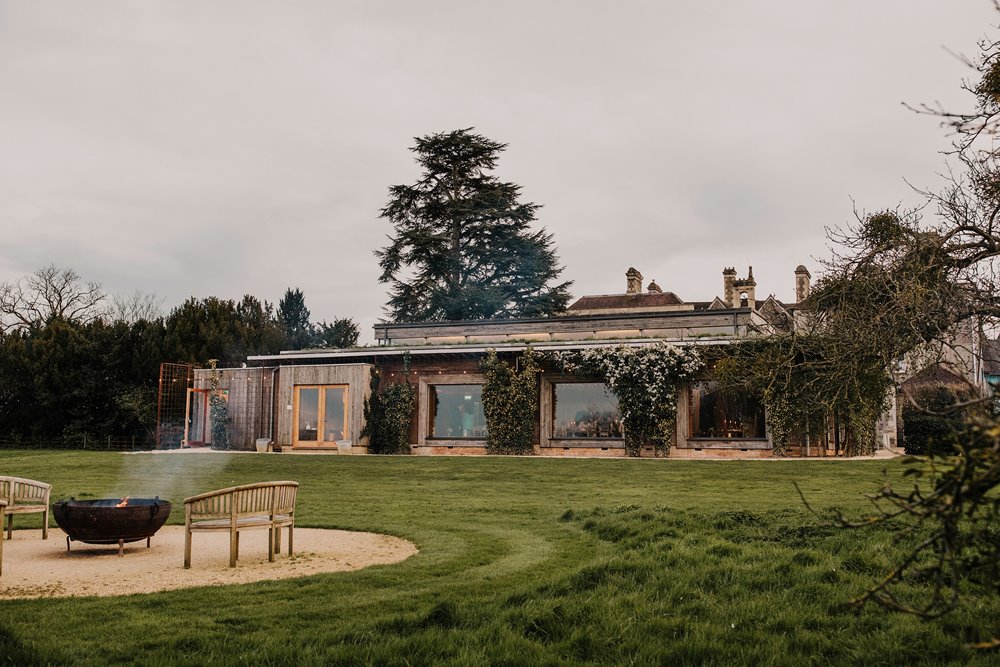 Did you DIY anything?
We did a few bits ourselves, including the gin liqueur flavours and a s'mores station for the fire pit, but our favourite little touch was the candle we had burning whilst I was getting ready, and throughout the day in the entrance to the Gillyflower. It was a classic wedding day scent, but with a personalised jar displaying a photo of Elmore with Mr & Mrs Andrew, Elmore Court 21.03.2020.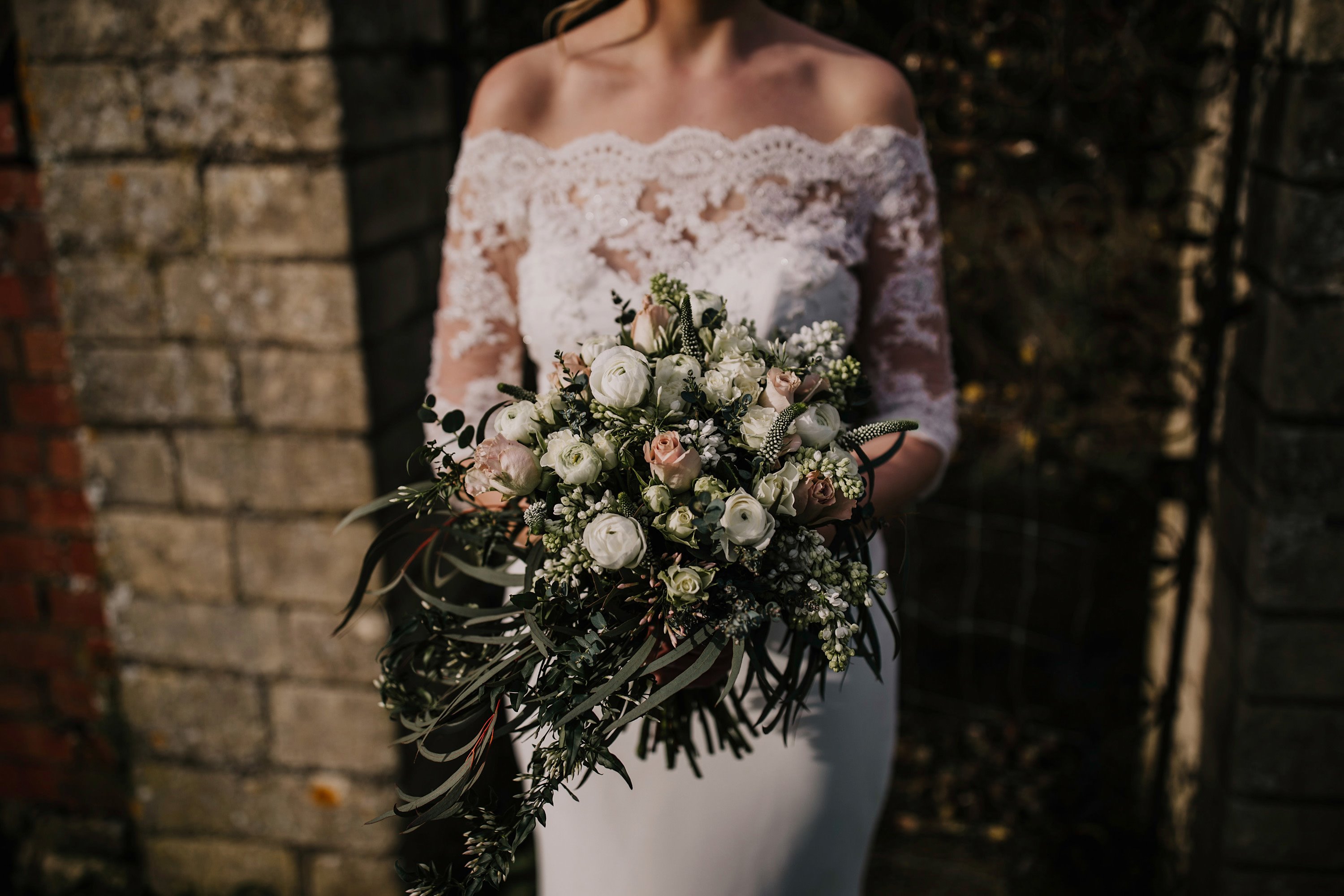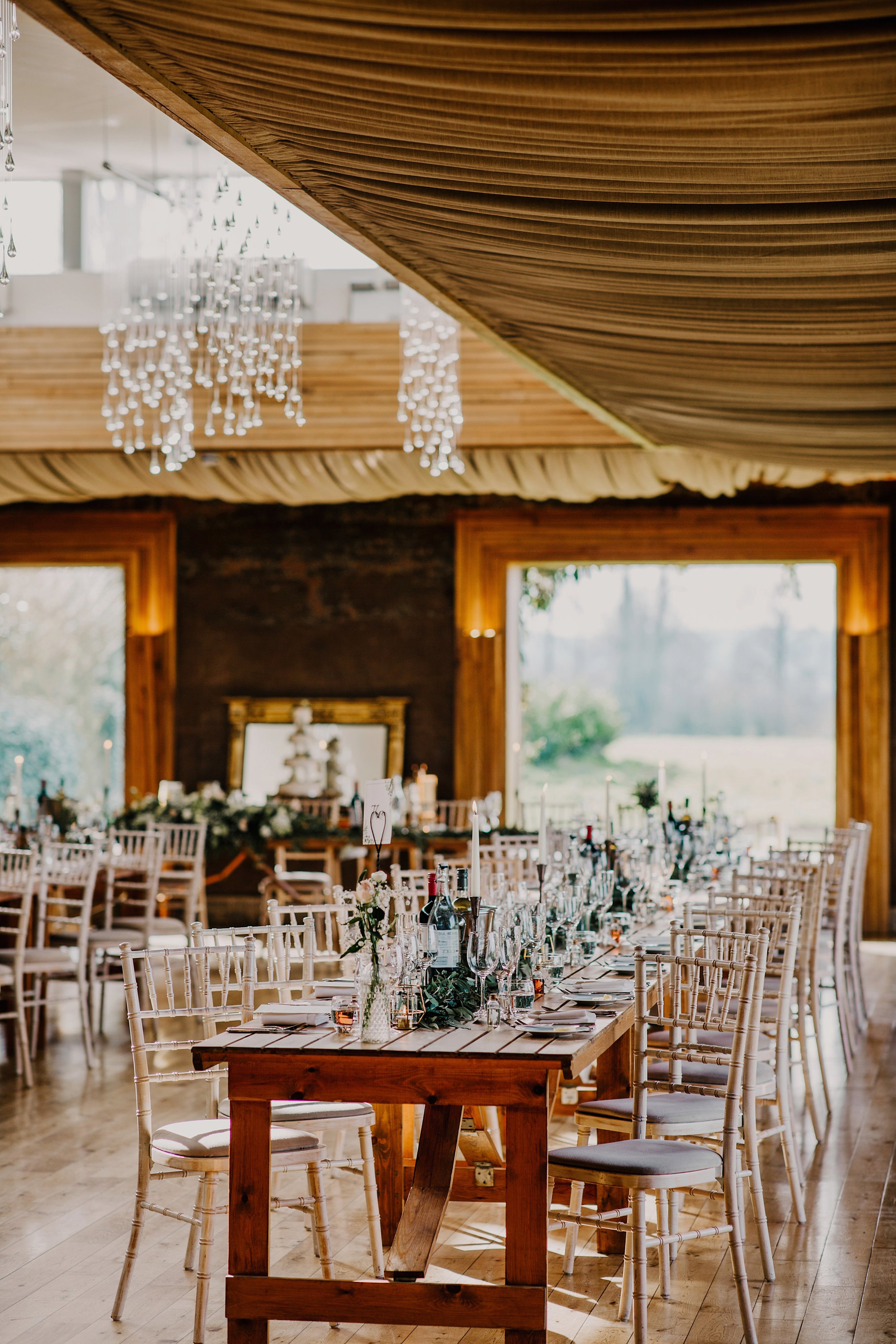 Wedding food & cake!
Making the food choices was so hard! In the end we decided to just go with our favourites – it was our day after all! So we went for the baked camembert to start, Pave of Braised beef for main (I am a sucker for anything with crispy onions) and for dessert, it had to be Sticky Toffee Pudding, with a little nod to Cartmel, the home of stick toffee pudding, where we got engaged!
Our wedding cake was a 4 tier classic cake from M&S, decorated with fresh flowers. Two days before the wedding when my Mum went to collect it for us, she was told that it had been given to another customer by mistake, with her own cake. When they called the customer, it transpired that our cake had been taken to Torquay! This resulted in the poor lad from M&S having to Torquay Torquay collect it for us. The cake was both delicious and well-traveled!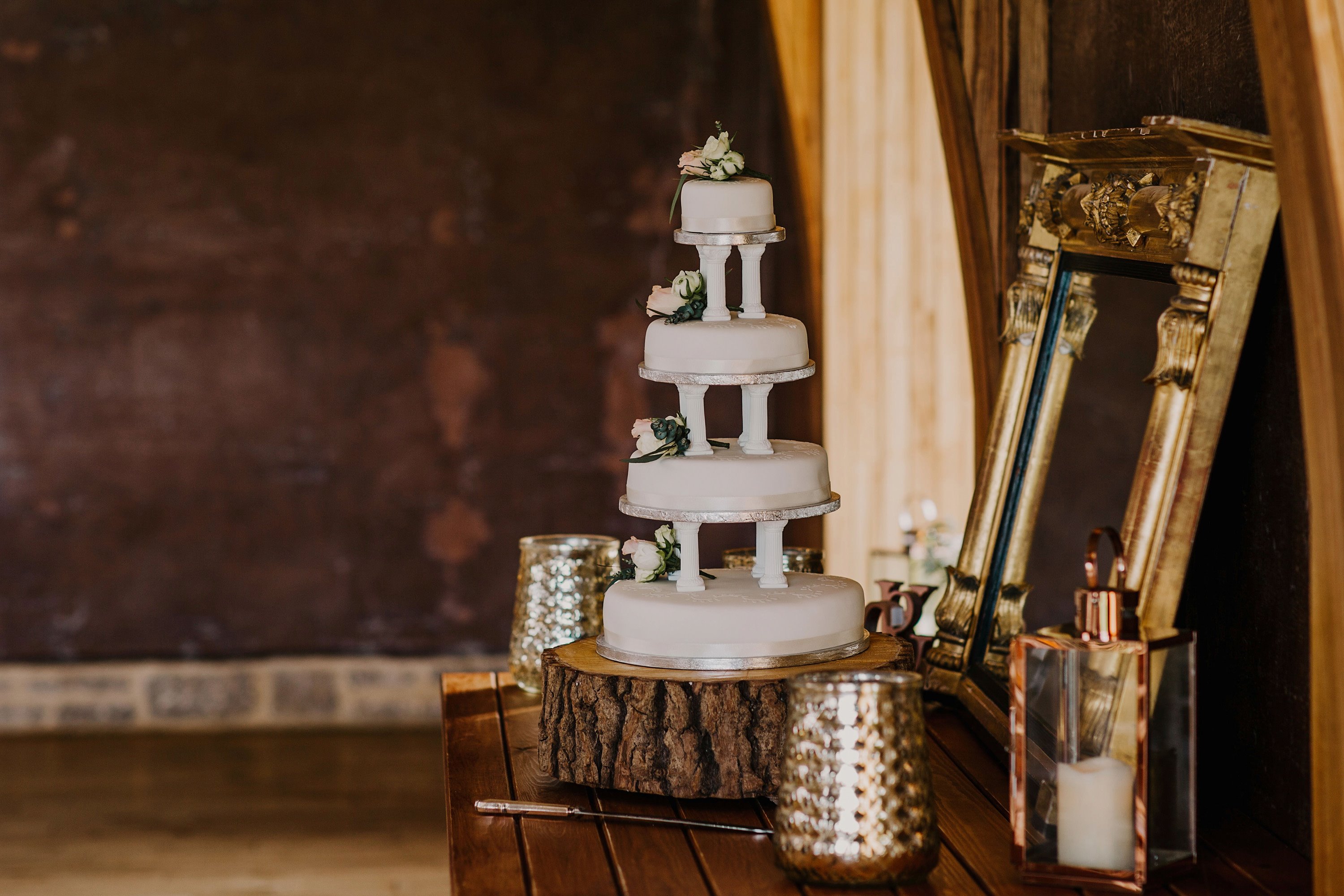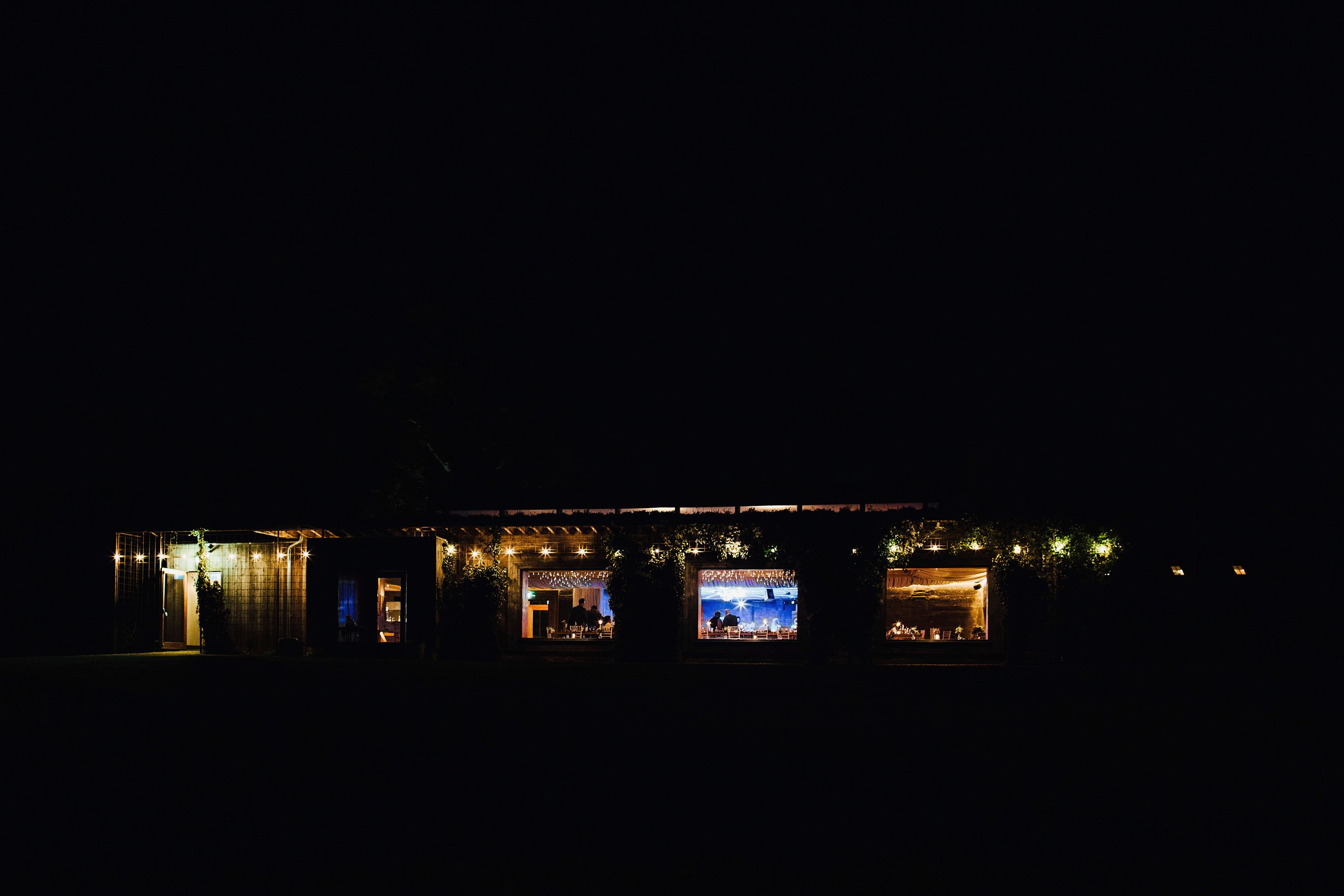 Did you have evening entertainment?
Matt Bee played whilst our guests arrived and all of our ceremony music. Matt learned some songs that we requested for our ceremony (Prettiest Eyes by Beautiful South and America by Simon & Garfunkle) which added a personal touch.
We asked Luke Nukem to play for our evening entertainment. We wanted a good party, and asked him to play to the crowd. He did just that! Despite the reduced number of guests, the dancefloor was full all night!
Your first dance
We danced to Trust in Me by Etta James, joined by our little boy Stanley. We had hoped that our little girl, Elsie, could have joined us for the first dance too, but the day had taken its toll and she was already tucked up in bed.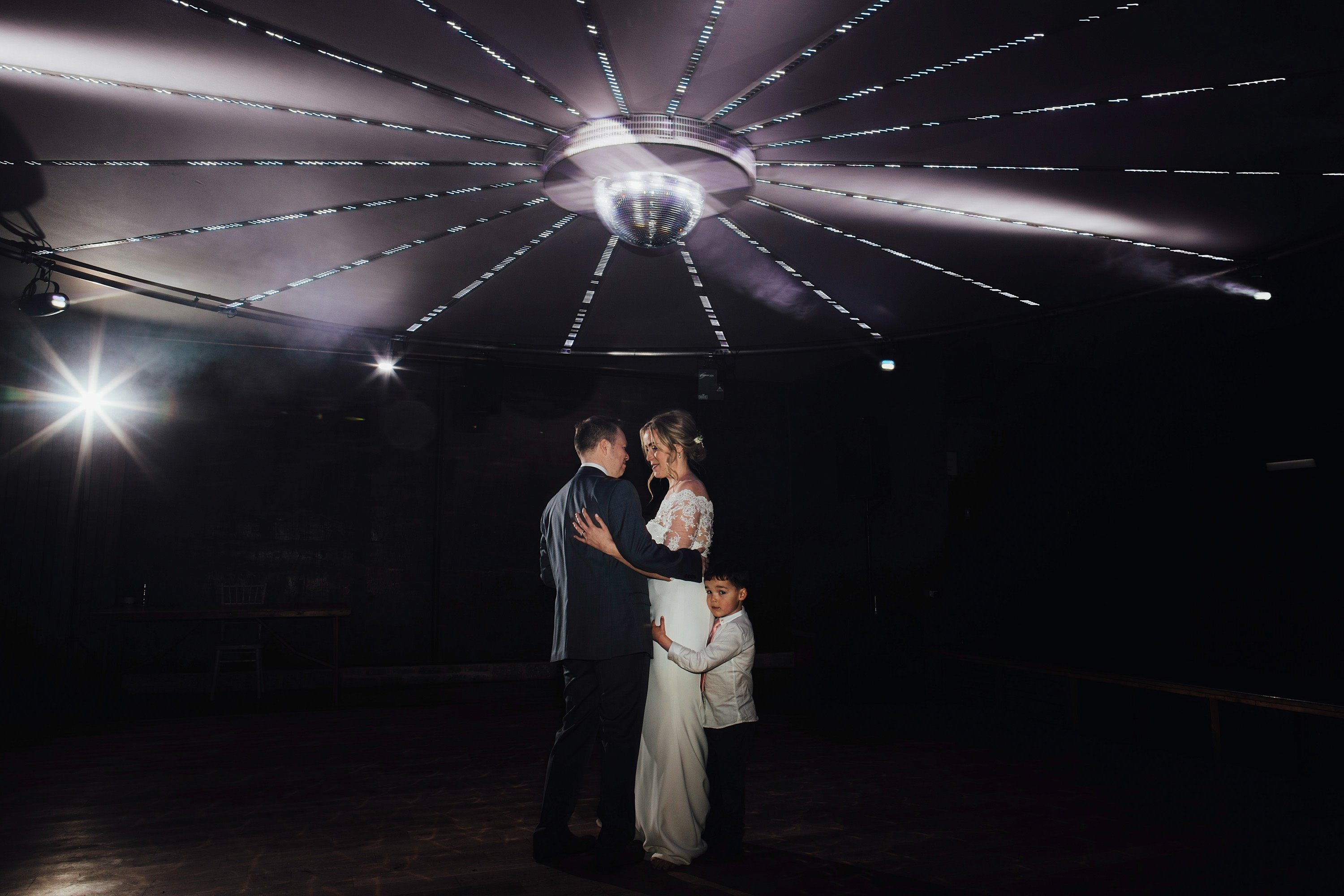 What was your best moment?
Finally seeing Gray's face as I walked down the aisle and realised that we were actually going to get married. We have both said that right up until that point we were both convinced that something was going to stop it from going ahead. We were actually doing this!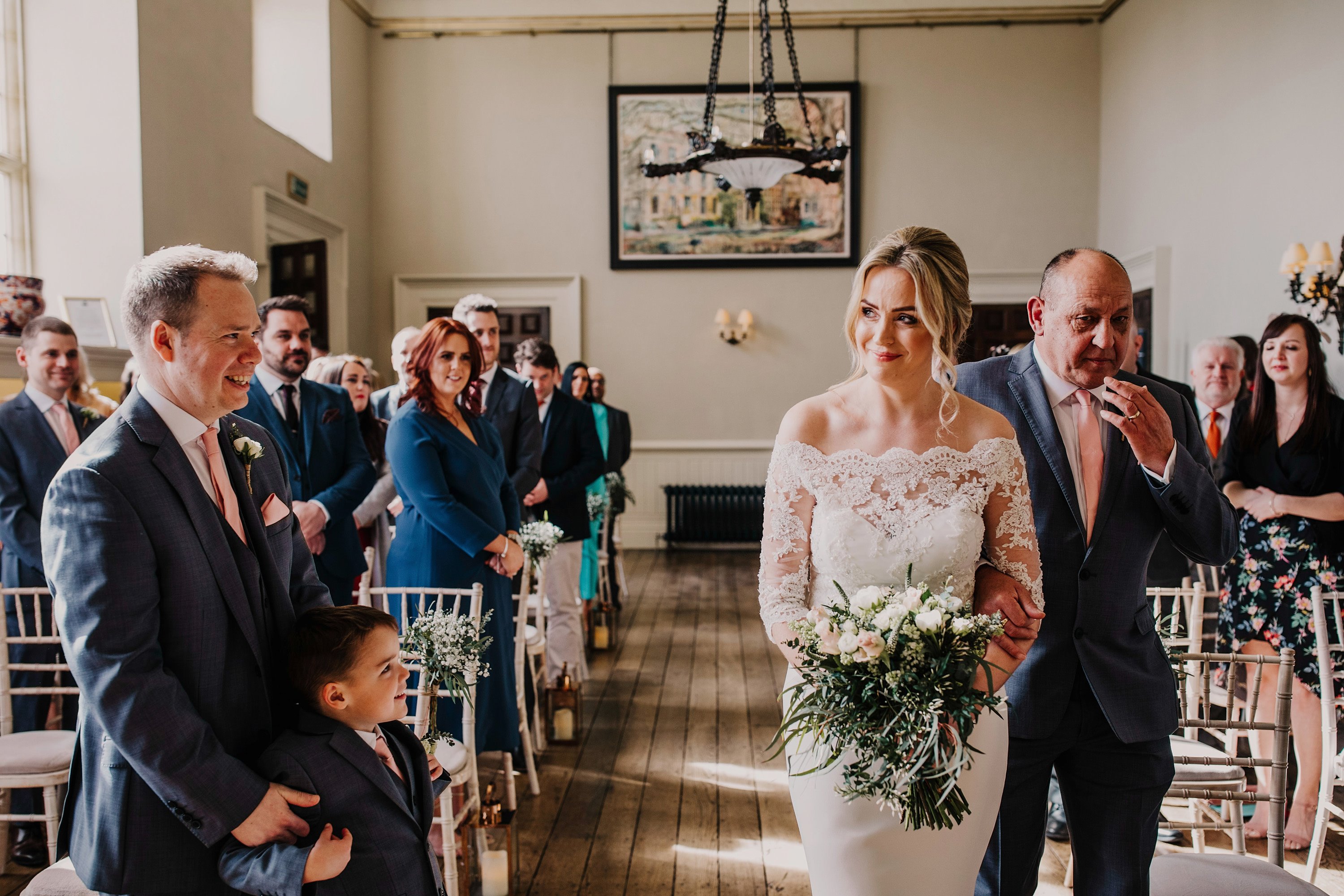 Any surprises?
Opening the gift box from Gray whilst I was getting ready. As well as a beautiful card, I had a bottle of bubbles and Tom Ford perfume which was a new scent for me and will now always remind me of our wedding day!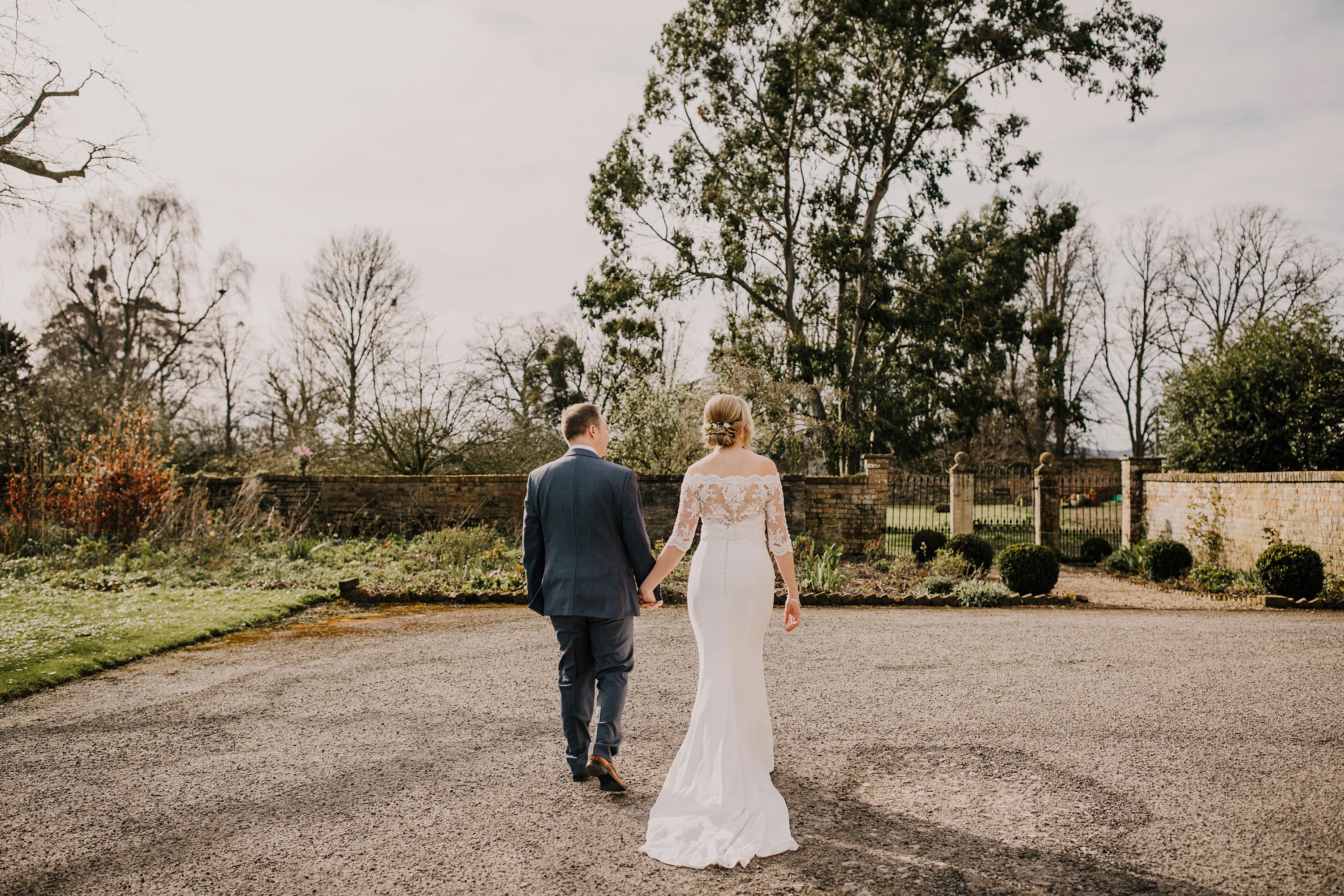 Covid 19 wedding advice
We were so close to our wedding being cancelled, and we honestly switched between wanting to cancel and wanting to go ahead so many times during that week before the wedding. We didn't have all of the guests with us that we wanted, we didn't get the evening food that we had planned from Boxfresh food van, but from the moment I woke up in the coach house on the Saturday morning, Team E did everything in their power to make us feel like the day was not about anything but us.
People couldn't hug and kiss each other, or us, and congratulations were given from a distance.
But a number of people commented throughout the day how the amount of love that they could feel in the room was unbelievable.
And that's all that mattered.
Our wedding day at Elmore, regardless of everything else going on and measures that were in place, was a pure celebration of love.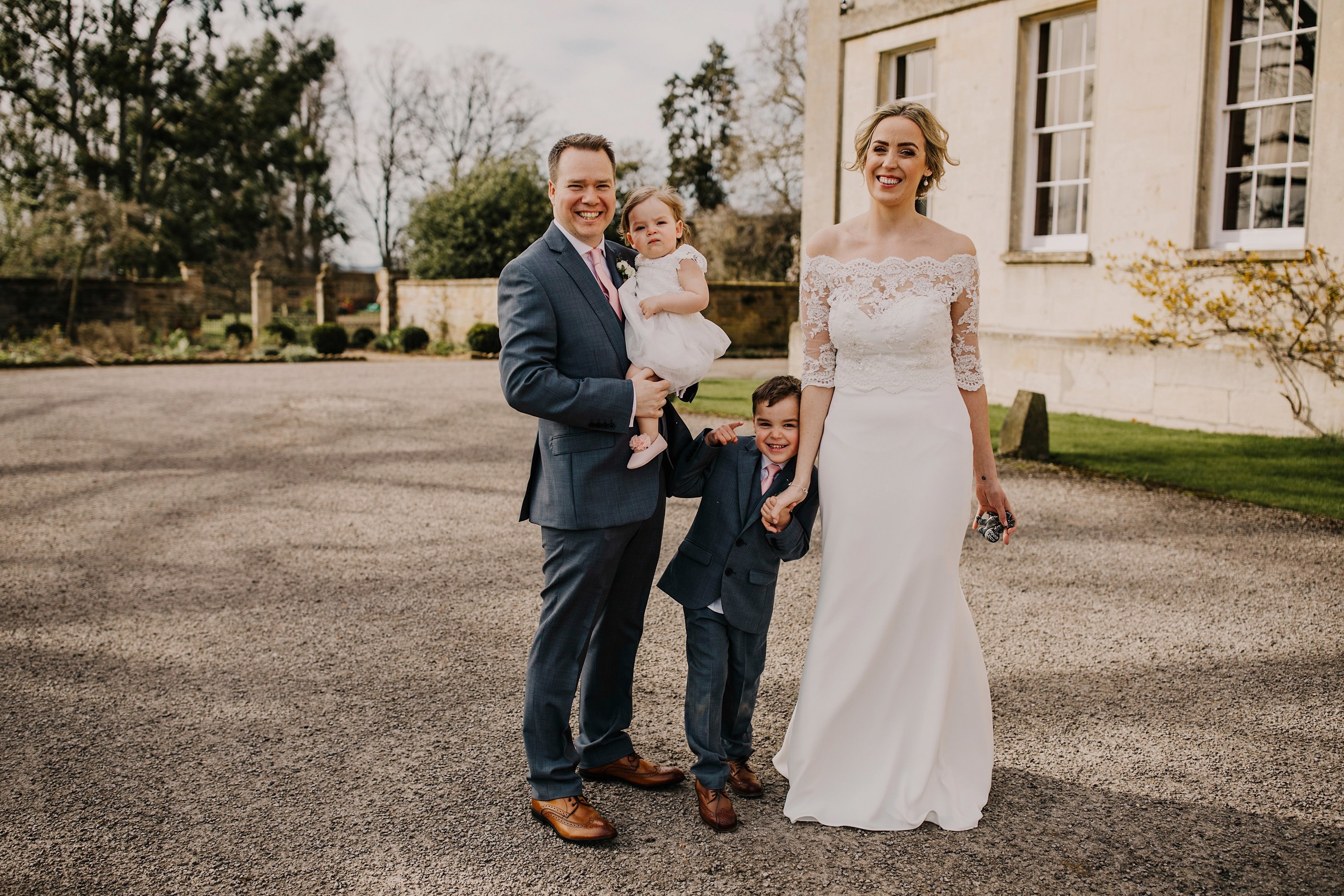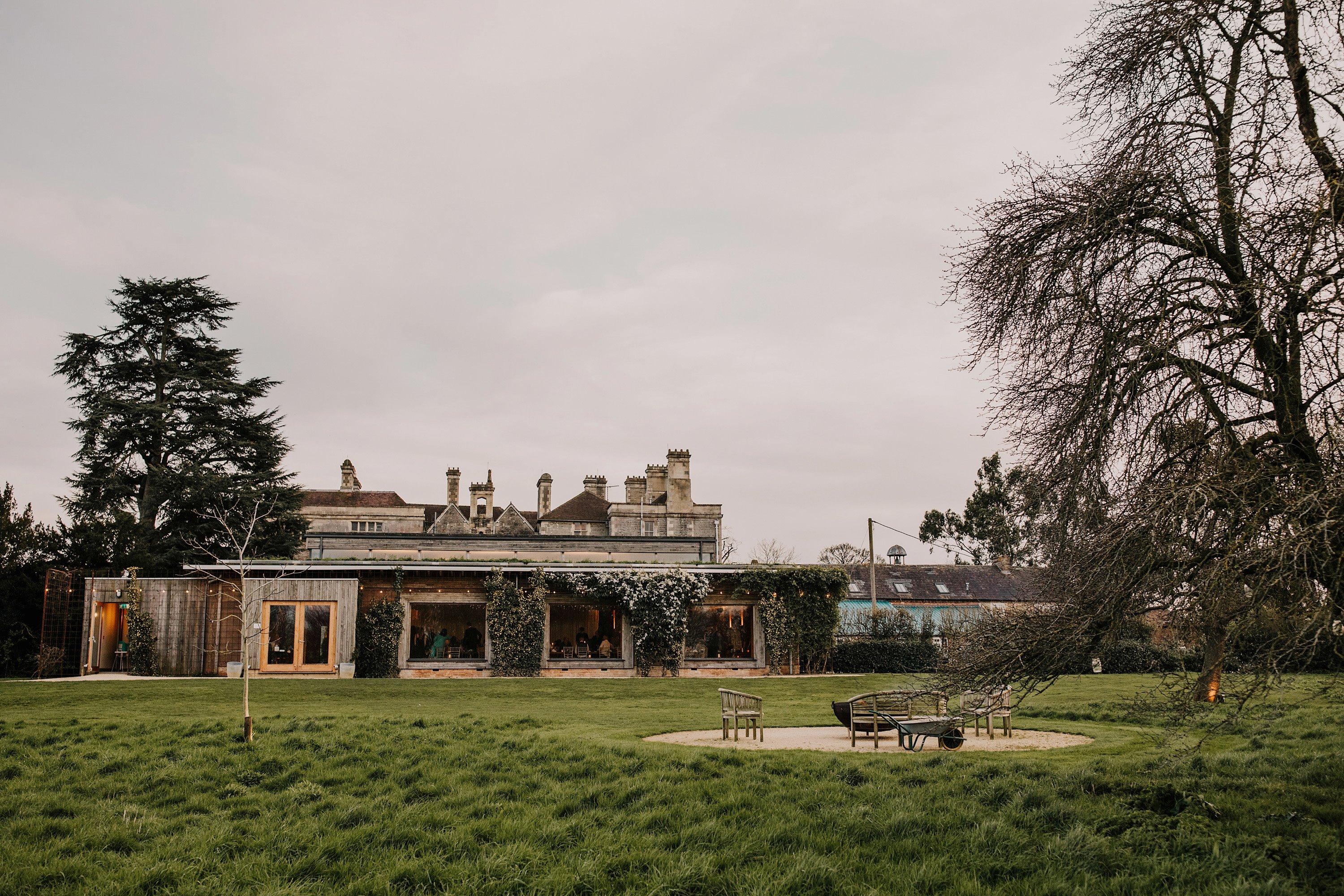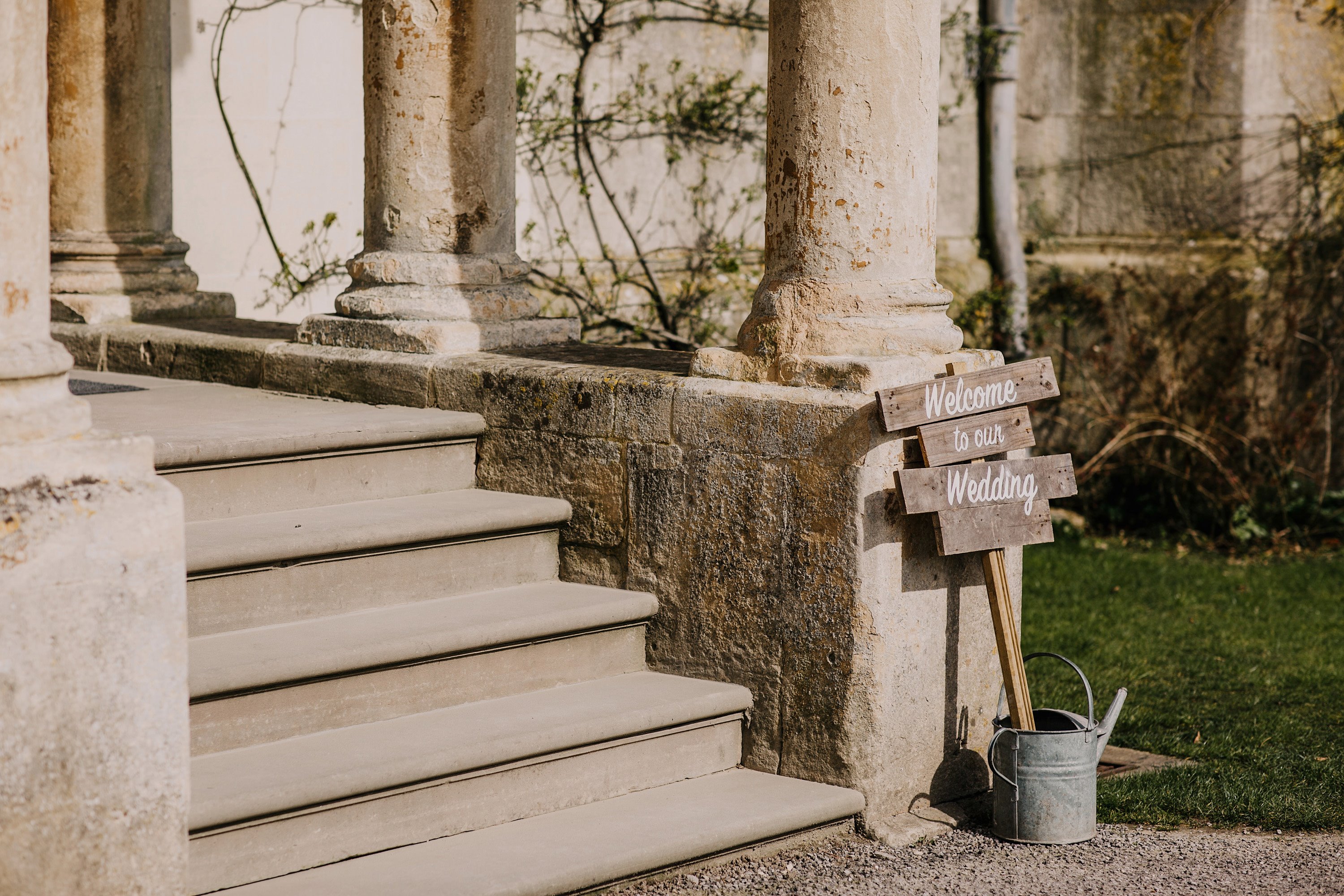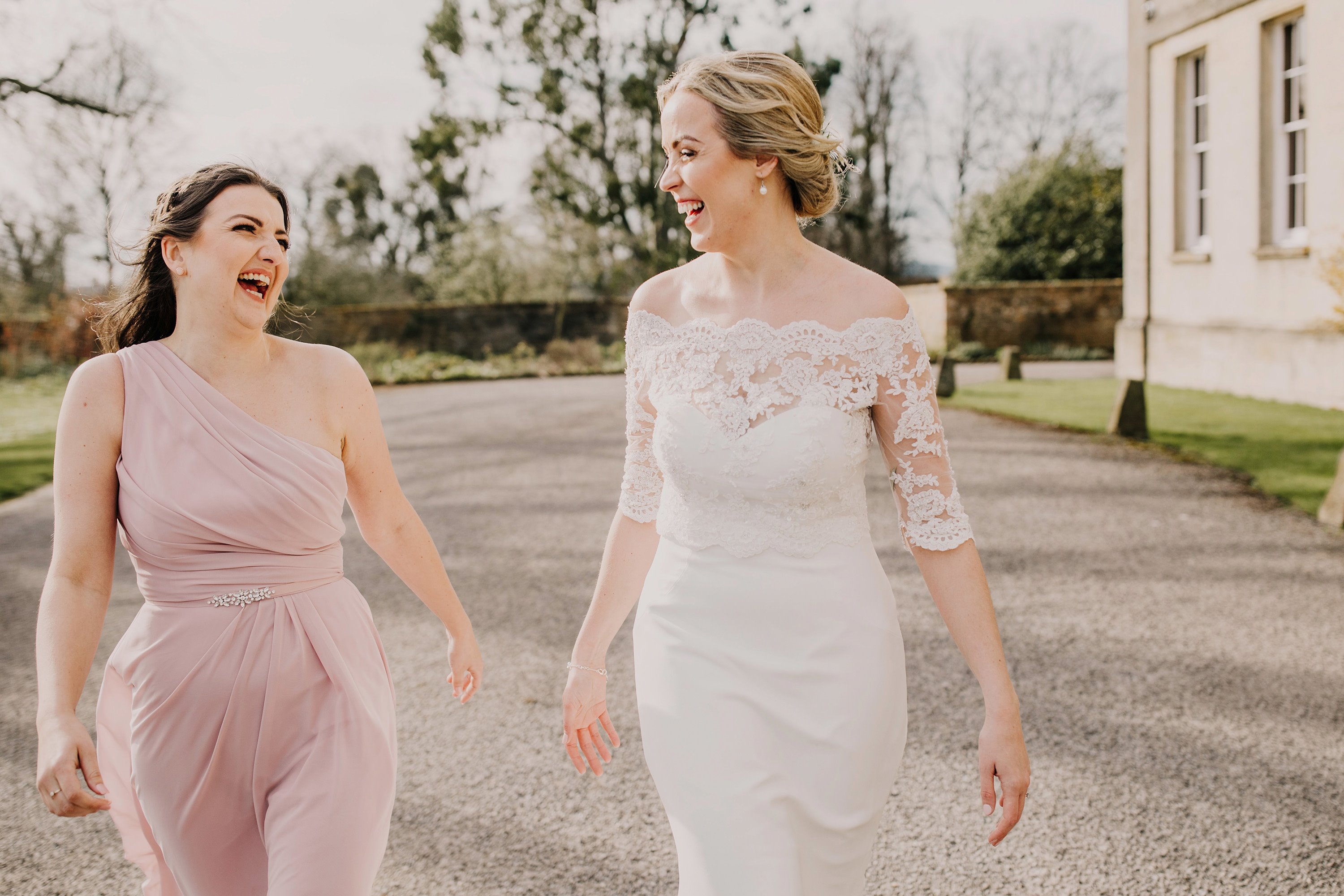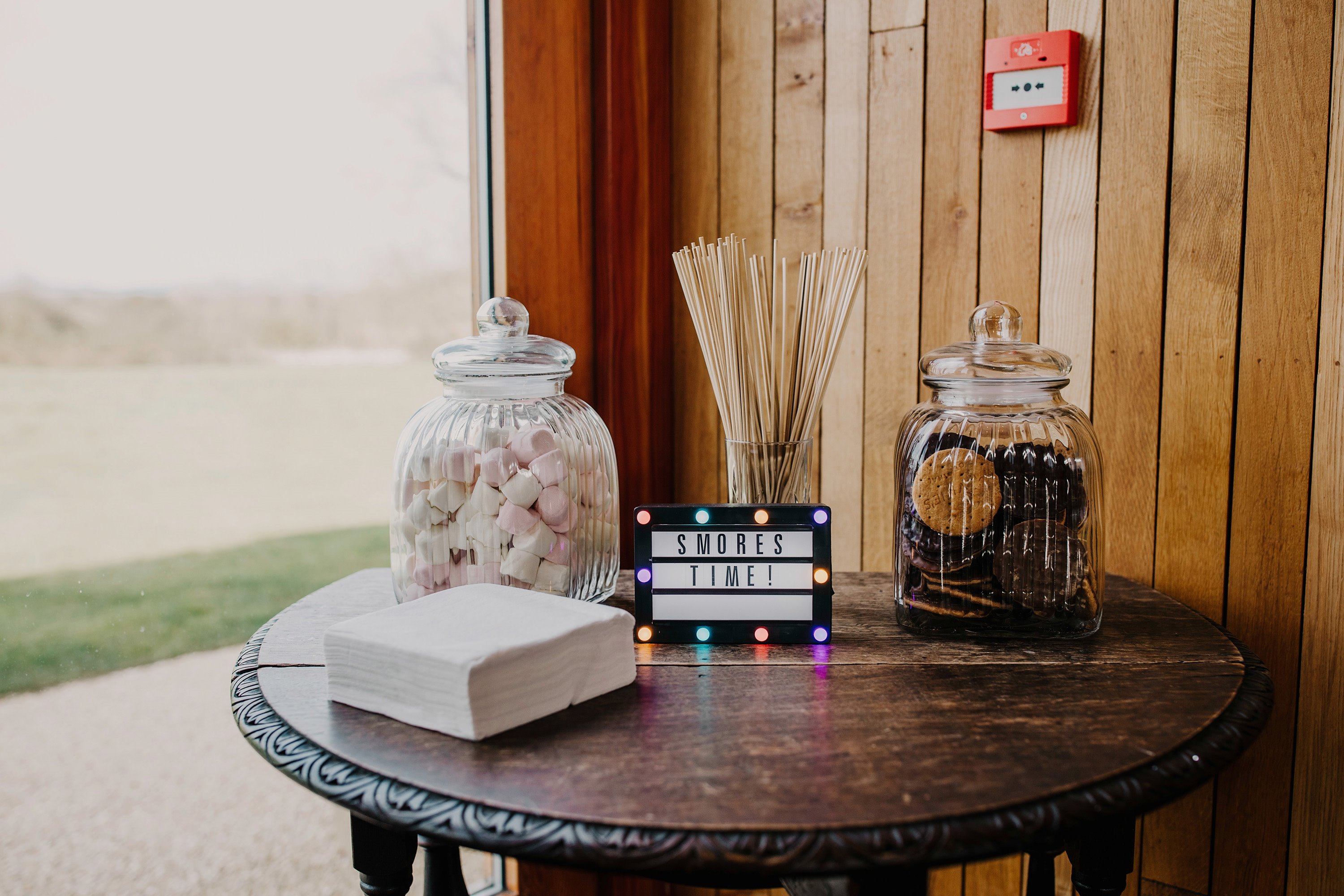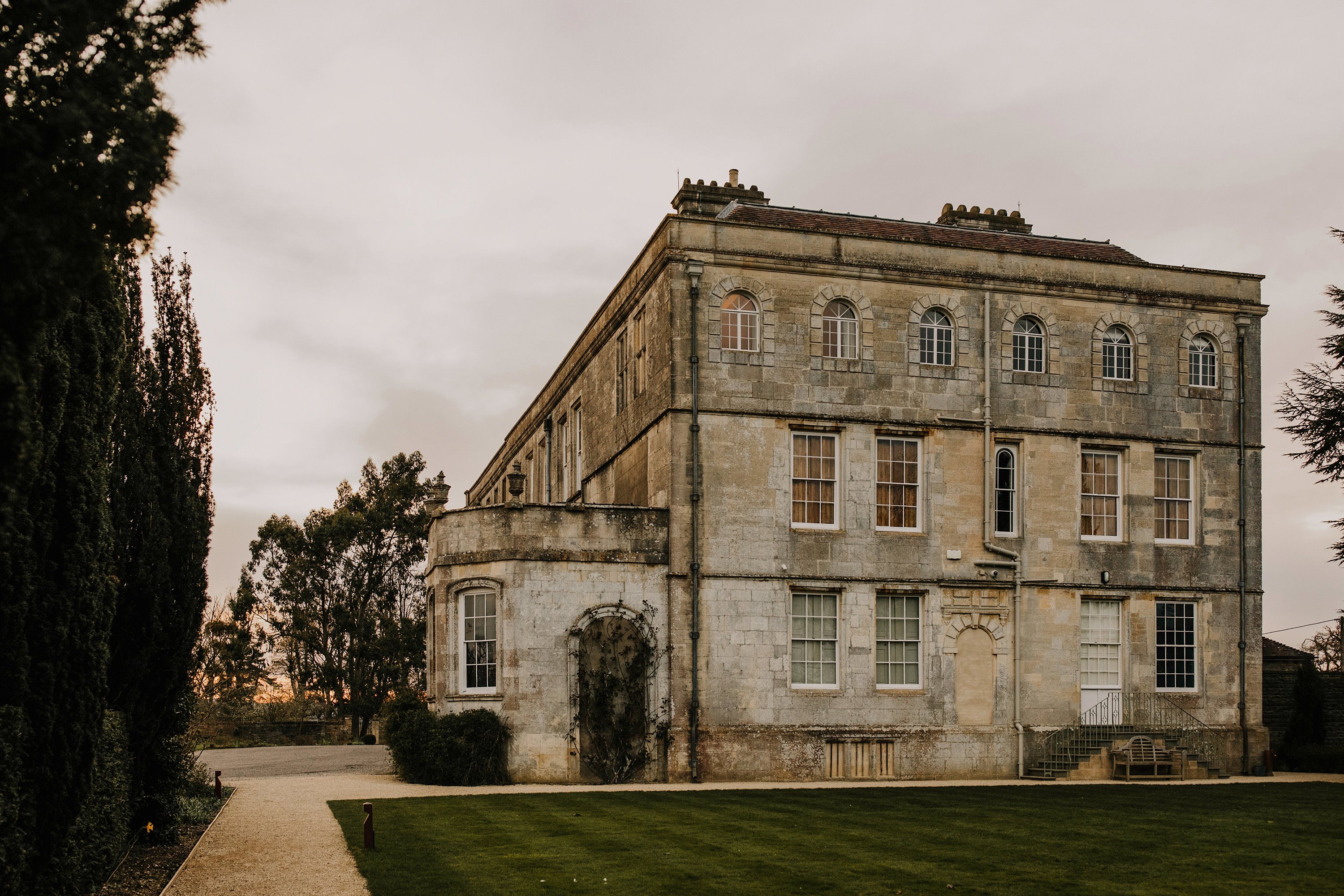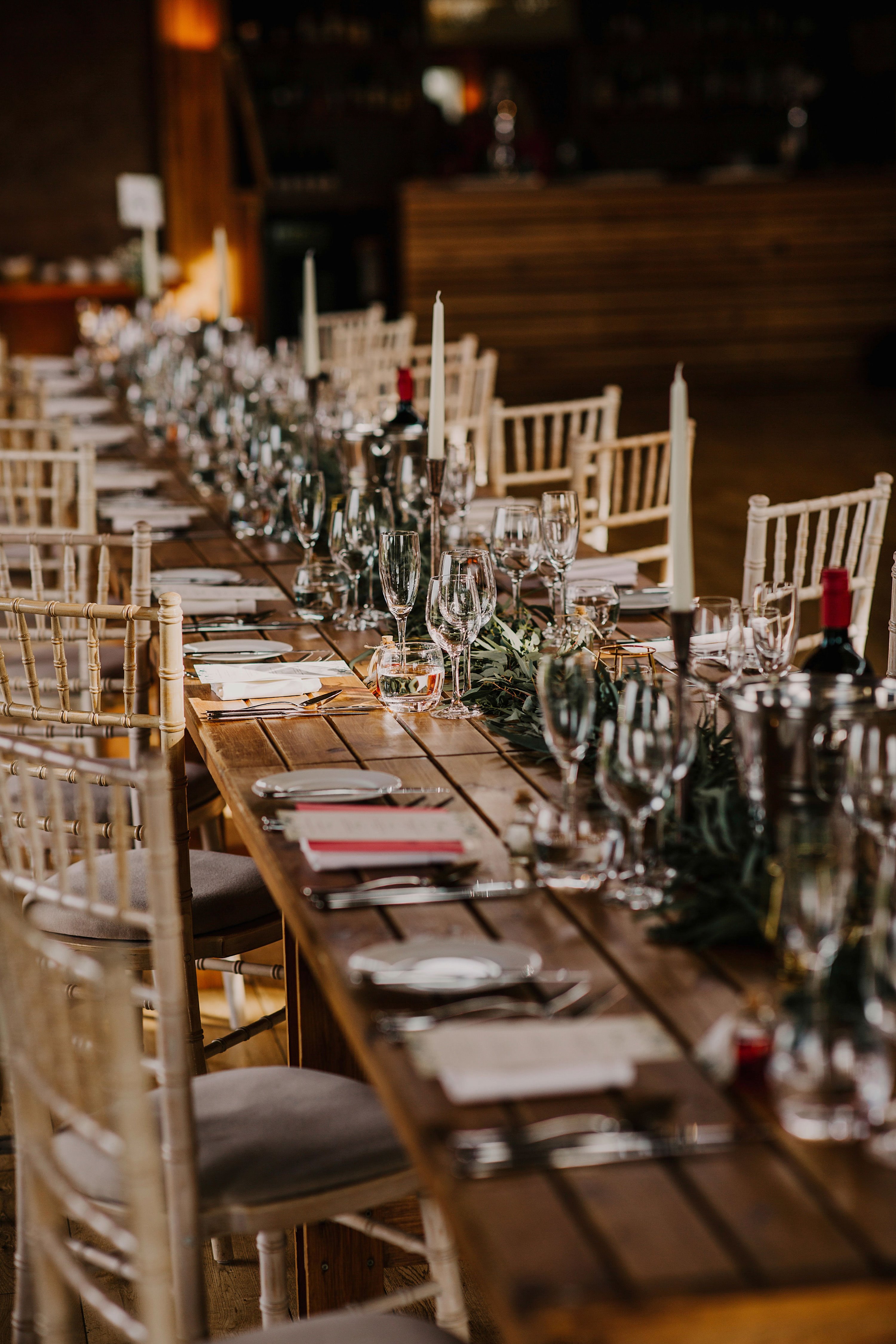 Related reading