Outdoor weddings are legal!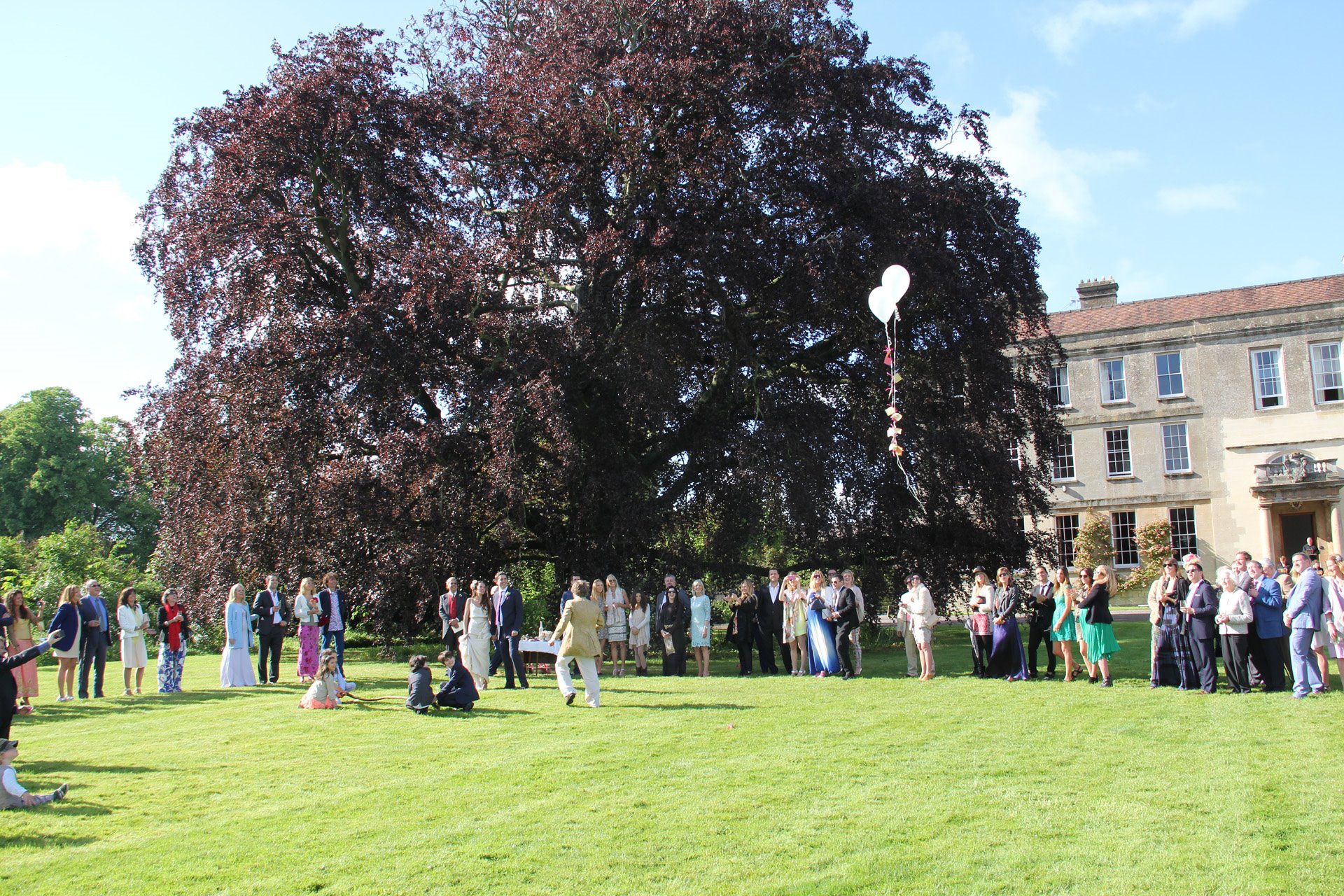 Outdoor weddings have long since been a favourite of nature lovers such as us, and we couldn't be happier to hear the Government announcement that weddings outside would finally be legally binding! You have until April 2022 to make the most of this change in UK wedding law (we hope the rumours of extended this turn out to be true), so we took the opportunity to go through the archives and put together a bumper crop of beautiful outdoor wedding photos to give you all the inspiration you'll need to plan the perfect summer wedding outdoors...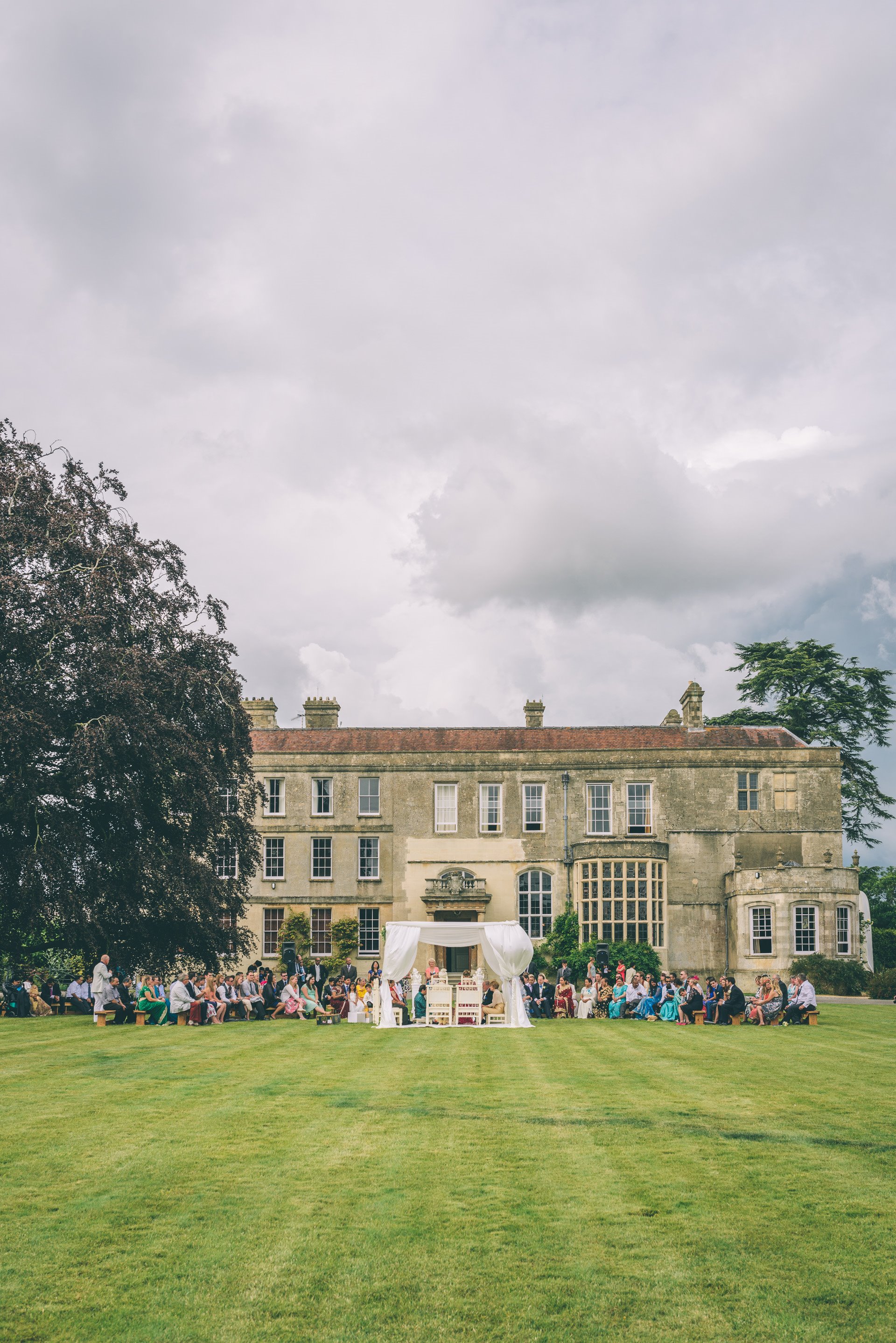 Outdoor wedding ceremony ideas
In the past we have been slightly more confined when it comes to holding the ceremony outdoors due to the legality of it needing to take place under a permanent roof which is why many outdoor wedding ceremonies take place on the front lawn with the couple saying vows under our large porch.
But now with this new change in law you are free to marry anywhere you choose!
So whether you feel drawn to a druid style ceremony under a tree, a wild wedding amongst the rewilding grounds, a garden ceremony on the manicured lawns, a ritual under canvas, or a festival wedding amongst the flowers in the meadow you can take your pick.
We can't wait to see what you come up with!
Here are some beautiful outdoor wedding ceremonies we've held over the years...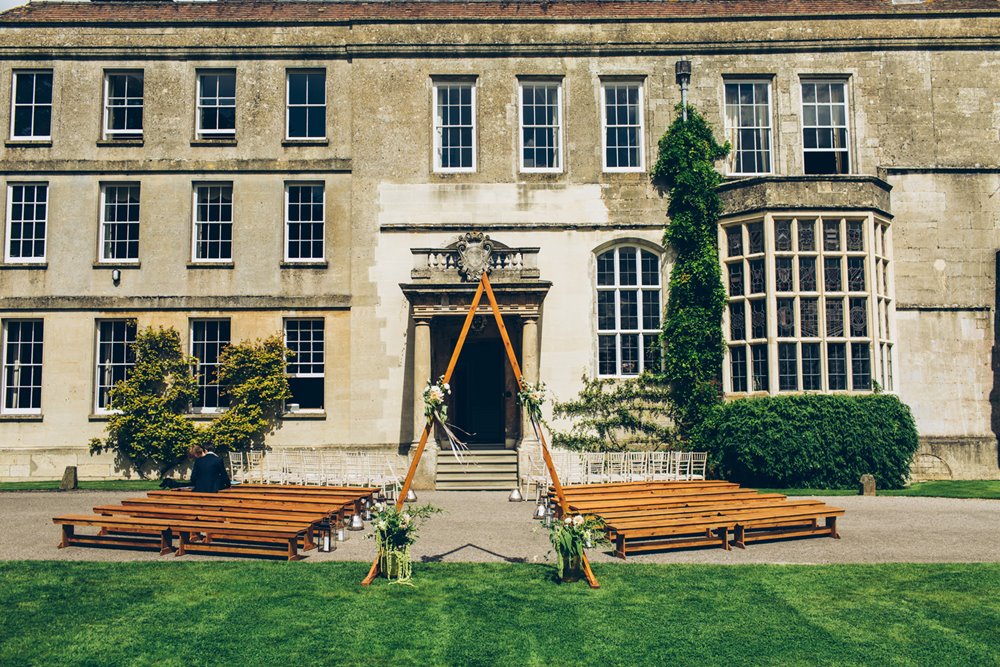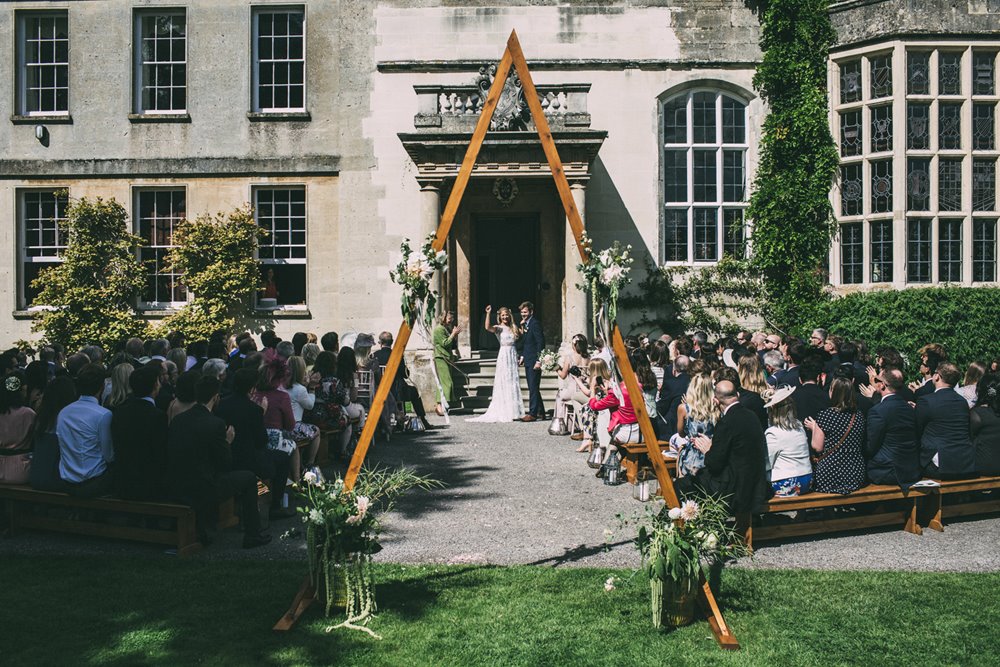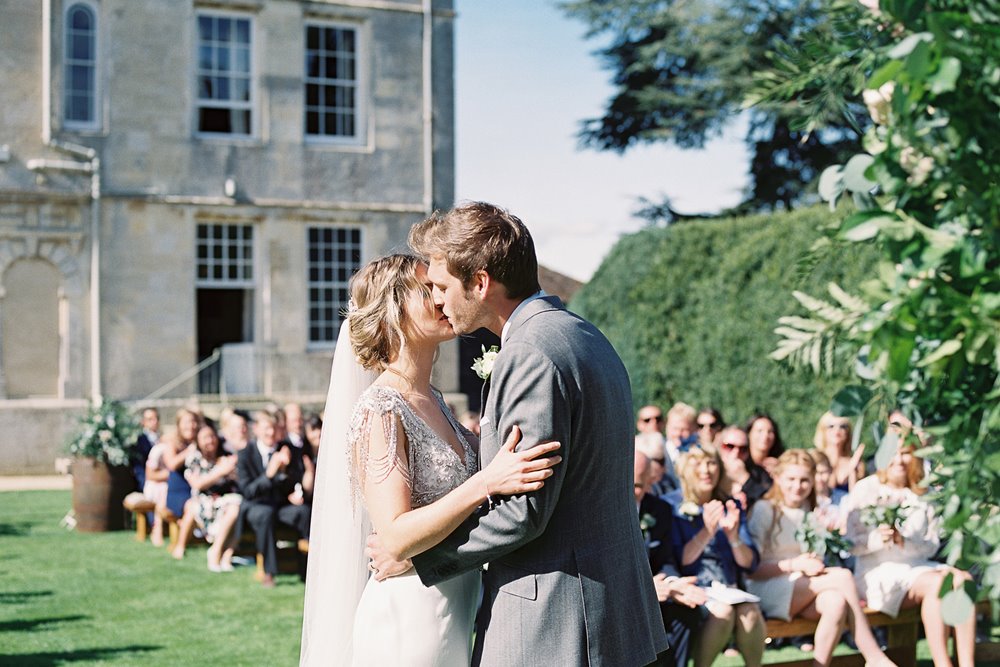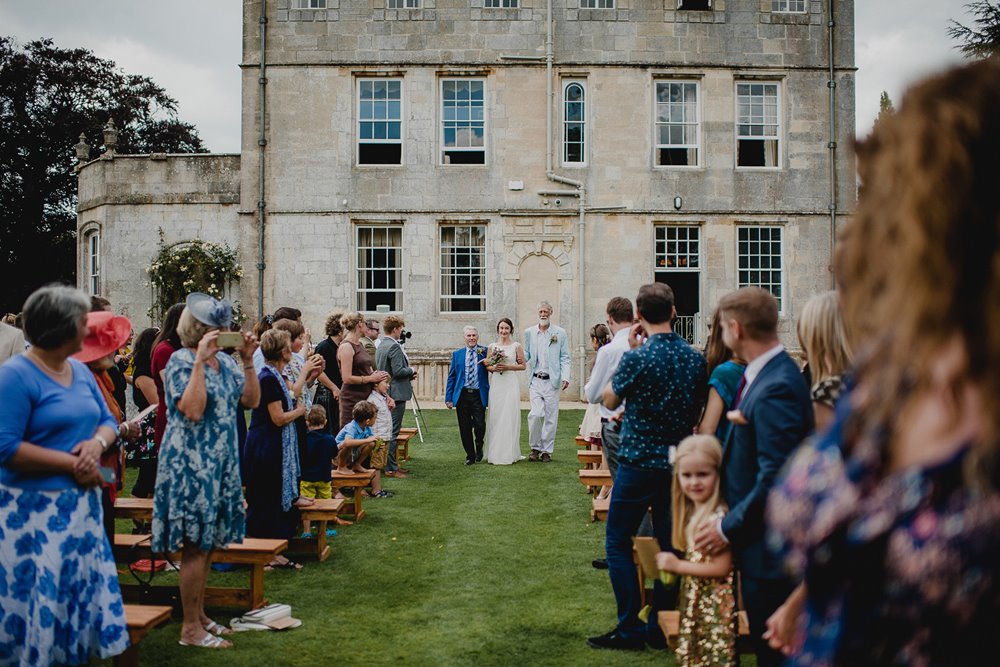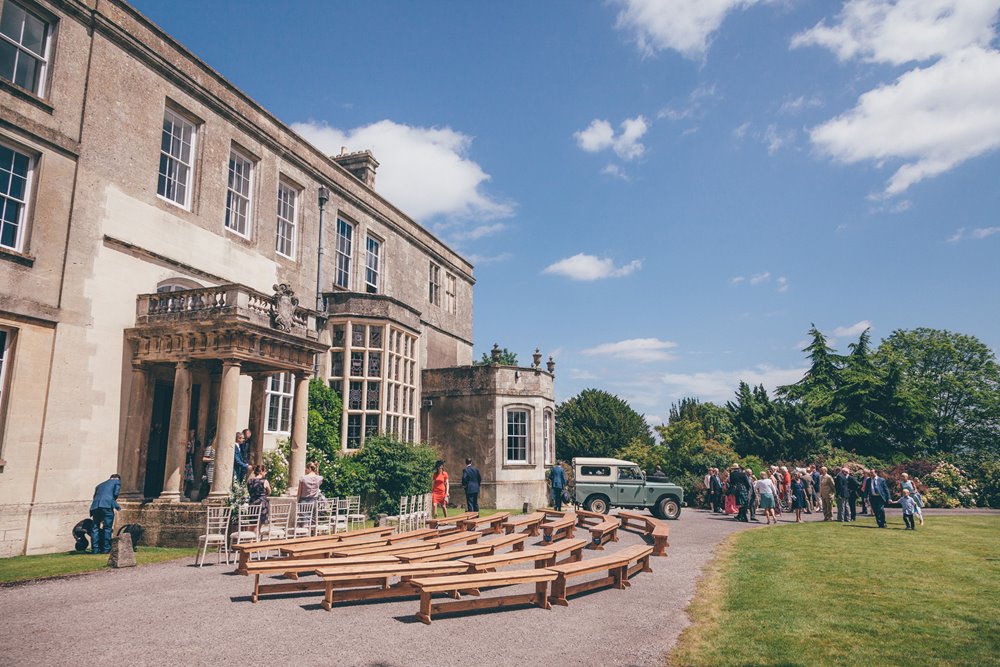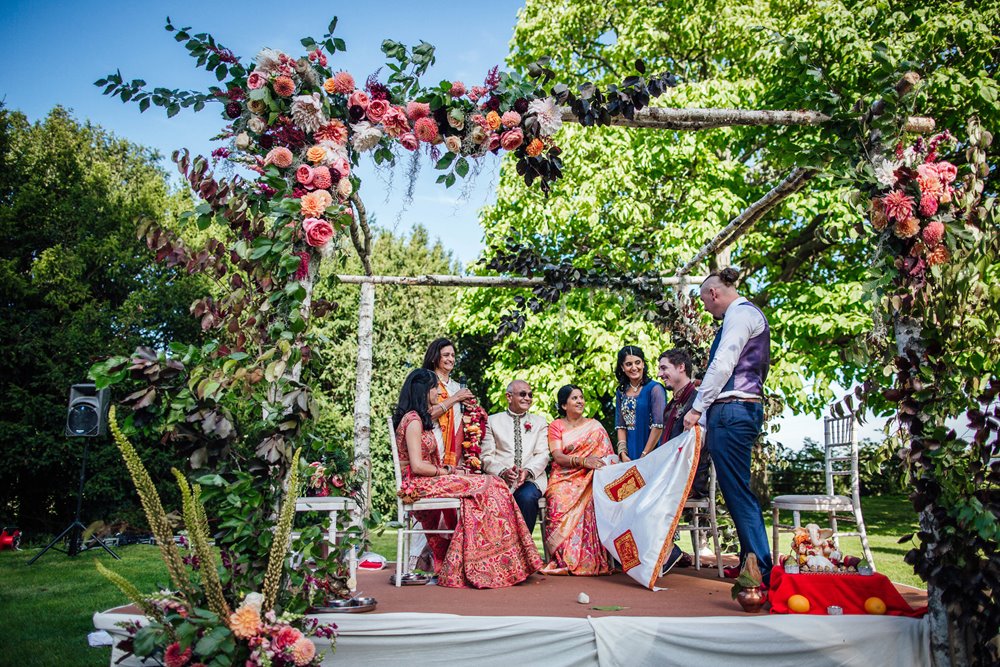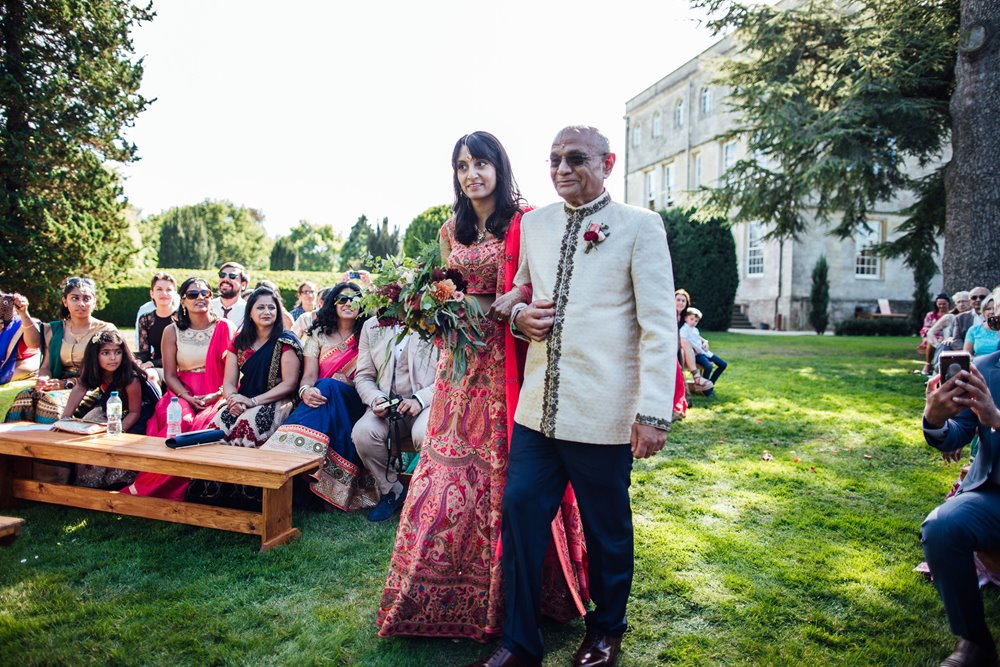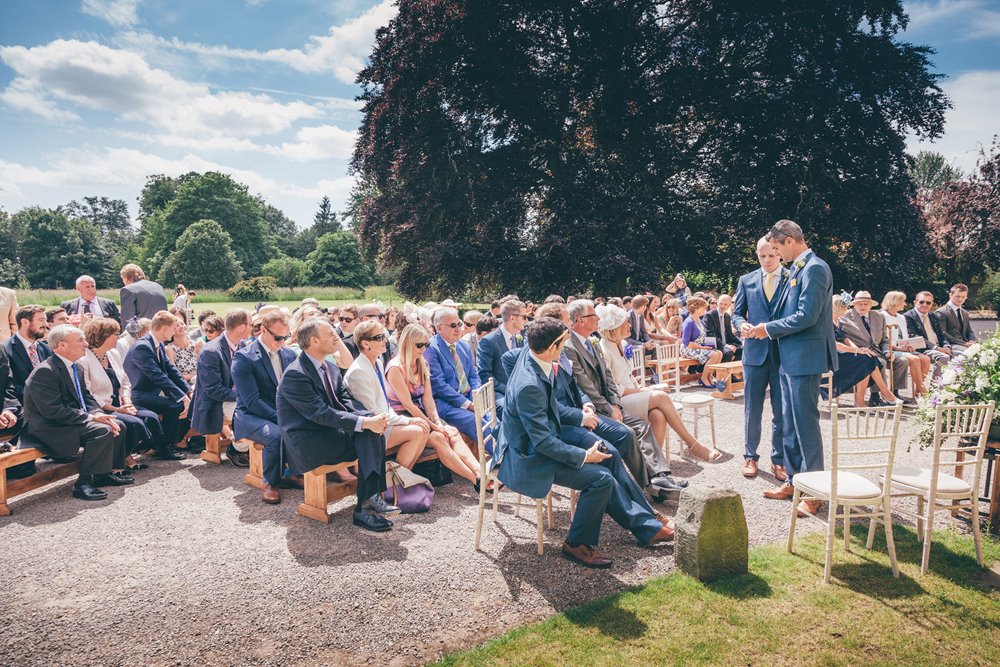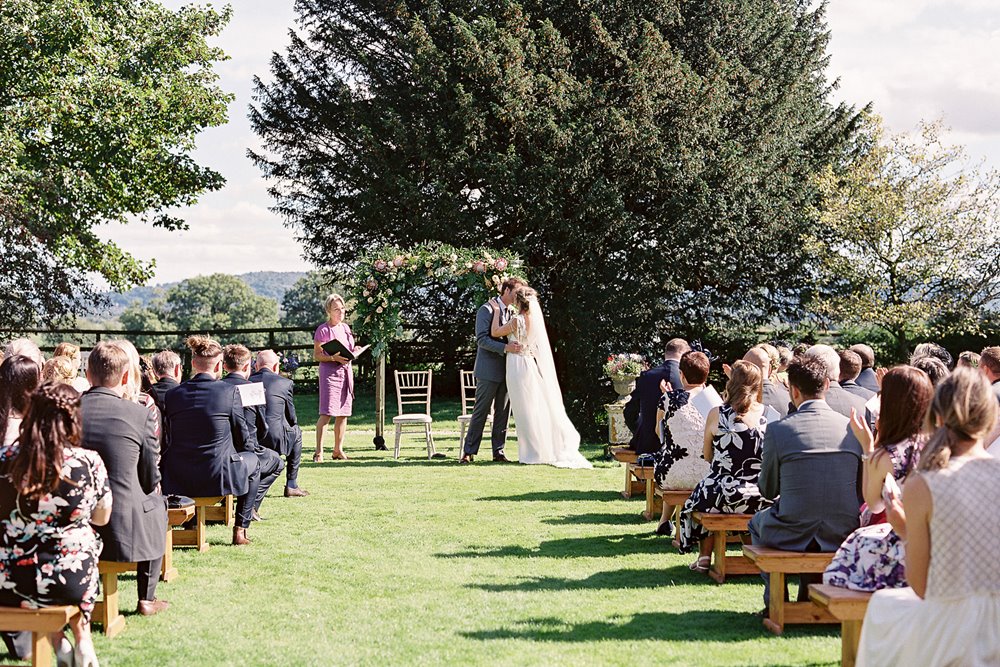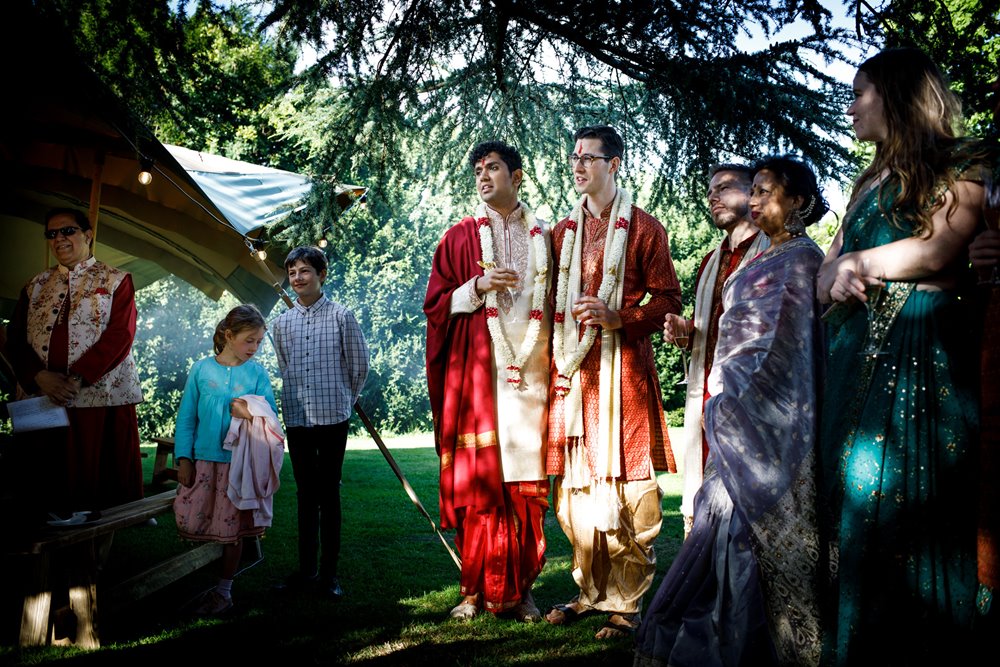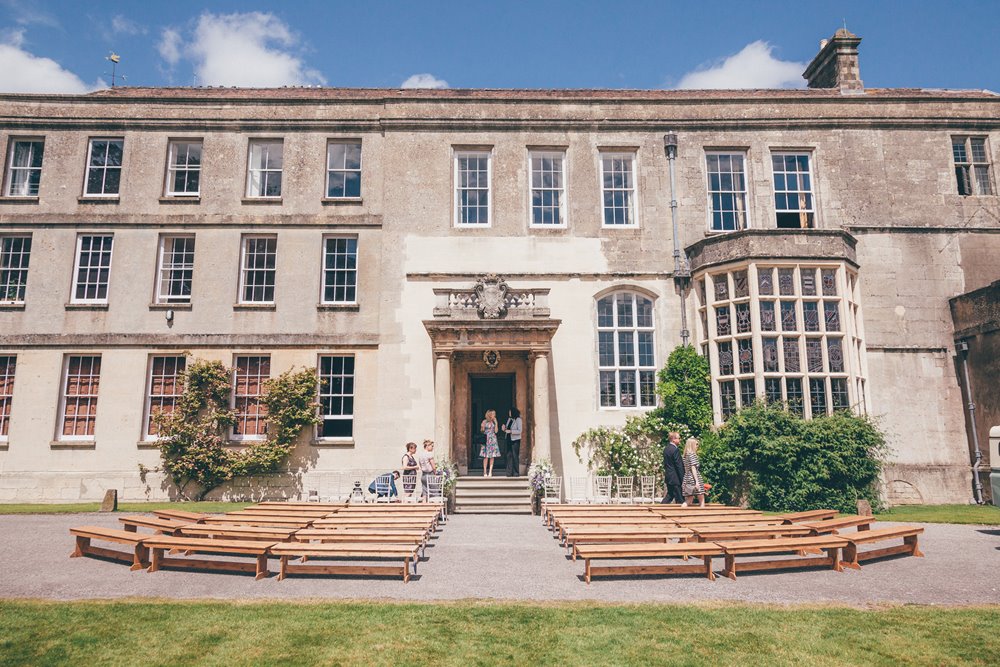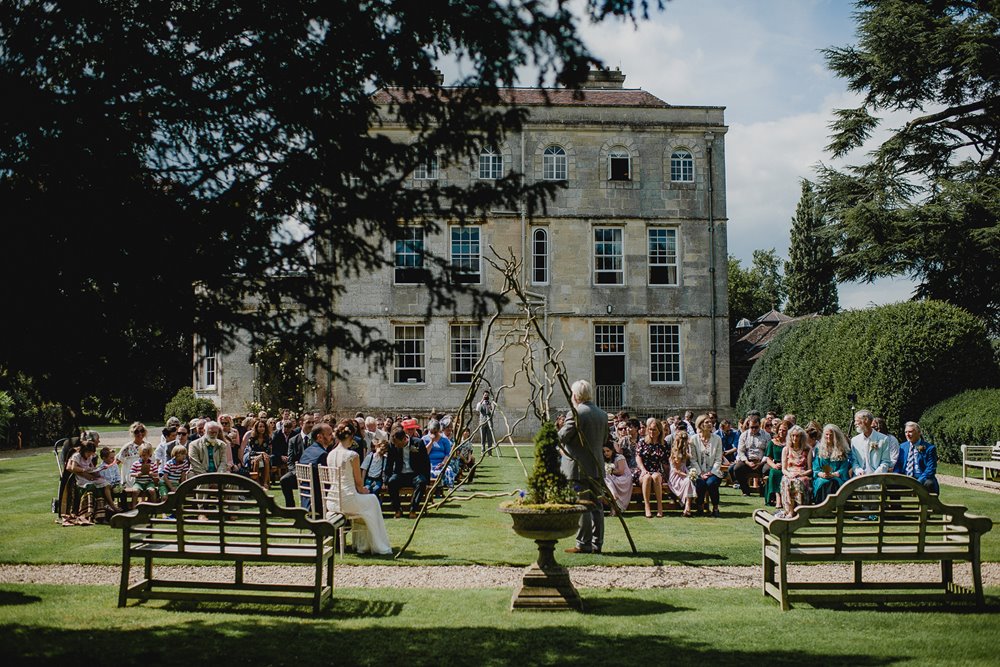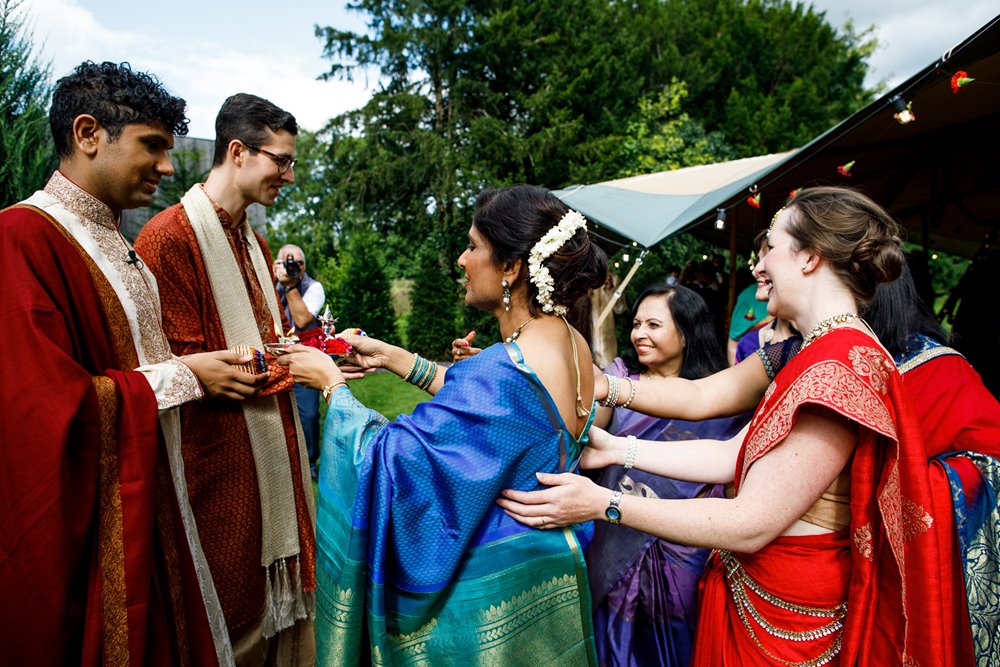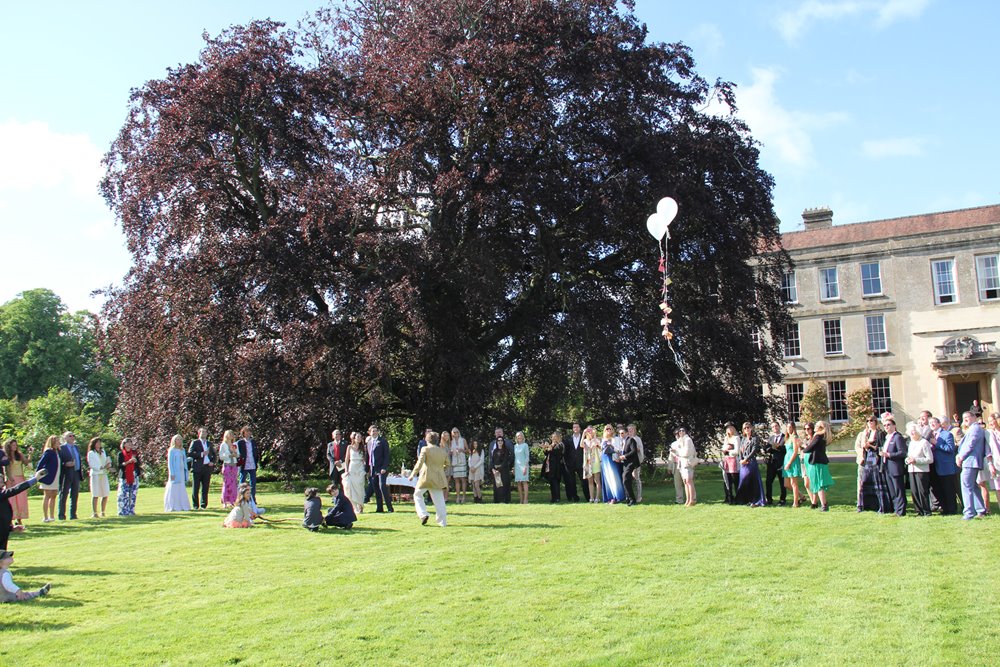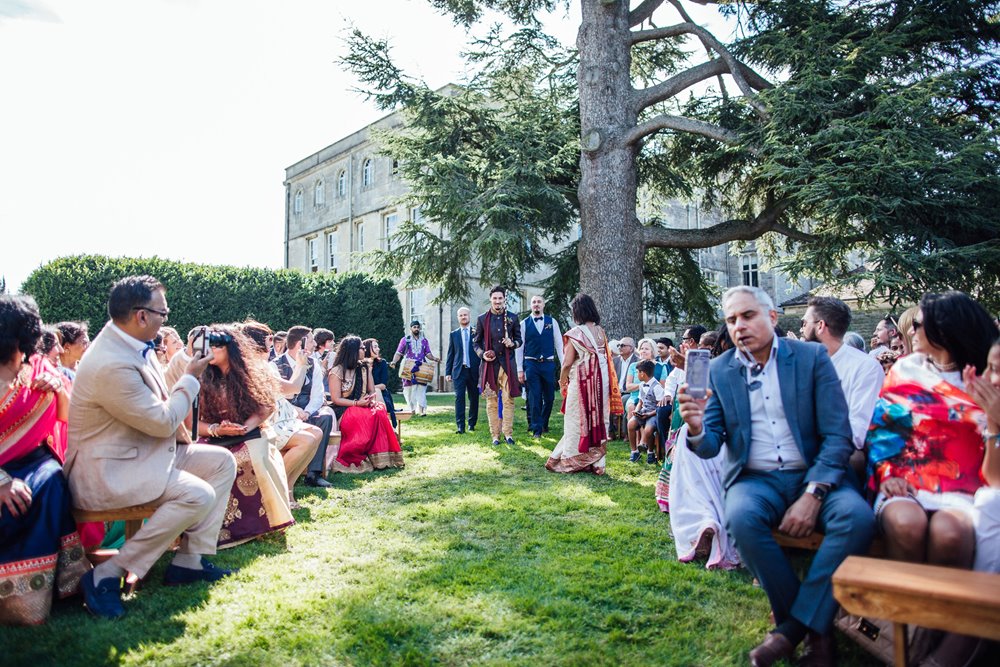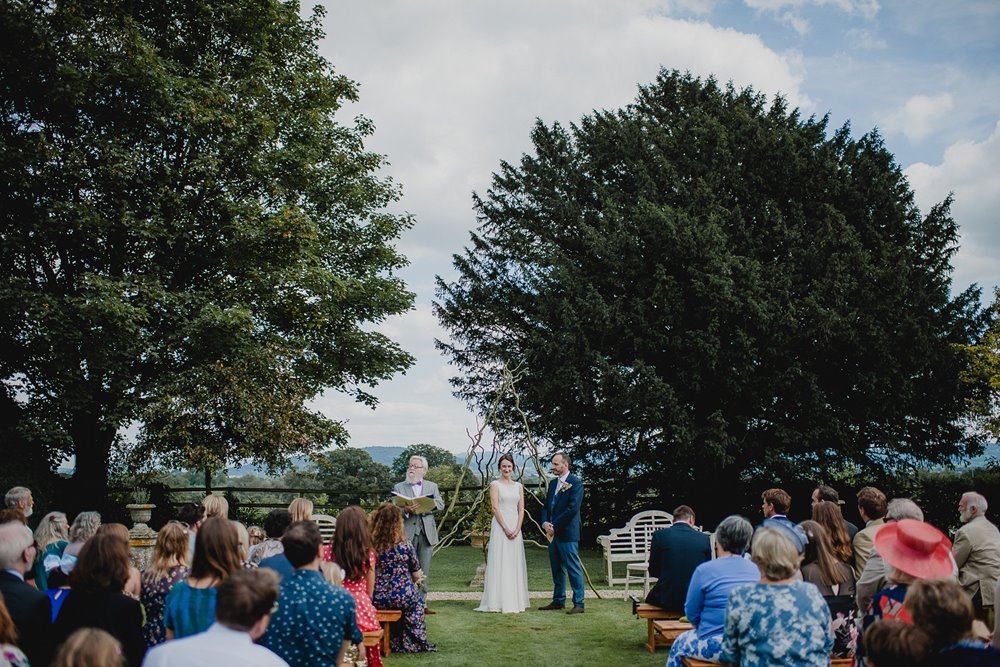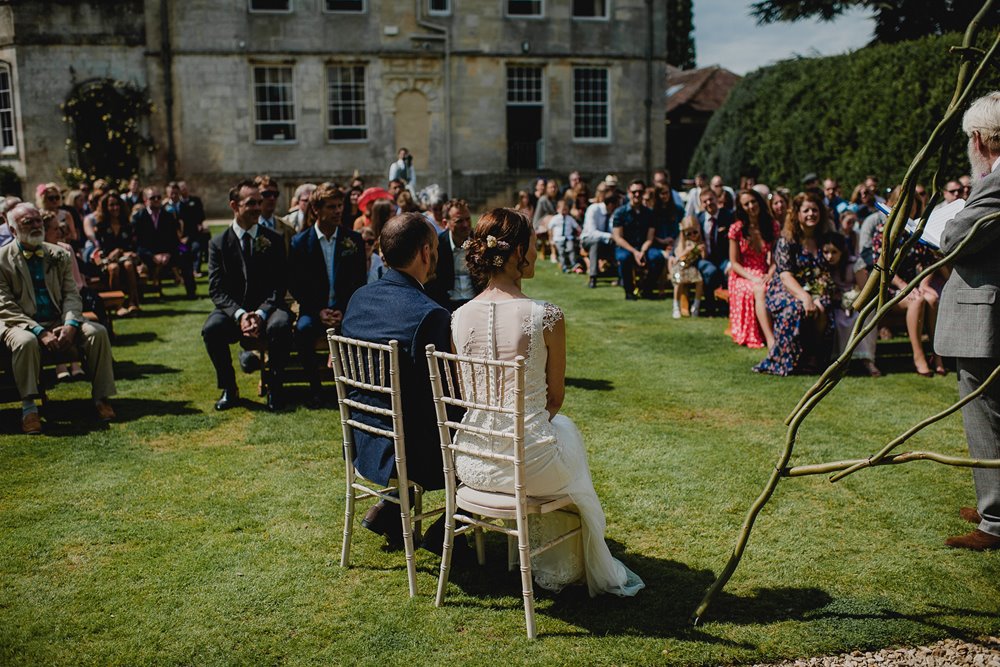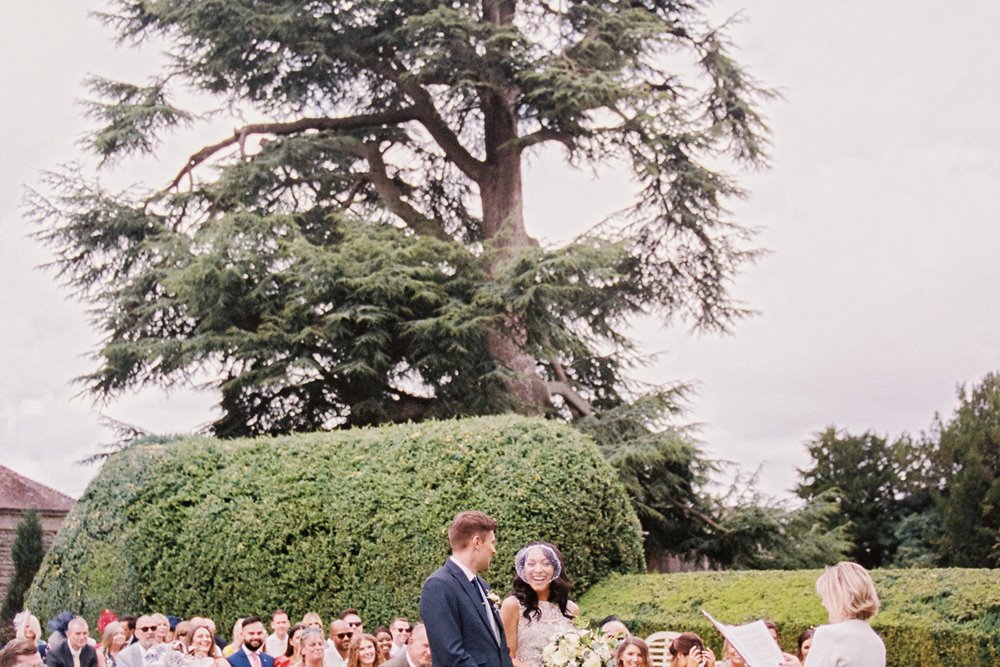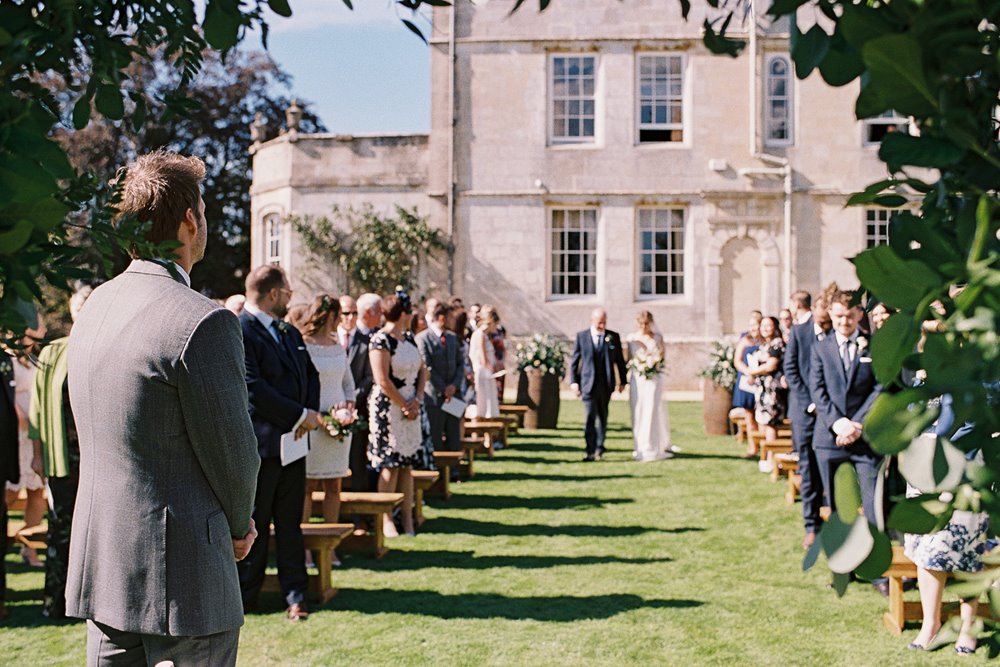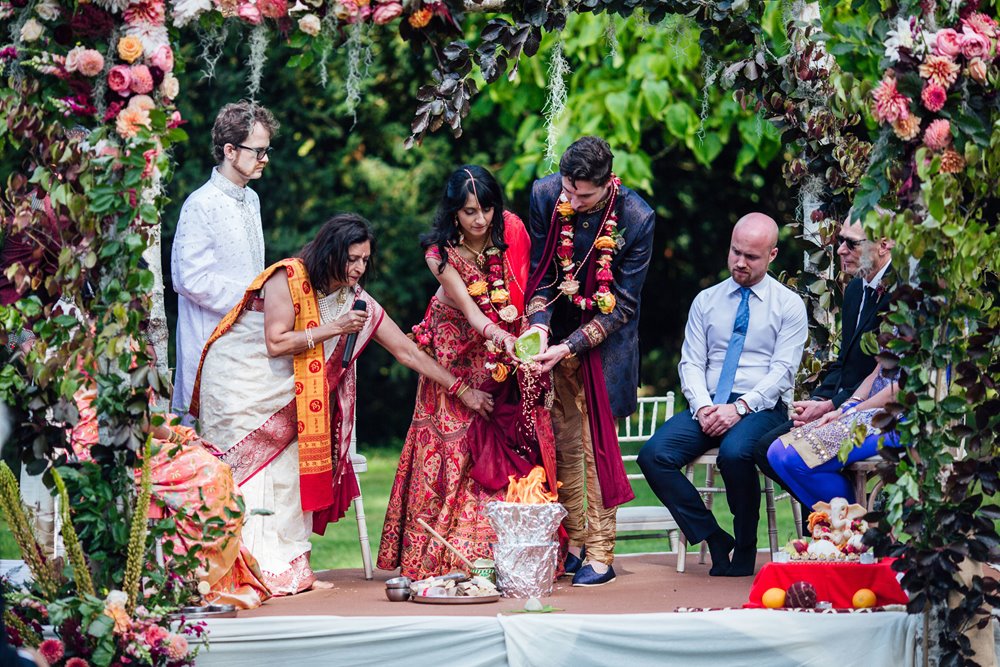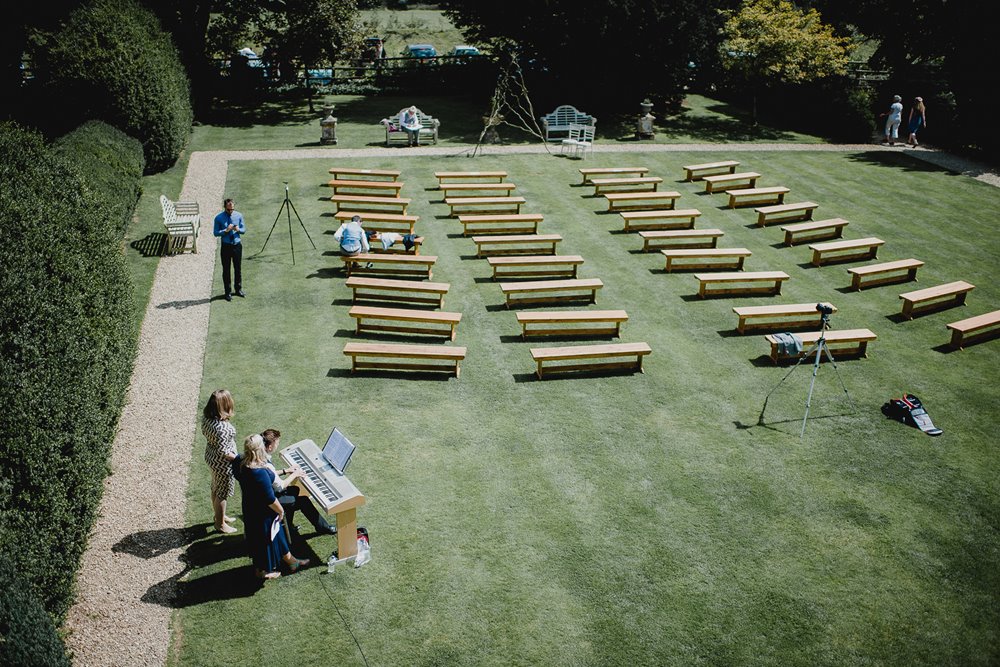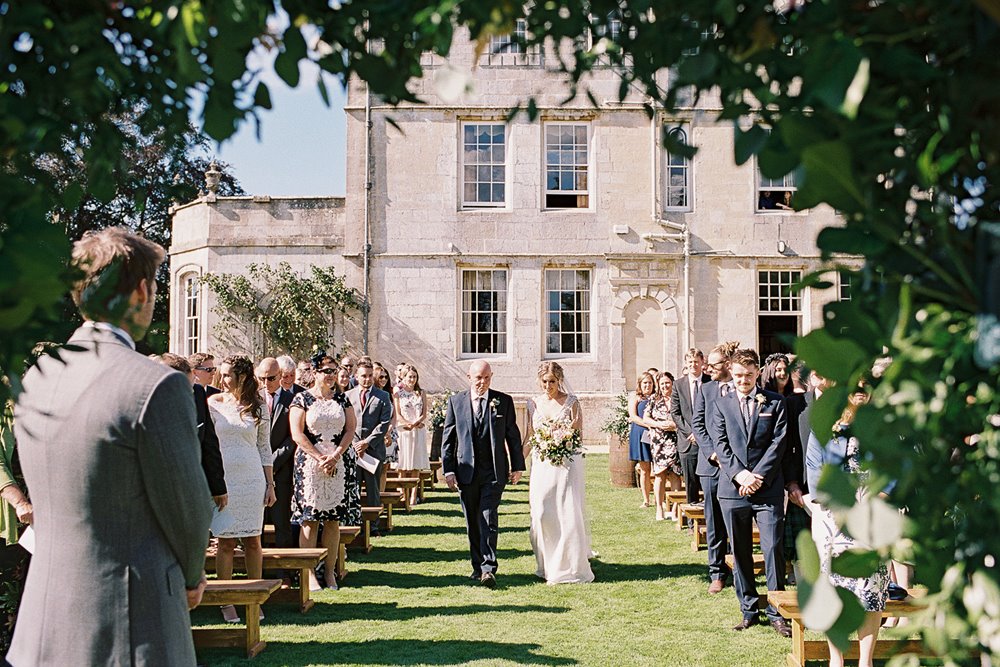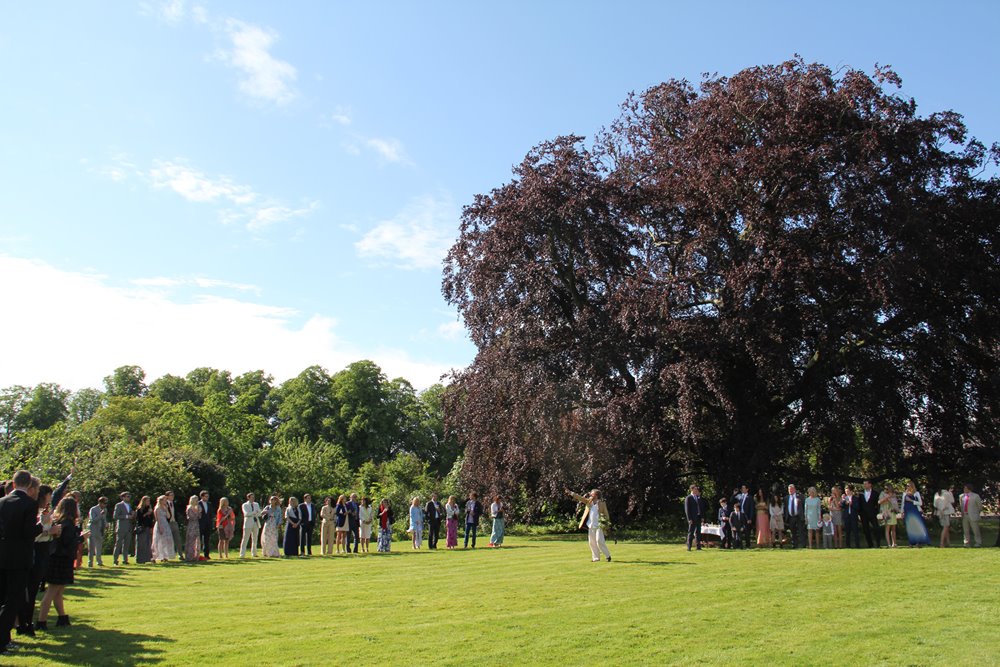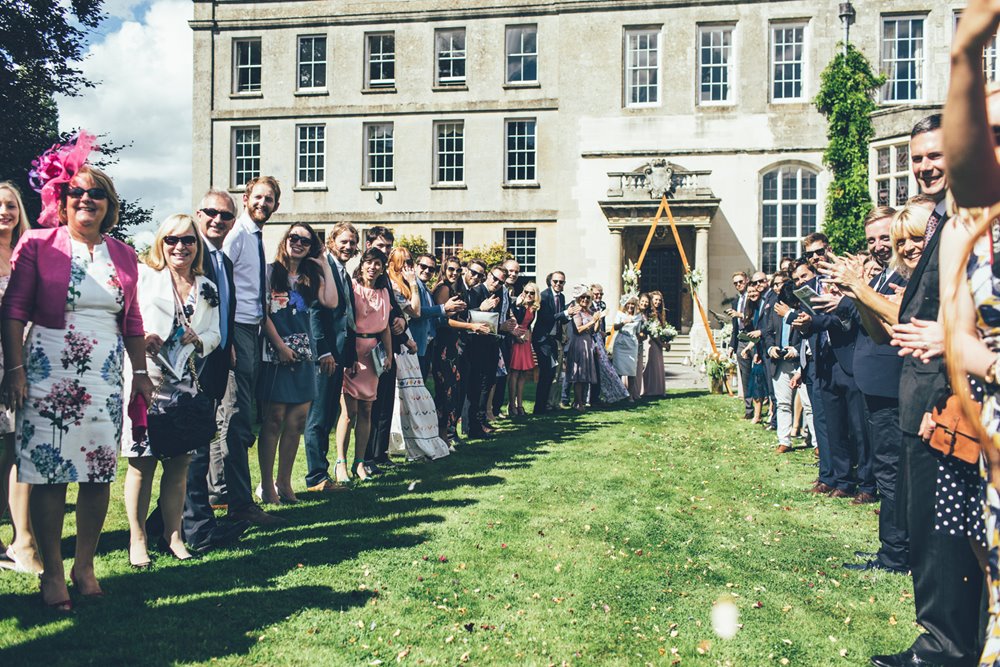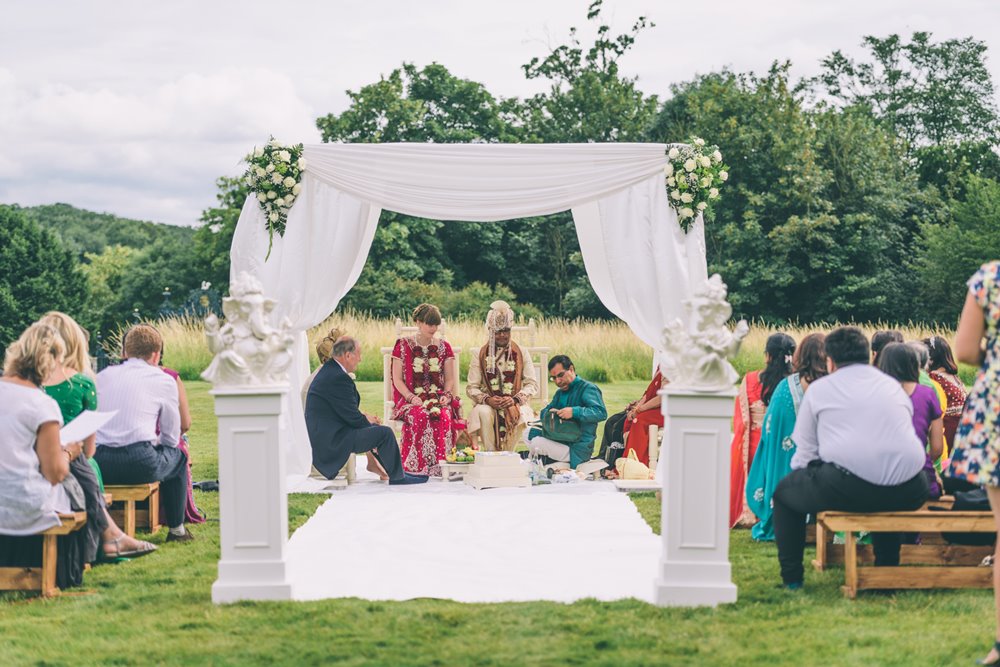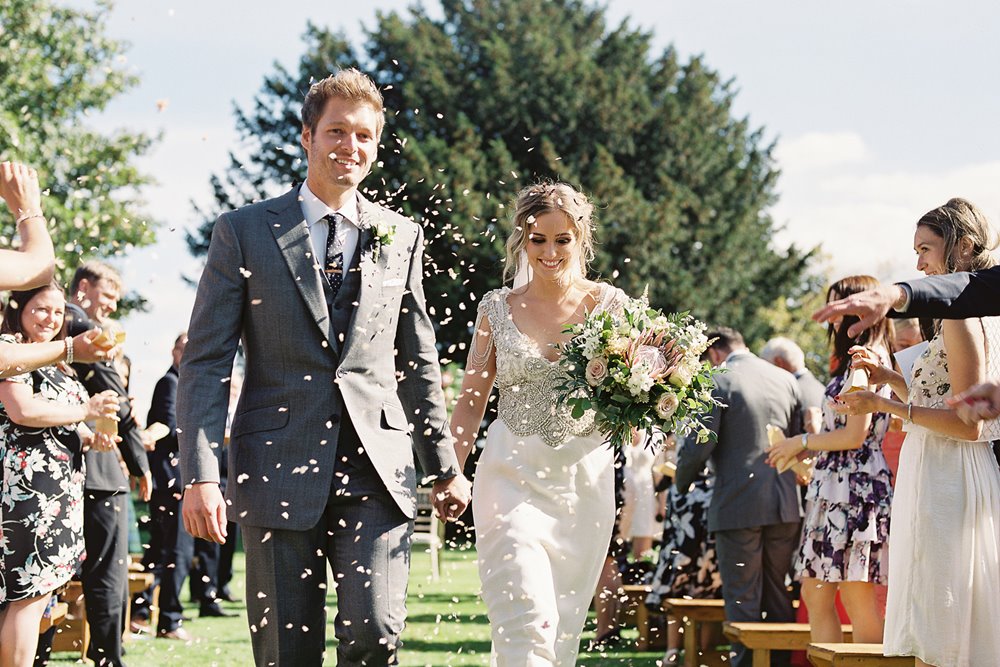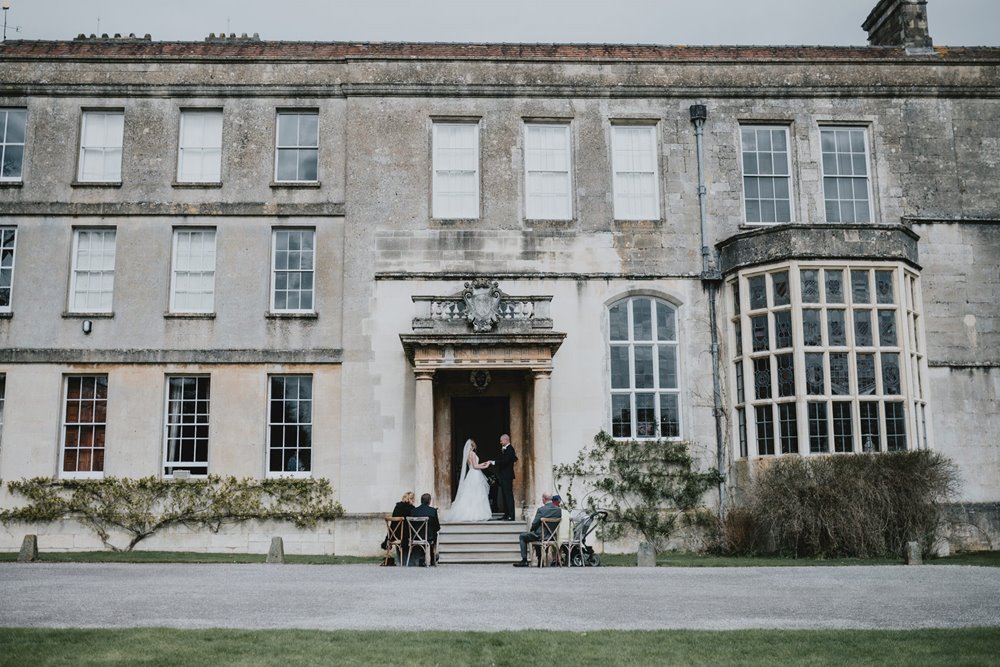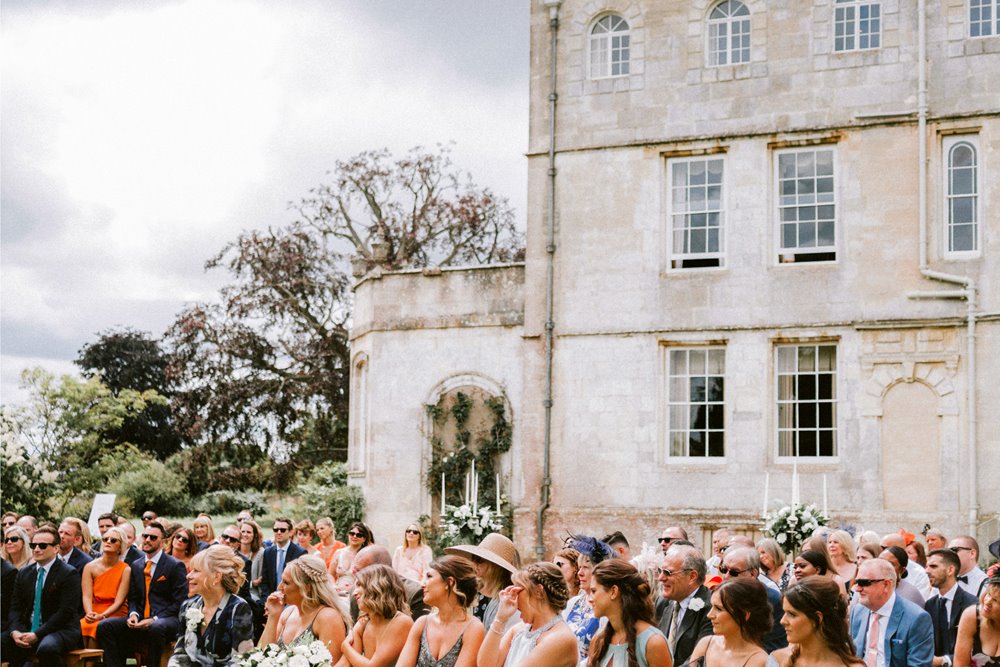 Outdoor Food & drink ideas
We've seen so many fun and creative food and drink ideas at outside weddings over the years. Food trucks and tents serving a variety of tasty treats, pizza at midnight, refreshing help yourself drinks stations, and of course every kind of marshmallow toasting and 'smores based fire pit activity! 
Here are some of our favourite food and drink ideas from real life outdoor weddings at Elmore...
Pizza monkey with their stone baked pizza oven in a tent is the perfect way to keep guests warm and fuelled throughout the long cool summer nights
BBQ wedding breakfast is the ideal meal for a laid back garden party wedding
Drinks station with big icy glass pitchers of refreshing tipples for guests to help themselves to
Ice cream stand (possibly stocking our local fave Wholly gelato?!)
Huge dishes of paella cooking outside for all the festival feels (and smells!)
Pretty pimp my prosecco (or gin?) station for guests to get interactive with their drink making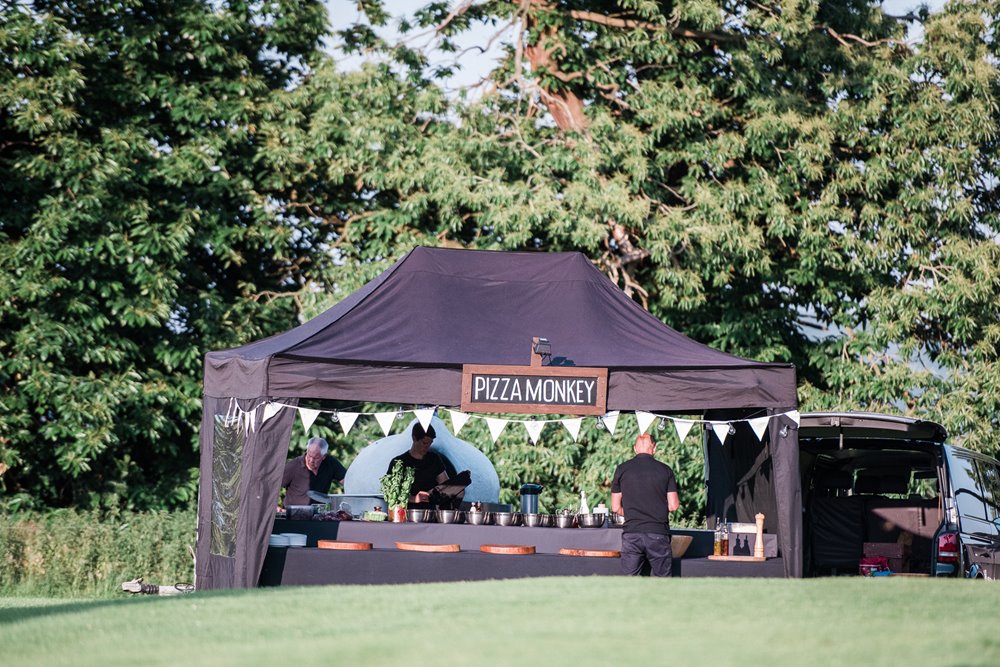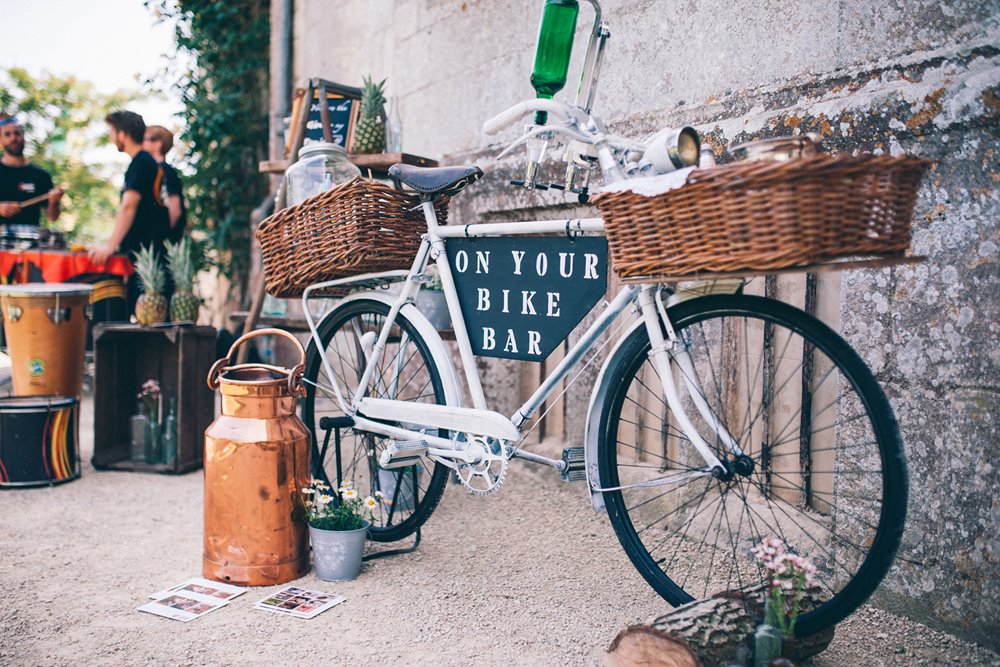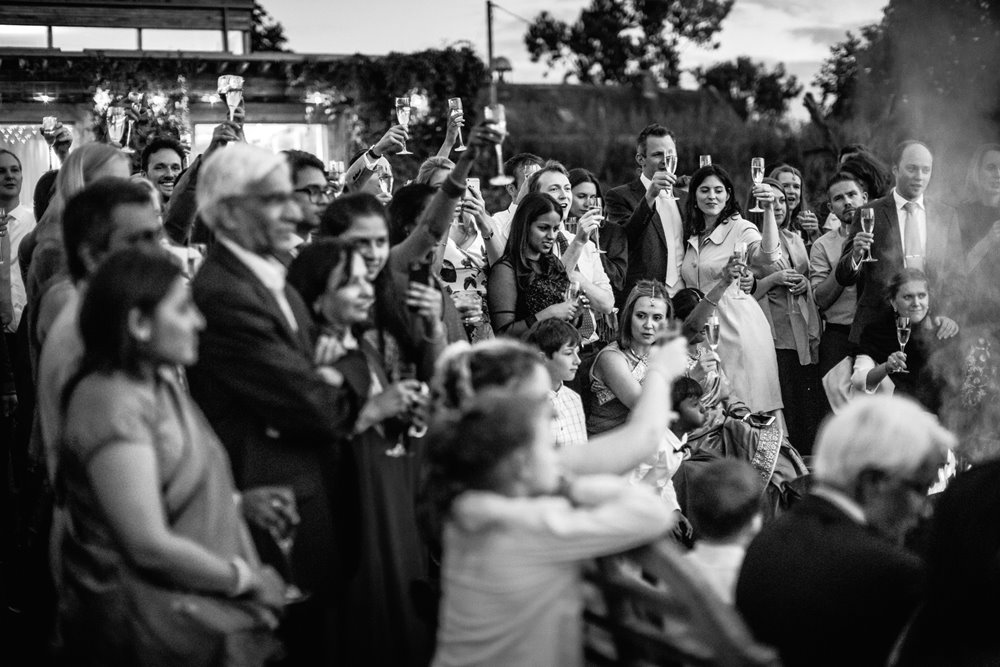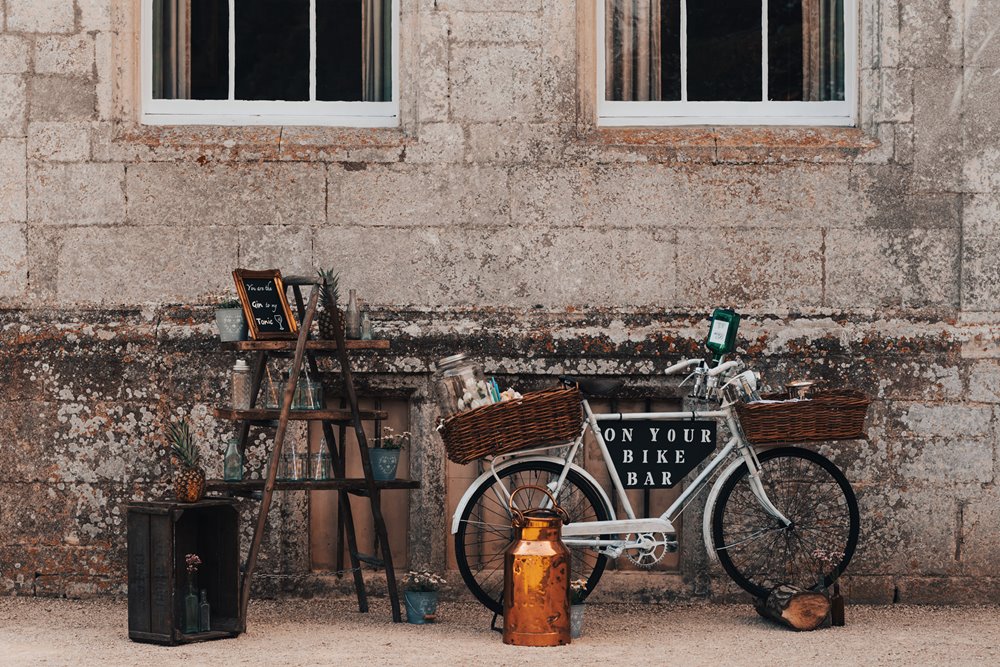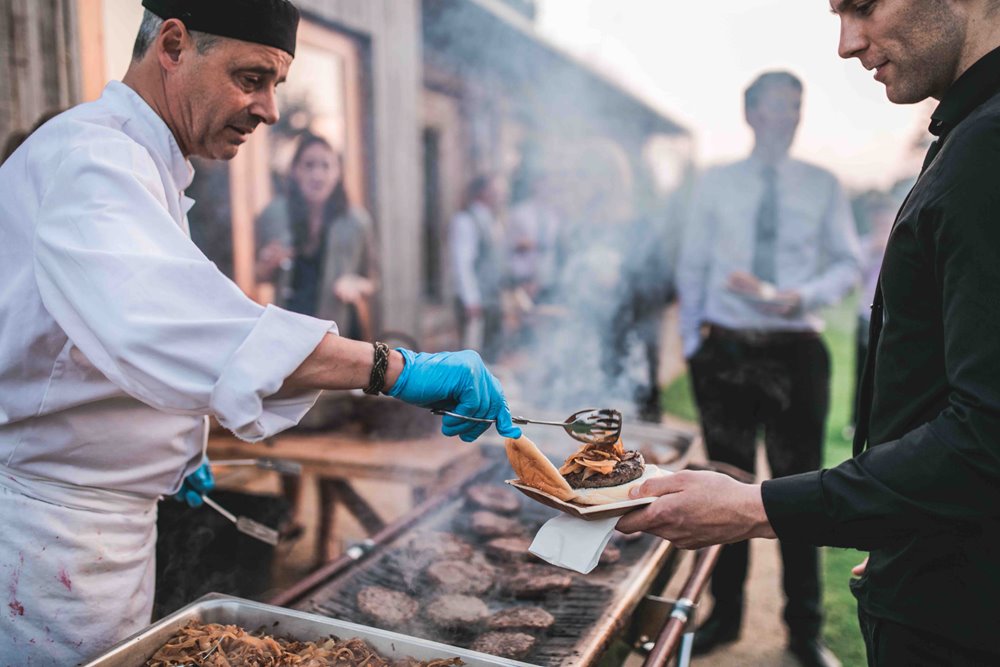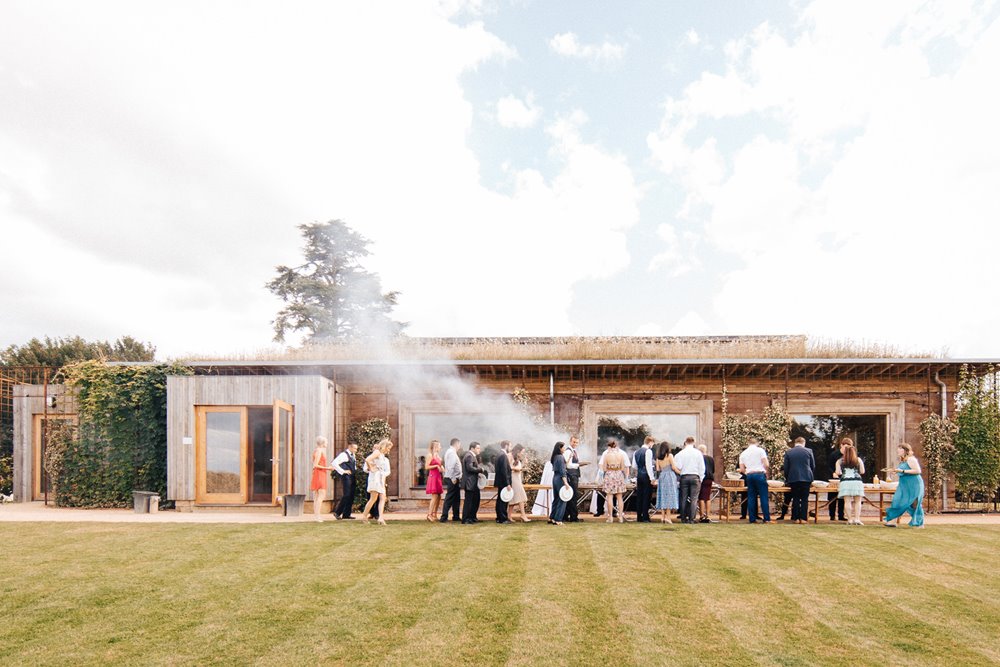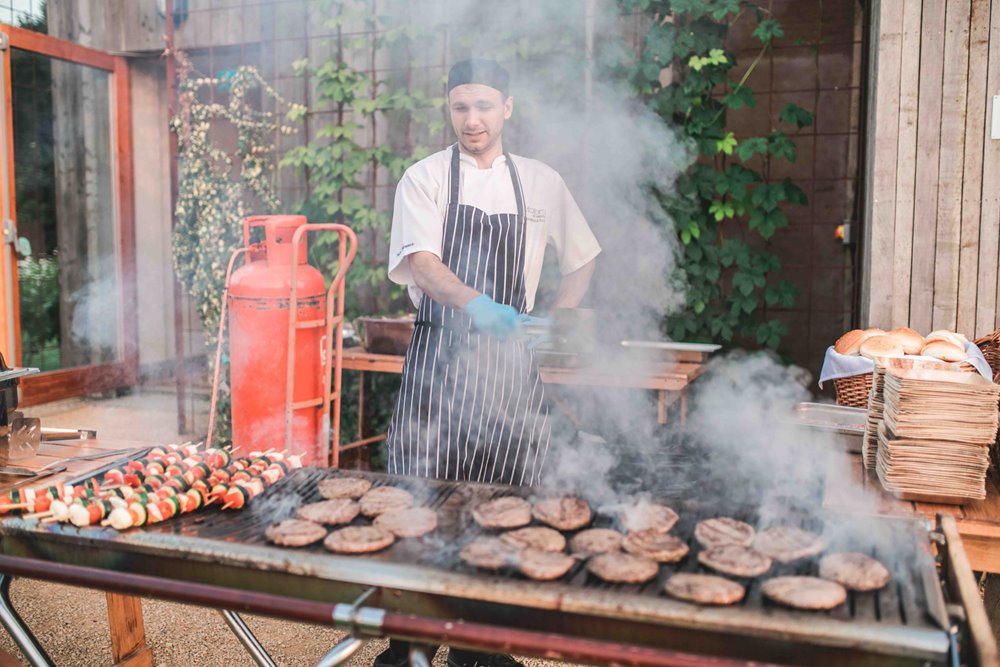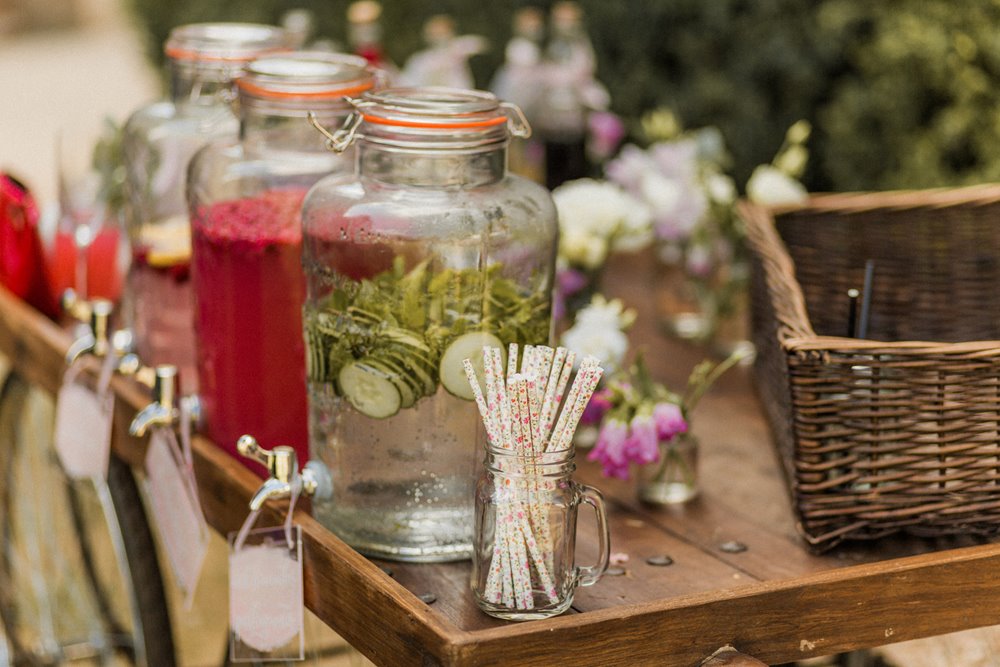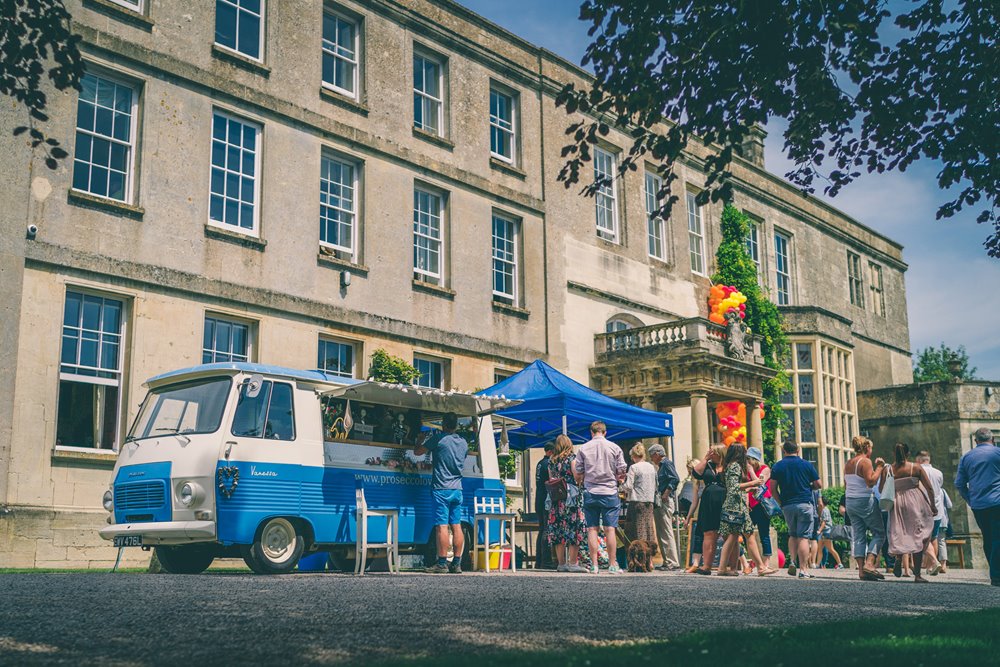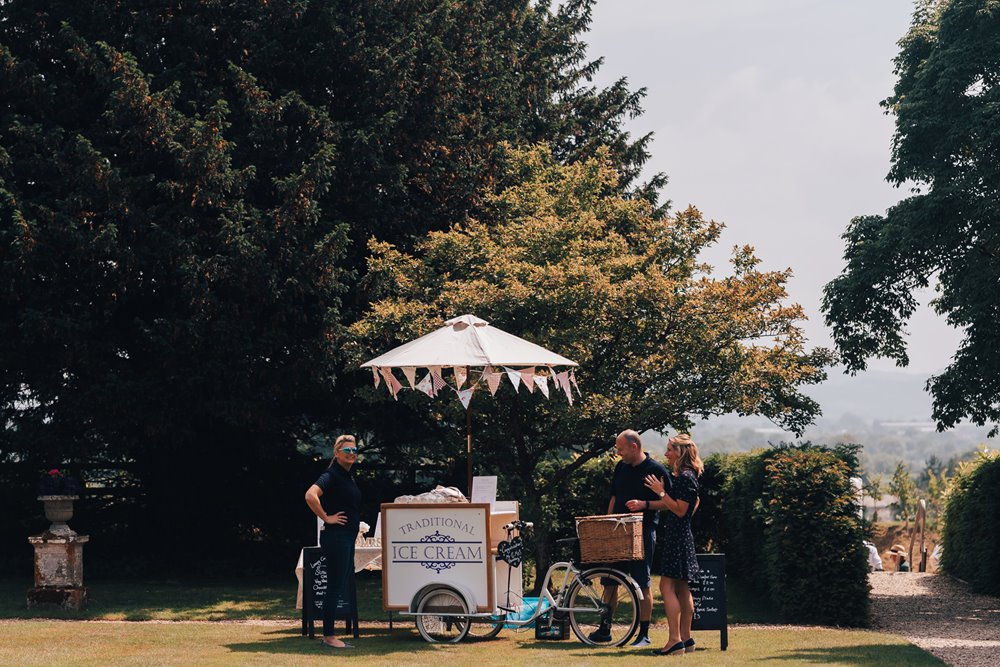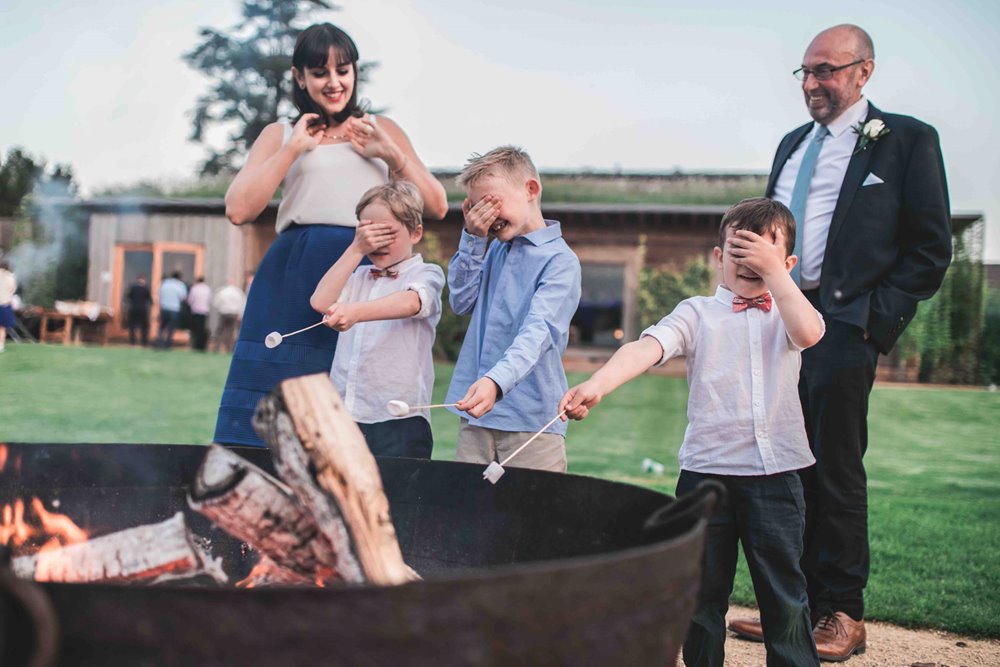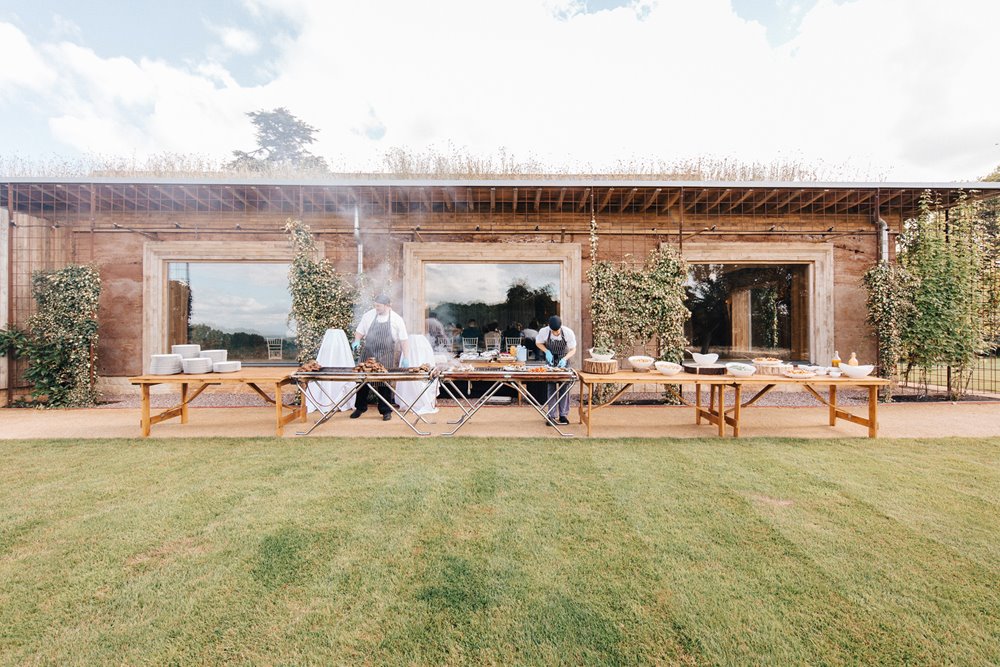 Let the games begin!
Bring all the fun of the fair to your outdoor wedding by going BIG with the games. Old favourites are always giant Jenga (which makes for some fabulous photos) and croquet on the lawn but take a look at some of the other fabulous ideas pictured below and let the fun begin!
Table football
Beer pong (swap the drink to your favourite. Gin pong is twice as fun)
Cricket
Boules
Blind mans buff
Tug of war
Traditional funfair games such as coconut shy
Bubbles
Golf!
We've seen it all!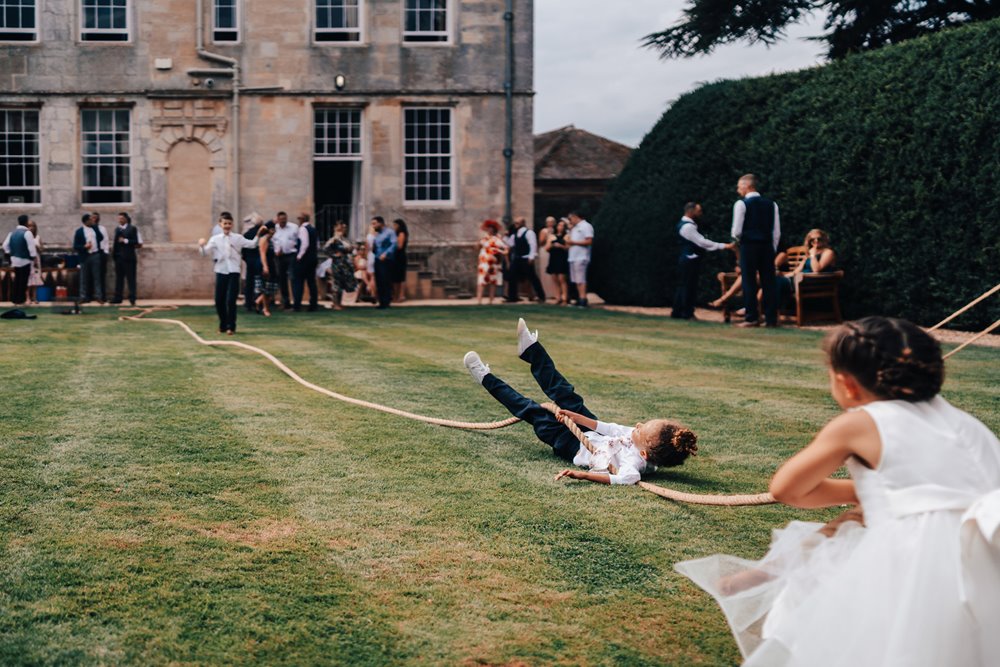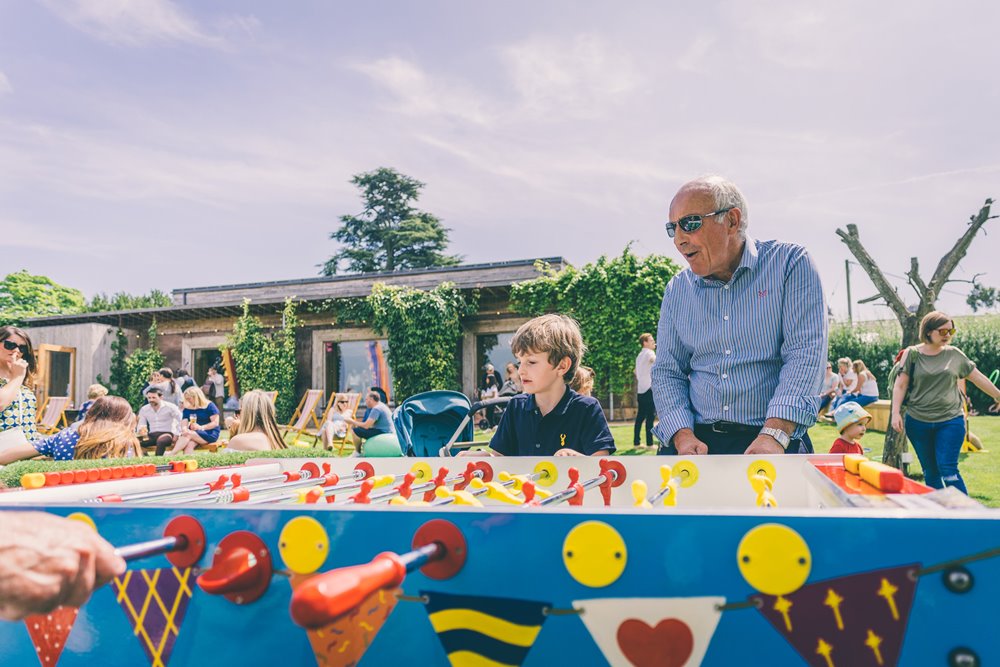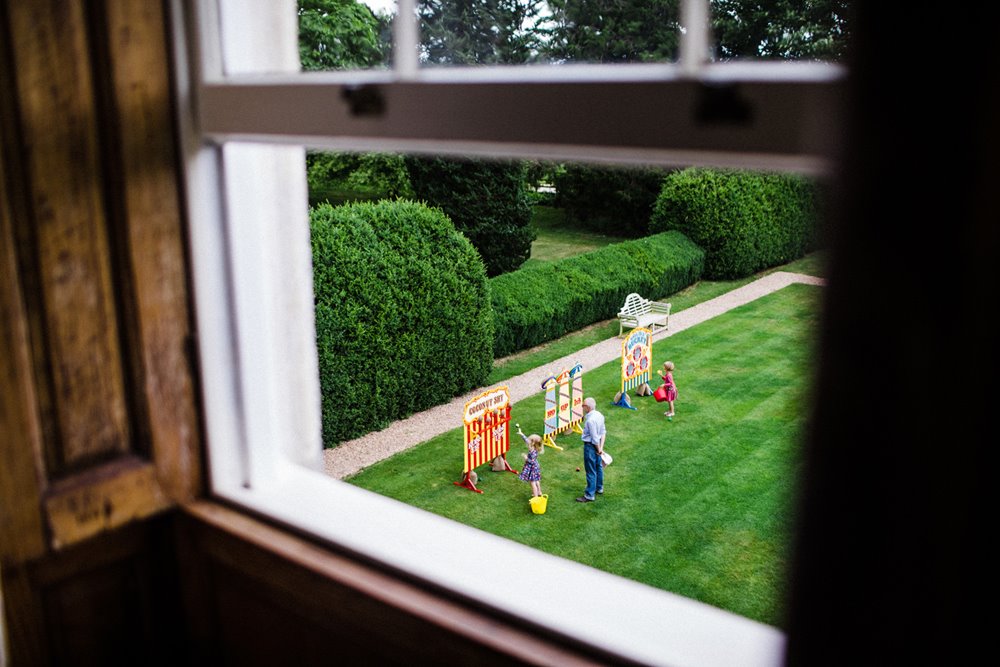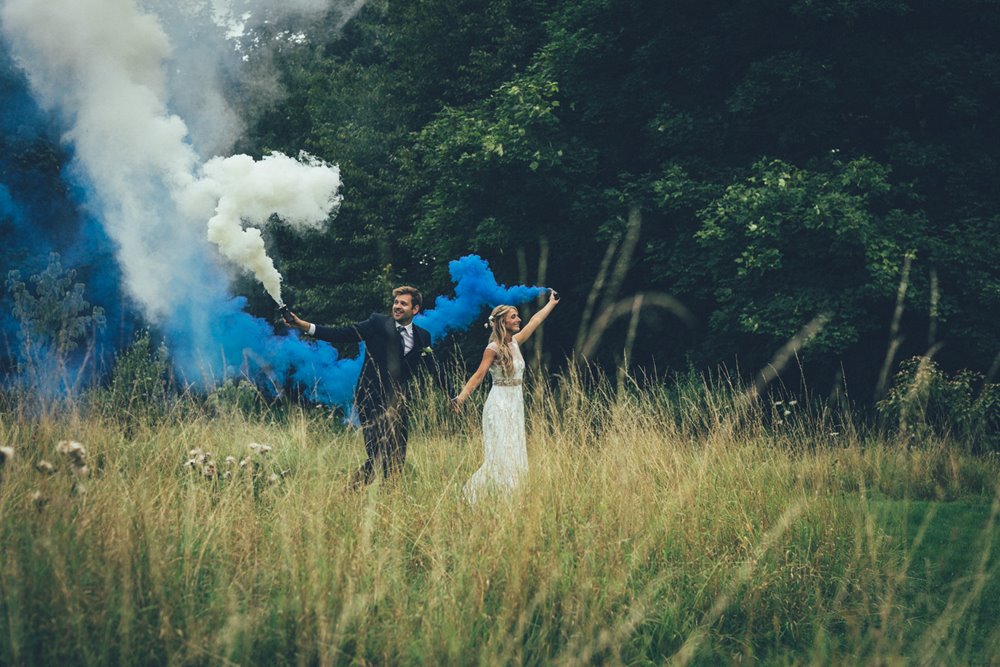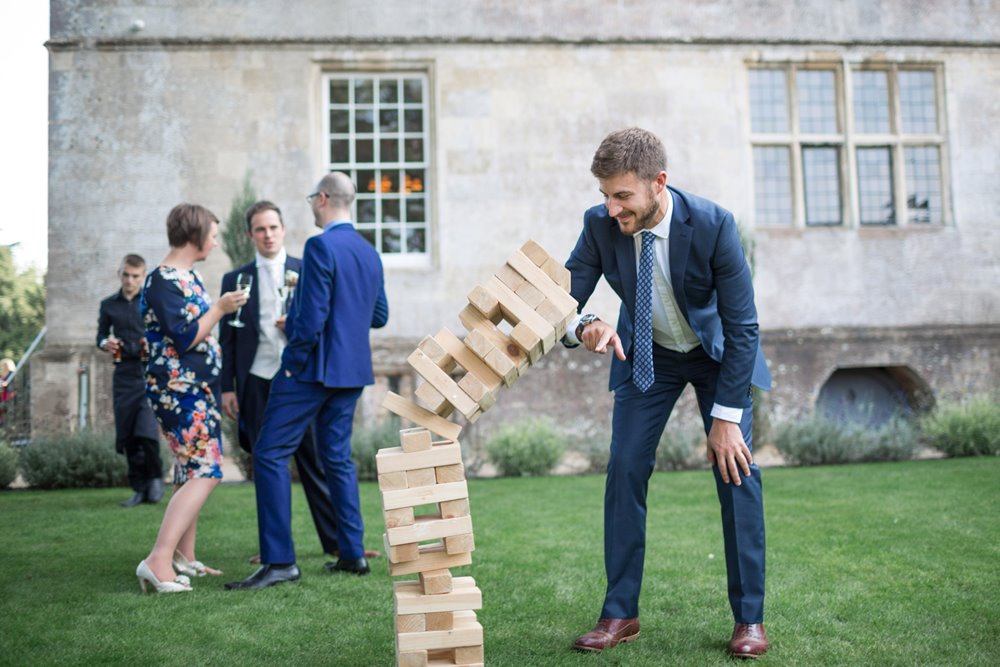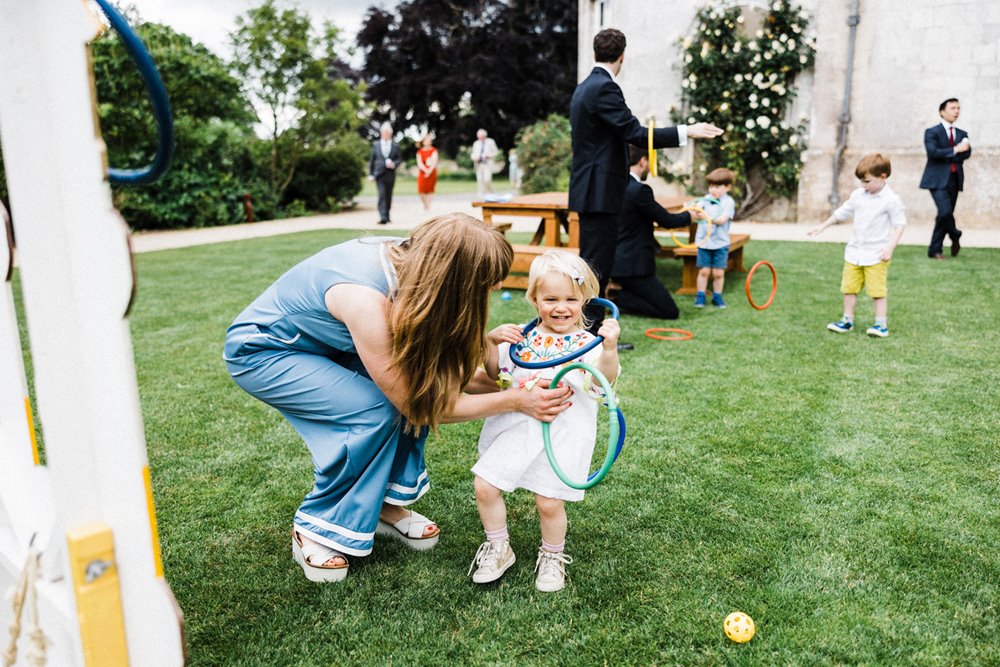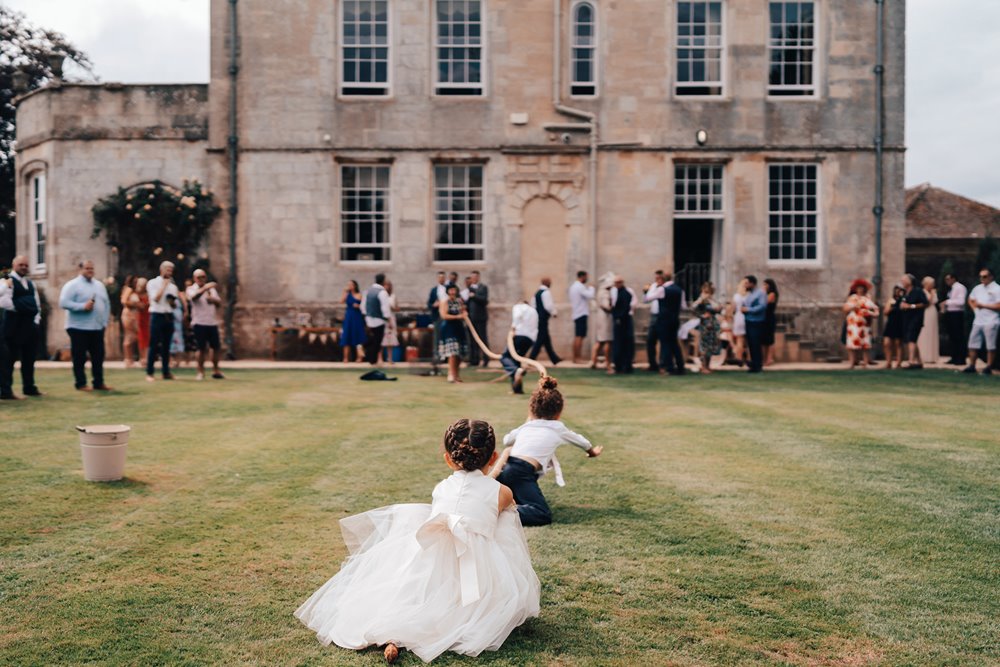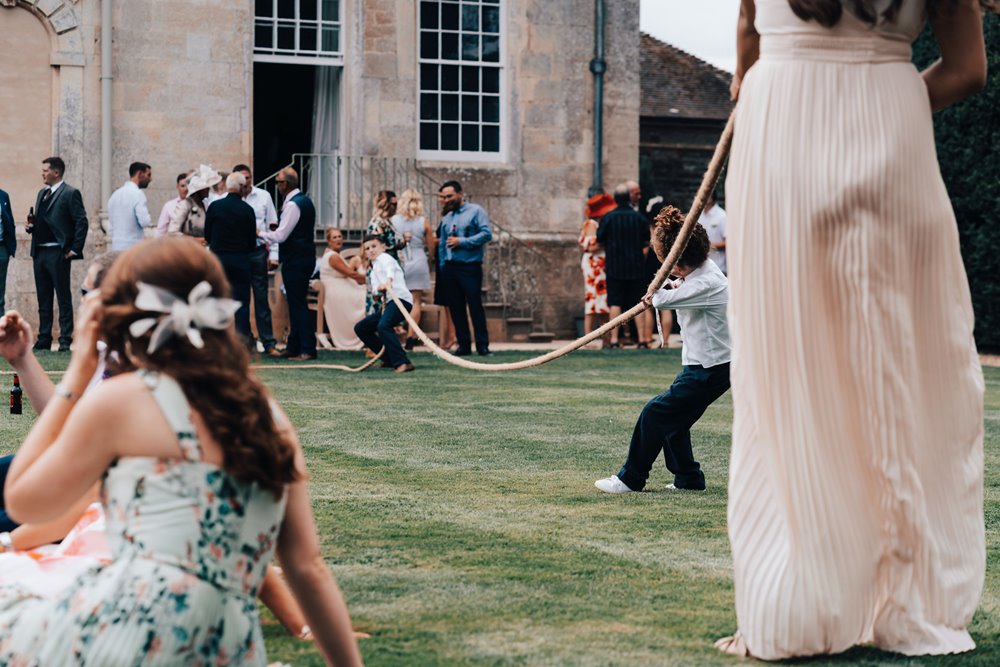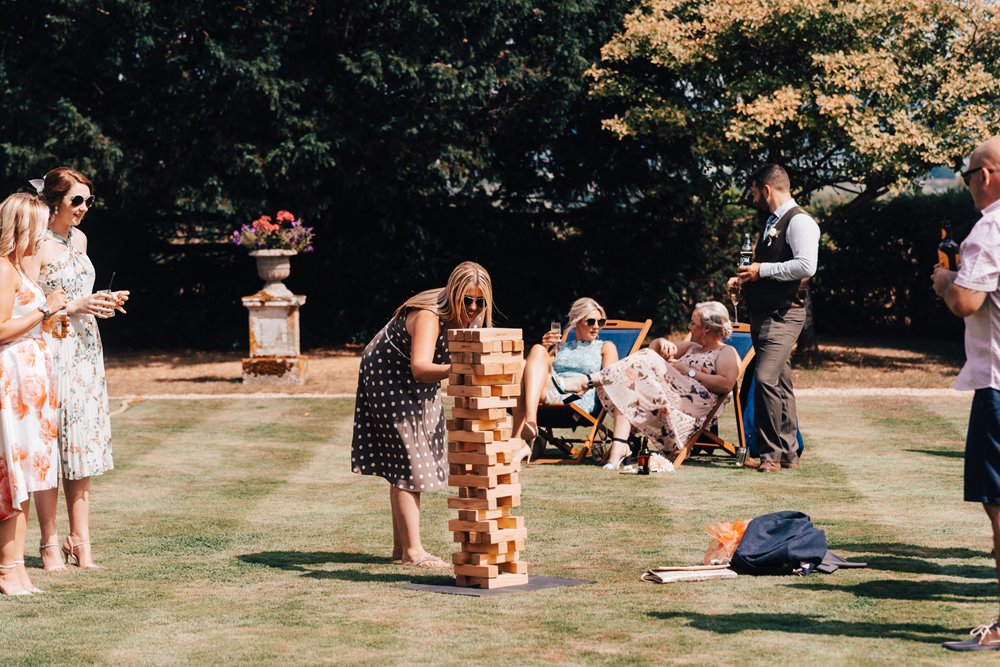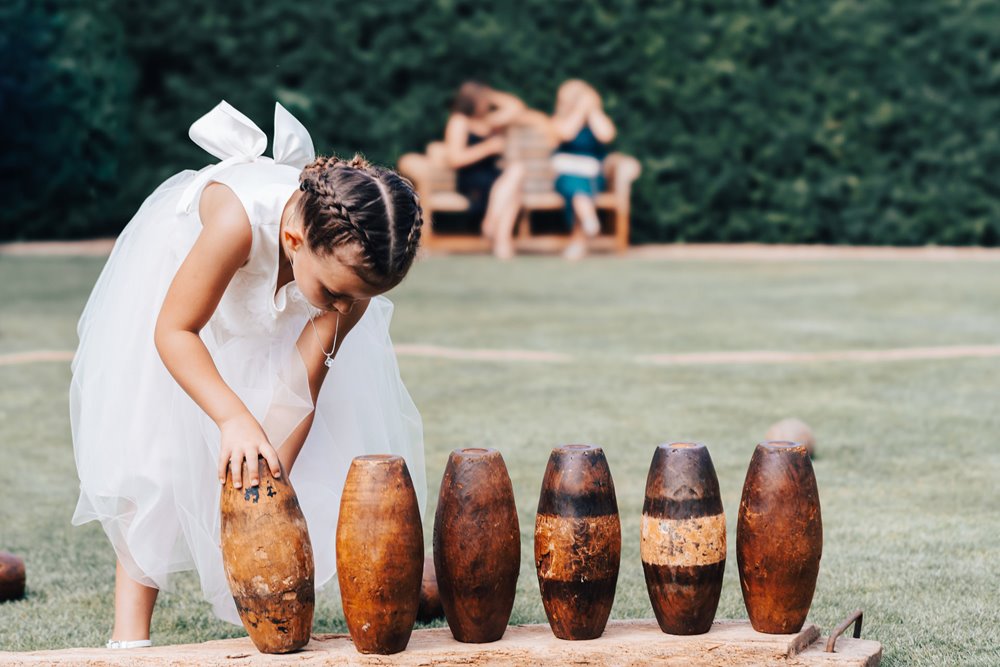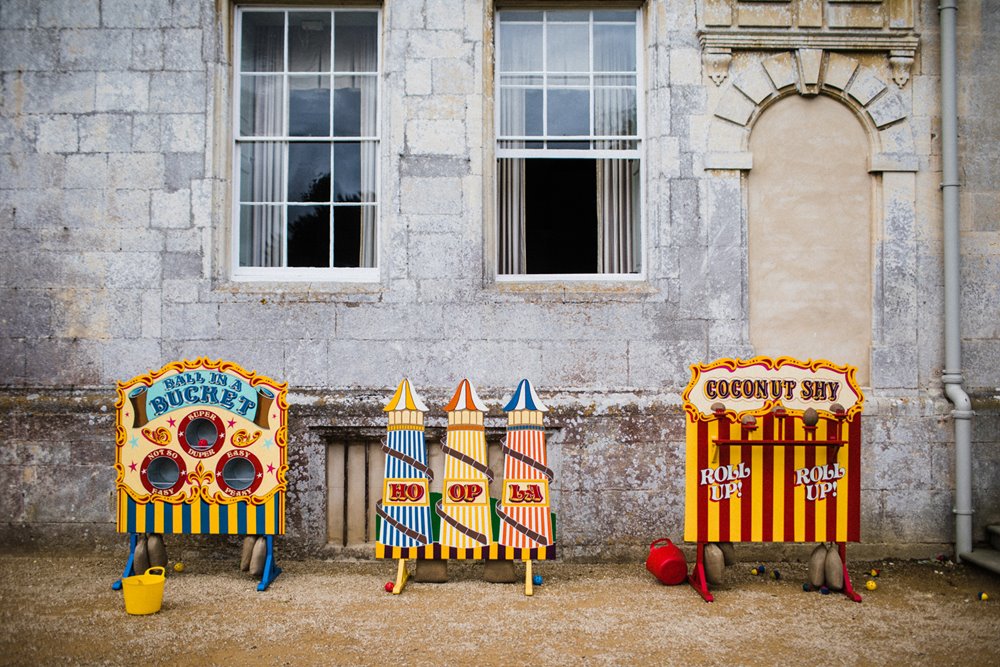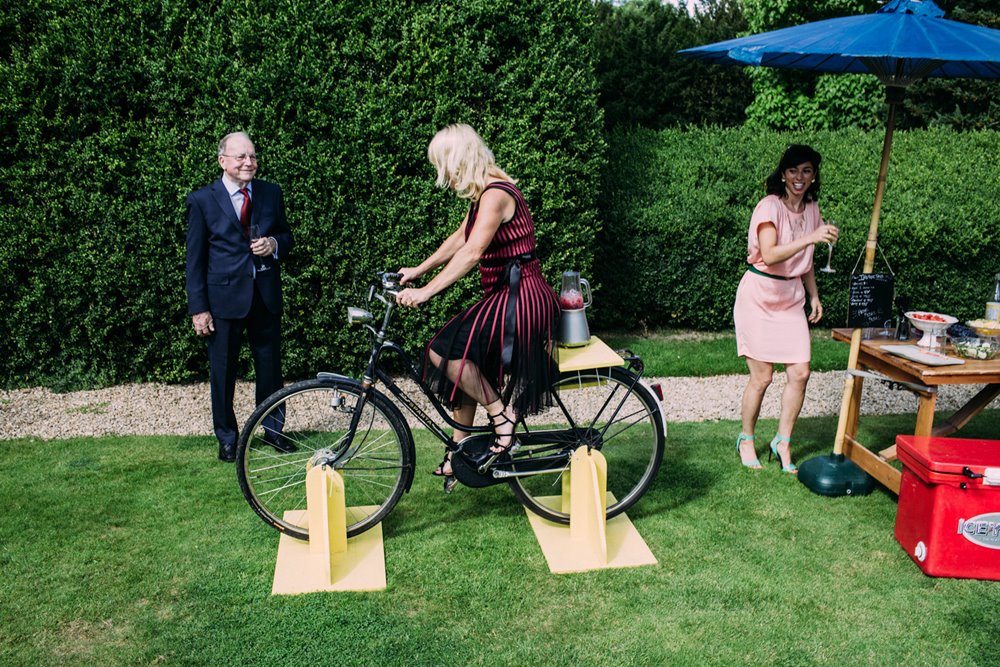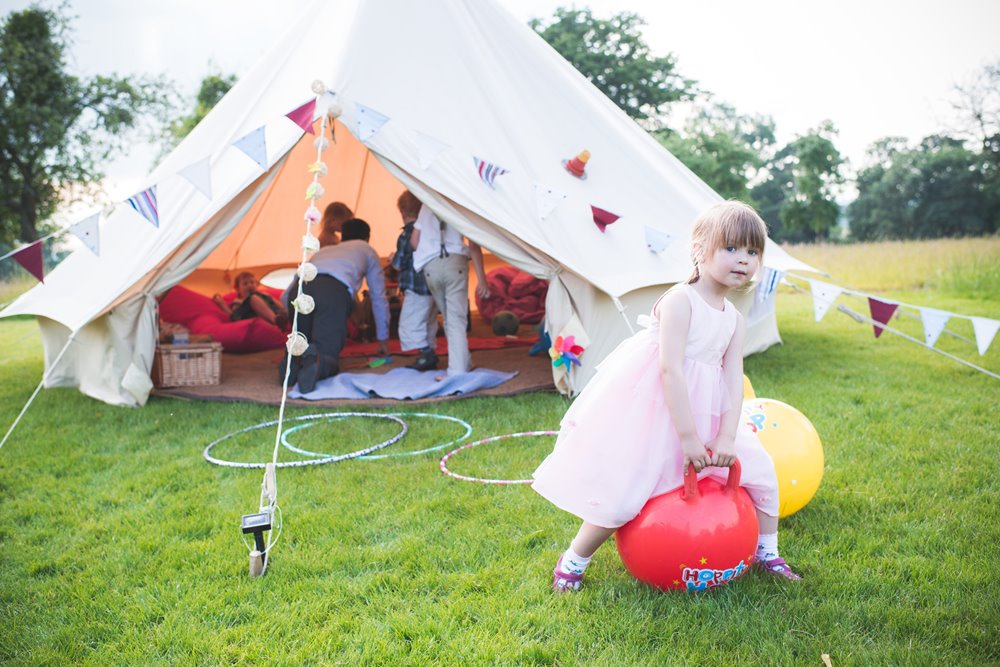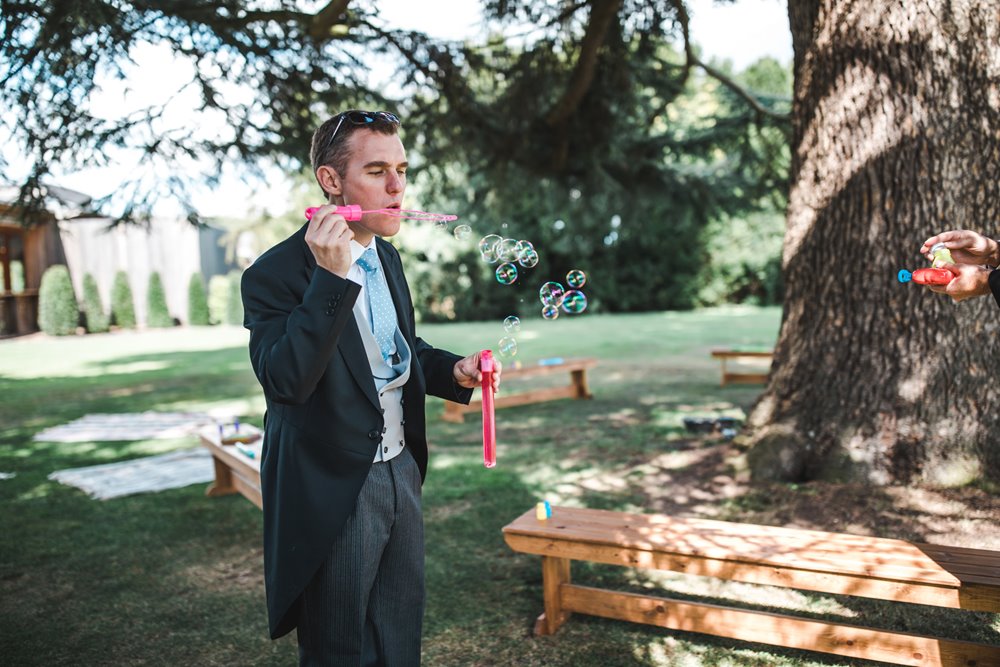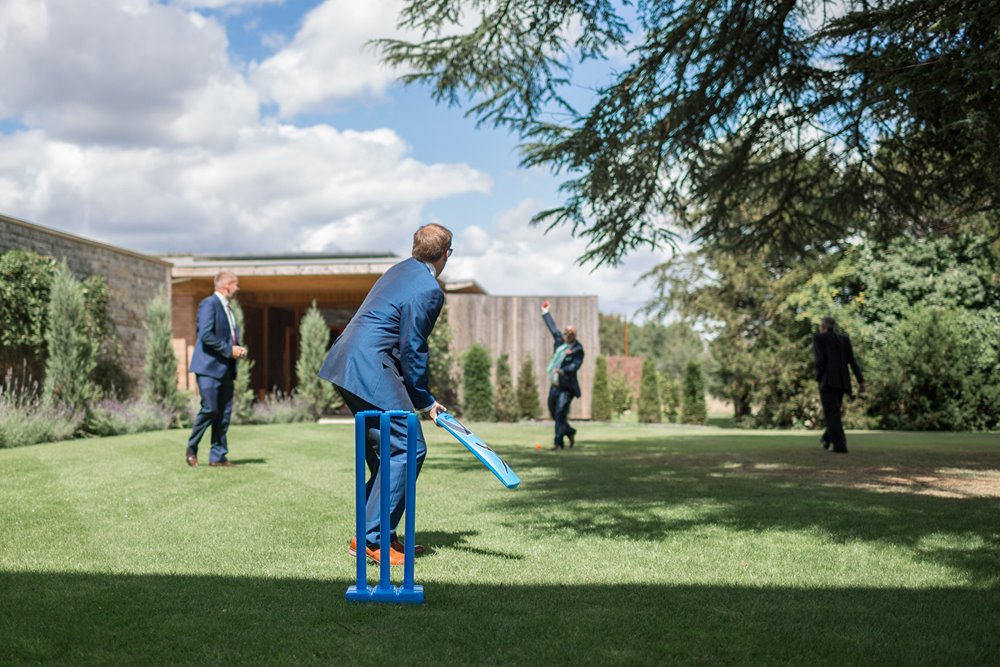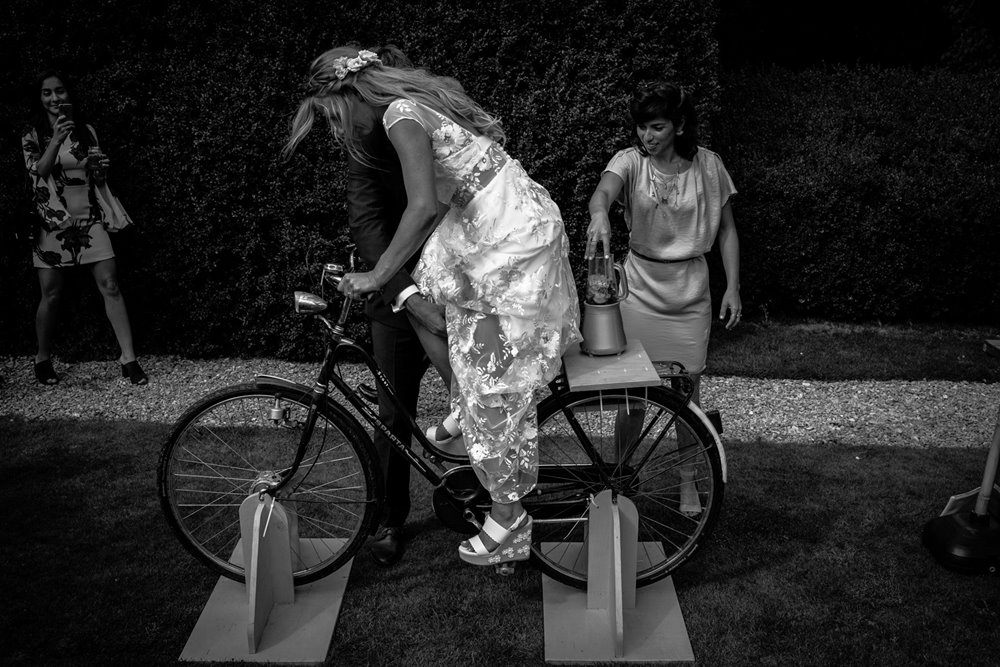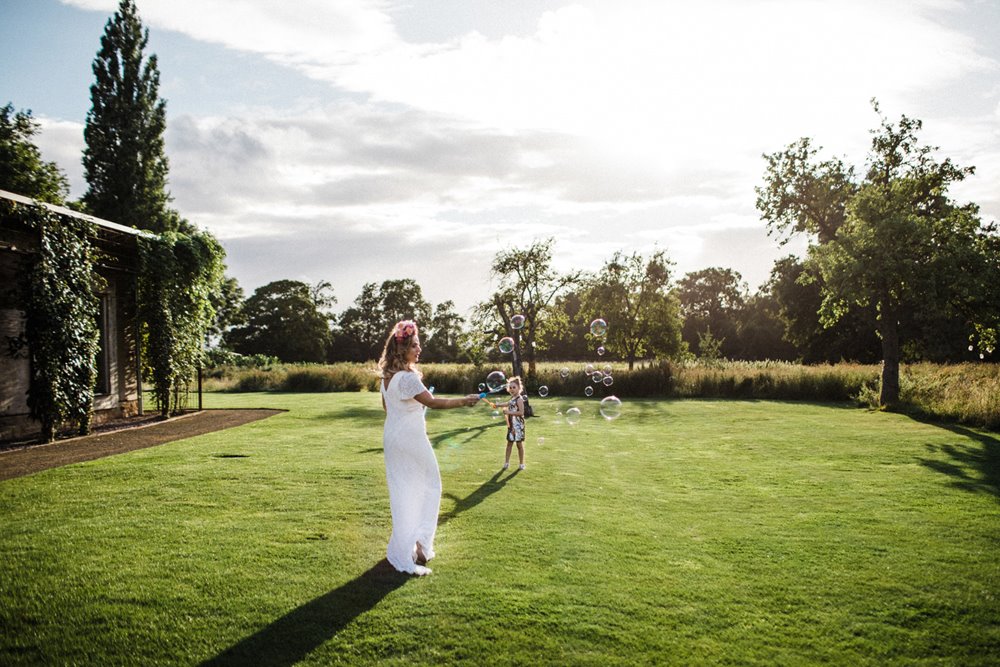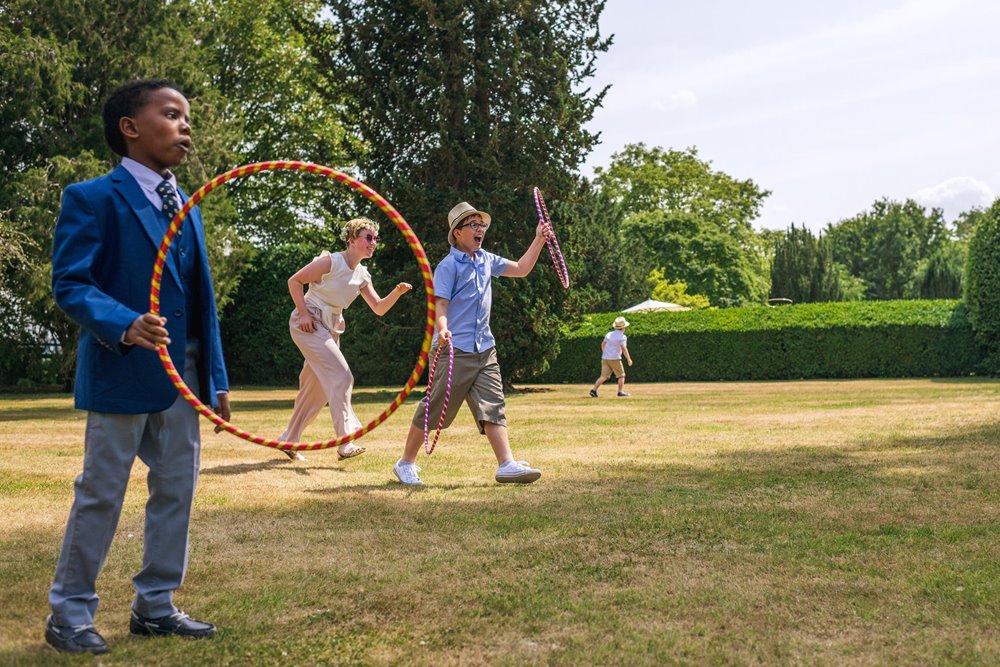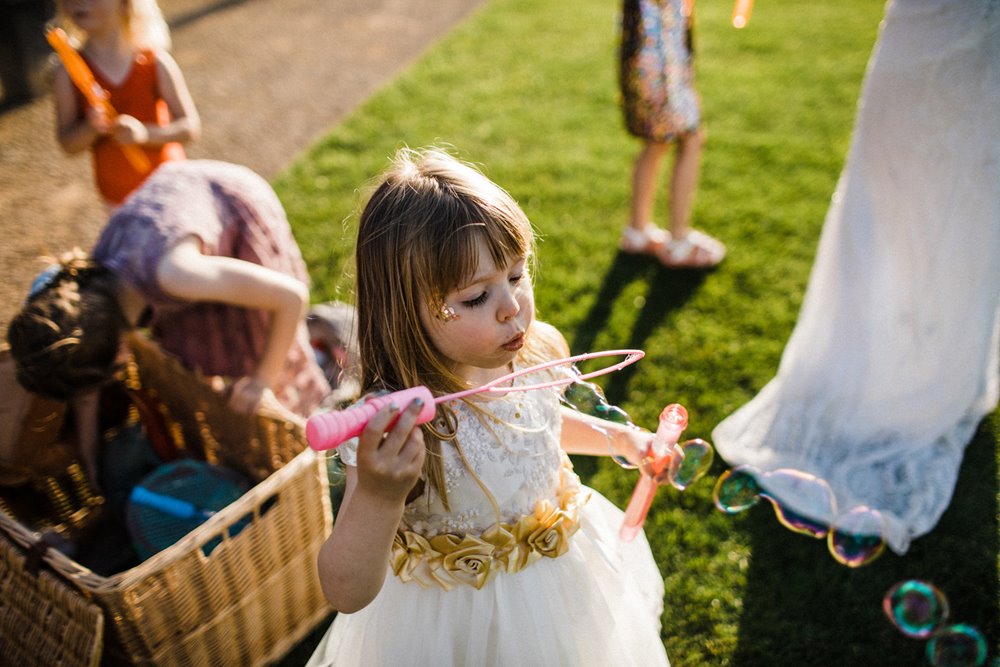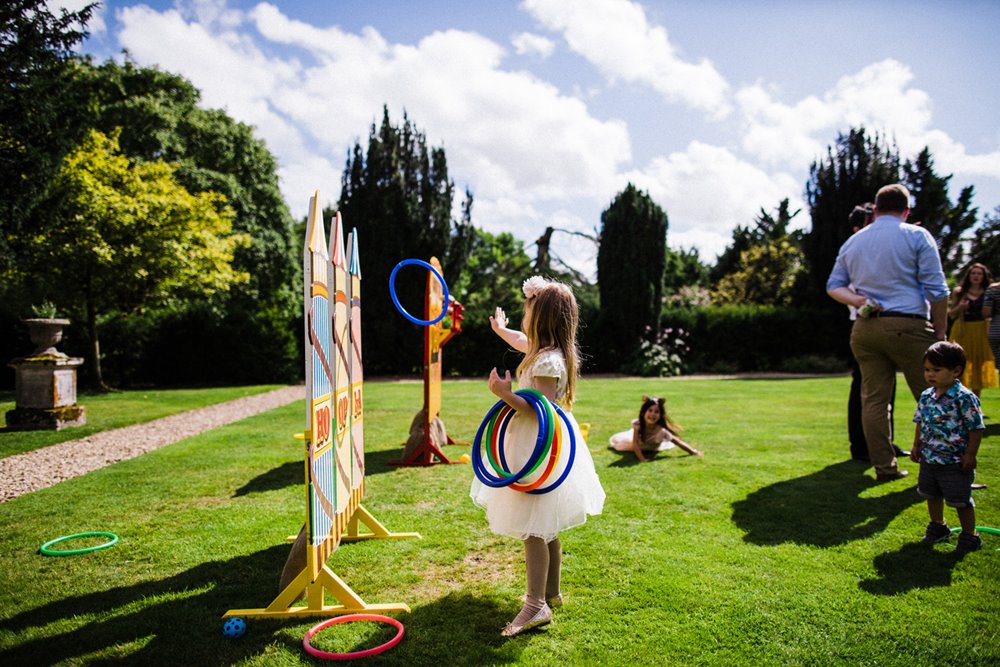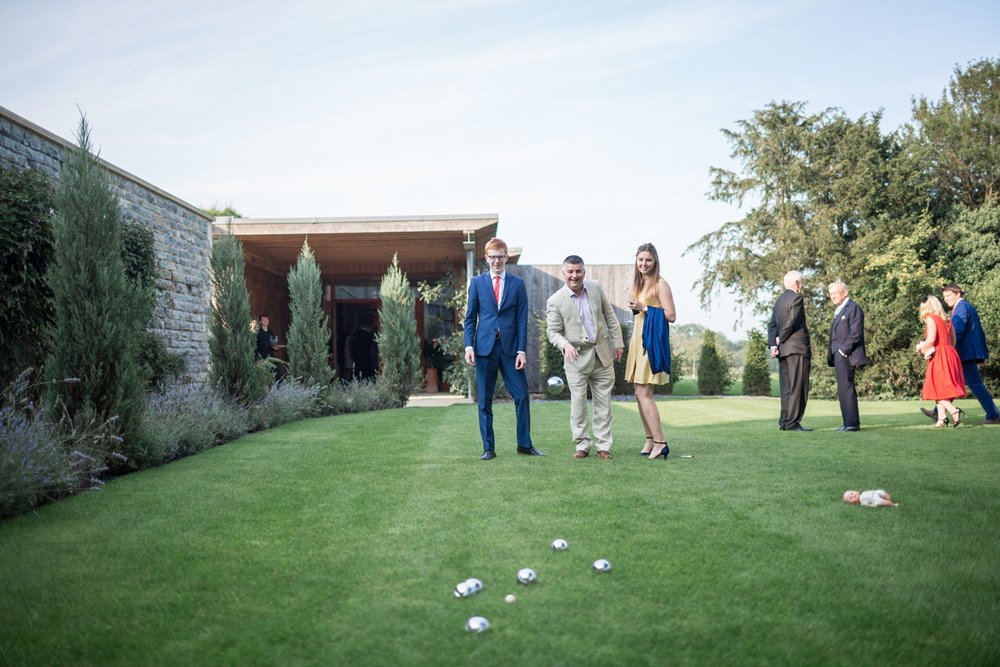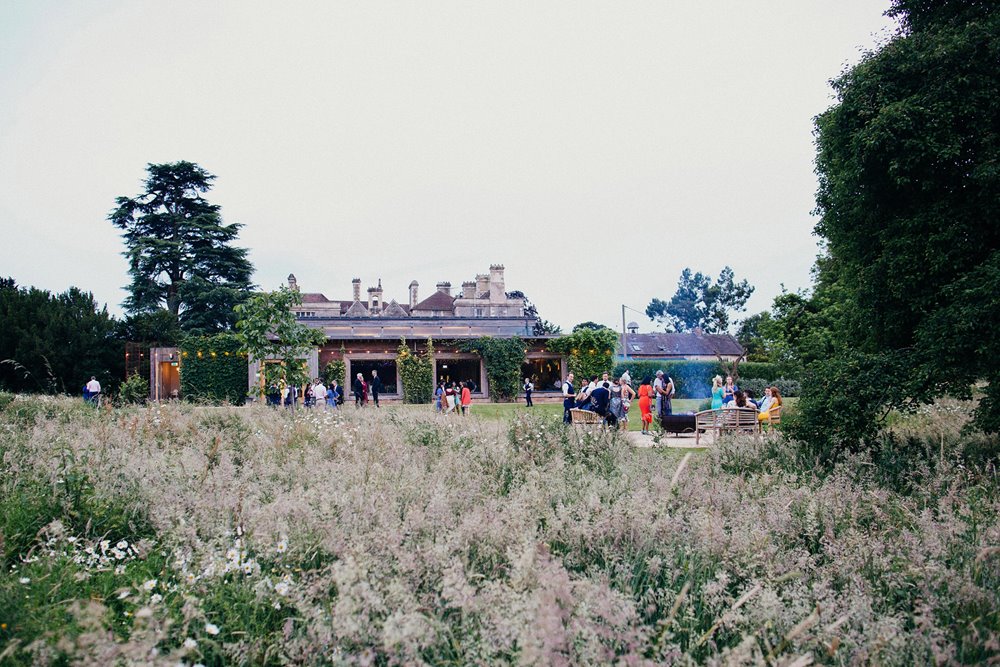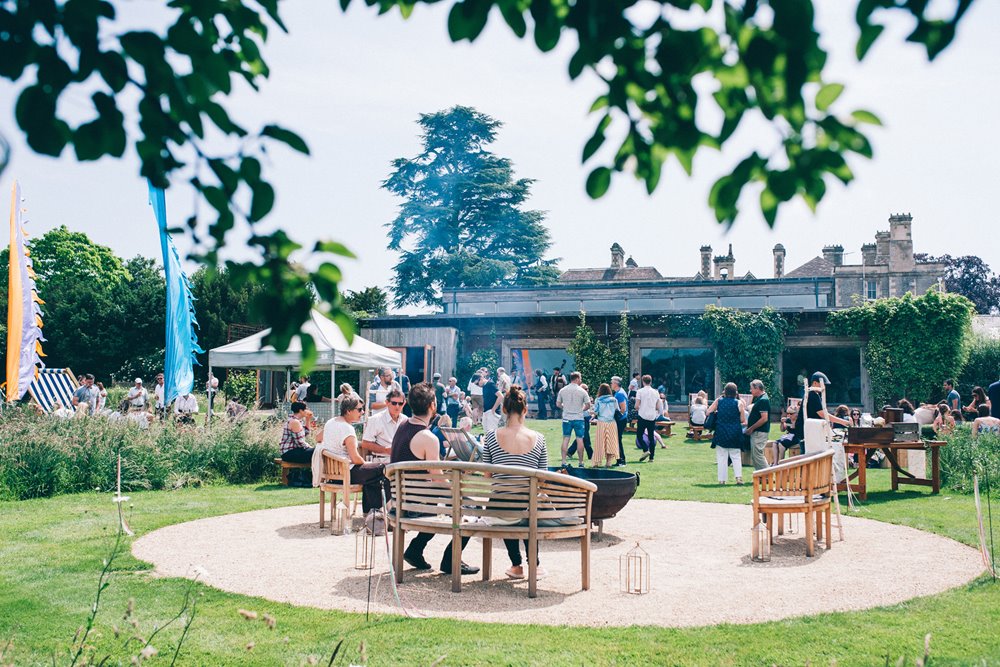 How to create different areas and chill out spaces
To really make the most of the sprawling grounds we have here it's a lovely idea to create various 'rooms' and different spaces for sitting, chilling and interacting.
We love to add a little festival magic to proceedings with mysterious signs, chill out furniture, interactive games and even glamping in the meadow. Here's some of the wonderful ways you've made the most of the outdoors...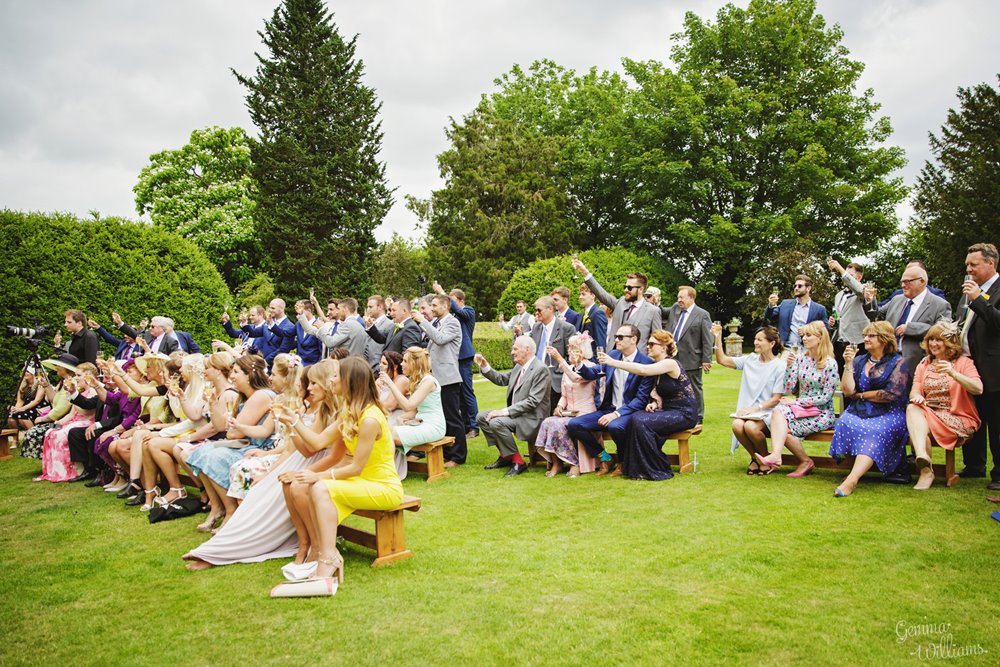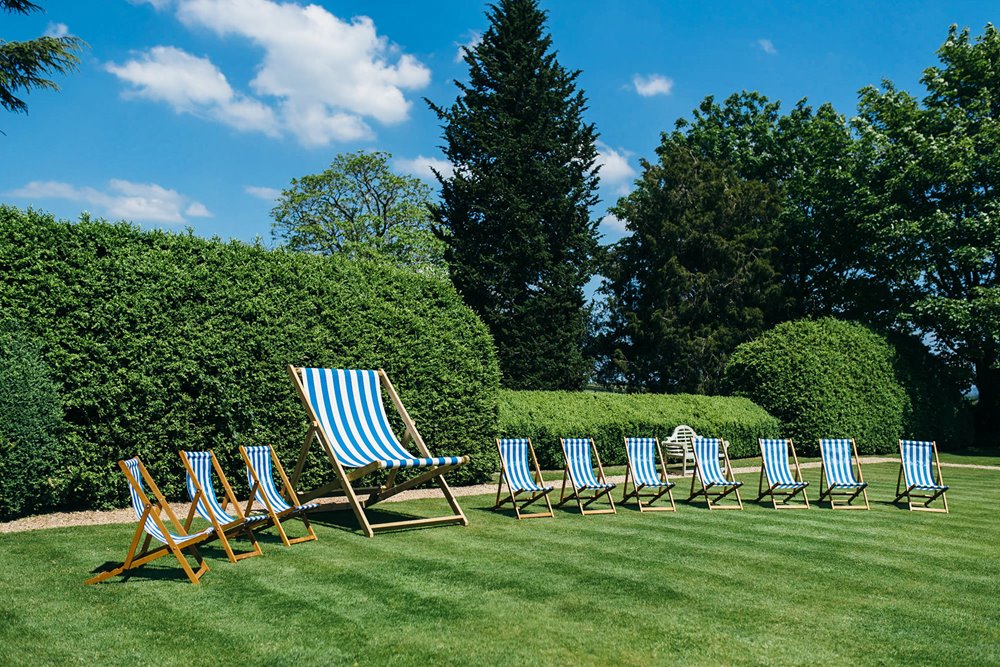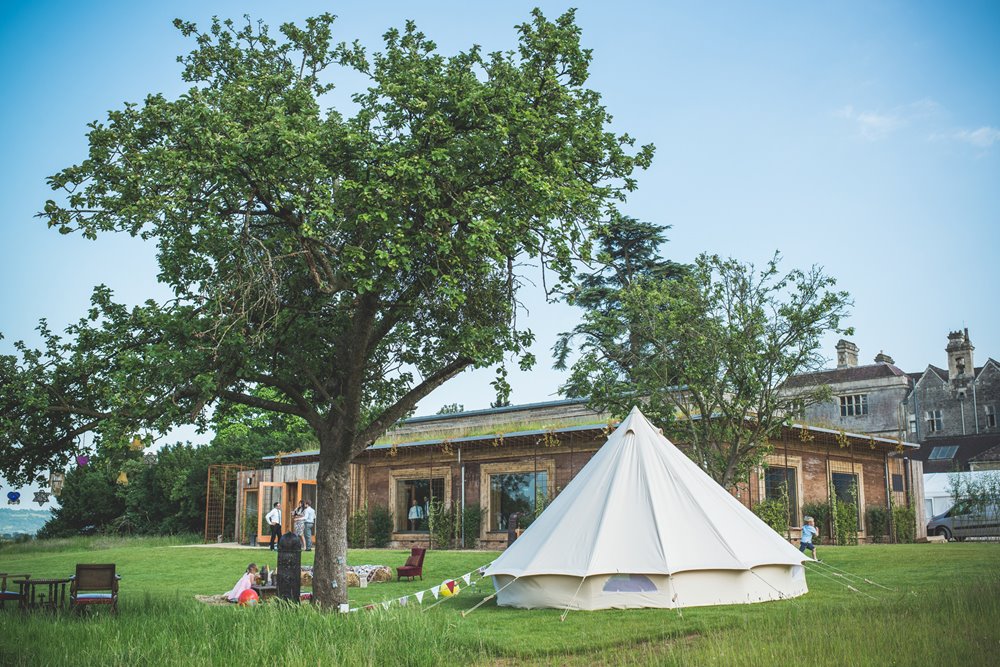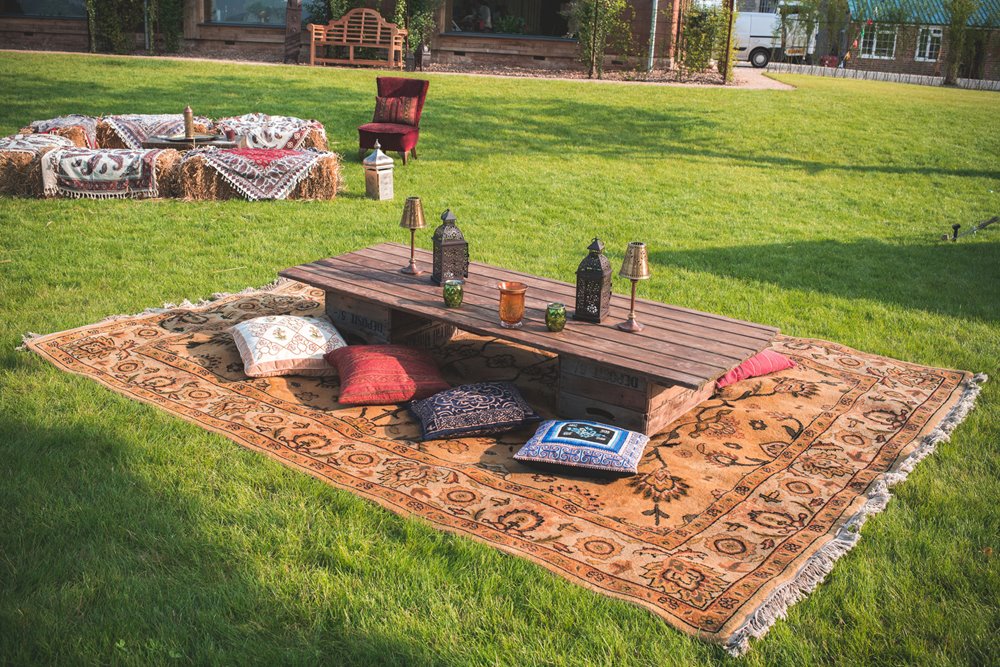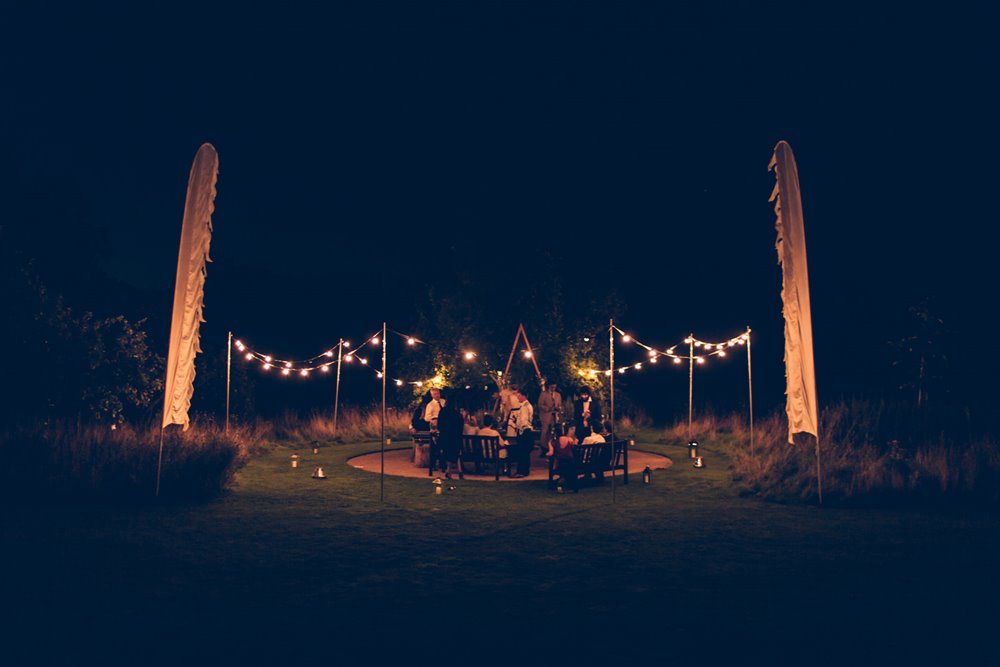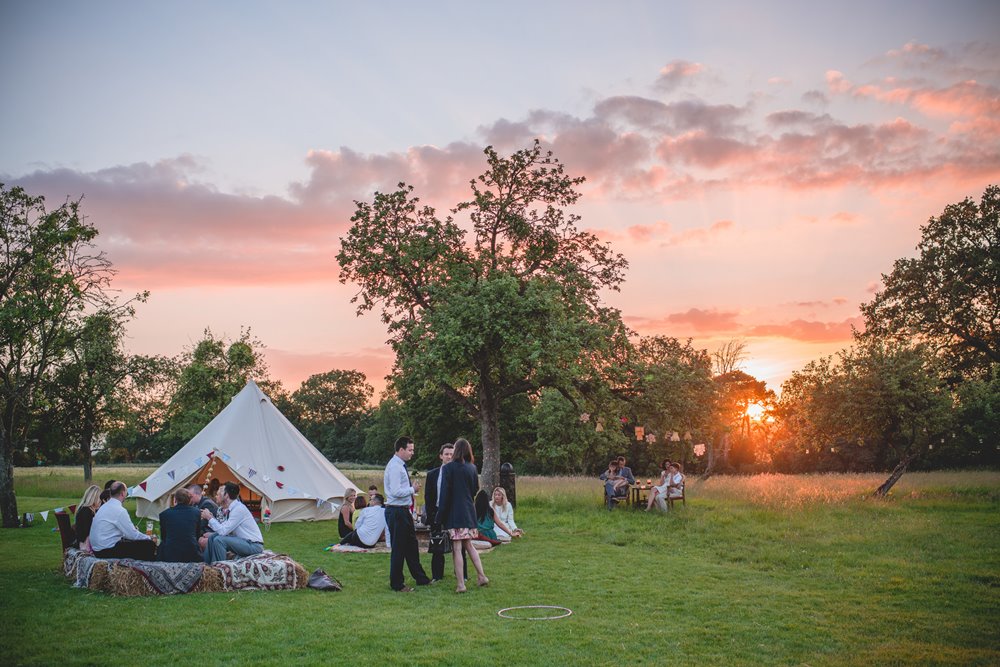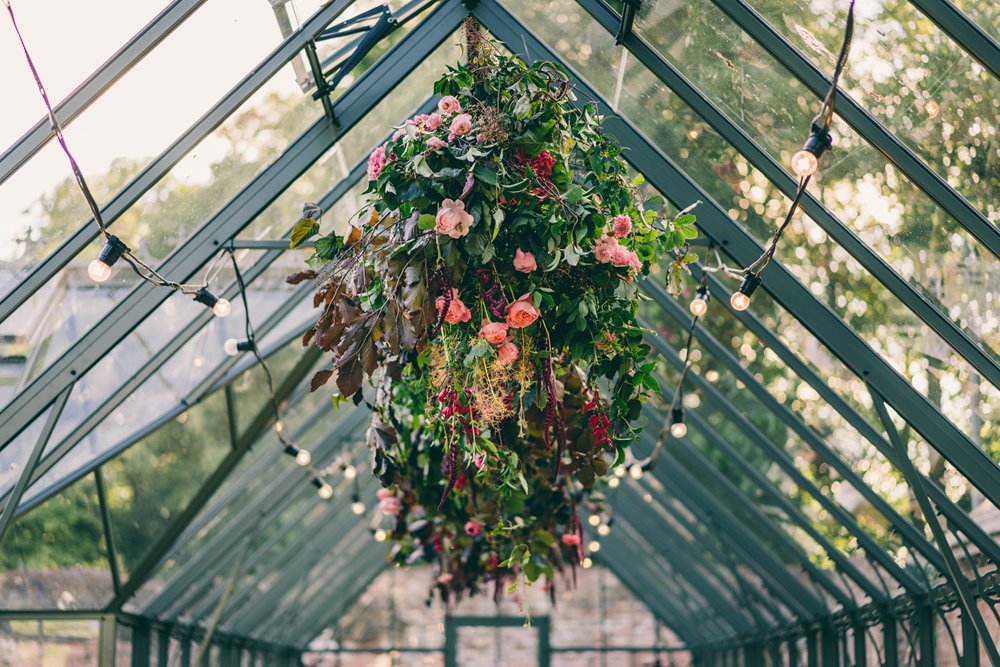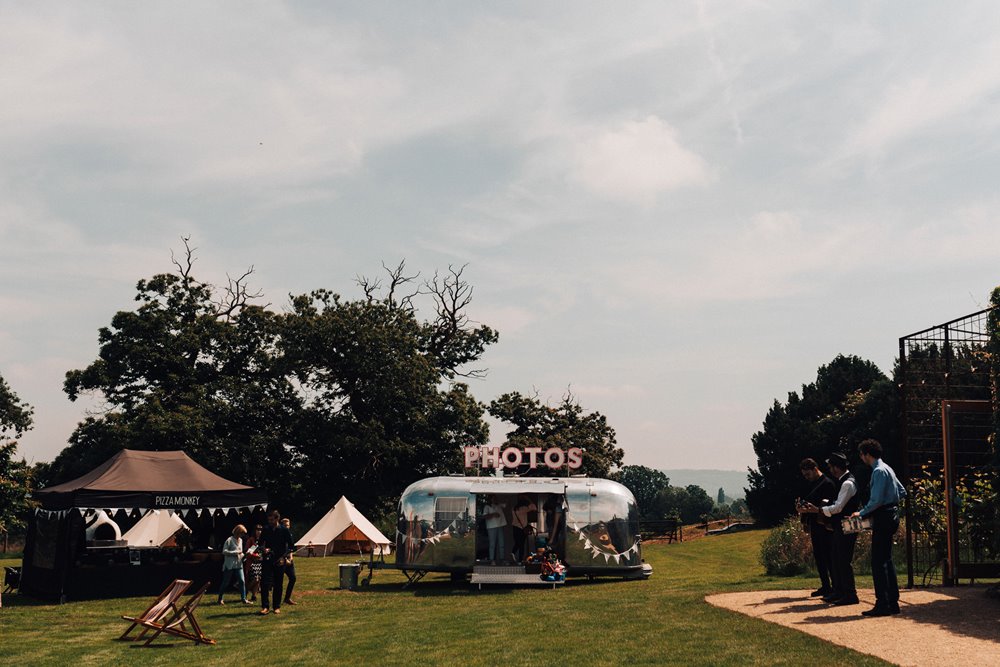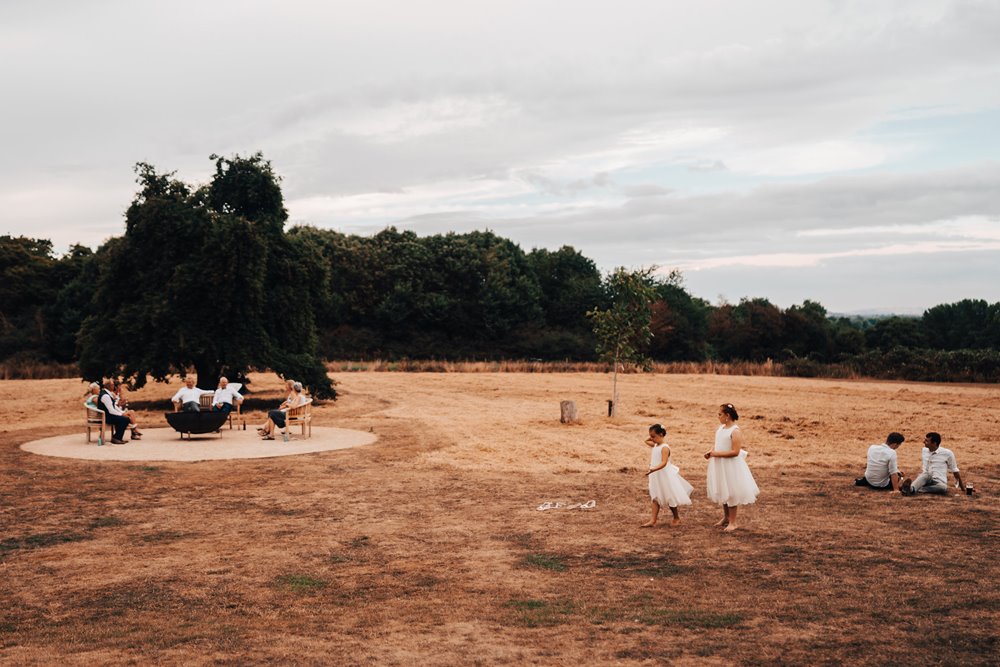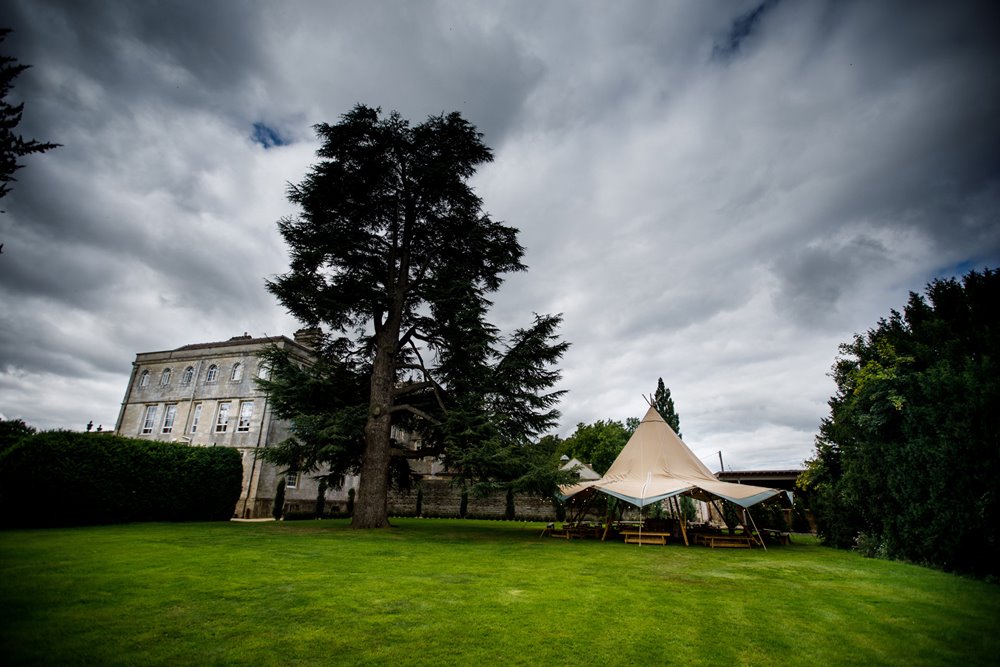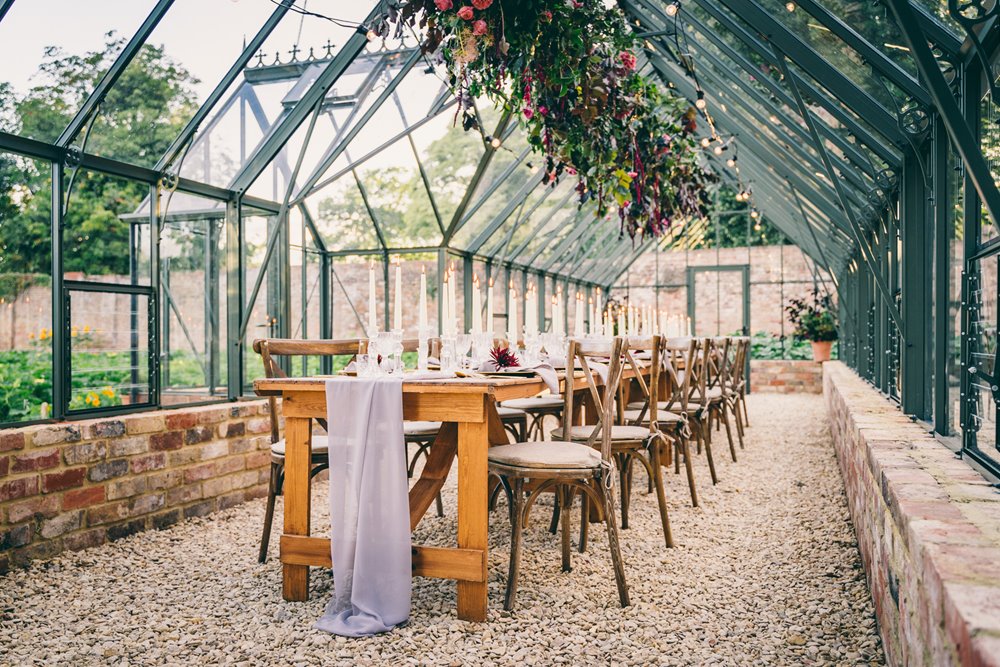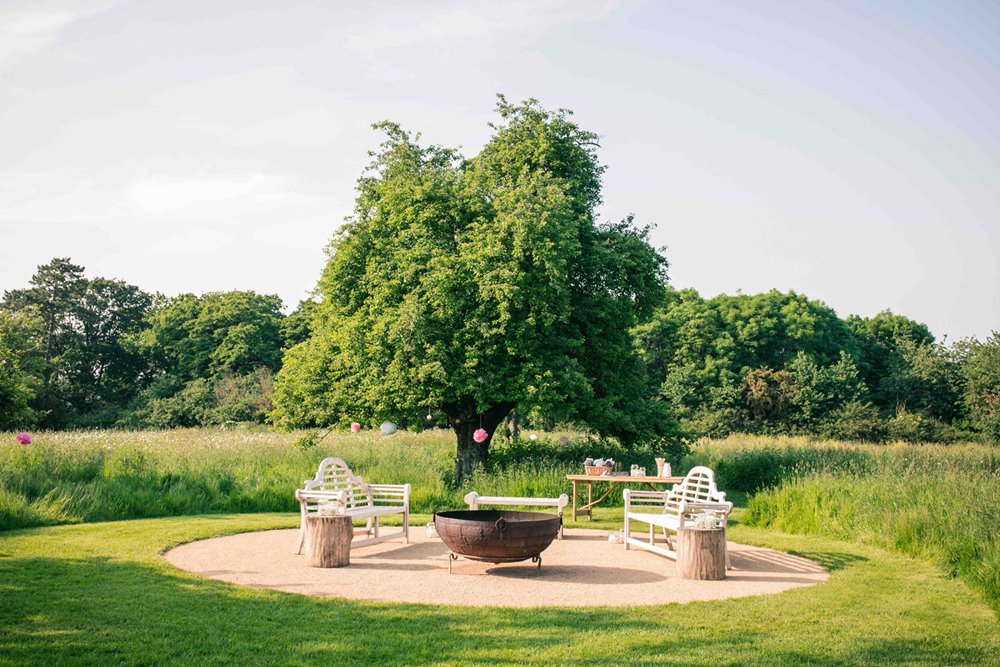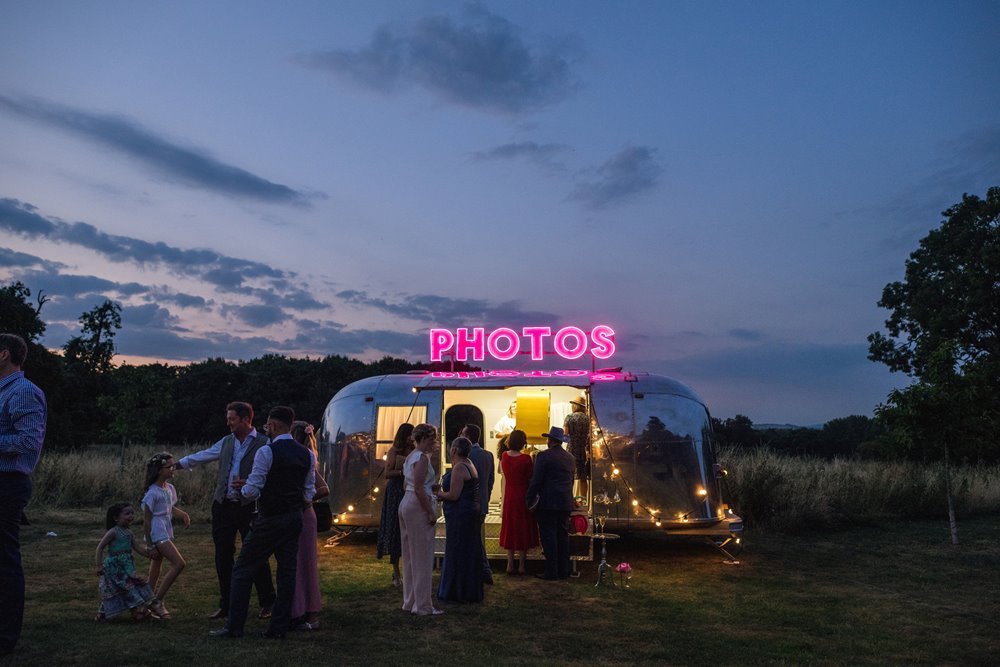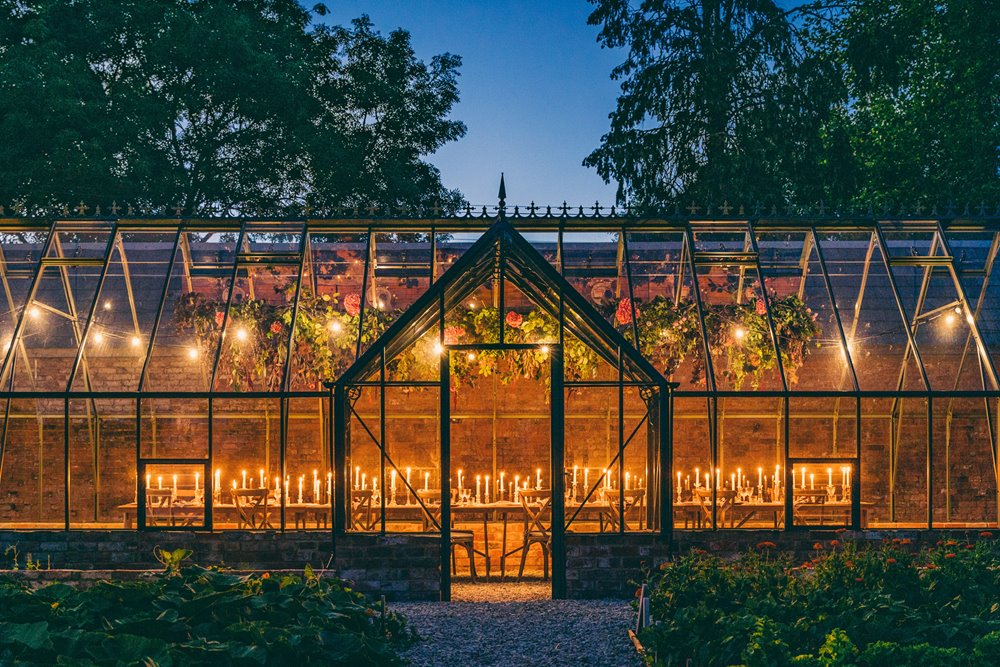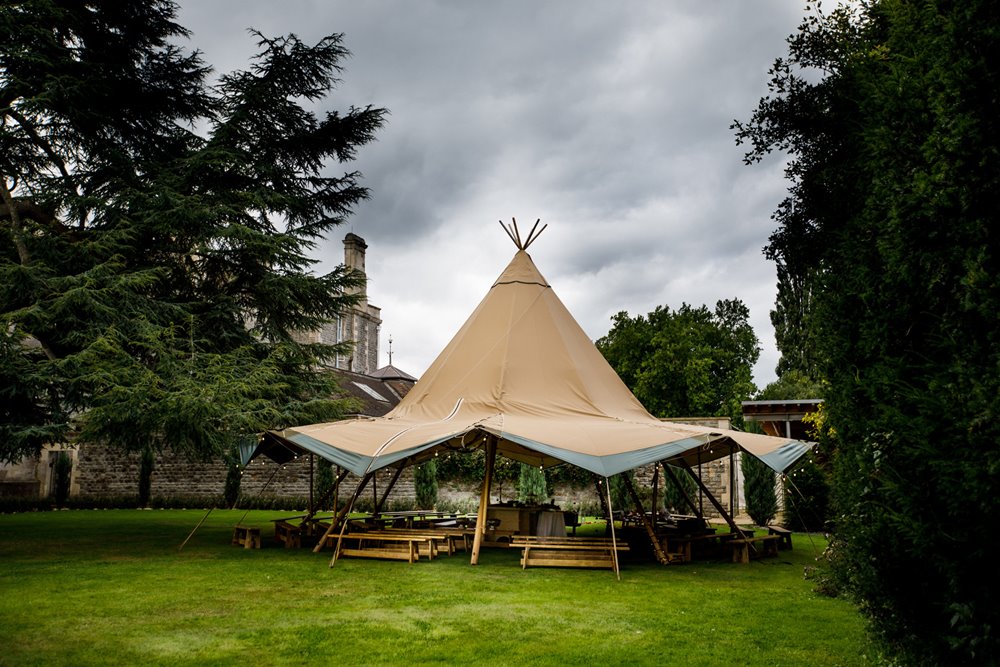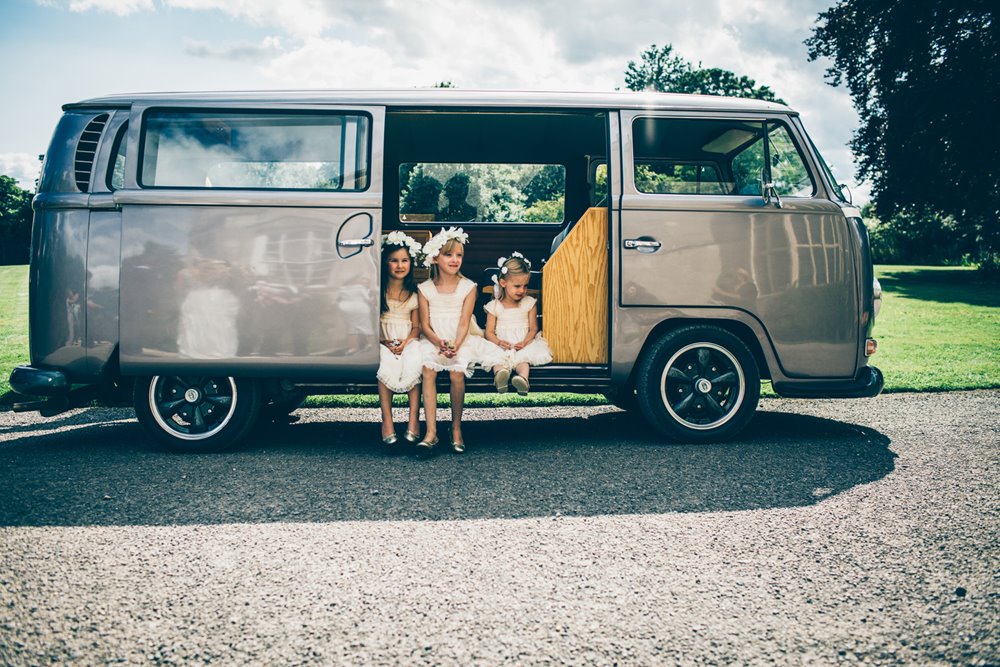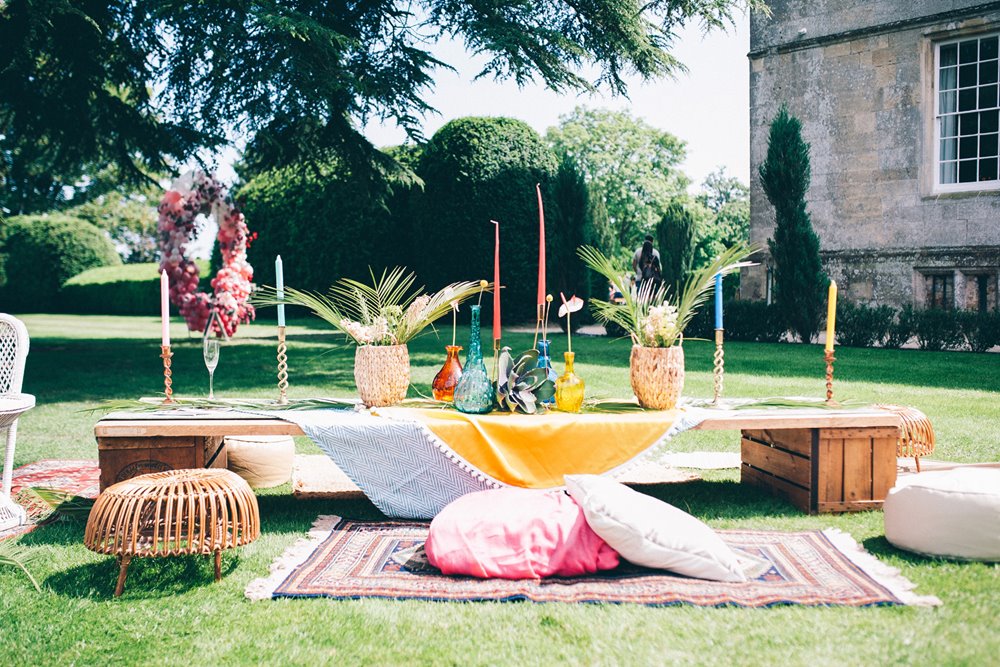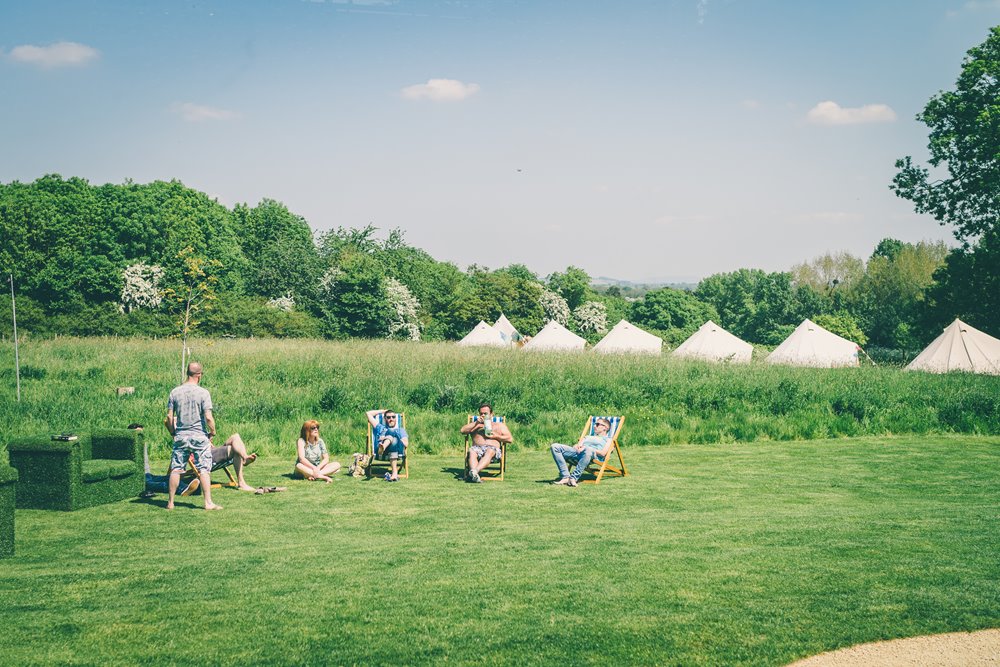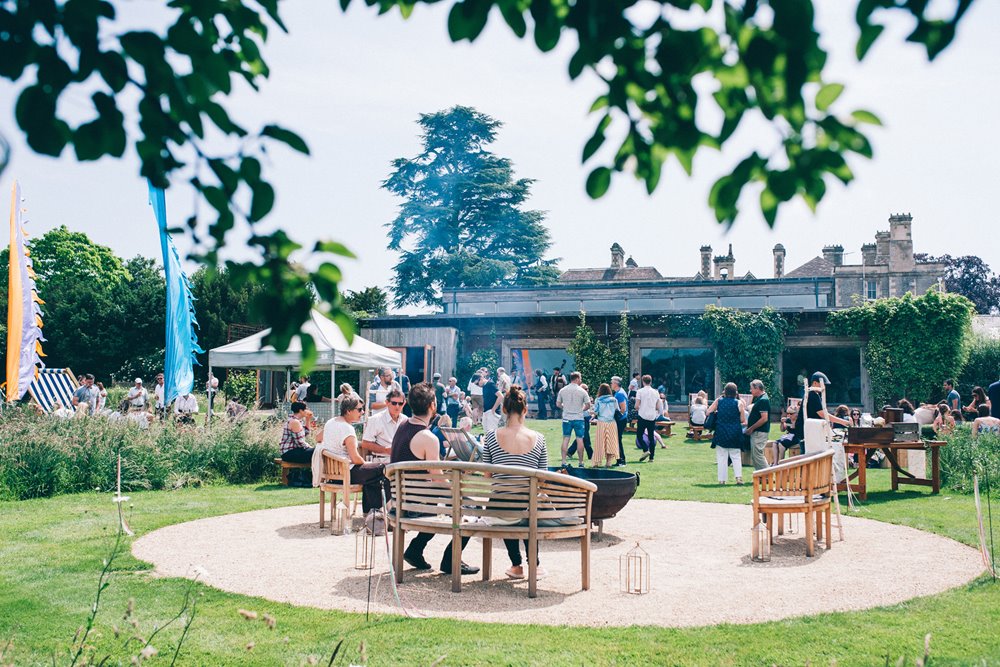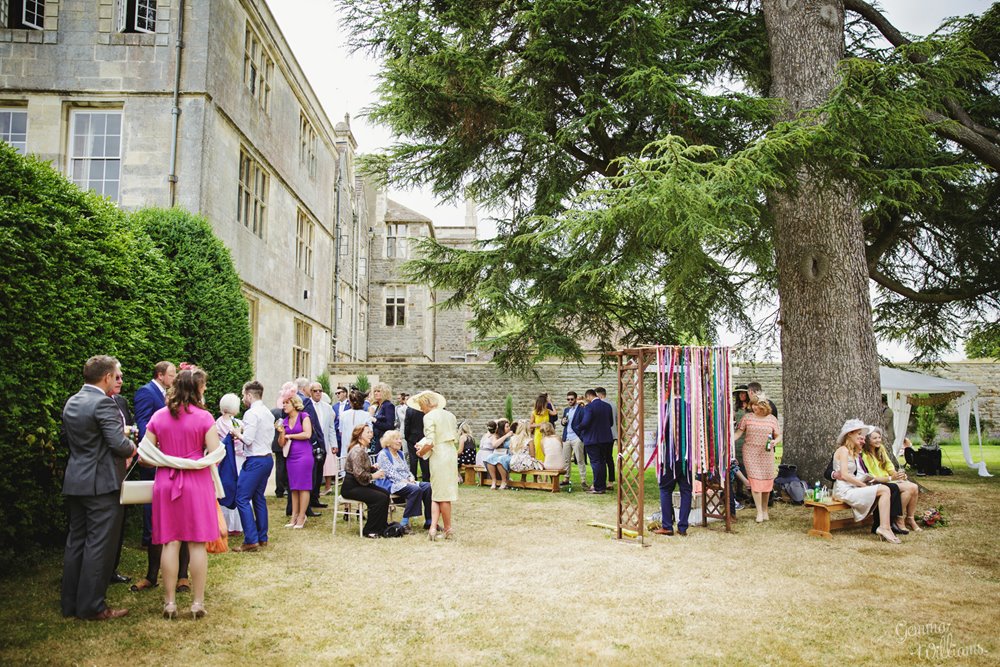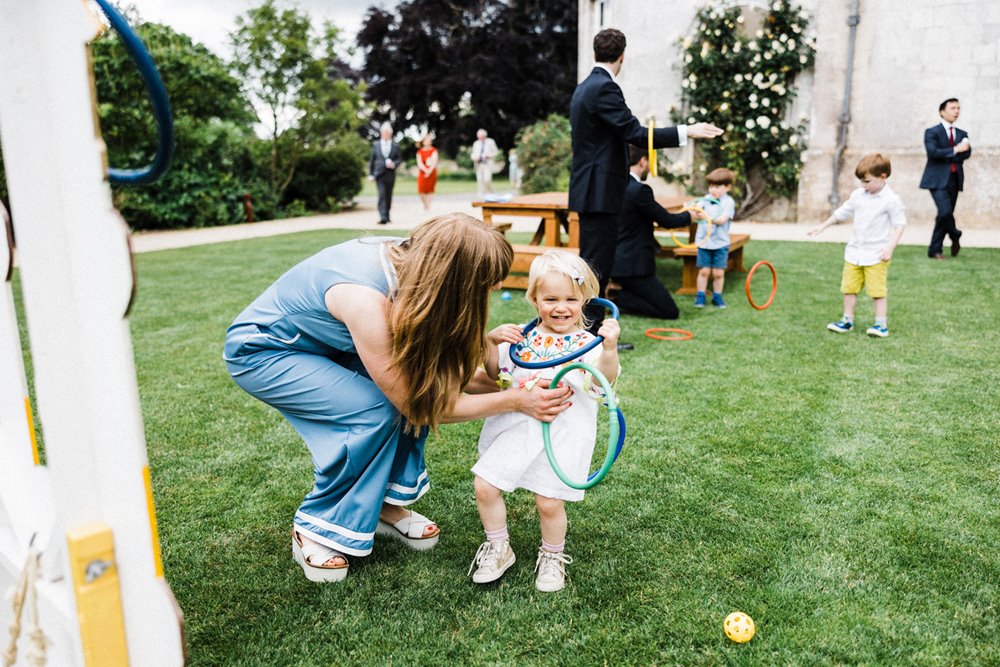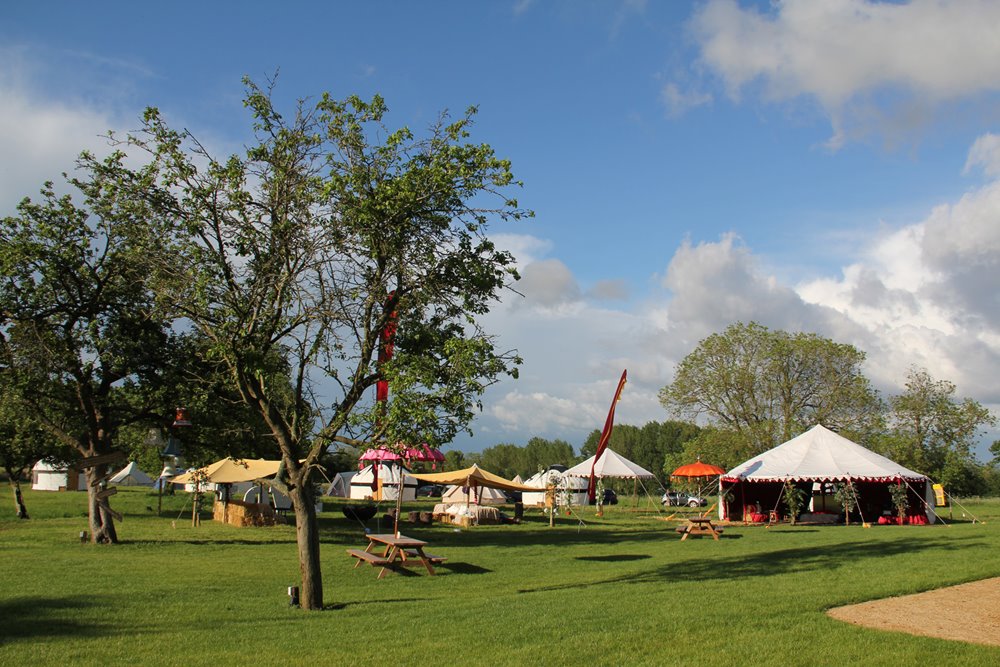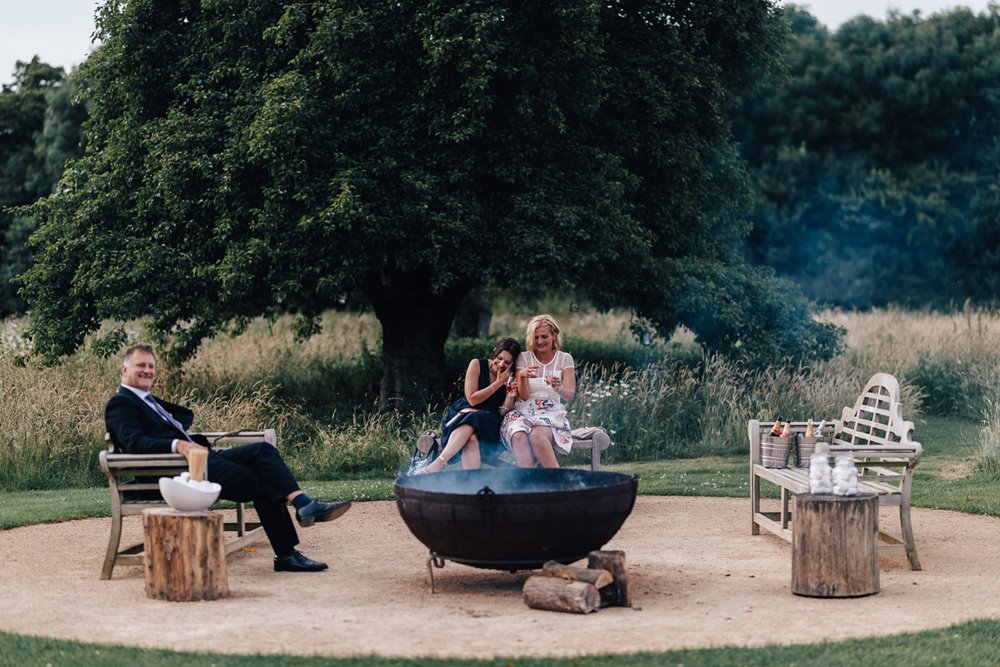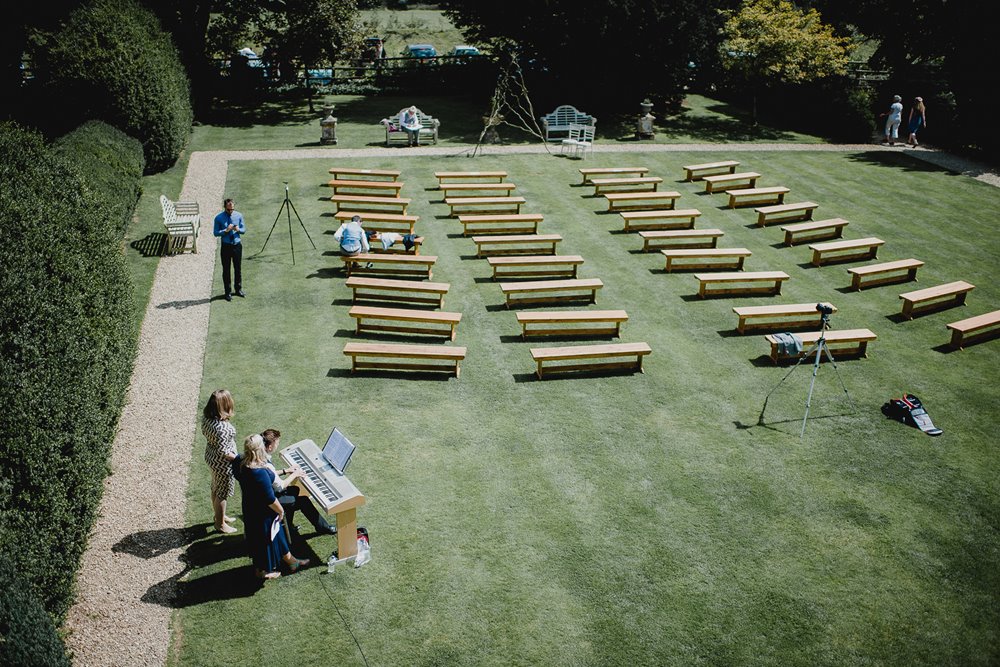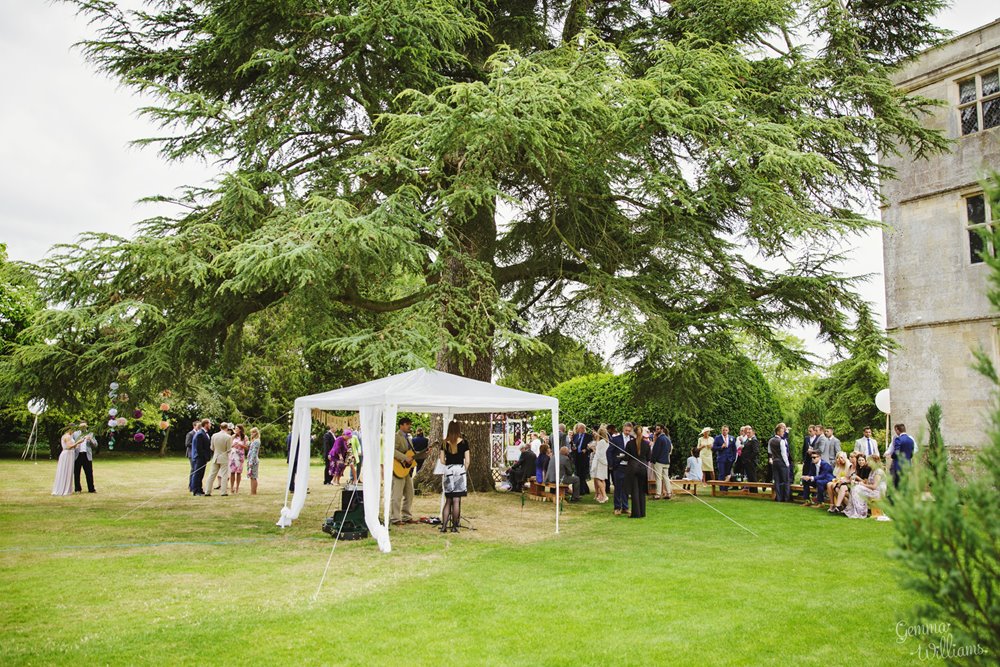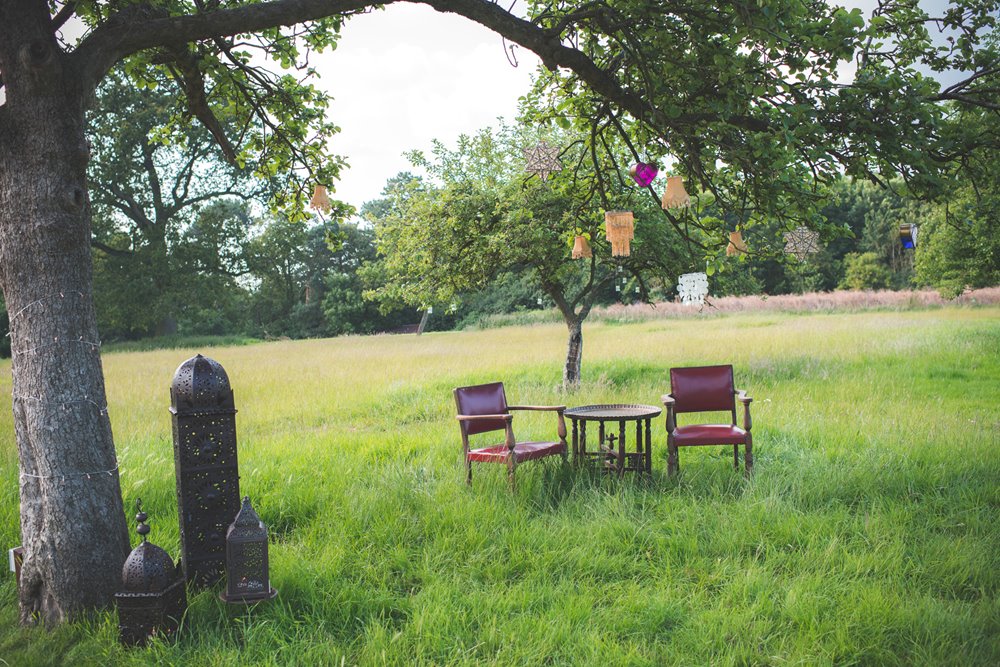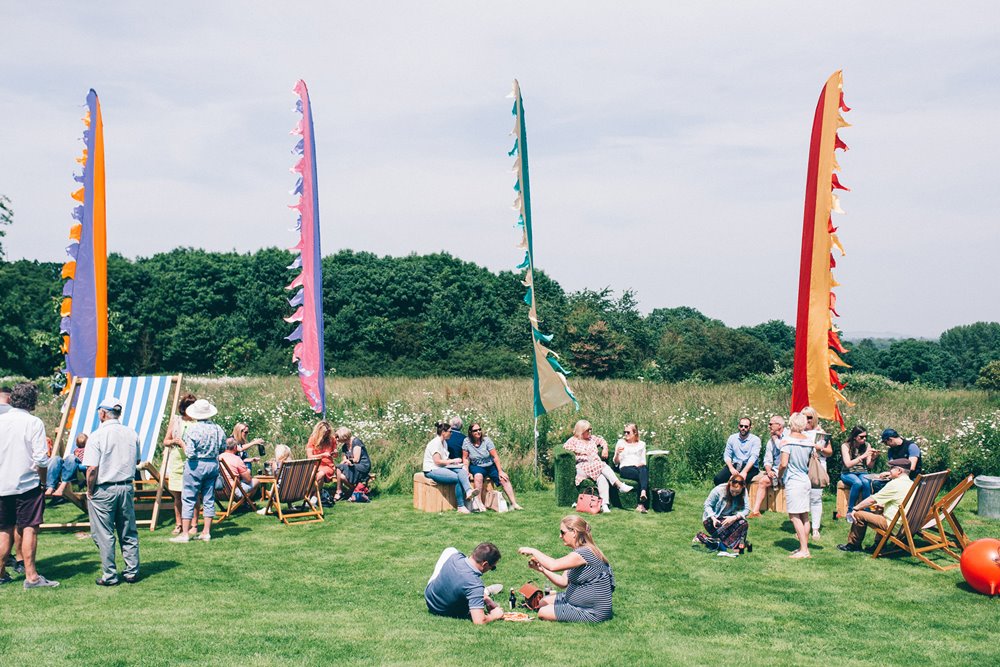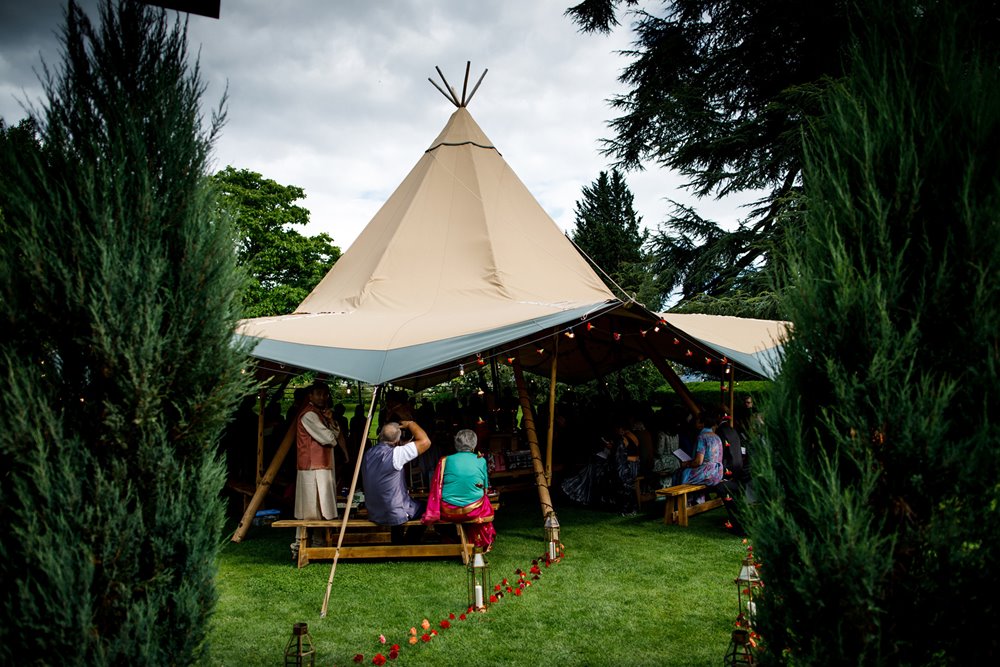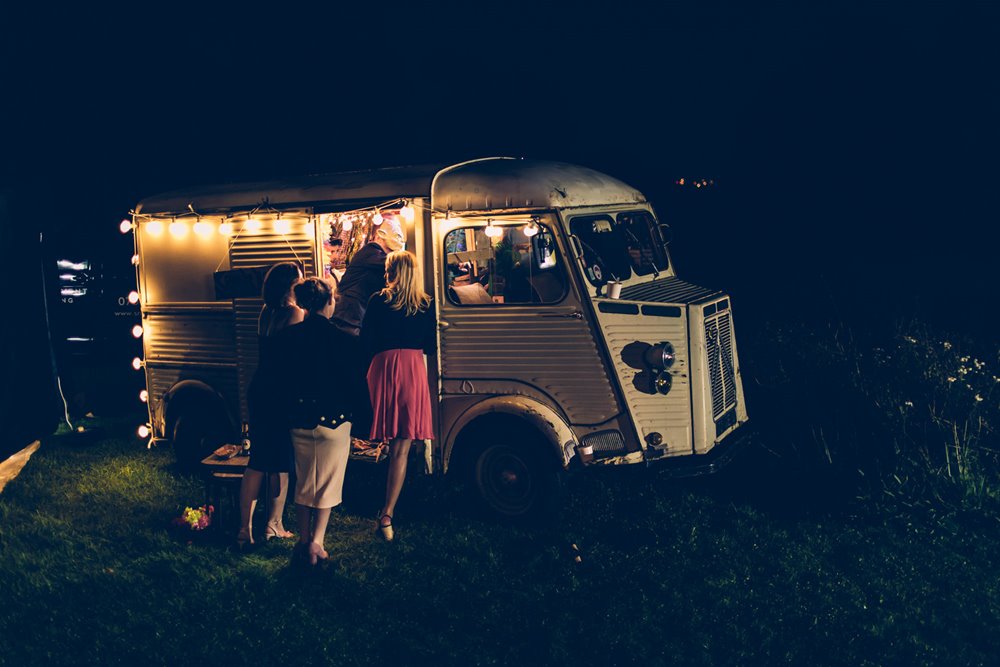 Outdoor wedding decor ideas
The beauty of nature shines brightly all around the grounds at Elmore, but that doesn't mean you can't add to it! Lighting trees, hanging lanterns and pom poms, carefully placed fairy lights all make the magic of the outdoors even more wondrous.
Just look at these beautiful ideas to decorate your outdoor wedding...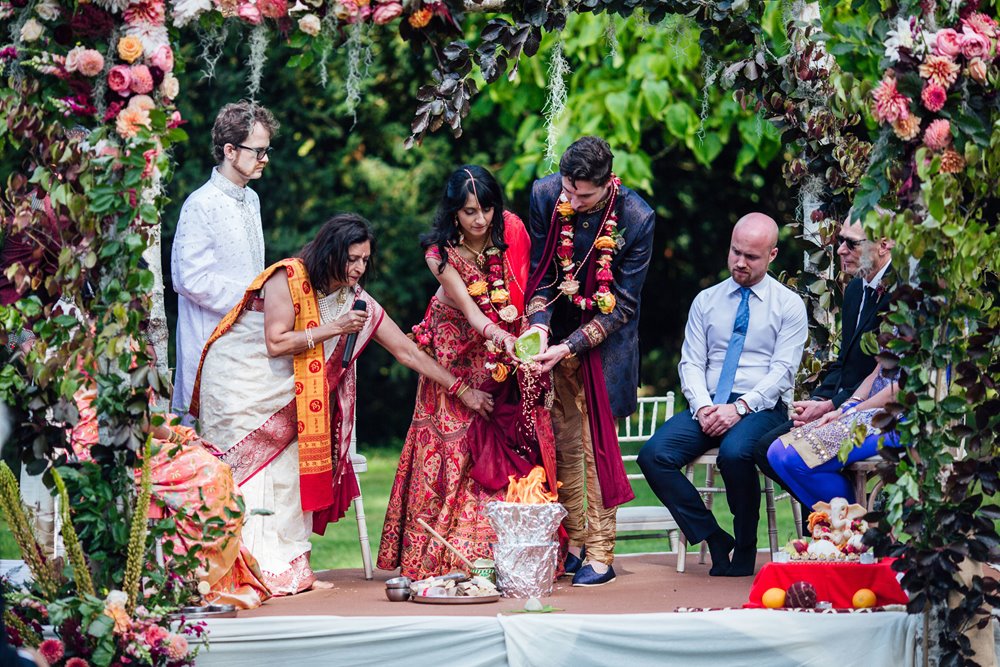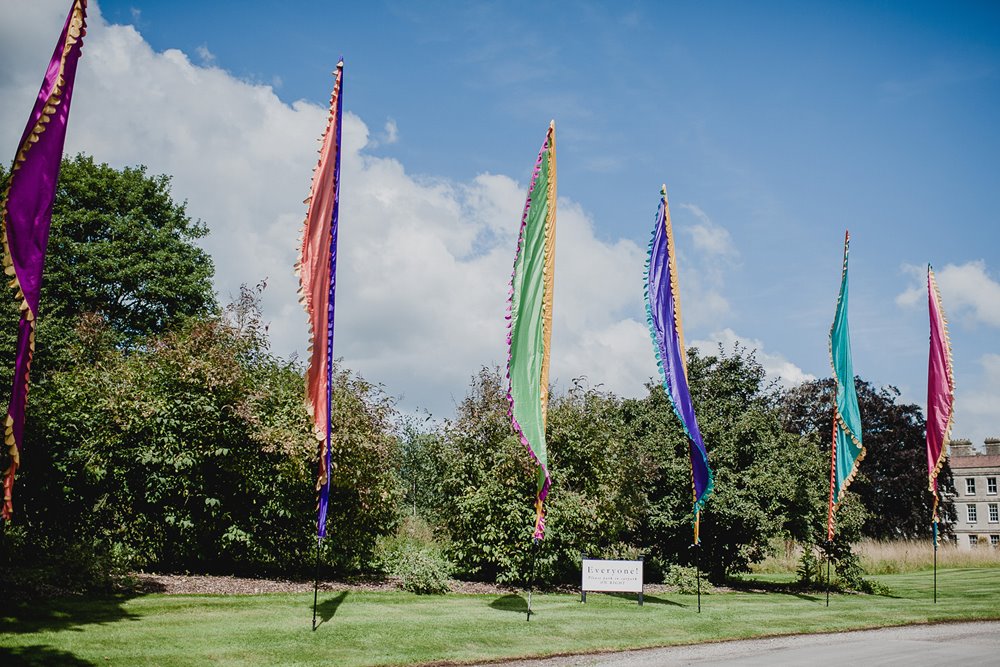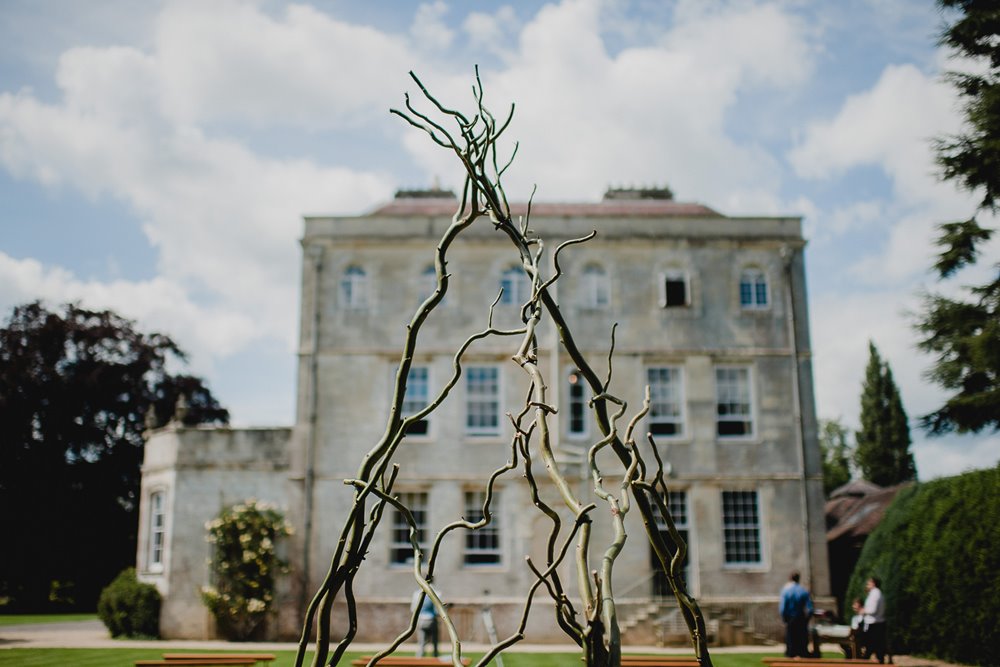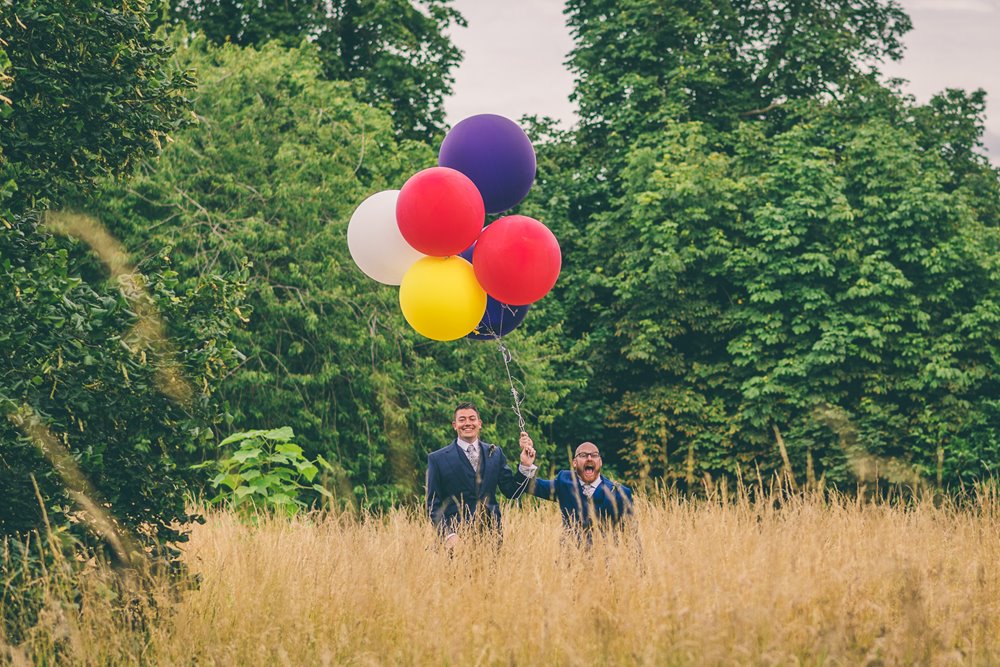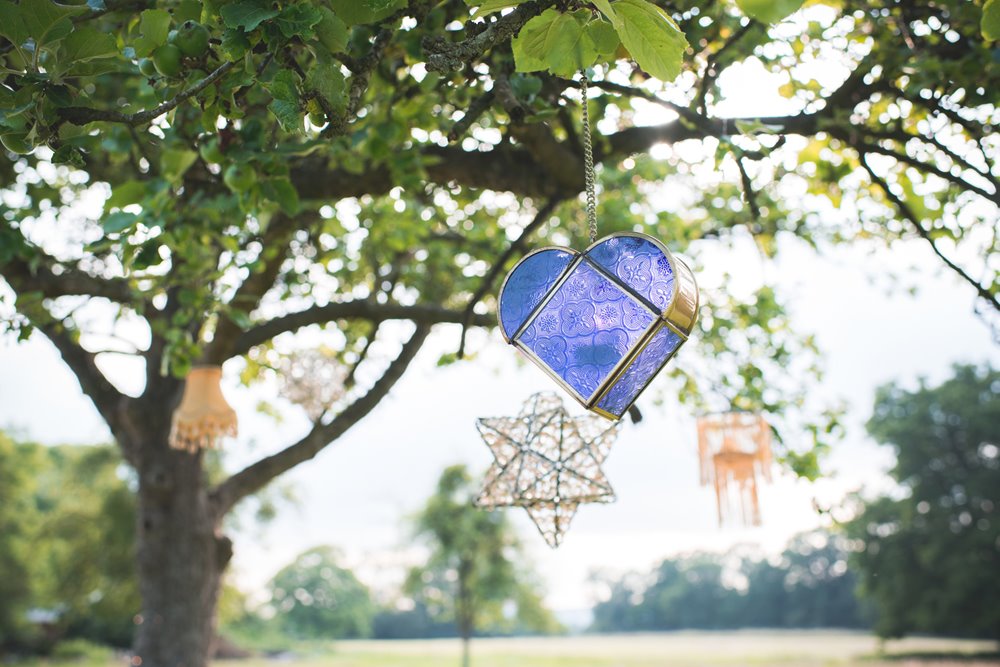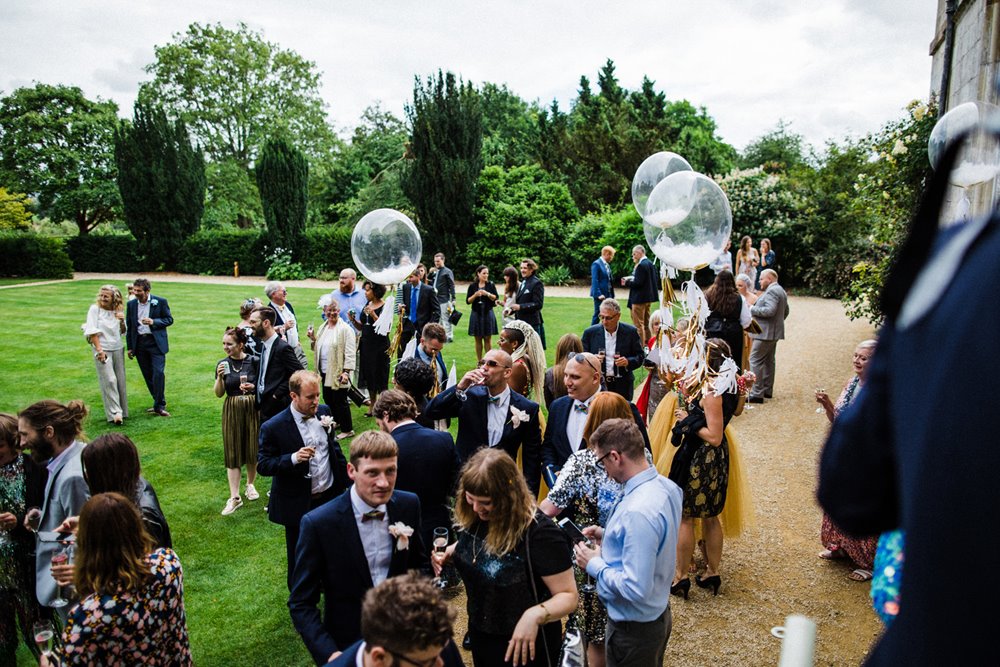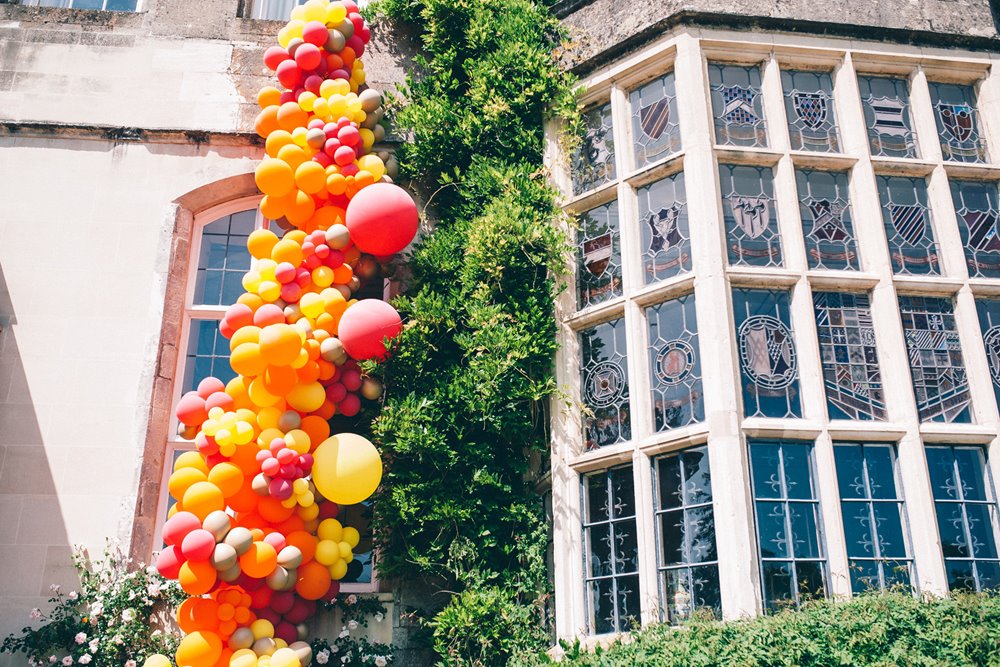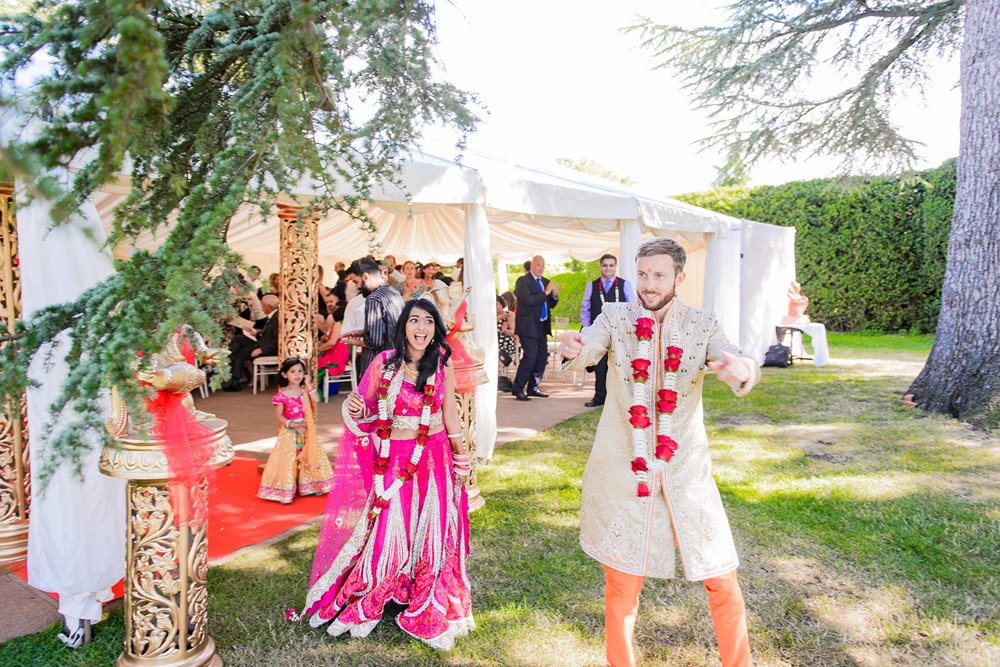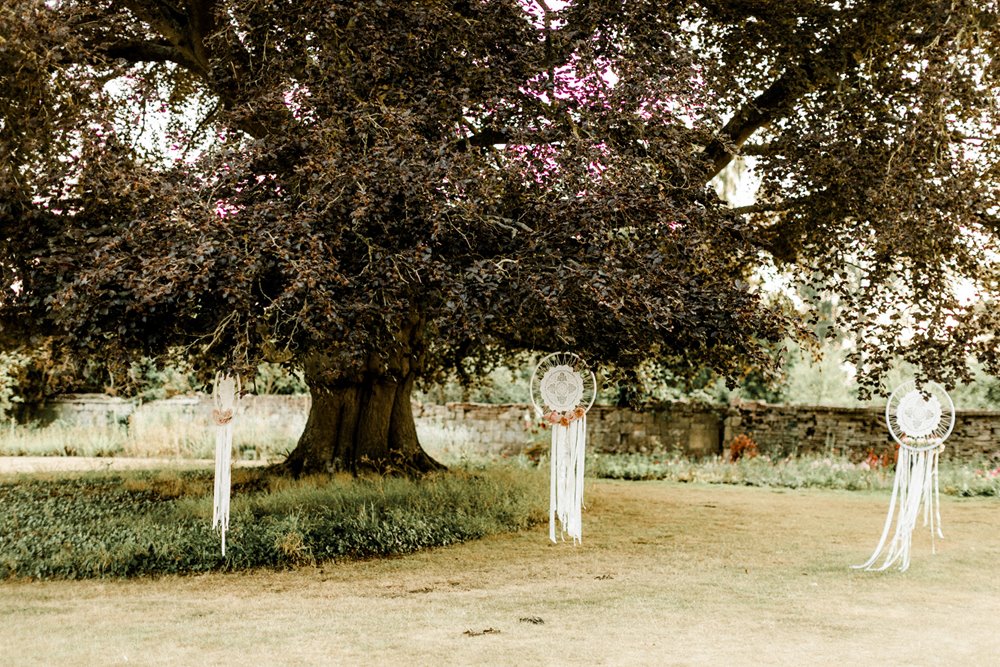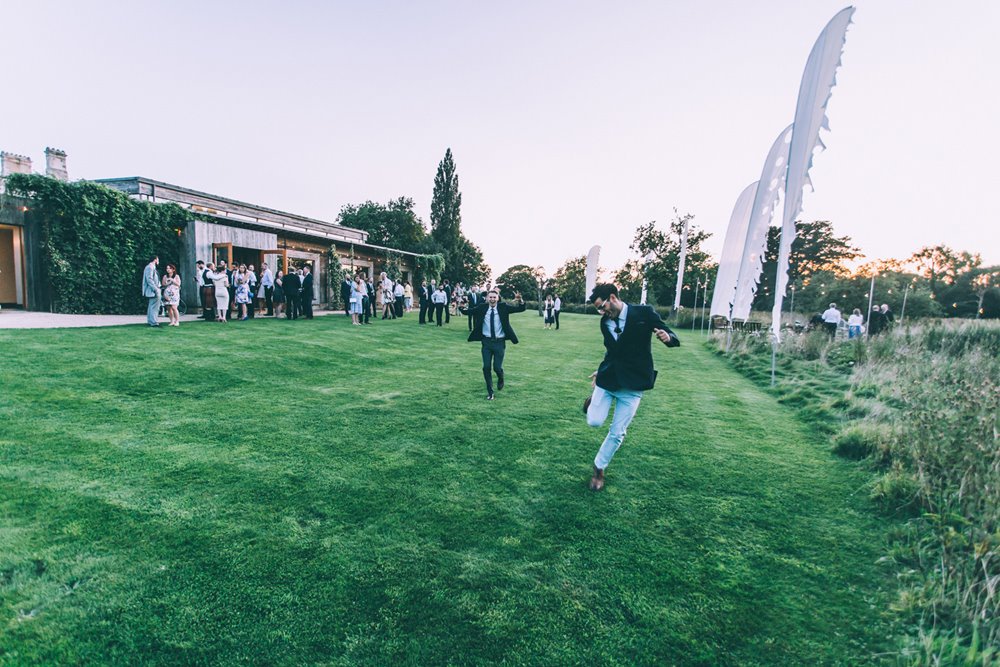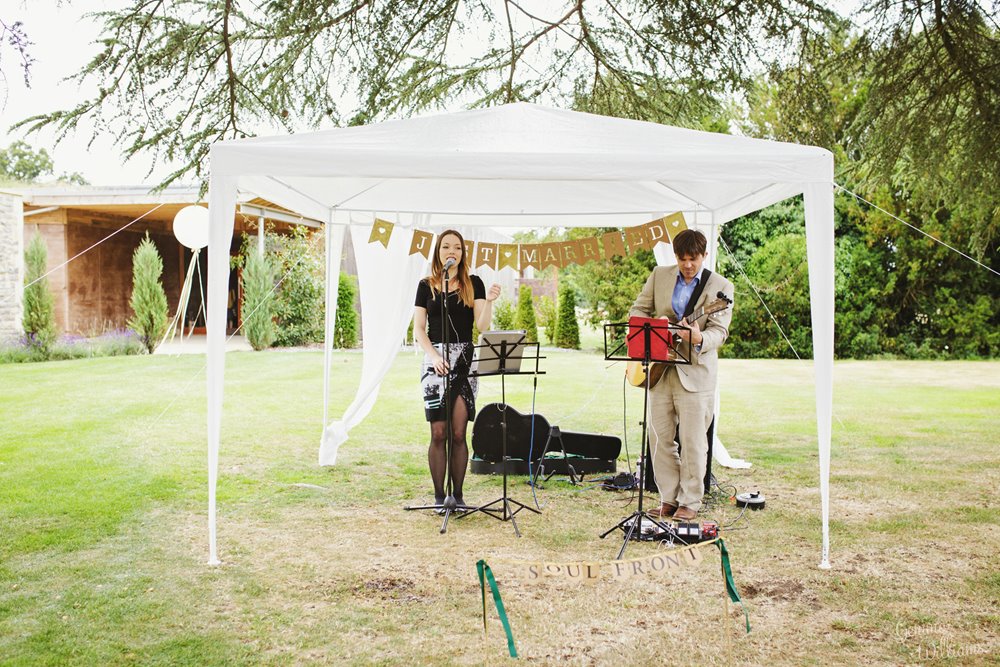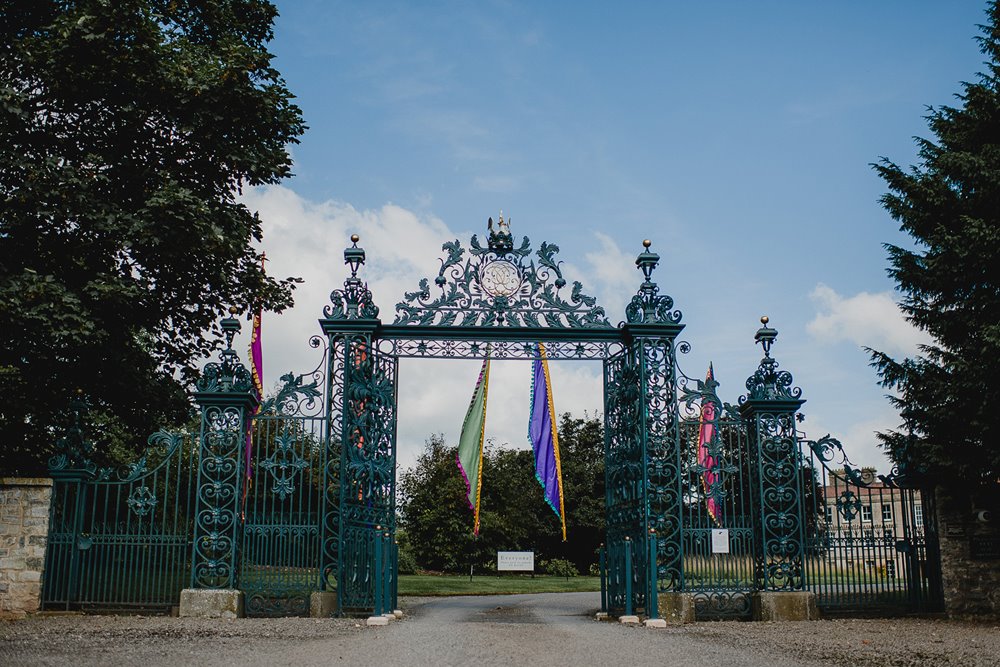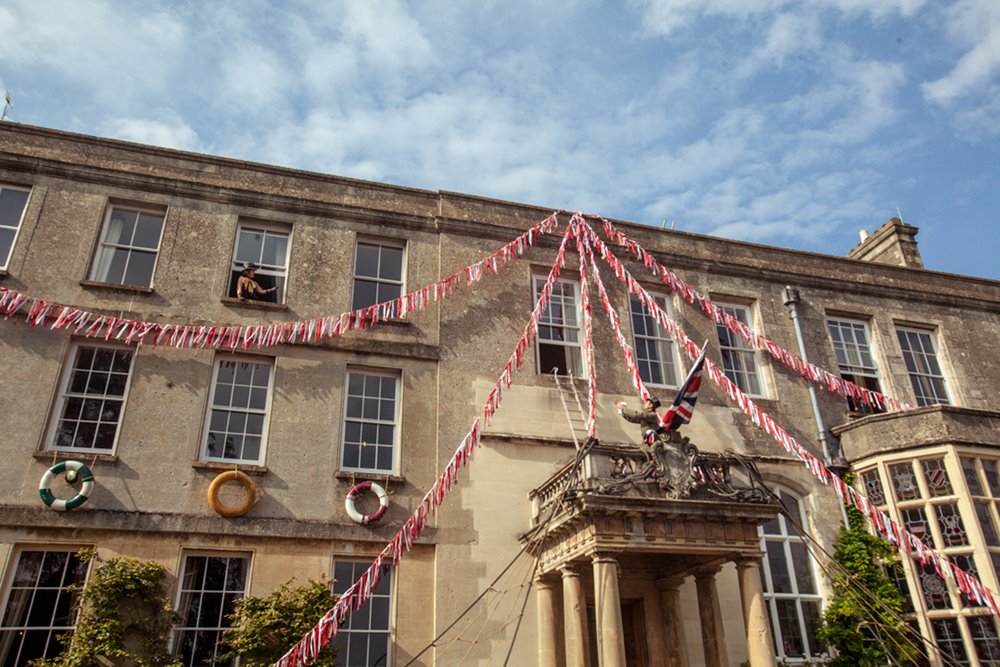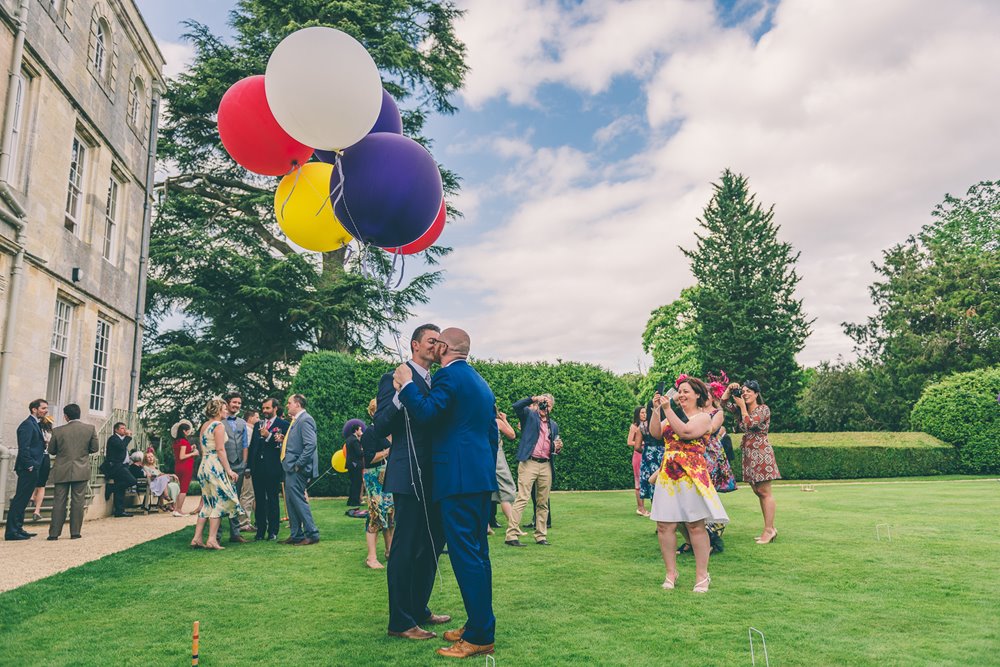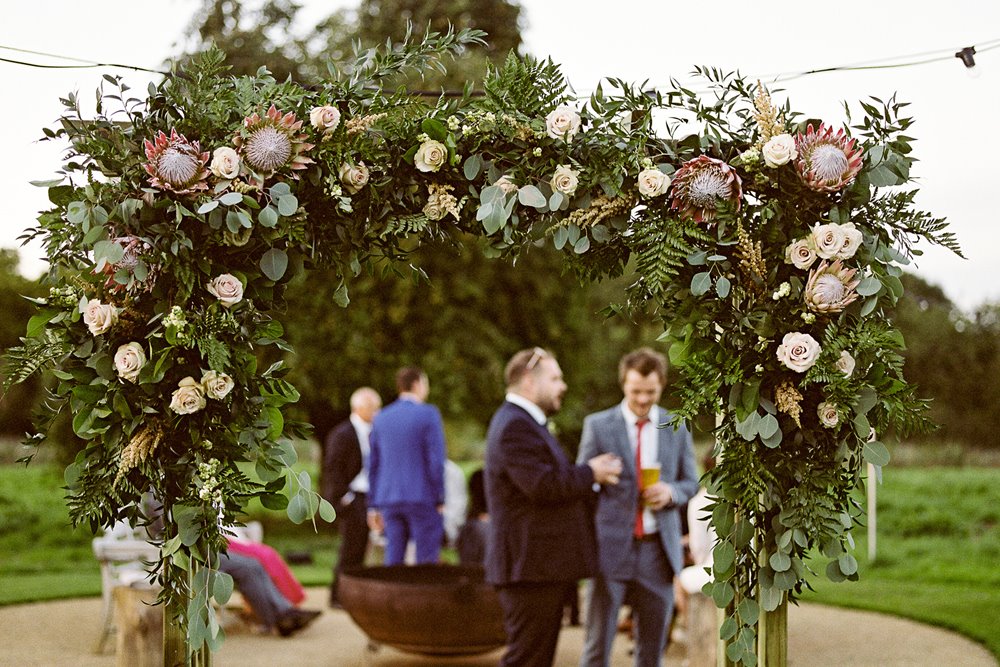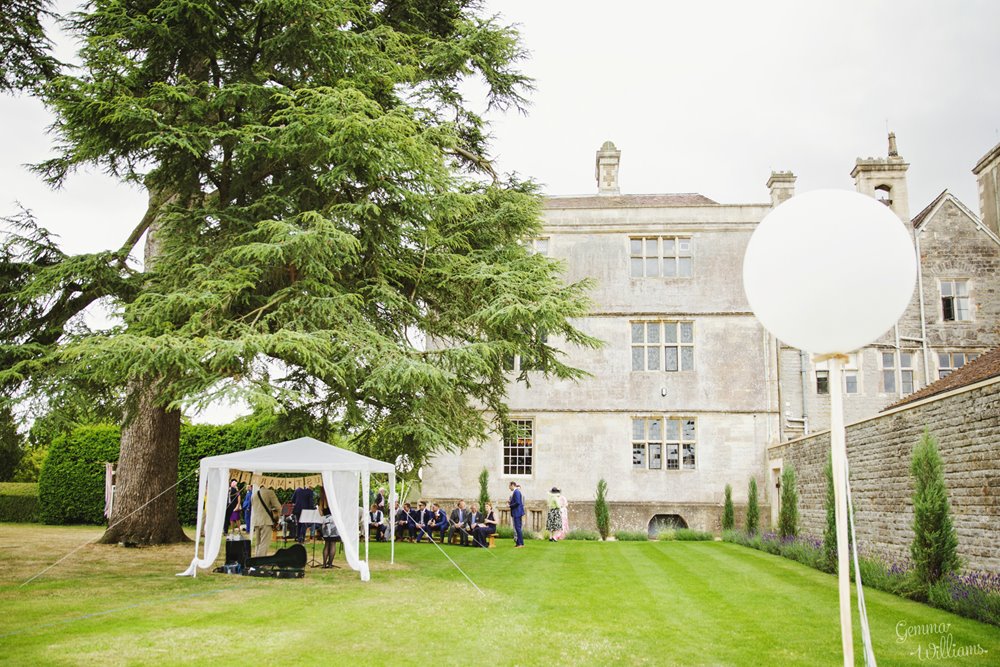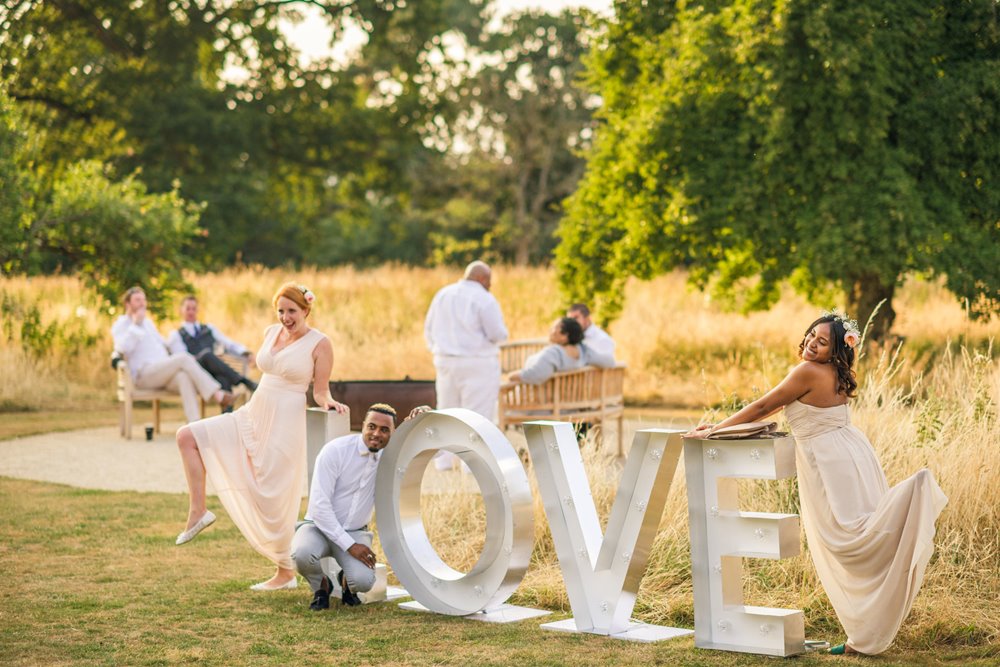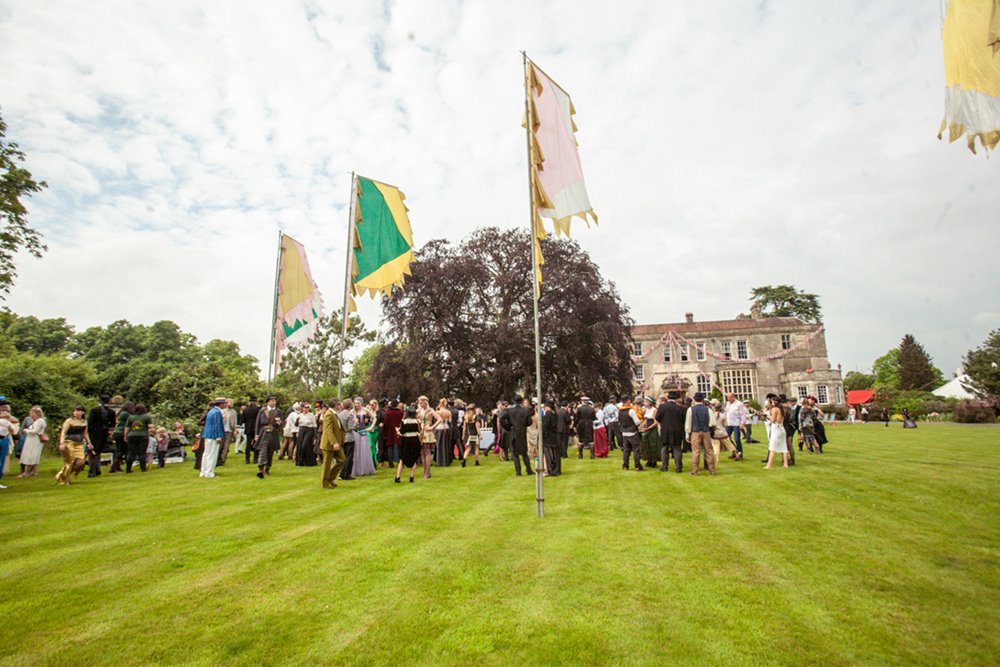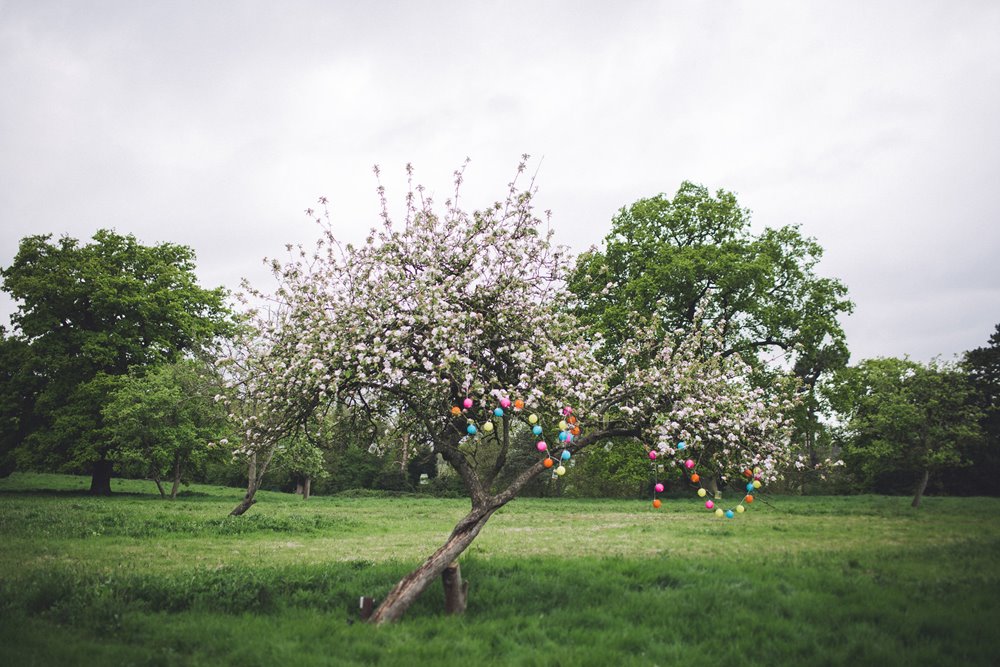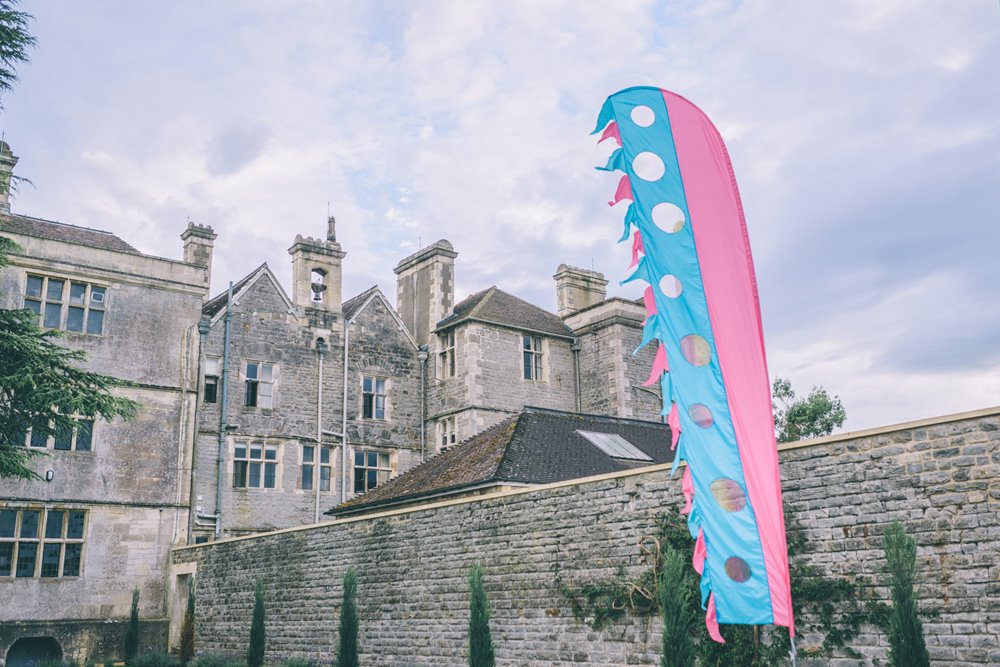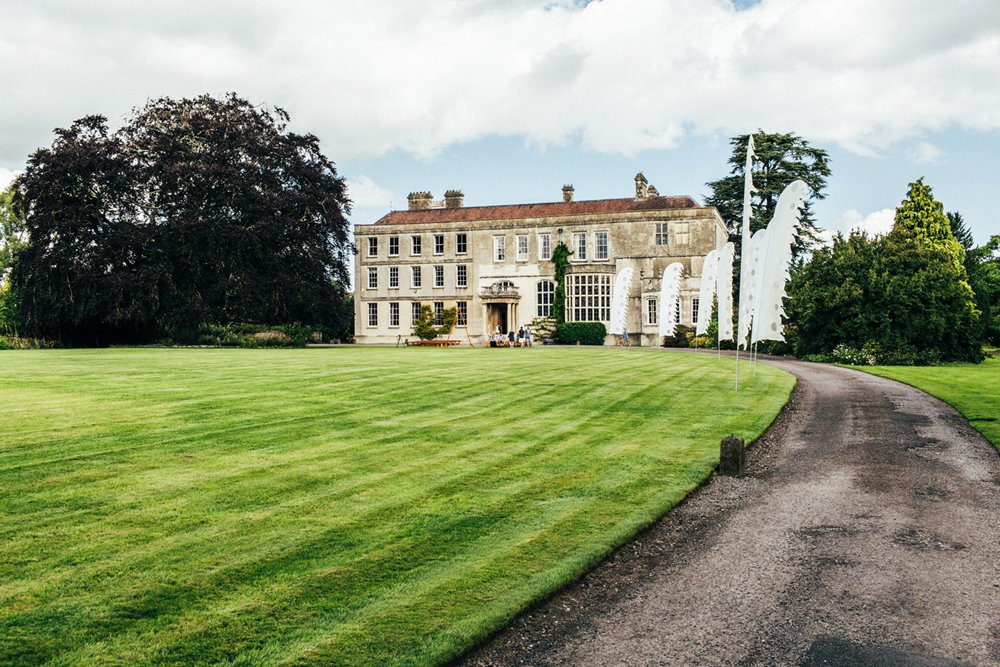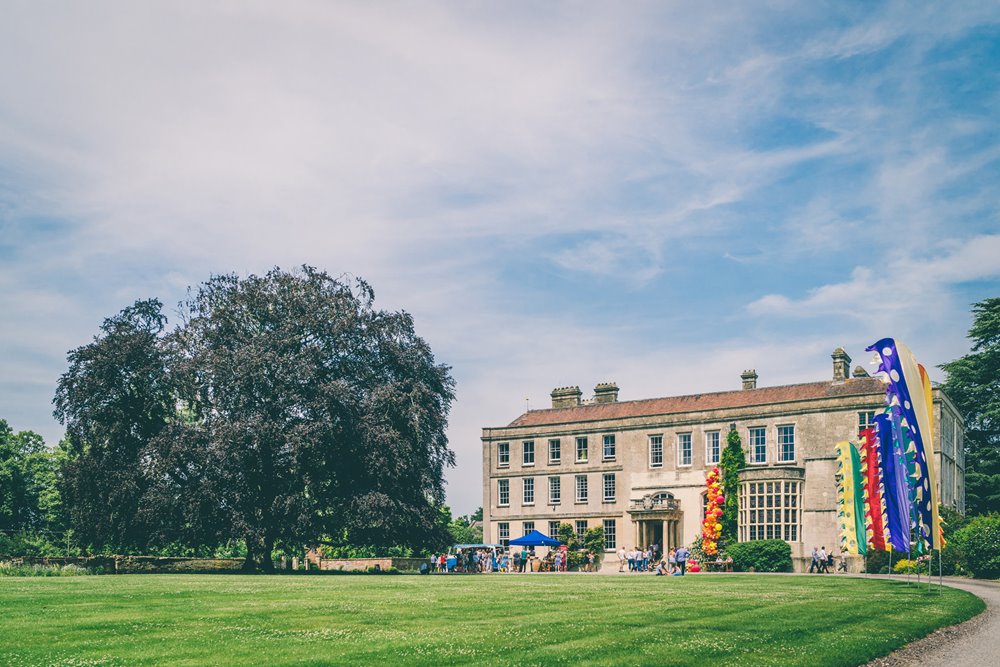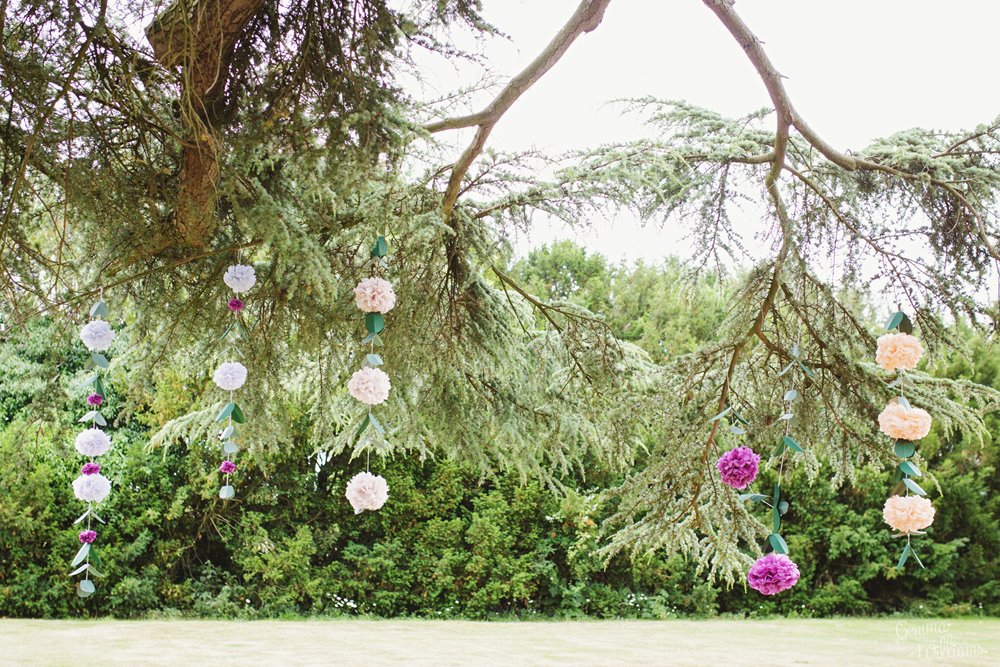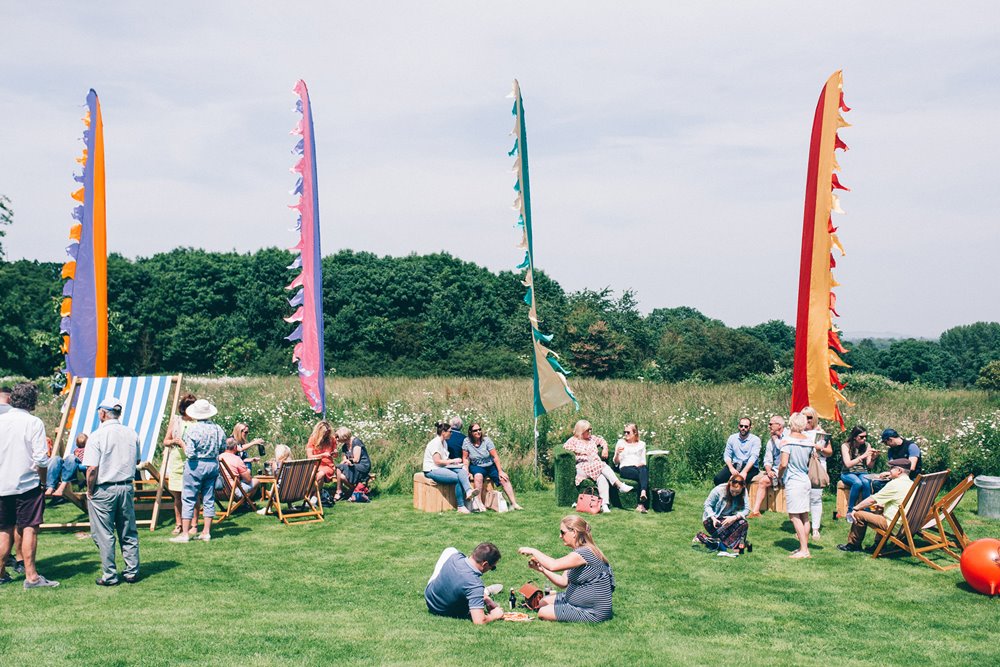 Music and entertainment ideas
Entertaining your guests is just as important outside as it is inside, and with the magic of the natural world all around you it's even more atmospheric and fun!
There's nothing better than singing round the campfire, but how about adding some more festival fun with walkabout entertainers, roaming musicians, live bands dotted about the grounds or a little bit of theatre with circus performers on the lawn!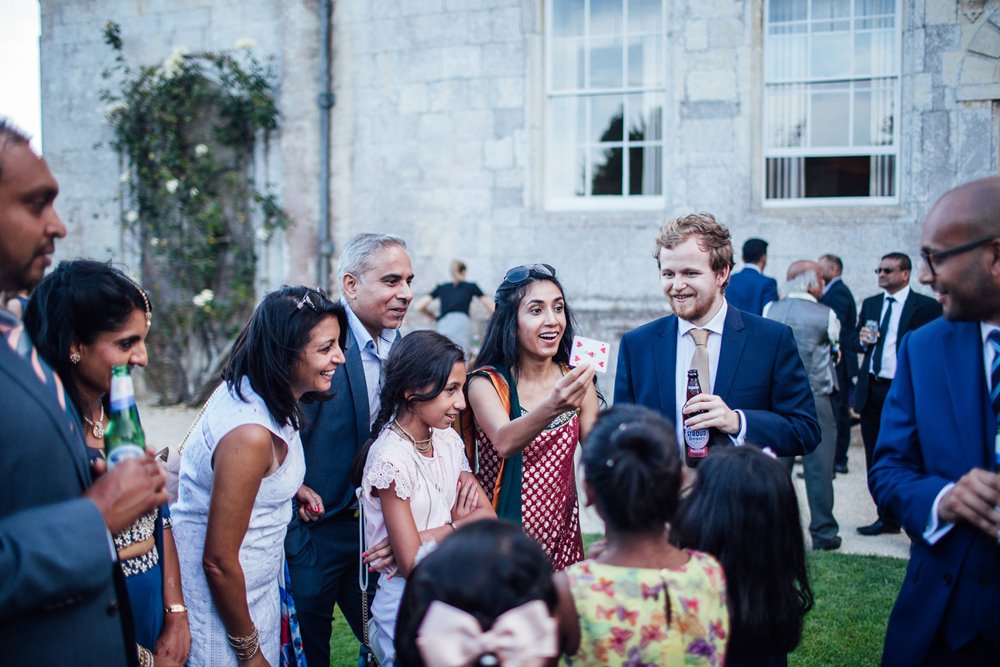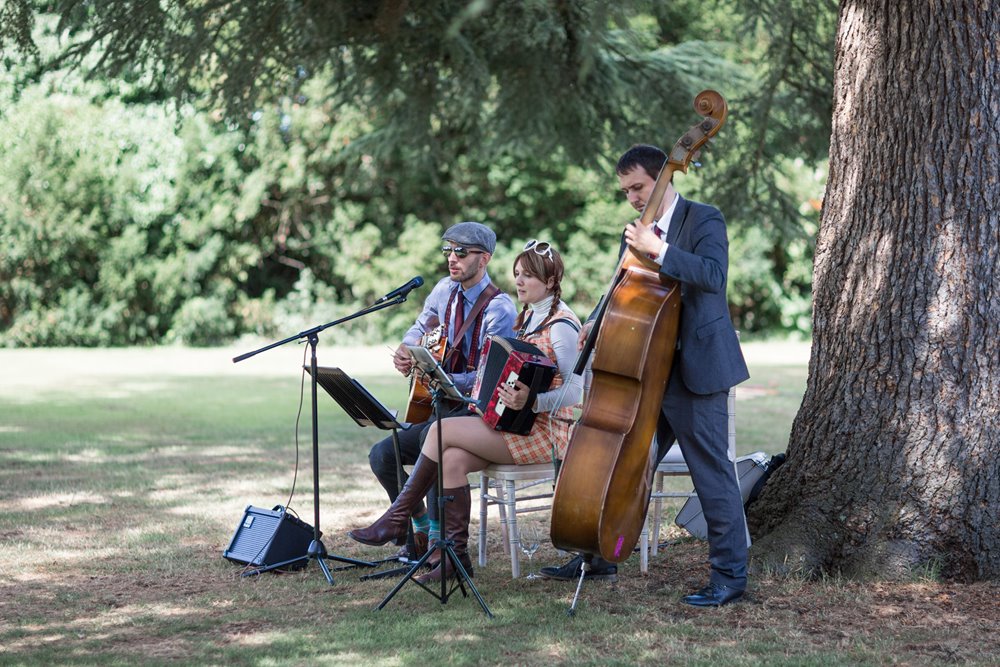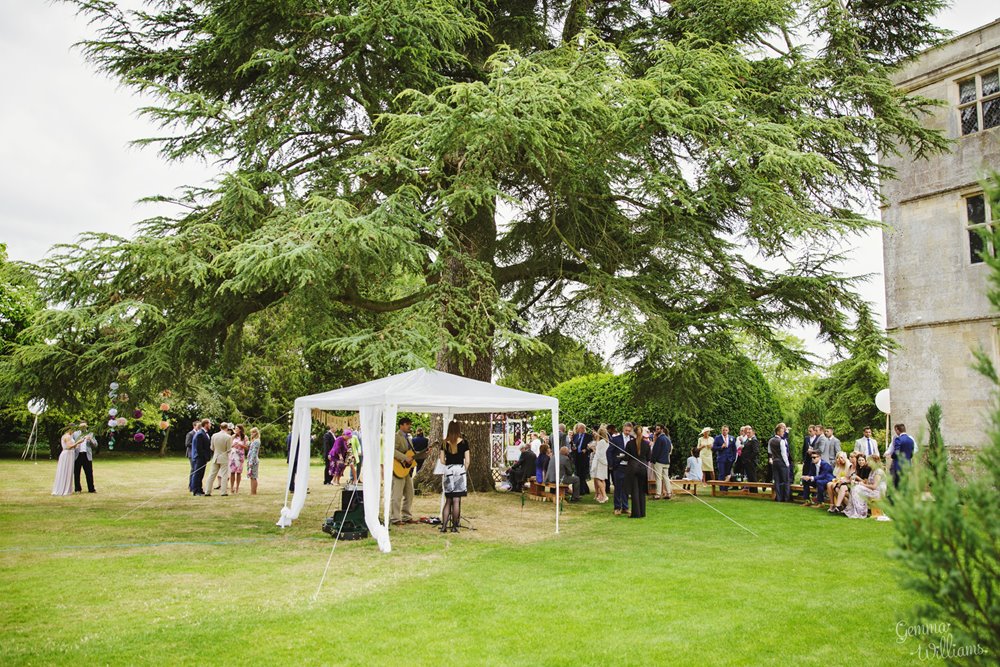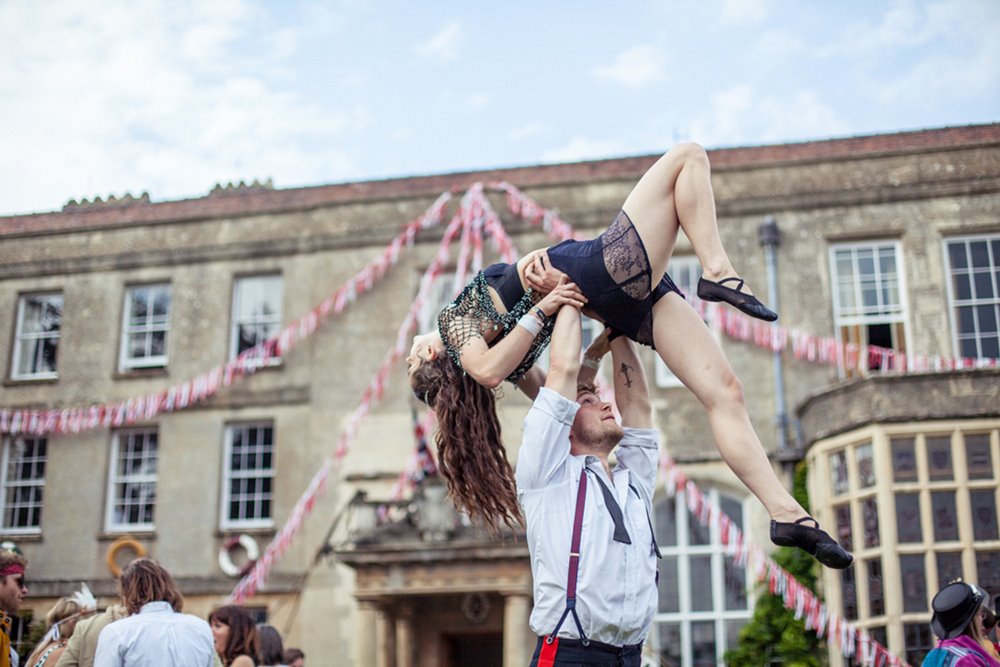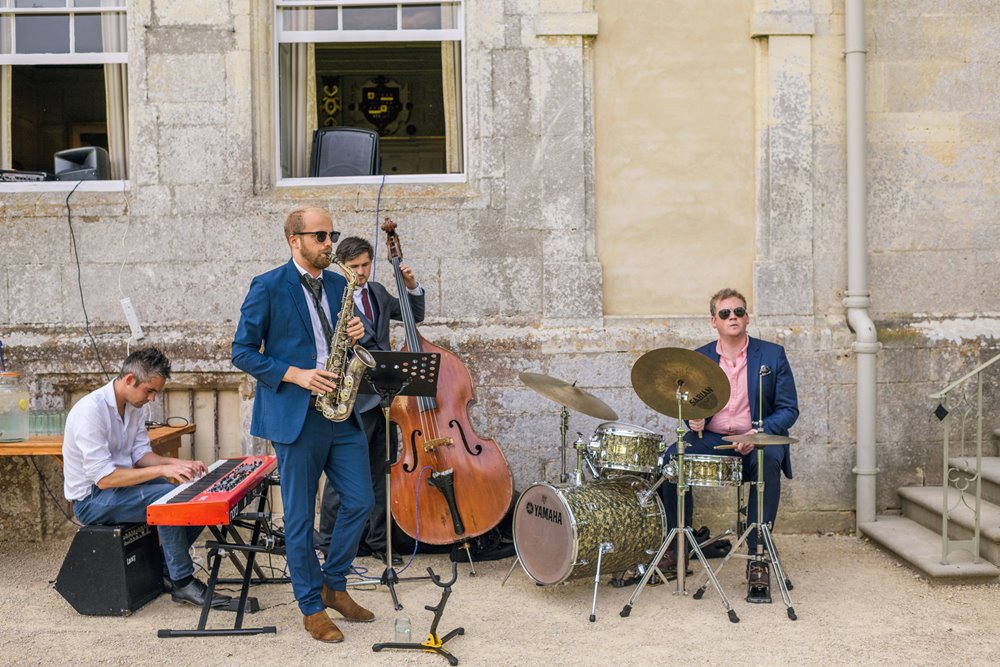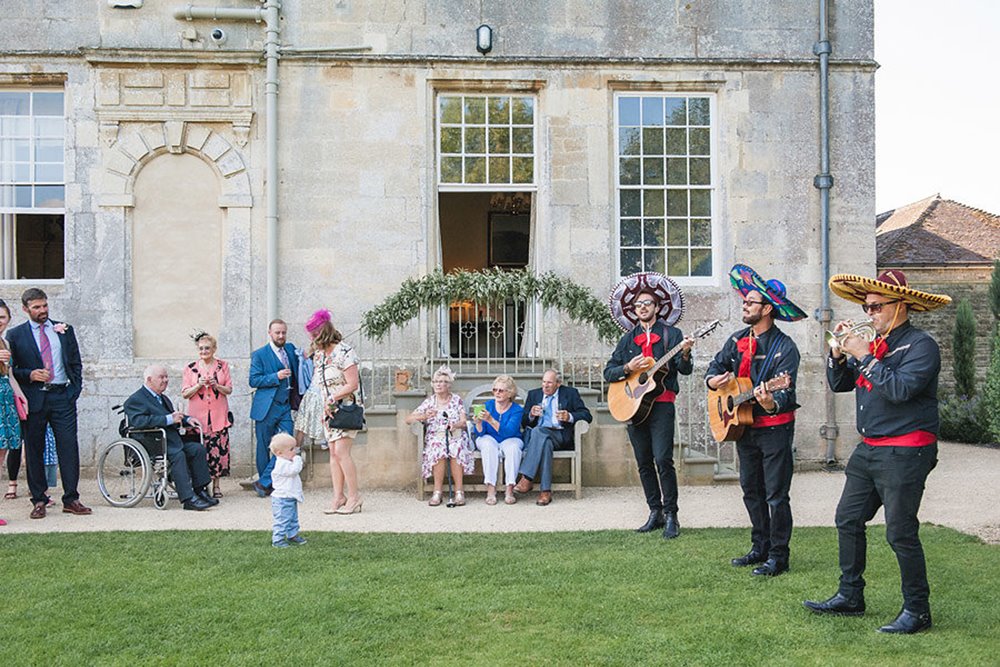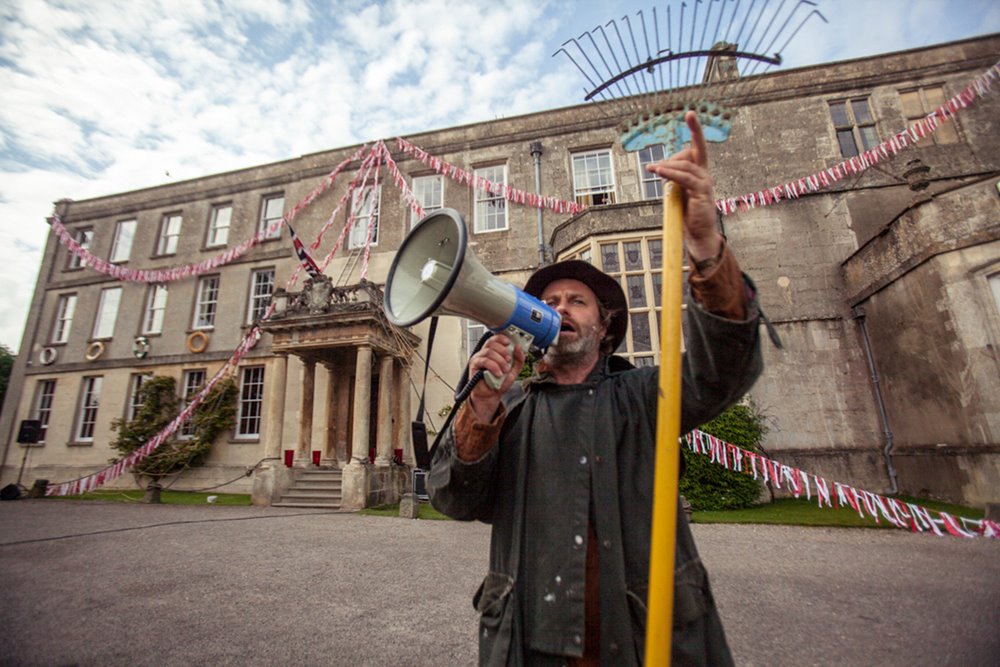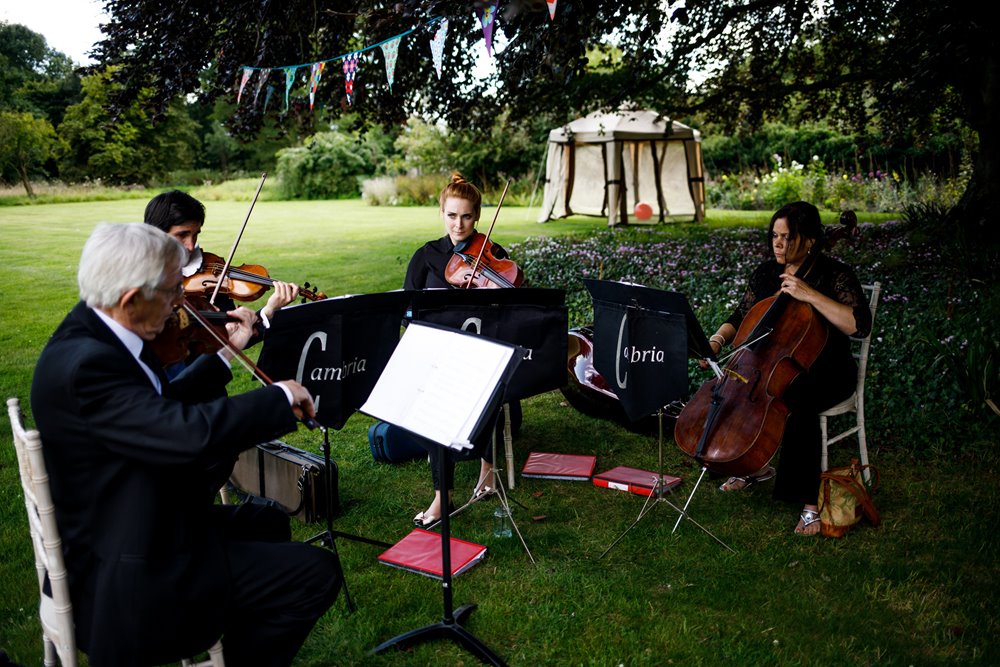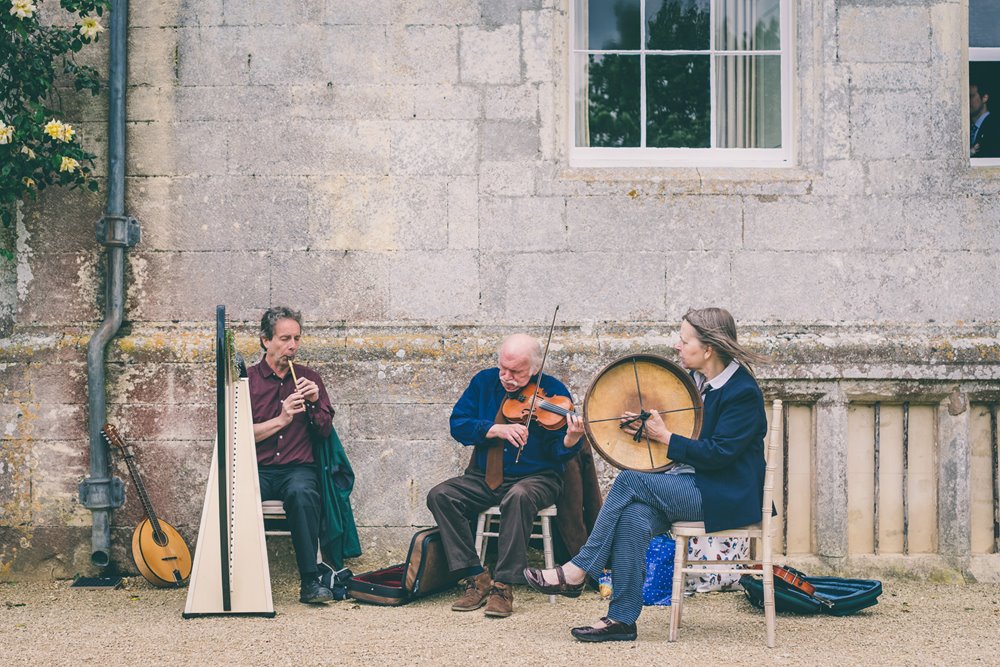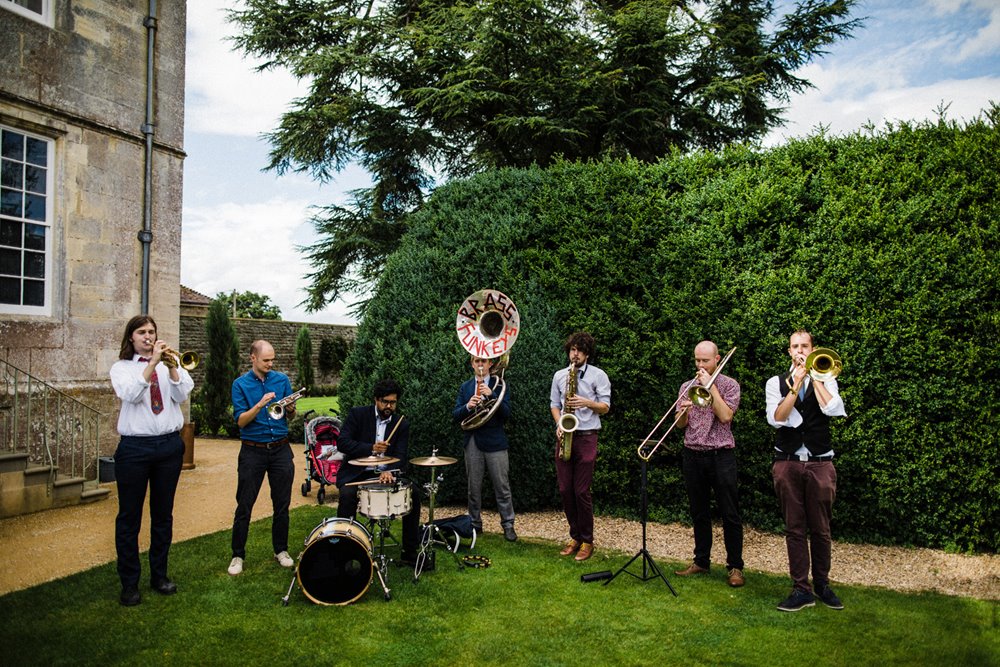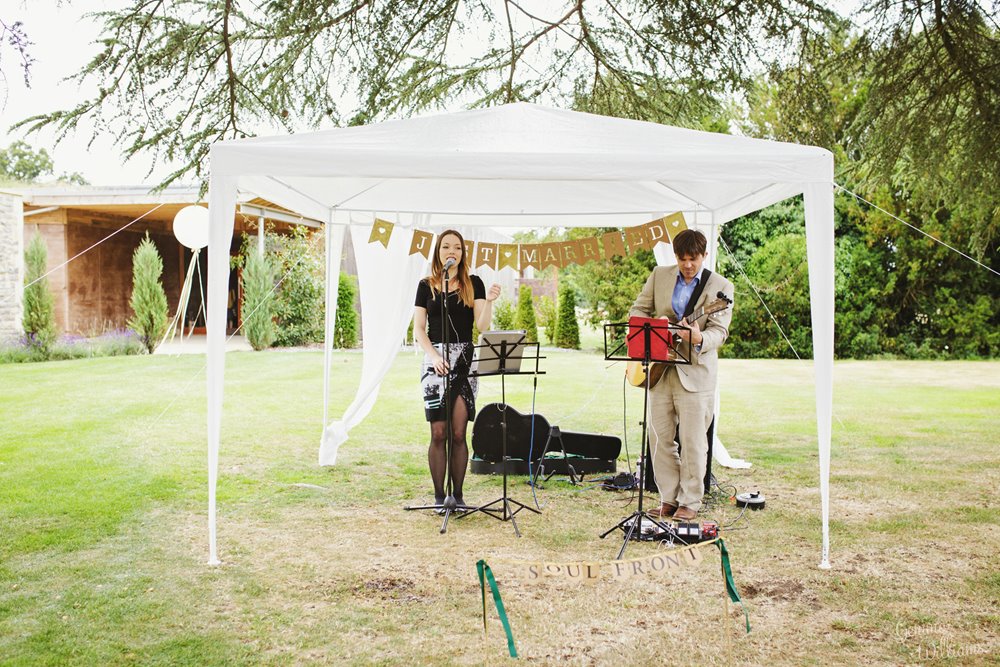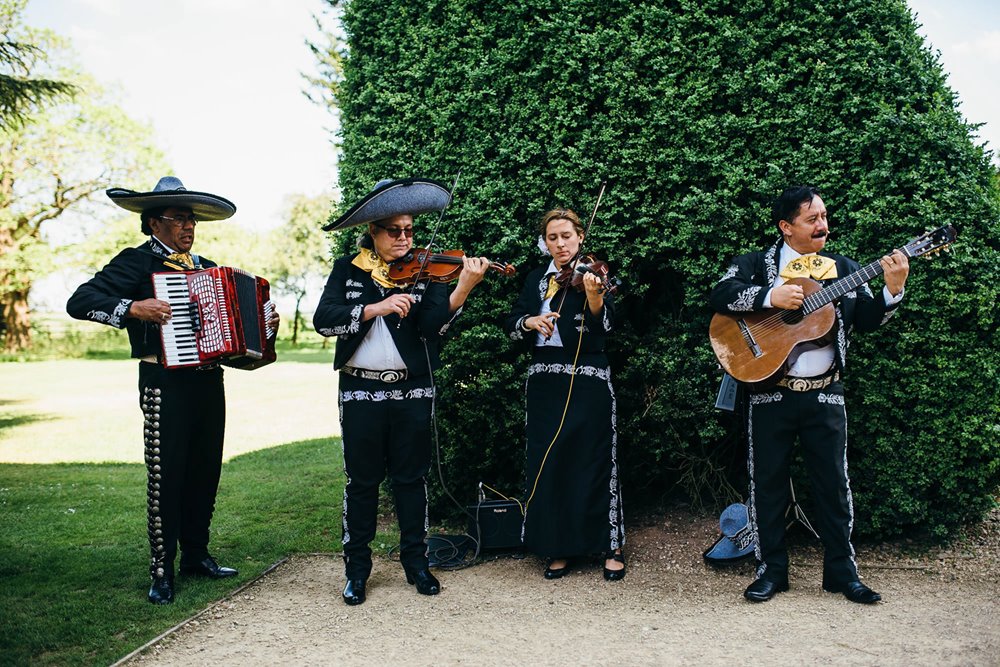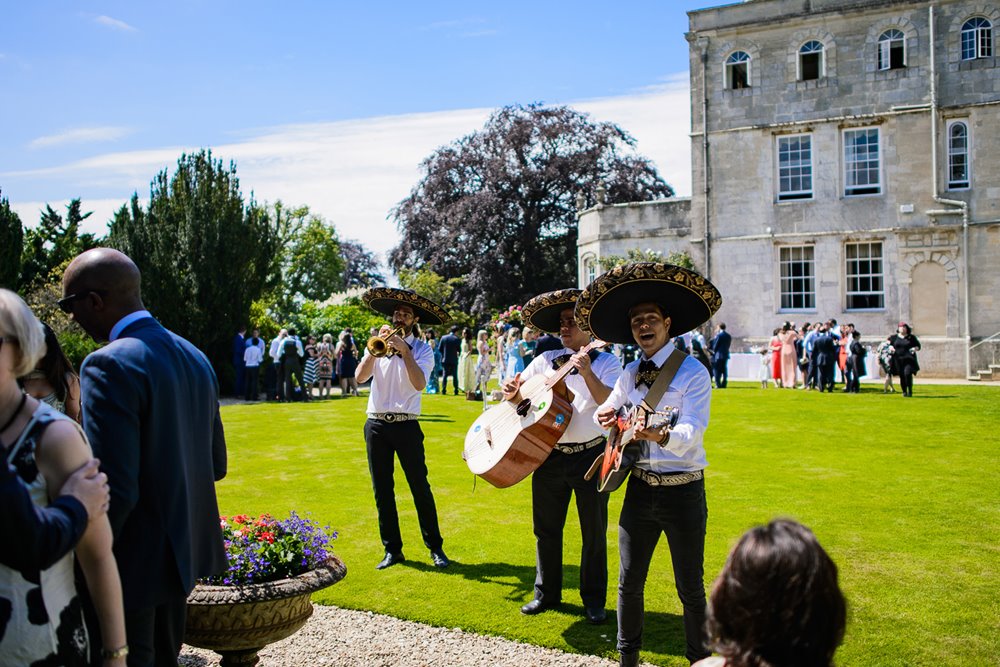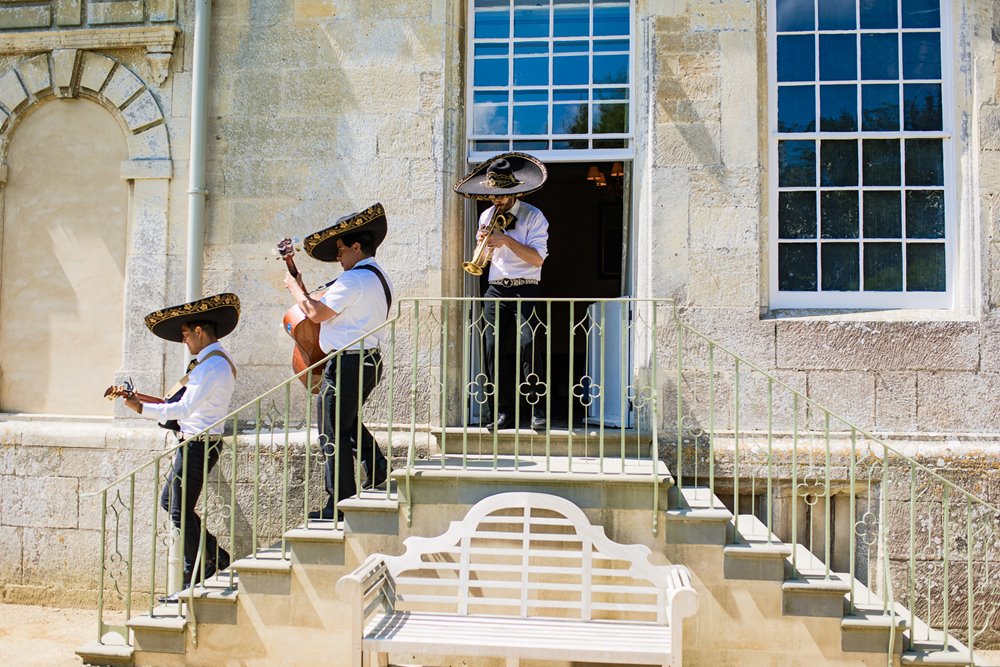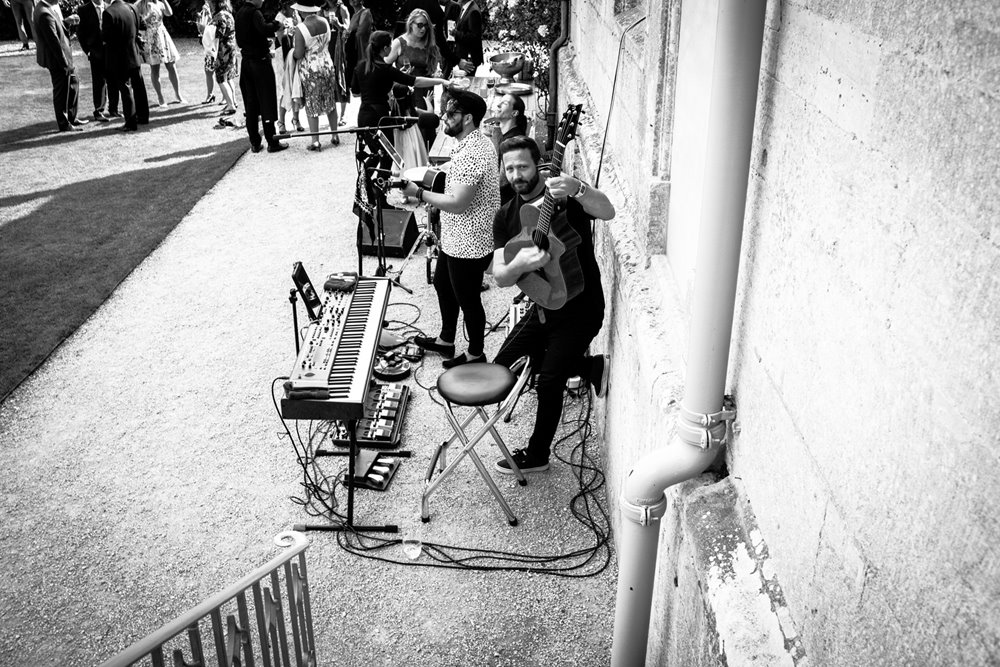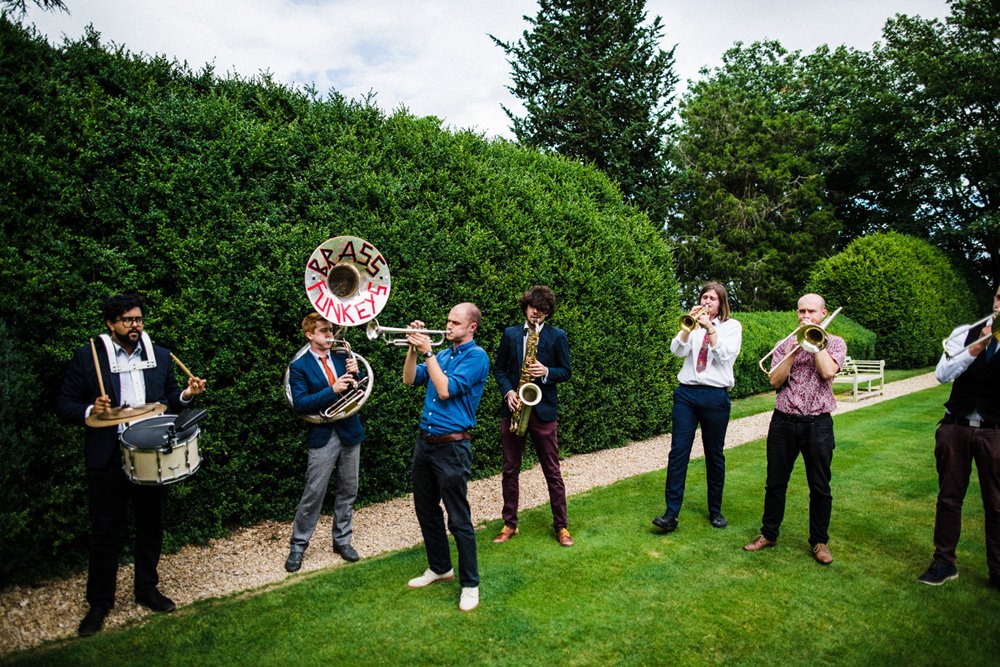 Whatever style you choose you'll end up round the fire
No matter what kind of outdoor wedding style you choose there's no doubt you will all end up round the fire pit - and what better place on a summer's evening!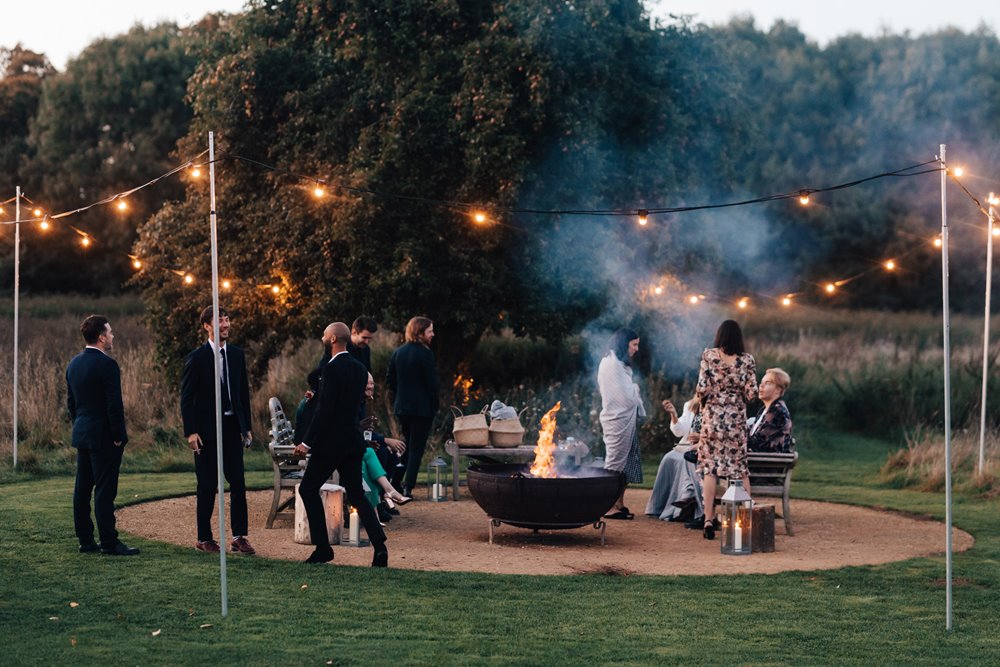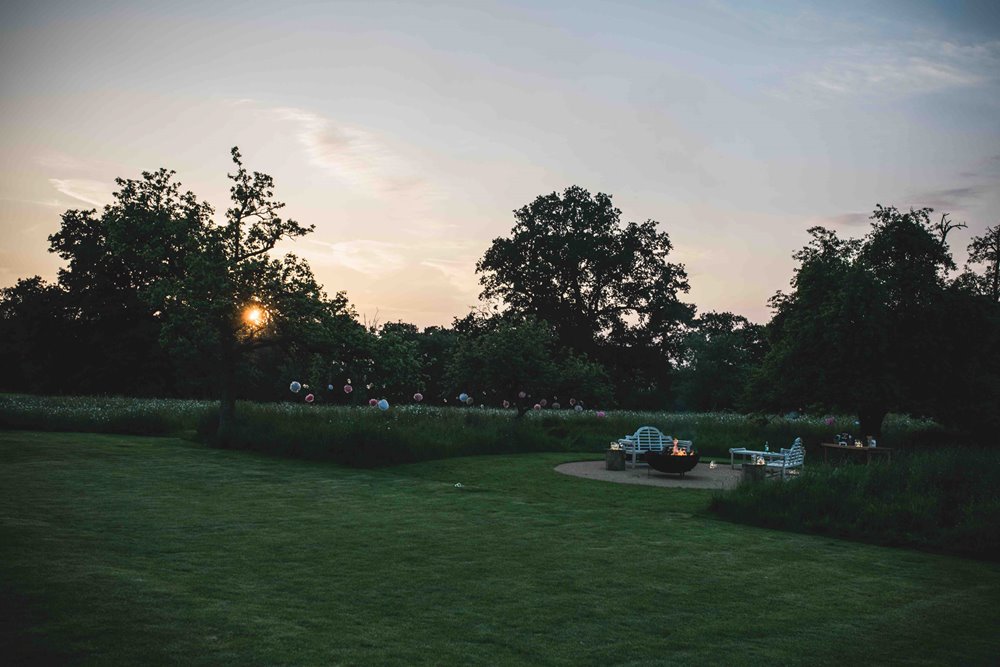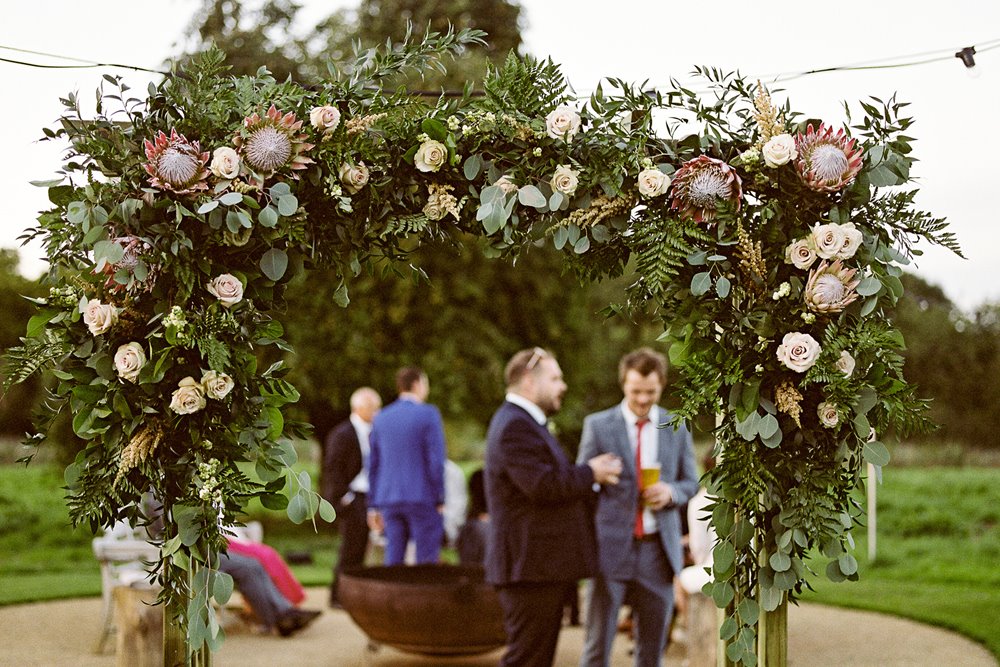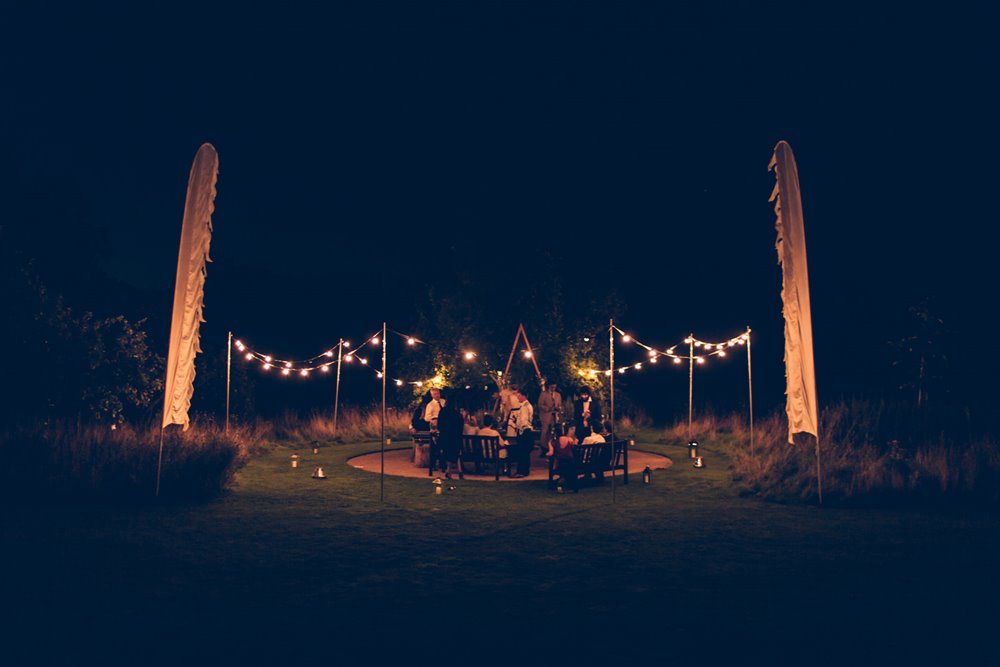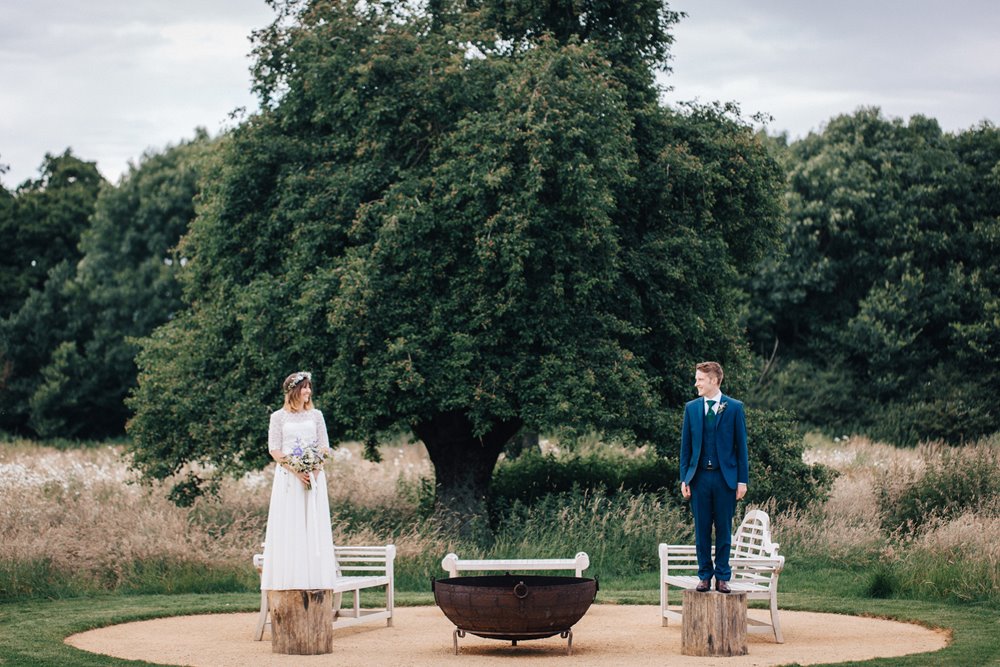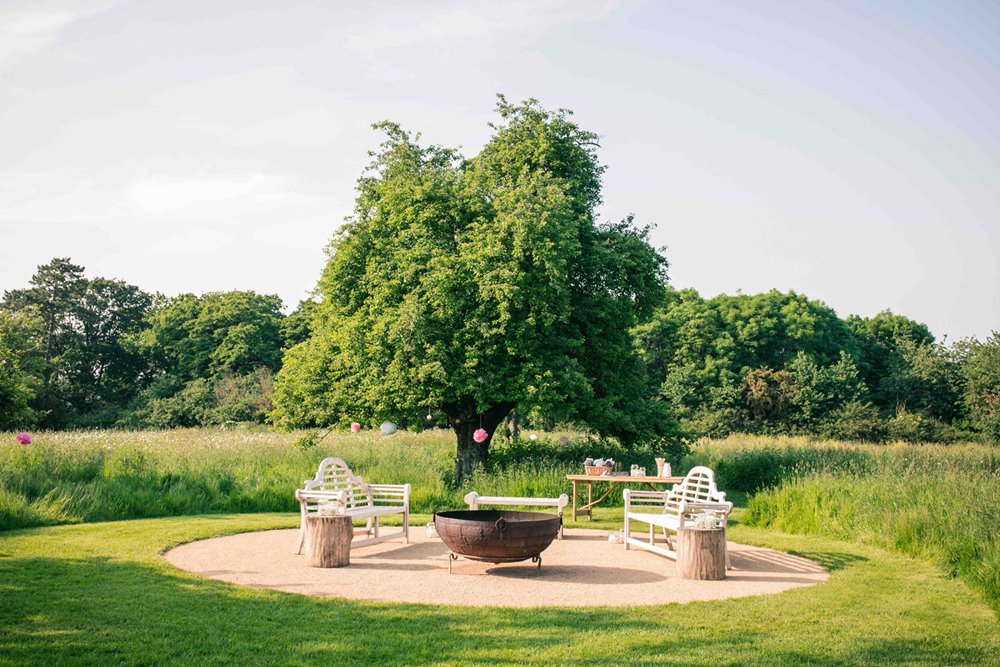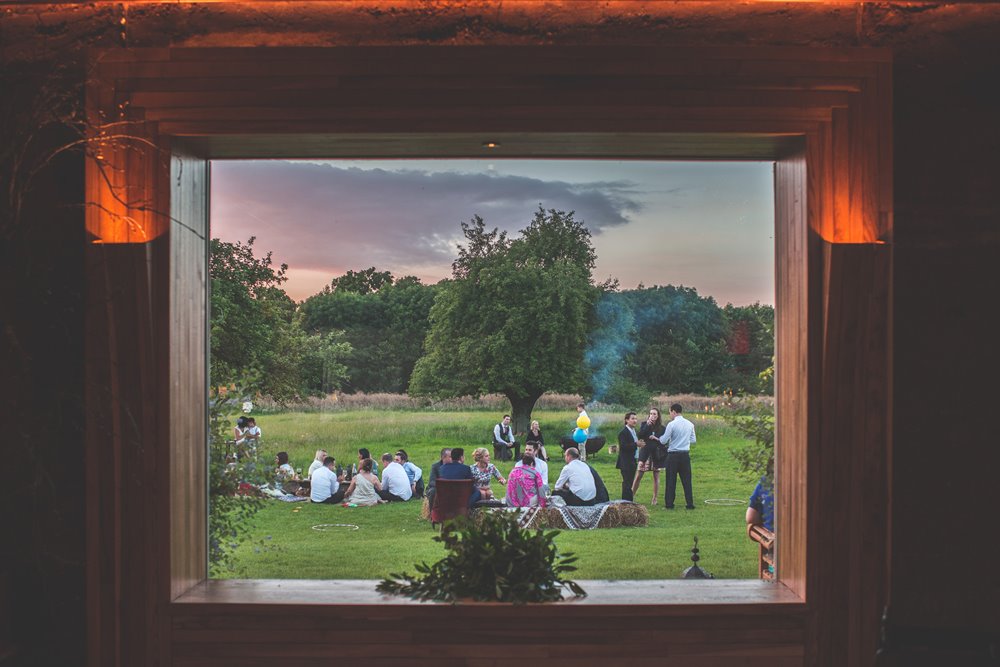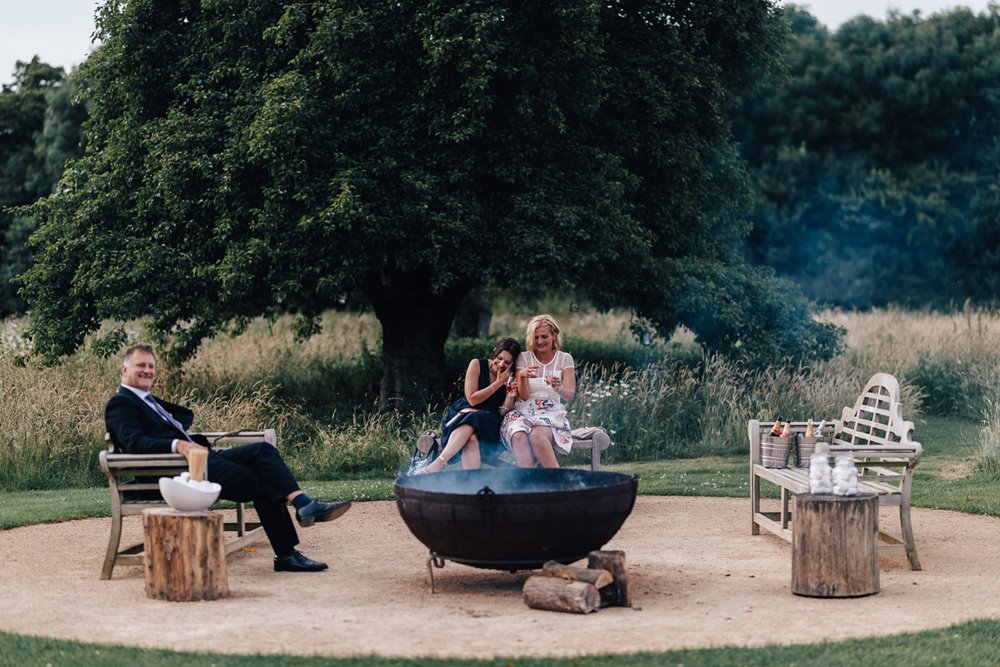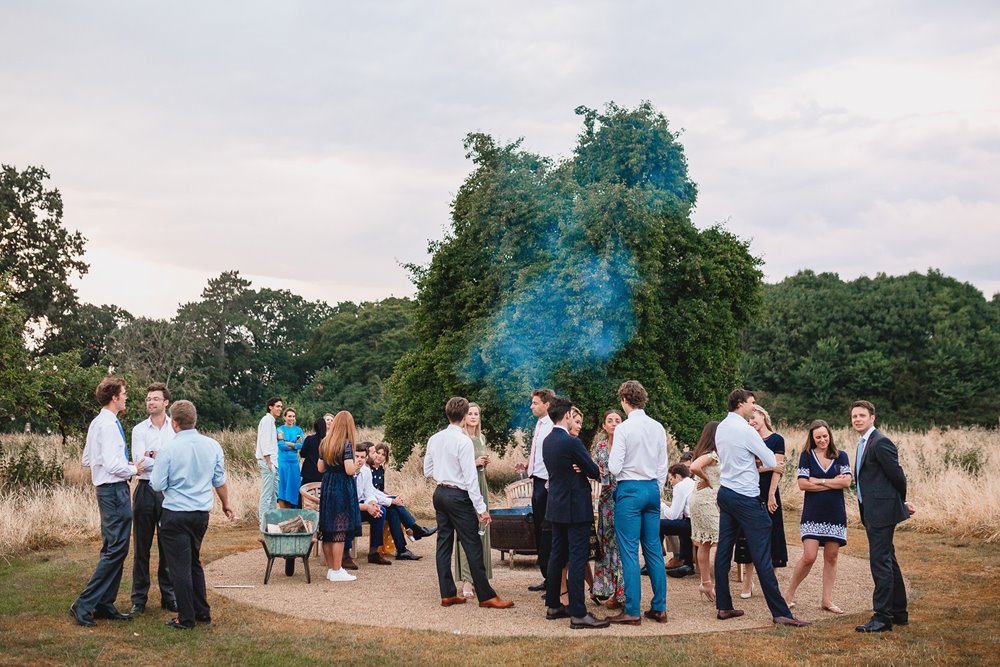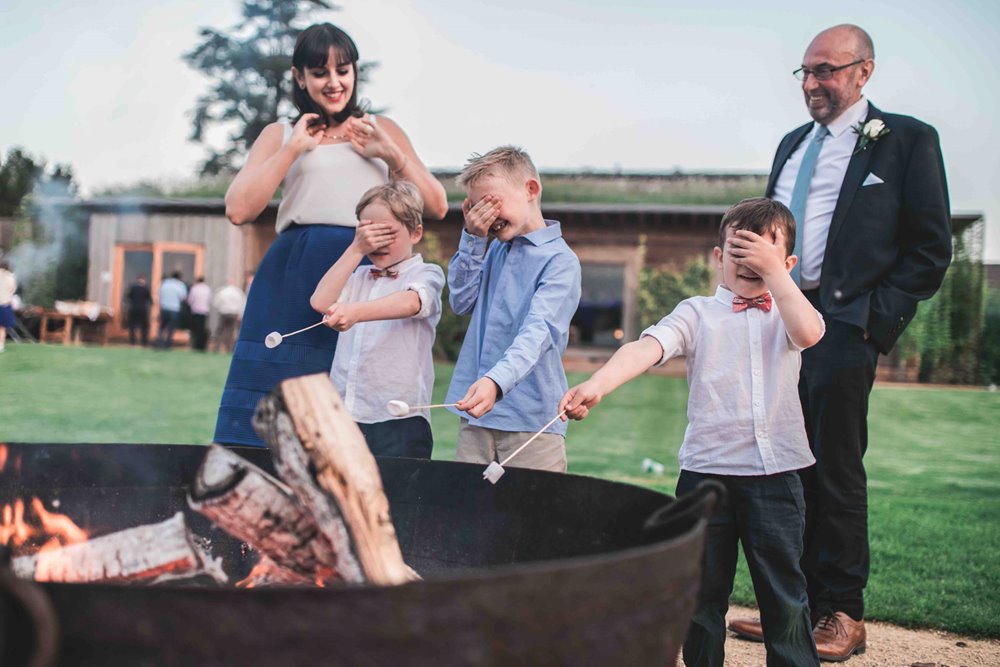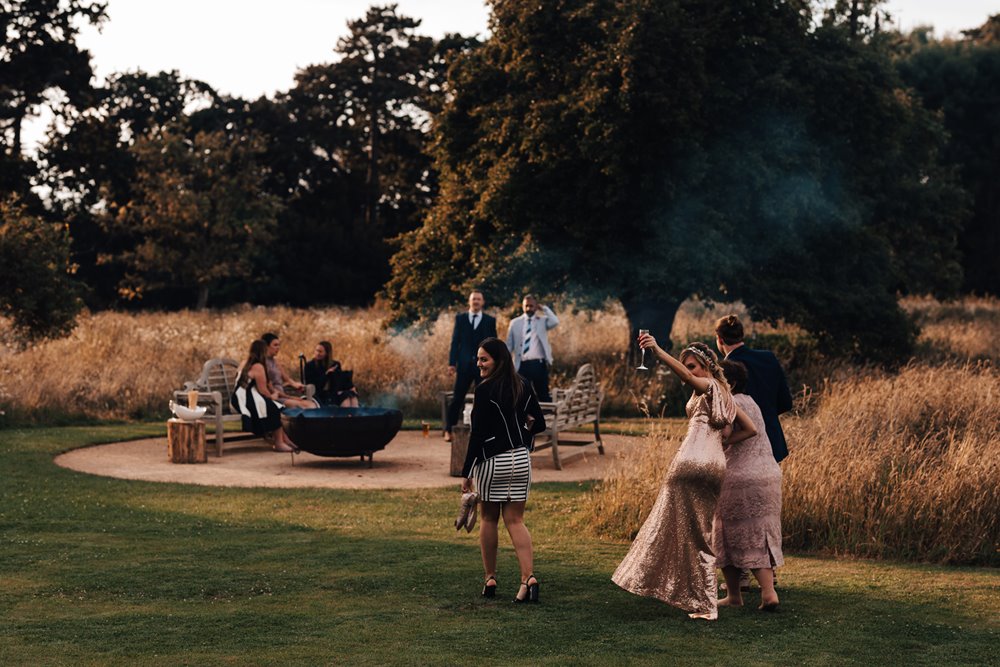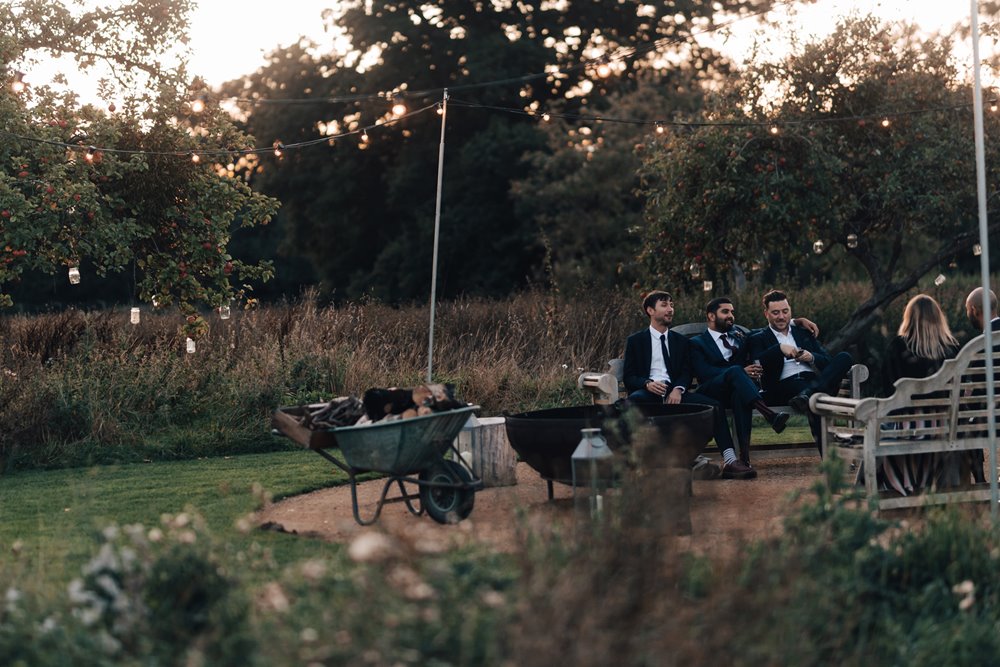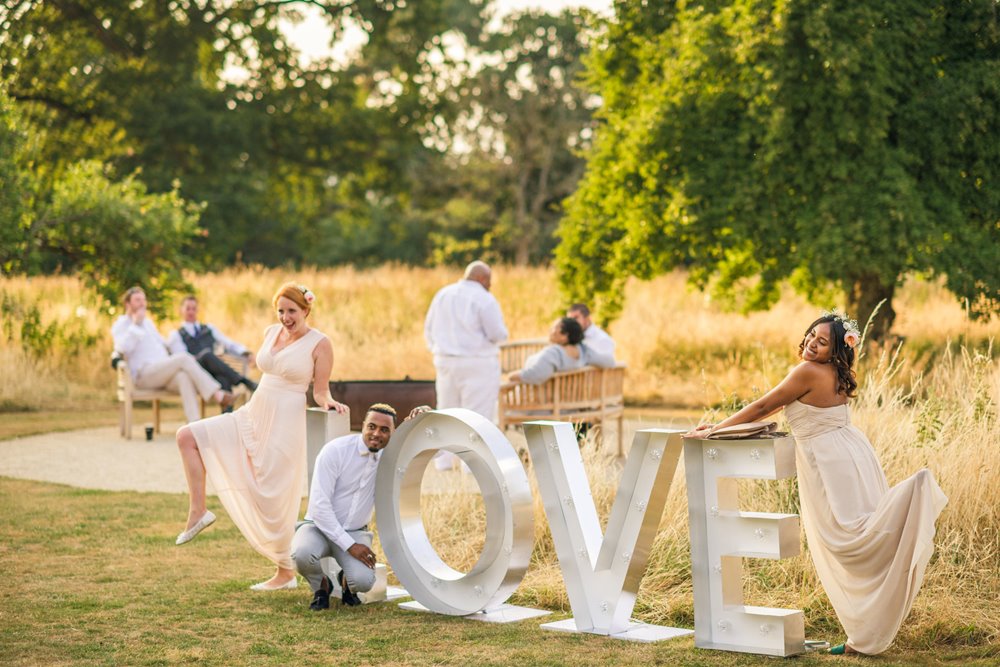 By April 2022 we know we will have seen some truly fantastic and creative wedding outside and we just can't wait!
Summer love & outdoor magic,
Team E 
xx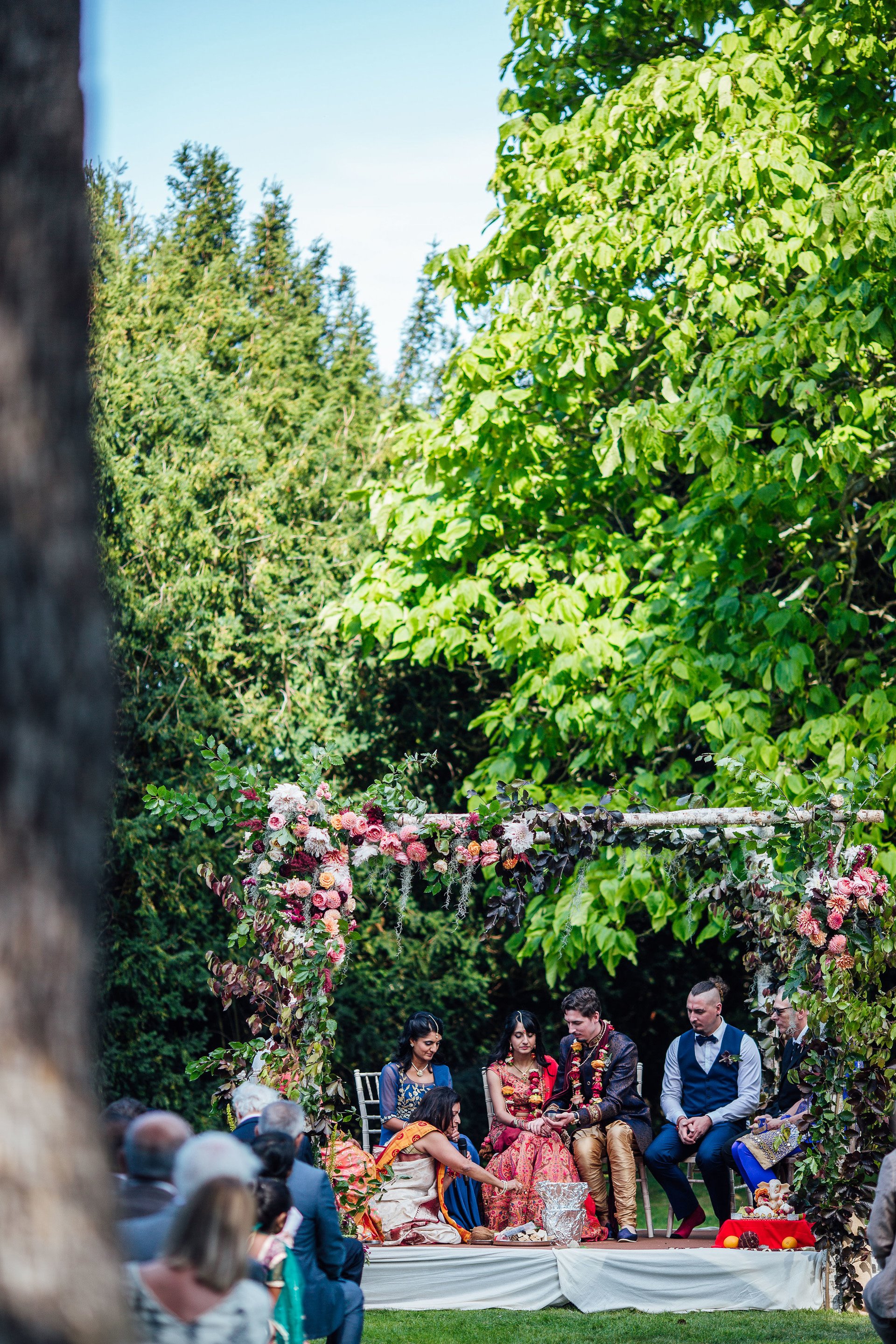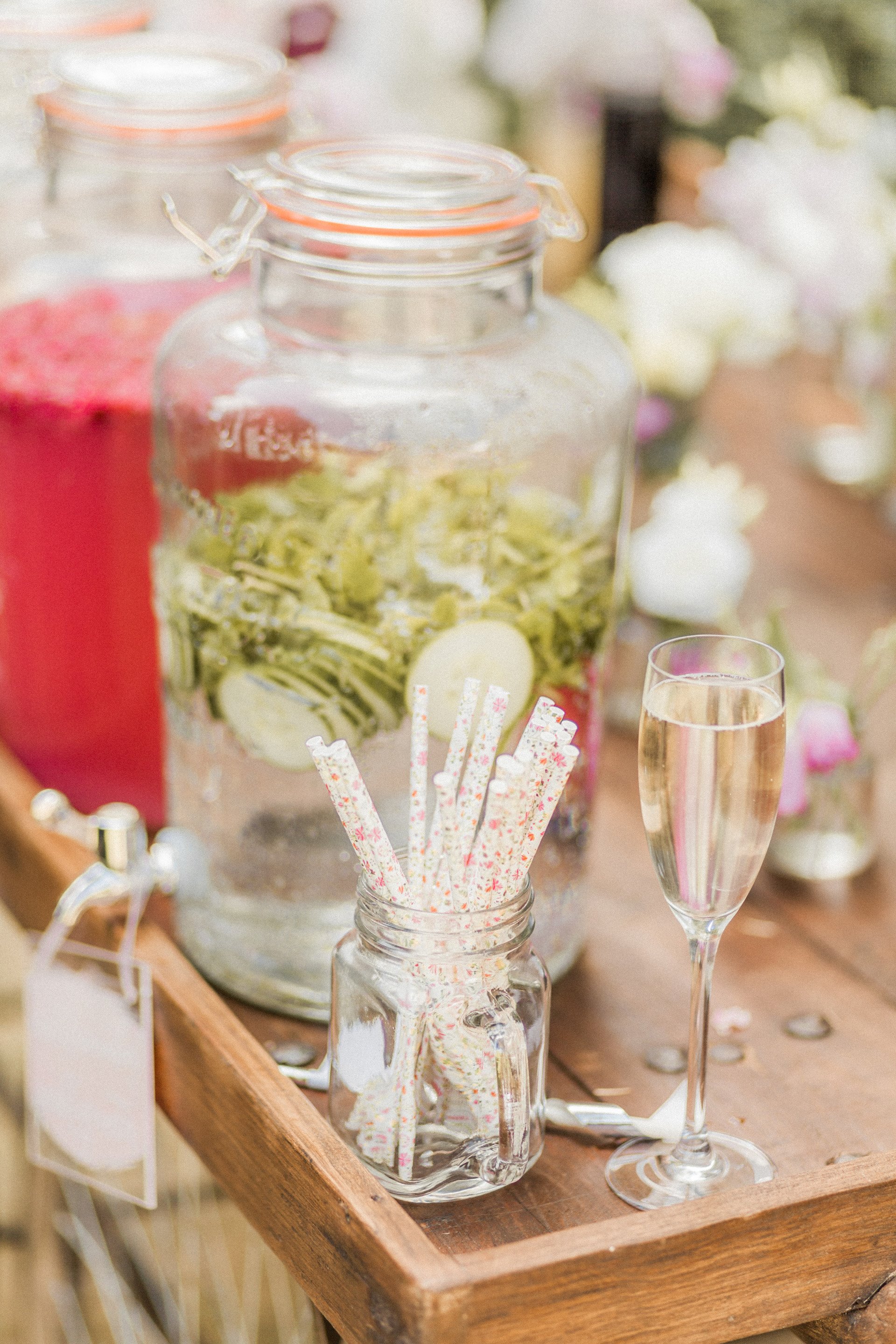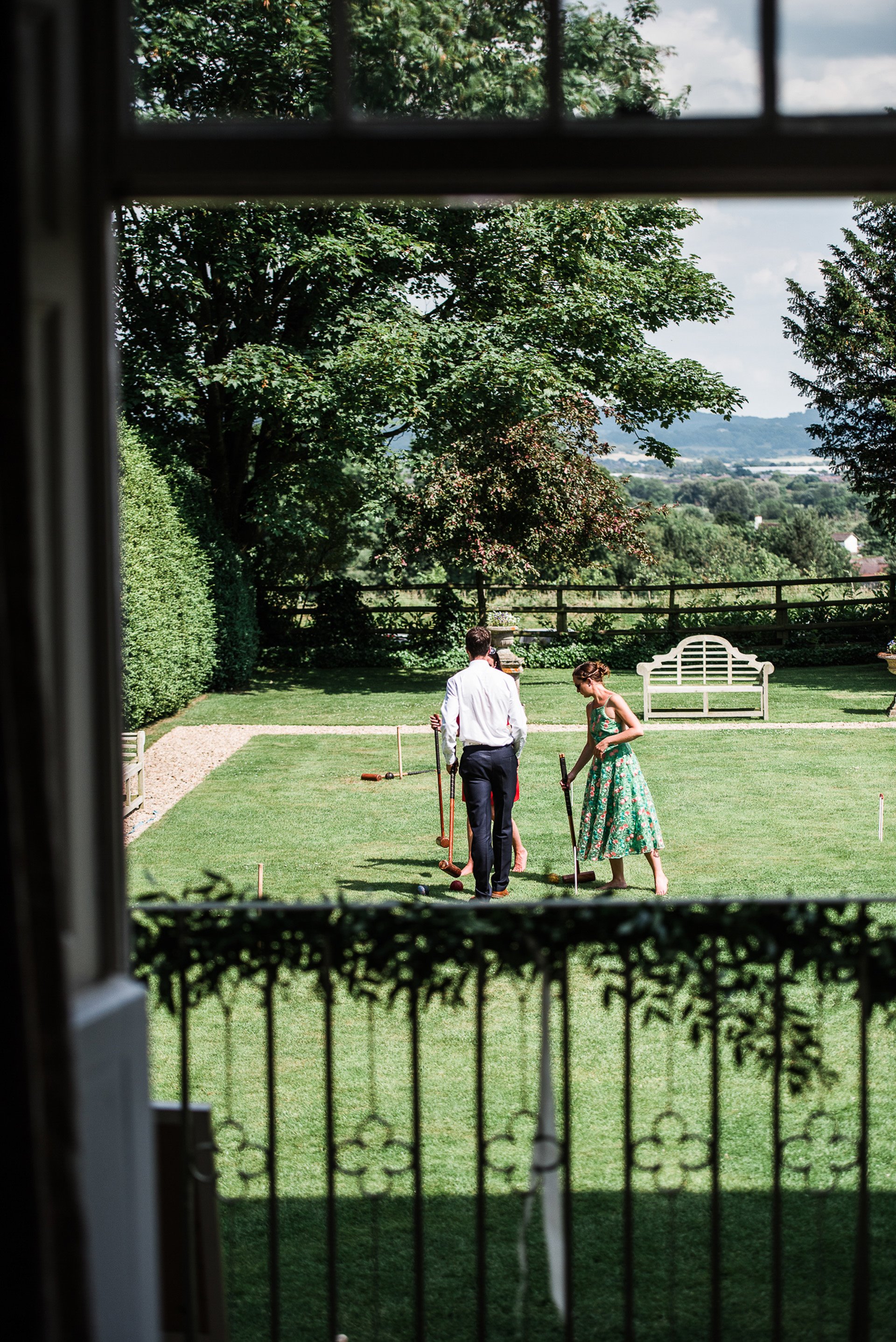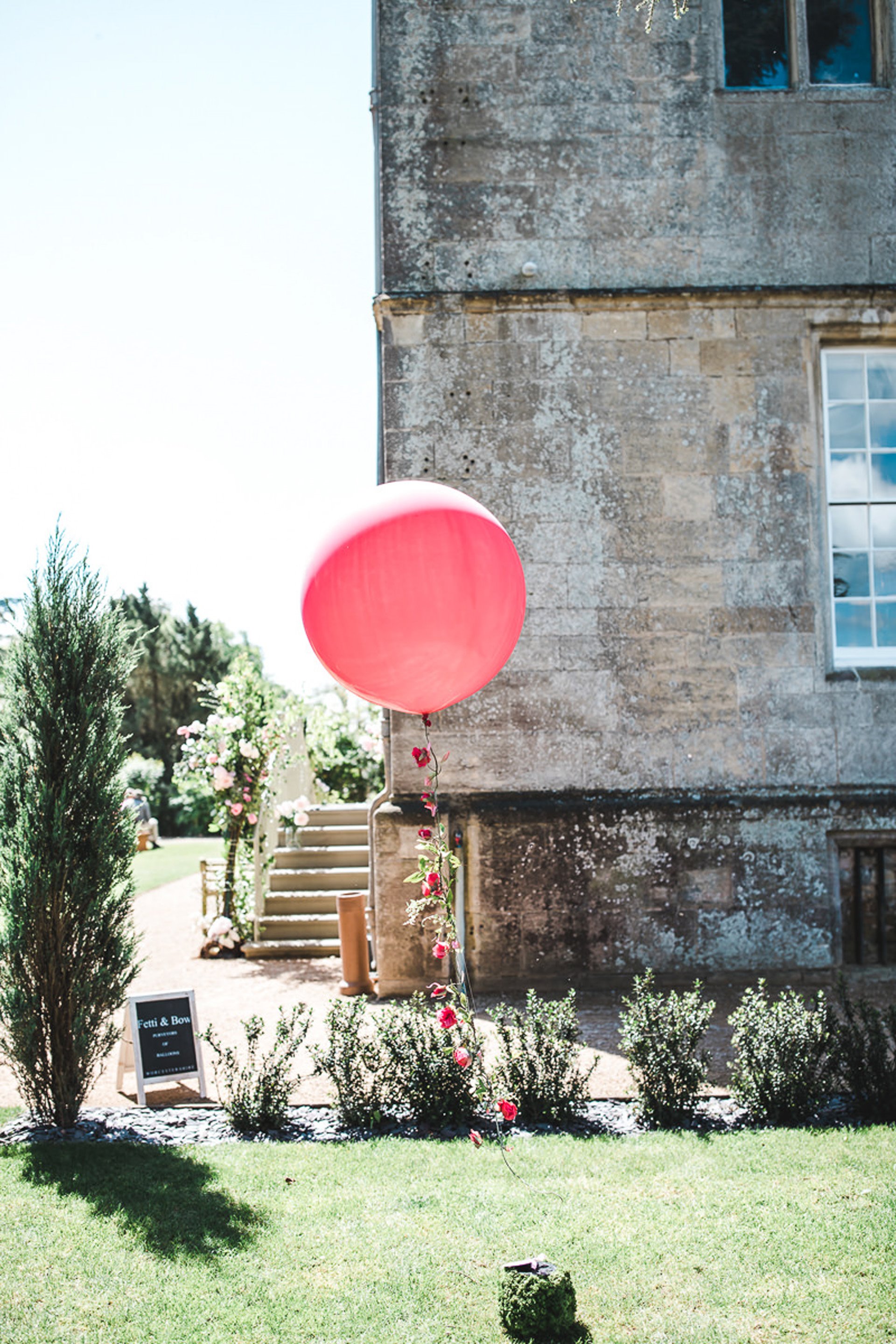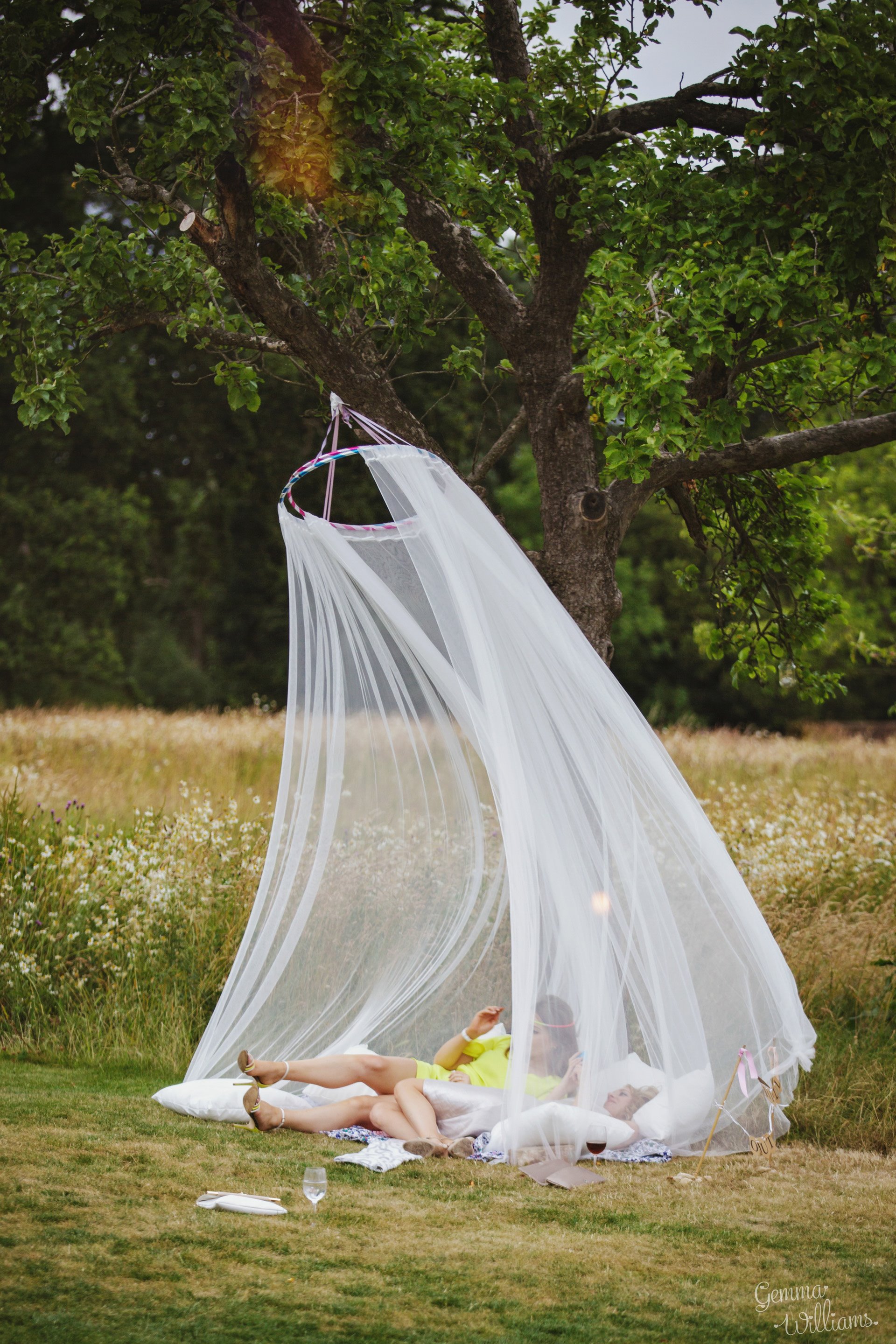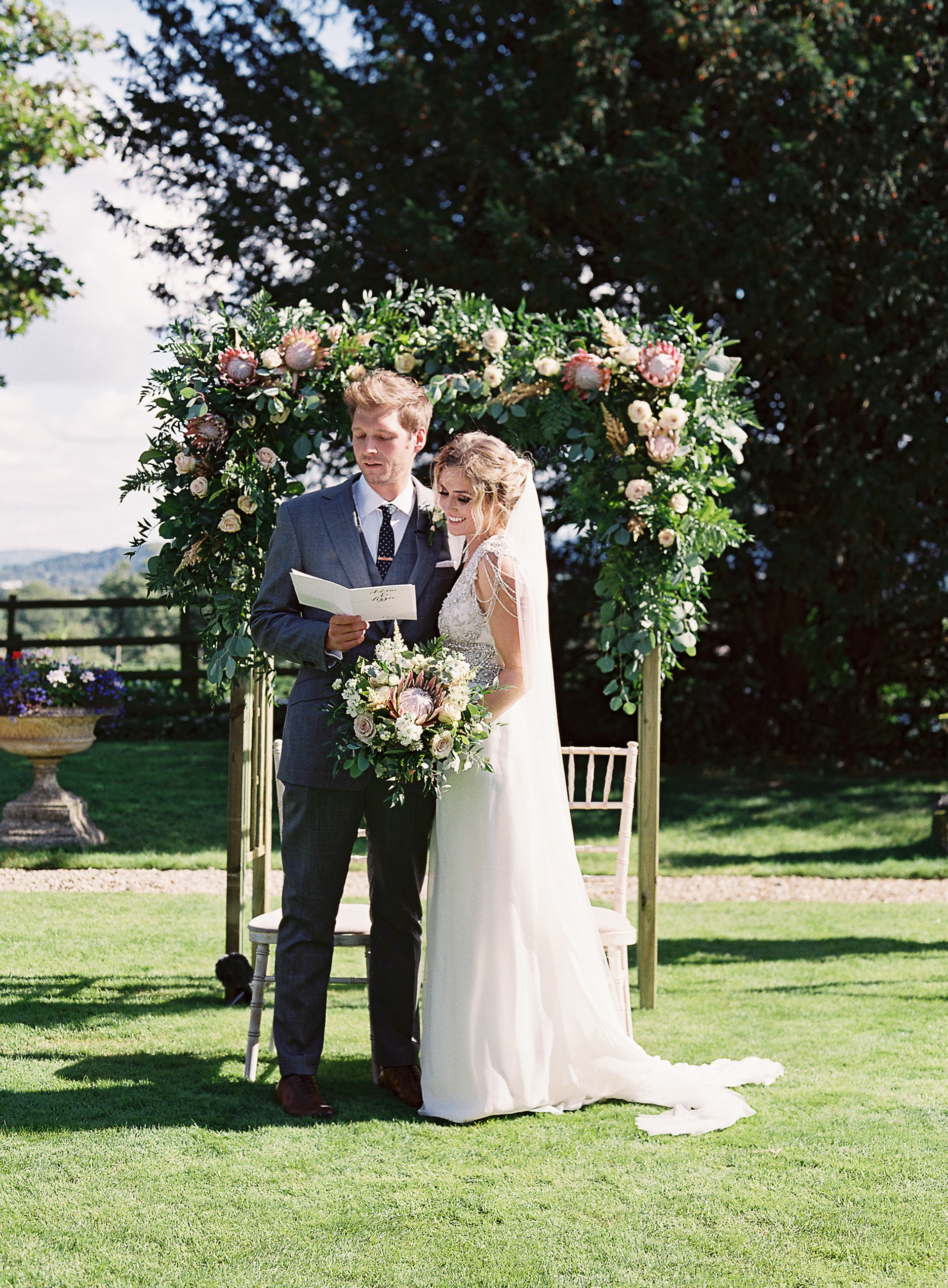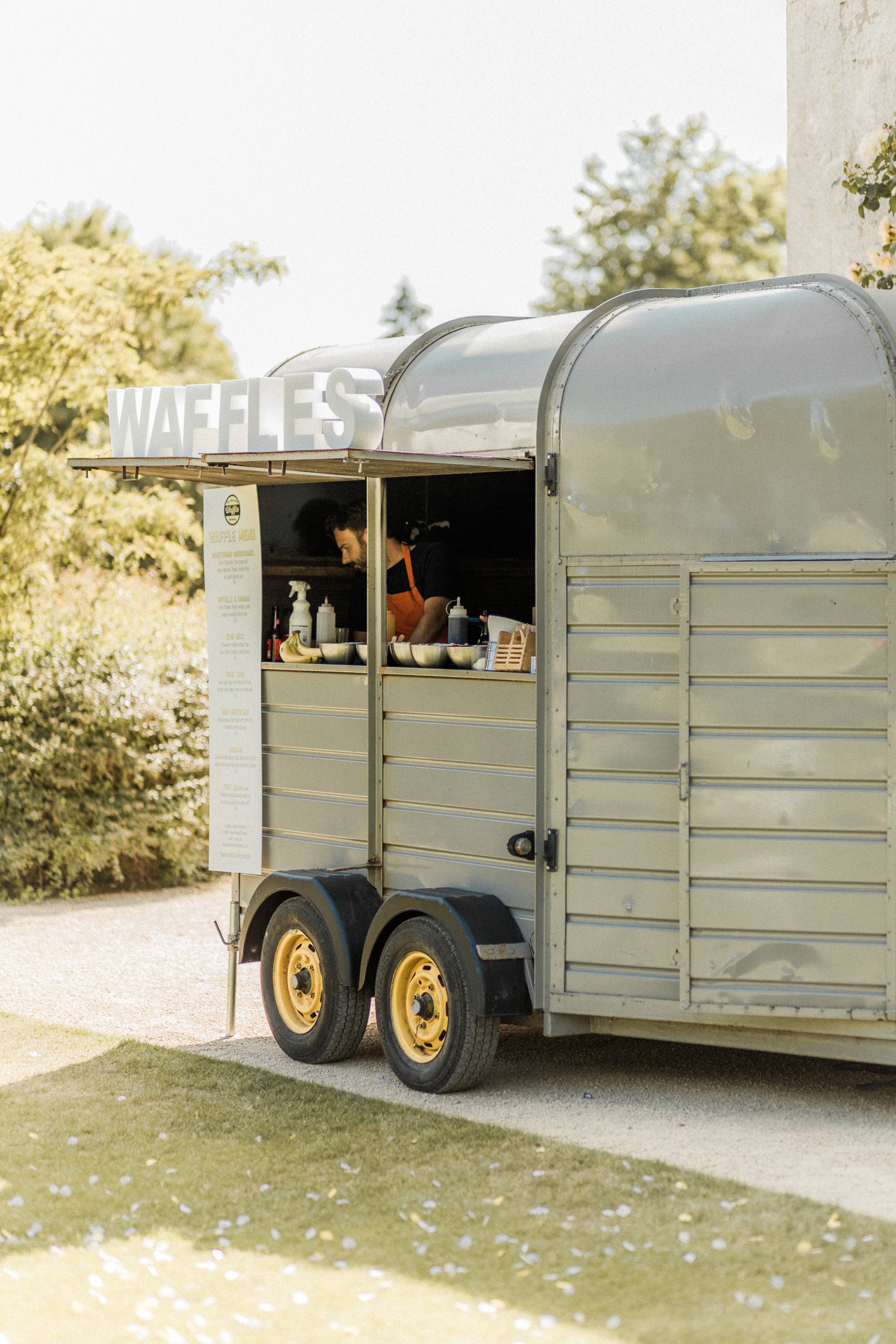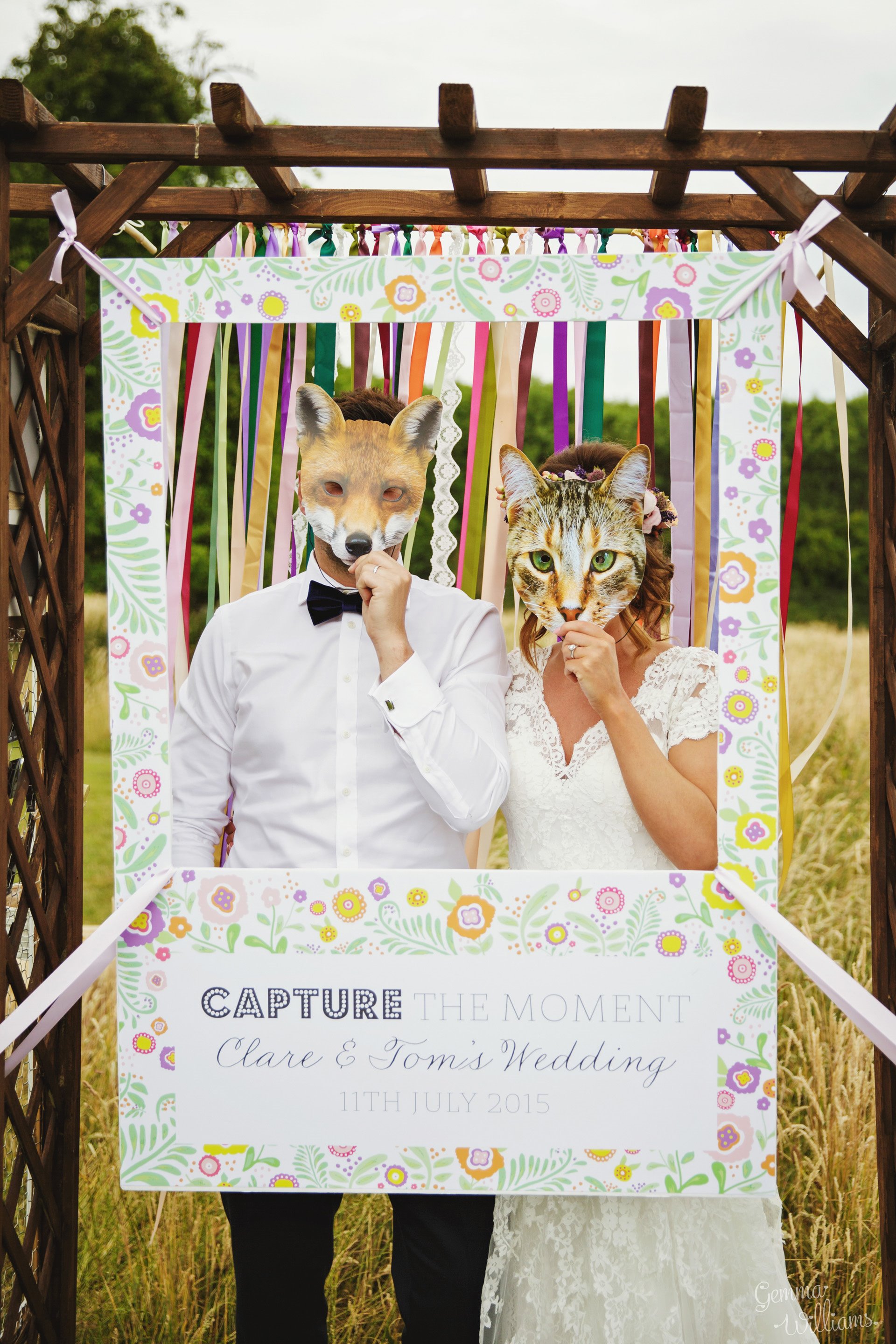 Related reading