A Wedding In Spring With Pinks & Peonies
Holly & James celebrated their gorgeous day back in March 2022. A day we shall never get over! They tied the knot in the Church down the road and celebrated at The Court. This Easter-inspired day was truly spectacular with beautiful flower displays, 2 gorgeous gowns and so much more...
For all those looking for wedding inspiration to blow you away...you've come to the right place!
Let's read on...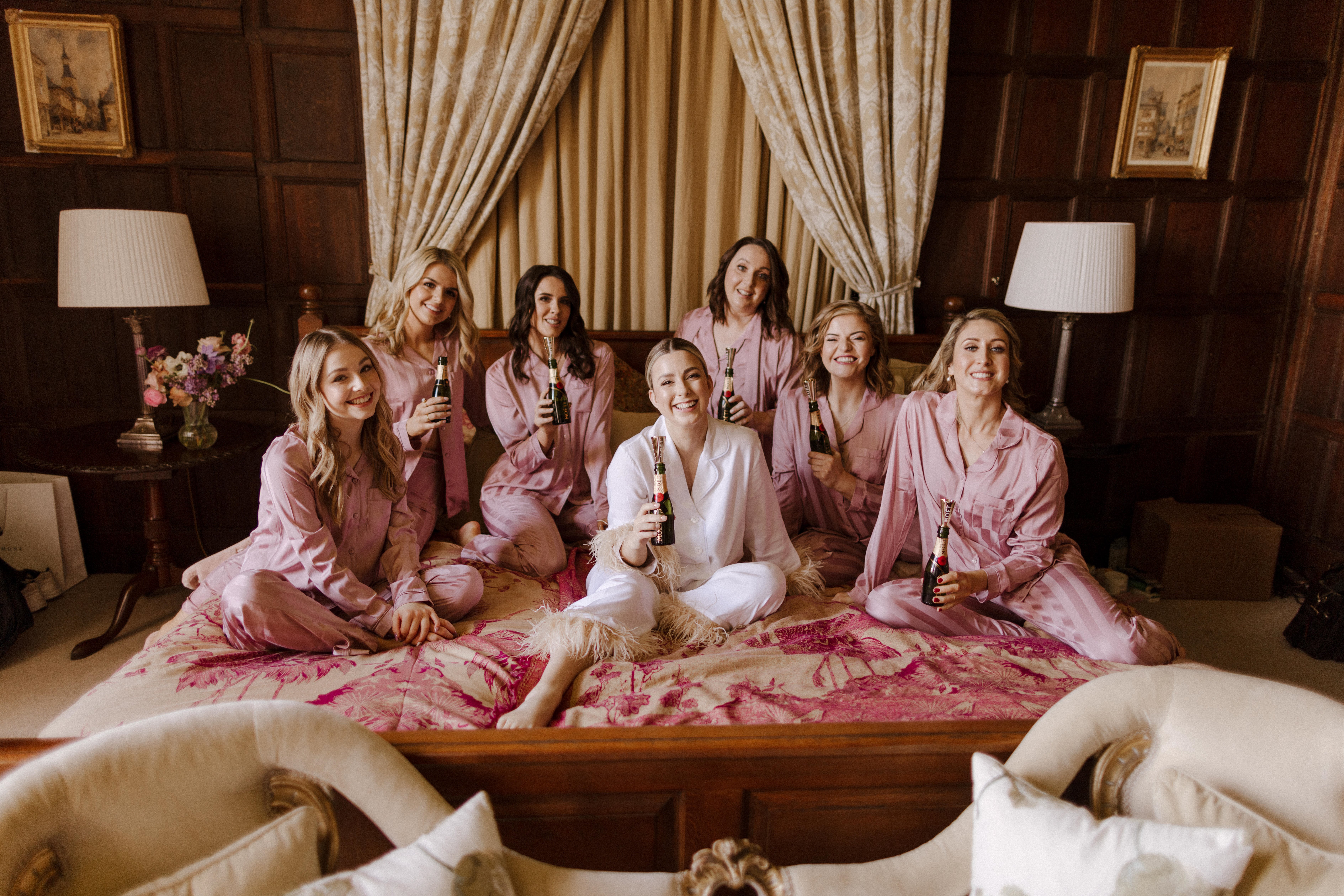 Tell us the proposal story!
To celebrate our anniversary, we had planned to take a weekend break to France, however, as a surprise, I instead booked a week trip to Mykonos to our favourite hotel. I am terrible with surprises and let the cat out of the bag a couple of weeks before we
headed off. The week leading up to our trip, Jamie had been working some very late nights but I had assumed it was to make up for being away. I later discovered Jamie's late nights were actually spent planning the proposal.
At the beginning of the week, he had driven down to his parents to collect his great-grandmother's engagement ring. A couple of days later he drove to my Mum's in Yorkshire and then to my Dad's in Lincolnshire to ask for their permission. Both sets of parents were thrilled and Jamie being a polite son-in-law enjoyed two helpings of fish and chips in succession - my parents have very similar food tastes! After eating way too much fish, he made his way back home all in a single day.
The proposal itself happened in the privacy of our hotel room. After a beautiful dinner, I opened the door to our room to find a candlelit scene full of flowers and rose petals. I turned around and there he was, on one knee. Of course, I said yes!
What made you choose Elmore Court for your wedding?
Like most brides the moment I got engaged I was determined to find 'the perfect venue'. Initially, we were very flexible on where this might be but we did like the idea of the venue either being close to our parents or somewhere in the middle. The most important
thing was finding a venue where we could host an exclusive weekend celebration with accommodation on-site and a church close by. We had held a date with another venue but as we looked into the details we started to doubt our decision so on a whim we
decided to visit Elmore. The moment we stepped into the venue we knew that this was the place we wanted to get married, everything we could need was catered for on-site. It ticked all our boxes and the biggest reason we said yes was the warmth and attentiveness
we felt from those who worked there.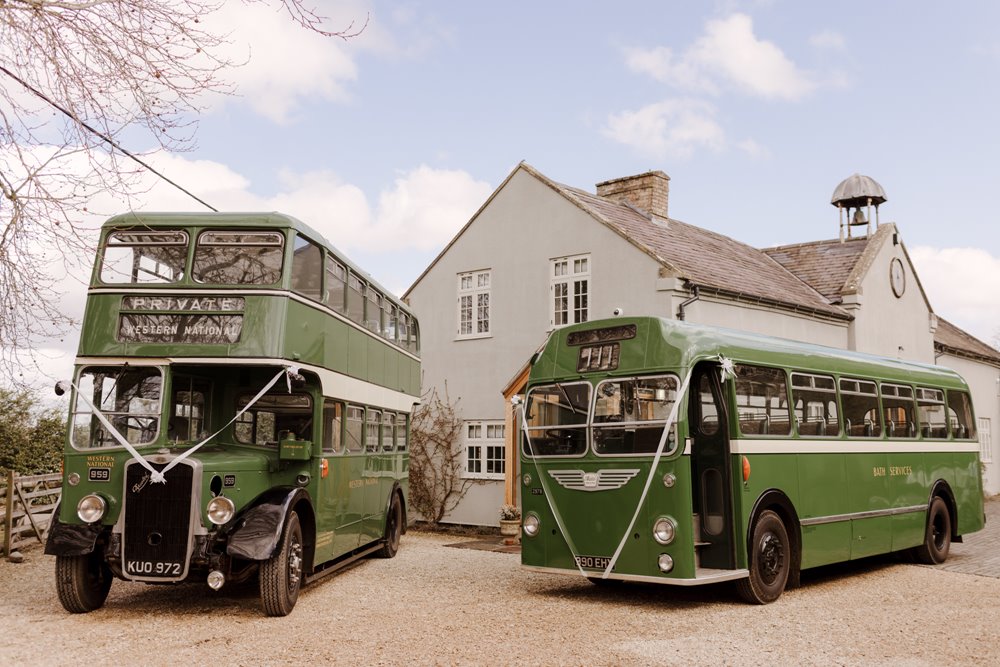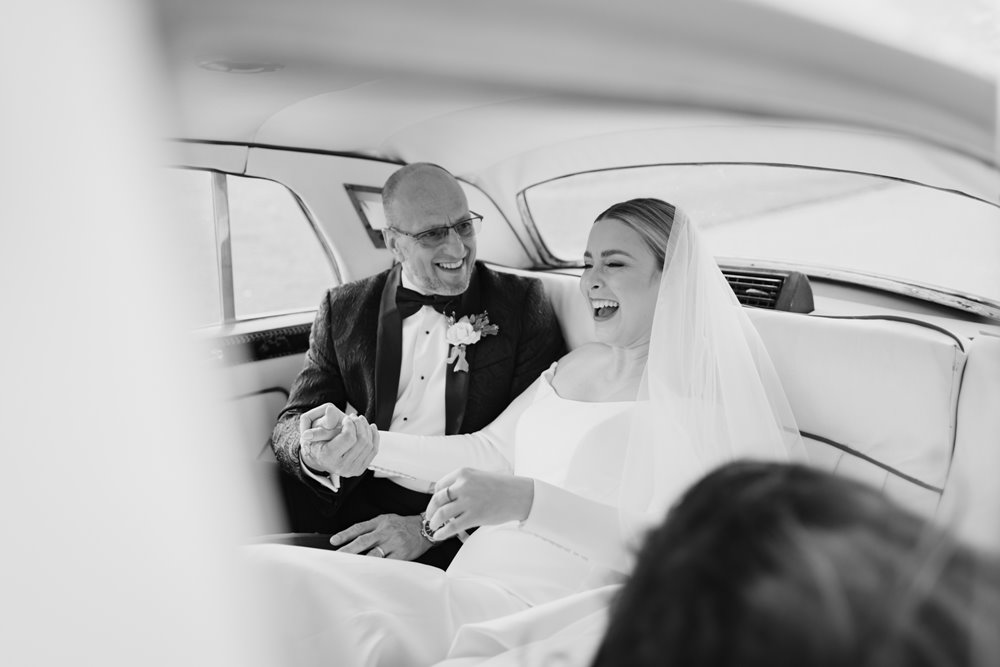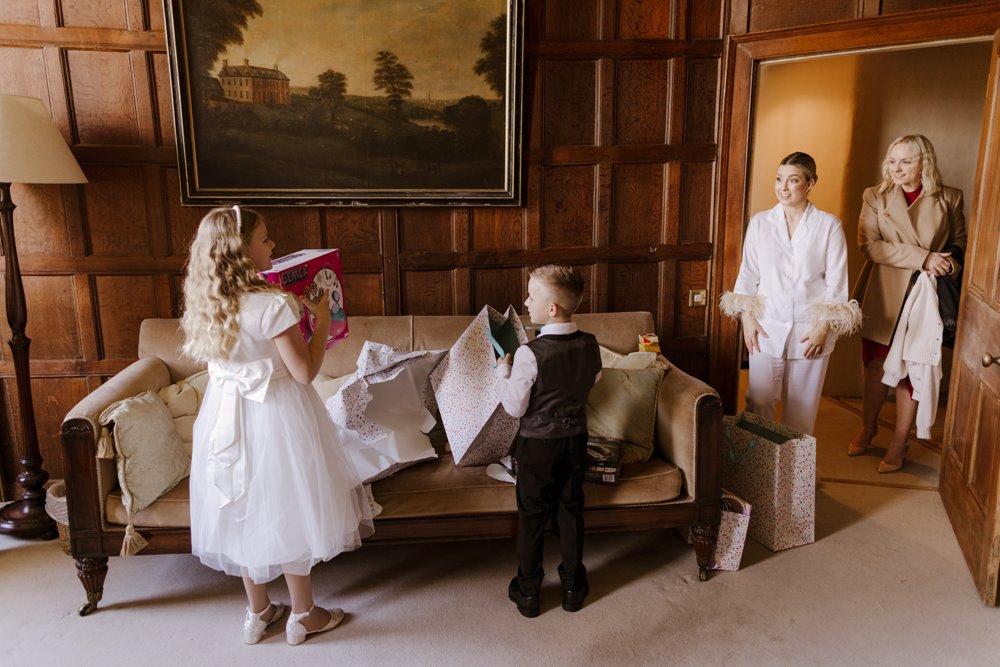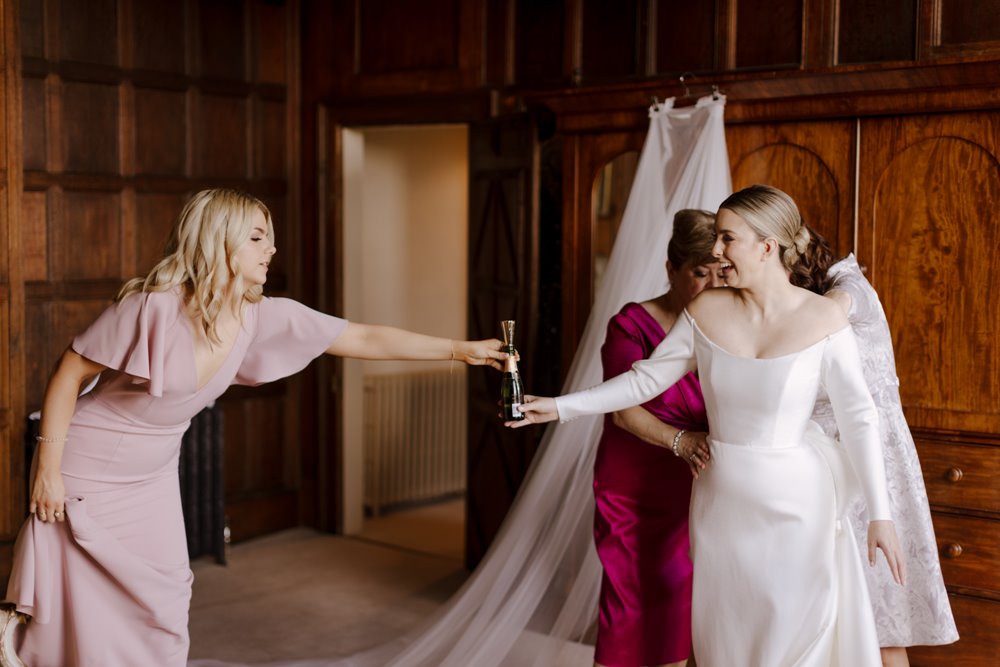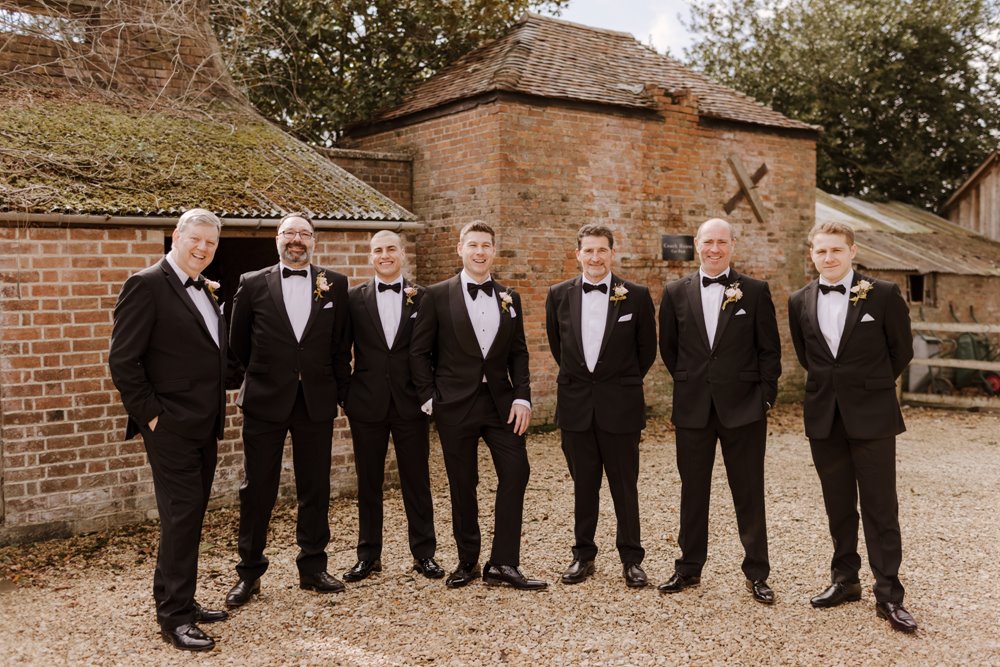 Tell us about the inspiration for your wedding; How did you come up with the style of your day?
I probably spent every spare hour possible on Instagram, Pinterest and wedding blogs (to the exasperation of my husband). This ended in many different ideas but not a consistent theme, I had seen the most beautiful wedding planned by What Peggy did Next full of whimsy, florals and colour – I was in love! We decided to take on their services to help steer my ideas in some sort of direction. Helen created several mood boards based on our discussions and her professional knowledge. From there, we settled on a whimsical and romantic colour palette of pinks, lilacs and clashing ochres.
The flowers were the most important décor detail that we wanted to get right. I had loved Jenni's work and style for so long and was honoured to have her as our florist. The brief was feminine pretty florals with a modern edge using seasonal flowers in soft pinks and lilacs. Continuing the romantic and whimsical theme, Helen and Lauren created the vision of the gillyflower space transforming into a secret garden with columns and arches surrounding the key elements such as the cake and table plan.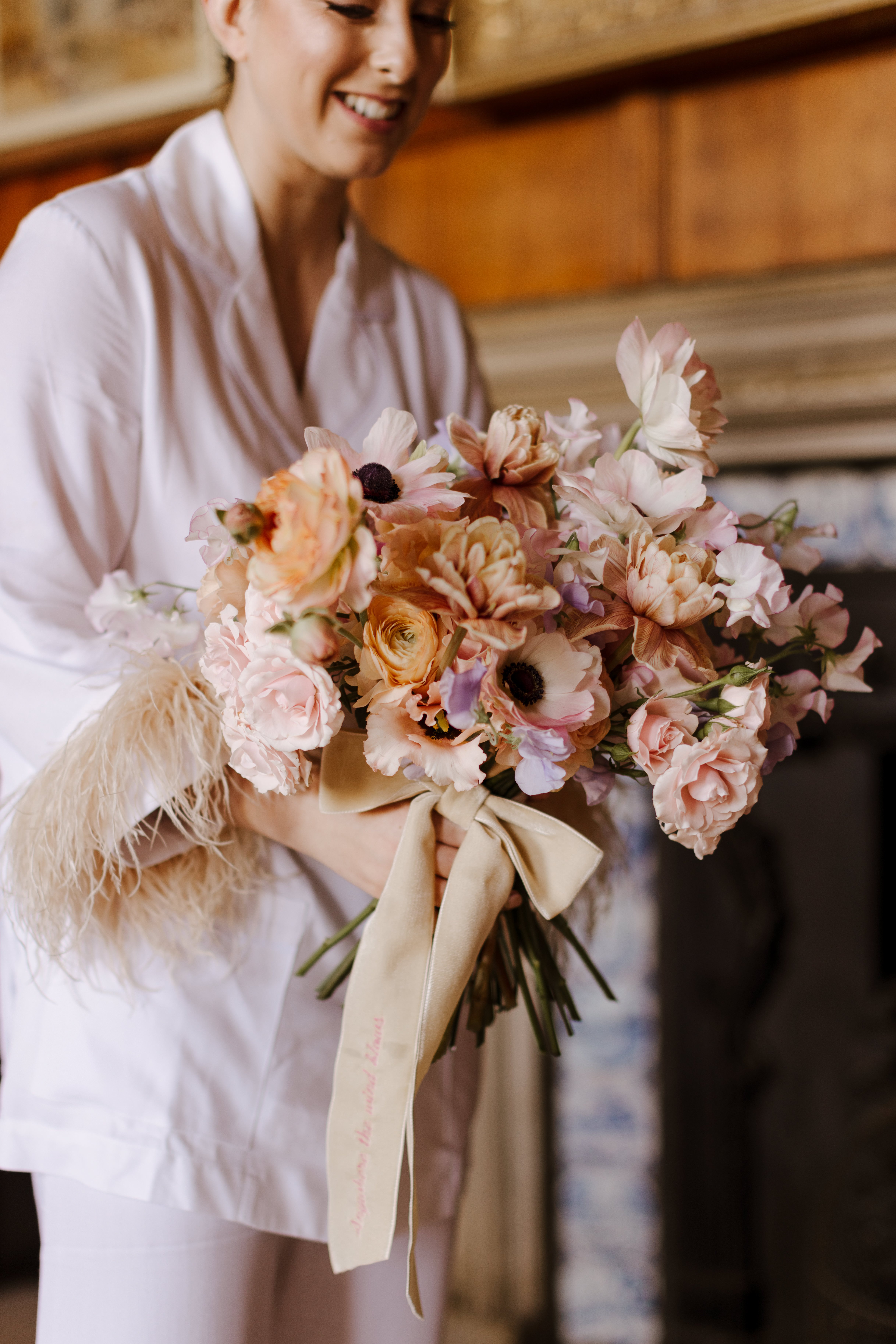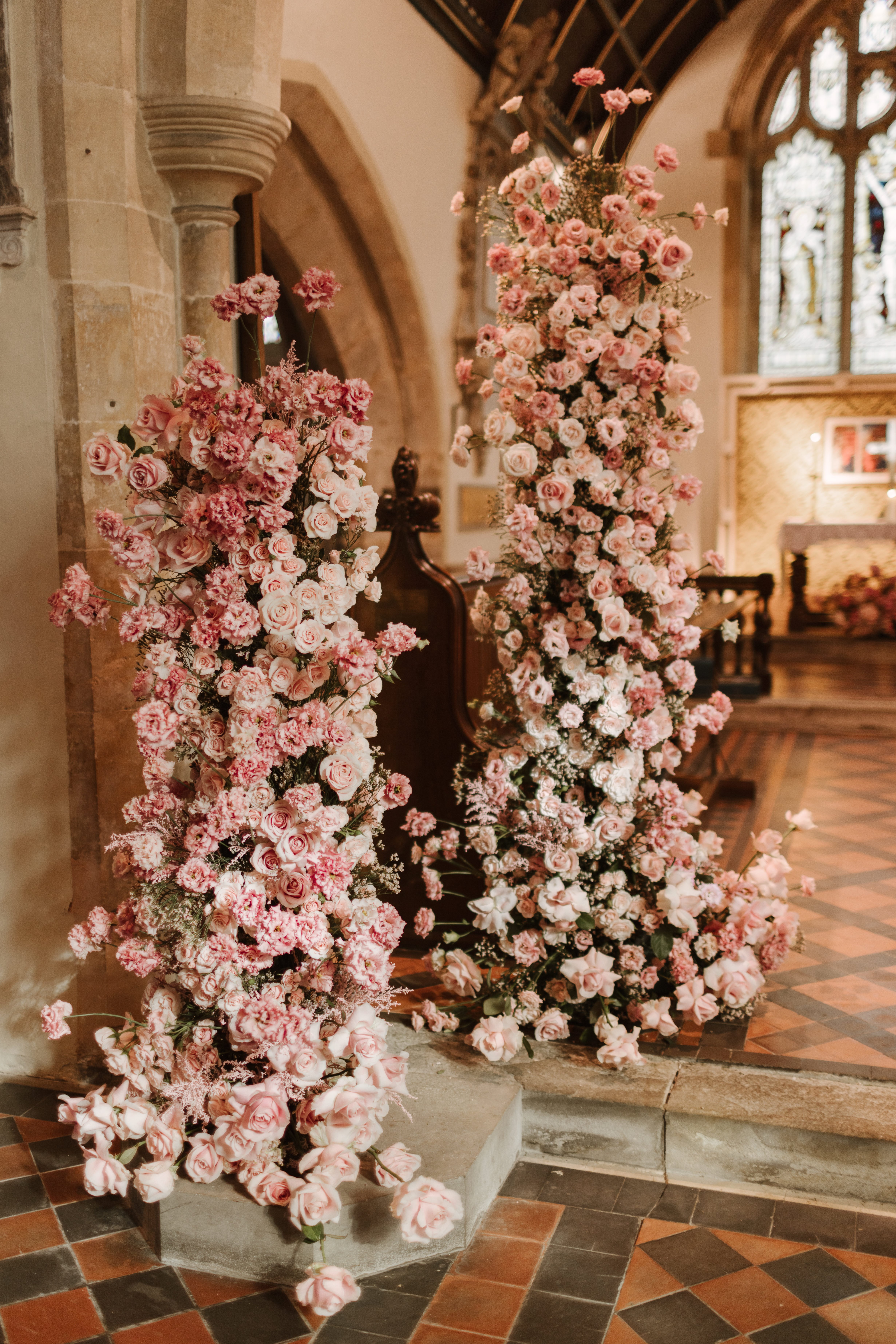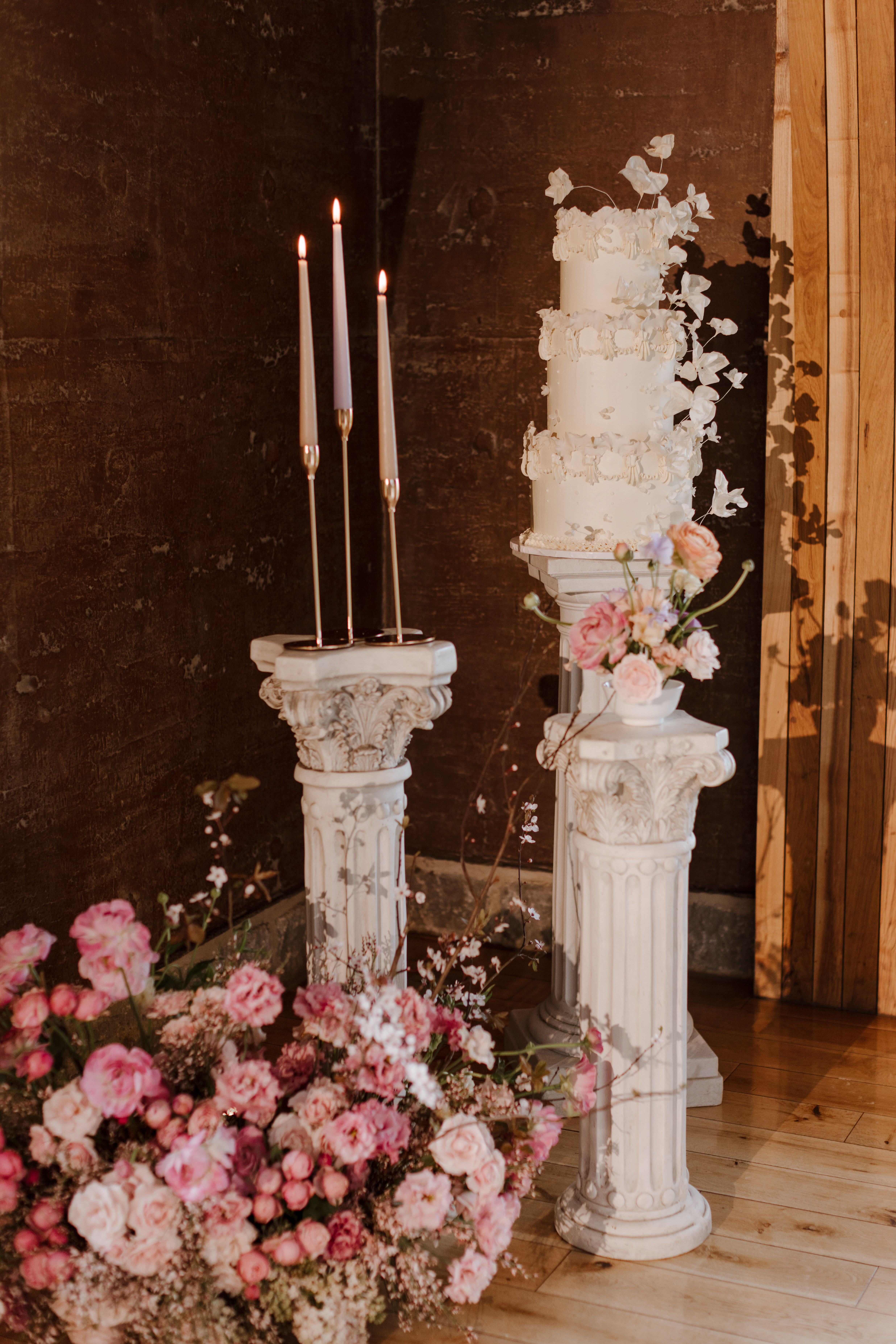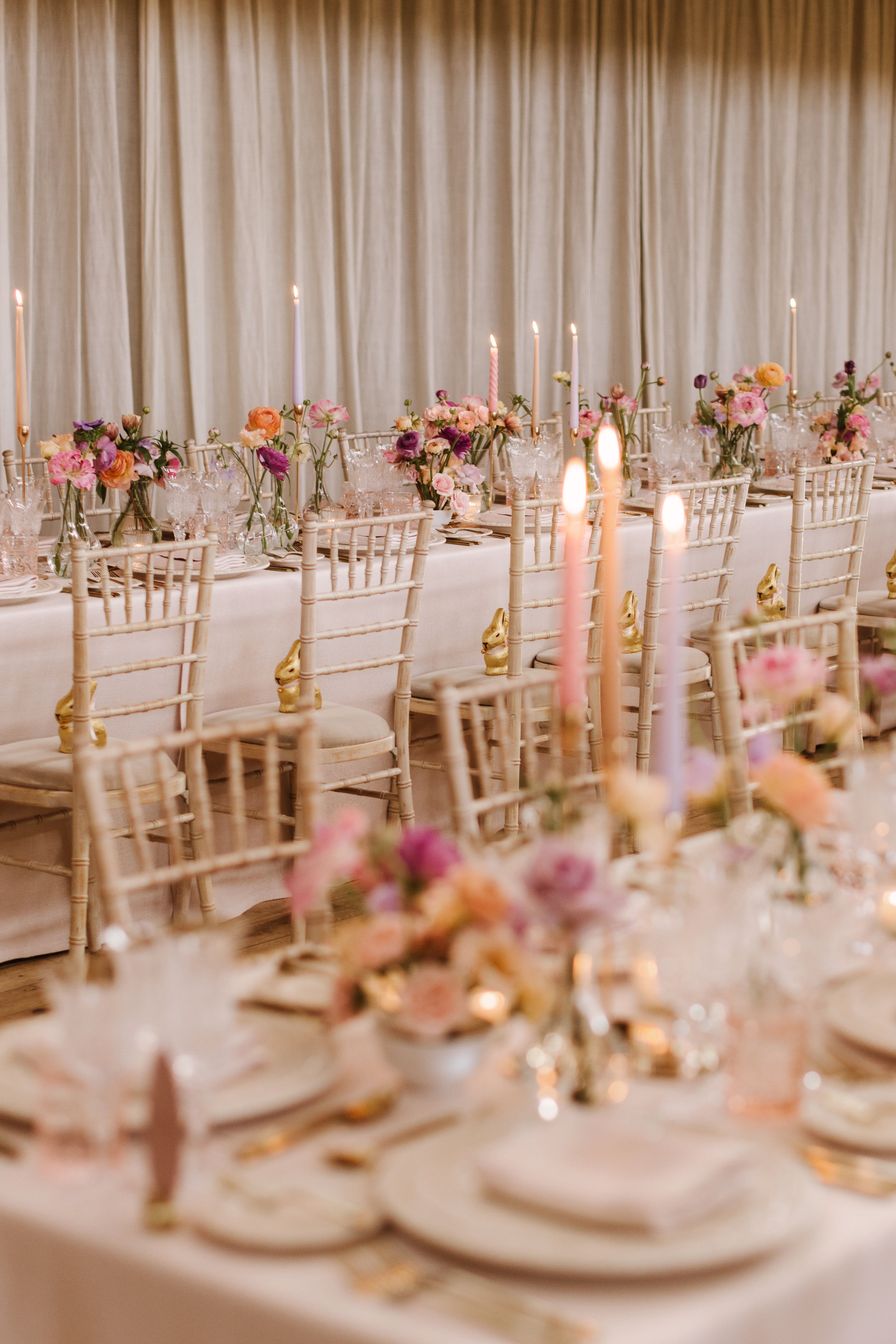 Admittedly I was a little bit fuzzy-headed the morning of our wedding. A few too many drinks the night before but the Elmore team were great at making sure I had everything I needed to perk myself up including a homemade latte made by Jamie from our own coffee machine. It was so special spending that morning with my bridesmaids, mums and mother-in-law. I loved watching everyone getting their hair and makeup done. Once I had had my makeup and hair done the butterflies started and time seemed to go very quickly from getting into the dress to meeting Jamie at the end of the aisle.
Tell us what you did after the ceremony. Did you have a drinks reception, photos, music etc…
After the ceremony we made our way back to Elmore with our guests following on buses behind. In the grand hall, we held a drinks reception with a gin bar and canapés. The Nero string quartet were there to serenade our guests before moving to the gillyflower for our wedding breakfast.
What did you eat and drink?
For our wedding breakfast, we served ham and cheese tart for the starter and chicken for the main. We also served evening food of burgers and halloumi for anyone who was peckish at the end of the night.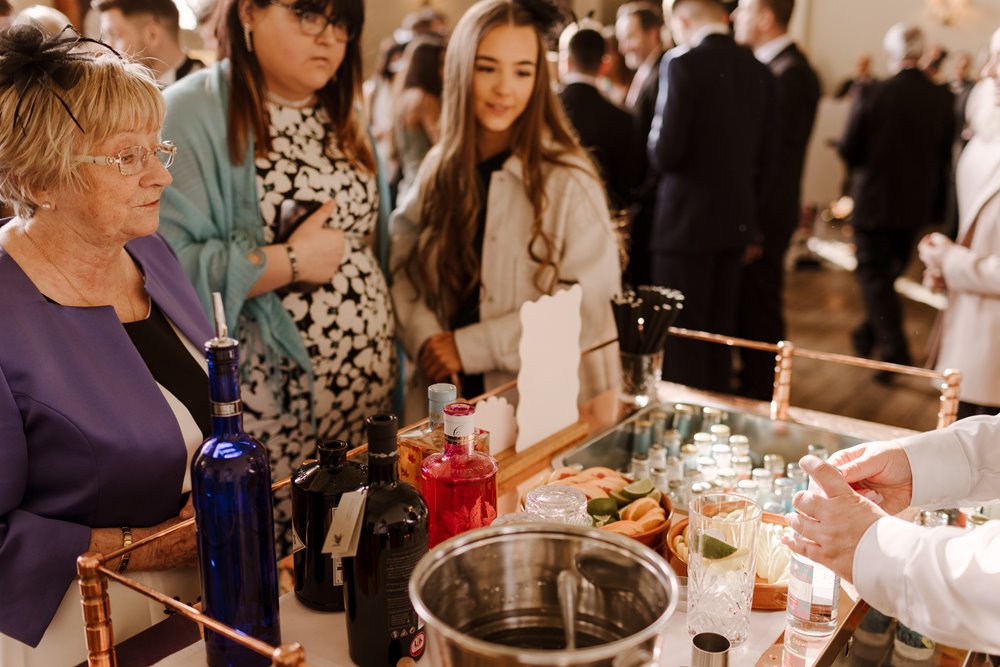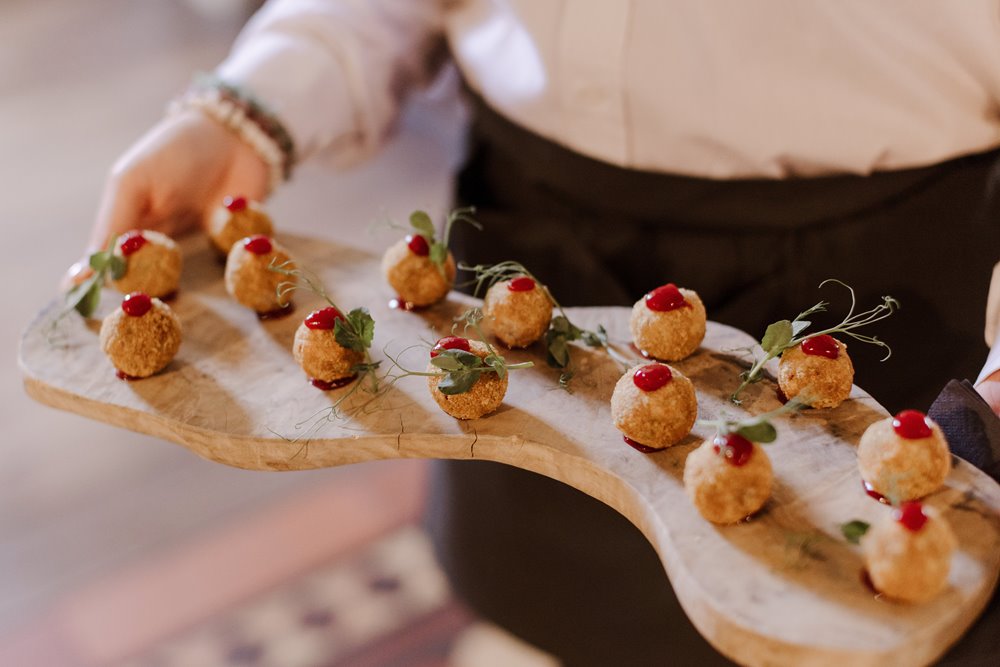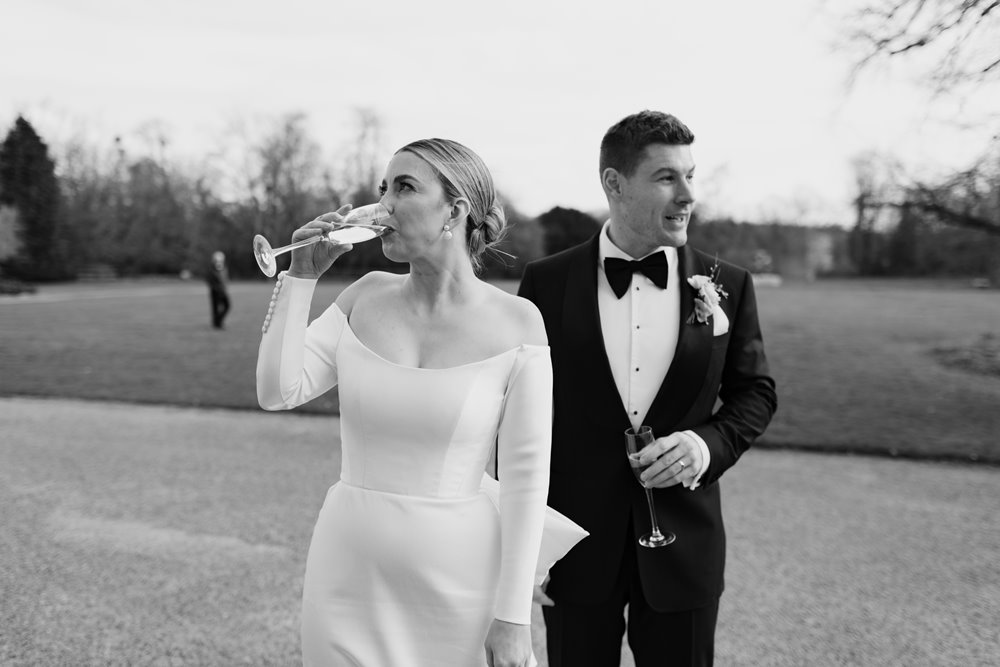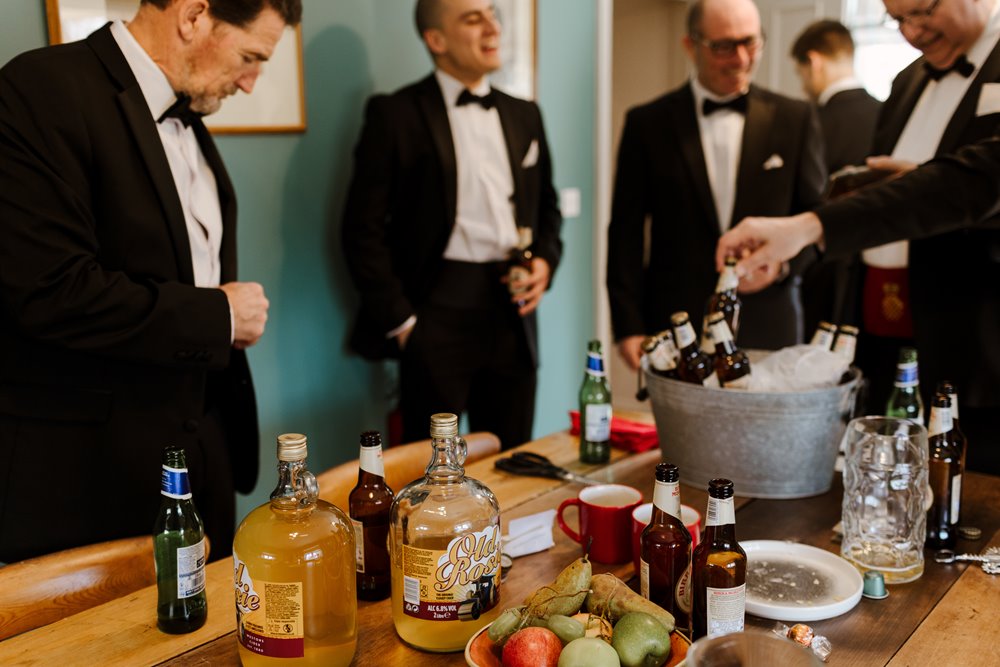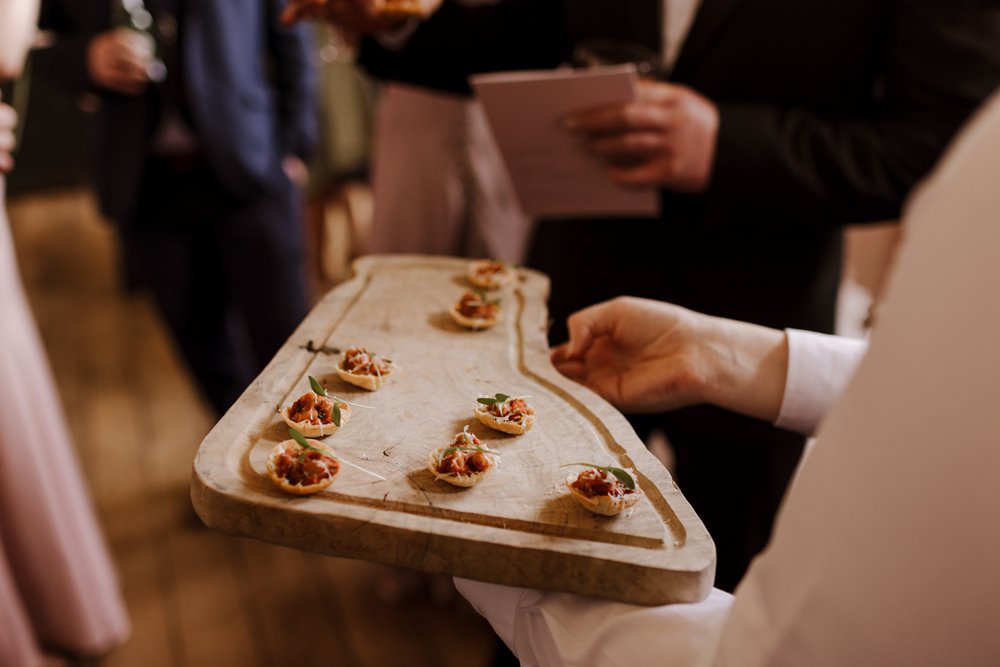 I am a huge musical theatre fan so on the ribbon of my bouquet, I had a line that had special meaning to Jamie and me from my favourite musical Hadestown.
I have always had a love of stationery and to save a bit of money I decided to design, print and die-cut all our stationery elements. Jamie's dad and a neighbour helped us to make stands for the signage inspired by my huge Pinterest board. I also printed each guest's name on a ribbon matching our colour scheme and tied them to an individual gold bunny for each guest, these worked as our place cards and favours.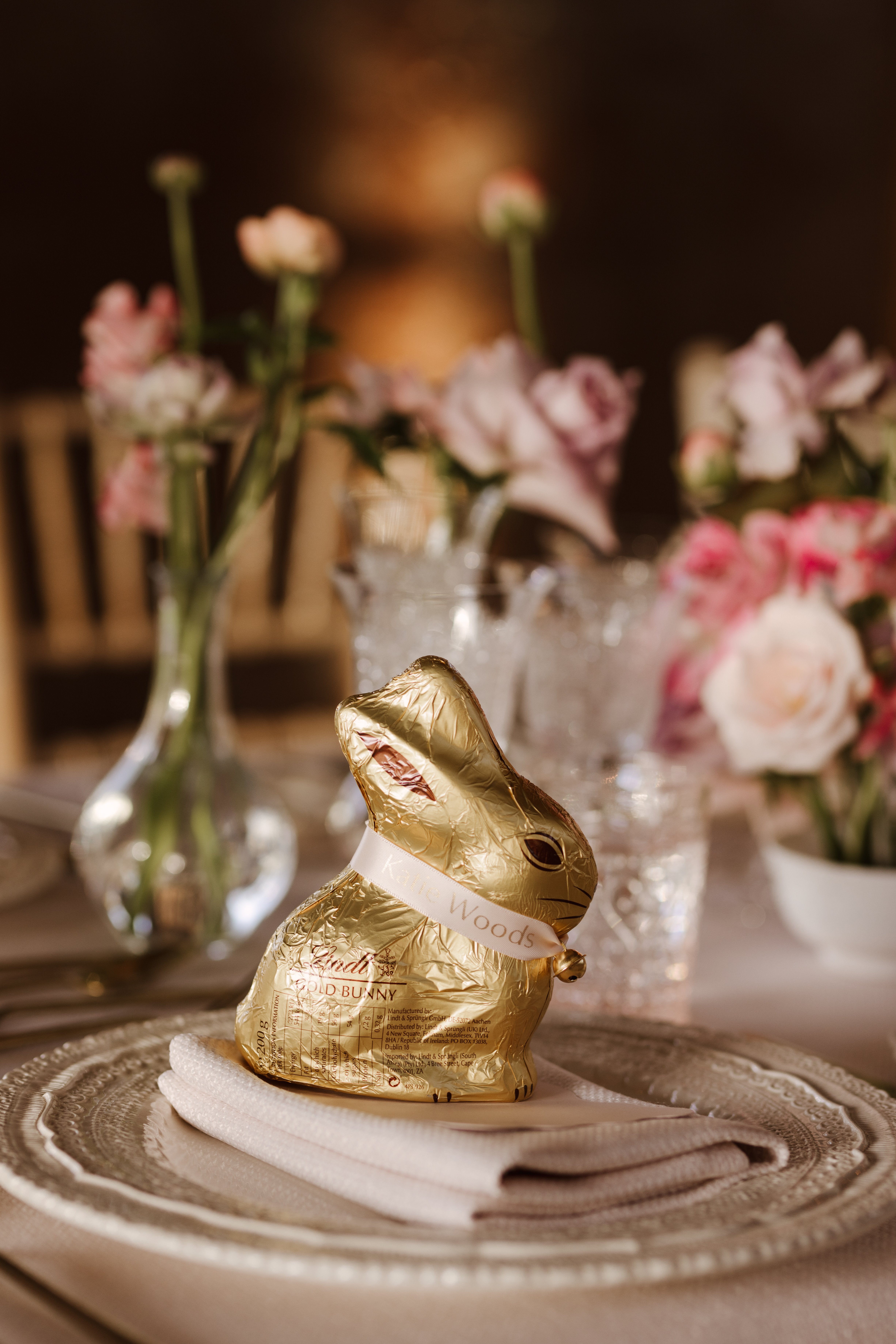 We chose to have live music for our evening celebrations. Jam hot was our first choice and we were so glad we were able to secure them. They really got the party started and so many of our guests have contacted us to say how much they enjoyed the band.
Your incredible cake! Tell us about it...
We had a 3 tier wedding cake made by the incredibly skilled little Mallow. Each layer was a different flavour. It was so beautifully decorated and really encapsulated our theme with the help of Helen from What Peggy did Next.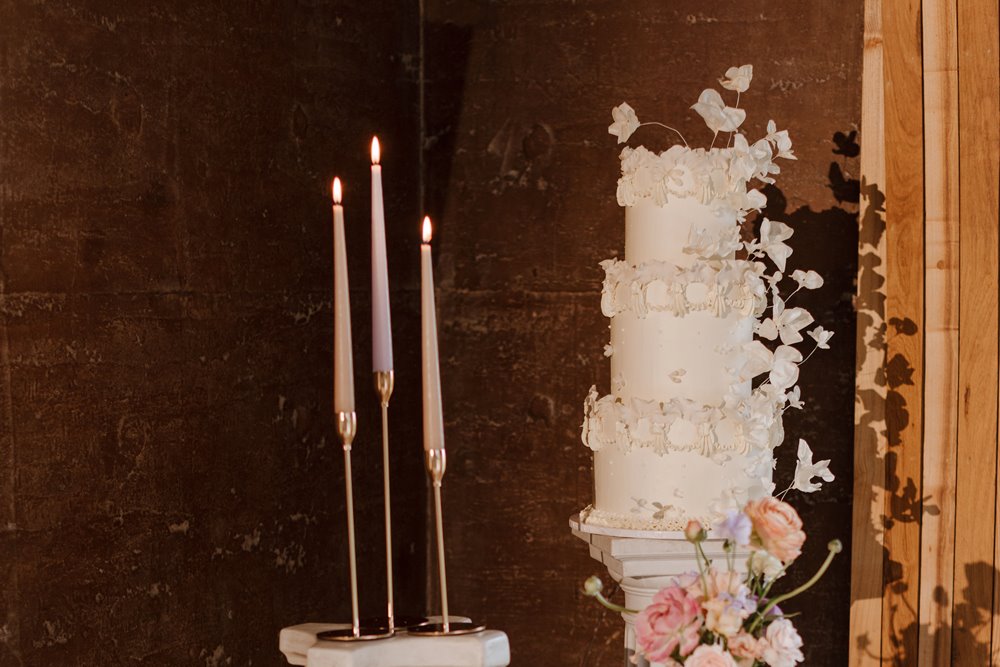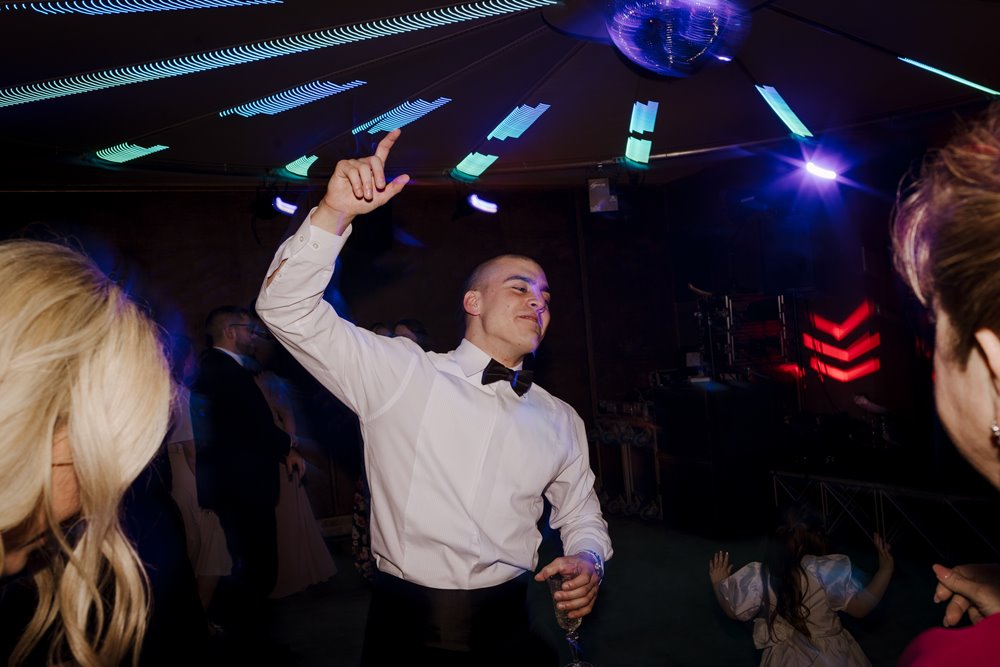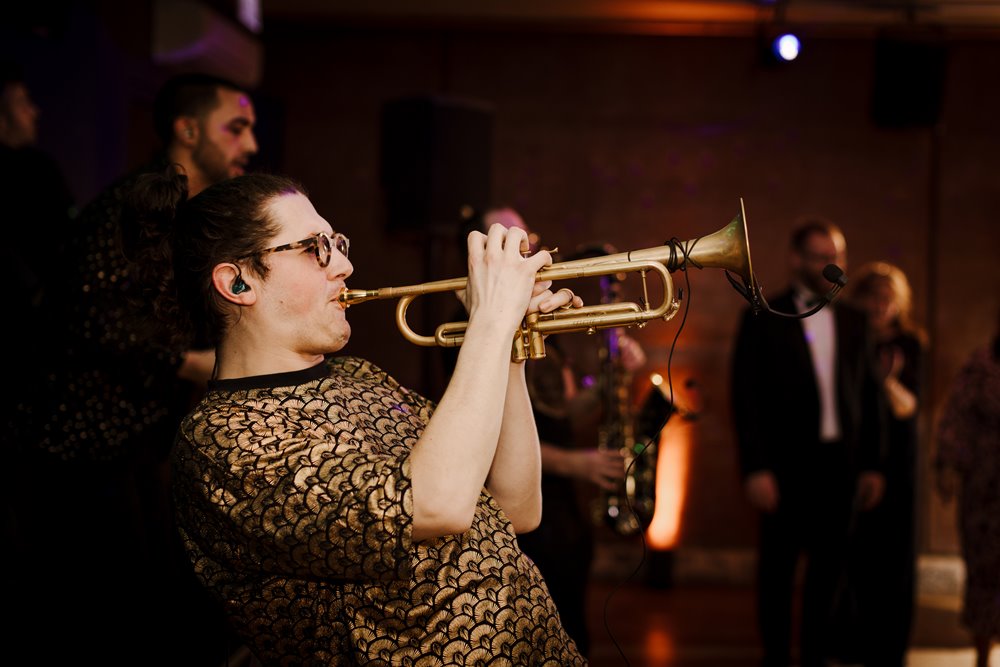 Anything else!
When we started to plan our wedding we knew we wanted it to be a weekend celebration. Both our families are 5 hours apart so it was important for us to have time with our nearest and dearest either side of the wedding day. We initially arrived at Elmore on the Thursday evening and had a cosy night together in the Coach house. Friday morning our parents joined us and helped us in preparing for the arrival of our other house guests at midday. Leesa and the Elmore team were fantastic and helped us in distributing the welcome boxes I had created to each bedroom before everyone arrived.
Later that evening we held our rehearsal dinner in the Grand Hall (fish and chips) followed by drinks and karaoke in the drawing room. Although we set a curfew for 11pm we were still singing and dancing the night away. The Elmore staff really took care of us and everyone had the most amazing first night.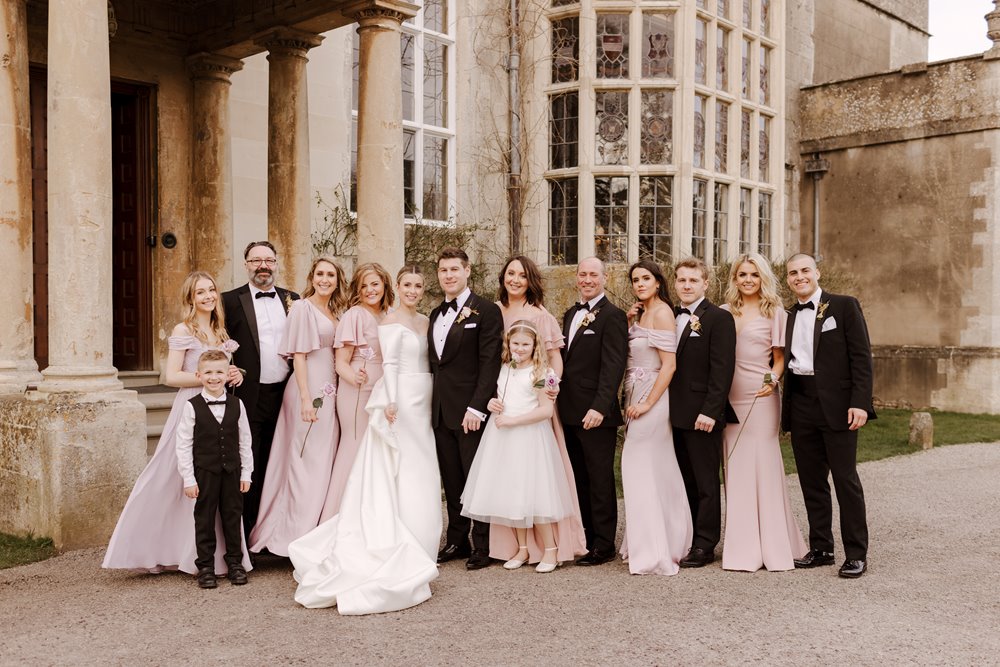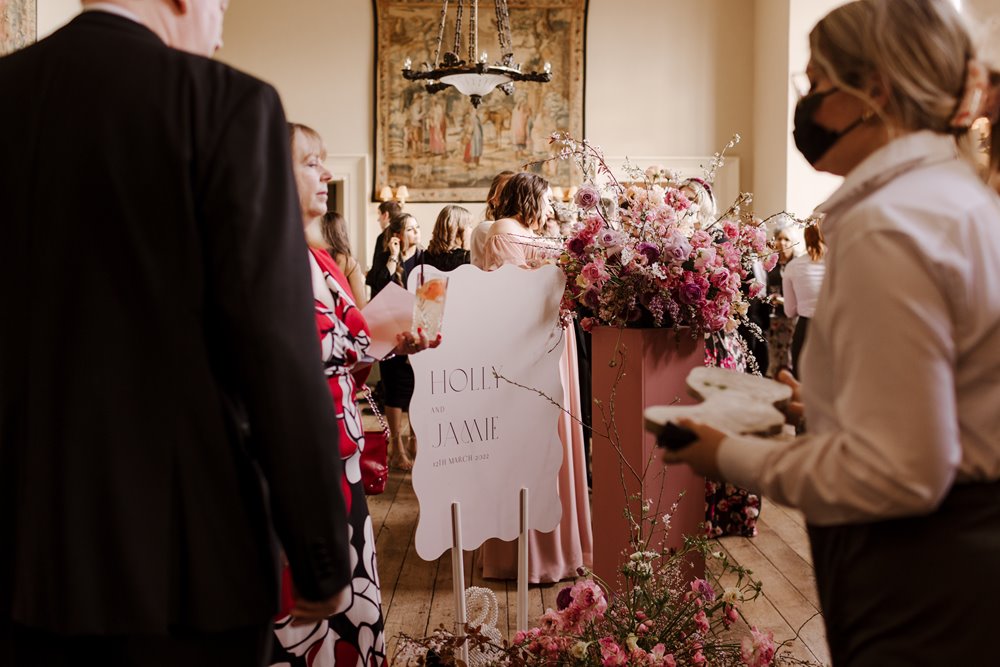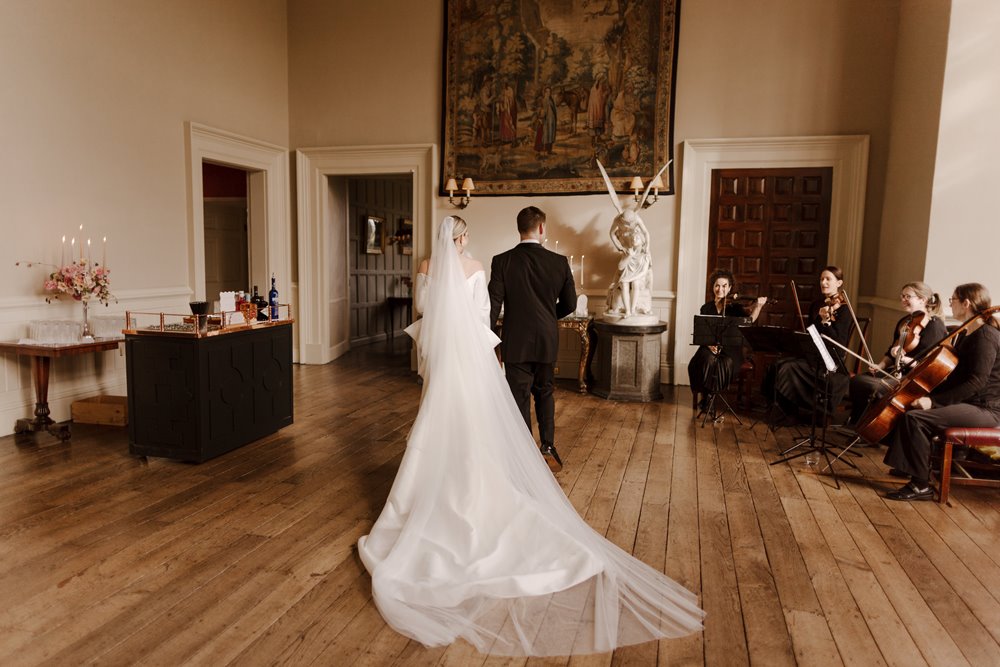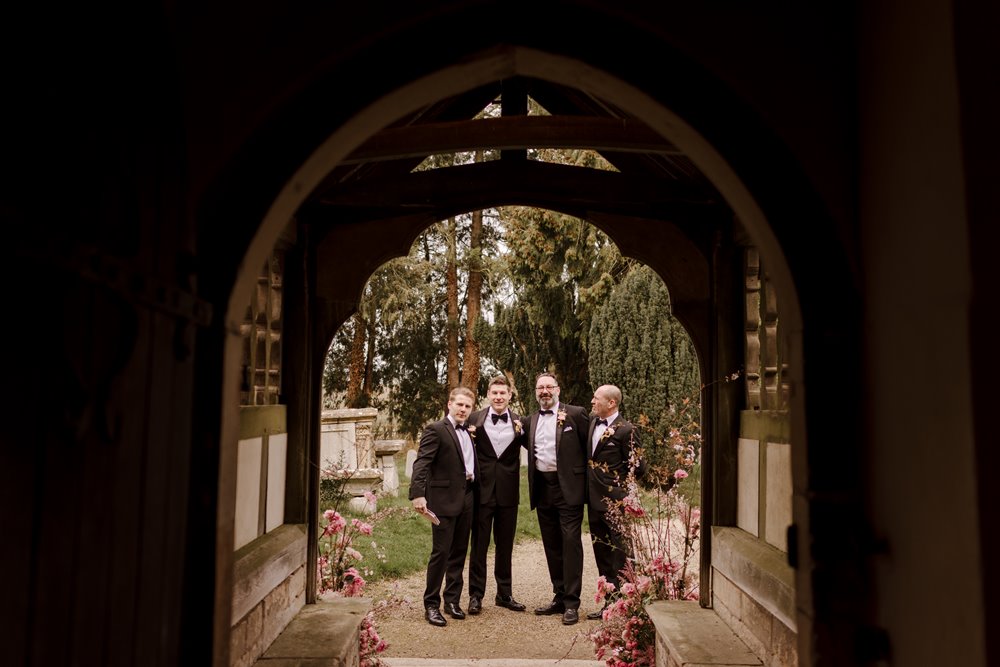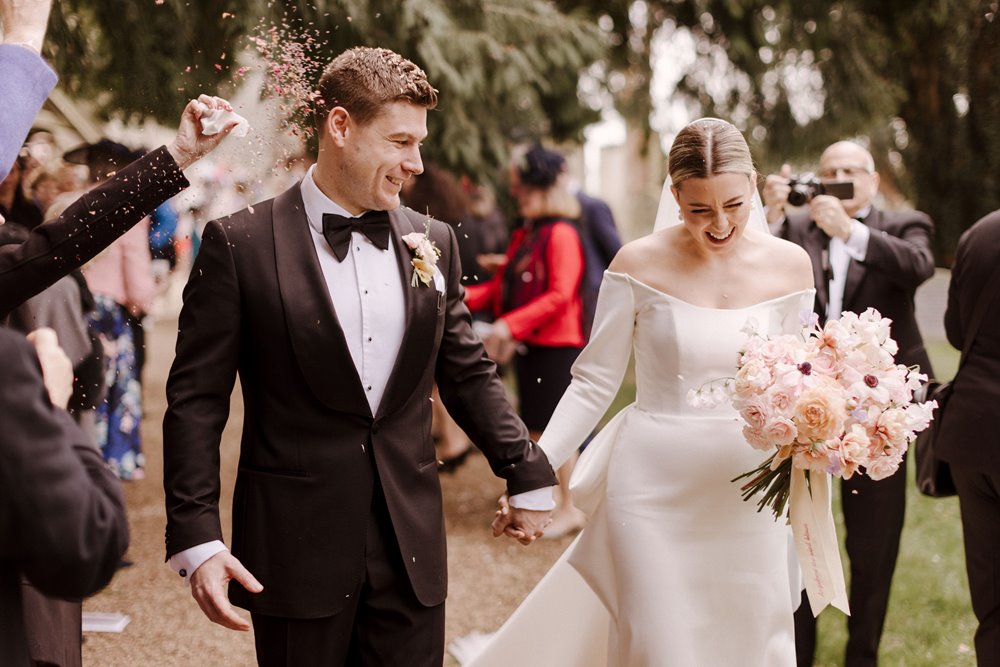 Related reading