Love is love and it's so beautiful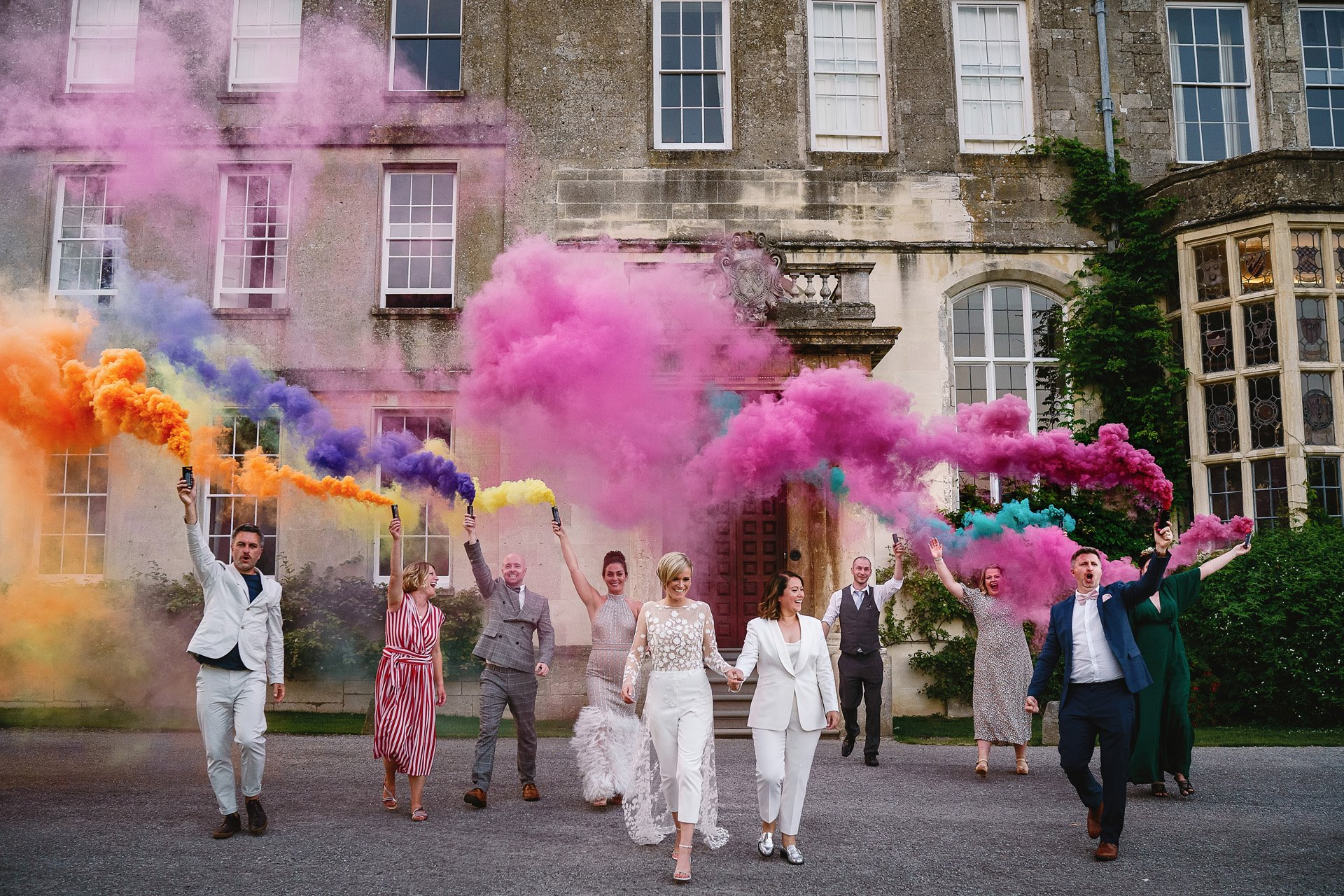 We have been excitedly anticipating these wedding photos since these two beautiful brides blew our minds with their stunning wedding back in July (held just 3 days after covid restrictions were lifted!!) of our summer of love...
A juxtaposition of colour and monochrome, gritty graffiti and soft pampas grass, and whole lot of love and creativity went into the making of this day.
You can quite literally feel the joy reverberating in waves from the wedding images! Buckle up and enjoy the ride; it's over to bride Sharon for all the details...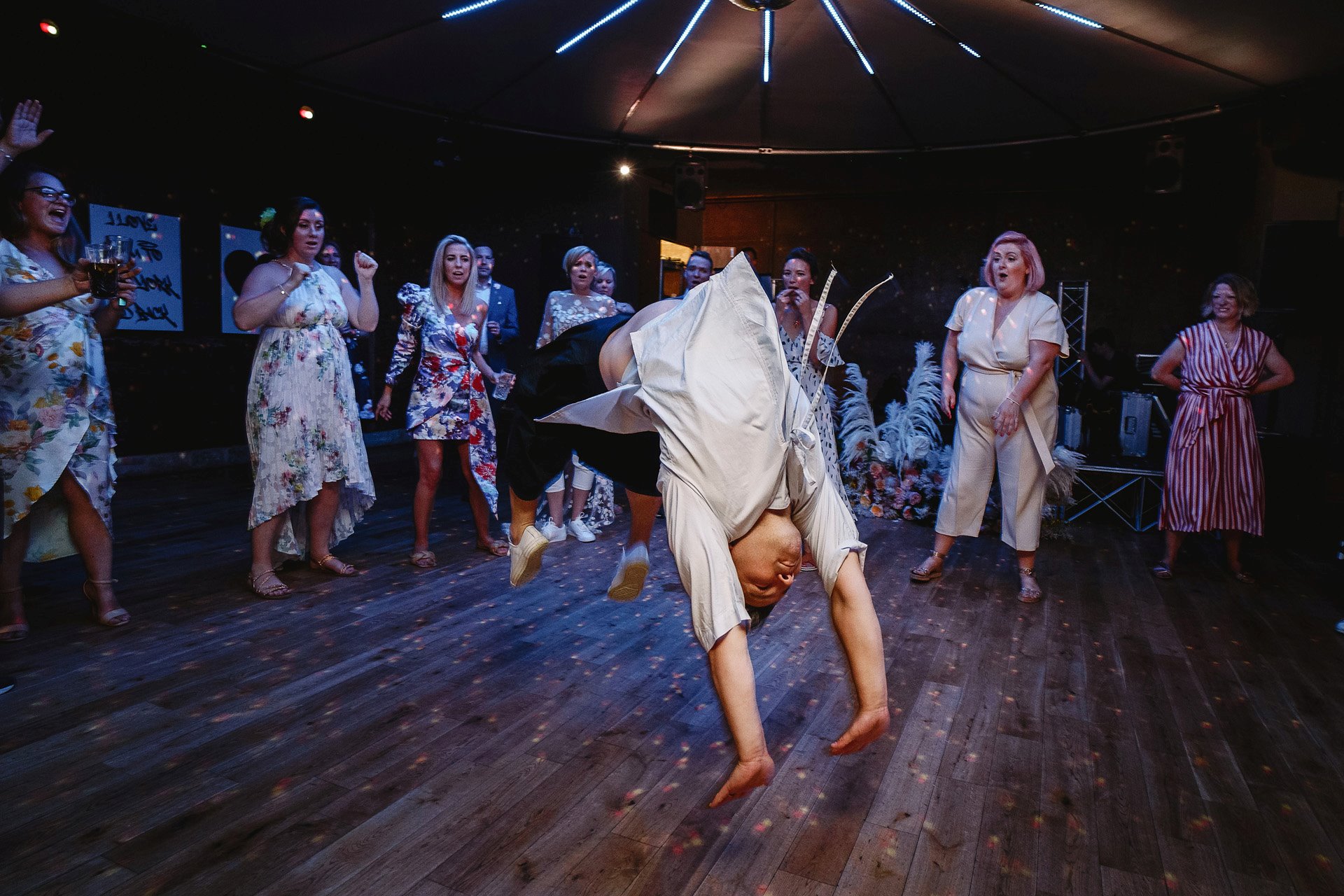 Wedding outfit details
Vicky's Parisian Bridal Jumpsuit...
Vicky's bridal jumpsuit was by Parisian bridal designer Rime Arodaky.
I am the researcher between us, so in December 2019 not long after our engagement I started my search and I fell in love with Arodaky's Instagram feed and with her edgy, but sophisticated styles. I knew instantly that Vicky would love her style and sent her the information. She loved her designs and knew that this was the right designer for her, after deliberating dresses or jumpsuits, she ordered the Patsy jumpsuit, which had sheer sleeves, embroidery details and a beautiful train.
Due to lockdowns she had to try this on at home alone and face time her mum and the bridal party girls for their support in making her final selection. They loved it too and this was then combined with Louboutin studded heels to complete her look, which was elegant, stunning, and totally badass.
Vicky's sister Jade did all the alterations for her, so the jumpsuit fitted perfectly, which made her feel even more empowered and amazing on the wedding day (always good to have a talented 'seamstress and maker' in the family.)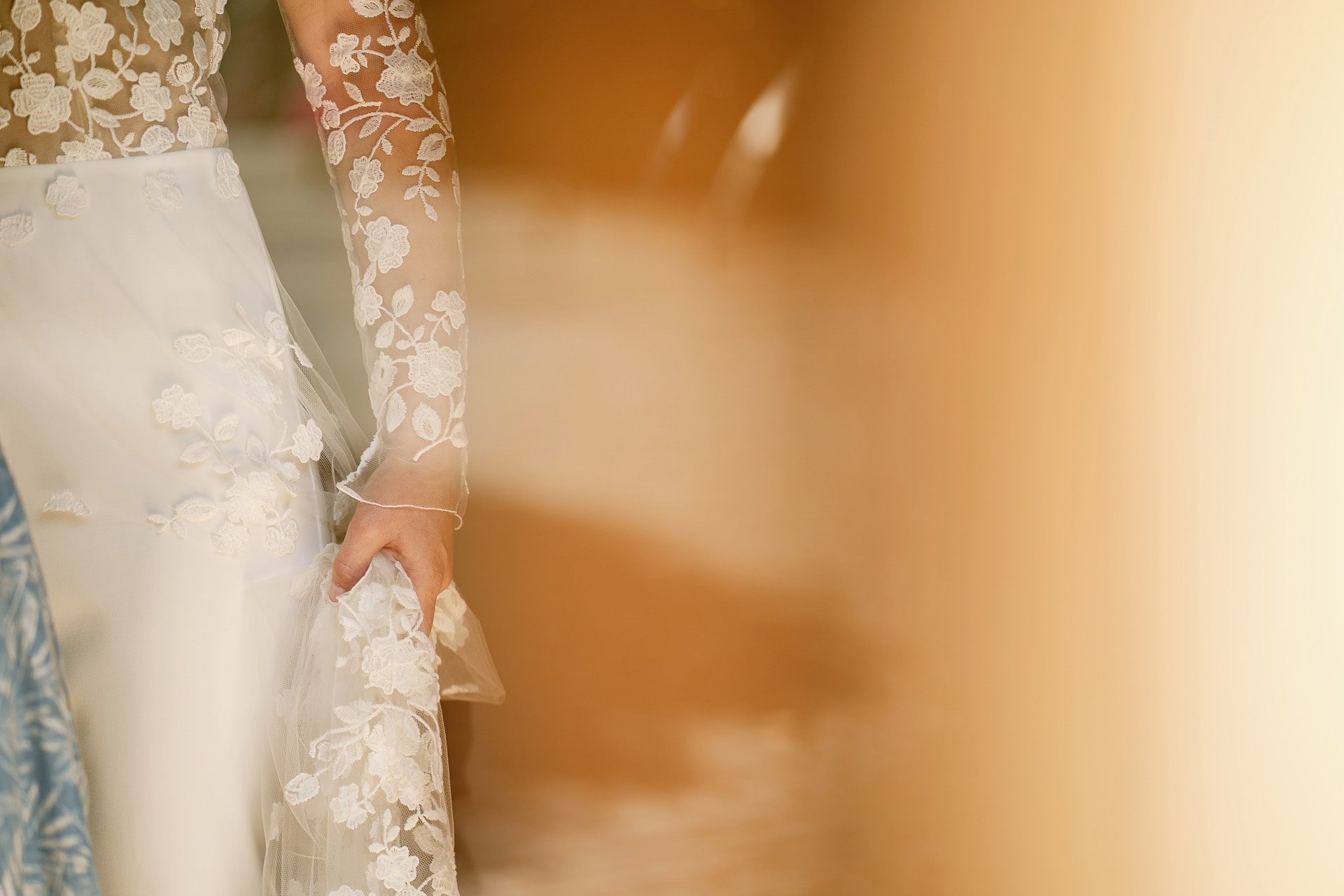 Sharon's bespoke bridal Tuxedo
My outfit was a little more complicated as I decided 'eventually' that I wanted a tailored white tuxedo to compliment Vicky's jumpsuit with train, so started to look at designers and tried on a few garments off the shelf, but nothing was working or fitting particularly well for me... I had also embarked on a health and fitness push during the second lockdown and had lost almost 50lbs leading up to the wedding, so decided that I needed to approach a tailor to make a custom tuxedo.
I reached out to Gormley & Gamble who are the first women's wear only tailors in Savile Row's 200-year history (loved the girl power with that one.)
Phoebe from G&G worked with me directly on the tuxedo and I asked for some beautiful, but challenging details to be incorporated into the suit. This included;
A full arm sleeve that had the lyrics from our ceremony song embroidered in a graffiti style font down it
5 buttons on each sleeve as we had been together for 10 years
and an X and O on the bottom rear leg of the trousers (amazing suggestion by Phoebe), which was the name of our ceremony song.
Then finally I had our key 'life moment' dates embroidered on the inside as a hidden detail (when we got together, when we moved country, when we bought our first home, our engagement date, and our wedding date.)
This outfit was also completed with the addition of some Louboutin chrome loafers (I can't do heels and I wanted to dance), so we both had the magical red sole flicker as we walked down the aisle.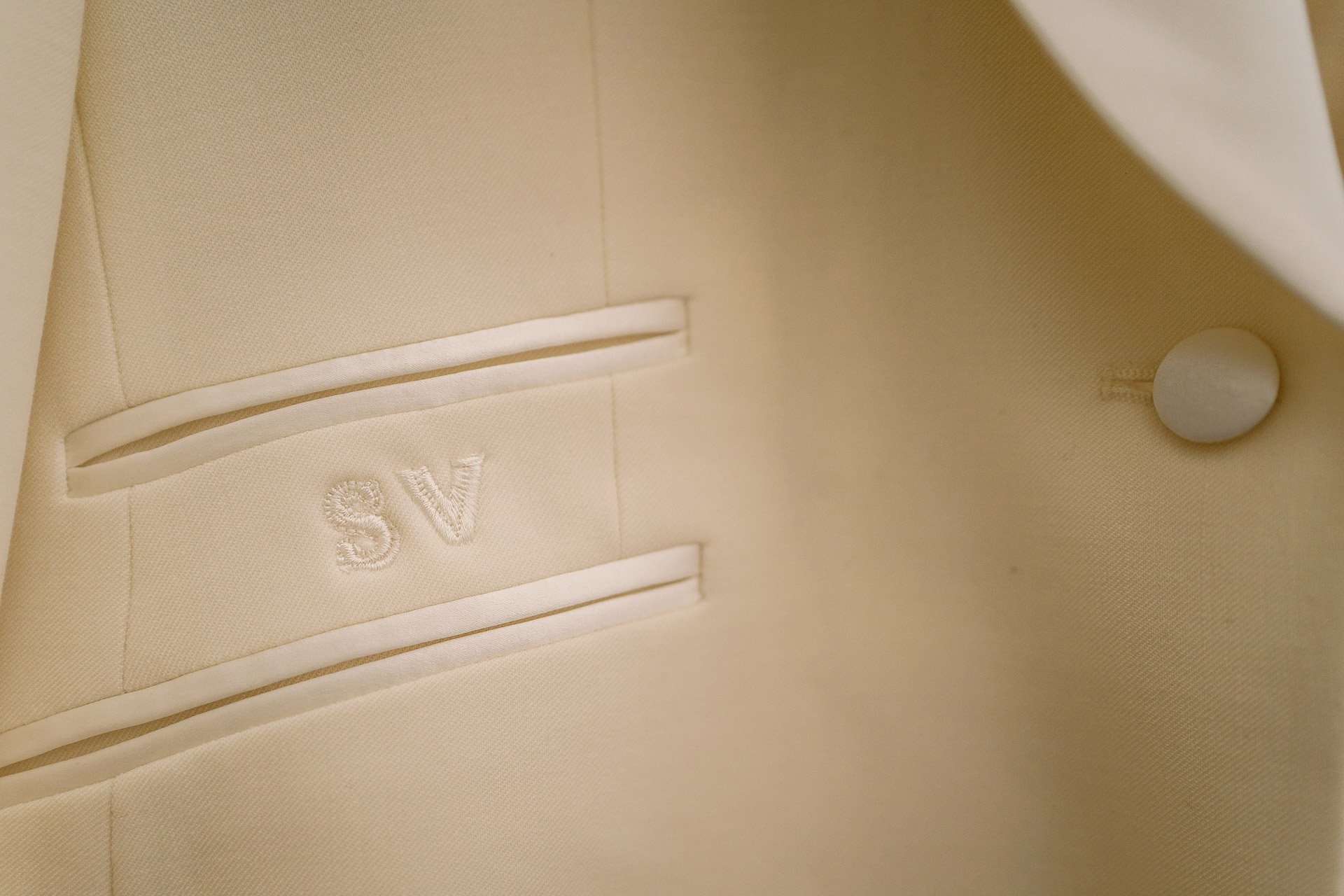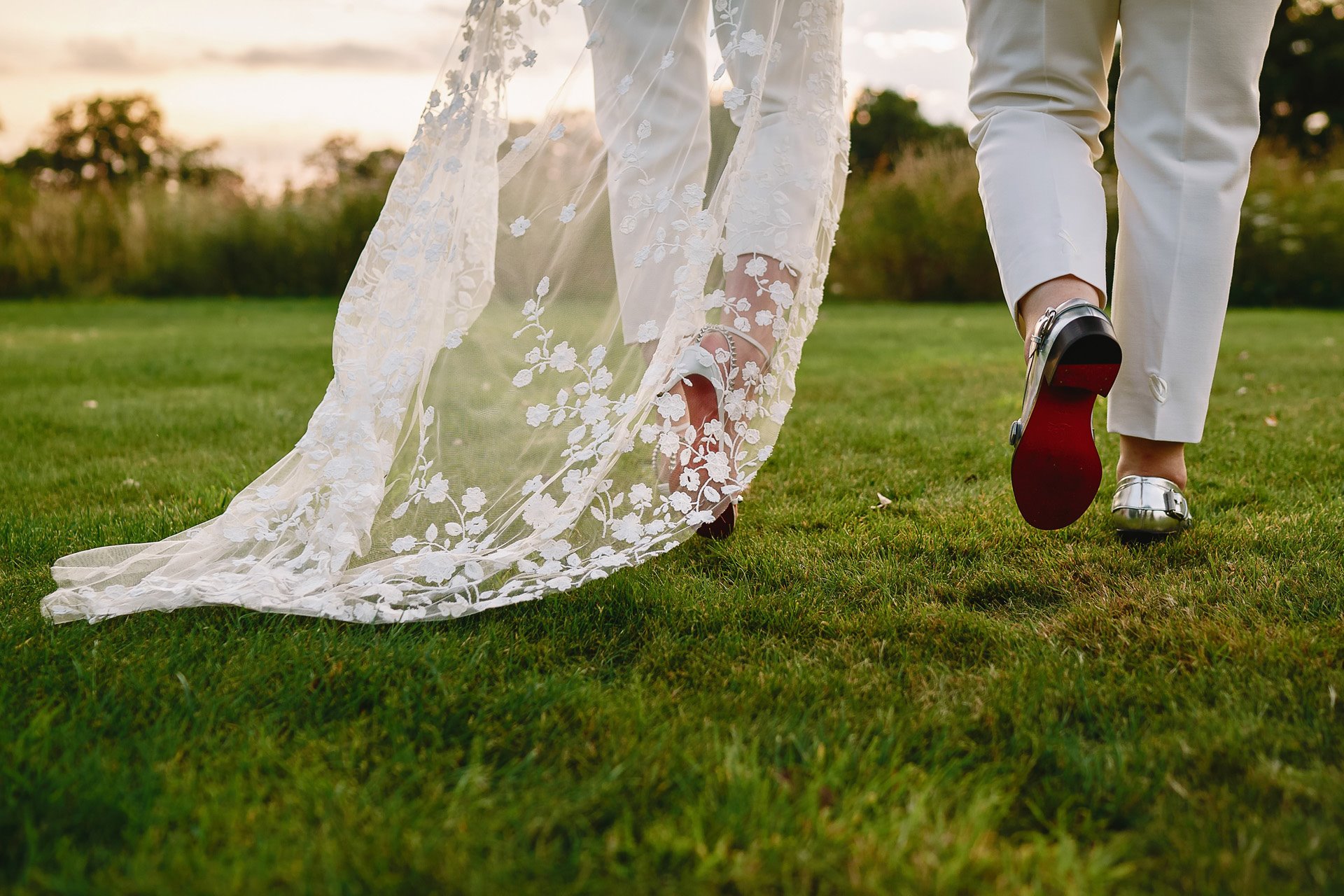 Why Elmore Court?
when we arrived at Elmore, we were totally 'blown away' by the epic-ness of the house, the rooms, the grounds, the Gillyflower and then there was Anselm. His positive energy and passion was so infectious, and we knew from speaking with him straight away that his team would without question ensure we and our guests had the most incredible time in his glorious home.
Well from when we first got together and we talked about getting married in the future, we knew we wanted to do it over several days and that we also wanted to gather close friends and family together in a house.
Wherever we have lived we have typically been the couple that 'host' and we absolutely love bringing people together, cooking great food and keeping the drinks flowing for everyone.
I did some research, and we created a shortlist of venues that could offer us this experience and when we arrived at Elmore, we were totally 'blown away' by the epic-ness of the house, the rooms, the grounds, the Gillyflower and then there was Anslem. His positive energy and passion was so infectious, and we knew from speaking with him straight away that his team would without question ensure we and our guests had the most incredible time in his glorious home.
We cancelled the other viewings on our shortlist and booked with Team E and we were not disappointed with the support, detail, service and love from the team through the whole process.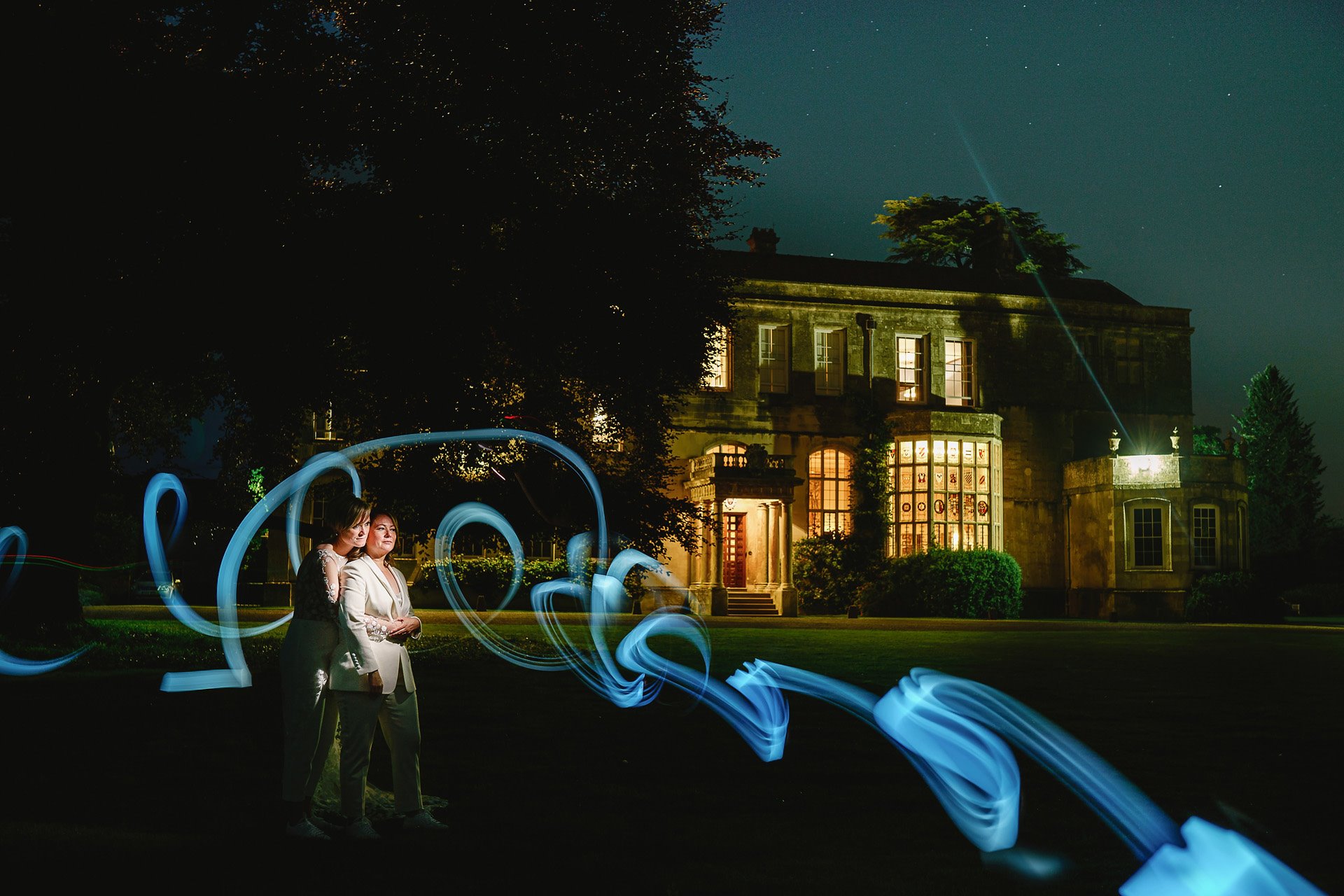 Tell us about your monochrome & graffiti wedding style!
We didn't start with a wedding theme, but more ideas of things we would like to incorporate or have as part of the visual language across the stationary to the table settings.
We tend to stick to quite a monochrome colour pallet in our interiors, so we knew that we would want to stay with that colour scheme and then allow the flowers to bring the colour into key areas and on the tables.
We had already made our selection for our stationary with Paper Grace and worked directly with Sinead on customising the invitations etc.
We both love graffiti, street art and collectibles so naturally that started to work its way into our wedding theme as props, custom neon and table displays.
We had paint splat personalised napkins (thank you to Vicky's sister Jade who made those for us), we had black and white 400% bearbricks with our initials on them and white/white Nike sneakers were a centre piece on the tables holding the table numbers (we met through working at Nike for some context.)
Everything together gave a strong representation of our style, our story and created a playful tone to the tables and room.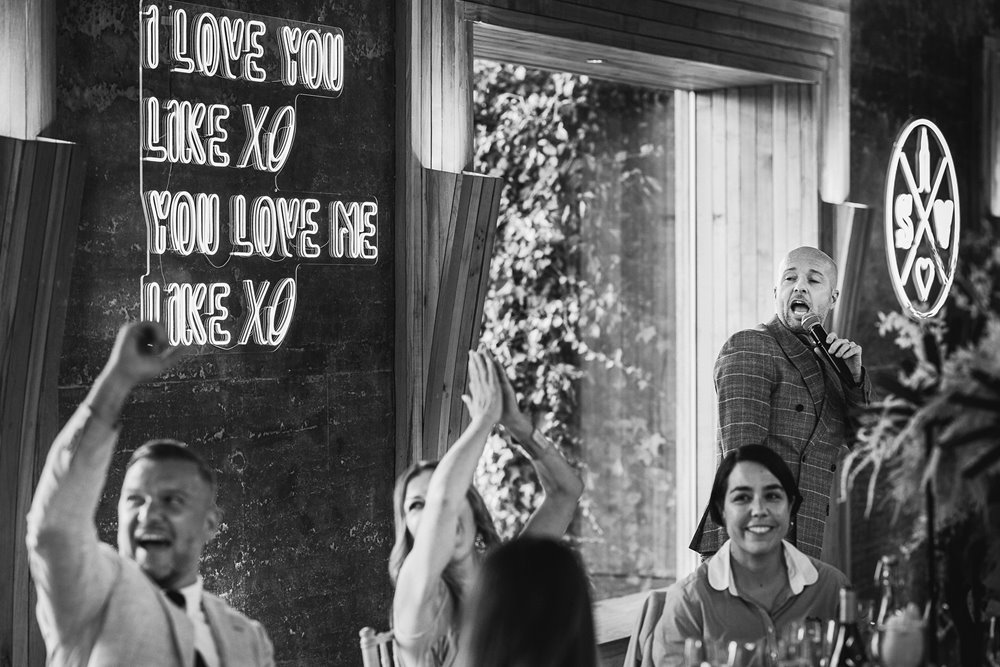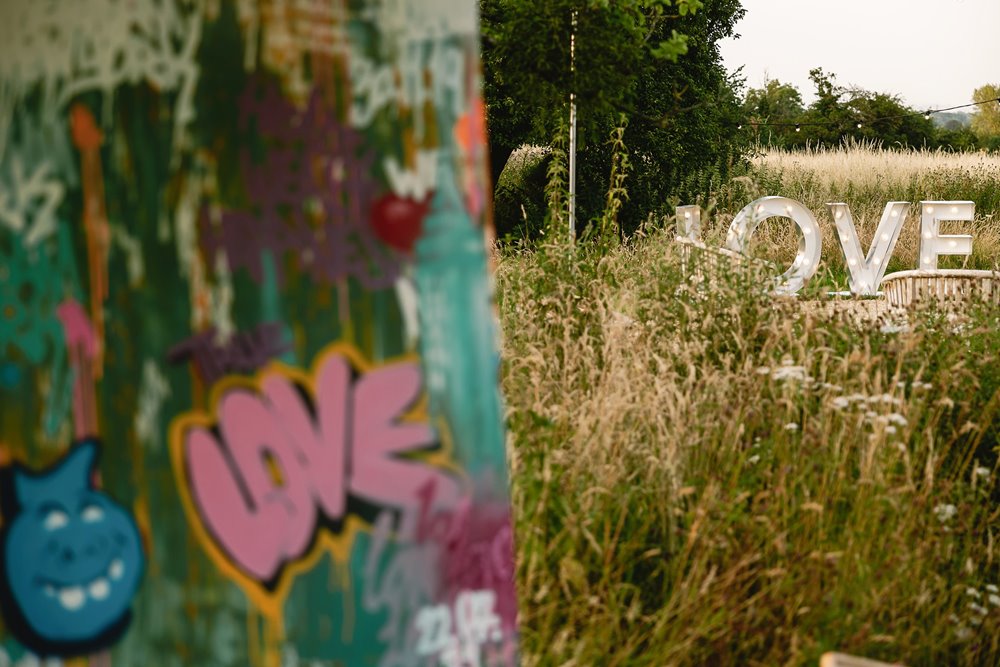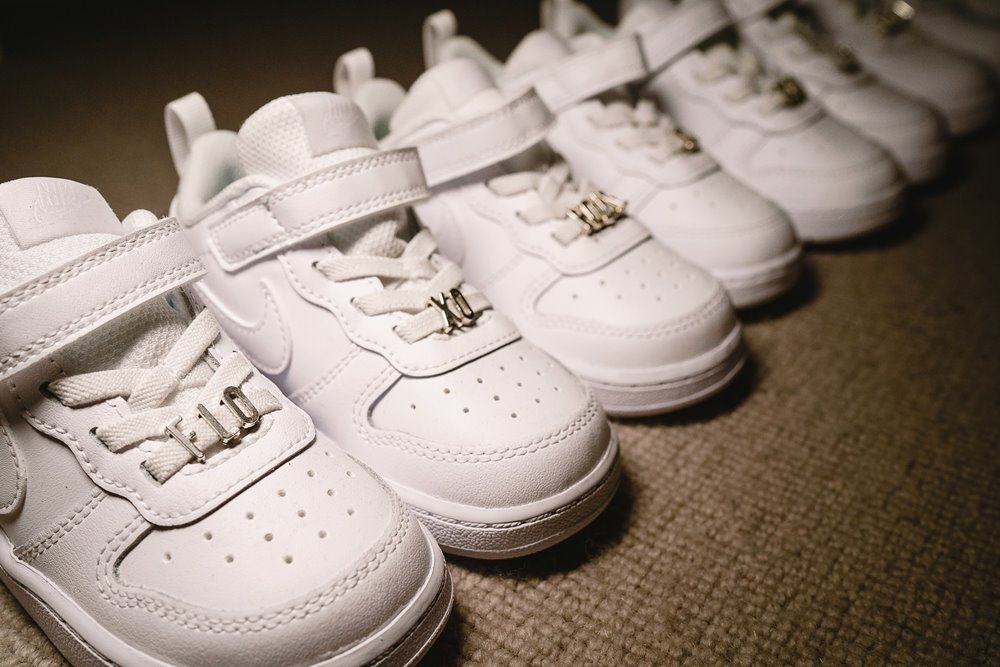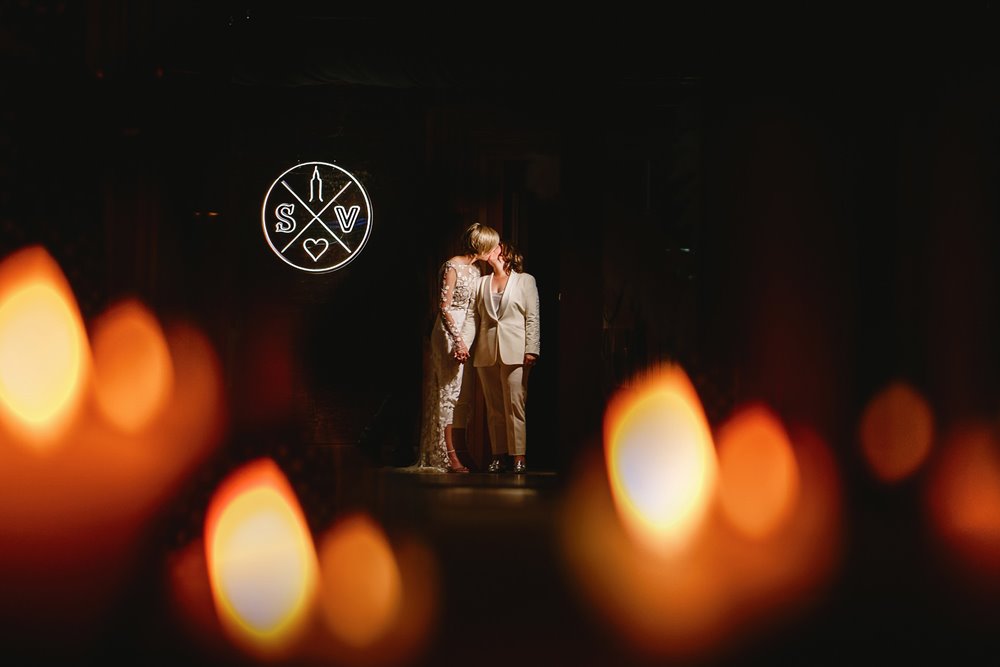 And the amazing pampas grass & flower arrangments?
Vicky's Mum (Jenny) has always said to us that her biggest regret was not having the level of flowers she would have liked on her wedding day, so that has always been in the forefront of our minds.
We also really love having fresh flowers in our home and so with Jenny's support we knew that we wanted to go big on the wedding flower arrangements and selection.
We created sketches and mood boards and worked with Georgia at Studio Sorores who instantly knew what we were trying to achieve and her and her team made it all happen.
We wanted sculptural shapes with palm leaves and tropical flowers mixed with more traditional assortments, so our flowers featured large protea, garden roses, dahlias, ferns, palms and monstera.
They were stunning and absolutely transformed the hall, the Gillyflower and the dance floor, bringing just the perfect amount of colour and structure into our displays.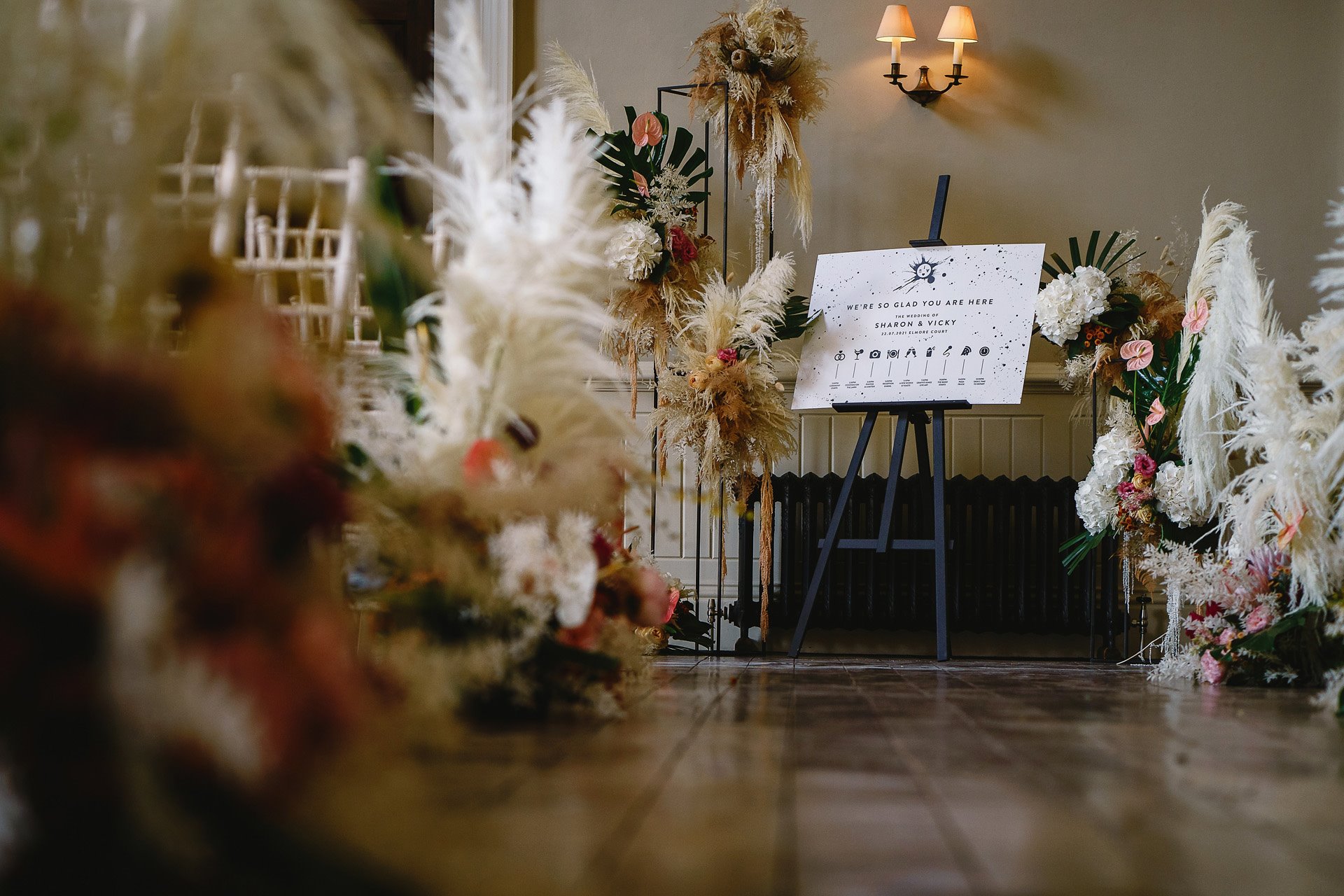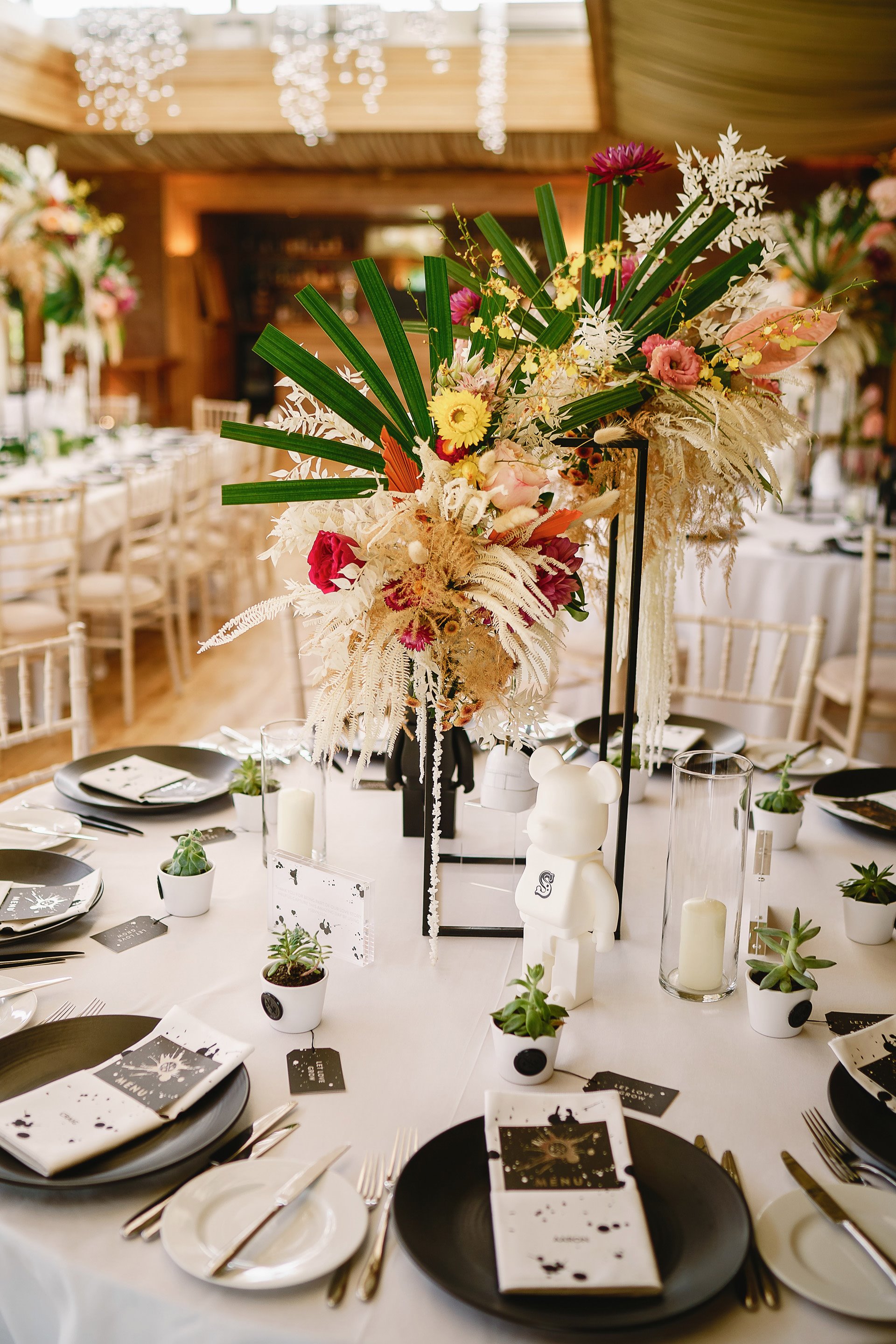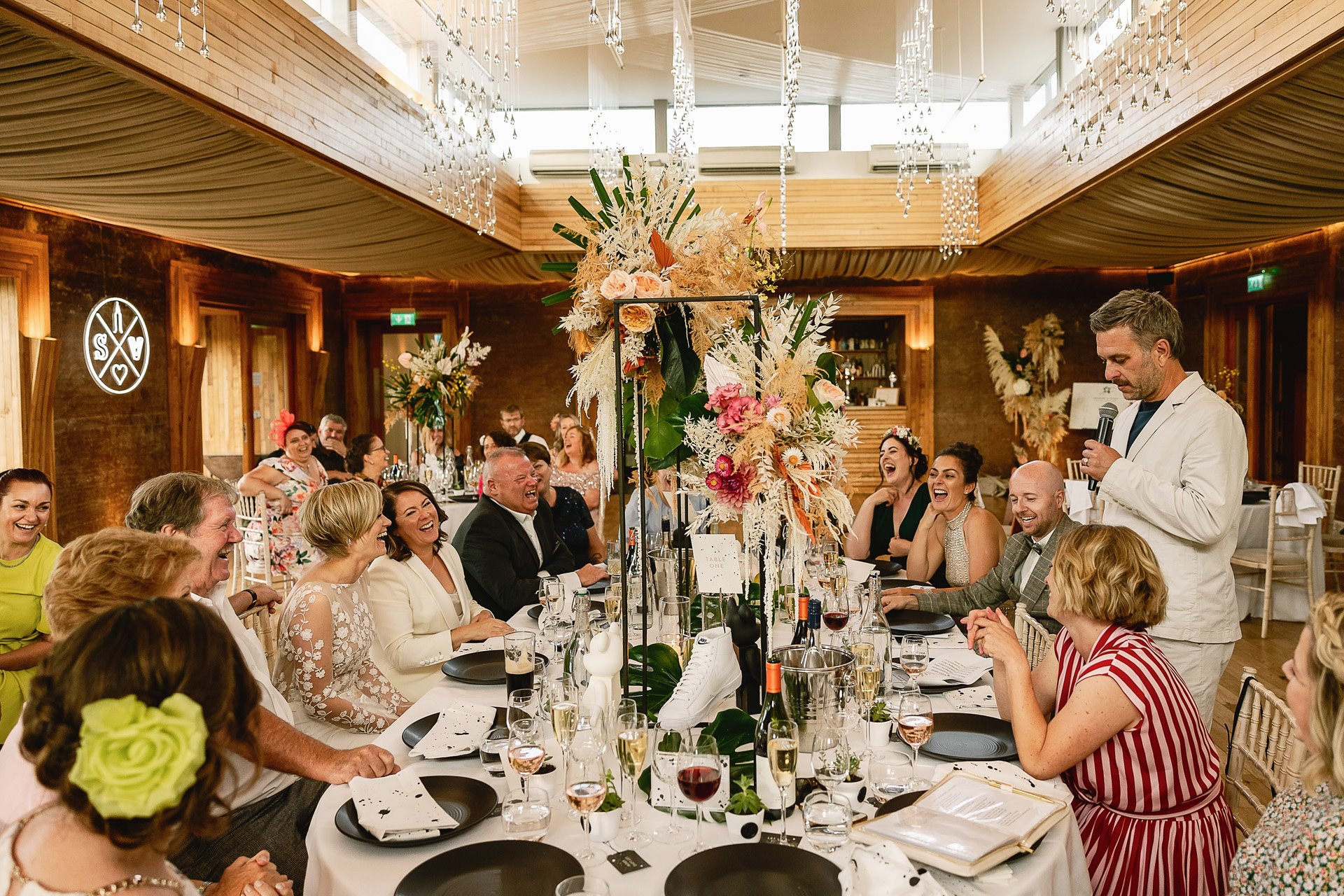 What was your focus when wedding planning?
We were very focused on the overall design and feel of the day, which is driven by what we do as our roles in our day jobs and then it was all about details for our guests and how we could throw the best party ever for everyone who has been a huge part of our journey together.
We saw the wedding as an opportunity to thank all our friends and family for their love and support throughout our 10 years together, so their enjoyment and happiness was at the heart of every decision that we made during the planning stages.
Music also played a significant part throughout the day and, in the details, for example the ceremony song selection was XO by Beyonce and was incorporated into my outfit, onto the kid's sneakers and the neon signage, so there was a clear thread connecting the whole day (I love you like XO).
The band played an acoustic set for the ceremony, then for the drinks reception and were then joined by more musicians for the evening entertainment and party.
Having a consistent sound and experience with the same singer and musicians was perfect for the day and the atmosphere that we wanted to create.
And wow everyone was totally blown away by the band, the singer Alex was unbelievable, and the band were all superstars.
How did you feel on the wedding day?
we were just totally not prepared for the love and energy that we felt in the room
We were both excited first thing when we were getting ready with the rest of the bridal party in the coach house, playing music, laughing, chatting and drinking bubbles. Then the nerves starting to kick in as the clock was ticking down to our reveal moment.
Although we got our hair and make-up done together and we knew what we were both wearing, we had not obviously seen everything on and come together until we met each other in the walled garden.
It was such a great idea to have that moment for ourselves prior to meeting the registrars and entering the ceremony, we both felt it helped with our nerves.
Entering the hall for the ceremony was the most amazing feeling, we had the 8 kids enter before us causing carnage (as planned) and the beautiful acoustic version of XO playing and we were just totally not prepared for the love and energy that we felt in the room (or the heat, it was 29 degrees outside.)
We are both awful at being centre of attention and entering that ceremony and saying our vows was something we were most anxious about. However, all our nerves were gone as soon as we got to the front of the room, and we were just in the moment and feeling so much love from everyone in the room and for each other.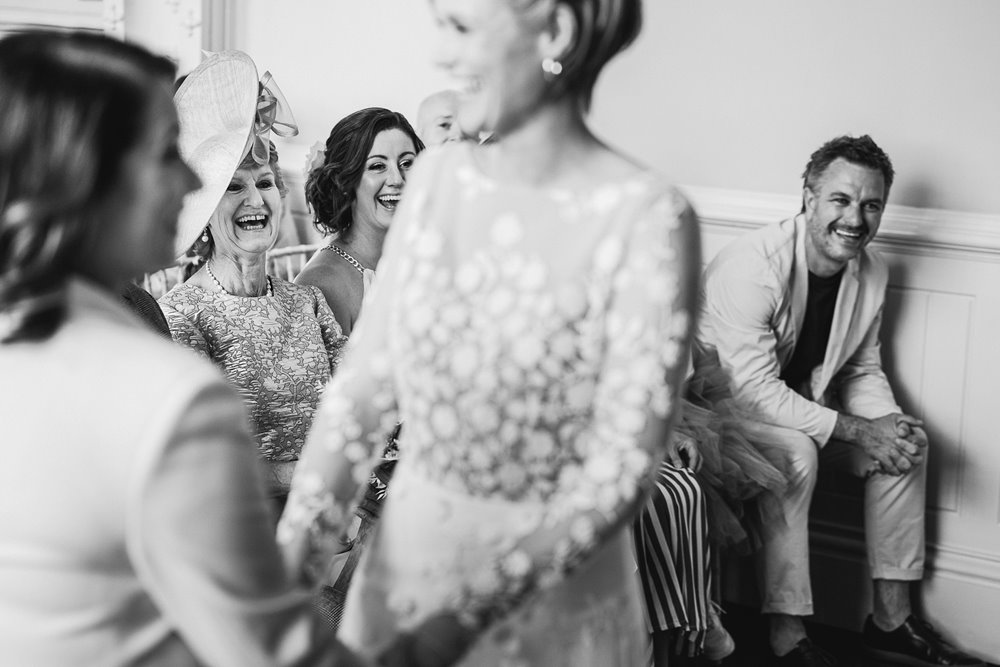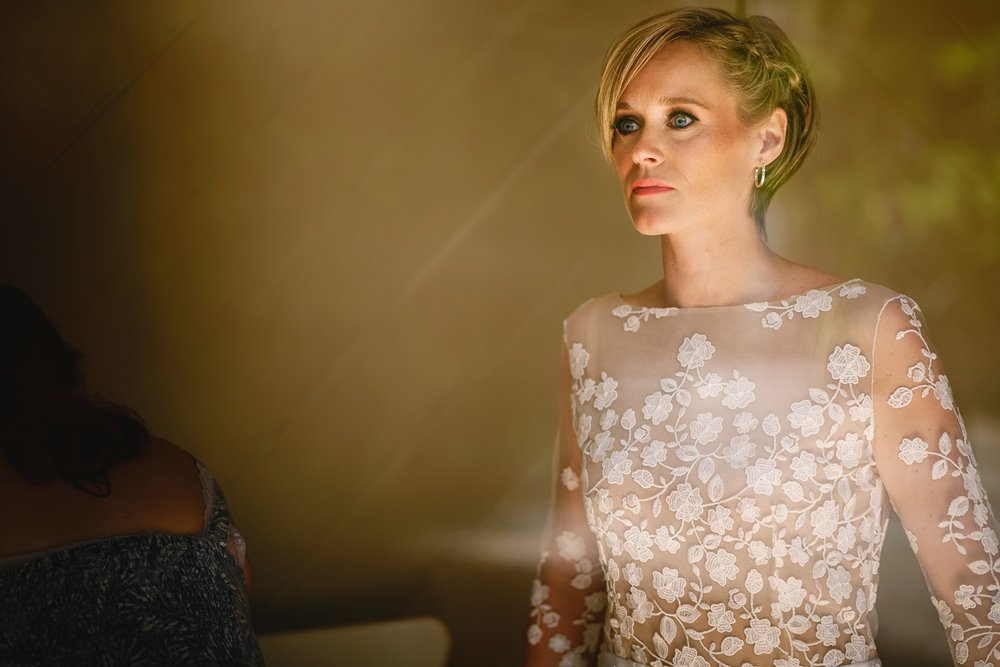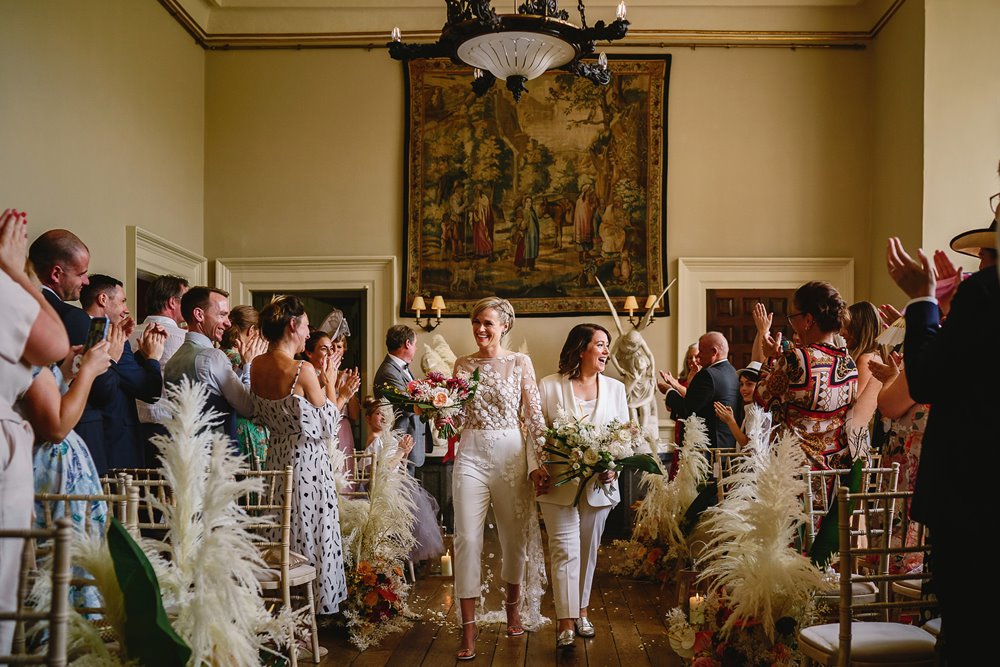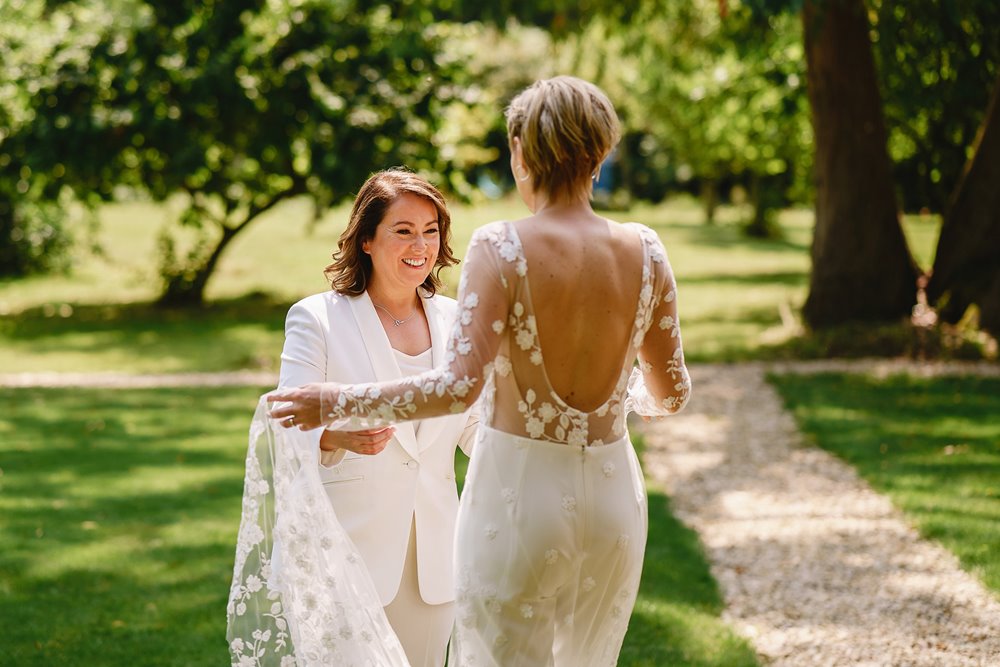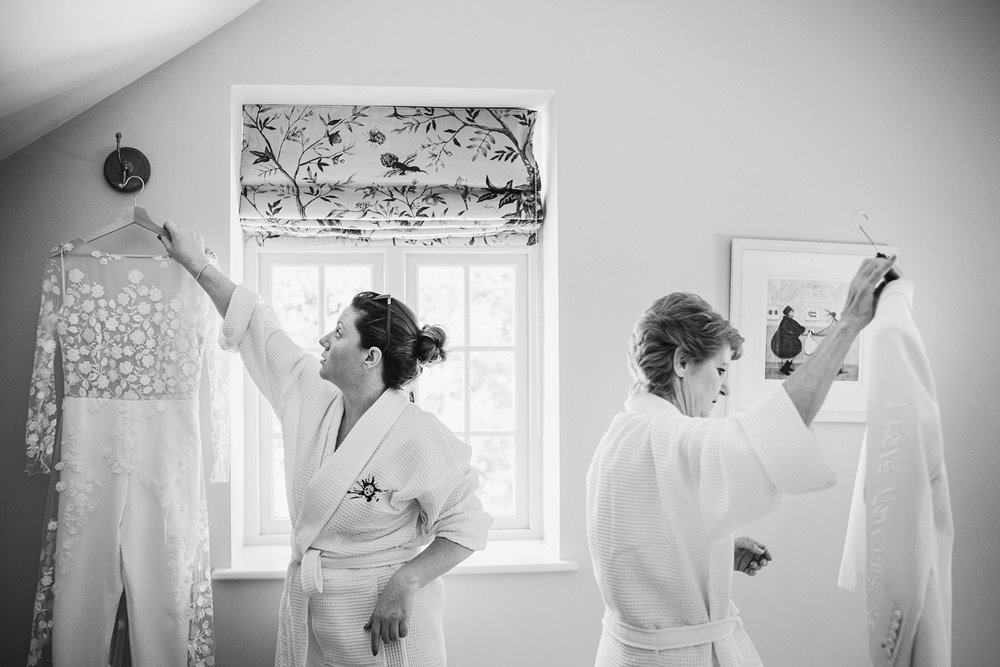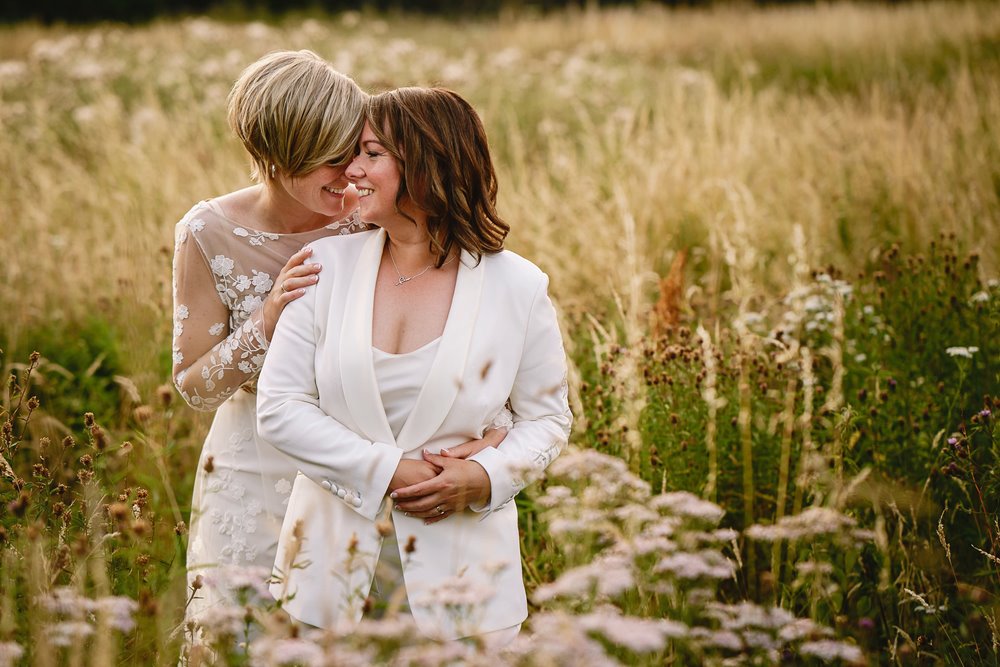 Talk us through your drinks reception
We wanted this to be outside ideally, and we were very lucky that the weather was on our side on our big day, and it was beautiful sunshine, which meant our guests could gather on the Cedar lawn for the drink's reception.
The acoustic band moved to this location and created the coolest vibes ever with the playlist and the celebrations truly started with Elmore's expertly made cocktails.
This gave us such a beautiful open space to mingle, say hello to everyone and the photographer captured so many great moments which were filled with laughter and pure joy.
Andy the photographer and his assistant Nadine were incredible at being there, but not being there (we think they attended a Ninja school or something.)
All the documentary style photography has basically allowed us to relive the day and see moments that we obviously totally missed as we were somewhere else in the moment.
We asked Andy for a few cheeky specific images with regards to vanity fair style portraits in the house, to light graffiti in the evening etc. he absolutely nailed it across the board (total genius.)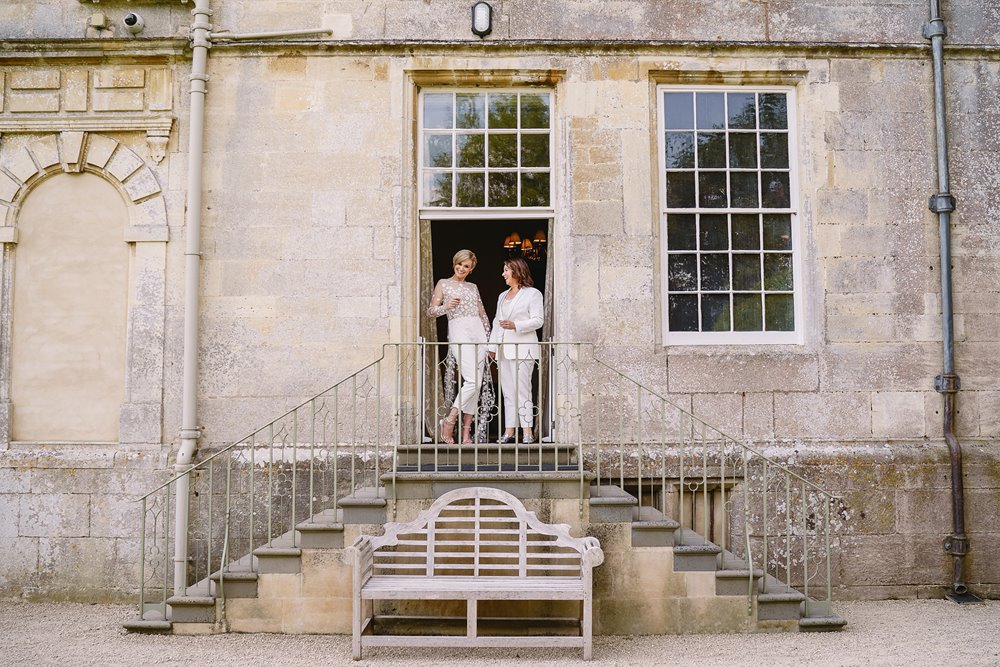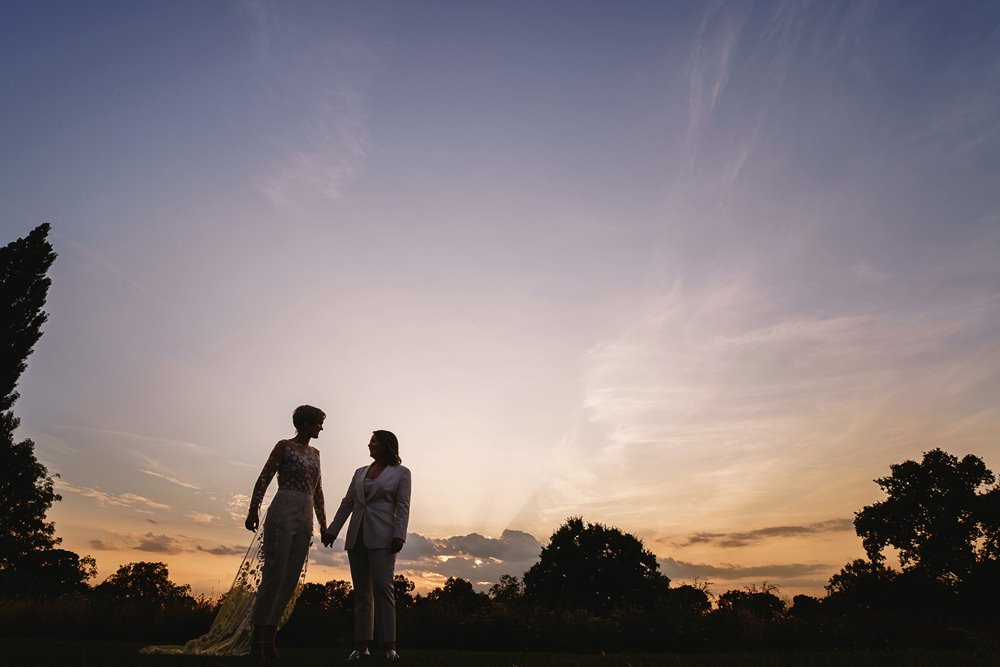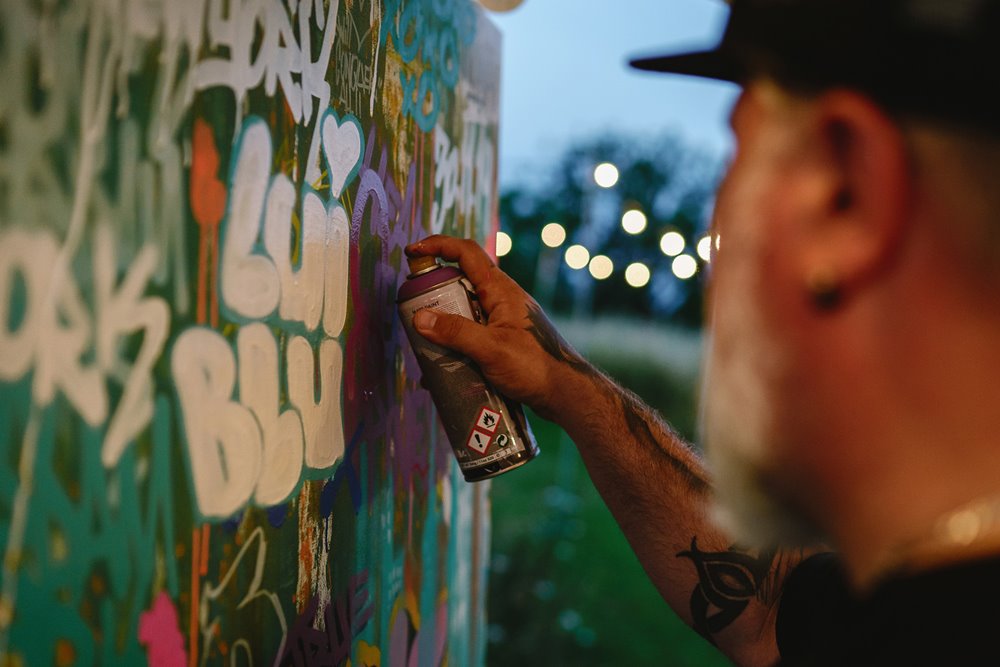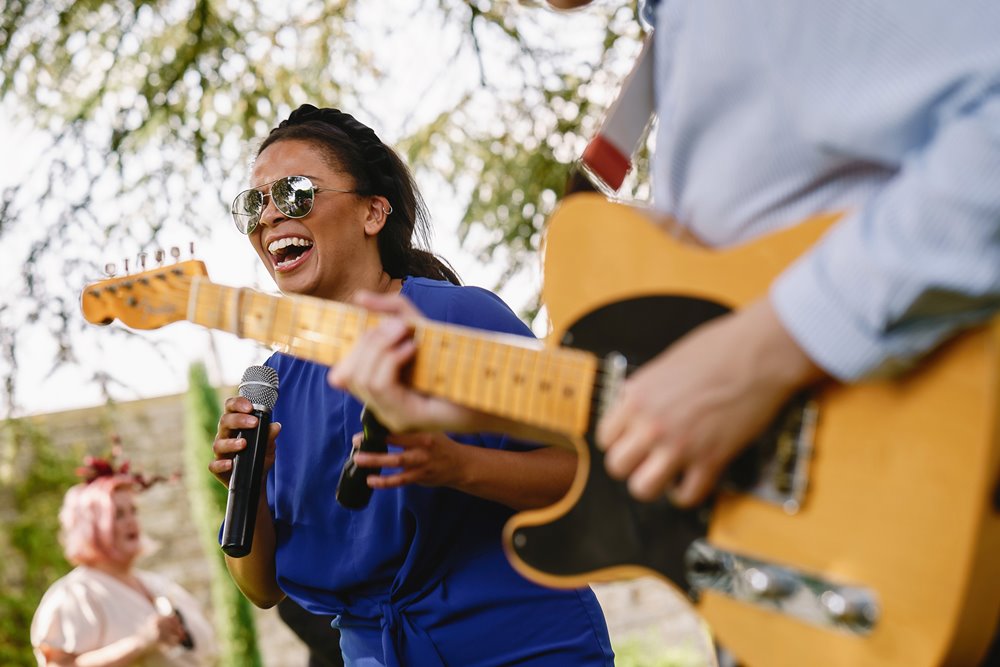 You had Live graffiti art?!
It was like we had never heard music before or danced before in our lives. With the incredibly challenging 18 months that everyone had just had and restriction lifting just 3 days before, it was a huge celebration for us and the incredible musicians.
We arranged for a graffiti artist to complete a piece of 'live' art on the meadow outside the Gillyflower, which was a canvas that represented our journey and is a special memento of the wedding day that is hanging in our home now.
Mr Meana (Mark) was adored by everyone, and the guests loved speaking with him about his work and the art that he was creating for us in front of their eyes with the sun setting over the meadow.
Then the party kicked off with City Sounds taking the stage as a 9-piece band and wow did things go up a level, it was like we had never heard music before or danced before in our lives.
With the incredibly challenging 18 months that everyone had just had and restriction lifting just 3 days before, it was a huge celebration for us and the incredible musicians.
How did you feel when you first saw your reception?
We were given a moment to see the Gillyflower for ourselves and although we were in there the day before hanging up the neon, setting the props out and placing the favours etc. it really was a speechless moment for us both.
The flowers really transformed the space and to see all our hard work and details come together the way we had planned was just amazing.
It took our breath away and we sat down and had a bite to eat and a drink before heading back to the reception on the Cedar Lawn for more hugs, laughter, and photography.
So you had a last dance rather than a first?
As we have already maybe hinted, we like to avoid all eyes being on us wherever possible, so we didn't do a first dance and basically had everyone hit the dance floor together as soon as the band started, which was unbelievable as there wasn't a single person not on that dance floor.
We did funnily enough end up with a last dance, which was Alicia Keys Empire State of Mind, and everyone danced around us in a circle, singing from the top of their lungs and wrapping us in their love.
It was a 'moment' that we will never forget.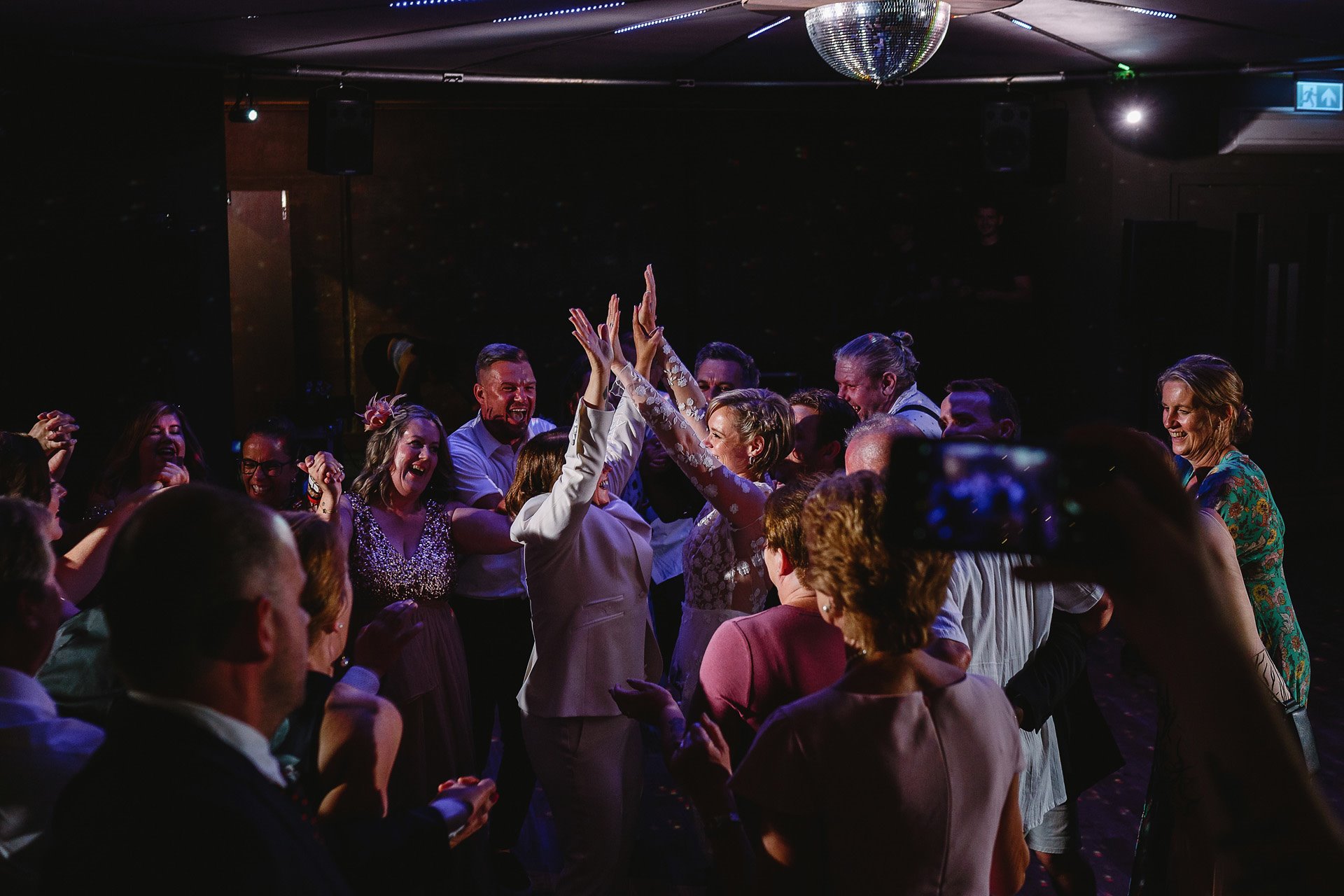 What did you eat and drink?
Well, we ensured our guests had a feast of canapés throughout the afternoon and that the drinks were always flowing.
For the reception we focused on serving beautifully refreshing and strong cocktails to get the party started, so we drank Cosmopolitan's, Mojito's and a special Team E Gin English country garden creation in the glorious sunshine on the Cedar lawn.
Delightful canapés were then taken around to soak up the afternoon cocktails, which ranged from fried cauliflower to beef empanadas.
As we were so busy with saying hello to everyone and having some photos taken, we never got to enjoy these on the lawn with everyone, but Leesa arranged for us to have a moment in the Gillyflower and had a taster board of the canapés ready in there for us to enjoy together (just perfect.)
The duck bonbon was one of our favourites, but they were all spectacular to be honest.
When we sat down for our meal, we were both so excited as we knew how good the food was going to be from our wonderful tasting experience, which happened earlier in the year.
The highlights for us were for sure the crispy shredded dug leg salad starter and the slow cooked shoulder of lamb from the main course.
We opted to do deserts outside on the meadow and had 4 choices as small plates, which worked brilliantly for our guests and the non-dairy cheesecake still makes my mouth water to this day when I think about it.
Vicky unfortunately never managed to get her hands on a desert on the day, however it just gives us another reason to add to the list for making our way back to Elmore Court in the future.
You did a spot of DIY on wedding details...
Seeing our guests faces and the joy that those details and touches brought to everyone was worth all the late nights and lost weekends designing, cutting, making, building, and packing.
We always make life that little bit harder for ourselves by getting into the details, so we did quite a lot of personal touches, we personalised all the bridal party kids' sneakers with their names and an XO on the other foot as they were part of the ceremony.
We designed a wedding logo, which was then applied to invitations, wax stamps, bearbricks, wedding menus and we used the logo creative and designed additional large format artwork for the dance floor.
We had bespoke neon signs made which referenced NYC (where we got engaged), the XO main lyrics (from the ceremony song) and a simplified S & V (from our wedding logo on our stationary etc.)
We re-potted 90 succulents (with the help of family) into white plant pots and applied wax stamps to them for the tables as our guests favours and then applied printed tags to them that said, 'let love grow'.
We made up gift boxes for each guest bedroom, which told our story and included personal gifts such as chocolate from Amsterdam (where we lived previously), a yellow taxicab (NYC engagement), Cotswold's Gin (where we live now) and delicious handmade cupcakes (that I used to send to Vicky to her London office.)
We had a 1000% white bearbrick as an alternative guest book, so everyone had to write their messages on the collectible, and we have it on display in our home now with our wider collection.
We were very busy basically, right up until the day before and we wouldn't have done it any other way.
Seeing our guests faces and the joy that those details and touches brought to everyone was worth all the late nights and lost weekends designing, cutting, making, building, and packing.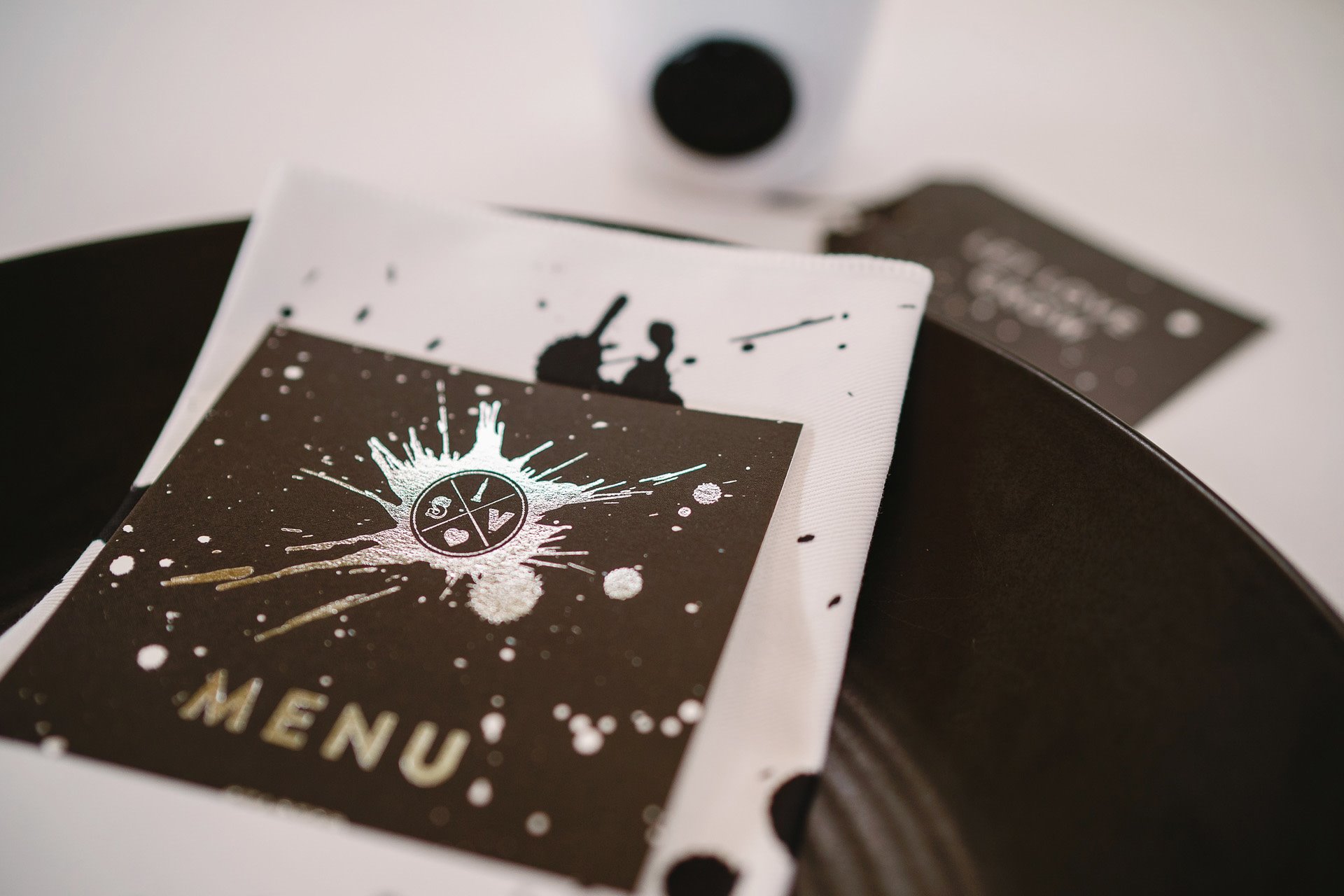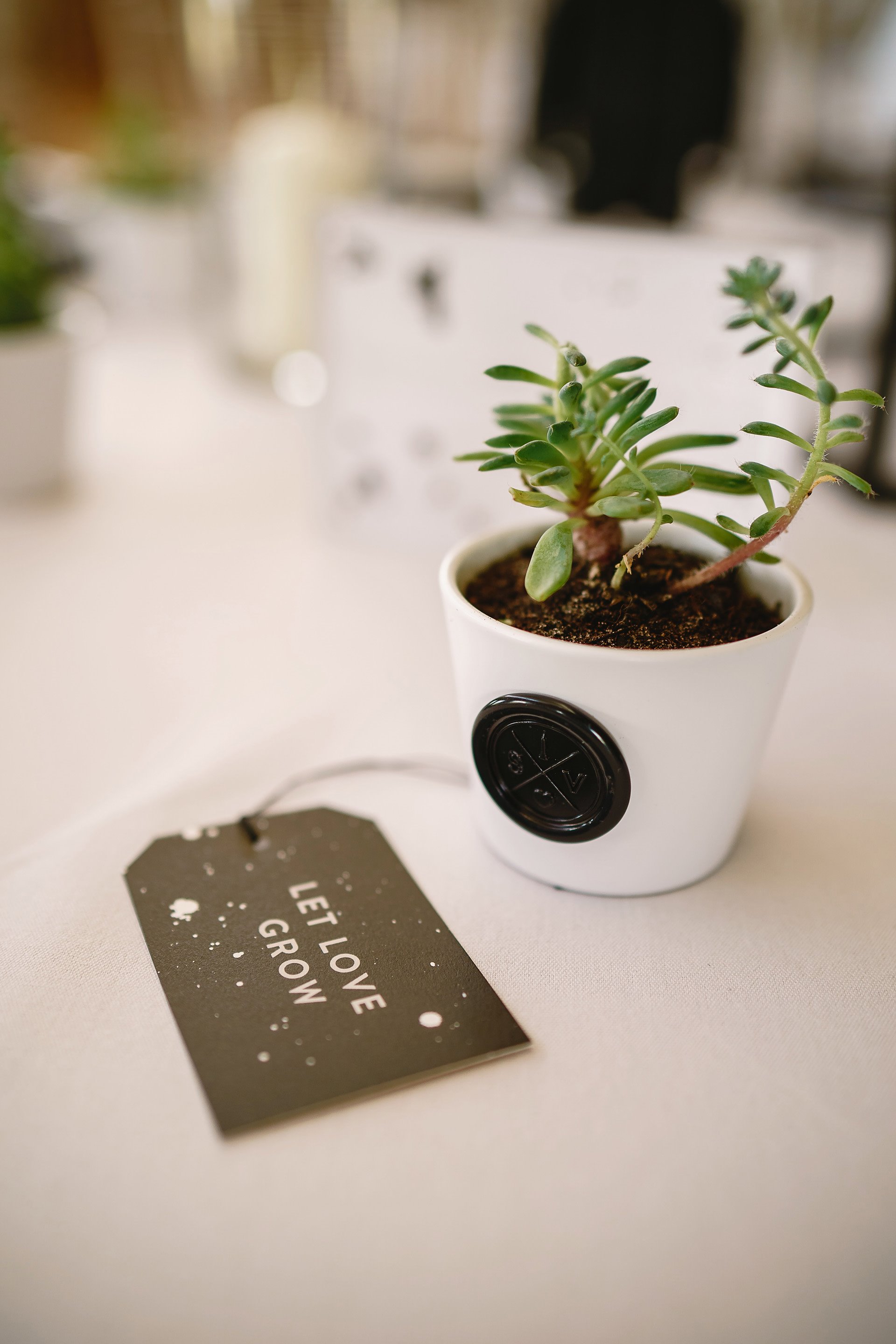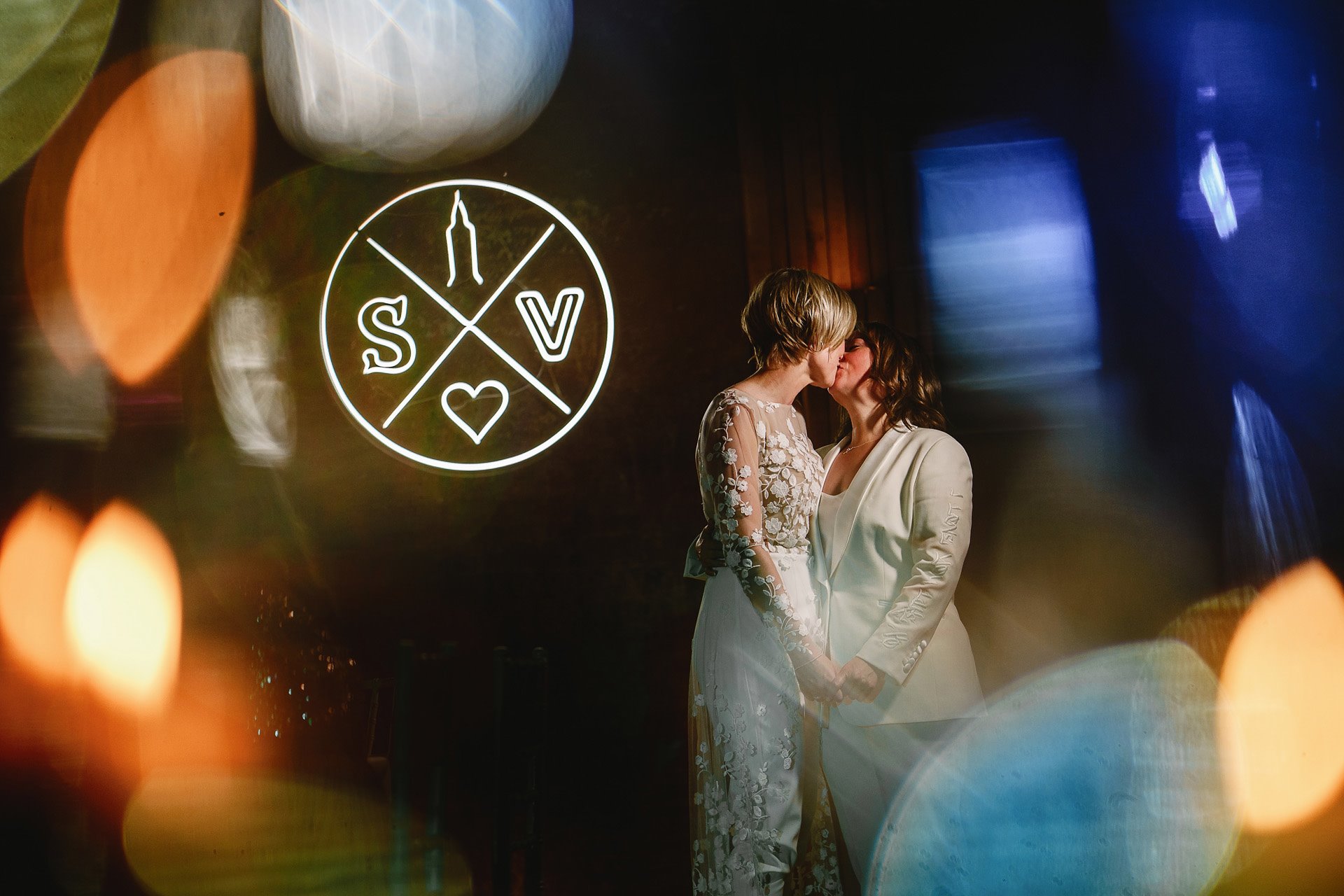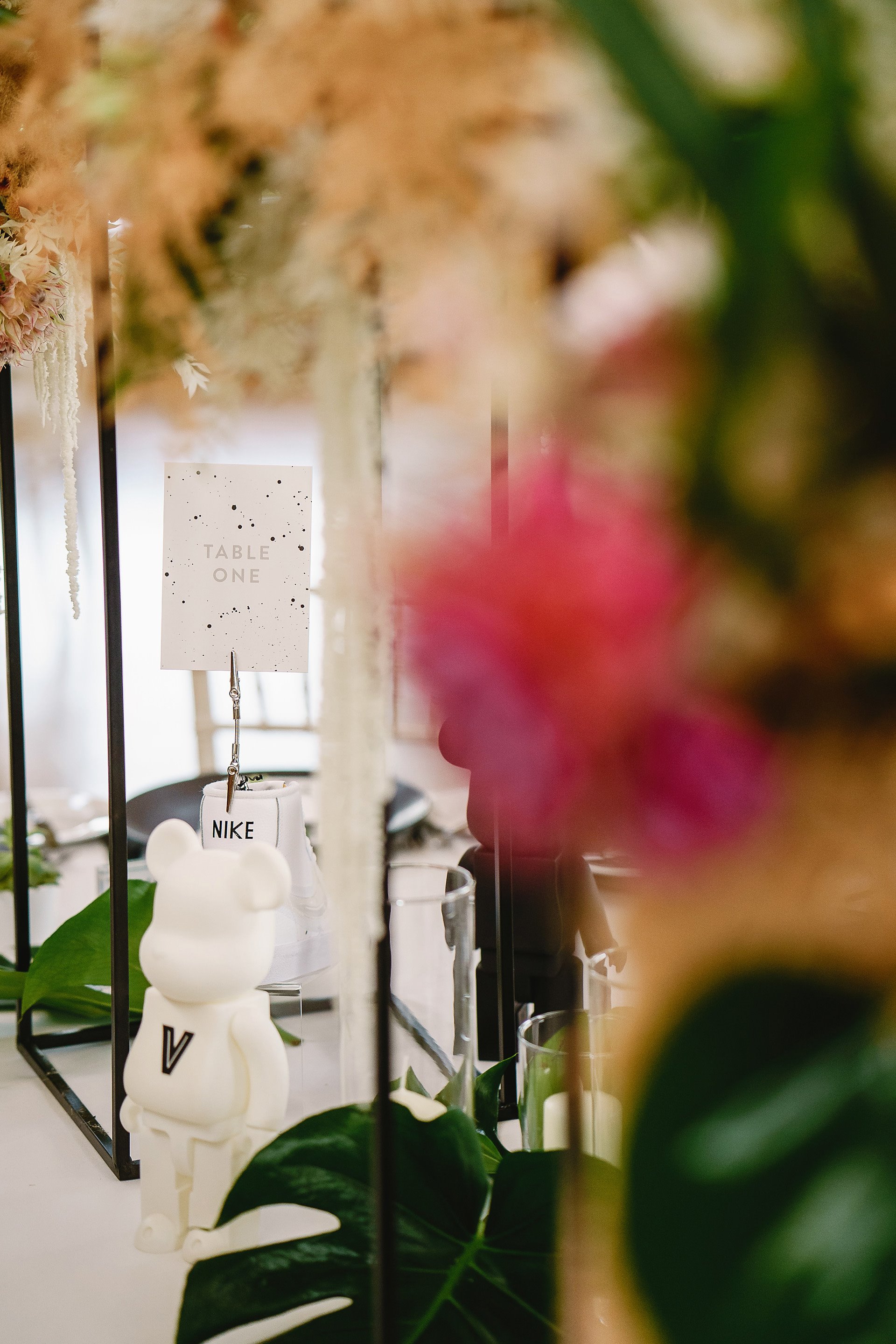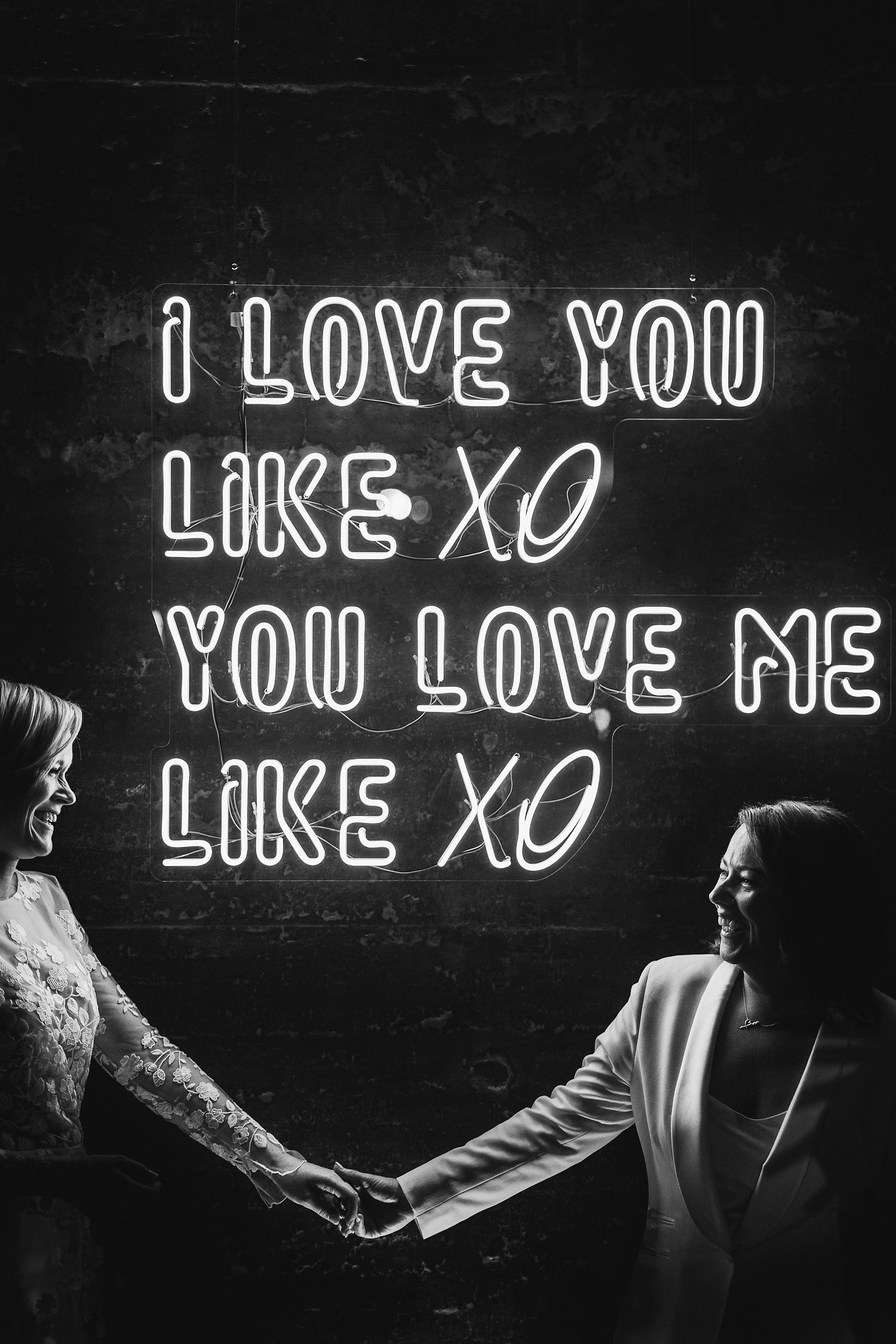 What were your wedding highlights?
Although we were most anxious about it, the ceremony was incredible, and our friend Helen did such a beautiful job of telling our story to get the ceremony underway and set the tone for the whole day.
Something that we resisted initially, was being announced into the Gillyflower, but we gave in, we did it and the whole room just exploded with singing (Beyonce Love on top), cheering and applause and it was honestly so special, a feeling we will never forget.
Obviously, the speeches were just so personal, emotional, funny, and glorious, which is something we will also hold with us forever Terry, James, Neil, Rosina and Damon did such a phenomenal job.
There were too many special extracts from their beautiful words, but to quote Damon's last words "let's get on it" was a perfect transition to the evening celebrations.
The band were just phenomenal and like nothing we have every experienced at a wedding before, they really set the room on fire, and everyone was up on their feet and dancing like they had never heard music before (so special.)
Our small guests had an absolute blast with the Pitch up and play team, who created a carnival of activities and games for them to be entertained by for the whole day. It just worked perfectly for the kids and their parents, and they all said at the end of their day how much fun they had.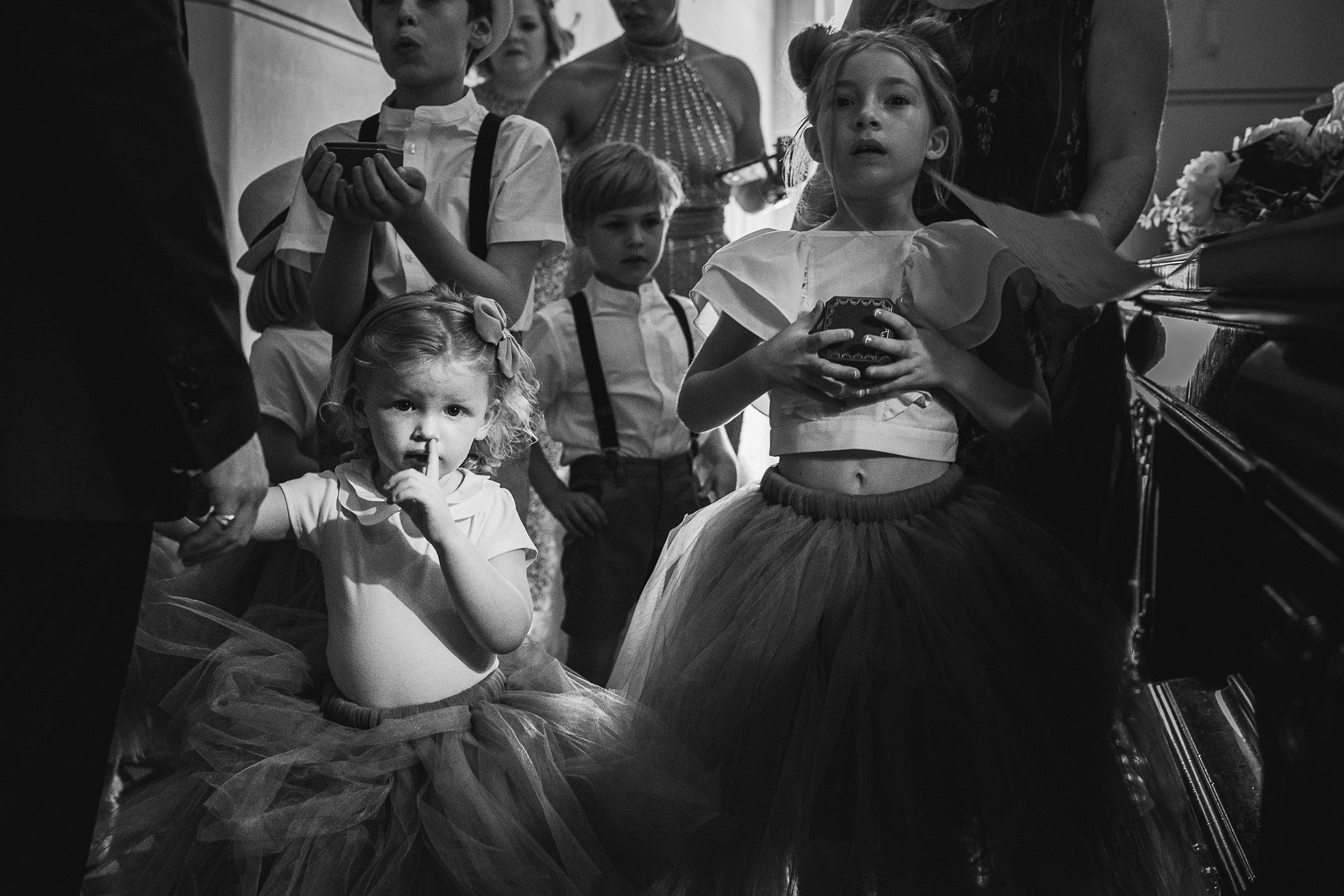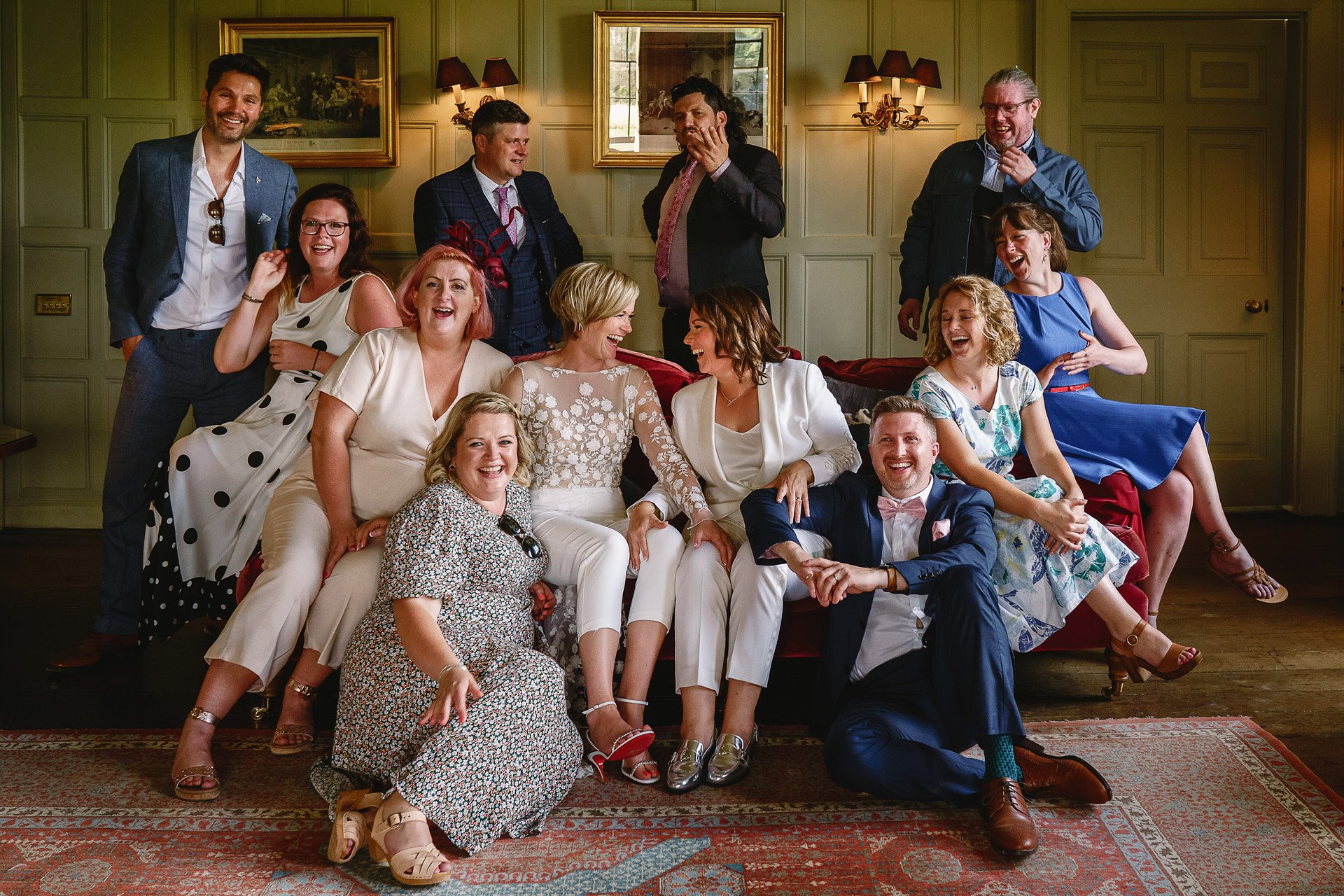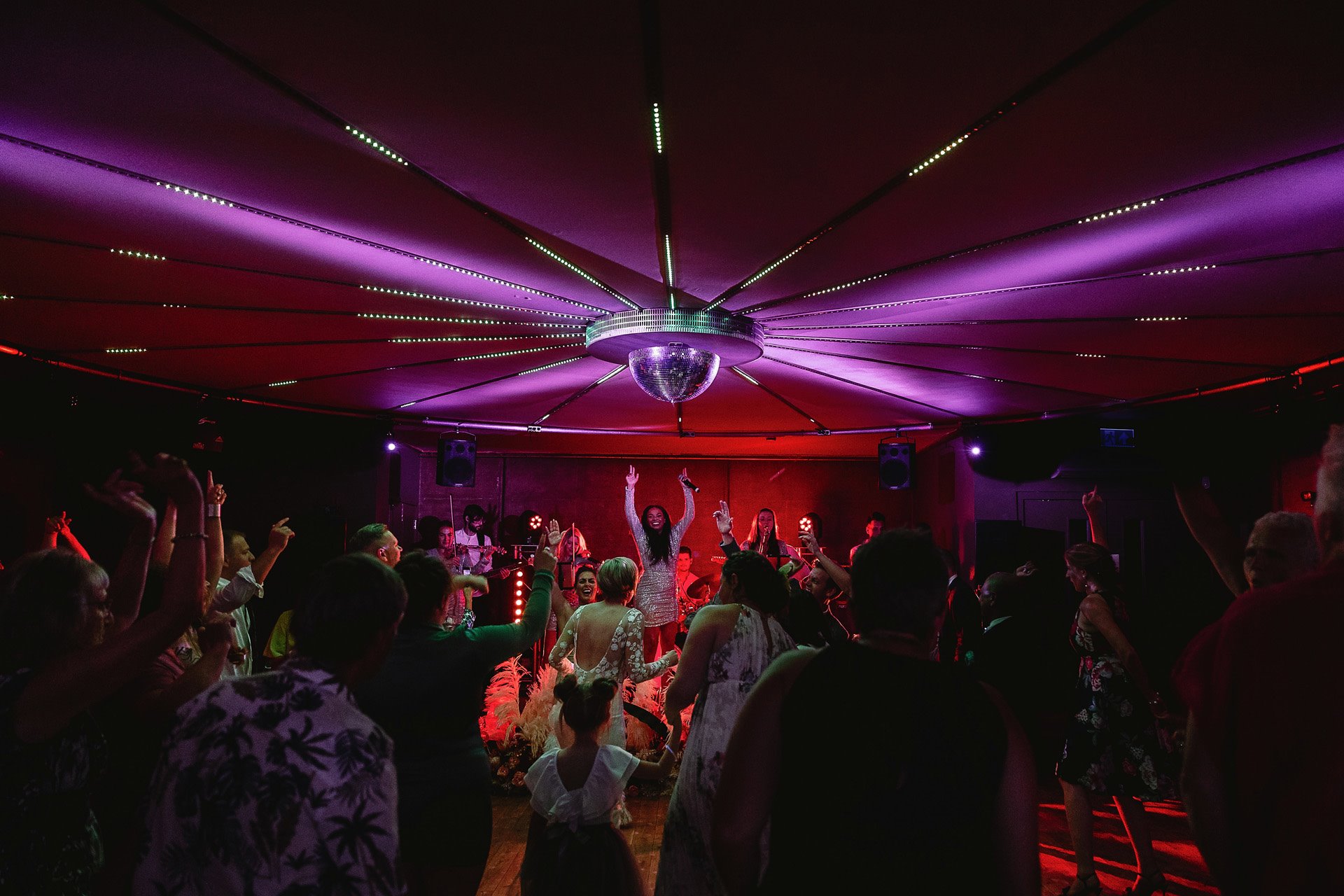 Any surprises on the day?
We had our beautiful little dog Jackawawa Blu come along for a short time in the afternoon to have some photos taken with her, she isn't very good with crowds or new places and our dog walkers made a special trip to Elmore so we could have that moment with her.
The reveal moment in the walled garden was so special (amazing suggestion by Leesa from Team E) and very emotional, but we were grateful that we had that time to just take a few deep breathes together before seeing Vicky's Dad and my brother James to make our way to the ceremony.
What advice would you give currently planning couples?
How fast the whole day goes, everyone says it, but it was honestly like lightening and it is important that you take short moments for just the two of you throughout the day to take it all in.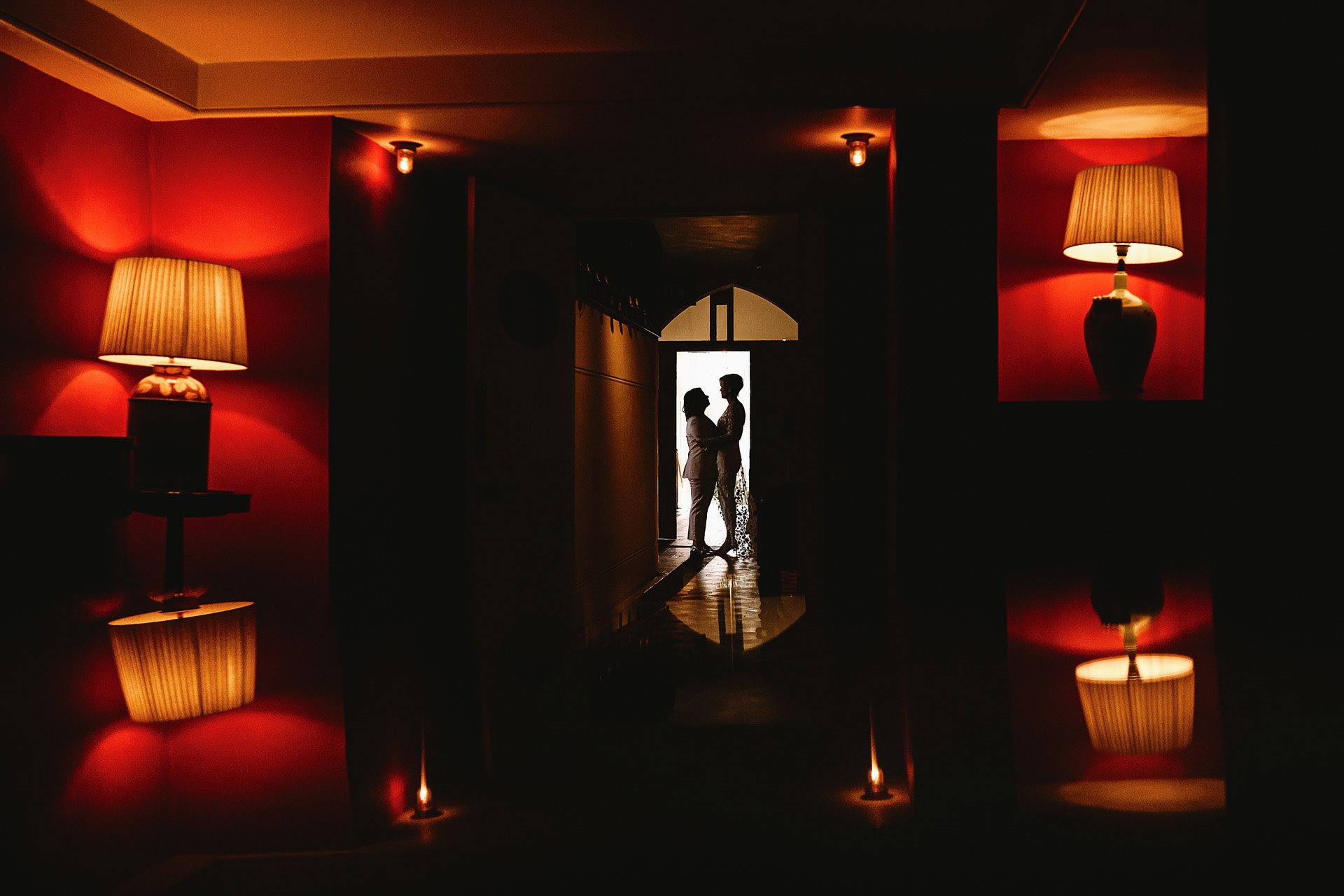 Any funny wedding moments?
The dance floor witnessed some awesome shapes and successful and unsuccessful dance moves, from Aaron's backflips to Mic's Spice Girl high kicks to the caterpillar coming out of retirement from Marcus, which then inspired Sean to give it a go and land flat on his face in the centre circle of the dance floor.
So much laughter was had by all and there are photos capturing these moments too, so we can relive it anytime or in Sean's case not being able to forget it happened.

Two of our lovely friend's (Maddie and Rhi) set-up a camera and managed the Facebook live content for our friends and family who could not make the trip due to travel restrictions or illness and that set-off a chain of running to camera moments, outrageous dance moves and high volumes of blowing kisses.
This made everyone online feel part of the day, they were leaving comments, chatting to each other, drinking bubbles at home (at silly times of the day depending on location in the world) and laughing at the carnage on screen as we all progressed from sophistication to hot sweaty messes by the end of the night.
It meant so much to us to know our beautiful friends and family that could not be with us were still enjoying the moments and that they were part of our day in some capacity.
The smoke bomb portraits were absolute carnage and maybe should have been done a little earlier in the day when everyone had less alcohol in their system, and were maybe more capable of following simple instructions.
Let's just say one of the smoke bombs turned itself into a missile and one of the bridal party left a different colour than they turned up (thankfully the purple washed out of her dress after several attempts!)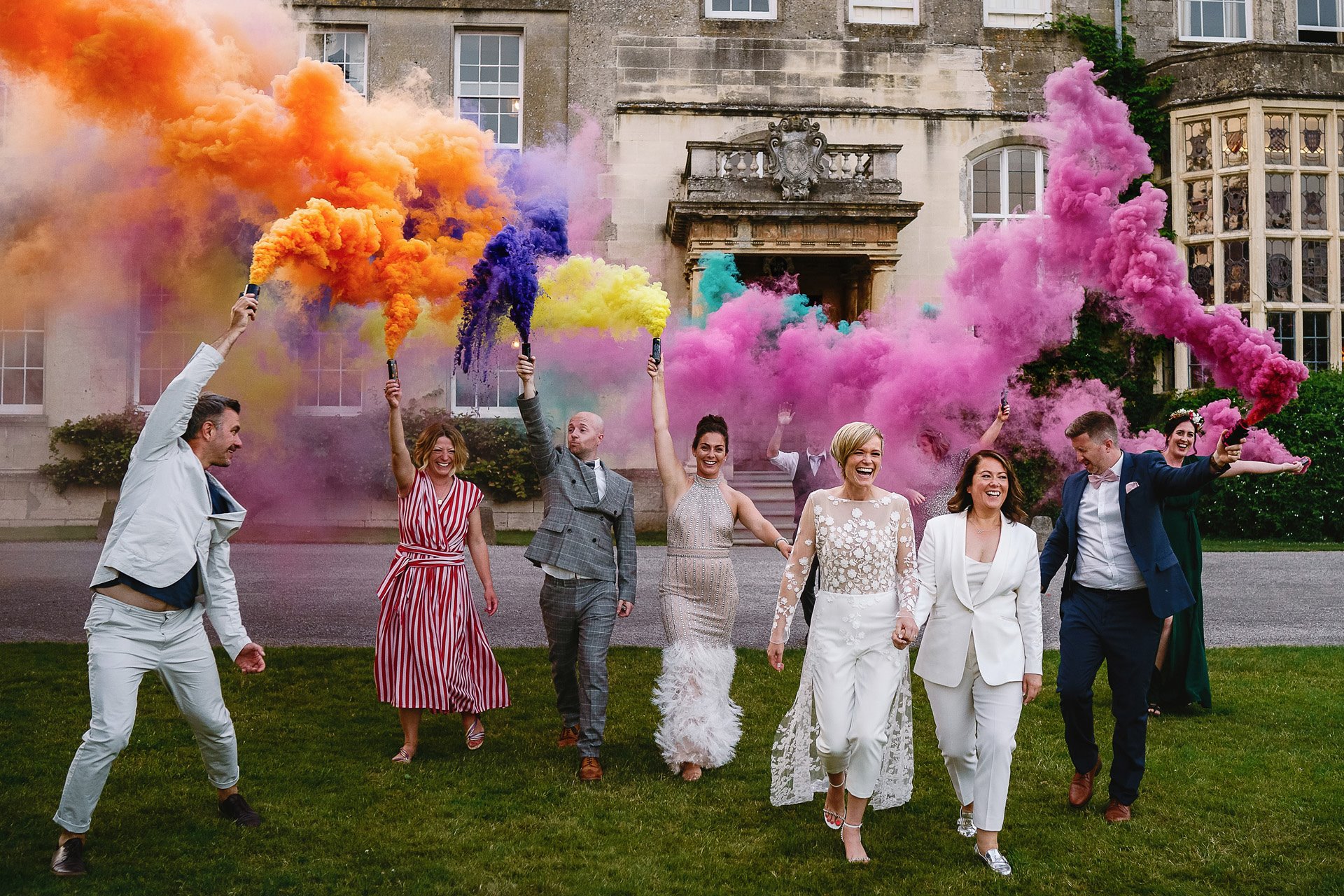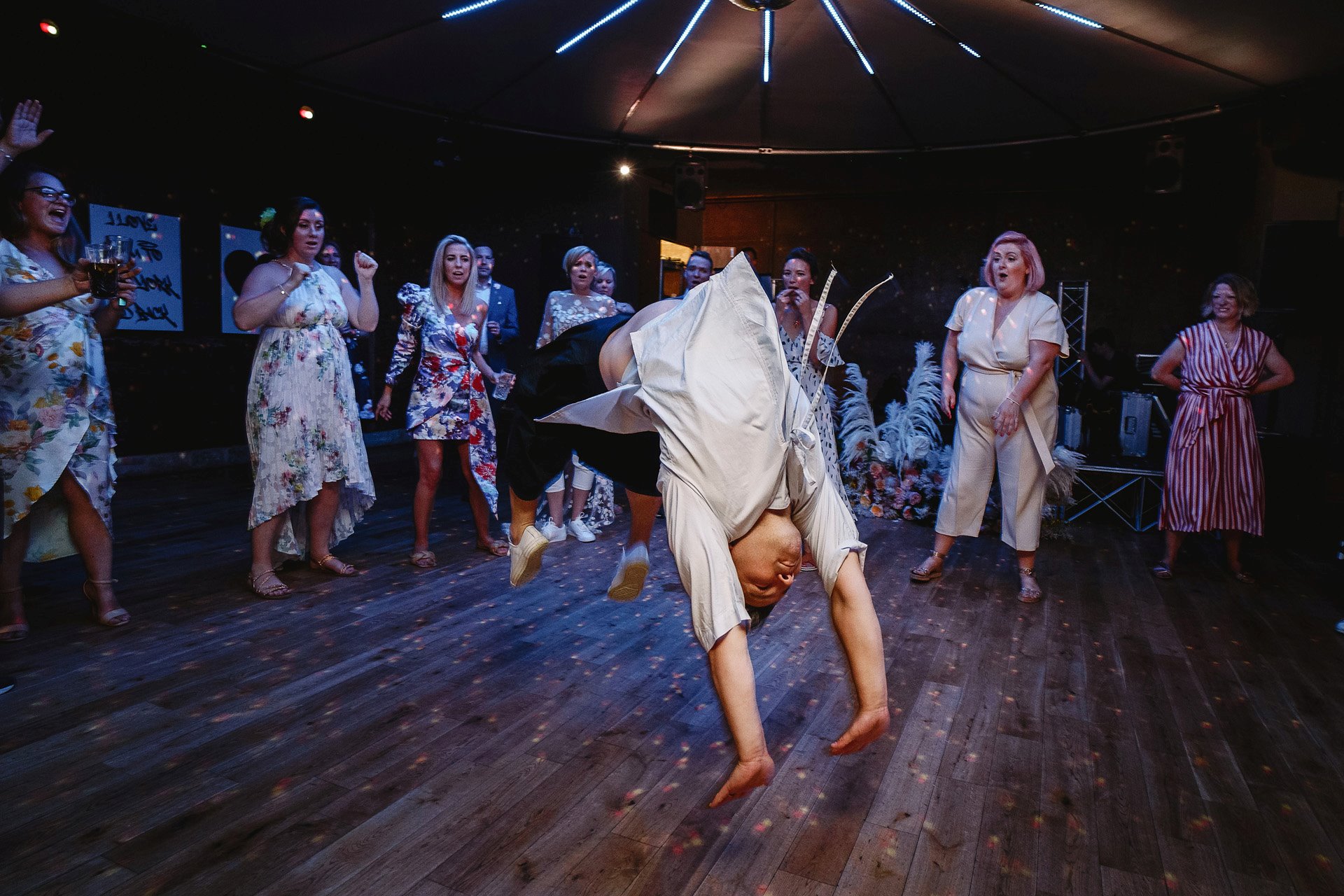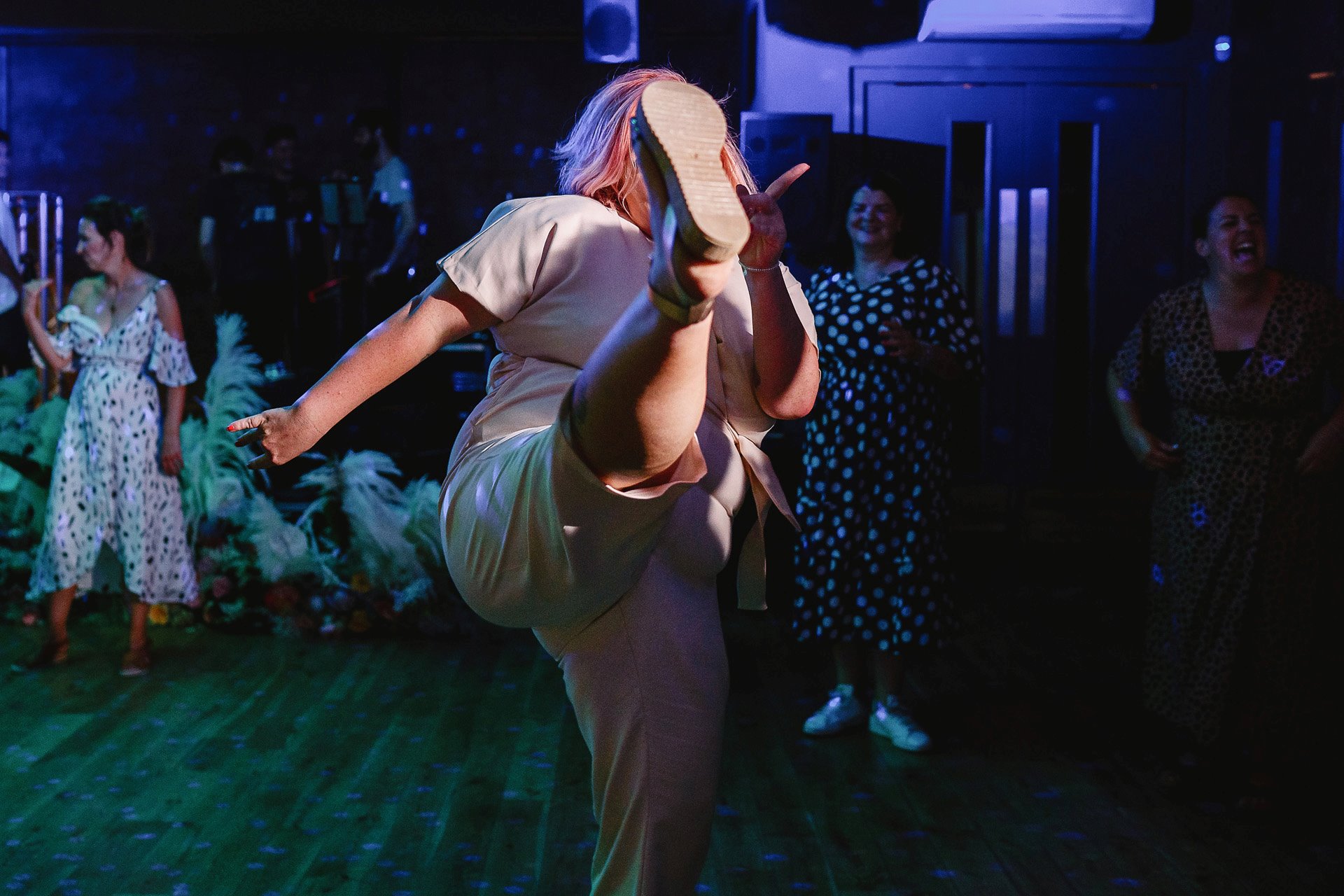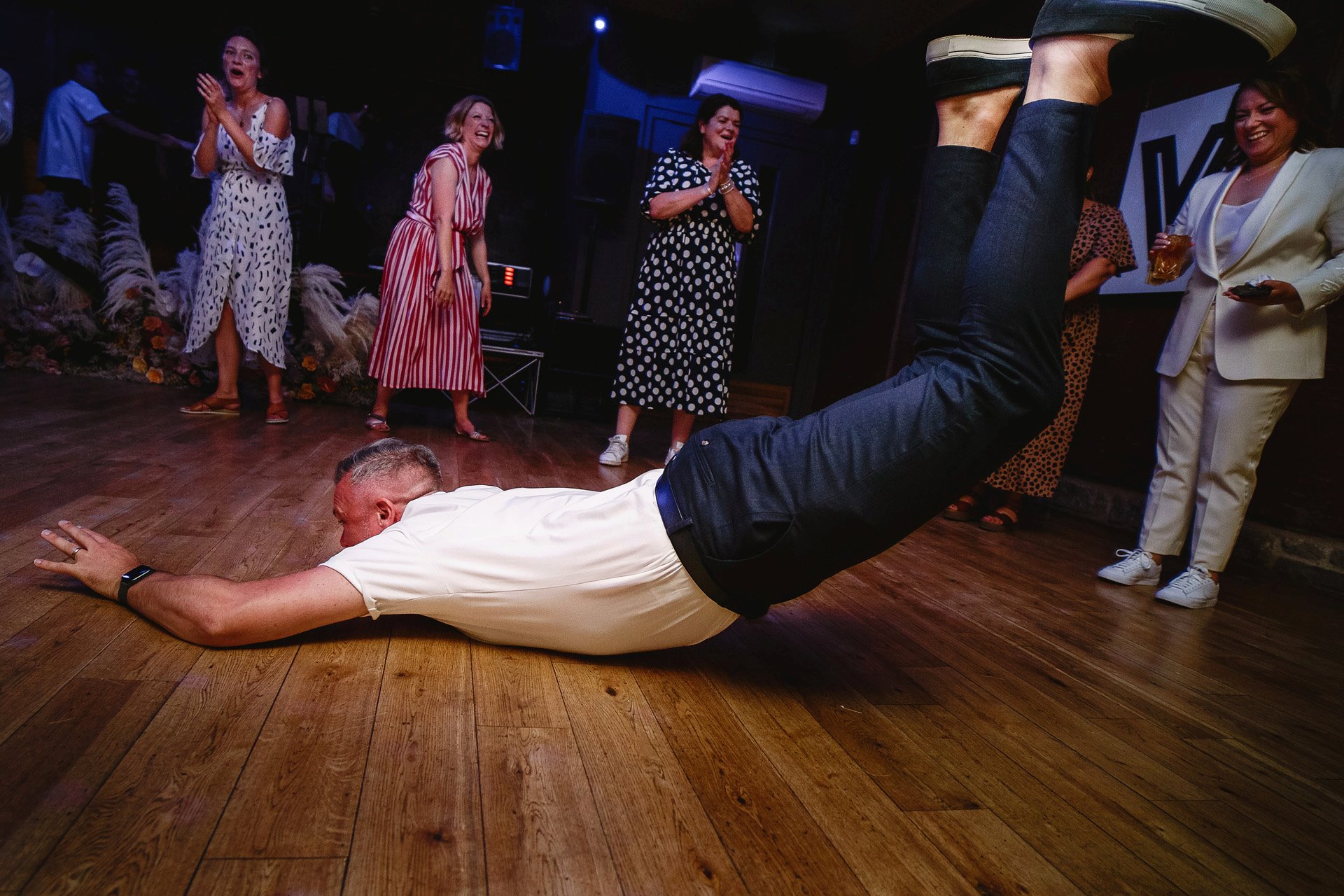 Shout out to your wedding suppliers
What an incredible wedding that was! Thank you so much for such a beautifully detailed journey through your day Sharon & Vicky, we hope you enjoy reliving it as much as we have!
Love is love,
Team E
xxx
Related reading