A Wonderful White Wedding In June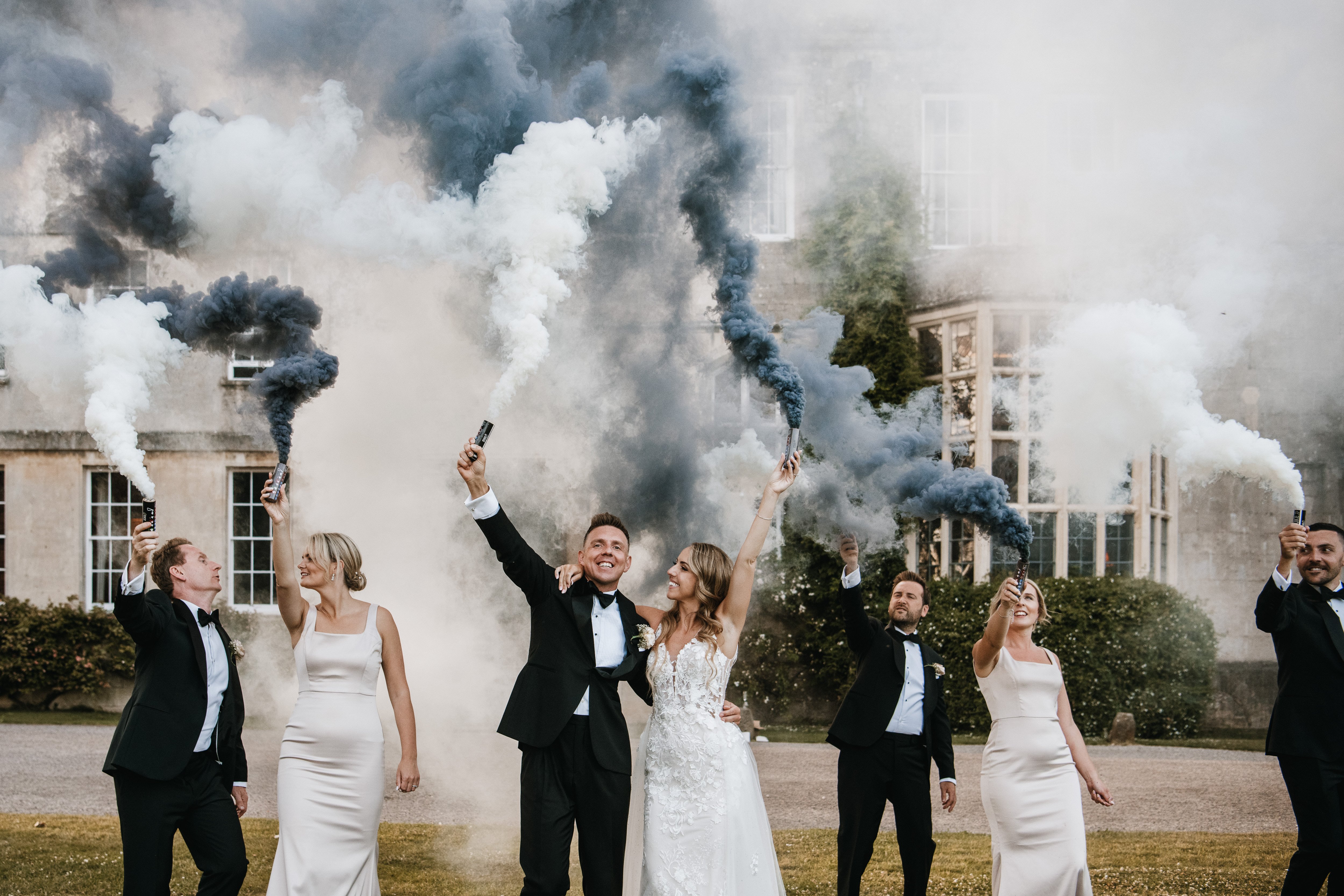 Rebecca & Michael celebrated their wonderful day with us back in June and was it sublime! 70 friends & family gathered together to have one big old party and it was a truly magical day.
Champagne bridesmaid dresses and men suited in tuxedos... white flowers filled the main hall & Gillyflower... let's take a look at this beautiful, white wedding!
So tell us... How did you meet?
Michael and I met on the dating app Bumble. It was by pure chance that Michael was on a work course within the radius I'd set for distance. On Bumble it's the women who make the first move, so I like to think we're married because of me!
Tell us your proposal story!
Michael proposed in April 2021, during semi-lockdown. I'd booked a random holiday day from work and Michael jumped at the chance to surprise me with a very well-planned proposal! We went to West Wittering beach which is where we'd had one of our first dates and also where Michael first told me he loved me. We had a beautiful picnic in glorious sunshine with chocolate strawberries and champagne, just to name a few of the yummy treats. In that moment I thought Michael might propose but luckily, he didn't, as I'd always told him I didn't want a public proposal. I forgot all about it during the drive home and then when we got home Michael handed me a set of cards with instructions. Reading the cards led me to our love story, starting where it all began and leading me to the front door of our first home together.
I walked into our house to hear music playing with rose petals and candles leading the way into the living room. Michael had arranged for the room to be set up whilst we were gone, so it really was the best surprise ever! As I turned into the room, Michael got down on one knee and presented to me with the most beautiful yellow diamond ring. I said yes straight away, and Michael even captured the moment on video which we fondly watch every now and again. It's safe to say we lived on champagne for a few days after celebrating with close friends and family!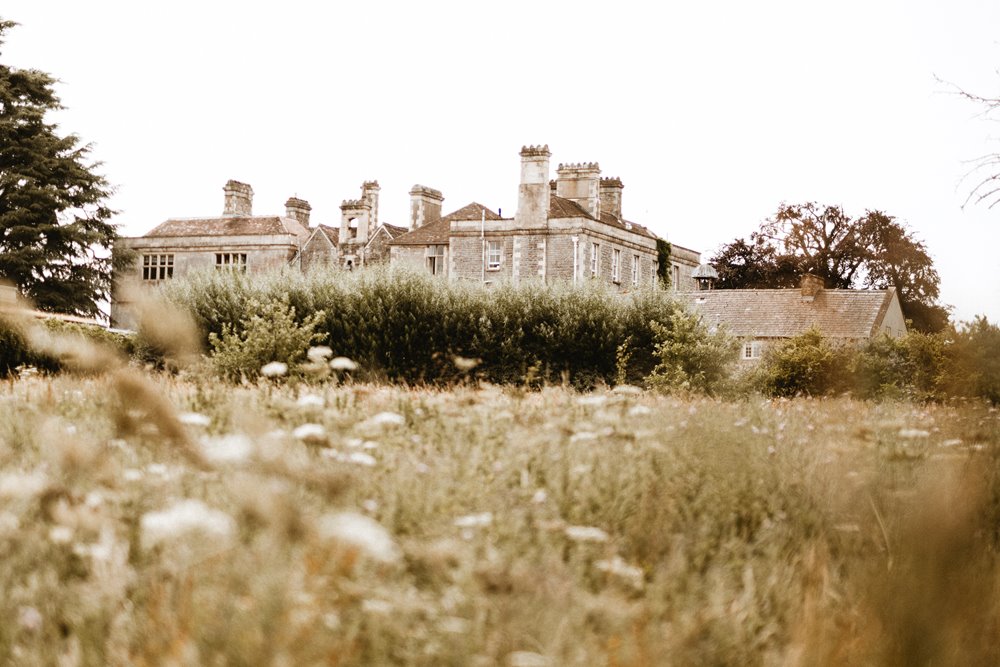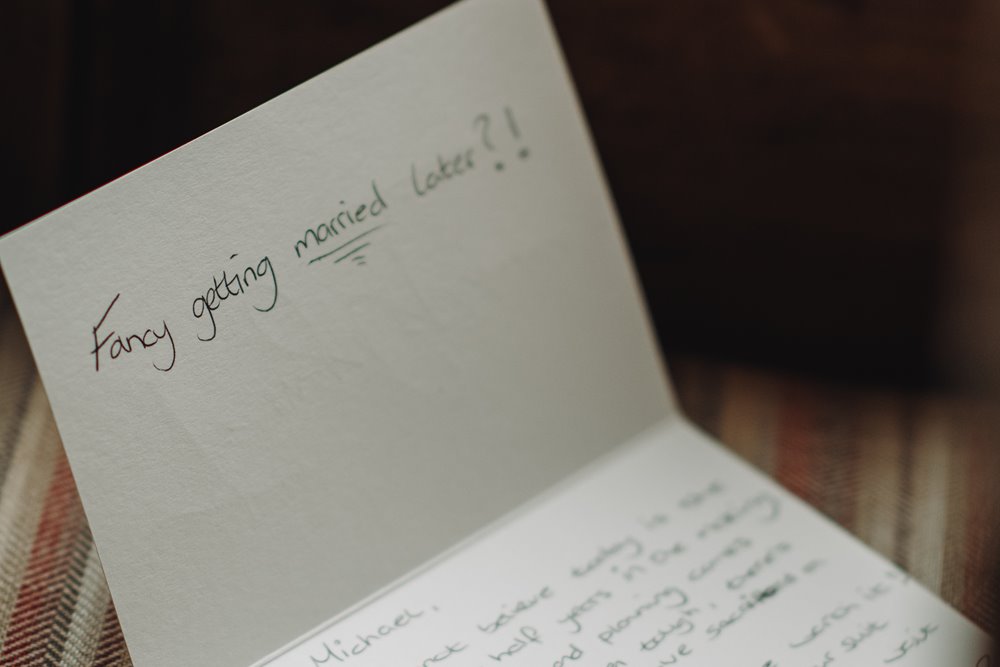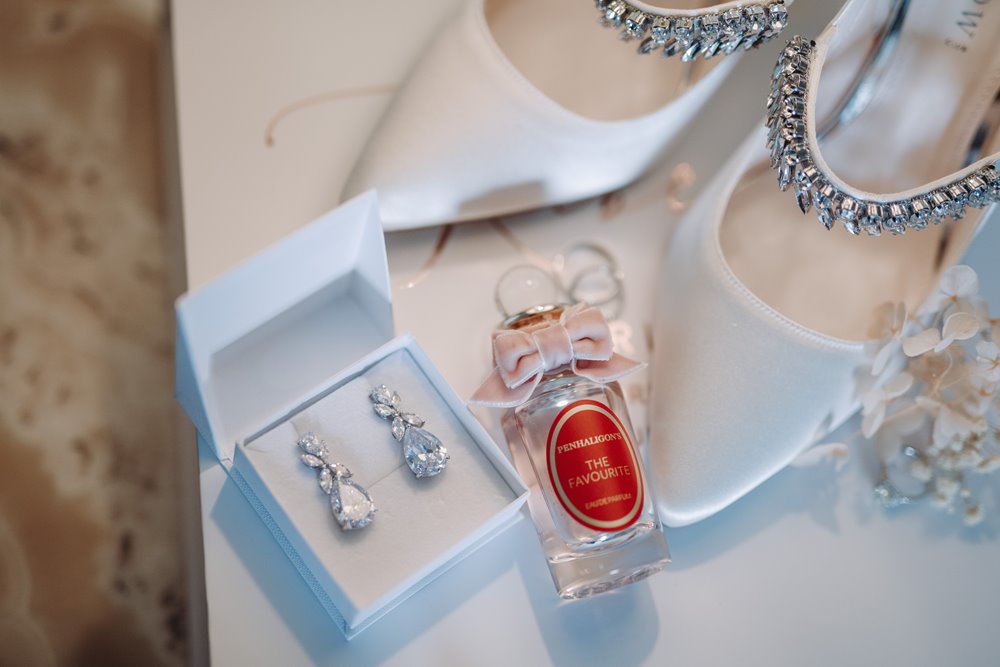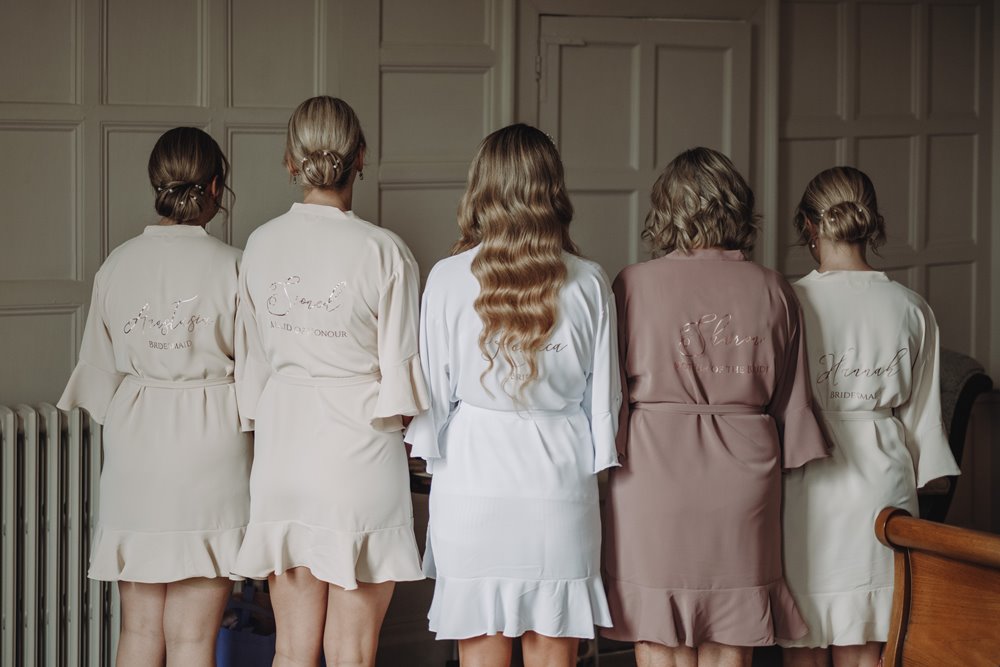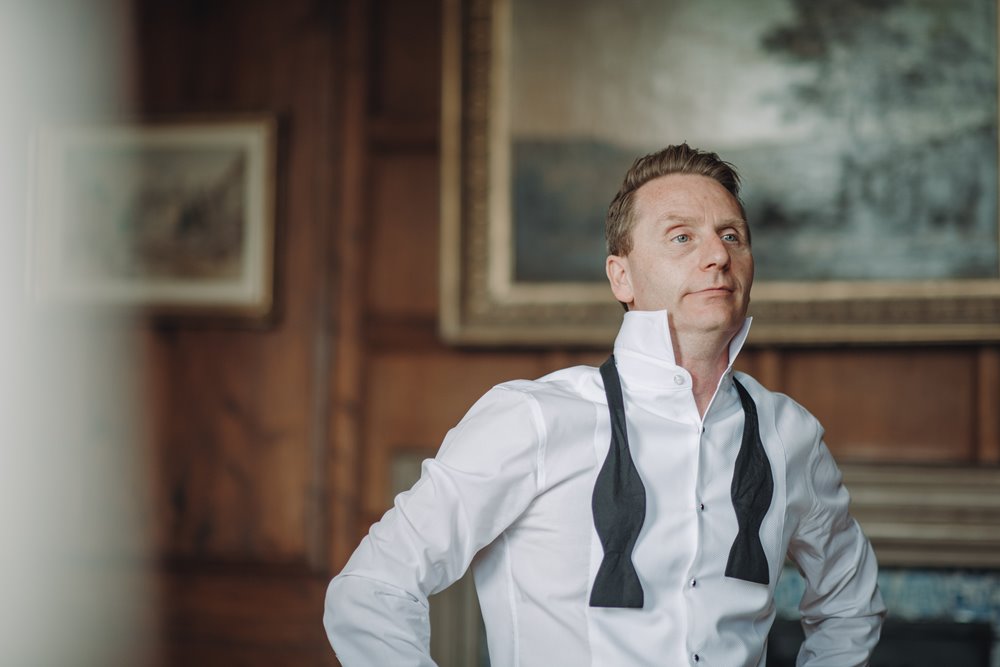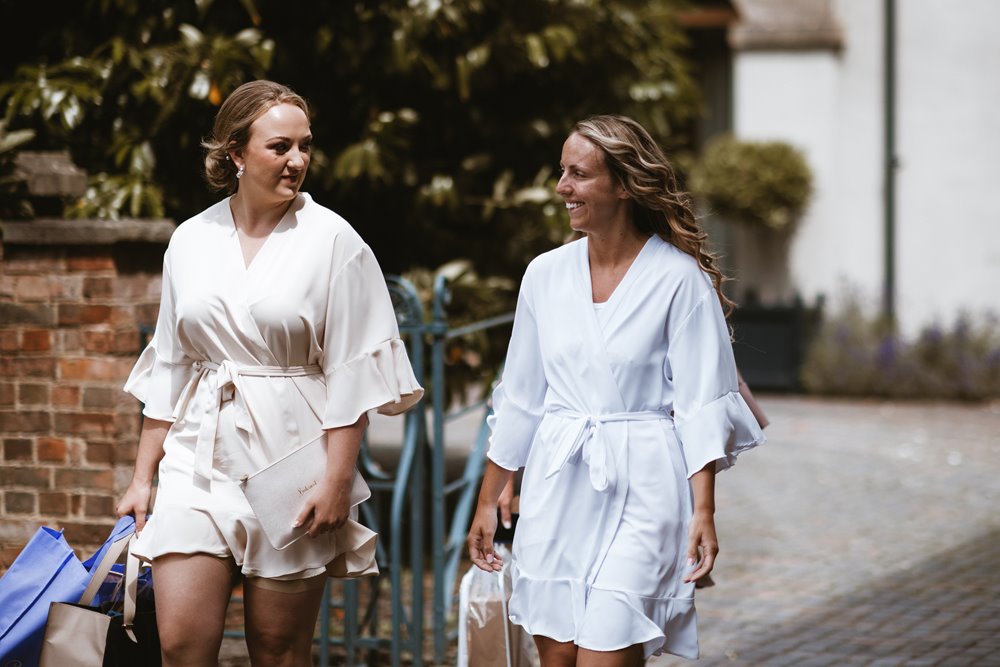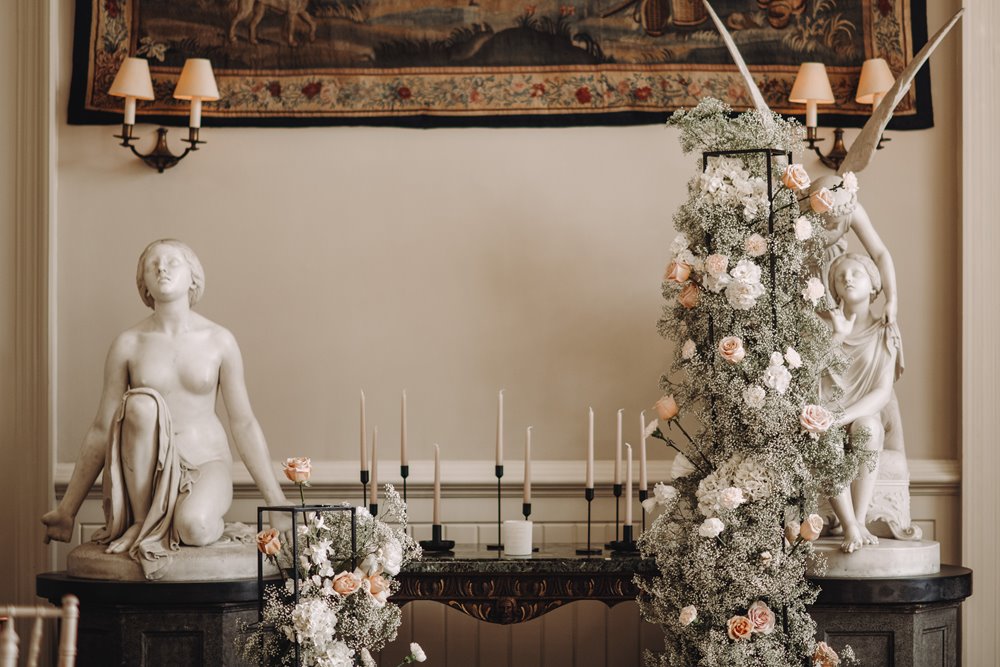 Why Elmore Court?
Elmore was the first wedding venue we saw and again because of the lockdown restrictions it meant we got a private tour of the house. As soon as we turned into the driveway and through the gates, we knew there was something special about the place. The tour started in the house and the ceremony room which just smelt like a church along with the chapel-like stained glass-coloured windows glistening in the sunshine. It was beautiful. We were then amazed at the accommodation for our guests and loved the fact guests staying could return to the house and party until the early hours with us. I think the Gillyflower is what ultimately stole the show, just the uniqueness of the space and contrast between old and new. We went on to view a handful of venues after Elmore, with one straight after, but we just knew instantly Elmore was the place for us. It was truly special and love at first sight!
Where did your wedding inspiration come from?
Our wedding inspiration came as soon as we booked Elmore with the scene set for an elegant, romantic and modern, yet classic theme. I pictured men in black-tie, bridesmaids in natural tones, Naomi white roses to match my engagement bouquet and a string quartet to play the ceremony and reception drinks. A lot of time was spent on Pinterest and Elmore's own Instagram page to see what was possible and how we could take ideas but them our own.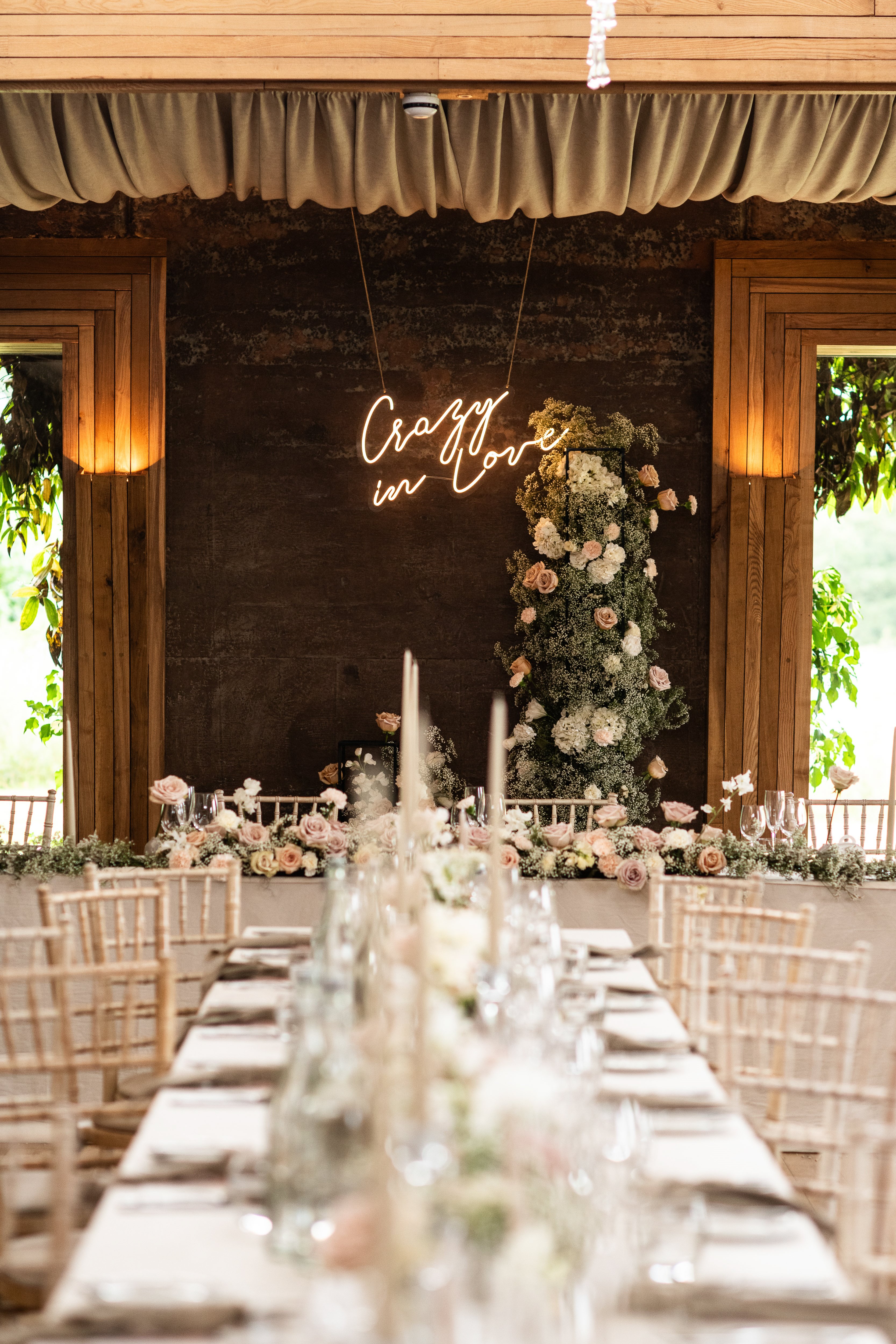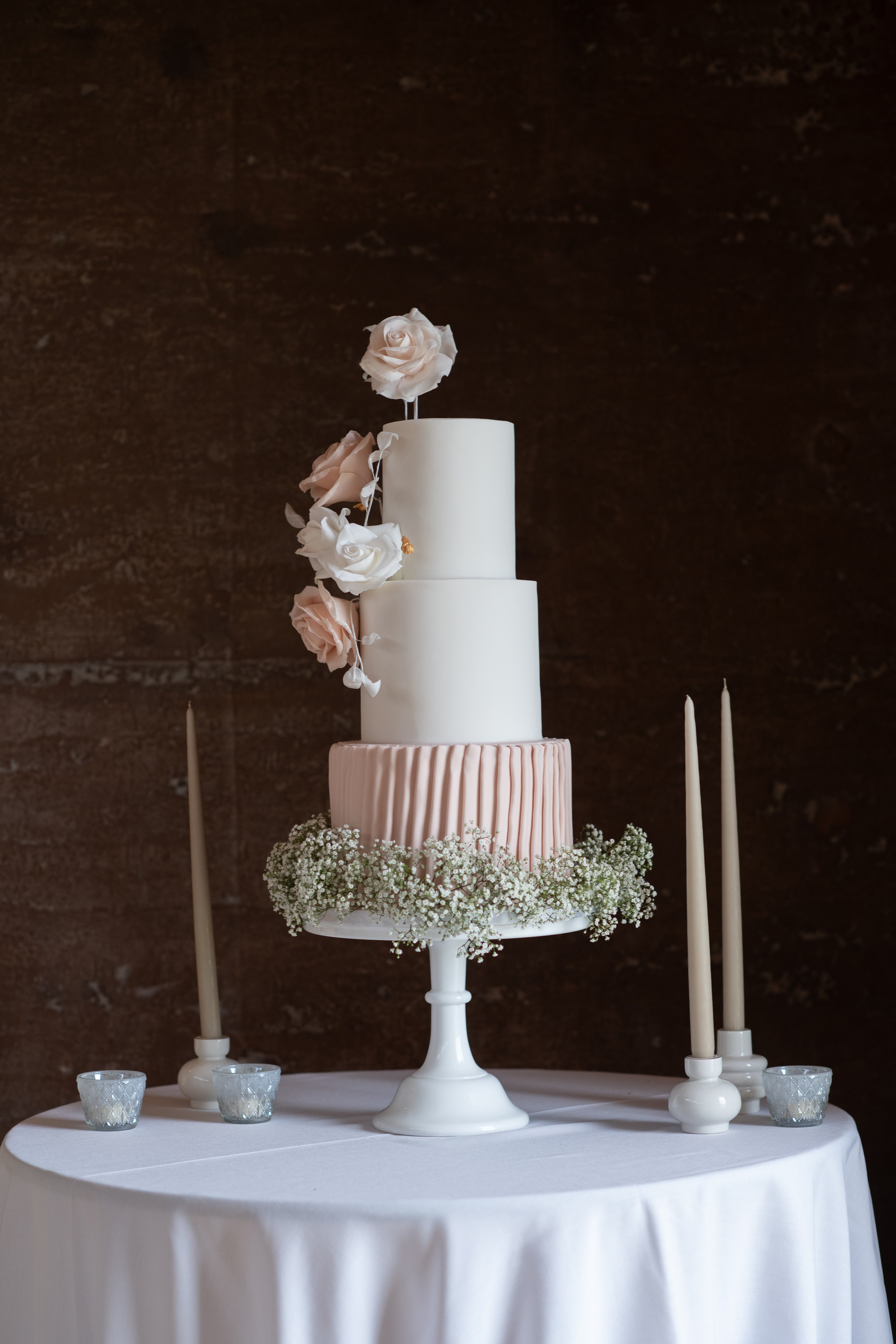 How did you find the planning of your wedding?
We found it pretty easy going. We booked Elmore over two years in advance which gave us plenty of time to save for all the things we really wanted and to search for the right suppliers. We used a lot of Elmore's preferred supplies which gave us peace of mind knowing that they'd come recommended by the venue and knew the venue well. We had our Florist, Stylist, Photographer and Band booked within the first six weeks. Our assigned wedding coordinator Rachael Tambyn made sure we stayed on track and was beyond fantastic in making sure the day ran smoothly for us and our guests. Thank you again Rachael!
Tell us about the dress!
My dress was by Enzoani and two looks in one. I had an a-line over skirt for the day which lasted all the way up until our first dance, and then I took my overskirt off to reveal the fitted sheath silhouette to boogie the night away. I'd always wanted an overskirt to have that fairy-tale princess look and feel for the ceremony but something a bit easier to move around in later. My dress was also love at first sight and it's true what they say, when you know, you know!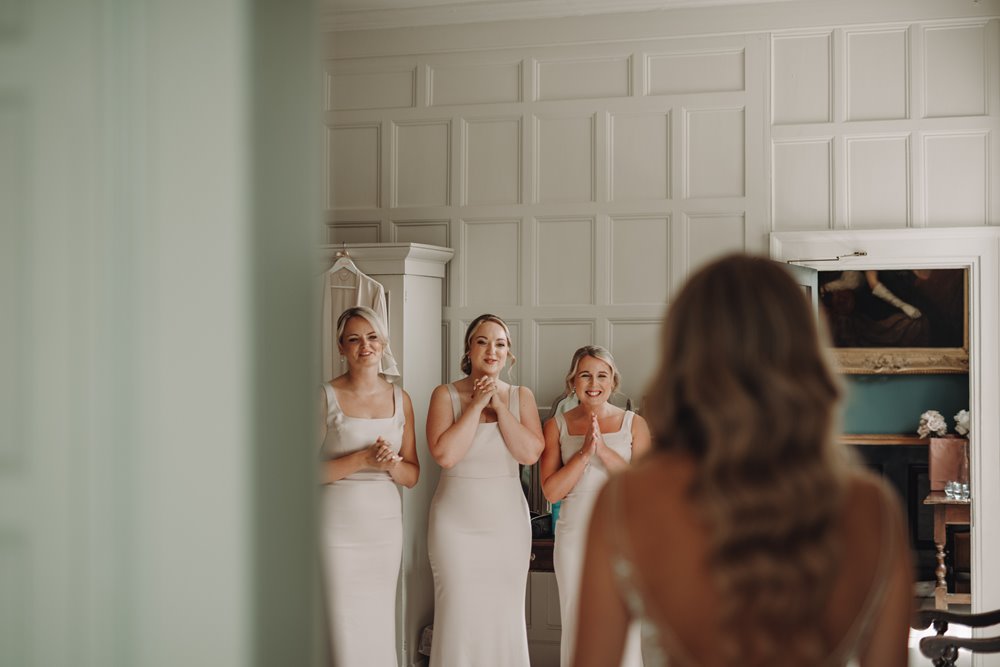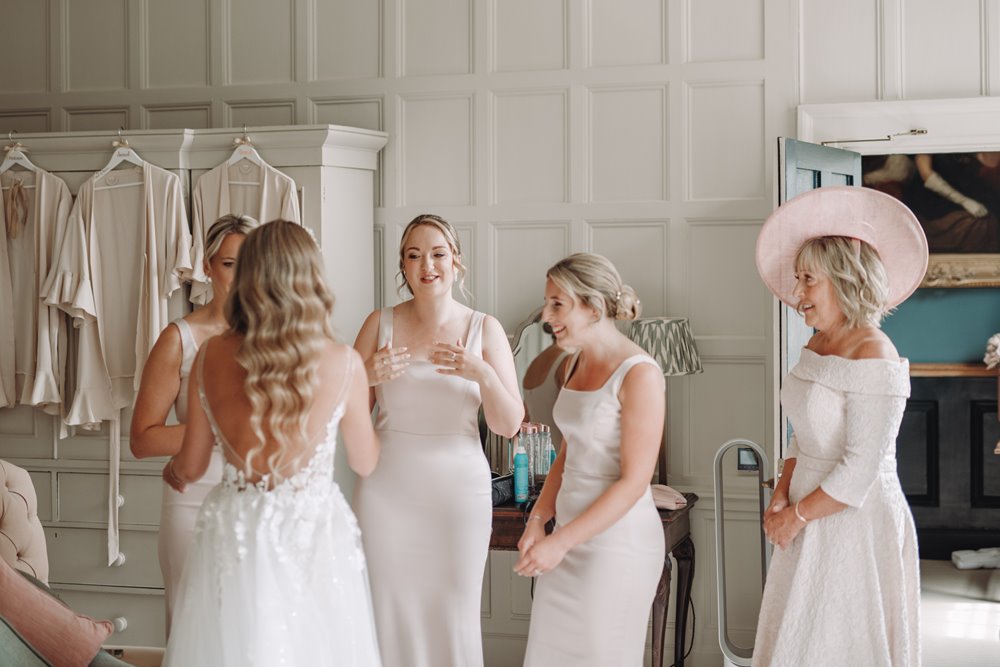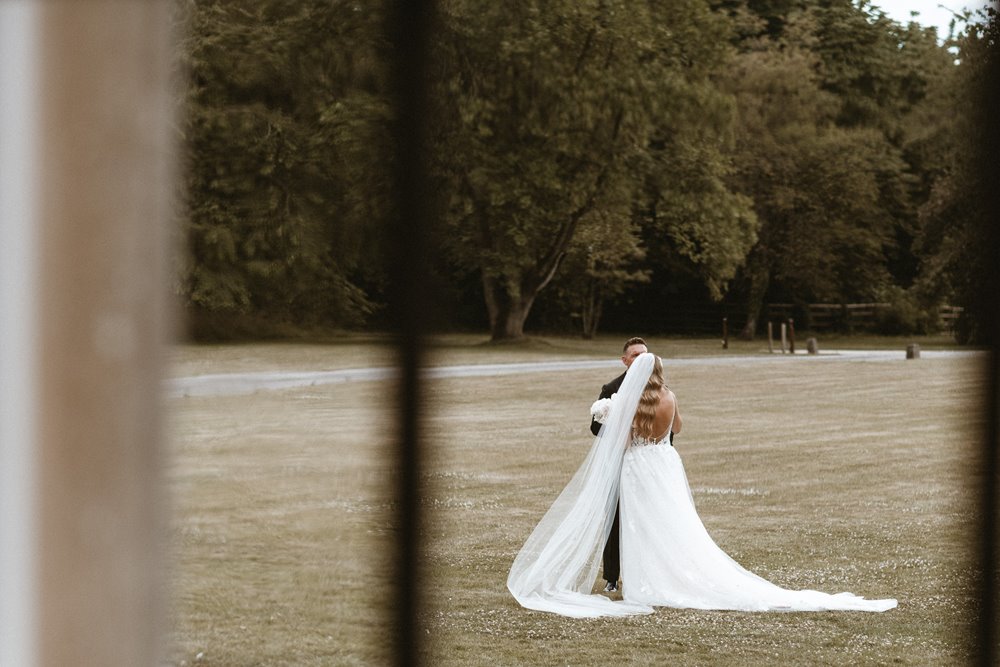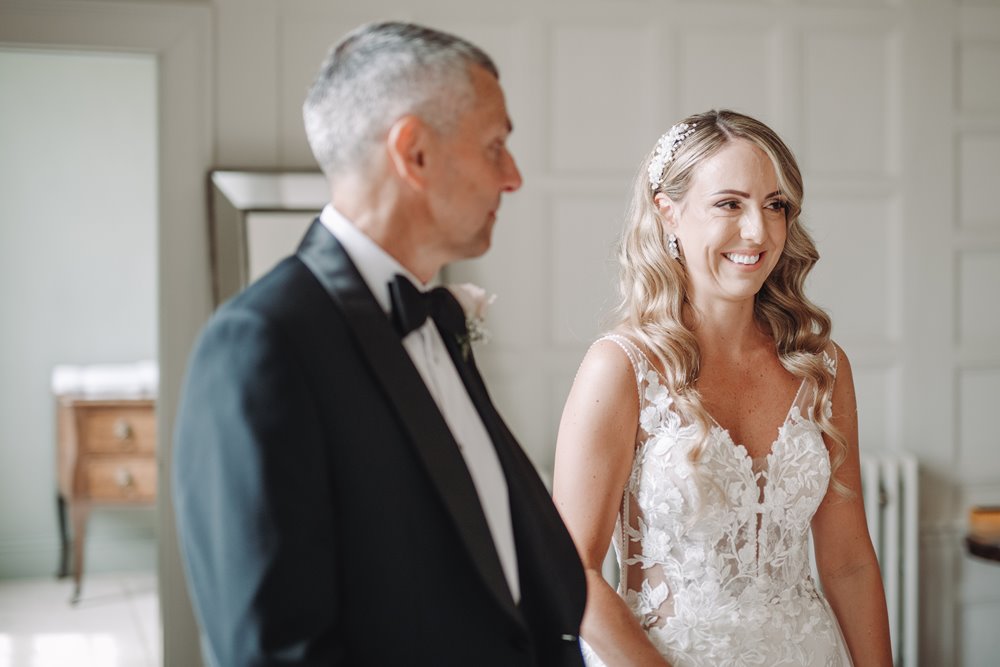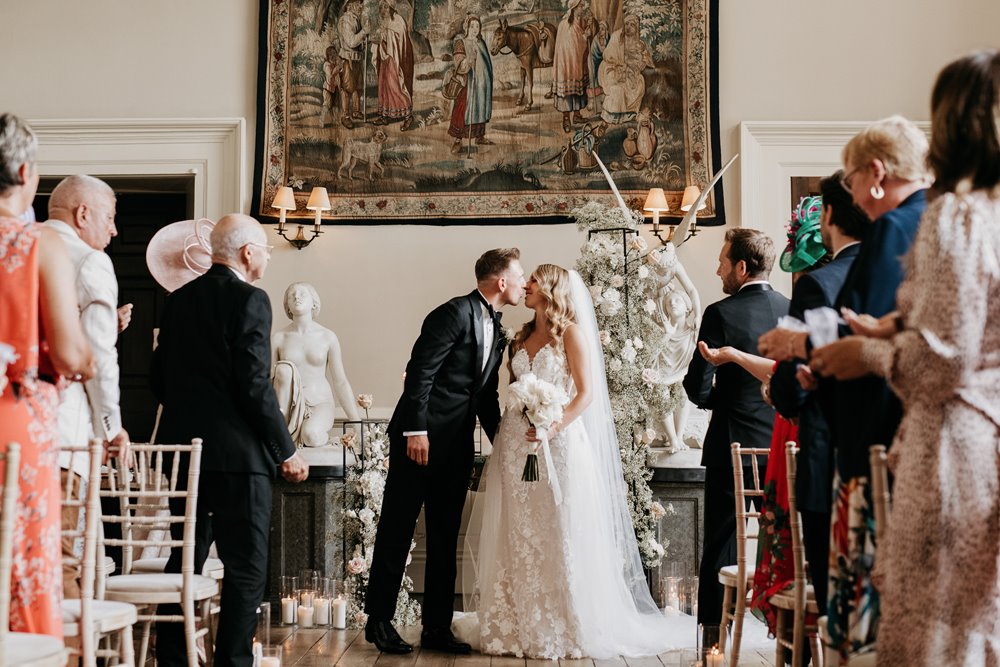 On the morning of your wedding, how did you feel?
Excited more than anything but with a sense of calm that everything was in hand and nothing more could be done. The morning ran smoothly, and I even managed to have a nice soak in the bath with an under-eye mask on! My bridal party were also amazing at making sure the morning was special and one I'll never forget.
Tell us about the ceremony?
As soon as the big wooden doors opened into the ceremony room that's when it hit me. I was getting married and walking down the aisle with dad by my side, in front of all our family and friends. I hadn't felt nerves until that point and despite always knowing which music I wanted to walk down the aisle to (Pachelbel – Canon in D Major), I can honestly say I don't remember hearing it! All I can remember is seeing my handsome groom waiting for me in his black-tie suit which I'd not yet seen, looking every bit the part. The rest of the ceremony is a blur but luckily, we had it recorded and I'm so glad we did.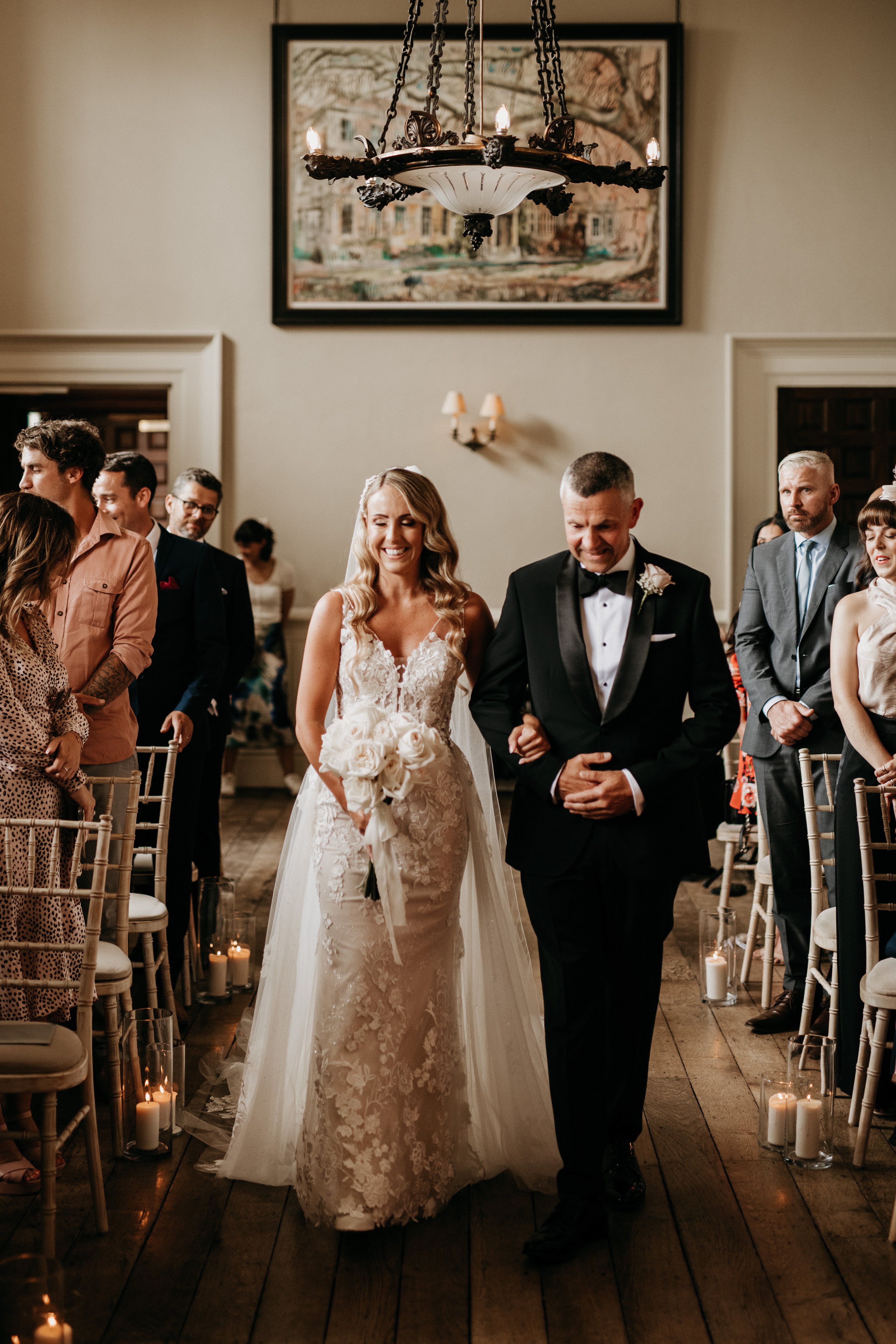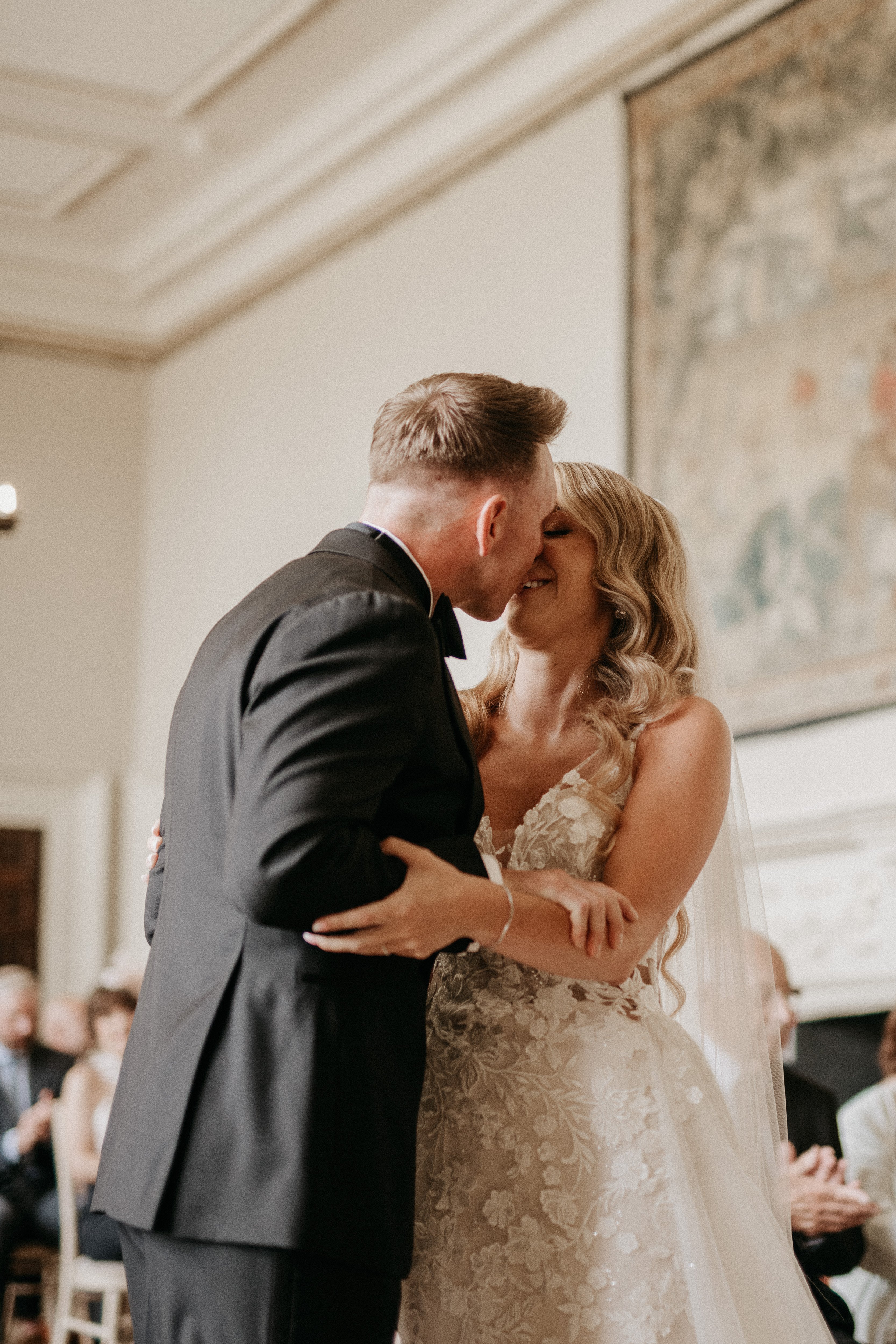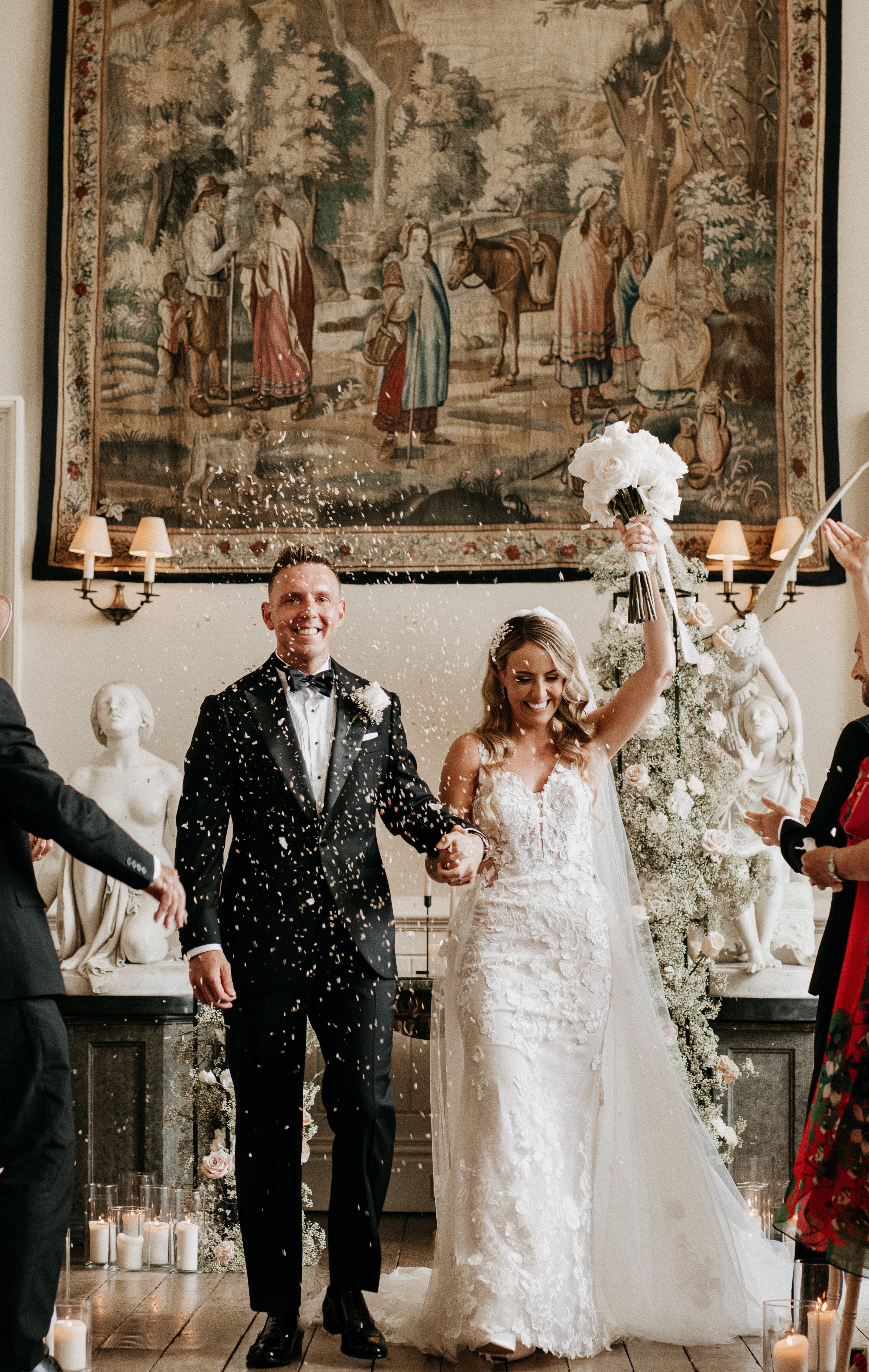 Talk us through the drink's reception!
For the drinks reception, we wanted our guests to have a choice of what to drink and plenty of it. We went for the classic summer cocktail of Pimm's with red and white stripped straws, pink prosecco, beer, and non-alcoholic drinks for those driving. We had the wonderful Nero Strings who played during our ceremony and had asked them to play a variety of modern love songs and lots of Coldplay, being big fans!
What was your food of choice?
Being vegetarian I was able to pick the vegetarian option and my husband Michael chose the meat which made it simple. We also attended the food tasting day at Elmore in the January which was such a fantastic event, and we loved every second of it. We debated over the dessert but in the end, we went for Heirloom tomatoes with buffalo milk mozzarella to start, Wild mushroom and black truffle risotto for the vegetarian main and Slow cooked beef shin, followed by the most popular dish of the night, the dessert, which was the Salted caramel chocolate and honeycomb pot.
In the evening we opted for Pizza because who doesn't like pizza? Marvellous Medicine set up outside which meant our guests could wonder the grounds in the glorious sun whilst digging into delicious pizza flavours chosen by us. Our cake was by the fabulous Claire at Cake Daydreams which we worked on with Claire to design and opted for two flavours - White chocolate and raspberry for the bottom and middle tiers and red velvet for the top. We've not tried the red velvet yet as we've put the top tier in the freezer to celebrate on our first anniversary. Everyone raved about the cake, so we cannot wait to try the red velvet!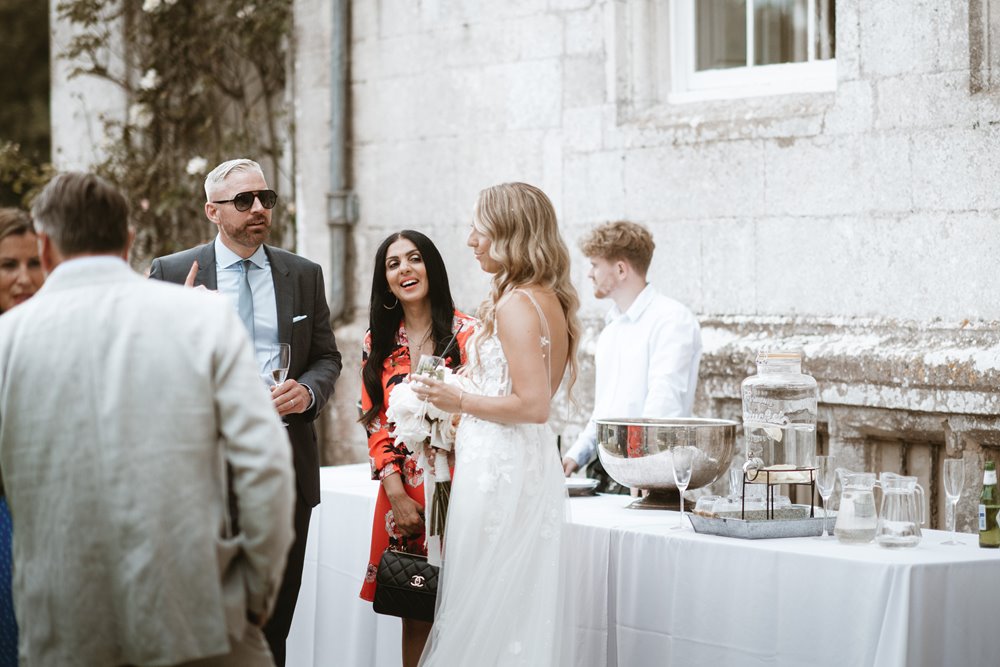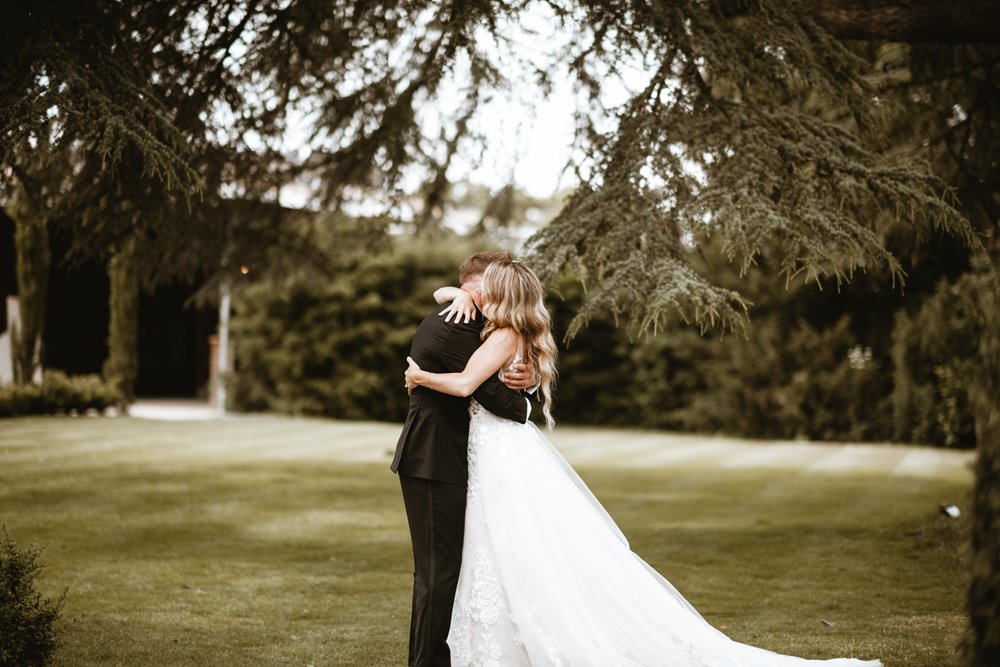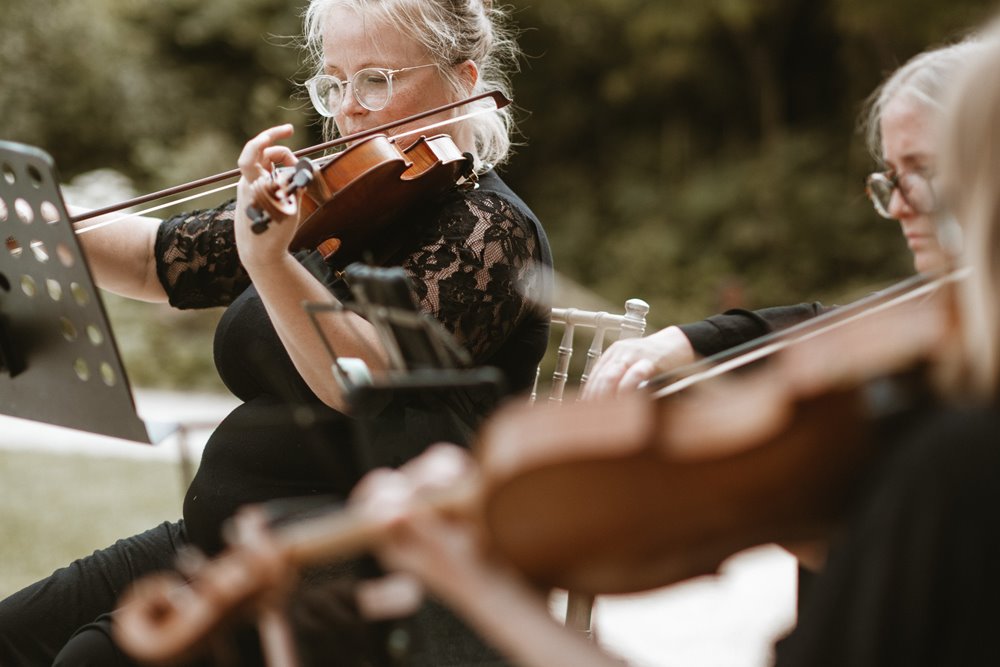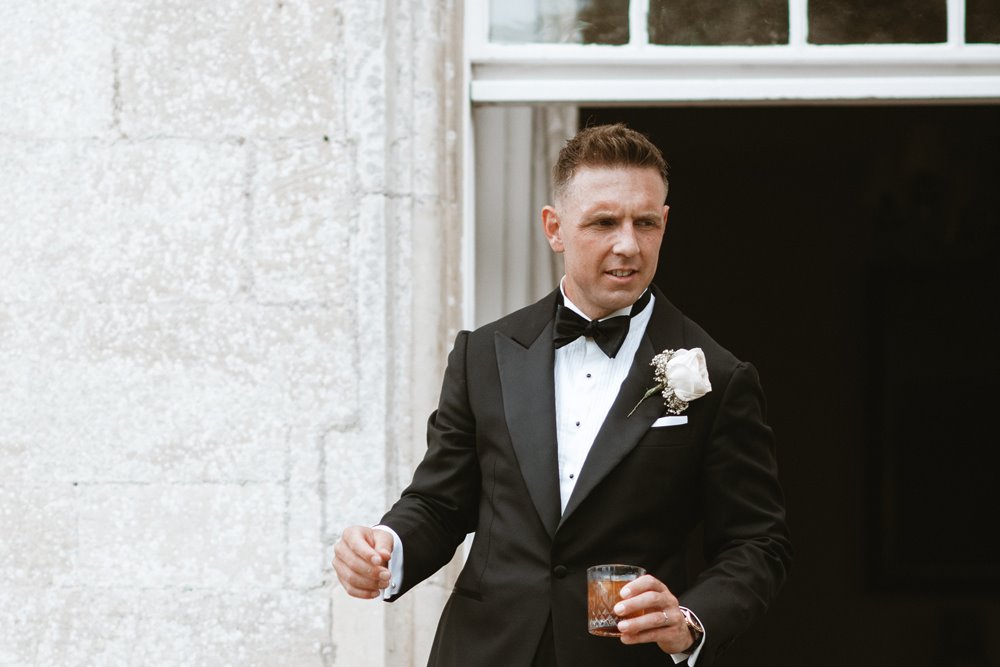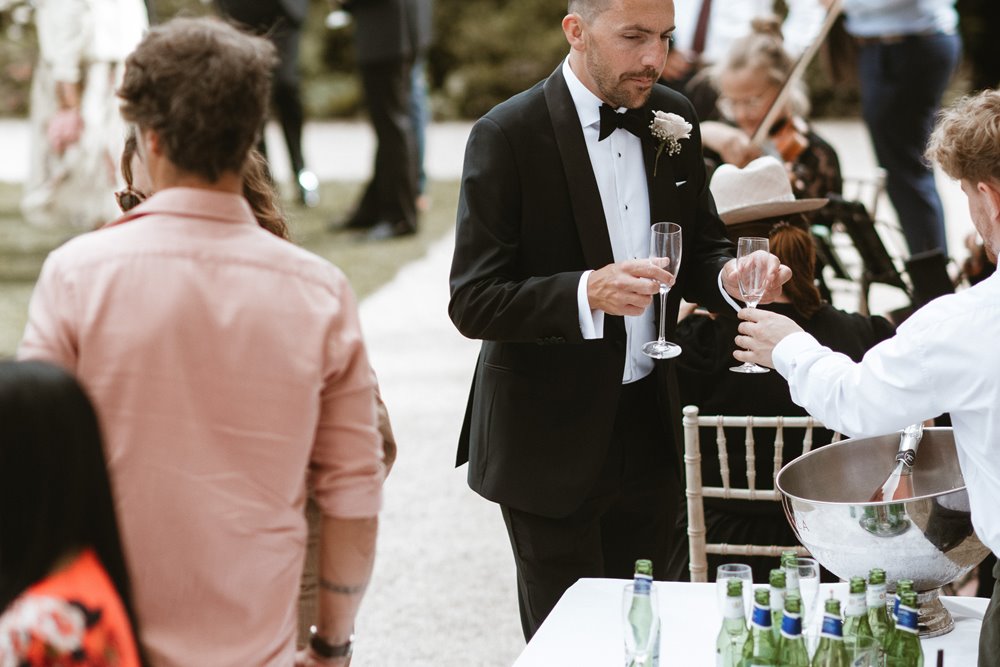 What was your reaction to your reception at the Gillyflower?
Our professional photos say it all but honestly no matter how much planning and designing beforehand, nothing prepares you for seeing everything come together. Our vision had come to life, and it just looked incredible, better than we had ever hoped for. Lauren Grey's bespoke wedding styling and Sorori Design were fantastic every step of the way and our photographer Gary Nunn captured the moment perfectly.
First dance choice?
It had to be Yellow by Coldplay. We've always been huge fans and last summer we went and saw them together at Wembley Stadium, Yellow was the standout moment of the night and the song stuck. We were thrilled that our amazing band Groove Station were able to sing it for our first dance as husband and wife.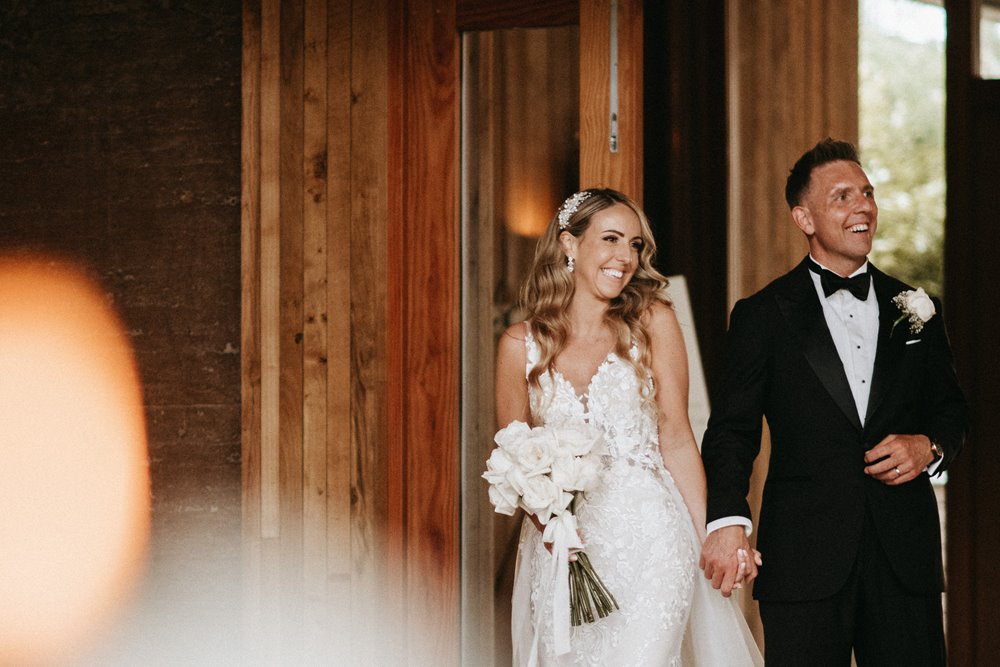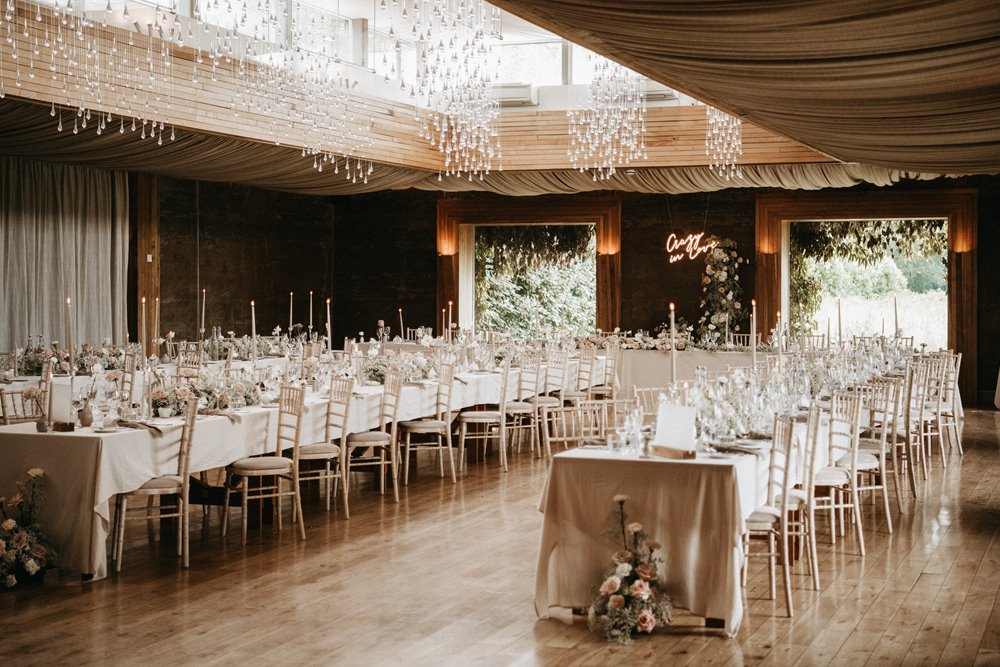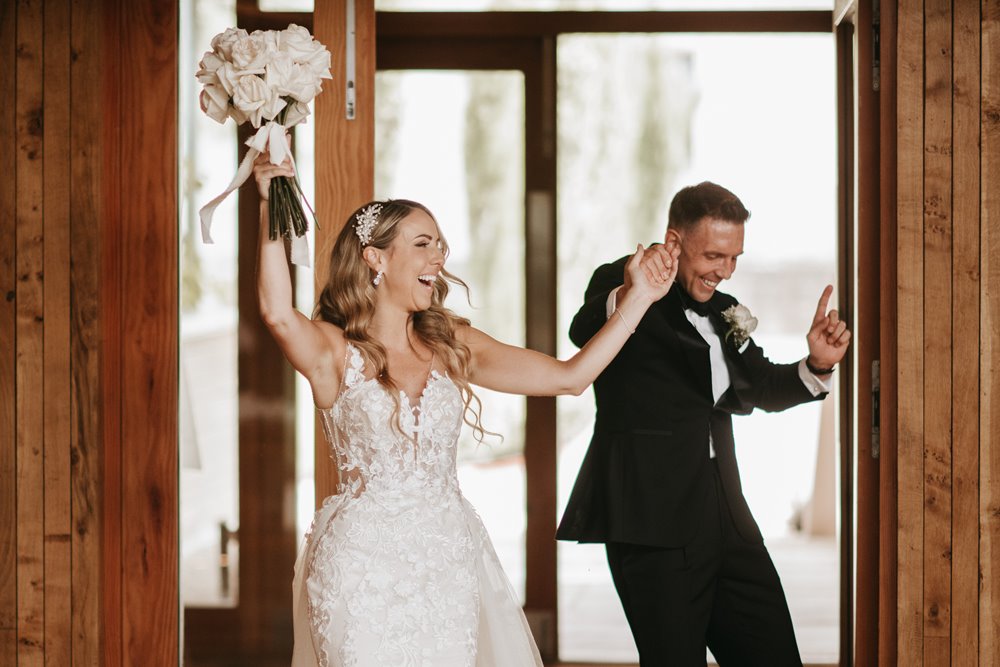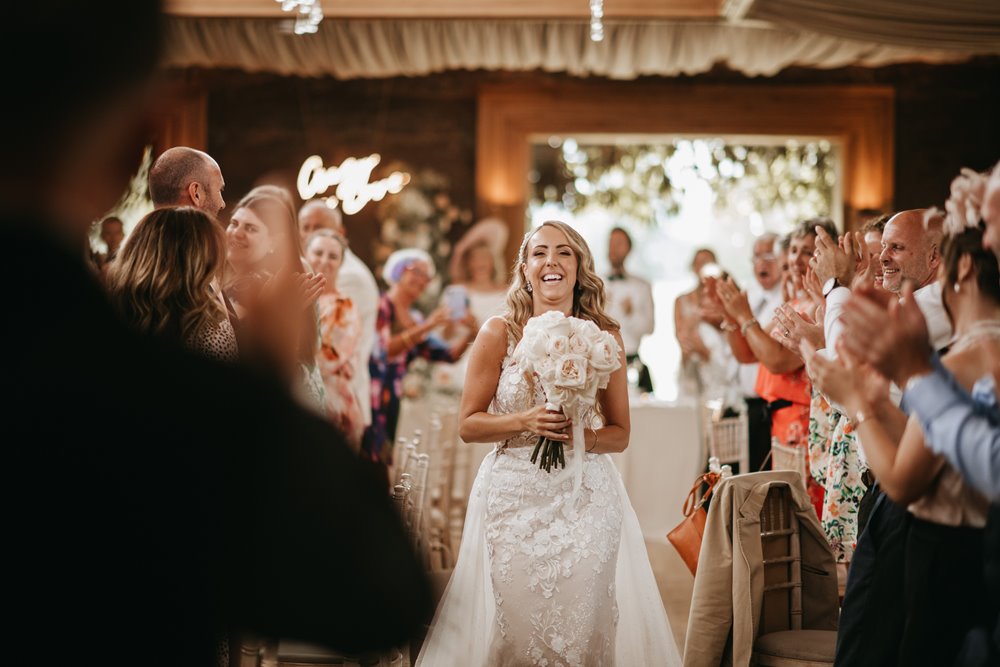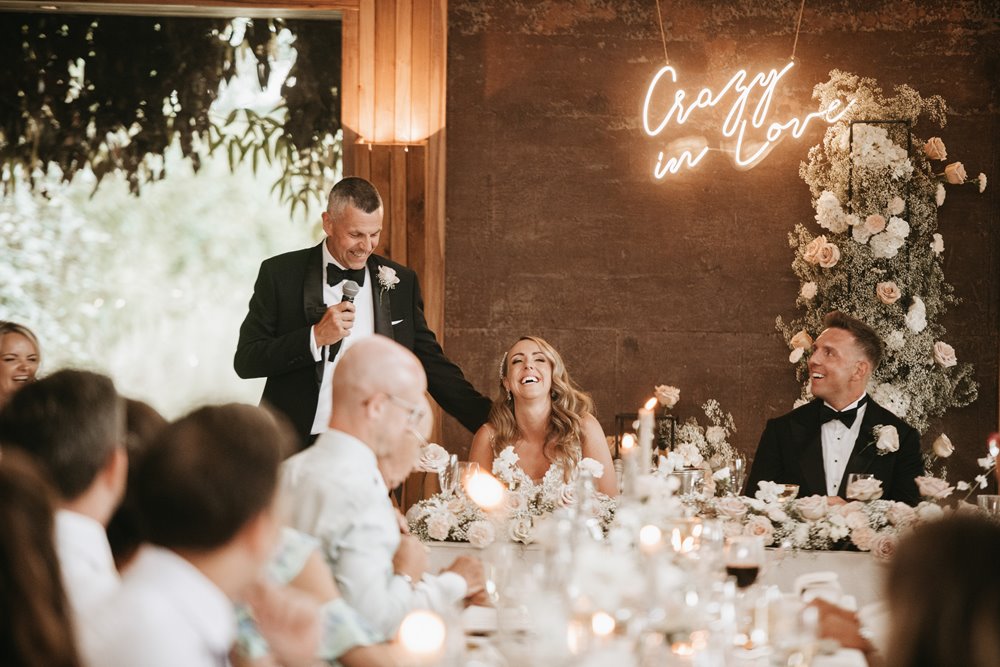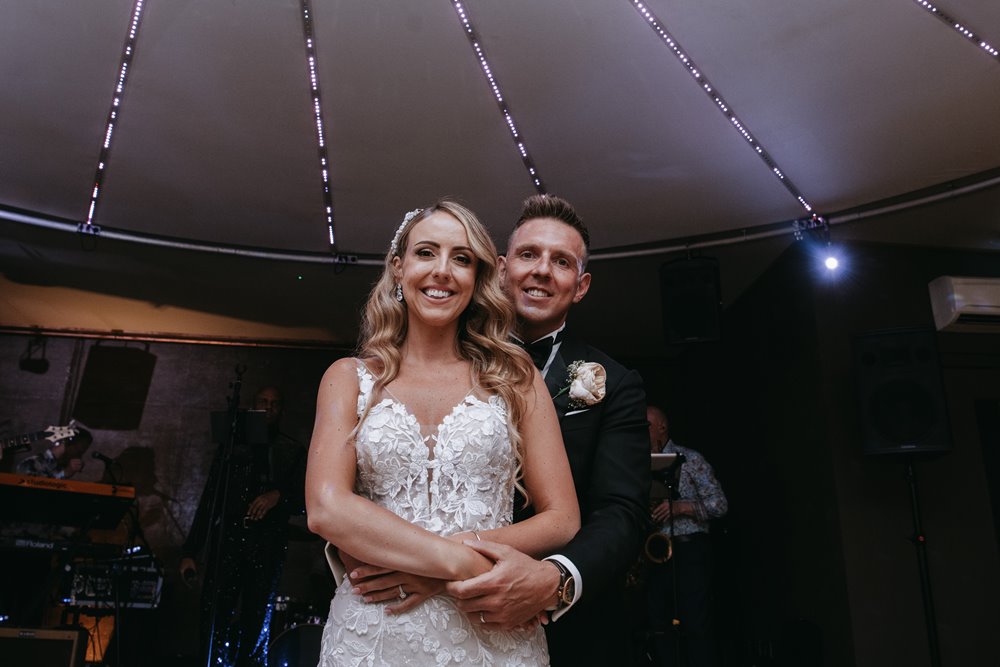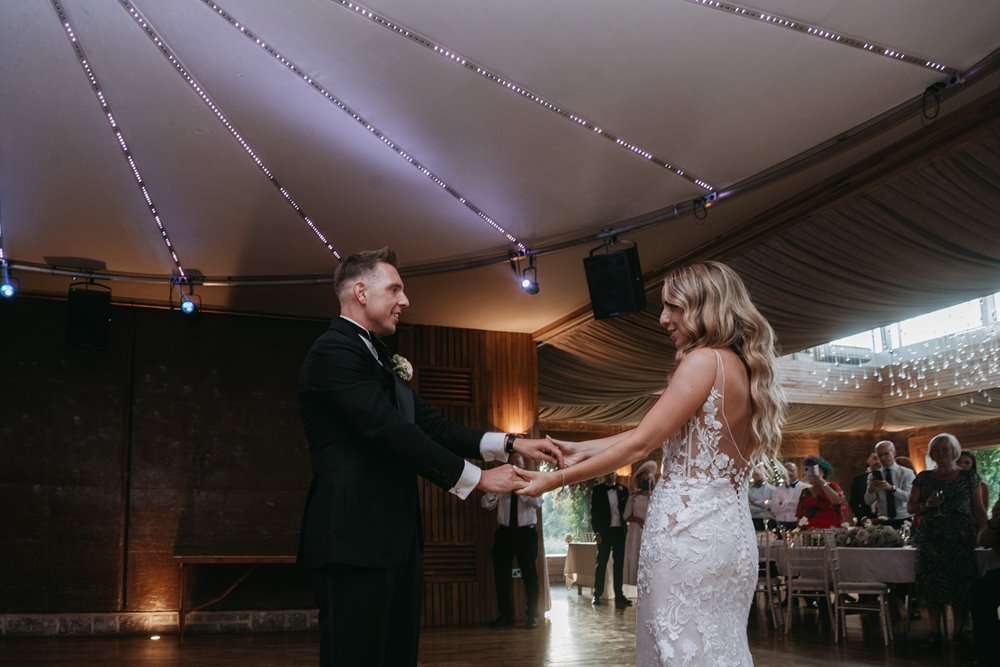 What were your wedding highlights?
When Michael and I took a moment together to listen to Nero Strings play Coldplay's Paradise. Our guests were waiting in the Gillyflower to welcome us, but we wanted a quick moment to listen to the amazing strings first and take it all in. It was such a special moment just the two of us and time to appreciate what we'd achieved and for it to sink in that we were finally married!
Who helped bring your fabulous day together?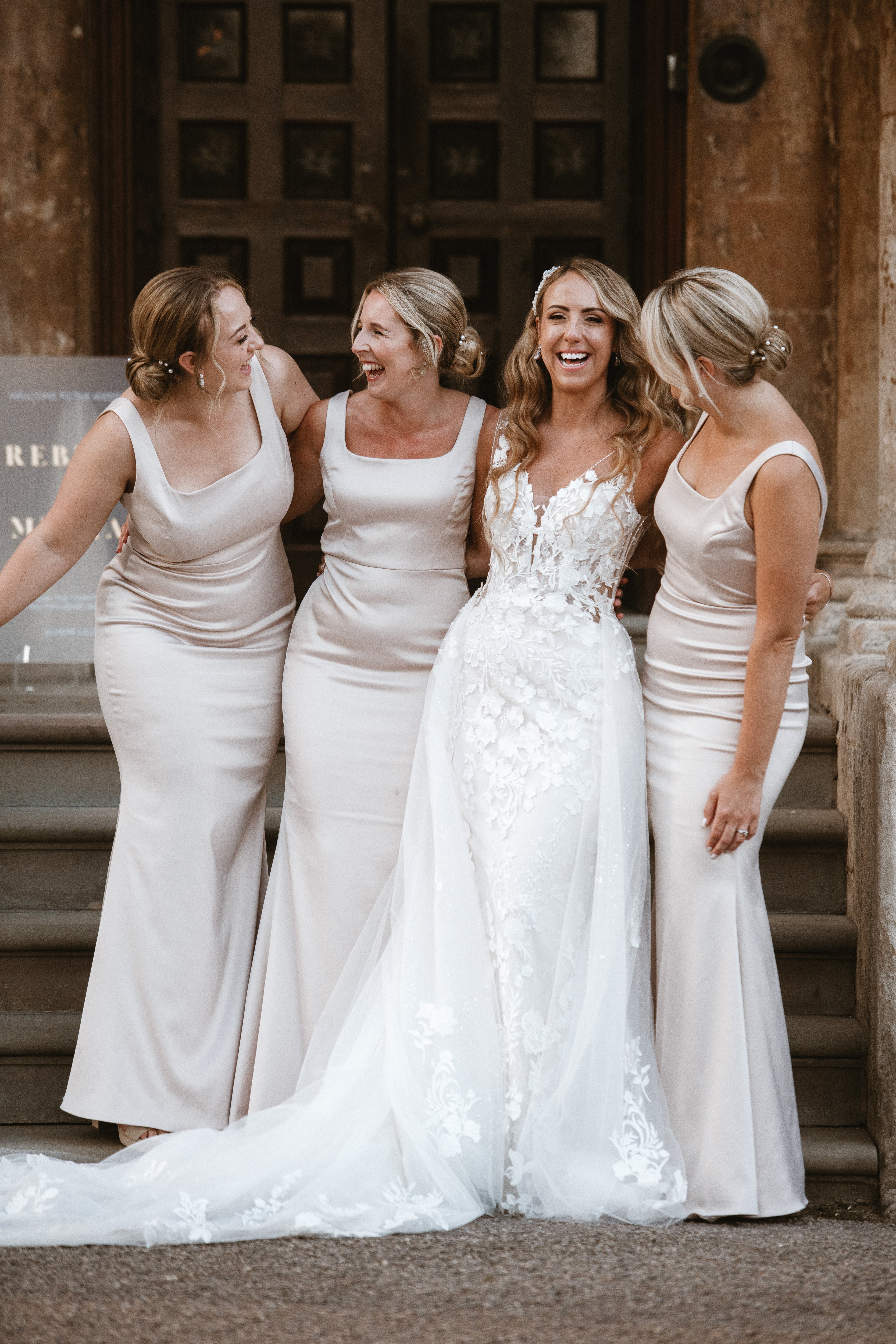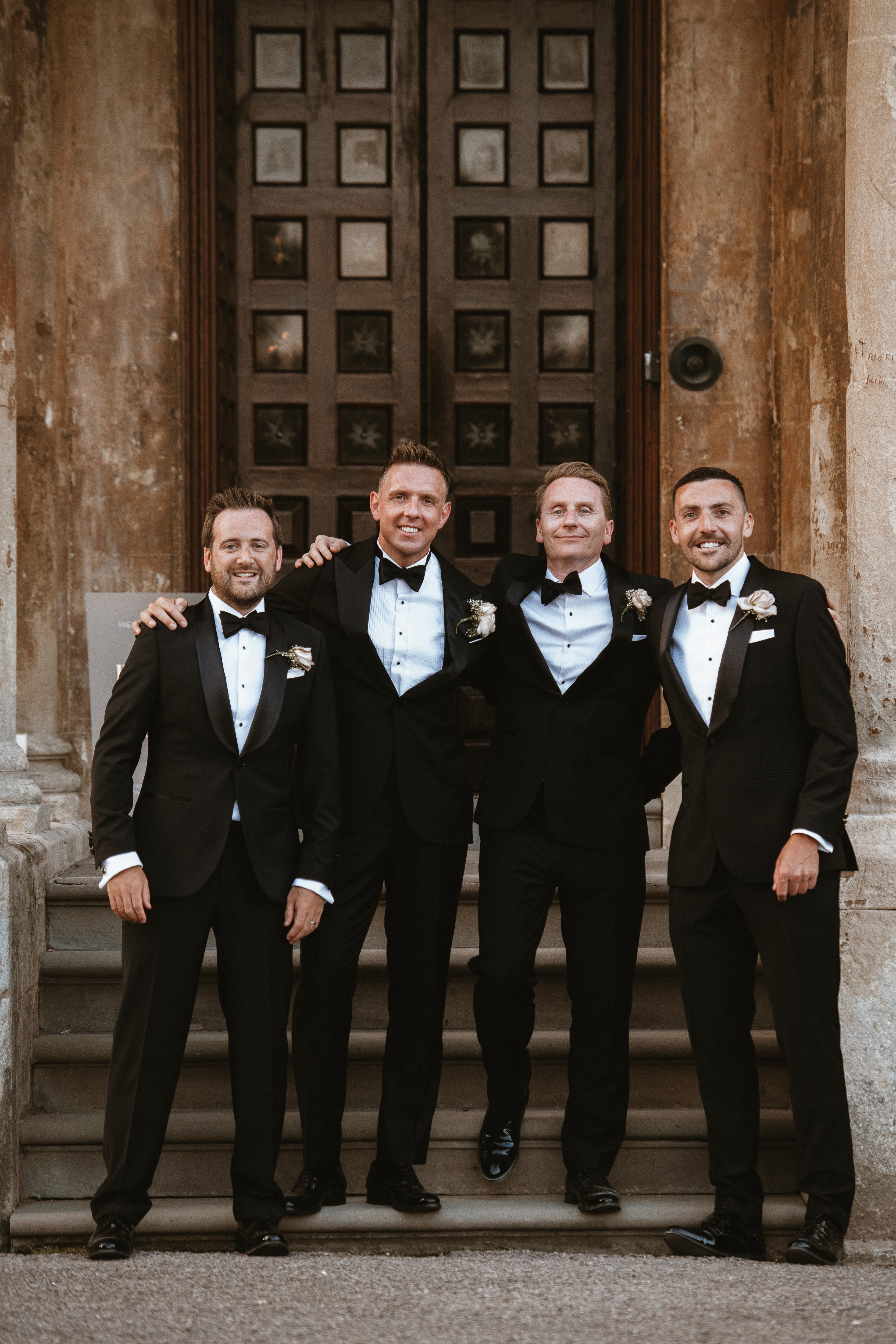 What a wonderful day! A big fat thank you to Rebecca & Michael for sharing their beautiful wedding with us.
If you want to read more about real weddings here at Elmore Court, why not check out some more of our journals below? 
Much love,
Team E x
Related reading