The 15 most romantic wedding ideas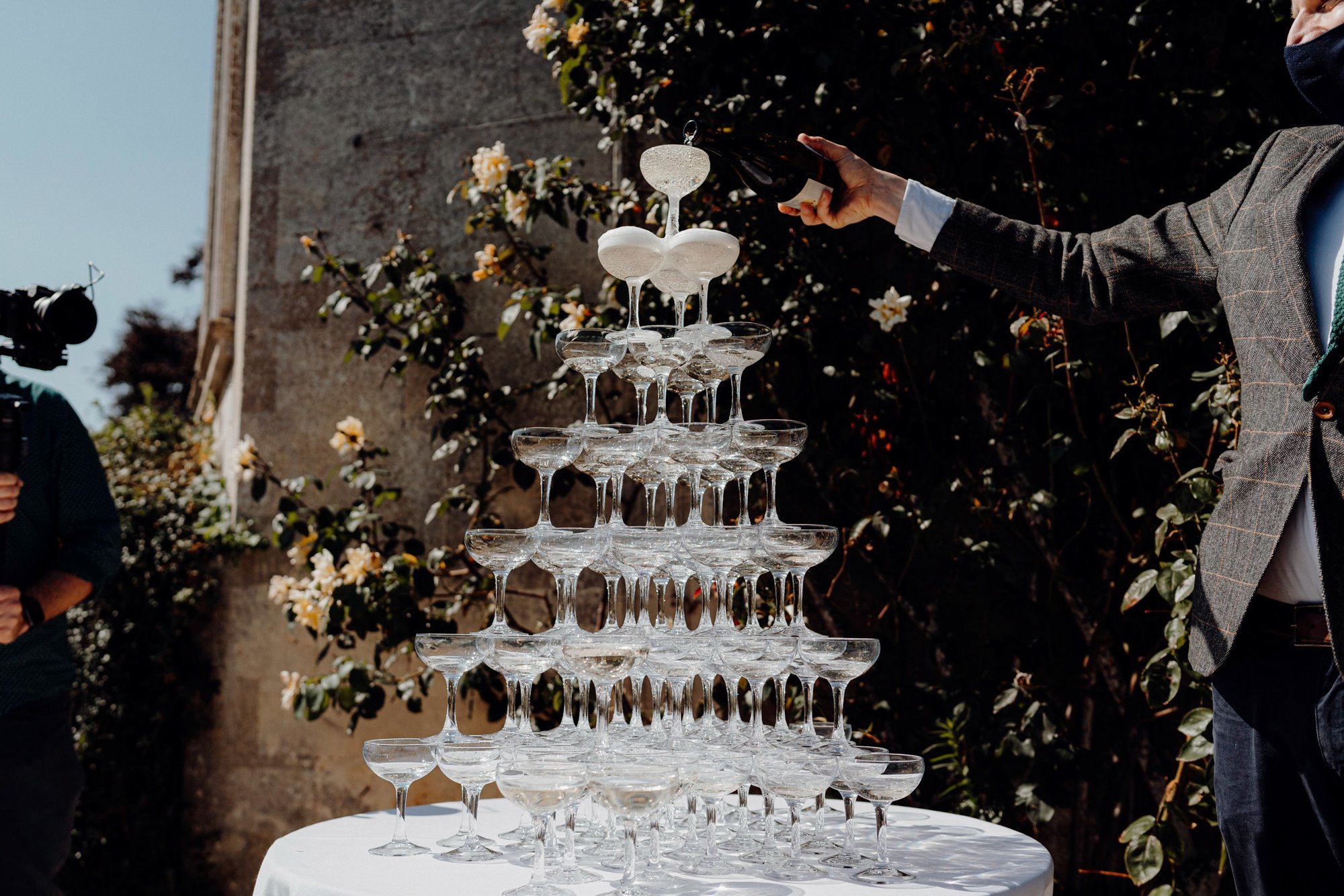 Romance is an art form, but with the right ingredients and a sprinkle of magic, creating a romantic wedding is a piece of cake.
Atmosphere is the key word here. But how do you create a romantic atmosphere? You have to work with the senses...
Create a feast for the eyes with soft and flowing details, unstructured florals, gorgeous colours and candlelight... Getting the lighting right is key. Nothing is better than the soft glow of candles.
Choose scented candles to fill the house with a delicious aroma, this has the added benefit of transporting you right back to your wedding day each time you light the candle ever after! Or scented flowers for a natural and beautiful perfume.
Serve rich, decadent and delicious food, and take your time eating it. A banquet fit for gods and goddesses. Champagne or cocktails are the most romantic drink choice.
If music be the food of love, then play on! Live music is a must.
Romance can be described as a flow state, a dreamlike quality or a temporary suspension of reality... When planning a romantic wedding you are building a bubble of bliss.
Ready to fall in love all over again? Here are our favourite 15 romantic wedding ideas from real life weddings at Elmore Court to get you in the mood...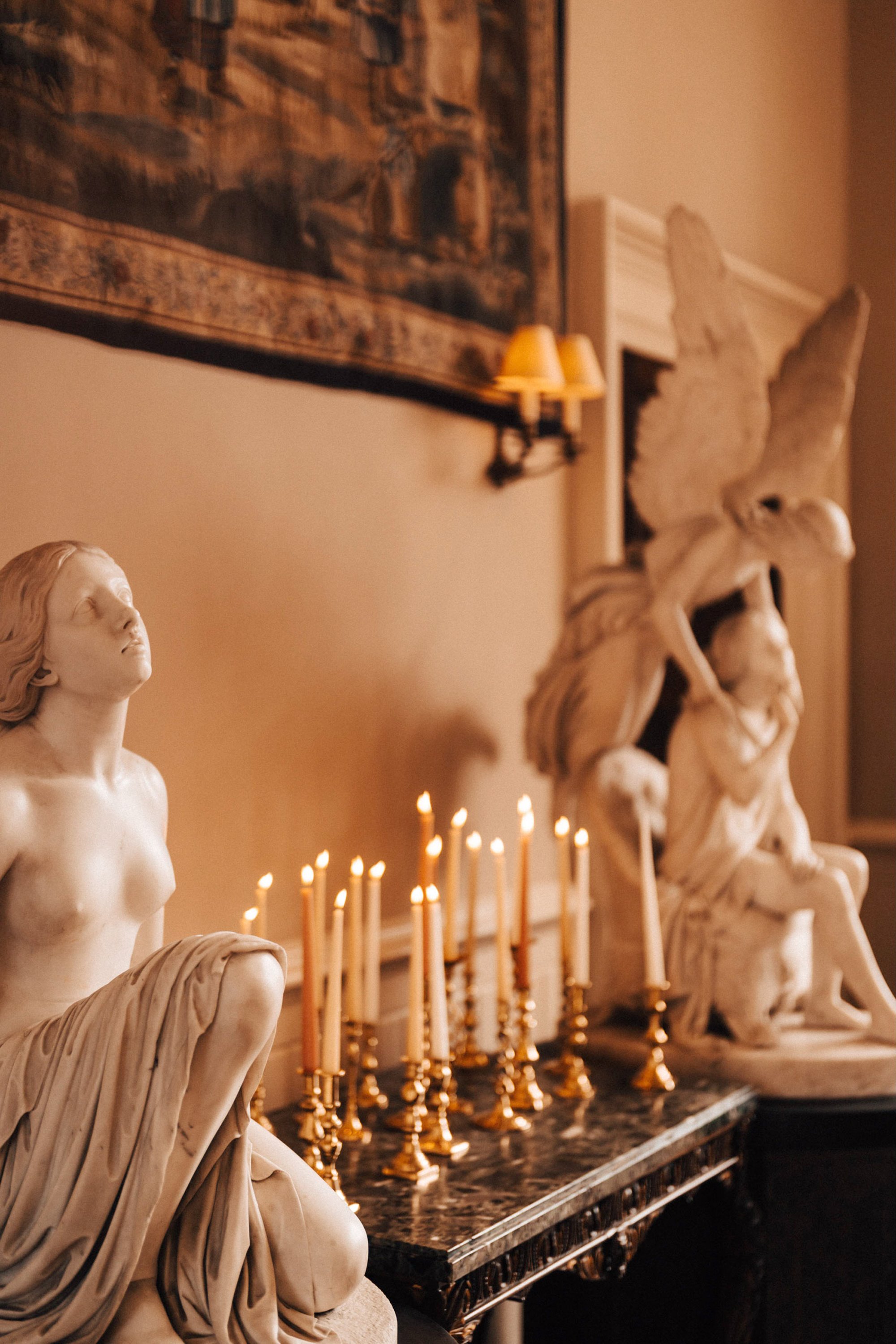 1) Romantic wedding dresses
Romance is a bride in French lace, Flowing silk, full skirts, long veils, blush and pink hues, tulle and bows.
But above all other considerations your romantic wedding dress should make you feel like a Goddess.
Here are some of our favourite romantic wedding dress ideas from our stylish brides...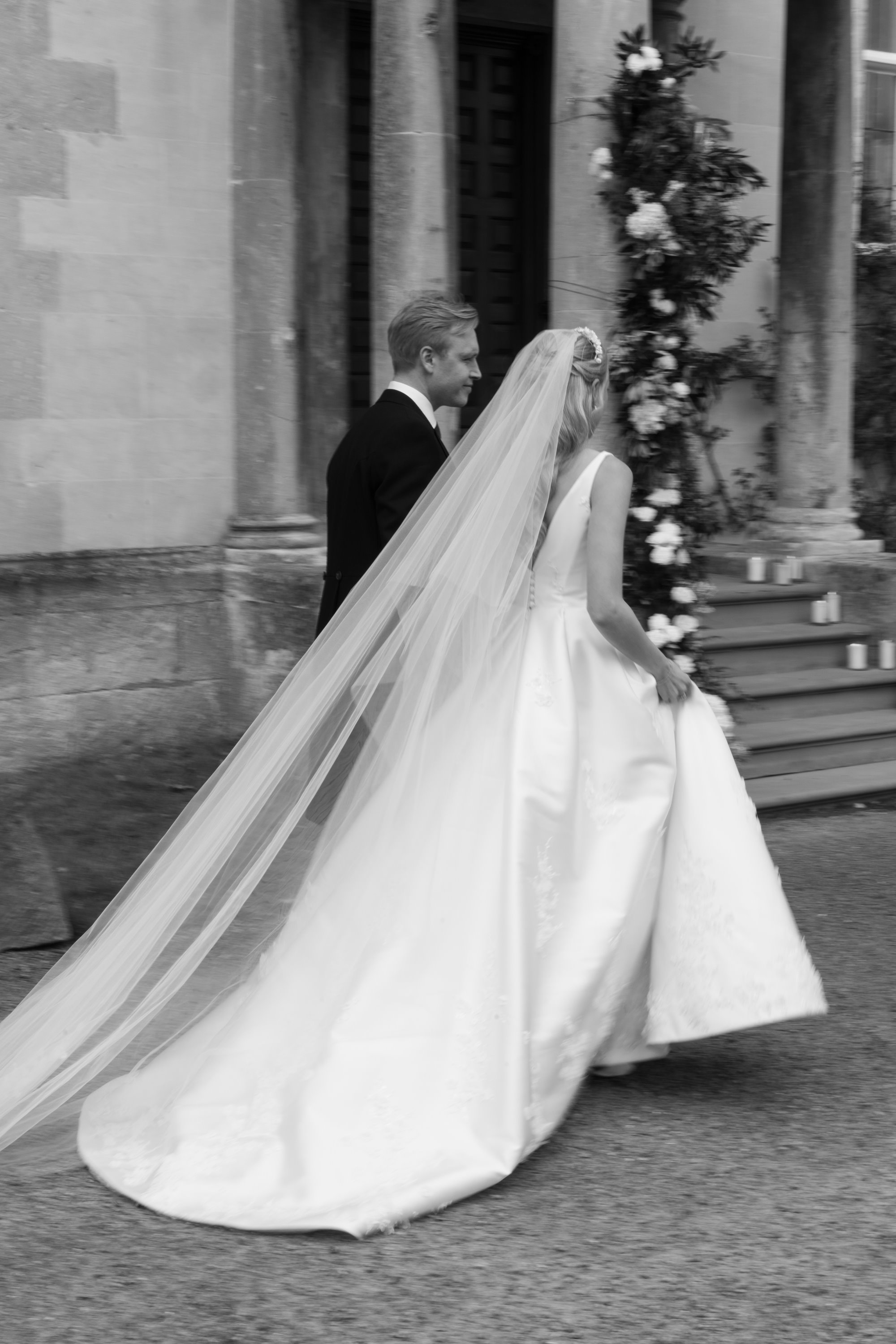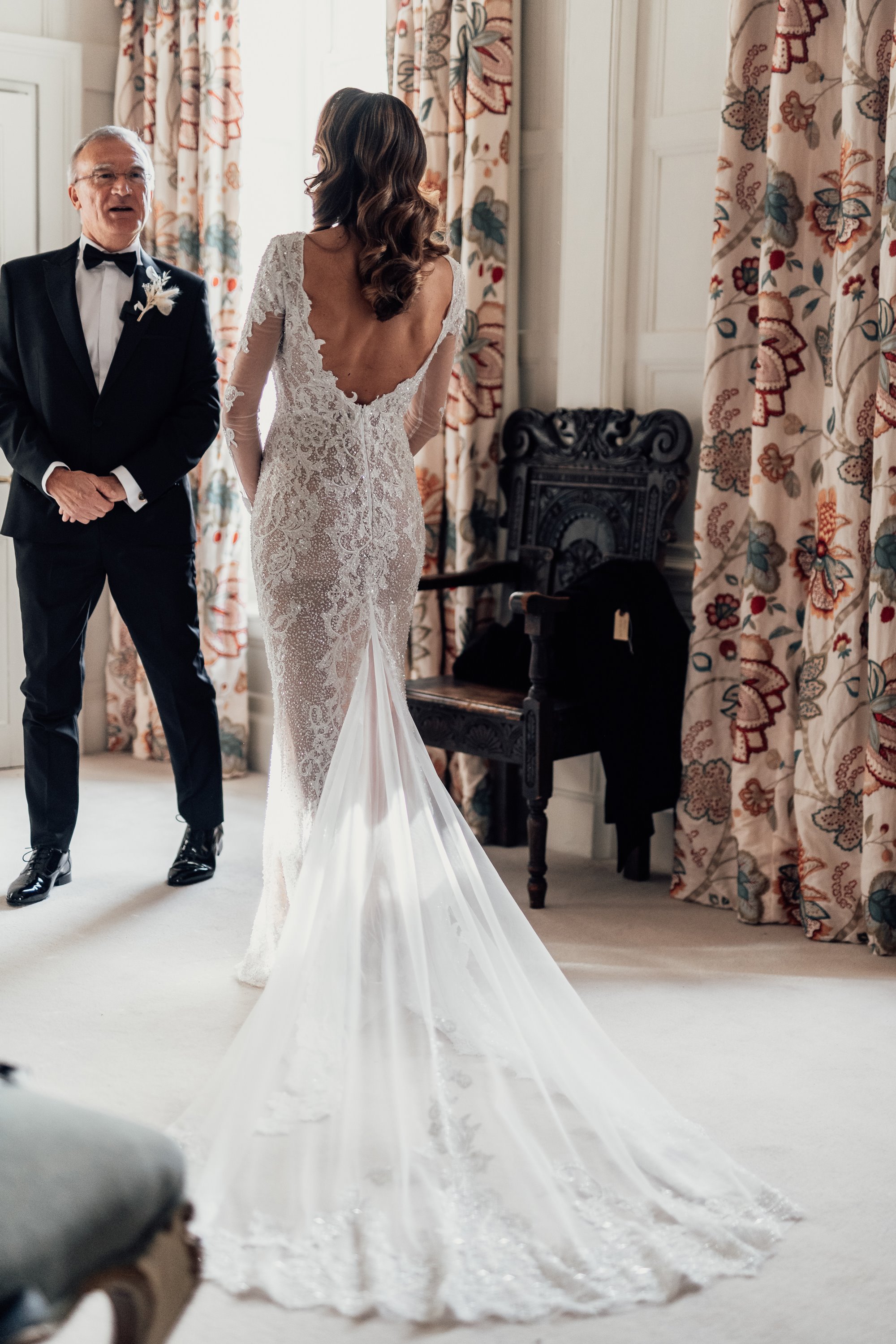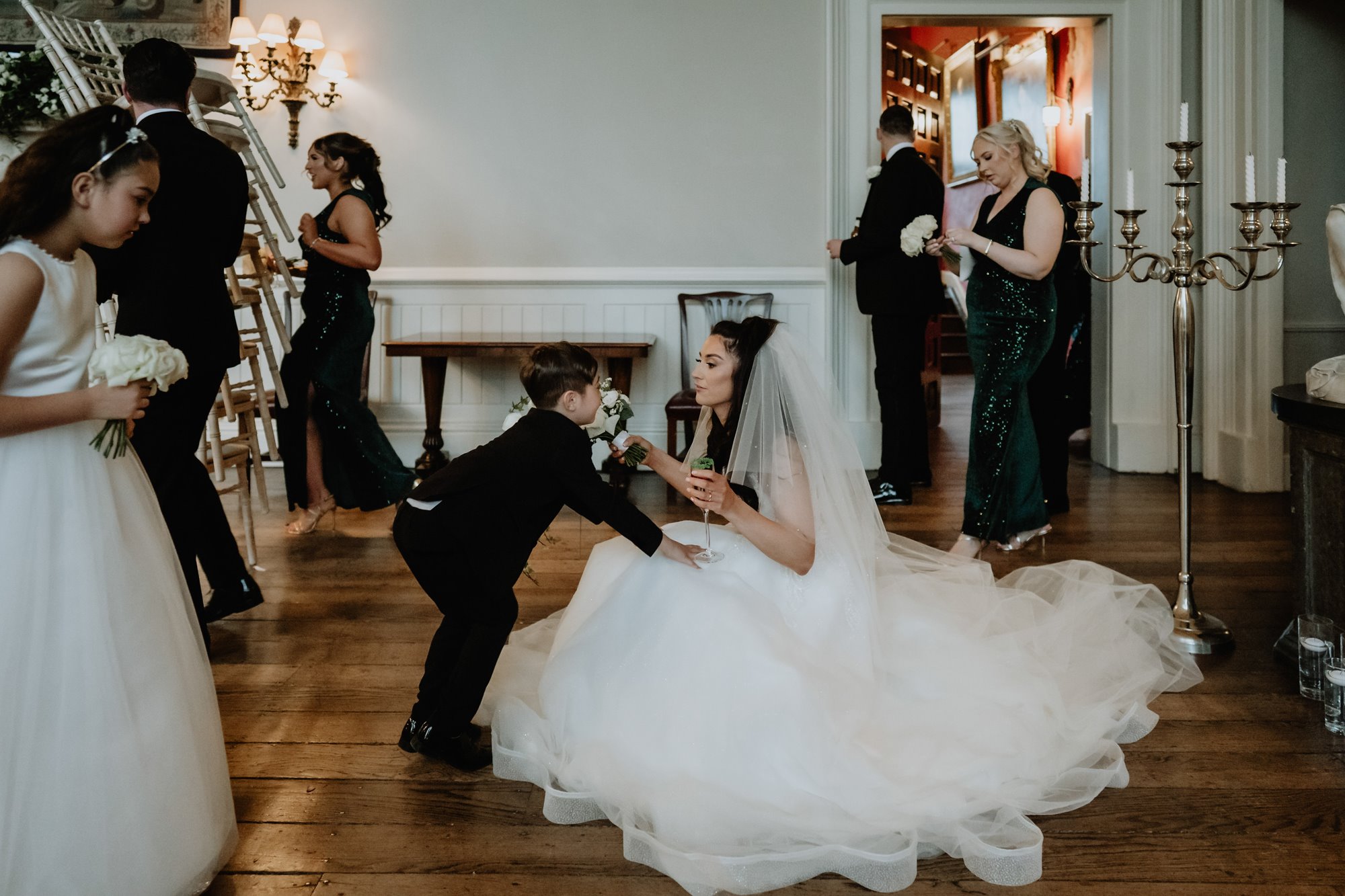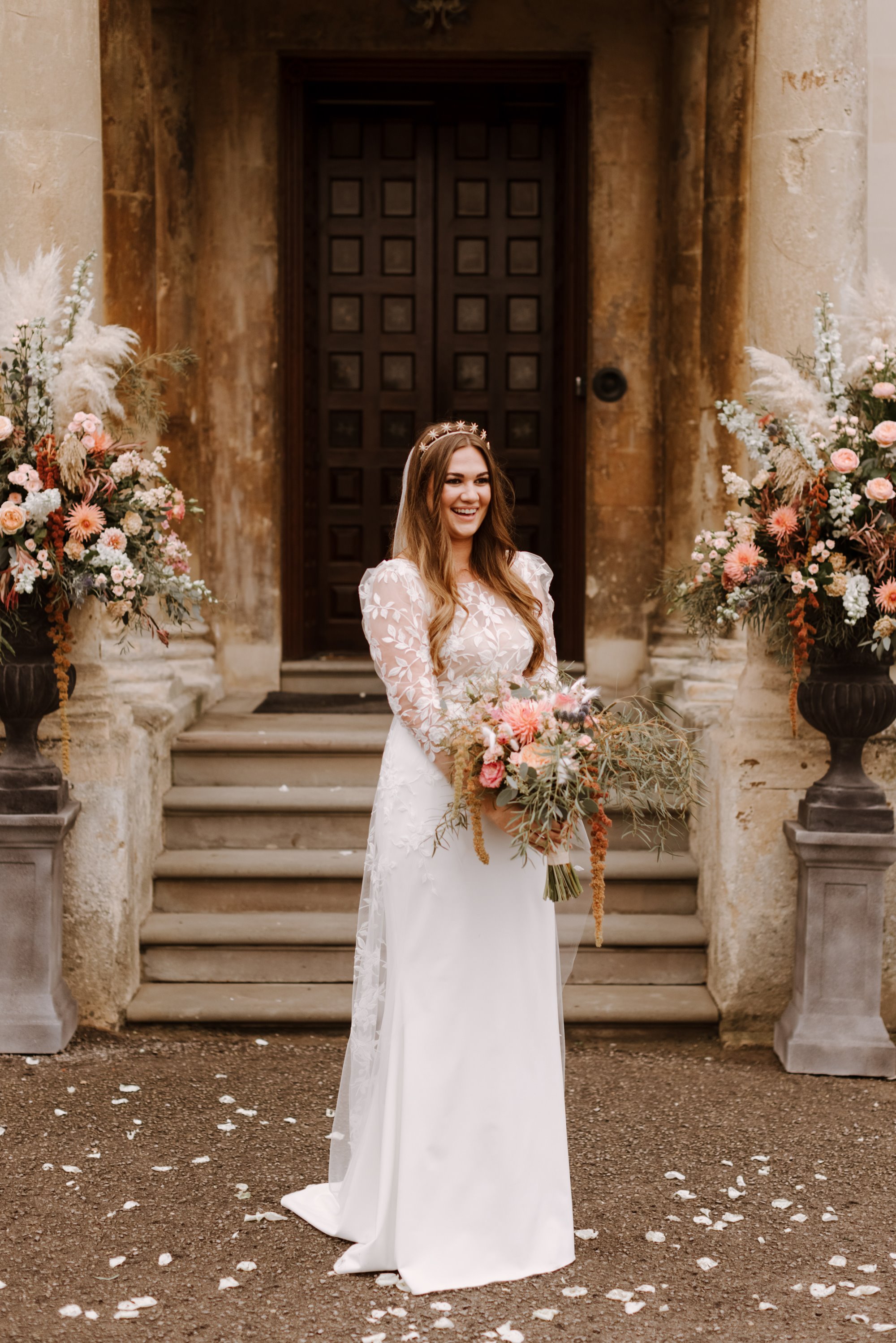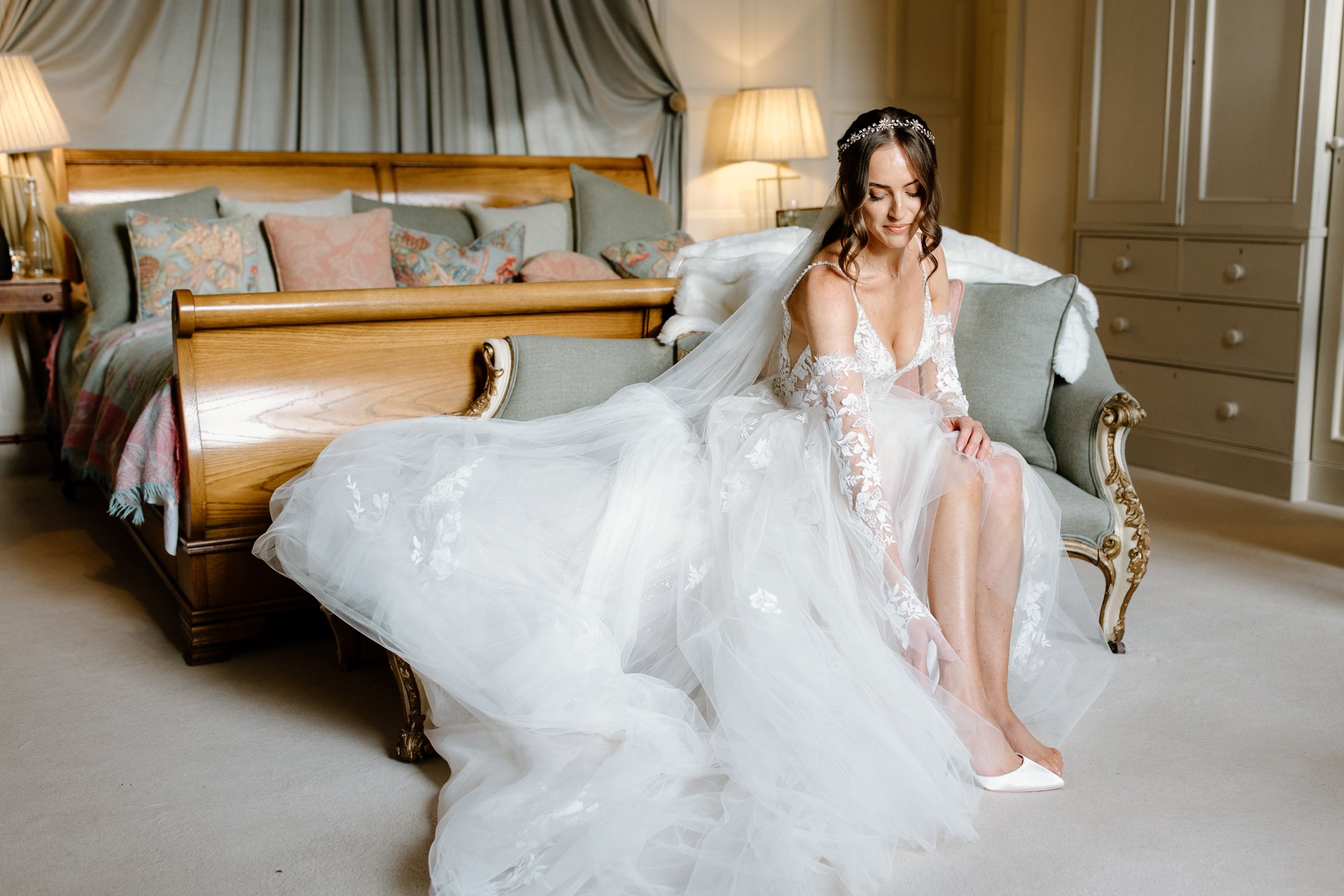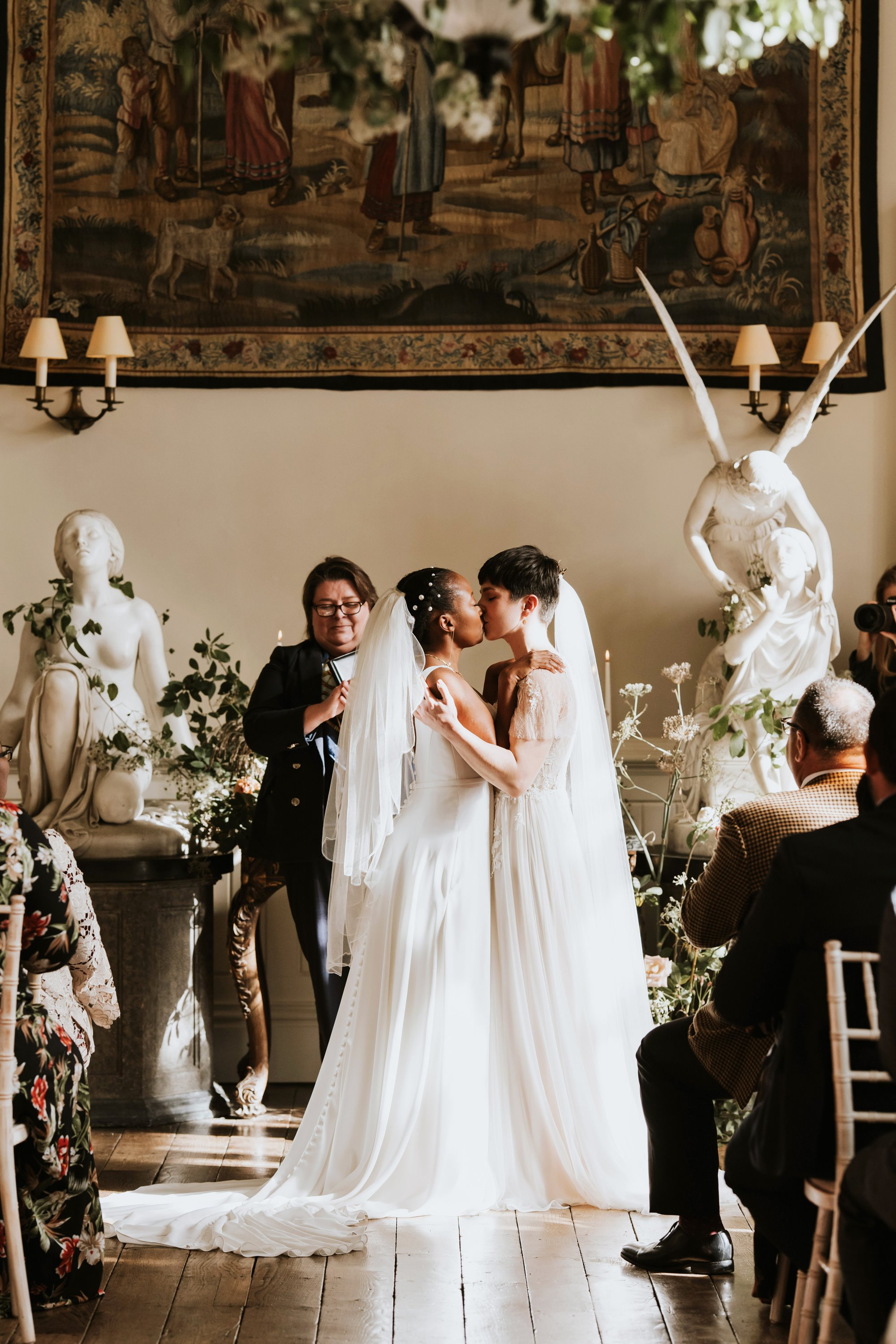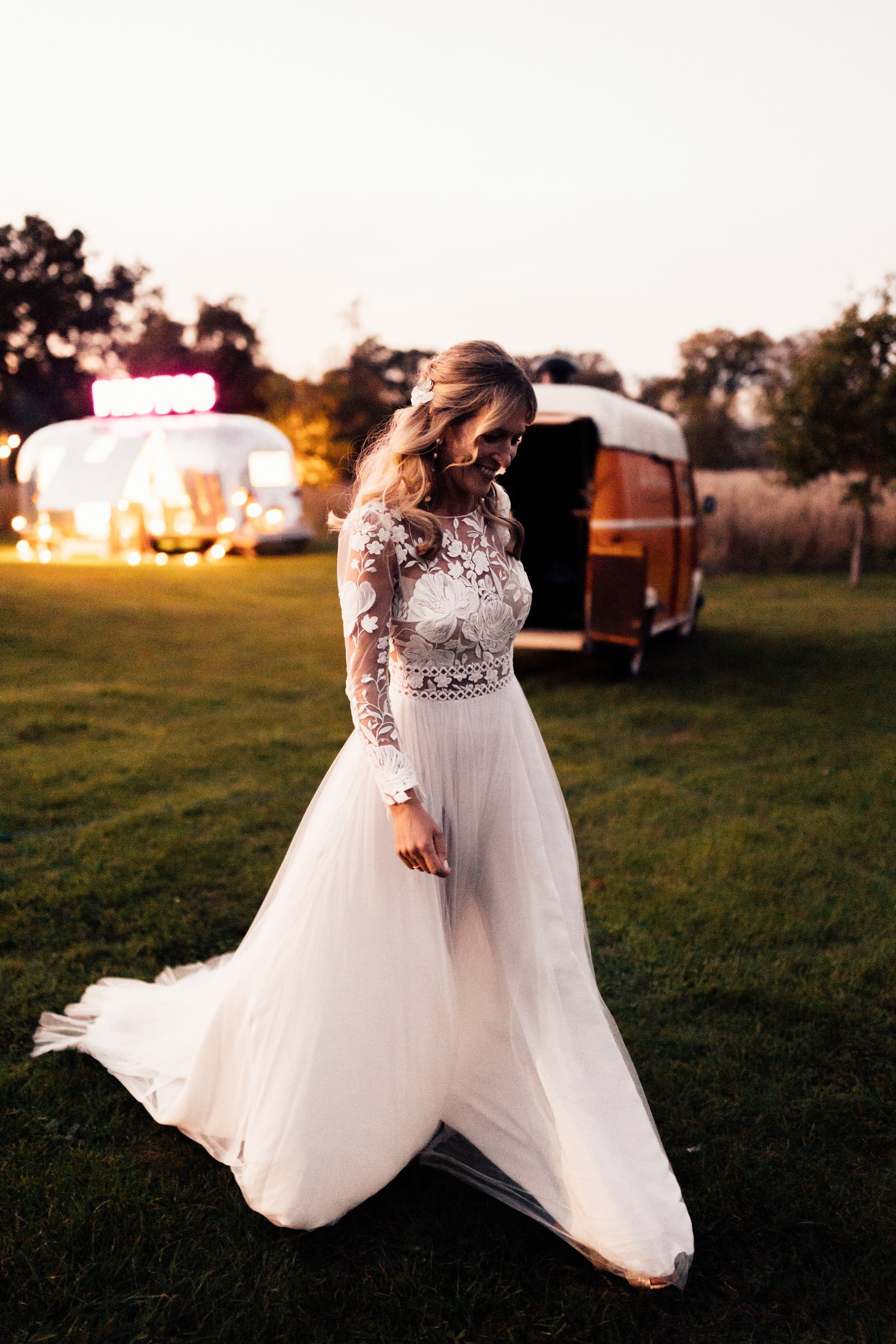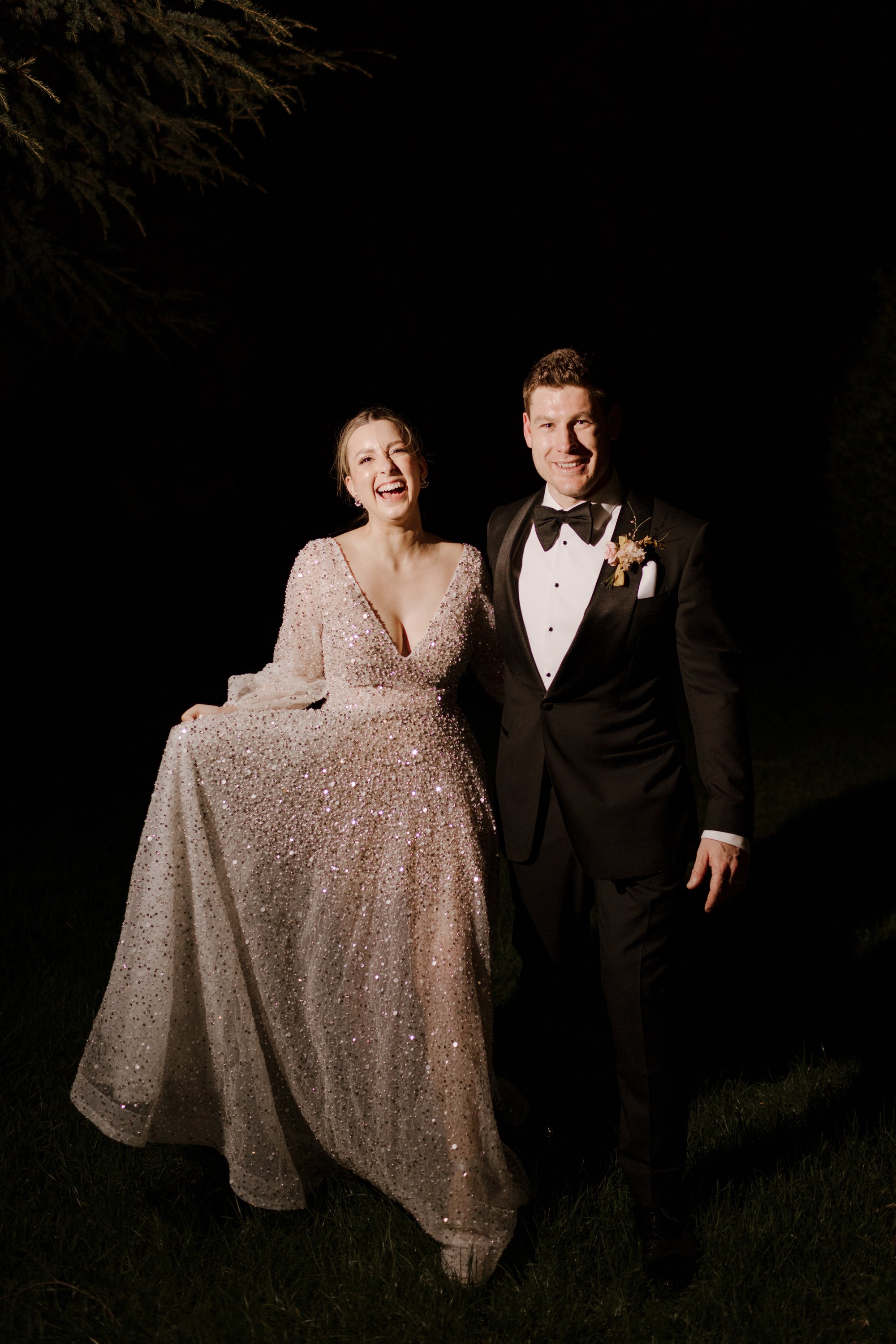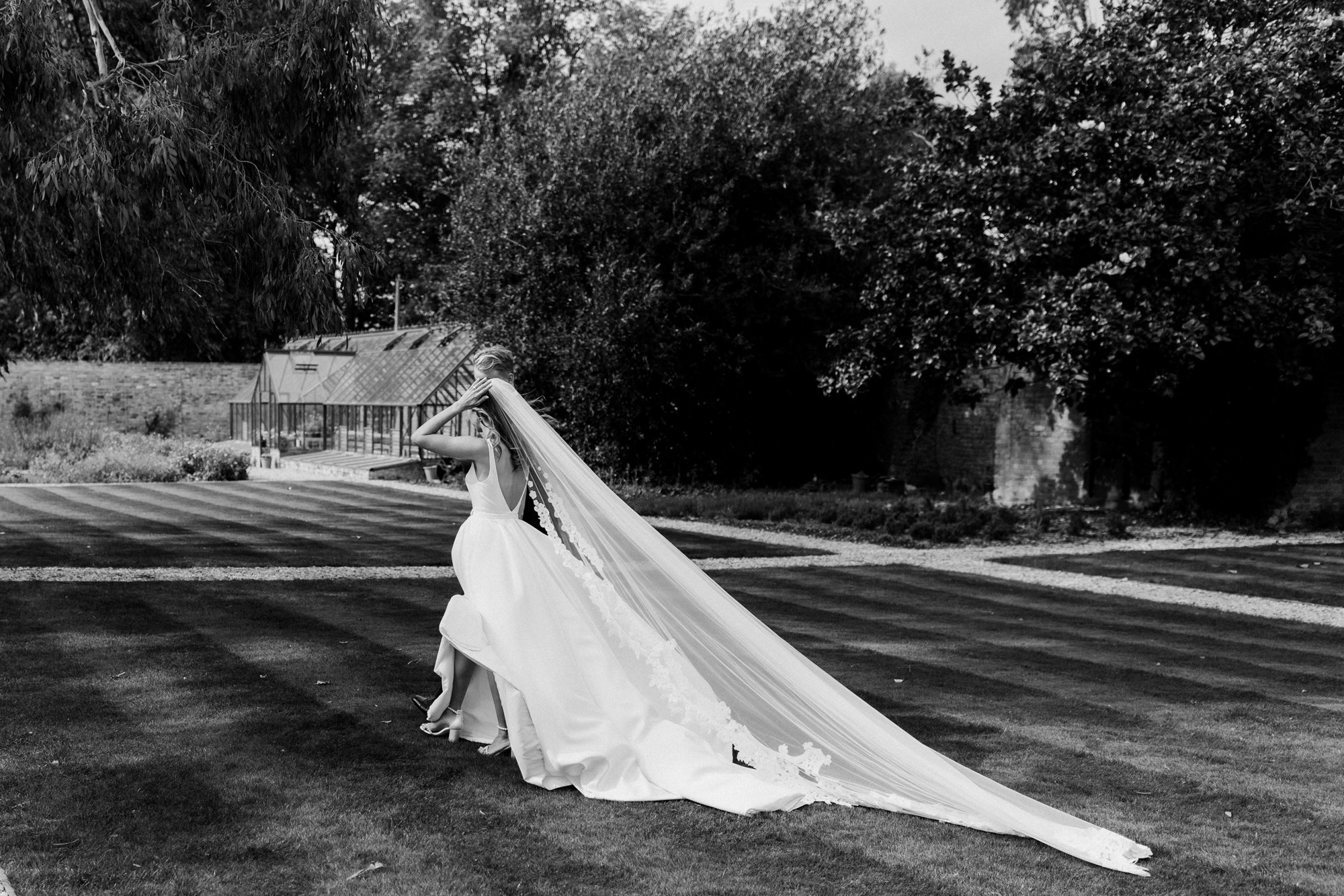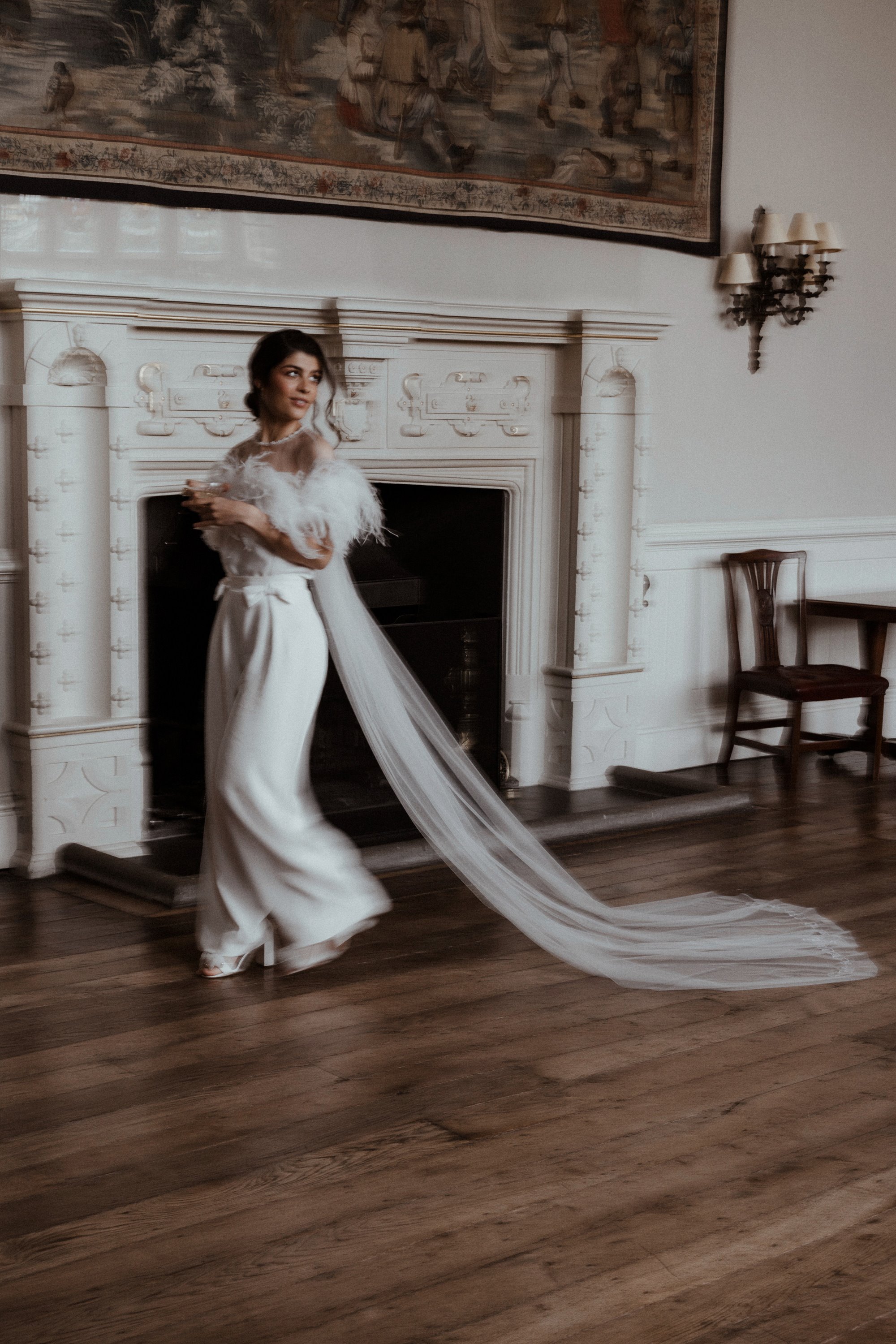 2) What should a groom wear to a romantic wedding?
Going for the classic James Bond look of sharp suit is the most obvious choice for the groom of a romantic wedding, we also love velvet jackets and the laid back luxe of a casual beige wedding suit too...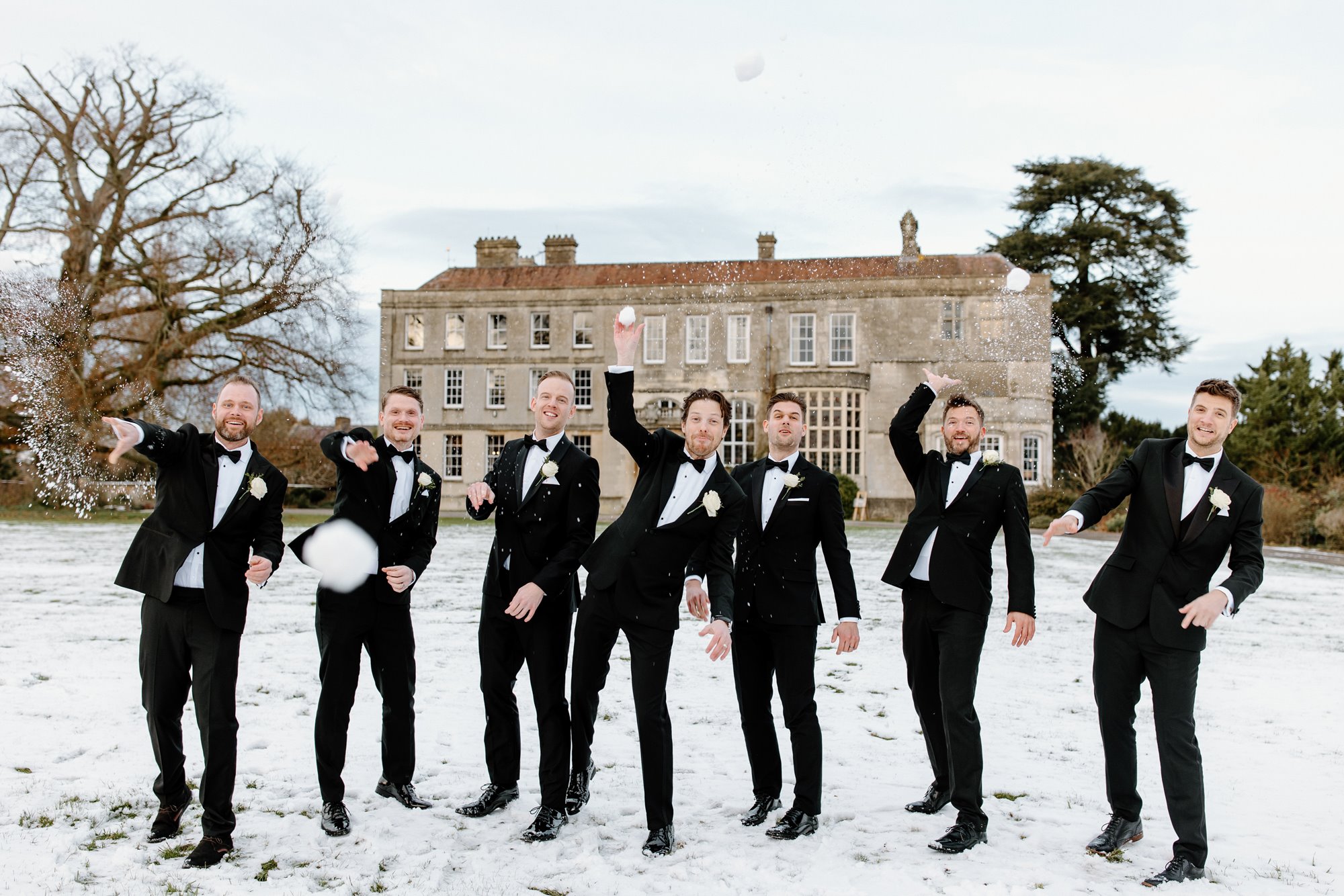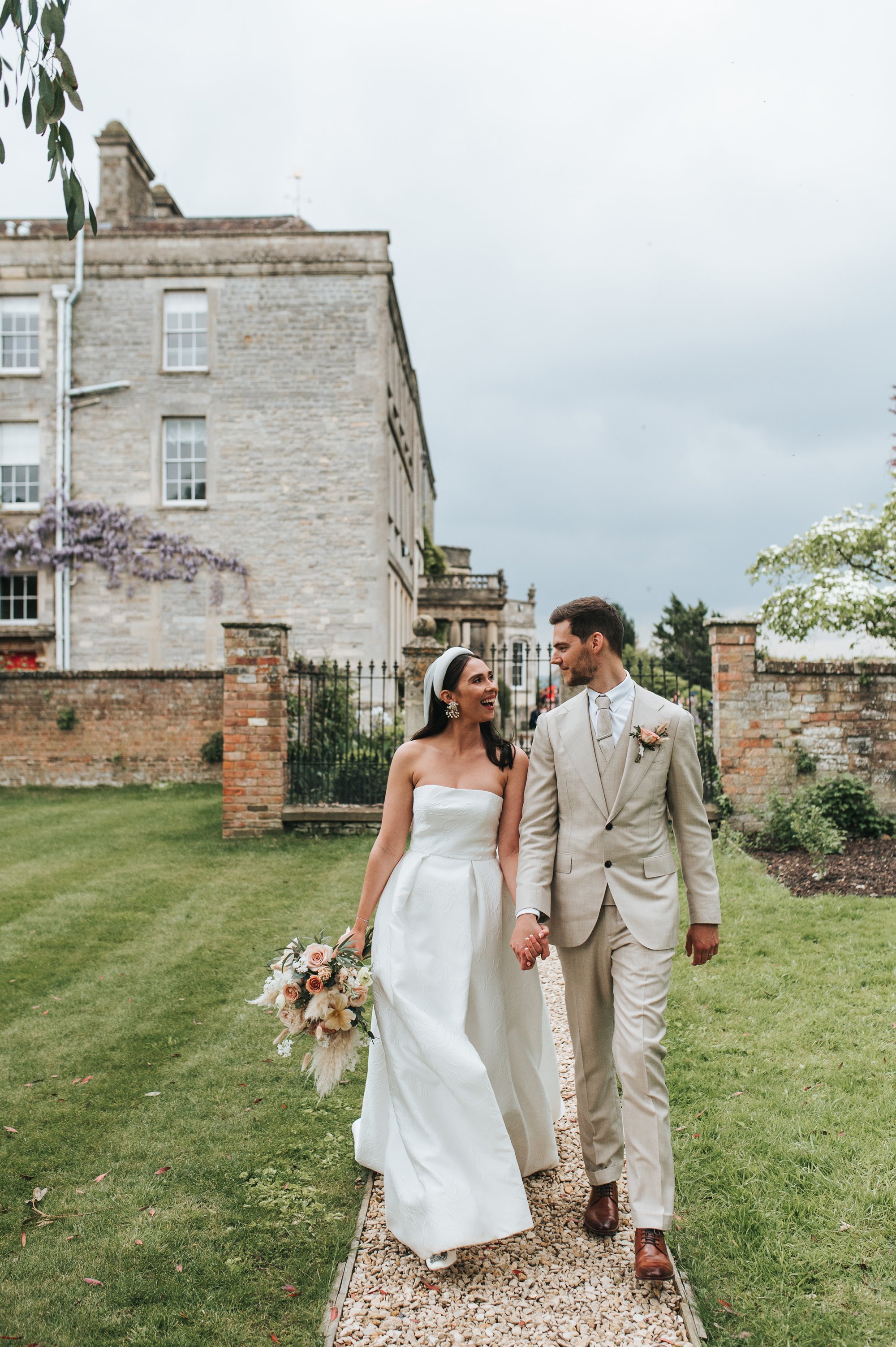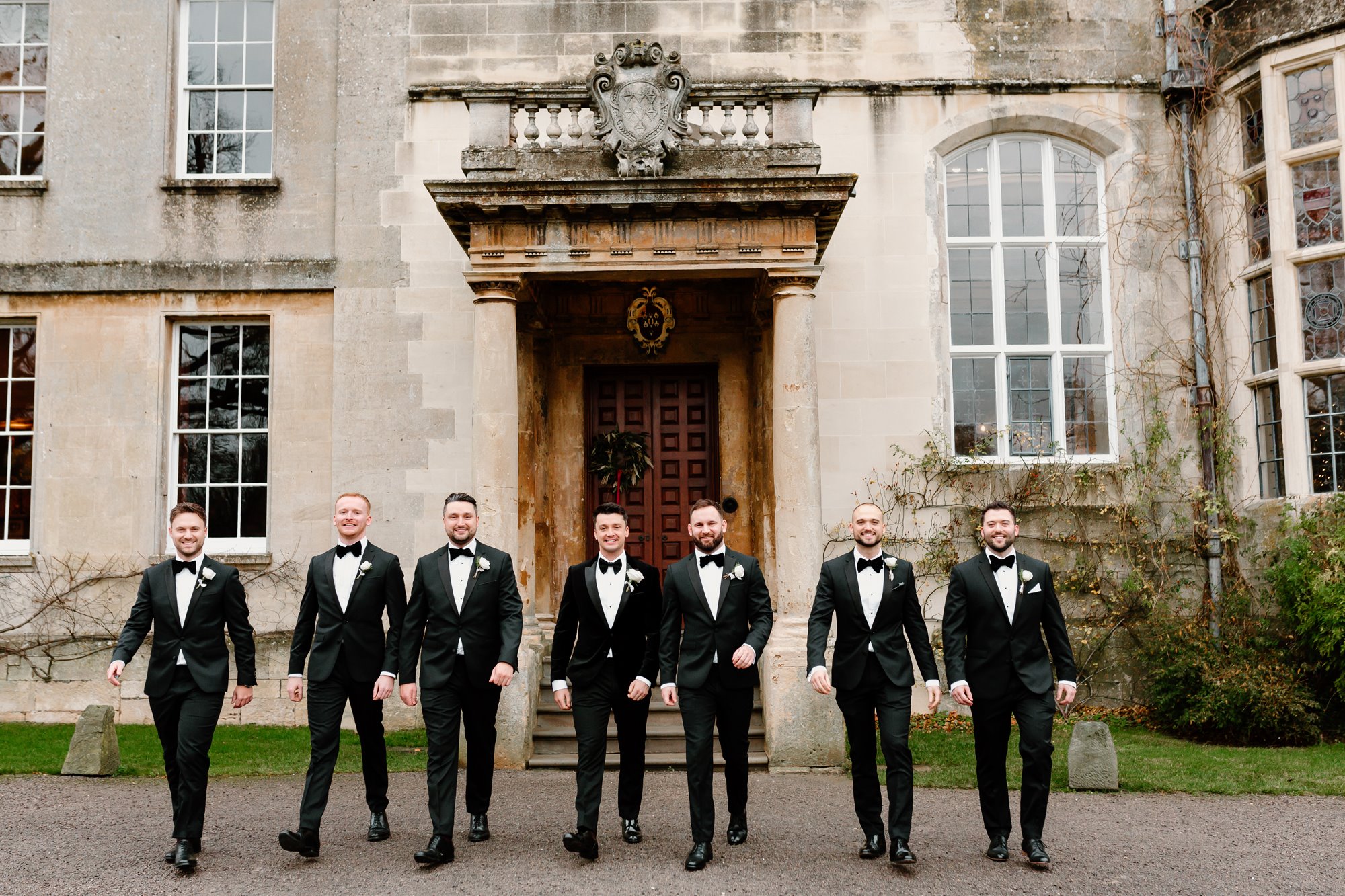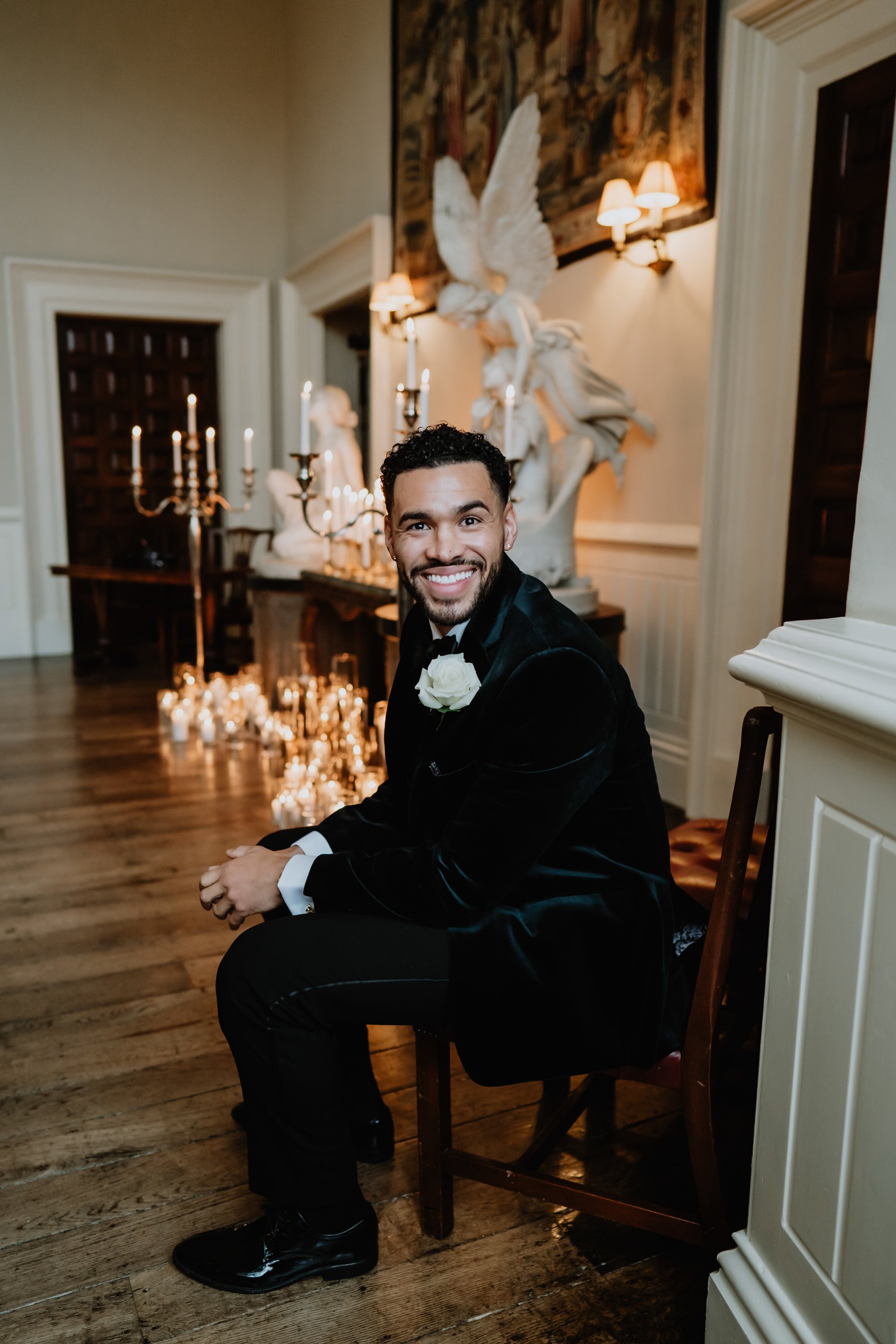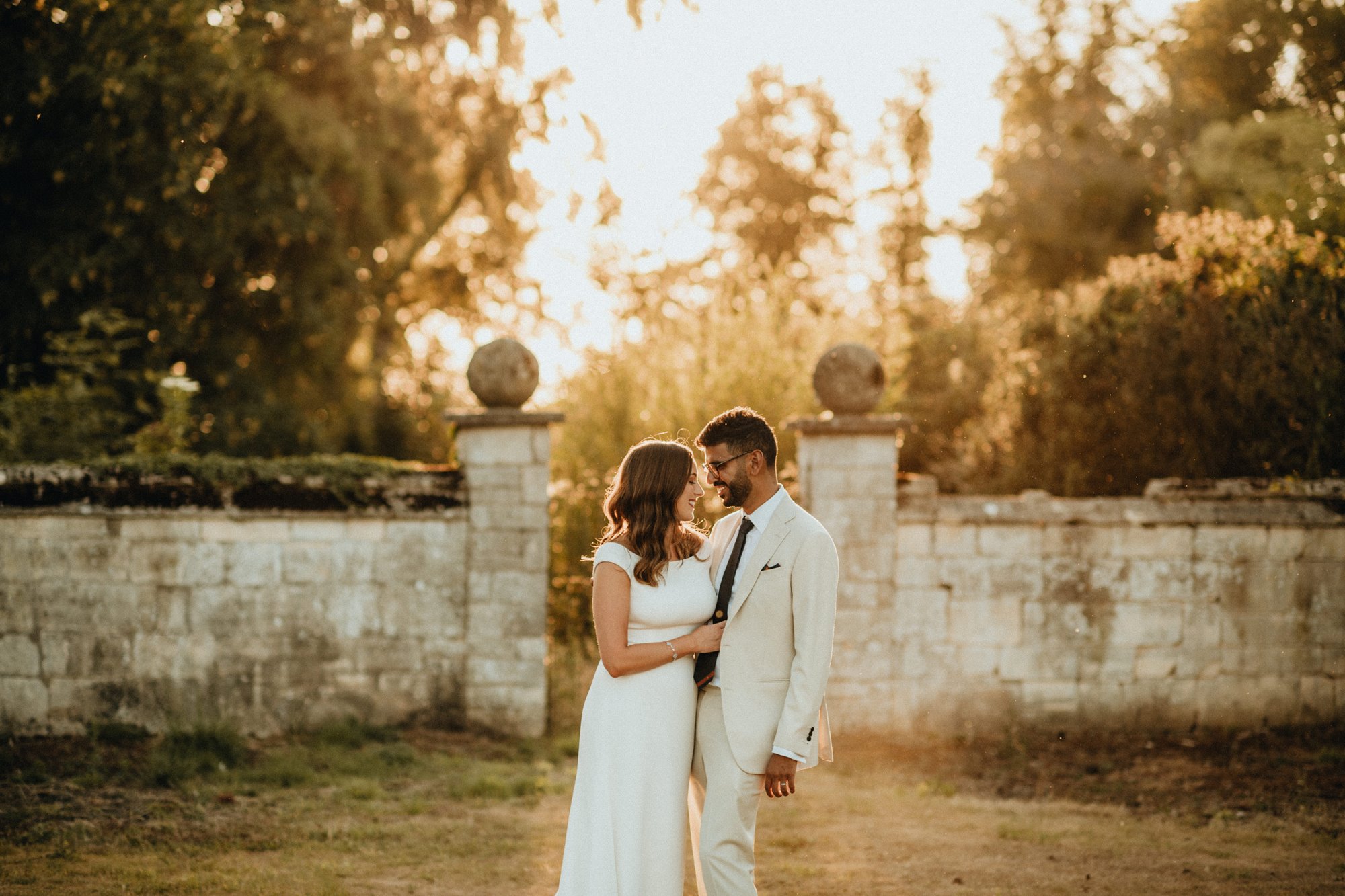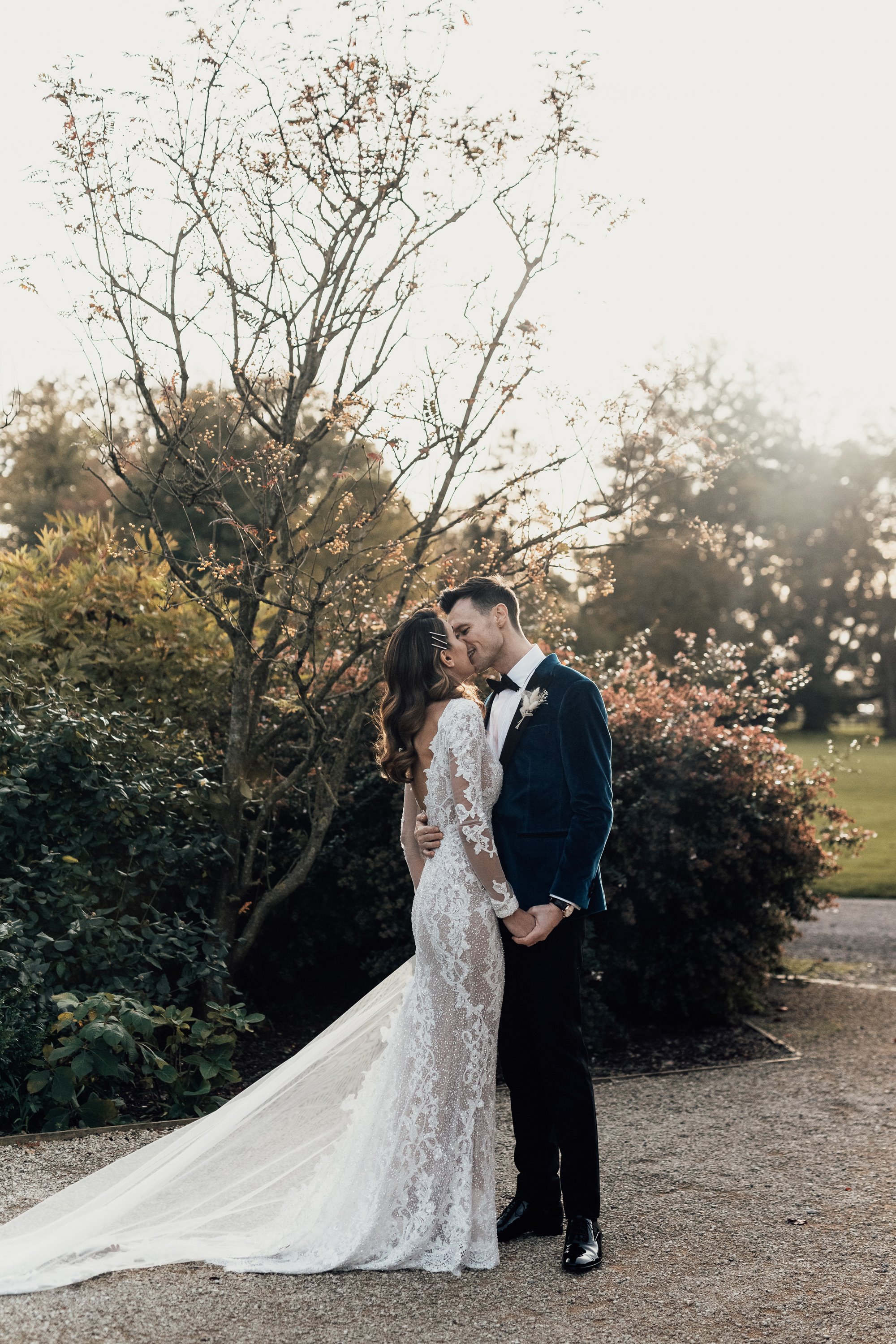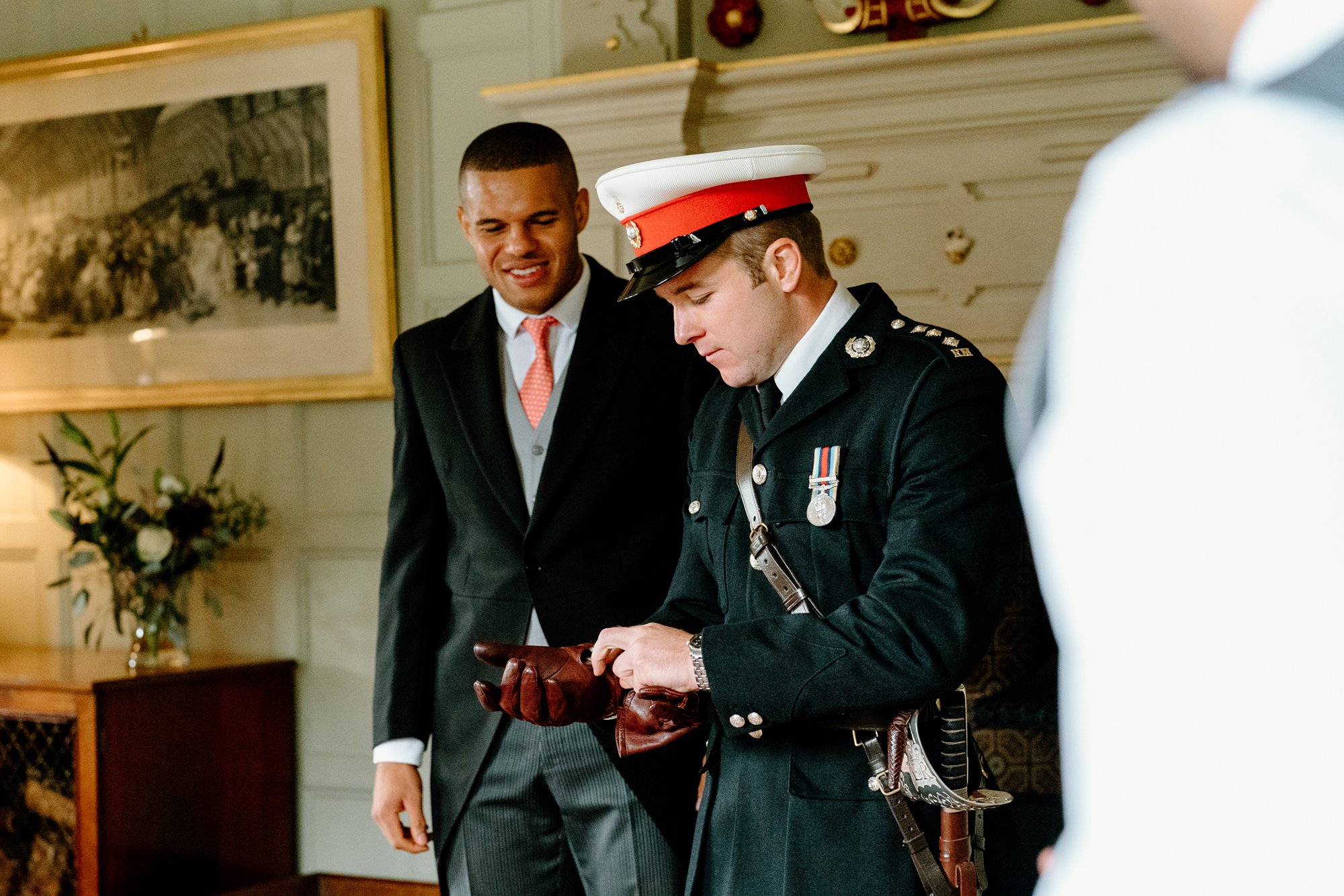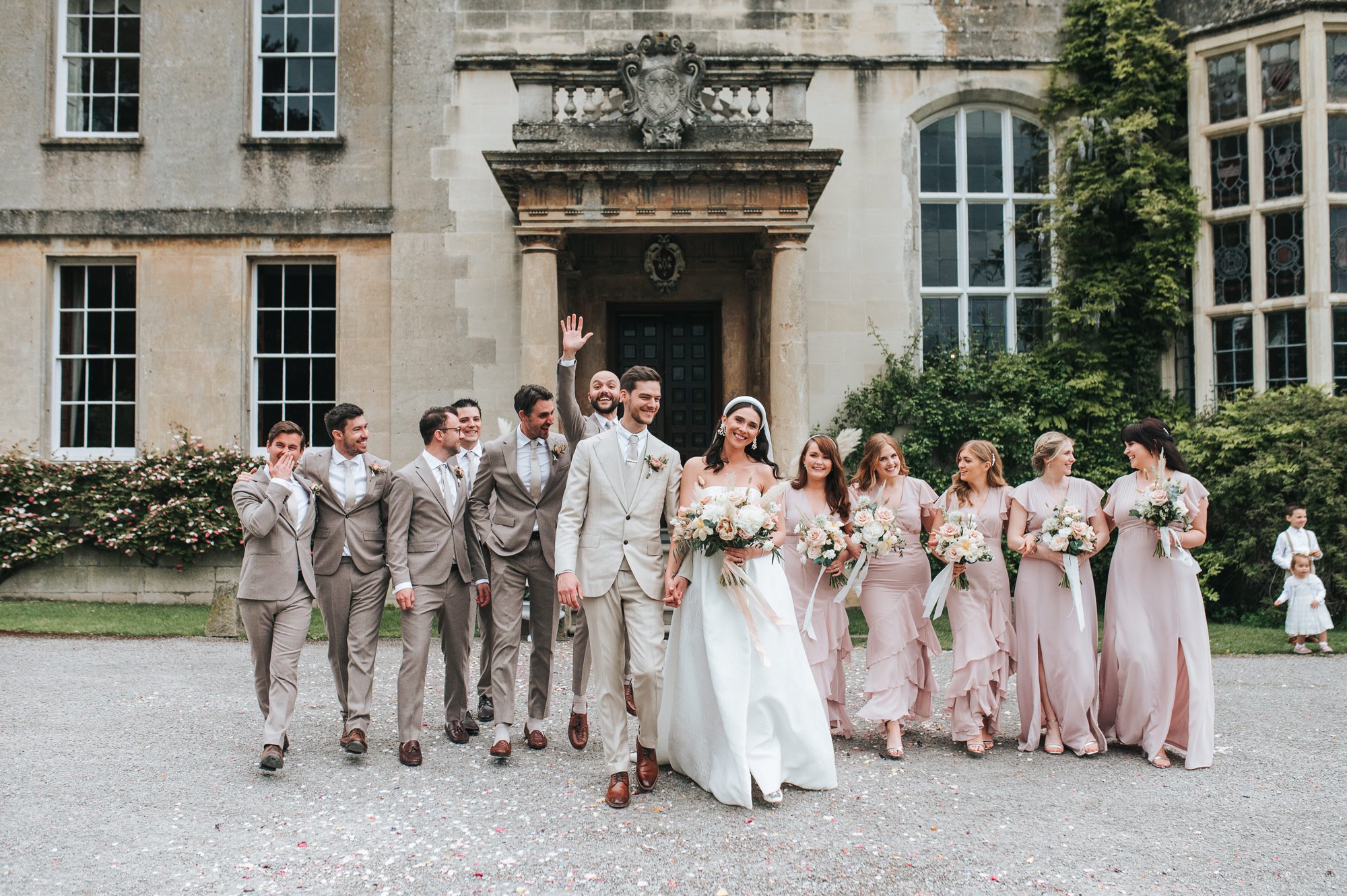 3) Romantic wedding flower ideas
Romantic florals are wild, trailing and organic. They're delicate and fragile, or they're decadent, oversized and ostentatious. Due to the wide range of beautiful romantic wedding flower styles right now, they deserve their own section here!
Take a look below for some of our favourite new romantic wedding florals for 2023 and beyond...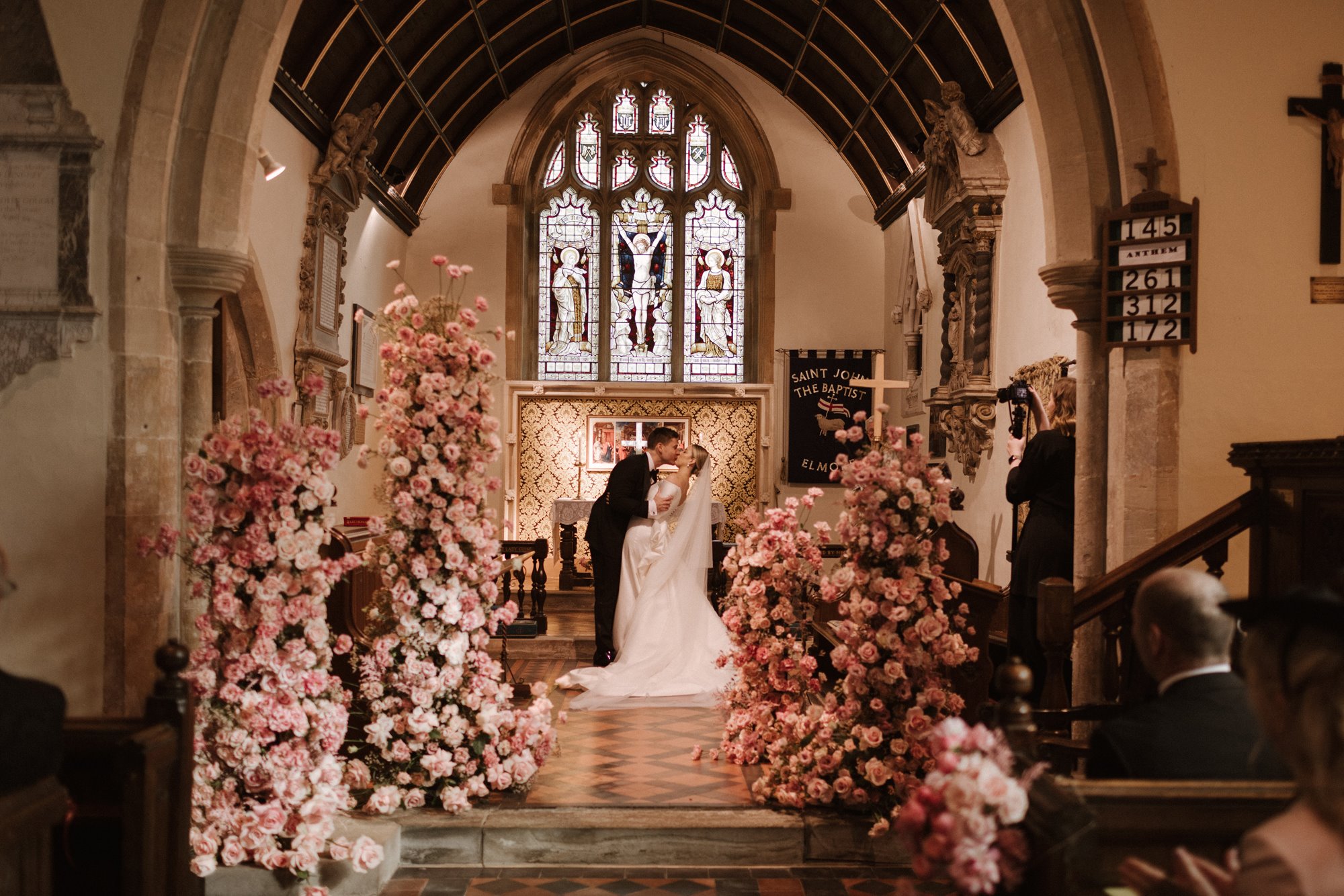 Floral towers
We're going to go out on a limb here and say floral towers are the new floral arch.
We're seeing a lot of heavenly unstructured flower towers and we are loving them! As with all floral installations these are such brilliant multi purpose design elements which can be moved from ceremony to reception and as backdrops for your vows and then your cake cutting and many moments inbetween...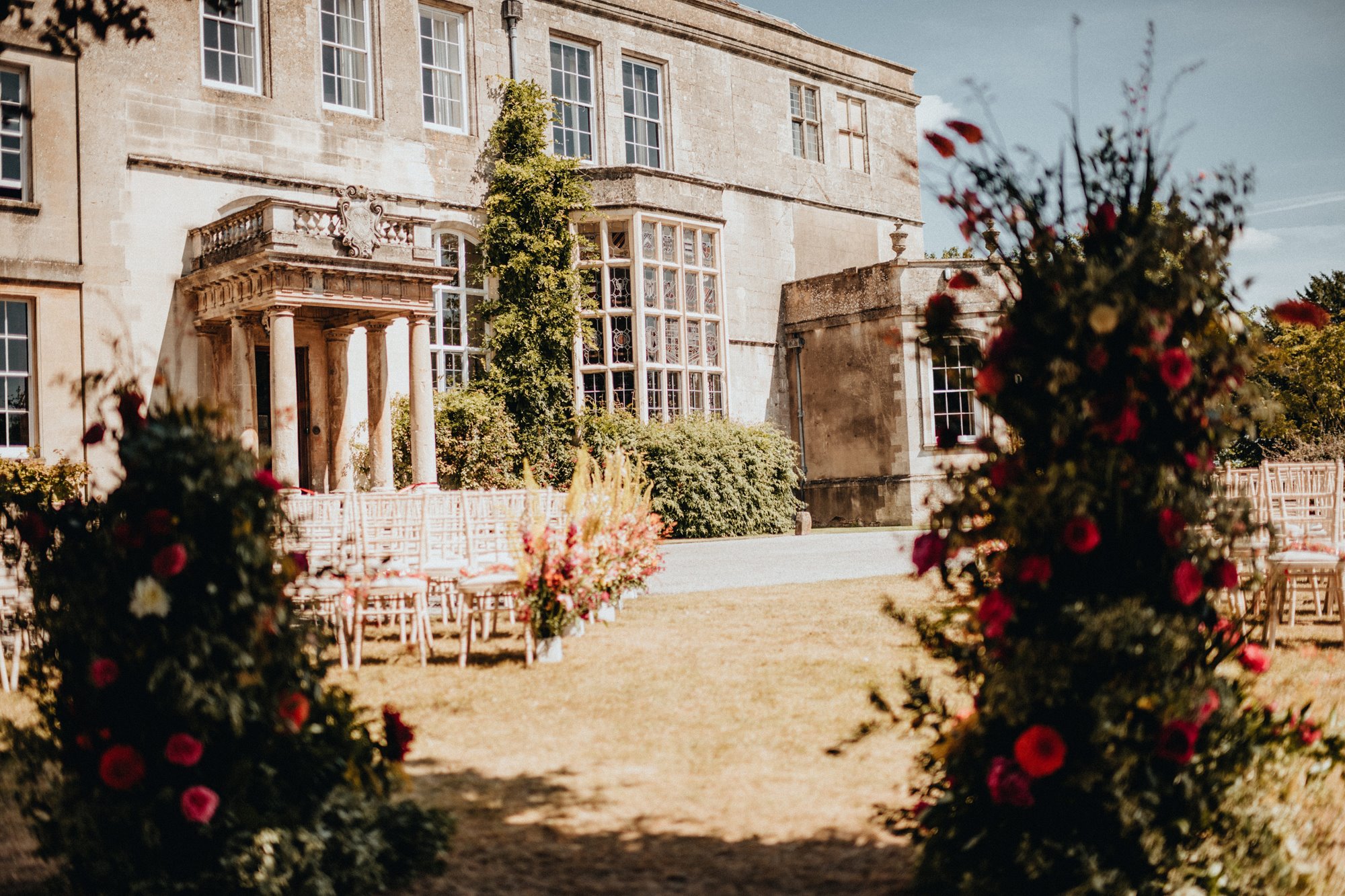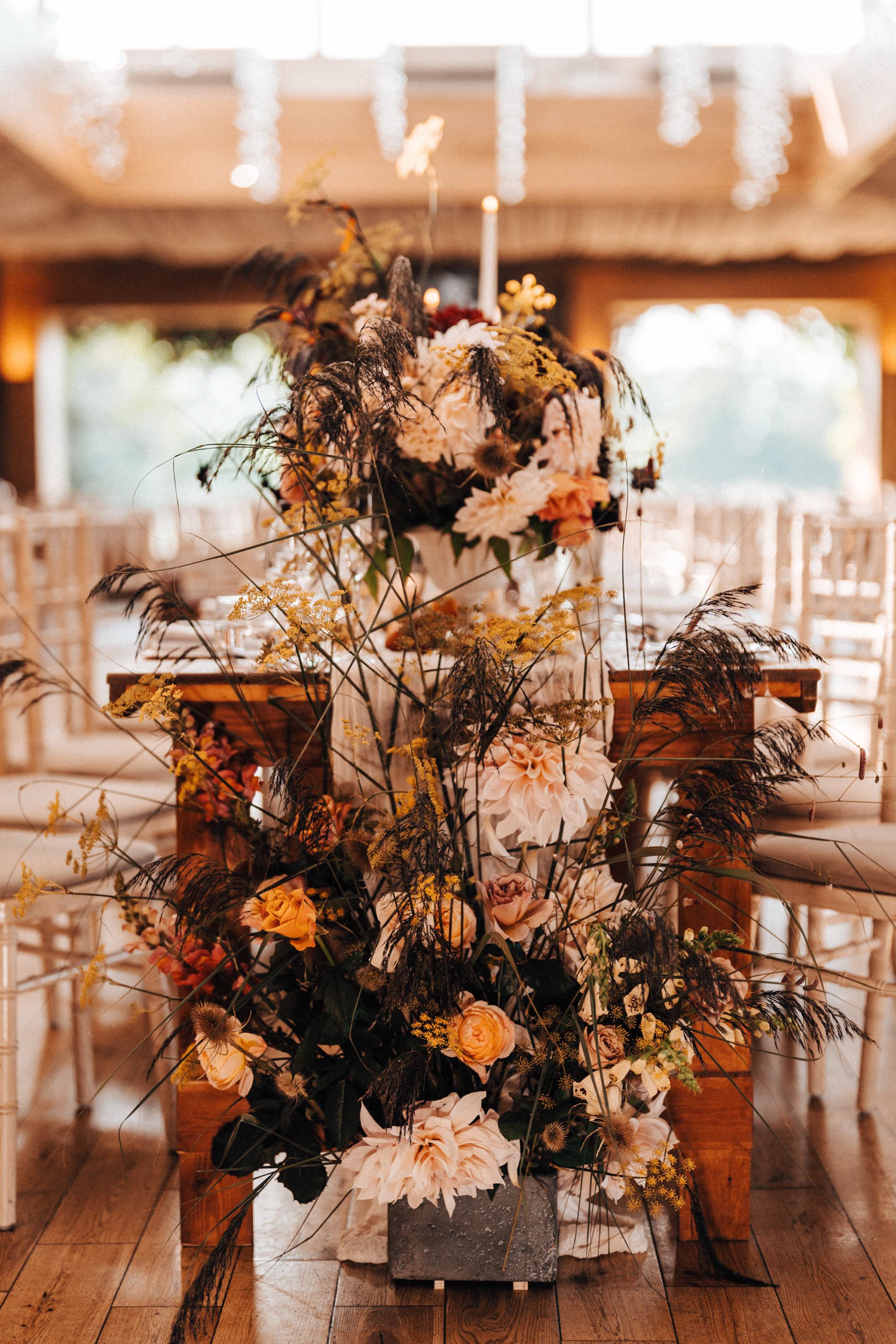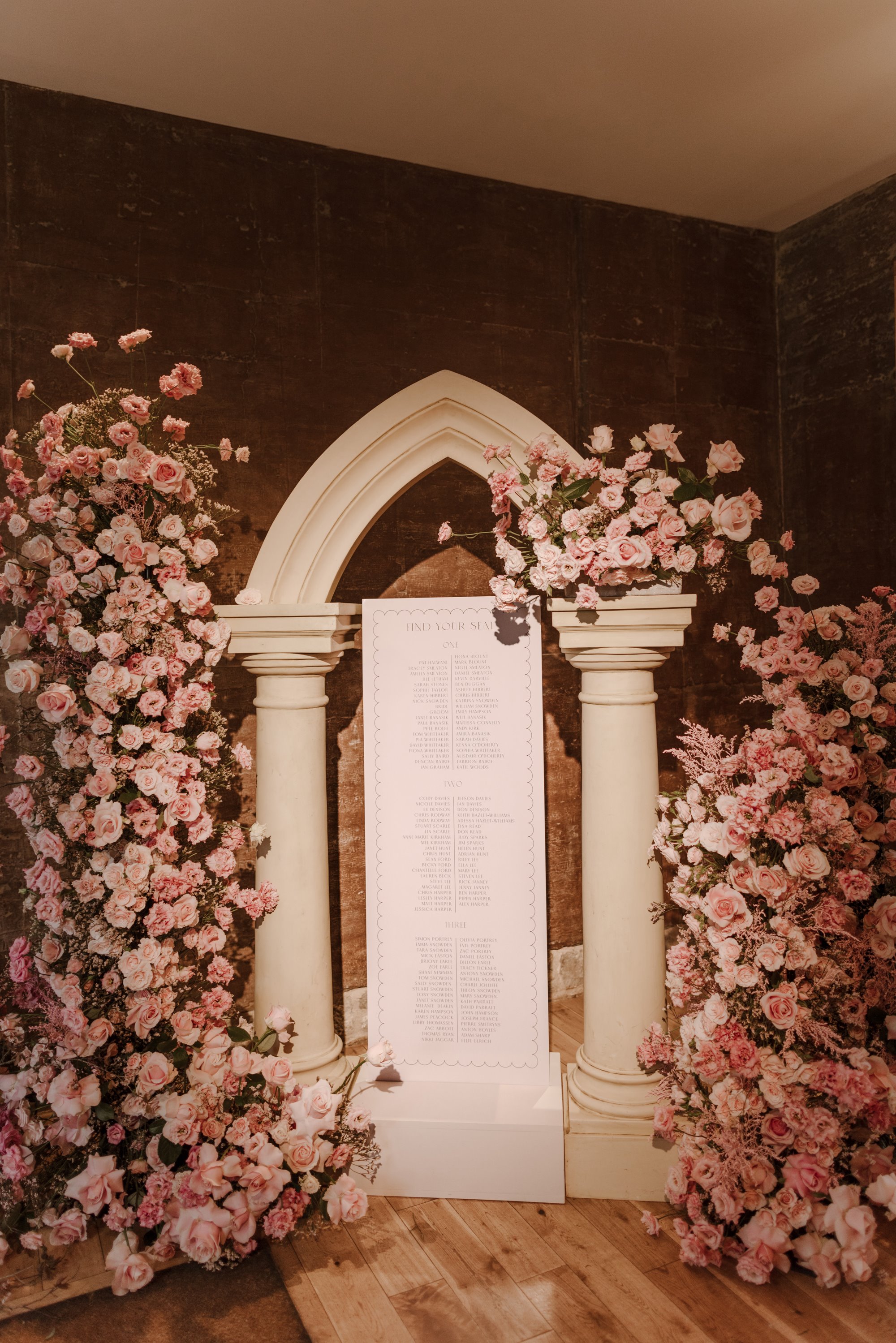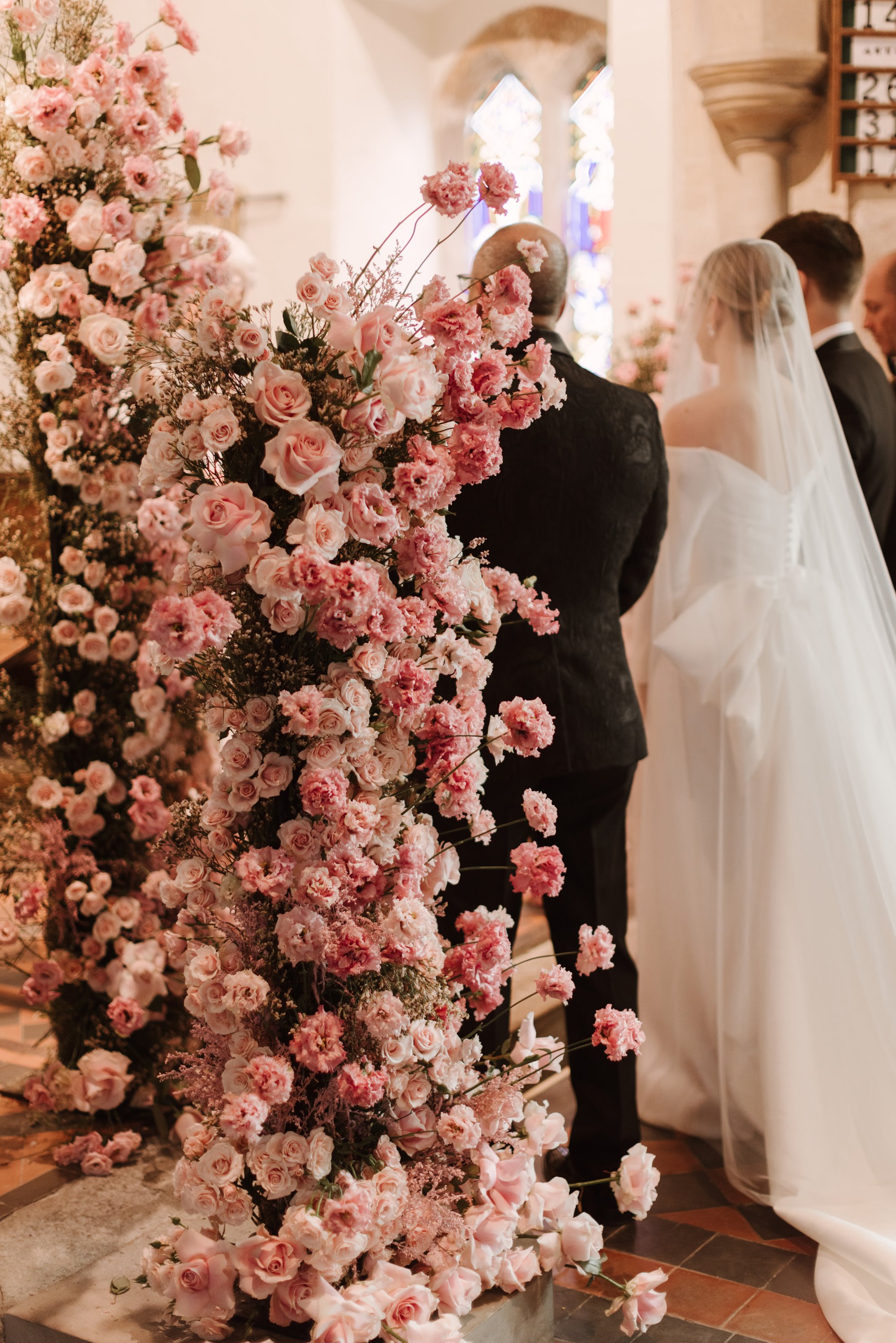 Meadow and aisle flowers
Another fantastic romantic and multi purpose flower installation is the floral meadow. You can line your aisle with meadow flowers which can then be moved to top tables or incorporated into your wedding reception styling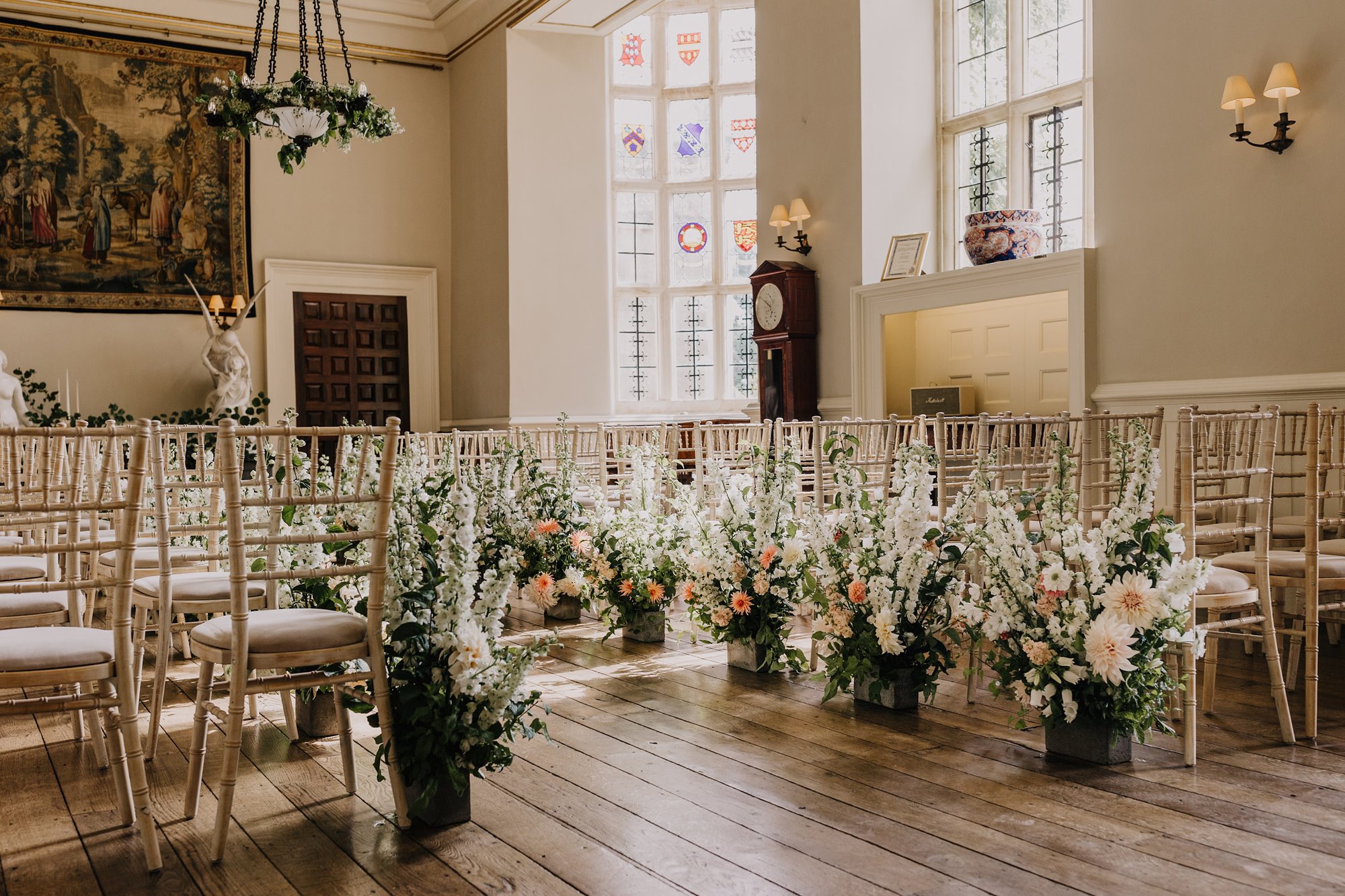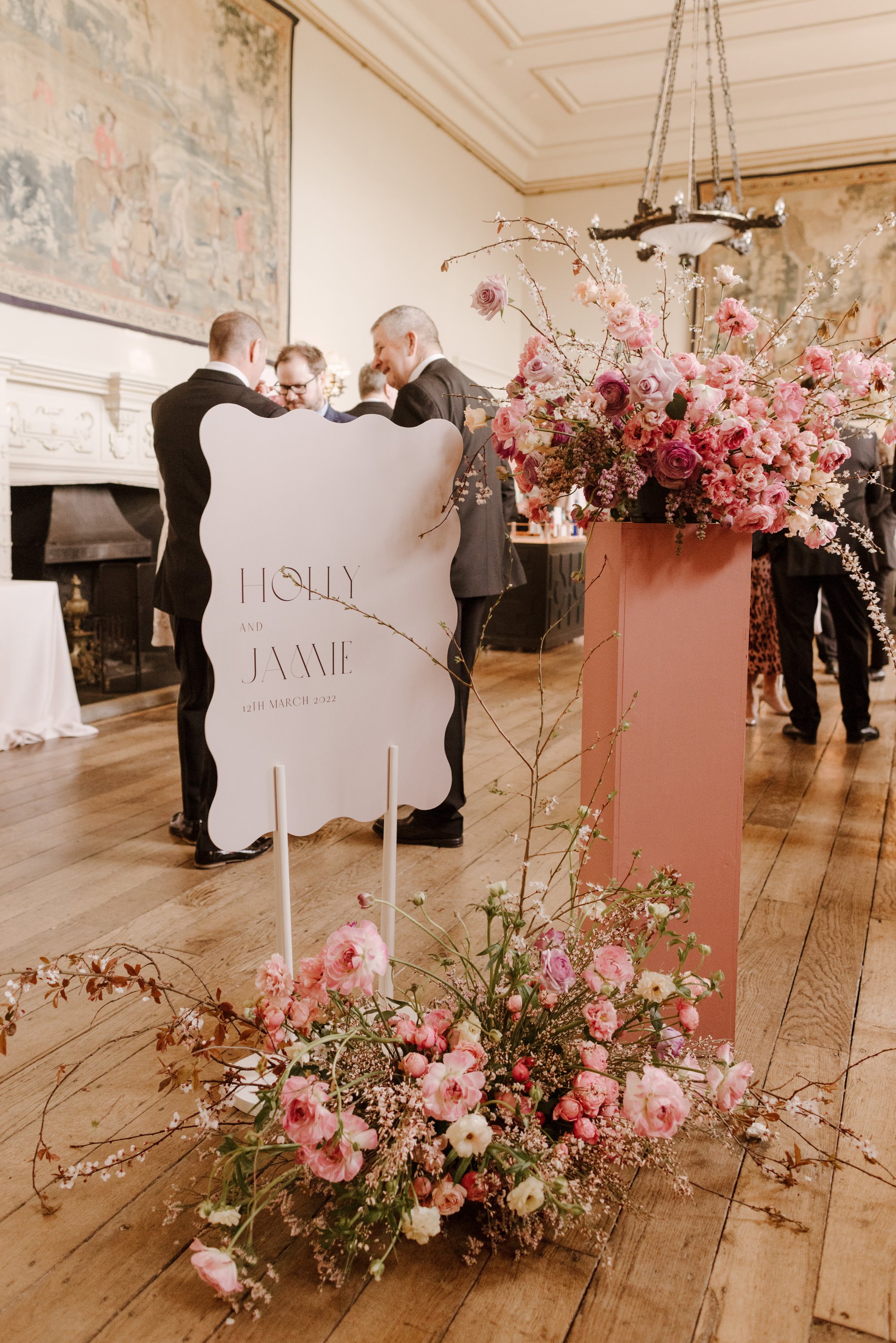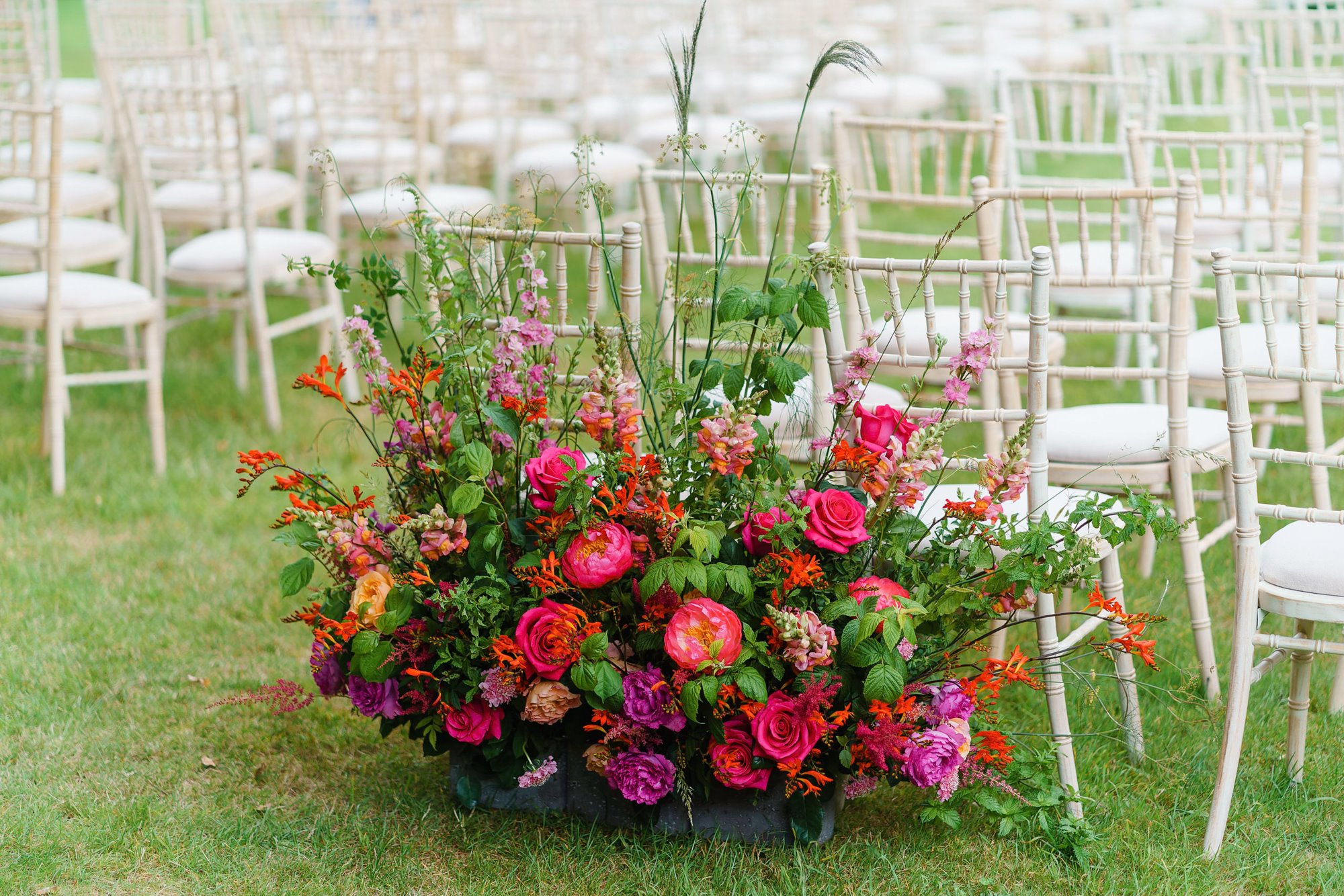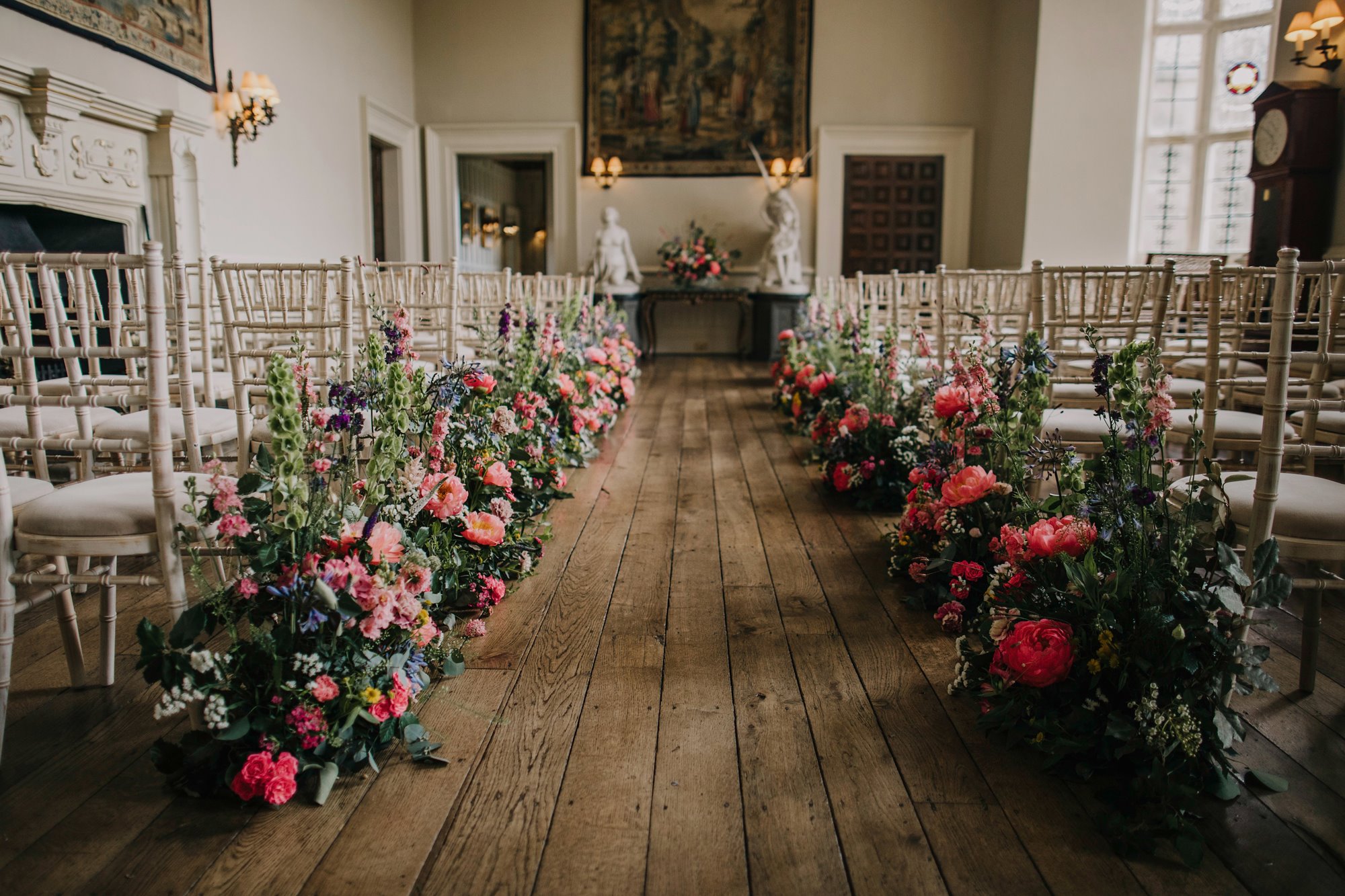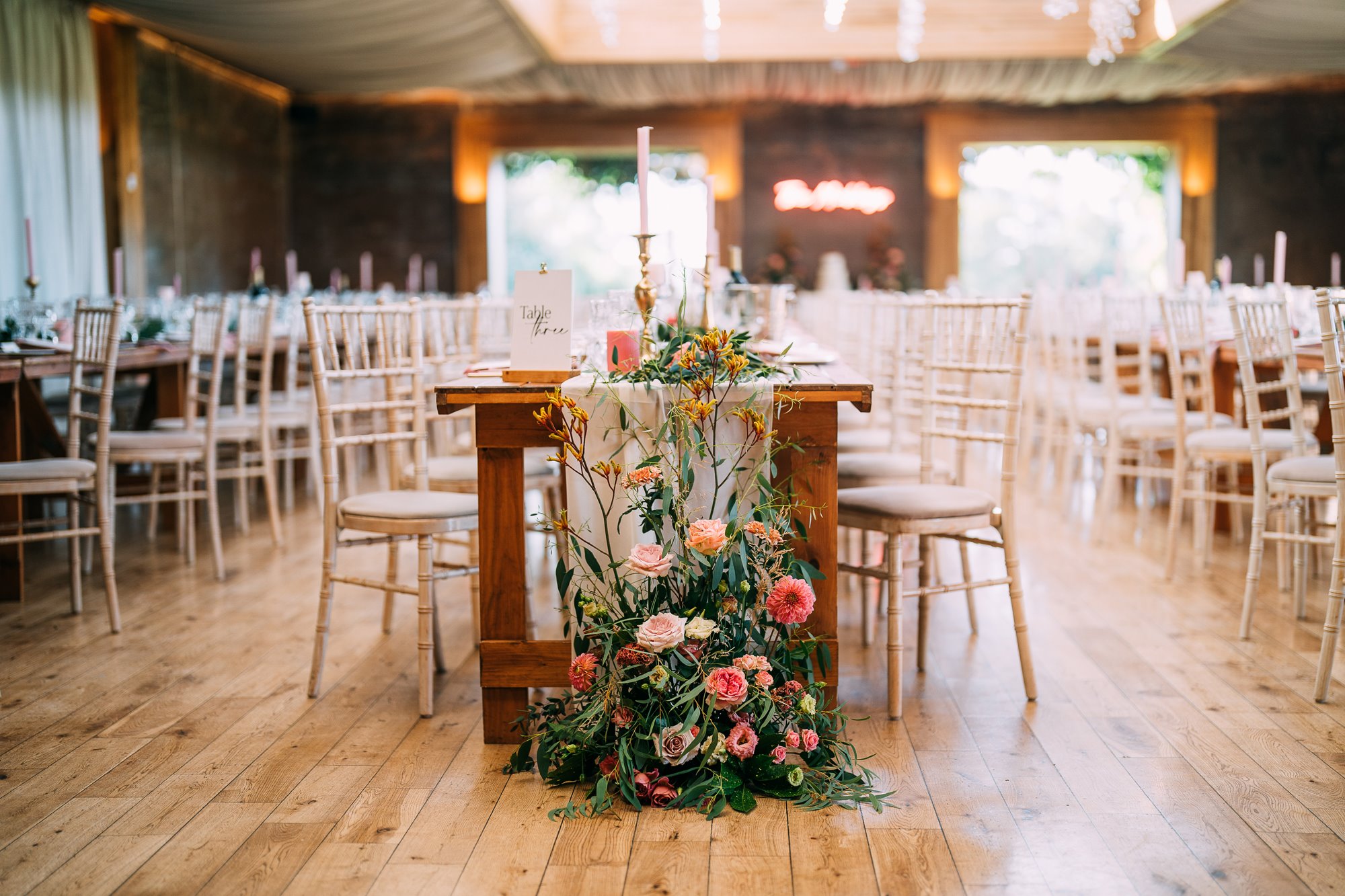 Wild & whimsical
Trailing greenery and unstructured wild floral arrangements are the perfect choice for a modern romantic wedding theme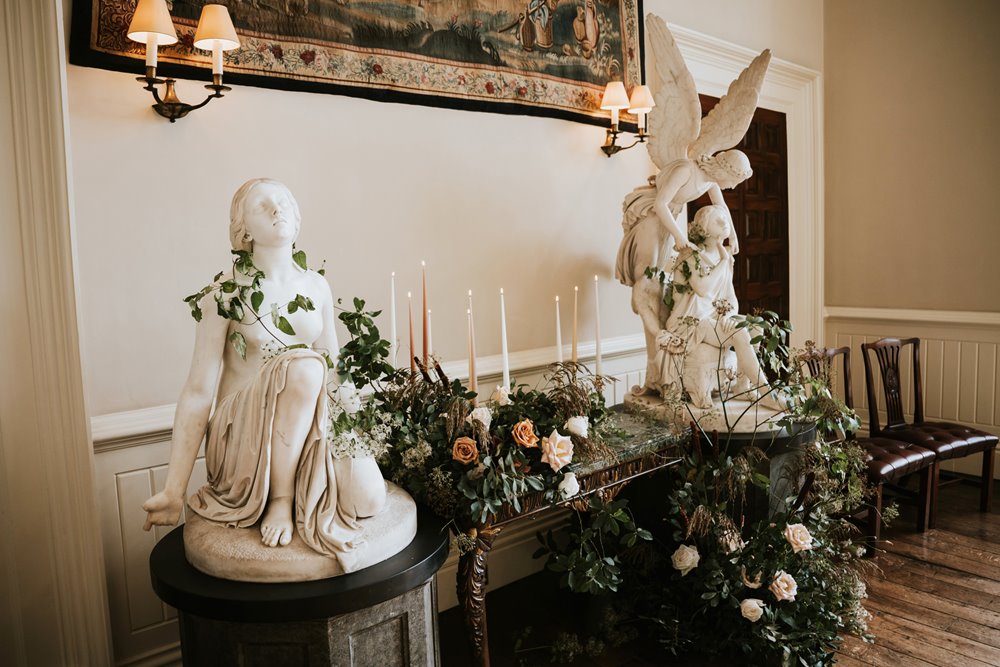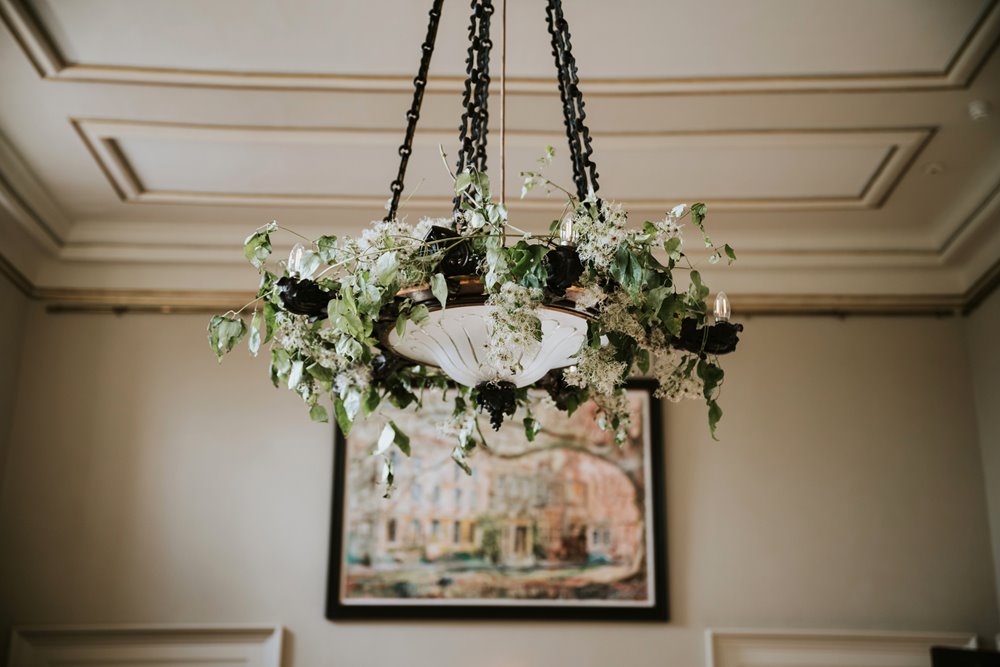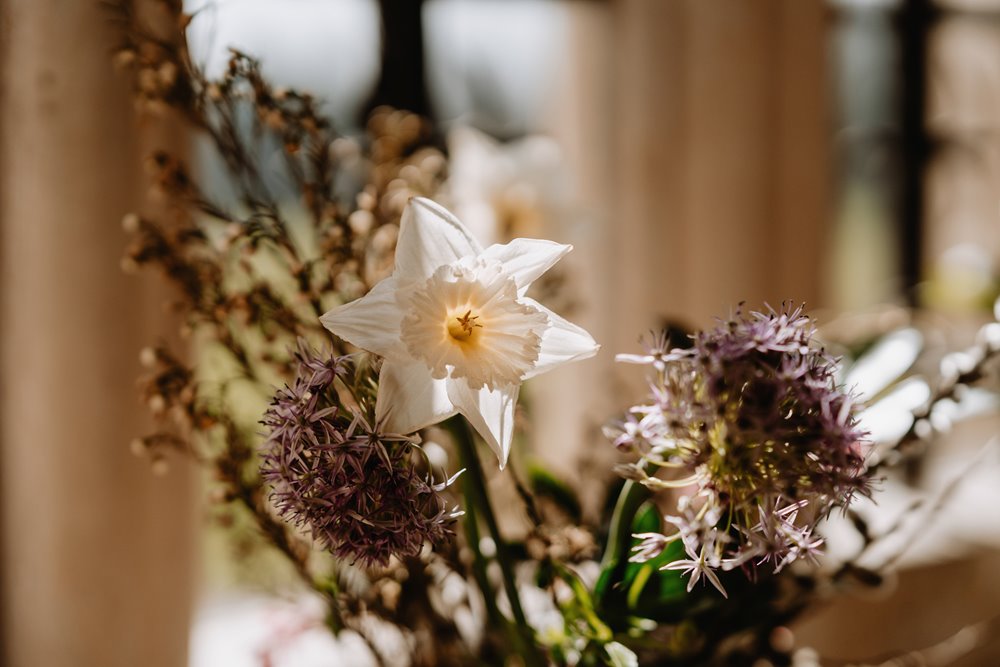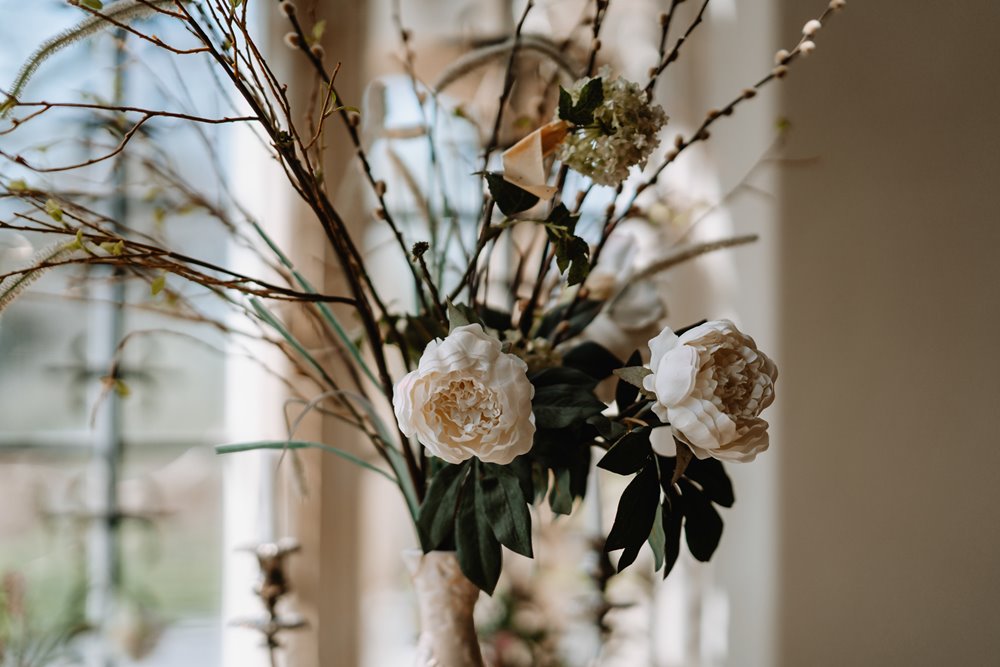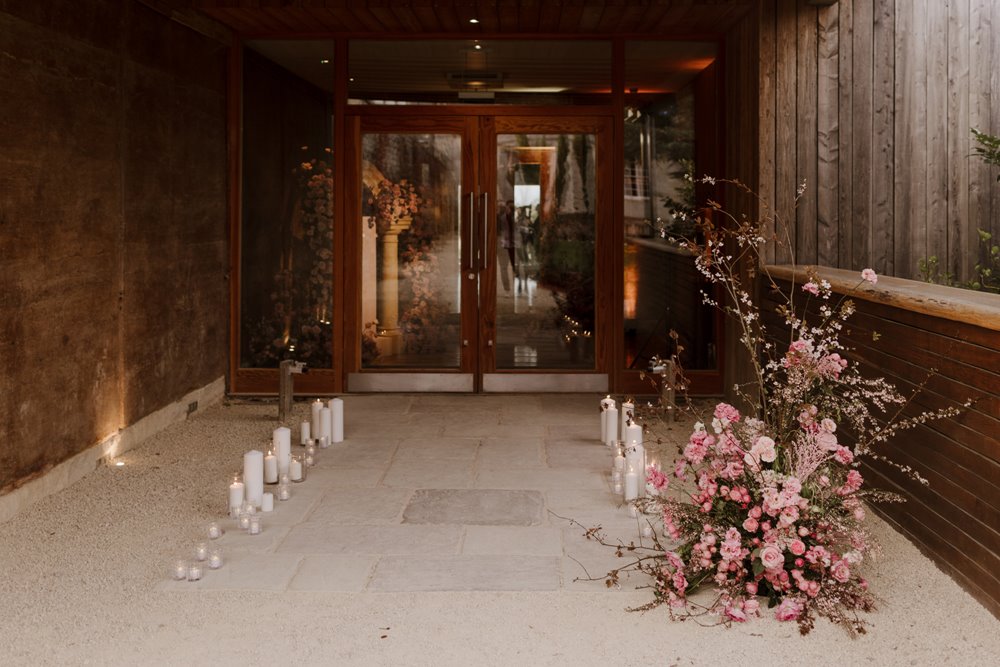 Urns full of flowers
Huge urns overspilling with flowers will never go out of style, it's still one of the most popular floral requests. You can use urns full of flowers to create a grand entrance to the wedding ceremony or reception, or at the end of your wedding aisle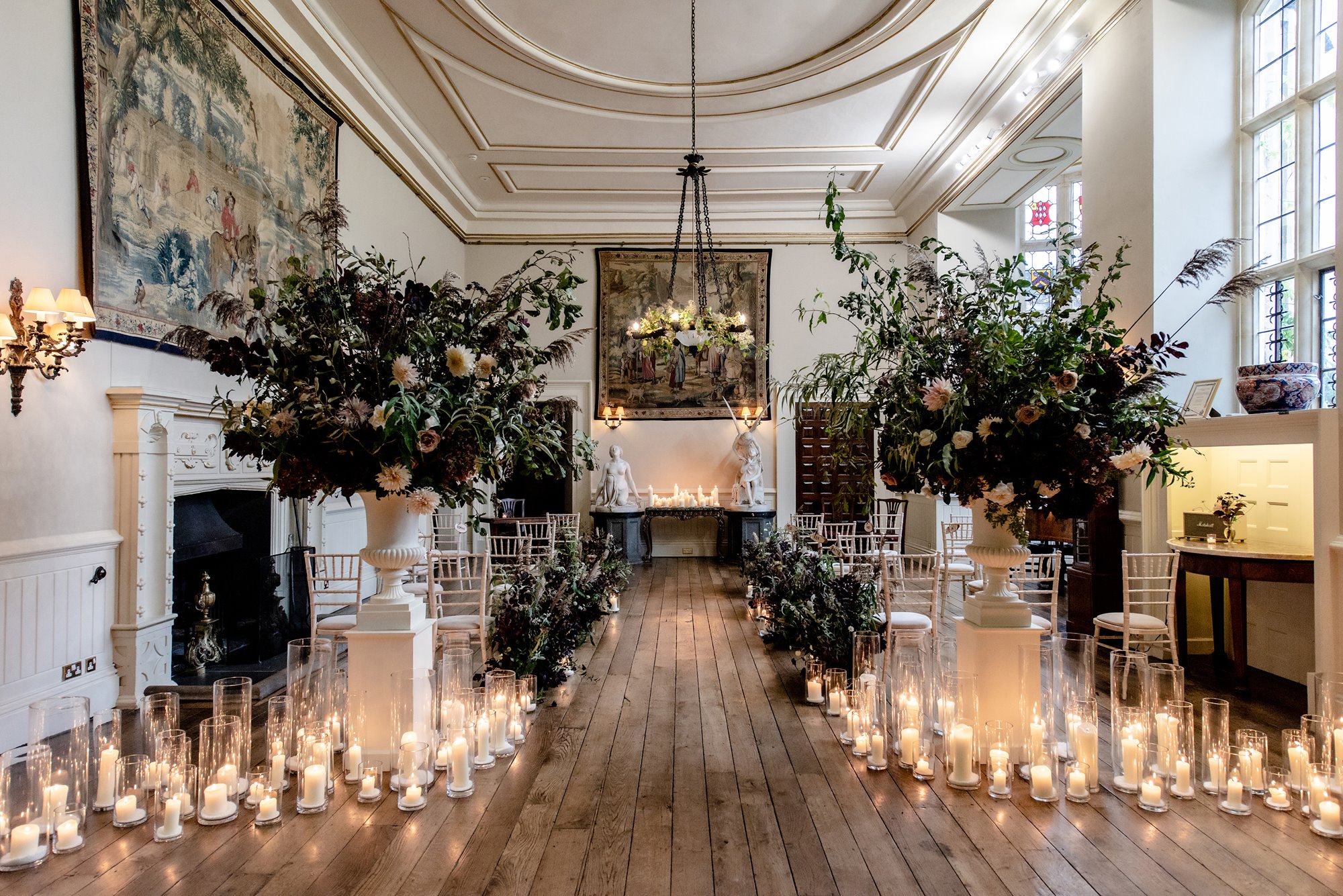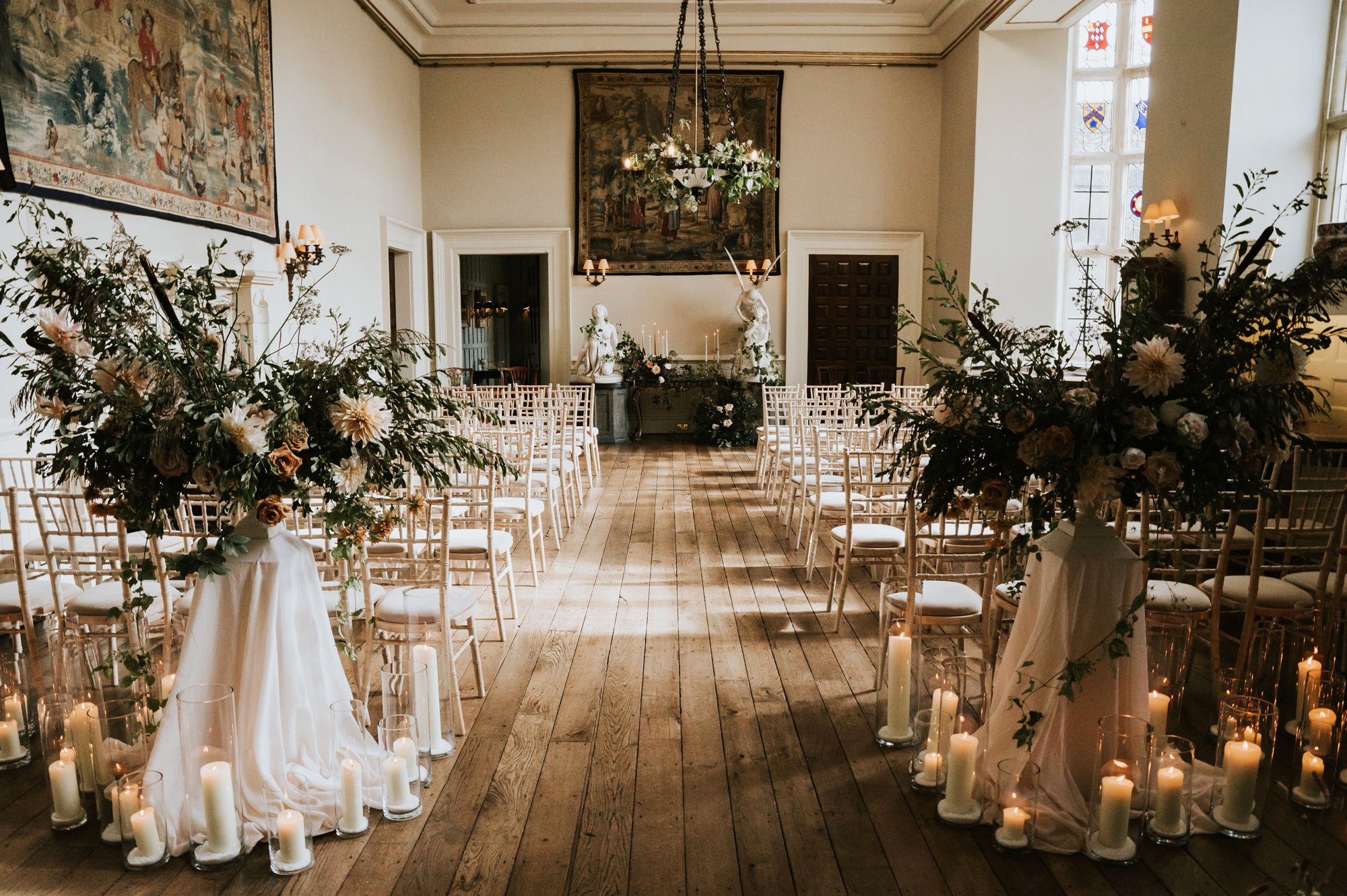 Delicate wedding flowers
Romance isn't all about big statements, if subtle and elegant is more your love language go delicate with your flowers and choose posies, wildflowers or potted plants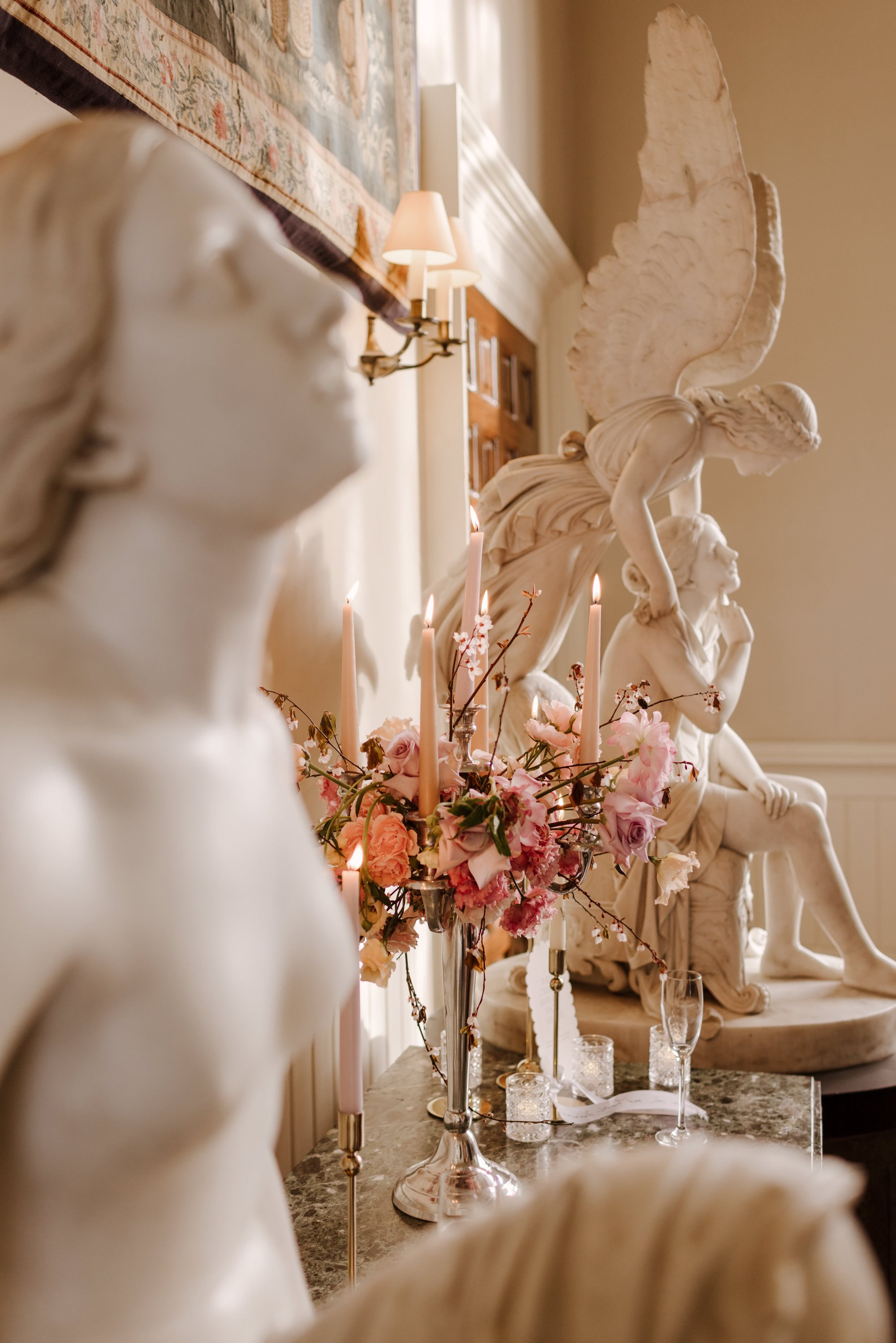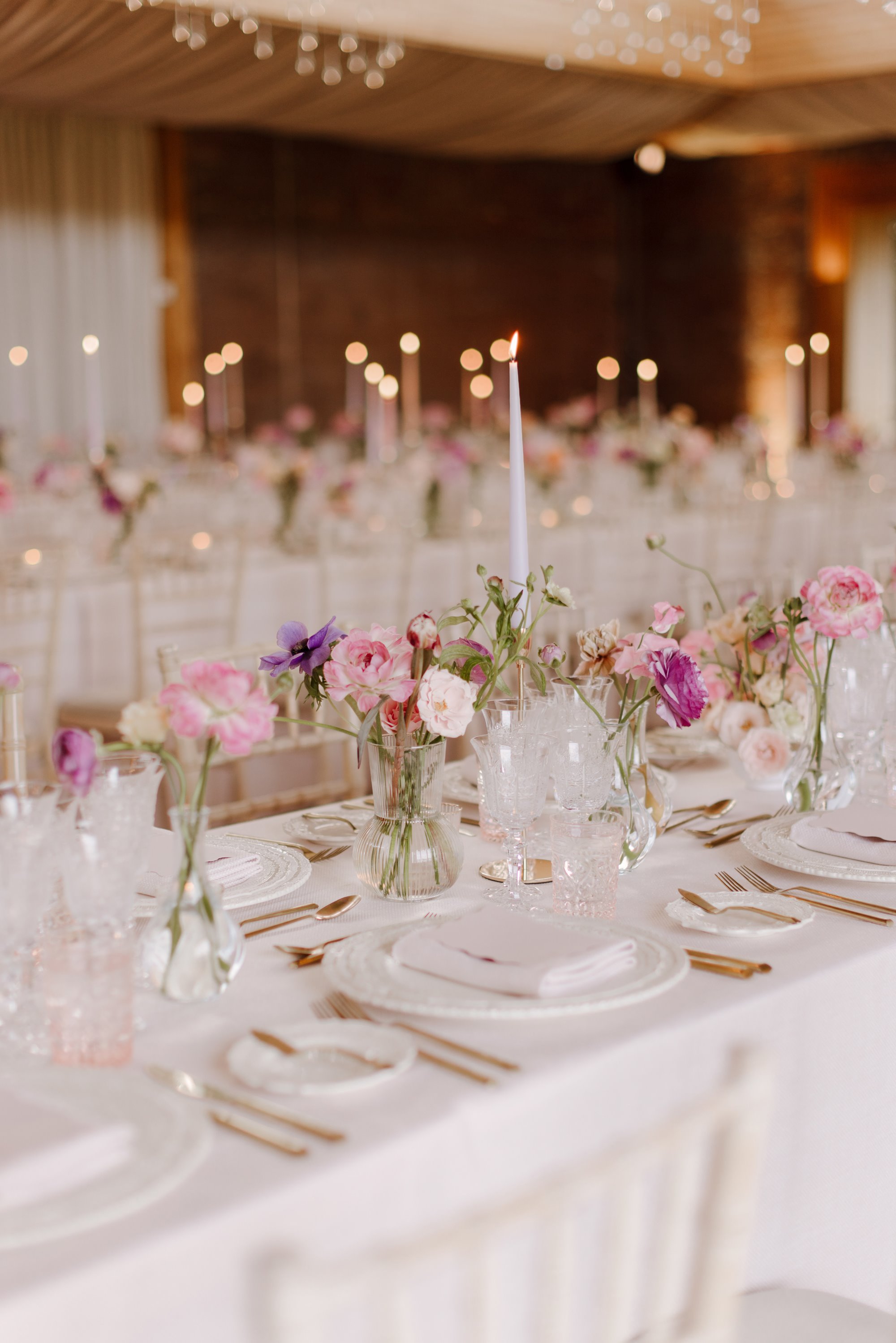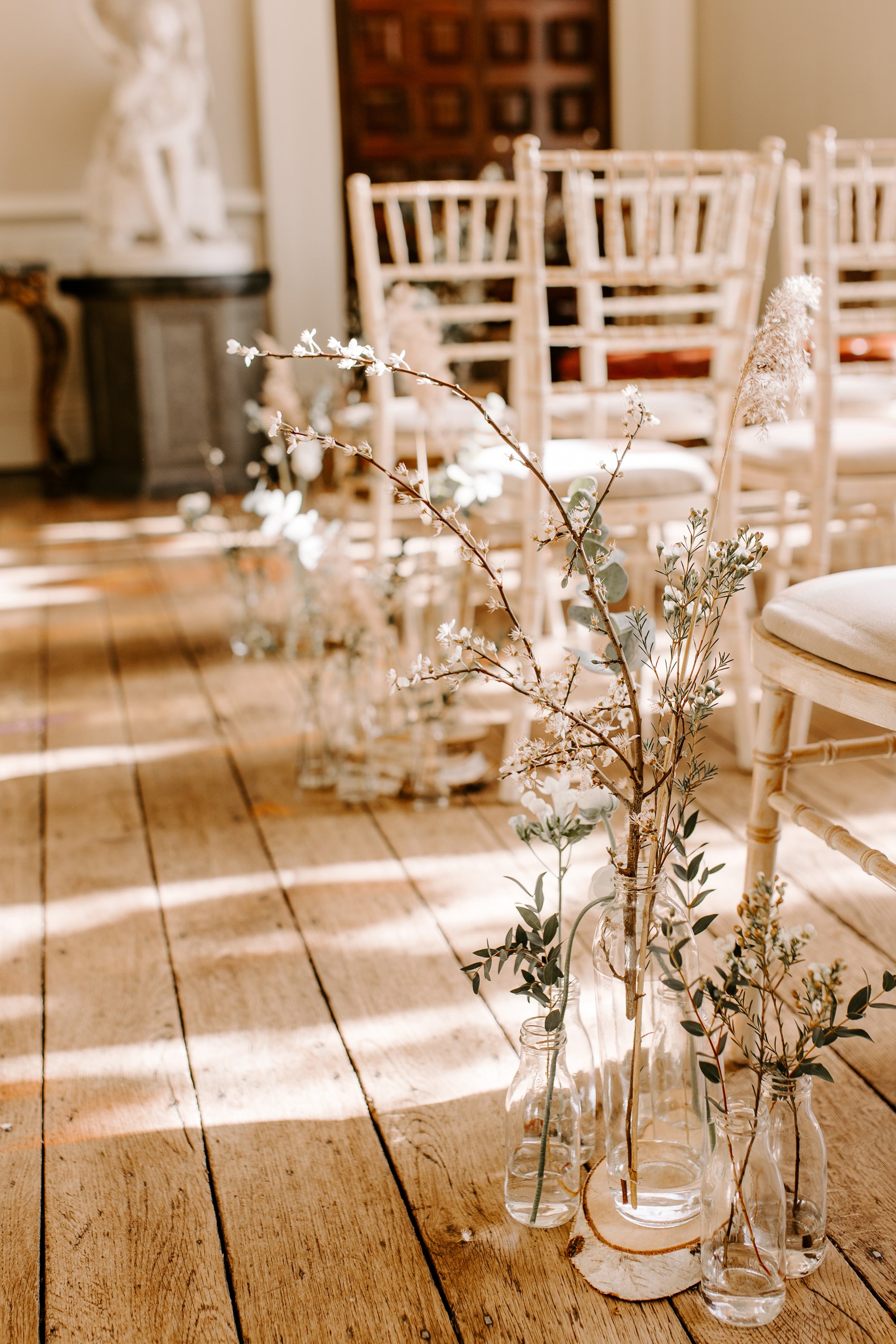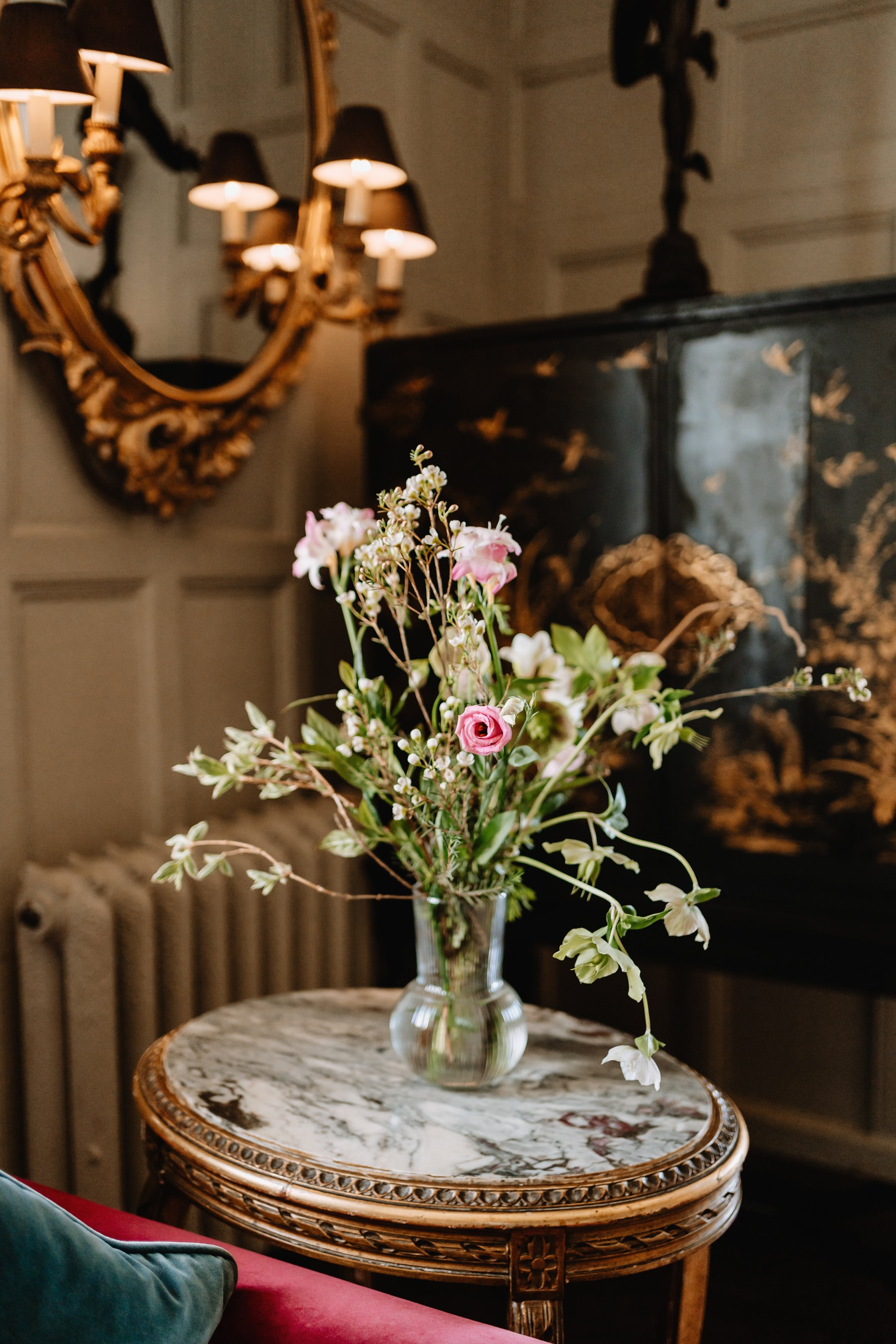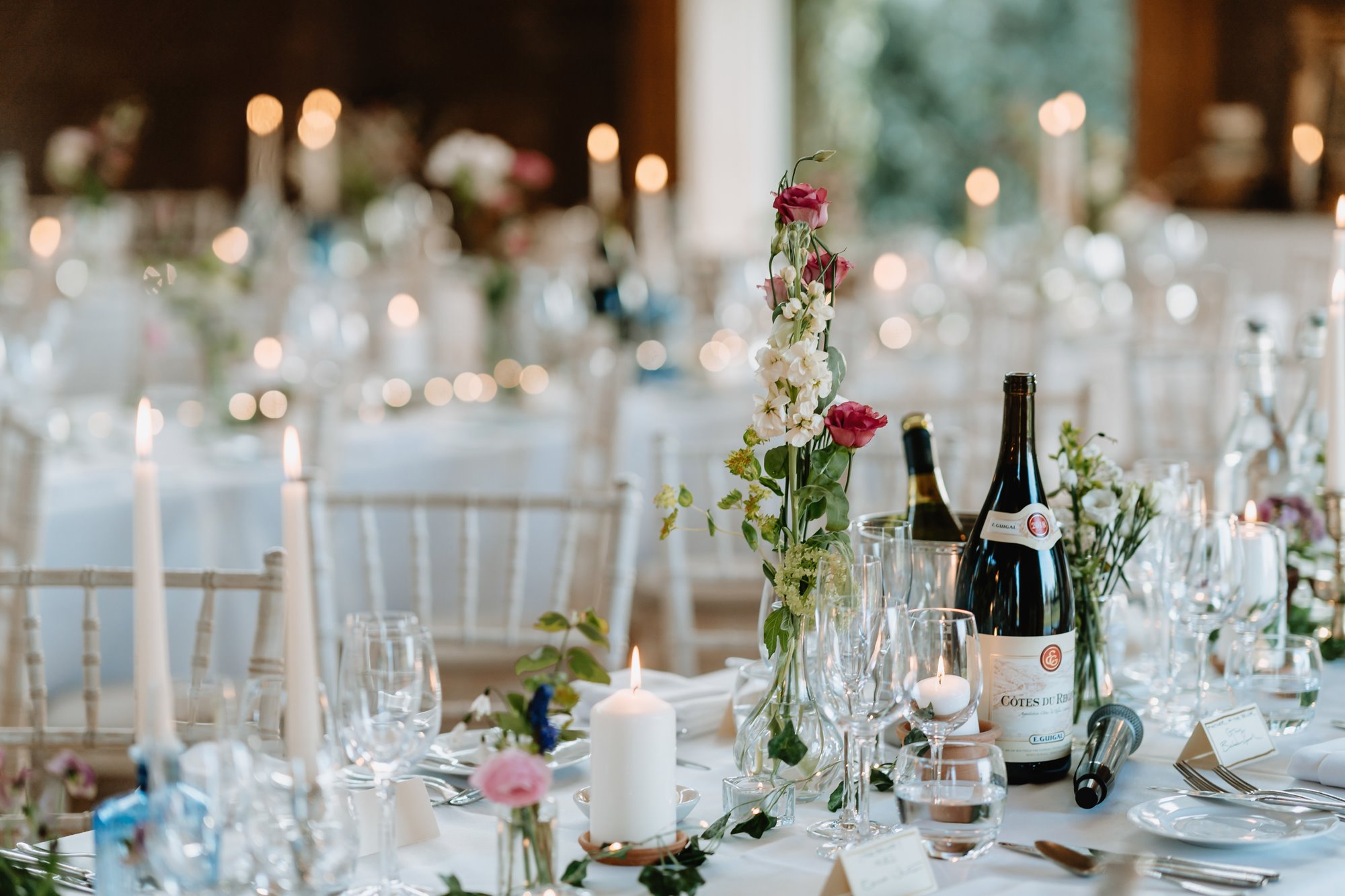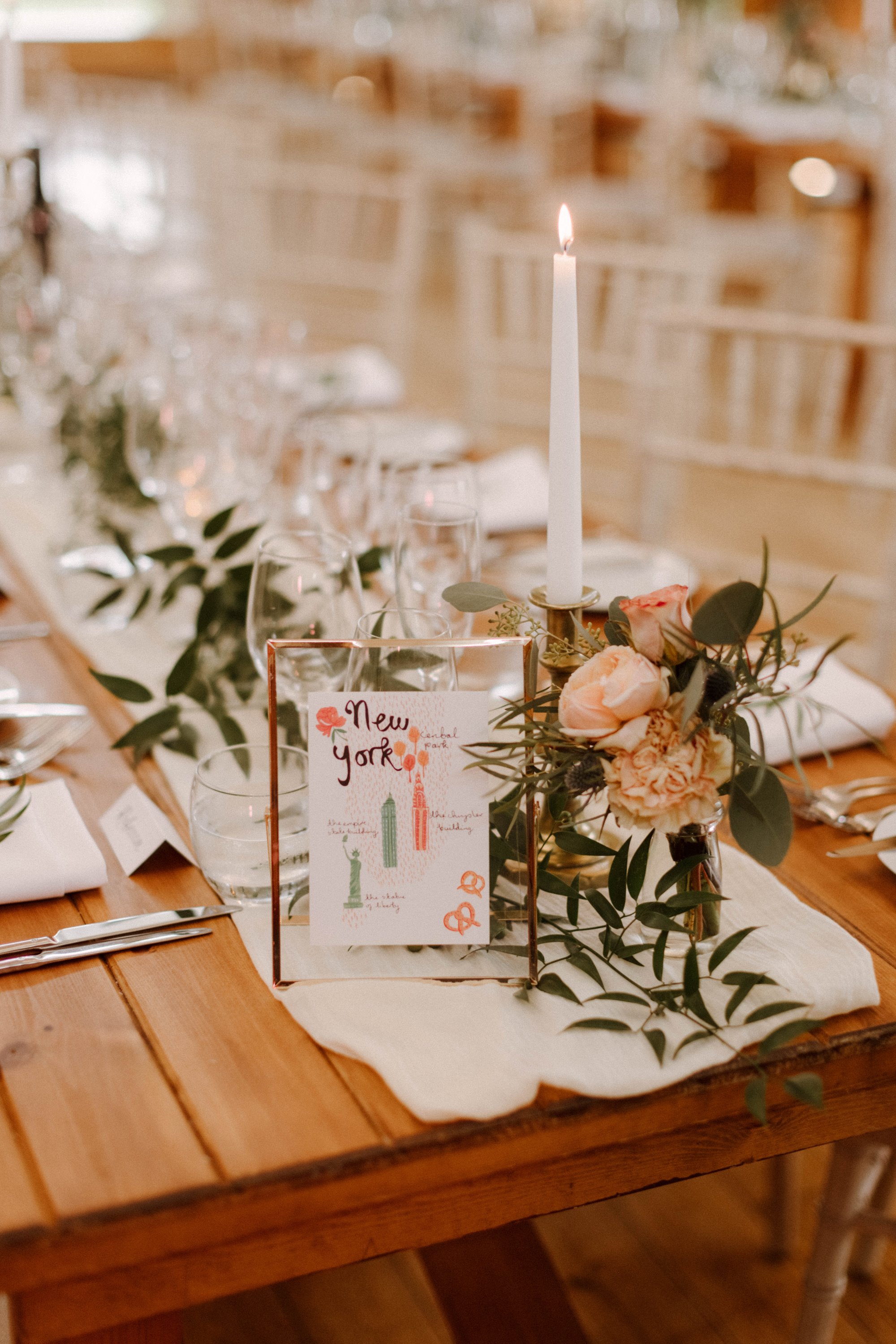 Wedding cakes with real flowers
Whatever your floral style, don't forget to use them to decorate your wedding cake. There is nothing more romantic than a cake bedecked with real flowers...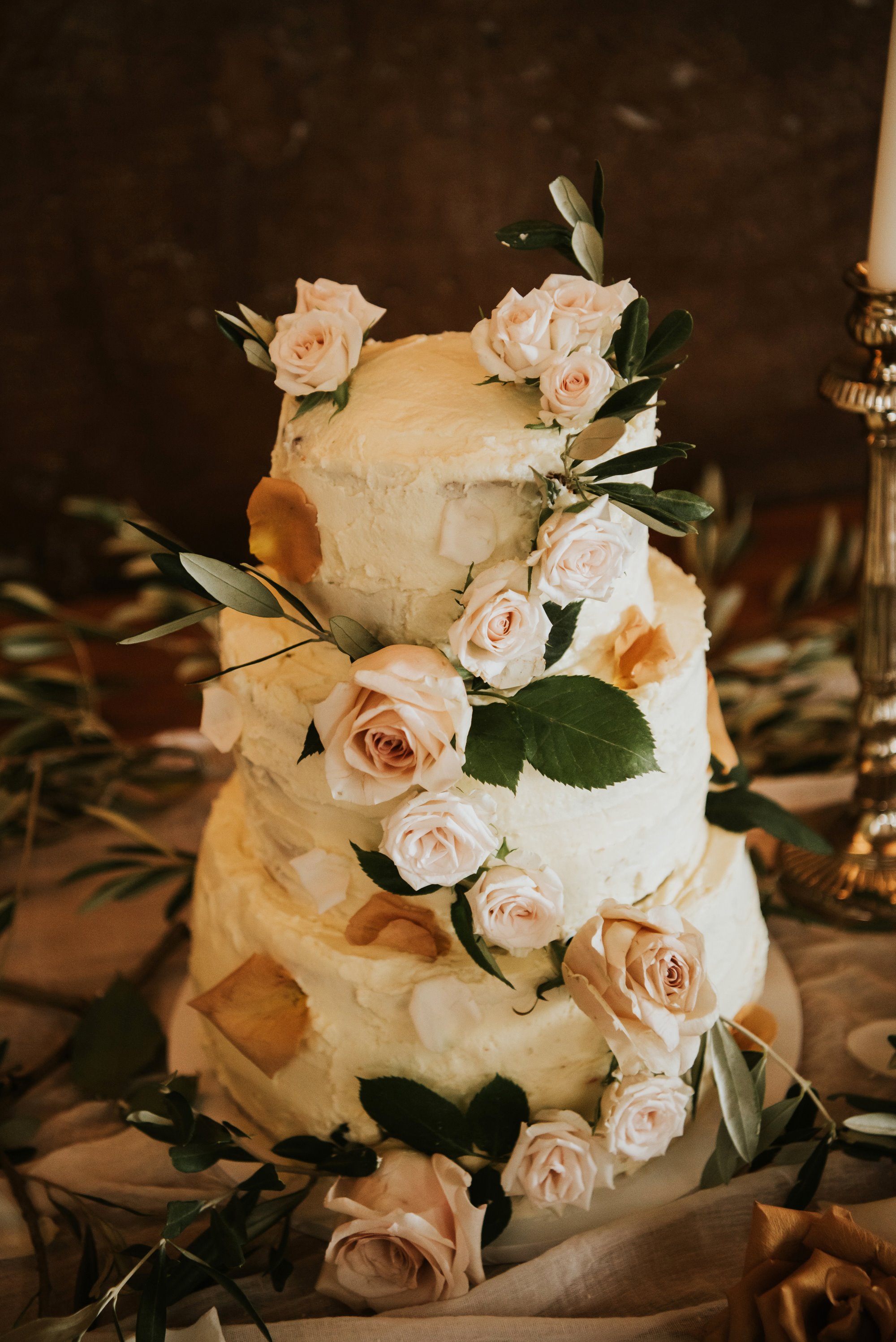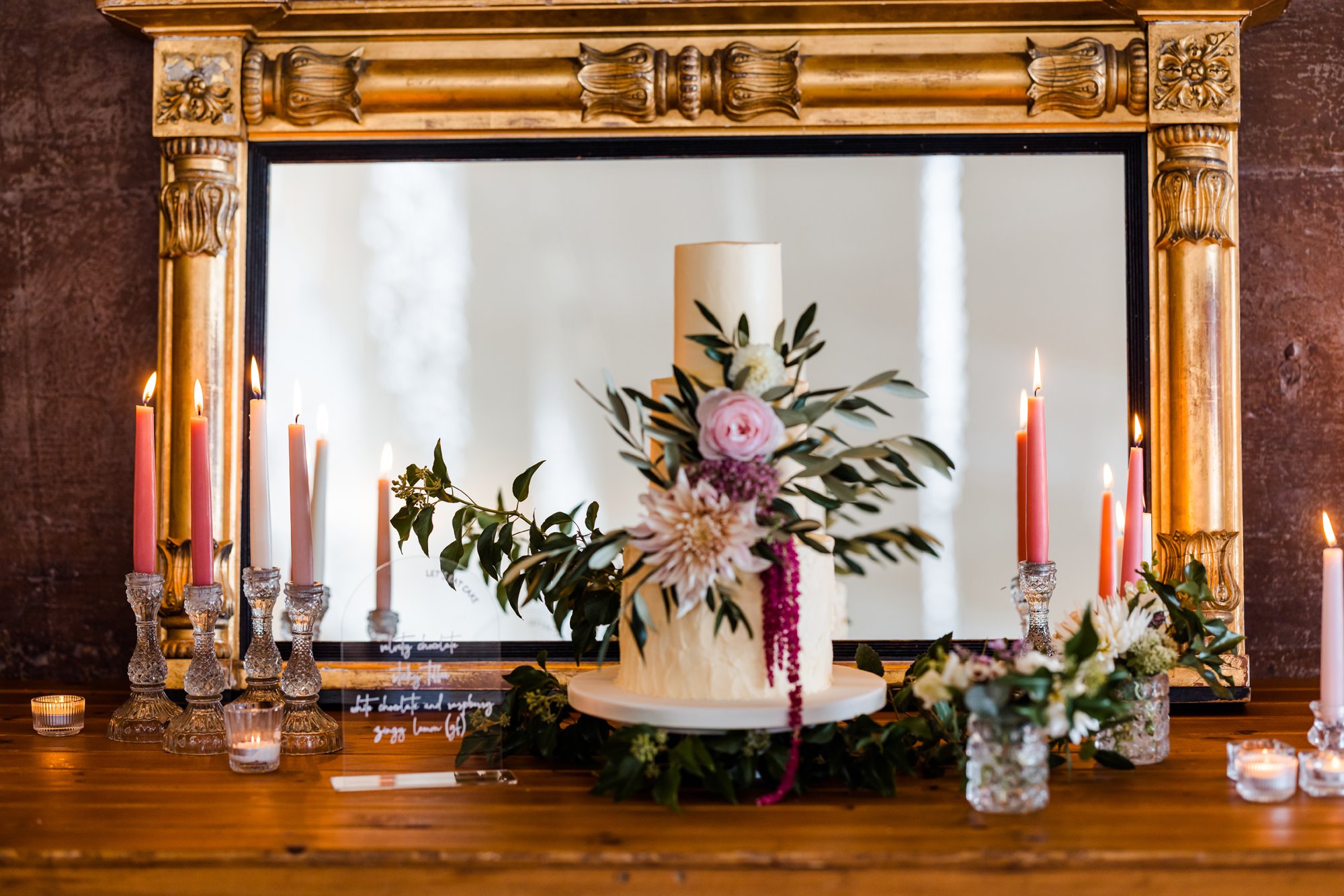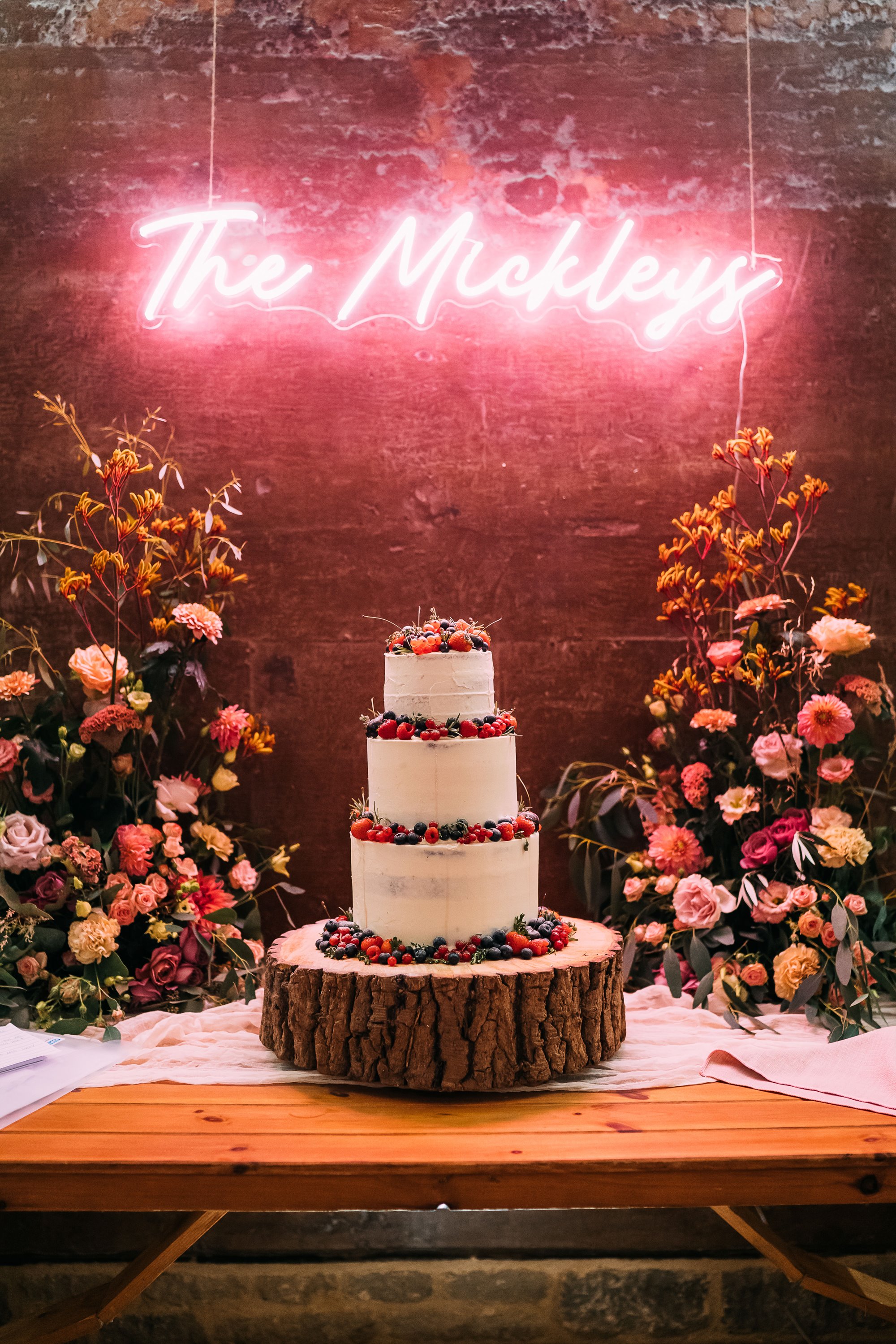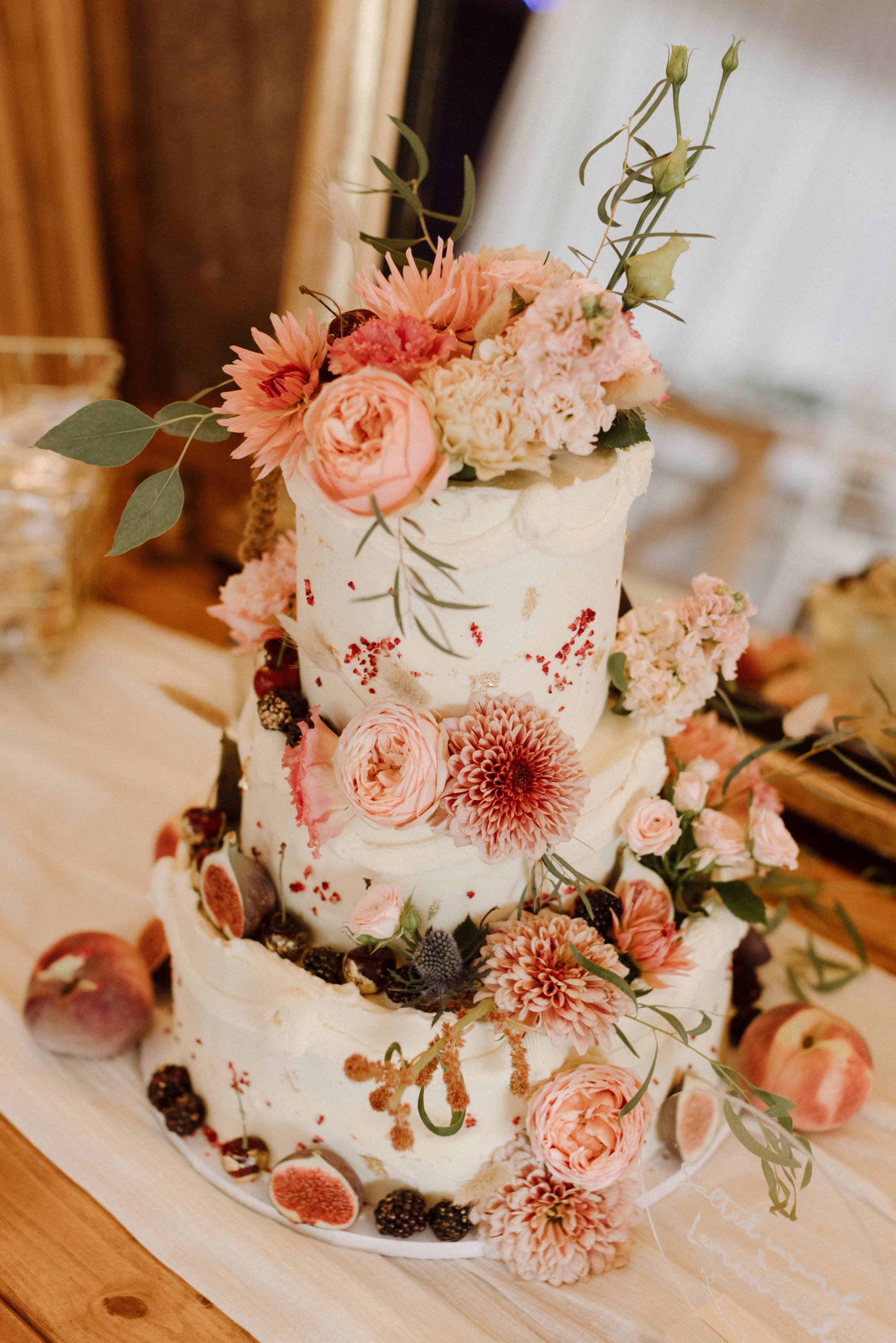 4) Candlelit wedding
Is there anything more romantic than candlelight? We don't think so. Here are a few times Elmore brides blew our minds with their atmospheric candlelit wedding ceremonies and receptions.
Pro tip: There is no such thing as too many candles.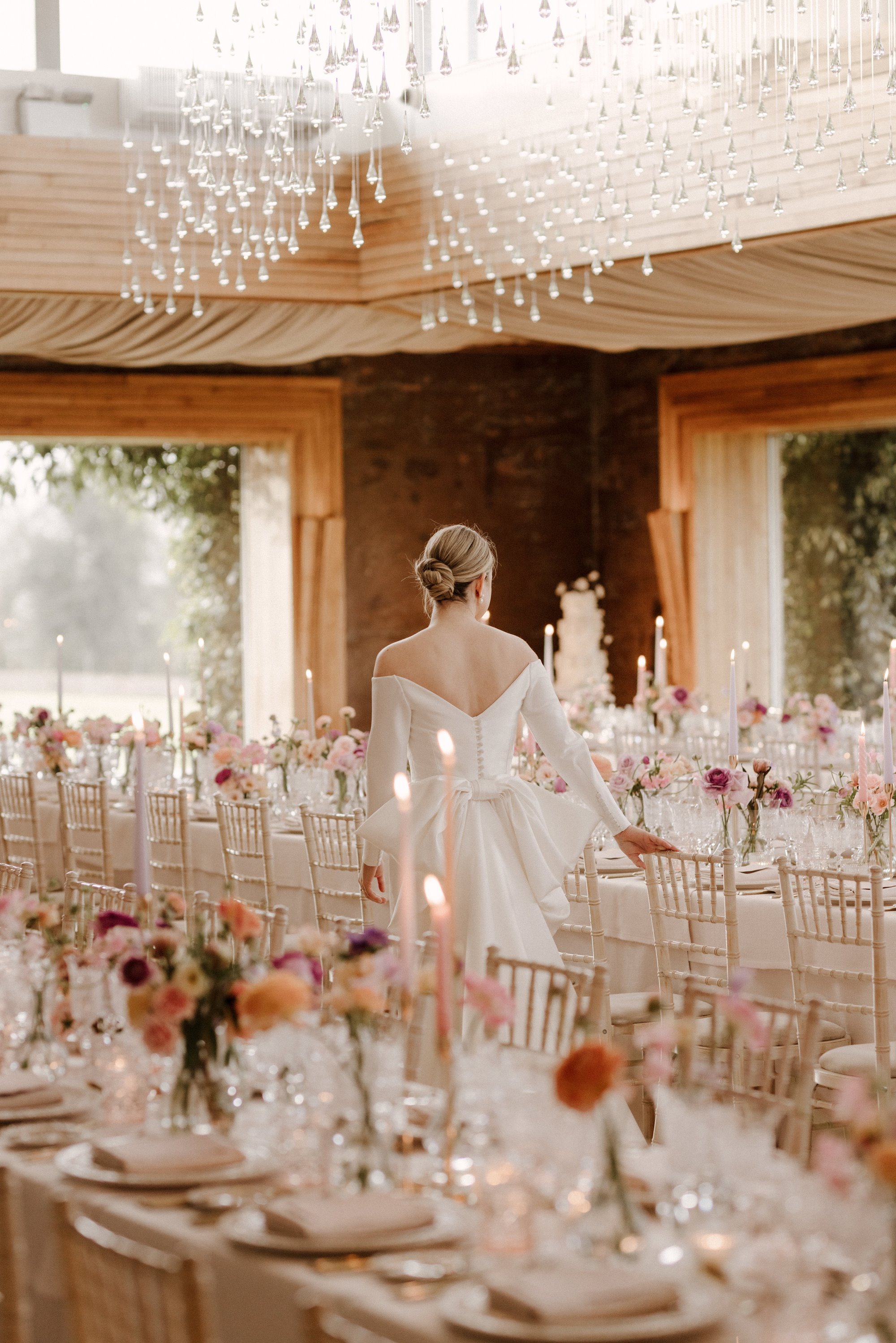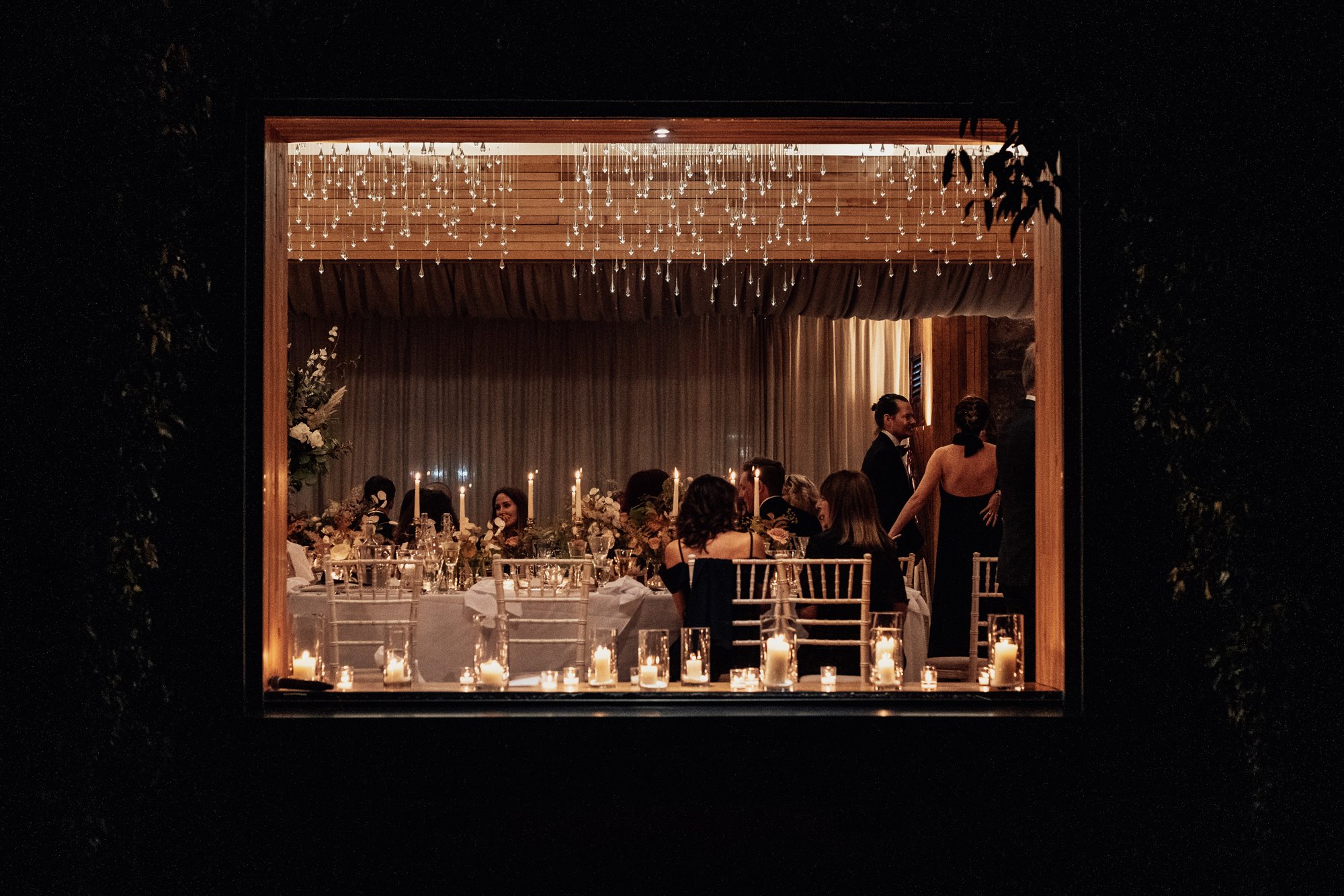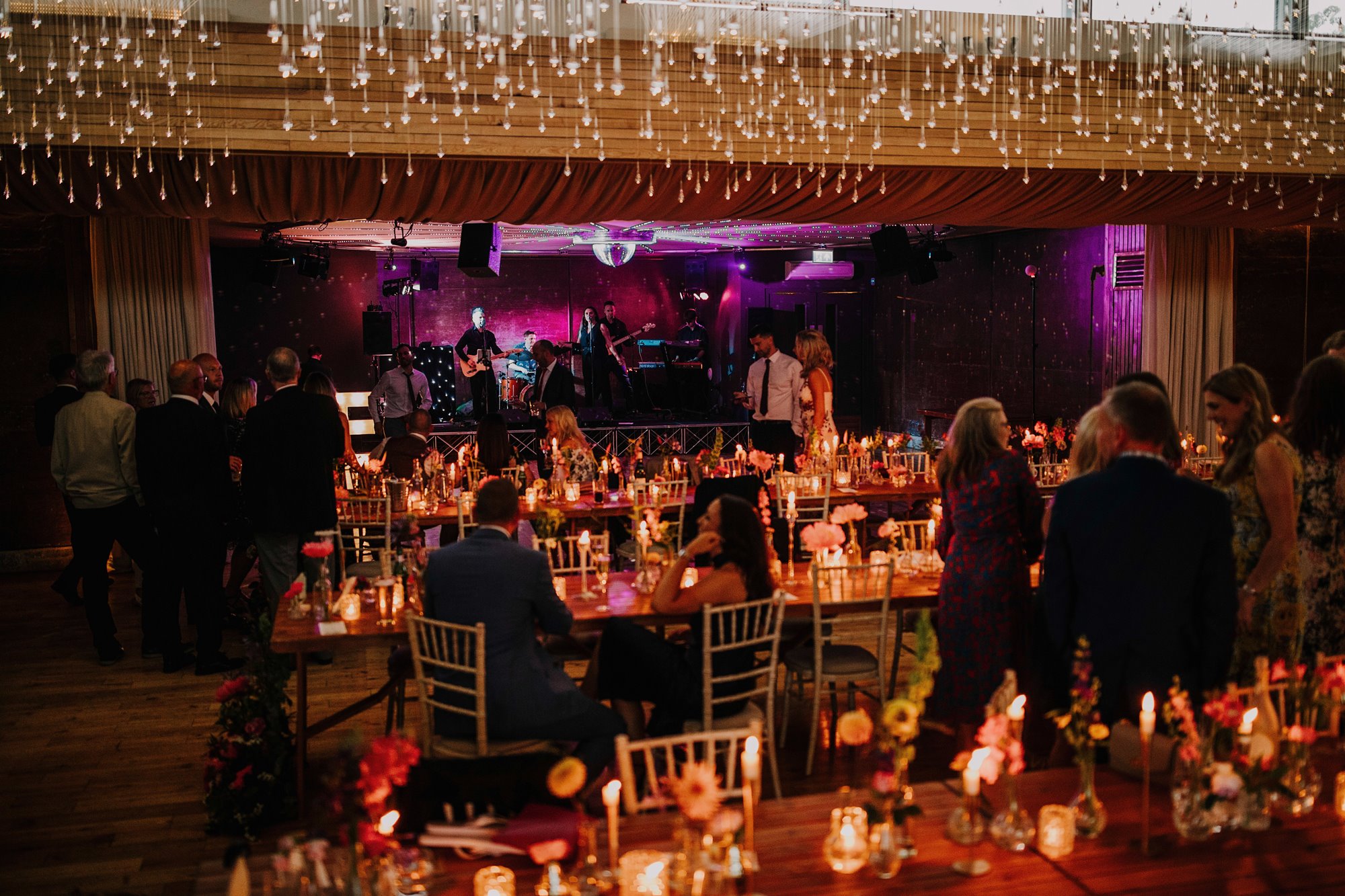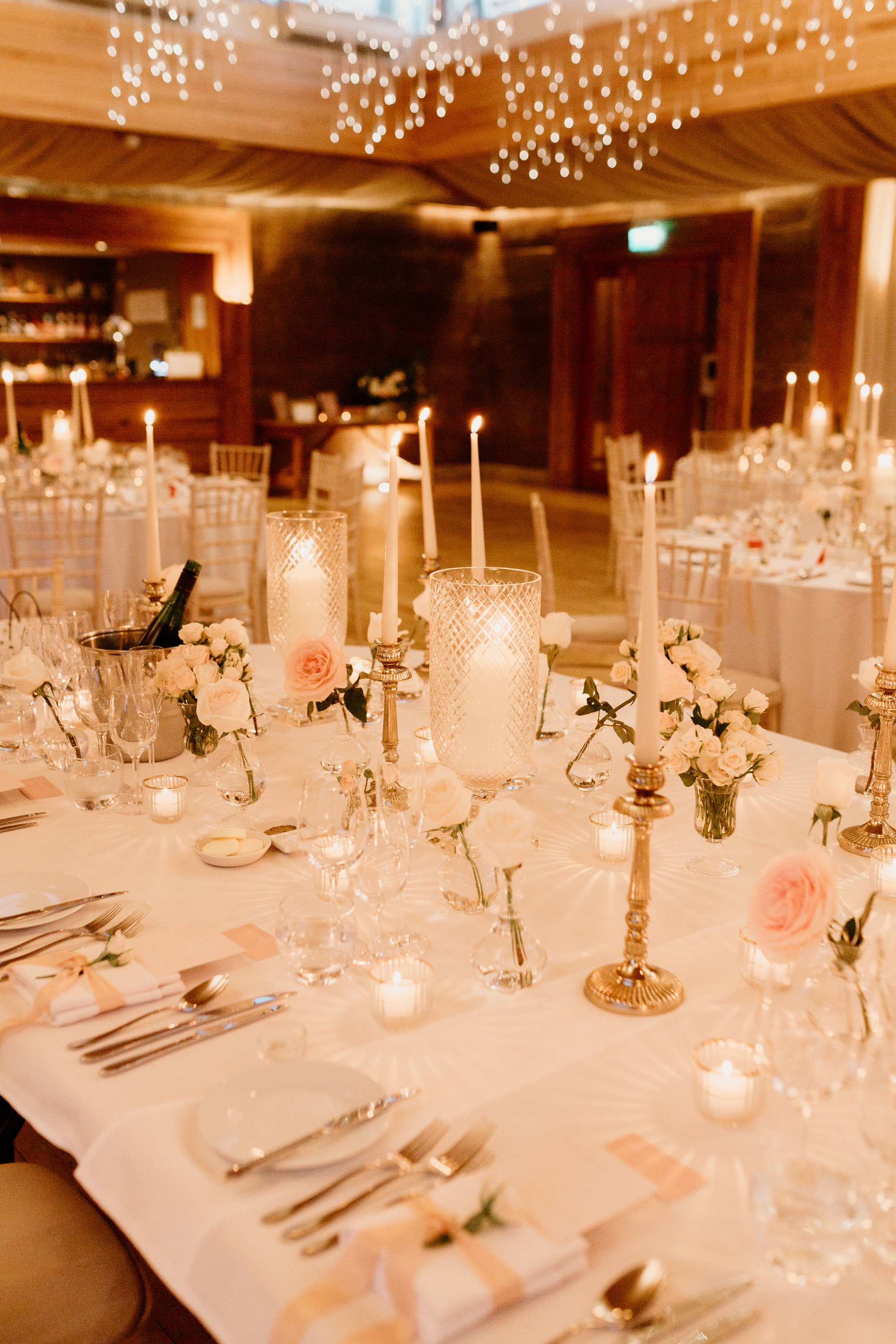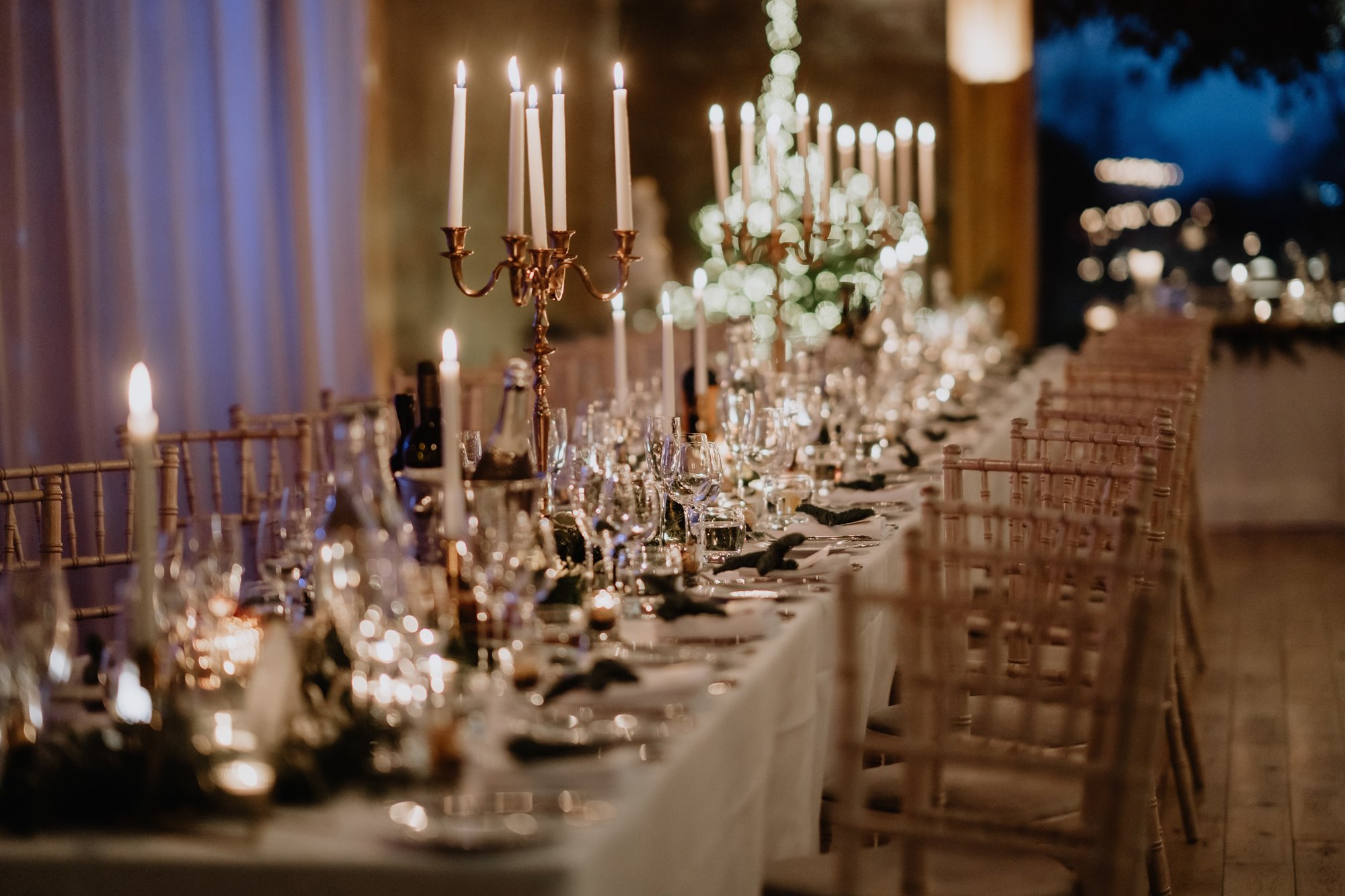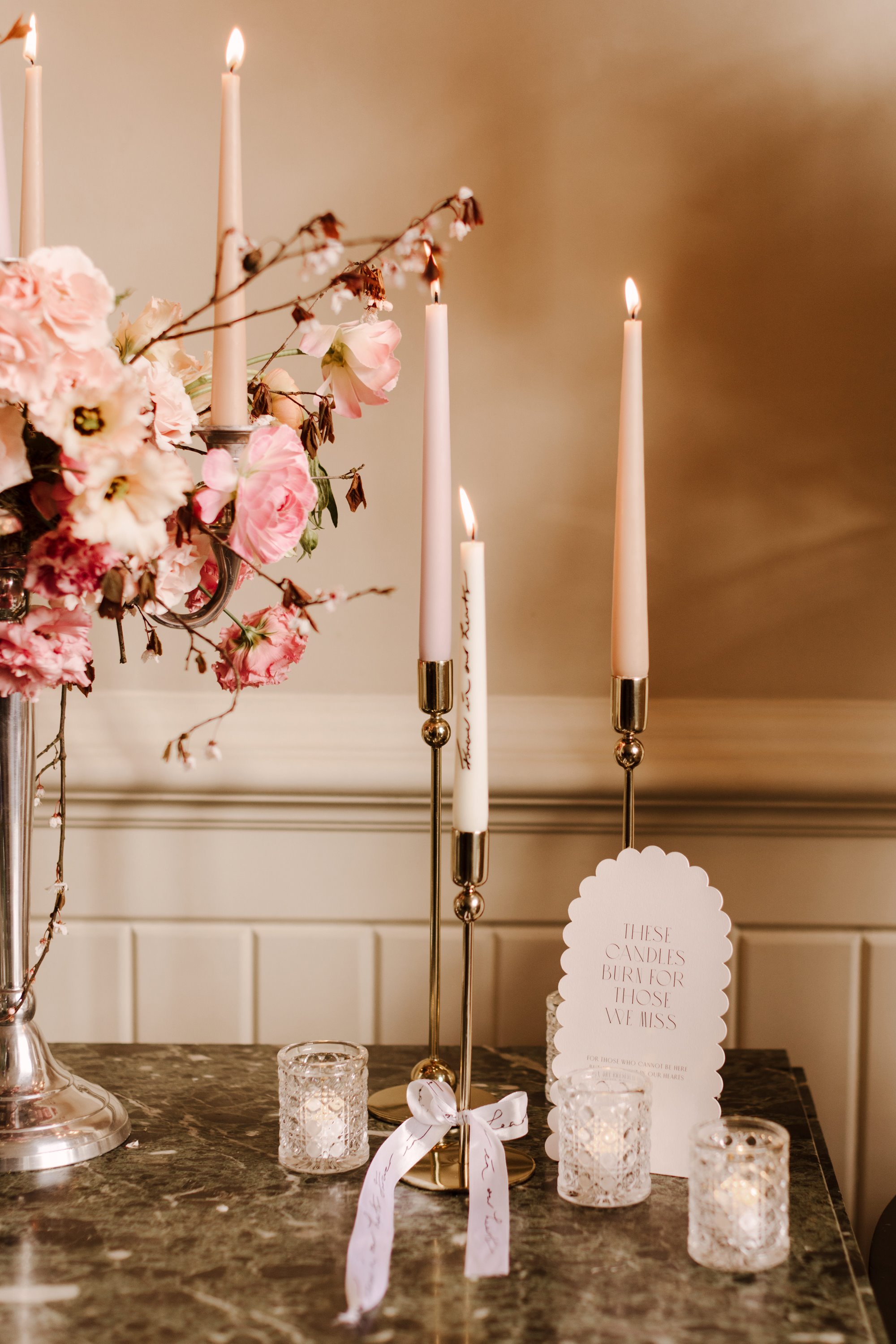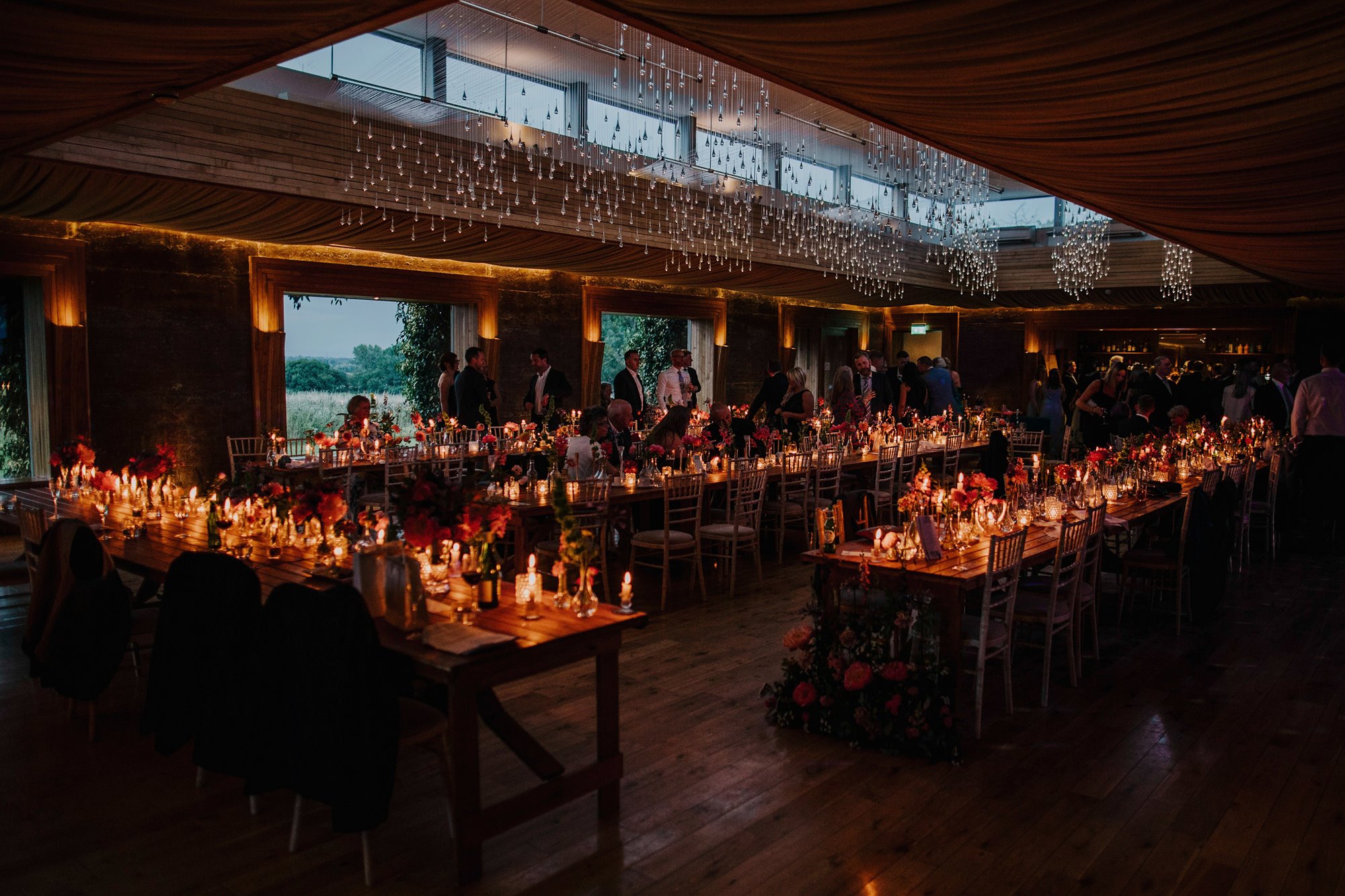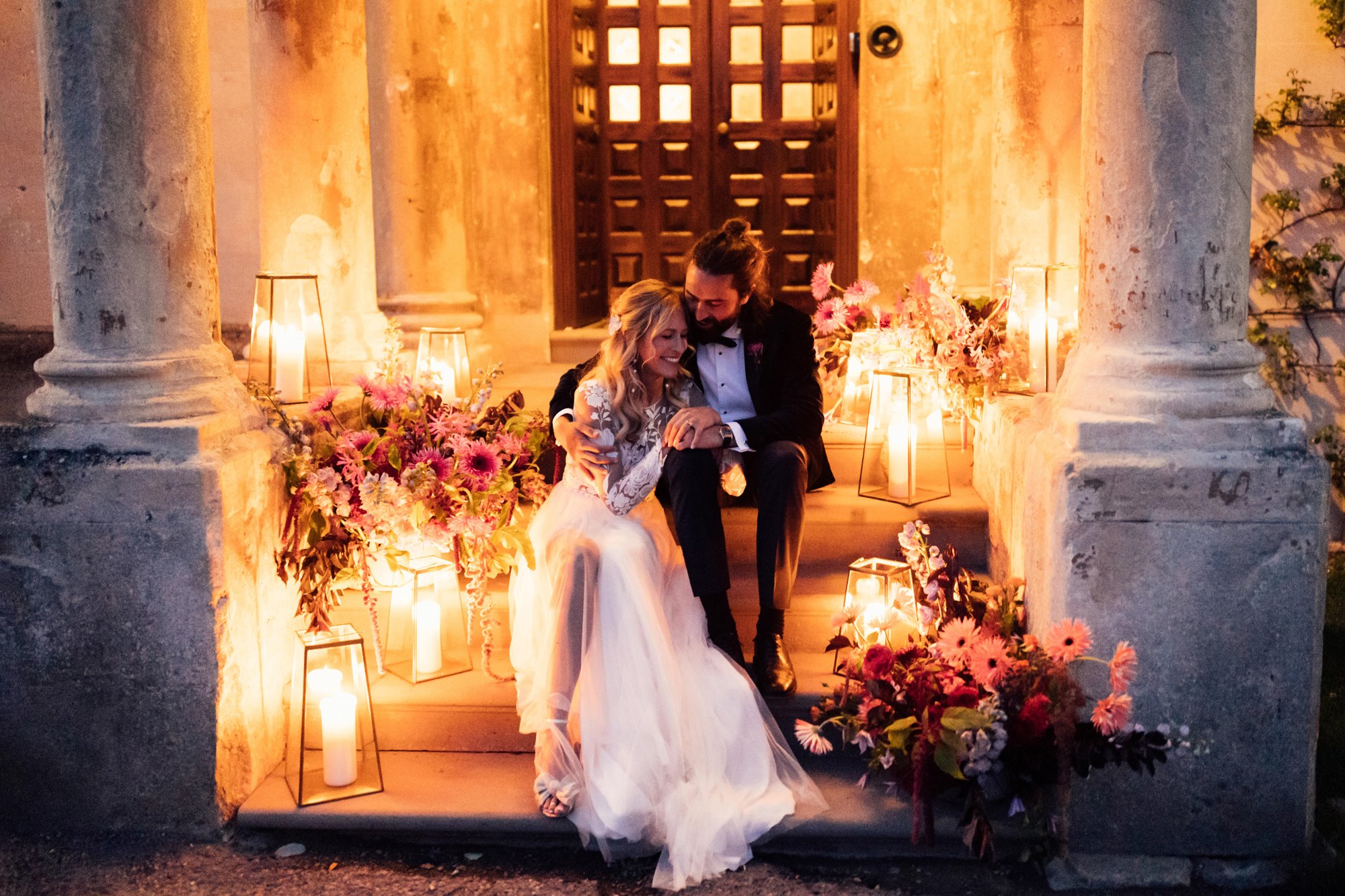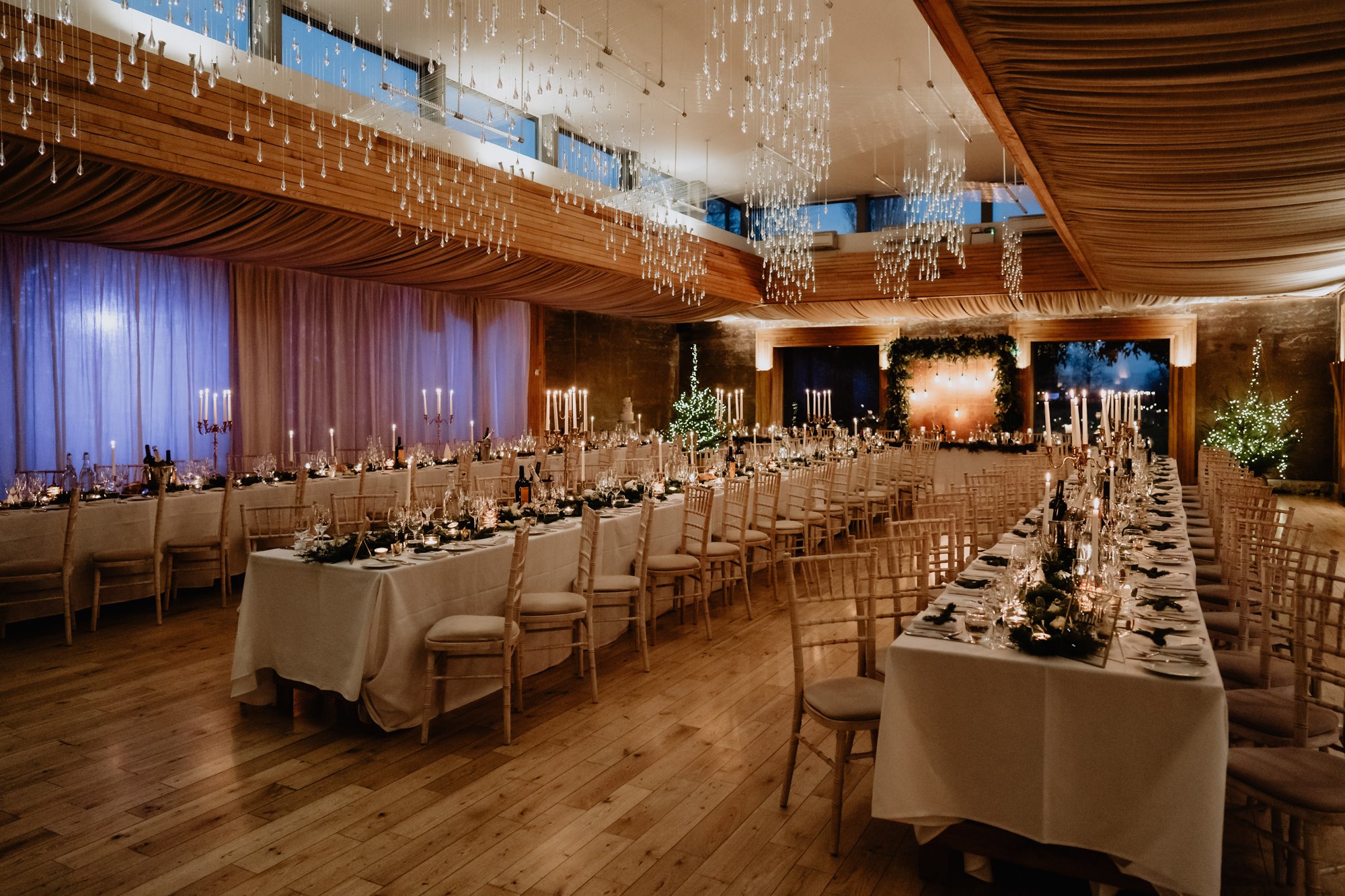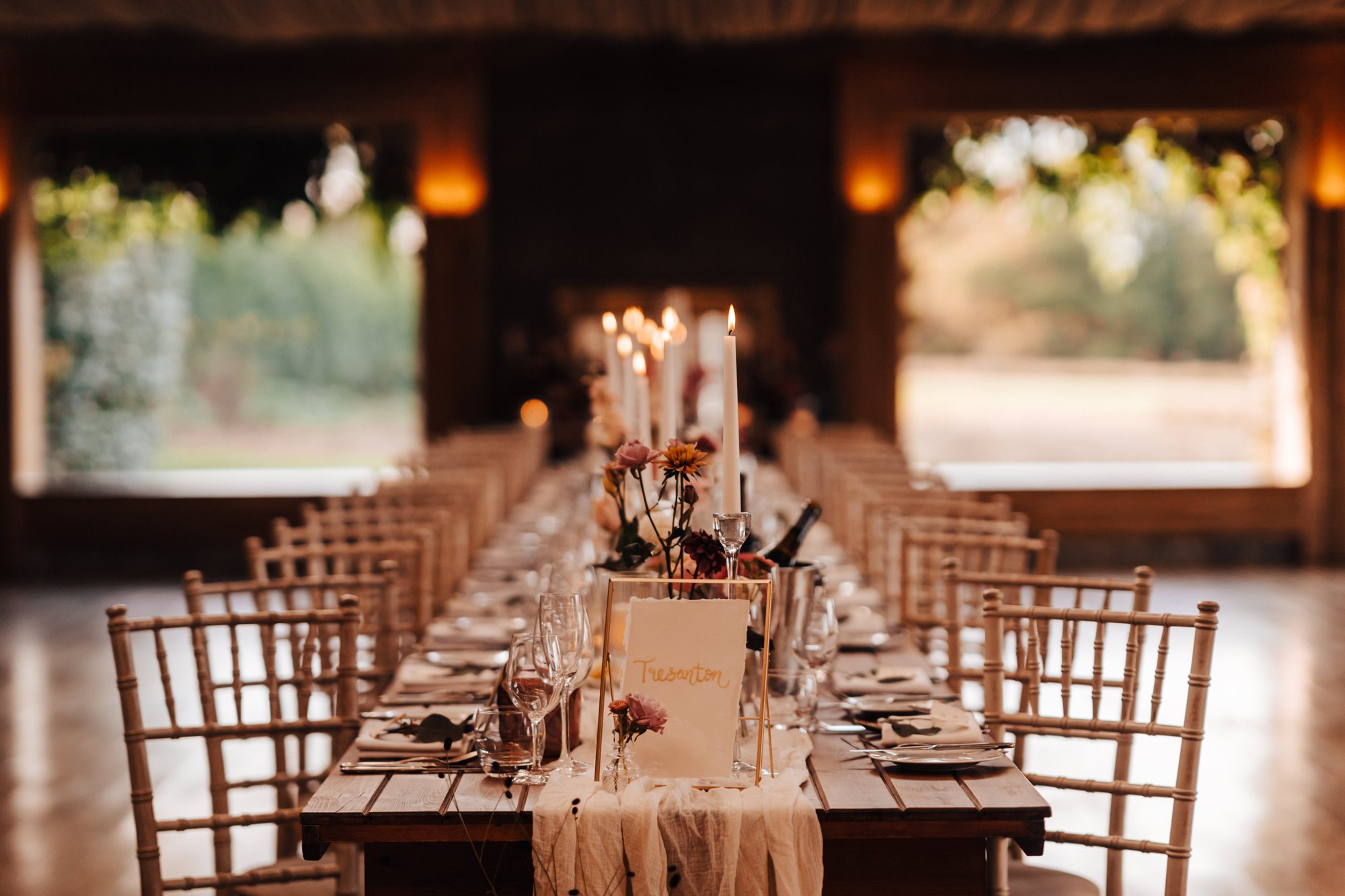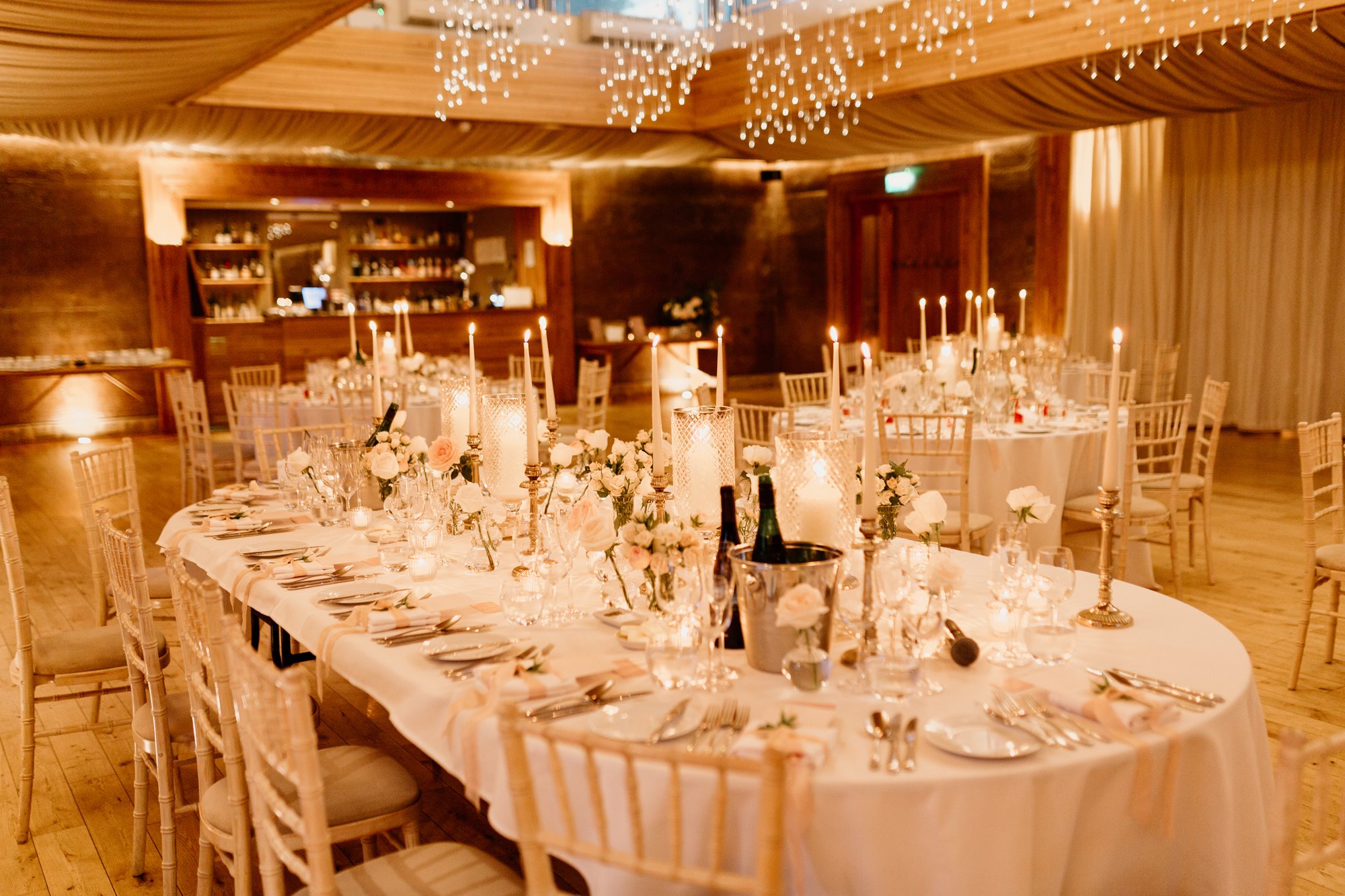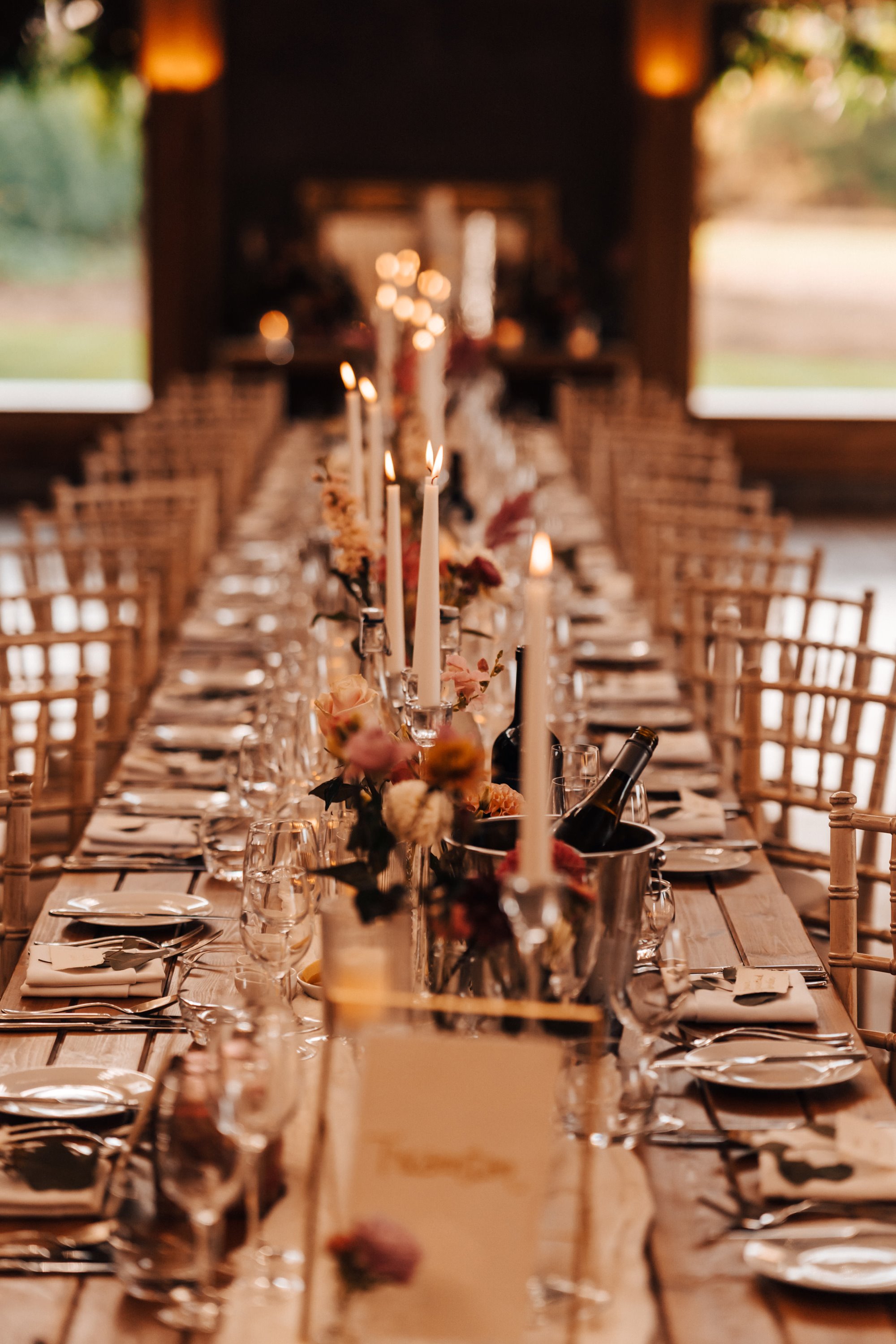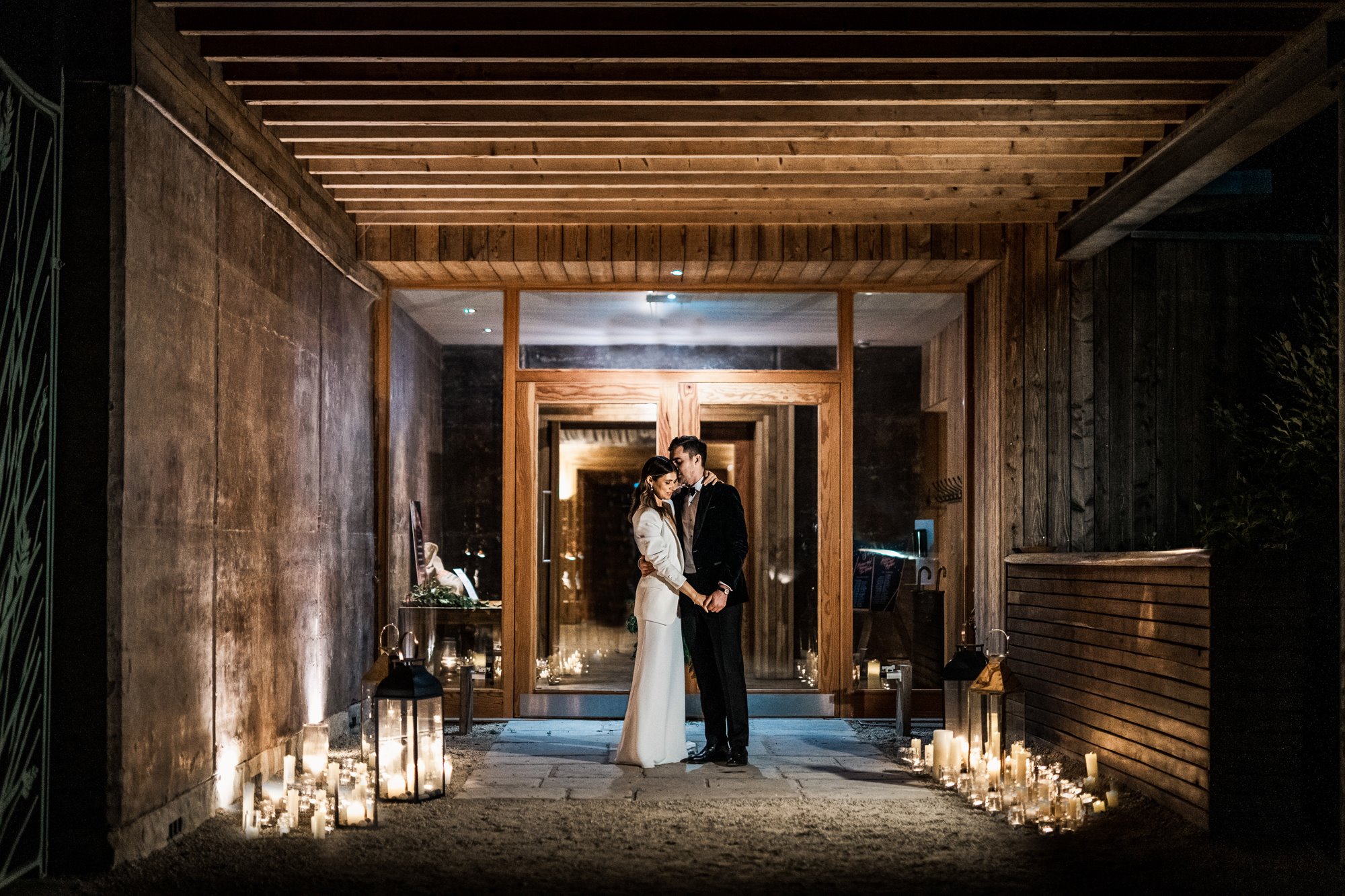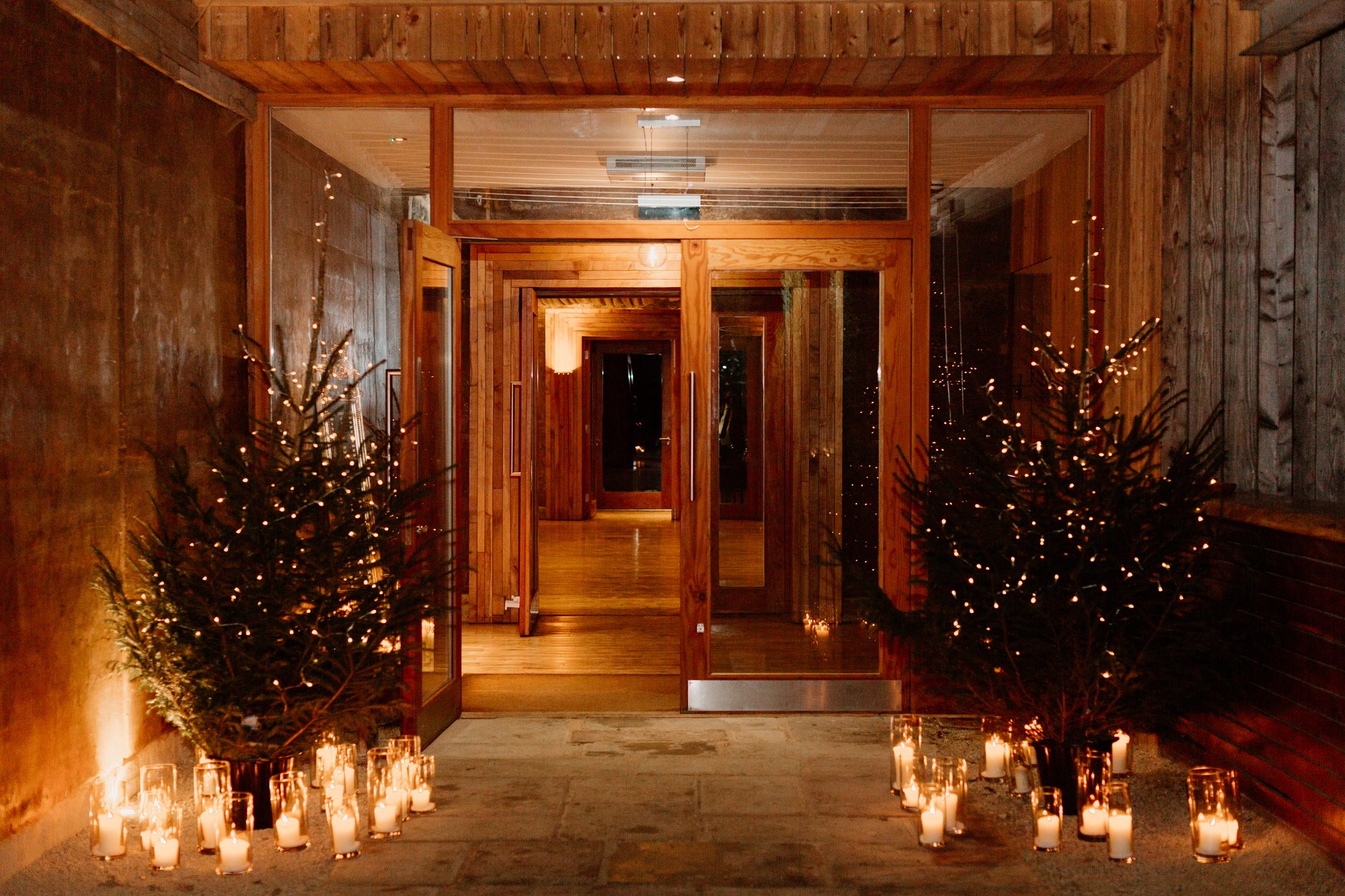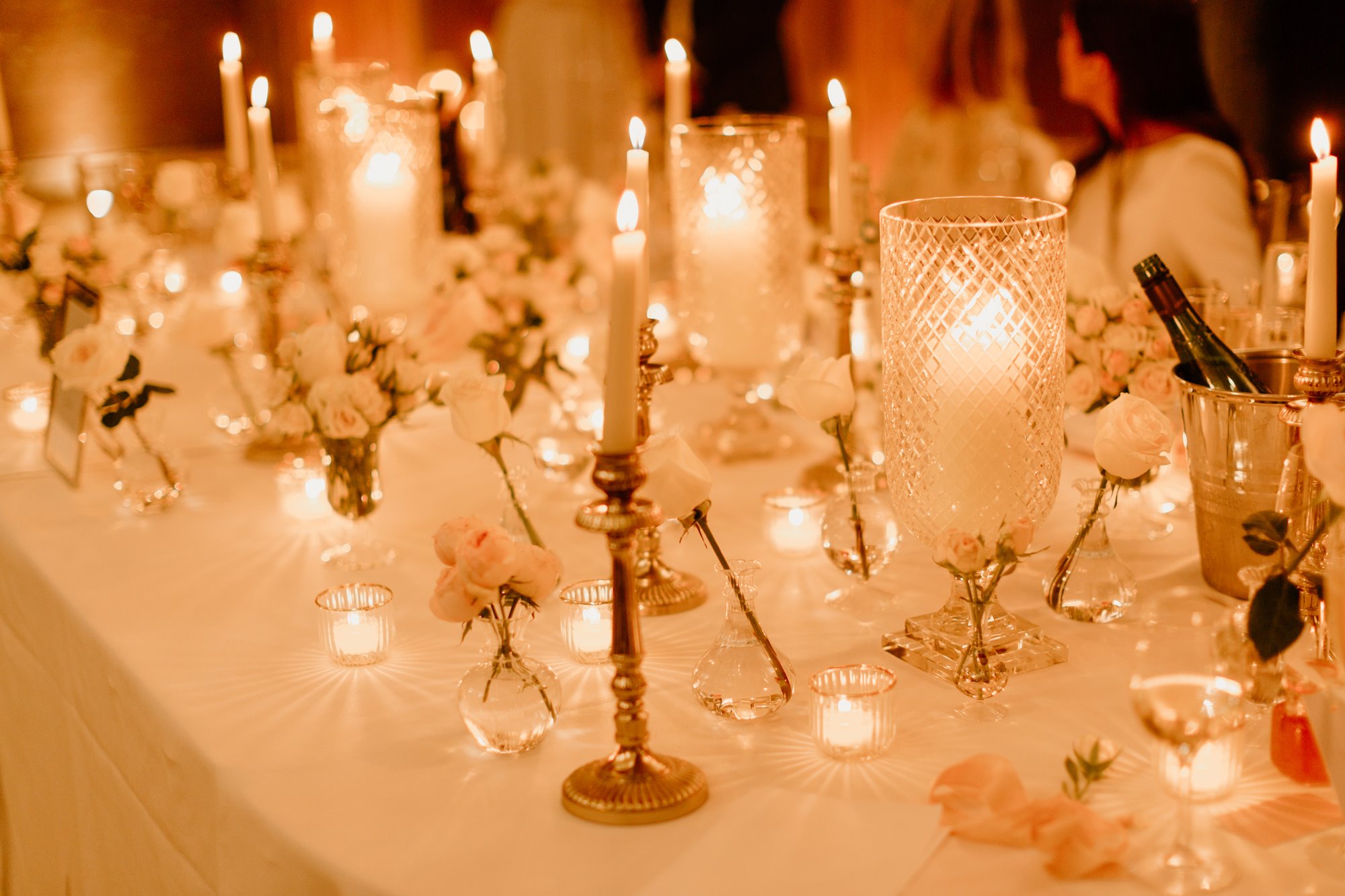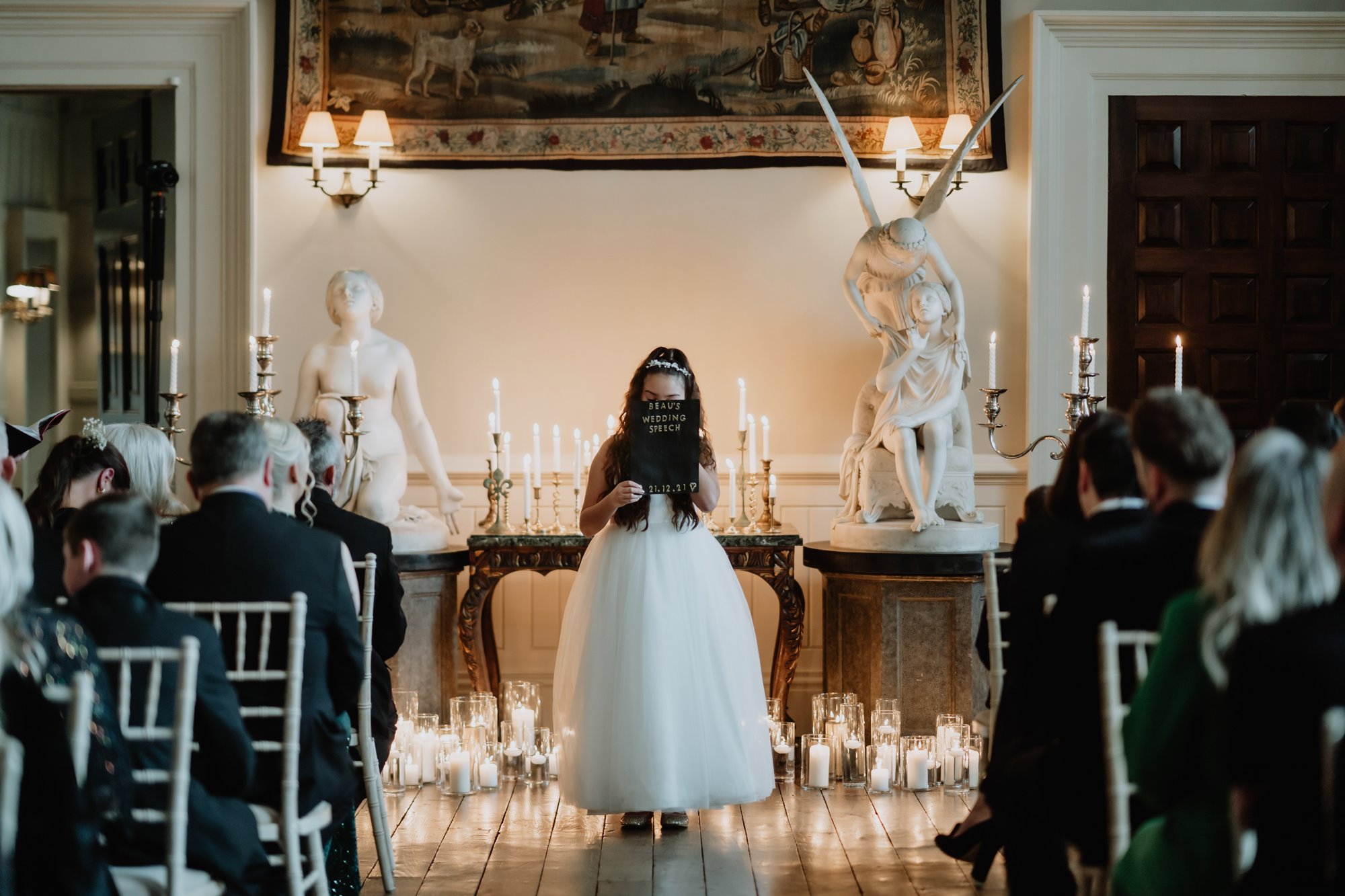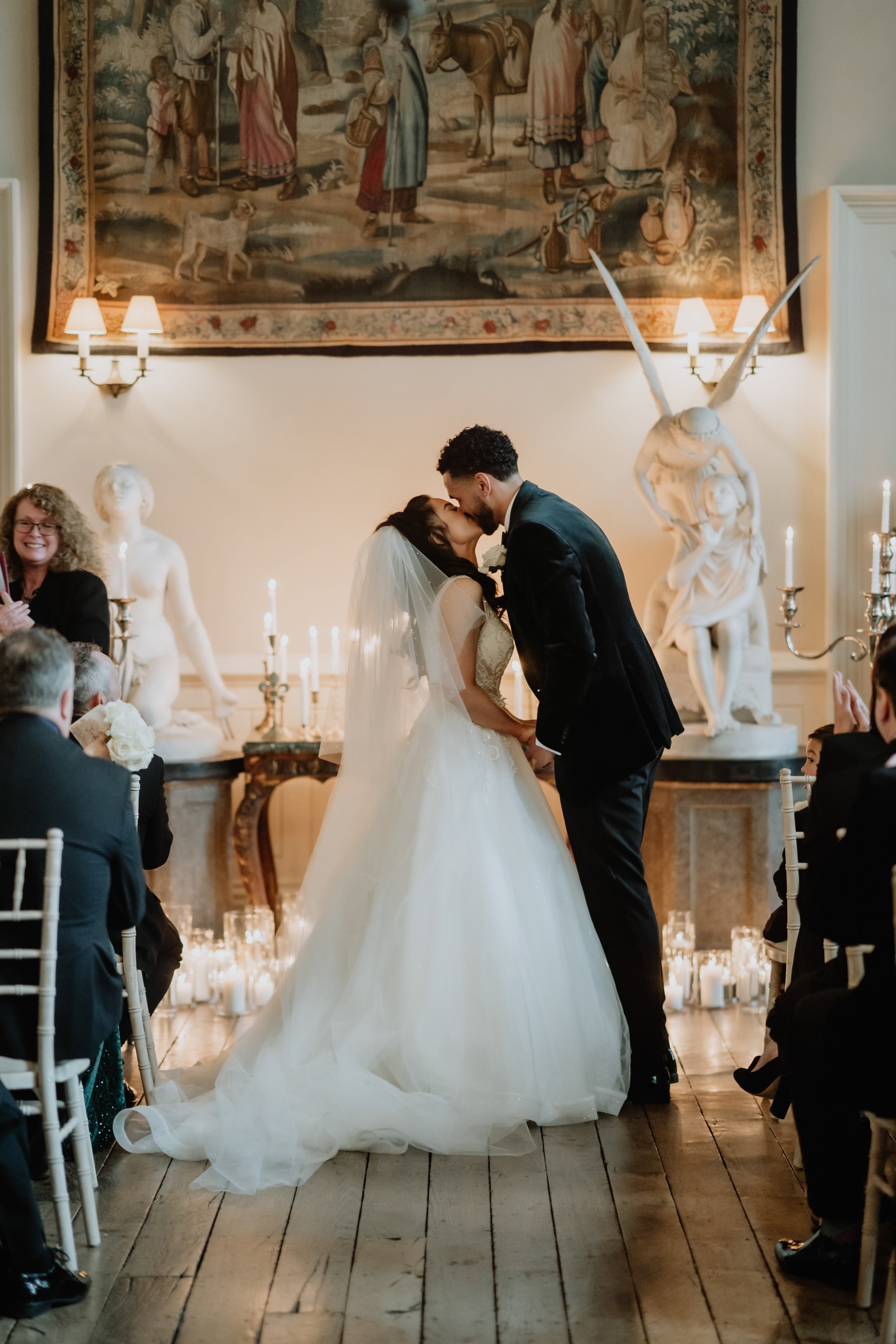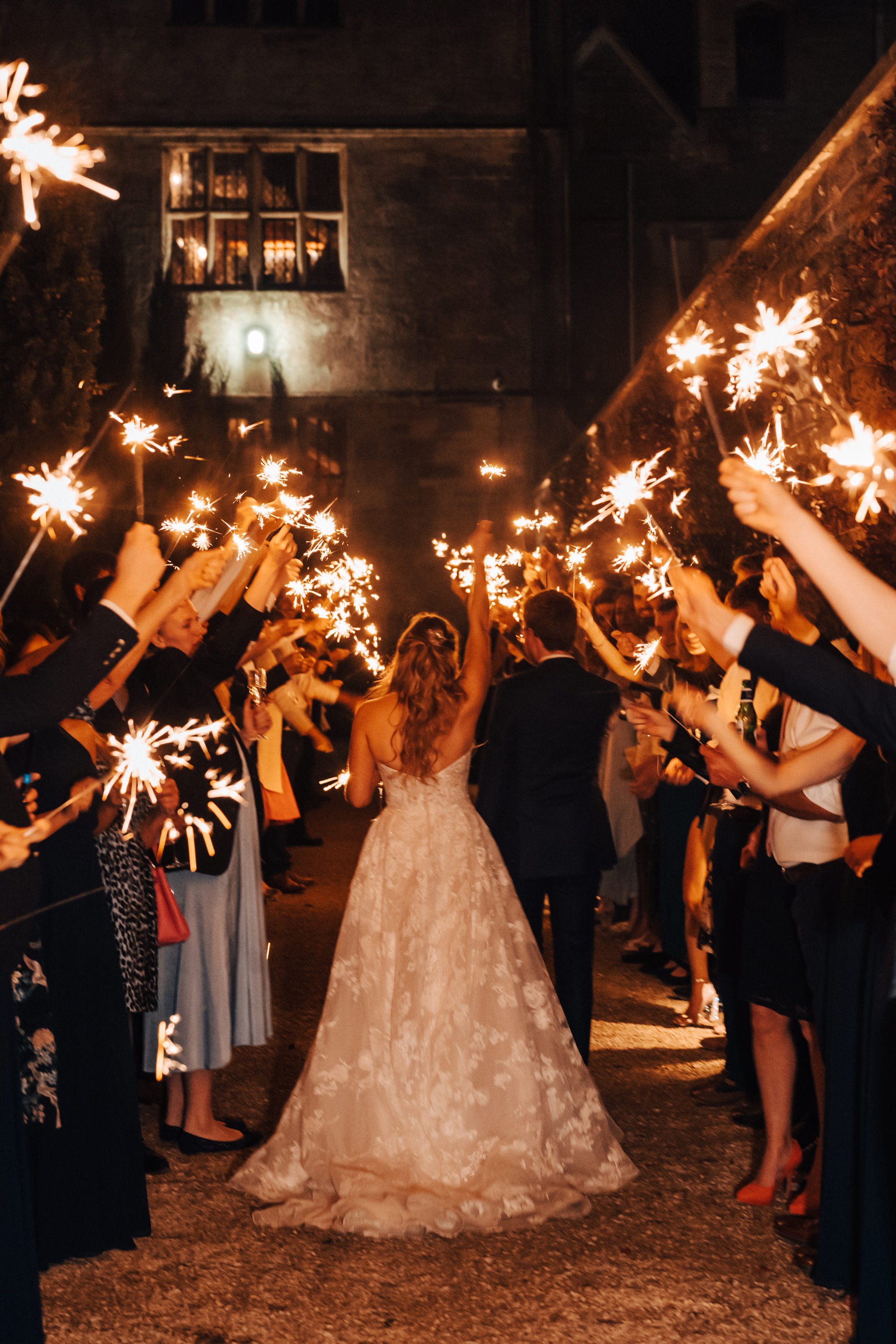 4) Tied up with a bow
There is something super romantic about ribbons and bows. Maybe it's because it reminds us of gifts? Whatever it is you seem to agree as ribbons and bows are popping up in lots of your weddings.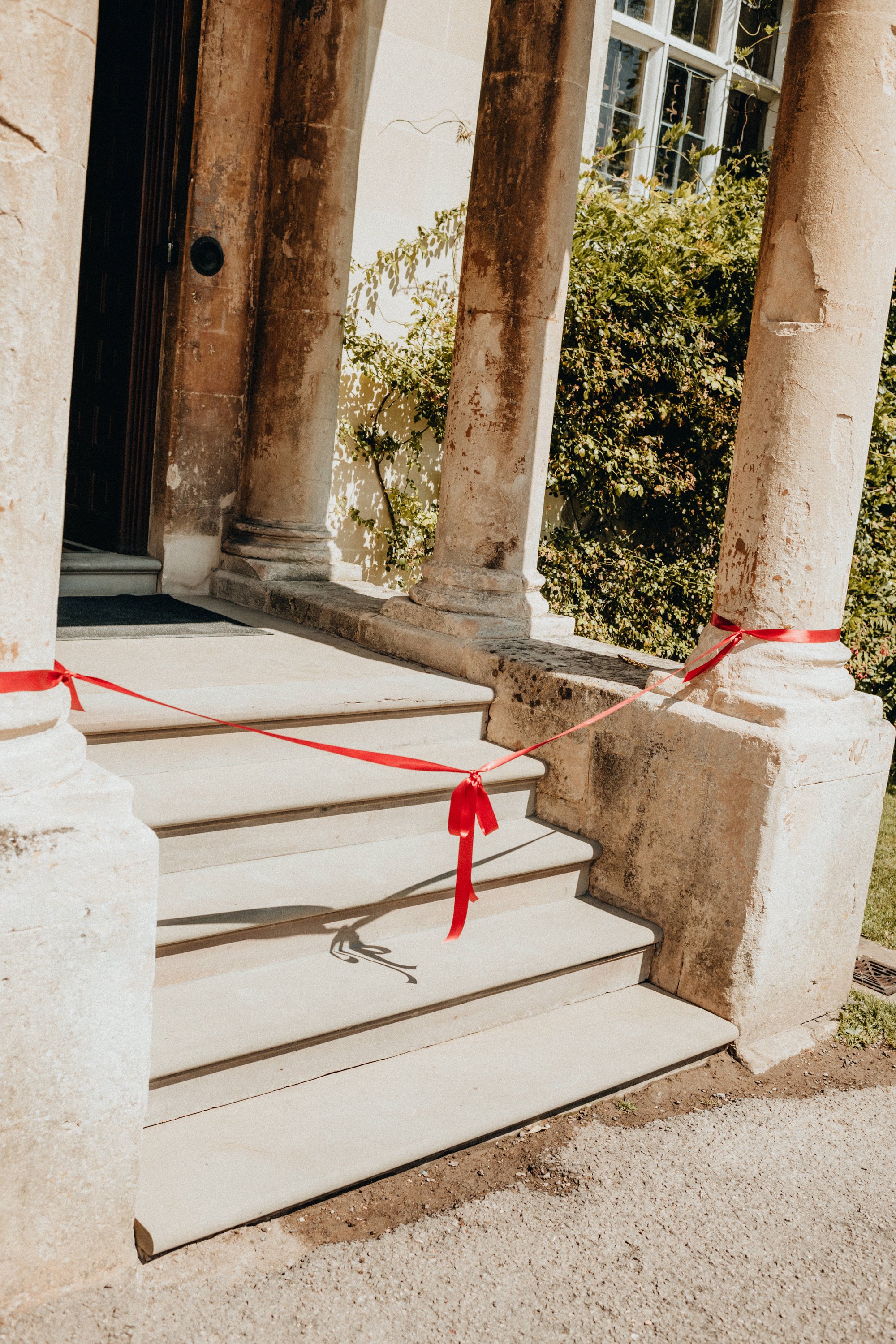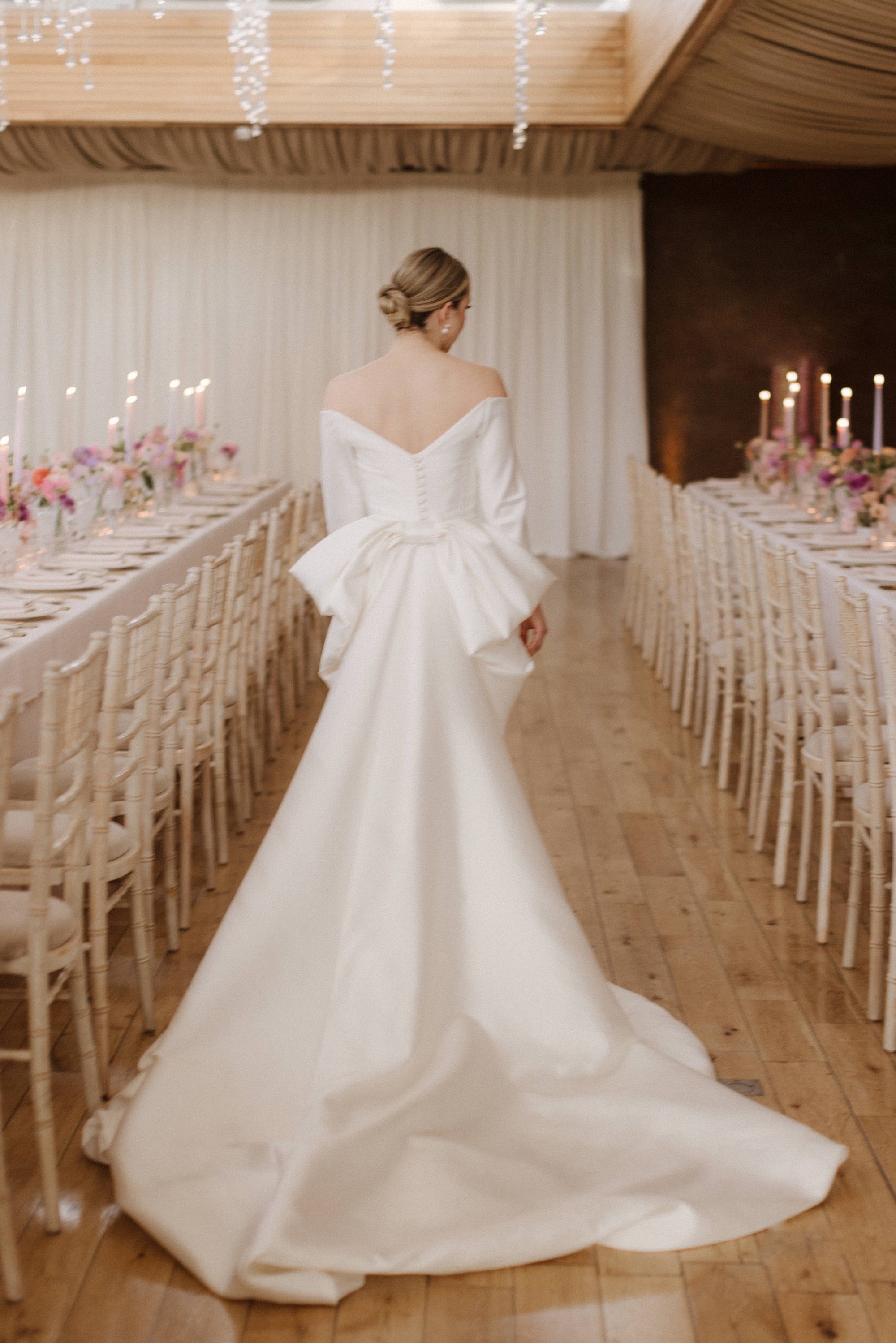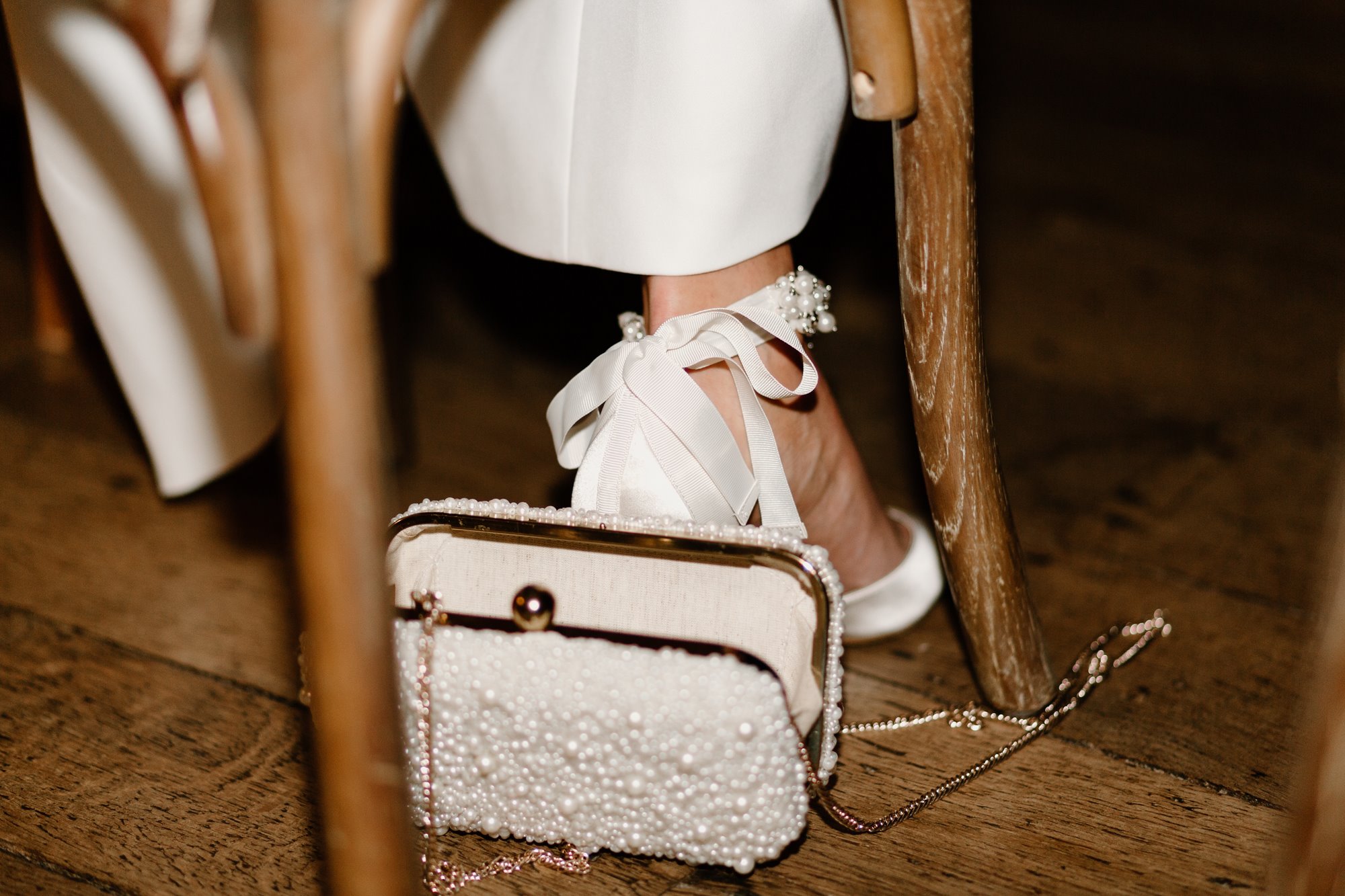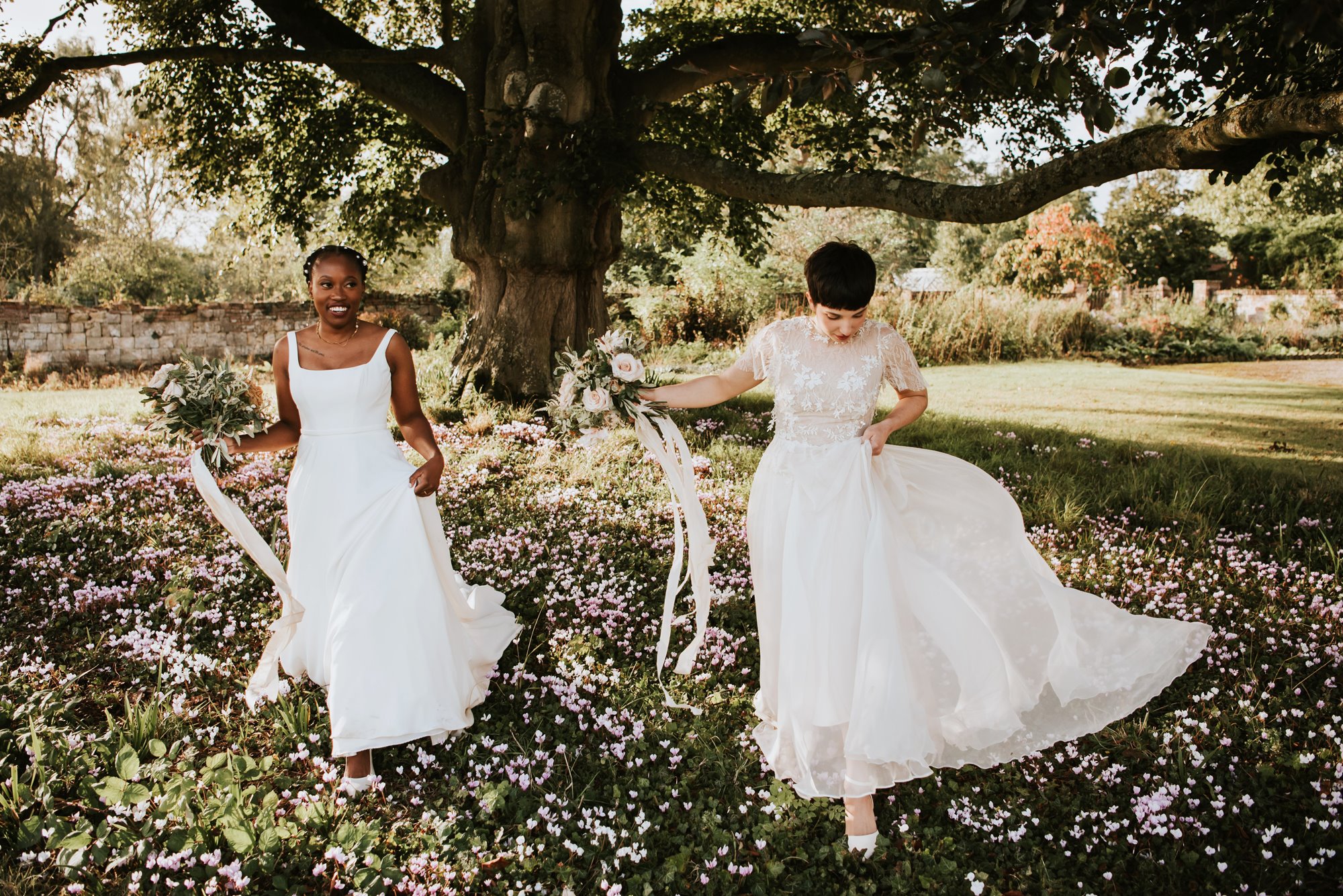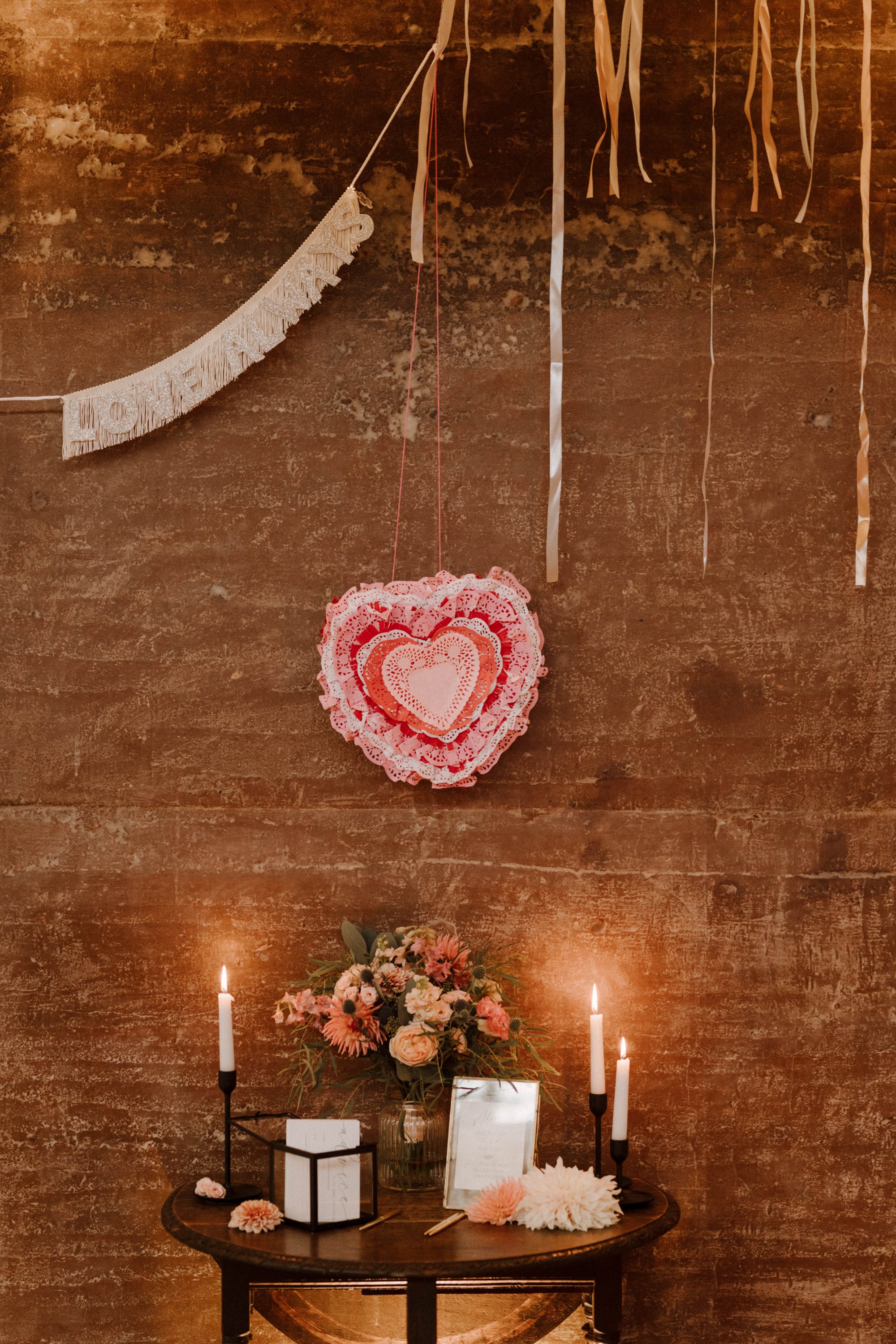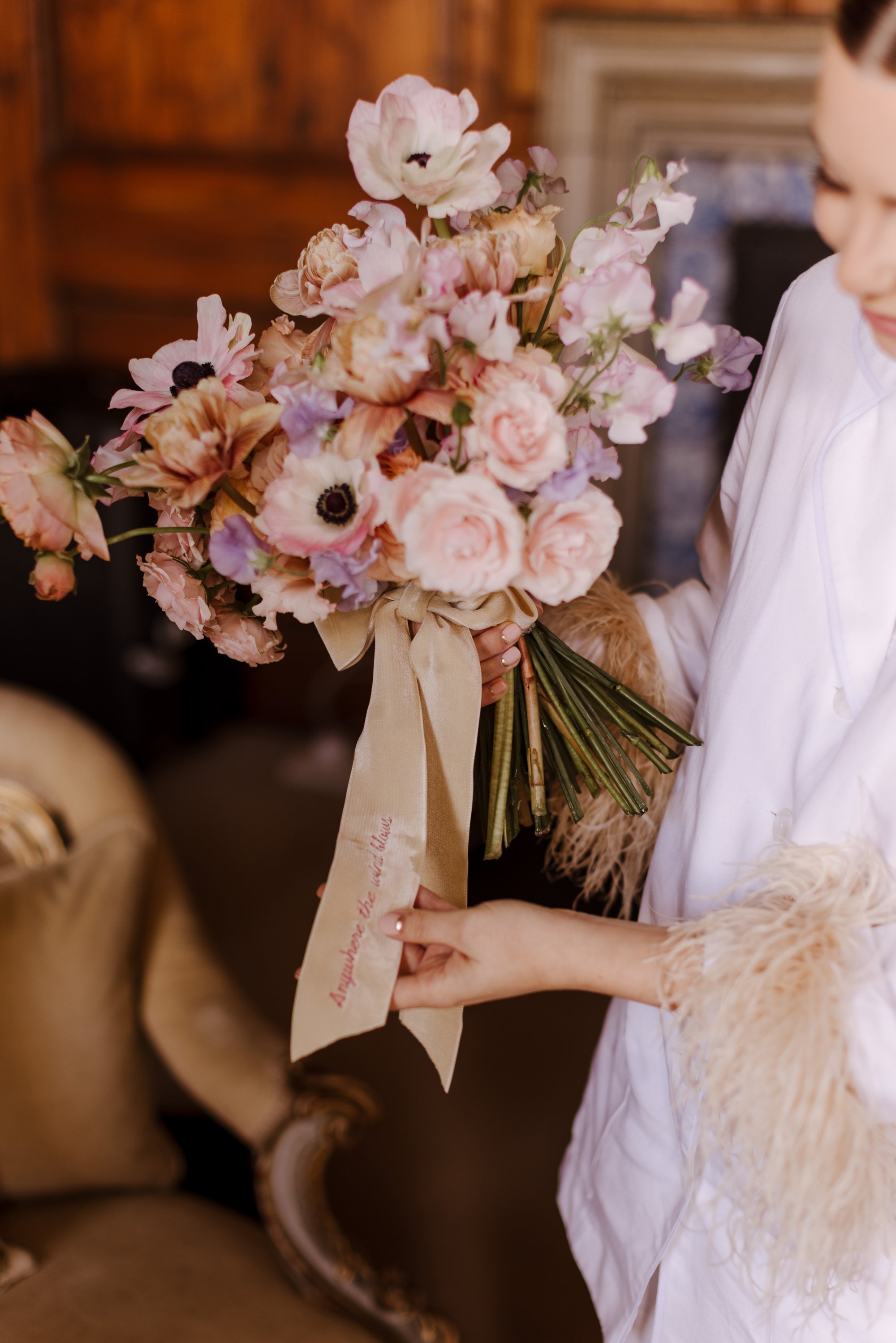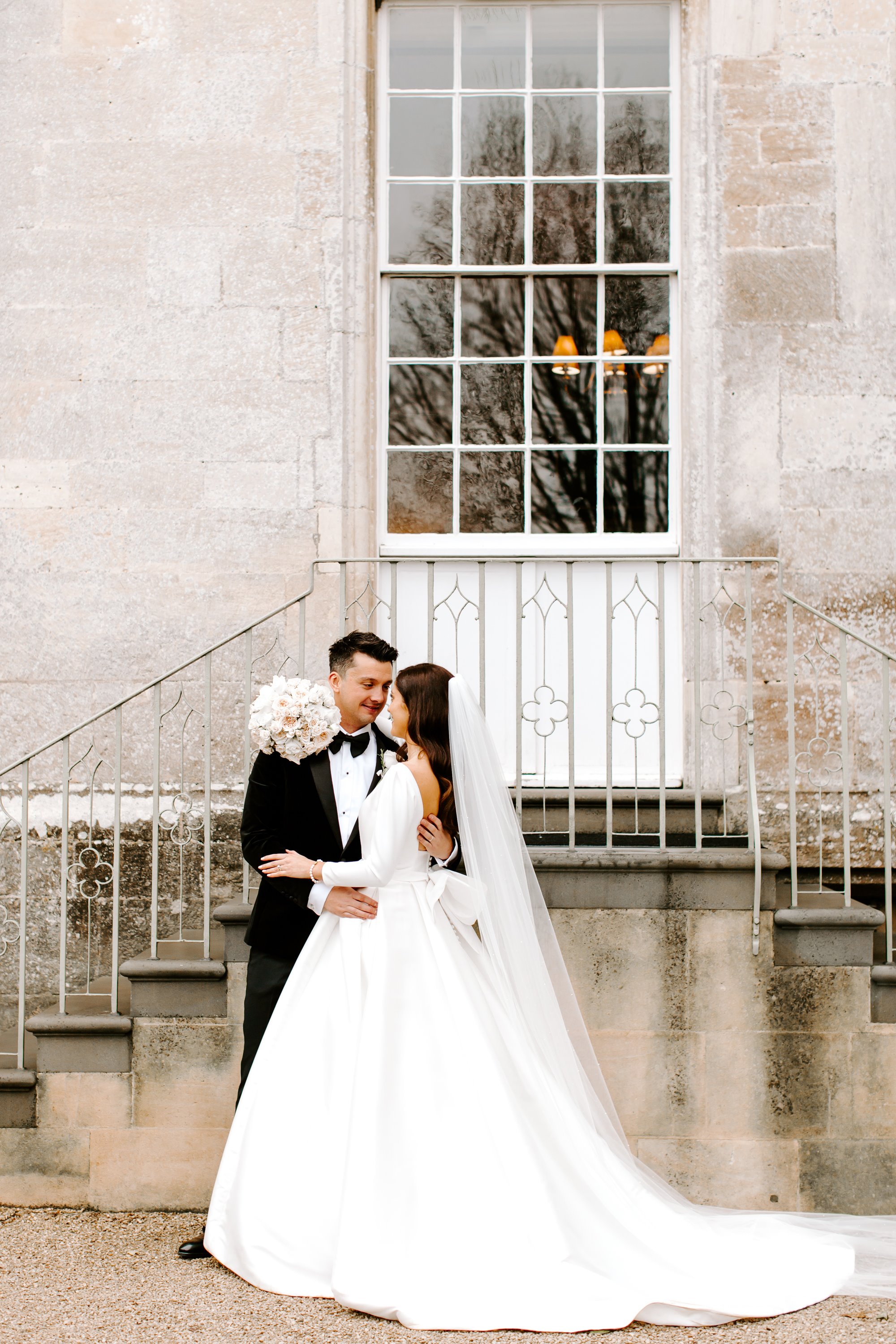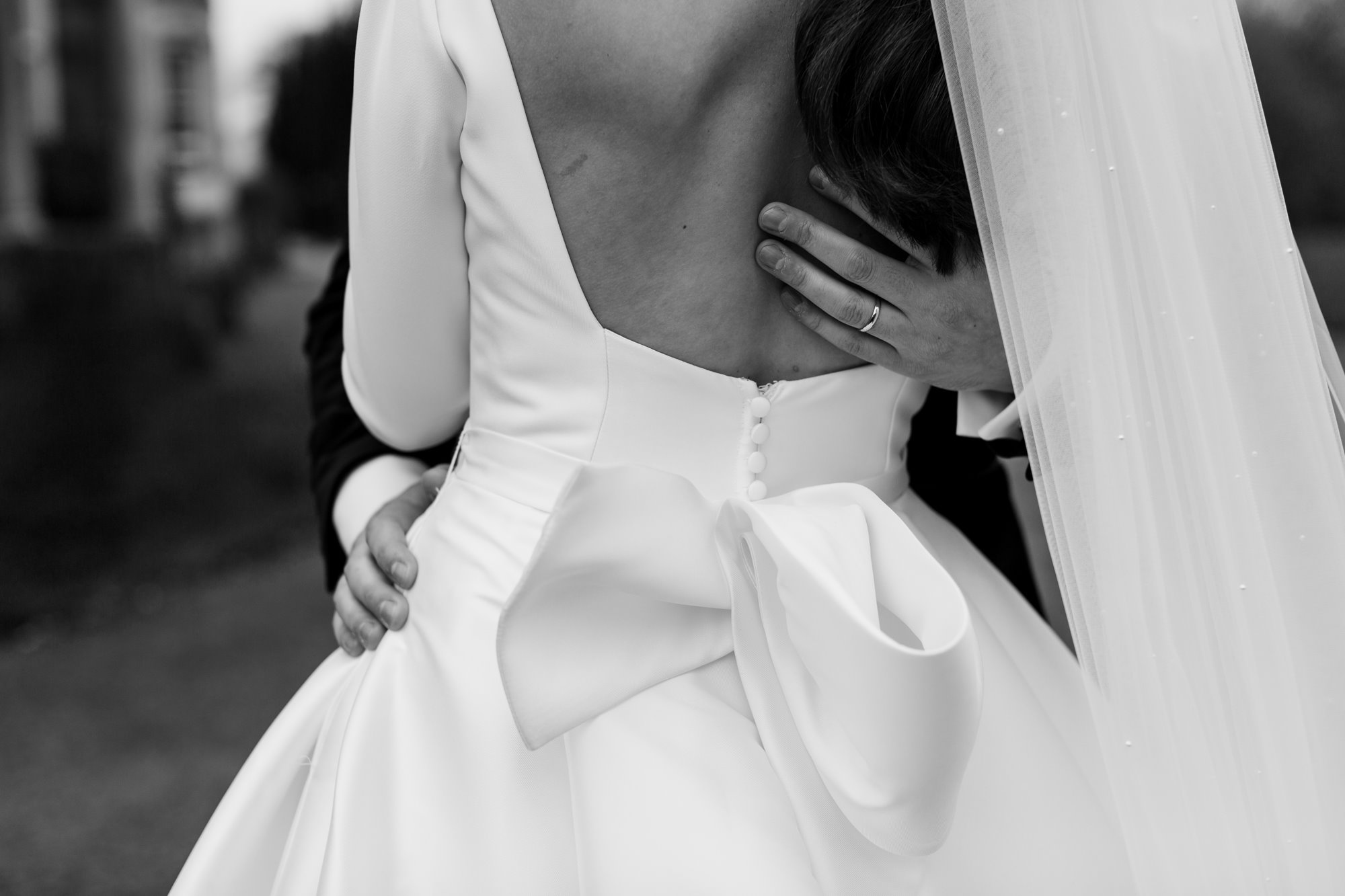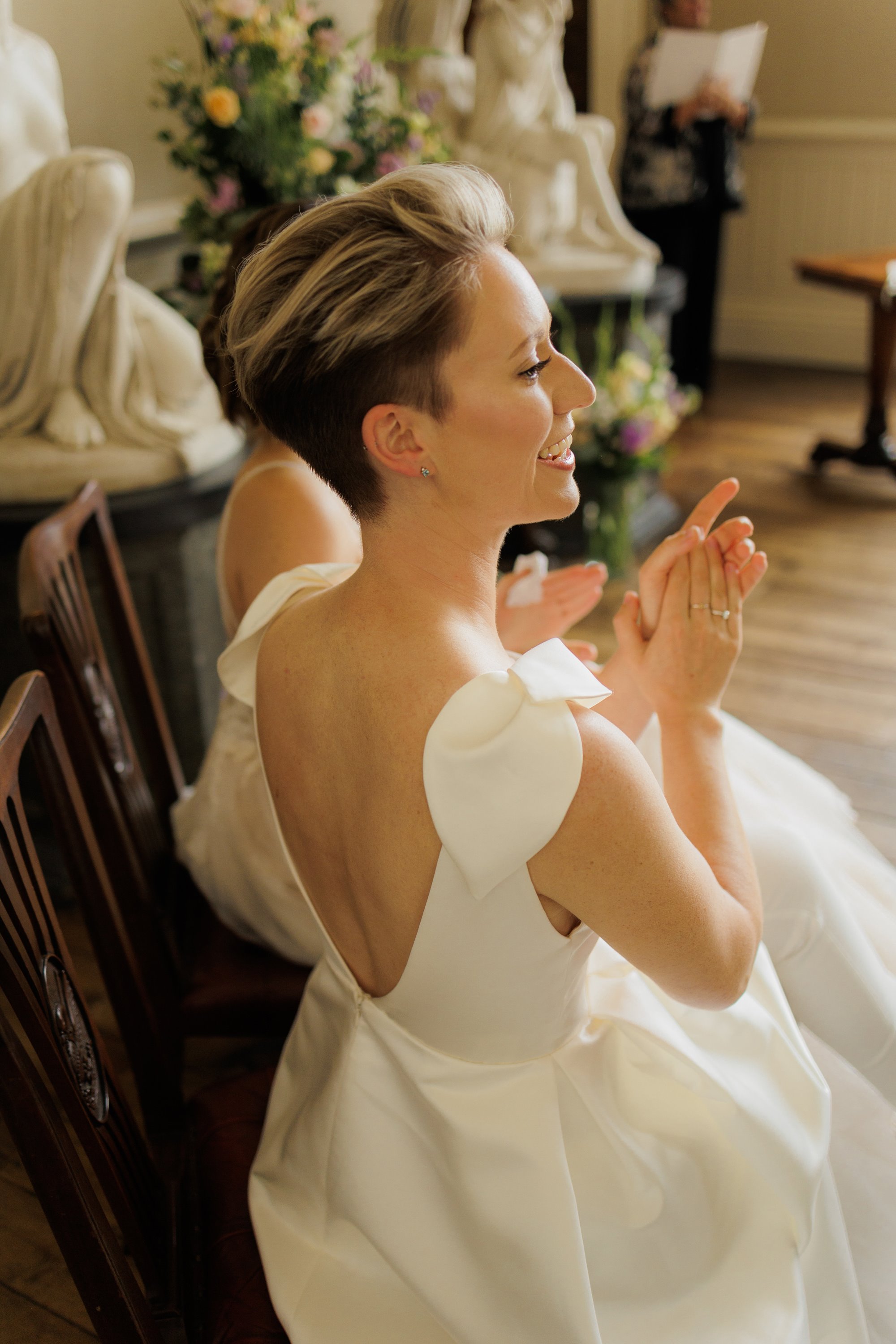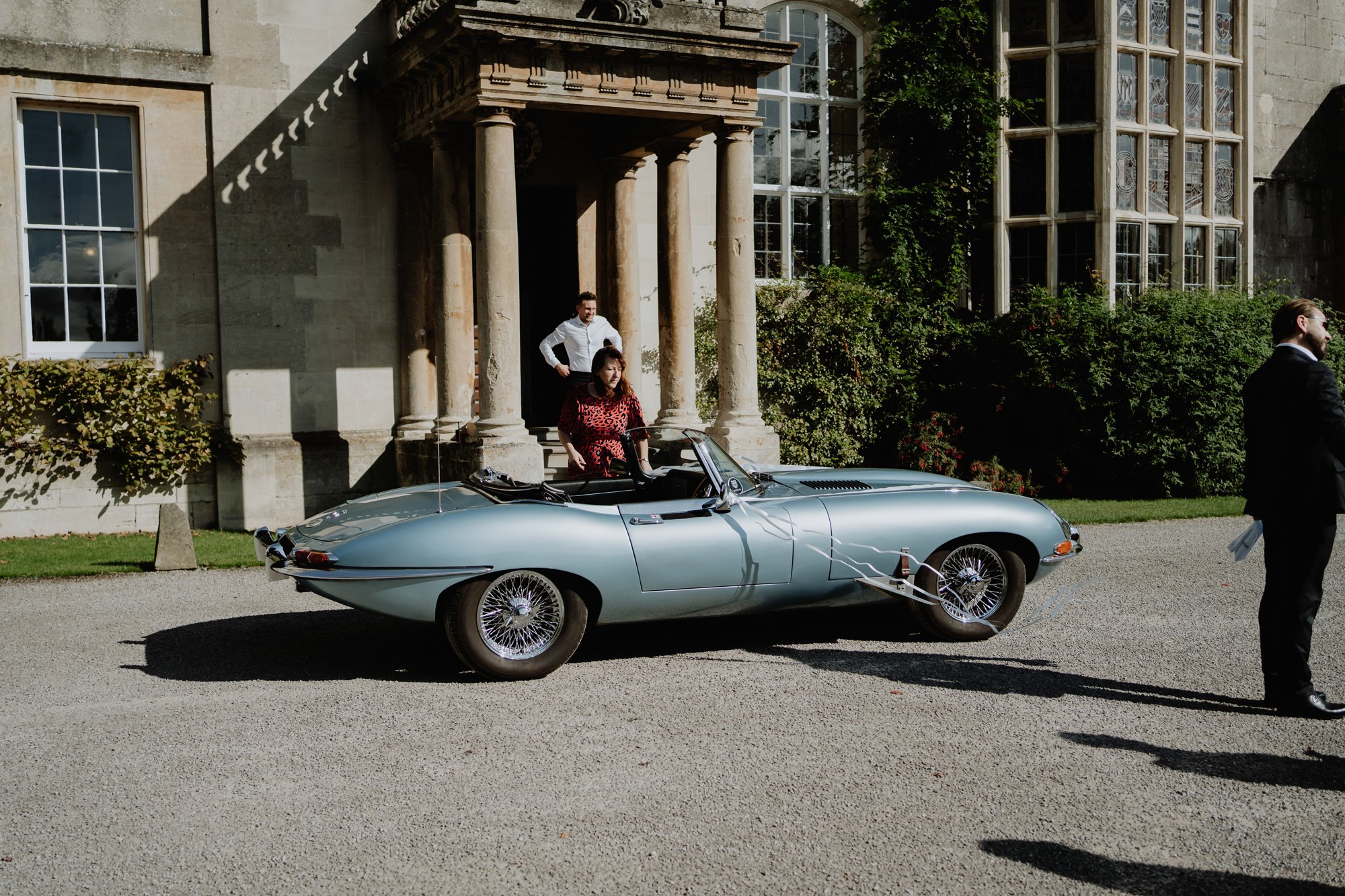 5) Last Supper
This is something we do here. The night before your wedding day, gather your nearest and dearest for a 'last supper' it really is extremely atmospheric and a wonderful chance to reflect before the big day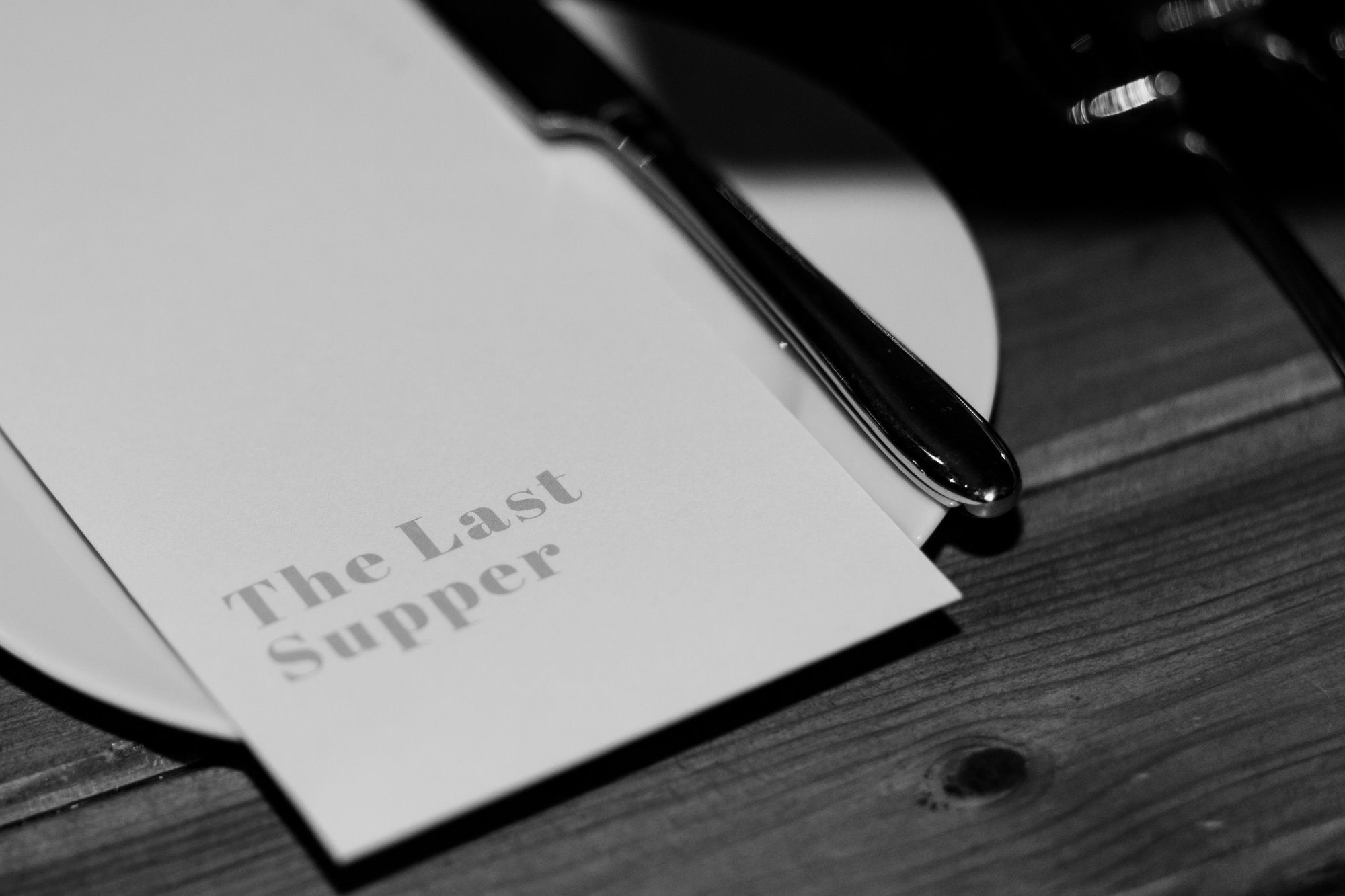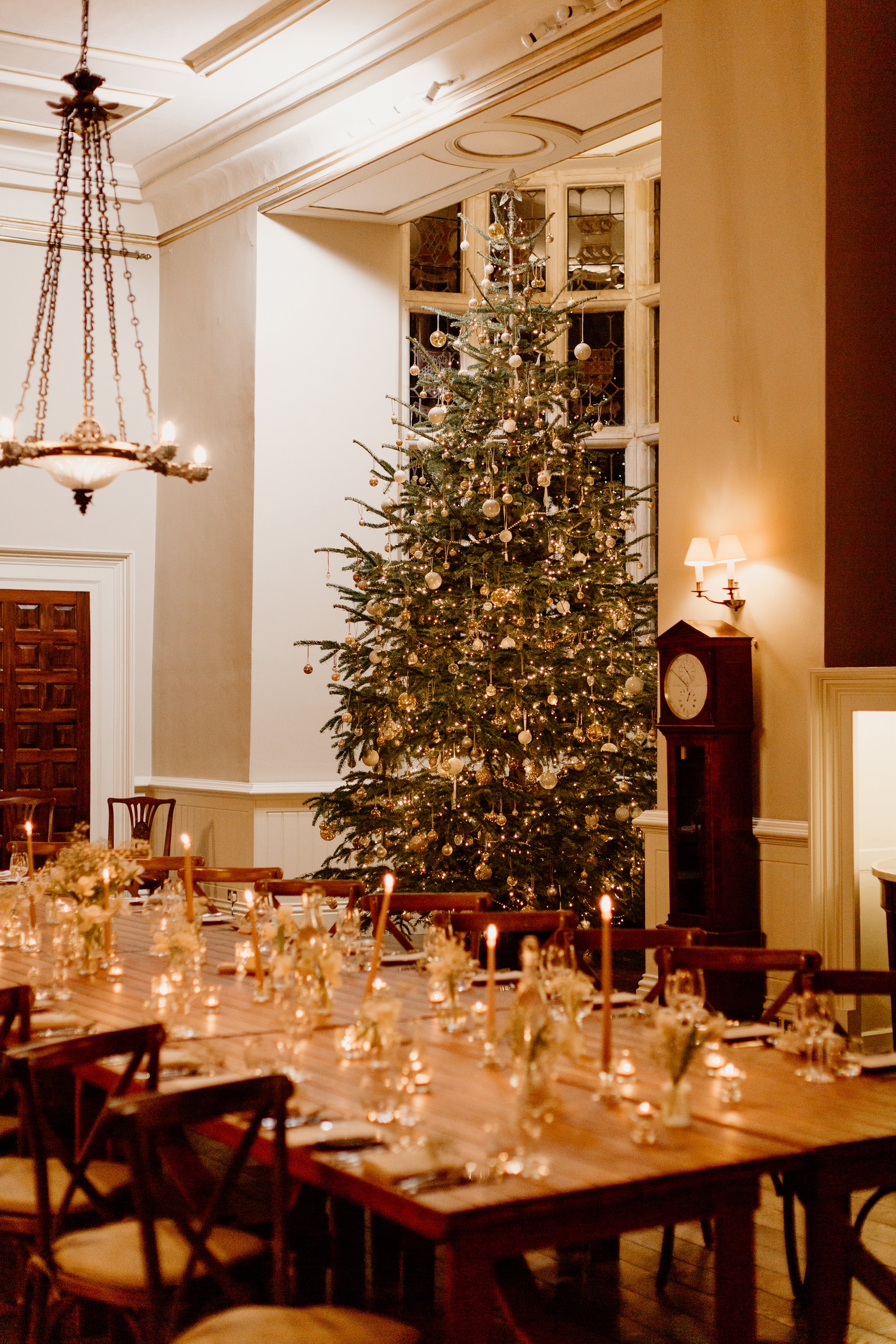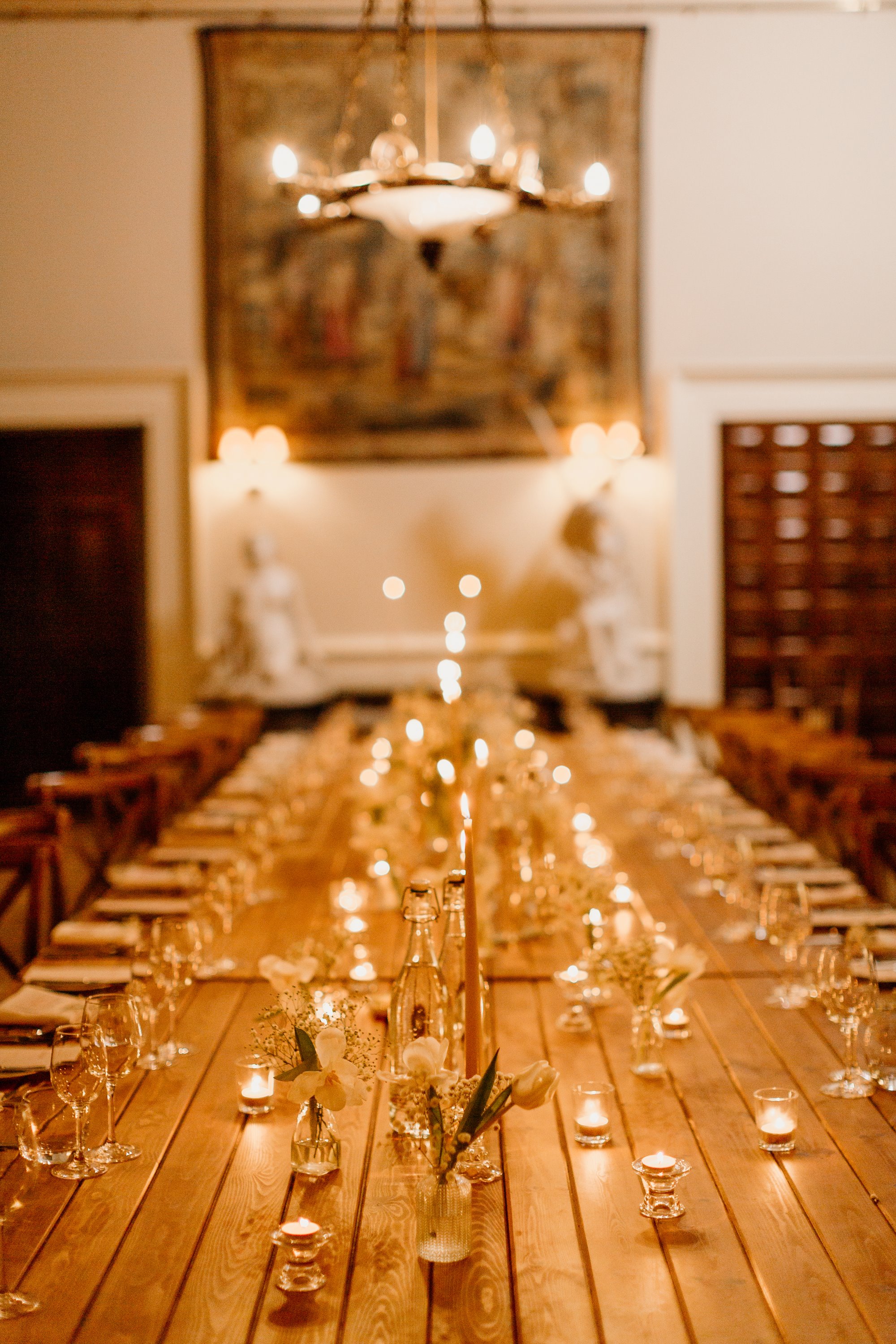 6) Champagne wedding ideas
Whether you're starting the day sipping it in your dressing gown or in the bath, hosting a lavish outdoor drinks reception with a champagne tower on the lawn, or raising a toast in the cosy drawing room there is no doubt the golden bubbles of champagne is the most romantic choice of wedding drink.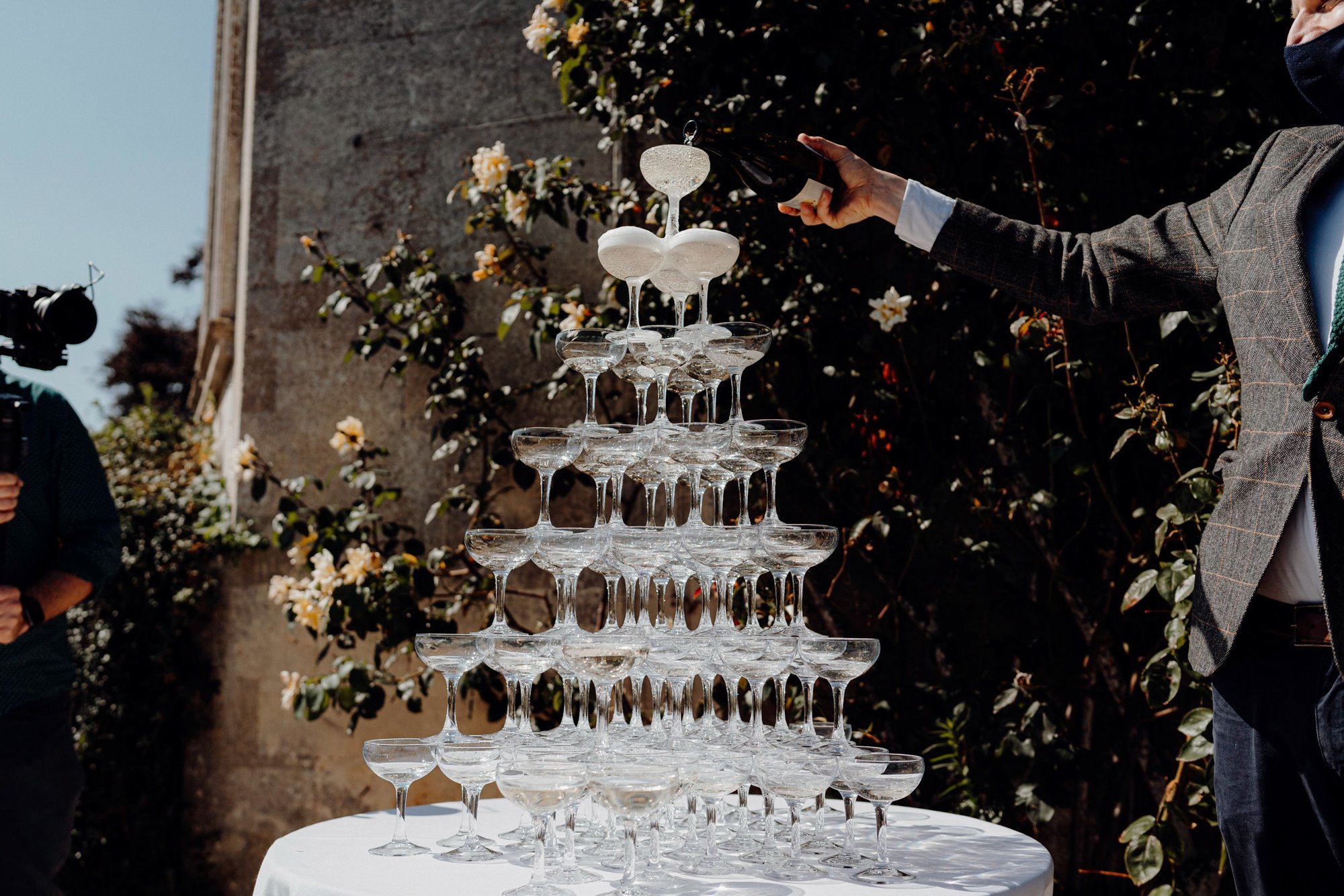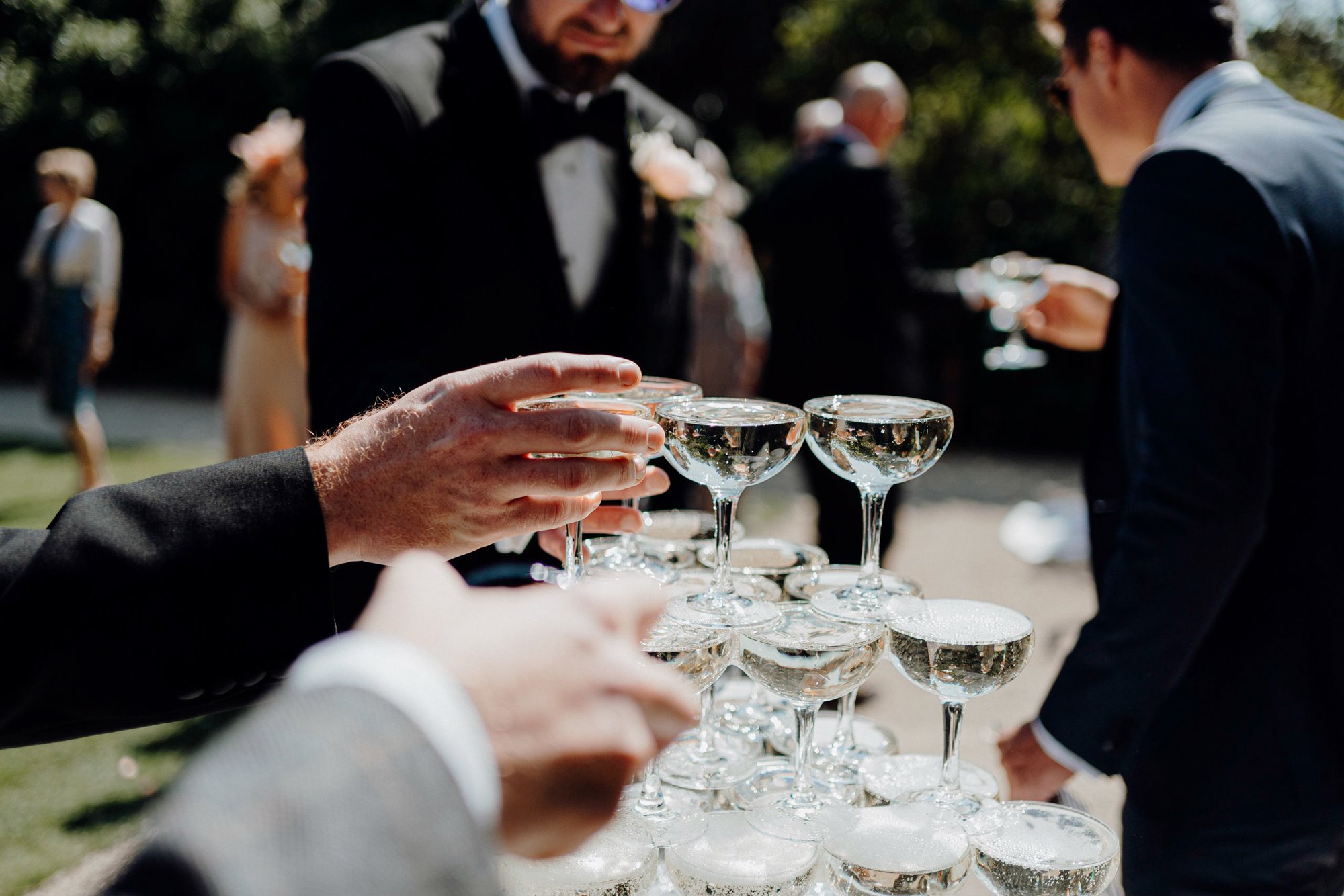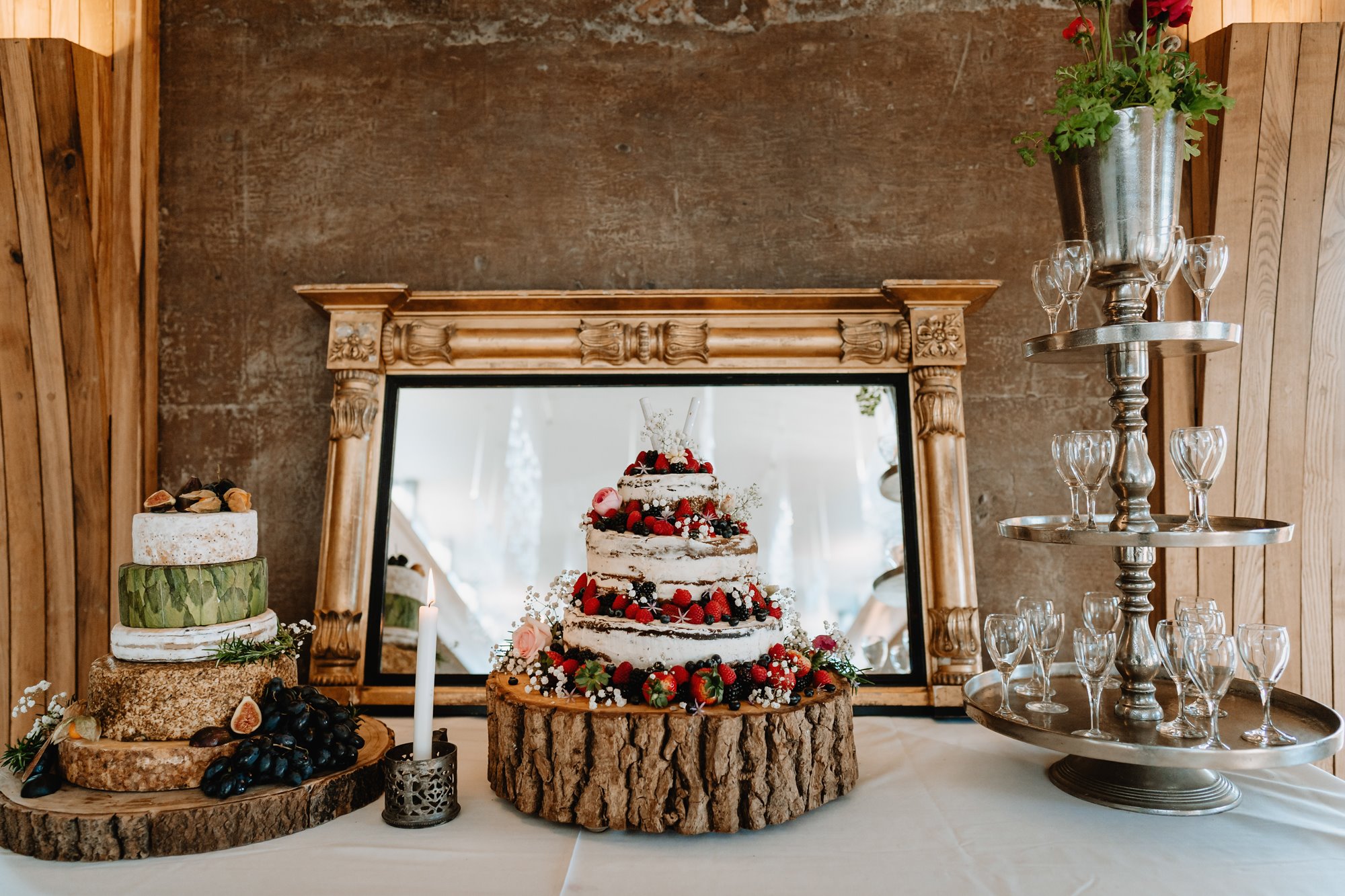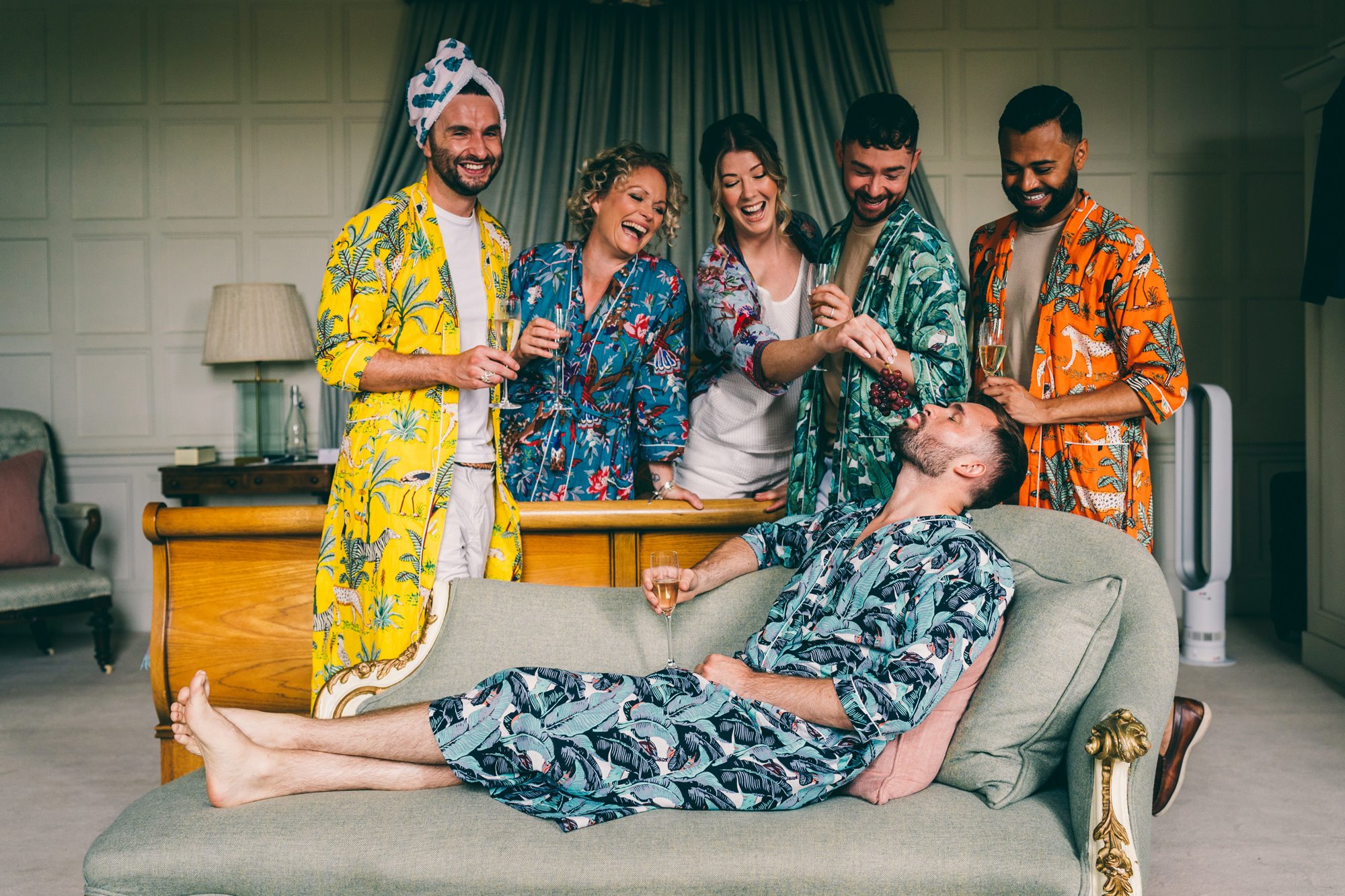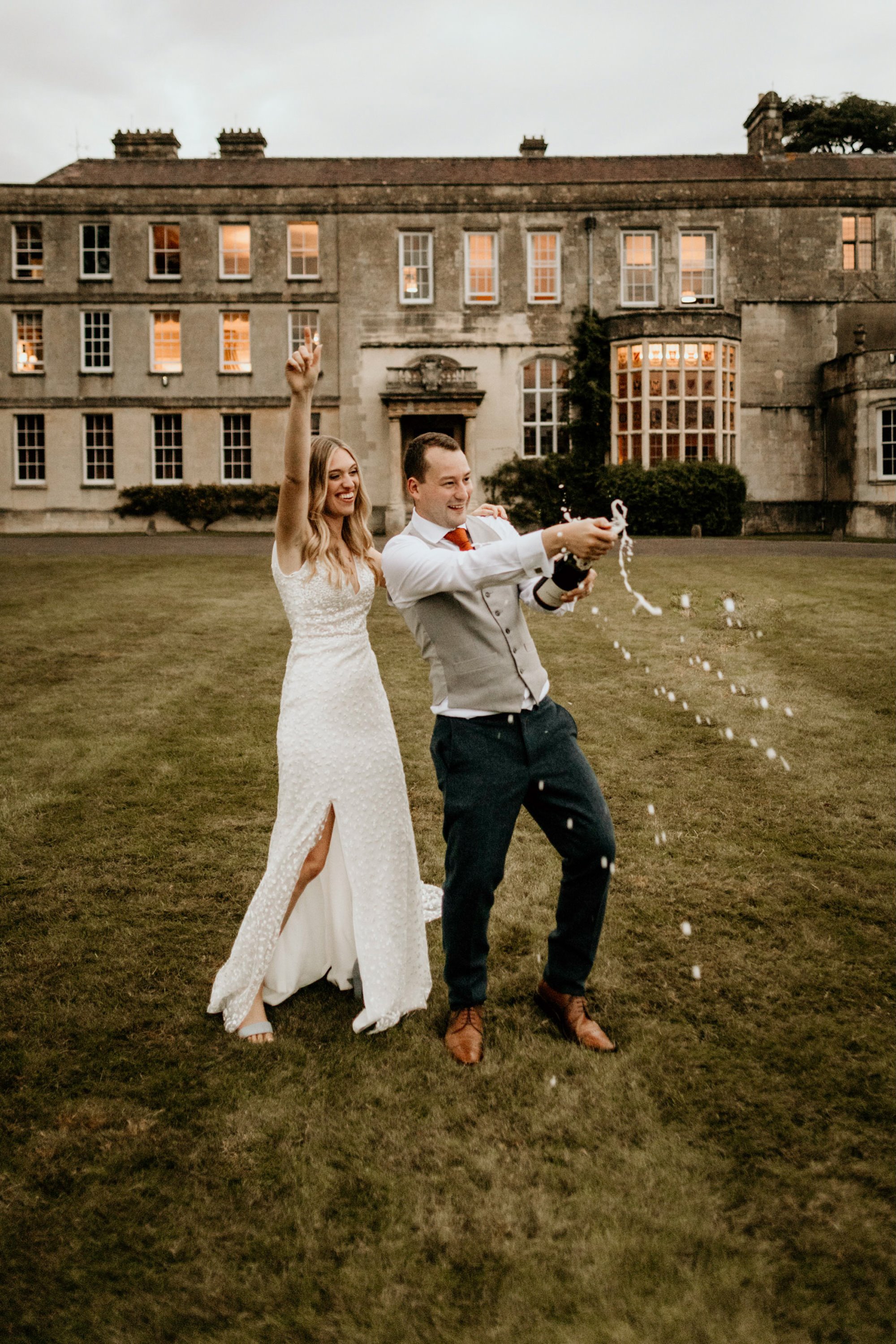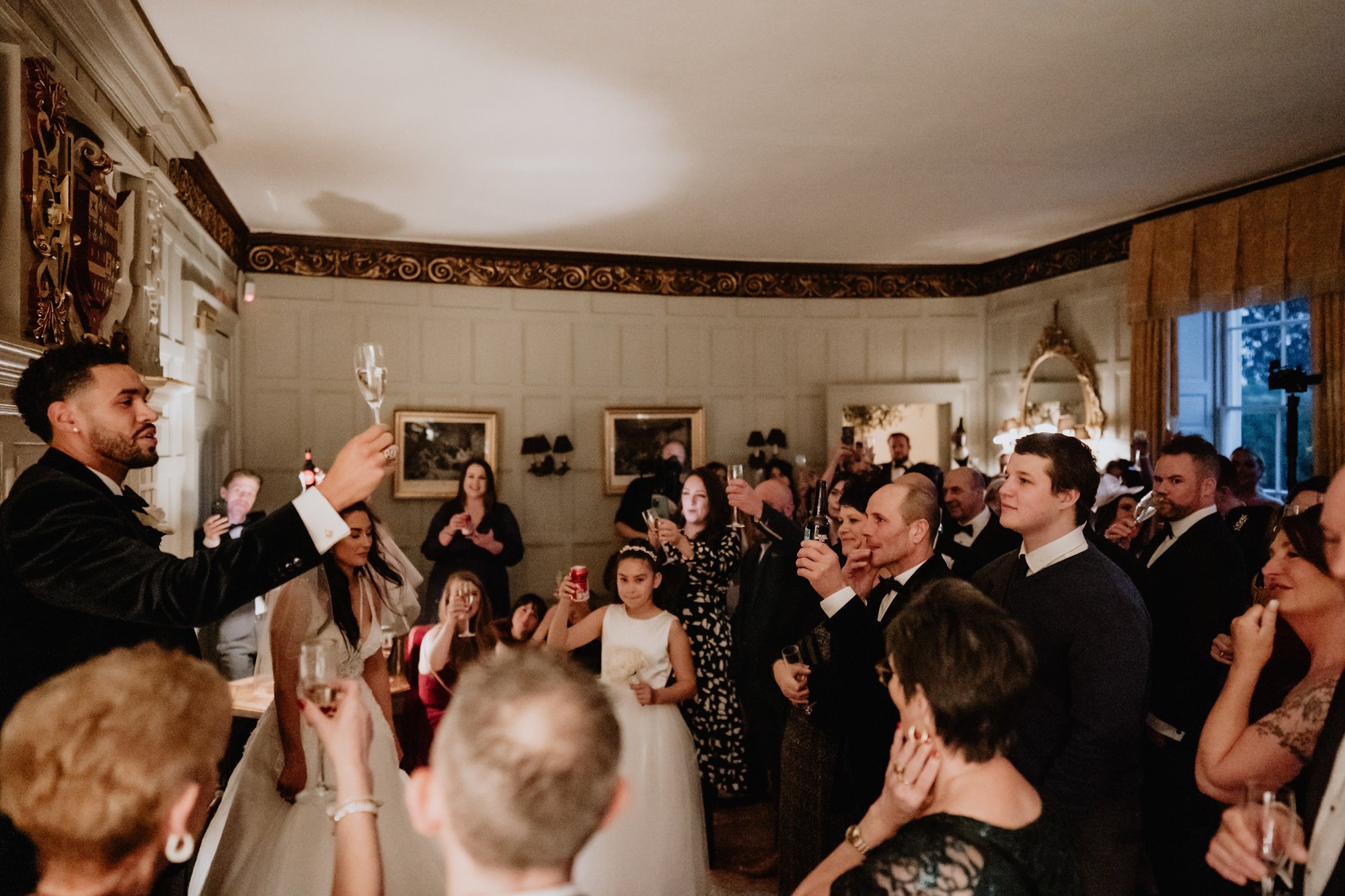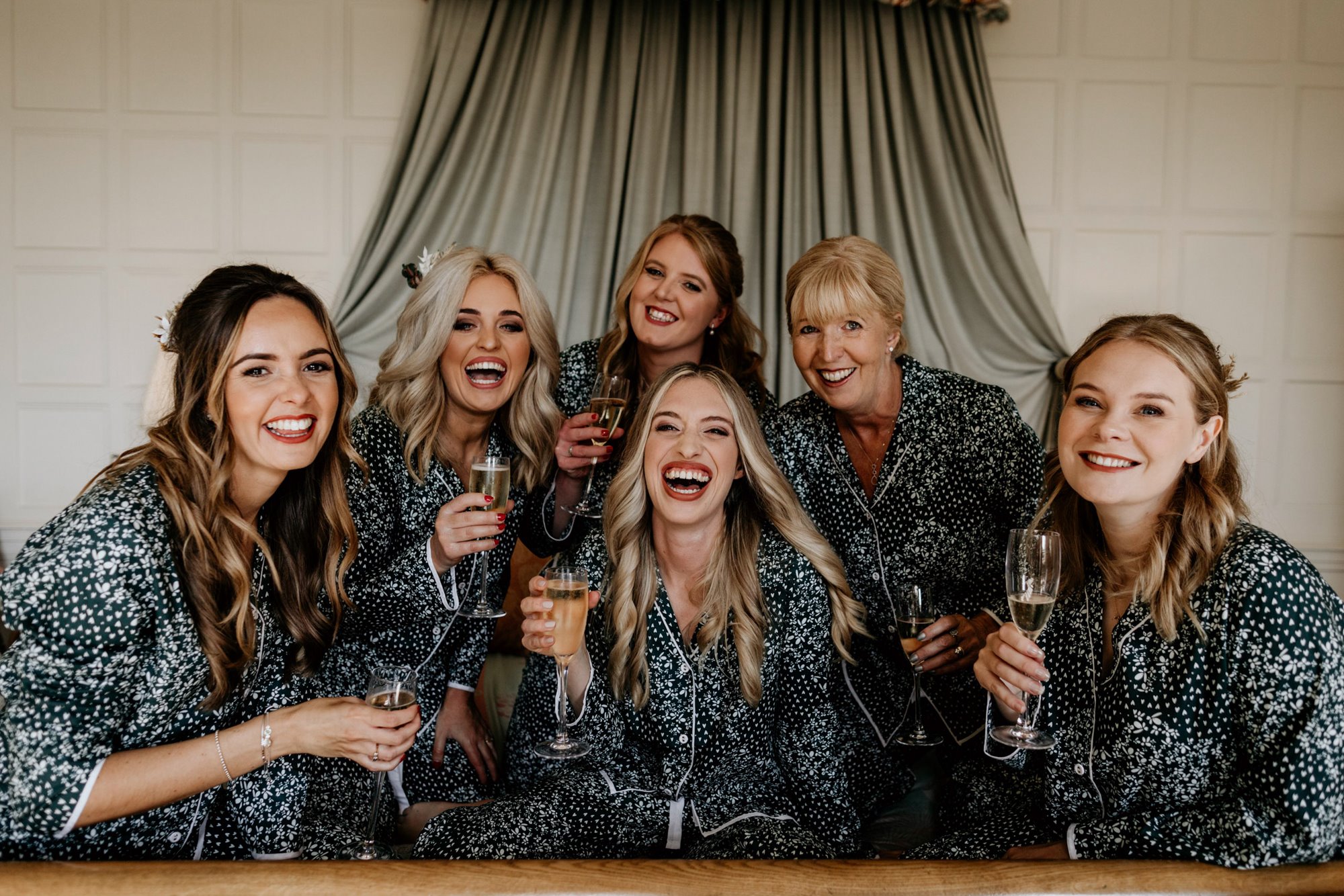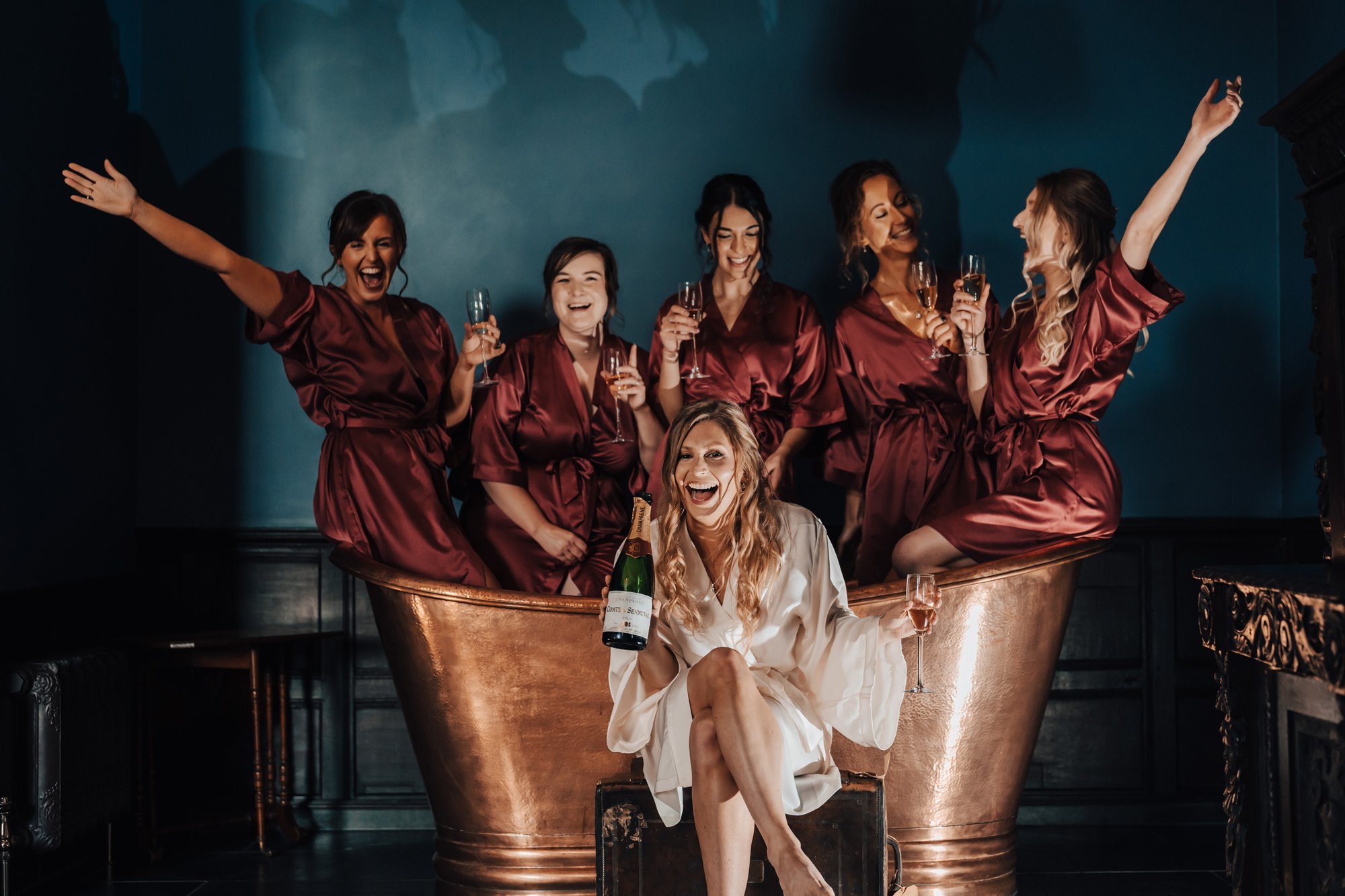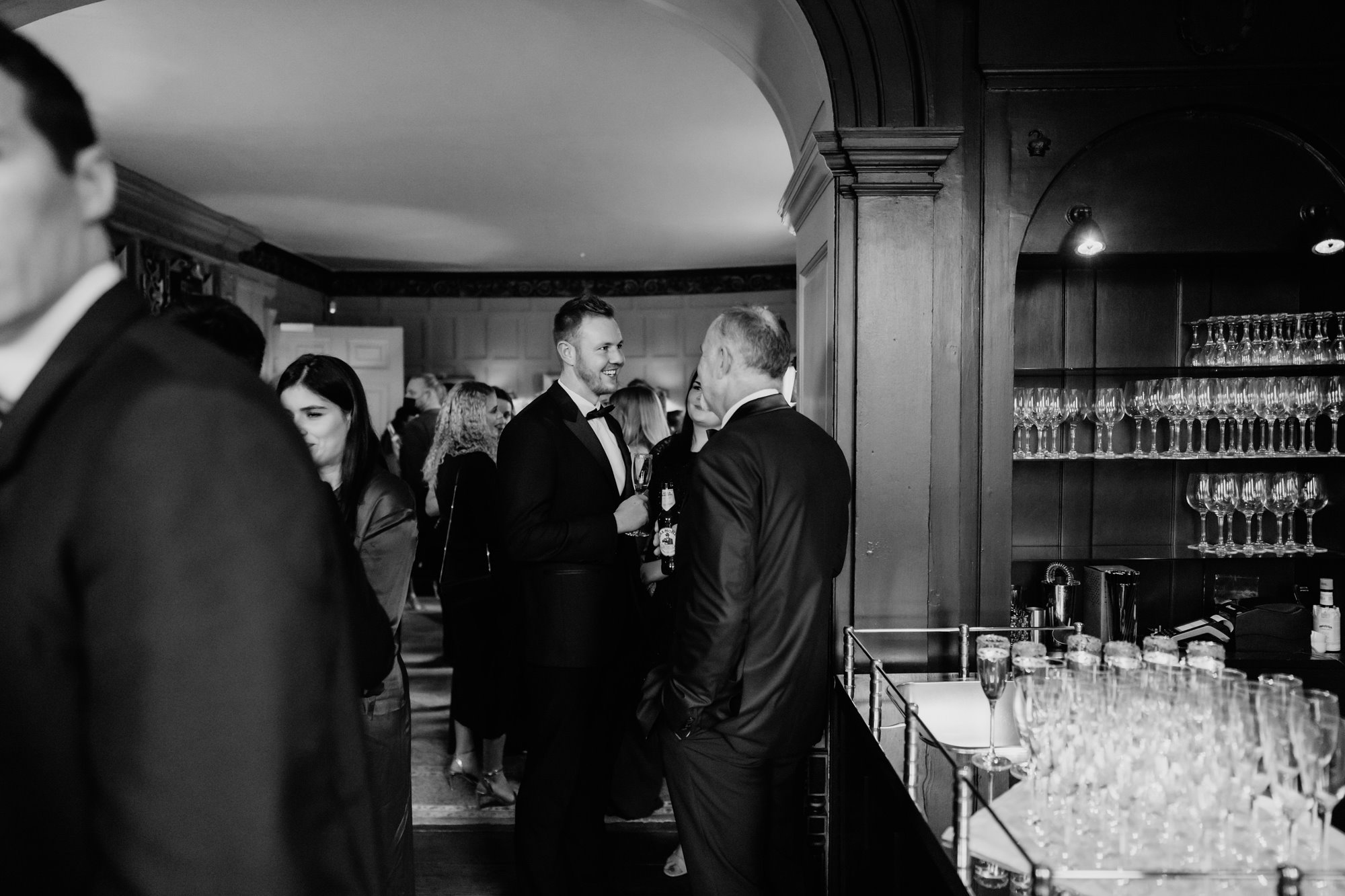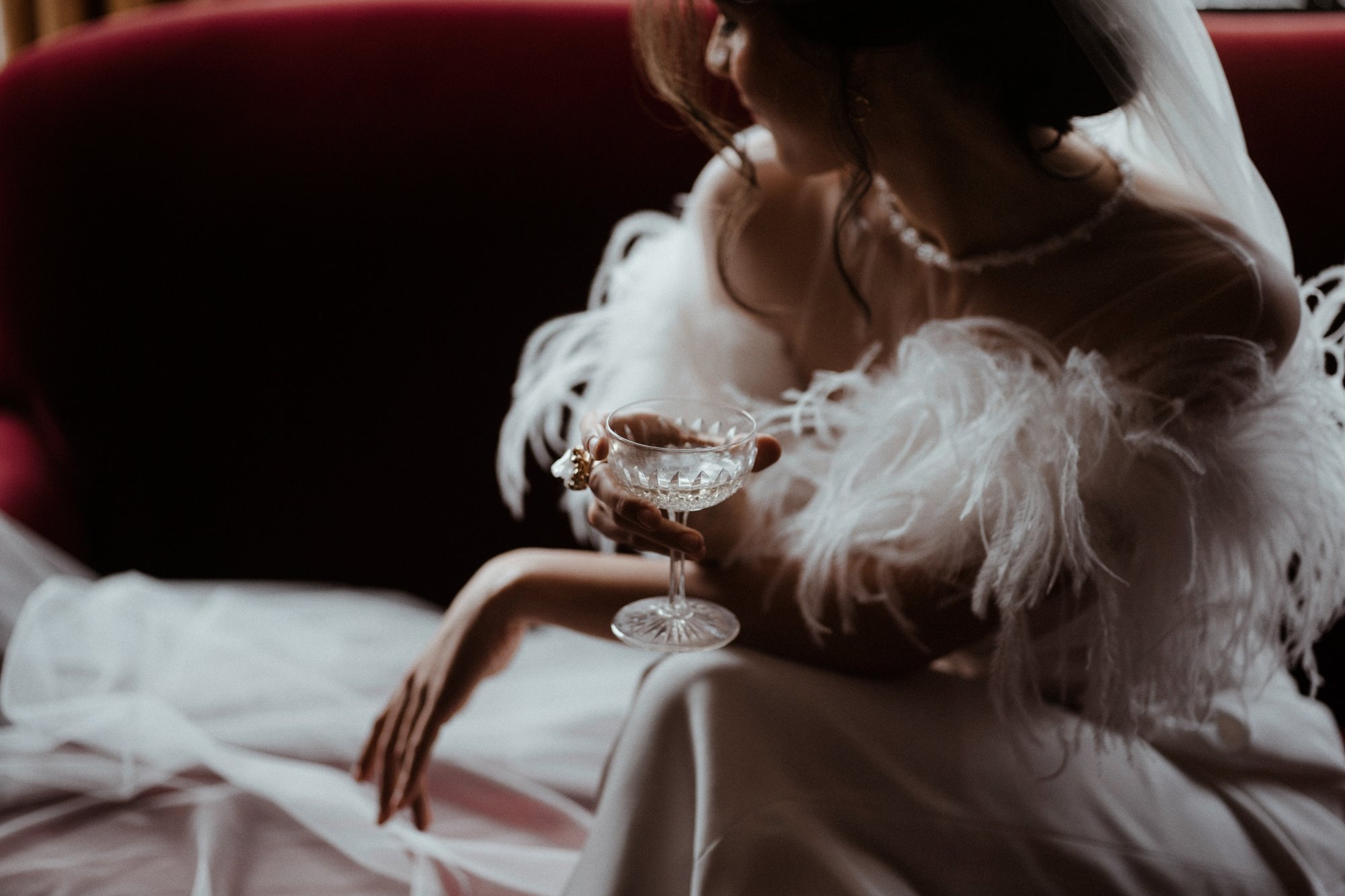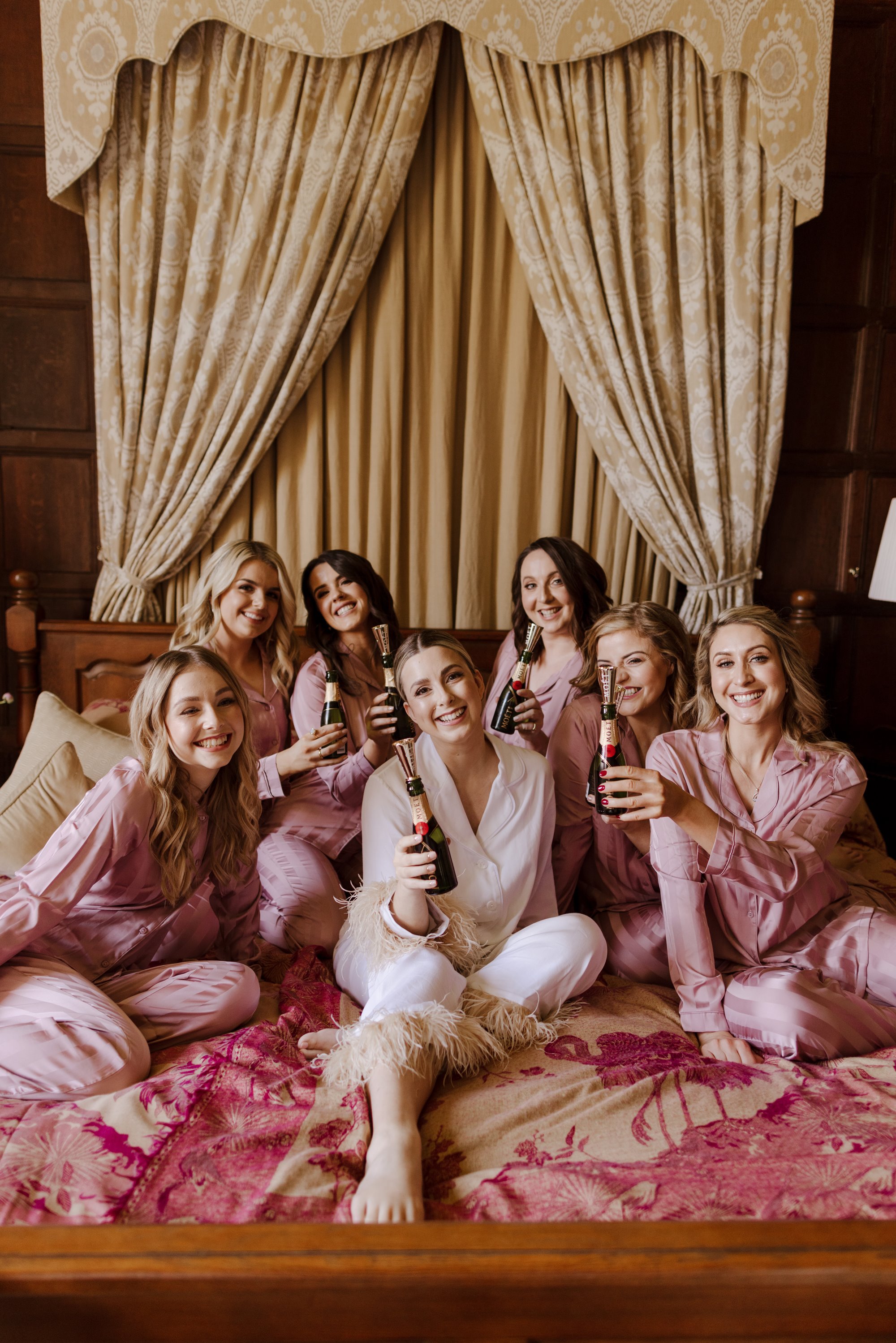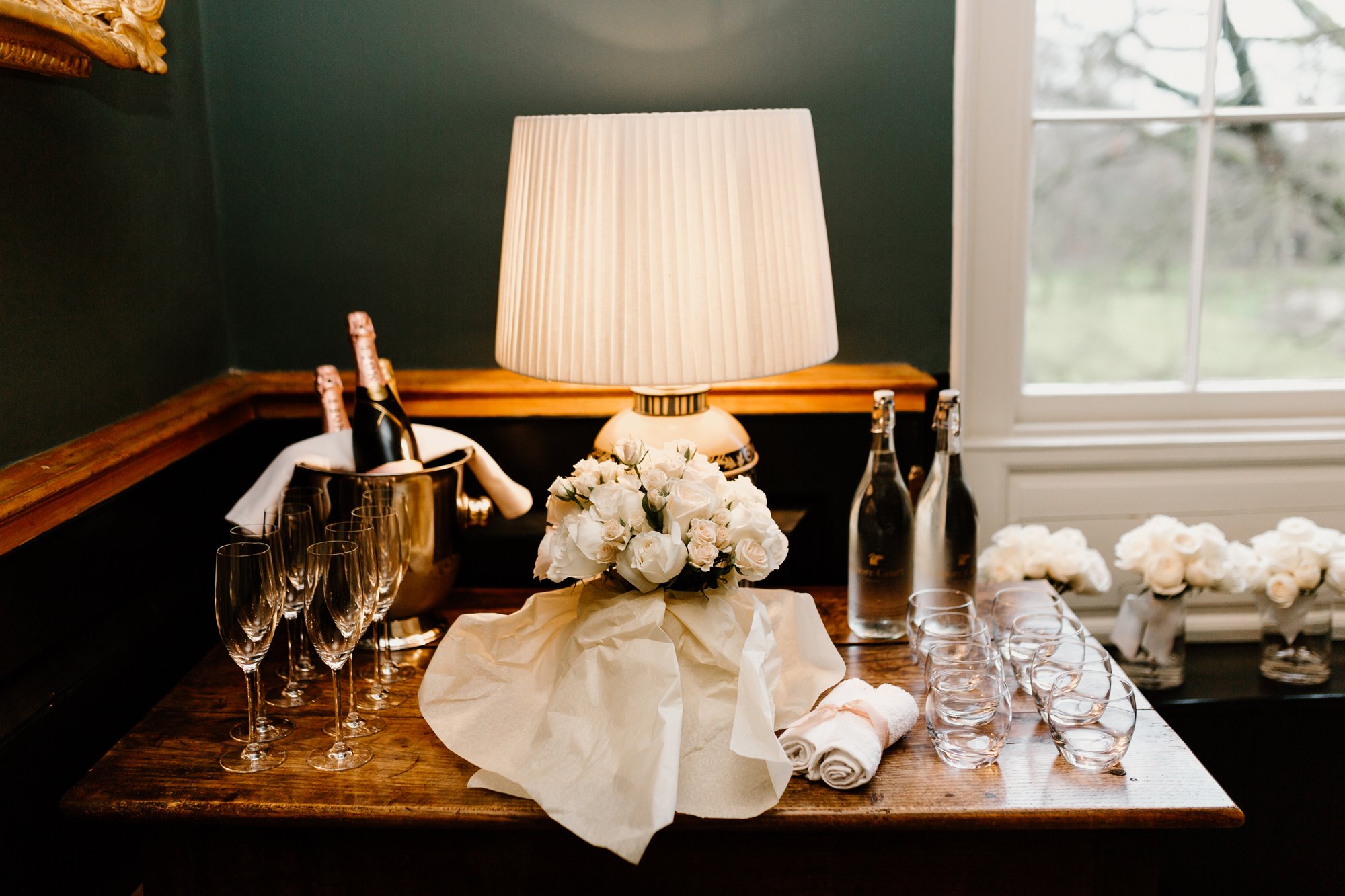 7) Confetti
Confetti?! Surely it's a given at all weddings right? Well we definitely think it should be (the biodegradable kind only)
There are lots of different types of romantic sustainable confetti; dried petals, rice, biodegradable paper confetti, and they all float, fall and fly differently. It's worth having a think about this before the big day.
And once you've chosen your confetti style, have a think about how you'll display and hand it out to guests. There is something incredibly romantic about confetti laden baskets, paper cones and tiny little envelopes...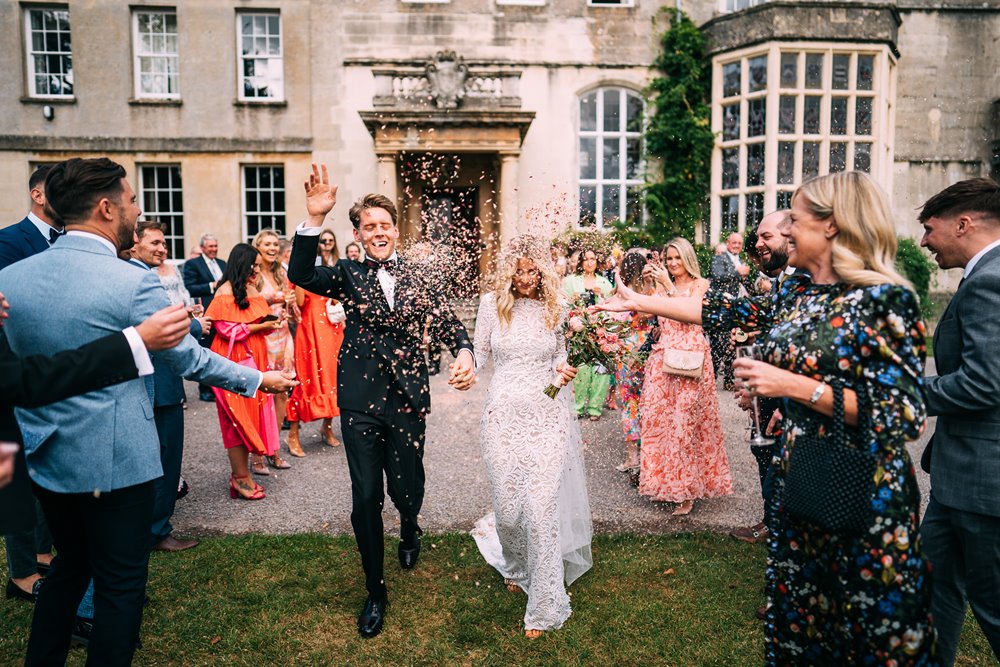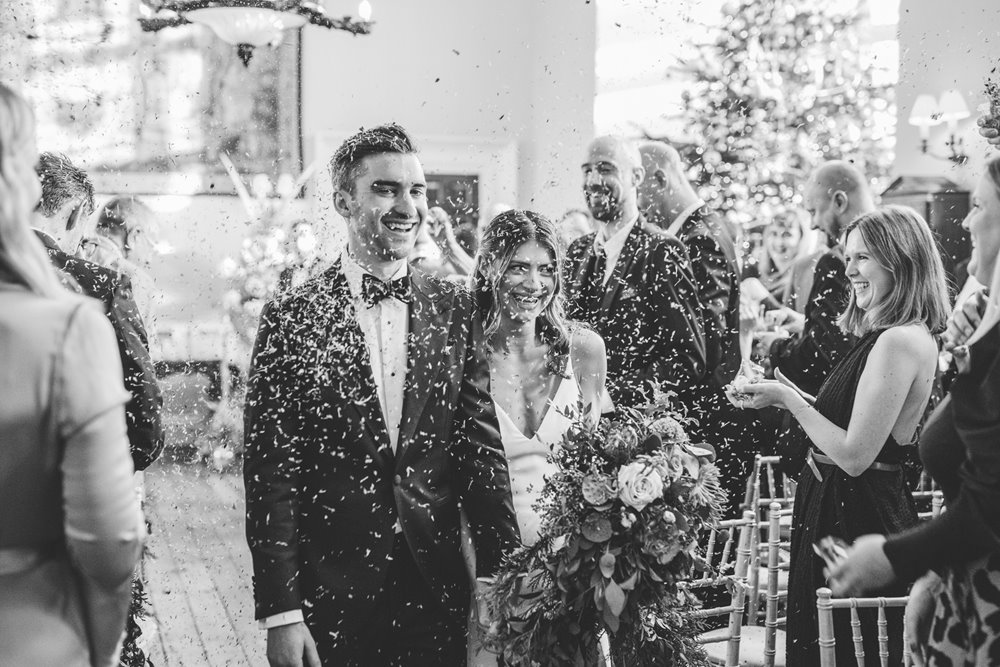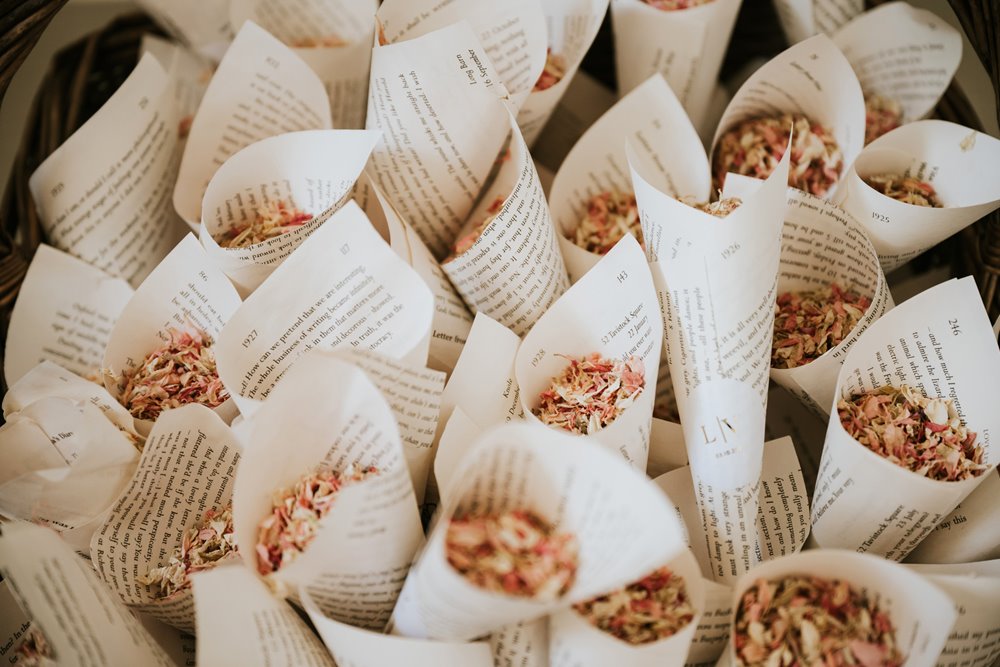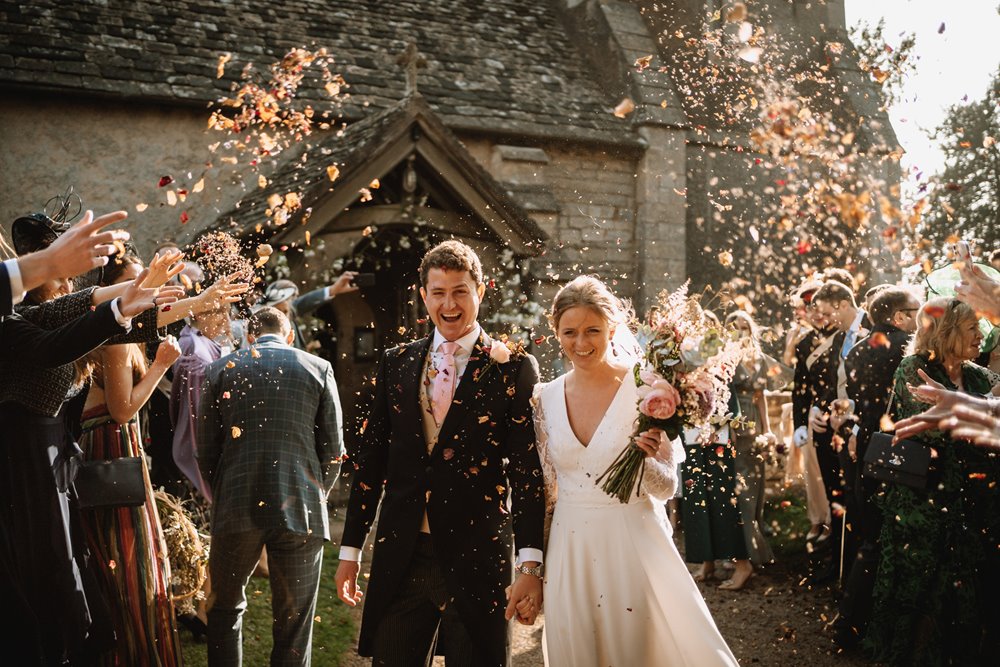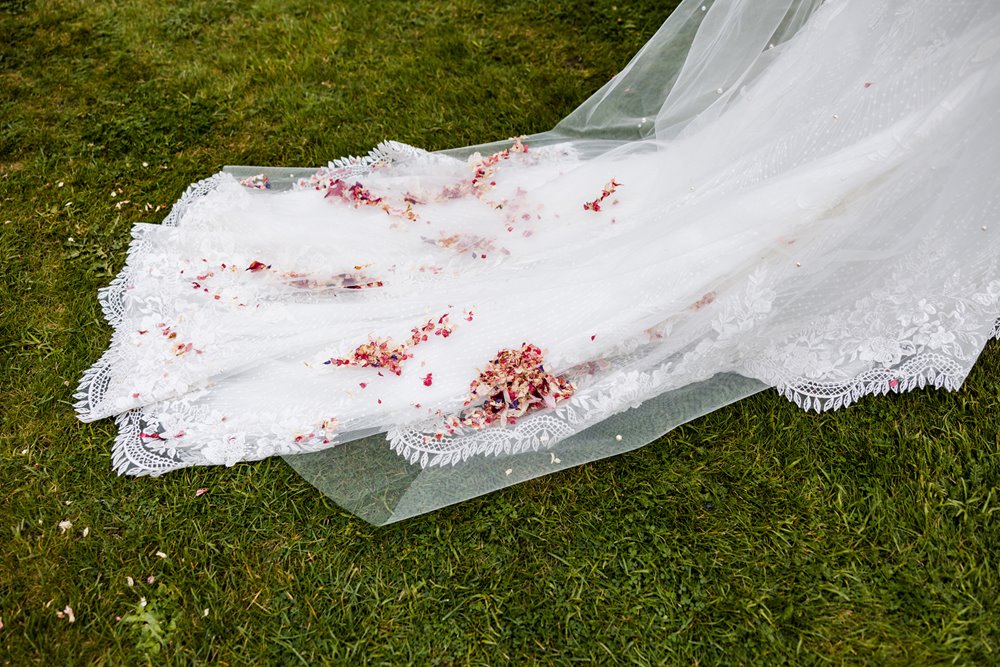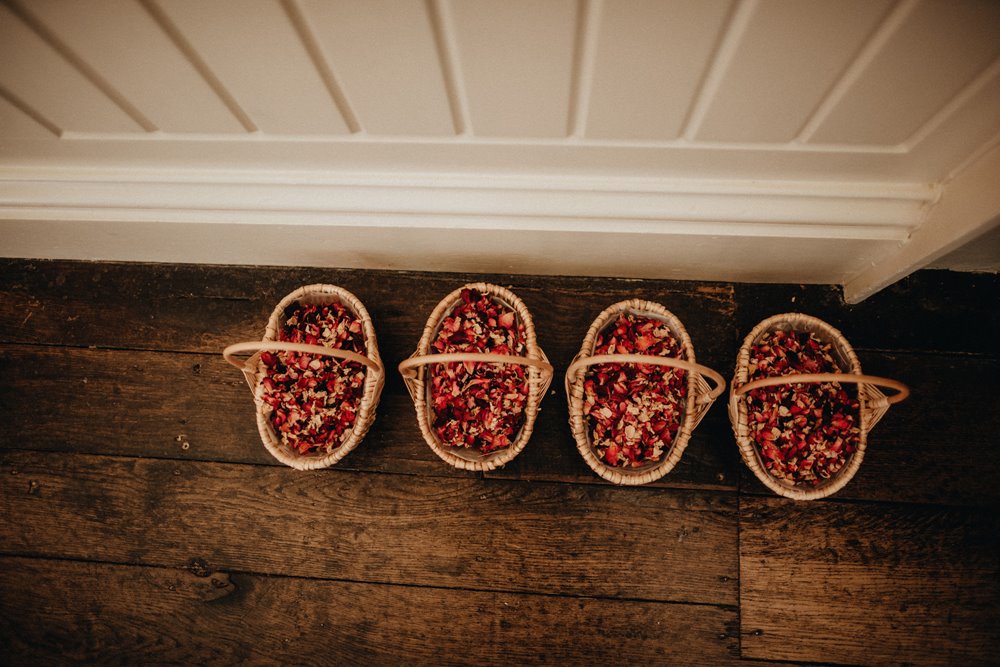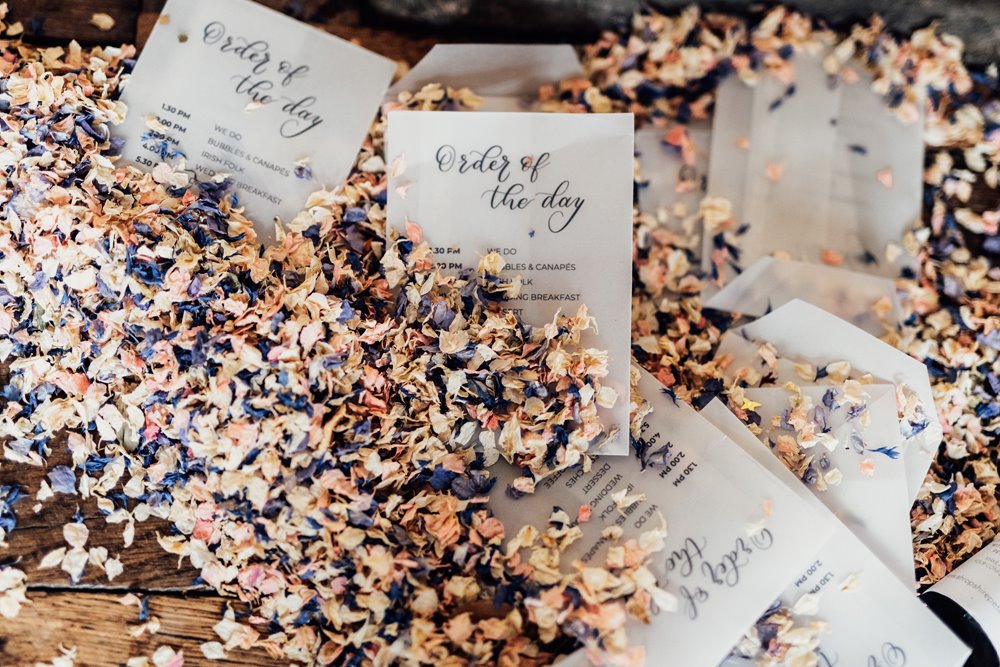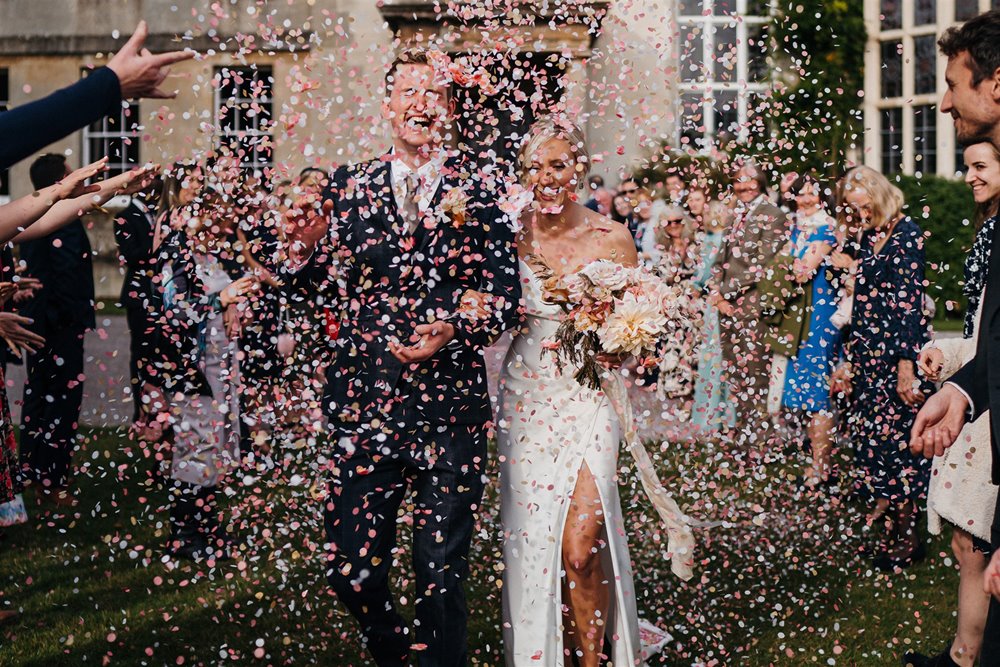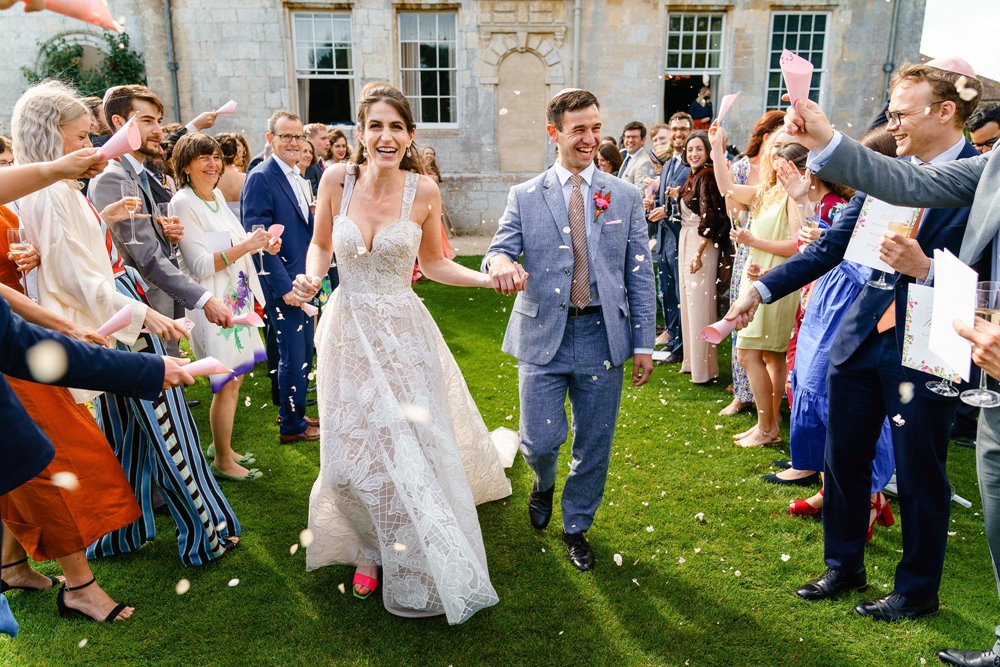 8) Fairytale details
Slipping off to change your dress at midnight, using columns, arches and twinkling fabrics are all some of our favourite ways to incorporate fairytale details into a romantic wedding.
Here are some of our favourite fairytale inspired wedding moments of recent times...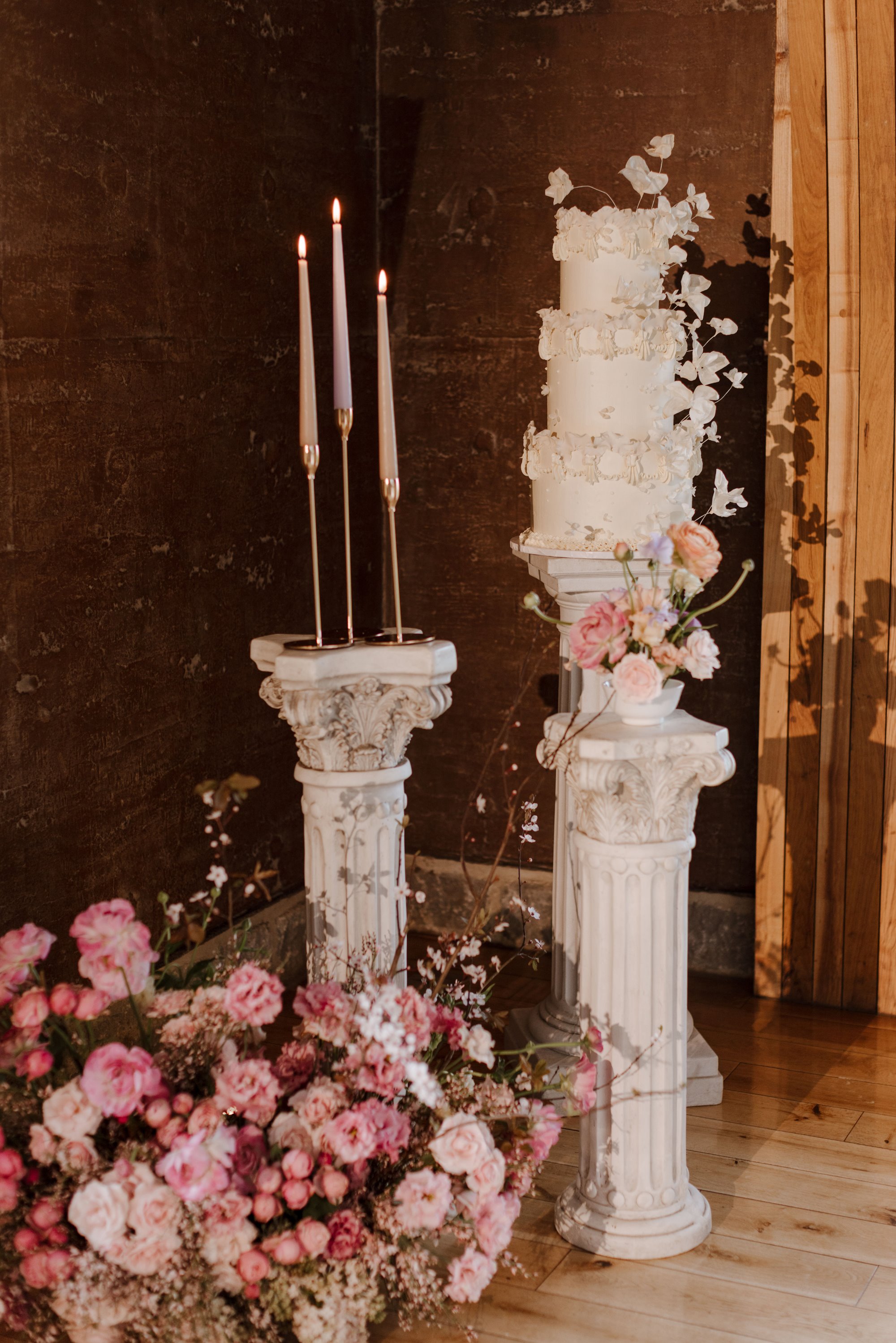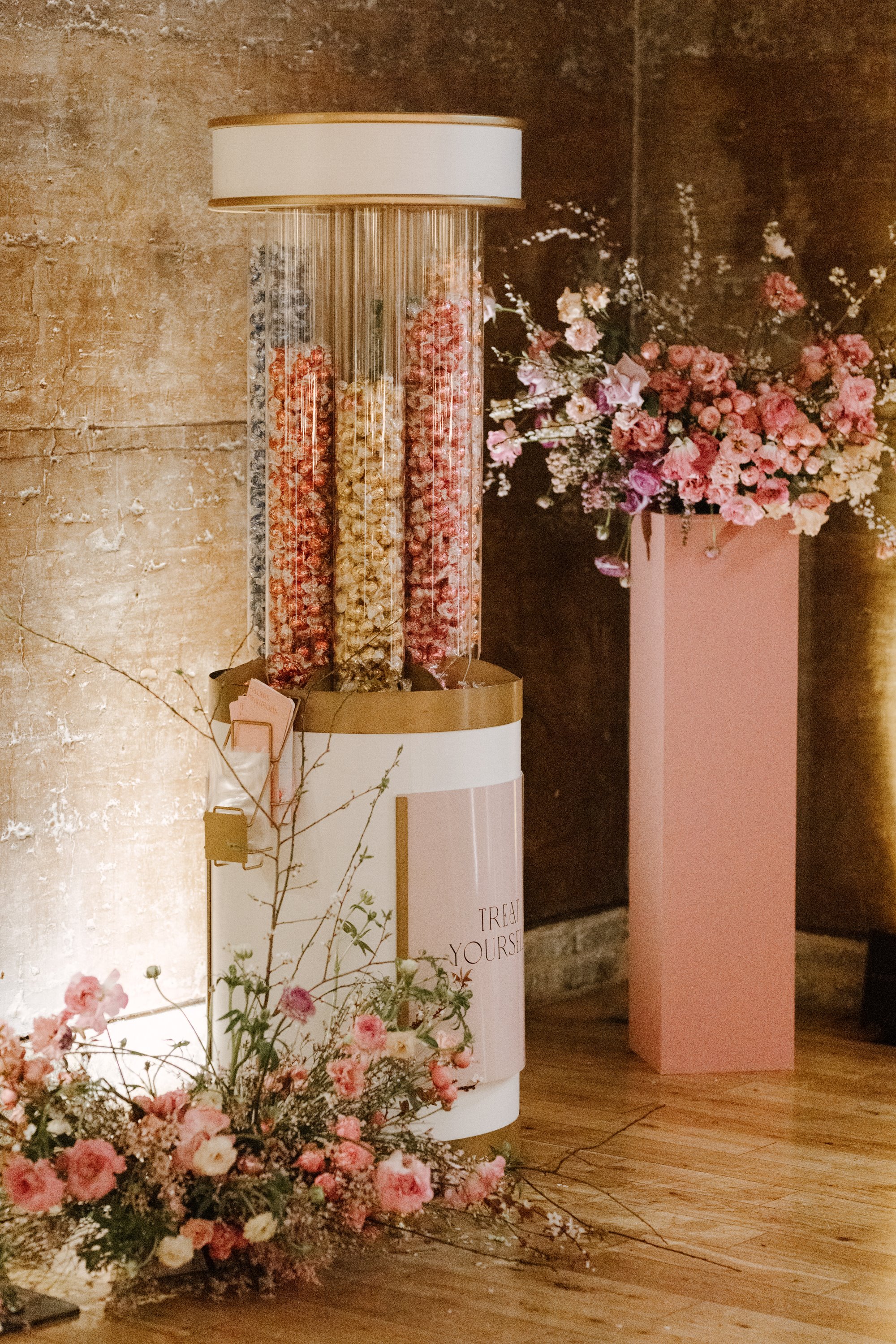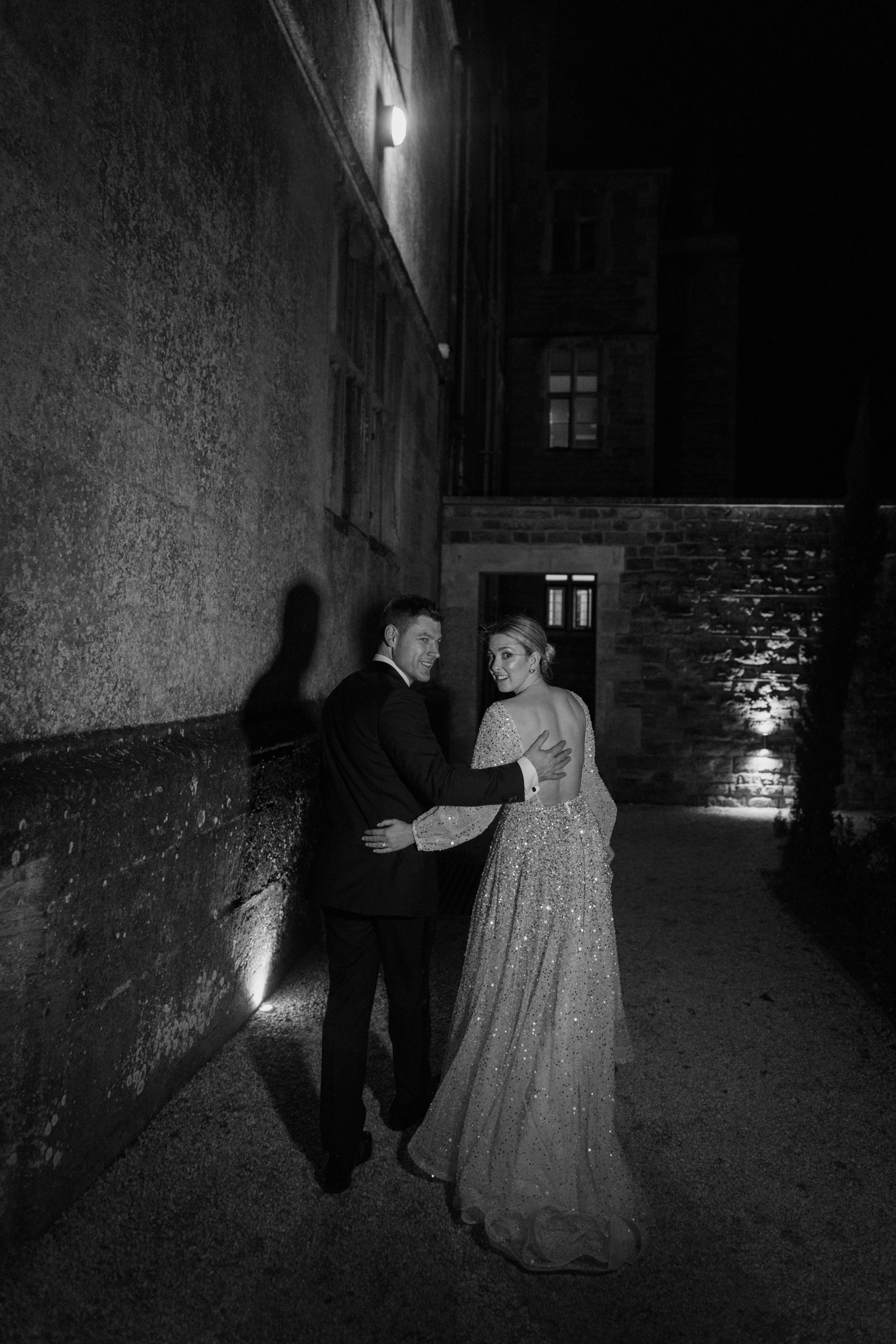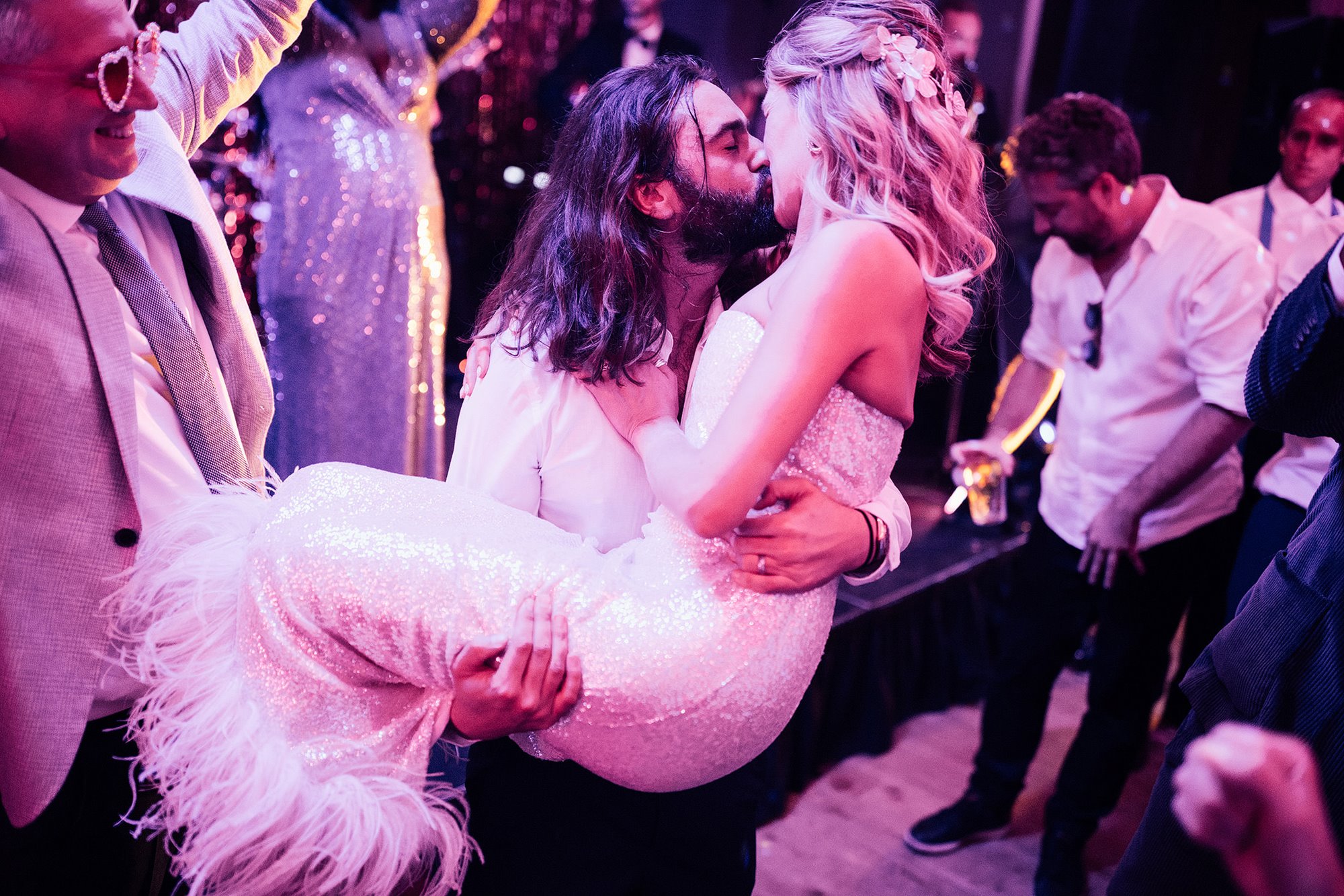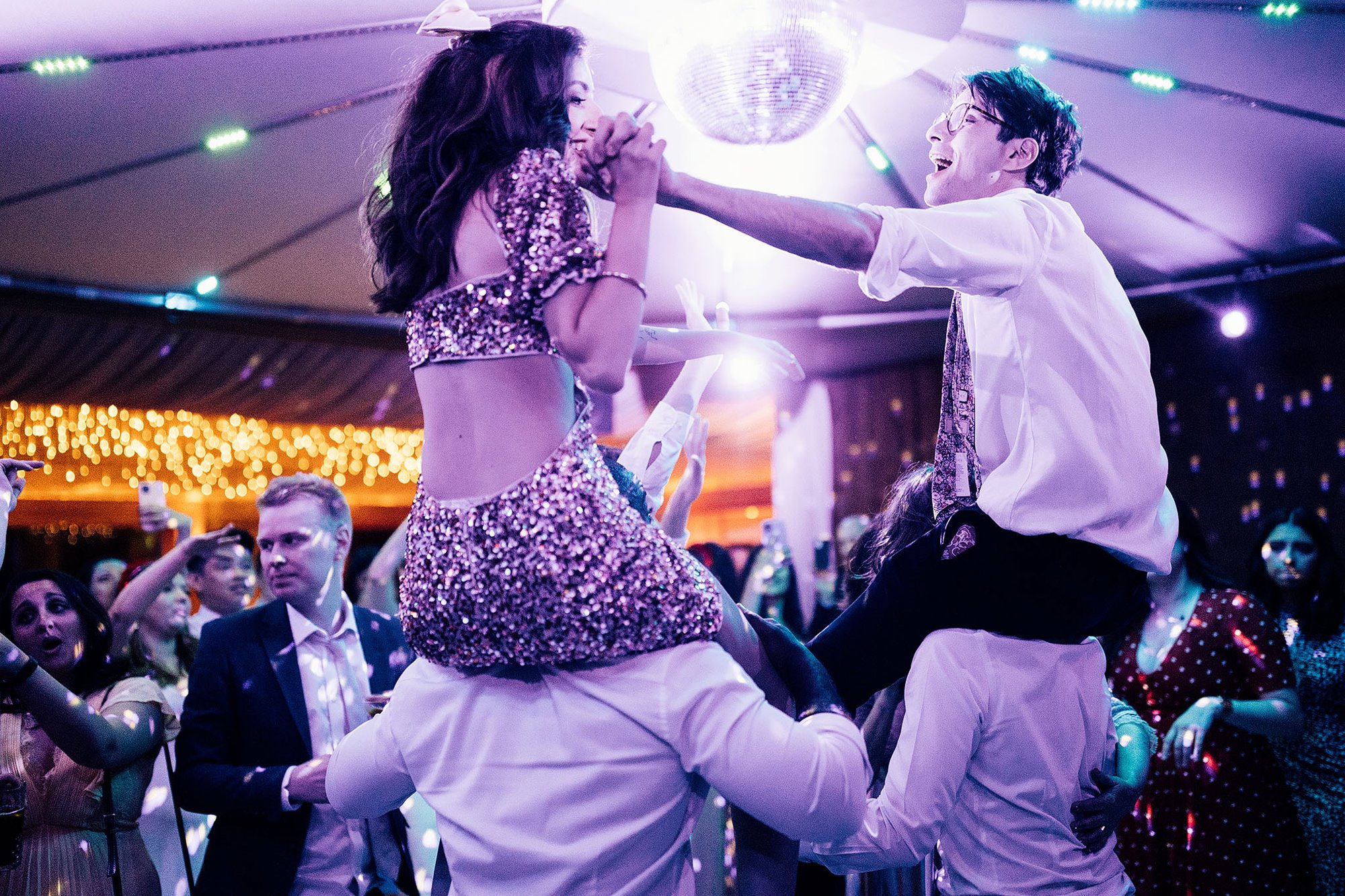 9) Create intimacy
Your wedding day will be a whirlwind of fun and friendly faces, make sure you build in lots of little moments of connection between you and your beloved. Some of our favourite ways to add intimacy are:
Personal vows: Write your own vows and be as heartfelt and honest as you can. Lots of couples worry about how they'll feel reading their vows in front of an audience, but the reality is always the same: as soon as you look into eachothers eyes you will feel as if you're the only ones in the room.
Unique ceremony ideas: Make your ceremony truly reflective of you as a couple. Do not get swayed by tradition or 'rules'. Loving cups, walking down the aisle together and music or readings by family are all lovely ideas. (If you'd like more unique ceremony inspo- take a look at this journal post)
Couples shoot: Don't skip this! Even if you're not keen on being in front of a camera. Use your couple photography as an excuse to go off on your own, have a smooch, a little debrief, a dance under the trees, a walk through the grounds or a cuddle in the walled garden... 
Outfit change: Sneak off together at some point during the reception. Rip each others clothes off and re-dress, entering to a round of applause. What's not to love?!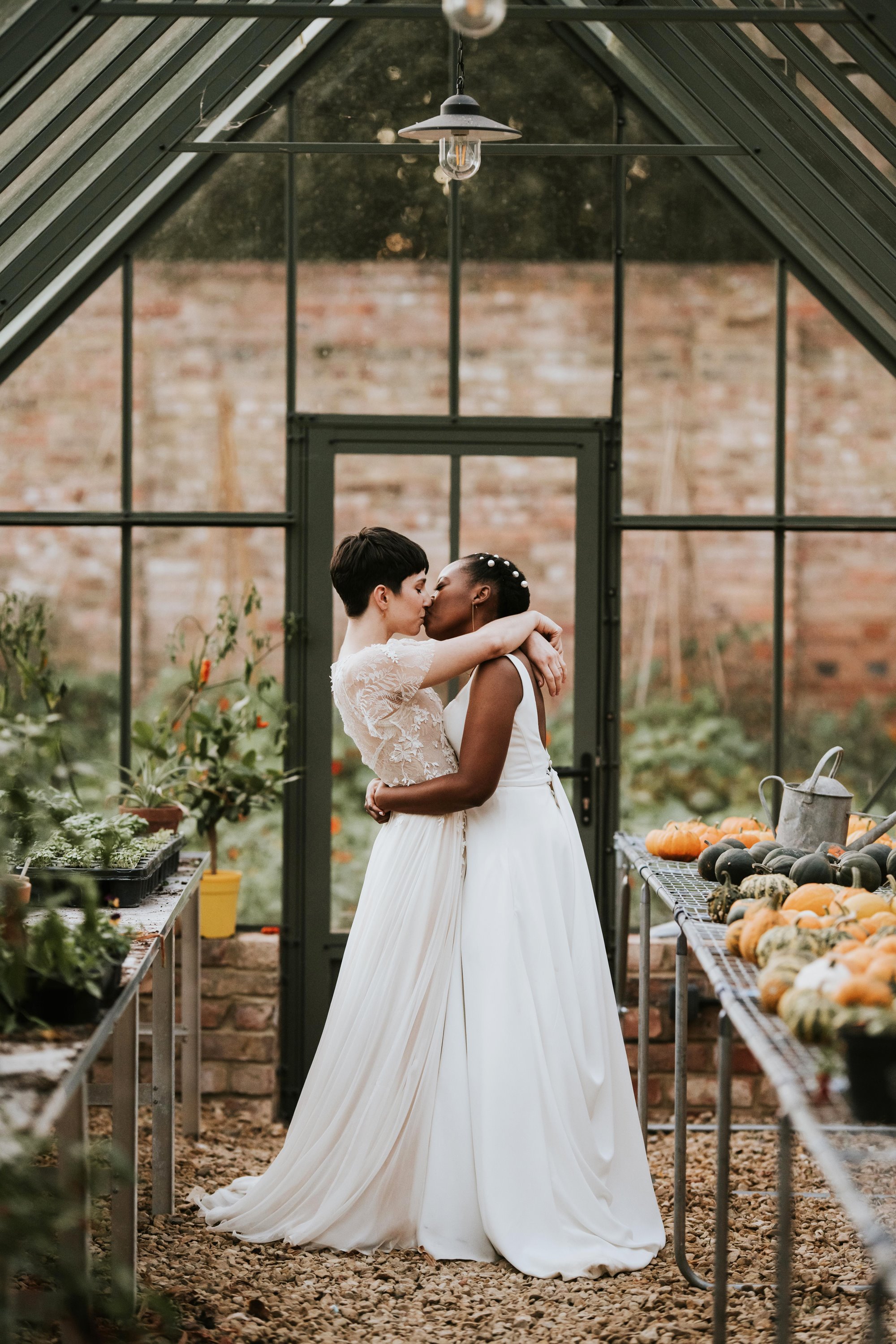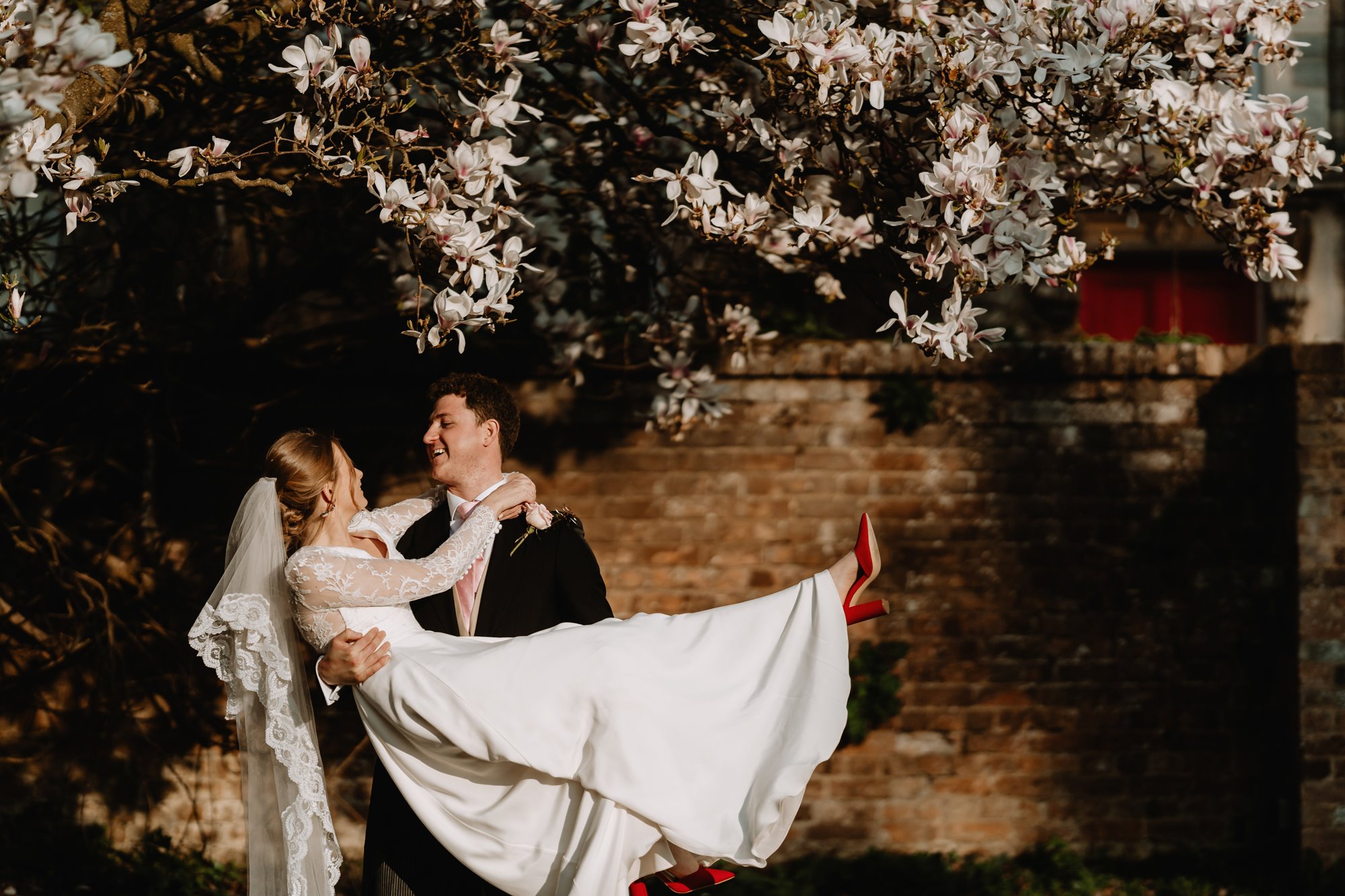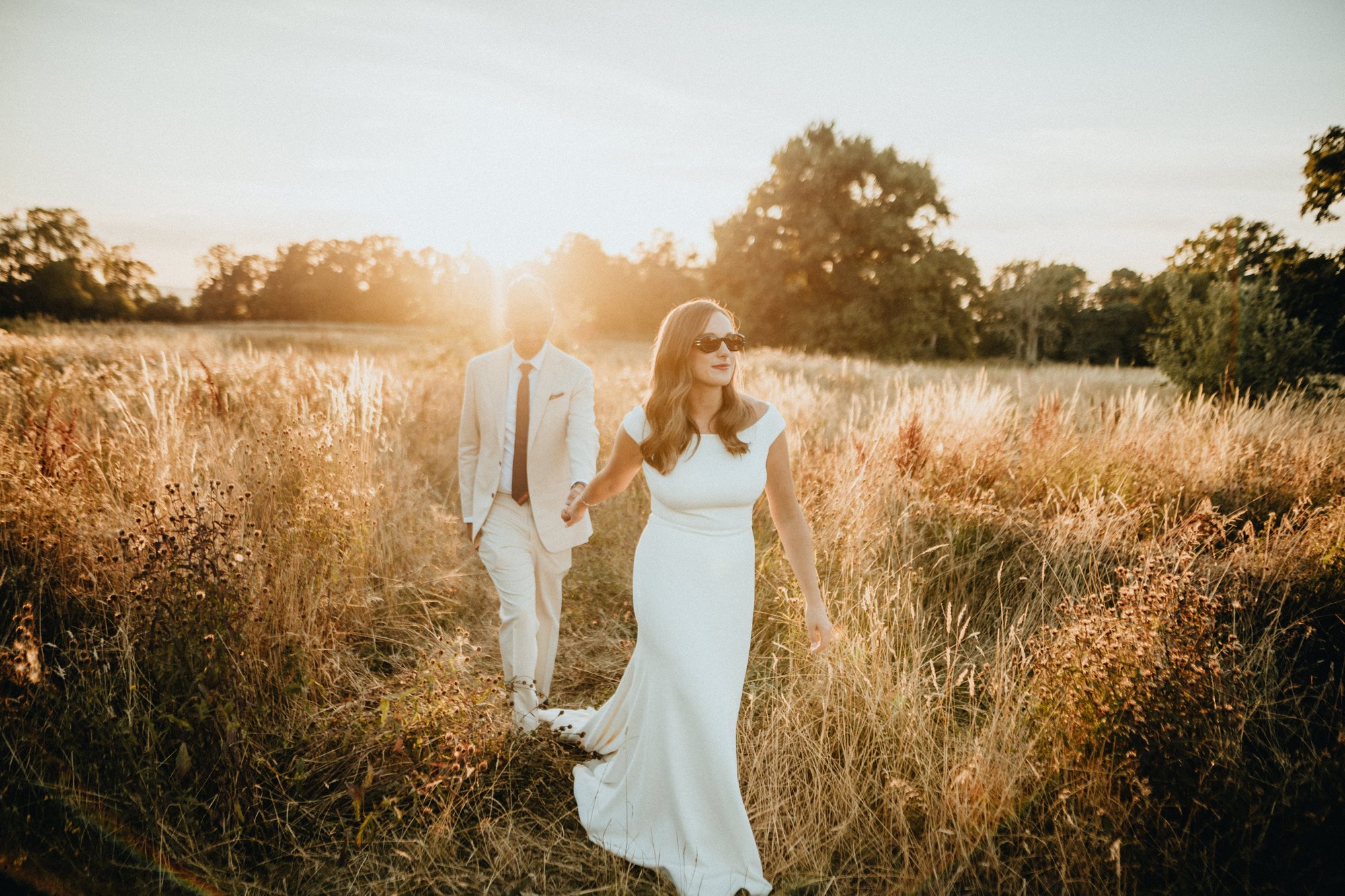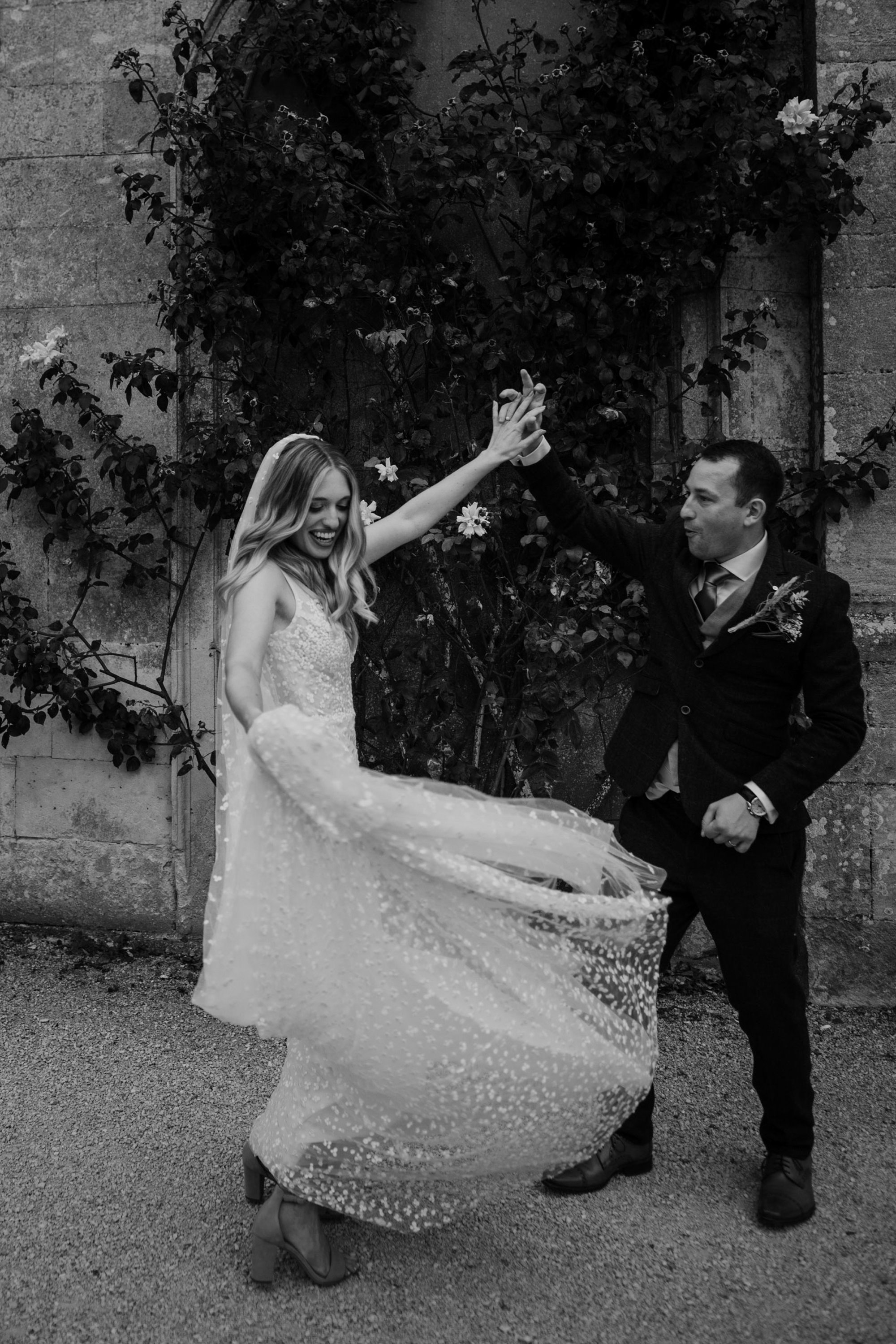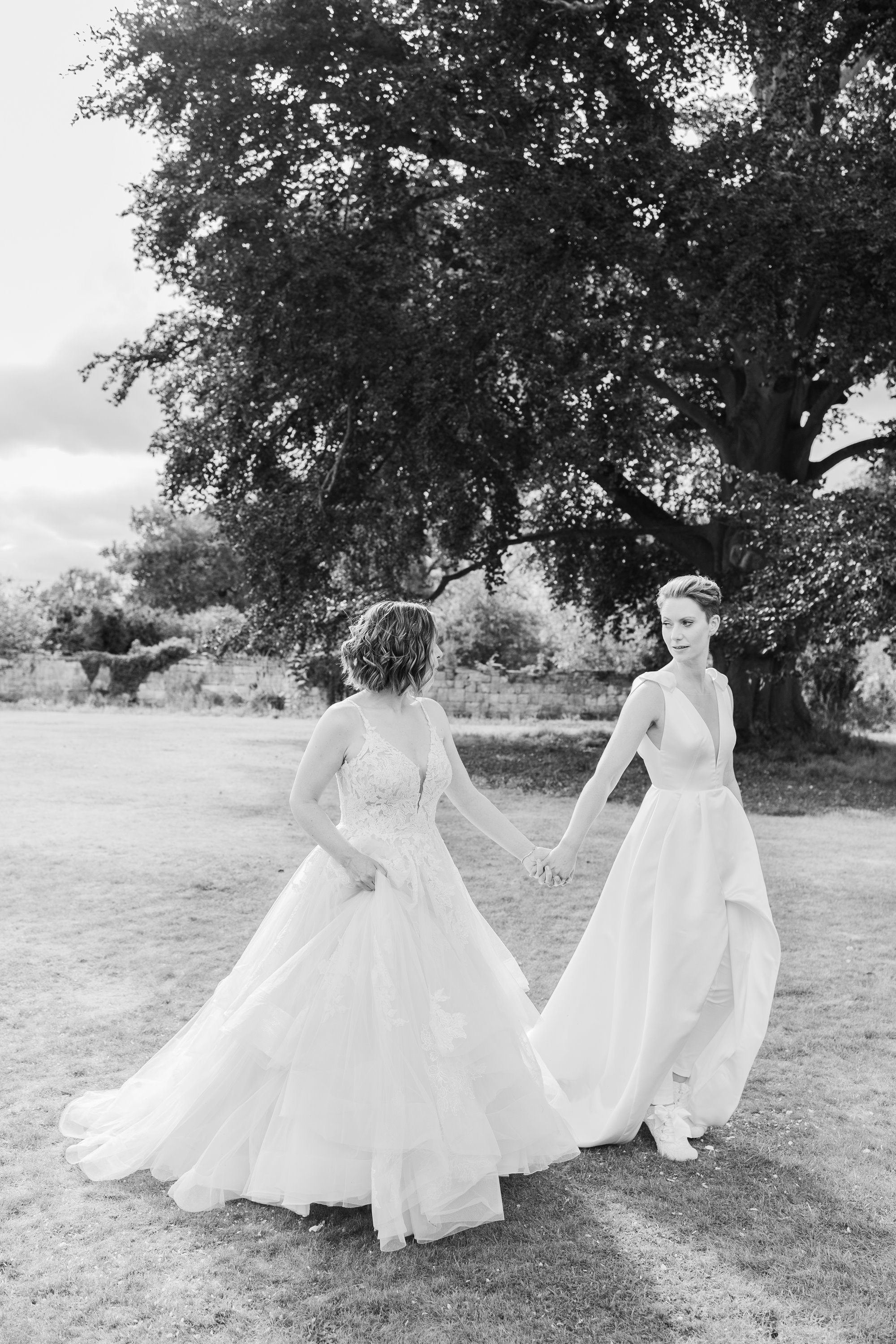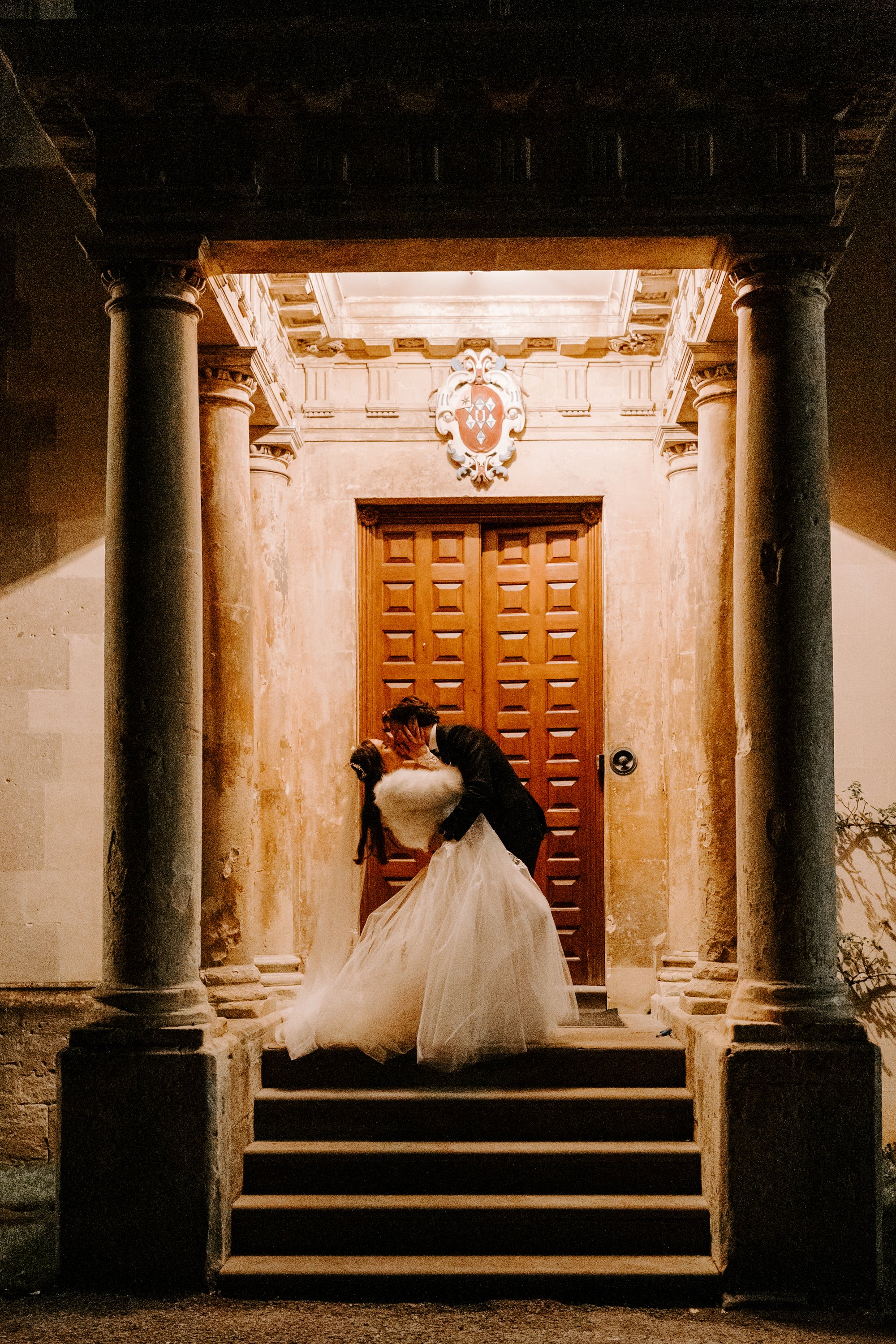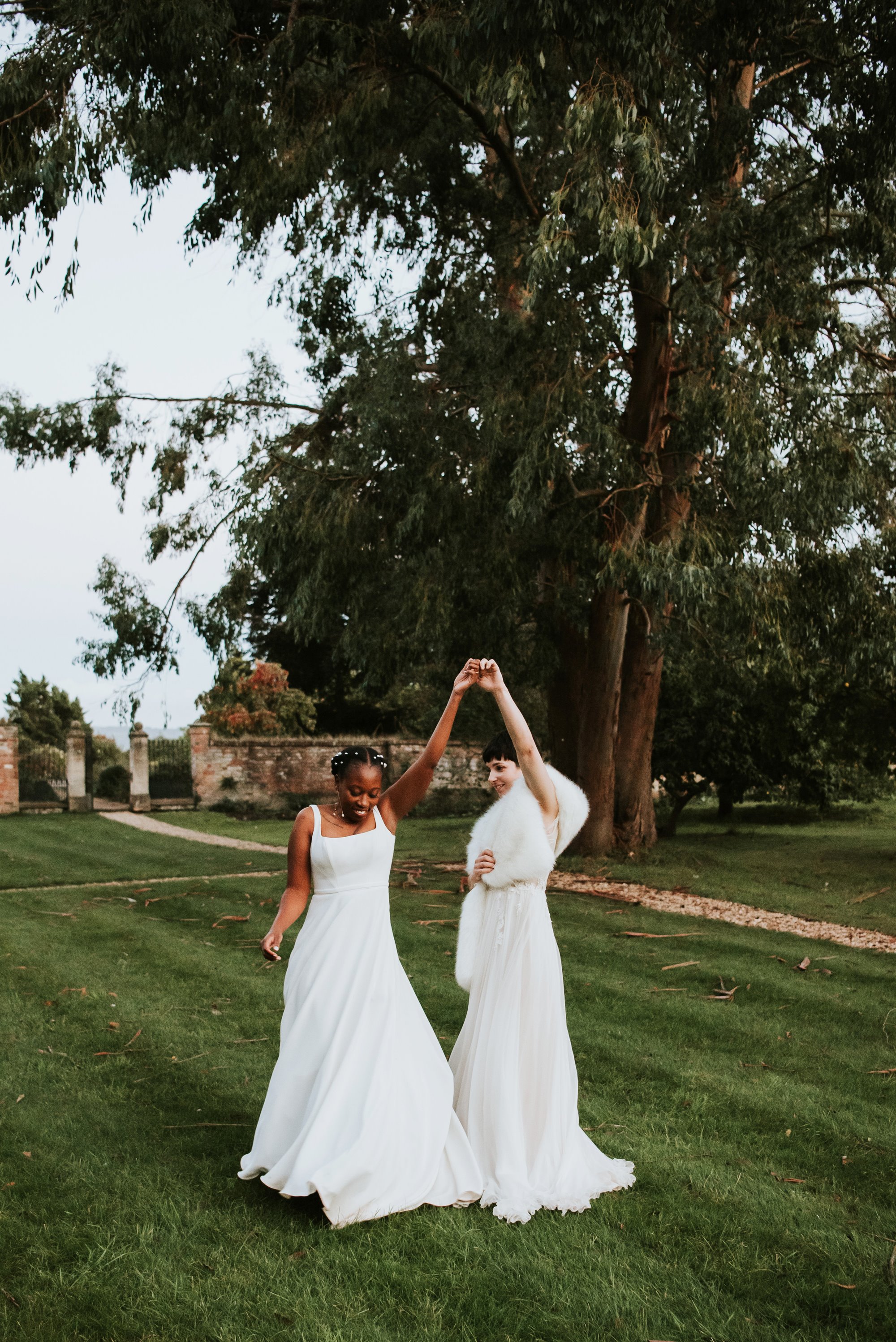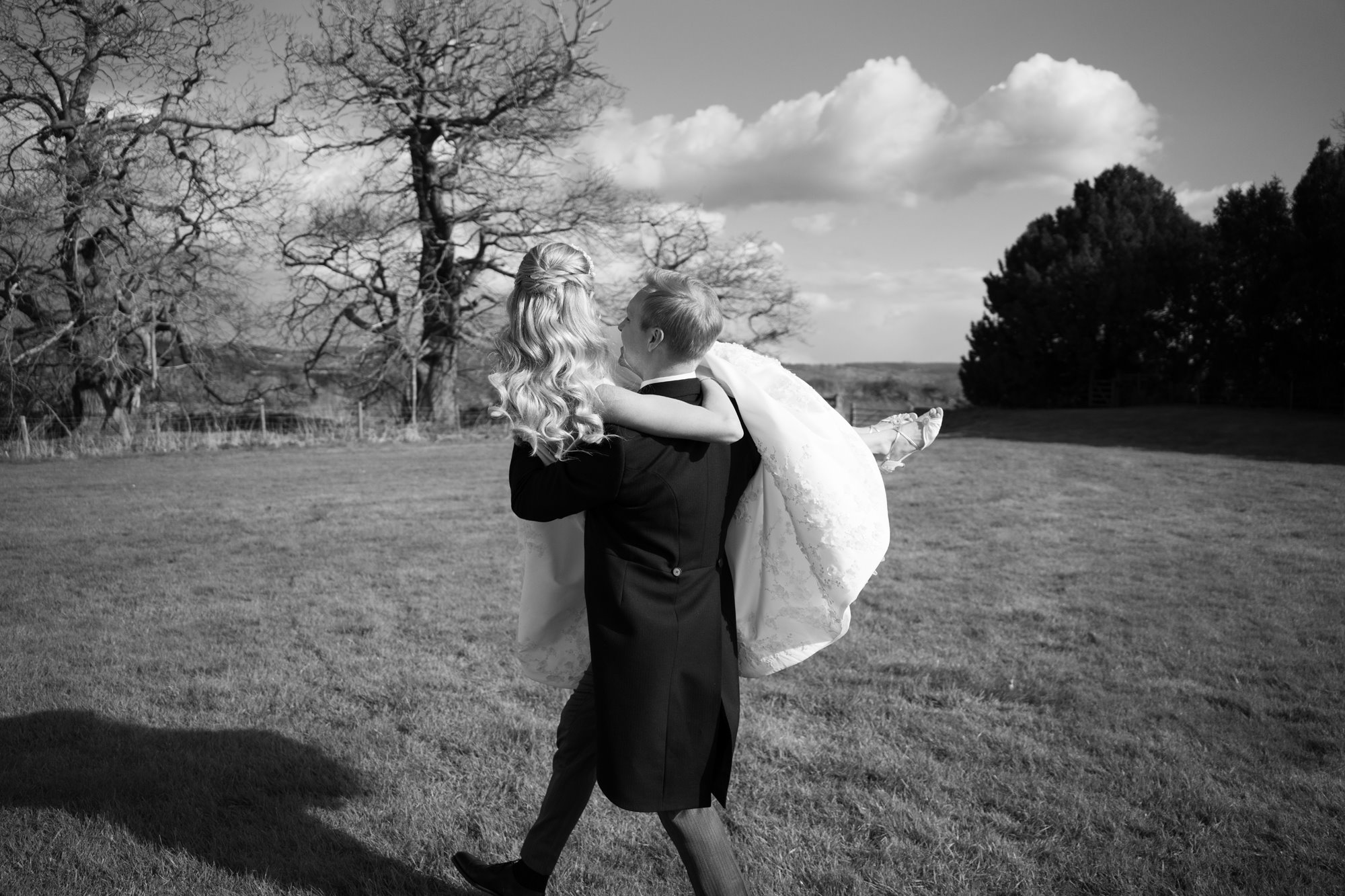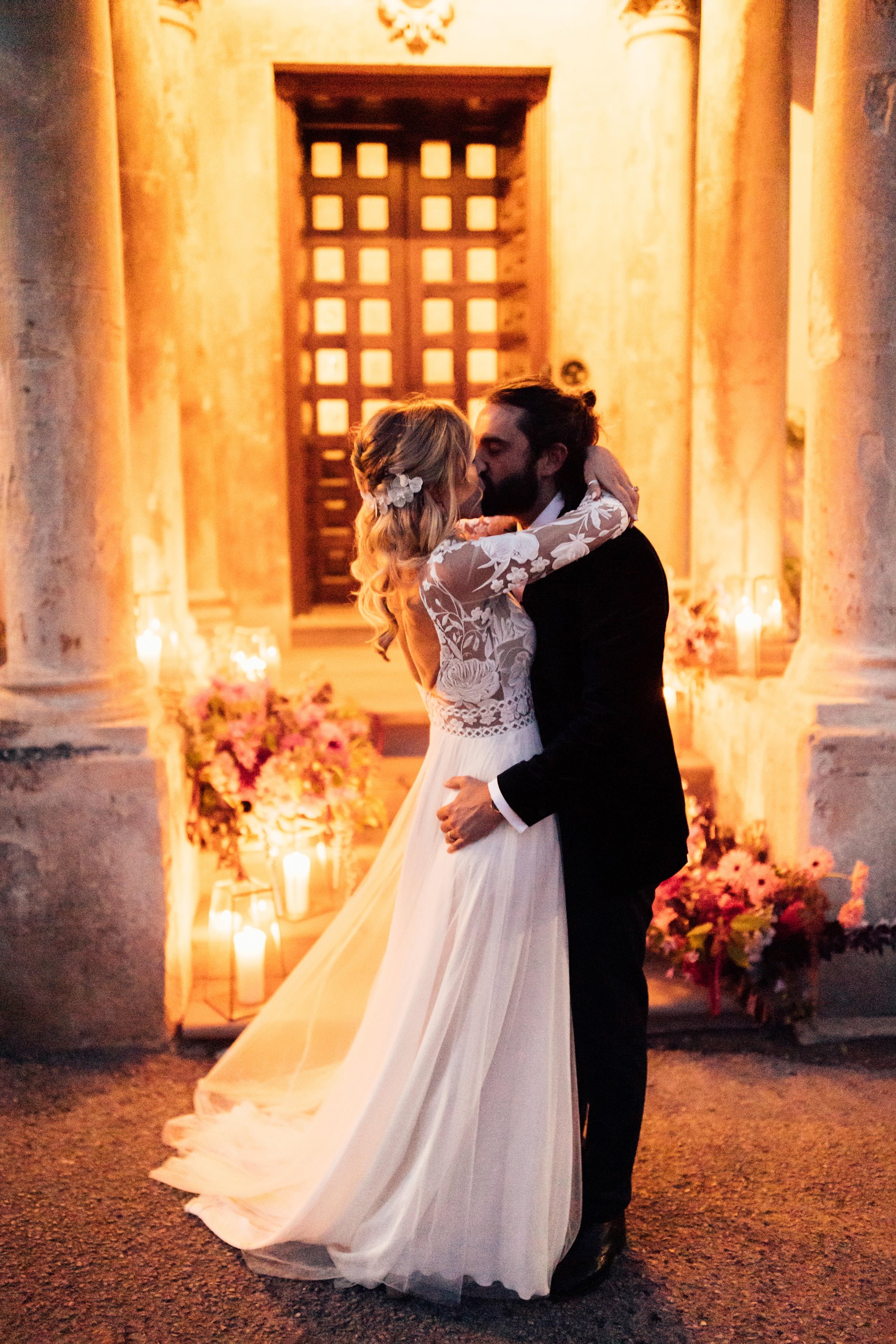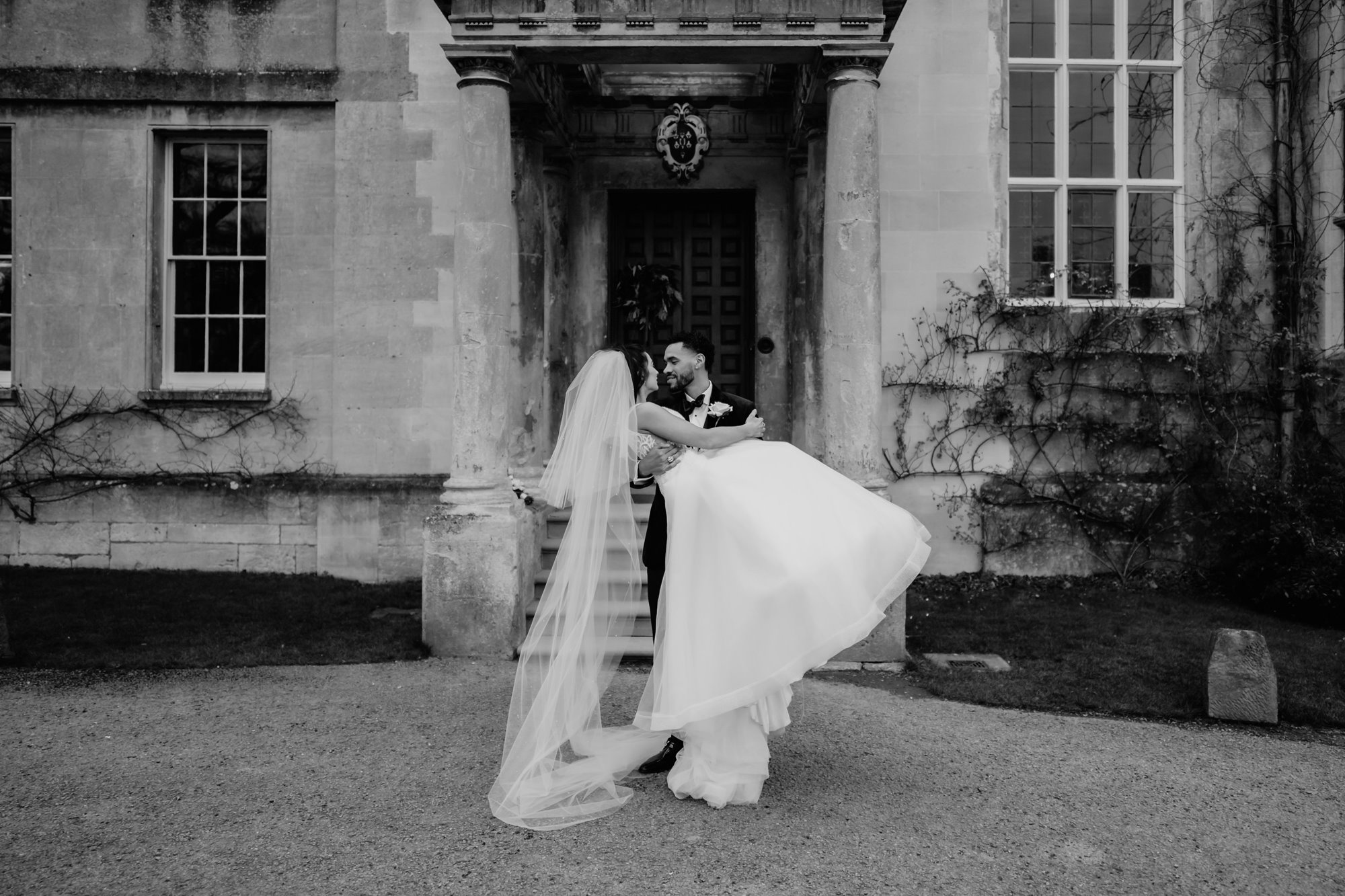 10) Read the signs
Neon wedding signs are perfect for a modern romantic wedding theme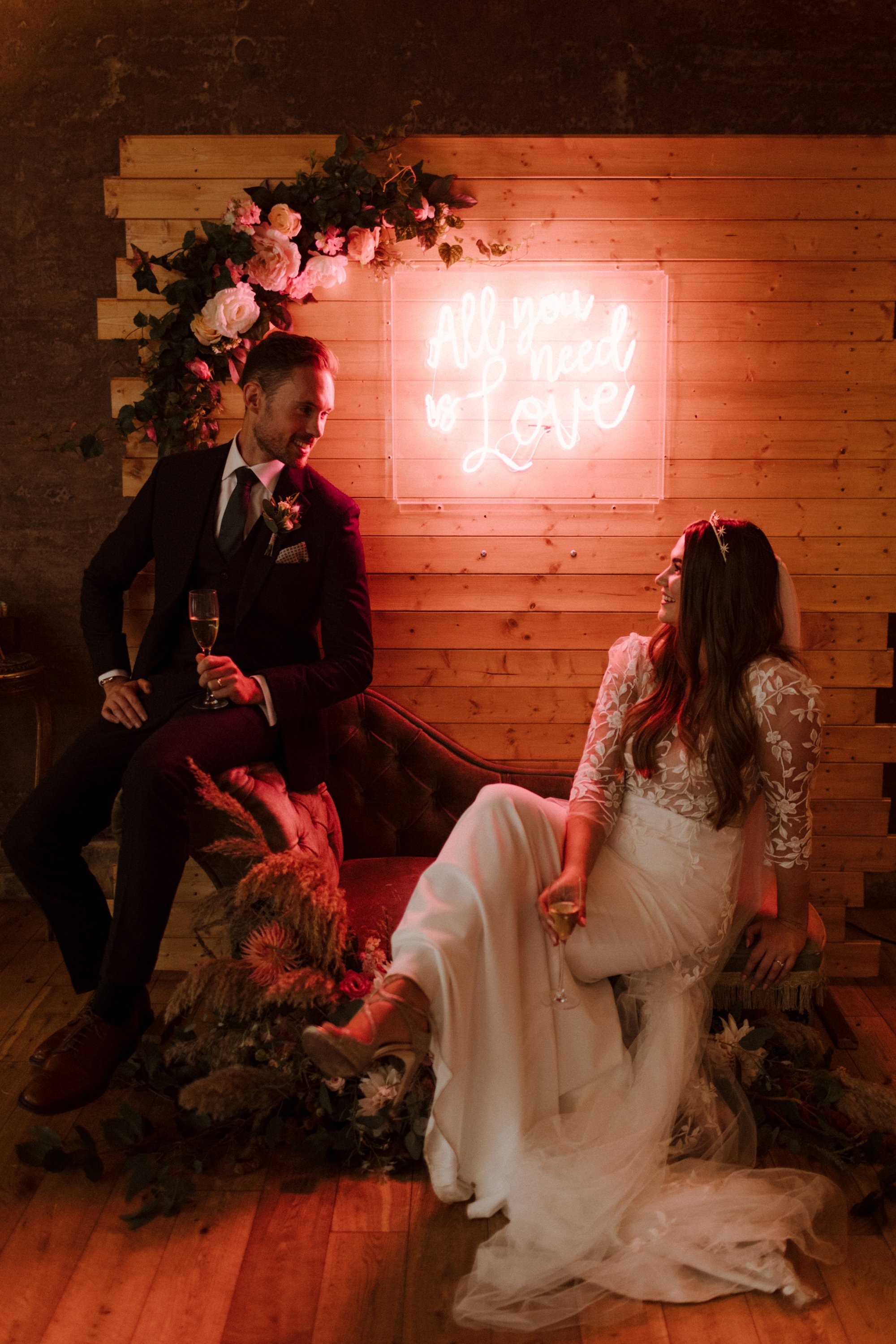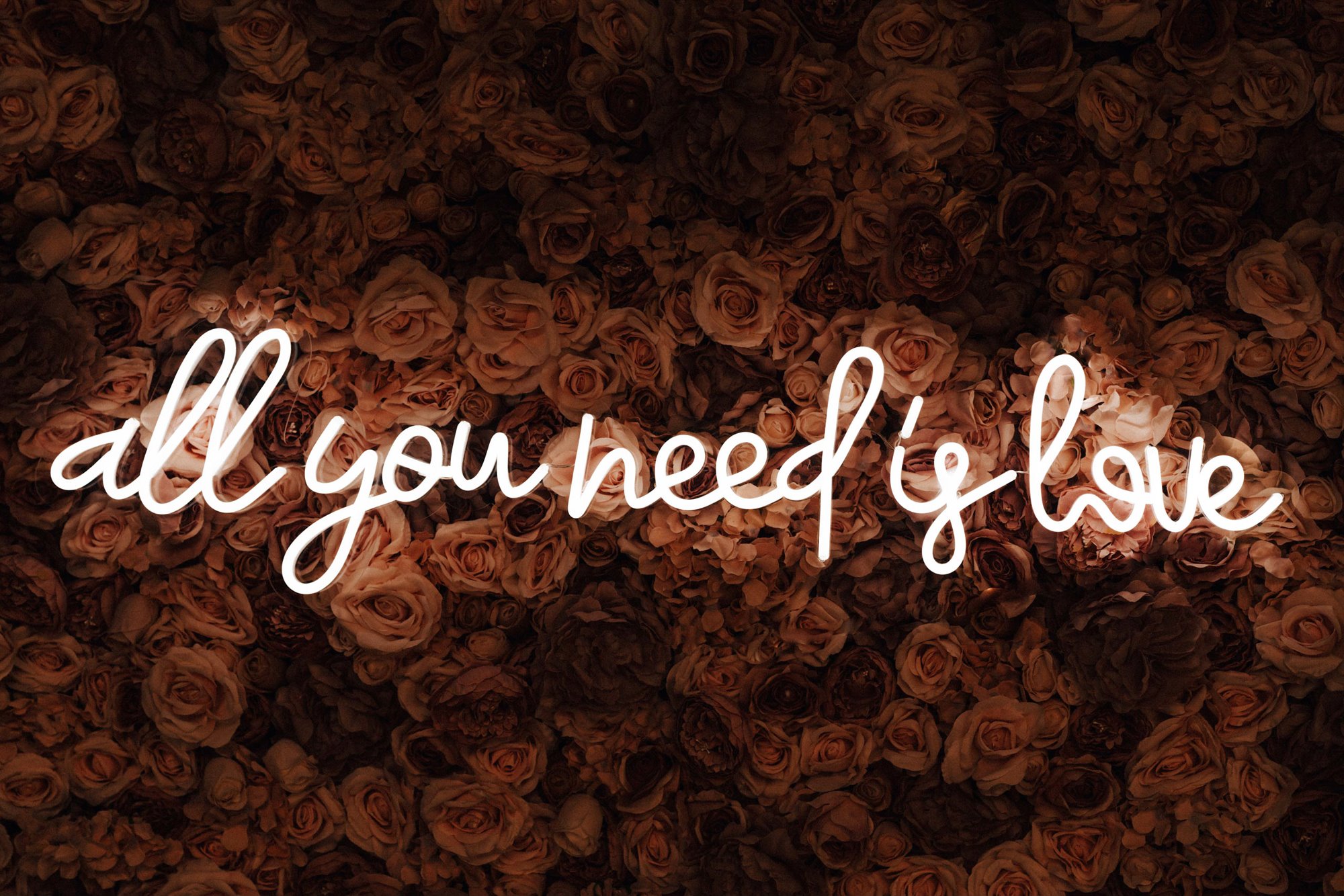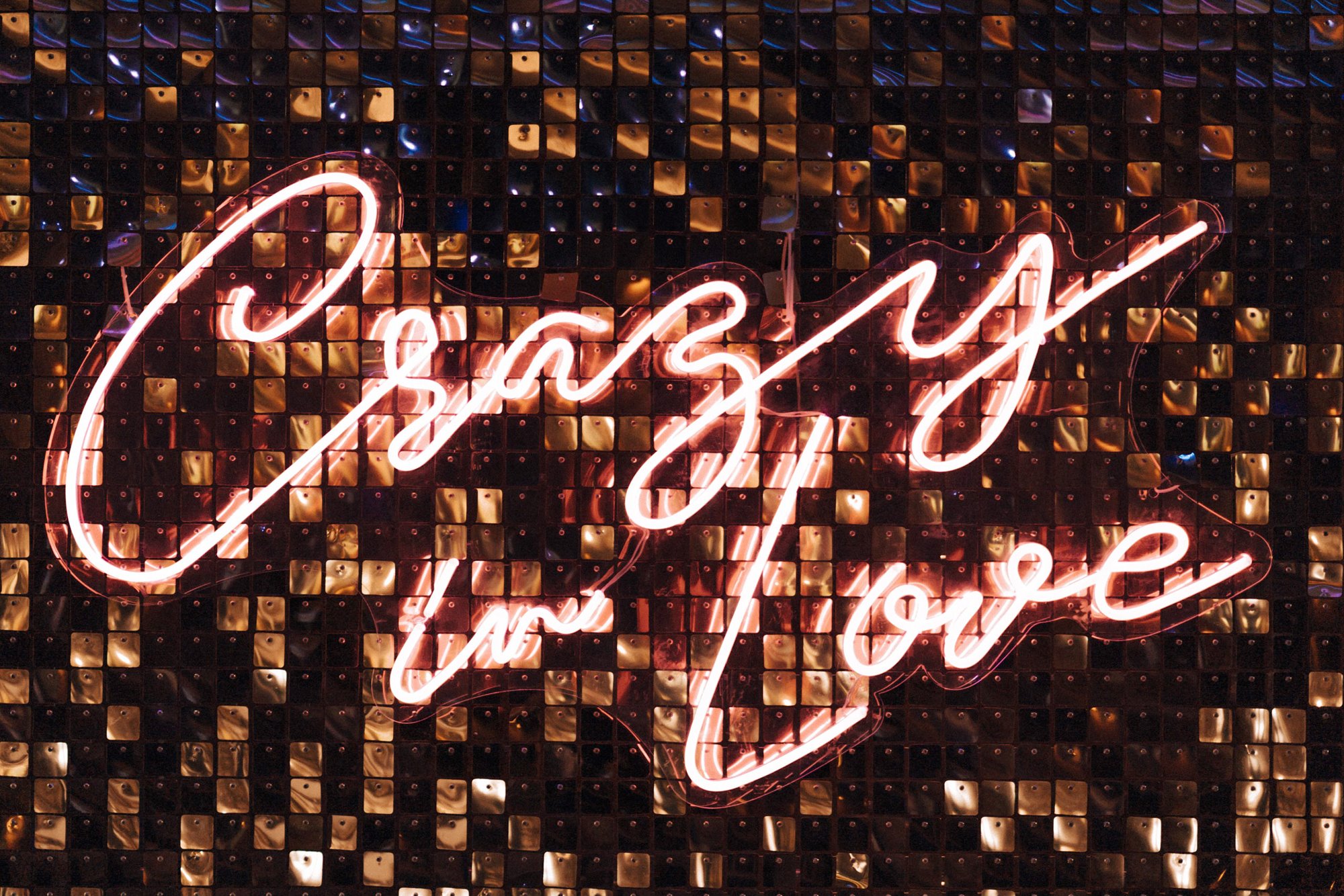 11) Getaway cars
The most romantic form of wedding transport has to be a vintage vehicle. Extra points for ribbons attached!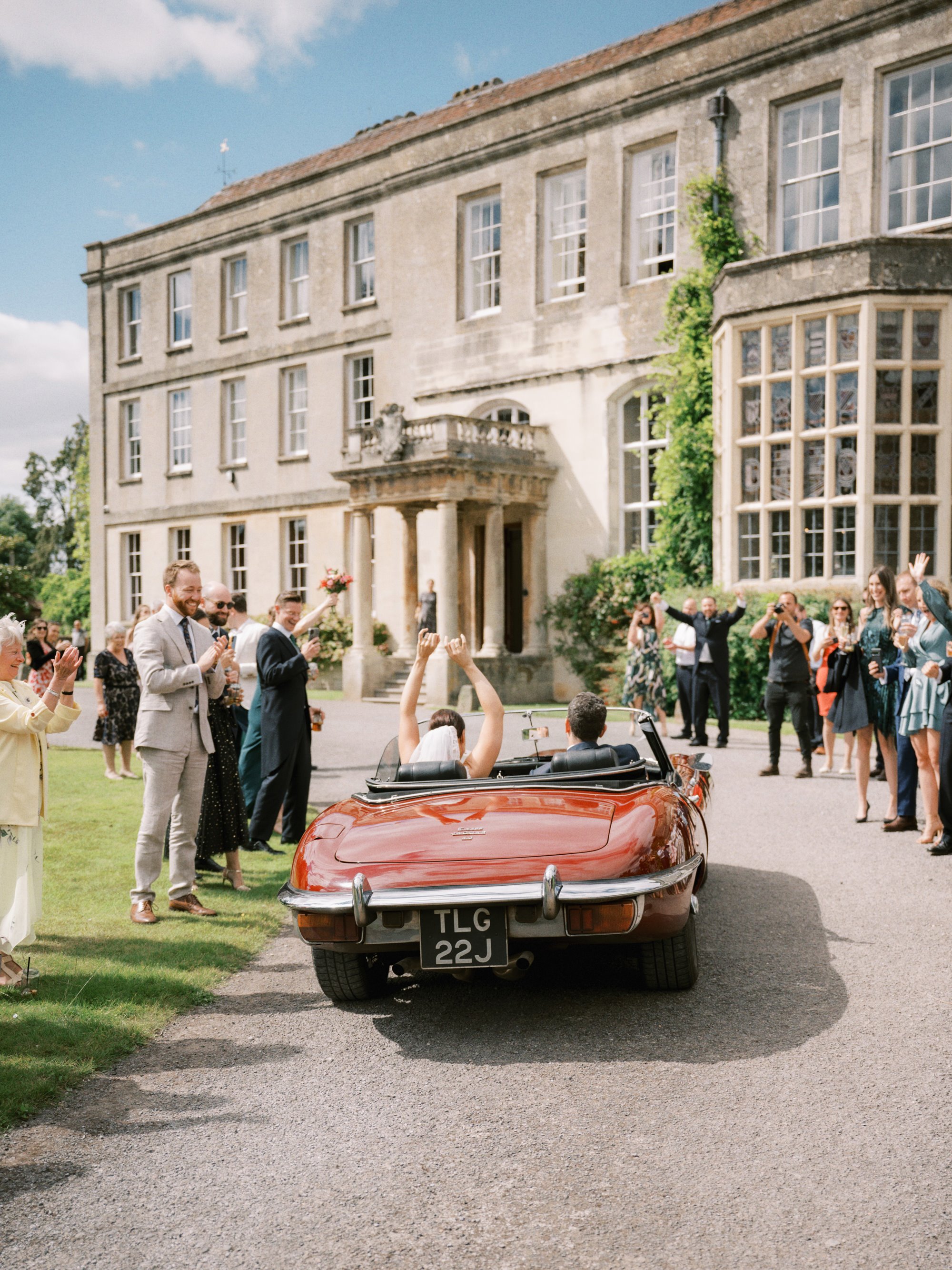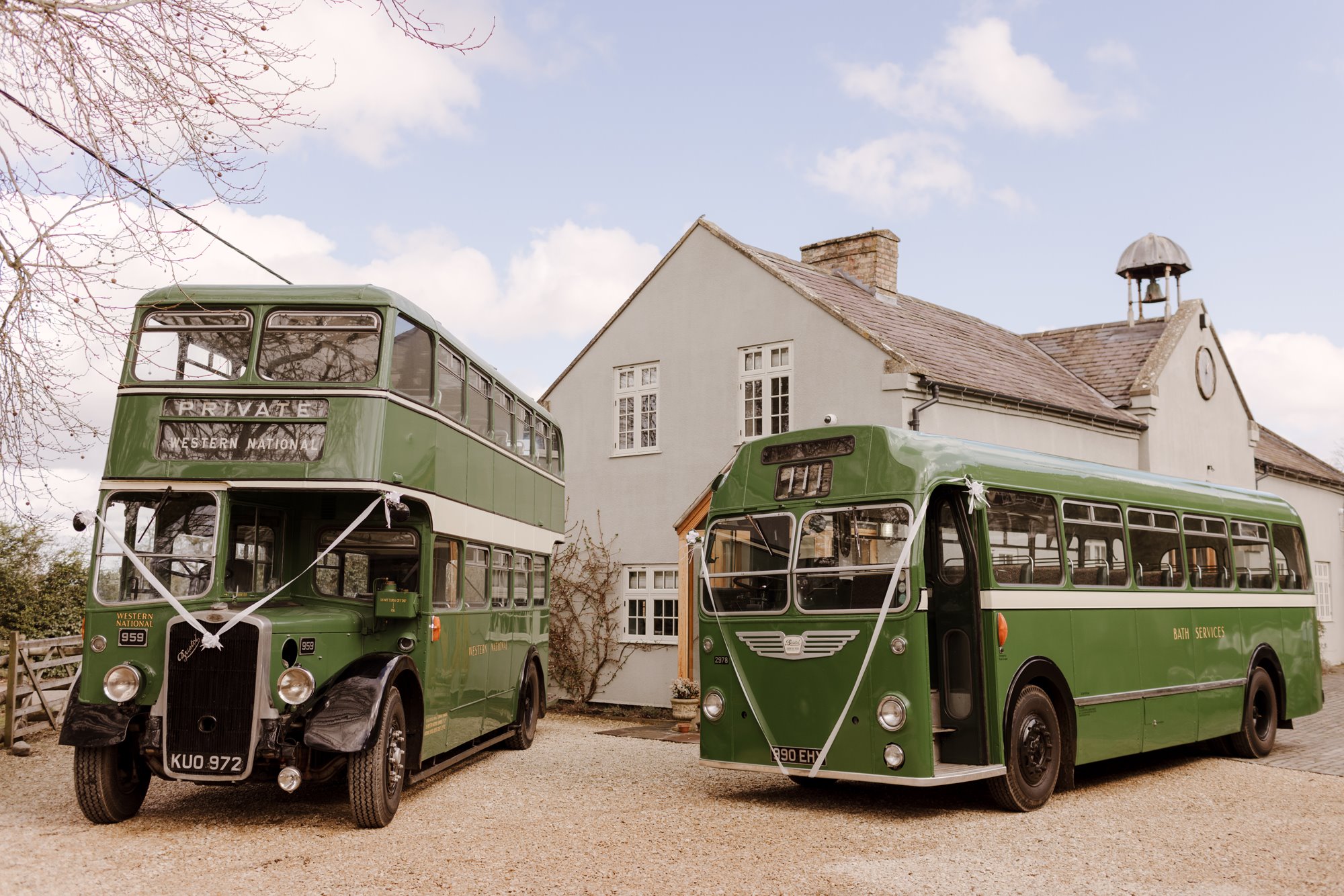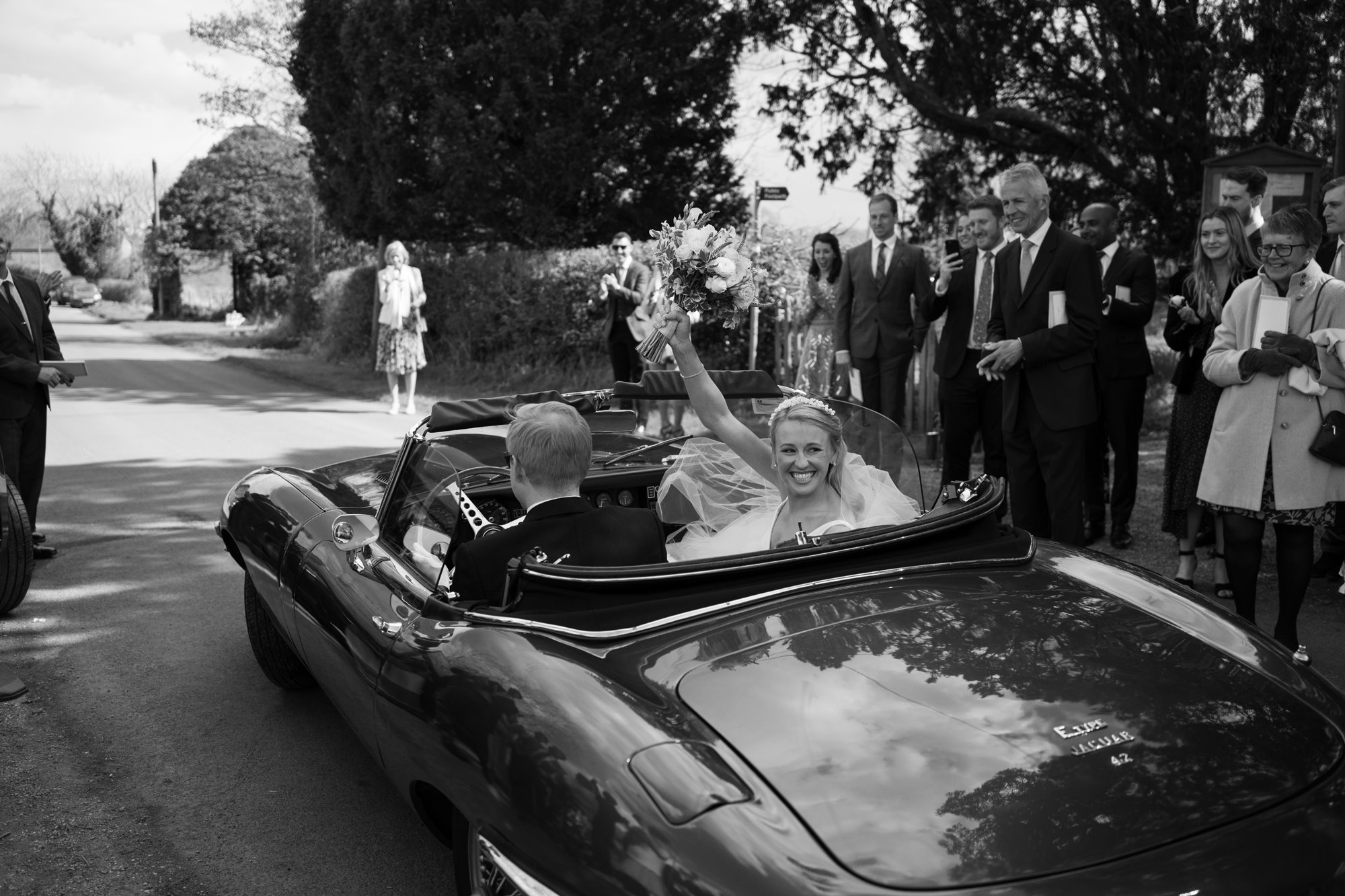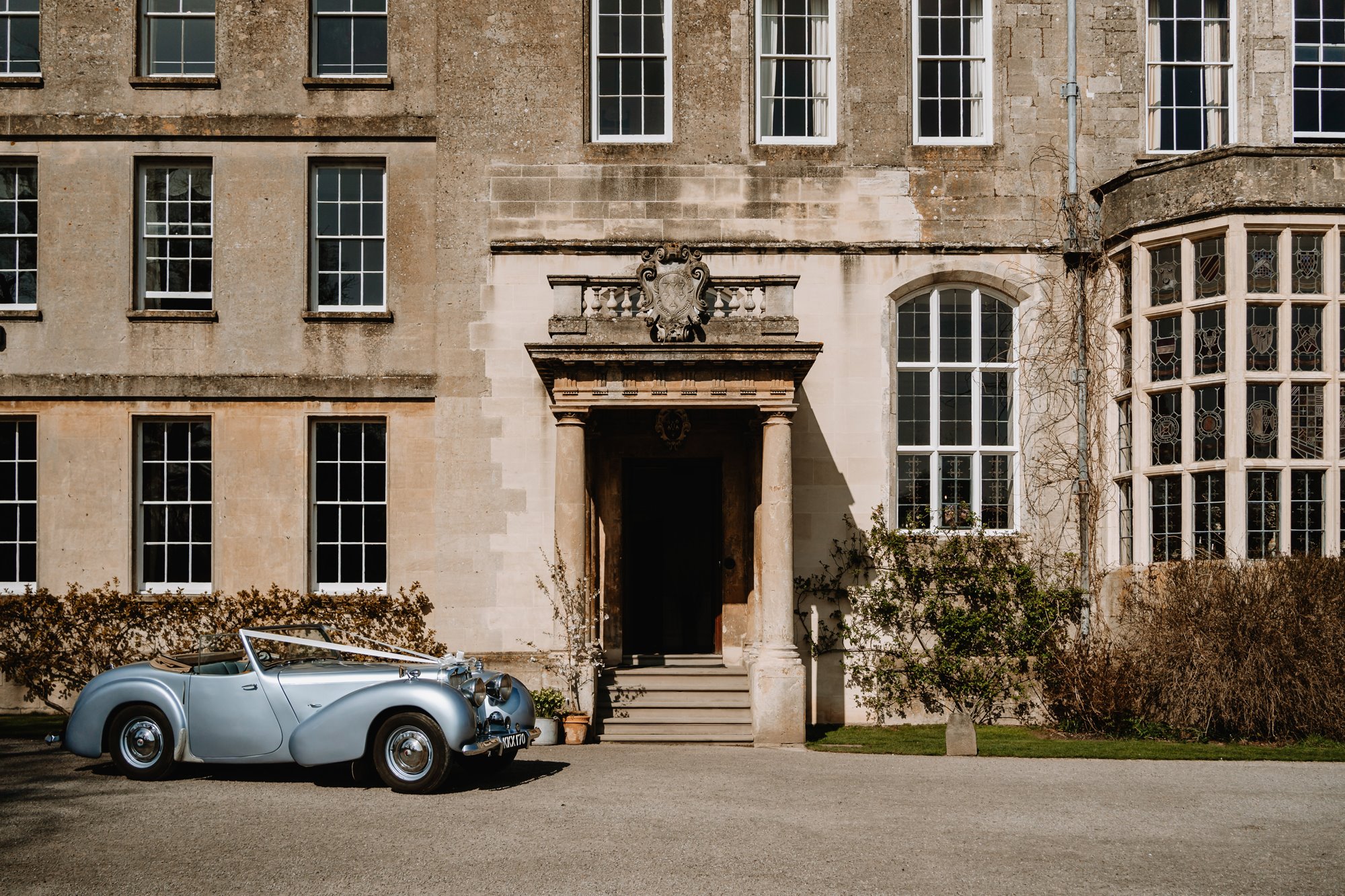 12) Pink & red wedding theme
Our favourite romantic wedding colour scheme right now has to be pink and red. It's fresh, modern and playful with just the right amount of romance. 
Here are some ways you can add touches of pink and red to your day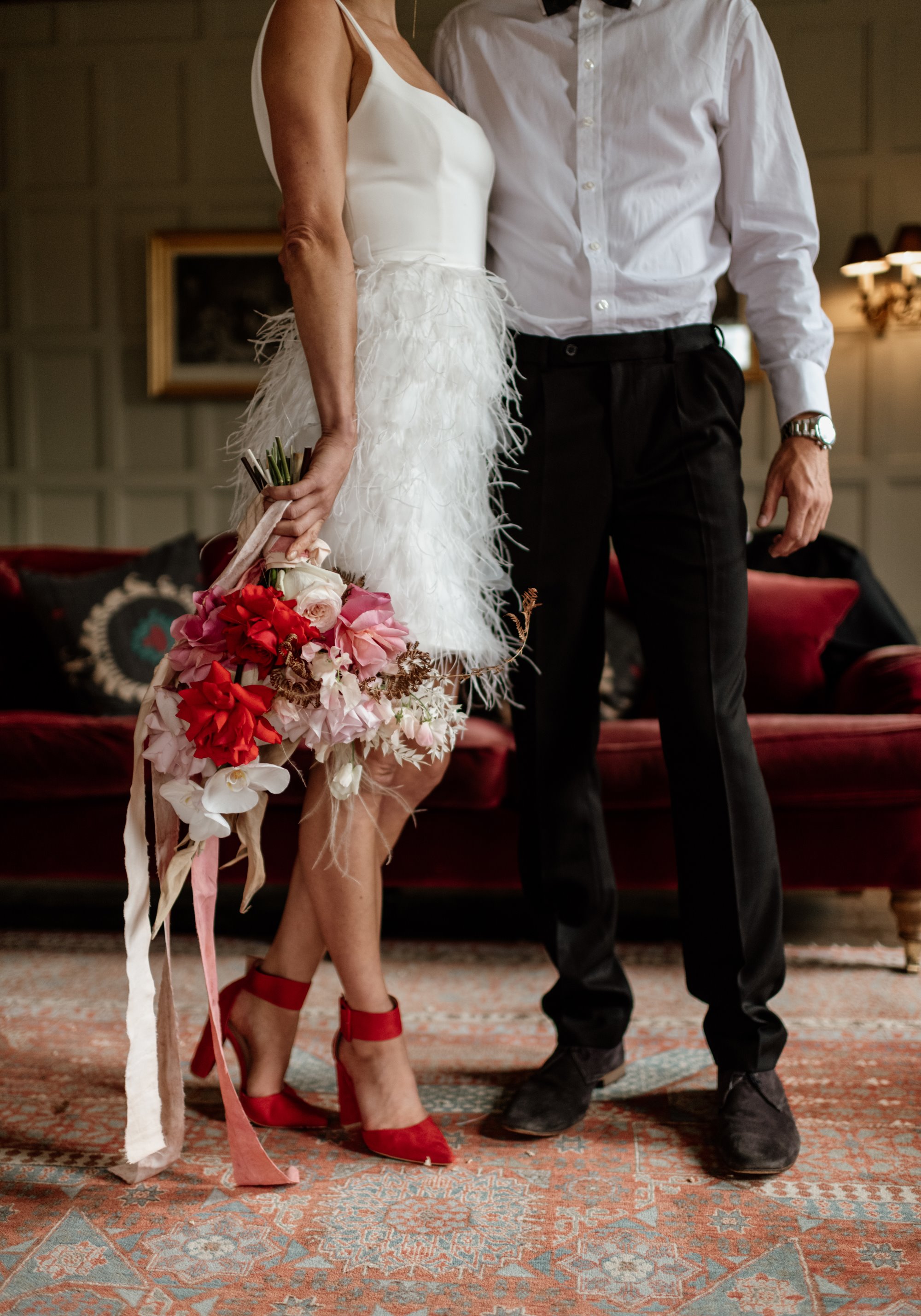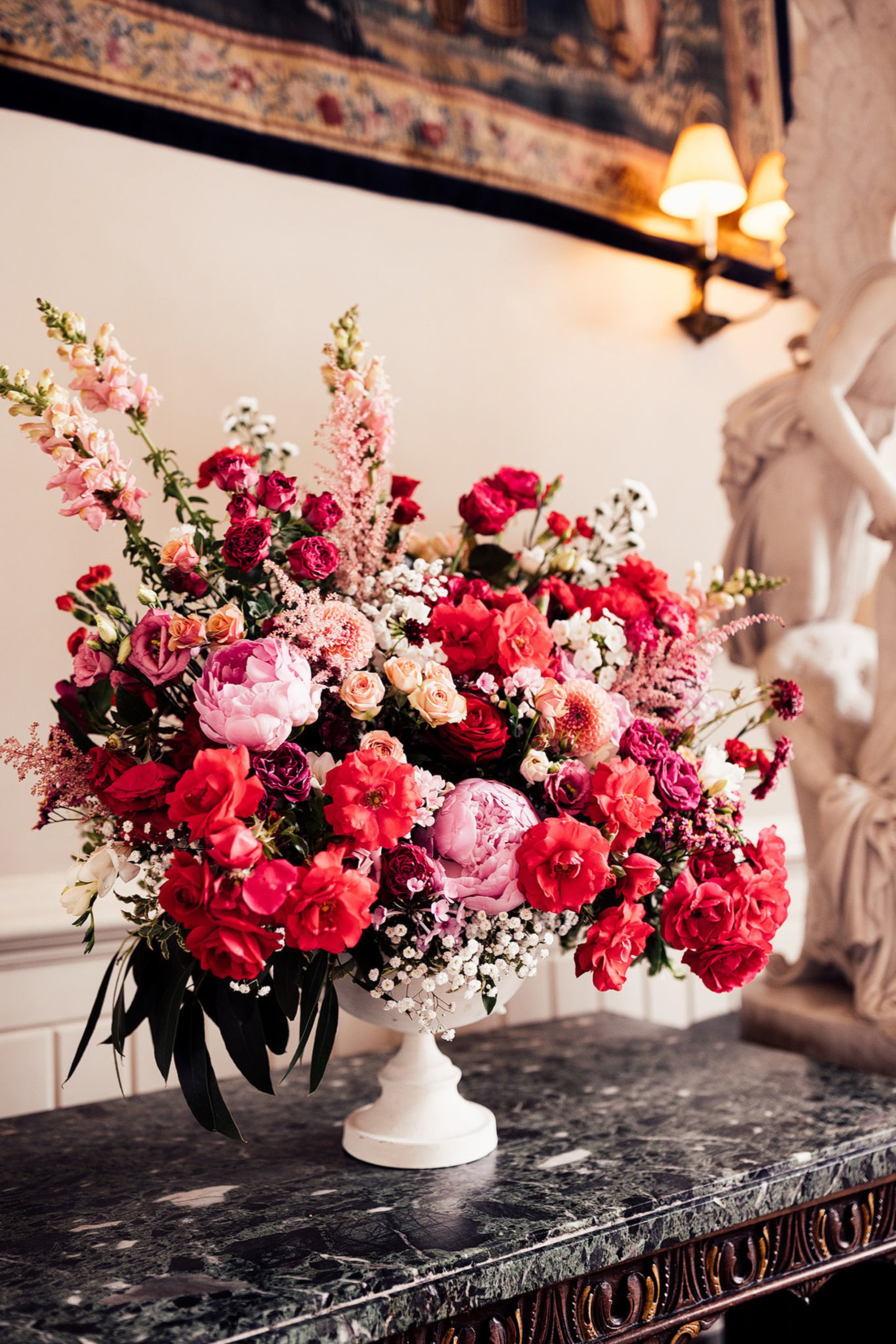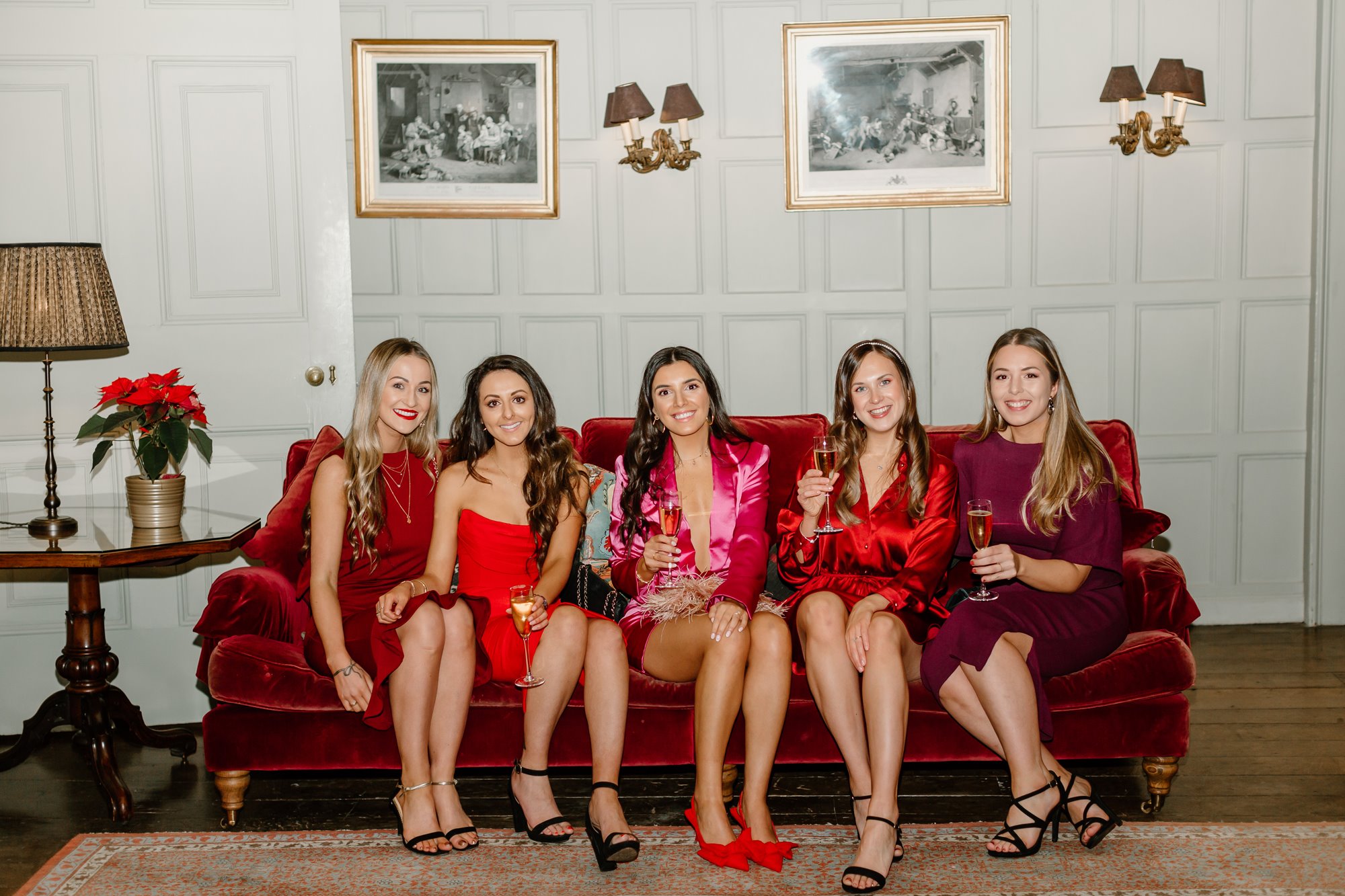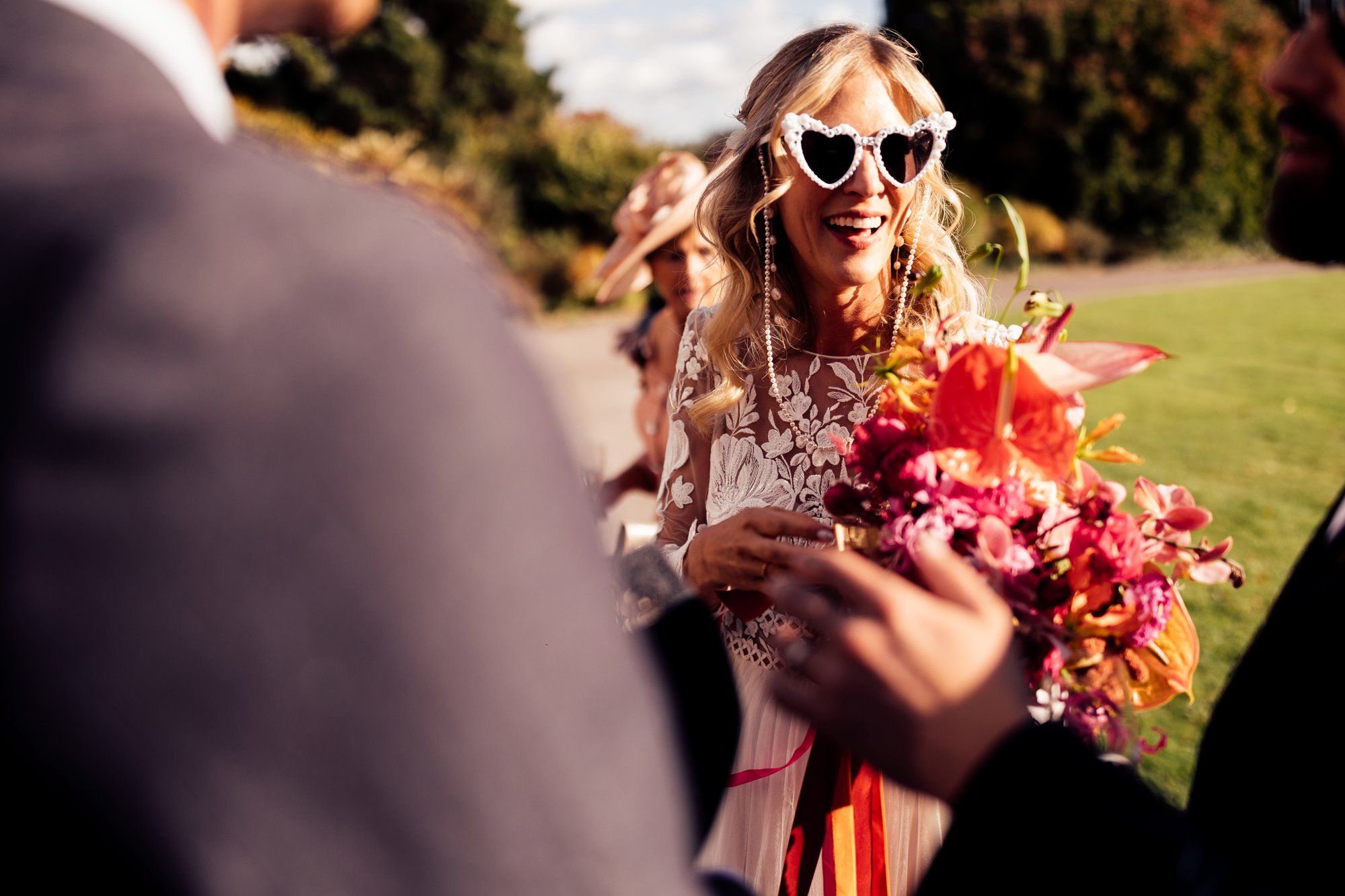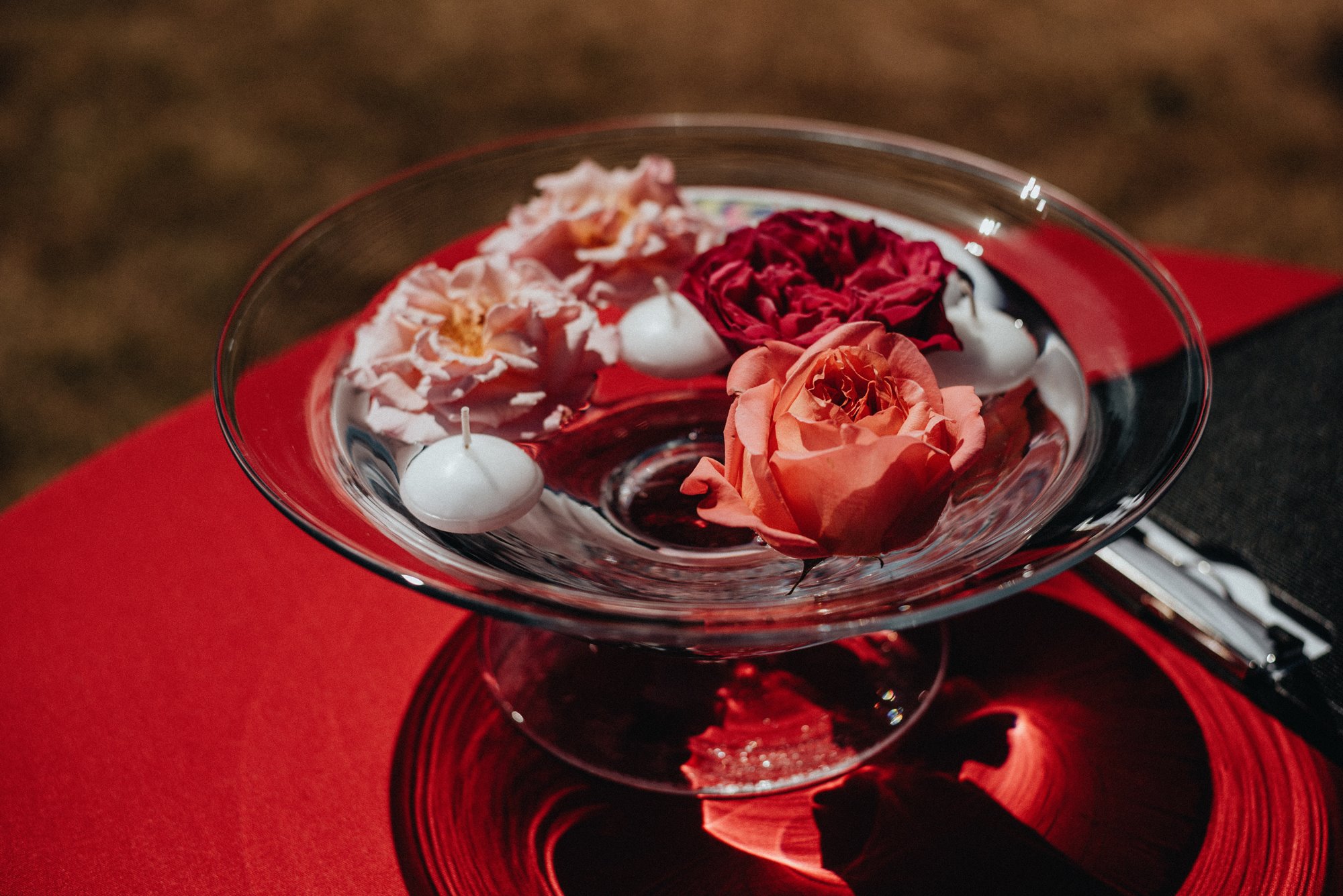 13) Outdoor ceremonies
An alfresco wedding has to be one of the most romantic ceremony choices.
We are so excited to be able to hold outdoor weddings all over our grounds and gardens now! Some options for your outdoor ceremony are:
Walled garden wedding
Getting married under an ancient beech tree
Ceremony on the Cedar lawn
Outdoor wedding with water sculpture backdrop
But the possibilities really are endless, get in touch for more inspiration and info on planning an outdoor wedding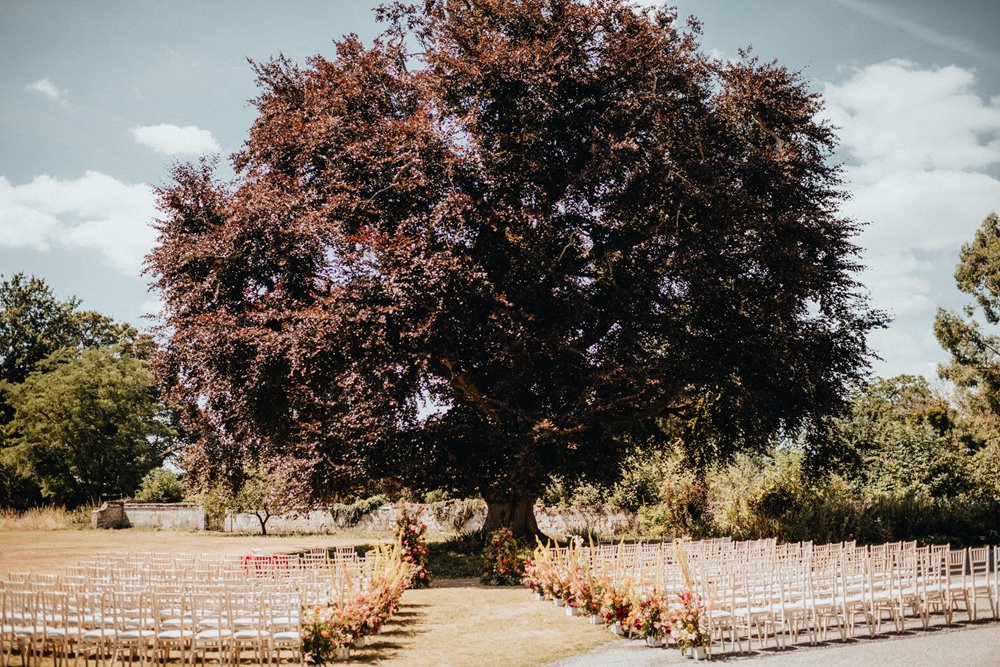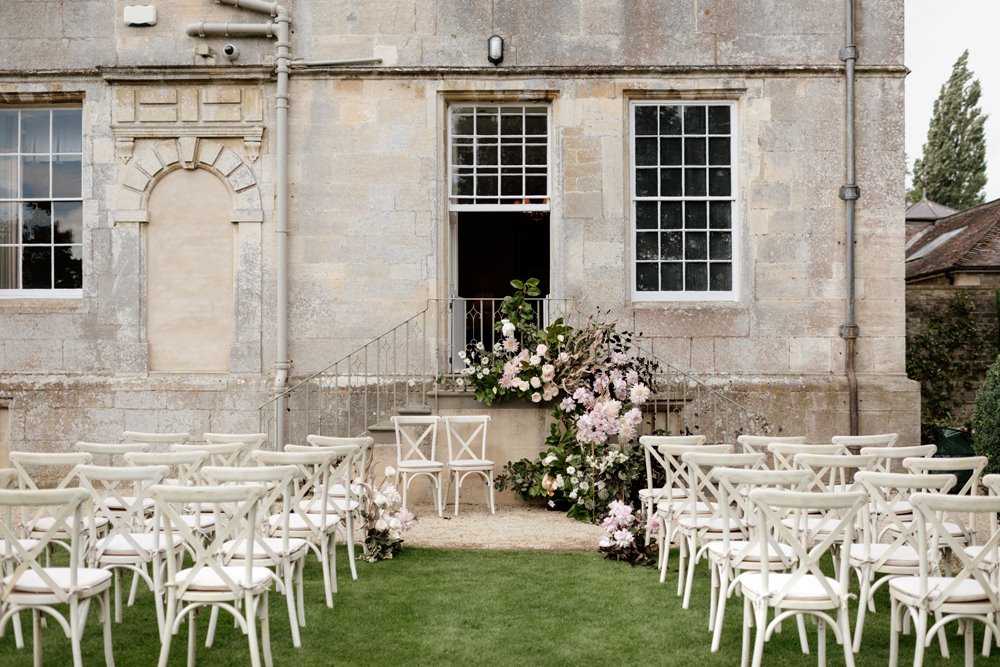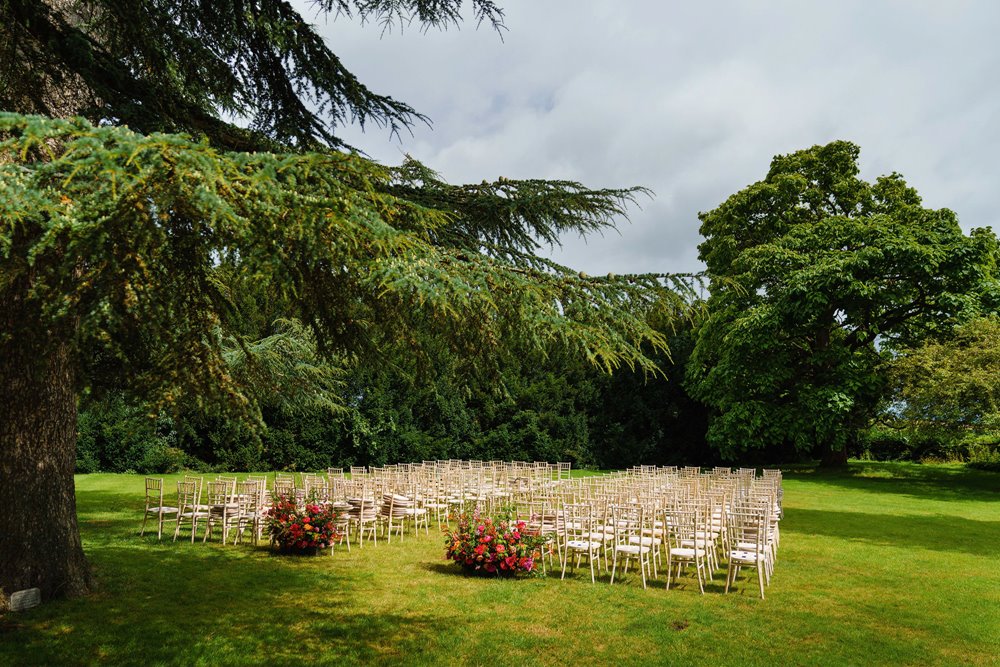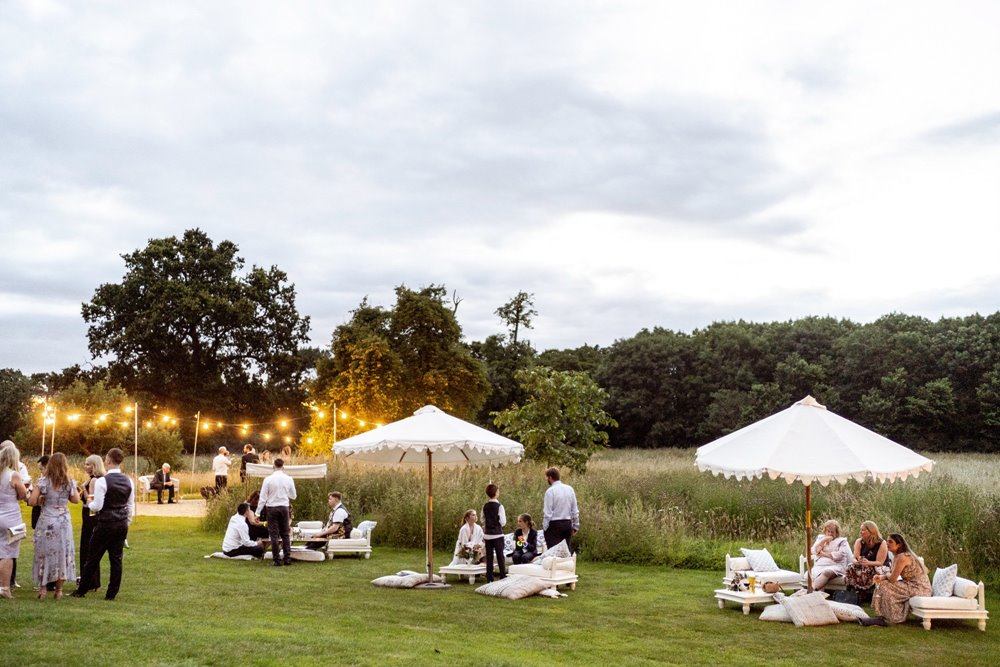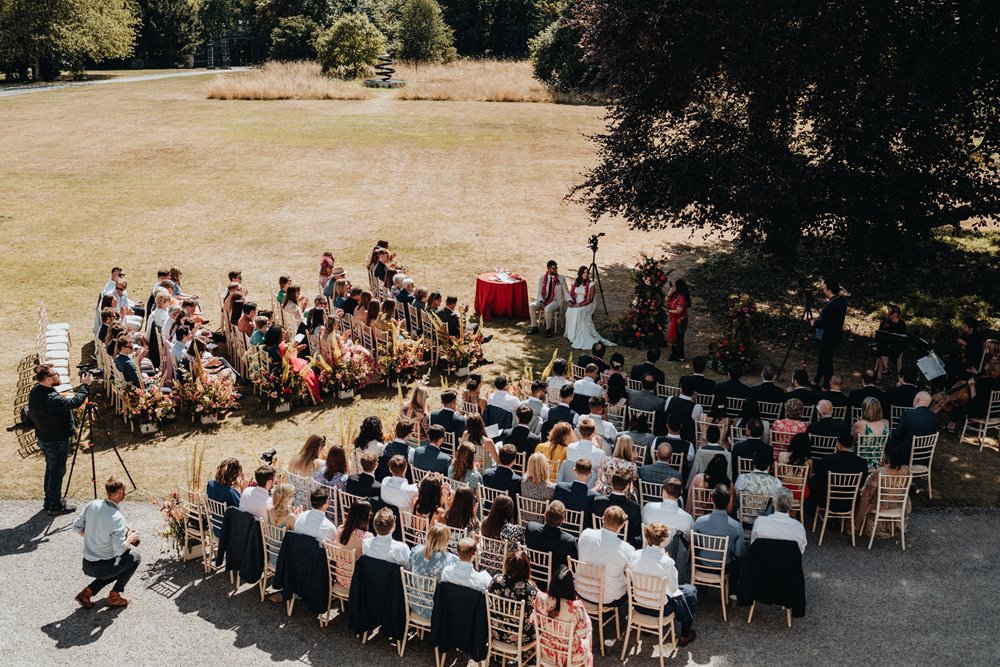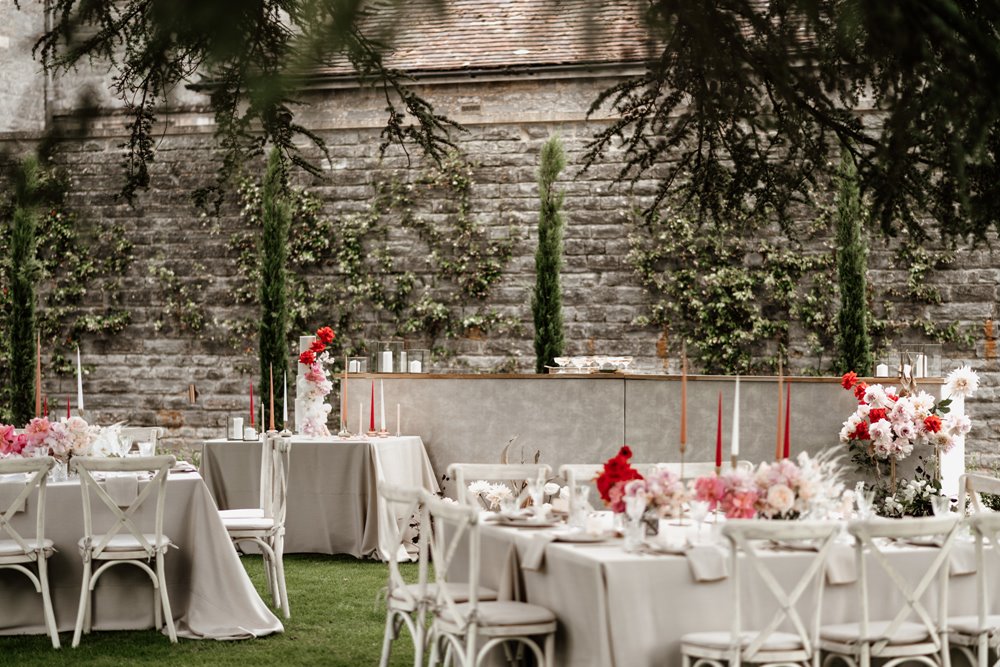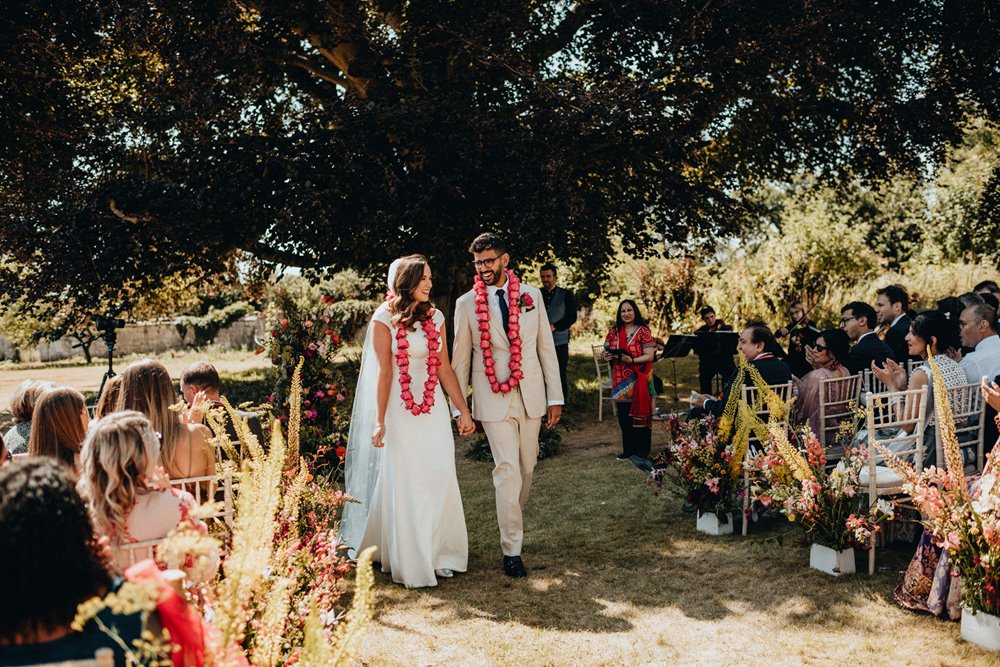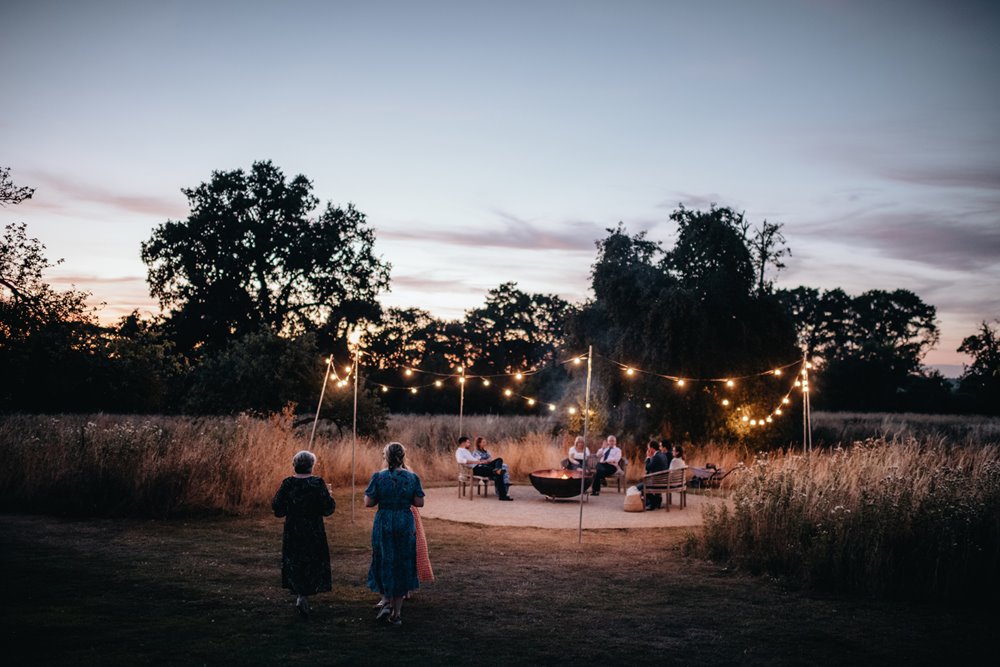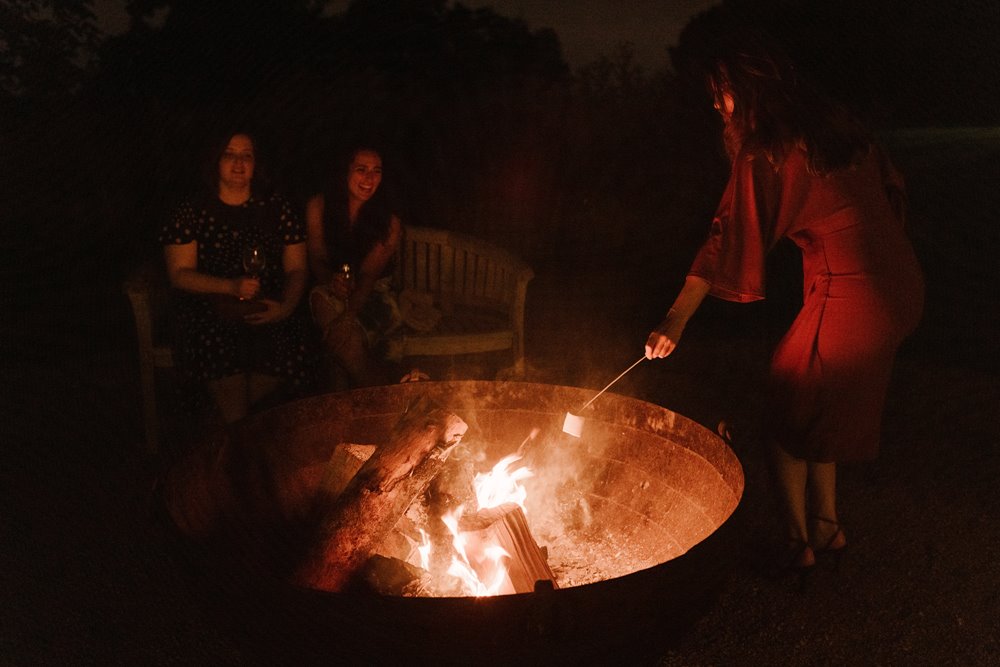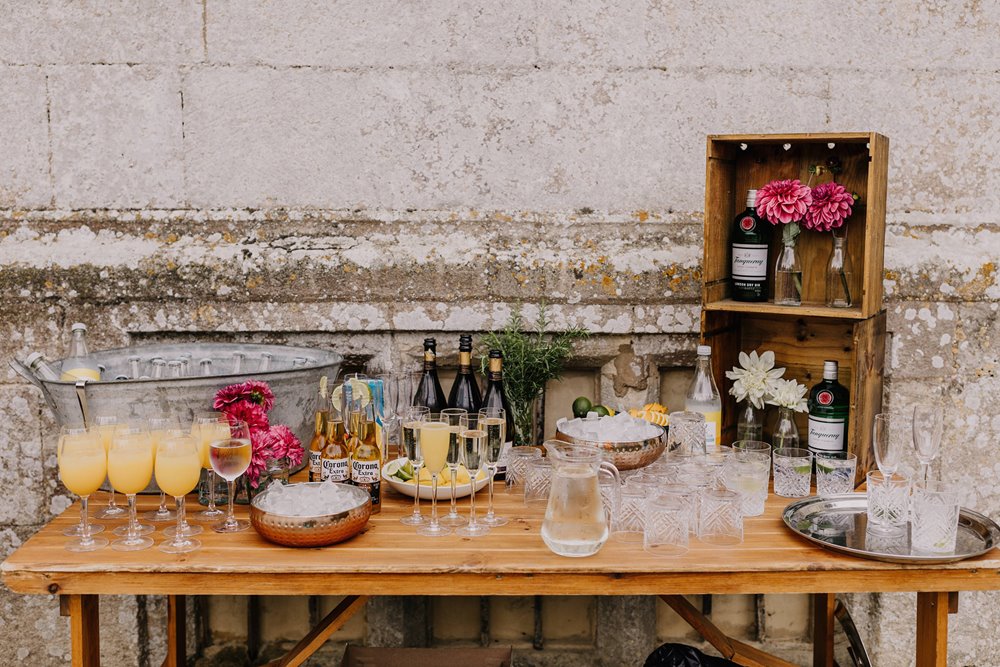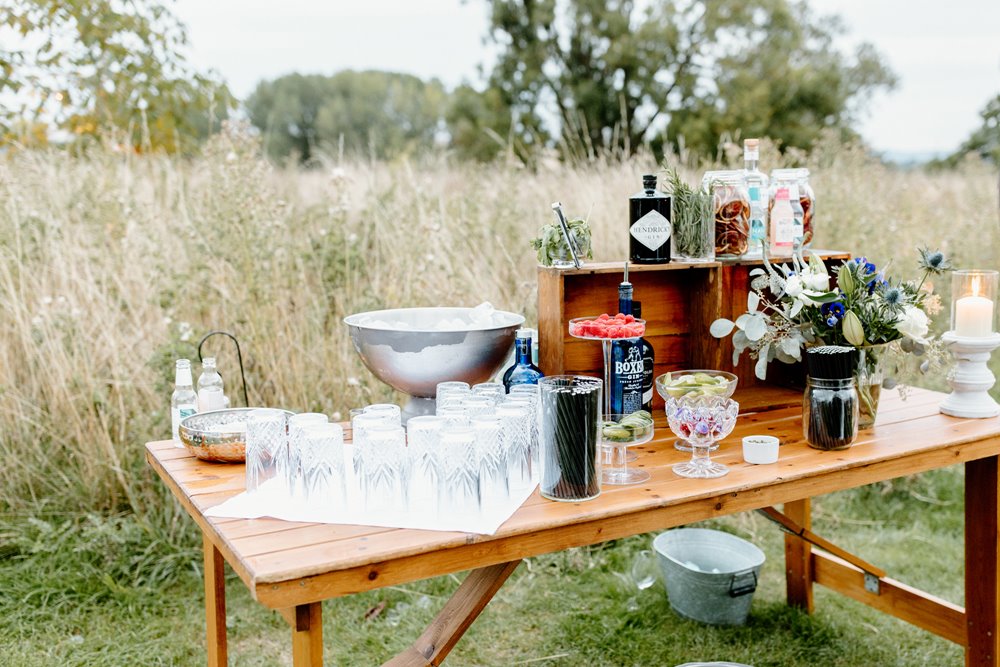 14) Music is the food of love
Live music is a real must to create atmosphere. The most obvious choices for romantic weddings are strings, harp, piano or gospel choir but who's to say what feels romantic to you; go with your gut and play on.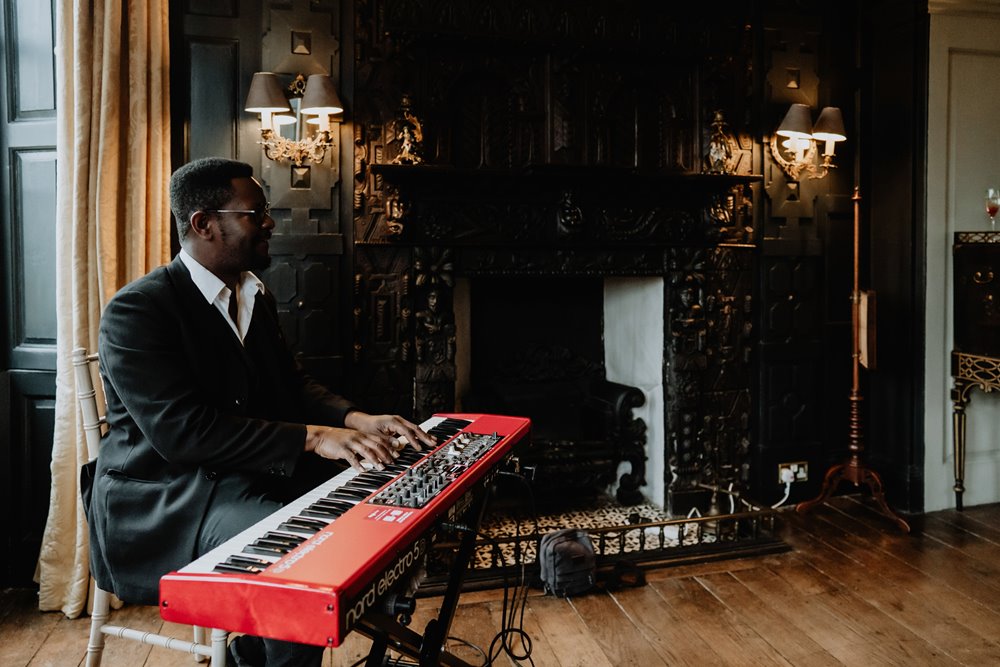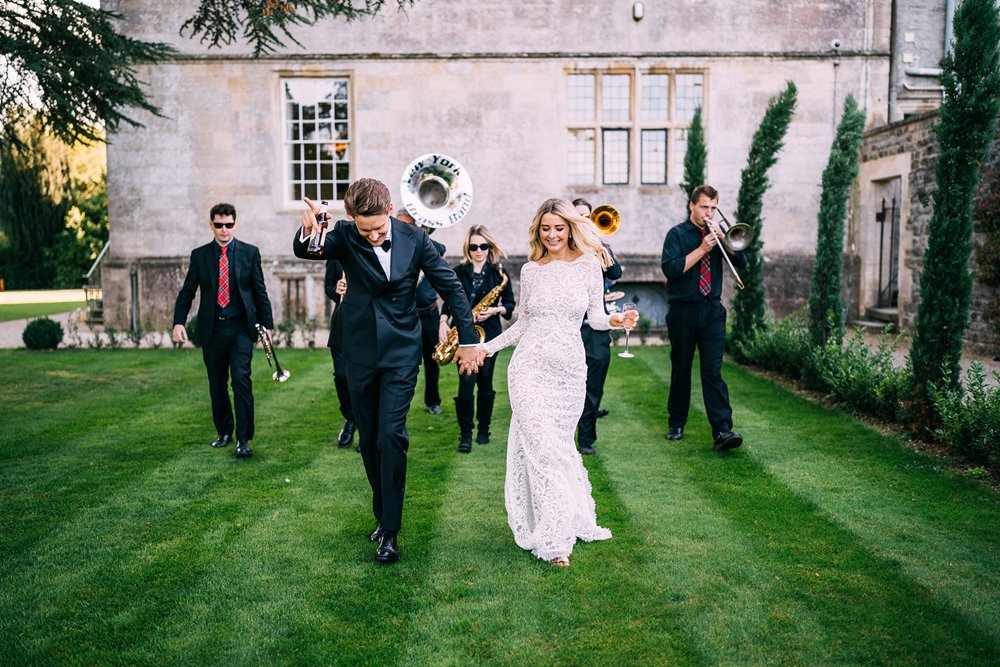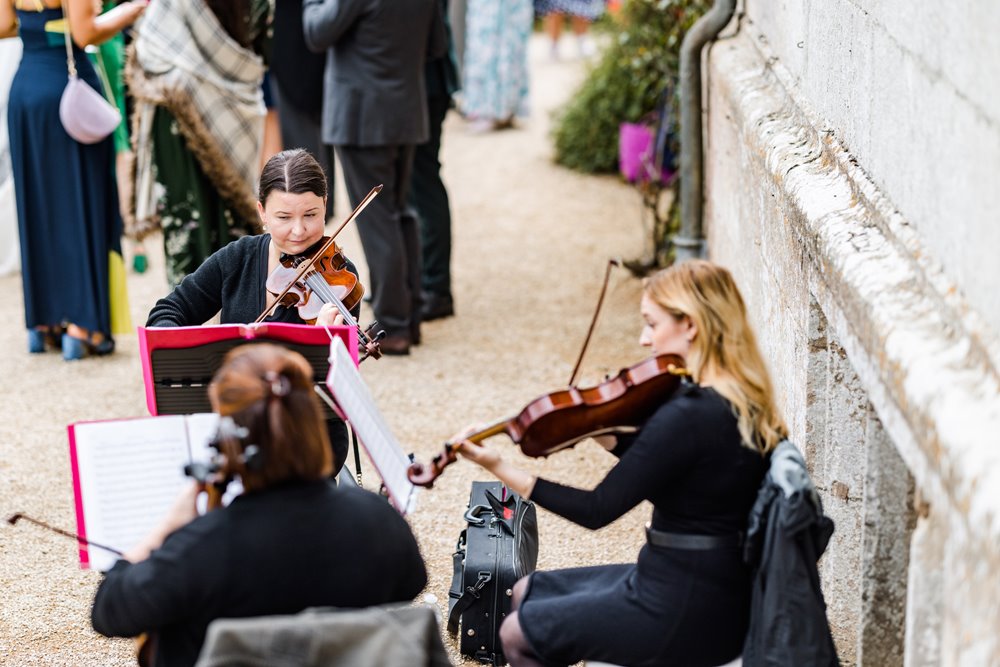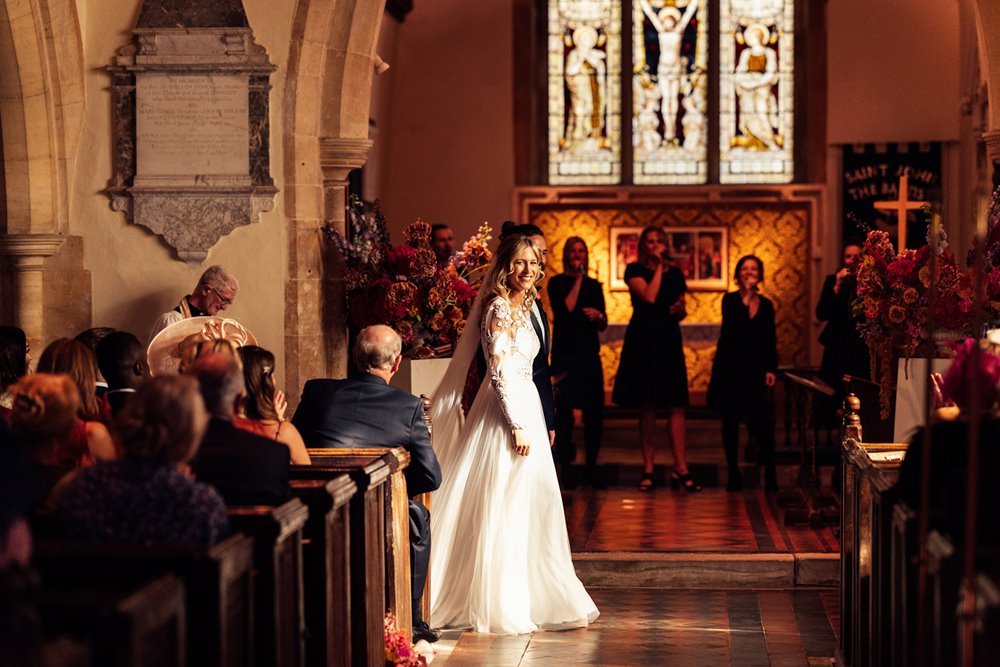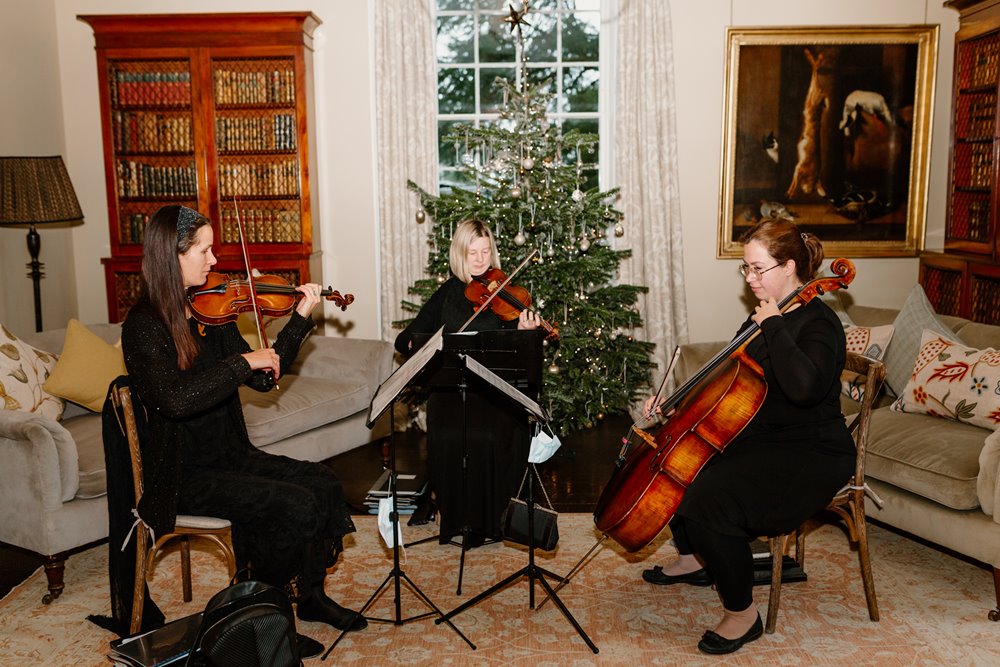 15) Bridal accessories
If you're the kind of bride-to-be who has an undying love affair with shoes or bags you'll know why we've included accessories in our romantic round up...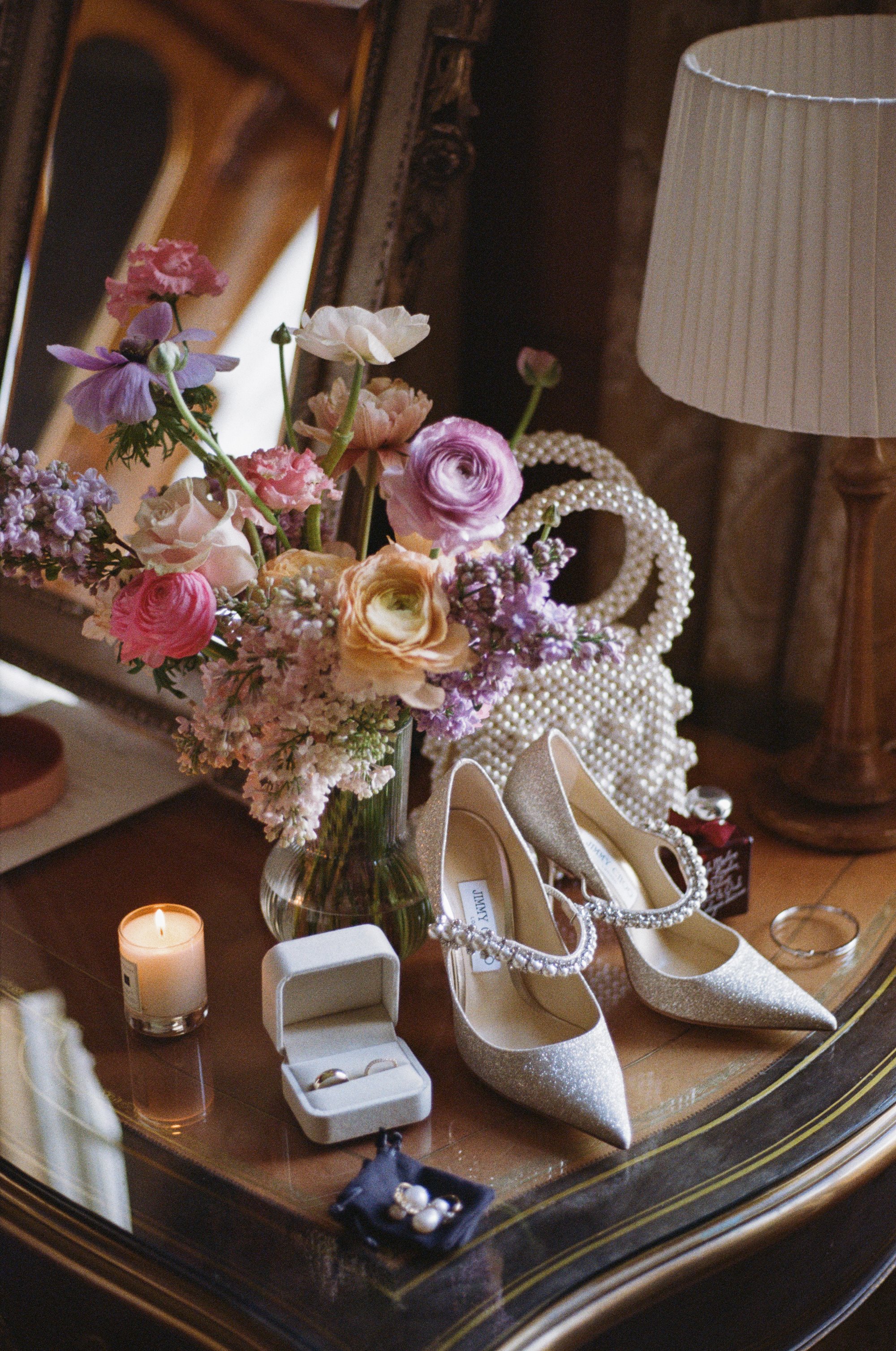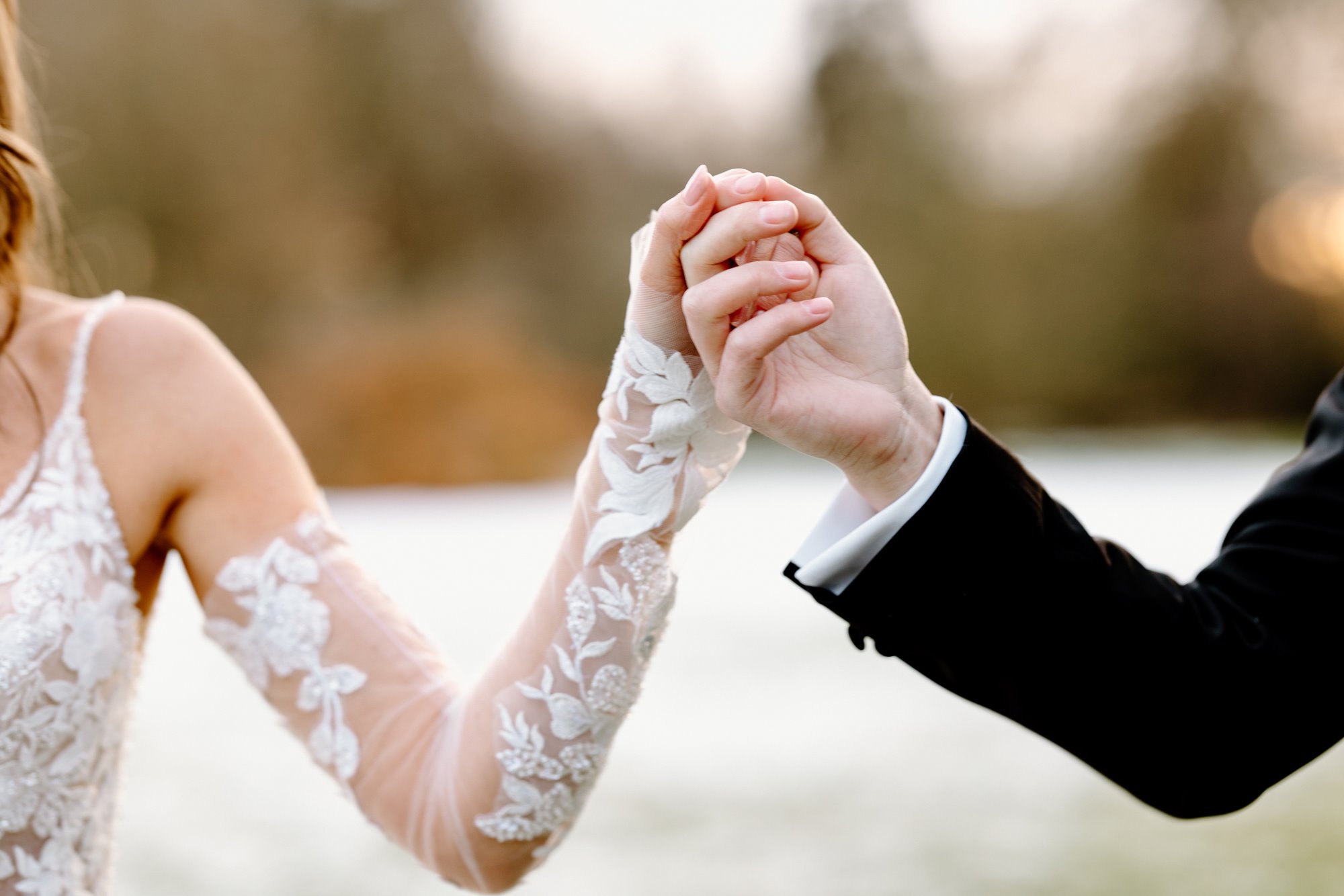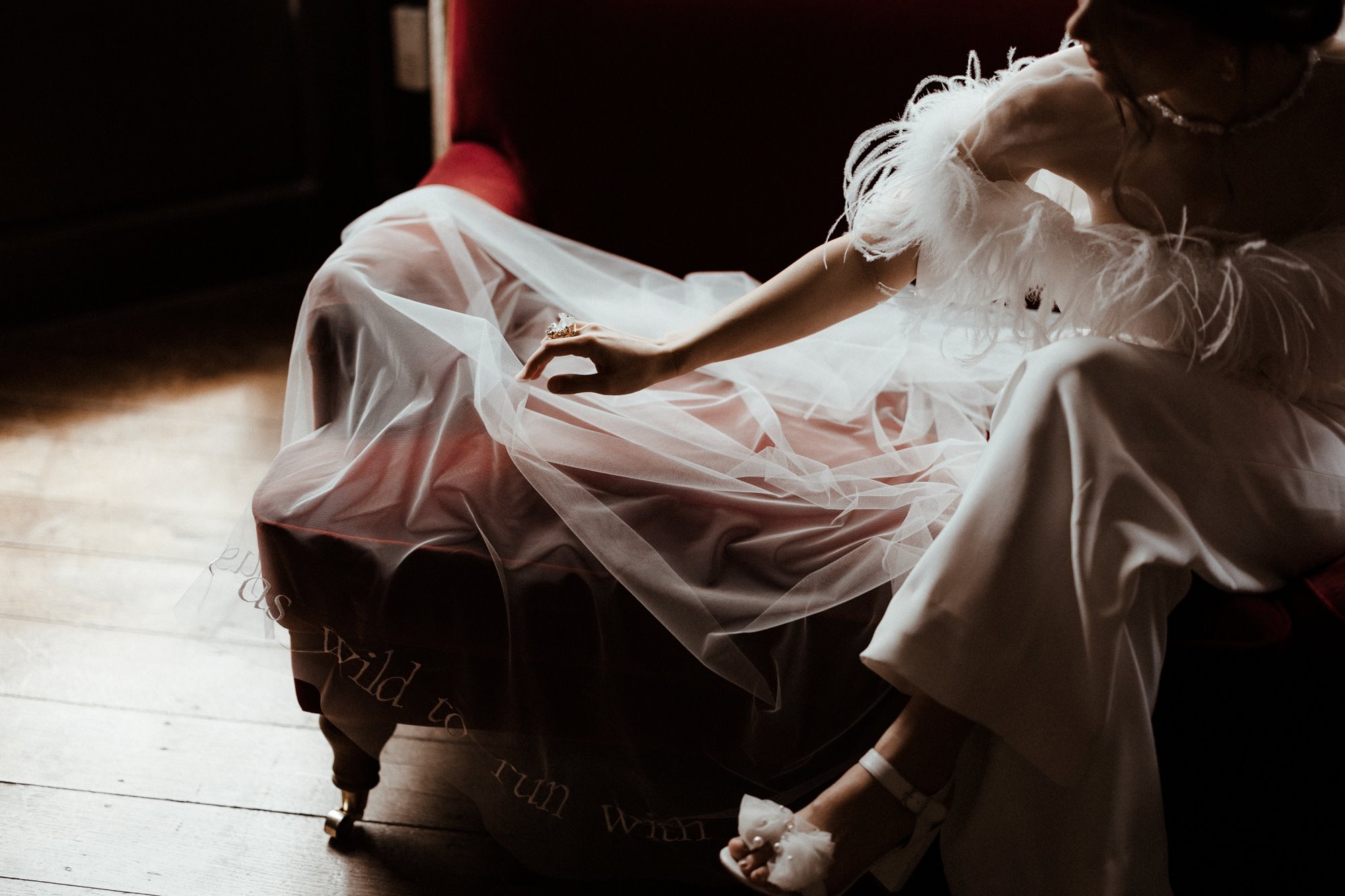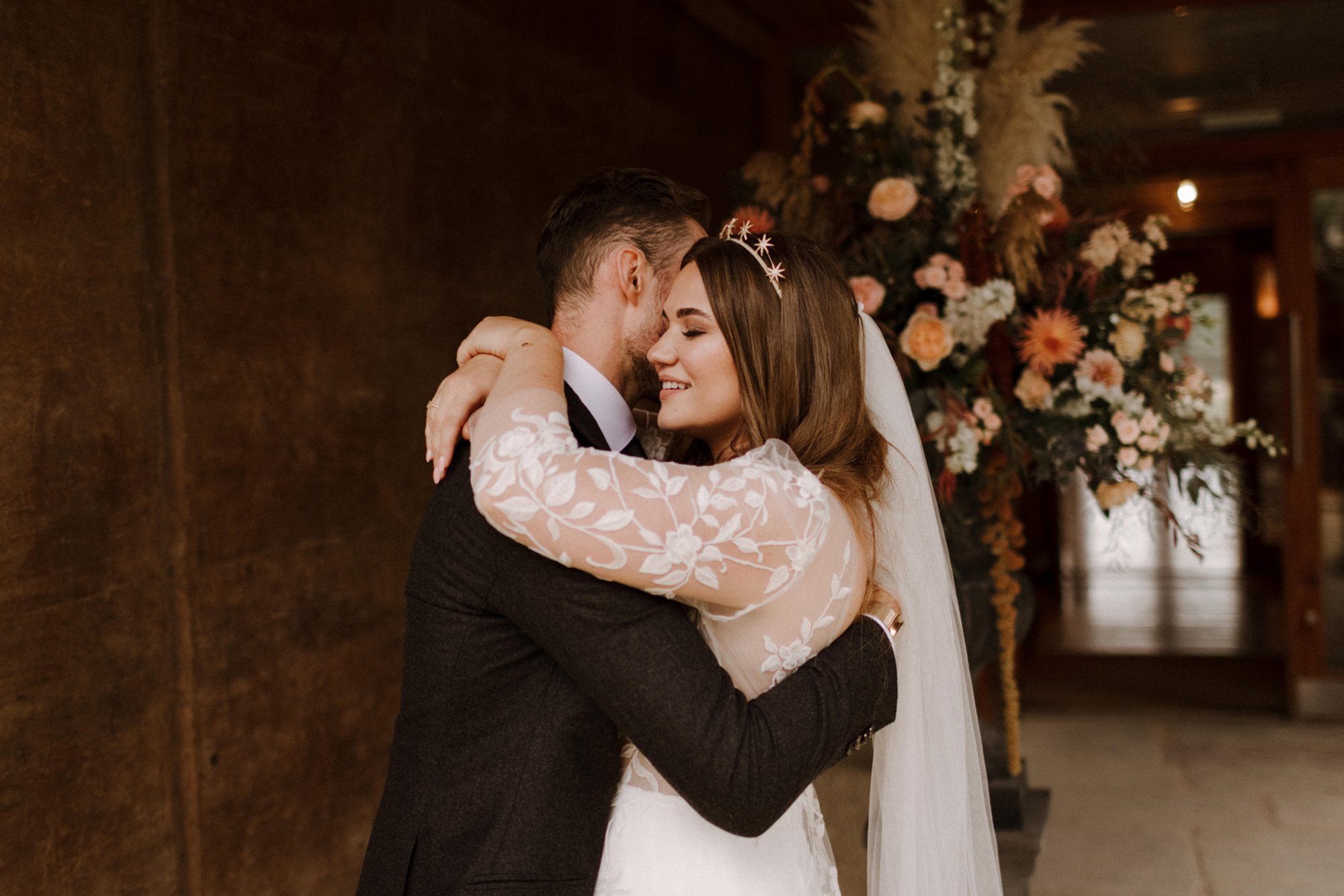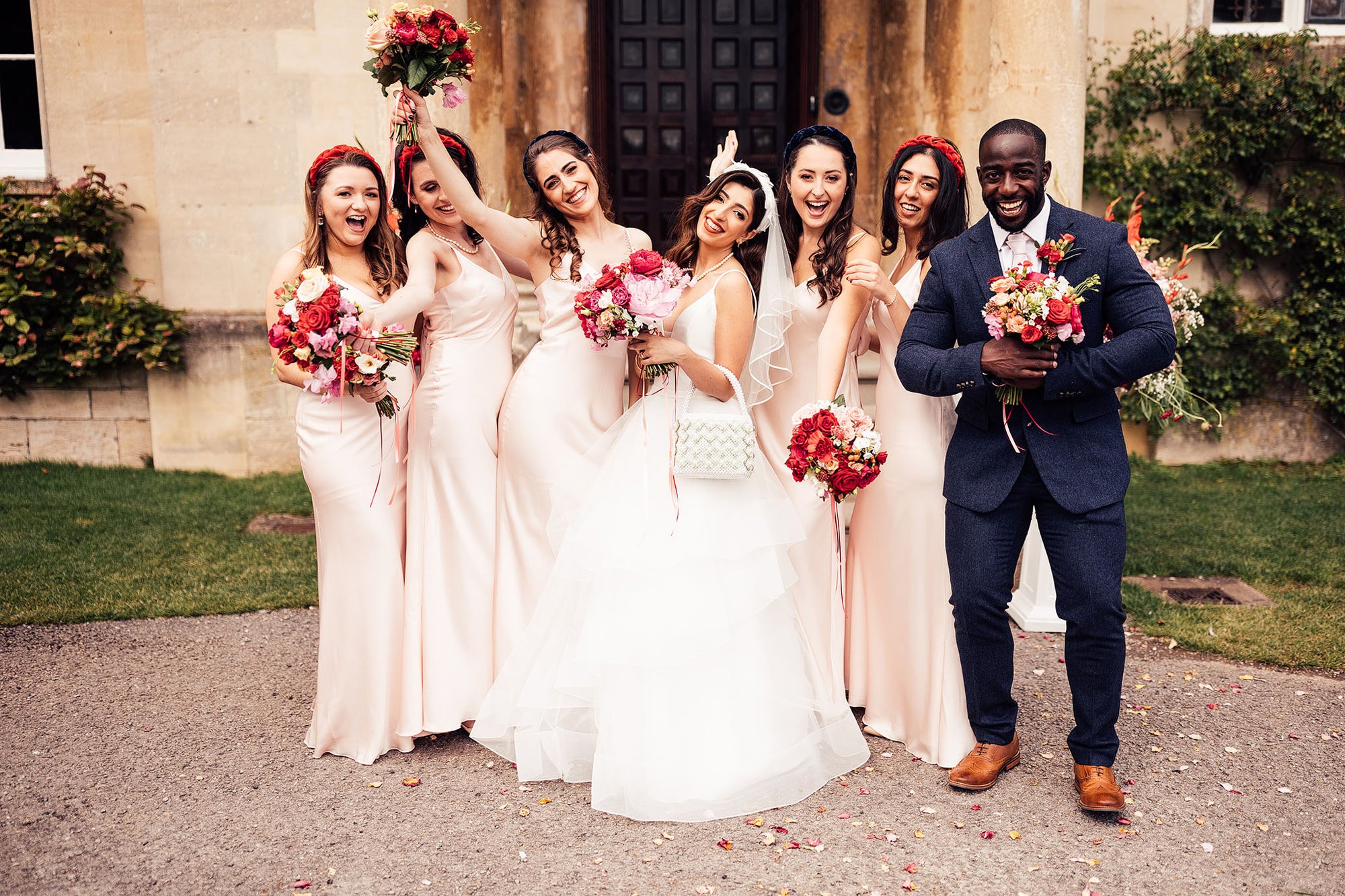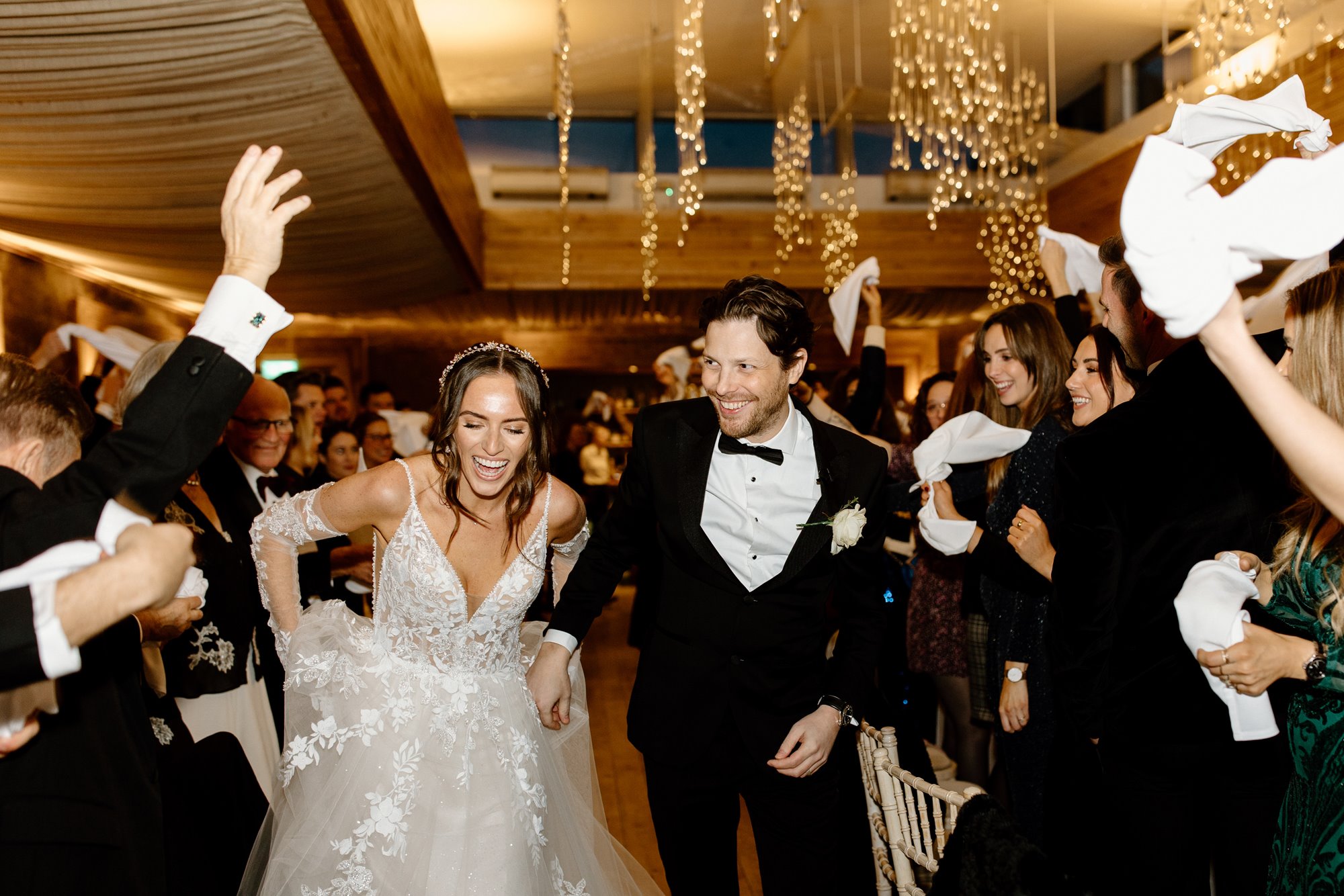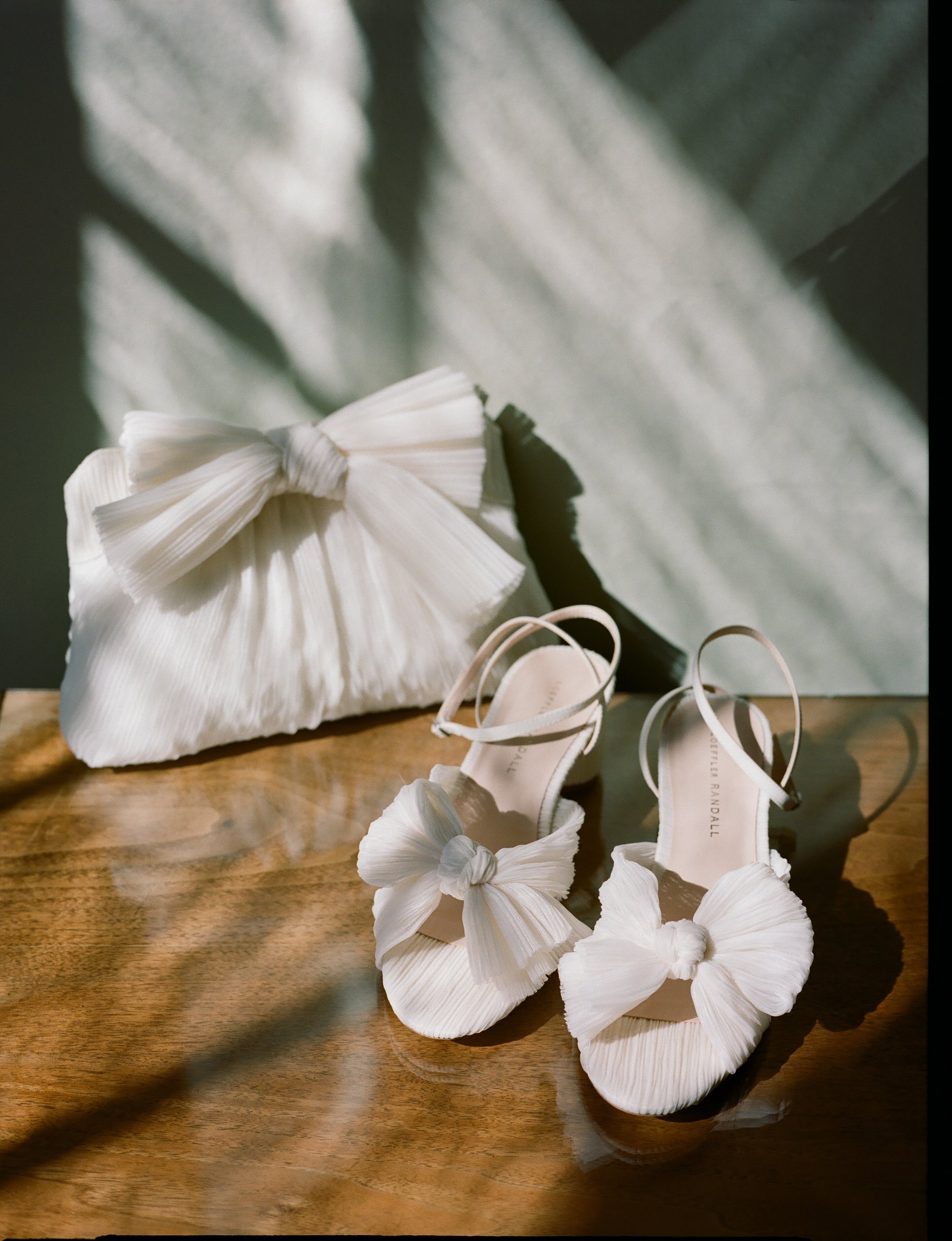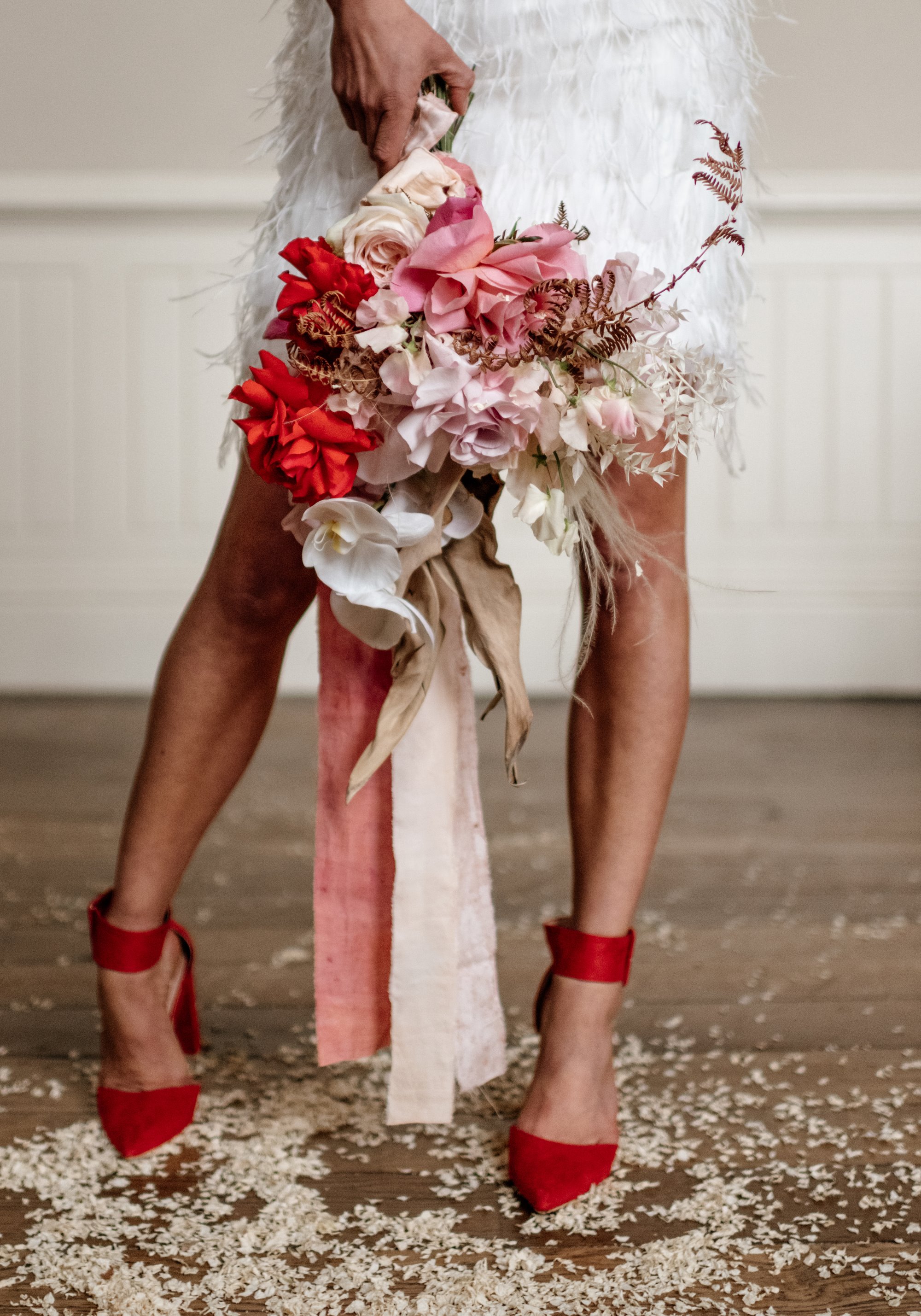 16) Pretty in Pink
What colour bridesmaids dresses should you choose for a romantic wedding? Why PINK of course!
Pink can be cool and edgy, soft and whimsical, bold and fun or pretty pastel shades... It is such a versatile colour for all seasons and goes so well with many colour combos.
Some of our favourite colours to pair with pink are:
Pink and red (all time favourite)
Pink and sage green
Pink and white
Shades of pink (pink just goes so well with pink!!)
Take a look below for some of our favourite pink bridesmaids moments...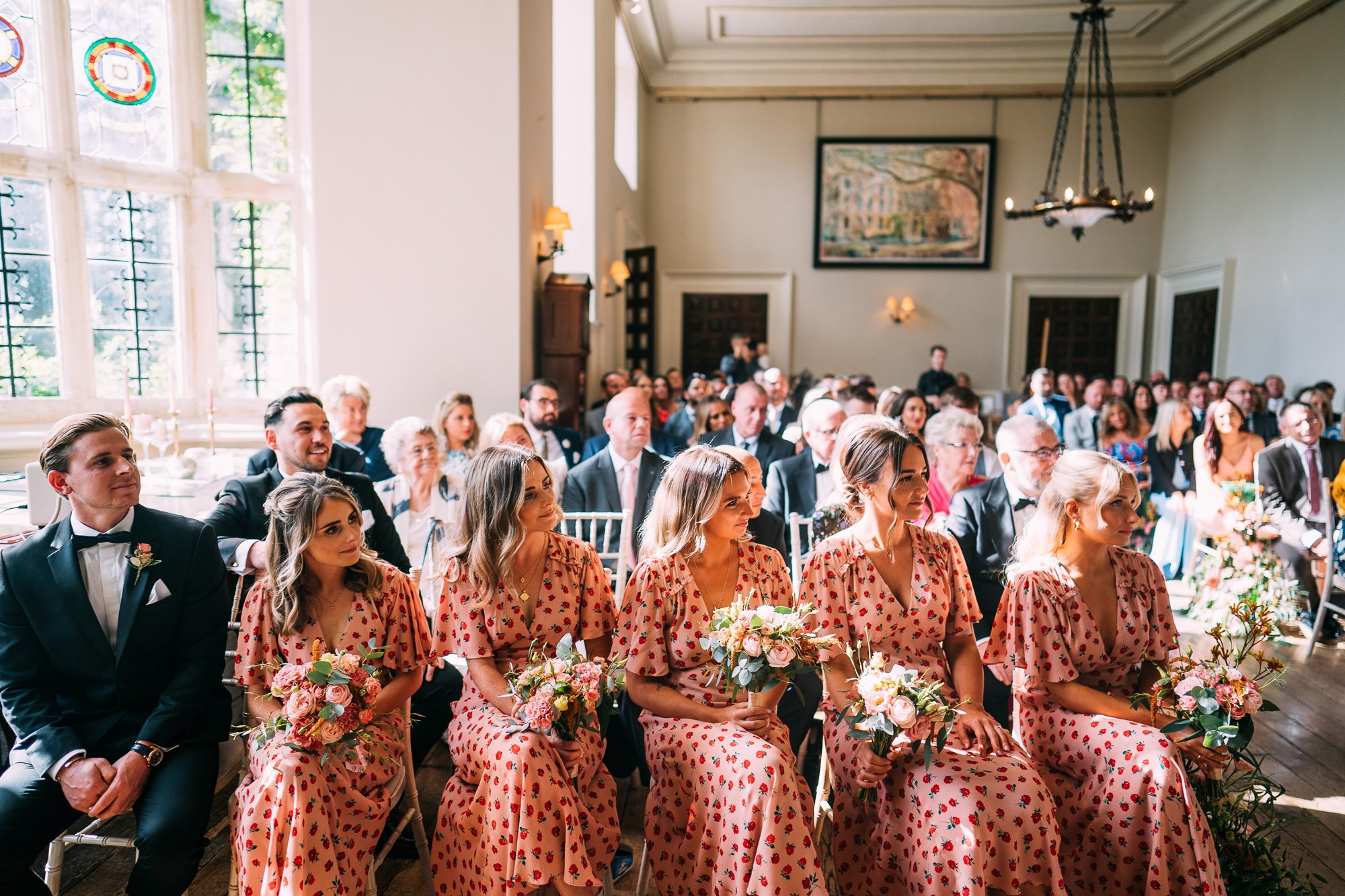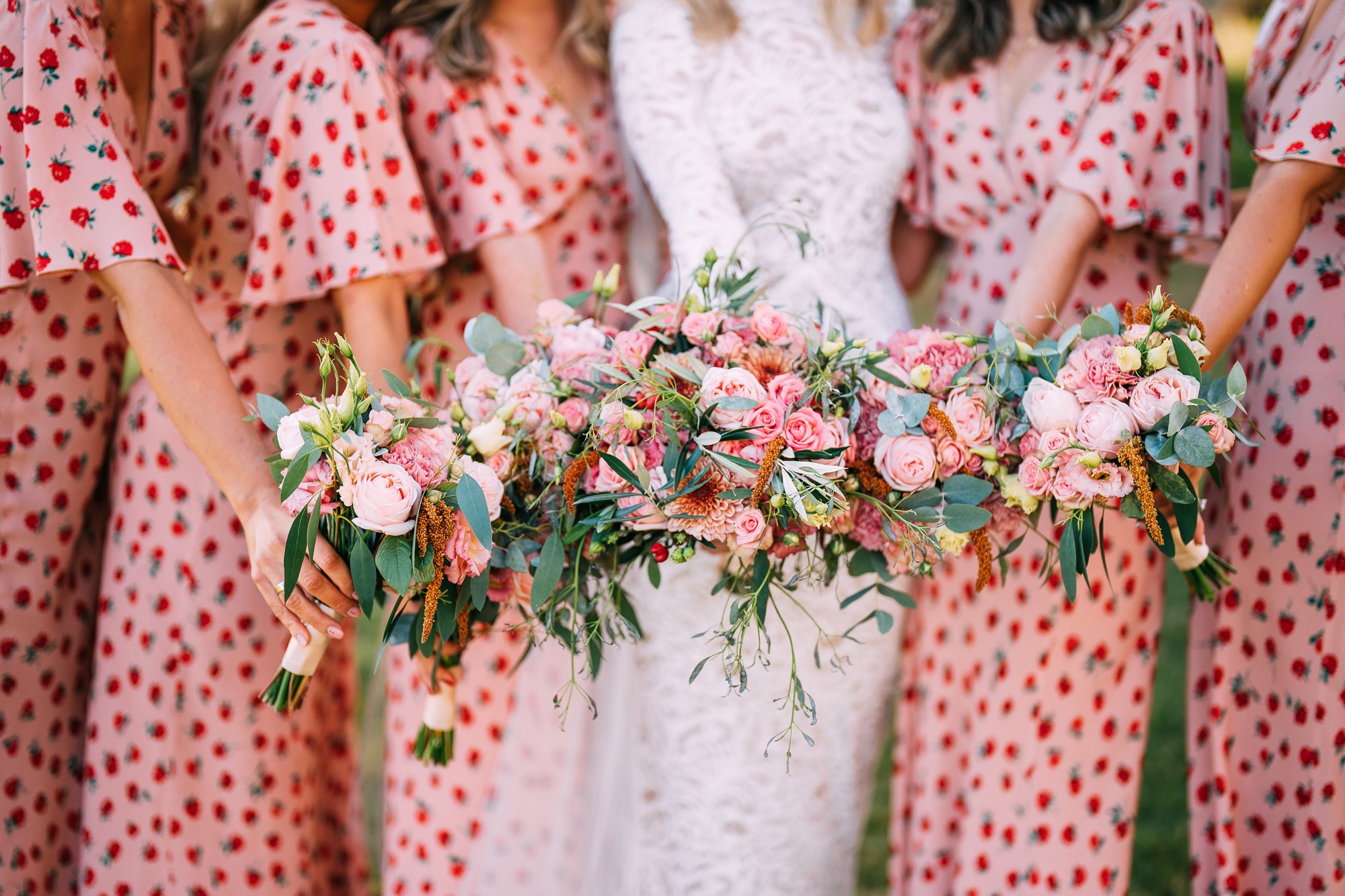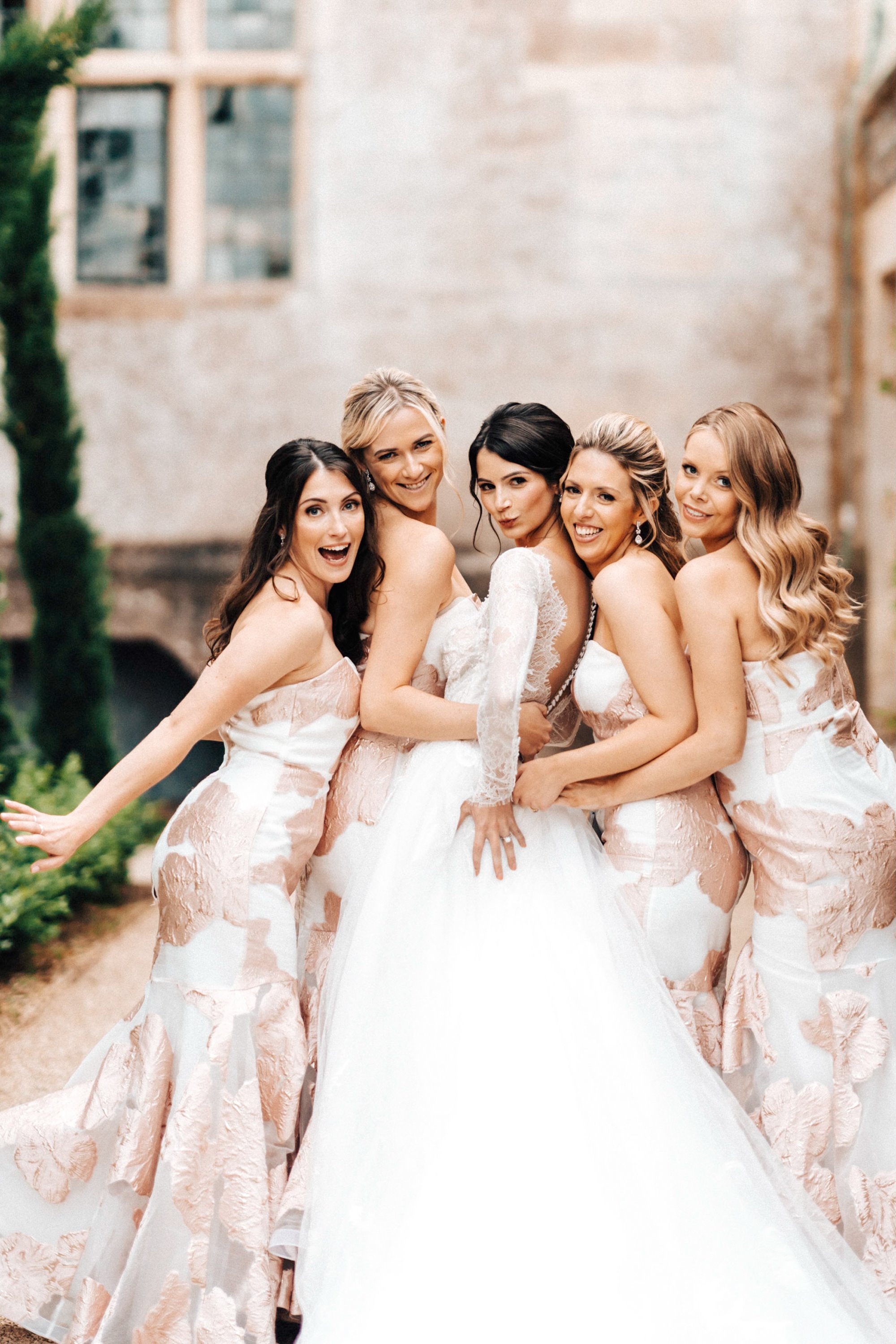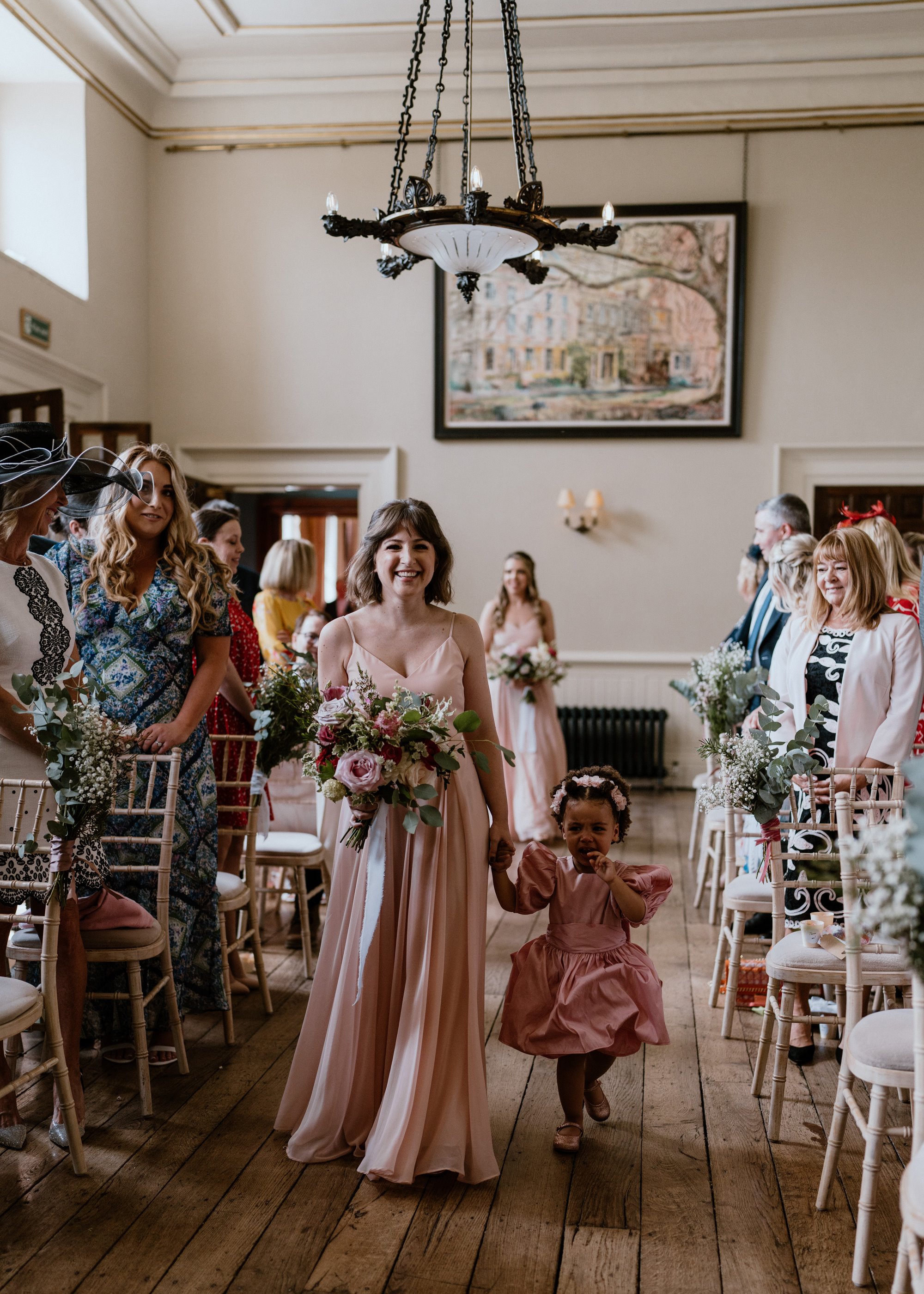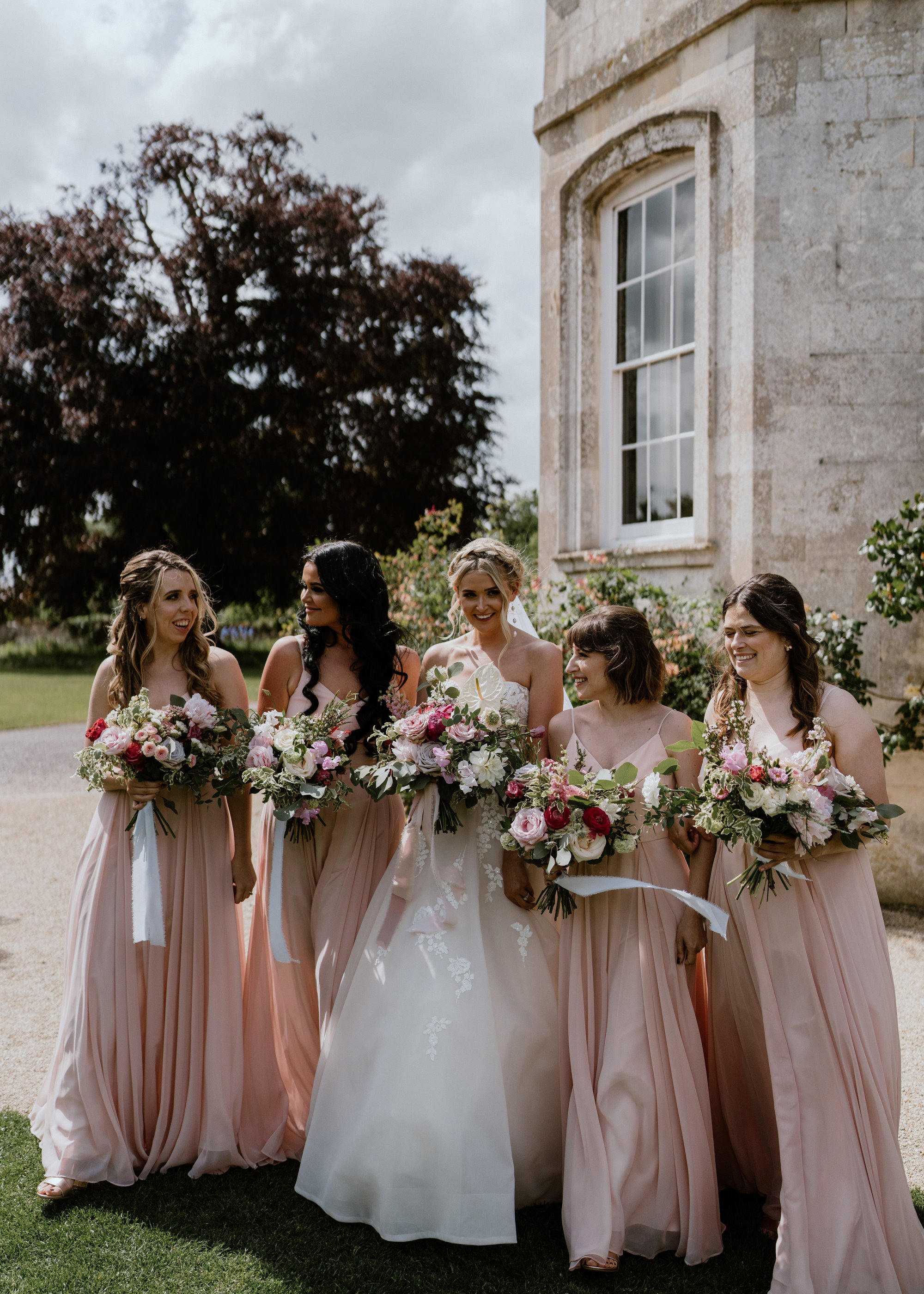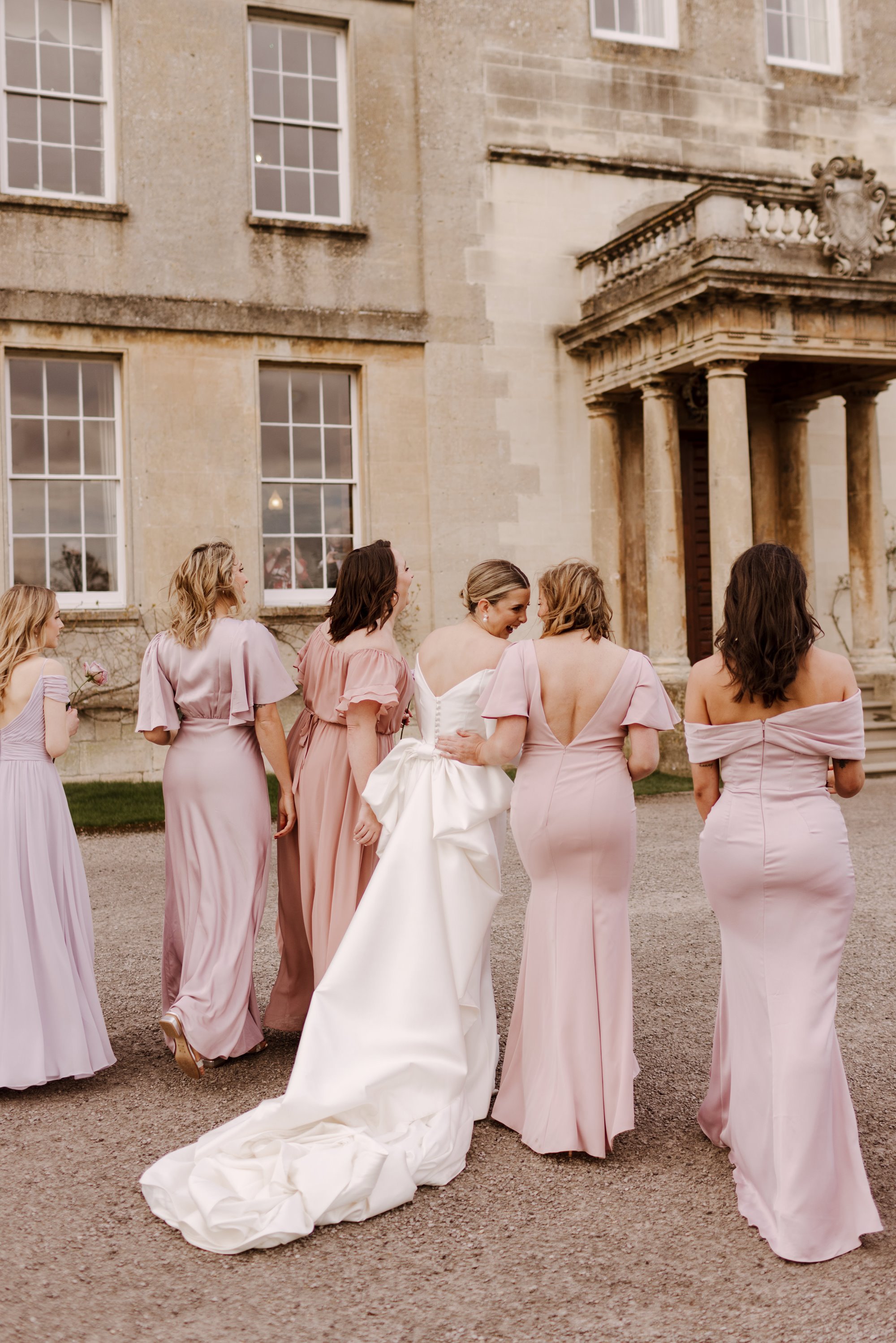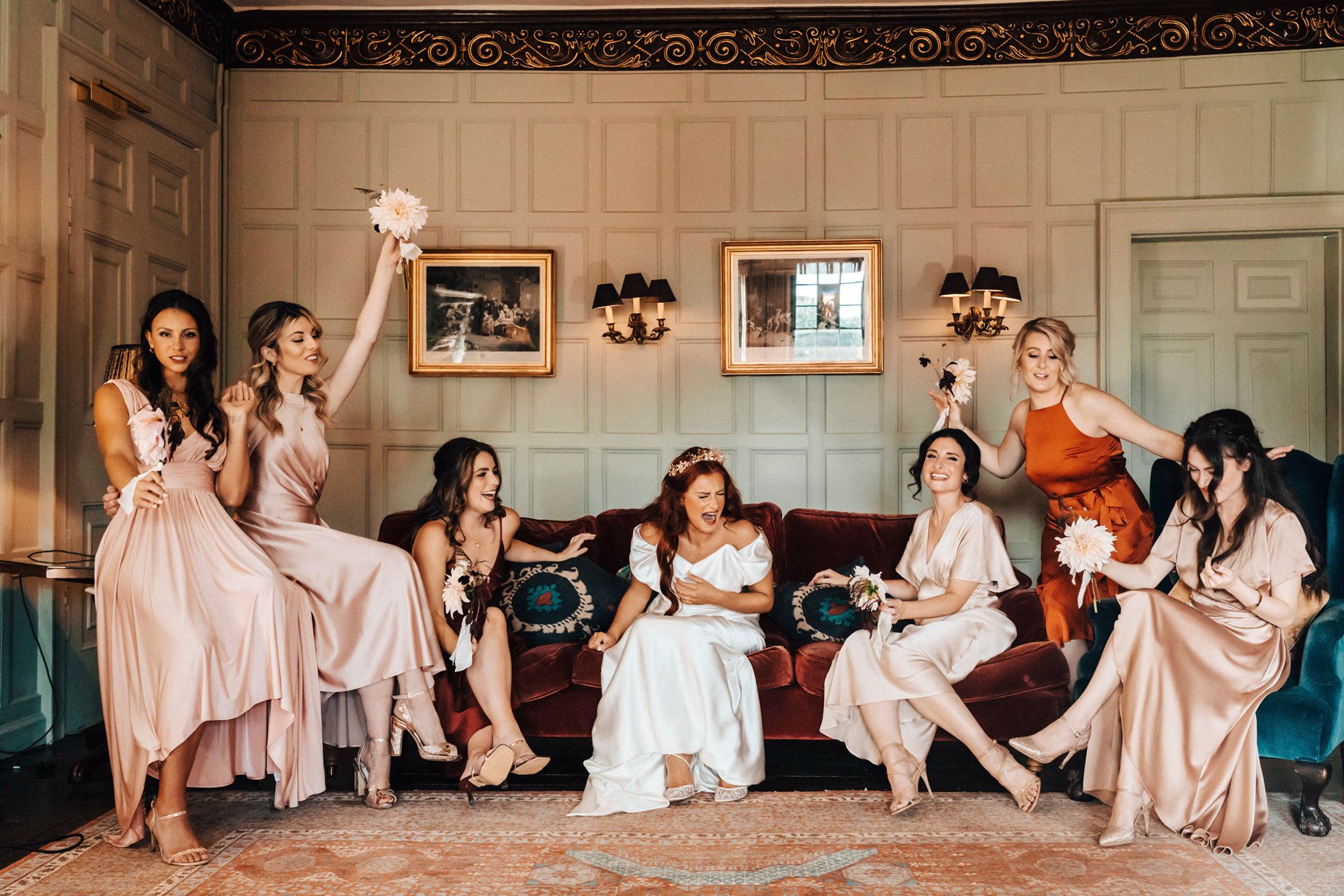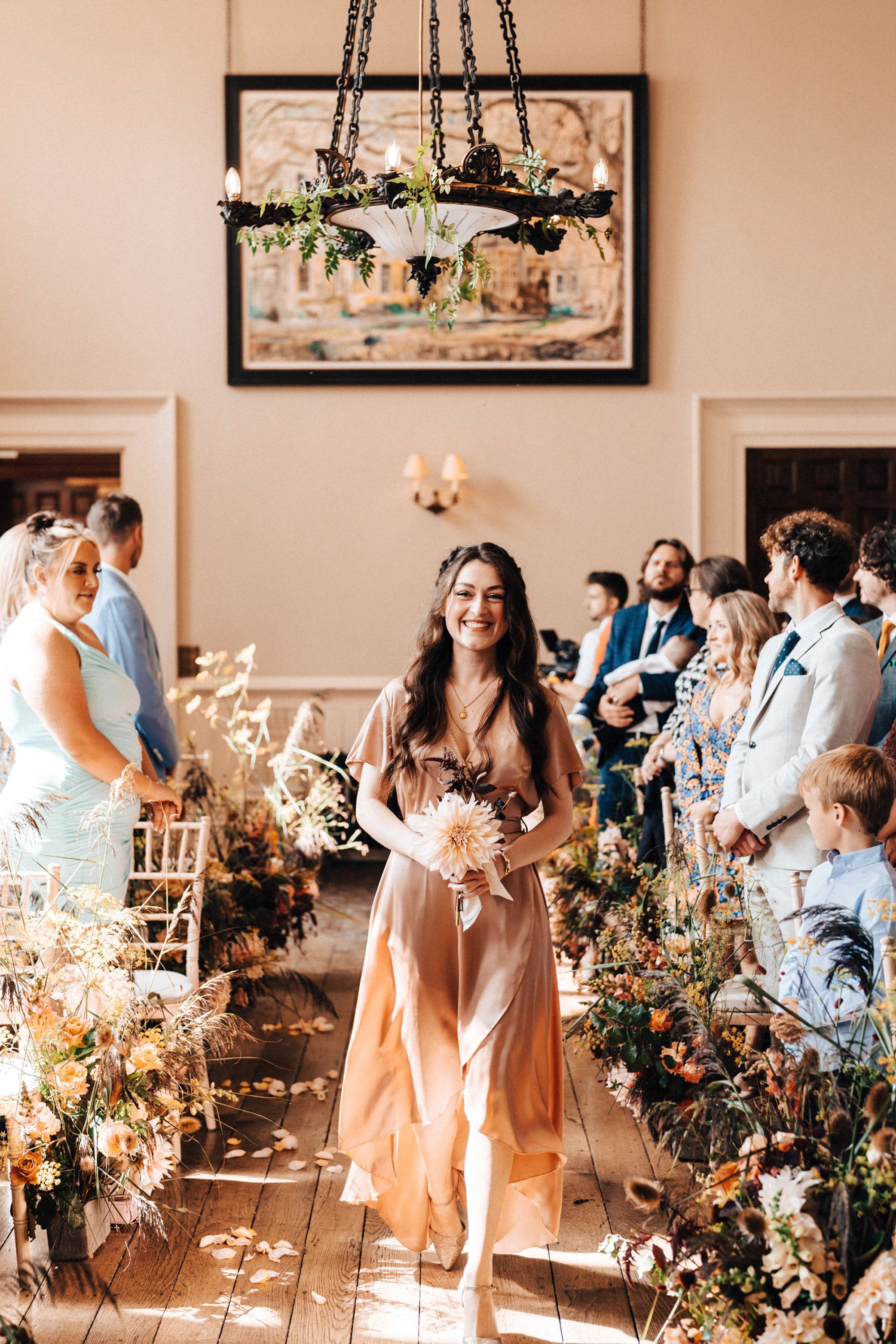 We hope you enjoyed our round up of some of the most romantic wedding ideas we've seen at our gorgeous wedding venue. We certainly enjoyed reliving them!
If you'd like some more pink and red inspo or romantic styles, take a look below for some juicy related reads.
Love always,
Team E
xxx
Related reading