An Autumnal wedding with a touch of Hollywood Glamour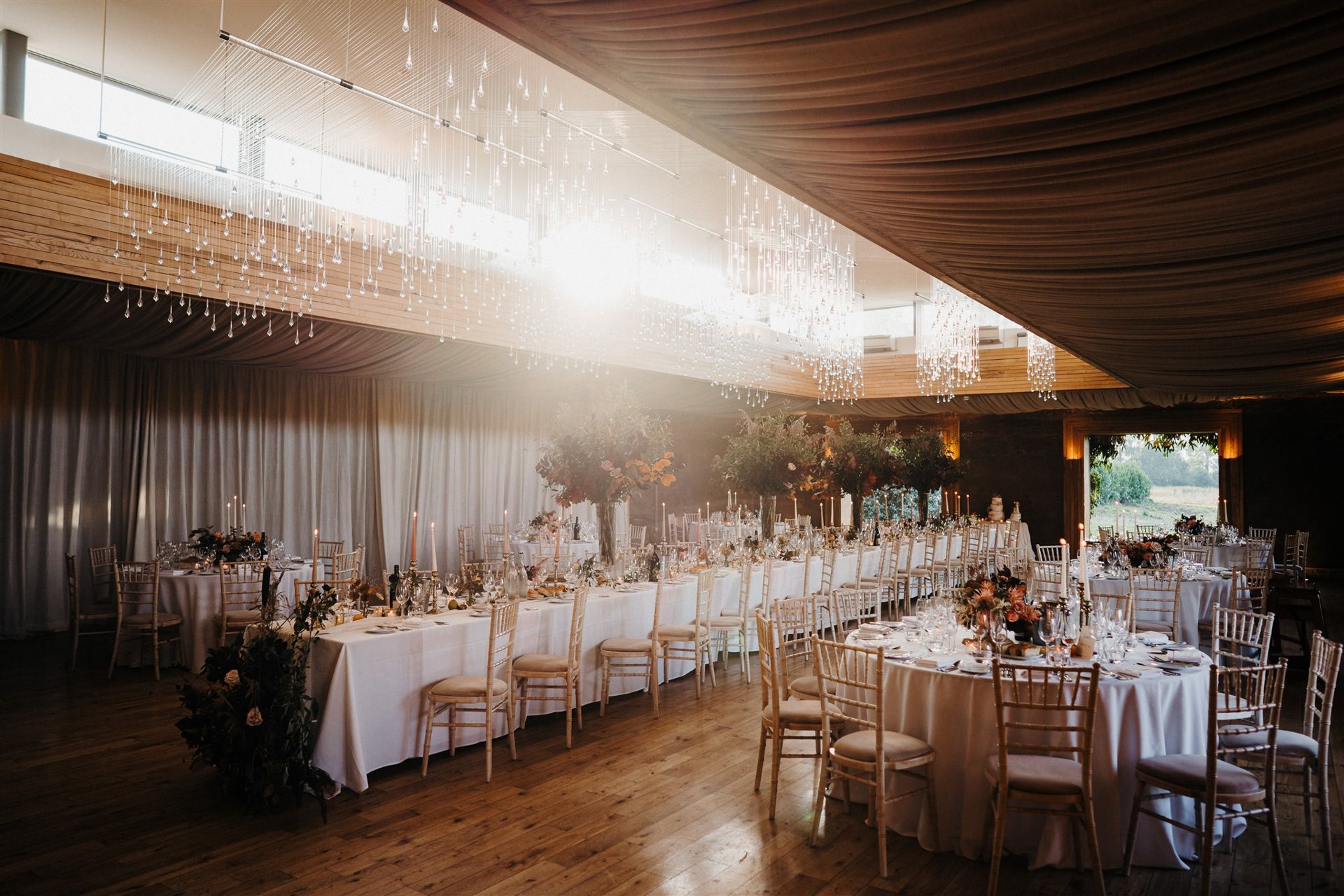 Olivia and Brian's beautifully warm and fun October wedding had an old world Hollywood Glamour glow and an epic smoke bomb photoshoot!
Here's their story...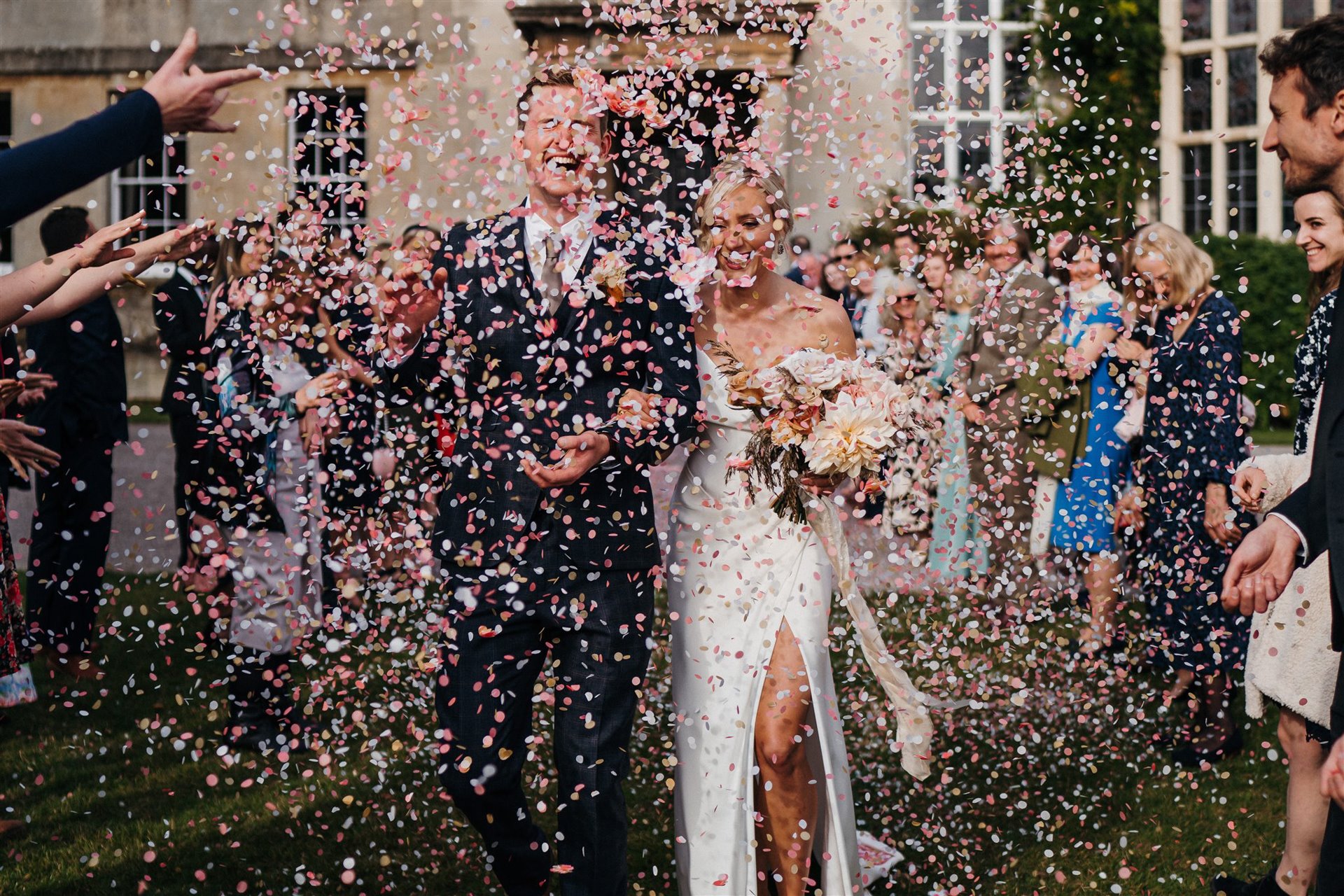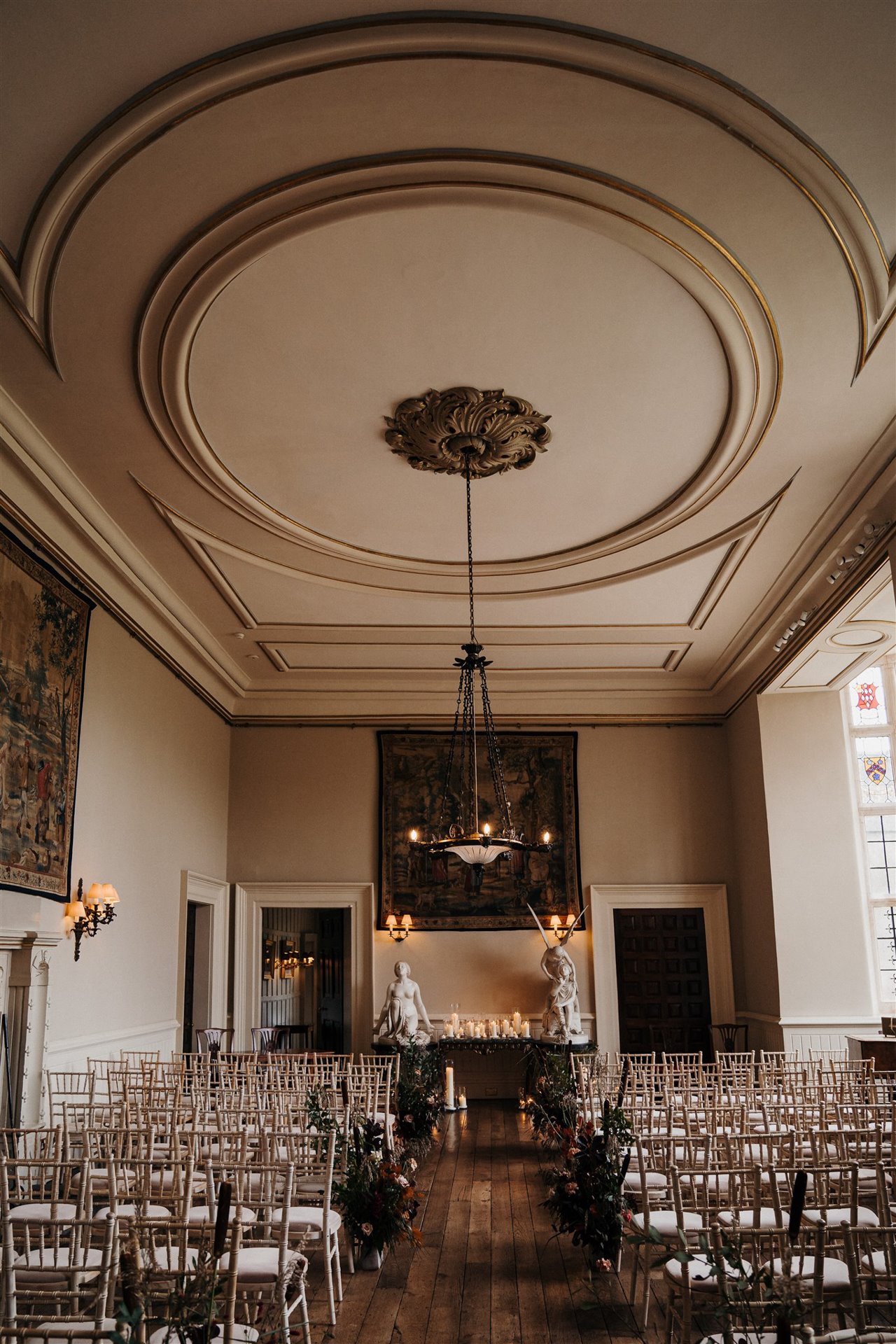 Tell us how it all began...
Brian and I met 9 years ago when we were both working as health care assistants in a hospital in Bristol.
We got to know each other during a work night out with our aspiring psychologist colleagues at the most cliched bar choice possible, The Big Chill. He bought me a tequila shot and together we set about drunkenly putting the world to rights.
Brian tried to play it cool but unfortunately his plans were sabotaged when at work we were both called over to support a patient who was experiencing a psychotic episode. She insisted that before she accepted any care from us, we needed to hold hands and look at one another. We awkwardly resisted but eventually gave in. As much as we cringe looking back on it, it is nice to think of where that little moment got us now!
We were together 7 years before getting engaged and have had many adventures in that time, most recently moving to Manchester with our much loved (and totally bonkers) Cavapoo, Amber.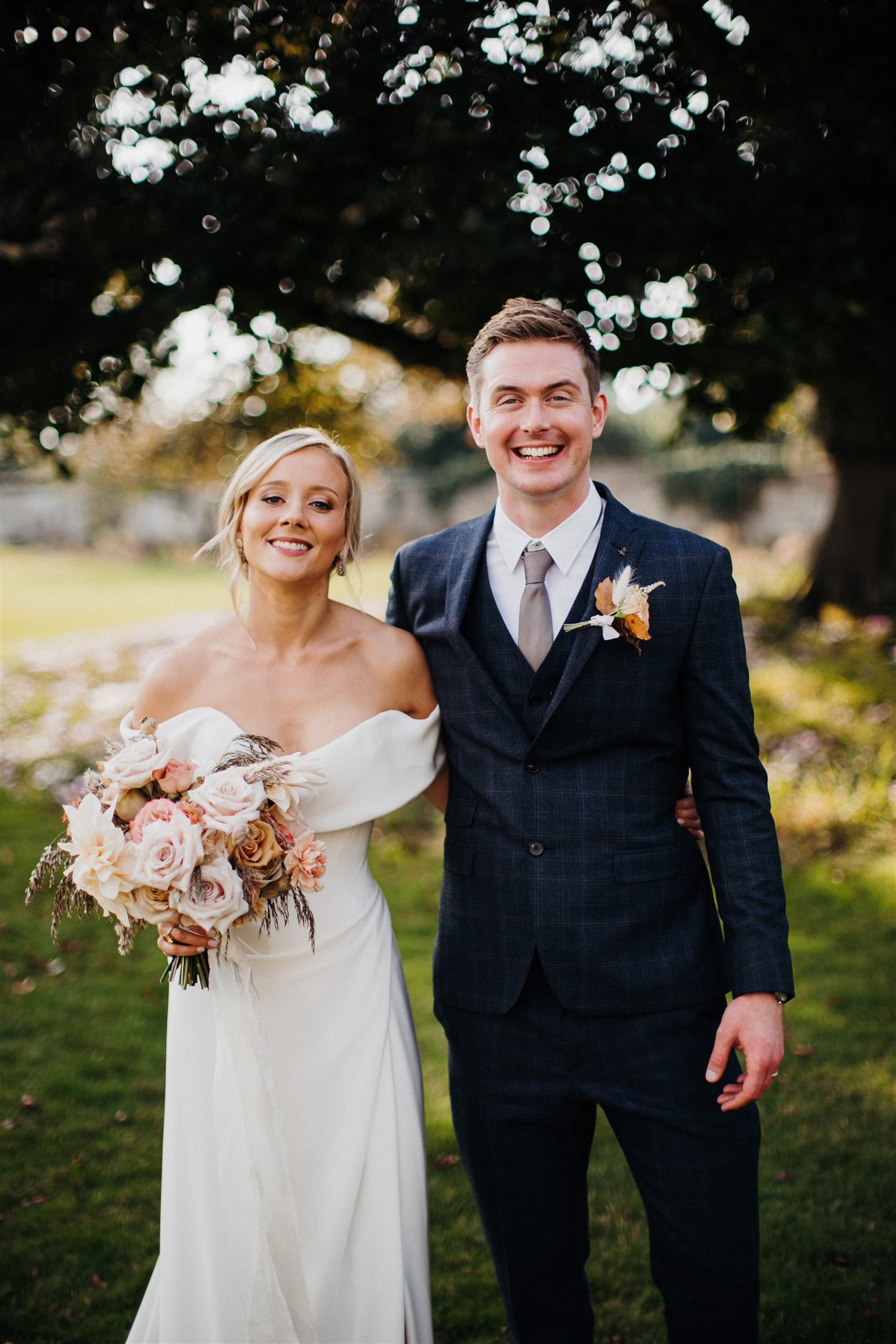 Tell us your proposal story!
He got off to a good start, driving to my favourite jewellers in Bristol to buy the ring. Unfortunately his credit card kept getting declined in the shop and whilst trying to resolve this he pocket dialled me and I heard a very stressed conversation between him and the sales assistant...
Seven years into our relationship, Brian decided it was time to pop the question. He got off to a good start, driving to my favourite jewellers in Bristol to buy the ring.
Unfortunately his credit card kept getting declined in the shop and whilst trying to resolve this, he pocket dialled me and I heard a very stressed conversation between him and the sales assistant... Fortunately I didn't twig what it was about!
His second attempt at buying the ring came the morning we were due to fly to India for our holiday. This time my Dad (who was unaware of Brian's plans) decided he wanted to accompany Brian to "run an errand". Brian had to make up a story about needing to pick up some dry cleaning and sprinted off to collect the ring. He made it back just in time to see my Dad driving off, cursing and waving his arms (no doubt saying lovely things about Brian's organisation!).
We finally get to India and Brian had the ring in his rucksack. He told me he struggled to decide on "the right time" to get down on one knee (apparently the Taj Mahal isn't romantic enough!). We reached the final night of the holiday when we had dinner in a beautiful, romantic restaurant overlooking a lake. However, the latest in a series of unfortunate events was that Brian had been struck down with a savage case of Delhi belly and spent most of the evening feeling like he was recreating that scene from trainspotting. I started to get bored waiting for him and rummaged through his bag looking for… something (it had been 7 years…!). Just as I found the box he walked back into the restaurant.
One very precarious tuk tuk ride (and a few more hiatuses by Brian!) later and he got down on one knee at the hotel, probably praying I say yes quickly so that he can rush back to the bathroom, poor thing!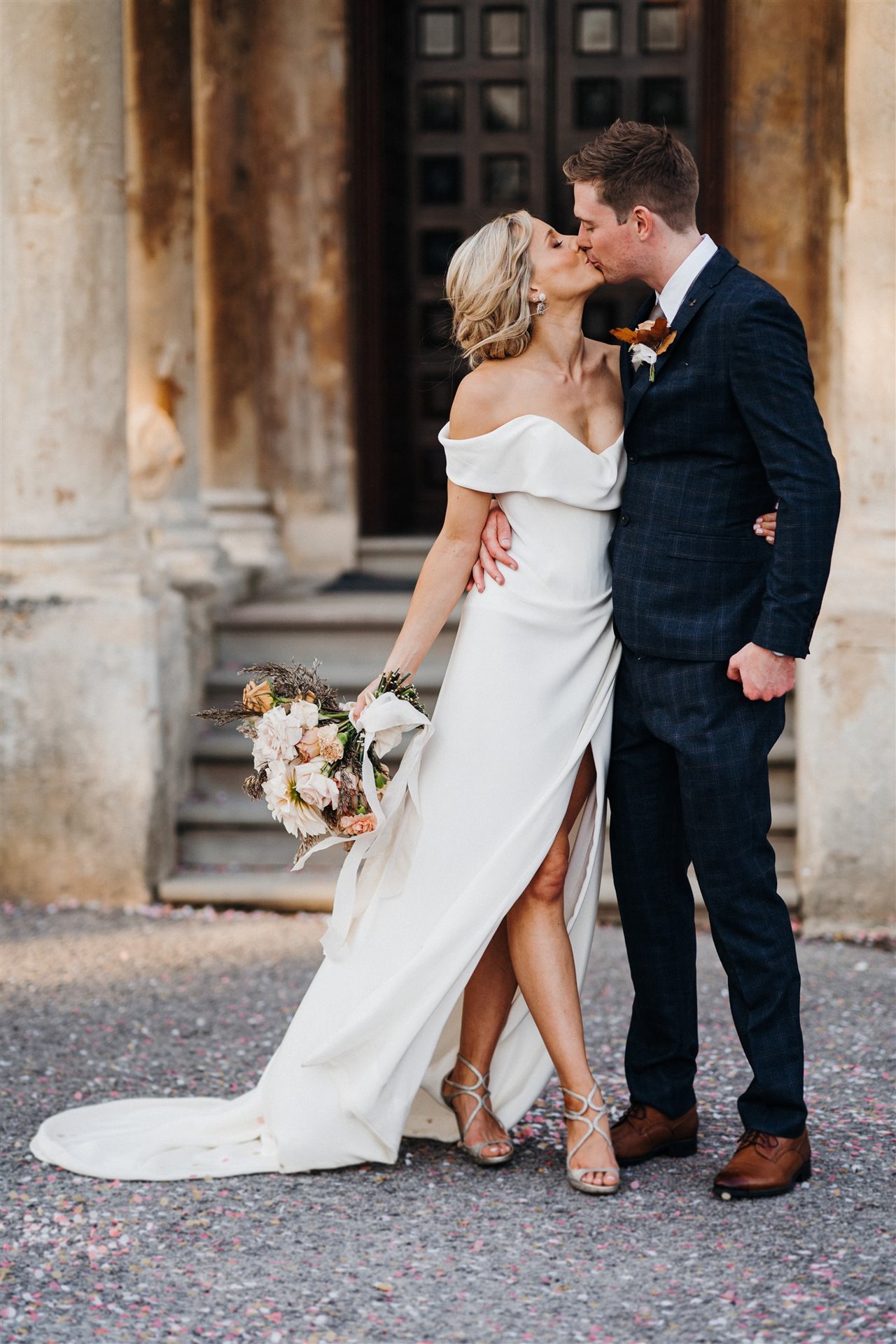 Why our wedding venue?
Although we saw many beautiful buildings and grounds, we were left feeling frustrated that we still hadn't found "the one". I can remember my sister trying to break it to us that maybe there was no such thing as the perfect venue but about a week later we decided to book a tour of Elmore with Anselm and it was magic. The house and grounds were stunning and the Gilly Flower was perfectly equipped for a big party! The attention to detail really wowed us and meant that we didn't need to compromise on any aspect of the day, which was such a relief.
Neither Brian nor I had a particularly fixed idea about what we wanted from a wedding venue other than it needed to feel special and be well equipped for a party. We visited about 20 venues across Cornwall, Wales and the south west of England in our search. Although we saw many beautiful buildings and grounds, we were left feeling frustrated that we still hadn't found "the one".
I can remember my sister trying to break it to us that maybe there was no such thing as the perfect venue but about a week later we decided to book a tour of Elmore with Anselm and it was magic... The house and grounds were stunning and the Gilly Flower was perfectly equipped for a big party! The attention to detail really wowed us and meant that we didn't need to compromise on any aspect of the day, which was such a relief.
We came back to Bristol to break the news to my parents and my Mum rejoiced because apparently Elmore was on the top of her 'short list' (a quote I would be hearing a lot more over the proceeding 2 years…!)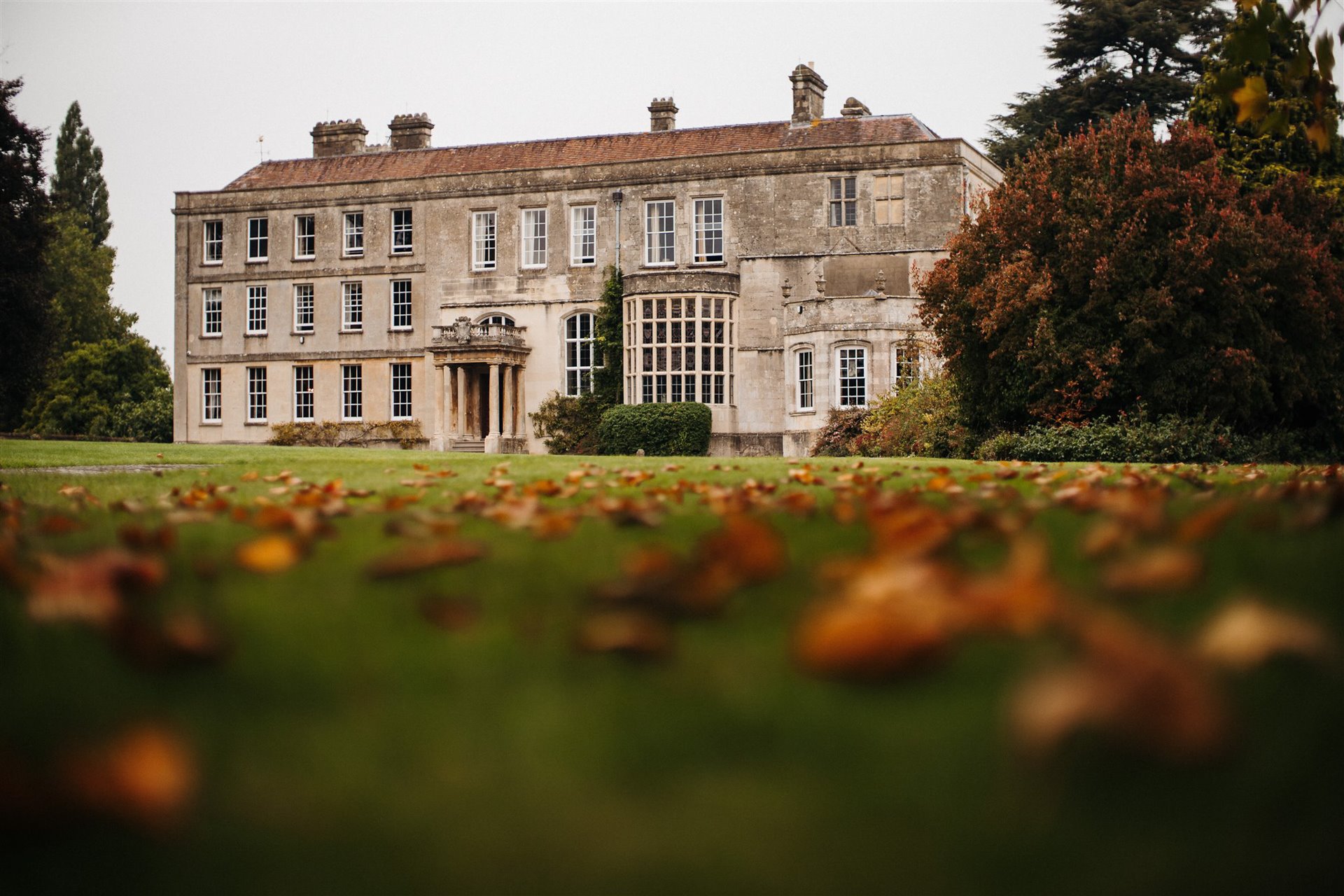 How did your Hollywood Glamour style come about?
Neither Brian nor I are very traditional so when we first viewed Elmore, our vision was to have a wedding that was sophisticated and elegant but also modern and relaxed in its feel.
Over time our ideas evolved into an 'old Hollywood glamour' theme with floor length 1930s style bridesmaid dresses, armfuls of foliage in statement oversized vases and masses of candlelight.
In terms of our colour palette, we wanted to reflect the warm autumn colours and golden light of the season whilst incorporating antique blush, almond, taupe and toffee colours. Our amazing florist, Amber Persia, helped to bring this to life by creating beautiful beige, toffee and blush bridal bouquets. She also added leafy boughs, garden foliage and even trailing seasonal fruits to the table decorations in the Gilly Flower which brought that extra bit of character we were hoping for.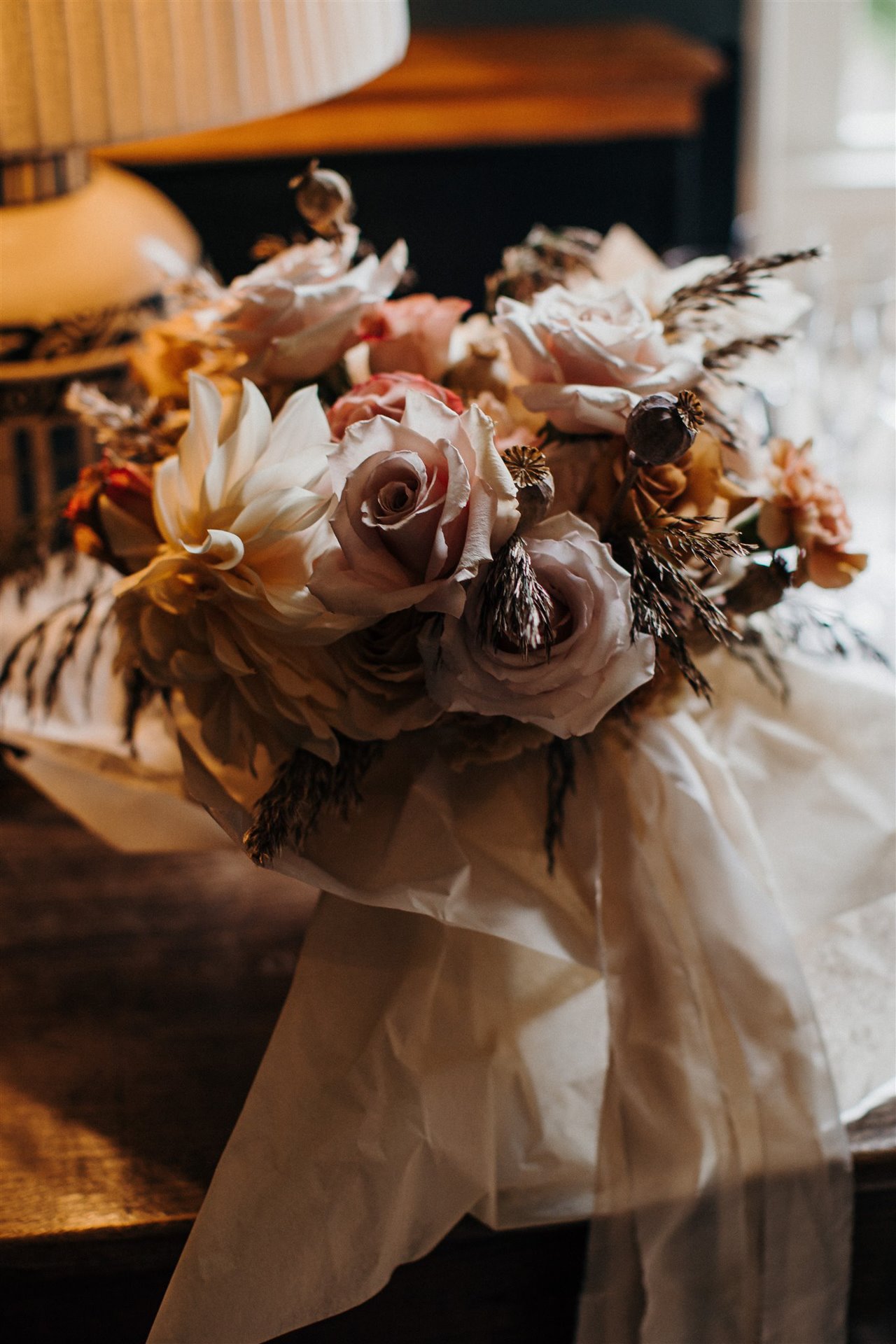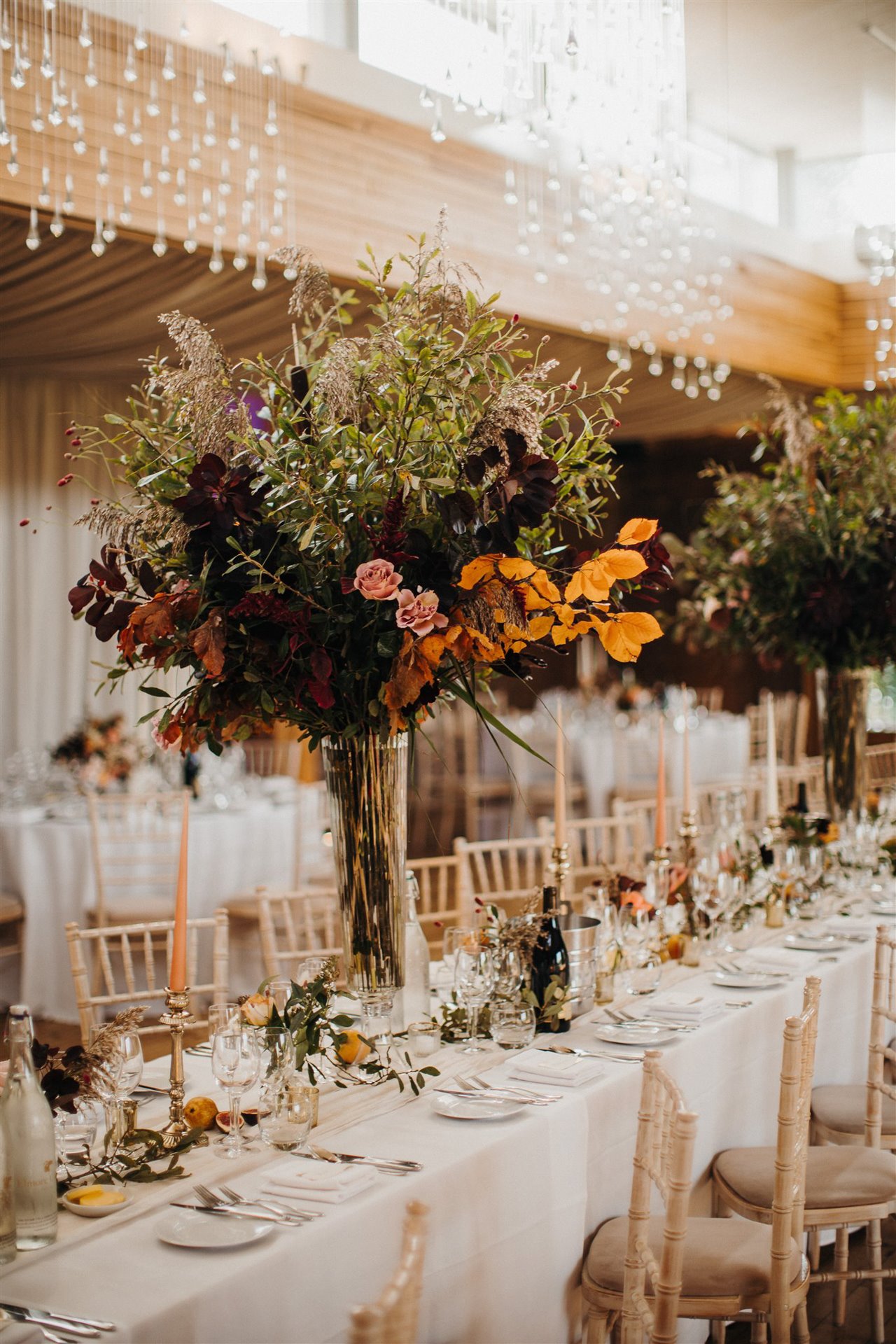 How was wedding planning for you?
For us, wedding planning really took off in March, 19 months before the big day. Although it seemed early at the time, I was pleased to have booked all our suppliers back then (especially given how busy they would later become).
I think after being presented with the 4th PowerPoint on colour schemes, Brian had officially had enough of the planning by April and was willing me to talk about anything else! I booked our florist, the band, hair and makeup, videographer and photographer and got the bridesmaids dresses ordered in the first few months, after which we were able to relax the planning for a while. This picked up again about 2-3 months before the wedding, when I needed to finalise more of the details of the day.
We were very fortunate to keep our original wedding date and we did not to have to make any major adjustments due to Covid. However, there were still many components of the wedding which were indirectly affected by Covid. For example, our guest list kept changing and some core family members were not able to make it, which led to many redrafts of the seating plan and changes to the general planning for the day.
We were also finalising quotes and having all our final meetings with suppliers right into the last week. This turned out to be a lot to manage alongside working full time and having recently moved house. To make matters worse, I also had to accommodate several last minute trips to London to deal with dress alterations, meaning my wedding dress was not actually ready until 3 days before the wedding!
The final 3 weeks were definitely the peak of my stress with regards to the planning. I can remember manically trying to order new ties for Brian and his groomsmen 24 hours before the wedding (as they had mysteriously disappeared) whilst at the same time receiving texts from people who needed to cancel due to Covid.
It is interesting looking back to think that no matter how much planning you do in advance, there will always be unexpected hiccups and things you have to sort out last minute. In hindsight what I needed to do stop making contingency plans and surrender to the fact that whatever will be will be.
If the groomsmen don't have ties and a few meals go to waste it won't be the end of the world! It was only when we arrived at the coach house the night before and I actually turned my phone off that I could stop stressing and start getting excited about the weekend ahead.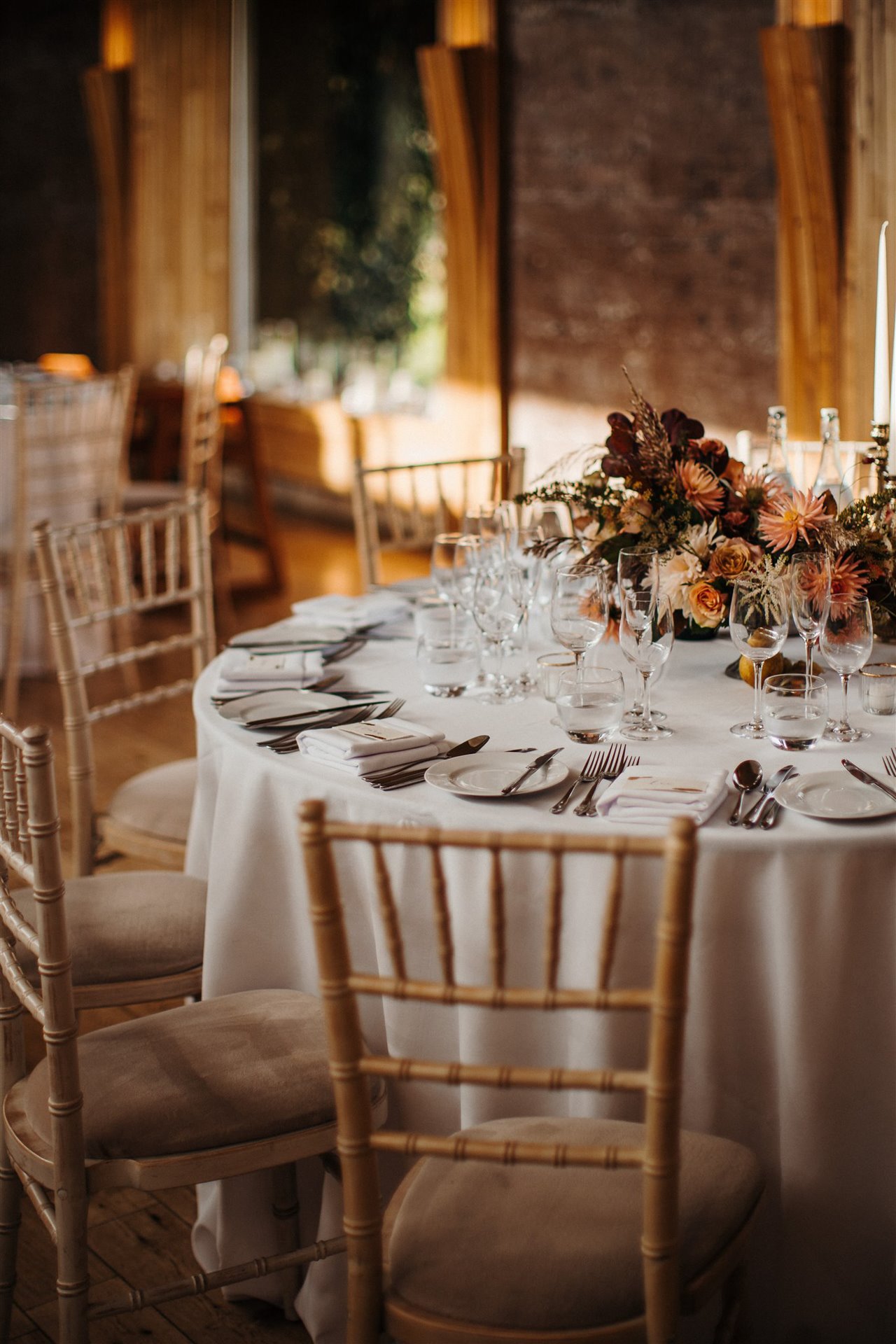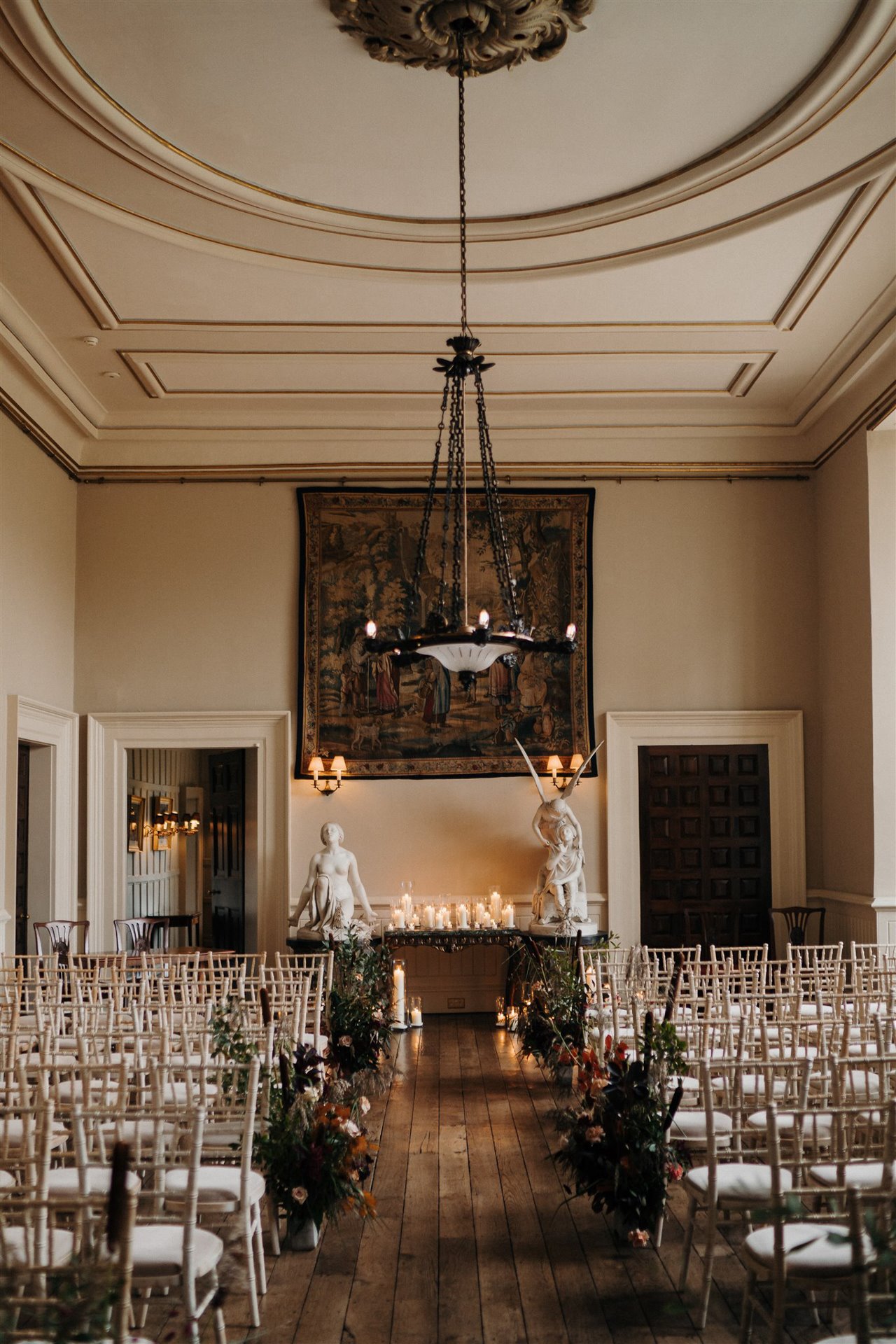 Those Glamorous wedding flowers?
When it came to flowers, we felt hugely lucky and grateful that Amber Persia was available to work with us. She really took the time to understand what we wanted and helped us to develop our ideas whilst also staying within budget! In terms of colours, we went for antique blush and neutrals with touches of accent colours for that element of surprise (such as rich, warm mustard, burnt ochre, marsala and burgundy). These introduced depth to the palette and gave a contemporary edge with a characterful and striking look. Subtle gold highlights added that timeless touch and old Hollywood glamour.
I had a hand tied asymmetrical bridal bouquet which featured garden-inspired natural roses with seasonal blooms and some seed pods and grasses. For the ceremony, we framed the aisle with floral 'borders'. These loose, unstructured, oversized arrangements brought the outside in and introduced a warm, autumnal feel. We chose to have church candles of different shapes and sizes gathered on the marble table and on the floor surrounding the bases of the statues as a romantic backdrop for our vows.
For the reception, we originally planned to have 3 long trestle tables. However, after watching the 'Elmore flies again' video, we decided we wanted to try to recreate the look of having one long trestle table with 3 round tables on each side (luckily Amber Persia did the decoration for the film so we were in good hands!). This arrangement worked particularly well for us as we were not planning to have a traditional 'top table'. Instead the trestle table acted as an informal top table with friends whereas family were seated at the outer circular tables.
Amber did a stunning job of dressing the tables for the wedding breakfast. She spaced statement, oversized vases brimming with leafy boughs, textural foliage, seed pods and scented garden roses along the trestle table. These introduced height and drama as guests entered the Gillyflower to take their seats for dinner. She paired the vases with groupings of elegant candlesticks with meandering trailing garden foliage, seasonal fruits and delicate votives. To balance the height of the vases we went for low-footed urns centred in the middle of the circular tables, which were paired with ornate gold candlesticks and seasonal fruits. Together, this created a wonderfully glamorous and elegant look.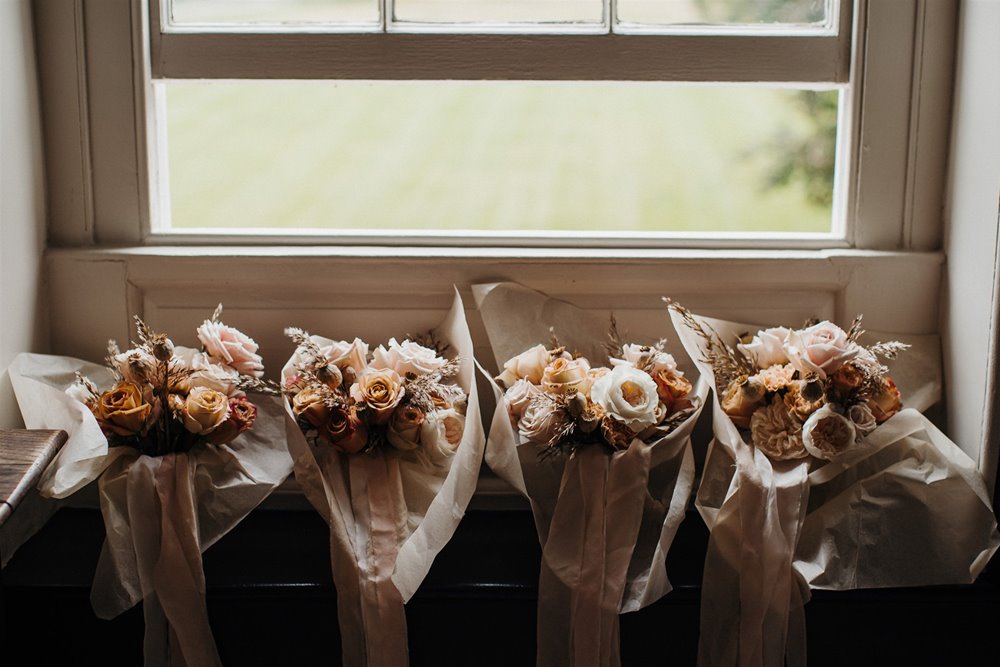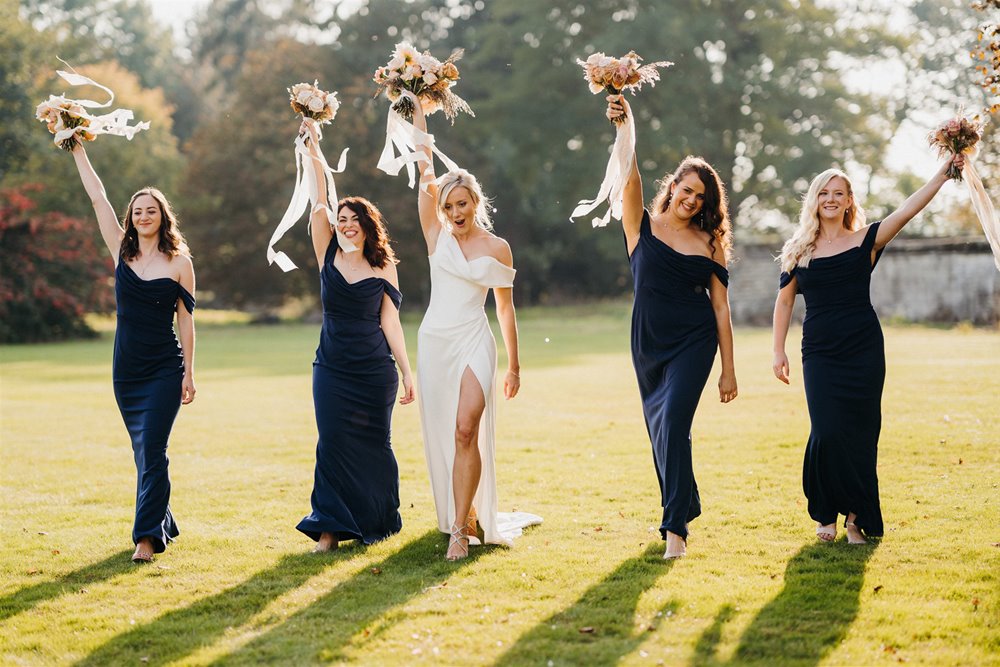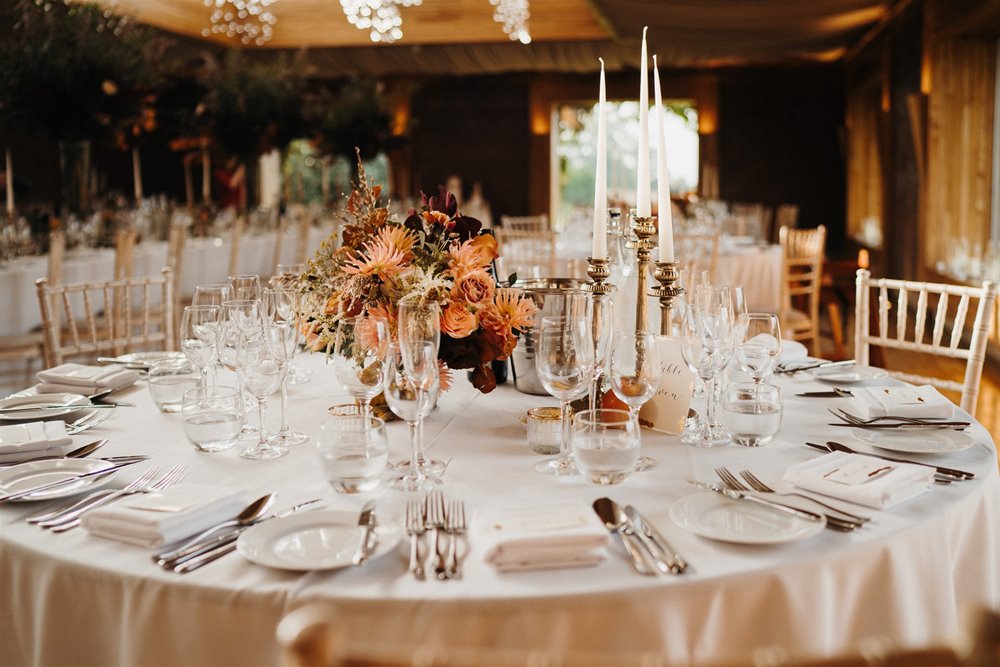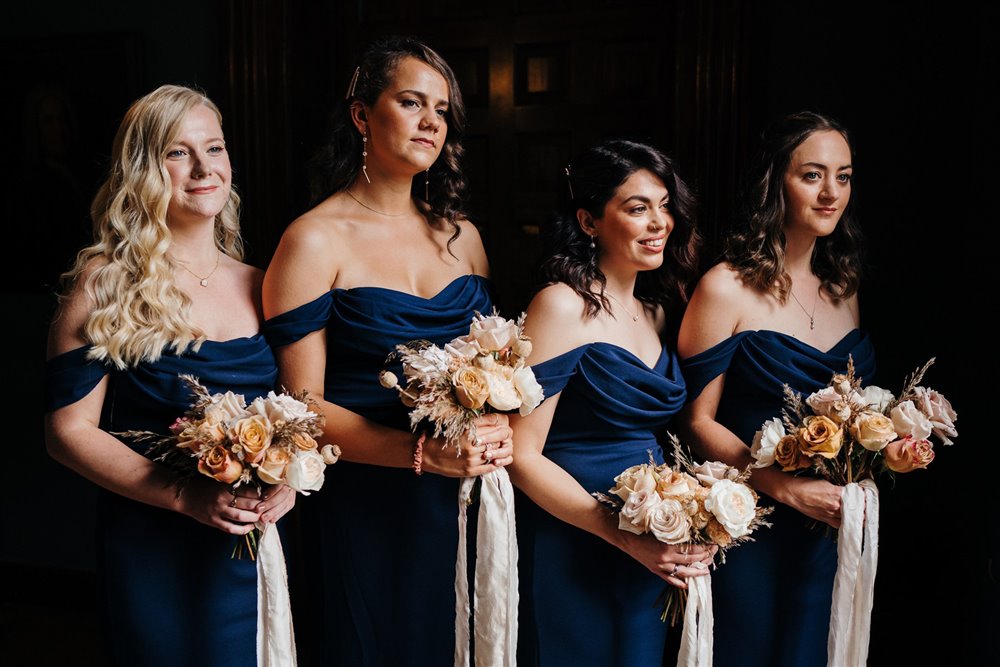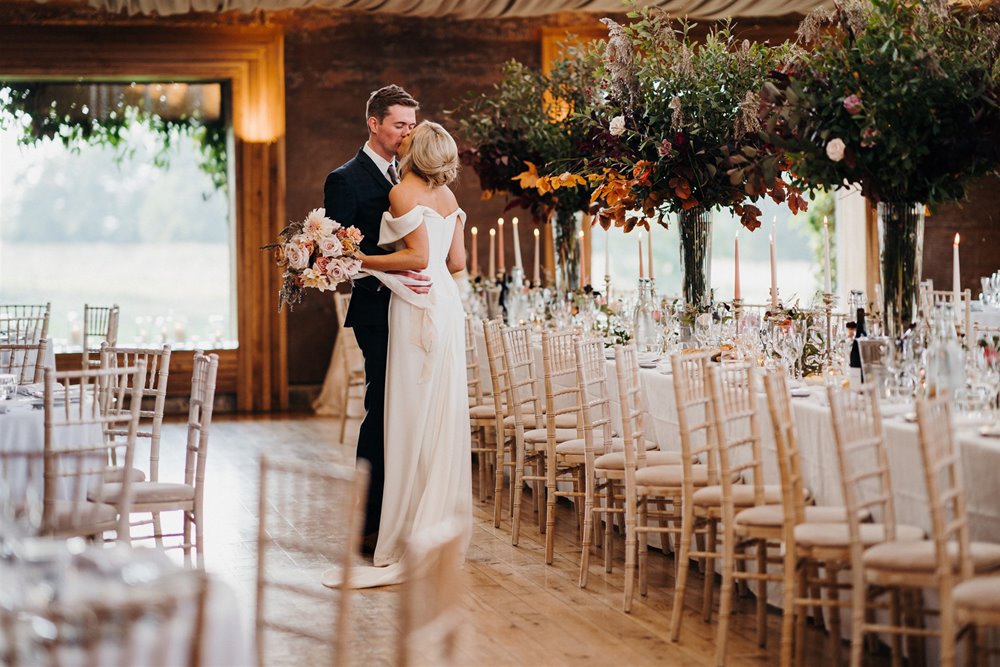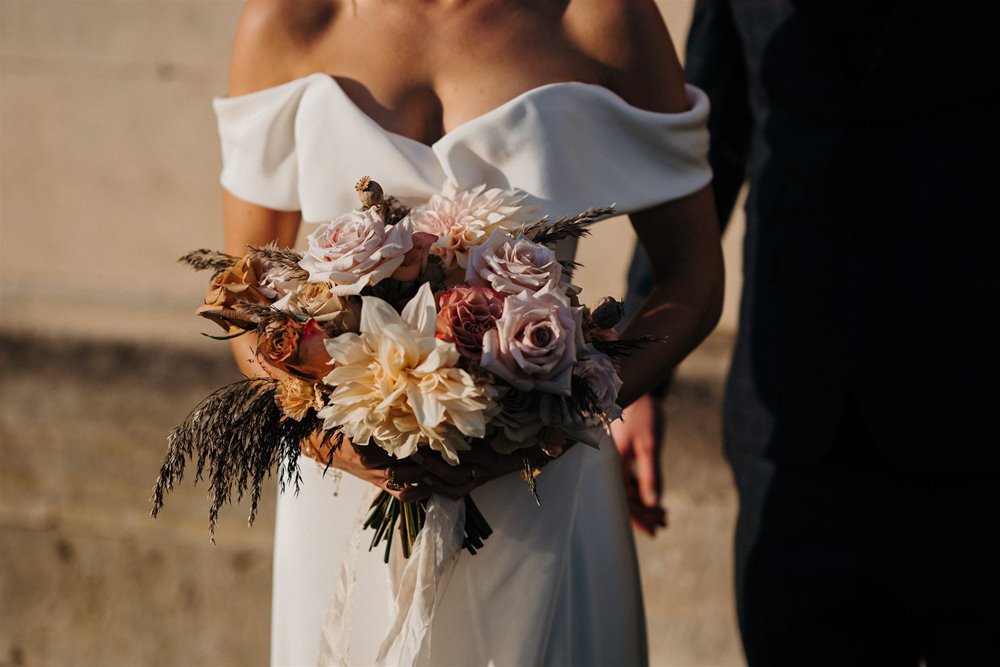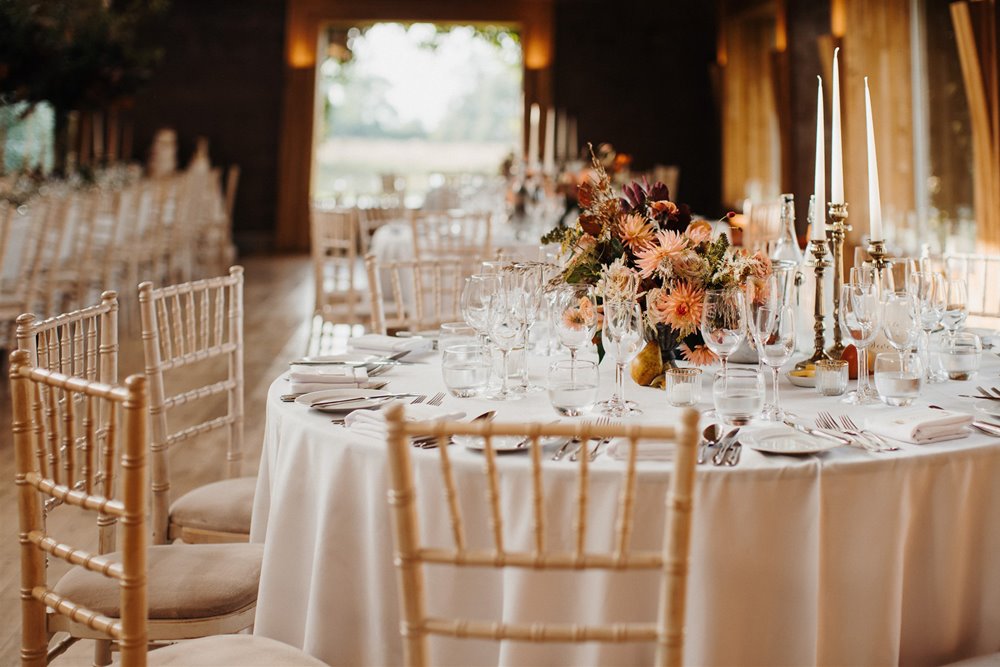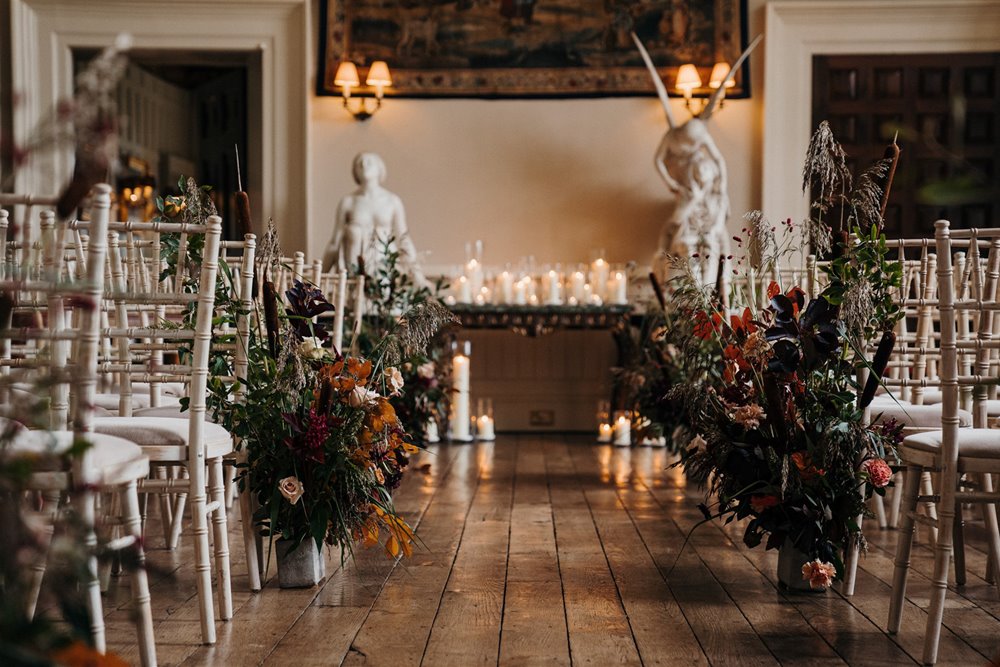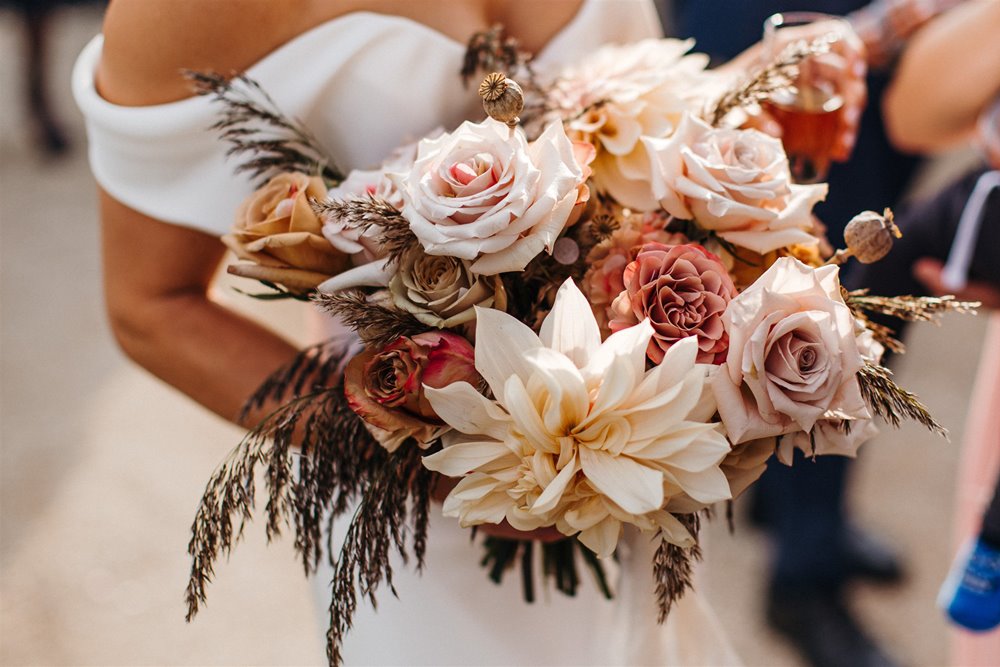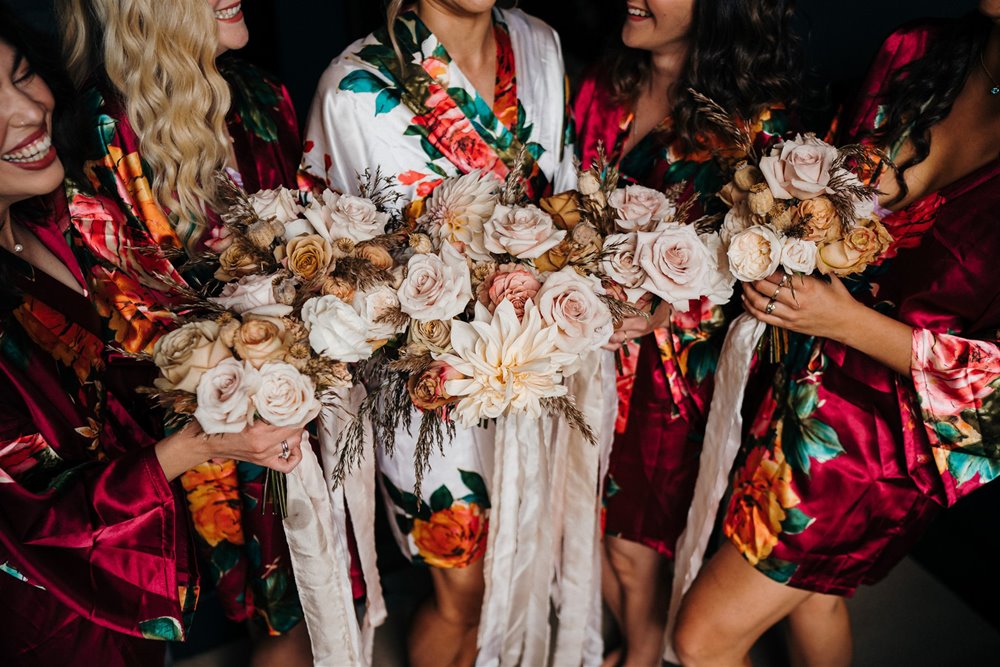 What was your wedding planning focus?
Throughout the planning process, we were both very mindful of creating an enjoyable experience for our guests. We have both been to weddings where there has been a lot of waiting around with nothing to do or we have been eating the napkins we were so hungry! We wanted to have plenty of food and drink available and great music so that everyone could let their hair down and enjoy themselves.
We went for a band called Solid Soul as they have a great energy, the lead singer (Dave's) voice is really gritty and powerful and they play Motown songs which everyone dance and sing along to. I also was really looking forward to getting ready with my bridesmaids in the morning so I made sure we had all the cliches- matching pyjamas, kimonos, Prosecco, Mariah Carey and of course hair and makeup!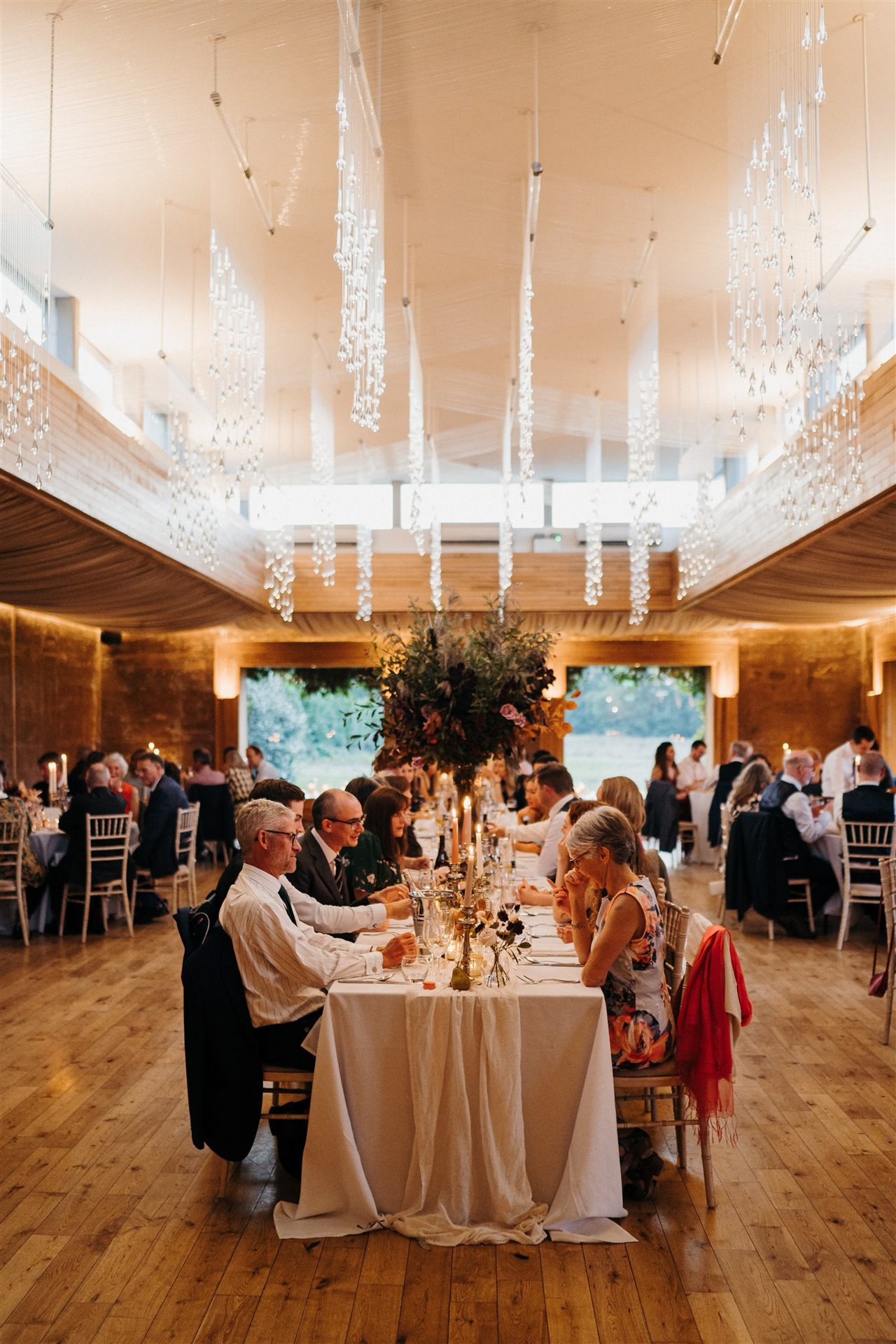 How did you find your wedding dress?
I spent a while trying to find a wedding dress but from early on I was totally smitten with Vivienne Westwood bridal gowns. When I was able to go in for an appointment, I tried on one of the dresses from the new collection ('Oriana') and fell in love. I was already obsessed with the classic VW corsets but the leg slit was the cherry on the cake for me! Unfortunately I had to go back and forth to London for fittings almost 10 times in the months leading up to the wedding (the longer corset which was a nightmare to alter) but on the day itself, I felt like a million dollars wearing that gown.
I had my eye on Jimmy Choo Lance heels since before we got engaged but I just could not justify the price to myself. I compulsively checked for sales online in the year leading up to the wedding but had no luck. One random Saturday, I happened to check again and I came across a website that was selling a limited stock of returned Jimmy Choos for half price. So needless to say I seized my chance was one of the lucky few to buy them before they sold out.
My jewellery was a mixure of old, new and borrowed. In the weeks leading up to the wedding I saw a beautiful pair of earrings a sales assistant at a bridal boutique in Ilkley ('The Aisle') wore on her wedding day. I messaged her on Instagram and she was kind enough to send me the link to buy them for myself; this was my 'something new'. My yellow stone ring was my 'something borrowed' from my grandmother. She was not able to attend the day but wearing her ring helped me feel close to her throughout. My now mother-in-law also gifted me this beautiful gold claddagh bracelet which was my 'something old' and a lovely nod to Brian's Irish heritage.
How was your hair and makeup?
Getting my hair and makeup done with my bridesmaids, my mum and my mother-in-law was honestly one of the highlights of the day.
When it came to makeup, I wanted this to reflect the colours in my bridal bouquet so I chose warm, golden tones and a pink Charlotte Tilbury lipstick.
My bridesmaid Flora and I had vetted many, many makeup artists online during our work lunch breaks before we eventually found Annabella. After speaking to Annabella, I felt so reassured as she was incredibly knowledgeable and guided me towards a style that reflected the look I wanted and complimented my skin tone. On the day she was a joy to work with, she had a very calming presence and looked after all of us in her own way!
My hair was done by Holly, who was able to create this gorgeous bun with loose tendrils. I wanted to go for a hairstyle that showed off the top of the dress but was not too neat or constrained. Myself and the bridesmaids gave both Holly and Annabella a standing ovation (the Prosecco might have kicked in at this point!) because we were so delighted with what they created!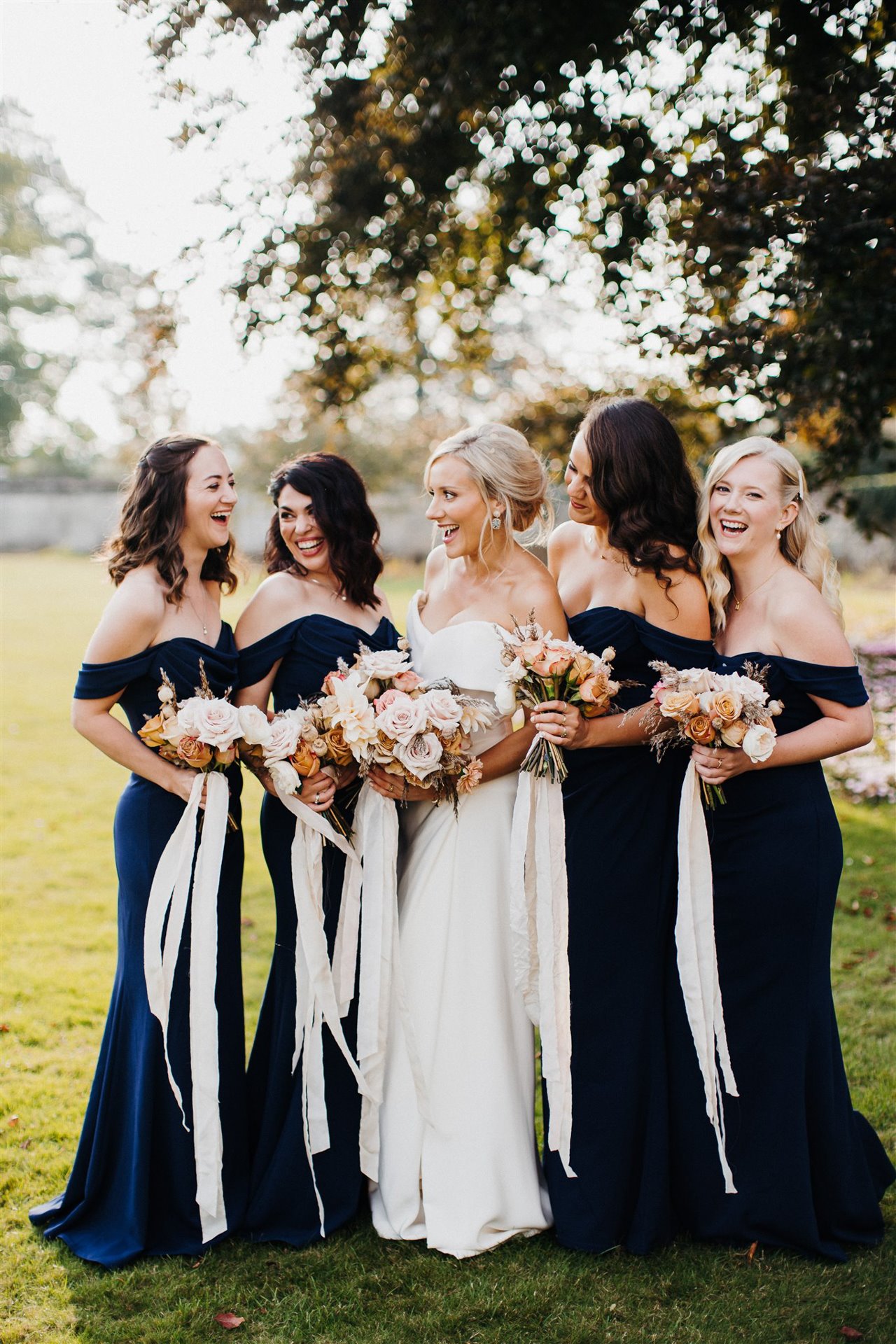 What about those gorgeous Groomsmen?
My groomsmen wore a "shark skin" blue 3-piece suit (it looked nicer than it sounds!) that I rented from Moss Bros for them. One of the groomsmen hadn't been able to try on the suit until the day before. Thankfully, it fit him fine (so long as he didn't close the buttons on the jacket). I wore a navy check suit from Ted Baker, which I chose myself.
In terms of memorable moments, there were quite a few both in the lead up and on the day itself. My parents took me for a drink a few days before and my mother managed to spill an entire point of Guinness on my freshly tailored wedding trousers. Luckily, they were saved by the plastic bag they were in. I will also always remember my dinner with my family and best man the night before. What started as a "Let's share some wedding advice with Brian" quickly turned into "How many horror stories about marriage can we generate". On the day, I very fondly remember seeing Livvy in her dress for the first time. It was a very special moment that I will never forget. And I thoroughly enjoyed relaxing outside the Gillyflower with my groomsmen where we had a cigar and a lovely glass of whiskey (courtesy of Fran, my groomsman and close friend).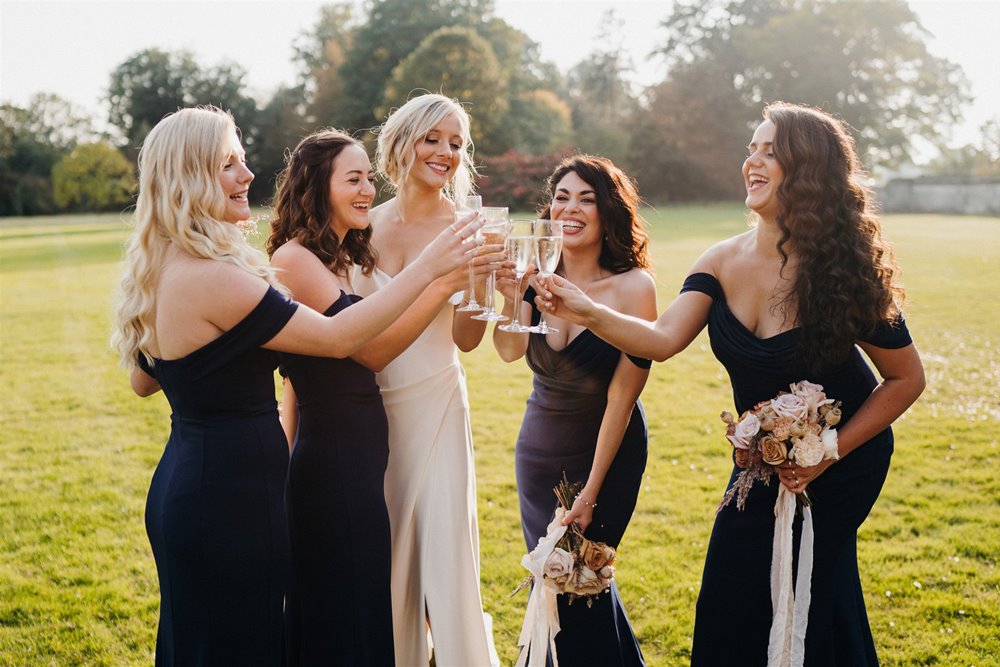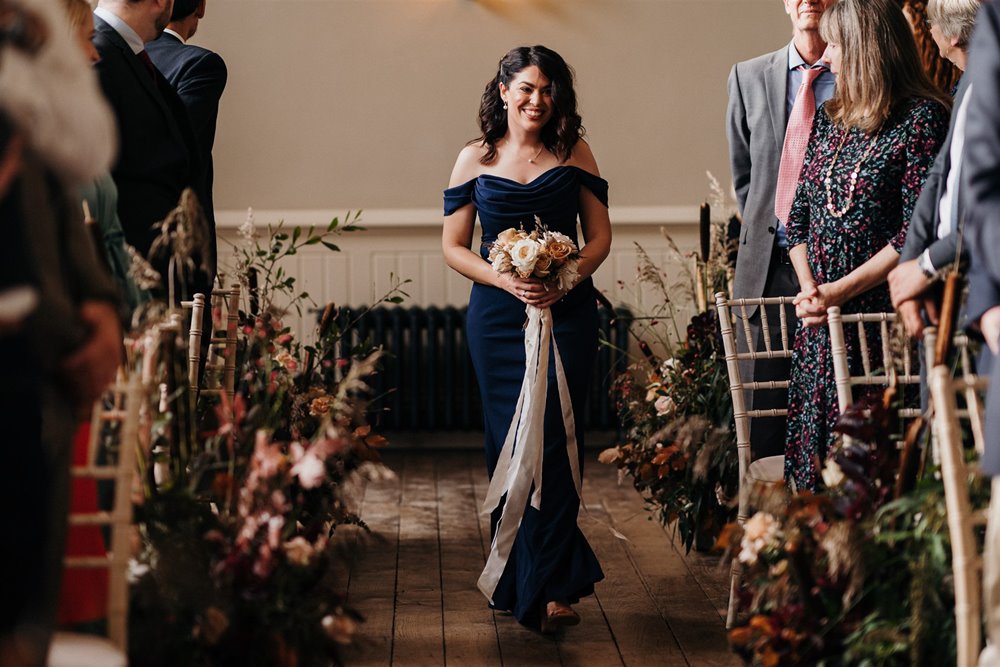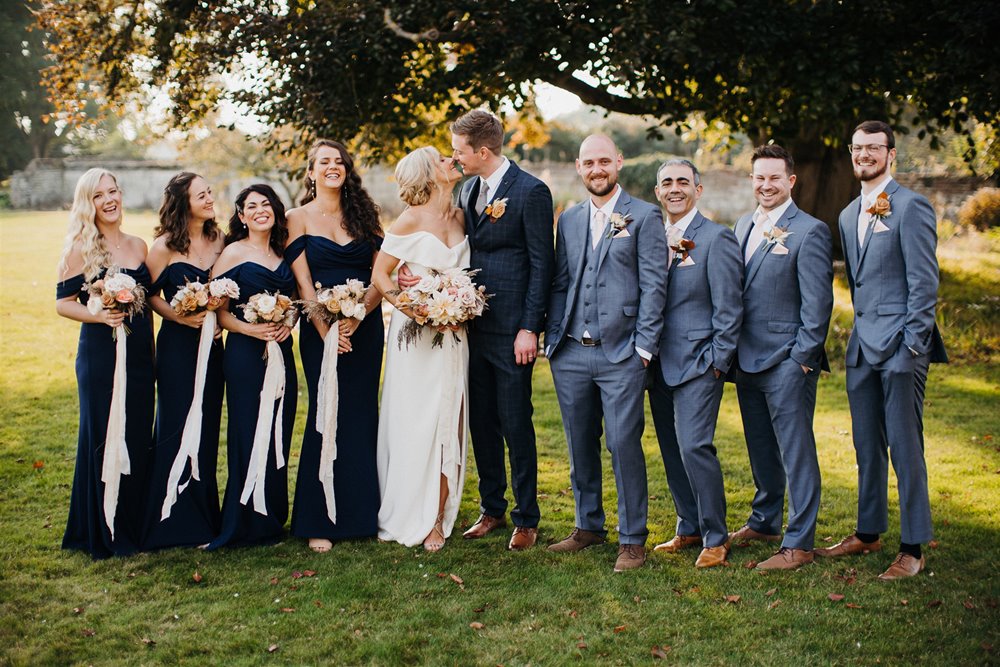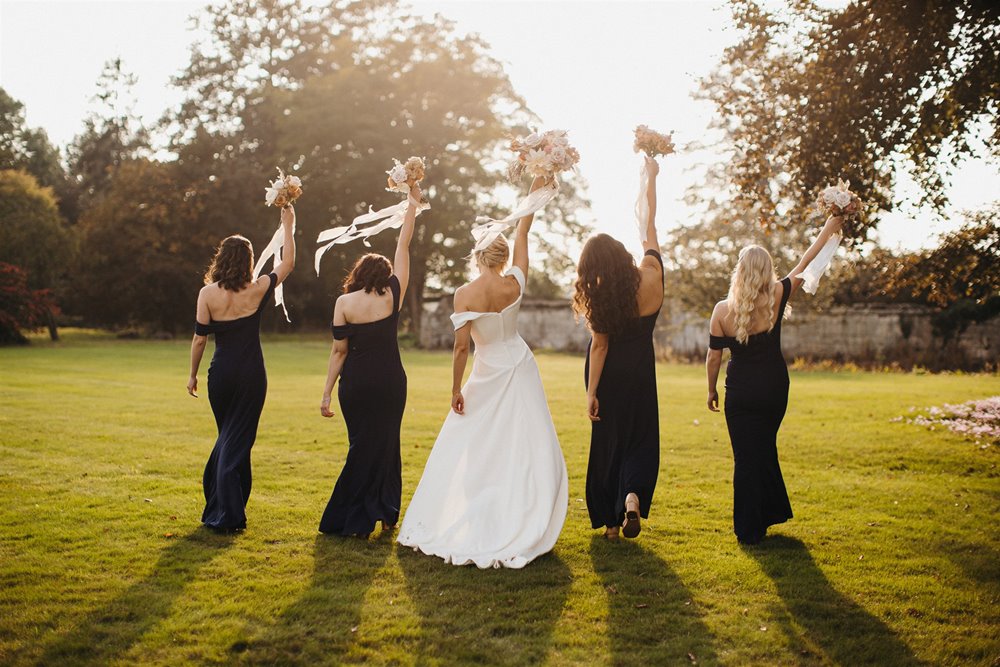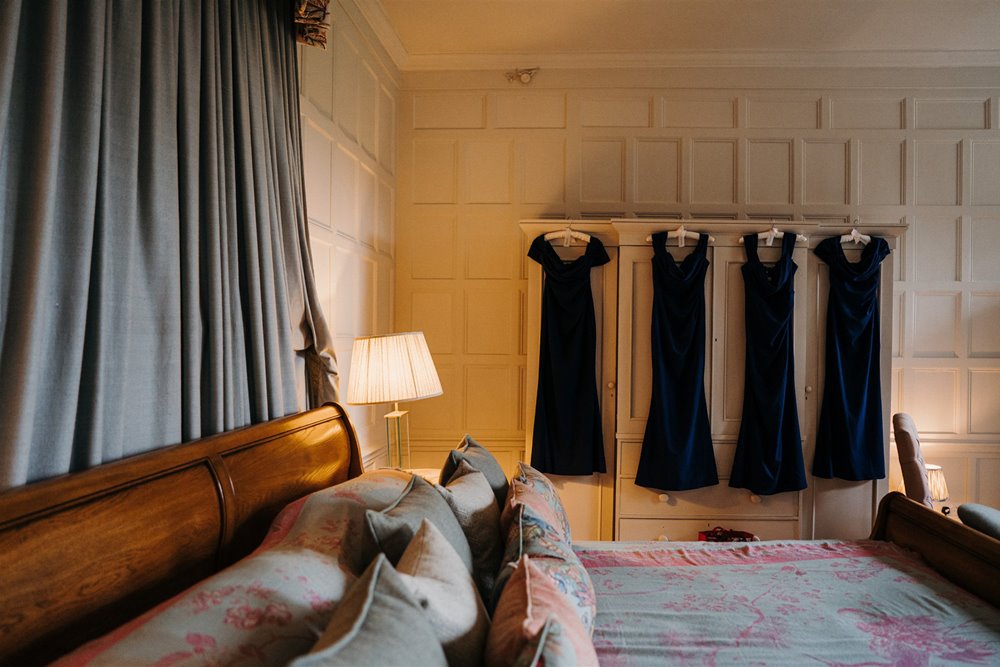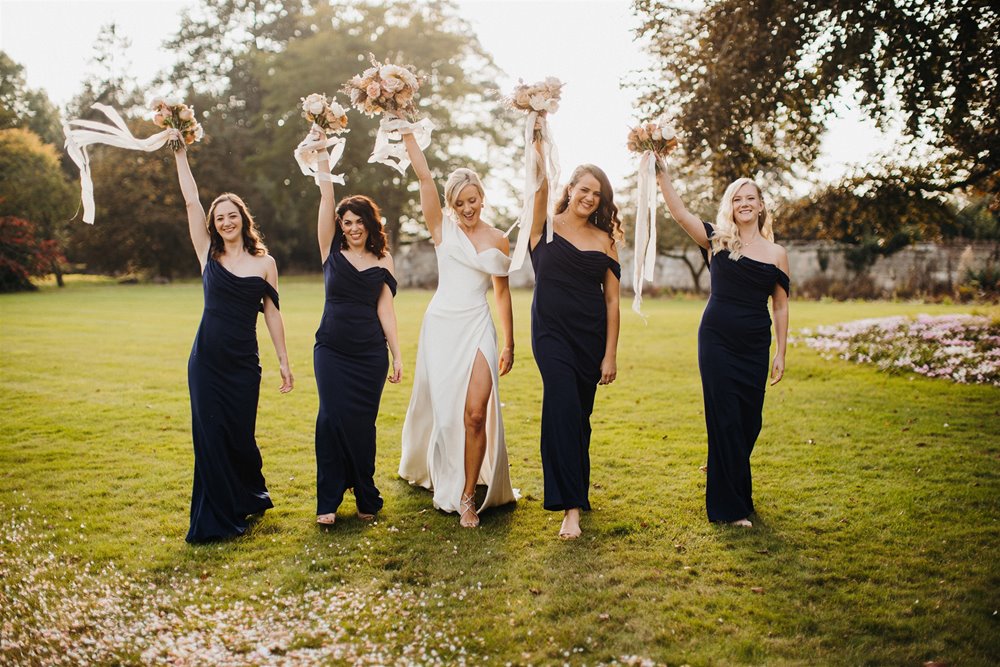 How did you feel on the morning of the wedding?
Celebrations started the minute we arrived at the coach house the night before. The bridesmaids and I were on such a high and immediately changed into our matching pyjamas and popped the Moet! There was a lot of dancing around the kitchen to the Macarena (which was exactly what I needed after all the stress from the planning!). All 4 of us then got into the massive bed and watched Zoolander (a childhood favourite) and tried to get some beauty sleep. Unsurprisingly I didn't sleep at all that night due to all the adrenaline but I felt surprisingly OK the next morning. We set our alarms for 7am and went on a morning walk at 7.30am to catch the sunrise and explore the grounds. It was like the calm before the storm, we could see staff tidying up from the previous night's wedding ready to start again for ours. We all had coffees with us and walked around the walled garden and over to the lake. It was a really calming way to start the day and I would definitely recommend this to other brides staying at the coach house. I then gave the girls gift boxes with personalised kimonos, thank you cards, jewellery to wear on the day and dried lavender as their wedding favours. We had just enough time to have some breakfast and get ready before Annabella arrived to do our makeup!
When we moved over into the bridal suite in our matching kimonos we were so high on excitement, I'm sure we were quite the sight. Brian told me that at one point he was standing outside the main house and wondered if we had already gone inside. He said he and the groomsmen then heard screaming coming from inside the house and he knew we had well and truly arrived! The giddiness didn't really waver for the entire morning. Even when my sister, bless her, tripped up and sent her lunch flying onto the Vivienne Westwood gown I honestly didn't care I was buzzing so much (fortunately this mostly got on the inside and on the train of the dress, thank goodness)! The time absolutely flew by but I'm glad we made the most of it and we have some great photos to cherish.
Before we went downstairs to meet the celebrant, the bridesmaids and I were the last people in the bridal suite. I was lovely to appreciate that moment together before the wedding officially started. This quickly escalated into a huddle and a pep talk by me however, where "you got this" and "eyes on the prize" somehow featured heavily.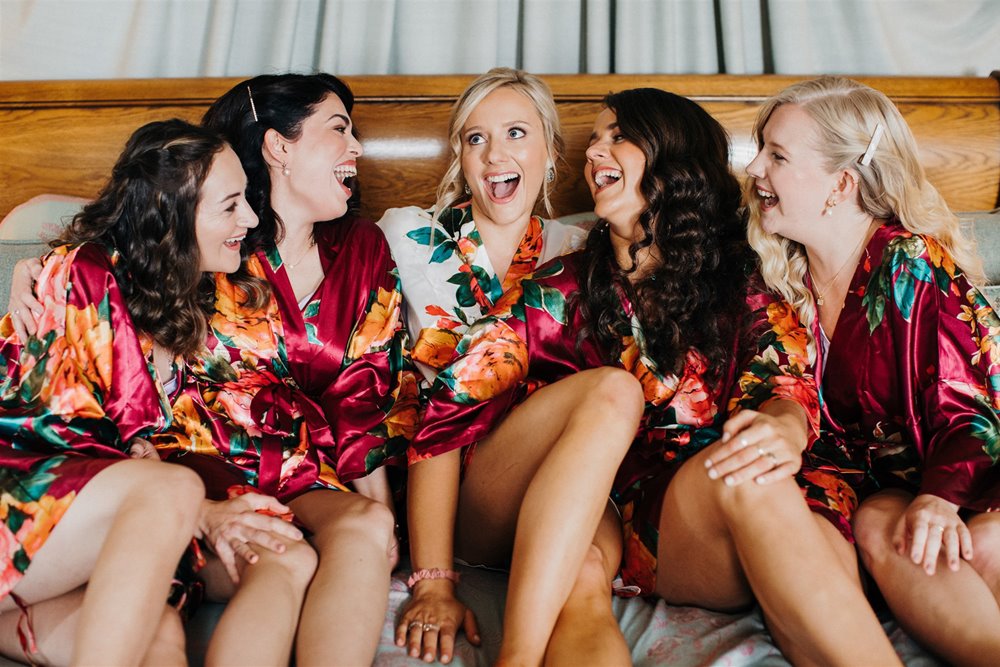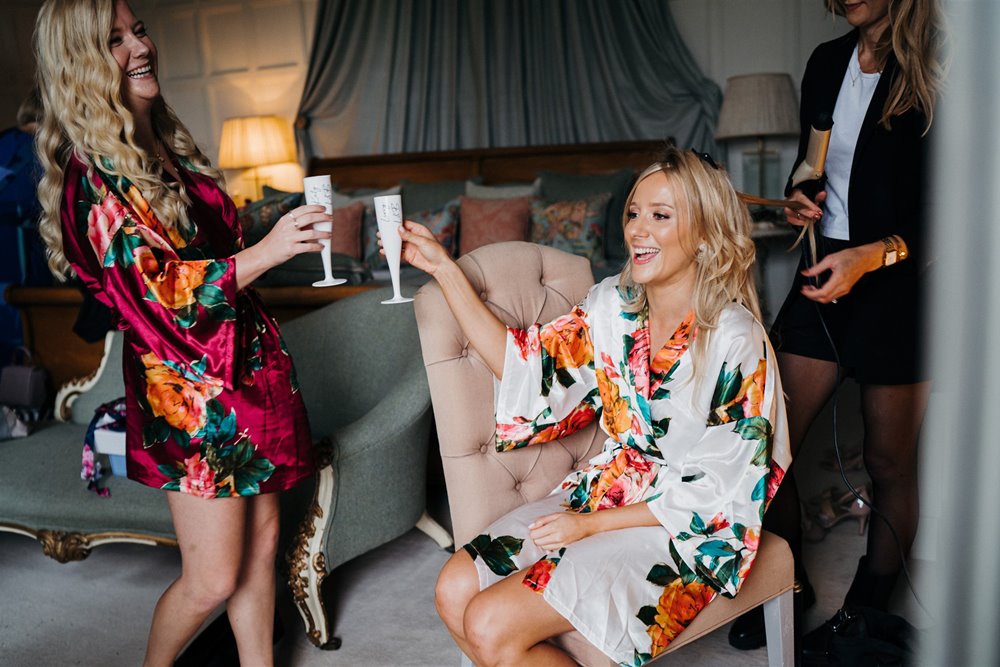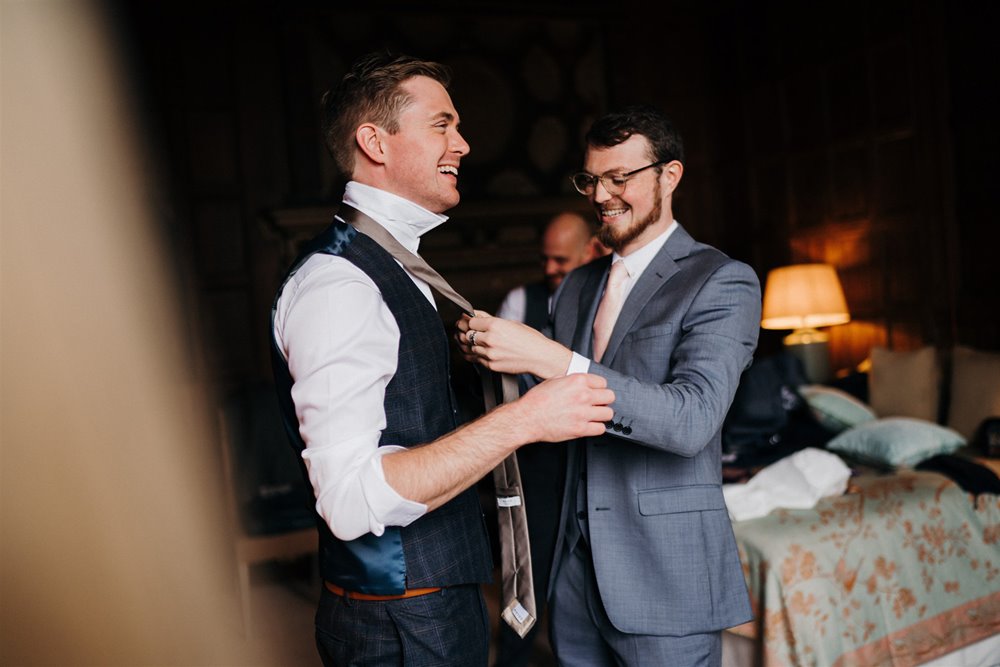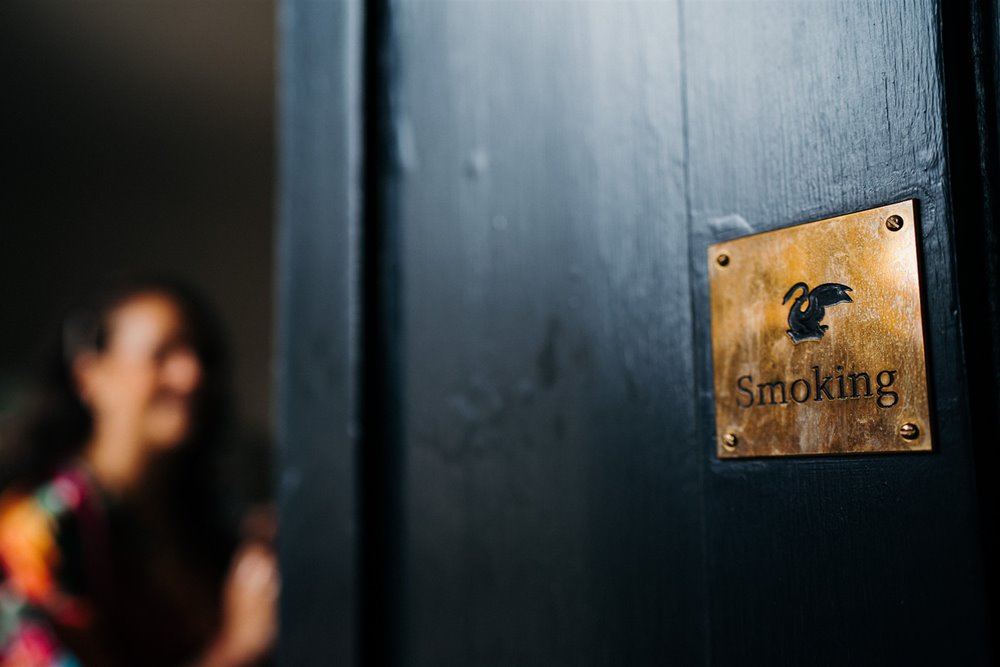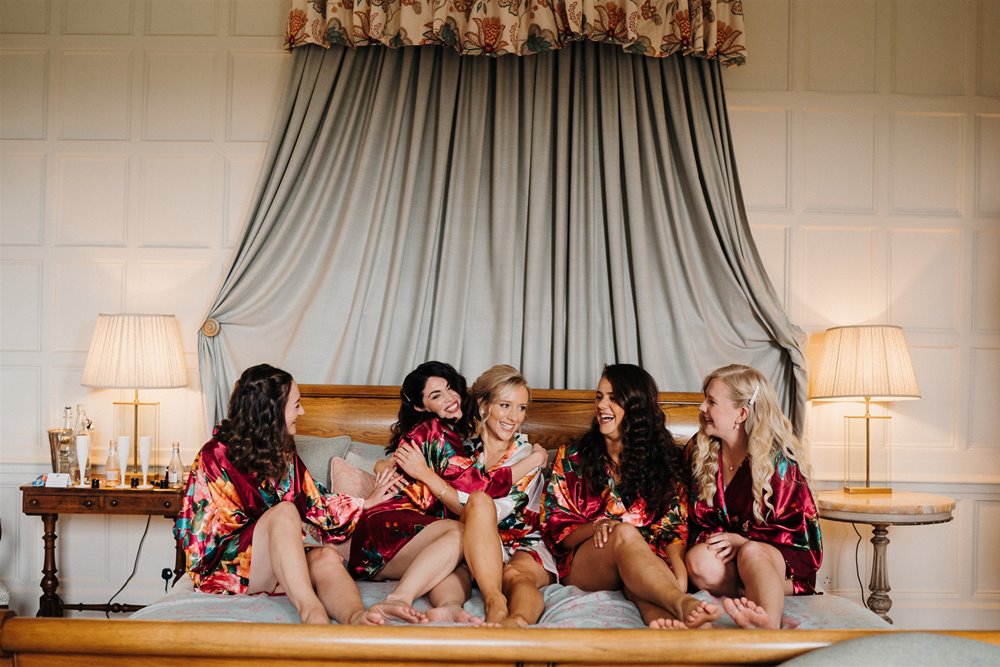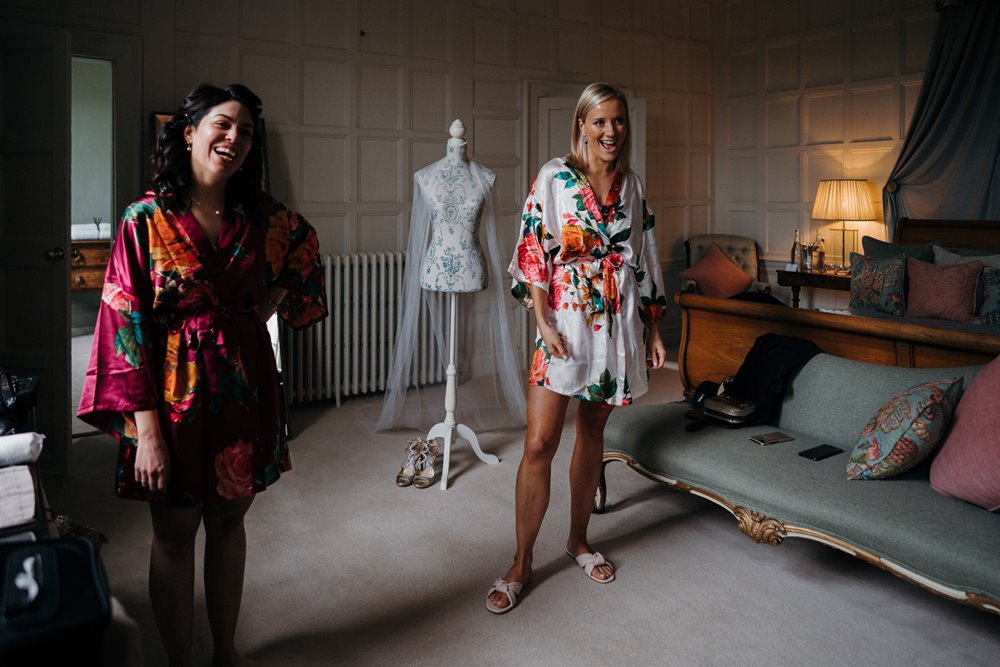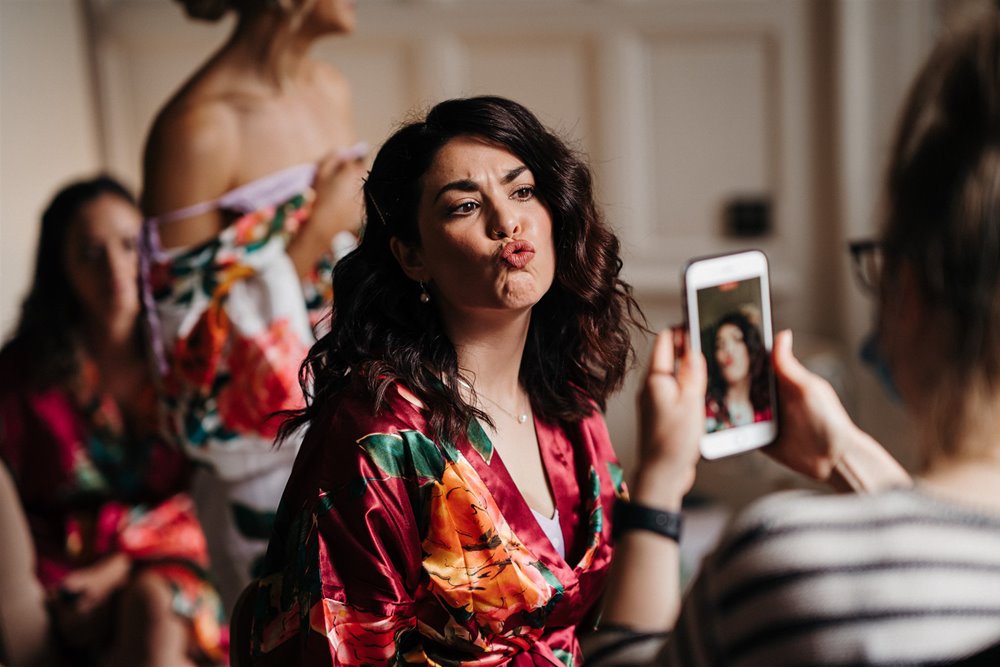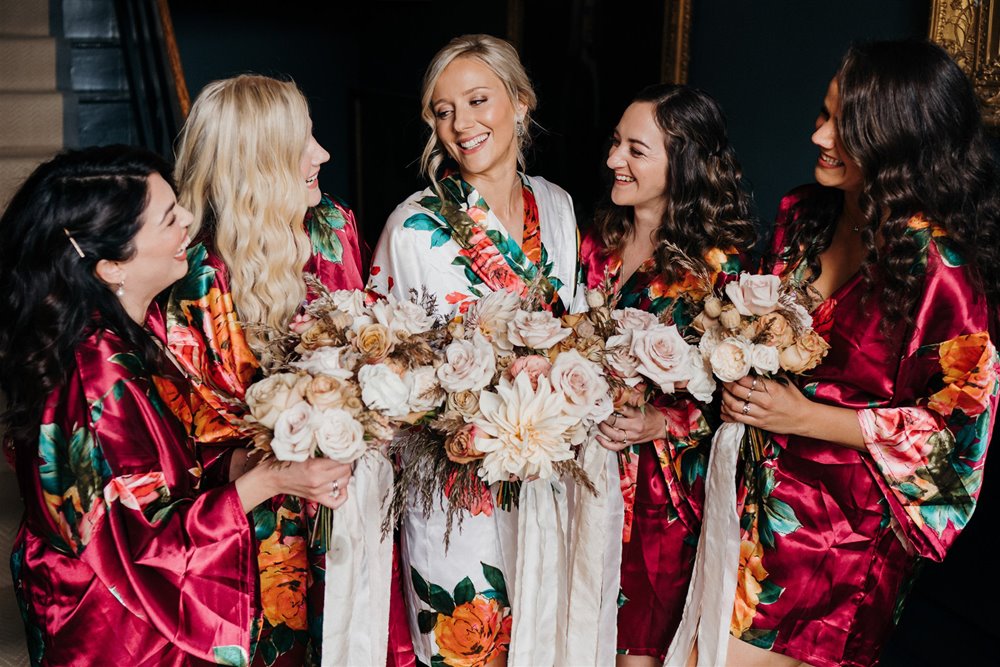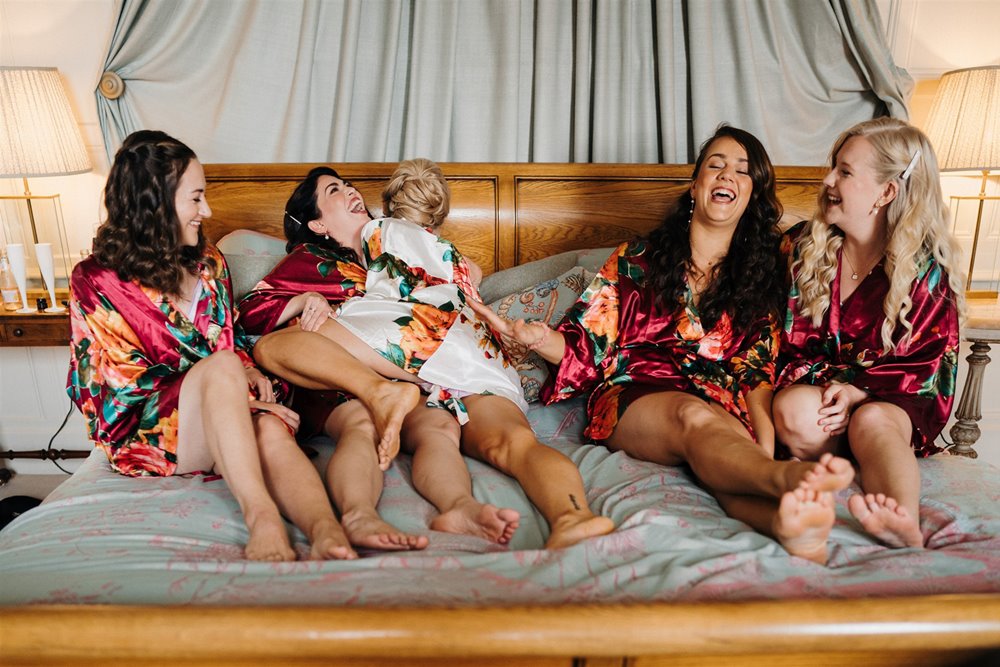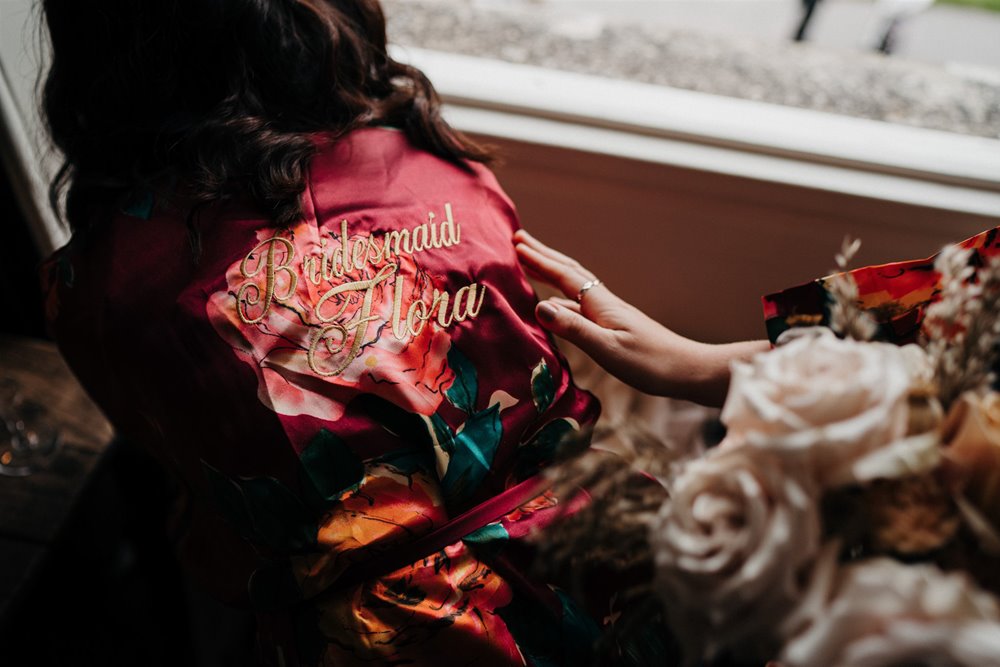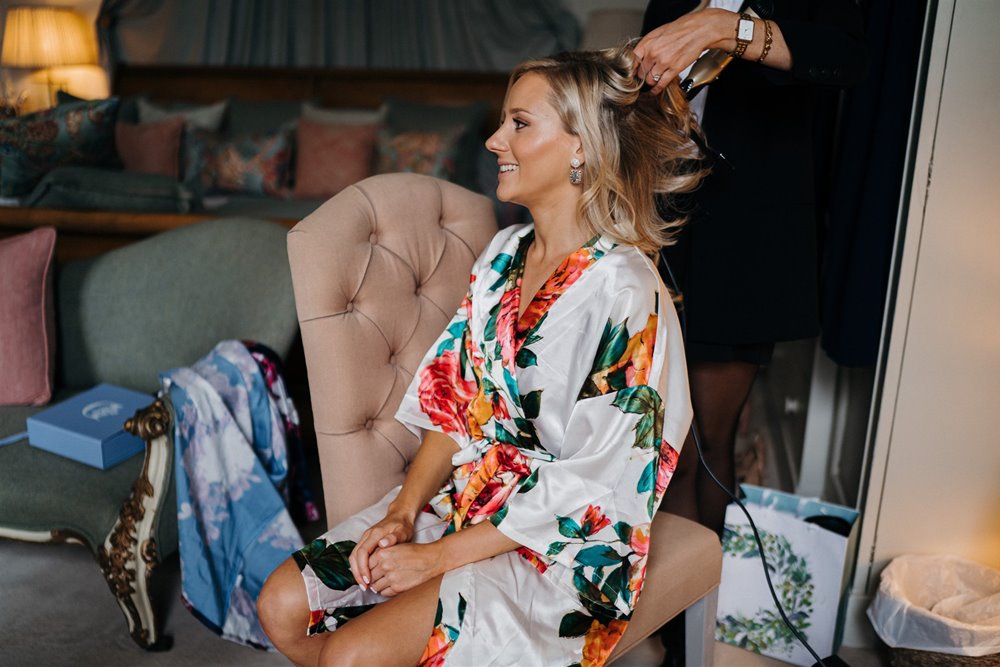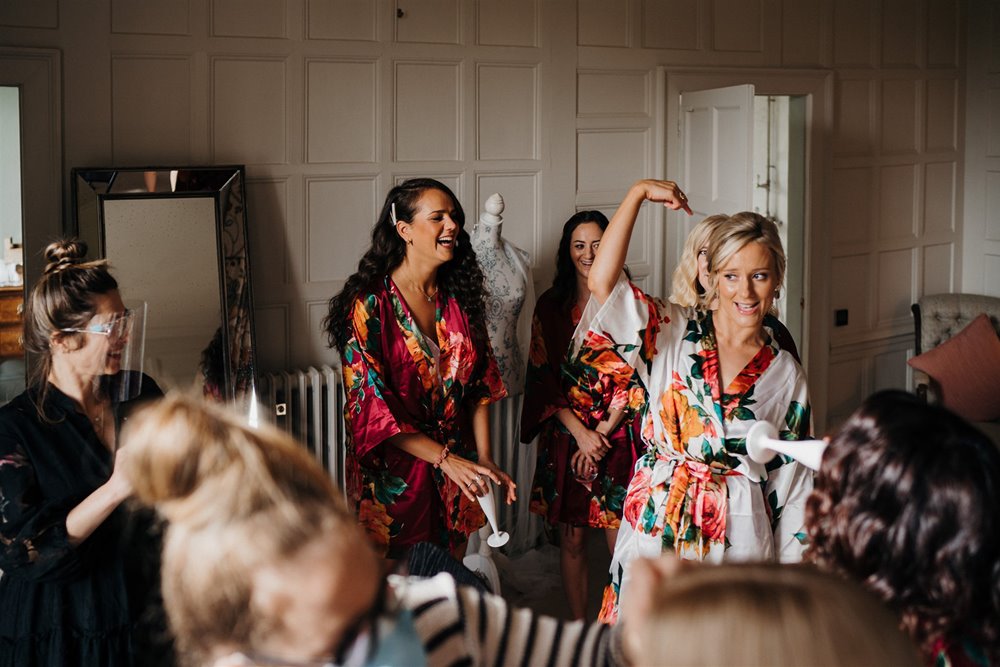 And your wedding ceremony...?
Brian and I were both quite nervous in the lead up to the ceremony and we were a bag of nerves during it too. We individually met our celebrant who happened to be from the same part of Ireland as Brian, which he said really helped calm his nerves. Me on the other hand- my mouth was so dry I could barely get through the spoken vows (articulating my own name took two attempts!). We both said that we started to feel more at ease when it came to sharing our personal vows. Humour is a big part of our relationship and naturally we both threw a few jokes in the vows (I nearly took mine out after I rehearsed them to my bridesmaid who just looked at me blankly and said "as long as it means something to you, that's all that matters"- yikes!). But I'm so glad we did because this really calmed our nerves and lightened the tone of it all. Lots of our guests also told us the vows were their highlight of the day too, which was lovely.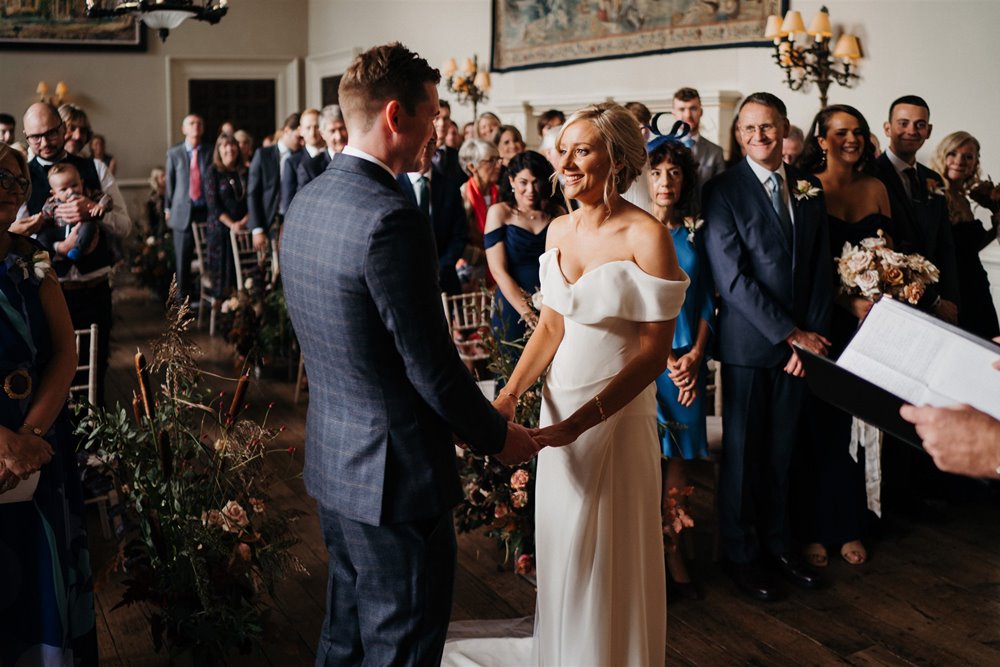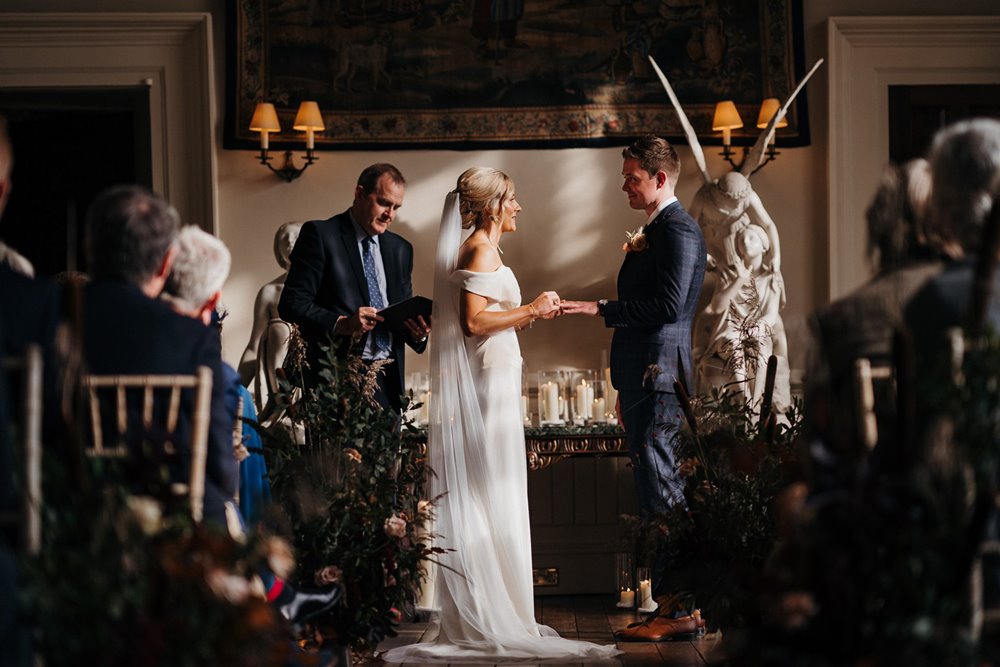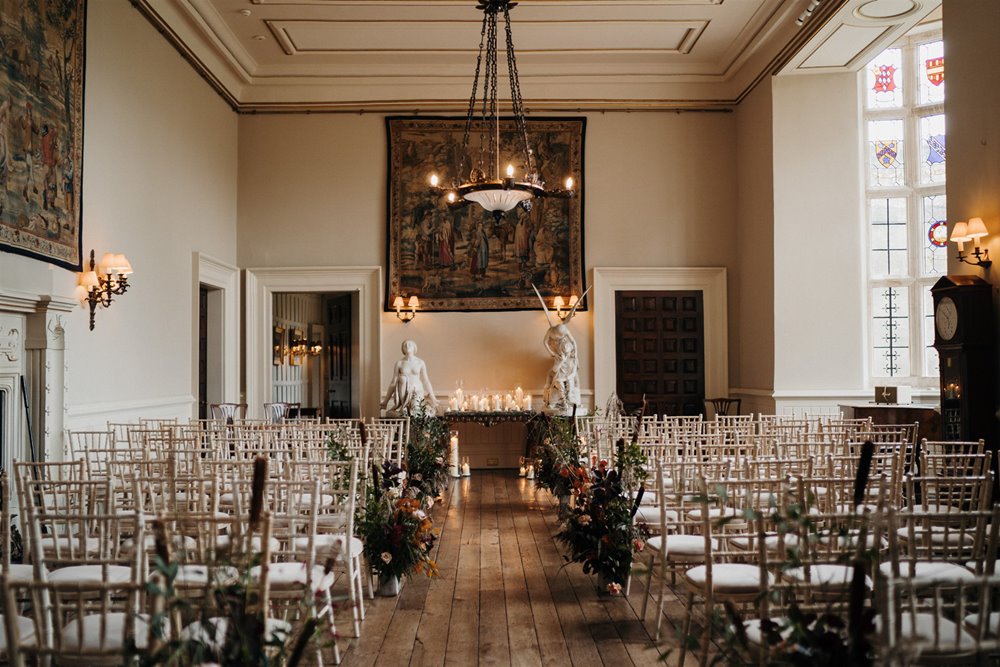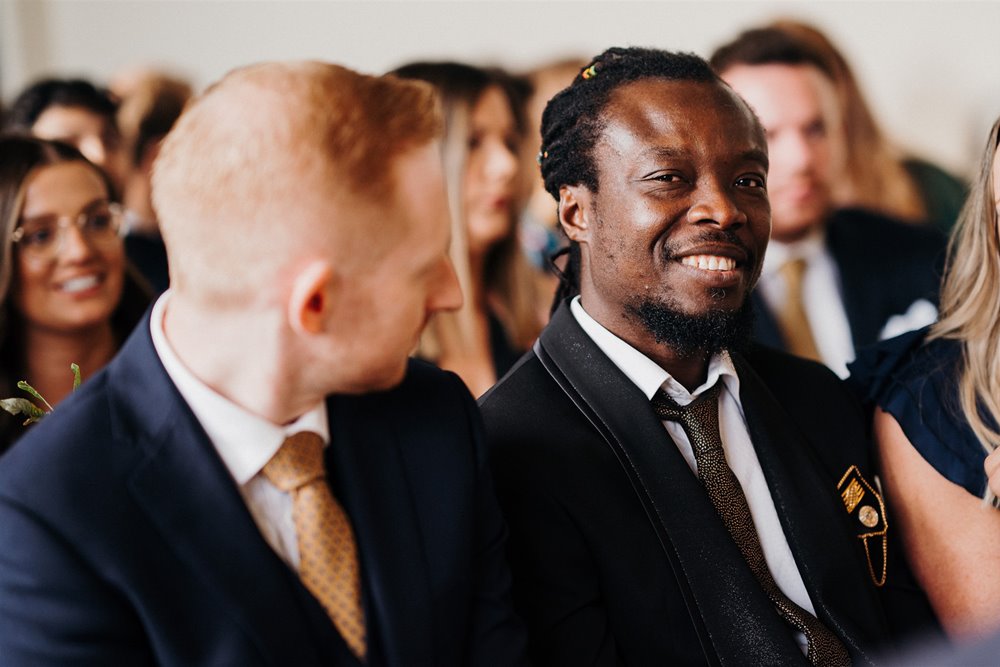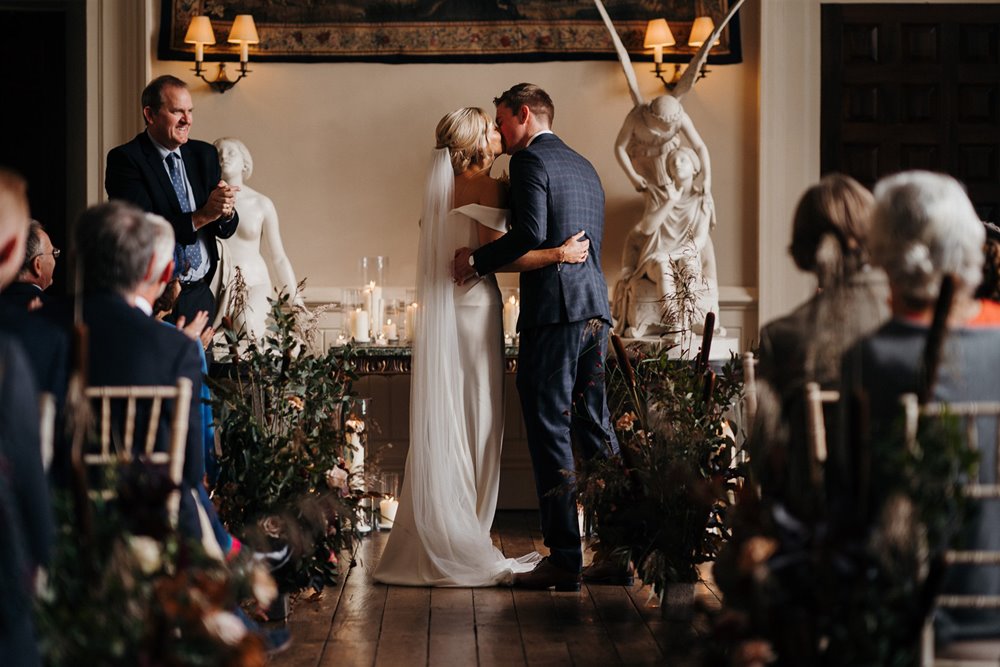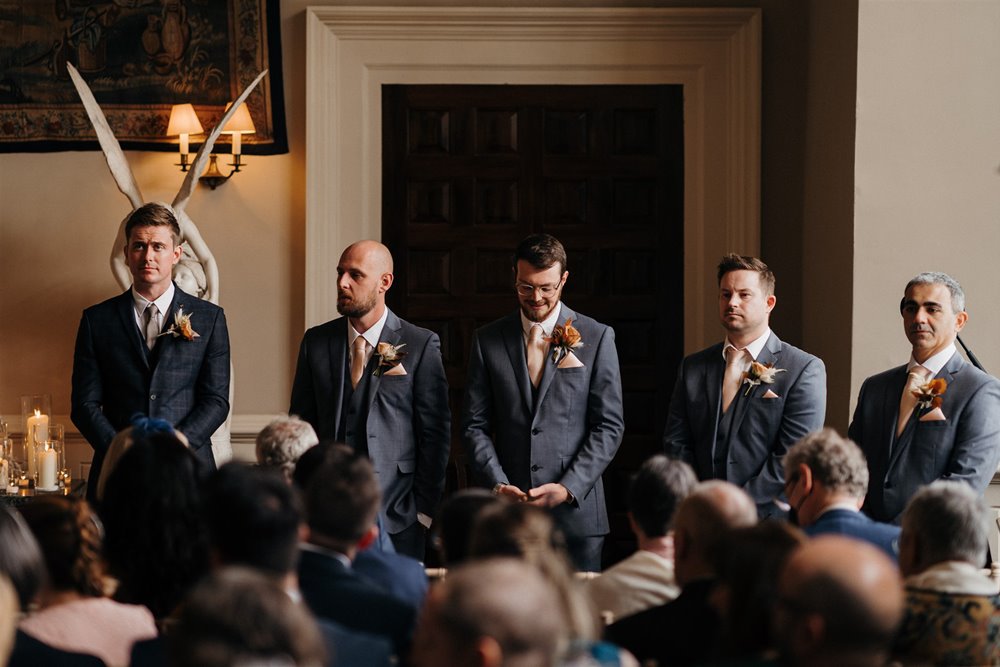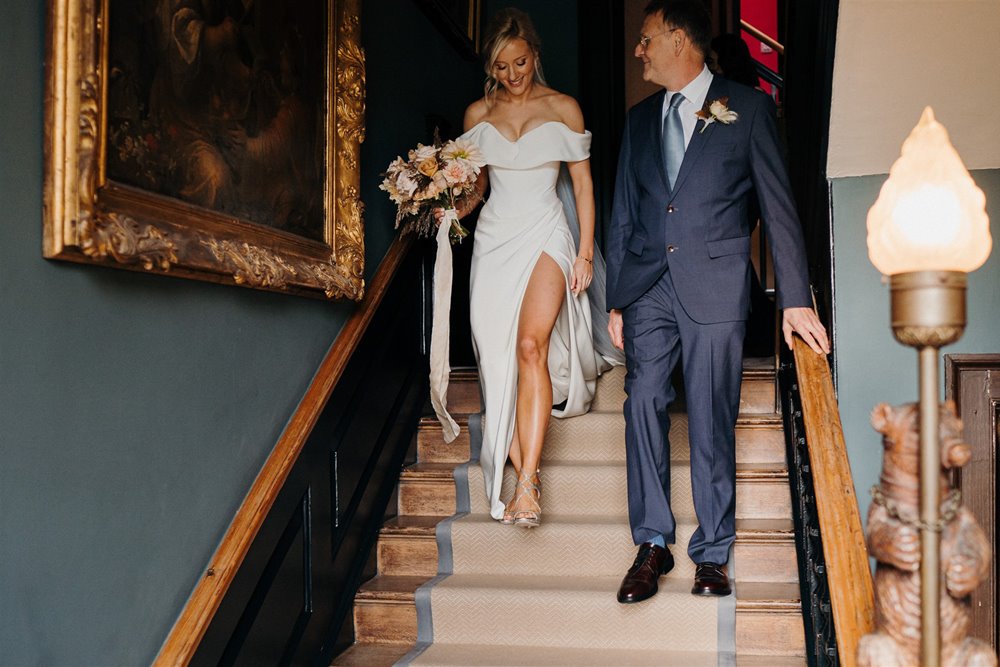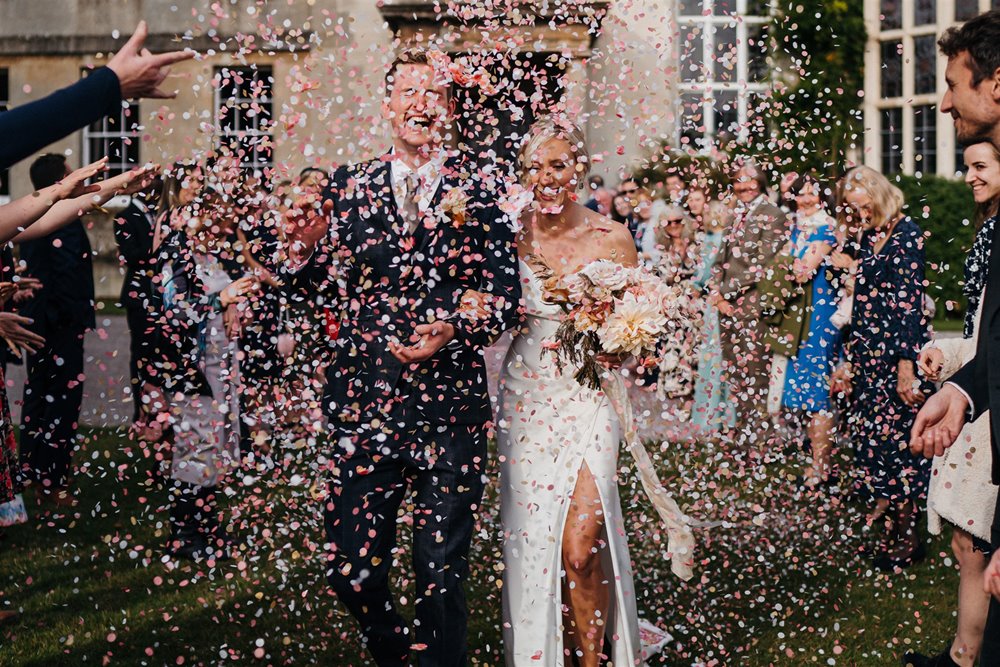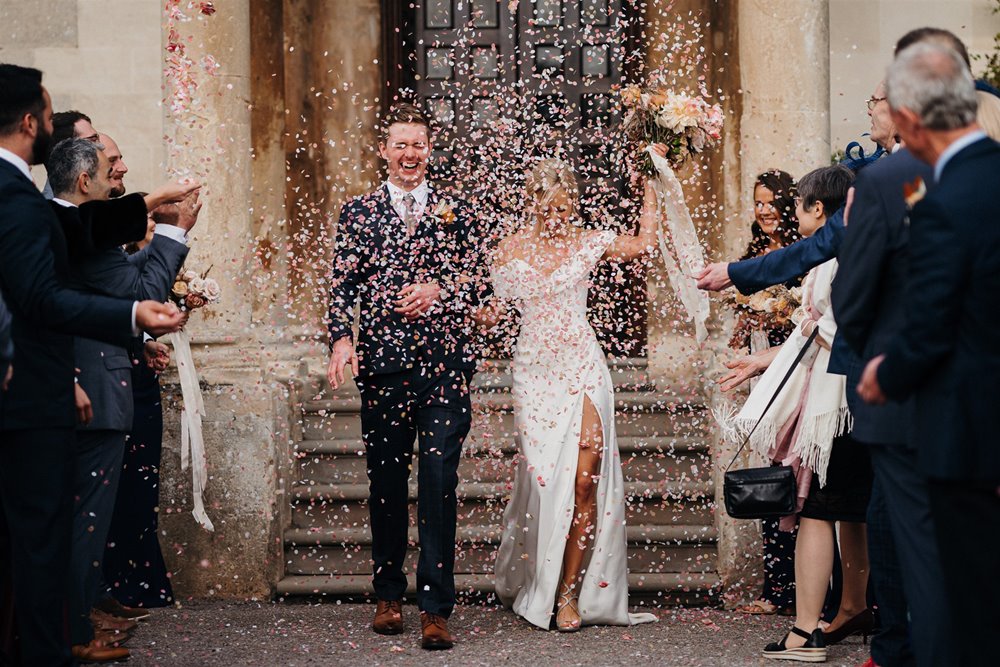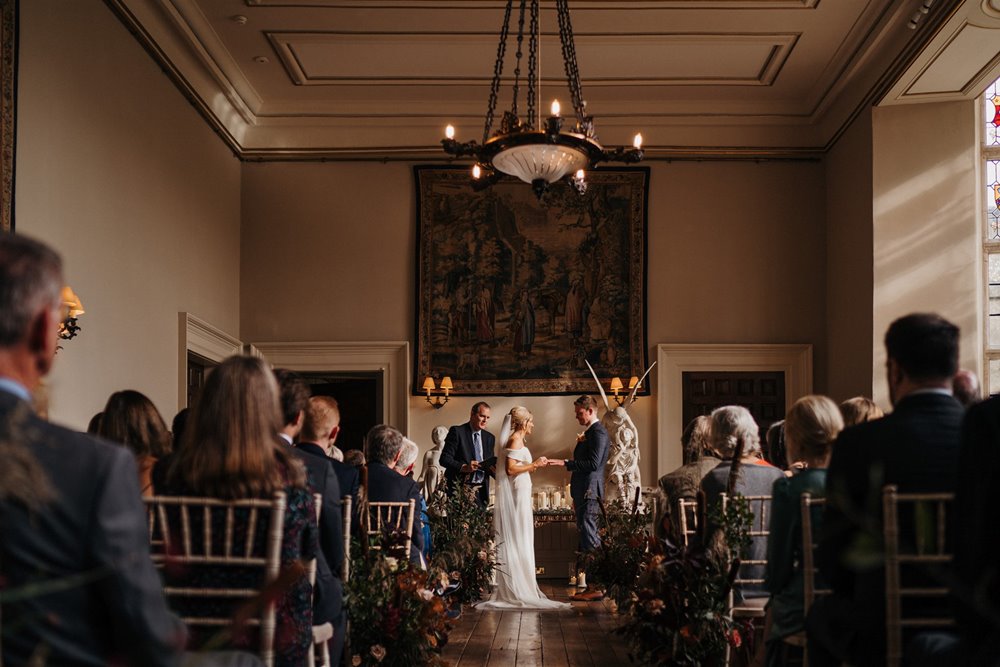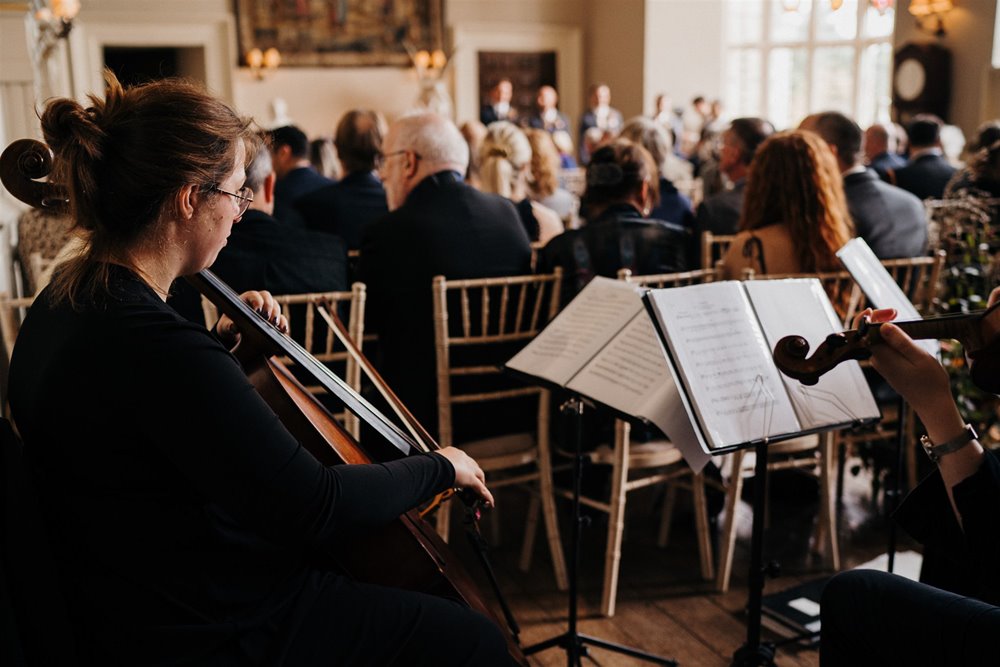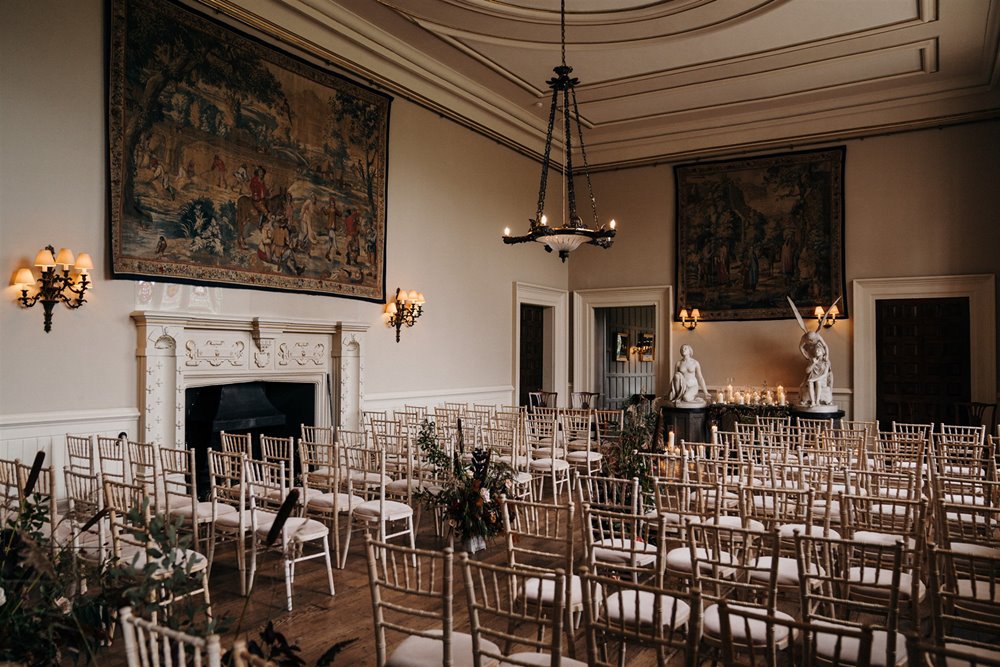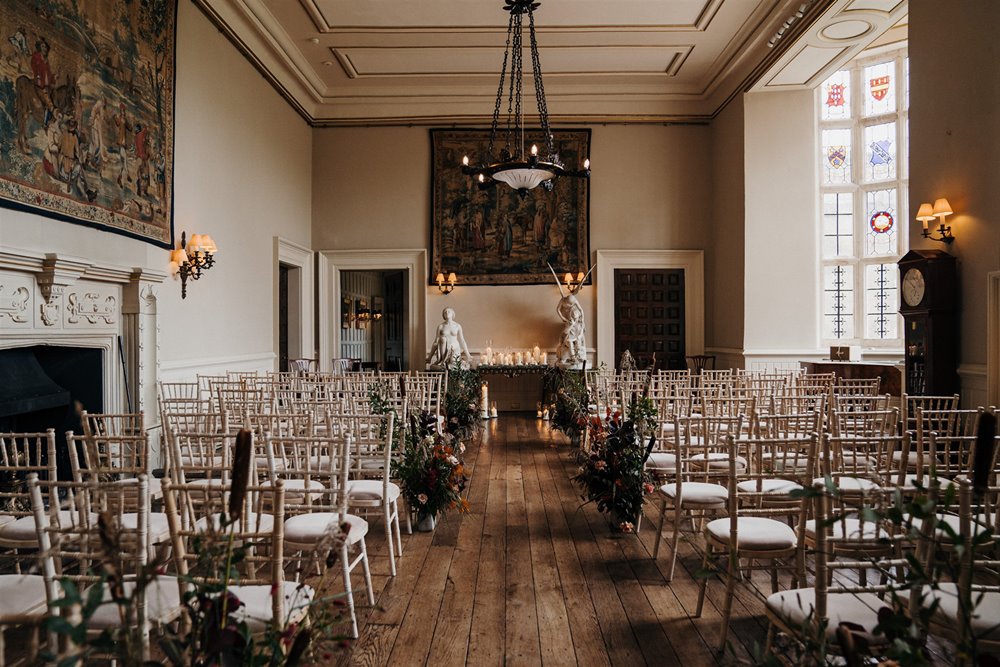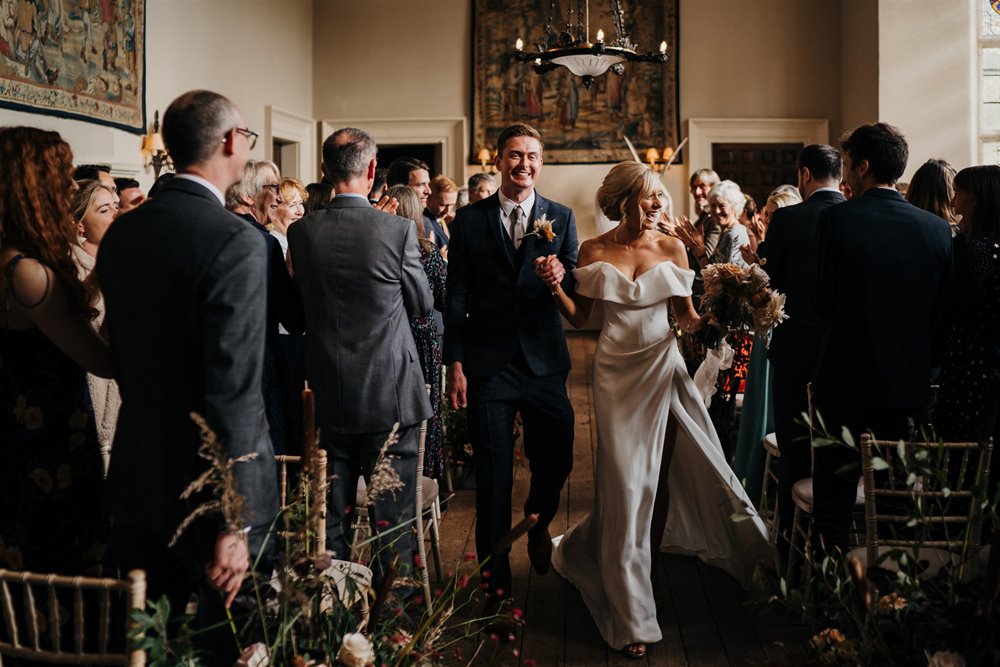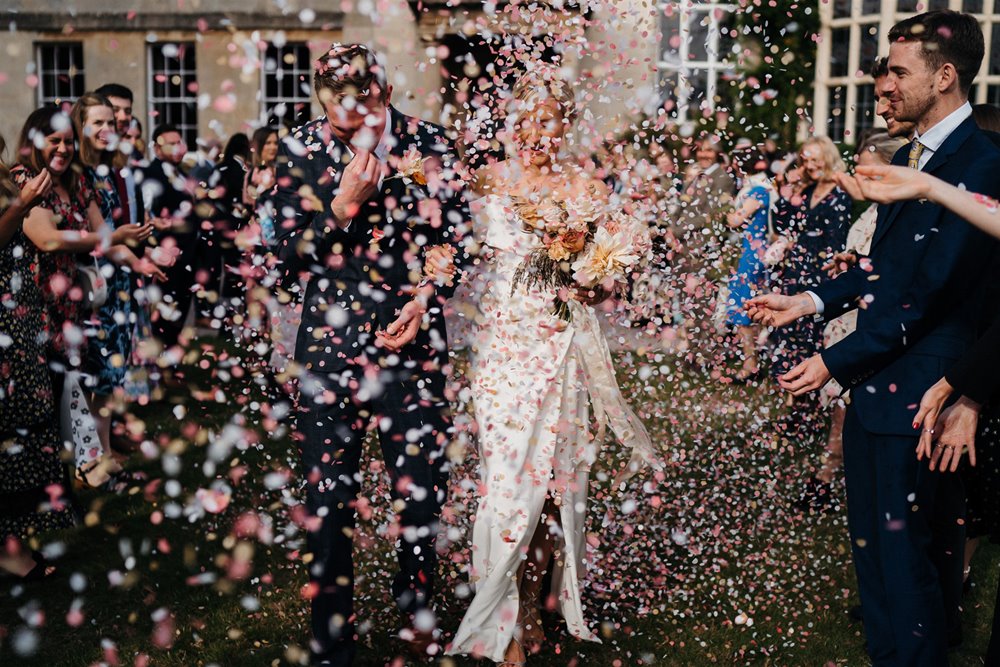 Drinks reception and beautiful photoshoots!
We got really lucky with the weather- it was 15 degrees and sunny in mid-October which was a miracle so we had confetti and our drinks reception outside.
Brian and I mingled with guests for about 25 minutes then we got going with photos. I thought the photos would be a bit of a drag but it was actually another highlight for both of us!
I bought us smoke bombs and we had so much fun with our photographer (Voyteck) and videographers (The Smiths and co) strutting around the grounds to Mariah Carey (literally a dream for me).
We also whizzed through the family photos as the groomsmen were well prepped with lists and I basically heckled the crowd to summon people for them.
The rest of the guests congregated on the lawn in the sunshine and were served rose, Prosecco and beer whilst they listened to our string trio. Inside we had stacks of macaroons, French biscuits and Florentines on afternoon tea stands for everyone to help themselves. We are just gutted we didn't have more time to munch on them ourselves!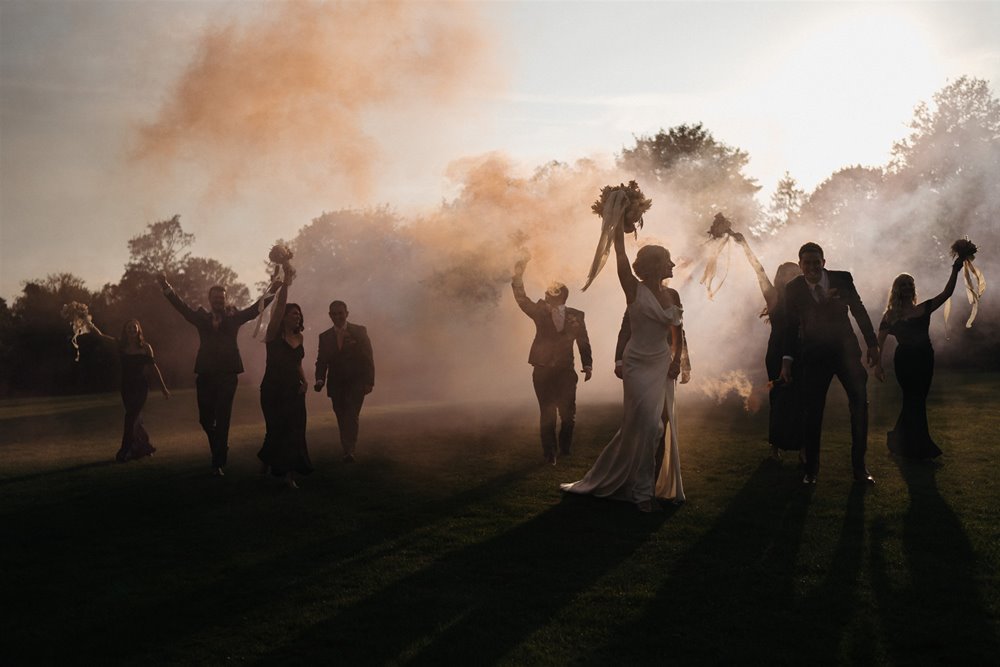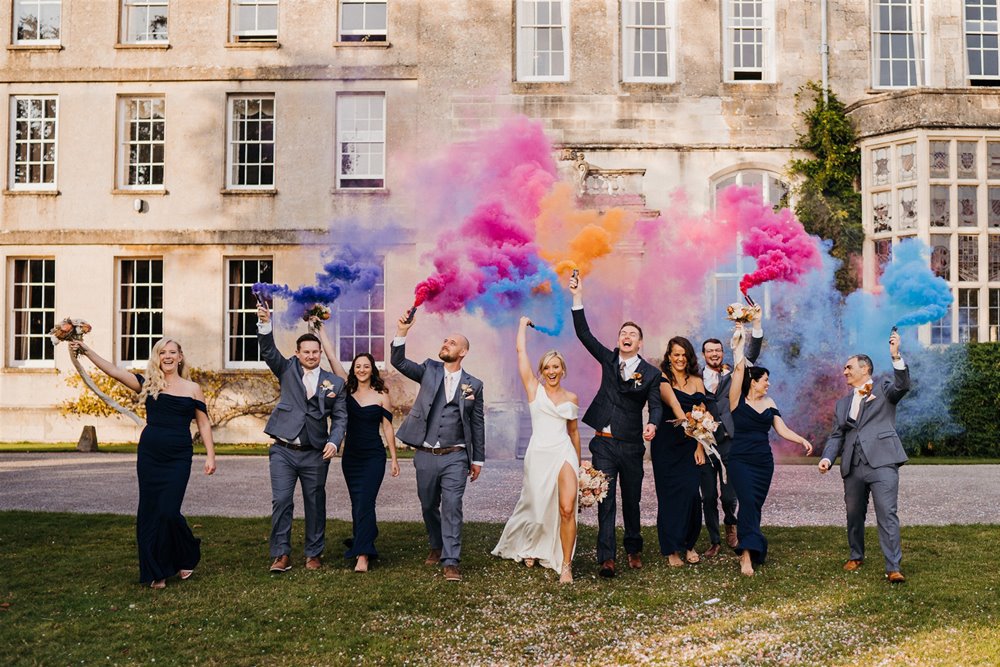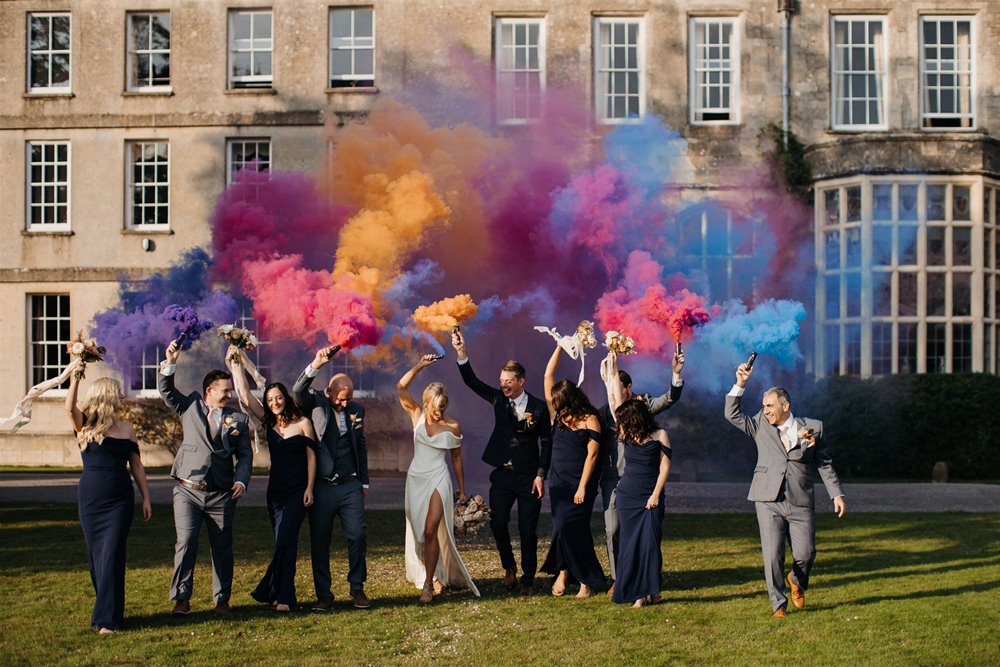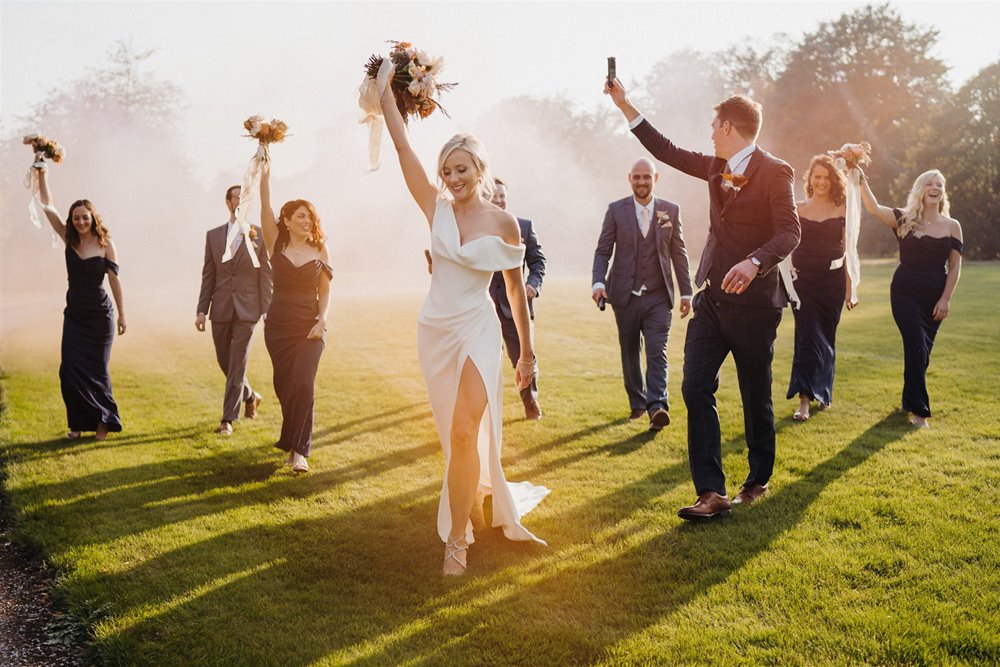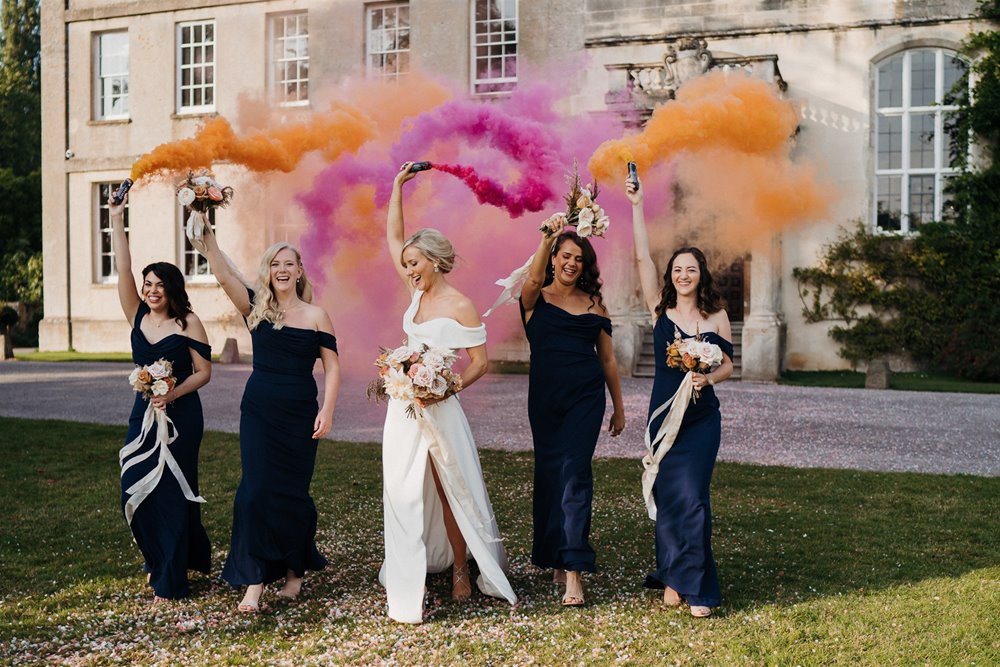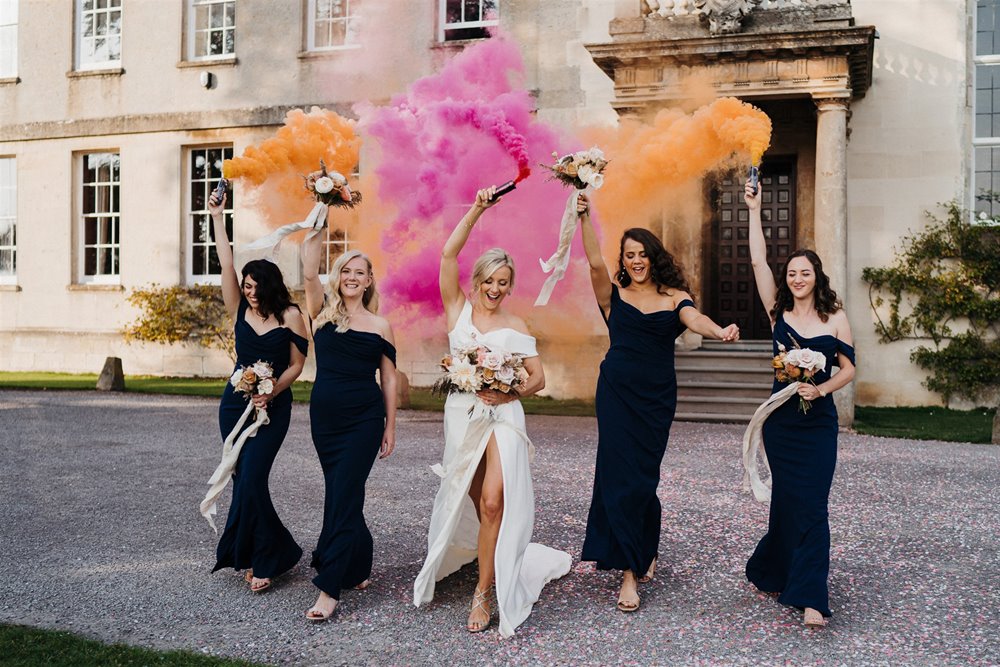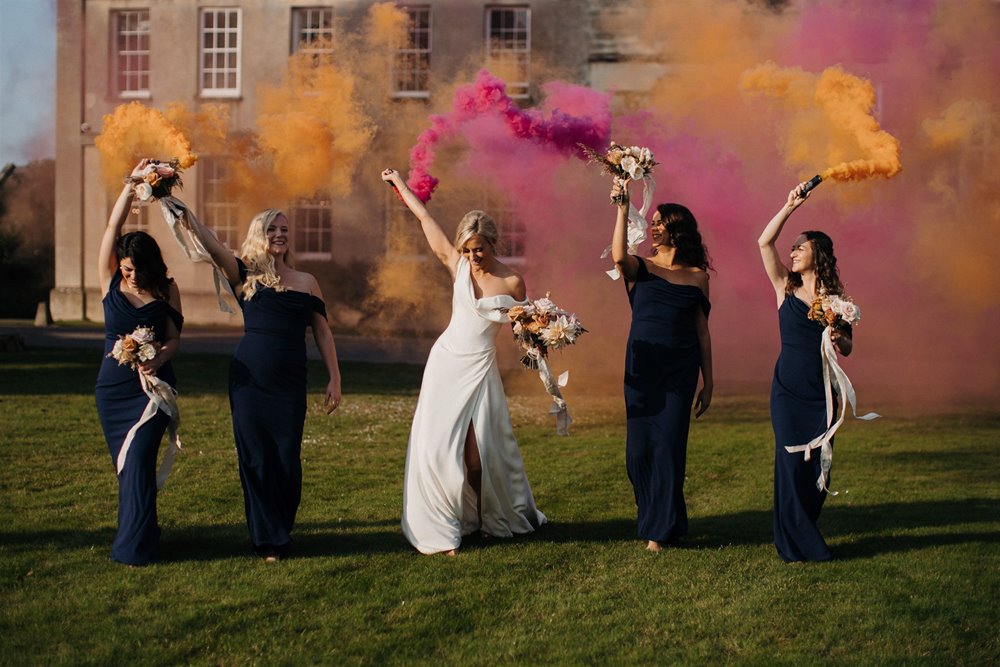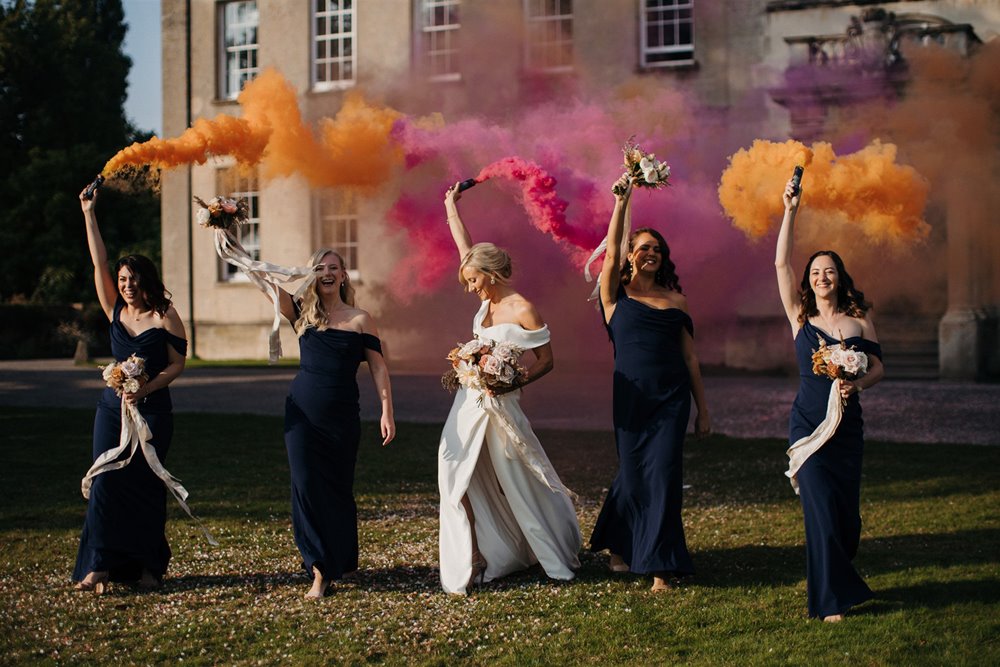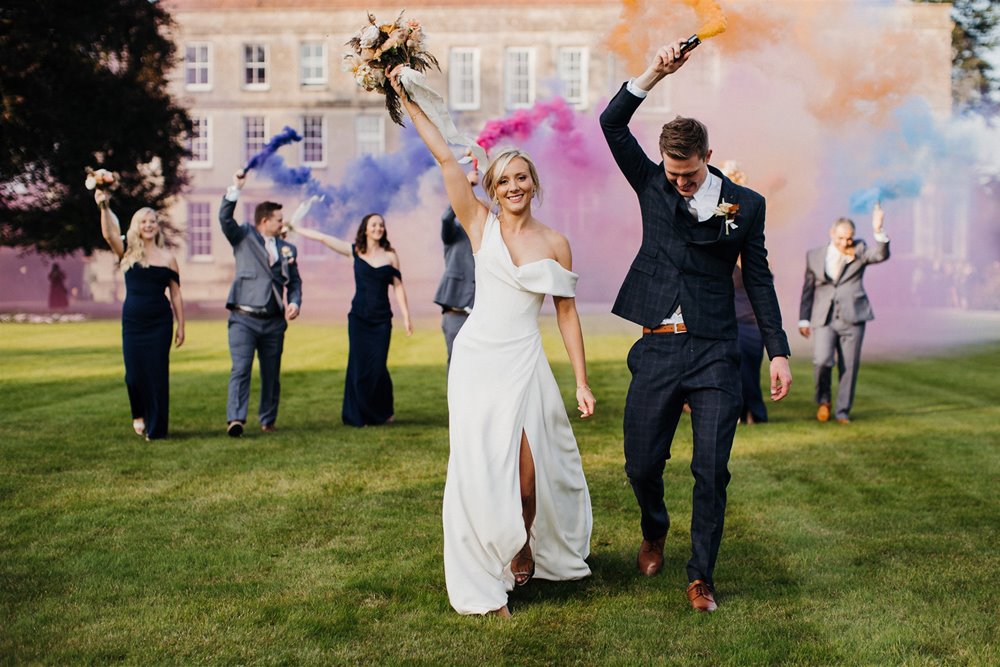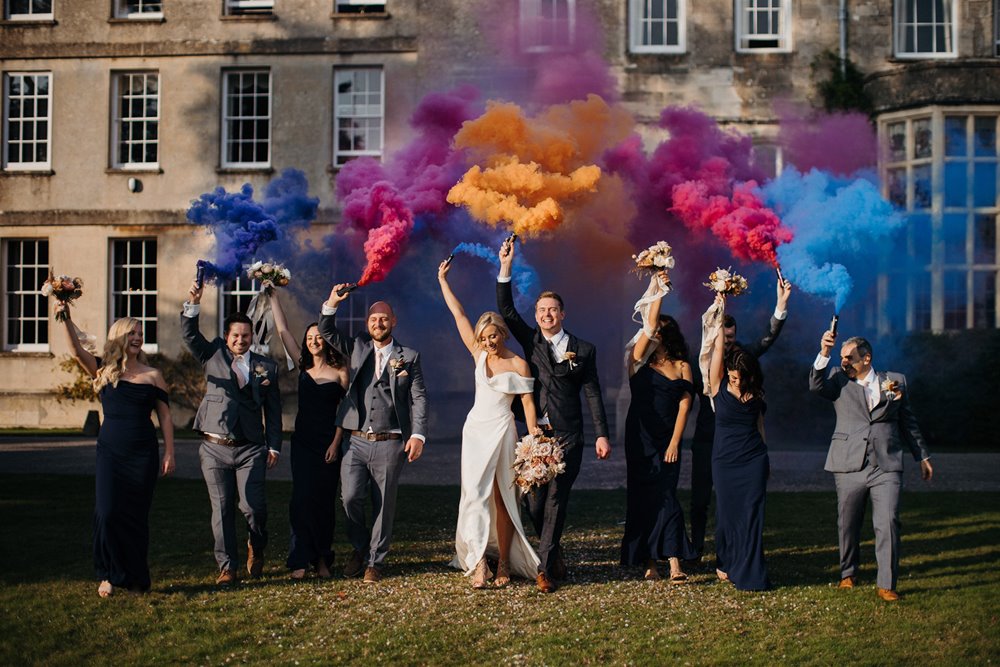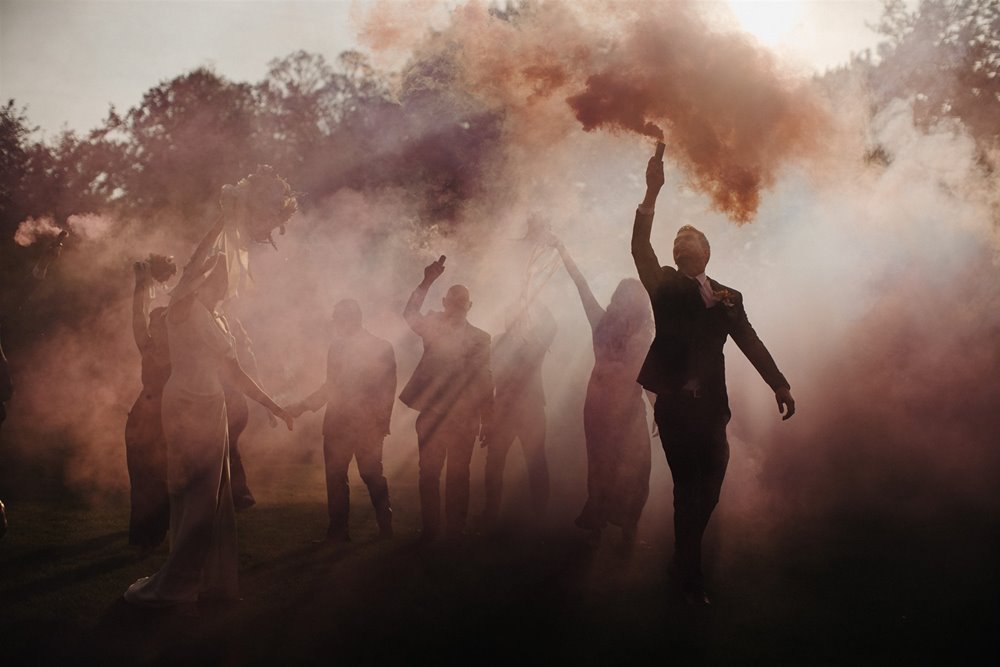 Your first dance...
Our first dance was the last thing we organised. We arranged for a local dance teacher to come to our house and choreograph a 2 minute routine to 'Take Me I'm Yours' by Mary Clark- a song we actually first heard on a MOB cookbook playlist but that we both love! Jean (our dance teacher) burst out laughing when we told her the date of our wedding but we somehow managed to pull it off on the day- I'm amazed that neither of us forgot the routine!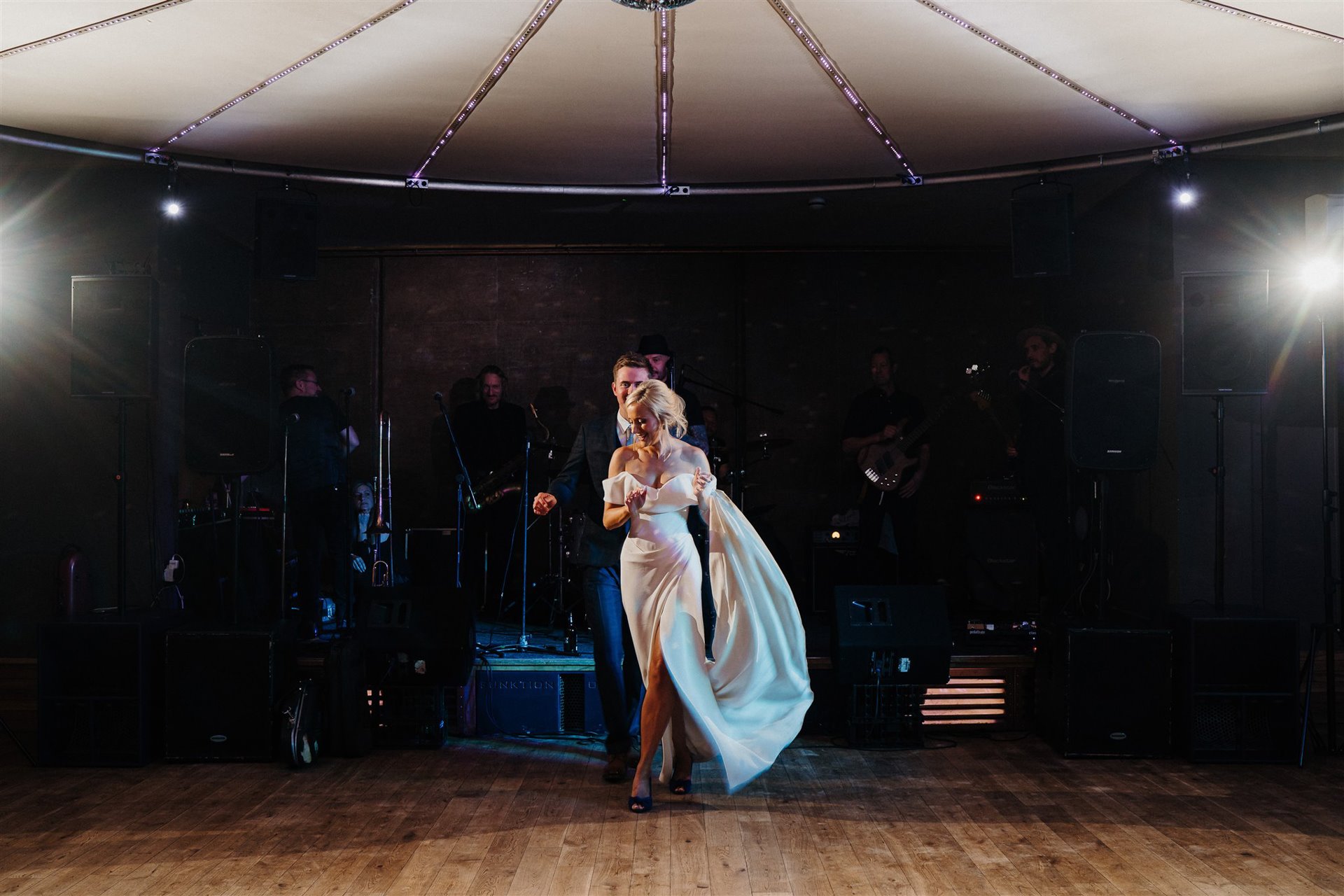 What did you eat and drink?
We had the polenta cake starter which was amazing and loads of our guests complimented it. For main course we had the aubergine parmigiana which was a all round crowd pleaser. We are both vegetarian so were keen to serve all veggie food on the day. For dessert we had sticky toffee pudding which was stunning! Later in the evening I arranged to have hot pretzels served and baskets of Tyrells crisps for guests to snack on. We also served the wedding cake. My Dad made 3 different flavours; the top tier was red velvet, the second tier was caramel and the third was lemon. He also made a second cake's worth of 'extra' in case people were really hungry! His friend who is a cake maker and a surgeon (what a combo) was round the house helping him in the days leading up to the wedding and all we heard were swear words and "Commit to the cut Nick! Commit!" coming out of the kitchen. The end result was really impressive and definitely worth the stress. To complete the look, Brian and I had a cake topper made of the two of us with our dog, Amber, who we joke would have pushed me out of the way and run down the aisle to marry Brian herself if she were there. Brian's parents chose the wine and brought this over from the south of France in the boot of their car which was a lovely touch. We had more than enough and got to take a few bottles home which was a great reminder of the day. Back in the morning room we had cheeseboards and left over drinks, which fuelled us to keep dancing until 4am!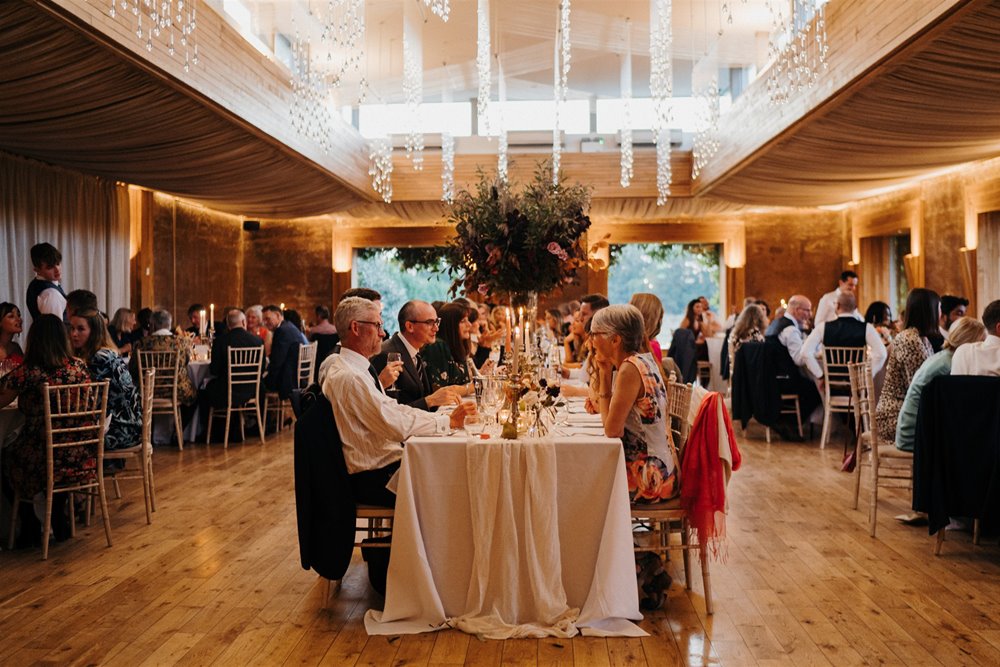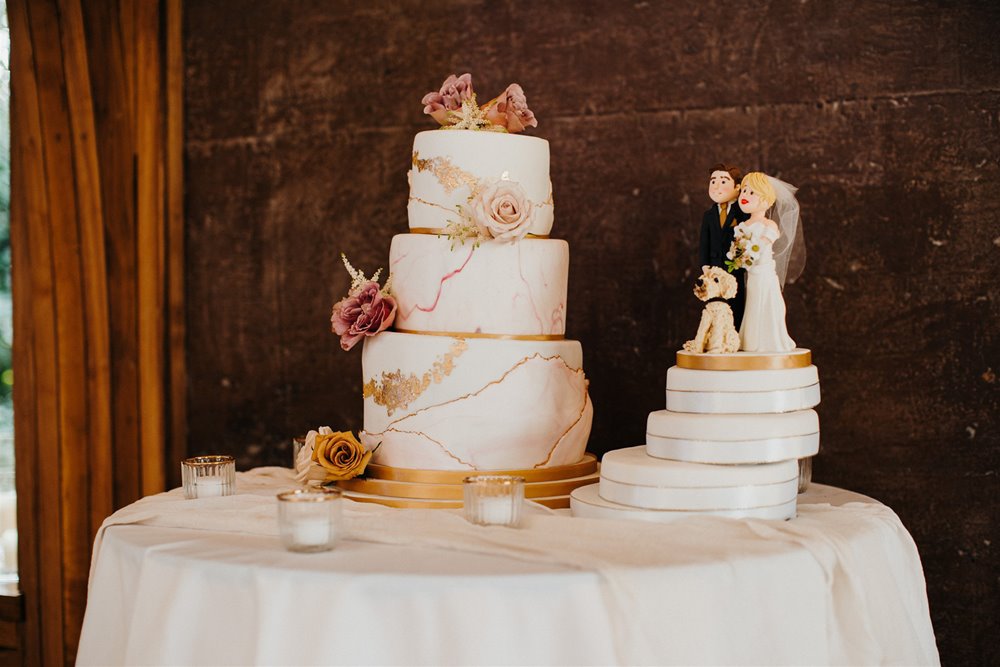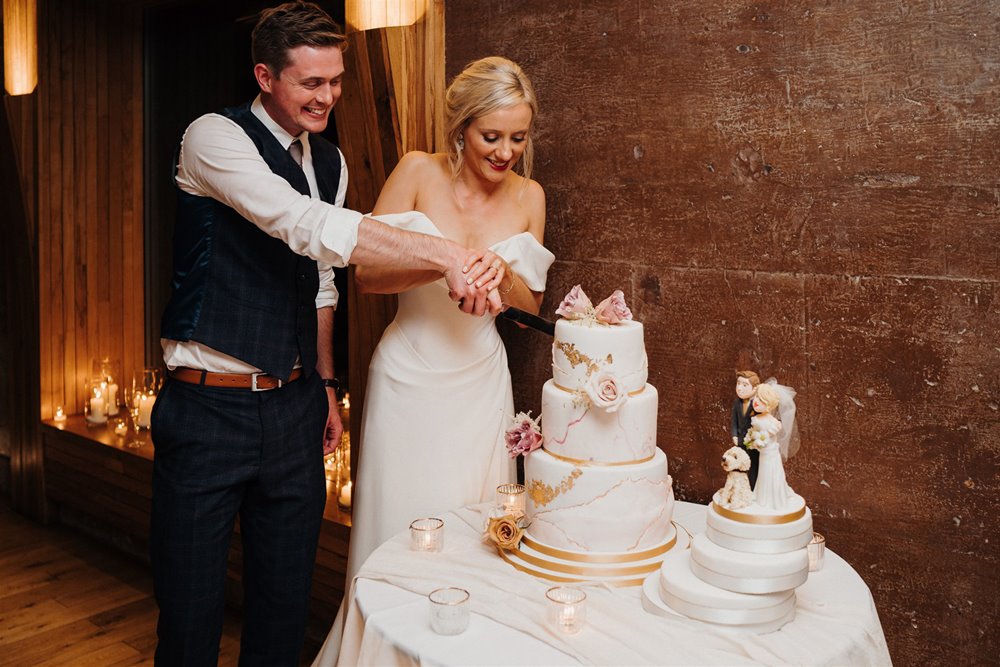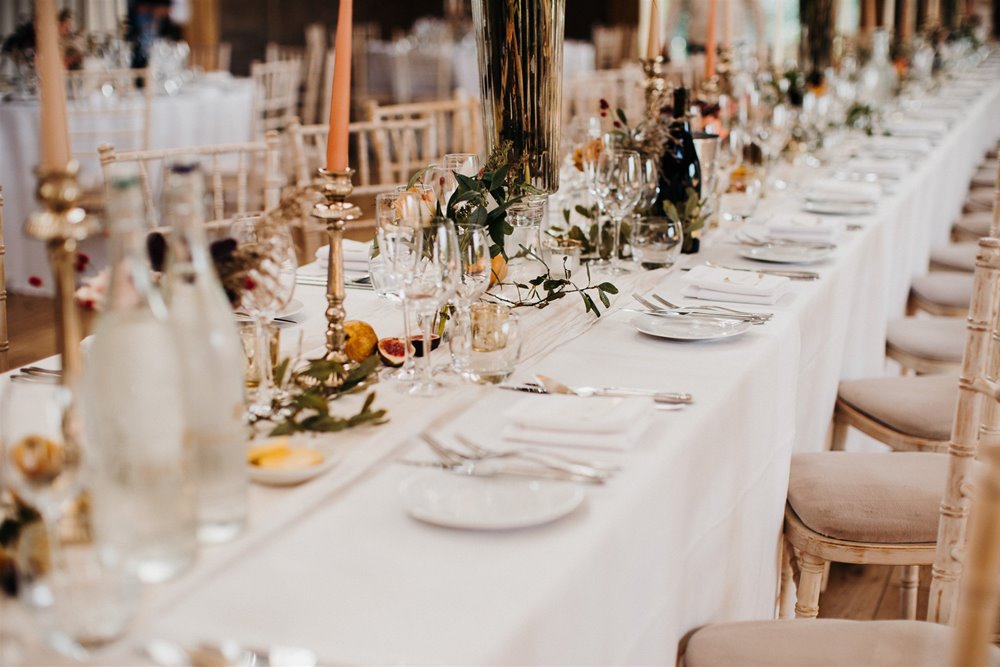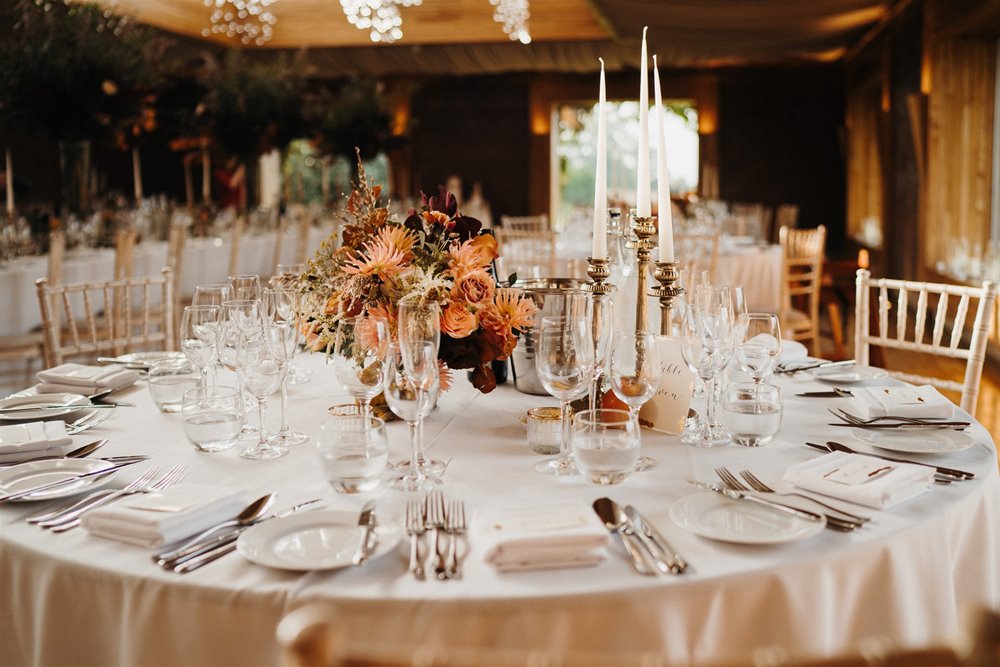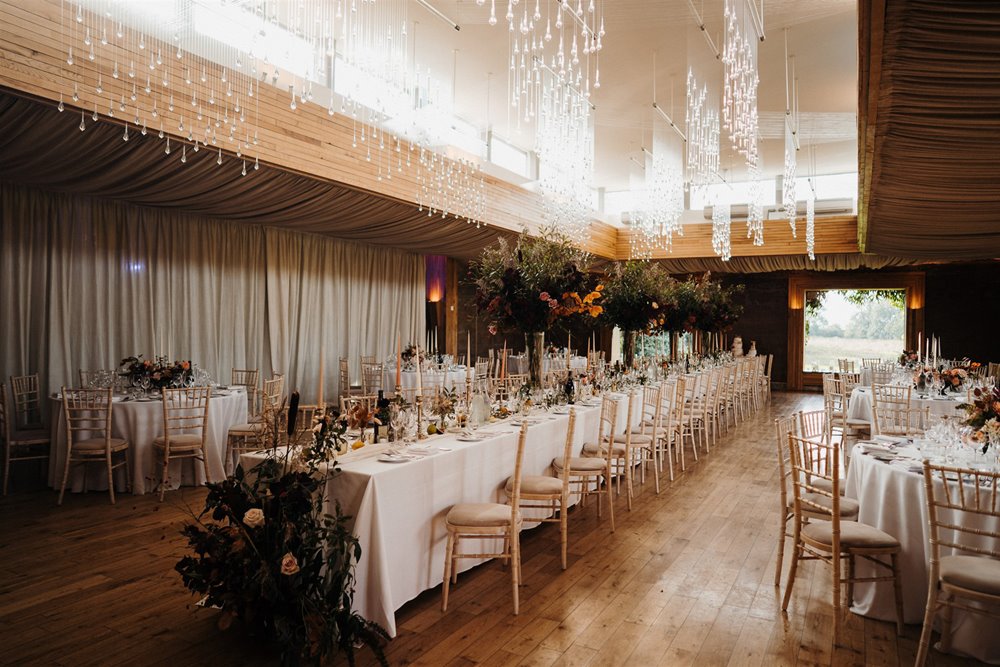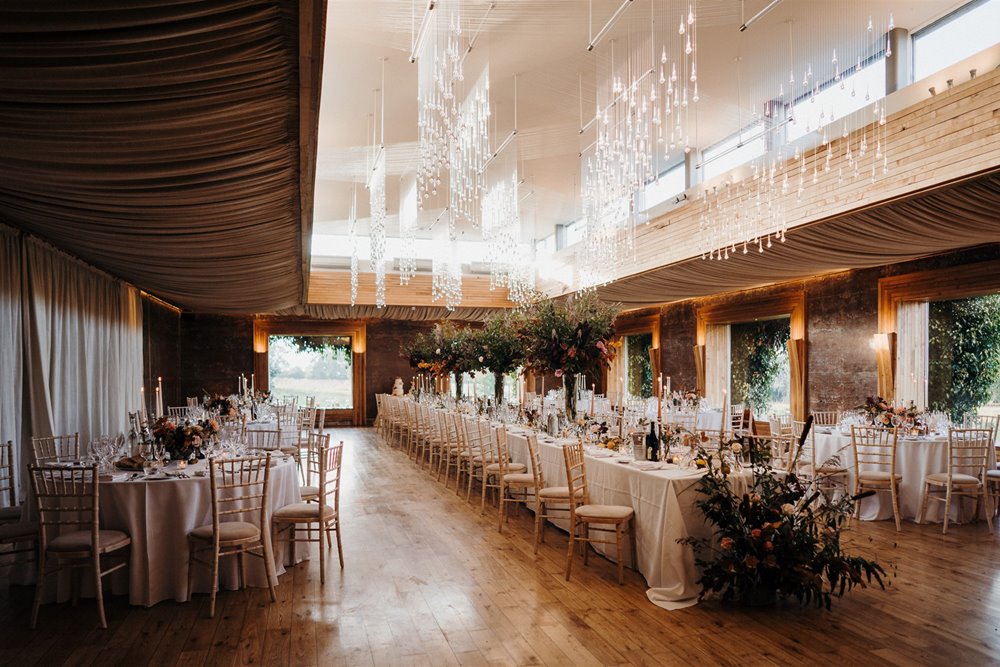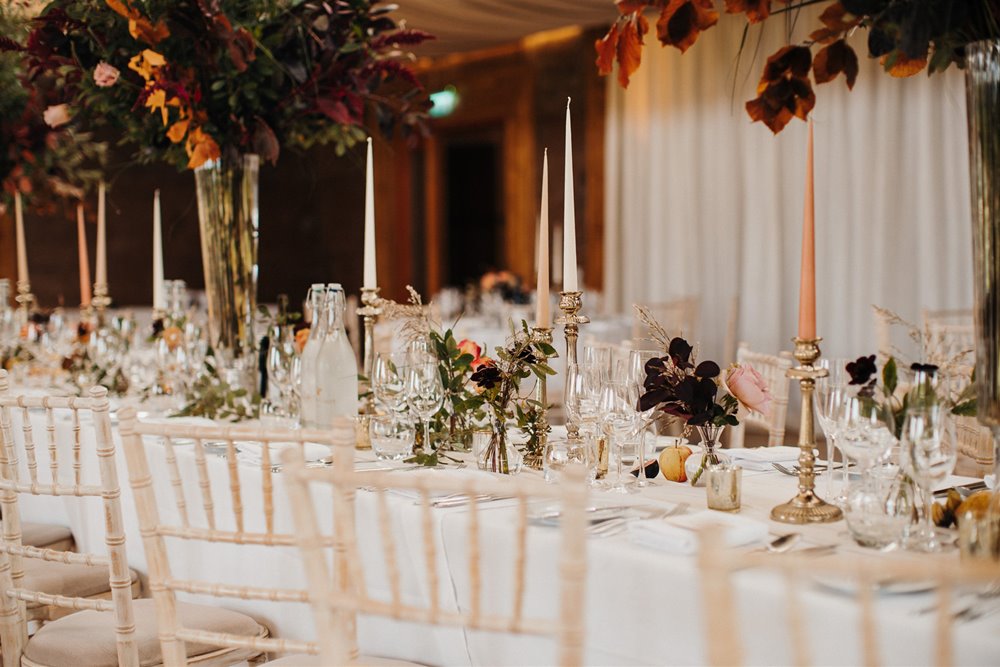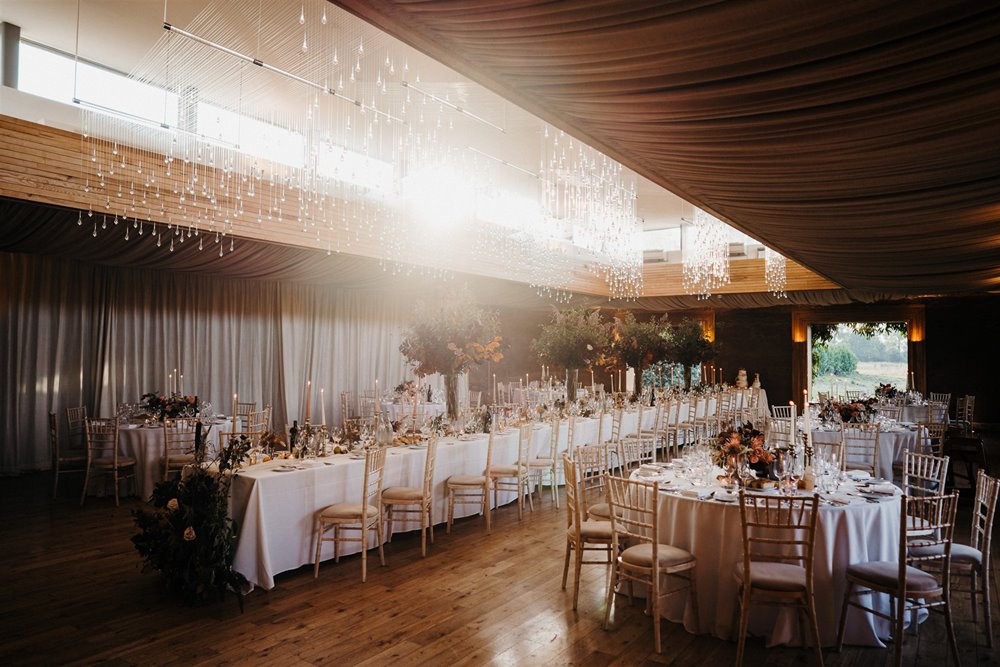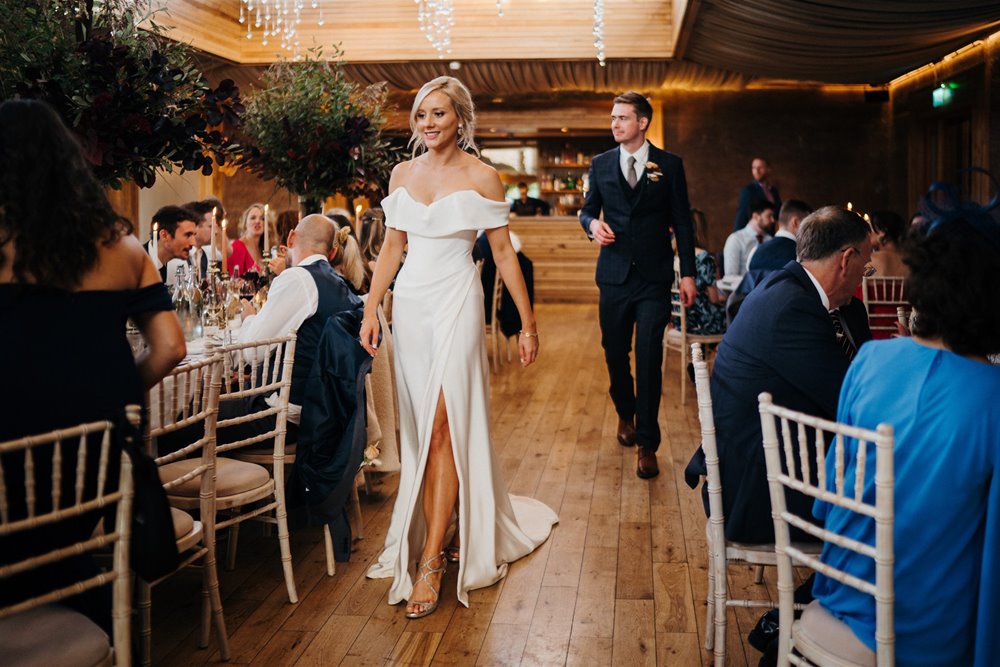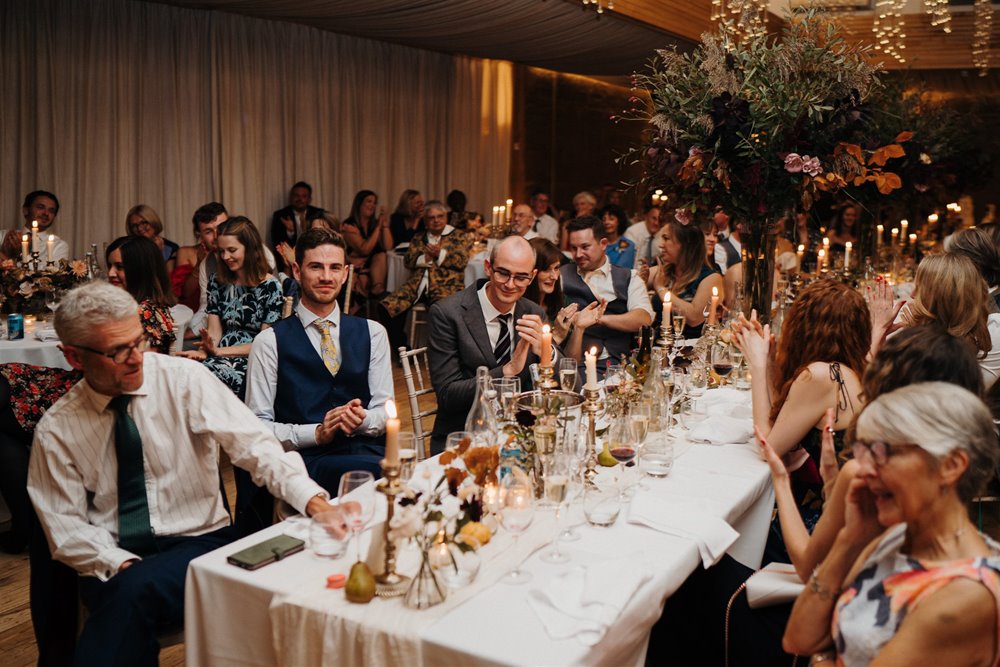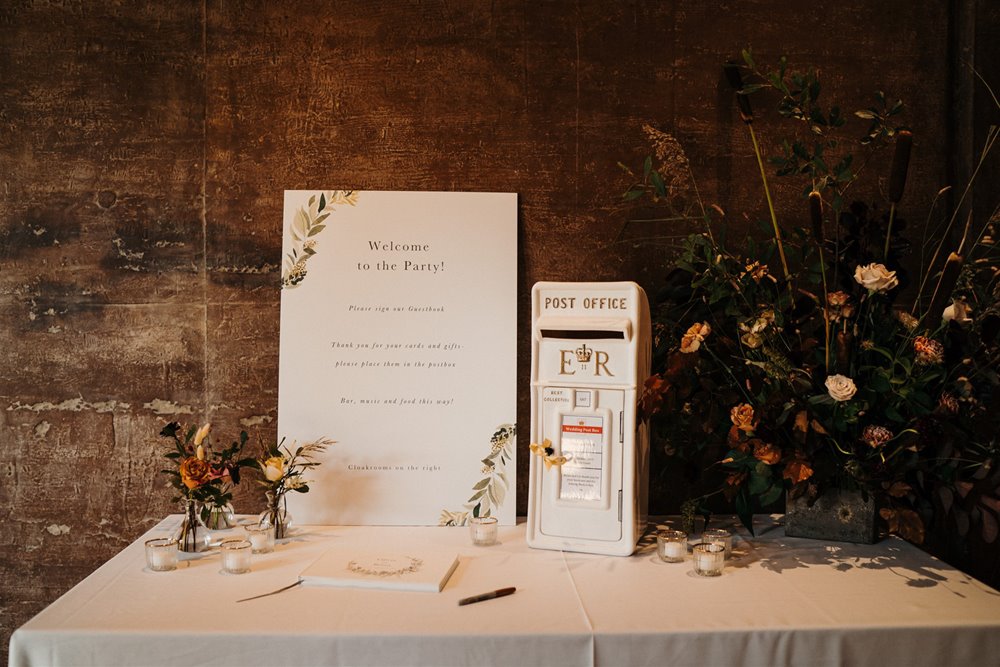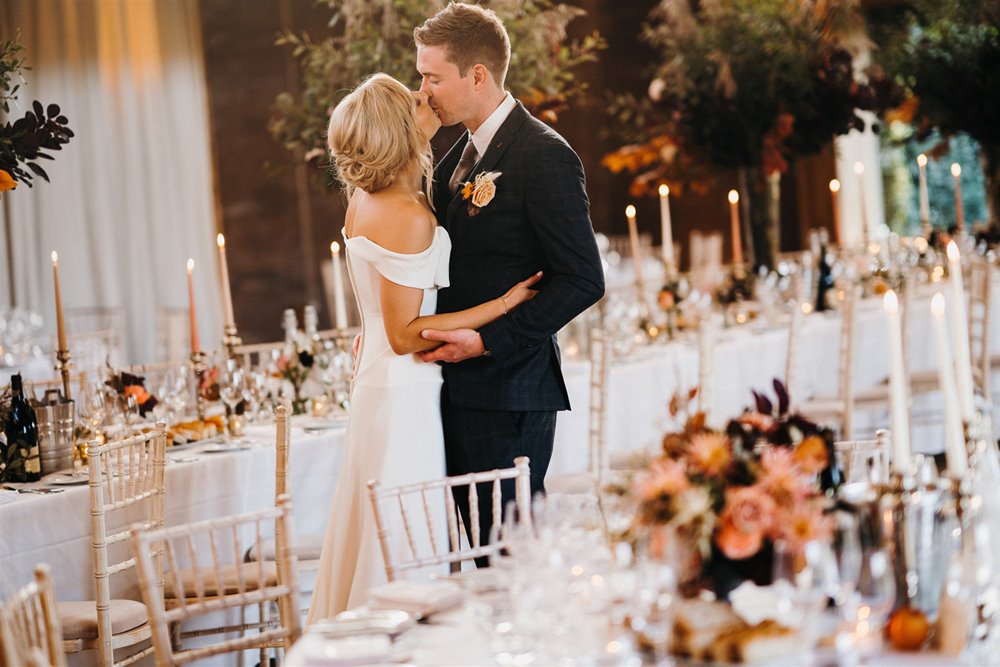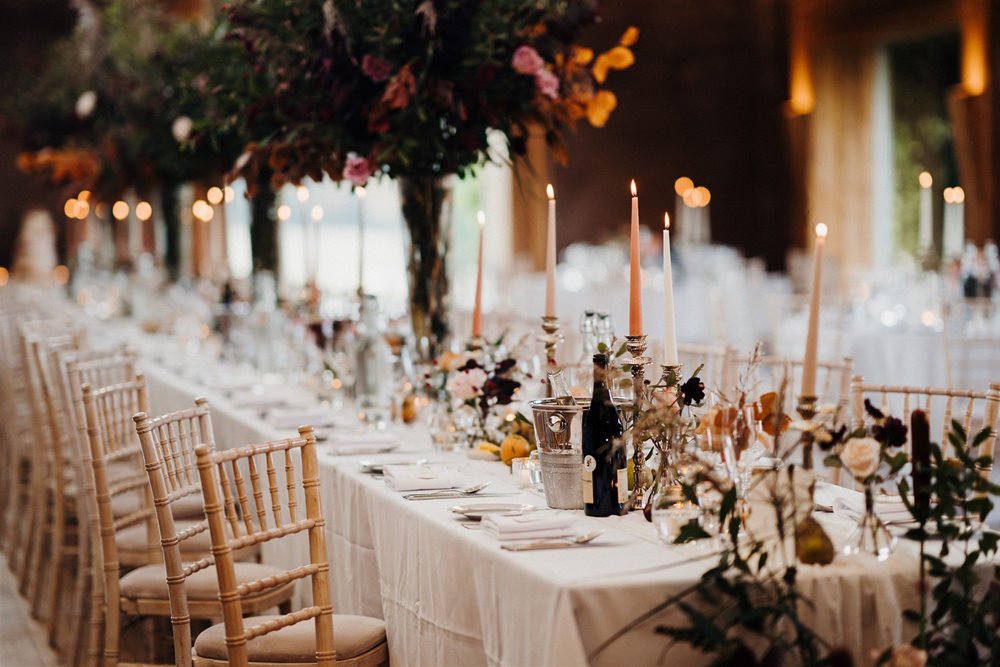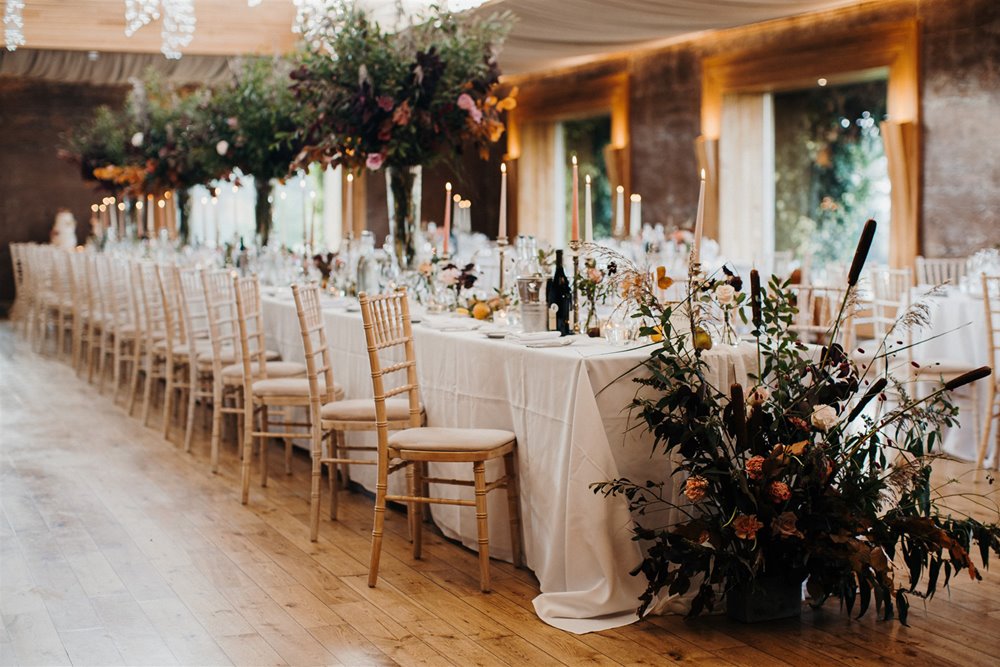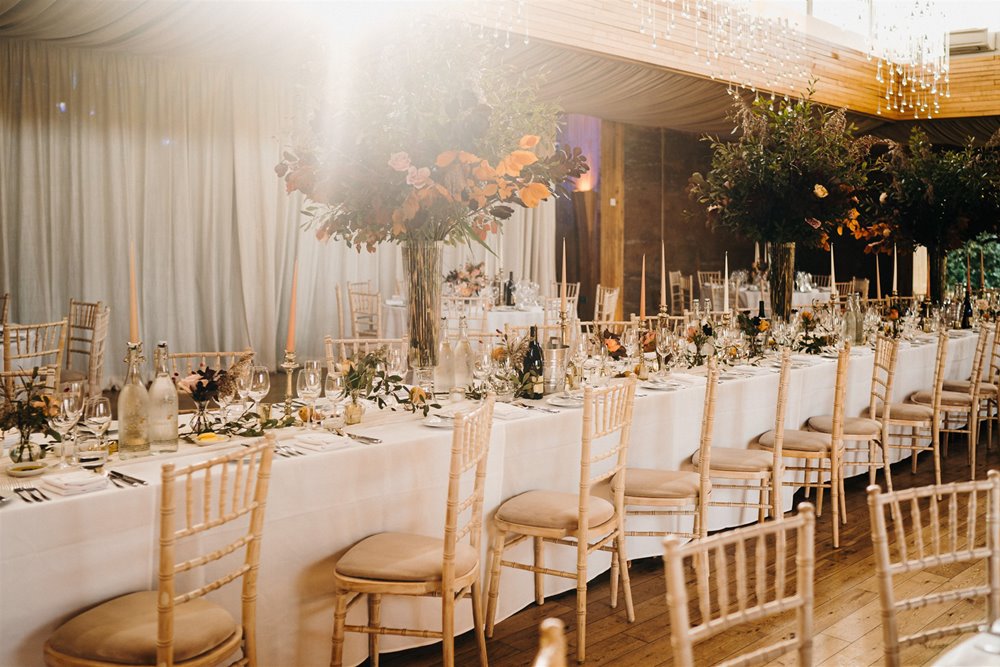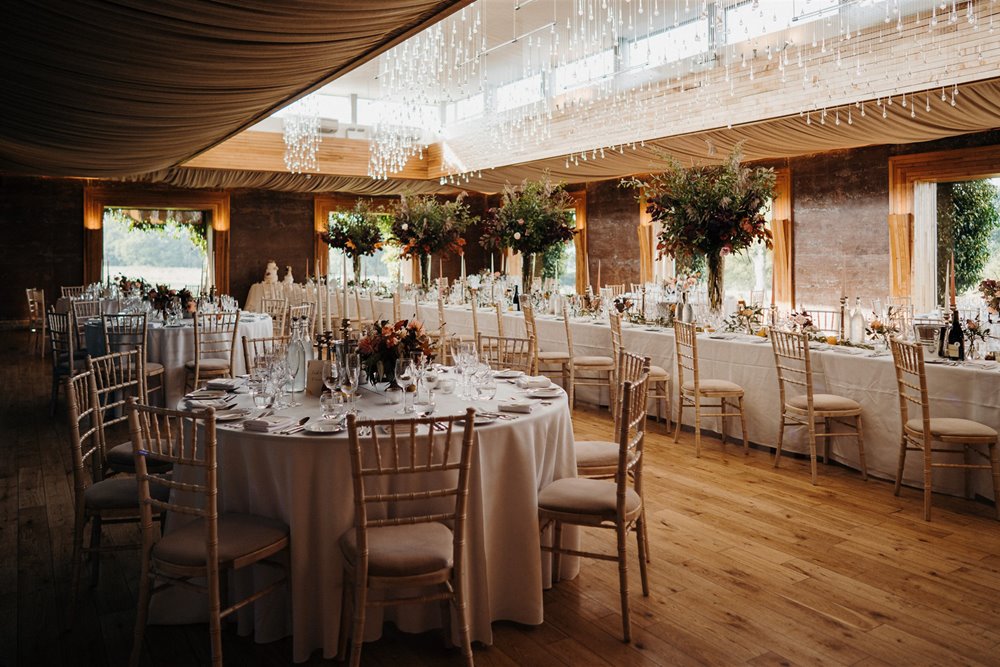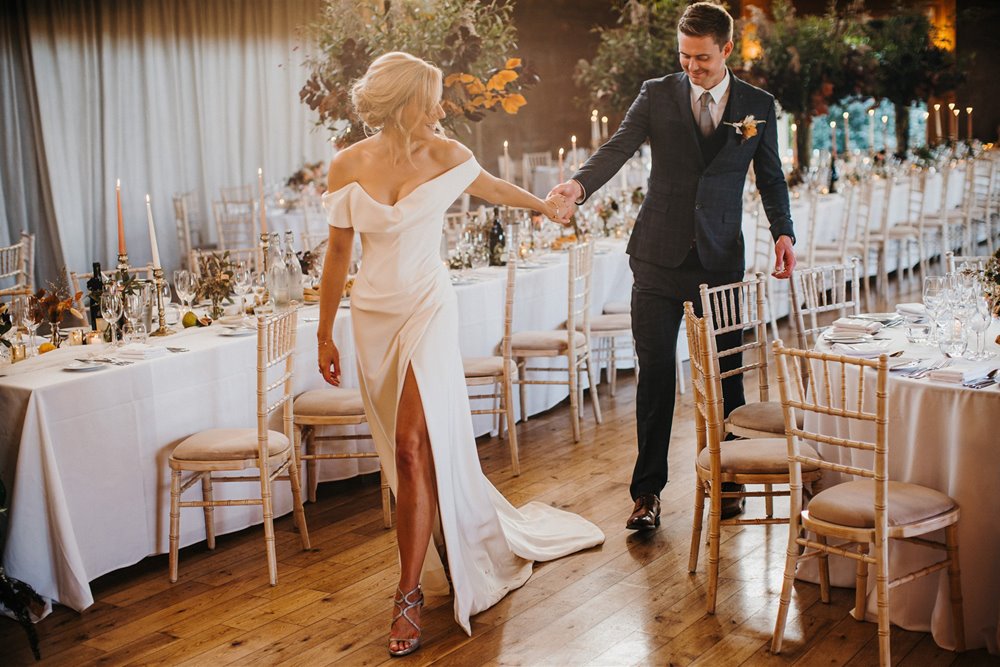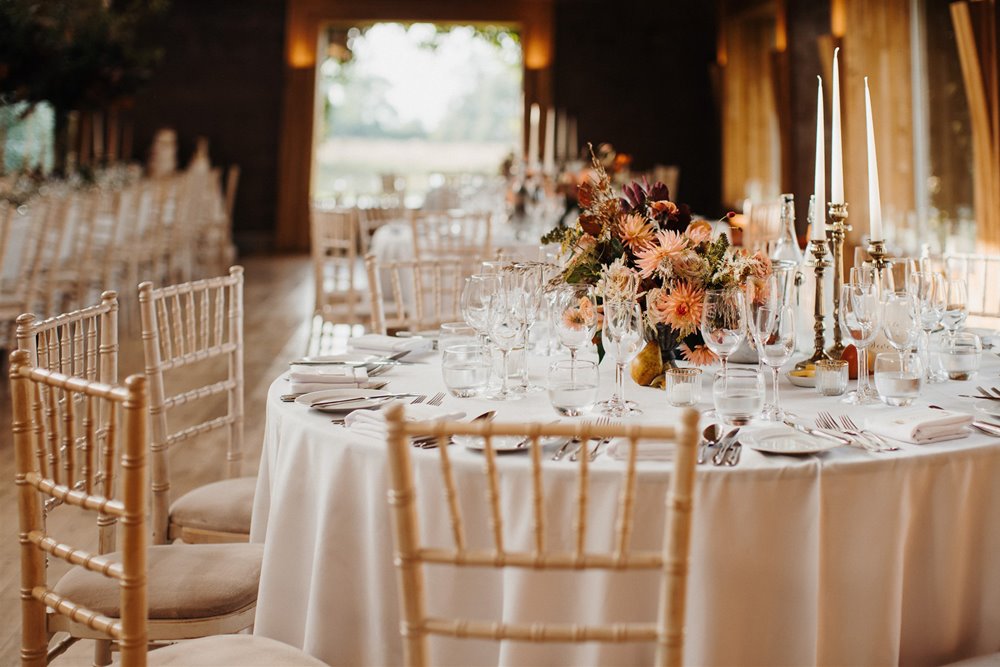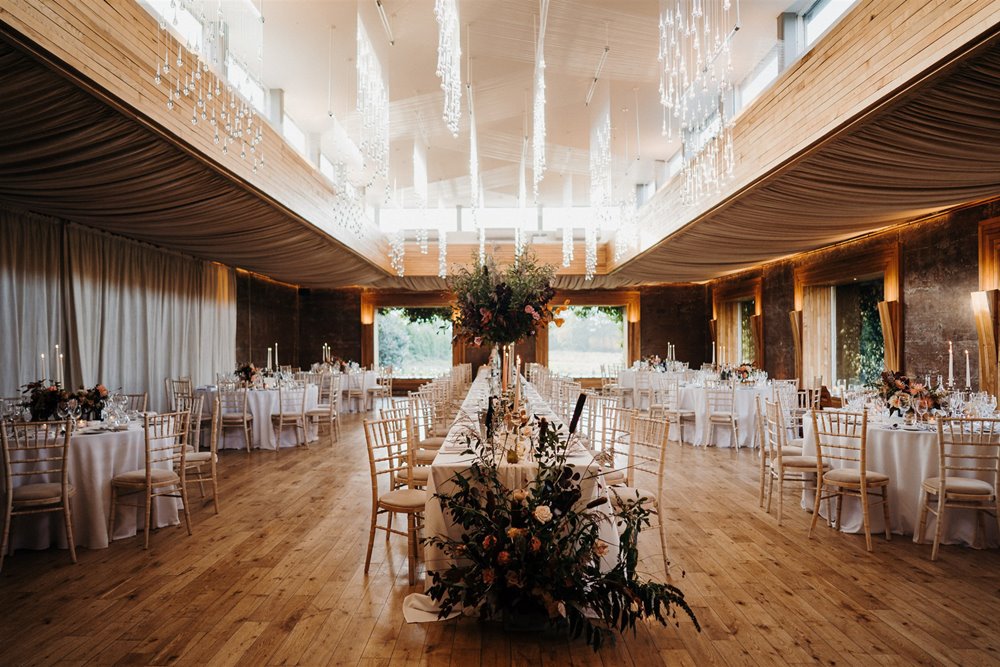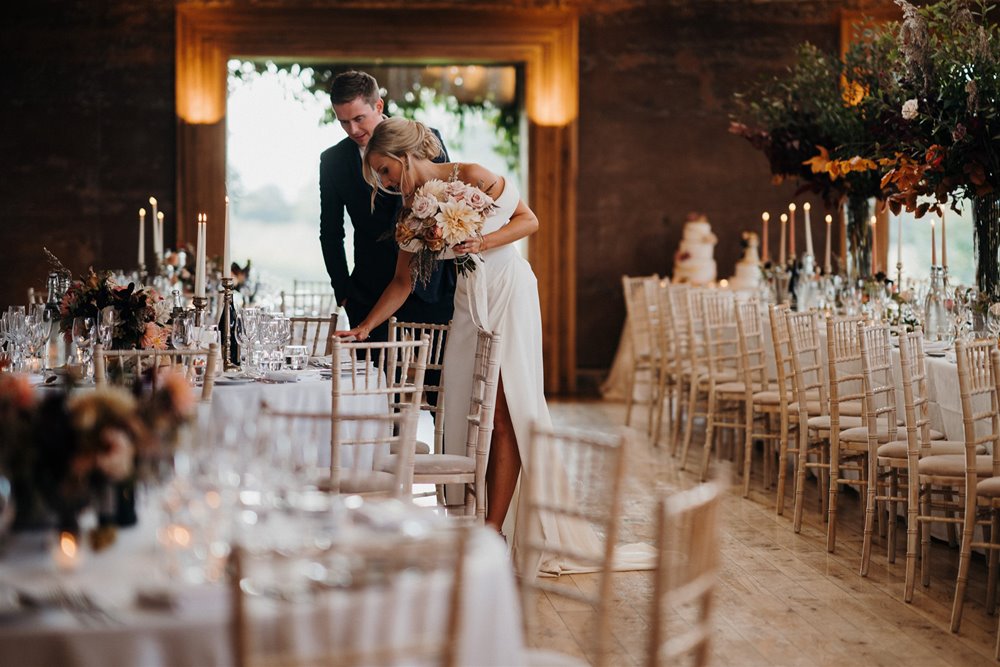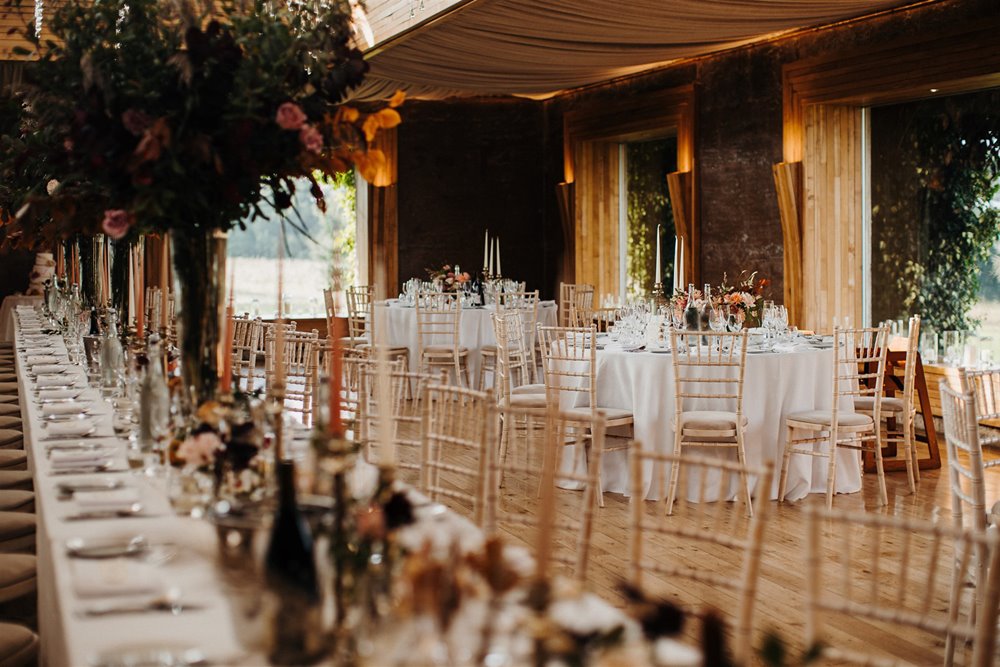 What were your wedding highlights?
Everyone doing the Macarena on the stage in the Gilly Flower at midnight...
Brian's speech was very romantic and touching, whereas Laura's (maid of honour) had everyone laughing throughout. Both were really memorable and a lovely touch. It was also really special to see friends and loved ones we haven't seen in such a long time come together to celebrate with us- especially after the few years we've all had.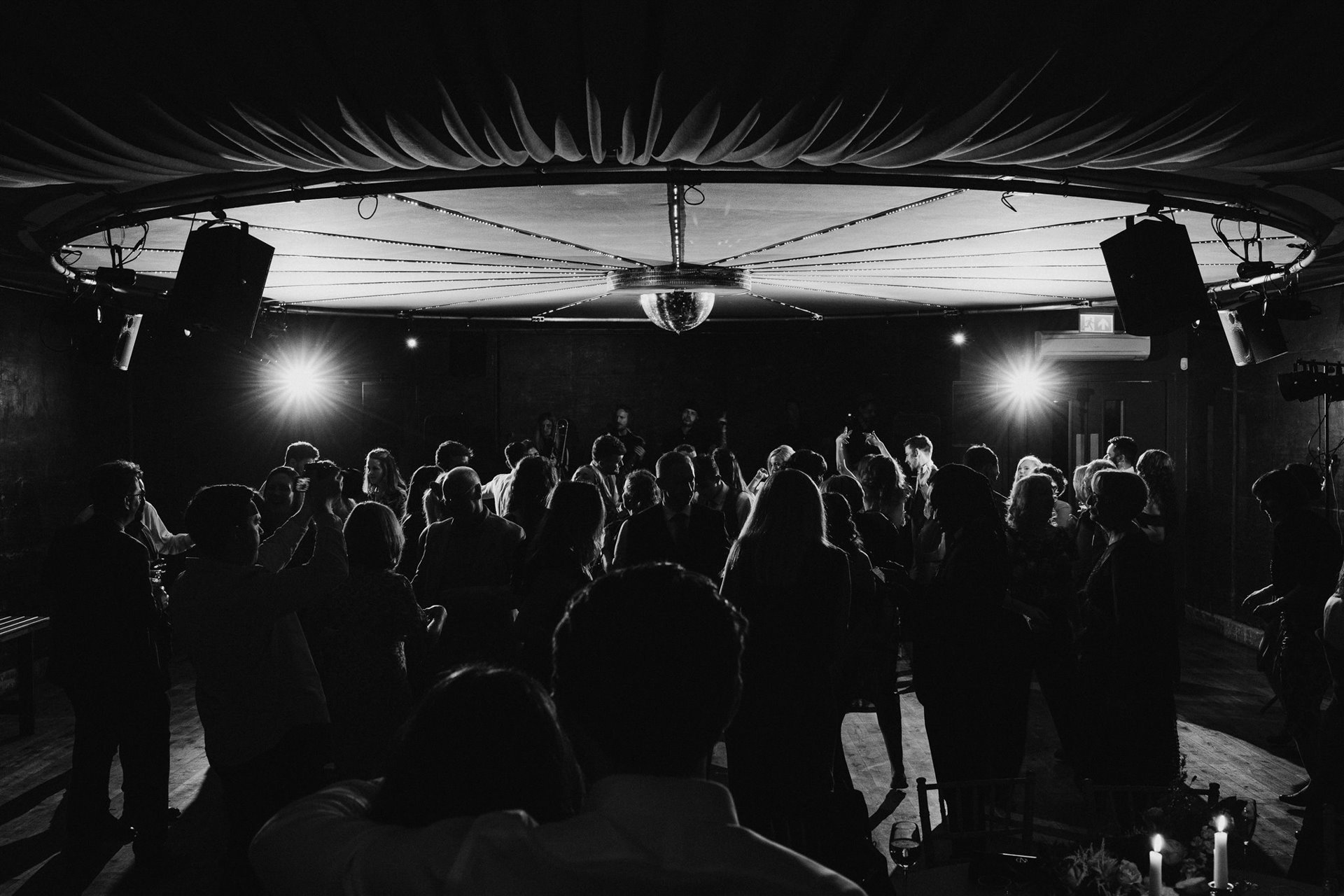 What would you say to couples planning weddings right now?
That no matter how organised you are there will always be things that don't go to plan on the day and you won't even care because you will be on such a high!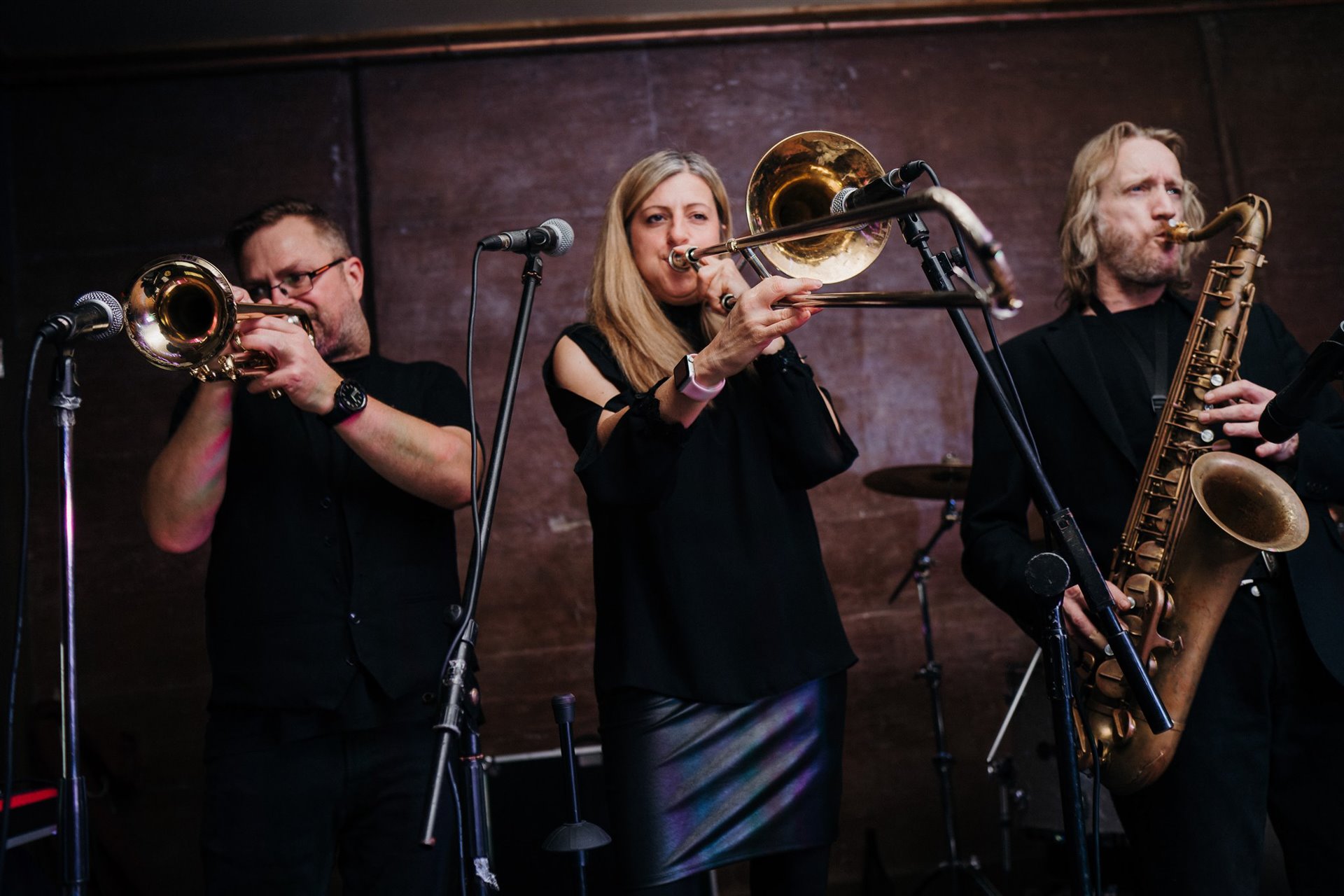 Thank you so much for sharing this with us Olivia and Brian! What a beautiful day.
If you'd like more autumnal wedding inspiration, check out the related articles below.
Lots of love,
Team E
xx
Related reading