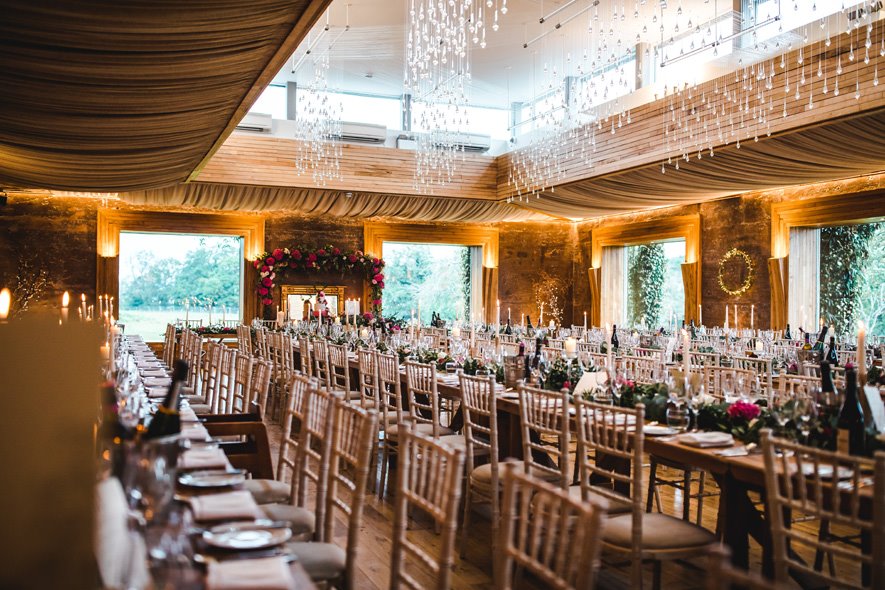 Romantic Real Wedding with a Projection Finale
Sarah and Sam got married on 13th October last year in a pink haze of romantic roses and a spectacular finale light show projection on the side of the house! Sit back and soak up some serious real wedding (and proposal) inspiration. Take it away Sarah...
The Proposal
I had just passed my Oncology exams (I'm a doctor) and it was also a few weeks after my birthday. Sam had asked me to keep the Saturday free, as he was 'taking me out for lunch'. 
That morning, he told me I needed an overnight bag, and we arrived at Paddington train station. He kept the destination a secret, and a train and short taxi drive later, we arrived at Alexander House. We checked in to the most amazing suite, where a beautiful bouquet of blue flowers (our thing), and some champagne were waiting. We had a lovely day at the spa, and when we got back to the room, Sam had prepared a photo book with snaps from our 5 years together. The last photo was a picture of my ring in it's box, and when I turned around, Sam was down on one knee…..
How did you find Elmore Court? 
I told my Mum that we just wanted to enjoy being engaged for a while, and didn't want to do any planning. Naturally she completely ignored me, and sent me a link to a venue. One click and the Elmore webpage opened, and we were obsessed. We called for availability, reserved the last Saturday available in 2018, and arranged to visit the venue. We signed on the dotted line there and then, and didn't bother looking at anywhere else!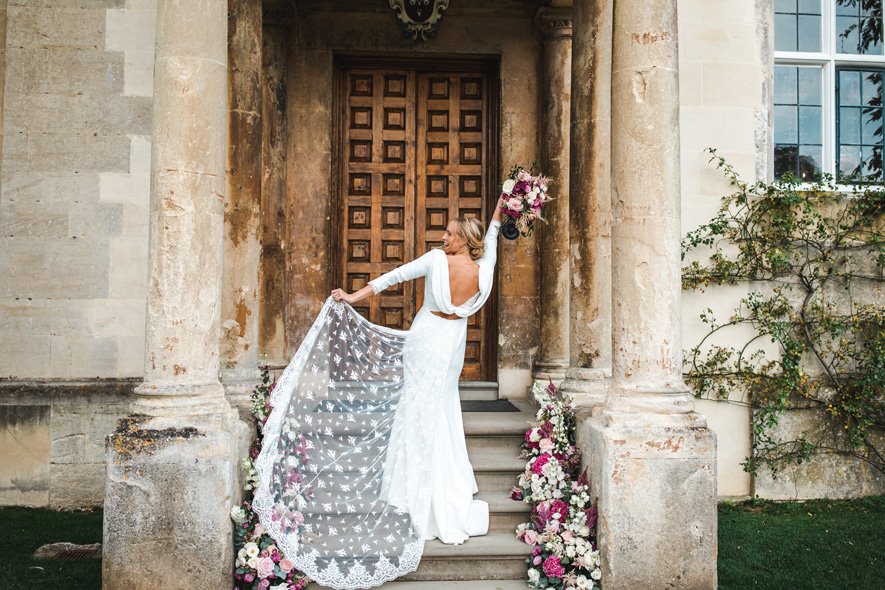 How was wedding planning?
The wedding planning was a complete dream with the help of Team E. Katrina was our main squeeze, and Louise helped a lot with the food side of things. We felt so relaxed as soon as we met Katrina and she talked us through the day - she was obviously a total pro and used to dealing with Brides!
The Elmore website has lots of useful info regarding suppliers - we basically googled florists in the area and also the ones suggested on EC website, looked at the Instagram pages, and decided which fit our vision for the wedding best. Maria and Lauren of Sorori design were incredible to work with, and brought our ideas to life. Our wedding breakfast was courtesy of the EC kitchen (and DELICIOUS), and we went for wood fired pizza (pizza monkey) and doughnuts (pippin doughnuts) for the evening food which went down a treat. They both did gluten free options too. 
Hair and make-up were by two different people - initially we booked Harriet Cook, who is recommended by Elmore. She actually became pregnant and was on maternity leave over our wedding, but directed us to the fabulous Julian who did our make up on the day. I found Michael Gray, who did our hair, via Instagram and fell in love with his relaxed boho styles.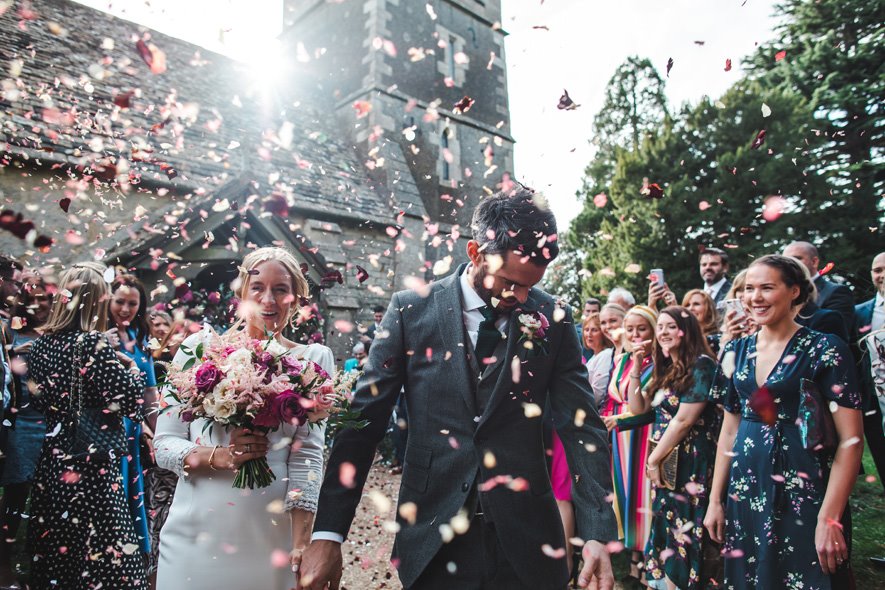 Did you stick to your budget?
We went slightly over budget. I mean - does anybody actually stick to it 100%?! The intentions were there, and we tried really hard, but little things popped up along the way. 
I would say the majority went on entertainment and food / booze. You can't beat having a well fed and watered wedding guest!
As travelling to weddings etc can be so expensive, we didn't want the actual day to cost our guest much. EC make it really easy to bring the drinks-related costs down - we provided our own wine / beer / champagne for the reception, and also did a gin bar.
We then had a bar tab for after the wedding reception. Plenty of canapés during the day, and evening food after the wedding breakfast meant nobody went hungry. The entertainment is detailed below, but included a saxophone player, a Motown band, and a personalised light show. 
It was important for us to spend time with our closest friends and family prior to the wedding also, as we expected the day to go by quickly, and therefore we hosted a pre-wedding lunch at The Painswick the day before. 
We saved money in other areas - my Auntie kindly made our amazing wedding cake as our wedding present, and my Granny's sister did our church flowers.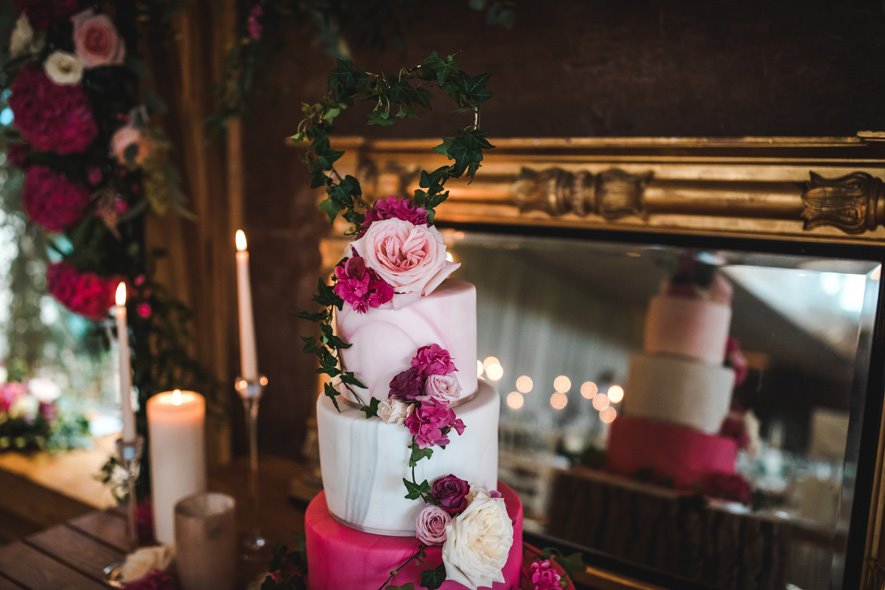 How did you find your photographer?
Again, we looked at the recommended photographers on Elmore's website, and then had a little scroll through their websites / Instagram pages and made some enquiries. Eve Dunlop has a unique, documentary style of photography, and some of the shots captured from the weddings of other's were unbelievable. Eve was able to provide a second photographer, and committed to staying until after the light show (about 10.30pm!) - she really did offer the full package. On the day she was really calming and unassuming, blending in with the guests so well, and captured the raw emotion of our wedding, and the true personalities of our family and friends. I'm not an emotional person, but it's safe to say I shed a tear when I saw the wedding photos!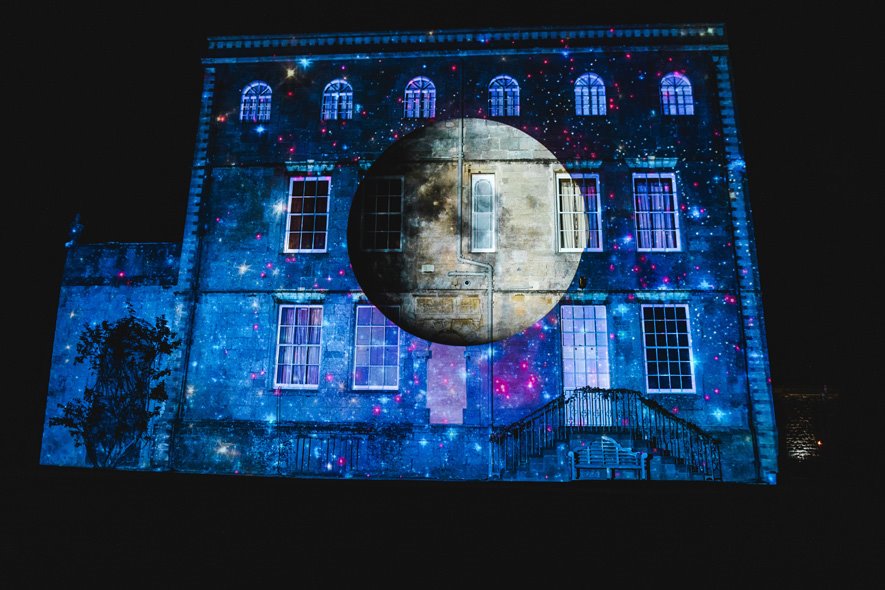 What about your gorgeous dress!
My wedding dress was by a designer called Rime Arodaky, and I bought it from The Mews bridal in Notting Hill. It took me a while to find it - I went to countless bridal shops, and left feeling disheartened each time. I didn't want anything too 'bridal'. The sparkly bits, heavy satin material, veils, lace with sheer bits, none of it was for me. I've seen countless friends get married in dresses that fit the above bill and look insane, but it just isn't me. 
I started looking on Instagram (I developed square eyes during wedding planning) and came across this designer. Her dresses are so unique, pretty, and understated. I never thought I'd go for a dress with sleeves, but when I tried on this one, I knew it was the dress I'd get married in. It had a detachable 'veil' at the back, removing the need for a normal veil which I really liked. 
As the dress had sleeves, I was worried I'd be too hot, and actually got a second dress for the after dinner party. This was a slinky, satin number by Galvan. Very luckily, my bridesmaid works for Farfetch, and got me a nice little discount on my evening dress and wedding shoes!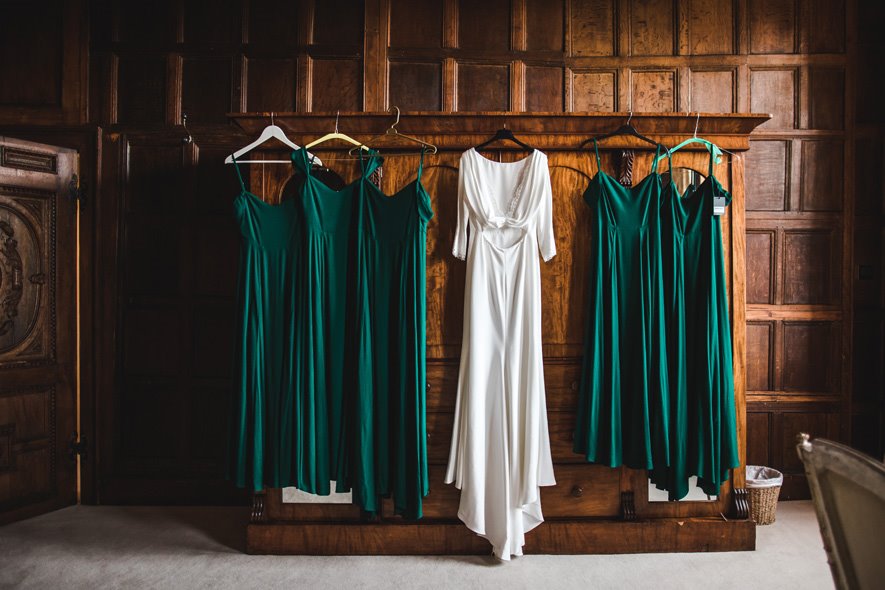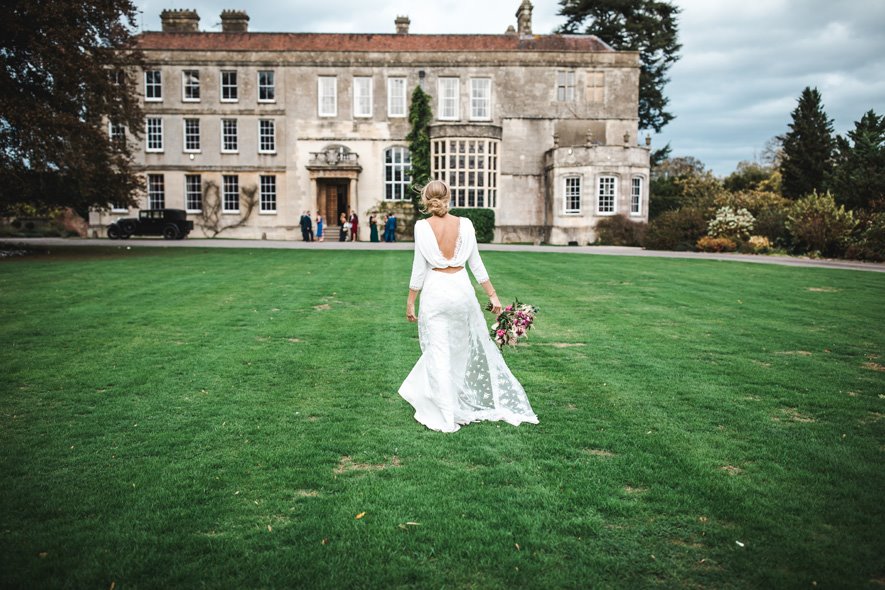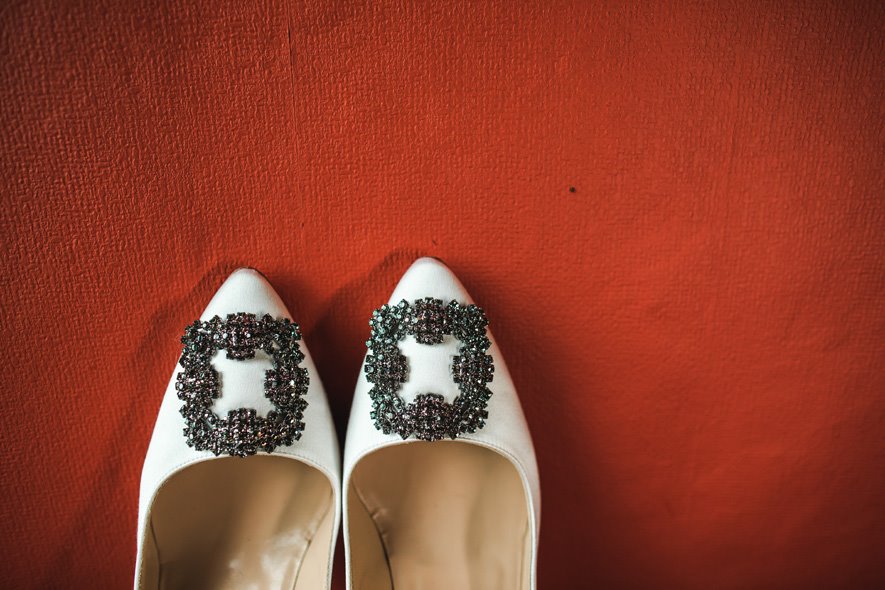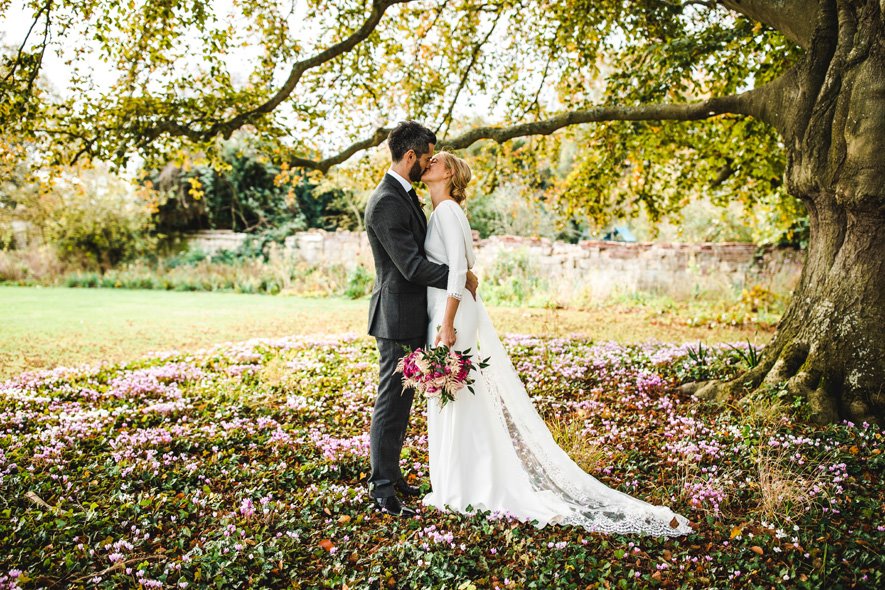 What did the groom & groomsmen wear?
Sam and his ushers wore grey suits, and Sam wore a Green tie. I say the ushers….most of the Ushers, as one of them realised at 10am on the wedding day after a heavy night of drinking the day before that he had forgotten his trousers. His wife spent three hours going round the retail park 'Next's' trying to find a suitable match. He isn't in any of the wedding pictures because he was so late, and didn't have time to pick up his flower before the wedding, so he was rocking his own style!
We got the same suits for the dads, but they went without the waistcoats that the rest of the guys had.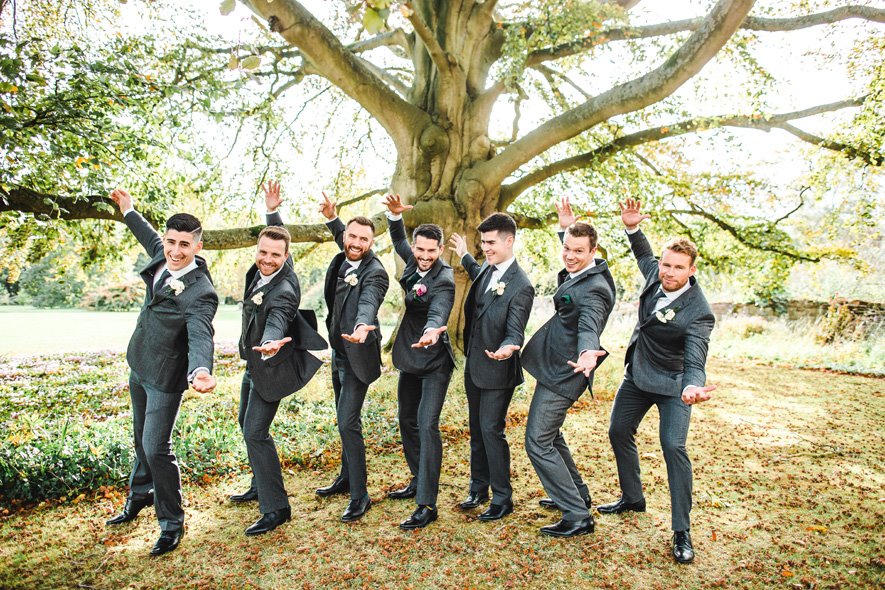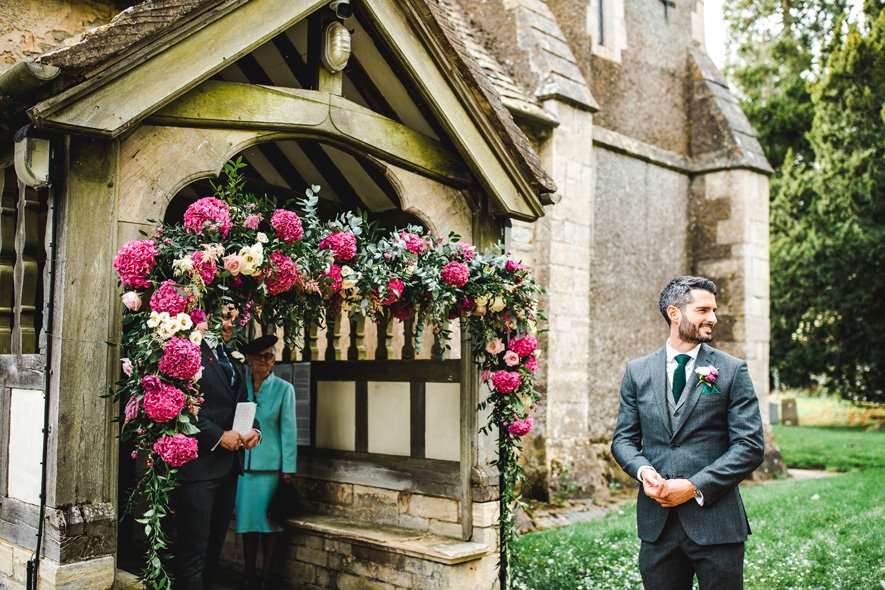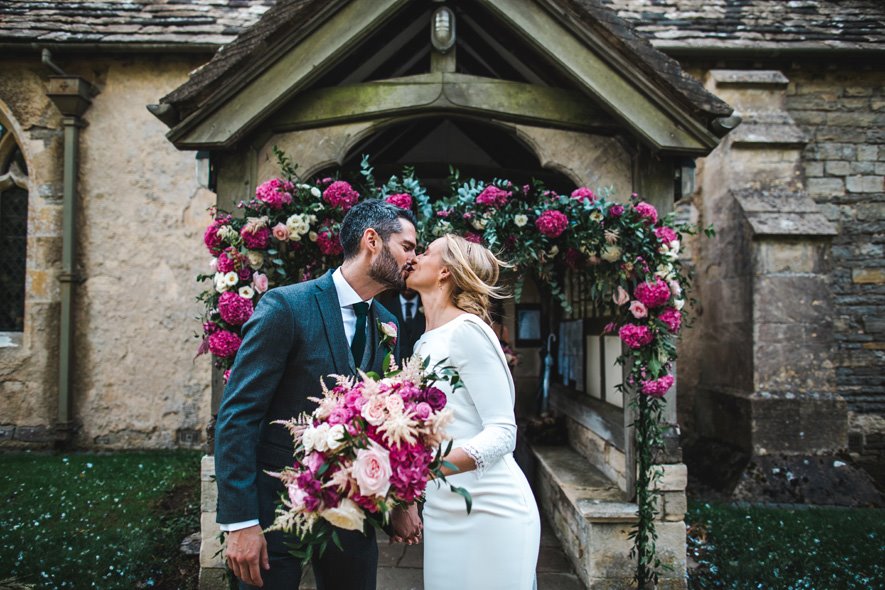 What did the bridesmaids wear?
The bridesmaids wore emerald green dresses from Reformation, which is my all time favourite shop. It is an American-based brand, so I sent one of my bridesmaids who lived in New York at the time off on a shopping expedition, where she sent me a variety of pictures of her in different dresses in the changing rooms! She basically picked the design, and the colour was perfect for an autumn wedding. None of her family got any Christmas presents that year, as her suitcase was stuffed full of bridesmaids dresses so I could avoid the import taxes…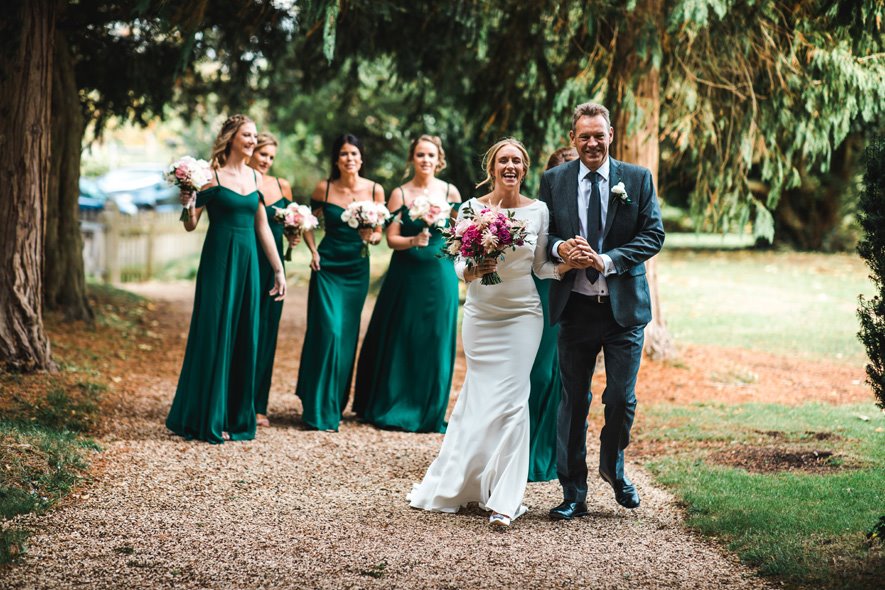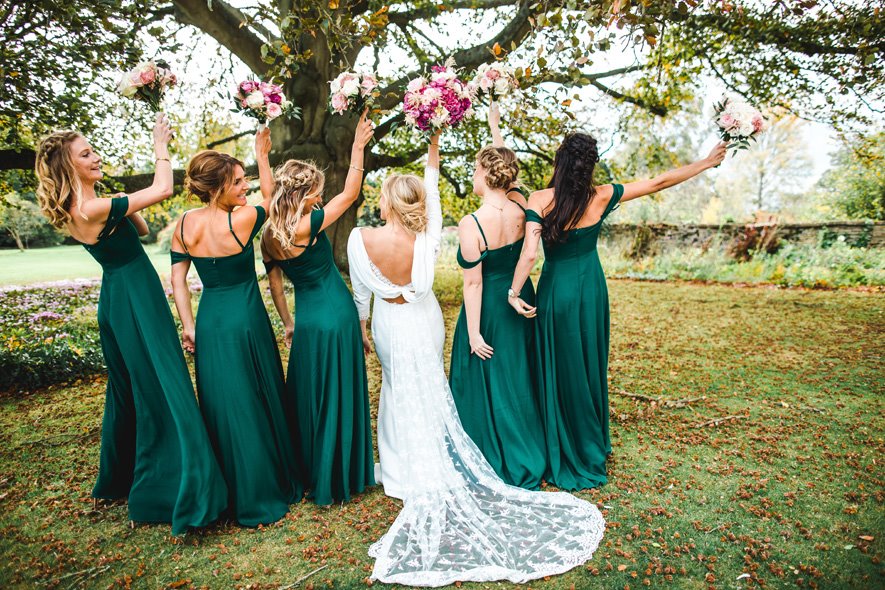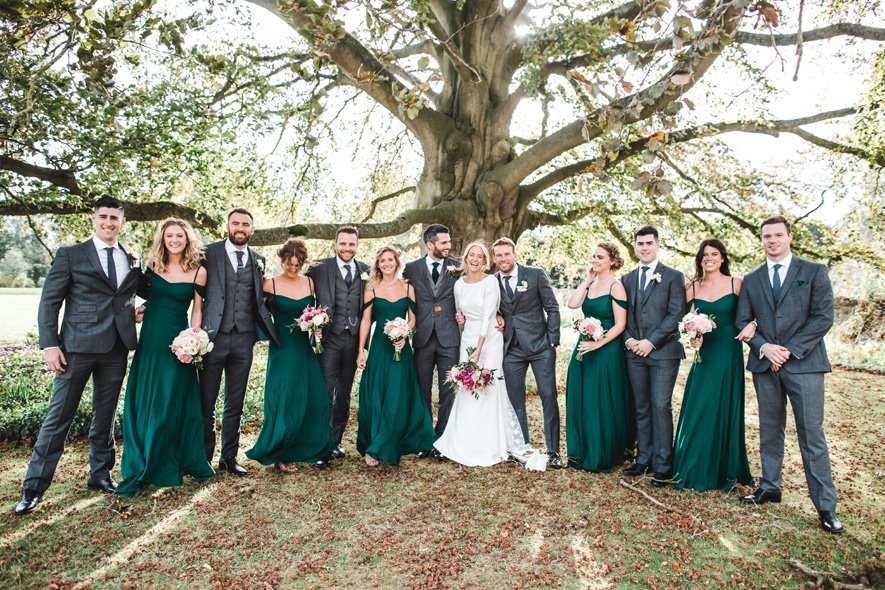 How did you decide on your wedding style?
We really wanted a relaxed, yet chic and stylish vibe. We didn't want a 'traditional' feel, but similarly boho isn't really our style either! In terms of colours - we just picked ones that we liked... Sam was pretty indifferent, and just knew he didn't want to wear black. I loved the bridesmaid dress colour, and just made it work around that. 
Originally we were going to have greenery and white flowers, but as the evenings were growing darker, we decided that if the sun wasn't shining it could all look a bit dull. The pink accents were born!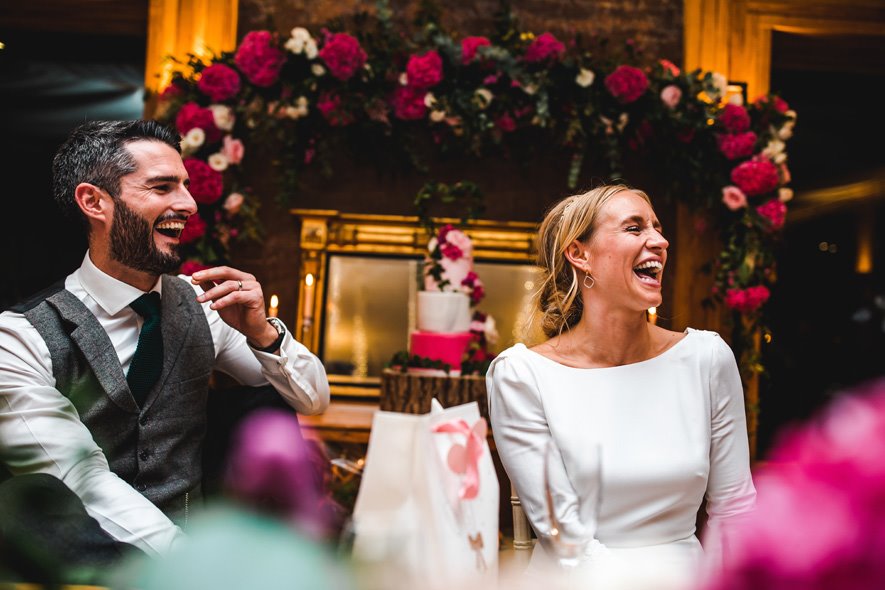 Tell us more about your gorgeous flowers & styling…
I wanted big, unstructured blooms, with plenty of greenery and pops of colour. Maria included hydrangeas, dahlias, and roses with eucalyptus and various other greenery that I have now forgotten the name of in our flowers! I changed my mind about the colours of the flowers about 5,000,000 times, how she didn't lose her patience with me I have no idea, but she didn't and the end result was amazing!
We had an arch at the entrance to the church, which was then moved to behind the cake table, several arrangements around the house, and unstructured arrangements up the main stairs to the EC front door. 
The Gillyflower was arranged into long tables, and we had running arrangements of greenery and flowers, along with plenty of candles, down the middle. Gold accents completed the look.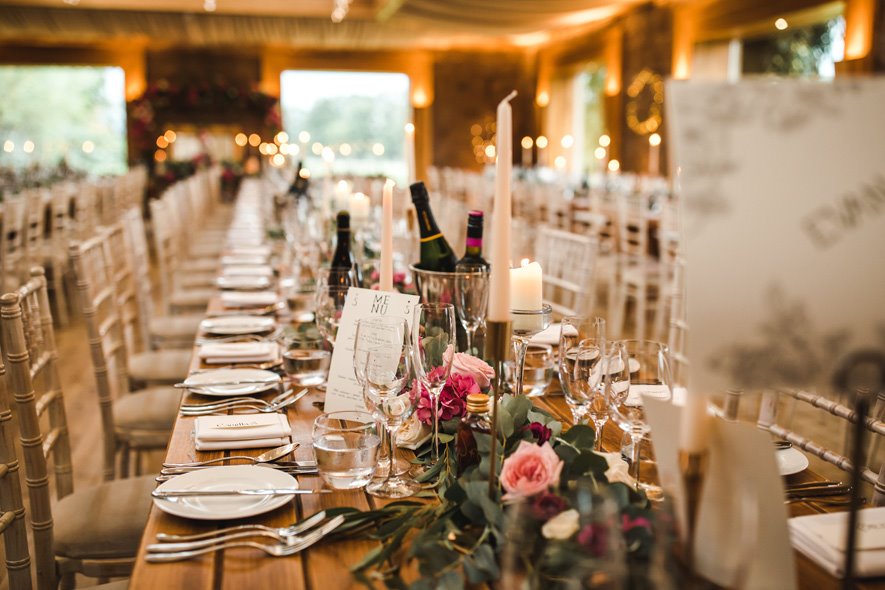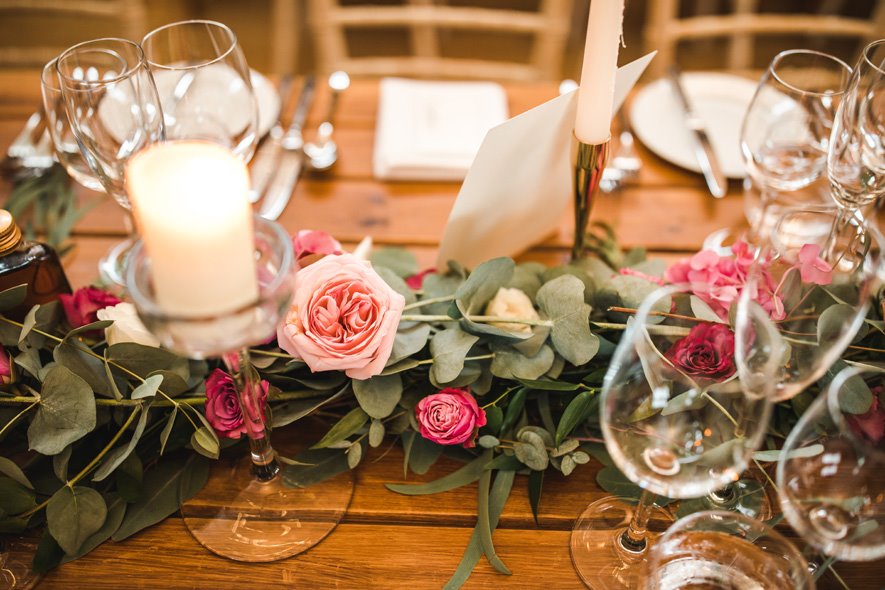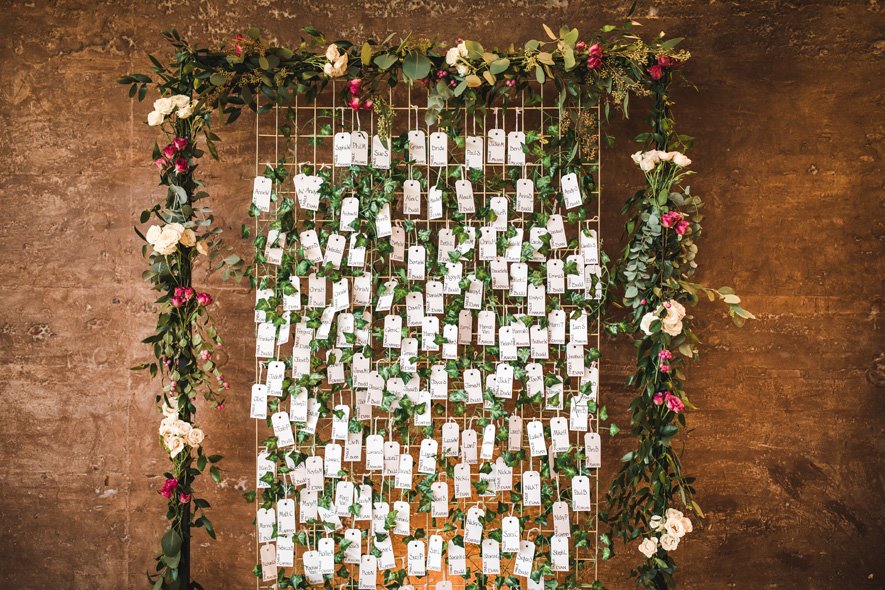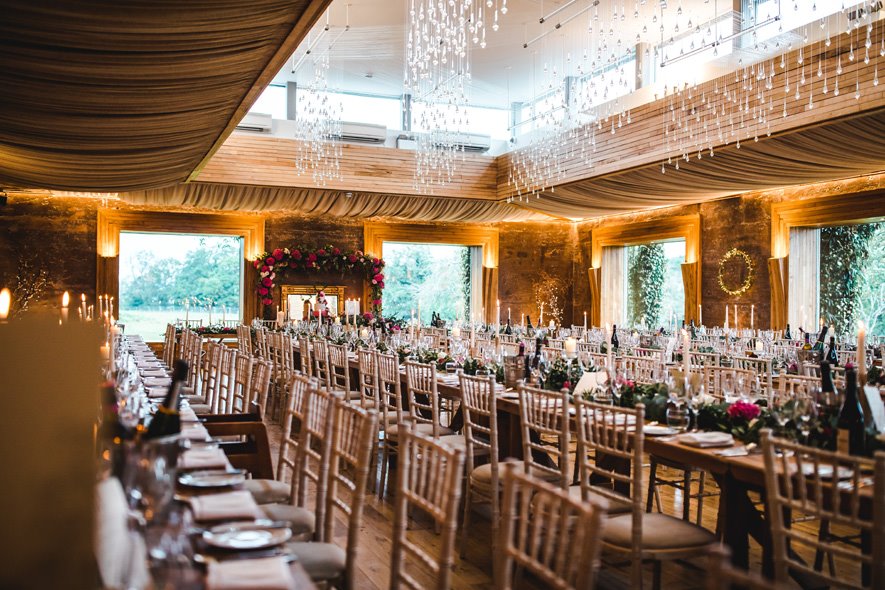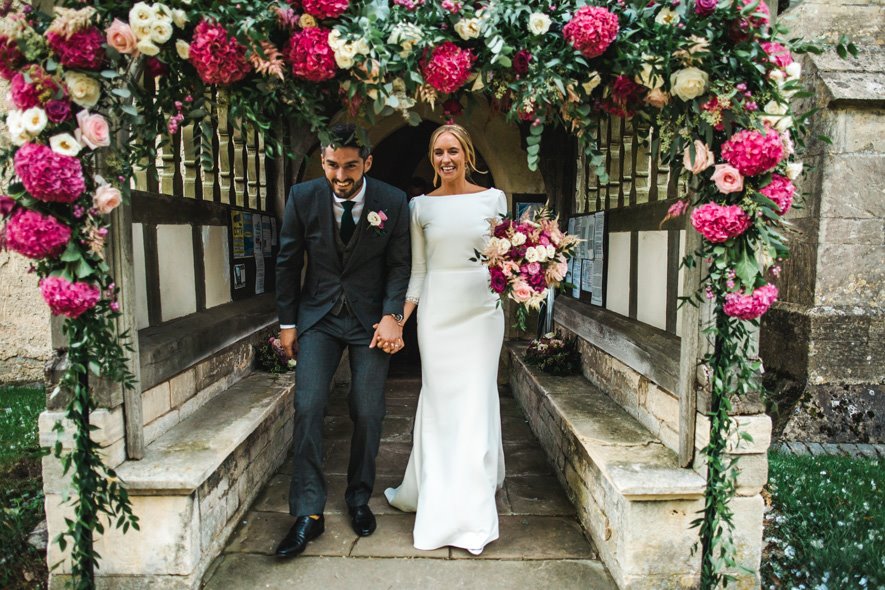 What did you eat?
We had various delicious canapes - the star of which was the scotch egg I think! For starters, we had the buffalo mozzarella and heritage tomato salad, which was refreshing and light. 
For mains, there was the option of confit duck with dauphinoise potatoes, carrots and green beans, or a mushroom and spinach pithivier as the veggie option. 
Pudding was a chocolate and pistachio tart, with orange creme fraiche. Yes - it was as delicious as it sounds!! 
Our guests commented that the food was some of the best they'd had at a wedding, and it was beautifully presented. The menu tasting was one of our favourite wedmin activities, and Sam (aka the carnivore) surprised everyone by choosing the veggie dish - it was that good!
Evening food was pizza by Pizza Monkey, and doughnuts from Pippin Doughnuts. Again, everyone raved about the food, and we have several pictures of people with pizza all over their faces going back for third helpings. 
What kind of wedding cake? Who made it? The wedding cake was made by my amazing Auntie as our wedding gift. We had a lemon, a chocolate, and a vanilla layer. All of them were delicious!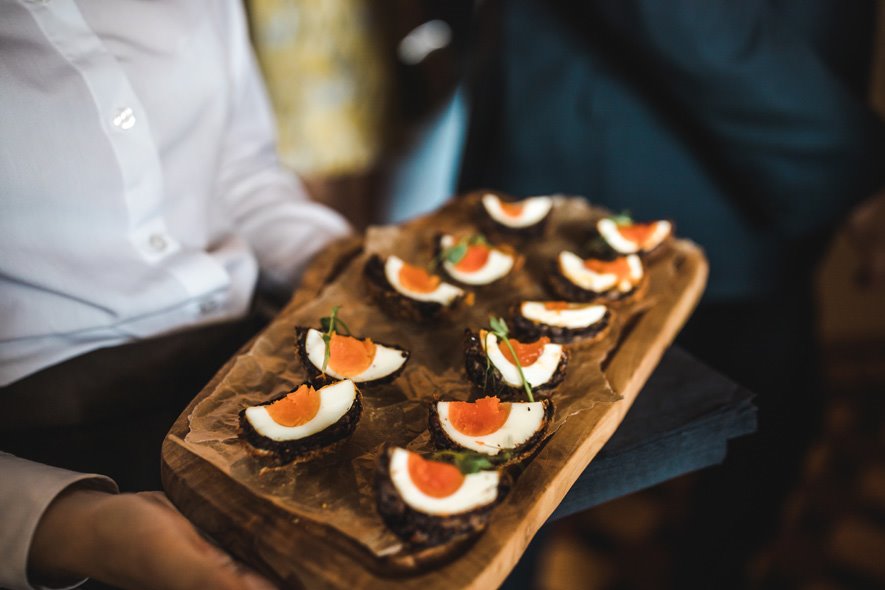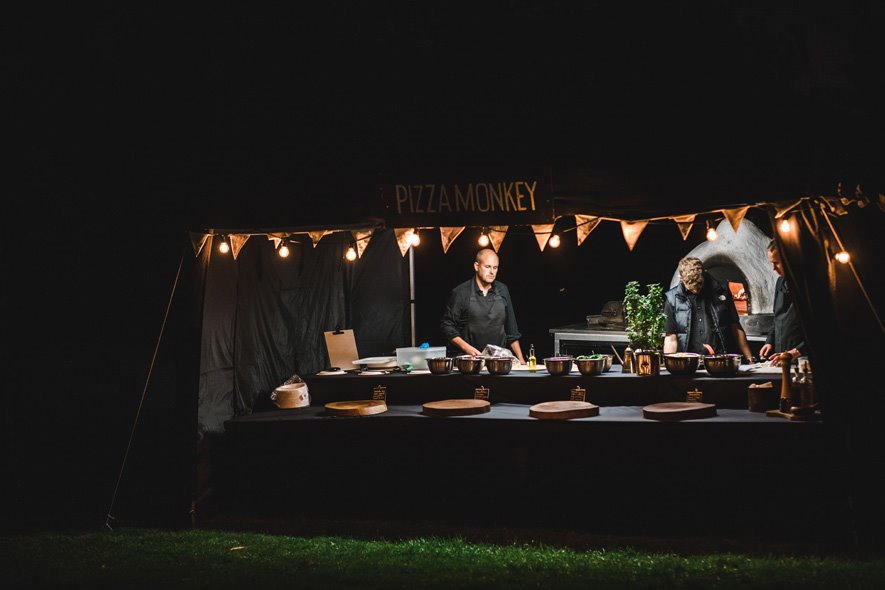 What kind of entertainment did you have?
We had a saxaphone player during our drinks reception in the Main Hall. He was so great, and the acoustics were perfect! Our Best Man and Maid of Honour did the playlist for during the wedding breakfast, and our evening band was a Motown band called Motown Gold. It's safe to say the dance floor was full all night.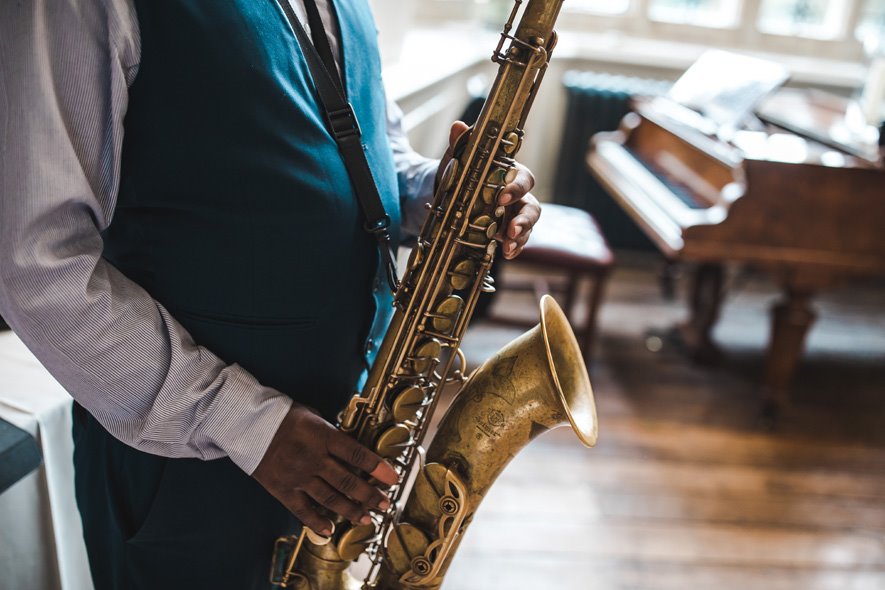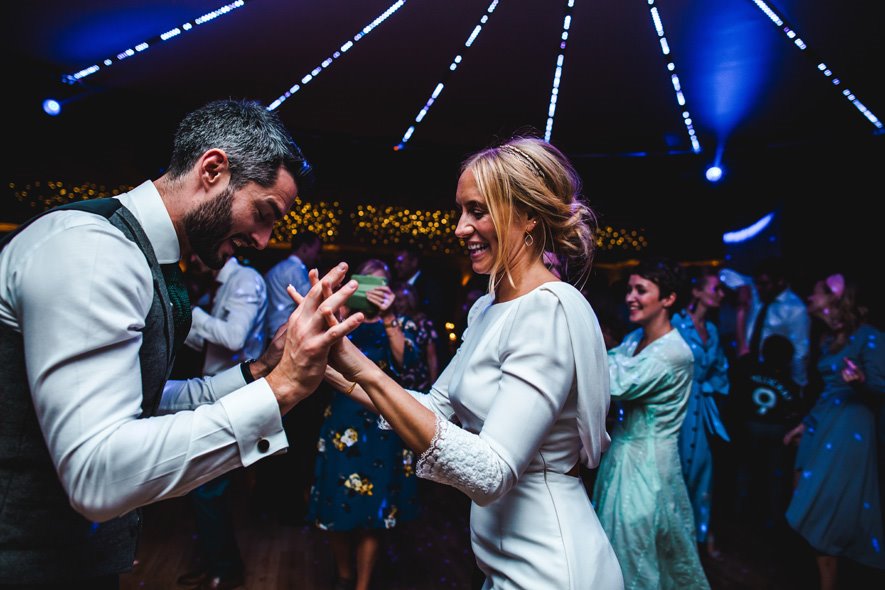 Tell us about that AMAZING light show of yours…
Instead of fireworks, we went for a light show projected onto the side of EC, which was designed and produced by Rupert Newman. He made it so personal to us, and we had lots of comments on how unique it was! Everyone was gathered on the lawn to watch, dancing to our favourite songs on the grass, and it was a seriously magical moment! It made for some pretty cool wedding photos too.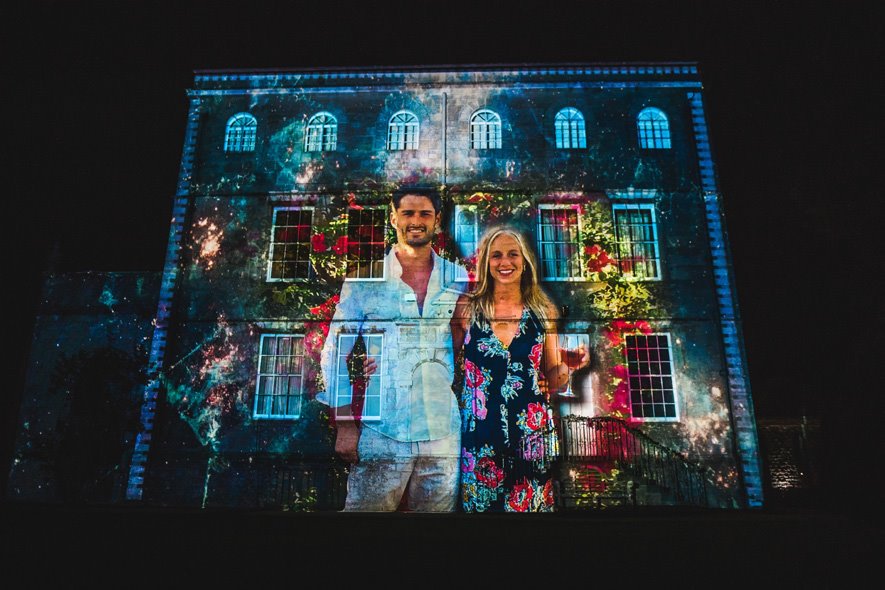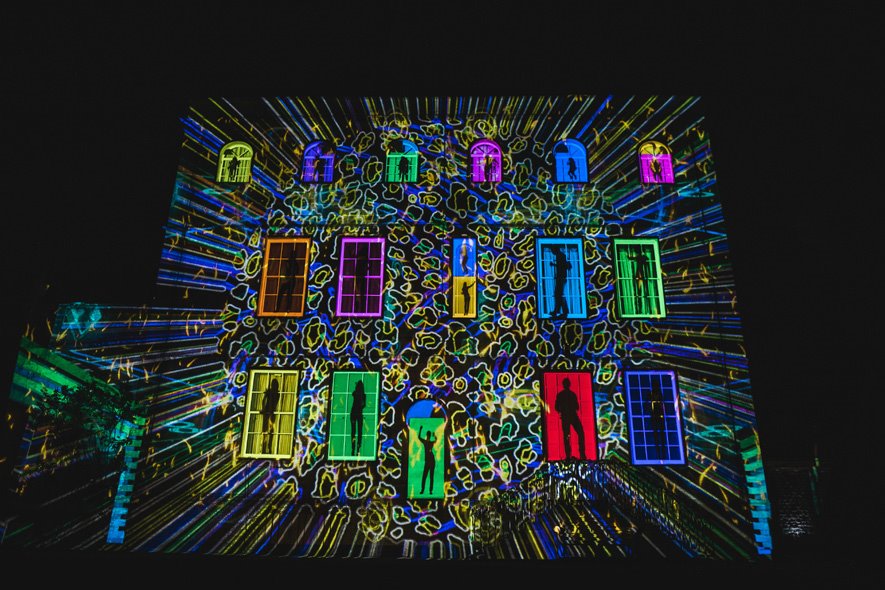 What did you DIY?
We had so many personal touches, considering it wasn't a DIY wedding! During the day, we did a gin bar with 5 different gins from areas with meaning to Sam and I. For example, we had a Gin from Birmingham (where we both grew up), Leeds (where we both went to uni), Finsbury Park (where we live in London), Wales and Edinburgh (where our family are from / we were born respectively). Soph and Ben, our best man and chief bridesmaid, made up personal names for each of the gin cocktails.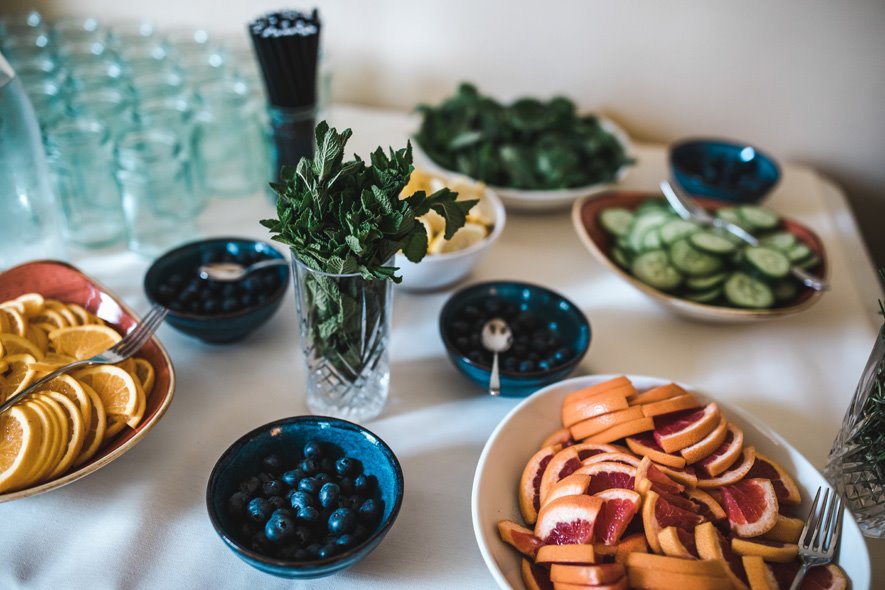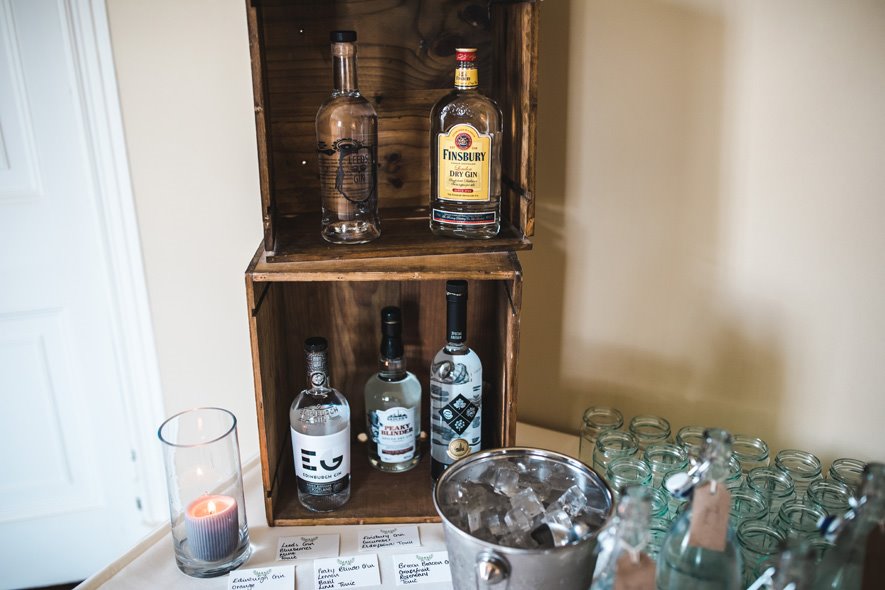 Sam's Mum Jackie made our flower girl's outfit, which was very special. We borrowed our wedding car from a family friend, who drove us on the day, and left two personalised champagne glasses in the back for us. My 'something blue' was a ribbon from my Grandparent's wedding invitation, which I wore as an anklet, and Sam carried his late Grandfather's pocket watch. As previously mentioned, my Auntie made our cake, and my late Granny's sister did our church flowers, which meant a lot to us both. I designed our invitations which were then drawn and produced by the amazing Danny Robbins, which featured symbols representing our first dates - an illustration of a goat (the pub we first went to), a rainbow (the club we met at), and also of Elmore Court. 
We made our own confetti from the roses given to my Mum by my Dad each year for their anniversary which she had kept.
My present to the Bridesmaids was an illustration of them all in their dresses by the talented Sarah Smart, which I then had framed. For Sam's wedding present, I bought him a framed painting of Elmore court, which now hangs in our study and reminds us of the day every time we are in there. My Mum grew the 150 succulents that we gave our guests as wedding favours. I had our star sign constellations painted onto my nails for the day. 
I could go on and on, there are too many to list!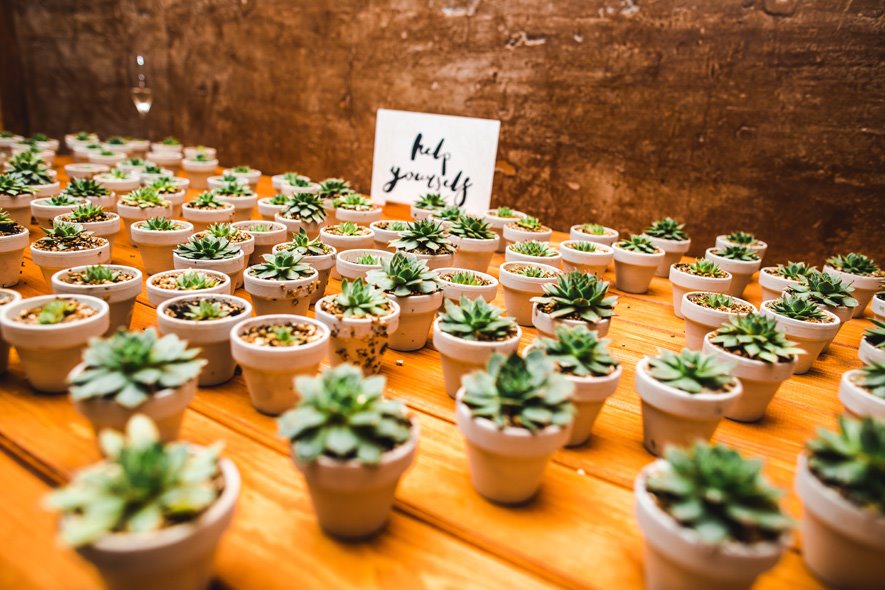 What were your very special moments?
I think both of our special moments included the 10 minute journey in the wedding car, where we had some champagne, and just got to enjoy a bit of peace and quiet with each other after we left the church. Others included the first look at the Gillyflower (I cried), having Sam's cousin as a flower girl and our ring bearer, and a dance with my 88 year old Grandad, who was diagnosed with Acute Myeloid leukemia in December 2017, and was not originally expected to be at the wedding.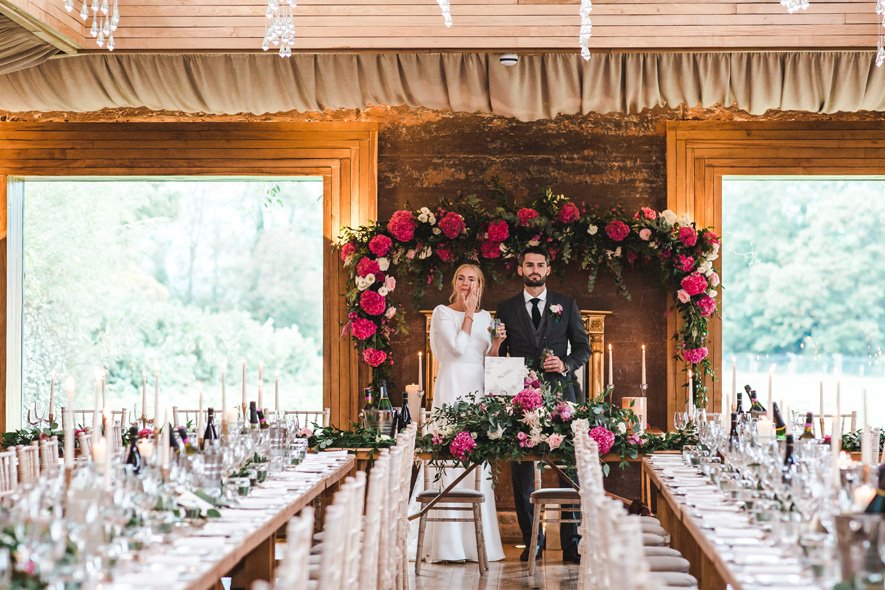 What advice would you give any other couples?
Sam is laughing at the idea of me giving other couples tips - I'm the biggest organisational freak ever and hate it when things go wrong!
What we would both say is this:
Have an idea of your budget and your guest list early.
Don't feel obliged to invite distant relatives or plus one of people that you don't really know - the way we thought about it is: if we found ourselves alone with that person on the dance floor / having a one-on-one conversation with them at our wedding, would we be happy about it? If the answer was no - we didn't invite them.
The venue is such an important part - make sure it has what you need. We wanted a gorgeous house with character, that wasn't stuffy or traditional. We wanted a space to party. We wanted a church close-by, and rooms for our nearest and dearest to stay over.
It is also essential to have a team that you whole-heartedly trust, and Team E really did deliver that.
Try and stick to your budget, but similarly if you absolutely have to have something (the light show for us) then go for it, you only get married once!!
The one thing we regretting not having was a videographer. We went without to save money, but actually so many hilarious moments happened during the course of the day, and it would be amazing to be able to watch those back. 
Relax (hilarious coming from me), roll with the punches, and remember that the little details aren't really noticed by anyone except you!
Spend time together on the day, and change your shoes in the evening - no matter how comfy you think your shoes are, your feet will hurt!
What was your biggest surprise of the day? 
The weather!!! The day before, during our pre-wedding lunch at the Painswick, there was literally horizontal rain, crazy winds, and the start of hurricane something-or-other. It was on our minds that, although we could do most of the wedding indoors as Elmore is so flexible, the light show that we were looking forward to so much was strictly an outdoor activity!
When we were getting ready in the morning, the weather was completely grim. As soon as we stepped out of EC to go to the church, the sun came out and the day was absolutely gorgeous!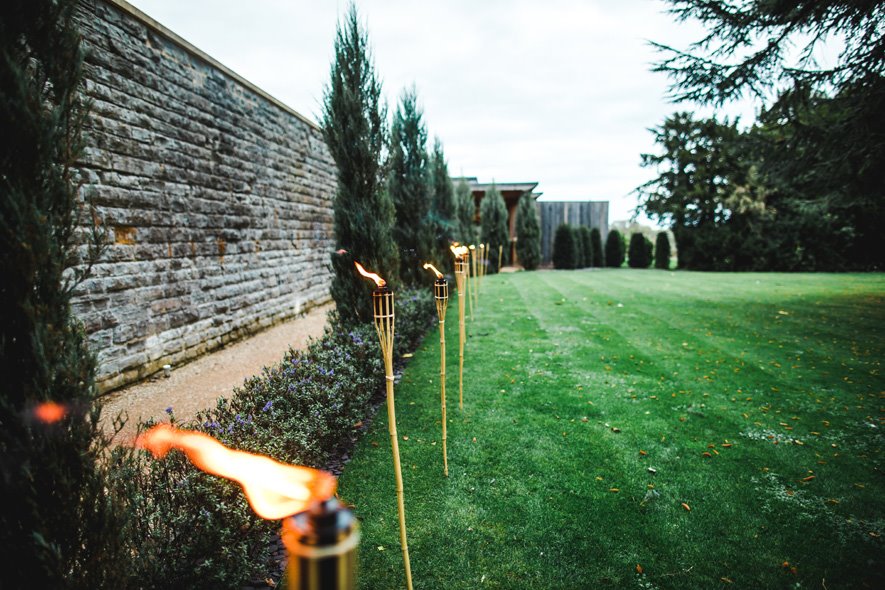 Related reading