It's Got That September Glow!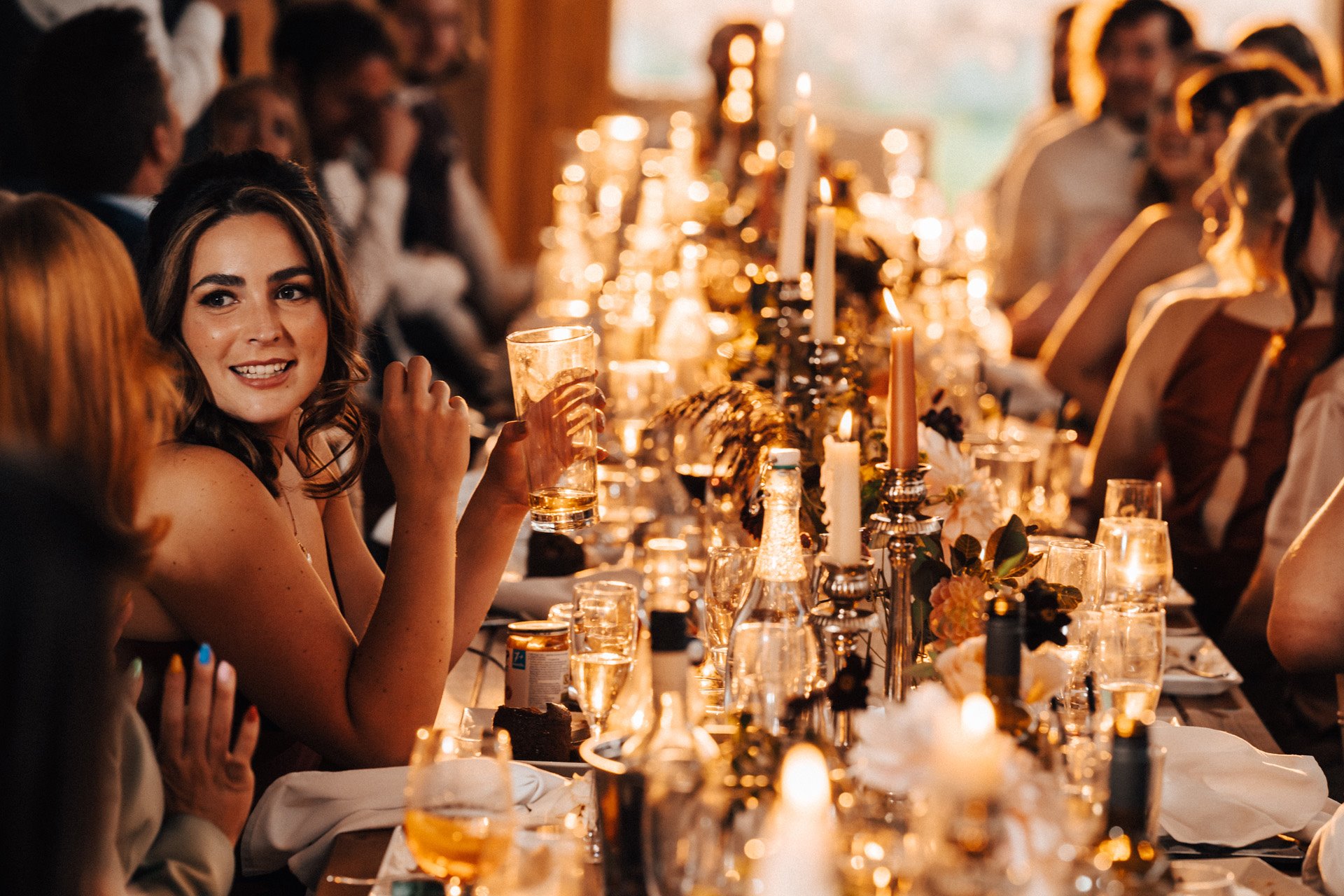 Jasmine's inspiration for her and Ben's stunning September wedding was golden hour, and my look at it glow! With luxe blush decor and beautiful September flowers by Amber Persia, garden games and a magical party atmosphere this is a real wedding to take notes from! Read on for all the details, bridal wisdom and tips on planning a glowing September wedding...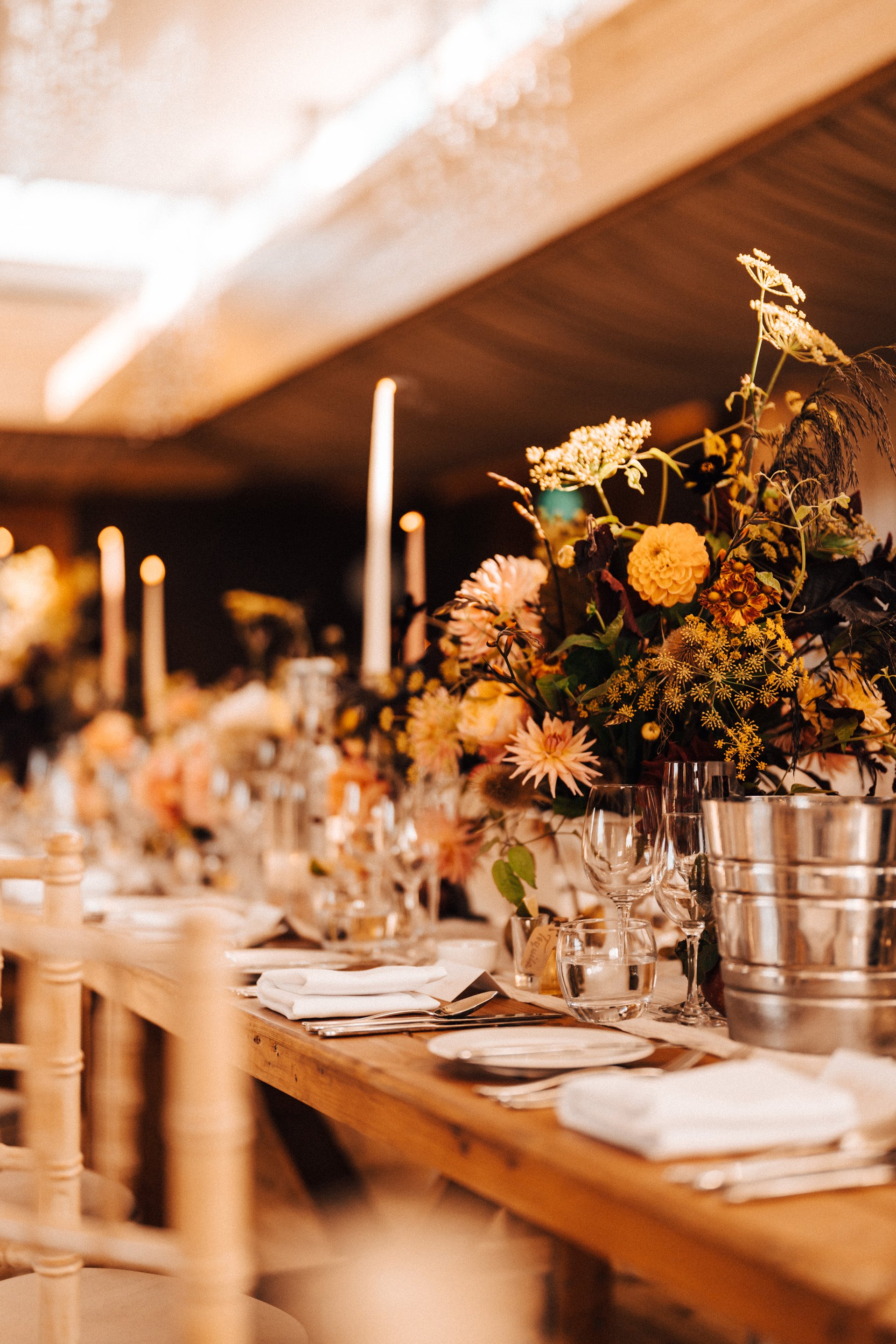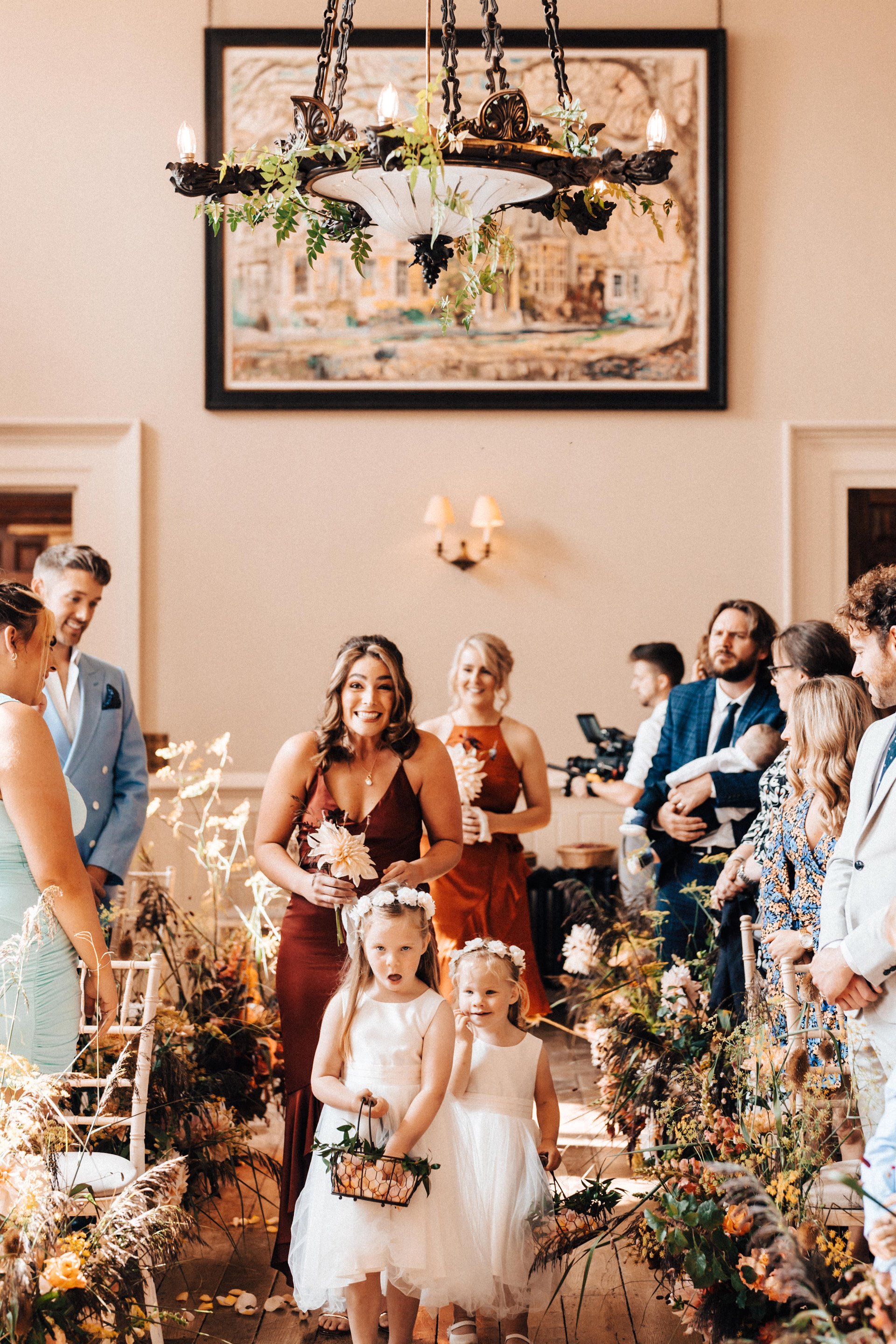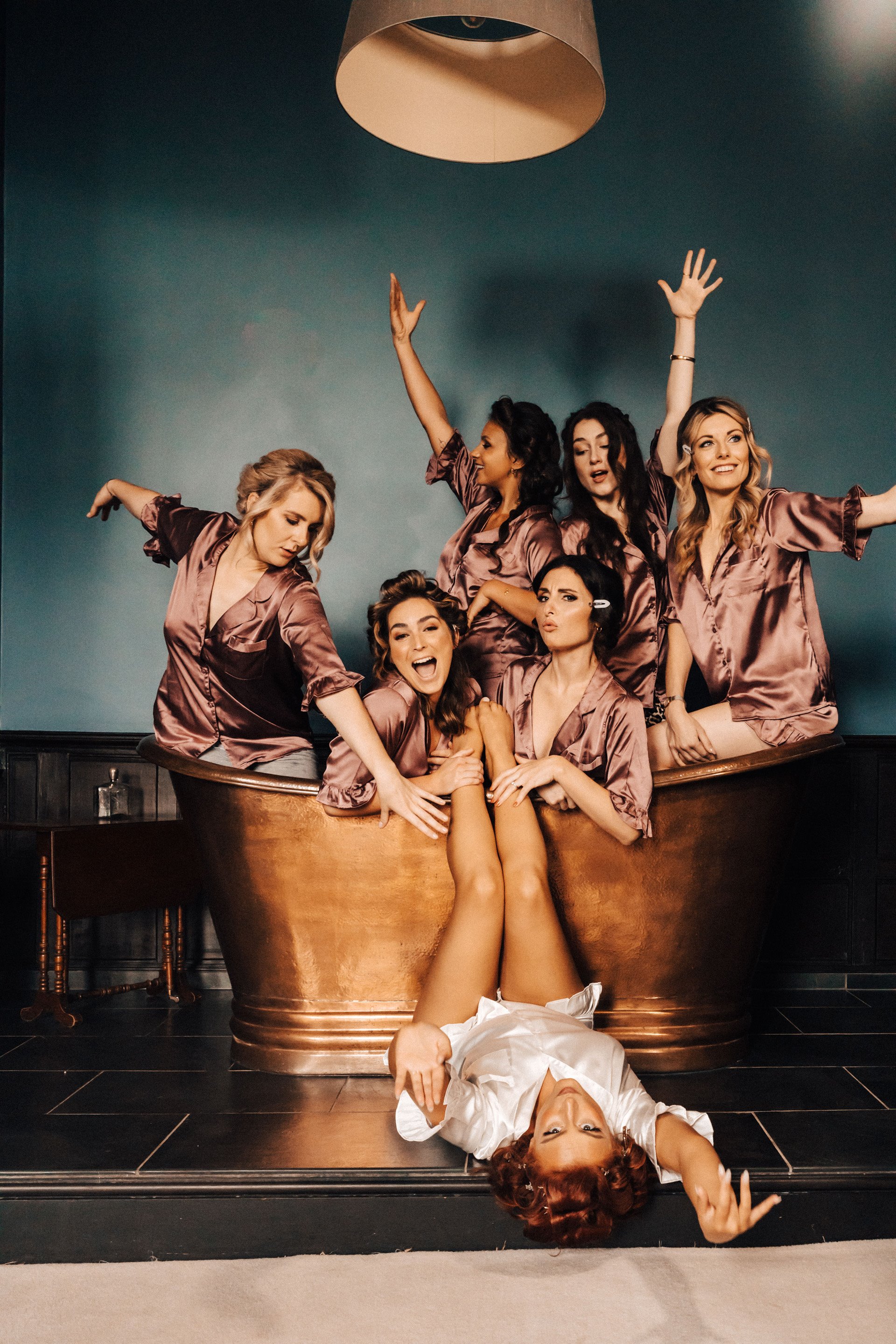 Tell us about your Vivienne Westwood dress!
I was trying on dresses straight after Ben proposed to me! (I didn't hang around…!) Finally I had a reason to try on so many incredible dresses! I had an idea in my head of what I wanted and of course - the dress I chose was completely different and the most beautiful dress I have ever tried on! I chose the exquisite designer Vivienne Westwood (Long Coccotte) from Browns Bride London. The fit was perfect for my body shape (it took a while to find something that was!), with a corset waist and drapes around the shoulders. It was absolutely perfect! My incredibly generous Grandmother bought this for me as she was unable to make the day. She said, "I'll be with you the whole day" referring to the dress. I have plans to have it tailored so I can hopefully wear it again!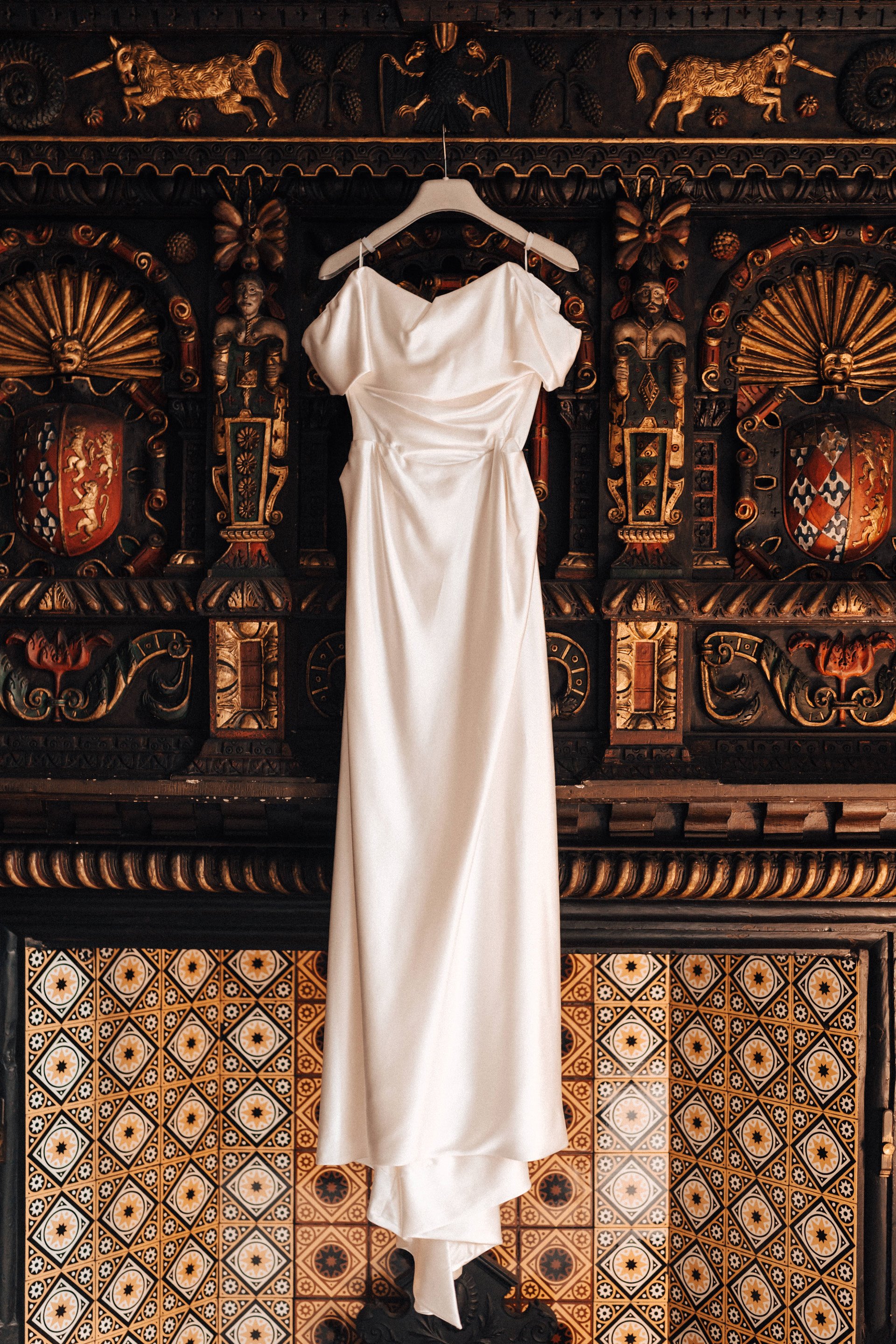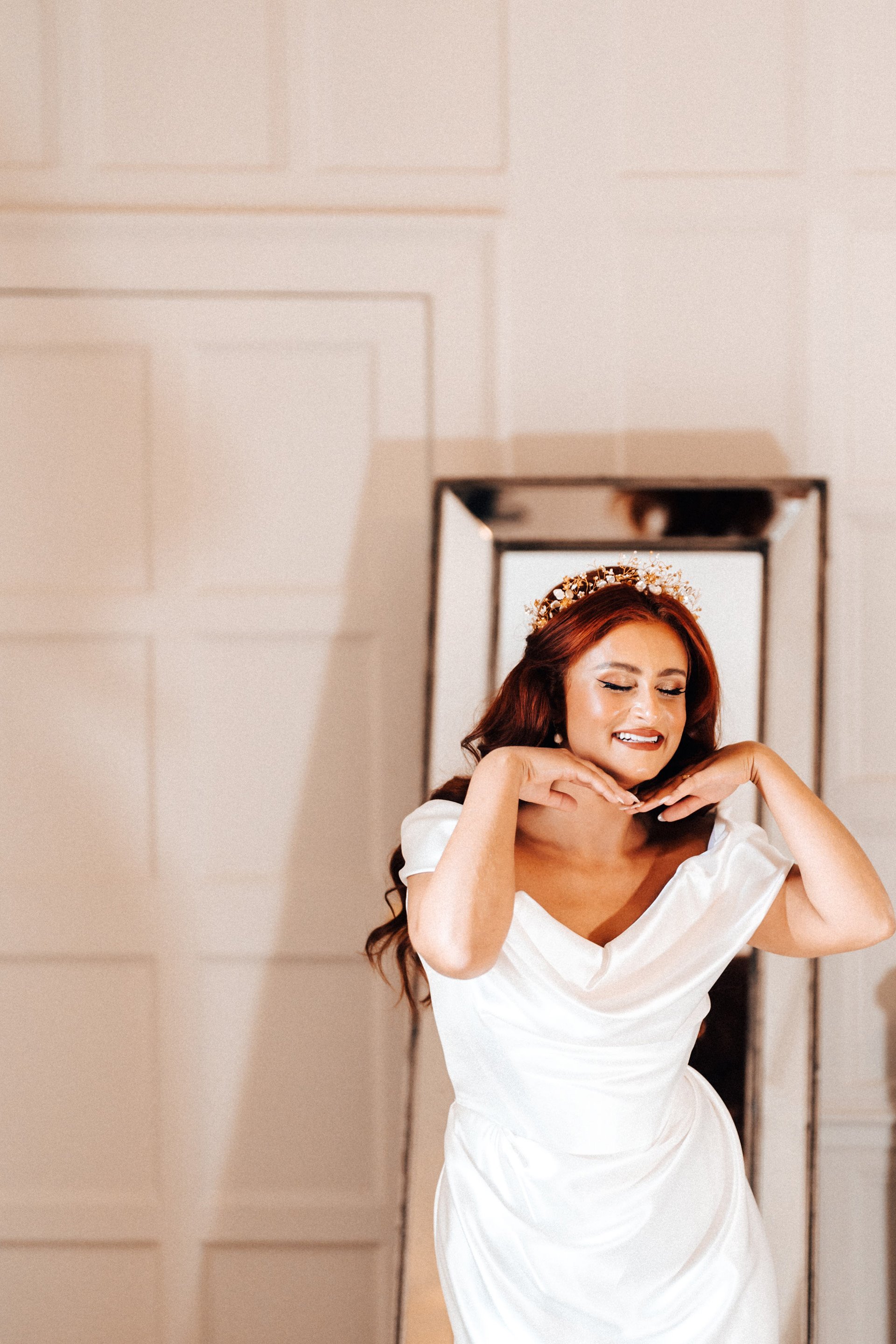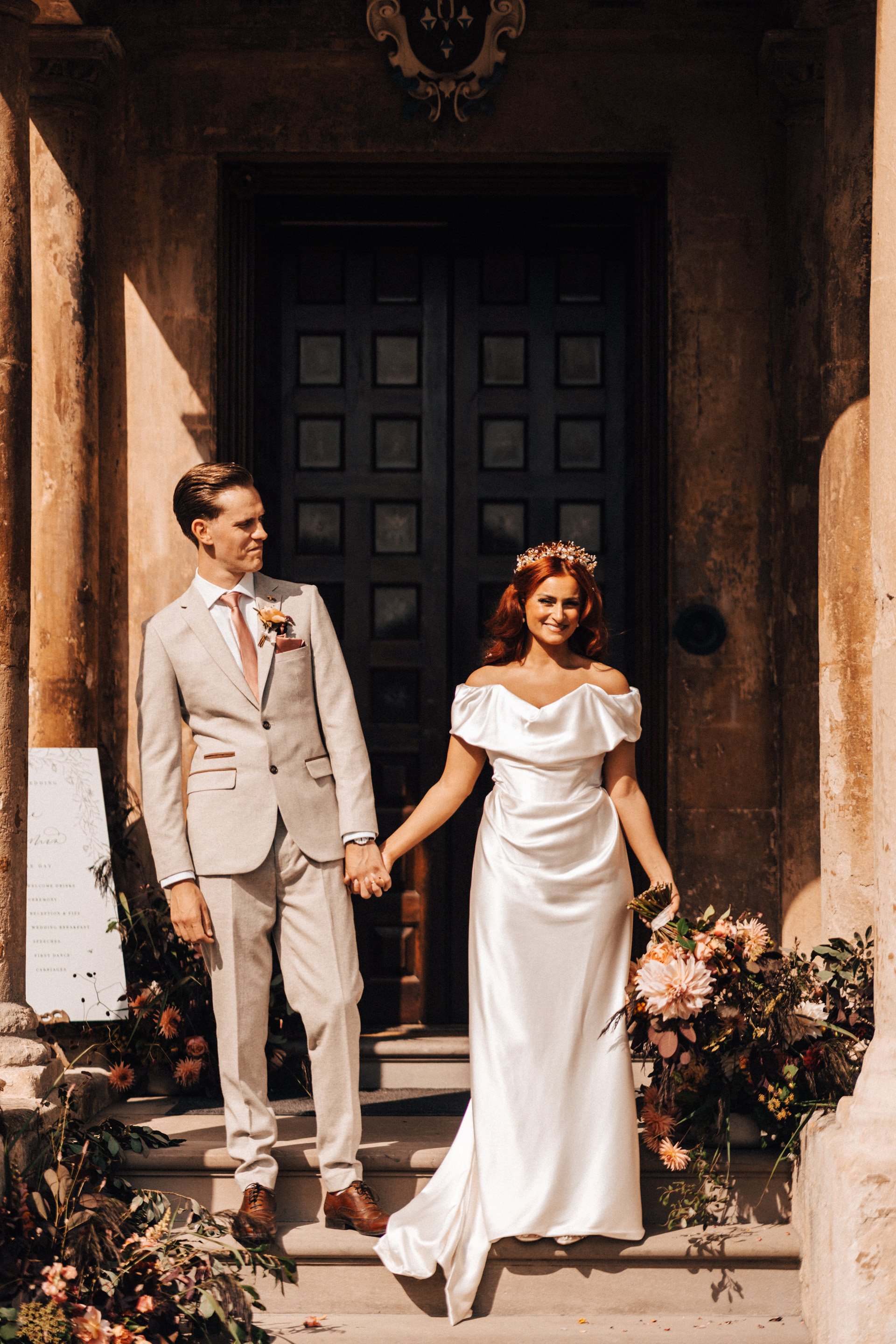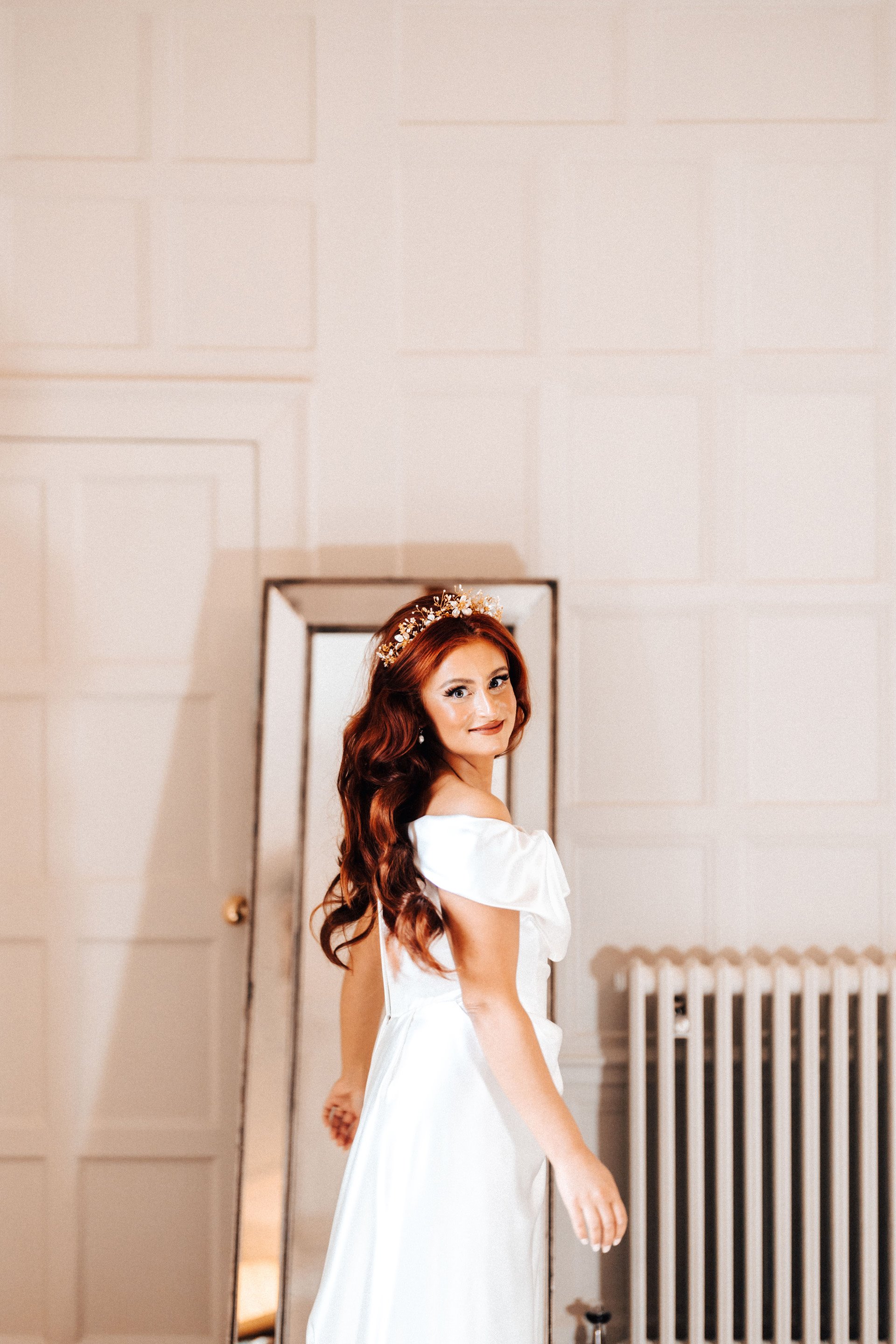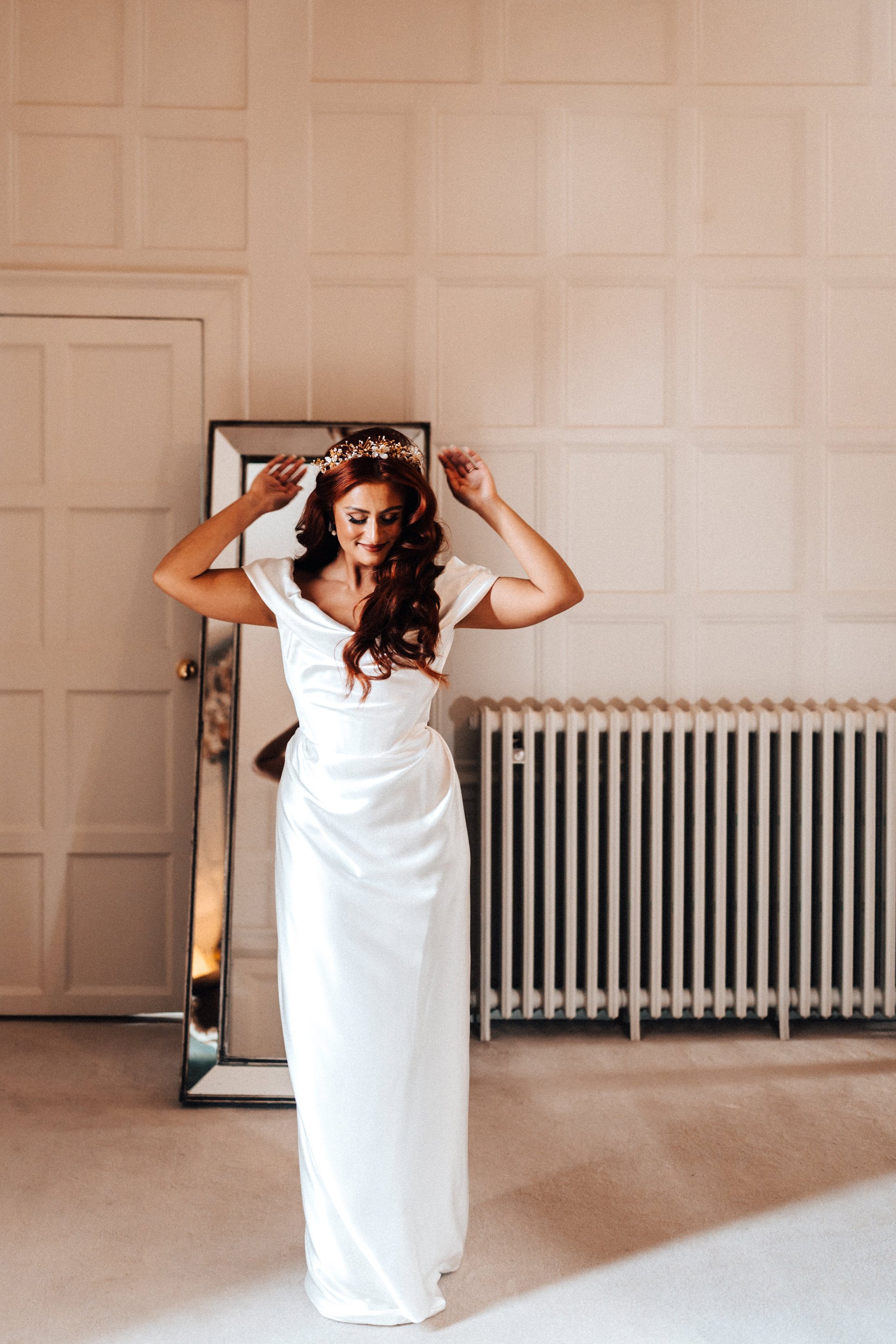 Why our wedding venue?
What's not to love! We went for Elmore Court in Gloucestershire for a number of reasons. It's a unique, quirky, historical stately home with sustainability at re wilding at heart of its ethos! They have incredible food, beautiful wine, boundless music and a large slice of love at it's core! It's a funny thing at Elmore, we felt at home from the moment we arrived on our first viewing, with the incredible Adele. We didn't feel that way about any other venue at all! The team at Elmore are phenomenal, they work around the clock to make sure everything is perfect but they're so chilled and relaxed that you feel totally at ease and in safe hands with them.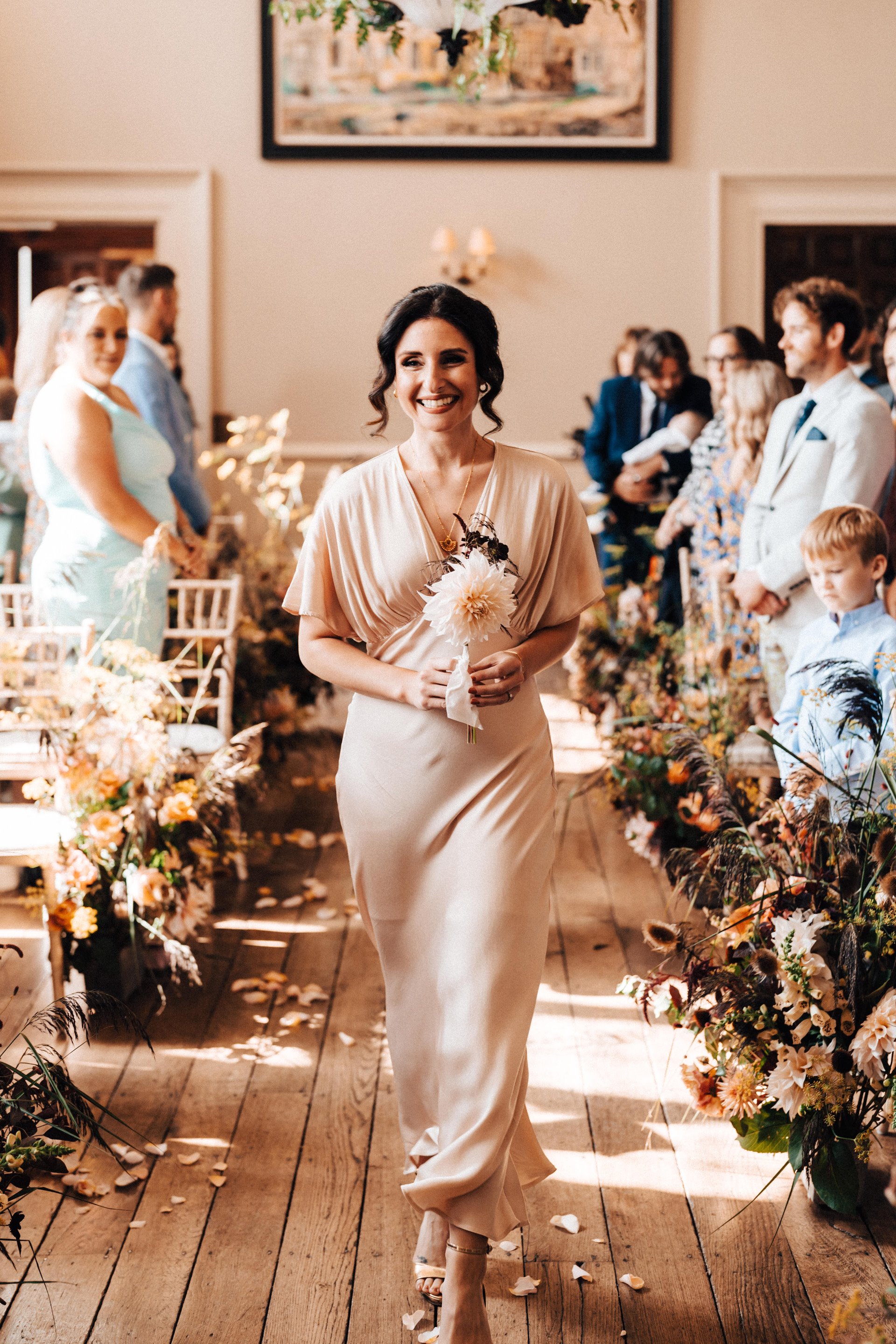 Tell us more about your golden hour September wedding theme
I was inspired by 'golden hour', the beautiful golden light you get, especially in September. Amber created a palette featuring dusty blush, softest peach, burnt umber and sienna, antique and soft neutrals paired with accents of richer tones to add some sumptuous depth to the florals and really capture those sunset shades and that late summer feel
I was incredibly lucky to have opportunity to have Amber from Amber Persia doing our styling and flowers. She really understood my vision from a simple mood board I'd created on Pinterest and brought it to life (beyond my wildest dreams!!)
I was inspired by the 'golden hour', the beautiful golden light you get especially in September.
Amber created a palette featuring dusty blush, softest peach, burnt umber and sienna, antique and soft neutrals paired with accents of richer tones to add some sumptuous depth to the florals and really capture those sunset shades and that late summer feel.
The florals were unstructured and asymmetric with a wonderfully undone feel - so garden-inspired, imperfect and taking inspiration from paintings by the Dutch masters.
Flowers featured the likes of blousy garden roses (varieties such a 'Carmel Antike', 'Romantic Antike', 'Creme Yves Piaget', 'Delice Romantica' and 'Scented Whisper'), dahlias such as 'Cafe au lait', 'Henriette' and 'Mango Madness' together with seasonal blooms, seed pods, grasses, seed heads, autumnal fruit and berries to add layers of textures and depth, perfectly reflecting the changing of the seasons and a feeling of generosity and bountifulness.
Romantic candlelight and accents of warm hues of antique brass and subtle gold perfectly complement the florals. Like I said, beyond my wildest dreams!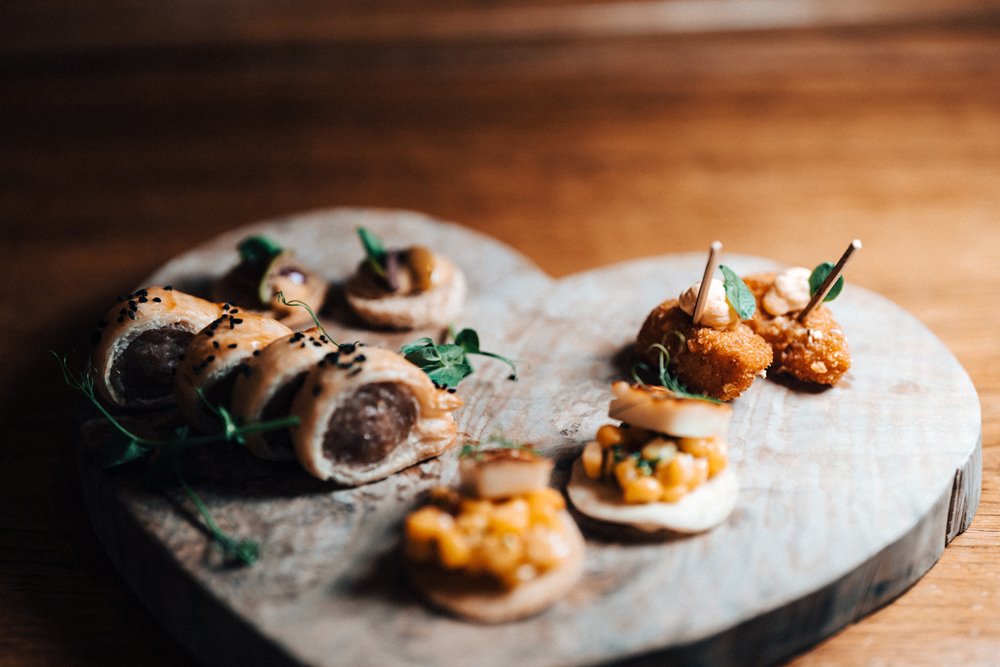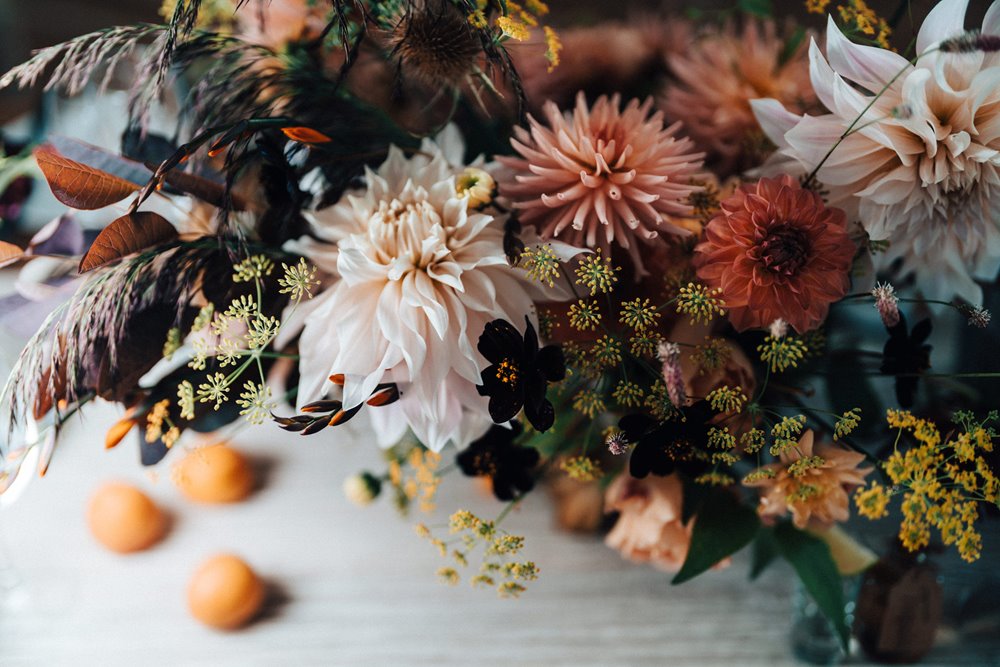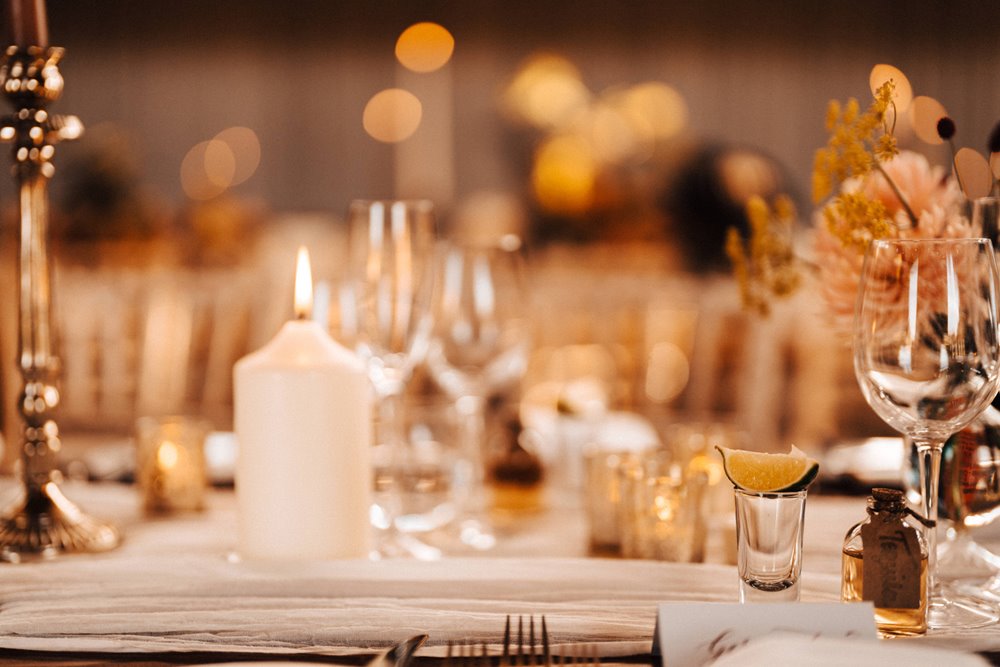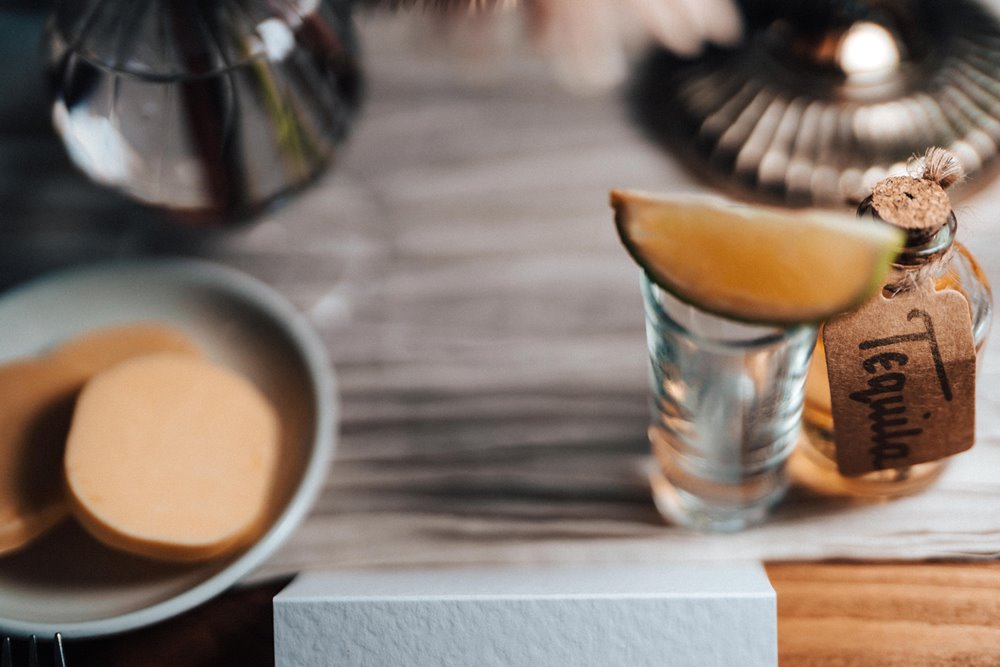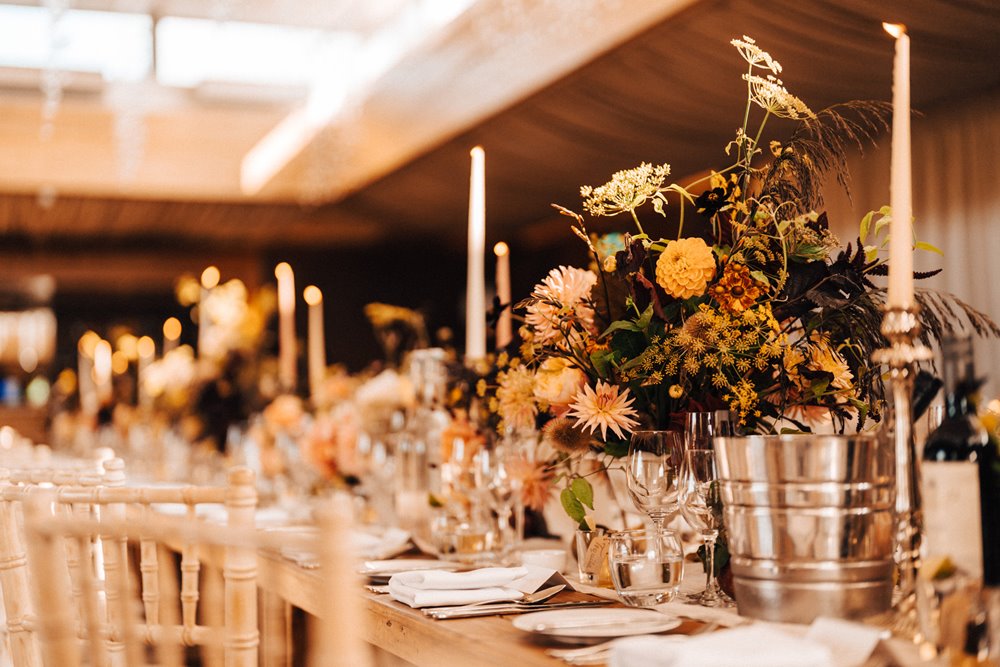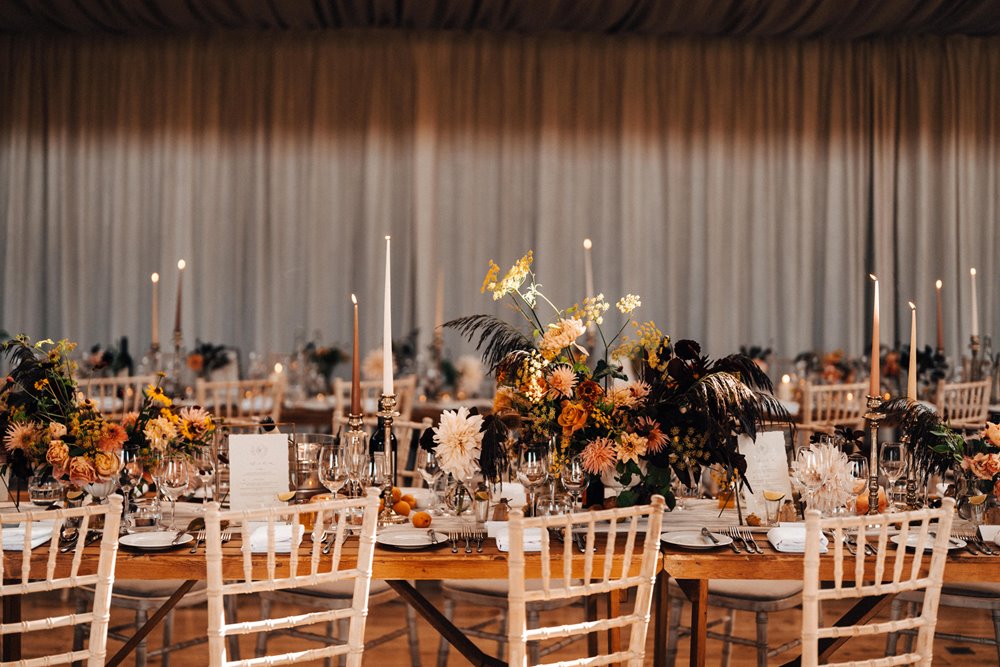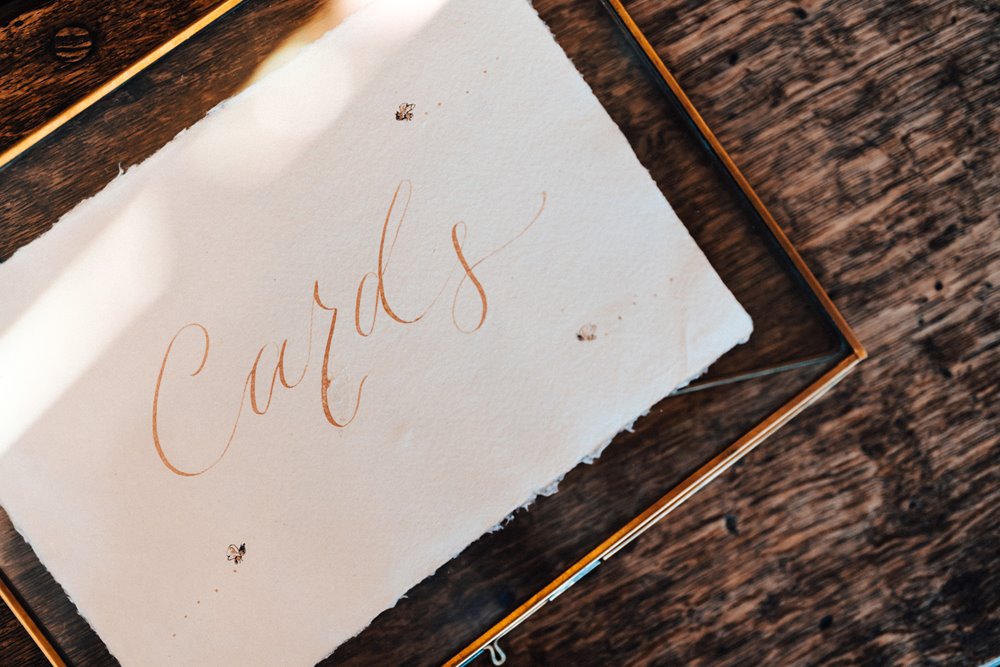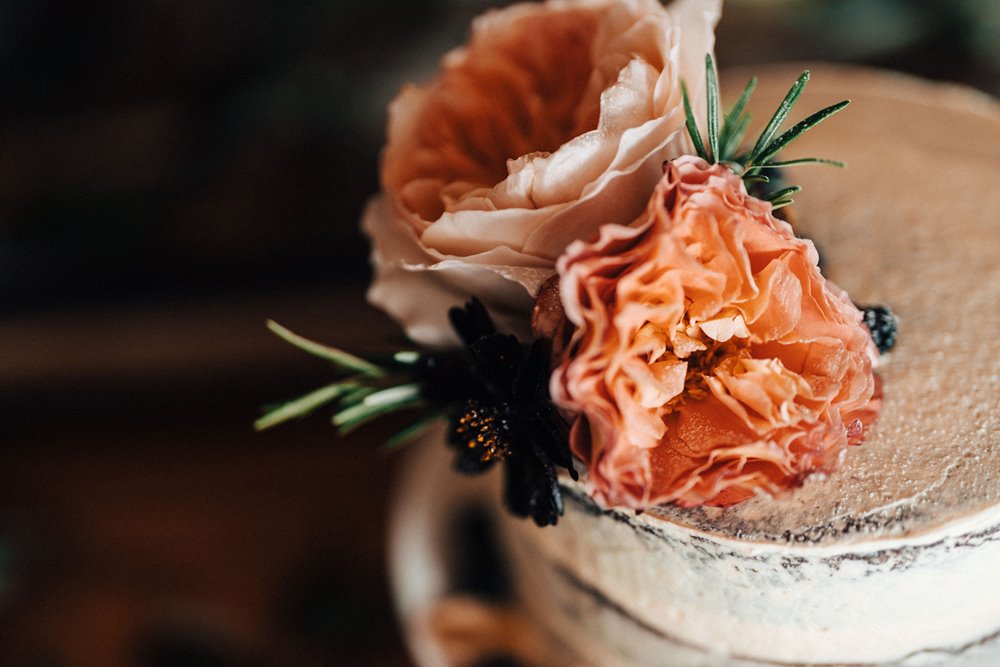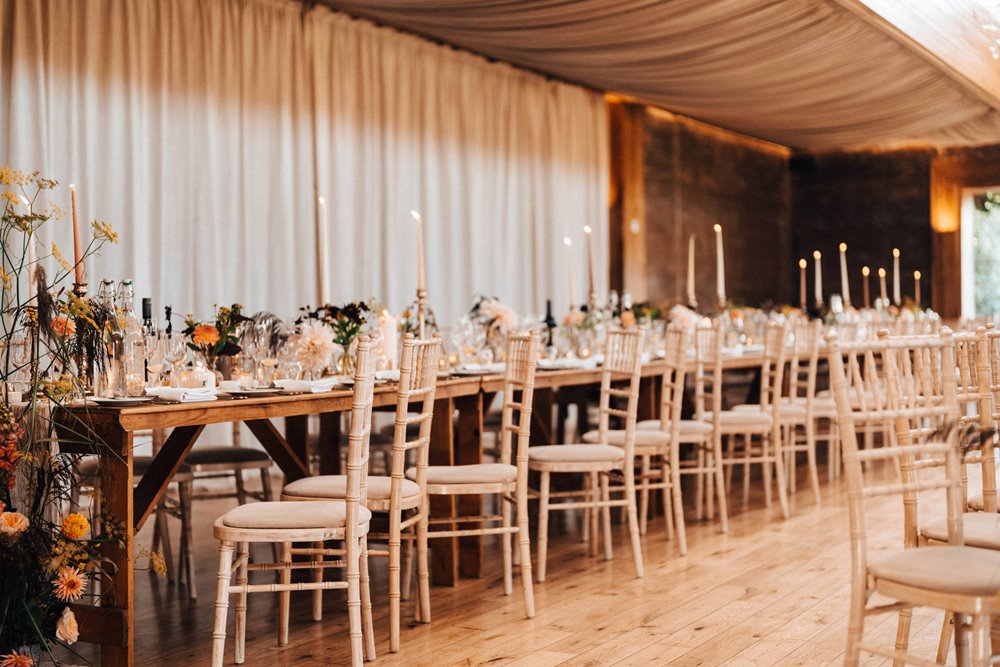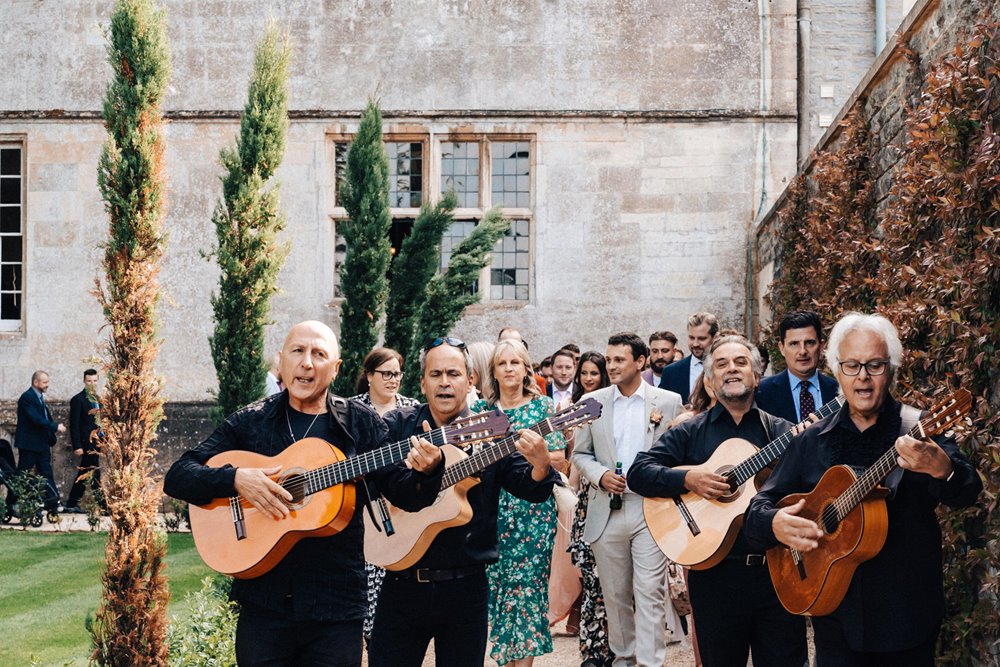 September wedding flowers
As you can see from above we had the most beautiful array of flowers and textures.
My bouquet was unstructured and asymmetric, brimming with scented garden roses (such as 'Carmel Antike', 'Romantic Antike', 'Creme Yves Piaget', 'Delice Romantica' and 'Scented Whisper') with beautiful 'Cafe au Lait' dahlias and seasonal blooms in sunset tones with touches of textural foliage.
The bouquet had a slight trail and finished with a silk ribbon binding. My beautiful bridesmaids had a single statement dahlia tied with a twirl of jasmine with a length of silk ribbon.
What was your focus when wedding planning?
I work in the music/entertainment industry so I'm aware of the importance of being super slick!
I wanted a seamless day that flowed naturally with an abundance of fizz, music and food - as long as we had a concoction of all of these, we would have a brilliant party- and that we did thanks to the brilliant Team E! (Especially Adele!!)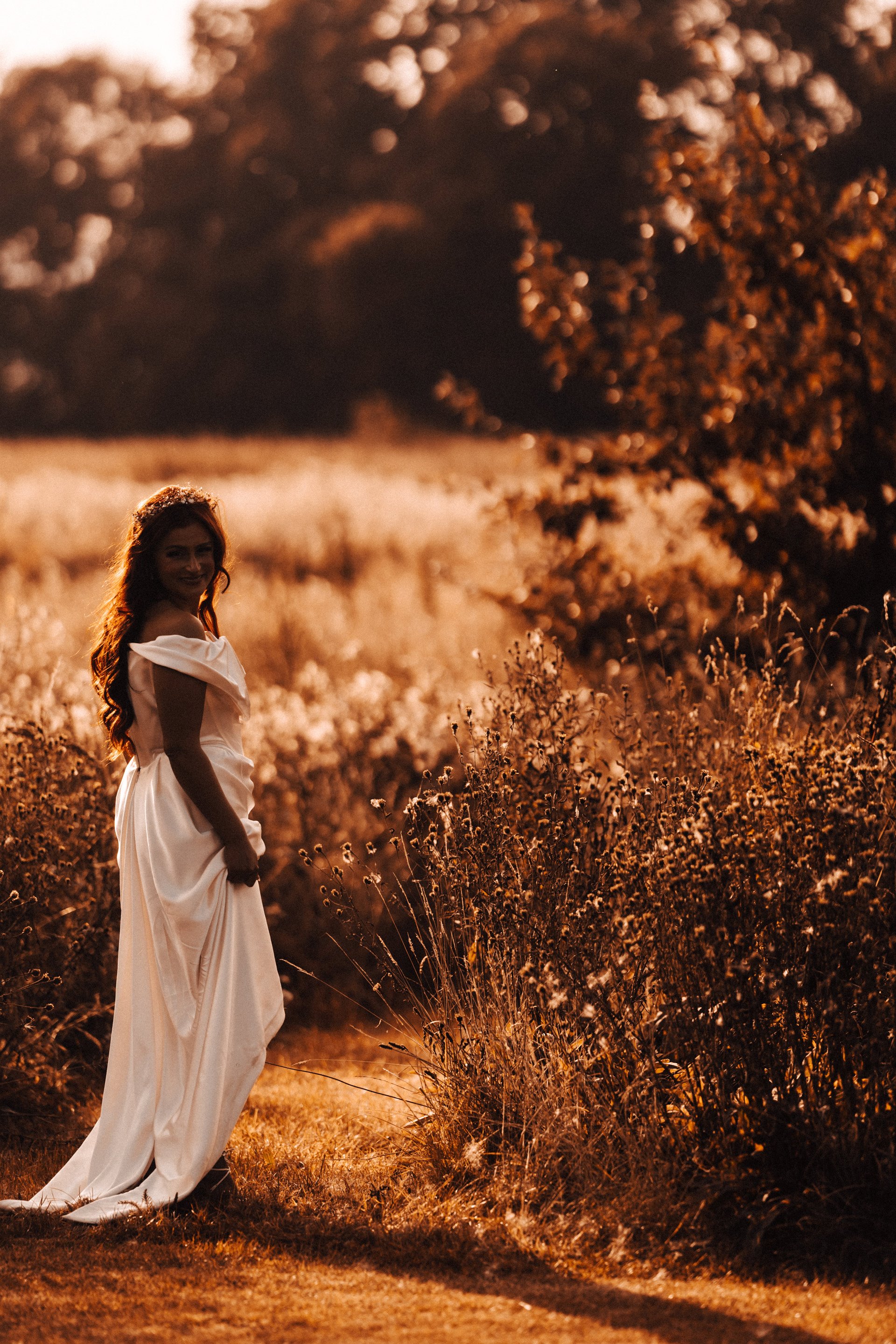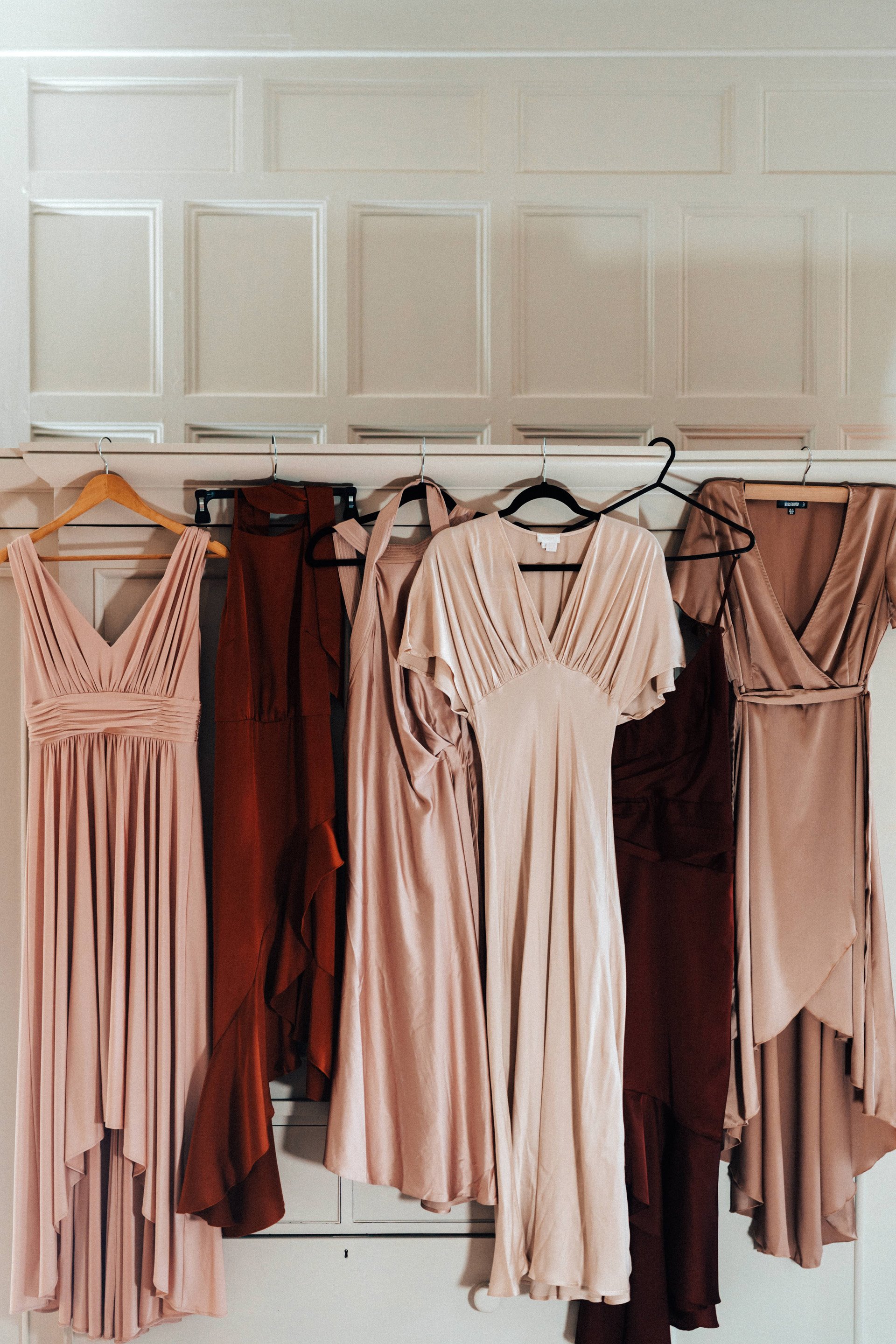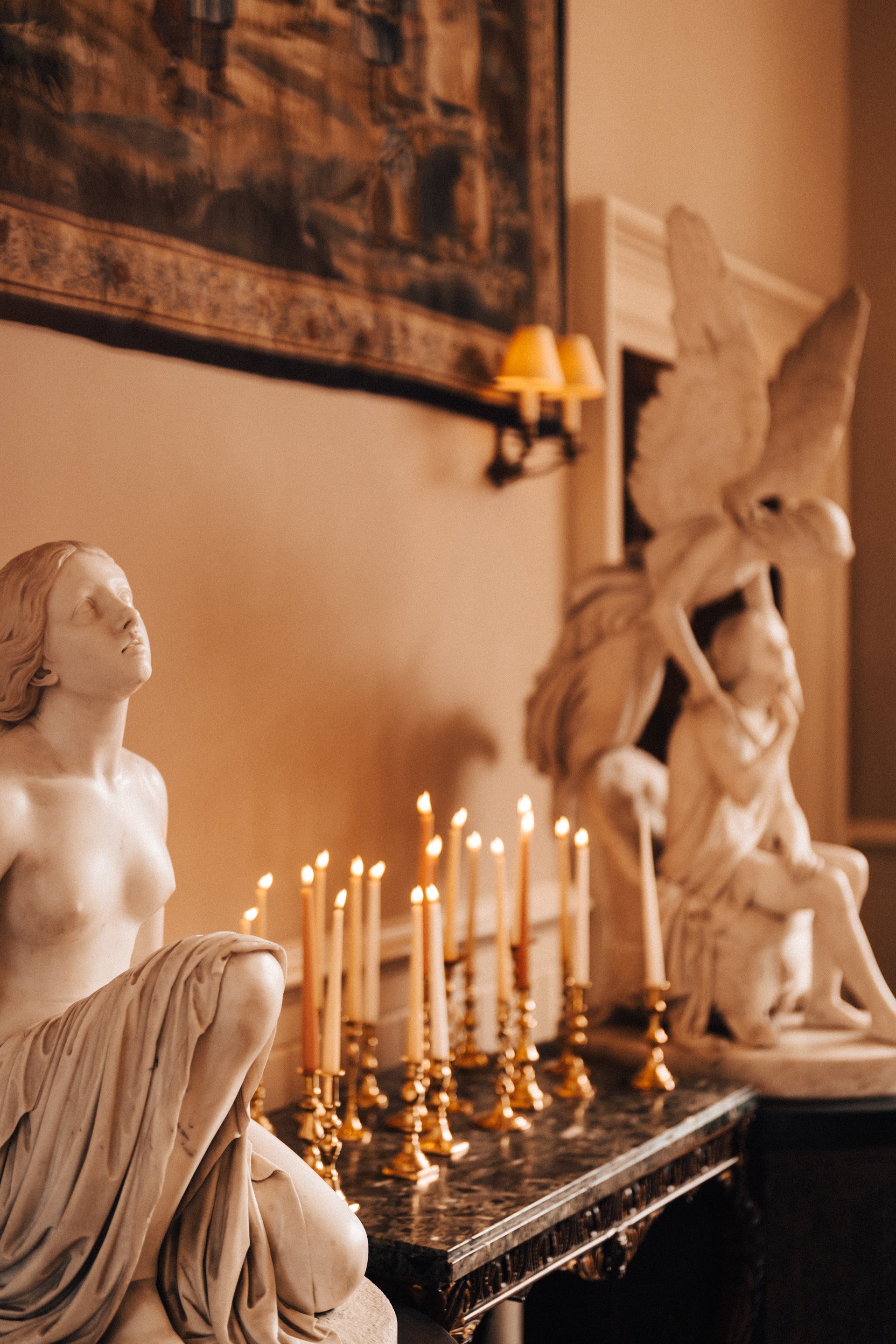 Tell us about the wedding morning...
I think I woke up at about 4:30am after a surprisingly good sleep..! Although when I woke up I knew there was no chance of getting back to sleep, the nerves were beginning to settle in… But I took a few breaths outside in the fresh air and put my game face on!
My hairdresser Michael Grey arrived at 6am to start on my hair and then my Makeup Artist Skyla Lee arrived just after 7am.
I felt a lot calmer knowing I had everything taken care of so I just sat back and drank a lot of tea to settle the nerves! I think the ceremony was the part of the day that surprised me the most. For me, it wasn't the part of the day I was focussing on as much and it turned out to the the most beautiful part of the day for me. I had a wonderful singer songwriter Dan Rosenblume sing and play the beginning of my isle song "How Deep Is Your Love" and as my bridesmaids walked down they went to stand at the front of the hall and join me in harmony as I began to walk down the isle with my Mum and Dad walking behind me.
I've never been so moved in my life. It was an incredibly emotional and overwhelming feeling to have all your closest friends and family in one place and walking down the isle was like something out of a dream. Almost like an out of body experience! But the most wonderful and magical I have ever had…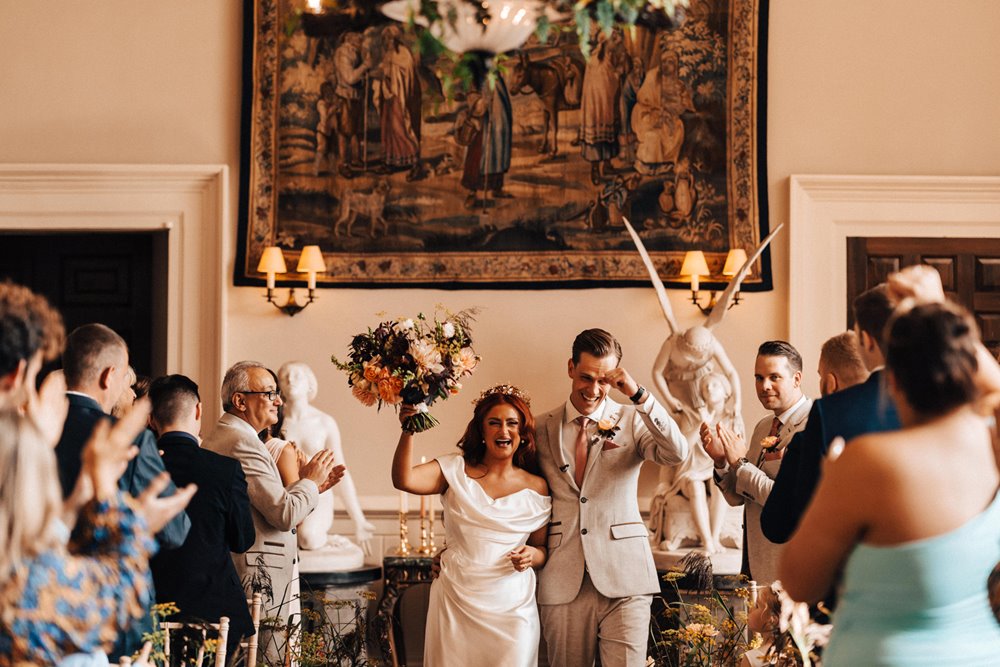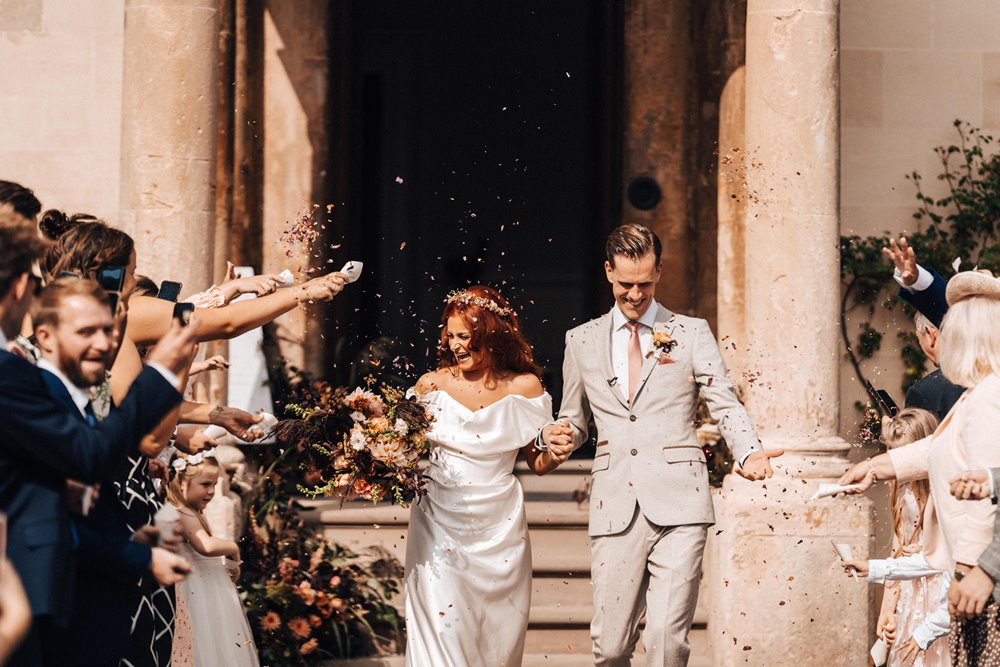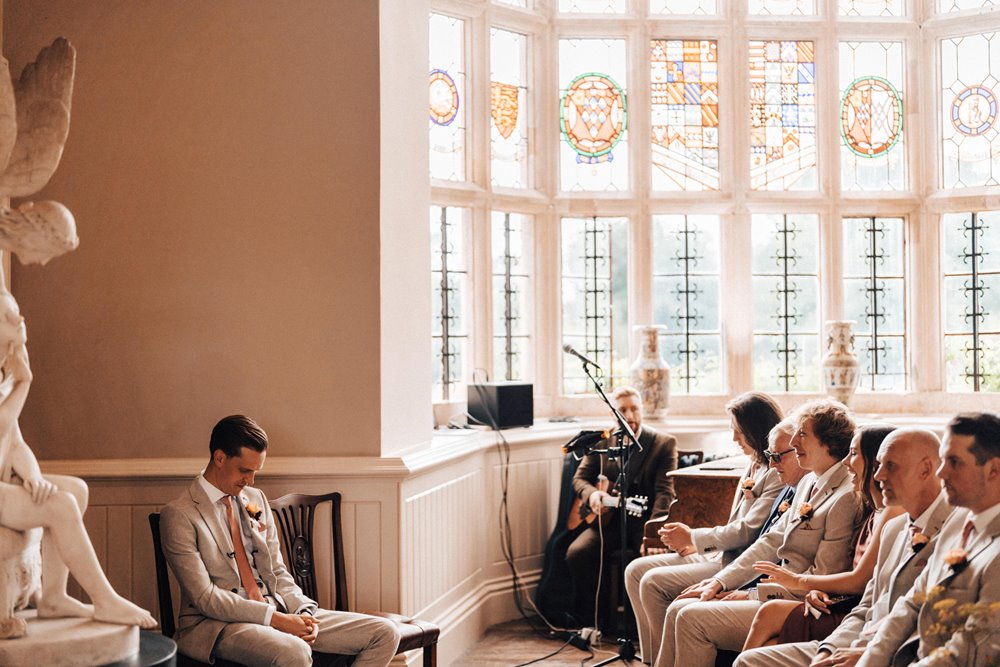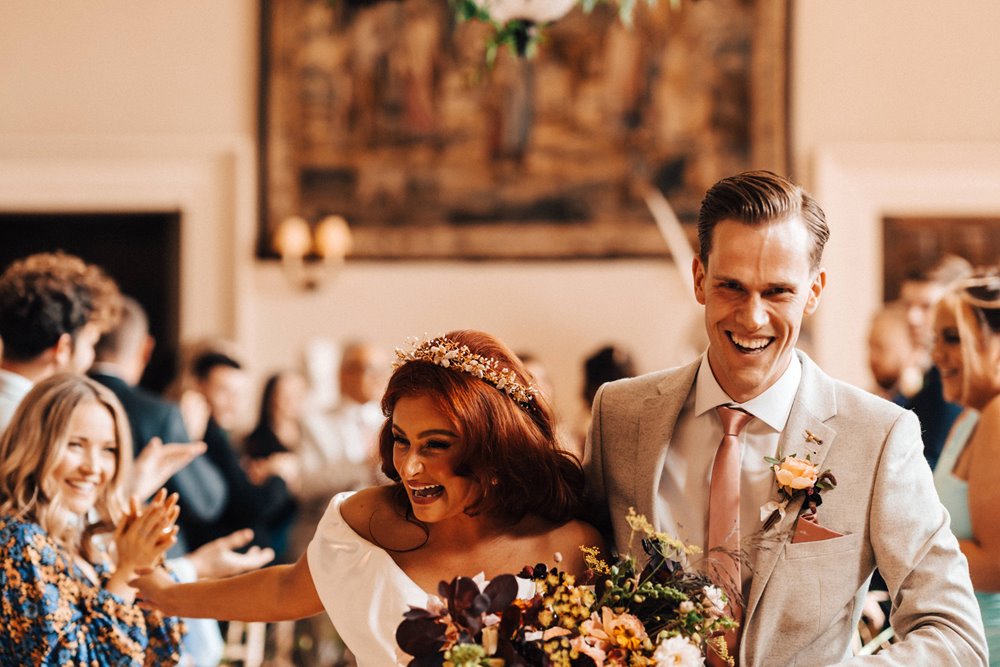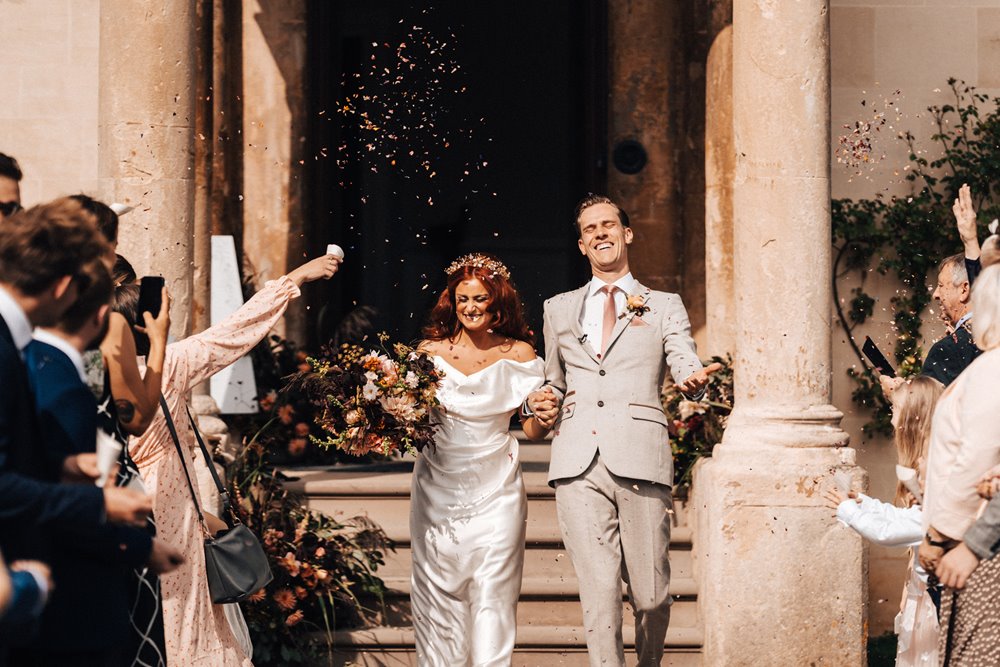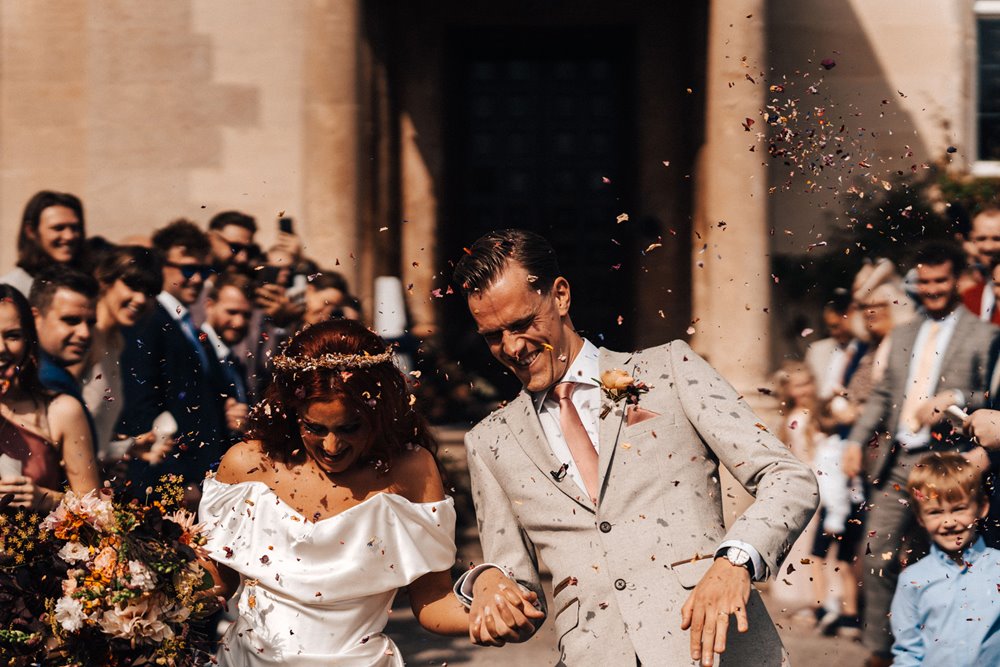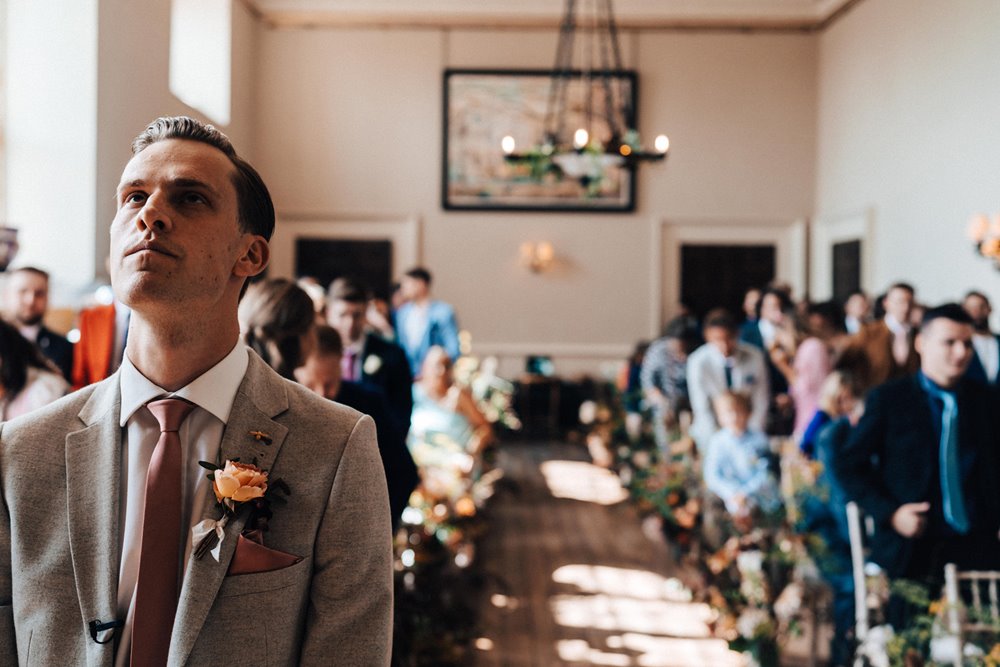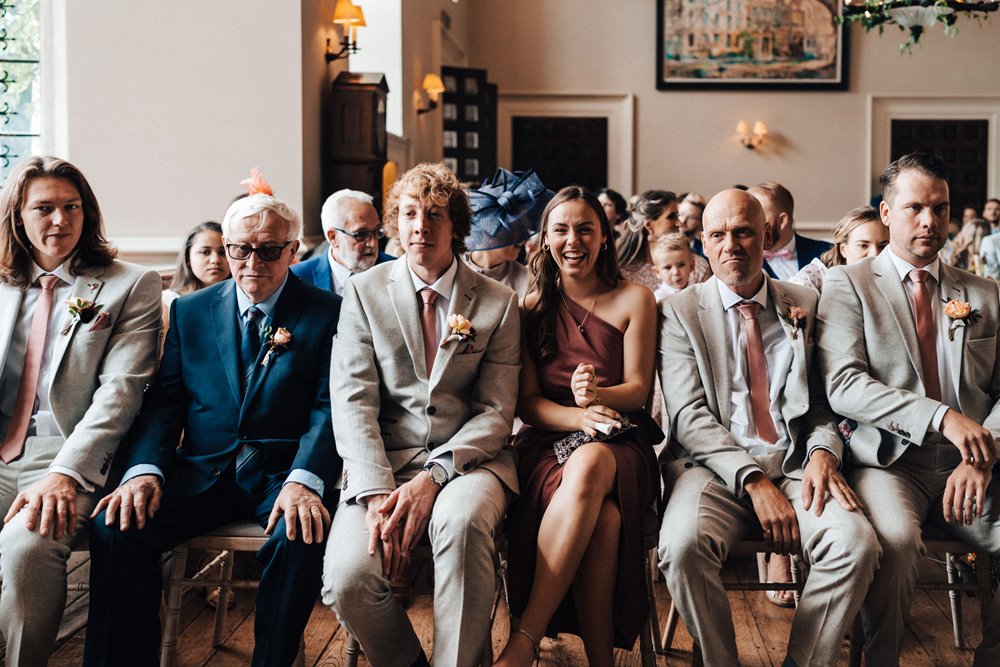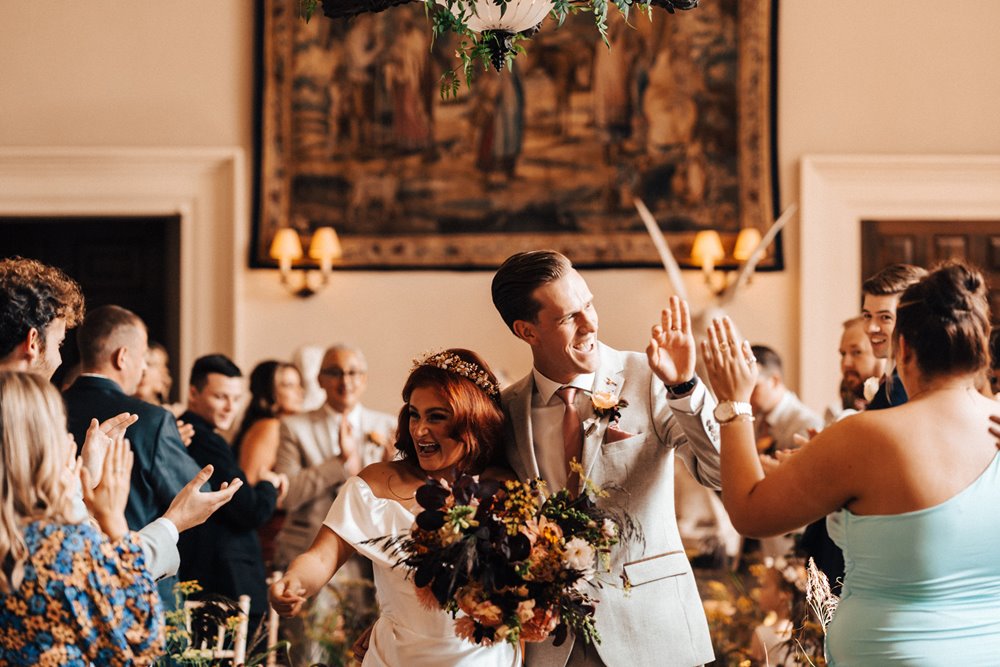 And your glowing September drinks reception?
We had the incomparable James Fear as our photographer, I adore James! We met during the Parrot Cage event at Elmore last year and we knew he was the perfect fit for us!
I've never seen pictures like his - wonderfully candid, romantic, hilarious, magical and most importantly, they captured that "golden hour" feel I was so inspired by... He kept everyone entertained during our drinks reception and was part of the family by the time we moved into the Gillyflower!
"Heads down…feel the tension…let it grow…!"
The reception itself was beautiful, we had hand painted vintage fun fair games on the lawn for kids and adults to enjoy plus cocktails that my husband Ben and I had created for our guests. They seemed to love them, such a nice personal touch for the day!
We had a fantastic Gypsy Kings style band for our entertainment for the reception. This was such a special element of the day for us, and our guests were soon boogying on down to "Bamboleo"!
The band walked and played the guests into the Gillyflower, and what an entrance it was!!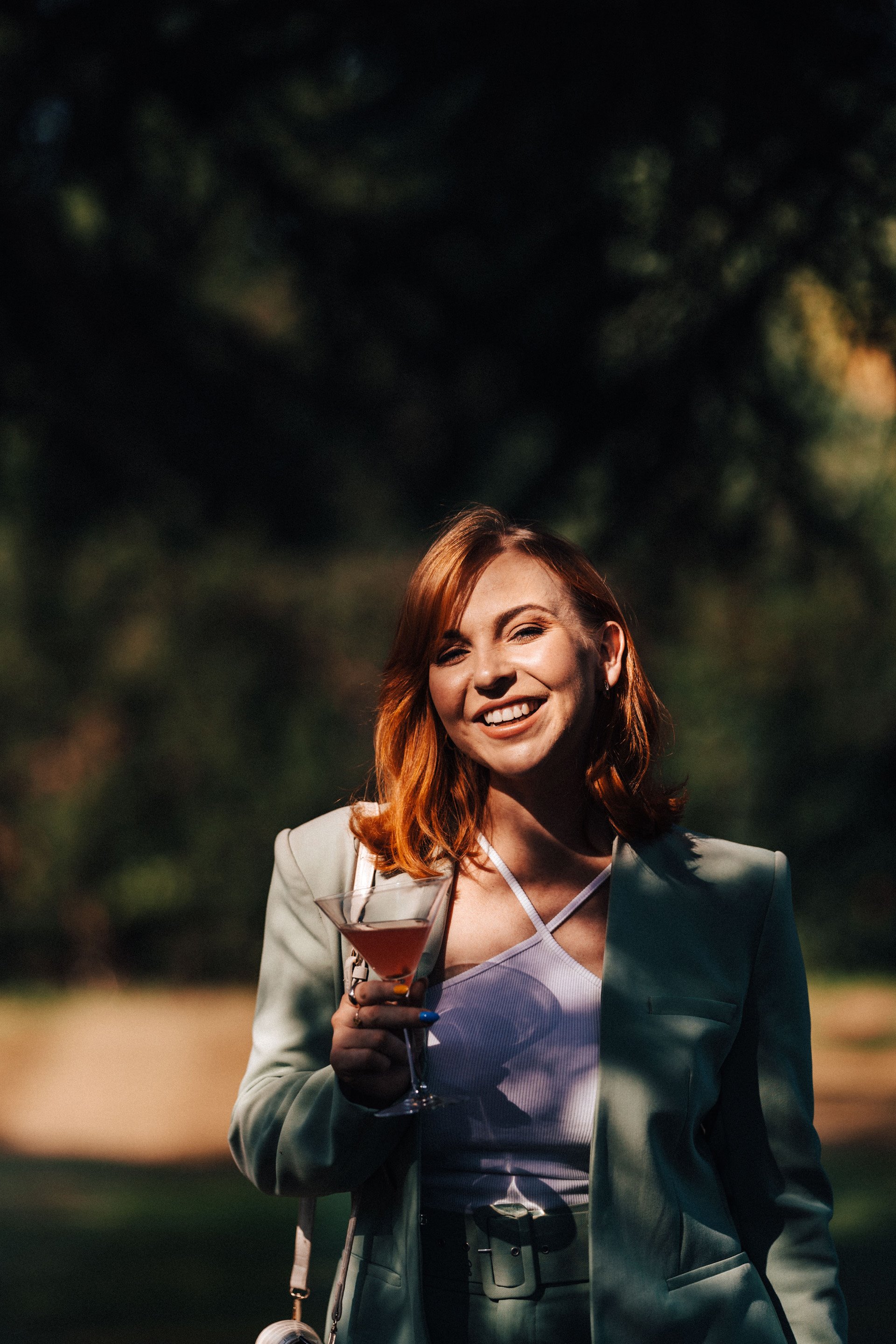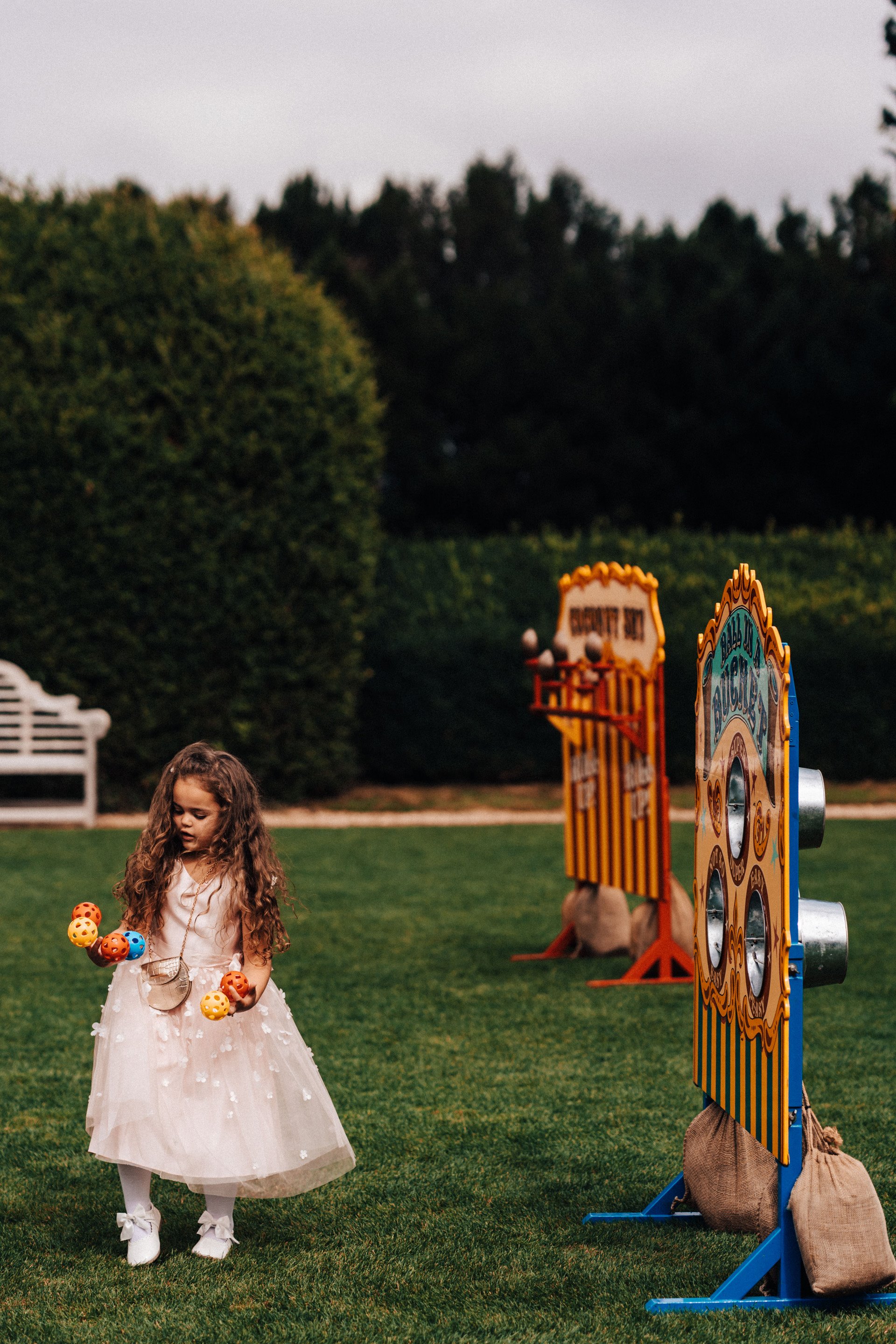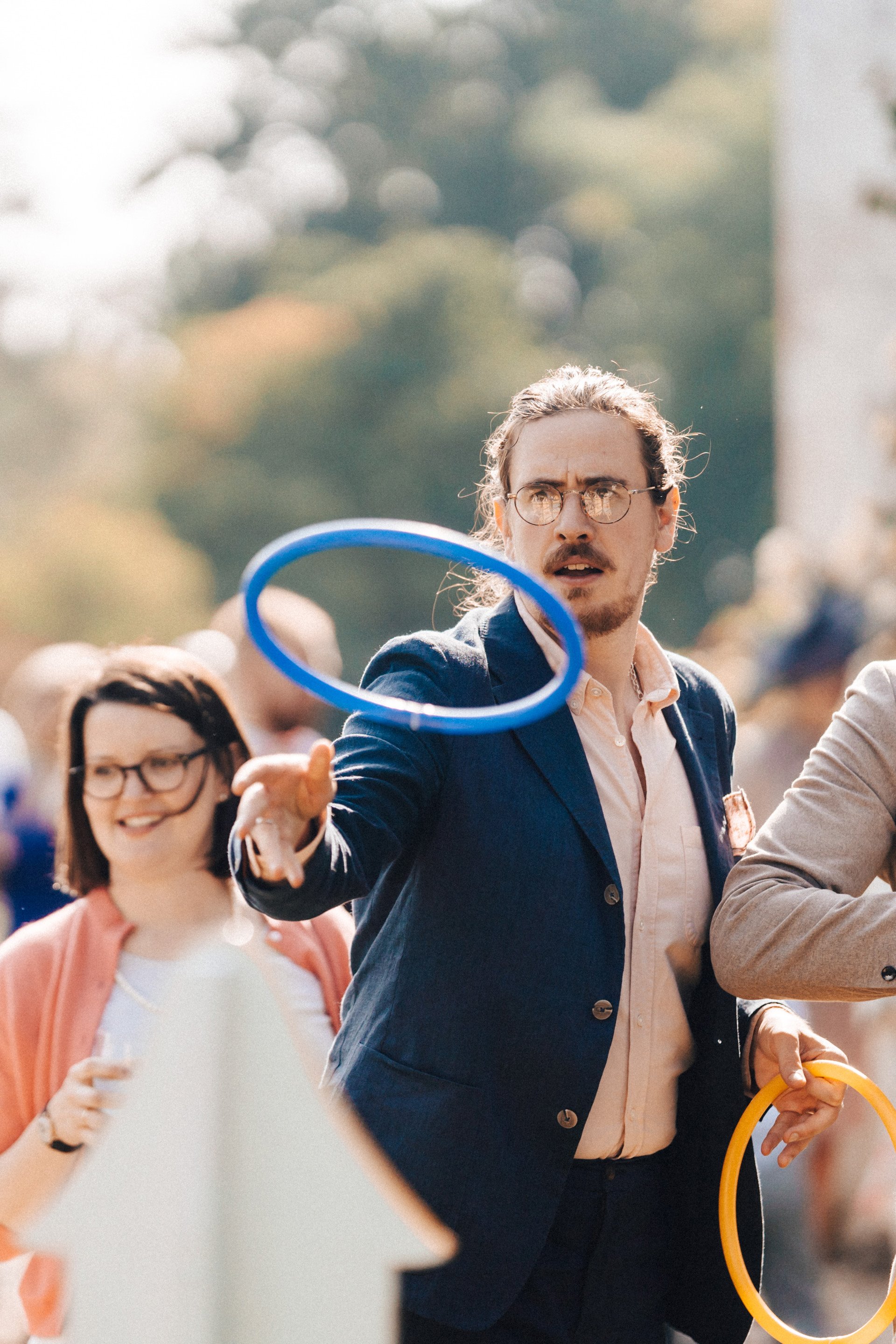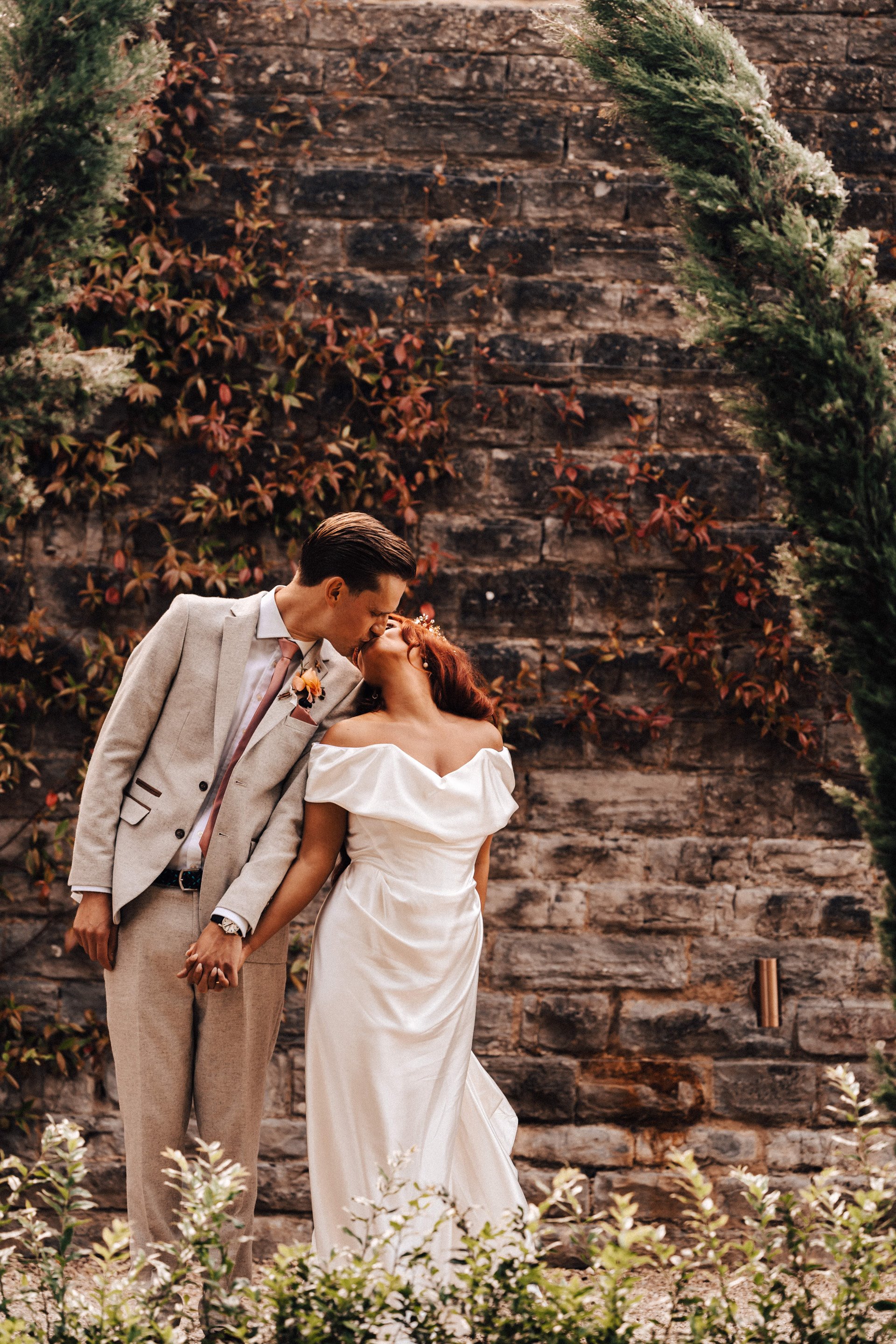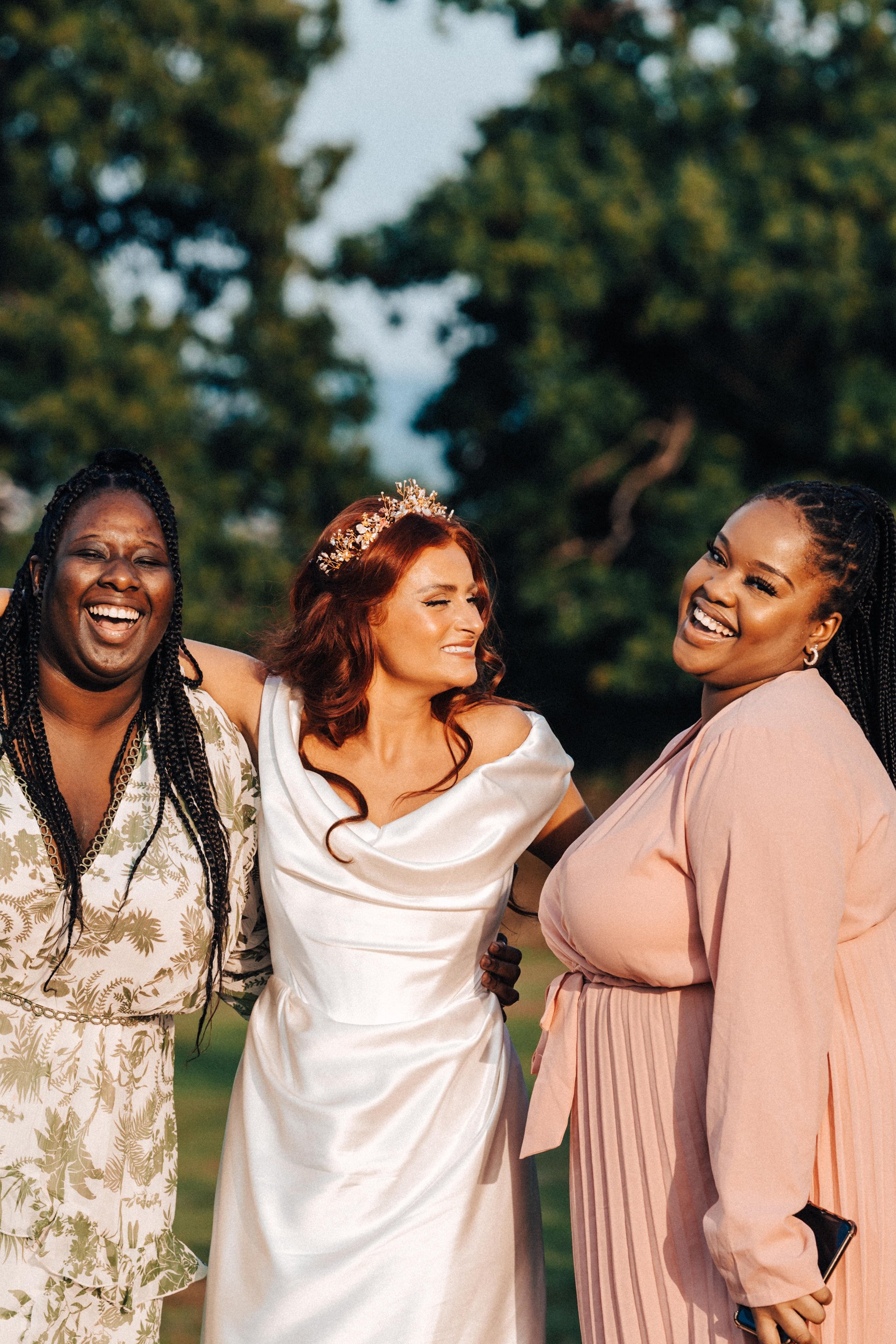 How did you feel when you walked into your reception?
It was everything I'd dreamt of and more!! This idea was in the making for about 2 years so to see it laid out in front of us was unbelievable.
Amber has an expert and incredibly artistic eye for detail, I wish I could hold that moment I first saw it forever.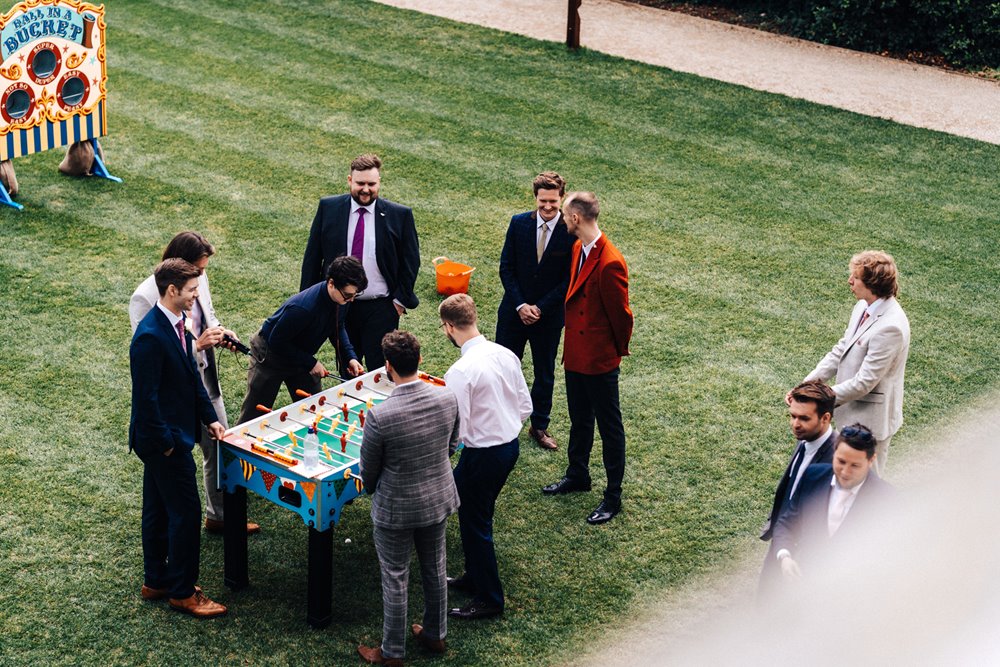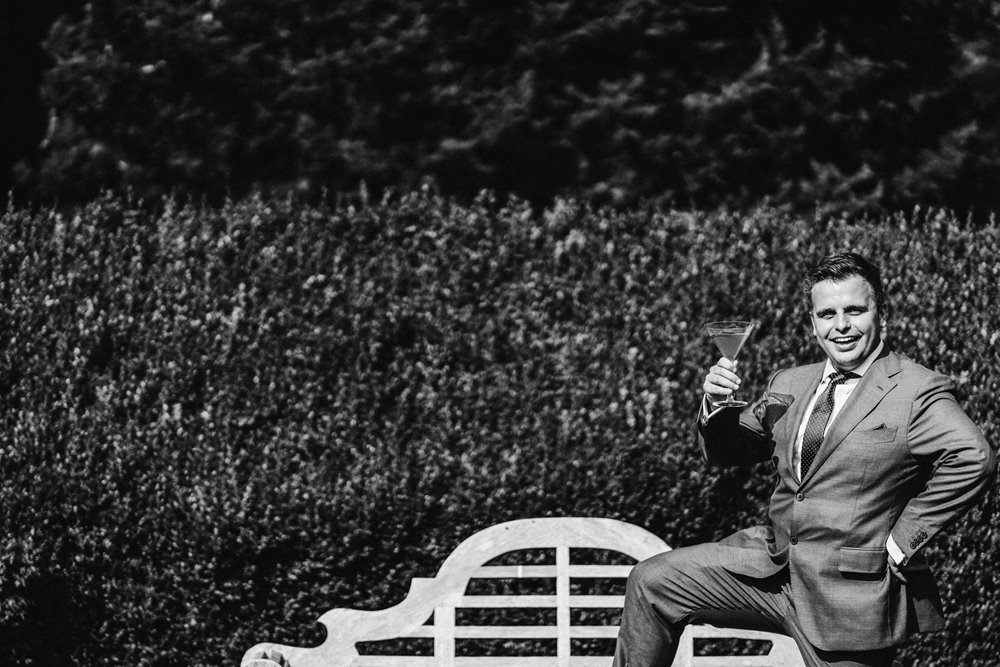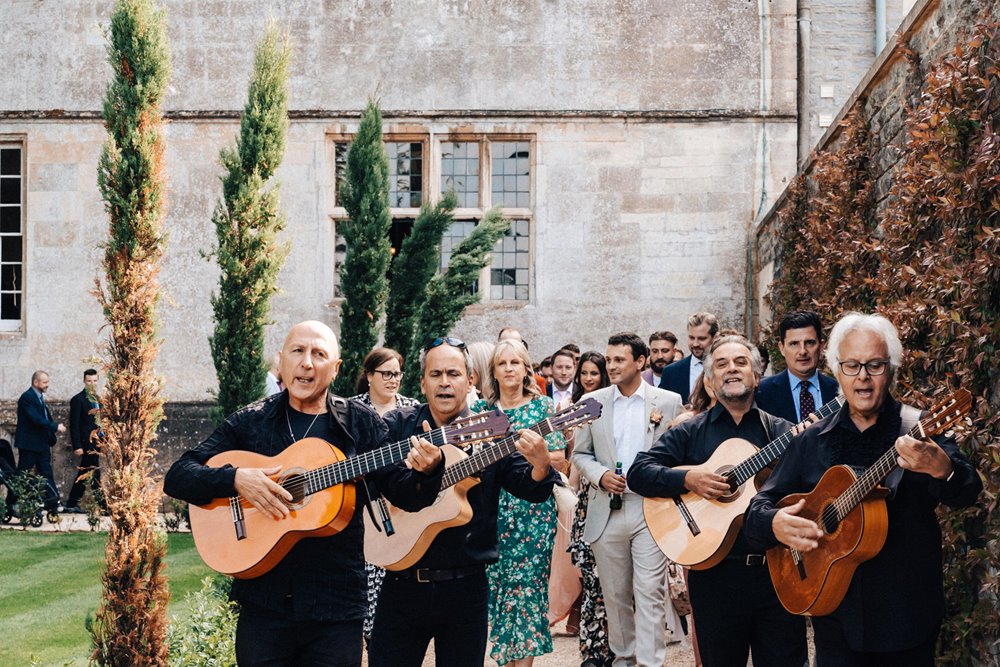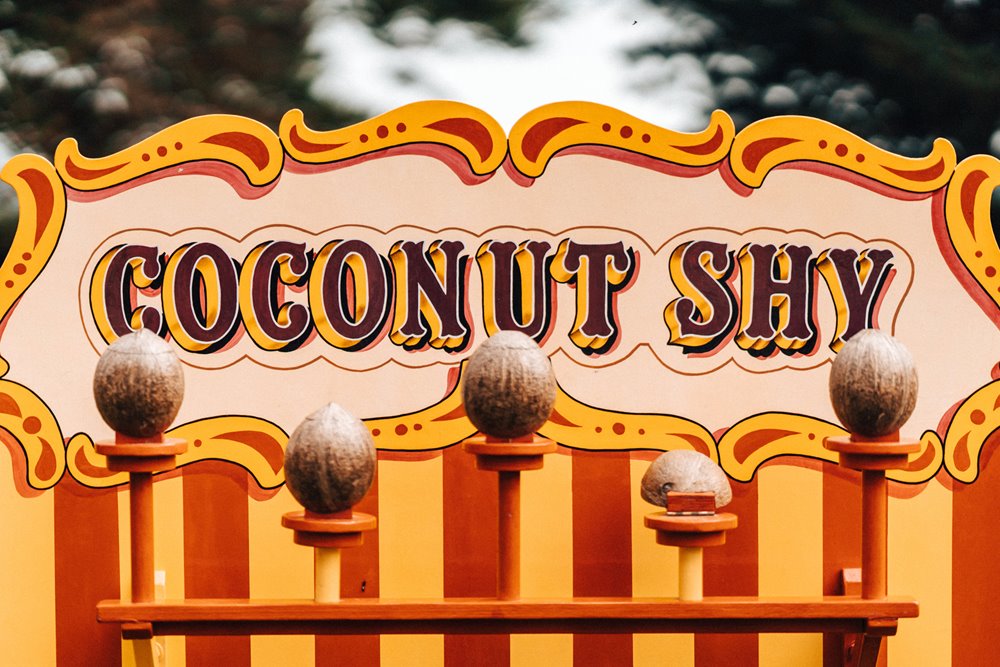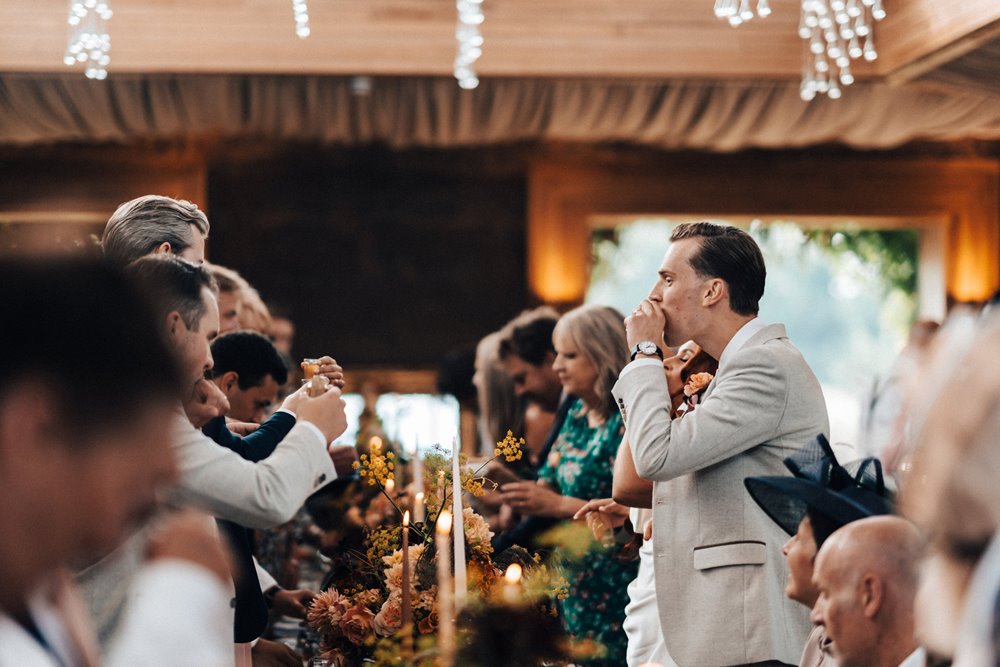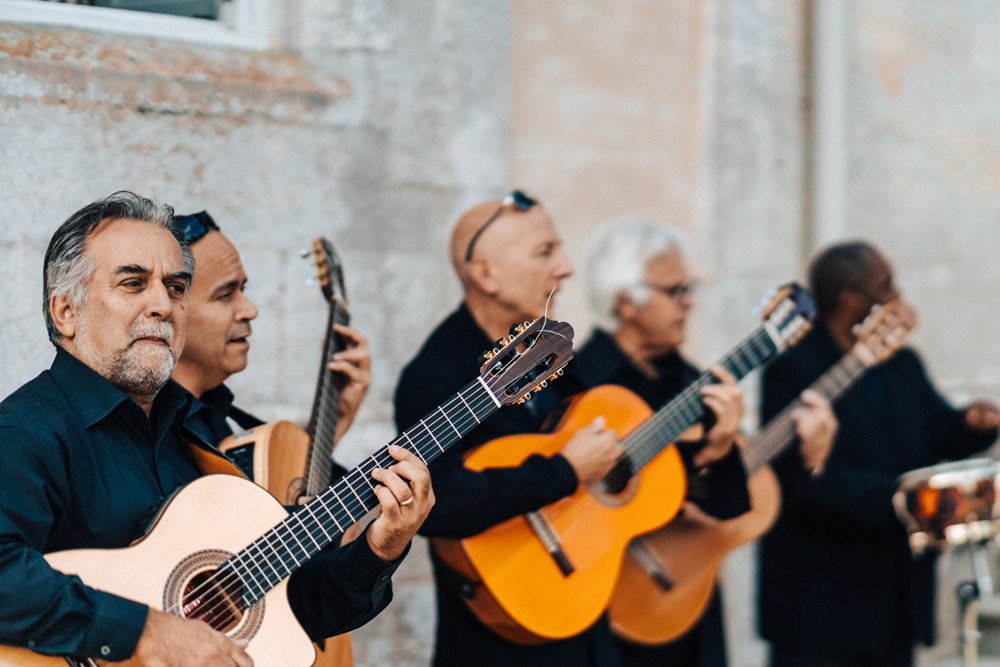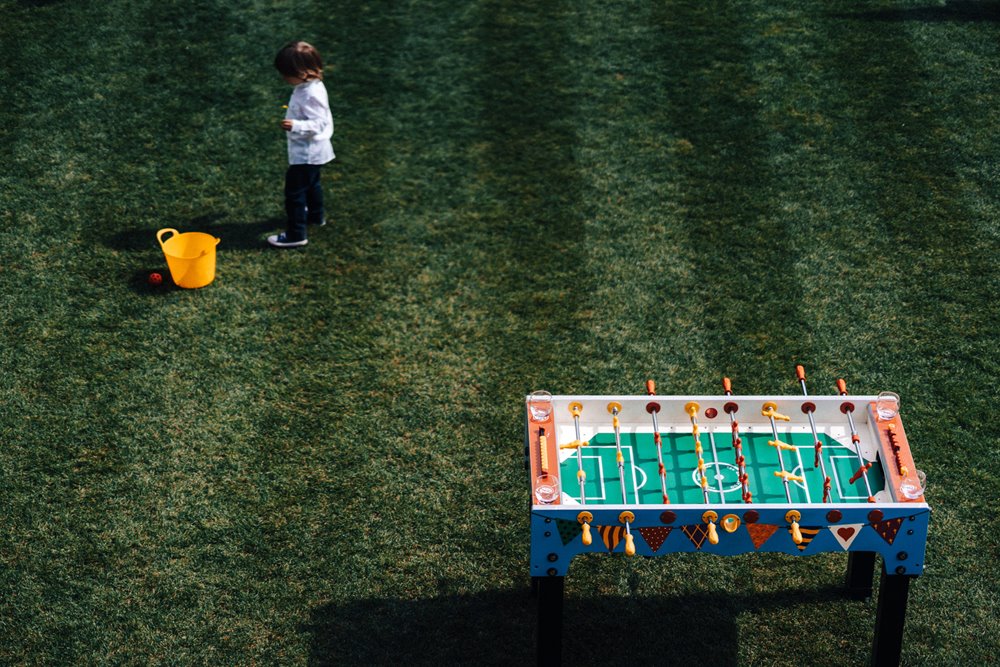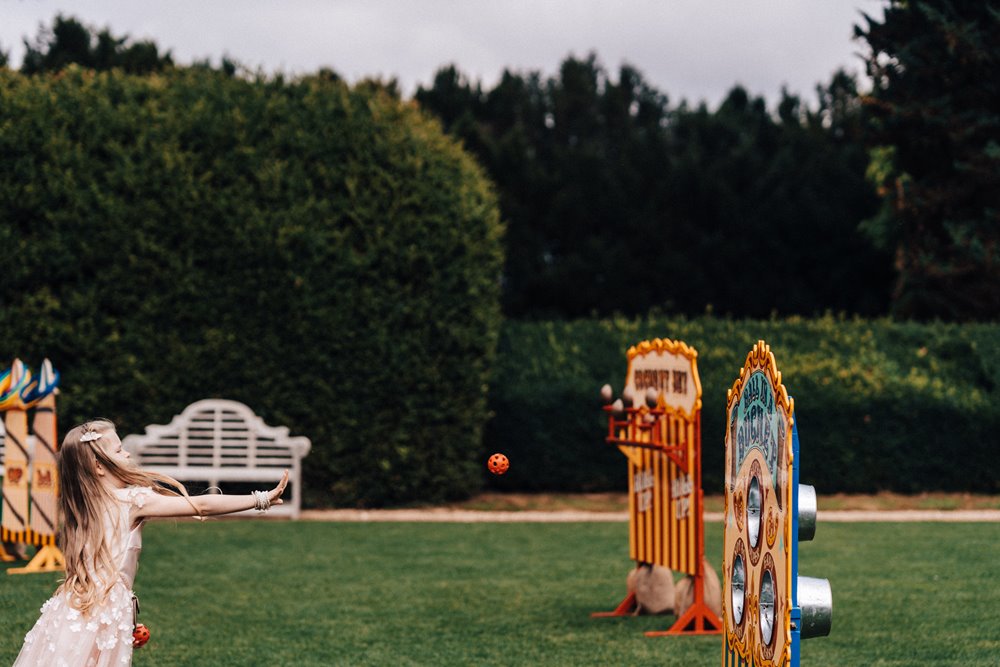 Tell us about your wedding party entertainment
Our fantastic "Bamboleo Band" played a couple of sets in the evening to get our guests up and moving after a stupendous meal, they were fantastic and lively - playing all of our favourite Gypsy Kings songs along with some other party classics!
Our guests were throwing some very impressive moves during these sets!
We then had Matt Bailey who presented Capital Radio in Newcastle shake us up with an incredible playlist in the evening which included banger after banger!
What was your first dance?
You've Got a Friend in Me (para el Buzz Espa–ol) (from "Toy Story 3")
This was the Gypsy Kings version, we thought it'd be rude not to come up with a little dance for our guests!! They loved it!
Ben had a little booty shaking moment at the beginning and then we were spinning around the dance floor under the disco ball!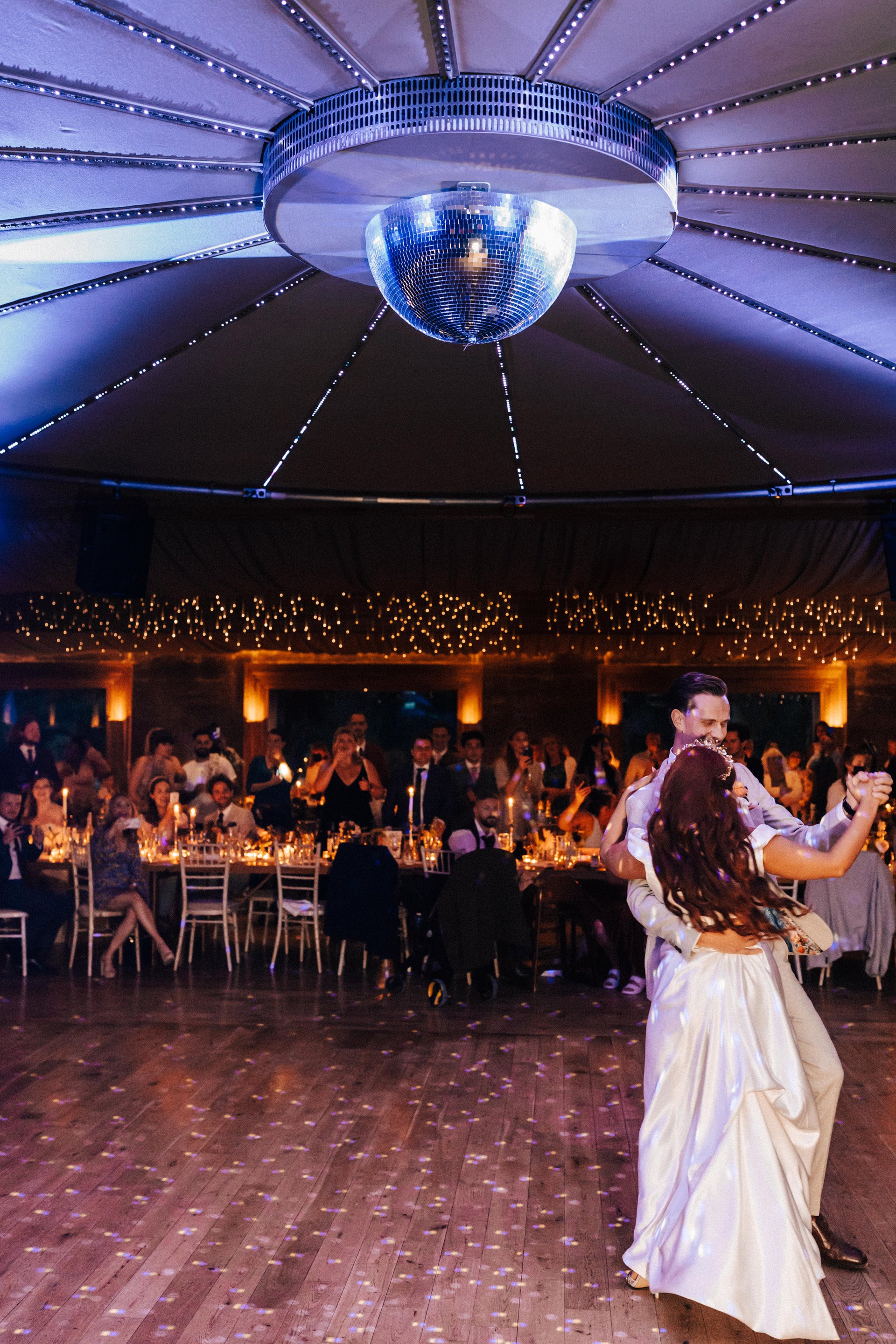 What wedding food did you choose?
Well… Anyone who gets married, or has an event at Elmore Court is in for a huge treat!! The food and drink as I mentioned before is the very best of the best. We know, we tried a LOT of it!
For the starter we had delicious Arancini, Napoli sauce with salted ricotta.
For the Main we had Slow roast lamb shoulder, celeriac pureé, Boulanger potato, hispi cabbage, carrots vichy and lamb sauce. (We couldn't wait to have this again after the tasting day!)
And for dessert: Apple and cinnamon sticky toffee pudding, toffee sauce and salt caramel gelato with seasonal fruits.
We also wanted our guests to be fully stocked with the drinks so we made sure they could choose what they wanted from behind the bar alongside their signature cocktails!
Who made that stunning wedding cake?!
Our stunning wedding cake, made by Cherish Cakes by Katherine was perfect and in fact so much better than what I had imagined.
Katherine did her magic and used gold leaf brushed blackberries nestled within the flowers and did some lovely hand painted brushwork detail onto the outer white chocolate ganache using warm tones of oranges, creams, burgundy.
There were also gorgeous miniature painted gold bees tucked within the design.
The 3 tiered flavours were:
Lemon & Elderflower cake with lemon and elderflower buttercream.
Chocolate cake with vanilla bean buttercream and salted caramel.
Luxury carrot cake with orange buttercream.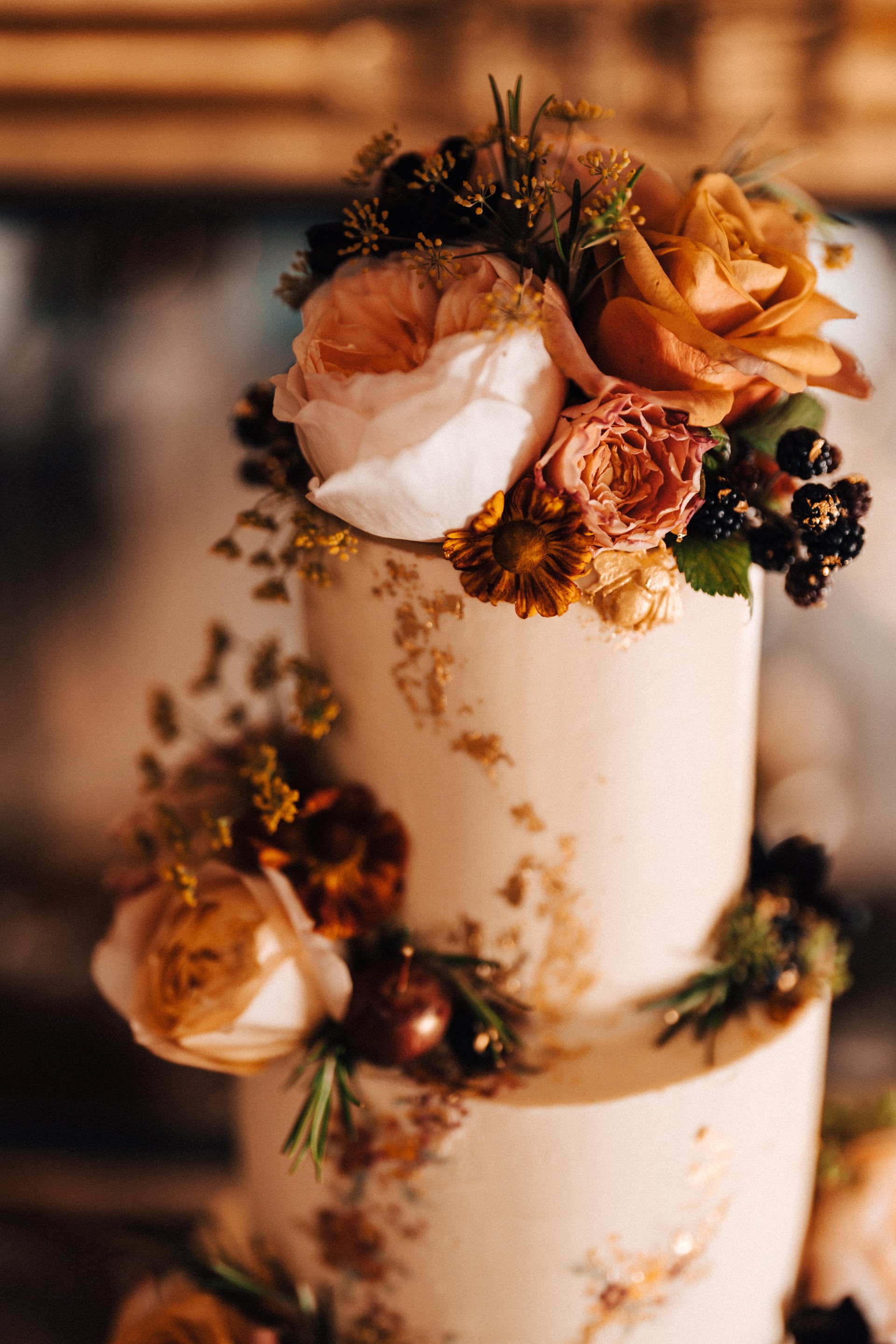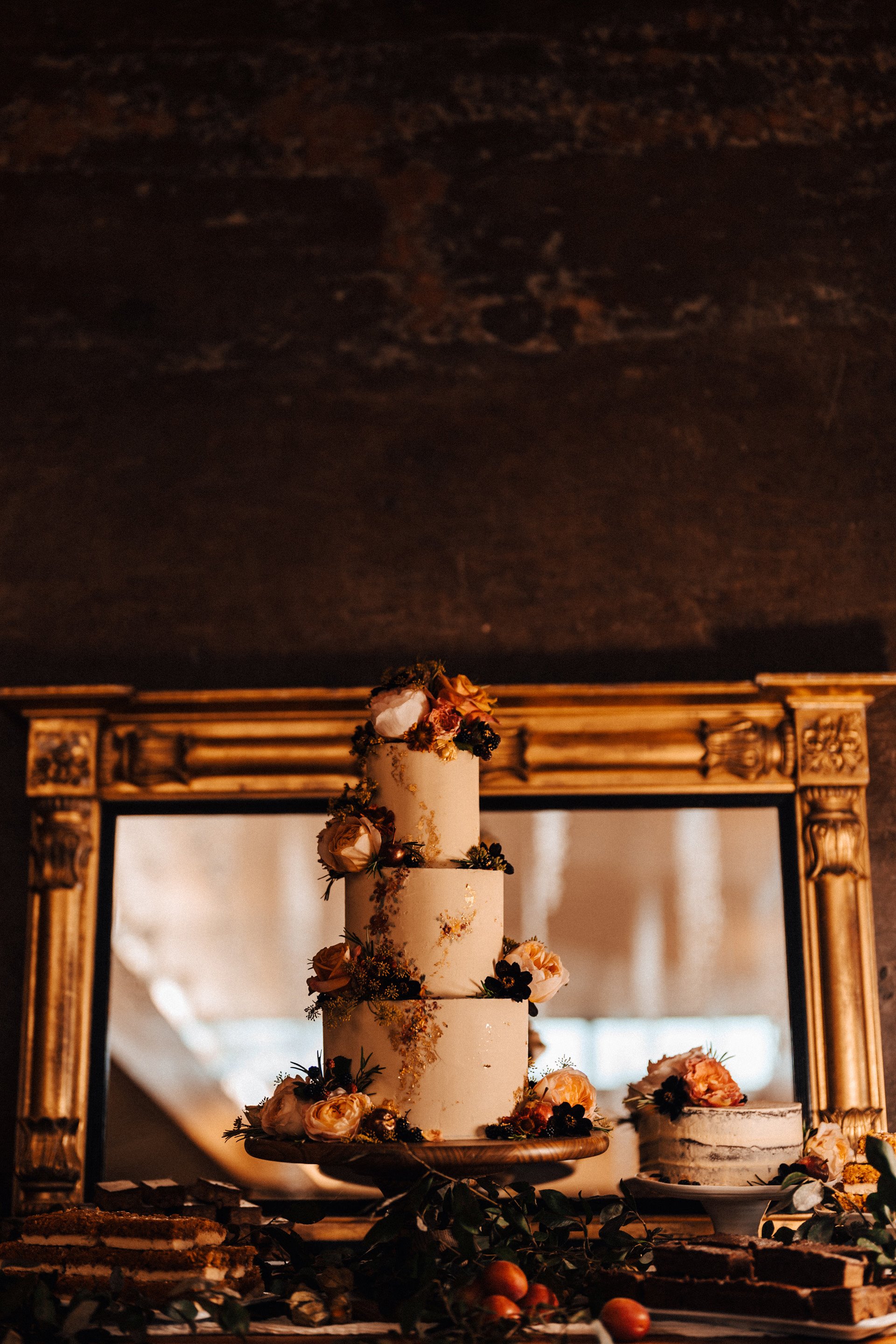 Any personal touches?
Ben and I really loved the idea of having miniature tequila bottles on the tables as we toasted our entrance as Husband and Wife.
Elmore provided salt and lime segments ready to go!
Our band played 'Tequila' and the rest was history! (The kids had mocktail version!)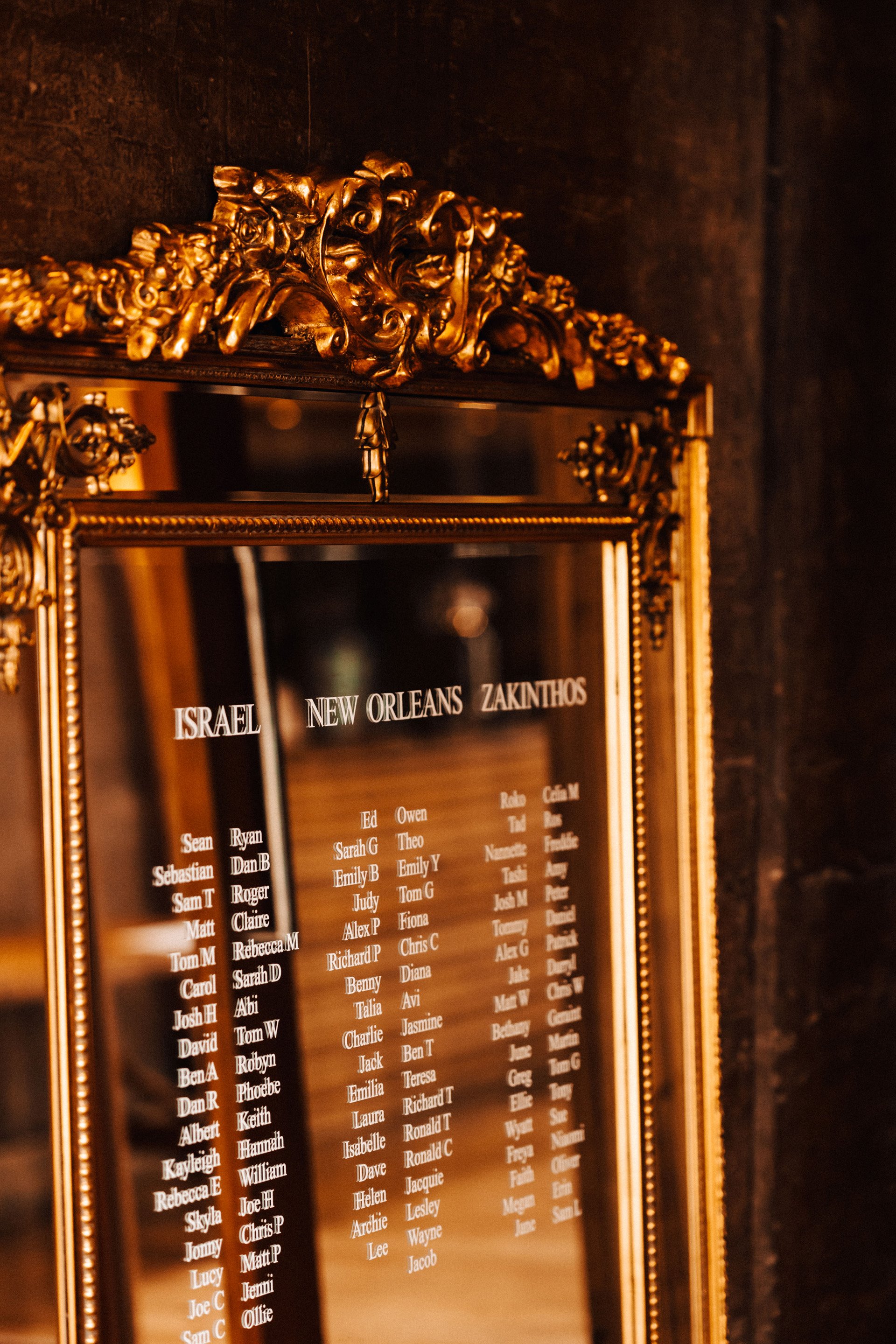 You wedding highlights?
I wanted to mention our evening before the wedding - We were the first bridal party to take a dip in "The Bottomless Lake" the night before the wedding whilst we stayed at the coach house.
Best idea we ever had!
It was almost like a bridal baptism in those chilly waters (!!!) It was the most thrilling and exciting experience to be there with my closest girlfriends. A moment I will treasure forever!!
Adele took us down in the Jeep (we felt like we were in Jurassic Park!!) and we got changed into our cossies and took the plunge!!
Afterwards, Elmore provided tea and Prosecco, which was very welcome after the chilly water...
Another highlight from the day was having delicious baked treats from Ben's Grandads bakery 'Lily's' (based in Sheffield). A little touch of home for Ben's side of the family.
Any wedding surprises?
My sister had organised for my Israeli family to be apart of her speech in the Gillyflower by showing them via zoom on a projector screen!
It was such a lovely surprise to see them, I was so sad for them not to be able to come to the day due to Covid travel restrictions but this was definitely a magical moment.
Funny wedding moments
The first dance was looming and we realised we hadn't really come up with anything dance wise so Ben and I escaped for 20 mins to come up with a short routine!
Let's just say there was a lot of bum shaking to make up for the fact we had thrown it together last minute - hardly a Strictly Come Dancing moment (!!) but I'm pretty sure Ben's friends got some pretty decent images and videos to remind him of his fantastic booty shaking for years to come!!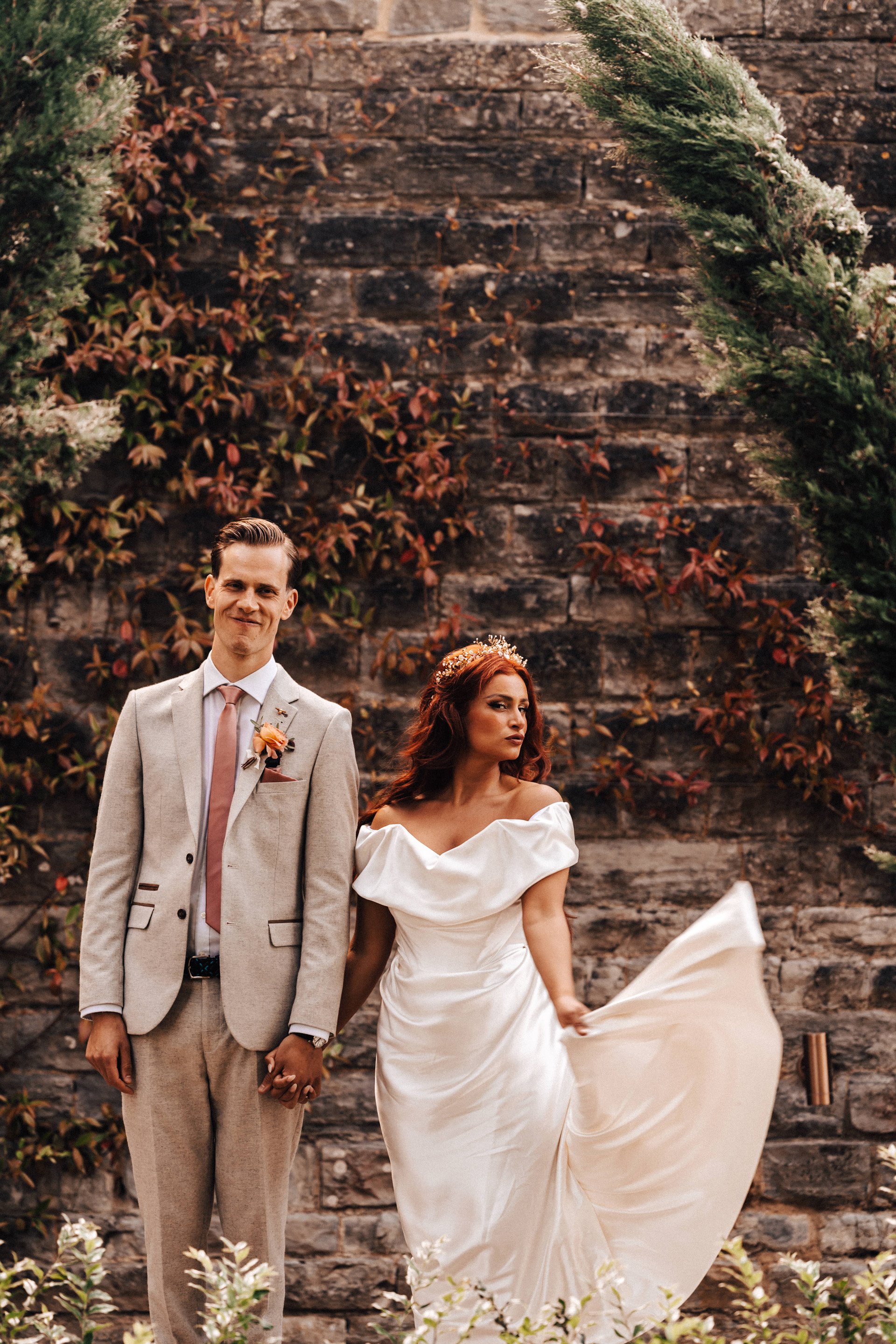 Any tips for brides-to-be?
People always said, "It goes so fast, it flashes before your eyes!" But I never really understood it before the actual day.
Before I knew it it was the evening and we were dancing the night away!
I had a wonderful time and I was keen to take time out with Ben to step away and have moments alone with him.
That's definitely something I'd recommend!
Another tip is to put you and your 'husband to be' first. It's lovely when family members make suggestions but at the end of the day, it's your day so make it your choice!
Lastly, we used Prezola for our wedding gift list - it was a honeypot for our future honeymoon in the Maldives for guests to choose gifts from 'massage on the beach' to 'scuba diving' to 'sunset cocktails'.
Such a fun way for your guests to donate without the awkwardness!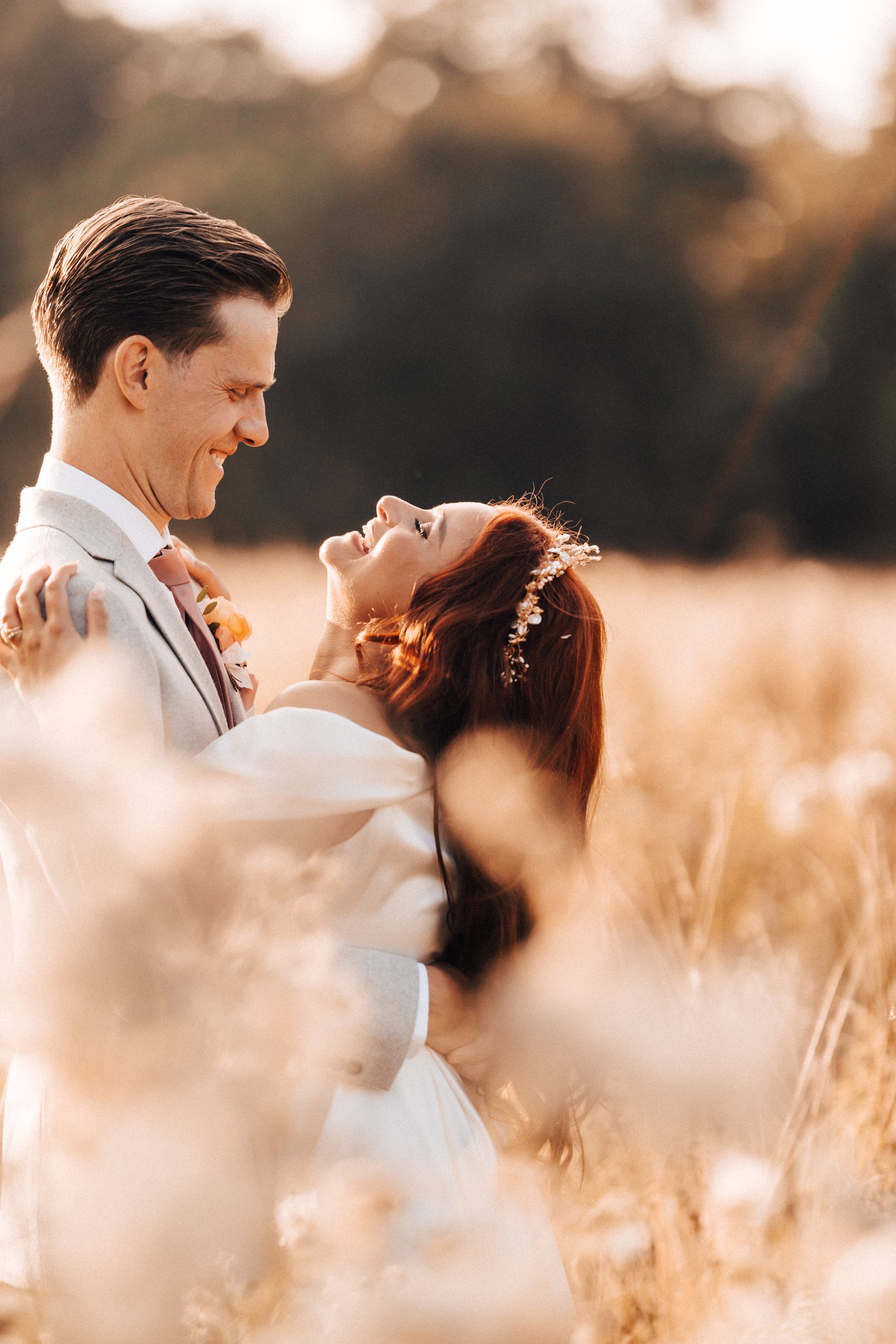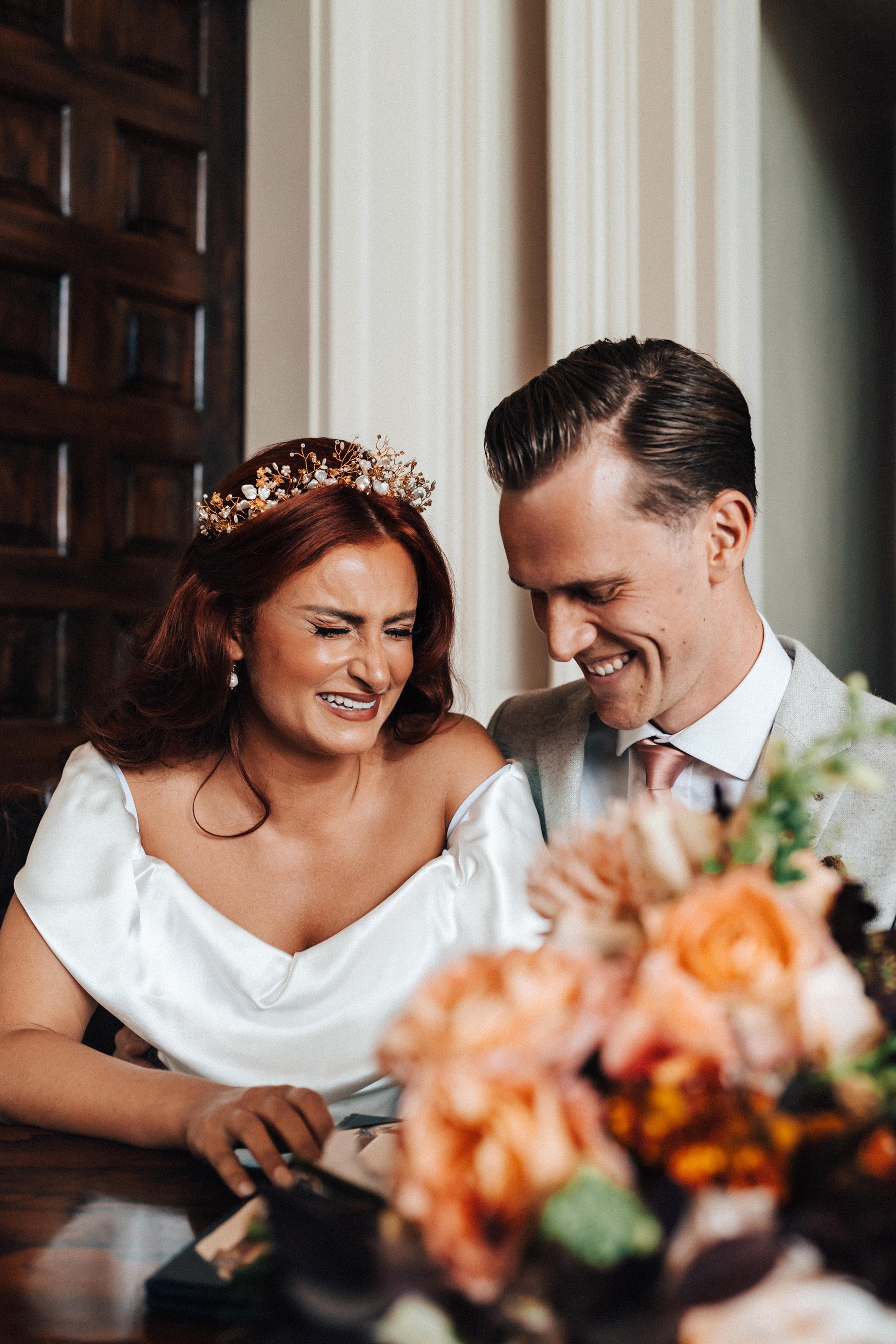 Who created this glowing September wedding?
What a gorgeously glowing day. Thank you so much Jasmine and Ben for sharing your beautiful memories with us!
... Are you planning a September wedding? Take a look at some more Autumnal wedding inspiration below, or drop us a line to ask us any questions at al!
All the love,
Team E 
xx
Related reading