Playful, Fun & Colour drenched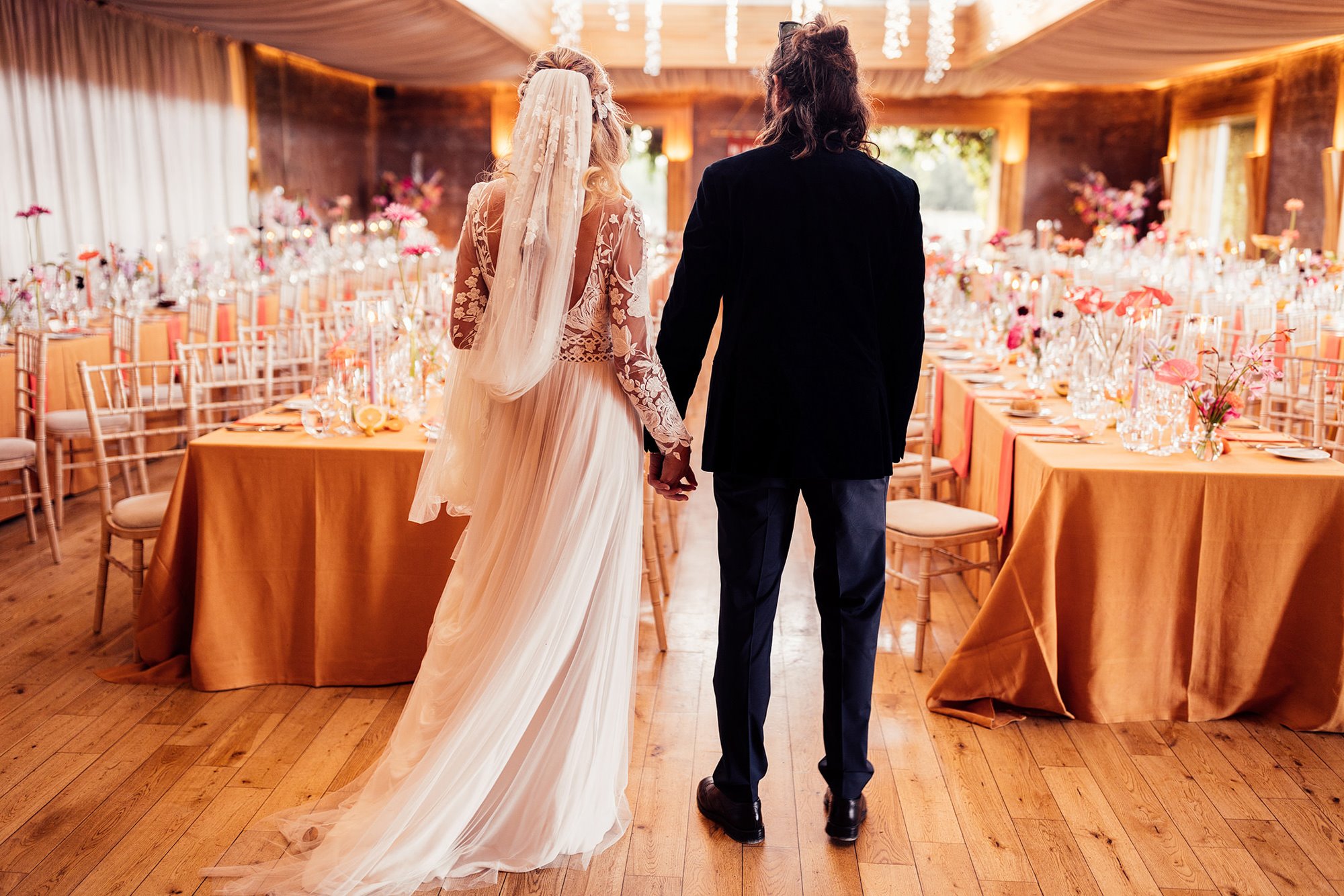 Caroline and James' colourful wedding is here to brighten your day and set trends for 2023 and beyond. They invited 145 lucky guests to their colour drenched reception in October with a tropical twist and fabulously fun after party with retro disco vibes.
This is one for all fun loving modern brides to take notes from!
Let's dive in...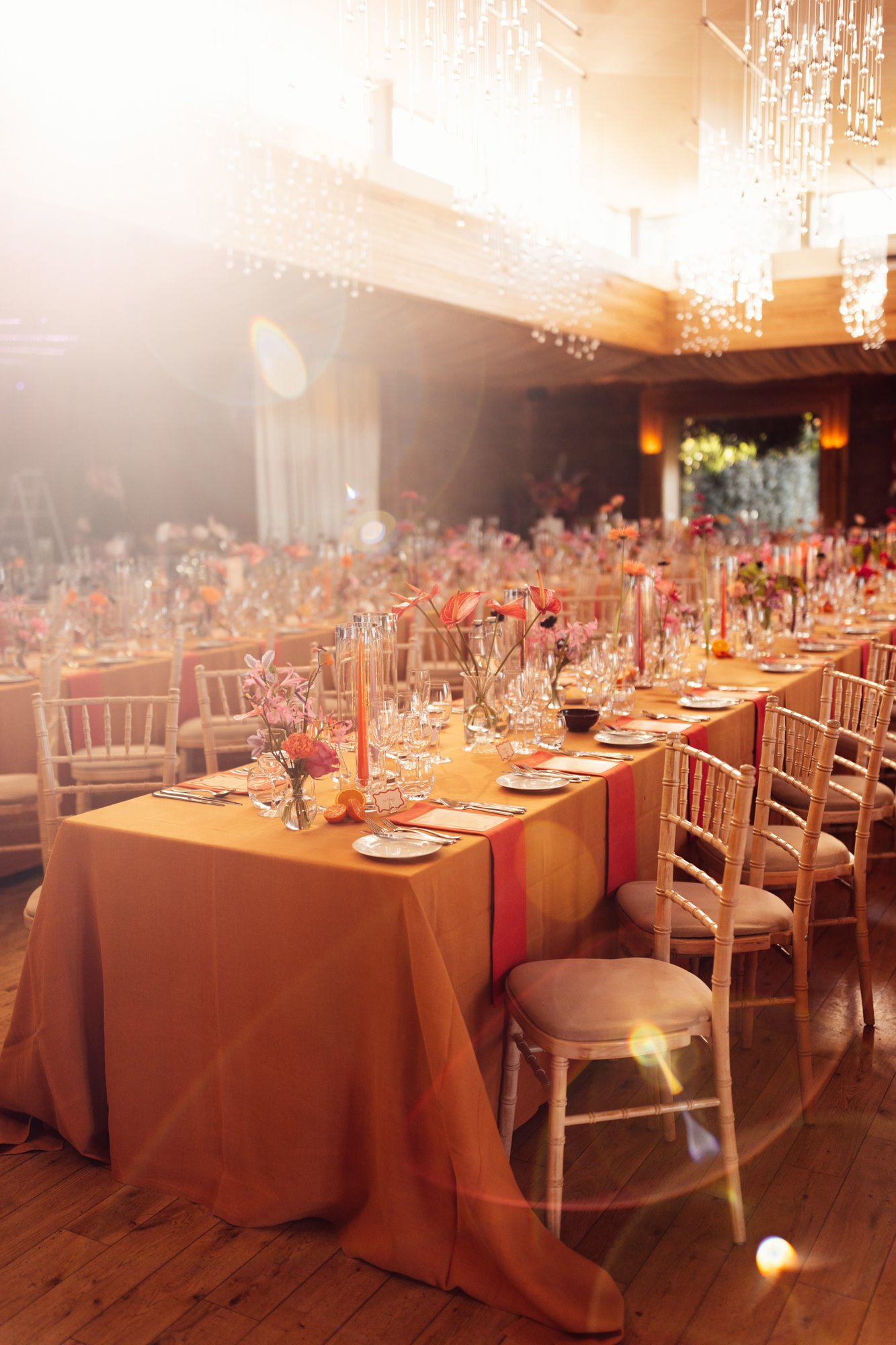 How did you meet?
We met on a dating app during the pandemic - after weeks of lock down, there was added excitement to re-joining the dating world in 'real life'!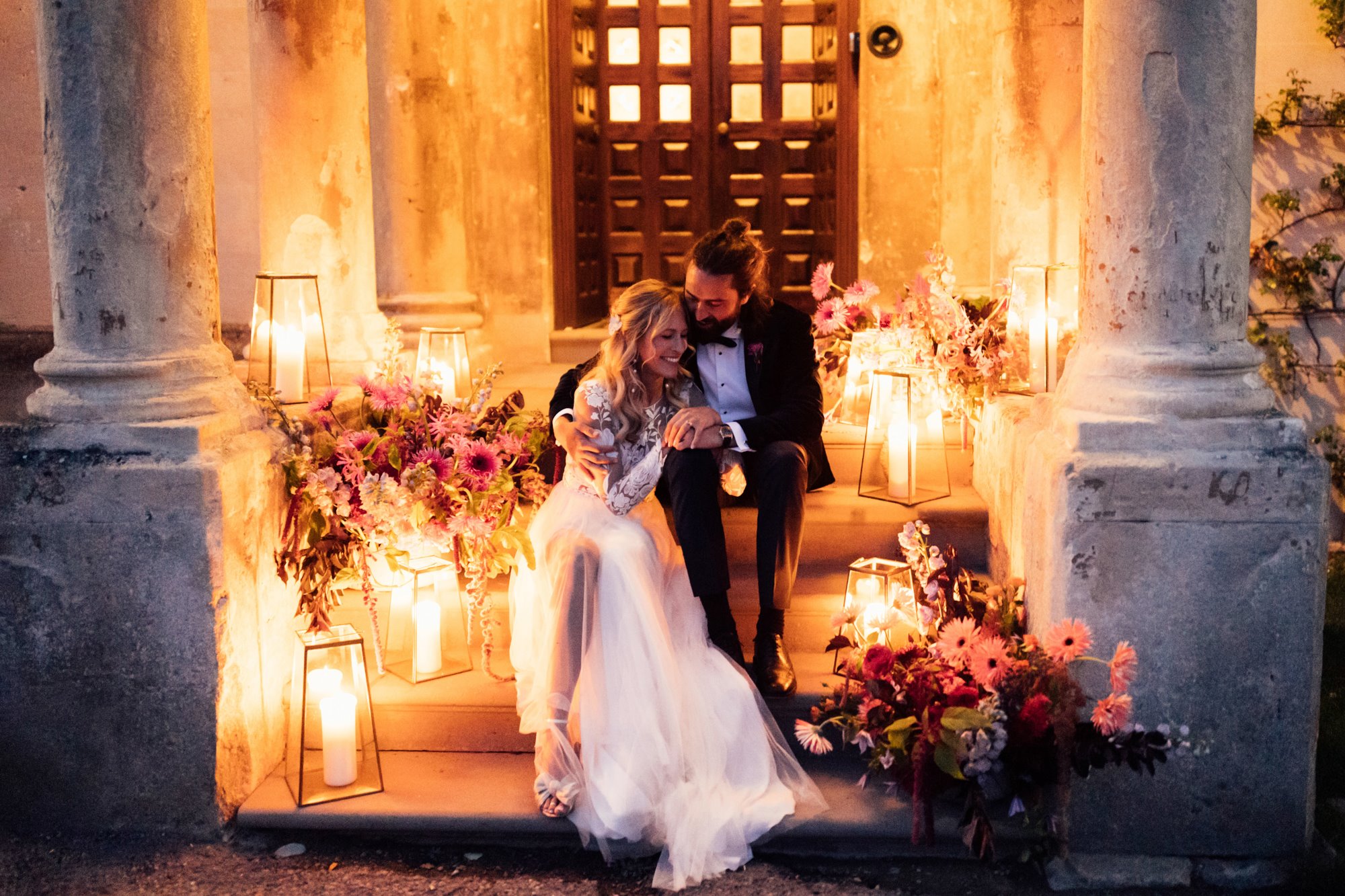 Tell us your proposal story!
We got engaged in Barbados, my parents' adopted home. We were at dinner, overlooking the ocean when James sprang from his seat and blurted out the question using a ring he'd bought in a local gift shop.
Despite being quite a public setting, it was actually hugely romantic and just such a spectacular location.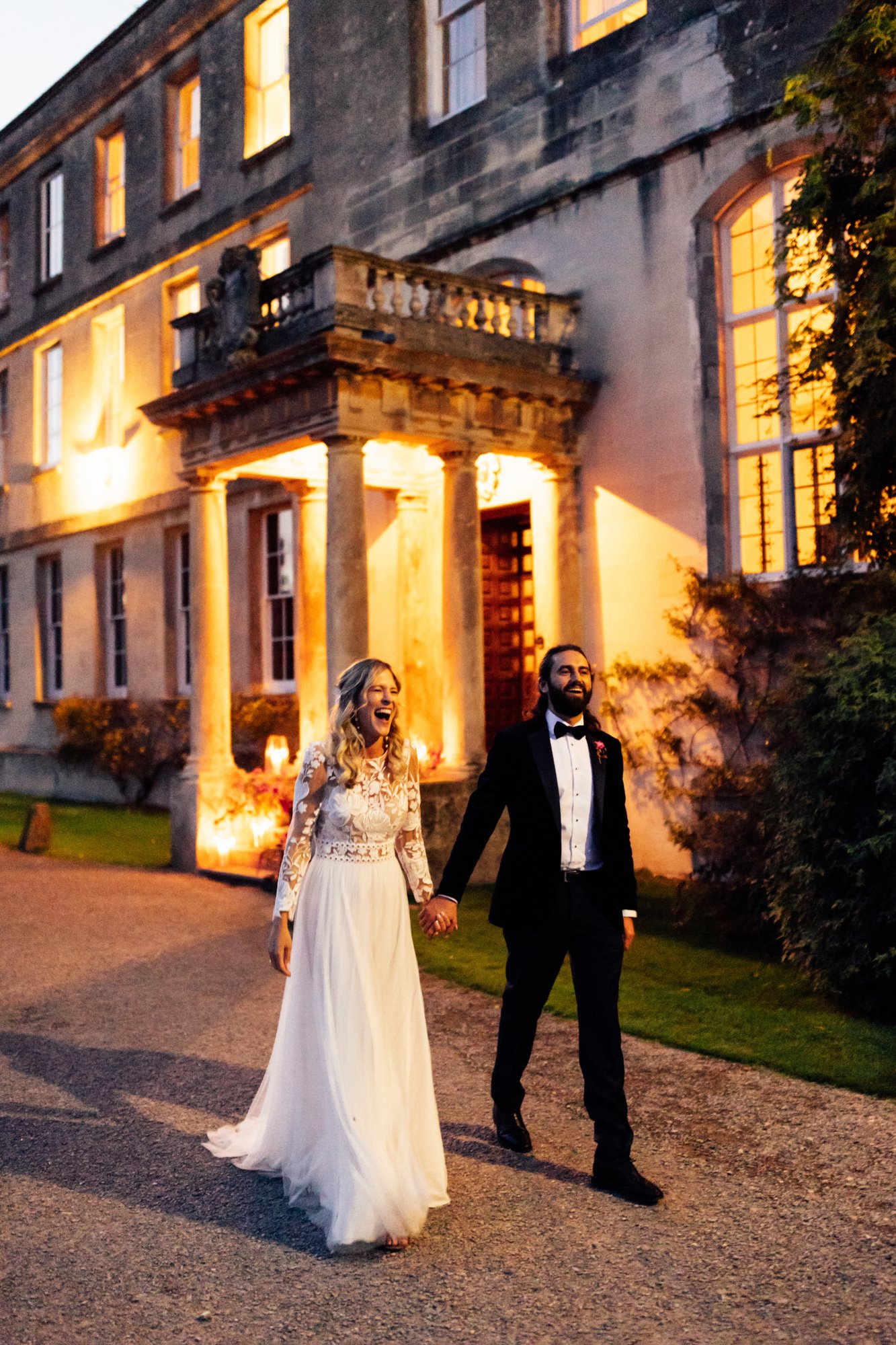 Why our wedding venue?
We moved to Bristol about a year before so wanted a wedding venue not too far away, to make the planning easier. It was love at first sight when we saw Elmore Court - the first venue we saw in fact. There had been a cancellation for that year so we just went for it.
How did you come up with your colourful wedding theme?
We loved the idea of an English autumnal wedding but didn't want it to be really cliched.
James was adamant we couldn't have a 'pumpkin spice latte' colour scheme - he surprised me by having quite strong views on the colour scheme!
We decided to go for warm tones of oranges, reds, pinks and ochre but with pops of bright colours - lilacs, neon pinks and coral. We spend a lot of time in the Caribbean so it felt like a nod to the tropics.
'Playful, fun and colour drenched' was our wedding theme.
On a few occasions I worried it would all be 'too much' but our wedding planner, Rachel from Salt and Scent events, kept encouraging us to stick with our original instincts.
The trend for neutral palettes and pared back, muted tones just wasn't for us.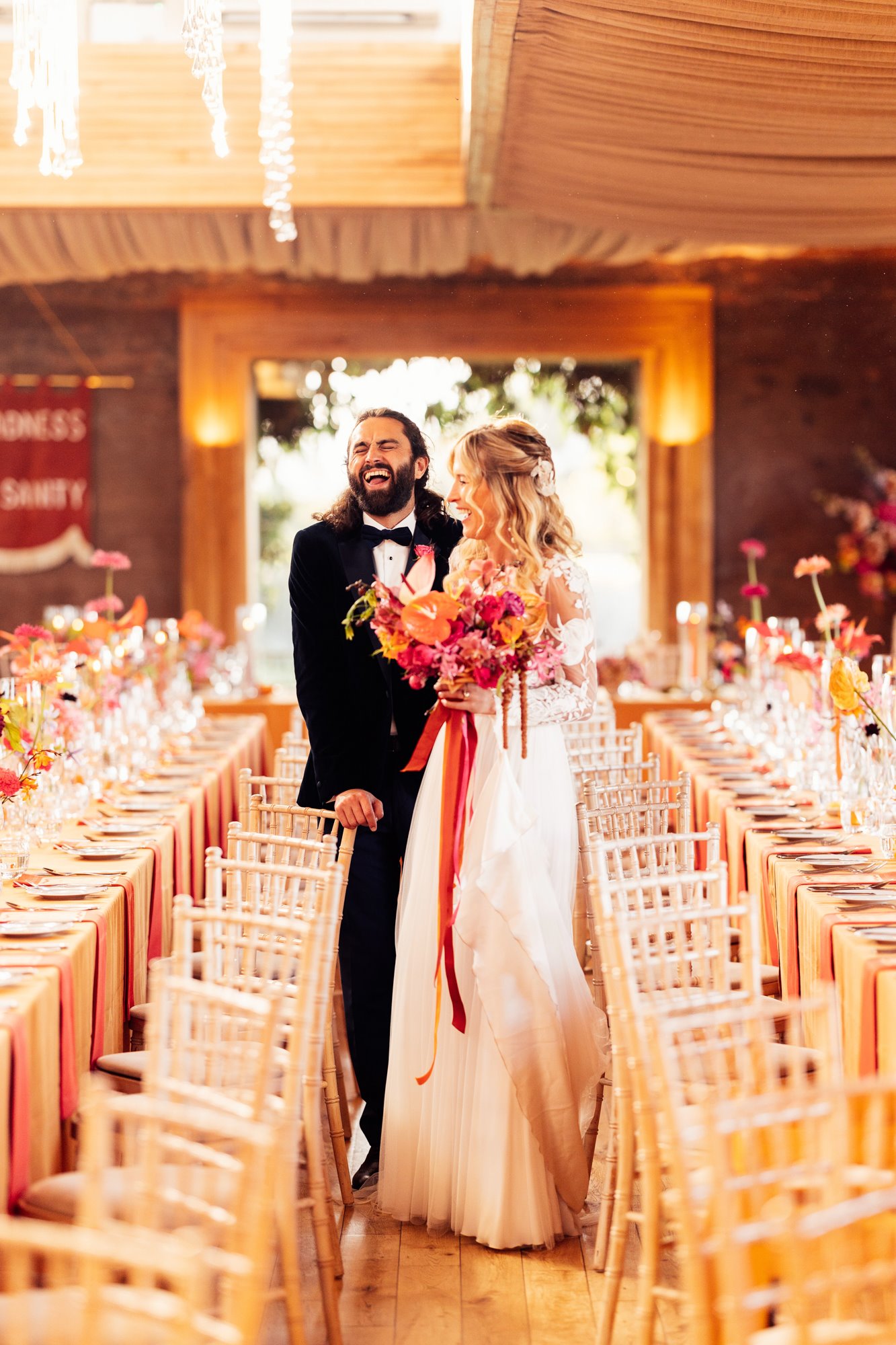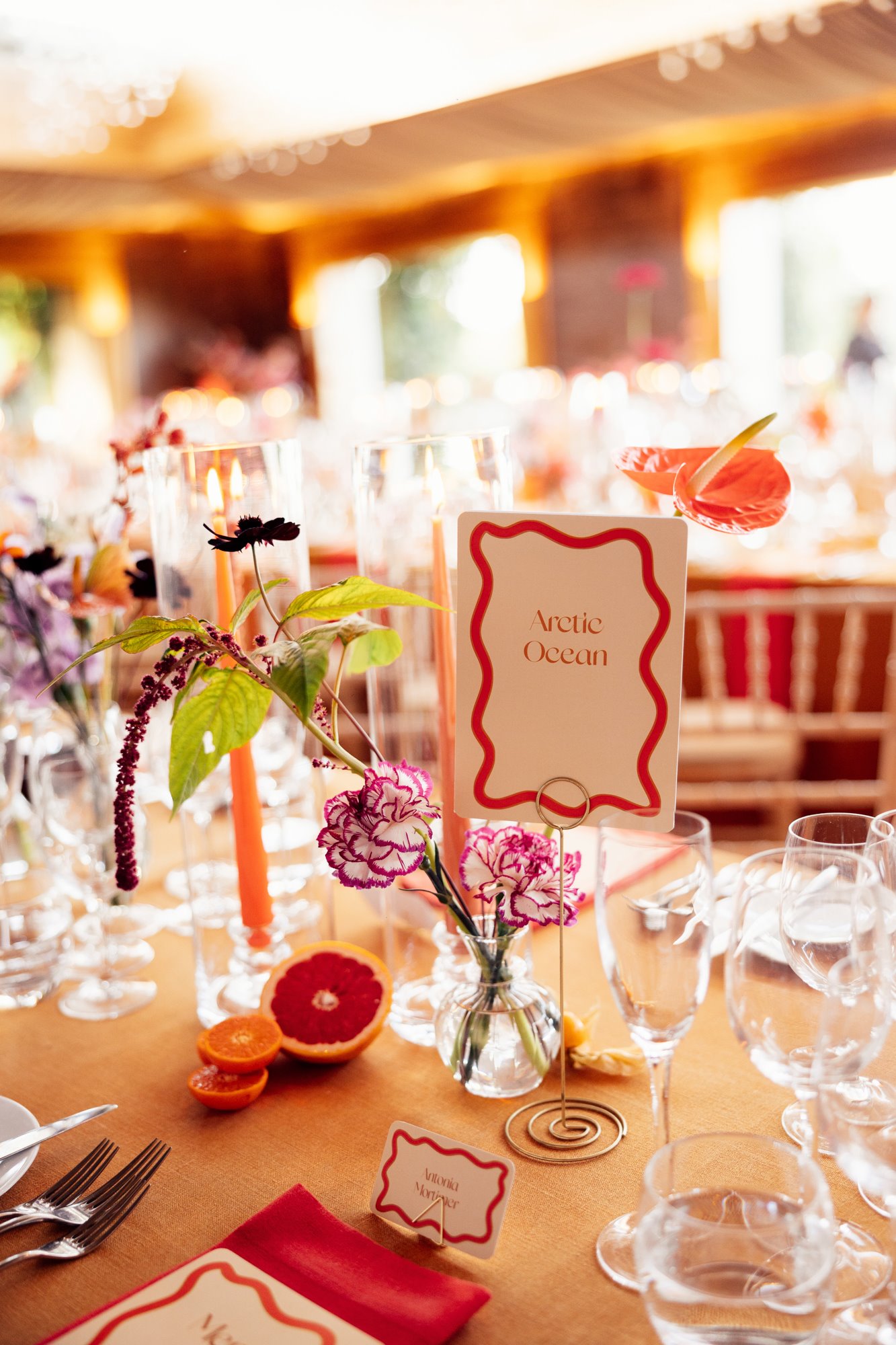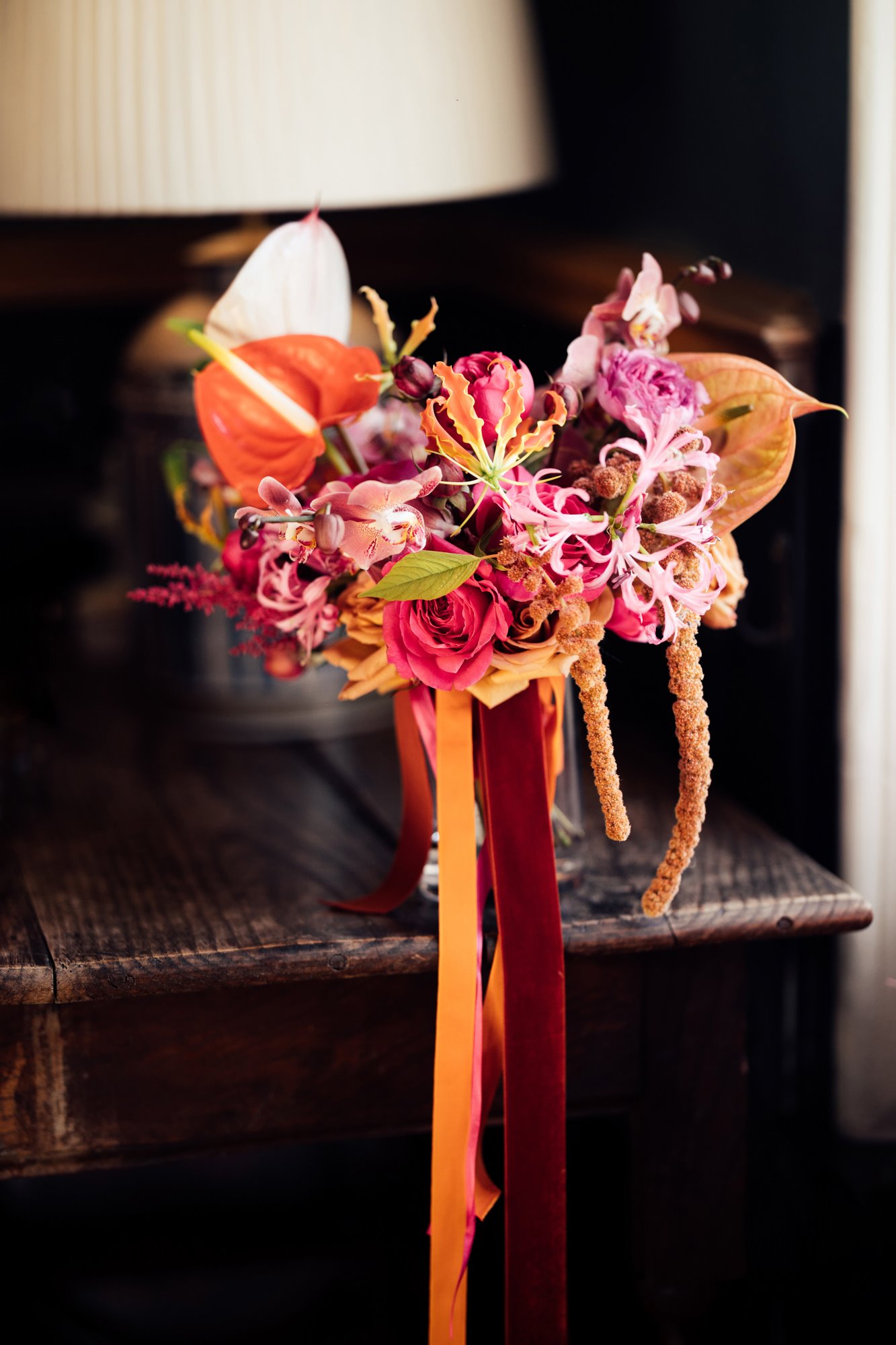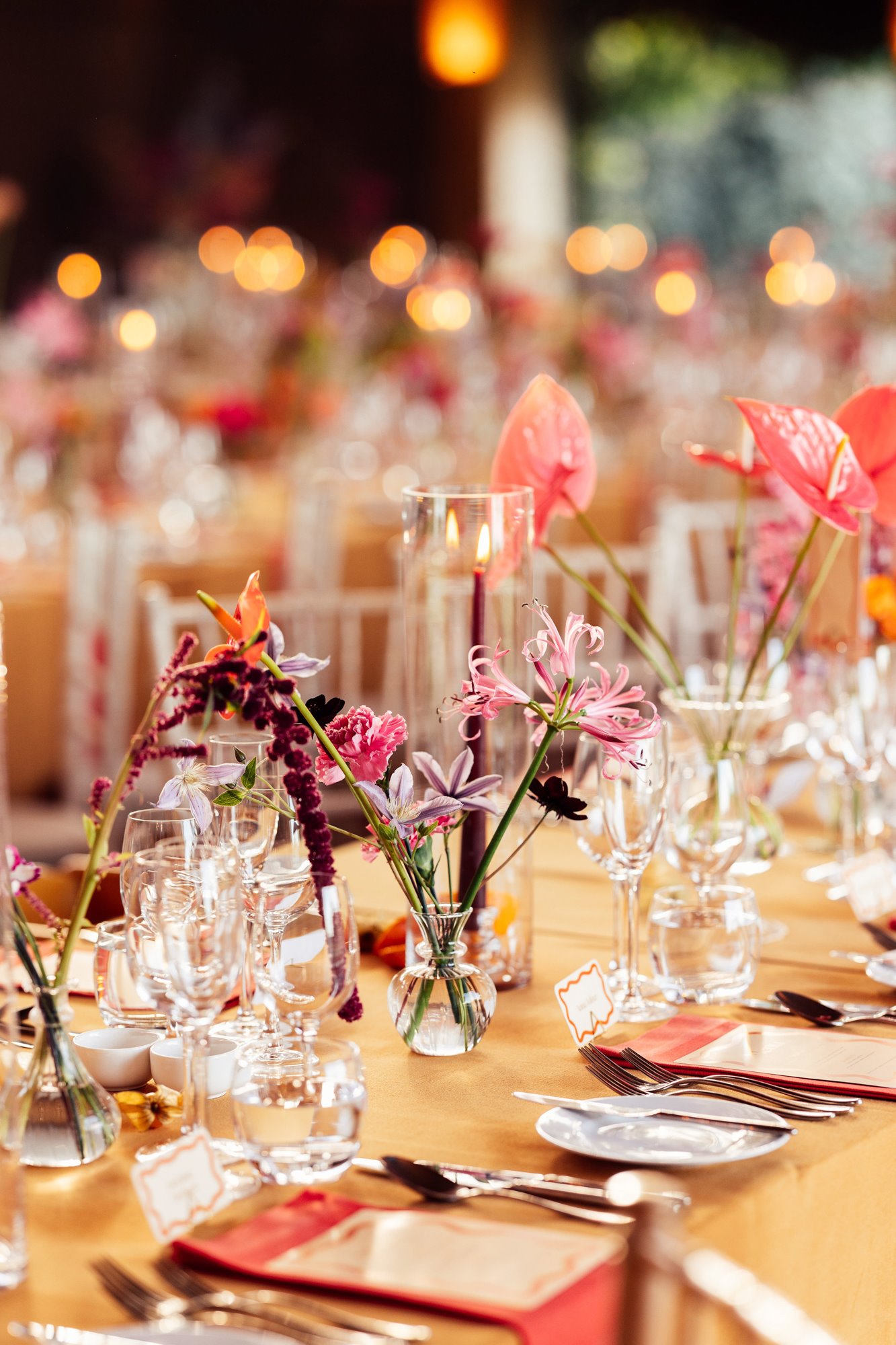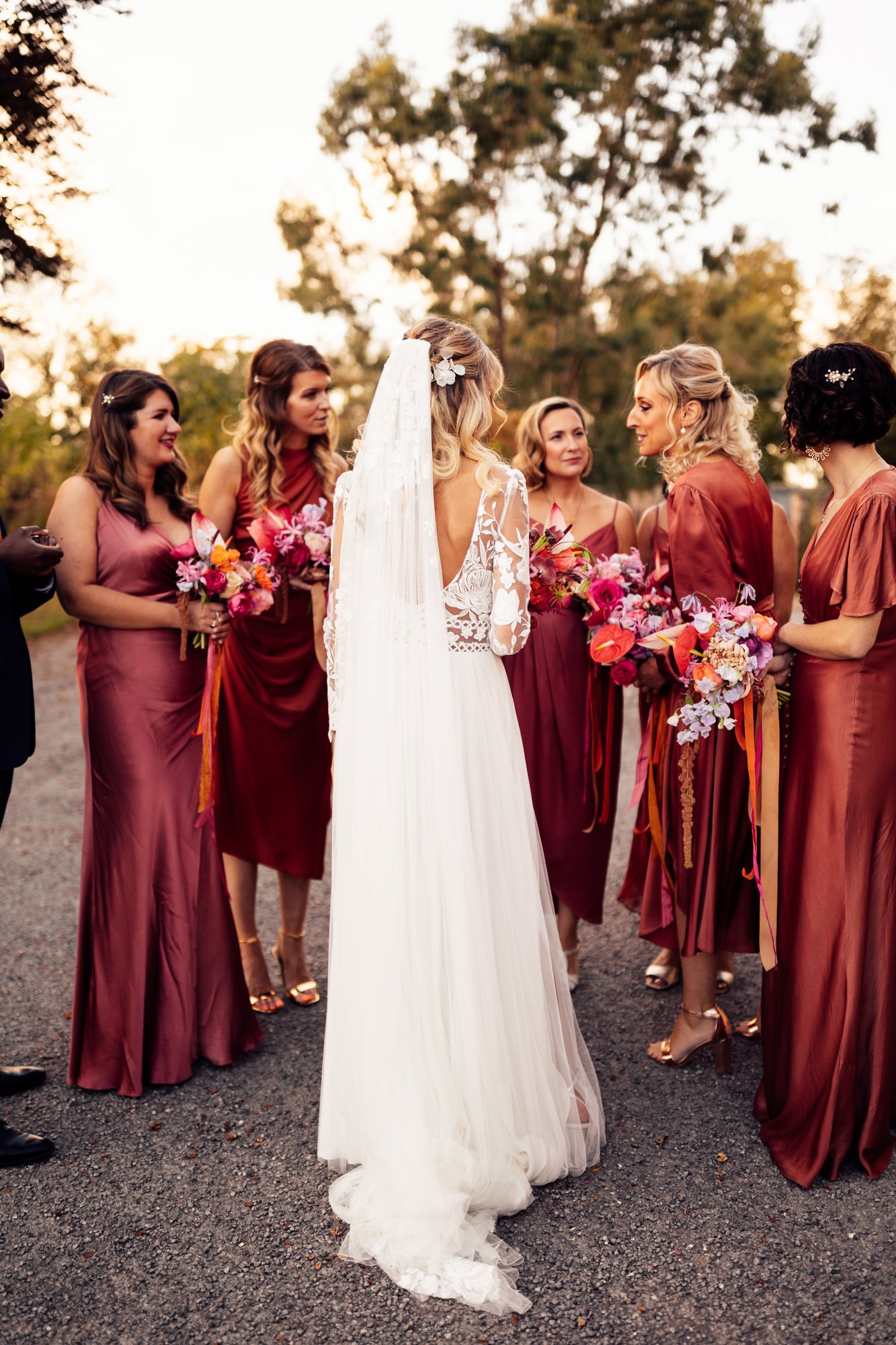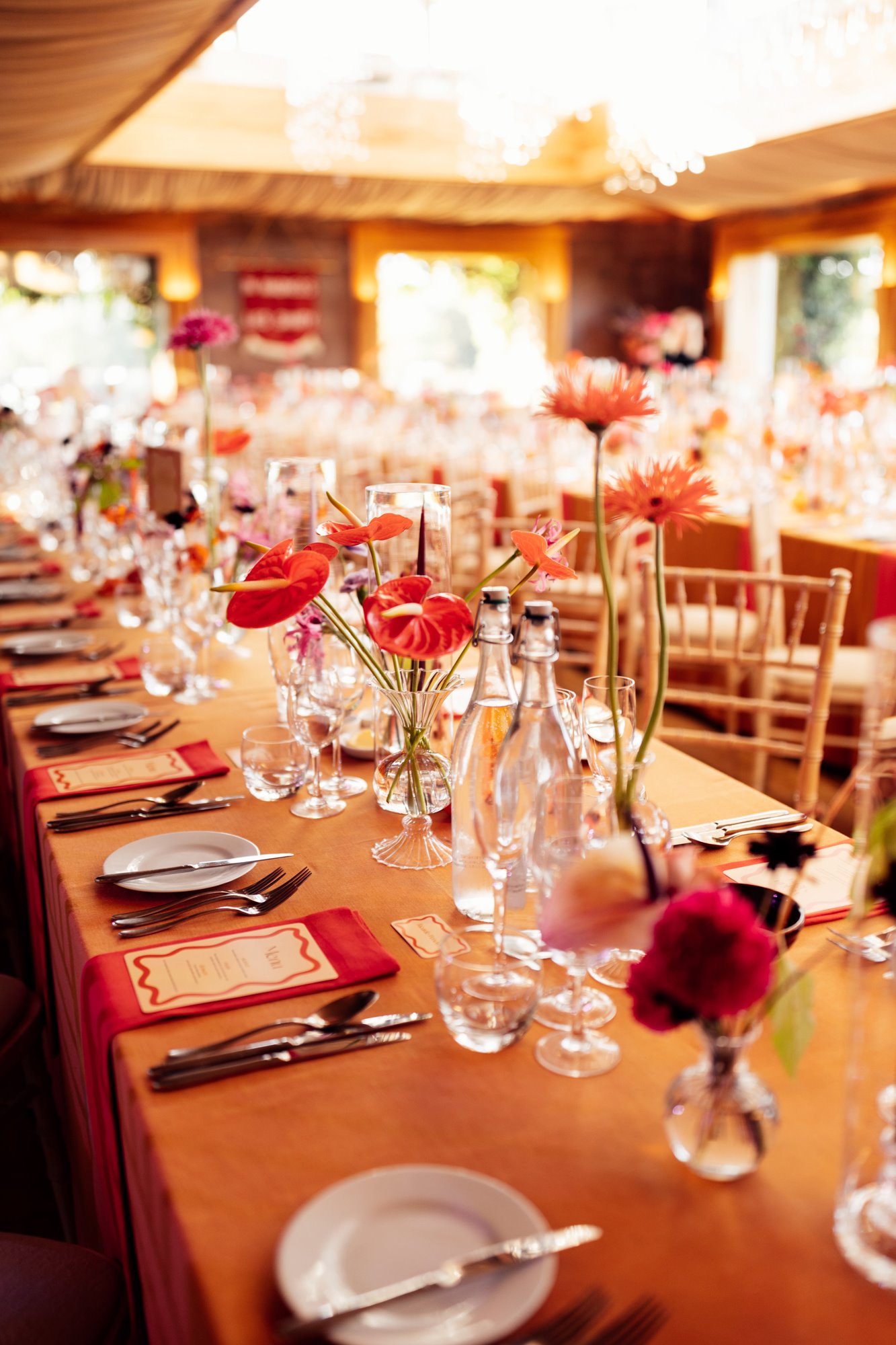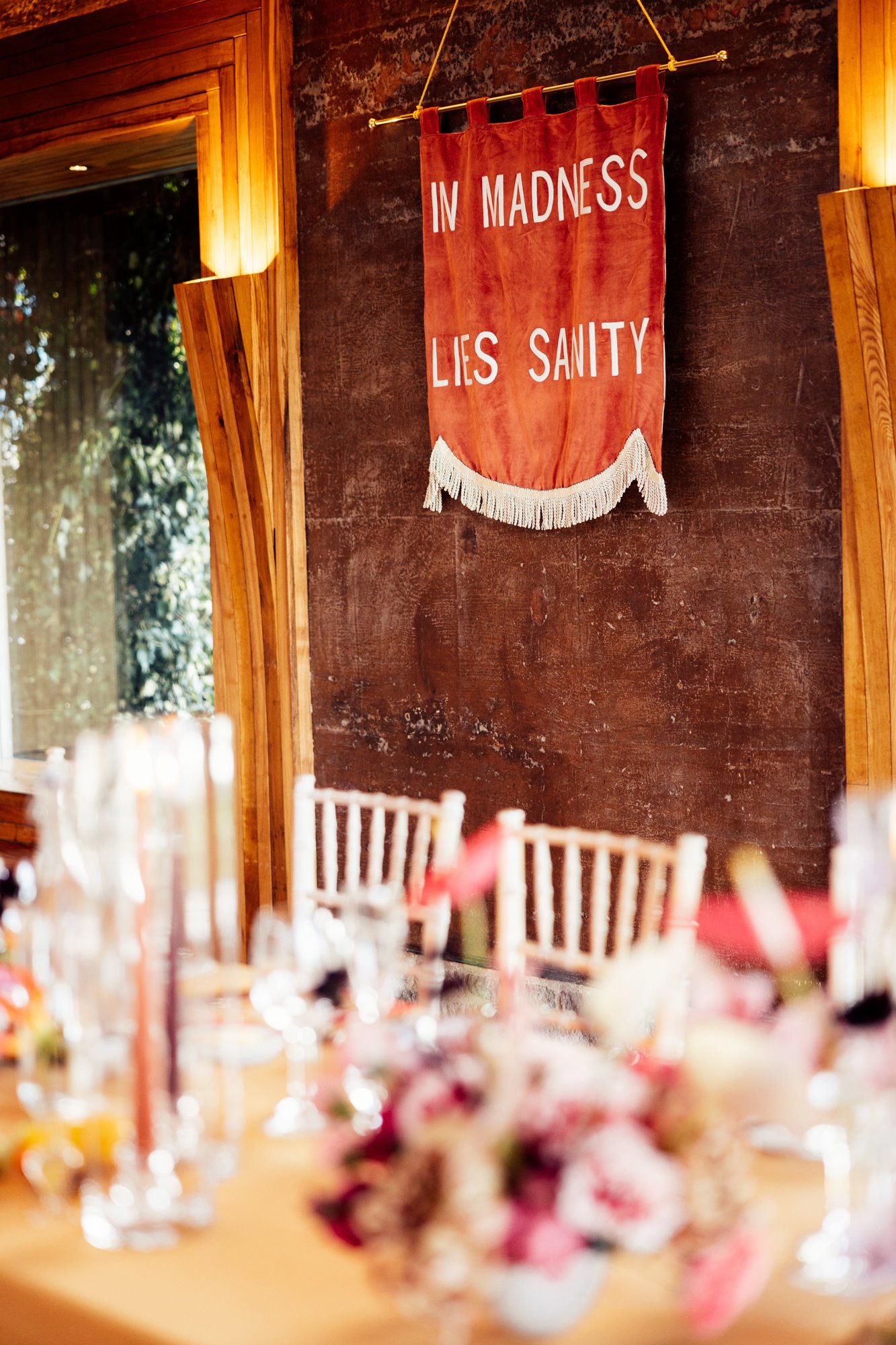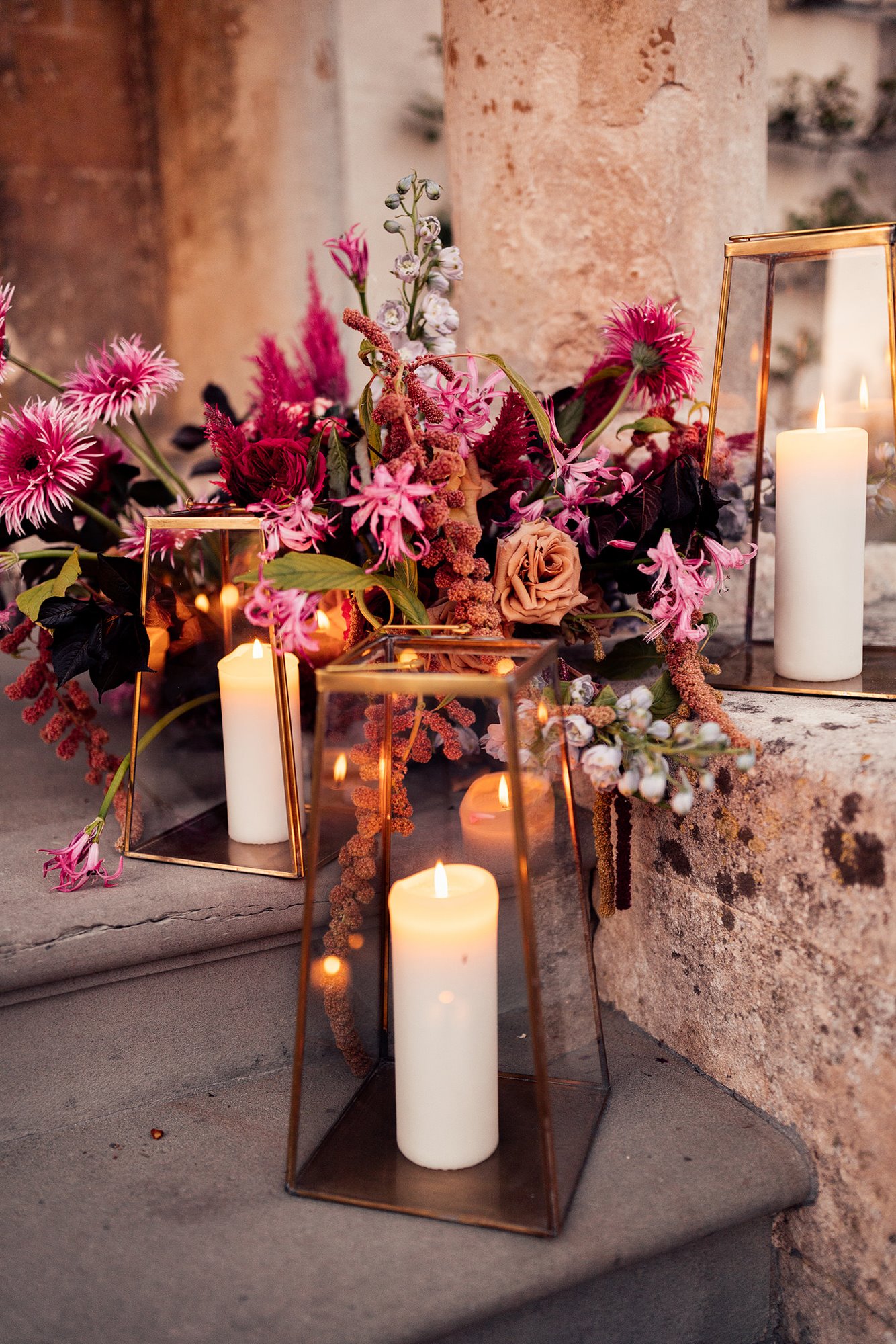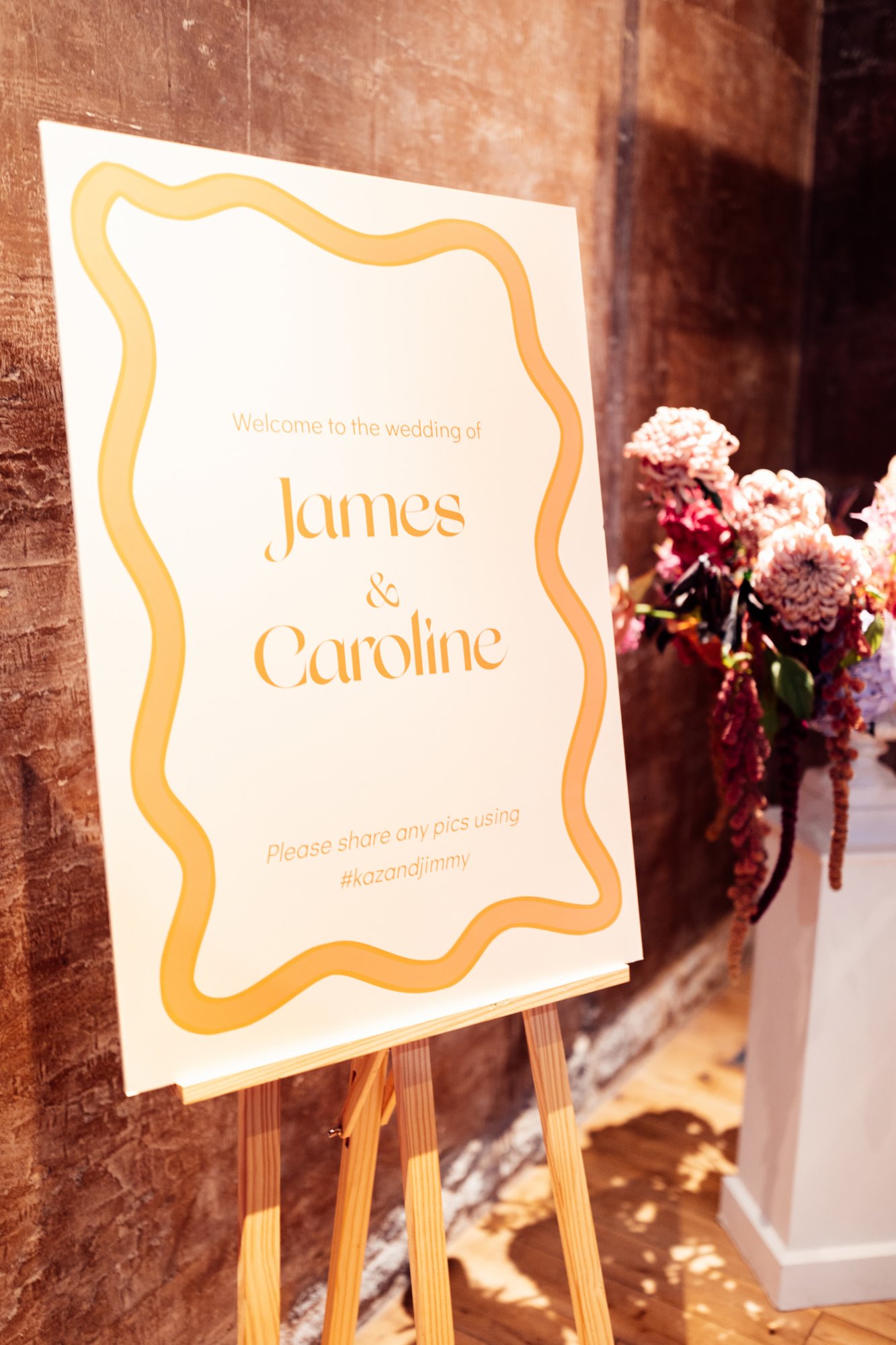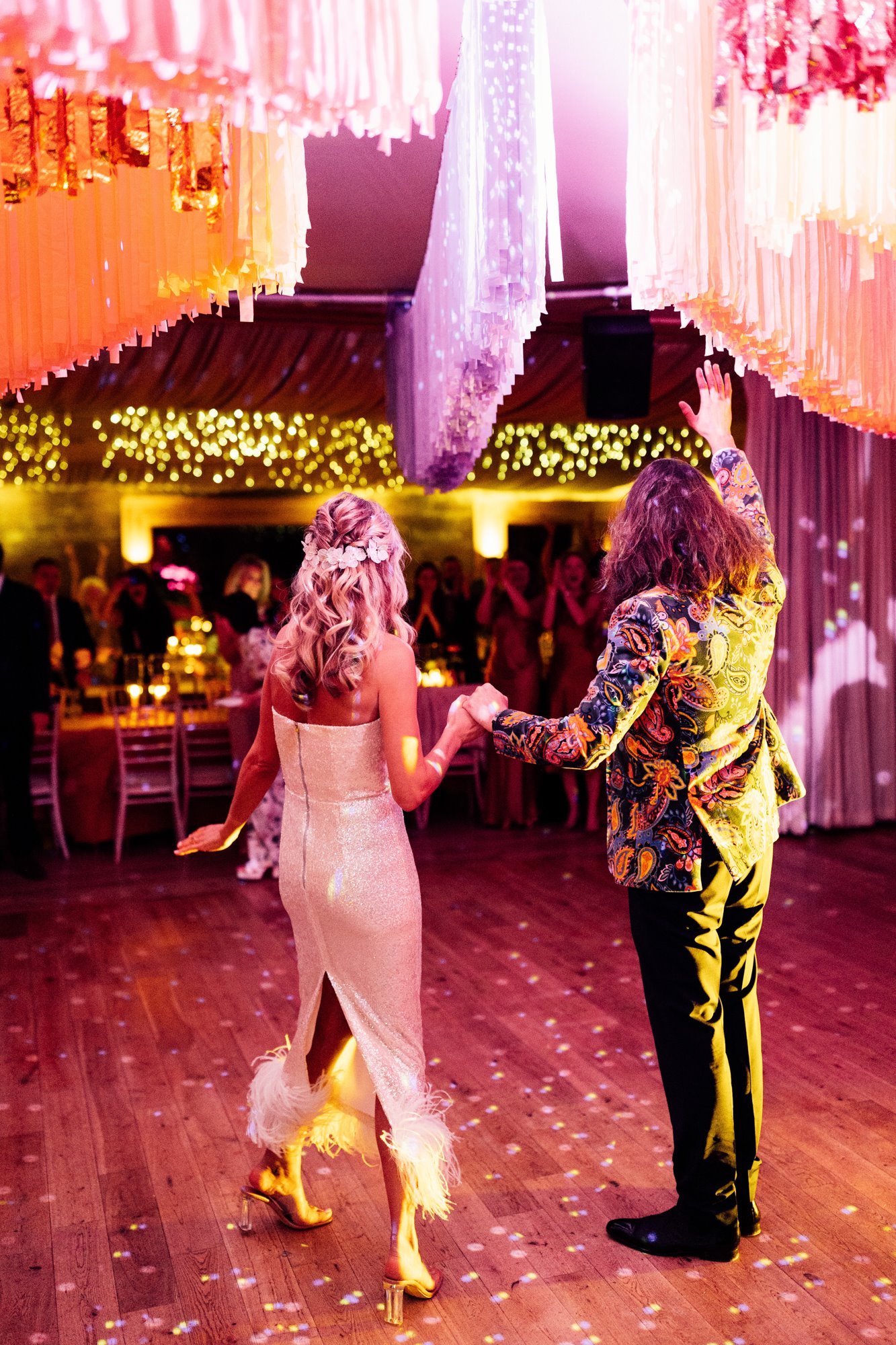 How was wedding planning?
We started almost straight away as we found Elmore only had that one date left, so it gave us just 9 months to plan the wedding.
I loved the planning process at the beginning but I'm not going to lie, it did overwhelm me at times and the stress really got to me. I think there are a lot of expectations, the pressure can feel immense and you get a bit of choice paralysis scrolling on Instagram and Pinterest. James was MUCH more chilled about it all!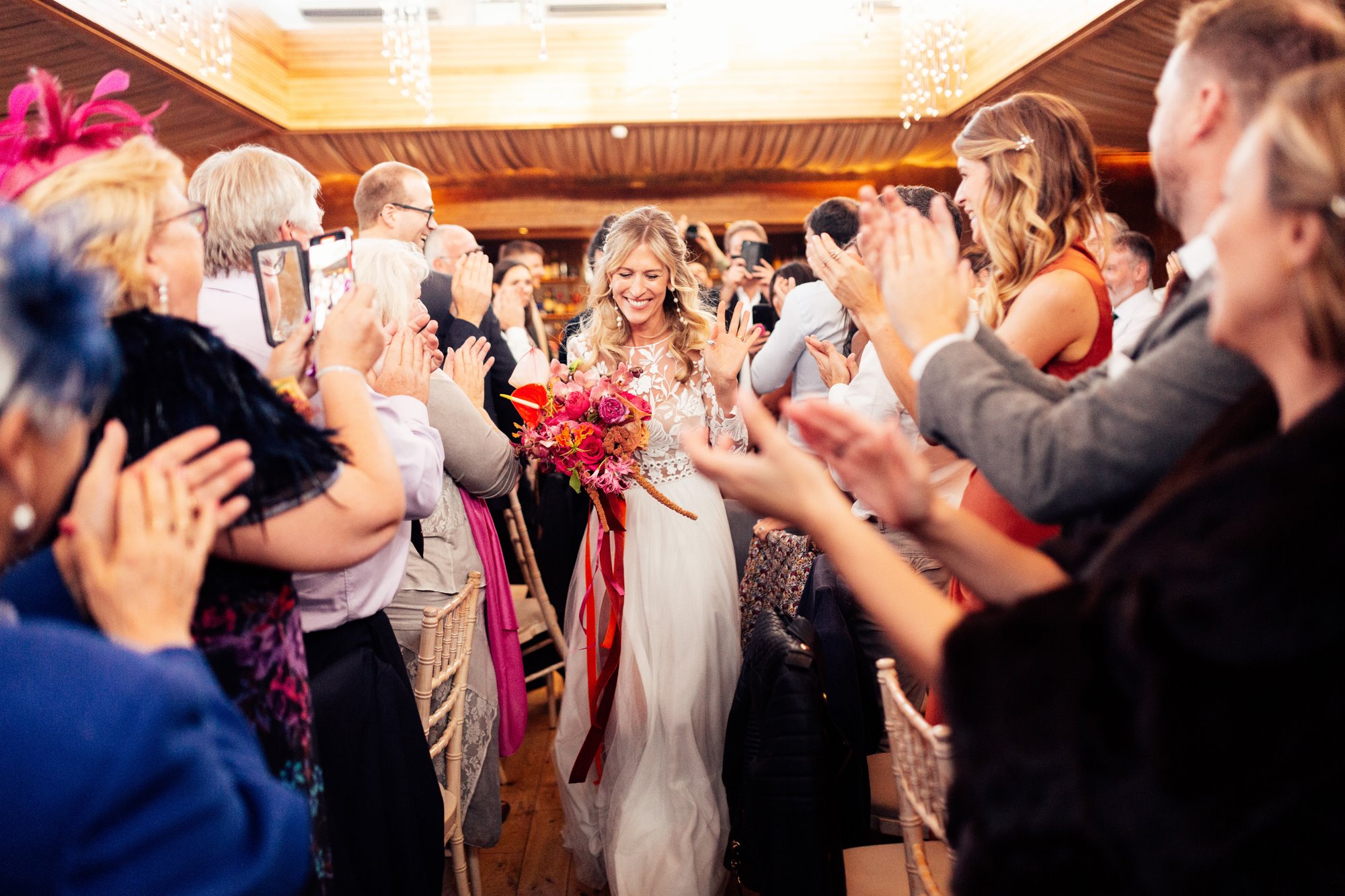 What amazing colourful wedding flowers!
We went loud and bright with streamers / disco balls on the dance floor and fruits strewn on the tables.
We chose Amber Persia for the wedding flowers and were blown away by what she created.
We wanted the flowers modern, bright, playful and not too traditional. My dress was quite boho / relaxed so we wanted unstructured bouquets / arrangements and I specified anthuriums, toffee roses, orchids and hanging amaranthus.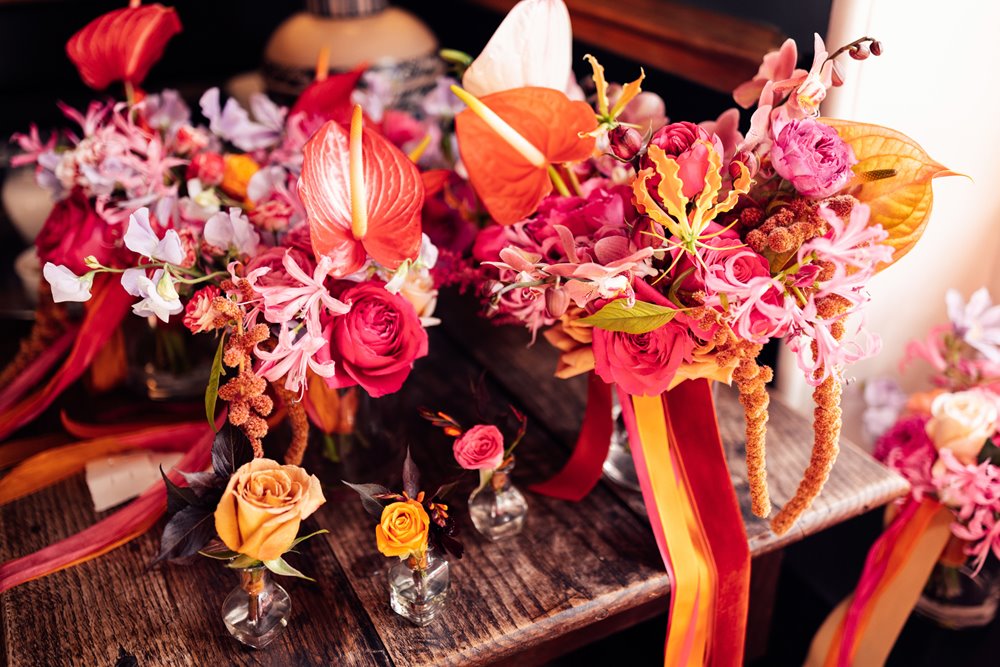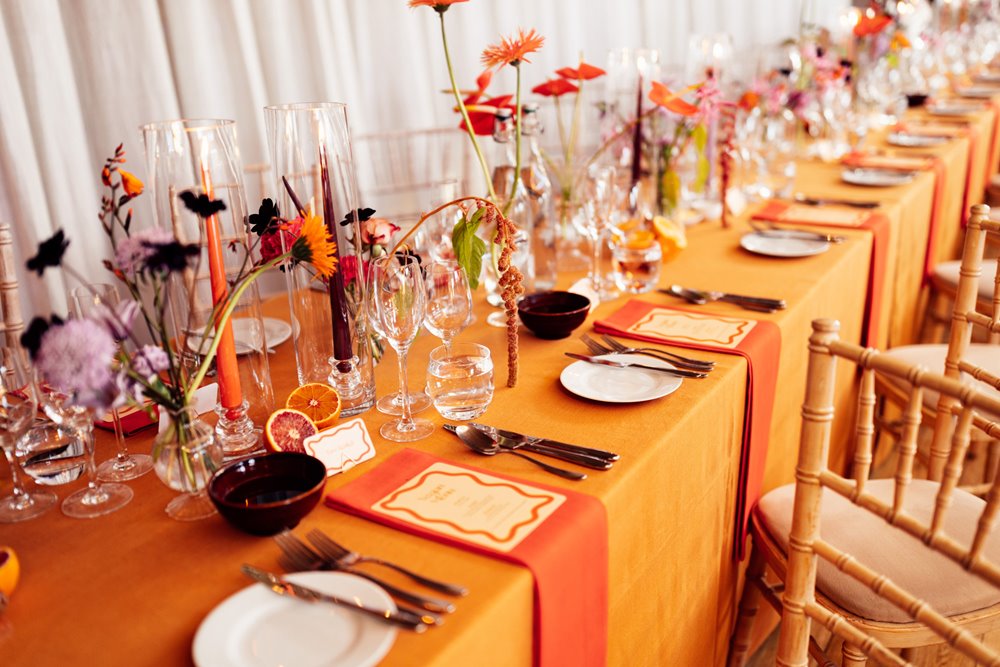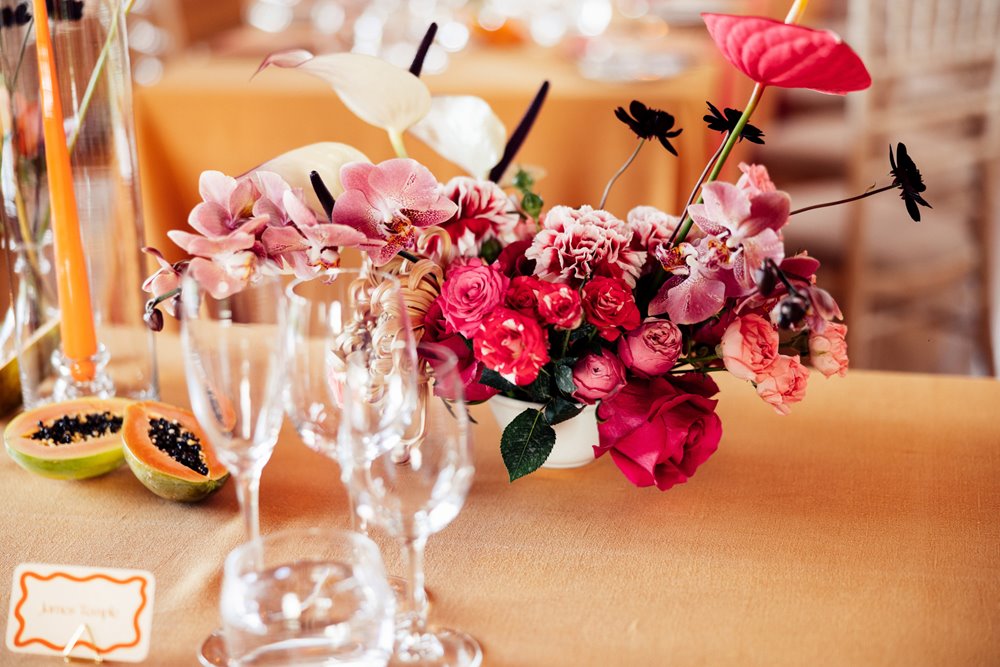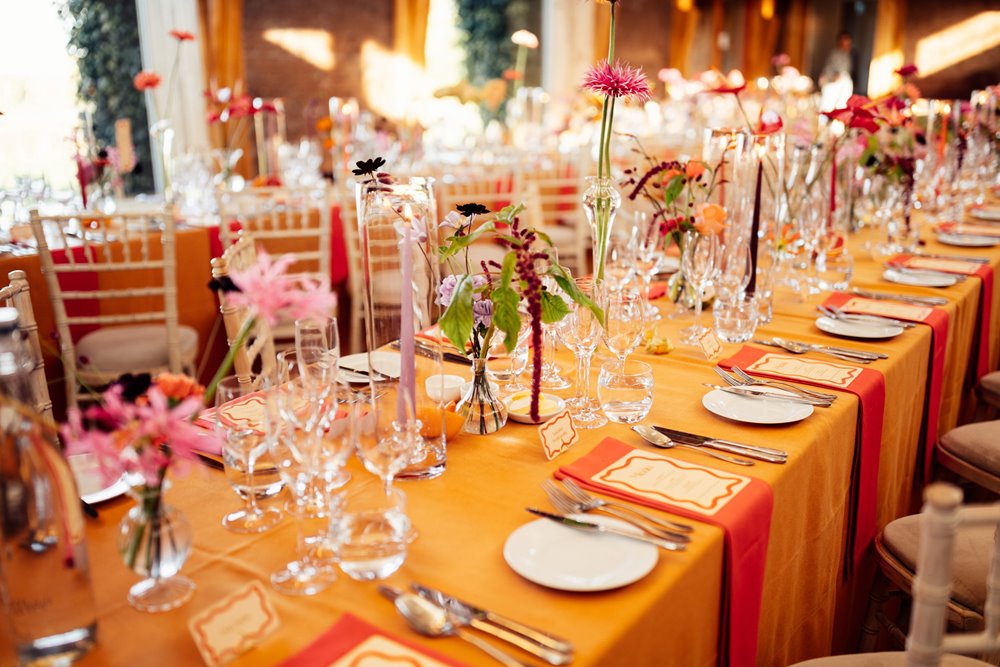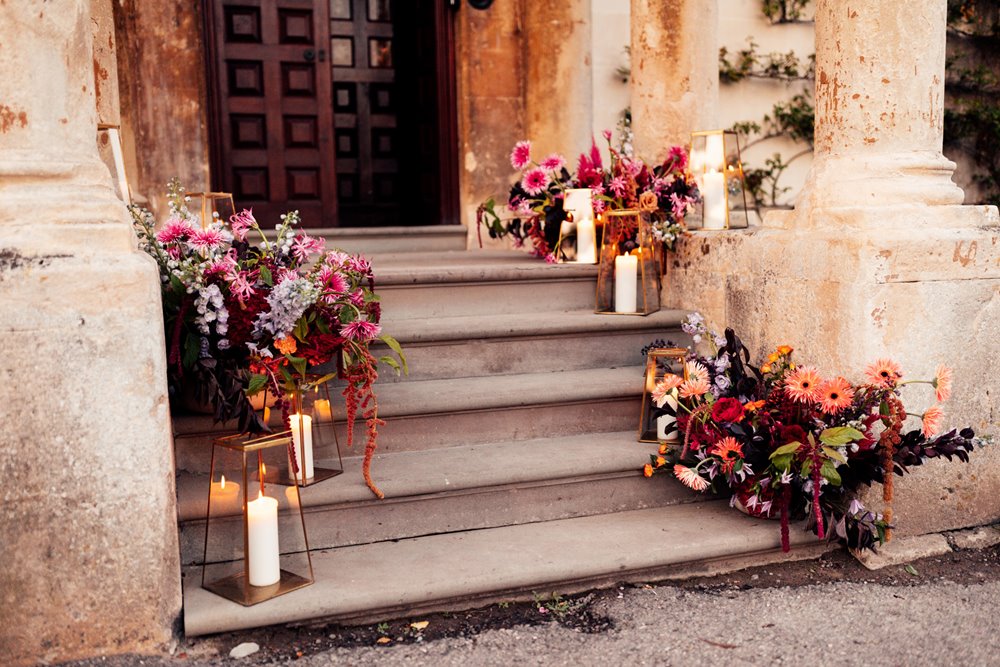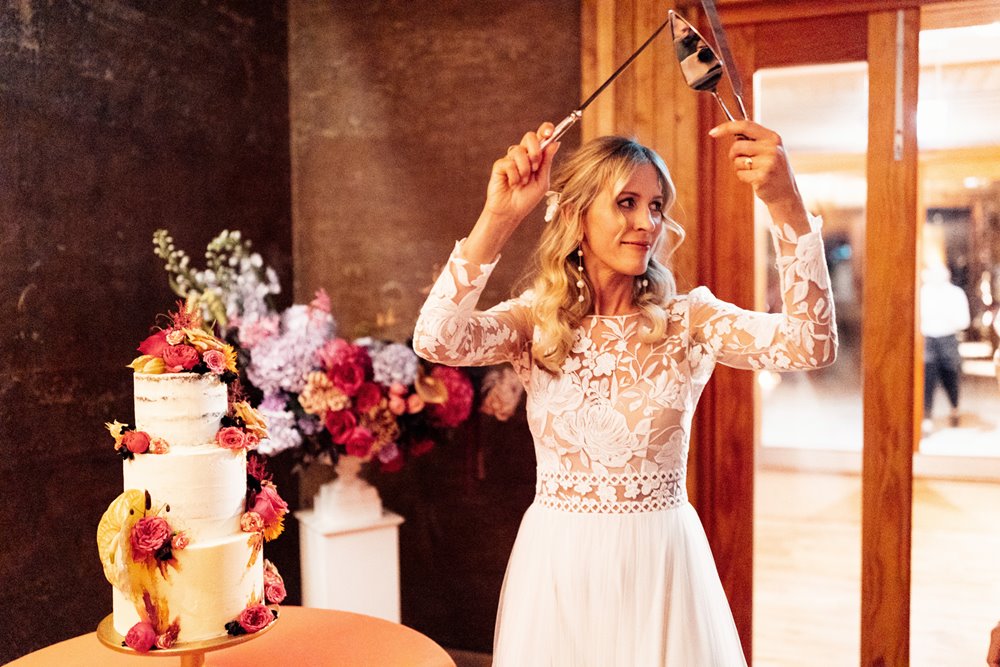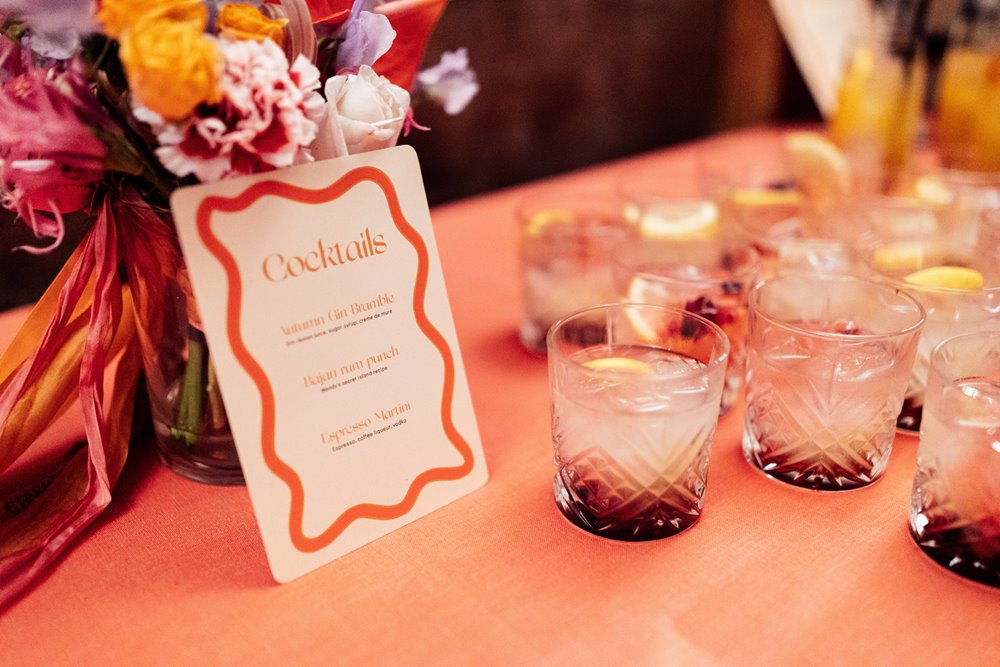 What was most important when planning your wedding?
We put a lot of time into planning every detail of day, as all couples do, but the church ceremony was something we really enjoyed pulling together - and getting to know the vicar and community.
We wanted the reception decor, especially the tables, to be really impactful and vibrant, which I think we achieved.
The party / atmosphere in the Gillyflower and around the fire pit was also really important to us - we wanted it to be really fun and personal to us.
We served Bajan rum cocktails (my Mum's recipe) and spent most of our budget on a live show band with 5 musicians and 2 singers.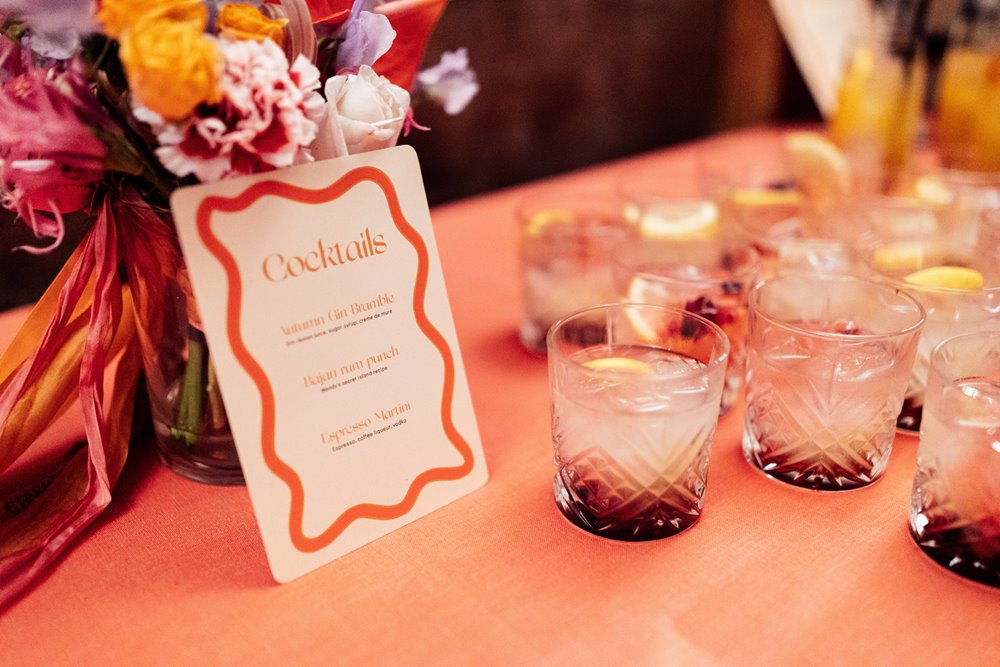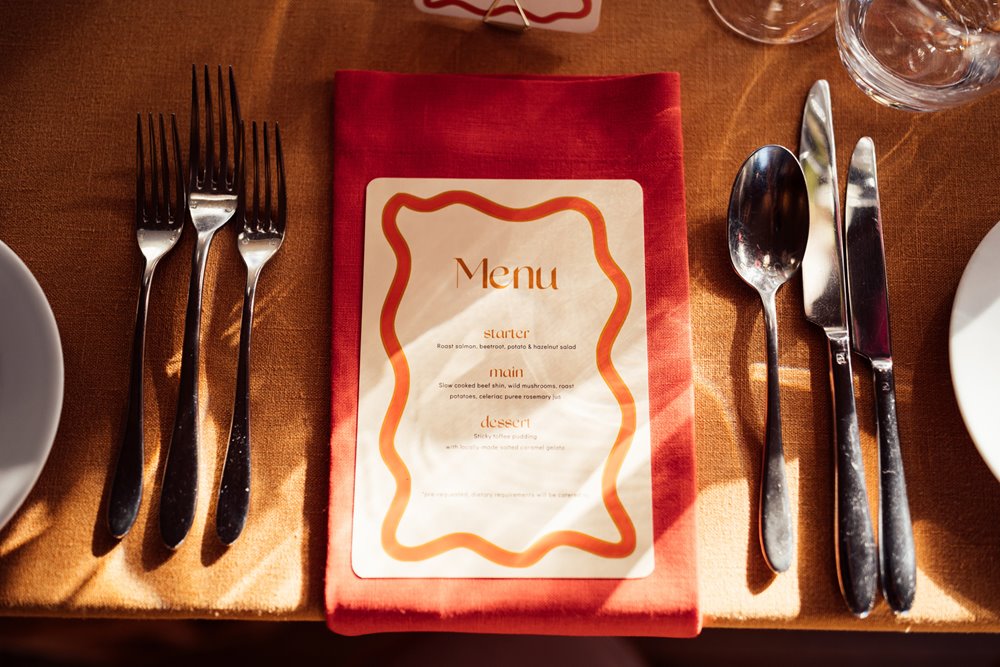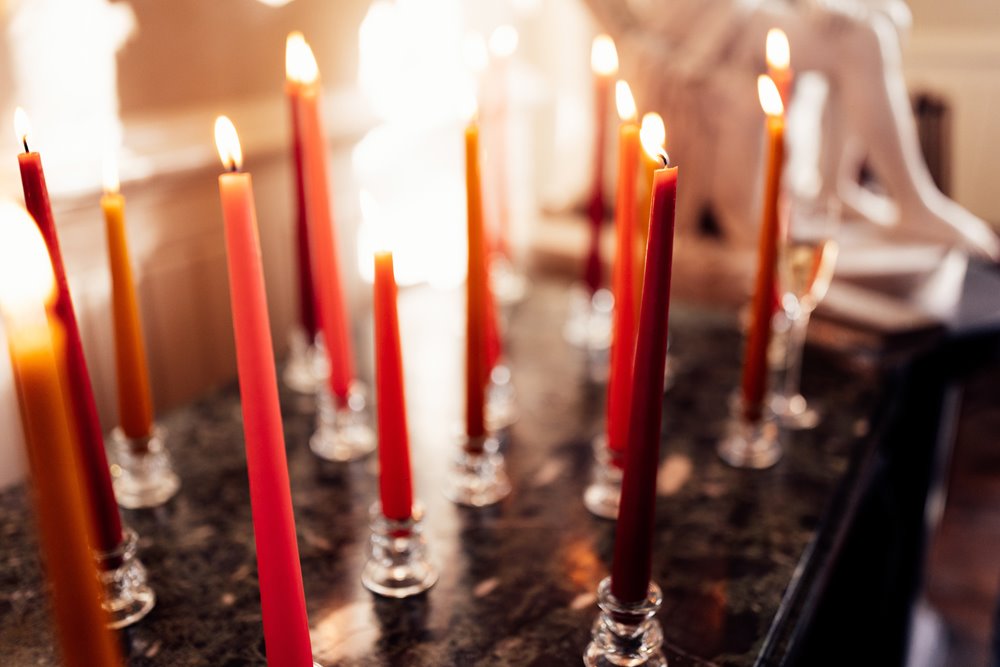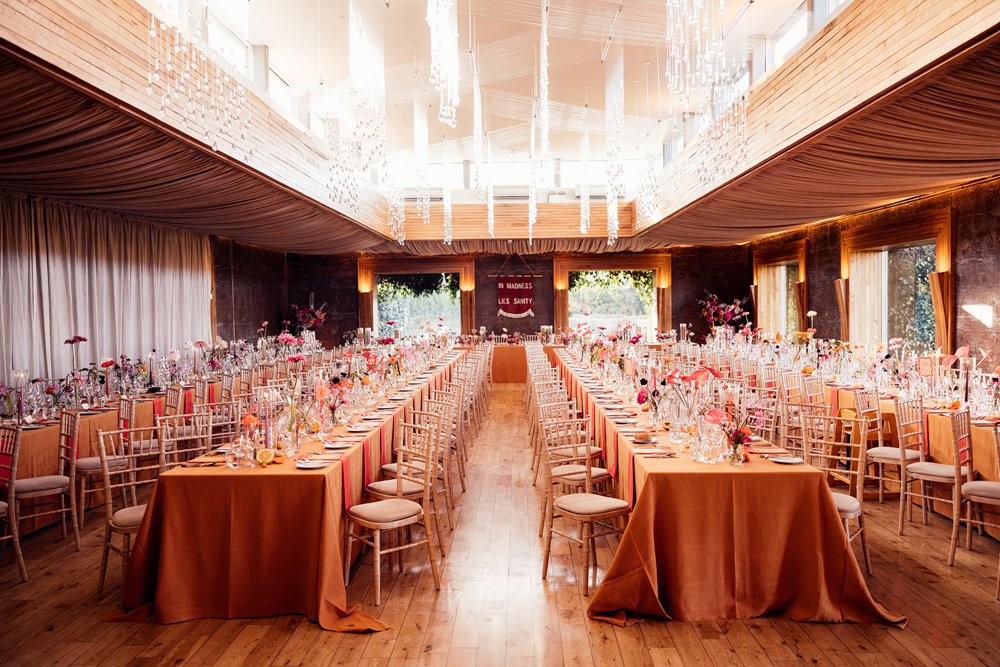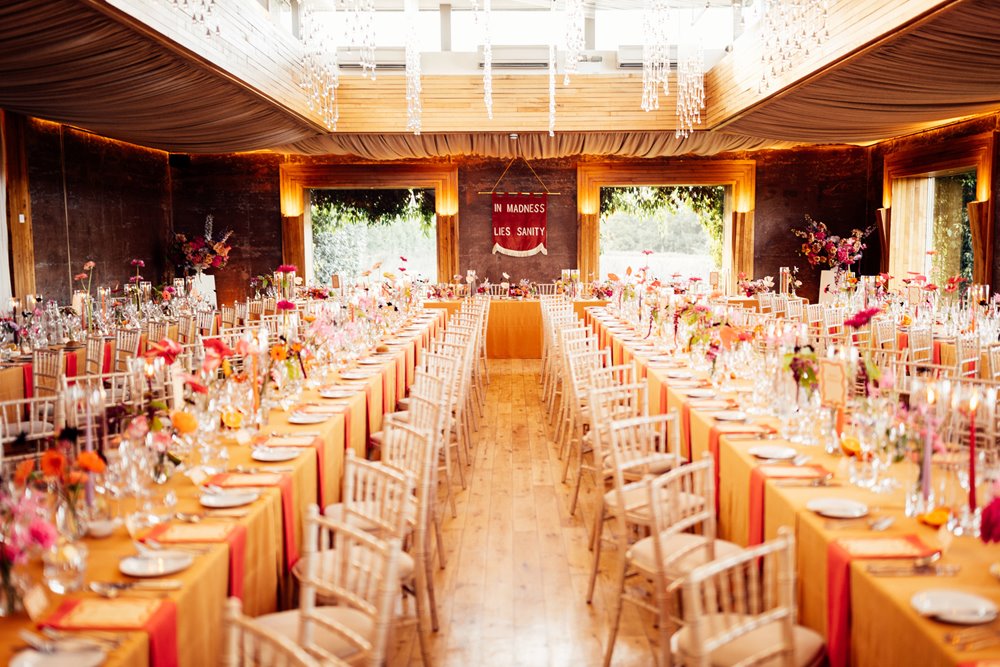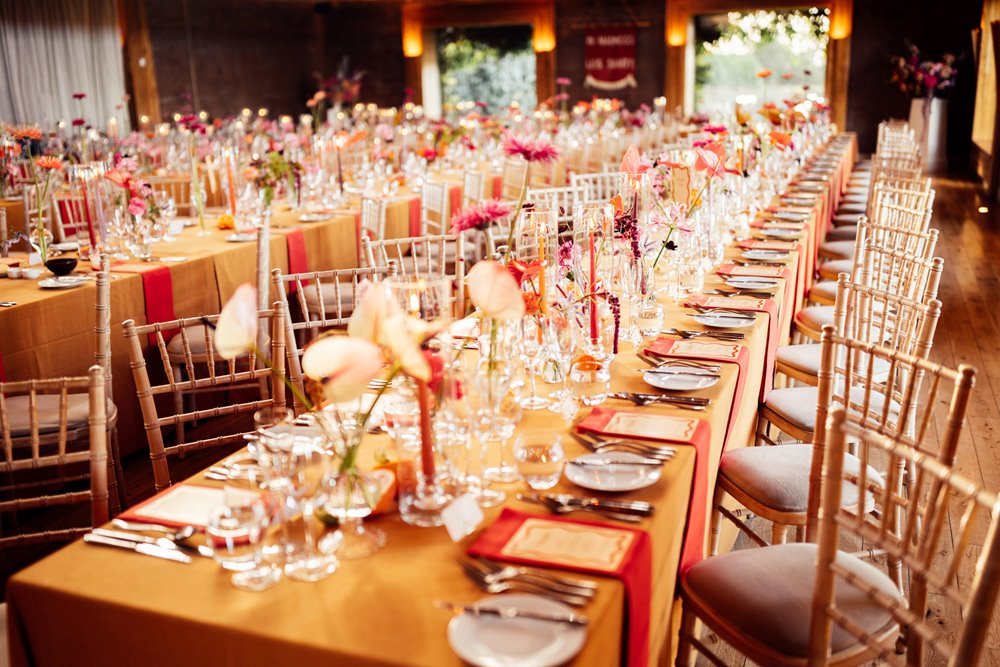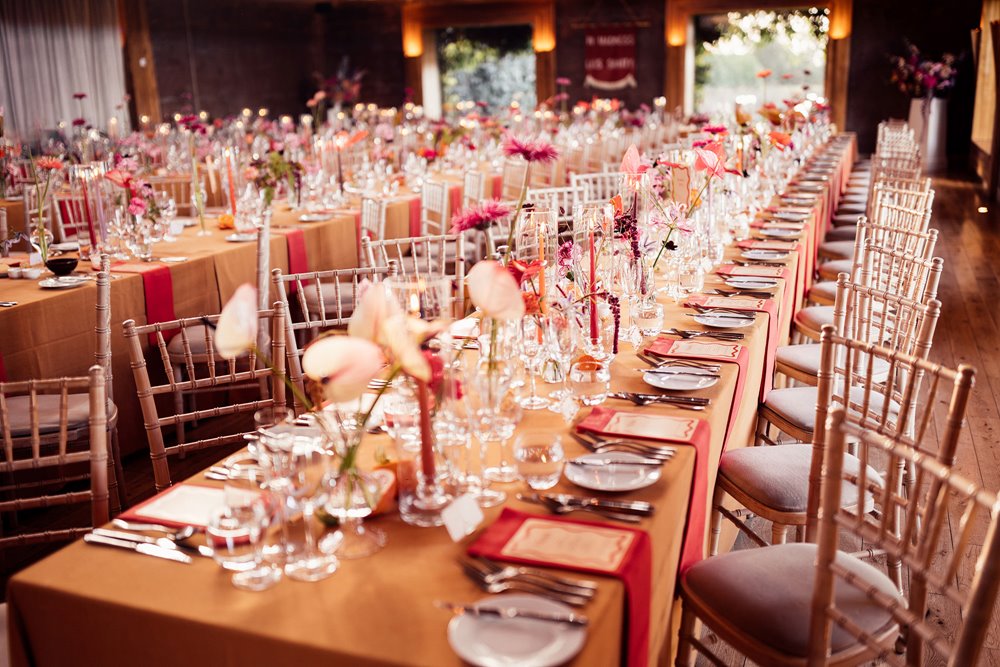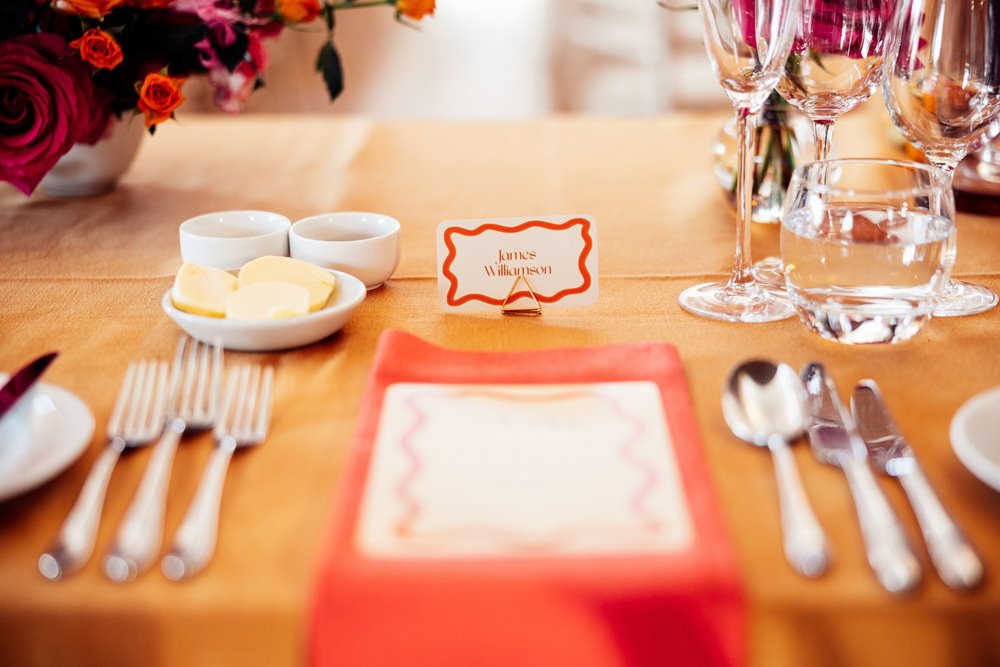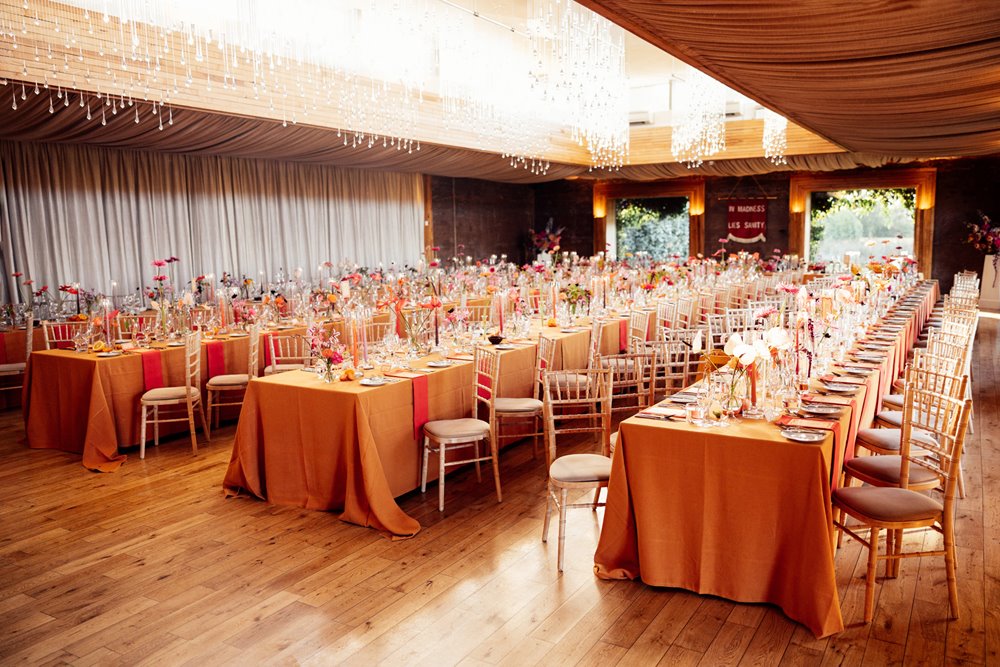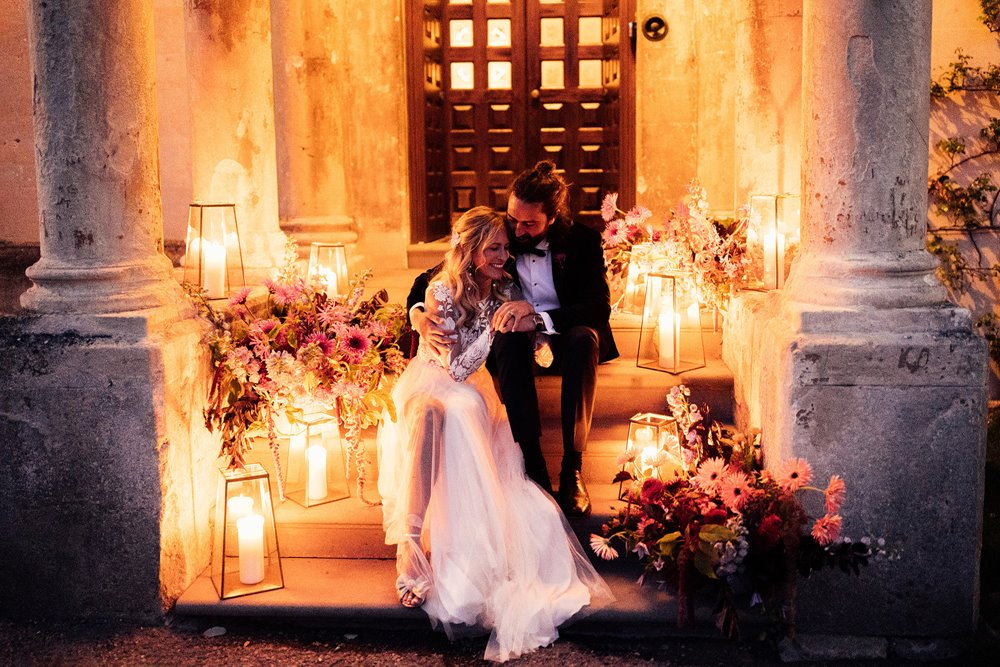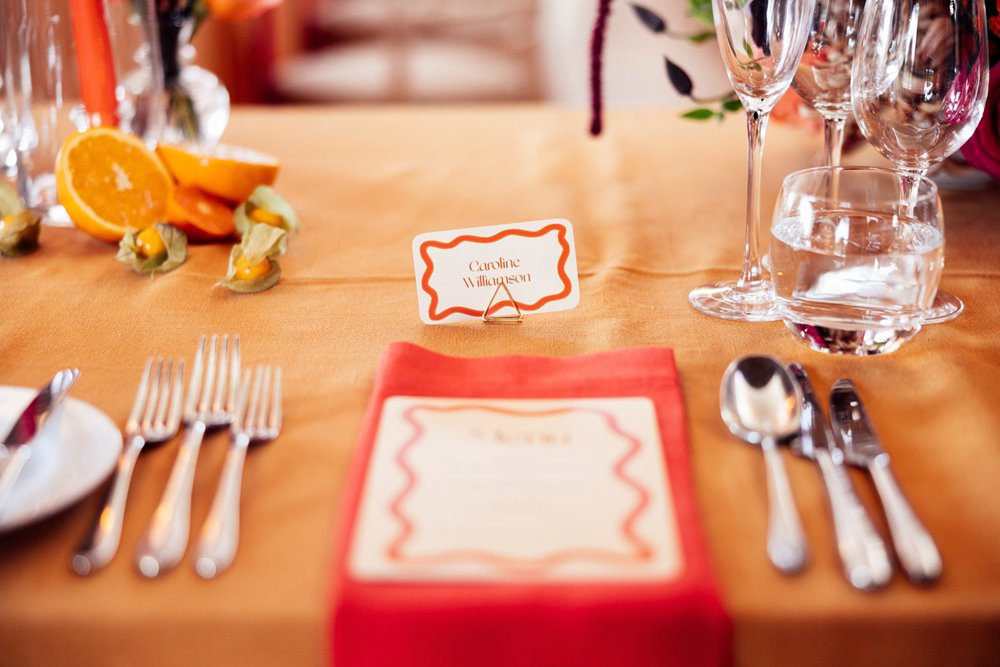 You both looked incredible. How did you choose your boho wedding dress and groom looks?
I wore the "Alcazar" dress by Margaux Tardits. A beautiful tulle and silk boho wedding dress, very relaxed and unstructured.
I got it from the Mews in Clifton and was so pleased I found a dress locally, I went to lots of wedding dress shops in London for for fittings and trying on shoes / accessories, it was a godsend having the shop so nearby.
Mews only stock French, female designers which I liked. I tried on a LOT of dresses and doubted my wedding dress right up until the day.
There's a lot of pressure on finding 'the one' and I kept seeing more dresses online I liked!
I changed into another outfit for the party - a sequin and ostrich feather midi dress from 16 Arlington.
James bough a beautiful navy velvet jacket from Reiss and he also changed for the party into a neon paisley velvet jacket by Boden - it was really fun to reveal our evening outfits for the first dance!
My wedding shoes were by loeffler randall (they sold out in the UK so I got my bridesmaid to buy them in New York!) And my evening shoes were old ones I already owned from Zara.
My hair vine was from Shein - I think it cost £6!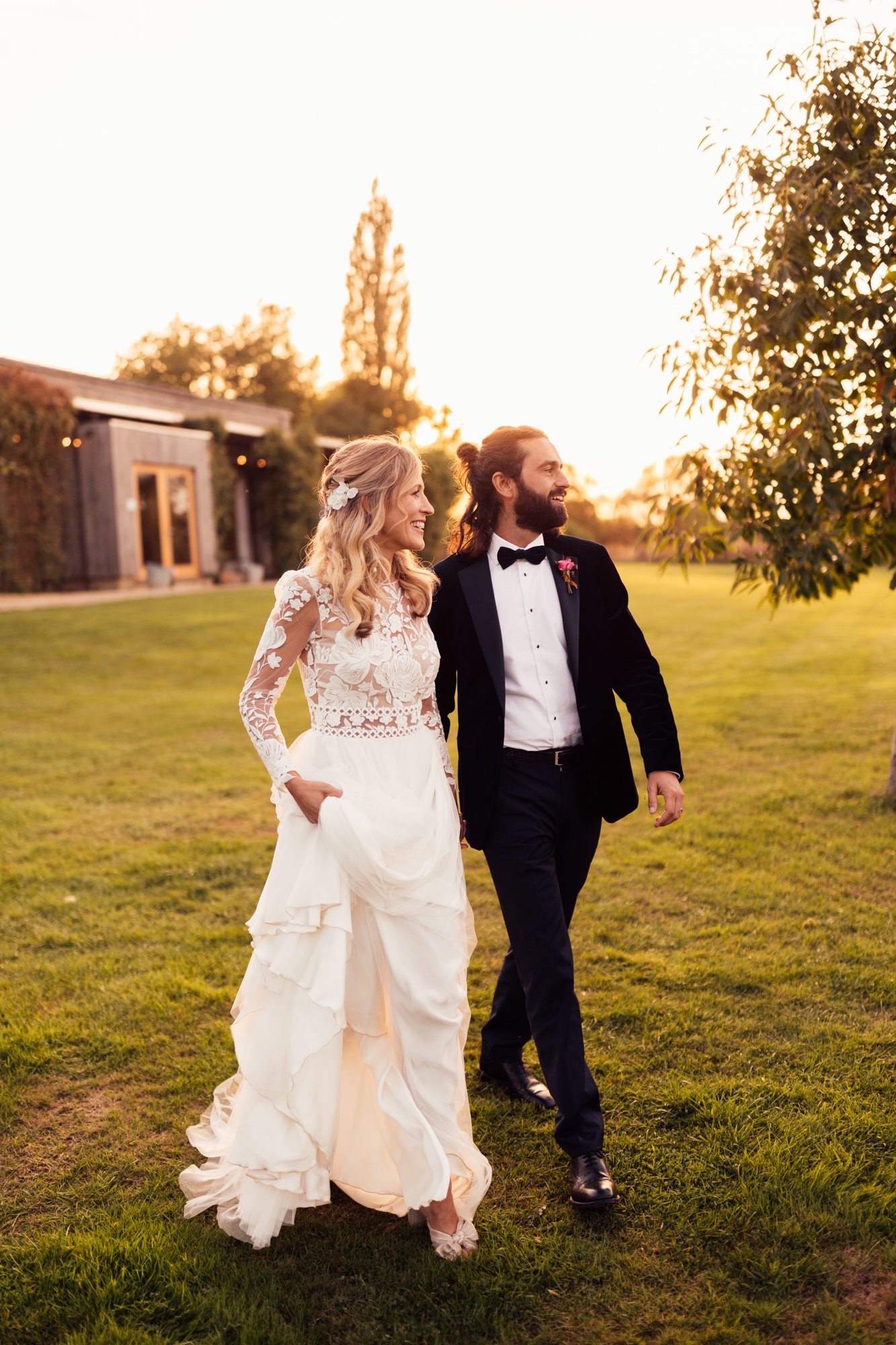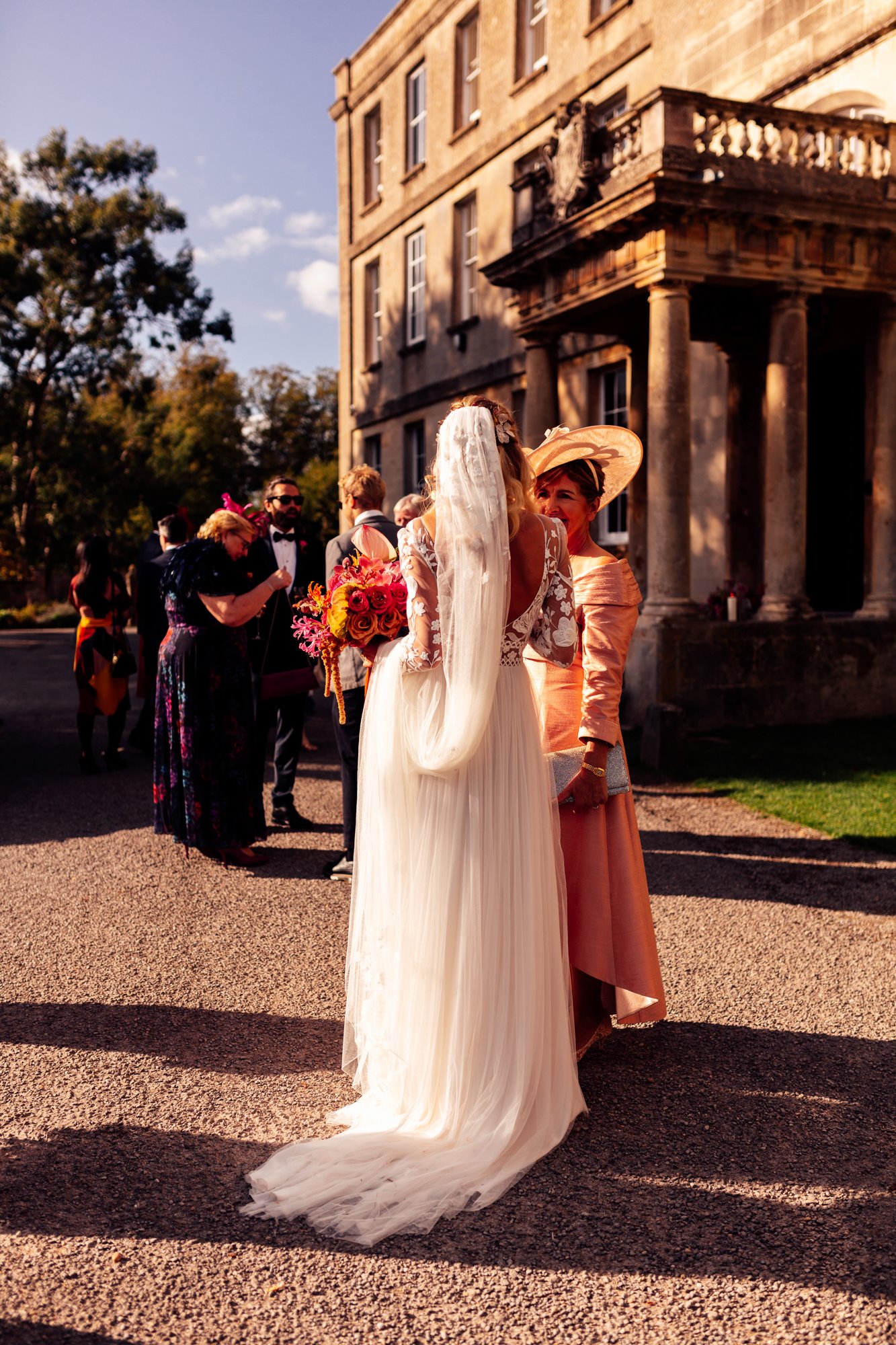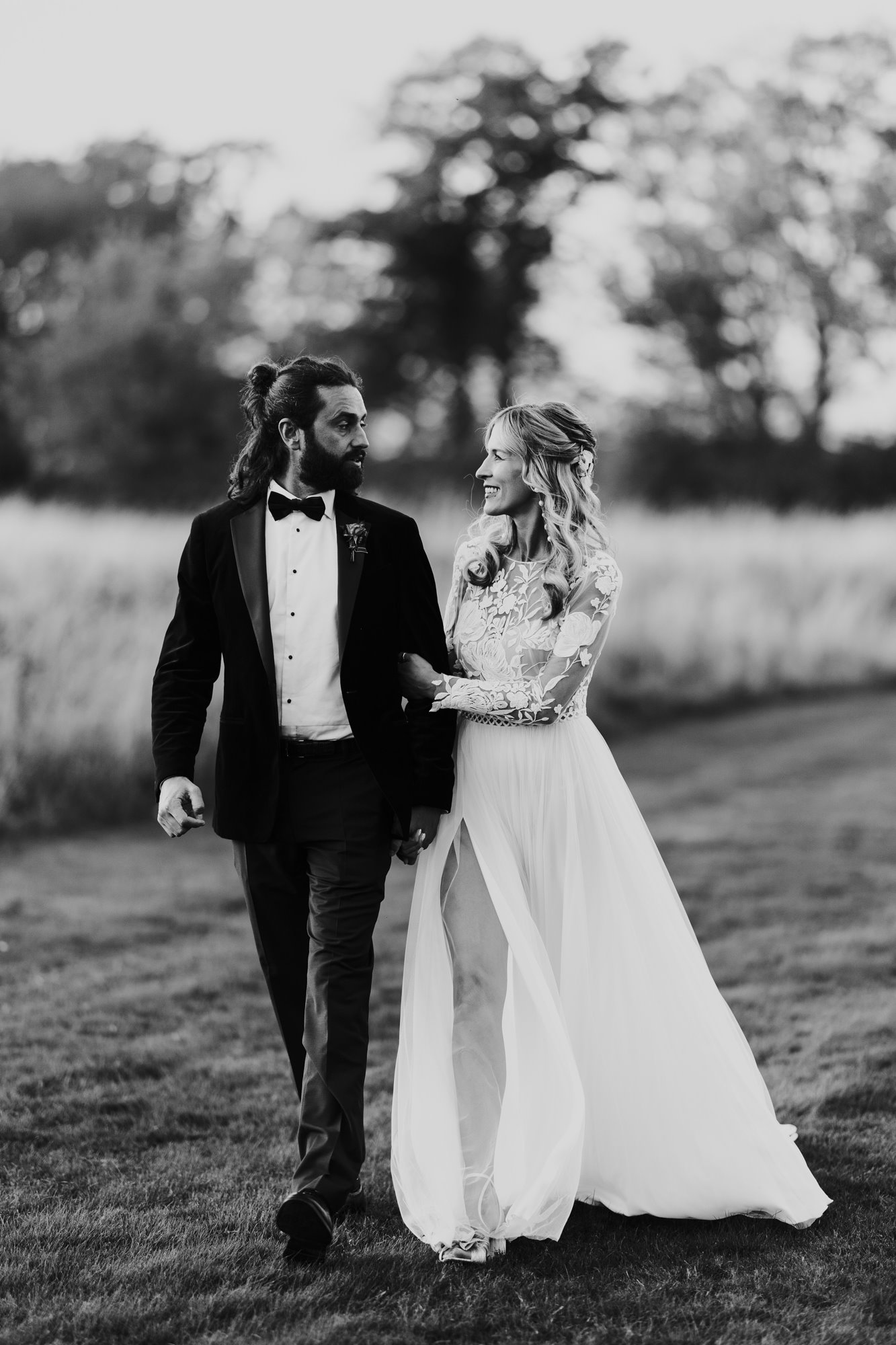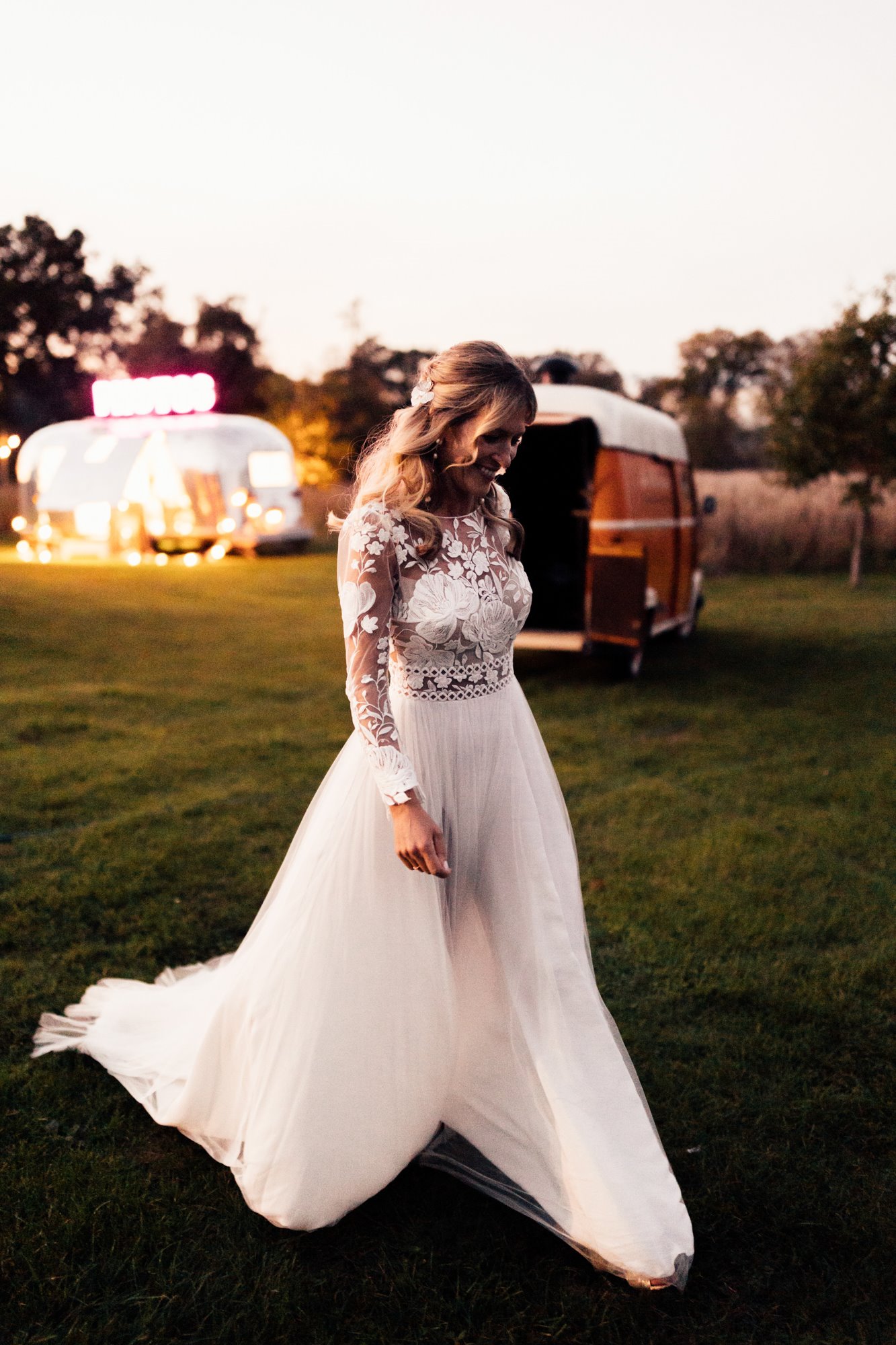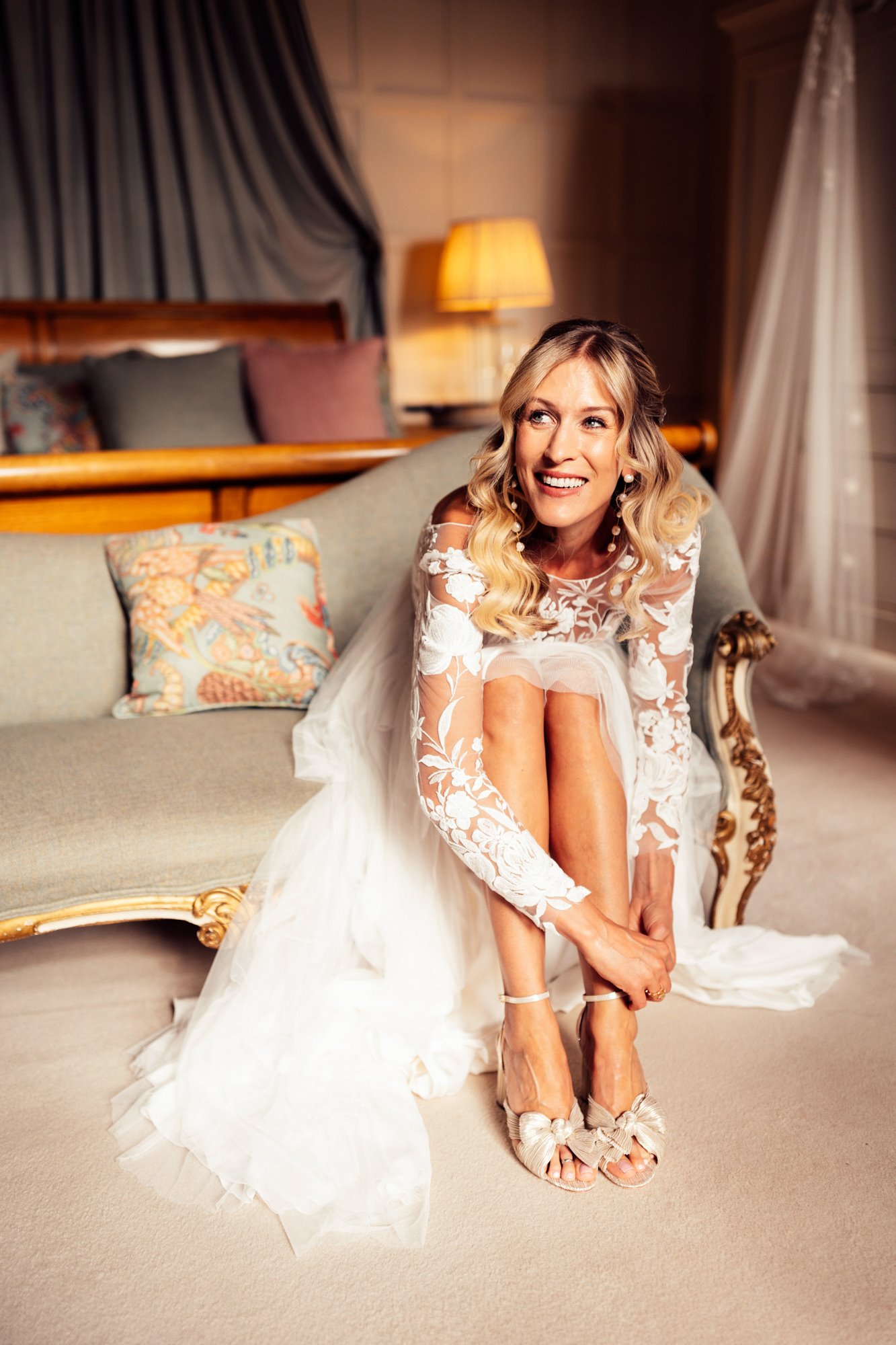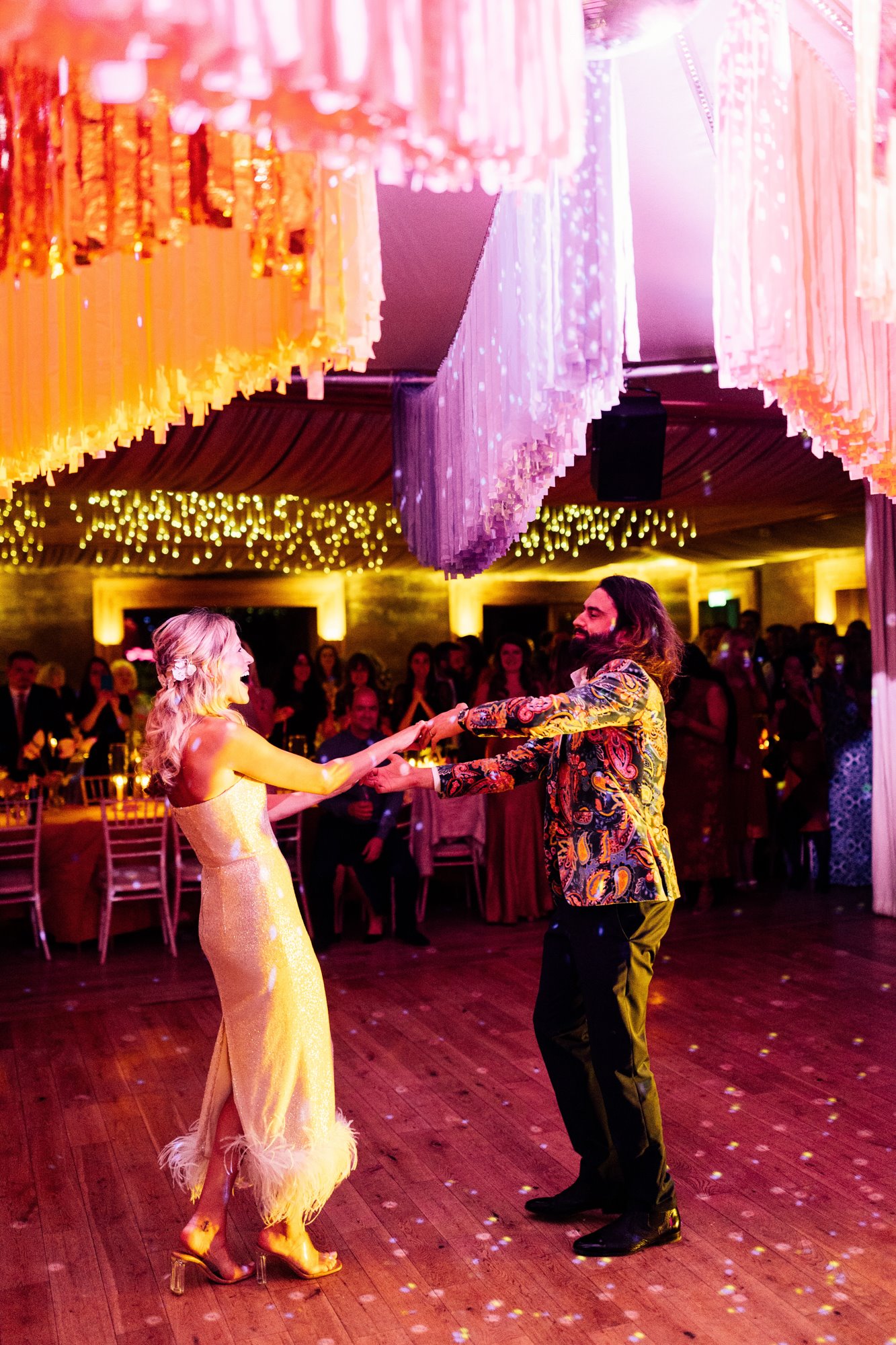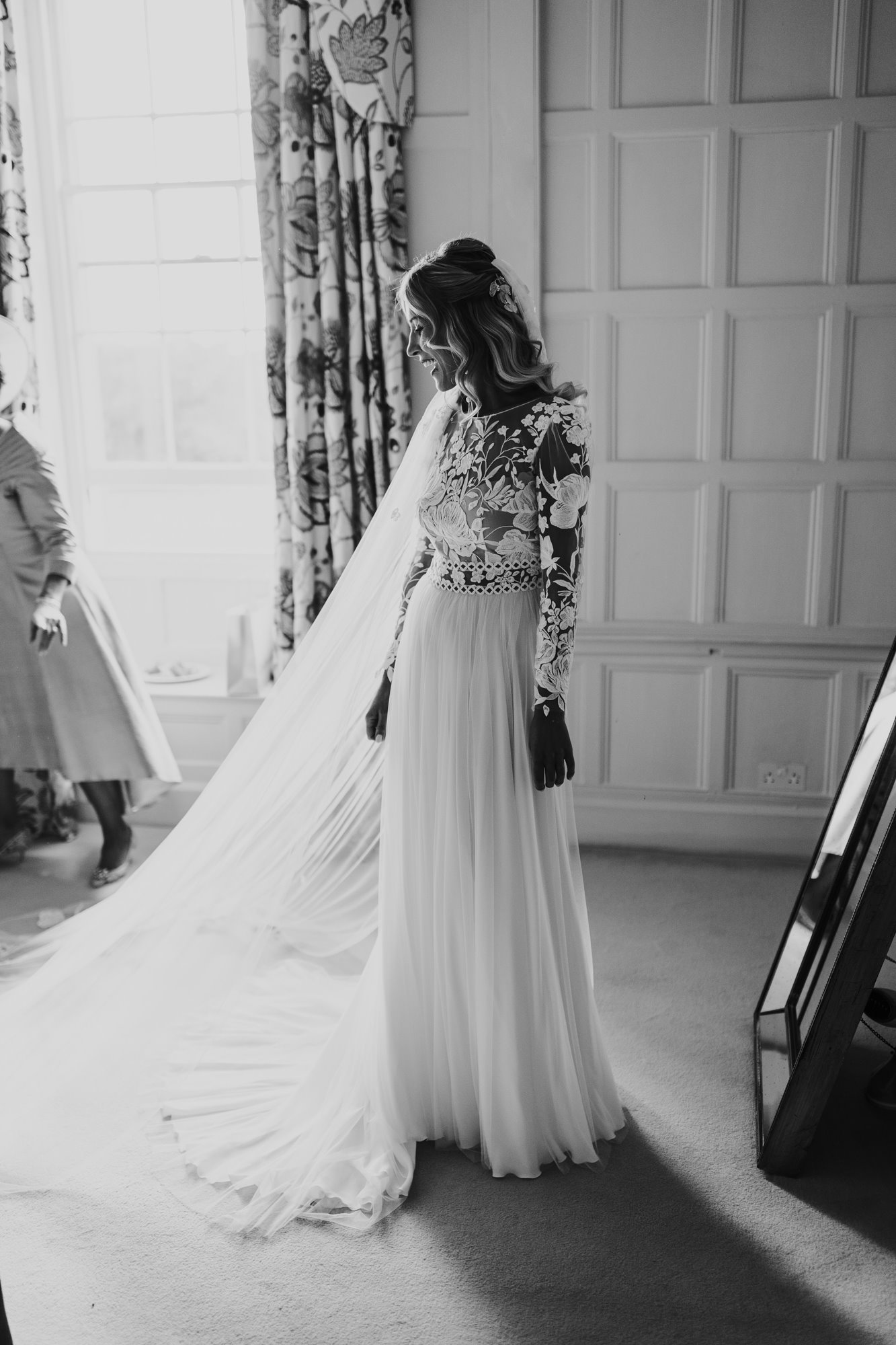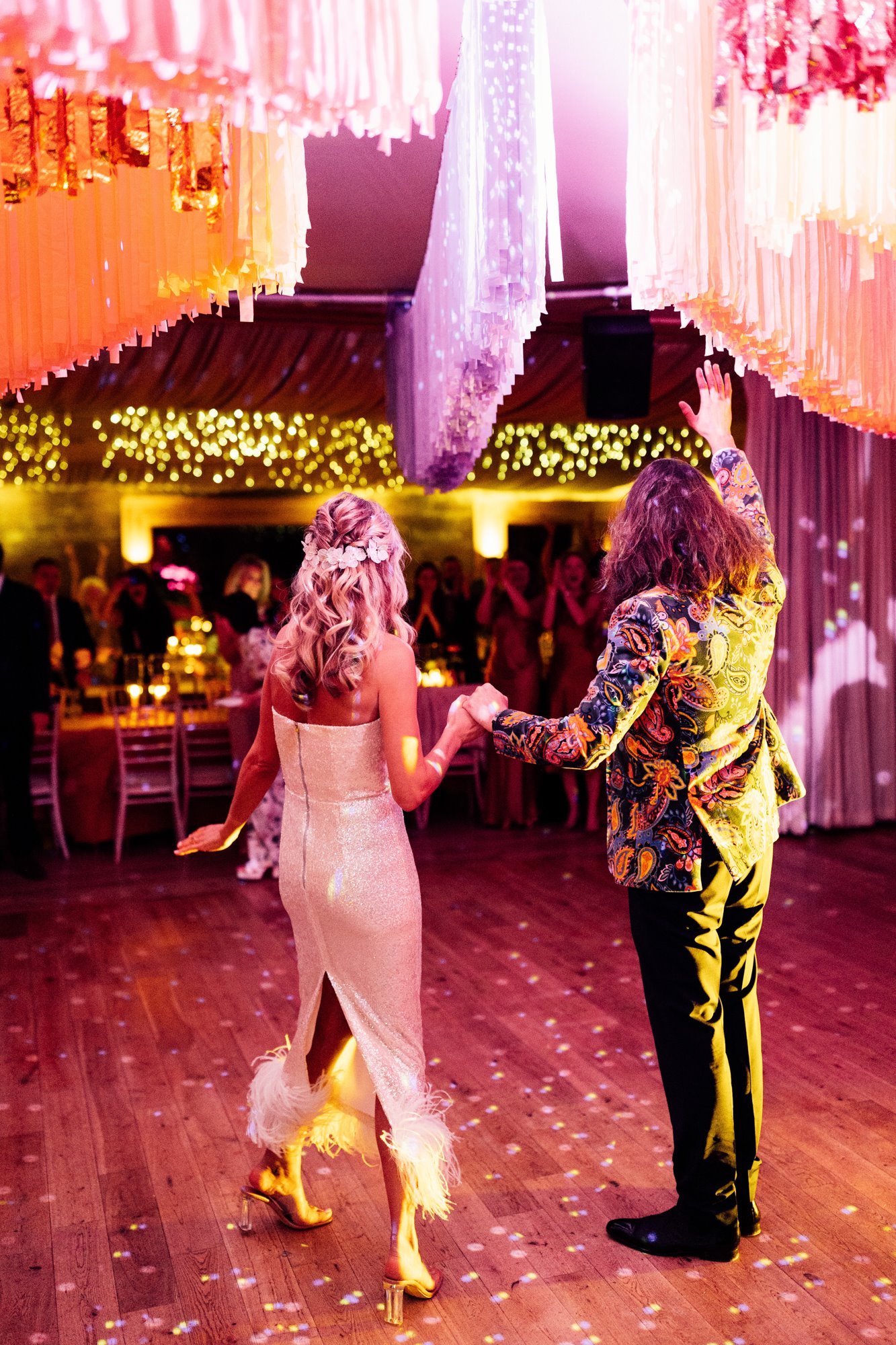 Your bridesmaids and bridesman looked amazing too!
Yes I had a whopping 7 bridesmaids and a bridesman! Plus 7 ushers.
For the bridesmaids, I knew didn't want matchy-matchy bridesmaid dresses but now, I totally understand why people opt to put all their bridal party in the same look!
I decided I wanted 'copper' dresses - and after months of the girls interpreting my vision of 'copper' as a million shades of red, pink and orange… we settled on the dresses. But it nearly killed me! And I think drove my bridesmaids potty trying to find a dress that fitted the brief!
We sourced the dress from various places - an Aussie brand called 'Shona Joy', Ghost, ASOS, Shein (yep, two of my favourite dresses were bargains from Shein) and Forever New.
I LOVED the final result but it was one of the most stressful aspects of the planning! Definitely worth it though, everyone really suited their dresses and it meant the girls could wear a style / tone that complemented them.
I don't think I'd have found one dress they all agreed on!
The ushers were easier - they wore M&S suits with matching copper silk ties I sourced online.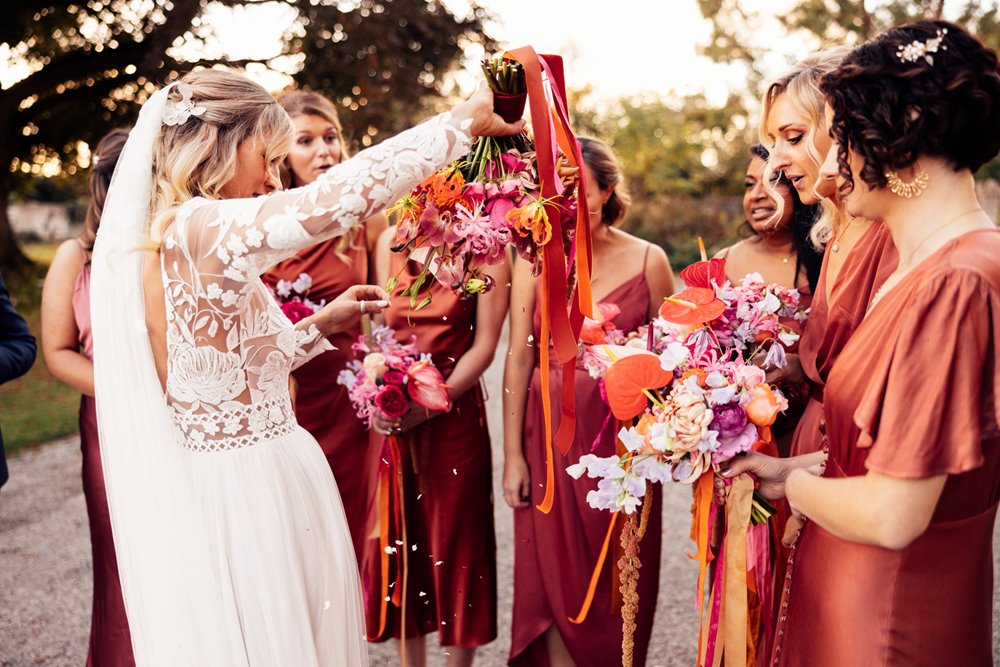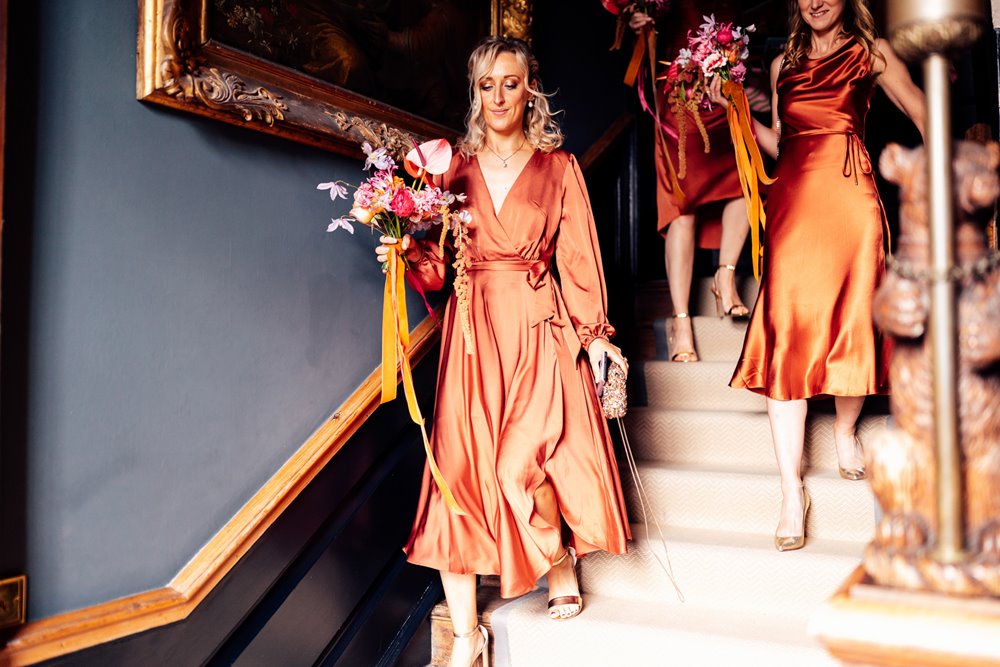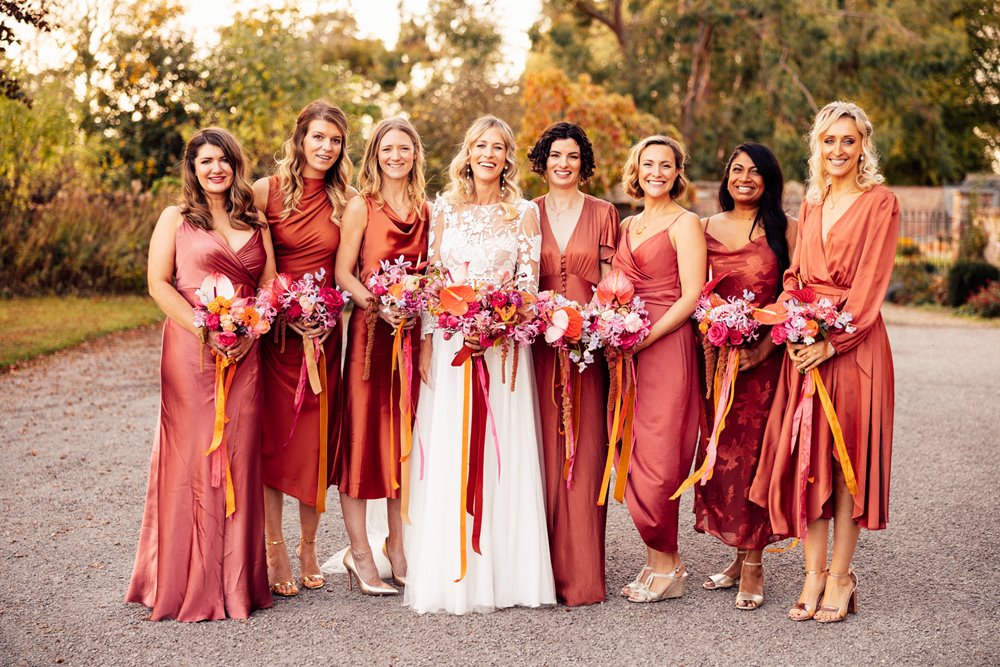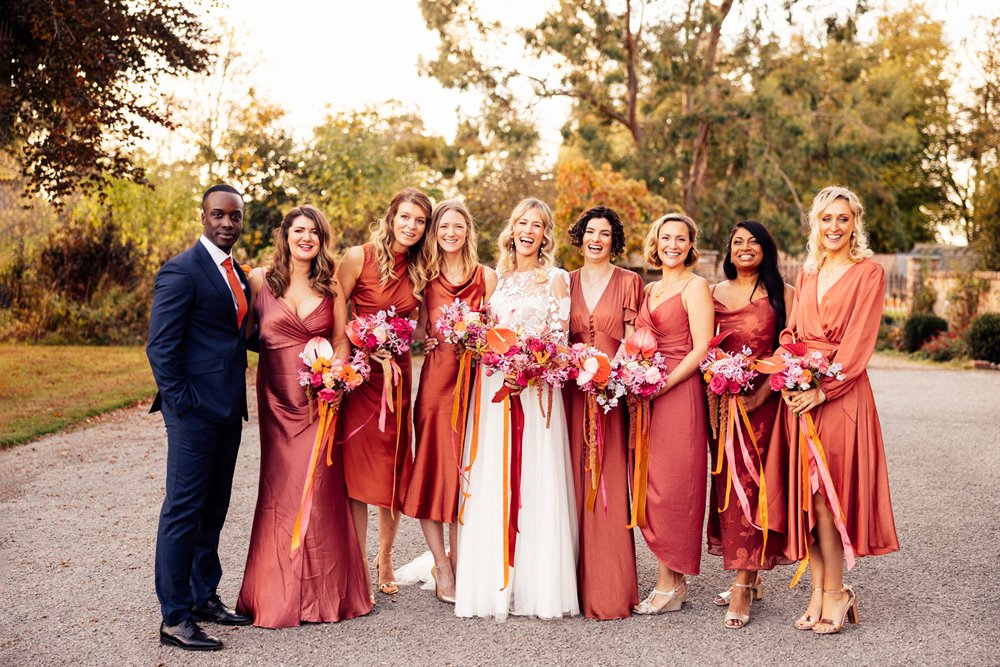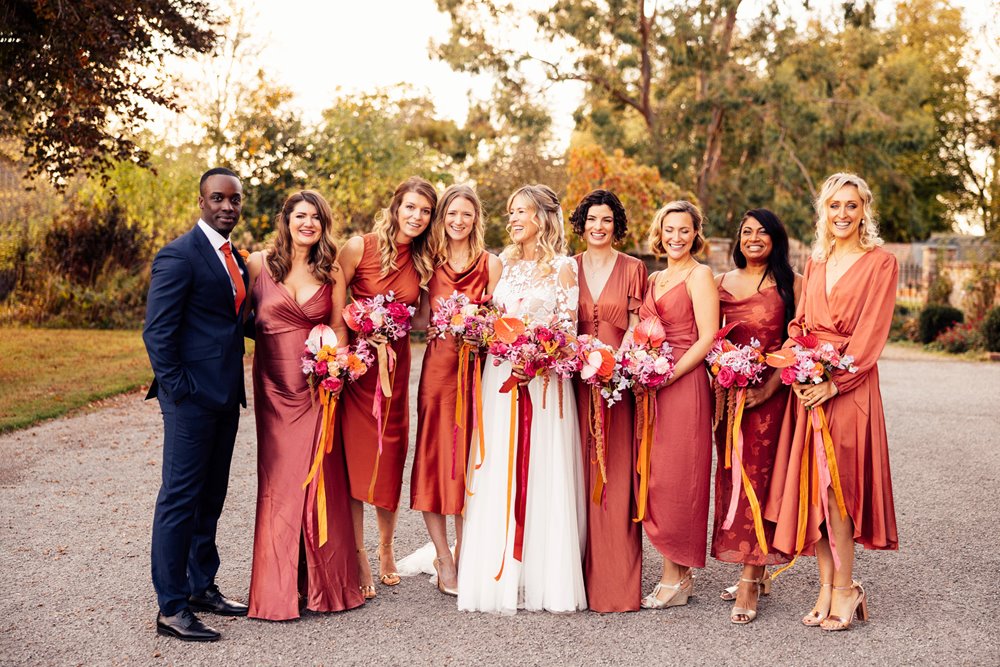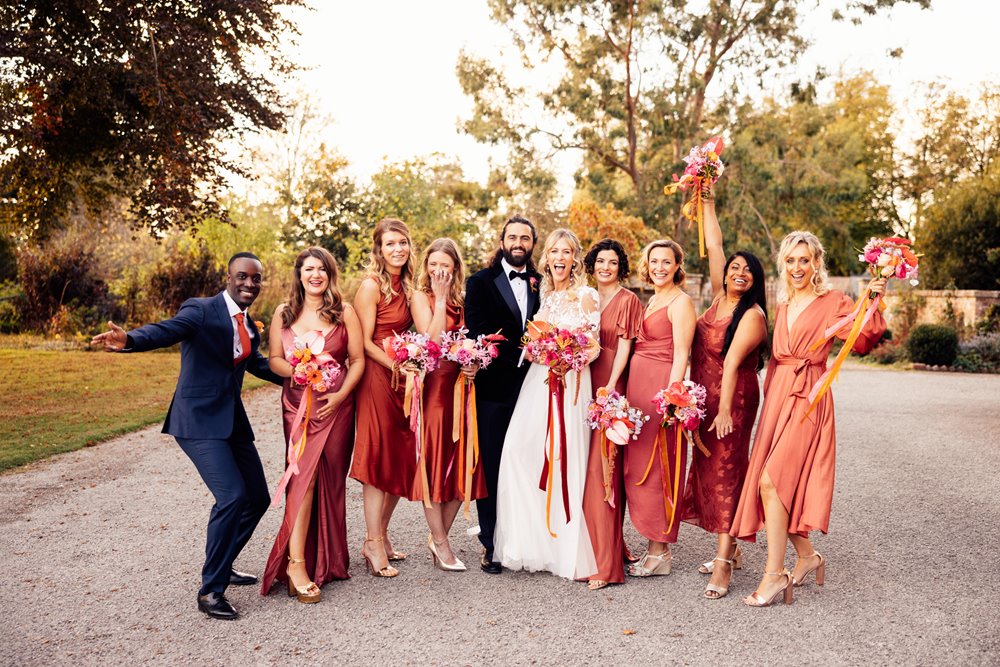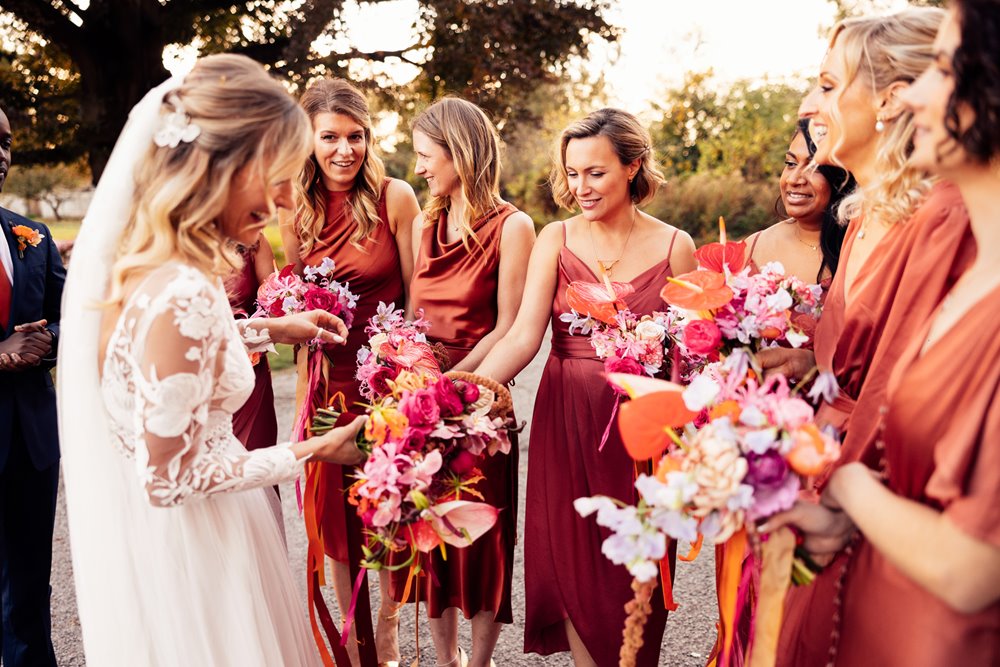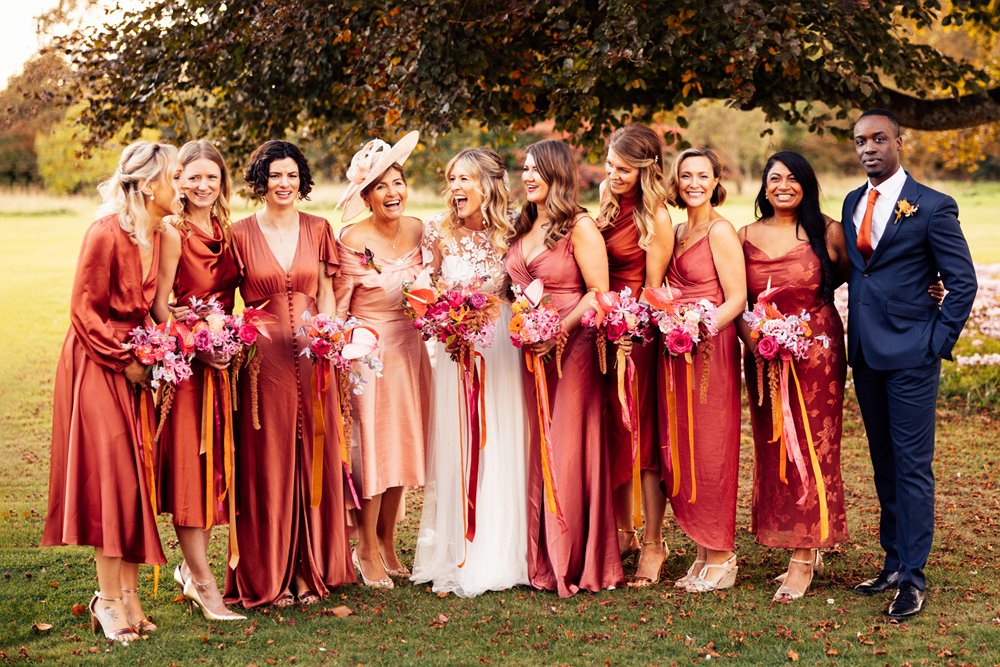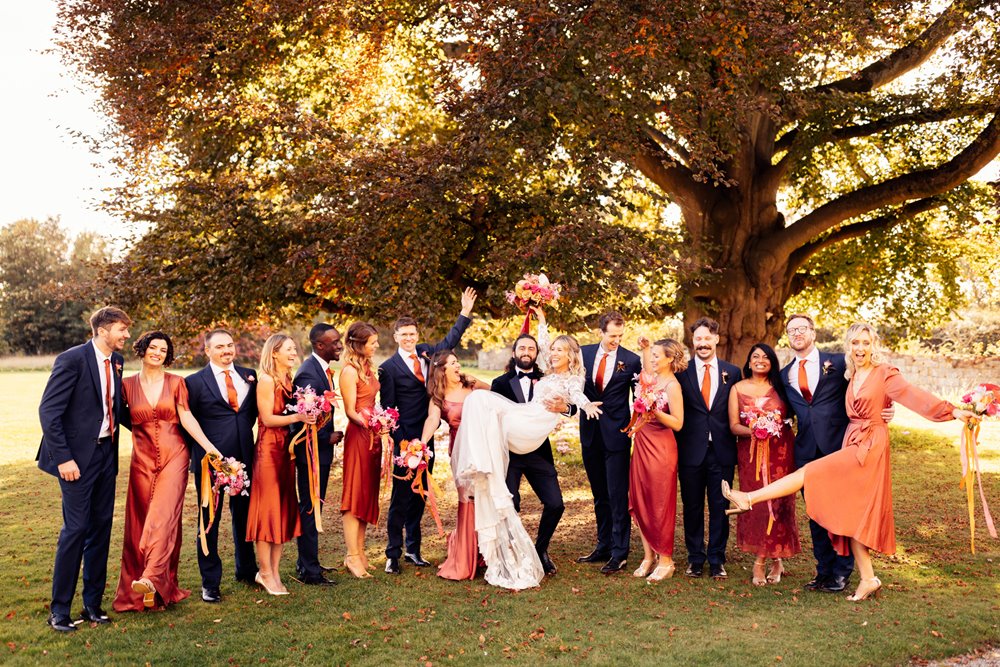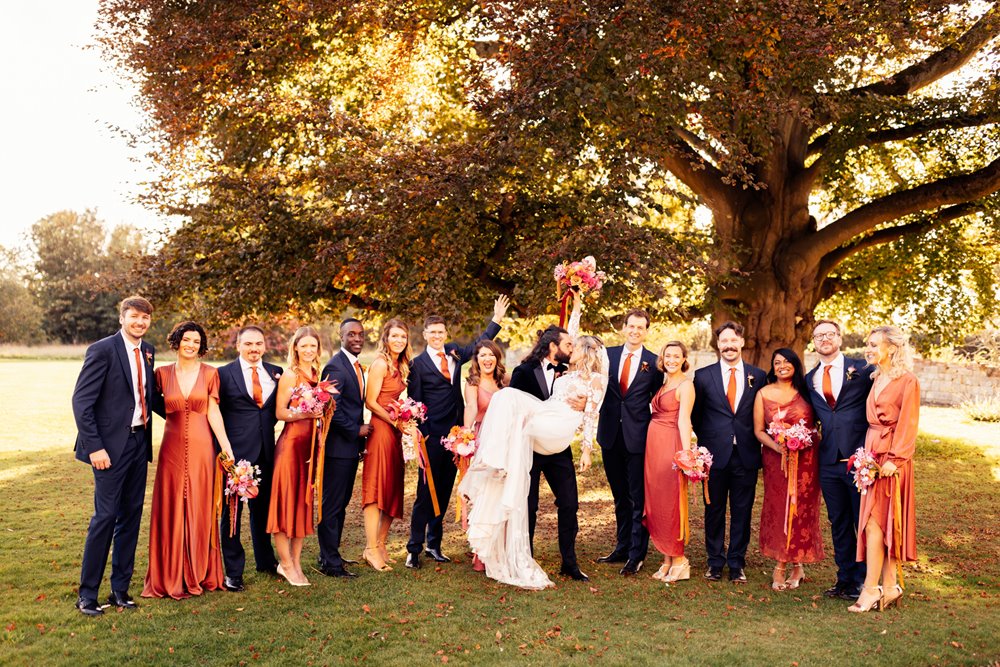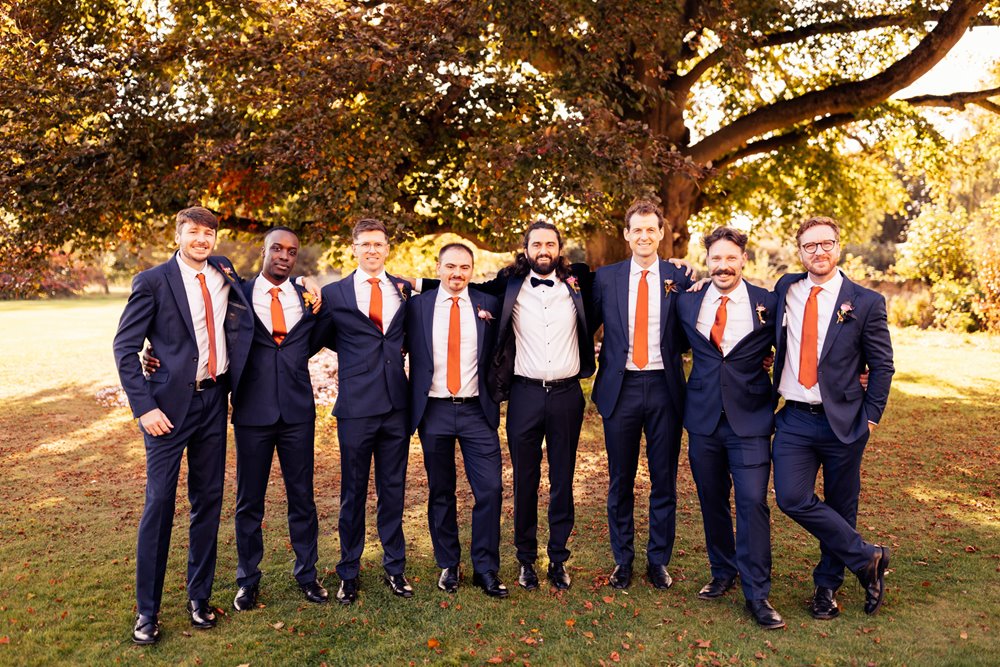 Your wedding morning. How did you feel?
I felt really tired on the morning of the wedding as I hardly slept a wink the night before, I was so nervous! But my bridesmaids and Mum made the morning so special - it was just perfect getting ready in the Coach House with them all buzzing around. I was pretty nervous beforehand but that melted away during the ceremony.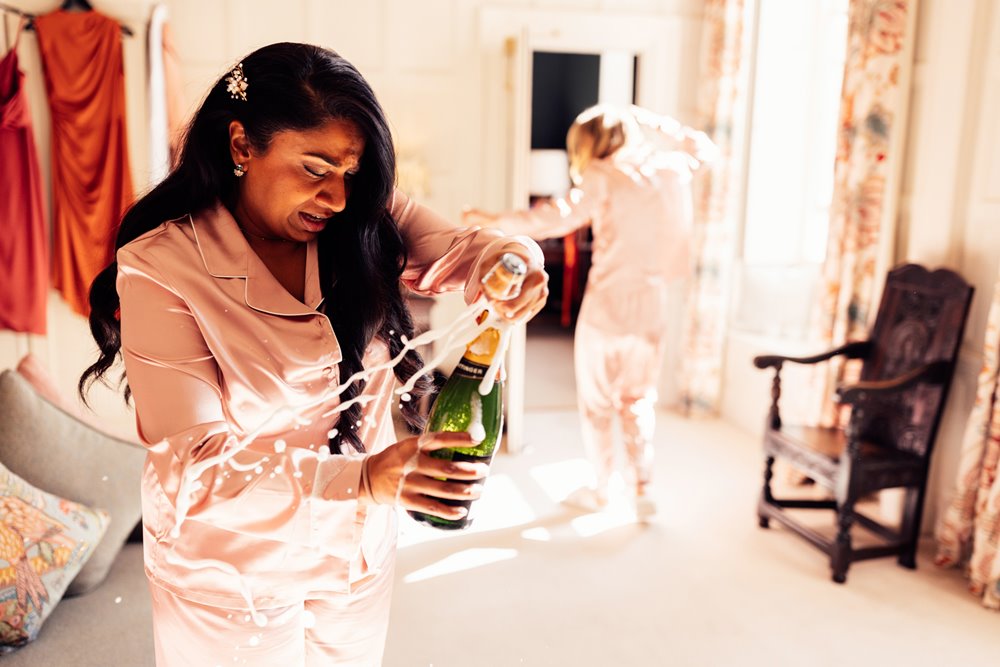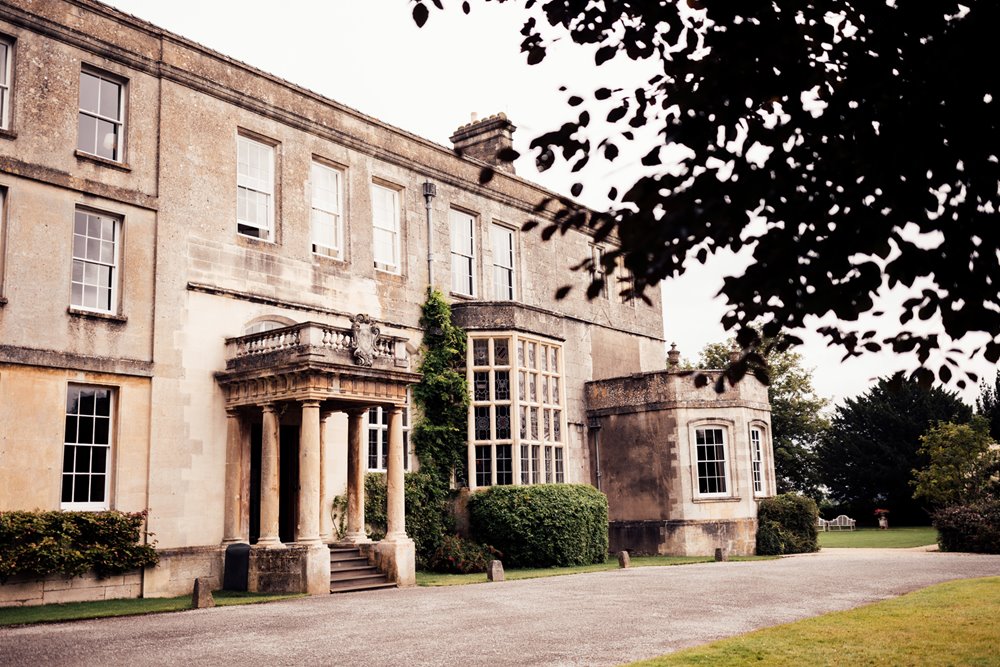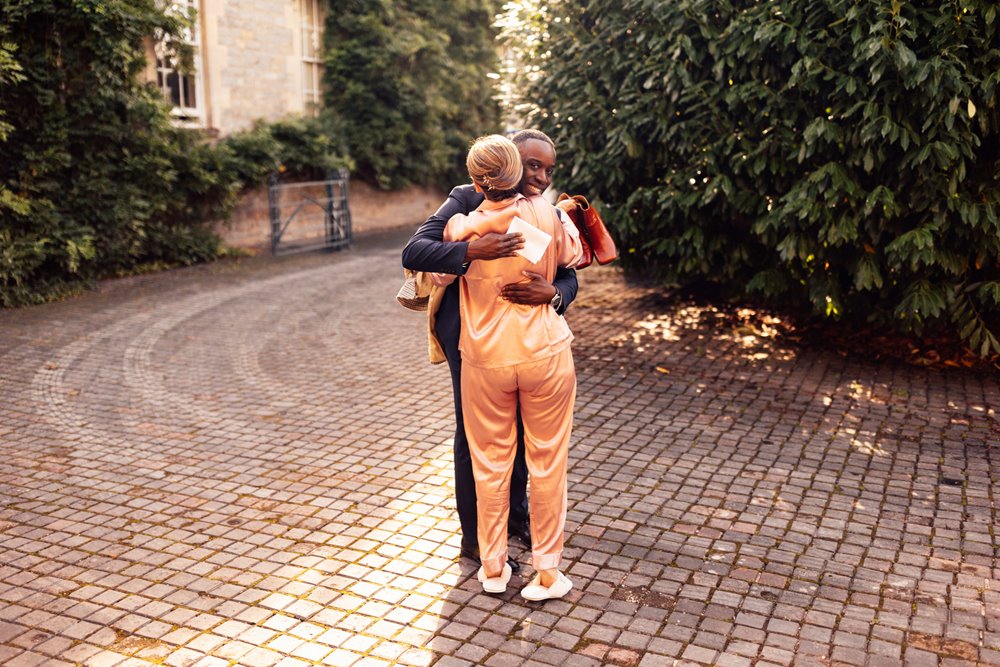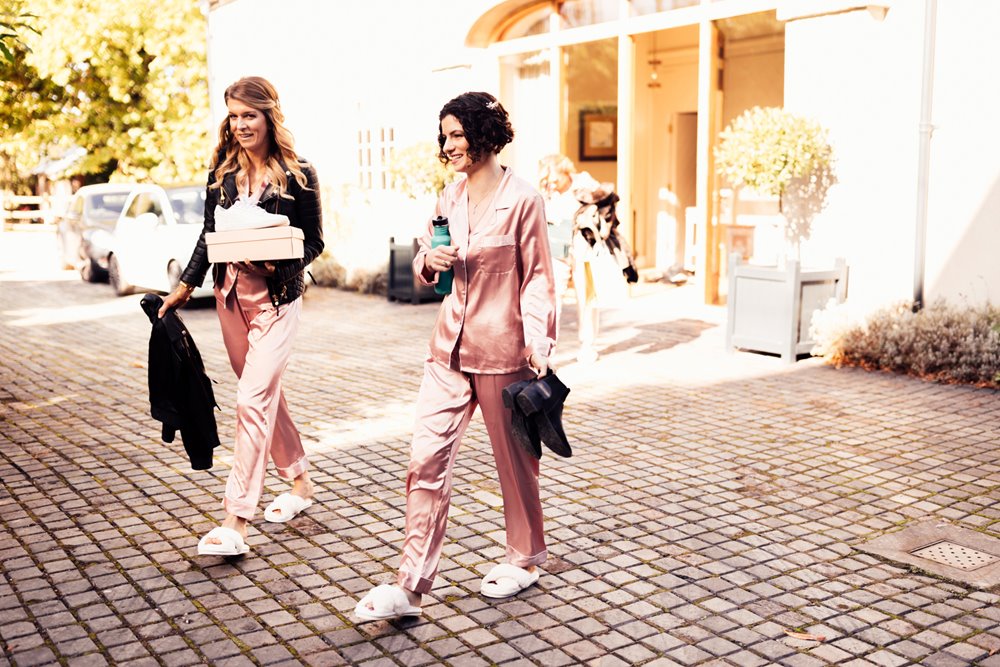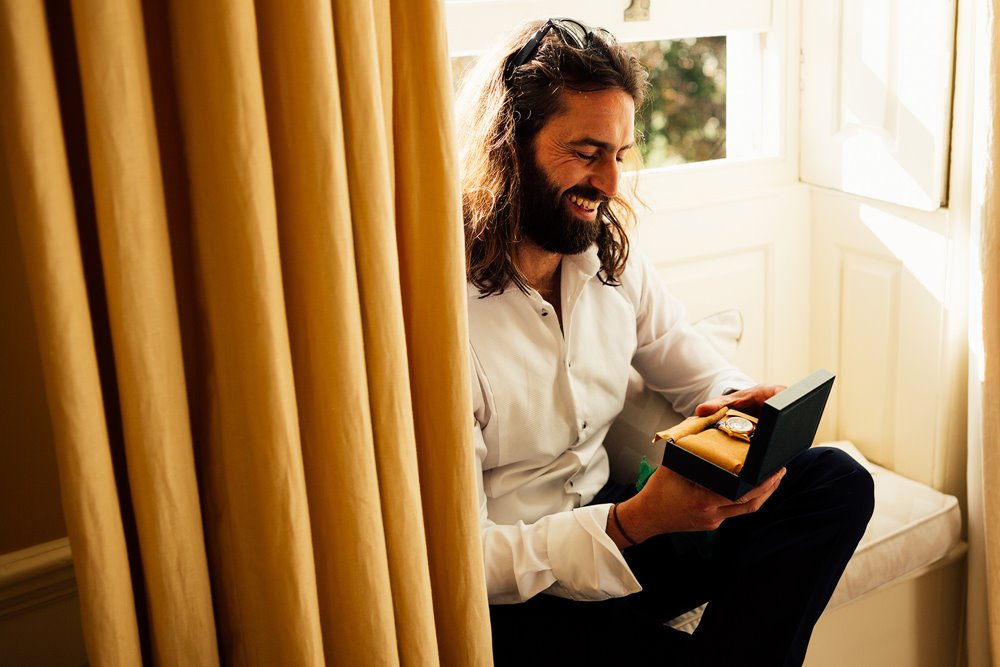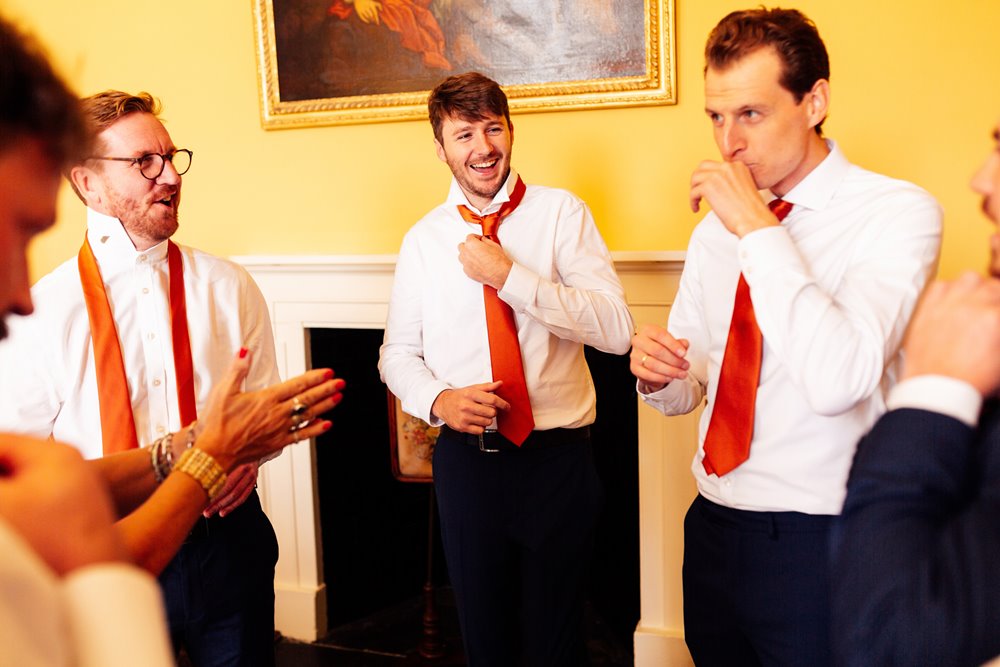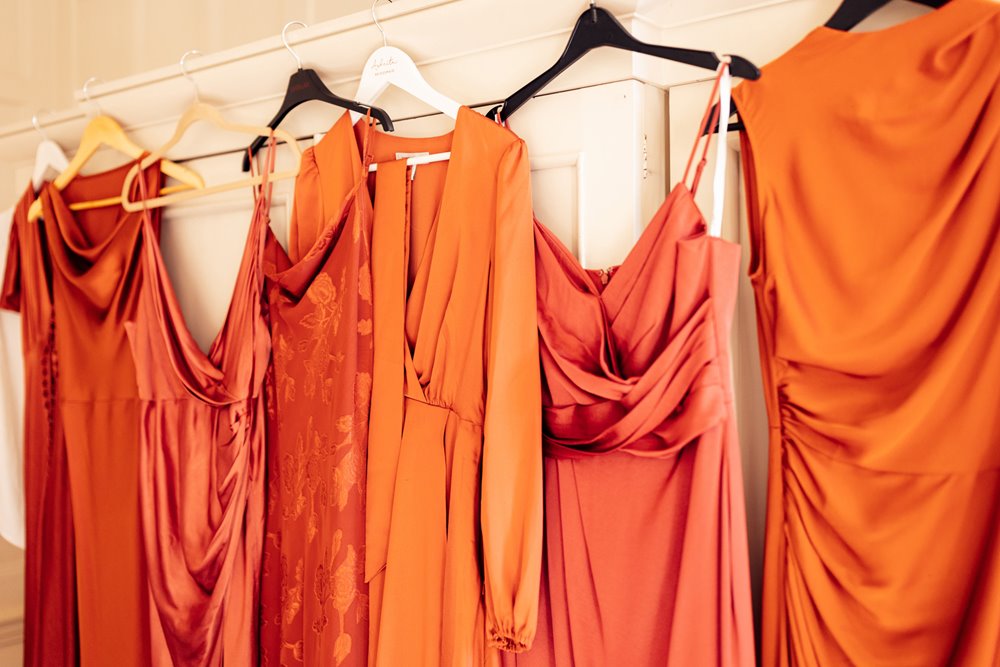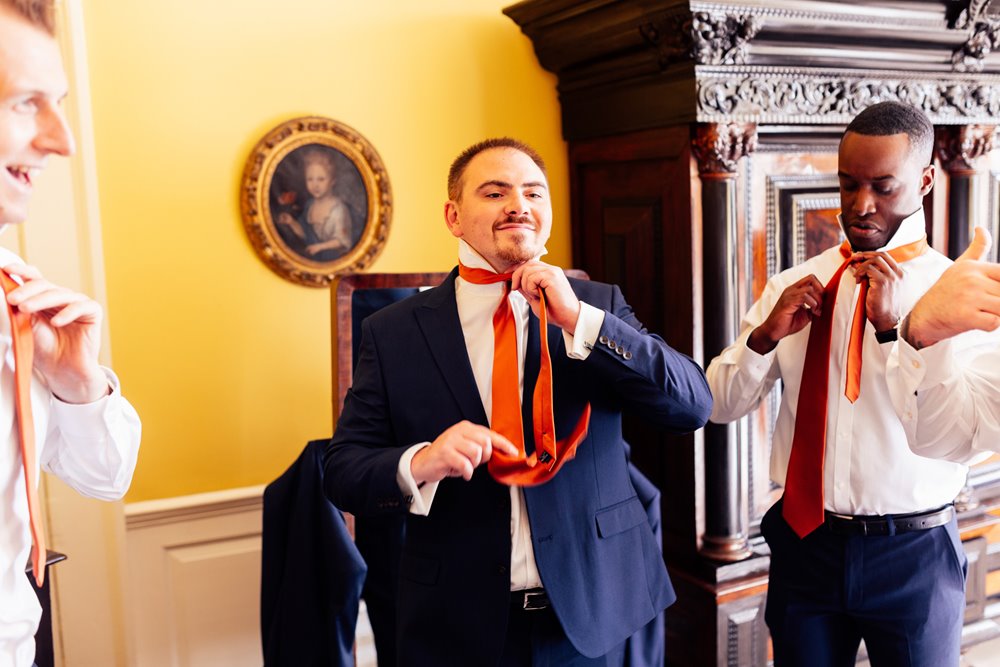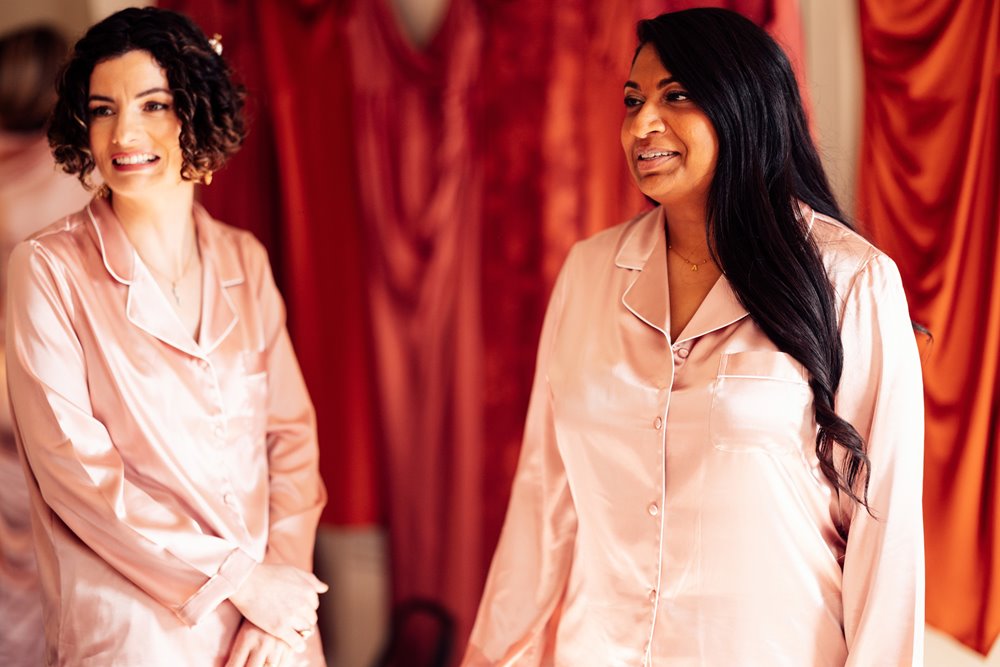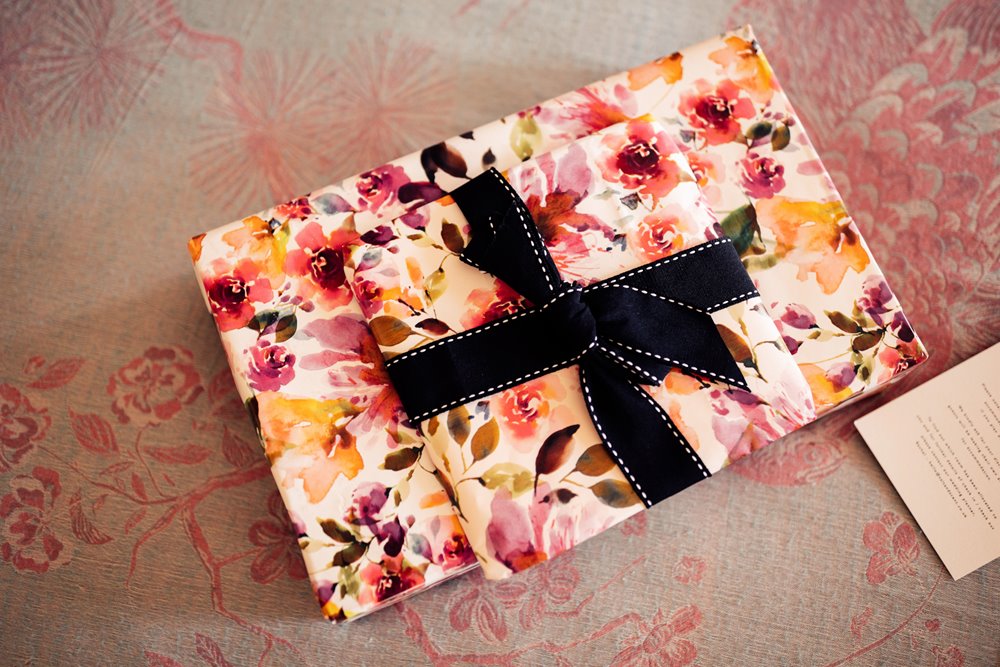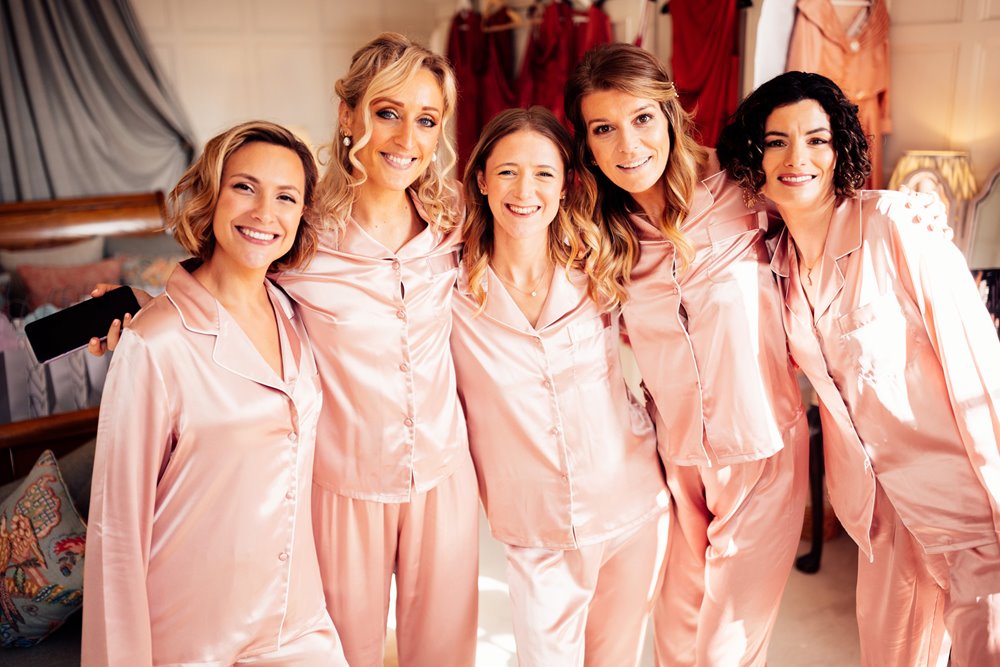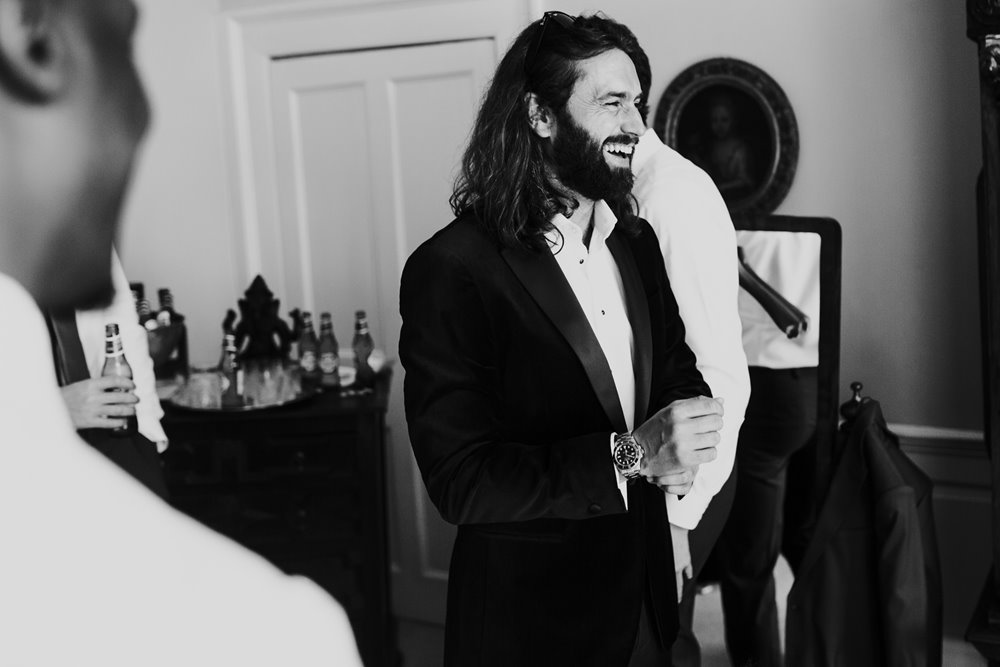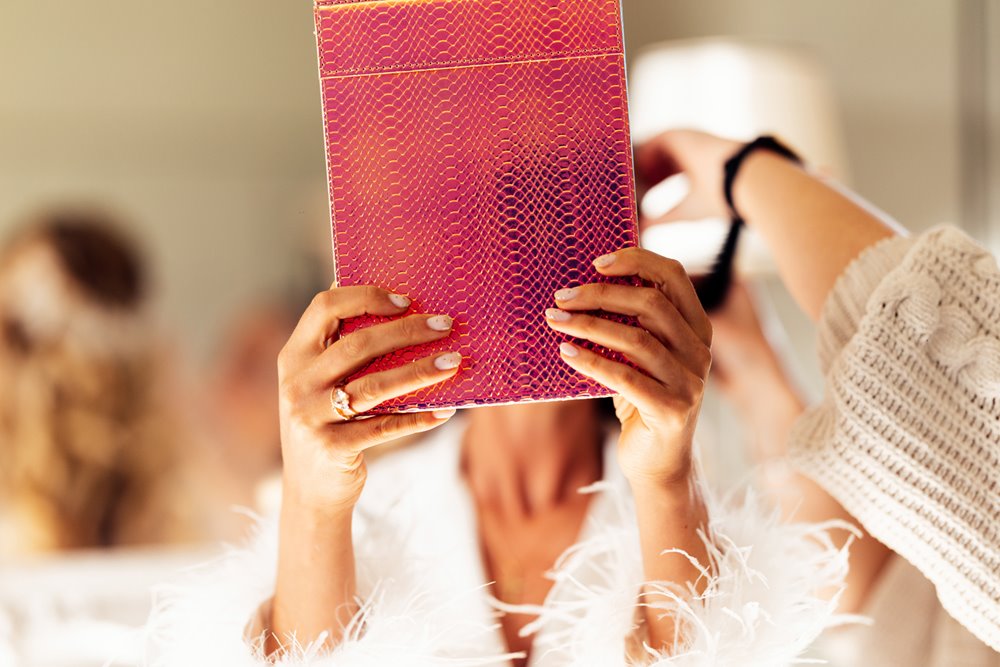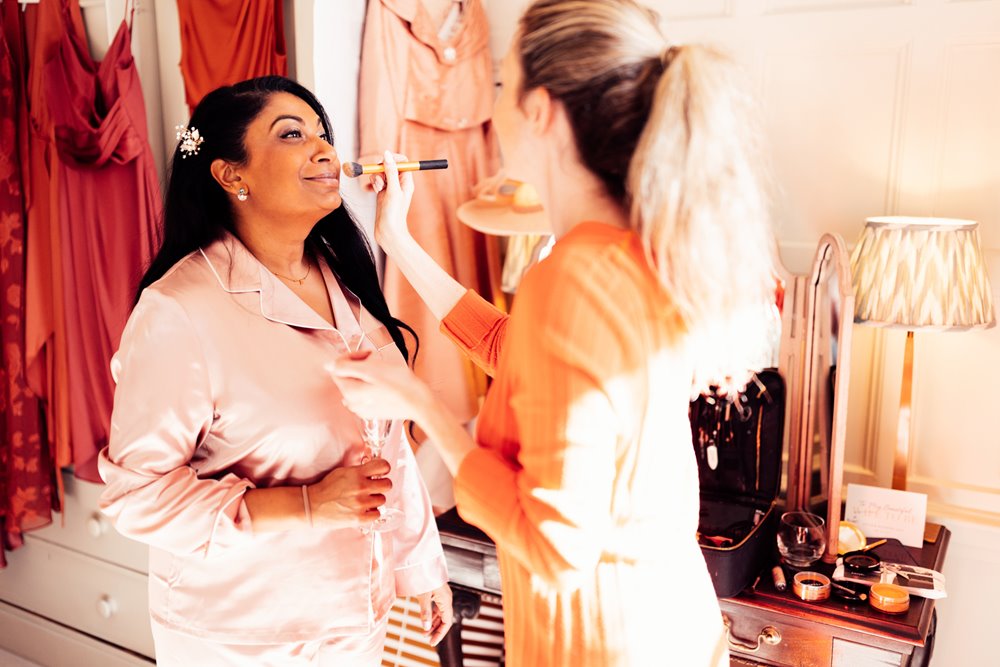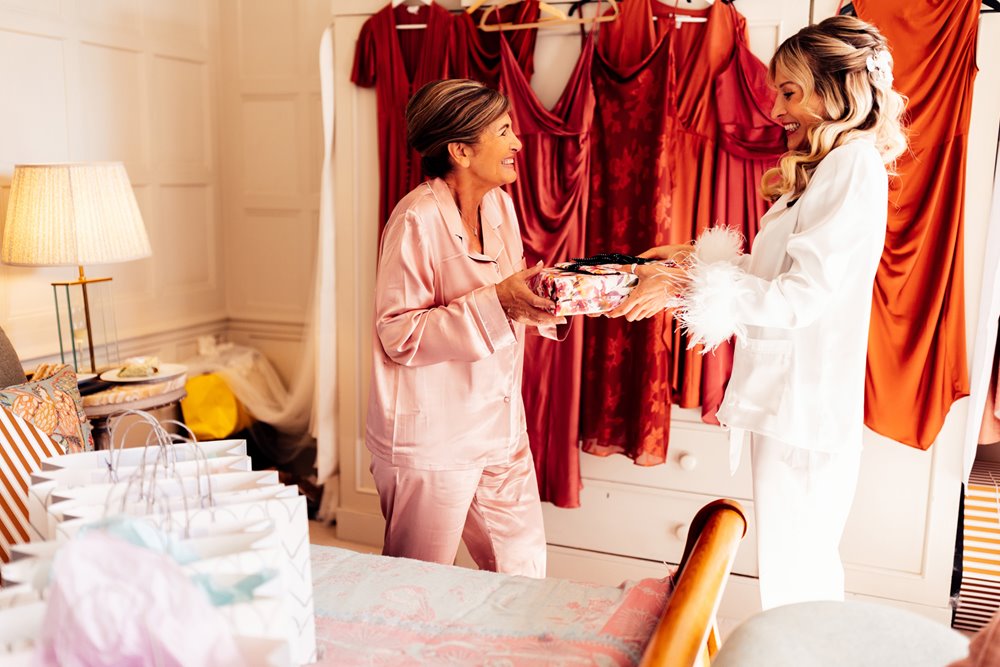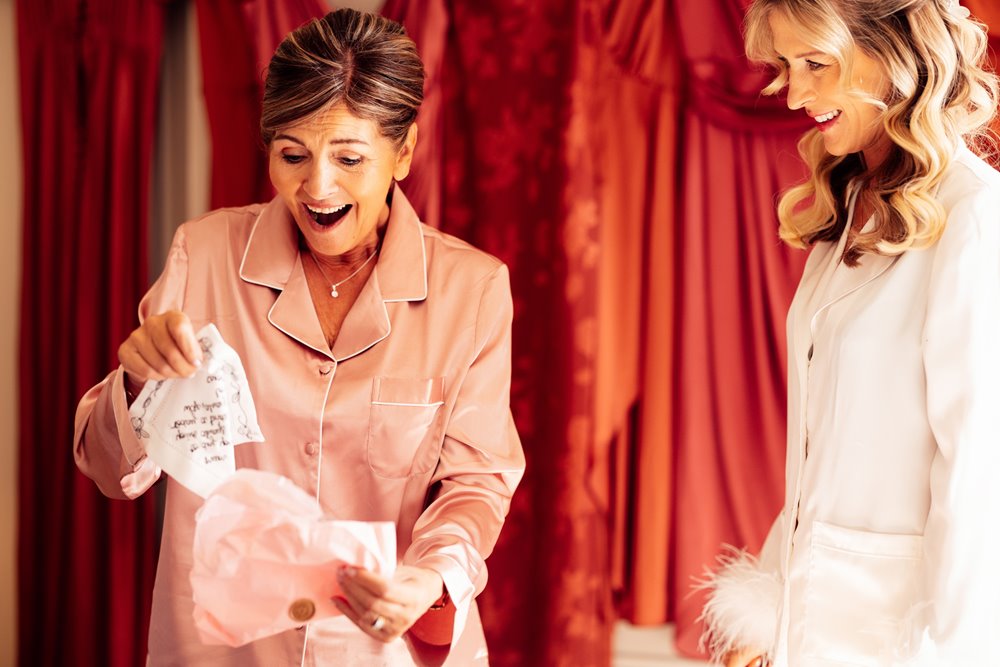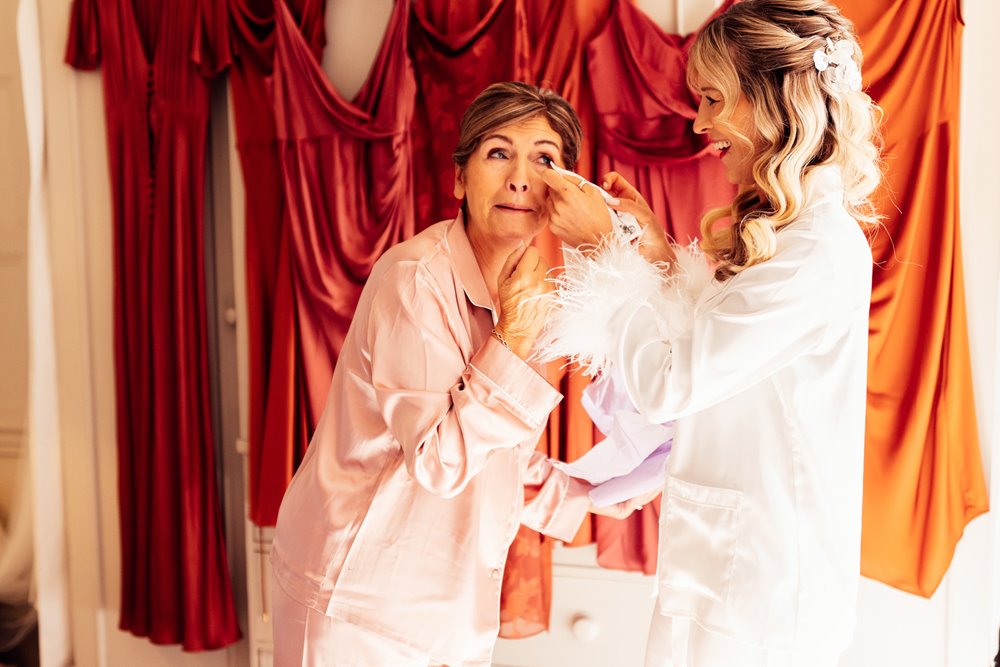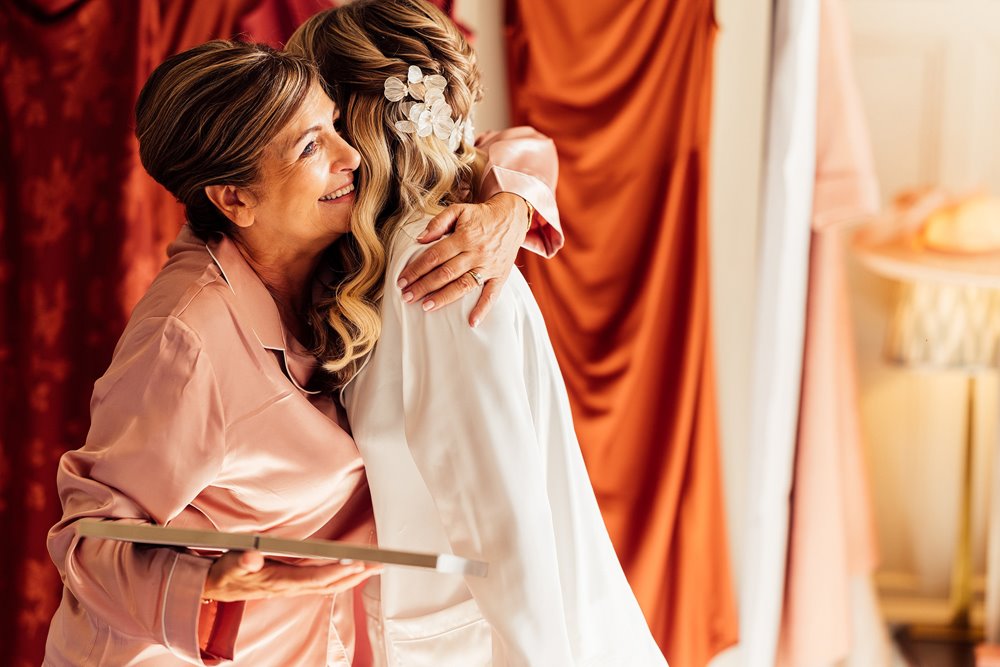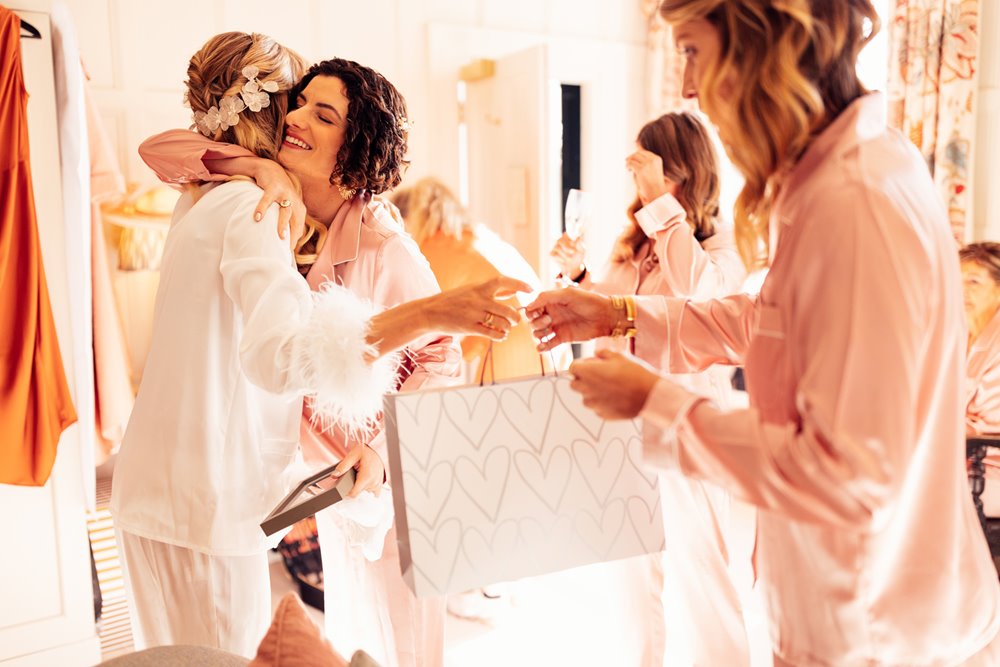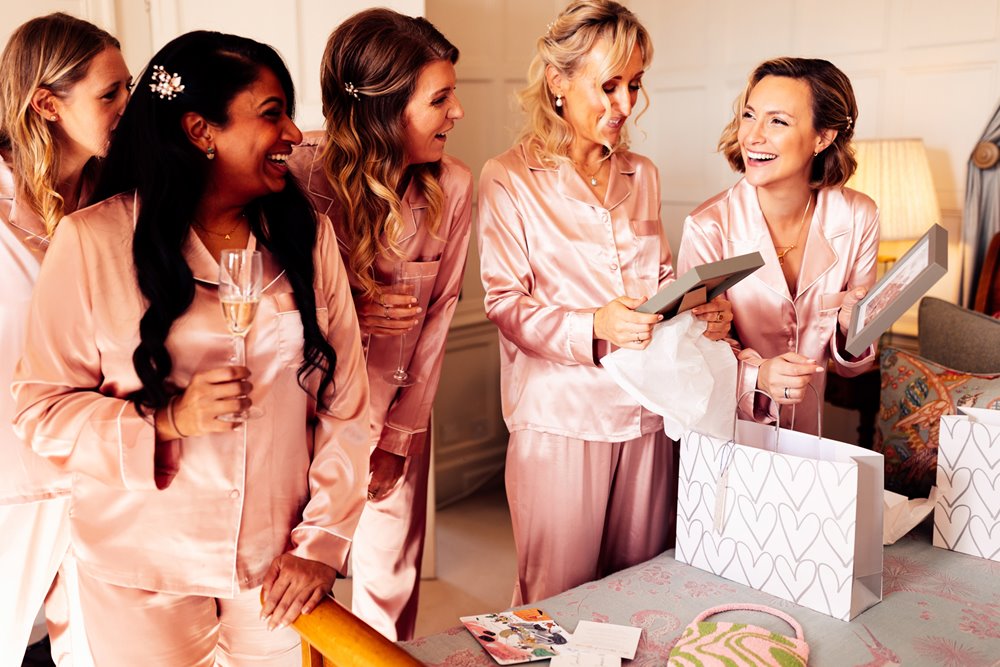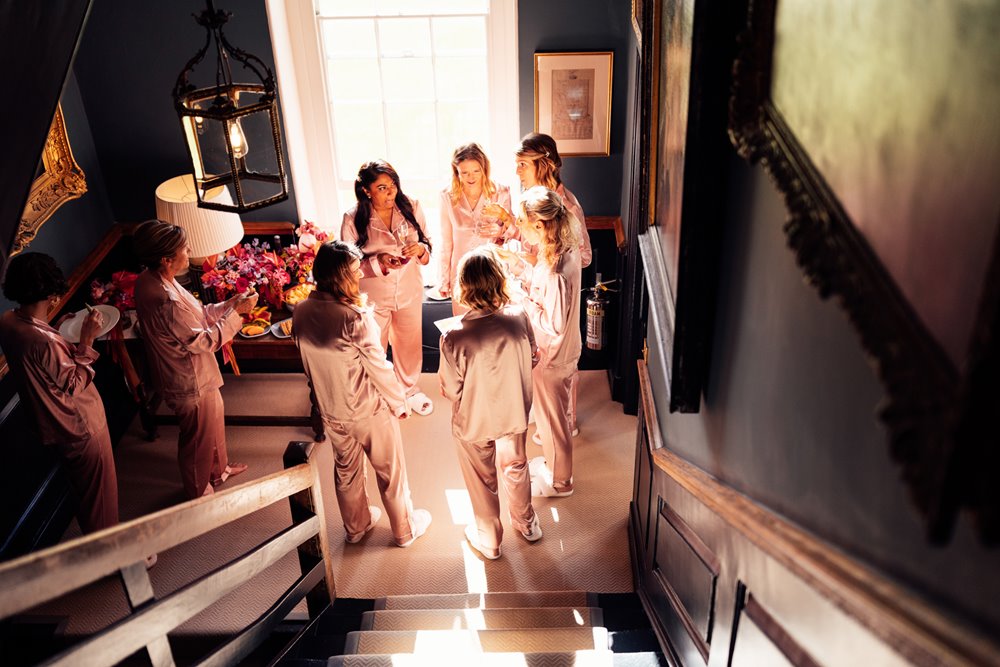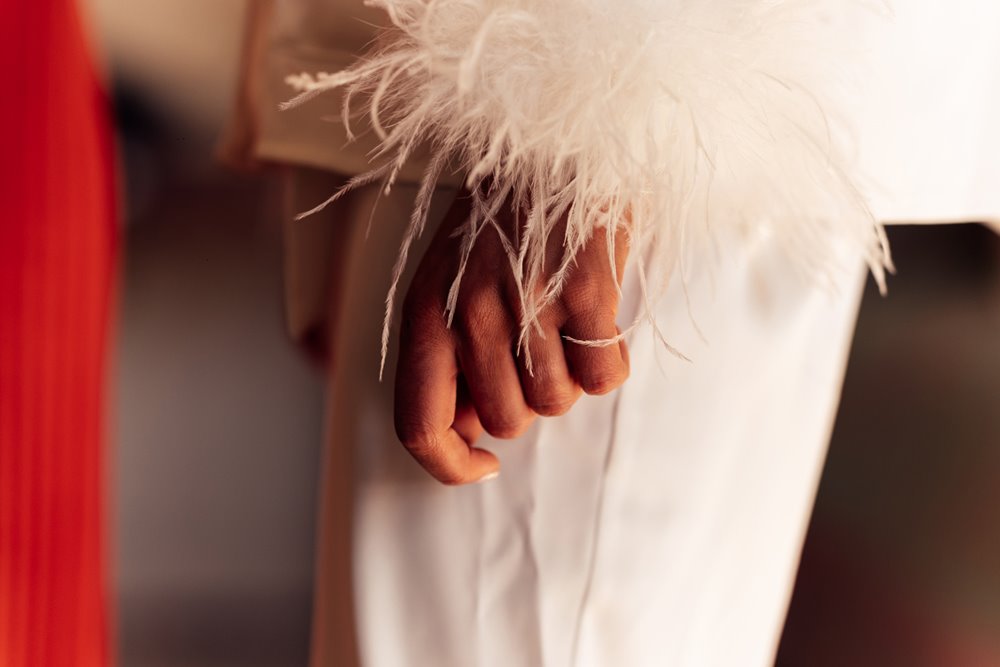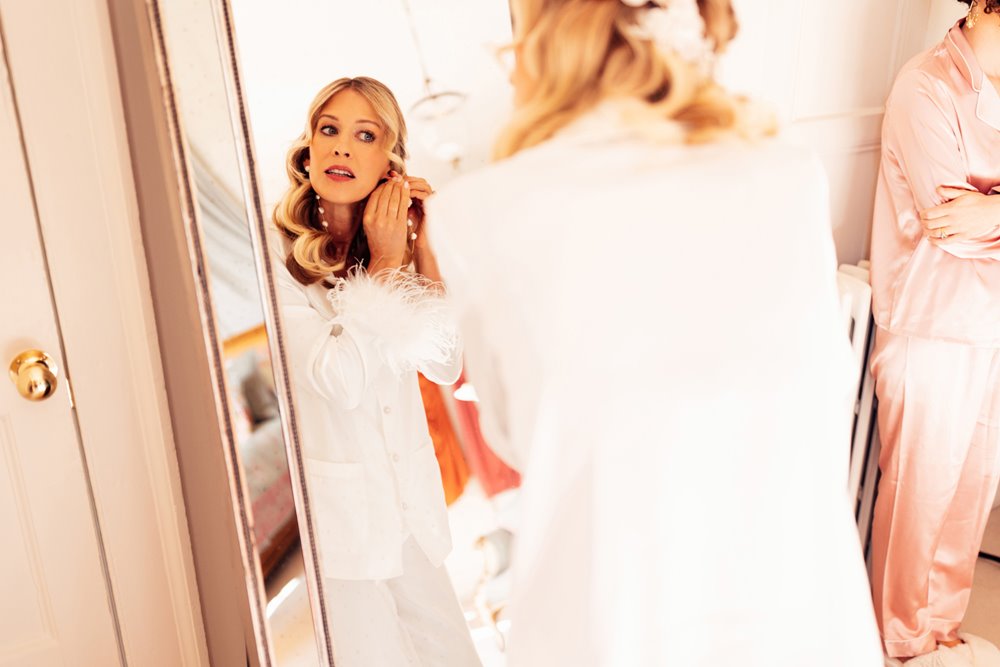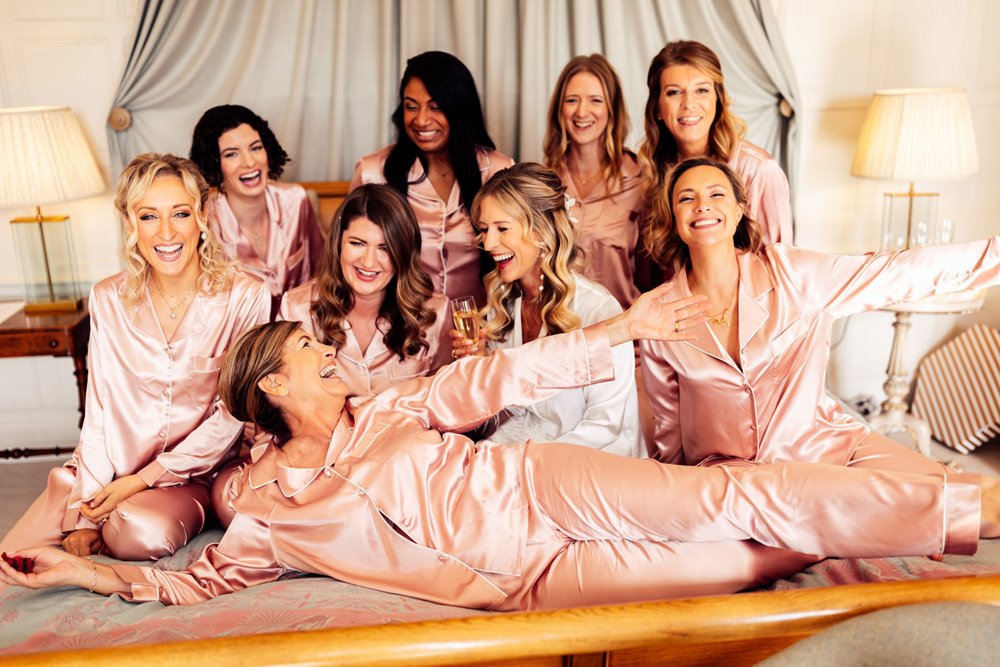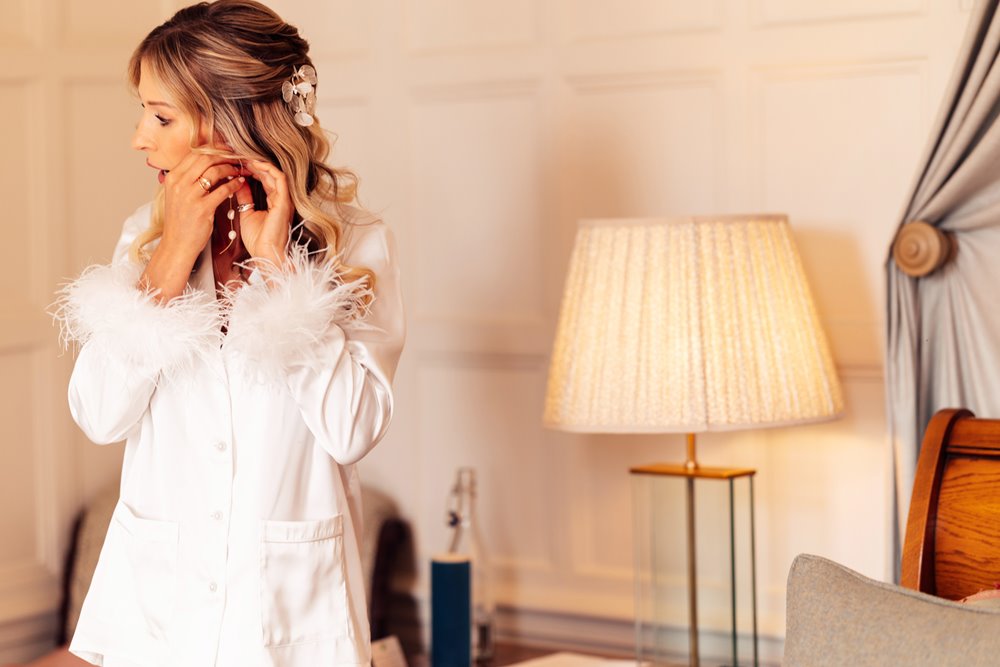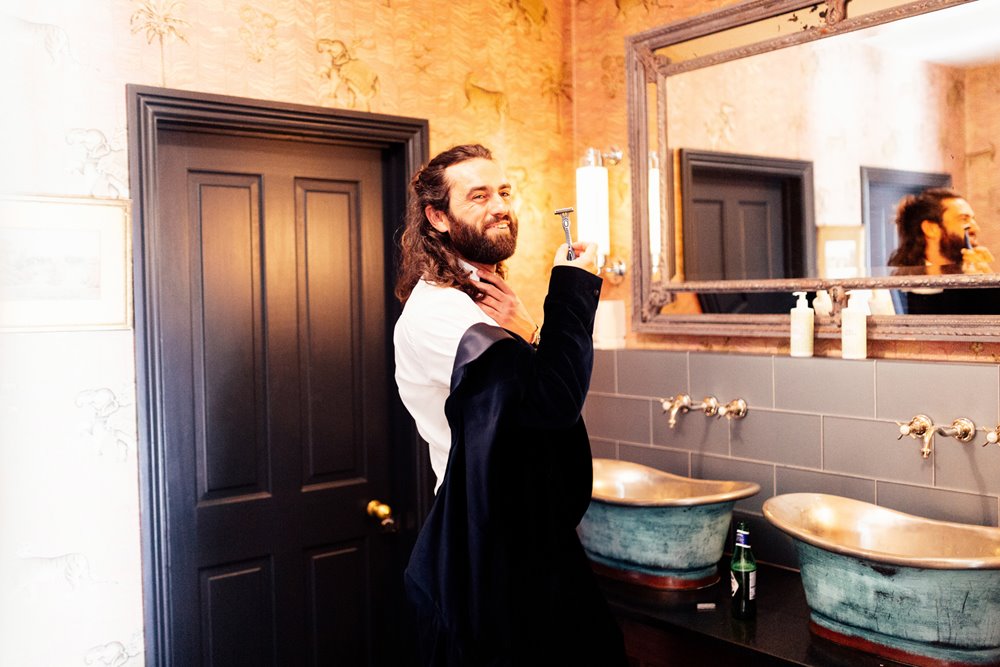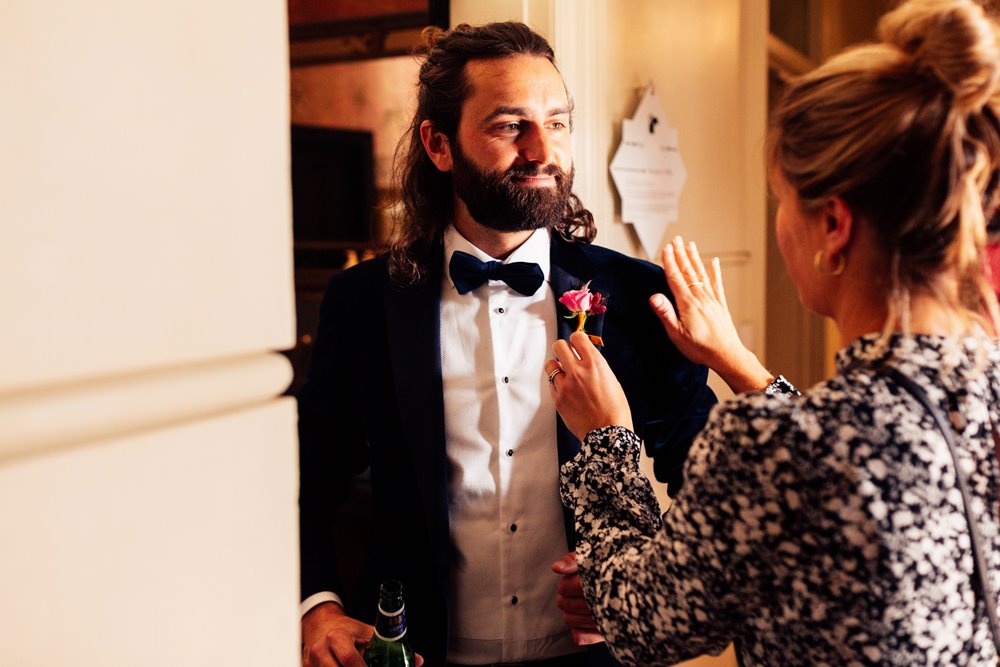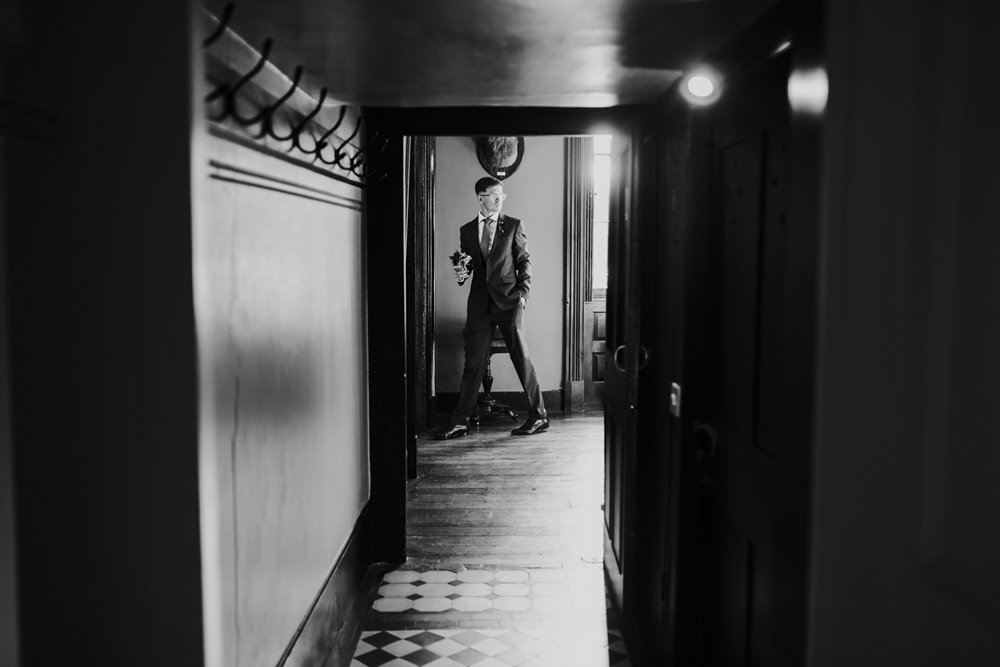 Talk us through your church ceremony
Before I walked in, we played an Alan Watts reading, 'In Madness Lies Sanity' - we also had the incredible Alice Gabb make us a banner with those words on it, which we hung in the Gillyflower.
The ceremony was truly incredible, we both had huge grins on our faces from start to finish.
We opted for three readings, one biblical one, and the other two were The Voyage" by Johnny Duhan, which has lots of references to sailing and the ocean, two of our favourite things and an extract from 'All I Know About Love' by Dolly Alderton.
My best friend from my childhood, Jenny, penned her own version of it, which was so personal and funny.
We absolutely loved our gospel choir, Vocal Works Gospel Choir from Bath.
They brought the house down in the church with 'Higher Love' which they sang during our signing of the marriage documents. They also performed 'As' by Stevie Wonder, 'You Got The Love' by Candi Staton and I walked in to a gospel rendition of Jess Glynn's 'I'll Be There'.
One of our most memorable moments was when we stayed in church, just the two of us, to hear them sing the end of 'All You Need Is Love'.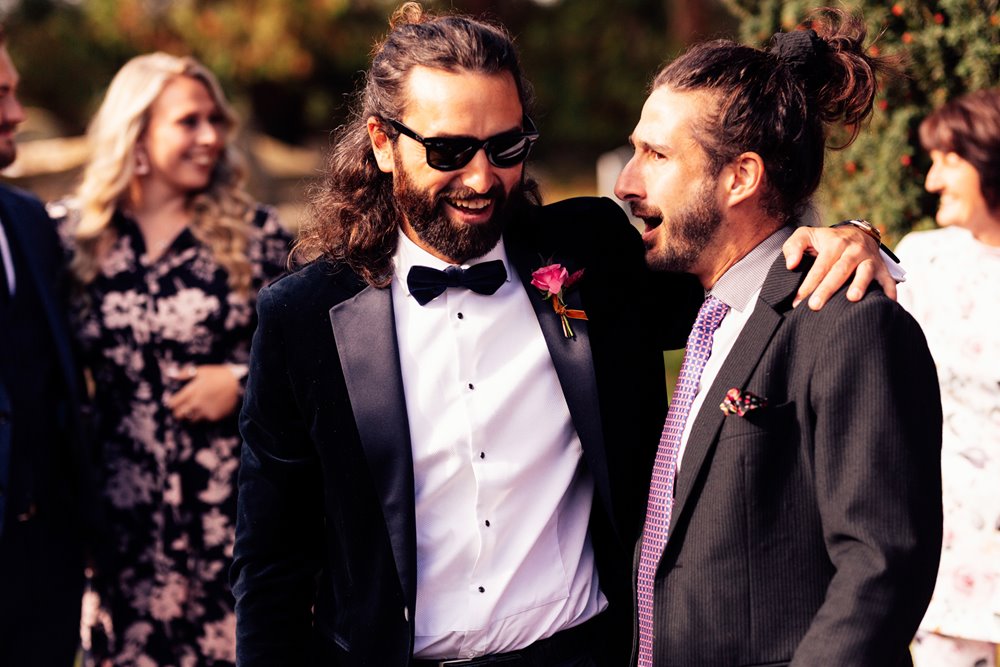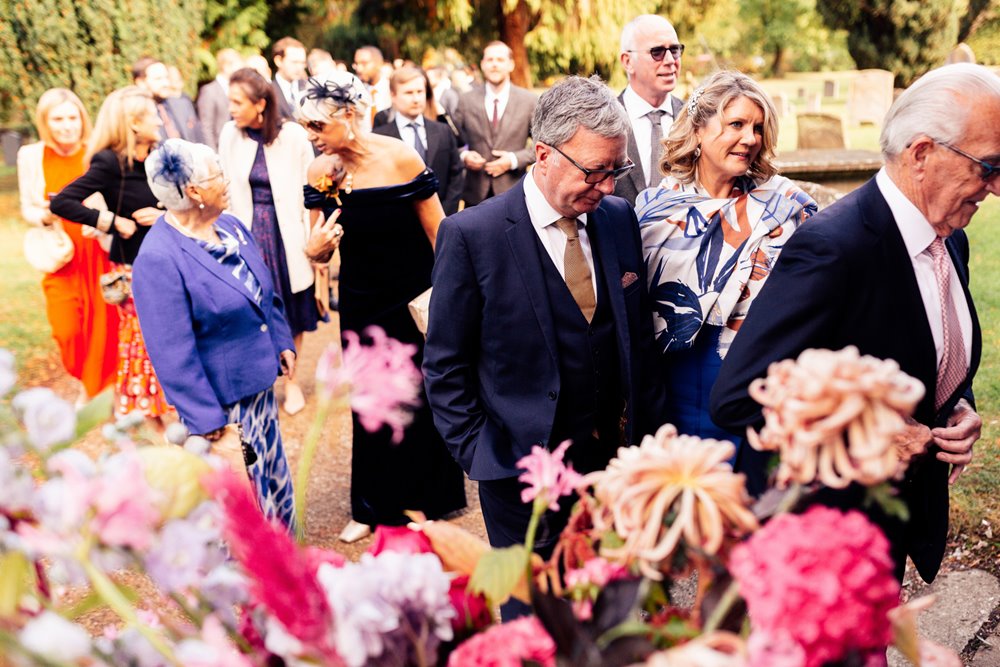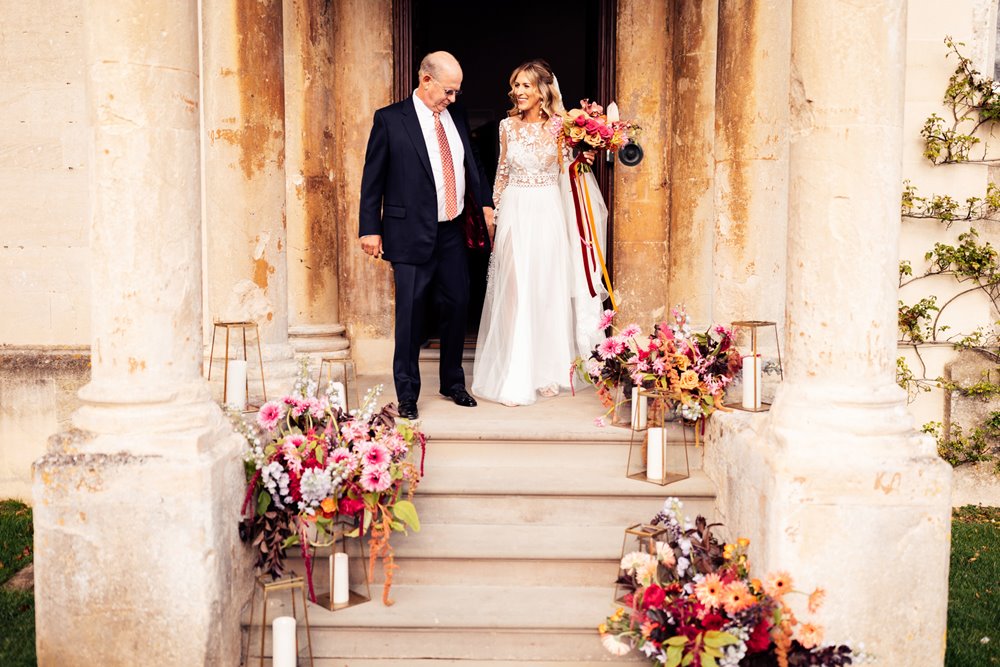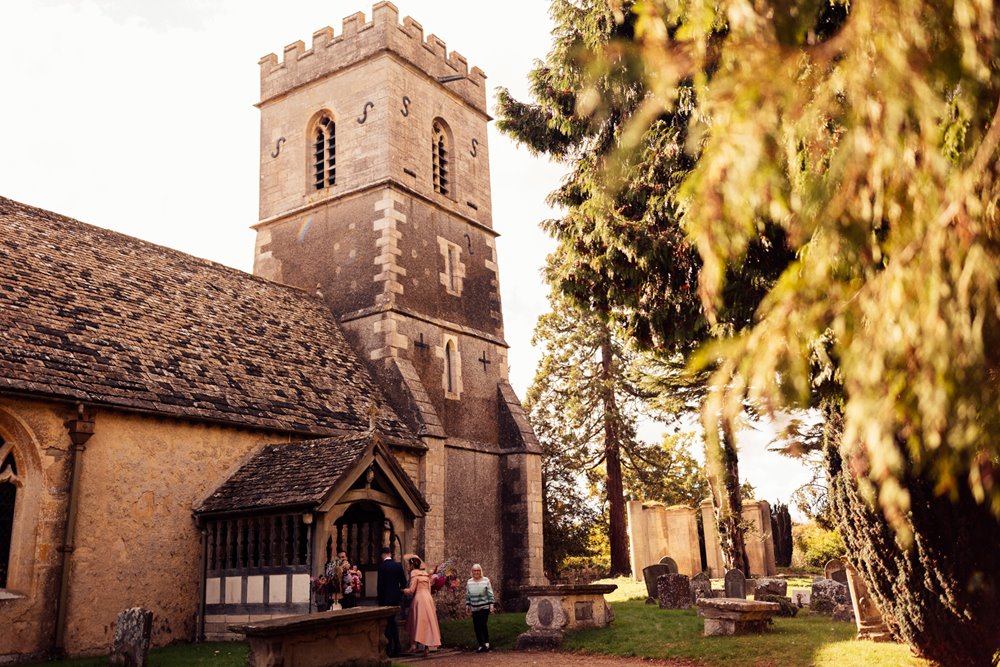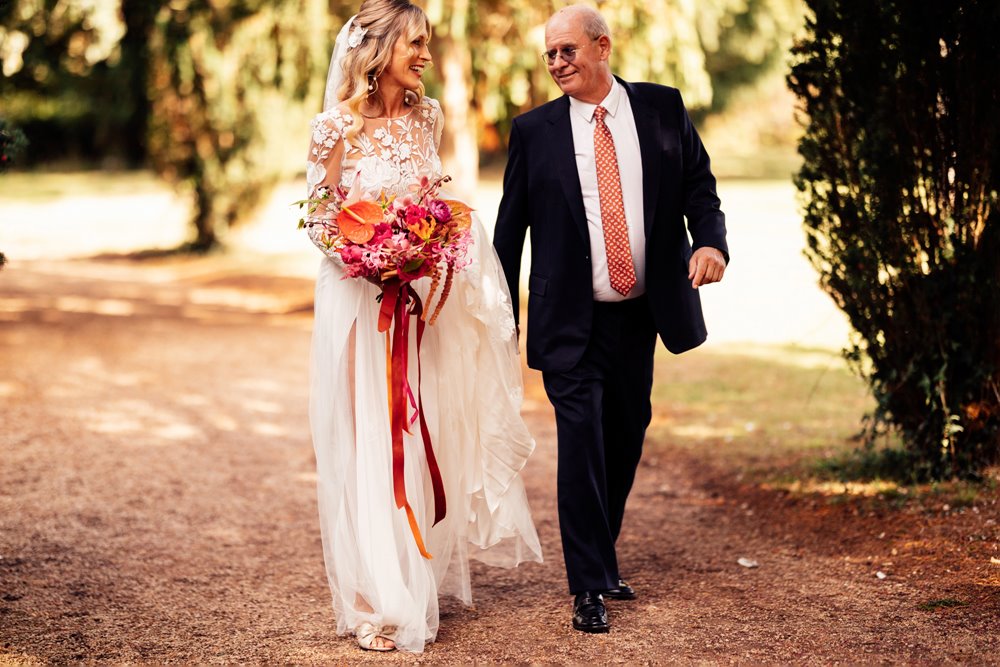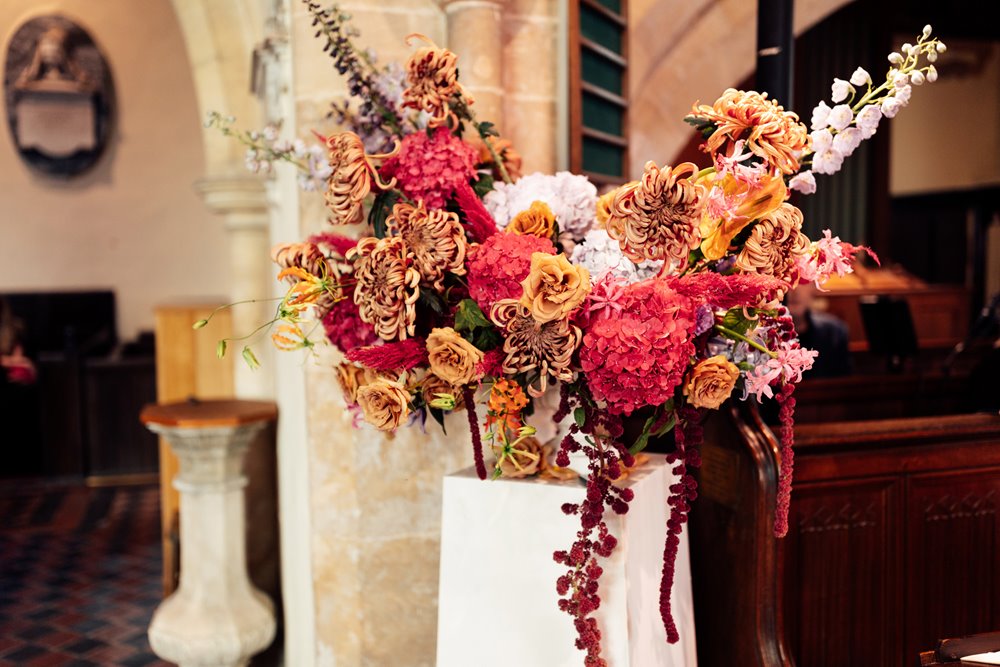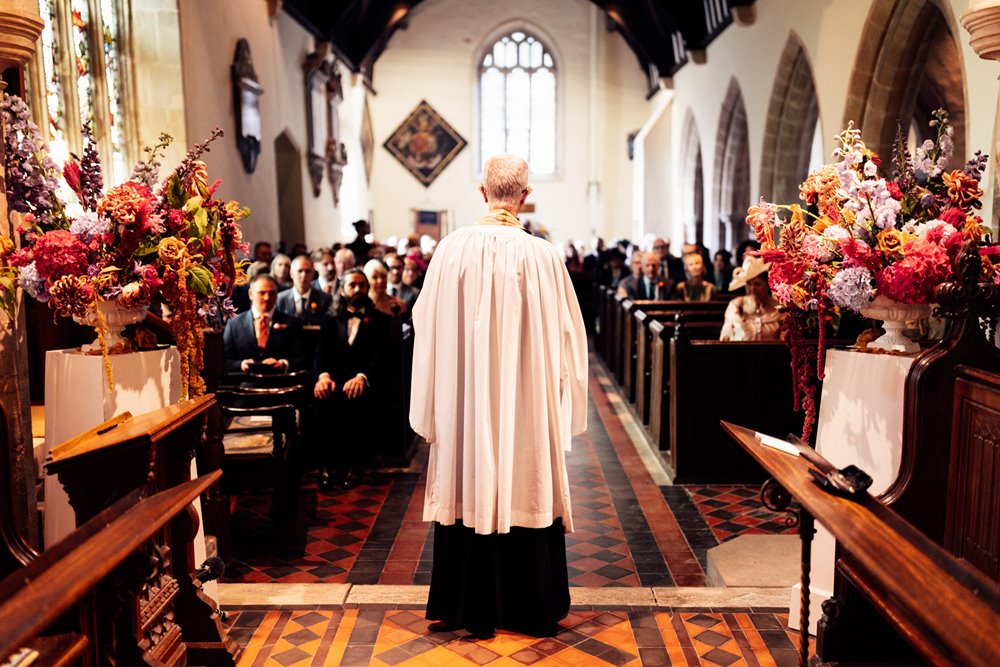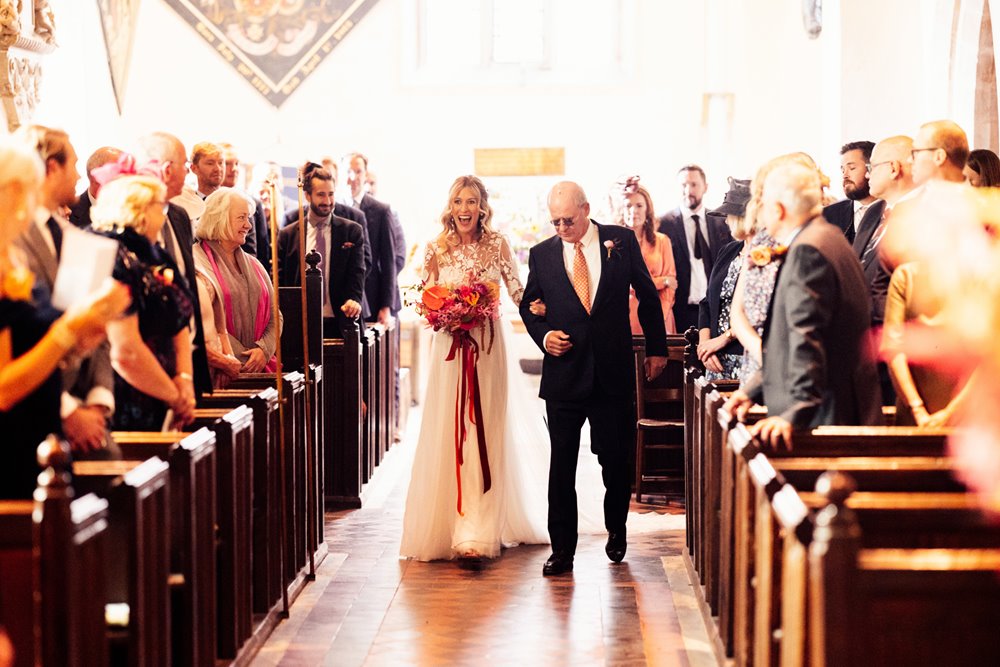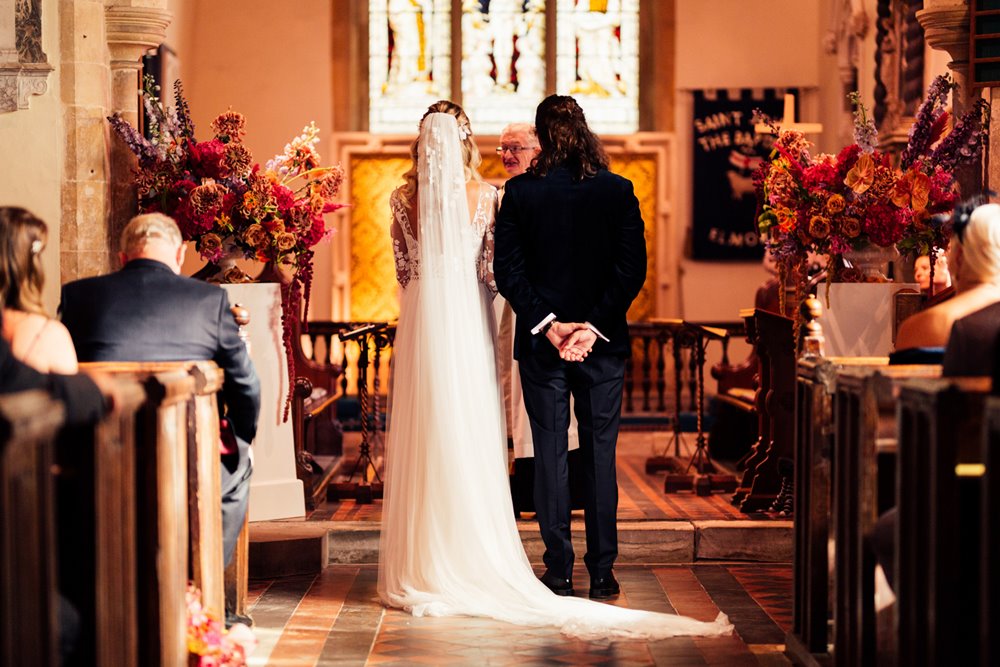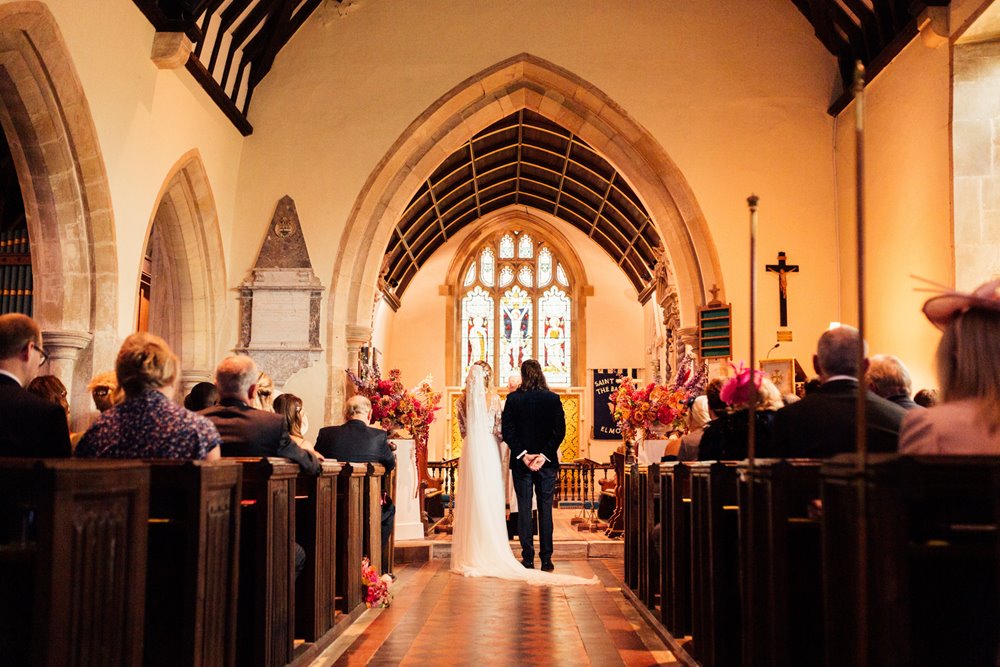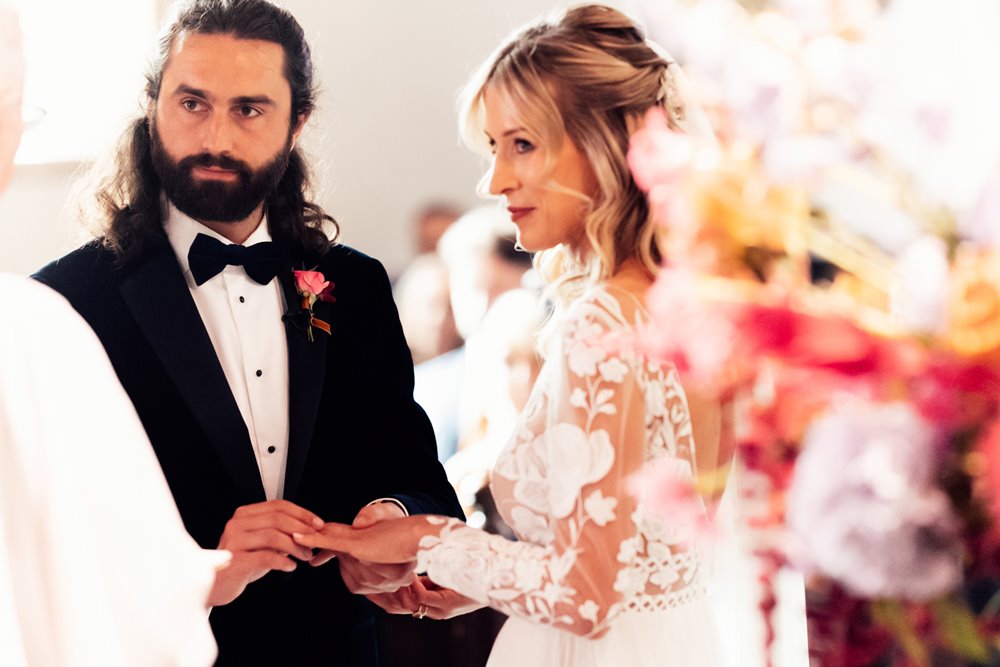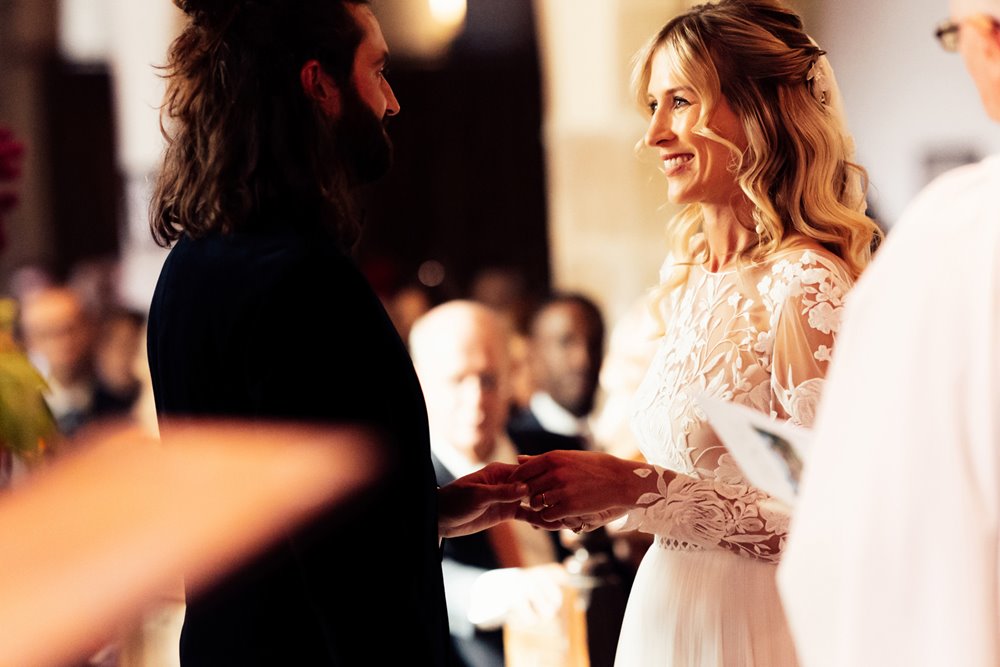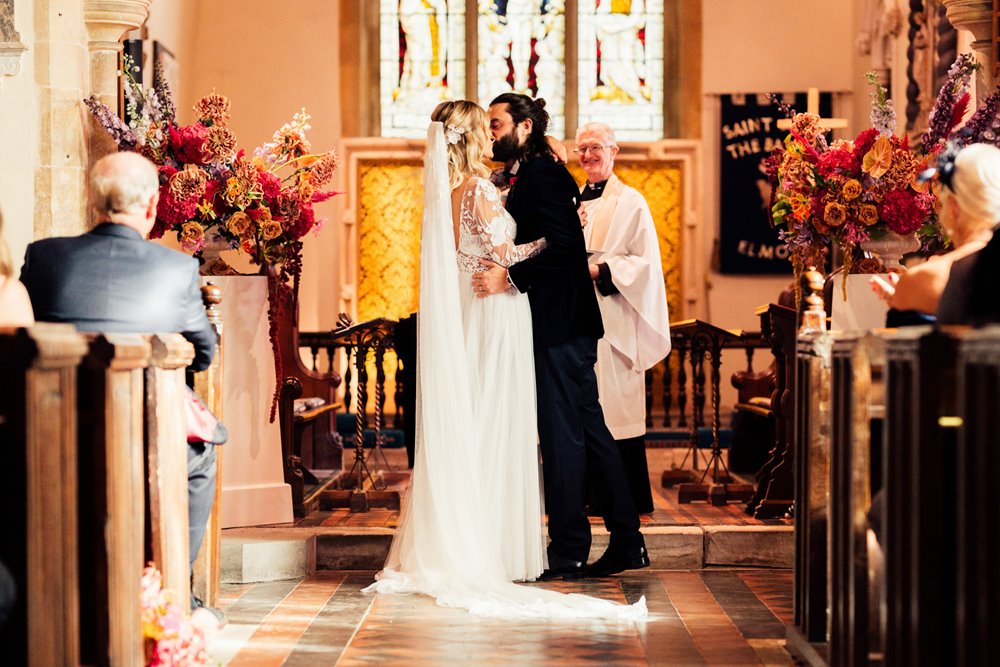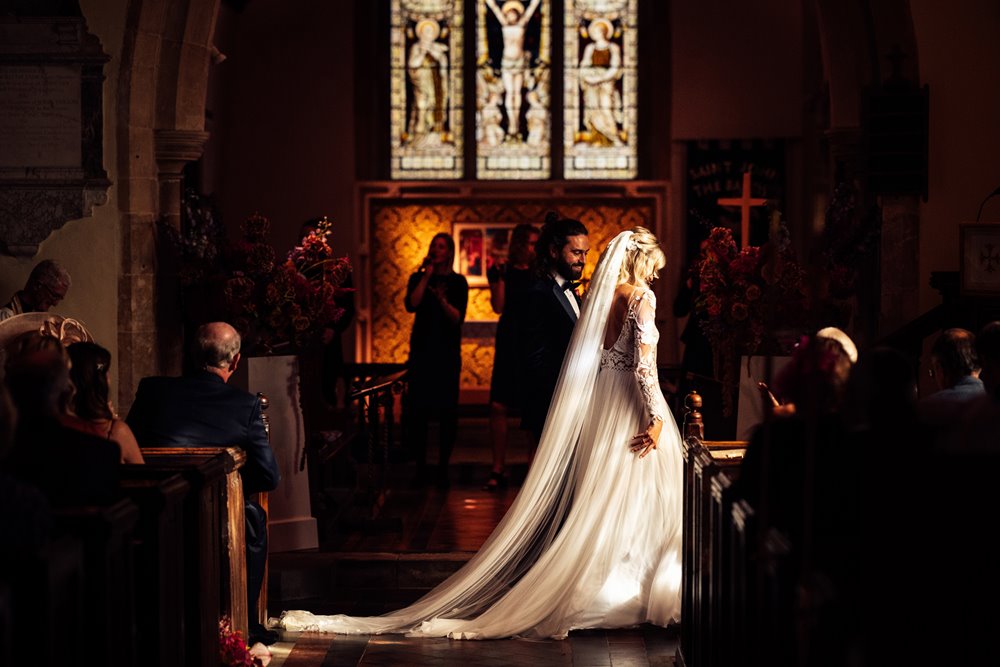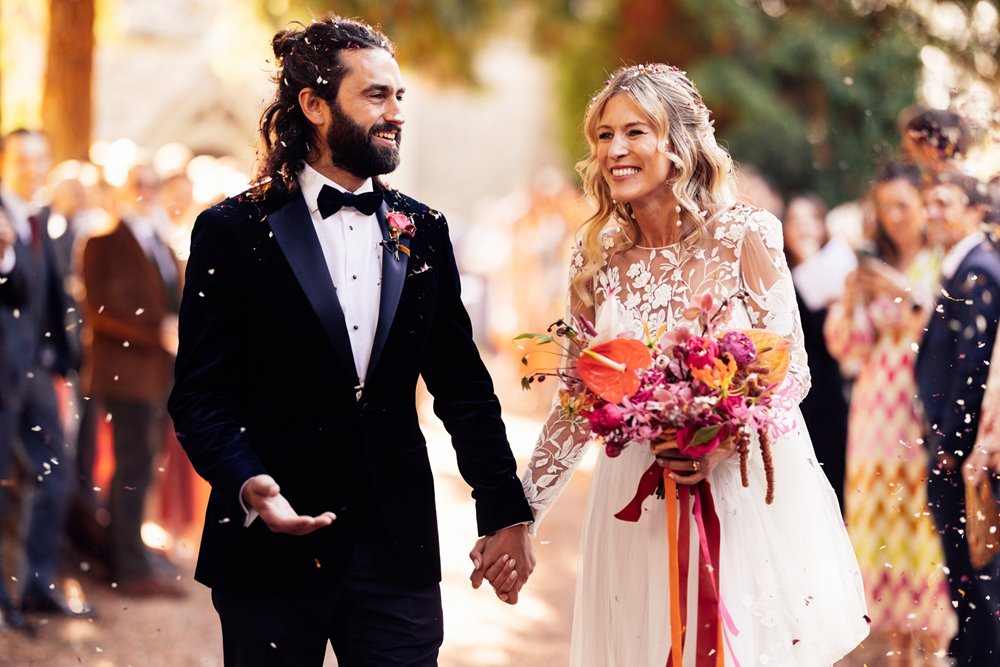 How was your drinks reception?
We had few pics outside church before hopping in a vintage jag back to Elmore.
Harry Michael was a great choice for a photographer, so relaxed and fun. Dan Dolan and his wife did the videography.
Acoustic singer / guitarist, Bethany Jane, performed during the reception.
Though I have to admit, I never made it inside Elmore as it was such a stunningly beautiful day, I ended up milling around outside and was so busy catching up with people, I didn't make it inside! Everyone said she was wonderful though!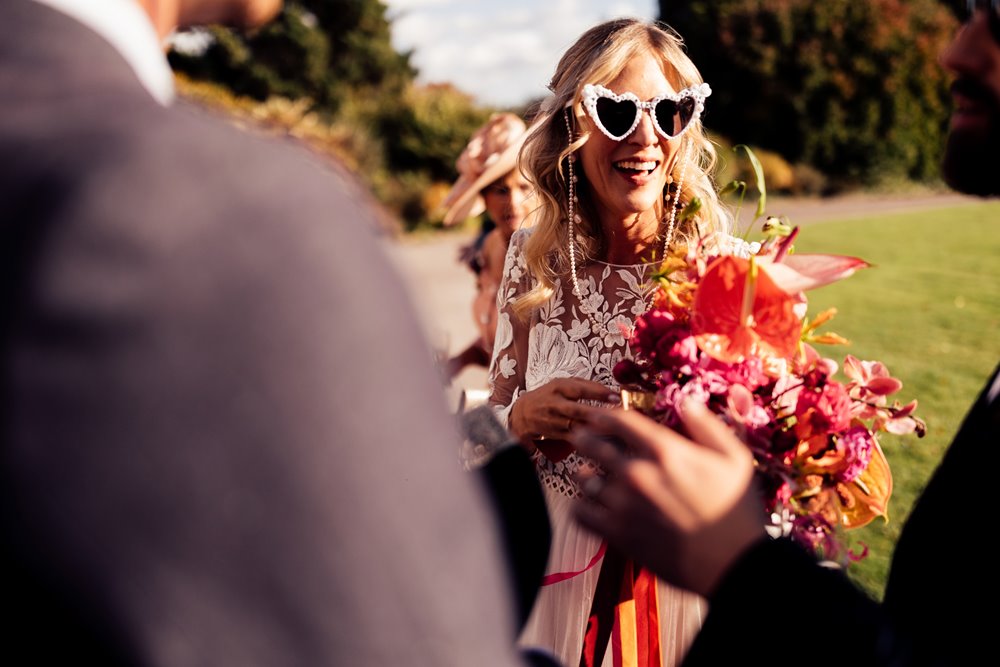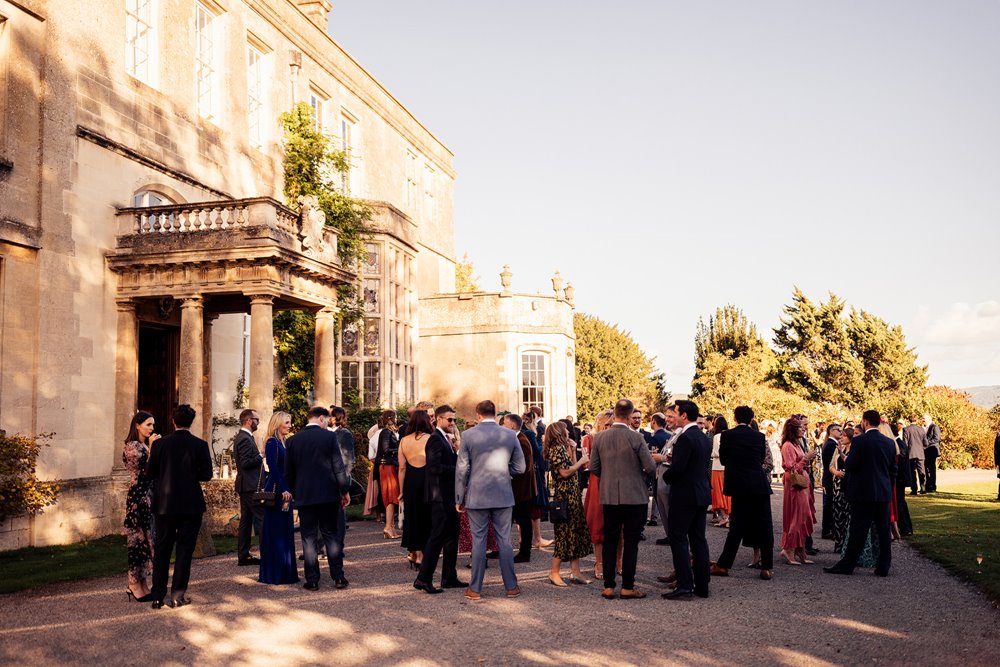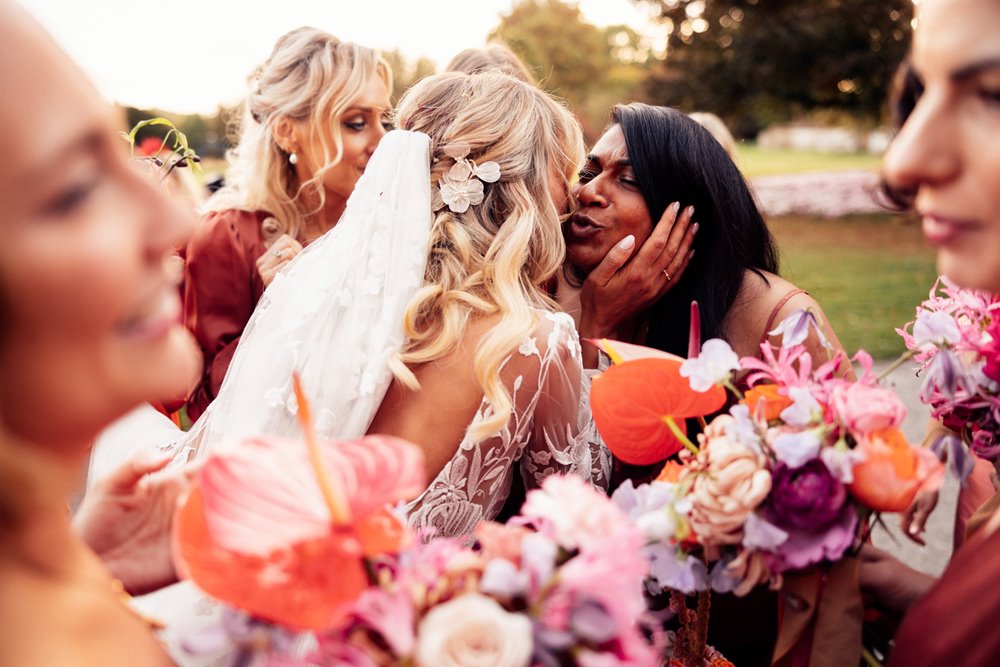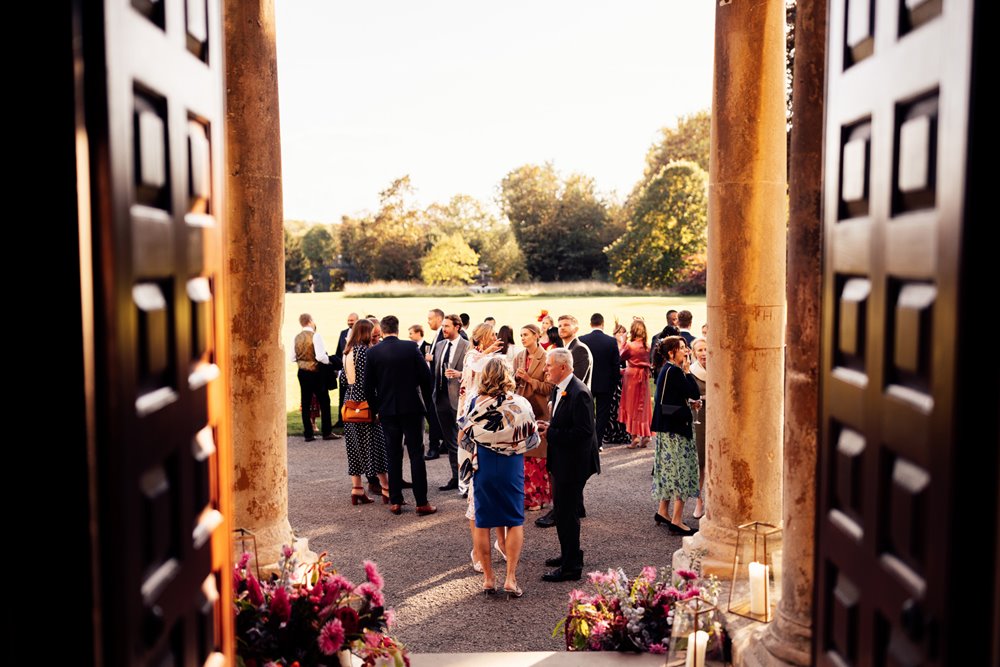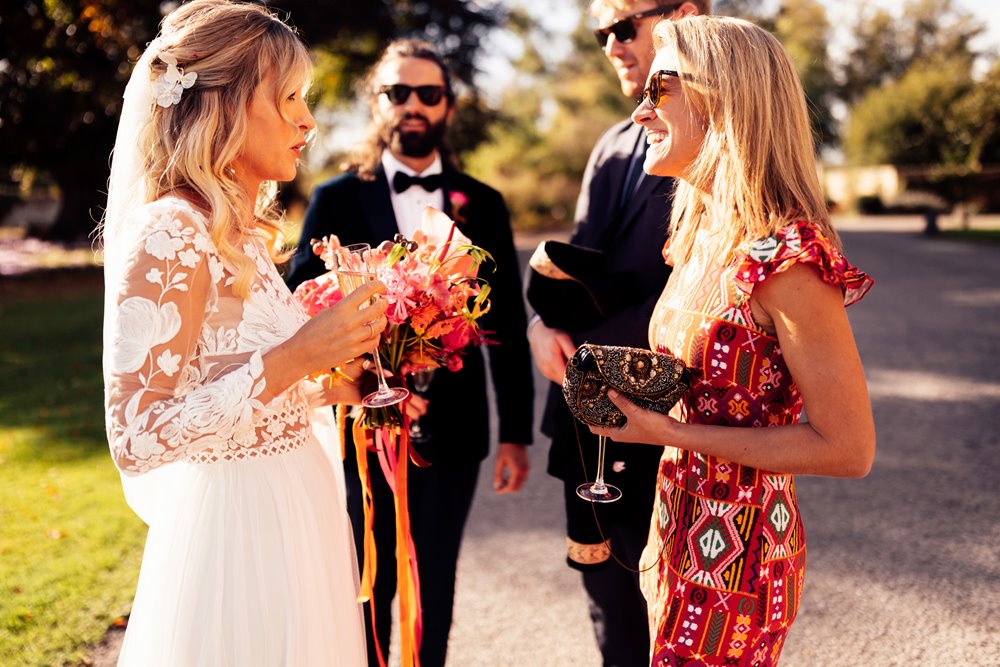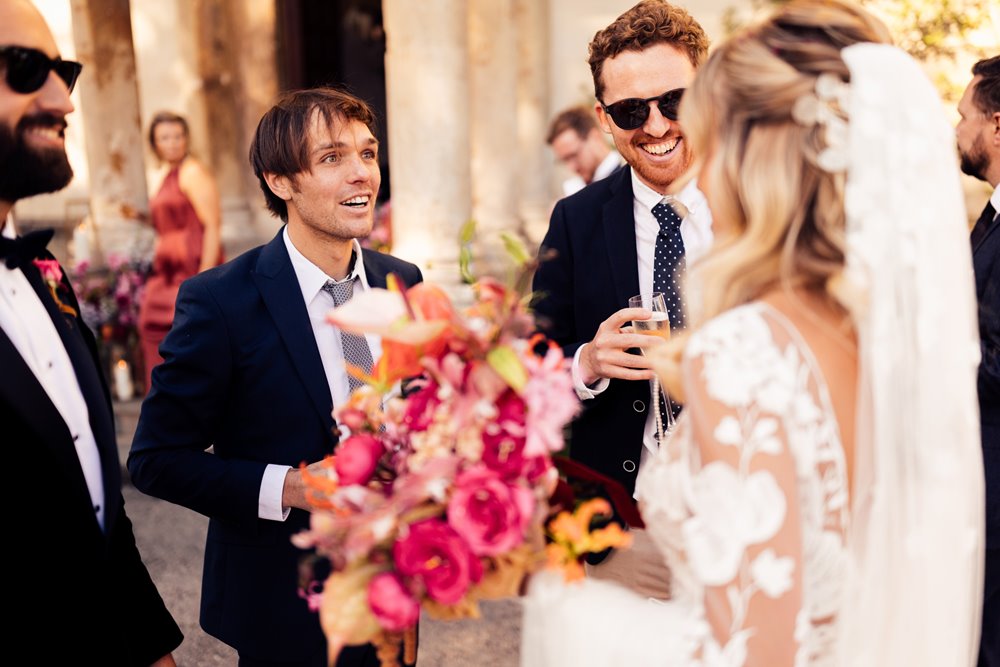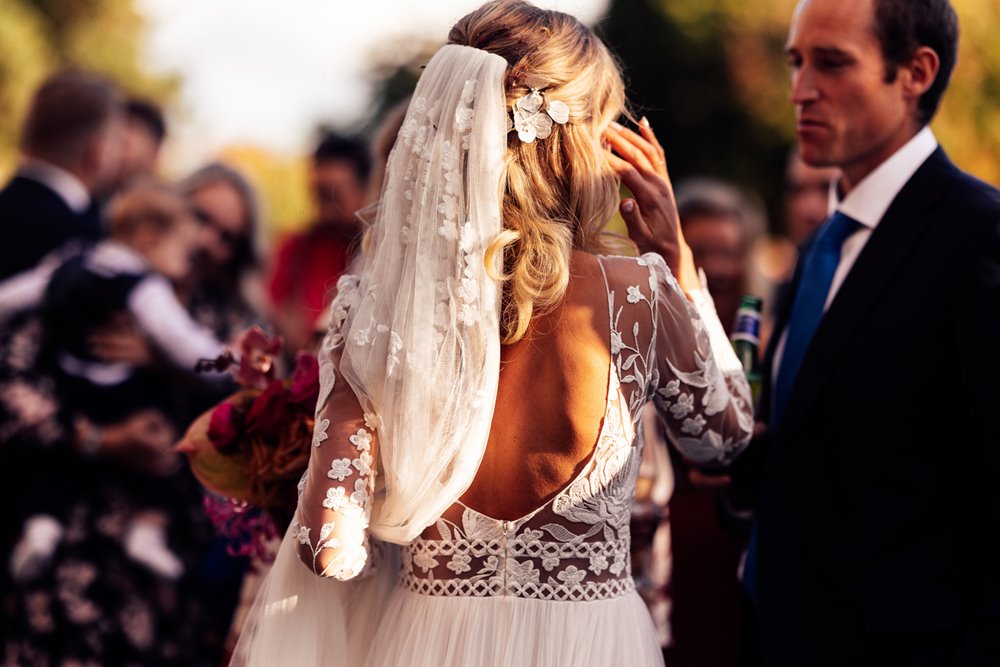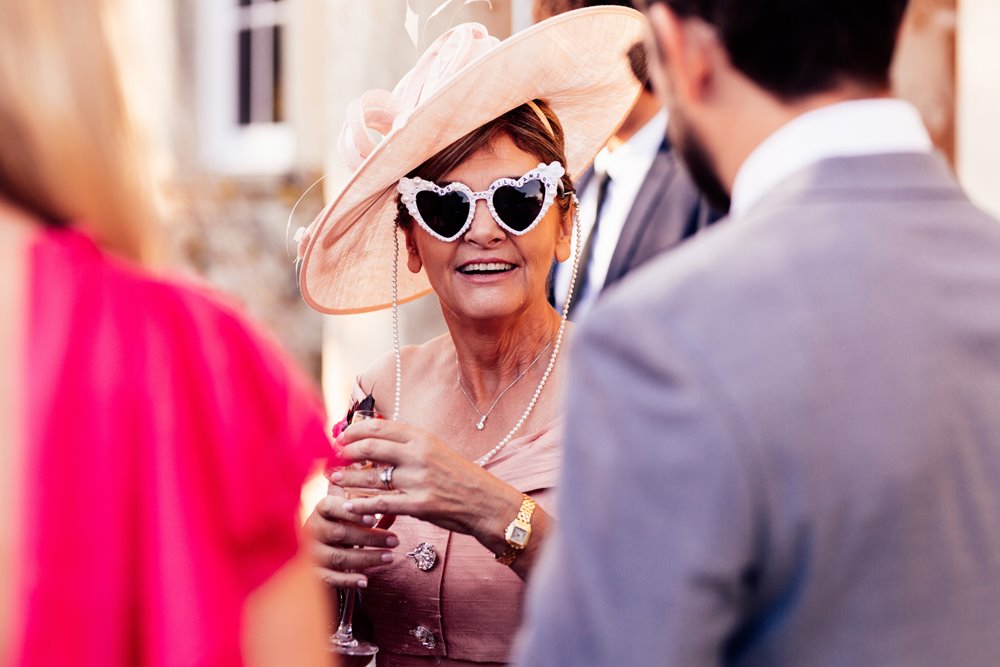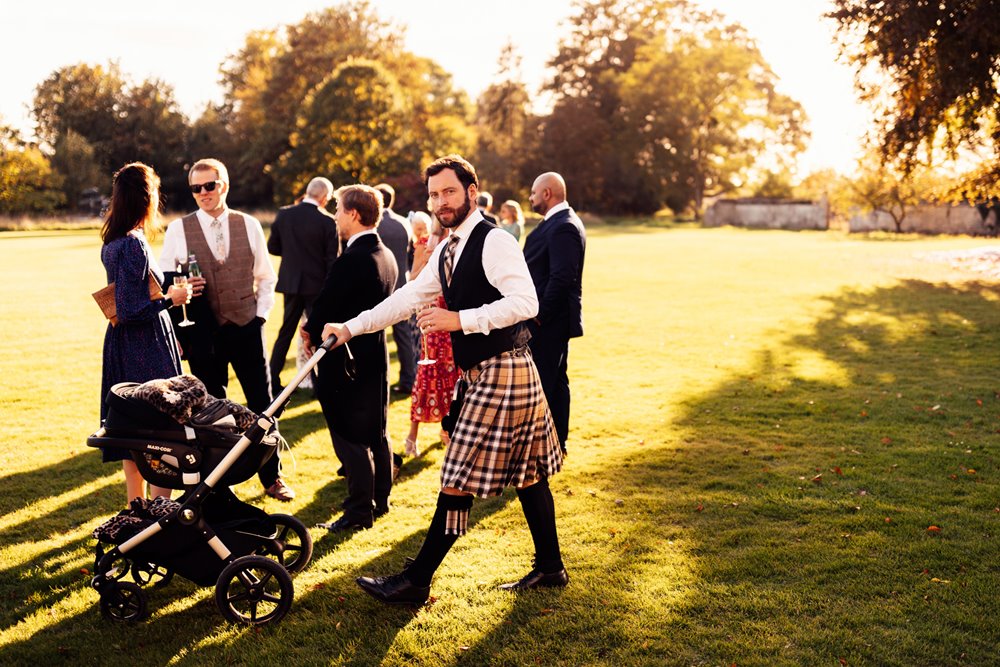 What did you eat and drink?
We drank Tattinger, Sancerre and Moulin-a-vent. And lots of espresso martinis and rum punch!
Food wise, the meat eaters had roast salmon for starter, slow cooked beef for main and sticky toffee pudding for dessert. The veggies and vegans enjoyed the squash tagine and arancini for starter.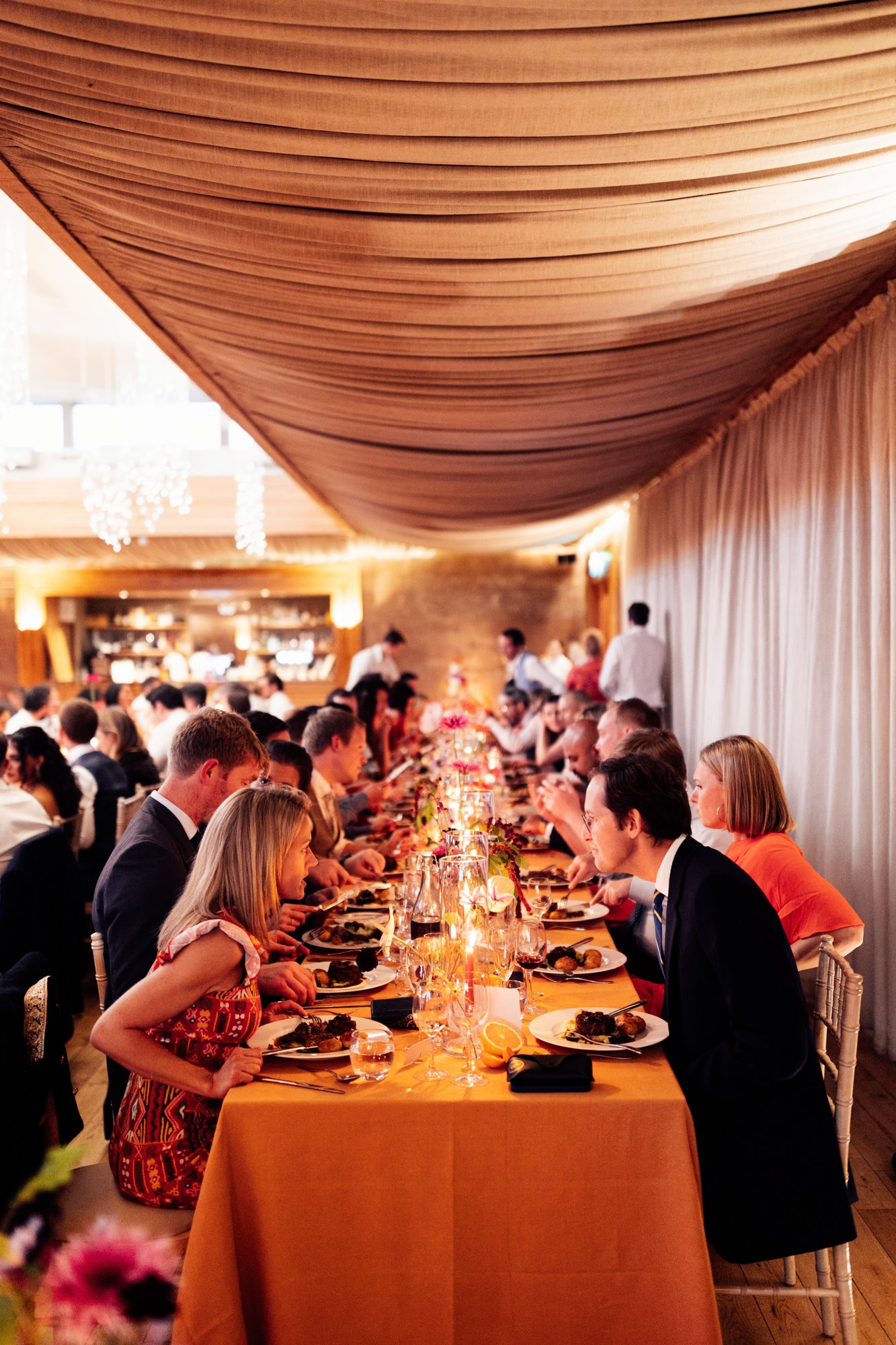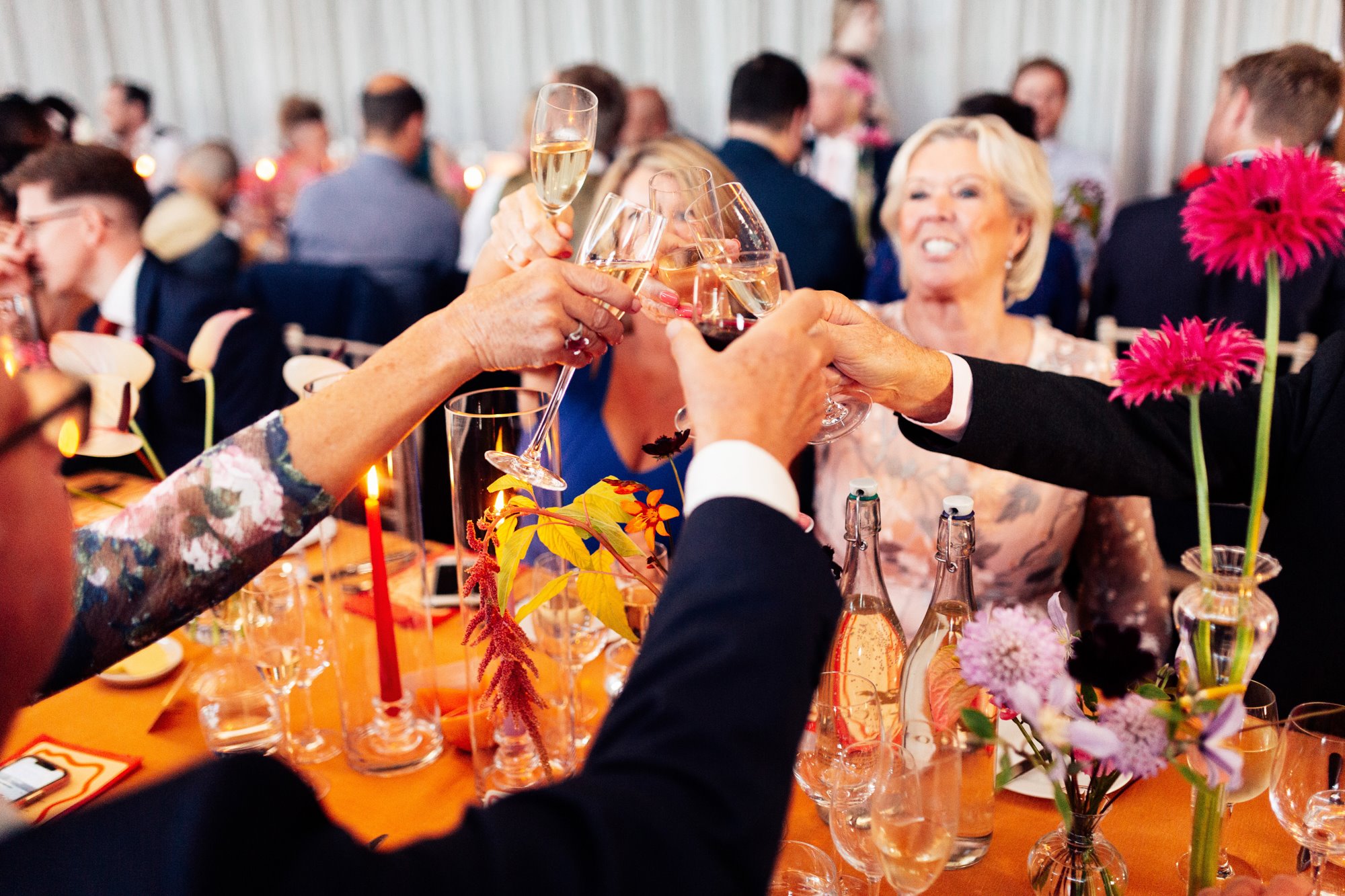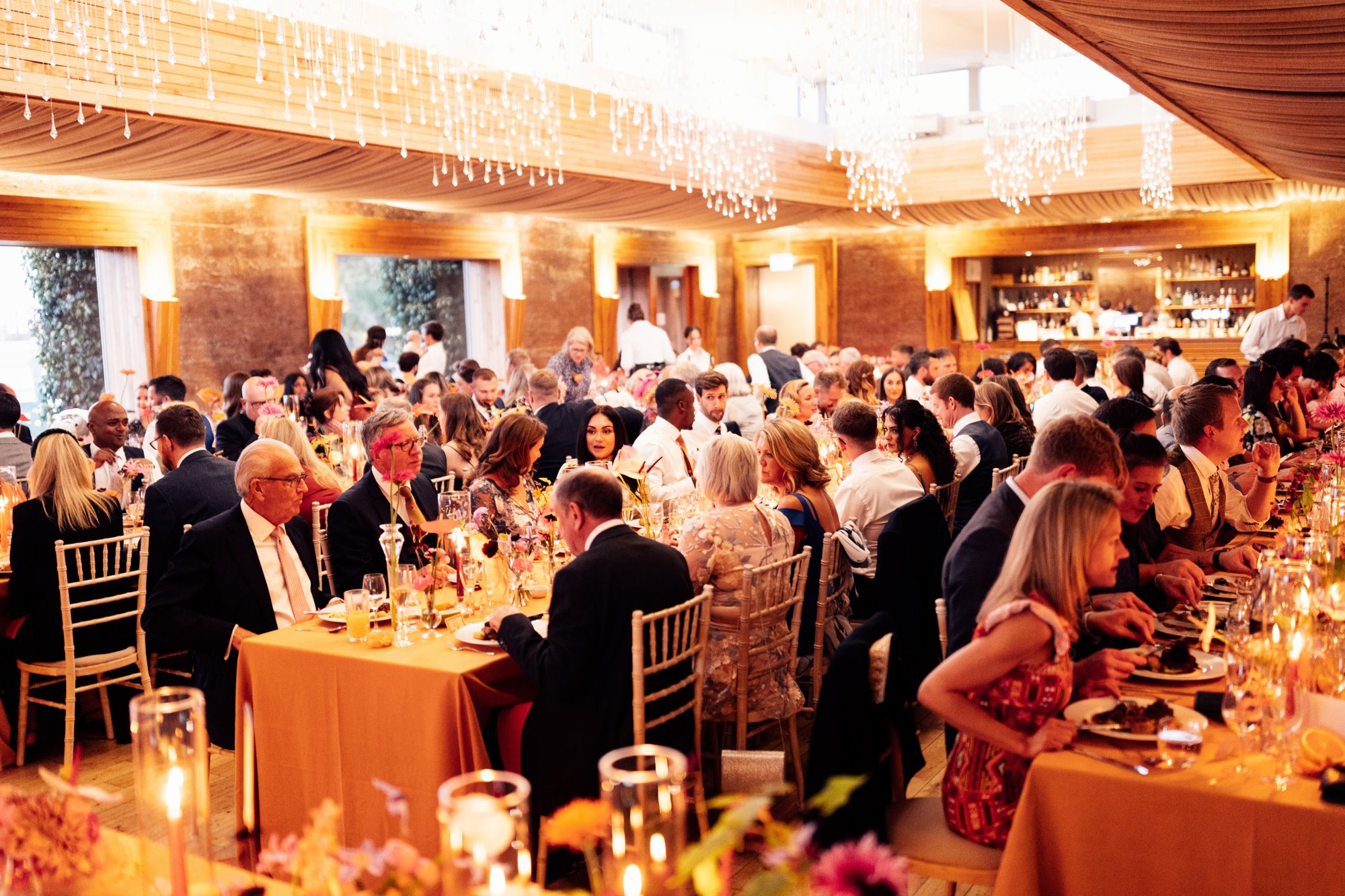 Did you DIY any wedding details?
The stationery was quite 'DIY', we ordered a template from Etsy and used a local printers to do it all, which saved a lot of money. I was pretty busy with work in the run up to the wedding so had to outsource most tasks!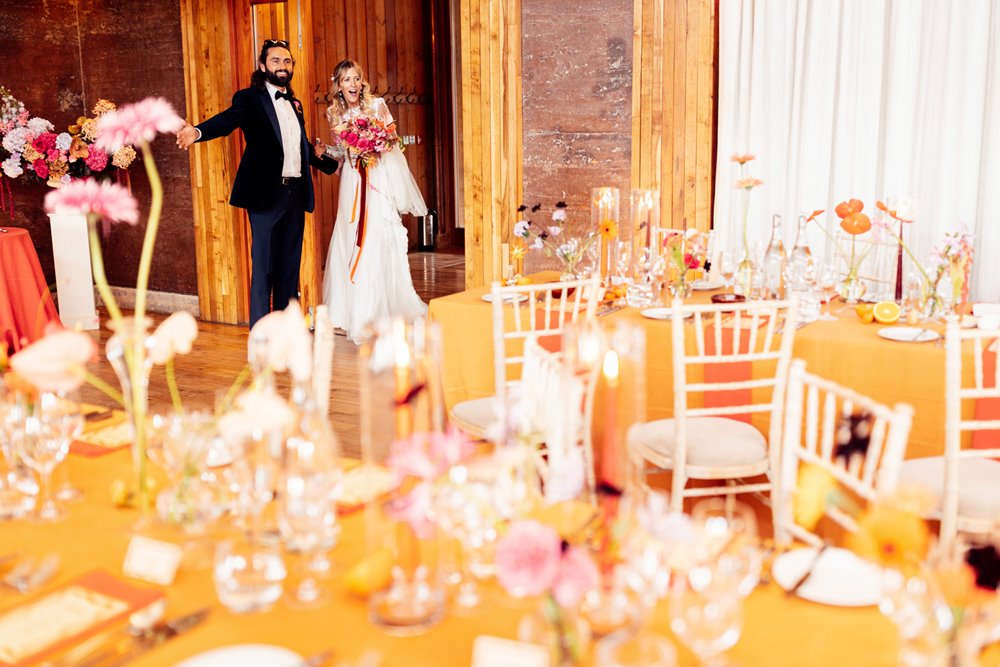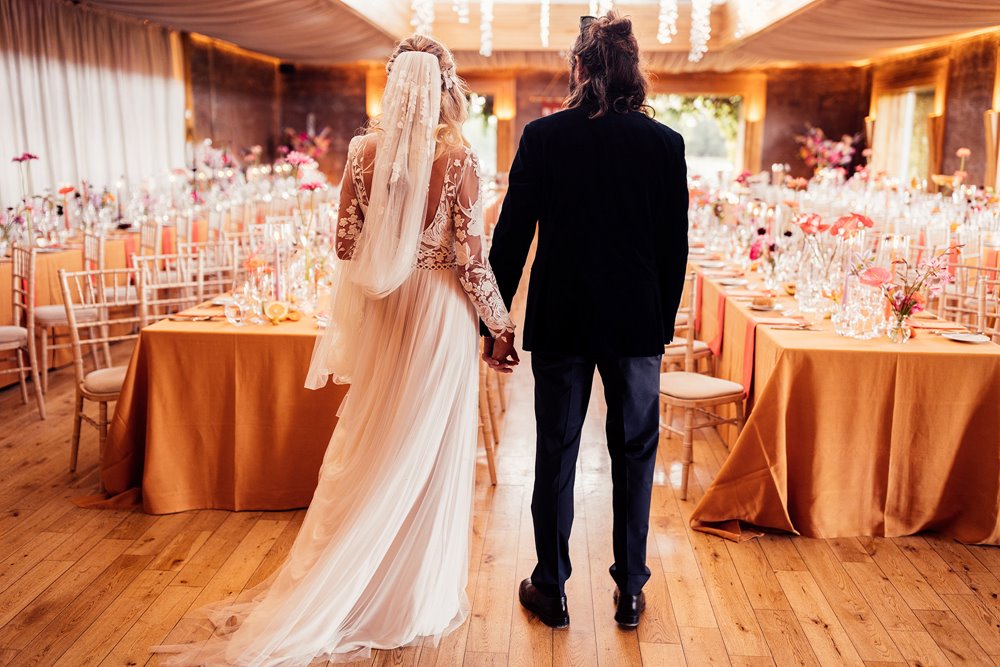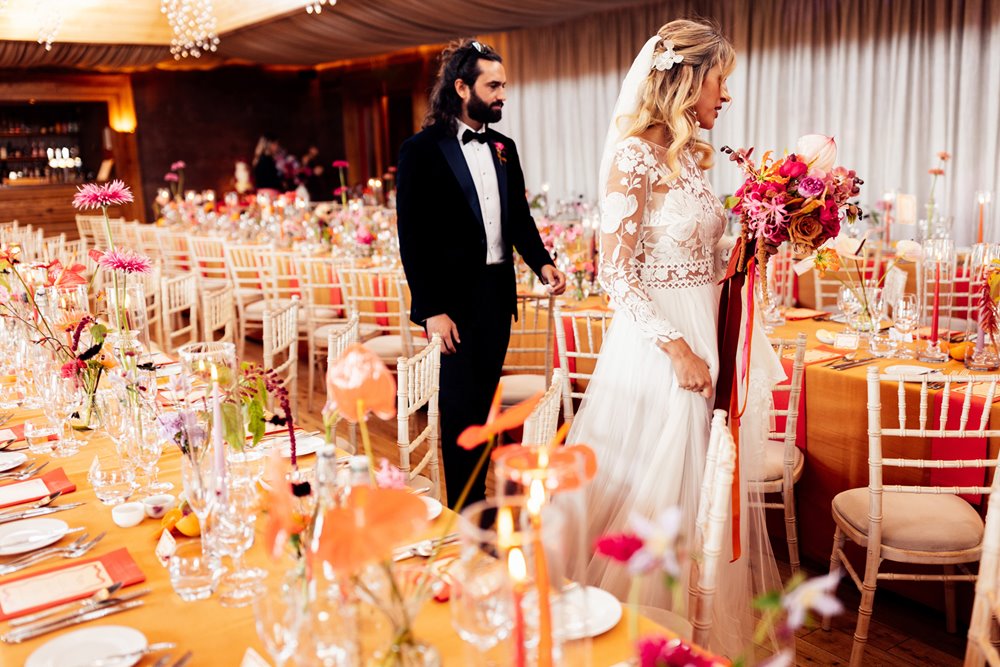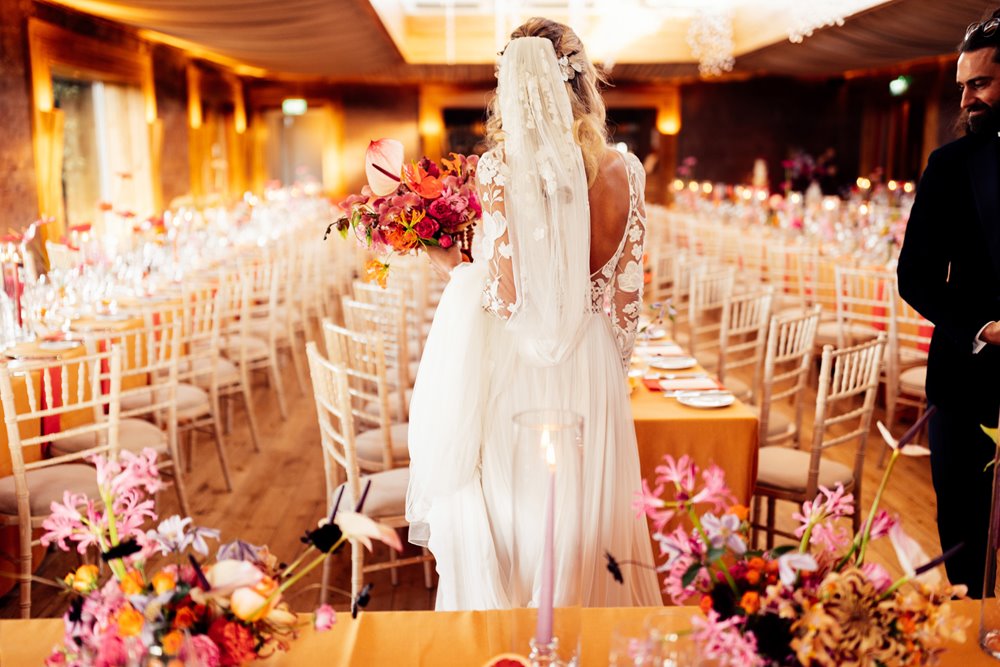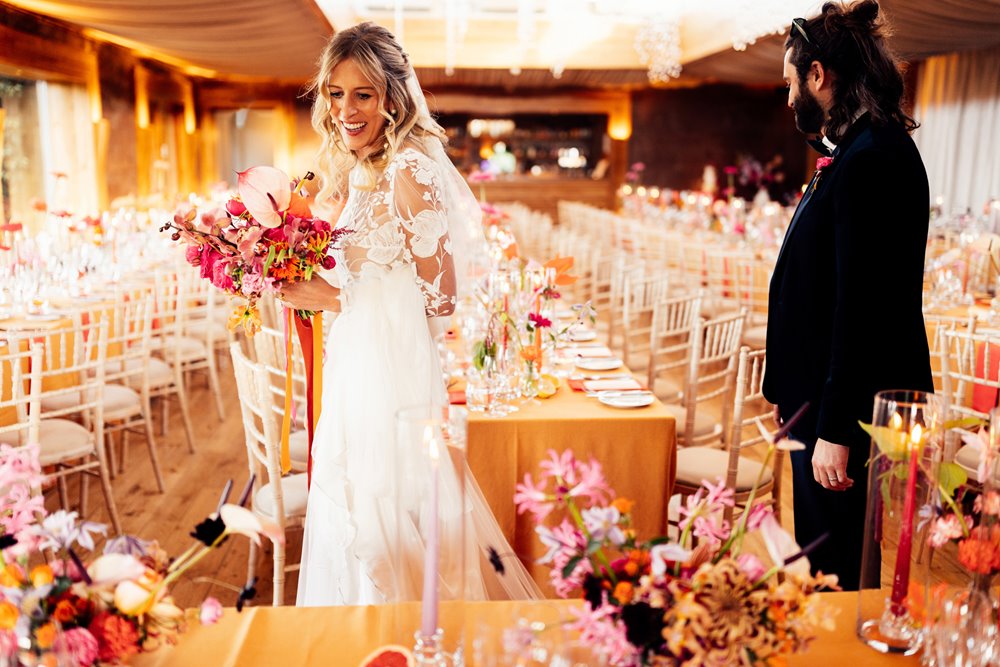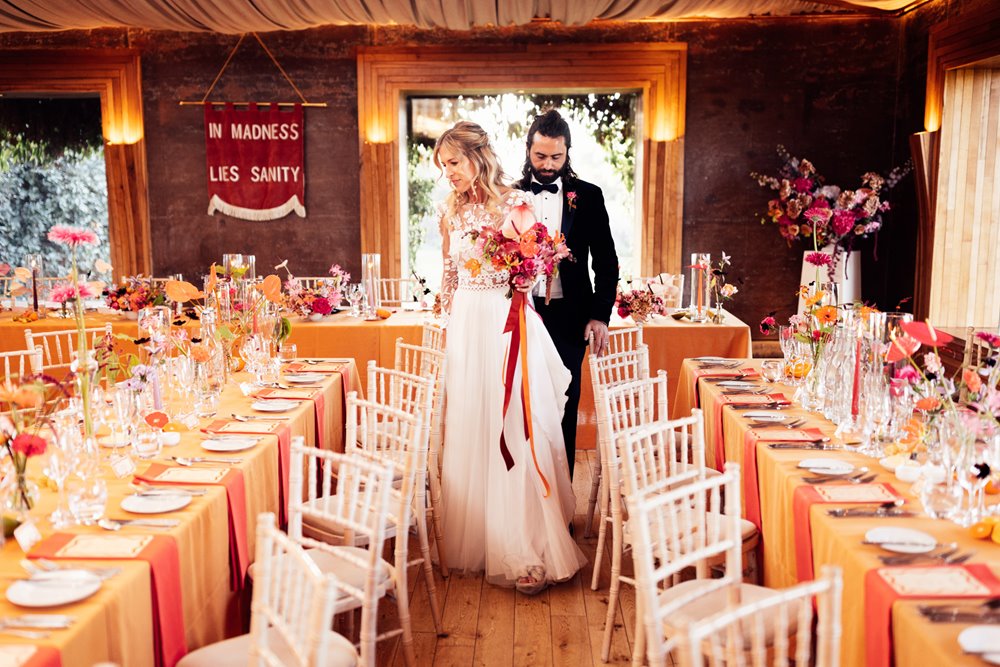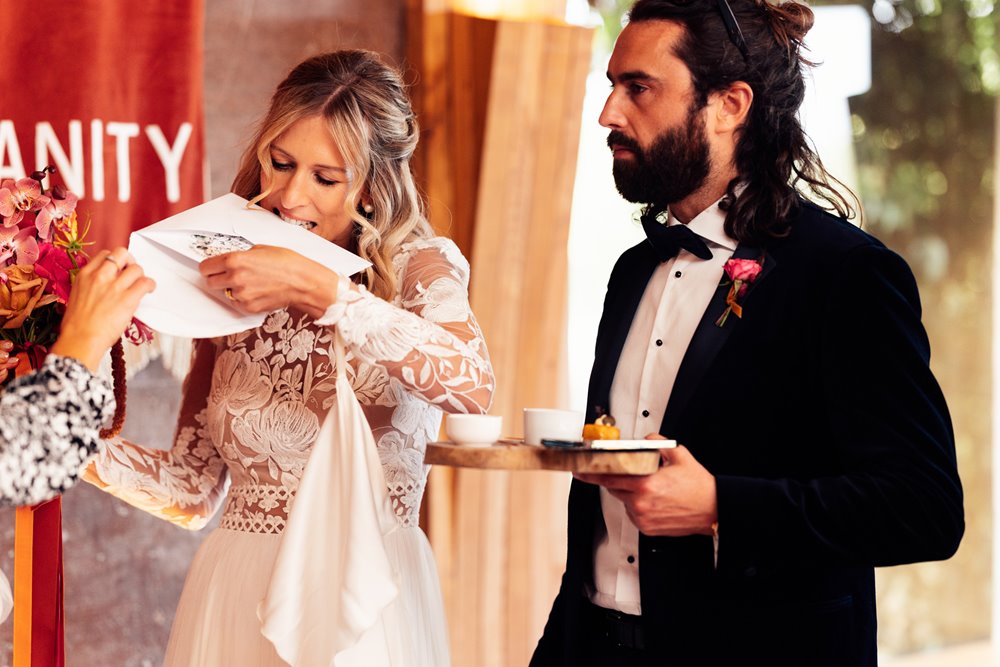 Beautiful wedding cake!
The cake was delicious, made by Katherine at Cherish Cakes. We had three tiers - carrot cake, lemon cake and Victoria sponge.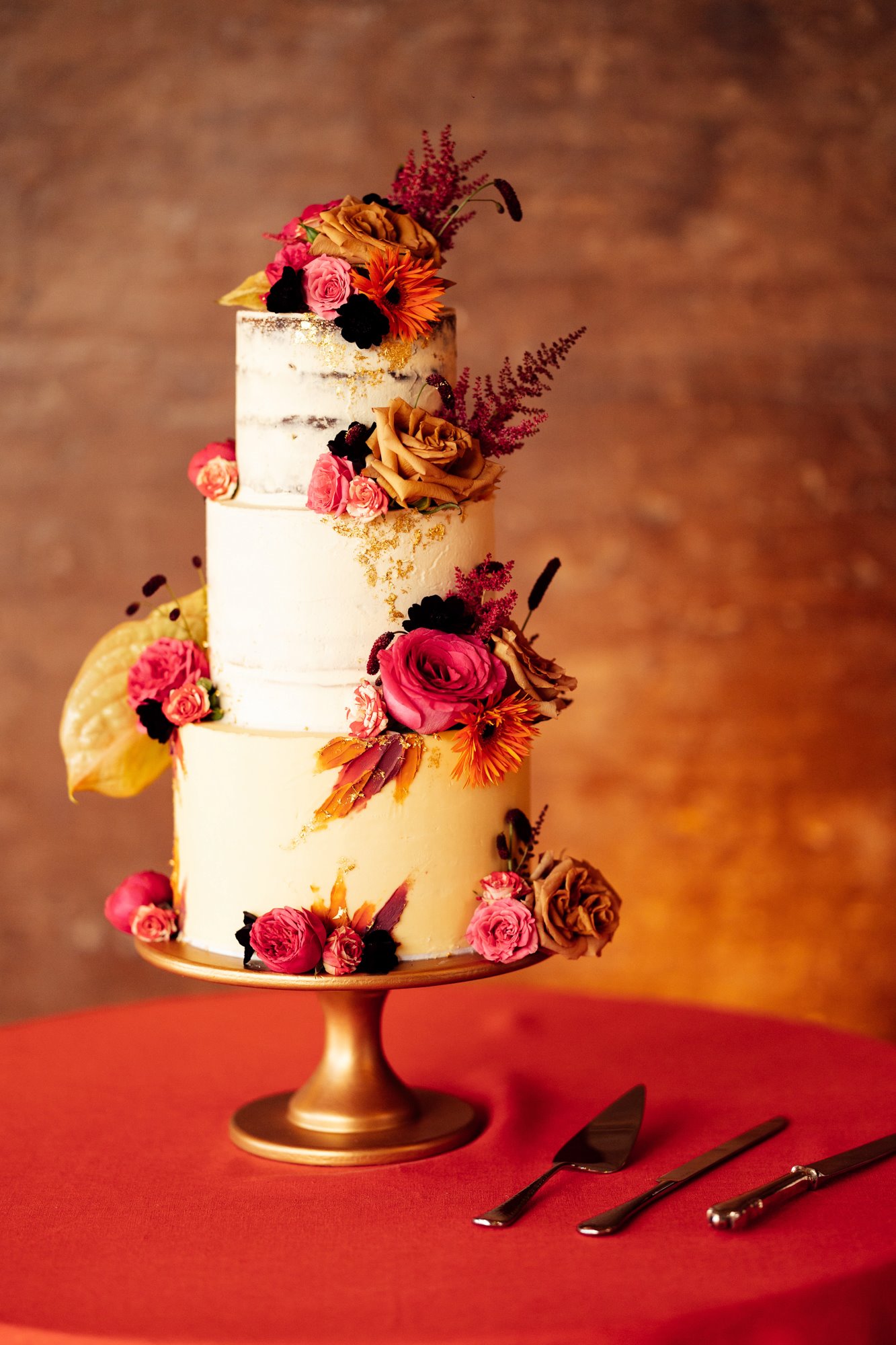 Did you have a first dance?
Yes, that was the easiest choice. We went for Mystify by INXS. An absolute banger and brings back a lot of happy memories.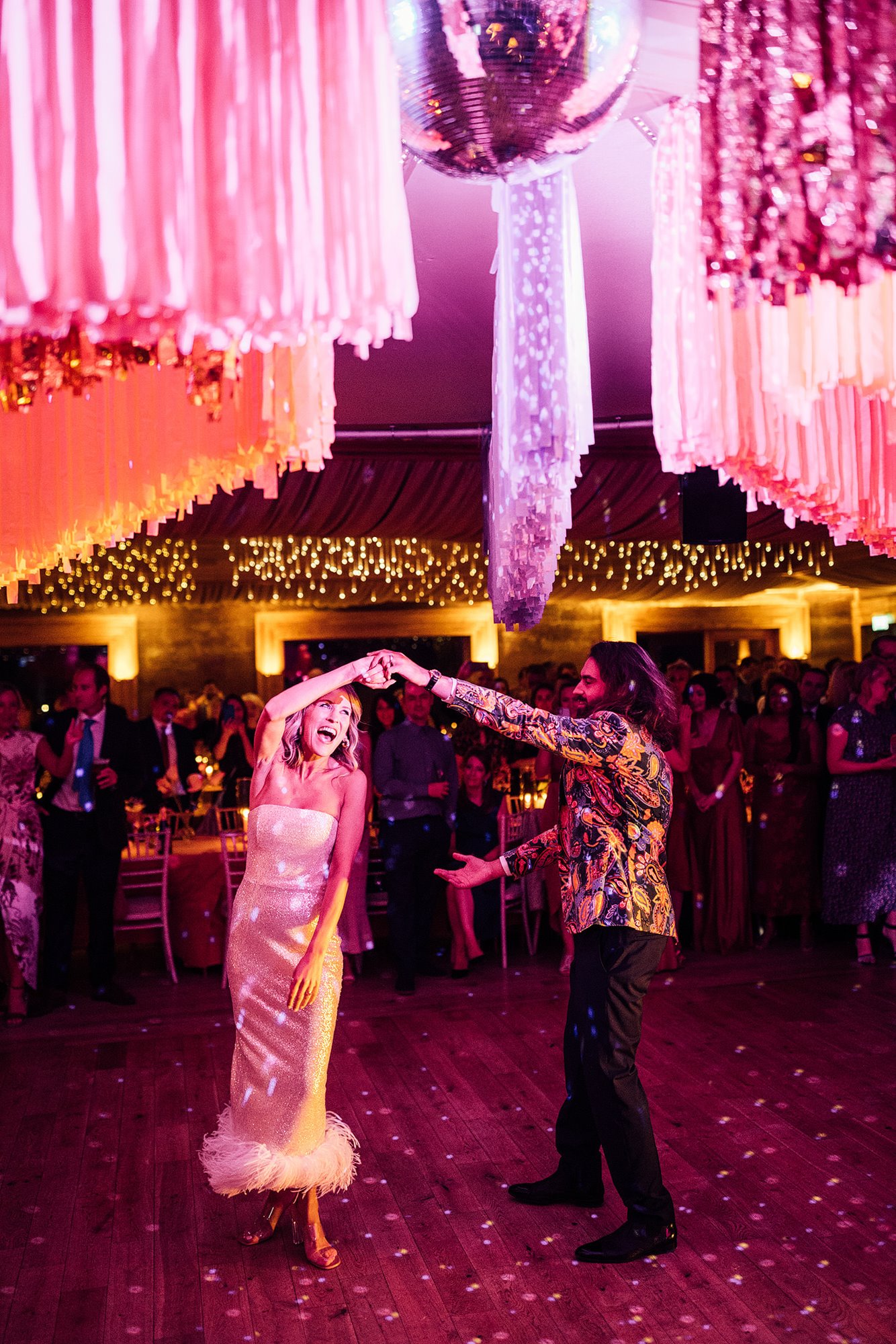 Who played your wedding party?
We had the fabulous Luna Show Band and a DJ / saxophonist.
The party was pretty wild… having all our favourite people pile onto the dance floor and sing 'Sweet Caroline', with the live band was epic.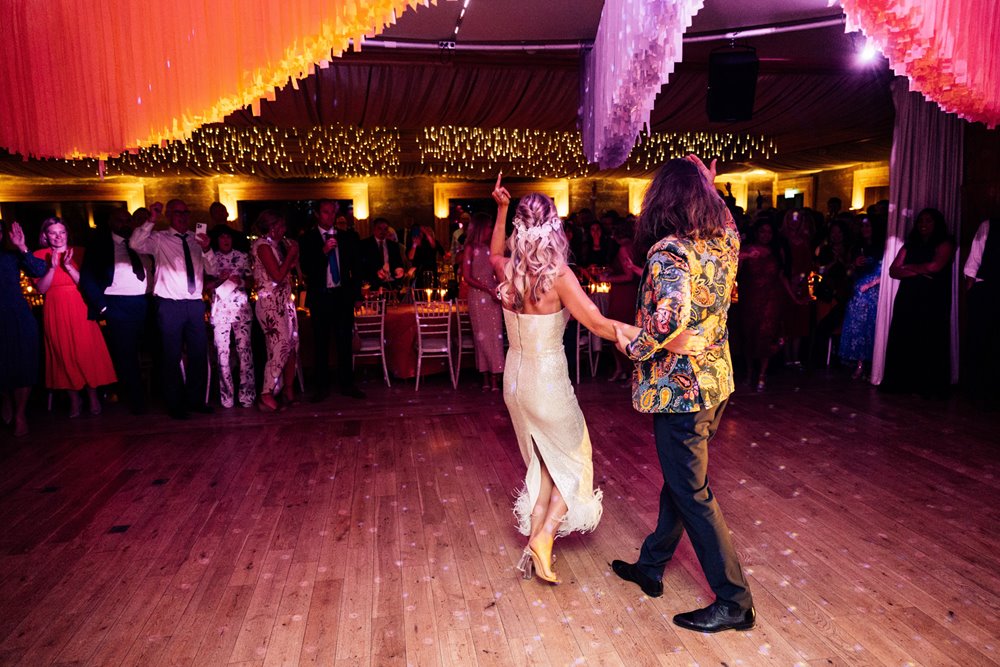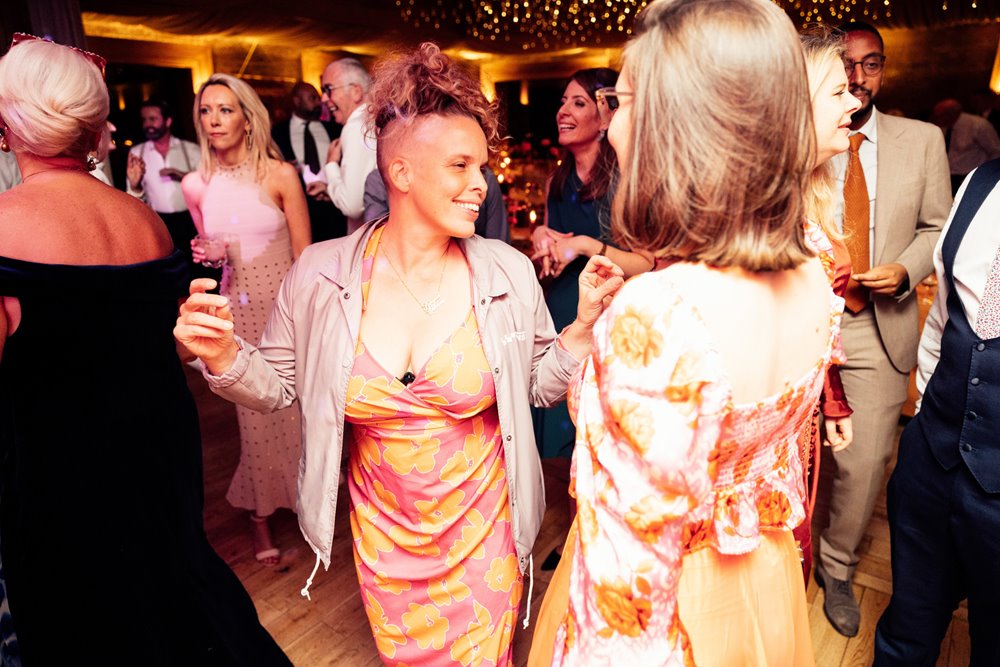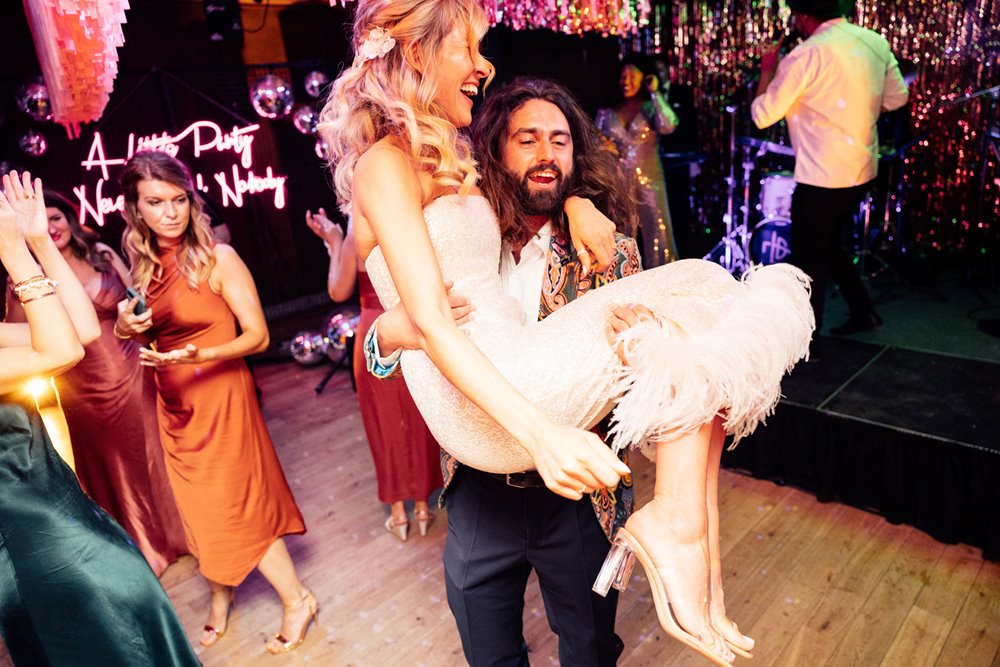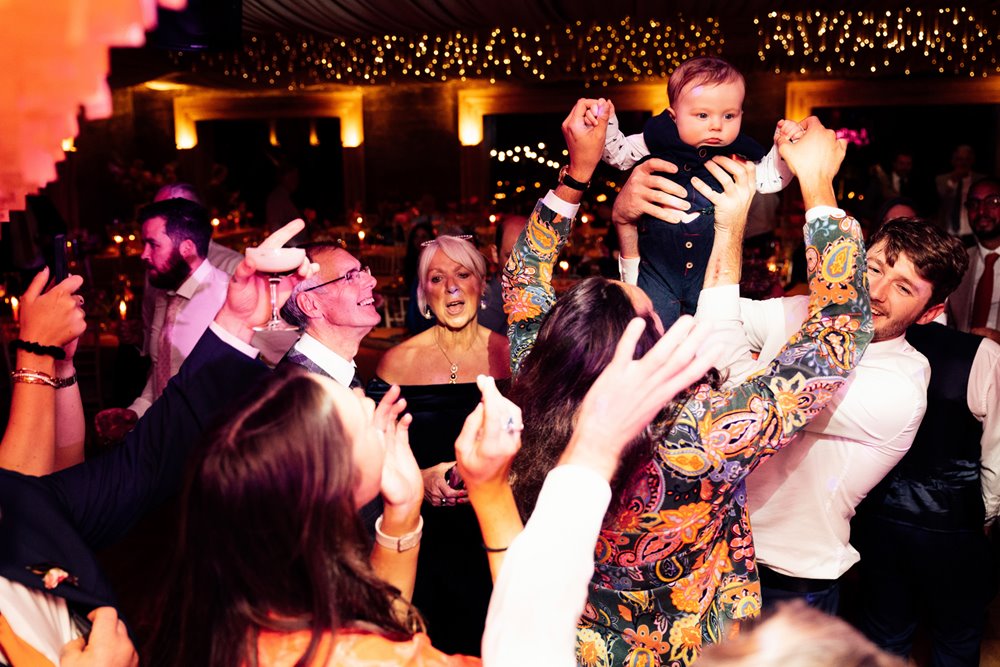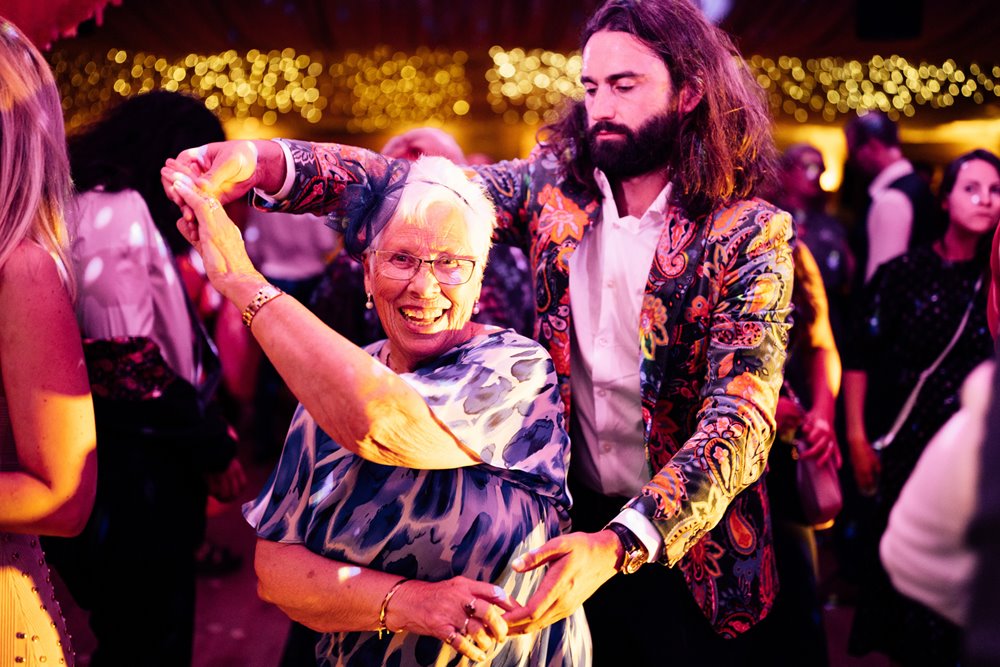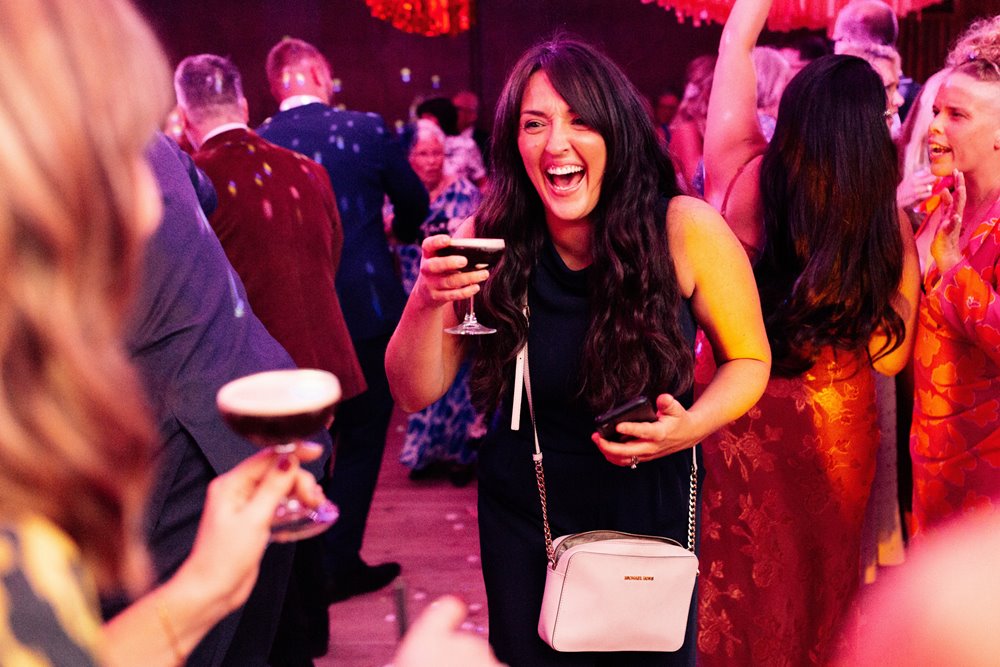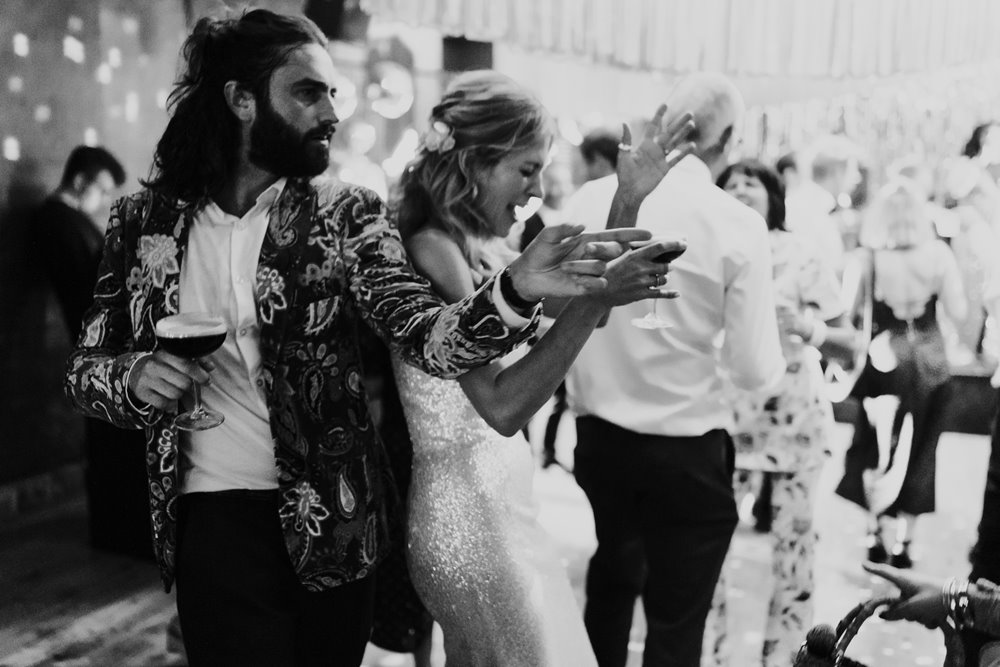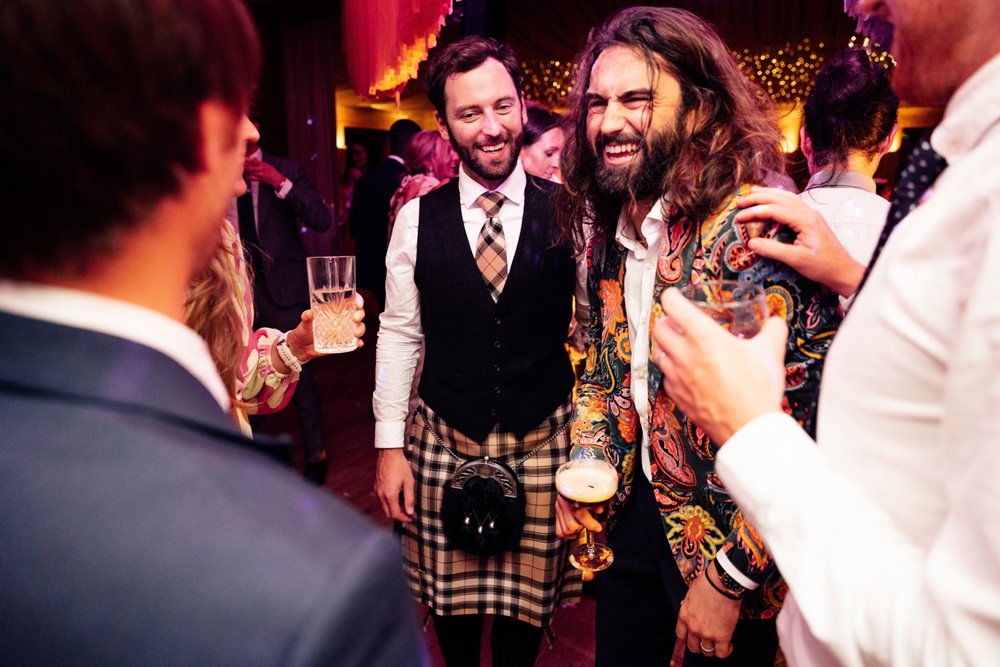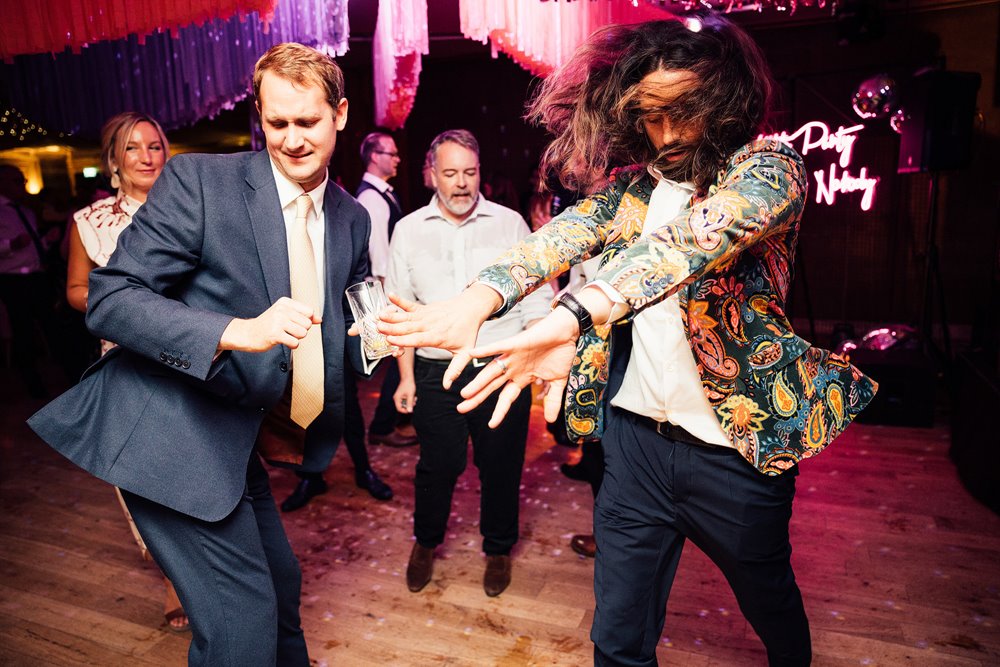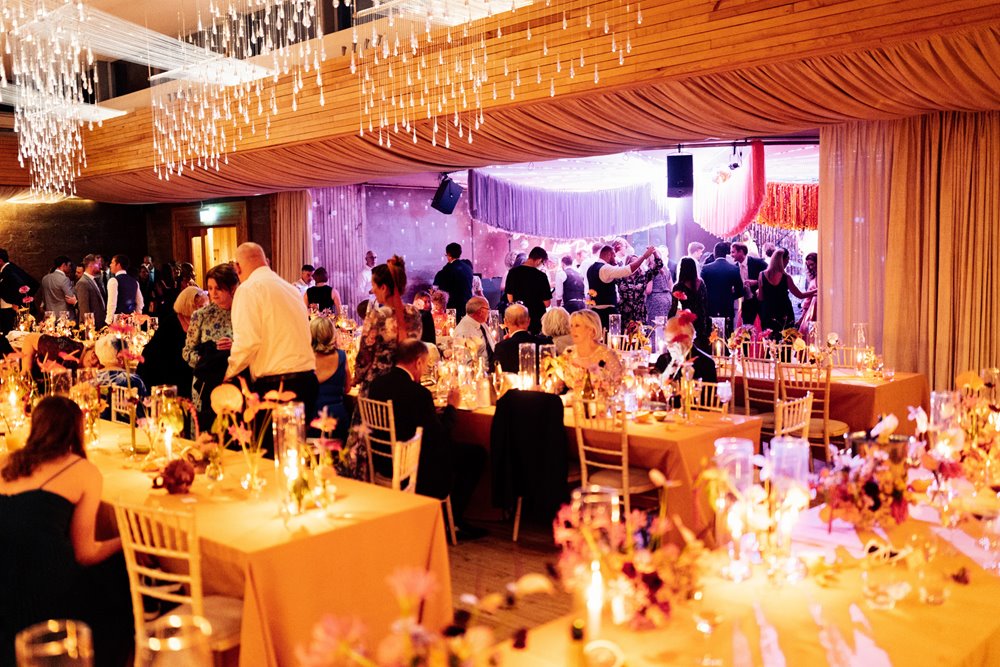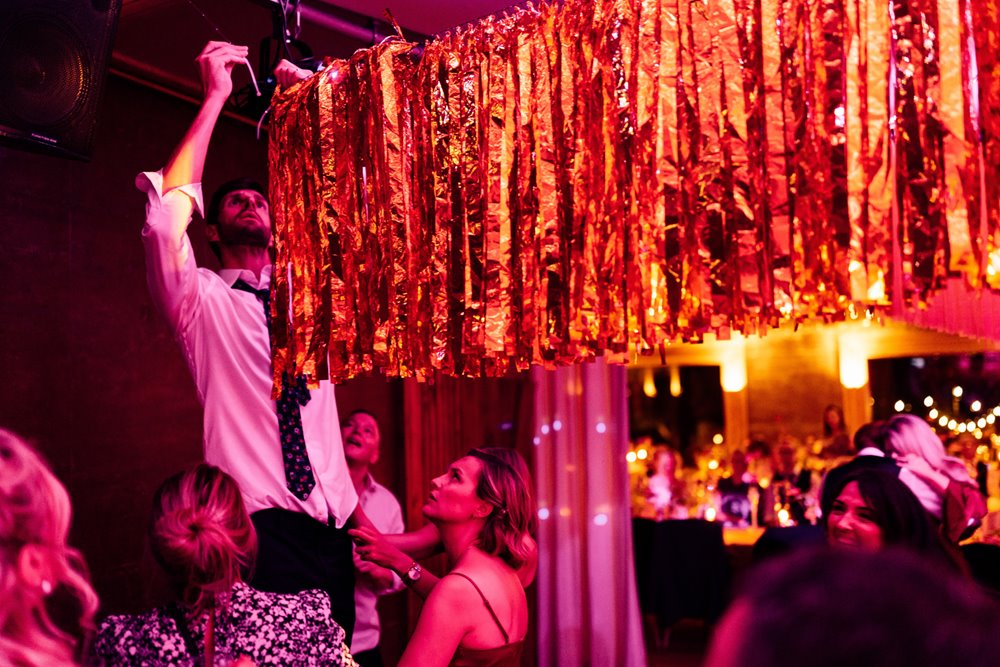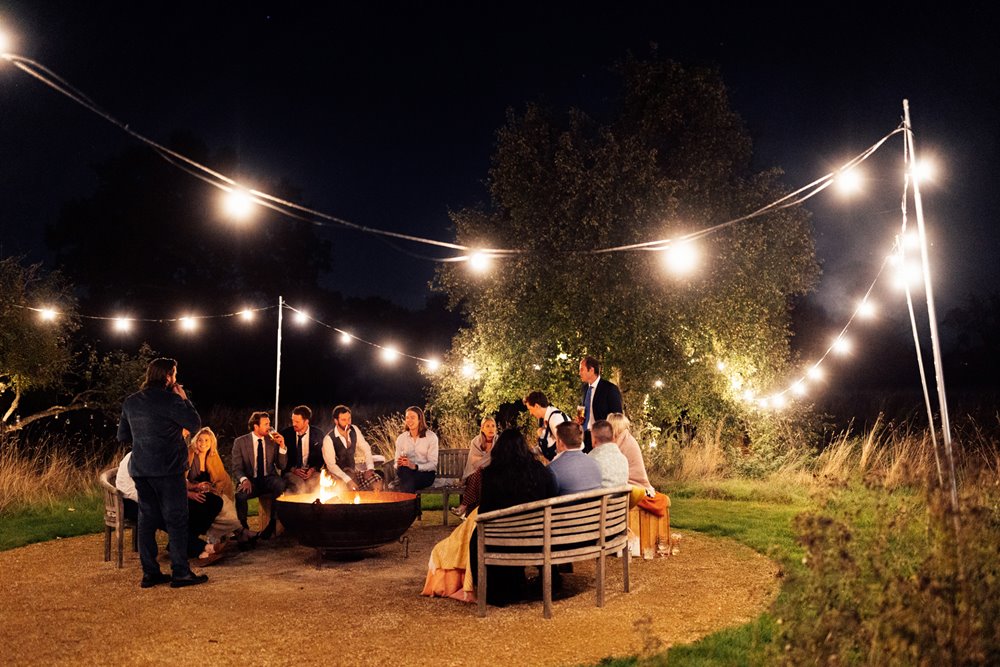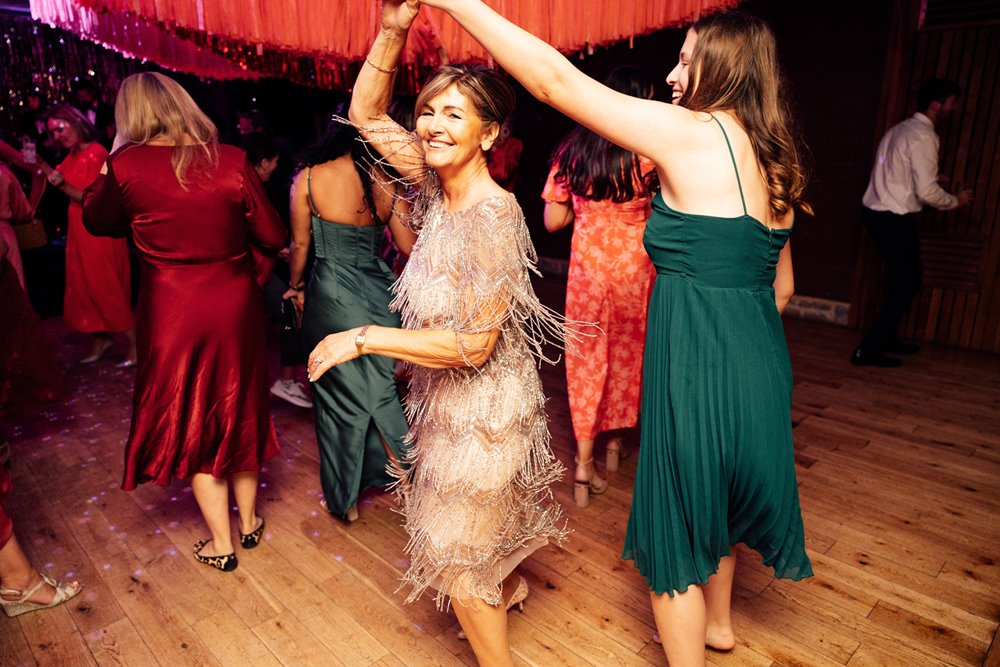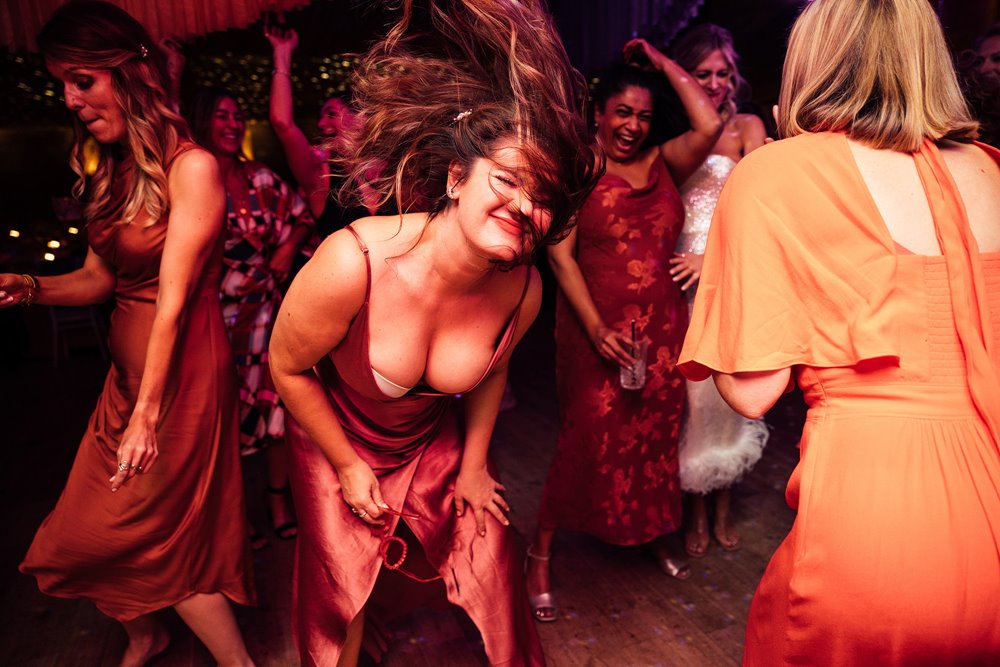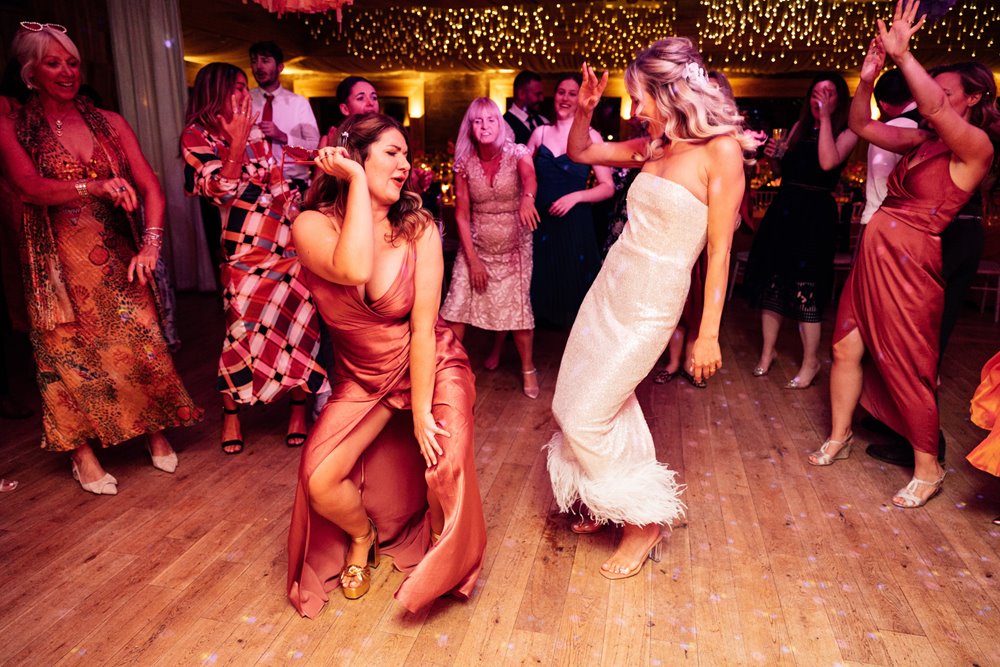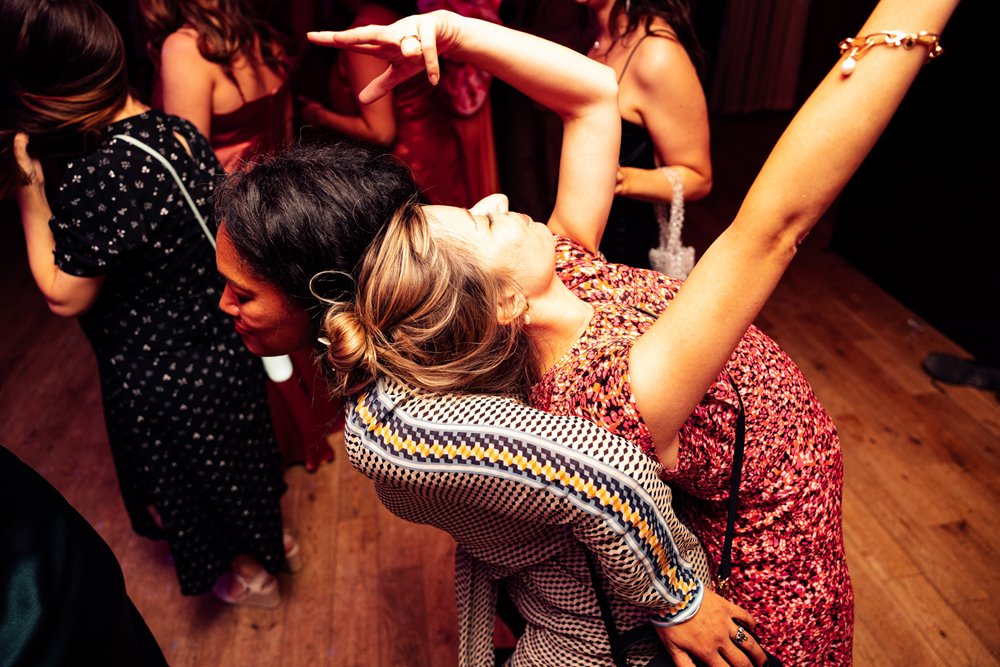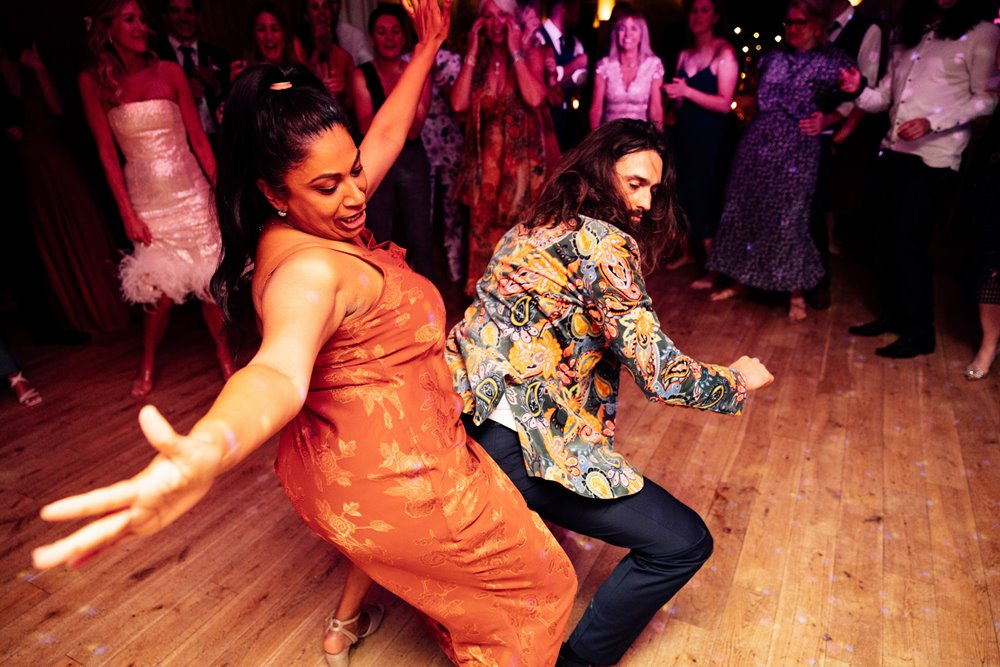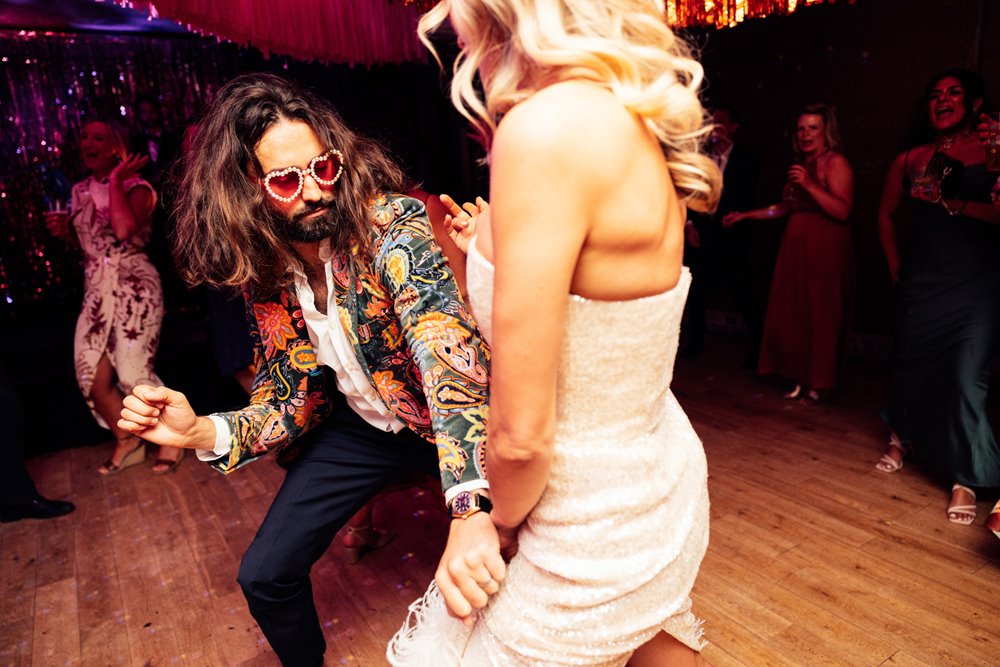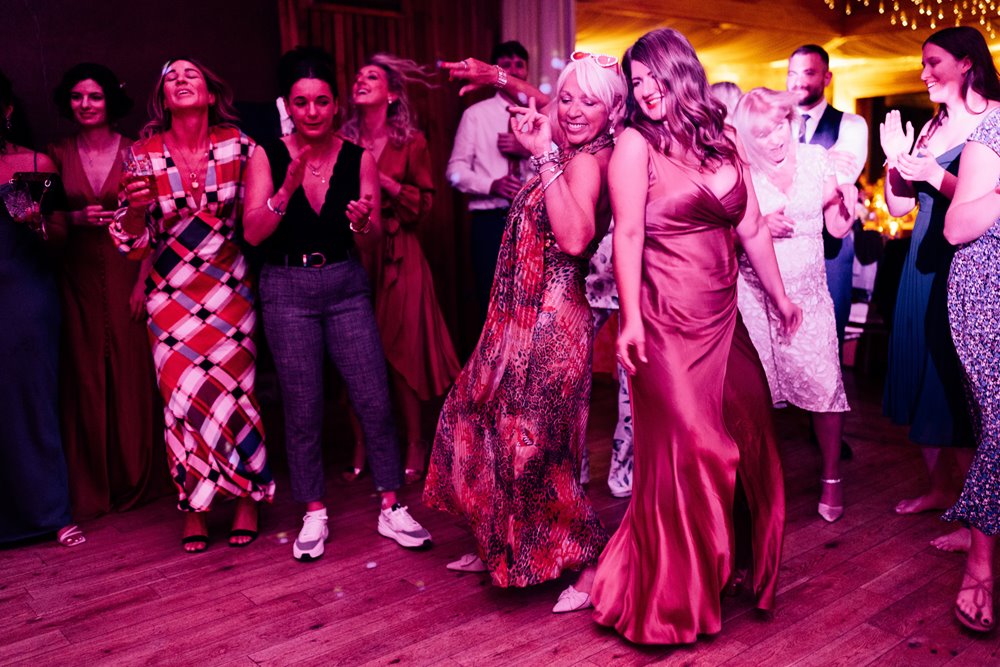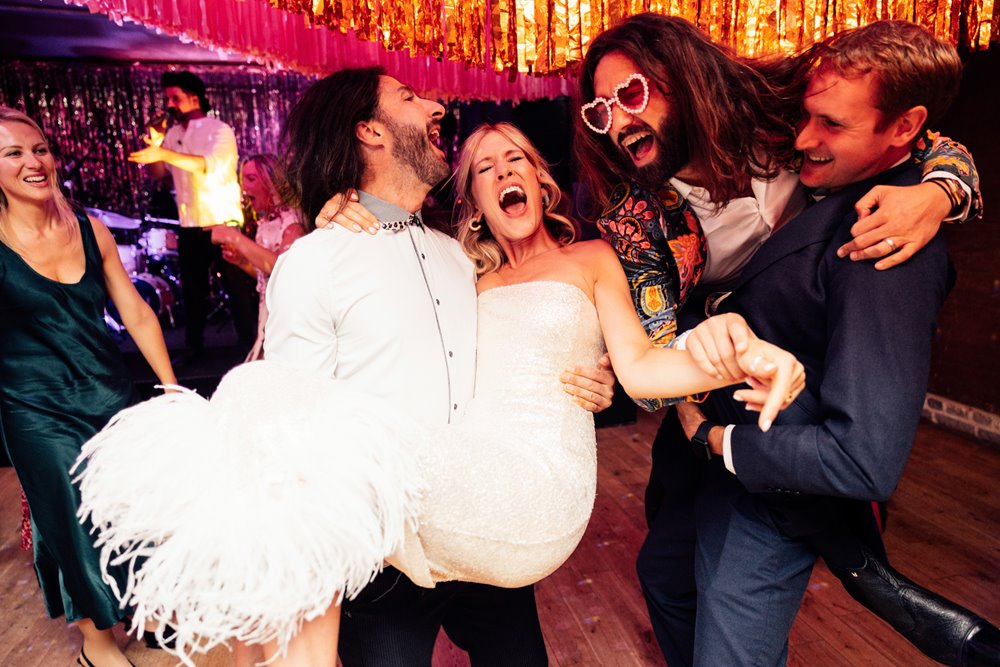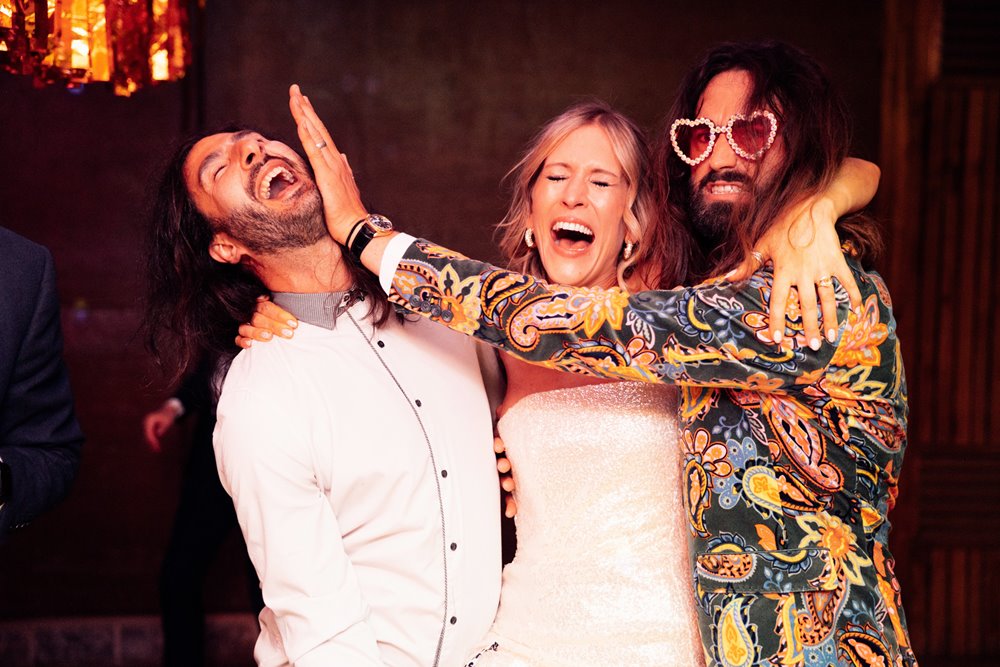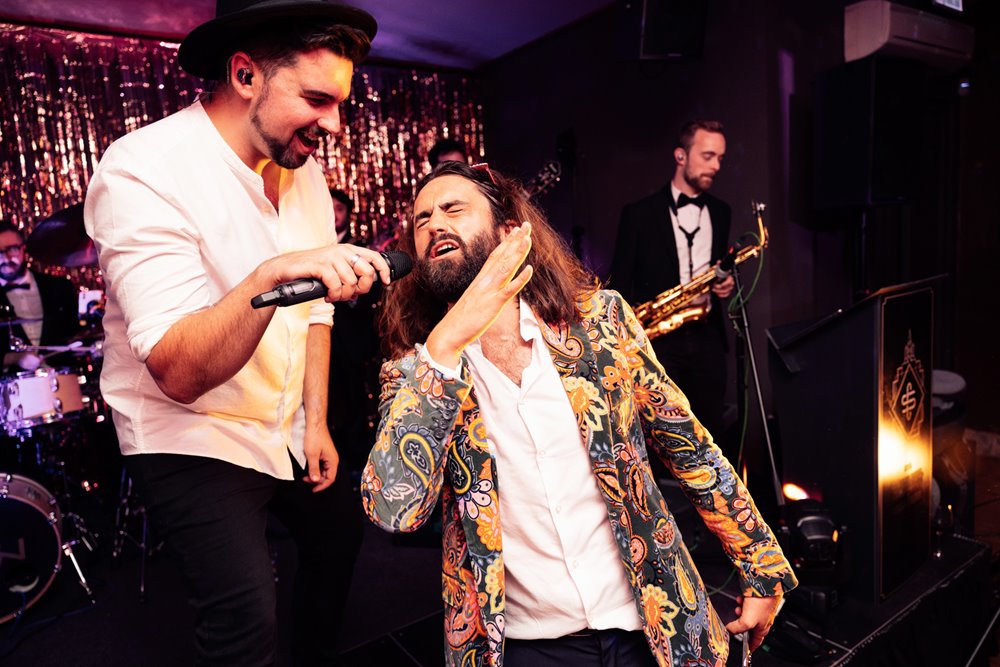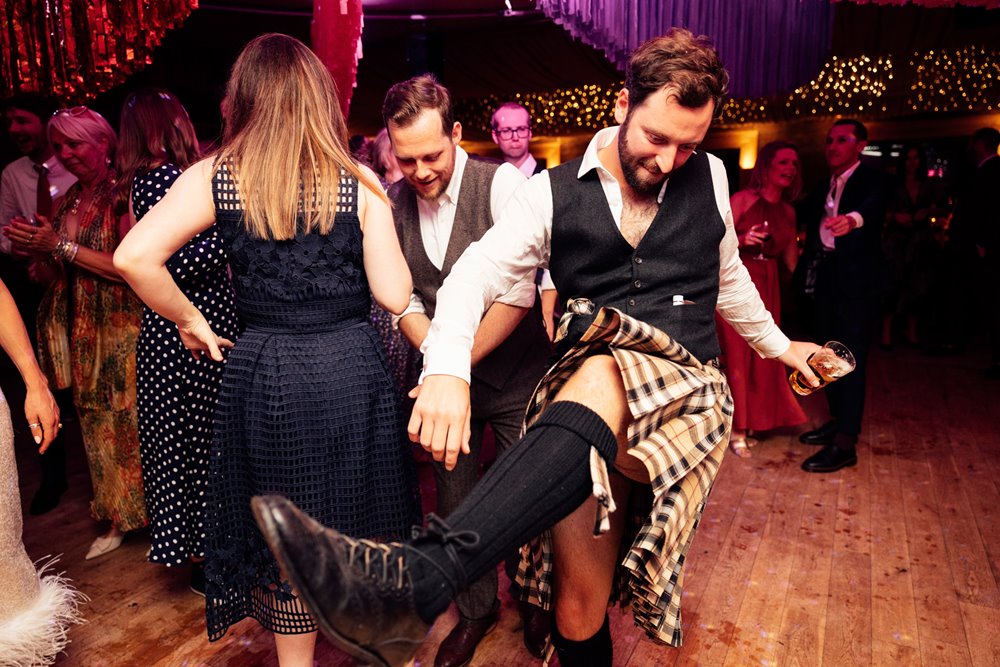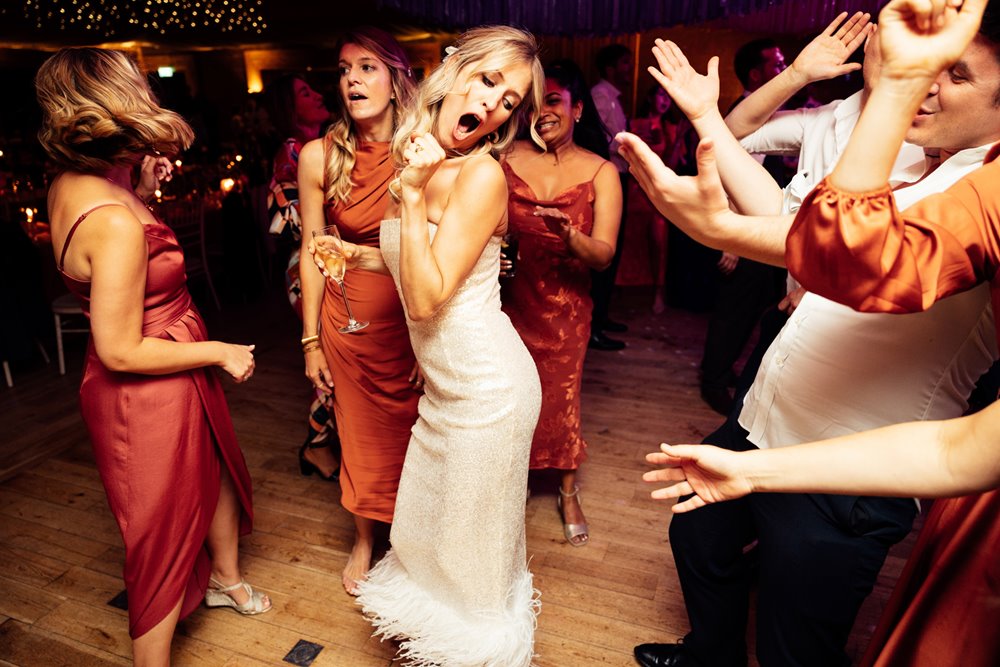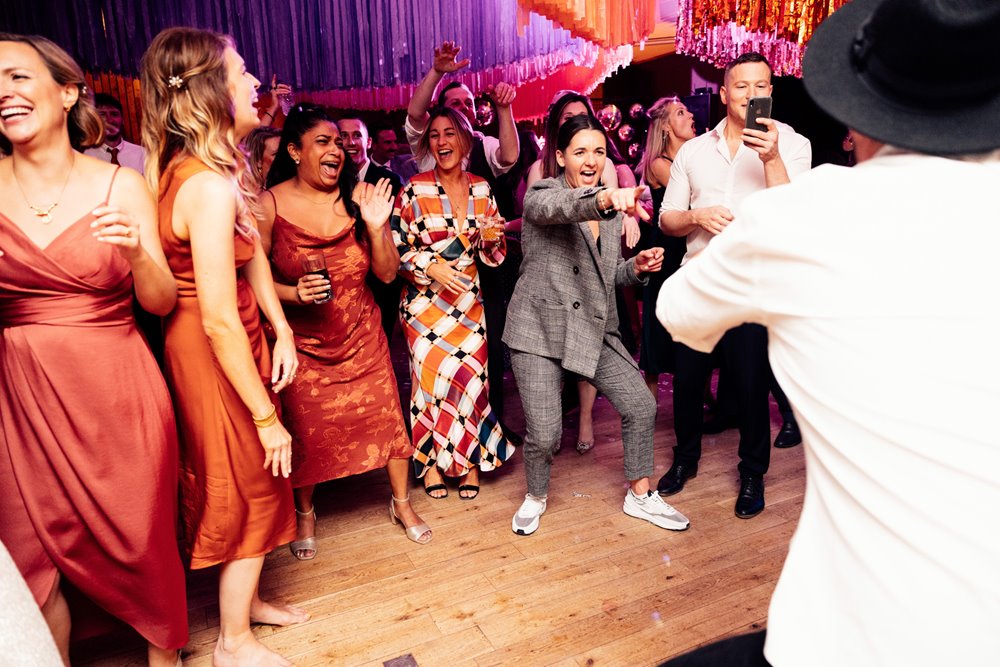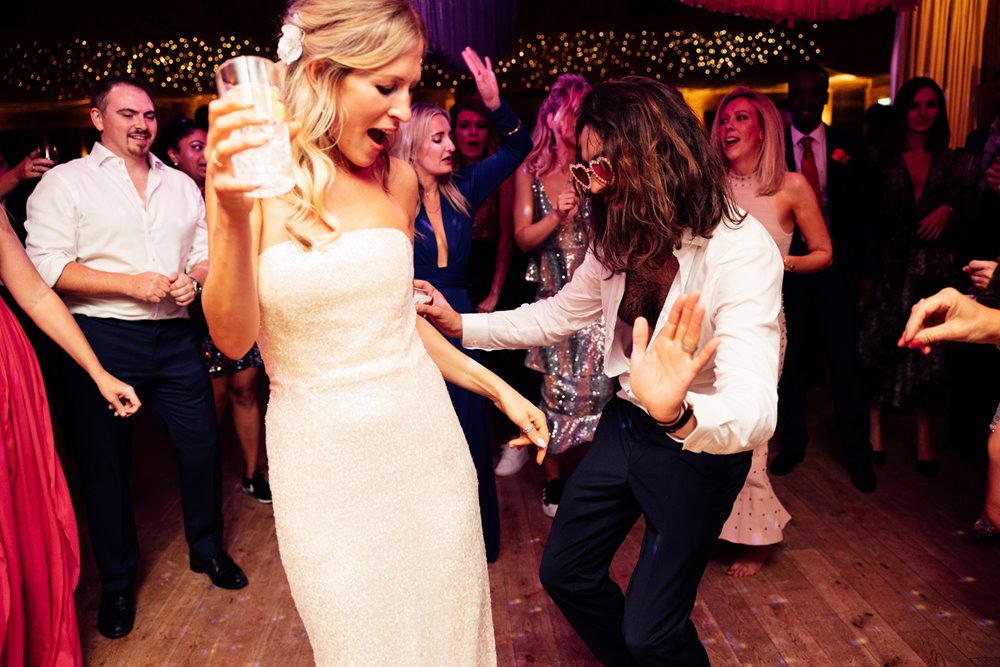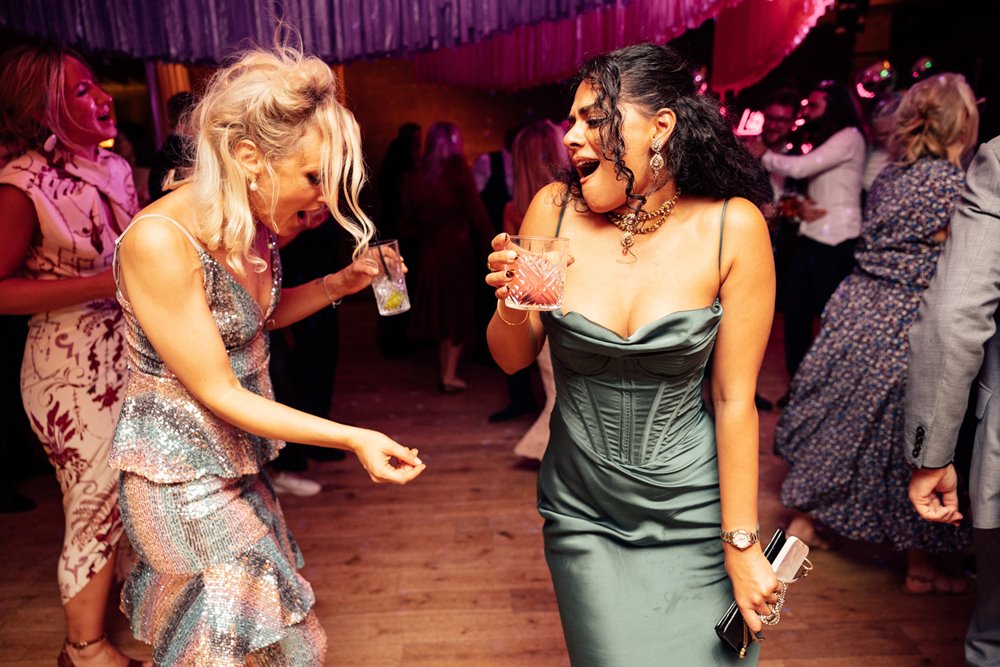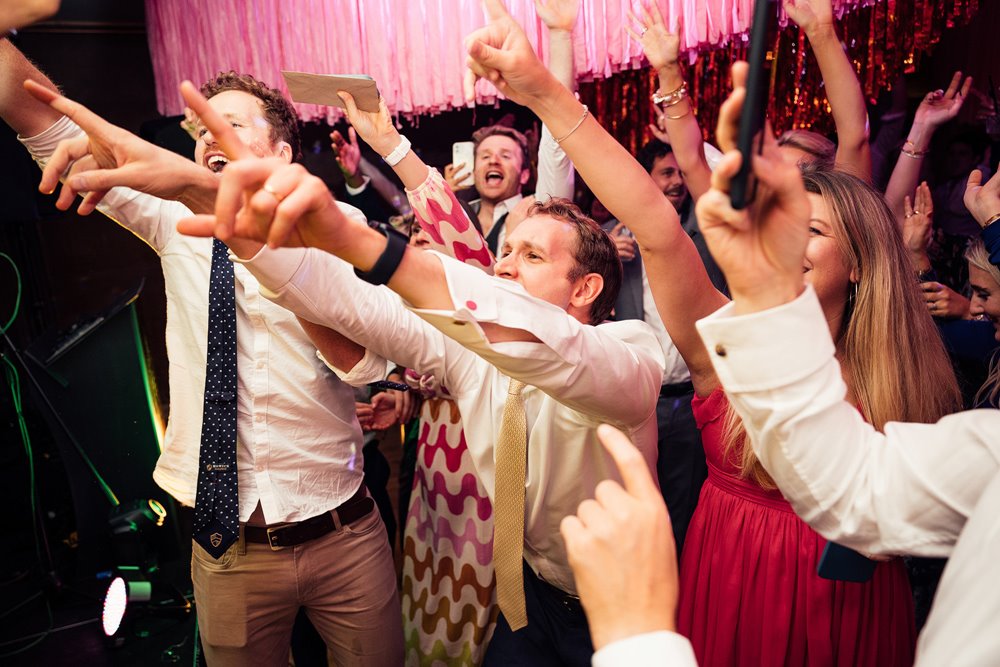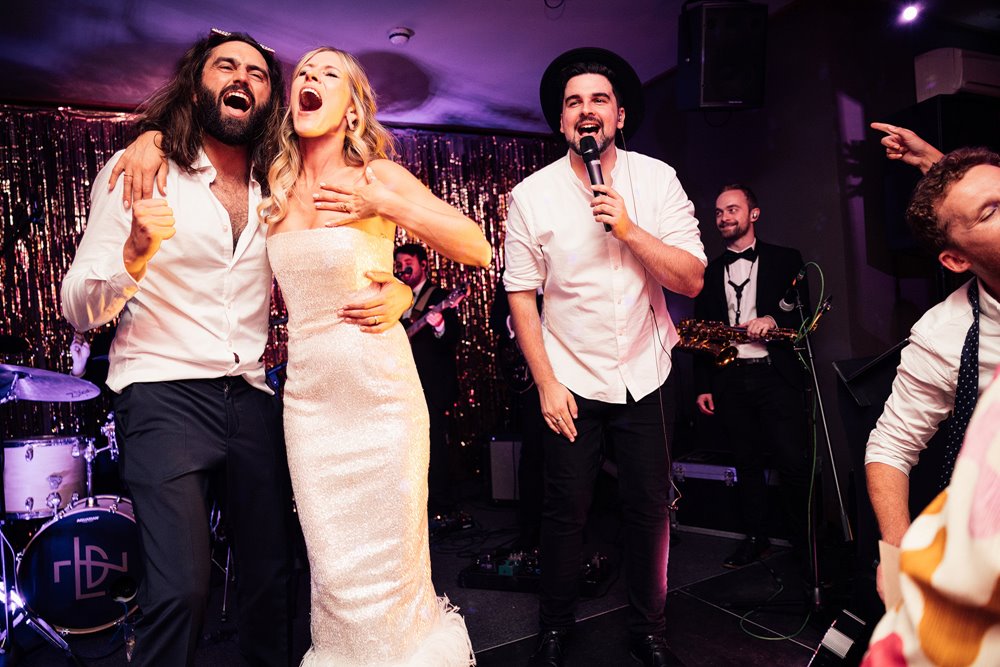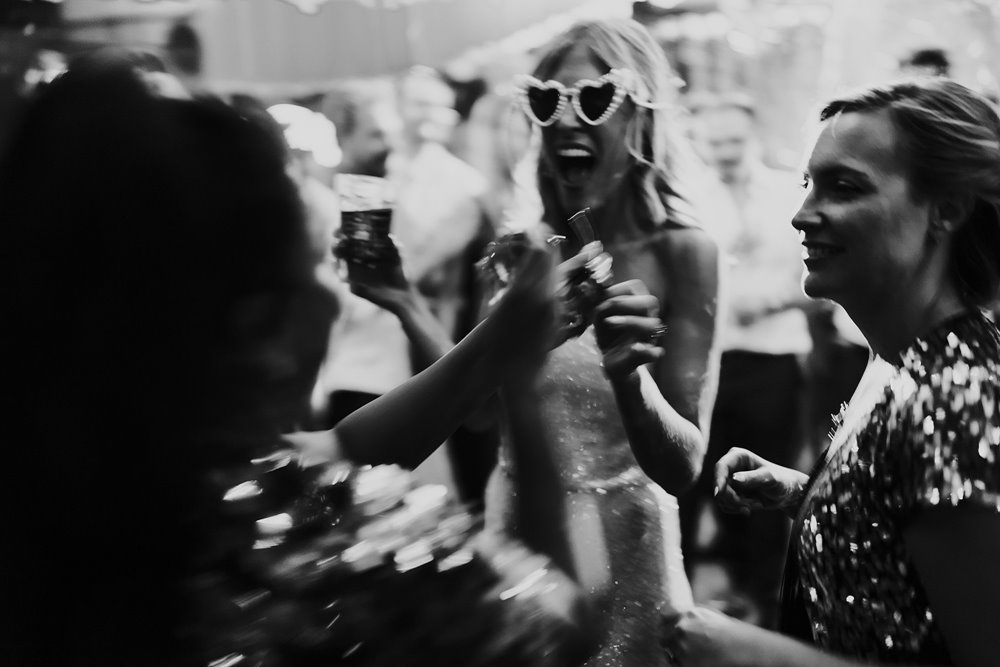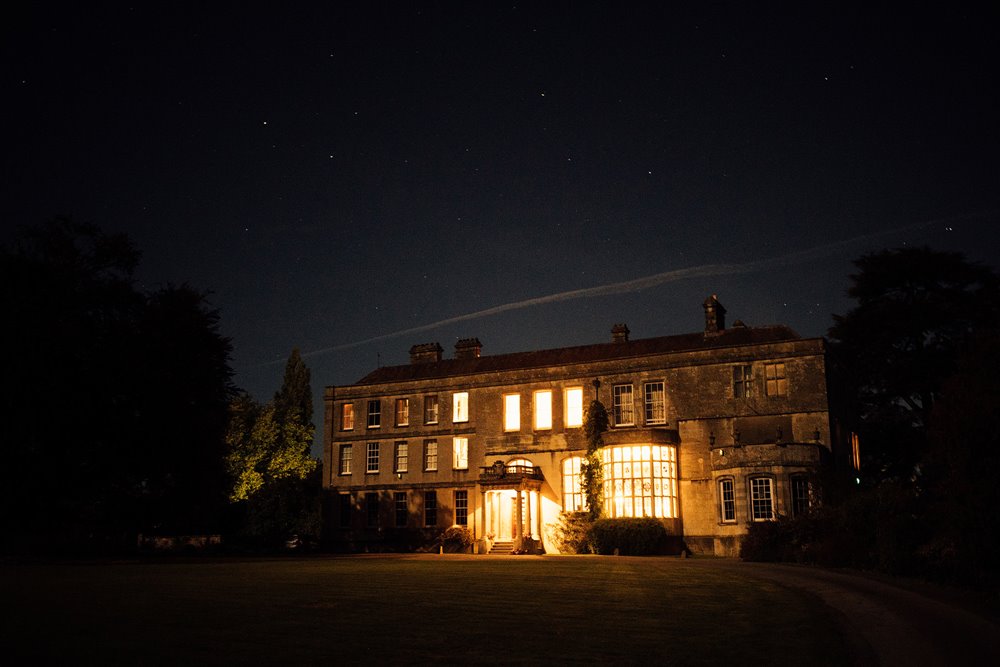 What were your wedding highlights?
It sounds cheesy but marrying the man I love was the total highlight.
That and just the total outpouring of love we felt from everyone there with us.
We were incredibly lucky with the wedding, the sun shone all day so we got some beautiful photographs and the light in the church was stunning.
I did a speech too, something I was really nervous about, but really pleased I did.
I wanted a good balance of men and women speaking and felt it was important to say some words about how amazing James is, rather than all the attention being on me.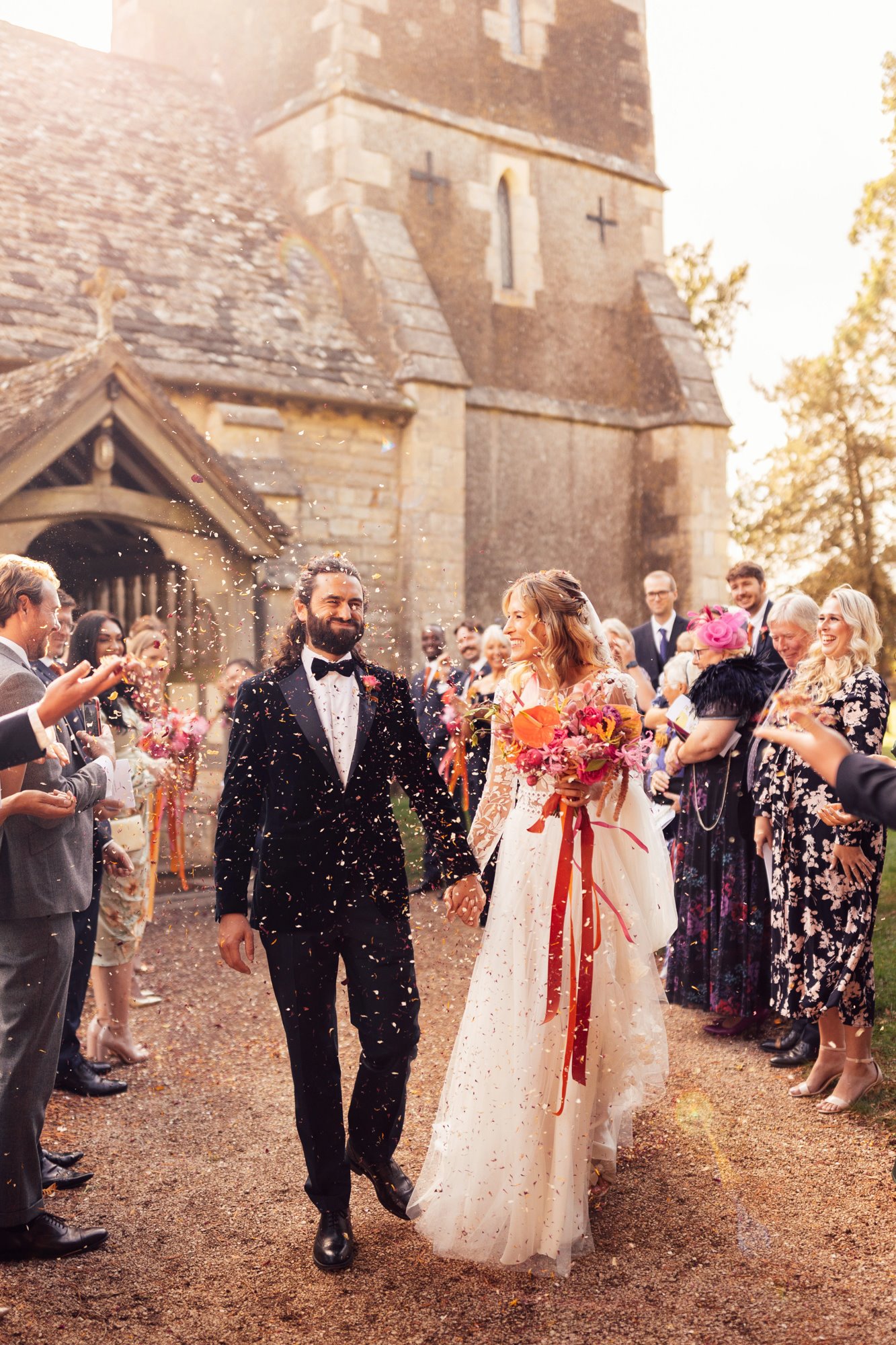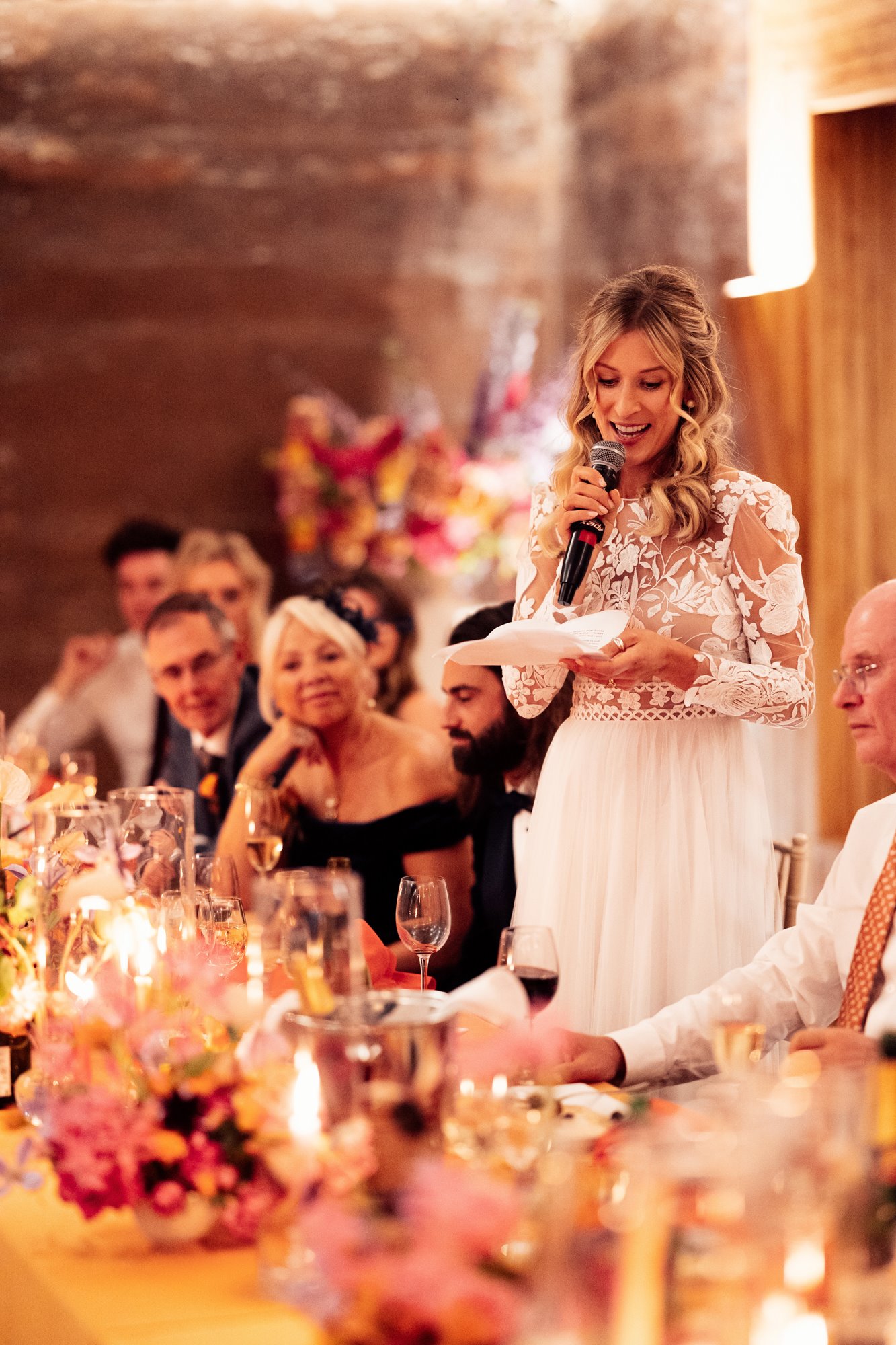 Any tips for couples currently planning their wedding?
I did a detailed wedding budget / breakdown from the start which helped us stay on track.
My main tip is to do as much as you can before the day - writing a note for your other half, wrapping them a little gift for the day (if you're doing that) - that would have taken a lot of stress out of the wedding morning!
Oh and don't worry if you doubt any of your supplies - I doubted them ALL until the day - and they were all amazing.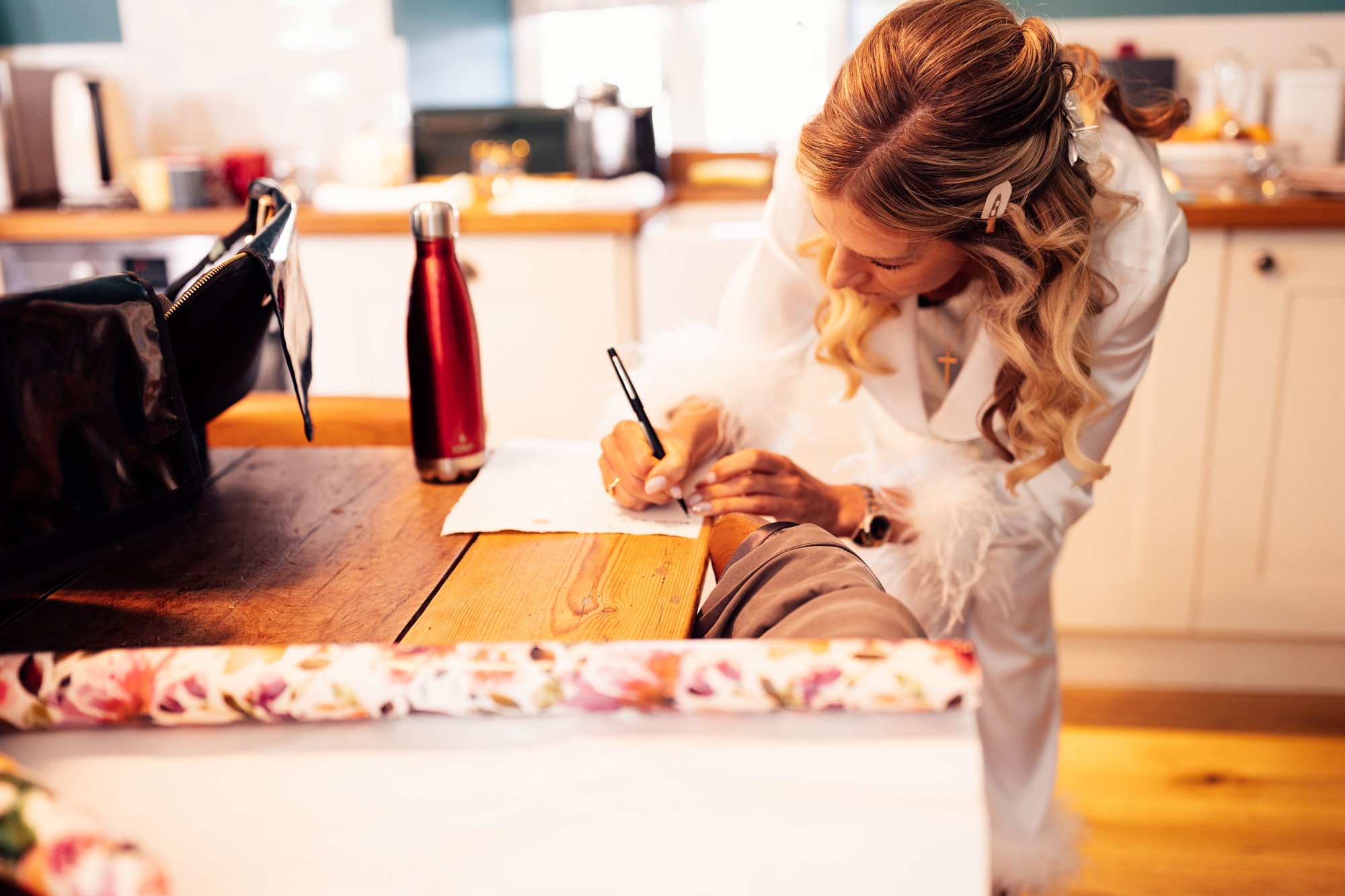 Thank you so much Caroline and James for sharing your gorgeous colourful wedding and brightening up our January.
If this has got you craving more bright wedding inspiration, take a look at the stunning real weddings below, and give us a call to discuss your wedding colour schemes!
All the love,
Team E
xxx
Related reading