The ultimate mood brightener of a real wedding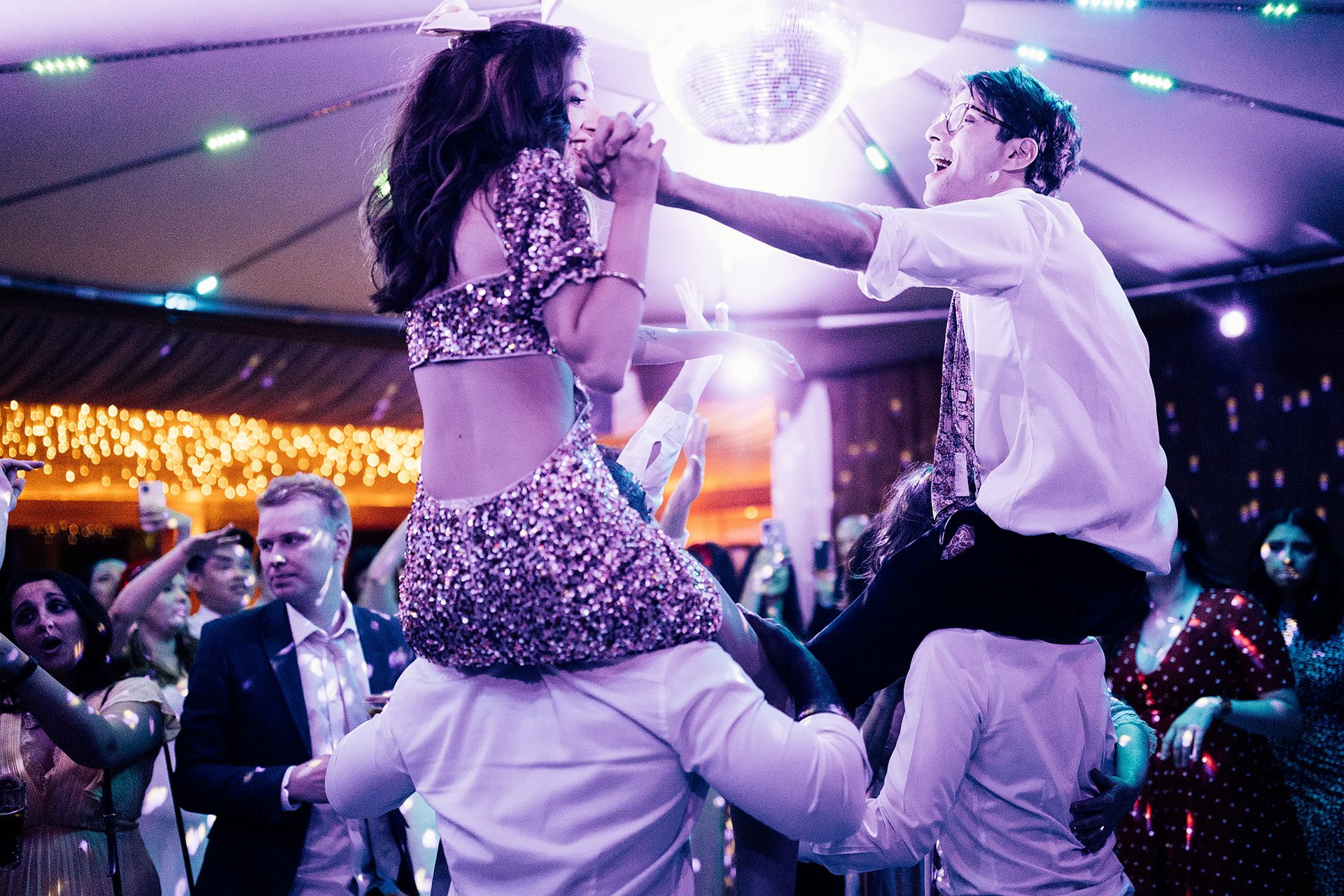 At this time of year we could all do with a little lift, so here comes Melica & Jasper's stunning real wedding to the rescue...
This beautiful day is an explosion of pink and red wedding inspiration, with a heap of bright and bold choices including not one, not two but three wedding dress changes (one for the ceremony, a second reception dress and an after wedding party dress of course!), a gorgeous bridal party including bridesman, a beautiful traditional Persian ceremony AND a delicious Iranian fusion wedding menu!
Are you sitting comfortably? Let's sink into this...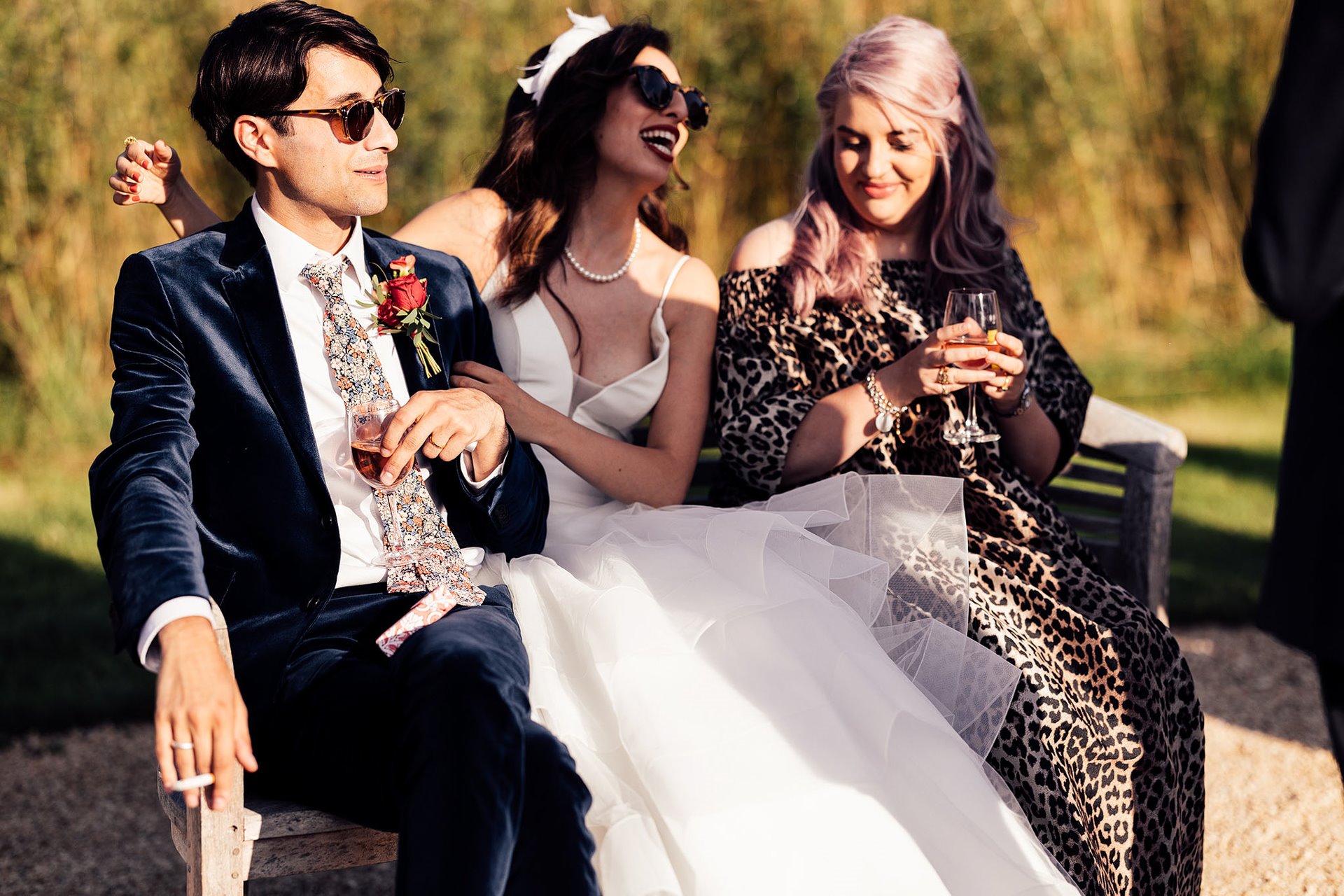 How did you meet?
From that moment on it felt ridiculous that we hadn't been together all along.
We met in a very traditional way – having been placed in the same halls at university (UCL). Though it was somewhat serendipitous as neither of us were originally meant to be in the halls that we ended up in.
We became really close friends and only started going out after university was actually over – though there were hints of flirting along the way, we were quite blind to it! The summer after university ended we found ourselves the only two of our friendship group in London and went for an impromptu pub date (over nachos).
Thursday after work nachos became our tradition, until one evening – and many drinks later – we had our first kiss! From that moment on it felt ridiculous that we hadn't been together all along.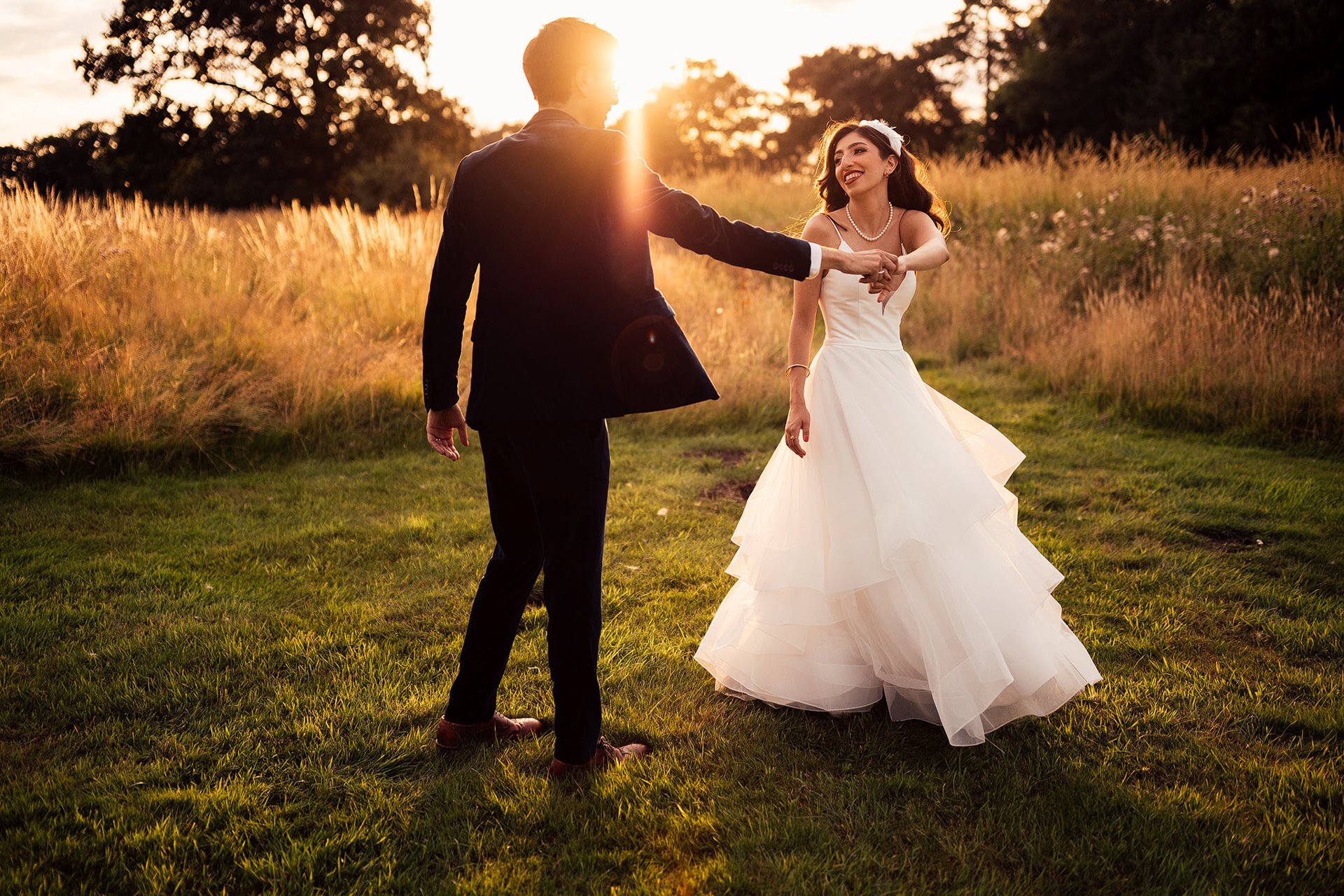 Your Proposal Story
Jasper proposed on the beach in Camber Sands.
We have a tradition of going to Rye for a few days to get away after Christmas, so it's a special place for us. We were just frolicking on the dunes when he pulled out a (comically large) engagement ring box.
We spent the rest of the day eating and drinking very merrily (and sharing the news with completely strangers) – pure bliss!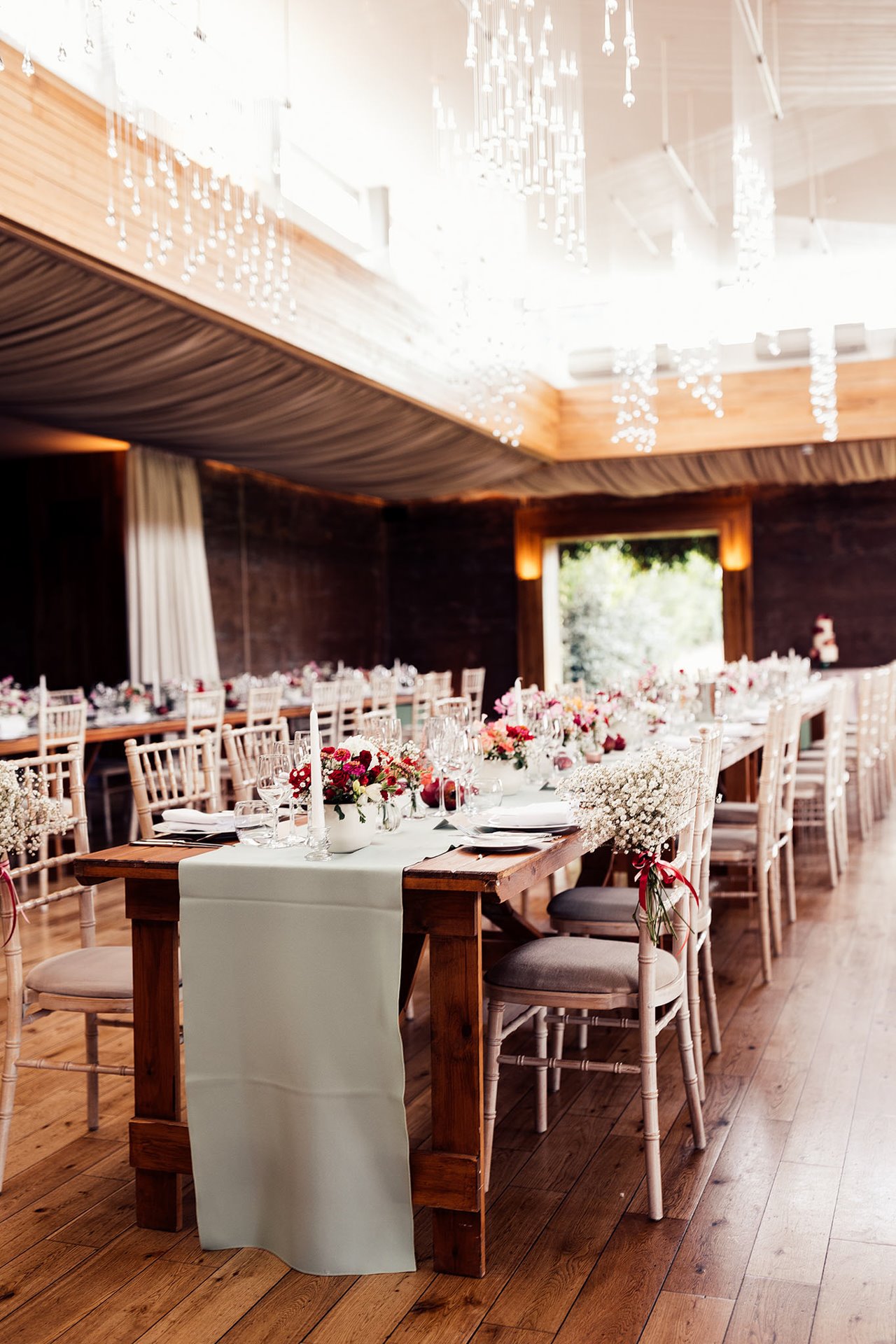 How was wedding planning for you?
We had the idea of doing all our wedding planning once a week from the pub, including handwriting letters to our wedding party to ask them.
The day after the proposal, we bought a little Moleskine notebook from a shop in Rye and used it to jot down any songs we wanted to play on the wedding day whenever we thought of one.
Wedding planning then began in earnest around a month after, and the first big thing we did was book our wedding venue (Elmore!!) and pick a wedding date based on their availability.
Step two – the big spreadsheet! This was essential to keep track of everything from budgets, to to-do lists to timings.
We had the idea of doing all our wedding planning once a week from the pub, including handwriting letters to our wedding party to ask them.

A few months after we got engaged, the pandemic hit – though we luckily didn't have to change our date – it added quite a complication to wedding planning, as we're sure was the case for all couples!

Jasper is relieved the wedding planning is over, but it has left a gap for me – luckily we both have 30th birthdays coming up next year, so my attention has moved to those!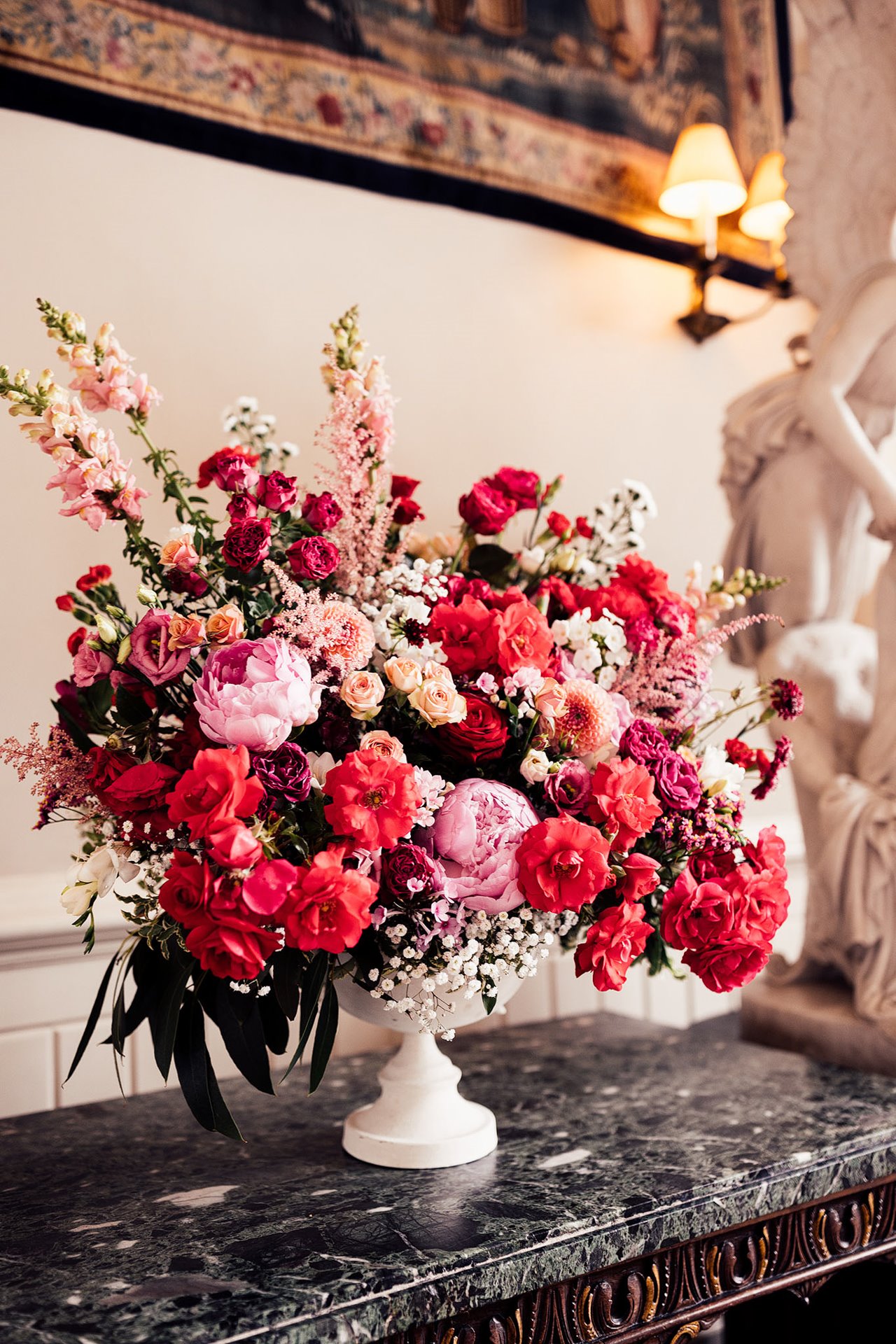 How did you plan your wedding music?
We actually spent hours and hours on the wedding playlists – one for the ceremony, one for the meal, an Iranian one, one for the DJ and then finally one for the afterparty.
We both love music (and have quite particular tastes) so it was a really enjoyable part of wedding planning. We also put on our invites that people could email song requests – but that we wouldn't necessarily oblige – and it was a fun moment every time someone's request would play.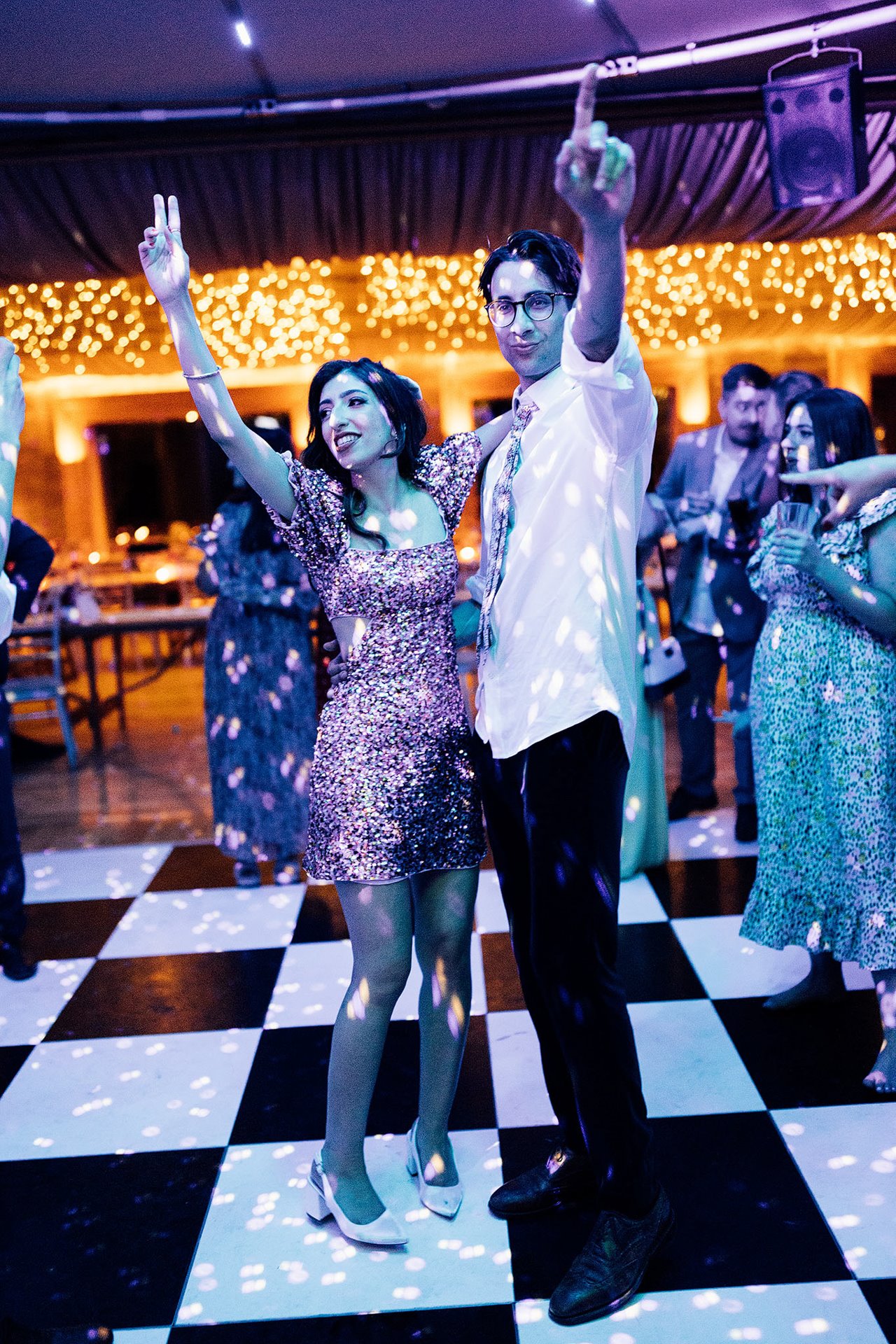 Did you want a Cotswolds wedding venue?
Yes. When we first got engaged we started looking at wedding venues in the Cotswolds, we knew that's where we wanted to get married.
Elmore was actually the only wedding venue we visited in person! – But as soon as we arrived, we knew it was the one.
The building is so historic and beautiful, but unlike some stately homes, it is completely unpretentious and the styling is timeless.
We also loved the fact that so many of our friends and family could stay the night for one big sleepover – and the essential post-party debrief the next morning at breakfast.
What impressed us most about Elmore was the people who work there, who are all extremely helpful and dedicated – particularly as our period of wedding planning coincided with the pandemic.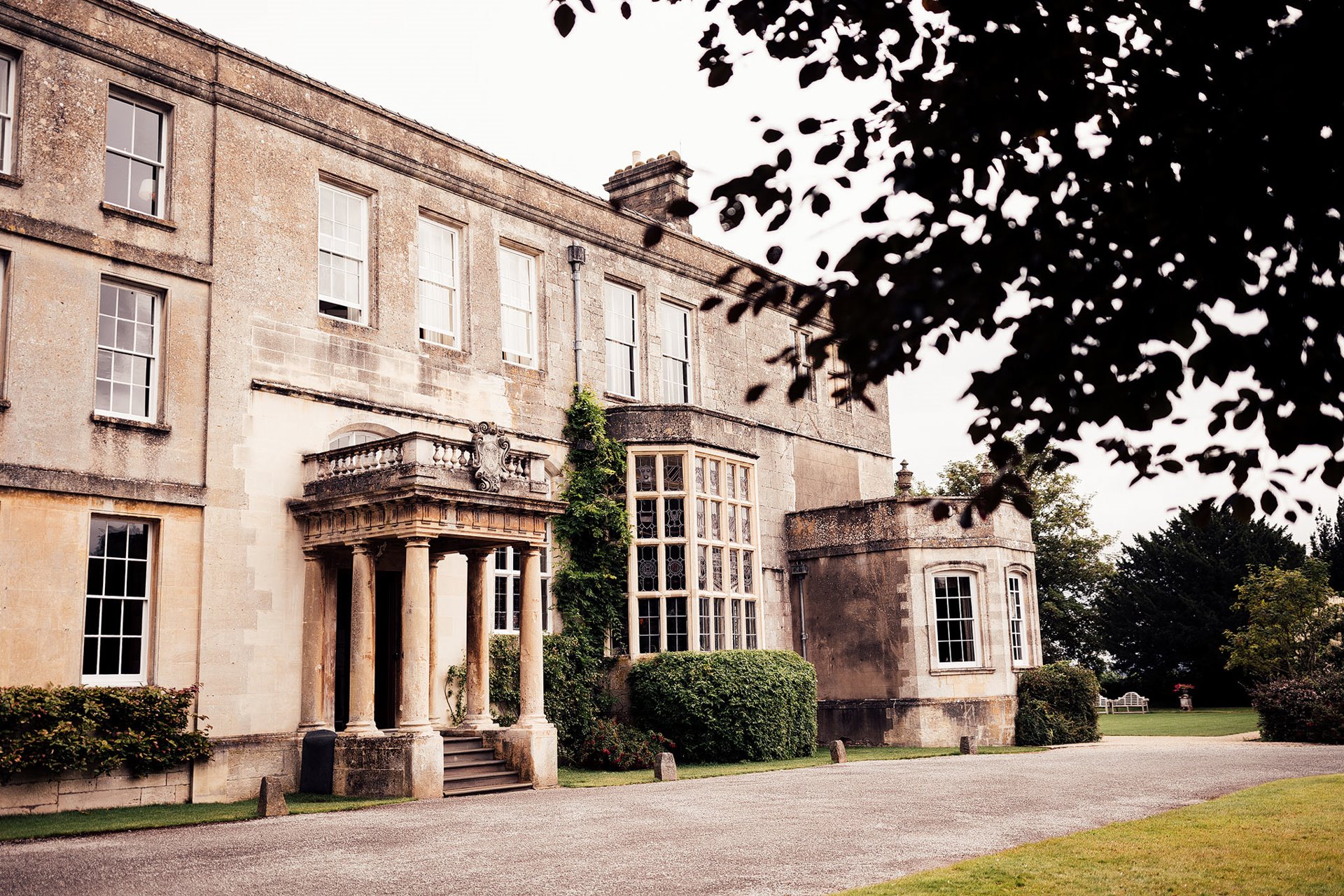 Where did you get your pink & red wedding inspiration?
I've always loved the colour combination of red and pink (bold and clashing!) – and my favourite flowers are peonies, garden roses and hydrangeas – so that sparked things off. Our florist Jenny Fleur completely delivered on this front, and it was just amazing at how beautiful and bright the wedding flowers looked.
These colours were incorporated throughout the wedding from Jasper's waistcoat and the groomsmen's pink silk ties to the bridesmaids dresses and their bespoke velvet headbands (created by the talented Project Clementine) – even the tea light holders.

To bring in my Persian heritage, we decorated the wedding reception with a plethora of amazing pomegranate replicas, that looked so real.
Pomegranates symbolise abundance, blessing and fertility.
As well as looking so fun next to the flowers along the tables, they also functioned as favours for the guests too – and in the days following the wedding we were being sent loads of photos of them on people's mantlepieces.
My absolute star-find came in the form of salt and pepper shakers from H&M home, shaped as little pomegranates with gold detailing.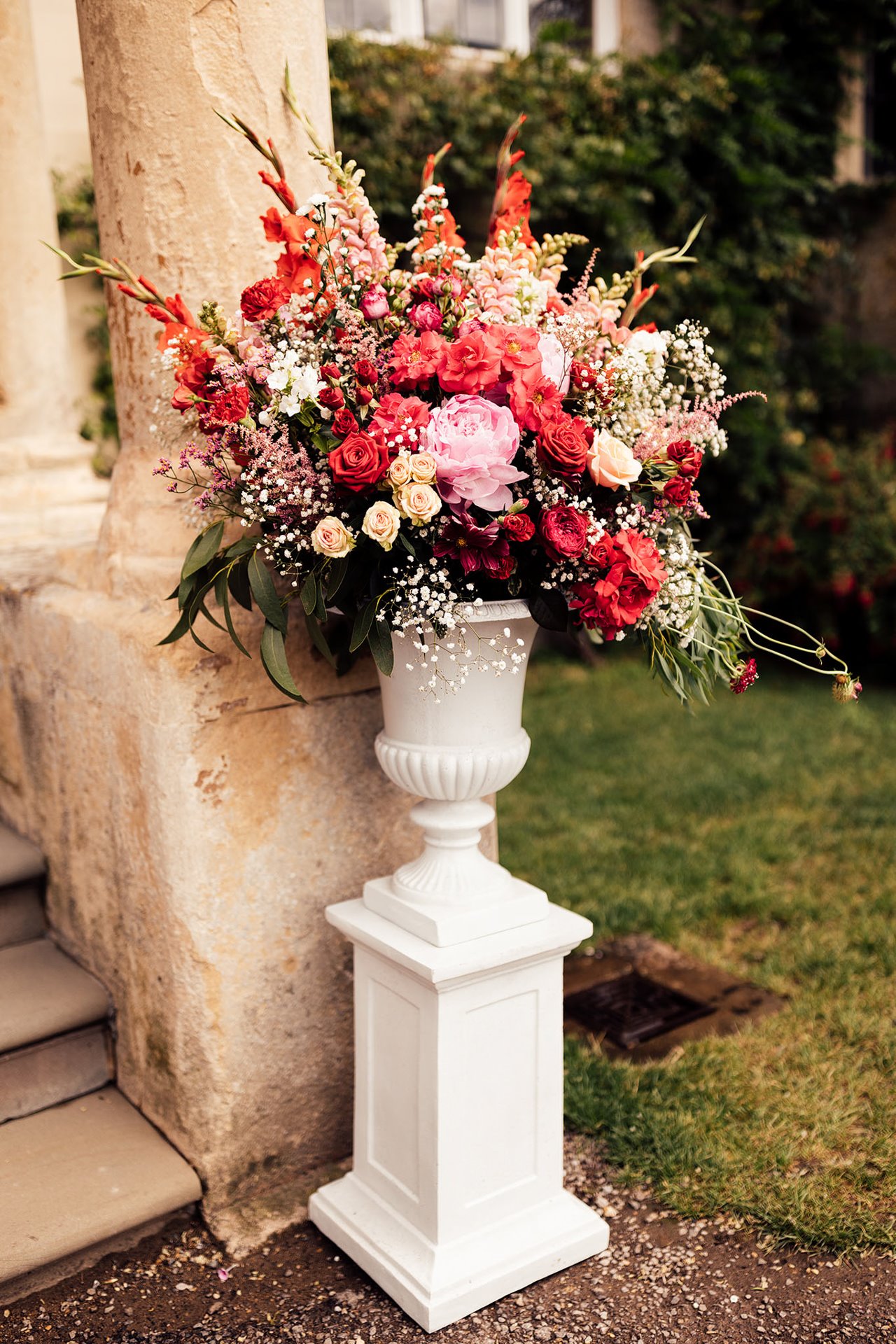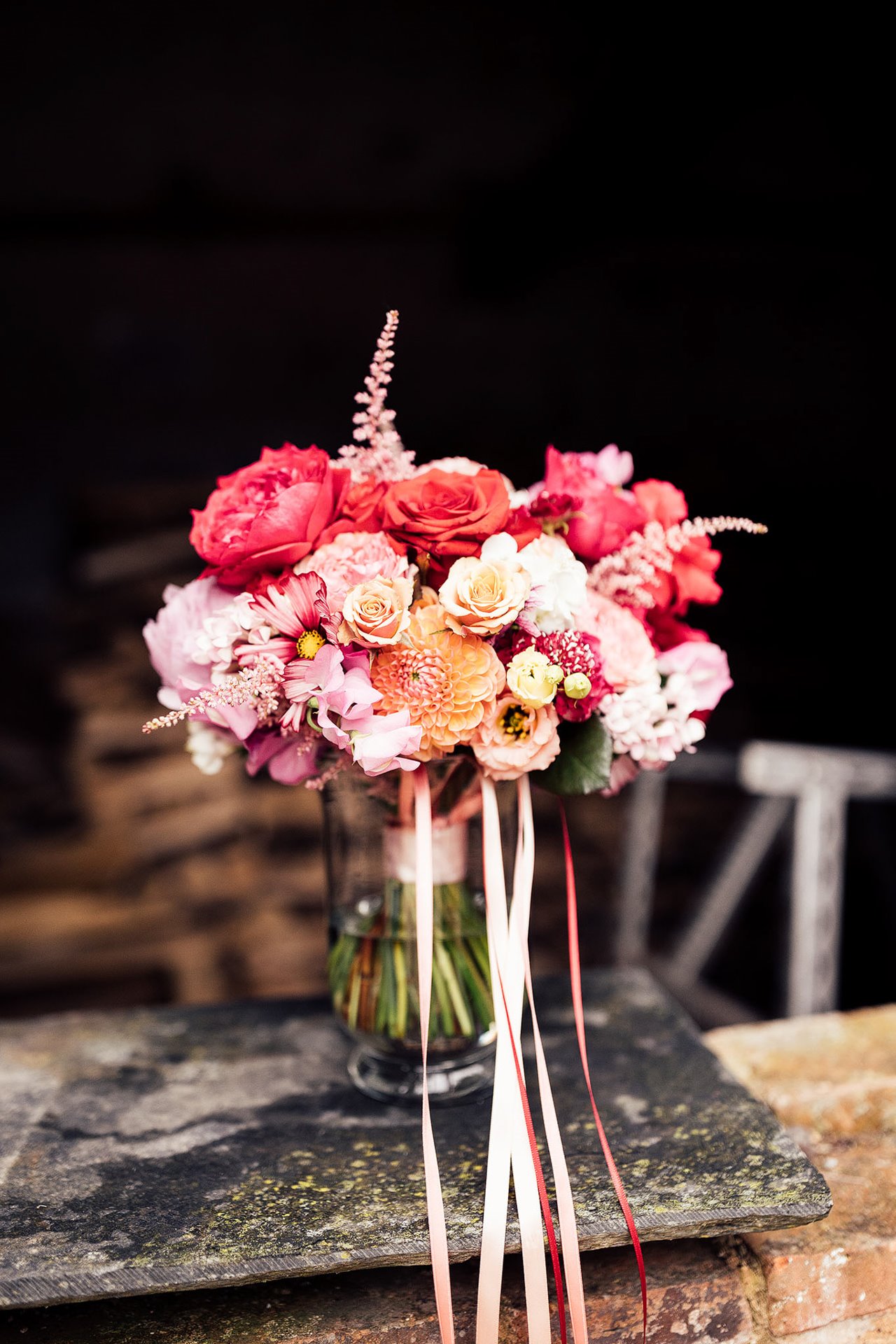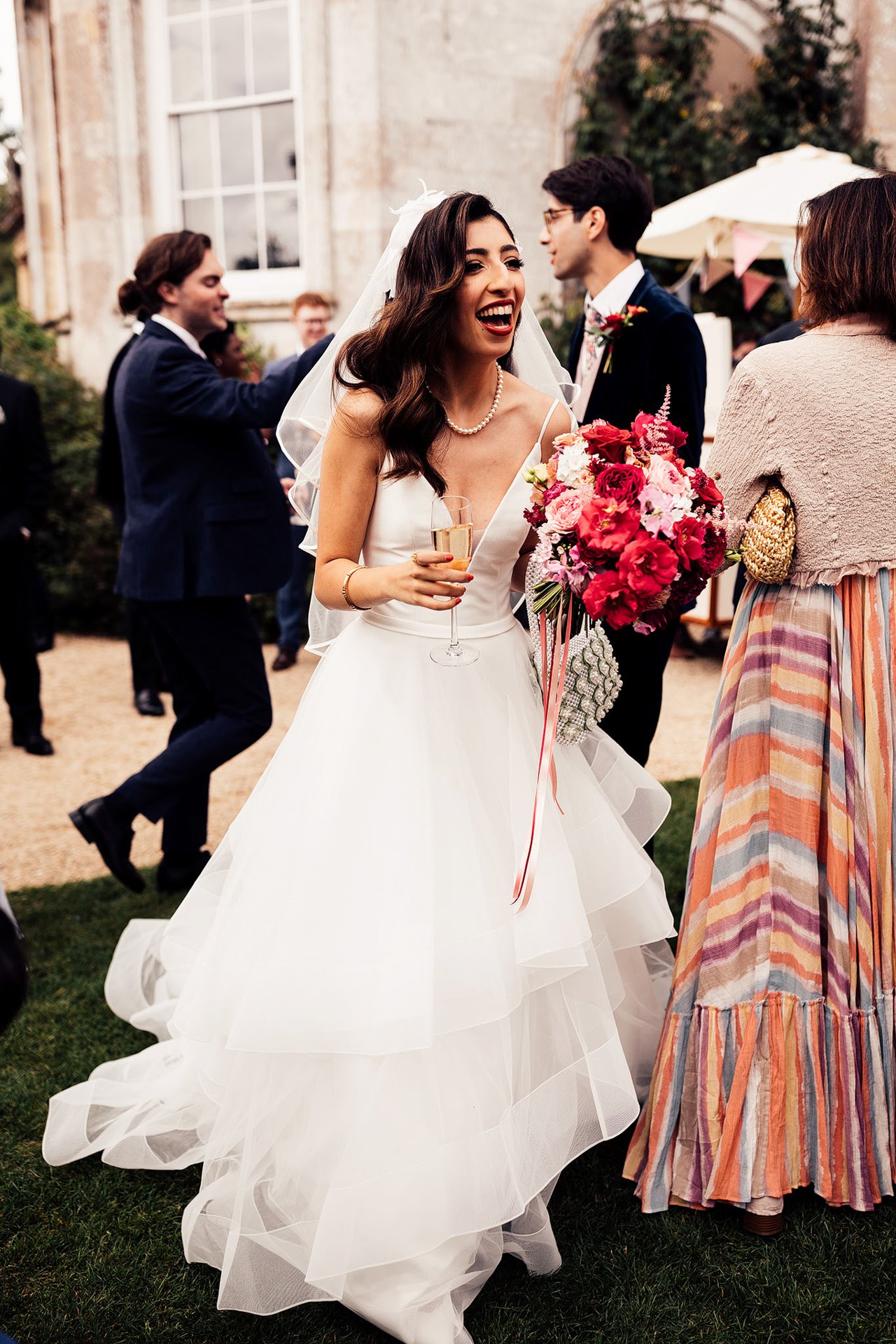 So you had a party wedding dress change?
I actually had three wedding dresses, three pairs of shoes and three hairpieces… For anyone who knows me that makes complete sense!

My ceremony dress, which I kept on for the wedding breakfast, was a beautiful big princess number by Allure from Paverly Bridal in Wimbledon Village.
I always knew I wanted to go with a full skirt – which was so fun to swish down the Elmore staircases in – and an all-white look with no embellishment.
I paired this with a glamorous and beautifully-made feather headband from Flapper, a Milan-based brand by Genevieve Xhaet... I think this is my favourite piece that I get to keep forever now!
My shoes for the ceremony were the shortest heel – for obvious reasons – just a pair of white leather slingbacks by Sam Edelman, super chic and simple.
I also had the most beautiful white Shrimps bag with adorned with faux pearls and layered with green beaded flowers, to hold my lipstick and powder. I've been using it at every opportunity I can since.
My second dress for reception, I then slipped on a sleeker white sequin midi dress, with lilac sparkly six-inch platforms by Casadei for the first dance.
I paired this with a bespoke pink flower crown by Kontes London.
My favourite dress change was my last; wedding after party dress at around 11pm, which was by LPA, a great LA-based brand.
It was super short, covered in pink, purple and gold sequins, with huge puff sleeves and cut outs. It was the most fun dress I've ever worn, and perfect to party away in!
I paired it with an oversized white satin bow.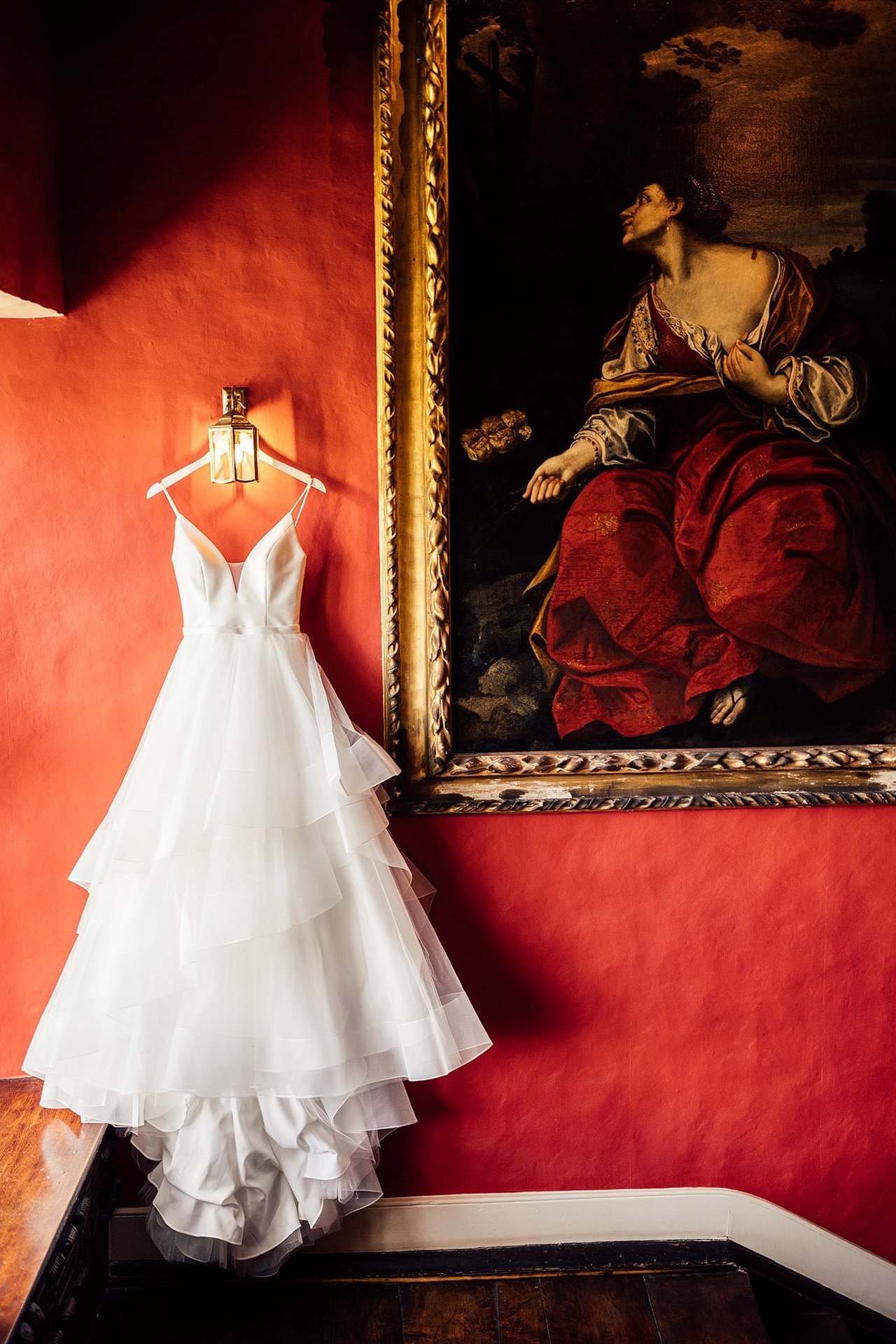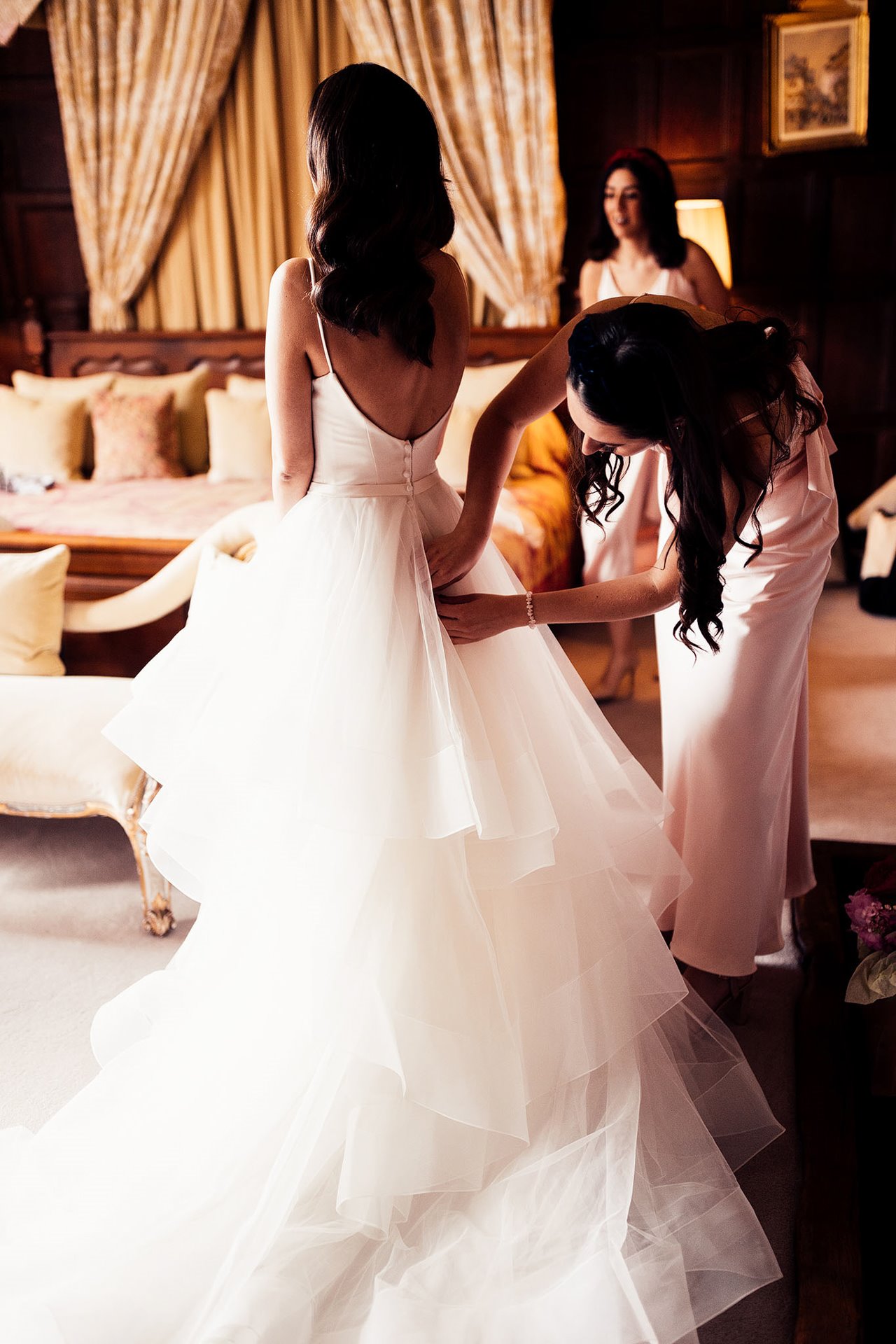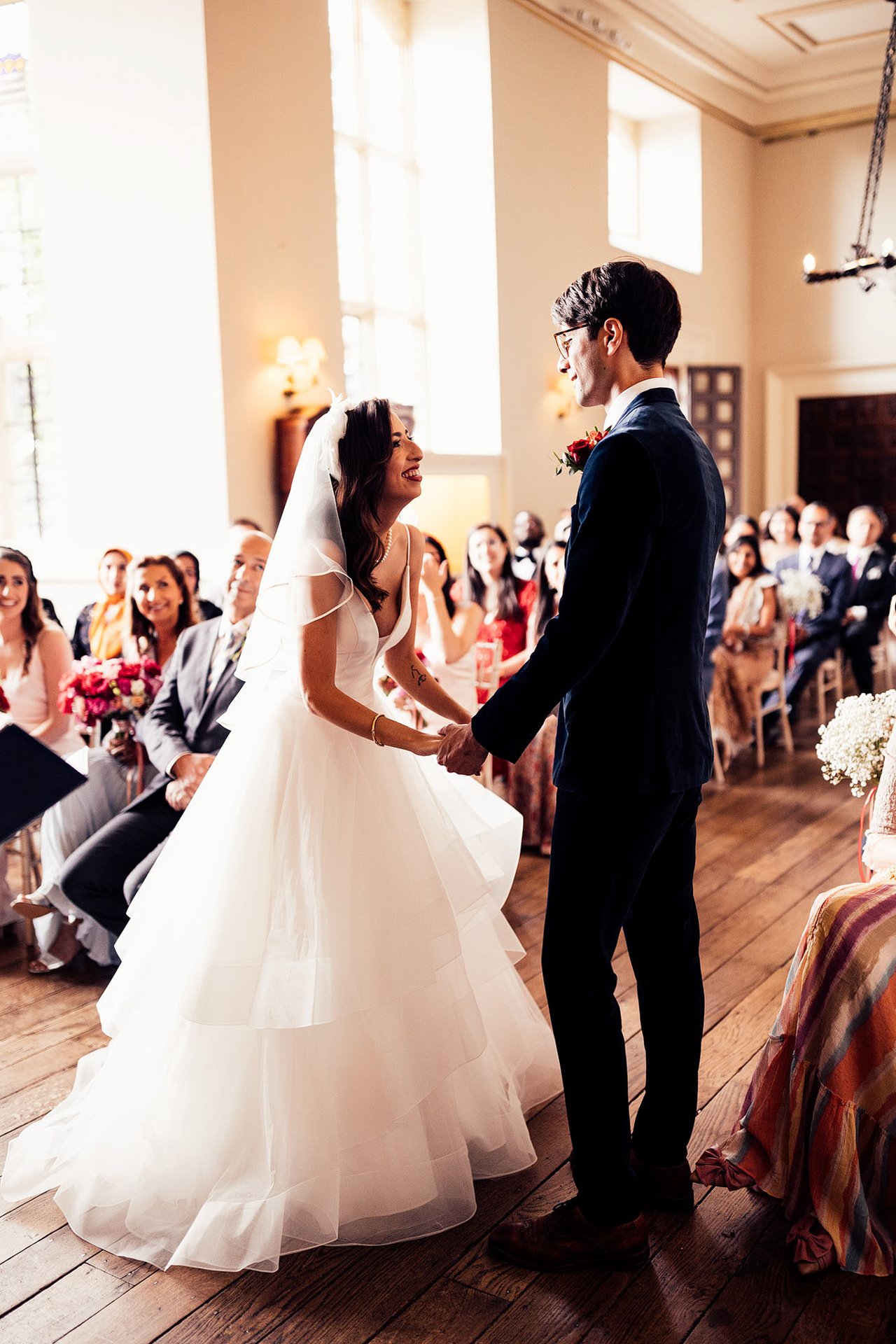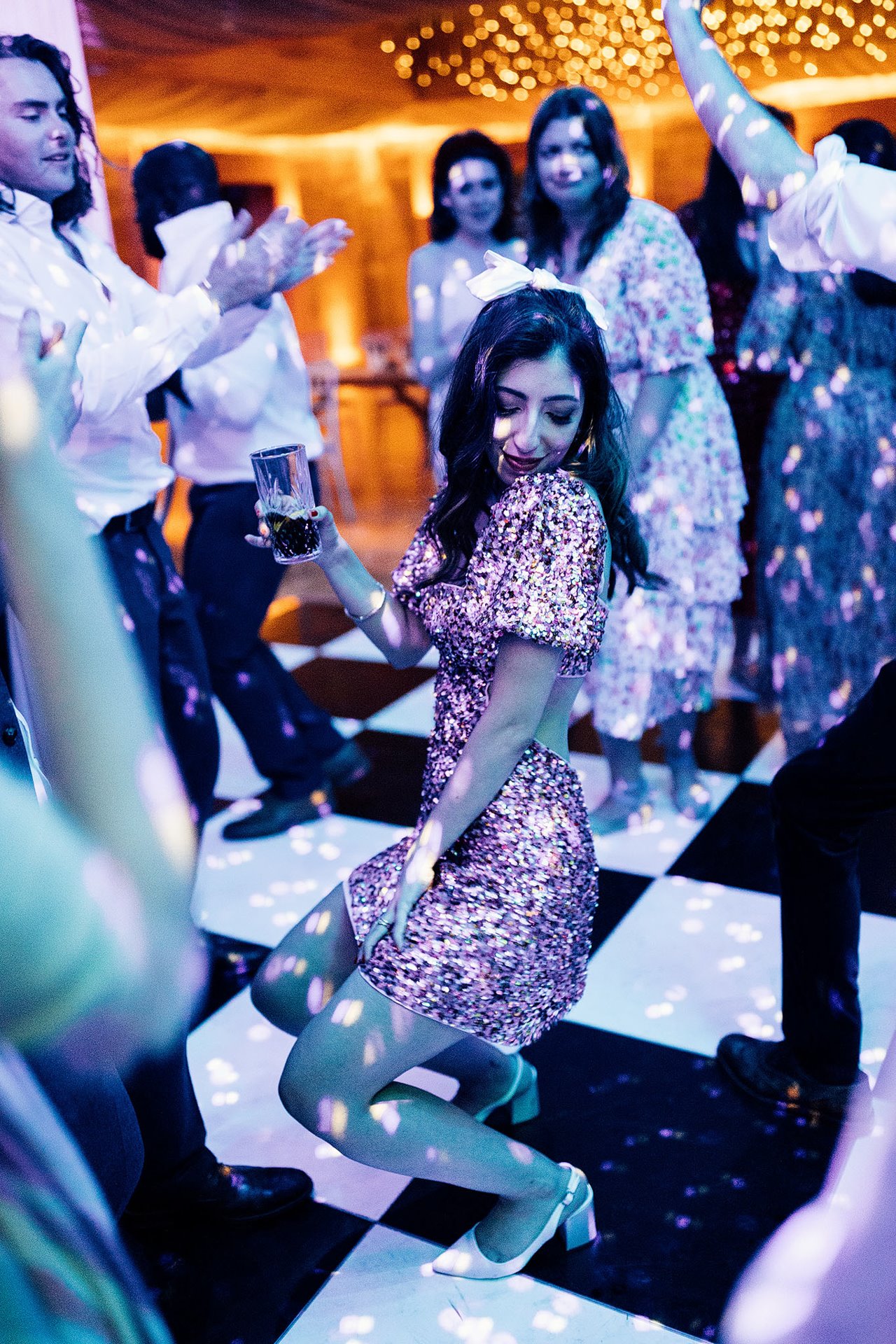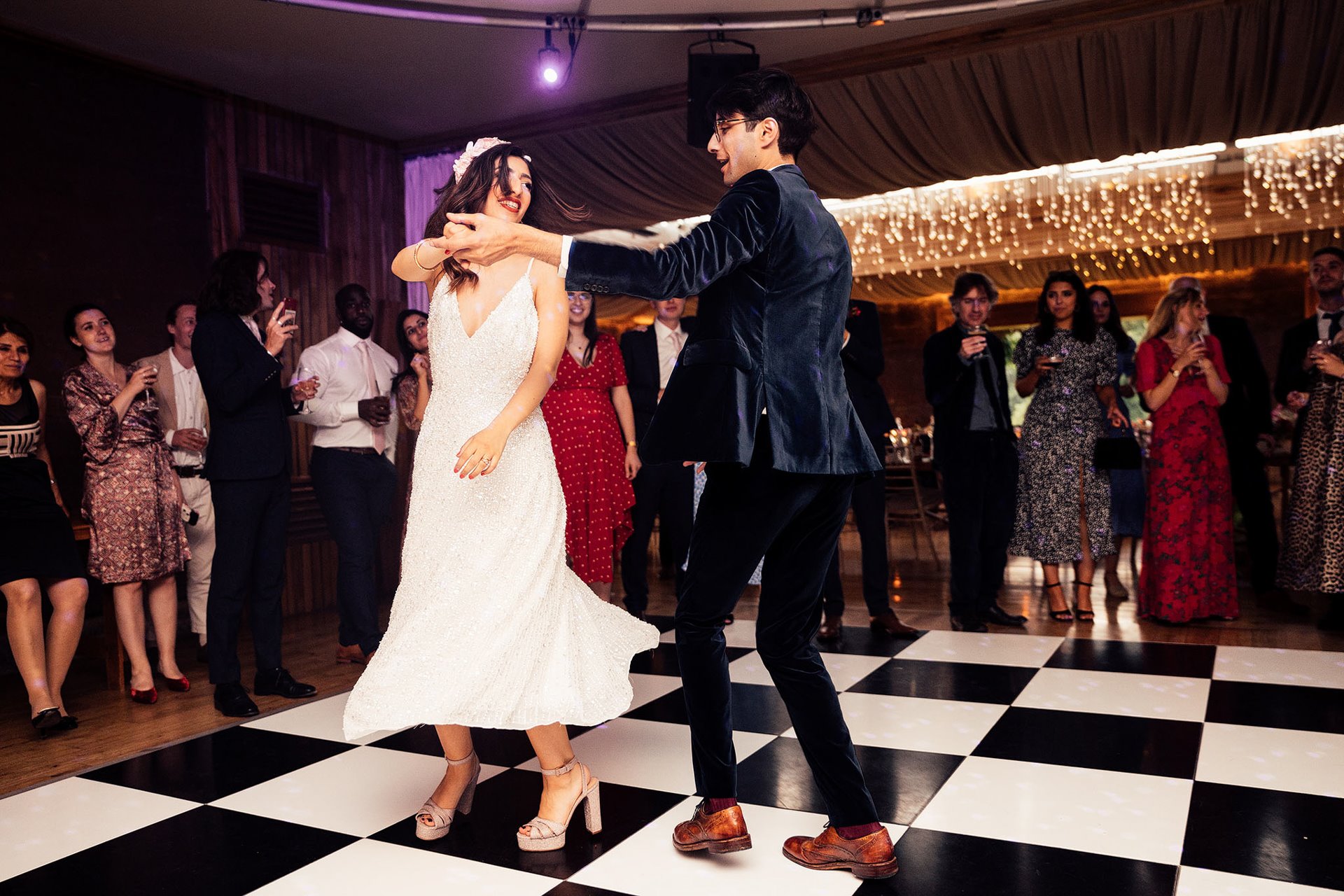 Did you have hair and makeup?
This was one of the things I was most excited about, as I absolutely love getting my hair and makeup done, and Ausra Ruskene did the most incredible job. I am now trying to think of a suitable excuse to book Ausra again!

I went for Hollywood waves, keeping my hair down and to the side in waves – and they miraculously lasted all day and night.
The key part of my make up look was red lipstick, as whenever I've asked Jasper what lipstick I should wear he always says red. I went through many many tubes of lipstick until I found the perfect shade by Fenty beauty a few weeks before.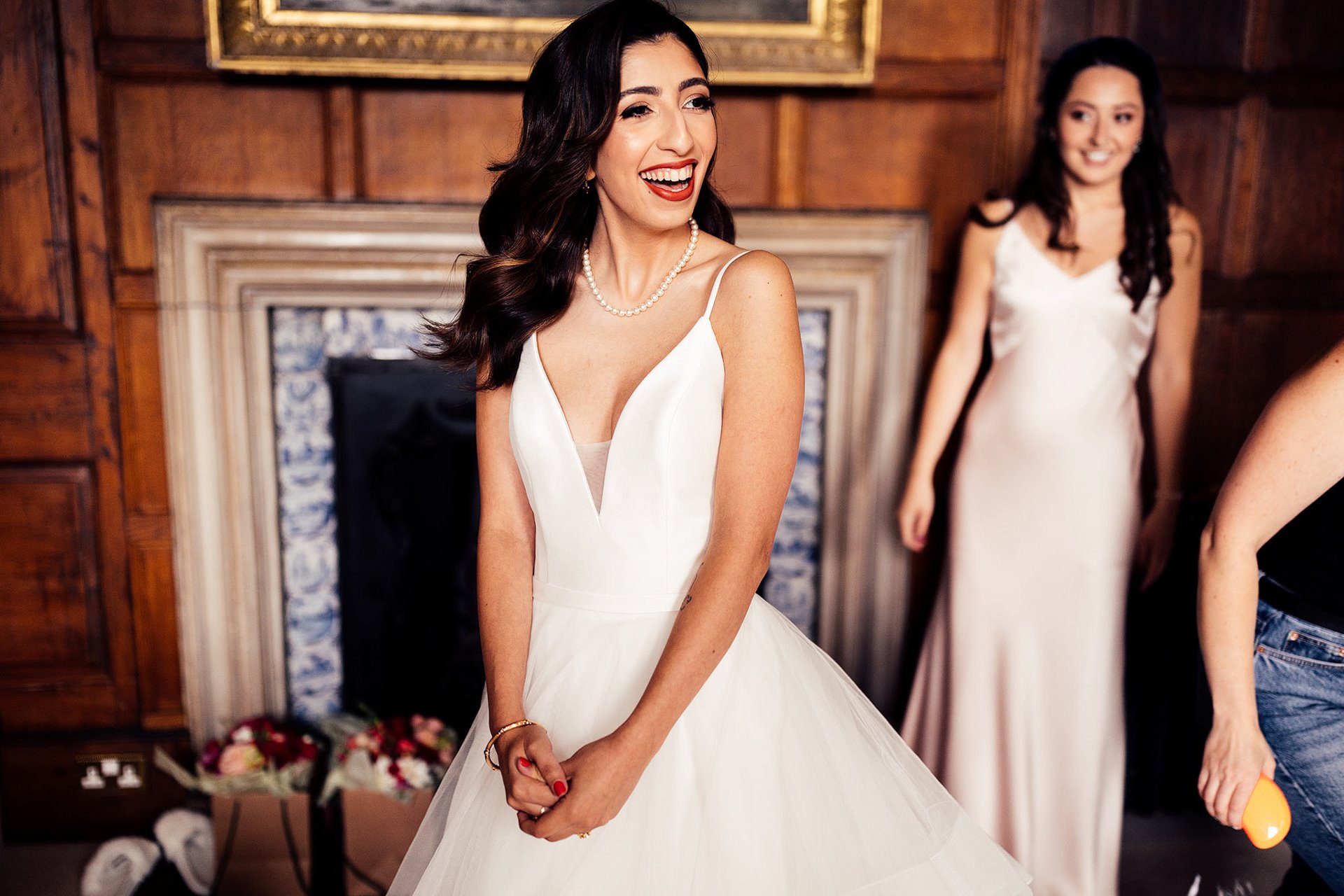 So you had a Bridesman?
I had two maids of honour, three bridesmaids and a bridesman – and it was so fun spending all the extra time with my best friends.
One of all of our favourite wedding memories is the night before spent in the Coach House together, just so much laughter (and delicious snacks including some fresh brownies left by Team Elmore!).

I would recommend a bridesman to everyone – he was so helpful running around getting things done on the morning of the wedding whilst we were all in hair and makeup.
He also made sure we all had our champagne topped up!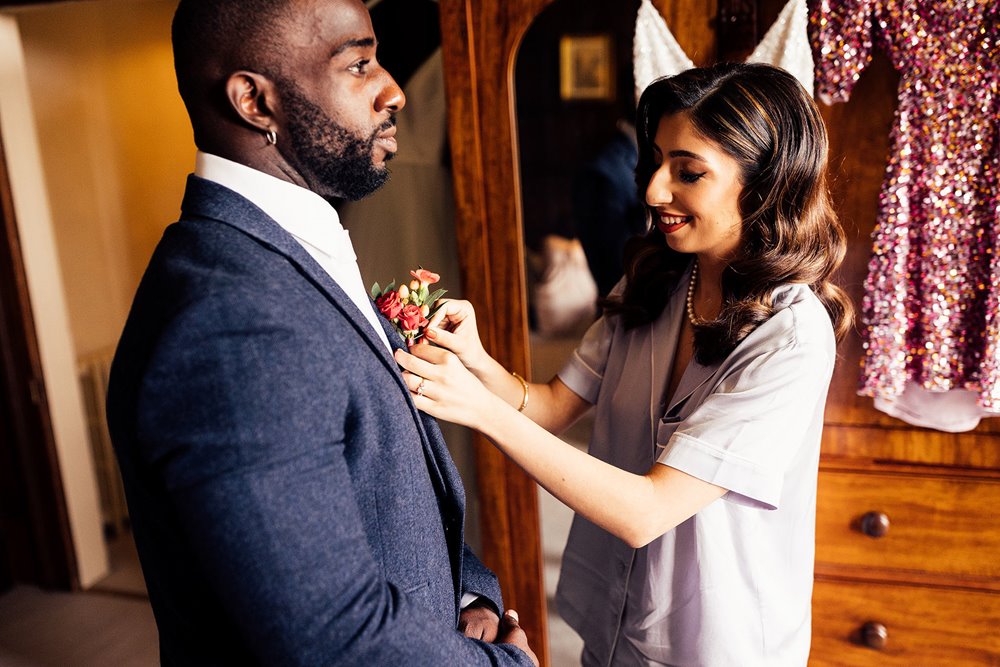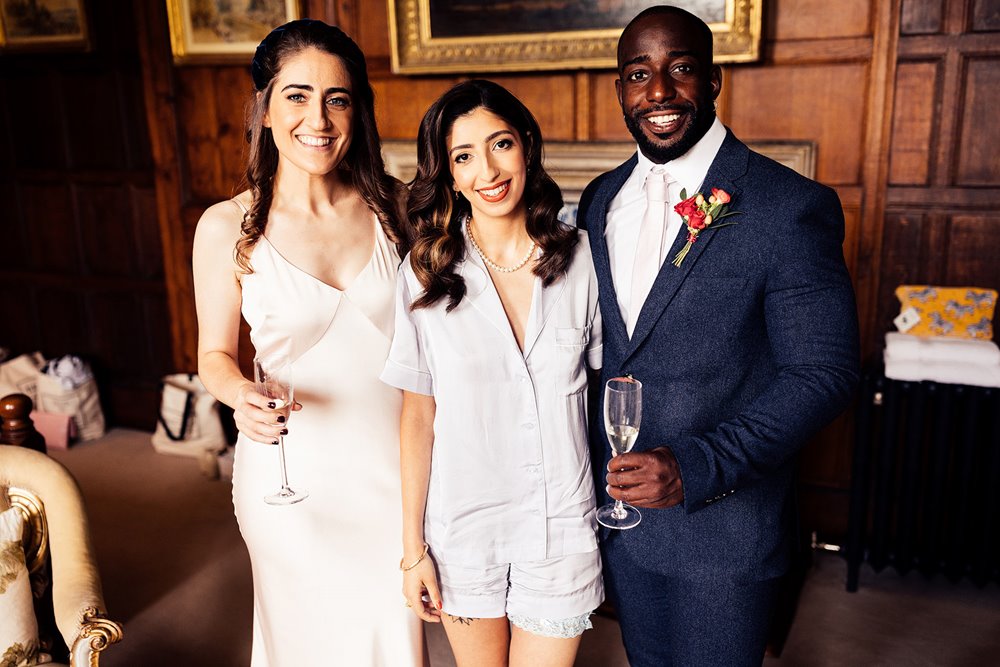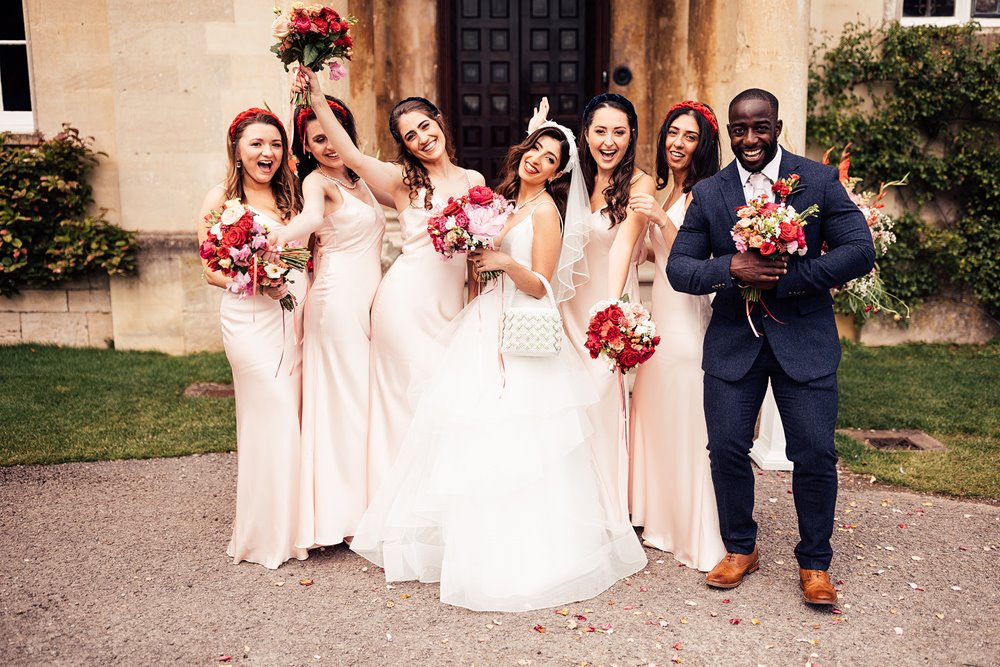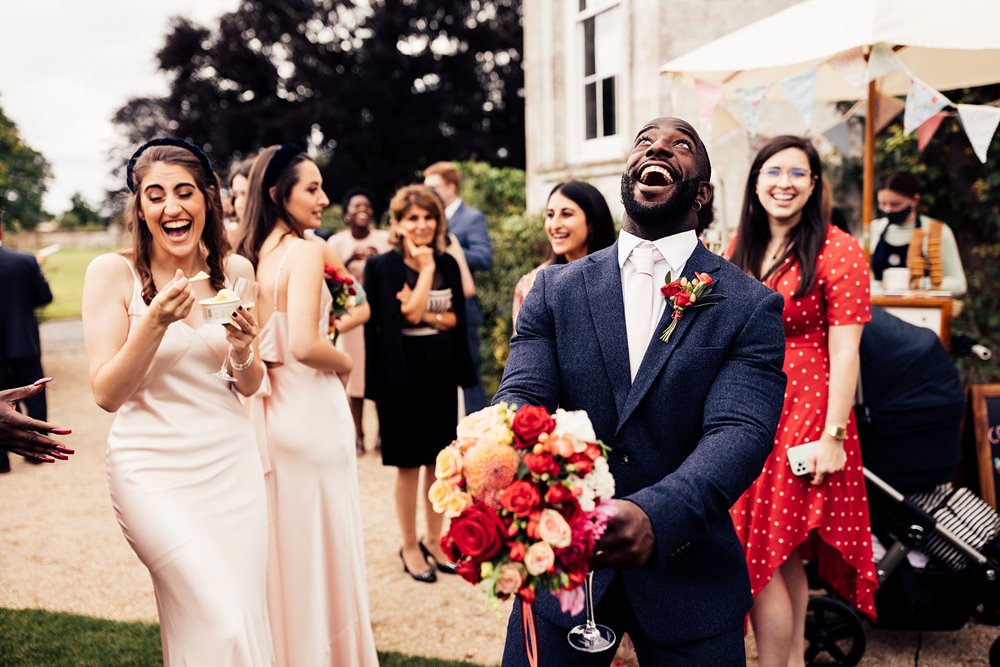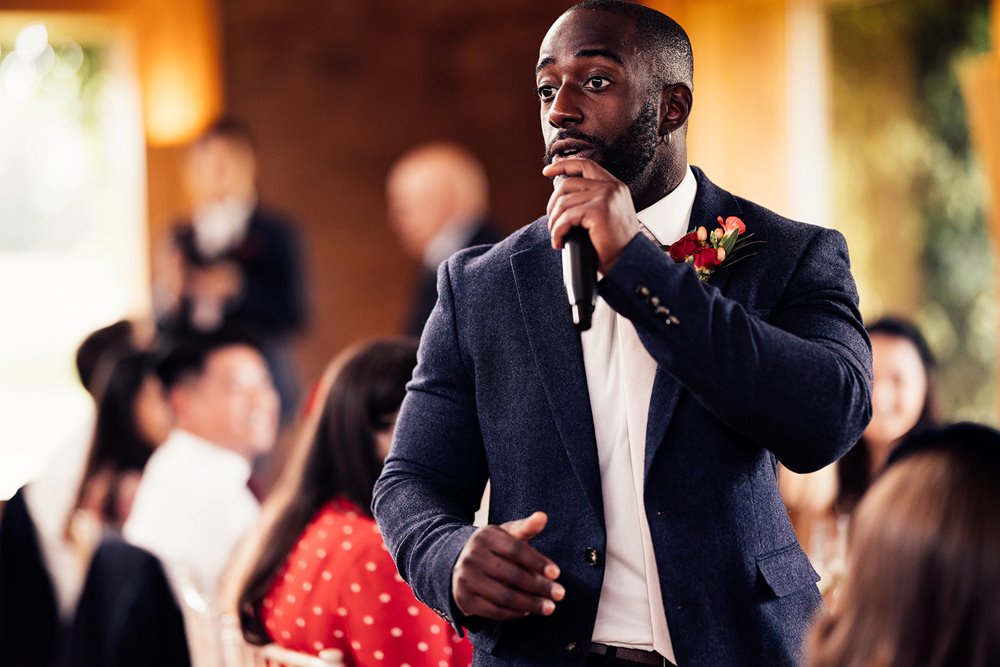 Jasper talk us through your Groom style
It was actually a call with Leesa that inspired my suit – I had left it quite late as I wasn't sure what I'd actually want to wear, and she suggested that she could see me in velvet. A little bit of research later that night and I found a navy suit from Paul Smith (one of my favourite designers) – it happened to be on sale and the last one in stock!

My tie was by Gucci, a floral a collaboration with Liberty's. Melica gifted me a tie-clip with the date engraved in Roman numerals (though… I managed to lose this in Elmore's fields).

The groomsmen wore navy tweed suits from Moss Bros paired with Reiss ties (though one of them had forgotten to actually order his tie… so it resulted in a mad rush to Reiss in Cheltenham the day before the wedding, who luckily had the last one in stock in the UK!).

The night before the wedding I had a barbeque with the groomsmen at one of their family homes in a nearby Cotswold village.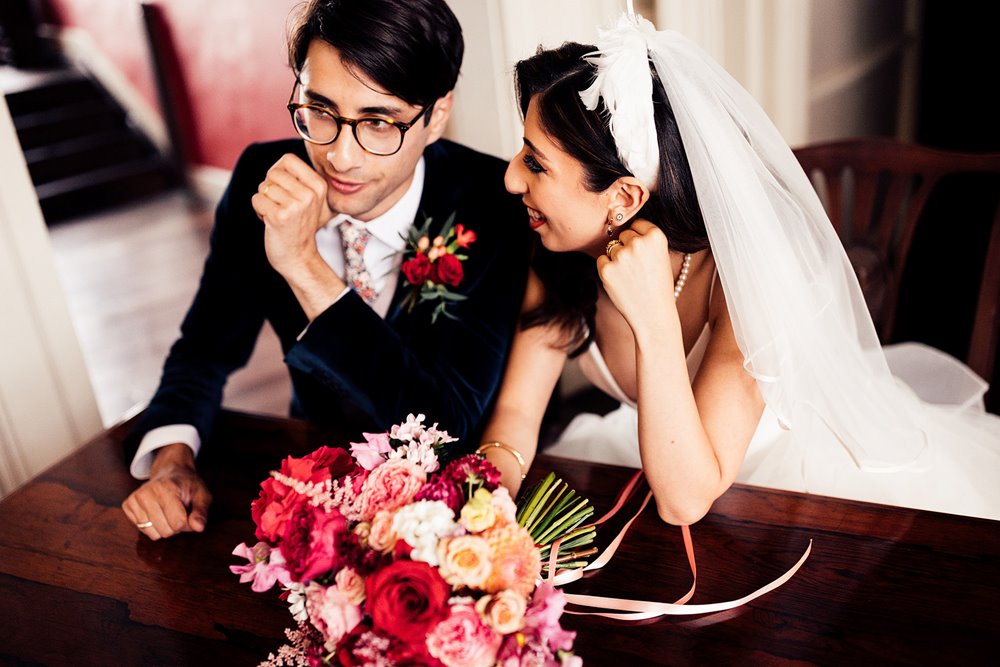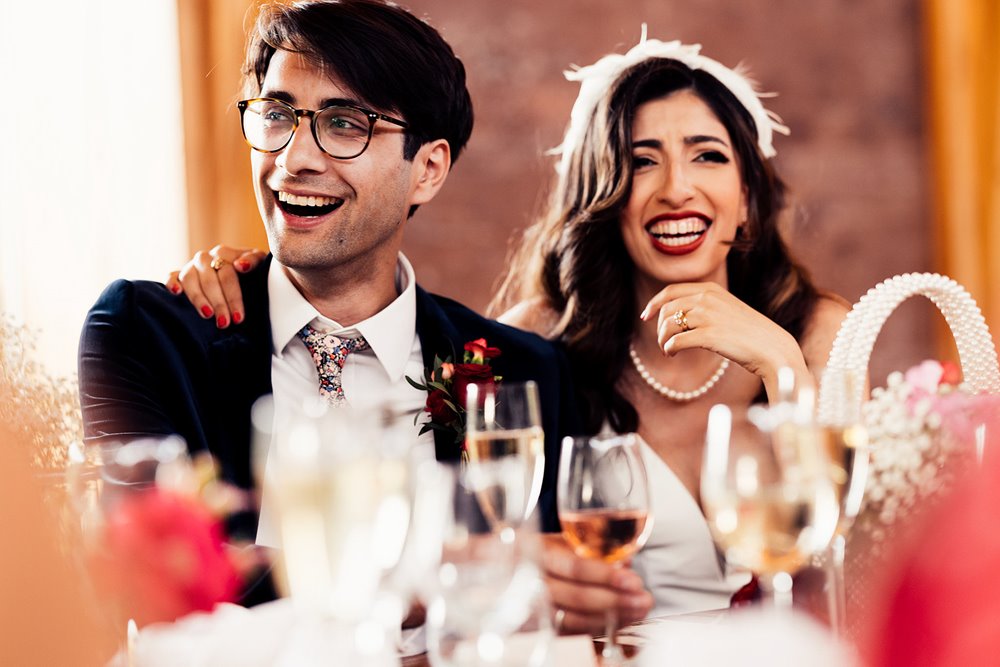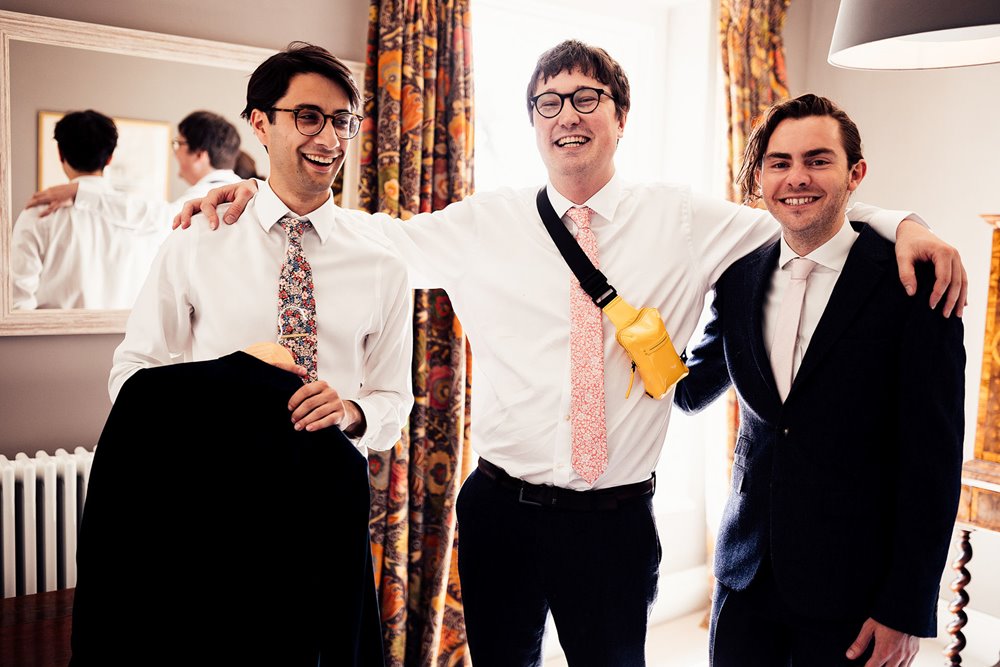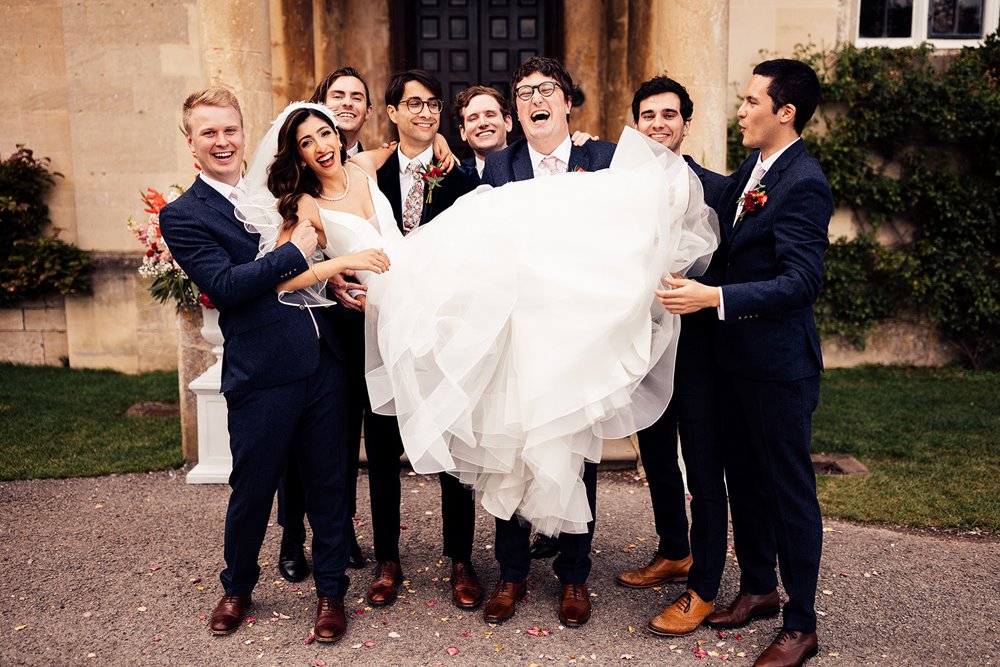 Your wedding day: How did you feel?
It felt like an out of body experience, I couldn't stop smiling. It was the best feeling walking into a room and all of our favourite people in the world being there.
I was surprisingly not nervous on the morning, just excited to get going. I actually had one of the best nights sleep in months (the beds in the Coach House are beyond comfy). There was a slight hitch as soon as I sat to do my hair, when we realised that none of the alcohol had been delivered! A few phone calls later and it was sorted in the nick of time.

It was when my dad came in to see me in my dress for the first time that I first started crying – it was just overwhelmingly emotional – and I stayed that way as I walked down the aisle.
It felt like an out of body experience, I couldn't stop smiling. It was the best feeling walking into a room and all of our favourite people in the world being there.

The ceremony was our favourite part of the day – which we were both surprised by.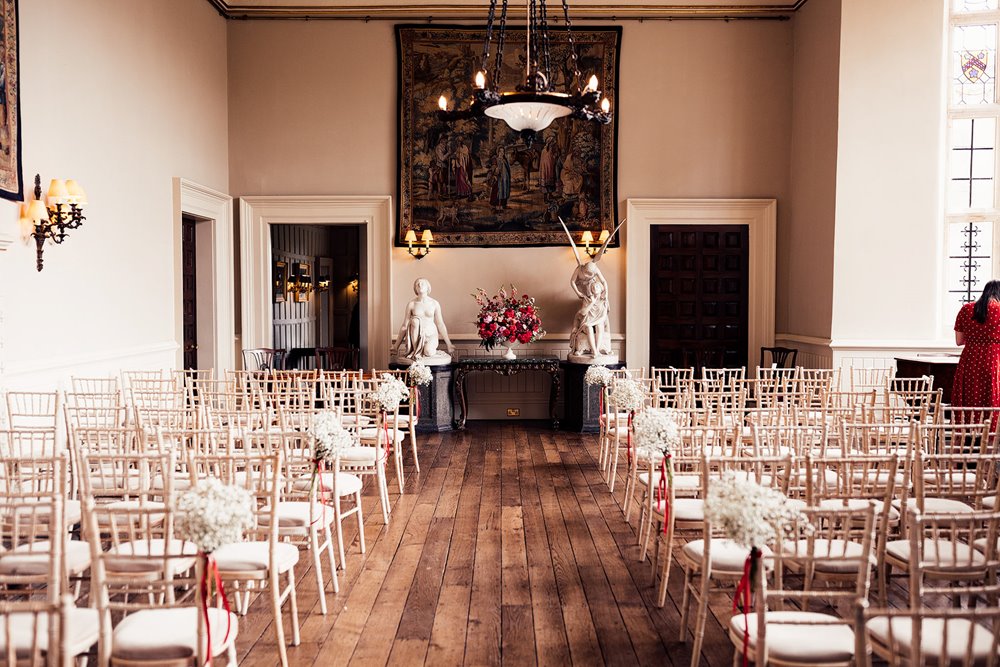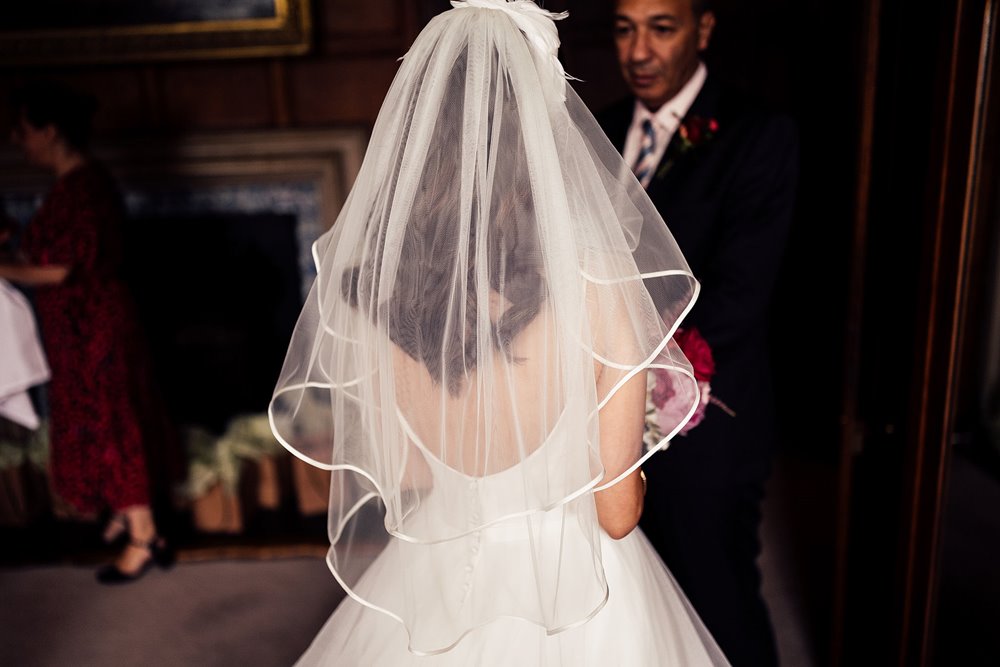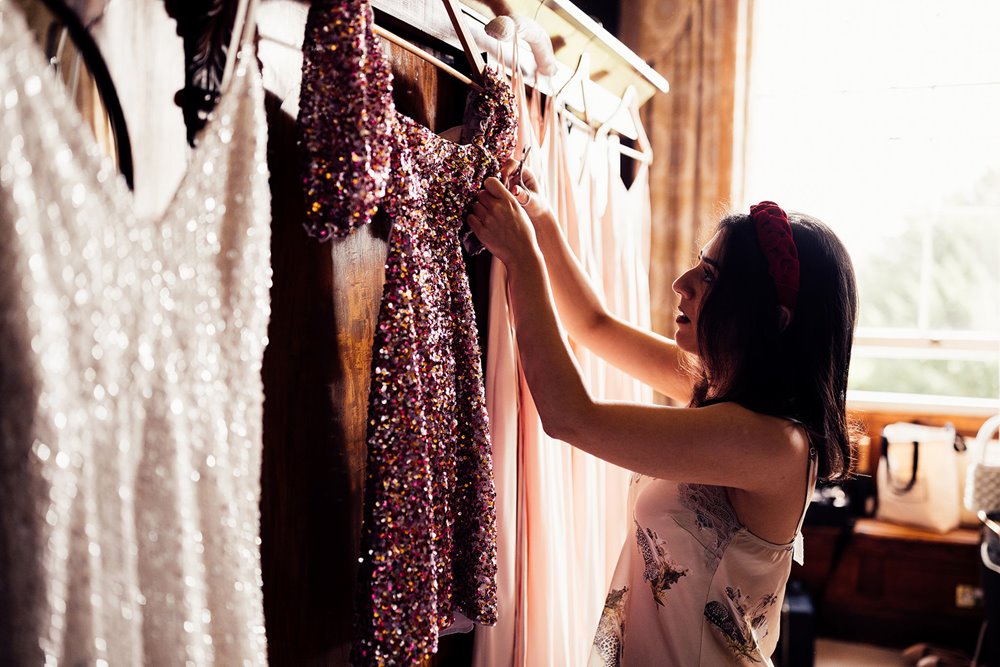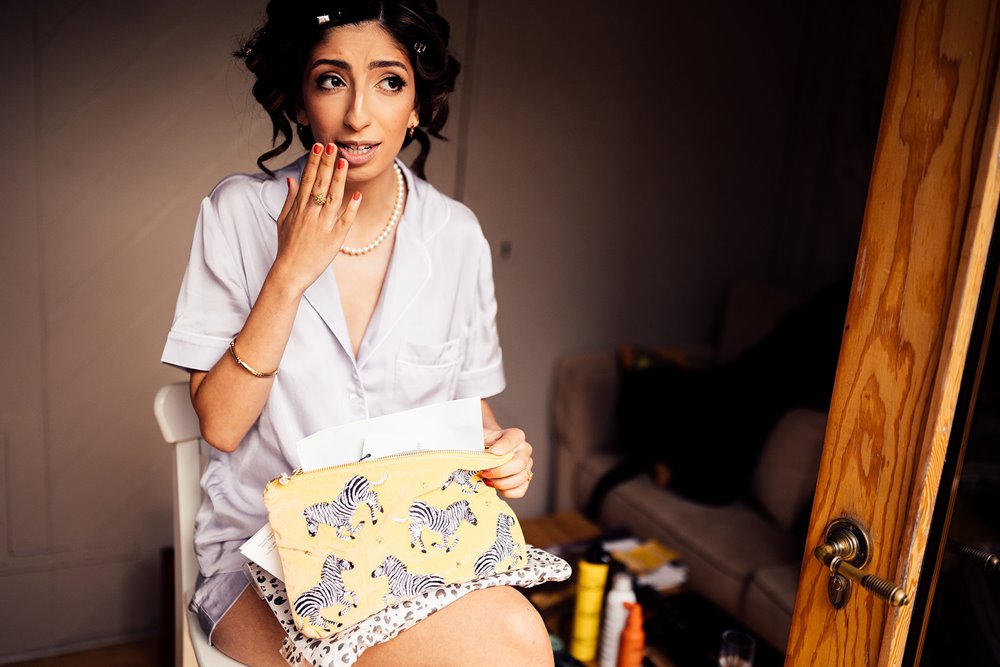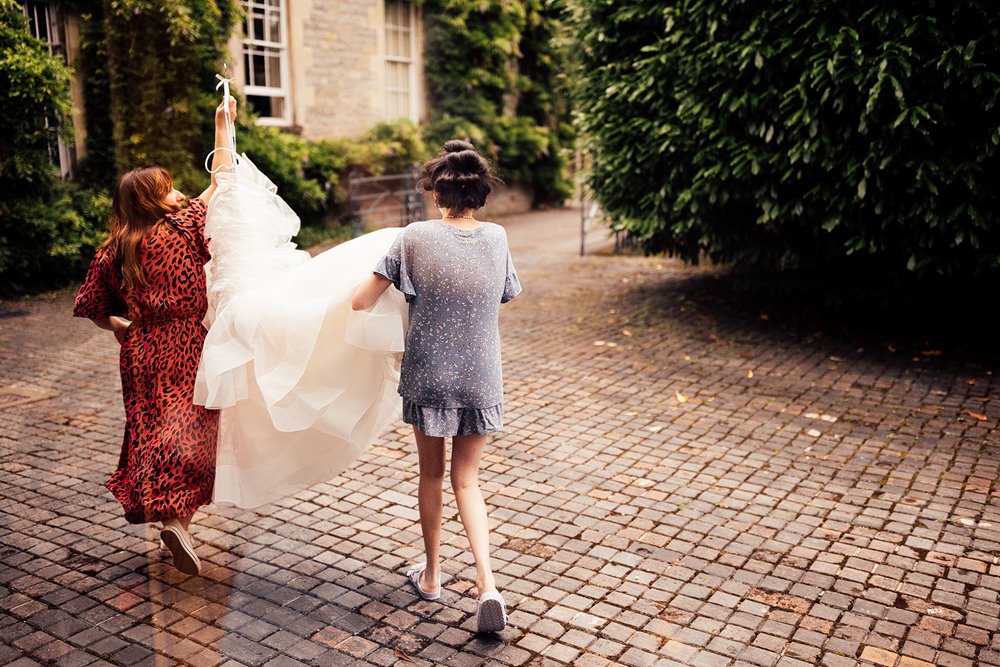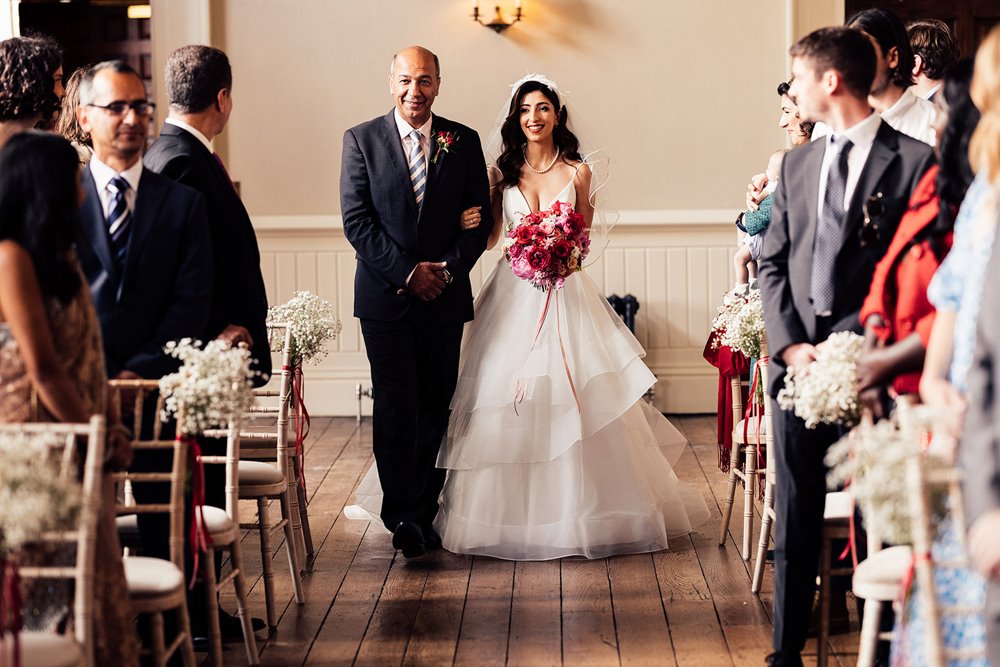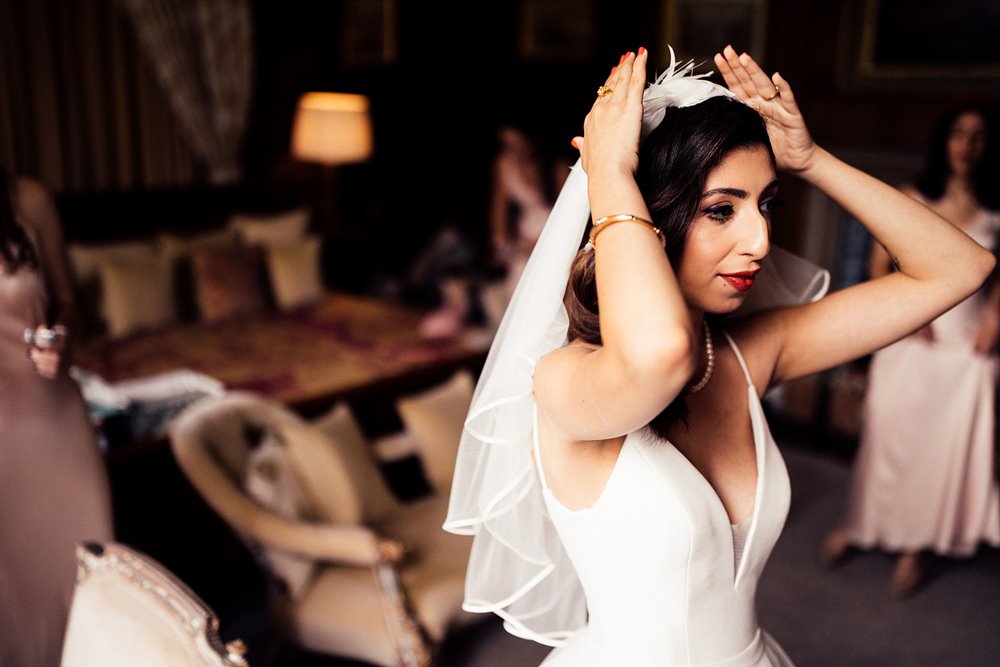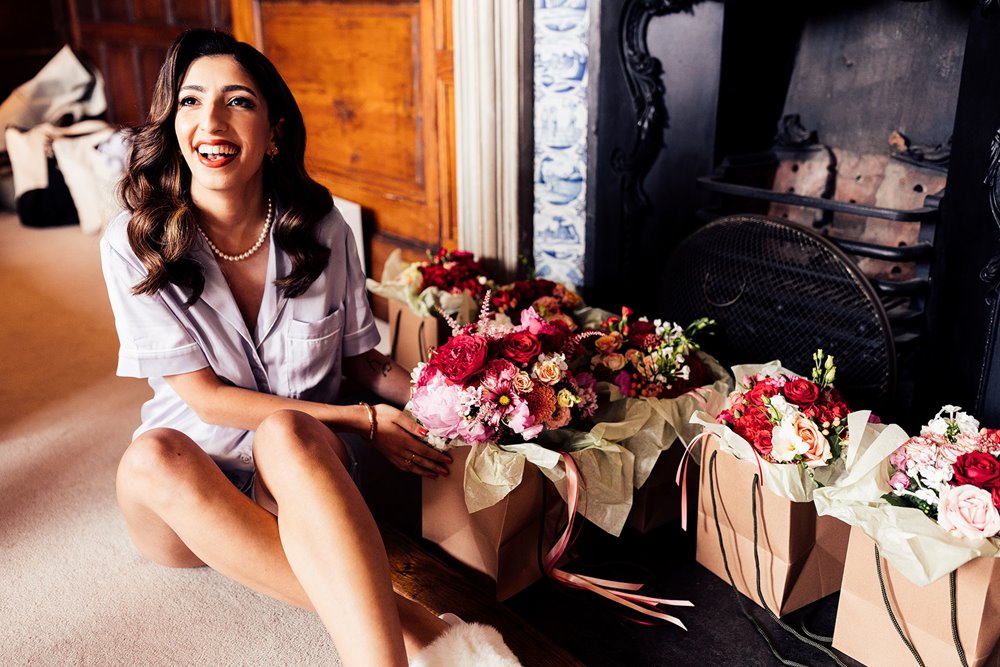 Tell us about your legal ceremony
We had readings given by two of our closest friends. One of them read out a passage from Far From the Madding Crowd by Thomas Hardy, which was all about friendship turning into love and joining to go through life side by side.
It felt really poignant and pertinent to our story as a couple. In fact, we caught quite a few people – including the best man – shedding a tear at that moment.
We walked back down the aisle to Don't Look Back into the Sun by the Libertines, as in our early days we bonded over our love of Pete Doherty.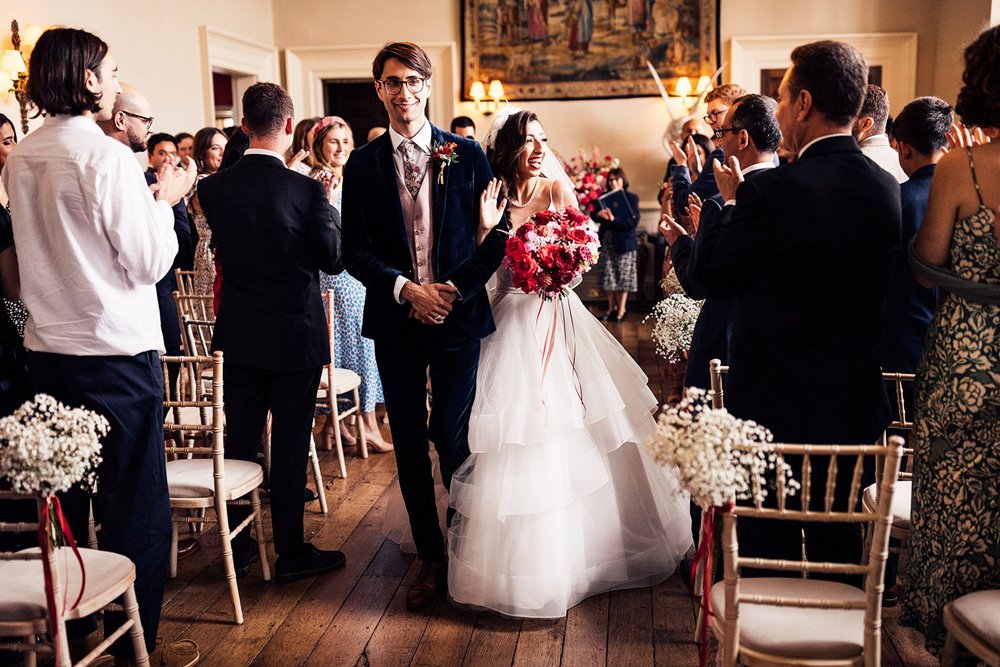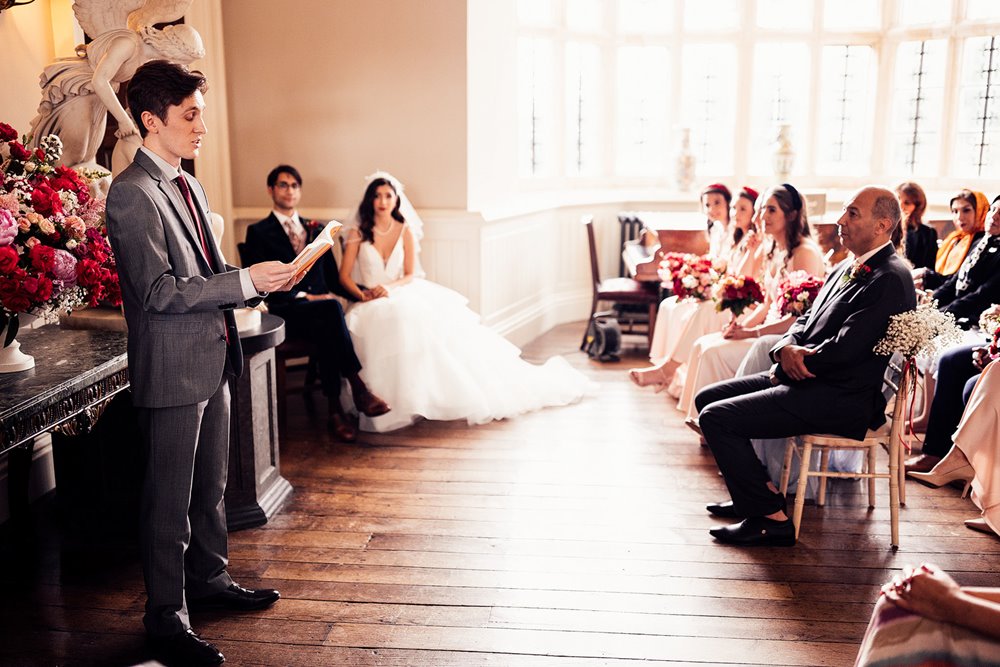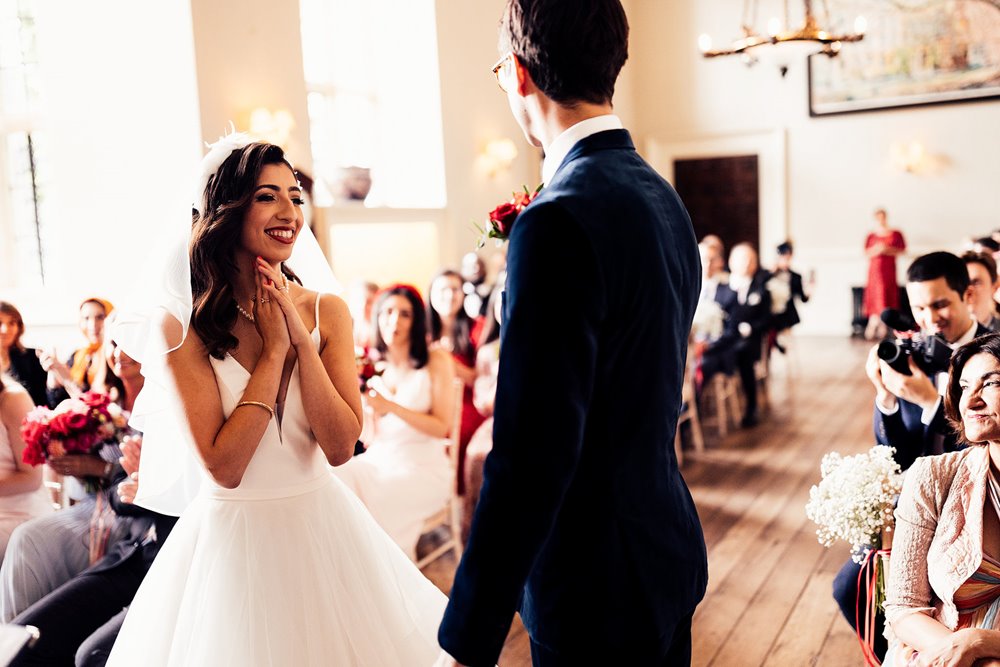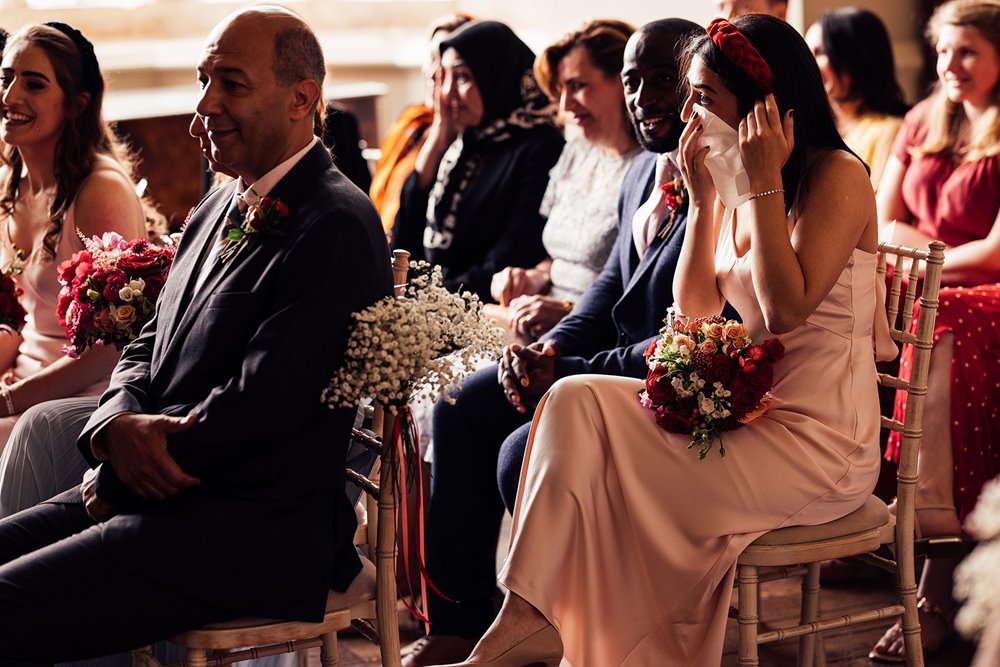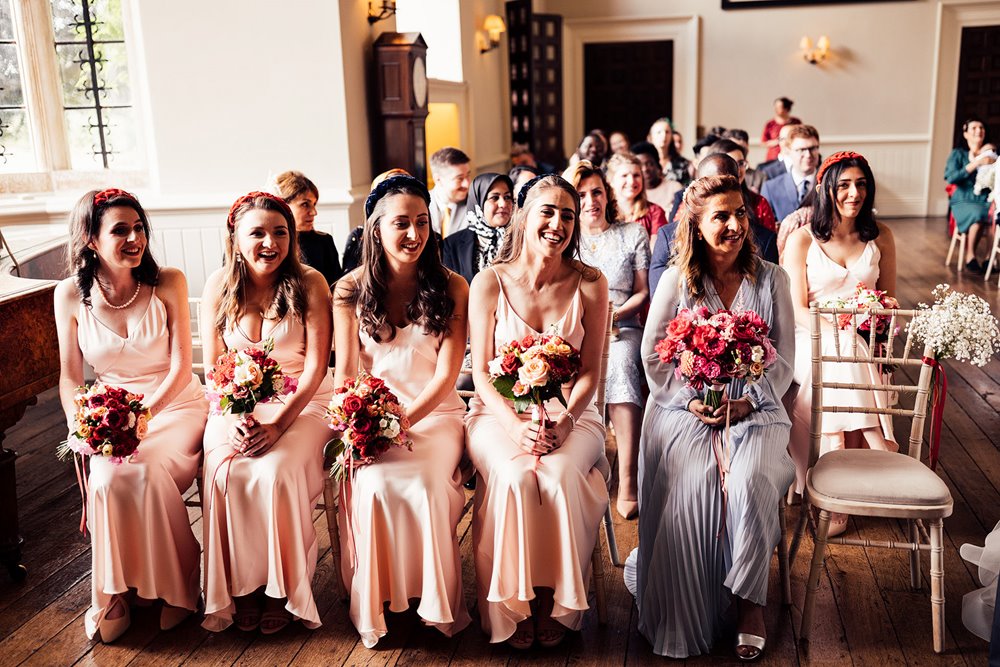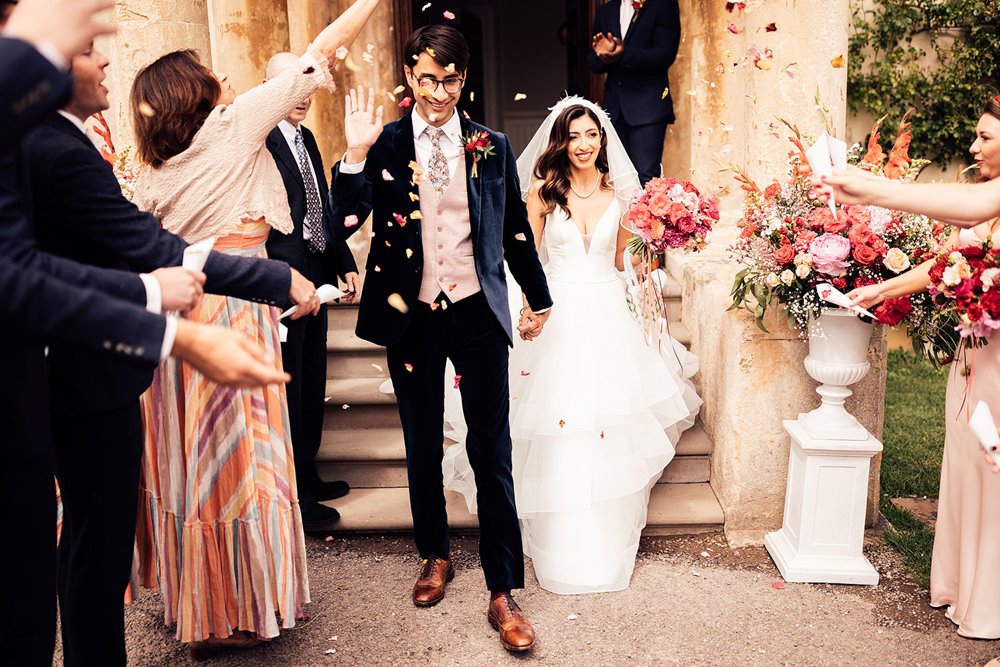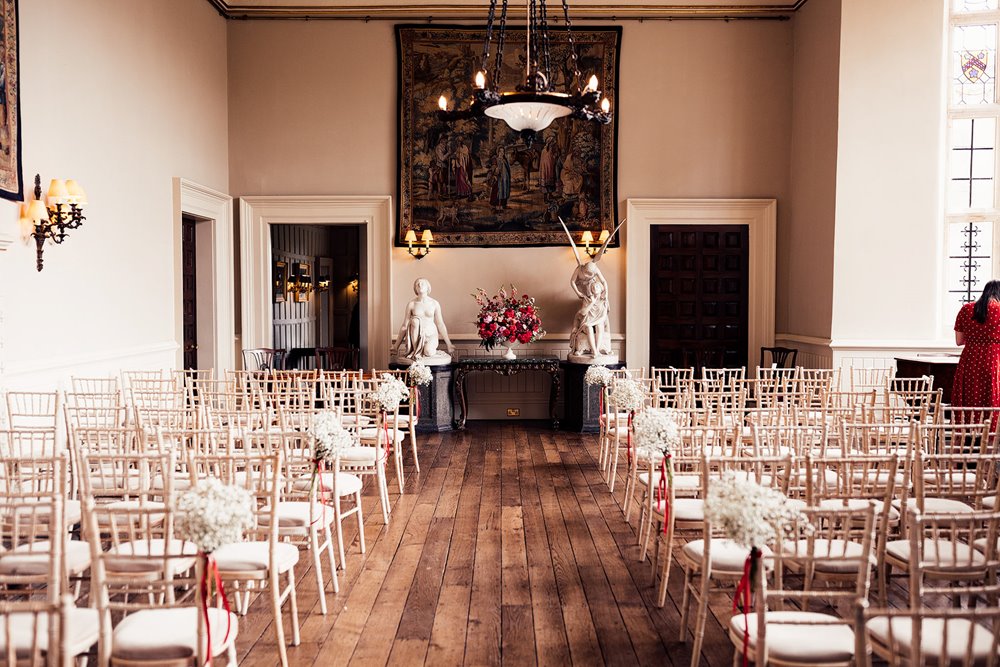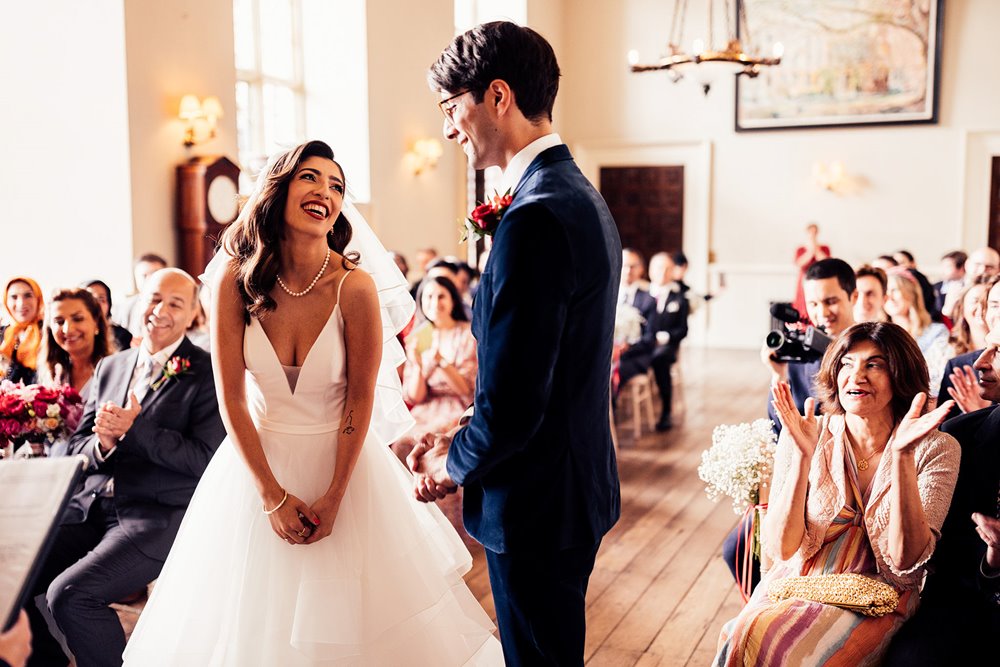 And your Persian ceremony?
It was important for us to actually get married legally on the day, but we still wanted some sort of traditional Persian ceremony.
My aunt managed to make it over from Iran, and brought with her the pieces required for a "Sofreh-ye-Aghd", which is an elaborately decorated spread on a table that features objects that symbolise health, love and good fortune.
What I was most looking forward to was the 'sugar ceremony' which involves happily married friends and family grinding sugar cones over a silk veil held aloft on top of our heads by the bridesmaids....
What we hadn't realised is that sugar then gets thrown on the heads of all the single ladies – for luck! – which was just a hilarious moment (and provided some great action photos too).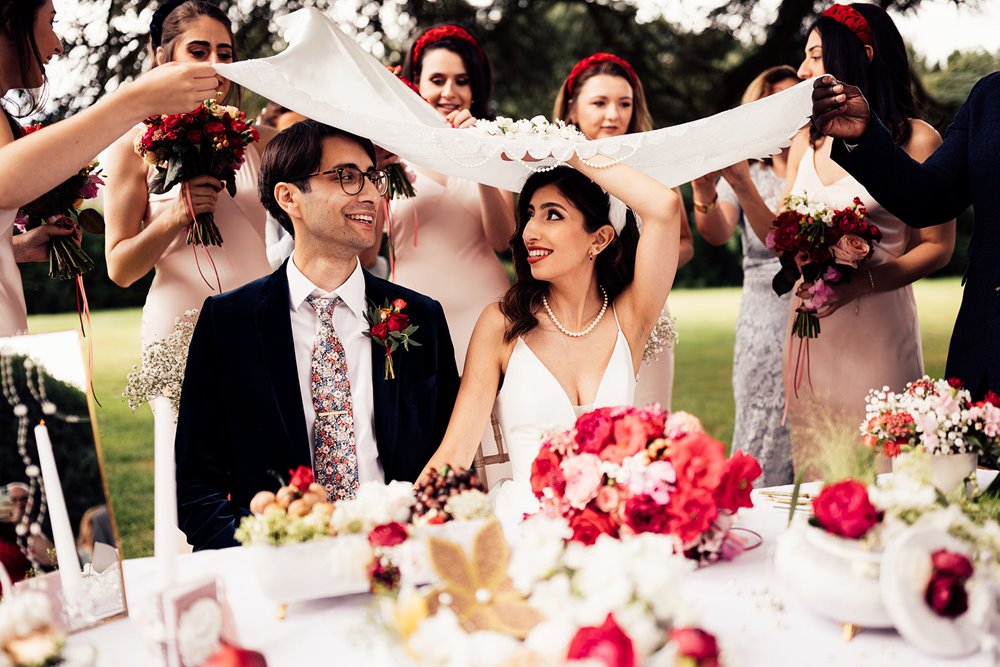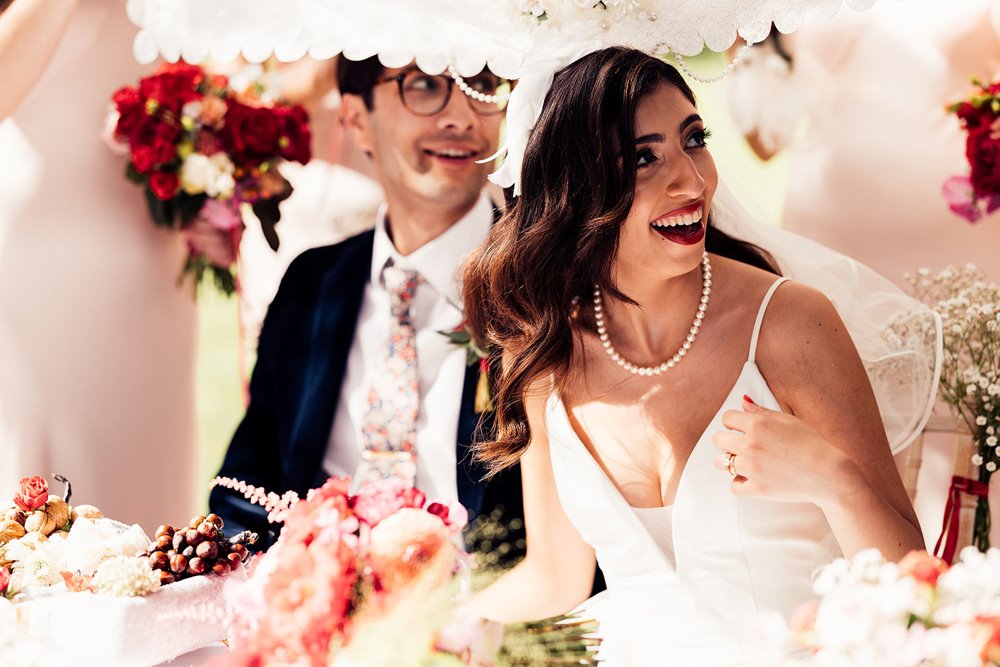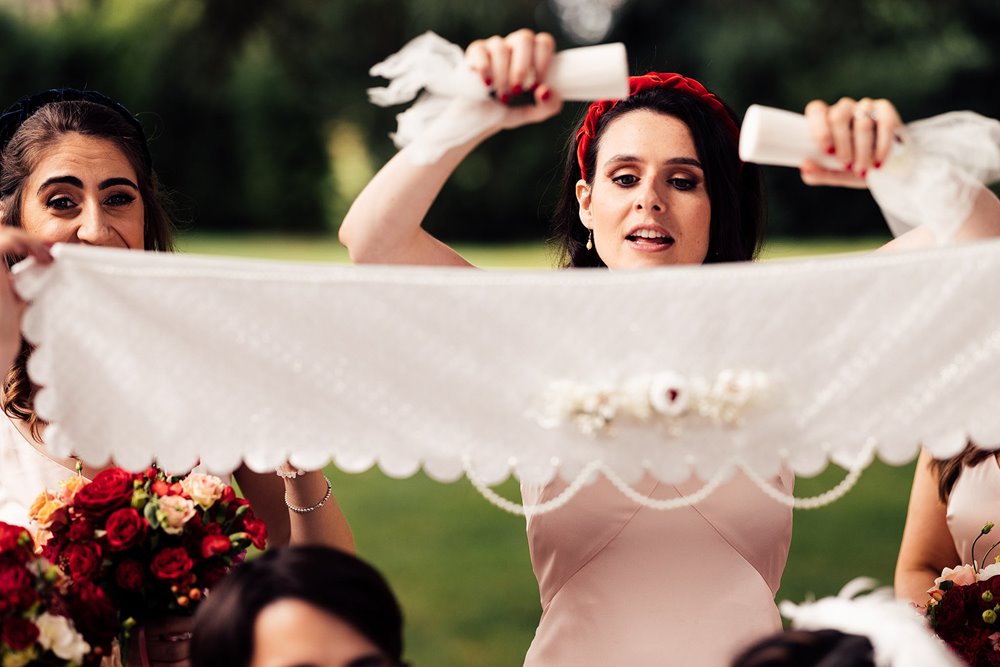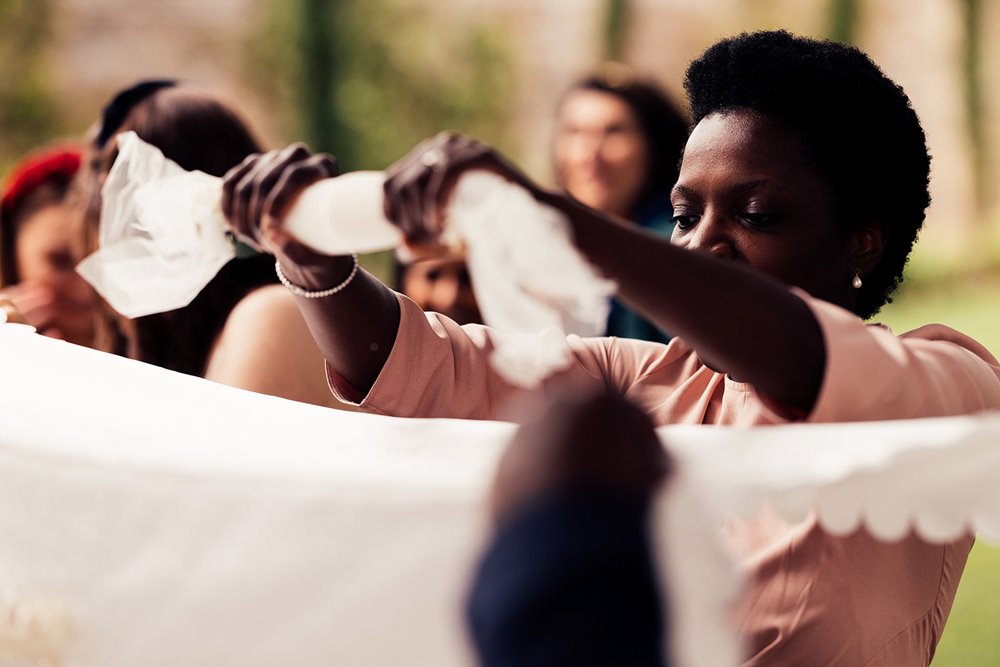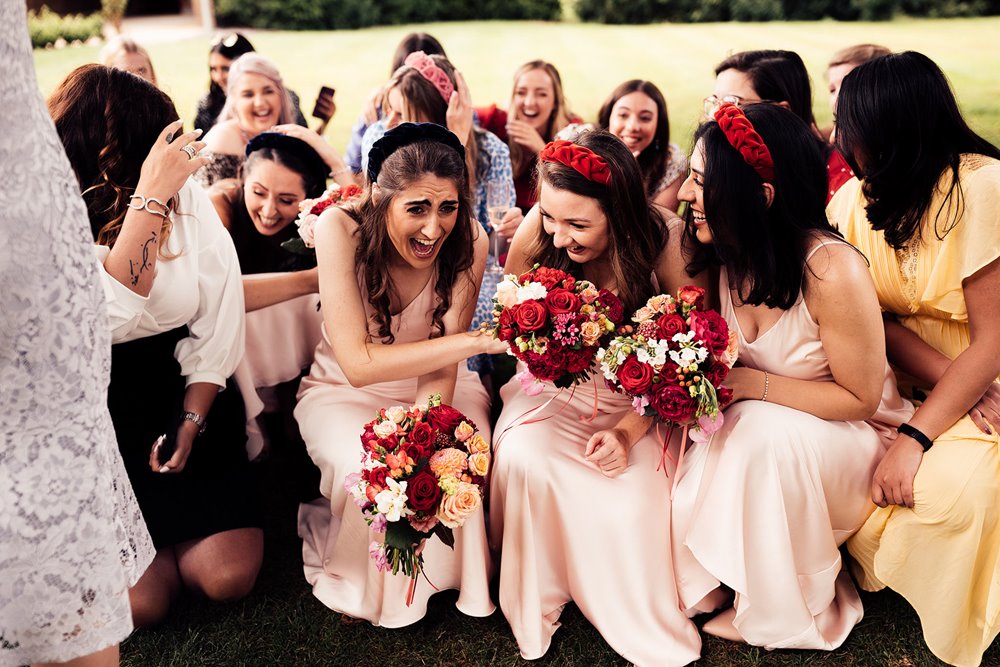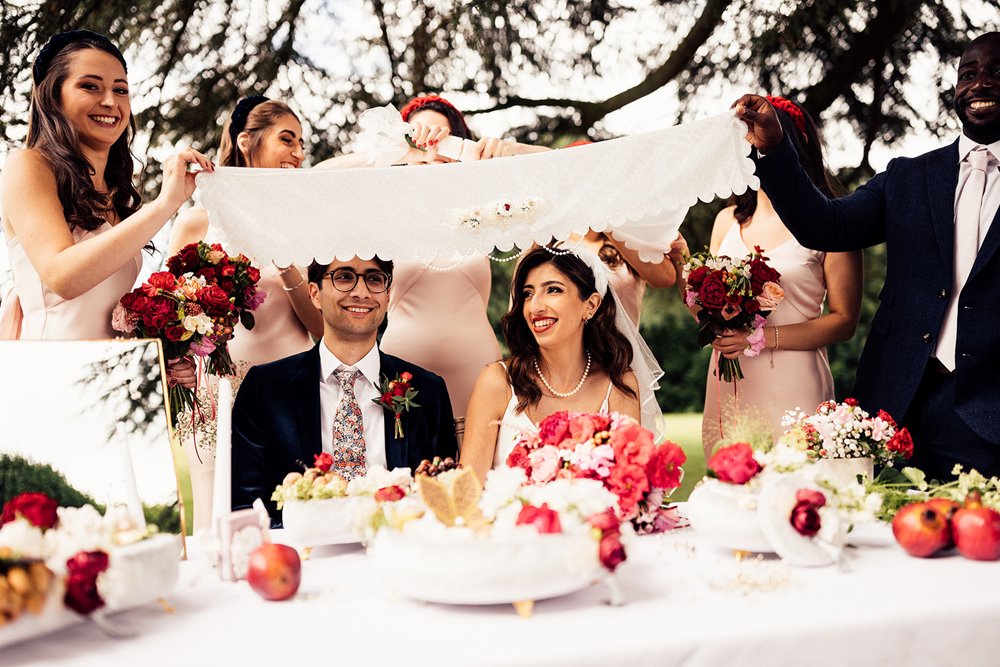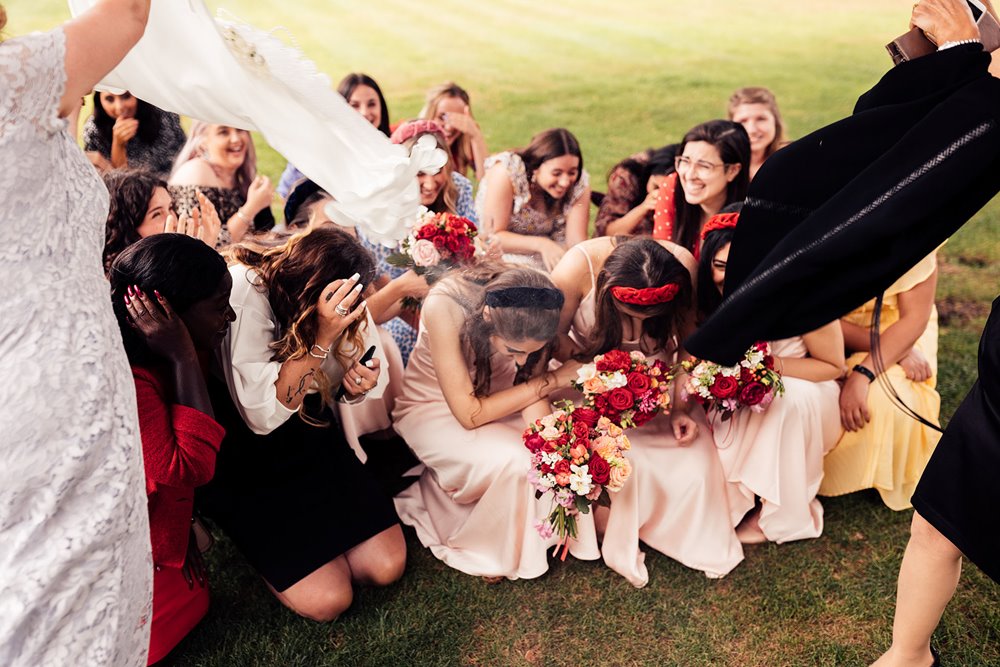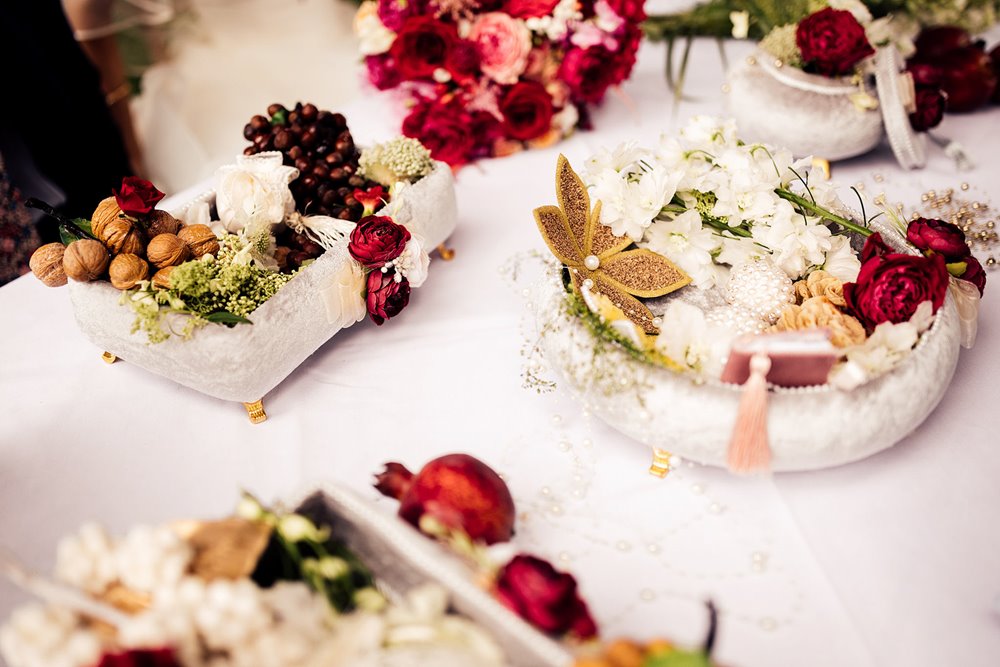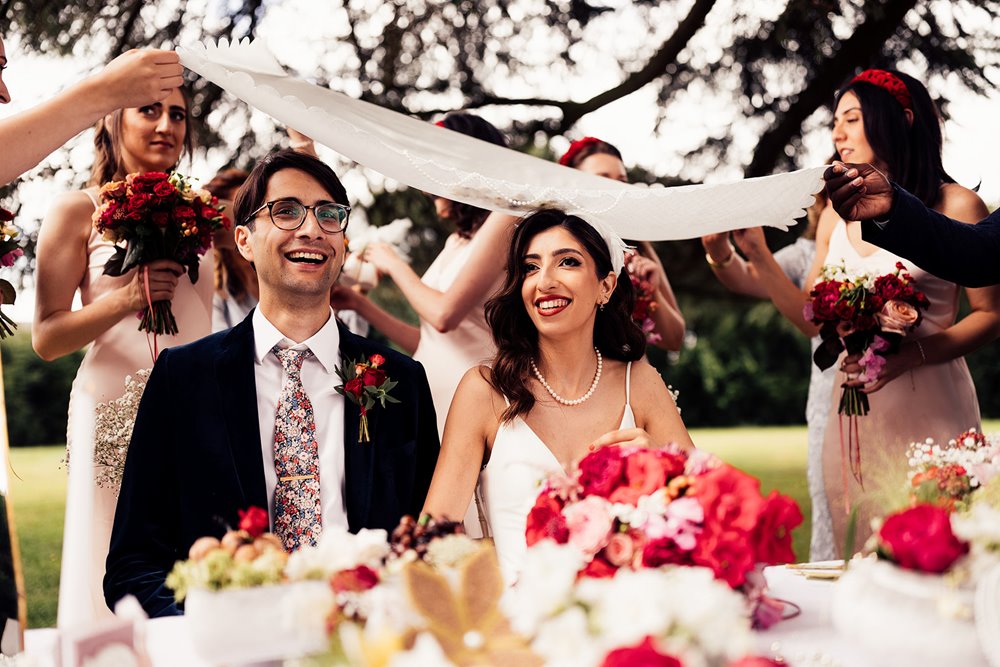 You made your own wedding stationary?
Lockdown provided the perfect opportunity to pick up a new skill and I ordered a calligraphy set, and set to work on the wedding stationary – including the names on the place settings on the day.

The invitations and menus were designed by Jasper's father, which was such a special touch. He included watercolours that he painted of our cat Ottilie, the portico at UCL where we met and peonies (my favourite flower).

We also had a chalkboard with our wedding hashtag on it that my maid of honour had made for the hen do, and we put it on the bar with the words "nunc est bibendum" ("now is the time to drink") from Horace's odes – a nod to Jasper's job as a Latin teacher.
It is now proudly displayed in our living room next to our bottles.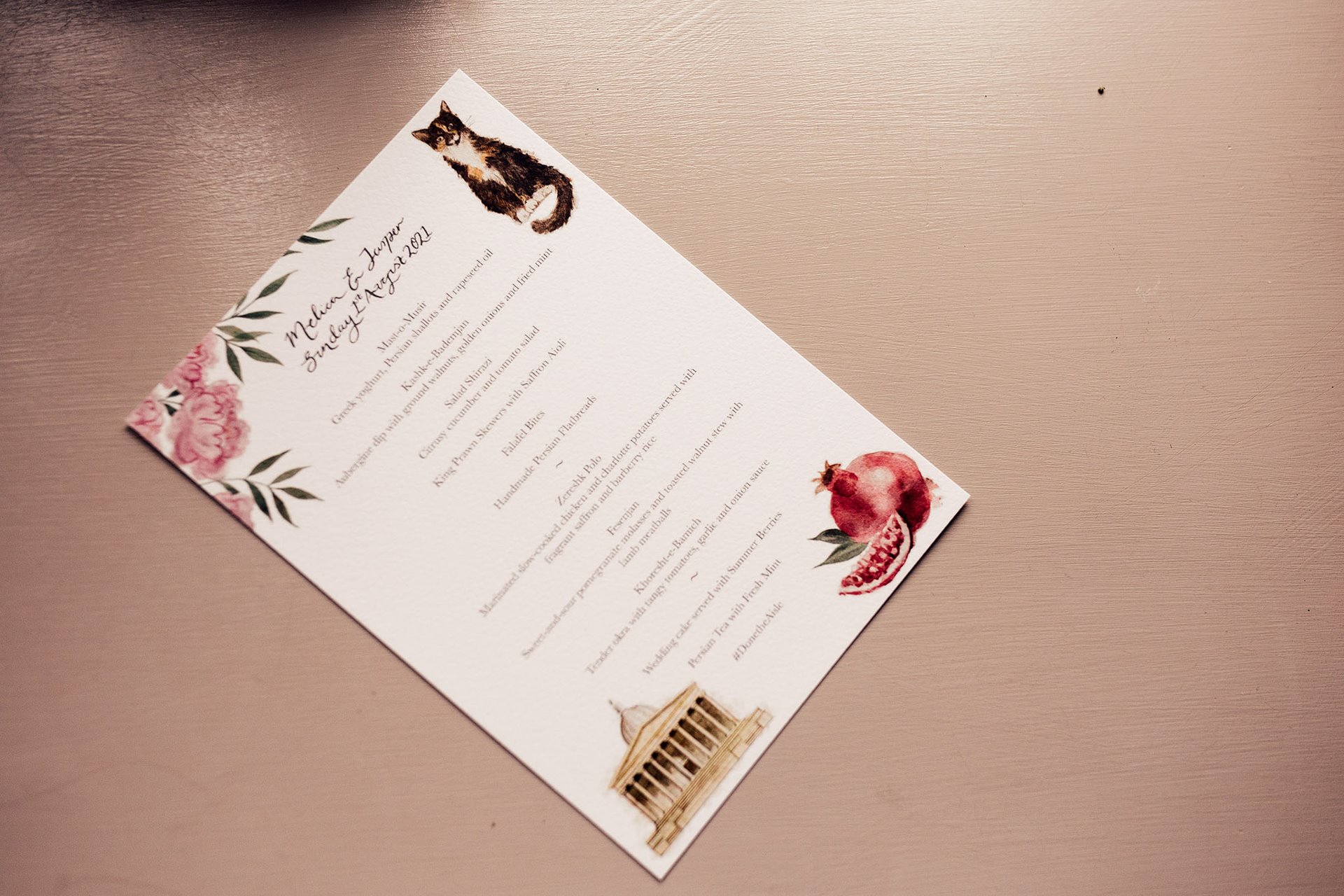 A drinks reception with Ice Cream Stand
After the confetti, everyone filtered out onto the lawn and miraculously the sun came out (despite feeling relatively safe in our August date, the forecast had predicted rain!).
We had champagne, delicious canapés (the mini yorkshire puddings were a big hit) and ice cream from the Cotswold Ice cream Company (the mint choc chip was delicious!).
My little cousins were over the moon at the unlimited scoops and toppings.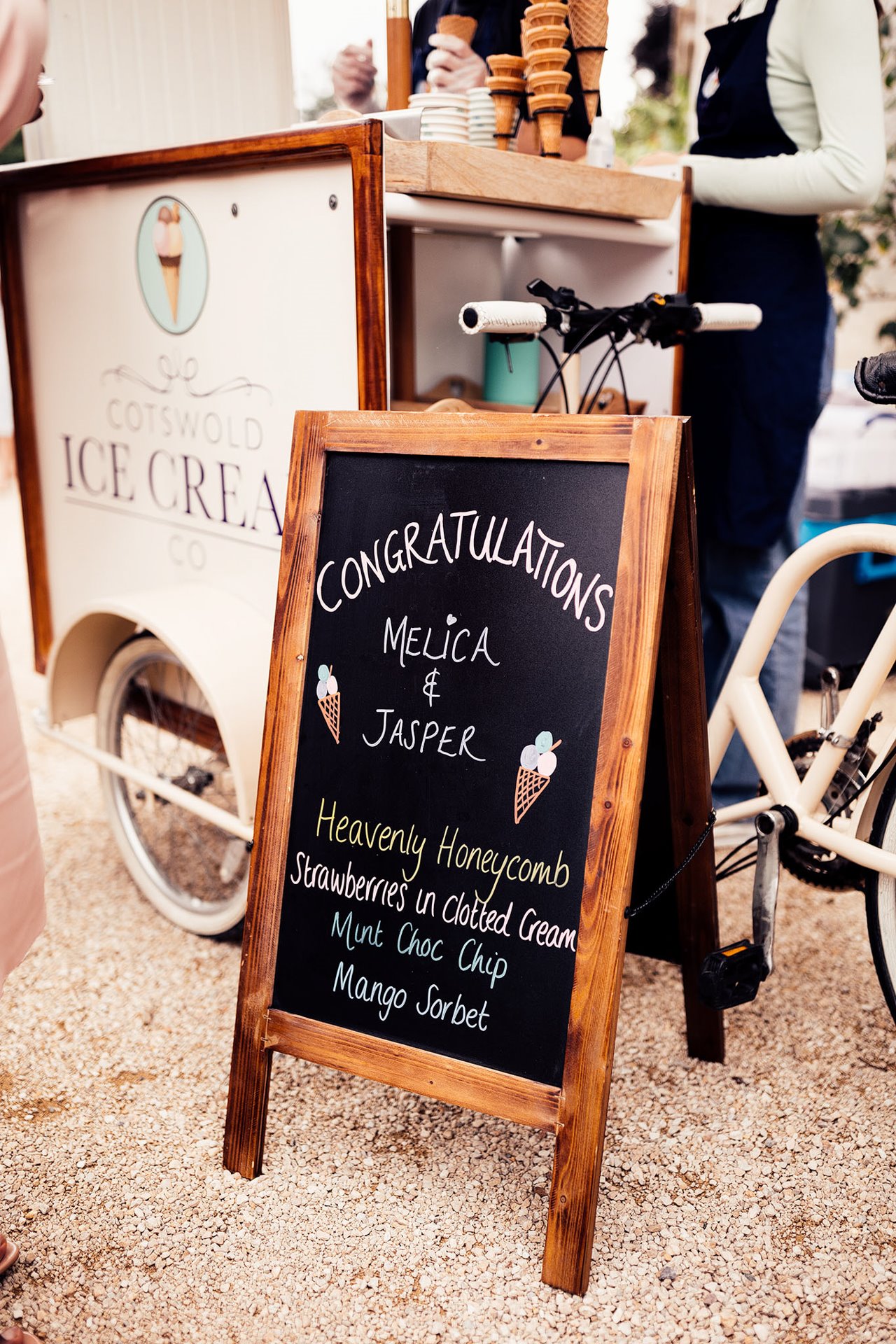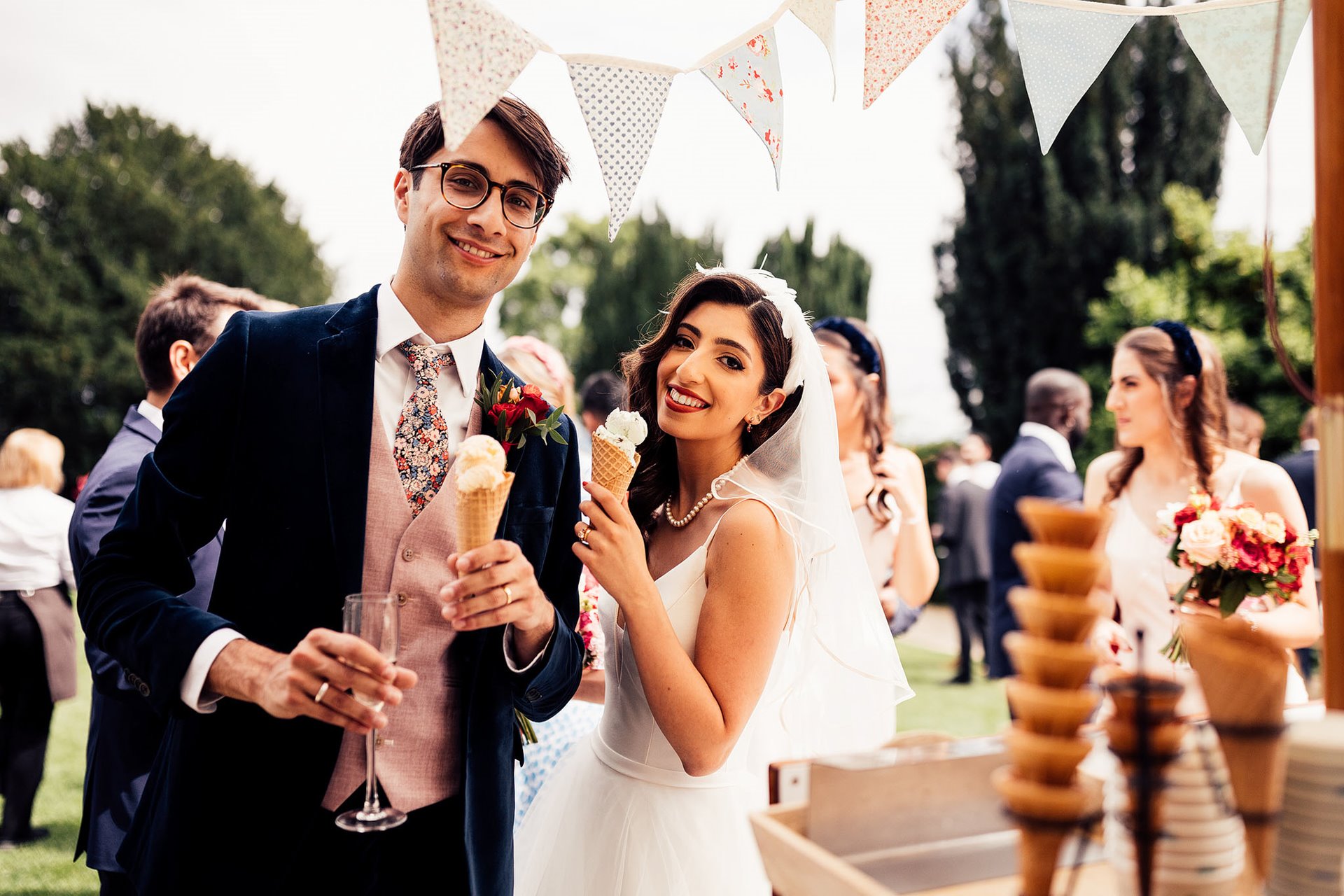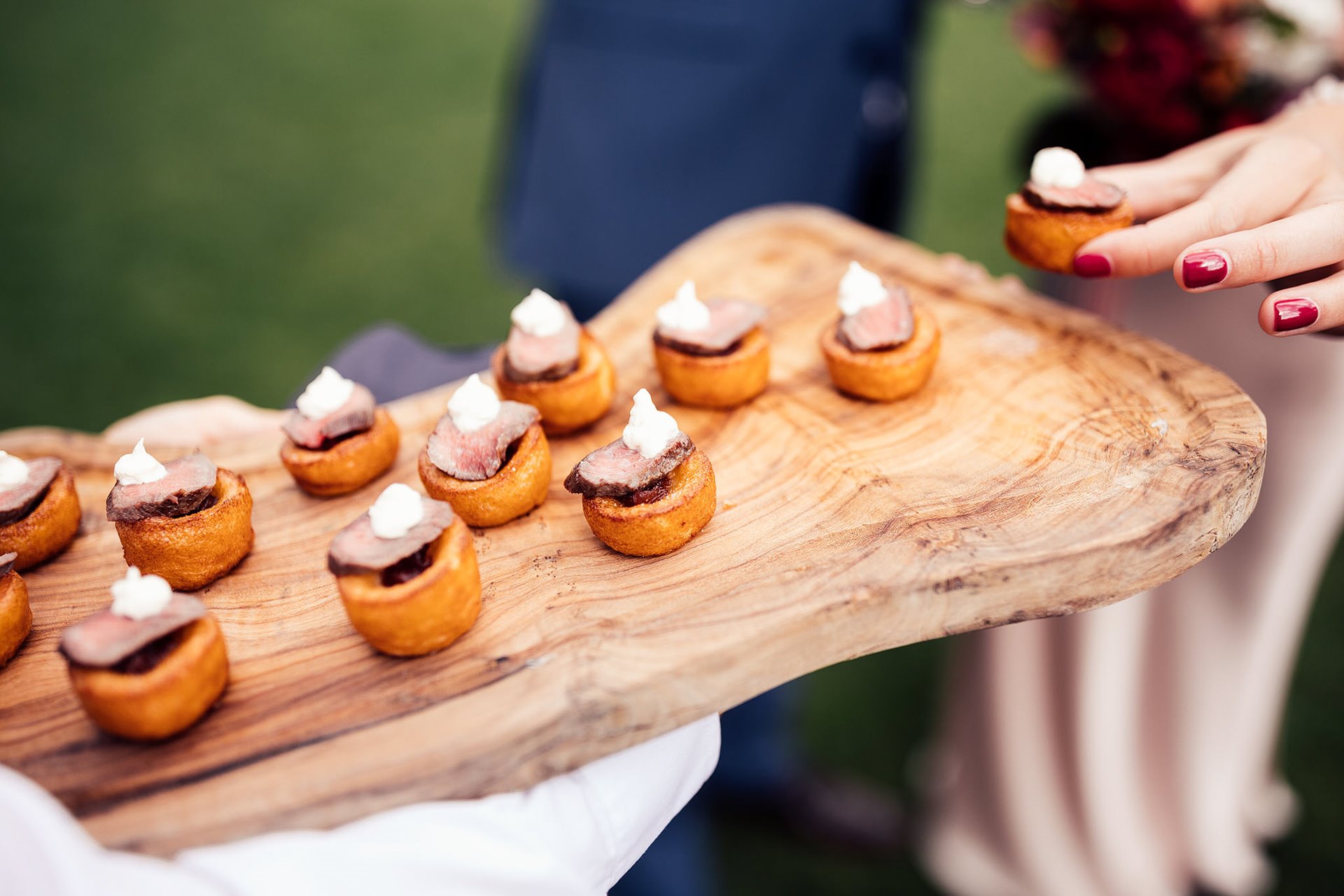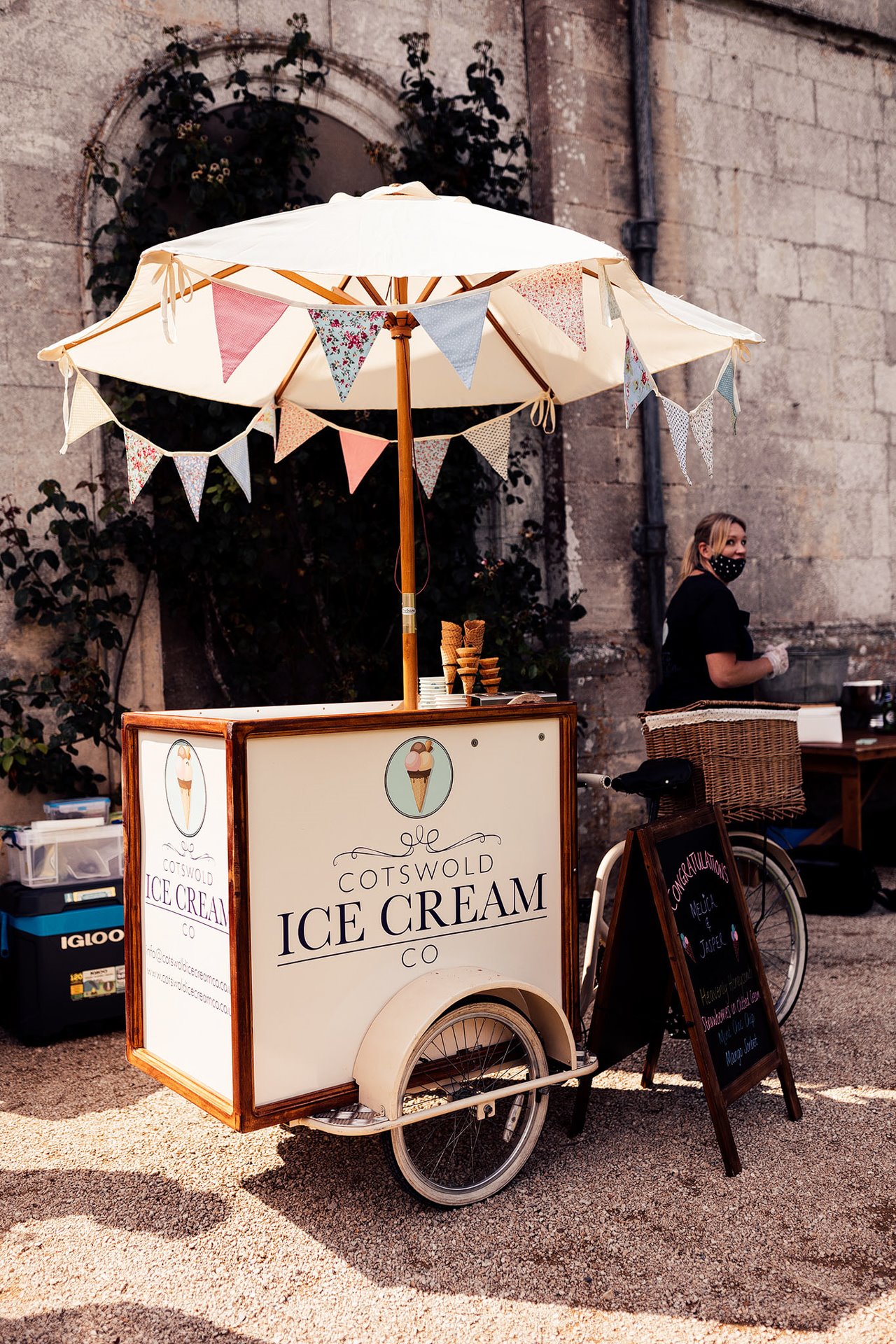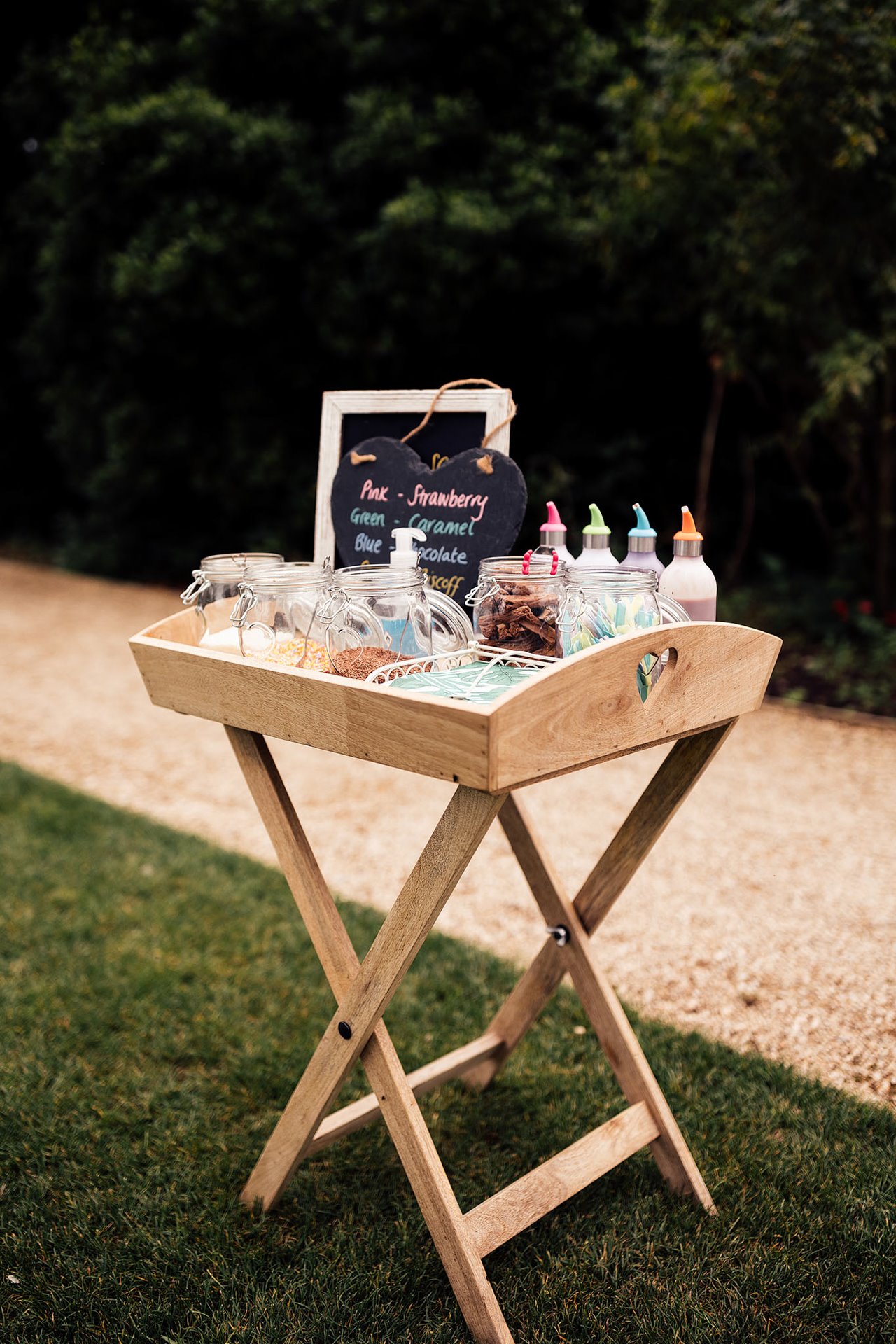 Any other special details?
We placed black and white disposable cameras at all the tables and encouraged the guests to take photos – it was such a treat coming back from our honeymoon and getting them all developed, seeing the wedding from the point of view of everyone else.

We absolutely loved the speeches and made the decision to have a bride and maid of honour speech too, to add a modern twist to the tradition.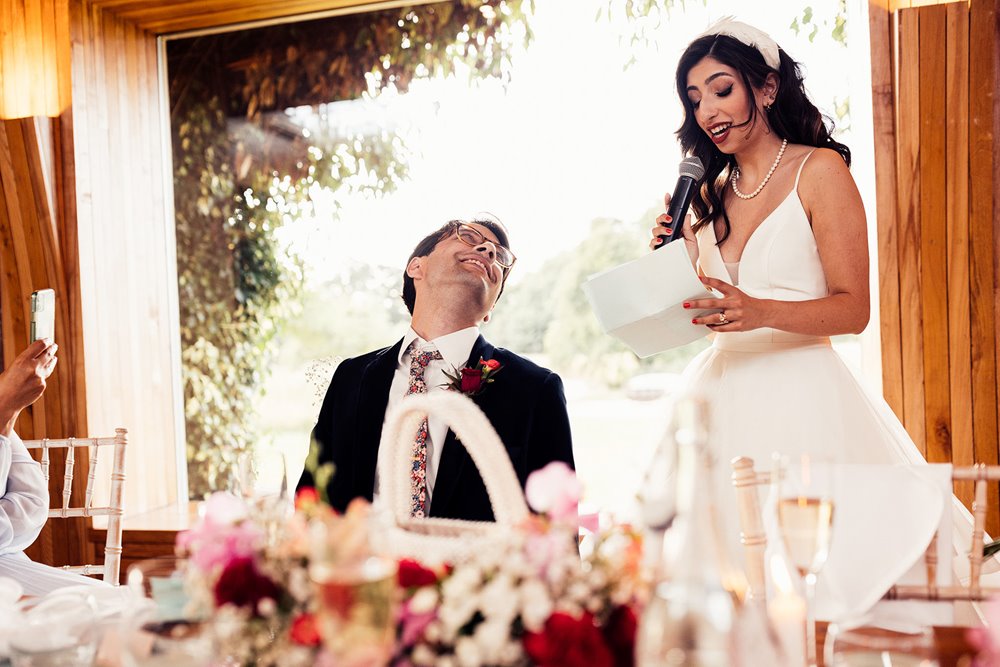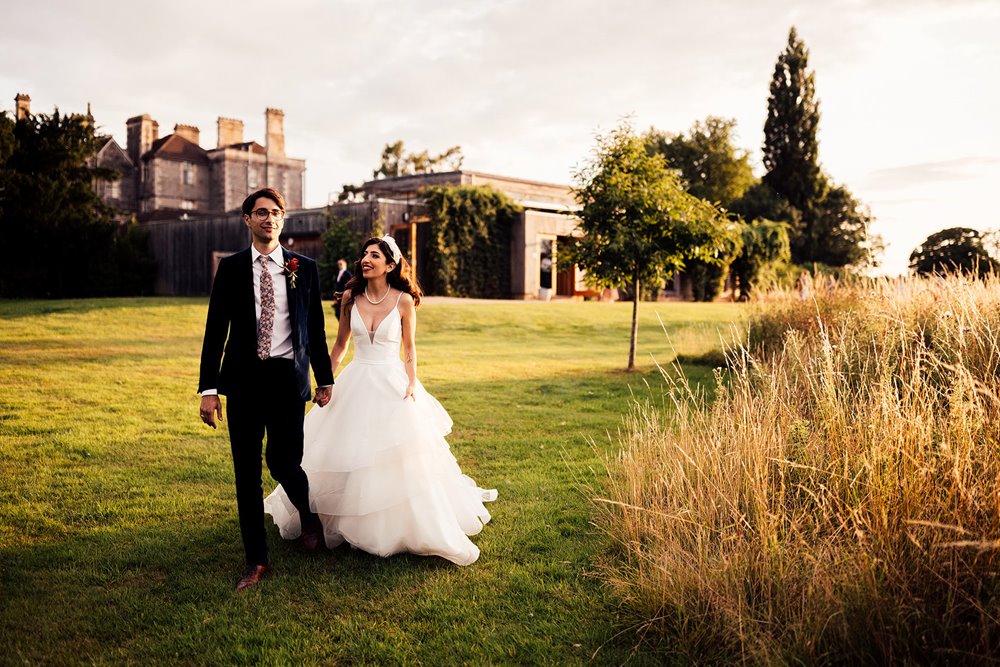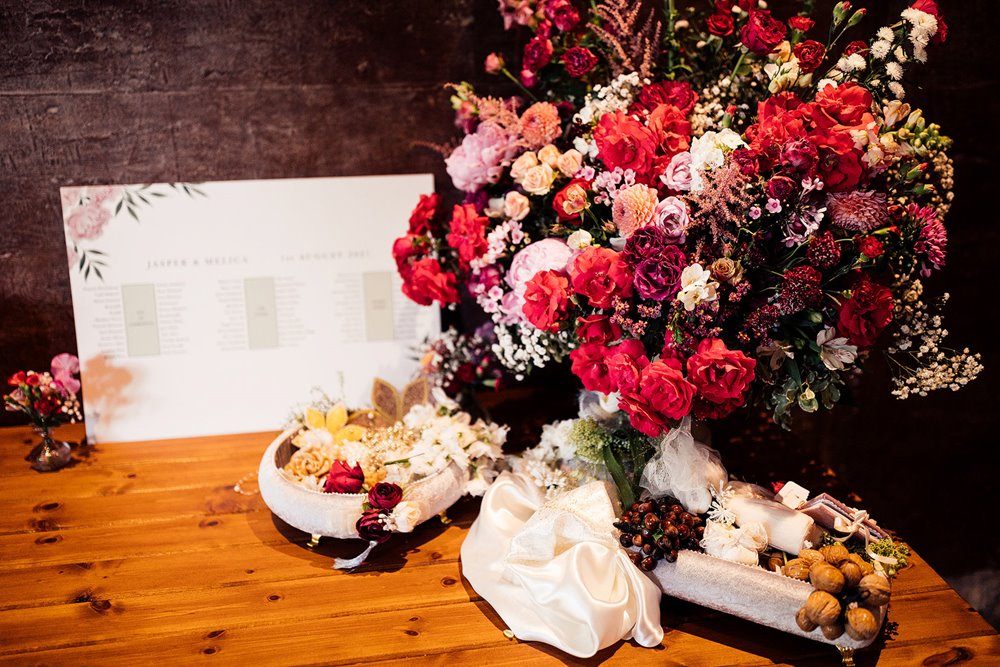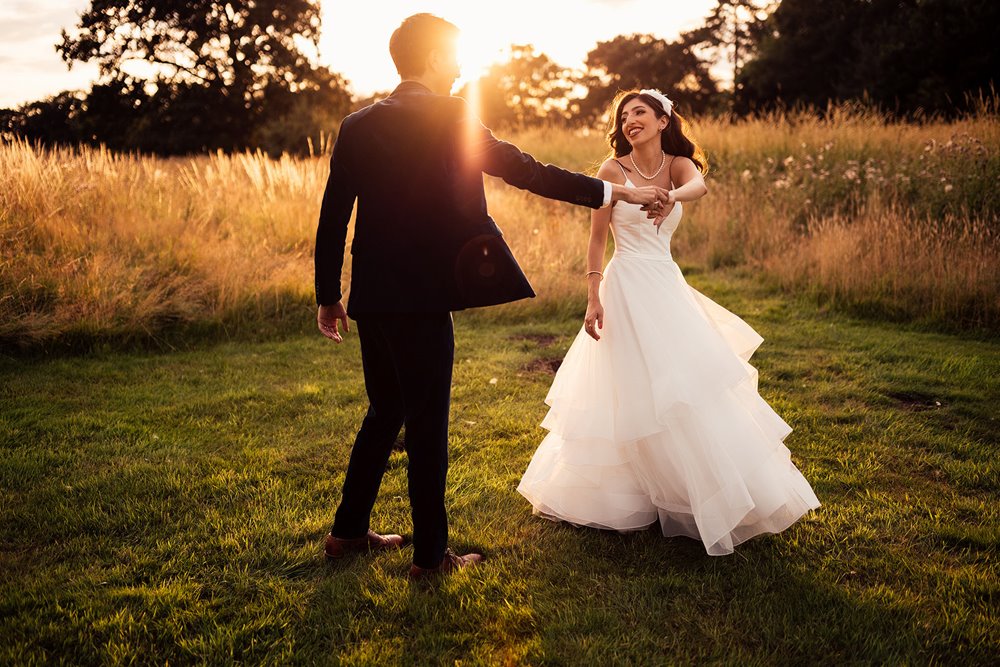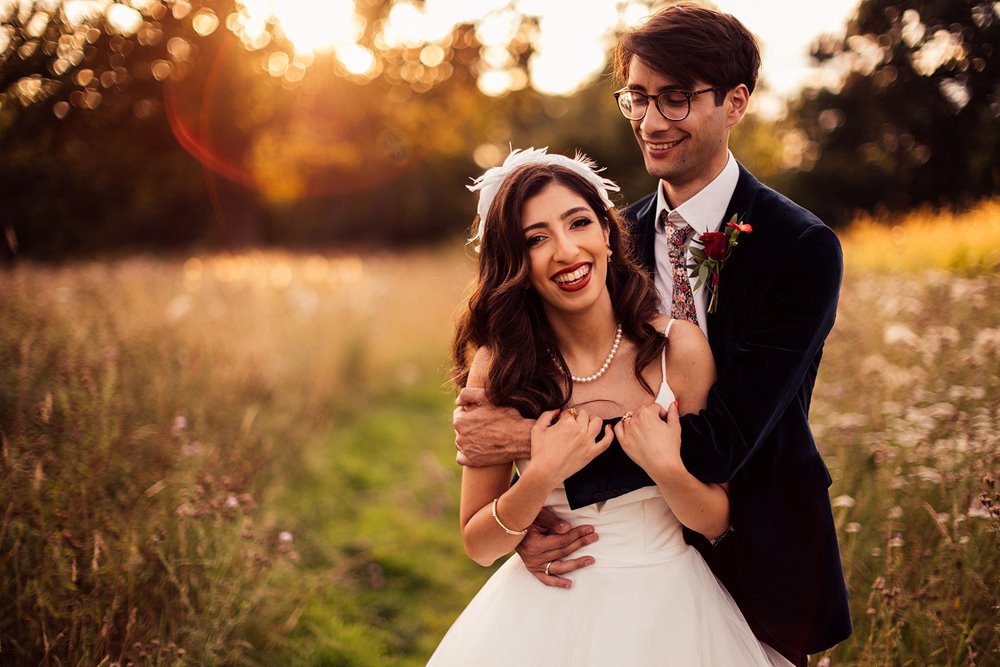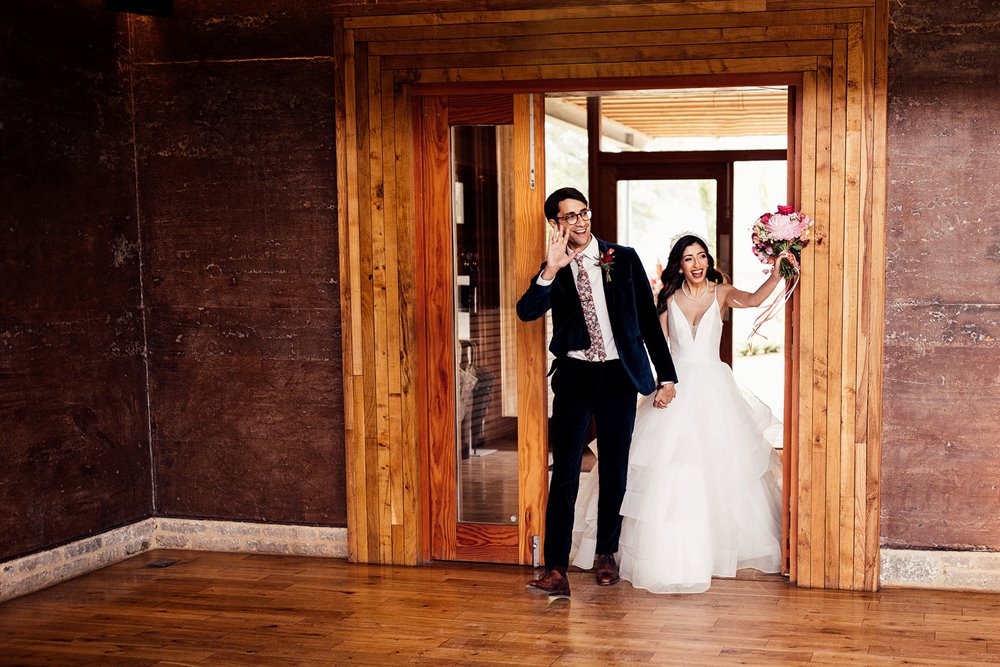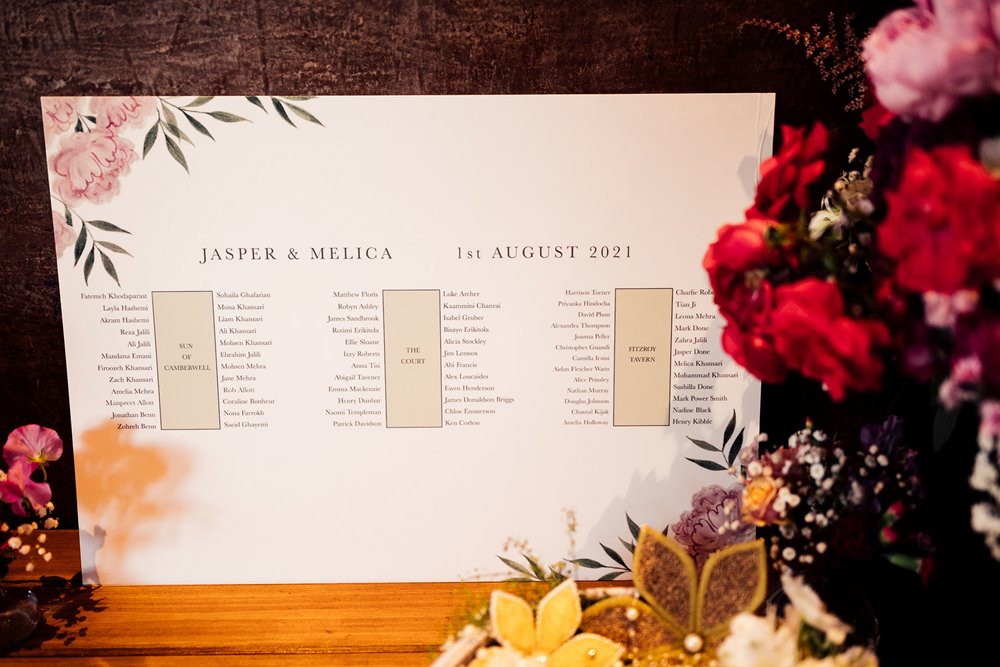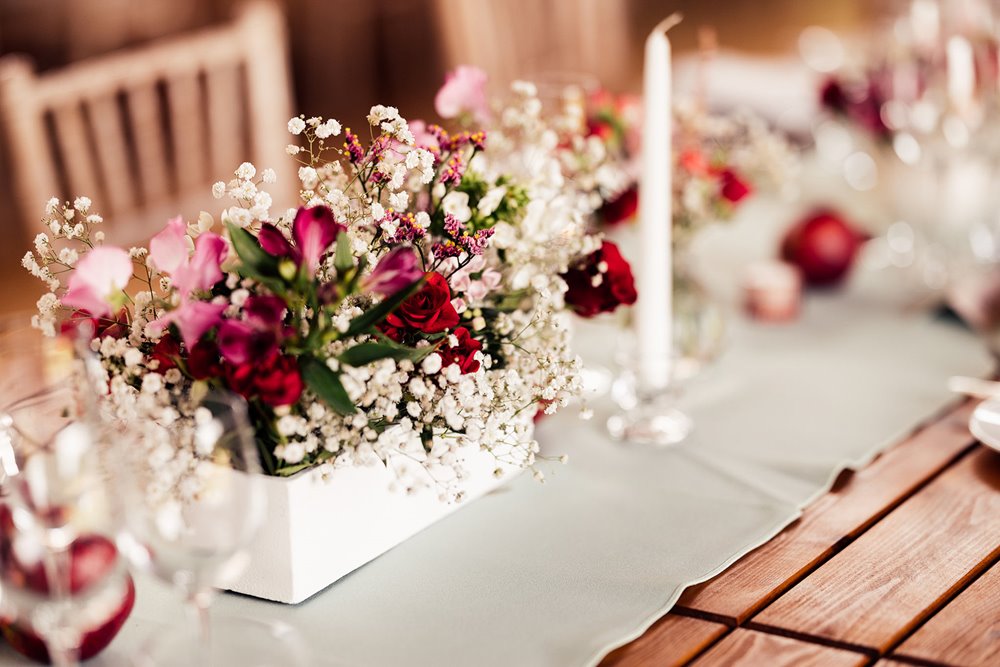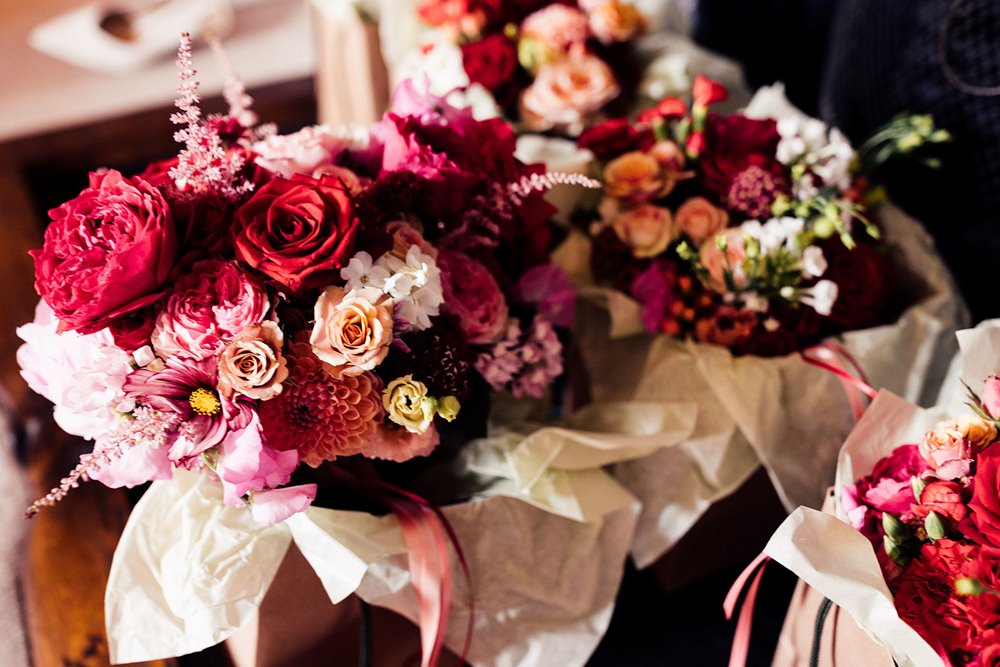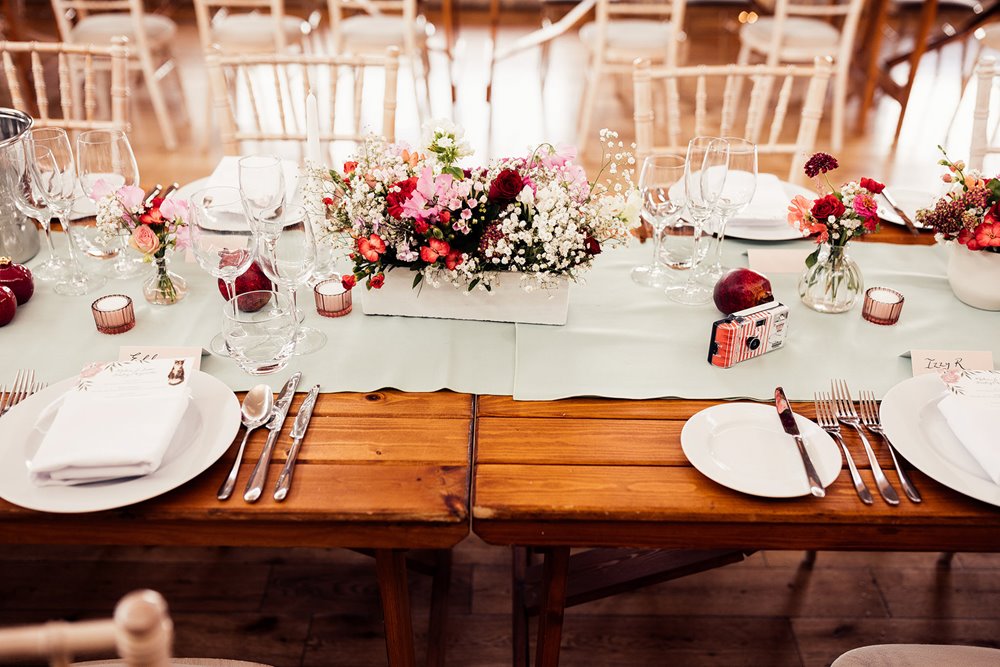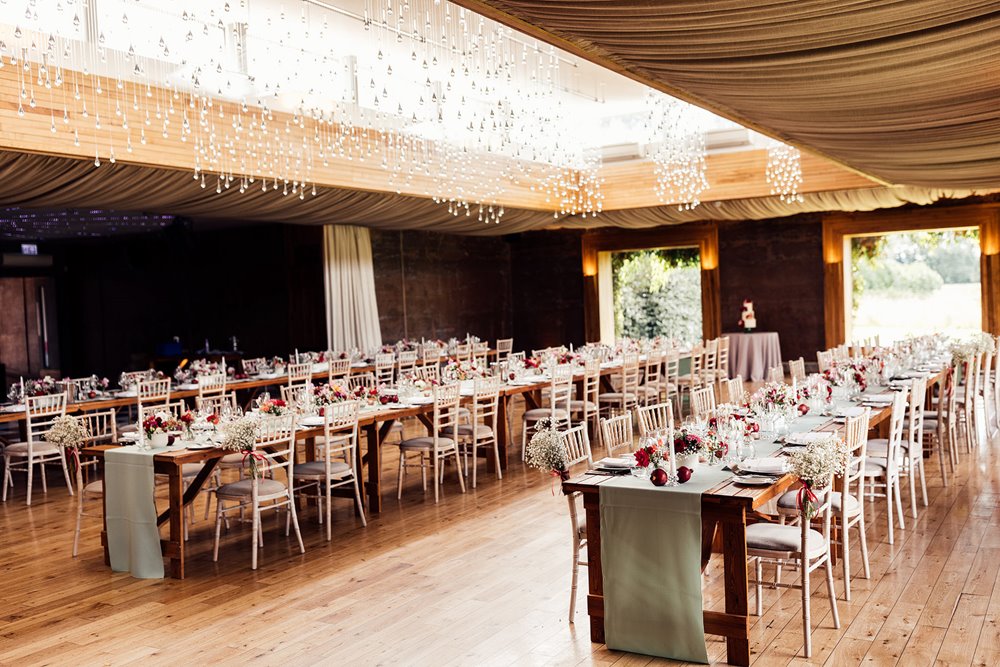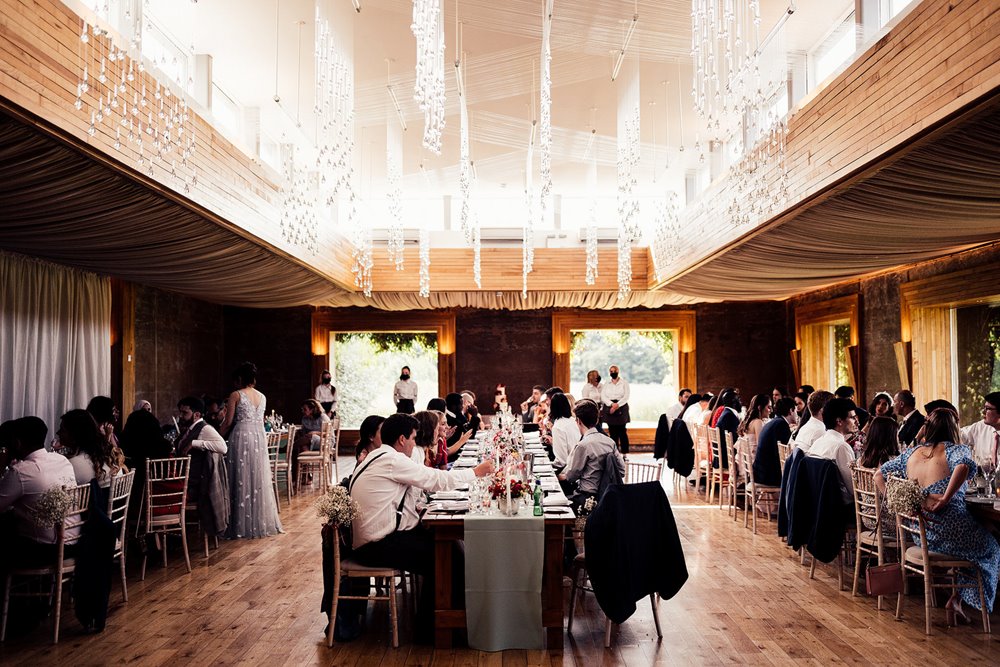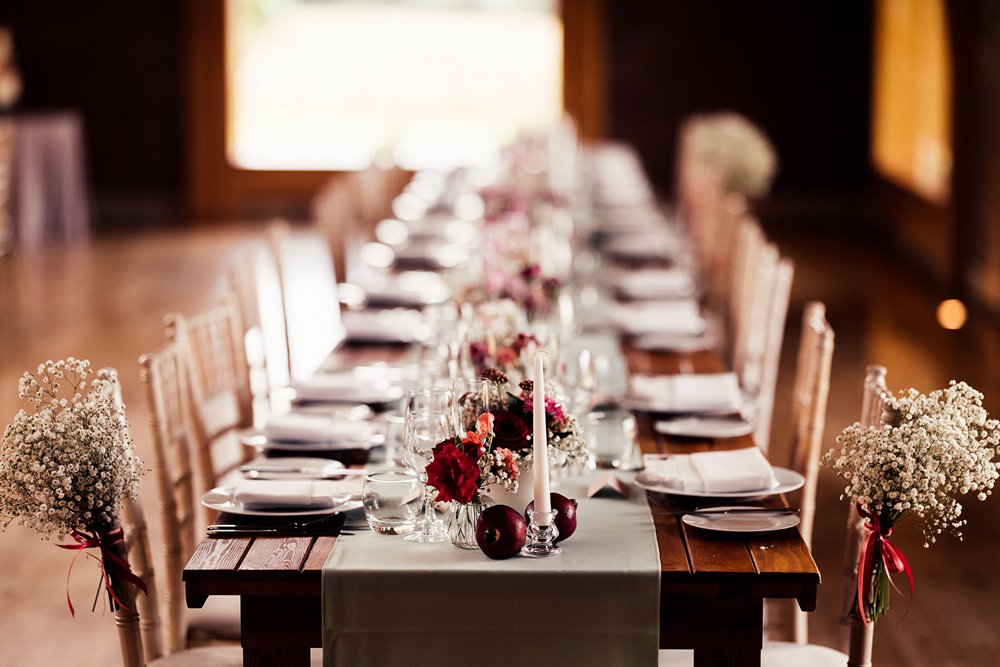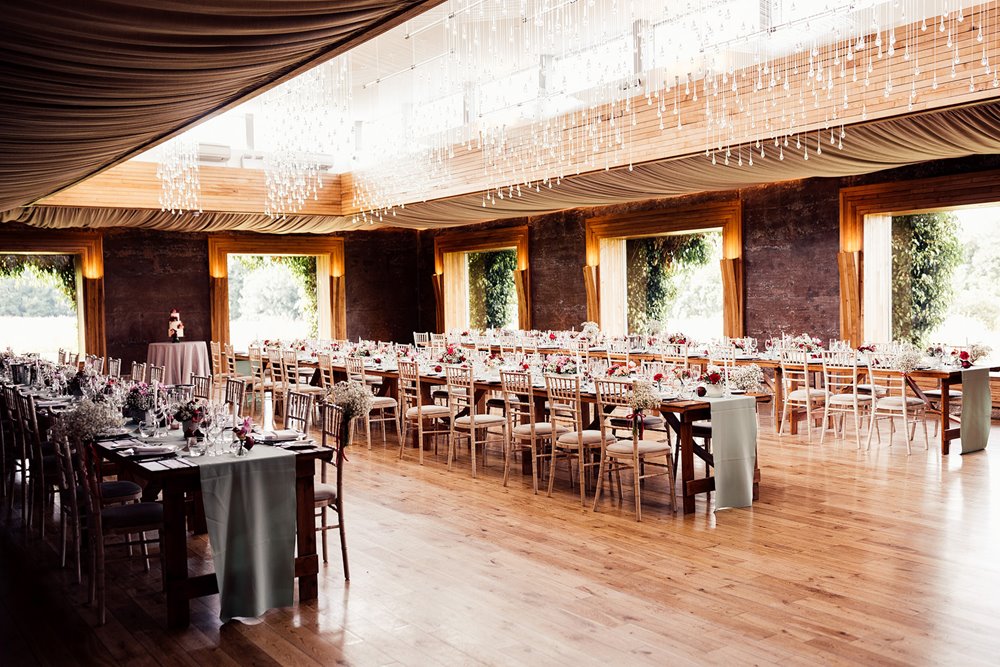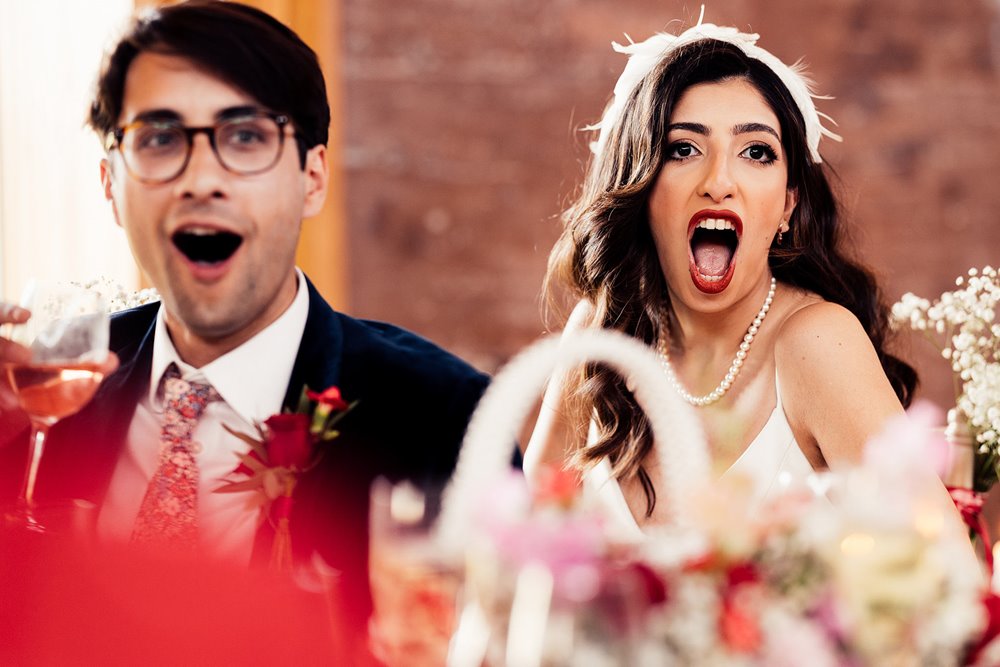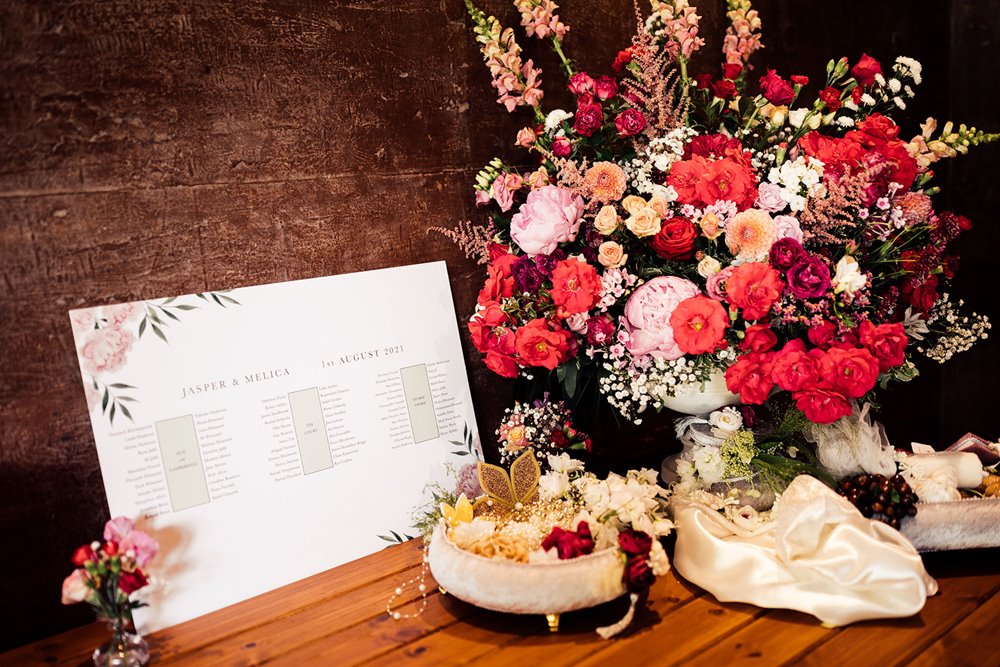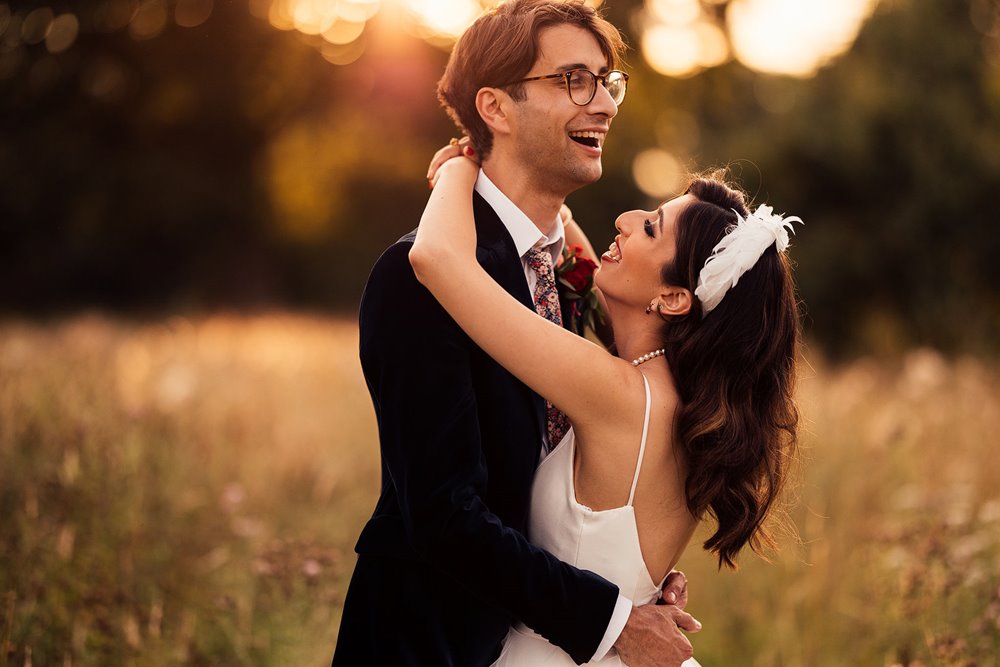 Tell us about that delicious Iranian wedding food!
We couldn't believe Elmore's chefs were able to whip up our favourites with a bespoke Iranian fusion wedding menu that we put together – and which won my mum's seal of approval!
Iranian food is my absolute favourite – having grown up eating it every day – and is now firmly among Jasper's top cuisines too.
We couldn't believe Elmore's chefs were able to whip up our favourites with a bespoke Iranian fusion menu that we put together – and which won my mum's seal of approval!
The tangy okra and tomato stew was absolutely delicious and we still think about it all the time…

The best part of wedding planning was no doubt the wine tasting. Because we weren't able to do a tasting due to Covid, Waitrose sent us a crate of hand-selected wines, crémant and champagne – which we spent the following few weeks reviewing.
For our toast, we drank Chapel Down's English sparkling, which was what we celebrated with the day we got engaged.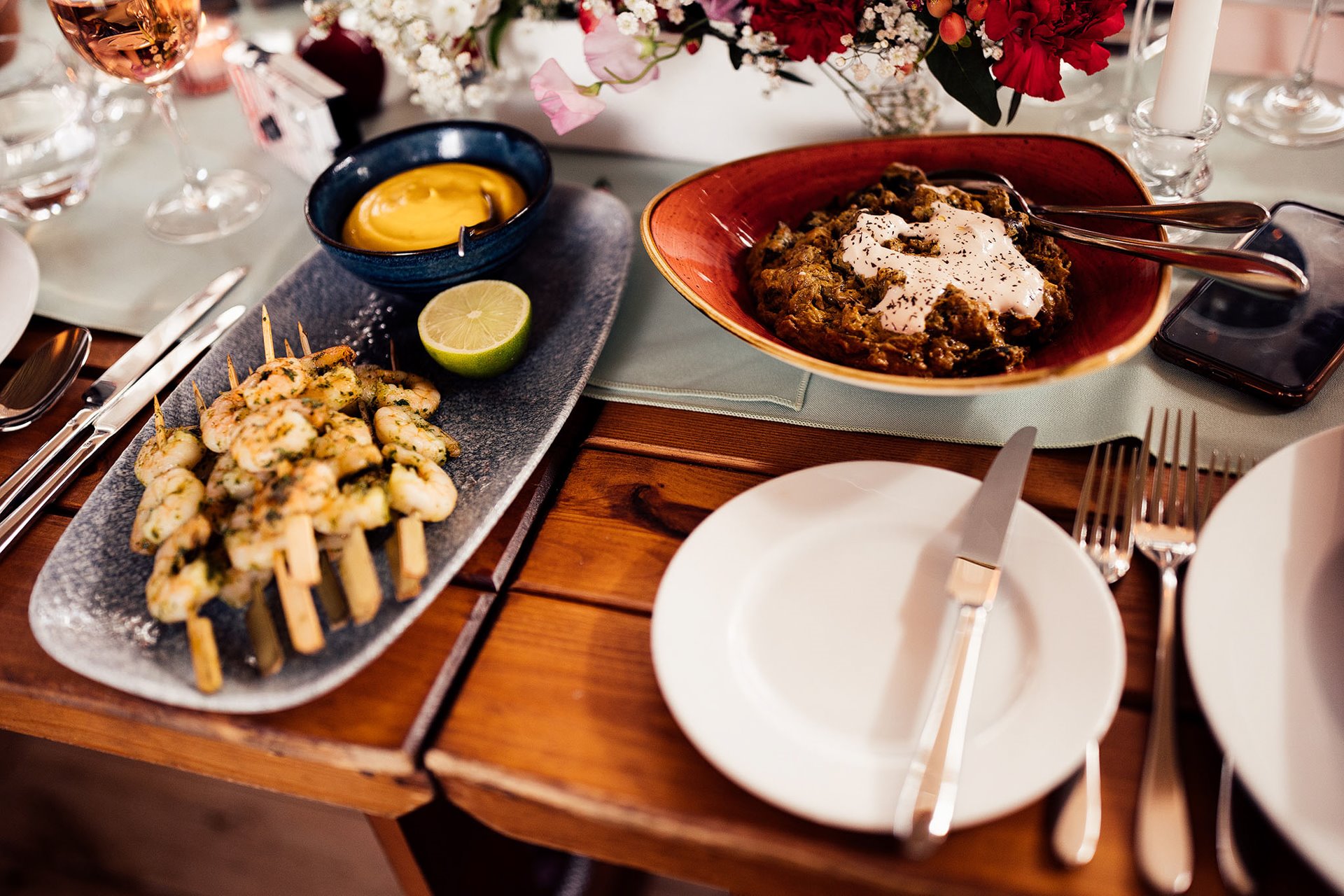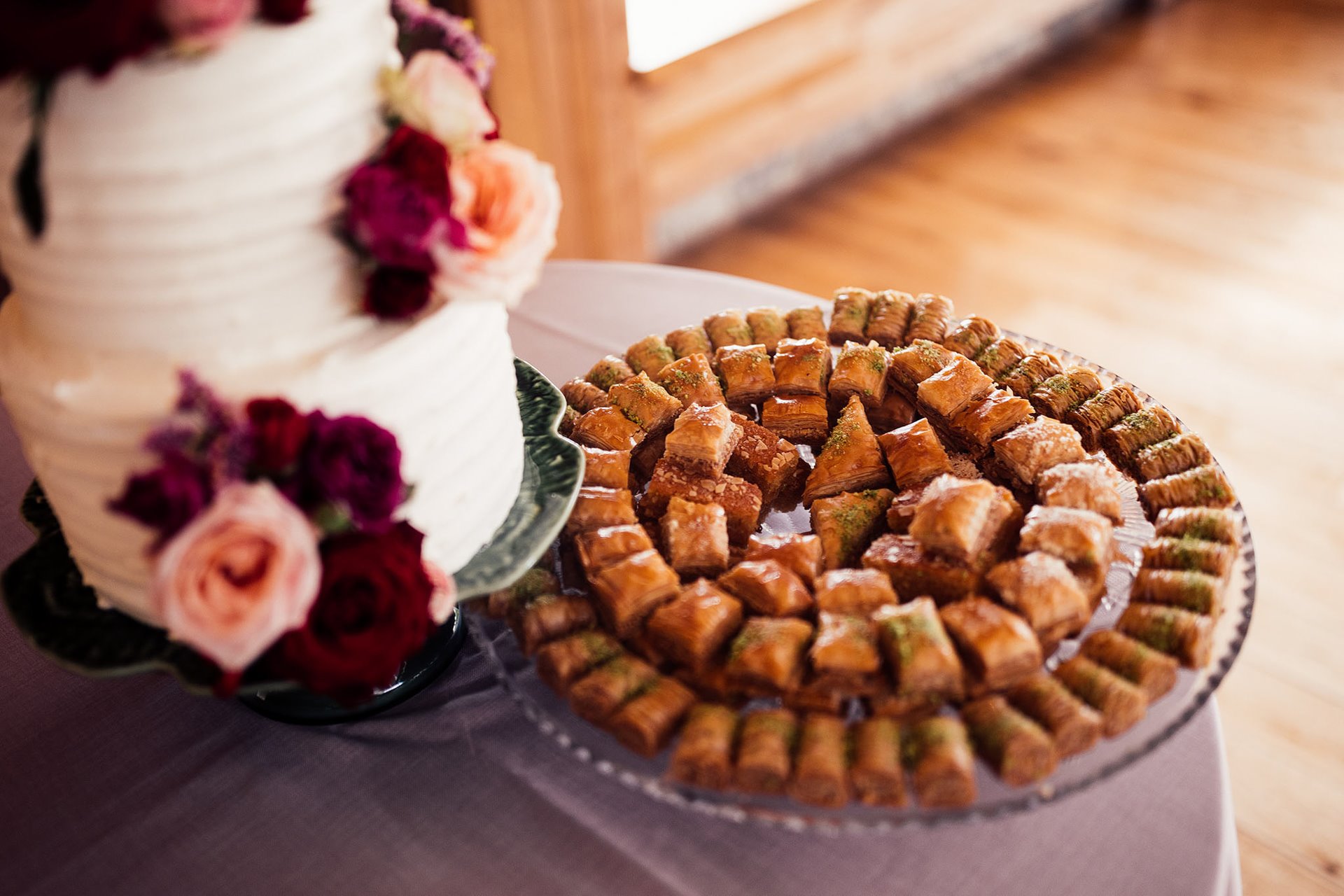 Who made that beautiful wedding cake?!
Our cake was a delicious three-tiered number by Claire at Cake Daydreams – and we had so many people telling us that it was the best wedding cake they'd tasted, and they wish they'd had an extra slice!
The flavours were white chocolate and raspberry, lemon and blueberry and banoffee.

I'm obsessed with lettuce ware ceramics and have a growing collection, so bought a Bordallo Pinheiro cake stand for the day.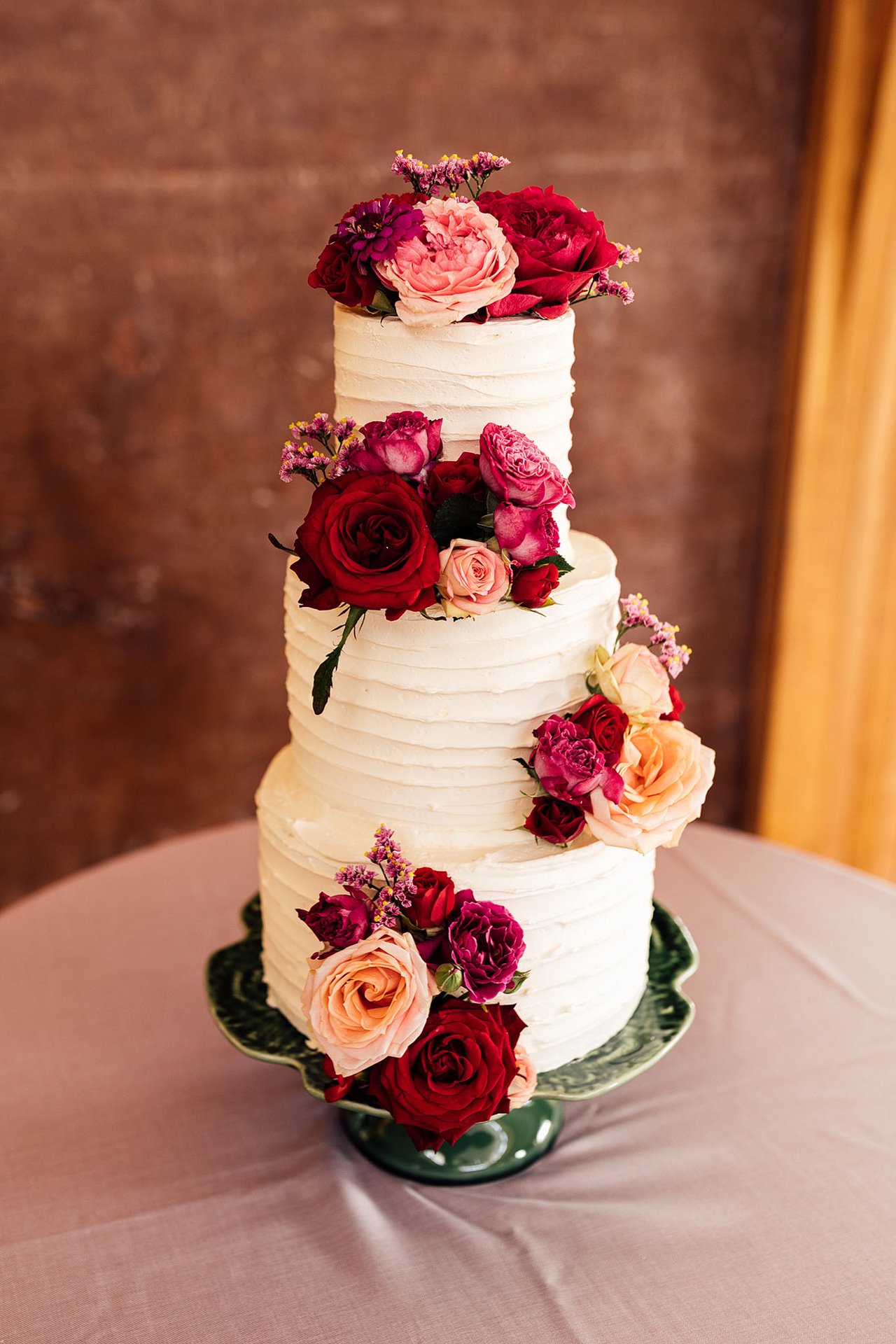 Did you have a first dance?
Our first dance was to L.O.V.E by Nat King Cole (inspired by a childhood obsessed with the Parent Trap).
We had a few dance classes (though you wouldn't have been able to tell) at the Grafton Dance Centre, which was a short walk away from us and though we weren't naturals it was a fun date opportunity in between the rest of the wedding planning.
Jasper was very pleased that I'm the one who messed up one of the moves not him!
The DJ went straight from the first dance into Dancing Queen, as there had been an ABBA dance class at my hen do, and it was just such an epic moment as everyone piled onto the dance floor.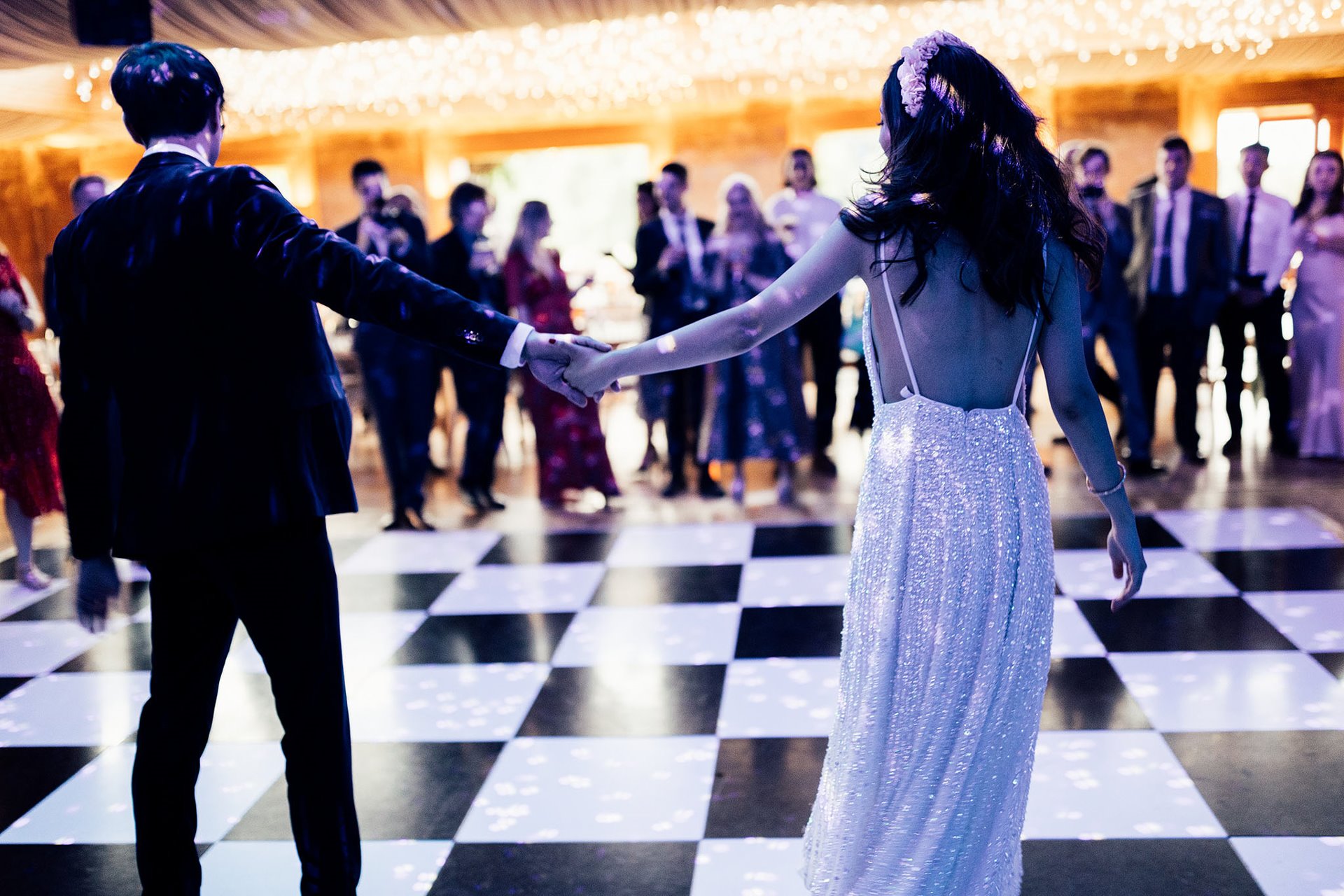 That looked like a really fun wedding party
After the cake, we had around half an hour of Iranian music – with all of my Iranian family and friends teaching everyone else the dance moves – followed by hours of dancing (which after a year of no dance floors, felt amazing!).

DJ Luke Nukem was absolutely brilliant – there were several moments that I was desperate to go for a wee but as soon as I tried to leave the dance floor a song would tempt me back.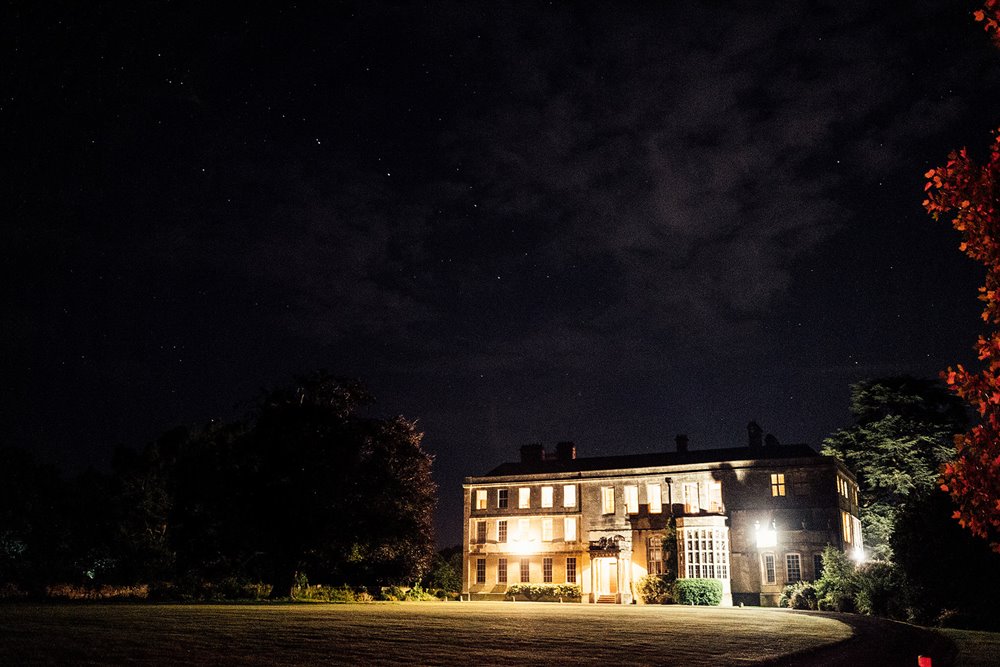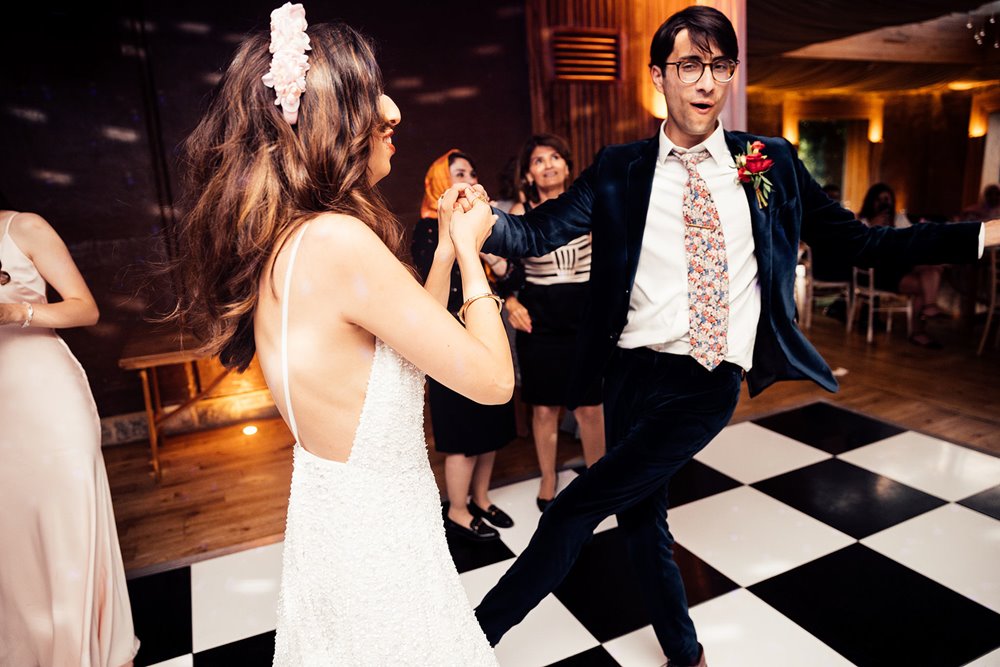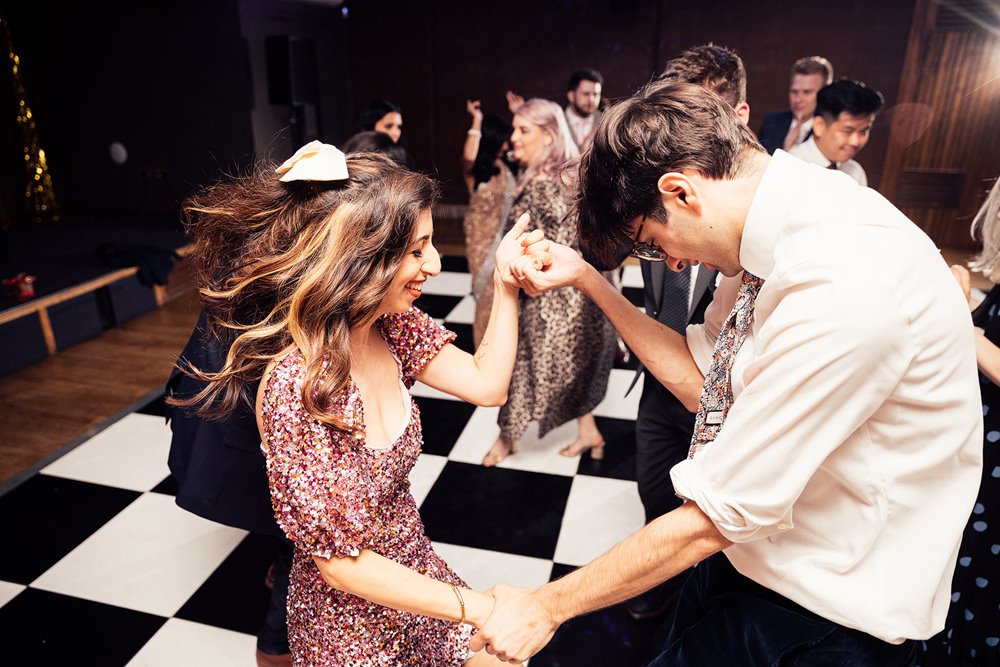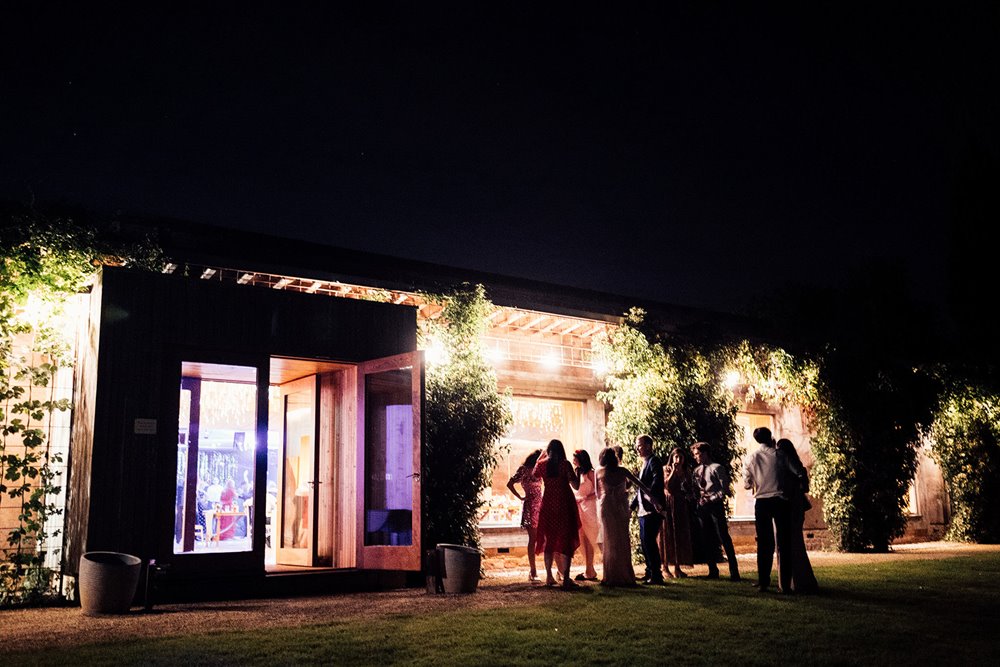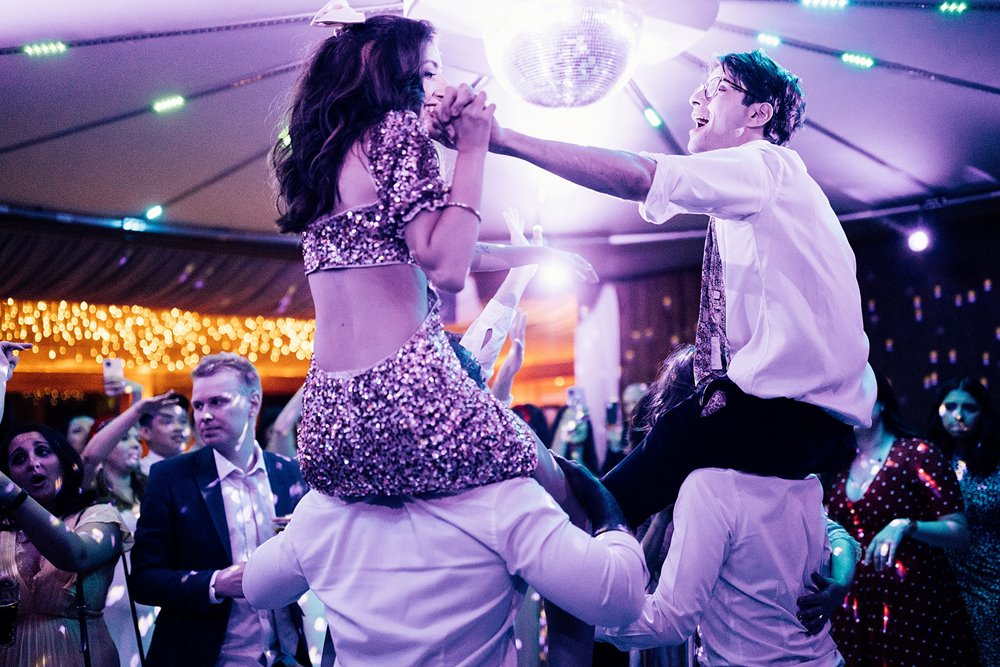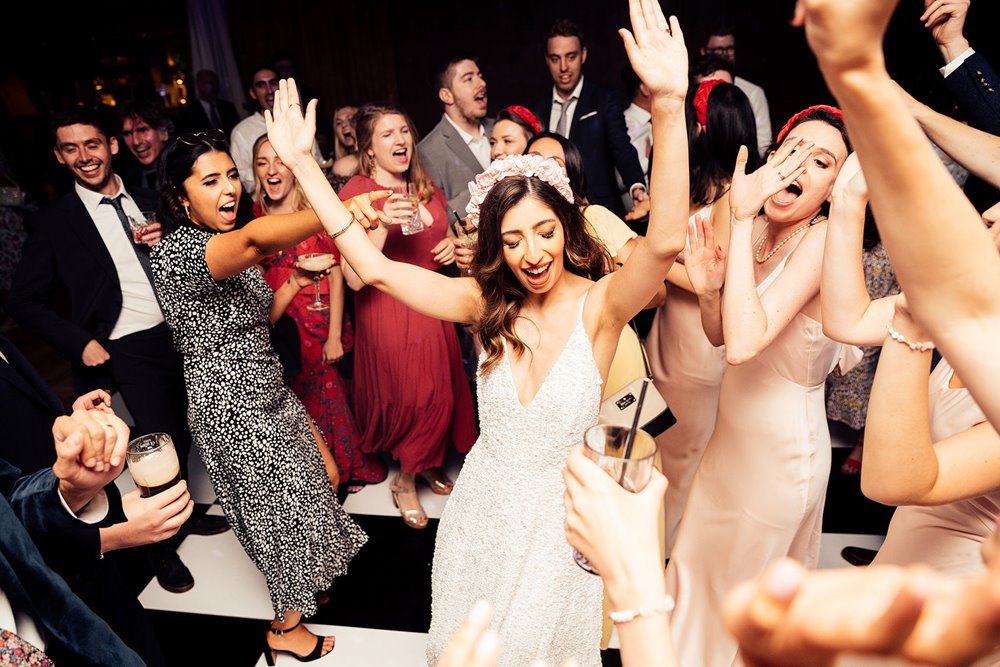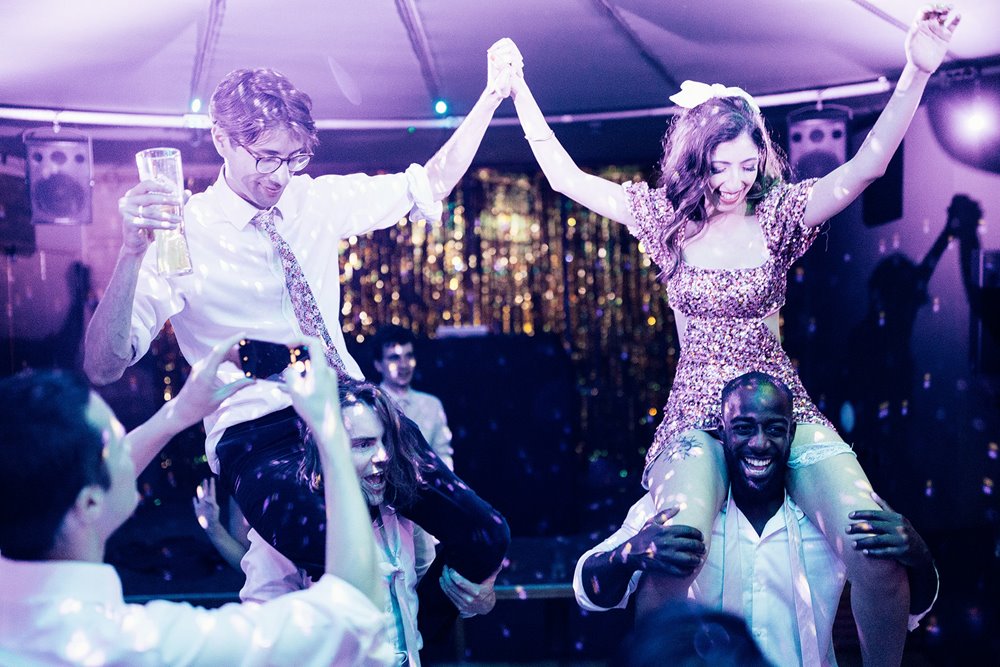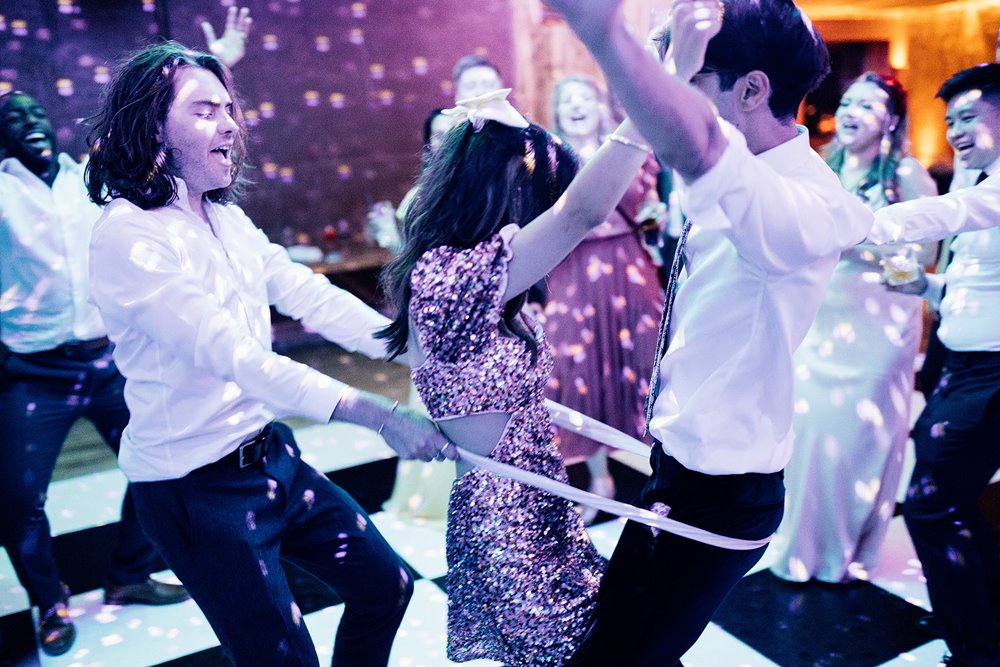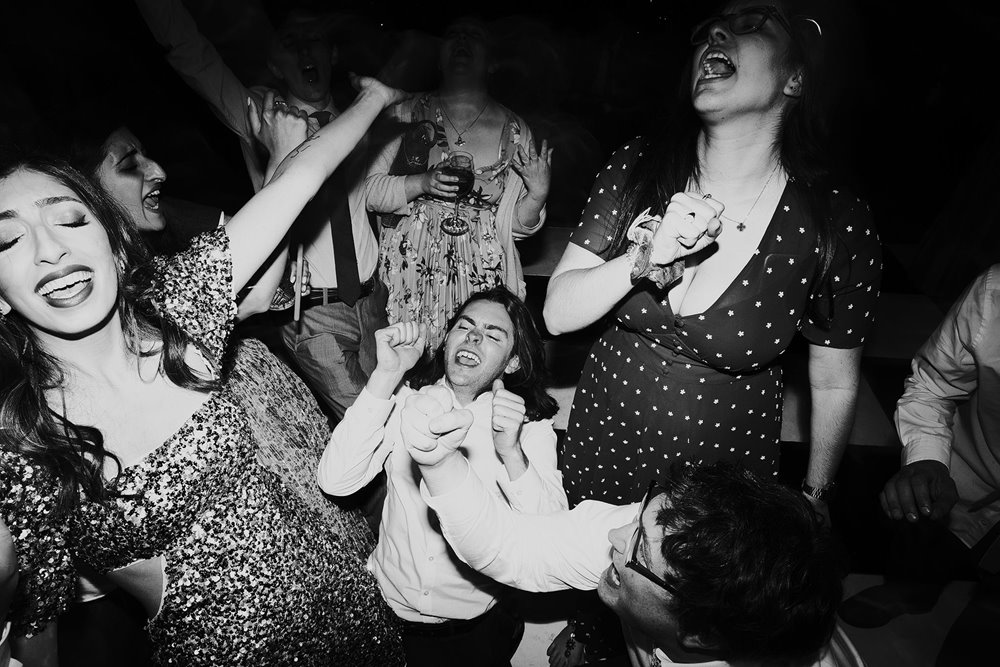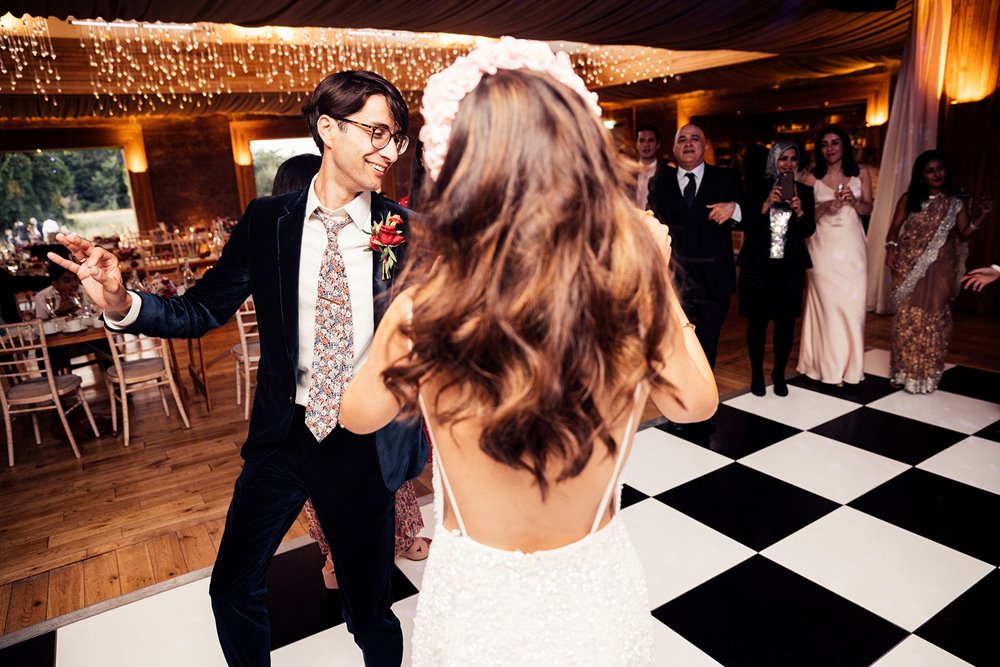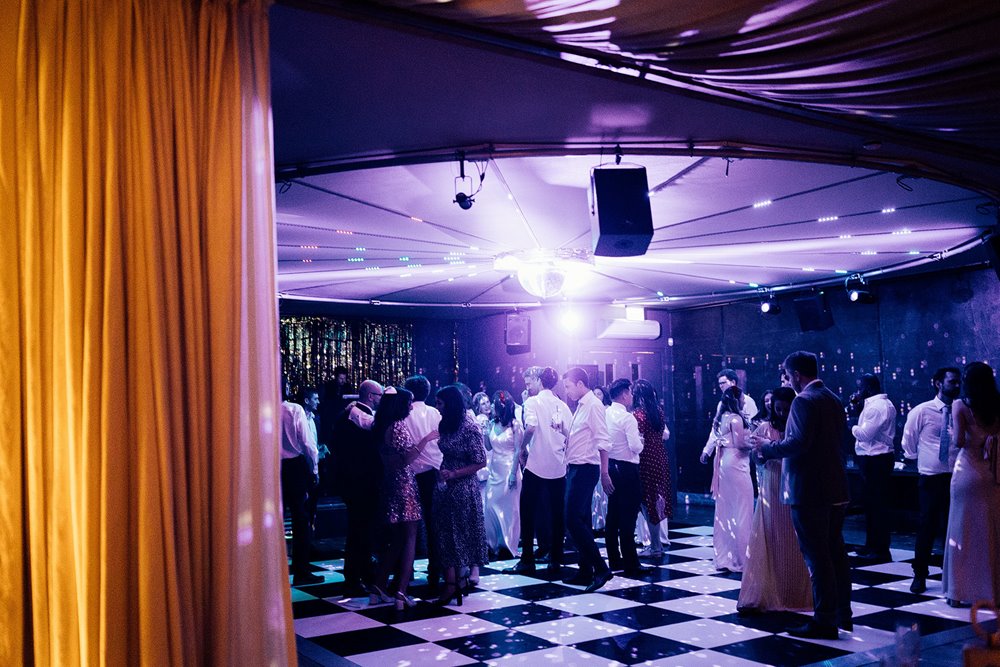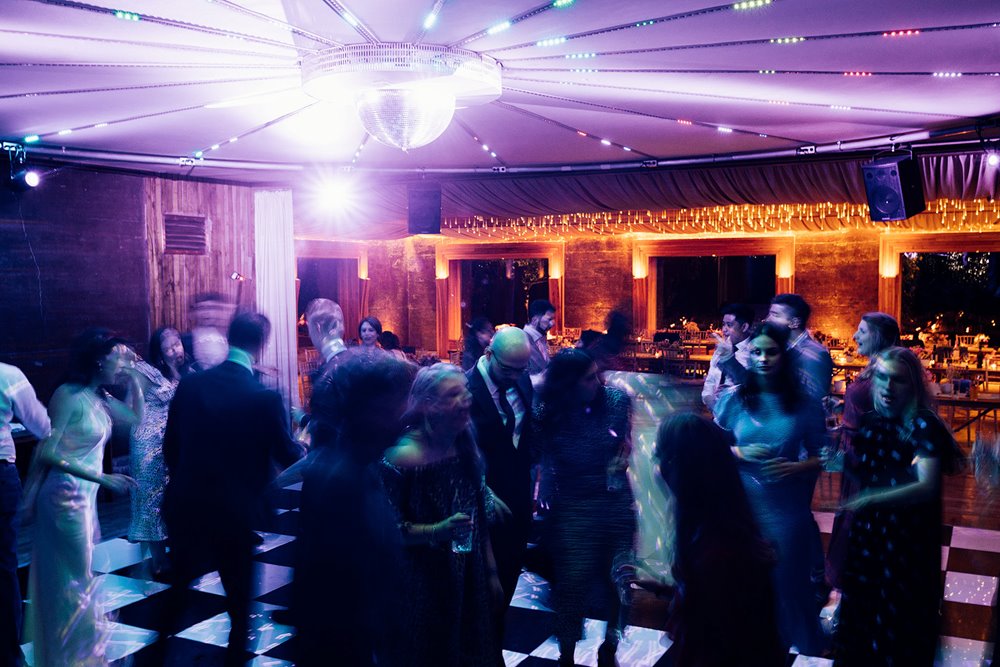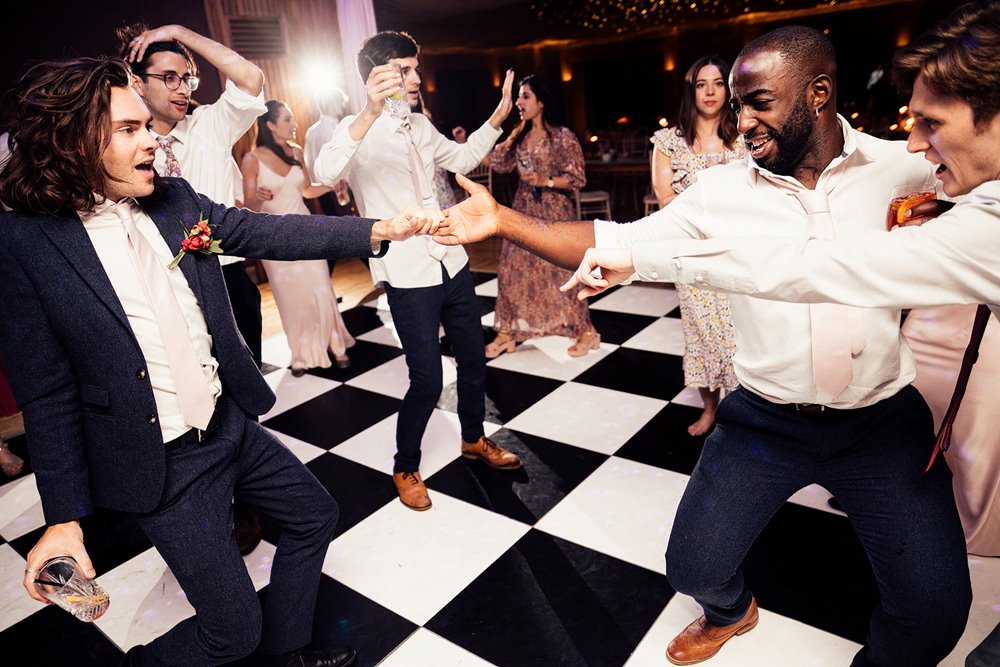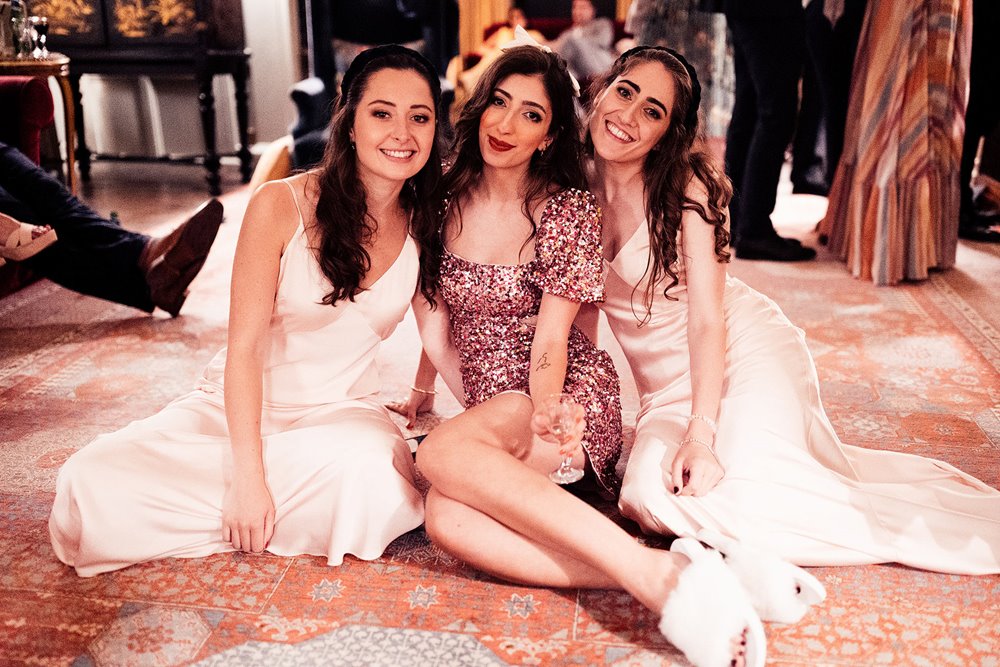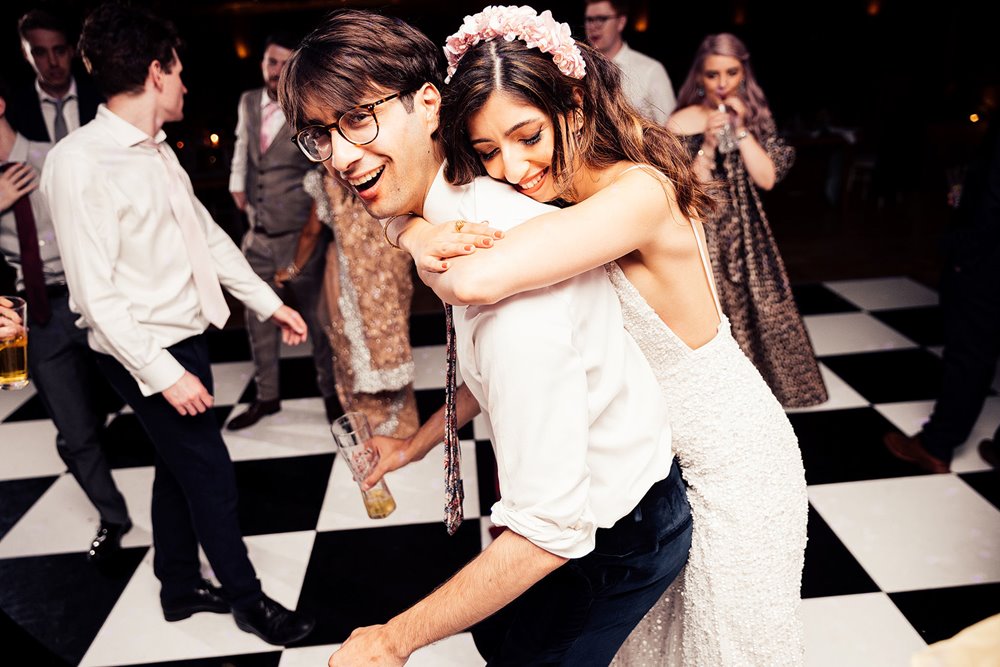 What would you pass on to couples wedding planning now?
I wish I'd known just how quickly the day flies by! Try to take it all in.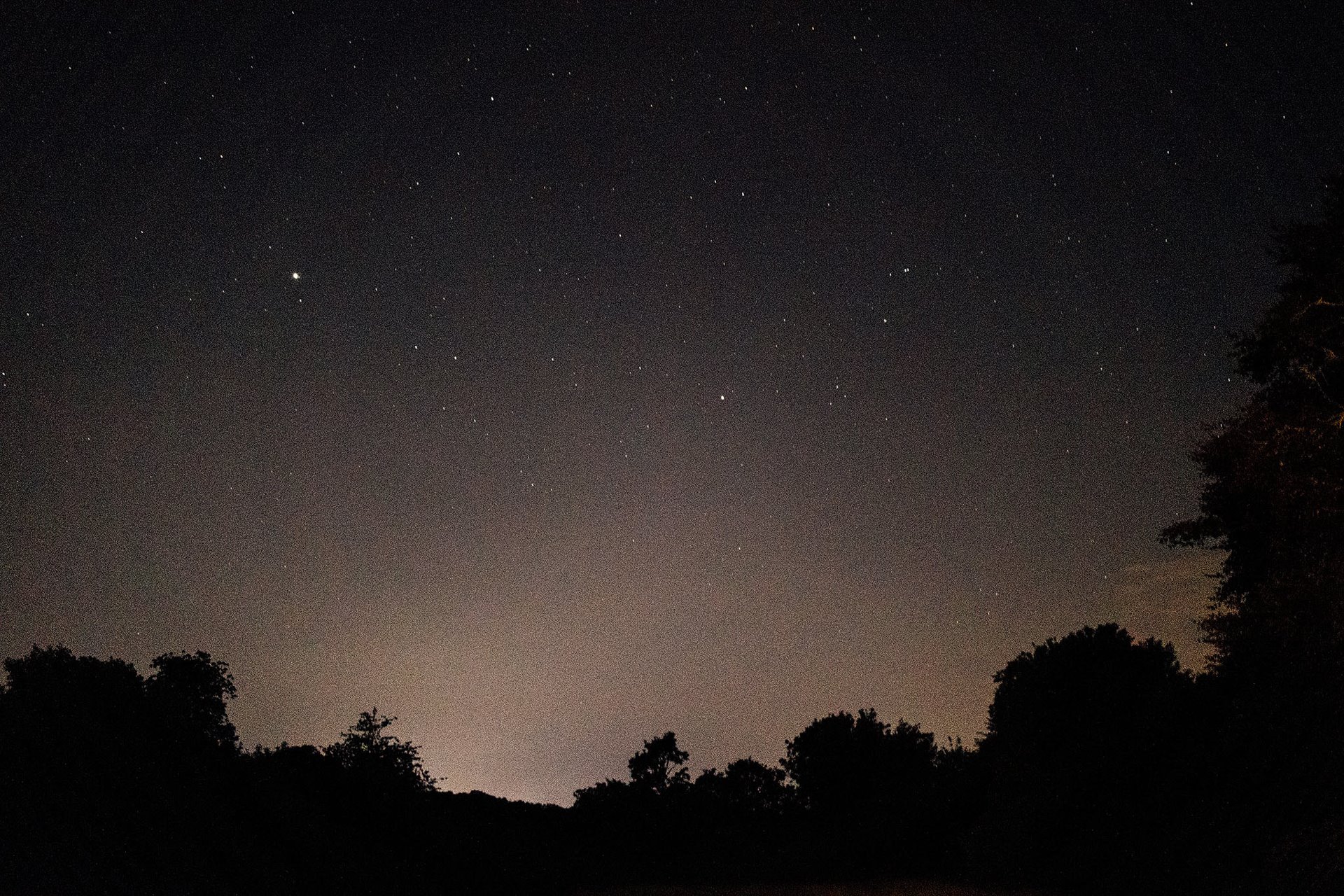 Who made your stunning wedding?
Shout out to the fabulous wedding suppliers who made this joyous pink and red wedding possible
Wow. What fun and fabulously beautiful wedding that was!!
Thank you so much for sharing your day with us Melica & Jasper, we wish you all the love and happiness in the world.
And, if that's made you want to come and check out Elmore Court for yourselves, pop the 27th March in your diary as you are warmly welcomed to come and join us at Another Wilder Fair!
More on that very soon...
Big love,
Team E xx
Related reading