Witchy Salem engagement to Halloween wedding
We have the perfect Halloween wedding, or Hallowedding if you will, to accompany your spooky season (and obligatory Hocus Pocus 2 viewing!)
This fun and magical light-hearted celebration of all things October featured 211 homegrown pumpkins, pretty rustic autumnal decor, a black wedding dress change, a moody photoshoot with dark smoke bombs and a firework finale.
So slip into your cosy socks, grab a steaming cup of something delicious and let's settle in for a whimsical wedding October extravaganza!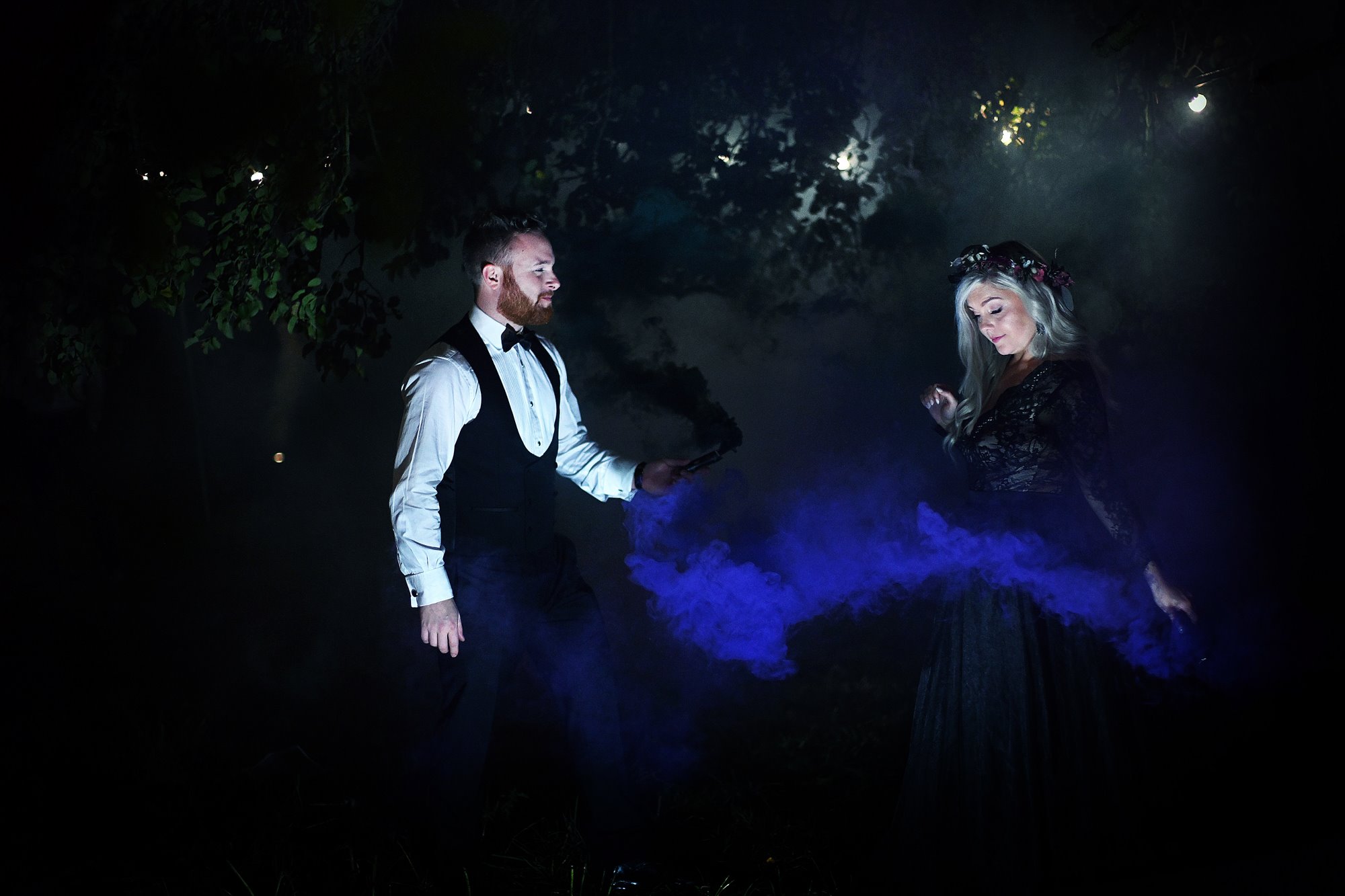 How did you two meet?
Tom and I went to school together but we never really knew each other. We reconnected in our mid 20's through the magic of tinder!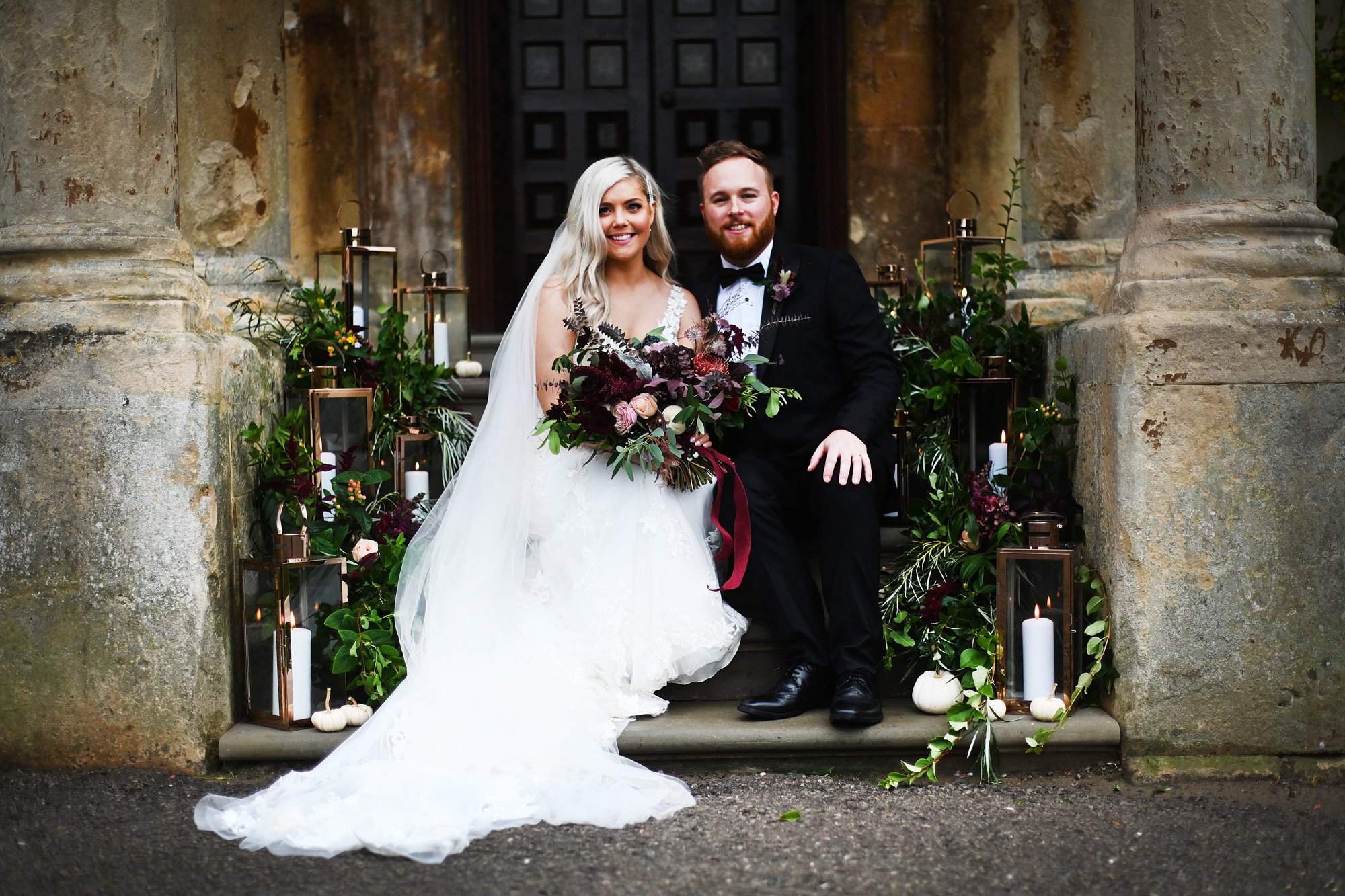 A Hocus Pocus proposal
I'm a huge Halloween fan, so in October 2019 Tom took me to Salem, MA to experience Halloween American style.
I couldn't have wished for a better proposal location... Those who have watched the 1993 classic Disney film Hocus Pocus may know of it... Tom proposed in the grounds of Allison's mansion (where Max takes Dina trick or treating 'the Halloween party for rich people') with a personally designed diamond engagement ring from Blue Nile.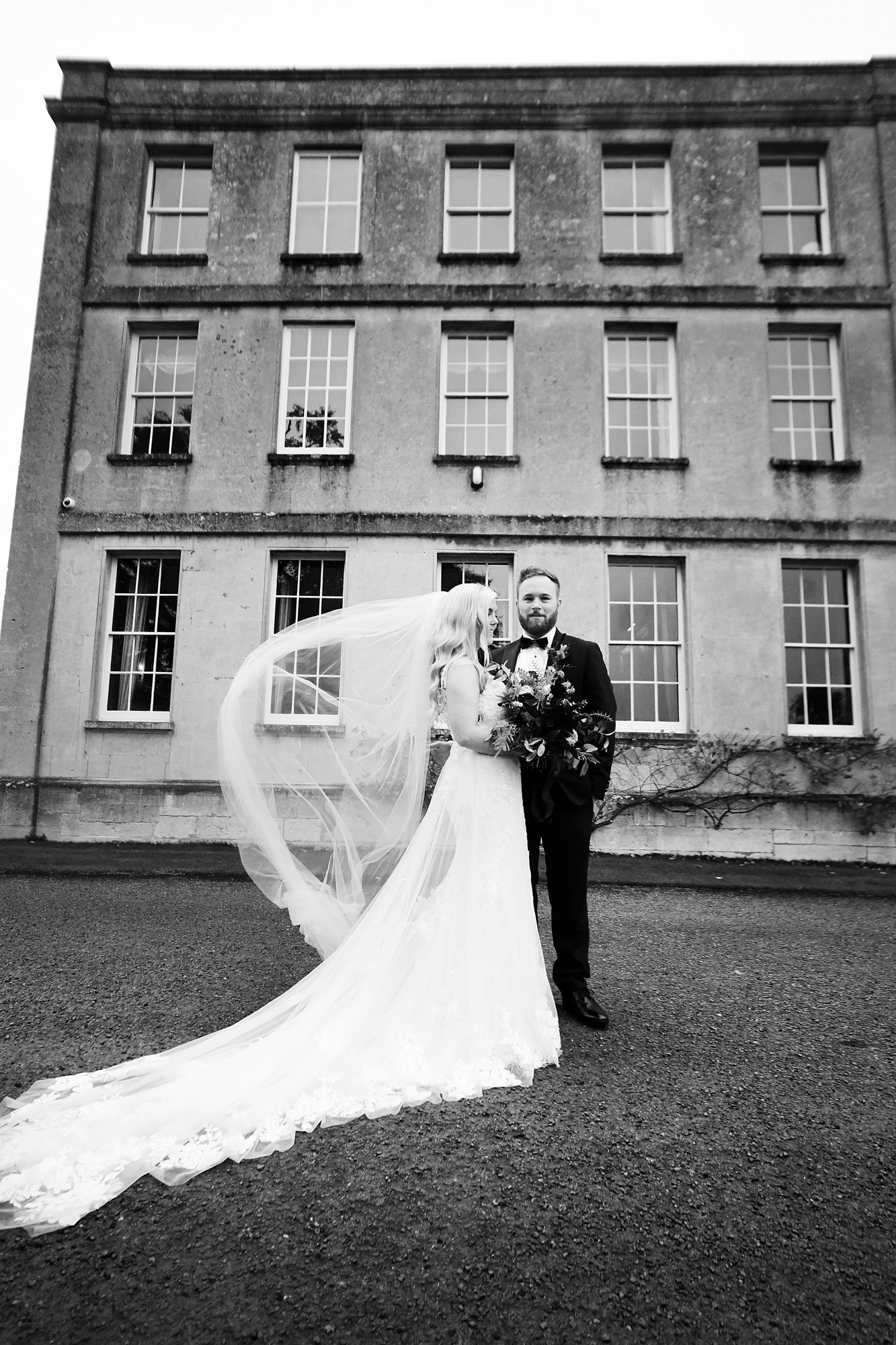 You needed an unusual wedding venue for your Halloween plans!
Yes we knew we wanted a wedding venue that was unique and out of the ordinary. We've been to lots of different wedding venues as guests so it was important to us that it was somewhere that was big enough that all our guests could be together rather than separated in various rooms. . .
I ended up googling unusual spooky wedding venues and Elmore popped up! As it was only about an hour from our home in Wiltshire we came to visit and were just blown away. We loved the history that the old manor had mixed with the fun rustic vibe of the gillyflower.
Elmore was the one and only wedding venue we saw and we booked it the same day as our viewing.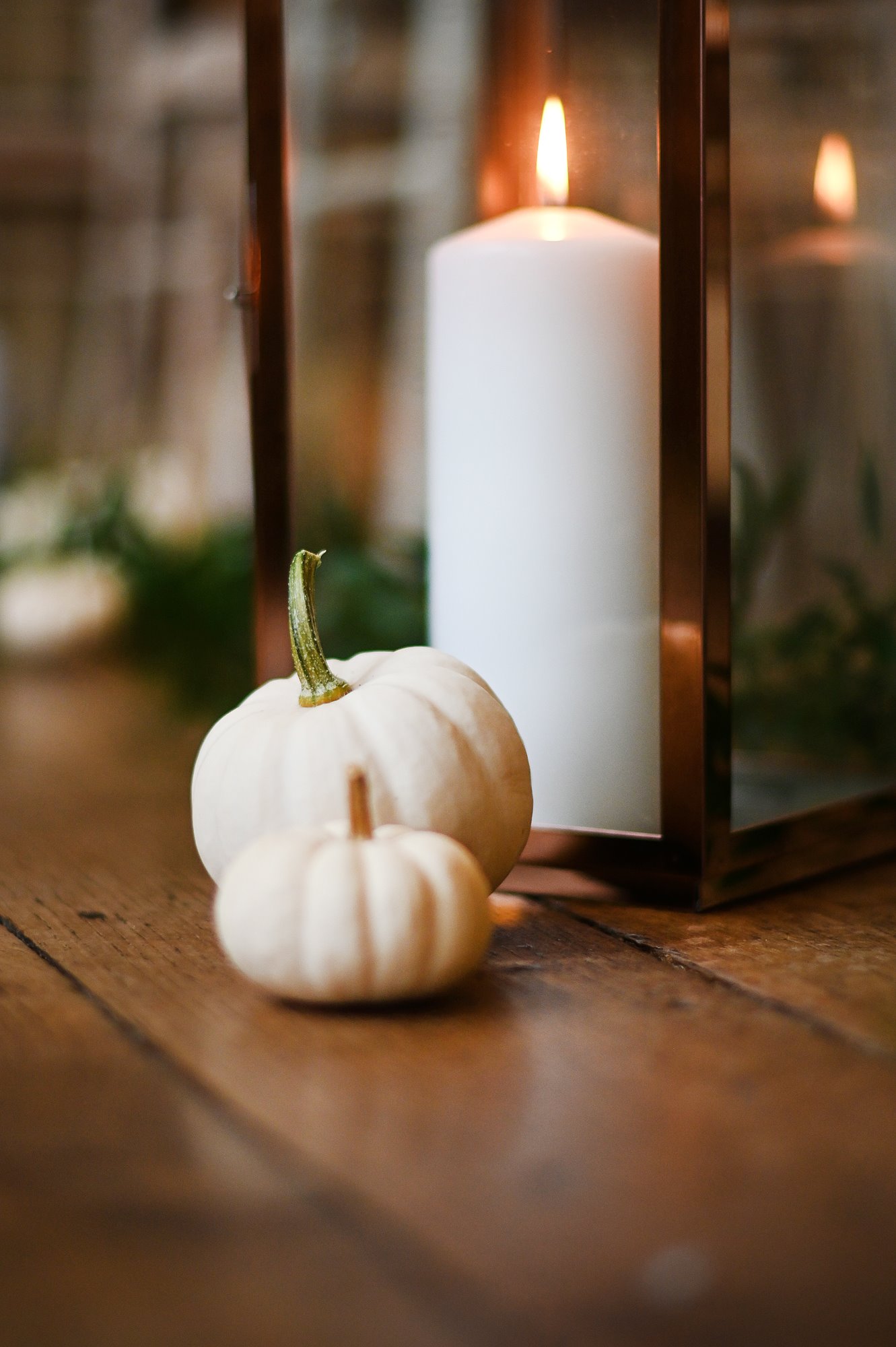 Your pumpkin wedding theme
Being a huge Autumn and Halloween fan I knew as soon as we got engaged that the wedding theme would have to involve pumpkins.
I'd seen a lot of weddings featuring orange pumpkins which looked amazing, but I was keen to do something different so we settled on white pumpkins. Luckily my parents have a farm in Wiltshire and were happy to allow us to dig up a large proportion of their garden to plant 4 different varieties of white pumpkins. 
We got lucky with the weather in the Summer and managed to Harvest 211 white pumpkins in preparation for the wedding, it took 4 car loads to get them all to Elmore!

With the pumpkins as the centrepiece, the rest of the wedding decor came together around this rustic autumnal theme with copper lanterns, fresh foliage and autumnal berry flowers - we also used WiredMama on etsy to create bespoke copper lettering to decorate the larger white pumpkins with fun phrases such as 'boo' and 'I put a spell on you' (another nod to Hocus Pocus!)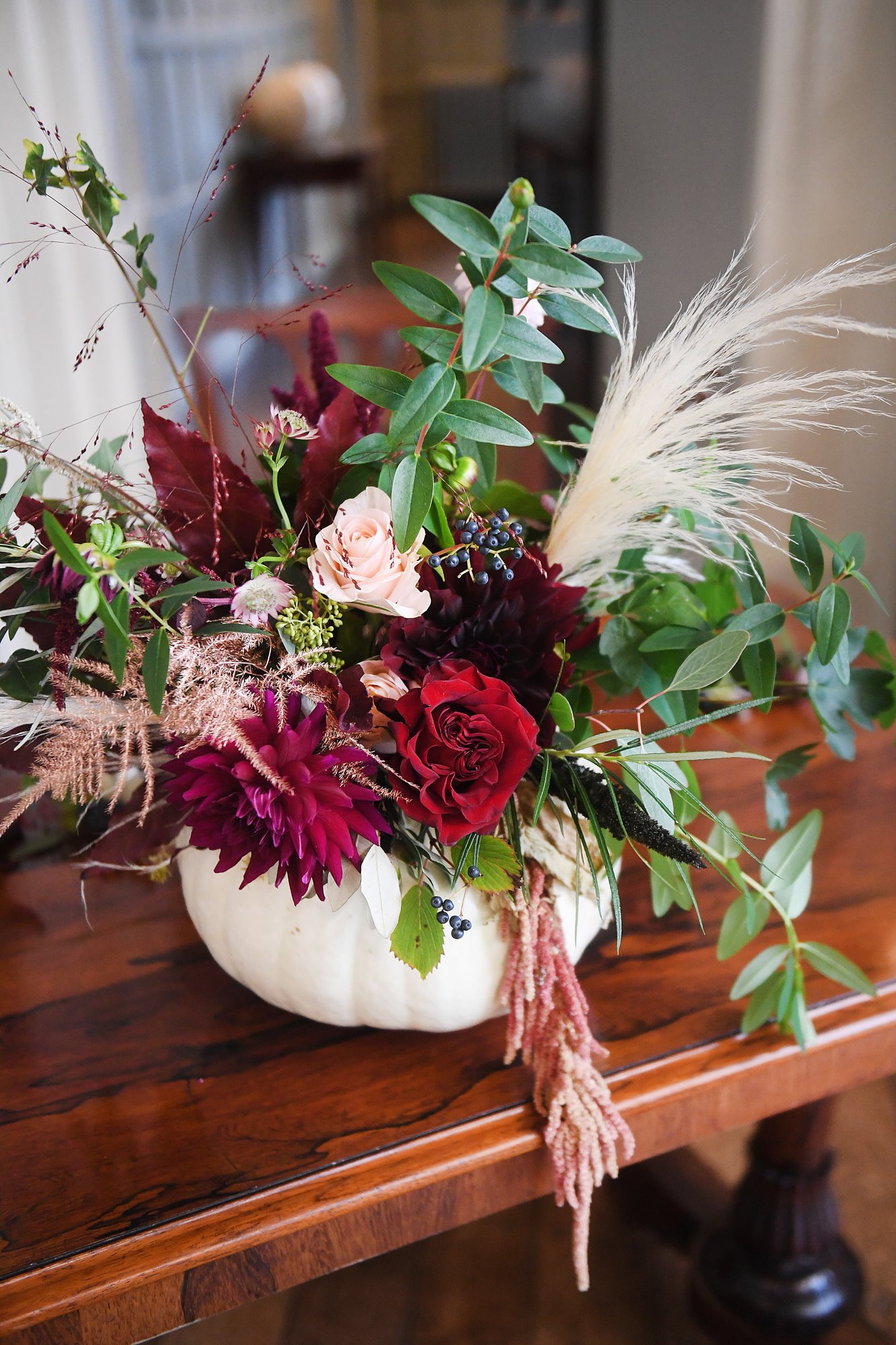 You grew all those wedding pumpkins yourself?!
A lot of love went into those pumpkins! The seeds had to be shipped over from America and lovingly sown from May. Both sides of the family were actively involved in caring for them on the patch until they were ready to be harvested at the end of September.
Watching them grow knowing the wedding was getting closer and closer was really exciting, plus we told our guests to take them home as favours when they left so they were the perfect sustainable wedding decor and also dual-purpose!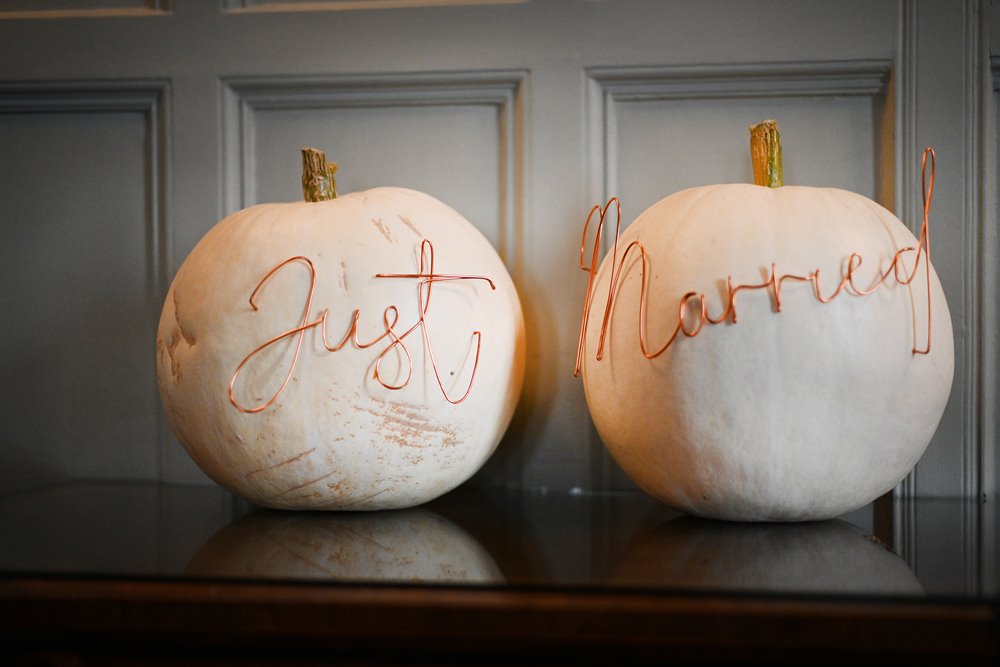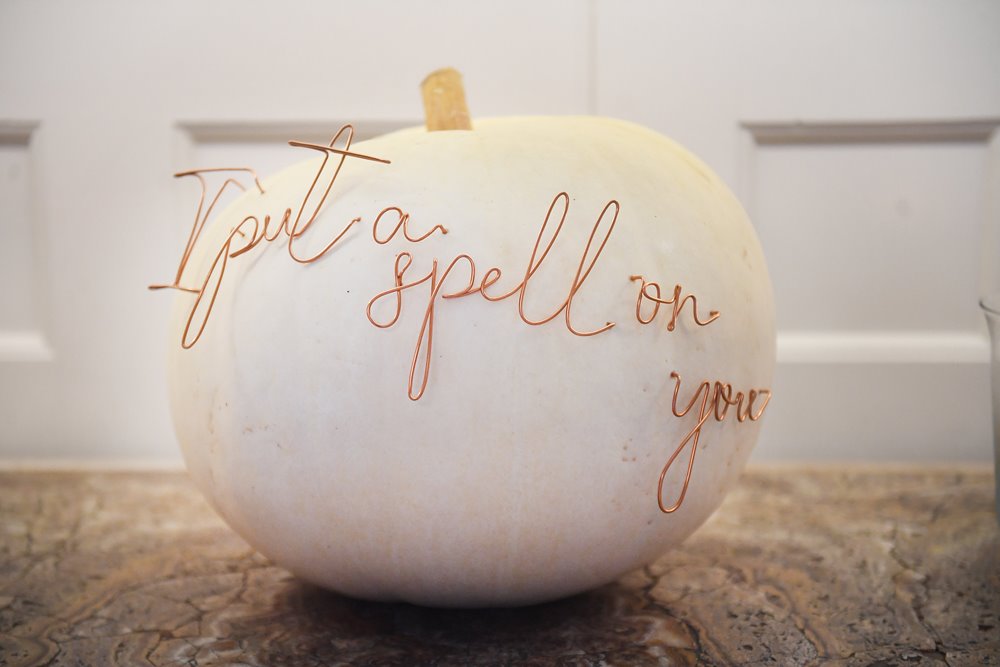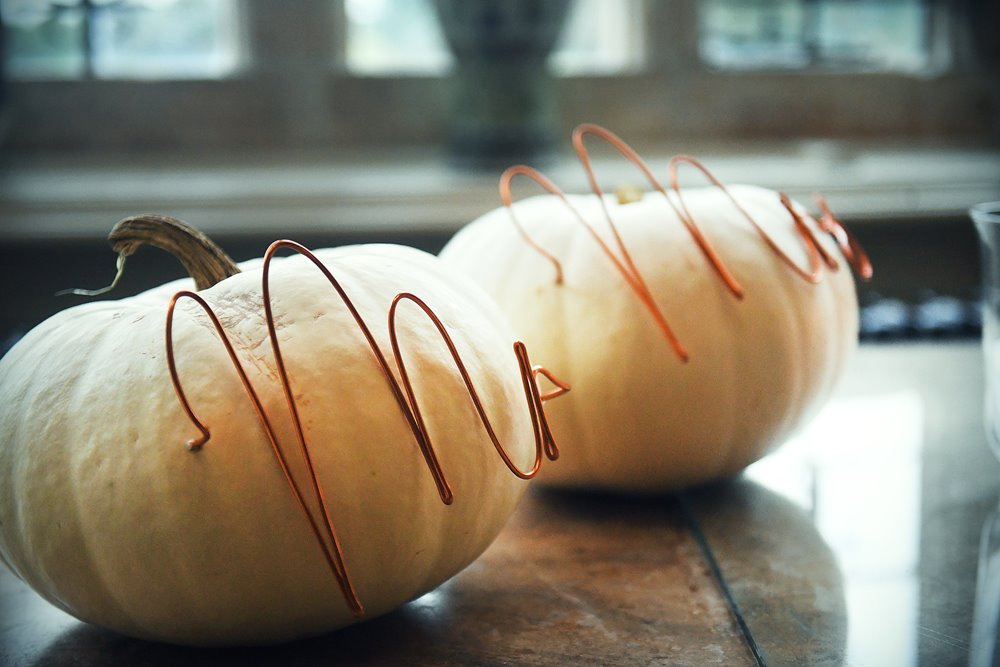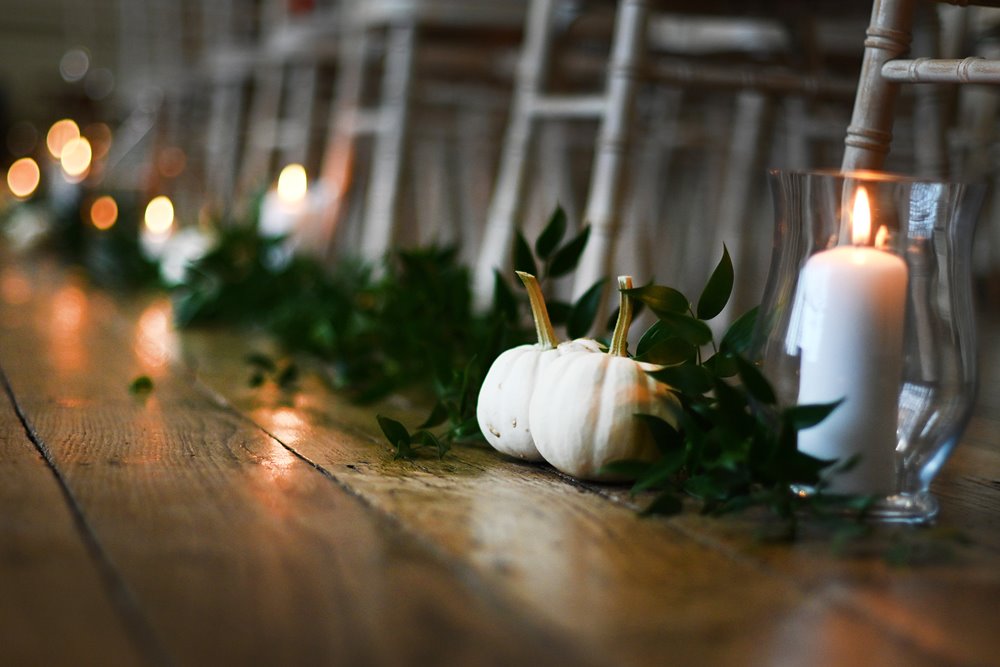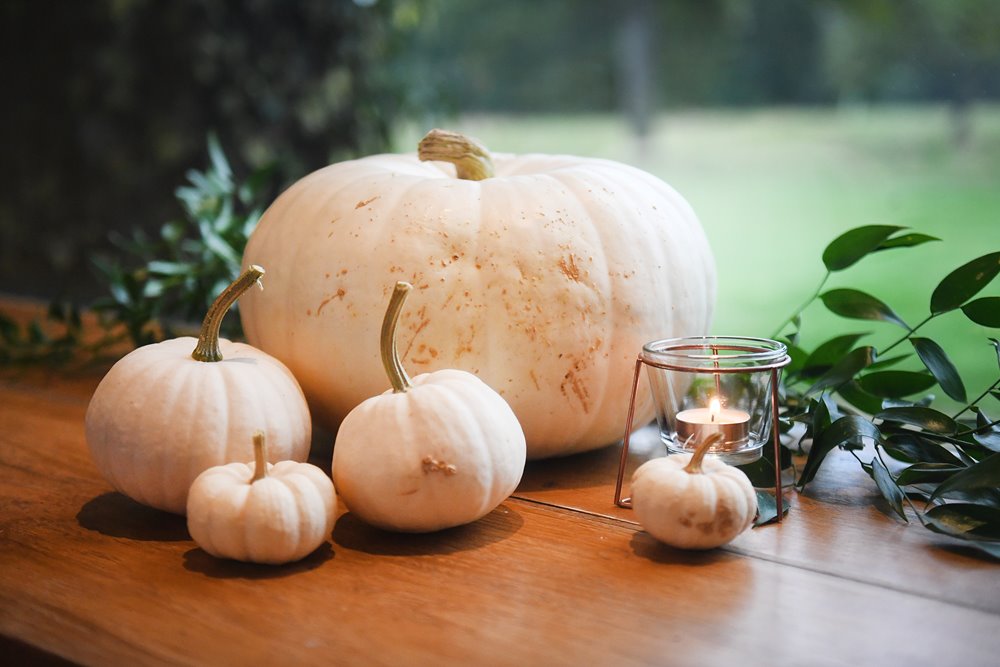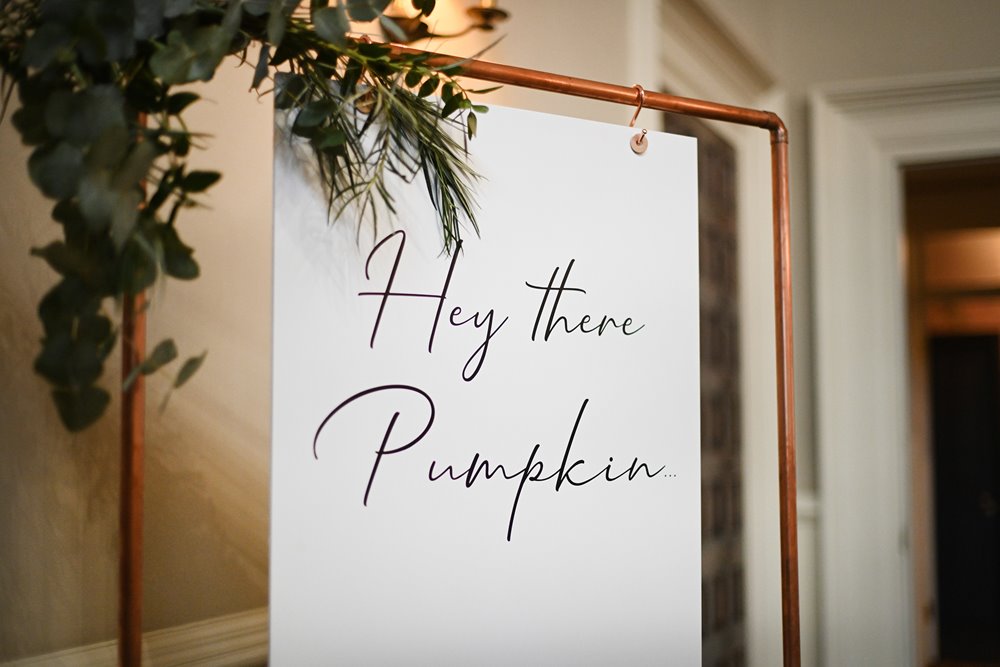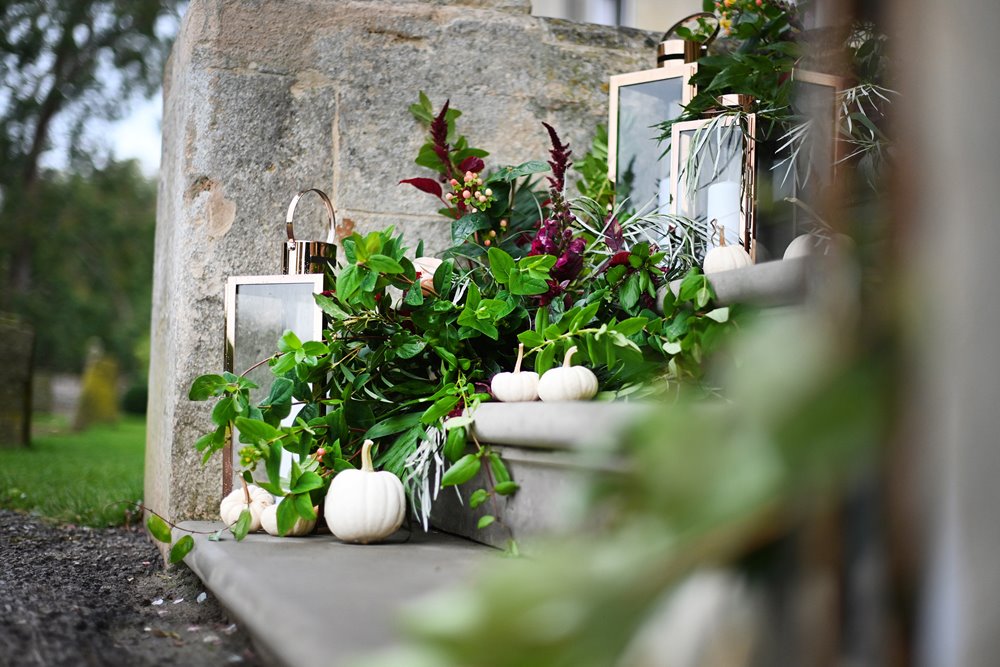 Your autumnal wedding flowers
As soon as we got engaged there was only one choice of florist, it had to be Jody from Rosy Lea.
The woman is a florist wizard (or witch!) and really took the time to understand my thoughts and turn them into a reality. I was clear that I wanted a deep autumn berry theme and that the homegrown pumpkins were featured as much as possible.
A few days before the wedding Jody came to collect some of the miniature pumpkins to get to work on the larger floral arrangements, and she got us so excited about the wedding, it was at that point after 3 wedding dates that we realised the wedding was actually finally happening.
Jody managed to incorporate the miniature baby boo pumpkins into the tall centrepieces and the wedding bouquets, the moment she came and found us in the smoking room and handed over the bouquets was one of the highlights of the day.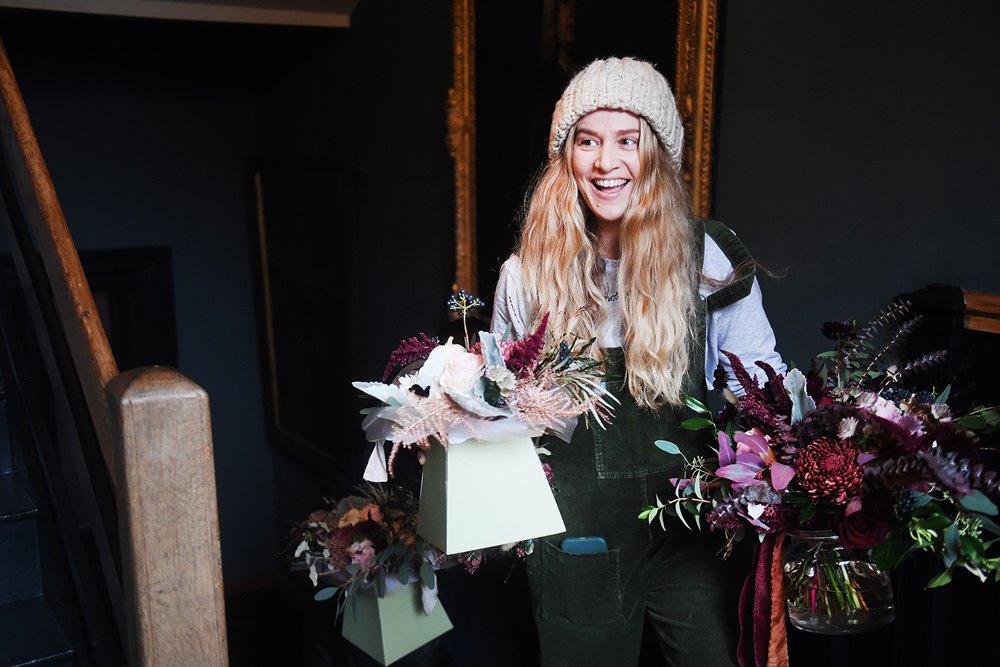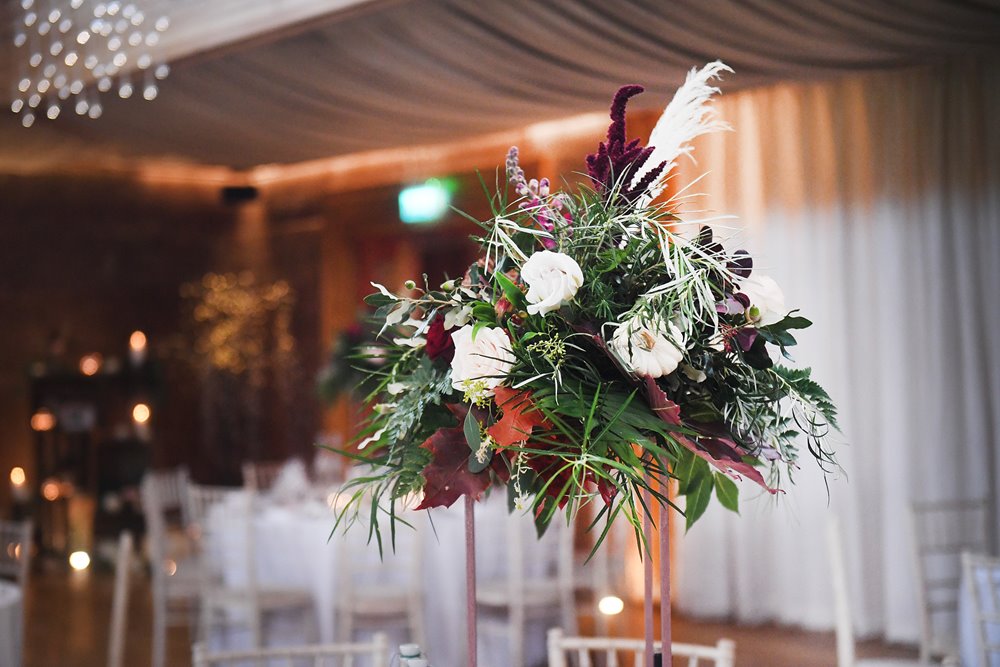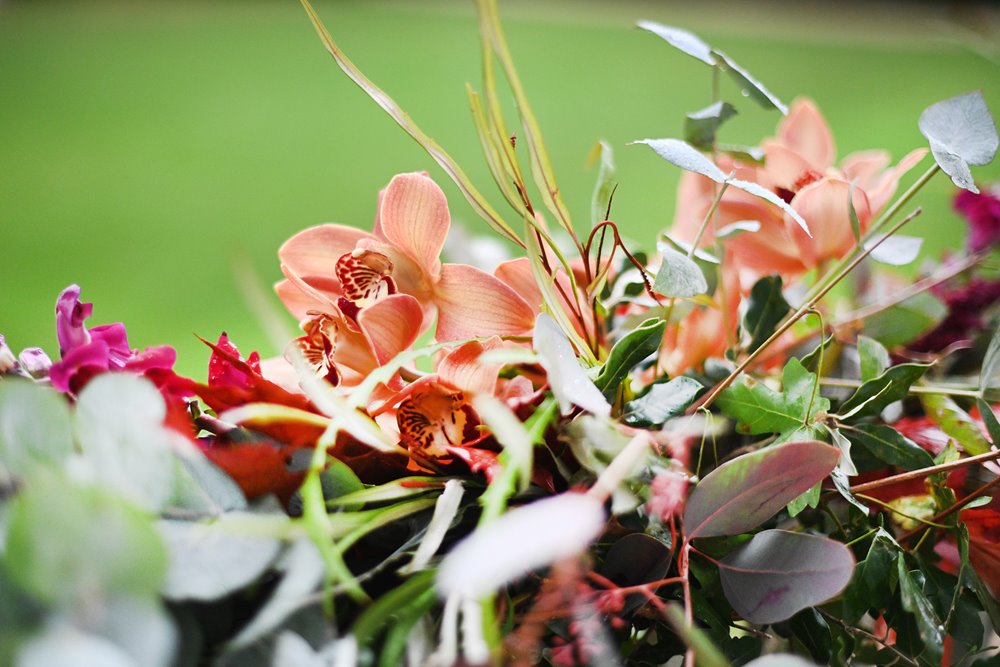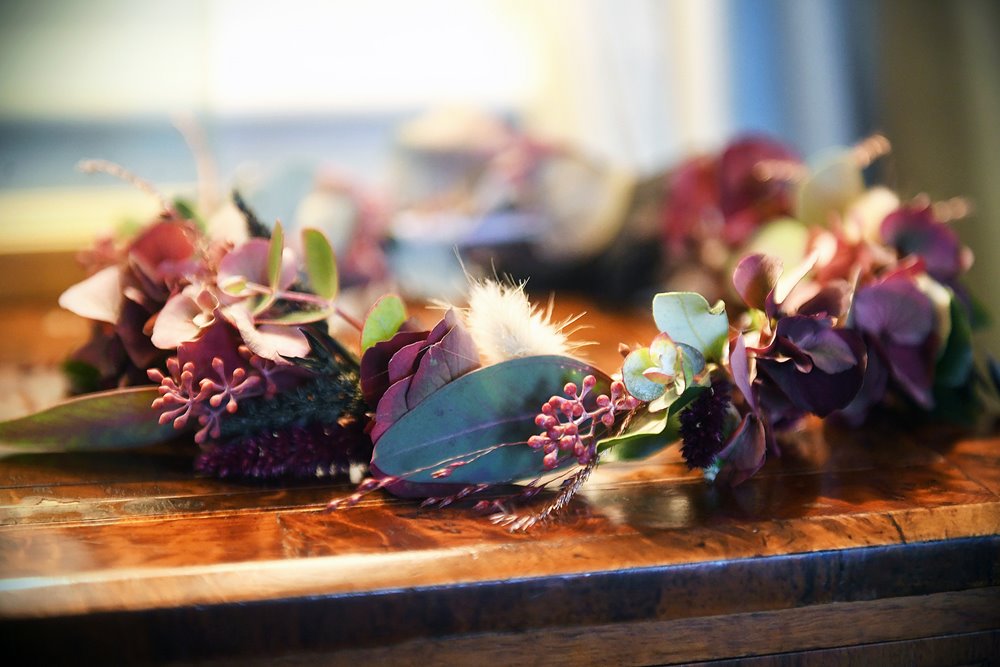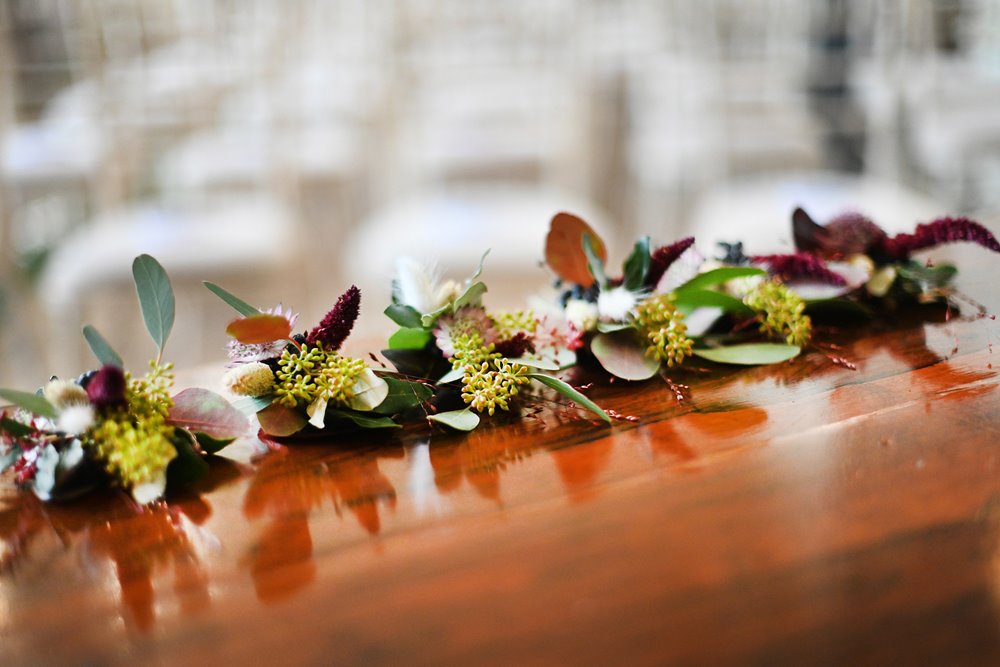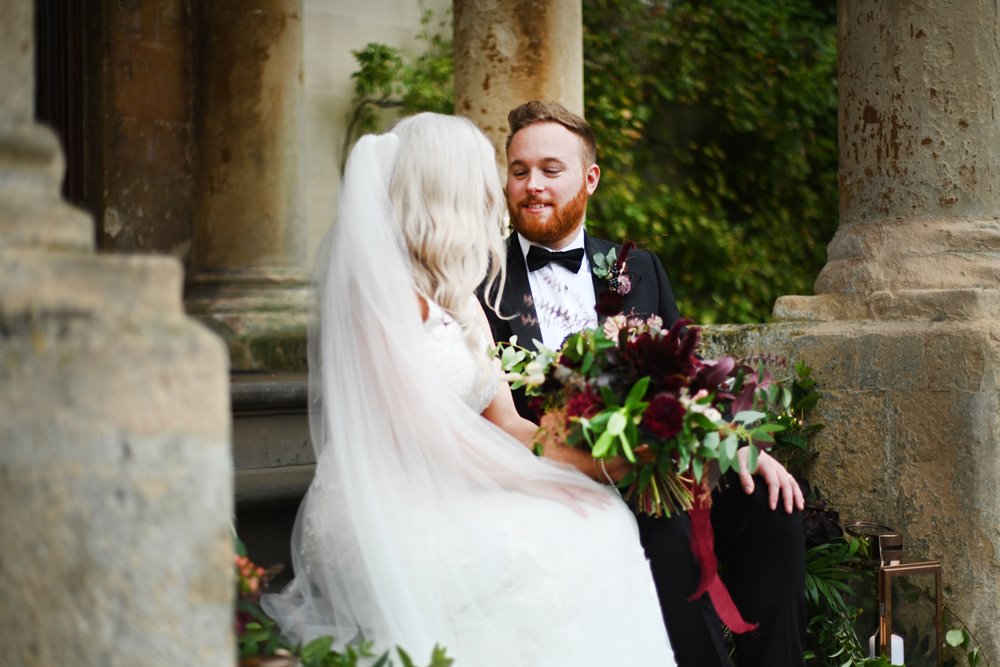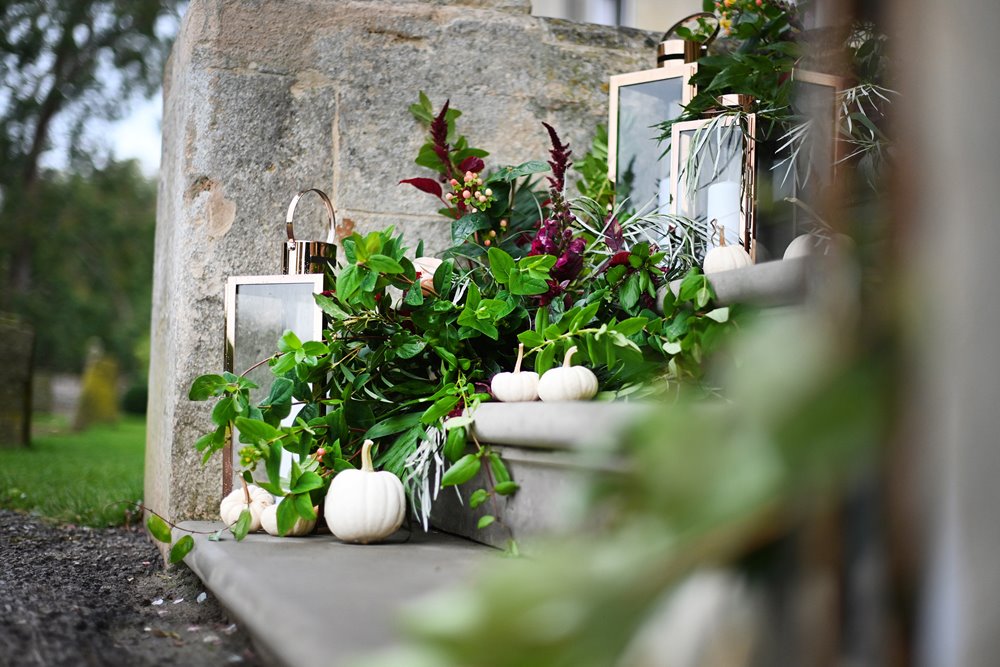 Was covid wedding planning a nightmare?
I loved planning my wedding theme. I think before I even got engaged, I had a Pinterest board of all of my wedding ideas! I really enjoyed the process of sourcing suppliers and thinking about all the small details. 
But being engaged during Covid was a bit of a nightmare, we were originally due to get married on the 30th October 2020, then 26th February 2021 and we finally tied the knot on 18th October 2021.
Covid made the wedding planning process quite challenging but thankfully Elmore and our suppliers were brilliant at accommodating all the date changes.
The wedding was well and truly worth the wait!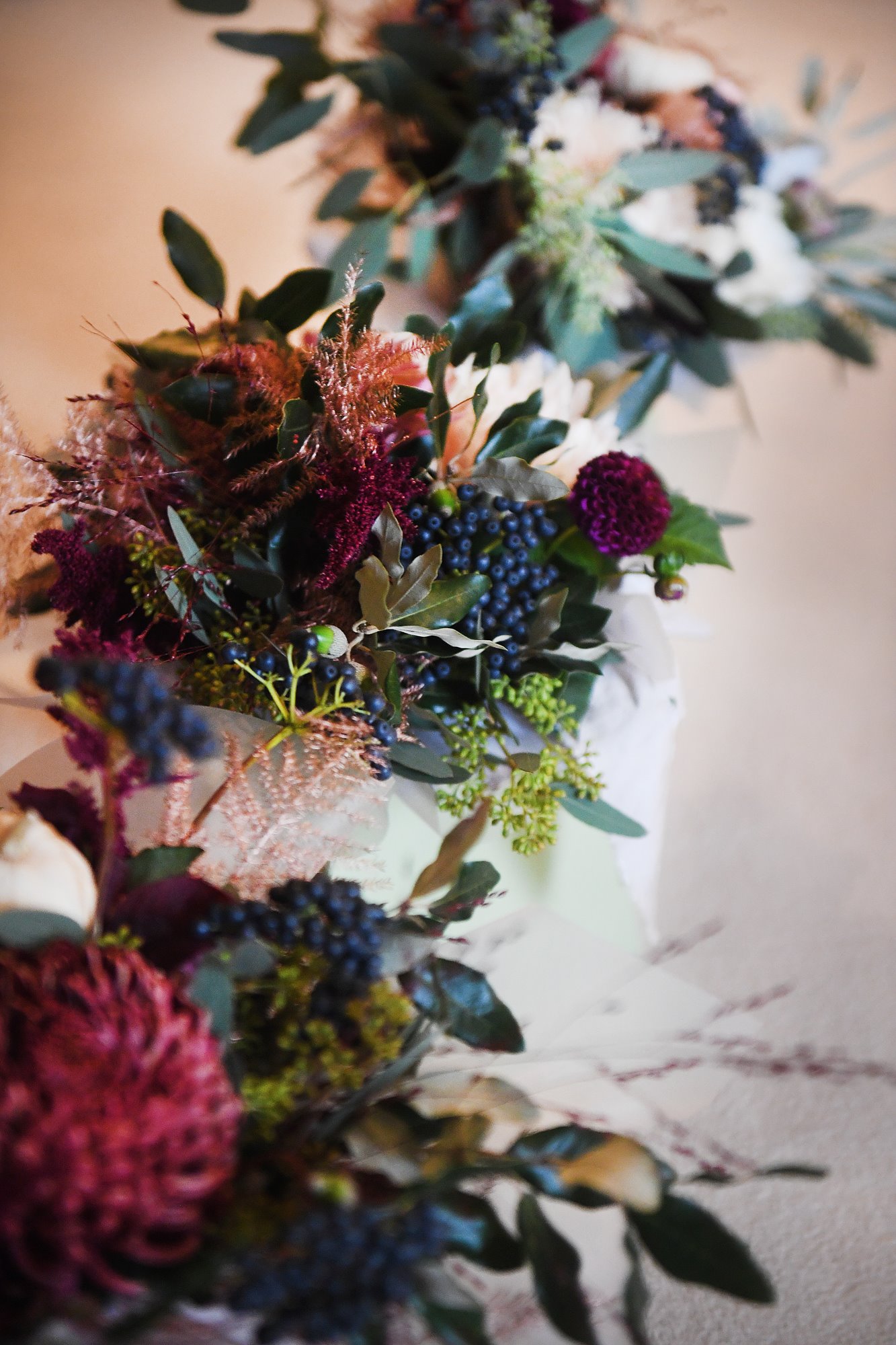 What was the most important aspect of wedding planning for you?
For us, it was really important that our wedding felt unique and fun.
Everyone told us that what people mostly remember from weddings is the food and the entertainment, so we booked Skyknights band for the evening music and Mairi Therese Deigan for the cocktail reception - both acts were fully briefed on the pumpkin theme and happily incorporated Halloween songs into their performances. 
Tom owns a rum company called Loaded Spirits so we were able to serve our own alcohol as welcome drinks and even sold it to Elmore so our guests could order it from behind the bar in the evening which felt really lovely and personal.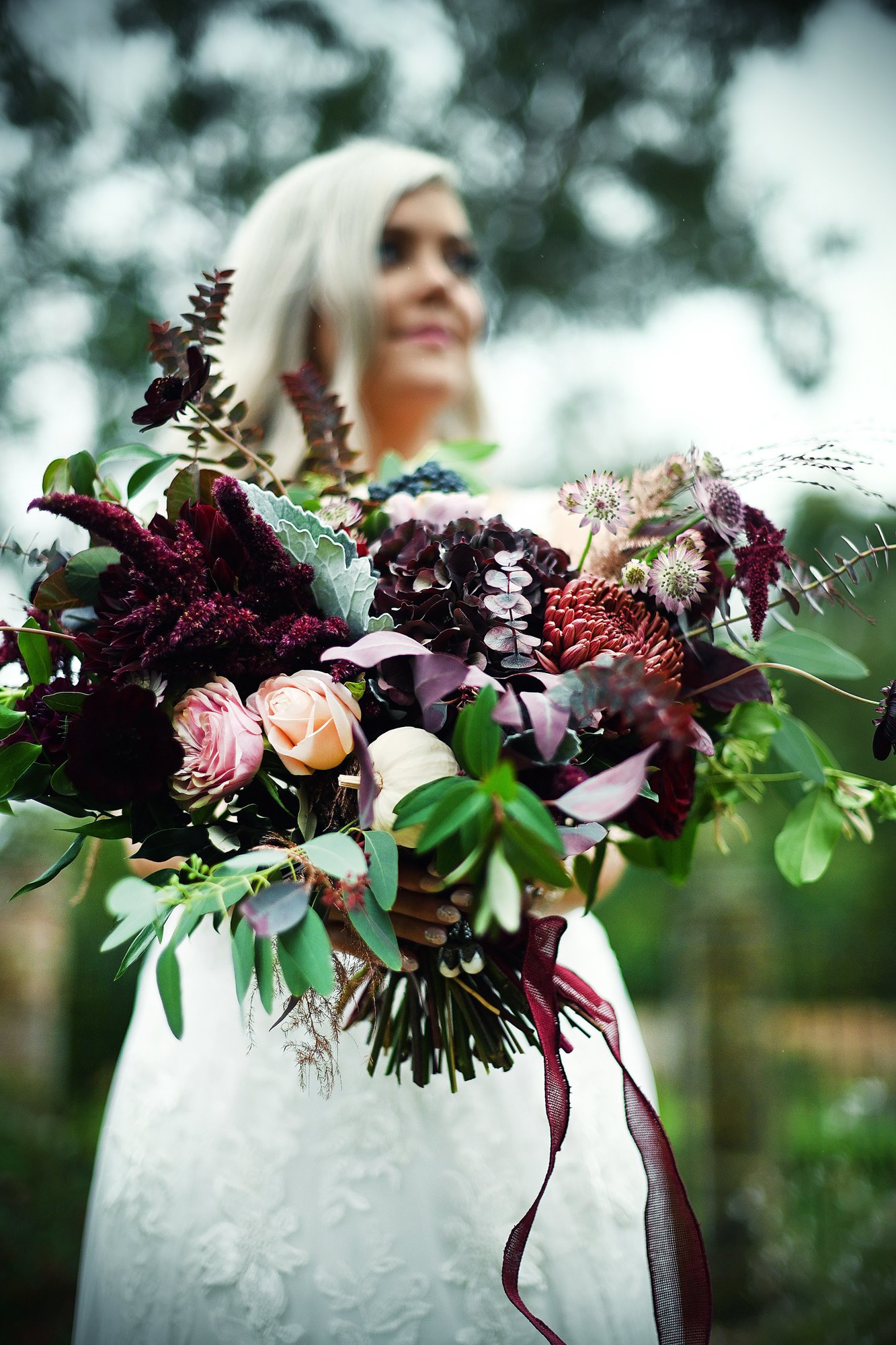 We loved your black wedding dress!
I actually really struggled to find my wedding dress - I think I over-shopped as I had previously been a part-time bridal consultant so had the opportunity to try on lots of different dresses before I even got engaged!
I actually ended up buying 2 wedding dresses before I finally settled on an Ivory Lace dress from Morilee - I added a 3 tiered back necklace and plain veil to complete the look. 
I had always wanted an alternative evening outfit that was a bit different to the bridal norm, with it being an autumn wedding and my love for Halloween I thought it would be fun to go for a black gothic theme wedding dress.
It was really important for me to have two very different looks, so my evening dress was the complete opposite of my day dress - a black, long sleeved ball gown tailor-made from Etsy.
As soon as I tried the black wedding dress on it was love at first sight, unveiling it as a surprise to my wedding guests during the first dance was so much fun!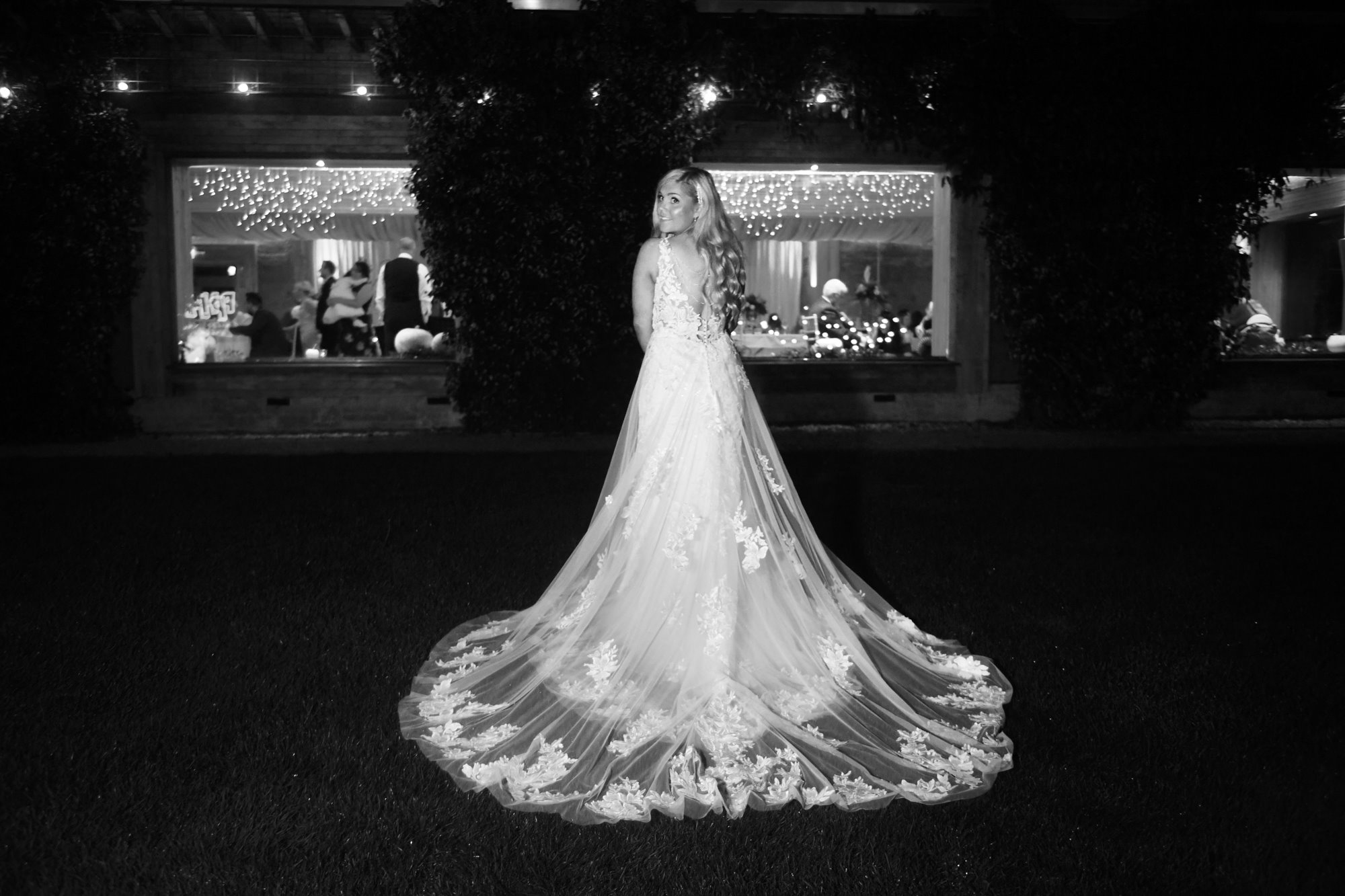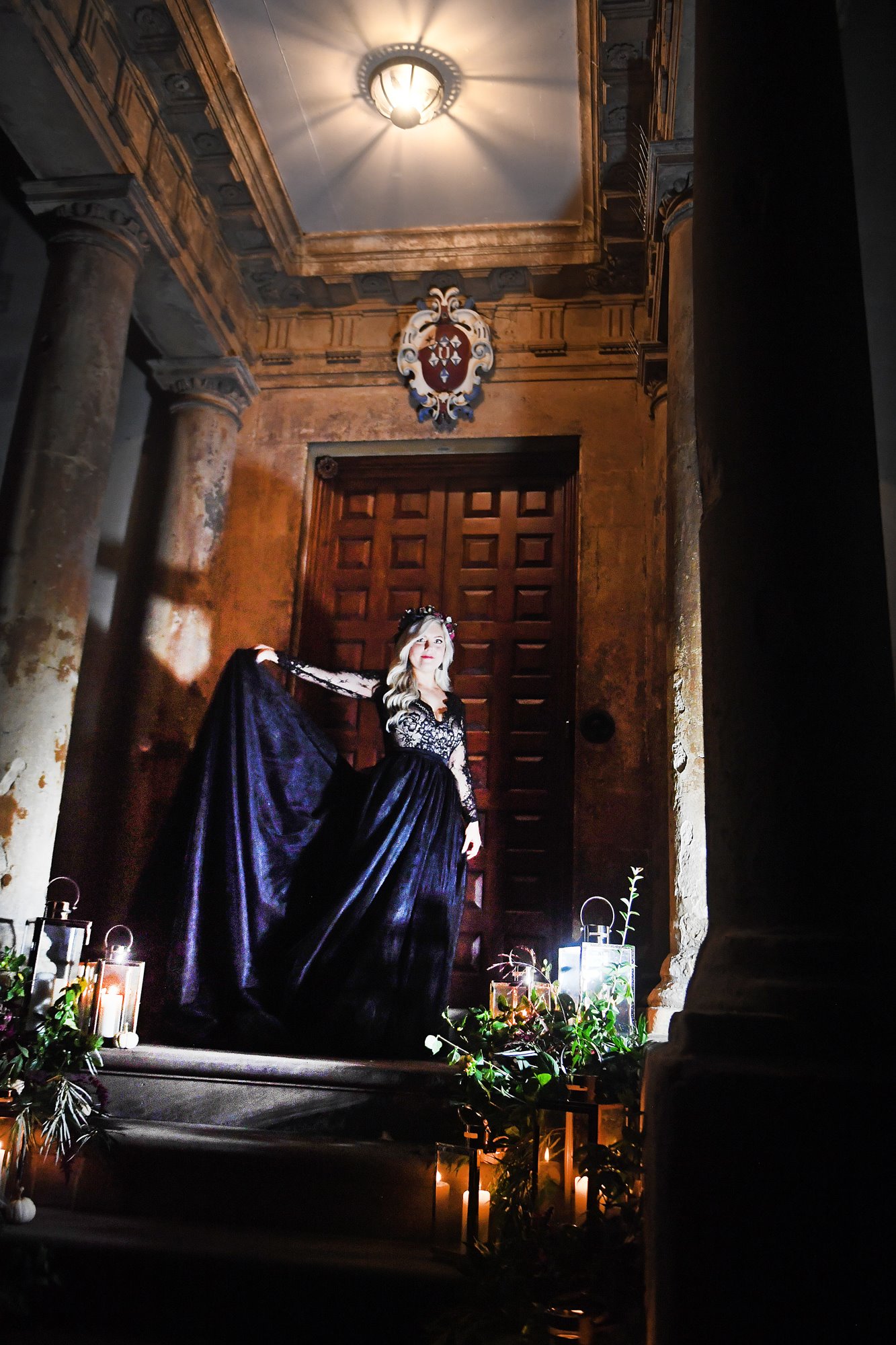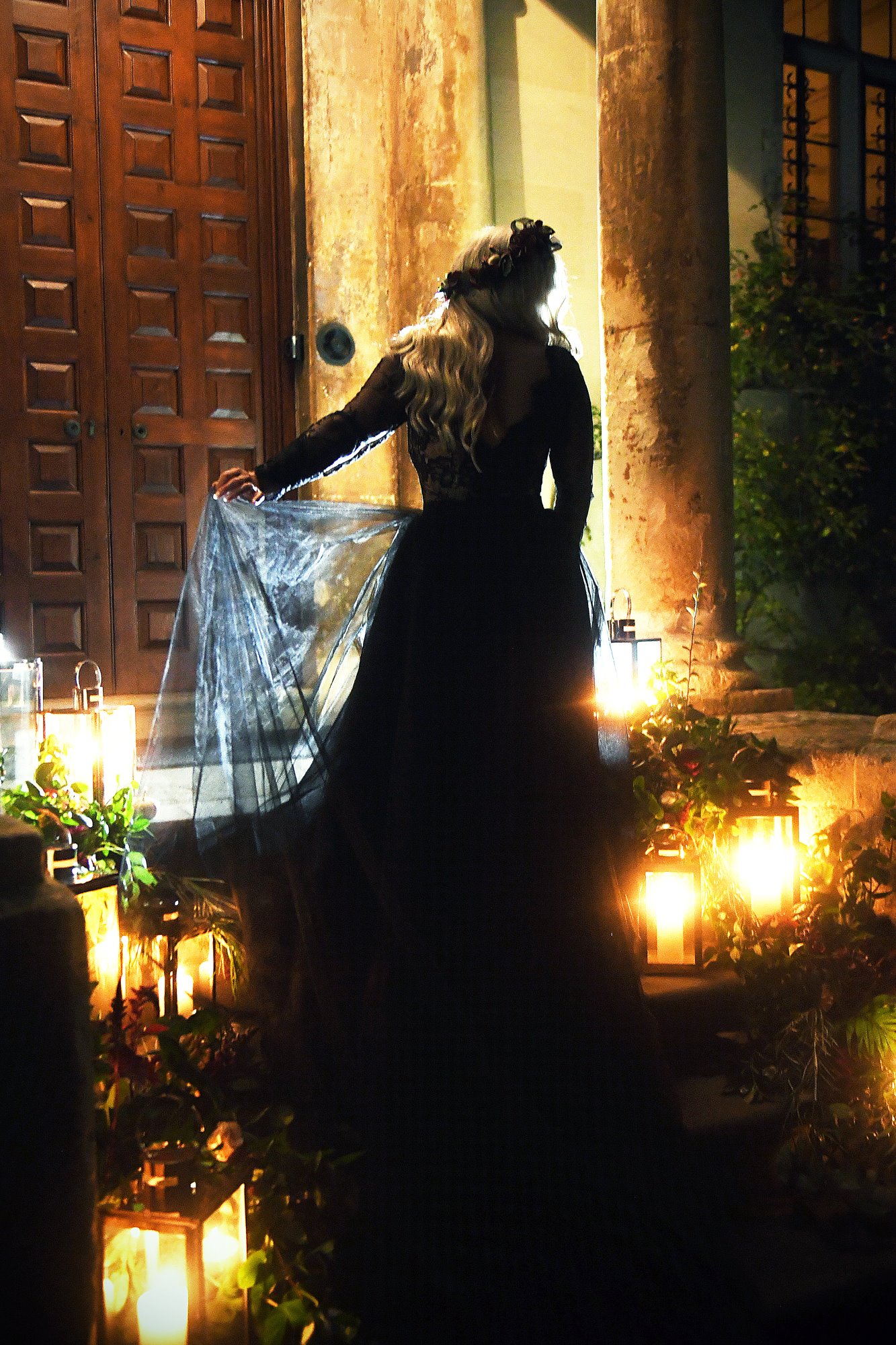 Tell us about your bridal hair and makeup
My lovely friend is also a hairdresser so did my hair and the bridesmaids as my wedding gift.
Hair-wise I went for loose curls with a pearl clip in the day and a gothic fresh flower crown from Rosy Lea florist in the evening. 
I picked Holly Andersen for my make up who patiently watched me go through no less than 8 different lipstick colours before I finally settled on Charlotte Tilbury 'duchess' - unfortunately for me the colour was discontinued but Holly kindly gave me hers so that I could top up throughout the day.
My make up brief was vintage bridal so there was a lot of emphasis on eyes.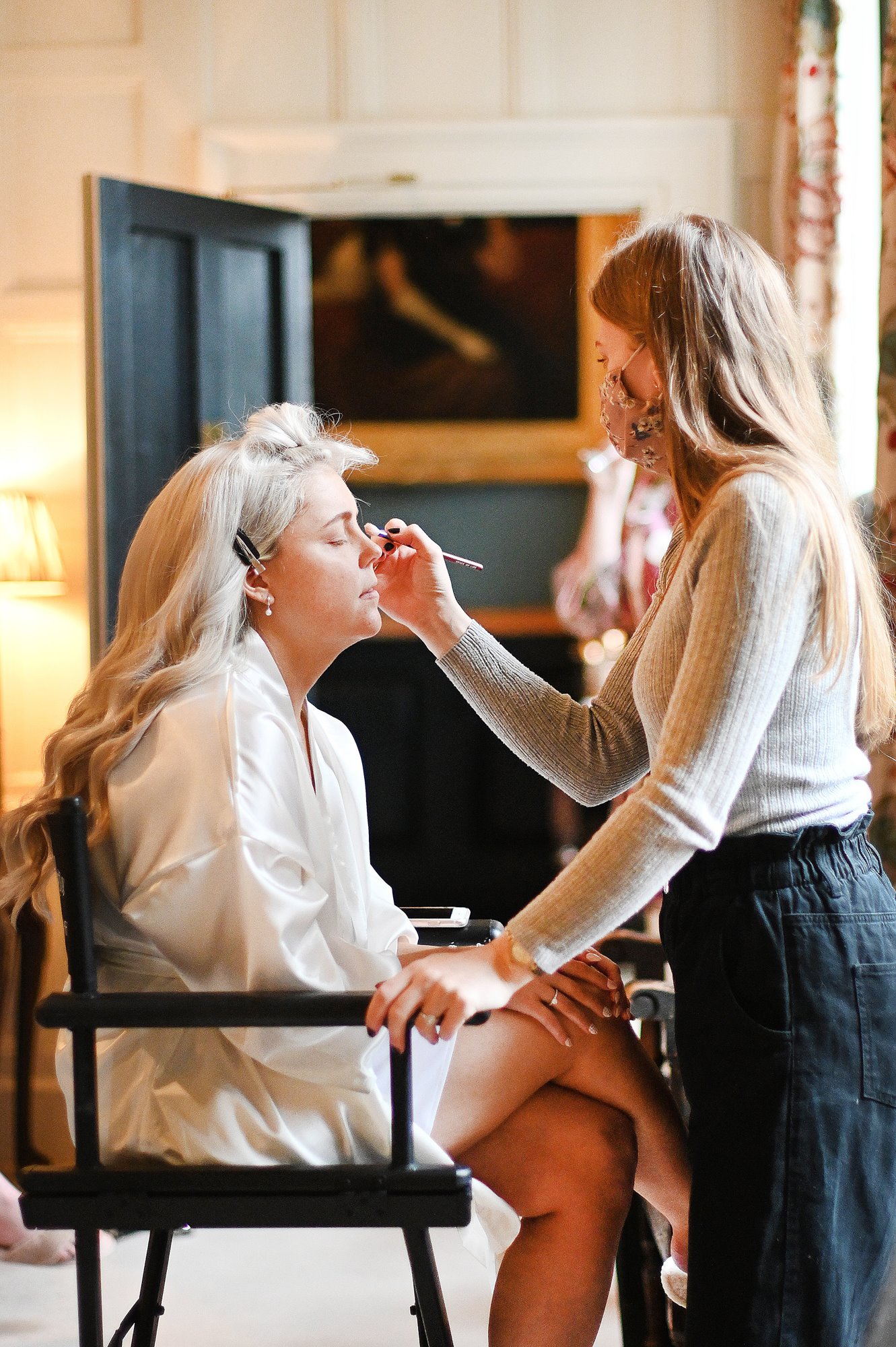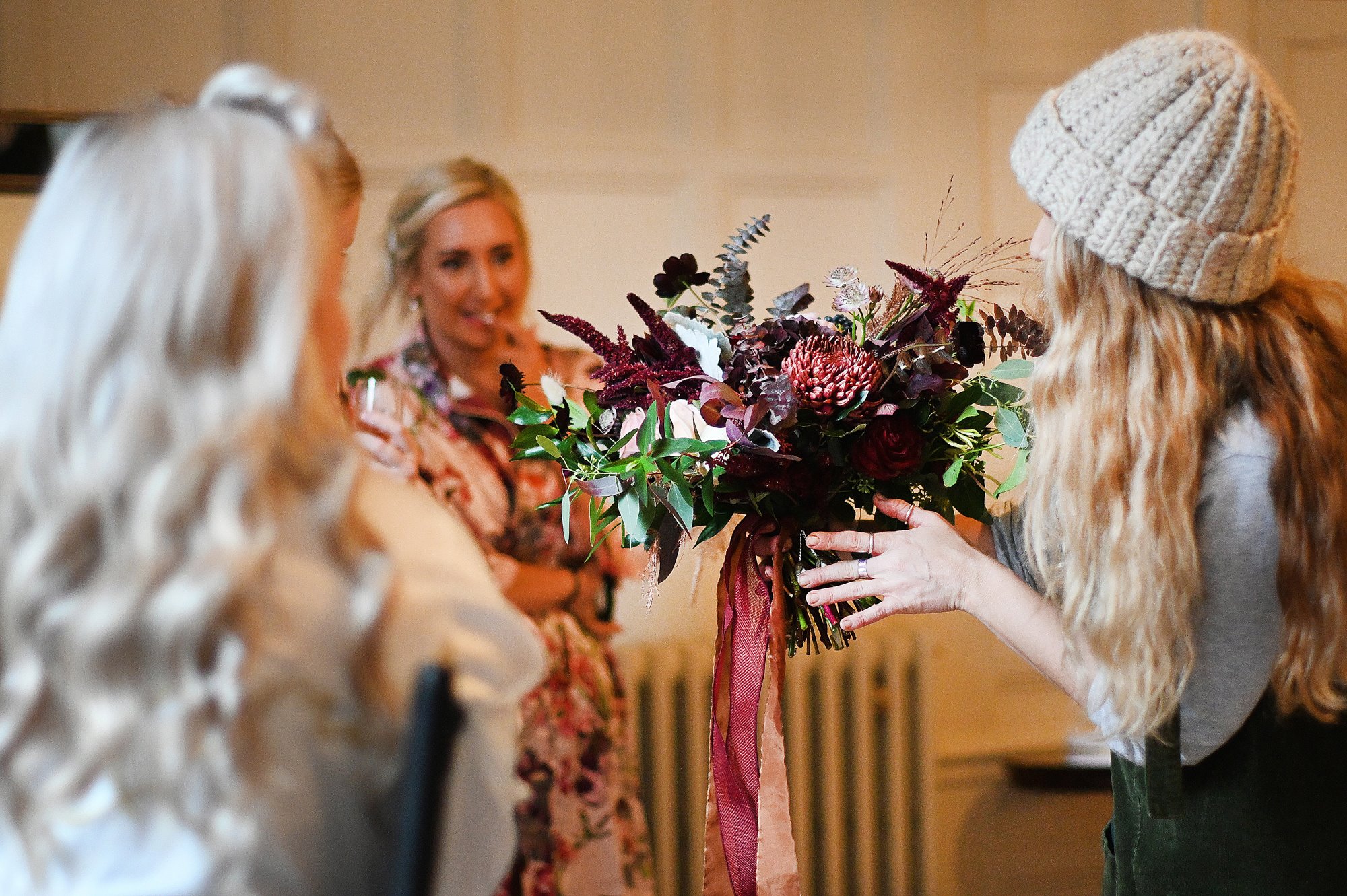 Autumn bridesmaids in forest green
I had 3 bridesmaids and one of my nieces as a flower girl.
The bridesmaids wore Wed2b full length dresses in Forest green and were able to mix and match the style to suit their preference.
The bridesmaids also wore copper jewellery to match the copper lantern theme.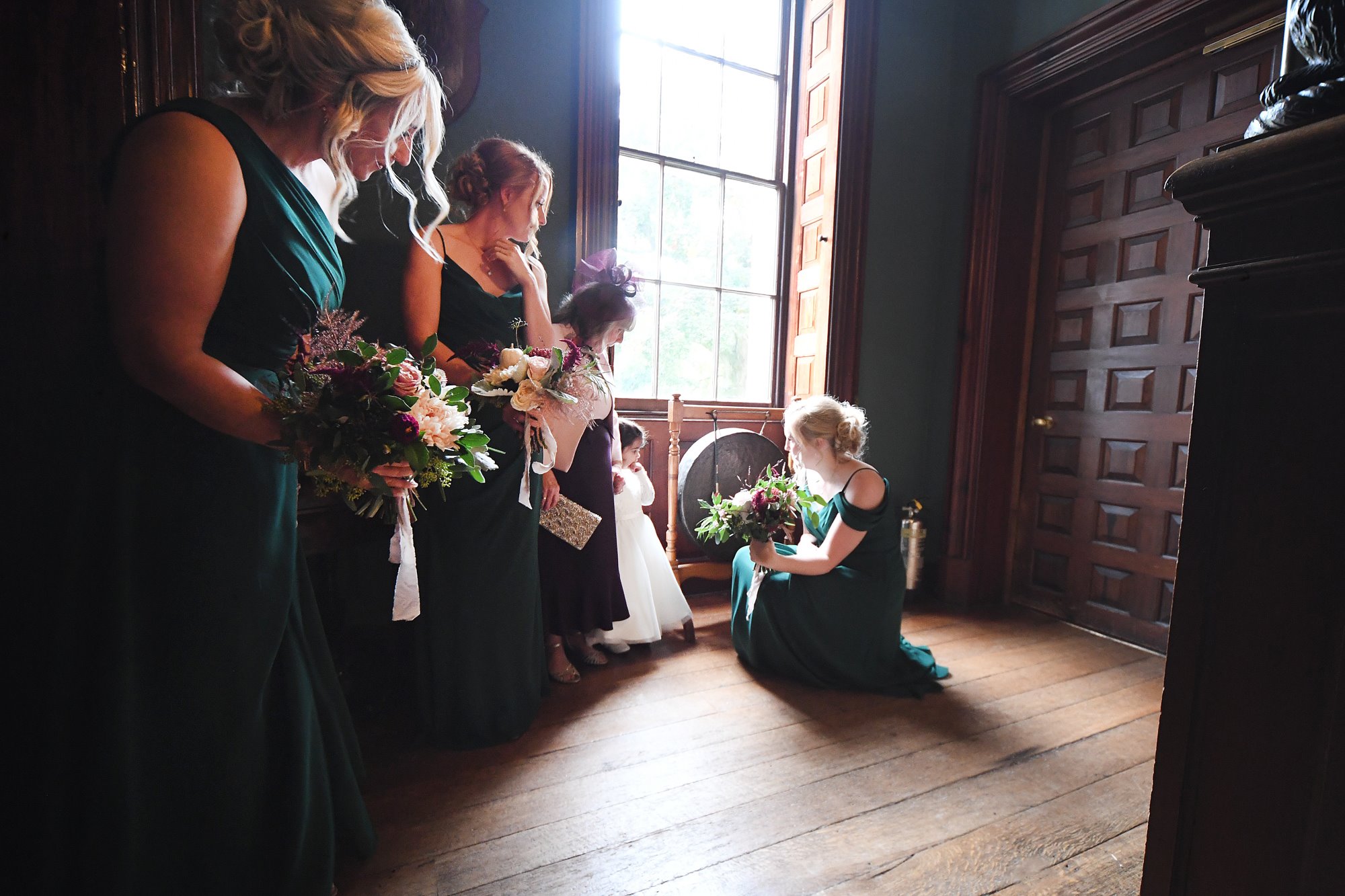 Pre-wedding pamper party with The Tattooed beauticians
The night before the wedding we had the Tattooed Beauticians over to the coach house to do the bridal party's nails, and then we watched the 1991 classic father of the bride. 
We woke at around 6am and were full of excitement for the day, it felt like we had hours to get ready but actually, it all went in a blur and before I knew it - it was time to walk down the aisle.
Walking down the aisle it was so amazing to see so many faces and finally be having our wedding ceremony after so many postponements.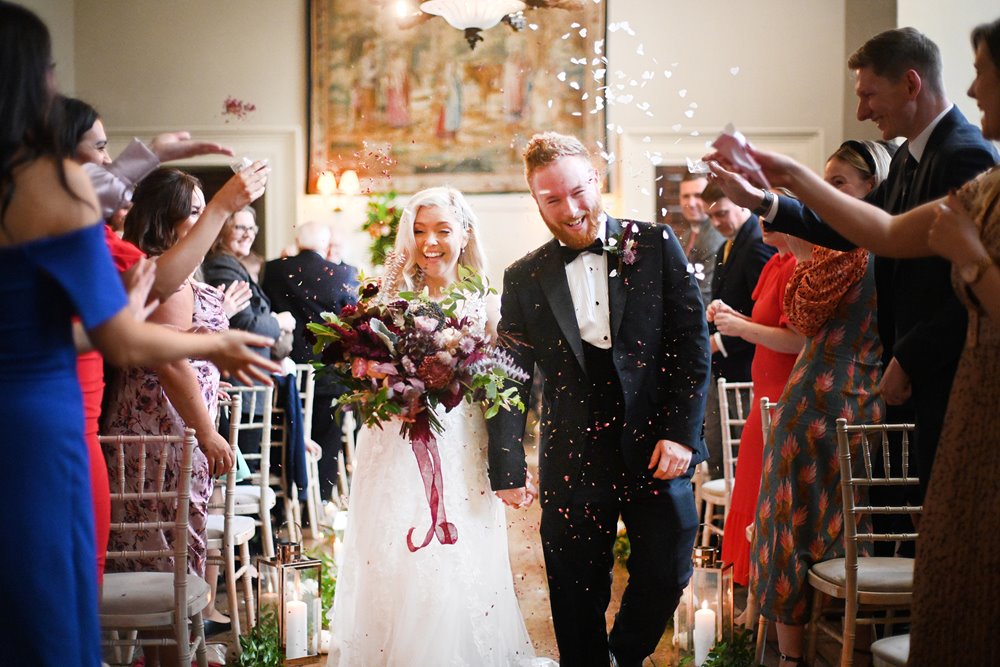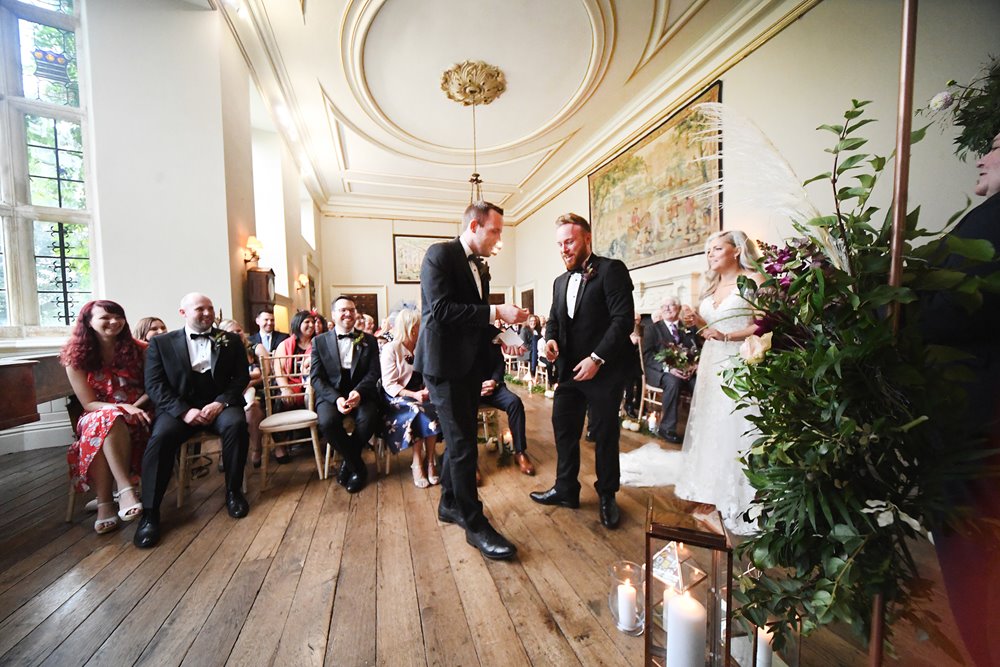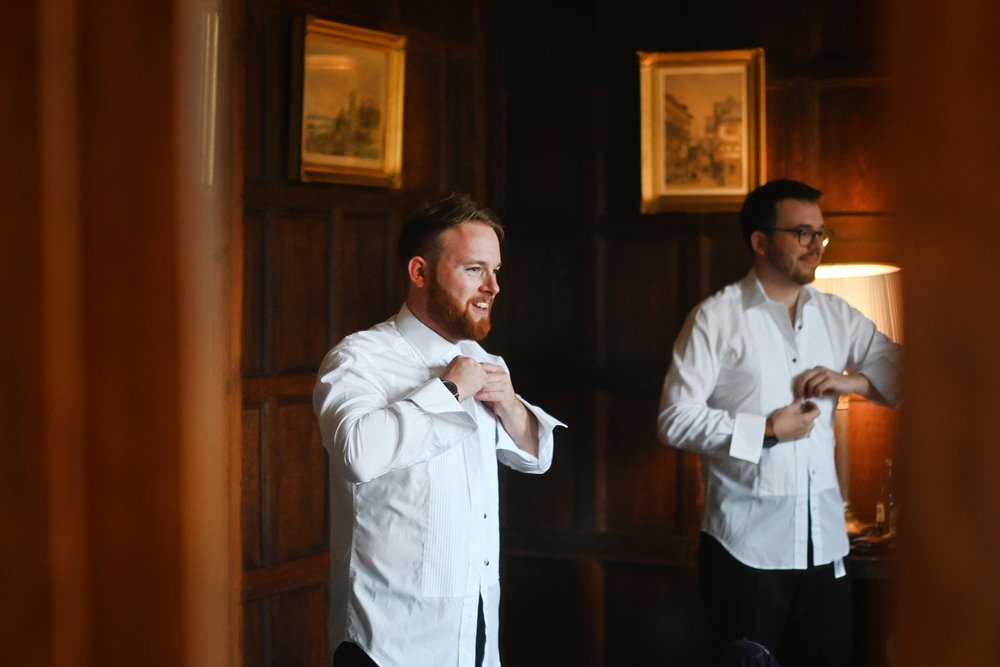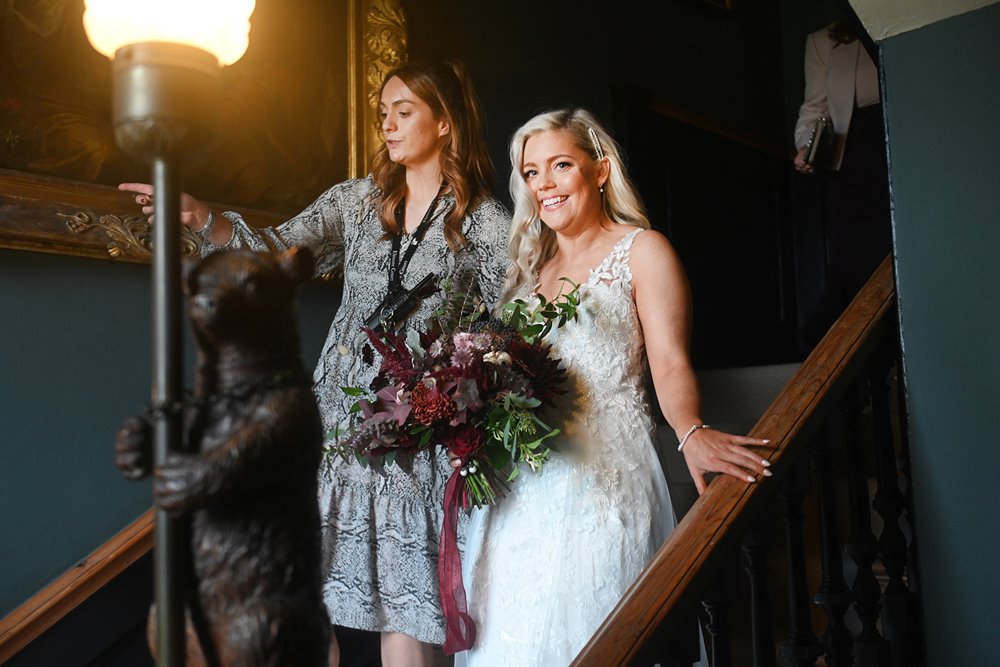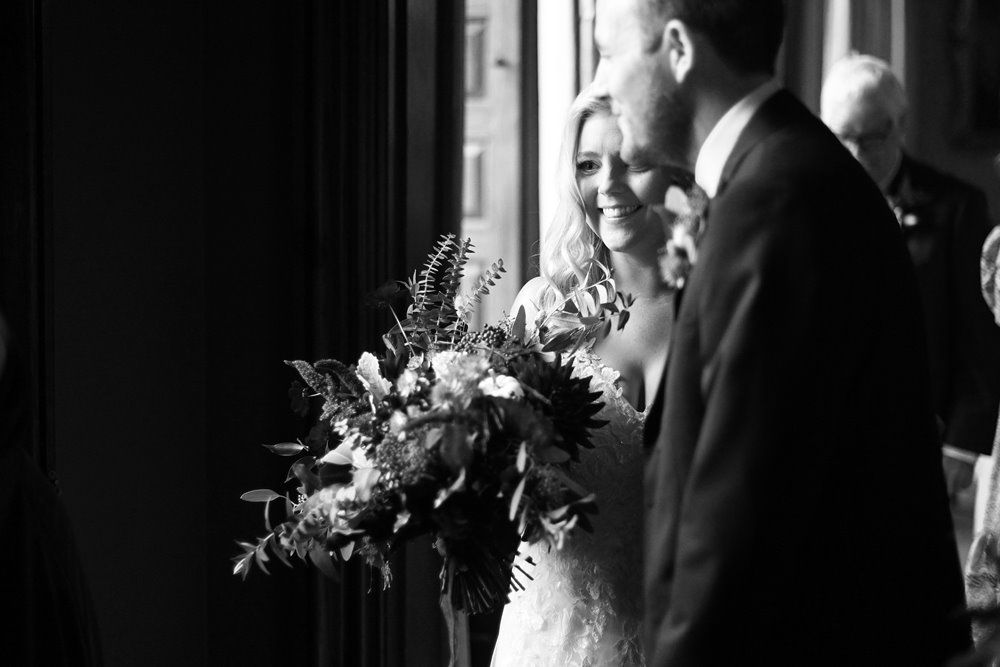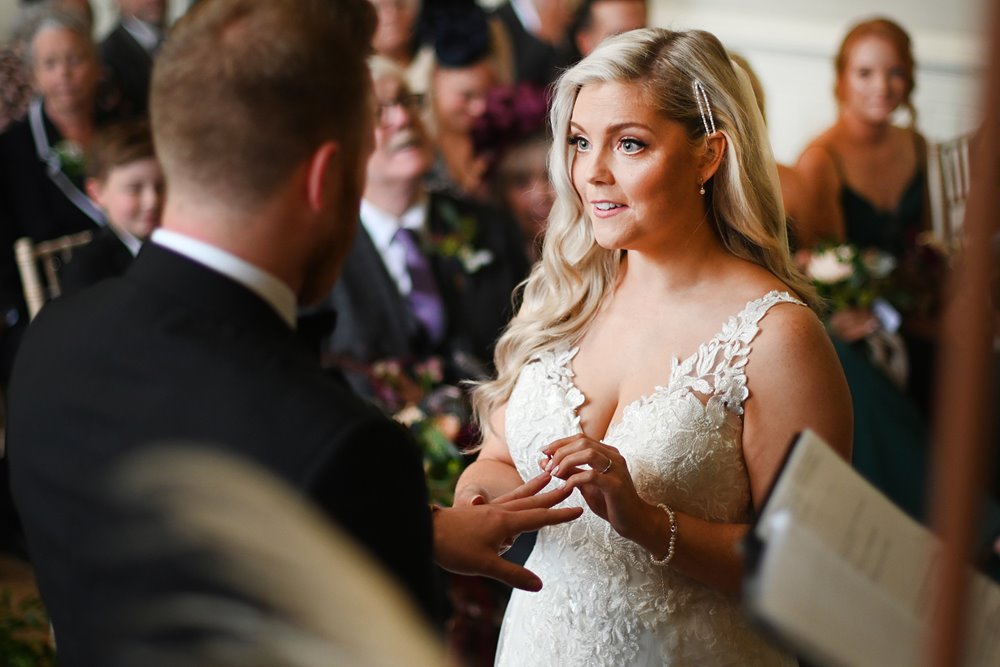 Eat, Drink and be scary.
During the cocktail reception, we had a rum punch and pineapple mojito made with rum from Tom's company Loaded Spirits as canapes circled the guests. 
For the autumn wedding feast we had:
Starter - Rosemary & garlic baked camembert in its wooden box, mini baguette & beetroot relish (v)
Main - Pavé of braised beef, shallot, smoked butter pomme purée, green beans, crispy onions & red wine sauce
Dessert - Sticky toffee pudding, butterscotch sauce & Cornish clotted cream (Tom's favourite!) 
During the evening pizza was provided by Paddy at the Cotswold Pizza Co. 
You even had a Halloween themed first dance!
Yes, Skyknights were amazing at performing a mash-up of Frank Sinatra's 'Witchcraft' and Nina Simone's 'I put a spell on you' in the upbeat style of Winifred Sanderson from Hocus Pocus!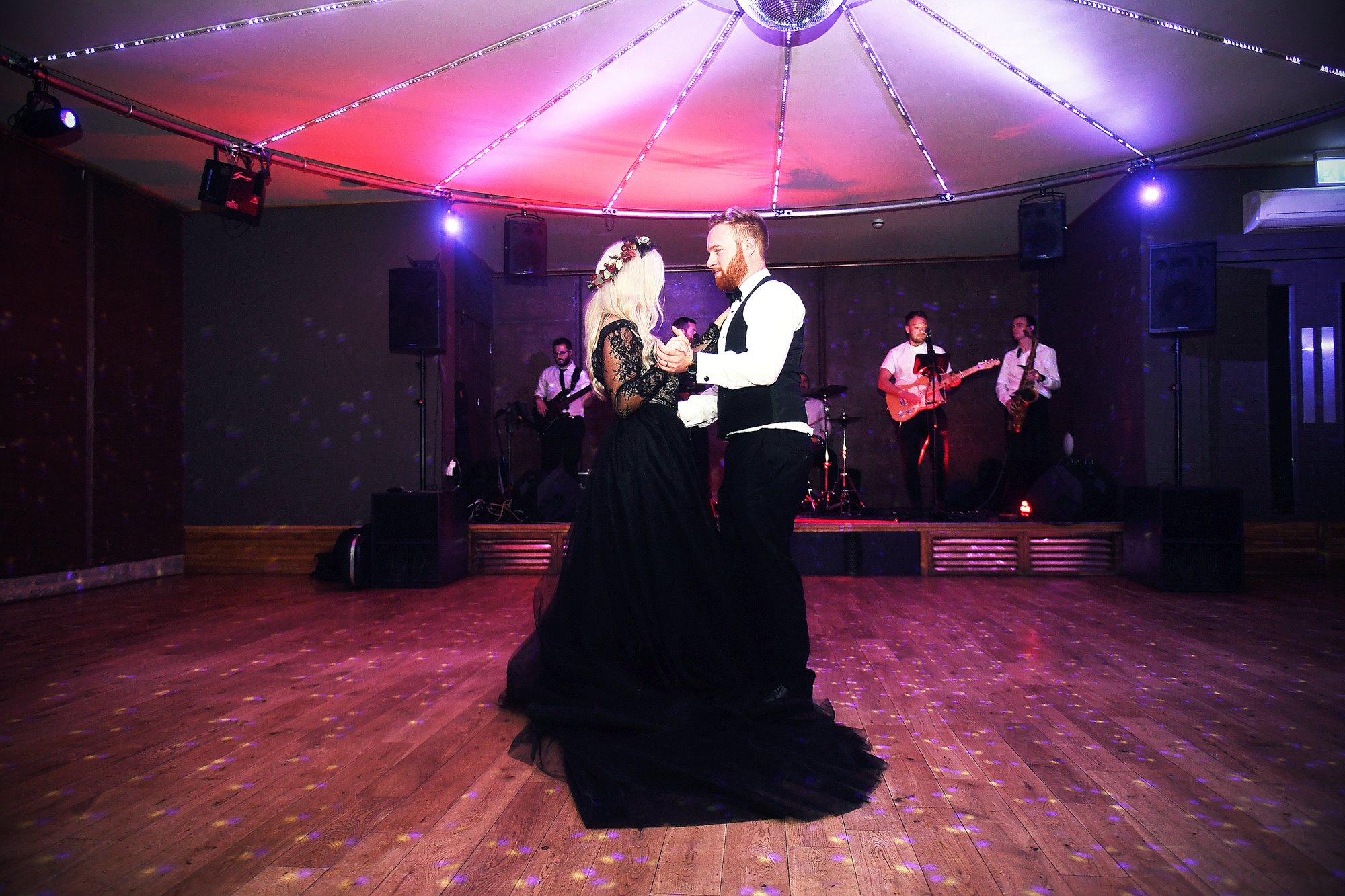 Who made your pumpkin wedding cake?
Hannah Culley created an amazing 4 tier wedding cake decorated with handmade fondant white pumpkins - the tier flavours were white chocolate, Nutella, carrot and of course pumpkin spice!
The perfect autumnal wedding cake for our Halloween theme.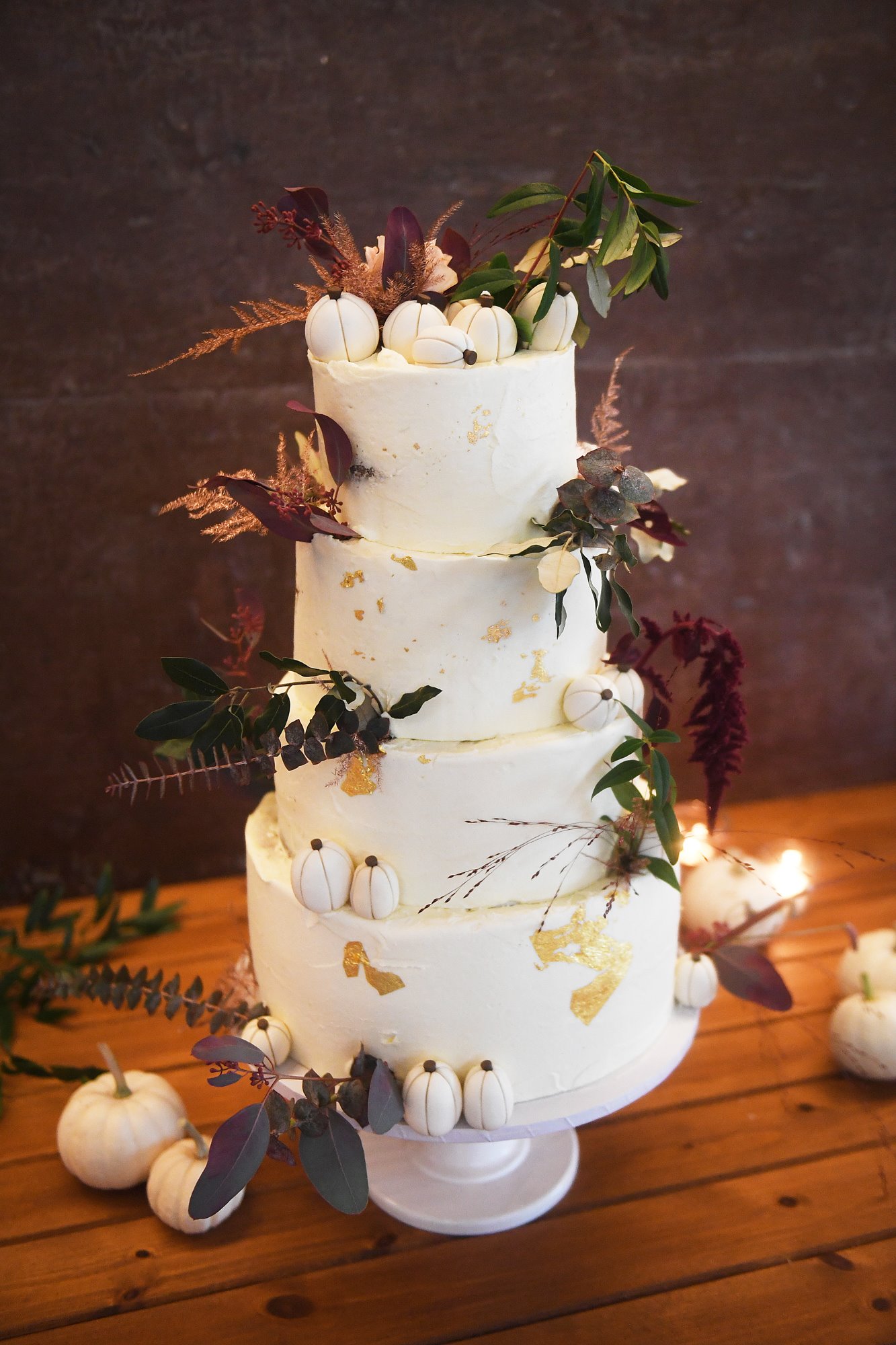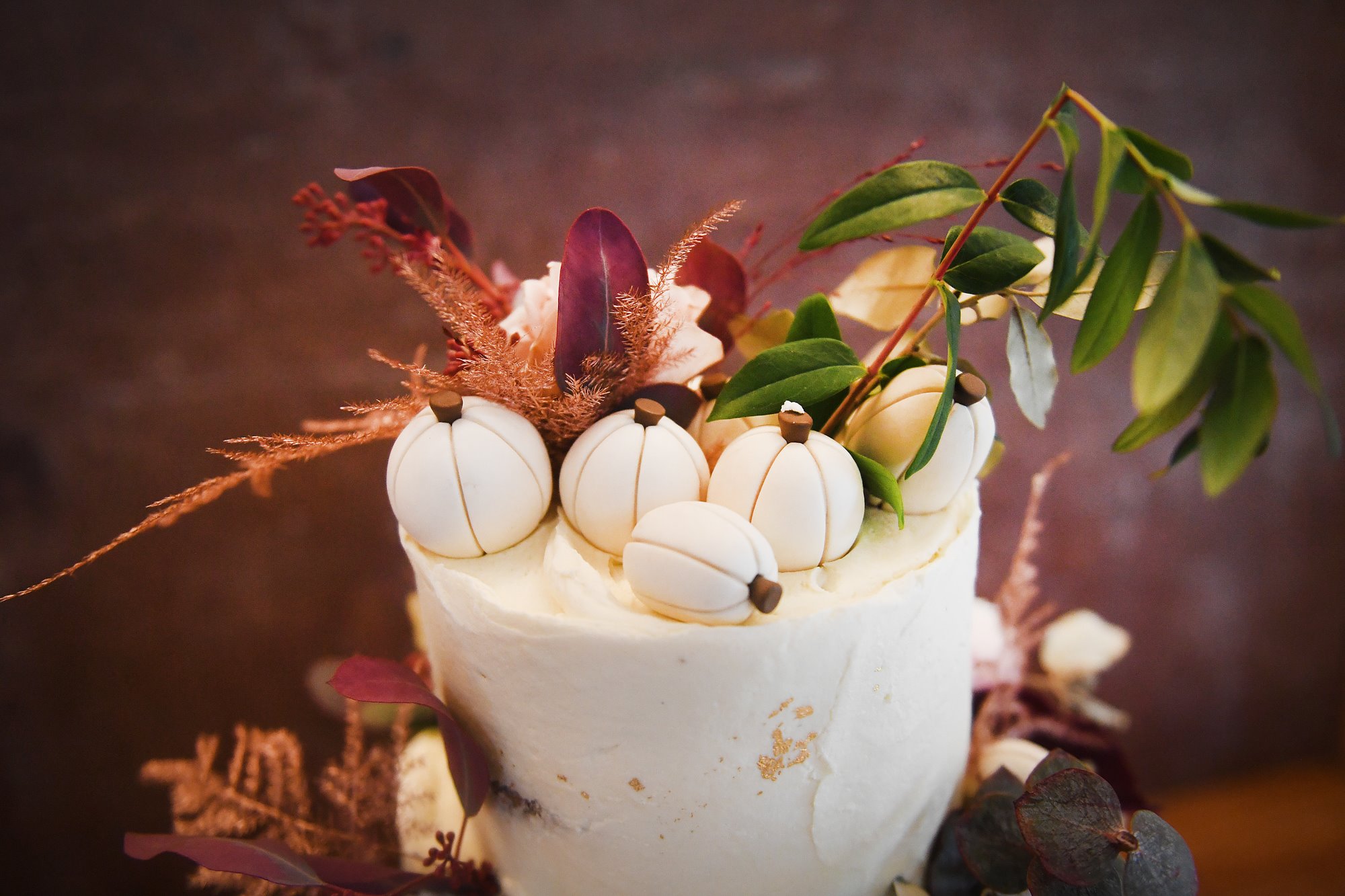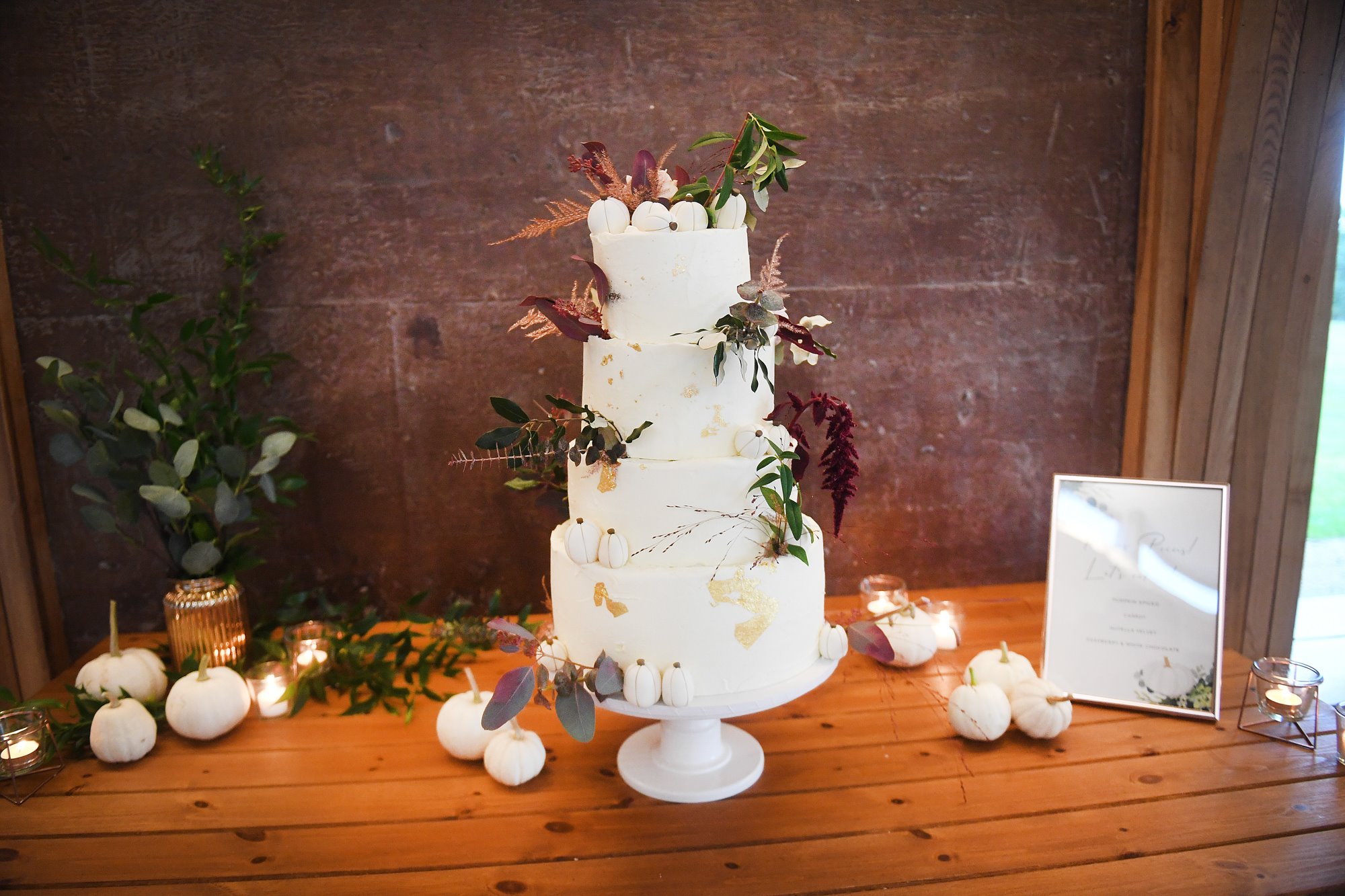 Your Hocus Pocus cocktails and magical photoshoot looked epic
During the evening Skyknights band performed, Belle Studio also came with their silver photobooth caravan, and Shockwaves pyrotechnics put on a beautiful firework show with sparklers to keep guests entertained. 
We also arranged signature Halloween wedding cocktails in the style of the Sanderson sisters from Hocus Pocus.
Once I was in my black wedding dress we took the opportunity to have a moody photoshoot with smoke bombs near the willow tree and the large Cedar tree that was decorated with hanging lanterns by every event hire. 
Steve got some really magical and atmospheric gothic style wedding photos!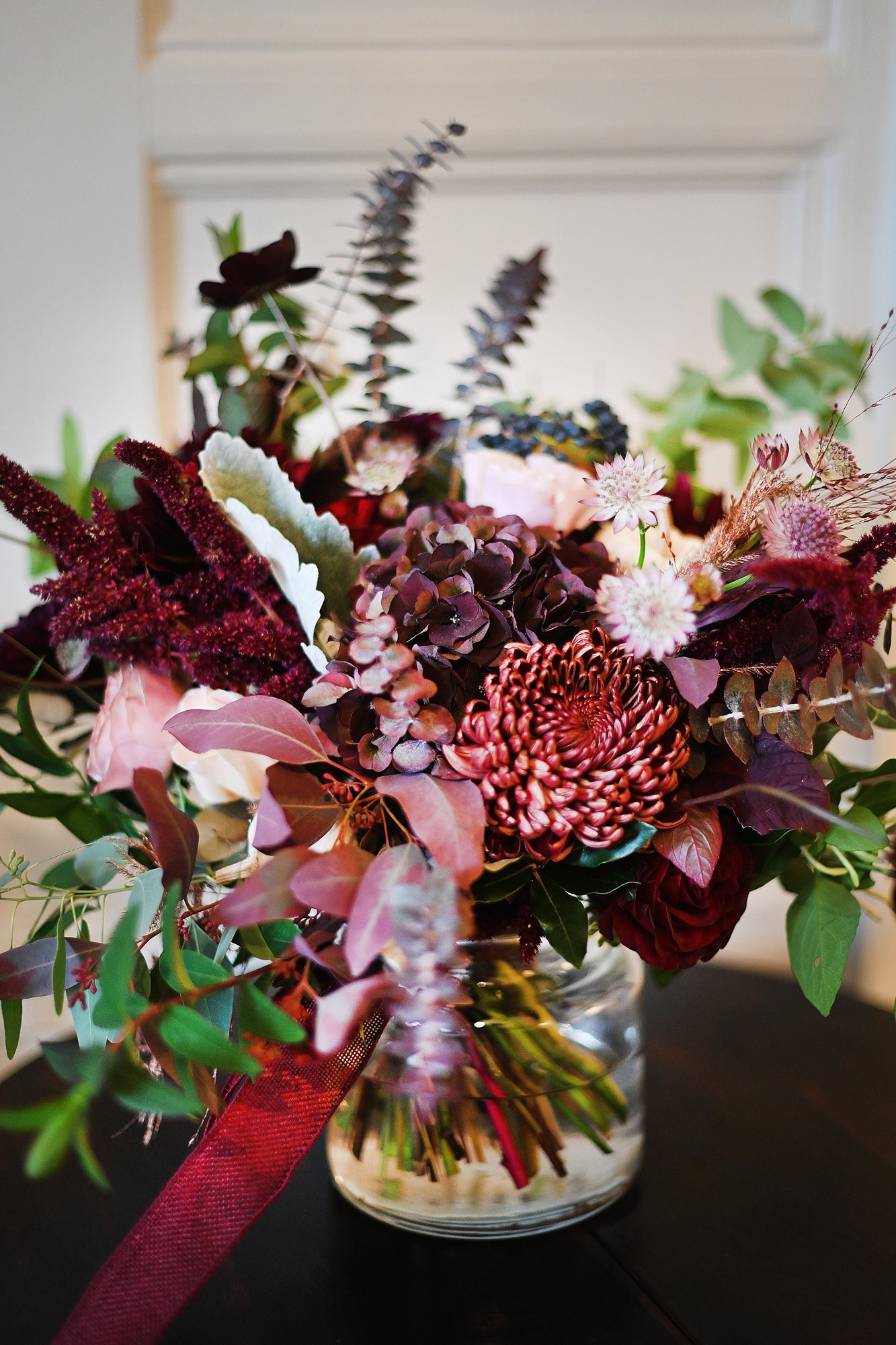 So your black wedding dress change was a big highlight?
Other than actually finally getting married after multiple postponements, my highlight has to be the black wedding dress.
It was amazing to have a quick outfit change surrounded by my bridesmaids. My wedding coordinator, Alex was in on the outfit change (saying she had never had a bride in black before!) and arranged for me to be sneaked through the kitchen and onto the dancefloor for a surprise unveil during our first dance.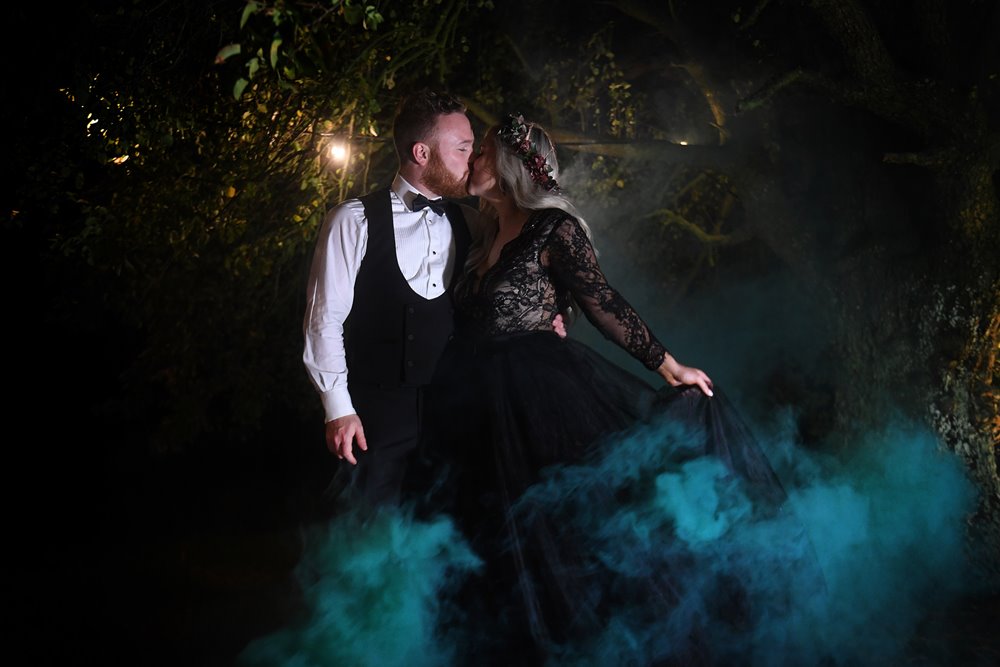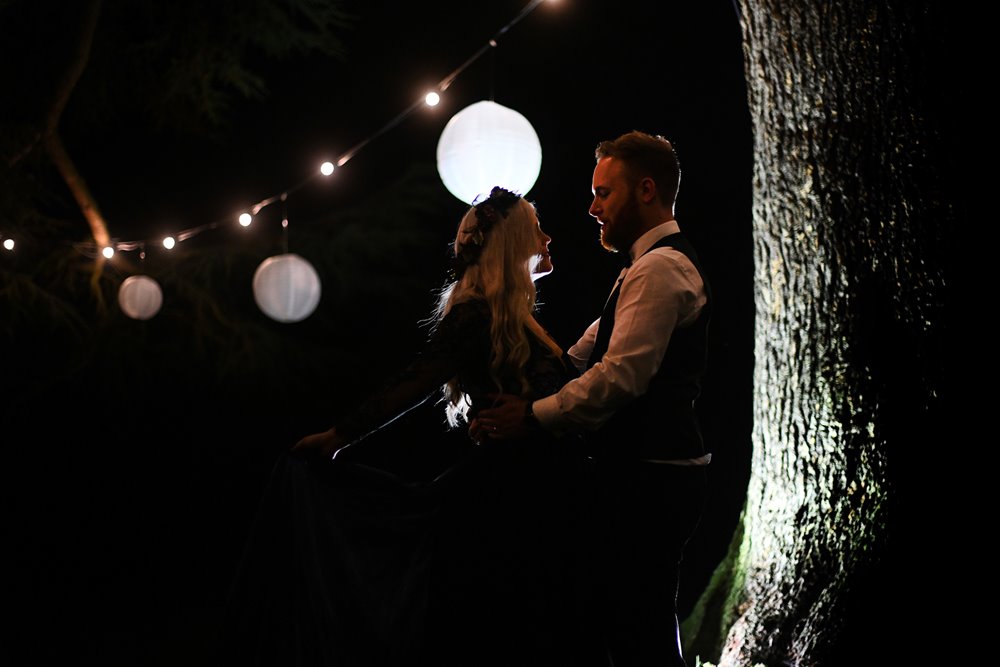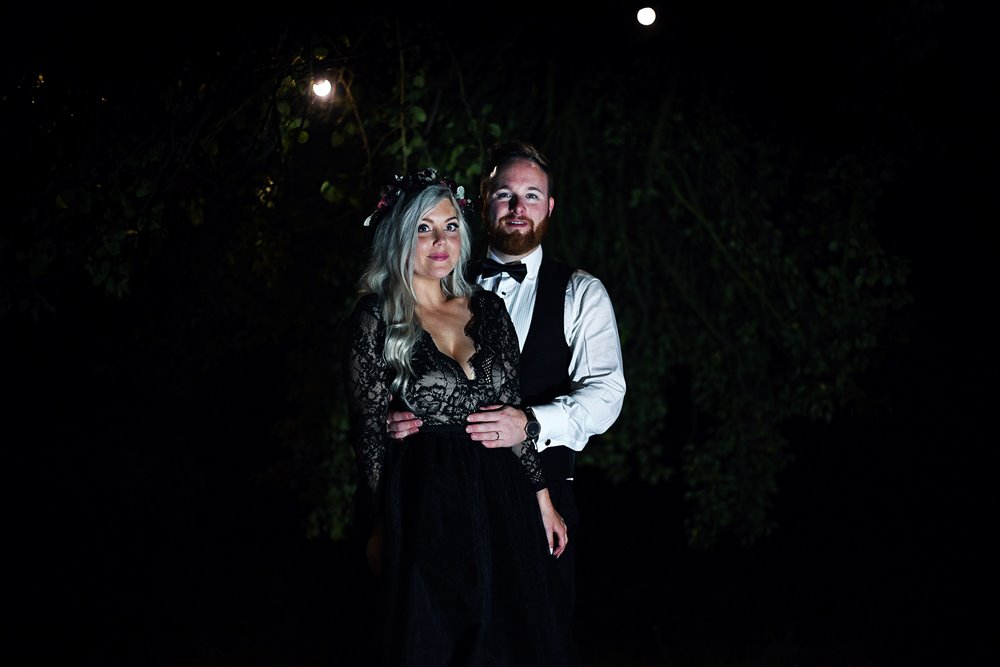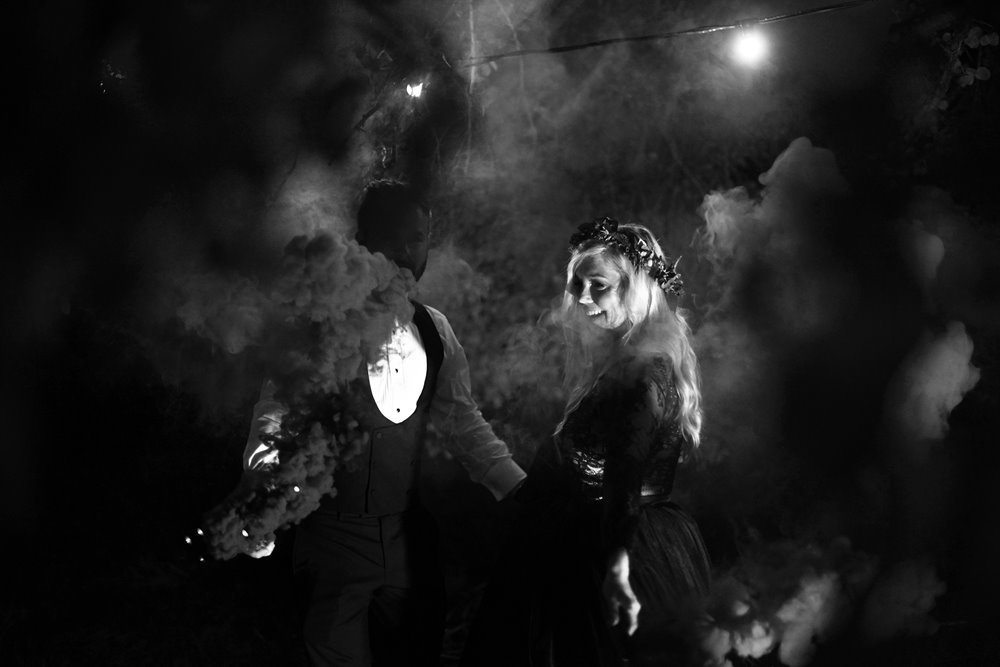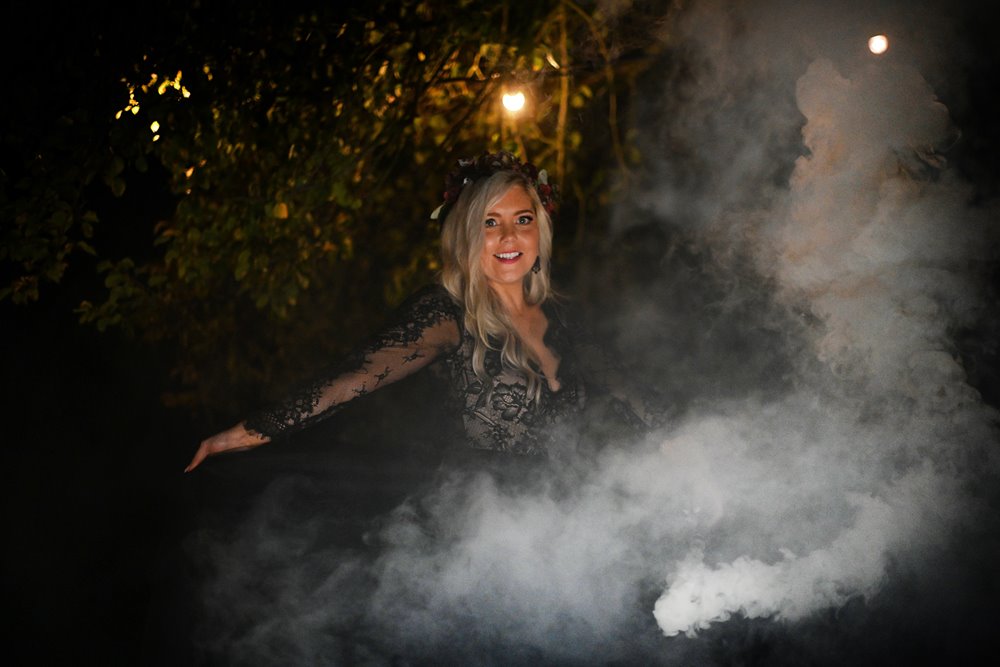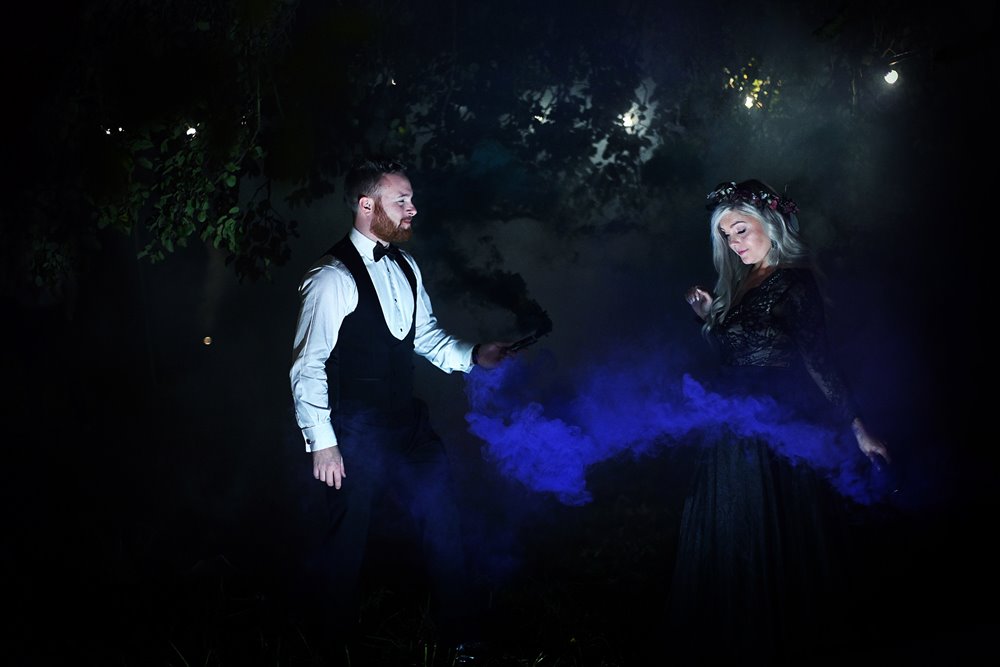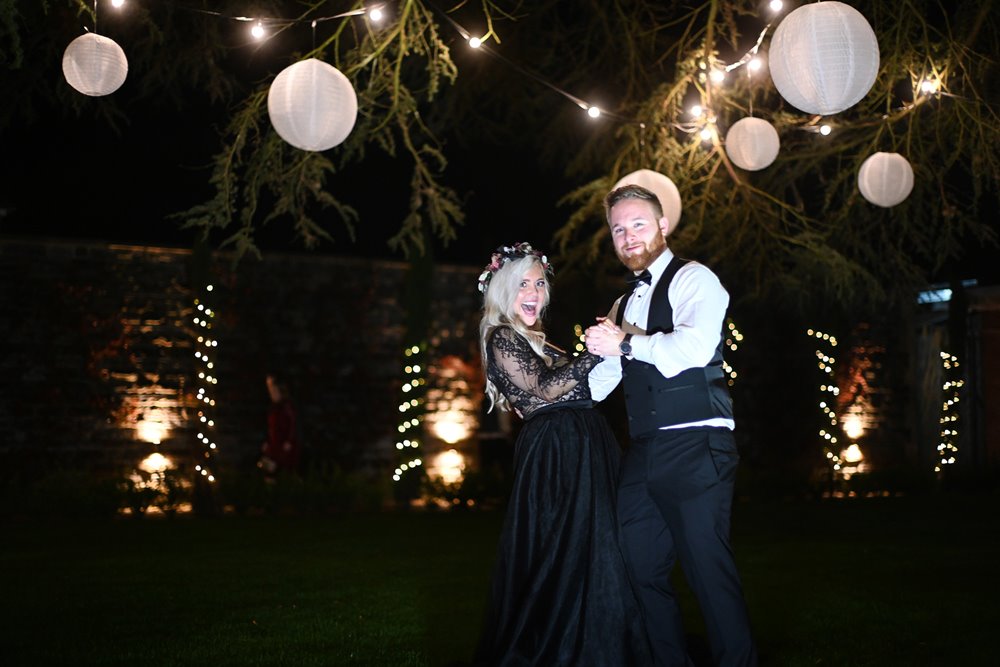 What is your top tip as a newlywed for brides-to-be?
My number one tip is when working out how long you need to get ready, add another 30 minutes on!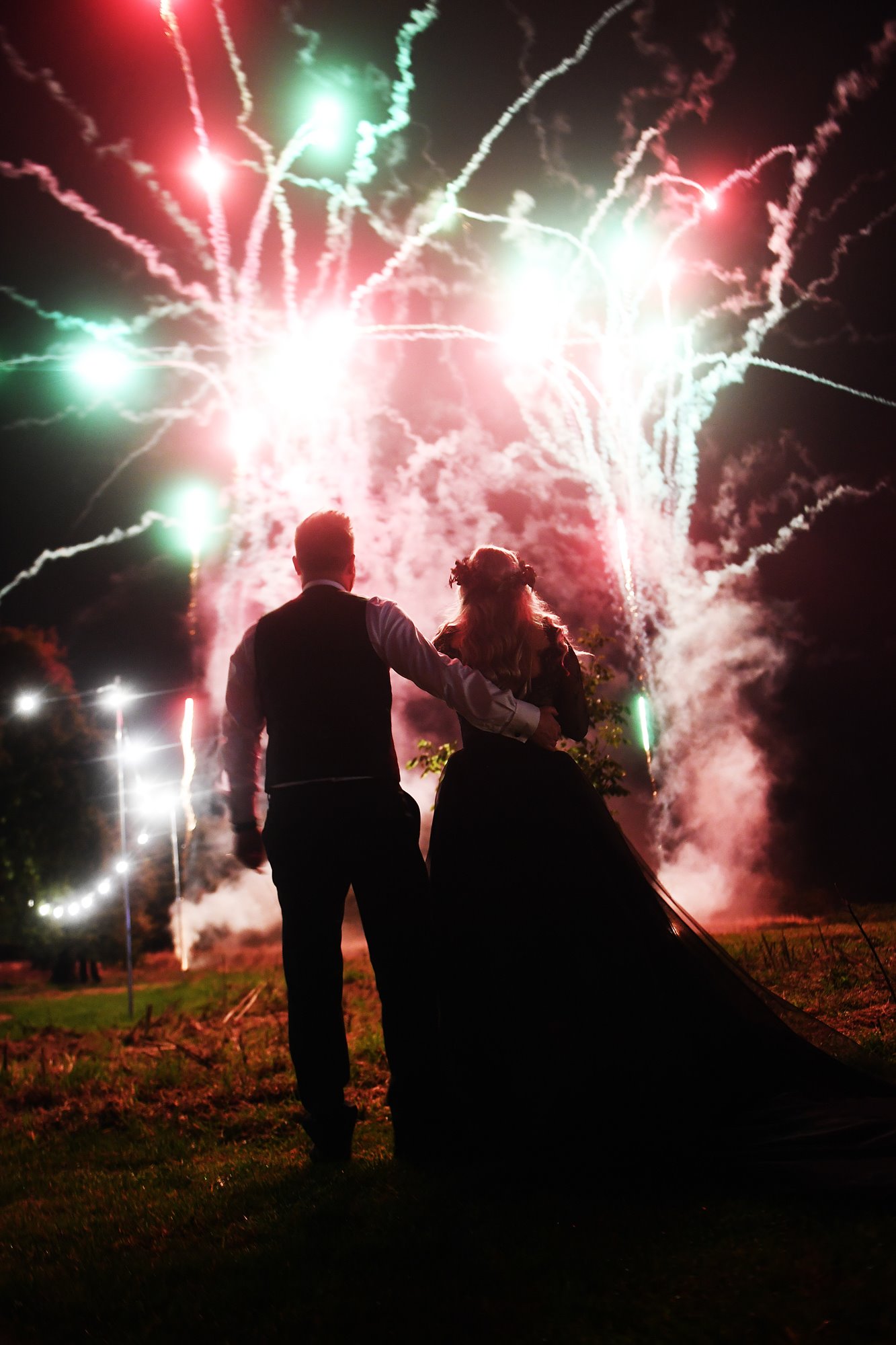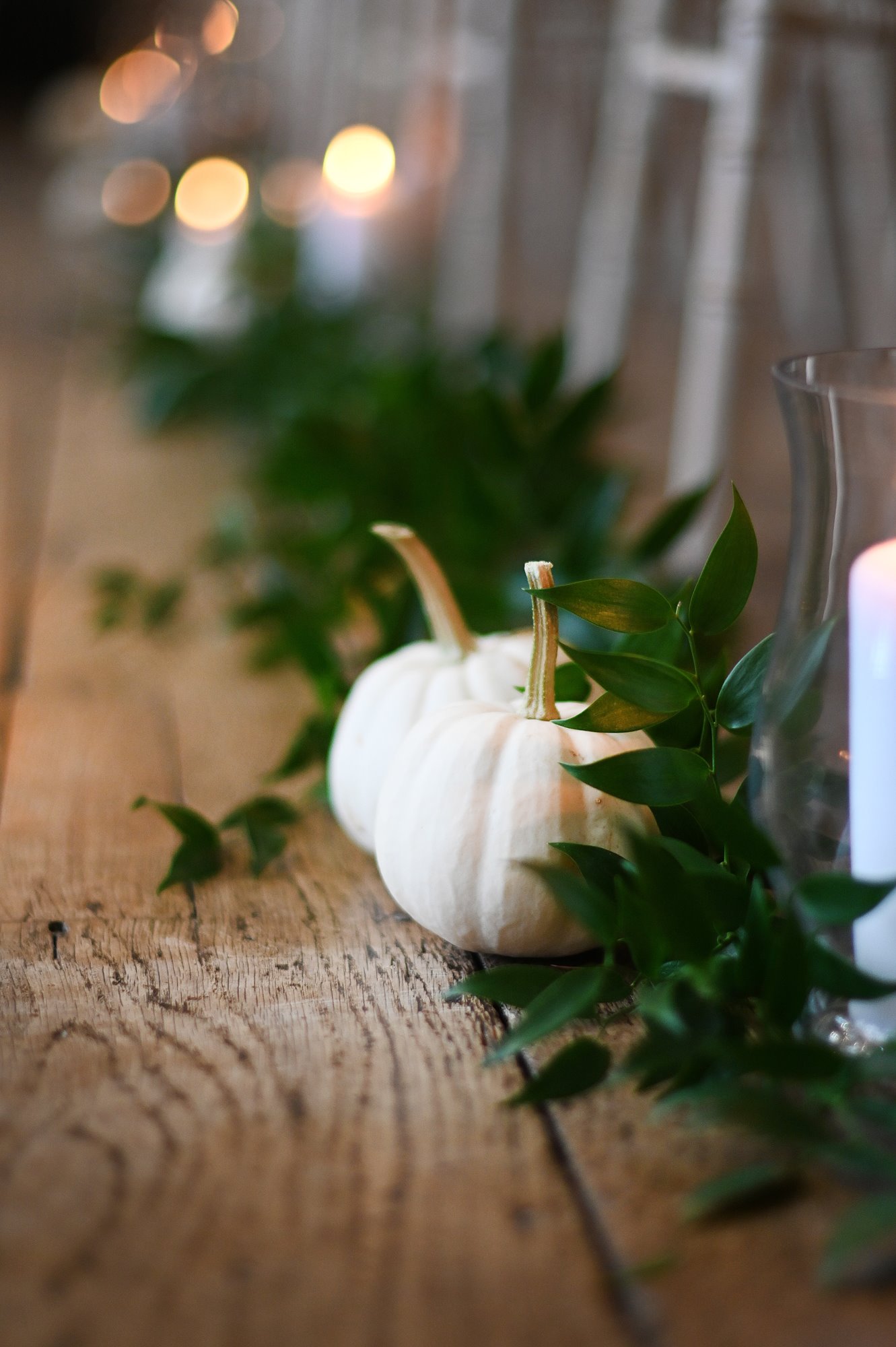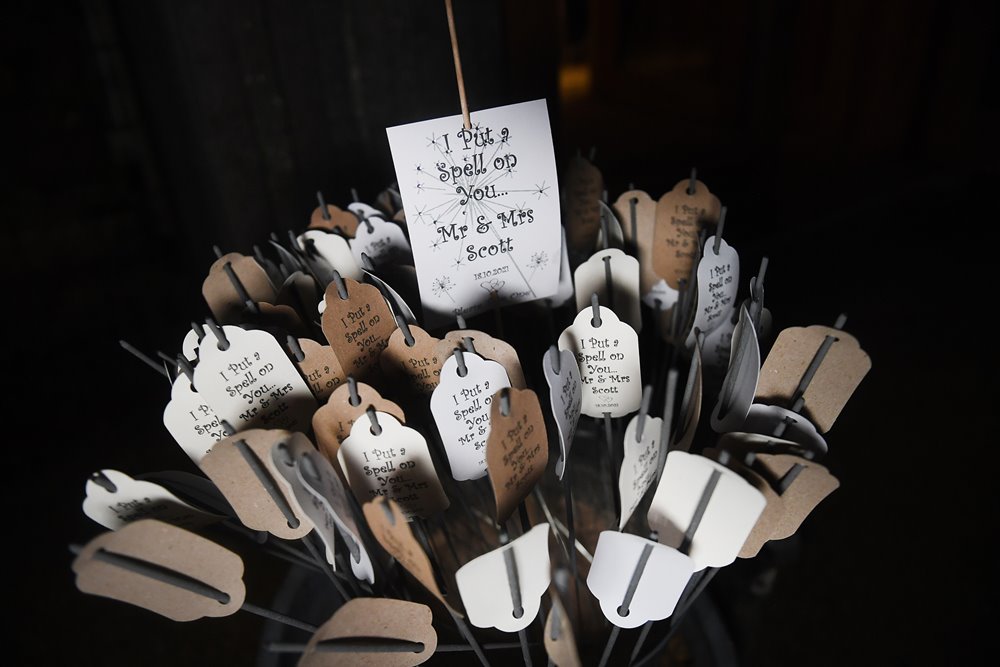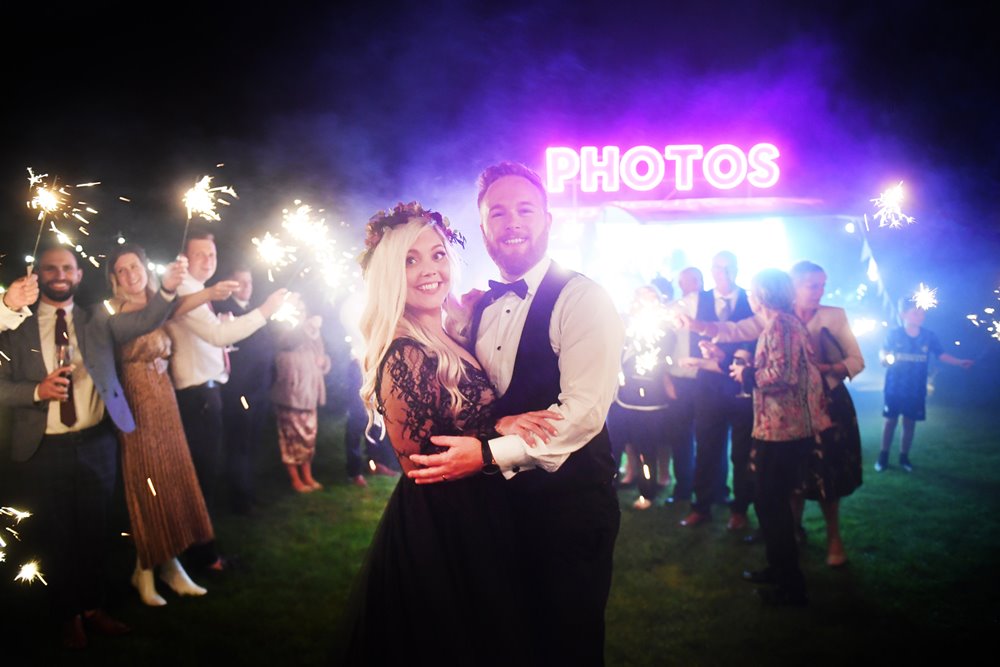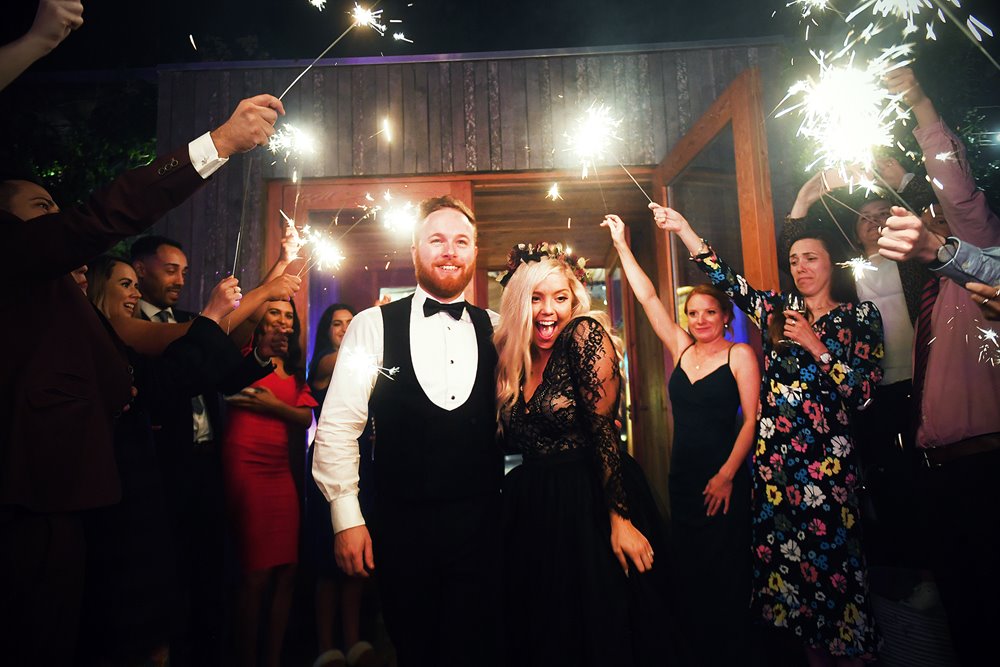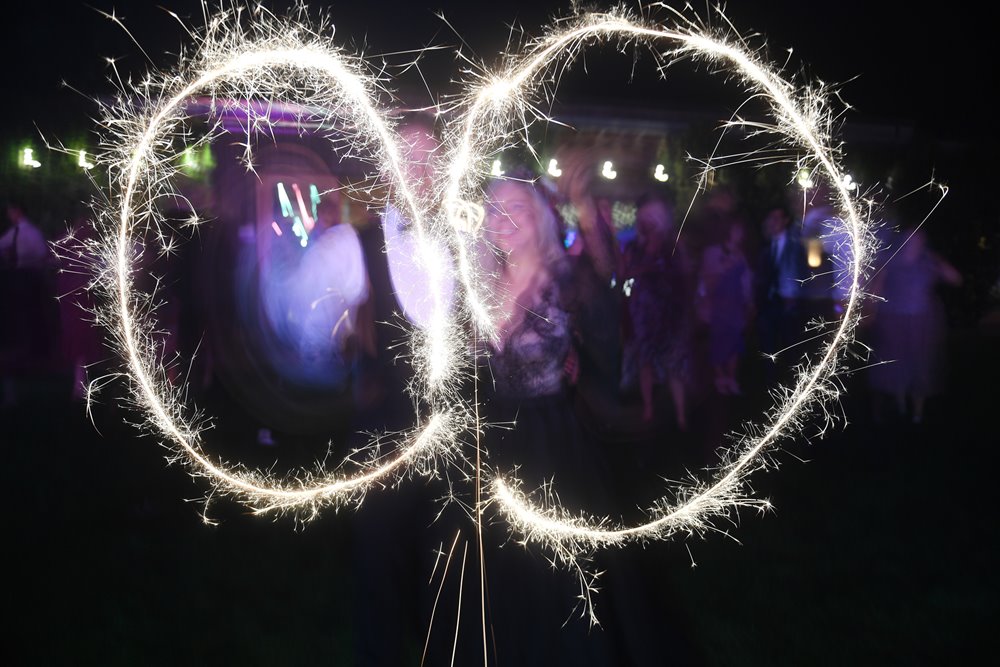 Thank you so much Beccy and Tom for sharing your whimsical Halloween wedding with us, it was such fun and we will ever be in awe of your pumpkin growing skills!
If you've found yourself spellbound by the idea of a darker kind of wedding idea after reading this, be sure to check out this magical & moody October wedding with black wedding cake, and browse our dark wedding aesthetic journal for more inspiration.
Enjoy spooky season everyone.
Forevermore,
Team E 
xxx
Related reading