Moody & Magic. The perfect October wedding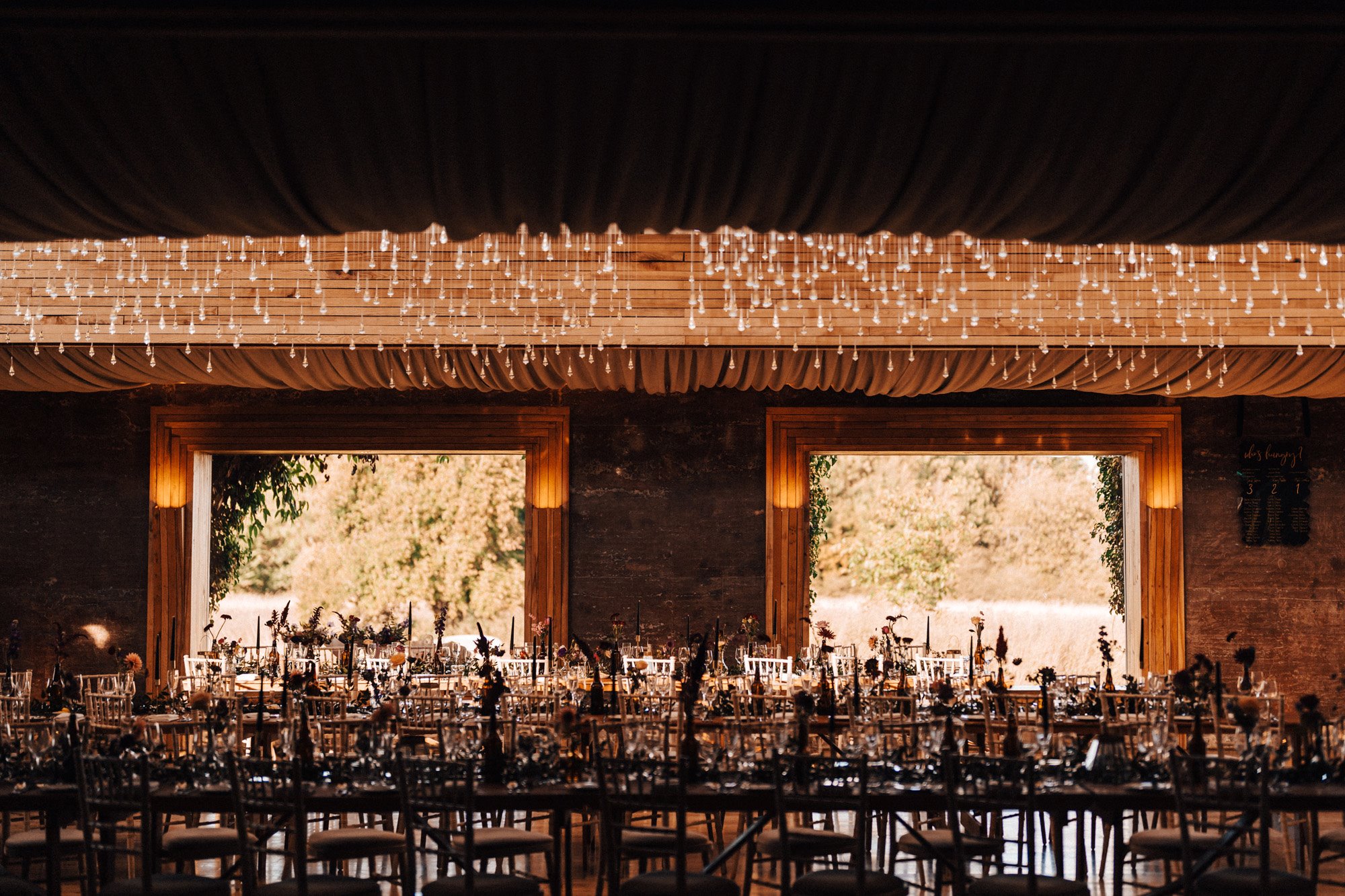 This enchanting autumn wedding had the perfect sprinkling of black and celestial accents to celebrate Halloween month in all its magical glory.
Equally glamorous and dark and moody photography by James Fear, and a black wedding cake handmade by the bride herself is quite literally the icing on the cake!
Charlotte and David got married on the 1st of October last year with 70 guests in the day and a further 20 guests joining in the evening.
Are you ready to be bewitched by the whimsical wonders of this note-worthy October wedding? 
Take it away Charlotte!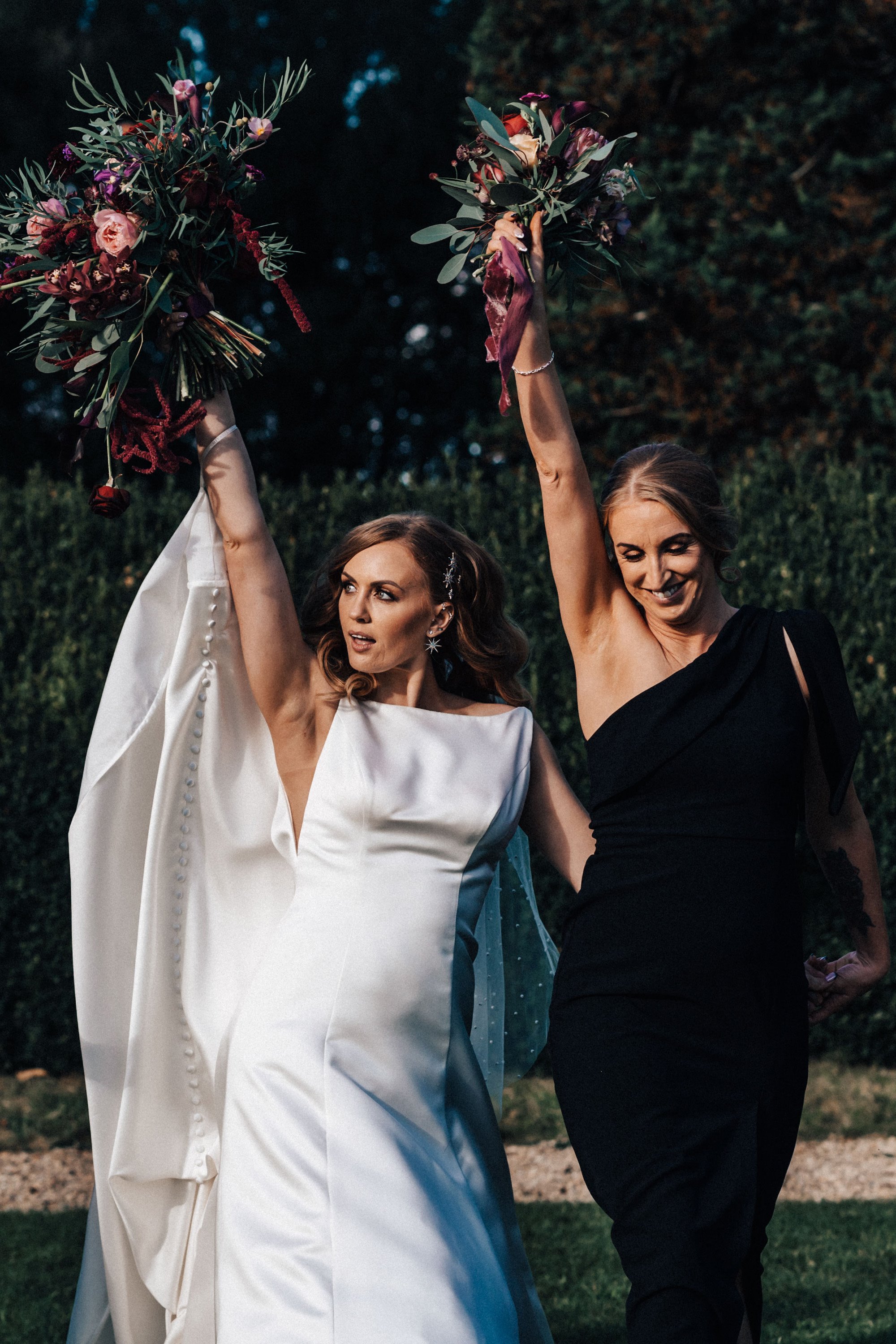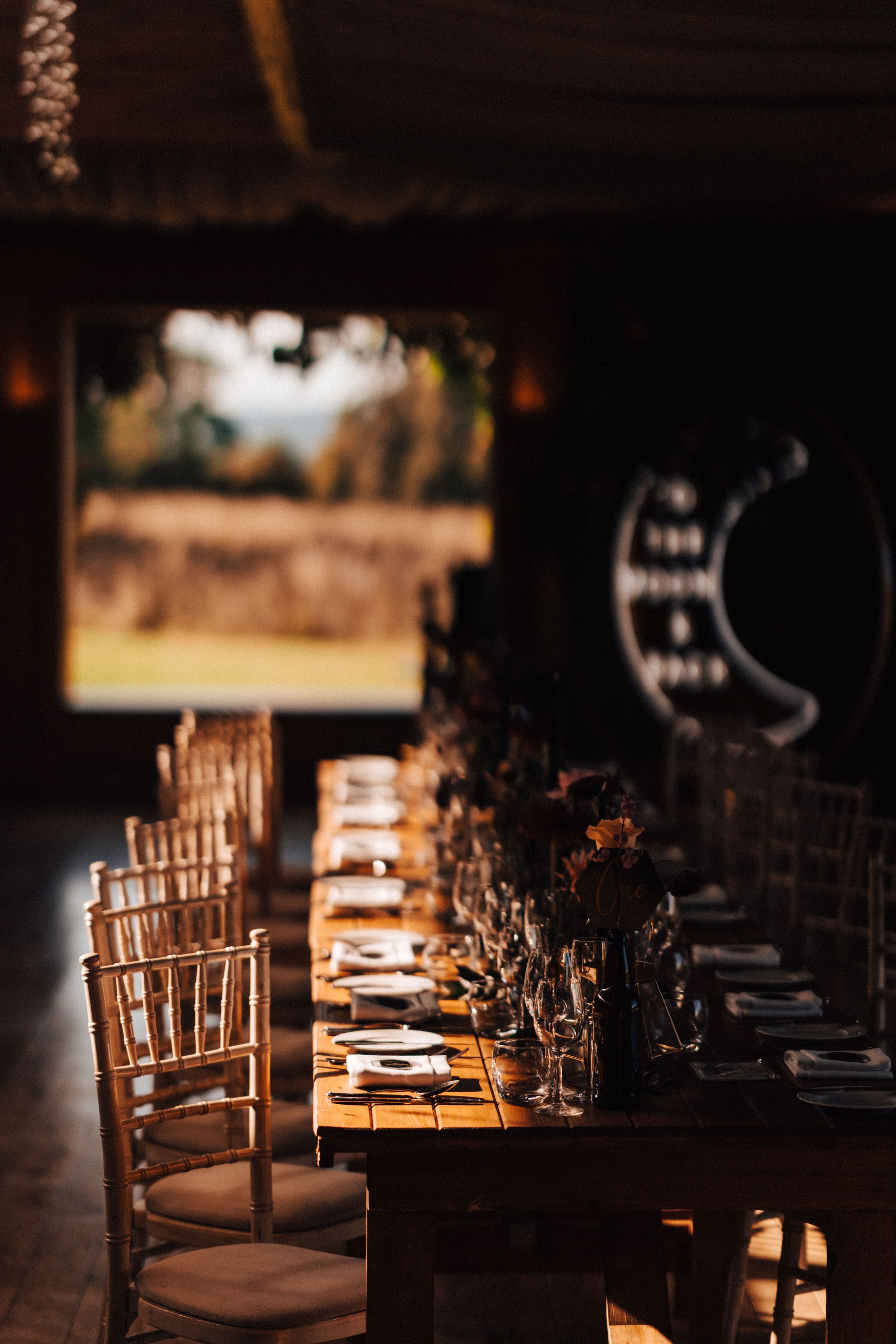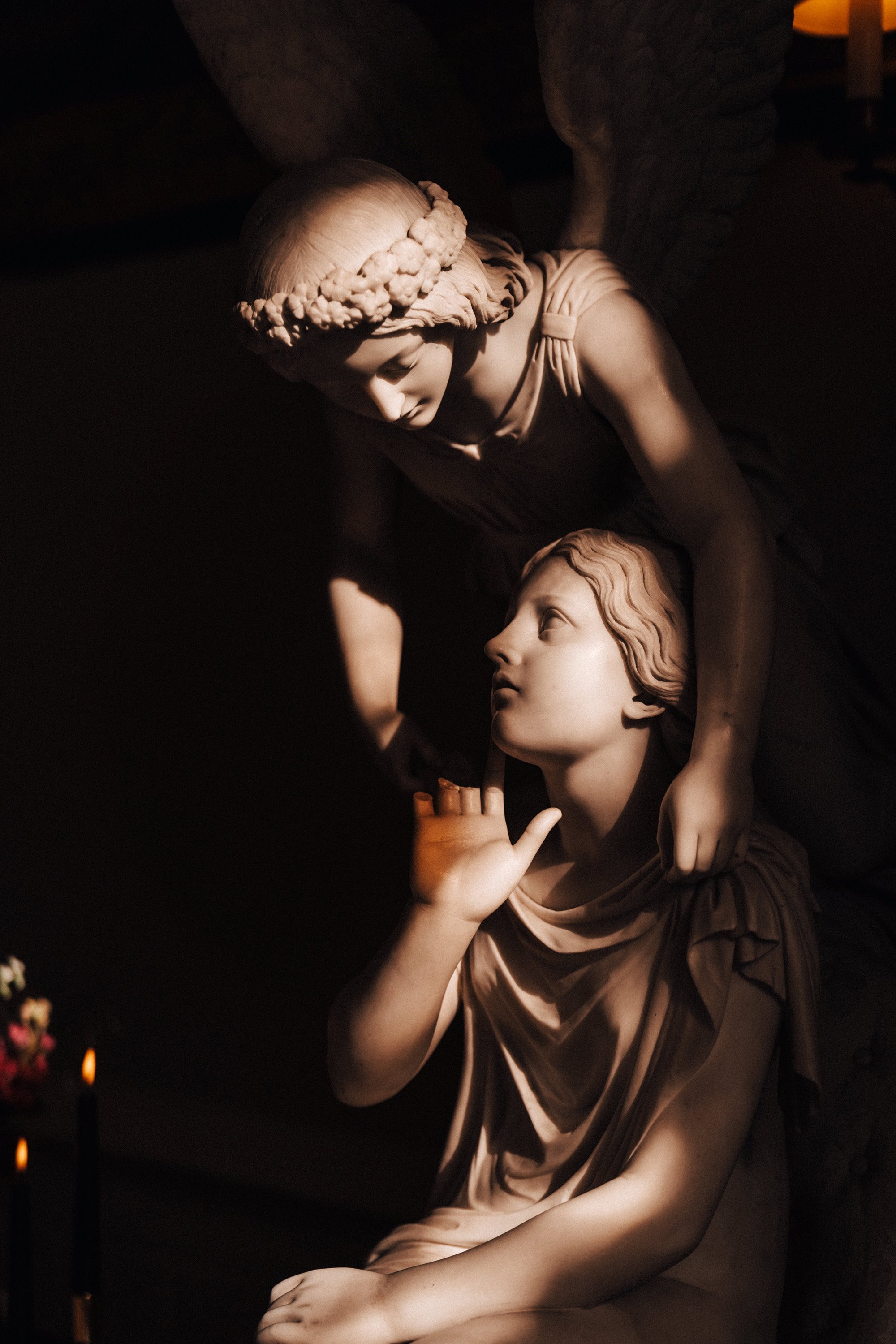 How did you meet?
We first met at school. Well, I say we met – we were in the same class but had completely different friendship groups so we never interacted while we were at school.
After we left, we became friends on Facebook. We still didn't interact for the next 5 years though, until one fateful day in 2010 when Dave spotted that I had posted a song by one of his favourite bands and seized the opportunity to slide into my DMs!
From the very first date we were completely smitten.
Our relationship blossomed and over the years we moved in together, eventually buying our first home and then having our little girl.
Dave proposed in 2018, after 8 (long but wonderful) years together – we joke that he had to be absolutely sure!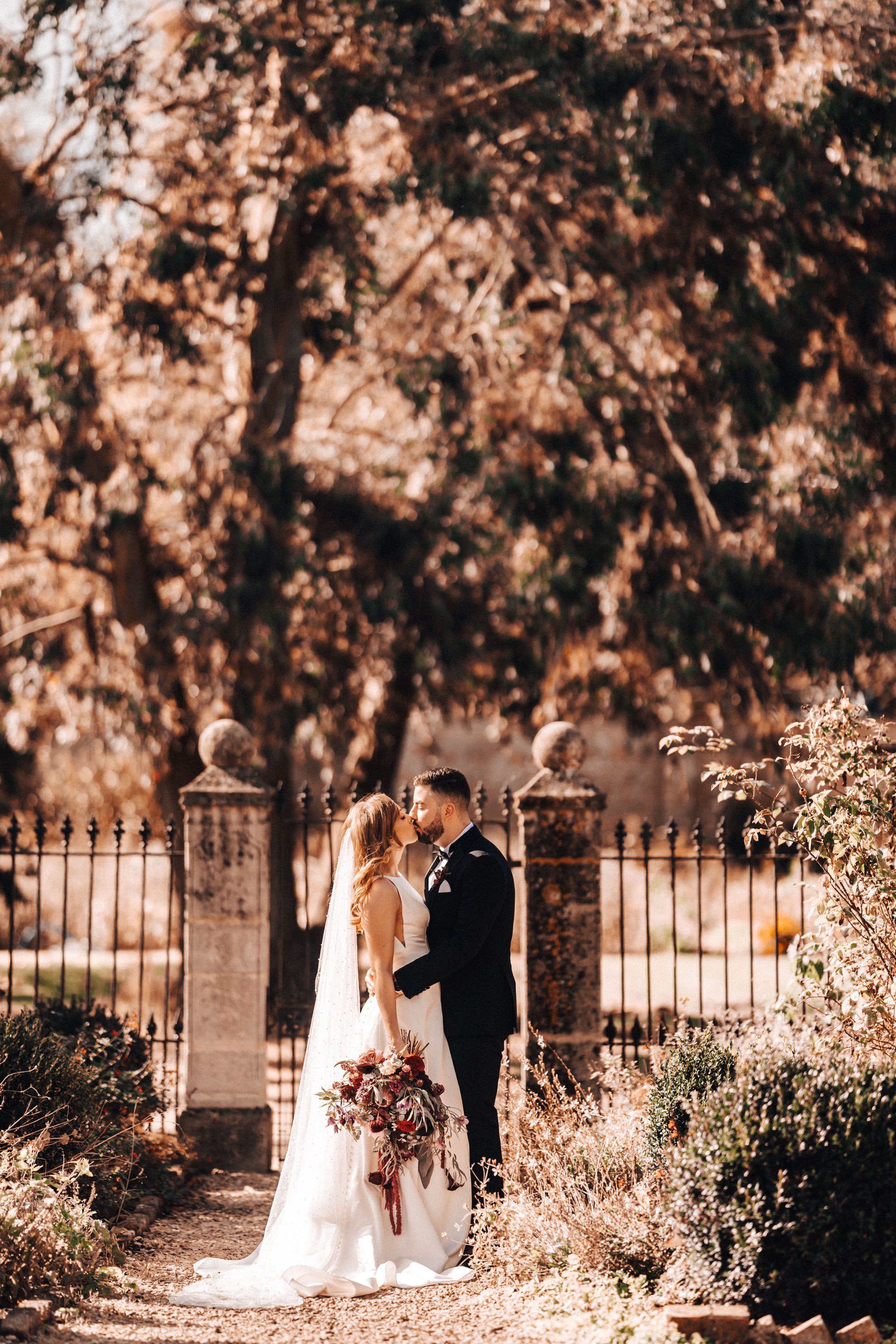 Tell us your proposal story!
As I did so, I innocently brushed off some sand from my lap and inadvertently flung the (slightly too large) engagement ring off of my finger and into the sand. Of course, it immediately sank out of sight!
We were on a family holiday to Spain with our children and my Mum. Unbeknownst to me, Dave had already enlisted the help of my Mum and the two had been planning and conspiring away to find the perfect ring and plan the proposal.
We were enjoying a lovely sunny morning on the beach when Dave suggested a photo of the two of us at the water's edge. Completely unsuspecting, I was smiling away like a loon while my Mum pretended to snap a pic. She was actually taking a video of Dave getting down on one knee and asking me to marry him! I was gobsmacked but I said yes, of course!  
 
We floated around in a love bubble for a little while before deciding to leave the beach and head back to the hotel.
Dave collected up some bits and took them to the bin a short walk away while I stood to collect our things.
As I did so, I innocently brushed off some sand from my lap and inadvertently flung the (slightly too large) engagement ring off of my finger and into the sand.
Of course, it immediately sank out of sight!
Cue me hysterically dropping to my knees, sobbing and frantically raking through the sand, shortly followed by my mortified Mum when she realised what was happening! This was the scene that Dave returned to... in his usual unflappable style, he calmly joined in the search, reassuring me the whole while that it was just a ring.
After the three of us searching through the sand for a good half an hour, I had all but lost hope of seeing my beautiful ring ever again when in a scene that could have been straight out of a film, Dave gave one final big scoop through the sand and emerged with my engagement ring sat neatly on his little finger!
If that's not the universe saying this man and this ring were meant for me, I don't know what is.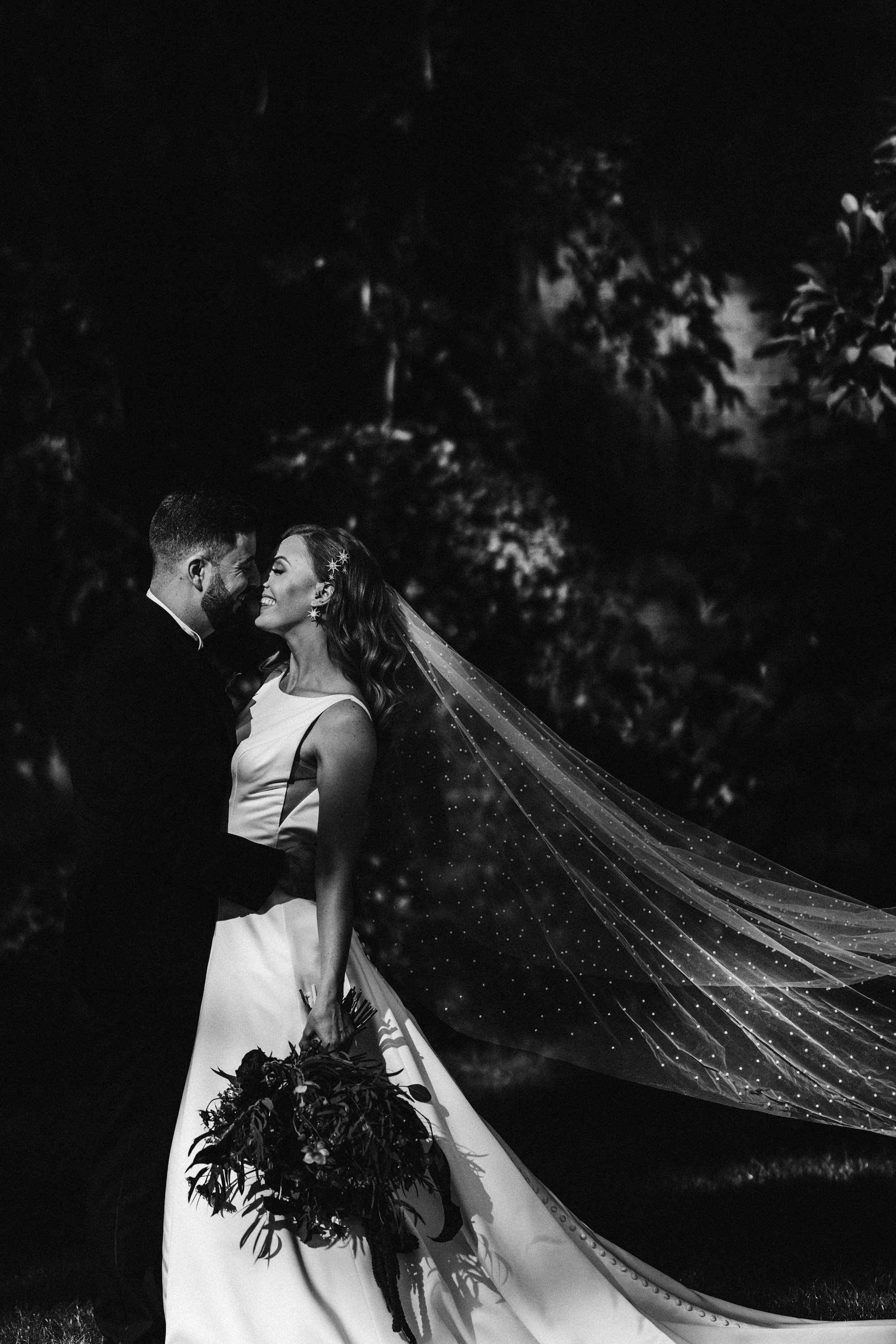 What did you want from a wedding venue?
Dave used to be in a function band, and has played at venues up and down the country. He had seen every style of wedding going – outdoor, indoor, modern, traditional etc, but maintained that he hadn't yet found anywhere that he would be happy to host our own wedding. It had to be perfect!
We found Elmore Court from a Google search and were immediately enamoured with the place.
After taking the interactive tours of the House and the Gillyflower, we were almost completely sure that it was the venue for us.
We did book a couple of in-person tours at different venues though, trying to convince ourselves that we needed to for benchmarking purposes.
On our way back down the driveway from our first visit to Elmore, we cancelled the others! 
 
Elmore has everything you could ever want and more from a venue.
In my job at the National Trust, I have seen a fair few grand country manor houses, yet I was so impressed with how the house at Elmore has been so sympathetically renovated; authentic without being stuffy, the rooms offer the most welcoming and sumptuously homely vibes.
The juxtaposition between the old and new, with the modern Gillyflower, satisfied the differing elements of our personalities.
Dave's musical background was satiated by the amazing sound and light system, and the house offered oodles of the original period details that are so important to me.
Our decision was cemented by meeting Team E – we just knew that our best day would be in the best hands.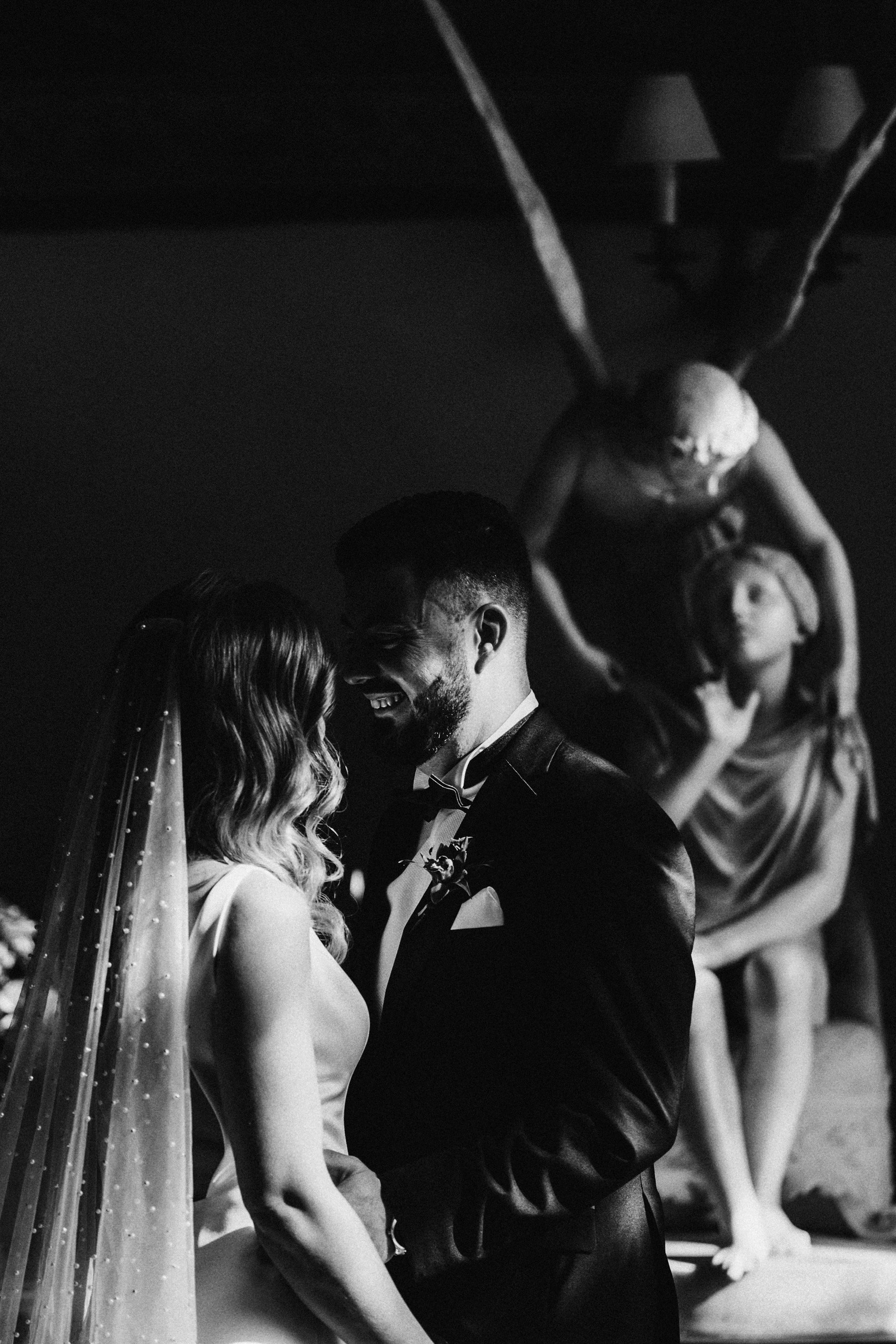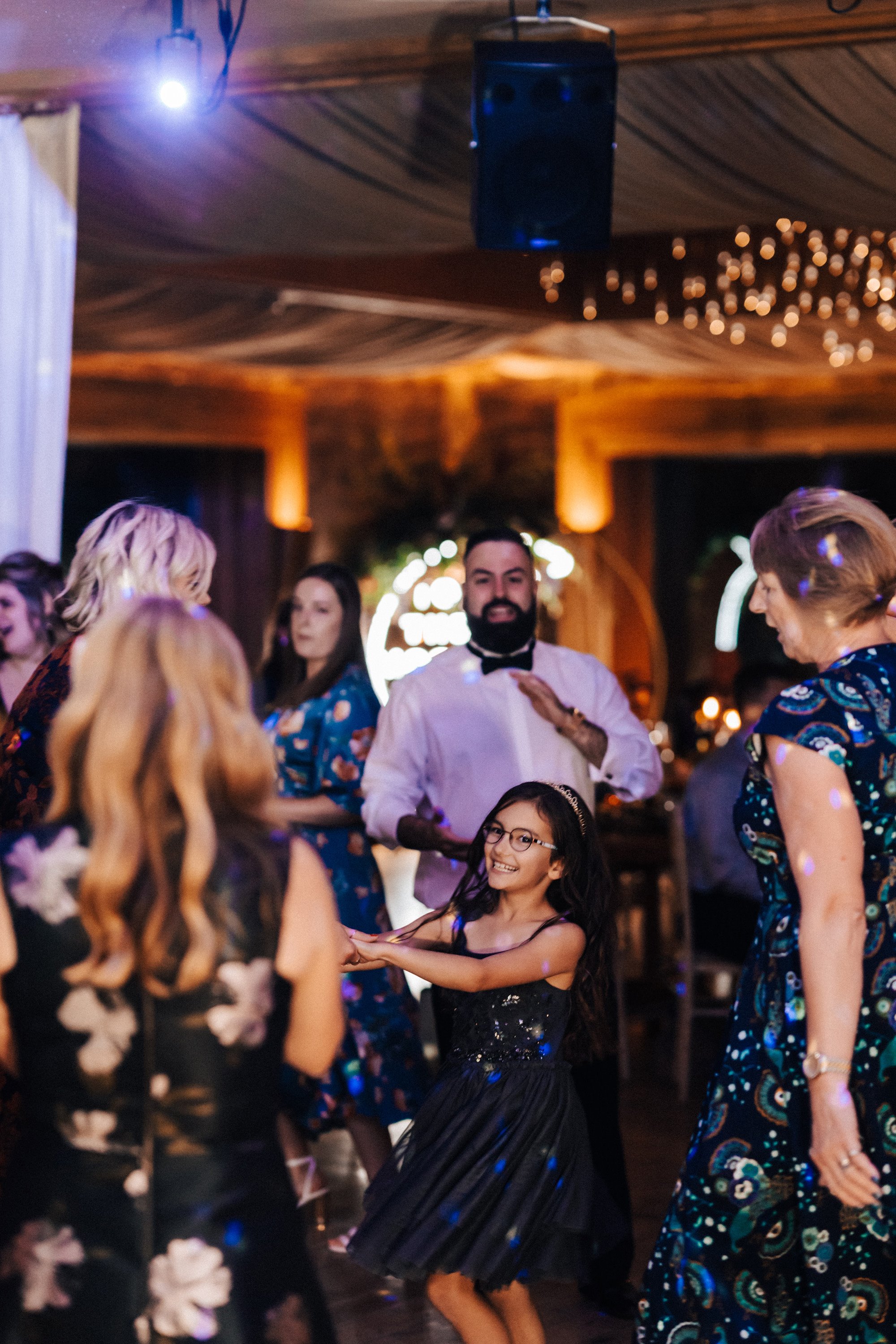 How did your magical black wedding theme come about?
We knew that we wanted our wedding to be both relaxed and fun, but equally elegant and timeless.
We were heavily inspired by the autumn season – getting married on the first day of October, cosy, magical autumnal vibes felt most fitting.
We wanted the wedding to be authentically 'us'. Black is my favourite colour, so I knew that I wanted to include as many black aspects to the wedding as possible to stay true to my everyday style.
We chose to have gold and plum accents to really emphasise the dark and moody wedding theme, with lots of twinkling candlelight.
Like a big, warm (but glamorous) hug!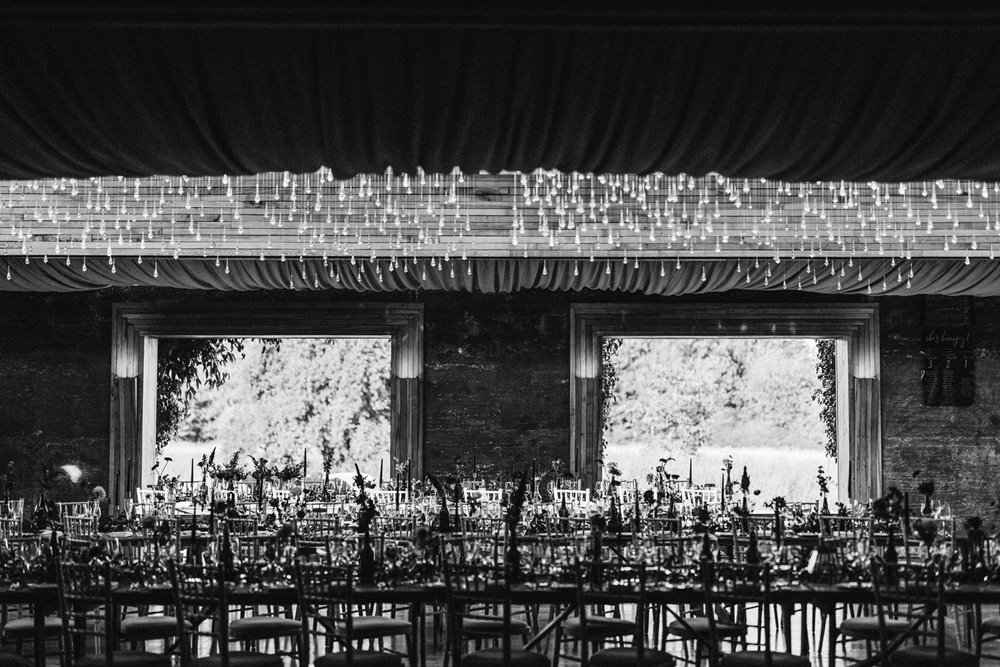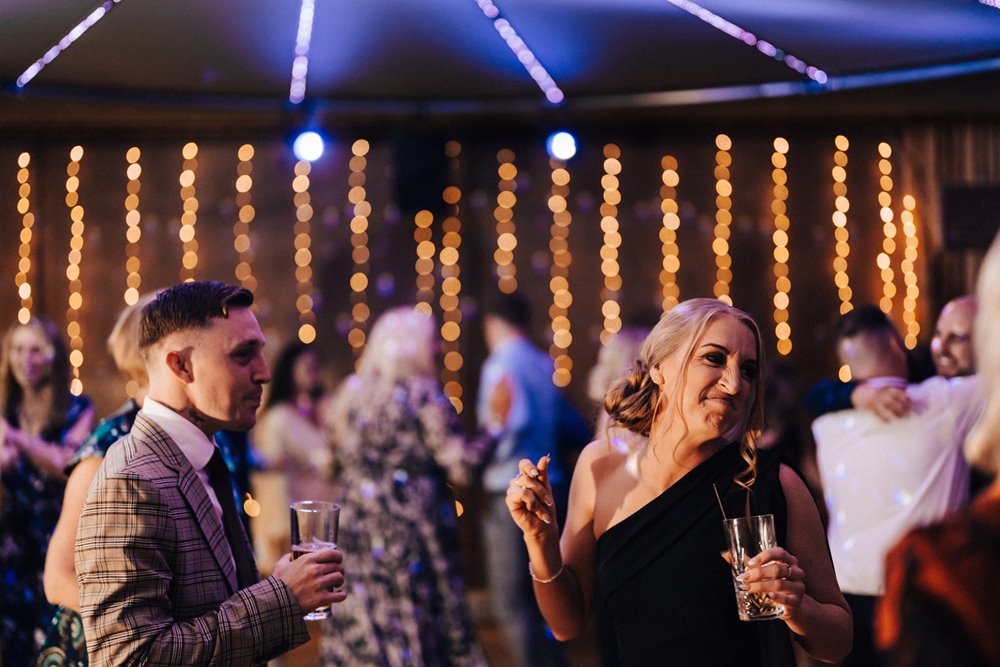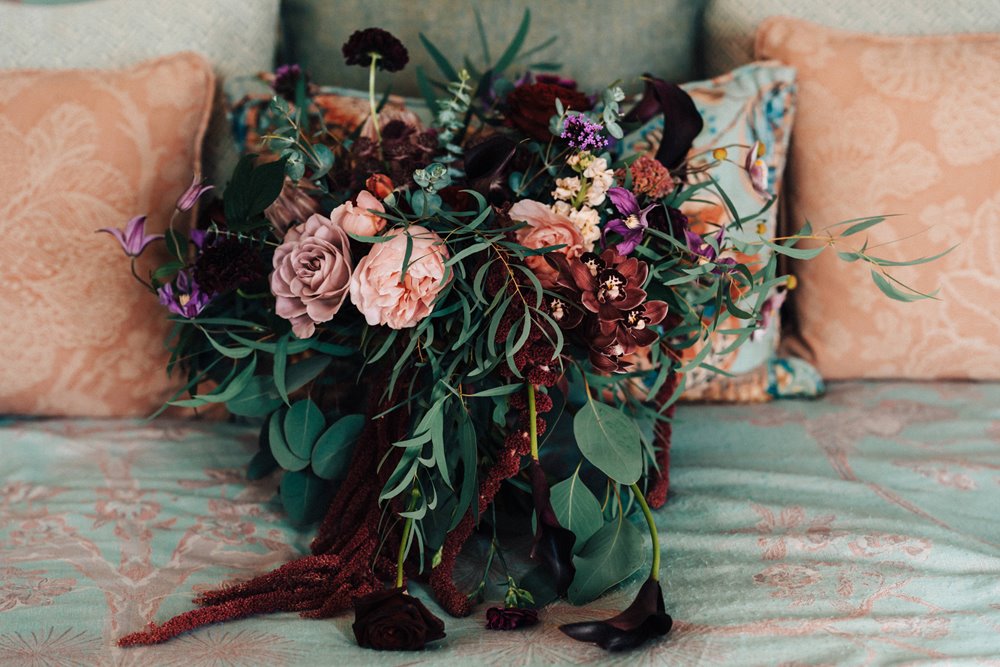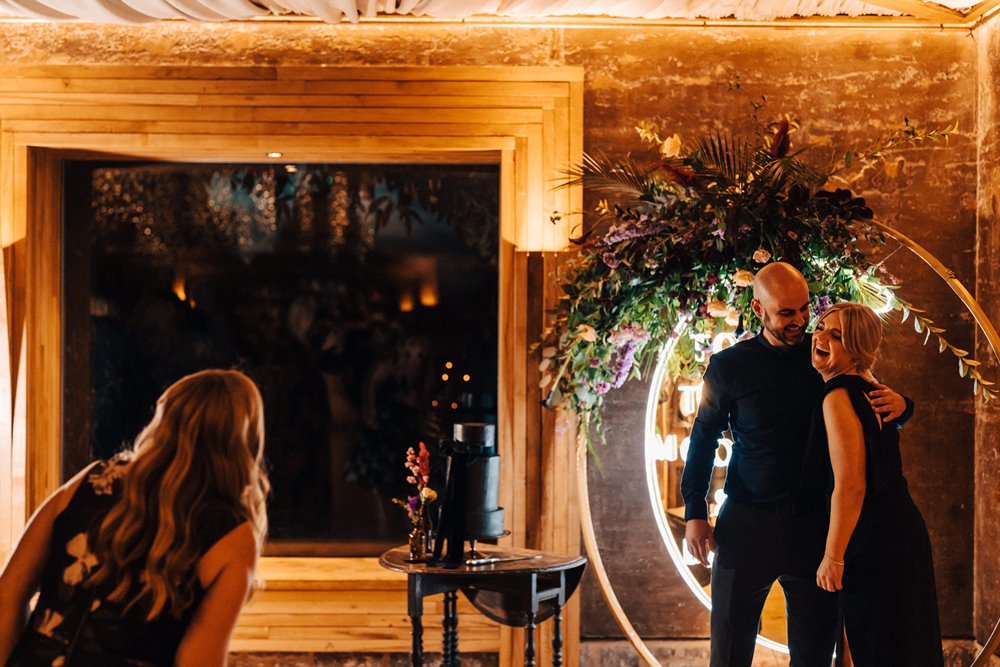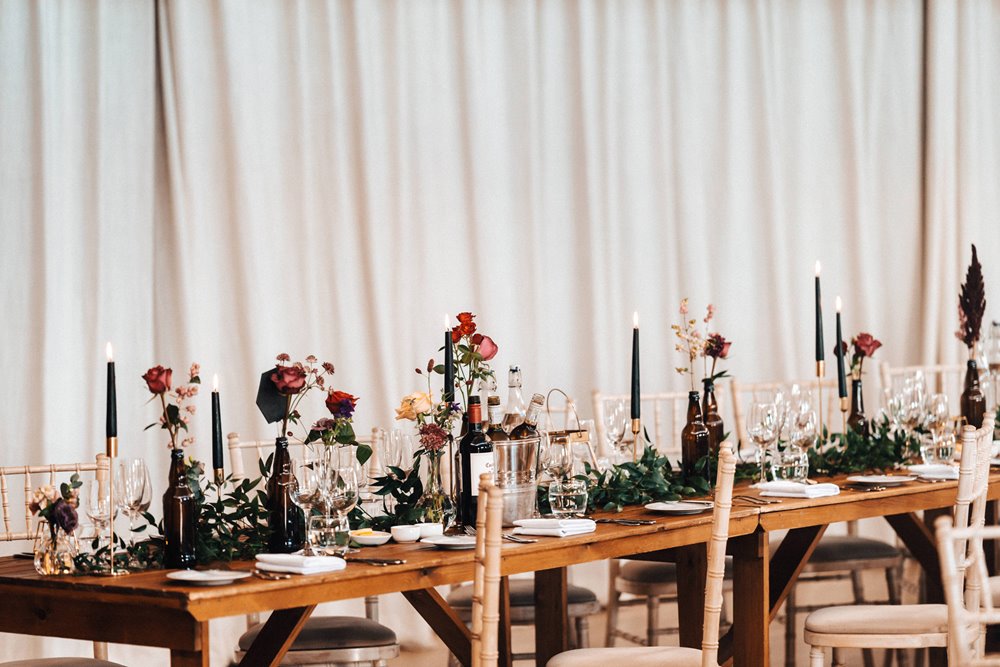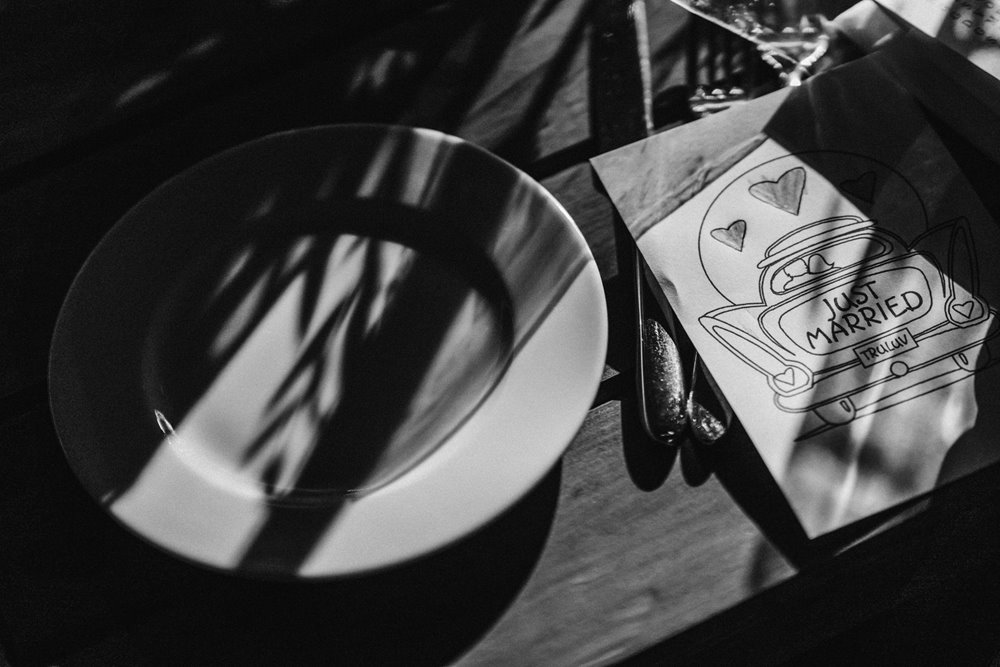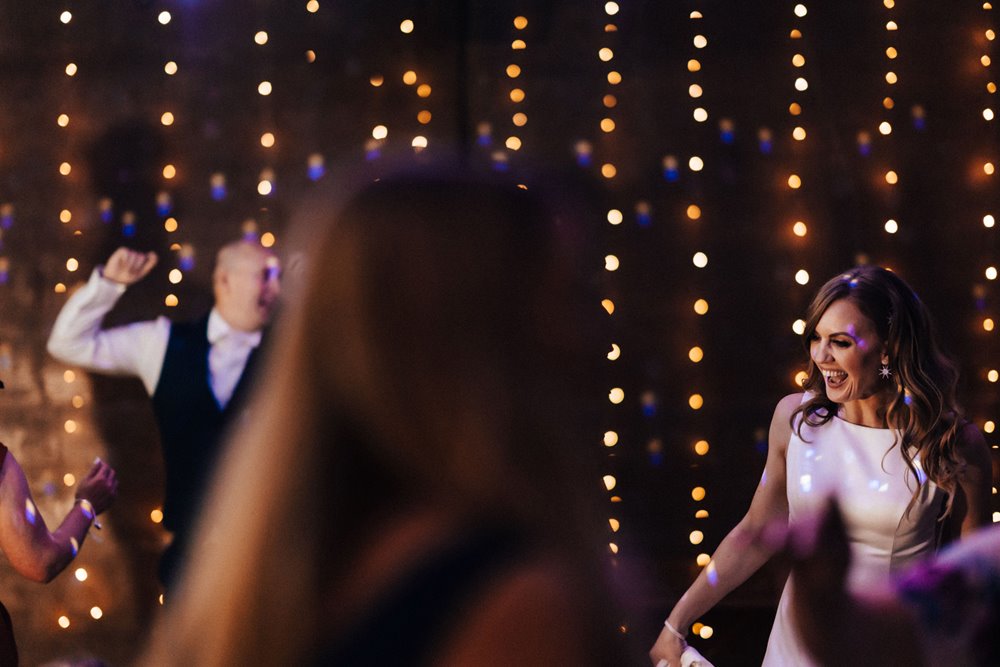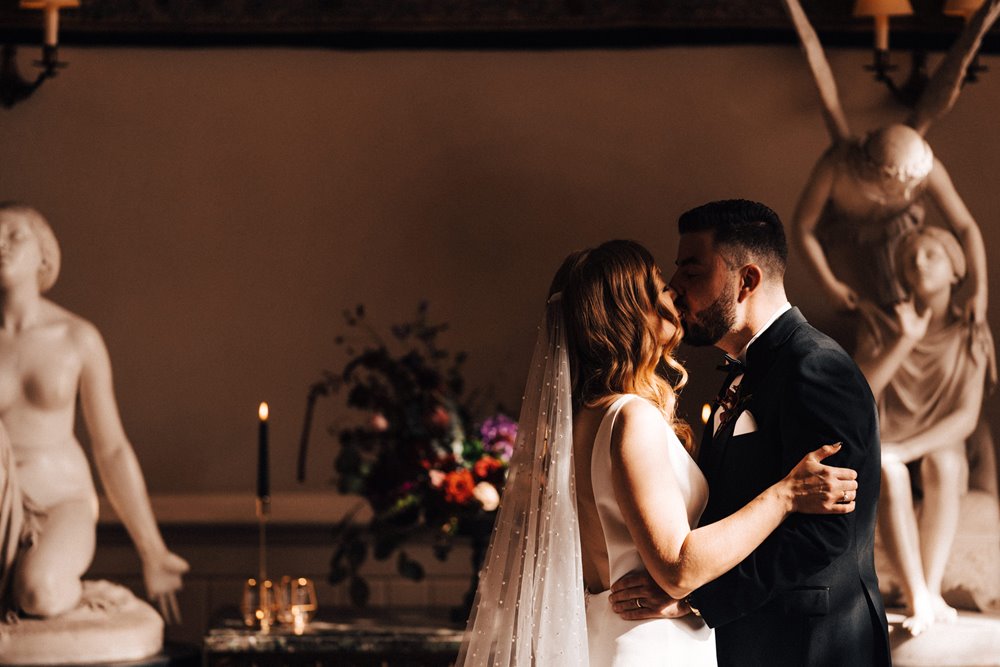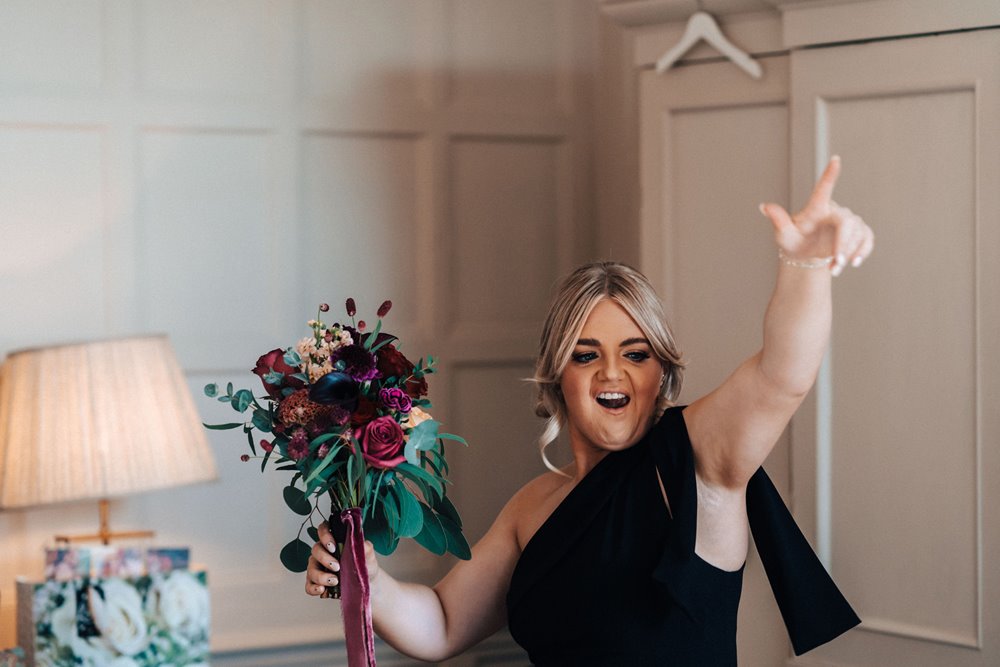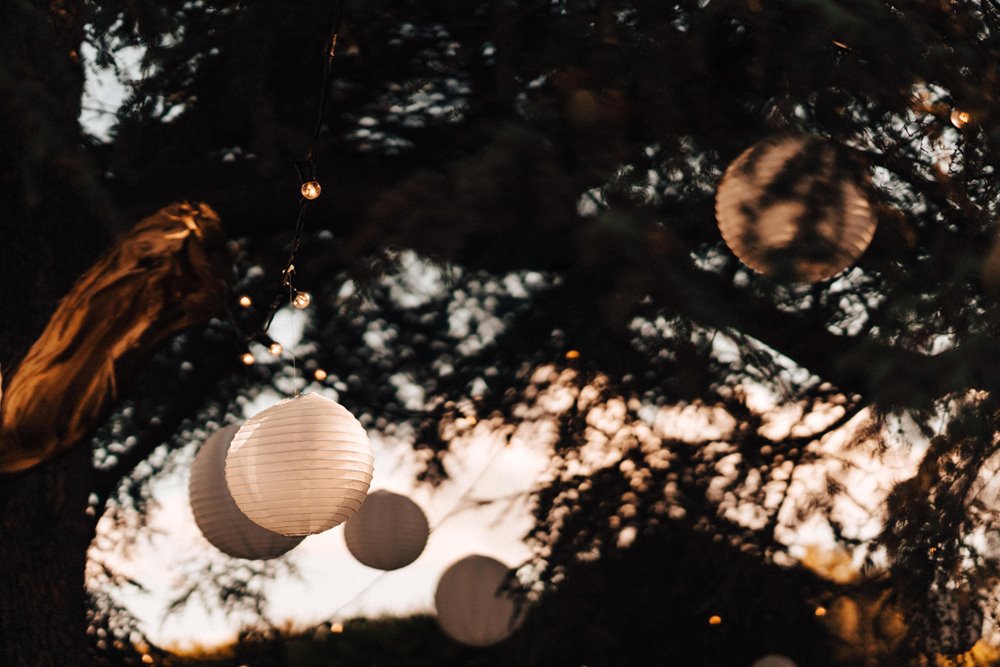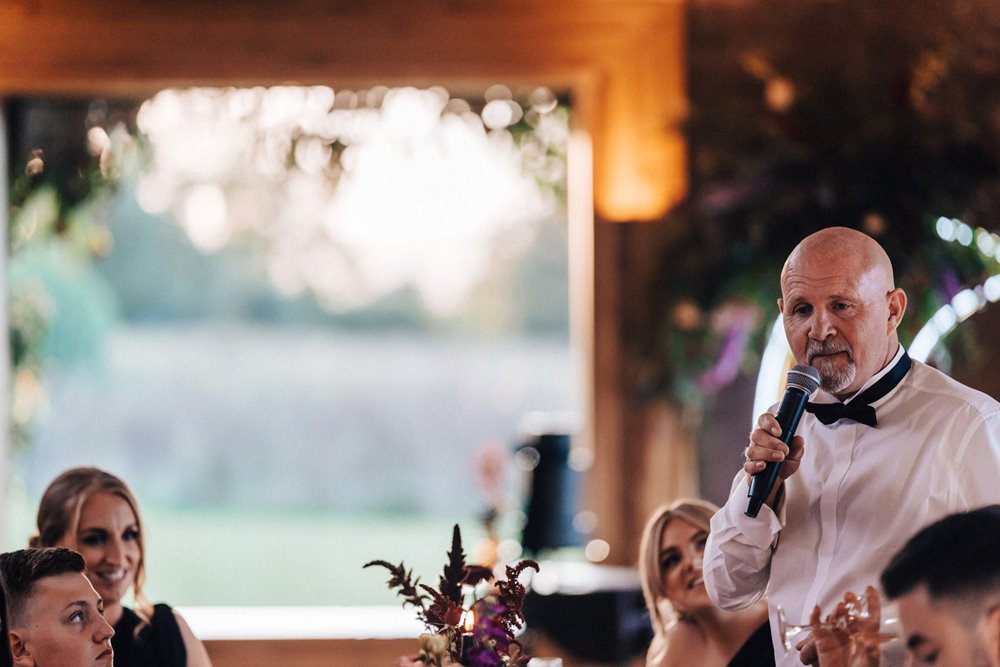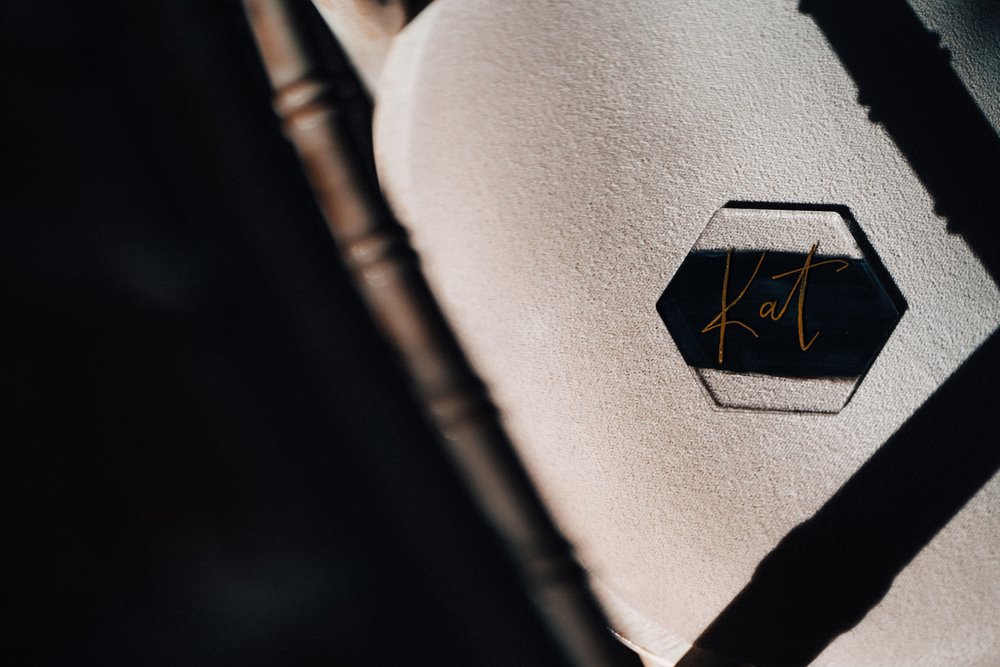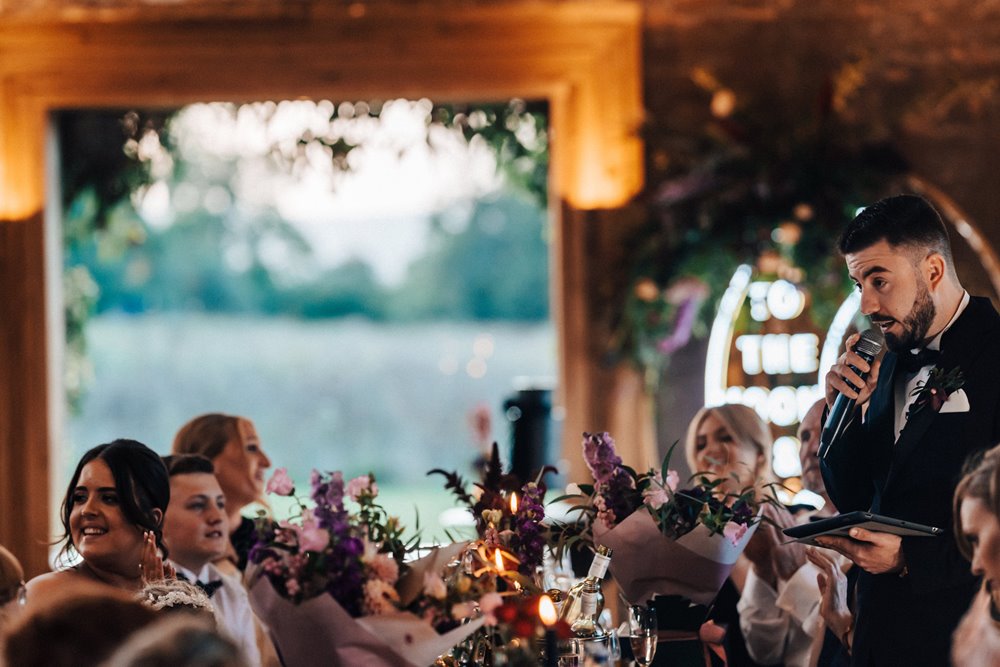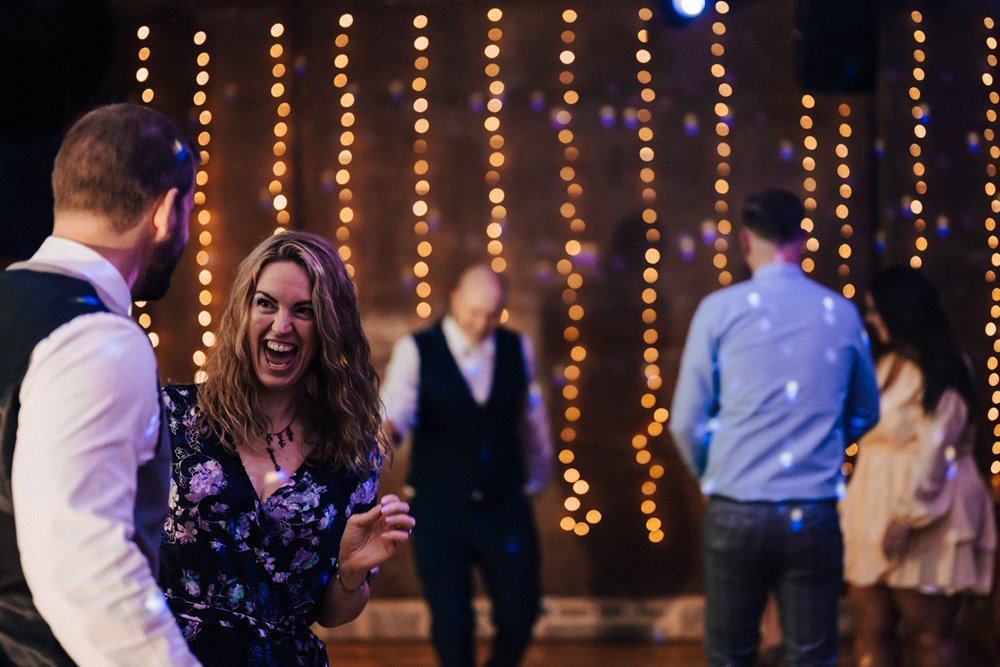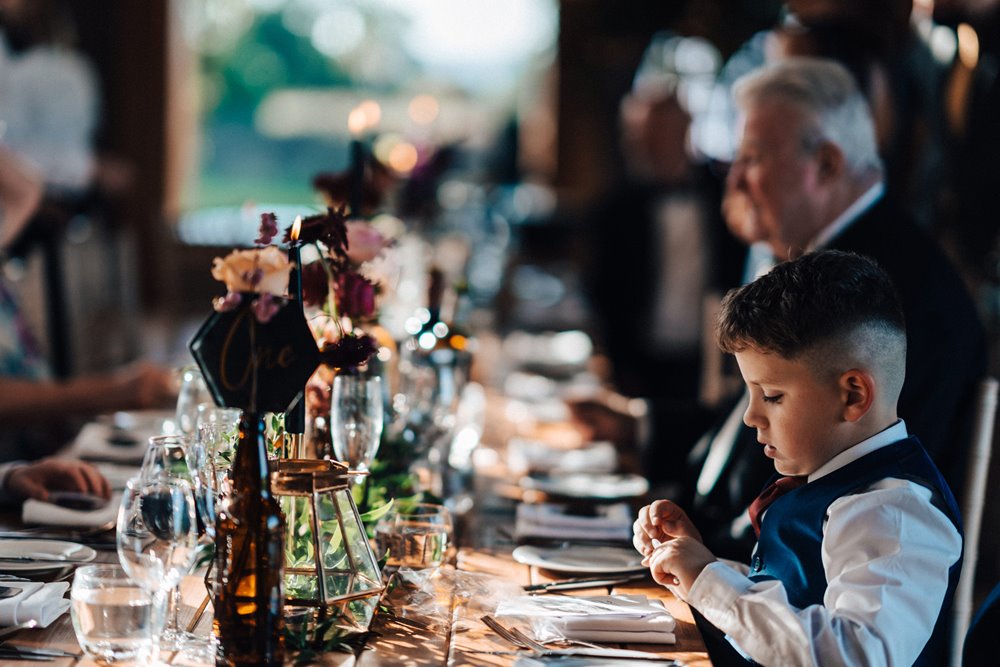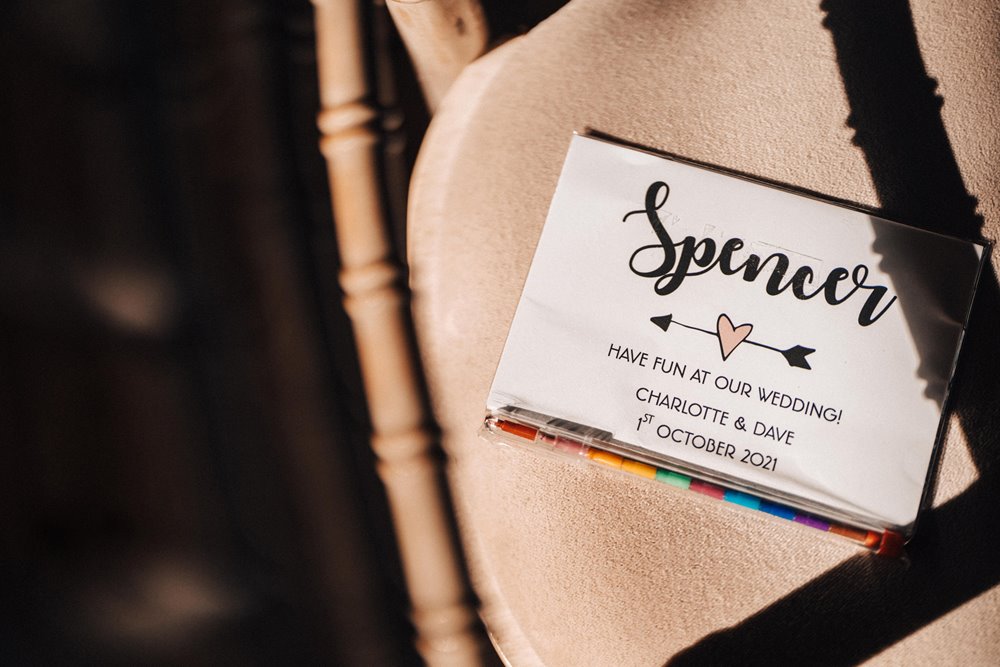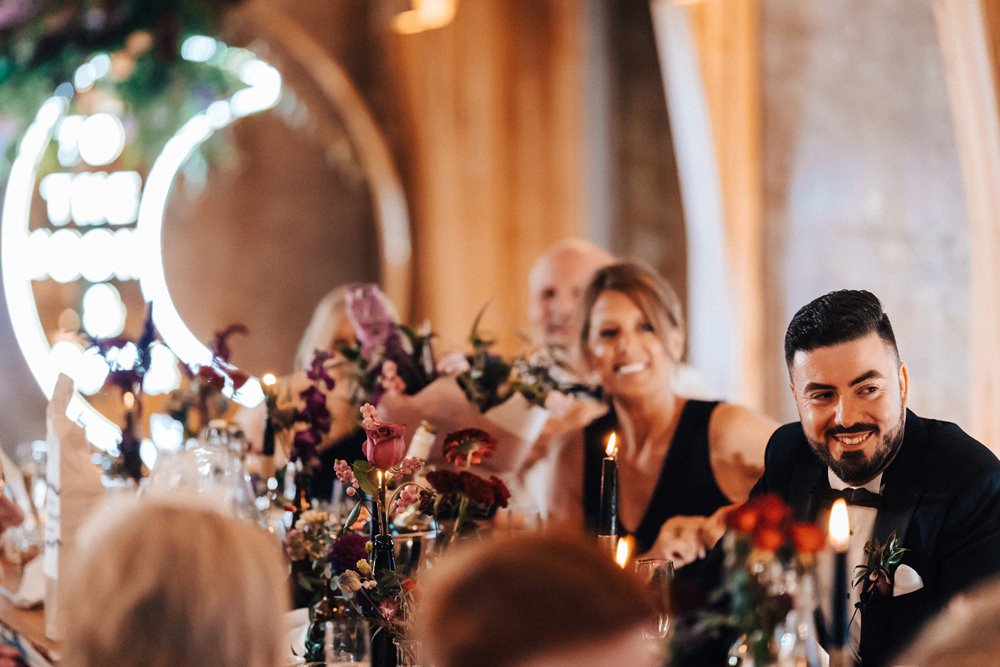 How was wedding planning (through covid)?!
We started planning almost immediately after booking Elmore Court and paying the deposit.
I was itching to get going! I got straight on stalking Elmore's preferred supplier list and Instagram account!
Before long I knew exactly which suppliers I wanted, and so it made sense to snap them up as early as possible. 
For example, having James Fear photograph the day was a non-negotiable, so he was the first supplier I booked. Equally, I knew I wanted Katy Pheiffer to be our MUA, so I made sure to seal in the date with her nice and early.
When Covid struck, we could not bear to make any further plans, out of fear that our day might not even happen, so I was really pleased that I had started the planning straight away.
We were incredibly lucky that we were able to be married on our original date with no remaining restrictions in place, and that most of our original suppliers were still able to make our wedding, so when it became clearer that we would likely be going ahead, most of the big things had been done and I was able to focus on the fun little details.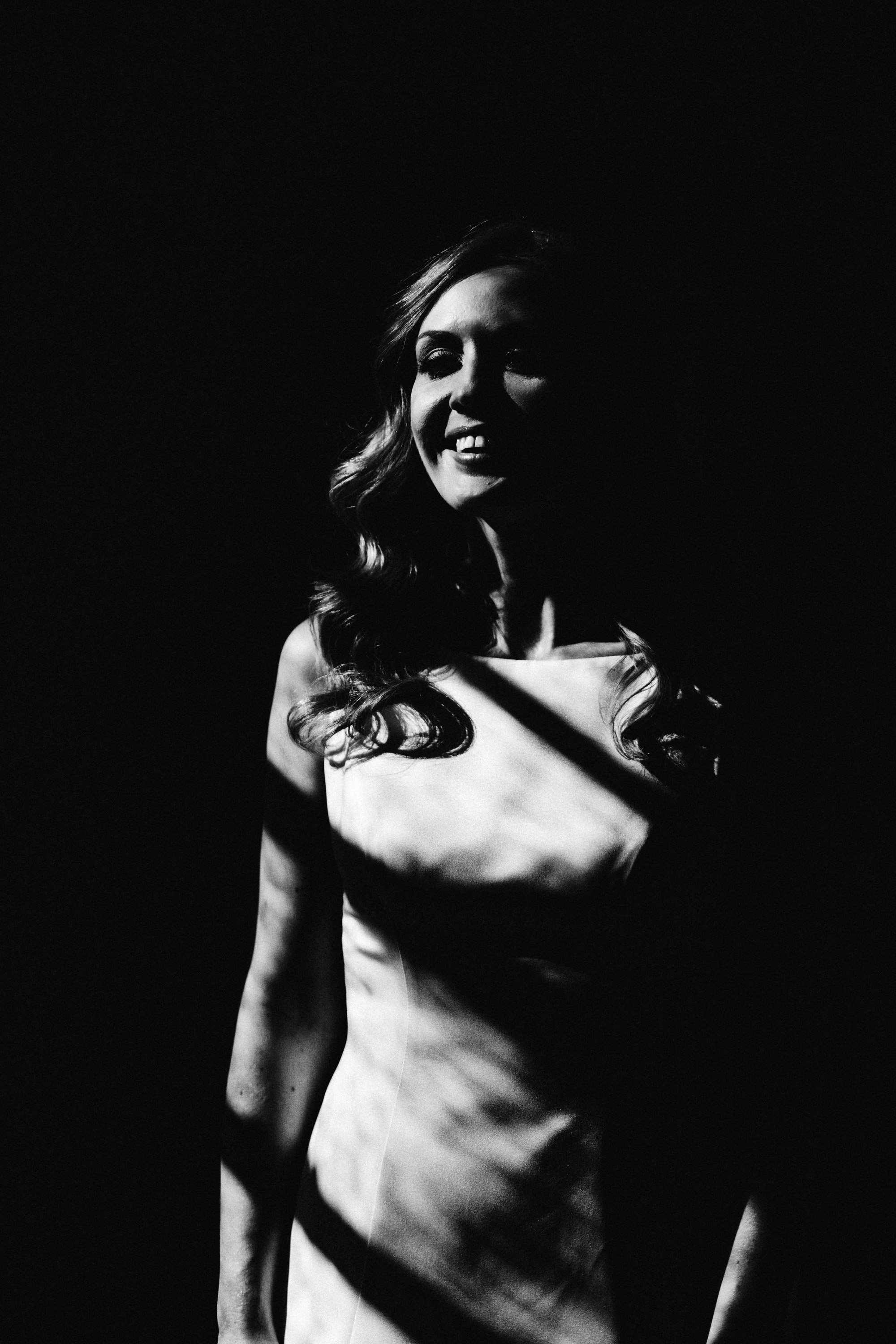 How did you choose your autumnal wedding flowers?
Who knew that you could find black wedding flowers?!
The lovely Fi from Corky and Prince was our wedding florist. I have never been very knowledgeable about flowers, so I came to her with just a vision and a black and gold colour scheme, and she expertly guided me through the world of seasonable autumn British florals.
Who knew that you could find black wedding flowers?!
I knew I wanted long, banquet style tables, these were covered with black candles in gold holders and scattered with greenery for a dark and moody vibe. Interspersed with single stems in a variety of different glass holders – we had amber apothecary bottles, clear bud vases and even brown glass beer bottles, which were inspired by a table display we saw at one of Elmore's open days.
Shout out to my Dad and Uncle for dutifully drinking plenty of real ale for the cause!
So many of the floral arrangements were able to be used both for the wedding ceremony and the reception, which saved us money and made the whole wedding more sustainable by minimising waste.
I spent a long time looking for a statement piece of décor for the wedding reception.
I wanted something fun and different that would be an eye-catching focal point, and when I came across the gold neon 'to the moon and back' crescent moon sign from Elizabeth James Events, I knew I had found just the thing!
Fi created a fabulous autumnal floral arrangement to grace the moon arch that held it, and it was such a talking point.
I think all of our wedding guests took a photo by the crescent moon and flowers at some point throughout the day, and it's still featured in profile pictures even now! Such a perfect wedding selfie backdrop.
Elizabeth James also provided us with a silver sequin wall and 'till' death do us party' neon sign which sat behind the DJ booth to give the space that extra party feel.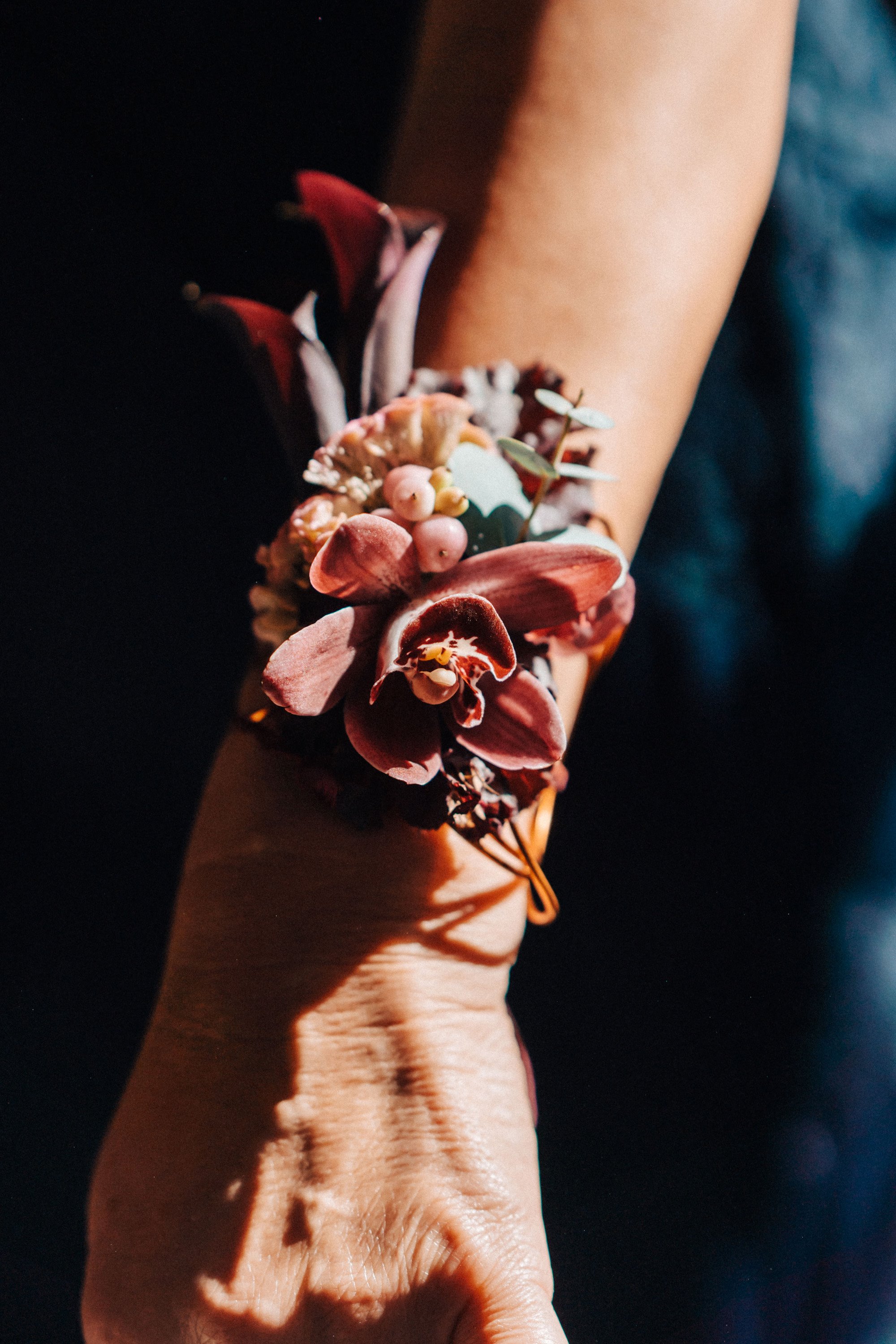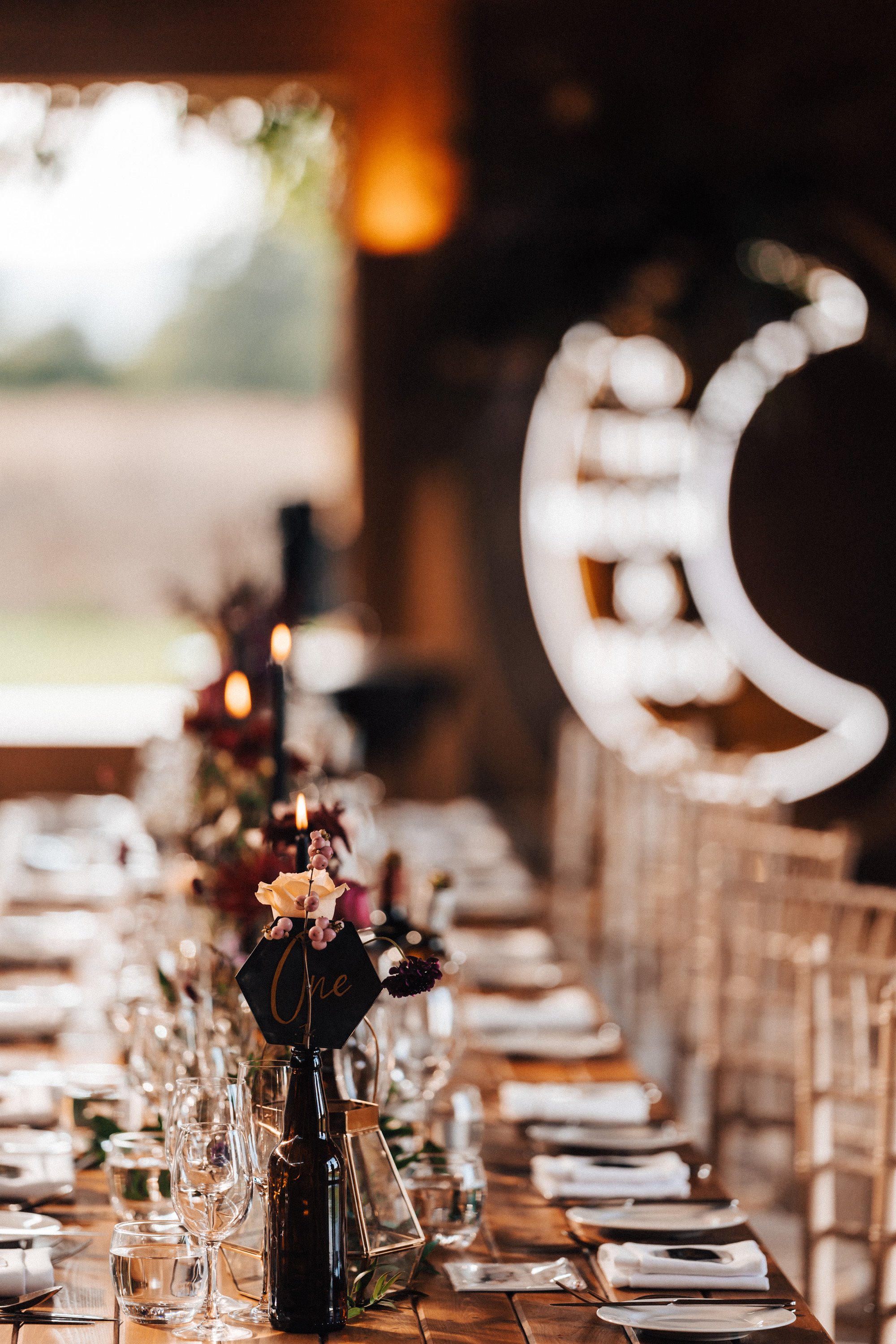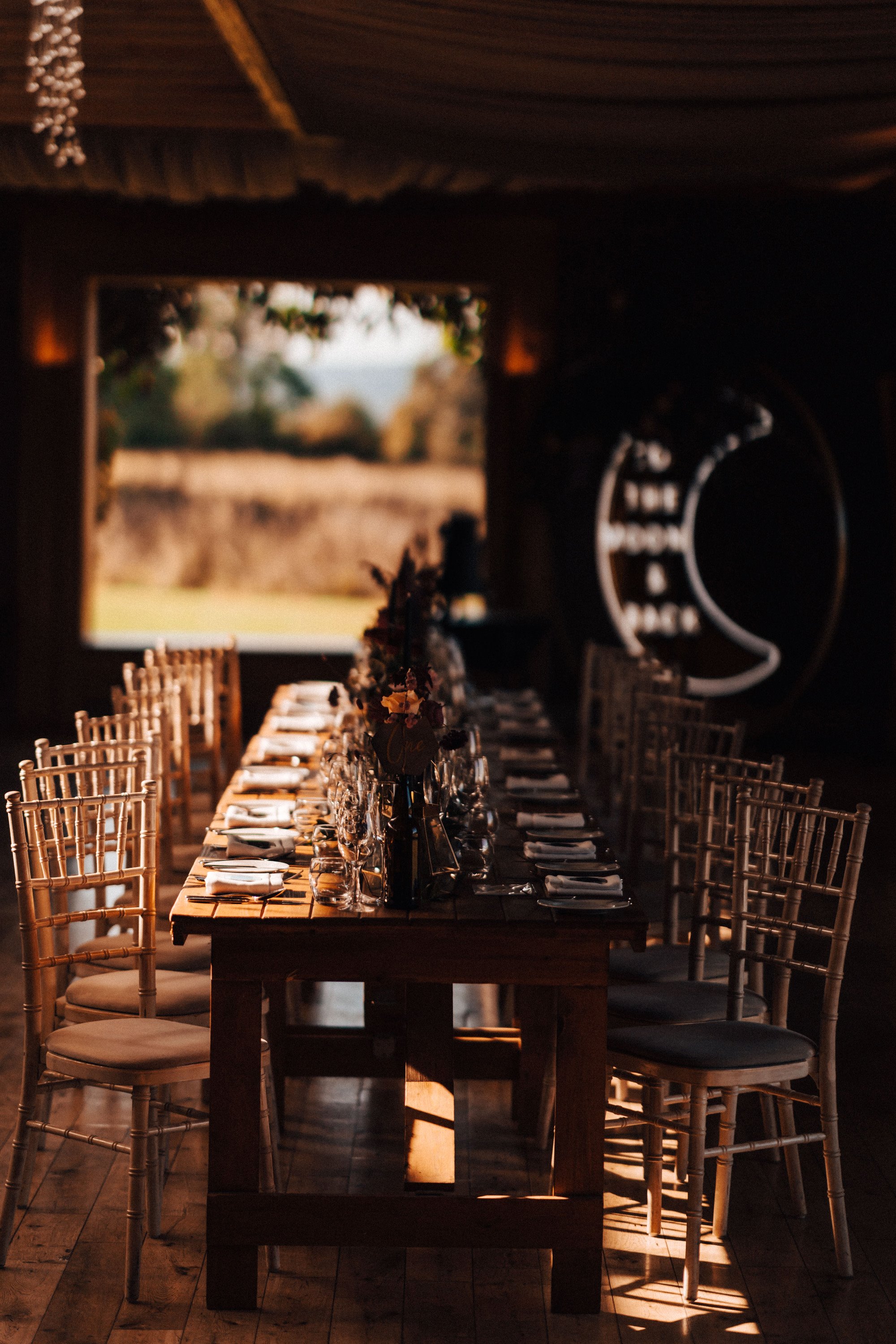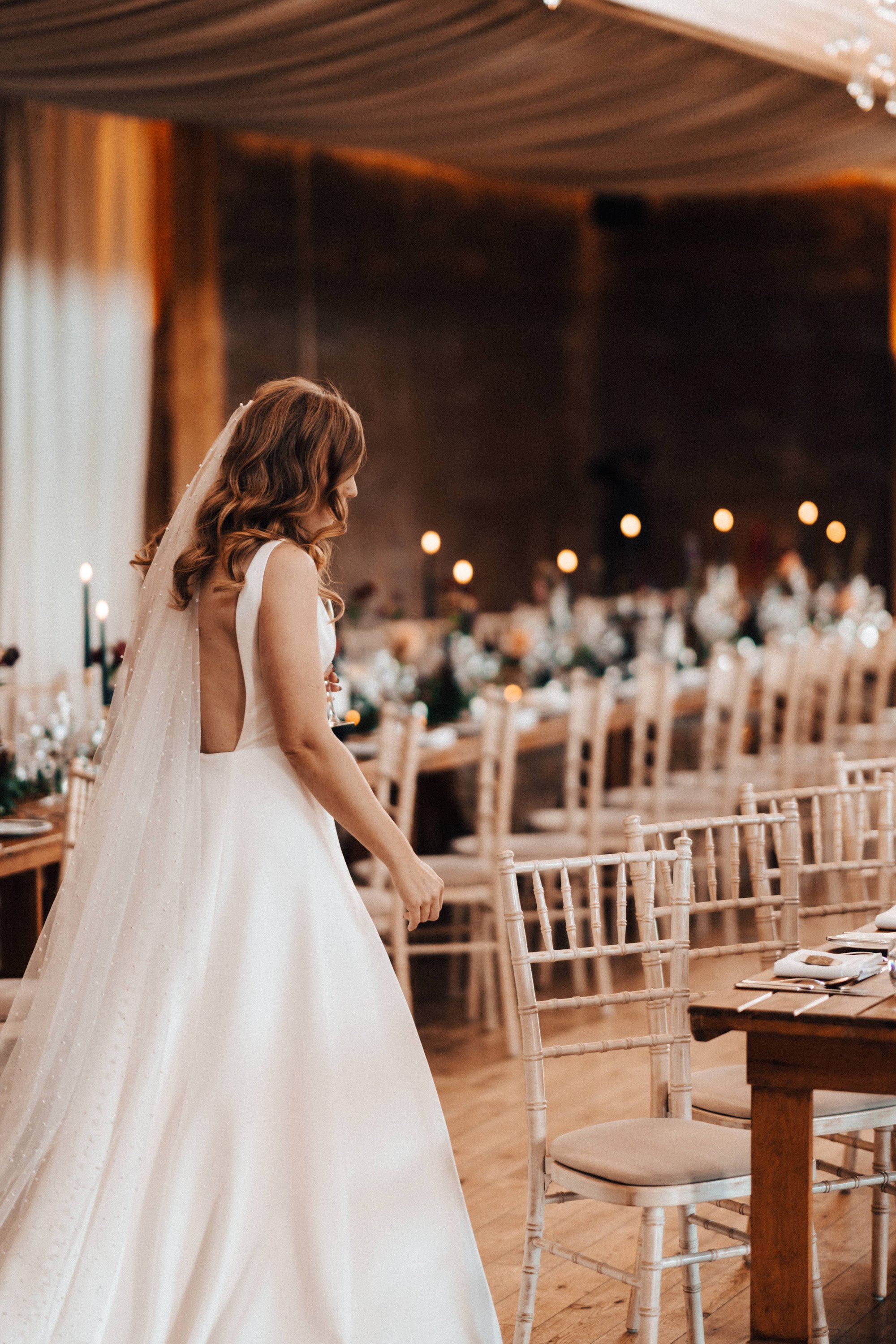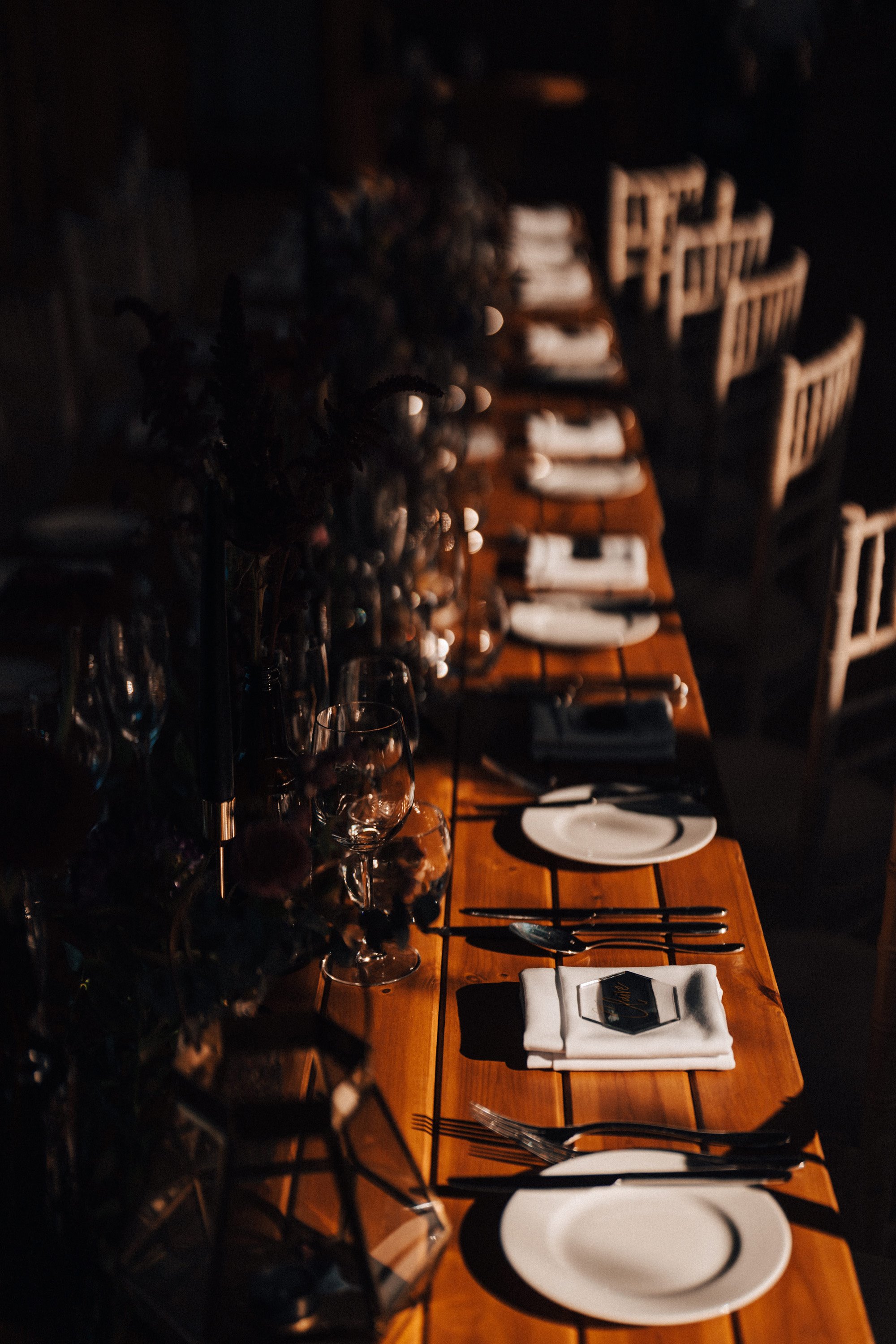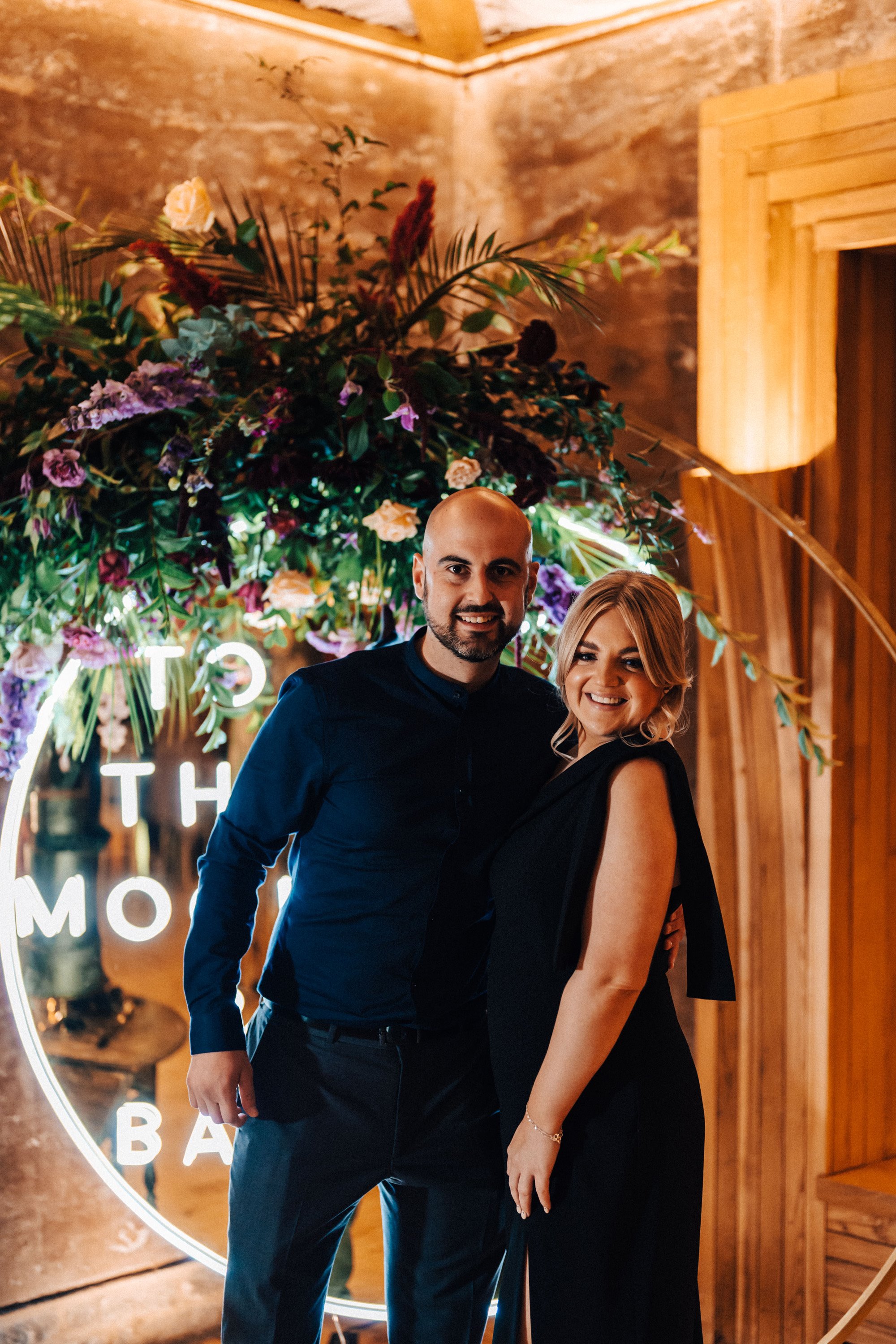 What was most important when planning your wedding?
Looking back on the weddings that we have attended as a couple, the things we remembered most were the food and the atmosphere, so these were the most important things for us to get right for our day.

The kitchen at Elmore provided us with all our food for the day.
We had the hardest time choosing our menu because all of the options were absolutely delicious!
What a treat it was to be able to come along for a tasting in a gorgeous marquee on the Cedar Lawn to help us narrow down our choices.
In the end, we went for canapes (you need to try the mac and cheese bites!) followed by an incredible three-course meal. We dined on;
Arancini with Napoli Sauce and Salted Ricotta
Pork loin, braised Savoy cabbage and duck fat roast potatoes
Chocolate mousse with Bailey's cream.
Our vegetarian guests enjoyed
We are still pining for the arancini starter!
For the evening food, we went for Elmore's bacon butties with halloumi baps for the veggies, and doughnuts provided by Pippin and Co.
We had so many well-deserved compliments on the food.
Team E were fantastic, and the Chef was able to accommodate a host of different dietary requirements.

Music is a huge part of our lives and so it was an important part of our big day.
Ever since I watched Father of the Bride as a little girl, I have wanted to walk down the aisle to Pachelbel's Cannon in D.
The Bristol String Quartet played this beautifully for us. They also played for our guests before and during the ceremony and afterwards during the drinks reception.
Their repertoire was so huge and varied we managed to find something perfectly suited to each moment.
Waiting guests heard Linkin Park and Sigur Ros, we signed the register to the Foo Fighters, dance-walked back down the aisle to Sum 41's In Too Deep and enjoyed drinks and canapes to classics from Muse to Blink 182 and Toto!
With the party atmosphere being the other most important aspect for us, we knew that we had to find the right DJ.
Luckily, Dave had the perfect man for the job from his days on the wedding music scene, and so DJ Mark Horsley was booked, and kept the dance floor buzzing all night long!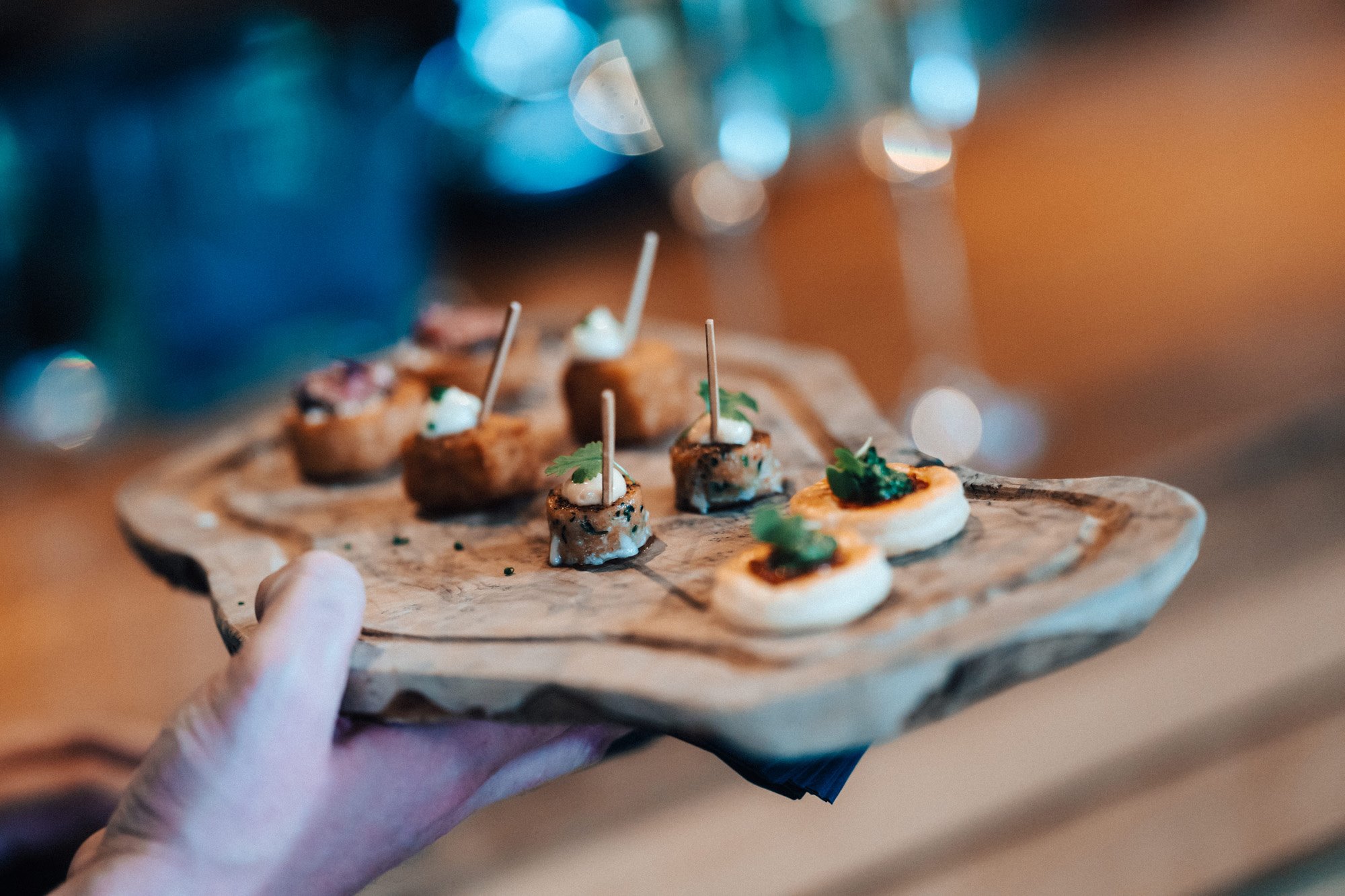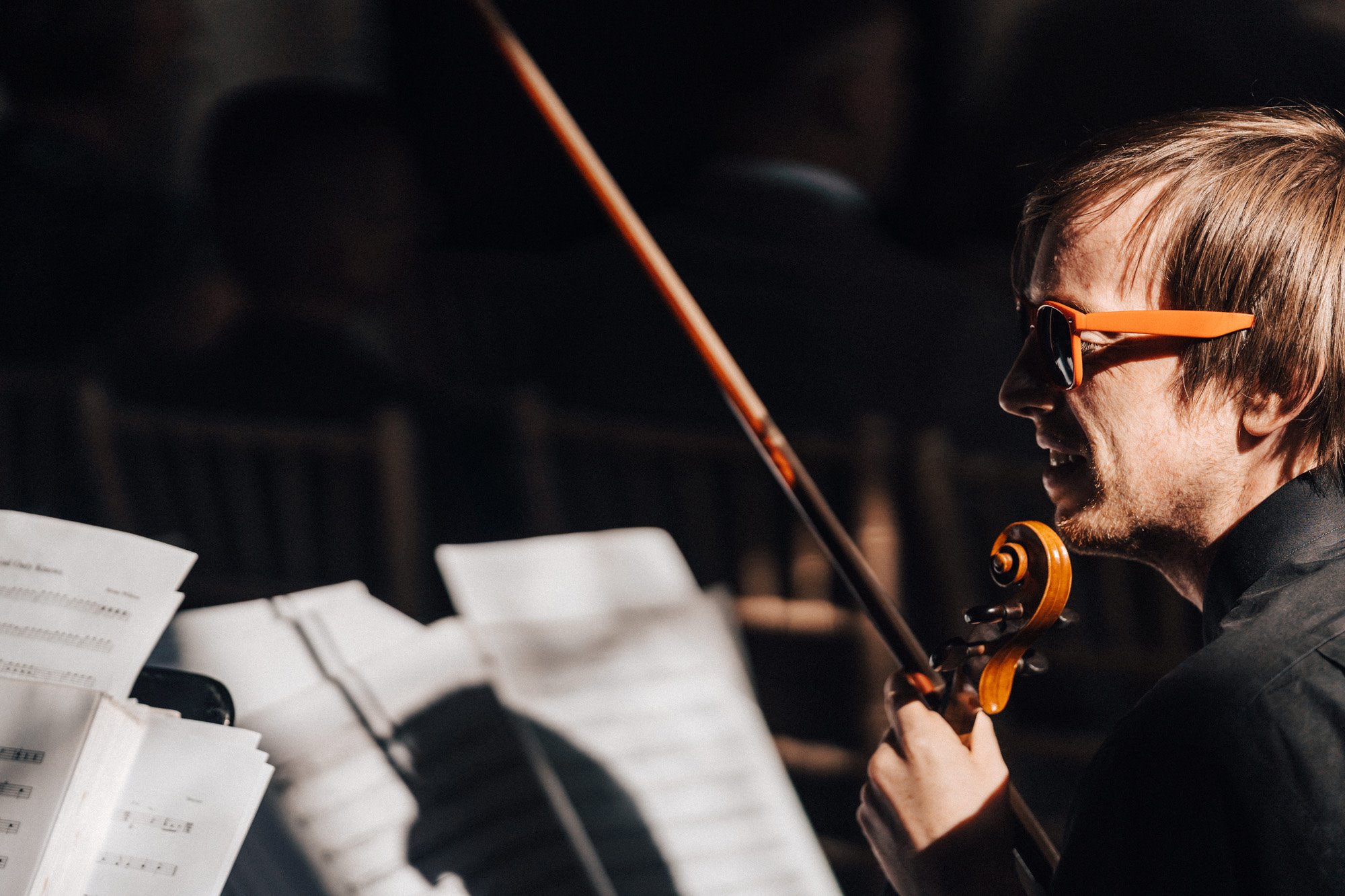 Tell us about your wedding outfits!
I found my perfect dress when I was supposed to be helping my sister shop for hers… Before even trying it on I knew it was the one!
It was a simple, classic, white satin gown from Mikaella Bridal.
Becky and Carol at Lace & Grace Bridal Boutique were so accommodating – ensuring that I tried on a variety of styles to make sure it wasn't a case of my choosing the first dress I tried on just because I had my mind set on it!
Several dresses later, we were back to the Mikaella, and my normally very stoic and unemotional self immediately shed a tear! My gorgeous cathedral-length, pearl-studded veil was handmade by Lace & Grace, too.
Wanting to be comfortable, I opted for flat black shoes with pearl details.
When the proper evening dancing started though, I sneakily changed into my checkerboard Vans… and danced all night long in them!

Dave works in a suit every day, so we wanted to make sure his outfit felt different to his usual attire.
In keeping with the relaxed but elegant theme, he opted for a black tuxedo with satin lapels from Moss Bros, complete with a black bow tie and a white satin pocket square.
He wore some very smart shoes by Ted Baker.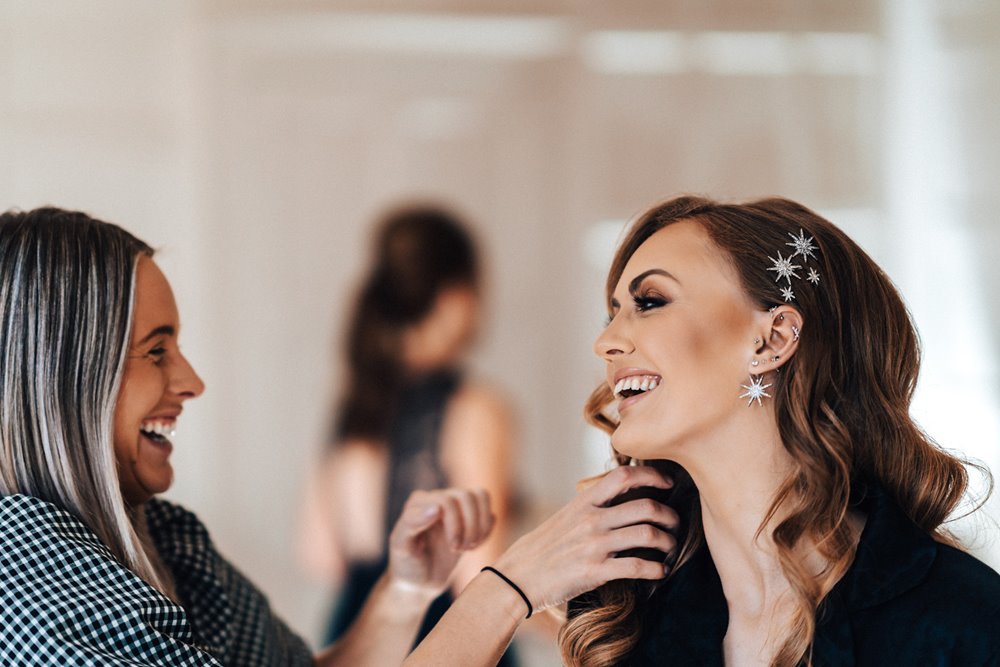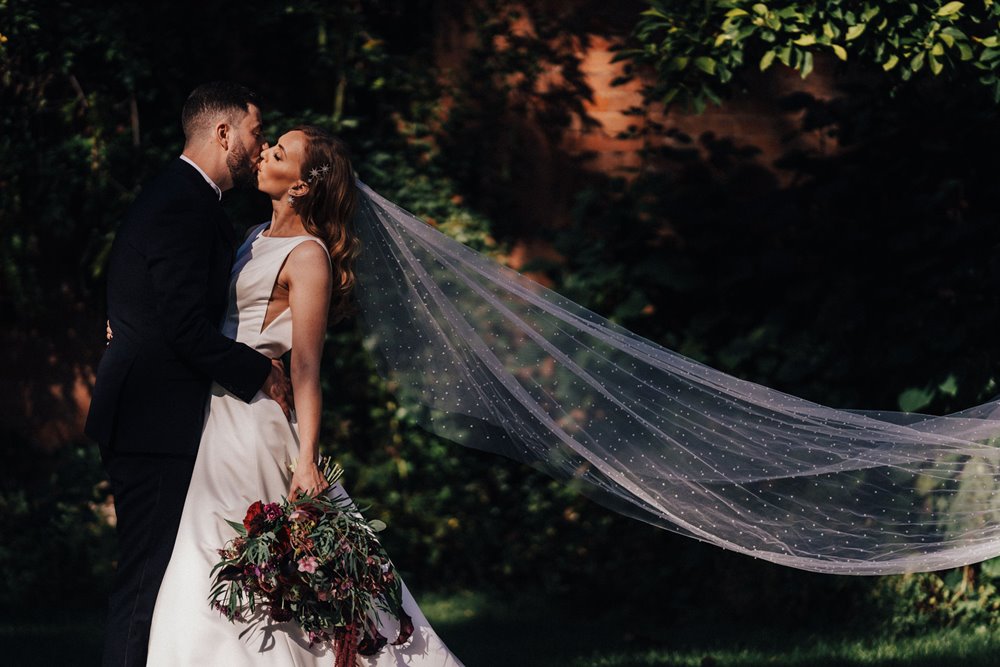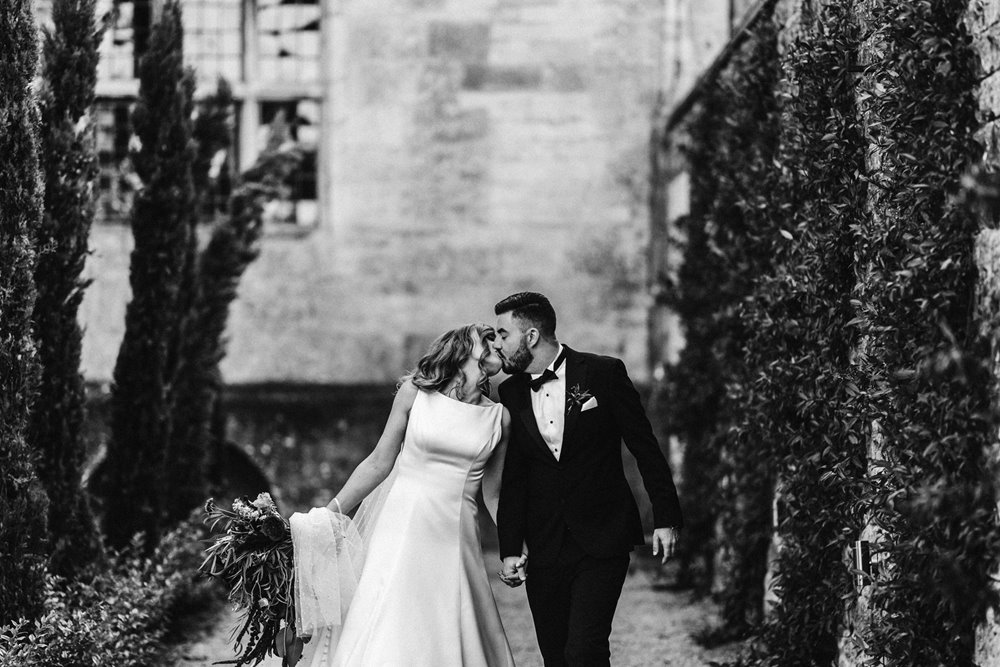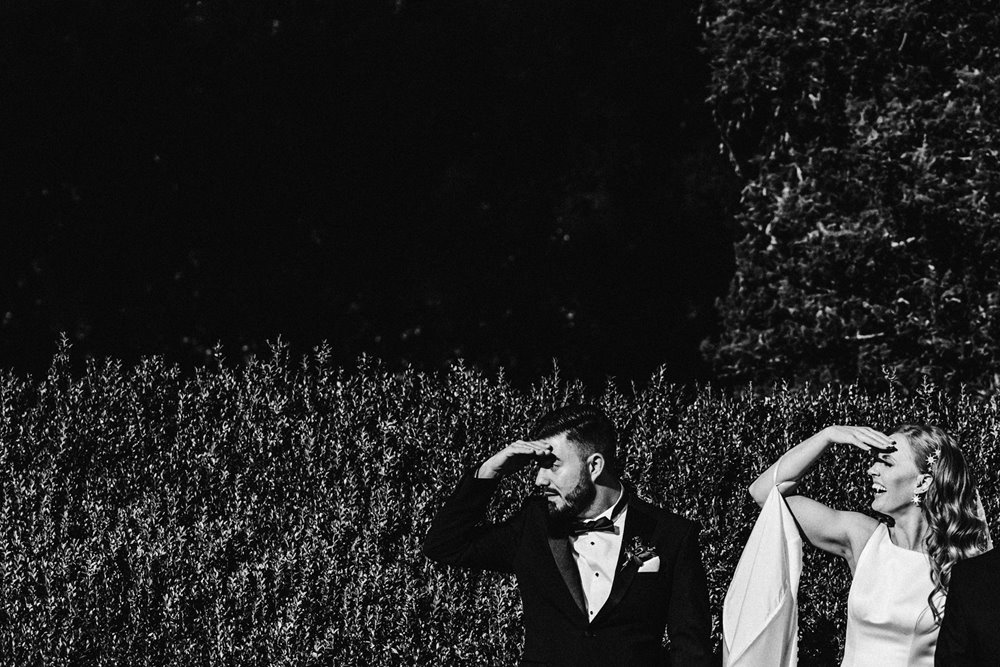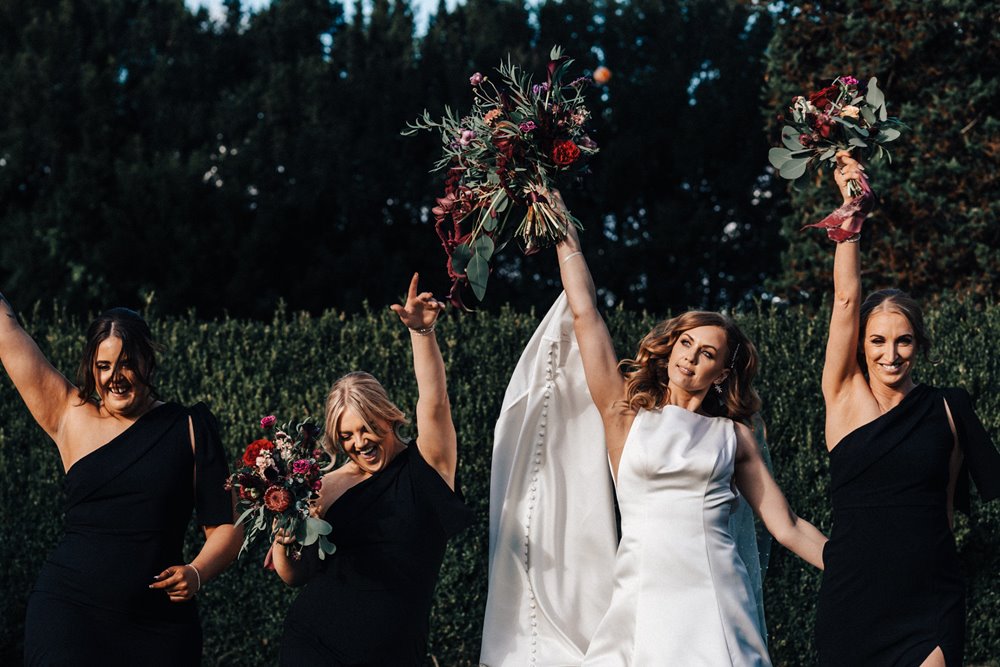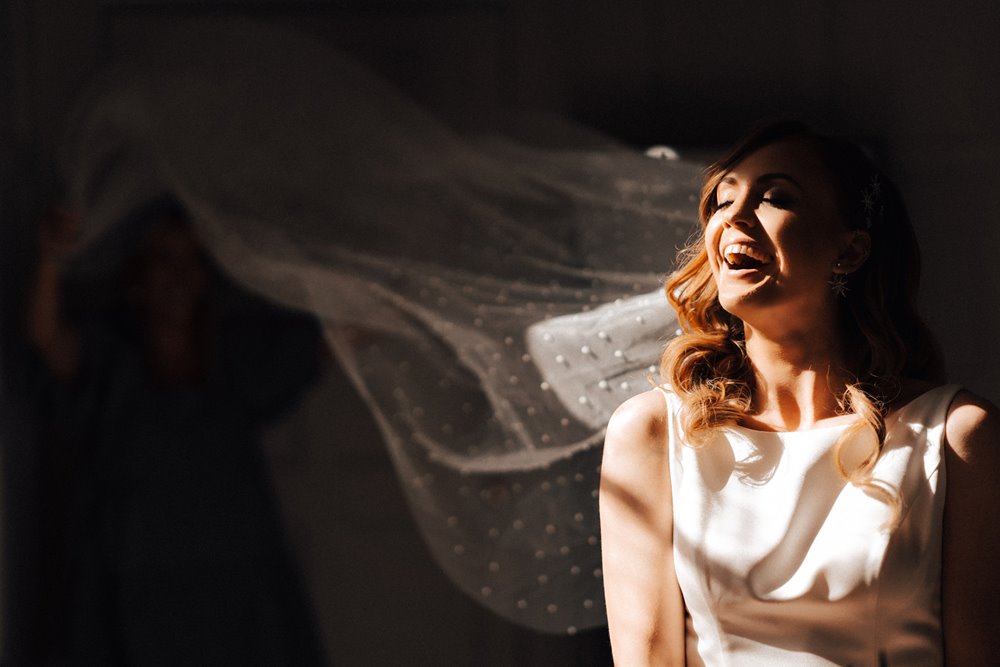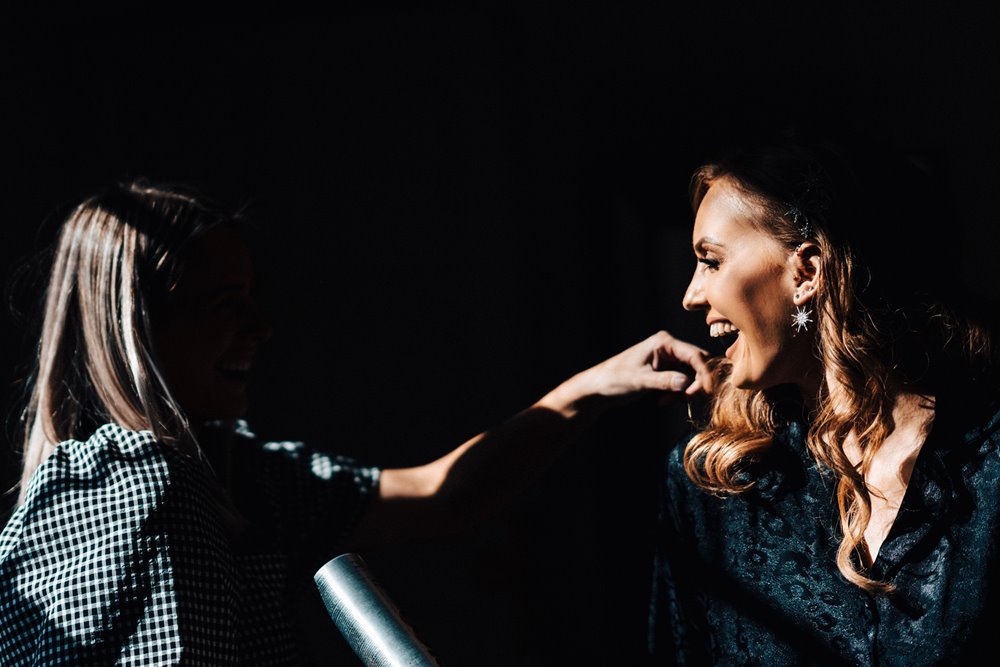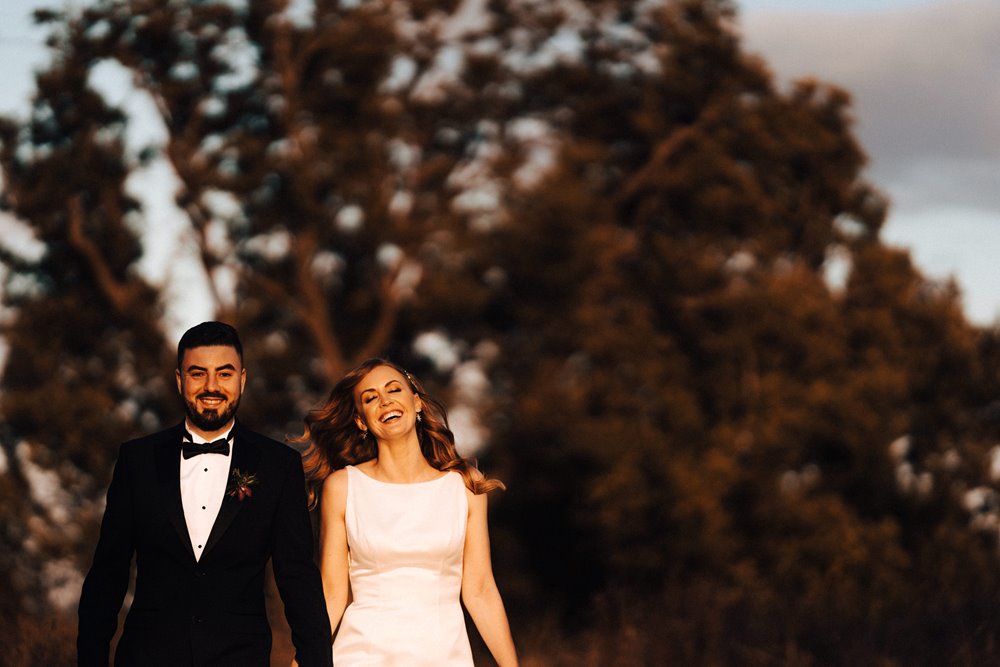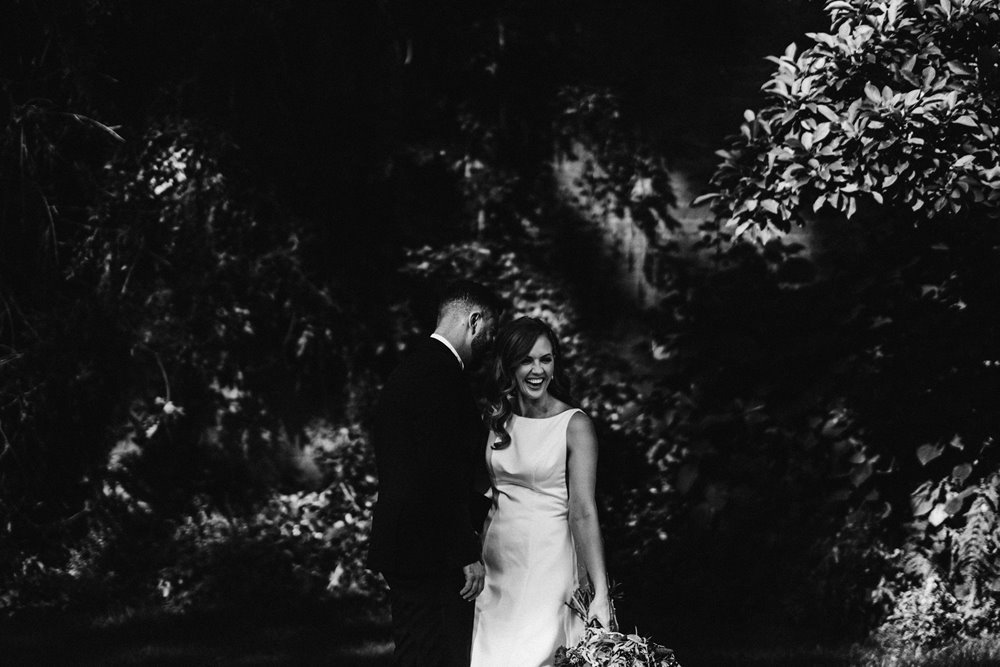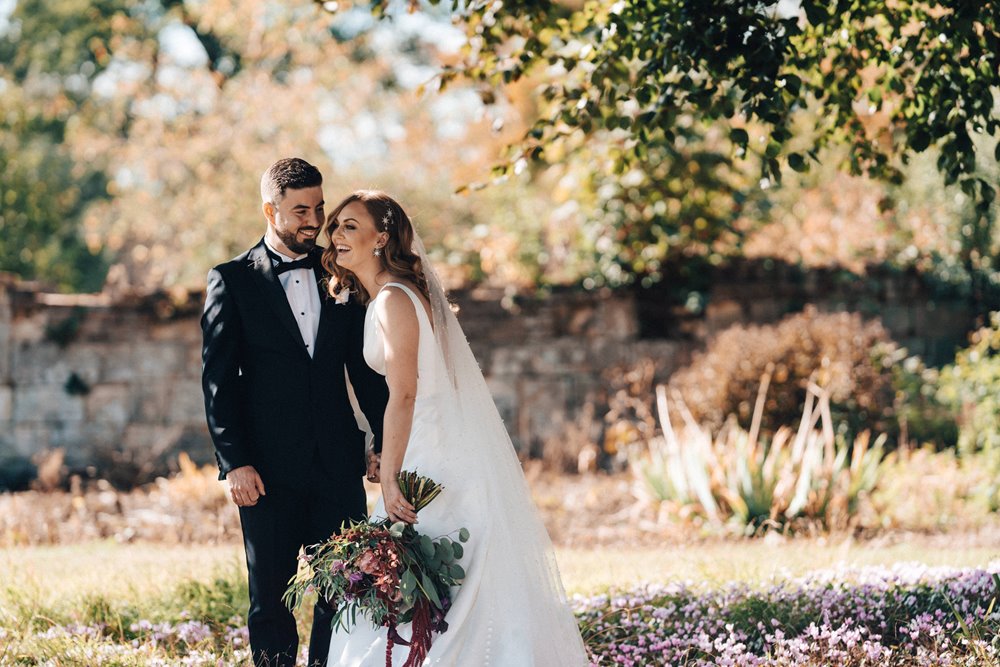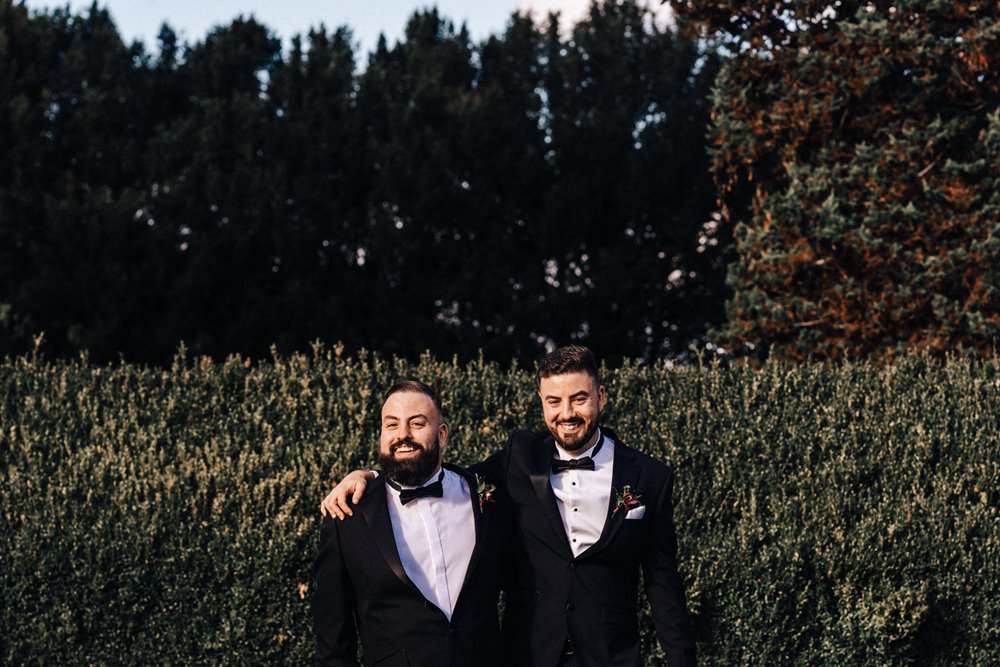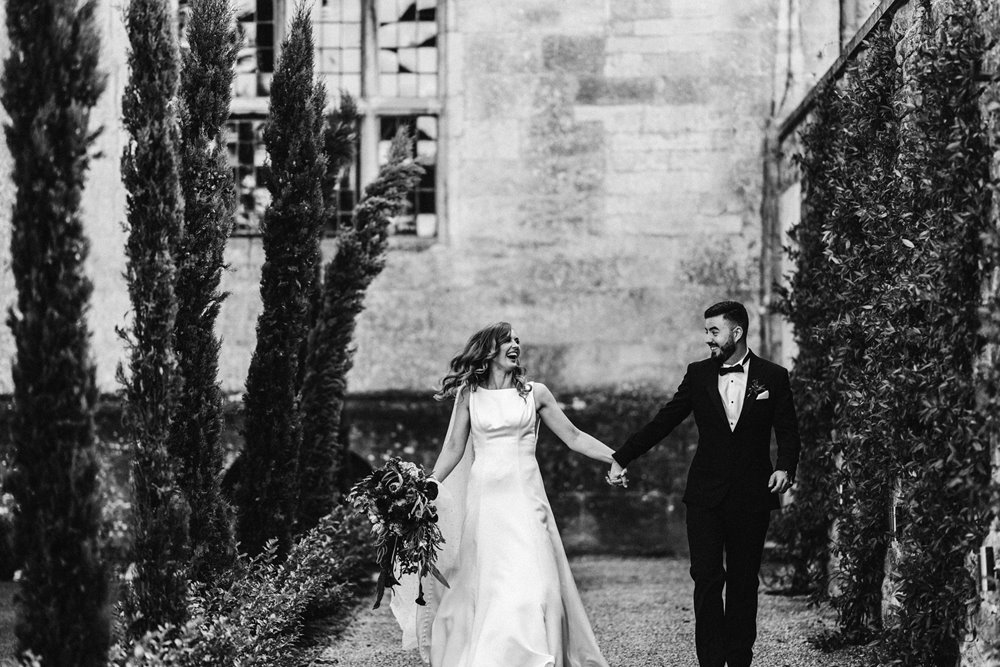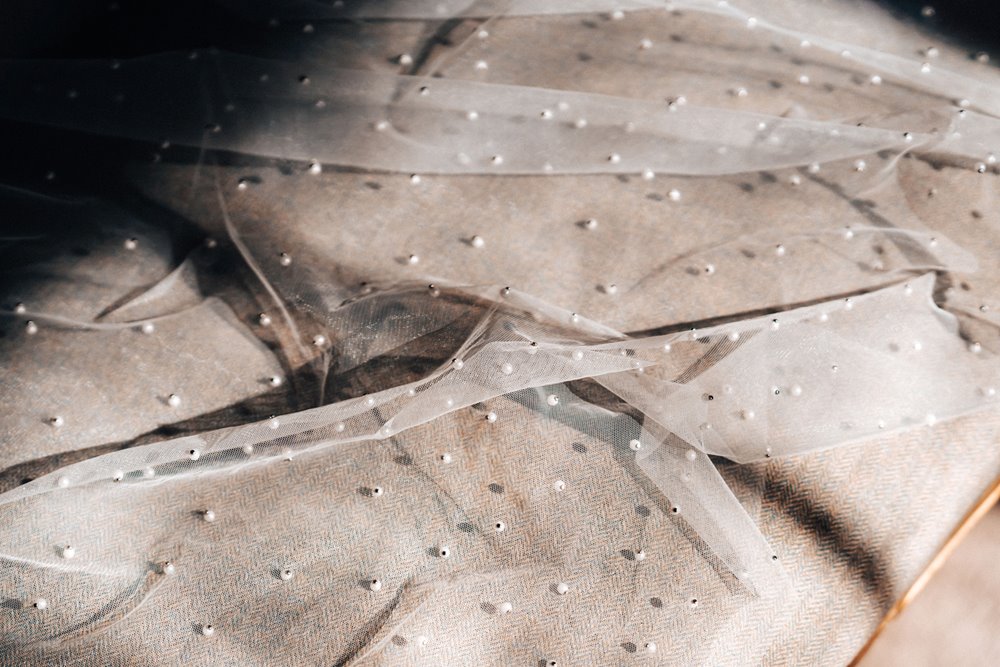 We loved your black bridesmaids dresses!
The groom's party consisted of both our Dads, my son and Dave's brother and best man, and they all wore matching black tuxedos which were similar to Dave's (and also from Moss Bros) with matching black patent shoes.
They looked very dapper indeed!
My bridal party included my sister, my best friend, and my cousin.
They wore black bridesmaids dresses, beautiful one shoulder, floor length gowns from Vesper via Asos, and they each chose their own style of shoe, so they stayed comfortable.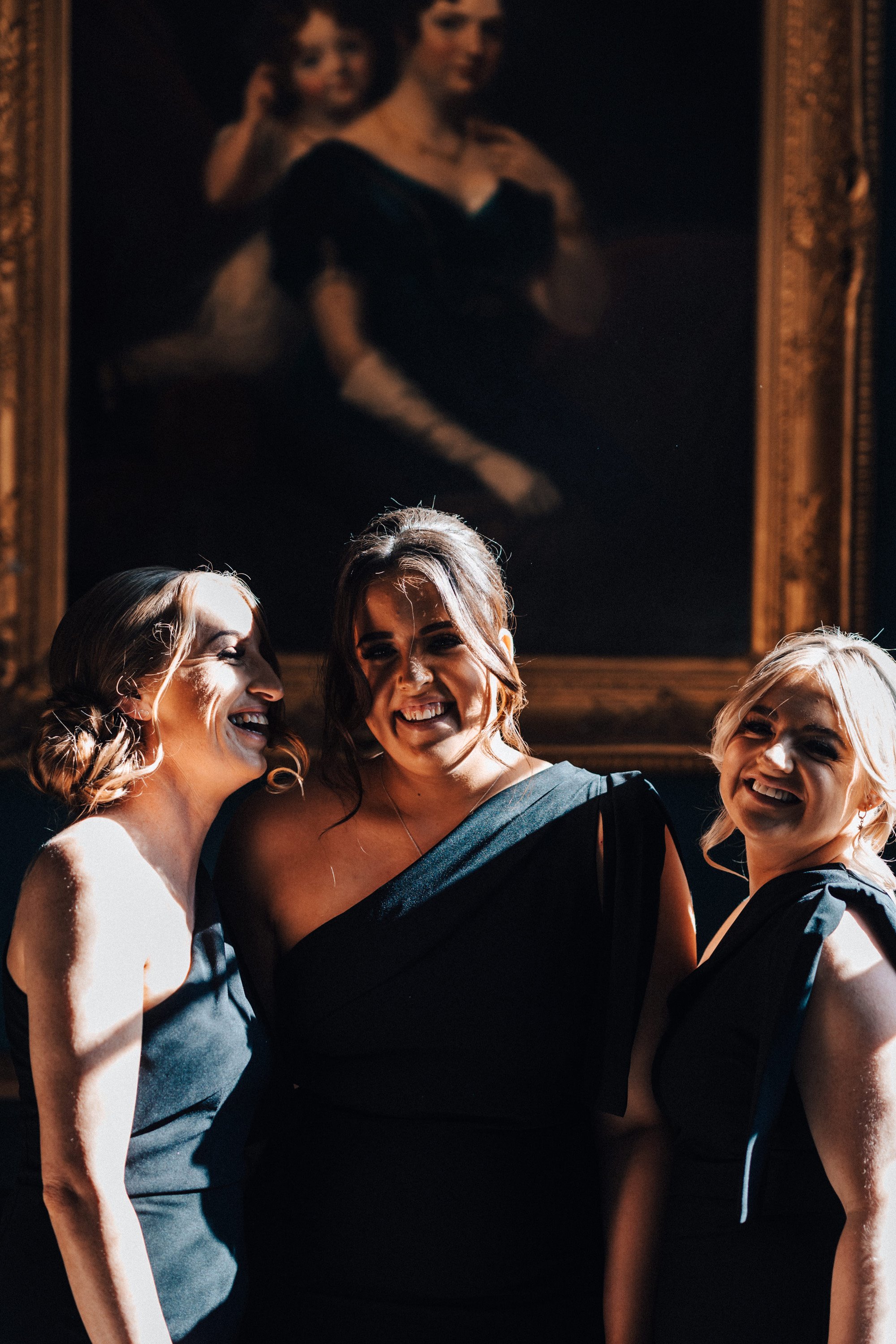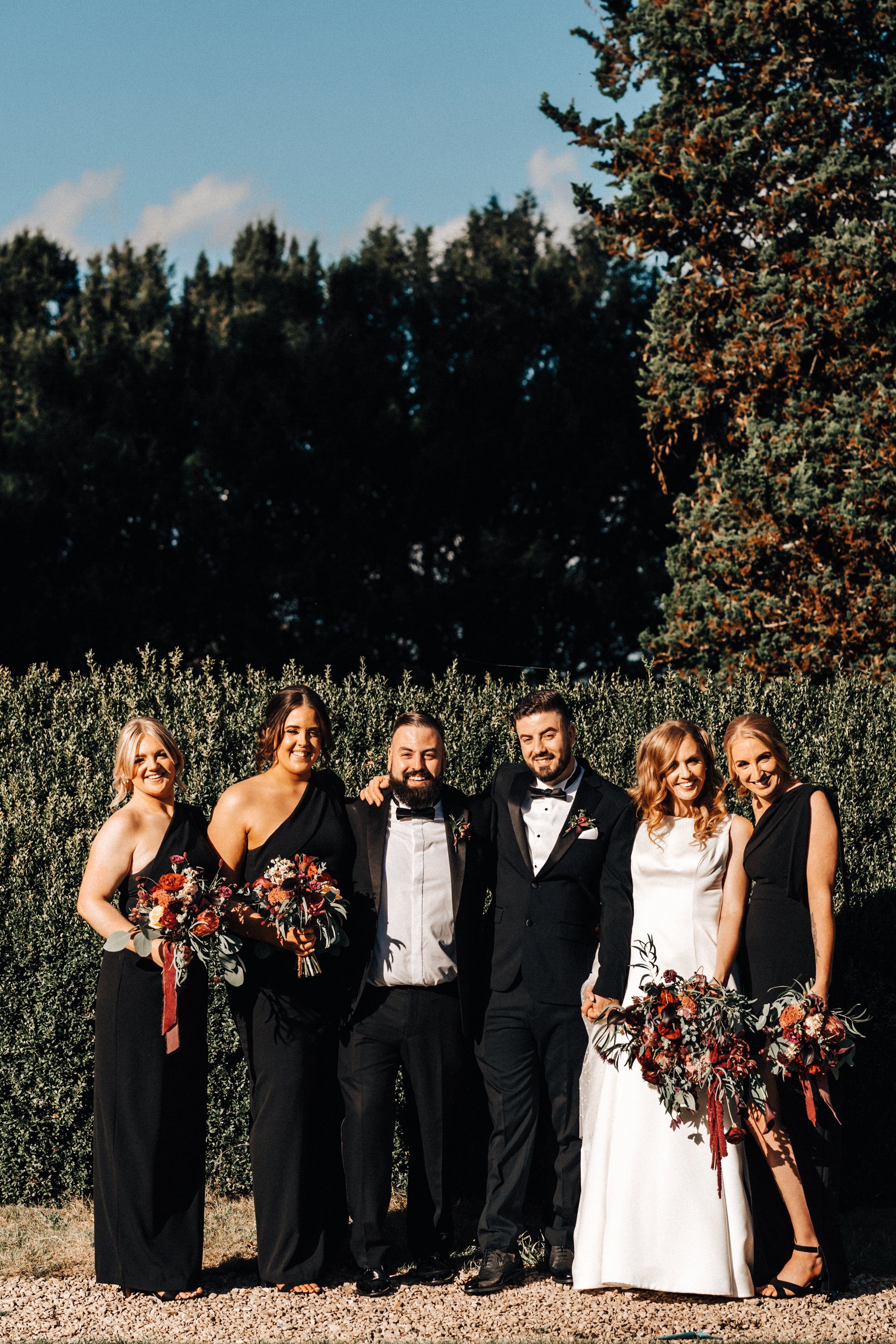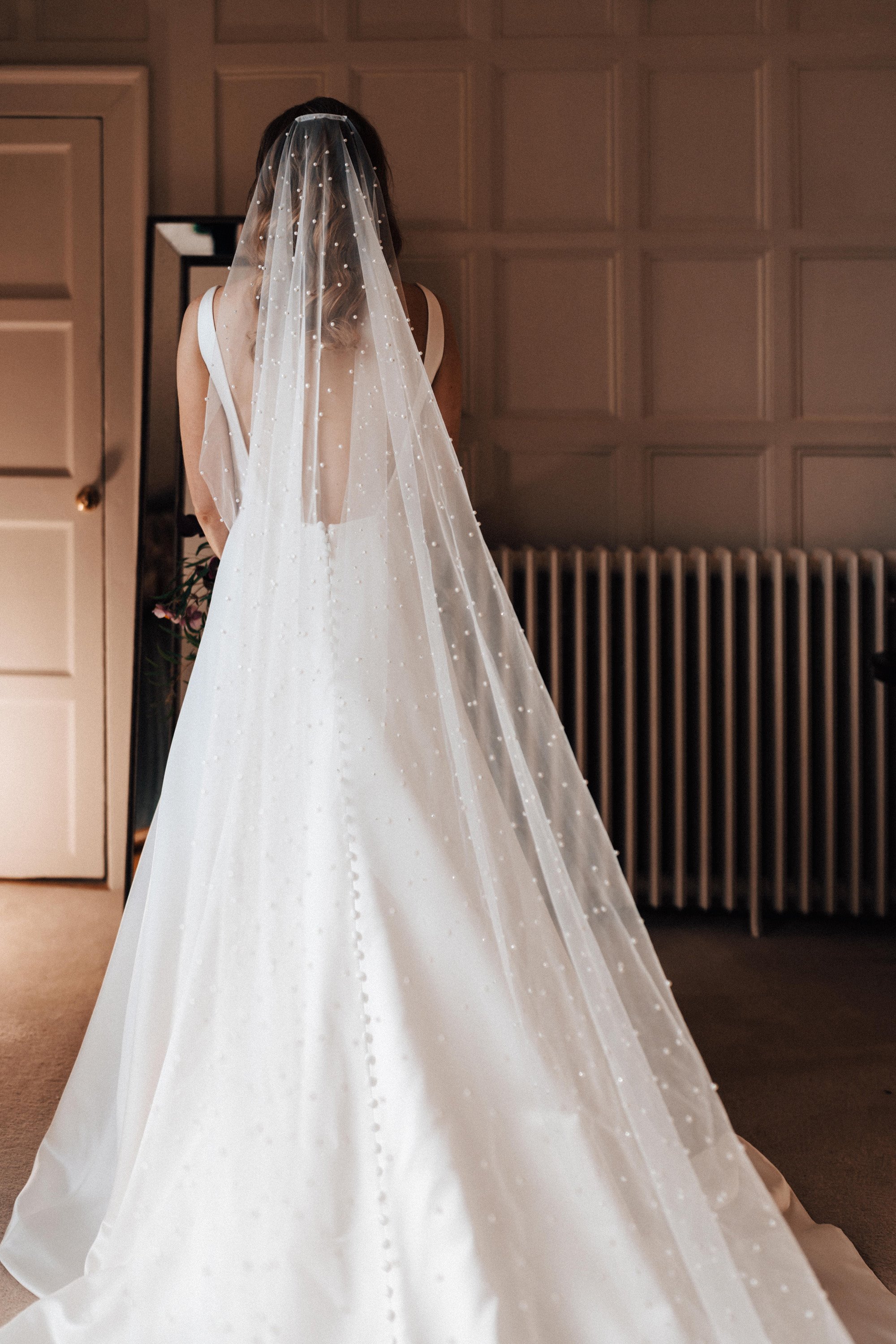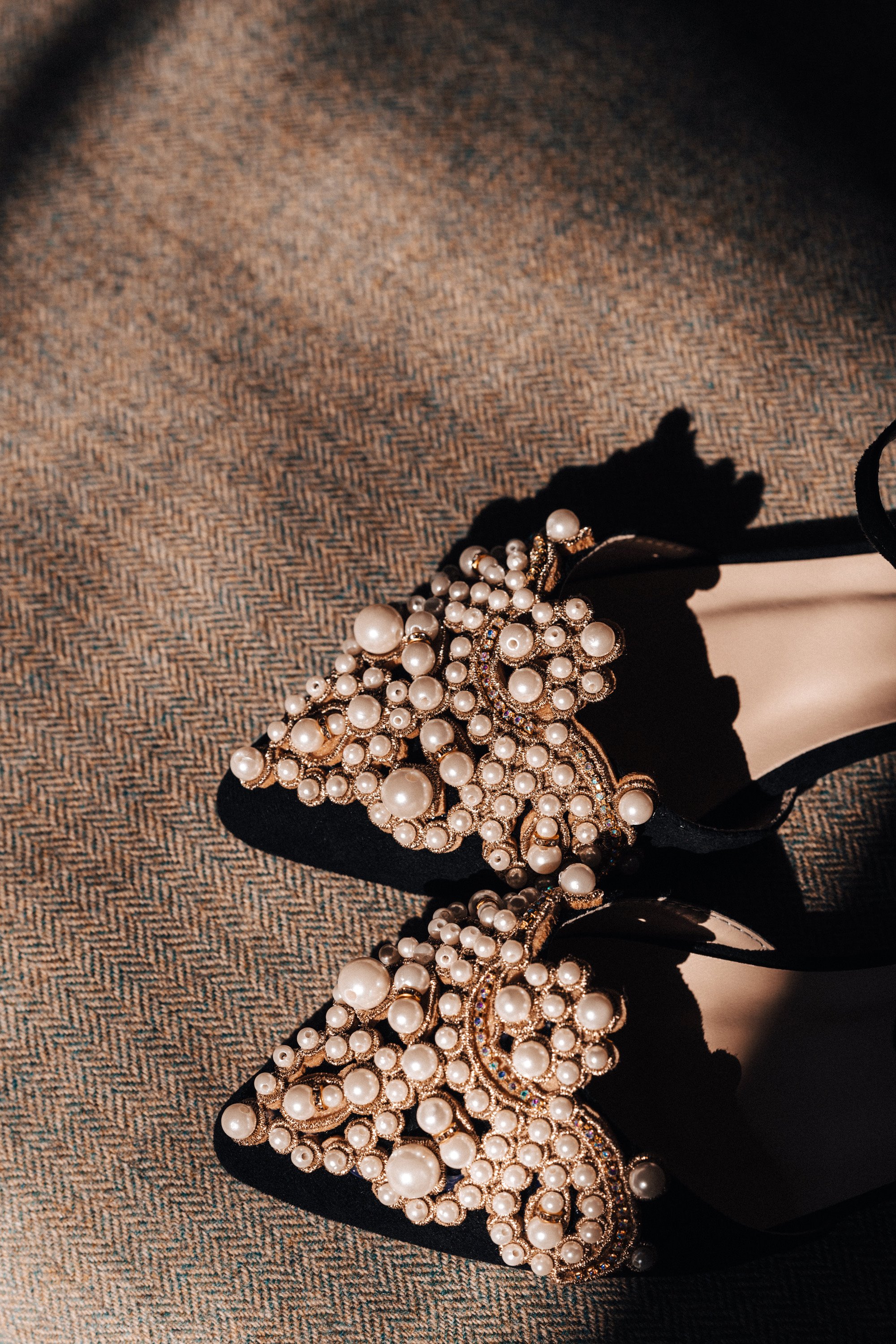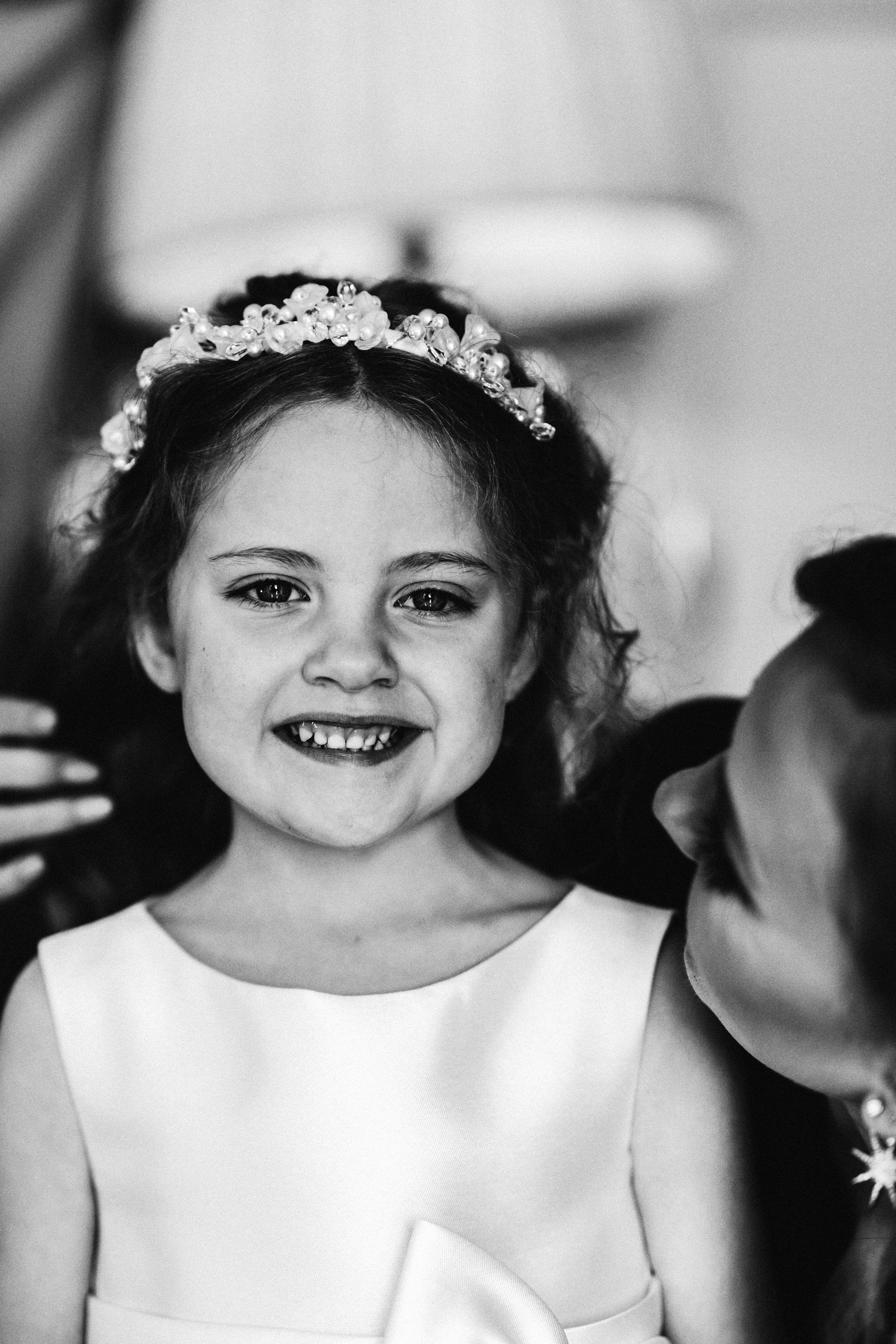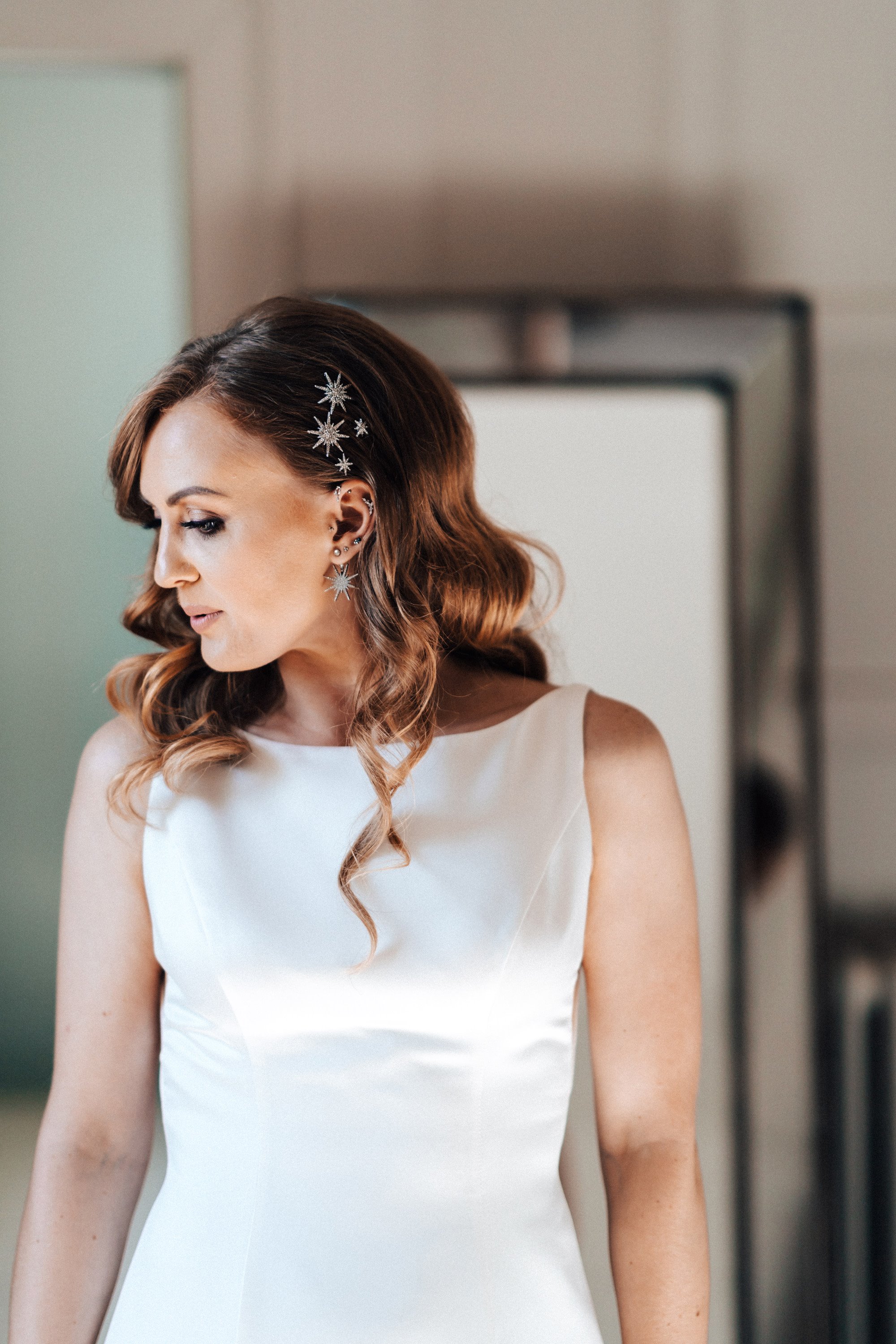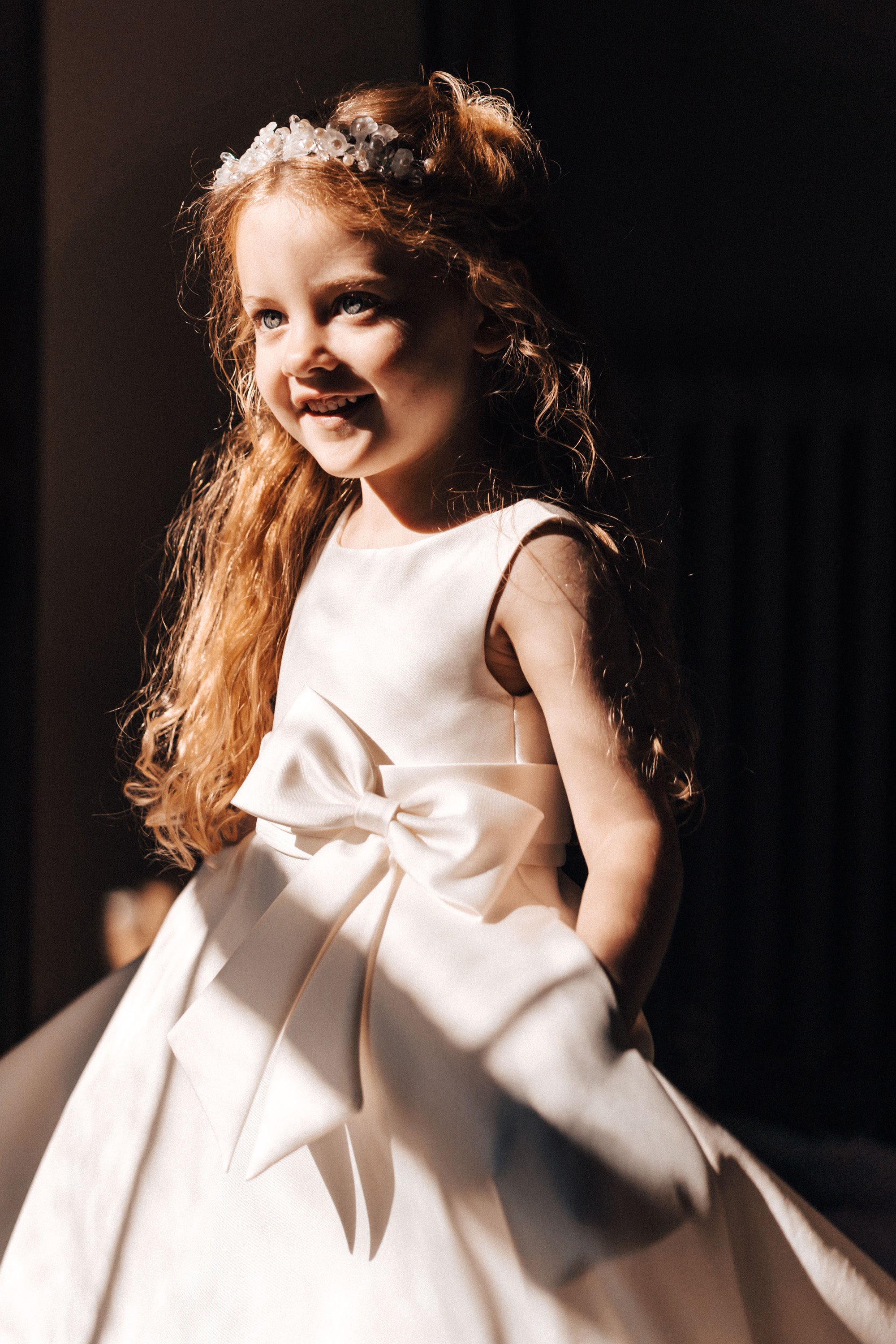 Who did your celestial inspired wedding hair?
I opted for classic Hollywood waves for my hairstyle.
With my dress being backless, I felt more comfortable having my hair down, but we did sweep one side back and added some star shaped pins to match the twinkly, celestial wedding theme.
My bridesmaids went for sleek and chic low side buns to complement their dresses, and my darling flower girl had her gorgeous long flowy locks pinned back with some floral hair pins.
We were in the capable hands of Gabbi Cobb, who is both a professional hairdresser and an old family friend.
Together with Katy Pheiffer on our makeup, they were an absolute dream team and made getting ready on the morning of the wedding even more enjoyable!
Katy is the most amazing MUA – my makeup was stunning and lasted all day and night.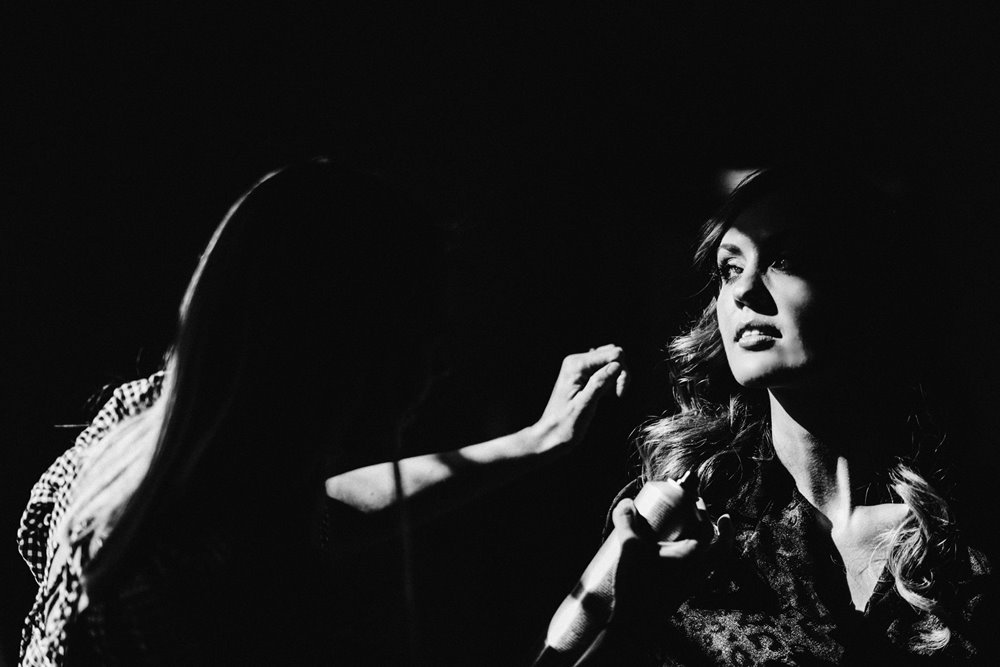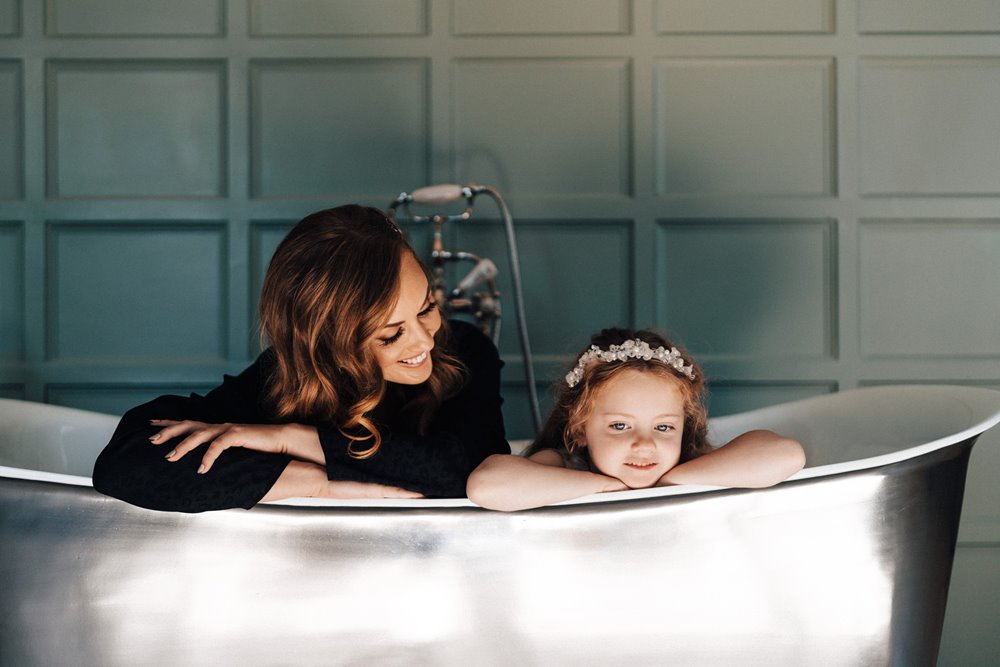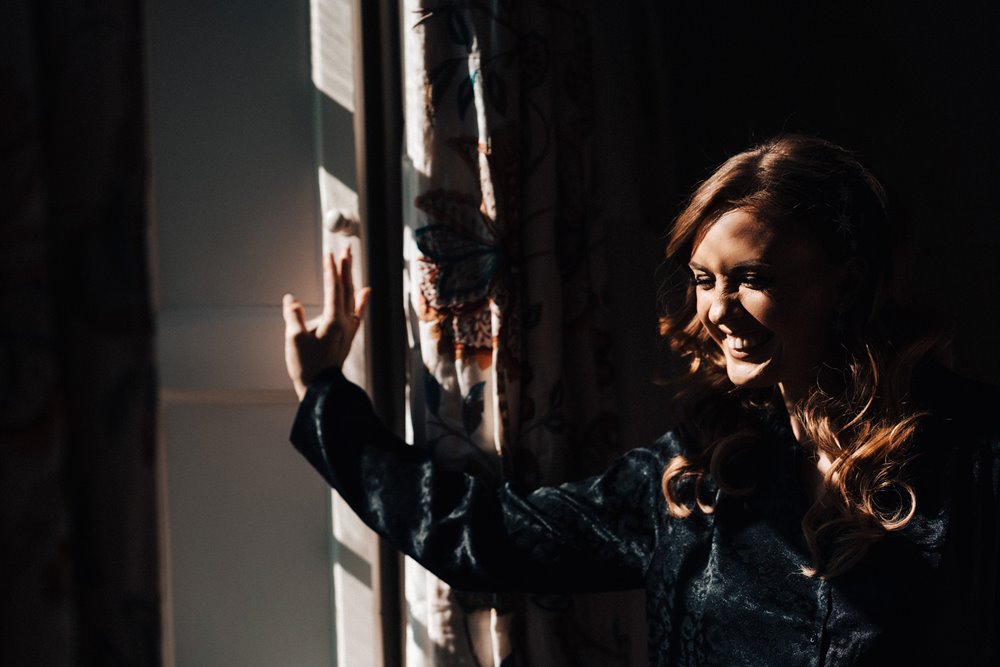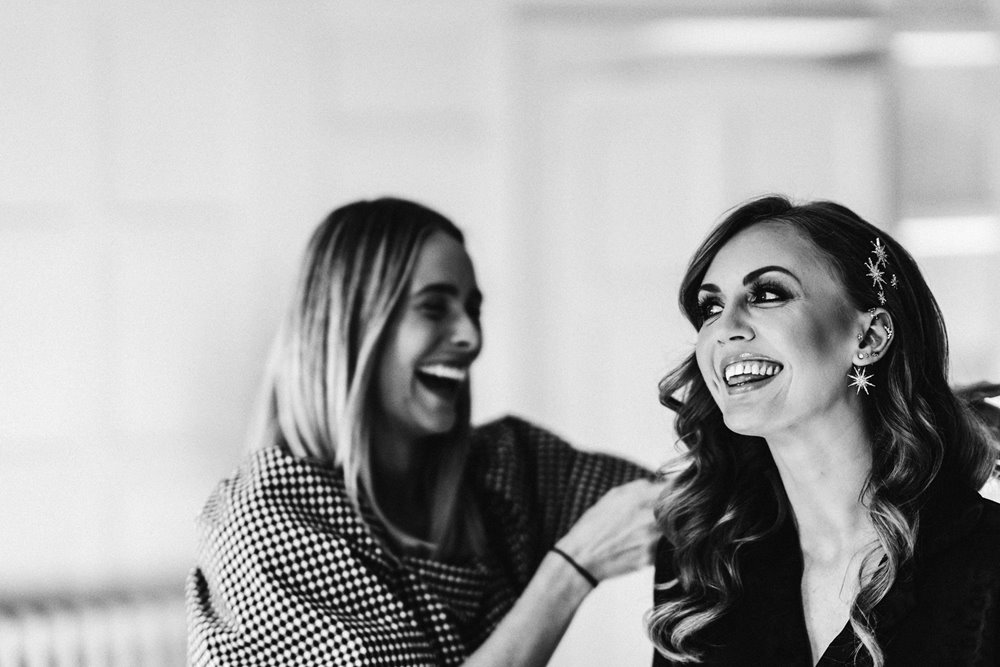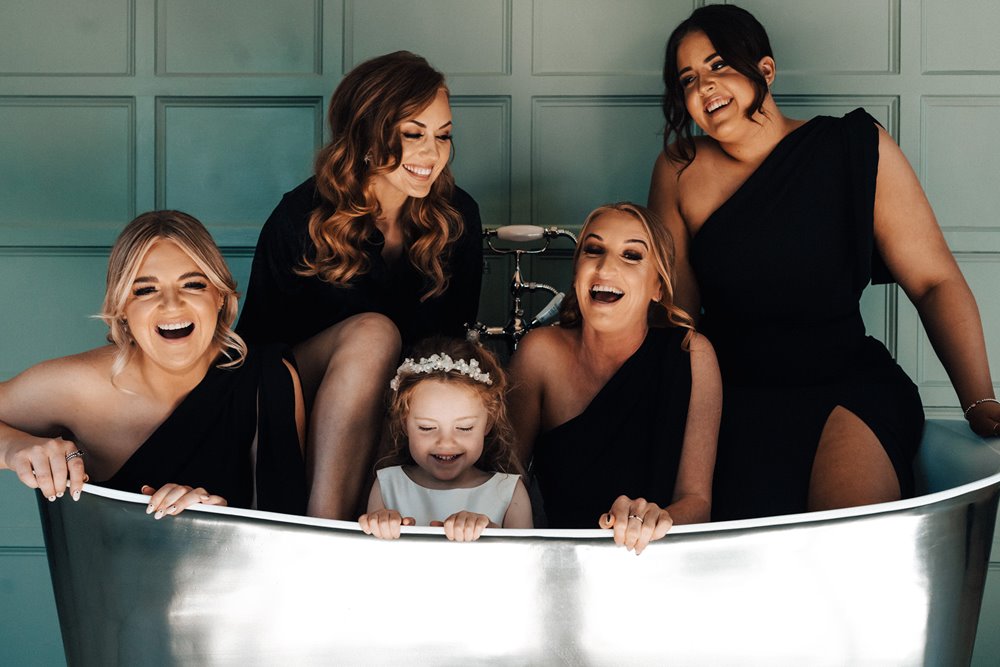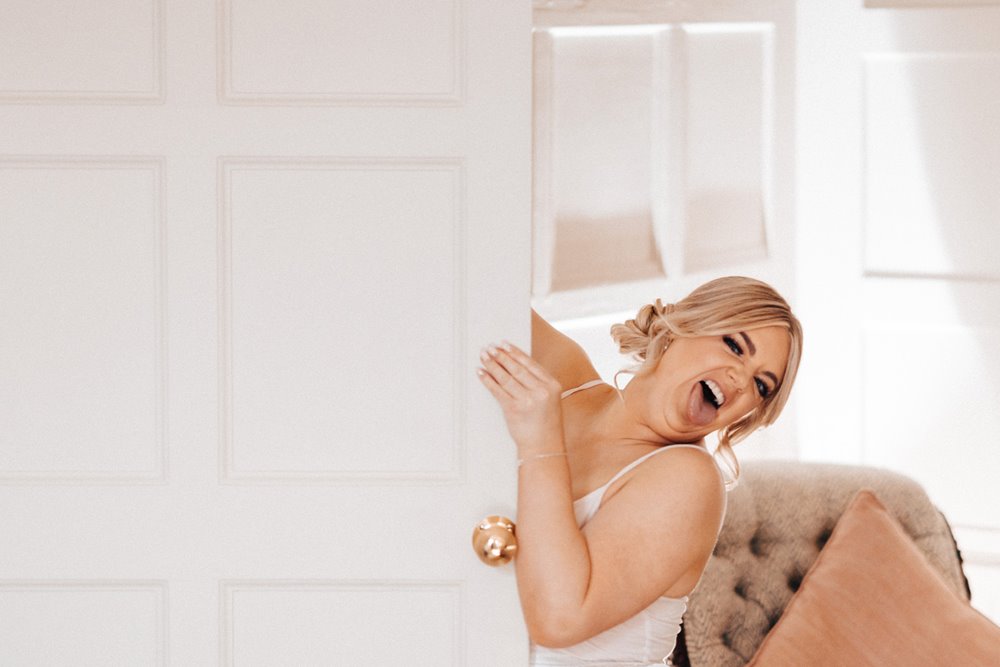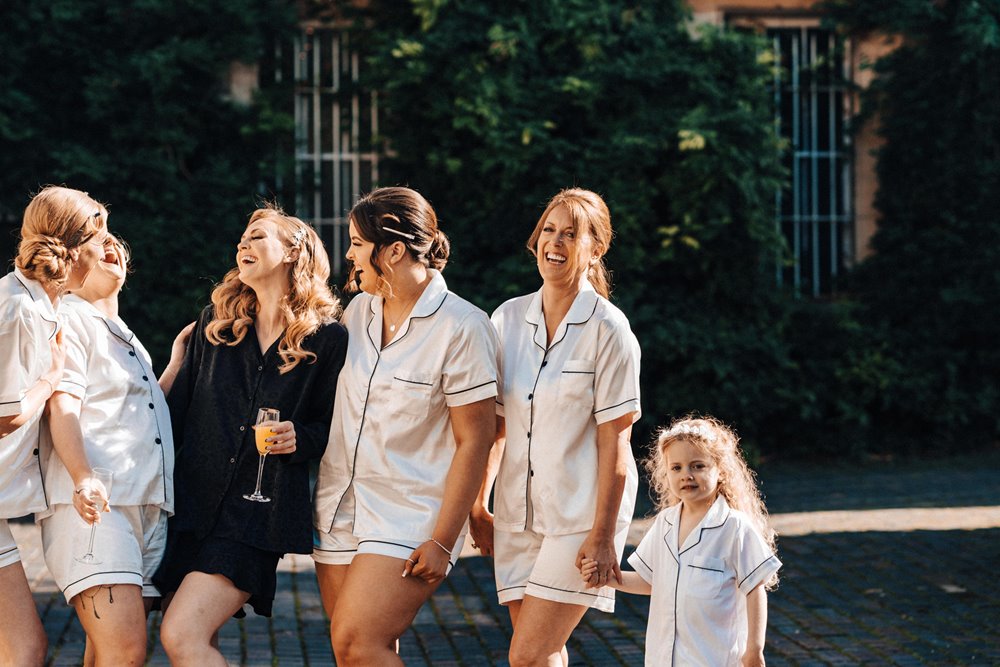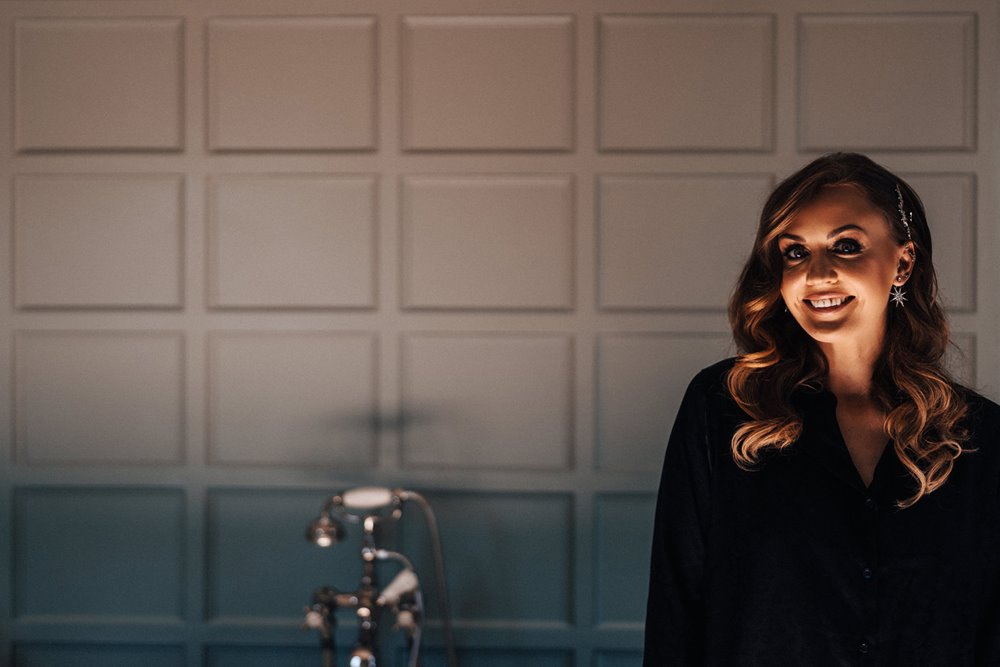 How did you feel on your wedding morning?
On the morning of the wedding, I felt surprisingly calm and relaxed.
After spending three years planning, I finally realised that everything was now out of my hands.
I was having a wonderful time with my bridal party being pampered, listening to music and enjoying a lovely breakfast that had been provided for us in the Coach House.
As we moved over to the main House to finish getting ready, though, reality started setting in, shortly followed by the nerves! Enter James Fear Photography.
James was a complete balm for the soul! He came in with such boundless, fantastically chaotic energy that he completely lifted me out of my own head and reminded me to enjoy the moment. It was precisely what I needed.
Dave spent the morning at home in relative peace and quiet with my son, Harry.
They made a special trip to the barbers to have their hair styled before driving up to Elmore Court!
Dave is perpetually laid back and used to being in front of a crowd and so wasn't subject to the same nerves that I was, luckily.
We had both thought to arrange gifts for each other for the morning, which was a lovely touch.
I arrived in the main house to a gorgeous bouquet of flowers and some thoughtful, funny words in a card, and I had left Dave my own words in a card along with a Hugo Boss watch (to help him keep an eye on the time!)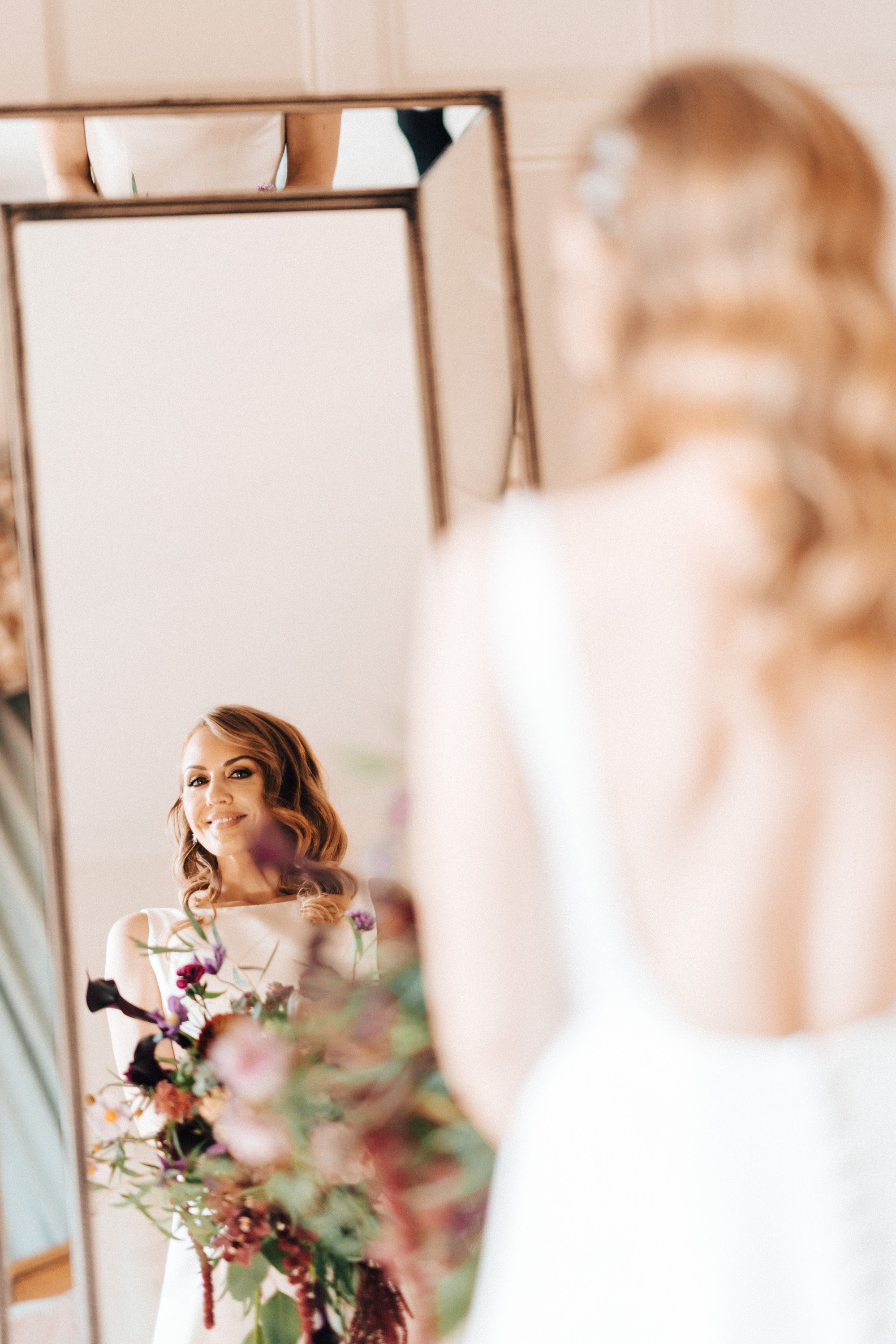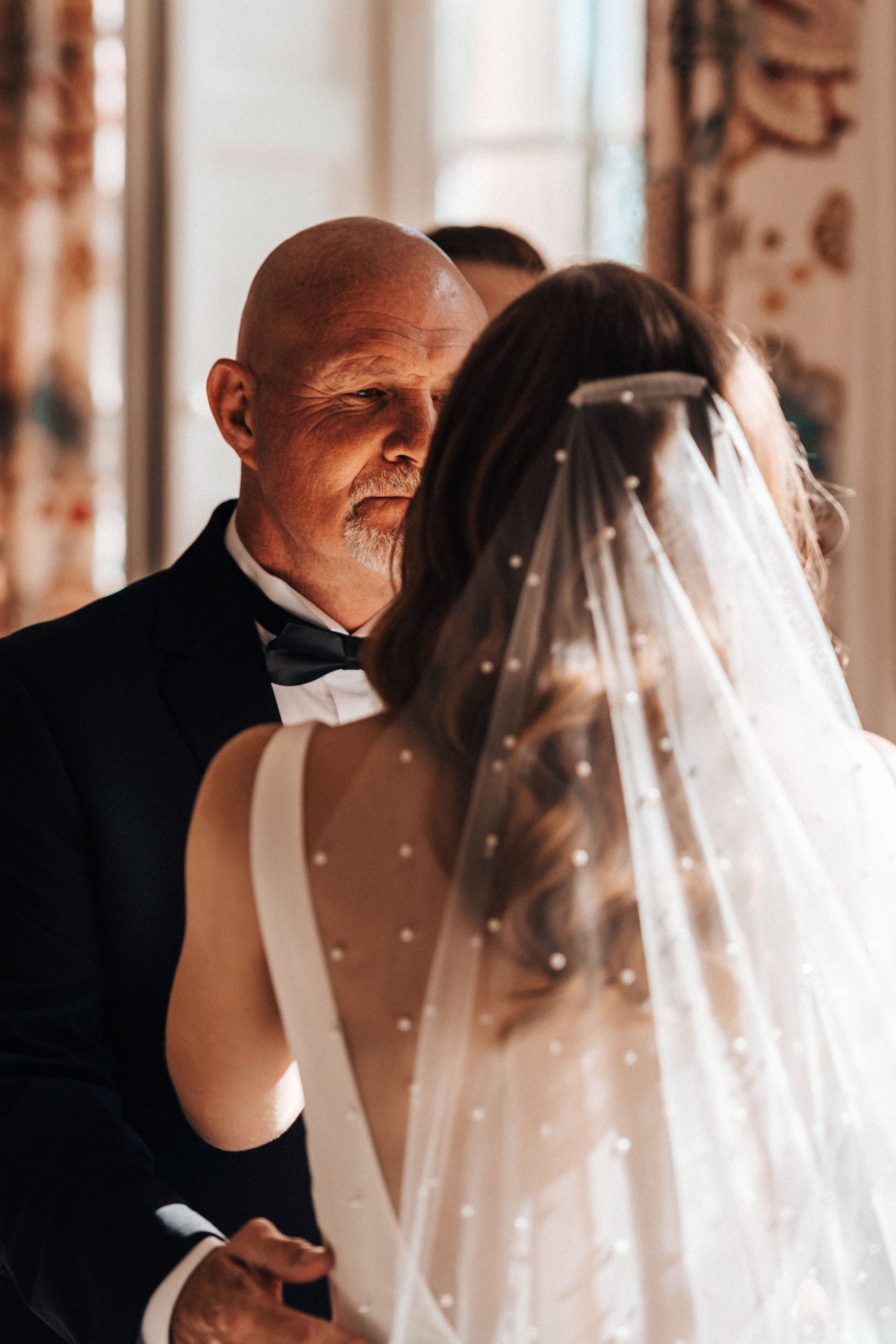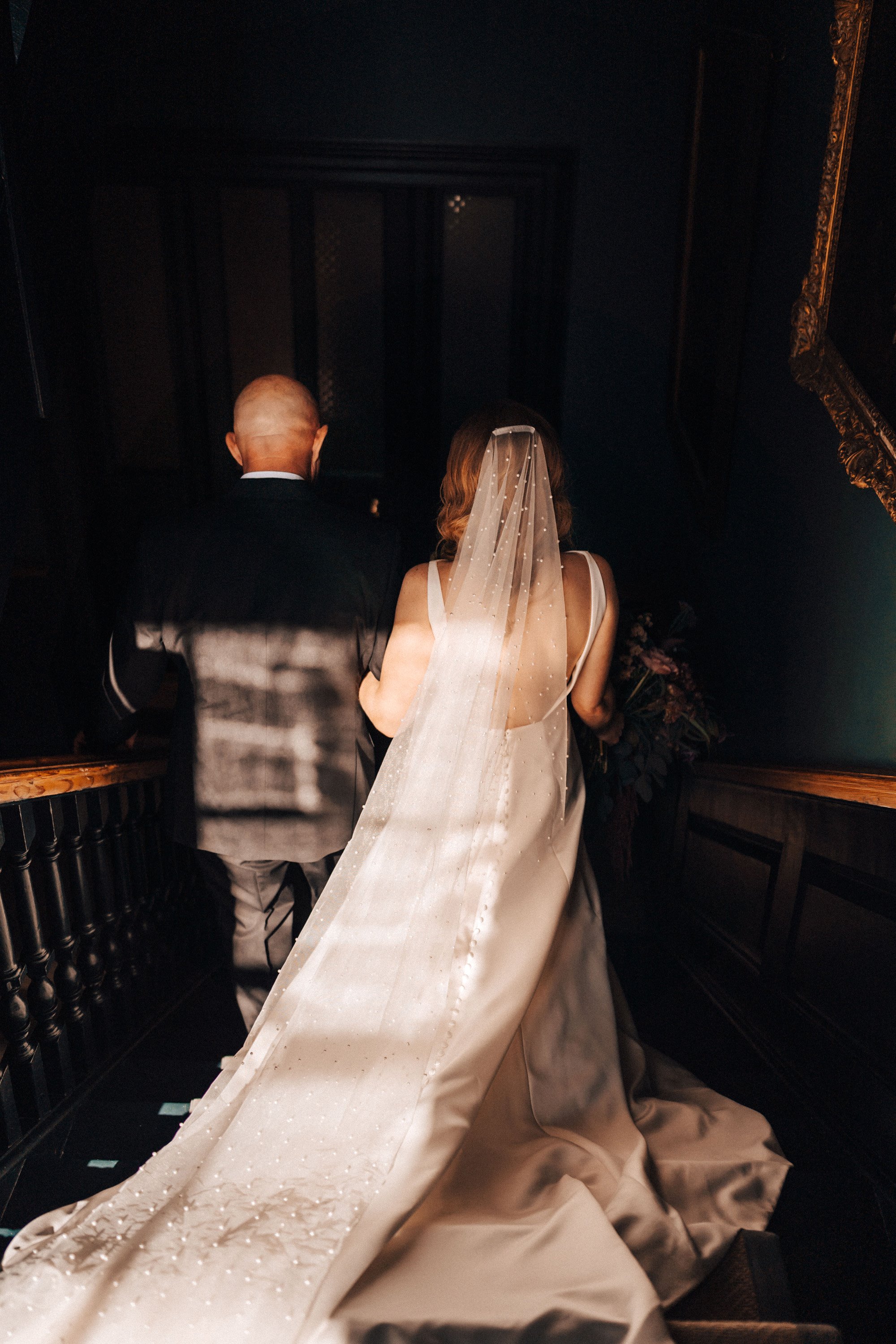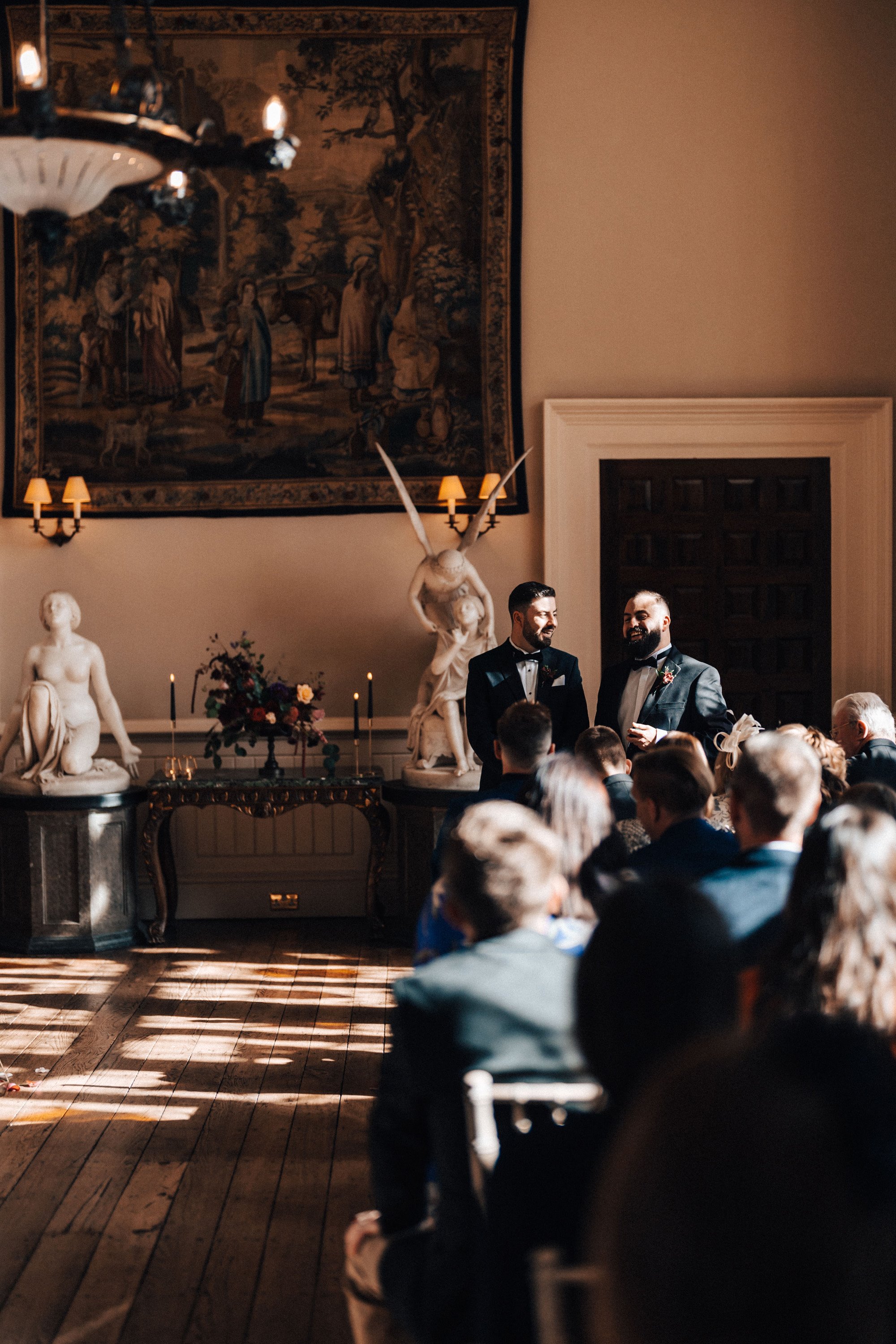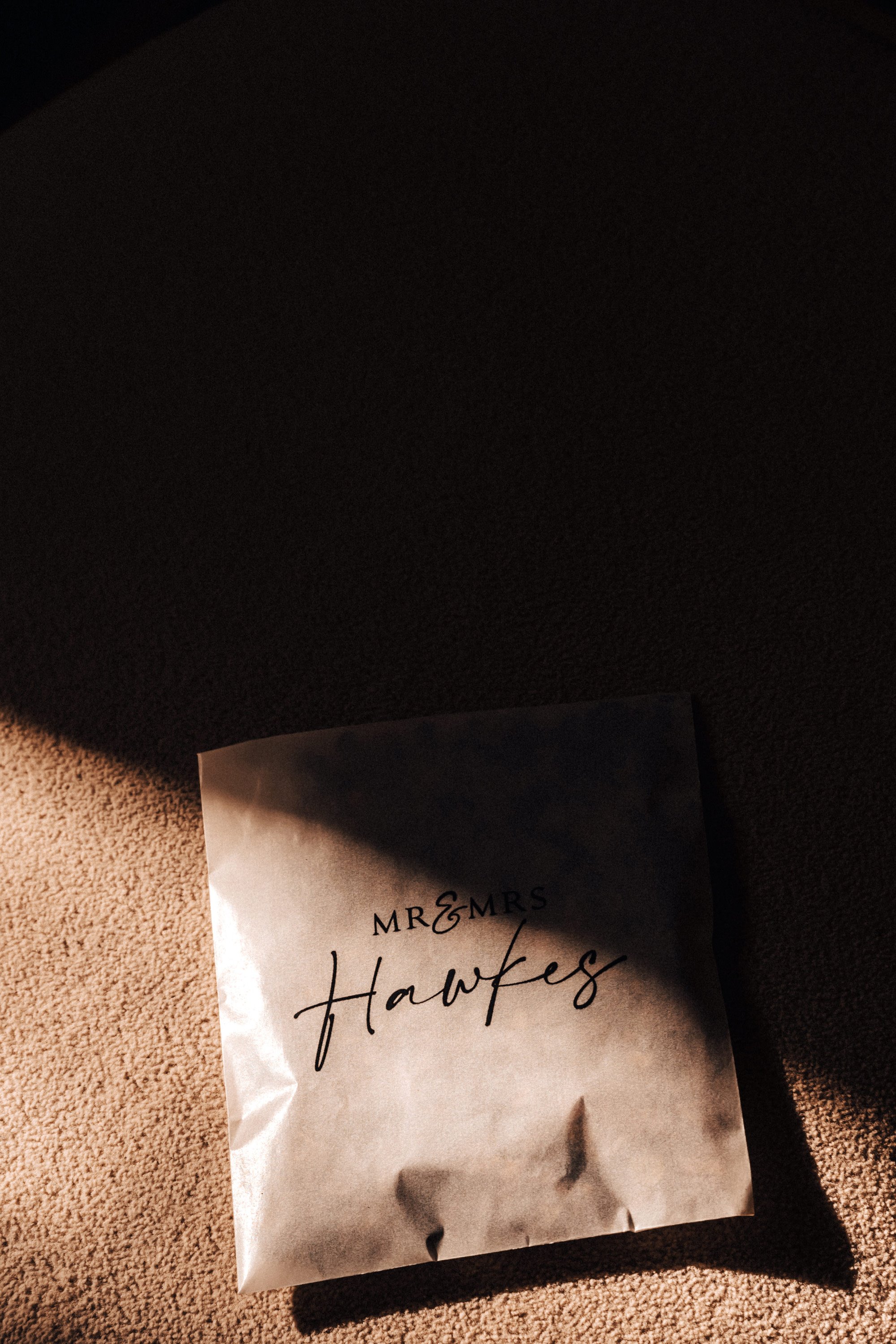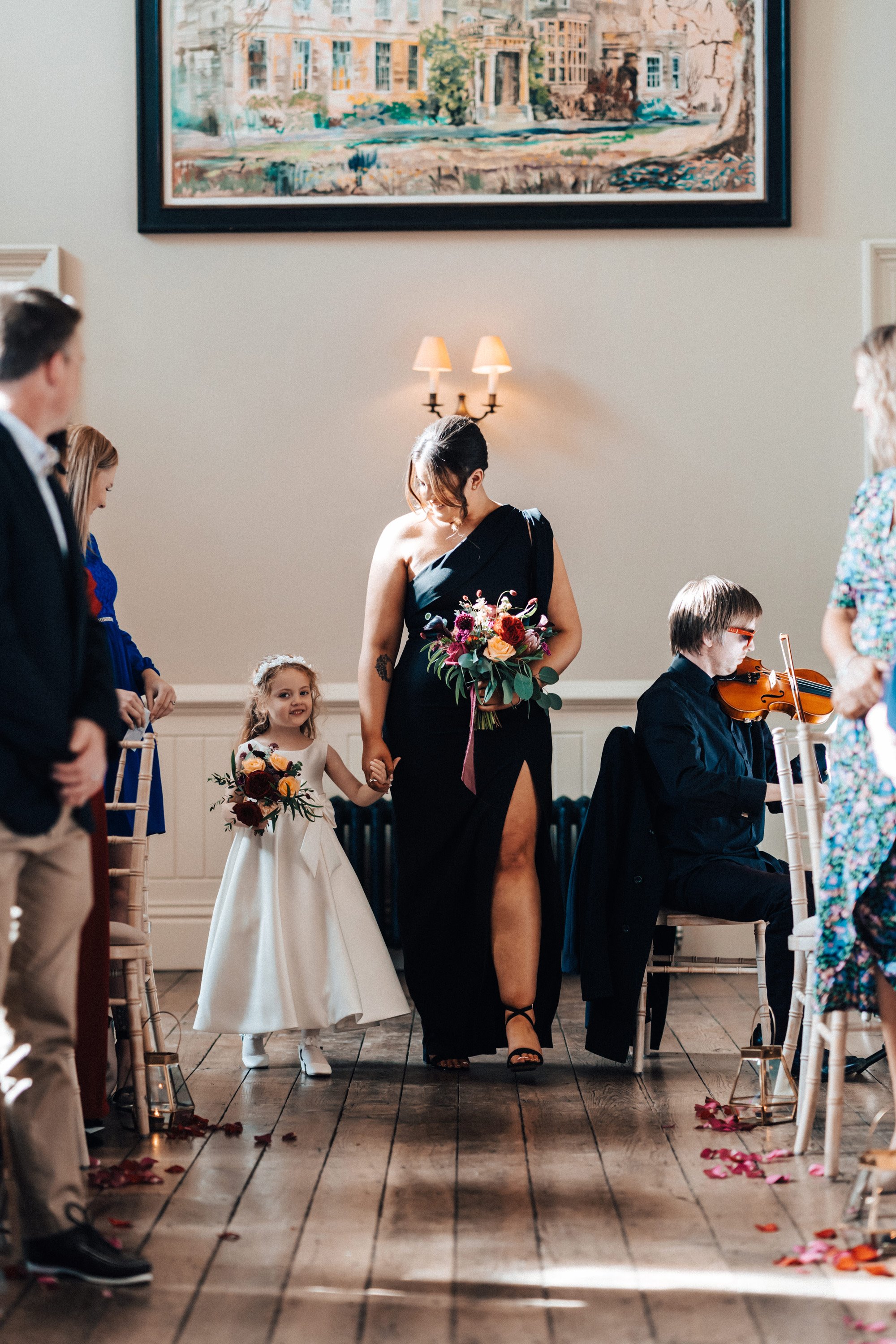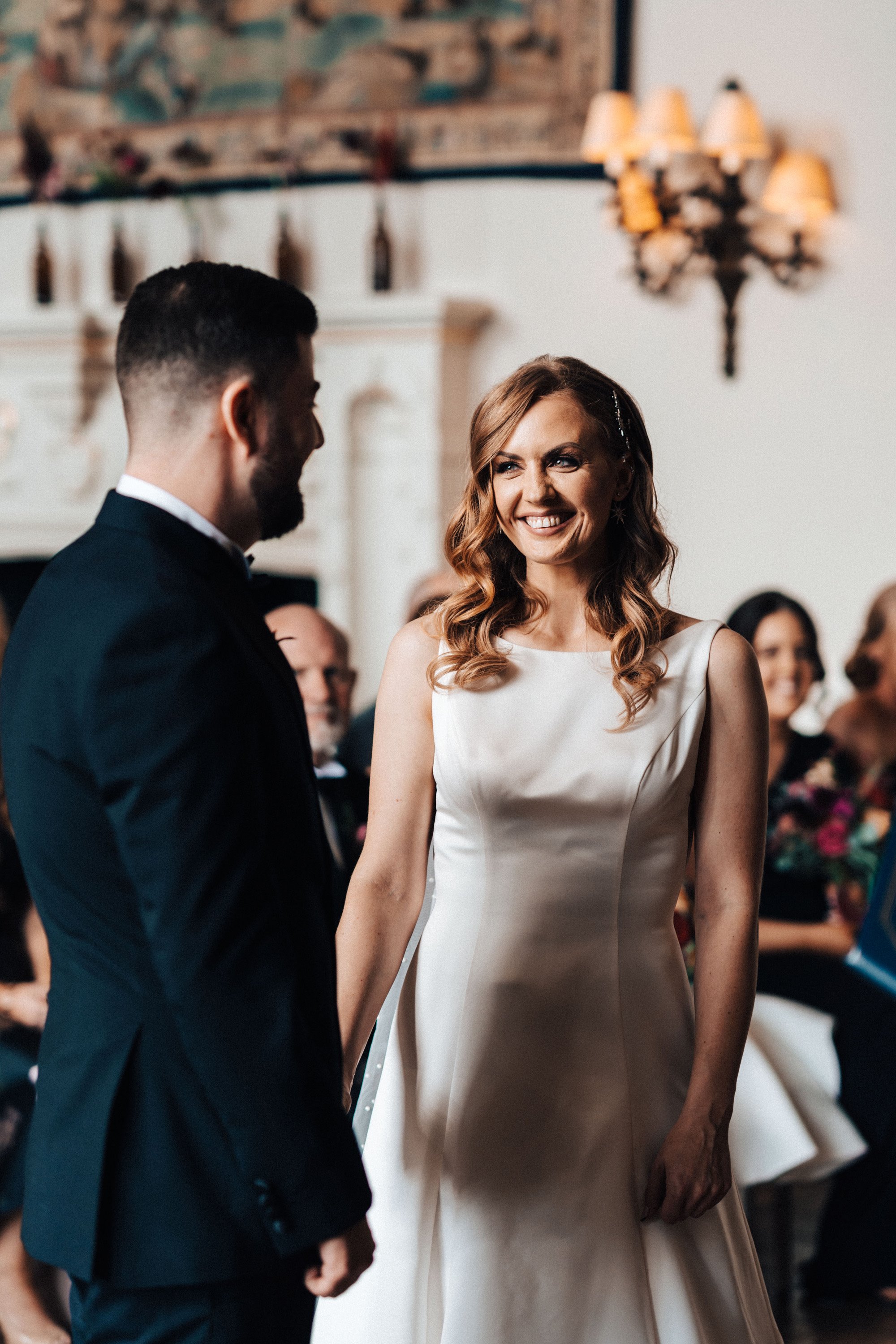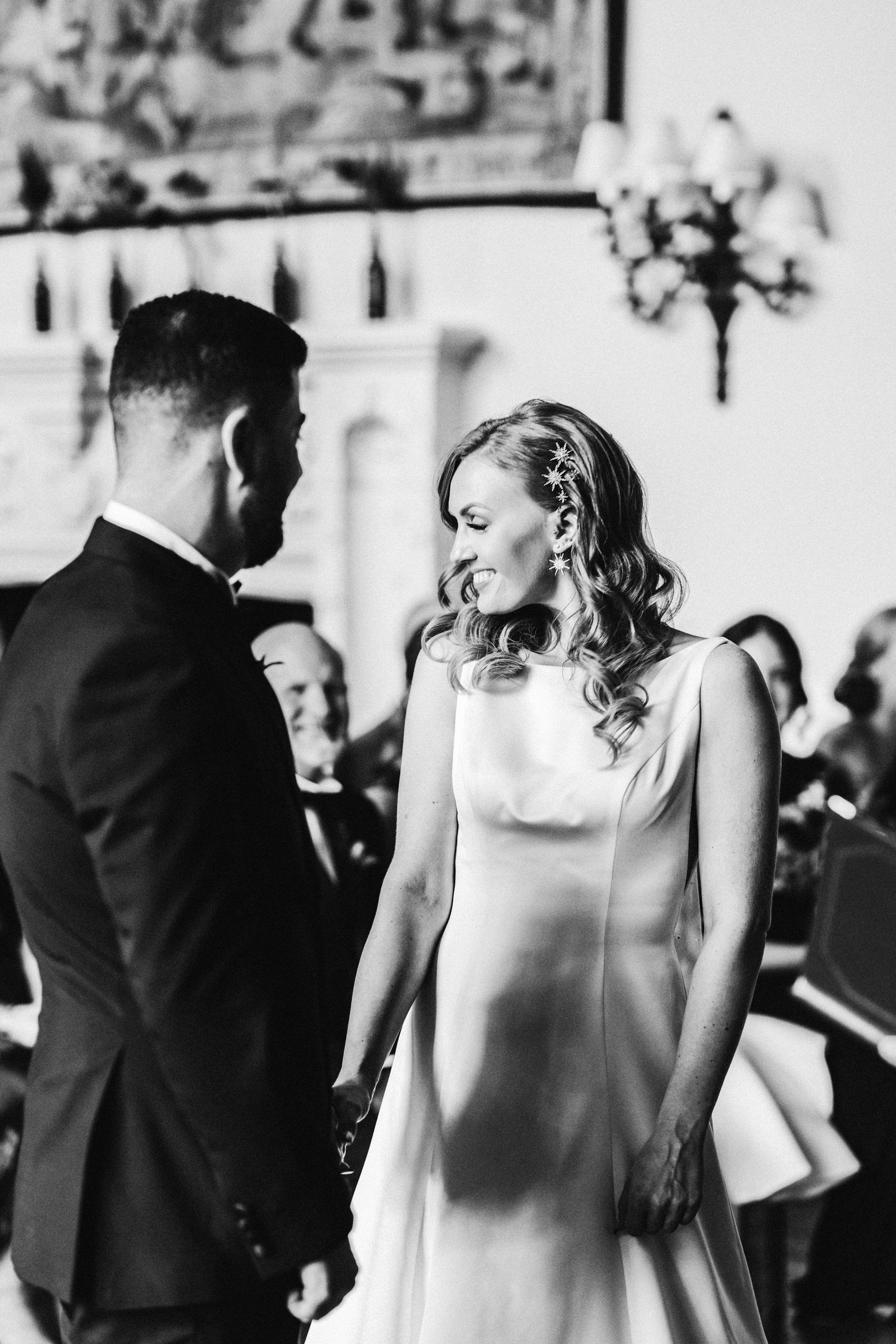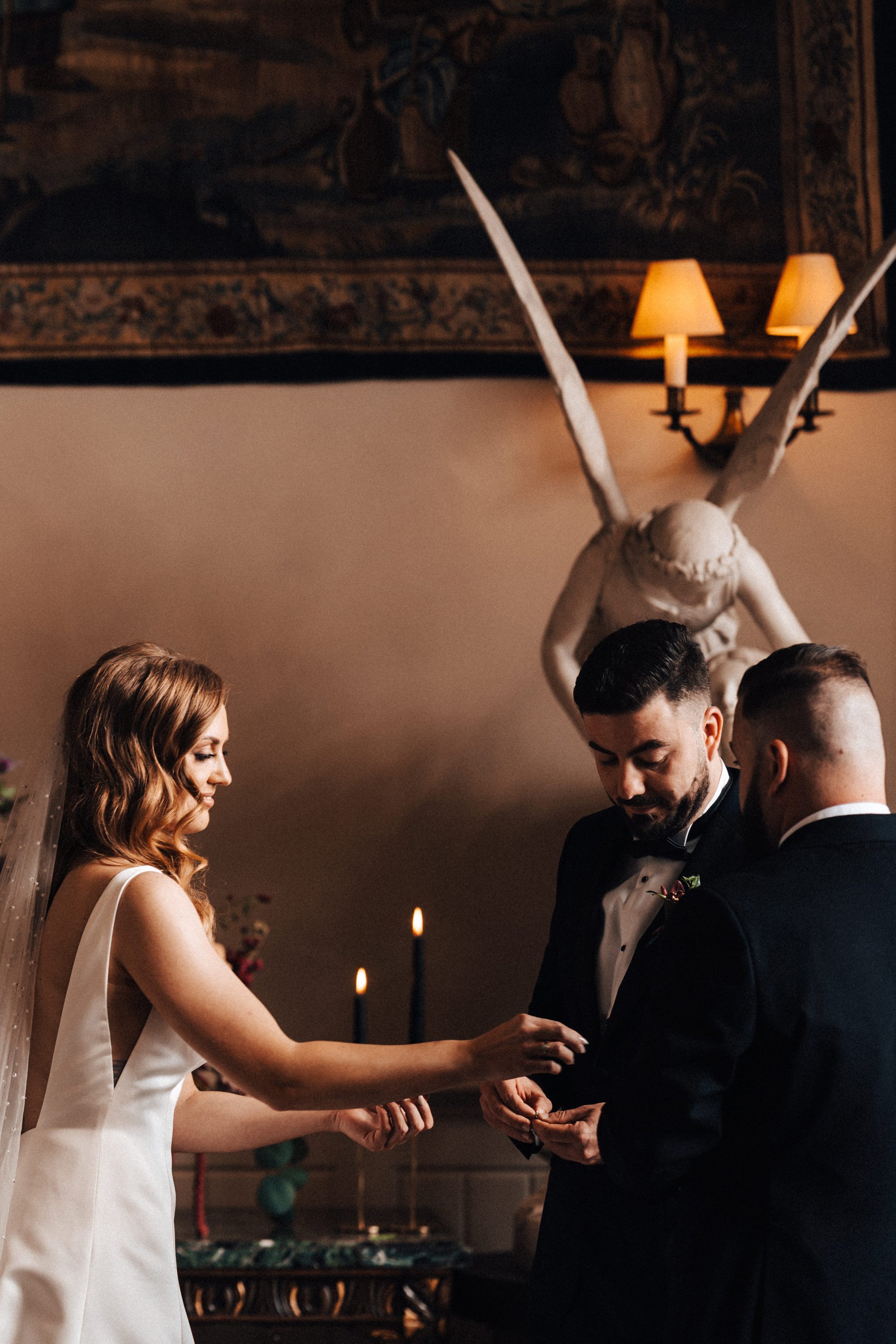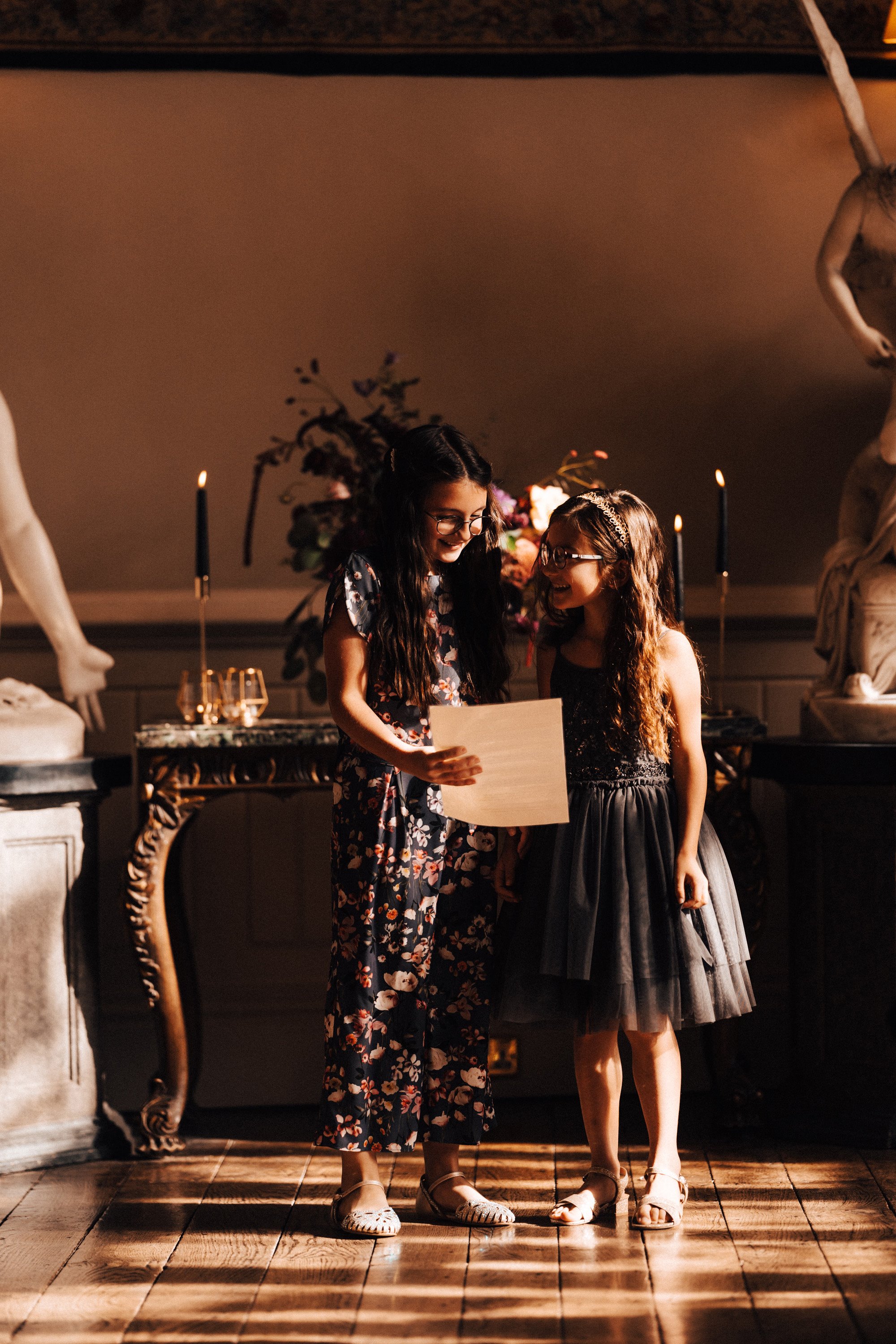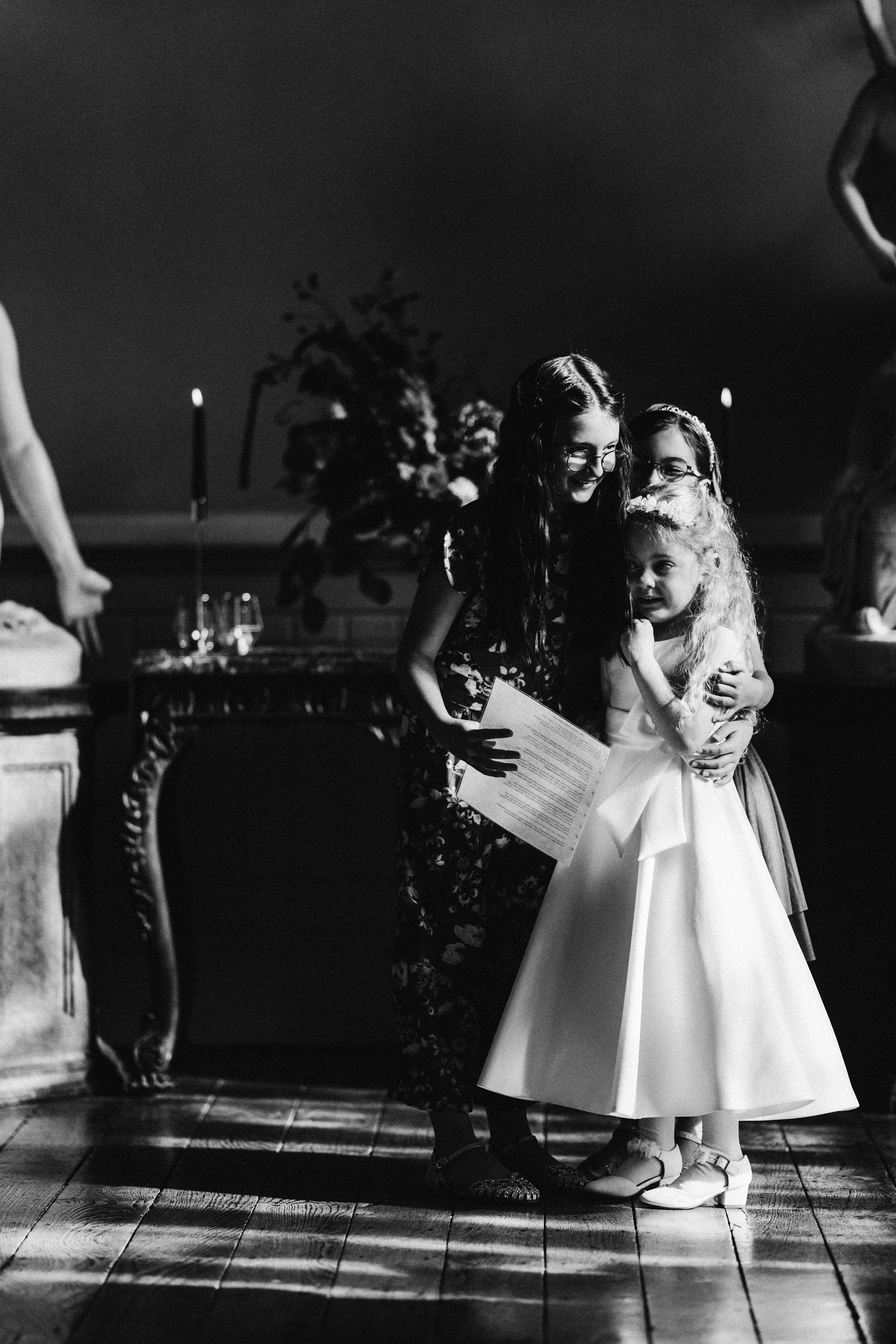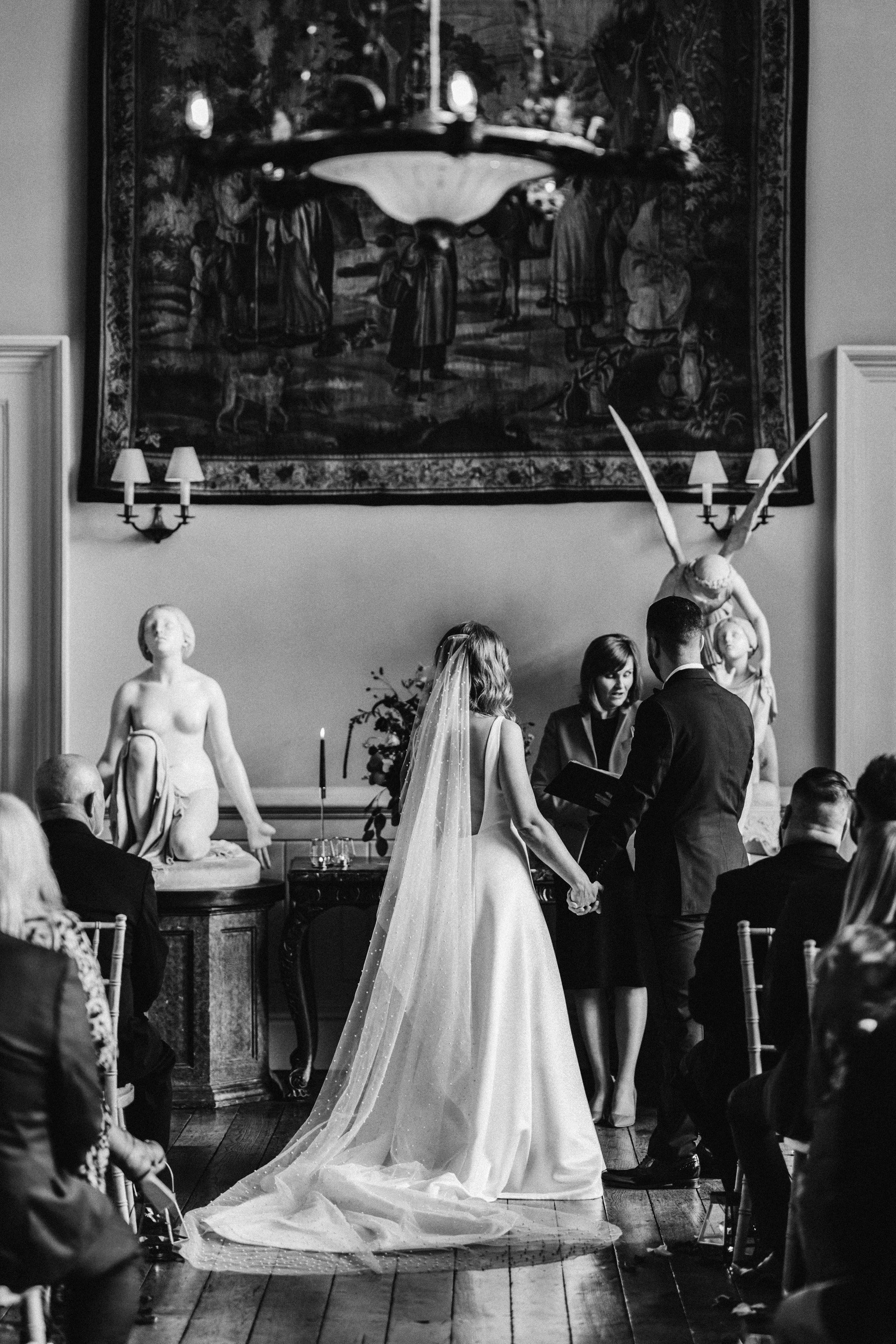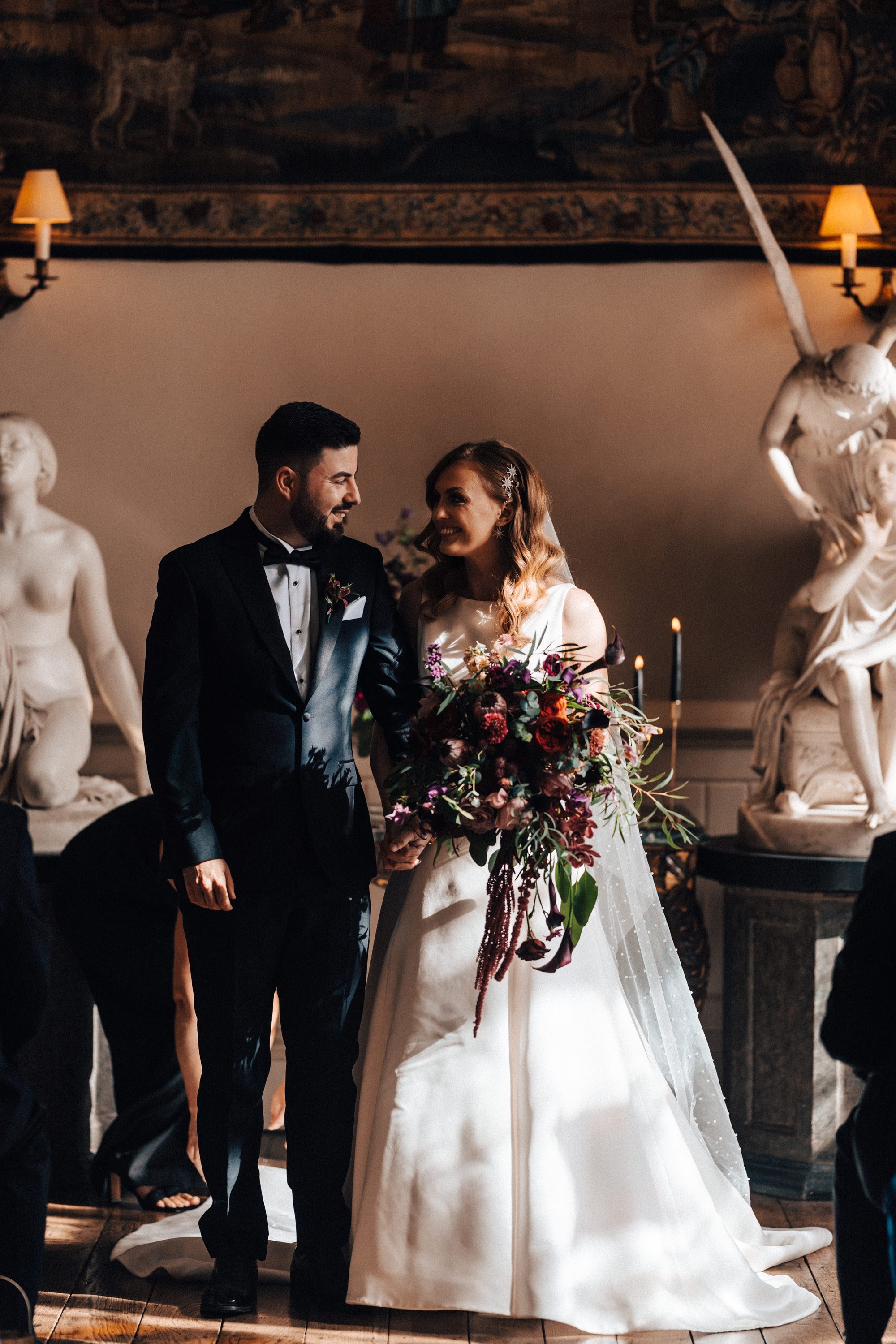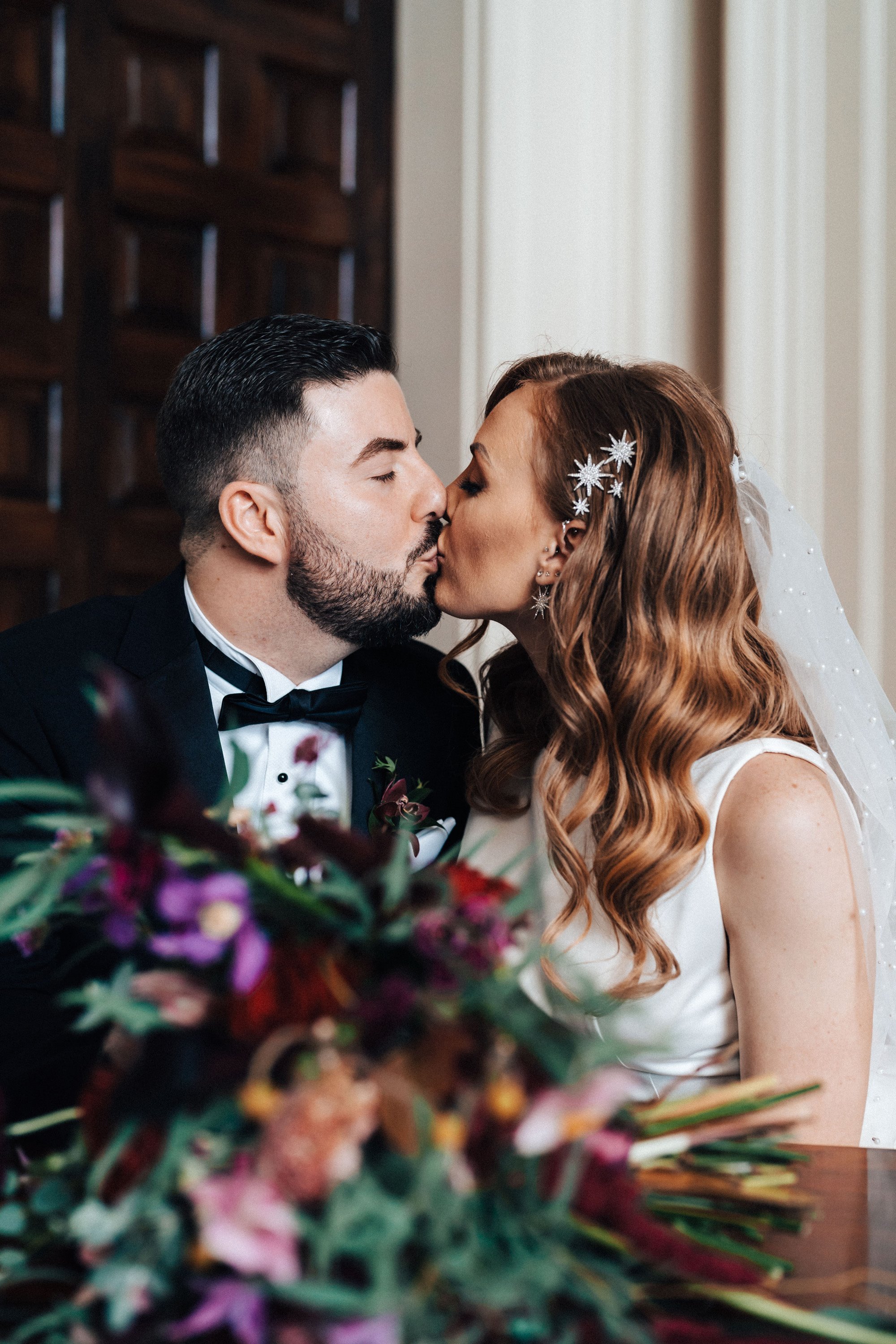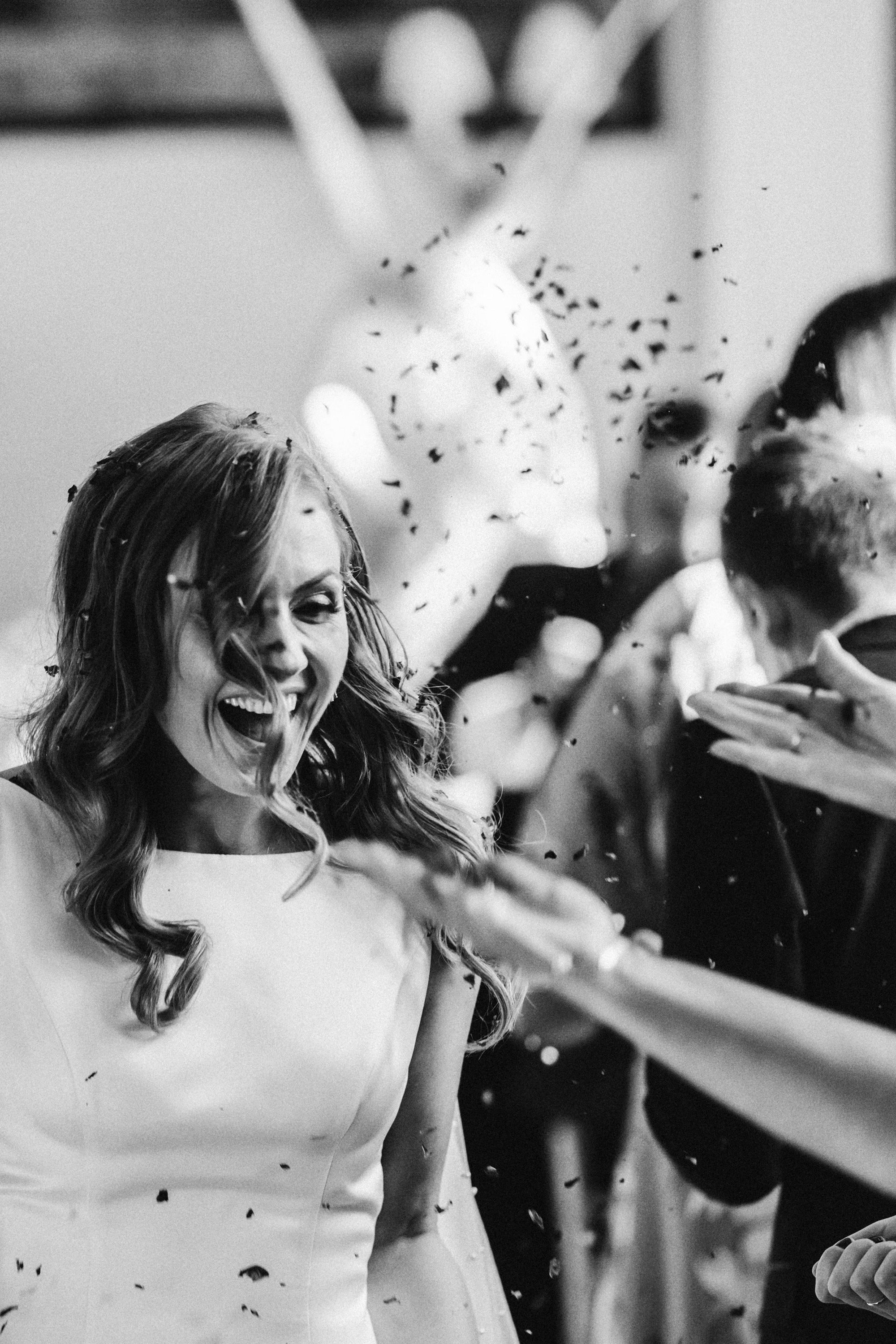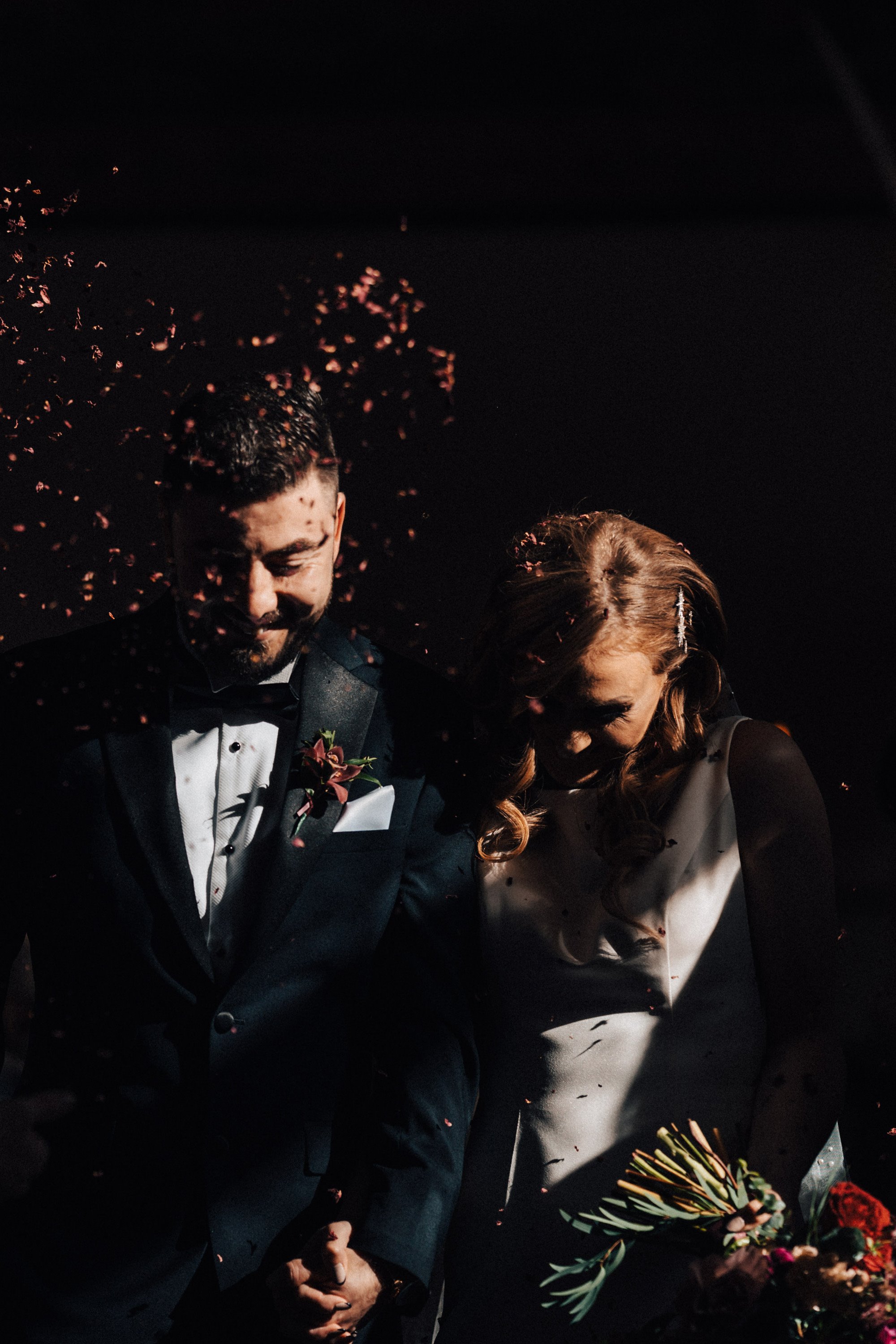 Your wedding ceremony
The best part of the ceremony was looking into each other's eyes as we read our vows and exchanged our rings. I really thought this would feel awkward with everyone staring at us, but cheesy as it sounds, he was the only one in the room to me.
Though I didn't get to hear it as it was before the processional, the String Quartet played Hoppipolla by Sigur Ros. On a family day out to Dyrham Park years ago, Dave played a few bars of the song on the piano in the entrance hall, and the sound carried all around with people stopping to listen.
It's a really happy memory for me, so it's lovely to think of the guests hearing the same song.
During the ceremony, before we were married, my aunt Julie read out Union by Robert Fulghum, which felt particularly fitting for us as a couple. We had been together for such a very long time before getting married and we had so many conversations about things that are 'when we are married' which the reading talks about.
Our goddaughters Jasmine and Isabelle, who were just 9 and 11 at the time, did an amazing reading of The Lovely Dinosaur by Edward Monkton.
We wanted to make sure they had a special role in our day; they did such a fantastic job and had us smiling the whole way through.
The best part of the ceremony was looking into each other's eyes as we read our vows and exchanged our rings.
I really thought this would feel awkward with everyone staring at us, but cheesy as it sounds, he was the only one in the room to me.
We bought Dave's yellow gold wedding band on a shopping trip to Reading. I had dreamed of something bespoke to fit my pear shaped diamond halo engagement ring, so I enlisted Holly Robinson Jewellery, who turned a vague idea into a beautiful tiara-style white gold band which completely exceeded my expectations.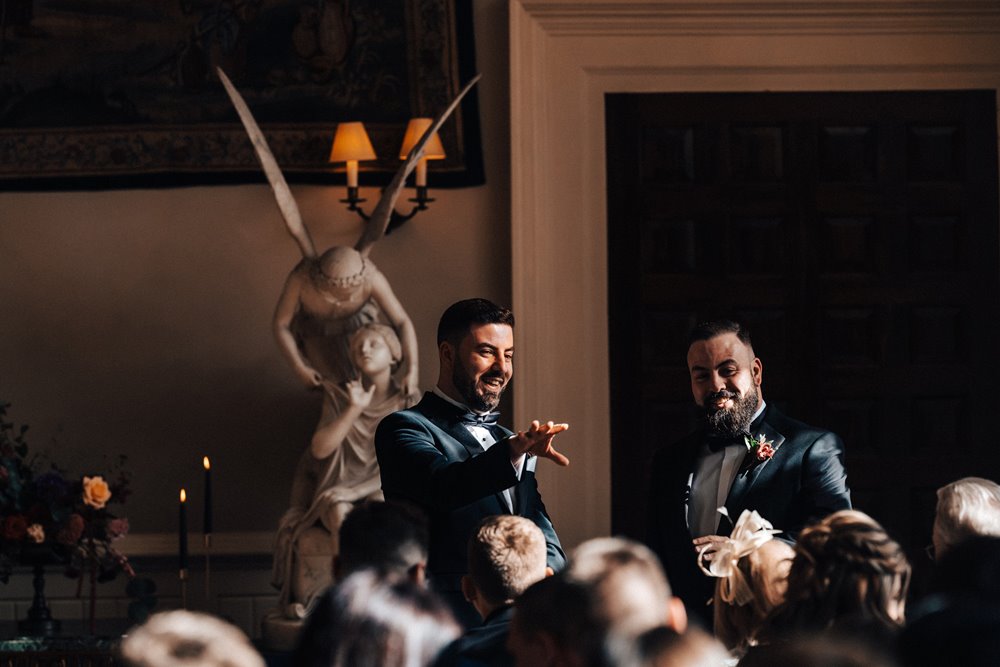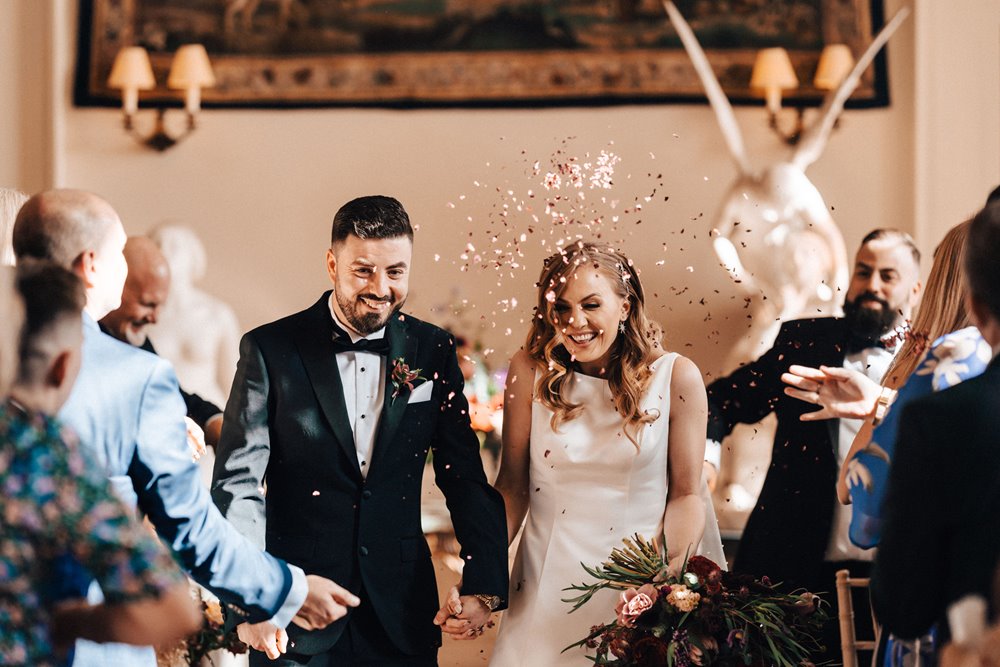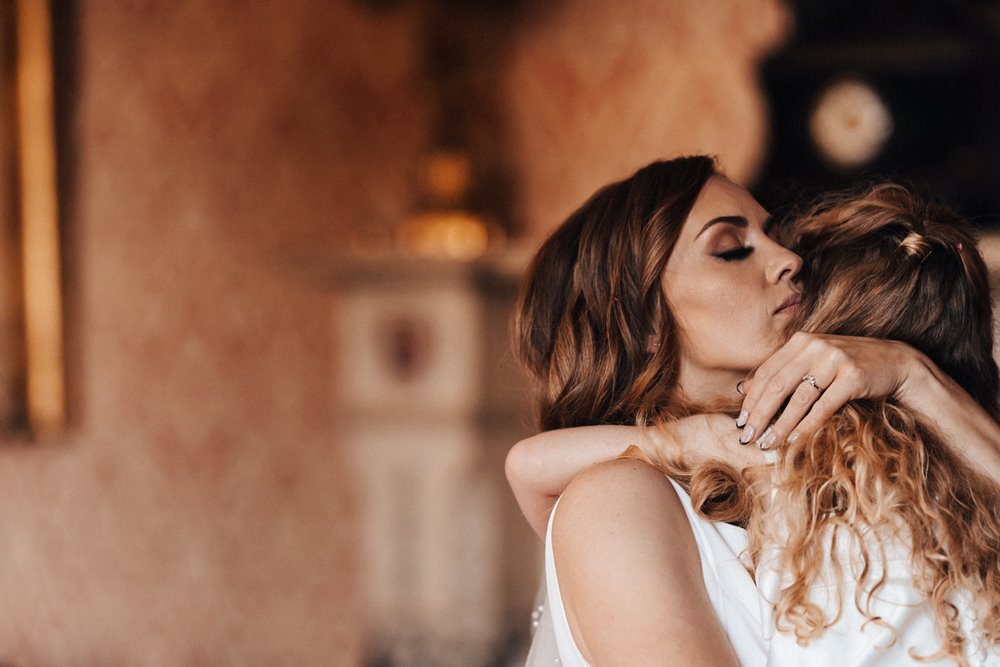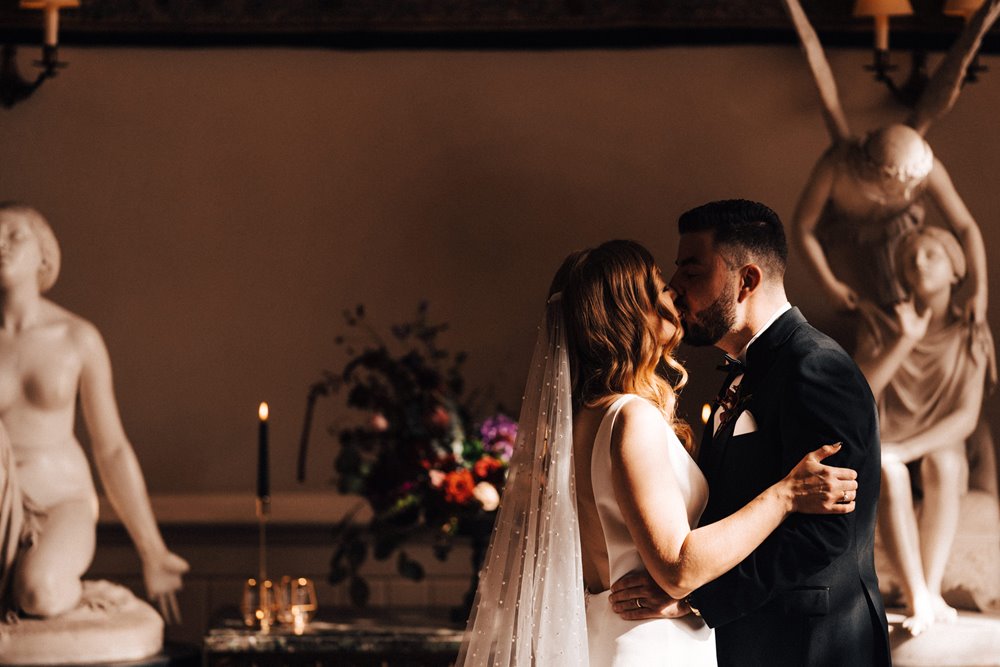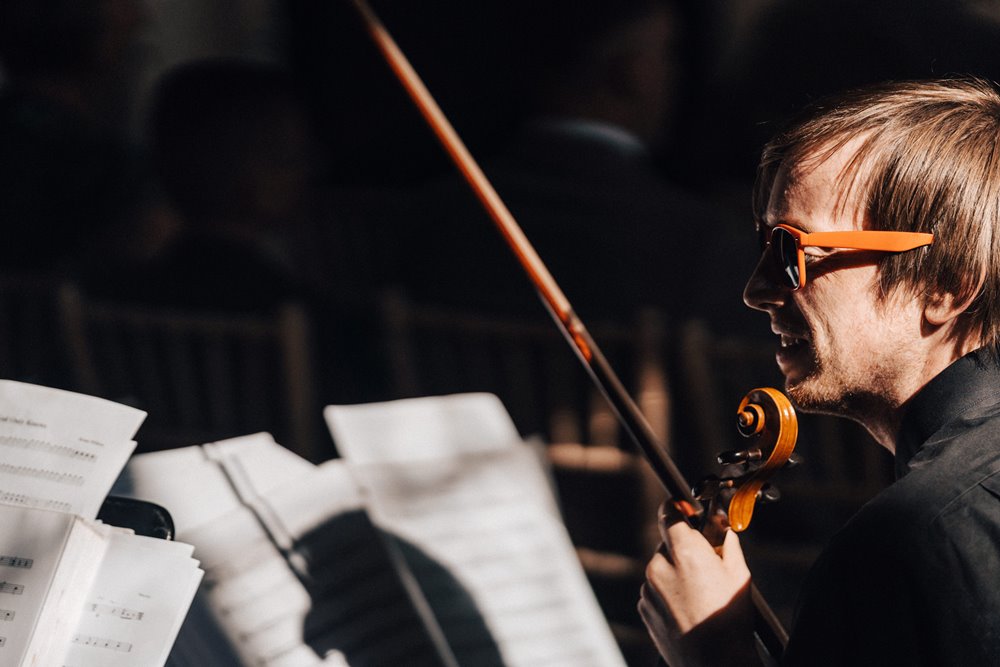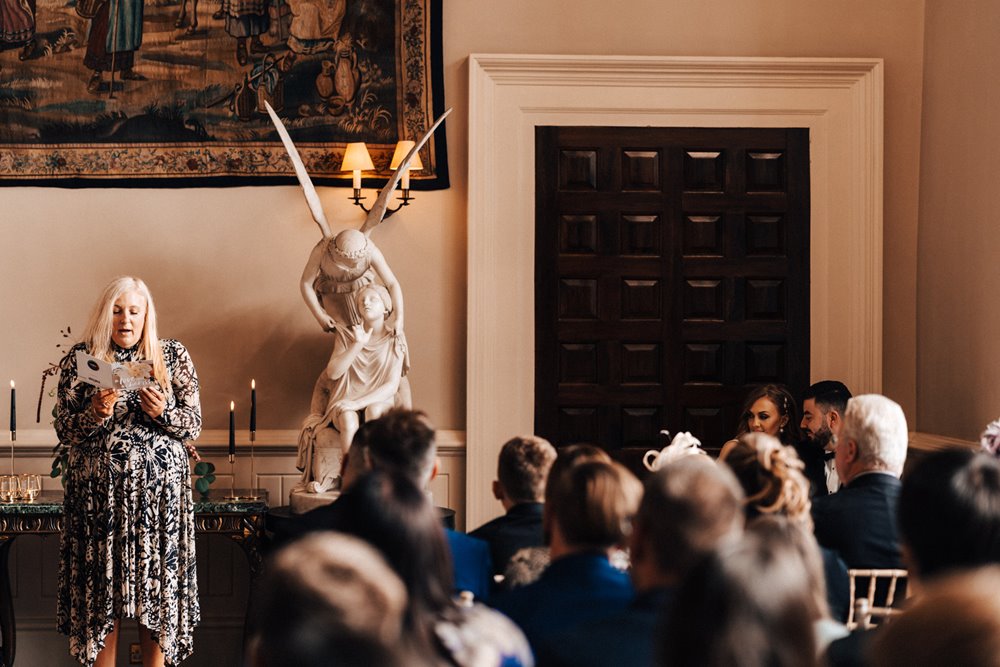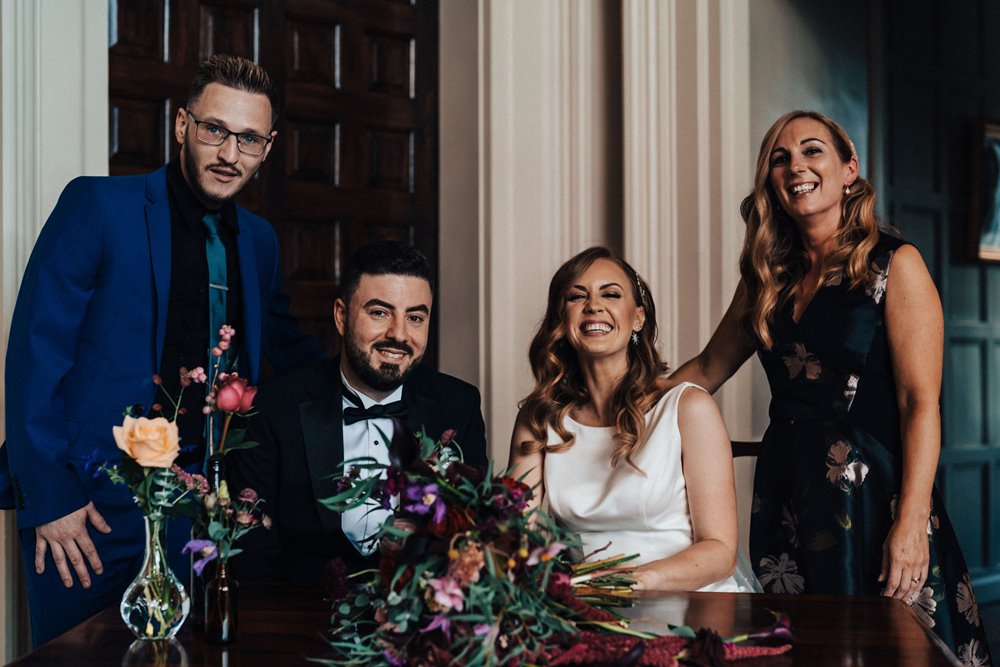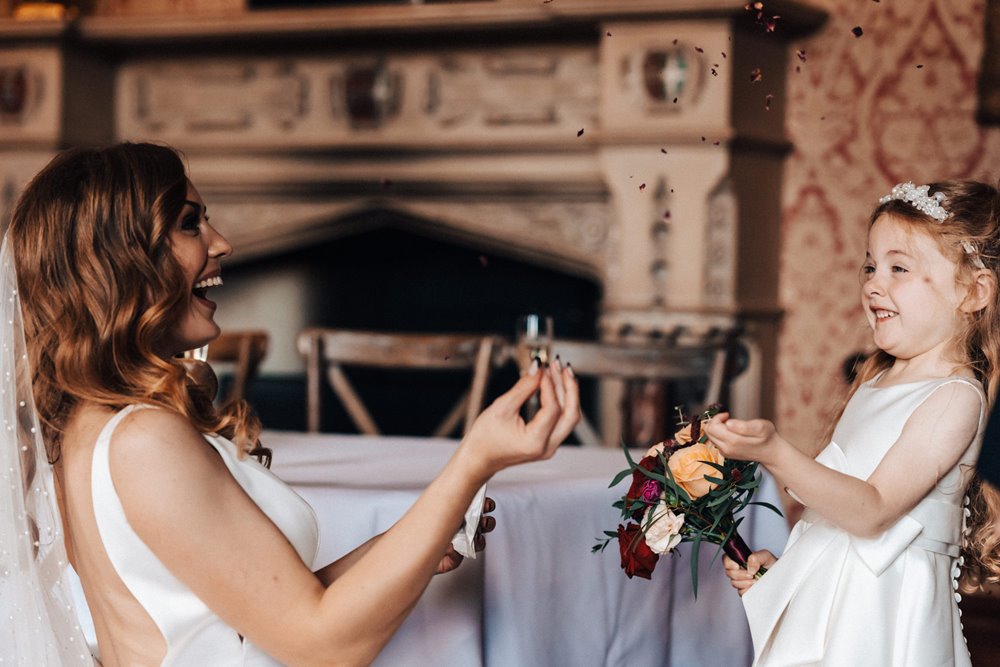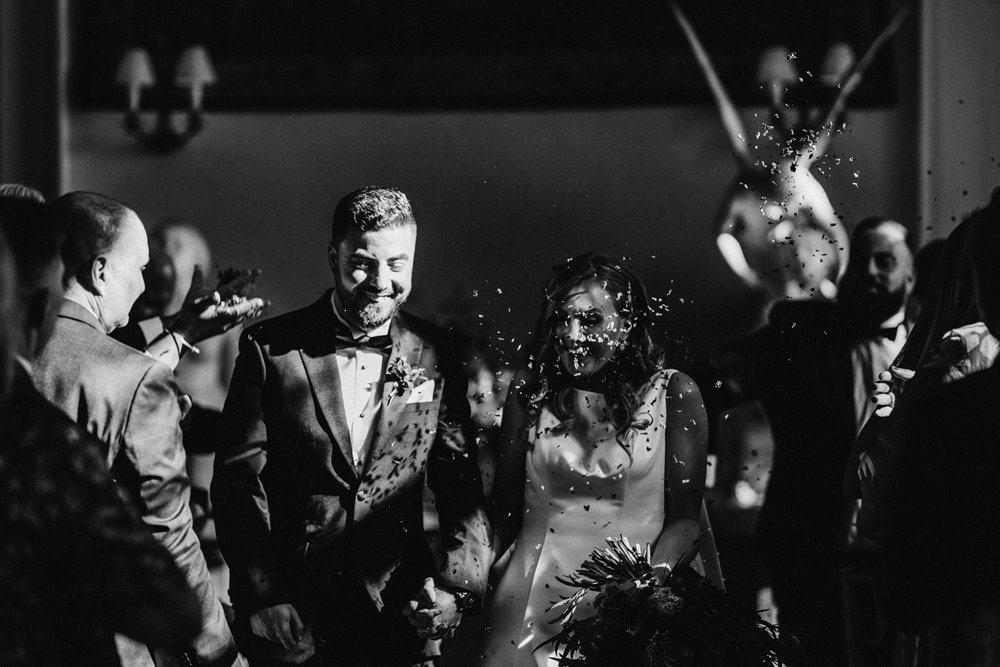 How did you collate your eclectic wedding playlist?
I was agonising over the playlist for the wedding breakfast and Dave suggested that we create a shared playlist on Spotify that we could both add to as and when we thought of a song.
This was such a good idea and we had hours of bangers in no time at all! There was a little of everything in there, from golden oldies to R&B to punk and nu metal.
Something to satisfy us and all our guests!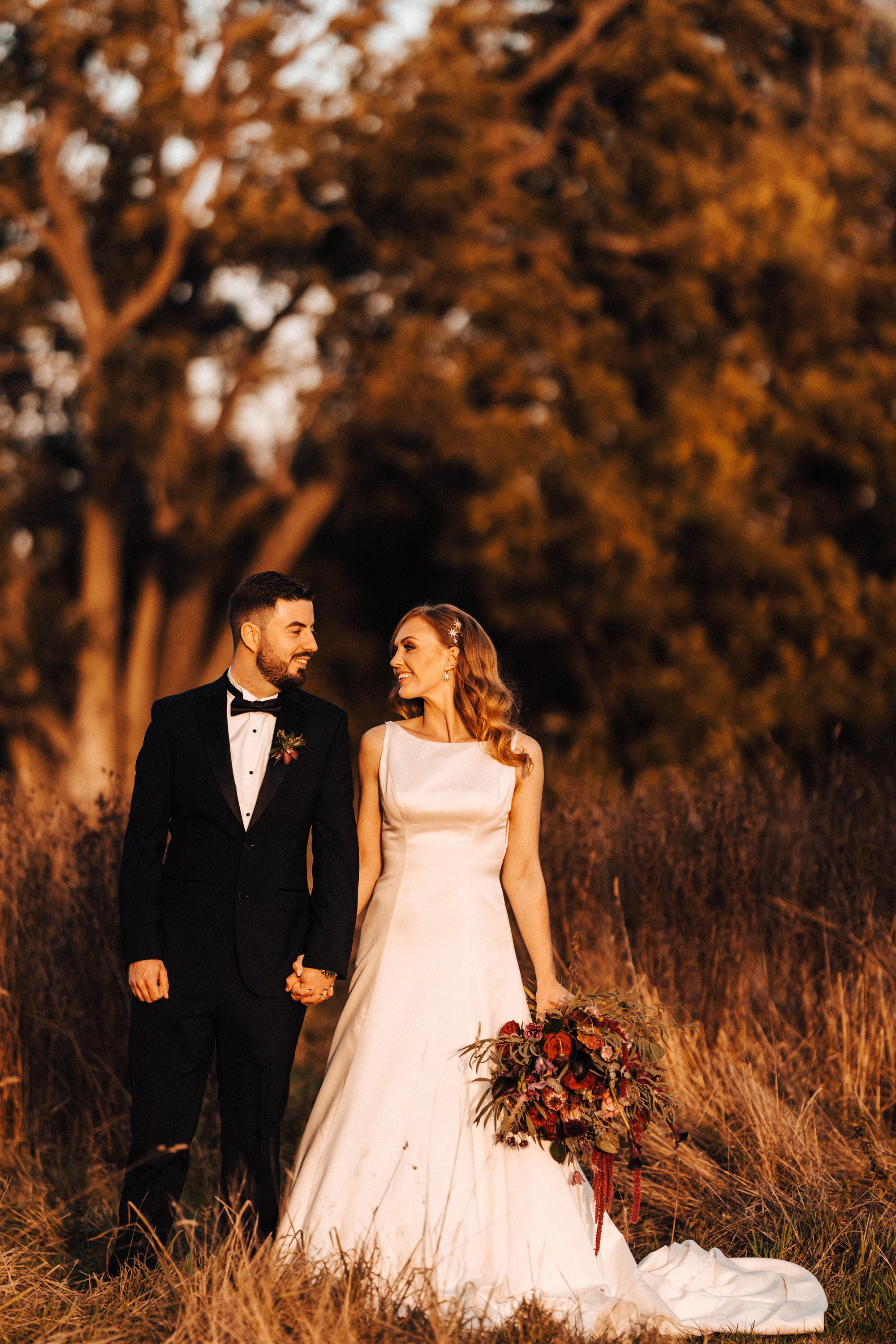 You had a bit of an alternative first dance?
Our first dance was to You Make My Dreams Come True by Hall and Oates.
We were absolutely dreading the first dance, we couldn't think of anything more terrifying than slow dancing in front of a crowd for three minutes.
Instead, we bopped around like maniacs for a minute or so before encouraging our guests to join us!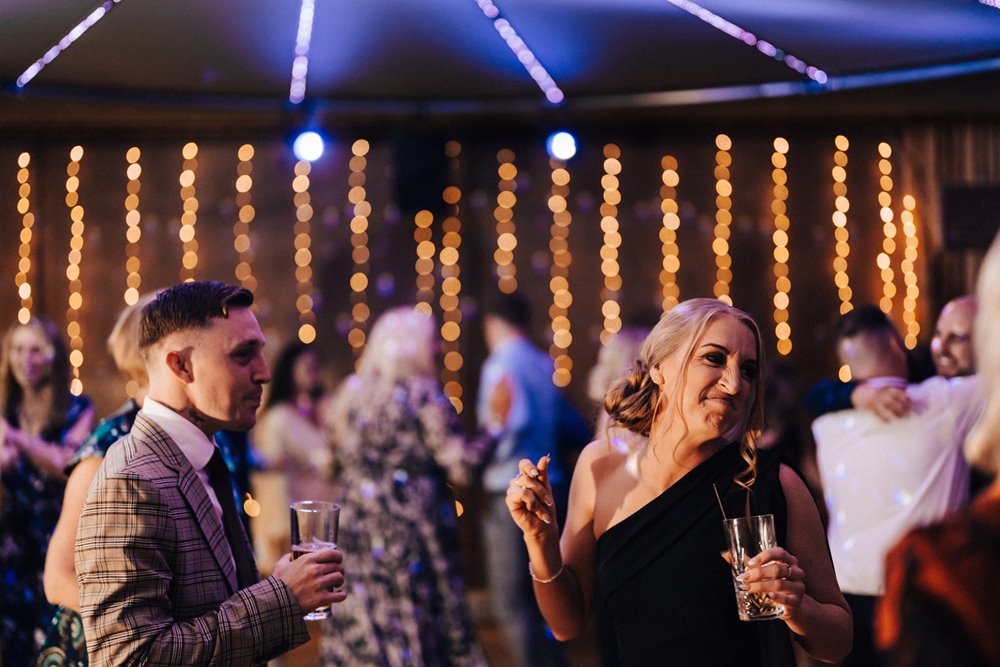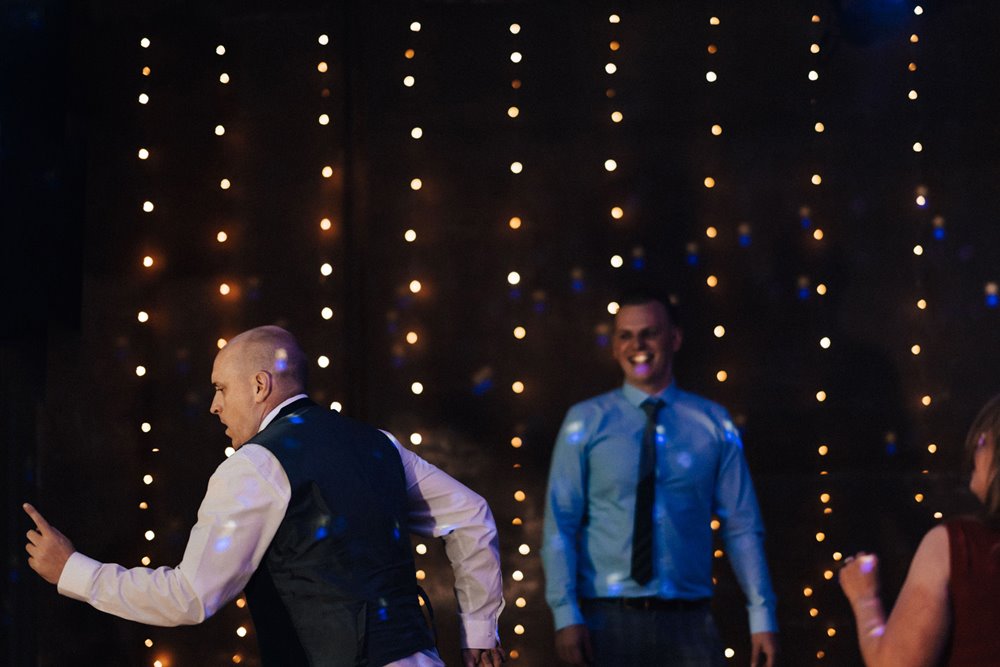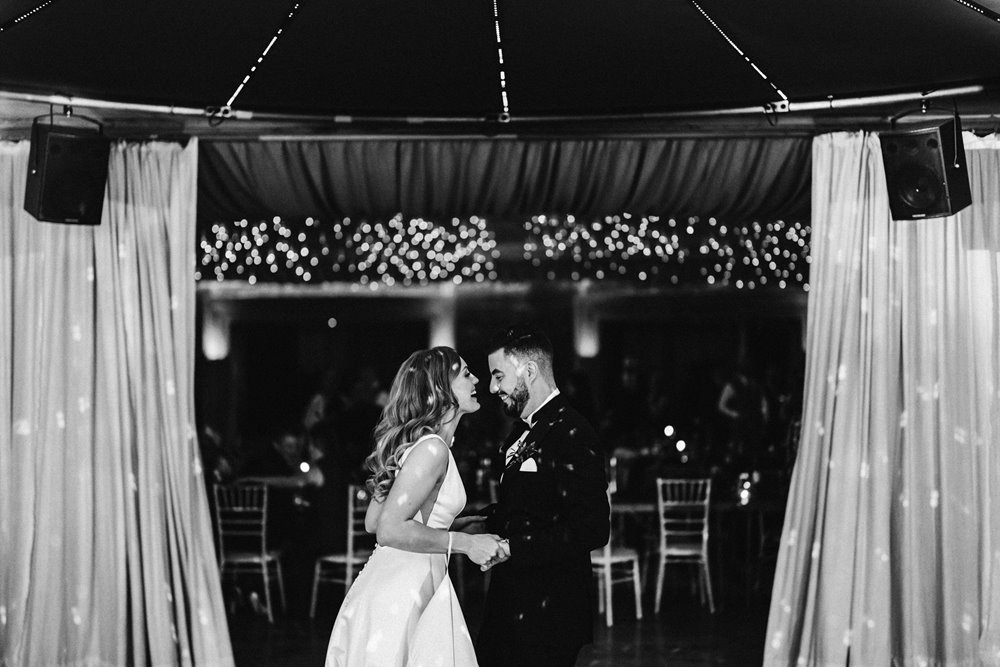 You made your black wedding cake yourself?!
Our wedding cake was a simple two-tier vanilla sponge with a Biscoff buttercream filling.
It was covered in black ganache and wrapped with a black velvet bow.
Yes. I made it myself and am really pleased with how it turned out – even though there were one or two black-toothed children running about the reception after eating a bit too much of the icing!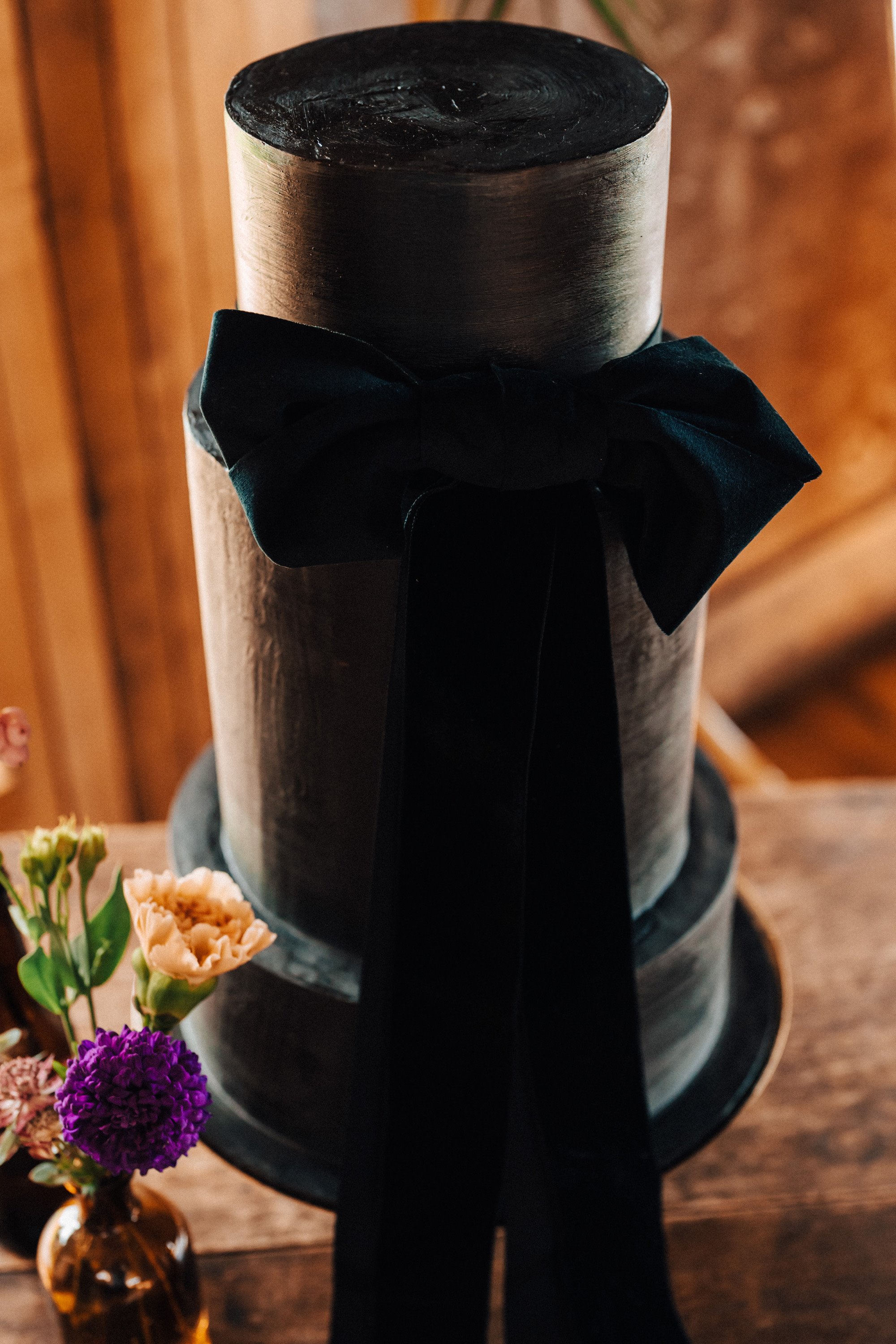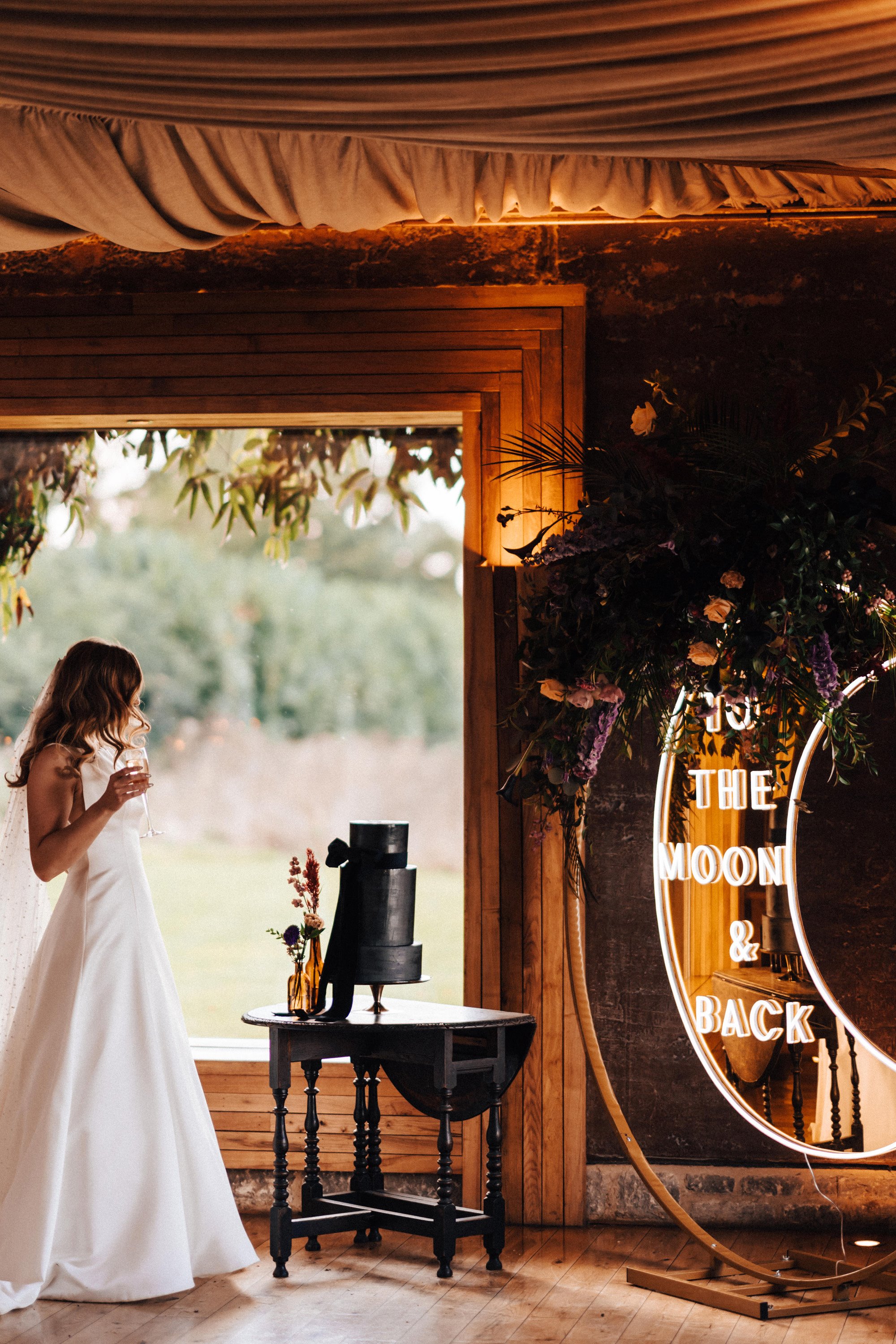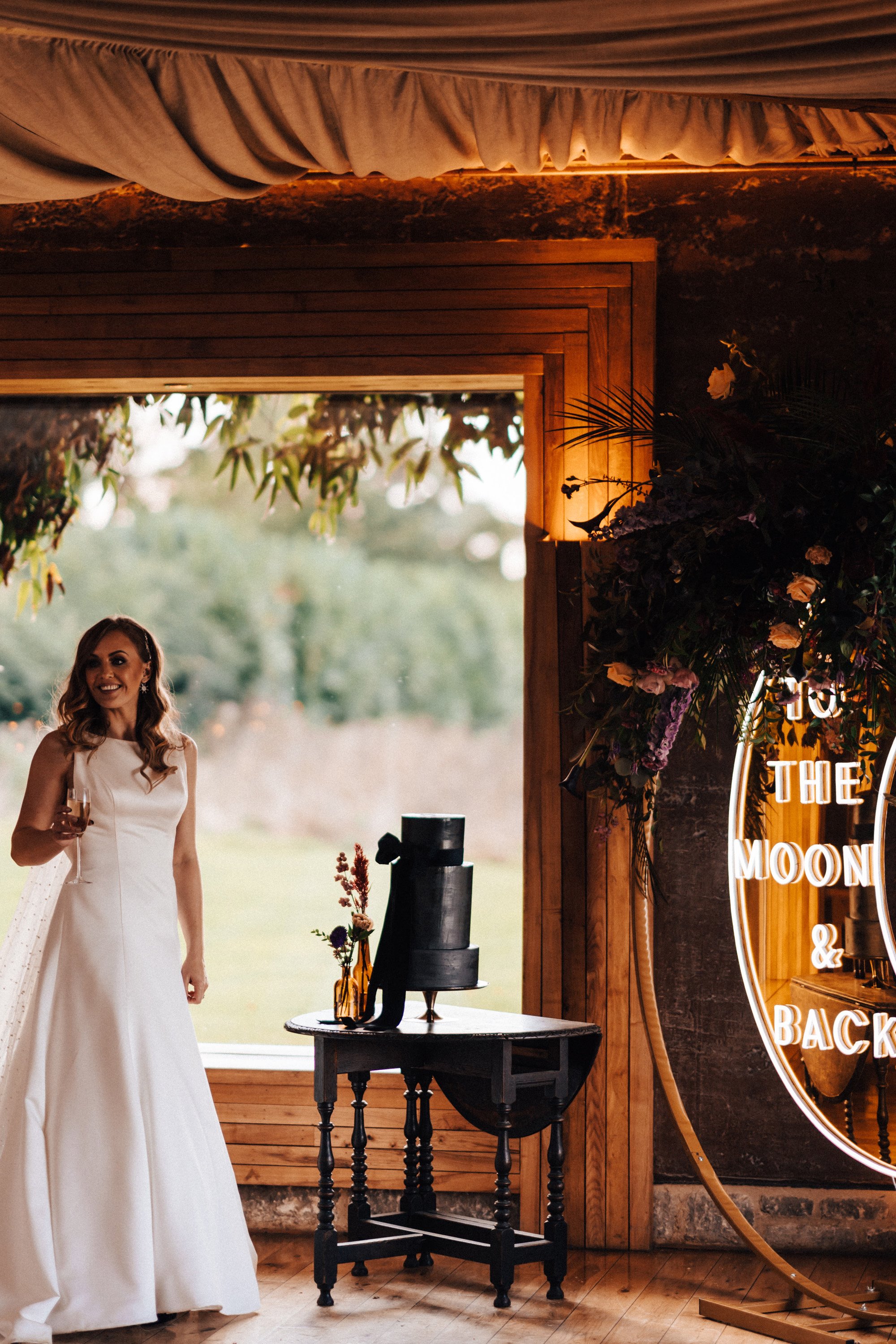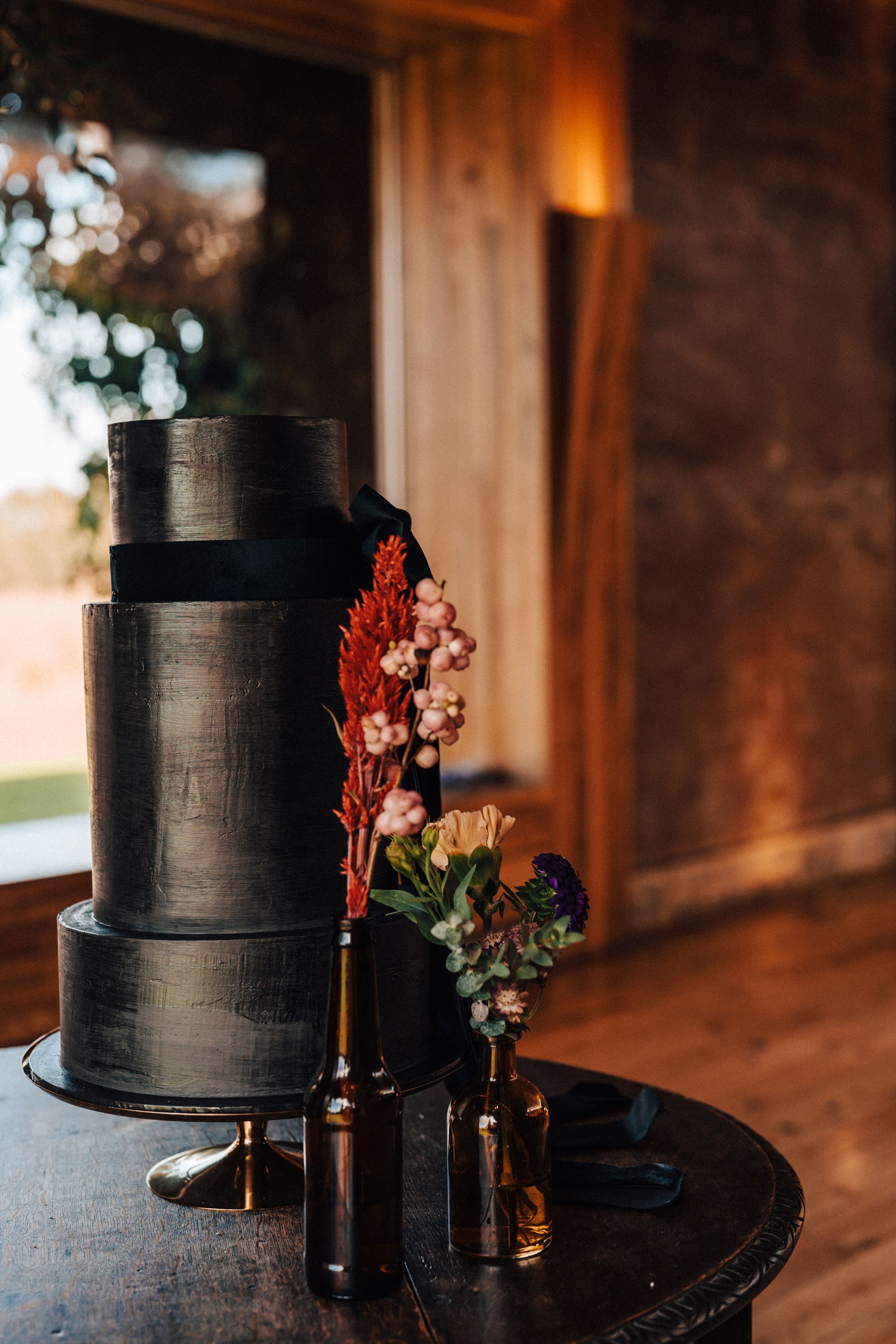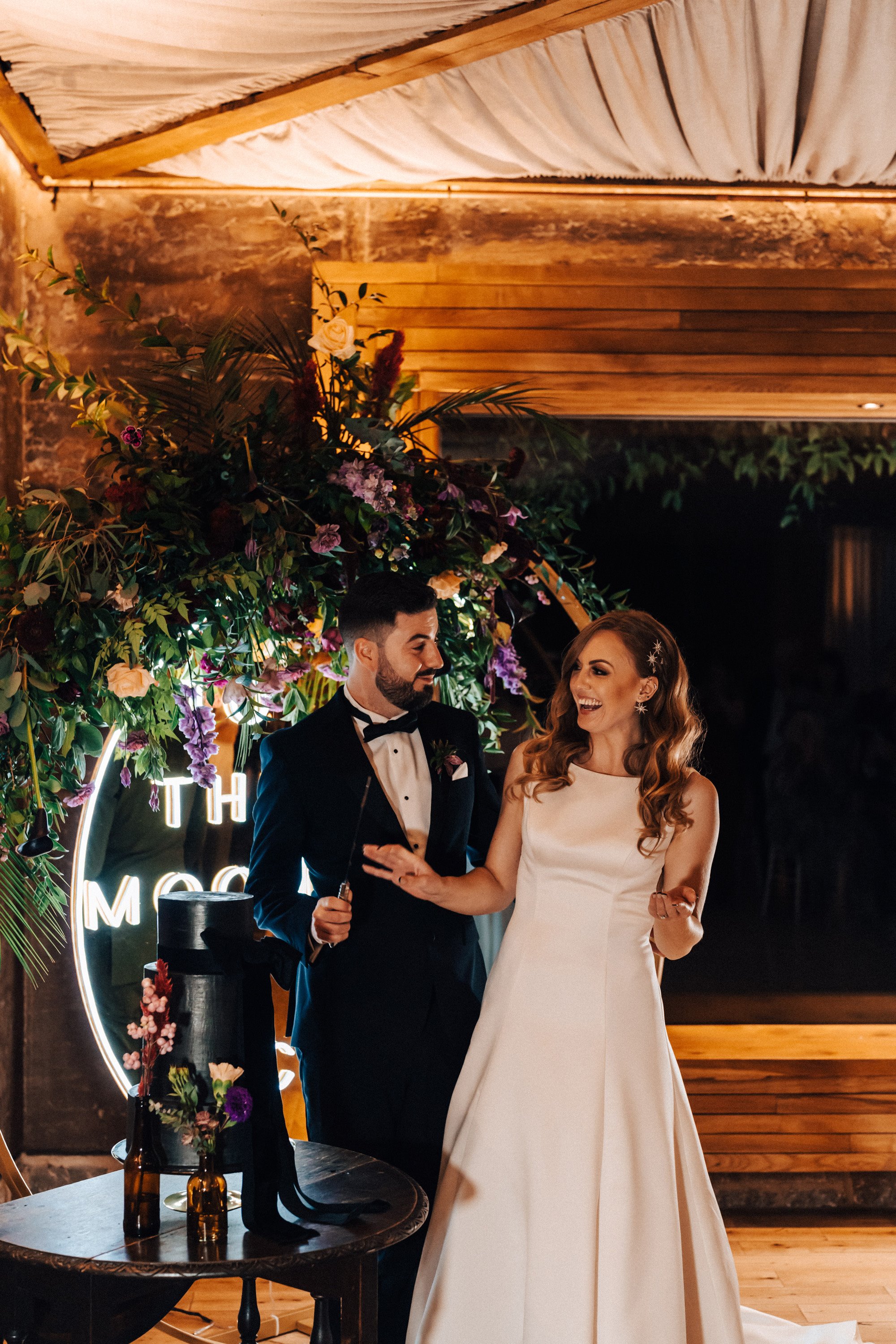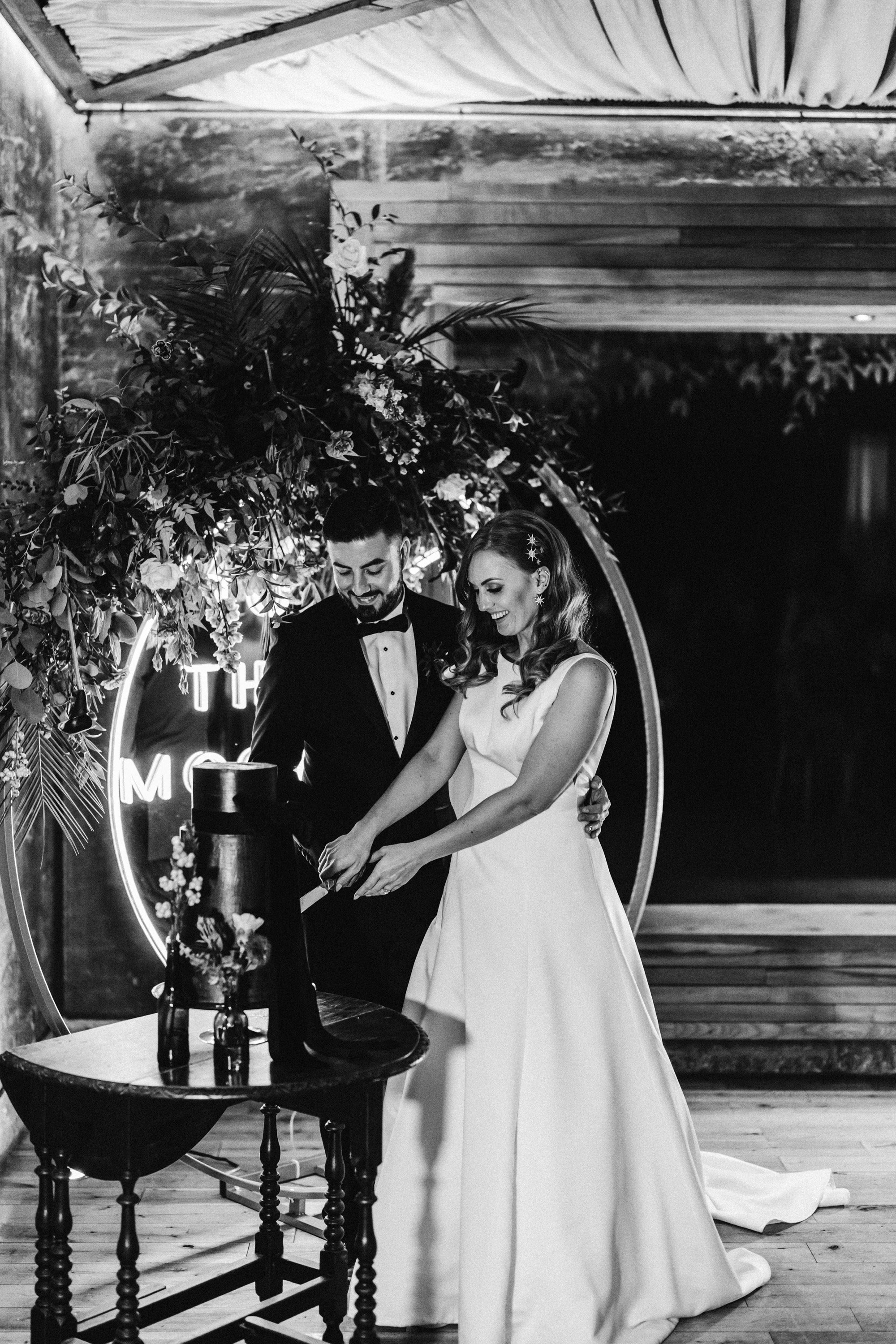 Did you DIY any other wedding details?
I'm fairly creative – at least I have creative ideas, and I enjoy trying to execute them!
I took on making the signage and place cards for dinner myself.
I used clear acrylic which I painted black in the centre and wrote on the fronts with gold calligraphy markers.
It was challenging in parts and a bit time-consuming, but it was so satisfying to see it all come together on the day and slot in with the professional décor so seamlessly!
Our menu display featured a quote from Neil 'Smithy' Smith, and each of our tables was named after a character from our favourite comedy programmes.
The seating plan each featured a food-related quote
Pam Shipman from Gavin and Stacey;
"next thing you know, I'll be known as Three Steaks Pam"
Kerry Mucklowe from This Country
"ate himself into physical decay… that's how I want to go"
...and Martin Goodman from Friday Night Dinner
"lovely bit of squirrel!"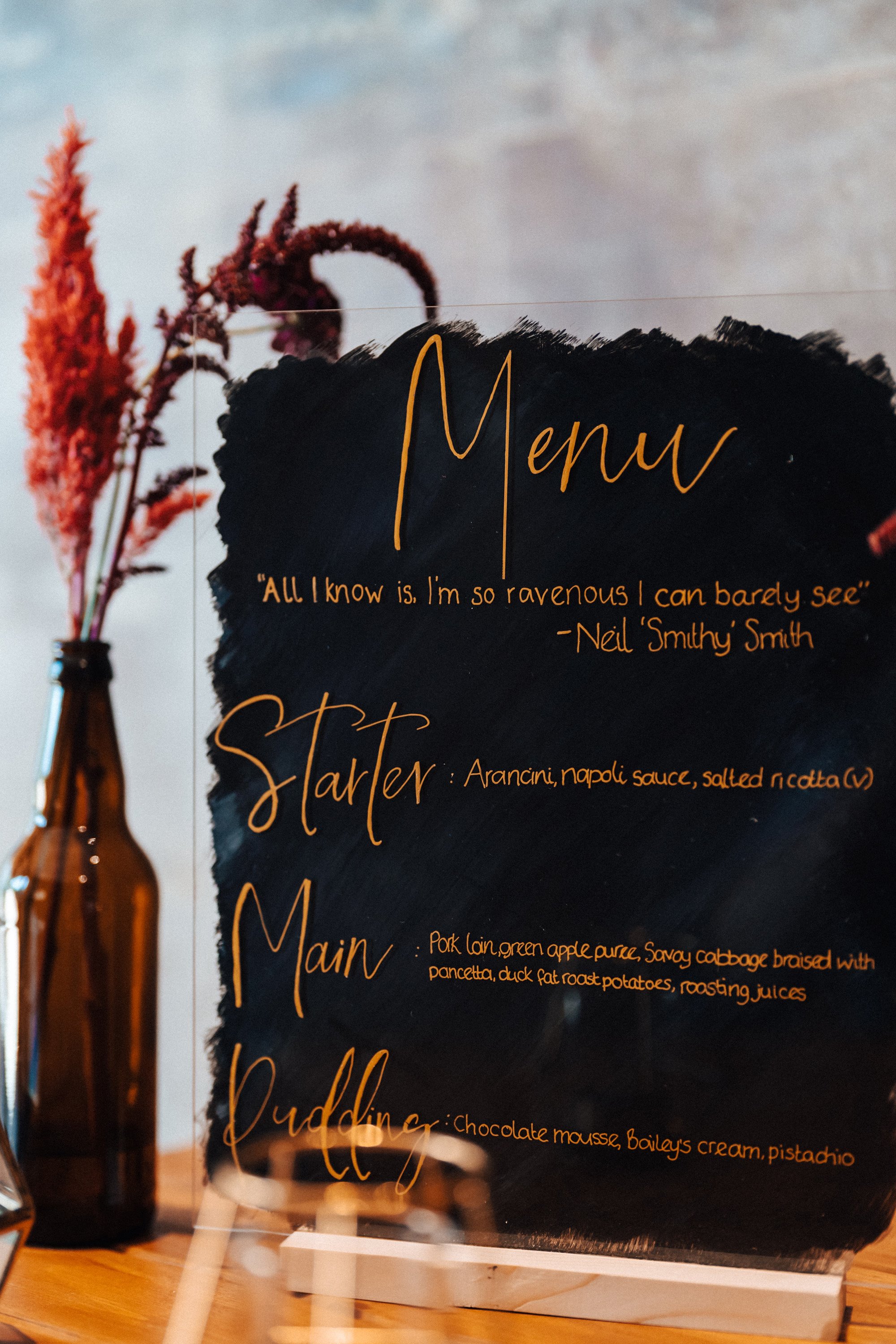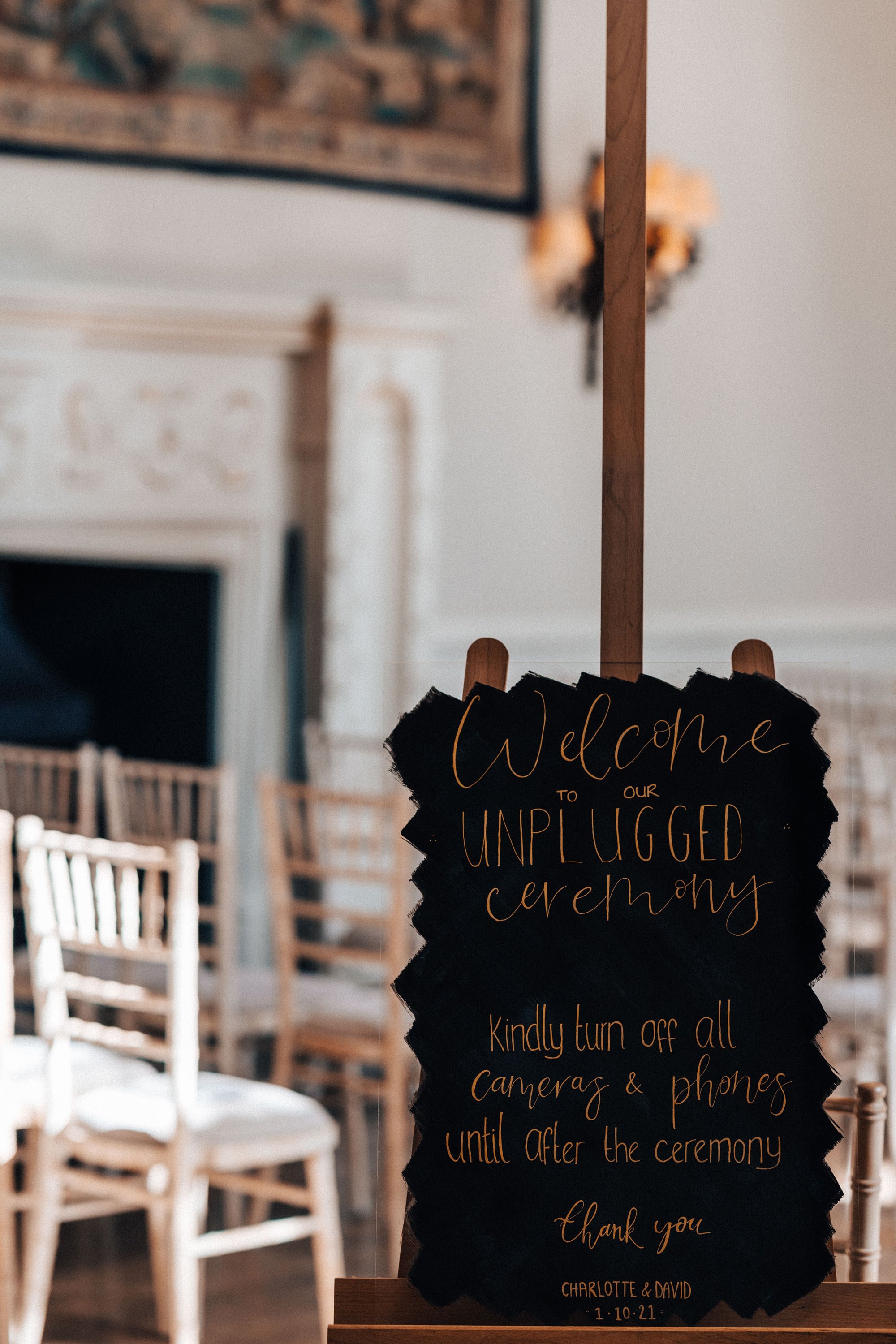 What were your wedding highlights?
After covid, the best thing of all was having all our friends and family in the same place after two years of being kept separate.
It was extra special to be able to all be together after all the lockdowns and restrictions, and it made for an even better wedding party as we were all so happy!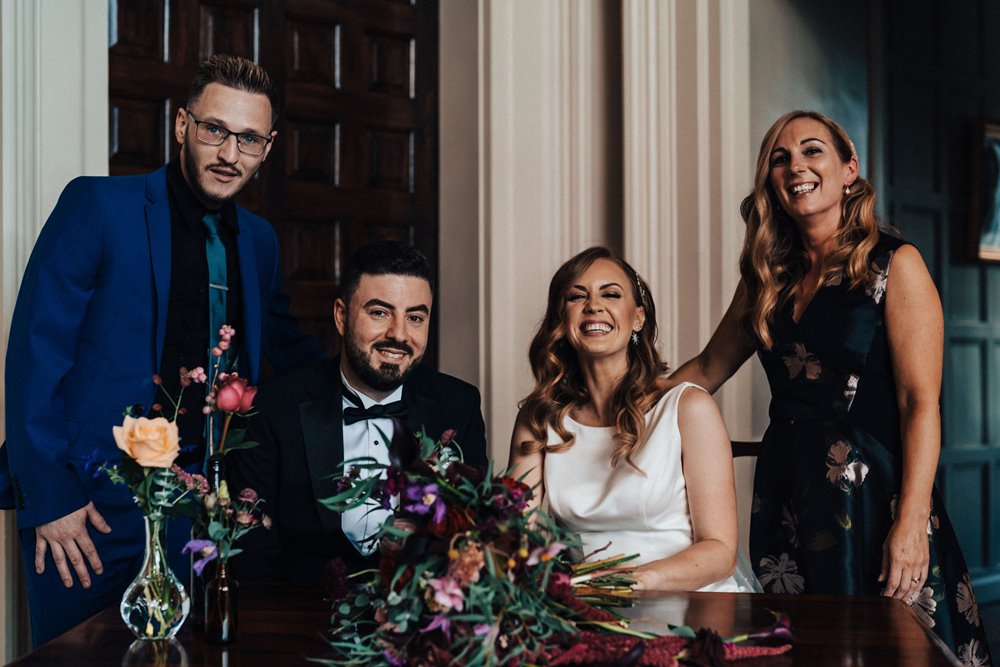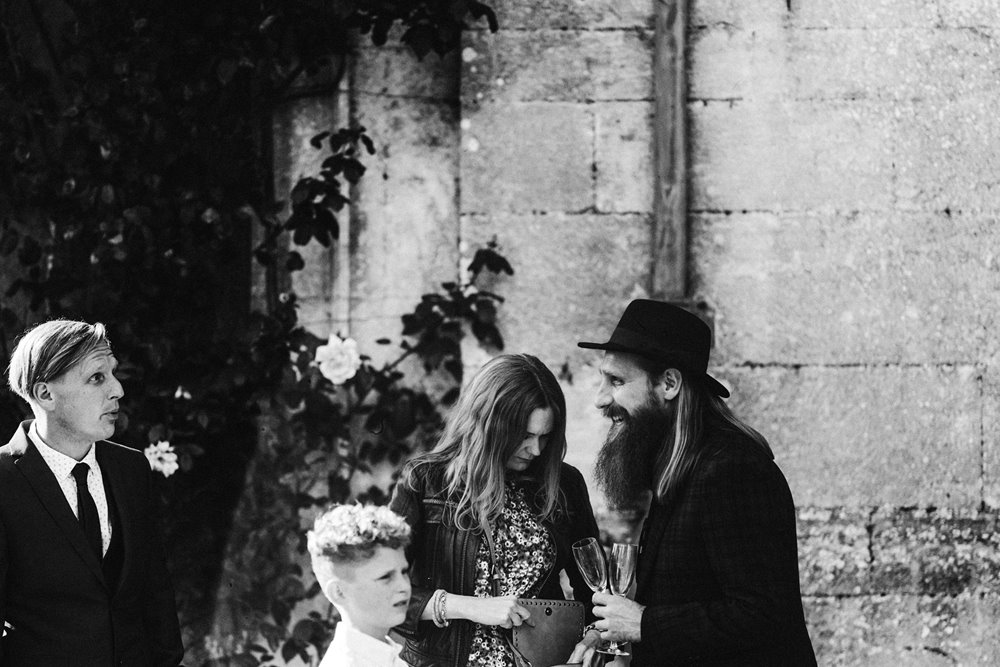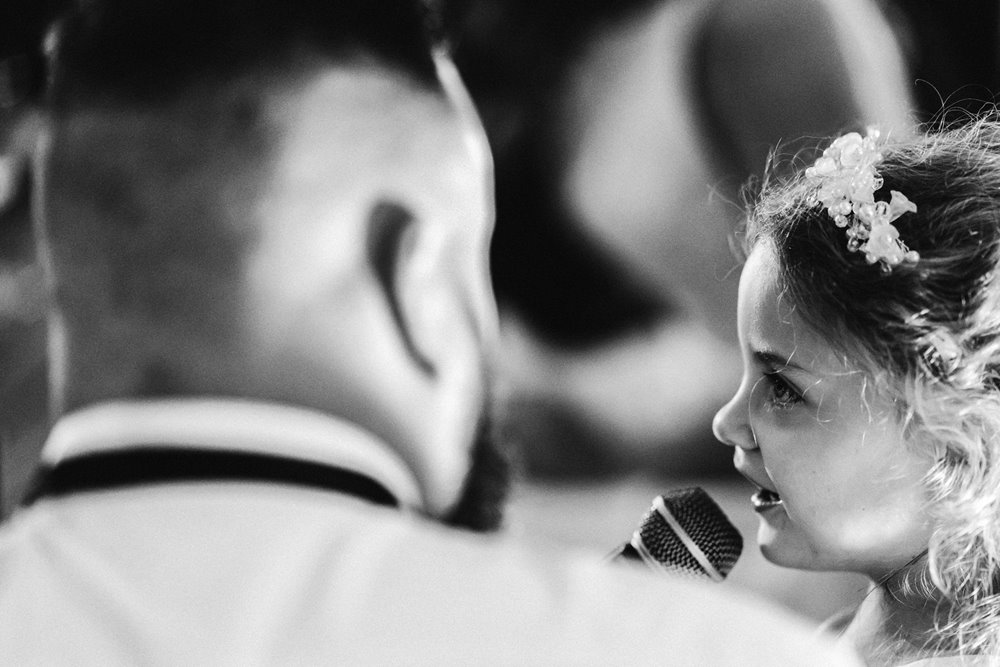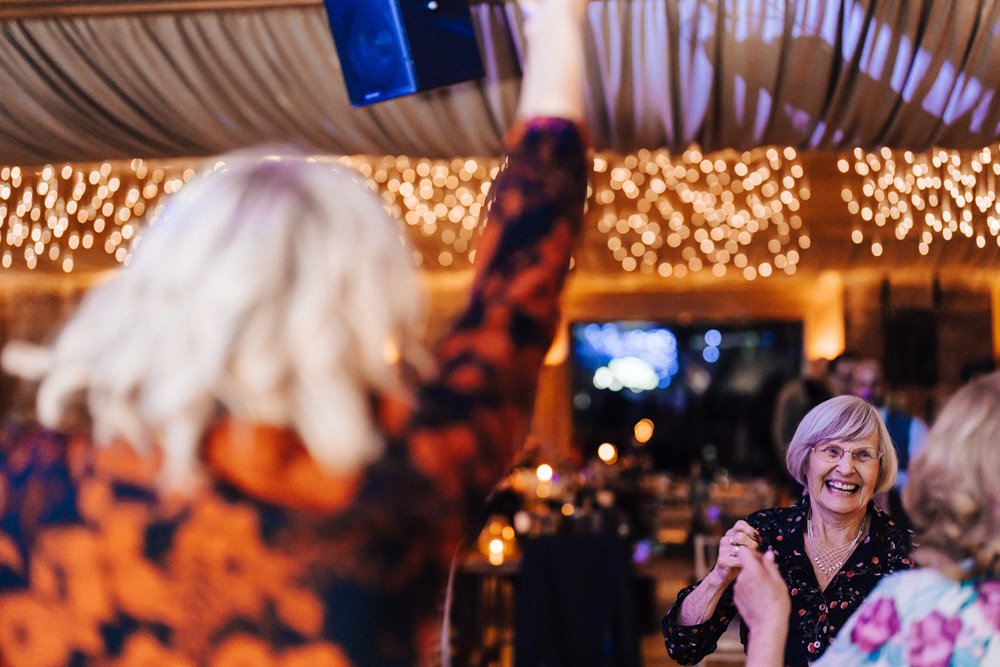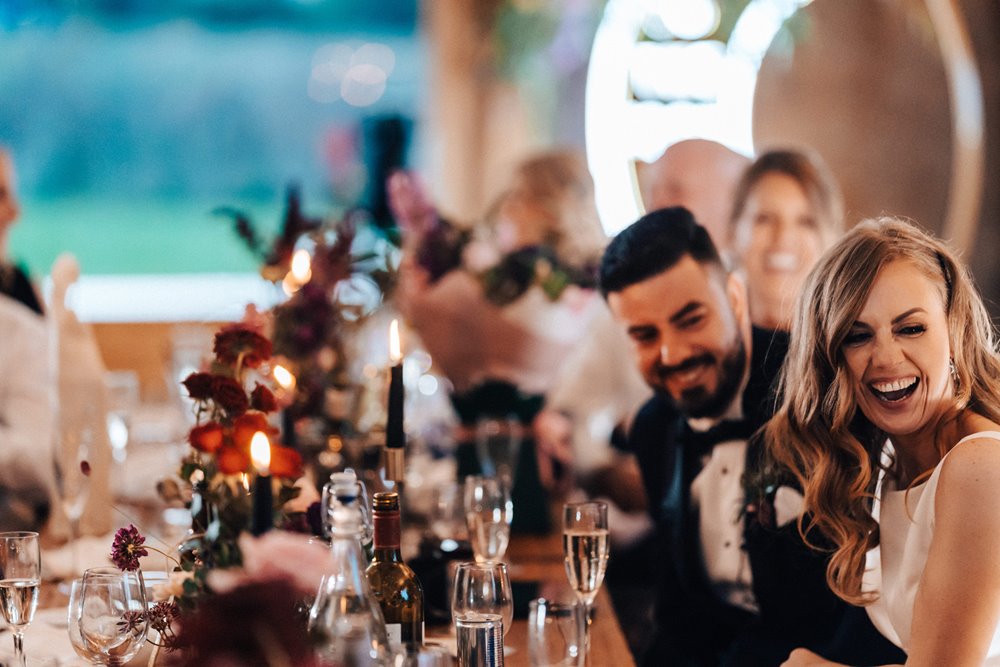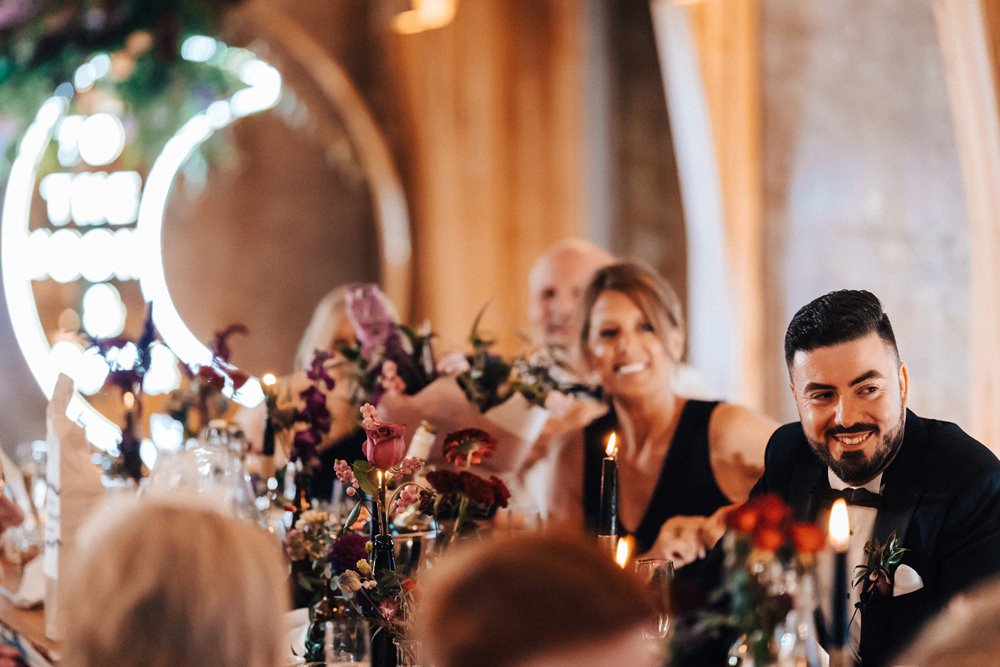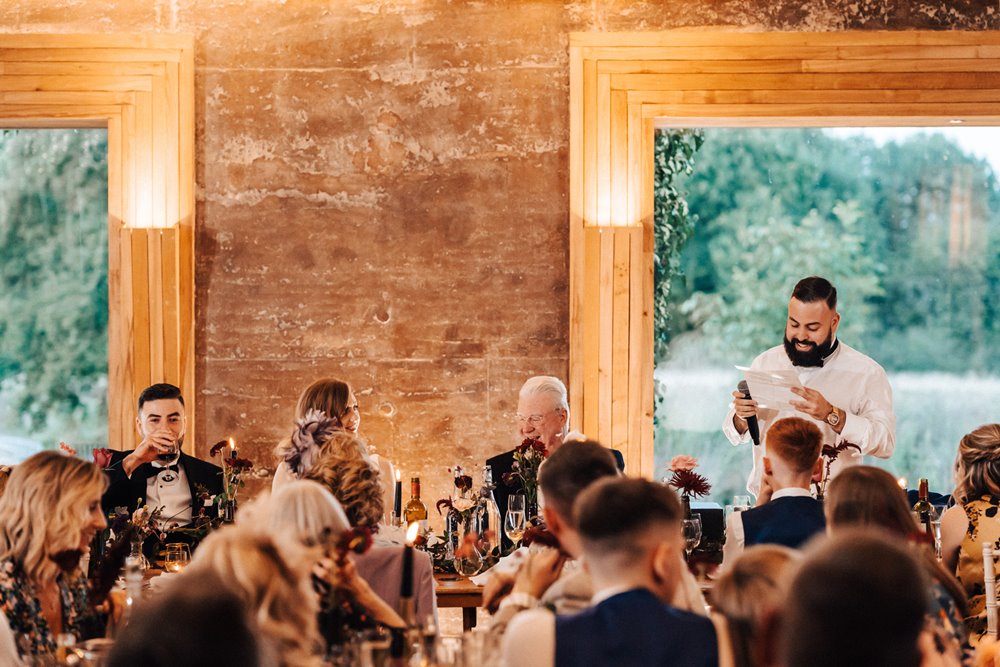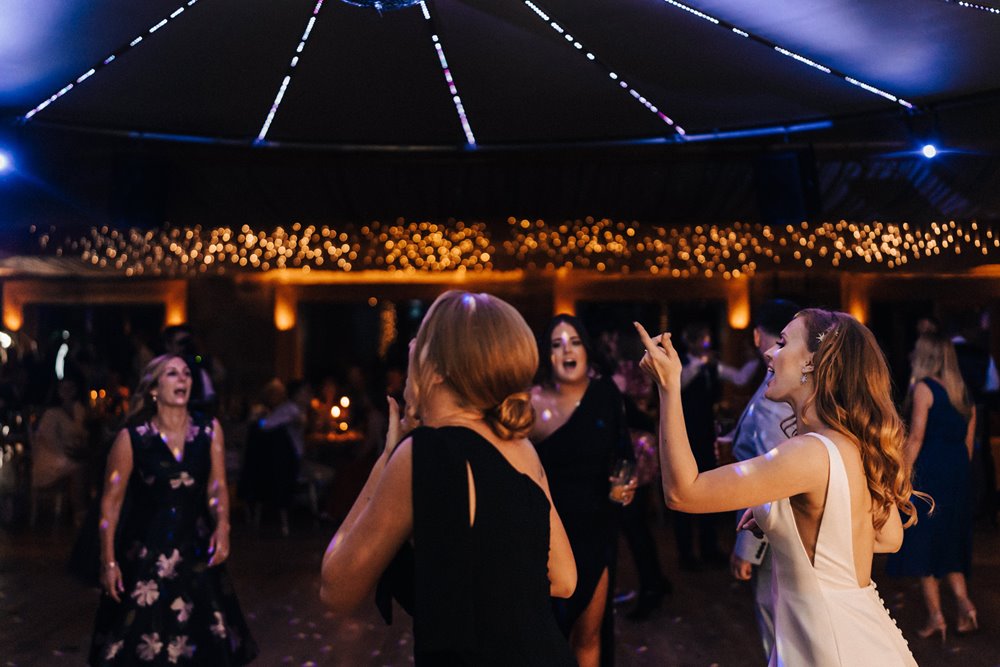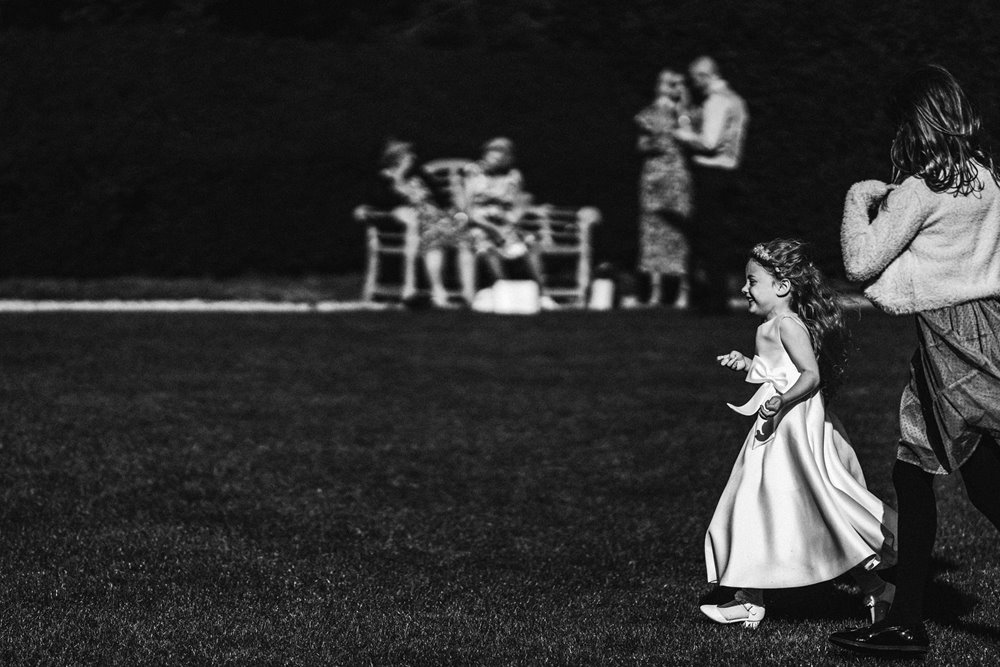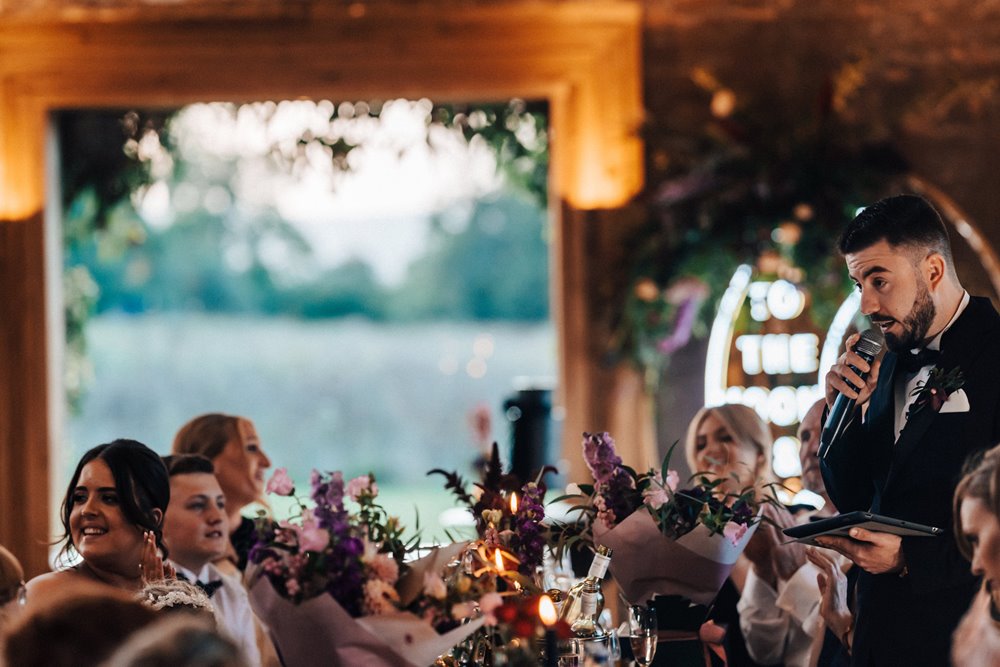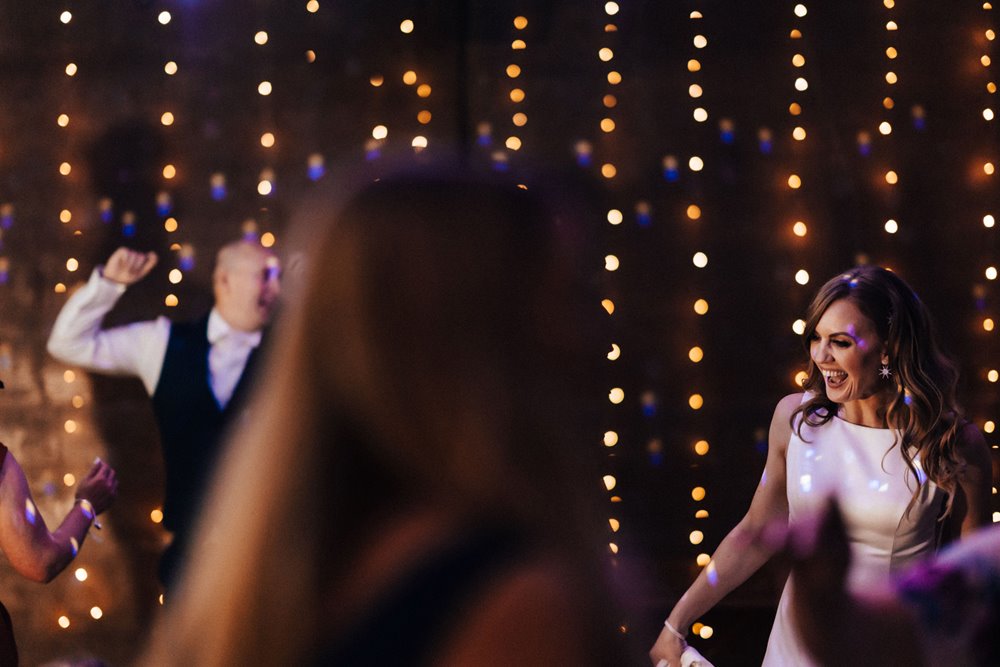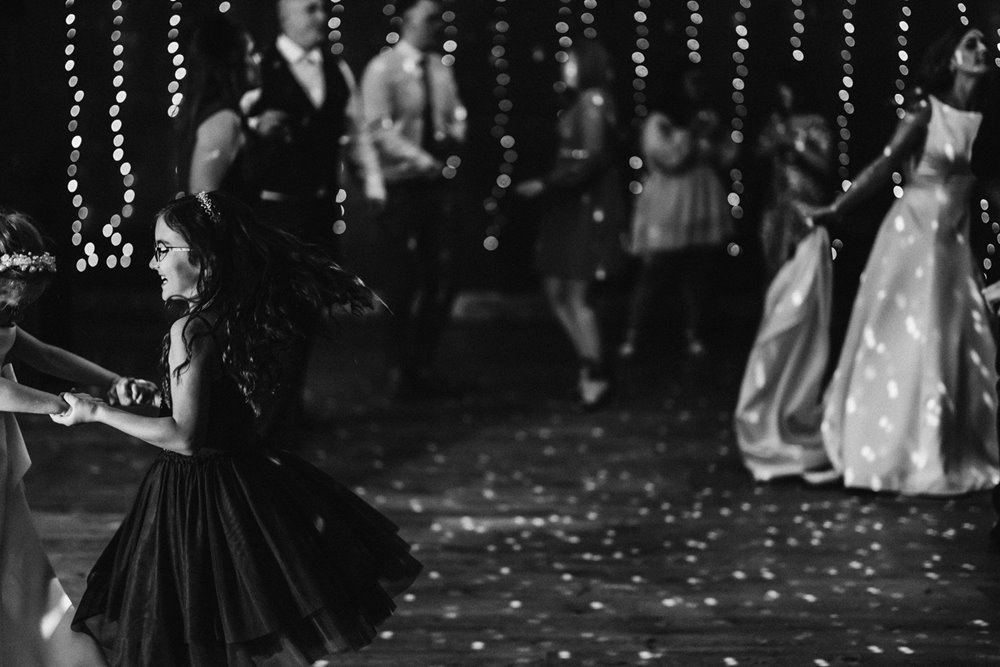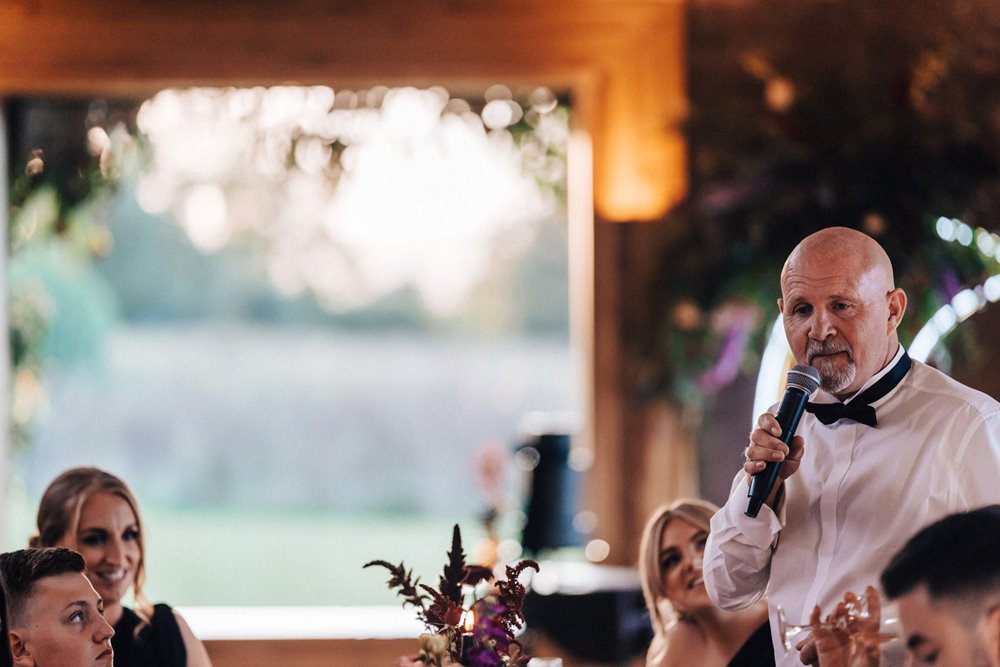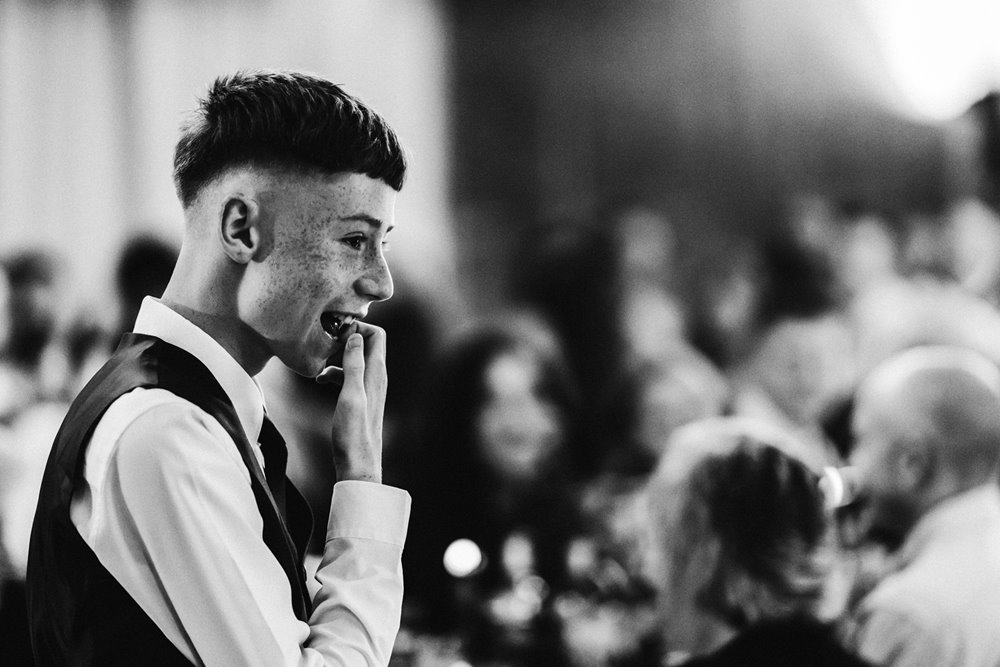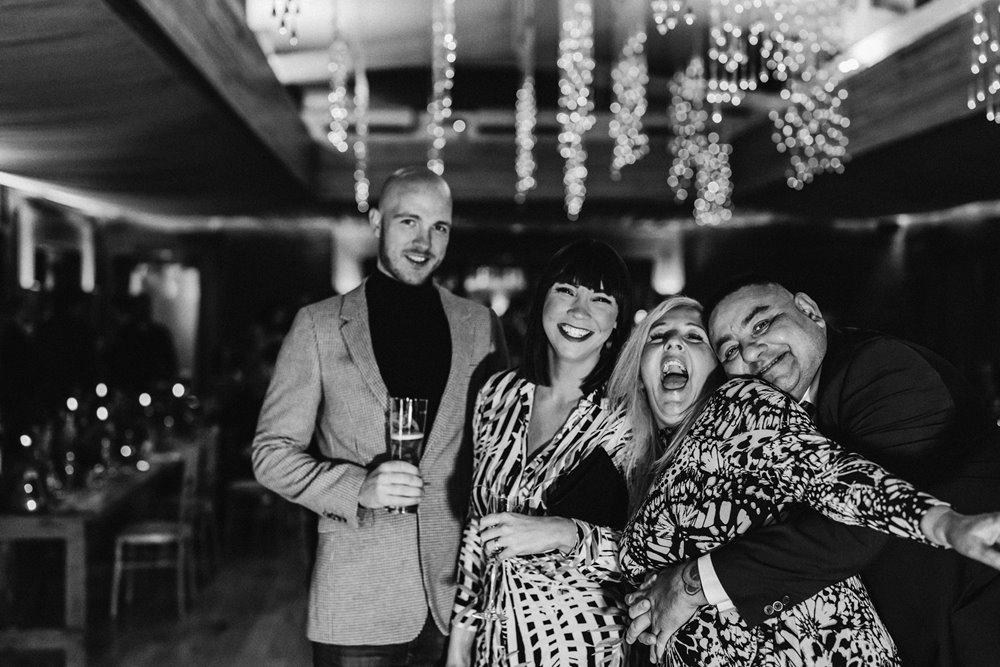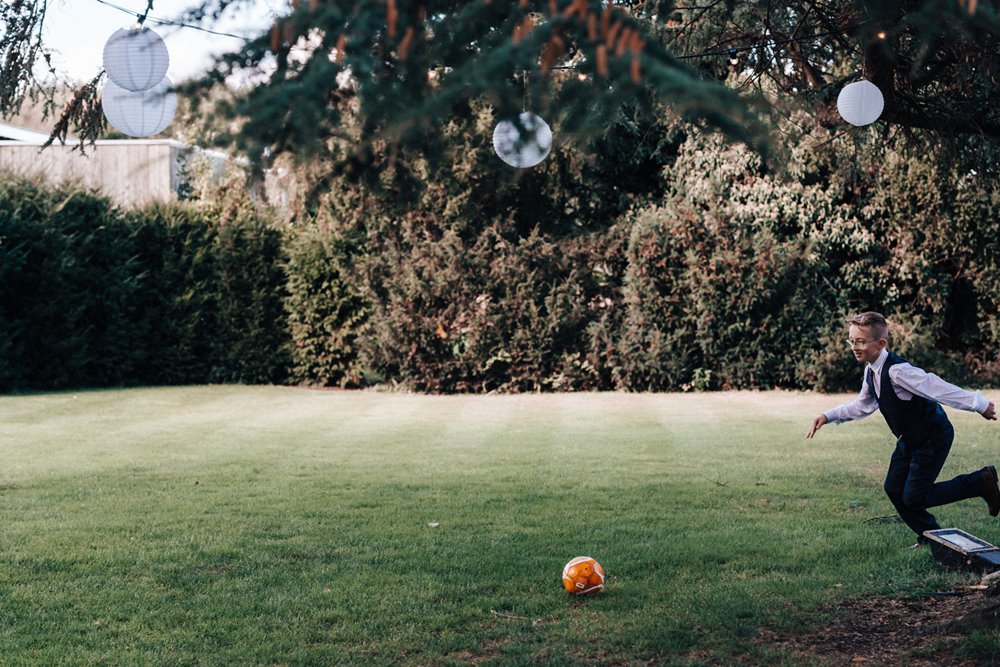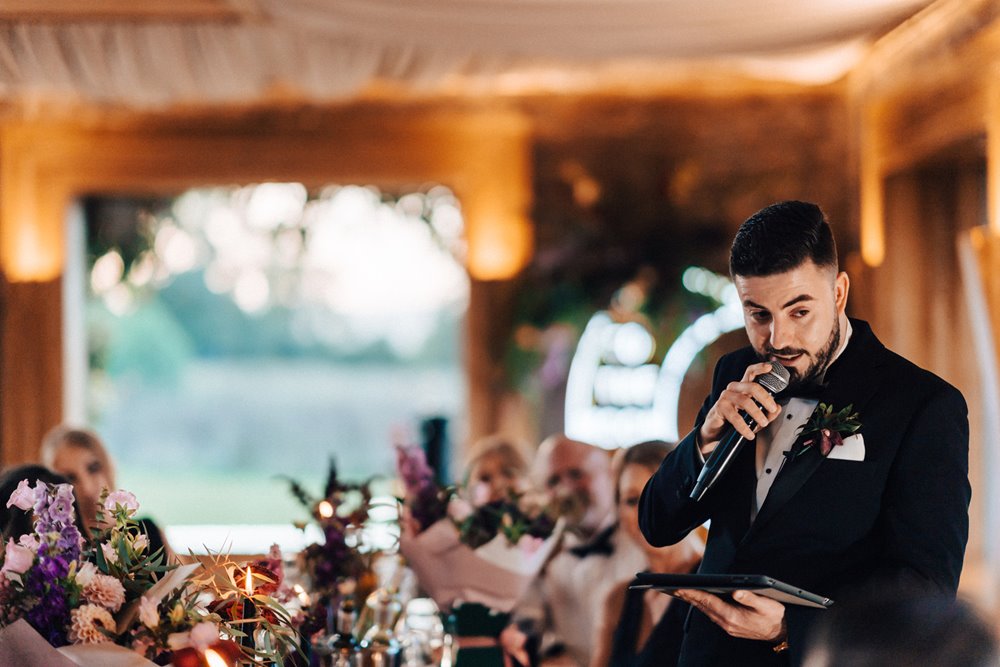 Were there any wedding suprises?
The night before the wedding, my Maid of Honour surprised me with a video from Dave.
I had spotted her tapping away on her laptop and told her to get off it as nobody was allowed to be working, we were there to relax!
Little did I know that she was queuing up the video.
It was a collage of photographs from our years together, with sweet and funny anecdotes and memories throughout.
The most touching part was that the music accompanying the video was Dave singing my favourite song to hear him sing – Dakota by the Stereophonics.
It used to be a part of their setlist in his function band days, and I have always said that it made me fall in love with him all over again when I heard him sing it, but since leaving the band after the birth of our daughter I hadn't heard him sing it since.
There wasn't a dry eye in the house!
What a relief they didn't plan it for after my makeup had been done on the day!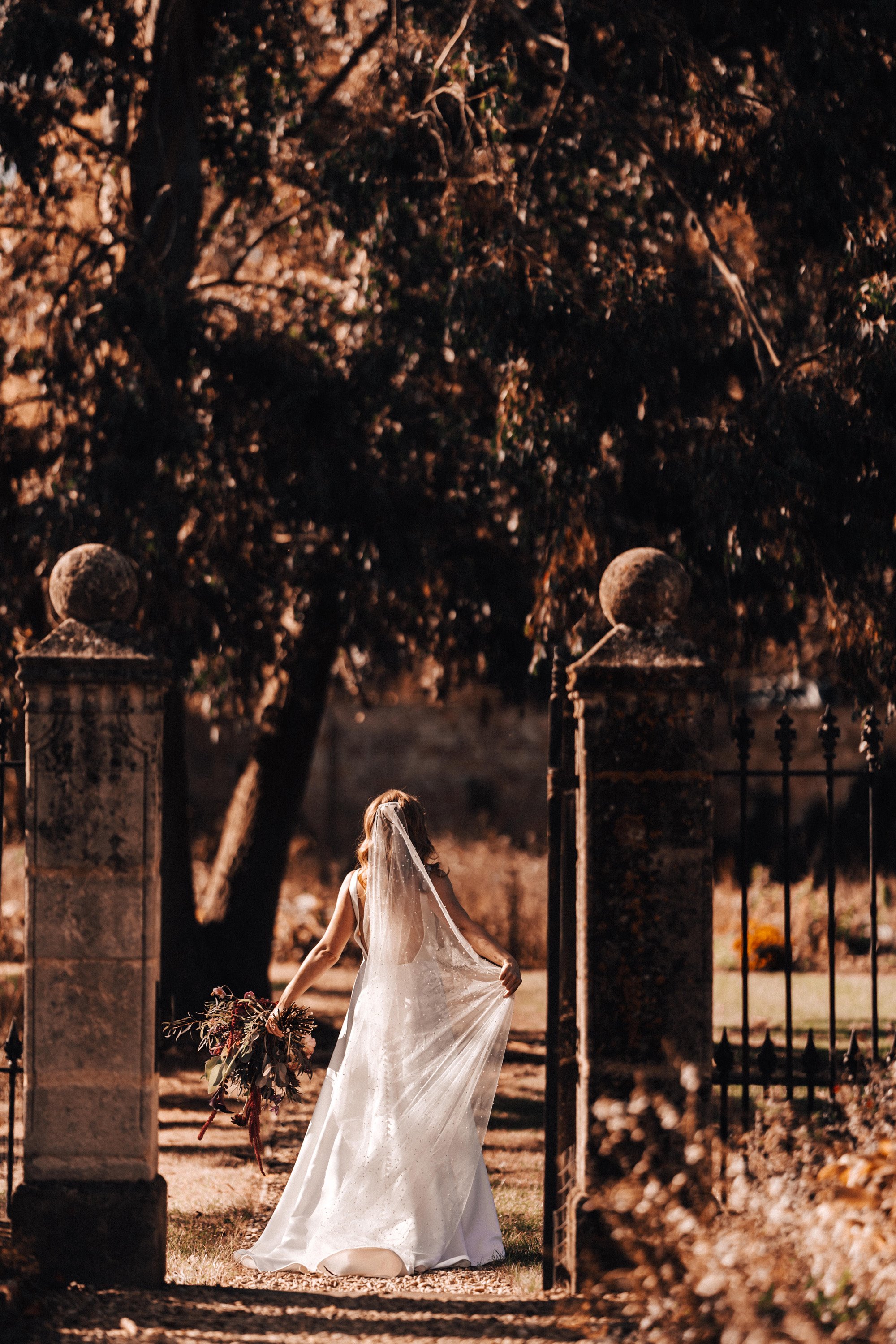 What tips would you give to couples planning weddings now?
We're planning on rewatching the video on every anniversary to remind us of our inimitable day.
Everyone tells you the old adages to take it all in because it goes so quickly etc. But honestly, taking ten minutes to ourselves was the best idea.

We snuck off to the house after our portraits were finished and while our guests were being seated for dinner.
In all the hubbub of getting ready, getting married, greeting guests, and taking photos, it was a small oasis of calm with my favourite person.
Oh and the best thing that we booked for our day which is more of a nice to have than a necessity was a videographer.
Peter from Velvet Wedding Studios was so lovely and unobtrusive, and it was so special to be able to relieve the day with our friends and family afterwards.
There are so many moments that you don't see yourself on the day that a videographer will capture for you.
Watching the speeches that Dave, my dad and Dave's best man Steve gave back over and over was my favourite activity for a long time!
We're planning on rewatching the video on every anniversary to remind us of our inimitable day.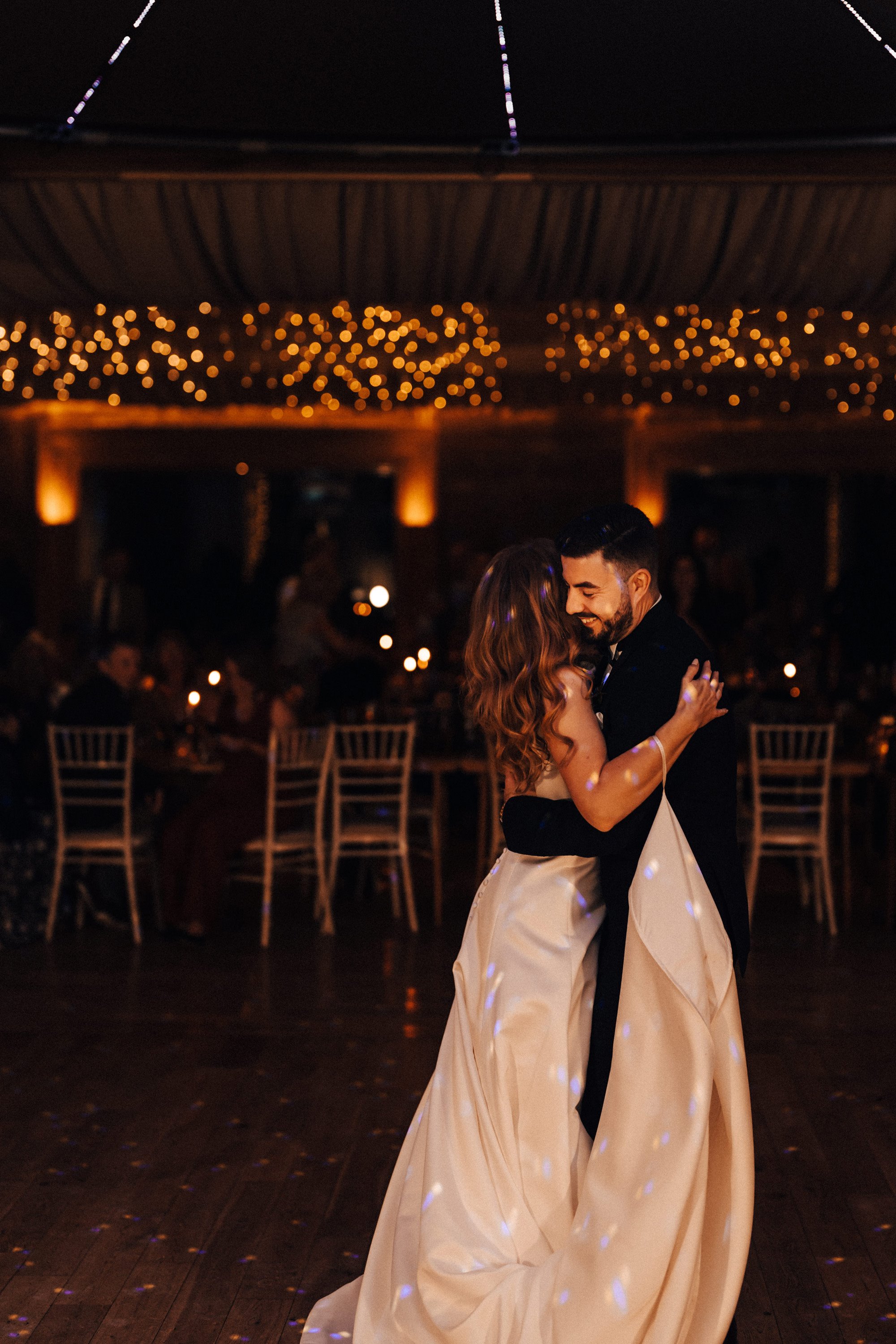 Thank you SO much Charlotte and Dave for sharing your absolutely magical wedding with us.
What a wonderfully creative bride. We are obsessed with your perfect pairing of celestial vibes and black touches, it just goes to show how much it pays off to stay true to your style when planning your wedding!
Super inspiring.
Big love,
Team E
xx
Related reading