A Lockdown Update from Anselm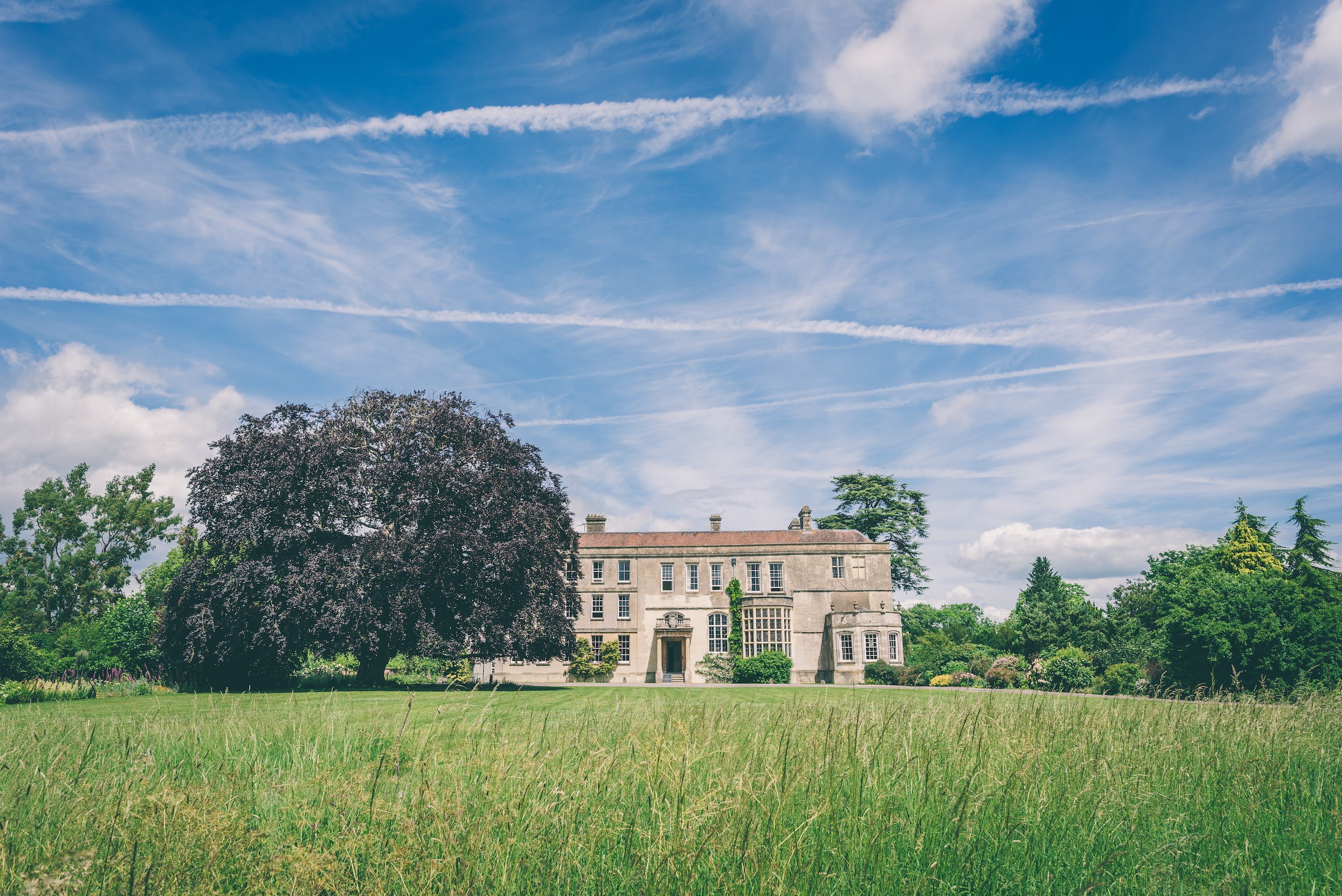 We are now nearly two months into this mad lock down period. I say lock down, as really it is still in play despite some loosening of the rules by our PM on Sunday.
I wanted to put down on the record where we are at right now with everything going on at Elmore, as lots of people have been asking and also because I've been somewhat inspired by finding historical letters in the archives recently, and think this could be one that could be found one day in the future in some sort of digital attic!
We're thinking of you all

We've had the most amazing weather recently and I can't bear to think how those who had weddings booked at Elmore have been feeling with all these sunny days.
I can only hope and pray that the sun gods will be smiling when your time comes again. I and all the team here sympathise massively with all our couples who have been affected by this.
We've not been sitting idle though. In fact, the silver lining is that we've had a real chance to do stuff we're normally not able to during the spring and summer months.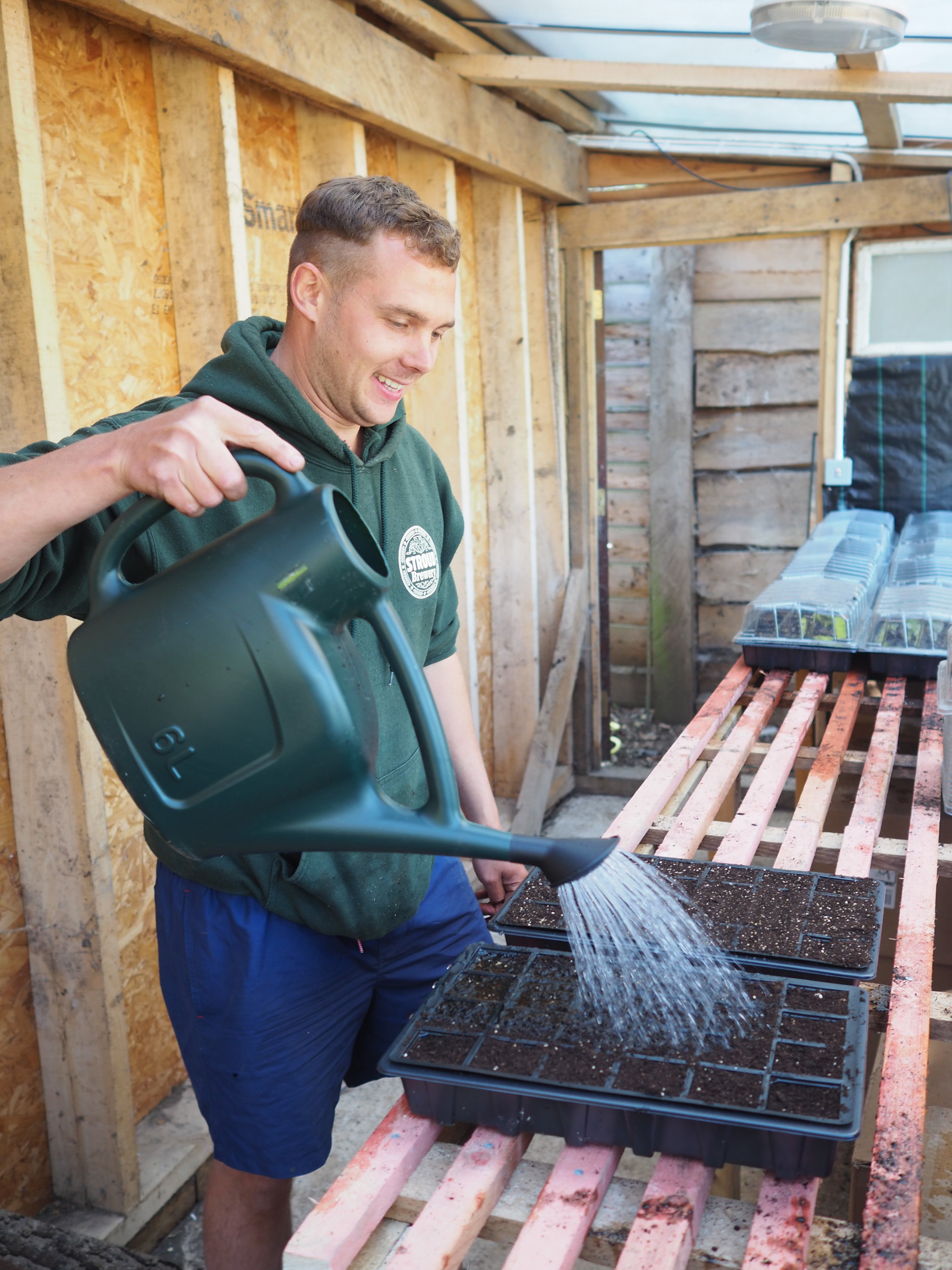 Walled Garden and homegrown food

The big and most exciting piece of work is the renovation of the walled garden. For those that know Elmore well you will have seen it sitting to the west of the main house. It was something we'd kept private and an area that was never properly useable by our guests, and more than that we had never really got it to work. Particularly with properly producing food for our kitchens….
Luke, our head gardener and the man who helps me run the Estate has been working tirelessly to make it something really special. In June a lovely greenhouse will be installed, and we've made gravel paths running up and down the space.
Four new lawns will appear, and three huge beds for producing vegetables and flowers have been created. It's going to be mega and all sorts of lovely produce will soon be coming out of it.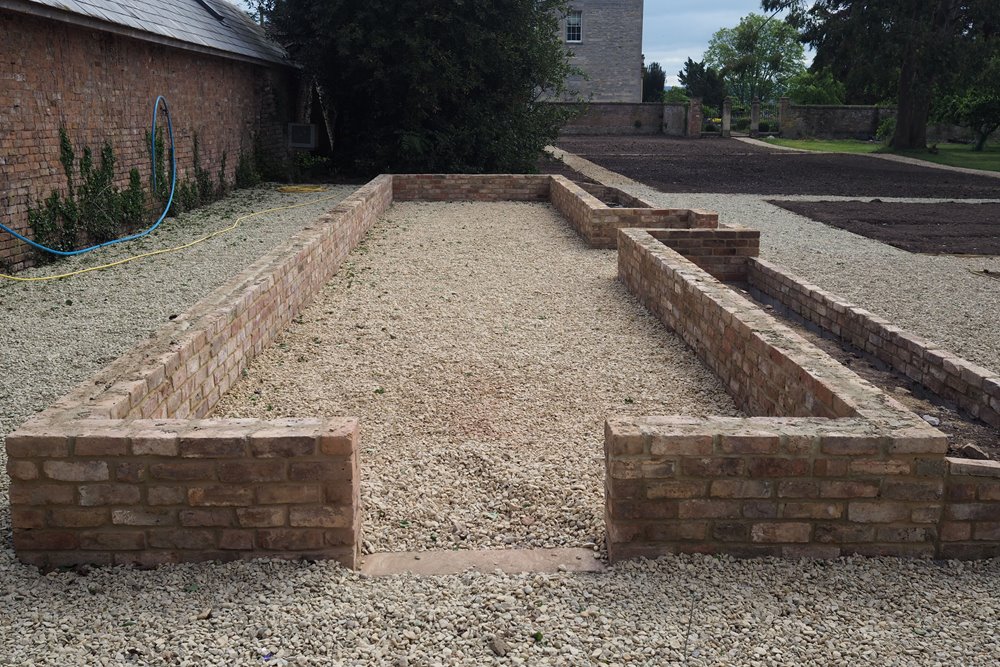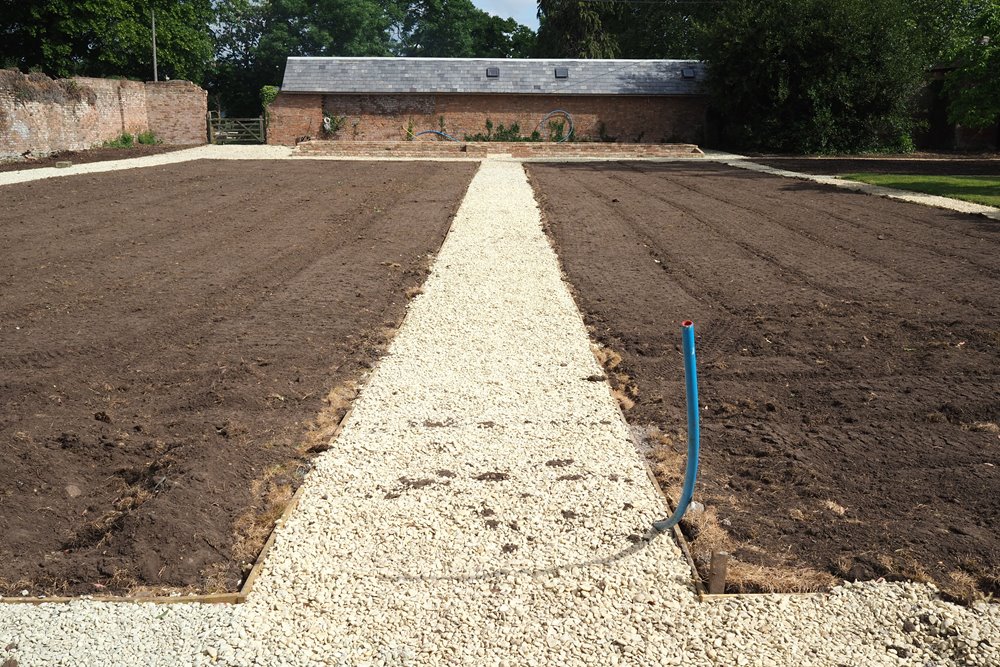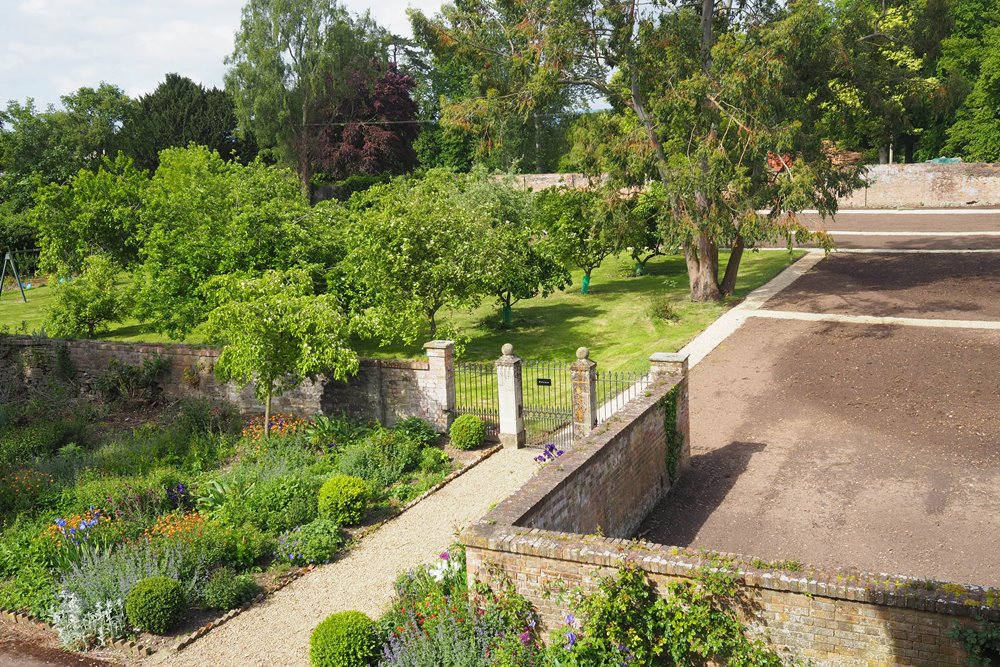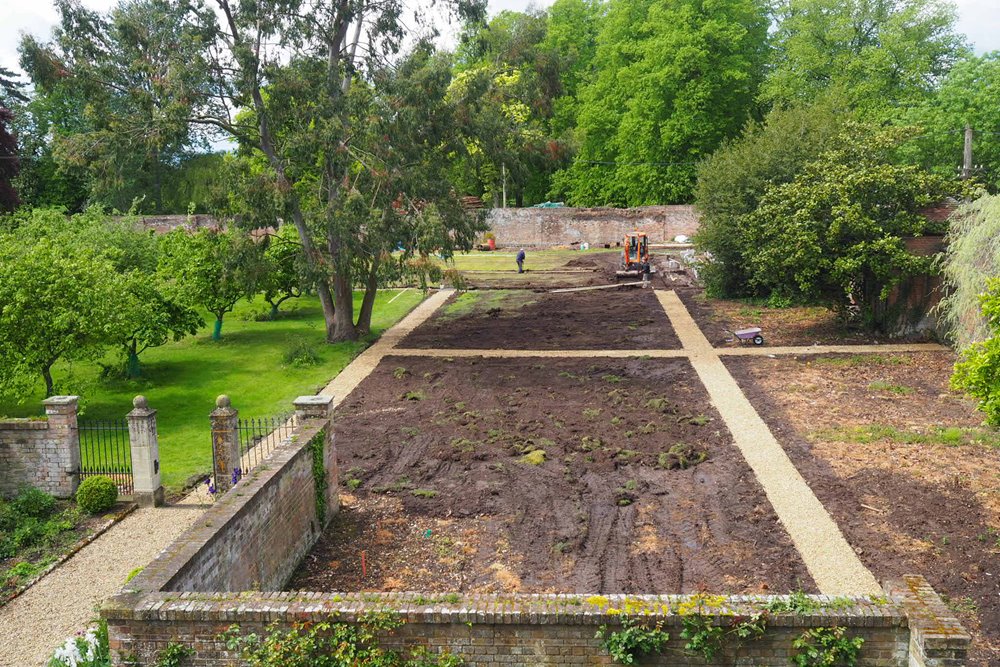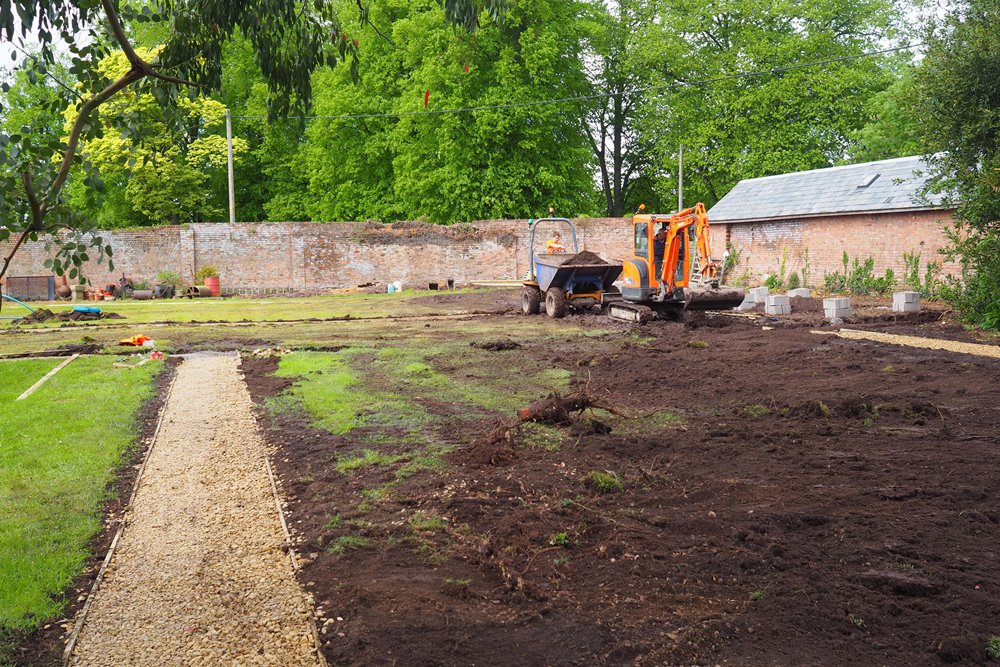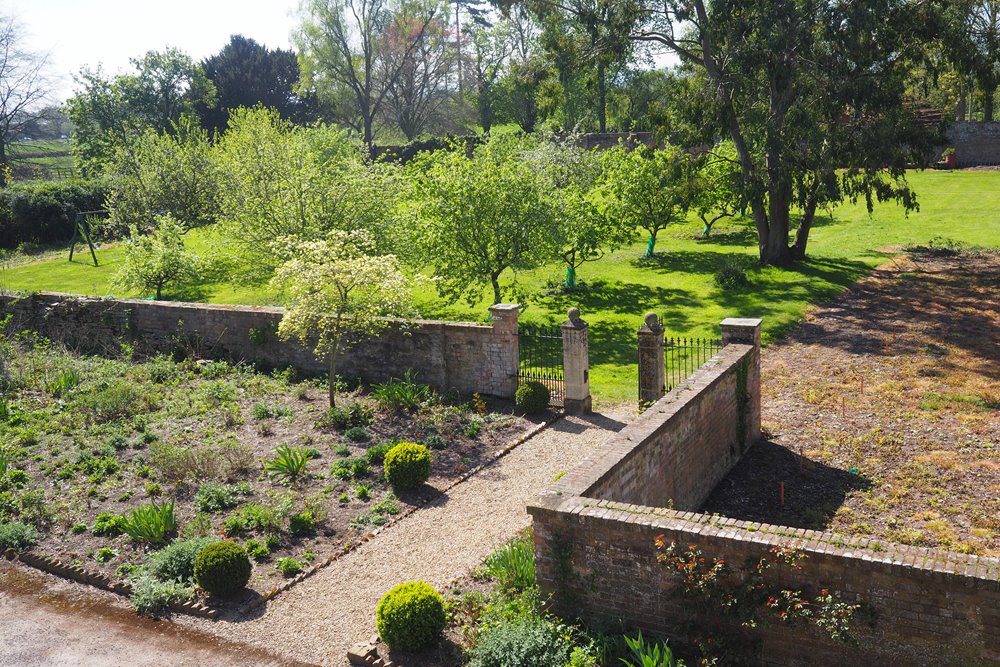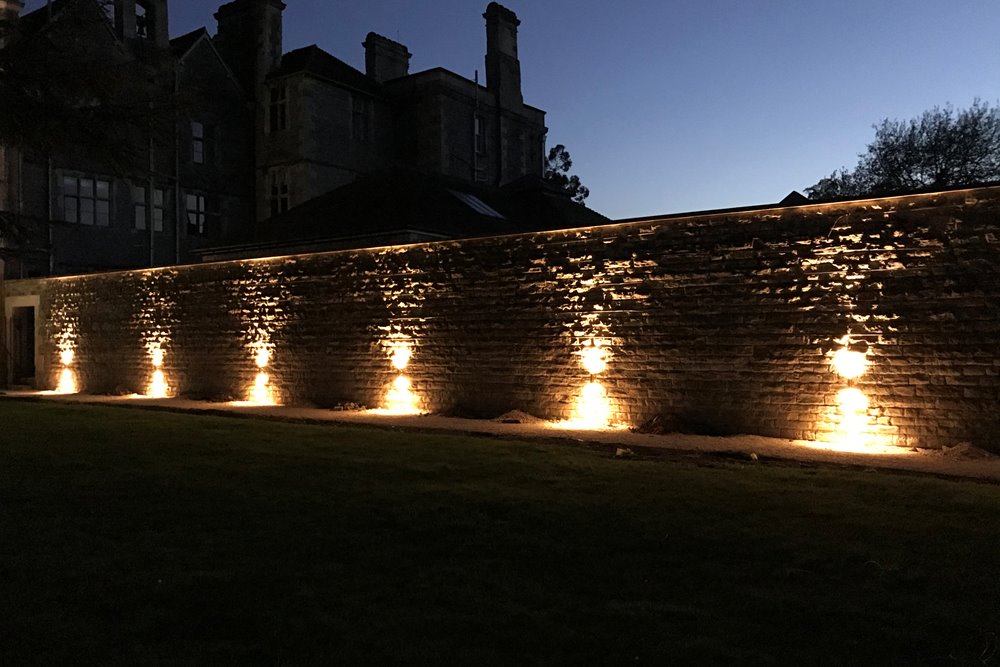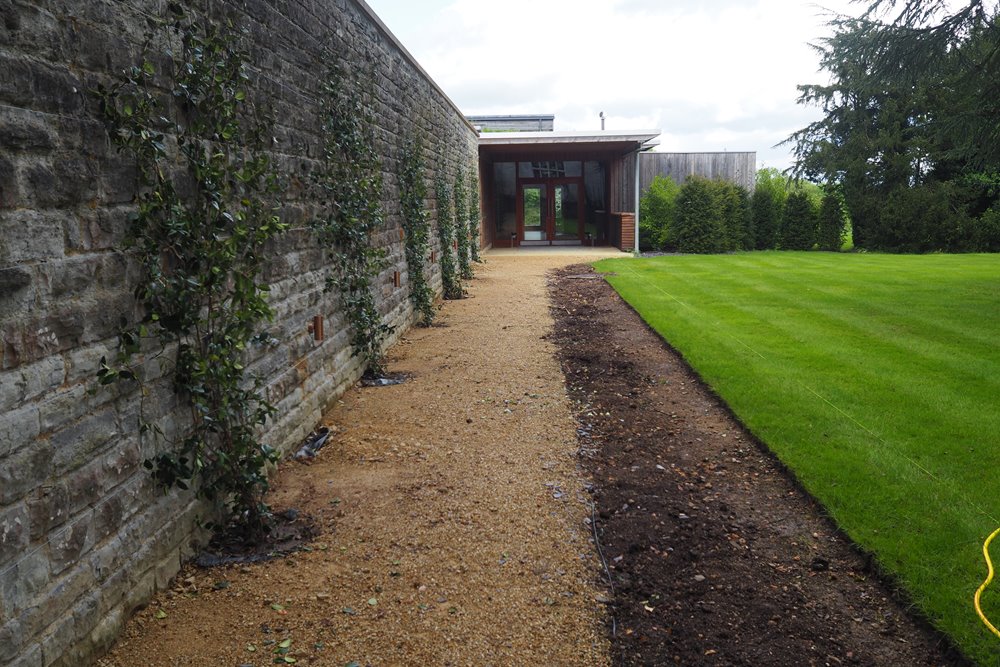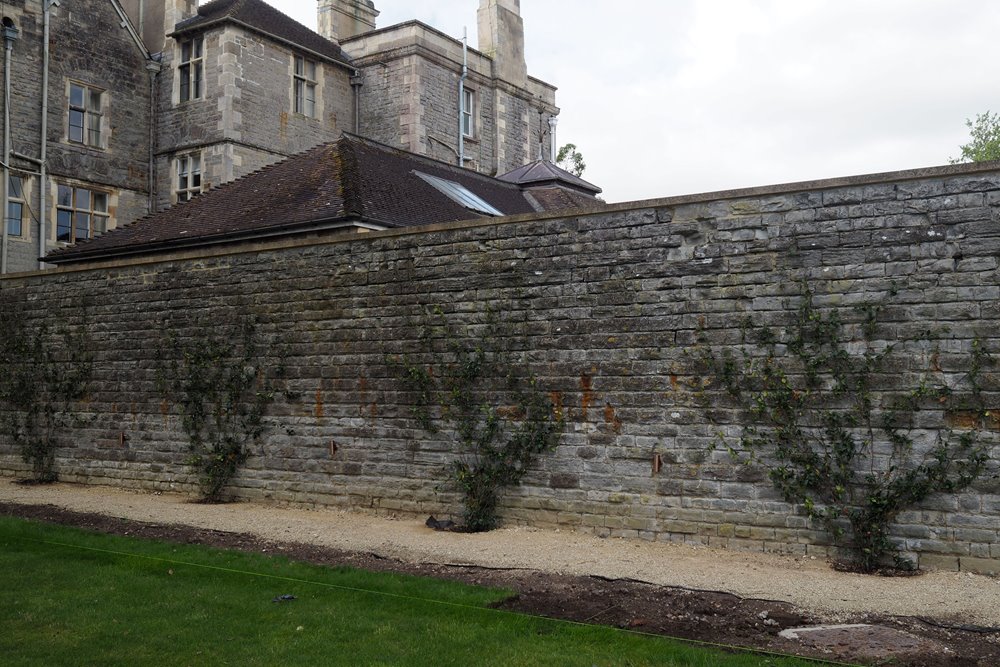 Old gates made new

We have sand blasted and completely repainted the front gates (which look shiny and new which is amazing considering they are three hundred years old) and we are about to completely dig up the east lawn and relay it with laser flatness and perfect grass.
So much more as well…. The house has been given the once over with a paint brush, the front door has been sanded and refreshed, and everywhere has been given lots of love.
So, when we get back to having celebrations the house and grounds are going to be better than ever!
I'm not now going to talk about what we've been planning with the land… The environment, biodiversity and sustainable food production being at the fore front of our minds. That's for another time.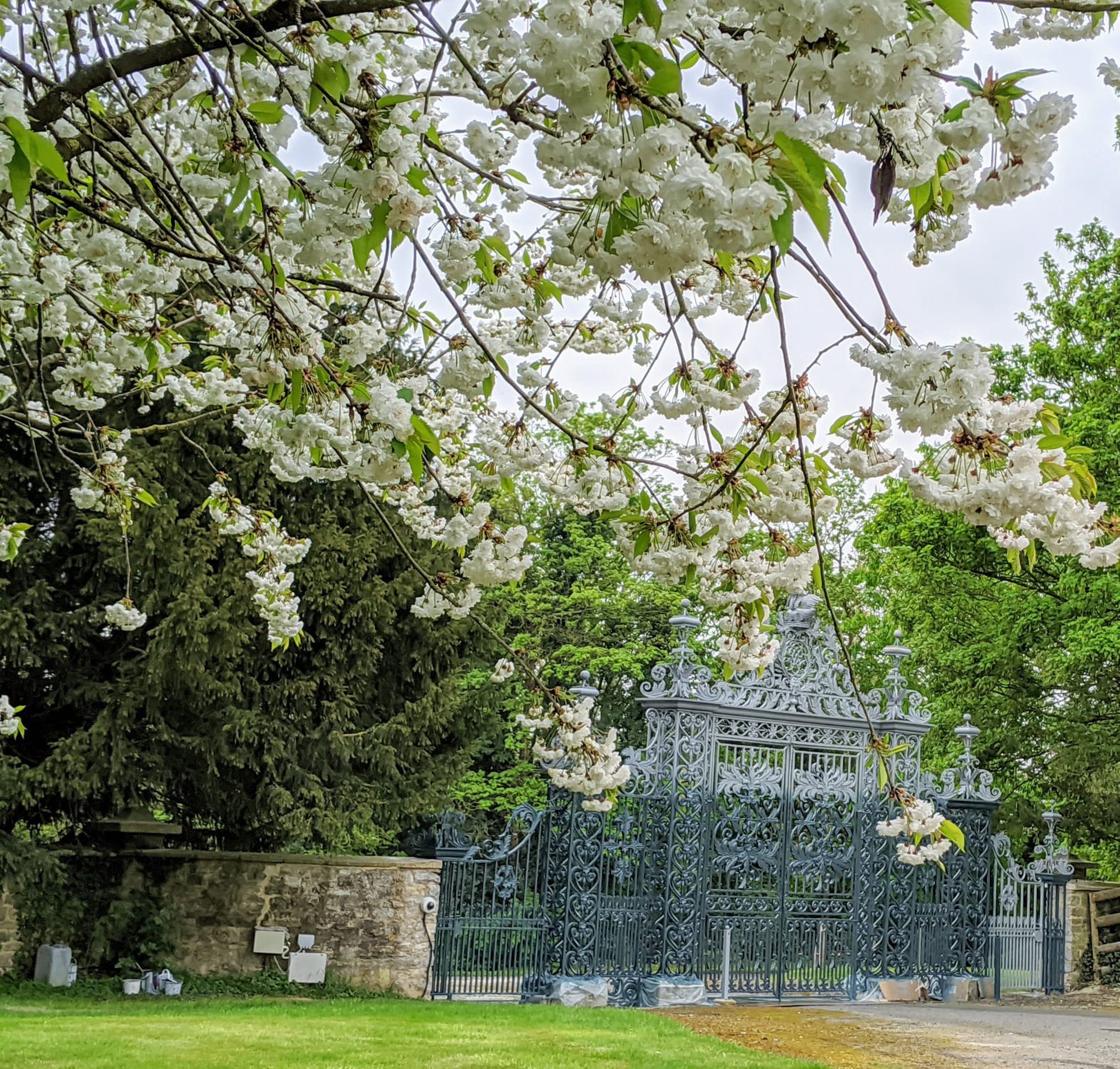 Looking after everyone collectively

But of course, whilst we've been doing all that, we've also been endlessly thinking about how to manage all the weddings we have booked that are affected by this epidemic, and all the associated changes we've all had to live with.
We've been thinking and working hard on how better to organise ourselves. With so many postponements, and us therefore being far busier when we do get back to business, it is important to make sure that the magic of Elmore is not affected; slicker systems and smarter back-end operations are being worked out.
Some of you may have spotted that I, along with my friends who own Iscoyd Park, Dewsall Court, Wasing Park (where I did the Glade Festival ...) and Pennard House, have been working on a new event management software called "Hostology" specifically designed for exclusive use wedding and events venues. It's amazing for streamlining but I also mention it as I've found having friends in the same game has been a great way of sharing ideas and finding solutions to problems… This has now extended to a far greater number of folks within the industry, and now more than ever this collective has been incredibly useful for working out the best way to handle this crisis.
All exclusive use venues I realise are in the same boat. Speaking particularly from the perspective of Elmore however, we have a big team… Team E. Everyone is on decent wages, and obviously with us not being able to host weddings (and other events) we would quickly go bankrupt if it hadn't been for the generous furlough scheme that the government has put in place, and now extended to the end of October. All the waiters, bar staff, chefs, housekeepers and department managers are furloughed. The key office team as well as those who work on grounds and maintenance have mostly been as well… We've got a small skeleton crew in place as we go through this. Kat, Adele and Mette have been holding the fort brilliantly with Luke and I.
The balancing act, and where I've been focusing a lot of my attention is to look after all the people involved in Elmore. Whether they be those who have booked us for an event (or their guests), the folks who work here, or the suppliers that we all rely on to make this all fly. For everyone the whole thing needs to thrive and keep being excellent and there is a precarious financial knife edge that I and the team need to walk.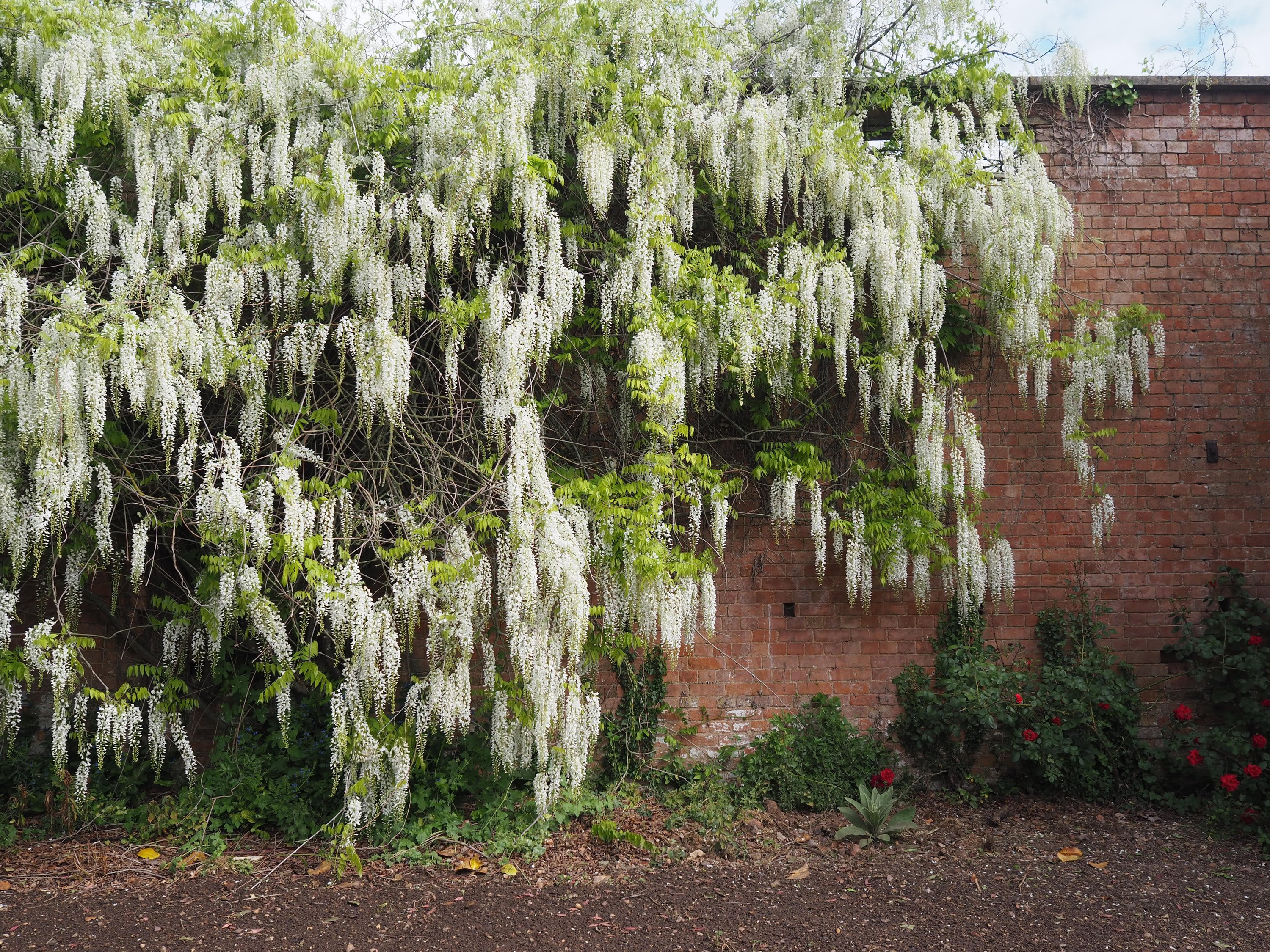 Your support and finding solutions

We have had the most amazing support from the clients who were booked from the end of March until the end of July… Almost all of whom have postponed their weddings into later this year or into next. We have kept their original dates in place in case they can, after all go ahead, and for quite a few that is still in play.
Cancelling is something I've clearly wanted to avoid as it is expensive… We've tried our best to be as a flexible as we can for everyone and when things have got tricky, we've done our best to find a solution that is fair, legal and reasonable.
Obviously now those who are booked from the end of July onwards are beginning to worry about what is going to happen. I recently sent an email to all weddings booked until the end of the year to explain what I would like to do and how to handle it. What I said is that I would like not to actually confirm or change anything until 2 months before each date, and for the most part that has been accepted though of course we're open to chatting through possible options in advance of then.
There are several reasons for this that include it being about then that we start invoicing for the remainder of venue hire, accommodation, food and drink etc and it seems wrong to do that if we're not sure what is happening. It also seems right to work out a plan for one or two weddings at a time so we can give them the best attention; this with a mind to the fact that if we give a future date to someone booked later in the year and as a result can't offer that new date to someone booked sooner and then find we could have done the later one it becomes very tricky and fundamentally unfair.
Lastly if we postpone (or cancel) a swathe, and then find we are after all able to operate and the furlough support from the government is withdrawn, then there is a potential major issue with cashflow and I may be forced to properly lay off staff, which clearly isn't ok.
If you have more questions about this, I've put together an FAQ document that you can read here.
So, for now and unless there is some clarity from the powers that be, then this process needs to be kept in place and we hope all our couples and clients understand, and are prepared to remain as fluid as possible.
Lobbying Government policy

Talking of powers that be… And going back to my mentioning the Hostology Collective and it linking up to a wider forum with organisations like Rock My Wedding, Bridebook, Love My Dress and Coco Weddings, as well as a brand-new outfit called the 'Association of British Wedding Businesses'… We have been lobbying government policy, and through that we as a sector have the ear of the highest level of government.
What I and all of us realise is that social distancing at events like weddings is not at all ideal. Limited numbers too… So, we've been working hard to find solutions that will satisfy the health and safety executive, but more importantly keep all guests, staff and suppliers on site safe. We are watching with great interest the development and improvement of 'Test, Track and Trace' and particularly this new "NHSx app".
Who knows how it will all develop, but rather than relying on the development of a universally accessible vaccine we are doing our best to figure out how we can "leave COVID at the door". What we do know is that at weddings and private parties, where there is a very precise guest and staff list, people more than anywhere else will not want to in any way spread this infection. There might be something in there if we as a population can keep the so called 'R rate' down. Let's see. But my hope for now is that you can see we are on the case and there may be a smarter solution to simple social distancing in the near future.
Hope for future weddings

What I do know is that at the time of writing we are not even two months in, and certainly for me it seems a lot longer. We are hoping that we don't need to start postponing those weddings that are booked at the end of July and beyond and that things will improve for all of us. It's a longer time until then than it has been since this all started.
Weddings are a huge part of the UK economy and one of the most important days of our lives. Folks often don't buy homes, have kids and move forward with life until after then, and so I feel and hope that the support is there for us to find a way.
I can't wait until we do.
Stay safe and big love to you all
Anselm
x
(PS Can't wait to stop saying 'stay safe'!)
Related reading