Switching Seasons - Postponing your Wedding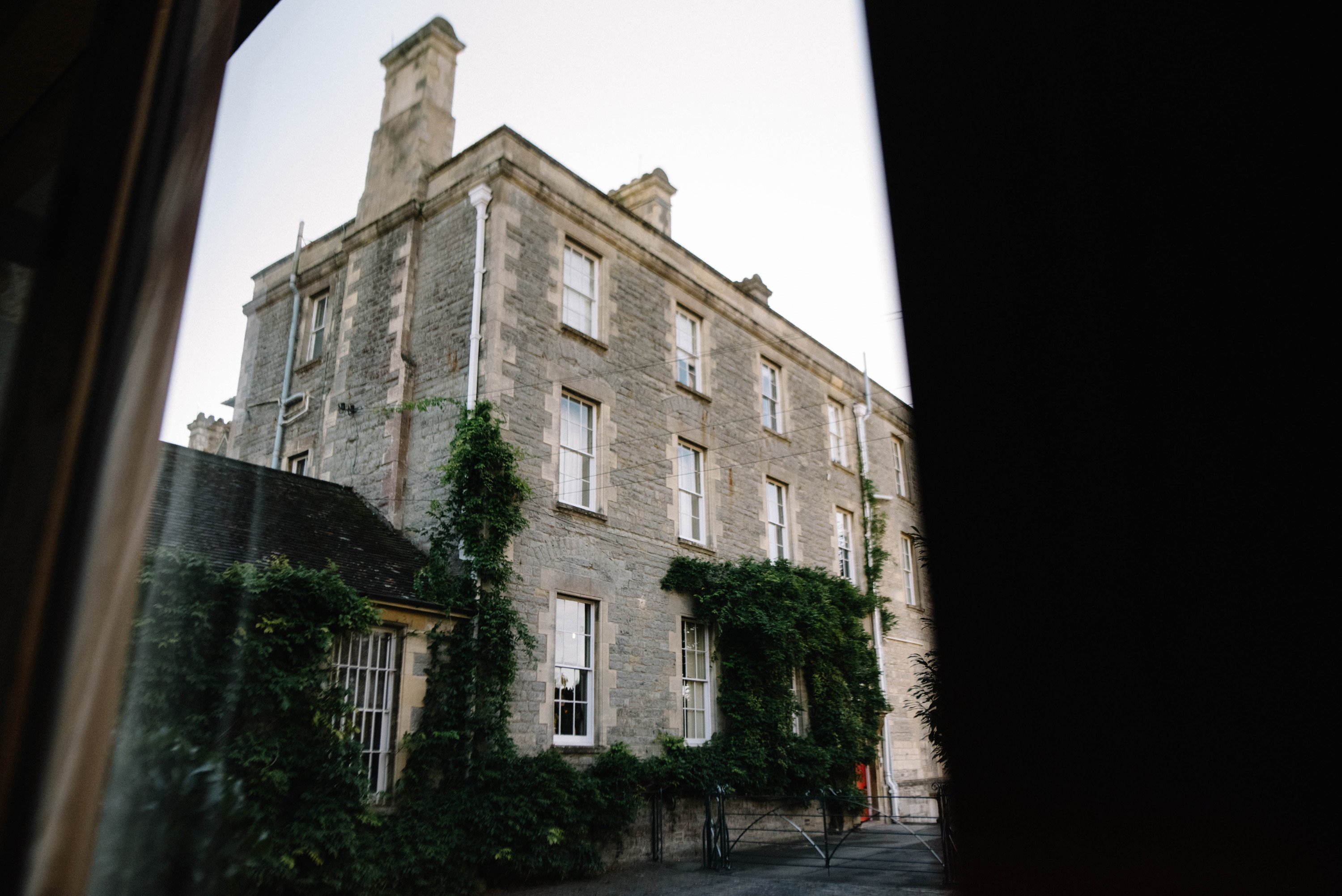 We know many of you reading have had to postpone your wedding, and for most a change in date has also meant a change in season. Some moving from spring and summer to an autumn or winter wedding of this year, next or into 2022.
We know that each season has its own personality and atmosphere, and when beginning the long process of planning a wedding, the month or time of year of your wedding date is one of the important factors, and most, if not all decisions will fall around this.
We therefore understand that postponing your wedding and having to change the time of year will also mean re-thinking the finer details from flowers and décor, to timings, catering and entertainment.
Postponing a wedding can feel like an overwhelming task and one we want to help you with. Although we unfortunately don't have the magic powers to fix all of this, we do have a plethora of ideas and knowledge on how you can make weddings here at Elmore totally knock out all year round! and ideas for small and affordable changes with big impact. We've also asked some of our favourite wedding suppliers in the Cotswolds for their expert advice.
We hope that all this combined will help and offer some inspiration…
Changing Florals & Styling
A change of wedding season may mean a different colour pallet, but this doesn't necessarily mean that you need to scrap the mood board completely and start again. By swapping out a few pastel colours for richer and moodier tones you can add depth for winter months. The compliment of lighter and darker shades will mean you can keep your favourite colour.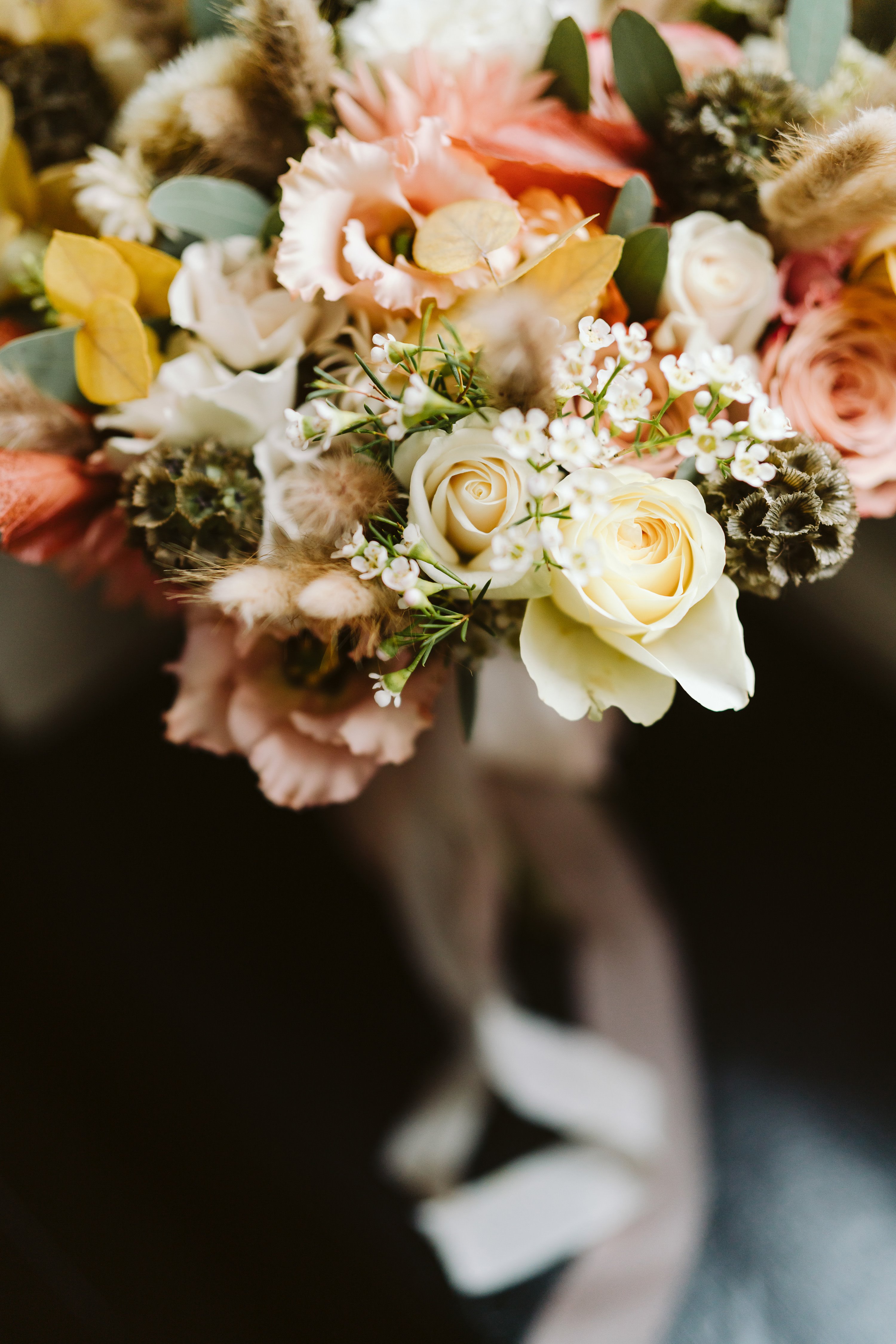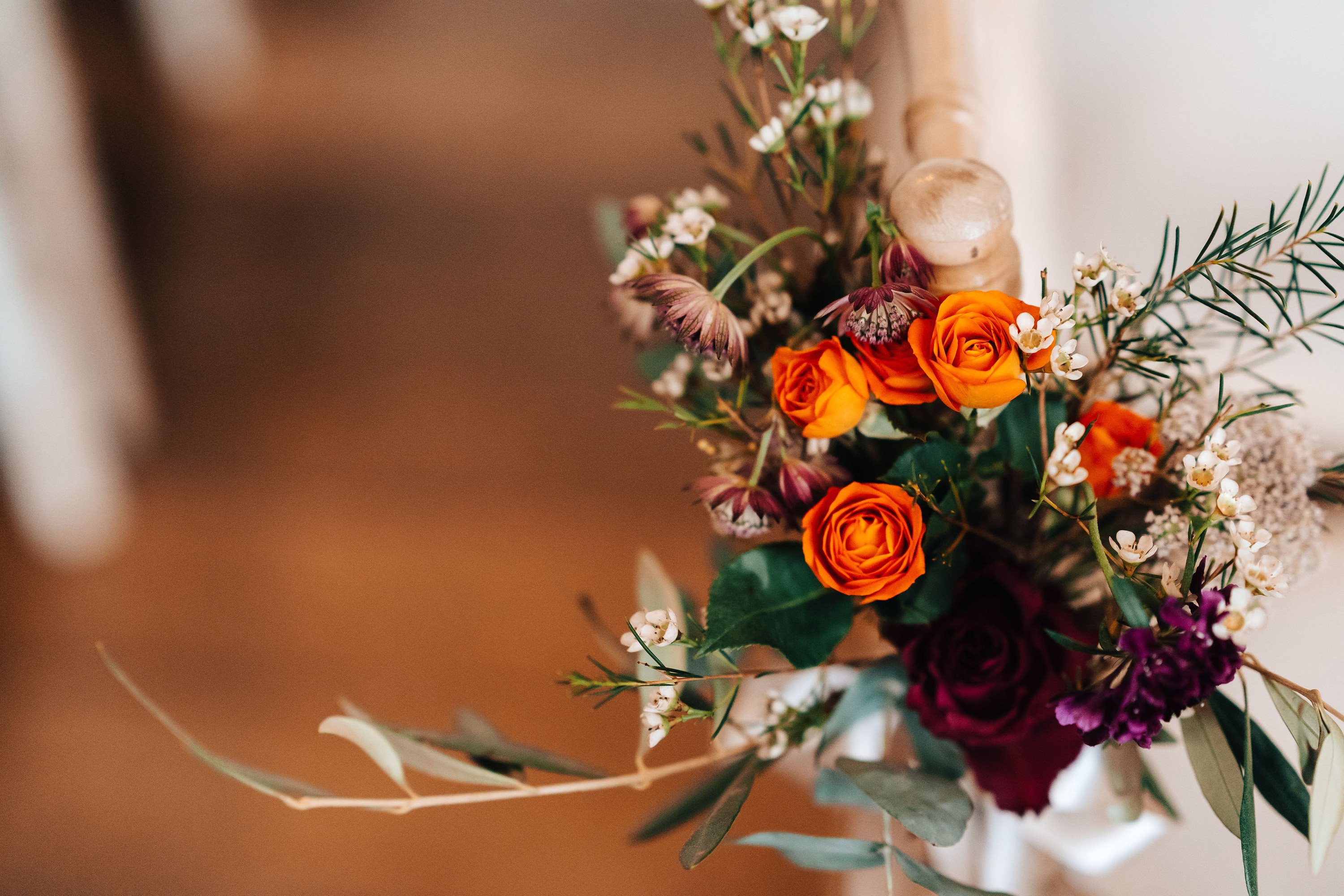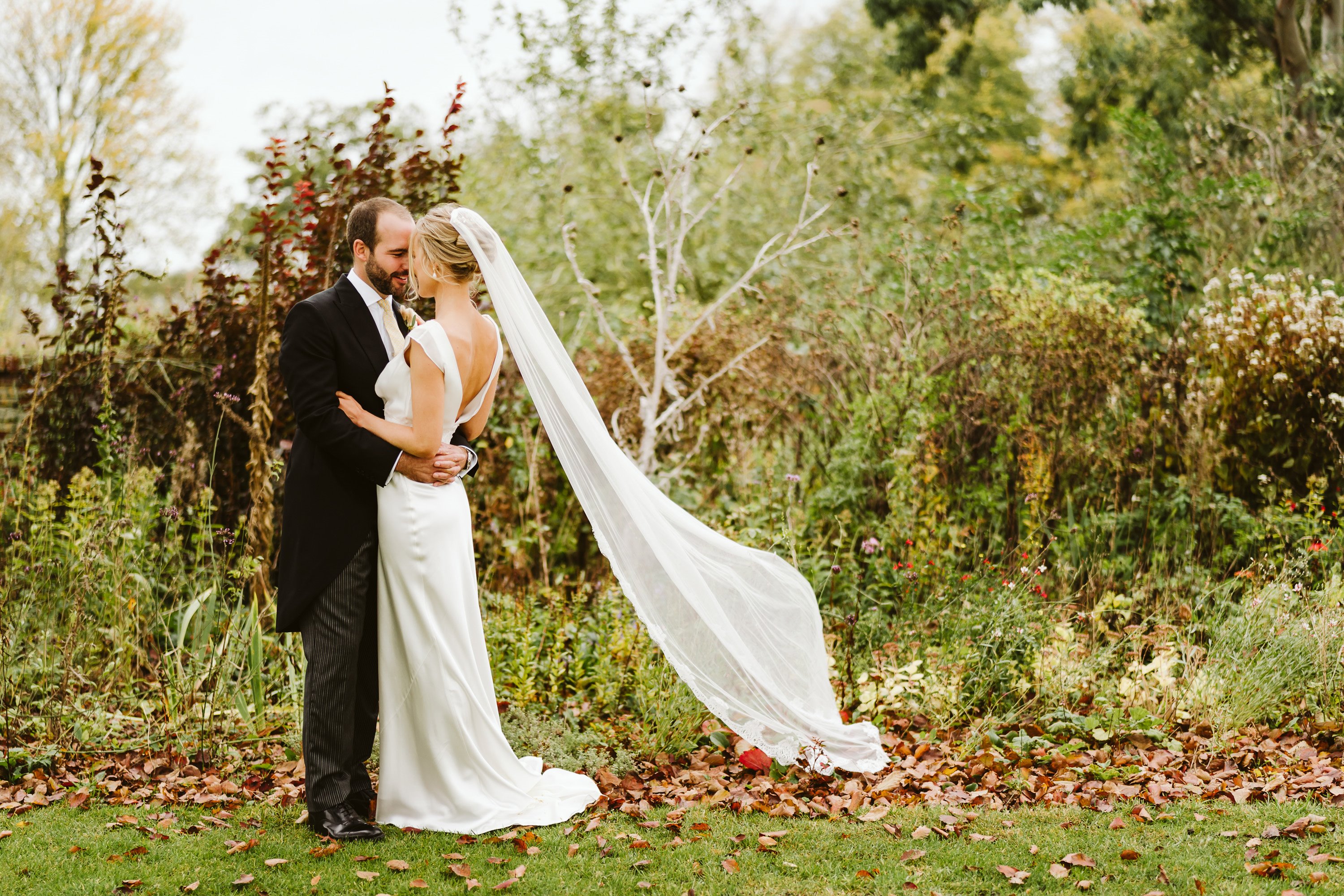 Seasonal Choices
Certain summer flowers such as peonies and sweet peas won't be available during colder seasons, but the winter months still host a beautiful array of florals such as waxflowers, silver brunia, eryngium, hawthorne and many more. As well this, there are also gorgeous greens, potted trees, twisted willow and other materials from the land.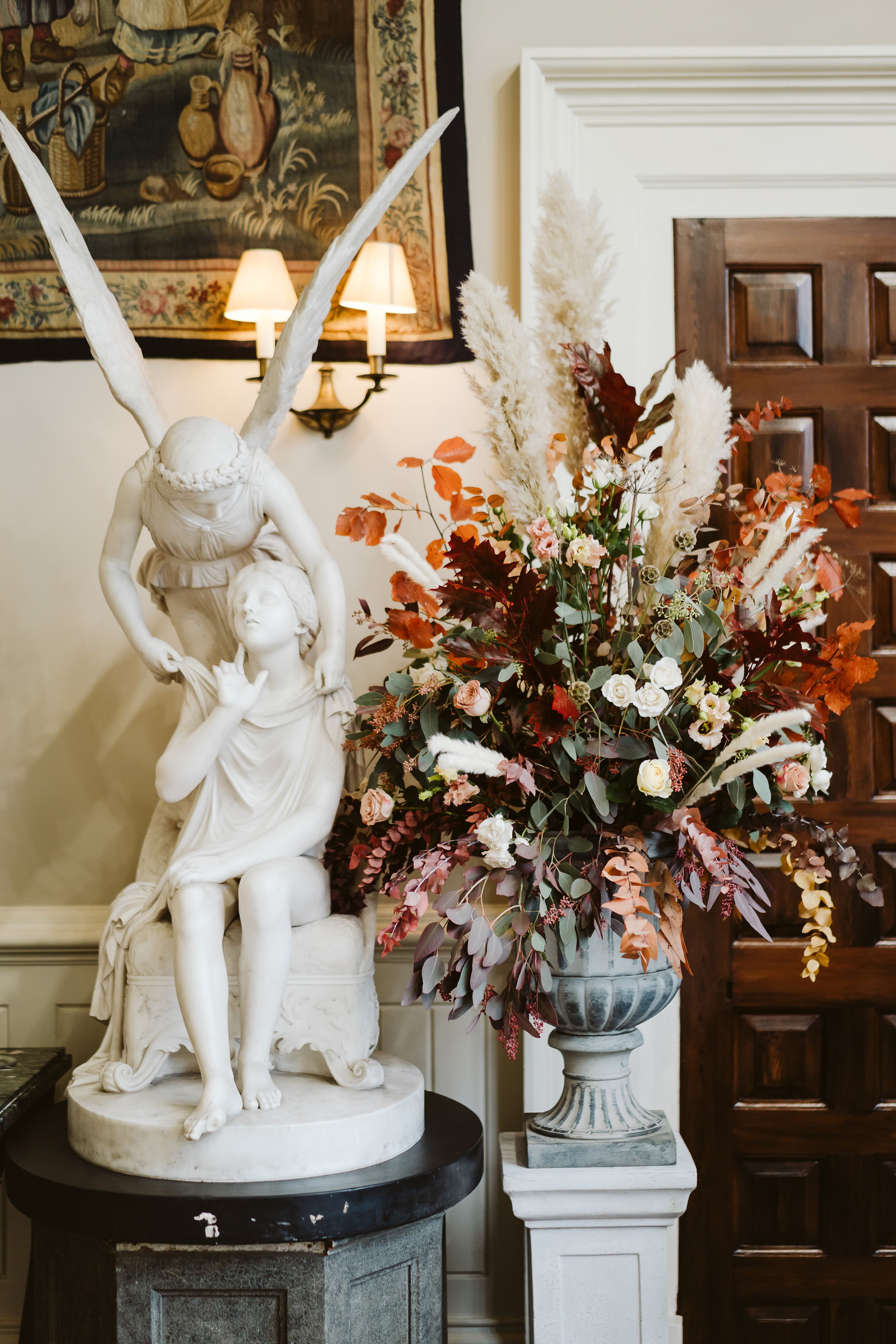 Winter wedding flower alternatives
We love the unusual twist a mix of seasonal fruit, vegetables, wheat and herbs add to traditional wedding flowers and table decor. From berries, plums, oranges and figs, to rosemary, cabbages and even kale – it's all super easy to get hold of, inexpensive, looks stunning and adds a touch of fun and quirk which is a great conversation starter.

Rummage the forest beds and collect some fallen pine cones or acorns and twisted twigs.
Potted herbs also look (and smell) great and are something you could even start growing together at home now! Scatter potted herbs down the table for a sustainable and gorgeous alternative which double as a practical wedding favour that guests will want to keep.
Have a good chat with your chosen florist about all of this. They will be clued up on seasonal alternatives and will work with the season.
Of course if you are now looking at organising a magical Christmas wedding, then a big (and when we say big we mean BIG) Christmas tree decorated in tasteful cream, silver and gold decorations sits in front of the stained glass windows in the Hall, and another in the Morning Room during December.
Textiles are also quick and easy solutions. Change linen or hessian for heavier textiles such as velvet to finish bouquets. Coloured or textured linen table cloths or napkins will make a huge impact to the room with minimal effort.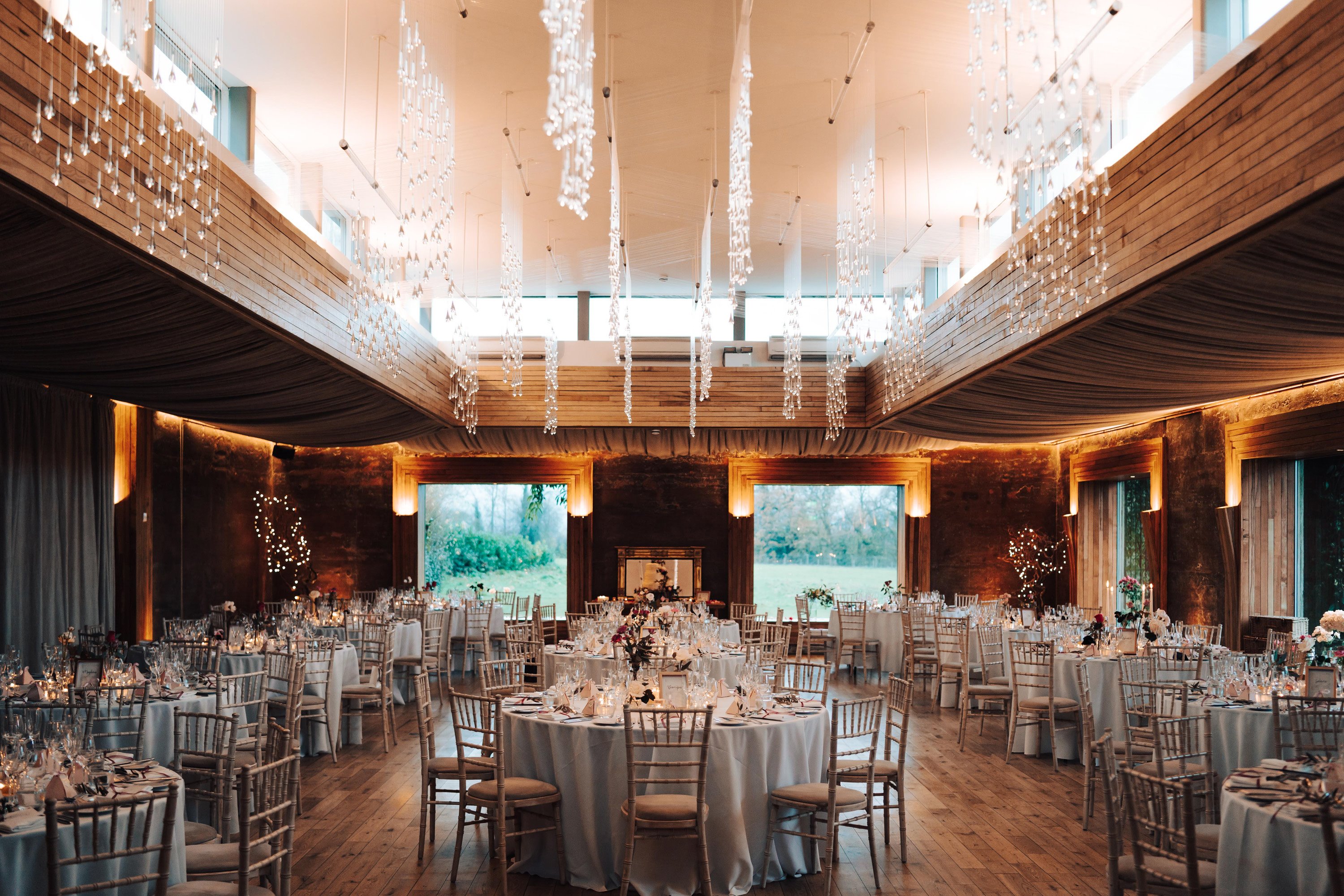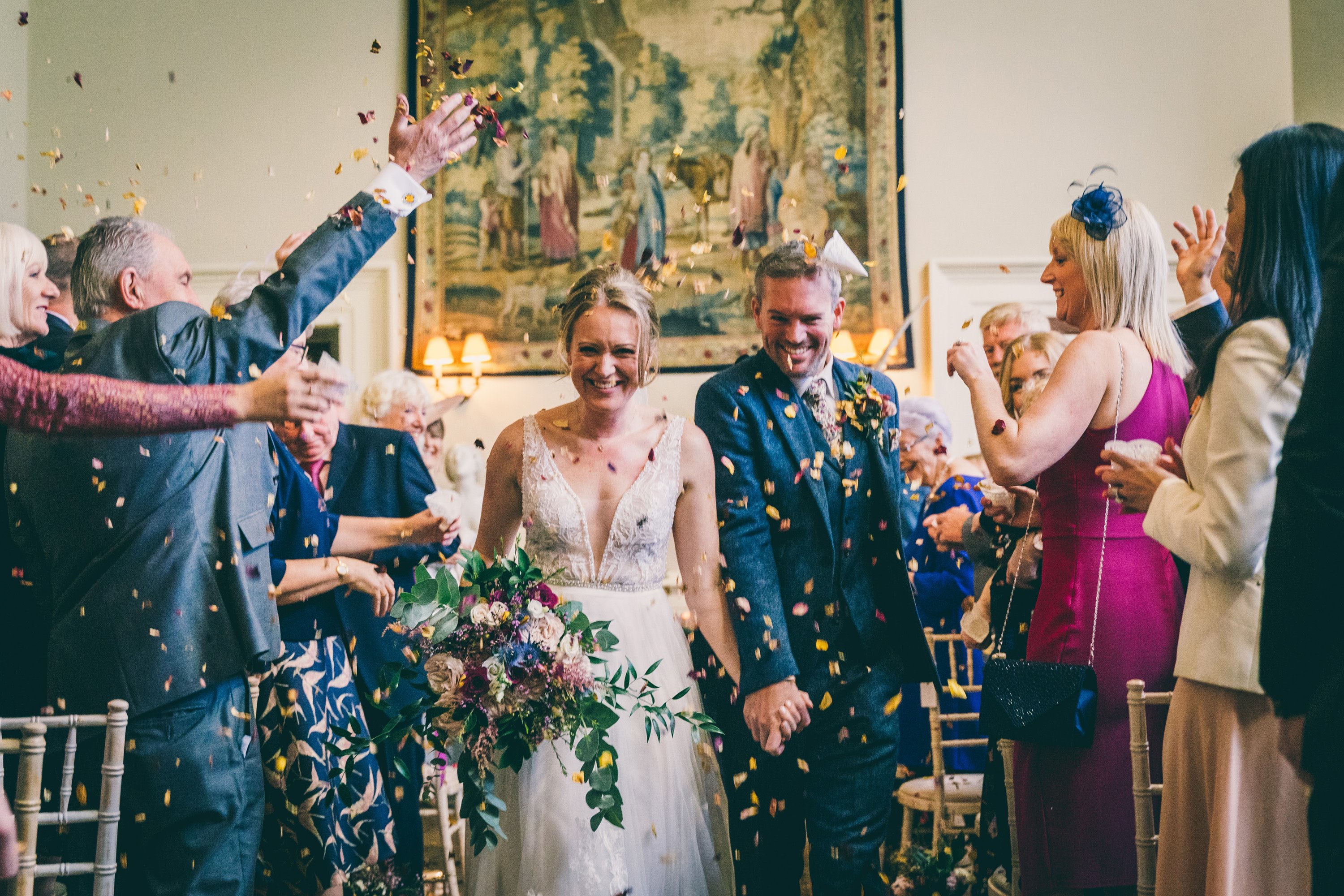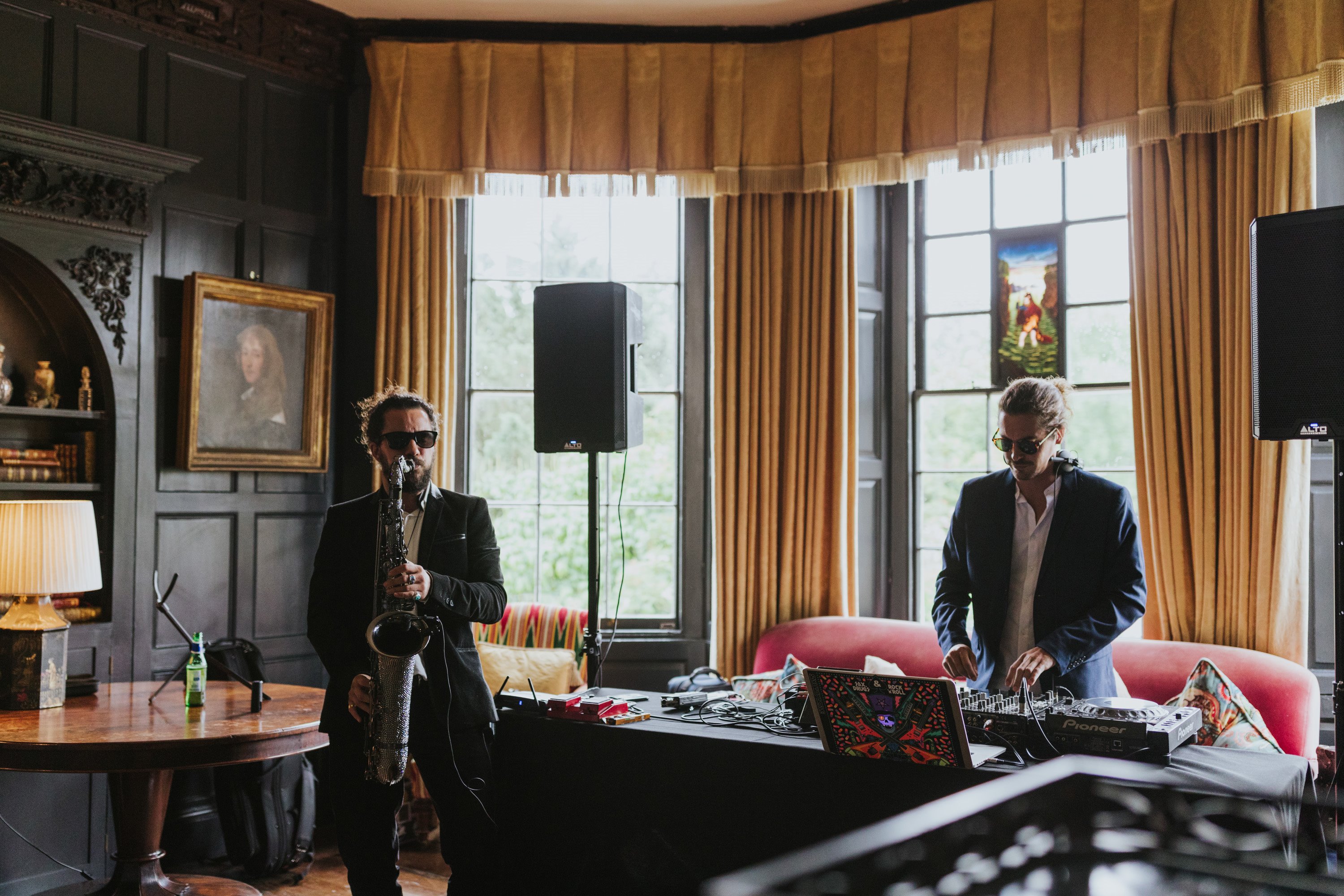 Keep cosy and carry on
If you had planned for an outdoor wedding, then you can still make the most of it in colder months with added blankets. Enjoy wrapping up around the firepit with marshmallows, hot chocolate or hot toddies and sparklers.
If you had arranged for games on the lawns, then look at hiring a canopy with fires to keep any wet weather from stopping the fun. Arabian tents with heaters and cushions will be entertaining snugs for guests to relax in.
If alfresco drinks reception is something that may need to move inside then don't worry – it won't kill the vibe, in fact, it will make it even more electric! One of the great things about Elmore is its size and beautiful indoor space. With plenty of room, setting up live music in the Drawing Room with the fires roaring, or in Hall with everyone together creates an atmosphere you just can't beat!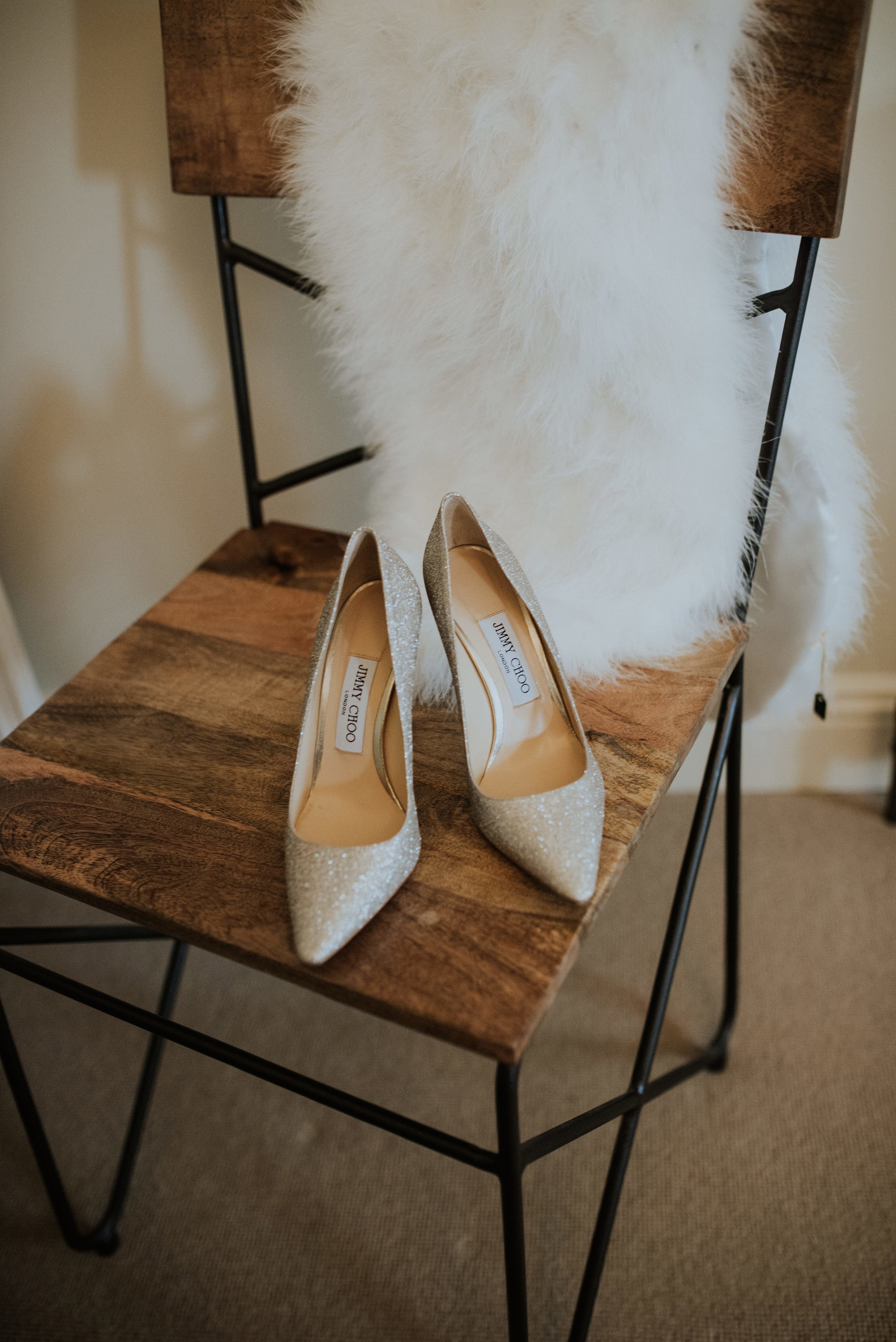 Dresses & Outfits
Don't panic. You won't need to change your dress. Just add a little something to keep the chill off. We love all things fluffy and especially these fur shawls cover ups…
If a shawl isn't your thing, look at leather or denim jackets or add some glitz with sequins. Bridal Capes and cloaks are becoming more and more popular and come in lots of styles from tulle to satin to velvet.
We know that dress designers are being super helpful in altering any style to suit the new time of year, such as adding lace sleeves or other accessories, which are easily accomplished, so don't be afraid to talk about little alterations.
Also, don't presume all of your guests will come prepared for colder, outdoor activities. 
Supply a basket of blankets or a rail of charity shop fur coats and scarfs for them to wrap up in.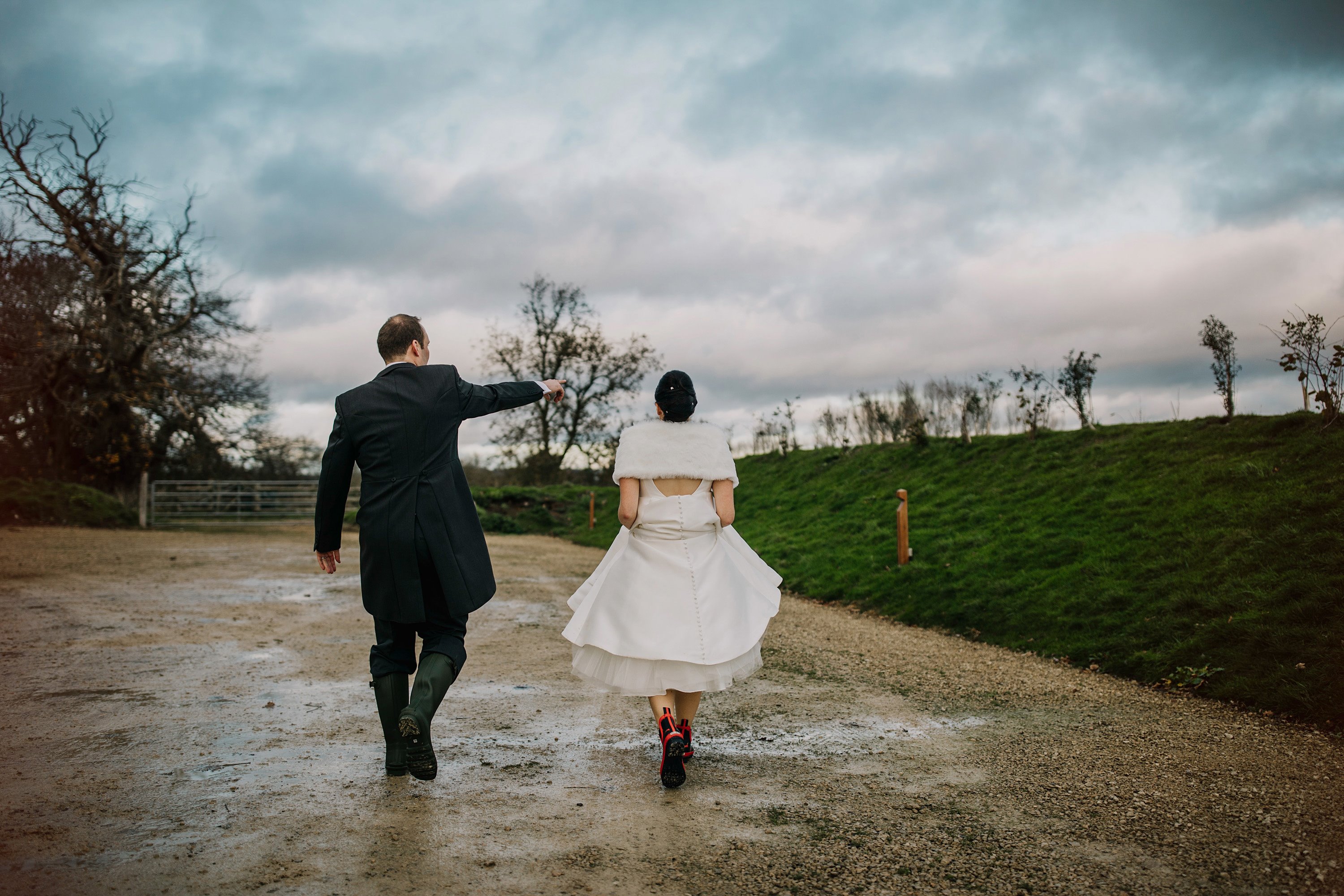 Lighting and photography
Your wedding season will impact your photos and where they can take place if going outside isn't an option. 
We've said it before and we'll say it again; Elmore is mahoosive (!!) so wet weather contingency plans for photography are pretty easy to set up.
Using the Hall after a ceremony is a perfect space for large group shots and family photos- with the resident 'fairies' and huge fireplace and beautiful backdrops – there's no need to worry that you won't get all the photos you want.
The Drawing Room, Elizabethan staircase and bedrooms are also great for getting some fun bridal squad pics or couple photos before you head down for dinner.
The dimmer light inside the house makes for some creative and fun photography…
Take a trip in some wellies over the carpark and down to the Hazel trees in autumn, or stop by the wisteria in green leaf. The wood yard and Gillyflower panels also make for some beautifully rustic textured backgrounds.
Lighting will be one of the key parts in setting the scene and vibe, and the Gillyflower is as atmospheric as you can get. With lower lighting and the addition of candles and twinkles, you can make the perfect romantic ambiance.
See the fun in it and play around with umbrellas, wellies, smoke bombs and indoor photobooths! If a sunset photo is something you want in the album, it can still happen, it'll just be a little earlier. Make sure you discuss with us and your photographer so that we can ensure timing everything perfectly to fit this into your day.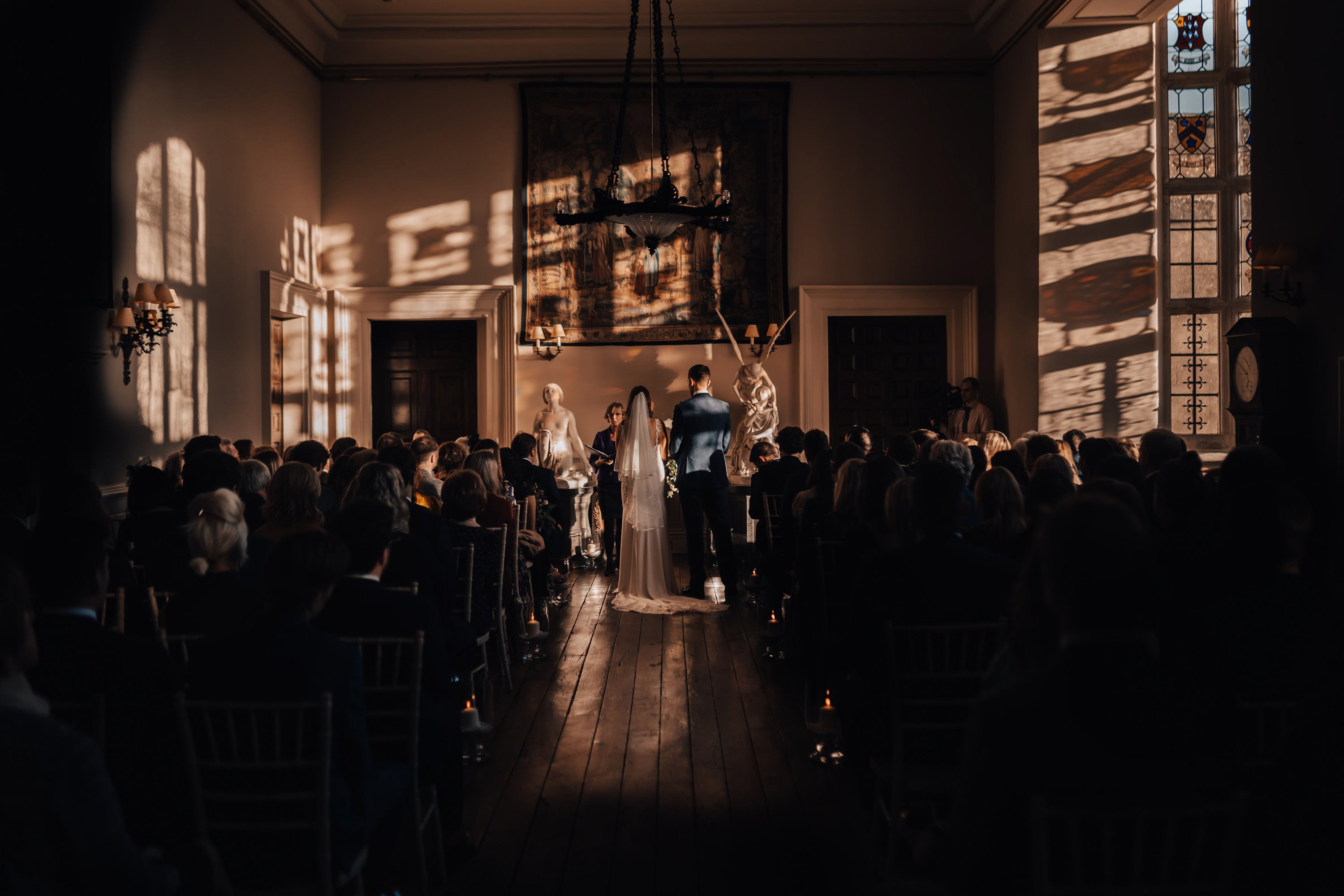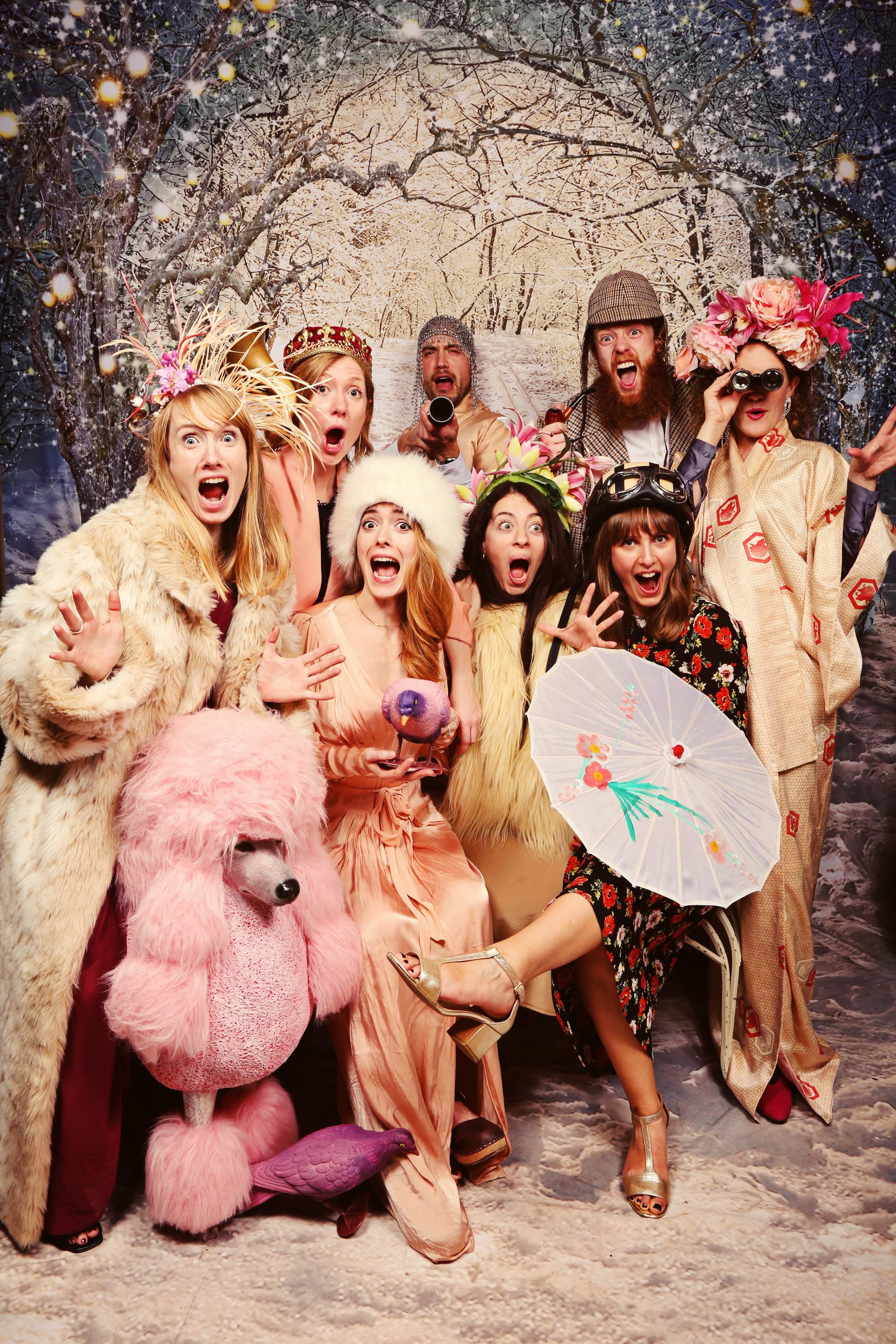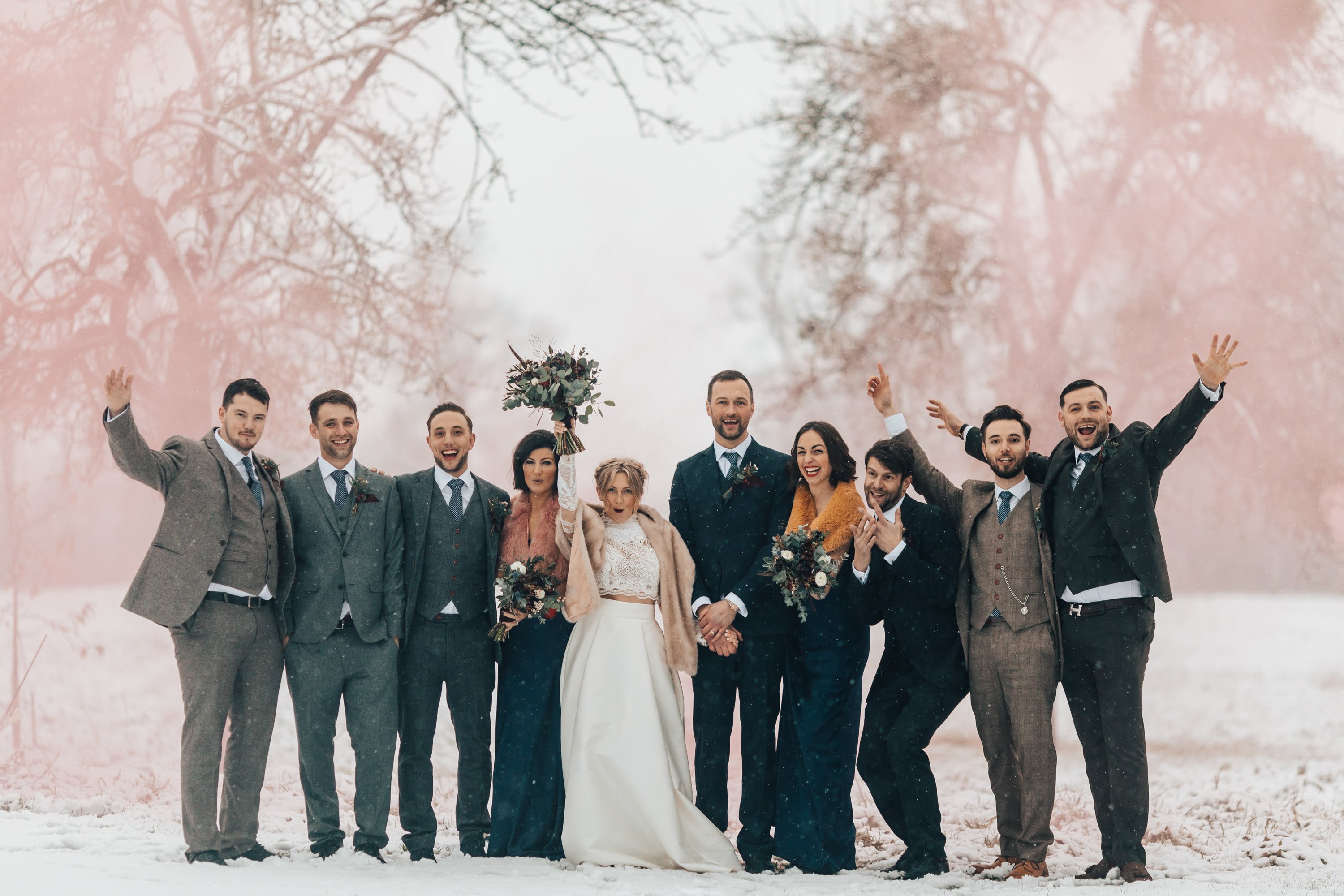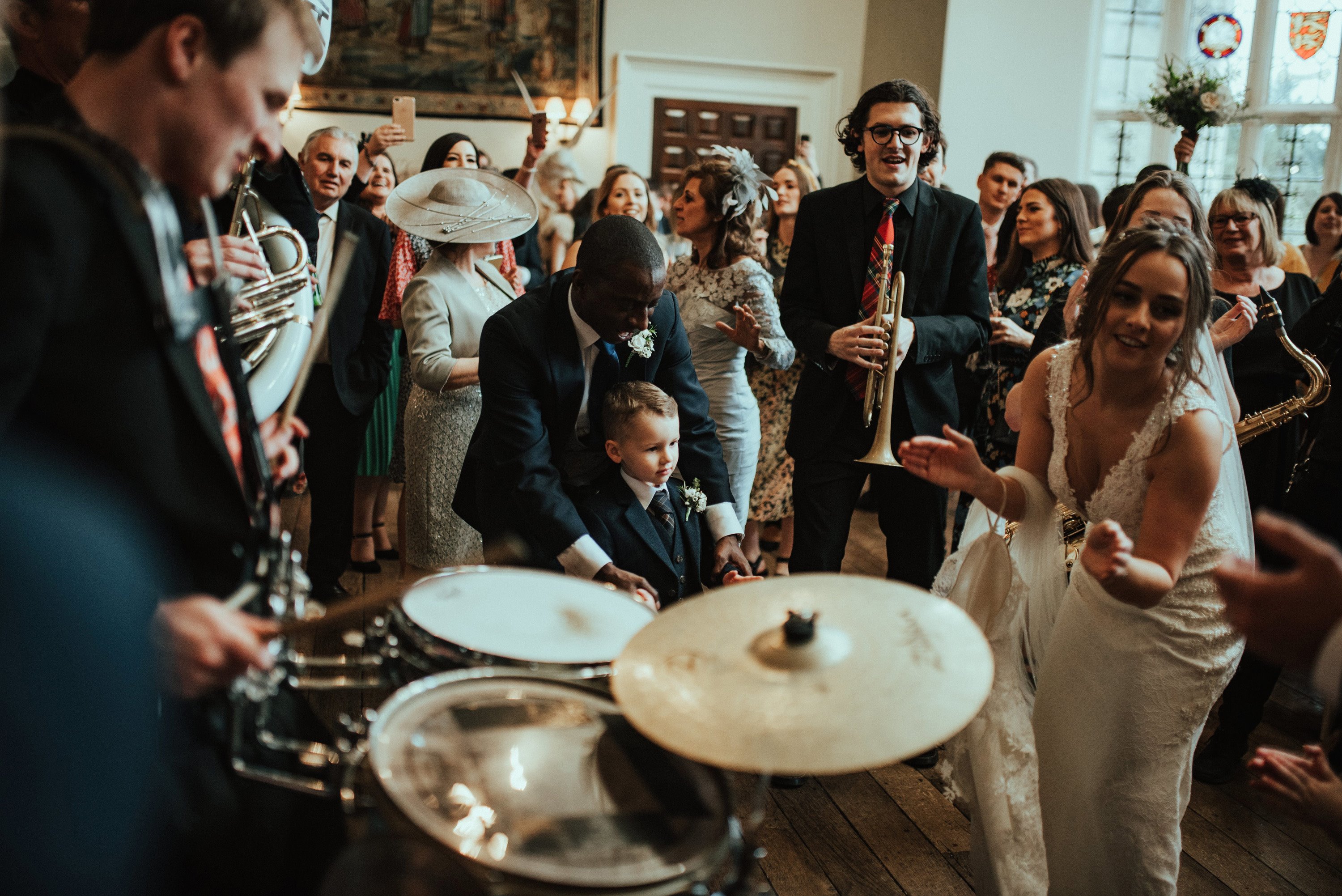 Food and Drink
Most food is readily available all year round therefore if your chosen menu is one you want to keep then we will make it happen, but if this is something you want to adapt to complement the time of year, then talk to us!
You might want to change food to something more warming and hearty, or just tweak simple garnishes or vegetables to keep it seasonal. As you may have seen from Ans's recent update, with the extra time we have at the moment we are busy making this possible with our very own Victorian walled garden. Be sure to keep an eye on our blog and instagram for updates and the story on this!
Beverages is another one you may also want to look at altering slightly. Swap summer Pimms for winter versions (adding brandy, ginger and cloves?) or warm up guests as they are welcomed with a glass of mulled wine or hot spiced apple cider.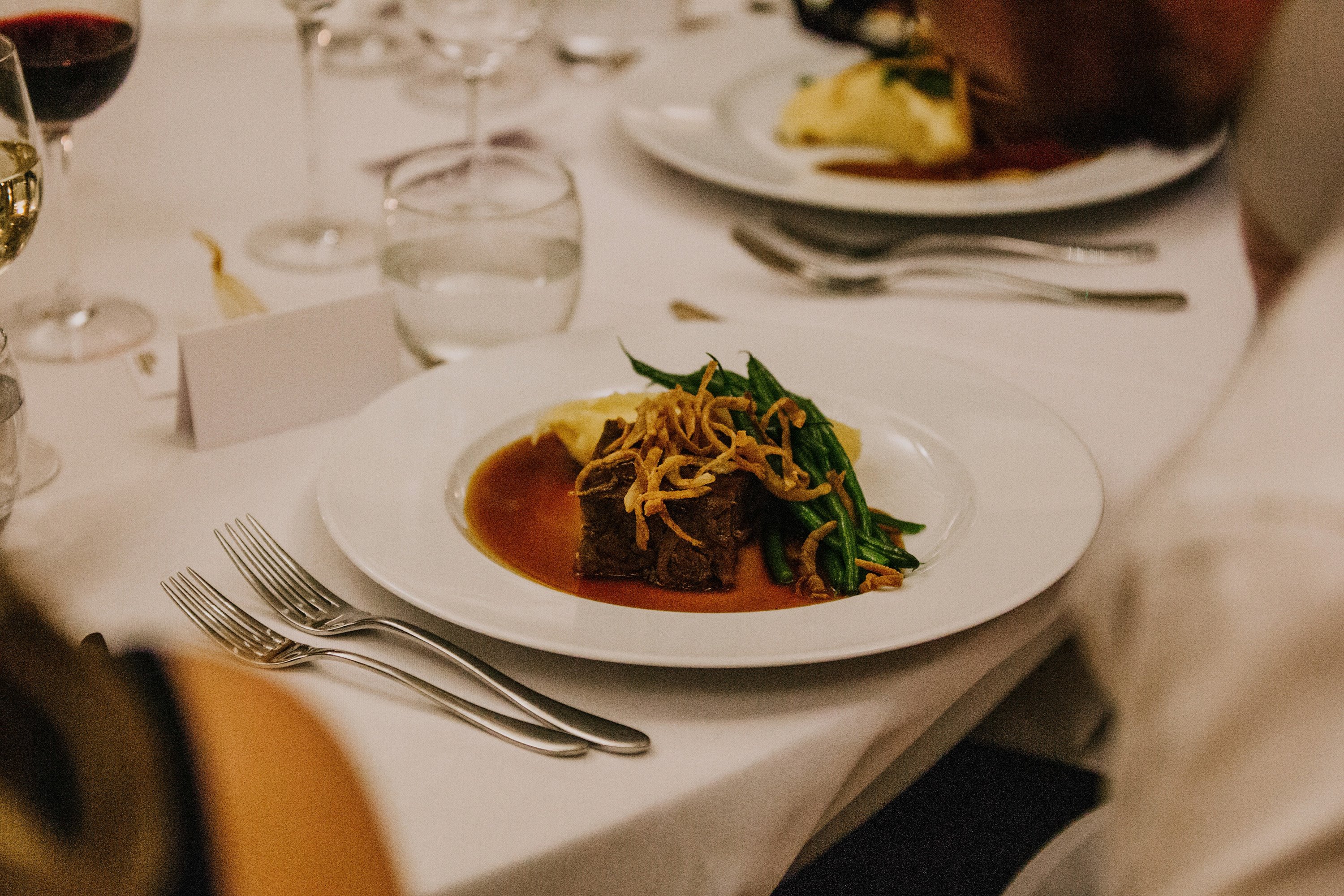 Wedding postponed for a year?
A postponed wedding for some couples may not mean a change in season, but rather that it has been pushed back a year or more. As trends change from year to year you might be wondering how to tackle this, here's some advice from a couple of our fab florists and stylist on what they see for 2021/22 weddings, and some useful advice for you now;
Amber Persia
Colour is making a reappearance in a big way and into 2021 and 2022 weddings this will be bolder and brighter than ever, encouraged by the mass celebration at the end of the pandemic, and if we're honest we at Amber Persia couldn't be more delighted! Whether that's soft and romantic water colour hues, or a more strident look with a riot of clashing colours, we're seeing it all.

Ivory & Greenery
In juxtaposition we're also noticing a return of classic ivory accompanied by masses of greenery. It's a timeless combination, one we never tire off, but timeless certainly doesn't mean not of its time, pair it with a loose and garden-inspired look, lush textures, masses of fragrant herbs, and interesting tumbling foliage such as jasmine, wild rose and clematis and you've got the perfect ingredients for wildly romantic florals. And that leads as perfectly on to:

Wedding Details

There's definitely a focus on wedding table looks with masses of interest, and that interest can be quite eclectic. So beyond the flowers and candles think seasonal fruit, berries, indeed even vegetables, tumbling along tables, adding that finishing detail to place settings, cascading from arrangements, capturing that spirit of abundance and generosity which is also a key element for the foreseeable future.
Jenny Fleur
Sustainability
Thankfully people are becoming much more environmentally aware in their lives and this can and should extend to your wedding plans as well. When it comes to flowers ask your florist about seasonal, British or locally grown flowers or at least for imported flowers which are in their natural season. Here at Jenny Fleur I am expanding my cutting patch this season, regularly use local growers as well as some imported blooms. Not only are seasonal flowers more sustainable they will always be at their best when used in season and capture the feel of that time of year. Think colourful tulips reminding you of sunny spring, blowsy garden roses on hazy summer days or the coppery brown Autumnal leaves; using flowers and foliages which are in their natural season will help bring the outside in and give a relaxed, natural and harmonious look to your flowers. Choose suppliers who are proactive about being more sustainable.
For example I compost all natural materials, recycle everything possible and reuse containers, I also try and avoid the use of floral foam which is harmful to the environment. 
Trends
Take inspiration from trends but don't be a slave to them! By this I mean think about what will work for you wedding and the look you want to achieve. For example the current trend of dried flowers and pampas grass is absolutely everywhere on social media and it can look amazing when used well. Again this links back to seasonality, Pampas looks great with late summer, Autumnal florals because that is it's natural season; yes it can be dried so technically you can use it year round but it just doesn't work so well in an arrangement of spring flowers like narcissi or cherry blossom. Using lots of foliage is still super popular for weddings this year and will be well into 2021 and 22, I don't see this going away, from lush garlands of fragrant eucalyptus foliage (Top tip - if you're in love with eucalyptus then don't set your date for May-July when it goes out of season!) to installations 'growing' up walls and pillars. I'm also using more plants in my designs for both flowers and styling, which are great to keep as mementos of your wedding and plant in your own garden or gift to family. They also tick that sustainable box!  In terms of colours the ever popular whites and greens is still featuring heavily this year, especially in the summer however people are being bolder with their colour choices which I love! Not always a bright rainbow but going for colour palettes which have some paler pastels but then pops of stronger, deeper colours for real wow factor. 
Planning your flowers
The options for flowers can be mind blowing, especially if you've been down a floral rabbit hole on Pinterest! The key is to prioritise your flowers, firstly bouquets and buttonholes and then some key designs for the ceremony and your table flowers. Most people don't have a budget to have flowers absolutely everywhere, and in fact you don't need to - for a start Elmore is a stunning venue in it own right! You're far better to go for fewer larger statement arrangements with real wow factor than lots of little bits here and there. A big urn at the front of the ceremony hall will provide a stunning focal point while you say your vows and can also be moved into the Gillyflower during the reception. Repurposing the flowers is a great way to maximise impact and budget and I'd always advise my couples to consider designs which can be multipurpose. Be realistic with your budget, do a bit of research and have a bit of flexibility on considering alternative options if your initial ideas are stretching the budget too much. And don't assume lots of foliage equals cheap! Those lush eucalyptus garlands which are so popular soon add up if they are running down 100 feet of long tables!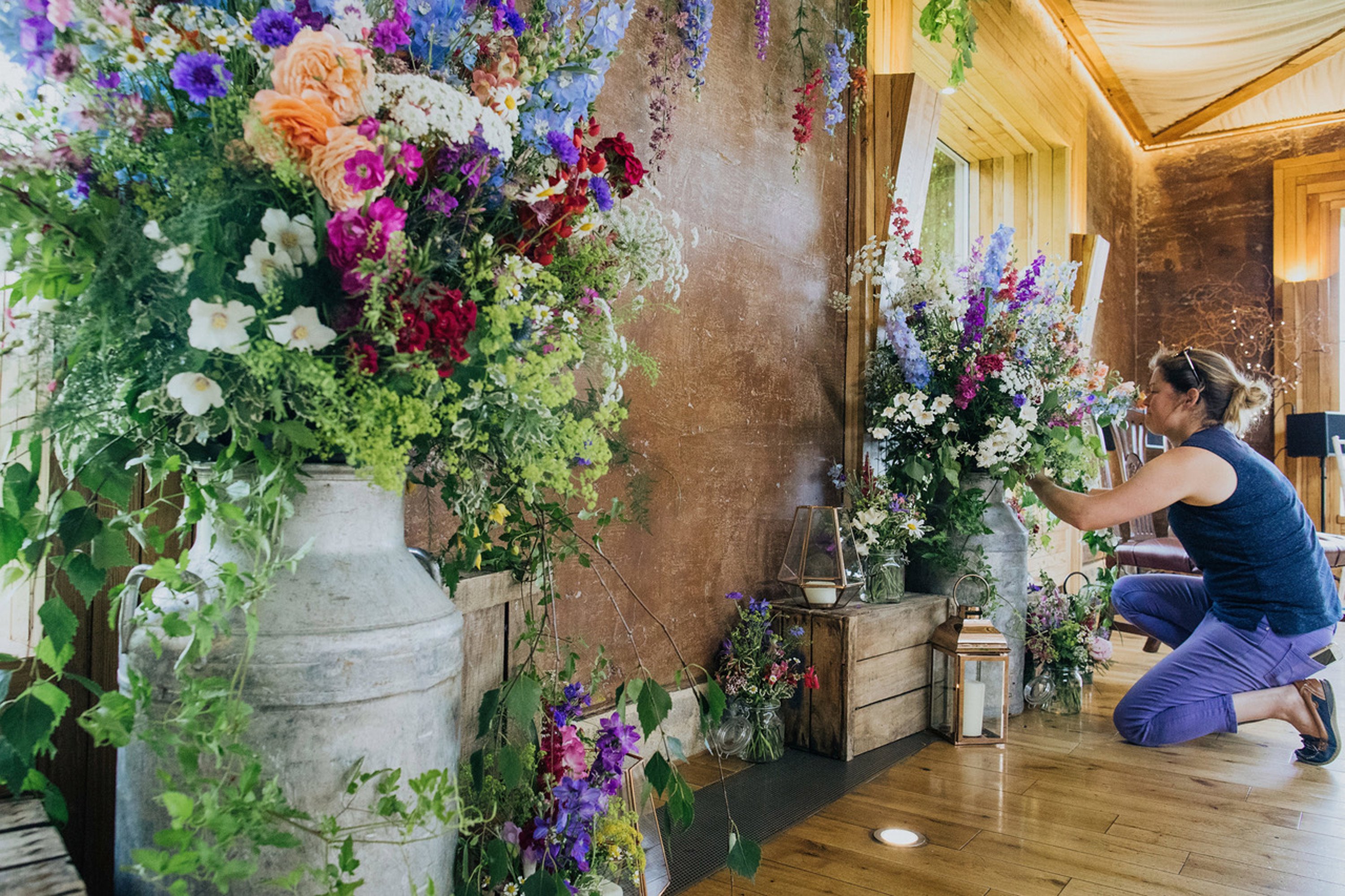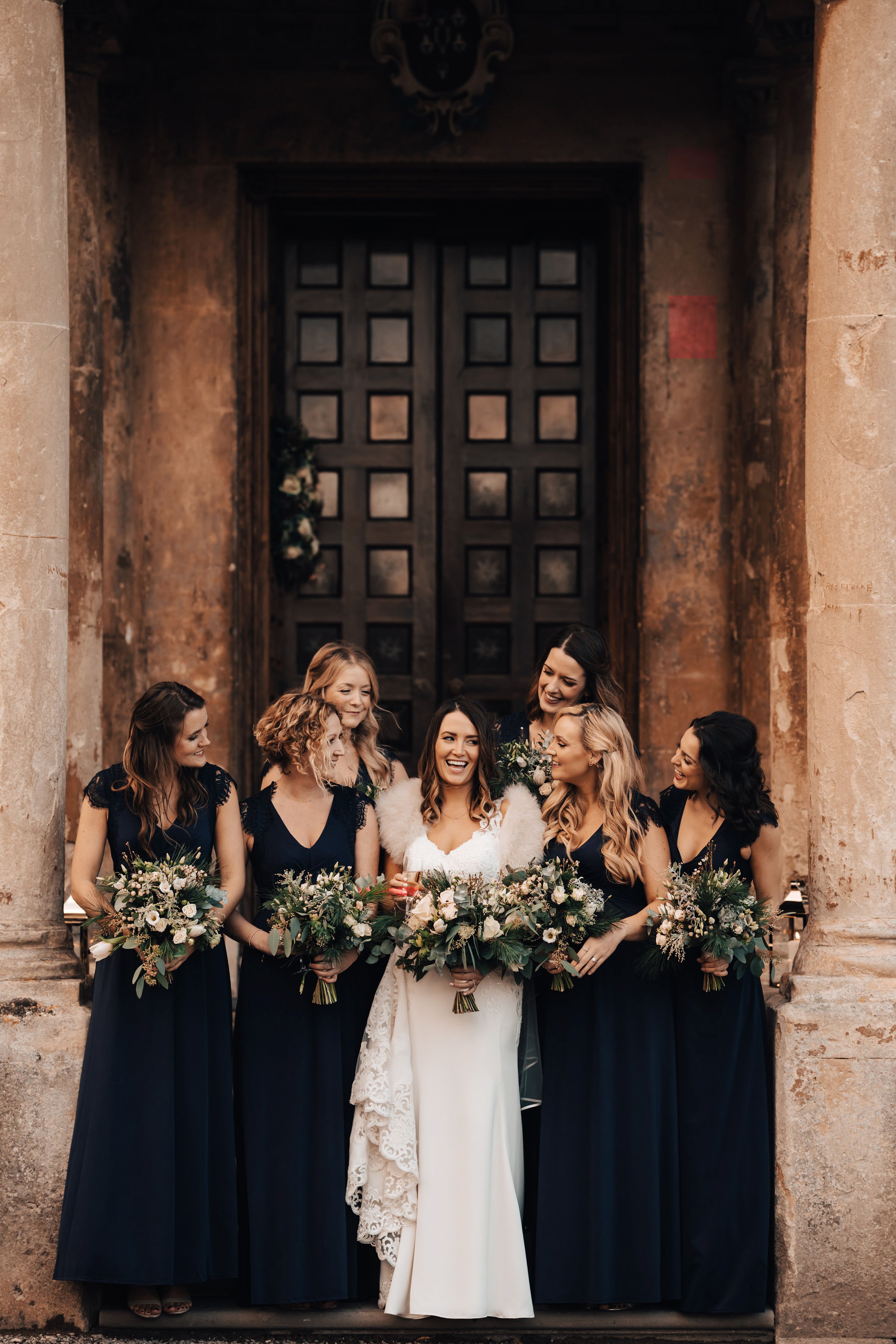 Tips from a wedding planner & bride to be!
Wedding Creations- Stylist and Planner
Despite it being a testing time for many I know lots of you have taken some time to sit down together and start planning and discussing your wedding. Like you, I'm also a bride-to-be and whilst I can't be out styling beautiful weddings thoughts have turned to planning our own day. So during this planning stage I wanted to share some of my top tips to get the most out of your day from a styling perspective. From budget saving to being more environmentally friendly there is a lot to consider during the planning stages so hopefully the following tips can help! 
Re-use statement pieces: Invest in a show stopping ceremony backdrop/arch which can then be re-used later as part of your table plan, behind your top table or for your photobooth backdrop. 
Unplug your ceremony: It's been said many times before, but it is worth reminding guests that you want their full attention for your ceremony. Your photographer will be able to work their magic without fighting for the picture. 
Don't be afraid of rain: It's Britain after all and it does rain- no matter the season. Have a back up plan but don't be upset if it rains. Some of the best pictures I've received have been from photographers getting creative on rainy days!
Look after your guests: If you're getting married in winter provide a few blankets to keep guests warm. In summer perhaps have a hydration station with water, fans and for really hot days some sun cream! 
Hire props or get a stylist: Don't buy unnecessary props and items which will go to waste after your day (let's face it you only end up selling it on for next to nothing or it sits in the garage for years on end). By hiring in a stylist and/or their props it will help not only your budget (& sanity!) but the environment too. In 6years I've not thrown a single item and I've saved over 100 weddings from buying items they'd otherwise not need! 
Relax! In the build-up to your day panic may set in. Will your guests be entertained enough? Hungry? Thirsty? Relax and take Team E's advice, it's come from lots of experience and they have your day in safe hands!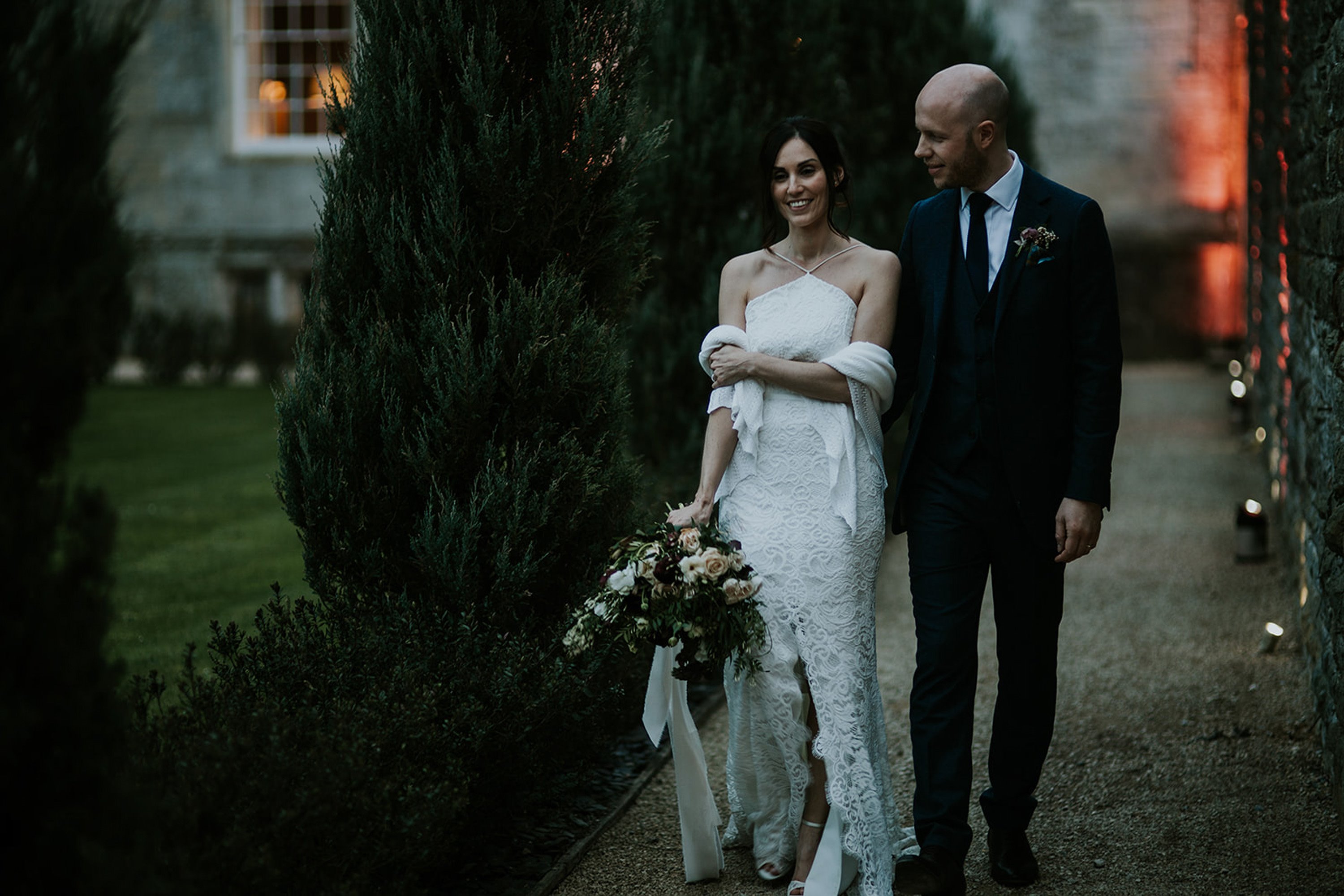 We hope this helps a bit with where to start and eases the stress of moving your wedding season. 
As ever, if there's anything you want to ask or need from us just get in touch, we love a chat, and even more so now we're all spread out at home working.
Lots of love,
Team E xx
Related reading